Posted on March 25th, 2018

Welcome to the place where the kisses are hers are his and hers and Bullet Sunday starts... now...

• Paint! Really good television ads are so rare that they might as well be said not to exist. I certainly spend enough time fast-forwarding through crappy ads. Which is why running across one that's a joy to watch is so great...
Computer animation is getting cheaper and easier every day. But coming up with ideas to use it for effective advertising is as tough as its always been. Congrats, Sherwin-Williams for putting your ad dollars to such good use.

• LEGOtron! This new LEGO set is amazing, though I wish it was from the original film instead of the Tron: Legacy sequel...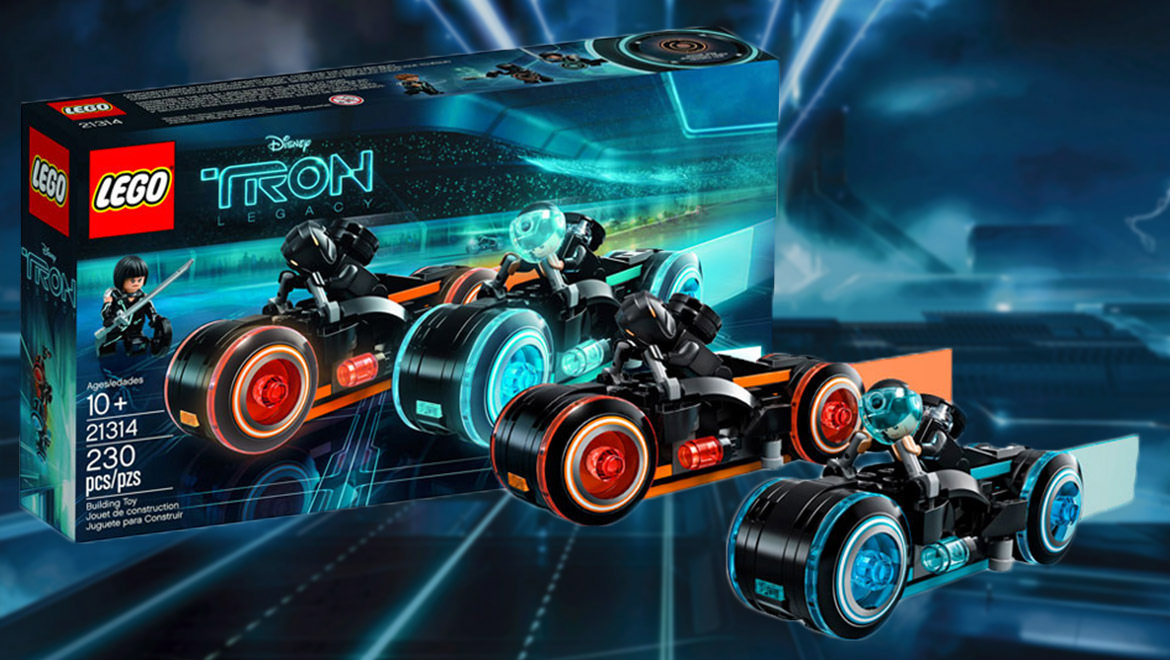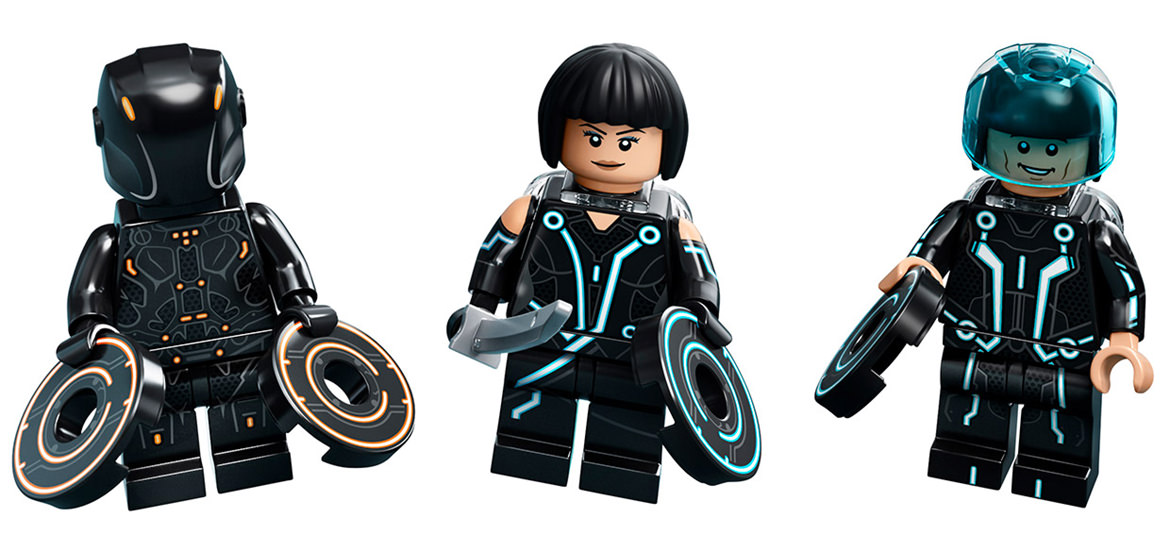 Oh please oh please oh please can we get a LEGO TRON video game?

• FAIL! Don't get me wrong... I love that I can get some fairly decent quality furniture at good prices thanks to IKEA... but their quality has taken a total nose-dive. For the third time now I've purchased something that had a mistake in it. This time they stained the wrong edge of a board, leaving the front edge bare...
Given that it's a 3-hour drive back to the Renton showroom, here's hoping that they are able to send me a replacement part in the mail.

• Mr Pool! As the rare X-men film that was actually worth a crap, I loved Deadpool. The sequel is looking even better...
No telling what could happen if Marvel gets the movie rights back for all their mutant comics. Hopefully it's a complete reboot with some decent films which know how to respect the source material.

• Krapton! And speaking of comic book translations... I don't get it. The people behind the new SyFy TV show, Krypton, didn't even attempt to make Krypton seem foreign... let alone alien. So what's the point? They could have saved a lot of money on the special effects and set this in Cleveland or somewhere in England since they say "mate" a lot, have English accents, and use phrases like "chip on your shoulder."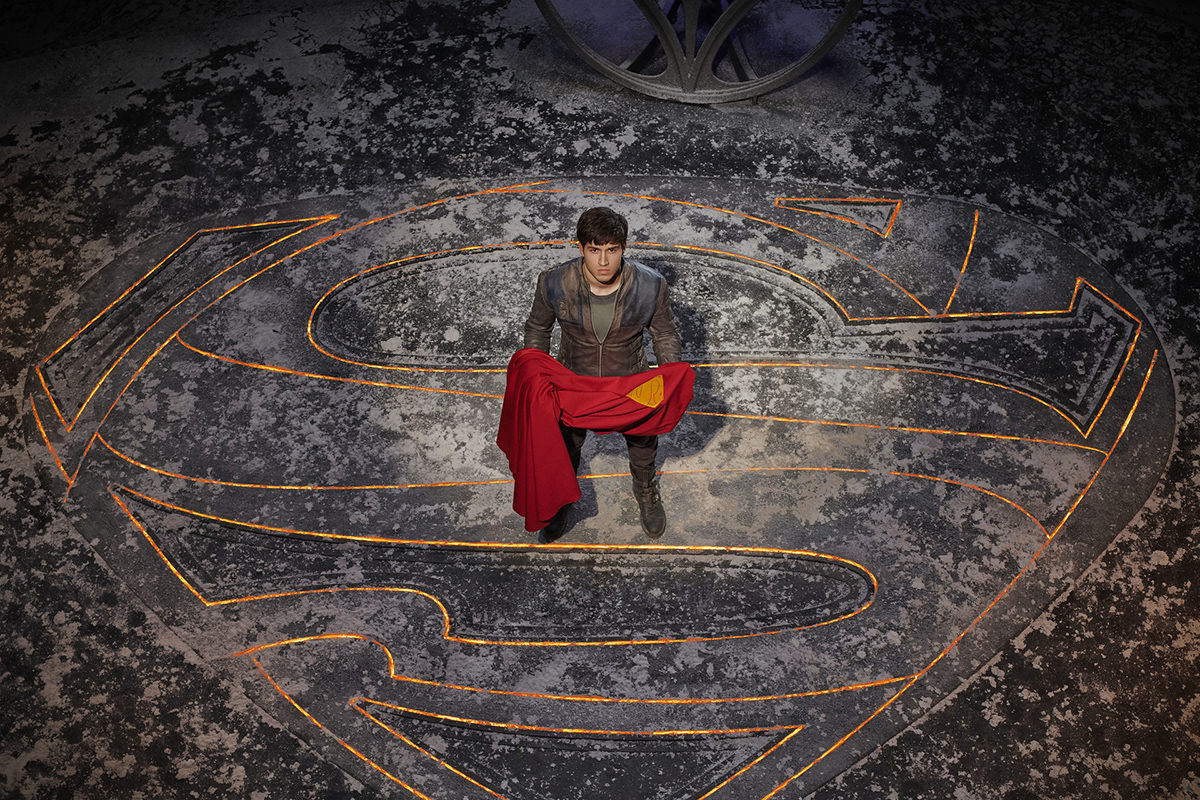 I dunno. Maybe it gets interesting after a few episodes. But it all seems pretty lame to me so far.

• Mission? Apparently a sign that says "NO SOLICITING. NO UNINVITED VISITORS. NO RELIGIOUS APPEALS. NO POLITICAL CAUSES. NO SALESPEOPLE. NO PETITIONS, NO CHARITY." means nothing to some people...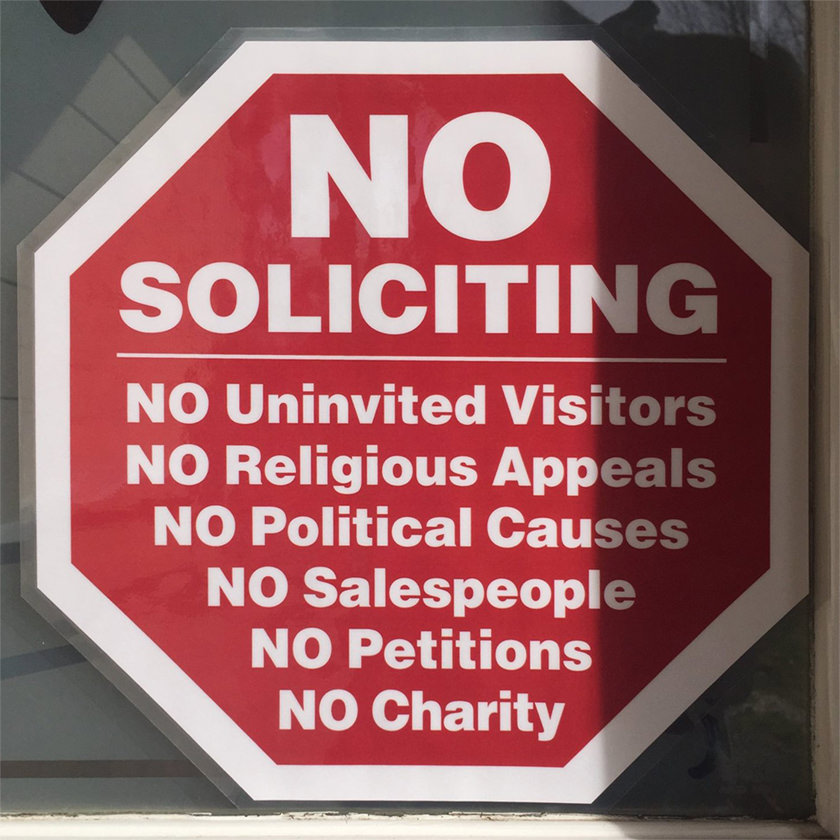 When I asked the missionaries who showed up tonight AT 8:45PM what part of the giant red sign they didn't understand, they said they were curious about what's behind putting a sign up like that. Well, genius, it's not a big fucking mystery. The sign is up because I don't want to listen to your shit... and I really don't want you terrorizing my feral rescue cats by ringing my doorbell.
What kills me is that they have a laugh over ignoring the sign before they ring the bell. They also ignored they sign telling them that they were being recorded...
And apparently after you've violated somebody's posted request, then are specifically told to leave because the property-owner is not interested... the way to change their mind is to leave unwanted pamphlets on their door?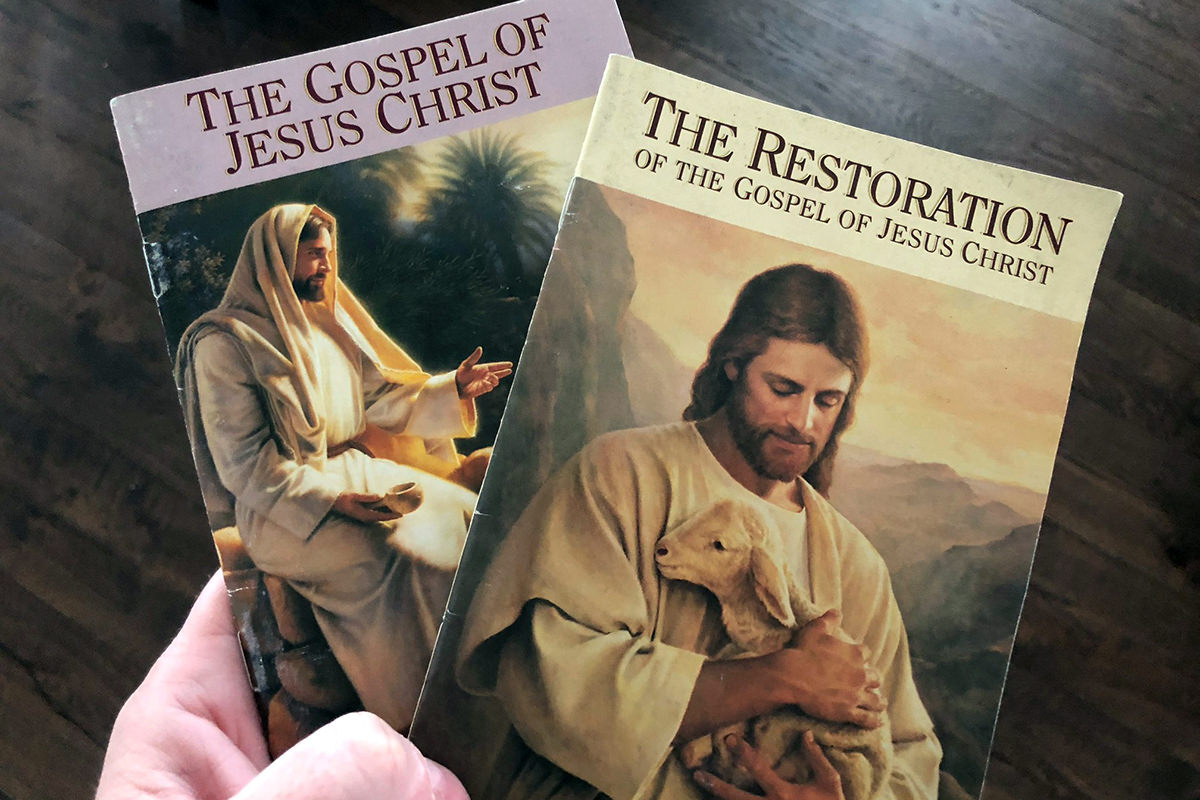 I have no problem with a person's beliefs, just so long as they don't infringe on mine. Like showing up at my home uninvited and not respecting my request for privacy. You can believe that Joseph Smith dug up some magical plates with Bible 2.0 on them if you want (something which, if you have studied The Bible even a little bit, is a hysterical concept)... but when somebody tells you to please leave them alone, your believing that you have a right to disrespect that request makes you a fucking asshole... I don't care who you are.

Happy trails to you, until next Sunday...
Posted on July 20th, 2017

I generally fast-forward through commercials because most of them are total shit and not worth watching. This is easy to do because I watch almost all television from my DVR. The only time I let commercials play is when I'm watching TV live... or if I'm working (or otherwise distracted) and can't be bothered.
Like tonight.
There I was, working away with the television playing in the background when...
... a sound plays.
A familiar sound.
The sound of the announcement tone for Disney's Star Tours!
What the heck?
Turns out it's a commercial advertising the Main Street Electrical Parade, where a Disney cast member is walking through a giant warehouse filled with relics of Disneyland past. I must have freeze-framed a dozen times on my DVR trying to figure out what everything I was seeing could be. Reviewing it all was a nostalgia-laden walk down memory lane.
The commercial has been around for months, but this was my first time seeing it.
When I was Googling to see if Disney had posted it to YouTube, I found that there were a couple of videos calling out all the "Easter Eggs." Like these...
Now THIS is a cool commercial that is actually worth your time to watch!
Assuming you're as big a Disney geek as I am, that is.
Posted on February 26th, 2017

Don't panic just yet, because an all-new Bullet Sunday starts... now...

• A Simple Difference. I love advertising that really makes you think, and this ad from Australia is absolutely brilliant in getting its point across. Before watching, it may be helpful to know that Aussies use BBQ sauce the way Americans use ketchup. And Aussie tomato sauce is much like ketchup except not...
For an equivalent American context, the guy telling his dad he likes tomato sauce is the equivalent to going to Chicago and telling the hotdog vendor that you want ketchup on your dog.

• Dyer for Govorner! Now THIS is transparency on a candidate website! Not really anybody's business but his, but I get why he's written it. I think most people would hemorrhage if they were to have this kind of insight into the people they've elected. Well, except for President Trump. Apparently he can do whatever the fuck he wants... no matter how heinous... and it doesn't matter to his supporters. Even though those same supporters have condemned the same activities in others.

• Dimensions Now that Disney Infinity has died, I am really, really hopeful that LEGO Star Wars and LEGO Marvel Super-Heroes will end up in LEGO Dimensions. The epicness of such a fusion would almost be too much for me to handle. Darth Vader driving the Batmobile? Spider-Man slinging through Adventure Time world? Catwoman meeting Black Panther? The possibilities... the possibilities...
Big fun awaits... if Disney will play ball.

• HeLa Can. Not. Wait. The book, The Immortal Life of Henrietta Lacks, was excellent. And while I've never liked Oprah as a talk show host, I've always loved her as an actor...
If you haven't read the book, it's worth a look.

• Ross! Be yourself. Unapologetically. Be like Ross and let the haters hate on... it's all they have...
Ross has got to be one of the nicest guys in Hollywood. Milo Yiannopoulos has got to be one of the biggest assholes on the planet. There is no contest here. None.

• ALARM! Why is the iPhone alarm system so shitty? Can't skip an alarm without turning it off. The alarm plays... FOREVER... instead of turning off after a few minutes. The snooze feature is absolute garbage because it's so inflexible. The list goes on and on. If you use your iPhone as a clock like I do, this is a daily frustration that drives me bonkers, especially on the weekends. Apple... you have BILLIONS of dollars. Why not take a fraction of that money and fix your shit?

And... aren't we all glad that's over?
Posted on January 17th, 2016

Don't shovel that driveway just yet, because Bullet Sunday on Monday starts... now...

• ALIAS! Much to my relief, Marvel's Jessica Jones is getting a second season on Netflix. The show is more than a little groundbreaking in the superhero genre, and it will be very interesting to see where the showrunners go with such a fascinating and multi-faceted character. And dare we hope to see Patsy Walker, Hellcat next time around?

• ISTANBUL! Kindness to animals is such a noble virtue. I love stories like this...
Cats are a revered animal in Islam, and strays are everywhere in Istanbul, so it's nice to see some of them get shelter from the cold...
Awwwww.

• AXE! Finally. A commercial for the rest of us...
Though drenching myself in Axe is not something I see in my immediate future.

• X! Ha! Jimmy Kimmel had a flawless parody of the upcoming The X-Files revival...
Reeeally looking forward to The X-Files when it returns at long last on next Sunday!

• Betty! But before I go... a very happy birthday to Better White!
Still amazing at 94 years old!

Annnnnd... I'm empty.
Posted on December 6th, 2015

The holidays must be near, because the gift of Bullet Sunday starts... now...

• AVOID! I'd like to begin this entry with "Screw United Airlines," easily the worst airline going. They bring nothing but misery, and just don't give a fuck. I'd rather eat a piece of shit encrusted with pubic hair than to ever give United Airlines one cent of my money.

• Ware. Chris Ware is one of my favorite living artists. His work provides insight into the human condition in a way few people can match. This is his latest...
As if that wasn't gift enough, a "behind the scenes" exploration of the cover has been ANIMATED over at the New York Times website. Absolutely worth a watch. Click here immediately to experience it.

• Rescue. Speaking of cats... essential viewing...
Catfishing! Amazing that somebody probably abandoned the poor things out there.

• SvB. Oh gawd. The Superman vs. Batman film looks even worse than I imagined. Even worse than the pile of shit that was Man of Steel. How could DC have fucked this up so bad? Oh... Zack Snyder... that's right. Let's overdramatize the shit out of even the most mundane moments. People love that. Barf...
This makes Superman IV: Quest for Peace look like total genius... because at least that turd had Gene Hackman in it. Jesse Eisenberg's "Lex Luthor" is a fucking embarrassment. I can't help but wonder if this movie fucking tanks... as it rightfully should... what happens to the DC cinematic universe? Hopefully it gets flushed down the toilet so somebody who gives a shit about the comics can start over.

• Regerts. A kitten who regretted his life choice...
Does it GET cuter than this?

• Diamonds. Dayamn! No pressure...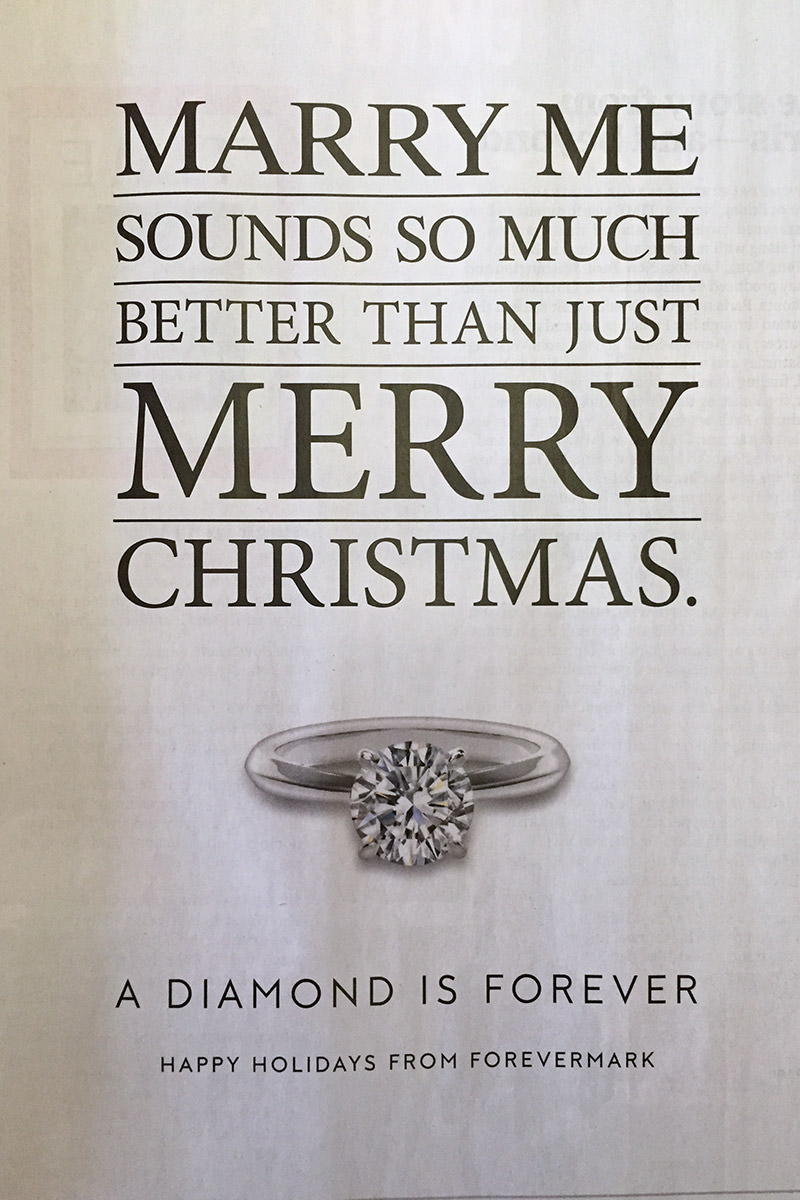 And also... WAR AGAINST CHRISTMAS!!!

I'm spent. No more bullets for you.
Posted on October 25th, 2015

Don't worry... blogging isn't as dead as they say, because an all new Bullet Sunday starts... now...

• Jones. I do not have the vocabulary to adequately express how much I'm looking forward to Marvel's Jessica Jones on Netflix this November 20th...
If it's even half as good as Davedevil was, I'll be ecstatic. Krysten Ritter and Mike Colter (as LUKE CAGE!) look to be knocking it out of the park.

• Outrageous. And so it turns out the shitty Jem and the Holograms movie adaptation is, in fact, shitty. Which was foretold by many, many people after watching the trailer...
IT'S NOT FUCKING ROCKET SCIENCE! RESPECT THE DAMN SOURCE MATERIAL OR FAIL!

• FAKE! Nothing like getting excited over a ton of five-star reviews on an item you're needing from Amazon... only to find out that every last one of them were from people who either got it for free or received a discount for their "honest and unbiased" review. Well screw that. Your "honest and unbiased" review is overwhelmingly positive because THAT'S how you get chosen to get free stuff for reviews! They're not going to choose people who are critical of the things they write about to review their product. I absolutely loathe this shit.

• Dull. Seems almost eerily accurate...
Dell. The pink slime filler of computer companies.

• Comeuppance. Oh. How sad for the price gouging little fucker.

• Force! This has got to be the single best video game commercials ever made...
The magic of video gaming is that it has the ability to put you in a fictional universe made real. Many video games have been advertising along these lines... this is the first one to absolutely nail it.

And I'm off. In the meanwhile, here's probably the cutest thing you've seen all week.
Posted on October 11th, 2015

No time to lose, because a rapid-fire edition of Bullet Sunday starts... now...

• Puppy. The best thing I've seen all week...
"Roo the one-year-old rescued Golden Retriever who never had any toys, or so much as anything to chew, grew up imprisoned, starved and neglected. This is the first time she gets to choose her own toy at a pet shop."

• Assemble! Marvel superheroes may be absent from the LEGO Dimensions game... but that doesn't mean you won't be able to play something new with them...
So can't wait for this!

• BANNED! Microbeads are insanely stupid. I can't fathom who ever thought this crap was a good idea. Hopefully other states will follow California's lead in banning this toxic crap. In other California banning news... looks like SeaWorld San Diego will be closing down sooner rather than later. Can't imagine them surviving without their Killer attraction.

• Ad? After complaining about obstructive ads on the internet yesterday, I'm going to take a half-step back today. Because more and more I'm finding ads I actually like. Earlier this week I found one for gum that was pretty sweet. Yes, gum...
It's as if advertisers are finally realizing that we don't want to watch shitty commercials that suck!

• Morans. And speaking of ads I like, the inevitability of One Million Morons being bigoted assholes and condemning one of the best ads ever has come to pass. Not that anybody gives a fuck. "One Million Moms" (who are off target by 919,482 mothers) is about as effective at boycotts as a piece of shit is at not stinking. All they do is remind everybody that there are pathetic homophobes out there clutching their pearls and getting the vapors over something THAT DOESN'T EVEN AFFECT THEM. So yes. Let's save the children of the world... by protecting them from loving, stable homes.

• Poop! I'm not saying this product will change your life... but this product will change your life*...
*At least that part of your life spent pooping.

And... I'm bullet-poor. The end.