Posted on June 13th, 2023

The whole "wE doN't InCludE a USB poWeR AdaPter BEcaUsE tHE enViRoNMenT aNd eVErybOdy AlReaDY haS a BunCh oF TheM" bullshit has got to stop. Nobody includes them any more and they all have this excuse. Well, my new Aqara M2 hub didn't come with a USB power adapter and I just used my last spare (off a very, very old Kindle reader!)... which means that my next device that I get I'll need to actually buy the USB power adapter. This is such crap. People should be able to request a freebie if they don't have an adapter to use. That's the only way I'll believe it's "for the environment" and not some profit margin dickery.
Posted on November 18th, 2022

This is Part Deux of removing all the dead INSTEON smart home crap from my home and replacing everything with Thread smart home devices.
Back in the day INSTEON was the best fit for my smart home setup. It was clunky and weird and didn't always function as expected, but it was cheap and mostly worked (or not... turning my bedroom lights on and off also turned my living room lights on and off, and I never got that figured out in six years). The bad thing about it was that interacting with it was awful. I had to buy a pricey programmable ISY-994i hub to replace the INSTEON hub that barely worked. THEN I had to buy a modem to connect it to my network. THEN I had to pay for a service which would allow me to use Alexa for voice control and interact with my devices remotely from my phone. THEN I had to write literal programs to get everything working as I needed.
But I'm getting ahead of myself.
Apple's initial efforts with home automation was something they called "HomeKit" but it was actually "HomeShit" because you couldn't do shit with it. And there weren't many devices that worked with it anyway. I frickin' hated it so much that I completely scrapped the test gear I bought and started over with INSTEON.
But that was 2016, and Apple has come a long way in six years. Most importantly, they joined the Matter Smart Home alliance which will allow all Matter devices to communicate with each other (so it doesn't matter than HomeShit can't get automations working to save their life). And the network behind Matter is something called Thread.
Thread is actually pretty great, because it does all the work by itself instead of relying on a central router hub to handle everything. Devices designate themselves as either router leaders, routers, or endpoints to build a self-propagating, self-healing mesh network. And that's it. Except if you want to access your Thread network from outside your local network (such as the internet), you also need a "border router." Apple's HomePod mini works for that, so I'm good to go.
Any device that's connected to wired power routes traffic, which includes all 26 switches in my home. Needless to say that with so many routers my Thread network is rock-solid.
Which brings us to Eve, the company making most of my devices, including my light switches.
Pros...
The design is really nice. All the switches are capacitive touch with no moving parts. You just tap them on and off. It's really nice.
They're built on Thread. But not at first! When I first installed my switches I was mortified to see that they were using bluetooth as the "network carrier." But then after a few days they switched over to Thread and all was well. I think that they are Bluetooth to start for configuration purposes.
Negatives...
THEY ARE NOT DIMMABLE! This is absolutely bonkers. I ended up having to buy some of my switches from Brilliant for those lights I wanted to dim. I would have preferred to have had all my switches by Eve since Brilliant isn't built on Three.
Because the switches are flat with no protruding rocker, it's very difficult to camouflage that you may have outlet boxes that are uneven or at slightly different depths. Very few of my switches are flush with the faceplate which doesn't bother me too much... but I sure wish they had the ability to self-level by screwing a spacer out or something.
These switches are massive. I'd have thought that technology would have gotten smaller as time goes on, but these are every bit as huge as the INSTEON units they are replacing (technology that's decades old). The Brilliant switches I bought are a much smaller profile.
You get a single-gang faceplate with each switch, and it's great quality. But Eve doesn't sell matching 2-gang and 3-gang faceplates, so you have to look elsewhere. And I looked a lot. I even wrote to Eve to say "Hey, which brand of screwless faceplates matches your switches?" Only to be told "We dunno." That's kinda bad. I ended up just re-using my old INSTEON switch plates until I find something that works better.
There's an LED light on each switch which can be configured to be "Never On" or "On when On" or "On when Off." I decided to have the light be "On when Off" so that people can find them in the dark. Unfortunately, the LEDs could have been better. First of all they are an annoying and attention-seeking green color when they should have been a more unobtrusive soft white. Second of all, you can dim them a bit, but they are still very bright and I wish I could have dimmed them further.
You can't just run power to the lights and automate them to perform other tasks, something which would be very handy (some of my INSTEON switches were used this way). If the power can't physically turn something off connected to them, then there is no "off." They're just on all the time. This seems incredibly weird given how smart homes work.
The HomeKit QR code is on the faceplate... not the switch itself. Considering that most of my switches won't be using the faceplates since they are 2-gang and 3-gang switches, this is a pretty bizarre move. The electricians were so concerned about it that they copied the last four digits of the code, wrote it on a Post-It tab, and stuck it to the side of the switches so I wouldn't be completely lost if I ever have to pull them out of the wall for some reason. I also wrote the switch location on the HomeKit code booklet and filed them away just in case.
And so I guess we'll see how it goes over the long haul. Hopefully the little quirks with HomeKit will work themselves out as I attempt to get my home "smart" again.
Posted on January 28th, 2022

After my 11-year-old Epson printer died at work, I needed to buy a new one. A printer by HP was out of the question. I will never buy anything from those assholes ever again. Which means it basically comes down to either Epson or Canon. My old Epson was a huge pile of shit. It would clog all the time. It ran through ink in crazy amounts. Sometimes it would just dump ink on the print, ruining it. Prints would fail for random reasons. Printing would abort for random reasons. It was an exercise in utter futility to print anything, and the cost-per-print was sky-high because of all the problems and failures. I hated it. I hated it. I hated it.
But this did not automatically mean I was going to buy from Canon.
I had a Canon printer at home and it was a pile of shit too.
So I started comparing the Canon PRO-1000 and the Epson SC-P900 to see which large-format printer would be the best fit... and how well they were reviewed.
Both got high marks in some areas and low marks in others. Epson was still suffering from constant clogging... but some people had clogging on Canon too. I went back-and-forth between them for hours.
Ultimately what pushed me in favor of the canon were three things...
Canon has 80ml tanks whereas Epson only had 50ml. Which is to say that ink is more expensive with Epson (84¢/ml) than Canon (75¢/ml). Both are still fucking insanely pricey, however.
Both printers have Matte Black, Photo Black, Cyan, Magenta, Yellow, Photo Cyan, Photo Magenta, Gray, and Photo Gray inks. Canon adds red and blue. Epson adds violet. Canon's approach is smarter. By having true red and true blue, they open up a world of color fidelity... especially when it comes to reds, oranges, and browns, which are notoriously difficult to reproduce in CMYK. Getting deep reds, purples, and blues with Canon will be a piece of cake, and those are some very important color spaces to fill. Which is why I have no clue why Epson went with violet. That helps purples and deep blues, but does absolutely nothing for reds, oranges, or browns.
Out of all the reviews I read, Epson had more problems noted with clogs and paper feed. This was often chalked up to the Epson SC-P900 being small, lightweight, and cheaply constructed. Canon, on the other hand, is built like a frickin' tank.
Canon does have two major cons... you can use roll-stock paper (which I rarely do anyway) and it's a 7-year-old model (Epson is a 3-year-old model). Those were not quite the deal-breakers that the above three points were with Epson.
UNPACKING
Like I said... this thing is a frickin' tank (SEVENTY POUNDS, PEOPLE!). It is massively sized and very heavy thanks to it having many metal components. It barely fit on my Anthro Cart side-table. Which is to say that getting it out of the box is a bit of a challenge. I managed, but it was harder than it should have been thanks to my back getting thrown out two days ago. The box was beat to hell but the printer itself was undamaged.
SETUP
Removing all the packing tapes and installing the 12 cartridges wasn't a big deal... though it was time consuming. The screen on the printer guides you through the process of aligning the heads, filling the lines, and all that stuff. No problem there. But then you get to the printer drivers. The included CD only has Windows drivers... no Mac drivers. You have to download them from the web. And here's where everything went to shit. My Safari browser corrected CANON.COM to CANNON.COM (with two N's). This sent me to a third-party site with a phone number where a tech support asshole wanted me to install remote-access software so they could have full control of my computer. Naturally I told them to go fuck themselves, and was able to figure out that my browser was autocorrecting CANON to CANNON. Once I got there, I still couldn't get my installers working and called authentic Canon support for help. 42 minutes later a guy emailed me a URL to get the Mac CUPS drivers in just a couple minutes and I was on my way.
OPERATION
Canon instructions are shit. Their drivers are shit. Everything about operating the printer is shit. Nothing "just works." You have to Google everything in order to understand what the hell you're supposed to be doing. Take the paper, for example. I bought authentic Canon 17×22 semi-gloss paper. But 17×22 is not listed in the driver. I looked on the paper packaging and included spec sheet to see what I am supposed to select to use it and was offered nothing. And so I had to go through each and every weird-ass paper configuration until I found that "C" was the paper size I was looking for. C. Why the fuck Canon can't put that on the fucking paper box... or include the actual paper dimensions in the driver is a total damn mystery. This is not rocket science here. Once I figured out what paper setting I needed, the printer operates like any other printer for the Mac.
PRINTS
Overall, the prints you can get out of this thing are stunning. Reds in my projects have never printed well. I would always get this weird-ish faux-red that doesn't look like true red at all. But not with the Pro-1000. Canon prints serious reds. Blues are likewise very pretty. I expected this to happen since Canon has independent red and blue inks to work with. Where things fall apart is in greens. Since there is no green ink, the printer has to mix cyan (or blue) and yellow to get it. And that will never result in a vibrant green. When I investigated this, the conjecture seems to be something like "Well, green in nature isn't a very vivid green, so you shouldn't need to print it." Which is so categorically absurd as to be laughable. I have photos with ridiculously saturated natural greens (Ireland is filled with them). And this says nothing about photos I have with greens that are outside of nature. Like things that are painted bright-green. Or plastics which have deep green hues in them. How am I supposed to print those? Green exists, and it's a mystery as to why Canon nor Epson did something so you can print with it.
EXPENSES
Since I've had the printer for only one day, I have no idea if I will end up dealing with the clogs and other disasters that makes Epson printers so horrifically expensive to own. I sure hope not. Because wasting a print due to printer failure is one of those things that sends my blood pressure to the absolute limit. When setting up a new printer, you blow through half-a-tank of each color before you can print a single thing. Canon also blows through 2/3 of the capacity of the "maintenance cartridge" which collects the ink from head cleaning and borderless printing and stuff. This wouldn't be bad... they only retail for $14 or so... except they are out of stock most everywhere I looked (even at Canon.com). Since you cannot print without this item, not having replacements is essentially turning your $1400 printer into a massive doorstop, and that's is absolutely nuts. Another item which drives up cost is the "chroma optimizer" cartridge. This is a clear coating which evens out your print so that areas of high ink concentration don't look different from those with low ink concentration. It also makes colors look richer, more defined, and adds greater contrast (black in particular) because reflected light is taken down a bit. You seriously want it on your prints because it makes them look so much better. But since it covers the entire image (unlike the inks), you have to buy a lot of it. I'm already running low and I just got the printer today! Fortunately, it's $5 cheaper than ink... $55 instead of $60... so I guess that's a plus.
CONCLUSION
This is not a great printer. But it's a good one that can make some very pretty photo prints. And I'm guessing I will be much happier with it than I ever was with the dumpster fire that was the Epson I previously had. If Canon is interested in having a great printer, here's where they need to go with the next model...
Larger ink tanks. 80ml is better (and cheaper) than Epson's 50ml tanks, but you're still paying for more plastic than ink, and that's shitty. One day somebody is going to come along with refillable tanks on a high-quality photo printer (they already have this for standard printers) and 100% eat Epson's and Canon's lunch. And I will laugh my fucking ass off as Epson/Canon sales plummet). And why not make the "color optimizer" cartridge be double-the-size of the ink tanks since you use so much of it? Operating costs for this machine are crazy-expensive. Do better.
Add green ink. Seriously. You've already got 12 tanks, what's one more? Especially when it means that you'll FINALLY be able to cover a decent color gamut. Thanks for red and blue ink. That's awesome. But the puzzle isn't complete and won't be until I can print vivid greens.
Include Macintosh drivers with your printers.
For the love of God... make a printer driver that allows people to select paper sizes without having to resort to trial-and-error. Especially since you don't label your papers with the size-name that your driver calls them. It is categorically stupid that I have to fucking mention this to you.
Show a photo of what your OFFICIAL website looks like on your instruction papers so people won't be fooled into contacting a fraudulent site. I ended up at a shitty scammer site even though I know how "Canon" is supposed to be spelled. It's not your fault that asshole scammers are preying on people... but it is 100% your fault that you're not doing more to warn people about it (especially when you have a non-standard company name that can get auto-corrected).
Put a little bit of effort into keeping genuine Canon replacement parts in stock. You warn people not to use third-party parts because they may damage the printer, but what the fuck else are they supposed to do if you can't even get parts direct from Canon? Don't blame your customers for buying third-party if you're not going to bother having the authentic stuff available.
Why is auto color-calibration not a thing? It would be a minimal cost to add a spectrometer to your high-end printers so that they could self-calibrate the color, so why don't you? This is no-brainer stuff here.
And that's that. If you are looking for one of the best professional photo printers on the market that can handle 17×22 paper, then this is probably already on your short-list. If I run into any new information as time goes by, this is where I'll put it.
Posted on December 16th, 2019

Yeah, yeah, I know. It's Monday. But I wanted to get my Hallmark post up as soon as possible, which was Caturday... then it was Bullet Sunday... which leaves us Caturday on Monday. Everybody will just have to deal, I guess.
As I've mentioned a few times, there is a stray cat in my neighborhood whom I named "Fake Jake" after my brother was housesitting and let him in thinking that he was my Jake who had gotten outside somehow. He is a very sweet cat... but also an overly-enthusiastic cat with very sharp claws, so you kind of have to watch out when you're petting him.
Fake Jake belonged to a family down the street. When they moved, they took him with them... but he obviously didn't care for his new digs because he would keep running back to us. For a while there I was trapping him and calling them to come get him. But eventually they stopped coming so I stopped calling. Myself and my neighbor have been feeding him and watching out for him, so I guess it's all good.
I would have brought him inside long ago except... he is very much an outdoor cat. And he is highly aggressive towards other cats. Many a time I have caught him lunging at Jake and Jenny when they are out chilling in the catio...
And so... he gets to remain an outdoor cat.
Though that's tough for me to stomach when it's raining or cold out. Especially when it's cold out, and I see him trying to hunker down and conserve body heat...
When I got back from my Antarctica trip, I couldn't take it any more. I purchased an "igloo" cat shelter. To make sure it was warm enough, I built a berm out of pipe insulation to help keep heat in. I tried to make a door flap, but he felt trapped and wouldn't stay inside...
Fake Jake took to it right away...
I installed a camera on the roof so I can check to make sure he's doing okay...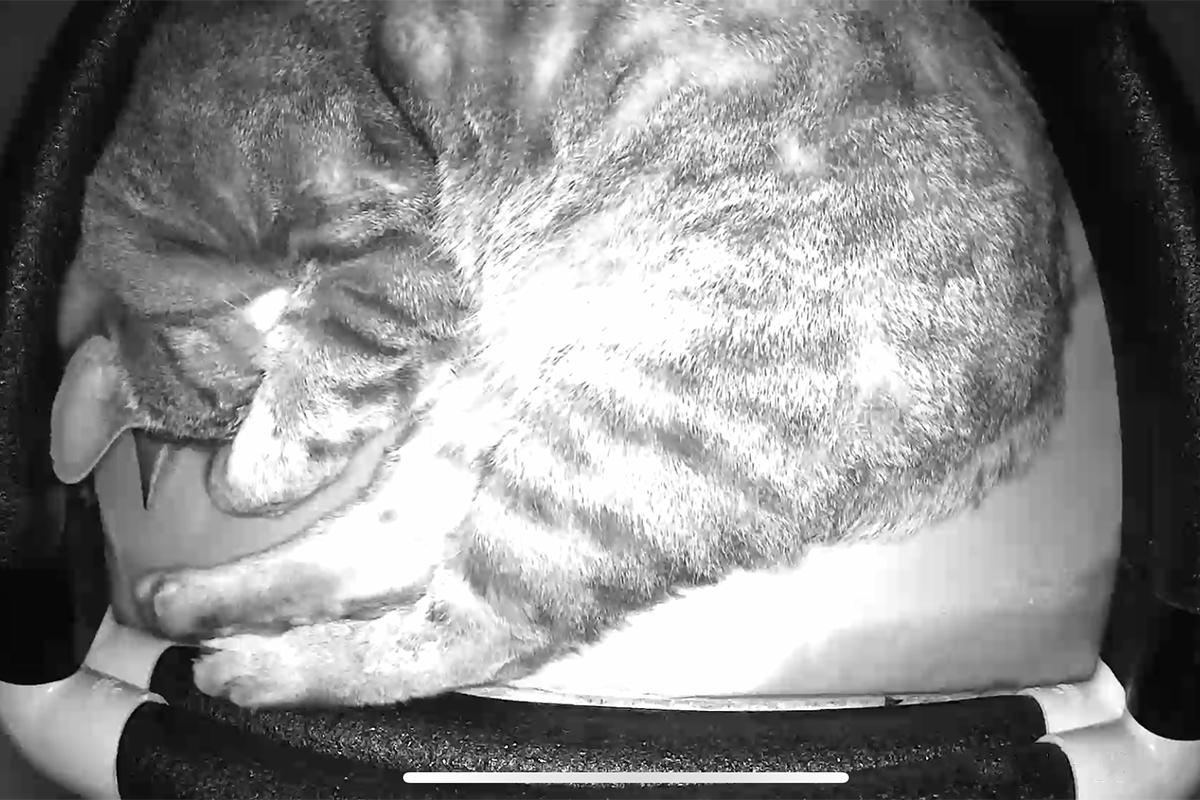 As winter dragged on, the weather was getting unbearably bitter cold. I worried that he would not be able to stay warm enough, so I found an electric "warming pad" to help him out. It doesn't actually get "warm to the touch"... it's designed to rise in temperature when something is set on top of it. Basically to keep the animal from freezing. He really liked that. Now he was in the shelter throughout the day when he got cold instead of only at night.
Eventually I bought a second shelter and warming pad for the back-side of the condos (where he is fed) so he could choose where he wanted to sleep. For a while he was swapping between them. Then one day he stopped using the back shelter. Knowing that the cold weather is harder on cats as they get older, I thought that maybe a heating element in the ceiling would help to keep him warm on both sides. So I cut a removable panel, installed a ceramic element, then fixed a grate over it so Fake Jake wouldn't get burned. In freezing temperatures, it stayed at a cozy 62° which seemed perfect...
The shelters are under the eaves of the roof, so they are kept free of snow... but I wanted to cover up the electronics just the same. But before I did, I thought I would test it to make sure Fake Jake was okay with it. Turns out he was not. He would jump in, enjoy the warmth for a bit, then hop out and leave. He would not sleep there. So at 10:00 at night I finally went out and restored his old shelter. Then, as I was bringing in his newest shelter, I notice that it reeked of cat pee! So that's why he stopped using the back shelter! Some other cat came along and peed in it! Can't say that I blamed him.
I tried scrubbing everything with soap and water, but that did nothing. So now I'm trying different urine-enzyme-killing cleaners to see if I can get the smell out that way.
In the meanwhile, I was being kept up at nights worrying that the warming pad might die and Fake Jake would end up freezing because now he had only one place to go. I couldn't afford to buy the parts for a third shelter, so instead I bought a WiFi temperature sensor on sale on Cyber Monday. I sliced the berm underneath and set the sensor inside of it so it's in contact with the warming pad. I also put it on the side of the shelter where Fake Jake prefers to sleep. I then set an alert that would be sent to my iPhone if the temperature ever drops below 38°, which is way too cold for a shorthair cat to be sleeping in.
What I've found (thanks to the temperature data that the unit collects) is a bit surprising.
No matter how cold it gets... even down to 24° so far... the temperature when in contact with the warming pad hovers around 60°. If Fake Jake is sleeping where the temperature sensor is, it records temperatures over 70°!!! In fact, you can literally see when Fake Jake is in the shelter or out of the shelter just by looking at the temperature!
This morning around 1am, Fake Jake hopped into the shelter for a nap when the outdoor temperature was 27°. The sensor was reading 61° from being on top of the pad... but increased to 72° when Fake Jake was there! Then apparently he left at 2am because the temperature started falling...
Now, seriously, how amazing is that?
Not only do I not have to worry about the warming pad failing because the sensor will alert my phone when it gets too cold... I have also been way too concerned about how cold Fake Jake gets in severe weather. Because, wow, 72°?!? That's what I have my thermostat set to inside my house! Sure, I am still a little upset that the part of his body not on the pad is getting cold... but when I look at the timelapse footage of him sleeping, it looks like he's just flipping over every 10-20 minutes. So he's seriously doing just fine!
Which is a relief, of course, but I still want to see if I can get the cat pee smell out of the second shelter with the heating element. That would be cat paradise for Fake Jake, and he'd go back to having two places to stay warm and dry throughout the winter.
Posted on November 20th, 2019

Most times I am happy that the nitty-gritty details of how electronics work are hidden from me. All I want is for my stuff to "just work" and do what I need it to do with as little drama as possible.
This is a double-edged sword, however.
Apple is famous for wrapping up complex tech into an easy-to use wrapper. This is mostly okay... except when they start taking away needed features in the name of "simplification." In cases like this, just let the user decide whether they want the feature active or not. Because Apple's idea of what's best may not be the same as their customers.
Right now I am fighting this same issue with my Google WiFi mesh router/node system...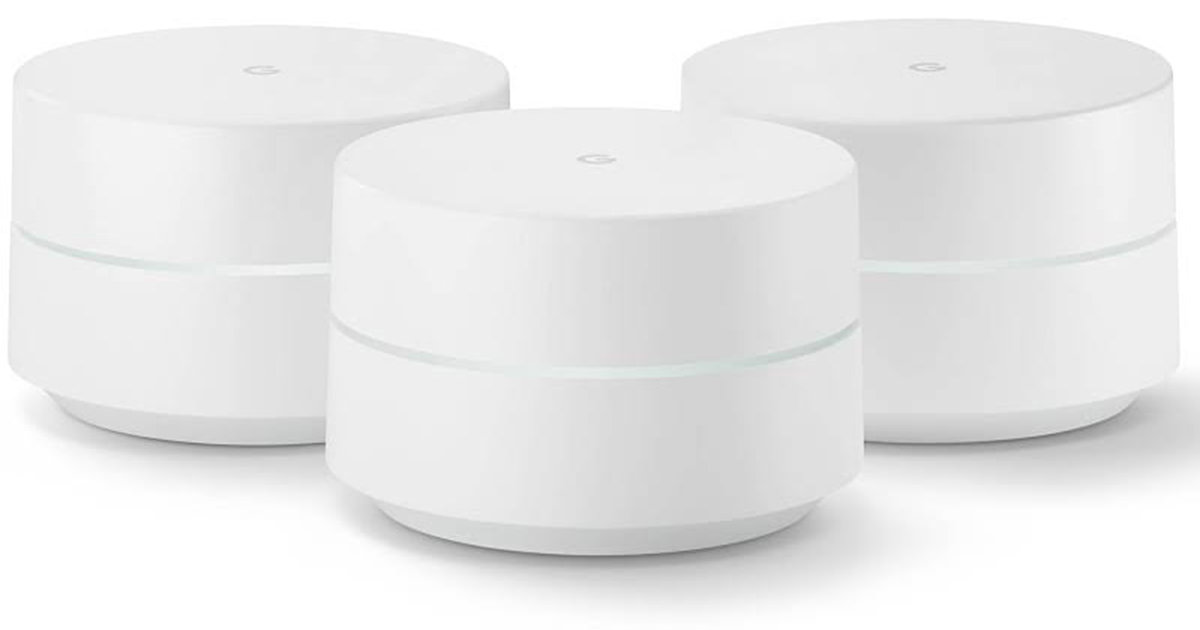 While not an overly powerful or fast setup, it's worked just fine for me. My entire home and outdoor space has excellent coverage, which has been nice for my cloud cameras and such. If you just want basic Wifi and need it to extend over a large area, it's a decent pick.
Problem is that the app behind it is laughably inadequate.
It lacks so many basic functions that using the label "router" on it feels way generous.
Want to grant traffic priority to a device? Like your AppleTV so it doesn't run into buffering problems? You can do that... FOR A LIMITED TIME PERIOD! There's no way to permanently give a device "priority status." You have to go into the app and set it up EVERY TIME YOU NEED IT. This is asinine. At the very least you should have the option to tell it not to expire until you turn it off!
And then there's the anemic connected devices display. Can't be sorted by device name, IP address, MAC address, or anything else (bandwith usage is the only metric used to order the list). Can't be searched. Can't be exported. Can't be flagged. Can't be throttled. Can't be ordered. Can't be scheduled. Can't be grouped. You can't even have it notify you when a new device is connected. I don't know why they even bother to allow you to look at a list of connected devices since the whole fiasco is functionally useless.
While having just the bare minimum in features would be nice... what Google WiFi really needs is some smarts. What I want is for my cameras to be automatically prioritized when I'm away... and my AppleTV to be prioritized when I'm home. Since Google Wifi already gets this information the second my iPhone comes within range, why is it so fucking difficult to have this happen? It's such an obvious feature that the fact you can't do this is more than a little silly. You can kludge it together with IFTTT... kinda... but prioritization only lasts 2 hours, so that's useless too.
Ultimately, Google WiFi just isn't cutting it. I thought that their Nest WiFi replacement might be the answer, but it uses the same shitty app and doesn't even have WiFi 6 despite just now being released!
Guess this will be something to research come the new year. I don't even want to think about it when I've got a list of a million other things waiting to be done.
Posted on September 25th, 2019

With the exception of Apple Events, which I will watch live whenever I can, I generally don't care about other tech companies enough to clear my schedule and watch their press shows. Like today's "Amazon Hardware Event," which I was happy to read in summary rather than have to sit through. Unsurprisingly, it consisted of things I don't need and won't buy (with one minor exception), so at least my wallet is safe.
The one thing I will be buying is the "Samuel L. Jackson Celebrity Voice" for Alexa. And, yes, I will absolutely turn the profanity option to ON.
Sadly, you can't just switch Alexa over to Samuel L. Jackson and have his voice be the voice of Alexa permanently. You have to tell Alexa to ask Sam something. This is pretty lame, but for 99¢ I'm not going to complain too much. Having Samuel L. Jackson tell me that it's "motherfucking cold outside" is what technology was made for...
There were a few announcements which were of interest to me.
The first, and by far the most important if it actually works, is "Frustration Detection" for Alexa. The idea is that Alexa will be able to tell when you're getting pissed off at her. Like when all of a sudden she's doing stupid shit after working flawlessly for years. No idea what she's going to do when I'm raging... hopefully stop being an idiot... because that would be incredibly helpful. As an example, here's a typical conversation...
DAVE: "Alexa, Turn off bedroom light."
ALEXA: "I cannot find a device named bedroom lights. Which device do you mean?"
DAVE: "LIGHT NOT LIGHTS YOU STUPID FUCKING PIECE OF CRAP! I VERY CLEARLY ENUNCIATED LIGHT WITH NO 'S' ON THE END SINCE YOU ALL OF A SUDDEN STARTED MAKING EVERYTHING PLURAL AND ARE TOO DAMN STUPID TO TO TRY UN-PLURALIZED NAMES BEFORE MOUTHING OFF WITH THIS BULLSHIT!"
ALEXA: "I'm sorry, but I can't do that right now."
DAVE: "ALEXA, JUST DIE YOU FUCKING WORTHLESS PILE OF FESTERING SHIT!"
ALEXA: "That's not very nice."
DAVE: "I'LL KILL YOU! I'LL KILLLLLL YOOOOOOU!"
I know I'm kinda subtle when expressing my frustration, but hopefully Alexa will be able to pick up on it anyway.
The second item of interest is Amazon's "Certified for Humans" program, which will make setting up smart devices easier. That's nice and all... but I'd really like for devices to keep functioning properly once you've got them set up. Every couple months one of my SONOS speakers will stop responding and go offline. No idea why. I always have to set everything up again, which is a huge pain in the ass. And don't get me started on device naming, which randomly works... randomly sticks... and randomly decides to be ignored. It drives me insane. What really drives me crazy is that I didn't have any of these problems for years. It's a recent thing.
And now for the hardware...
ECHO LOOP ($130). From the "nobody asked for this department" comes a massive clunky ring which allows voice-only interaction with Alexa once it's been paired to a phone...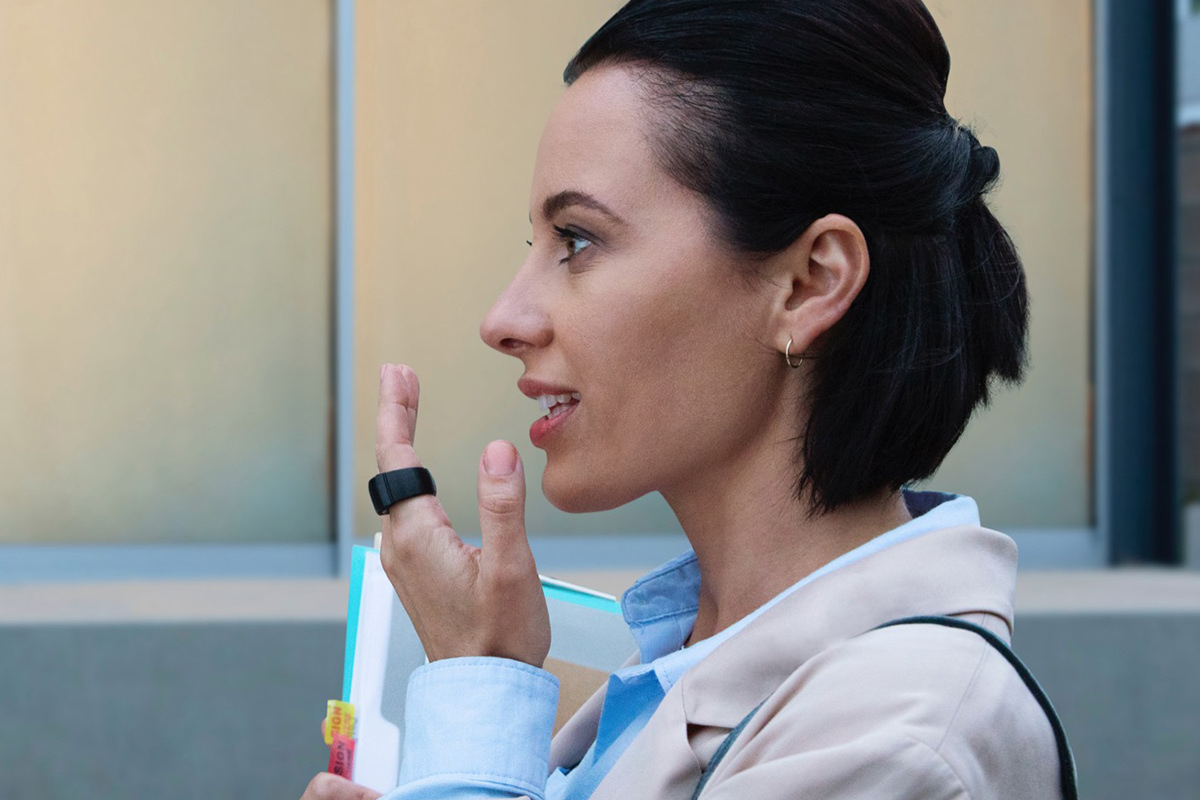 How is this helpful? So Alexa can read off your shopping list... what are you supposed to do, memorize all 30 items you added to it as she speaks them? Dumb. Dumb. Dumb. If you want a big wearable that's worth a shit, just get an Apple Watch.

ECHO FRAMES ($180). And here's a bulky pair of glasses to sit on your face! This is just beyond stupid. Google Glass had an actual visual display and failed miserably. How in the heck is a pair of glasses with voice-only interaction going to be helpful?
Again, just get an Apple Watch. This is categorically absurd.

ECHO BUDS ($130). This one actually makes sense. Alexa built into a pair of headphone buds. Hopefully, unlike Apple AirPods, they will actually stay in your damn ears...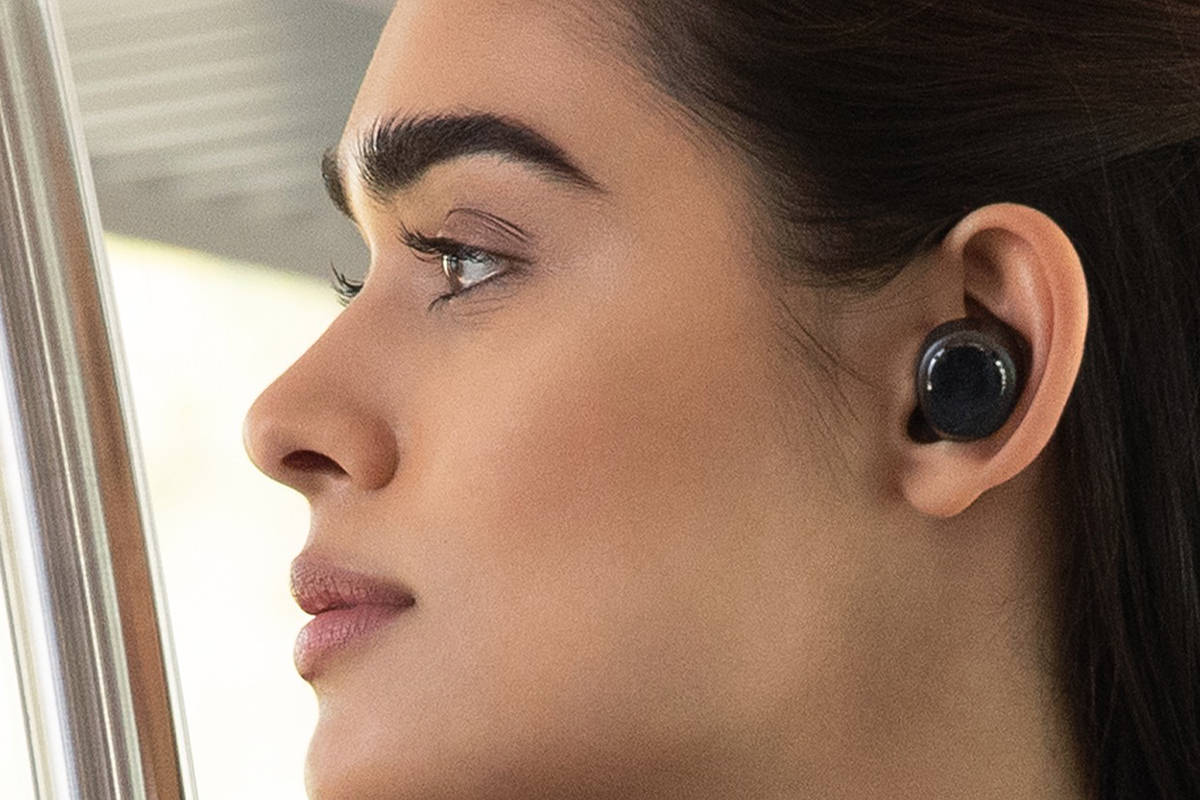 I use Alexa to listen to Music Prime Unlimited all the time. Having her in my earbud is actually a great idea. I can play Amazon's streaming music service through my AirPods, but it's not very well integrated. Even so... I'll probably stick with Apple because I own an iPhone and Siri is incredibly handy in an earbud.

ECHO STUDIO ($200). Clearly meant to compete with SONOS and Apple HomePod, this is a high fidelity speaker system in a single unit. If I didn't already have SONOS everywhere in my home, perhaps I would have gone this route...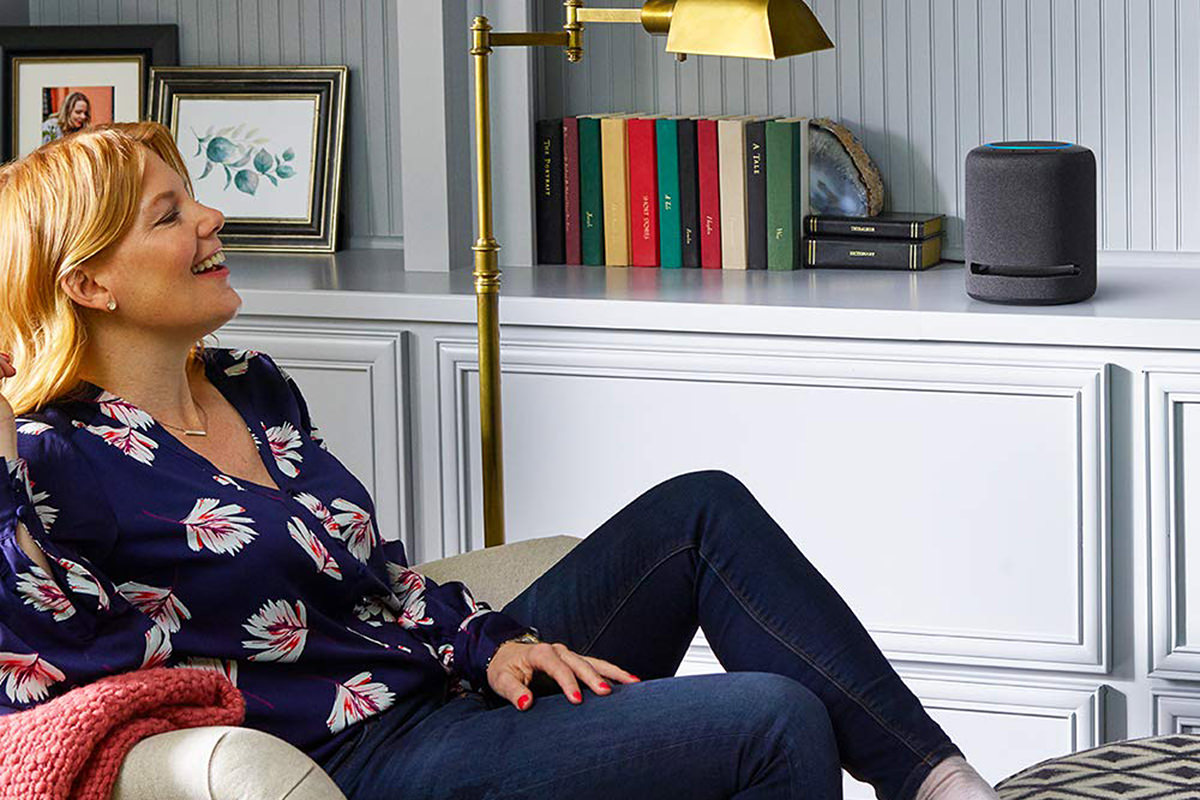 Taking a cue from Apple, the audio has been tuned to fill a room with "3D Stereo Sound" from a single speaker. No word if it can work as an AirPlay 2 device for my AppleTV, but somehow I doubt it. The good news is that, unlike SONOS, there's an audio in jack for 3.5mm/TOSlink which I'd rather use over AirPlay anyway. It's also Dolby Atmos certified, which is excellent. Of all the devices that Amazon released, this is the one I'd most likely buy if I had the $200 to buy one. It's actually a better "fit" for my bedroom over the SONOS One I have in there now. That audio input jack is such a smart idea.

ECHO 3 ($100). This is yet another upgrade to the basic Alexa device we've seen over and over. It has the design and fabric cover of the previously released Echo Plus, which means it has improved sound quality over the Echo 2 I guess. All these Echos are confusing...
To be honest, my original Alexa has pretty darn good sound. Definitely good enough for my morning shower music (I keep her in my bathroom). If it keeps getting better and better, this thing probably sounds pretty great. I mean, it has equalizer settings, for heaven's sake! The fact that it has a 3.5mm line in/out is just icing on the cake. If you don't need the additional bass and great mid-range sound from the Echo Studio (above), this is likely a great choice... and half the price!

ECHO FLEX ($25). It's a compact smart speaker plug with Alexa built in for $25! Which is a good idea, I suppose. Especially for places like the garage where you might not need awesome sound quality, but would like to have Alexa handy (I have an old Echo Dot in my garage for exactly this reason)...
A nice feature is that there's a USB plug on the bottom, which allows you to charge your phone or add optional accessories like a nightlight or a motion detector. In most cases, I think an Echo Dot is a better option, but this will undoubtedly fill a niche somewhere!

ECHO SHOW 8 ($130). I like the idea of the Alexa "Show" devices, I just don't think I would ever get much use out of them. If I want to FaceTime, I'll just grab my phone. Everything else is already on my phone or my television. I suppose it would make a nice bedside clock that can also show you your security cameras on demand, but that's a pretty expensive clock!
I dunno. If I had money to burn? Sure. It would be handy to have in some situations. But not enough that I'm going to go rush out and buy one.

ECHO GLOW ($30). Oh boy! A smart lamp for kids! This is essentially a Philips HUE type device which pairs with Alexa so you can control colors and such...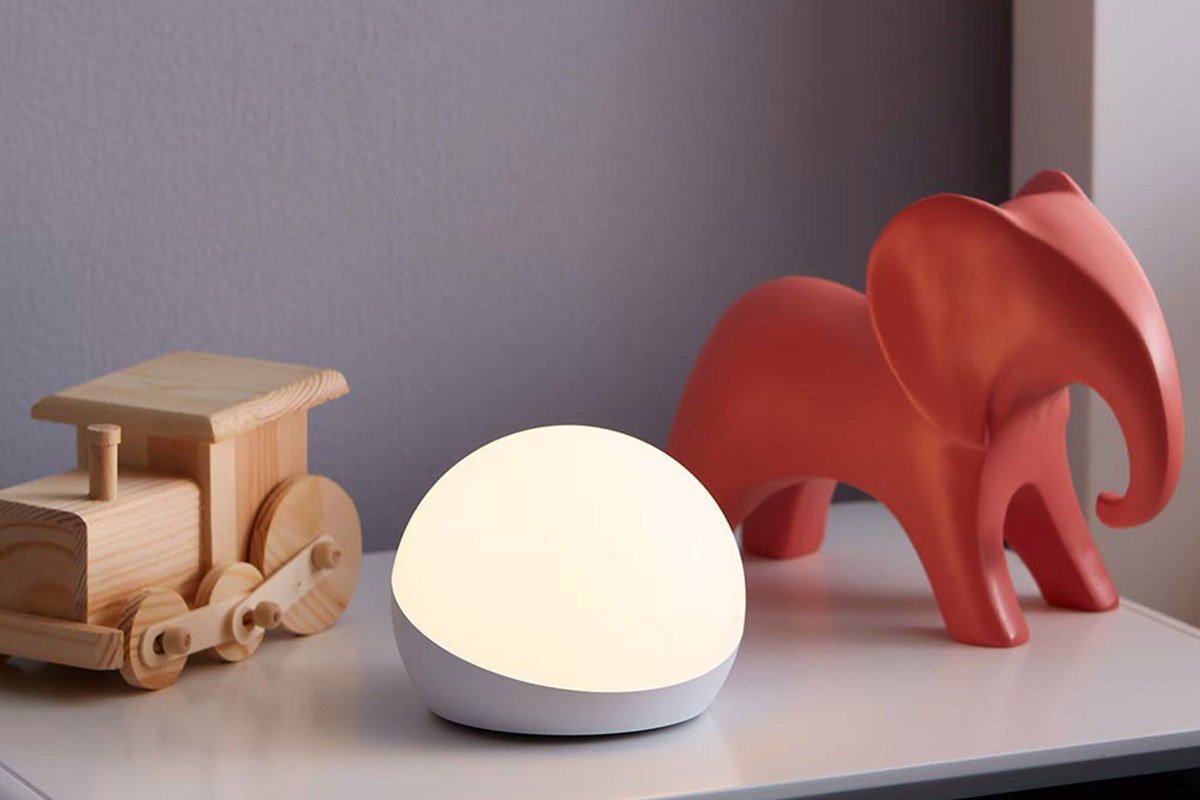 Pretty sure they are marketing this as a fun device for kids because it's essentially useless for much else. No idea why somebody wouldn't just buy a smart bulb for their bedside lamp and be done with it.

ECHO DOT 3 ($60). For sixty bucks, you can now get an Echo Dot with a clock inside. I guess if you didn't have any other Alexa device in your bedroom this could be handy? But it seems really expensive for what you get...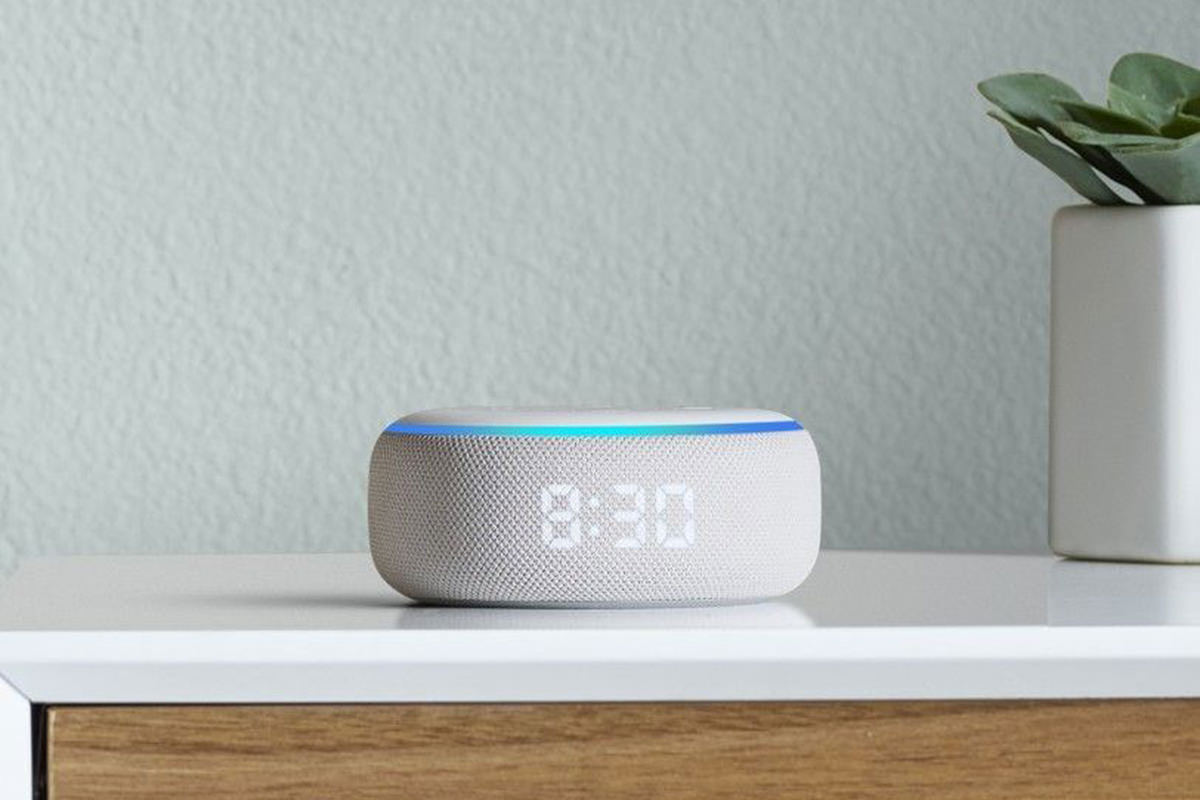 Cute, I suppose... and a (relatively) inexpensive way to test the waters of the Alexa ecosystem, but I think you'd be better off spending a little more to get a "real" Echo device and buy a cheap LED clock to go with it.

AMAZON SMART OVEN ($250). Amazon had previously released a "smart microwave" which could be paired with an Alexa device. Now they are going a step further and have created a combo microwave/convection/air fryer/food warmer oven, which is a lot more versatile...
Oddly enough, Alexa isn't actually inside the device itself, so it comes with an Echo Dot. There's a lot of bells and whistles... and Amazon is partnering with food manufacturers to have the UPC code on their packaging be able to instruct the oven how to perfectly cook your food once it's been scanned with a smartphone... which sounds nice, I suppose...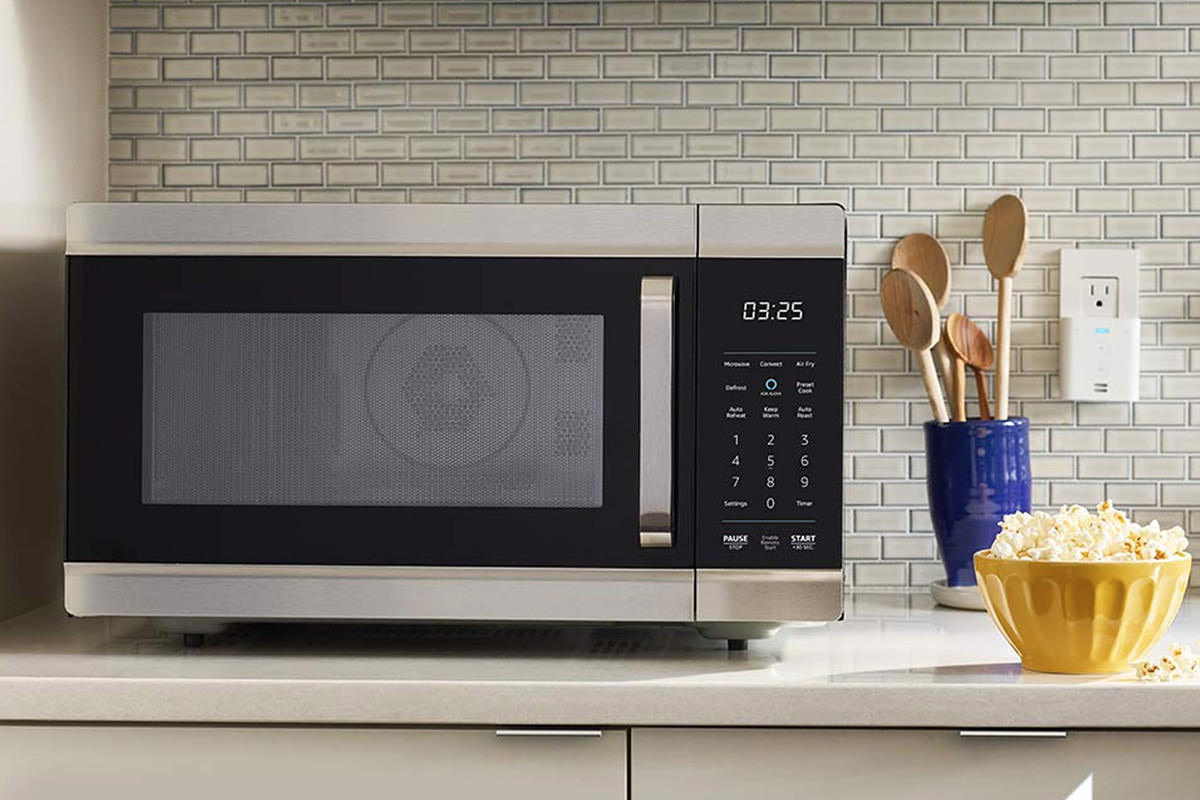 I'm not exactly sure how all the tech in the oven works together to know about things like servings being cooked and such, but I'm certainly open to the idea of an oven which can perfectly cook your food every time. Cheap micro/convection ovens are around $150. Most of them are more like $200. I'm not entirely sure that an Amazon Oven is worth the extra $50, but it certainly could be if it lives up to the promises they are making.

RING CAM INDOOR ($60). If these things weren't so butt-ugly, they might be a really nice smart-cam option. I most certainly prefer the Amazon Ring Protect Service (which adds cloud recording) to the heinously overpriced Nest Protect Service I have now...
But holy crap is this thing ugly! I mean, seriously... a little $20 Waze Cam is a work of art next to this monstrosity. Somebody at Amazon needs to start putting a little more effort into the appearance of something meant to be displayed in your home.

eero MESH ROUTER ($100 each). This is Amazon's answer to Google Wifi, which is what I have. I'm actually interested in this, because the Google units are being left in the dust when it comes to technology advances. Newer mesh routers are smarter, faster, and able to handle more devices. They also have better options for monitoring and controlling bandwidth. Alas, the eero stuff doesn't have any features which would make it worth the upgrade for me...
Interesting to note that the "basic" eero units can handle speeds up to 550 Mbps. To make use of anything faster than that (like fiber) you have to double the cost and buy an eero Pro Router (which also offers the 5.8GHz band in addition to 2.4GHz and 5GHz). Even more interesting? None of the eero devices support WiFi 6 or WPA3, which means they are essentially obsolete the minute they ship. That's pretty bad. I honestly don't understand why mesh router manufacturers don't seem interested in being cutting edge... but they never seem to be there. I like my Google Wifi, but the app control (while easy) is tragic. You can't even permanently prioritize a device, for heaven's sake. One day... hopefully one day soon... somebody is going to come out with an affordable mesh option that's packed with modern features, is easy to use, and is worth a crap. Until that day, it's just more of the same. So lame. Even more lame? This eero iteration has its branding stenciled on top, and the device itself looks like it's melting. At least my Google Wifi has a more elegant cylinder shape with only a discreet "G" on top.

And that's all she wrote. Kinda sad that the only thing which has a guaranteed sale for me is a 99¢ Samuel L Jackson voice add-on for the Alexa crap I already have.
Posted on March 26th, 2018

One of the best benefits of having a "smart home"... other than being able to tell Alexa to control everything... is being able to have a better handle on how your home works. One of my obsessions this year has been to lower my energy bill. This was actually an easy expense to tackle, because the majority of my power goes towards my furnace. During the colder months of November through February, it accounts for 55% of my bill. No other expense comes close (the second largest energy consumption is from my water heater at 7%). So it's easy to see that reducing the heat will reduce my bill at the most expensive time of year...
In January of 2017, my utility bill was around $93 for electricity...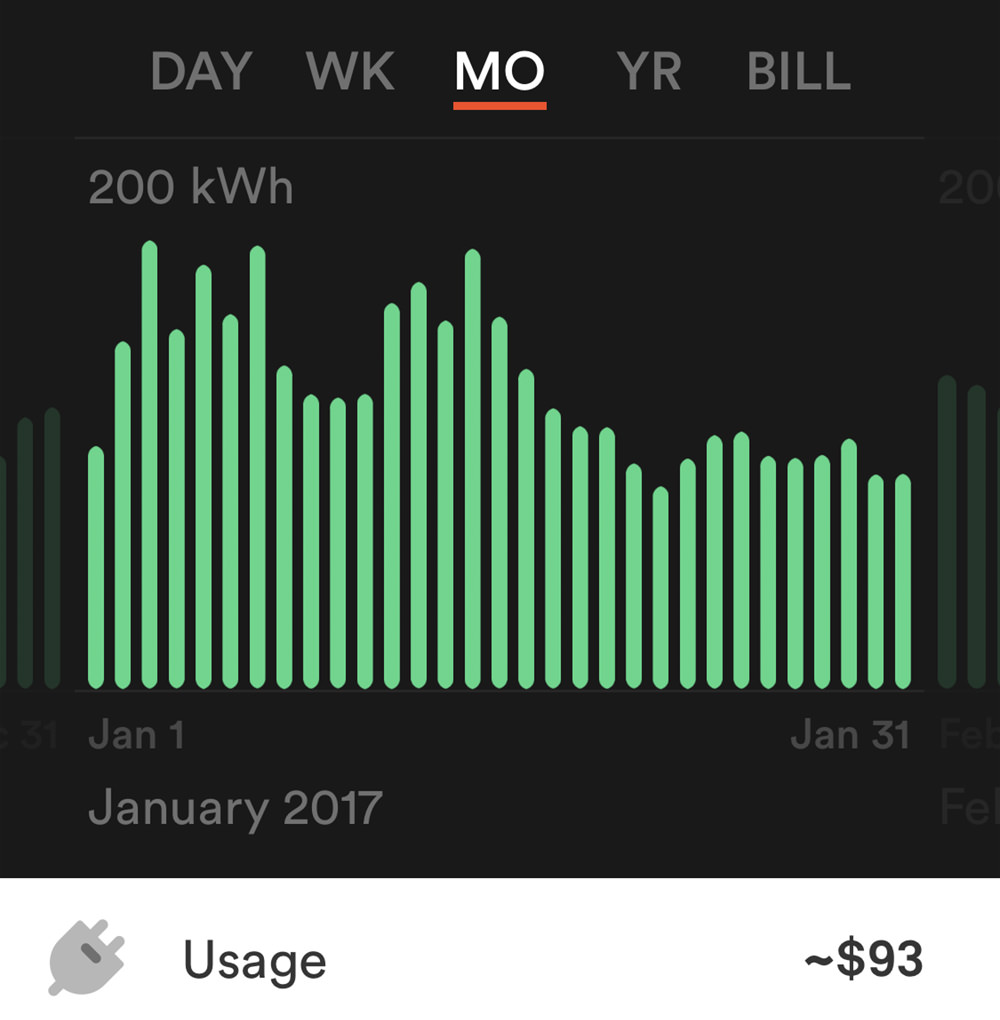 So I made some changes to my thermostat program. Last year my temperature was set at 72° when I was awake and 68° when I was sleeping or away at work. A lot of this was an attempt to keep my cats comfortable, which was kind of silly once I realized my cats were perfectly happy hanging out in the catio in 34° weather.
This year I set my temperature at 68° when I was awake, 64° when I was sleeping, and 62° when I was away at work. And just in case my cats wanted some warmth while I was gone, I had low-energy heating pads, self-warming pads, and my stereo receiver for them to lay on. The result on my power bill was pretty dramatic. Instead of my graph topping out at 4,000kWh, it now topped at only 3,000kWh...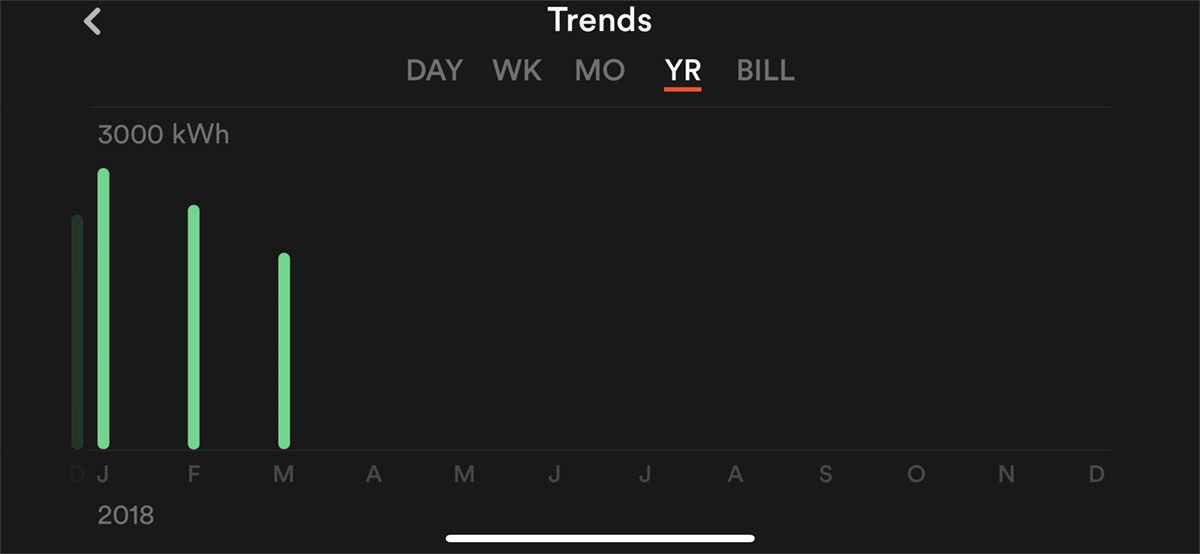 In January of 2018, my utility bill dropped to around $67 for electricity...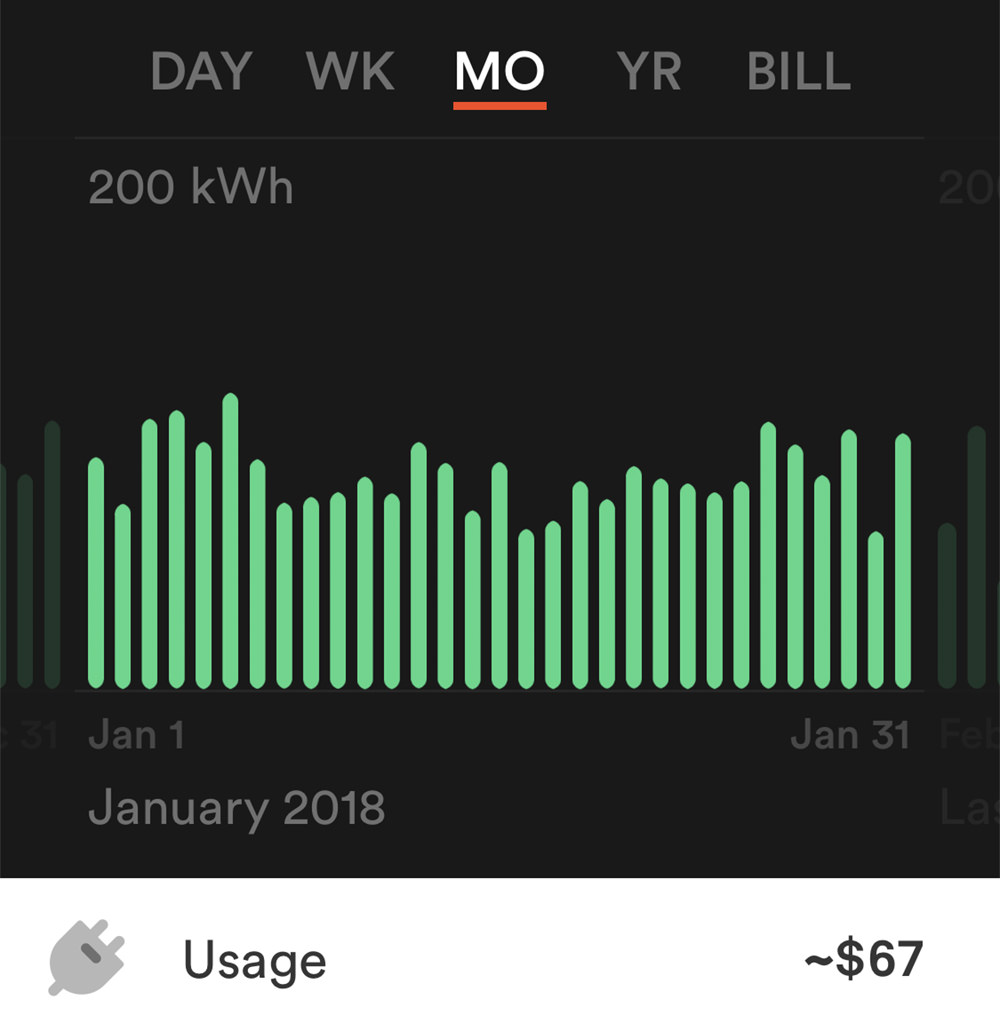 That's a 28% savings. Granted, $26 doesn't seem like a lot... I'm lucky that power is fairly inexpensive where I live... but I'll take it. If I lived in a region where power was expensive, 28% would be a huge amount.
Over the course of the winter I've saved nearly $85, which is real money. My goal for the year is to save $150 over 2017. Once April arrives, I'll be turning the heat off and coasting on $17 power bills until June or July, then I'll adjust my air conditioner temperature a bit and see what happens.
Two years of this and my energy monitor will have paid for itself! Score!
Posted on November 23rd, 2016

I should have known better. I really should have.
Did I leave the television on? Has my dryer finished running? How much electricity am I using to heat my home? Good questions all.
These are things I'd like to know, so when I saw there was a new device was coming out called "Sense" that could answer these energy questions... and more... I was intrigued. And once I watched the promo video, I was completely onboard...
After a long wait my Sense ($250) finally arrived and I hired an electrician to install it ($120). Turns out I could have easily installed it myself, but the Sense instructions said I had to go online to get info if I didn't have a breaker free... then provided absolutely nothing online... so I took their suggestion to get a professional to do it.
Unfortunately, since my electrical panel was embedded in the wall and not surface-mounted, the electrician had to add a break-out box for the antennae. Not a big deal, but not exactly elegant. Would have been nicer if the antennae could have been inside the box, but I wasn't sure it could get signal there...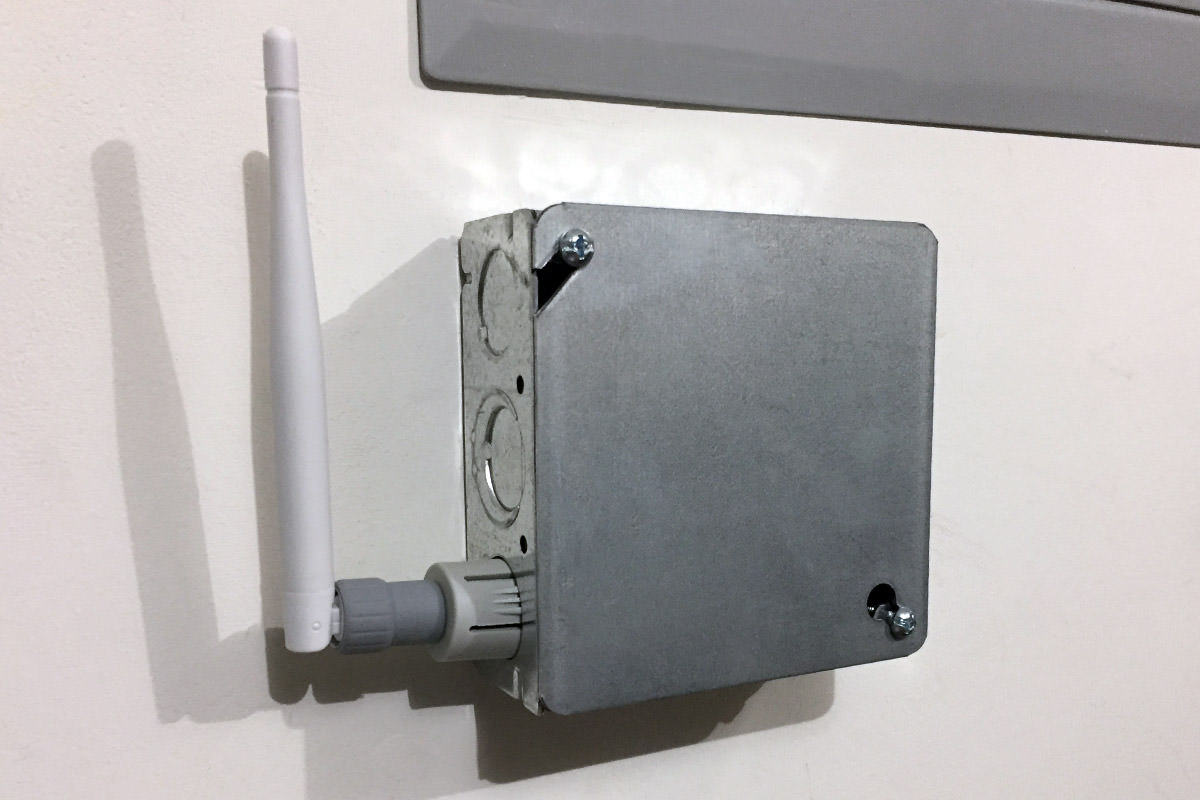 And so... all that was left to do after sinking $370 into this project was to download the Sense app which, fortunately, was free. And, oh yeah, there's one more thing you have to do... you have to wait. The idea is that Sense will "listen" to your electricity usage and eventually learn to recognize your various electrical devices by their "signature." The process takes days to weeks depending on whether Sense has your particular signatures on file.
After a week, my Sense was recognizing absolutely nothing, so I wrote to Sense Support to find out what was wrong. I was told I had to be patient. Eventually it will start to "get it" and devices will pop into place. Until then, I get to stare at two "usage bubbles" for "Always On" stuff (things like clocks and devices in "standby mode") and "Unknown" stuff (things that Sense doesn't yet recognize)...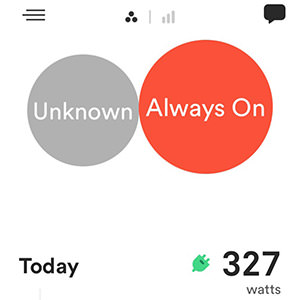 With nothing else I can do, I decided to be patient.
A month passes.
Now my Sense recognizes exactly three things: my microwave, my garage door opener, and my water heater. It thinks it recognizes other things, but it calls all of them "Unnamed Heat" even though none of them are my heater. I try to figure out what they actually are so I can inform Sense, but I can't for the life of me figure it out, even though Sense tells me what time they turned on and off...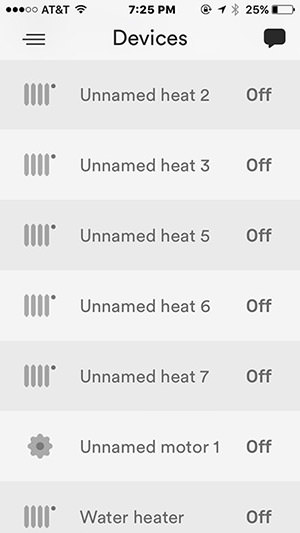 What's so fucking stupid here is that my ACTUAL HEATER should be dead-simple for Sense to figure out. It's the only thing in my home that causes the "Unknown" bubble to blow up like this...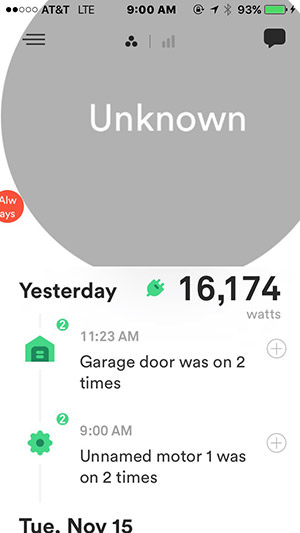 But no joy. It's the most obvious thing using electricity in my house, but Sense hasn't a fucking clue.
Needless to say, I'm pissed off. Partly because this is not what I was promised, and certainly not what I paid $370 for. But mostly because Sense is stupid as a box of rocks... and there's no way to train it to be smarter about what it's sensing.
Take this morning, for example.
I turn on the garbage disposal. On the Sense app, I can see that it has the same "signature" every time you turn it on. It's right there on the screen...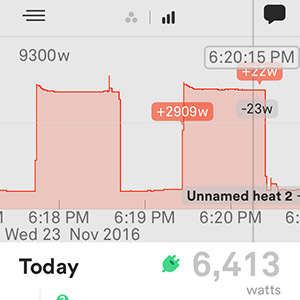 You would think that I could tap those spikes and tell Sense "Hey, that's my garbage disposal!" but you can't do that. All I can do is scream "IT'S MY FUCKING GARBAGE DISPOSAL, YOU PIECE OF SHIT!!!" at my iPhone because Sense has the garbage disposal lumped in with all the "Unknown" crap and there's no way to tell Sense anything about the "Unknown" crap. But what about those "Unknown Heat" devices?
I turn stuff off and on in an attempt to see which "Unknown Heat" it might be... but that doesn't help. My television? Lumped in with "Unknown." My oven? Lumped in with "Unknown." My washer and dryer? Lumped in with "Unknown." My stereo? Lumped in with "Unknown." My iron? Lumped in with "Unknown." My Litter Robot? Lumped in with "Unknown." Everything I could possibly want to know about is lumped in with "Unknown" which means it's useless.
And so... for now anyways... Sense is junk.
Unless I want to know if I left my microwave or garage door running.
And I really should have known better.
Just like the Kickstarter crap I've bought which turned out to be garbage, I should have waited for Sense reviews to come out before investing in it... even though I saved $50 by pre-ordering. Turns out the Sense I really needed was Common Sense. Typical.
Posted on February 6th, 2015

In what easily signifies the end of an era, Radio Shack has announced that they are filing for bankruptcy and shuttering the majority of their stores (franchise locations can keep operating, if they want to).
This hardly comes as a surprise... I haven't stepped foot in one of their stores for well over a decade.
But back in the 80's and 90's?
Radio Shack was like dreamland for a tech geek like me.
I built many an electronic project with Radio Shack parts. I bought every wire... every battery... every blank cassette tape from Radio Shack. I was an Atari computer fan and ignored their TSR-80 PC, but all my floppy disks and cables came from Radio Shack. My first mobile phone, the Motorola StarTAC, was purchased at Radio Shack.
But then geek culture shifted, and Radio Shack became less and less relevant.
They tried to reinvent themselves not so long ago, but it never really took hold... despite the awesome, awesome commercial they came up with to promote their new focus on mobile phone and finished electronic goods...
Yeah. Not difficult to see why that didn't work out.
Still... sad.
"The Shack" was an important part of my life for a dozen years or so. Now that it's gone, I feel as though an entire culture I loved is gone as well.
I feel as though I need to go solder something.
Which is no problem... I still have my Radio Shack soldering iron along with a spool of Radio Shack solder sitting in a drawer somewhere.
Posted on July 5th, 2014

When my television died a couple years ago, I didn't want to buy a new one because it was rumored that Apple was coming out with an iTV. So I borrowed a television from my brother until iTV was released. Needless to say, I'm still waiting. And then my brother's television blew up in a cloud of smoke (literally) earlier this week, leaving me television-less with no iTV to replace it. Time to buy a new TV, I guess.
I don't have hours to be researching televisions, so I went to Amazon, put in the specs I wanted (1080/60p, 33-43", Wi-Fi internet connectivity, web apps for Netflix and Amazon streaming, 2014 model) and got one result... the Sony KDL40W600B. I've had excellent luck with Sony gear in the past and the price was under my $500 budget, so I bought it...
Design & Construction
The screen size is 40' (diagonal) which is a good size for a smaller room like mine. Being Sony, the design is predictably clean and minimalistic. The narrow plastic bezel around the display is just under 5/8" wide, which is nice because the total set size is kept small... but it would be nice if it were a bit thicker as to minimize distraction around the screen while you watch. The metal stand stand is a little clunky-looking (reminds me of a cheap folding table) and a tad wobbly, but it gets the job done. The construction is... average... is the word I guess I'm looking for. It seems a bit cheap, plasticy, and of underwhelming quality for a Sony. Yet given the under $500 price tag it could have been much worse so I'm happy with it. Appearance-wise it doesn't look too cheap, so I guess it's not a big deal. The up-side of the minimal plastic construction is that the entire unit weighs a mere 15 pounds. Amazing, really. The lightweight build makes it ideal for hanging on a wall (and basic mounting hardware is included). SCORE: B-
User Interface & Remote
Proving for the millionth time that Apple is the only company who knows how to build a decent user interface and simplify a remote... Sony's KDL40W600B is pretty crappy in both arenas. The on-screen menus are poorly designed, inconsistent, laggy, and frustrating. Couple that with a shitty remote and using this TV is a near-painful experience. Once you get used to the baffling idiosyncrasies of the menu system they're serviceable, I guess, but the same cannot be said about the remote control. It fails in most every department. It's uncomfortable to hold. The Volume and Channel buttons are inexplicably at the very bottom, so you get thumb-sprain trying to reach them. For some stupid reason, the number keys (which are rarely used) are given a primo spot under the navigation keys. As if that wren't bad enough, the navigation keys are surrounded by six "function" buttons that are all-too-easy to press by accident when moving around the crappy menus. What a piece of shit. SCORE: D+
Inputs & Internet
The television comes with four... four... HDMI ports, which is pretty sweet. The down-side is that you only get one component video input. If you have a lot of pre-HDMI gear, that's probably a deal-breaker. Things are rounded out by a single composite video input (for that one piece of old, old gear you've got hanging around). On the audio side, you get a couple analog ports, a sub-woofer port, a headphone port, and a digital audio port). And lastly, for handling audio and video media, you also get two USB ports (v2, alas). Internet connectivity can be via the ethernet port or my must-have feature: WiFi. The WiFi set-up is dead simple because is can be automatically configured via your wireless router's WPS button (my Apple "Time Capsule" doesn't have a WPS button, but the "Connect Wireless Printer" option in the AirPort Utility worked perfectly). SCORE: A
Video
Ultimately, the only thing I really care about is the picture quality. Fortunately, this is where the KDL40W600B's LED LCD panel shines. The display is evenly lit, super-sharp, and gorgeous. The blacks are nice and dark which makes for beautiful contrast in the image. With some tweaking of the manual controls, I got the color just how I want it, and I couldn't be happier with the fidelity. I've seen some LED-based televisions that looked terrible when there was quick motion on the screen, but this Sony model has none of that thanks to a host of proprietary technologies onboard. The only down-side to having such terrific video is that non-HD content looks a bit crappy, but you can't fault Sony for that. I wanted very much to not get a 120hz (or higher) set, because I hate the artificial "look" of it. I thought that would be impossible, but this set was 60hz which was a huge plus for me. SCORE: A-
Audio
Given how thin and compact this set is, there's no room for a good set of speakers. This is just bizarre to me, because it seems like it would be a no-brainer to add 3 or 4 inches to the bottom of the set for a proper audio experience... but, alas, no. And it's not just Sony. A quick glance at other sets shows that they are the same way. It's as if all the manufacturers just decided to put shitty speakers in their televisions so they can sell you a separate soundbar to get the sound you want. And you will want it, because this is pretty pathetic. Overall sound is kind of tinny and weak. Even knowing this going in, I thought I'd be okay because my living room is fairly small. I was wrong. The audio is borderline unpleasant to listen to, so I'll end up getting add-on speakers when I can afford it. SCORE: D
Apps
I already have Apple TV, which I like a lot. But it doesn't have Amazon Prime Streaming, which sucks. There's stuff on there I want to watch while I work. So one of the requirements for my new television was that it be able to stream from Amazon, which the KDL40W600B can. It also streams from Netflix and a few other services. This is great and all, but they feel slow to navigate and a bit klutzy compared to how Apple does things (does Netflix REALLY have to ask me to choose "Netflix" or "Kids" EVERY DAMN TIME I OPEN IT? Put "Kids" in a separate app or something, because I don't give a shit about it and am tired of dealing with it). Apps are on the "Opera Browser" platform, which wouldn't be too bad except it's horribly slow and every time you dump out of them, you get an Opera TV Store advertisement. Check the weather? Opera ad. Look at Instagram? Opera ad. It's stupid and I got so sick of it that I stopped giving a crap about apps after my second day. For a set made in 2014, I'd expect much faster performance, much quicker load times, and a much better interface. Oh well. I can at least watch Amazon Prime Streaming, which is nice. SCORE: C
UltraViolet
Without a doubt one of the shittiest internet services ever created, UltraViolet is a studio-owned digital movie distributor. I fucking hate UltraViolet. It's never worked properly for me no matter what I've tried. Even so, I've got movie content in there... including five movies I got for free when I bought this television. But here's the thing... so far as I can tell, there is NO way to play UltraViolet on the KDL40W600B! They don't have an UltraViolet app. They don't have a CinemaNow app. They don't have a Vudu app. The do have a Flixster app, but I couldn't find a way to access my UltraViolet library from it. This is hilarious, given that Sony is a major player in the shitty UltraViolet consortium. So... if you've got a massive UltraViolet library, I hope you have a secondary device to watch them. SCORE: F- (if you give a crap)
Extras
There are a lot of extras on this set that I either don't understand or have no interest in using. The KDL40W600B is a "PlayStation Now" device, which means you can plug in a DuoShock controller and download games from the PlayStation library to play. It sounds like a cool idea, but I've read that the games are crazy-expensive to play, so I'll take a pass. One feature I thought I might use is that "Social View" overlay. It's supposed to be able to display stuff from your Twitter feed... except mine never did, no matter how many times I verified my Twitter account. Oh well. As for the rest? Meh. I'm sure there's some things that some people will find interesting, but I'm not really interested. SCORE: C

SONY KDL40W600B CONCLUSION
If you're looking for a (relatively) inexpensive television backed by Sony quality with terrific image quality, this may be it. Video is beautiful. Audio is pretty bad. Design is a bit on the cheap side, but looks pretty good. The remote is total shit. The user interface is almost as bad. Apps are painfully slow for a 2014 model television, but at least it can stream Netflix, Hulu Plus, and Amazon without issue. There's a lot of extras and crap, but the ones I was interested in using seemed more trouble than they're worth. My reason for buying this set was to watch TV and streaming services, for which it's perfect, so I'm quite happy with my purchase.
If you're wanting more info, here's a link to the Sony KDL40W600B on Amazon.