Welcome to the Dave Louis edition of Bullet Sunday!
• Home Again. Yeah, I made it home safely. Though the frickin' 106° heat has me wondering why I didn't escape to Alaska while I had the chance. Isn't it about time for a Davebanks or Daveorage or Davelaska even? Of course, I don't know how many readers I have in Alaska... but even if it ended up being just me, that would be okay because the weather might be cooler. If not, there's always Davearctica.
• Dave Louis. Thanks to Ajooja's luck in the Blogiversary V Grand Prize drawing, there was a blogger meet in St. Louis last night...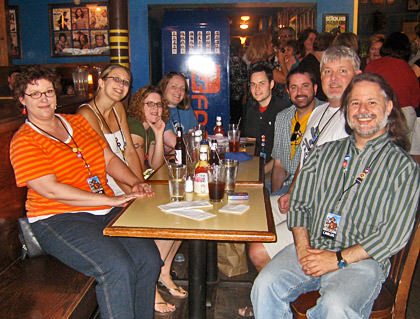 In attendance was a terrific group of people that made me feel welcome in the city "Where There's More Than Meets The Arch."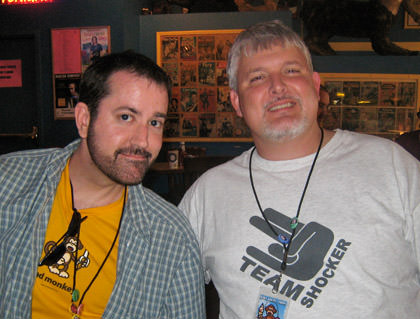 Ajooja... from Ajooja. Winner, winner, chicken dinner! I have Ajooja to thank for everything, since he's the one who entered the Grand Prize Drawing for Blogiversary V and picked St. Louis to meet. I had already met him last year at Davecago 2, but we've known each other online well before that (he wrote two previous blogs I enjoyed). It's easy to find all kinds of nice things to say about Ajooja, but the fact that he went out of his way to drive me back to my hotel after the event just about says it all.
Carlos... who doesn't blog, but has been reading Blogography for three years. Since I manually approve every comment here, I recognized his email address immediately when it hit my inbox with the subject "Dave Louis." In some ways, it's more interesting meeting your readers who don't blog because all you know about them come from the comments they leave. Though it was no surprise to find that Carlos is just as kind and supportive in person as he has always been on my blog.
Ellipsis... a mysterious former-blogger that I'm pissed I missed out on, because if her blog was anything like she is in person, it must have been a very entertaining read indeed.
Gina... from SeeGinaBlog. One of my favorite Twitter People (Tweeps?!?), Gina was kind enough to not only go out to dinner with me on Friday so I wouldn't have to eat alone... but she also let me watch her get tattooed, introduced me to her beau, AND didn't yell at me when I forgot her name badge lanyard back at the hotel! As if being a truly sweet and interesting person wasn't enough, she's got a great eye for photography too!
Justin... from Just Justin. A very recent find, I first ran across Justin on other blogs I read. Like me, Justin is a Mac & iPhone whore. Unlike me, Justin is an amazing photographer. When I first found out about his blog, I sat down and read through every single entry so I could see beautiful shots like these. Yes, I hate him just a little bit. He wrote a recap here.
The Queen... from Queen Mediocretia of Suburbia. I always say that the best part of going to blogger gatherings is meeting the people behind the blogs you read. A close second is finding sweet new blogs you didn't know about. My audience with The Queen was a lot of fun in person... but that didn't prepare me for her blog, which is funny as hell. She wrote a re-cap here. But it's what happened AFTER Dave Louis that made me LOL. And, while I would usually never forgive somebody for using "LOL" on my blog, Her Majesty DID blog a recipe for Gooey Butter CoffeeCake, so all is forgiven.
Sarah... who currently doesn't blog, but really should. I award Sarah the coveted "Best Dressed at Dave Louis Award" for showing up in a classy "Zombies Ate My Brains" T-Shirt. The girl knows how to dress to impress at a party!
• Blueberry Hill. The restaurant we met at, Blueberry Hill, is a St. Louis institution, famous for it's Blue Bar and eclectic interior design. What it should be famous for is its Red Beans & Rice, which I liked quite a lot. My only problem was that they didn't have any meatless toasted ravioli, which is one of my favorite things about St. Louis.
• Ted Drewes. After dinner, the consensus for dessert was to drive to Ted Drewes for frozen custard. I love frozen custard, so I thought it was a great idea. Though I wasn't quite prepared for what awaited me there. Apparently, this is a popular place...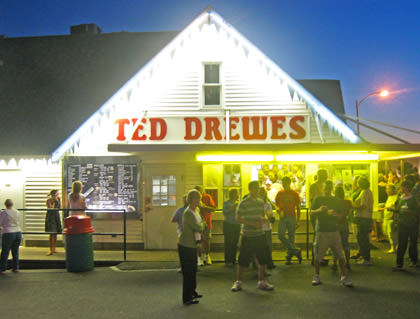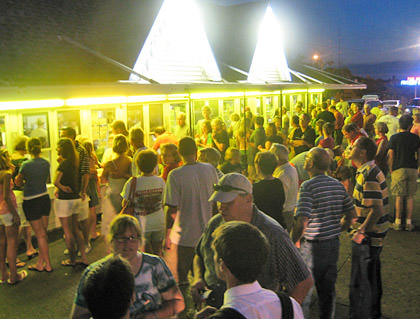 Surprisingly, the crowds were not a problem at all. They had security in their lot to assist with parking, plenty of staff to keep the lines moving, and fill orders impossibly fast. As the popularity suggests, Ted Drewes frozen custard is pretty bad-ass amazing. I had a caramel sundae that was delicious...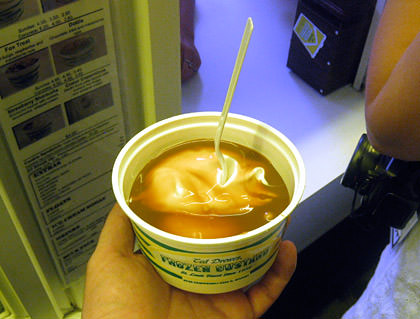 Gina was kind enough to take a photo of me as I had just finished my third orgasm...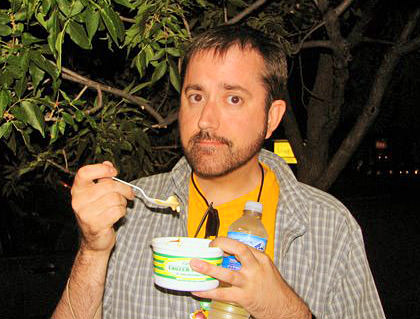 • Thank You. My most heart-felt thanks to everybody who made the trip to Dave Louis! The happiness at meeting my fellow bloggers and readers has become one of the major reasons I still write at Blogography every day.
And that's a wrap for another Bullet Sunday! Join me again next Sunday when I'll be back from another trip and celebrating the fact that I will get to stay home for a mind-boggling two-and-a-half weeks before traveling again! w00t!