Posted on December 17th, 2021

Being born in 1966 puts me in a unique position in time... technologically speaking.
I was there for the birth of computing. I was there for the birth of personal computing. And the internet. And MP3 players. And video games. And mobile phones. And smart phones. And so-on and so-on. In many ways, this is a very cool thing, because people born after me don't know of a world without the stuff we have today. It's also a bad thing because I'll be dead before the unimaginably cool stuff is ever invented.
Oh well.
Looking back I can remember outlandish pre-modern-technology shit that kids today would completely balk at. People existed without a mobile phone? Without internet ON your phone? That's crazy!
Recently I saw a video about the ol' PDA days and it all came rushing back to me. Personal Data Assistants were a huge deal when they debuted (computing in your pocket!) and I was an early adopter. I had the Apple Newton, the Palm Pilot, the Handspring Visor, the iPaq, the Treo, and even the Sony CLIE (my favorite of the bunch, which was PalmOS-based) and the Sony MagicLink. And the minute a new one would debut with even cooler features I would sell my old one and get it.
Eventually they didn't really go anywhere so I gave up on PDAs. I just wasn't using them.
Then the iPhone came along, and the rest is history. Bye bye PDA, hello smart phone.
Two companies that have been mostly lost in the tome of modern technology I remember fondly. And there's some cool videos on YouTube that will give you a taste why I feel that way.
The first is General Magic (the people behind the Sony MagicLink)... sorry the music trounces over the people speaking, it's annoying as fuck, but this documentary is awesome...
And the second is a new interview doc about Handspring (the people behind the Visor and Treo...
Now we're at that lull stage where technology is coasting. My iPhone gets faster and has a better camera every year, but nothing truly new is happening. But that next leap is coming soon. Maybe it will be Apple's wearable glasses? I dunno. But I hope I'm alive to see it!
Because I look forward to the generation who cannot comprehend a time before computer chip brain implants. YOU HAD TO TYPE STUFF ON A SCREEN TO ACCESS THE INTERNET?!? THAT'S CRAZY!
Indeed it was.
But I had a fun time watching all that technology happening in Real Time.
Posted on December 3rd, 2021

It's Friday night and I am not going to bed until I fix all the stuff that got busted on Blogography!\p>
Okay. That may have been a presumptuous statement. Four hours later and it seems like I'm causing more problems than I'm fixing. Which seems to be par for the course when it comes to the technology in my life. And I do mean ALL the technology in my life! Heck, even Alexa has betrayed me... as she's now failing to control my Hue lights for some reason!
But the biggest problem for me right now is my home WiFi.
For a while now I've suspected that I have some unauthorized devices on my network. Usually what I'd do is temporarily lock down my internet to known devices until I figure out what's going on. Either the unauthorized devices will drop off and I'll get a note they tried to connect... or there's aome internet "thing" around here that I forgot to write down which will stop working and I'll know what it is that way. Either way, the problem is solved.
But, alas, my THREE HUNDRED AND EIGHTY FUCKING DOLLAR ROUTER... the AmpliFi Alien from Ubiquiti... is a steaming pile of shit that lacks even the most basic features that my cheaper Google Wifi mesh network had included. Hell, you can't even see the IP addresses and MAC addresses for your device list. You have to click on them twice to get that. Insanity. And don't get me started about the complete lack of features on the router itself. For THREE HUNDRED AND EIGHTY FUCKING DOLLARS I'd expect the absolute bare minimum... like a persistent list of devices that attempted to connect... or MAC address blocking... or separate passwords when you separate out the different bands into their own SSID...or ABSOLUTELY ANYTHING that helps you with basic WiFi functionality or security.
But nope.
I ended up ordering a "Fing Box" to add the basic security features that Ubiquity doesn't feel the need to add to their pricey shit. From what I can tell, neither the app or the router has gotten any kind of features added since I've owned it. Which has been what... two years now?
I'm sure there's purchases I've regretted more than the Alien... but this has got to be in the top ten. Probably top five.
So let this post get indexed by Google as a warning to others looking to buy it. You can thank me for saving you the anguish later.
Posted on November 28th, 2021

Since I'm back from my Thanksgiving adventure, I might as well bullet up the internet... because an all new Bullet Sunday starts... now...

• Past Midnight! Fly By Midnight is my favorite band of 2021... and they never disappoint. This live broadcast is wonderful...
I cannot believe that I didn't even know they even existed until a couple months ago. The music industry is weird.

• Mata WHAT?! Okay. I know it will get better. I understand this. But right now? No thanks. The "metaverse" looks awful...
Maybe for an occasional chat, but I don't want to live here.

• InstaGreat! Oh nothing... just InstaCart making my Thanksgiving be great by doing God's work...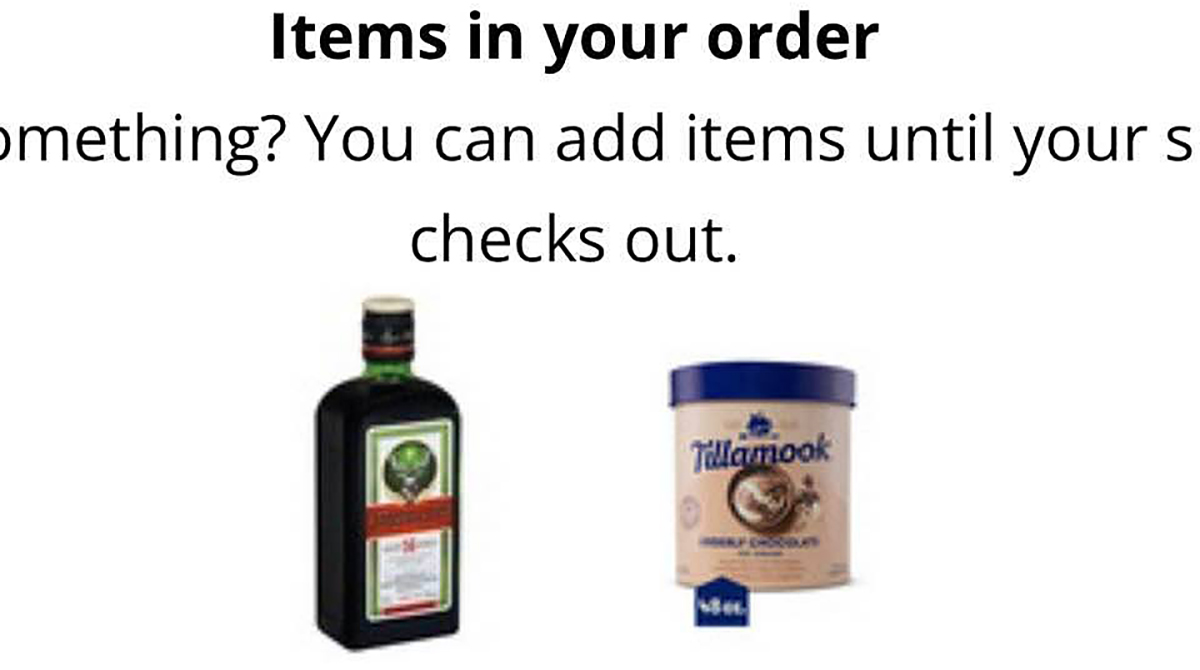 Alas, Instacart isn't quite so accessible when I'm at home... but across the mountains I absolutely love that a few clicks is all it takes to get whatever you need brought right to your door!

• DavidLL! Six calls. SIX FUCKING CALLS to U.S. Bank to try and get my name correct on my account. Surely I am not the only "II" to ever have an account at US Bank?? But despite SIX CALLS, my account is still fucked up. My name is David Simmer II. Not David II Simmer. Not David Simmer LL. Not DavidL Simmer. Not DavidSimmer LL. AND NOT DAVID L LL!! Jesus Christ... what the fuck does it take? How hard is this? Apparently it's equivalent to fucking brain surgery that it's STILL NOT RIGHT after SIX FUCKING CALLS!!! Forget having nice, kind customer service agents. I want a total asshole who will ACTUALLY. GET. THE. JOB. DONE!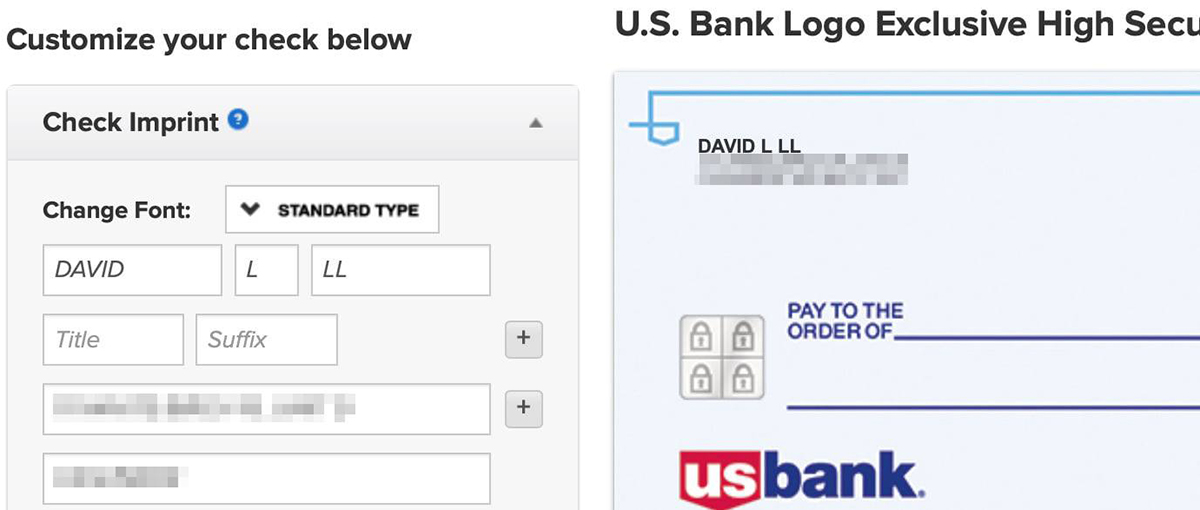 The fifth time I literally walked them through it... "The first name box should be DAVID, the last name box should be SIMMER, the suffix box should be TWO CAPITAL I's to get II. I don't use my middle name and would prefer not to have it left blank, but if you insist, the middle name box should say LEWIS. Didn't make any difference. Still got it wrong.

• Dope Soap! I see Ice-T in the new Tide Pod commercials and try very hard to remember that he had a music career before he went into acting... and pushing soap. Which is a far cry from when he was pushing dope, which was definitely not cleaned by soap...
I don't play when it comes to my dope
I check my lyrics close, like with a microscope
I don't clean'em up with no ivory soap
I leave'em hard and pure, hope that you can cope
Because you might O.D. if you overdrive
Tide Pods... the soap that's dope!

• Spidey 4, 5, 6! Rumor has it that Sony has backed up a dump truck full of cash to Tom Holland's house for another trilogy of Spider-Man movies. This makes me very, very happy. While ultimately I'm looking forward to Miles Morales taking over the role, I think that Peter Parker has some stories left to tell. Besides, they can always do a Miles Morales movie, then have worlds merge in Spider-Man 6 as a nice hand-off kind of thing.

• A Mother's Love! And, lastly, I had no idea that this happened... The Open Christmas Letter.

Enjoy those fleeting shopping days until Christmas!
Posted on October 25th, 2021

And so I did something I swore I wasn't going to do... go into debt again.
The only reason I can afford the latest model iPhone is because of Apple's "iPhone Upgrade Program" which charges you a monthly fee and allows you to trade in your phone for a new model every year. To buy the thing outright when it costs over $1000 is money I don't have. Essentially it's leasing with an option to own, and I'm perfectly fine with that.
Alas, there's no such "upgrade program" for my MacBook Pro, which costs over three times what an iPhone does.
Which means I have to put money aside whenever I can and save for a new model, which takes three to five years. And this is fine. MacBooks now-a-days are plenty powerful enough to go that long, so I just accept that this is my only option and move on with life.
But Apple did something financially smart (for them) and financially not-smart (for me). Right after you read all about the new MacBook Pro laptops, they have this...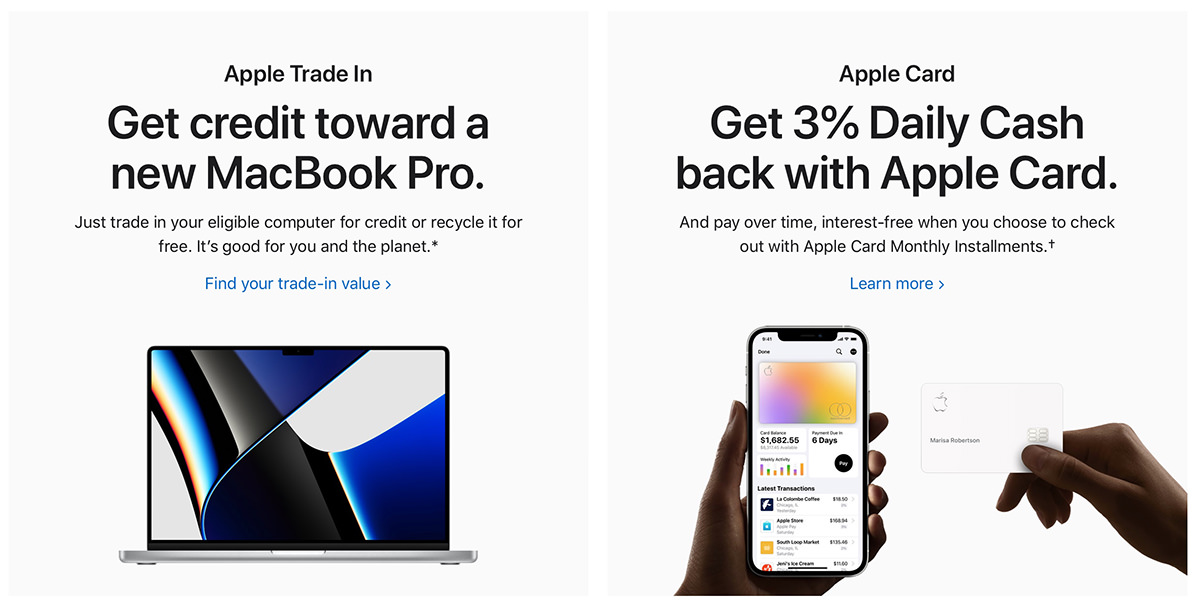 Now, I naturally assumed that my two-year-old MacBook Pro with an antiquated Intel chip would be worth almost nothing... $500 if I were lucky. So I didn't even bother to check. But I did want to take a look at my Apple Card to find out if I got my 3% cash back when I bought my new M1 iMac. Turns out I did. But then I noticed something that I hadn't anticipated. A surprise of the best possible kind... My Apple Cash card is the last card in my Apple Wallet, so I never see it. And it turns out I had Real Money sitting on it... $1312.48
Without realizing it, I had already saved up over 1/3 the amount needed to buy a new MacBook Pro.
So now I was very interested in how much money Apple would give me for my old Intel Apple MacBook Pro. Another surprise of the best possible kind... Apple would give me $1,210.00 for it. Far, far more than I was expecting.
And so here I am sitting on $2,522.48 that I didn't even realize.
So now it was time to crunch the numbers.
My dream MacBook Pro (M1 MAX with 64GB memory and 1TB storage) costs $3,899.00 plus tax plus $400 for three years of AppleCare coverage. $4,299. HA! Yeah, coming up with the additional $1,776.52 needed might as well have been $20,000. But what if I drop down to 32GB of memory, saving $400? That's double what I have now. Doing that means I'm at $1,376.52 needed. That's still a massive heap of cash. But how much for a monthly payment? After trade-in, it's $224 a month (including tax and AppleCare)... but 3% Apple Card cash-back brings it down to $217 a month. Which is to say that my $1,312.48 in Apple Cash covers six months of payments, during with time I can scrape together four more payments. That's ten out of the twelve payments covered. Factoring in my tax refund money for the final two payments... annnnnd... DONE!
I use my MacBook Pro for work whenever I'm home. Several hours a day every day. And if I ever start traveling again, I use it constantly. The benefits of going into debt to get a newer model outweighed my desire to not be saddled with debt...
The far better M1 chip will allow me to work faster, doing more work in the same amount of time.
Annoying problems... like trying to find an SD card dongle to load photos I take for work... are eliminated since there's an SD card slot built-in.
That stupid fucking TouchBar, which I hate to use because I have to stop everything I'm doing and angle my MacBook towards me so I can see what I'm press on the damn thing, is finally gone... replaced with REAL KEYS I can actually memorize.
Also? The thing will take a month to ship, which means another month to save money for the payments, which means those four payments at the end will be less of a burden. I may not end up eating nothing but peanut butter sandwiches and ramen noodles after all!
Worth it.
If, for no other reason, to get rid of that stupid fucking productivity-killing TouchBar.
I'd eat peanut butter sandwiches and ramen noodles for a year just to get rid of that idiotic shit.
And so... here I am. Looking to see if there's a sale on peanut butter and bread. If there is, then maybe I can start saving for those payments early!
Posted on July 16th, 2021

Yesterday Her Majesty Queen Máxima of the Netherlands was there for the opening of the "Smart Bridge" in Amsterdam, which was 3D printed.
Out of metal.
They used computer-programmed welding robots to print the bridge layer by layer until the structure was complete...
It's gorgeous...

Photo from TheMayor.eu... photographer not credited
But it's also frightening, as it means the technology to print with metal is here and will only get more refined and precise in the future. At which time the technology will get cheaper and will make its way into our homes. At which time people can start printing firearms. Something I have been talking about for a decade now.
I don't know what the solution is to stopping gun violence (or any violence, really). But in a fast-approaching era where anybody can print the parts and assemble a fully-automatic weapon in their basement from plans they find on the internet... we'd better figure it out. Education programs. Mental health programs. Empathy programs. Poverty-ending programs. Marginalization-ending programs. Something. Anything. Our governing bodies may want to look into stuff like that before we get to the point where banning guns is a futile gesture that comes too late (as if we're not already there... that genie is out of the bottle).
People who intend harm will always have access to weapons. And their weapon of choice could end up being something terrible that we can't even conceive of right now. That's how fast technology is moving. Staying ahead of it is essential, but current solutions always revolve around escalating the violence. And it's not working.
Evidence of that is all around you every day.
Posted on May 1st, 2021

My old 65" television weighed 70 pounds (or something like that). I can easily lift 70 pounds, but being able to lift it up a wall and be able to get it attached to the mount without breaking it? Probably not. It's just too big and awkward to see what I'm doing. So after Walmart took my money for installation, then canceled my installation, I assumed I would need help because surely my new 65" television would weigh the same, wouldn't it? Apparently not. When I went to move it out of my living room until I could get somebody to help, I didn't scoot the big box... I tried picking it up by the straps. And it did not weigh no 70 pounds. So I looked up the specs. It only weighed 47-1/2 pounds!
I know the thing is big and awkward, but surely I can manage by myself if it weighs under 50 pounds?
So last night I took down my old TV and my old mount. Installed my new mount. Then gave it a try.
Not going to lie... there was a point that I felt like I might drop it as I tried to hang it on the tiny little centering tab because I couldn't see what the heck I was doing and was trying to feel my way. But after a few minutes I felt a "pop" and there it was. I quickly screwed it in place and I was done!
But not really.
The pricey Sony mount I got which was built specifically for my television didn't allow the cables to come through the middle of the wall like my old one. If I wanted to hide my cables in the wall (and I absolutely did) I would need to cut new holes in my wall off to the side.
Fortunately I already had a punch-cut drywall blade for just such an occasion!
And the nice part about doing it myself is that I give a crap about doing good work. So unlike the "professionally installed" boxes which are all wonky and crooked, I could take the time to do the job right and make sure that my cuts are clean, level, and precise...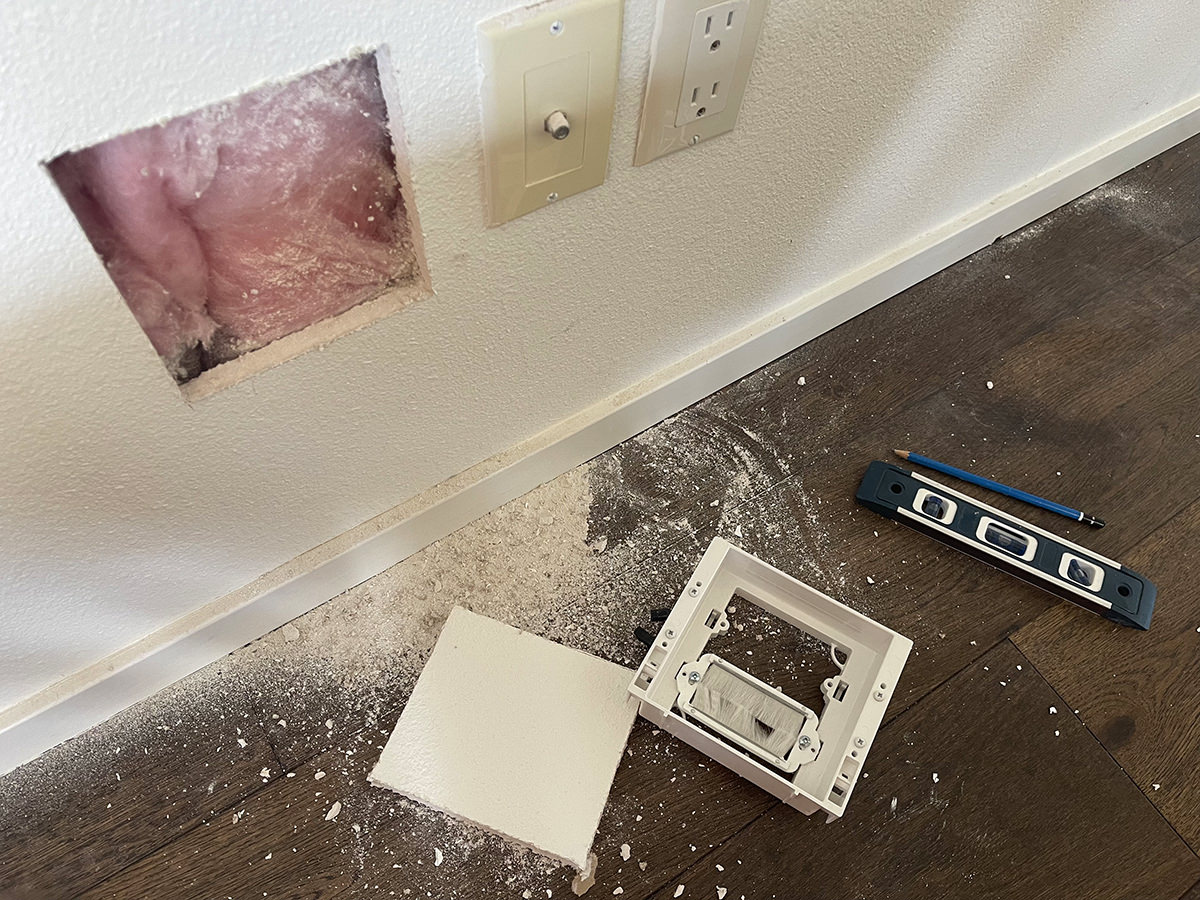 I was too tired to run the cables in the wall, so I saved that for this morning.
And then... WAAAAAHHH! My optical cable wasn't long enough! Don't you hate it when your cable comes up short? This has never happened before. I've always had PLENTY of cable to get the job done in the past! But I'm sure this happens to lots of guys and isn't a big deal. Fortunately, in this case, I can just go get a longer cable. Even more fortunate, my local Target actually had one (and only one!) in stock. From there it was pretty easy to run my cables in the wall, hook my soundbar back up, then clean up the mess. Easy peasy...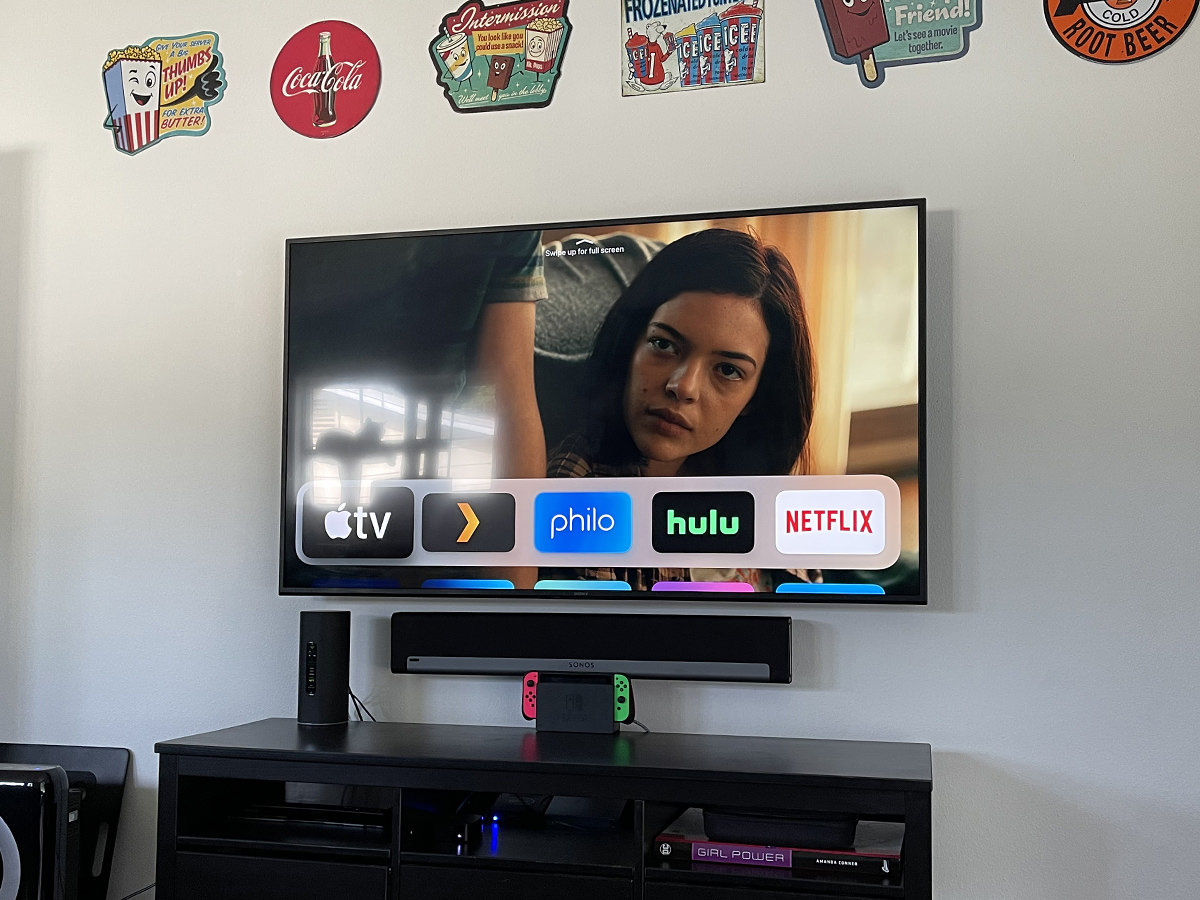 Surprisingly, everything is working perfectly. Even better than before, actually, because the audio system on the new TV works far, far better with my SONOS home theater... and the picture quality is better too.
But here's the bonus to it all. Sony uses GoogleTV to power their sets. It is a MASSIVE LEAP ahead of the shitty interface on my old busted Samsung. And it has AppleTV as an app, so I don't even have to power on my external AppleTV box! Every streaming service I use is inside my TV as an app now. That's really, really nice. Could not be happier with my new television. Even video games look great! Now all that's left to do is patch the old hole in my wall. And install my bias lighting. But I'll do that next week. I've had enough home improvement for this week.
But who knows how I'll feel tomorrow?
Posted on April 25th, 2021

Life sucks, but don't expect a reprieve from the suckage THIS Sunday... because a Very Special Technology All-Fail Bullet Sunday starts... now...

• Mojang! The only video game I want to play lately is Minecraft Dungeons. It's a fun dungeon-crawler that's accessible to play because the difficulty is selectable for each level. You can go harder than your character-power if you want a challenge... or easier if you just want something to do that won't stress you out. In lieu of a LEGO dungeon crawler, it's exactly what I need...
EXCEPT... I bought it for Nintendo Switch so I have the option of playing it on my television or taking it with me as a portable. The problem is that Mojang did a shitty job of the Switch conversion, so it's jerky and rough if things get even a little bit intense... especially on a television. This is absurd. FAR more complicated games, like Zelda: Breath of the Wild and Diablo III, don't have this problem. Bad enough that Mojang did such a poor job... but to not allow players to decrease resolution and frame-rate settings so they can have a playable game is kinda unforgivable. With the new DLC packs I just bought, it's even more critical that Mojang get off their asses and improve the translation for Switch or, at the very least let us turn the specs down so it plays well.

• Mojang Deux! And while we're at it... why does Minecraft Dungeons crash so often? It happens most when I am playing the Daily Trial, which means all the parameters change when I have to restart and begin the level all over again. That SUCKS. Let me go back to the saved game so I can keep going! But instead it's see a Daily Trial game you like, start to play, crash, then you can't get the same game back. Also... why is the online network capabilities so abysmal? Most times when I resume a game, it wants to go back to the Main Menu so it can connect to the Microsoft Network (again), then gives me an error, then allows me on. It's almost to the point where I wish I could afford an Xbox so I'd have a platform that Mojang/Microsoft gives a shit about. Except I don't think that cross-platform saves are available (even though cross-platform playing is), so that may not even help.

• Apple Watch! Apple Watch is both genius and stupid at the same time. The main reason I bought it was to track my sleep and hopefully get better insight into how I sleep so I can get better rest. Apple Watch doesn't really do much of that, even though it's got all the sensors and crap to do all of that (it can't even keep track of multiple sleep sessions in a 24 hour period!). The Sleep app they give you is complete shit, which is why I bought the fantastic AutoSleep app for $4. It is phenomenal, and what Apple should have included. And, surprise! It will automatically log multiple sleep sessions and doesn't require you to manually set a sleep window. It's just class all the way through...
One thing I'm trying to do is experiment with going to bed earlier. Last night I decided to go to bed at 9:00pm, but Apple Watch kept me awake because the display is on. "Hey Siri, good night." — "Hey Siri, turn off the display." — "Hey Siri, how do I turn off the Apple Watch display?" — And of course none of that works because Siri is a fucking idiot. My blood pressure rising because I can't find a way to put the watch to sleep or tell it's I'm going to bed in the shitty Sleep app, I have to Google that shit on my iPhone and eventually find out that there's a "Theater Mode" that I can turn on. Jesus. For a company that prides itself on making technology easy to use... Apple sure fucked up this part. Might want to look into actually making Siri be useful.

• Ubiquiti! When my old WiFi router died, I wanted to buy a future-proof model with excellent WiFi 6 capability. I landed on the Amplifi Alien because Ubiquiti has such an amazing reputation. It was $380, but I figured it would be worth the insane investment if I could hang onto it for 5 or 6 years...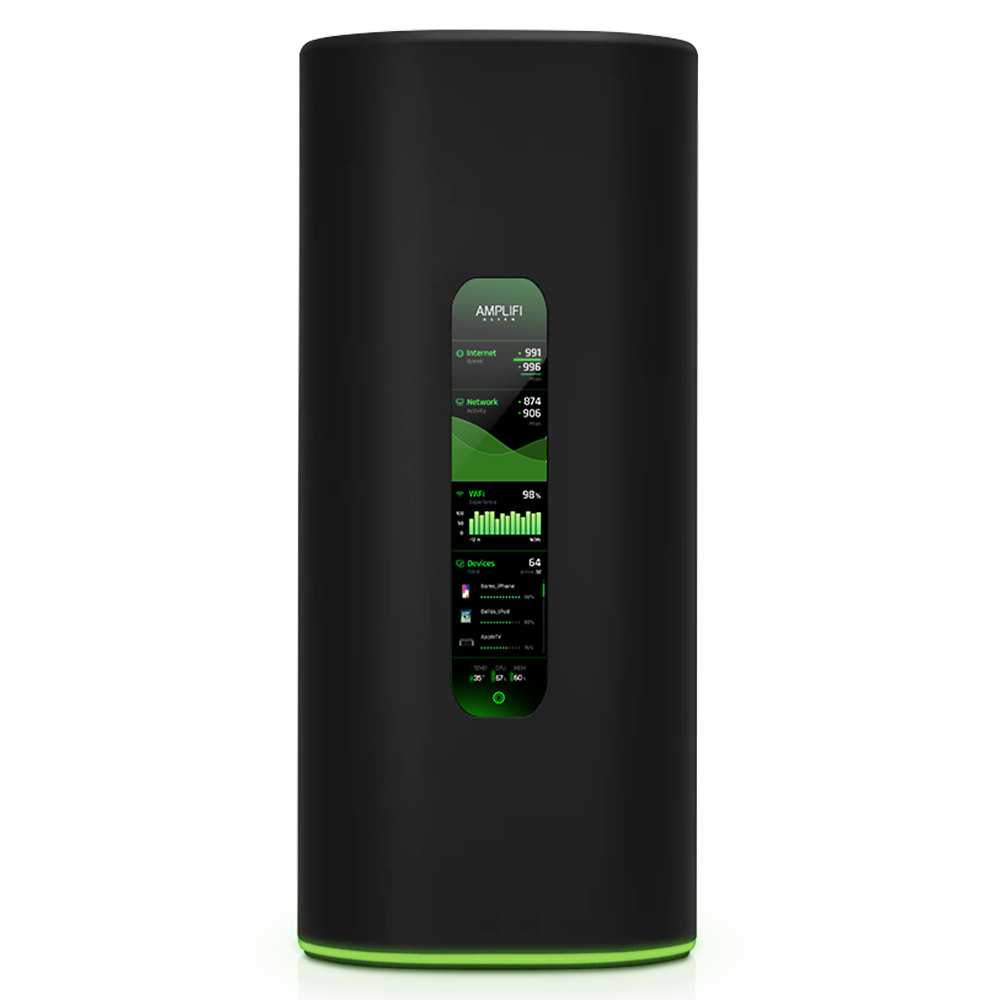 Turns out that NOPE, it really isn't worth the money. Mostly because the built-in firewall is total shit, and there's no way to do the most simple shit like blacklist IP addresses or block countries or anything. THREE HUNDRED AND EIGHTY DOLLARS AND YOU CAN'T BLACKLIST AN IP ADDRESS?? Jesus. What a fucking turd of a router. What's worse? You can't add a third-party device like a Firewalla because it's not compatible with the Alien and, of course, the Alien has no configuration options so you can make it compatible. Thinking of buying a new WiFi router? Avoid the Amplifi Alien at all costs. Overpriced trash with minimal configurability and a pathetic feature set.

• Samsung! I am still feeling very raw that my seriously expensive Samsung television died after just five years. And the fact that there are NO repair parts available and I have to go to the secondary market in order to find them... at a highly inflated price, of course... is typical of a manufacturer who counts on their products being disposible. They want them to fail so they can sell you a new one. Well, I may be having to buy a new television, but it sure as fuck ain't going to be from Samsung.

• PARAMOUNT+! When CBS became Paramount+, there was a special offer to go ad-free for the price of ad-enabled if you bought a year. I did it, because there's a lot of stuff on the streaming service I liked. Problem is? A lot of their older stuff WILL NOT STREAM. New shows? Yes. Old shows? Rarely. Sometimes it will work on a laptop, iPad, and iPhone if you have no ad-blocker, allow pop-ups, don't use a VPN, and turn off every conceivable protection to your network. But even then it's a crapshoot. But here's the thing... it NEVER works on my AppleTV. Old episodes of Ink Master or Drag Race or whatever? NOPE! And it's so fucking stupid. I don't have to turn off all my protection shit when I stream from Netflix, Discovery+, AppleTV+, Hulu, Amazon Prime, Philo, or any other service I use all the time... only Paramount+. What a bunch of fucking assholes. And OF COURSE when you write to their customer support they have you jump through hoops that don't do shit. If ALL MY OTHER streaming services work, maybe it's YOU. If new shows from your network stream fine, but old shows don't, maybe it's YOU. I will not be resubscribing when my year runs out.

• QNAP! This past week QNAP, the makers of my NAS (Network Attached Storage) had some kind of vulnerability which allowed malware/ransomeware hackers to install a program on everybody's NAS drives which encrypted all their files. The only way to get your files back is to pay $500+ to the hackers and they would give you the encryption key. I didn't pay them shit because I have redundant offline backups of all my data (which is harder than it should be because QNAP has a shitty, SHITTY fucking backup app)...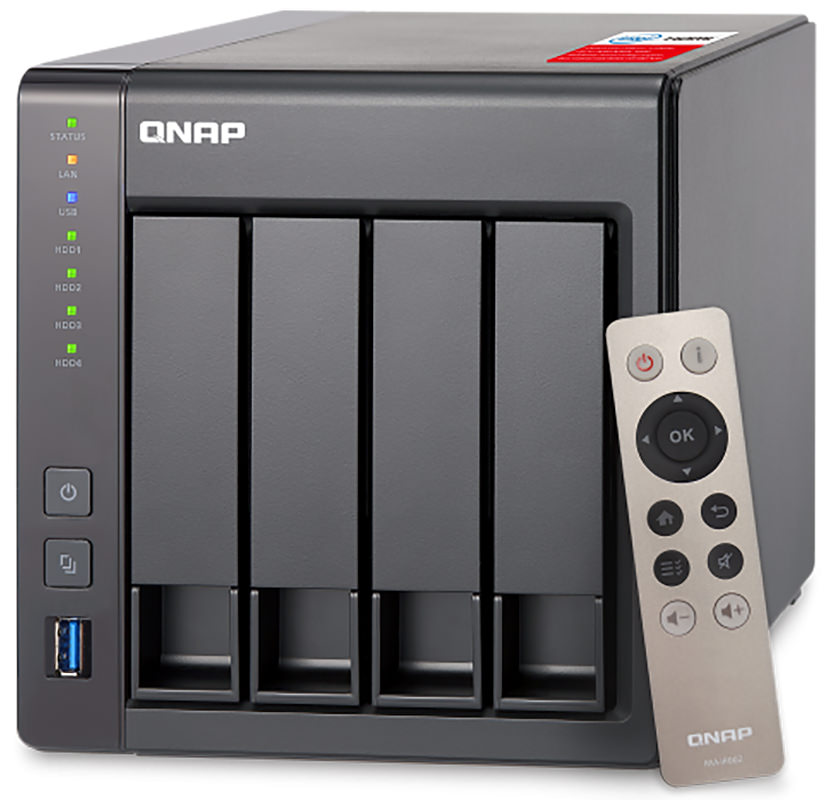 I just deleted all the encrypted files and replaced them with the original. No big deal. After that, I installed a bunch of new stuff on my NAS (including a firewall) to (hopefully) avoid new problems. But here's my beef... WHY THE FUCK DOESN'T QNAP HELP CUSTOMERS UNDERSTAND HOW TO SECURE THEIR DATA AGAINST THESE ATTACKS BETTER? Everything with them is far more complicated than it needs to be, and their customers are paying the price for it. Looking for a NAS? Thinking of buying QNAP? AVOID! AVOID! AVOID!

And that's it for stuff that sucks on this fine Sunday.
Posted on January 14th, 2021

I honestly thought that once I got my Uninterruptible Power Supply that I'd never have a power outage again. That's just how things go for me. A problem comes up again and again and again... spend money to handle the problem for next time... the problem never happens again. I'm sure I'm not alone.
Installed my UPS on November 18th... had a power outage this past Tuesday.
Well I'll be darned!
Must to my delight, the UPS operated exactly as it was supposed to. My home automation, internet router, and NAS drive never lost power and there was no need to spend hours restarting and recovering my data with an "integrity check." Nice. So a big thank you to CyberPower for making a product that actually works. I was beginning to think that such a thing didn't exist any more.
Like my Samsung television. Less than five years old and the backlighting is already starting to screw up. My previous Sony television (now in my bedroom) has lasted over a decade. My television before that (a massive Sony widescreen tube television) lasted over 15 years. At this rate, my next television will last for 1-1/2 years? Holy crap.
Winter has been a massive disappointment this year.
Despite getting plenty cold for snow, it's mostly been rain. Any snow we get turns to rain the next day which leaves us with a mushy mess and icy streets. The day of my power outage two days ago, I found myself waking to at least 6 inches of snow. Then it sprinkled rain. So when I peeked out my window and could see cars sliding and getting stuck, I decided to work at home for a bit and wait for the snowplow. But eventually I needed to go into the office and took a chance. It's a tricky business. You have to drive fast enough so that you don't get stuck... but slow enough that you're not spinning out. I had a few dicey moments, but eventually made it to the main road. Just as I was congratulating myself, the snowplow turned onto my road.
Oh well.
Of course the guys hired to plow my driveway did it before the snowplow arrived, which meant a massive berm of snow was blocking my driveway when I got home. Not wanting to get out and shovel, I decided to accelerate to ramming speed and just bust my way through. Which went fine... but it sure felt like parts were going to be ripped out of my undercarriage.
As the berm has melted and re-froze each day, it's now become more of a ice curb than a snow berm. That cannot be solved by busting through it, so I've kinda created a path for my tires to drive through that gets me into my garage.
Probably should have just shoveled it while I had the chance.
But I know the minute I spend money for a snow shovel to solve the problem next time, it will never happen again, so I'm just going to pretend to be oblivious so I can save a buck.
You should know by now that I never learn.
Posted on November 18th, 2020

I bought a NAS (Network Attached Storage) in order to access my work files from anywhere and store all my media. It's been working (mostly) flawlessly and has been a real convenience. But over the last couple weeks I've been having power brown-outs which cause my NAS to go down. And every time that happens I have to rebuild everything and run a file integrity check. It's a real pain because my files are inaccessible for hours.
My power has gone out maybe twice in the five years I've lived here. I don't know what's changed that suddenly it's been so unreliable, but I decided to buy a UPS (Uninterruptible Power Supply) for my NAS. That way the battery in the UPS can power my NAS through a brownout. And if the power goes out, the UPS is smart enough to talk to my NAS and tell it to shut down safely before it runs out of battery.
I ordered a CyberPower 800VA/450W unit for $85 because it was more than enough for my needs. It was also small enough to mount behind my media center. Or was it?
NO! NO IT WAS NOT!
I didn't have enough solid material on the media center to mount something so heavy. So I claimed the draw next to my NAS Drawer and made it into a UPS Drawer...
My NAS, Internet Router, and Smart Home Hub are on battery backup on the left. Other devices are surge-protected but not backed up on the right. Now during a brownout or blackout, my NAS files will be safe and I'll still have internet (assuming the power outage doesn't take out my fiber). Nice!
Every time I want to change the electronics on my media center, I end up ripping everything out and cleaning up the wires on the back. Believe it or not, this mess is half the wires I used to have before I merged some devices, got rid of satellite television, and left my Nintendo Switch as my sole video game...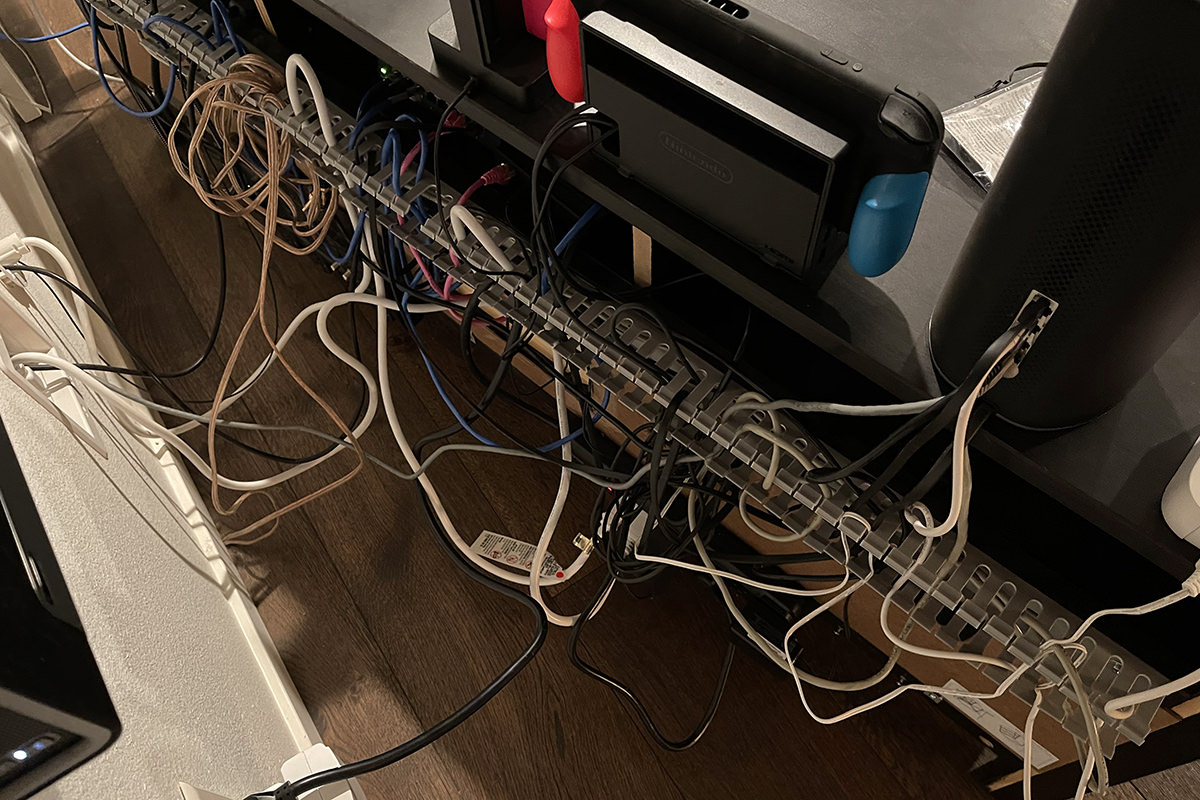 Something I thought would take me an hour ended up taking just over three hours. But it was worth it because after plugging in a USB cable from my NAS to my UPS it was recognized right away...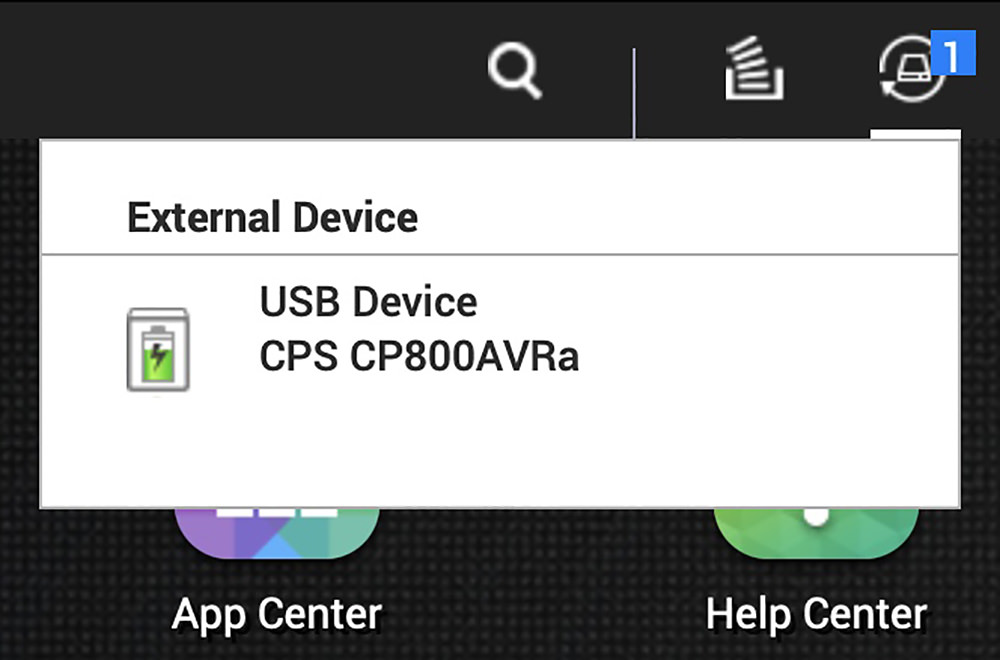 According to the NAS control panel, I have over an hour of battery backup power available. My guess is that the addition of an internet router and smart home hub will knock that down to about 45 minutes. Which is plenty of time to survive any brownout and most blackouts...

$85 plus tax was certainly more than I wanted to spend on this thing... but it's a huge weight off my mind to know that my NAS files will be safe when there are power problems.
Here's hoping that everything is working correctly. I'm sure I plugged in something wrong somewhere.
Posted on October 1st, 2020

With television production shut down and the new television season pushed back for the foreseeable future, I've been turning to YouTube for entertainment while I work. There's just so much to experience. And since everybody else is probably in the same boat with running out of stuff to watch, I thought I'd go through some of my favorite YouTube channels that I watch regularly. I did this a while ago but wanted to update after I learned that Great Big Story is shutting down.
Channels I watch because I want to learn something. There are so many brilliant educational channels that it blows my mind, and I'm regularly linking to them in my Bullet Sunday posts. When I'm alerted that Veritasium has a new video available, I drop everything and watch immediately. Derek Muller breaks down science like nobody else, and his latest video is the kind of stuff I obsessess over...
There are many many learning channels I love. CGP Grey, Kurzgesagt – In a Nutshell, Johnny Harris, Doctor Mike... they all have cool stuff to open my mind towards.
Channels I watch because I just think what they do is so fascinating. Baumgartner Restoration is just video after video of Julian Baumgartner restoring fine art... mostly paintings. That alone would be amazing to me. But it's the things he develops to be able to do the work that blows my mind out of the back of my skull. He did a SIX PART SERIES on restoring a painting which was painted on wood. But before he even got to the point where he was working on the actual paiting, he had to use his engineering and fabricating skills to build a special table to do it...
Baumgartner is like some kind of renaissance guy who can do everything. And he has one of the most soothing voices and most agreeable personalities of anybody I've ever seen. There are few things I can watch which will calm my mind faster than Julian working on his latest project. Another brilliant channel for watching somebody make magic happen? My Little Bakery is filled with Nadia's incredible icing artistry and has to be seen to be believed. I mean...
Another fascinating thing to watch is Calligraphy Masters which was originally for learning calligraphy, but also features beautiful lettering art I can't get enough of. And then there's the cool stuff that Mark Rober does, which is about as fascinating as it gets.
Channels I watch because I love woodworking and home reno. My favorite hobby is working in my garage wood shop and doing my own home renovation. YouTube has been invaluable in learning how to do all this stuff. The channel I look at first is always Home RenoVision DIY where Jeff will give you all the dirt on how to get professional results from your projects and save money while doing it...
Another person doing God's work for learning renovation and home improvement is skateboarder Ben De Gros at Vancouver Carpenter. For pure woodworking, Peter Millard is another great channel. And I love Fix This Build That as well.
Channels I watch because I want to keep up on tech. My favorite tech blogger is Marques Brownlee. The guy is smart as hell, has a subtle funny streak that makes him fully relatable. He reviews the stuff you want to see, but doesn't get bogged down in too many details nobody cares about. I didn't see his Apple Watch Series 6 video before I bought mine, but I was livid when I finally got to see it because HE HAS THE WATCH I WANTED TO BUILD THAT APPLE WOULDN'T LET ME! A Project RED watch with a black band...
Marques may not want a red watch... BUT I DID! Except I couldn't get it with a black band. =sigh= If you're looking to majorly geek out to tech, Linus Tech Tips has been around forever and sometimes goes reeeeeally deep into the nuts and bolts of it all. And then there's Unbox Therapy, which is exactly what it says in the title.
Channels I watch because I want ideas for new things to cook. But many of them I watch because I just like to watch cooking channels. Especially foreign cooking channels where you can turn on auto-translated subtitles and see how masters of their craft work. Like De mi Rancho a Tu Cocina...
And if you love pasta, the artistry found on Pasta Grannies is remarkable...
There's also channels like Pro Home Cooks, budget-conscious cooks like Joshua Weissman, and exceptional bakers like John Kirkwood... the list goes on and on and on.
Channels I watch because I want to be more informed on Current Events. All media is biased. All of it! but when you recognize their biases you can use that to expand how you see the world. I'm not saying I'm going to watch Far-Right assholes or Far-Left assholes... that's just torture. But I'll tune into channels by those on the Right or Left if I think that they have something to actually say on a subject and aren't just parroting extremist talking points and don't consider their views to be above the facts. David Pakman is highly opinionated towards the Left, but not beyond all reason. Somebody who is labeled as Right, claims to be more Left, but strives to ride down the middle and distill information wherever it lands, is Joe Rogan Experience. Rogan gets a lot of hate from both sides, some of which is justified, but he has thoughtful commentary and does a really good interview. Here he is with Pakman and some fantastic discussion that really needs to happen...
There was another interview with Pakman which was equally good and equally important from this year (and highly disturbing in hindsight). Seriously. Tune into that.
Sure, Rogan skates on the edge of conspiracy theory sometimes, but the guy got me to change my mind on Bernie Sanders, and that ain't nothin'...
I love that there are conversations which can make me look at a person or an event or an ideology in a different way... or even change my mind. Joe Rogan's show is really good at this kind of thing. Even though I definitely don't always agree with him or his guests, I keep watching.
Channels I watch because I want to challenge how I see and live. I know that Russel Brand can be problematic. The guy has some views which I consider to be naive, impractical, and just plain bonkers. And yet... he is one of the smartest, most caring, most insightful humans on this planet. And he's hilarious. And it's because of this that I tune into every one of his videos. A third of the time I have to bail because the discussion is not something I'm interested in exploring with him, but the other two-thirds? Fascinating stuff. Take this short 12-minute video where he discusses the presidential "debate" fiasco we just endured...
Yep. Yep. Yep. I mean, Russel is more "big picture /slash/ in the grand scheme of things" here than he might should be... if you believe in a woman's right to choose (to throw out one example) then there is a huge difference between President Trump and Joe Biden getting elected. But is he wrong that our political system is primarily interested in self-preservation over addressing the needs of a diverse population and that the big-picture items won't change much because it's all run by people who only care about money? Fuck yes, he's right. Or, to be more accurate, he's not wrong. And it's not just politics and the hideous crap going on in the world today. Russell has a number of videos on self-help and personal growth that can be inspiring and helpful. Another channel along these lines is Rich Roll. It's not like he's going to convince me to adopt a 100% plant-based diet or become an endurance athlete, but Rich has some very good insight on living a healthier, most enlightened life and I enjoy hearing his thoughts.
Channels I watch because I want to see people being human. It's really easy to get disassociated from humanity even when there's not a pandemic. It's not good for us. It's not healthy for us. It's not fun for us. But it happens. So there are a few channels I subscribe to simply because I like to watch and feel more connected to people. Yes Theory is a good example. The crew there do things and go places and ponder ideas that are just so very... human, and I love to see it. Take a look at this video where Thomas visits the least-visited country on earth to see what I'm talking about...
God I love videos like this. How can you not? The crew's latest video is where they paid somebody to be their friend for 12 hours. The result was wonderful...
Another channel which is sometimes sweet, sometimes shock, sometimes stupid, but always human to a crazy degree is MrBeast, which I talked about here.
And there you have it! Some of my favorite YouTube sites! And I didn't even get to those sites that I watch just to be entertained. I guess that's a list for another time.
Tags:
Apple Stuff
,
DaveLife
,
News
,
Politics
,
Stuff
,
Technology
,
Travel
,
Videos
Categories:
Apple Stuff 2020
,
DaveLife 2020
,
News – Politics 2020
,
Stuff
,
Technology
,
Travel 2020
—
Click To It:
Permalink
—
1 Comment: Click To Add Yours!