Posted on November 20th, 2022

It's time to be human... because an all new Bullet Sunday starts... now...

• Again. The shooting at the Colorado Springs nightclub "Club Q" last night is yet another in a string of violent attacks on marginalized communities. And it's like... I just don't get it. LGBTQ persons are not made to feel welcome in general society, so they carve out a space where they can enjoy life for even a short time away from general society... and that's not good enough? Senseless violence has been out of control for as long as humans have existed. That's just fact. But the hatred behind the violence is quickly reaching unsustainable levels as the weapons to act out violence keep getting more powerful. Dozens of people can be cut down in an instant by a single individual, and pretty soon that's going to be the only thing we have.

• Let's Go Brendan! This GQ "Iconic Characters" series is always great. But this one? Oh wow...
I want... quite badly... for Elizabeth Hurley to get one of these.

• Todd! If you are not watching So Help Me Todd on Paramount+, then you are missing out on one of my favorite shows on television. It almost makes me forgive Paramount Network for canceling Magnum P.I. (which, thank God for Peacock TV and NBC, is actually returning despite it all)...
Skylar Astin is a gift, and this show uses him to maximum effect. So COLOR ME SHOCKED that CBS actually renewed the show for a second season! Yay!

• Big Animation! Floor 796 may very well be the coolest thing I've seen in my browser in a minute...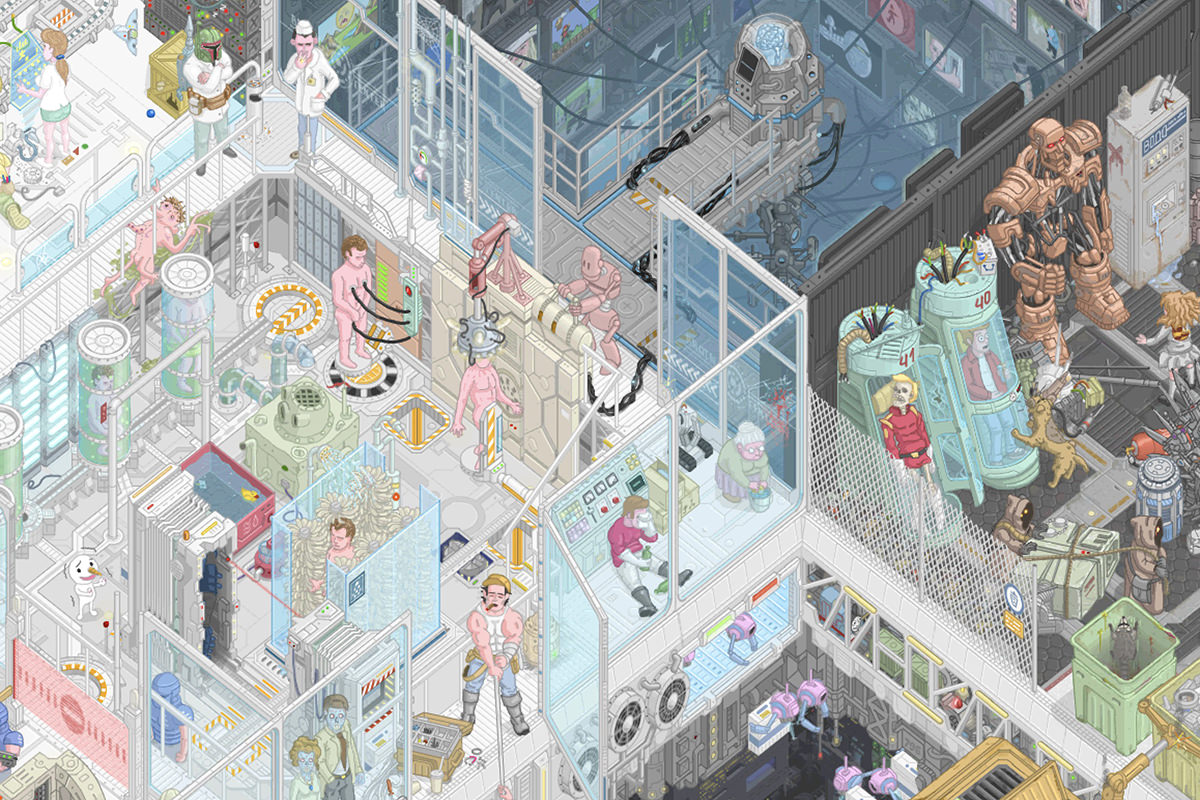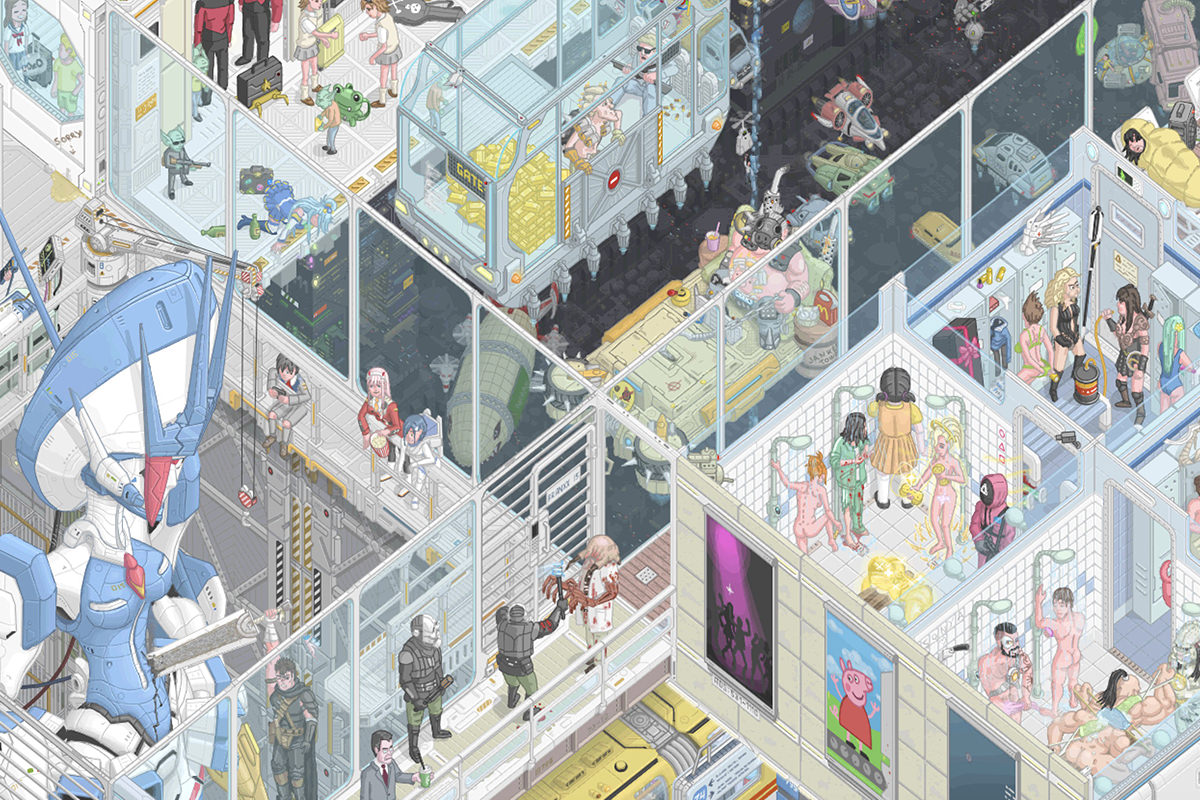 Worth a visit if you like looking at cool stuff!

• I'm Batman! And here's what I wish I would have had to post when Kevin Conroy passed...
A lot of people... like a lot a lot... have Kevin Conroy as "their" Batman. This will go on for a while.

• SHIT! And here we are again. Apple's HomeKit... which has always been HomeShit... is still a pile of shit. And Apple doesn't fucking care. It is absolutely outrageous how there are known issues plaguing the system and Apple doesn't even acknowledge that there are problems. A company worth billions of dollars, but they won't fix it or offer any solutions. For me the biggest problem is that Automations tied to timed events (like sunset or a time of day) don't fucking work! The event arrives and nothing happens. Which is shitty, because I have all kinds of things set up. Like turning my outside lights off and on. There are hundreds of threads on various forums with people trying to find a way to get their timed Automations working. Some things work... for a while... but the overreaching problem of HomeShit being garbage can only be addressed by Apple. And, once more for the people in the back, Apple doesn't fucking care.

And now back to your regularly scheduled Sunday antics.
Tags:
Apple
,
Bullet Sunday
,
HomeKit
,
LGBTQ
,
Movies
,
News
,
Television
,
The Internets
Categories:
Apple Stuff 2022
,
Bullet Sunday 2022
,
Internets 2022
,
Movies 2022
,
News – Politics 2022
,
Television 2022
—
Click To It:
Permalink
—
0 Comments: Click To Add Yours!
Posted on September 9th, 2022

Today I will be cooking up a grilled cheese sandwich recipe that I've been working on forever. More on that in a second, because first I feel obligated to put some bullshit story in front of my recipe. Apparently that's The Law of the interwebs...
When we went into lockdown, I spent a lot of time in cooking forums and groups trying to find ways to get creative with limited groceries. One day there was a conversation built around your favorite grilled cheese sandwich.
Now, I have many, many "favorite" grilled cheese sandwiches. I love bread. I adore cheese. I have made so many different combinations of both that I couldn't possibly count them all. Growing up my grilled cheeses were American on whatever white bread was cheapest. I loved them. Still do.
All that being said, here is my favorite grilled cheese sandwich. Which got me some hate, I won't lie...
Blogography's Grilled Cheese
Two slices of rustic bread... my favorite is homemade. But if I'm not making it myself, I like Seattle Sourdough Baking Company's "Waterfront" round loaf.
Thinly-sliced, good quality Cheddar. It doesn't even have to be expensive or an import. I love Tillamook Medium.
Spreadable cream cheese.
Grated parmesan cheese. Not the "real" stuff... you want the cheap Kraft shaker stuff in the plastic bottle.
Thinly-sliced Granny Smith green apples or ripe tomatoes (if you got them, which I do not).
And here's what I do...
On a microwave-safe plate, pile up the thinly-sliced cheese between the slices of bread and nuke it for a short time. Ideally you want to stop just before the cheese is melted. On my microwave it's 12 seconds. Cheddar is a hard cheese that doesn't always melt easily, so this is just to make sure that the cheese gets really gooey when you actually cook it.
Place in a cold pan and turn on the heat to medium-high. Butter one side then turn it over and butter the other. Yeah, yeah, I know it's en vogue to use mayonnaise, and that's fine... but I prefer plenty of real butter.
Grill the one side until it is lightly toasted. You don't want it browned (you'll see why soon).
While the bottom side is grilling, take the top slice off and smear the inside with cream cheese. Stick the thinly-sliced green apples (or ripe tomatoes) to the cream cheese and stick it to the bottom slice.
Flip and lightly grill the top side.
NOW... once both sides are lightly toasted, that means the pan has come up to heat. What you do now is turn the heat down to medium. Lift the sandwich out of the pan with a food turner, then sprinkle a bit of the Parmesan into the pan and quickly place the sandwich back in the pan. Grill until the cheese has fused to the bread and turned deep brown (careful! It will burn quickly!).
Repeat for the other side.
Use a sharp knife to cut at an angle (you want that point on the end for your first bite!). The knife should be as sharp as you can make it so the bread doesn't get too smashed at the cut. I used to use a bread knife, but it really isn't necessary.
Serve on a plate with whatever green apple slices are left.
I didn't have green apple or tomato for this one, but you can get the idea...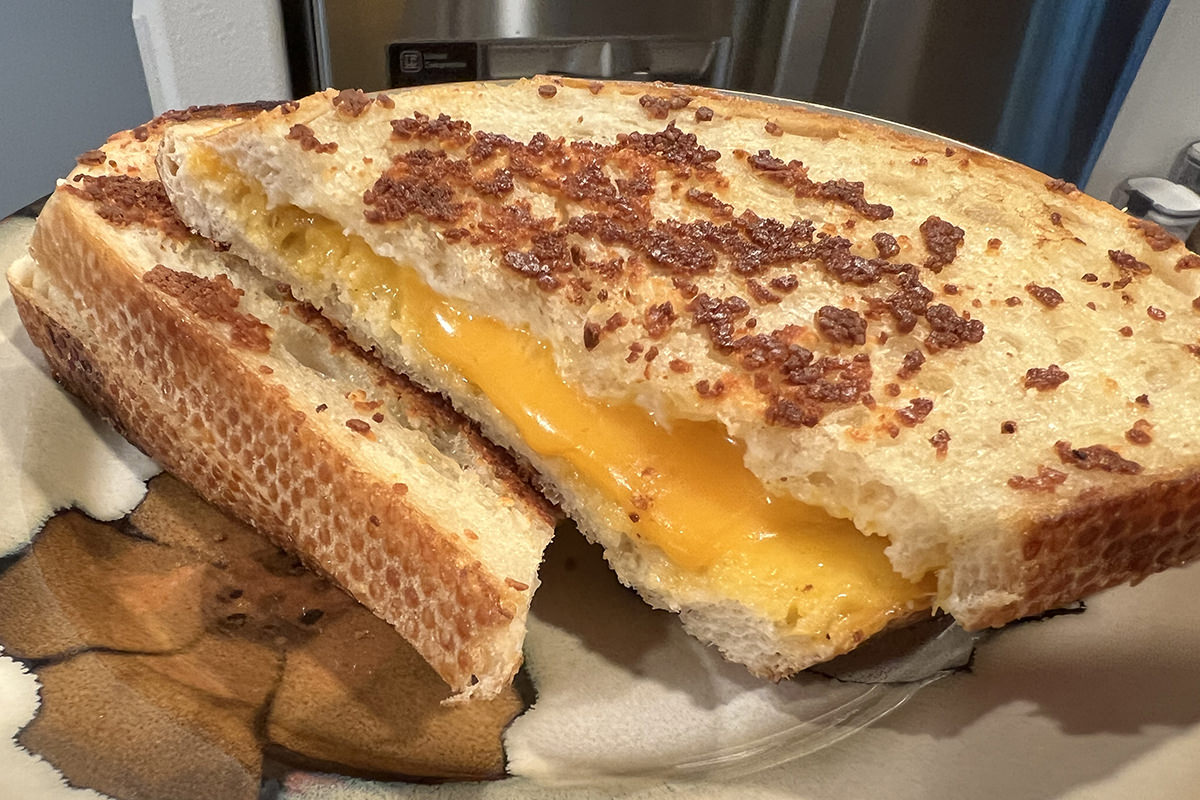 Now, there's some method to this madness. And I ended up having to defend my sandwich to people who were upset about my choices in a frickin' cooking forum...
"IF YOU MICROWAVE IT, THEN IT'S NOT A REAL GRILLED CHEESE!!" — As I said, cheddar isn't the meltiest cheese around and needs a little help. You can skip this step if it offends you so much, but those 12 seconds makes a big difference.
"CHEDDAR IS SO BASIC! THERE ARE BETTER CHEESES FOR GRILLED CHEESE!" — Then use them. Medium Cheddar is my favorite taste for this sandwich, especially when paired with green apple or ripe tomatoes.
"CREAM CHEESE ISN'T EVEN CHEESE!" — According to the FDA it qualifies, but whatever. I use it because it's a lovely, creamy texture addition... and does a darn good job of keeping the apples from sliding out of the sandwich. Unless you go too thick. Or over-cook it.
"GRATED PARMESAN? FROM A BOTTLE? IT'S NOT REAL CHEESE! IT'S SAWDUST!!! — Preaching to the choir. You're telling me something I already know. But whenever I use real parmesan, it sticks "wrong" and makes a mess. But the Kraft grated (with sawdust!) works perfectly for what we need. I don't want the "crustiness" to come from cooking the bread until brown. In my opinion, that's overcooked. But you want that crusty topping! Using grated Parmesan gives you a nice crustiness on the outside while keeping the bread soft and delicious. The texture is remarkable, and that small hit of Parmesan is so tasty.
"THAT'S A FRUIT SANDWICH, NOT A GRILLED CHEESE!" — Then leave off the green apples or the tomatoes. As you can see in the photo above, it's still a fantastic sandwich. I just like that small addition of other flavor to add a bit of complexity to the flavors and elevate it a bit. Cheddar has a strong enough flavor to not be overwhelmed.
"THIS IS A SHITTY GRILLED CHEESE. YOU DO EVERYTHING WRONG!" — If wrong tastes this good, I don't want to be right.
Thus is the politics of grilled cheese sandwiches. If you have a favorite of your own, then by all means keep doing what you're doing and not tell me how much my favorite sucks!
Posted on September 2nd, 2022

When Jake used to get sick or be upset, he hid from me. Him not showing up for a meal or running to meet me when I walked in the door is how I knew something was wrong. But now? Complete opposite. When he eats a bug and feels sick or is stressed about something, he will cling to me like glue. He's so clingy that I've come dangerously close to stepping on him.
Last night I have no idea what happened... probably ate a praying mantis for no reason at all or something equally disgusting... but he was on me. On the couch. Going upstairs. Brushing my teeth. Climbing into bed. And it's not like he's on the bed with me... he's squeezed up to me as close as he possibly can be.
At first, it's incredibly sweet that he thinks of me as comfort food when he's not doing well. But around midnight when I really should be going to bed, it's not quite so sweet. I'm scared that if I fall asleep I might roll over on him and crush him, so I continued to work for another hour. Around 1:00am, I was so tired that I couldn't focus on work and started playing on the internet
The first thing I did was find a TikTok where a guy was talking about crAIyon, a site that draws whatever you can think of. And what was the first thing that came to mind? Taylor Swift eating corn on the cob!
Have you ever seen anything so terrifying? Well hold on to your hats, because next up was Ryan Reynolds on a boat wearing a bear hat!
Then came A bear at the movies eating popcorn in a newspaper hat!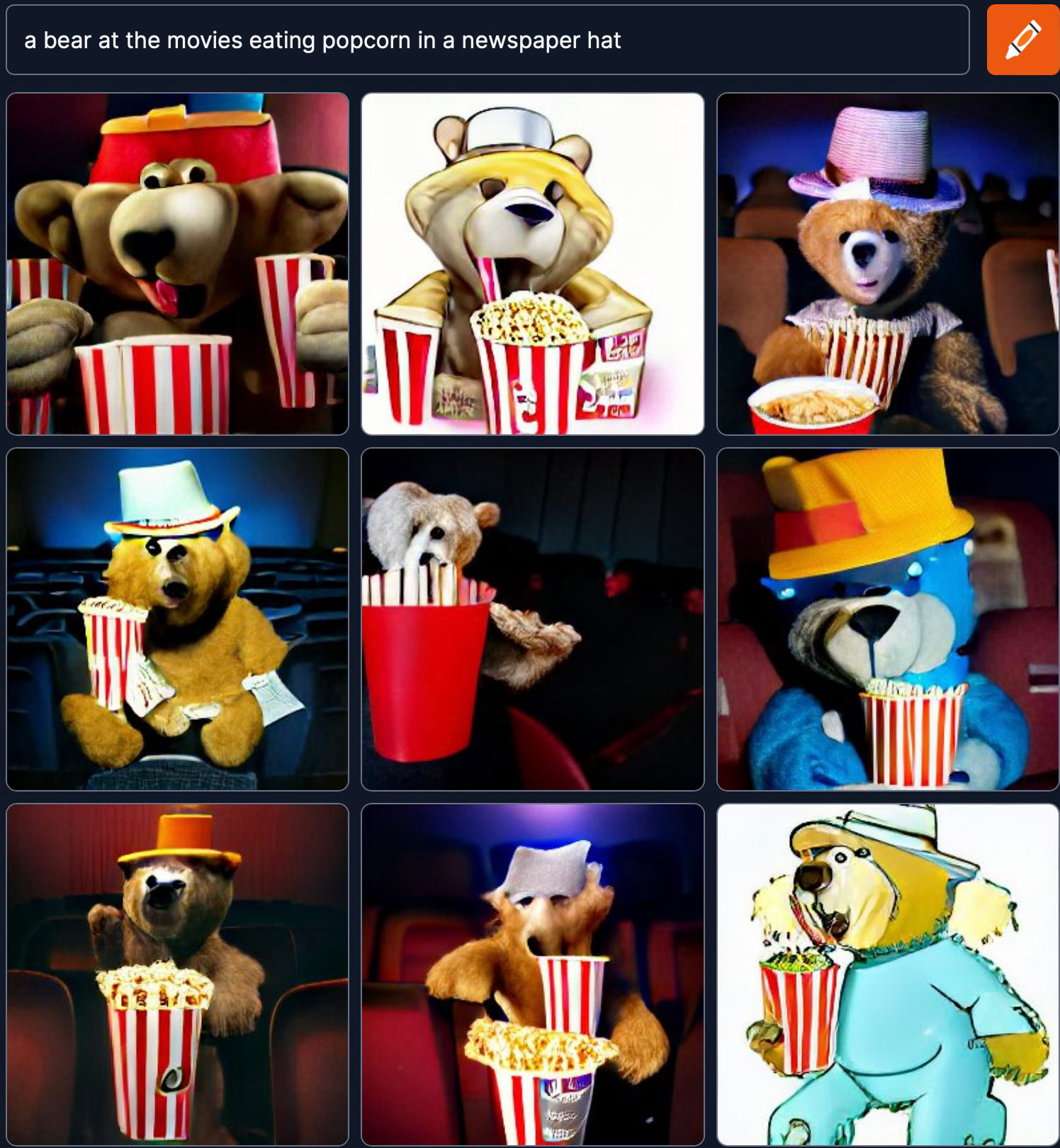 And A cat in a birthday hat eating cake!
Once I got to the nightmare that was Ernest Borgnine Wearing a Dress and Sitting on a Toilet I knew that I had to stop.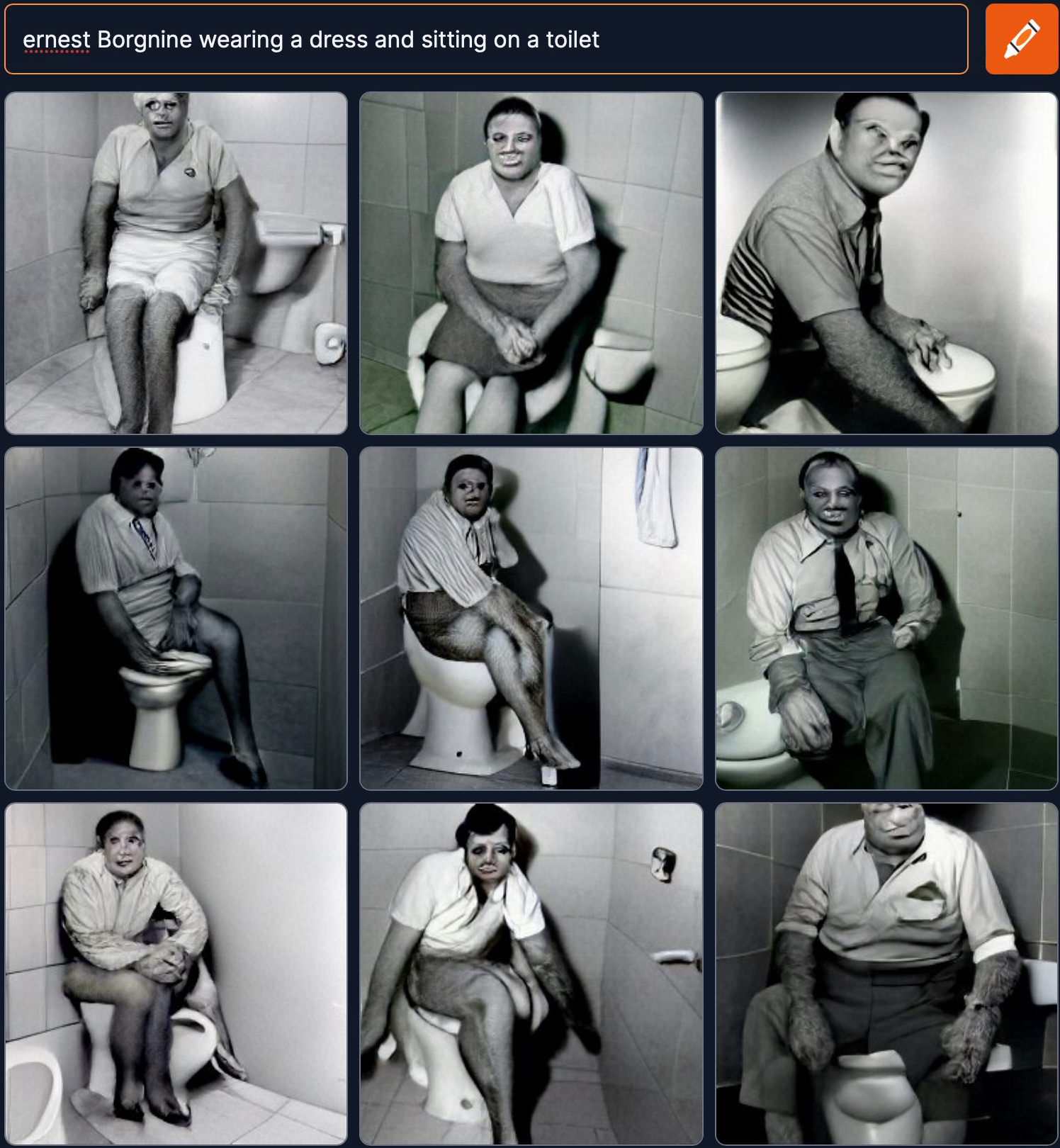 AND, NO, I DON'T KNOW HOW MY BRAIN COMES UP WITH THIS STUFF!
After that I came across a TikTok which lead me to a YouTube series by comedian/actor Kyle Prue called Rabbit. For such a shallow premise, it gets shockingly deep. By the time I got to the third episode I was completely obsessed and had to finish off all five (even though Jake had already climbed to the end of the bed). If you want a time-waster that has some serious thought behind it, this is a trailer for the series...
Now, right off the bat I should inform you that when he hits the woman with the hammer, it's not what you think. This is smarter than that. And I'm telling you... if this was a television series, I would totally watch it.
And now it's running close to 2:00am so I really, really need to try and get some sleep. It's now Friday so I guess this counts as my Friday post? I sure hope so.
Posted on May 23rd, 2022

As you may (or may not) have noticed, my blog wasn't updating this past week-and-a-half.
I continued to write as I always do, but when I went to post anything to the site, Blogography returned an error saying that my "connection had been refused." I automatically assumed that my WordPress installation was borked because it keeps happening with increasing regularity.
But this time it wasn't WordPress's fault.
Eventually I figured out that the VPN node I had been using to access the internet was the same node used by somebody trying to hack my blog. When my security plugin on WordPress detected the attempt, it blacklisted the IP address. When I switched to a different VPN node, I was able to post everything that had been stacked up.
What are the odds?
This does have me concerned that people who use VPNs (and, seriously, everybody should be using VPNs) are going to have increasing difficulties attempting to reach content on the internet.
And where would the internet be without Blogography?
Far, far worse off, I'd imagine.
And, oh yeah... the trailer for the new Mission: Impossible movie dropped today! It looks bonkers cool!
This entire franchise has had some great stories. And the stunts are incredible. Can't wait!
Posted on January 18th, 2022
While I was in the comments last night somebody said
"I wish people didn't have to die."
To which I said
"Well, you wish that people you care about didn't have to die."
She was confused
"Yeah, that's what I said."
Except... not really.
If PEOPLE didn't have to die, the earth would become a hellscape that's overflowing with humans who can't find anything to eat. Or a place to live. Or much of anything, really. Ain't nobody wants that. What they want is for themselves and people they care about to not die why the rest of the world keeps succumbing to their mortality. That's more than a subtle difference.
But I let it drop because the last thing I want to do on a Wednesday night is get into a comment war.
It did get me to thinking about vampires though.
Vampires are actually really cool as a concept since there's a terrible price to pay for being able to live for an eternity. Namely, sucking the blood out of humans in order to survive (though apparently some good vampires are able to drink animal blood to survive. Kinda takes the edge off of immortality. Personally, I don't want to live forever. The world is so messed up that there will come a time I'm happy to make my exit when my body falls to shit.
Which feels like it might be any minute now, alas.
Posted on October 6th, 2021

I watched the last episode of 60 Minutes about the Facebook whistleblower because I was expecting some serious dirt. Some people were saying that the Facebook outage was intentional so that people on Facebook wouldn't be discussing the 60 minutes interview, so it must be juicy, right?
Turns out that it was not.
It was the opposite of juicy. Which, according to the listed antonyms of the word, means it was dull, bland, juiceless, moral, withered, sere, desiccated, boring, dehydrated, unfavorable, shriveled, unexciting, disadvantageous, clean, unsexy, uninteresting, and dry.
The story was all those things because all the allegations were just so fucking obvious. Facebook puts profits above its users? ZOMFG! I may die of un-shock.
Facebook is a piece of shit company. They put users like me in Facebook jail for the stupidest crap so they can say "SEE! WE ARE DOING SOMETHING!"... yet some people can say whatever the fuck they want, and spouting COVID misinformation (which is LITERALLY KILLING PEOPLE) is perfectly okay. I can't joke "all men are pigs" when I am, in fact, a man and am clearly joking... THAT will get deleted... yet a man can threaten to beat up a woman and there are ZERO consequences on Facebook, even if you report it.
So, yeah. What a waste of my fucking time. If I didn't have so many people important to me which I only have contact with on Facebook, I'd have ditched them long ago.
What was not a waste of my time was the the story after the whistleblower non-story about Tony Bennet preparing for his final concerts amidst him having alzheimers. It was absolutely fascinating. And heartbreaking. Especially if you've had to go through it with somebody you care about.
Cannot possibly recommend watching this highly enough. Worth your valuable time...
The reaction by Lady Gaga at the end when Tony knows her name... it's like... all the feels. I've been there. And you feel exactly like that. And when it happens less and less, you are hit by it harder and harder. I still remember the last time my mom remember who I am, even as I am forgetting all the less happy times around it.
But that's how it works, right? That's how we cope? Cling to the good things and let go of the bad?
It's how I cope, anyway.
Posted on October 3rd, 2021

Everybody do the hokey-pokey and turn yourselves around... because an all new Bullet Sunday starts... now...

• Lasso Unwound! The fact that the writers of Ted Lasso are taking a beloved character from the first season and turning them into a literal villain is an interesting turn. The penultimate episode that played out on Friday makes this fairly irrevocable, and there's no real way of getting out of it. Couple that with the fact that Dr. Fieldstone is leaving the show (God please don't let it be permanently!) and I am very interested in seeing how next week's finale is going to play out...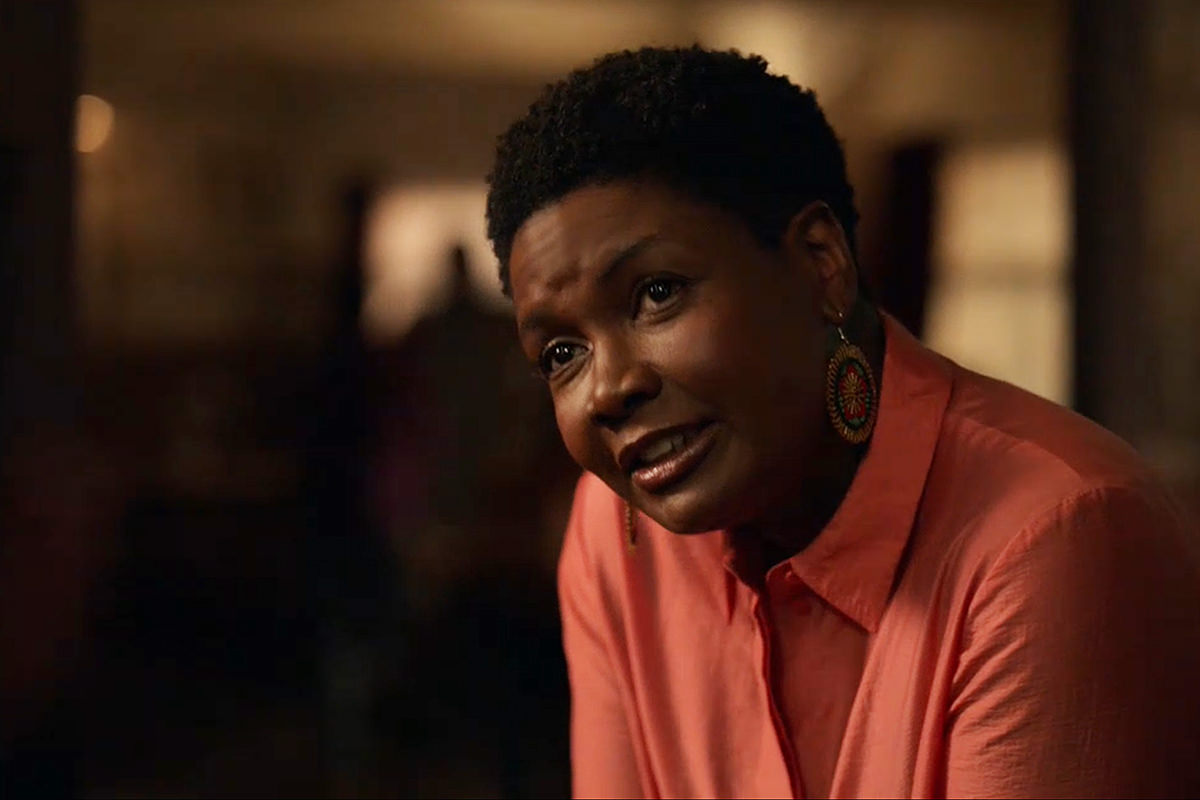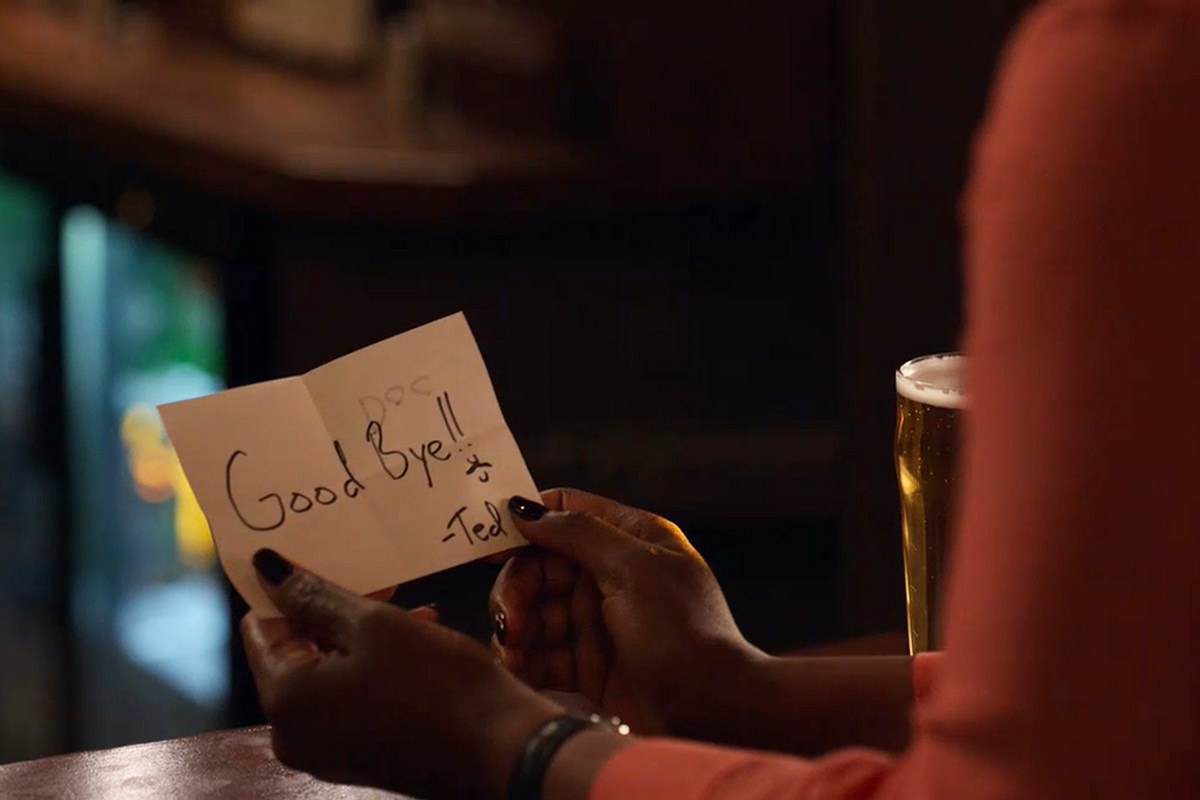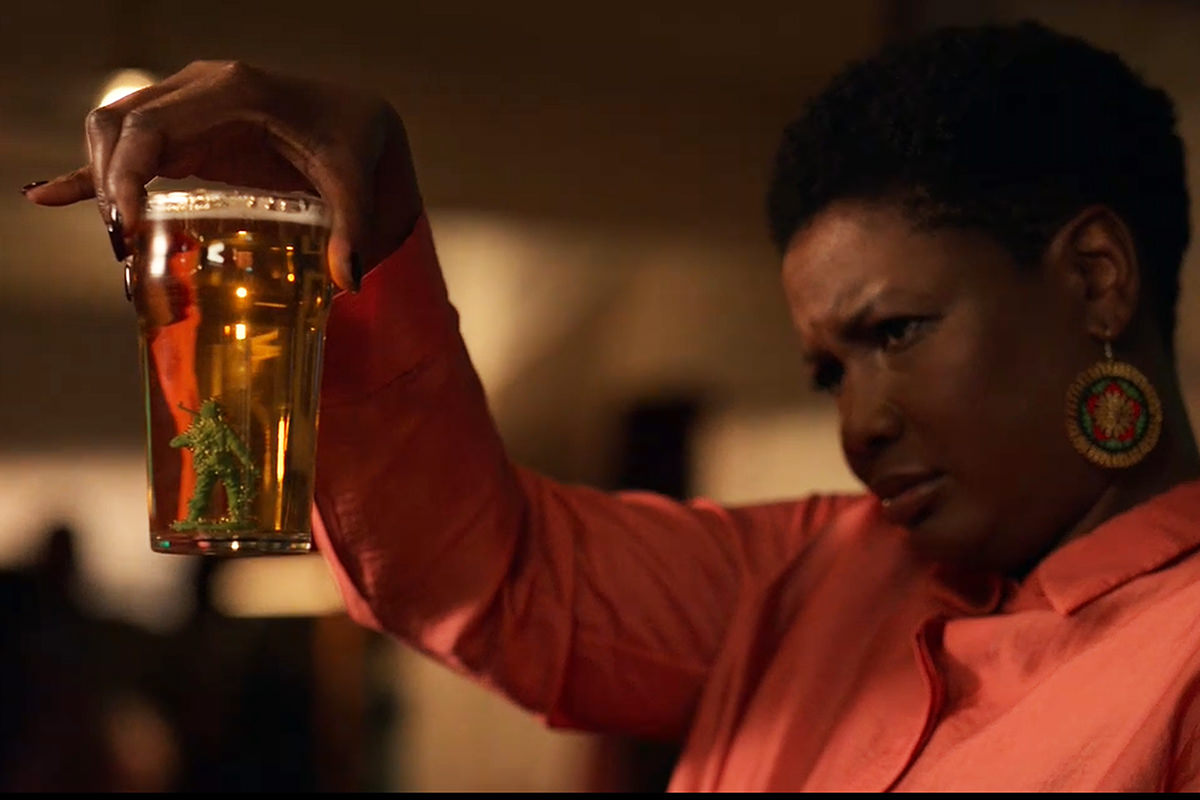 Before all the awards and accolades, it was said that Ted Lasso was going to be a trilogy of seasons. But now that Apple has a very, very good reason to keep the show running, I am fairly certain that a fourth season is highly likely. But whether or not that will include Jason Sudeikis as Ted remains to be seen.

• NO CRYING! I wish I knew whom to credit this photo to, because it is absolutely epic. Easily one of the best Halloween costumes I've ever seen...
Adorable. Adorable. Adorable.

• Poorly Animated! As a massively huge fan of Reza Farazmand's comic strip Poorly Drawn Lines (which he graciously contributed to Thrice Fiction)), I was happy to hear that it was becoming an animated series. And now it's here...
You can watch it on FX and stream it on Hulu right here.

• Trash TV! Paramount+ is fucking garbage. Can't play the content I'm paying for, and their tech support doesn't give a shit. Tells you to jump through hoops that never work. Has you disable stuff that no other streaming service requires. Then blames you or your hardware when none of their "suggestions" work. When will these fucking dumbasses learn that whenever they treat their customers like shit, it just encourages them to find other ways of watching the content they want to see. I have many streaming services... and NOT ONE OF THEM fails consistently like Paramount+. Not Amazon Prime, not Netflix, not Philo, not YouTube TV, not Hulu, not Apple TV+, not Peacock, not HBO Max, not Sundance, not Discovery+, not Hallmark Now, not Disney+, not Showtime... NONE of them fail like piece of shit Paramount+. And yet it's MY fault. Right. Okay. Cool. Well, at least I'm not alone...
If it weren't for the new Star Trek shows, I wouldn't give a fuck about Paramount+... the only show I watch on CBS is Magnum PI, and I always buy that off of iTunes so I can watch the episodes multiple times.

• PASSWORD?! This bullshit right here...
It is so fucking infuriating how sites set their requirements. Most of the things which they claim protect your security actually do exactly the opposite. Making passwords impossible to remember. Making passwords expire. All kinds of idiotic shit which keeps you from getting where you need to go. And password managers only scratch the surface, because sometimes it's the SITE that's fucked up. I've had many a site tell me that I have my password wrong EVEN THOUGH IT'S SAVED IN A MANAGER, and then when I have to reset it, I'm told that I can't use my previous password? Fuck you.

• NEWSFLASH: Photographer, social media star Matt Mathews: Opossum taken by the state was his 'baby'. Animals are not seen as living creatures by our laws. They are seen as disposable assets unworthy of consideration. And usually it comes down to some stupid-ass bullshit about "God providing animals for man's use..." (or abuse, as the case may be). But if you took ten minutes to actually read the Bible, you'd find that it dictates that animals are indeed worthy of kindness and care. God rejoices in ALL that he created. How in the hell do you think that this somehow excludes animals? This is just more of the typical "pick-and-choose theology" that plagues us. And our government.

• HA! Apples response to the EU wanting to dictate a USB-C standard for all devices is a laugh riot: "We remain concerned that strict regulation mandating just one type of connector stifles innovation rather than encouraging it, which in turn will harm consumers in Europe and around the world." What a load of horse shit. They moved to USB-C for their laptops and iPads without any problem. Why the fuck is the iPhone any different? Oh... that's conveniently left out of the statement.

That's what it's all about...
Tags:
Apple
,
Bullet Sunday
,
Bullshit
,
Halloween
,
Movies
,
Ted Lasso
,
Television
,
The Internets
Categories:
Apple Stuff 2021
,
Bullet Sunday 2021
,
Internets 2021
,
Movies 2021
,
Television 2021
—
Click To It:
Permalink
—
2 Comments: Click To Add Yours!
Posted on September 7th, 2021

Welp.
I knew what it was... but refused to believe that I knew what it was until I watched to the end of the video and found out exactly what it was!

Thank heavens we don't have cicadas here. I don't even want to know what that would do to my cats.
Posted on May 19th, 2021

I've had many mormon friends over the years that have come to mean a lot to me. And, without exception, they have accepted it when I tell them that I try to live my life according to Buddhist principles and that's enough for me. They've never attempted to "convert" me. They've never condemned me or my beliefs. They've never lied or harmed members of my family. They've never been anything except nice to me. And so I've done my very best to be kind to them in turn.
When I'm traveling and run into Mormon missionaries, I stop and say hello, ask how they're doing, and ask them where they are from to make conversation. Especially when I am in a foreign country, because I know they're probably homesick and lonely. Being nice costs me nothing.
This is not to say that I don't have issues with the Mormon Church. Far from it. I was absolutely infuriated when they, as a tax-exempt entity, decided to support the virulently anti-gay Prop. 8 Campaign. But I feel this way about all the churches that decided to become anti-gay propaganda machines. If you want to be a PAC, then that makes you taxable, and you should lose your exemption. Period.
But anyway... ultimately if you want to be Mormon (or whatever) and aren't using it as a weapon to against people (see Prop. 8 above) then you do you and I'll do me.
And if you want to stop being a Mormon, that's okay with me too.
Which brings us to Mormon Stories.
Mormon Stories Podcast is a series of conversations with John Dehlin which center around Mormonism. It started as a forum where Mormons could discuss all aspects of the religion from varying perspectives. And it's fascinating. I was reminded of this recently when a friend brought up Tyler Glenn (lead singer from Neon Trees). Back when I first got into the band (late... just four years ago or so), I found a 3-part interview he did about his growing up in Mormonism... and what eventually caused him to leave the church. If you don't know of him, he's the guy behind the fantastic theme song for Love, Victor...
I ended up listening to Tyler's episode all over again. I think what makes it so compelling is just how smart, kind, and humble he is when talking about Mormonism. His perspective is part uplifting... part heartbreaking... but all interesting. Even if you're not a fan of Neon Trees I still highly recommend listening to his appearance on Mormon Stories. Yes, it's six hours long, but once you start listening the time flies by. I (re)listened to it while I was working...
And that's just the tip of the iceberg. There's an interview with Jeremy Runnells about his infamous letter questioning Mormonism that's fascinating in a more analytical way. There's an interview with Wayne Sermon from the band Imagine Dragons that's every bit as interesting as Tyler Glenn's story. There's an interview with Noah Rasheta, who teaches Secular Buddhism from the perspective an ex-Mormon. The list goes on and on.
If you're looking for a new podcast series about a subject you may not even be familiar with, give it a listen.
Posted on March 17th, 2021

While there's a lot to love about my new best friend, TikTok... there's also stuff that manages to piss me off. Last night it was somebody (assumably British) who hit with a video where they're saying "IF YOU ARE AN AMERICA, NAME FIVE COUNTRIES THAT ARE NOT AMERICA!"
Now, I get the assumption here. Americans are self-centered, don't know much about the world outside our borders, and it's easy to think that we're all morons who can't name five countries outside of our own.
Usually I would just keep scrolling, but in this case I think the assumption of ignorance is misplaced. Partly because "five countries" is such a low bar (we're attached to two of them), and second of all because the person attempting to shame Americans is not doing it to enlighten us, but to laugh at our circumstance. As if some rural, small-town American who hasn't managed to get a good education and whose finances don't allow a life outside the town where they will grow-up, live, work, and die, somehow deserves to be belittled in this way.
Well they don't.
And a lot of us are likely aware of more countries than you'd think which is entirely independent of our education (or lack thereof).
First of all, not all of us are poorly-traveled. If I were asked to name five countries, can it be five of the fifty-plus countries I've visited in person, or does it have to be from those I haven't visited yet?
And I know fellow Americans who are more well-traveled than I am.
I know fellow Americans who have spent their lives volunteering in foreign countries.
I know fellow Americans who have sons and daughters, moms and dads who have died in foreign countries and am fairly certain they can name them.
I know fellow Americans who have friends and families who immigrated from foreign lands, which is fairly common in a land of immigrants.
I know fellow Americans who have raised money for relief in foreign countries.
I know fellow Americans who have adopted children from foreign countries.
I know fellow Americans who have served in foreign countries.
I know fellow Americans who had their service rerouted to administer foreign aid of countries struggling from disaster.
I know fellow Americans who can name foreign countries for a variety of reasons, and it in no way makes them better or worse as people. It's just something they may or may not know.
And if they don't know five countries? Quite possibly it's because the entirety of The United States of America (9,833,000 km²) is only a little smaller than Europe (10,180,000 km²), so Europeans knowing the countries their country borders is more similar to Americans knowing which states border their state...
I'm the last person who will say that Americans are the most educated or globally aware people on earth. Far from it. And while there are some Americans who should know better... starting with our politicians who are making decisions that affect the world yet can't find their own ass with a map... painting all of us with the same brush is kinda ridiculous.
But the world seems to have a lot of that going around lately, so no offense taken, I guess.