Posted on March 12th, 2021

Last night I took a double Benadryl cocktail at 9:30 and went to bed at 10:00 in the hopes that I could get some rest after battling my allergies all day long. I started to read more of a book I started last month (the excellent Four Hundred Souls: A Community History of African America, 1619-2019)... except, according to my Apple Watch... I passed out 15 minutes later.
I slept a total of 7 hours and 56 minutes.
That's a massive amount of sleep for me. And once I saw the sleep report, I was thinking that today would be the best day ever since I was so well-rested. Except... the lingering effects of Benadryl has meant that I spent my morning being mostly drowsy. Oh well. I tried.
In non-drug-induced-slumber-news...
When I went to Amazon to look into more replacement filters for my air purifiers, the very first "recommended item" was leggings. For women. And I'm like... "Dude. The last thing I bought was a frickin' vegetable peeler and a case of Cheetos. How in the hell did the leap from Cheetos to leggings happen?" — YOUR ALGORITHM IS DRUNK, AMAZON... GO HOME!
Although...
...there are certainly worse things to have show up on your Amazon recommendations.
Even though pink isn't really my color. And no amount of Cheetos will ever make my ass look that good.
And in other, other news. I've discovered Goat TikTok...
And just when you thought your Friday couldn't get any better. You're Welcome!
Posted on August 9th, 2019

This morning while I was waiting for my laptop to render out the project I had been working on for an hour-and-a-half, I grabbed my iPhone to take a look at what's going on in the world. Granted in this day and age that's most always a mistake, but I'm a glutton for punishment.
After glossing over the "news" tab I clicked on the "entertainment" tab because that's always a much happier place to be. One of the first stories was The Movies Directed By Quentin Tarantino, Ranked. I'm a big Tarantino fan, so I had clicked through without even thinking about it. The list (over at Film School Rejects) was an interesting one. They put Inglourious Basterds at the top, not Pulp Fiction, which is usually not how these lists go. Most times I never know if the person making the list puts Pulp Fiction as #1 because they honestly feel that way... or because it's expected of them to have it there. Then I noticed that the Film School Rejects list was a composite list by a group of people, and suddenly everything made sense. Since the list wasn't being attributed to a single person's name, people could vote how they wanted to with no pressure to vote as they feel people expected them to.
While I prefer lists that I can attribute to a single person, I do like the idea of lists that are voted on by multiple people. If, for no other reason, because it feels as though it gives a better barometric of truthiness due to the anonymity of it all.
Then I discovered the website Ranker and fell down a rabbit hole.
Ranker is a site where any visitor can vote on lists of things (and also has regular news stories). Clicking on the "entertainment" tab and I see Every Song in Cats, Ranked by Singability and The Best TV Shows Streaming on Hulu and The Greatest Animated Series Ever Made and Famous Women You'd Want to Have a Beer With.
Then I see the list that compels me to start ranking... The Best Hallmark Channel Original Movies of 2019. ON THIS SUBJECT I HAVE VERY STRONG OPINIONS!
Two hours later...
...my rendering finished ages ago and I'm running in danger of being late to work. That's what happens when you feel compelled to vote on things like Funny Names to Give a Chicken (before you judge me, 4,300+ other people were in on this)...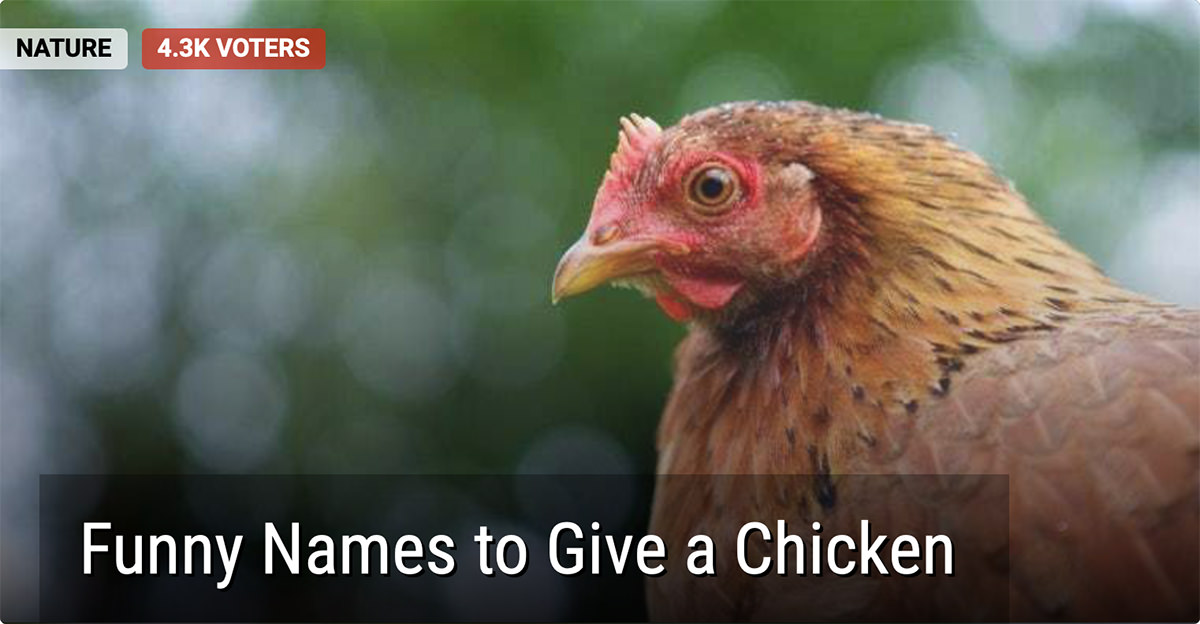 I mean, come on... "Tyrannosaurus Pecks?" "Mother Clucker?" "CLUCK NORRIS?!?!?" Personally, I give the edges to "Sir Clucks-A-Lot" for a boy and "Margaret Hatcher" for a girl, but that's just me.
Also just me? Ranking The Very Best Pop-Tart Flavors... so, if you'll excuse me, I've got work to do.
Posted on September 14th, 2018

Every time I mention my various home automation projects, I get emails with questions. After mentioning "IFTTT" while talking about my new Google WiFi router system, there were people asking about it. So I thought I'd go through ways that I use IFTTT so I can explain better.
And so...
Let's start with smart lightbulbs.
There are a lot of programmable LED multi-color lightbulbs out there. Probably the most famous brand is Philips "Hue" bulbs. They are very cool lights with a lot of capabilities and incredible flexibility. But they require a "Hue Hub" in order to operate. This is just silly in 2018, so I ignore them.* Maybe if I start changing all my lights out, I'll switch to Hue where having to buy a hub makes more economic sense.
In the meanwhile I buy GoSund "Smart Life" bulbs which do not requite a hub. They connect to WiFi directly. There are quite a few bulbs that connect directly, but the Smart Life bulbs are cheaper than most. Also? I have a half-dozen other Smart Life products, and find them reliable and easy to use.
But most important? Smart Life products support IFTTT.**
For those unfamiliar with it, IFTTT (If This Then That) is a free service which allows you to create all kinds of triggers to control IFTTT-enabled devices. There are scads of triggers. Scads upon scads. And the number of things you can do with the triggers is vast. Want to get a text every time the International Space Station flies over your house? NASA has a trigger you can connect to a Text Service to do that. Depending on which IFTTT-enabled devices you have, you could have just about anything happen every time the International Space Station flies over your house!
But anyway...
Where I live they pick up your garbage every Thursday morning. But EVERY-OTHER Thursday, they also pick up your recycle bin. I can never remember which Thursday is which when I set my garbage out on Wednesdays, so I decided to have my driveway light turn blue on days before recycle days using IFTTT.
It sounds simple, but the cheaper Smart Life bulbs don't have a lot of capabilities within their own app (which I use to turn outside lights on at sunset and off at sunrise). To do what I want to do, I have to use IFTTT and get creative to makes sure that things work reliably the way I want them to.
Every day at 11:00am, I have IFTTT set the Driveway Light to 100% Green at 100% Brightness (but leave the light itself off). This is the default color I choose because I support the Greenlight a Vet Project. I do this to be absolutely sure that my light is set to default every day in case I have to manually mess with the color for some reason. This also puts my light back to default the day after it goes Blue for Recycle Day...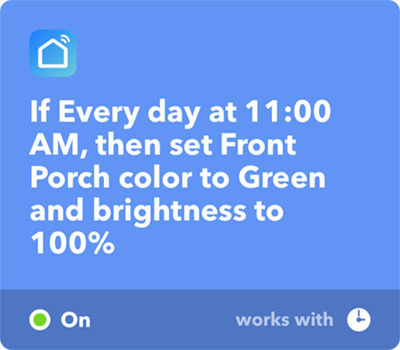 I don't use my Google Calendar for anything EXCEPT a reoccurring event every-other-Wednesday at 1:00pm called "Recycle." Every time that event happens, I have IFTTT set the Driveway Light to 100% Blue at 100% Brightness, then turn it on. So when I come home from work I will have a reminder that I need to set out my recycle bin (in addition to my regular garbage). And when my neighbors see my blue light they know to set their bin out too...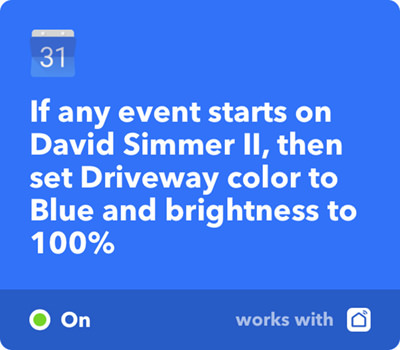 And that's that. It really is this simple, and creating your own "recipes" for triggers and action is easy. If you want some tips on how to do all that, then a YouTube search will result in a lot of videos showing you how.

And another thing I've done with IFTTT?
I have my television on 90% of the time I'm home. Even when I'm not watching it, I like the background noise while I work. The first thing I usually do when I get home? Tell Alexa to turn on the television. But now I don't have to. When I come home and my iPhone connects to Google WiFi, the router automatically triggers IFTTT to have my Harmony Hub turn on my television. It's on when I walk in the door***...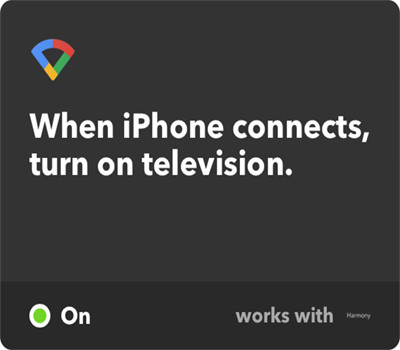 Yet another thing I've done with IFTTT?
I have a "Ring" smart doorbell. Thanks to Ring, I can answer my doorbell and see/talk to anybody who rings it no matter where I am. Problem is? I made the mistake of replacing my awesome Ring doorbell with a Ring Pro, which is a pile of shit. It disconnects from WiFi at random times for no reason at all. Even now that my Google WiFi Mesh provides plenty of signal, it's still disconnecting. And of course the piece of shit doesn't reconnect automatically. I have to remove the cover with a special screwdriver, press a button, then run through setup again. And the problem with that? How do I know when the doorbell drops WiFi?
Well, thanks to IFTTT, I have my Google WiFi router text me when my Ring doorbell goes offline...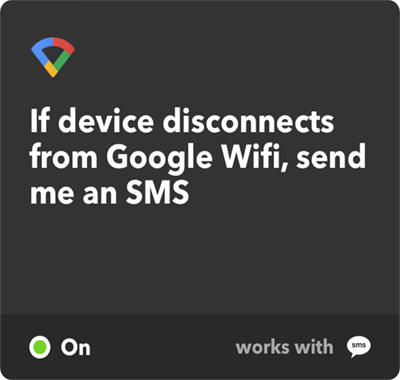 I used to use my iPhone's location services to create a "fence" around my home. That way when I arrive or leave home, I can trigger events. But location services, while more accurate than ever, are still not entirely reliable. What is accurate and reliable? My iPhone connecting to my Google WiFi mesh network when I arrive home.*** Which is why I now use that to tell my house that's I'm coming or going. IFTTT then triggers things like setting my smart thermostat to either "Home" or "Away"...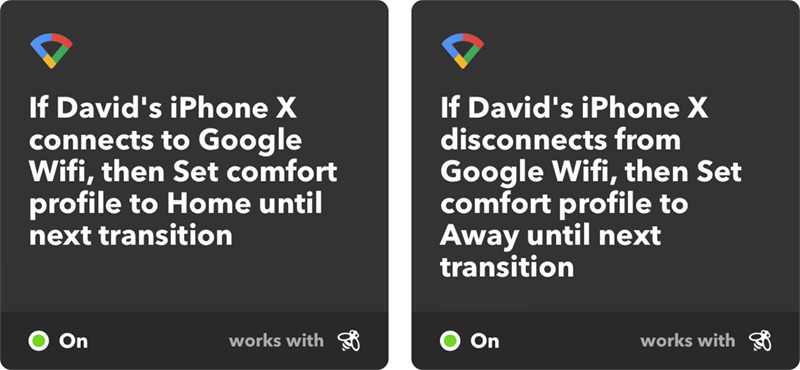 The possibilities are limited only by your imagination... and how many IFTTT-enabled devices you own... and what IFTTT services are available. The numbers are growing every day. Heck, even Dominoes Pizza has linked their Pizza Tracker technology to IFTTT! Have your garbage disposal turn on when your pizza goes in the oven... then have your garage door open when it's out for delivery...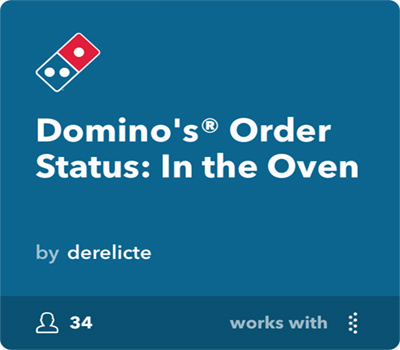 Regardless of how much home automation you have, there's still a lot of useful stuff you can o with IFTTT. For the longest time the only action I had was triggering Alexa to call my iPhone when I couldn't find it so I could follow the ring. That's magic right there.

*Also? There's some wacky hoops to jump through to get them connected to Alexa I think? I dunno. Whenever I "discover devices" with Alexa, I get some kind of warning for Hue stuff.
**Well, kinda. The ability to change bulb colors with the GoSund bulbs is kinda messed up right now... but I'm assured they are working on it!
*** I also have an IFTTT trigger to set my SONOS to a low volume so I don't give my cats a heart attack on days I was blasting music the night before.
**** Speaking of my Google WiFi mesh network... the sucker got range. When I was walking home from work today I had my phone out so I could see when I first started getting signal... it was here...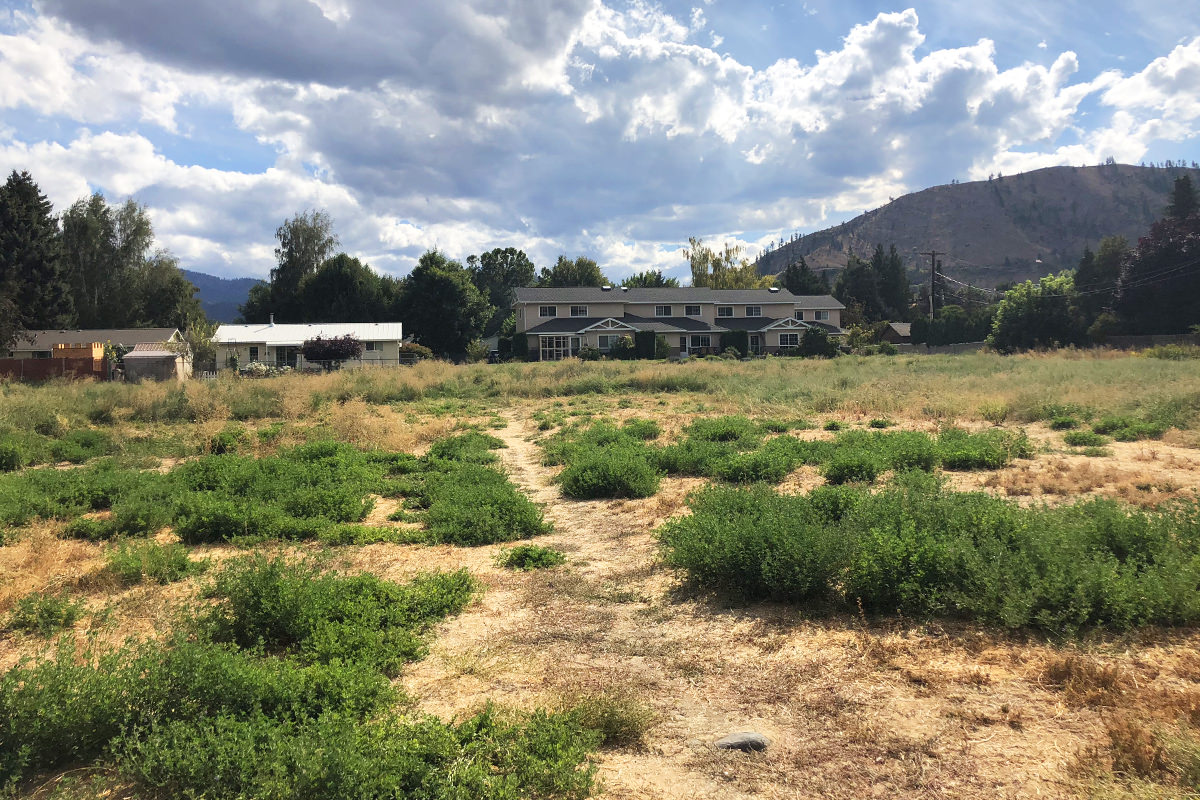 Pretty great, right? My old router had 1/3 the range.
Posted on April 6th, 2016

Once I was hanging out at a bar with friends that featured live music. The band, which wasn't bad at all, was being badly heckled by a couple tables. For the first couple of songs, the band ignored the chants of "FREEBIRD!" and "NOW PLAY SOMETHING THAT DOESN'T SUCK!" But eventually the lead singer stopped the show and said something like "Hey, I get it. You don't like our music and that's fine. But, believe it or not, there are people who DO like our music and they've come here tonight so they can listen to us play. And you're ruining that for them. There are plenty of other bands out there and some of them probably play music you will enjoy, and you should probably go see them instead of us. But if you're going to stick around, be quiet and let us play. We'd do the same for you and your band... if you had a band. Which you obviously don't. If you did, you'd know how tough it is to get up in front of a room full of people to perform for them, and show us some fucking respect."
And it worked. One of the tables finished their drinks and left. The other stopped being assholes. And the reason it worked was because the band was able to confront the hecklers face to face. The hecklers couldn't hide from the consequences of their actions.
And then we get to the internet, where most of the people most of the time are hidden from the consequences of their actions. Why should they be quiet and respectful when their online "identity" is "BigLukeThe Exploder?" (or whatever... my apologies to BigLukeTheExploder if you actually exist).
Well, I want in on that.
Removing consequences from my actions sounds like a lot more fun than what I'm doing now.
So the next time you see an anonymous troll being a total fucking asshole on the internet... be kind.
It might be me.
Posted on February 4th, 2015

I would have bet one million dollars that the special interest lobbyist pig-fuckers representing AT&T, Comcast, Time Warner, Cox, and all the other internet provider assholes buying off our corrupt politicians would have killed net neutrality by now.
So imagine my surprise...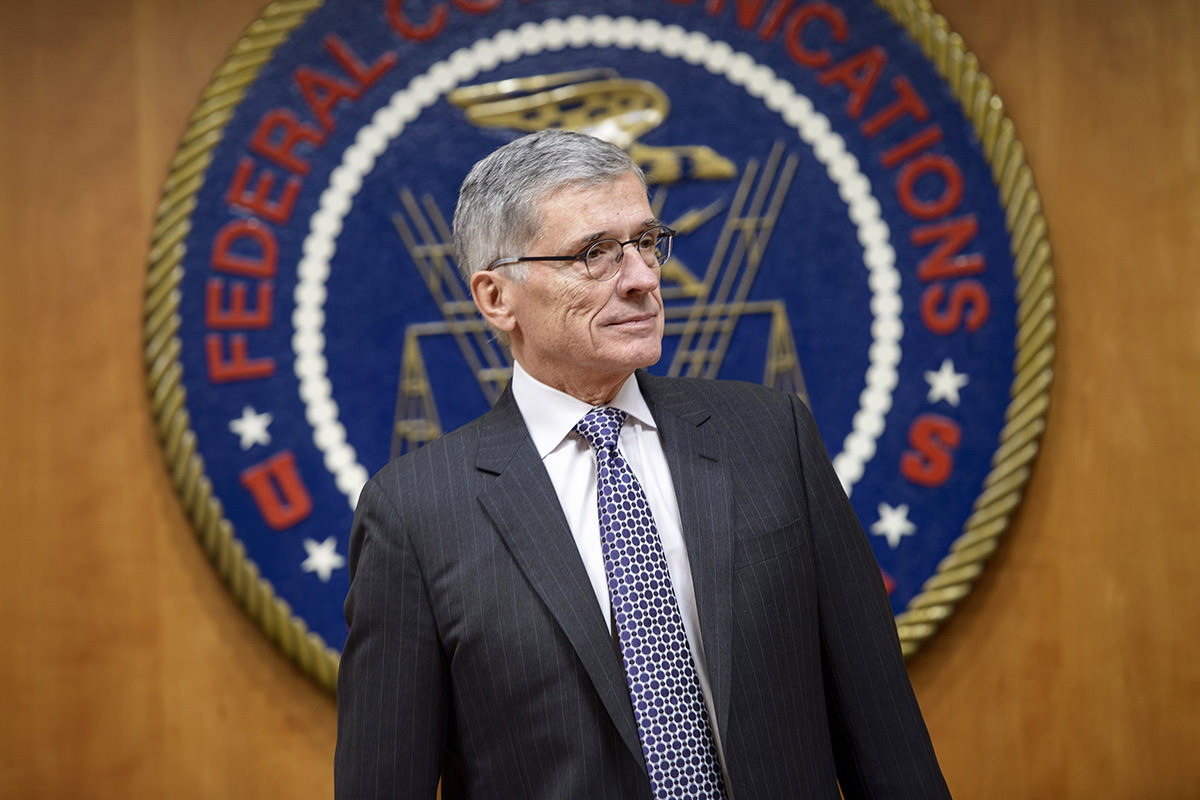 Photo by Brendan Smialowski/AFP/Getty Images
FCC Chairman Tom Wheeler: This Is How We Will Ensure Net Neutrality
Of course, this is not to say that internet freedom has been won... I'm sure pig-fucking lobbyists representing internet conglomerate assholes haven't even begun to explore new ways to buy control of the internet from our corrupt politicians.
Where there's billions of dollars, there's a way, after all.
In the meanwhile, however... surprisingly good news on the net neutrality front. A public utility it is. For now
Not surprisingly, there's still a bunch of politicians with their lips firmly planted on Comcast/AT&T/Time Warner/Cox cock that have escalated their hand-wringing about how net-neutrality is bad for the internet. Remedial Senator and All-Around Dumbass Ted Cruz went so far as to label it "ObamaCare for the Internet." I have no idea what the hell that's supposed to mean... but apparently it's bad.
Bad how?
Well... the arguments seem to go like this...
HOLY FUCKBALLS! WE'VE JUST HANDED OVER CONTROL OF THE INTERNET TO THE GOVERNMENT! Except... not really. This is not so much the government "controlling" anything as it is them making sure data is kept free. Since all data is going to be treated equally from here on out, control of the internet resides with the American people using it. THEY get to decide what is a priority to them. Without net neutrality, control would reside with companies like AT&T, Comcast, Time Warner, and Cox... all of whom would be able to dictate which data has priority, which data is worth more money to access, and even if certain data could be accessed at all.
NET NEUTRALITY IS UNFAIR! BANDWIDTH-HOGGING USERS PAY THE SAME AS REGULAR USERS! This is about the stupidest thing I've heard in a long while. Show of hands... who honestly thinks that AT&T, Comcast, Time Warner, and Cox would lower prices for customers who use less bandwidth? Anyone? Anyone? Didn't think so. Remember... these are the same assholes who won't let you pay for only the channels you want to watch when it comes to cable television. They bundle bunches of channels together so they can suck the most money possible out of their customers. These are the same assholes who charge outrageous fees for cellular text messages, even though the cost of delivering them is practically negligible. These are the same assholes who are eliminating unlimited data plans as a way of getting more money out of their data users... bit by bit. Make no mistake... no mistake... the only thing that would change if net-neutrality were defeated is that prices for some (most?) users would go up. Sure they'd undoubtedly offer a token "low bandwidth" plan... but anybody thinking it would serve their average user is seriously deluded.
IT'S ANTI-COMPETITION! IF EVERYBODY HAS TO OFFER THE SAME DEAL, THEN WHERE IS THE INCENTIVE TO INNOVATE AND COMPETE? Crazy talk. Just because all data has to be treated the same, who says that internet providers can't charge more money for higher internet access speeds to that data? Oh... wait a second... MOST OF THEM ALREADY DO! ISP competition is offering more for your money versus other ISPs. When I walk into my local cable company, there's huge posters splashed everywhere saying "OUR INTERNET IS 20 TIMES FASTER THAN DSL!" How in the hell is net neutrality going to threaten that? Assuming you have a choice where you live, the company offering the best access speed for the best price has an advantage over your other choices. Net neutrality isn't going to change that.
NOW BIG COMPANIES HAVE A STRONGER MONOPOLY AND NEW ISPs CAN'T BREAK INTO THE MARKET! I actually had to have somebody explain this to me, it made so little sense. The idea is that some brilliant company comes along with a new and innovative ways of accessing the internet for less money... but their method involves charging more for some services than others. Since net neutrality forbids this, they never get to open their doors and their brilliant internet access technology is denied to people forever. Well, okay, it still makes no sense to me, but I'll give it a shot. The only way that current ISPs could possibly be a bigger monopoly than they already are would be if AT&T, Comcast, Time Warner, and Cox merged into one company. Period. No little company is ever going to have a chance because the stakes are too high for the big guys to ever allow a loss. Otherwise we'd have new cable companies popping up which allow their customers to pay for television channels ala carte. How do I know? BECAUSE THAT'S WHAT

EVERYBODY

WANTS! It would take a massively huge company... like Apple or Facebook or Google... to break up what we have now. Net neutrality ain't changing that either. Unfortunately.
BANDWIDTH IS A FINITE RESOURCE. IF YOU CAN'T REGULATE BANDWIDTH BY BEING ABLE TO CHARGE MORE FOR THOSE WHO USE IT THE MOST, THE INTERNET WILL FAIL, AND CRITICAL SERVICES LIKE EMAIL WILL BE IMPACTED. Yes. That's a terrific reason to create a two-tiered internet where only those who can pay for heavy bandwidth get the luxury of being able to use it! Or... not. You know what's killing email right now? Spam. You know what's going to be killing email after net neutrality is implemented? Spam. And you know what's going to still be killing email once we reach peak bandwidth and emails are delayed or fail to get through? Spam. So when do we fix that problem? You know what's killing the web right now? Viruses. You know what's going to be killing the web after net neutrality is implemented? Viruses. And you know what's going to still be killing the web once we reach peak bandwidth and website pages are delayed or fail to get through? Viruses. So when do we fix that problem? And what about transactions? Fraud. And what about security? Cyberterrorism. Etc. Etc. Etc. So when do we fix those problems? Companies are increasing their bandwidth speed all the time. They have to, or else their customers will go somewhere else. So, yes, if everything stays the same with the internet and nothing is changed or updated, we're headed for a problem. But does anybody actually think that's the case? No. Infrastructure is constantly being improved for the internet just like it's constantly being improved for cellular phones. This is not to say that we won't run into problems... it's technology, after all... but saying net neutrality is going to be the death of the internet is silly when there are even bigger problems with the internet facing us. Like spam. And viruses. And fraud. And cyberterrorism. Etc. Etc. Etc.
And now we come to the NET NEUTRALITY DOESN'T LEVEL THE PLAYING FIELD... JUST THE OPPOSITE... IT MAKES IT MORE EXPENSIVE FOR SMALLER COMPANIES USING LESS BANDWIDTH THAN BIG COMPANIES LIKE NETFLIX AND FACEBOOK AND YOUTUBE! part of our blog entry...
I saved this for last, because it's just so outrageously stupid. It costs me $12.70 a month to have this blog hosted on the internet. If I wanted to turn it into a business website, it would still cost me $12.70 a month to get it hosted. Yes, if it became a hugely successful business website that got tons of traffic, I'd have to pay more than $12.70 a month to get it hosted because a successful business costs more to run... such is the price of success, but still... $12.70 a month to start.
I assure you that Netflix, Facebook, and YouTube cost more than $12.70 a month to get hosted. But back to the point...
For $12.70 a month, I have a blog that's every bit as accessible to people on the internet as Netflix, Facebook, and YouTube.
And no matter how many billions of dollars Facebook has, net neutrality ensures that they can't use that money to shut me out. They can't pay to have Facebook load faster than Blogography. They can't pay to have Blogography be unaccessible. It doesn't matter how big of a threat to their bottom line Blogography is, Facebook can't use their massive bankroll to manipulate the internet to make me go away*.
If that's not a level playing field, I don't know what is.
Thanks to the internet and net neutrality, a small startup company can take on companies millions of times their size... starting out at $12.70 a month. And there's nothing those massive companies can do to stop them from being on the internet.
Seriously... if that's not a level playing field, what the fuck is?
I can't for the life of me understand how people like Iris Somberg can sit there with a straight face telling me that it's the opposite of a level playing field. Something tells me her lips must be firmly planted on Comcast/AT&T/Time Warner/Cox cock, because this is so obvious as to be painful.
Yet net neutrality became a reality anyway.
I know. It shocked the hell out of me too.
*Of course, if Facebook wanted to pay me millions of dollars directly to make Blogography go away... well... my email address is at the top of the sidebar on every page here.
Posted on January 28th, 2014

"What you've just said is one of the most insanely idiotic things I have ever heard. At no point in your rambling, incoherent response were you even close to anything that could be considered a rational thought. Everyone in this room is now dumber for having listened to it. I award you no points, and may God have mercy on your soul." —The Principal from Billy Madison
"Politics is the art of looking for trouble, finding it everywhere, diagnosing it incorrectly and applying the wrong remedies." —Groucho Marx
"Wrong does not cease to be wrong because the majority share in it." —Leo Tolstoy from A Confession
"It is very unnerving to be proven wrong, particularly when you are really right and the person who is really wrong is proving you wrong and proving himself, wrongly, right." —Lemony Snicket from The Blank Book
"It is hard to imagine a more stupid or more dangerous way of making decisions than by putting those decisions in the hands of people who pay no price for being wrong." —Thomas Sowell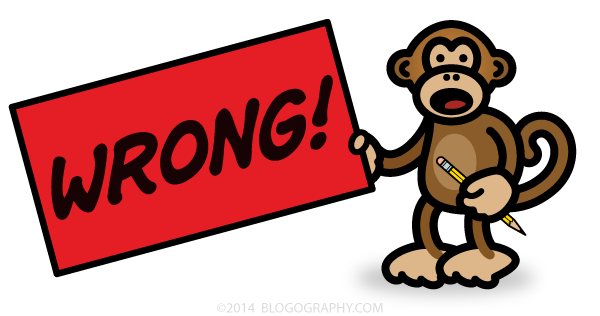 If somebody could just take me off this planet, that would be great.
Posted on May 29th, 2012

The bad news is that my entire weekend was completely packed, so I didn't have any time to spend on the internet.
The good news is that my entire weekend was completely packed, so I didn't have any time to spend on the internet.
It's times like this that make me realize how much of my day I spend online. It's really getting out of hand, and I can't help but wonder what I've been missing in Real Life. Not that I want to give up the internet altogether... a big part of my life is here... but maybe I should be less obsessed with keeping constantly connected to it.
Internet addiction is a hell of a drug.
Which is a pretty deep thought considering I'm not even supposed to be here today. I'm guest-posting over at Christopher's blog...
This blog entry could self-destruct at any minute, so go check it out!