Posted on Sunday, February 19th, 2023

Spring is finally in the air and the bullets are flyin'... because an all new Bullet Sunday starts... now...

• Faux! I have put the "news" in FOX "News" in quotations because anybody who's paying attention knows that it's neither fair nor balanced and is sure the fuck not actual news. It's 1000% propaganda that's mostly exaggerations and outright lies. And now we know that the people actually at FOX "News" know that they are pushing lies. A bunch of internal texts have been uncovered that prove it. This will come as no shock to anybody outside the FOX "News" bubble... but it should be a surprise to those inside of it. Except it likely won't matter, because lies that fit their narrative are better than facts and truth. Which is actually true for everyone and everything.

• Down Under! Do yourself a favor and go look at the winners of the Underwater Photographer of the Year awards. Because holy crap...

Winner: Fade by J. Gregory Sherman (United States)
It's incredible how absolutely mind-bending some of these shots are. Well worth your valuable time.

• Oranges! There's a TikTok channel devoted to golden monkeys eating. That's it. That's all it is. But it's fantastic. I mean, come on... JUST LOOK AT THIS (here's a link in case TikTok is being a dick)...
But don't take my word for it... go take a look!

• Healing! I seriously, seriously for the love of God hope that we can normalize psychedelics as treatment for trauma. It has been proven time and again that it is astoundingly effective in providing relief to those who are hurting. John Oliver really breaks it down in a way that everybody can understand. Well worth your valuable time...
It's not a magic bullet, obviously, but more research and testing needs to happen. Especially for our veterans.

• Licorice Pizza! Magical...
It's amazing that all this works. But oh so cool that it does.

• Twain Train! I was watching the best talk show ever to exist, The Graham Norton Show where it was revealed that Shania Twain has a train named after her in Switzerland. It's called Shania Train, which is epic...
This rivals the great names that they give snowplows!

• God Rod! Derek Muller's Veritasium channel is always entertaining. But some of his videos are just wildly worth watching, and he released a doozy last month. If you've got 20 minutes to kill, this is worth a watch...
It makes you wonder how many crazy, untested ideas actually gets funded with our tax dollars.

Until next time, true believers!
Posted on Wednesday, April 12th, 2023

I have been following Adobe Photoshop's efforts in "Neural Filters" for a while now. As you'd expect, they keep getting better and better.
Some... like remapping colors are interesting, but I don't see much use for them for me.
But there are two which have really caught my interest, and that would be "Restore Old Photo" and "Colorize." They show some incredible promise right now and will only keep getting better as AI models and sample data get better.
Take this shot of my grandmother helping baby me eat watermelon...
First I restored the photo, which added clarity, sharpness, and balance... then I colorized it. The result isn't perfect (watermelon is red), but it's utterly remarkable when you consider that absolutely no work was involved! This happened with a click.
The filter can do more than just clarify and sharpen in a smart way, it can also do things like remove scratches and fingerprints with just a click. In this photo of me and my dad, there's a nasty fingerprint in the upper-left corner. Now, I can remove this easily, but it will take some time. But if I don't have any time, I can just run a filter on it. Neural filters don't remove it completely, but it's a very good start. I would spend a heck of a lot less time getting rid of what's left after the filter was run than doing it all from scratch...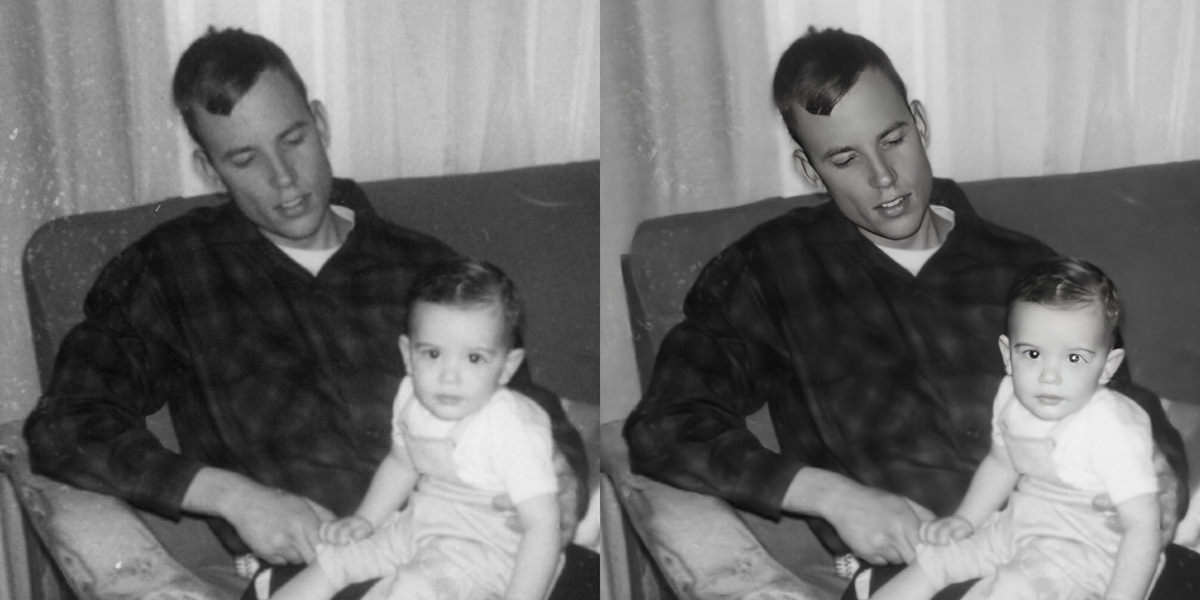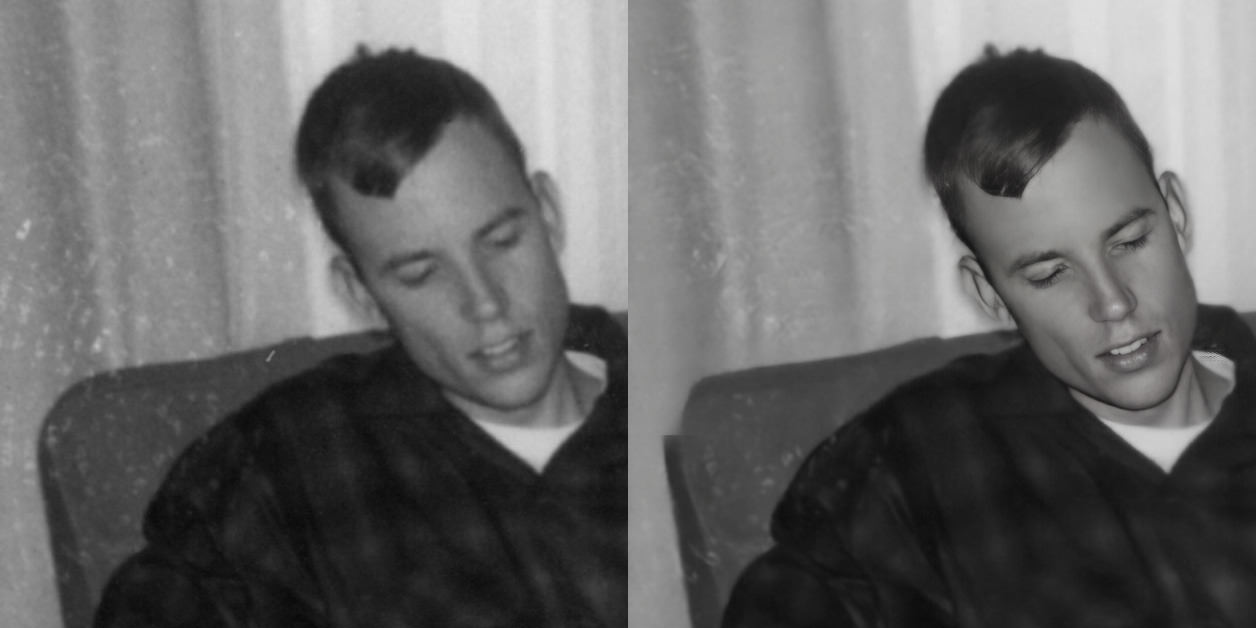 Colorization is really hit-or-miss. Sometimes the color assignment seems to be random. Fleshtones always fare the best, but other things are inconsistent and strange. In the photo above, you get objects changing color in different places...
This colorized photo of me in my awesome first car didn't do well at all. My car's grill is pink. The car behind me is half grey and half pink. My family named it the "Grey Ghost" but it's not quite that here...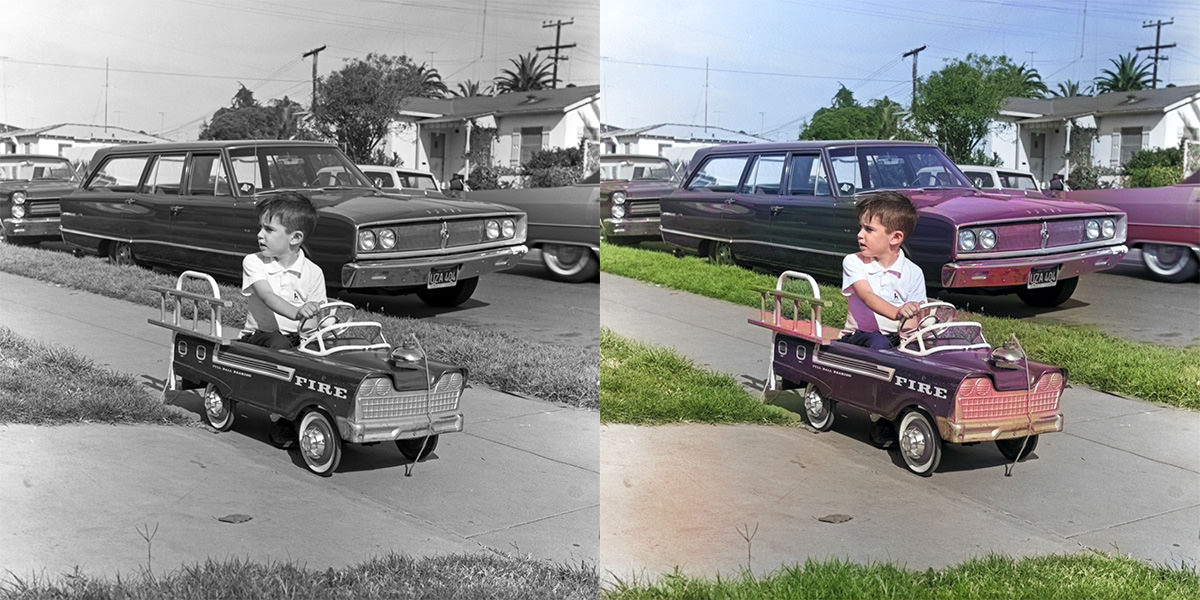 So colorization isn't always something you'd want to do, but just look at how great the above photo looks when it is restored in black-and-white. The clarity is jaw-dropping. Just look at how it pulls detail out of the hair that wasn't really there...
Here are some other examples of colorization gone wrong...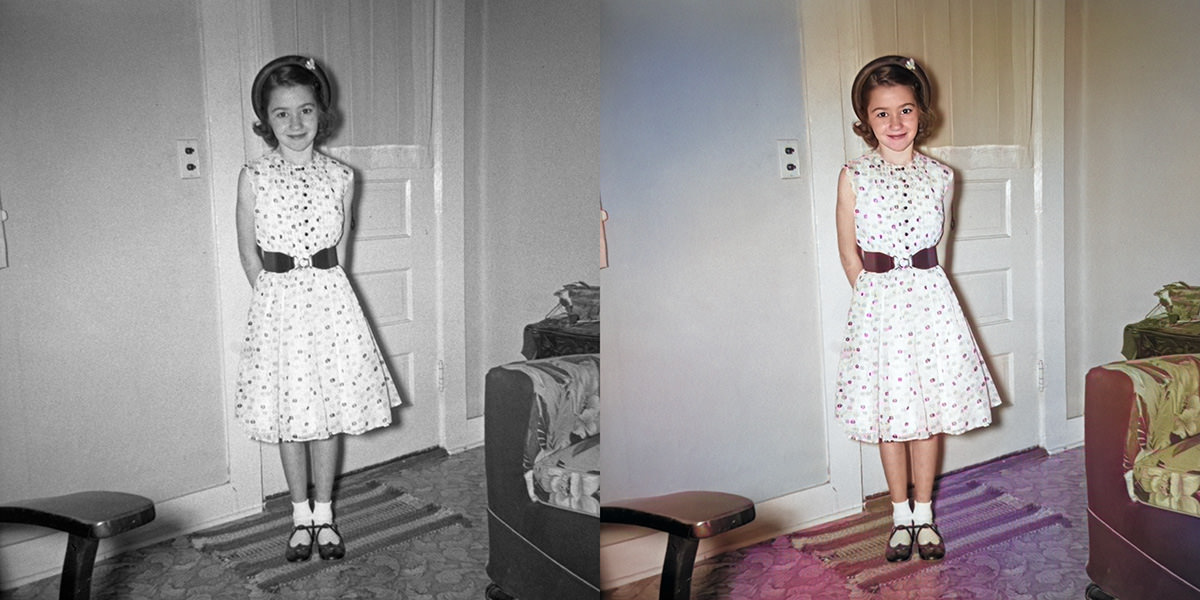 But every once in a while you hit paydirt. Look at this photo of my grandparents with my mom and her brother. This took one click... ONE CLICK...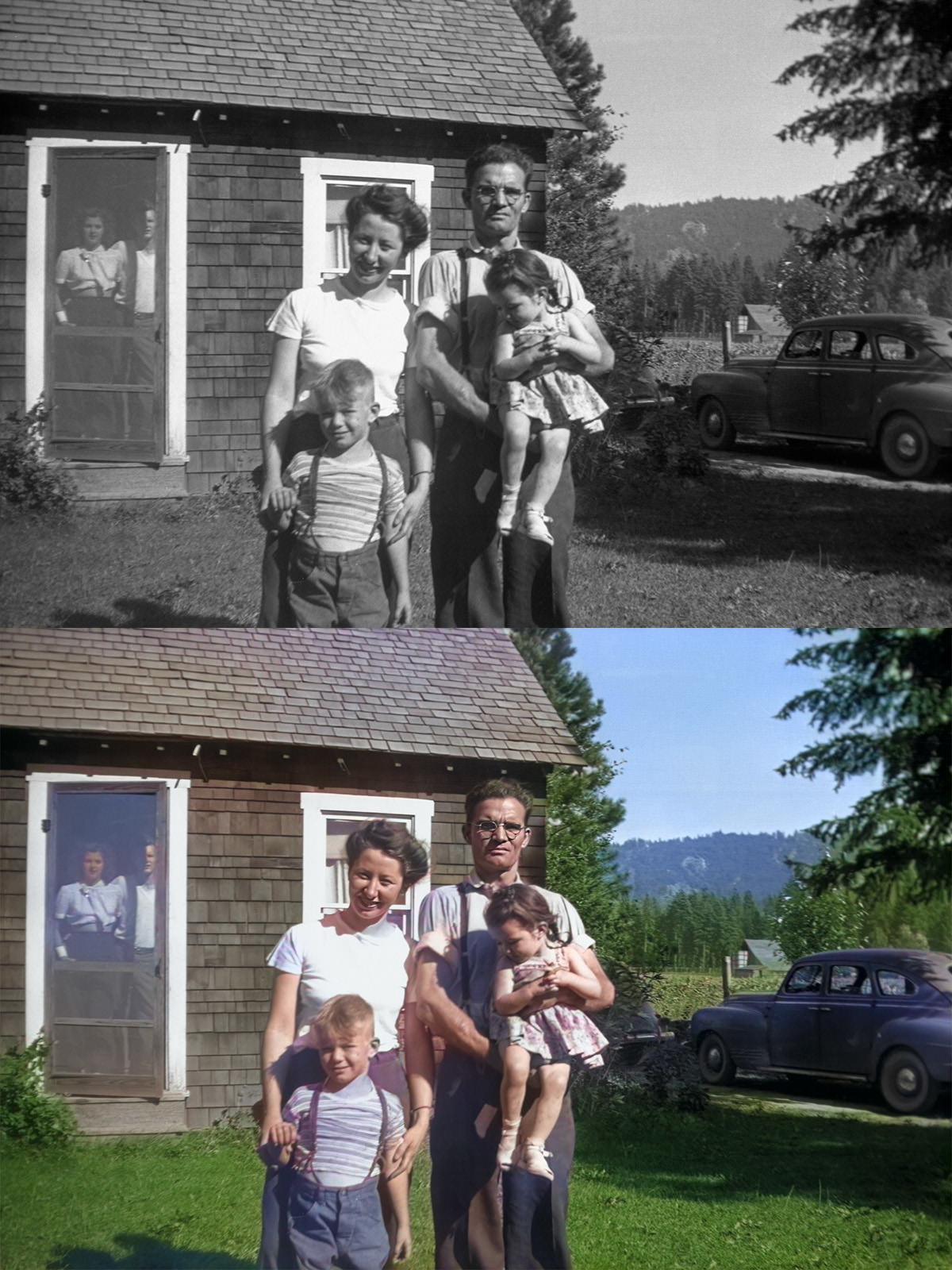 It's not just Black & White photos that can benefit. Color photos can be restored as well, and the result is no less striking. It sharpens without weird artifacts and smooths skin without making it look plastic...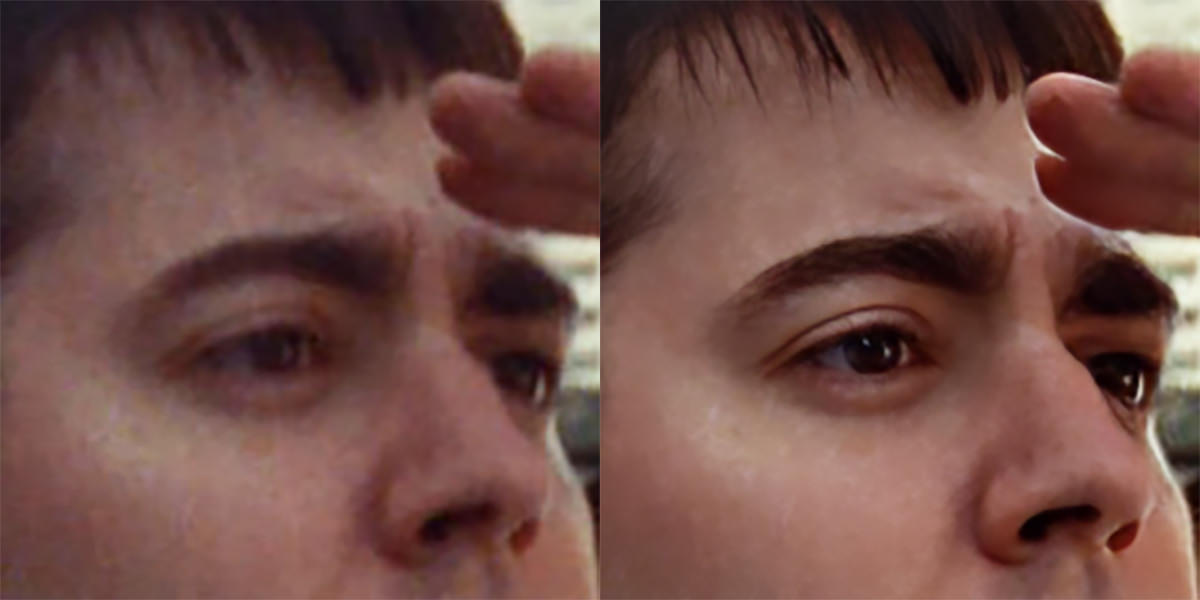 Even color photos can be colorized. It doesn't always work very well, but sometimes you get lucky and have better results than if you used "regular" filters (like auto-levels or auto-tone or auto-color). Here's me eating chocolate pudding as a kid that's been restored then colorized...
You can't really see it, but the sharpening and restoration is stunning...
Neural filters and AI are already putting a lot of power in the hands of non-professionals. And will be putting a lot of professionals out of work as time marches on. There was a time that I made a lot of pocket money doing photo touch-up in my spare time. I don't even know if that would be possible today.
For better or worse.
Posted on Friday, May 12th, 2023

So... Disney+ is yet another streaming service that doesn't get it. They are merging their service with Hulu and removing content (along with providing less new content). And raising prices.
I signed up for Marvel and Start Wars content. Period. I don't watch anything else on their service. So the less content they have of these properties... and the less new content they add of them... the less there is for me to watch and the less reason I have to stay subscribed month-after-month. Adding Hulu crap doesn't compensate for WHAT YOU TOLD ME I WOULD BE GETTING WHEN I SIGNED UP. Another season of Handmaid's Tale (or whatever) does not interest me. And it really doesn't make up for a price increase and less content for me to watch. These streaming services are trying to be all things to all people and failing badly at it. Stick to your niche: Disney, Pixar, Marvel, and Star Wars. I'll pay for that. All your other content should be a separate service that has to succeed or fail on its own. Don't expect me to subsidize it, because I won't.
Oh well. I'll just subscribe once or twice a year to watch whatever new Marvel and Star Wars content I want to see.
Hopefully without ads because there's only so many millions of times I can handle watching commercials for The Vestiaire Collective.
But anyway...
I've had all the camera brands... Canon to Nikon to Olympus to Panasonic to Fuji to whatever. Despite the shitty menus on the camera, my hands-down favorite is from Sony. No joke... Sony Electronics makes the best cameras I've ever used, and I've gone around the world with them.
BUT THEIR SOFTWARE FOR EVEN THE MOST BASIC FUNCTIONS... LIKE TETHERED SHOOTING... IS THE ABSOLUTE FUCKING WORST. They NEVER work. EVER. I have never once been able to get ANYTHING working with Sony tethered shooting for more than two minutes.
This morning I've been trying again for an hour.
NOPE! How in the hell do you fuck up something so simple THIS badly?
PC Remote is ON...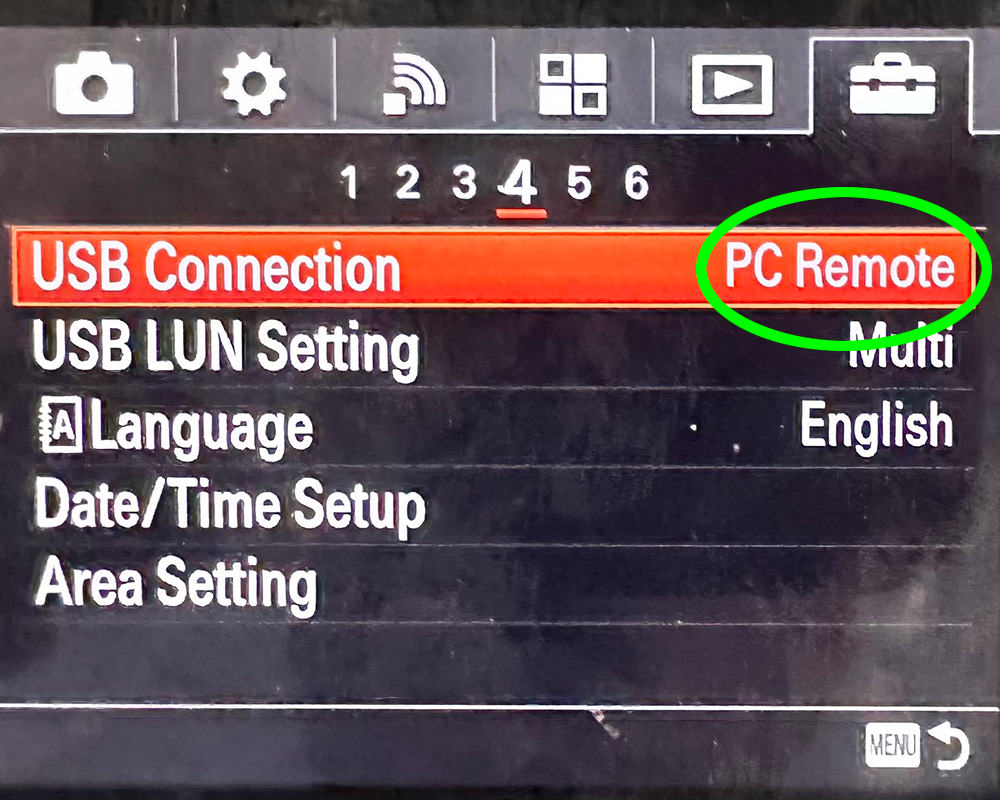 Remote Control is ON...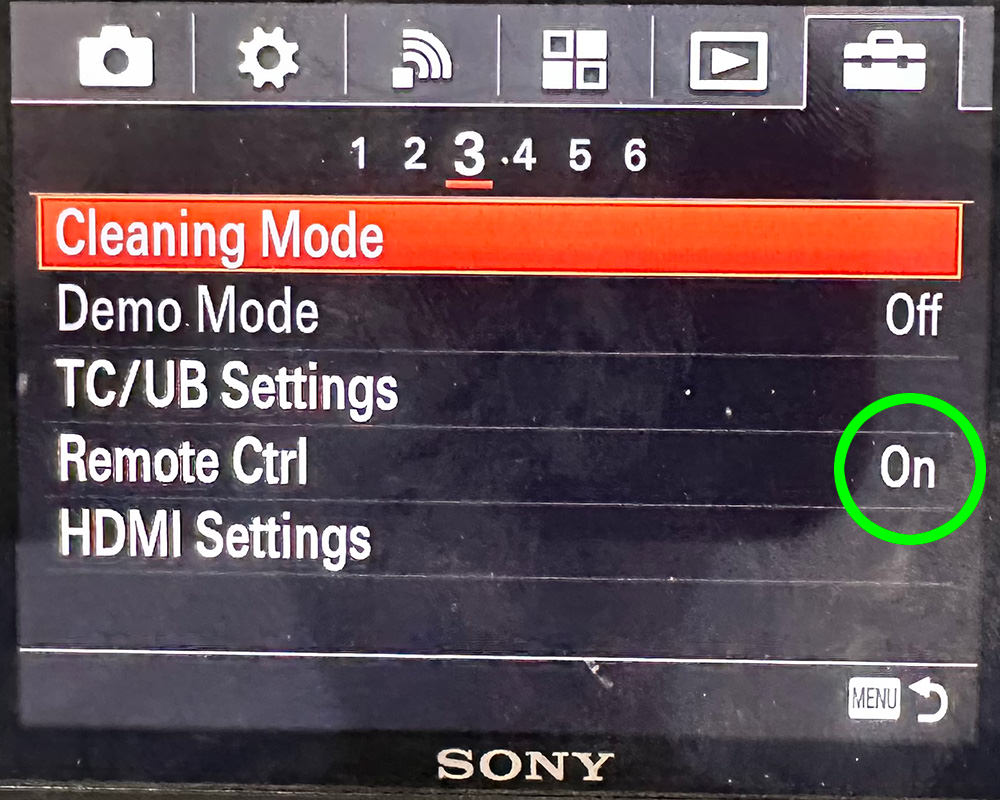 The camera knows it's plugged into a computer...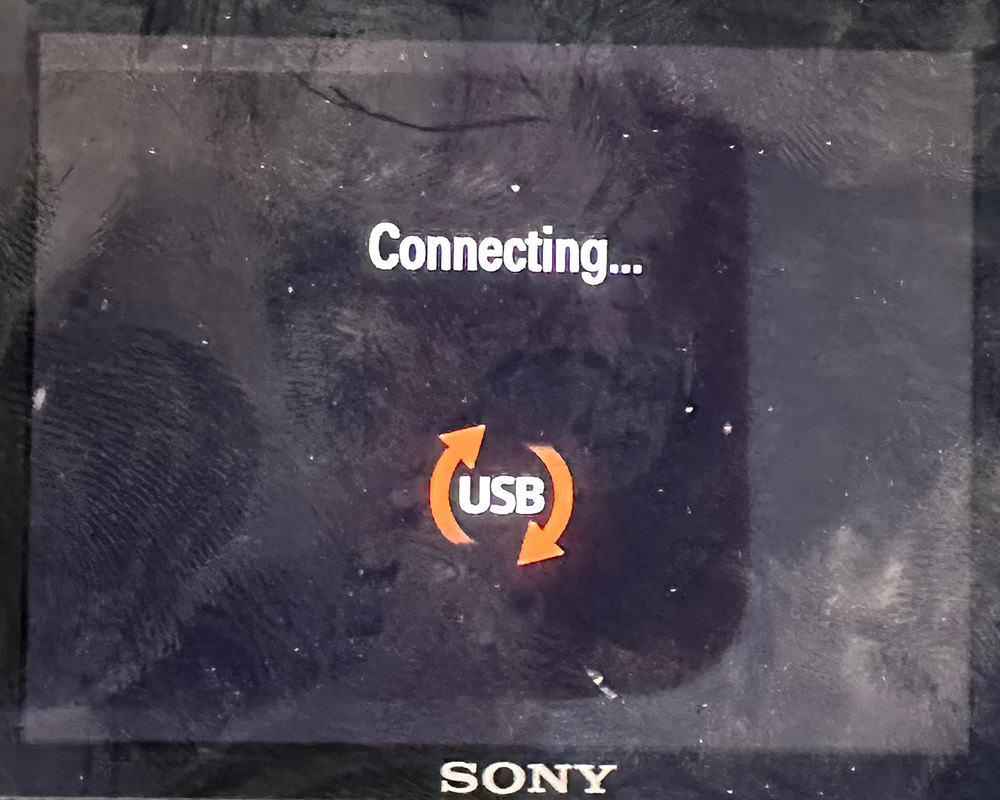 But of course the software on my camera doesn't recognize any of it. Thank God I'm mostly done with SLR cameras. The iPhone camera is good enough for 98% of what I need, and those photos I can actually get to on my computer.