Posted on January 4th, 2023

Number 6,438 in my list of SHIT APPLE DOES THAT NOBODY FUCKING ASKED FOR: Apple Mail Inline Link Preview.
Who the fuck thought that this useless fucking PREVIEW OF NOTHING is needed, desired, or in any way helpful? It's like... here's a link to a Facebook page, and Apple removes the link to put a HIDEOUS BIG-ASS LINK LOGO IN THE MIDDLE OF YOUR EMAIL...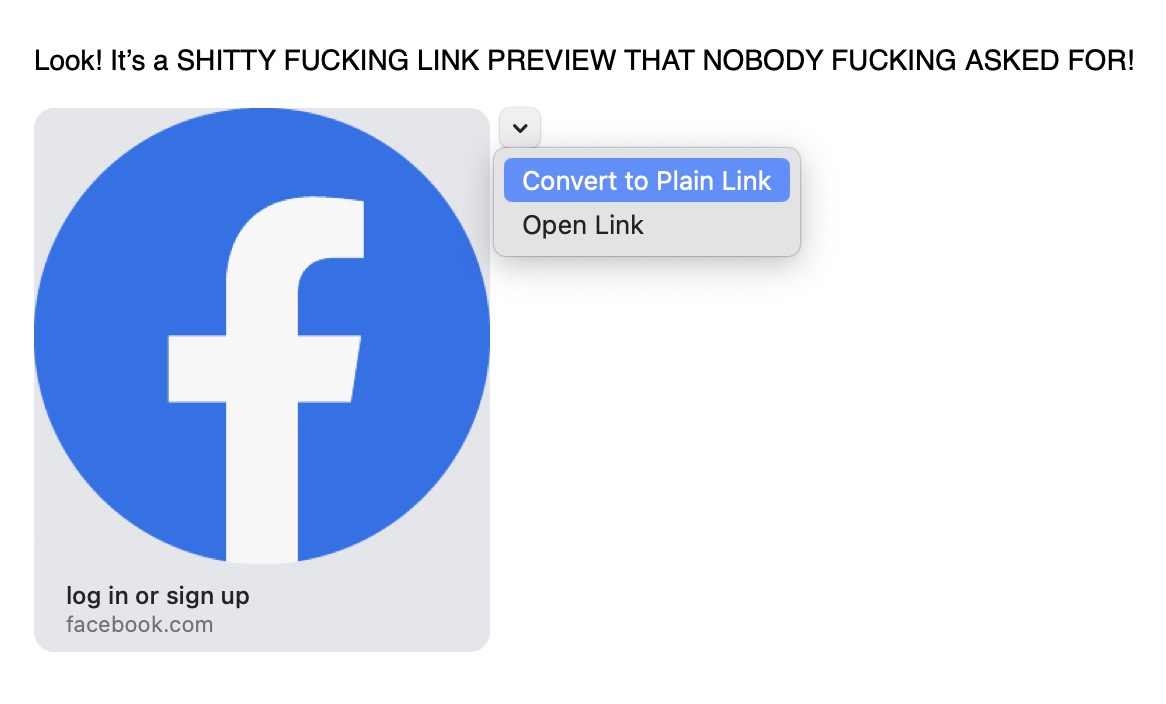 And, of course, because this is fucking Apple, there' no way to turn this shit off by default.
Oh no. You have to right click and tell it to go back to a sane "plain link."
God I am so sick and fucking tired of this kind of crap. It's only slightly less annoying that Adobe changing the way shit has worked FOR DECADES with no way to go back to the original behavior. Or the way that they randomly switch between origin-zoom and scrubby-zoom in Illustrator with no way to force a default. Typical. It's like... PICK ONE. I don't give a shit which way you go... JUST FUCKING PICK ONE!
Posted on August 9th, 2022

Yesterday I had a disaster of a morning attempting to sign a frickin' PDF. Adobe continues to treat PAYING CUSTOMERS like criminals, which made activating Acrobat on my home iMac incredibly time-consuming and difficult. First it wouldn't authenticate. Then it wouldn't download. Then after restarting twice I managed to get it installed, but the installer wouldn't acknowledge that it was installed. Except I still managed to run it. But then the current version of Acrobat didn't work right with the current version of MS Word. So I had to create the PDFs manually, then load them. But then Adobe wouldn't allow me to sign the documents because I couldn't load my signature. So I had to go to the online version of Acrobat to load my signatures. Then I finally got to where I could sign the damn documents... only to find that Acrobat wouldn't allow me to save anything. Turns out I had to turn off online services for some reason in order to be able to save locally. A process that should have taken at most five minutes clocked in at just over an hour.
Remember the good ol' days when you could just buy a program and then use the program you paid for?
And, as bad as that was, today was even more frustrating.
But this time it was Apple instead of Adobe that I was battling.
My Apple Studio Display hasn't been able to play sound for more than 10 seconds since I got the thing. It starts to play and then almost immediately cuts out. Then you have to switch to a different audio, then switch back, at which time it plays again for another ten seconds and then cuts out. Yet again.
Well, today I finally got the software update which fixes the bizarre audio issues that have been plaguing Studio Display users for months... only to then have my computer get stuck in an endless update loop.
There's two hours of my life that I'm never getting back.
I totally appreciate that computers are getting faster and more capable all the time. The stuff they can do now is close to magic. But what good is all that when they go to shit so often that you actually lose hours of your life?
I tell you what... graphic design in the 80's is being remembered with increasing fondness with each passing day.
Posted on February 4th, 2020

At the dawn of the computer age, it was simple. You purchased a program for your computer, the license to use the program was yours, and you could keep using it so long as it would continue to run on whatever equipment you were running it on. If the developer was kind, they would issue patches so you could continue to use it on newer machines and new OS versions. But eventually you would have to purchase an upgrade because the old program would no longer run or there were new features that made it worth the money to upgrade. If the developer were
really
kind, they would give you a free upgrade, but I never minded paying. They had to put work into the new version and it was only fair they be compensated.
That was the Golden Age of software.
We are now degrading to the Rusty Fork Age of software, and it's all because of The Subscription Model.
Instead of outright buying a program... or app, as they are now known... you purchase a subscription to the app. The license to use the app is renewed month-to-month or year-to-year and said app will cease to function if you stop paying for it.
I fucking hate this shit. And let me tell you why...
It's because it leaves you with nothing when you can no longer pay. Nothing!
In most cases when somebody moves to The Subscription Model I just say "fuck you" and take my business elsewhere. A classic example is an app called TextExpander which went subscription in 2016. It's an app that will automatically expand abbreviations you specify to an un-abbreviation you set. Tired of typing "With Best Regards," over and over? Just set "wbr" as a shortcut and it will expand to the full phrase instantly. TextExpander went from an app you could buy for $35 and use for years to an app you had to rent at $8 a month... or $48 a year. That was absurd, I told them to kiss my ass, and switched to a competitor.
Just this past week Flexibits took their app called Fantastical to a subscription model. This is a really great calendar app that is far better than Apple's Calendar, and I've been using it for years on my Mac, iPhone, and iPad. I paid for the upgrade from version 1 to version 2 because the features they offered were worth the money to me. Now, with version 3, you rent the full program for $5 a month ($60 a year) or $40 a year renewed annually. They went to subscriptions because they didn't want to "worry about the 'every few years' upgrade old school nonsense" to which I say, excuse me? That was never a worry for me... your customer. I GOT TO DECIDE if I wanted to upgrade every few years. It was my choice. I think it's safe to say that there is no feature they could ever add to a fucking calendar app that will make it worth $40 to $60 a year. None. That's the real "nonsense" here, and I would go back to Apple's free Calendar before I'd pay that kind of outrageously stupid money. And, with that in mind, get this... one of the benefits they say that comes out of charging you $40 to $60 every fucking year is that they can offer a free, feature-restricted version of the calendar. How the fuck is it a benefit to paying customers that they offer a free version to non-paying customers? What kind of horse shit "nonsense" is that? I was ready to tell Flexibits to go fuck themselves and that they can shove Fantastical up their collective asses, but apparently they anticipated that. Existing Fantastical 2 users get upgraded to the Fantastical 3 app and get to keep the version 2 upgrade features they paid for plus get the "free" features they added to version 3. But for how long, they don't say. I'm sure when Fantastical 4 rolls around they will say that they are no longer supporting version 2 features and you have to subscribe or stop using the app. At which point I will tell them to shove Fantastical up their collective asses. Because unless they add a feature where their app can blow me, I am not paying $40 to $60 a year for a fucking calendar.
But at least with TextExpander and Fantastical I have options. There are competitors selling apps which do much of the same thing. Perhaps not as feature-packed or elegant, but there are alternatives.
What happens when you don't have alternatives?
Enter Adobe...

"Creativity for All"... well, not "all"... only if you can afford $53 a month.
Adobe's "Creative Suite" is a pile of bloated, bug-ridden shit that constantly changes established tools and alters the way the program works for no fucking logical reason. Even worse, usually you can't even set a preference so that it goes back to working the original way something has worked for decades. All of which cost people money. I fucking hate HATE HATE Adobe for screwing everything up with each new "upgrade," but am forced to deal with their shitty apps because there's really no other choice... and they know that. I especially love paying a huge chunk of money every month for a massive bundle that includes dozens of apps I will never use. And that's not hyperbole. A "Creative Suite" subscription is $53 a month! There's no way to pay for Photoshop, Illustrator, InDesign, and Acrobat Pro only for a more reasonable $10 a month... I am forced to pay for dozens of apps even if they never get installed.
Which makes Adobe the new cable/satellite TV provider of the modern age... charging people money to subsidize shit they will never use, just like cable/satellite companies charged you money for channels you would never watch.
But there is hope.
A company called Affinity is coming out with their own "suite" of creative apps. As an alternative to Adobe Photoshop they offer Affinity Photo. As an alternative to Adobe Illustrator they offer Affinity Designer. As an alternative to Adobe InDesign they offer Affinity Publisher. And they are not stupid-ass subscriptions... they are $50 each. Period. Not $636 a year. $150 total. Until you choose to upgrade.
Now, make no mistake, the Affinity apps are most definitely not feature-equatable to the Adobe apps. But they are good, and getting better every day. And believe you me, I am most definitely looking forward to the day I can tell Adobe to fuck off and take their shitty apps with them.
At which point Adobe will buy out Affinity, I'm sure. Adobe's monopoly gives them billions of dollars for just such an occasion, and it's all thanks to The Subscription Model.
If Apple were smart, they'd buy out Affinity first, discontinue the Windows versions, and include the apps with MacOS. Heaven only knows they have the billion dollars to make it happen. Alas, they seem woefully short on smarts lately, so I'm not holding my breath.
Posted on November 10th, 2019

Hallmark Channel Christmas is in full swing this Sunday, but I'm making time for blogging anyway, because an all new Bullet Sunday starts... now...

• OctoCup. I don't know whether to be happy... or bust out crying because of how we're destroying this planet with our filth...
Probably both. Poor creatures of earth. Fuck the climate change debate... clean up the planet because we have a moral reponsibility to do so. Humans are not the only thing living here.

• Madalorian. By and large, I've been disappointed with the post-Star Wars offerings. The prequel trilogy was utter crap. The sequel trilogy is lacking. Solo was okay, but not a homerun. And while I did love Rogue One for being the most Star Wars since The Empire Strikes Back, it had serious story issues. The final movie in the trilogy of trilogies, Rise of Skywalker arrives in December and looks like it will be a delicious special-effects spectacle. But what I'm really forward to? Jon Favre and Pedro Pascal's The Mandalorian coming to Disney+ on Tuesday...
Boy does that look good. Firmly set in the Star Wars Universe, but giving us something new outside of what the past films are mired in. I sure hope it lives up to the hype.

• AT&ampT Nickel Diming. Upgrading my iPhone through the Apple Upgrade Program was a mess. Worthy of an entire blog post when I have time to document the horror I went through with Apple. Turns out that the fun was just beginning because when I got my AT&ampT bill, there was a $30 upgrade fee on it. Even though AT&T didn't do a damn thing. The process of activating and transferring my phone was entirely automated and done by me! This is just another case of AT&T squeezing money out of their customers by nickel-and-diming them to death. When I called AT&T to ask them what in the hell they did to merit a $30 charge, their answer was... all the carriers do it. Which may be true. But AT&T costs considerably more than other carriers. And so... time to investigate a possible change. Free HBO that's a massive pain-in-the-ass to activate via AT&T's pitiful AT&ampT TV Now service (formerly DirecTV Now) is not worth it. Not by a damn sight. And they're dishonest assholes who still charge you full price, even when they are blacking out channels and not paying for them.

• Rank. Step One of getting rid of our fatally-flawed and totally shitty two-party system stranglehold is adopting ranked-choice voting. And... oh my.. here is something interesting.

• Padded. I have been attempting to use the new Adobe Photoshop on iPad. Except, despite it's name, it is NOT Adobe Photoshop. Not even remotely close to Photoshop. Of course I knew that there were going to be sacrifices (especially in the beginning), but this pathetic effort is so feature anemic as to be laughable. For one thing... no resizing or crop tools. I mean, sure there's a "crop tool" but you can't set a dimension. Your only choice is to "lock current ratio." THAT'S IT! Need a certain size? Fuck you. Need a certain resolution? Fuck you. Need a certain ratio? Fuck you. And... oh yeah... the crop tool doesn't snap to edges! What a fucking joke. It's not like I'm upset because I can't use all my filters and am demanding that every possible obscure feature from the desktop Photoshop be added... but holy fucking shit! CROPPING IS A BASIC FEATURE! IT'S NOT EVEN A BASIC FEATURE... IT'S LIKE THE MOST RUDIMENTARY FUNCTION OF AN IMAGE EDITING PROGRAM THERE IS! Pathetic. Can't believe we waited a whole YEAR for this?

• Wavy. Boy does this bring back memories of crossing The Drake Passage! I always wondered how they managed to cook on rough seas!
There were two times in crossing that dishes were thrown from our tables. Thrown. Which is why the expedition company I went with have to replace half the dishes every season.

• Punch Away. WE LITERALLY FOUGHT A WAR AGAINST THEM!
Hopefully. Hopefully.

And now... back to our regularly-scheduled Christmastime programming...
Posted on February 6th, 2019

Today I went looking for some old, old, very old files that I knew I had backed up on CD somewhere. Turns out they were even older than I thought, because they weren't on CD after all. They were on magneto-optical discs.
This poses a problem, as I have no way of reading them.
Well, I think there's a way... but it's far from an easy way.
It will involve my dragging one of my old computers with a SCSI interface out of storage, wiring up the optical drive, copying the files to a hard disk, then taking apart the computer so I can remove the hard drive and put it in another Mac which has ethernet (but no SCSI). Or something like that. Maybe I've got a SCSI CD burner around somewhere.
My guess is that CDs and DVDs will be next to die off. Just like in Back to the Future...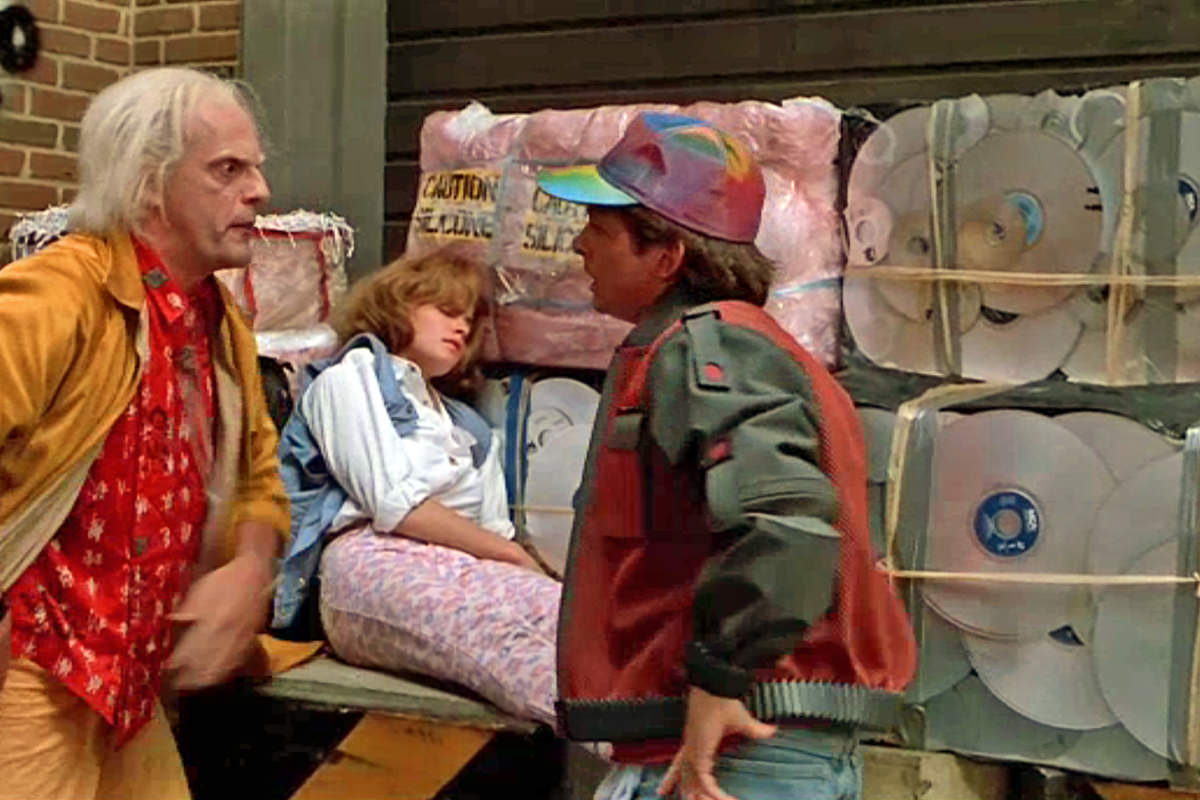 At some point Real Soon Now, I need to transfer all my older files to Amazon's online storage. Then it doesn't matter if I can't read CDs or magneto-optical, or ZIP, or JAZ, or SyQuest... all I have to worry about is whether or not I can read the format that the files are in.
Years ago any time a new version of Adobe Illustrator or Adobe InDesign came out, I immediately read in all my older files, then saved them out in the new file format. That way even my oldest files would still be accessible if I ever needed them. But eventually, as the number of files I have archived skyrocketed, this became impractical.
Now I just cross my fingers that new versions of the programs will be backwards compatible enough that I don't have to worry about it.
Posted on November 9th, 2018

I wish that I could get through just one day without being filled with rage.
Today I thought I had a good shot at it by promising myself that I would ignore the news and whatever bullshit that President Trump was doing, but that was futile because his level of incoherent crazy was so off the charts that it was everywhere.
As if that wasn't bad enough, work was awful... because I couldn't actually get any work done.
My office iMac, which is around two years old, has been slowing to a crawl for months. Over the last couple of weeks it's happening so often that I had no choice but to try and fix it. I started with doubling the memory from 32GB to 64GB. That helped a little, but the problem seemed to be with the "Fusion Drive" (a hybrid SSD/HD drive). I kept getting a message popping up that it was overheating. I finally decided to replace it, despite the fucking nightmare involved in tearing open an iMac to do so.
And today was the day.
I decided to set up the drive before tearing anything open to install it. This was relatively easy, as I had an external SATA dock that I could pop it into. I downloaded the macOS X Mojave installer, installed it onto the new SSD drive, and 25 minutes later I was booting from it. Nice.
I decided to start fresh by not transferring over my apps and data... just my system settings.
Turns out that was a mistake.
My primary tools at work are Adobe Photoshop, Adobe Illustrator, Adobe InDesign, Adobe Lightroom, and Adobe Acrobat. They are all part of Adobe's "Creative Suite" which is managed by their Creative Suite desktop app. You install it, then manage all your app installs from there. Simple, right?
No. Not by a fucking longshot, because this is Adobe we're talking about.
All my apps installed fine, except Acrobat. This happened last time I had to install the thing and was solved after I ran a cleanup app. This time the app didn't work, so I spent FORTY MINUTES trying dozens of "fixes" from the Adobe forums... none of which worked. Keep in mind that this has been a known problem that people have been complaining about for over a year.
AND ADOBE HASN'T DONE A FUCKING THING TO FIX IT! How in the hell can I be expected to not become enraged after wasting this kind of time? AGAIN! And I still don't have a working copy of Acrobat on my work computer, a program I use daily.
Not that Adobe gives a shit... they don't. They bought out and buried the competition until there wasn't any competition, and now they don't have to give a fuck about anything.
I would have stayed until I got things figured out, but it was getting close to 6:00 and the alarm to feed my cats would be going off. They're already freaked out by Daylight Saving Time ending, and I was afraid that not being fed when the alarm sounds would send them over the bend. So I packed up my crap and headed home.
Except I couldn't get home because a train was running through town. It was moving so absurdly slow that it took over ten minutes to pass. And then? The crossing arms would not retract. After waiting another five minutes, I finally abandoned the crossing I was at and drove to a different crossing... screaming "FUCK! FUCK! FUCK!" the entire way home.
When I got home (nearly fifteen minutes after the dinner alarm) my cats were, as expected, going nuts.
So I guess everybody in this house is having a bad day.
The difference being that my cats were happy again after being fed. I'm still filled with rage.
Posted on March 13th, 2015

Adobe Photoshop 1.0 was released on February 19th, 1990 and I was there.
Lo those 25 years ago.
Well, not at the product launch, but I had a copy of the program after release which I received with a scanner I purchased in the Fall of 1990. I played around with it a few times on a Mac that was at my local library, but I was an Atari computer guy at the time, so it went largely ignored. I didn't really get into Photoshop until I first bought a Mac of my own in the Spring of 1993 (a Quadra 650). Photoshop 2.5 came bundled with a new scanner I purchased shortly thereafter, and I have been using the program ever since.
Almost daily ever since.
With the possible exception of Adobe Illustrator (which I have been using regularly since version 1.7... A.K.A. Illustrator 88), Photoshop is the single most important app in the existence of my universe. It has permeated both my personal and professional life, and I have serious trouble trying to imagine my world without it.
Which is why it's always fun to step back in time to experience Photoshop's humble beginnings. Which I do from time to time, as I have a library of old computers with their original software installed. It's even more fun to watch others give it a try... especially those who were not around at the beginning...
ONLY ONE UNDO?!?
Hah. Those were the days.
Happy 25th Anniversary, Adobe Photoshop!
Posted on January 7th, 2015

Yesterday I talked about my photos and how the death of Apple's Aperture has forced me to move to Adobe's Lightroom. This entry talks about how that all went down.
Since the Aperture import plugin didn't work and I was starting from scratch, there really was only four decisions to be made in building my Lightroom catalog and new photo library...
Will I be converting all my RAW files to Adobe's open DNG format?
What size previews will I be rendering for when my library isn't available?
Will I be creating "Smart Previews" for all my images?
How will I organize my photo library?
To DNG or not to DNG?
When you shoot RAW, odds are your camera is saving the "digital negative" in a proprietary format. My Nikon D90, for example, saves them as .NEF files, which is proprietary to Nikon. My Sony A7, for another example, saves them as .ARW, which is Sony's version of RAW. I shot on a Canon for a while, and they use .CR2 for their RAW format. I also have .RW2 files from a Panasonic underwater camera I used and .ORF from an Olympus that I borrowed. What a mess. Unlike JPEG which is standardized, RAW formats rarely are. Which is why Adobe created the .DNG format. But, unlike what's used by camera companies, it's not proprietary... it's open, and anybody anywhere can read the specs that Adobe provides for free. This does two very important things...
Future-proofs your files. If Sony closes up shop or kills the .ARW format tomorrow, eventually this version of RAW will die out and stop being supported. And because it's proprietary, you would have to hope that somebody out there would reverse-engineering the format in order to read your images twenty years later.
Establishes and open standard. Because the specs are publicly available, no reverse-engineering is needed to read the .DNG format. And anybody can use it. Some camera manufacturers have already abandoned their proprietary RAW formats in favor of .DNG and I am hopeful all other manufacturers will follow suit.
There are other advantages to .DNG as well... my favorite being that it doesn't use external EXIF sidecar files, but instead stores the information internally. The fact that the files are also validated by an internal checksum means that you can tell when bits of a file go missing or are corrupted. The list goes on and on (did I mention that .DNG files are also smaller?).
So, ultimately, I totally embraced .DNG and had all my RAW image files converted upon import. Yes, this adds significant time to your import, but the benefits are worth it.
Alas yon Preview, What Size Art Thou?
When my 8TB external hard drive is connected to my laptop, all my photos are available to me at full resolution. When it's disconnected and I'm half-a-world-away, however, my photos are not available, and all I have to look at is whatever preview Lightroom has available in the catalog of my local drive. Lightroom's "Standard Size" preview is 1024 pixels along the image's longest side. That's fairly decent for looking through your images and won't take up too much space. Except Lightroom stupidly doesn't default to "Standard" but instead renders "Minimal" previews which are pretty much worthless (so be sure to switch to "Standard" in the Catalog Preferences or else you'll have to re-render all new previews!). You also have the option for 1:1 previews, which will speed up your workflow and look great on-screen... assuming you have room on your hard drive. As for me? I compromised. I changed the "Standard" size preference from 1024 to 2048 pixels and left the quality on "Medium." That's double the size of what you usually get, but generally ends up smaller than 1:1. My reason for taking the hit to my hard drive is twofold... 1) I have a Retina Display, and larger images display better... and, 2) If my library drive AND both backups are lost for some reason, I can probably live with 2048 as my only image size, but would be devastated if all I had were 1024 images. In the end, it's up to you... but with display resolution climbing and hard drive sizes escalating, it seems as though the bigger you go the better off you'll be.
If Thee Be Smart, Where Be Your Brains?
A couple versions ago, Adobe came up with "Smart Previews" which opened the door to all kinds of cool things. Primary of which is that you can EDIT images with Smart Previews... even if you're not connected to your library (usually, you can't do this). Once your library gets connected, the edits will be written to the original photo file's dataset, and it's just as if you had changed the original all along. As if that weren't enough, Smart Previews can also be viewed and worked on with an iPad via Creative Cloud. Pretty cool stuff, right? Except... "Smart" Previews are not exactly "smart" in that you are still required to have "regular" previews as well. So, effectively, you've got an entire catalog of previews taking up valuable hard drive space... twice? Or at least that's how I understand it to work. I don't have that kind of space available on my laptop's SSD, so I skipped stupid "Smart Previews." Hopefully one day they'll make it so you are only required to have ONE preview per image. Until then, it's nice to know that I can build Smart Previews for those times I plan on editing photos on the go.
But Soft! In What Organization Through Yonder Library Breaks?
With Aperture I never had to worry about the physical organization of all my image files. I created projects and folders within the app and let Aperture worry about where the files went. With Lightroom this is not possible. So what I ended up doing was mimicking the structure I was used to... a folder for each year and a sub-folder for every event/trip/session that was preceded by a date. If you take a lot of photos, it's a pretty good idea. The drawback being that if you've visited Milwaukee twenty times and want that photo you took of the Milwaukee Art Museum, you have to know when you visited in order to track down the photo. If that's a concern for you, might be better to not organize by date... but to instead organize by subject. Regardless of how you choose to organize your images, it's critical to keep organizing the same way. Once you get tired of the effort and just start dumping your photos wherever, you never be able to find them unless you spend a lot of effort applying keywords to each image. That takes considerably more time than organizing from the get-go... though, if your import groups are small enough, you might be able to apply keywords when you import to save time. Still, given Lightroom's inability to manage your photo files, you really need to come up with something yourself and stick with it.
Now that I've made my decisions... we're ready to import.
Getting your photos into your local Lightroom catalog and writing out your .DNG files to your external library is pretty easy. You click the "import" button, choose what you want to import... choose where you want them to go... add your settings for previews, keywords, and such, and away you go.
Since I was converting to .DNG and rendering rather large previews, my later years took a very long time. Five hours or more. And the bad news is that there's no way to pause the import and resume it at a later time... at least not that I've found. Yes, you can cancel and then re-do the import (Lightroom will run through everything again and skip the images it's already worked on) but this is a far from ideal solution. Even worse, absolutely no estimate on how long the import will take is given. You get a progress bar and that's all. Thankfully, you'll (hopefully) only have to do massive library imports once in your life, but it would sure be nice if Adobe were to allow you to pause the process. My suggestion? Break your imports down into more manageable chunks. You can uncheck folders you've already imported to keep Lightroom from doubling up (though, inexplicably, Lightroom will still go through all your photos if you have "Don't Import Duplicates" selected... whether you've checked or unchecked the folder in question).
It took me five days to get everything cataloged/imported. Usually I would import a chunk before going to bed and find everything completed when I woke up.
So how am I liking it now that I'm a Lightroom guy?
To be honest, I'm not liking it at all.
Lightroom is a massively confusing program that makes practically no sense. Compared to the elegance and ease of Aperture, I'd go so far as to say that Lightroom is crap. I hate just about everything about it. The interface is a complete mess and takes up way too much of the screen. Even simple things are difficult. Want to zoom in on a photo? I still don't understand how it works. Click once you zoom. Click again and you don't zoom in further, you zoom back out to some totally random percentage? Crazy. Instead of an intuitive, fluid zoom tool that operates like every other zoom tool in every other program (including Adobe Photoshop!), with Lightroom you have to click on a drop-down menu and choose 1:4, 1:2, 1:1, 2:1, 4:1, etc. etc. in order to get closer to/further from an image. It's about the stupidest fucking thing I've ever seen. I'm trying to use gestures on my trackpad for zooming, but it's so clunky and spastic that I can never end up where I want to be. And that pretty much defines everything you do in this program... clunky and spastic. There are times I make adjustments to an image... increase the saturation or sharpening or whatever... and nothing happens, even though the sliders are showing I've made the adjustment. WTF? It's enough to drive me insane. There are times I have to step away from the program because I'm getting so frustrated and angry that it feels as if my head is going to explode.
I'm hoping that eventually I'll get used to the shitty way Lightroom works, but I sincerely doubt it. The program is a hot mess of epic proportions, and I simply don't understand how anybody manages to get anything done with it. Yes, it's usable and I can (eventually) figure out how to do what I need to do... but it has a long, long way to go before it's as beautifully intuitive as Aperture is. Was. Whatever.
But, thanks to Apple being complete assholes and canceling one of the most wonderful apps for organizing and working on photos ever made, this is where I'm forced to be.
Maybe there's a better solution out there... maybe I should take a second look at Capture One... but the thought of having to go through all this mess again makes me want to stick my head in an oven.
I'm probably better off not using a photo cataloging program at all. I'll just go back to files and folders on ZIP drives and call it a day.
So much for progress.
UPDATE: More problems popping up every day. The worst of which is that Lightroom crashes... a lot.

Yeah. Definitely don't understand how people are using this thing.
Posted on January 6th, 2015

This is the first post in a two-part entry that will be discussing digital photo storage. Not a topic that most people will be interested in, but I very much want to document my process just in case somebody else out there on the interwebs is in the same boat as I am.
But, before we begin, a disclaimer.
I am a huge, huge, massively huge Apple Aperture fan. When it comes to working on photos, it's lagged behind Adobe Lightroom for years... but, when it comes to cataloging photos, it's pretty much the cat's meow. And since it's the cataloging that's of primary importance to me and my tens of thousands of photos, that's where my heart has been since Aperture debuted back in 2005. I will never, ever forgive Apple for canceling the app, and consider it just one of several stupid moves for the company as of late. But anyway...
Apple did cancel Aperture, so I am forced to migrate elsewhere.
My choice ended up being Adobe Lightroom. I am still not convinced it was the best choice, but I do think it's the right choice... for me anyway. Yes, I preferred the way photos looked using the RAW import on Capture One Pro better than Lightroom... and there were features in Darktable (among others) that were appealing... but it just seemed easier all the way around to go with Adobe since I know they're not going anywhere. The last thing I want to do is to have to go through this crap all over again if another app closes up shop. On top of that, the tight integration with the Adobe apps I use every day (Photoshop and Illustrator in particular) is too alluring to ignore. As if that weren't enough, I get Lightroom as a part of my Adobe Creative Suite subscription at no extra charge. Sure I could wait and see what Apple's replacement app, Photos is all about, but it looks unlikely to include the professional features I need.
So here I am.
And now a little background so you know who that is...
I have been into photography for as long as I can remember, and I've loved it all that time. So when it came time for a high school graduation gift in the mid-80's, all I wanted was a professional camera. My parents got me a Canon A-1, which was the most advanced camera of its day. The "Killer Feature" being the first SLR camera to have a digital autoexposure controller. Something I took advantage of frequently as I was learning how to properly use shutter and aperture settings. The A-1 was both a joy and a revelation over the fifteen years I used it as my primary camera, and I shot as much film as I could afford to have developed.
Then in the mid-90's the digital age was upon us. I was an early adopter, buying an Apple QuickTake 1 the day it was released in 1994. By modern standards, it was a pretty shitty camera. 640x480 pixels max and, unless you had flawless lighting, the images were pretty terrible. But... it was new. And it was cool. And I kept investing in digital technology despite not taking it very seriously. Why should I when what I was getting from my film camera was so much better?
Then the year 2000 came along and I got a Sony Cyber-Shot DSC-D700.
Suddenly, my digital photos were getting close to what I was getting on film, all without the pain (and expense) of developing the images. All summer long I went back and forth, testing and re-testing, contrasting and comparing. I was lugging around two cameras everywhere, not fully trusting the Sony after over a decade with my trusty Canon. But then the moment of truth arrived... in October I took a trip to Asia and the only camera I brought was my DSC-D700. The results were so encouraging I went ahead and did the same for a trip to Rome that December. By 2001, I was 99% digital, only dusting off my film camera when I had a project that required it.
Cataloging my photos in 2001 was a pretty simple affair. I stored all my photos on a Zip Drive, making two copies each on separate cartridges, one of which was kept in a bank safe. As image size kept climbing, I would eventually switch to Jaz Drive cartridges. Every project had a separate folder, which got a bit complicated after a while, so I then started creating Master Folders titled by year to sort them into. It worked just fine, and I didn't even think about the need for cataloging software until that infamous day in 2005 when I purchased Apple's Aperture.
And it was glorious. Especially during those heady early years when Apple was updating the thing. They added "Places" so you could tag all your photos with a location (if they didn't have one already). They added "Faces" so you could automate tagging the people appearing in your photos. And then there were the Vaults... dead-simple ways of backing up your catalogs and precious photo information which was quickly becoming every bit as important as the photos themselves. Everything in Aperture was so convenient, easy, and powerful. I quickly organized all my photos into Projects by year and Folders by project, since that mimicked the file structure I had been using for five years. Apple's amazing app made dealing with my huge library of images almost effortless.
Until they decided they didn't want to any more.
Enter Lightroom.
At first I thought the migration would be a piece of cake, because the Aperture import plugin I had been waiting for was finally released. It was a huge relief to know that all the hours/days/months of inputting photo data into Aperture wouldn't be lost. Except I could never get the plugin to work. It would hang after a while no matter what I did.
And so I gave up and decided I would just start over completely from scratch. The first step was to extract all my images from the Aperture catalog and convert them to "managed" files so I could access the individual, original photo files, which subsequently transferred to a spare 1TB drive I had laying around.
I then purchased a new 8TB Thunderbolt RAID unit from Western Digital which would give me 4TB of mirrored storage to work with. The old Aperture RAID drives were removed and popped into my bank safety deposit box just in case I ever need them.
And then the horrendous chore of importing all my images into Lightroom began.
The first years were easy. In the year 2000 I had a measly 250 photos, and they were all JPEG files that were either 2048×1360 or a tiny 1600×1200 pixels in size. NOTE TO YOUNGER SELF: Always shoot at the maximum resolution of your camera. I know that 1600×1200 seemed like a huge amount of pixels back in the day, but in the future that will be insanely inadequate for just about every purpose.
As we move forward in time, the number of photos increases considerably from year to year (especially when I decided to start bracketing most of my shots). And, because the size of the photos keeps going up as well (especially when I started shooting RAW), the storage space needed (hence the amount of time to import them into Lightroom) increases exponentially. NOTE TO YOUNGER SELF: Always shoot RAW. I know they're a lot bigger files, but if you could experience the pain of having to look back at your trip to the pyramids of Egypt with all that JPEG artifacting, you'd know the extra size is well worth it. And it's no small amount. In 2007 I shot one trip RAW. In 2008 I shot half of them RAW. In 2010 I was shooting all RAW all the time. Just look at what happens...
2000 • 244 photos (320MB)
2001 • 338 photos (456MB)
2002 • 633 photos (782MB)
2003 • 399 photos (691MB)
2004 • 2,489 photos (6.2GB)
2005 • 2,706 photos (7.1GB)
2006 • 386 photos (861MB — no vacations this year!)
2007 • 2,803 photos (7.5GB)
2008 • 7,342 photos (36.4GB)
2009 • 9,167 photos (63.2GB)
2010 • 16,561 photos (149.8GB)
2011 • 15,422 photos (135.8GB)
2012 • 15,788 photos (140.1GB)
2013 • 16,038 photos (149.6GB)
2014 • 18,532 photos (184.2GB)
Now, to be honest, most of the photos I took in later years are not keepers. As memory cards kept getting bigger and cheaper, I was a lot less selective in what I shot... and I would shoot the same thing several times so I could pick the best image and delete the rest... except I never seem to delete anything. Perhaps one day I'll have the time to purge all the bad/redundant shots, but it ain't happening any time soon. Good thing hard drive space is getting so cheap!
Okay then. Now you know about me and what I shoot... I guess it's time to start importing everything into Lightroom!
Which I will be talking about in tomorrow's entry.
Posted on October 17th, 2014

After Apple discontinued their Aperture photo software, Adobe promised to deliver a plugin for their competing "Lightroom" product that would allow you to import your Aperture library into Lightroom.
Thanks, Adobe!
Yesterday the plugin was finally released.
Thanks, Adobe!
Today I spent just over five hours performing the import. Only to find that -zero- photos had actually been imported.
Thanks, Adobe!