Posted on October 31st, 2017

It's Halloween again!
This past week when I was at Home Depot, all their decorations and spooky stuff was on sale for 50% off, which wasn't tempting to me (what a waste of money!)... until I saw two cat skeletons for $9 each. Now that I'm interested in.
Jake and Jenny? Well... not so much. They sniffed around for ten seconds, then went on with their busy lives...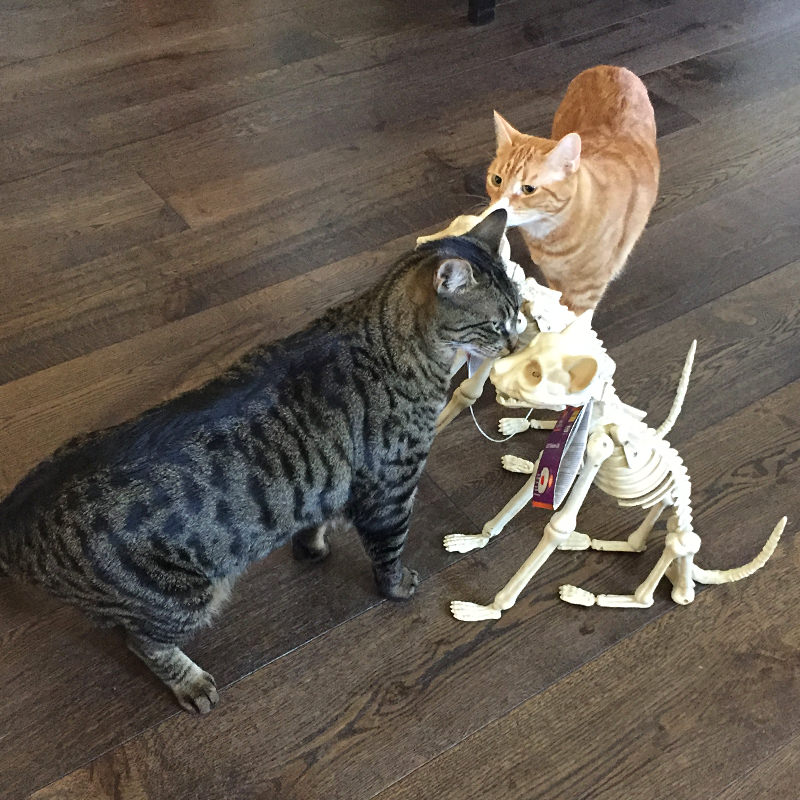 Hopefully my trick-or-treaters will be more intrigued with Dead Jake and Dead Jenny than the live versions were...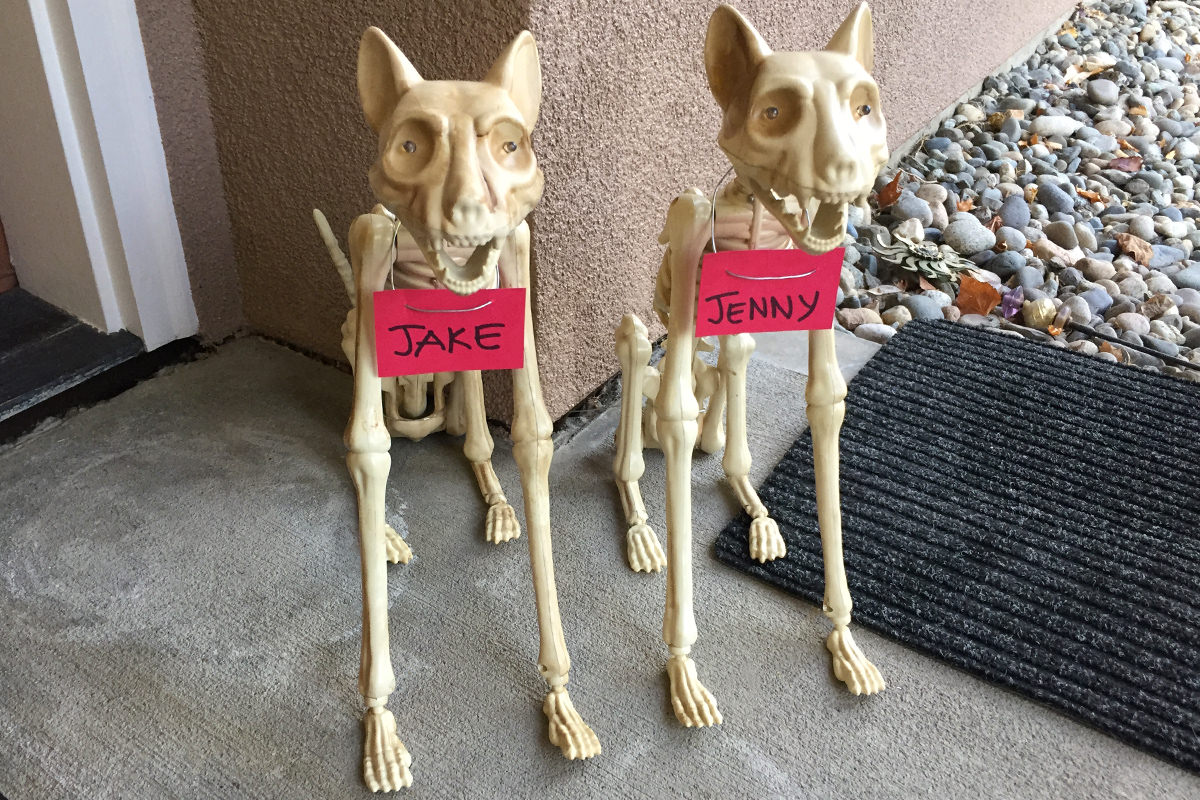 And don't forget my awesome wreath addition...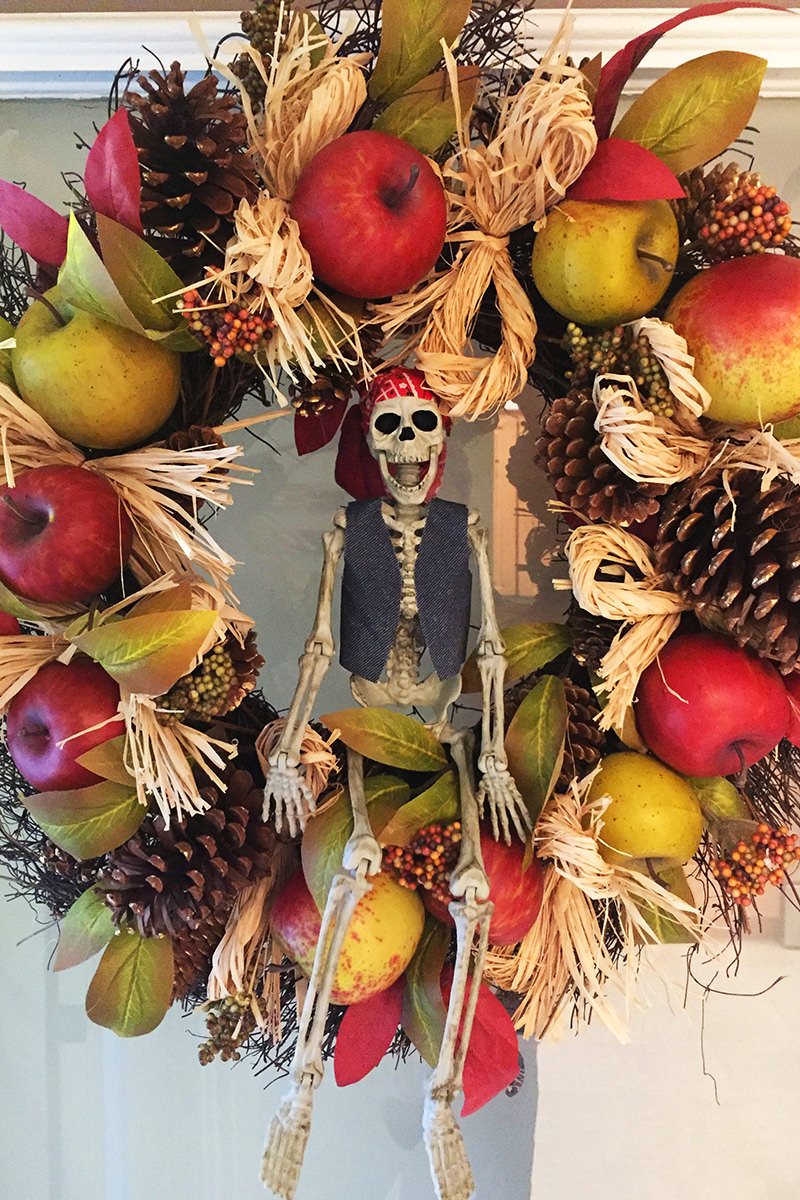 Now that decorating is done, all that's left to do is pass out the candy...
Guess we'll see how many trick-or-treaters I get this year. Last year it didn't top 60.
Posted on October 14th, 2017

I pulled my Halloween wreath out of storage tonight only to find it had gotten crushed when a box of books ended up on it somehow.
Buying nice wreaths in-season requires more money than I have spare cash to purchase, so I decided to upgrade my "Fall wreath" with a $3.50 addition. I rather like it...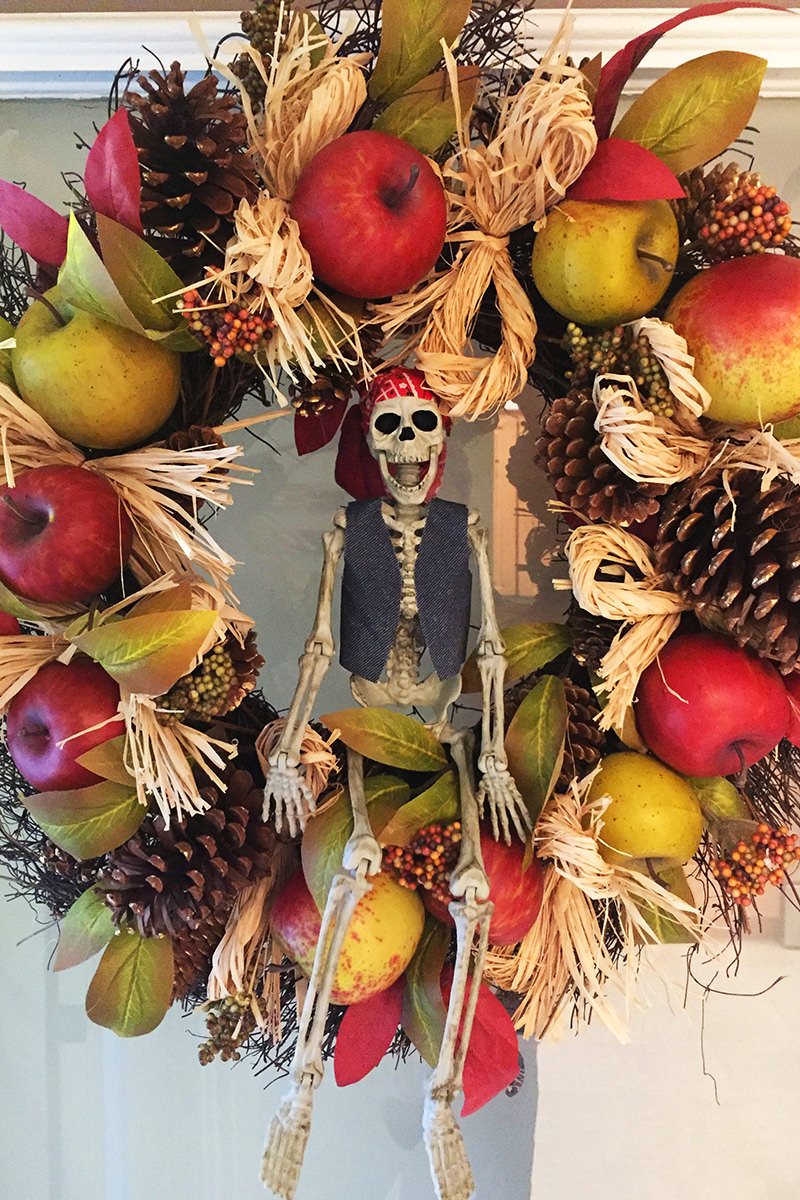 My quick trip over the mountains revealed that winter is indeed here. More snow than last week to be sure...

So long as the snow stays in the mountains for a while, I'll be okay. I am absolutely not ready to have it start snowing here at home.
And... time to unpack.
Posted on September 8th, 2017

Between the wildfires and hurricanes, it's tough to know how to process just how much disaster is happening... and how much more is yet to come. Other than staying glued to the television and hoping for the best, there's not much else to be done. Except donating to the relief efforts, if you can.
Now that the smoke is clearing up in my neck of the woods I can venture outside again. First order of business was to run errands that have been piling up. And, surprise... Halloween is happening...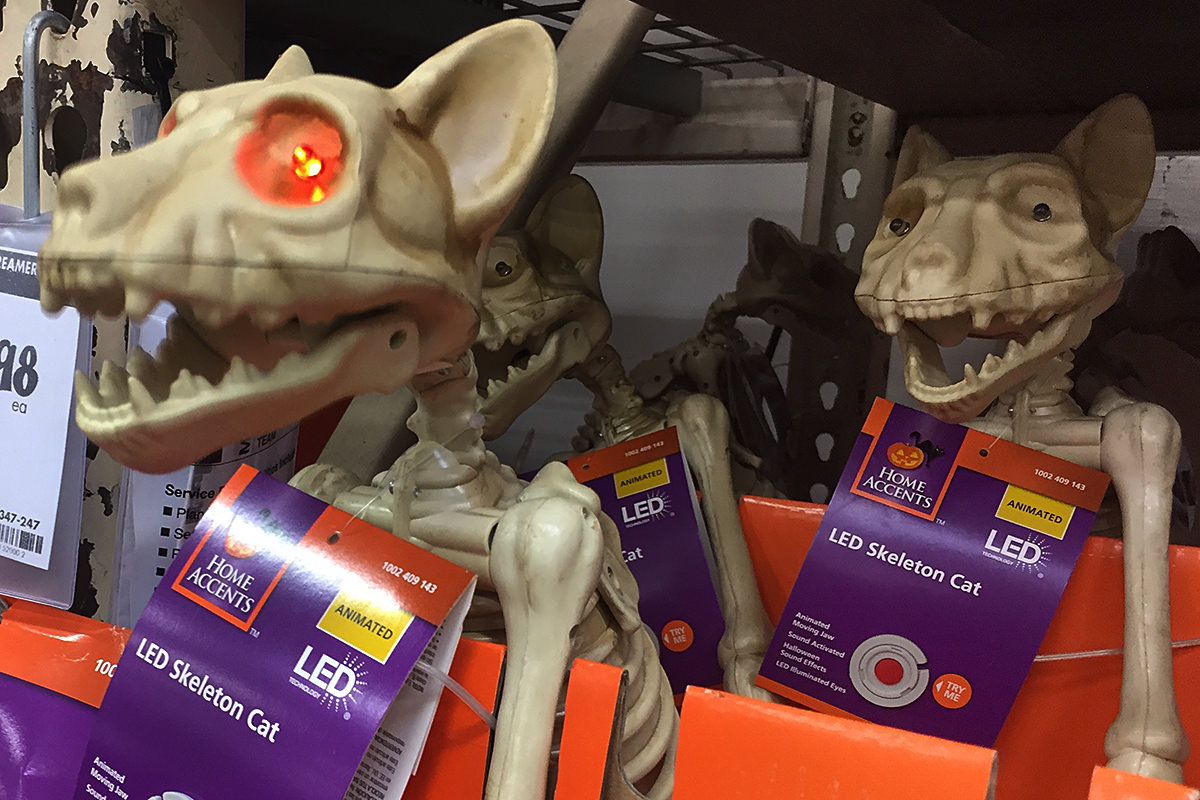 Every year I run to Home Depot hoping to find Halloween decorations on half-price closeout, but all the cool ones... like light-up skeleton cats... are always long gone.
Maybe it's time to get creative and make my own cool decorations.
Though sadly, as I found out last year, I don't get many trick-or-treaters to see them.
Posted on November 1st, 2016

Halloween is one of those holidays that I've been able to safely ignore for the past two decades. I don't have kids to take trick-or-treating, I haven't attended a Halloween party in years, and the neighborhood I used to live in never had trick-or-treaters stopping by. Sure I'd buy candy just in case... but the only person eating any of it was me.
All that changed when I moved into my new neighborhood. Which actually used to be my old neighborhood.
What's also changed? Kids with restrictive diets. Can't have peanuts. Allergic to gluten. Will die if they consume artificial colors. That kind of thing. So in addition to KitKats and Reese's Peanut Butter Cups, I also purchased "Yum Earth Fruit Snacks" that were naturally flavored, no synthetic colors, certified organic, gluten-free, fat-free, peanut-free, tree-nut-free, vegan, no soy, no egg, non-GMO, no dairy, no high fructose corn syrup, and no animal products. I figured that would cover all my bases. Last year I bought toys for kids that couldn't eat candies, but lost them in the move. Thus my Teal Pumpkin Project banner didn't get put out this year. I'll be sure I'm better prepared next Halloween... even though I've never had a single taker. Probably because I never had any trick-or-treaters.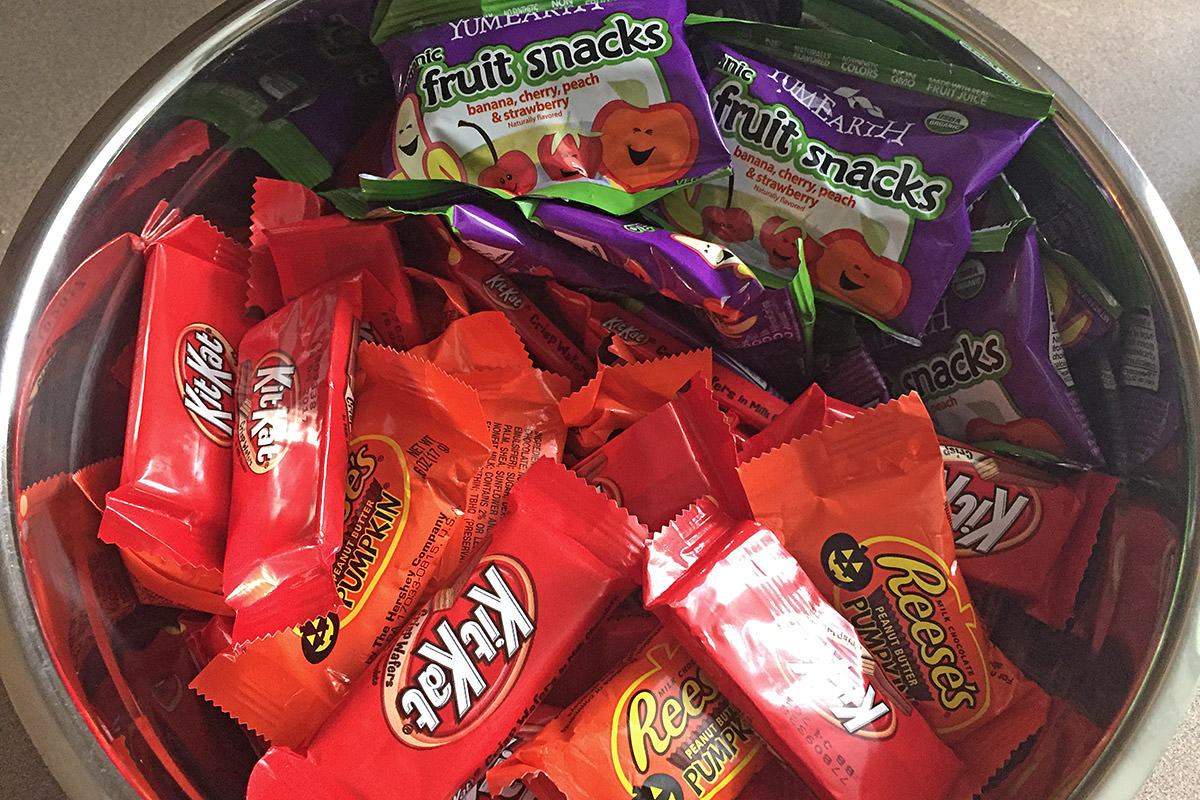 Anyway, my 2016 Halloween in bullets...
Only ended up getting the 50-60 kids I was anticipating instead of the 120-130 I was told would appear in my new (old) neighborhood. More candy for me!
Pleasantly surprised that so many of the costumes had some effort put into them. The creativity made for an entertaining night.
A fairly young kid showed up as Deadpool... a movie (or comic) he probably should not have seen at his age, but must have? Disconcerting.
The cats may not have appreciated the "spooky ghost" ringtone on my Ring doorbell, but the kids sure did! Quite a few of them remarked that it was "cool."
Most of the kids... over half... picked the "healthy" treat I got for kids with allergies and stuff. This was unexpected, but not unwelcome. I've got tons of REAL candy left over!
At least half of the kids never said "Trick or Treat"... most did say "Thank you," however.
Most all of the kids were accompanied by parents. In this day-and-age, you can bet your ass I wouldn't let my kids out alone on Halloween... no matter how old they were.
My kitchen is at the front of the house, so to avoid running back and forth between the door and my living room, I decided to stay in the kitchen and clean it. A lot of work, but oh so nice. Still don't know how to clean my glass range-top completely. Even with Soft-Scrub and a Scotch-Brite pad, there are still spots that won't come clean.
I had my last microwave for at least 15 years. Built like a tank and a dream to clean. The only reason I got rid of it was because I bought a built-in for my new place. While cleaning it, I was shocked at how cheap it's constructed considering the rather hefty price I paid. The interior is lined with thin metal that bends every time I apply even slight pressure.
When I moved here, I just took everything that was under the kitchen sink at my old place and transferred it. Tonight I actually went through everything. Shocked that I ended up tossing out 3/4 of it all that was either expired/dead or completely unneeded.
Jenny now gives zero fucks as to what areas of the house I feel she isn't allowed (i.e. the kitchen). While cleaning, she pounced right up on the countertop and came to see what I was doing. Jake will follow her example, I'm sure.
Because of this, I am immensely relieved that both cats are still terrified of everybody but me. There was no chance of them running out the door, because every time somebody arrived they were high-tailing it upstairs.
I have a Kitchen-Aid mixer, bread maker, Cuisinart, gelato maker, and blender. None of them have been used since I moved here. This needs to change. I used to love making fresh bread and other baked goods.
The only thing I didn't clean was the oven interior. It has a really cool "Slow Steam Automated Cleaning" feature, but I can't find the instruction book to know how to use it. Looks like I'll be hunting the manual down this weekend.
After not having trick-or-treaters for the past 20 years, the evening wasn't as horrible as I thought it would be!
And now I'll be over here eating Halloween candy and trying not to go into a sugar coma.
Posted on November 1st, 2015

No need to put on pants, because a PANTS-FREE Bullet Sunday starts... now...

• Angel. If you skip past everything else on this page... if you read just one of my links this Bullet Sunday... the story of Ruth Coker Burks should be it...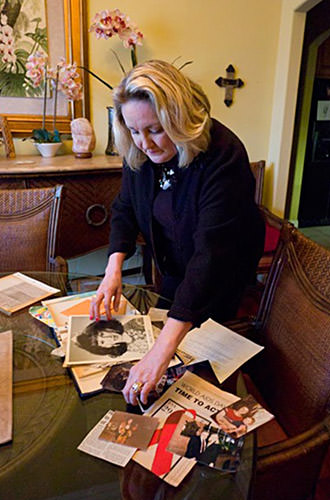 Photo by Brian Chilson & The Arkansas Times
What an amazing, amazing human being.

• Vegetarian? IT'S PEOPLE! VEGGIE DOGS ARE PEOPLE! DELICIOUS, DELICIOUS PEOPLE!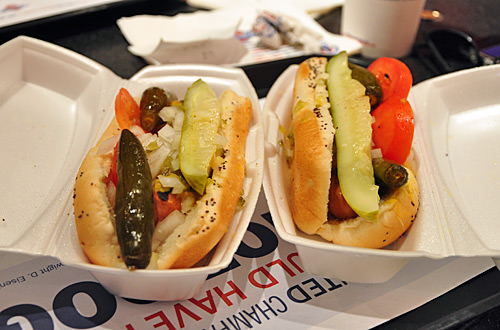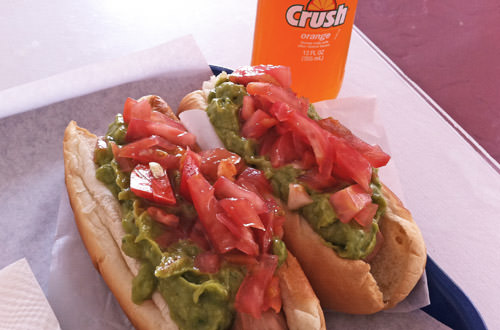 Guess I like people after all!

• Sexual Chocolate! And speaking of hot dogs... Chicago's famous Wiener's Circle restaurant dressed up as Coming To America's "McDowell's" for Halloween!

Photo by Mina Bloom
Epic. And now I've got to see that movie again.
If you haven't heard of Weiner's Circle before, they're famous for char dogs and the abusive staff...
Intrigued? A visit to their fan site is in order... which is probably safer than visiting in person.

• Chew! And now you know why I hate gum-smacking whores, cereal commercials, and any other time somebody CAN'T EAT AT A RESPECTABLE DECIBEL LEVEL! It's because I'm a frickin' genius!

• Yay? The World's Largest Fast-Food Chain Is Going Antibiotic-Free—and Not Just for Chicken? Way to go Subway! Almost makes up for the fact that you KNEW Jared Fogle was a child-raping psychopath yet did NOTHING because he sold a lot of your shitty sandwiches. Oh... wait a second... no it doesn't. You're a horrendous company and I will never buy another one of your fucking sandwiches ever again. I don't care if they're made of rainbows and you're give them away.

And now for something entirely different... I bid you adieu!
Posted on October 20th, 2015

I'm watching It's the Great Pumpkin, Charlie Brown while I type this.
I haven't seen it in at least a decade and had forgotten just how smart, funny, and entertaining it is. Even more amazing is that it debuted when I was born, which means it's existed as long as I have...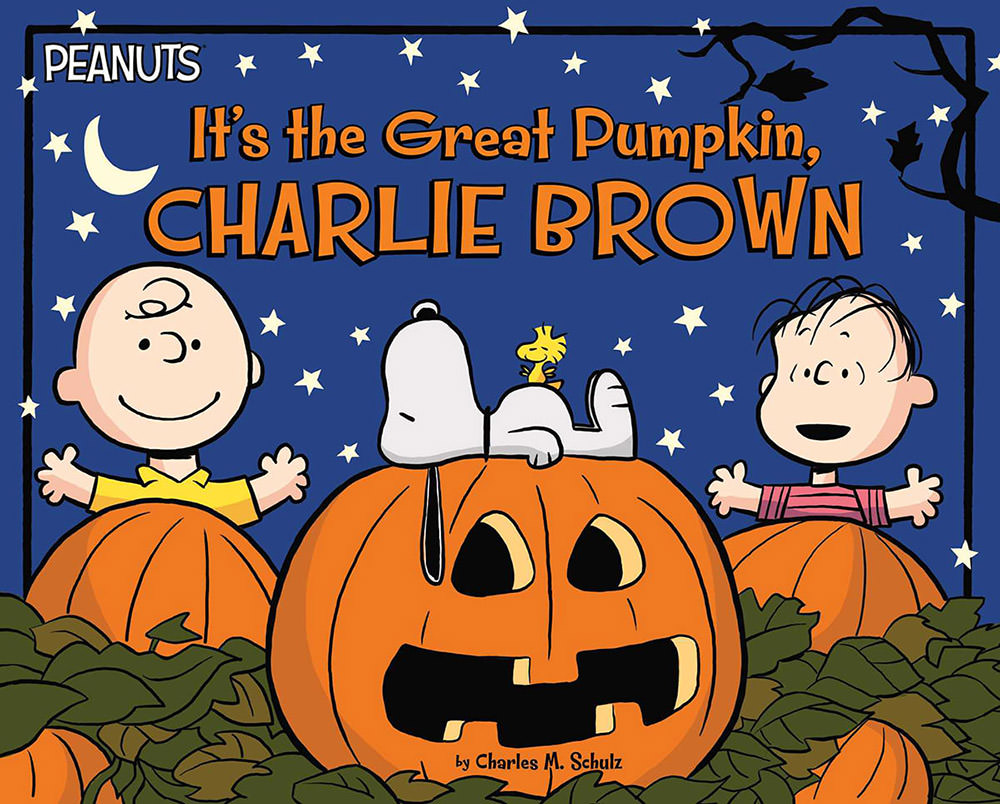 Halloween is eleven days away, which seems a bit early for Halloween cartoons. I can only guess they are moving it back so that Christmas programming can start on November 1st and not feel too close. But who knows, maybe they won't even have the decency to wait for Halloween to end before the Christmas assault begins. Frosty the Snowman could be playing tomorrow for all I know.
And speaking of insanity...
Waw... waaaaawwww...
Eerily accurate.
So much for Tuesday.
Posted on October 31st, 2014

No trick-or-treaters again this year.
I'd feel bad about it... but I only bought candy I like, so the big winner of the evening is obviously me...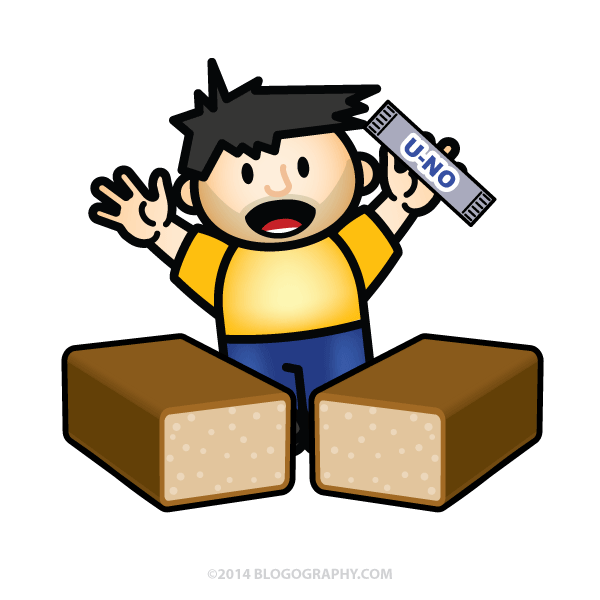 I remember when I was in my final years of trick-or-treating. It was a war. Complete with a battle-plan that involved maximizing the area covered and minimizing the amount of time to cover it. We knew which houses to go to for the good stuff... and which houses were a waste of time and to be avoided. We alternated being "runners" who would run ahead to the next house and ring the bell so that the door would already be open when the rest of the group arrived. We had parents lined up to drive us to the "good candy neighborhoods" and timed everything so that the houses that tended to shut down early were hit first. And of course we had two sets of cloth candy bags that wouldn't rip like the crappy plastic bags most kids used.
He who had the best battle-plan got the most candy.
And Halloween back in my day was all about the candy.
Until I was too old for trick-or-treating. Then it was time for a new generation to take over.
Except Halloween was too good to last.
Big city problems invaded suburbia. Poisoned candy came along. Candy with razor blades appeared. Frickin' HEALTHY "candy" debuted. Trick-or-treating suddenly became dangerous. Even worse, "fun-size" candies kept getting smaller and smaller and smaller, so even if you could find actual candy, it wasn't worth your time. And don't get me started about the houses handing out toothbrushes or stickers or any of that crap.
So now Halloween is more about dressing up than getting maximum candy.
Which is sad for the child-me who once loved the holiday.
But reason to celebrate for the adult-me who is sitting here with a big bowl of U-NO bars all to myself.
Happy Halloween, everybody!