Posted on February 6th, 2023

And... apparently my blog is borked again. I can update pages, but posts kinda fall into the void.
I used to use an app called "MarsEdit" which was a very nice composing tool. But it stopped working once the security on my blog changed because it doesn't support the required authentication now. I know that it was recently updated, but it doesn't look like the security was touched, so I started composing posts in WordPress directly. Problem is that WordPress doesn't like you to organize your own photos and wants to do that for you. I'm not a fan. This means I need to hand-code the photo HTML by hand. Also a pain in the ass.
AND THEN WORDPRESS EATS MY POST!
I wonder if it's a better option to compose the posts in MarsEdit and then copy/paste into WordPress? At least that way my posts wouldn't be lost if they didn't actually... you know... post.
=ponders-
Oh well. All that's going to have to take a back seat to fixing whatever is wrong with Blogography first.
Posted on July 29th, 2021

And so I attempted to get a plugin working on my WordPress installation... had to adjust my template so that the plugin could actually work... then ended up breaking my blog because reinstalling templates from backup after things refused to work wasn't fixing anything.
=sigh!=
At some point I'm going to have to pony up the money for somebody to completely re-do all my templates so they work with the new WordPress editor/engine... or just shut down my blog completely. I barely have time for blogging lately... let alone deal with crap like this.
And so... guess I get to write without posting until I find time to get my blog fixed. You know... again.
Posted on August 18th, 2019

Prepare to be launched into a Galaxy far, far away... because an all new Bullet Sunday starts... now...

• Falcon Maps! It's interesting how the advent of Google Maps' "Aerial View" has forced Disney to change the way they build their theme parks. Originally, construction was treated like a movie set, where everything is just a big facade. The only thing that was themed is what people see. The best way to explain this is Main Street, where the dozens of little buildings you see on the ground are revealed to essentially be two giant buildings...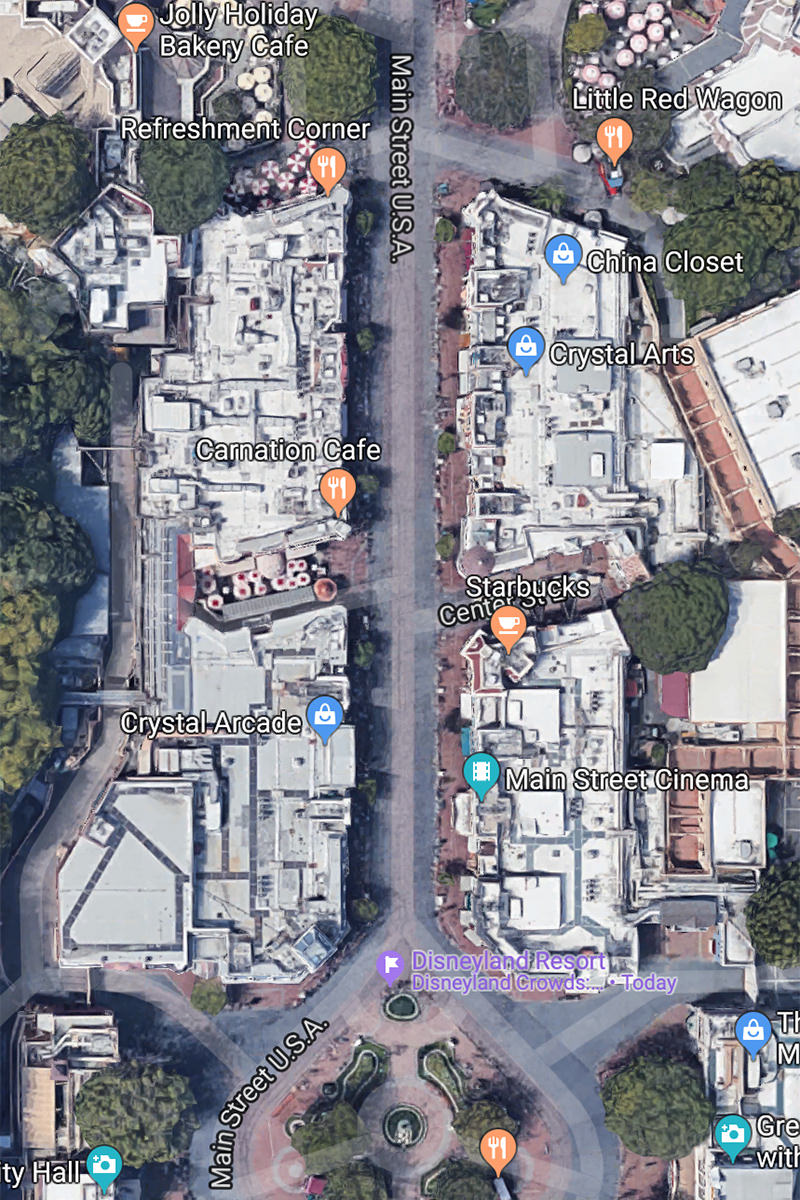 They didn't build fake roofs over each building because they didn't have to. Unless somebody chartered a helicopter, nobody was ever going to see it in 1955. But now there's Google Maps that anybody can call up on their phone, so they are more careful that the illusion is complete...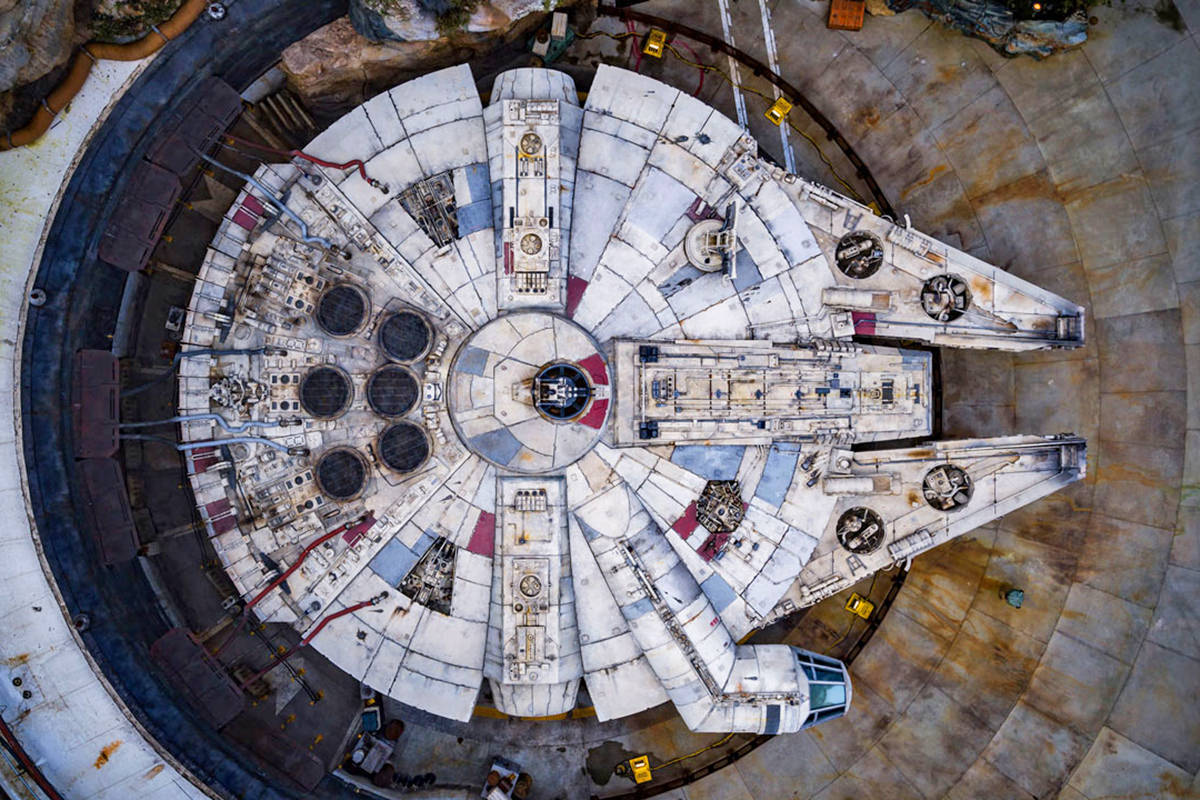 Had this been built in 1955, the fine detailing would likely have been ignored. The only thing they would bother theming would be what you could see from the ground. Personally, I think this is fantastically cool. You can literally see the Millennium Falcon parked at Disneyland, and that's no small thing.
An interesting aside here... apparently Star Wars: Galaxy's Edge has been a bit of a flop. People are complaining that there's only one ride and the rest of the place is just a giant shopping mall where you can buy overpriced souvenirs and food. That's it. Eventually a second ride will open but, again, that seems pretty lame. Perhaps Disney will add more stuff to make it more worth visiting, but right now it just seems like a cash grab. Another problem? Disney didn't recreate an authentic place from the movies. You're not walking around Tatooine or even shitty Jakku, you're at "Black Spire Outpost" which, let's face it, who cares? This seems like a major misstep, and I just don't get it. When Disney made an Avatar-themed land, they built Pandora from the movies so when you go there it's like stepping into the film. That's what people want to see, and anything less is inviting a tepid reaction. And that's exactly what Disney got.

• ZIM!!! One of the most impossibly brilliant animated series to ever grace our television sets was Invader Zim. In addition to being so brilliantly written, the look of the show was was blew my mind. It's just so beautiful. As if that weren't enough, it has GIR, Zim's robot companion, and one of my favorite characters of all-time...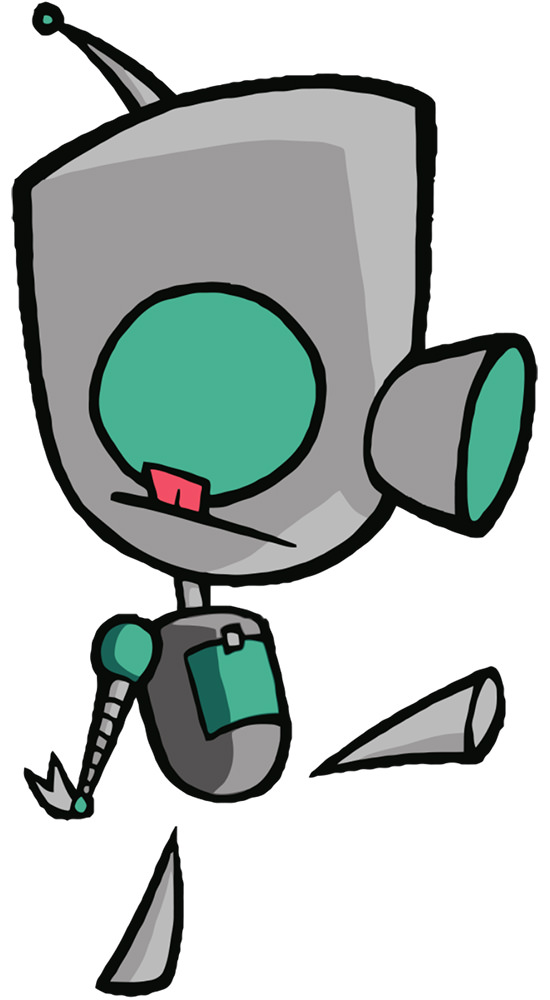 Despite unprecedented critical acclaim, the series was uncerimoniously canceled by Nickelodeon because network executives are stupid. But now Netflix has revived the show for a new feature called Invader Zim: Enter the Florpus...
The movie has everything that Zim fans could want and, while it kinda-sorta wraps up the series, it also leaves things wide open for more. And I want quite badly for there to be more. Because can you ever truly have enough Zim in your life?

• Passport! I am not even going to spoil this. Just trust me when I tell you to click this link. Genius. Every last one of them is genius.

• Shazam? Ninety-one percent? Shazam got NINETY-ONE PERCENT on Rotten Tomatoes? Really? One minute it's childish and stupid as shit... the next minute there's a demon is biting somebody's head off. So exactly who was this movie made for? Psychotic children?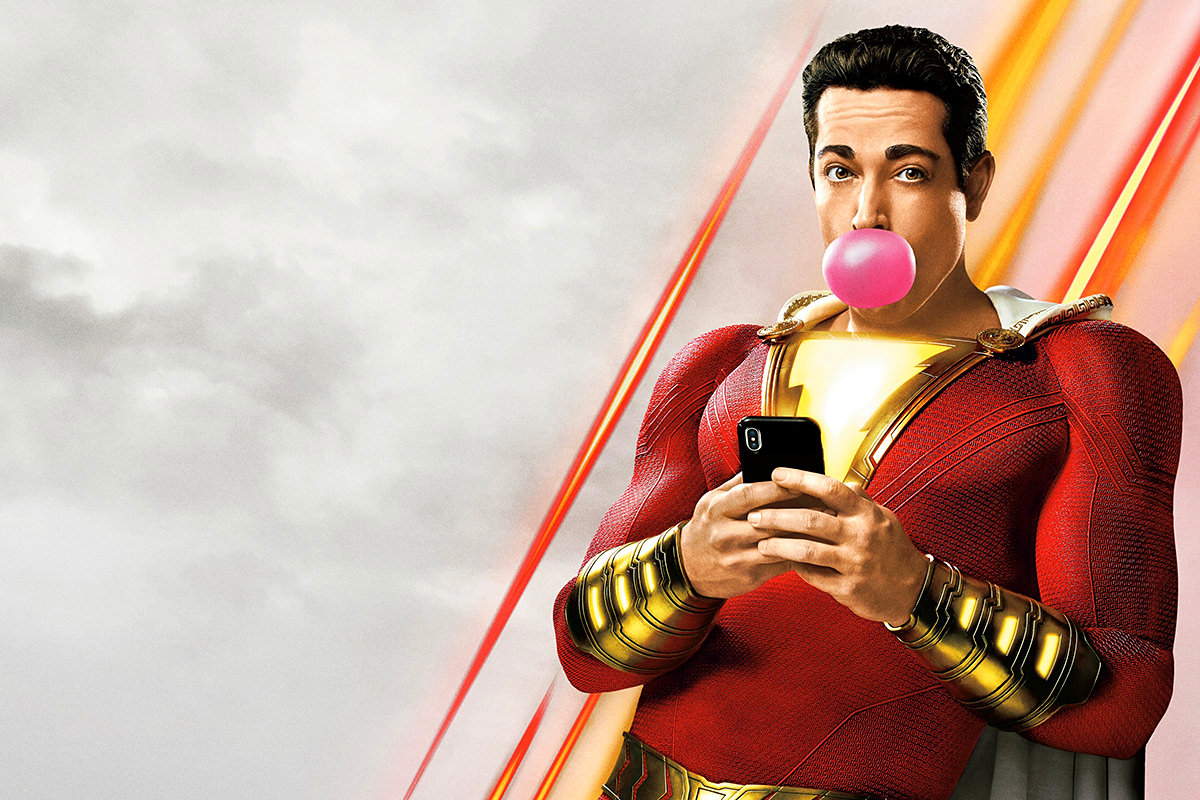 Even if you ignore the stupid glowing lightning-bolt-that-looks-more-like-a-triangle on his uniform, Shazam was awful. WHAT HAPPENED TO HAVING THE WISDOM OF SOLOMON? THIS SHAZAM IS A FUCKING IDIOT! About the only thing I enjoyed was Mark Strong as Sivana, despite the fact that he was a complete departure from the comic book's Dr. Sivana (and not in a good way, of course). I cannot fathom how this managed to rate 91%. I just don't get it. The only thing that kept it from total disaster for me is that they didn't have any burp or fart jokes. At least I think the movie didn't... I fast forwarded through the foster home stuff because all the kids were just so annoying. GRADE: D+

• Days of Meat! On my blog entry for "The Impossible Whopper" I mentioned that it has been 33 years, 3 months, and 24 days since I last ate meat. A friend messaged me and asked how I could possibly remember the last day I ate meat. It's actually pretty easy. It was Earth Day, 1986. I remember it because my girlfriend at the time was a vegan and didn't want to kiss me because I "smelled like meat." I had a hamburger for lunch and she got mad because I "couldn't even go meat-free on Earth Day." And so I gave up eating meat right then and there. We broke up a month-and-a-half later, so I was going to go back to eating meat... except I was feeling better than I had ever felt. The allergies which had plagued me since adolescence were gone, so I stuck with a vegetarian diet. I've since learned that many people are allergic to the antibiotics they inject into animals, which probably explains why I was in such poor health my first 20 years.

• Cook Cook Cooking! Yesterday I spent a big chunk of my day in the kitchen making up meals to refrigerate and freeze. I made burritos. I made rolls. I made Mac & Cheese, I made quiche... and I made my grandmother's enchiladas recipe. While not rocket science, enchiladas make a lot of dirty dishes and a big mess (especially when you make the sauce from scratch). It's also time consuming to put them all together. And even though I started three hours before dinner-time, my cats were all excited because they thought they were getting fed. So it went something like this...
THE ENCHILADA WALTZ
Remove tortilla from the frying oil.
Put fresh tortilla in the frying oil.
"No, kitties, it's not dinner time yet."
Put the filling in the tortilla.
Put the cheese in the tortilla.
Flip the tortilla that's in the frying oil.
Fold up the enchilada and add it to the pan.
"No, kitties, it's not dinner time yet."
Repeat.
After a full day and two loads in the dishwasher, I flopped down on the couch exhausted. But then it really was dinner time for the cats and I had to get up again. I really wish that ten million dollars would fall into my lap so I could hire somebody to come in and cook for me.

• Visitations! For the first time ever, the number of people visiting my blog on a mobile phone has eclipsed desktop users. Guess I'd better work on a new "responsive" template sooner rather than later. Blogography looks okay on a mobile phone, but it could be friendlier on smaller screens...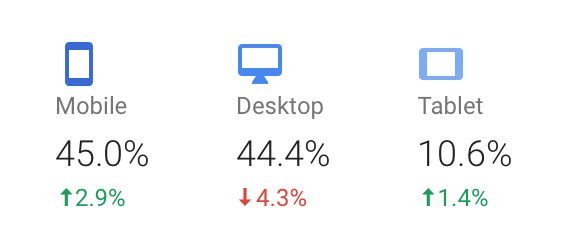 The problem is finding time to actually code a new template. The tags and expected behaviors have changed so much since I made the current template that I would have to re-learn Wordpress in order to even begin! That seems like a lot of work.

And I guess that's all the bullets I have for this week.
Posted on December 10th, 2018

Today was the day I switched to my new WordPress 5 template for Blogography!
Then, after three hours of trying to make it work, I switched back to my old template again!
I don't know why I am having so much trouble getting what I want. It's really not that difficult to code these things. Especially when you are starting from an existing template (which I am) because you are woefully inept at coding a "responsive" site (which I also am). I'd skip all this and go back to coding what I know, but being "responsive" is a huge part of why I'm doing all this in the first place.
"Responsive" meaning that Blogography will be responsive to how you're viewing it and adapt accordingly. If you're in a web browser with a lot of screen real estate, you'll get an expansive experience with sidebars and menus and such. But if you're surfing on a smaller device, like your phone, it will automatically become more text-based so that it's easier to read. That's key, because an increasing amount of my traffic is from mobile devices. Eventually I expect it will overtake desktop browsers as the main way that people are reading my crap.
Hence the reason I'm switching over.
Eventually.
When I can figure out what in the hell I'm doing.
Which, hopefully, will be before my 16th blogiversary in April.
In the meanwhile I've put a sticky post at the top of my home page to explain why things might look messed up for a while.
Posted on October 23rd, 2018

I'm not sure why I'm still blogging. Most bloggers have hung it up or have happily moved on to social media platforms like Twitter, Instagram, and Facebook. I'm just stubborn, probably. I've been doing this for so long (over 15 years!) that I don't know anything else.
And so long as I'm here...
Blogs may be dead, but those of us still hanging around are facing a lot of interesting changes. Changes in the way content is created. Changes in the way content is used. Changes in the way content is displayed. Which means bloggers are faced with two options... keep doing what they've been doing, or change with the times.
Wordpress (the blogging platform I use) is pushing hard for change. And the first step is coming November with Wordpress 5.0 and their new content editor... Gutenberg. It will allow for a lot of interesting new ways to create and display content. Whether or not users will take advantage of this is anybody's guess...
The templates used for Blogography's design are hand-coded to look like I wanted them to appear. For me to be able to display content properly from the Gutenberg editor and the new Wordpress "block-based" rendering engine (now and in the future) everything will have to be re-coded. I honestly don't know if I can invest the kind of time required... but hopefully.
Time to change with the times.
Posted on April 16th, 2014

For the first time... ever(?)... I had to take down a blog post.
Yesterday I said "If you don't hear from me again, I'm probably dead. After writhing in agony for hours." Right after posting that, I noticed there was a software update for my blog, so I installed it. After a few minutes I was all updated and good to go.
Until I sat down to write today's entry and noticed that the entry editor is... errr... "missing" for lack of a better word...
Uhhh... where do I type?
Well that's darn inconvenient! And since I am flying out early, early tomorrow morning it's not like I can fix it now.
So it's probably best that I take down yesterday's post telling people that if they don't hear from me I'm probably dead.
Now wouldn't it be ironic if I died right after removing it?
Almost as ironic as if my blog stays permanently dead and I never get to post this entry about my blog being temporarily dead.
Posted on February 16th, 2014

Time to put House of Cards on pause, because an all-new Bullet Sunday starts... now...

• Random! Sometimes when I'm stuck on a phone call, I'll fire up Wikipedia and click on the Random Article link for a while (WARNING: no telling where that link takes you). It never ceases to amaze me what pops up. Yes, there's a lot of random stubs that flash by... but there's always a few articles of substance that will teach you something. Today my articles were... HUMAN TOOTH SHARPENING!... CERATONYKUS!... FRISKNEY!... and the HOUSTON THUNDERBEARS! — But be careful. If you click too fast, you could skip by something interesting (like NEW KOREAN ORTHOGRAPHY!) and not be able to get back to it (your browser's back button won't work). And who knows what knowledge tomorrow will bring? (perhaps the BARCELONA INTERNATIONAL EROTIC FILM FESTIVAL!).

• Ellen! Even without her personal announcement, Ellen Page's speech for the Human Rights Campaign this week was powerful, inspiring, and well worth watching...
I hope Ellen Page knows just how much her words mean to a lot of kids struggling with acceptance... not only with their sexuality, but with all the challenges they face because they're different... or merely perceived to be different. The more people keep speaking out for treating people with decency and respect, the more attitudes will change. And the more kids will feel less alone as they struggle to figure out their path in life.

• Please! Oh please please please please please please please please please please please please please please please please please please please please please please please please please please please please please please please please please please please please please please please please please please please please please please please please let this happen.

• Bloop! Because I just can't help it, I now present The LEGO Movie blooper reel...
Awww! Is there anything cuter than LEGO minifigs?

• Search! For years, I've been integrating Google Custom Search into Blogography. But it's grown increasingly unreliable, and I'm tired of having it fail when I go to use it. So when I switched to WordPress, I decided to dump it. Only to find that WordPress search sucks. It sucks so bad. And so I found my way to the Relevanssi plugin. It's an order of magnitude better than what comes with WP, for which I'm grateful. I just wish it had pictures like Google does. Everybody loves search that comes with pictures! Bummer. I do like how it highlights the search terms though.

• Archive! And while I'm on the never-ending subject of my migration to WordPress, I am compelled to bring up how crappy their archiving is compared to what I was using with Movable Type. Hopefully one day you'll be able to navigate between monthly archives without a plugin, but not today. Hopefully one day you'll be able to navigate subcategories within a category without hard-coding IDs in an array, but not today. Both of these are not revolutionary features by any means, and it mystifies me as to why they aren't included. Luckily WordPress is ever a work in progress. So maybe one day.

And now, if you'll excuse me, another episode of House of Cards awaits...
Posted on February 12th, 2014

For better or worse, this blog is now running on WordPress.
Migrating was both easier and harder than I thought it would be. I was dreading converting all my templates because Movable Type has a far easier template language to work with. Much to my delight, it took me just under two hours. Much to my horror, the comments display looks like complete shit. And the comment form is wonky. I've spent around SIX HOURS trying to fix everything, but WordPress uses a stupid fucking HTML List Element to output comments, and all attempts to figure out how to style it have failed. I've read dozens of tutorials and read loads of documentation, but nothing works, and I have no idea why. So... something left to do, I guess.
Anyway... for anybody wanting to dump Movable Type and switch to WordPress, I have notes.
DATA
Movable Type's "Export" function has always been incomplete and terrible. They tried to fix this with a "Backup" function, but I was never able to get it to work. Ever. Part of the problem is that my hosting company, Media Temple, has a pathetically small time-out value for their Grid Hosting. If you have more than a couple hundred entries, this means Media Temple will never get to finish the job. So there goes my hopes of spending $49 at TP2WP.com for a quick and dirty conversion of my entries and comments to WordPress. Fortunately, Mihai at Pro-IT-Service has near-miraculous knowledge of all things Movable Type, and I was able to hire him to do the job for me for a reasonable fee (considering I have over 4,000 entries and nearly 52,000 comments!). He did a flawless job. Permalinks were preserved. Extended entries were merged to WP format. Categories were not only preserved, but he provided an .htaccess file update so that referrers to my categories would be redirected to a WordPress-friendly URL. Just like his previous work for me, Mihai totally delivered, and I couldn't be happier.
MIGRATION
My hosting company allows me to host multiple domains on my account. All I have to do is create a folder in my "domains" directory, point my NameServers to their servers, and I'm done. This made it dead-simple to install WordPress in an unused domain, then just rename its folder to "blogography.com" after Mihai migrated my data. All I had to do then was let WordPress know that its domain had changed and I was done. For some reason I thought it would be a lot more difficult.
STATIC
One of the things that I really, really liked about Movable Type was the option to go with statically-generated honest-to-goodness html files. You can do this with WordPress by using a clever plugin, but that adds a lot of overhead when you're working on converting your templates and are making lots of changes. For now, I plan on leaving things dynamic. But the security of having static html files that will still work even if your database craps out is something I'm too paranoid to resist for long. Even so, I am using the W3 Total Cache plugin so WordPress serves up pages more efficiently in the meanwhile.
SECURITY
Something you're forced to learn when switching from Movable Type to WordPress is that securing your site is a big deal. I learned this the hard way when I converted DaveCafe as a WordPress blog... and got hacked in four days. Yes, four days. I installed a bunch of security plugins to help clean up all the malicious code and my database, but was hacked again the following month. Eventually I just locked down WordPress completely by editing my .htaccess file so the back-end is completely inaccessible. Which means in order to work on DaveCafe, I first have to edit my .htaccess file. Then edit it back. Every time. It's a pain, but I only update the site a few times a year, so I can live with it. Obviously, this is not an option for a blog I'm updating every day. Enter the Better WP Security plugin. It seems comprehensive, so I'm hopeful. Then again, I've only been running for one day...
BACKUP
Back when I first began with my web hosting company, Media Temple, they had a backup tool included. But then they switched to their "Grid" service and backup was dropped. I never understood why. This is a BASIC FUCKING FUNCTION that even the cheapest hosting companies offer. Years later Media Temple managed to finally get around to it, but you have to pay for their premium "CloudTech" service to get it. At least you did. I have no idea what the situation is now. In any event, I'm done with dealing with this crap, so I'm using the WordPress Backup to Dropbox plugin to keep my data safe.
COMMENT SPAM
I frickin hate... HATE... CAPTCHAs. Every time I go to comment on a blog and I see I have to interpret some crazy-ass bullshit in order to post, I think twice about whether I want to put in the effort. To avoid this on my Movable Type blog, I used some javascript code called Obfuscator that passed code from the comment form to prove the comment was manually generated instead of a spambot. I haven't yet figured out how to use it with WordPress, so I'm relying on the included "Akismet" plugin to catch spam for me until I do. So far, so good. Akismet has blocked 32 pieces of comment spam in 6 hours. If this keeps up, I won't worry about figuring out Obfuscator after all.
SUPPORT
Going from a fringe product like Movable Type that few personal bloggers are using anymore... to a 10-ton gorilla like WordPress that everybody is using... well, it's quite an adjustment to make. I'm simply not used to having such a huge community available with instant answers to even my most bizarre problems. But the best part of WordPress is ACTUALLY DOCUMENTATION! Movable Type always had shit for documentation, and it's wonderful to not have to worry about putting up with outdated, shitty docs any more.
DEVELOPMENT
Another reason I'm ecstatic to finally be rid of Movable Type? WordPress has an active development community. Plugins are plentiful and current. You can extend functionality in just about every conceivable way. Finding new themes for you site design is easy... whether you want something free... or to pay for something more. And the apps! WordPress is well-supported because so many people are using it. My third-party blogging software, MarsEdit, barely supports Movable Type. Subcategories never worked right. A lot of features weren't supported. But with WordPress? An entirely different story. Everything works flawlessly. I can use categories again!
PAGES
WordPress has an irritating schema that omits the ".html" extension on Pages. I have no idea why since they have no problems appending it to Posts, but there it is. It isn't too big of a problem... slapping some 301 redirects in my .htaccess file fixed the problem nicely. Which is a good thing, since Google's Custom Search refuses to work without it.
TEMPLATES
And now we've come full-circle to WordPress template-building. As I said, Movable Type has the upper hand here in a big way because they use simple tags. WordPress uses PHP code snippets. Which makes getting anything out of WordPress a bit more difficult (and, in the case of formatting comments, a hell of a lot more difficult). Still, once you get the hang of it, it's not too bad. Just not as easy as it could be.
LINKS
When you've been blogging for 11 years, you're bound to accumulate a few broken links. Thanks to a plugin called Broken Link Checker, I now know I have 1,214 of them. Most are from people who left comments linking to their blog... which no longer exists. Kind of sad to see so many sites having died. I remain amazed mine isn't one of them.
CONCLUSION
Ultimately, I'm happy with the move. If the plugins I'm using will keep spammers and hackers at bay, I'll be very happy. My only regret is that I didn't do this much sooner. If you have a solution for migrating your data from Movable Type to WordPress, this isn't a difficult decision to make. The resources, tools, and activity benefits are pretty much a no-brainer.

And now I should probably work on getting my Archives page running, my comments formatted, and my comment form working... but it's past midnight and I'm all WordPressed out for the night.
P.S. Originally, I had coded big purple X's before all my posts on the WordPress blog so I could easily tell which site I was working on. After a couple hours, I actually grew to like them there (especially when scrolling through a long list of posts) so I think I'll keep 'em!