Posted on May 10th, 2018

Before heading to the airport to turn in our rental car in St. Louis, we stopped for gas so we wouldn't have to pay the insane refueling fee that the rental car places charge.
As I was standing there waiting for the tank to fill, I saw this...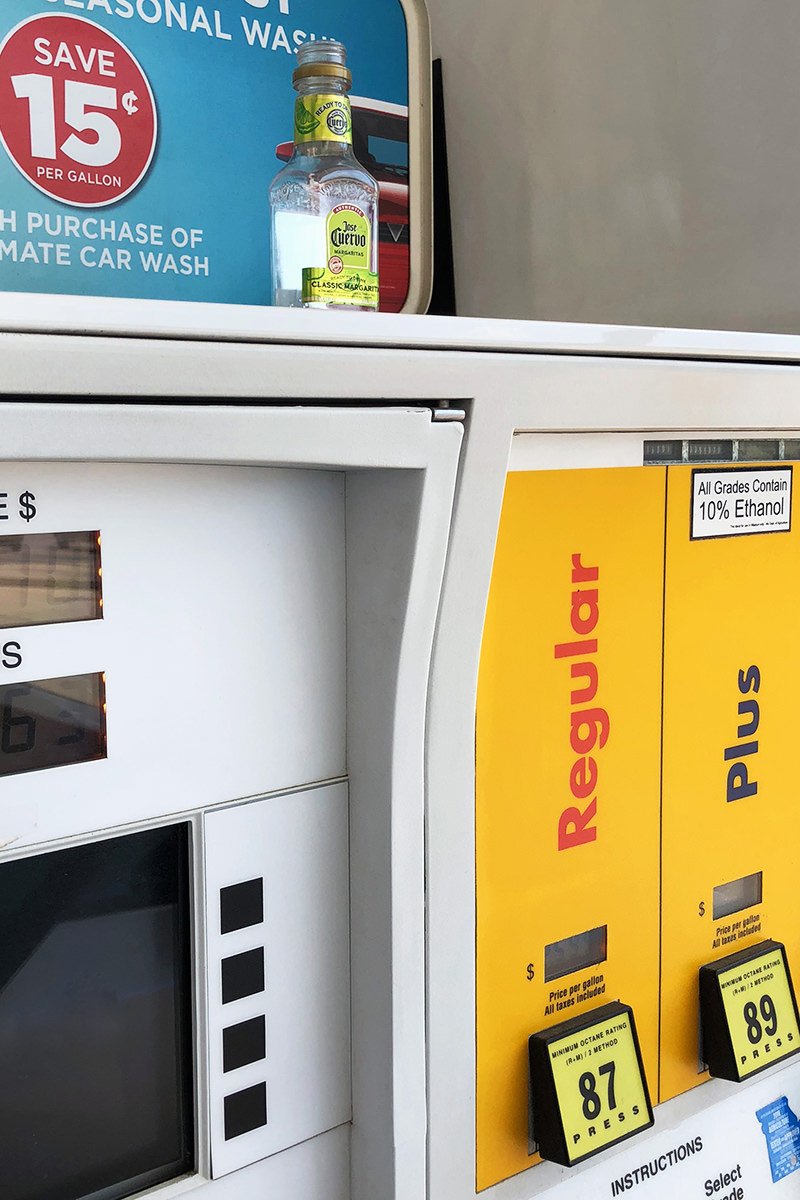 Here's hoping it wasn't the driver, but I'm guessing it was.
Given the non-stop trainwreck of horrors that has been drinking-and-driving, you'd think that people would learn something. How many more lives have to be destroyed before people learn something?
Posted on October 22nd, 2010

I am thinking that I have somehow acquired the power of invisibility.
Here is a series of tweets that I sent out YESTERDAY...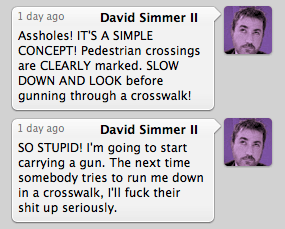 I was joking about buying a gun, Buddhist precepts forbid me from owning one, but now I'm wishing I had bought the damn thing. Because today as I was crossing the street, I was actually hit while crossing at a crosswalk with a full-on WALK signal giving me the right of way. This is the SECOND time that I've been dropped while crossing the street (the first time was Chicago, which I wrote about here).
Thanks to my previous incident, I don't charge out into the street when the light turns to WALK... I wait a second to be sure nobody is running a light, THEN start walking. But it didn't matter, I still got nailed. And I never saw the car coming. I think they ran a red light, because I don't recall a car exiting the parking lot beside me... but they very well could have zoomed out and I didn't notice. I was a good three steps into the street when the Honda Element suddenly appeared in front of me. I'm thinking the passenger-side mirror grazed me, then I twisted so that the left-side of my upper body hit the car. I then tried to twist away from the vehicle, but my foot was planted, so all I did was end up twisting my ankle and pulling muscles in my leg and back.
One more step into the crosswalk and I would have been seriously injured.
Or dead.
I stood in the middle of the street and screamed at her to stop, but she didn't stop.
I then hobbled across the street and ran down the sidewalk to catch up to her as she came to a stop at another light. First I took a photo of her license plate (SURPRISE! It was a vanity plate!), then I started screaming at her again while waving my arms. She never even looked at me. I have no idea if she saw me or was just ignoring me, but she drove off the minute that light turned green...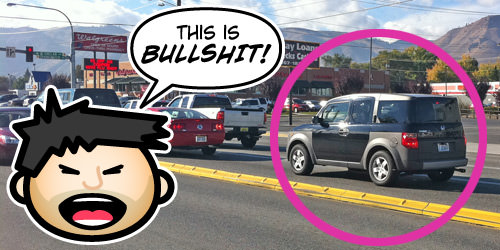 I don't get it.
Whether she broke the law and ran a red light to nail me or not... it just doesn't matter. She wasn't fucking paying attention. She's speeding along in a 3500-pound death-mobile and didn't even check to see if there was somebody in the crosswalk as she barreled through. I don't think she was texting on a mobile phone, but she was definitely distracted by something.
Whatever. if somebody can't focus well enough while driving... or if they just don't give a fuck... they have no business being on the road in the first place. Did I mention that I could have ended up dead?
So I reported her to the police. First I emailed the photo. Then I went to the station and filed a verbal report. Then I sent a follow-up email to the officer in charge of my case with a written statement, photos, and a map. In the past I've just screamed and posted some profanity-laden tweets when somebody tries to perform vehicular manslaughter on my ass. But not this time. Because this is getting insane. I mean, seriously, TWICE IN TWO DAYS?!? It's no longer safe to be a pedestrian on the street! It doesn't matter how careful you are or whether you use crosswalks and follow signal lights. It just doesn't matter. Every time you're near a street without a vehicle protecting you, you're nothing more than a moving target waiting to be hit...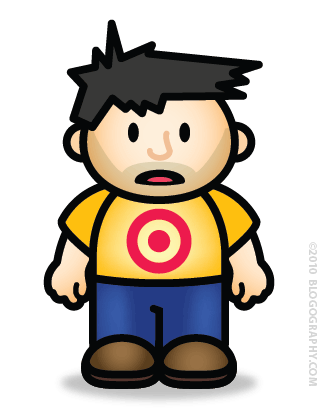 This is not rocket science. Operating a motor vehicle requires your total attention. If you're not willing to devote that kind of energy into being safe on the road, then DON'T FUCKING DRIVE! Otherwise, it's only a matter of time before you kill or seriously injure somebody.
And it will probably be me.
Posted on November 17th, 2009

On my way home tonight, I spent the entire trip trying to make other cars explode using the power of my mind.
I know some might consider this to be cruel and hateful, but when somebody is driving 20 MPH in a 35 MPH zone, what else can you expect? When somebody comes to a full-stop at a caution light, what else can you expect? When somebody doesn't take their turn at an intersection stop, what else can you expect? When somebody is blocking the road so they can talk to somebody in a car coming from the opposite direction, what else can you expect? When everybody you encounter on the road is a frickin' moron, what else can you expect?
This is what I keep hoping happens...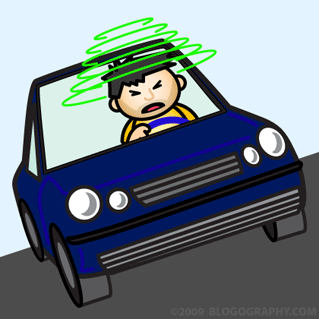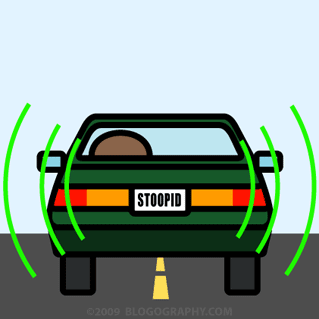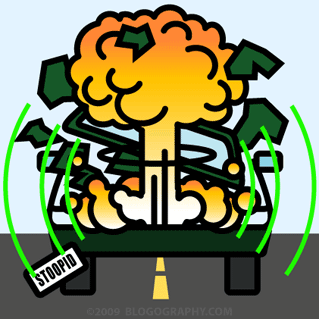 Wouldn't that be great?
Just think of how much more fun it would be to drive if you could asplode dumbass drivers on the road?
Of course, none of this would be necessary if I were to get those flying cars we've been promised all these years...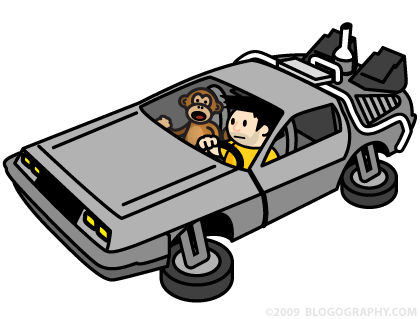 Talking about being able to explode things with psychic powers makes me wonder how much of the population would eventually find themselves asploded because they did something to piss me off. 25%? 50%? 75%? Who can say? It's kind of worrisome to think that I might get carried away and end up asploding 98% of the people on earth. Who would be left to make the chocolate pudding?
Hopefully it wouldn't be raging moron turned media whore Carie Prejean. She is so fantastically stupid that I think I'd asplode her even if it meant I wouldn't get any pudding. I don't know how much longer I can listen to this idiot whine about the imaginary liberal media trying to take away her right to free speech... especially when she's showing up absolutely everywhere talking about it. She's just like every other radical Christian hardcore Conservative beauty queen homophobe with fake boobs, naked photos, dozens of sex tapes, and a new book to sell... a hypocrite who is perfectly happy judging others by her lofty moral standards, but gets pissy when somebody presumes to judge her with theirs. I don't want her to shut up because she's pushing some kind of anti-human, anti-equality, anti-gay agenda... I want her to shut up because she's a fucking dumbass.
How is it that these faux-pious assholes with a "do as I say, not as I do" attitude seem to think that people are dense enough to buy their lies, hypocrisy, and bullshit? Probably because people are that dense, and I have little doubt her book will be a bestseller. People are not only buying the crap she's selling, they're forking over their hard-earned money to do it.
So, no. Nobody is taking away Prejean's right of free speech.
But I really wish they would.
Posted on July 21st, 2009

Today I paid $6.49 for a bag filled with two cups of slivered almonds. The shock still hasn't worn off, because that's nearly $16 per pound. By shopping online, I could get the exact same thing for $6 per pound. This sounds like an incredible bargain, except shipping and handling charges end up being about $10 which means I'm right back where I started. Things like this drive me insane when I think about it, so I am very careful to turn off my brain when I go to the grocery store. Apparently everybody else is doing the same thing, which is why everybody is wandering around in a zombie-like haze.
This is a good plan, assuming you turn your brain back ON when you get to the parking lot.
Today I found out that most people do not do this, resulting in zombie drivers...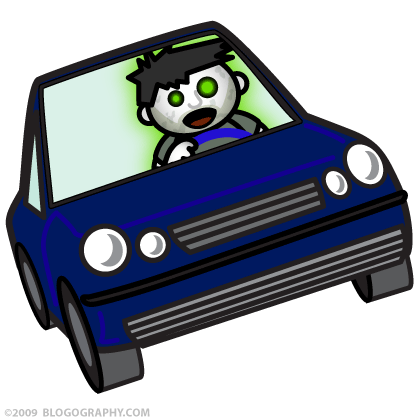 This was made clear to me as I watched two cars gunning towards the exit at the same time... each completely ignoring the lanes painted on the pavement. It was quite distressing because I was in the proper lane to exit the parking lot, which meant I had cars coming at me from both sides.
The first car arrived on my right. The driver was apparently very impatient, because they honked their horn at me while I was looking to make sure no traffic was coming. This caused me to become instantly enraged for two reasons... 1) It was unnecessary and rude. 2) I WASN'T THE ONE WHO WAS IGNORING THE TRAFFIC LANES!
I reached for my gun, but then remembered that I subscribe to Buddhist precepts which forbid me from owning one, so there was no gun to be found.
So instead I ignored the asshole and exited the parking lot. Which was just as the second car arrived on my left. This caused another round of honking as two cars... both ignoring the traffic lanes... attempted to exit at the same time. To make matters worse, a car arrived wanting to enter the parking lot, but couldn't get in because the two cars were blocking her. I didn't stick around to see how it all worked out. For all I know, they are all still there honking at each other.
It is getting to the point where I hate... hate... to drive anywhere because it's wall-to-wall dumbasses everywhere you go. Everybody seems to have their brain turned off, and so it's just not fun (or even safe) anymore.
So you can imagine how thrilled I am to be making the three-hour drive to Spokane tomorrow.
Posted on May 20th, 2009

When you are following a car that's weaving down the middle of the road while going 10 miles under the speed limit... don't you owe it to society to run them off the road, rip off the car door, bitch-slap the driver really hard, then take a flamethrower to the whole mess?
If you agree, then would you please move into Chelan County right away? When my eventual trial comes up, it would be nice to have a jury of my peers who understand justifiable road rage. IF YOU OR YOUR VEHICLE IS INCAPABLE OF DRIVING THE SPEED LIMIT, THEN STAY OFF THE FUCKING ROAD!! All these people do is make things more dangerous for people who know how to drive.
Speaking of flame-throwers, I maintain that they are the solution to many of our problems, including PCs running Microsoft Windows Vista...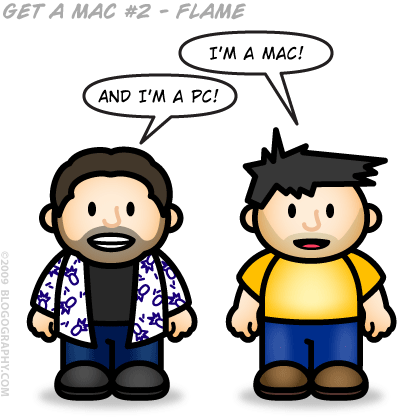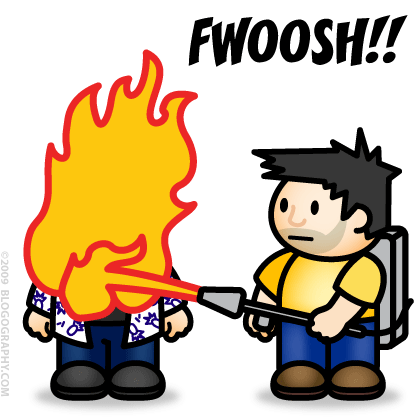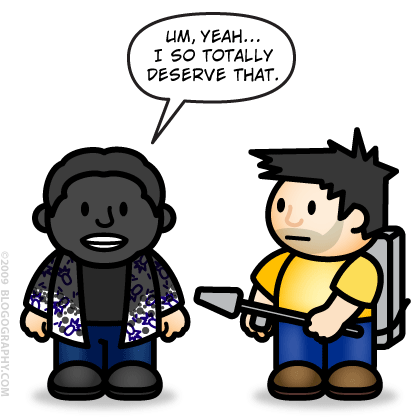 And now I think I will be going to bed extra early so I can attempt to forget this terrible day.
To see all of the Lil' Dave Mac vs. Lil' Wayne PC ads, click here!