Posted on August 11th, 2015

Sometimes people give you a helping hand.
Sometimes it's your turn to help them back.

Now isn't that the cutest thing you've seen all day?
Posted on September 14th, 2014

Don't let Summer's imminent demise get you down... because Bullet Sunday starts... now...

• New? You know that feeling when a new toy you ordered from Amazon shows up? Suddenly it's Christmas and your Birthday all rolled into one and it doesn't matter that you had to pay for it because it's something you really want and are just so thrilled to have it in your hot little hands at long last after an agonizing wait even though you just ordered it only yesterday. Great, isn't it?
You know what's not great? Getting your new toy then discovering that it's not "new" after all. Not only has the box been opened previously... but all the packages inside have been opened. As if that weren't bad enough... THERE IS DIRT ON YOUR "NEW" TOY! ... DIRT!!!!
Obviously, I received returned merchandise. Obviously, I won't be keeping it. Obviously, I have to return it and wait AGAIN for my NEW toy to arrive.
Life can be so hard.
Well, relatively speaking, of course.

• Palin! Last month Sarah Palin started her own online channel. And more amusing than the fact that there are people out there willing to pay $9.95 a month to listen to her bullshit is that Saturday Night Live predicted it...
But it wasn't until news of a drunken brawl involving The Palins broke out that I realized what serious entertainment potential "The Sarah Palin Channel" has. Reality is far better than anything Saturday Night Live could ever dream up. And while I seriously doubt Sarah will be airing footage from what really goes on in her life that's not been carefully orchestrated for public consumption... I am praying that somebody captured footage of Palin yelling "DO YOU KNOW WHO I AM?!? while mixing it up with the locals. I would gladly pay $9.95 to see that.

• Fake! As somebody who has been accused of "faking" my travels on more than one occasion, I was intrigued by the story of a Dutch girl who actually did fake a trip to Southeast Asia. At first I was thinking "How lame could you be?"... but then I read the story...
Interesting. And yet another wake-up call to not trust everything you read on the internet.

• Mom! This is beyond sweet...
So very Japanese... but in a way I think anybody can relate to.

• Phone 6! I placed my pre-order early enough that I'll be getting my iPhone 6 on launch day. Except I'll be half-way around the world on vacation when it arrives, so actually I won't be getting it on launch day. I am both happy and sad about that.
ZOMG! JUST LOOK AT IT! I really need to start planning my vacations better.

• Phone 8! I would never give up my Apple iPhone for a Google Android Phone. I don't care for Android... at all... and would consider such a move to be a significant downgrade. But then there's Windows Phone 8. I wouldn't trade down to that platform either... but, if Apple closed up shop today, that would be the phone I'd buy. For one thing, Windows Phone 8 is the only OS with an interface that seems "new." Whereas Android is a shittier version of what Apple's already done, Windows 8 is a beautiful departure. It feels modern. It looks great. Some real thought went into it. I like most everything about it... once I got used to the "flippy tiles" interface, which gets annoying after a while...
But there's a couple of serious problem for Microsoft: market share and apps available. Market share is probably the biggest problem because they don't have any. It's hovering just below 3% and dropping fast. And because of that, developers aren't writing apps for their dying platform. Including the three companies I work with. Two never even started... the third stopped all WinPhone development last Friday.
And so Microsoft is in catch-22 situation. Their market share won't grow if customers don't have a ton of compelling apps. Developers won't create a ton of compelling apps until there is significant market share. And I don't care how many billions of dollars that Microsoft throws at the problem, it's not going away any time soon. Which means Windows Phone 8 is probably not long for this earth. Eventually Microsoft is going to have to face the fact that they will never be able to compete with Apple and Google when it comes to smart phones. Their only chance now is to fork Android to create their own version of the OS so they can still do what they want to do while having access to the gazillions of apps available. Whether Microsoft decides to do the obvious or waste billions upon billions of dollars to no avail remains to be seen. As a fan of their UI, I hope they do something before WinPhone is forced to close shop permanently.

And, on that happy note... time to finish packing.
Posted on May 26th, 2014

To all those who sacrificed their lives in service of their country... and to those who served and are still serving... many thanks from a grateful nation.
Last year I remember seeing on the local news how Seattle-native Capt. Will Swenson was the first Army officer to receive the Medal of Honor since the Vietnam War. I was recently reminded of his service when this YouTube video started making the rounds again. Reminding us to remember those who've fallen...
And so we do.
Posted on May 18th, 2014

No more waiting for your ship to come in... because Bullet Sunday starts... now...

• Blinded. This is a great story... it's short and awesome and worth your time and it has nice photos and you should read it. Sometimes things that seem irreparably broken just need a little TLC to make it through. That probably goes for people too...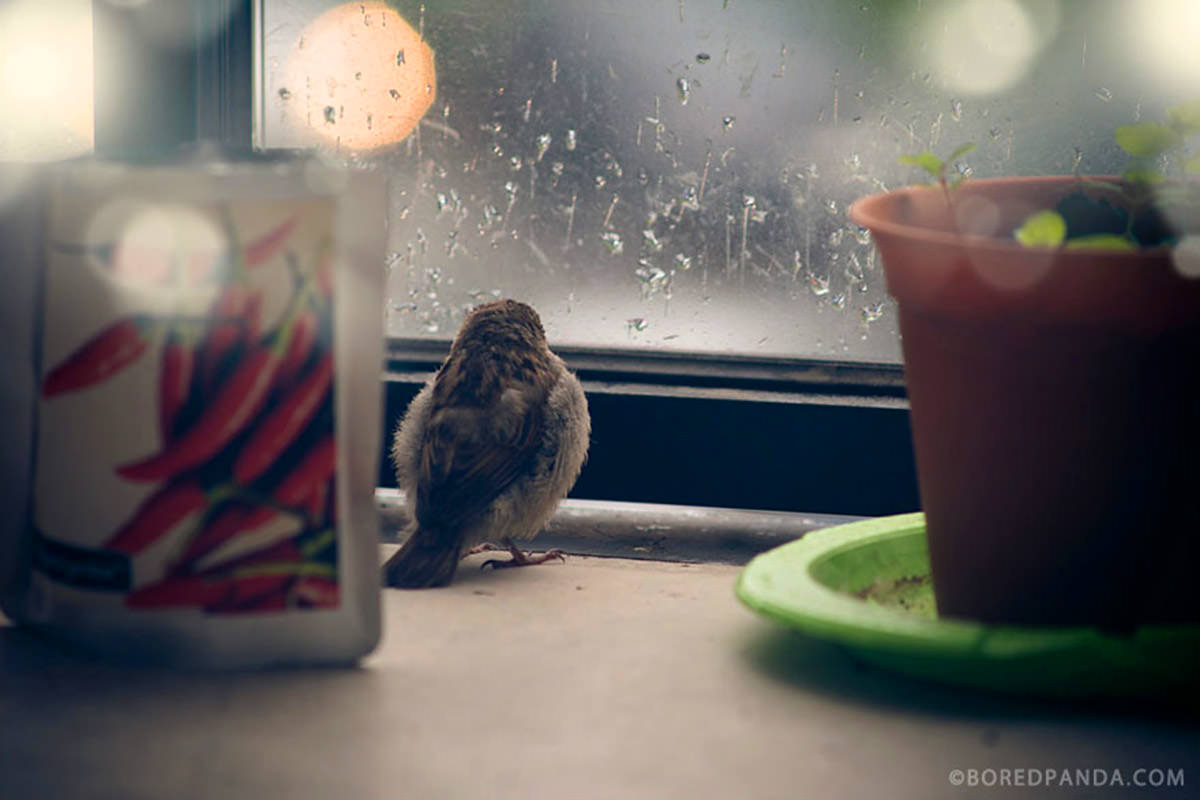 • Blinded Deux. And I can't post that wonderful story without being reminded of this wonderful story...
Remarkable how animals can fall between the cracks like this. That probably goes for people too. Again.

• Movie! Just a happy reminder... The LEGO Movie will be available at the iTunes Store tomorrow...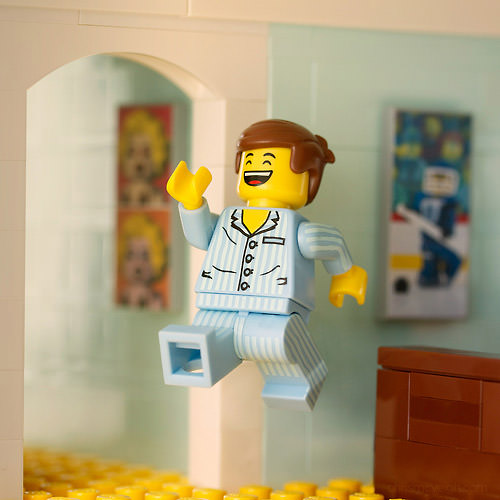 Though I was not happy with the way they wrapped it up at the end, The LEGO Movie has still been one of the best movies this year so far.

• Thrice. Today was the annual board meeting for THRICE Fiction Magazine, so I packed up and headed west to the wilds of ChicagoLand Suburbia to meet with our intrepid Editor at Large, RW and his lovely wife. After much exciting talk about future plans for everybody's favorite literature magazine, we were off to Lynfred Winery for some remarkable Sangria Blanc. Which was followed by delicious possibilities for food porn at Restaurant 1913 in Roselle...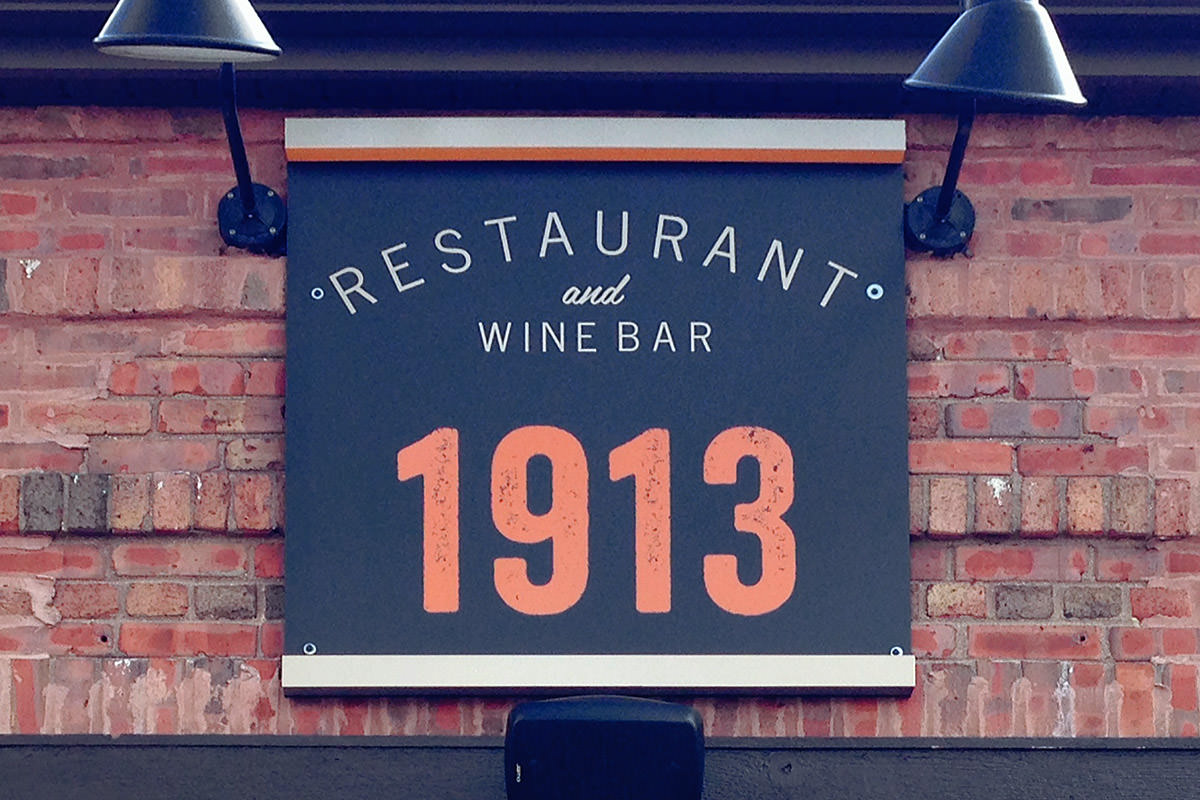 Insider Tip: The "Pizzettes" are to die for. I had the Spinach + Artichoke with Herbed Ricotta... heaven on a wooden serving board...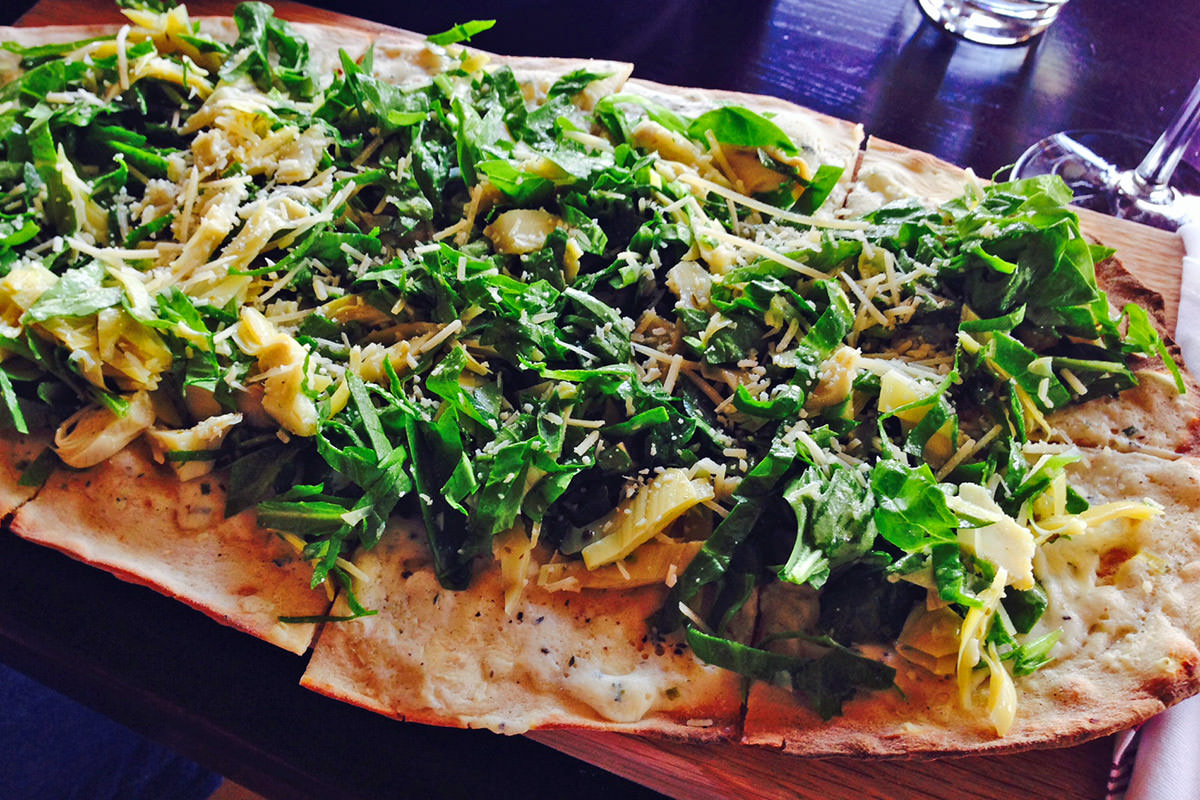 I dare say it's a dining experience worth the 45 minute train ride out of Chicago proper.

• Selfie! Alex Chacon has been living my dream... traveling the world on a motorcycle... for three years now. The video highlights he's released from his journey is the most epic selfie ever created...
You can find out a lot more about Alex's travels at his The Modern Motorcycle Diaries site.

And that's a wrap from beautiful Chicago!
Posted on May 4th, 2014

Use the fourth, you... because Bullet Sunday starts... now...

• Forced. It's Star Wars Day! "May the Fourth" be with you!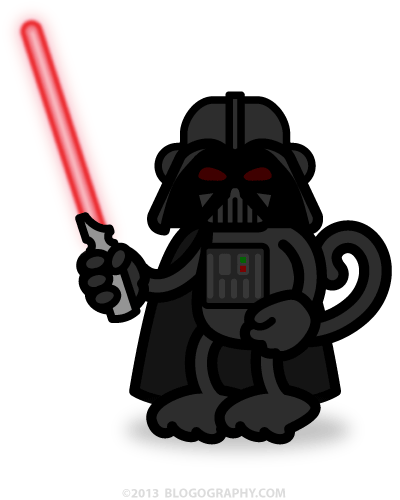 • Neutral. I have written about the importance of net neutrality many, many times (the latest is here), and it still completely boggles my mind how people just don't seem to care. The FCC, whose job it should be to ensure a free and open internet took a huge crap all over the American people when FCC Chairman Tom Wheeler came out in support of abandoning true net neutrality. This is a horrendous fucking blow to the internet, and I am disgusted to my very core that President Obama, WHO CONSISTENTLY PROMISED TO DEFEND NET NEUTRALITY DURING HIS CAMPAIGN, remains silent on the matter. When are these politician assholes going to remember that THEY FUCKING WORK FOR THE AMERICAN PEOPLE? Oh... that would be never. Because companies with deep pockets are throwing a fuck-ton of money at them to get what they want. Democrats, Republicans, or whatever... our politicians work for lobbyists and corporate greed, not US citizens, and anybody who thinks otherwise is fooling themselves. So, yeah... go ahead and buy into the artificial wall of hate created to divide and distract everybody... that's exactly what the people who really control this country want. In the meanwhile, say goodbye to the internet as we know it.

• Magic. I don't know if this can be considered cruel or not... but dogs being fooled by close-up magic is sure funny...
The reactions are priceless. I'm kinda amazed at how many of the dogs grasp the effects of gravity enough to think the treat must have fallen to the floor. Here's part two.

• Burrito. BECAUSE I JUST CAN'T HELP MYSELF!"
Videos like this are what the internet was made for.

• Stacked. So... apparently competitive cup-stacking is a thing...
Kind of a really cool thing. A search on YouTube turns up all kinds of fascinating cup-foolery.

Now, if you'll excuse me, if I don't have those units in the south range repaired be midday, there'll be hell to pay!
Posted on April 27th, 2014

Finish up all those boiled eggs leftover from last weekend... because Bullet Sunday starts... now...

• Bricked. If you are an iPhone user upgrading your iOS to version 7.1.1, PLEASE MAKE SURE YOUR PHONE IS BACKED UP FIRST! I attempted to update my iPhone and ended up getting it completely bricked. The only way I could make it useable again was to plug it into my MacBook and use iTunes to manually update it. Luckily, my phone had backed up to iCloud that morning, or I would have lost a lot of photos. Usually, I don't even think about backups because I've never had any update problems, but I guess there's a first time for everything.

• Quick. The recent run of absolutely brilliant Marvel Comics movie adaptations has been nothing short of miraculous. Everything Marvel Studios touches... from Iron-Man to Captain America to Thor to Avengers has been amazing. But we haven't been so lucky with Marvel movies from other studios. In particular, Bryan Singer's horrendously shitty X-Men films over at 20th Century Fox. The first three were gut-wrenchingly bad. The first Wolverine spin-off was tragic. But then the pendulum swung in the other direction. Matthew Vaughn gave us the excellent X-Men: First Class, then James Mangold unleashed a terrific sequel with The Wolverine. My hopes for the X-Universe were restored. UNTIL 20th CENTURY FOX GAVE IT BACK TO BRYAN SINGER! I mean, seriously, WHAT THE FUCK?!? And, naturally, once we started seeing photos, it looked like Singer had once again spread his butt-cheeks and plopped a load of crap on the franchise. One of my biggest disappointments was his shitty interpretation of the character Quicksilver...
The ugly hair, freaky glasses, and idiotic belt of clunky gadgets just had to be a joke, right? And what's with that stupid jacket? But, no, it wasn't a joke. Subsequent photos confirmed the hideous outfit... but I was relieved to see the belt gone and the hair looking marginally better...
At least until a fucking hamburger commercial, of all things, showed the character in full lighting...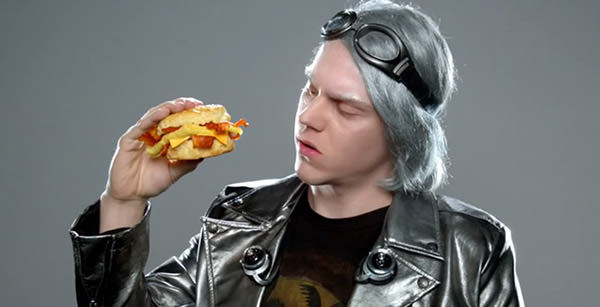 Holy shit. I MEAN, HOLY SHIT! Somebody dressing up for ComicCon does a better job than this embarrassment! But it's Bryan Singer. After the colossal dump he took on Superman Returns, nothing surprises me. This is what we expect.
But the good news is that Marvel Studios owns the right to The Avengers, of which Quicksilver is a part. Sure, they can't have him be a mutant, because 20th Century Fox gets all that with their X-Men license... but, hey, JOSS WHEDON WILL AT LEAST DO THE CHARACTER RIGHT IN AVENGERS 2!
Right?
And then I see this...
Okay. I admit it's a vast, vast improvement over the shitty X-Men version... but this is the best they could do? A nonsensical shirt with an ugly design and pants from some kind of Members Only 80's collection. Really? WHY? LORD, WHY?!?

• Smack. Advice as true then as it is now... DON'T BE A GUM-SMACKING WHORE, PEOPLE!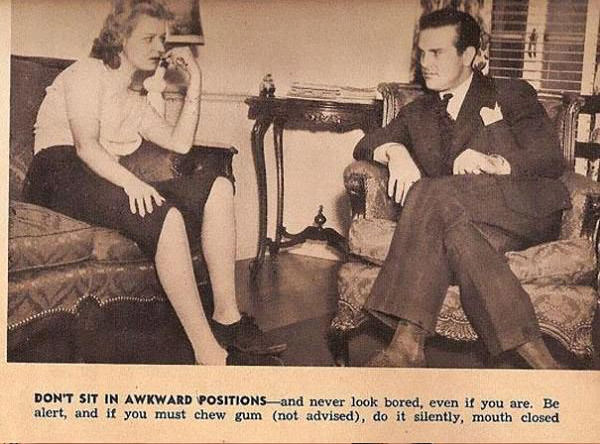 For more timeless dating advice, here's a link for you.

• Ten. And so Ronald McDonald got a makeover to make him less creepy. Here's the old Ronald....
And here's the new...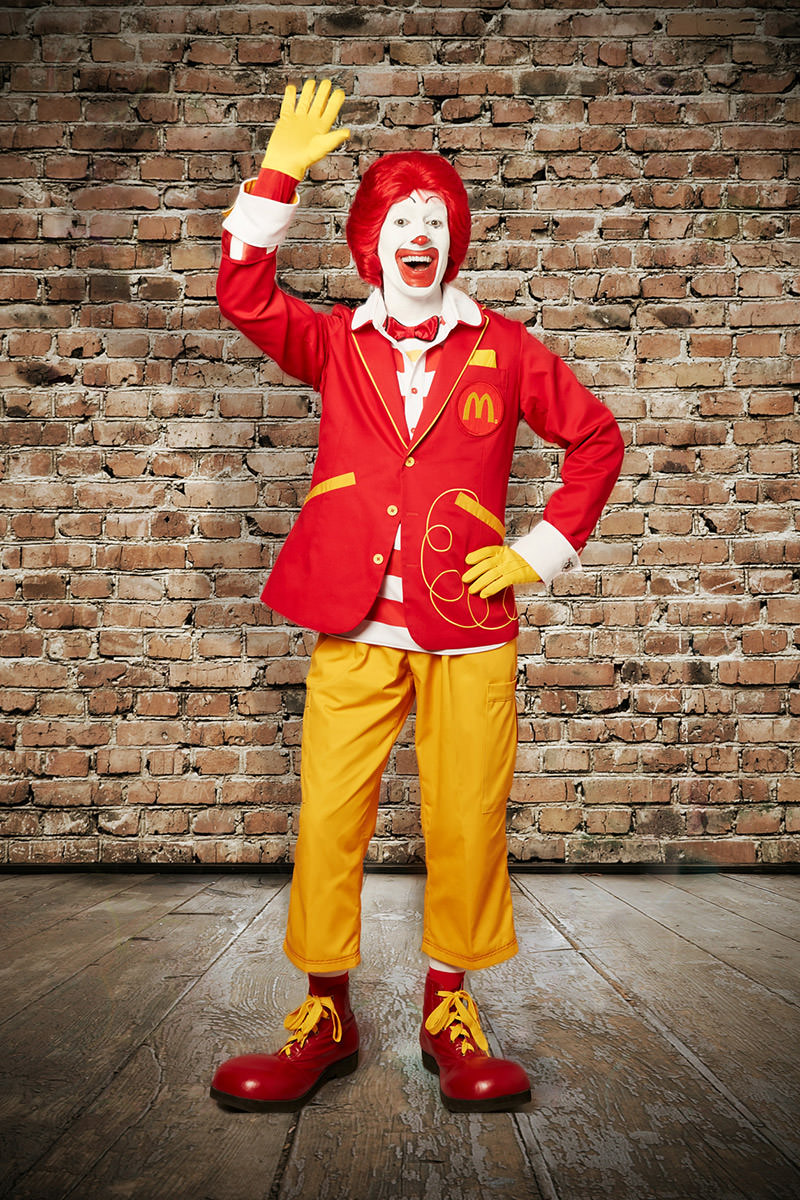 FAIL! If anything, the attempt to fashion-forward a fucking clown only makes the scary asshole even creepier. If this thing were to come walking towards me I would lose my shit.

• Shhhh! I've watched this at least a half-dozen times. You couldn't hope for a better end to Bullet Sunday...

And... have a good week, everybody!
Posted on April 22nd, 2014

Time for a YouTube time-suck!
Good luck getting out alive.

I. Am. So. Old...
"I feel bad for people in the 90's, I really do."

Reason No. 765,236 why I love Betty White...
Nice to know that Larry King is still alive... and as creepy as ever.

And now for something completely different...
You're welcome!

Lastly, one of many lists telling you what to see before you die (even if they put Santorini in Italy and don't know how to pronounce "buttes"...
I've barely been to a third of them...
Tianzi Mountains, China
✓ Santorini, Greece
Machu Pichu, Peru
The Azores
✓ The Great Wall, China
Petra, Jordan
Bagan, Burma
Antelope Canyon, Arizona
✓ Ayers Rock, Australia
Tanah Lot, Indonesia
Meteora, Greece
Salar de Uyuni, Bolivia
Preikestolen, Norway
Plitvice Lakes, Croatia
The Twelve Apostles, Australia
Angel Falls, Venezuela
Ha Long Bay, Vietnam
✓ Positano, Italy
✓ Angkor Wat, Cambodia
The Wave, Arizona
✓ The Pyramids of Giza, Egypt
The Maldives
Socotra, Yemen
✓ Monument Valley, Utah
✓ Phi Phi Islands, Thailand
Guess I'd better pack a suitcase...