Posted on January 22nd, 2023

I'm hungry, but not hungry enough to stop on bullets... because an all new Bullet Sunday starts... now...

• It's a Hoot! I love this video. I've watched it way too many times (here's a link in case TikTok is being a dick)...

• Kids! Legit dead (here's a link in case TikTok is being a dick)...
Things like this are why I can never give up TikTok.

• Shave and a Haircut! Or Instagram...
Cats make the world better.

• NOTHING! I can so relate (here's a link in case TikTok is being a dick)...

• Hair! How can you not love this? Samuel L. Jackson is having the time of his life... plus it's got Muppets in it!
Appearing on Sesame Street has got to be one of the biggest honors in existence.

• Hello Tomorrow! Wow. OH WOW!
This has incredible promise. Exactly the kind of retro-futurism that works for me... assuming it works as a show.

• Empty! California has "packaging waste" laws which are designed to keep manufacturers from putting a tiny amount of product in a massive box. Wonder what they think of this travesty from Hot Pockets? I am trying their new Deliwich frozen cheese sandwiches. There's 4 in a box. A massively huge box which could easily hold TWELVE OF THEM!
WTF?!? But the worst part was not the feeling that I was deceived and ripped off... it's the fact that these Deliwich things are awful. Pasty, doughy, gross. I was expecting something flakey and light. It's like a bad salty biscuit with a little cheese jammed inside. How did this ever make it to market? Did they taste-test it?

Time for dinner!
Posted on November 16th, 2022

I watch a lot of YouTube. Like... a lot a lot. Probably more than actual television. Which is why I pay for the ad-free version, because being inundated by non-stop ads completely destroys my sanity.
There are a lot of YouTubers that I enjoy. I've blogged about them a couple times. And while I'm never looking for new creators to follow, I do poke around from time to time. And while I honestly don't need more to watch, sometimes I can't help myself.
My latest discovery is Anti-Chef.
I have never subscribed to a channel so fast. Not only that, but I also signed up to support his work on his Patreon.
I don't know how else to describe it... except Jamie Tracy is me! He's me in the kitchen!
This guy is a Canadian living in New York City, via London, via Belgium, via Toronto, who makes rather complex recipes and lets you watch. The results are often hilarious, because he's not an expert chef. He just a dude who likes cooking. But the complex nature of the recipes often has him confused and frustrated... and most times there's a complete disaster going on.
AND IT'S ME! THIS IS WHAT I GO THROUGH EVERY TIME I COOK! HE IS MEEEEEE!
In this video he's making Cronuts, which is something I've long wanted to try. But now that I've seen him attempt it... I know I would burn my fucking kitchen to the ground because he calls it a "one way ticket to hell" and I am not going to take that trip. But... they do look dang delicious!
Occasionally Jamie steps outside of the kitchen... as was the case with this video about PATATJES MET he filmed when he was living in Brussels...
His latest thing is to cook Julia Child recipes. Often to hilarious effect!
If you're looking for a YouTube rabbit hole to fall into, this is your guy.
Posted on November 6th, 2022


Winter is here, snow has arrived, and it's freezing out, but there's warmth in my heart... because an all new Bullet Sunday starts... now...

• Happy Meal! As a huge architecture nerd, it's very easy for me to get sucked into architecture TikTok or YouTube. This morning while waiting for renders to process, I got hit with this fascinating video about the "Rise and Fall of Fast Food Architecture"...
So many good points to be had here. I very much miss the old aesthetic of fast food restaurants, which is why happening upon one of them (which is most often not a chain restaurant) is such fun.

• Whither Twitter! Watching Twitter implode in Real Time has been entertaining... but also educational. Elon Musk bought the services in the interest of "free speech," but he's learning a big lesson on being careful what you wish for. Twitter has become so toxic so fast that advertisers are bailing and Musk is essentially begging the big name Twitter accounts not to leave. The most hilarious indicator of this was when Stephen King said that he wasn't paying $20 per month to have a blue-checkmark verified account... and Musk shot back with "How about $8 then?"...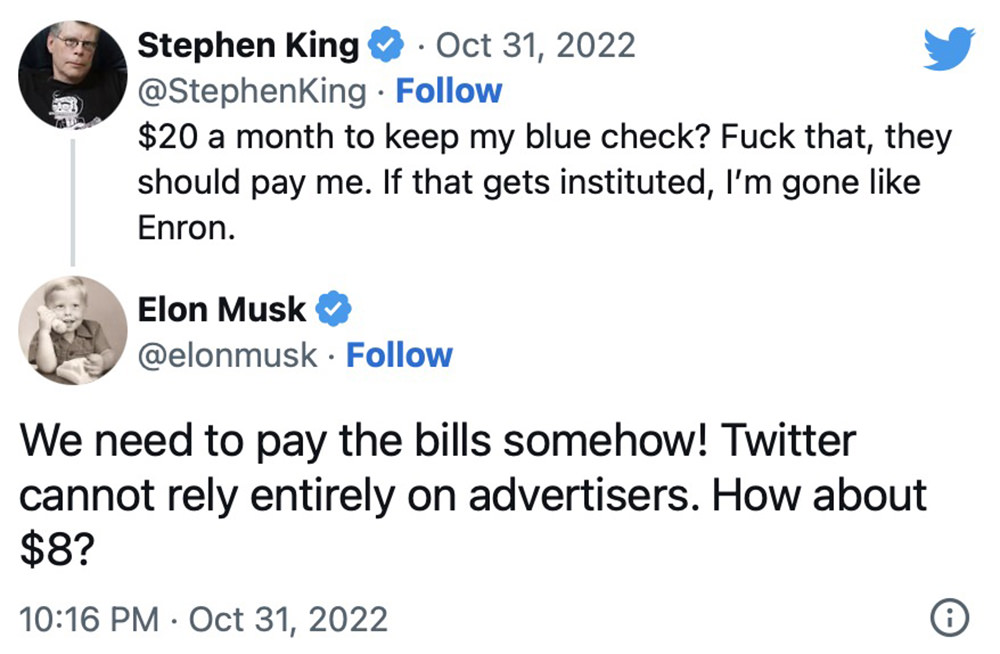 It's easy for me to sit back and not care about Twitter (I rarely use the platform because I prefer to have the ability to lock down my posts for a specific audience), but I think it's a bad idea to hope that Musk and Twitter fail. This is an important platform for discourse and interaction which, naturally, may be toxic (Musk himself has been tweeting out conspiracy theory bullshit) but it's also had a good influence in allowing people to have their voices... their causes... their passions... be heard. Which is why I was happy that one of my favorite YouTubers, Marques Brownlee, has this diplomatic take on how Twitter can save itself from itself...
The one thing that could get me to maybe go back to Twitter would be if there was a way to limit the audience of your tweets (ala Facebook). But even then I have serious privacy concerns about the platform which has me wary.

• More Enola! I liked the second flick even better than the first! These films can get a little convoluted... and repetitive in parts... but are enormously entertaining. And that mid-credits scene has me dying for not only more Enola Holmes films... but a Henry Cavill Sherlock movie as well.
Netflix needs to get on more of these movies, because they've struck gold.

• Glowforge! Michael Alm finally finished his new office so he could set up his Glowforge. If I didn't want one of these things before, I most certainly want one now. But the price for entry is $4,000... and to get the model which is the most capable and flexible, you're paying $7,000.
I know that I would never use it enough to make it pay. But that doesn't stop me from wanting one anyway. Just like a 3D printer, which is another device I would love to own. Ah to be a billionaire where you just buy stuff you want and don't have to care about whether or not you can afford it.

• Joy Noel! The fact that Netflix keeps churning out quality holiday rom-coms is something I am 100% onboard with. While Hallmark continues to release some films which are worth my valuable time... you have to sit through a lot of crap as well. Netflix doesn't have a flawless record, but they do release more good movies than bad, it seems. This year, in addition to the Lindsay Lohan film that's coming up, they also have The Noel Diaries dropping this month...
I know that this is is Justin Hartley from This is Us (a show I could never get into), but the only thing I'm really familiar with is when he played Aquaman in a failed TV pilot that was actually not bad... except The CW decided not to buy the show after the merger with The WB.

• Matter? I keep referring to Thread/Matter in my home automation posts, which has been confusing to many people who don't know what this is. Fortunately, Shane Whatley has a wrap-up which is pretty good about why Matter matters...
Matter is something I have been waiting for ever since INSTEON died, came back, and looks to be dying again. I would prefer not to have to replace all my smart home crap every five years, so having something that isn't tied to any specific company seems like a good idea. But the big news about Matter is that it endorses Thread, which is a technology I absolutely love. It's so smart and so fast and so impressive that it really does seem like the holy grail of automation. The fact that it has pretty good range and is low-power is just icing on the cake.

And now I think I should get back to cleaning my house, which is a full-on disaster with all the work that's been going on.
Tags:
Architecture
,
Bullet Sunday
,
Home Automation
,
Netflix
,
News
,
Television
,
Twitter
,
Woodworking
,
YouTube
Categories:
Bullet Sunday 2022
,
Home Automation
,
News – Politics 2022
,
Television 2022
—
Click To It:
Permalink
—
0 Comments: Click To Add Yours!
Posted on November 1st, 2022

One of the reasons that I am a YouTube Premium subscriber is that I watch a metric shit-ton of YouTube videos. So much YouTube that I would insane if I had to watch their idiotic commercials.
The vast majority of the YouTube videos I watch fall into three categories... 1) Woodworking and Home Renovation (50%), 2) Education (30%), 3) Apple/Mac/iPhone (10%). The final 10% is entertainment and general nonsense.
Woodworking is a bottomless pit. There are so many great content creators in this field. My newest favorite is Michael Alm and Alm Fab...
It's like... if I had millions of dollars, I'd just build a woodshop and do stuff like that all day every day. And then there's this magic out of wood...
Then there's behind the scenes stuff like this...
And this deep, deep dive into Zack Snyder's crap movies is pretty amazing. And, for what it's worth, it actually gives me a larger appreciation for the guy (even though I still think most of his movies are awful)...
And, of course Taylor Swift is back. Her first video from the new Midnights album is brilliant. Unfortunately, there are people trashing her for her struggles with an eating disorder. Despite speaking about it multiple times, people believe what they want to believe instead of even attempting to understand. In the video she had a clip of her looking at a scale which says "FAT" and people lost their minds, calling her "fatphobic," when she's actually trying to show what she feels when she looks at a scale thanks to our toxic society. And it's this toxicity of people feeling that they must be thin in order to be accepted THAT'S THE ENTIRE POINT. It's the opposite of fatphobic. But oh well, she took the clip out of the video because she doesn't want her art misinterpreted by people who are looking to tear her down instead of try to understand how she (and a lot of other people) are made to feel...>
And then there's frickin' DITA VON TEASE!!!...
Brilliant. And now I have another hundred videos to watch.
Posted on October 26th, 2022

Now that I've been cutting streaming services left and right to save money for fixing all the stuff going wrong in my home, I'm confining myself to the few streaming services that I still have left. Which is Netflix, Disney+, HBO Max, Discovery+, and YouTube. Some of these were pre-paid for a year... but Netflix will be rotated with with Hulu and Paramount+ and Peacock so I can keep up with all the shows I watch.
Since I missed a week blogging, I thought I'd list out some of the stuff that I've been watching.
I've watched the Season Finale of She-Hulk: Attorney at Law three times, but have held off talking about it because I wanted to make sure that everybody had a chance to see it. There's a lot to love about this series (starting with Tatiana Maslany), but if I had to pick one thing that absolutely thrilled me... it would be seeing Matt Murdock happy. Unlike the dark, dour, depressing Daredevil in the Netflix Universe, which was amazing... the MCU version is the complete opposite and amazing too. Hats off to Charlie Cox... only an actor with some real talent has the chops to pull off both versions of the character. What's so hilarious to me are all the people going on and on about how She-Hulk RUINED THE CHARACTER! No... they didn't. That version is still available to watch if that's what you want. If nothing else, the action was on-point...
In all honesty, I think that the reason people are pouring so much hate on She-Hulk is because it confronts toxic masculinity head-on. Oh well. Stay mad about it, I guess. I thought the series was entertaining as hell and really want a second season.
I'm not done raving about Andor yet. That show is remarkably well thought-out and realized. And the acting is just beyond. Diego Luna is incredible (as expected) but there's nobody falling short of his example, and it's amazing to watch. The eighth episode is fantastic in that you can see they are actually building towards something, and nothing that's come before was by accident. Four more episodes of the first season to go, and I am betting they will just keep amping up as we hurl towards the finish line. Must watch television.
I've been heavily invested in the Netflix series From Scratch with Zoe Saldana. I am fully aware how the show ends (it's based on a true story), but I didn't realize just how heartbreaking they would make it out to be. It's one thing to know something... it's quite another to see it play out with such nuance. After the fourth episode, I only have the heart to watch them one at a time. The problem is that I thought there were six episodes... there are actually eight, and I still have the last two to go. Well worth your time if you're in the mindset for it...
Just have a box of Kleenex ready.
And speaking of knowing how the show ends... I finished the first season of House of the Dragon. Since I've read the book on which it's based, I know exactly what it's all leading to, but that hasn't dampened my appreciation for the show. It reminds me of the early seasons of Game of Thrones. But since the showrunners won't have to make up their own ending, I think Dragon has a much better chance of having a good ending (unlike Thrones which was a complete shit-show)...
Apparently they have the book broken down into four seasons. So three more to go to find out if it actually lived up to its potential, I suppose.
And I'm going to end with this YouTube video of Wayne Brady talking about one of the most hilarious sketches ever to appear on television. This is a deep dive that peels back the curtain in a very interesting and important way...
Posted on October 2nd, 2022

I may be mired in wildfire smoke and barely able to breathe, but have no fear... because an all new Bullet Sunday starts... now...

• Behind! If you're old like me, get a colonoscopy, y'all...
The fact that Ryan and Rob are willing to use their celebrity for important stuff like this is why I love Ryan and Rob.

• Ch-Ch-Ch-Changes! Just an FYI that Changeland, one of my favorite films of 2019 is now streaming on Amazon Prime. As if the fact that it's gorgeously shot in Thailand isn't enough, the closing credits features Thai cats! It's a bit deeper movie than this trailer lets on, but it's fun too...
I own the film, so I can watch it any time I want... but I will be giving it more than a couple views on Amazon just to give it some love for studio execs who need to be making more films like this.

• Diego! Well, crap. Now I love Diego Luna even more than I already did...
If you're not watching him being brilliant in Andor, which is the best Star Wars since Rogue One, then you should get on that.

• Play On! Explain to me again how Lizzo playing a fucking flute is somehow controversial. SHE IS A CLASSICALLY-TRAINED FLAUTIST FOR FUCK'S SAKE! Just listen to this...
IT'S NOT LIKE THEY HANDED IT OVER TO SOMEBODY WHO DOESN'T KNOW WHICH END TO BLOW INTO! IT'S NOT LIKE THEY GAVE IT TO PETE TOWNSEND WHO SMASHED IT ON STAGE! IT'S NOT LIKE LIZZO SHOVED IT UP HER ASS AND SHIT IT OUT ON THE CONSTITUTION WHILE KICKING A PUPPY. AND TELL ME THAT BEN SHAPIRO EVEN KNEW ABOUT THE FUCKING FLUTE BEFORE LIZZO PLAYED IT. THE WAY THIS PIECE OF SHIT TRIES TO CREATE FAUX OUTRAGE TO CATER TO PEOPLE WHO JUST WANT TO BE MAD ABOUT EVERYTHING ALL THE TIME IS THE ACTUAL FACE TATTOO PHENOMENON AT WORK...
But that's not all... how the fuck is Lizzo twerking with a slave-owner's crystal flute more disrespectful than it's past-owner James Madison LITERALLY ENSLAVING PEOPLE? I will never in a million years be able to wrap my head around the faux outrage and blatant hypocrisy of these assholes...
Good on Lizzo. I hope she keeps pissing people off for a very long time.

• Expired! Petco rewards points used to expire after 90 days. Then it was 45 days. Now it's 30 days. They really, really don't want you to be able to cash in your points. I look forward to the email telling me that they expire in 24 hours. Guess the only thing I'm buying there now will be their bulk kitty litter... and it's probably cheaper and more convenient to get it from Chewy anyway, so maybe not even that. In adjacent news... look forward to your local Petco announcing that they will be closing soon.

• Avalon! I have only ever been a casual fan of Brian Ferry and Roxy Music. That being said, I played there Street Life: 20 Greatest Hits album to death, and still fire it up from time to time...
Most of my favorite tracks from Roxy Music is from their masterpiece album Avalon. Which is why this look at the album and its recording is so cool to see...
And... now I'll be listening to Street Life on repeat for the rest of the evening.

Until next Sunday then. Here's hoping your air is smoke-free.
Tags:
Assholes
,
Bullet Sunday
,
Fucking Assholes
,
Hipocrisy
,
Movies
,
Music
,
News
,
Television
,
Worthless Pieces of Shit
,
YouTube
Categories:
Bullet Sunday 2022
,
Movies 2022
,
Music 2022
,
News – Politics 2022
,
Television 2022
—
Click To It:
Permalink
—
2 Comments: Click To Add Yours!
Posted on September 25th, 2022

My weekend has been spent sick from wildfire smoke, again. But that won't stop me from blogarizing... because an all new Bullet Sunday starts... now...

• LEGO The Office! I wish that I had more money than I know what to do with. Because one of my immediate purchases would be a pre-order for the LEGO set of The Office. It looks so good! But the fact that you can reinact Kevin's chili accident is the real reason to get this one...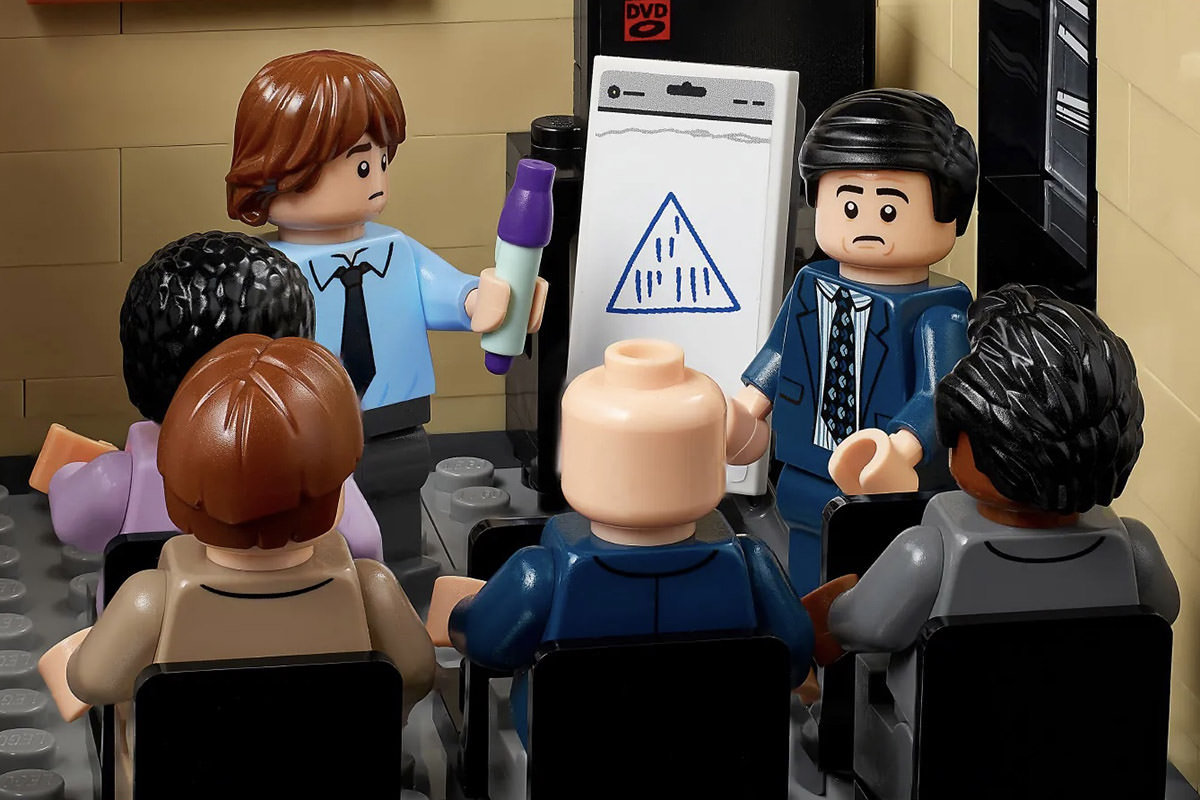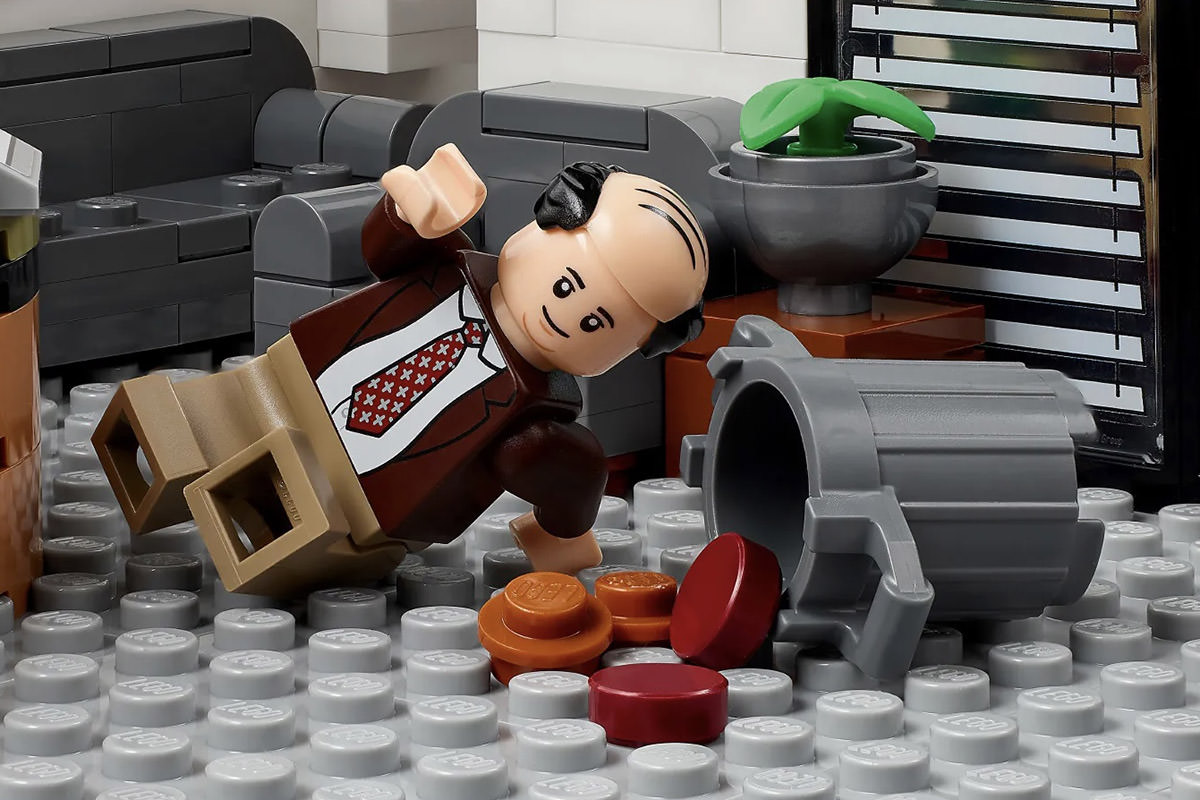 But it's ONE HUNDRED TWENTY DOLLARS!! And, I gotta say, for that kind of money I'd almost rather have the DUPLO animals set, which looks amazing...
=sigh= LEGO has lost none of its charm on me.

• Razor! And do you want to know how I know LEGO has lost none of its charm on me? I want to sell my spleen so I can afford to pay $600 for this amazing LEGO Star Wars Razor Crest...
Complete with Grogu (AKA Baby Yoda)...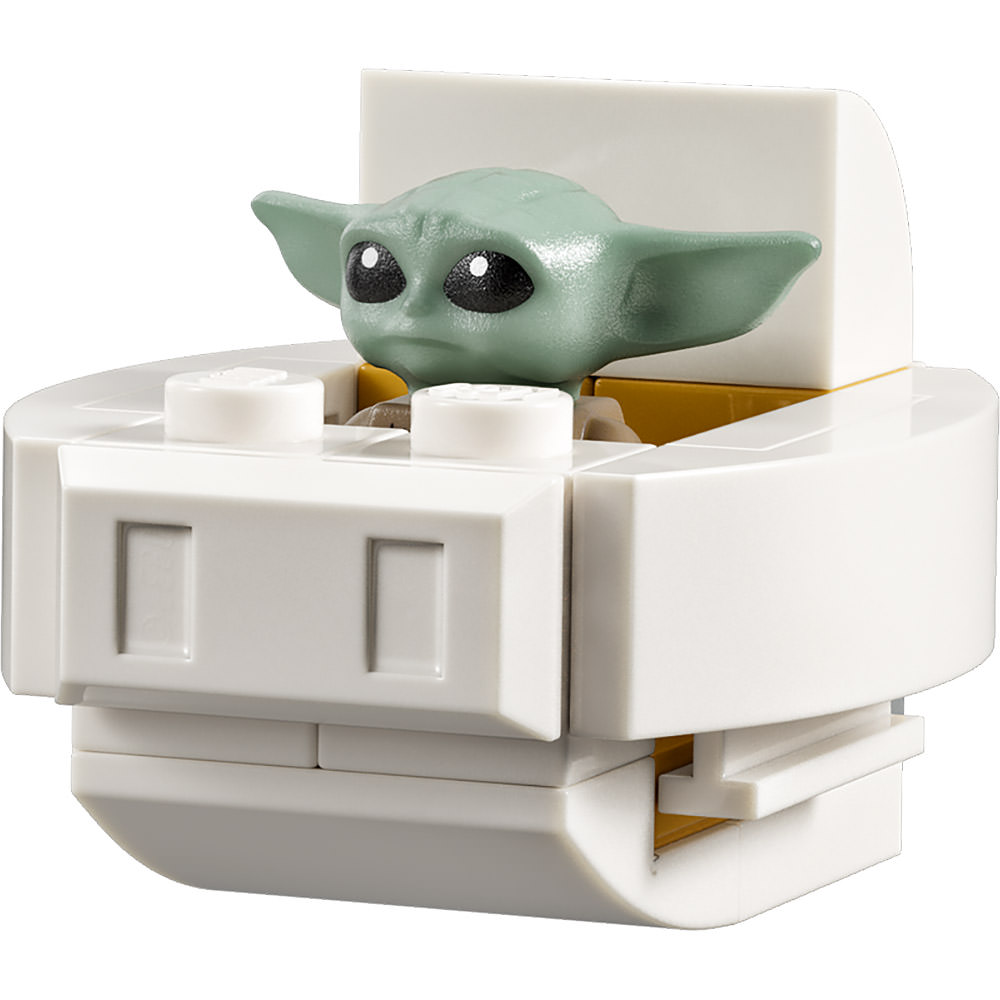 TELL ME THAT'S NOT WORTH $600!!!

• Tour! The logistics of major tour planning are fascinating to me...
They should really have a television documentary series that follows huge tours around the country showing stuff like this. And they can start with Pink! And Taylor Swift.

• Signs! I'm certain that I've shared this wonderful short film here at least once. But even though I've seen it a dozen times now, I stop and watch it again every time I think about it, so I'm going to share it again...
The simplicity of the idea married to actors who absolutely know what to do for their characters make this infinity watchable.

• Thrones! I've made no secret of how much a detest the final season of Game of Thrones. If David Benioff and D.B. Weiss wanted to "get it over with" and move on to other projects, they should have turned the show over to other people to finish it. But they love money, so they took the paycheck and just farted out a shitty endgame that completely betrayed every character involved. If you had told me that there was a way to salvage the finale, I'd have said you were nuts. But I was wrong, because somebody actually managed to do it. Is it perfect? Oh hell no. But does it at least provide a satisfactory explanation for how things unfolded? Yes. Yes it does. Maybe one of these decades George R.R. Martin will complete the final two books in the series. But until then? This is better than nothing.

• Crash! Is everybody ready to see DART crash into an asteroid tomorrow? Yeah. Me too. If you want a preview... just Google "NASA DART"

I take my leave of you dreaming for breathable air.
Posted on September 23rd, 2022

Remember yesterday when I said that I had a fever for 30 minutes, then a sore arm, then nothing else from my booster's booster to my COVID booster?
If only that had been the end of it.
I woke up freezing three times in the middle of the night last night. It's kinda a haze, but I did remember the first time very well because I was shaking so much that I fell over when I got up to grab another couple of blankets. My teeth were chattering so much that I thought they would break.
I've had "chills" before... but never like this!
I woke up tired from lack of sleep, but otherwise feeling fine. Except the wildfire smoke was heavier than usual today, which was really tough on my allergies. I ended up leaving work at noon because my head hurt so bad that I couldn't concentrate.
And now I'm at home with three air purifiers running while I watch YouTube videos. Like this interesting one from 2019 by one of my favorite content creators... Marques Brownlee...
I actually have a very early model Mac. This makes me want to drag it out and play with it again. It's still remarkable to me.
Posted on September 2nd, 2022

When Jake used to get sick or be upset, he hid from me. Him not showing up for a meal or running to meet me when I walked in the door is how I knew something was wrong. But now? Complete opposite. When he eats a bug and feels sick or is stressed about something, he will cling to me like glue. He's so clingy that I've come dangerously close to stepping on him.
Last night I have no idea what happened... probably ate a praying mantis for no reason at all or something equally disgusting... but he was on me. On the couch. Going upstairs. Brushing my teeth. Climbing into bed. And it's not like he's on the bed with me... he's squeezed up to me as close as he possibly can be.
At first, it's incredibly sweet that he thinks of me as comfort food when he's not doing well. But around midnight when I really should be going to bed, it's not quite so sweet. I'm scared that if I fall asleep I might roll over on him and crush him, so I continued to work for another hour. Around 1:00am, I was so tired that I couldn't focus on work and started playing on the internet
The first thing I did was find a TikTok where a guy was talking about crAIyon, a site that draws whatever you can think of. And what was the first thing that came to mind? Taylor Swift eating corn on the cob!
Have you ever seen anything so terrifying? Well hold on to your hats, because next up was Ryan Reynolds on a boat wearing a bear hat!
Then came A bear at the movies eating popcorn in a newspaper hat!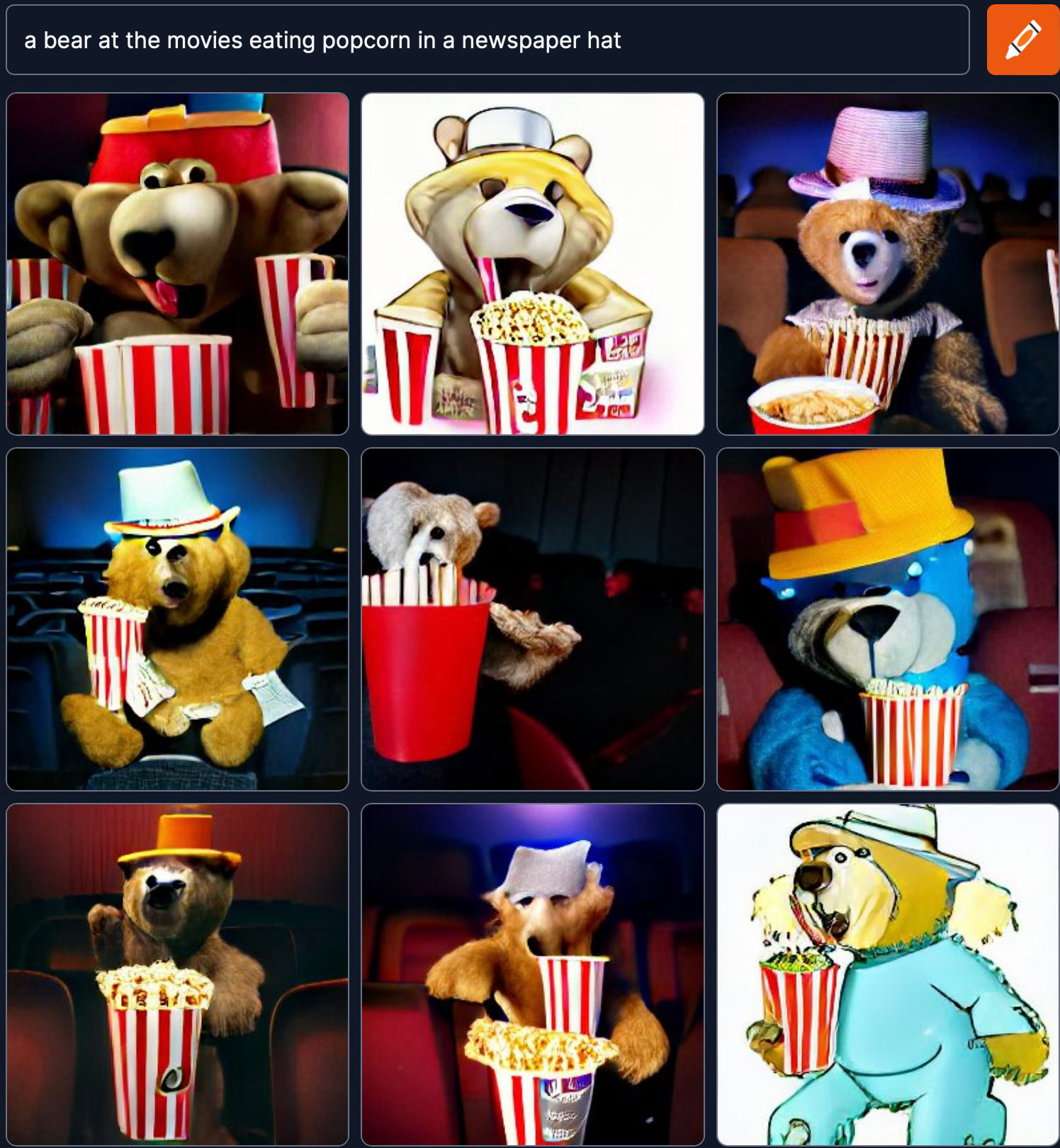 And A cat in a birthday hat eating cake!
Once I got to the nightmare that was Ernest Borgnine Wearing a Dress and Sitting on a Toilet I knew that I had to stop.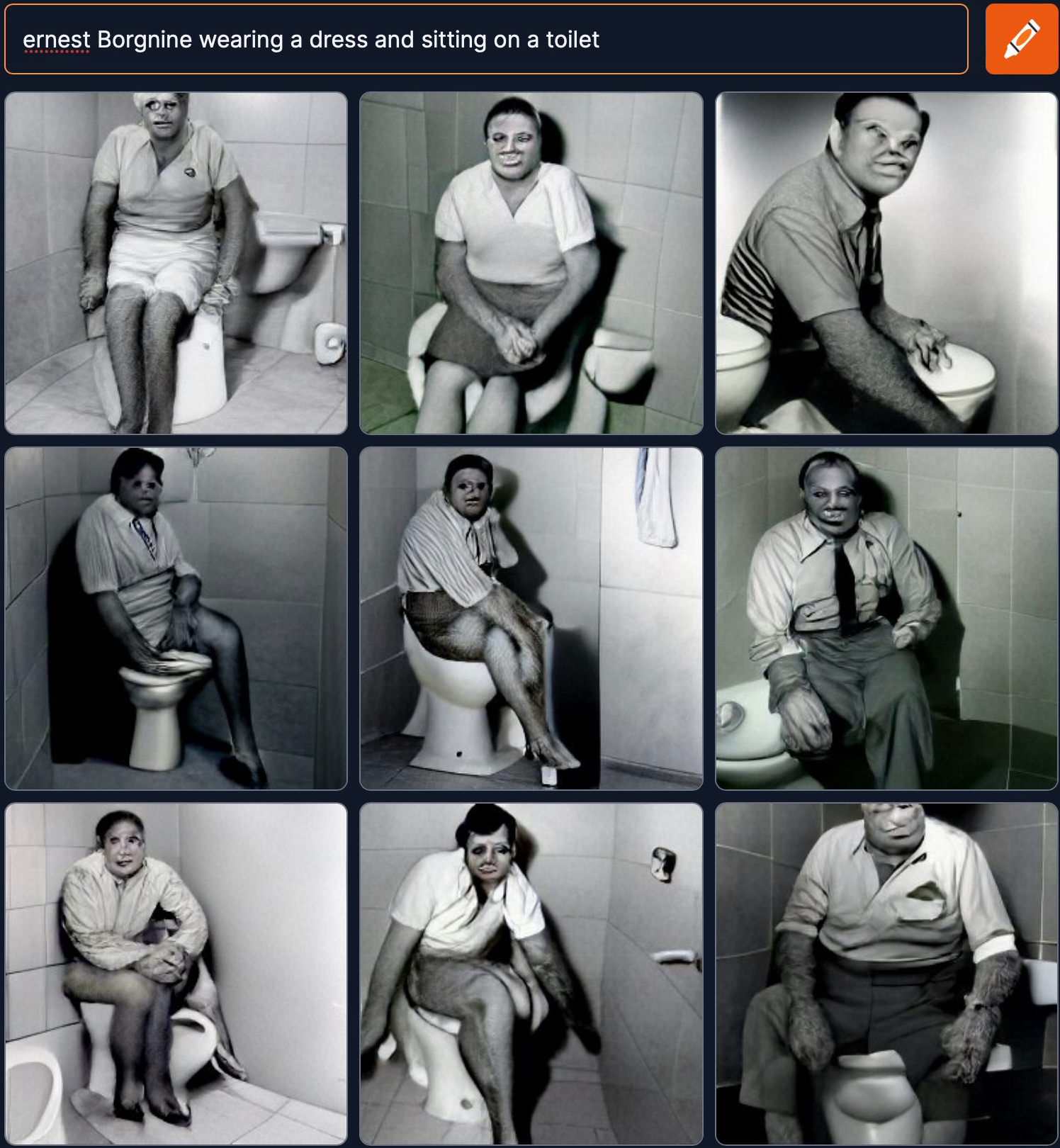 AND, NO, I DON'T KNOW HOW MY BRAIN COMES UP WITH THIS STUFF!
After that I came across a TikTok which lead me to a YouTube series by comedian/actor Kyle Prue called Rabbit. For such a shallow premise, it gets shockingly deep. By the time I got to the third episode I was completely obsessed and had to finish off all five (even though Jake had already climbed to the end of the bed). If you want a time-waster that has some serious thought behind it, this is a trailer for the series...
Now, right off the bat I should inform you that when he hits the woman with the hammer, it's not what you think. This is smarter than that. And I'm telling you... if this was a television series, I would totally watch it.
And now it's running close to 2:00am so I really, really need to try and get some sleep. It's now Friday so I guess this counts as my Friday post? I sure hope so.
Posted on May 8th, 2022

It only seems as though we're descending into a hells cape from which there's no escape, but don't let that get you down... because an all new Bullet Sunday starts... now...

• Water! Looks amazing, as we knew it would...
And no Paparus font to be found!
But the real question is... Will it have a decent story? Time will tell.

• KHAAAAAAN! Couldn't agree more...
It was so masterfully done that few other movies have managed to top it... despite there being a huge advancement in special effects since the movie was made.

• Virgin?! During the boring, irrelevant bits of The Offer (of which there are MANY), I have been running through the latest TikTok meme. It's glorious. They have a bunch of geeks ridiculing their own hobbies and lives with the "ARE YOU A VIRGIN?" sound (here's a link in case TikTok is being a dick)...
These are my people! I just love people who have a sense of humor about themselves.

• New Julia! Much to my happiness, it was announced that HBO Max has renewed Julia for a second season. If you haven't seen it yet, it's a series exploring Julia Child's early days as a television star, and it's gold...
This is a show that you really just don't want to end. And now we know that it isn't over just yet.

• Thor Four More Thor! I'll bet everybody who was mouthing off over Natalie Portman not being buff enough to play Thor are feeling pretty silly right now...
This looks fantastic, and I cannot wait to see what Taika Waititi has done this time around.

• Cosigned! Yeah, pretty much this...
It is fucking horrific that Roe vs. Wade is set to be overturned... and this is coming from somebody who personally doesn't endorse abortion outside of cases of rape, incest, or the health of the mother being endangered. But, for the millionth time, my personal feelings have no fucking bearing whatsoever on what somebody else chooses for themselves... and neither do the feelings of legislators and members of the fucking Supreme Court.

• BRAINS! Well here's something you should not watch before going to bed...
And, if you did, sleep tight!

And now I'm going to bed. AT LEAST I HOPE SO!