Posted on April 10th, 2023

To say I love CGP Grey videos is a gross understatement. That's like saying "Cheese is okay" and "I guess baby kittens might be a little cute." His videos are frickin' EPIC!
And today he unleashed one SO good and SO true that I cannot bring myself to save it for Sunday bullets.
No, you're getting it right freakin' now...
Couldn't possibly agree more with his assessments.
And the fact that he made it hysterically funny is just S-tier work. Keep it up, Grey.
Posted on April 9th, 2023

It's freakin' freezing this Easter Sunday, but there's warmth in my heart... because an all new Bullet Sunday starts... now...

• Christianity! Given that this is Easter Sunday and a day devoted to celebrating the Resurrection of Christ, I'll be sharing this interesting video which explains the different denominations of Christianity...
But only the version of Christianity you believe in is the correct one.

• Shrinkflation! Man. Not only is food getting more expensive, but it just keeps getting smaller and smaller. I usually make my own burritos, but lately I've been buying El Monterey frozen burritos so I can have them on-hand when I don't feel like cooking. This latest bag I bought... the... the burritos look tiny. Almost comically so. No longer are they burritos... they're almost more like taquitos or something! It's crazy. I am having to actually adjust my cooking time so I don't incinerate them!
Shrinkflation has gotten ridiculous. Just give me 7 regular sized burritos instead of 8 mini burritos!

• Click! I have never heard of Cookie Clicker before watching this video...
And thank heavens. This is horrific. And the longer it goes on, the more horrific it gets!

• Unstable! Okay... I'm loving this show. Rob Lowe has this weird talent for delivering insane dialogue in a way that seems totally natural, and this series exploits that to its fullest...
As if that wasn't enough... Rob's real-life son plays his son in the show! How cool is that?

• Spacey! Why is it that Canada gets a frickin' gorgeous logo that's flawlessly executed and beautifully simple while still being very Canadian... while the US gets a rip-off retread from Star Trek that's been complicated to the point of absurdity while having tiny nonsensical "stars" details that will be completely lost when it shrinks down for actual use AND doesn't have any graphic language which tells you this is for the USA?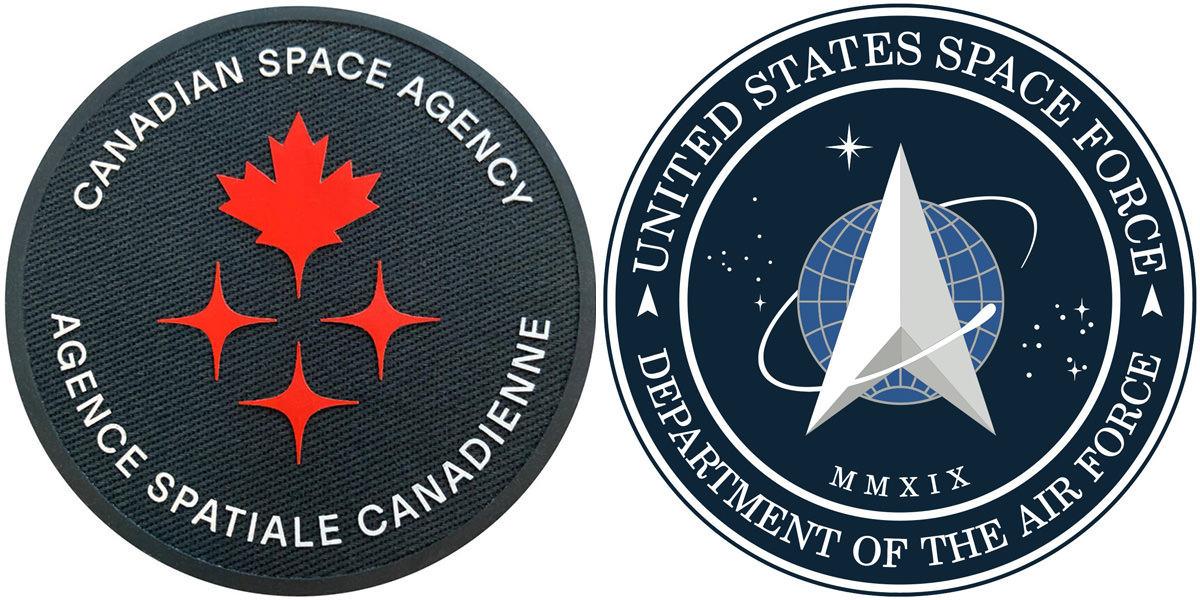 You literally have to READ it to GET it, which is THE OPPOSITE OF WHAT A LOGO IS SUPPOSED TO DO! And it's not like you can immediately blame the designers, because you just don't know how much of it is them and how much of it is from client demands.
And do not get me started on the idiotic "MMXIX" (2019) detail, WHICH DOES NOT EVEN BELONG THERE! WHO GIVES A FUCK?!?? Also... has anybody seen the Space Force logo in Black and White? Oh yeah... THEY FUCKED THAT UP TOO! Space is black... NOT WHITE...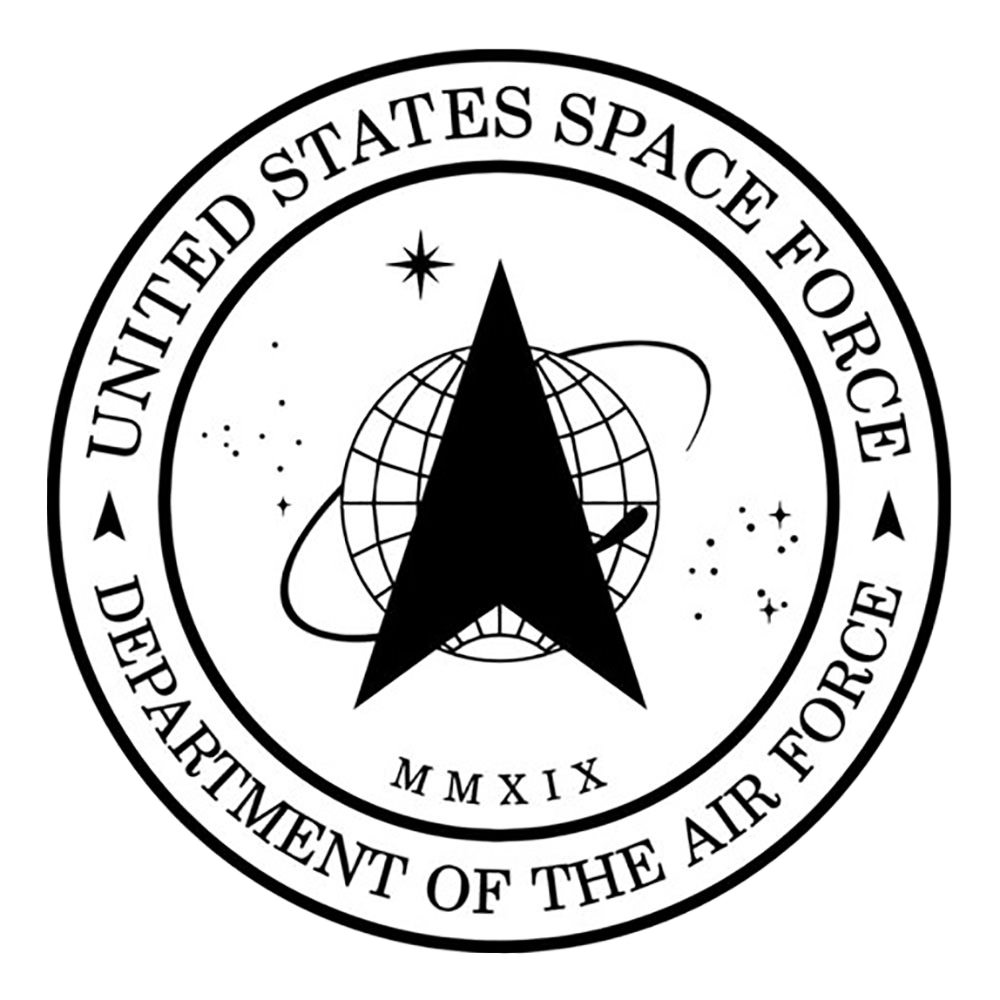 And that "swoosh" doesn't have a hold-out against the black Star Trek logo, so it looks very disturbing coming out the other side. Yikes.

• Home Owner Associations are Awful! John Oliver did a story on HOAs in his latest episode of Last Week Tonight. And I love how people are all "If HOAs are a problem for you, then don't buy a house in an HOA!" — And it's like... in many communities, you may not have much choice for one reason or another. To get a house in my old neighborhood so my mom with dementia had a safe place where people would know her, the only option was an HOA. Now, my HOA is just us four owners, and they've been incredible to me (from allowing me to skirt their 55+ rule since I was buying for my mom... and allowing me to build a catio... and other stuff), but it's entirely possible I would end up in an HOA that was a draconian monster like they're talking about...
And there wouldn't be anything I could do about it if that's what I got. At the very least, there should be a way to appeal an HOA when they are being grossly unfair or unreasonable. But since they are unregulated, they ain't. And since many times you don't get to know the rules until you buy... well... YA FUCKED!

• Breadly! How my Easter Sunday began (HE IS RISEN!)...
How my Easter Sunday ended (HE IS BAKED!)...
He was also delicious!

And now I'm going to gorge myself on freshly-basked bread.
Posted on March 20th, 2023

If the first part of this entry is something you'd like to skip, there's a second video at the end that you most definitely should not skip. It's horrifying stuff that should be seen by as many people as possible.
The stuff I wrote about here on Blogography is pretty random.
Not random-random, because there are several subjects I like to write about more than others... still other subjects I enjoy but have no interest in writing about... and still other subjects I have a lot of interest in writing about, but know that precious few people will want to read what I wrote.
This post falls into the latter.
Because while I am absolutely fascinated with mathematics, in general, and the maths of quantum computing, specifically, the people who read my blog for cat photos and pop culture commentary will likely not care.
But every once in a while I run across something so amazing that I find myself hoping that people who might otherwise skip a post might want to take a chance and read it.
One of my favorite YouTube channels, Veritasium takes a look at how quantum computing will make all of our current encryption efforts laughably obsolete. Considering that encryption is what keeps all of our most secret information safe... from account passwords to banking details to text message privacy... this is an astronomically huge deal. And in as little as a decade, it could all be completely worthless.
But how are quantum computers able to crack this security so easily? Glad you asked! And this video is for you. Now, there is some math that gets thrown at you, but you honestly don't have to understand it to get the gist of what's going on. So maybe give it a shot?
And now for that second video I promised.
It's a story on Timeshares from Last Week Tonight that is essential viewing. Especially if you are considering buying into a timeshare or vacation club or whatever...
Fucking yikes.
I'm really glad that I never had the money to invest in these.
Posted on February 5th, 2023

Don't let the Sunday Evening Blues get you down... because an all new Bullet Sunday starts... now...

• Little Guys! Paul Rudd reading Scott Lang's autobiography is about the best thing ever. And it's not just a commercial for the new Ant-Man movie, it's an actual book...
Yeah, I will definitely be buying the audiobook of that one. Assuming that there's a real audiobook to go with the real book.

• Kelce! The whole rivalry between the Kelce brothers is almost making me want to tune in to the Superb Owl. And the more it pops up, the more amazing it gets. Which has me genuinely afraid to know too much about them because it's so typical to run across some truly horrific stuff in people's past...
All I know is that Jason likes to dress up as "Fat Batman" and there's not much else I care about...
Here's hoping they're good people. And that their mom is having the best game ever (there's a petition to have her flip at the coin toss, and could there possibly be a more perfect person?).

• Pedro! Pedro Pascal hosted Saturday Night Live last night, and it had some very funny skits...
AND FIND THE LIE...
I'd post more, but you might as well go track down the episode on Peacock to see them all.

• Woodall! "Analysis videos" are often more about the perspective of the analyst than a deep dive which actually analyzes anything. There are exceptions. I've mentioned Thomas Flight, who remains one of my favorites for film analysis. Another one I recently binge-watched for hours is James Woodall. His thoughts on film and television are fantastic. What's amazing is that he has a grand total of twelve videos in two years. One of his most famous is likely his look at The Devil Wears Prada, currently at 2.4 million views...
But all of his videos are worth your valuable time if you like a good deep dive.

• Fuck Off! And I don't know what to do with fucking piece of shit dumbfuck bigot assholes, so I guess we're even? (Here's a link in case TikTok is being a dick)...
I've never seen people so fucking brain-dead over crap THAT HAS NOTHING TO DO WITH THEM in my life. What the fuck do you care? I guess these people really, really want to get a look at people's genitals or something.

• Peanut Butter! And then there's this...
And yet people keep listening to these dipshit assholes and accept everything they say as absolute truth because disinformation never gets removed from social media and there are zero consequences to talking out of your ass about shit you don't understand and know nothing about. And society just keeps getting more and more stupid because of it.

Enjoy those precious moments of weekend you got left while you still can.
Posted on January 22nd, 2023

I'm hungry, but not hungry enough to stop on bullets... because an all new Bullet Sunday starts... now...

• It's a Hoot! I love this video. I've watched it way too many times (here's a link in case TikTok is being a dick)...

• Kids! Legit dead (here's a link in case TikTok is being a dick)...
Things like this are why I can never give up TikTok.

• Shave and a Haircut! Or Instagram...
Cats make the world better.

• NOTHING! I can so relate (here's a link in case TikTok is being a dick)...

• Hair! How can you not love this? Samuel L. Jackson is having the time of his life... plus it's got Muppets in it!
Appearing on Sesame Street has got to be one of the biggest honors in existence.

• Hello Tomorrow! Wow. OH WOW!
This has incredible promise. Exactly the kind of retro-futurism that works for me... assuming it works as a show.

Time for dinner!
Posted on November 16th, 2022

I watch a lot of YouTube. Like... a lot a lot. Probably more than actual television. Which is why I pay for the ad-free version, because being inundated by non-stop ads completely destroys my sanity.
There are a lot of YouTubers that I enjoy. I've blogged about them a couple times. And while I'm never looking for new creators to follow, I do poke around from time to time. And while I honestly don't need more to watch, sometimes I can't help myself.
My latest discovery is Anti-Chef.
I have never subscribed to a channel so fast. Not only that, but I also signed up to support his work on his Patreon.
I don't know how else to describe it... except Jamie Tracy is me! He's me in the kitchen!
This guy is a Canadian living in New York City, via London, via Belgium, via Toronto, who makes rather complex recipes and lets you watch. The results are often hilarious, because he's not an expert chef. He just a dude who likes cooking. But the complex nature of the recipes often has him confused and frustrated... and most times there's a complete disaster going on.
AND IT'S ME! THIS IS WHAT I GO THROUGH EVERY TIME I COOK! HE IS MEEEEEE!
In this video he's making Cronuts, which is something I've long wanted to try. But now that I've seen him attempt it... I know I would burn my fucking kitchen to the ground because he calls it a "one way ticket to hell" and I am not going to take that trip. But... they do look dang delicious!
Occasionally Jamie steps outside of the kitchen... as was the case with this video about PATATJES MET he filmed when he was living in Brussels...
His latest thing is to cook Julia Child recipes. Often to hilarious effect!
If you're looking for a YouTube rabbit hole to fall into, this is your guy.
Posted on November 6th, 2022


Winter is here, snow has arrived, and it's freezing out, but there's warmth in my heart... because an all new Bullet Sunday starts... now...

• Happy Meal! As a huge architecture nerd, it's very easy for me to get sucked into architecture TikTok or YouTube. This morning while waiting for renders to process, I got hit with this fascinating video about the "Rise and Fall of Fast Food Architecture"...
So many good points to be had here. I very much miss the old aesthetic of fast food restaurants, which is why happening upon one of them (which is most often not a chain restaurant) is such fun.

• Whither Twitter! Watching Twitter implode in Real Time has been entertaining... but also educational. Elon Musk bought the services in the interest of "free speech," but he's learning a big lesson on being careful what you wish for. Twitter has become so toxic so fast that advertisers are bailing and Musk is essentially begging the big name Twitter accounts not to leave. The most hilarious indicator of this was when Stephen King said that he wasn't paying $20 per month to have a blue-checkmark verified account... and Musk shot back with "How about $8 then?"...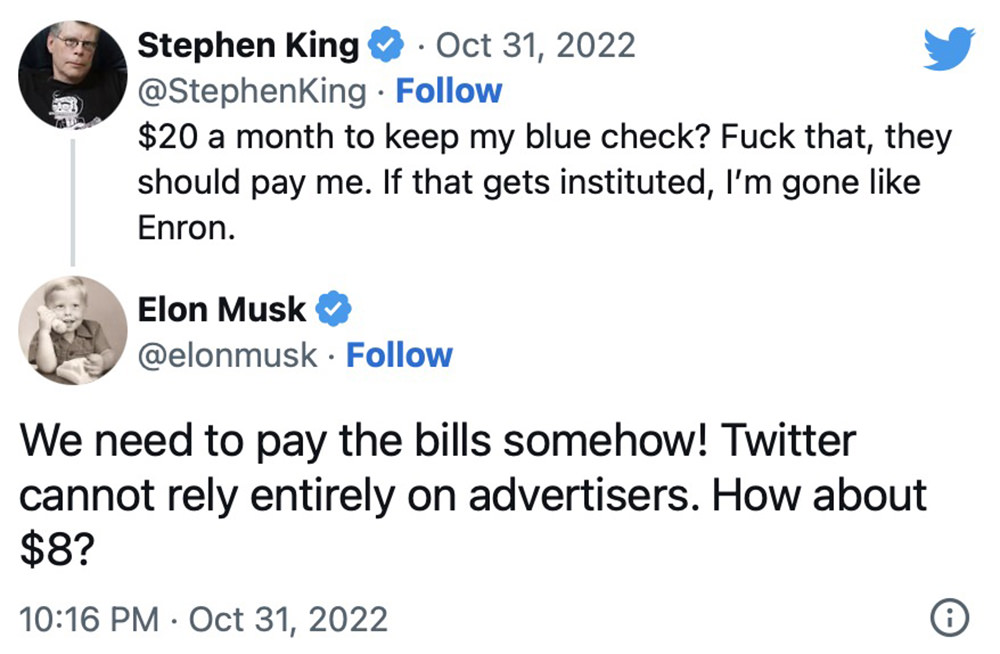 It's easy for me to sit back and not care about Twitter (I rarely use the platform because I prefer to have the ability to lock down my posts for a specific audience), but I think it's a bad idea to hope that Musk and Twitter fail. This is an important platform for discourse and interaction which, naturally, may be toxic (Musk himself has been tweeting out conspiracy theory bullshit) but it's also had a good influence in allowing people to have their voices... their causes... their passions... be heard. Which is why I was happy that one of my favorite YouTubers, Marques Brownlee, has this diplomatic take on how Twitter can save itself from itself...
The one thing that could get me to maybe go back to Twitter would be if there was a way to limit the audience of your tweets (ala Facebook). But even then I have serious privacy concerns about the platform which has me wary.

• More Enola! I liked the second flick even better than the first! These films can get a little convoluted... and repetitive in parts... but are enormously entertaining. And that mid-credits scene has me dying for not only more Enola Holmes films... but a Henry Cavill Sherlock movie as well.
Netflix needs to get on more of these movies, because they've struck gold.

• Glowforge! Michael Alm finally finished his new office so he could set up his Glowforge. If I didn't want one of these things before, I most certainly want one now. But the price for entry is $4,000... and to get the model which is the most capable and flexible, you're paying $7,000.
I know that I would never use it enough to make it pay. But that doesn't stop me from wanting one anyway. Just like a 3D printer, which is another device I would love to own. Ah to be a billionaire where you just buy stuff you want and don't have to care about whether or not you can afford it.

• Joy Noel! The fact that Netflix keeps churning out quality holiday rom-coms is something I am 100% onboard with. While Hallmark continues to release some films which are worth my valuable time... you have to sit through a lot of crap as well. Netflix doesn't have a flawless record, but they do release more good movies than bad, it seems. This year, in addition to the Lindsay Lohan film that's coming up, they also have The Noel Diaries dropping this month...
I know that this is is Justin Hartley from This is Us (a show I could never get into), but the only thing I'm really familiar with is when he played Aquaman in a failed TV pilot that was actually not bad... except The CW decided not to buy the show after the merger with The WB.

• Matter? I keep referring to Thread/Matter in my home automation posts, which has been confusing to many people who don't know what this is. Fortunately, Shane Whatley has a wrap-up which is pretty good about why Matter matters...
Matter is something I have been waiting for ever since INSTEON died, came back, and looks to be dying again. I would prefer not to have to replace all my smart home crap every five years, so having something that isn't tied to any specific company seems like a good idea. But the big news about Matter is that it endorses Thread, which is a technology I absolutely love. It's so smart and so fast and so impressive that it really does seem like the holy grail of automation. The fact that it has pretty good range and is low-power is just icing on the cake.

And now I think I should get back to cleaning my house, which is a full-on disaster with all the work that's been going on.
Tags:
Architecture
,
Bullet Sunday
,
Home Automation
,
Netflix
,
News
,
Television
,
Twitter
,
Woodworking
,
YouTube
Categories:
Bullet Sunday 2022
,
Home Automation
,
News – Politics 2022
,
Television 2022
—
Click To It:
Permalink
—
0 Comments: Click To Add Yours!
Posted on November 1st, 2022

One of the reasons that I am a YouTube Premium subscriber is that I watch a metric shit-ton of YouTube videos. So much YouTube that I would insane if I had to watch their idiotic commercials.
The vast majority of the YouTube videos I watch fall into three categories... 1) Woodworking and Home Renovation (50%), 2) Education (30%), 3) Apple/Mac/iPhone (10%). The final 10% is entertainment and general nonsense.
Woodworking is a bottomless pit. There are so many great content creators in this field. My newest favorite is Michael Alm and Alm Fab...
It's like... if I had millions of dollars, I'd just build a woodshop and do stuff like that all day every day. And then there's this magic out of wood...
Then there's behind the scenes stuff like this...
And this deep, deep dive into Zack Snyder's crap movies is pretty amazing. And, for what it's worth, it actually gives me a larger appreciation for the guy (even though I still think most of his movies are awful)...
And, of course Taylor Swift is back. Her first video from the new Midnights album is brilliant. Unfortunately, there are people trashing her for her struggles with an eating disorder. Despite speaking about it multiple times, people believe what they want to believe instead of even attempting to understand. In the video she had a clip of her looking at a scale which says "FAT" and people lost their minds, calling her "fatphobic," when she's actually trying to show what she feels when she looks at a scale thanks to our toxic society. And it's this toxicity of people feeling that they must be thin in order to be accepted THAT'S THE ENTIRE POINT. It's the opposite of fatphobic. But oh well, she took the clip out of the video because she doesn't want her art misinterpreted by people who are looking to tear her down instead of try to understand how she (and a lot of other people) are made to feel...>
And then there's frickin' DITA VON TEASE!!!...
Brilliant. And now I have another hundred videos to watch.
Posted on October 26th, 2022

Now that I've been cutting streaming services left and right to save money for fixing all the stuff going wrong in my home, I'm confining myself to the few streaming services that I still have left. Which is Netflix, Disney+, HBO Max, Discovery+, and YouTube. Some of these were pre-paid for a year... but Netflix will be rotated with with Hulu and Paramount+ and Peacock so I can keep up with all the shows I watch.
Since I missed a week blogging, I thought I'd list out some of the stuff that I've been watching.
I've watched the Season Finale of She-Hulk: Attorney at Law three times, but have held off talking about it because I wanted to make sure that everybody had a chance to see it. There's a lot to love about this series (starting with Tatiana Maslany), but if I had to pick one thing that absolutely thrilled me... it would be seeing Matt Murdock happy. Unlike the dark, dour, depressing Daredevil in the Netflix Universe, which was amazing... the MCU version is the complete opposite and amazing too. Hats off to Charlie Cox... only an actor with some real talent has the chops to pull off both versions of the character. What's so hilarious to me are all the people going on and on about how She-Hulk RUINED THE CHARACTER! No... they didn't. That version is still available to watch if that's what you want. If nothing else, the action was on-point...
In all honesty, I think that the reason people are pouring so much hate on She-Hulk is because it confronts toxic masculinity head-on. Oh well. Stay mad about it, I guess. I thought the series was entertaining as hell and really want a second season.
I'm not done raving about Andor yet. That show is remarkably well thought-out and realized. And the acting is just beyond. Diego Luna is incredible (as expected) but there's nobody falling short of his example, and it's amazing to watch. The eighth episode is fantastic in that you can see they are actually building towards something, and nothing that's come before was by accident. Four more episodes of the first season to go, and I am betting they will just keep amping up as we hurl towards the finish line. Must watch television.
I've been heavily invested in the Netflix series From Scratch with Zoe Saldana. I am fully aware how the show ends (it's based on a true story), but I didn't realize just how heartbreaking they would make it out to be. It's one thing to know something... it's quite another to see it play out with such nuance. After the fourth episode, I only have the heart to watch them one at a time. The problem is that I thought there were six episodes... there are actually eight, and I still have the last two to go. Well worth your time if you're in the mindset for it...
Just have a box of Kleenex ready.
And speaking of knowing how the show ends... I finished the first season of House of the Dragon. Since I've read the book on which it's based, I know exactly what it's all leading to, but that hasn't dampened my appreciation for the show. It reminds me of the early seasons of Game of Thrones. But since the showrunners won't have to make up their own ending, I think Dragon has a much better chance of having a good ending (unlike Thrones which was a complete shit-show)...
Apparently they have the book broken down into four seasons. So three more to go to find out if it actually lived up to its potential, I suppose.
And I'm going to end with this YouTube video of Wayne Brady talking about one of the most hilarious sketches ever to appear on television. This is a deep dive that peels back the curtain in a very interesting and important way...
Posted on October 2nd, 2022

I may be mired in wildfire smoke and barely able to breathe, but have no fear... because an all new Bullet Sunday starts... now...

• Behind! If you're old like me, get a colonoscopy, y'all...
The fact that Ryan and Rob are willing to use their celebrity for important stuff like this is why I love Ryan and Rob.

• Ch-Ch-Ch-Changes! Just an FYI that Changeland, one of my favorite films of 2019 is now streaming on Amazon Prime. As if the fact that it's gorgeously shot in Thailand isn't enough, the closing credits features Thai cats! It's a bit deeper movie than this trailer lets on, but it's fun too...
I own the film, so I can watch it any time I want... but I will be giving it more than a couple views on Amazon just to give it some love for studio execs who need to be making more films like this.

• Diego! Well, crap. Now I love Diego Luna even more than I already did...
If you're not watching him being brilliant in Andor, which is the best Star Wars since Rogue One, then you should get on that.

• Play On! Explain to me again how Lizzo playing a fucking flute is somehow controversial. SHE IS A CLASSICALLY-TRAINED FLAUTIST FOR FUCK'S SAKE! Just listen to this...
IT'S NOT LIKE THEY HANDED IT OVER TO SOMEBODY WHO DOESN'T KNOW WHICH END TO BLOW INTO! IT'S NOT LIKE THEY GAVE IT TO PETE TOWNSEND WHO SMASHED IT ON STAGE! IT'S NOT LIKE LIZZO SHOVED IT UP HER ASS AND SHIT IT OUT ON THE CONSTITUTION WHILE KICKING A PUPPY. AND TELL ME THAT BEN SHAPIRO EVEN KNEW ABOUT THE FUCKING FLUTE BEFORE LIZZO PLAYED IT. THE WAY THIS PIECE OF SHIT TRIES TO CREATE FAUX OUTRAGE TO CATER TO PEOPLE WHO JUST WANT TO BE MAD ABOUT EVERYTHING ALL THE TIME IS THE ACTUAL FACE TATTOO PHENOMENON AT WORK...
But that's not all... how the fuck is Lizzo twerking with a slave-owner's crystal flute more disrespectful than it's past-owner James Madison LITERALLY ENSLAVING PEOPLE? I will never in a million years be able to wrap my head around the faux outrage and blatant hypocrisy of these assholes...
Good on Lizzo. I hope she keeps pissing people off for a very long time.

• Expired! Petco rewards points used to expire after 90 days. Then it was 45 days. Now it's 30 days. They really, really don't want you to be able to cash in your points. I look forward to the email telling me that they expire in 24 hours. Guess the only thing I'm buying there now will be their bulk kitty litter... and it's probably cheaper and more convenient to get it from Chewy anyway, so maybe not even that. In adjacent news... look forward to your local Petco announcing that they will be closing soon.

• Avalon! I have only ever been a casual fan of Brian Ferry and Roxy Music. That being said, I played there Street Life: 20 Greatest Hits album to death, and still fire it up from time to time...
Most of my favorite tracks from Roxy Music is from their masterpiece album Avalon. Which is why this look at the album and its recording is so cool to see...
And... now I'll be listening to Street Life on repeat for the rest of the evening.

Until next Sunday then. Here's hoping your air is smoke-free.
Tags:
Assholes
,
Bullet Sunday
,
Fucking Assholes
,
Hipocrisy
,
Movies
,
Music
,
News
,
Television
,
Worthless Pieces of Shit
,
YouTube
Categories:
Bullet Sunday 2022
,
Movies 2022
,
Music 2022
,
News – Politics 2022
,
Television 2022
—
Click To It:
Permalink
—
2 Comments: Click To Add Yours!