Posted on May 2nd, 2023

Look, I know that I'm droning on about top-tier First World Problems, but it's infuriating just how bad things are getting with Apple and their bullshit.
I am perfectly willing to accept the blame when the fault is mine. A few days ago it was overcast and raining that day. All of a sudden all my lights came on. It took me a second to realize that when I wrote the automation which monitors light levels and turns on lights when it gets dark was fooled by the overcast weather. My bad. I should have included a time range so lights aren't turning on in the middle of the day.
That I can deal with because I can (probably) fix it.
What I cannot fix is the idiotic crap that pops up every damn day.
Like coming home and telling Siri on my Apple Watch to unlock the front door. Something I've done hundreds of times before. Only to get this...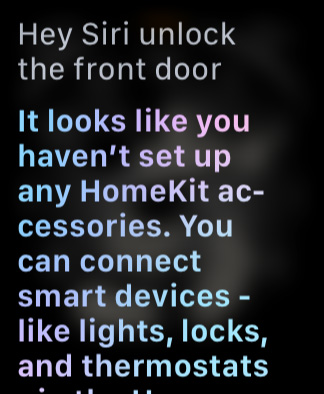 No reason. It just happened out of the blue. And when I go to the Home app on my iPhone? No problem. The front door is unlocked post-haste.
The other day I was writing an email in a language I'm not terribly comfortable with and decided to ask Siri if the word I was using means what I thought it did. Siri didn't understand. So I thought... let's try a more popular foreign language here in the USA...
ME: "Hey Siri, what does the word 'mañana' mean in Spanish?"
SIRI: "In Spanish, mañana means" =insert pause= "mañana!"
AND SIRI SAID THE SECOND MAÑANA IN A SPANISH ACCENT!! Thanks a fucking heap. Remember last week when I was talking about how Apple is losing the AI digital assistant battle badly? This is exactly what I'm talking about.
But even something like that is not going to send me into a ballistic rage where I want to rip my little HomePod orb out of the wall and chuck it out the window. No, that's reserved for stupid, inexplicable bullshit that has absolutely nothing to do with what Apple should be promising... but instead what they have actually been promising!
Like telling Siri to play a song I want to listen to. Have Siri tell me the song will play. Then have Siri tell me there's a problem with Apple Music. WHAT THE FUCK?!? I'm trying to listen to an Apple Service on an Apple Product. There's no disconnect here. And the solution I get from Apple Support Knowledgebase? Remove the HomePod from HomeKit. Reset it. Then reinstall it. Do you know what happens when I do that? THIS RIGHT HERE...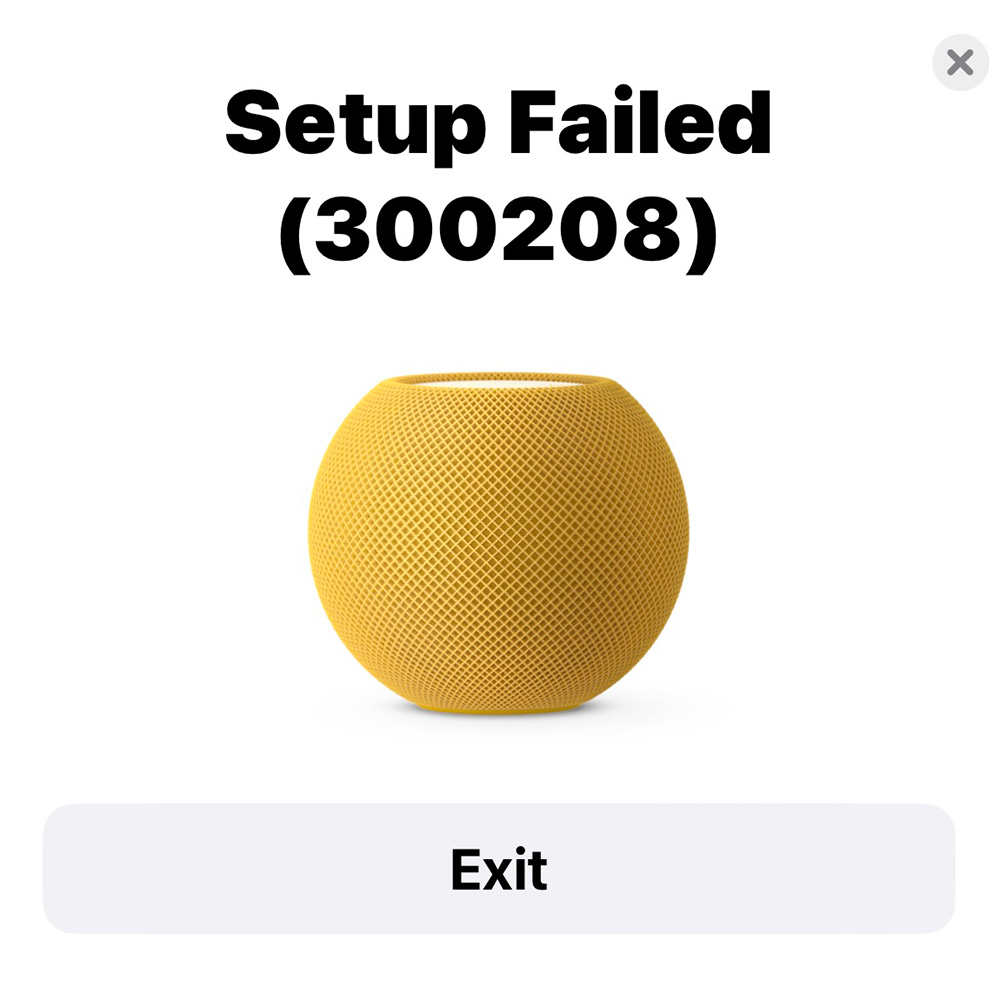 What a friendly error message! What the fuck does (300208) even mean? I tried three times. The fucker will not add back to HomeKit. And the KnowledgeBase isn't helping. I've wasted fucking hours of my life on this shit. So now I have a dead HomePod and I will have to try and get support out of Apple, whose support is so fucking shitty now-a-days that I am almost to the point where I want to throw this one away and get a new one.
For months the internet has been abuzz about how Apple is at the forefront of eliminating passwords forever so we can use biometric data (like a retinal scan or a fingerprint) to unlock our lives for us. Even when the story is about Google following Apple's lead! Which is so fucking laughable because Apple can't even get rid of passwords in their own fucking ecosystem! This is what I got when I went to remove my HomePod mini from my HomeKit so I could re-add it...
Apple asks me for my password ALL THE FUCKING TIME! And if Apple can't even get their shit to work for themselves, then what hope do they have trying to bring others along? Passkey barely works (when it works at all) on many sites which try to implement it (like this blog!).
This has disaster written all over it.
"Hey Siri! I can't breathe and I think I'm having a heart attack! Call 9-1-1!"
"Playing the song 'Every Breath You Take' on Apple Music." =insert pause= "Apple Music is not responding."
We're fucking doomed.
Posted on April 27th, 2023

The Apple news of the day is how badly Siri (Apple's personal digital assistant) sucks, why it's not going to improve any time soon, and why this is a serious problem for Apple.
And the critics aren't wrong. Siri hasn't gotten much smarter in years. Maybe a decade. Marry this to the absolute fucking travesty that is HomeShit HomeKit (which is largely controlled by Siri) and Apple has fallen so far behind the curve that they can't even see the curve. It's all flat to them.
And, as I always do, I am going to blame this totally on Apple CEO Tim Cook. Apple needs a complete and total bastard like Steve Jobs in charge, and Cook isn't even close. Jobs was a ruthless taskmaster who obsessed over user experience and made absolutely sure that bugs got squashed and Apple was constantly moving forward. Cook seems to content to coast right off the racetrack and get lost in the woods.
Nope. Google, Amazon, Microsoft, and everybody else is jumping on the AI bandwagon to make smart assistants... um... smart... and Apple, as usual, doesn't give a fucking shit. They do whatever the hell they want whether it benefits their customers or not... whether their customers want it or not... whether it makes sense or not.
I fucking hate it, but what's the alternative?
Look, I am not expecting the world here. I don't necessarily want (or need) for Siri to be as smart as HAL 9000 or the computer on Star Trek or whatever. But I would like it to actually fucking work for the things it advertises it can do. But I've lost track of the number of times it fails with even the simplest request... like playing a song I ask it to play. And not from some third party service... from Apple Music! It's like, that's the ultimate softball request. Play a song from a service YOU control. And yet... well... good luck with that.
More than a few pundits are saying that Apple's complete lack of interest in making Siri competetive could ultimately sink the company. This could be hyperbole. But it's not outside the realm of possibility that it's dead-on accurate. When everybody else allows you to have a smart assistant that's actually keeping up with the times and, you know, useful... when Apple is still banging rocks together, how can they possibly survive?
Posted on April 23rd, 2023

The weather can't make up its mind lately, but I'm not letting grey skies ruin my weekend... because an all new Bullet Sunday starts... now...

• Ghosty Mc Ghost Ghost! I was SO looking forward to Ghosted on Netflix. The film didn't disappoint. Ana de Armas is frickin amazing... and the fact that Chris Evans could play absolutely ANYTHING he wants, but chooses to play the damsel in distress in this movie just makes me love him all the more (he had already completely changed my mind about his career trajectory with Gifted, which I also loved)...
This is a great action flick, and the performances are everything you'd hope they'd be given how outrageous the story is. There's also some notable cameos to watch out for, if you're interested in giving it a shot.

• Mrs. Davis Loves You! There's a new show on Peacock called Mrs. Davis. I'm loving it, but am having a hardtime putting into words why I'm loving it. Maybe the trailer will help?
Jake McDorman (from Limitless) is in it, which doesn't hurt. Also in the series? A very cool edition of Bristish Knights shoes...
Alas, you can't actually buy these, which seems like a hugely missed opportunity.

• Edna! Comedian Barry Humphries died this past week. He is most known for playing a character which I obsessed over for the longest time...
In one of those sublime ironies, Humphries grew famous for a drag performance, but was a noted transphobe. I always looked at him differently after that. Fortunately most of the time I knew of Dame Edna was well before he outed himself as a bigot. But still...

• S'more! I won't go so far as to say that I hated The Menu... but I came very close. It was a film based on manipulation and shock value which had no value. At least not to me. It also dragged on to the point of tedium once the plot had been revealed. This was a painful conclusion for me to draw, because I loved the cast and the performances were amazing. THAT BEING SAID... the end game was brilliant. From Anya Taylor-Joy's little monologue to Ralph Fiennes's response to Anya's last request to the final shot of the film. It's flawless and haunting. I have fast-forwarded the movie to the end to watch it at least six times. Including just now today...
It makes me want to re-cut the movie down to a 15-20 minute short which is nothing but that which could have been a great flick.

• Pricey Taco! I swear before the pandemic that I was able to walk into Taco Bell and get my usual Two Chalupa Supremes (substitute rice for beef), a side of Fiesta Potatoes, and a bottle of water for under $10. But now? SEVENTEEN FIFTY-SEVEN?!??

WTF?!? And what's worse? NOBODY TAKES YOUR ORDER! YOU HAVE TO INPUT IT YOURSELF ON A BACTERIA-RIDDLED TOUCH-SCREEN! Good thing I travel with hand sanitizer!

• Hey Siri! The fact that Siri has become so fucking useless for home automation shouldn't really surprise me, but it totally does. Lately when I ask Siri to play a song, all I get is "There's a problem with Apple Music." Ask to unlock the door... The front door is not responding (though I can unlock through the app just fine). Even turning on a frickin' light is hit-or-miss. And when you call Apple they don't know shit. About a music service I PAY them for. And HomeKit has always been useless, so I don't even bother to try and get support for that. And so... no idea what I'm going to do. Amazon and Google are pulling resources from their digital assistants, so I don't know if they'll even be around to switch to. Thank heavens I made sure that all my new devices are Matter compatible. Maybe some enterprising company (or individual) will come up with a localized voice assistant for Matter that I can buy to run locally. Then I get a small computer and some kind of Matter-compatible microphones and call it a day. Why is it that companies have failed so miserably with a technology that's supposed to be our future? It started out so promising... now this.

• Taters! I bought a bag of luxury potatoes because I wanted to make potato salad this weekend. But when it came time to do it tonight... I looked at the bag... and thought "ZOMG! I WANT CRISPY-FRIED SPICY POTATOES FOR DINNERRRRR!!" I love them, but they take SO long to make properly. You have to cook them on low under a cover to get them softened. Then you have to add oil and fry at a higher temperature. Then you have to keep micro-dosing oil on them and turning not too early and not too long so they brown up nicely. Then you have to taste continuously so you can add just the right amount of freshly-ground black pepper, salt, harissa spice, cayenne, and Central Street blend. BUT OH SO WORTH IT! So crispy! So spicy! So hot!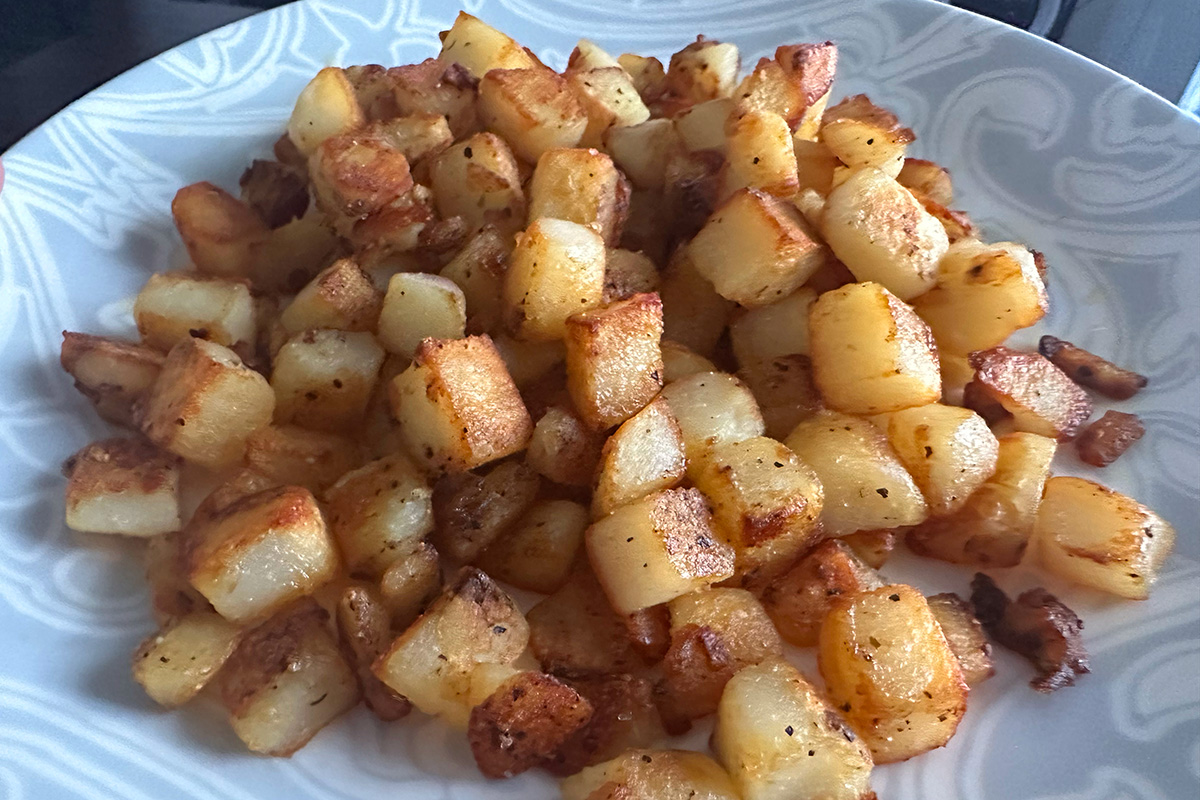 Most restaurants won't put in the time and effort. But I'm patient and have very good flipping skills with a skillet.

Now it's time to eat those beautiful taters.
Tags:
Apple
,
Bullet Sunday
,
Comedy
,
Food
,
Home Automation
,
HomeKit
,
Movies
,
Siri
,
Television
Categories:
Apple Stuff 2023
,
Bullet Sunday 2023
,
DaveLife 2023
,
Food 2023
,
Home Automation
,
Movies 2023
,
Television 2023
—
Click To It:
Permalink
—
0 Comments: Click To Add Yours!
Posted on June 5th, 2022

Don't let the pouring rain, thunder, and lightning stop you from today's bullets, since it's not stopping me... because an all new Bullet Sunday starts... now...

• Best Trek! I cannot process the fact that there's a Star Trek show that I like better than the original series. It's inconceivable. But holy shit! Star Trek: Strange New Worlds on Paramount+ is blowing my mind episode after episode. And Episode 05 is just next-level good. Funny as hell, and incredibly satisfying to watch. How in the heck did they come up with this? And Spock... it's just... Ethan Peck is killing it. He's wonderful.
Now I worry that they're going to take a great show in its first season and flush it down the fucking toilet like they did with whiny, boring Star Trek: Discovery. Hopefully the show-runners think better than that, because I would sure miss Strange New Worlds.

• Marmalade! Okay... this is really great...
Wishing a happy Platinum Jubilee to Her Majesty.

• More Death! HBO has (finally) renewed Our Flag Means Death for a second season...
Probably the best show you haven't watched. Yet.

• TAPS! Pretty much this, yeah (Here's a link in case TikTok is being a dick)...
So many of our politicians are useless pieces of crap. It's amazing that people have been conned into accepting it... even defending it.

• Helpless! Used to be that you just held down the sleep/wake button until your iPhone force-restarts. Now if you do that, you end up calling 911. I can never remember the new combo (you up, vol down, THEN hold sleep/wake) so I asked my iPhone. BUT OF COURSE THE FUCKING PIECE OF SHIT IS ZERO HELP...
Jesus Christ, Apple... just fucking give up on Siri already. She can't do shit.

• False Prophets! All these people reaching to find Biblical meaning in shit that is easily Googleable just to fit their idiotic narrative is mind boggling...
Just fuck off with your stupid bullshit already.

And now back to our regularly-scheduled thunderstorm.
Posted on March 16th, 2016

I love a good television ad.
Putting Cookie Monster in an iPhone ad is about as good as it gets.
Putting Muppets in anything is about as good as it gets.