Posted on October 29th, 2017

Don't fear the reaper, because an all new Bullet Sunday starts... now...

• Benson! Robert Guillaume passed away this last week and it got me to thinking about the various roles he's played in his long acting career. Primary of which, was "Benson" on Soap (and the subsequent spin-off), where his sarcastic wit was showcased to hilarious effect. My personal favorite role was Isaac Jaffe on Sports Night, a role which is surprisingly relevant today...
You, sir, will be sorely missed.

• Think! Cost to renew my nine Nest security camera "Nest Aware" subscriptions annually? $500. Cost to renew Amazon's new Cloud Cam security camera subscription plan annually for triple the storage time and up to ten cameras? $200. This means I could essentially buy three new Amazon cameras every year PLUS get a superior subscription service for the cost of my Nest subscription alone. Gee... let me think real hard about what I should do. What to do? What to do? It's a quandary, that's for sure...

• Balls! I made falafel for the first time!
My balls were totally delicious.

• Mickey Hotel! Disney just announced that Disneyland will be getting a brand new 700-room hotel which will open in 2021...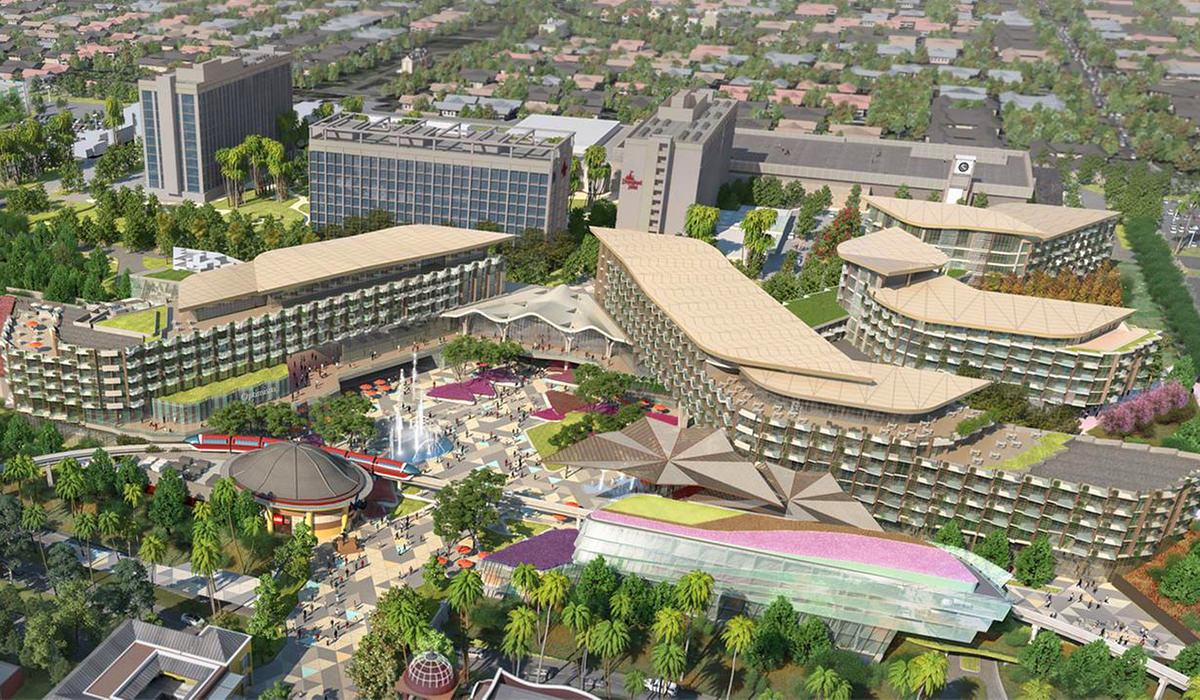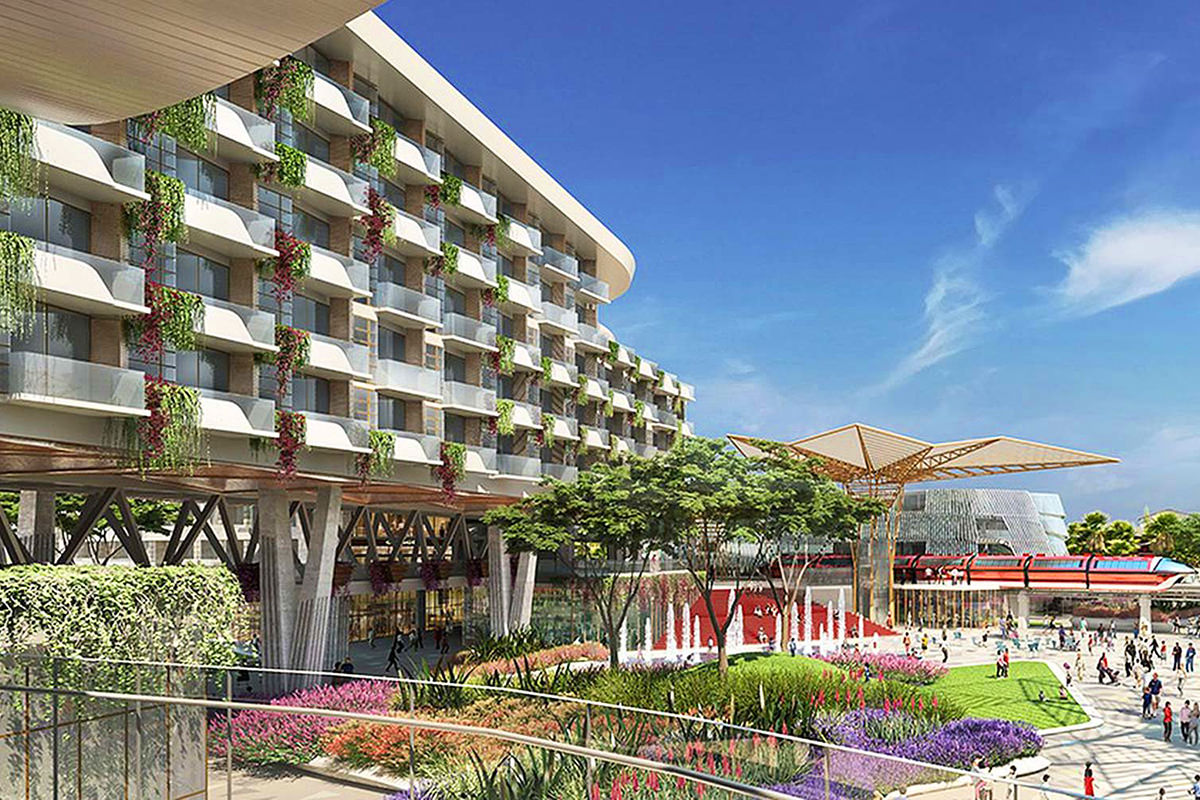 Compared to the amazing Grand Californian hotel across the way, it's kind of boring-looking. Not very "Disney-Special" to me.
The most interesting bit of information in the press release is not the hotel itself, but its location. In order to build the thing, Disney will be ripping out the West end of Downtown Disney. Which is currently occupied by ESPN Sports Zone, the AMC 12 theater, a Starbucks, The Rainforest Cafe and, ZOMFG... EARL OF SANDWICH! The LEGO Store is spared though...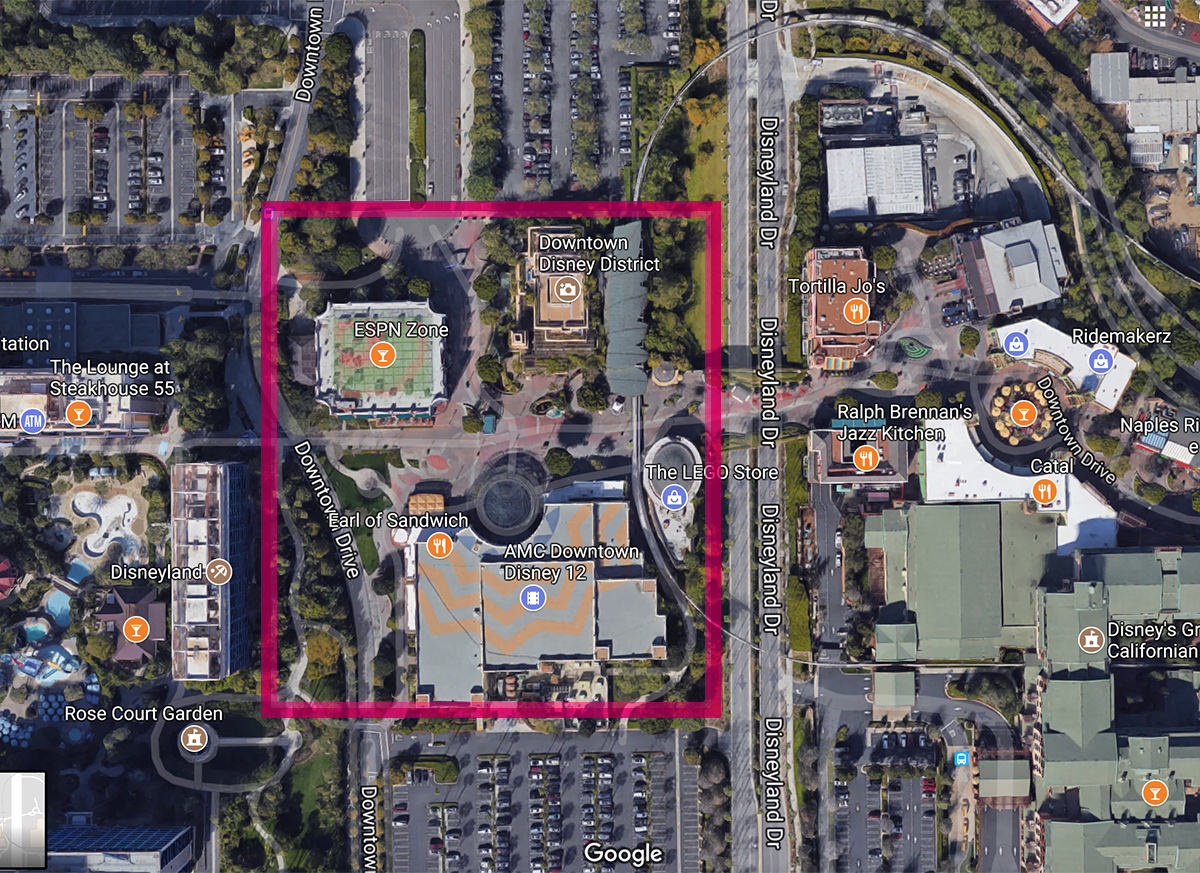 The money that a hotel generates is probably huge compared to the royalties from everything it's replacing. With this in mind, I don't know why A) They are only putting in 700 rooms when there looks like there's room for more, and B) they haven't expanded The Grand Californian (the "Redwood Creek Challenge Trail," cool as it may be, is hardly a critical part of California Adventure, so it seems a natural to rip it out and put in another 150 rooms).

• Payola! HEALDINE: Senate votes to kill new rule allowing class-action lawsuits against banks; Pence casts deciding vote. — FUCKING PIECES OF SHIT!!! No recourse now... NONE... when big banks fuck you over. You are forced to accept binding arbitration or small court settlements instead of having your day in court. And, of course, data breaches due to shitty bank security are now basically a crime without meaningful punishment. All because the fucking Trump Administration and their Republican lackeys have their mouths so deep on Big Finance cock for cash that they don't give a shit who it hurts... so long as the big paychecks keep coming their way. And OF COURSE they are re-framing this act of utter submission to bank payola as a "good move" for consumers because "frivolous lawsuit costs get passed on to consumers." All 100% bullshit of course. We STILL end up paying... just in a different way. Meanwhile, any and all protections are now ALL THEIRS. Looks like we've got ourselves a government by the wealthy, for the wealthy.

• Harrassment! Everywhere you look, it's the same damn thing. I do not know Robert Scoble personally. All I know is that he worked at Microsoft then got famous for conducting crappy "WHO ARE YOU?!?" videos with happening tech industry people. I also know that he went into rehab a couple years ago because he was accused of shitty and harassing behavior towards women when he was drunk and high.
I also know one of these women.
Now it's coming out that he didn't stop with his shitty harassment of women AFTER he was supposedly "cured" of the things he blamed his behavior on. Typical of these types of situations, people are defending him because he's married and supposedly a "good guy." Meanwhile... there's the women whom he's sexually harassed who are having to deal with the fallout of HIS crap.
I believe them. Scoble may be married with kids and be known as a "good guy" in certain circles, but obviously that does NOT exclude him from being a habitual sexual harasser.
On his Facebook profile, Scoble has the douchey description of himself as "Authority on what is next," even though he just talks about what OTHER PEOPLE are doing. I hope "what is next" for him is somebody pressing charges. The more times that shit like this results in public shaming and even more public punishment, the more these reprehensible fuckers will think twice before being assholes to their fellow human beings.

All our times have come, see you for more bullets next Sunday!
Tags:
Assholes
,
Bullet Sunday
,
Disney
,
Disneyland
,
Falafel
,
Food
,
Fucking Assholes
,
News
,
Politicians
,
Politics
,
Television
Categories:
Food 2017
,
News – Politics 2017
,
Television 2017
—
Click To It:
Permalink
—
0 Comments: Click To Add Yours!
Posted on July 20th, 2017

I generally fast-forward through commercials because most of them are total shit and not worth watching. This is easy to do because I watch almost all television from my DVR. The only time I let commercials play is when I'm watching TV live... or if I'm working (or otherwise distracted) and can't be bothered.
Like tonight.
There I was, working away with the television playing in the background when...
... a sound plays.
A familiar sound.
The sound of the announcement tone for Disney's Star Tours!
What the heck?
Turns out it's a commercial advertising the Main Street Electrical Parade, where a Disney cast member is walking through a giant warehouse filled with relics of Disneyland past. I must have freeze-framed a dozen times on my DVR trying to figure out what everything I was seeing could be. Reviewing it all was a nostalgia-laden walk down memory lane.
The commercial has been around for months, but this was my first time seeing it.
When I was Googling to see if Disney had posted it to YouTube, I found that there were a couple of videos calling out all the "Easter Eggs." Like these...
Now THIS is a cool commercial that is actually worth your time to watch!
Assuming you're as big a Disney geek as I am, that is.
Posted on March 5th, 2017

Pull out your Mickey Mouse ears, because a Very Special Disney-centric Bullet Sunday starts... now...

• I'm Going to Disneyland. Now that Disneyland has no "off-season" and is hellishly busy all-year-long, there's really only one piece of advice I can offer: Don't make your Disney vacation all about standing in lines. Stay multiple days... divide up the attractions you want to see so you're only standing in line for them part of every day... then get the hell out of the parks to have an actual vacation. Go see what else L.A. has to offer (which is a lot)... or just hang around the pool at your hotel. Spending the whole day in a massive crowd at Disneyland is just guaranteeing that you'll need a vacation from your vacation.

• Princess Vader. I honestly can't decide whether this is the coolest thing ever, or just pain wrong...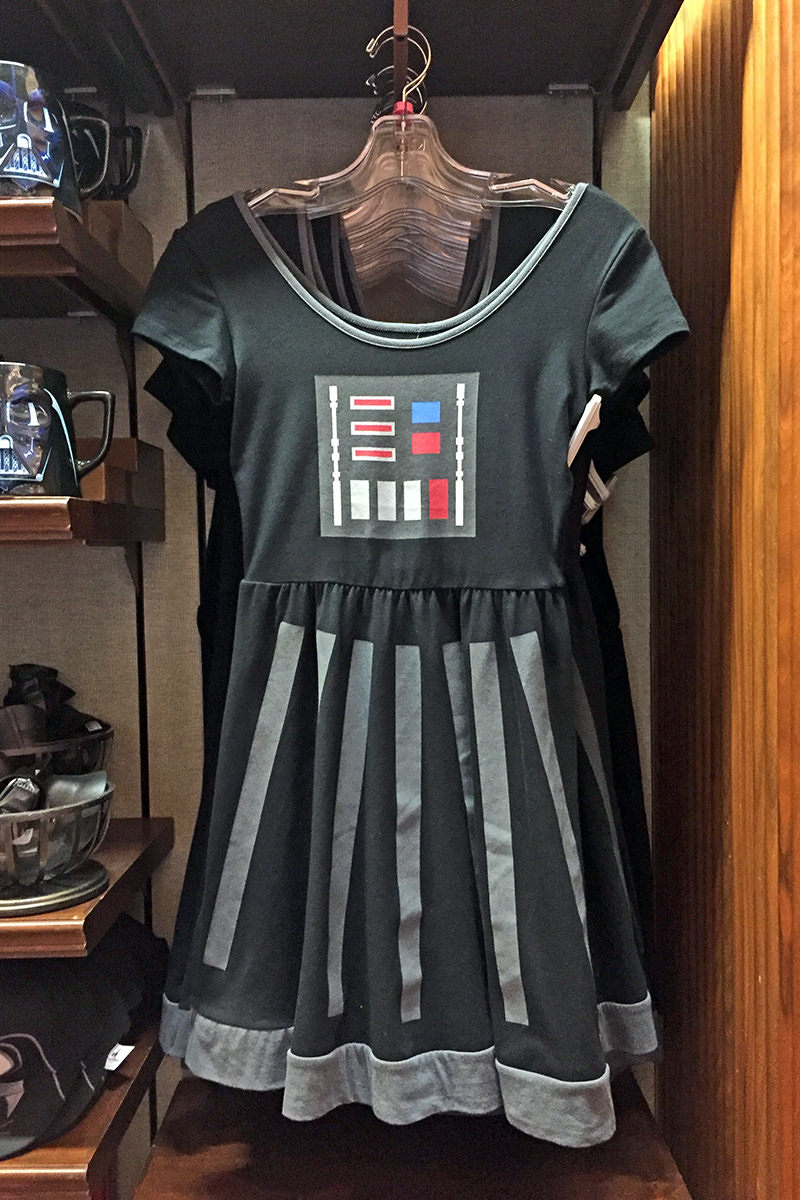 All I know is that Disney's marketing of Star Wars is way off the charts.

• Reimagineering. Earlier this week I brought up the new Star Wars Land additions coming to both Disney parks. This is on top of Disney World getting a Pandora: The World of AVATAR "land" in Animal Kingdom. New stuff at the Disney parks is always great... but I can't help but wonder when rides like Jungle Cruise and Haunted Mansion will get an upgrade. Surely there's a way of remaining true to the original concept while enhancing the attractions with today's technology? Otherwise I have to wonder how much longer they can last. The parks (particularly at Disneyland) do not have infinite space to expand, so the worry is that even "E-Ticket" attractions will eventually be eliminated in favor of something fresh to keep the crowds coming.

• Grey Stuff. Yesterday I mentioned that I checked-off one of my life goals at Disneyland... eating Grey Stuff Gâteau (which they spell "Gateâu") and Gaston's Brew. Nobody seems to know what that meant. Well... "Grey Stuff" is something served to Belle in Beauty and the Beast...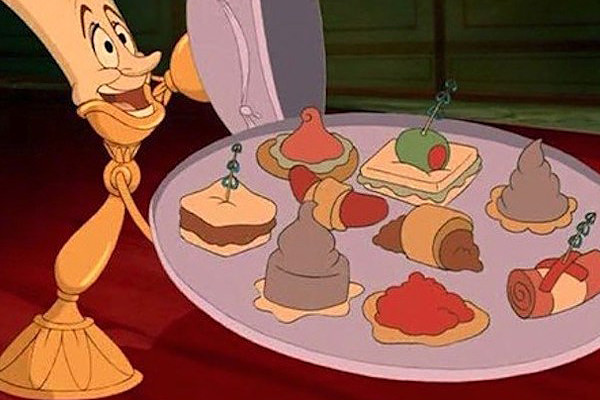 This is what the real-life version looks like from The Red Rose Taverne in Disneyland's Fantasyland (a temporary restaurant re-dress in celebration of the live-action Beauty and the Beast movie coming in March...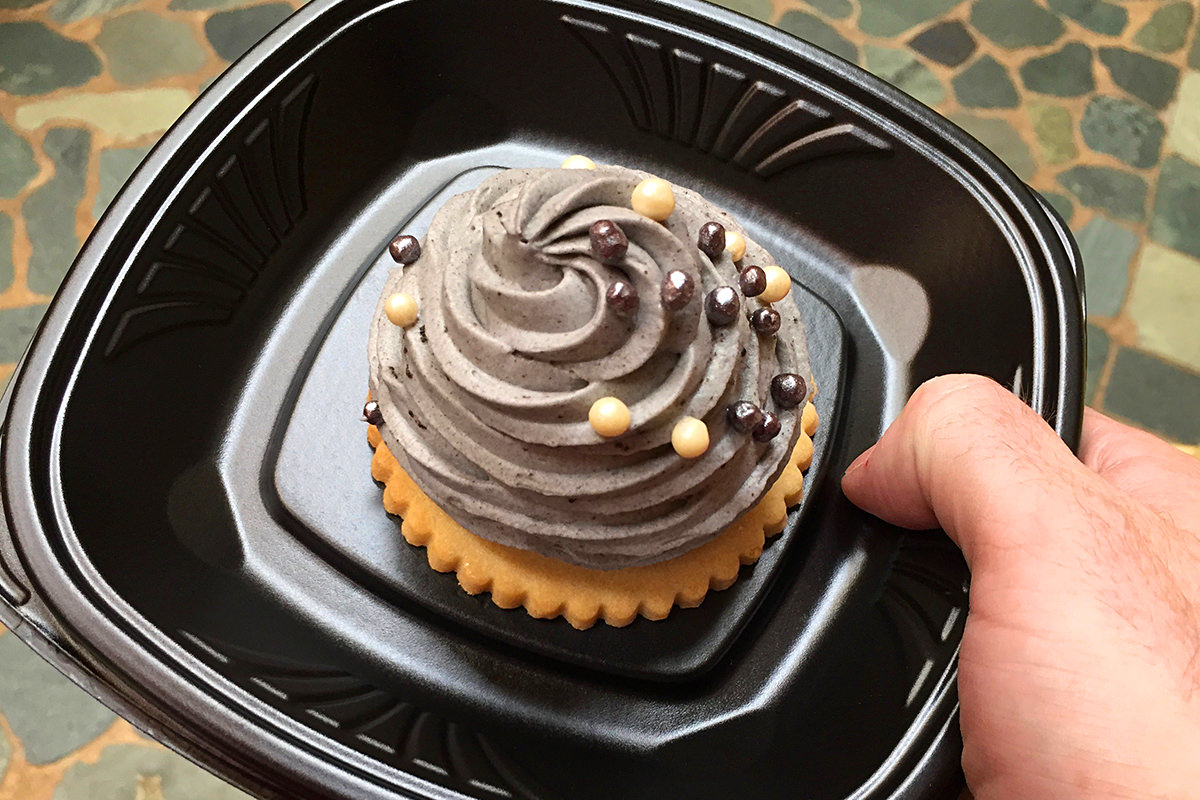 It's a white chocolate mousse that's been tinted grey then heaped on a small red velvet cake that has raspberry in it...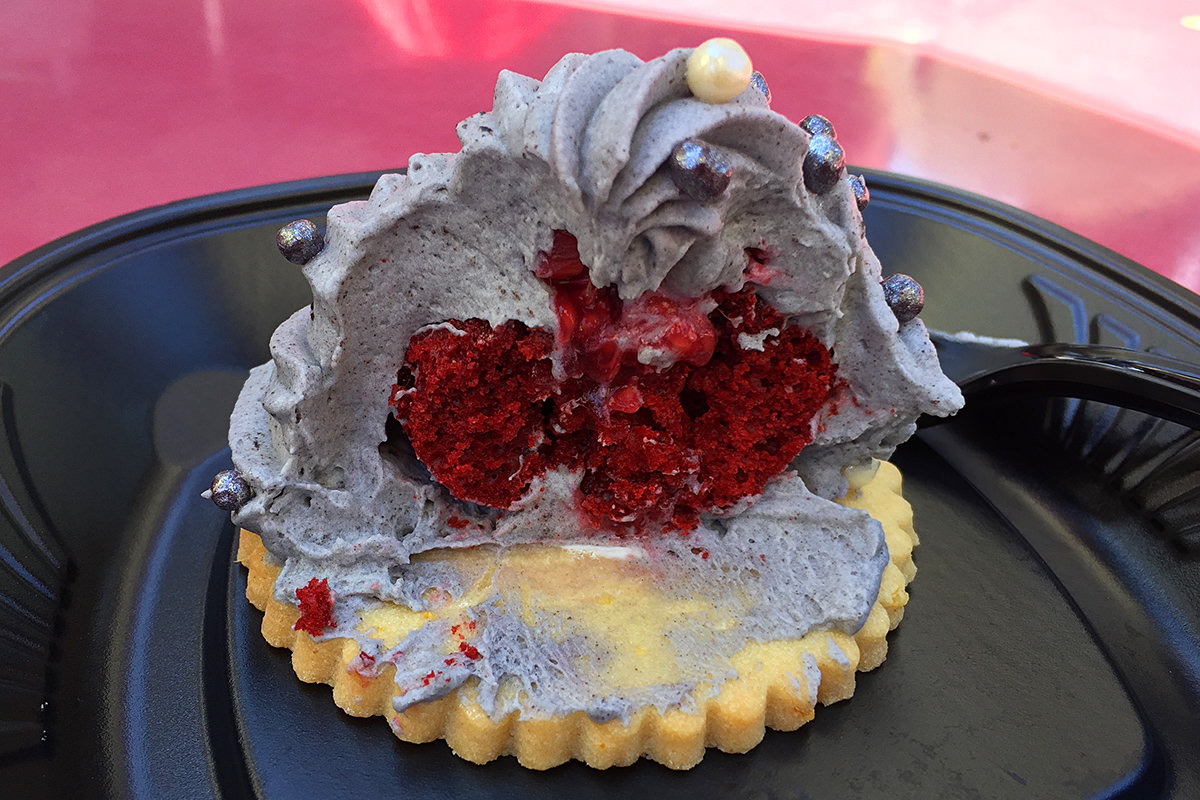 It comes piled on a shortbread cookie that seems to have a rose drawn on it?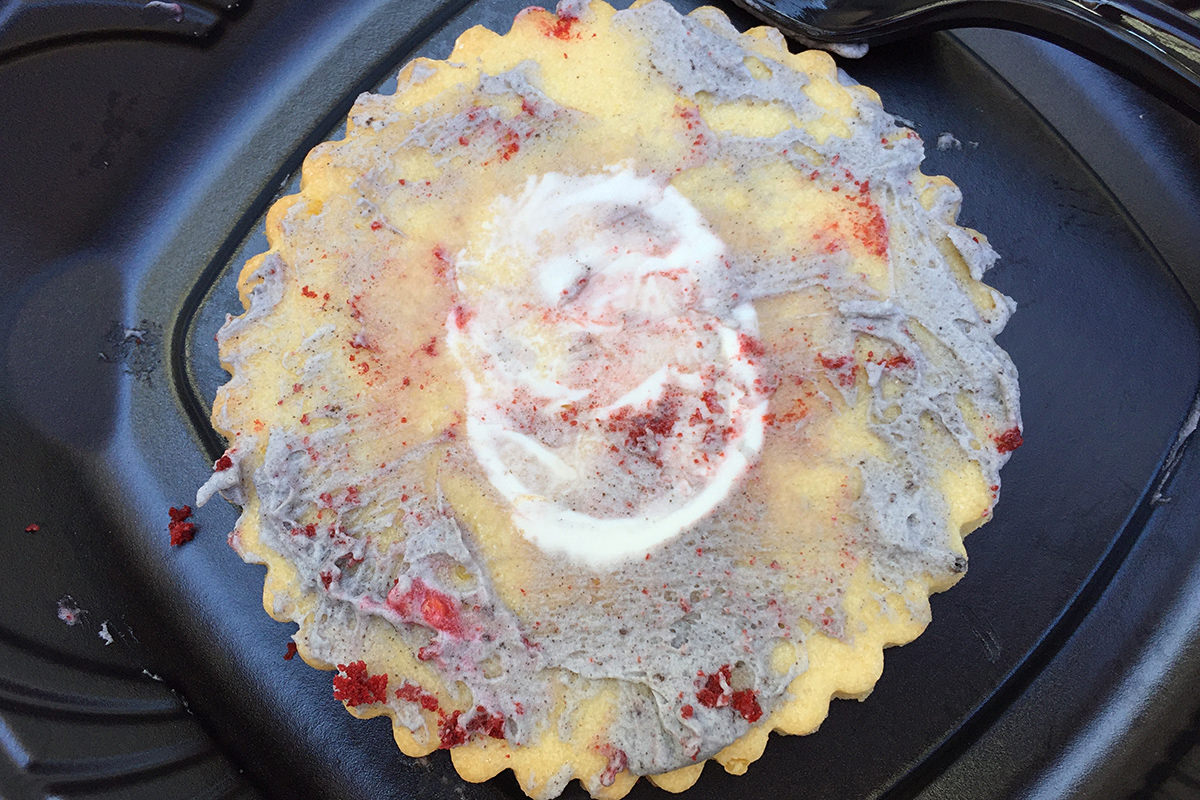 It's not too bad. The cookie is dense and bland rather than buttery and flakey... and the whole ordeal is too sweet for me... but it's totally edible. Gaston's Brew, on the other hand, is excellent. It's apple-mango juice that's topped with a passion fruit foam "head." Something I'm going to have to try and make at home.

• Magical Morning. One of the benefits of buying your ticket to Disneyland online is that you get a free "Magic Morning" on tickets for three days or more. "Magic Morning" means that you get into the park an hour before opening. In my case, that meant 9:00am instead of 10:00am. This used to be available only to registered hotel guests at one of the Disney hotel properties... but now anybody can get it. The problem being that now anybody can get it. Which means the park gets just as crowded just as quickly as it would without magic morning. Sure you might get one or two rides in at a reduced wait time, but it's hardly the deal it used to be. I got to ride Space Mountain in 20 minutes instead of 60... but after that the lines were right back to normal. Bummer. I'd be pretty pissed if I were a hotel guest counting on this perk.

• The Sign. I could spend hours just wandering around Disneyland looking at the beautiful signage that's displayed everywhere. It's not as fun as Big Thunder Mountain Railroad, but it certainly beats standing in lines all day. My favorite signs are in Adventureland. So many beautifully-carved pieces...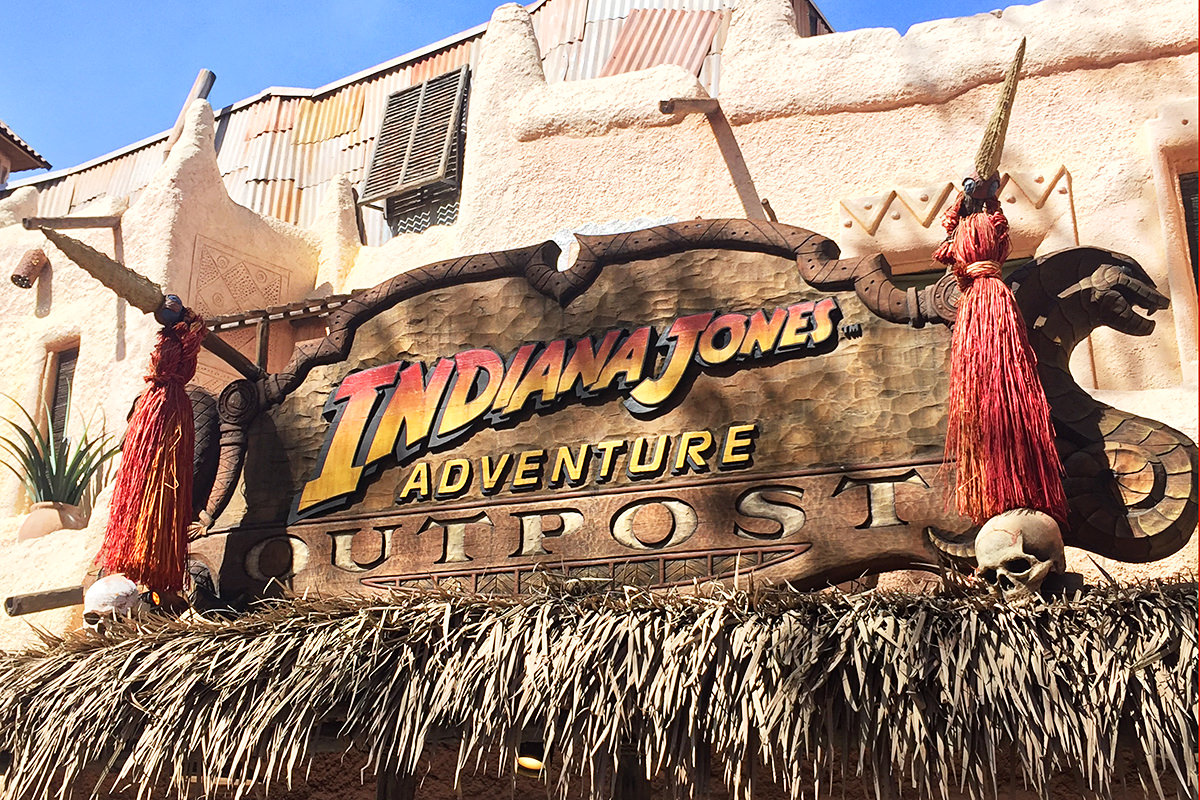 But it's not just the extravagant larger signs that are given such detail. Even small signs... like numbers on a door... are beautifully themed for the area they occupy...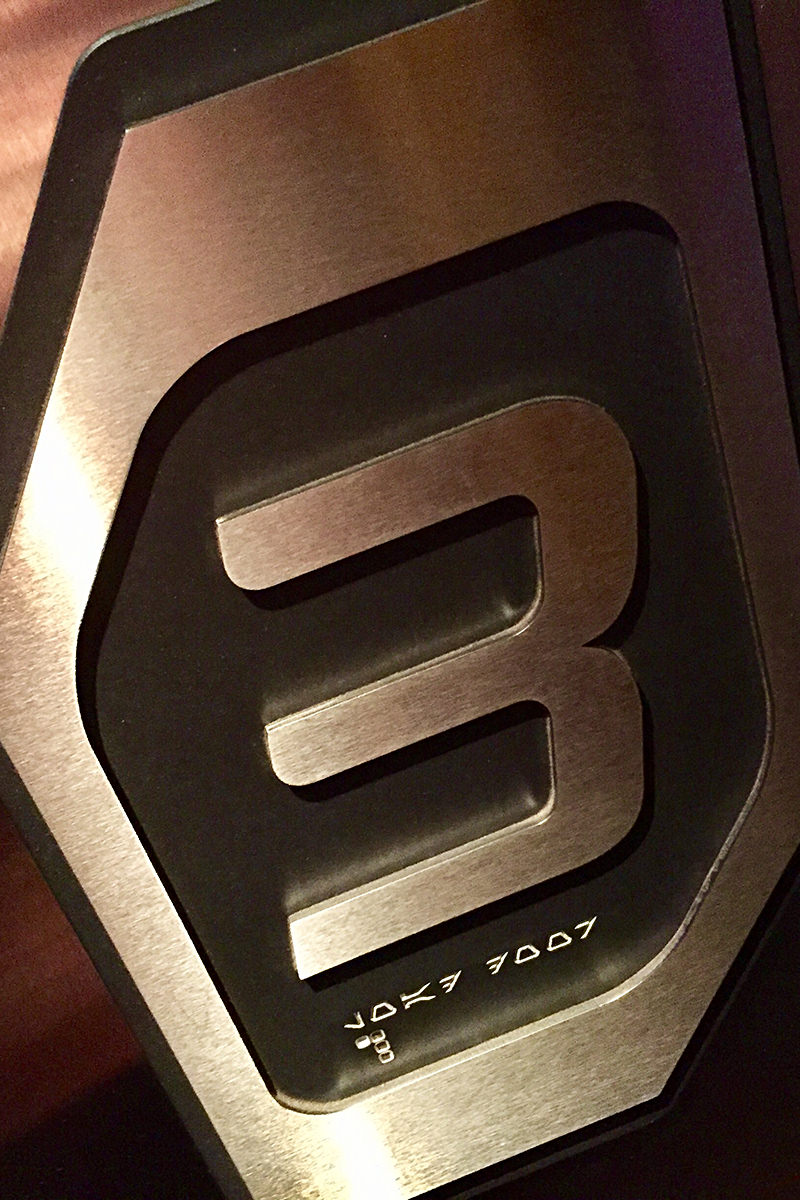 Even throw-away signs from an exit queue are painstakingly designed...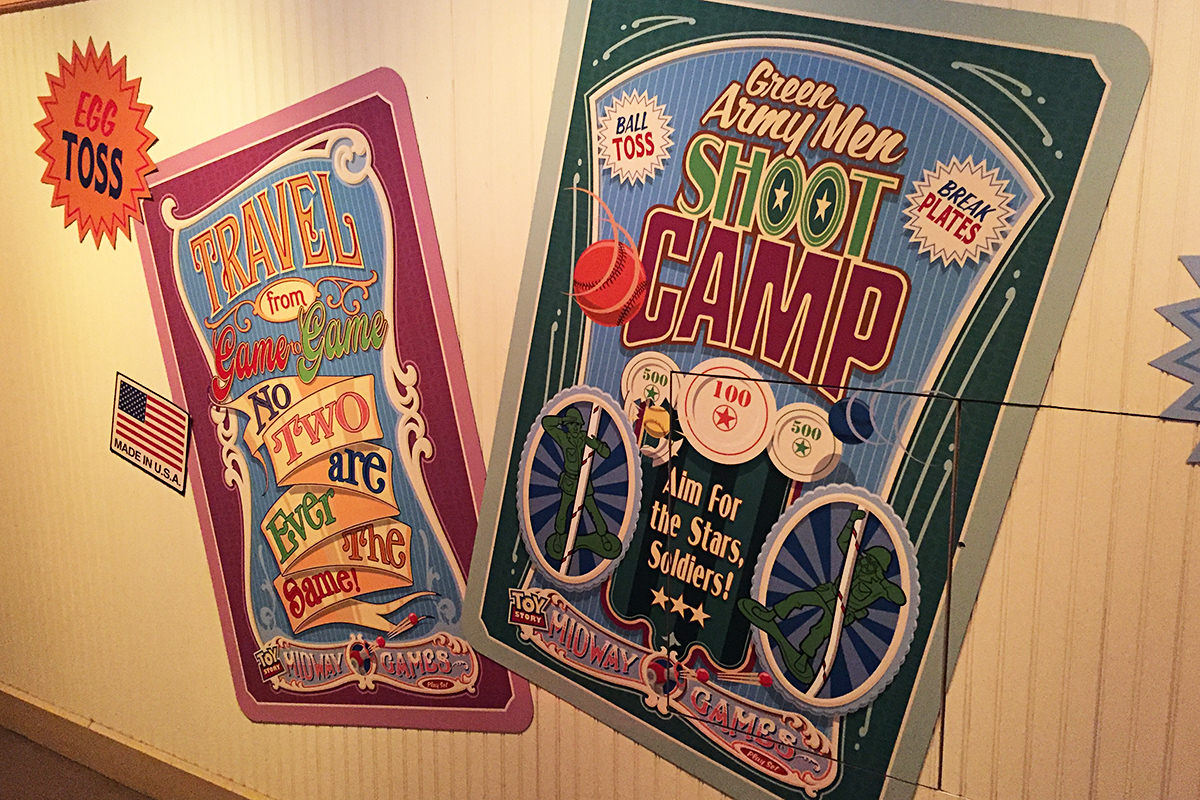 And every exterior sign is beautifully-crafted, of course...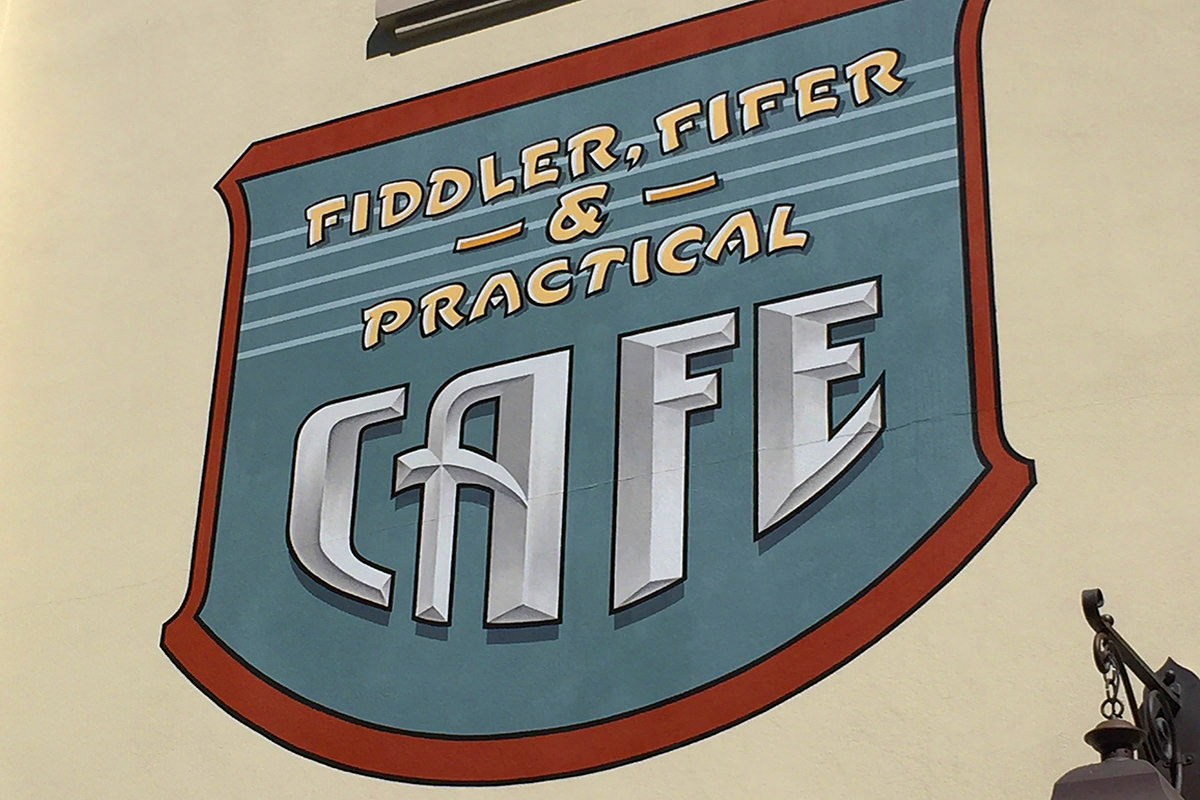 So... next time you're at one of the Disney theme parks, stop for a minute and look for the signs. They're an attraction all on their own.

And now? Heigh ho, heigh ho, it's off to work I go...
Posted on March 3rd, 2017

Last night at a wonderful early birthday dinner with friends, I had told them how proud I was that I finally managed to get Jake and Jenny trained to not jump on the kitchen counters. Yes, Jake still wanders into the kitchen from time to time but, thanks to sticky mats, his days of climbing over my kitchen counters was over.
And then... less than an hour after getting back to the hotel... I get a motion alert on my iPhone that there's movement in the kitchen. A quick check of the security cameras and, sure enough...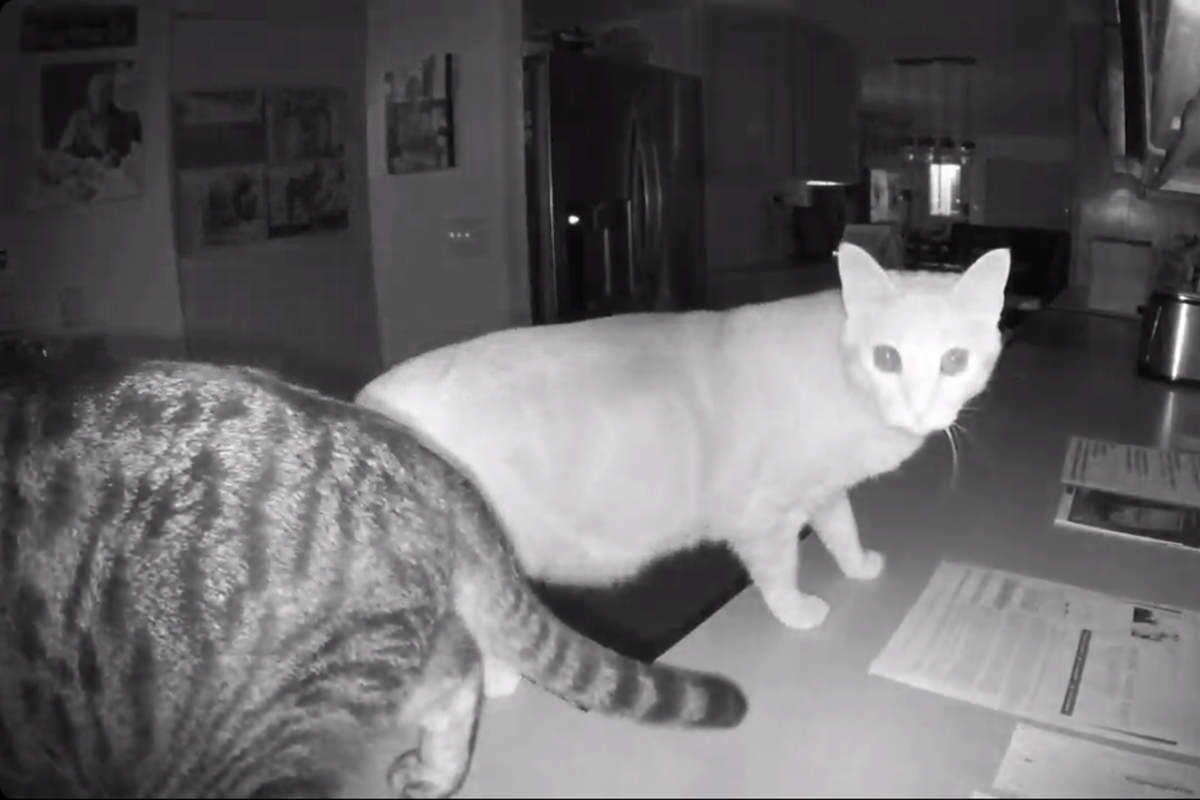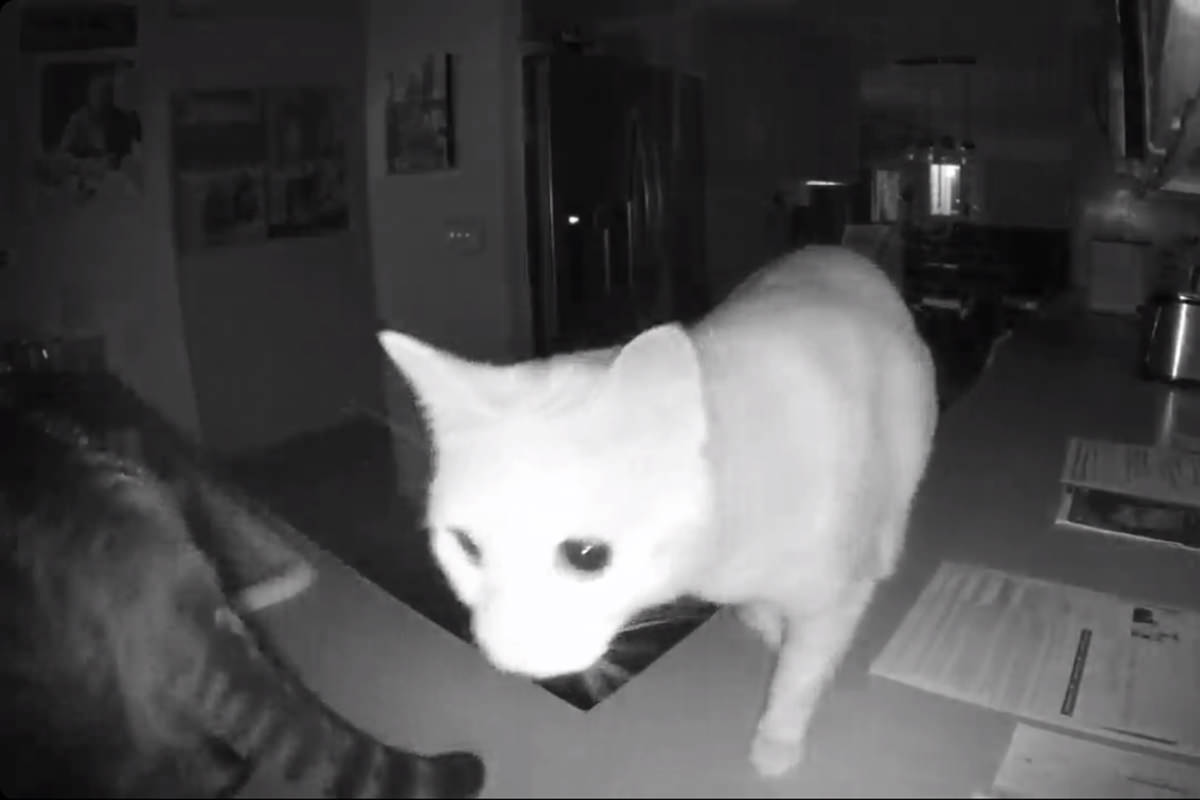 I rewound the footage to see what made Jake suddenly revolt, and was surprised to see that it was actually Jenny who was the instigator. You can see her beady little eyes reflecting in the dark on the refrigerator return before she makes a spectacular leap across to the kitchen counter...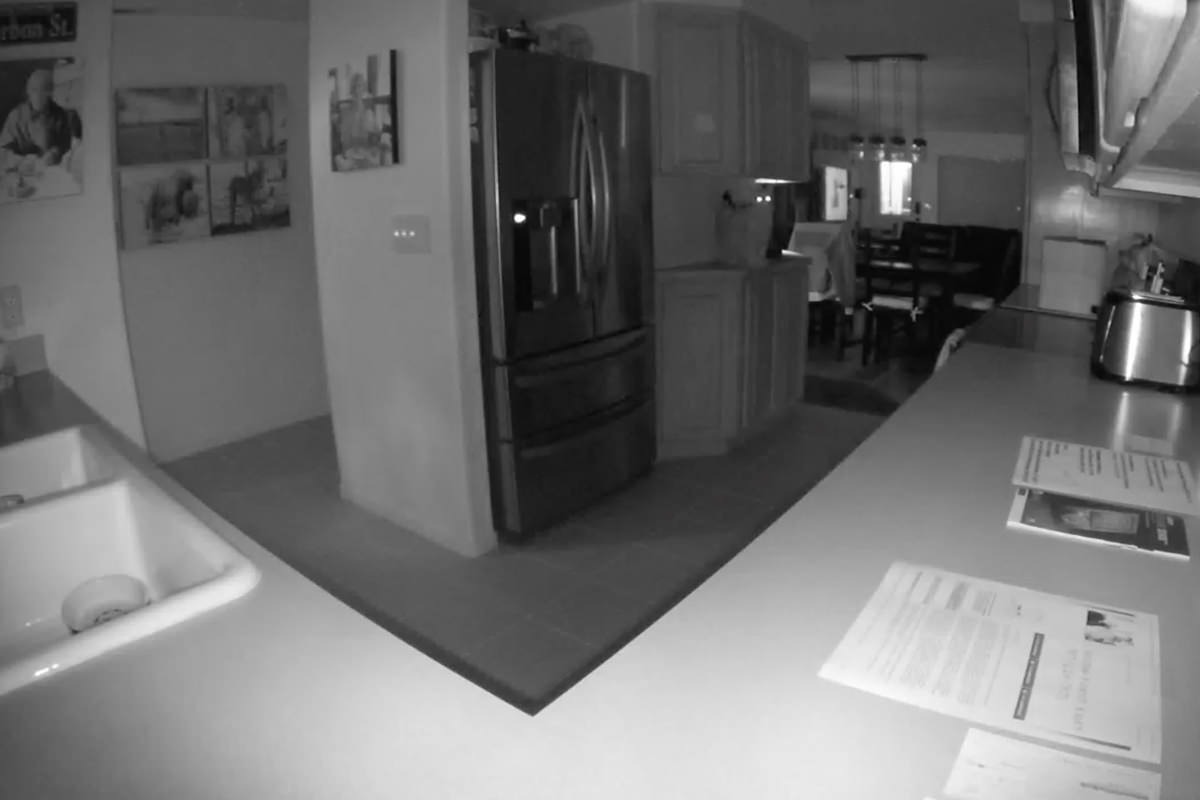 Jake hopped up a minute later...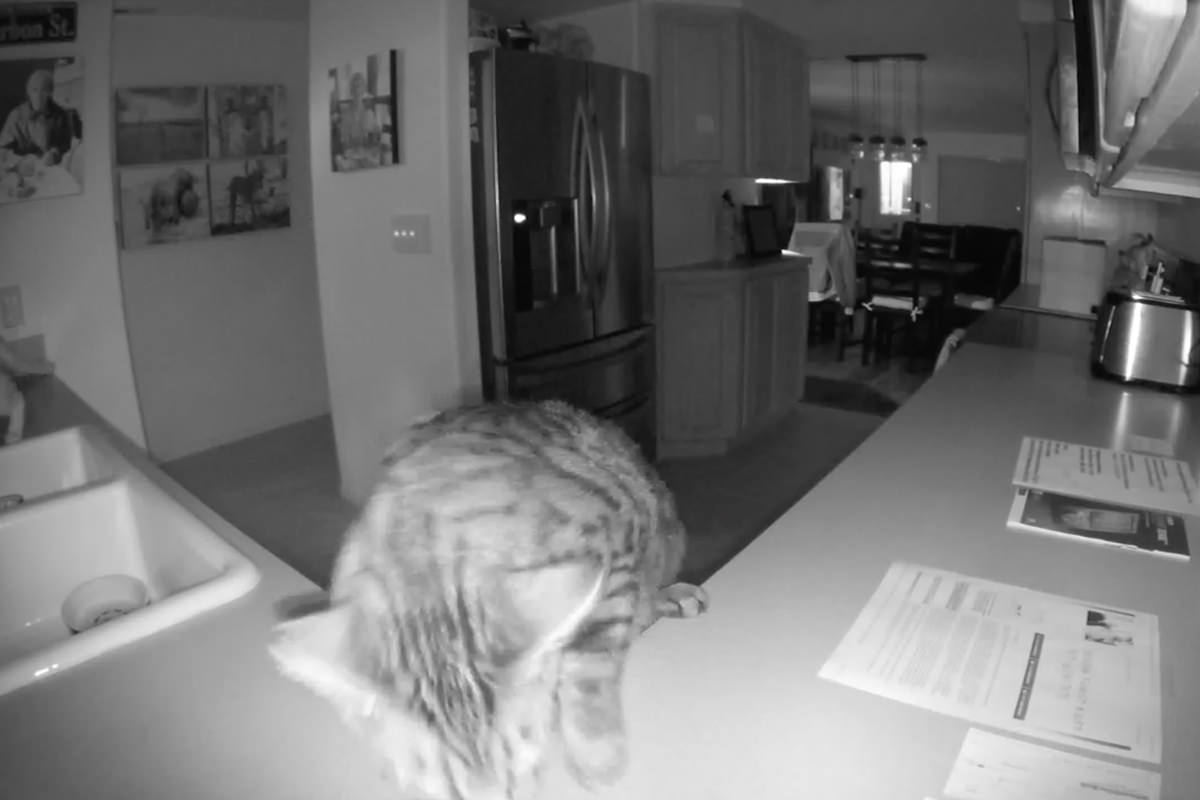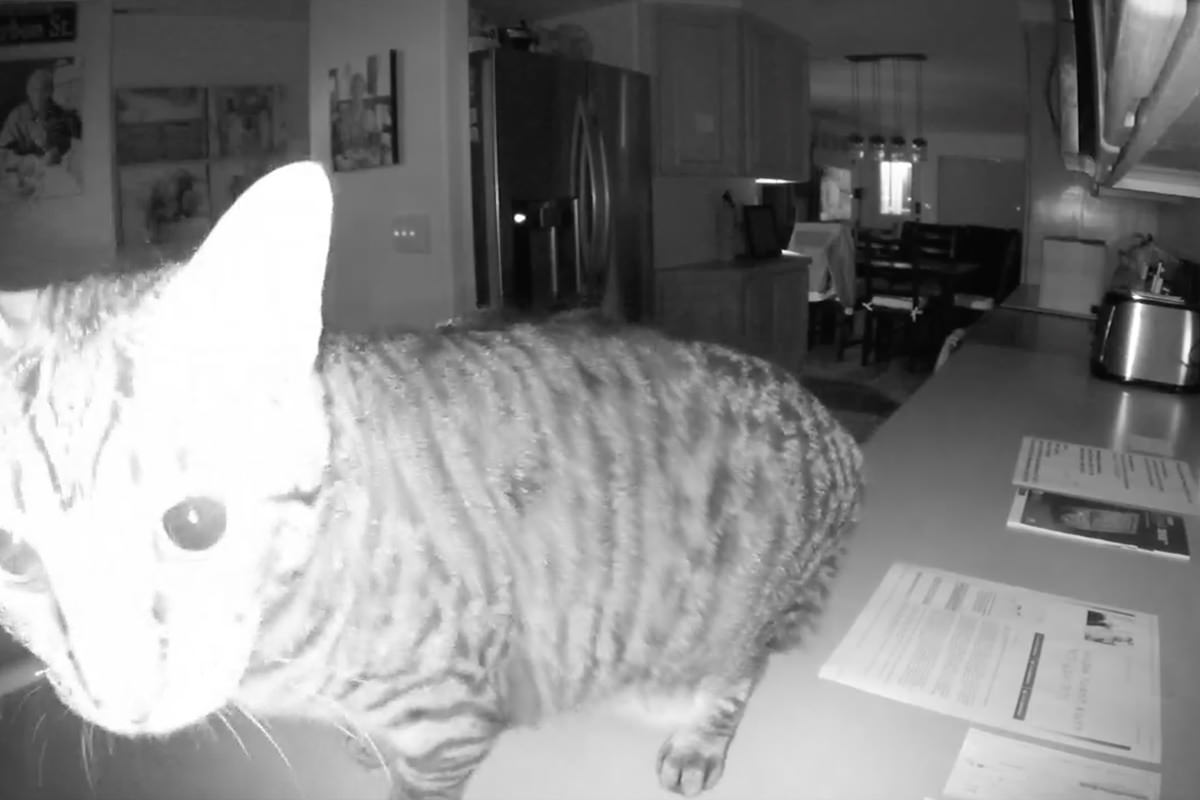 I thought Jenny had hopped back down, but nope... she was over digging in the sink...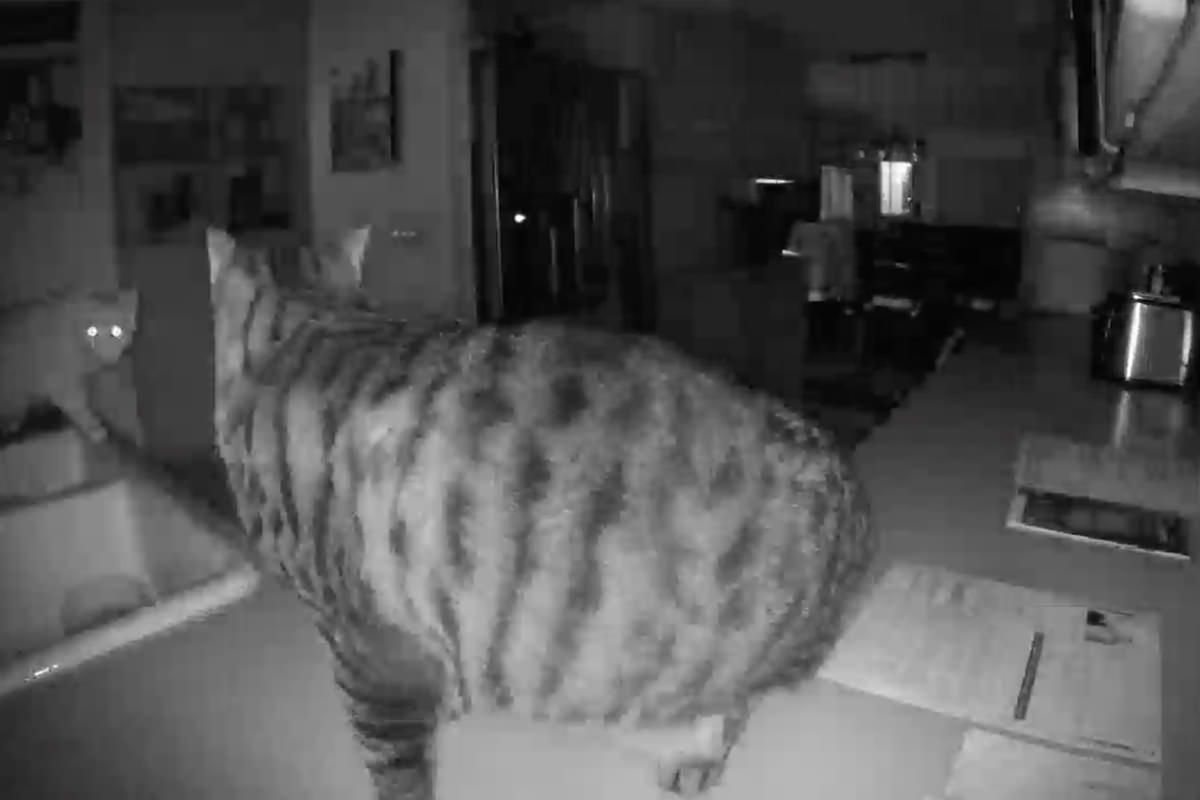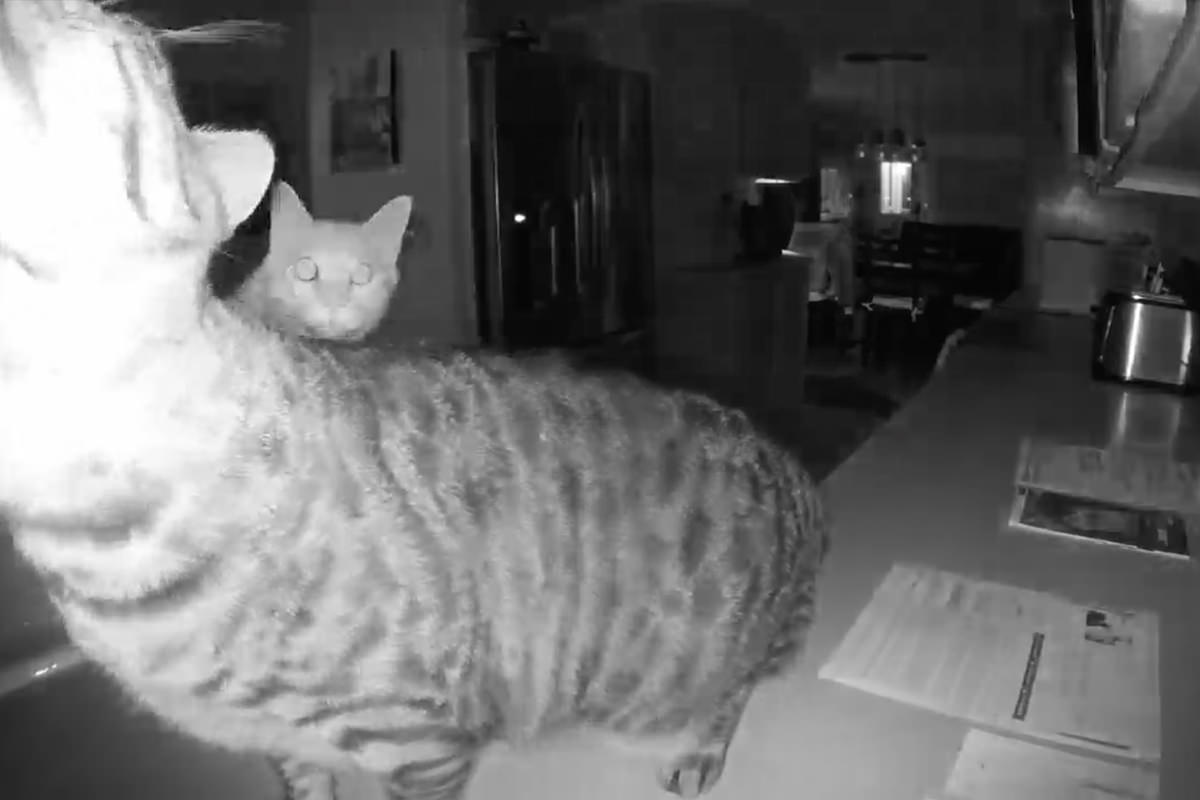 Eventually I started talking to them from the speaker on the security camera, which was all kinds of confusing for them as they started looking around trying to find out where I was. Jake seemed to think I was on the ceiling, but Jenny seemed to figure it out eventually...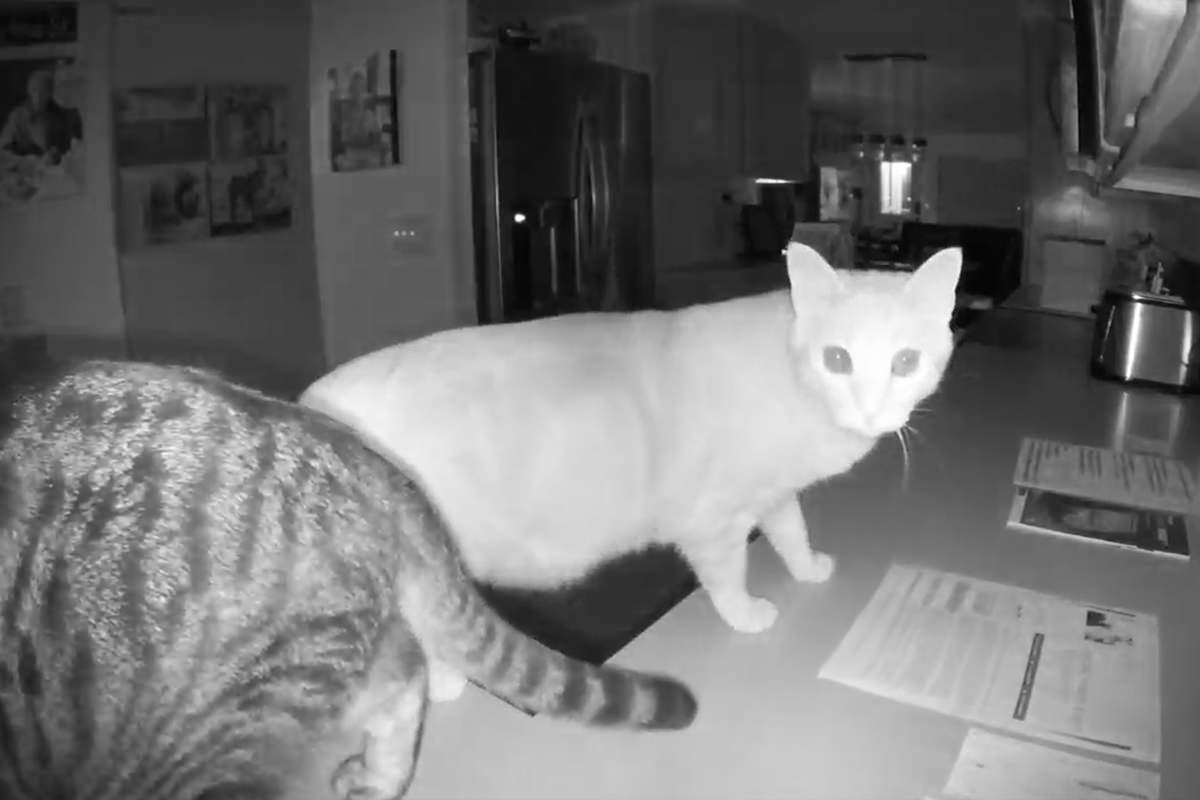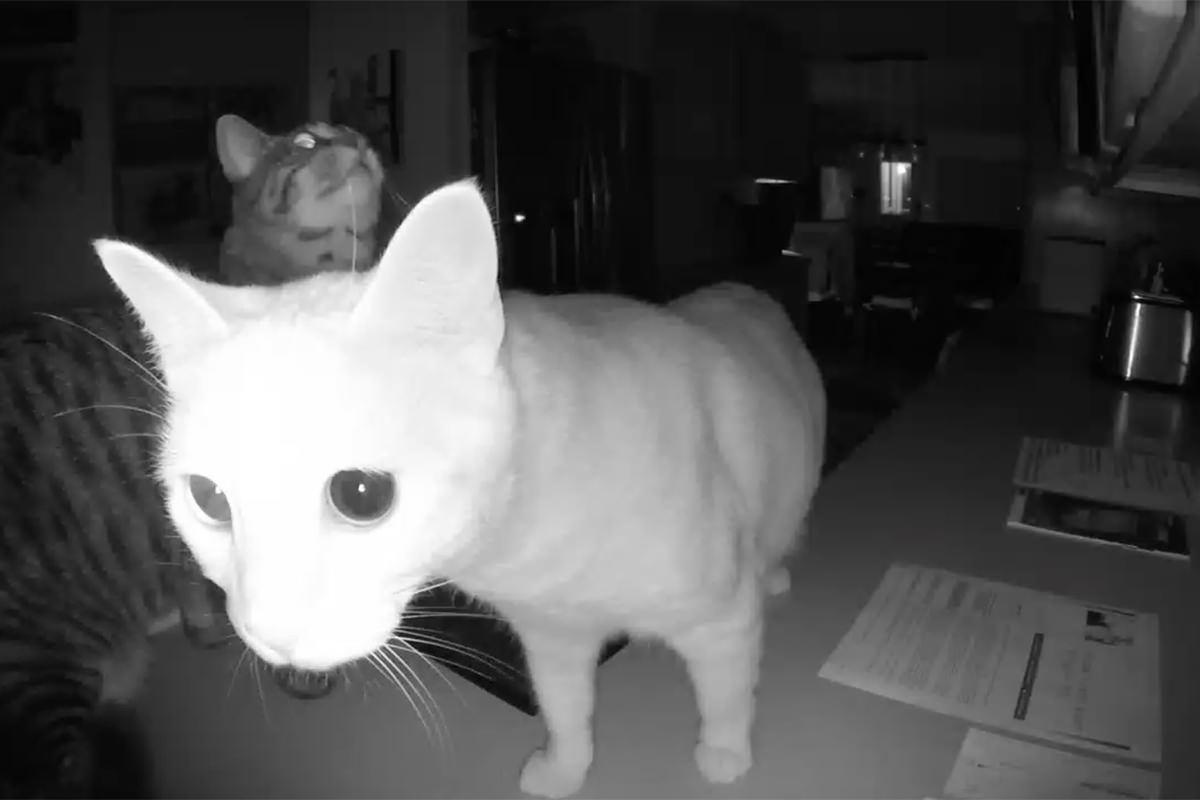 What's weird is that A) The motion alarm did go off, which usually scares them away, so apparently they are immune to that now, and B) My yelling at them to get off the counters through the camera speaker was equally ineffective. Eventually I rang the doorbell, which finally did the trick.
Guess I need to figure out how to tie the motion detectors to the doorbell when I get home.
It also looks like I will be disinfecting my kitchen counters when I get home.
Blargh.

I was pretty much Disney-ed out half-way through yesterday. But the hotel kicks me out in an hour... my ride to the airport isn't here until 3:30... and I have another day left on my park ticket... so I guess I'm going back to Disneyland again today. Oh well. There are certainly worse ways to spend an afternoon.
Still... vacation goals achieved...
Ate lunch at Earl of Sandwich daily. ✓
Ate a Dole Whip Float from the Tiki Juice Bar in Adventureland. ✓
Ate "The Grey Stuff" and Gaston's Brew at The Red Rose Taverne restaurant. ✓
Ate beignets at Jazz Kitchen Express in Downtown Disney. ✓
Didn't kill anybody. ✓
Rode all my favorite attractions (except Pirates and Tower, which were closed). ✓
Until next time, Disneyland.
Posted on March 2nd, 2017

My favorite theme park attraction of all time was Universal Studio's Back to the Future: The Ride. It was absolutely flawless in execution and felt like an essential part of the Back to the Future movie trilogy in a way that other movie tie-ins can only dream of. Alas, it was gutted so as to install a ride for The Simpsons which is only half as good... so if you never got to ride it, you're out of luck.
Many people find it surprising that my favorite didn't come out of Disney, since they are the company that popularized the entire concept of a theme park. No, they weren't first, but they came along and did it bigger and better than anybody else ever had... partly in thanks to having such an established brand with a multitude of characters and properties that translated perfectly into attractions.
That being said, I decided to rank my favorites from both Disneyland and Walt Disney World into a single list. Partly because I want to make sure I don't miss an attraction for my time here... but mostly because I don't feel like working tonight...
Time will tell if this list changes after the new Pandora: The World of AVATAR and Star Wars Land projects debut. I would certainly hope so.
Posted on December 28th, 2016

And it's time once again for my annual wrap-up of movies that came out this year.
Or, more accurately, a "wrap-up of movies I saw that came out this year." As always, there's a bunch of movies I never saw that would have probably ended up on my list (we'll get to that later). And here we go...

THE TWELVE BEST...
These are my favorite movies from this year that I actually saw.
#1 Captain America: Civil War
Shocker. My love of comic books was rewarded in two fantastic Marvel films, and it was really tough to decide what should come out on top. I ultimately went with Cap because the movie was just so damn good at giving comic book fans everything they dream about in a film. Hero angst? Check. Cap and Iron Man draw the line over a super-hero registration act that leads them inexorably to conflict. Fresh characters? Check. Not only do we get the debut of one of the most awesome characters in the Marvel Universe, Black Panther, we also get a brand new Spider-Man that's more faithful to the concept than anything that's come before. Super-battles? Check. In what has to be the single best super-hero fight ever committed to film, Team Cap vs. Team Iron Man was flawlessly realized. Having a massive surprise come from Ant-Man in the middle of it all was just icing on the best-tasting cake ever. Granted, the plot was a bit flimsy and filled with coincidence and inexplicable story beats... but I just didn't care. I watched Civil War three times in the theater and another half-dozen on video. I cannot fathom how The Russo Brothers could possibly top this in Avengers: Infinity War, but I'm dying to find out. You can read my review of this epic blockbuster right here.
#2 Doctor Strange
After Black Panther, my favorite Marvel comic book hero is probably Doctor Strange. This year I got to see them both on the big screen, and I was not disappointed. This film is an origin story, yes, but it's not like it could have been anything else. Unlike Batman or Spider-Man whose origin has been told to death, Strange is a bit unknown to the general movie-going public. Fortunately, what we get is anything but Yet Another Formulaic Pile of Origin Garbage. Stephen Strange is compelling in all the right ways before he becomes Master of the Mystic Arts. And he's even more compelling before he becomes Sorcerer Supreme. On top of that, we get some mind-boggling special effects that makes Doctor Strange fresh, exciting, and new compared to all the Marvel films that came before it. Yes, I too am a bit flustered by the whitewashing of The Ancient One as a Celtic white woman (deftly played by Tilda Swinton), but I get why. Yes, I am disappointed that the location was shifted from Tibet, but I get why. Avoiding stereotypes and having to be mindful of global box office means that there will be compromises when putting a ton of money into a film of this magnitude. That Marvel did so without completely destroying it is admirable in the face of realities they had to confront. Much of what they got right has to do with the flawless casting of Benedict Cumberbatch as Strange... whom Marvel wisely postponed filming to get. He had absolutely everything the character needed to succeed in a movie, and Cumberbatch held nothing back. Doctor Strange will be appearing in future Marvel films (including Infinity War) but I want a new solo flick that's unfettered from an origin story. Badly. Here's my review of Doctor Strange.
#3 Deadpool
Given how utterly shitty 20th Century Fox treated the character of Deadpool in the utterly shitty X-Men Origins: Wolverine, I fully admit that I was skeptical when it was announced a new solo movie was on the way. But when Ryan Reynolds (who was "Deadpool in Origins as well) promised that we'd be seeing something faithful to the outrageous character we knew from the comics, I became hopeful. It was a hope that paid off in spades. This is the fast-talking "merc with a mouth" that every Deadpool fan who suffered though Origins deserved. Mercenary Wade Wilson is diagnosed with inoperable, terminal cancer after finally finding the love of his life... and agrees to experiments meant to unleash super-powered abilities that will cure him. Unfortunately, things go terribly wrong, and the rest of the movie is Wilson trying to get a cure for the cure while also exacting revenge on the guy responsible. Absolute hilarity and fantastic action sequences ensue. Even in its quiet moments, Deadpool delivers... featuring perfect secondary characters played by TJ Miller and Leslie Uggams(!!!). Rated R for a reason... many reasons... but totally worth your time.
#4 Rogue One: A Star Wars Story
It's a Star Wars film. It has mind-boggling special effects. It has a return of characters you love and a new character that's destined to be a classic (new favorite droid K-2SO!). It features a plot that doesn't suck. The story is rough... even boring in parts... but serviceable. And, yes, I agree it's the best Star Wars movie since The Empire Strikes Back. So if you're a Star Wars fan, it's a foregone conclusion this movie is going to be on your "Best of 2016" list. That's why it's on mine.
#5 Kubo and the Two Strings
My love of animation embraces all its forms... hand-drawn... computer generated... cut-out... whatever. But the form that consistently blows me away is stop-motion animation, and Kubo is probably the most mind-bogglingly beautiful expression of it yet. Every frame is gorgeously orchestrated for scenes that are a dream to watch. It's just a bonus that there's a really great story behind it all. I will do you the favor of not disclosing anything about the plot. It's enough to know that this film is sheer magic and a must-see. Preferably on the big-screen (and, believe it or not, in 3D)... but if you missed it, home video will have to suffice.
#6 Star Trek Beyond
Rebooting the Star Trek franchise has been met with mixed feelings, and true fans either seem to love it or hate it. I absolutely love it. From the casting, which is a note-perfect nod to the original cast, to the beautiful special-effects, the films soar even when there is a misstep (of which Star Trek Into Darkness probably qualifies). Star Trek Beyond is yet another entertaining entry in the series, this time with an over-abundance of action filling the screen. But there's some real character moments scattered in there too, which is what makes the film work so well. Sadly, Anton Yelchin passed away after filming, which means this is the last time we'll see his perfect take on Pavel Chekov.
#7 Moana
Walt Disney Pictures has been on a roll lately, and Moana is probably my favorite film of theirs since Lilo and Stitch (though Big Hero Six deserves a mention here). The film tells the story of a young woman, Moana, who sets sail on a mission to save her people. Along the way she meets the demigod Maui (Dwayne Johnson) and a fantastical adventure follows. The action is bold, beautiful, and larger than life... all animated to stunning effect with lush, sweeping visuals... but it's so much more than just a pretty flick. It's got great music, plenty of magic, and characters with actual depth. If you love computer animation, you owe it to yourself to see Moana on the big screen.
#8 Finding Dory
Revisiting the Finding Nemo universe was a risky gambit. But Pixar completely nailed it. I hesitate to say that it's a better film than the original... but Dory is a jaw-dropping, beautiful, overall joyful effort that will not disappoint Nemo fans. Having Sigourney Weaver drop in (as herself!) on the flawless voice cast was just perfection on perfection. If you love Pixar animation, here's your film.
#9 The Red Turtle (La Tortue Rouge)
Gorgeous animation from Studio Ghibli that's a warm blanket in visual form. The story is a gripping tale of survival that unfolds like a classic fairytale... but ends up being so much more. I truly hope that this overlooked gem makes a return to theaters after the festival circuit so people can see it as it was meant to be seen.
#10 The Nice Guys
Where in the hell did this come from? I completely missed it in the theater, but caught it on a boring cross-country flight. Boy was I glad to have discovered it, because The Nice Guys everything you love in a Shane Black film. And then some. Russell Crowe hasn't been this compelling since Gladiator. Ryan Gosling hasn't been this compelling ever. If you want to see a smart, funny, sophisticated 70's buddy flick that won't bore you (except when it does)... here you go.
#11 Arrival
Color me shocked. Smart, cerebral, original sci-fi getting green-lit for a feature film? Whatever is Hollywood coming to? Oddly enough, I had read the original short fiction on which this film is based, Story of Your Life, and was not expecting that it would translate well to film given the time-bending aspects of the story. I was pleasantly surprised that they managed to get it right. Or... as close to "right" as they probably could. When aliens land on earth, world governments race to communicate with them so that they can unlock their secrets before other governments get a technological edge. The movie focuses on the American team (of course) lead by genius linguist Louise Banks (played by Amy Adams) and fellow scientist Ian Donnelly (played by Jeremy Renner). As Banks gets closer and closer to deciphering the language of the alien visitors, she finds that her perception of time is being altered. An ambitious adventure in cinema follows that's a true treat for sci-fi fans.
#12 The Jungle Book.
If you had told me that a live-action remake of Disney classic The Jungle Book would hit my "best of..." list for 2016, I would have laughed in your face. But here we are. Filled with incredible CG visuals that bring the story to life like never before... and featuring one of the best "young actors" ever to appear in a movie, The Jungle Book is incomprehensibly great. And the voice cast! Bill Murray as Baloo? Ben Kingsley as Bagheera? Idris Elba as Shere Khan? It never ends. I cannot fathom how Jon Favreau managed to pull off such a feat, but I was completely engrossed in the film and truly didn't want it to end. If you skipped it because you were skeptical, now you know.

HONORABLE MENTIONS...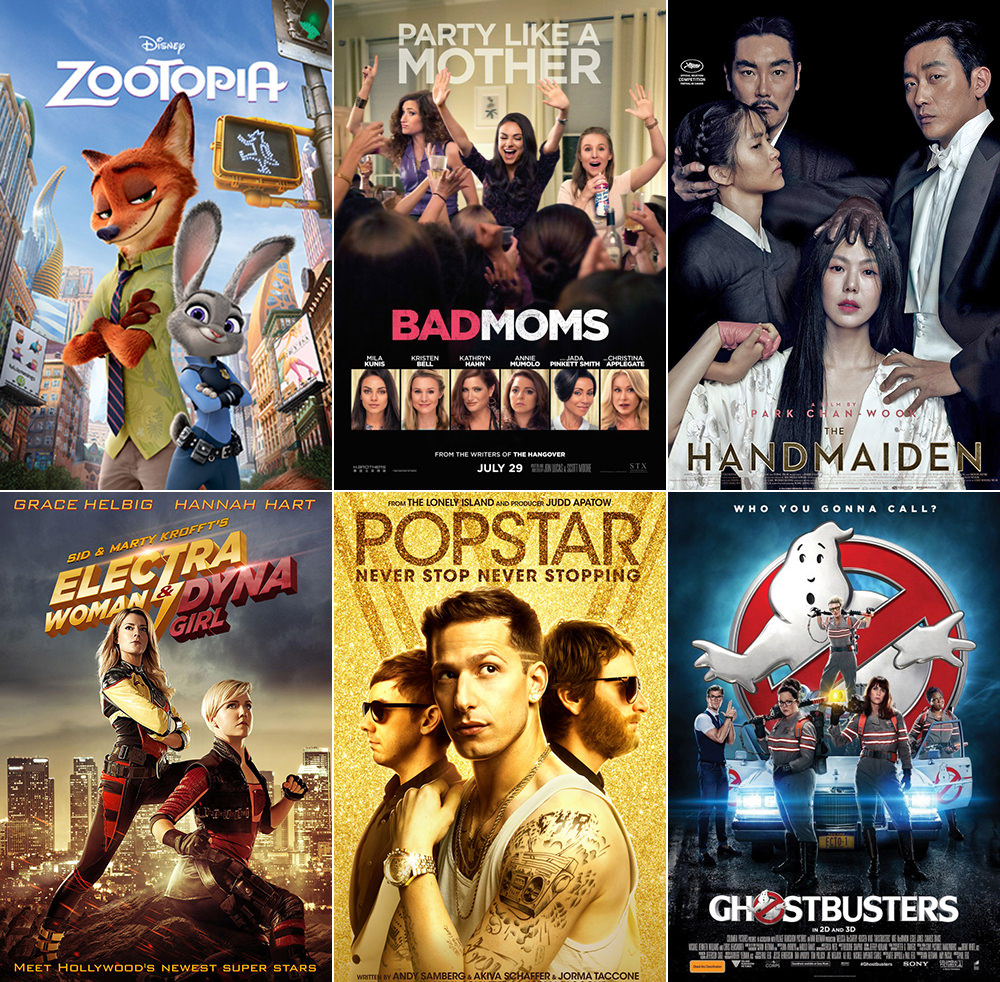 Zootopia
This is the film that ranked very high on a lot of critic's lists... and it's easy to see why. The characters are beautifully crafted and the world they inhabit feels fully realized. Everything is wonderfully animated and the voice cast is flawless. As if that wasn't enough greatness, it has a real story filled with humor and heart that's brilliantly told. I loved the film... a lot... but it just didn't have that sweeping, all-encompassing wonder that I got while watching Finding Dory and Moana. I struggled as to whether Zootopia or Jungle Book belongs in the final spot of my list, but settled on the latter because it was such a big surprise.
Bad Moms
I was a bit let down by the ending, but everything up to that is funny enough that I didn't care. Surprisingly original with perfect casting.
The Handmaiden
This is why people go to the movies... a beautiful story that looks stunning and has a dynamite cast. Yes, there were problems along the way and the ending could have used some work, but this sexy, violent gem gets so much right that it's easy to overlook its flaws.
Electra Woman and Dyna Girl
YES, I LIKED IT! A remake of the Sid and Marty Krofft live-action Batman spoof featuring YouTube stars Grace Helbig and Hannah Hart. It's a funny distraction that respects the source material, but is fresh and new at the same time.
Popstar: Never Stop Stopping
A complete take-down of the Justin Bieber stereotype that somehow manages to be funny and entertaining. There were some parts that didn't work which kept it from being a new This is Spinal Tap, but is overall a terrific effort.
Ghostbusters
Was it as good as the original? Oh hell no. It's not even as good as Ghostbusters 2. But it had some funny moments and excellent special effects to make that made it watchable.

DIDN'T SEE, MIGHT HAVE MADE MY LIST...

Jackie
Natalie Portman as Jackie Kennedy? Sign me up.
Sausage Party
Naughty and animated. A great combination I never got around to seeing.
Moonlight
This is the movie that has been most-recommended to me this year. Can't wait to finally see it.
The Edge of Seventeen
Completely off my radar, but I've heard amazing things.
Passengers
A film starring Chris Pratt and Jennifer Lawrence? Can't help but be worth watching.
Everybody Wants Some
Richard Linklater's follow-up to Boyhood. Who wouldn't want to see that?

NOT AS BAD AS THEY SAY...
Gods of Egypt
Yes, they whitewashed the cast. Yes, the special effects were all over the place. Yes, the story was a mess. But at least they tried to do something different. And for that alone, I was entertained. There were some big ideas here that were actually kind of cool and fun to watch... things just didn't come together in a way to make this compelling cinema.

THE WORST...
Batman vs. Superman: Dawn of Justice
I don't even know where to start. This shitty, blasphemous, idiotic take on two of the most beloved super-heroes in the world was a continuation of Zack Snyder's horrendous Man of Steel. But since it fucked up Batman, it was probably an even worse movie. And while SvB's greatest sin is that it is just no fun (I was bored to tears despite the action beats, which were confusing and senseless)... we did get Wonder Woman on the big screen at last. Gal Godot was perfectly cast and they gave her a look that was amazing. Sadly, she wasn't enough to save this awful, awful mess.
Suicide Squad
This unbelievably tedious movie featured a forgettable assortment of villains forced to be heroes that fight an endless horde of magical zombies. In-between all that is some of the most boring, shitty dialogue you'll find. And, as if that weren't bad enough, Jared Leto's "Joker" was a fucking embarrassment.
Independence Day: Resurgence
Clearly a case of "We're making a sequel to a popular movie, but we haven't a fucking clue what to do, so... SPECIAL EFFECTS IT!" This would probably be the stupidest, blandest, dullest, most unbelievable shitty film of any year... lucky for Roland Emmerich, Batman vs. Superman and Suicide Squad stepped in to take the punches. I'd discuss the story, but not one bit of it was worth remembering, so I can't.
Posted on August 17th, 2015

Originally I had two business meet-ups and a dinner meeting peppered throughout my trip to Los Angeles... plus a birthday party (happy 95th, grandpa!). After landing I ended up with another meeting, which meant I'd be working every day I'm in the city. This was a major bummer, so I arranged to push all my work to Monday (today!) so I could enjoy time with family and friends over the weekend.
Which was a fantastic idea.
Until I woke up this morning and realized I would be dragging my ass from one end of L.A. to the other. Which pretty much means an entire day stuck in traffic between meetings.
But there were bright spots along the way.
I had time to stop at Pink's for a Patt Morrison Baja Vegan Dog, one of my favorite things...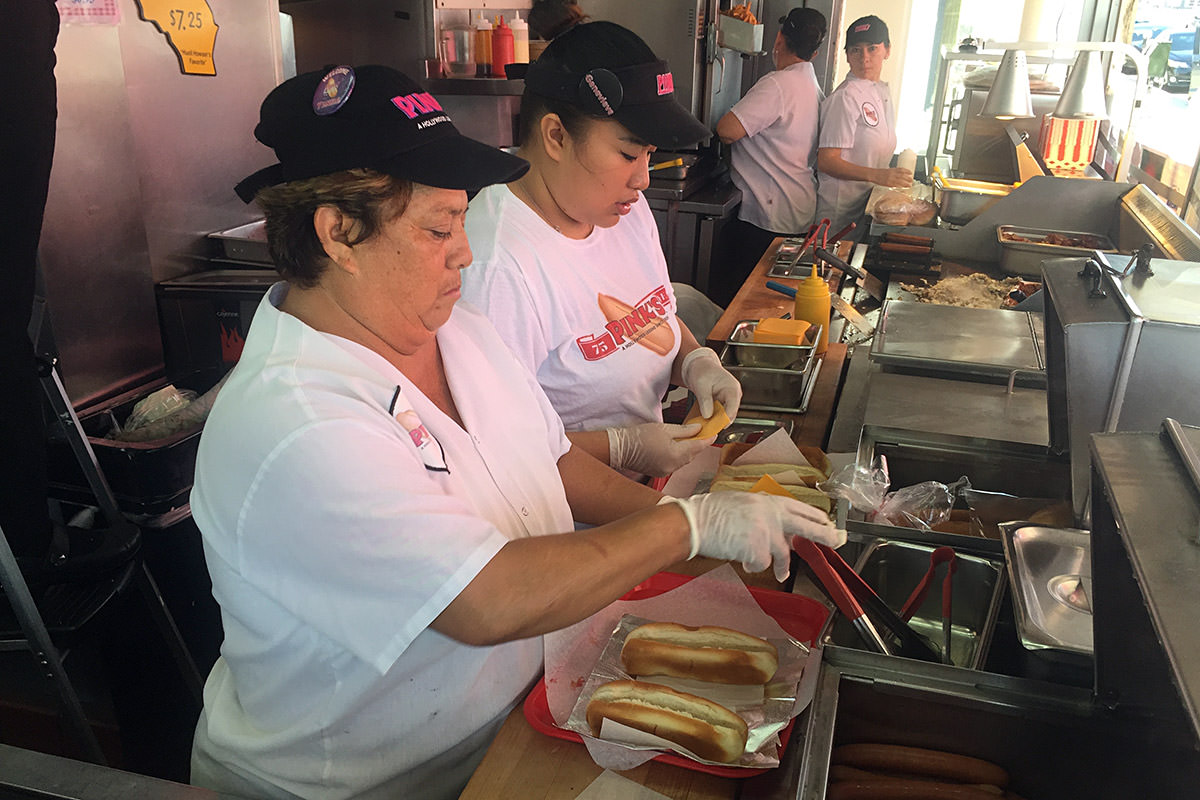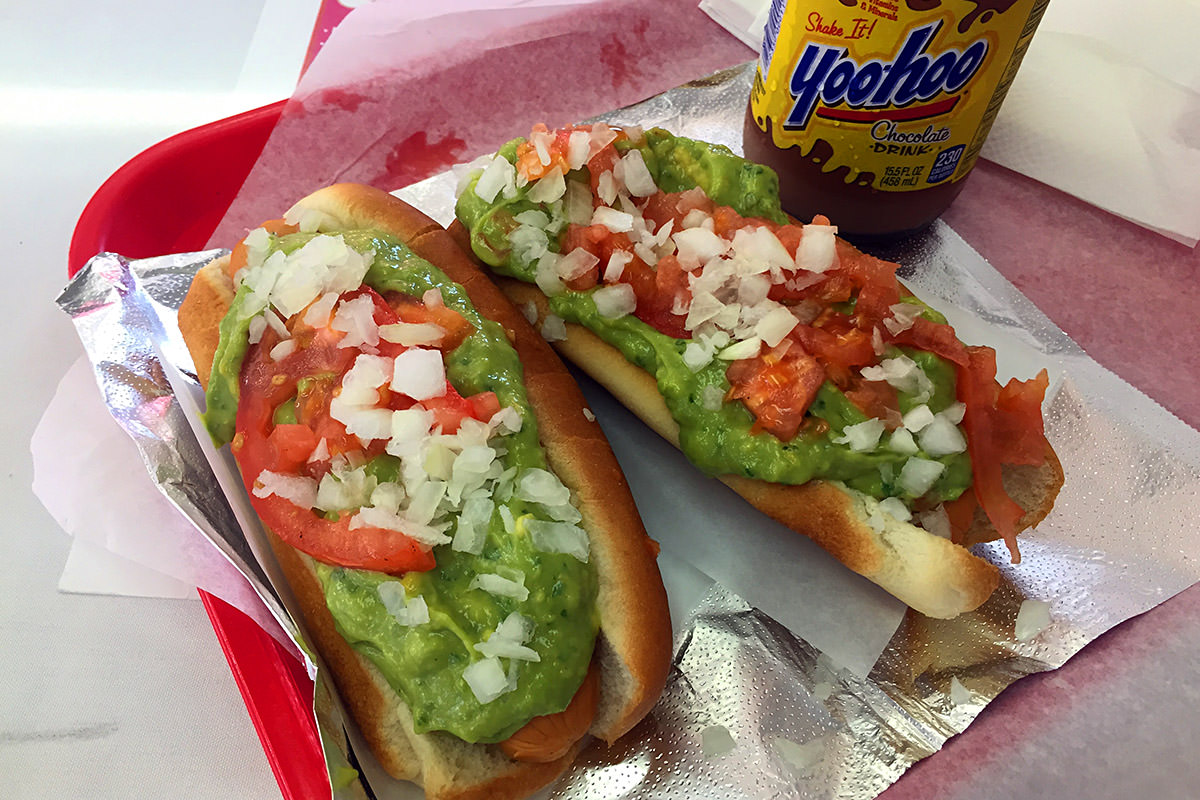 Amazing.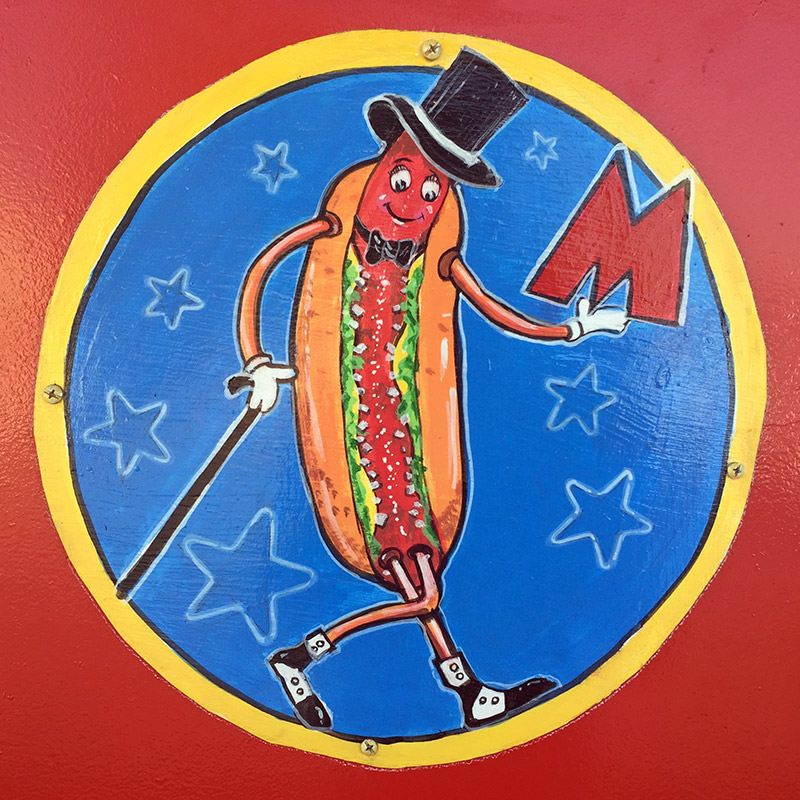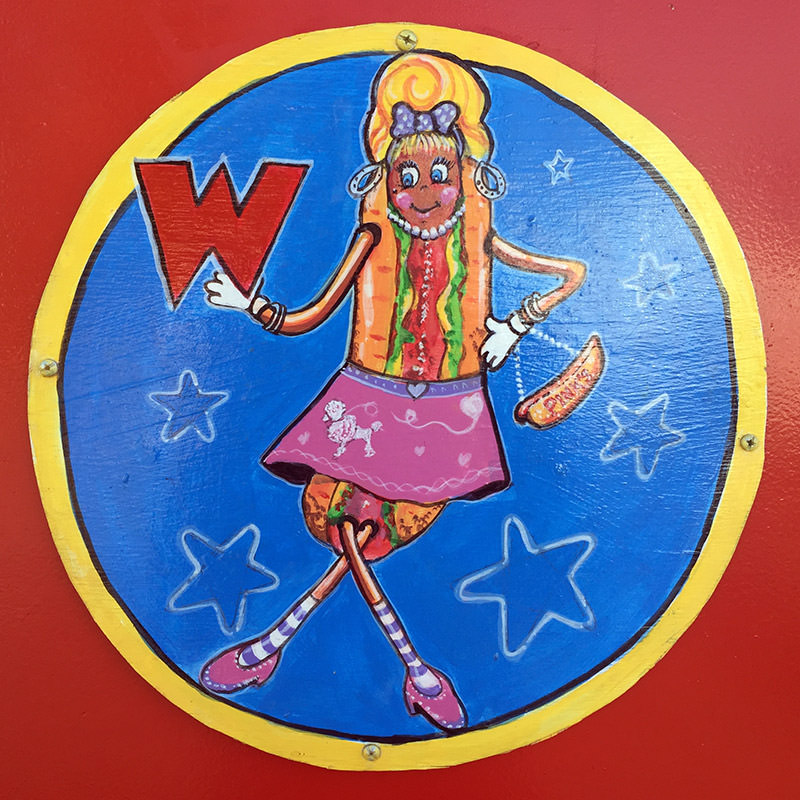 After an unexpected side-quest back to my hotel, I was off to Anaheim for one last meeting and a business dinner.
It was at my final meeting that something amazing happened.
We were discussing our impending dinner when somebody said "I'm surprised we're not going to eat at Earl of Sandwich since Dave's in town." I laughed and then broke the news that I don't eat at Earl of Sandwich anymore because they discontinued their veggie sandwich. A colleague then piped up with "Really? I just had one at Disneyland a couple weeks ago."
Uhhhh... come again?
So I look at their online menu and, sure enough, their veggie sandwich is listed. Thinking it surely has to be an outdated menu, I am nevertheless intrigued. This is my favorite sandwich on earth. For years I obsessed over Earl or Sandwich and moved heaven and earth to eat at their restaurants.
With no choice in the matter, I hop in my car and rush to Downtown Disney so I can check it out. As I walk up to the restaurant, I'm starting to hyperventilate...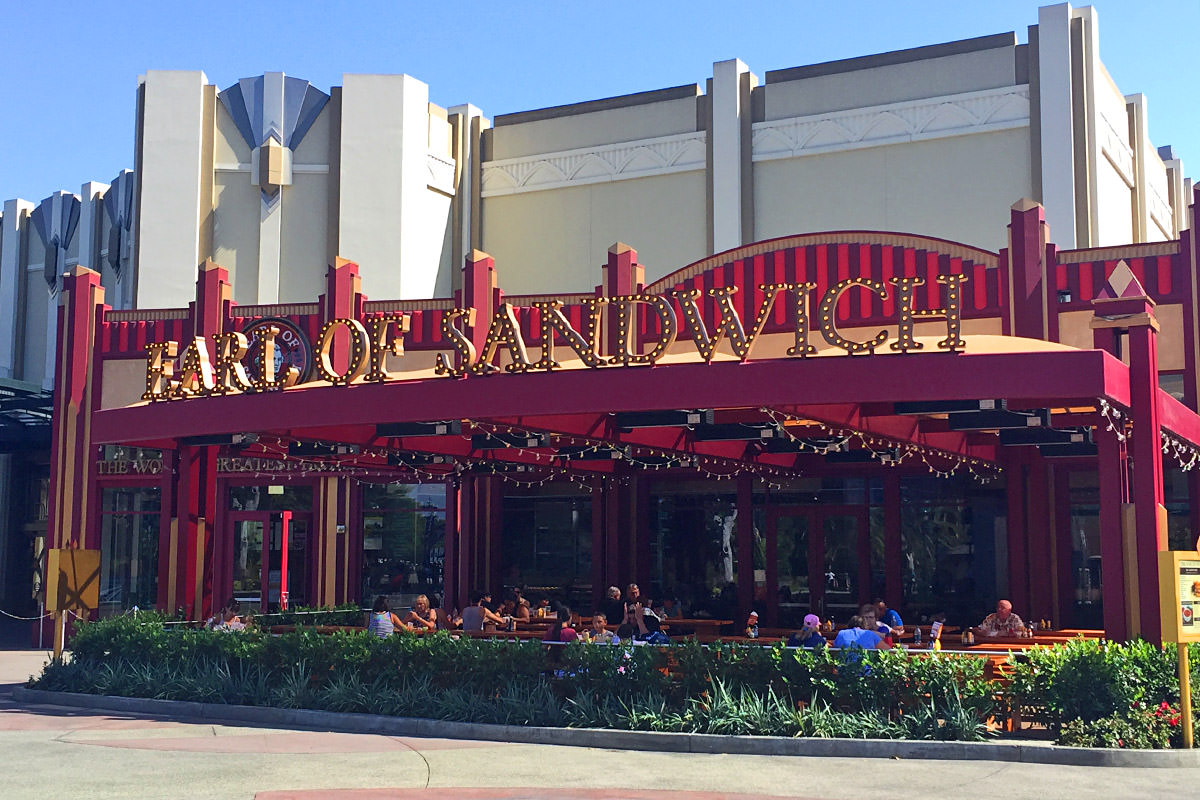 Sure enough, their veggie sandwich IS back...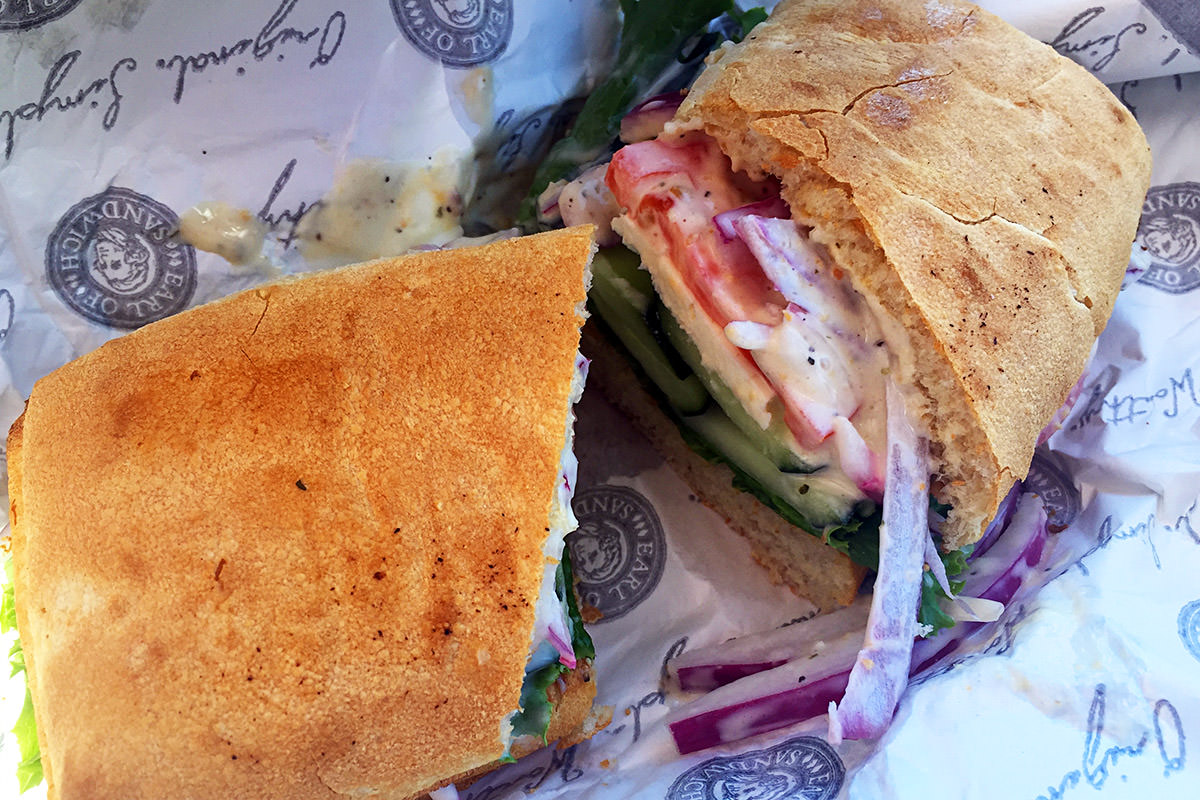 And it is just a glorious as it ever was.
So, even though it spoiled my dinner, a tremendous THANK YOU to Earl of Sandwich for bringing back one of my most favorite things to eat. Amazing. Delicious.
Since I was at Downtown Disney, I decided to use a Disney Dream Dollars gift card that's about to expire. I ended up getting a Disney 60th Anniversary pin and lithograph, which is pretty cool. Also cool? Now that Disney owns Star Wars, they are doing a super-sweet job of integrating their new property into the Disney parks...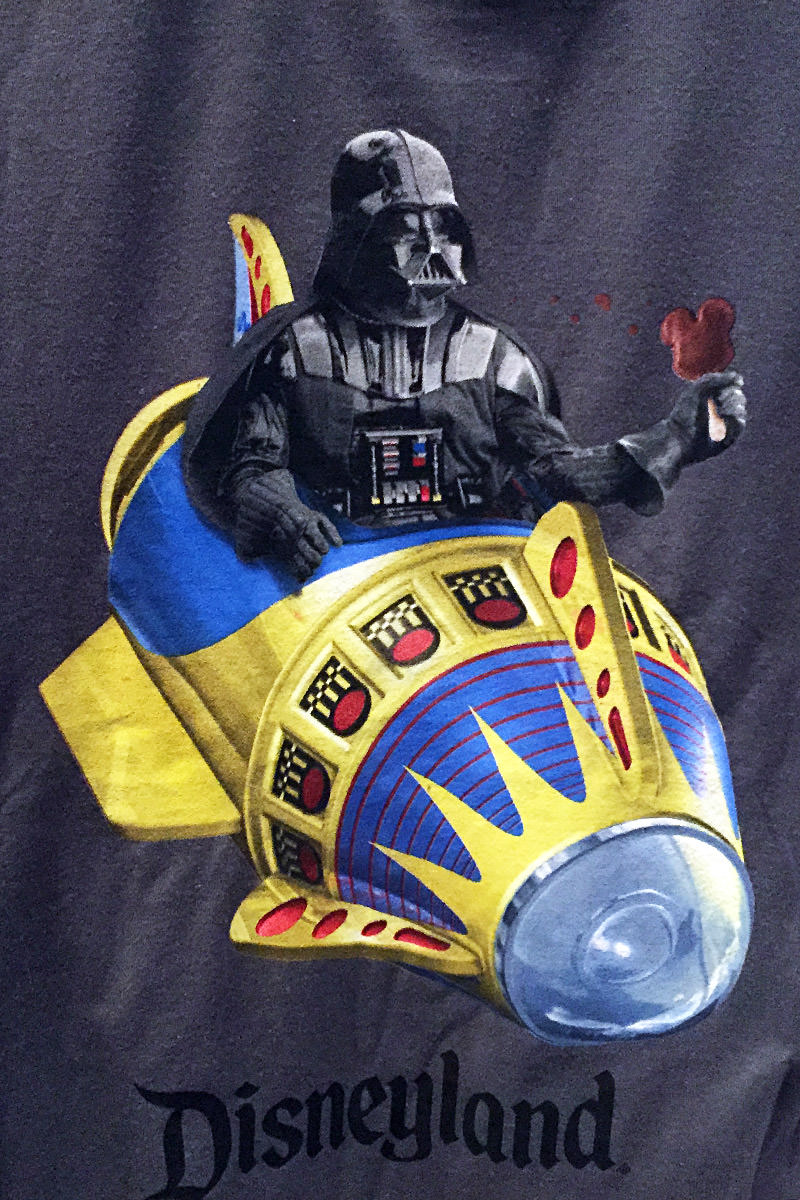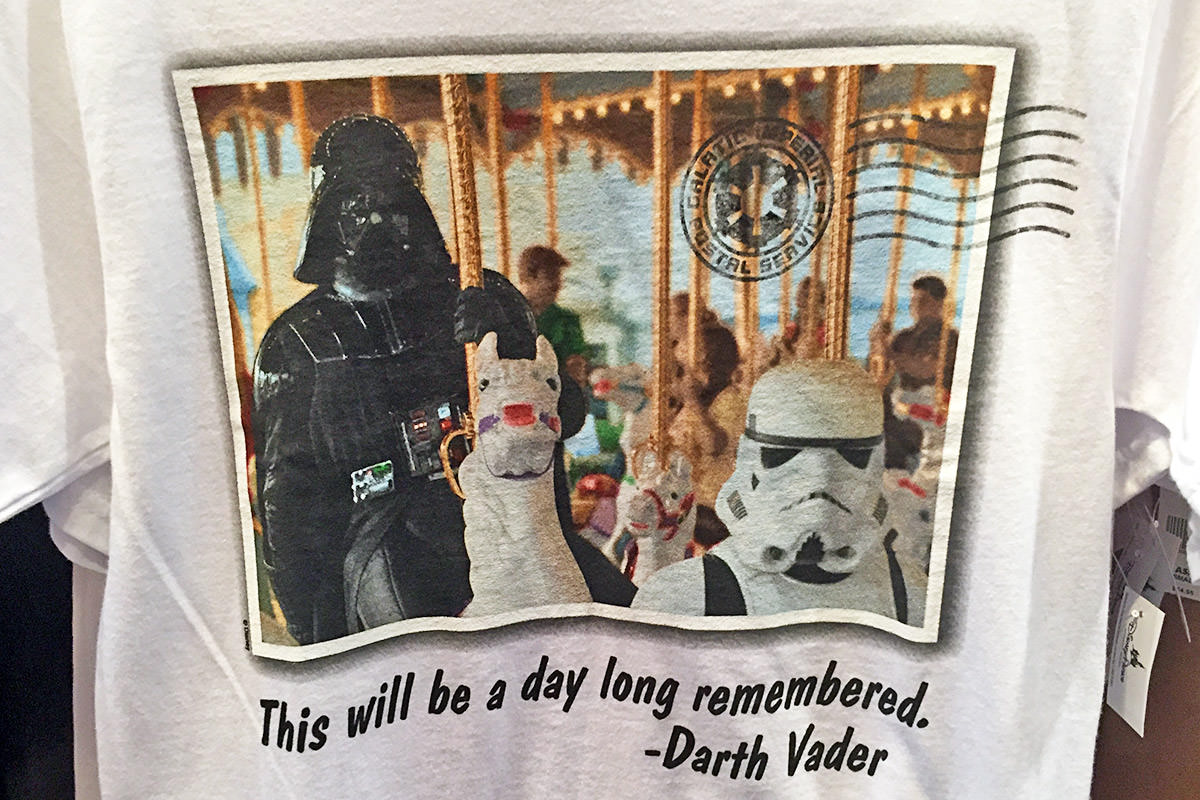 BWAH HA HA HA!
The dinner meeting was short & sweet, and I was on my way back to my hotel at 7:00... arriving by 7:30... in bed at 8:00. Not a bad end to a pretty great day... especially food-wise.