Posted on October 1st, 2023

Don't mind the mess... because an all new Bullet Sunday starts... now...

• Forty-Nine! Even if you don't care about baseball, this short video will tell you why Tim Wakefield's passing is such a blow to Red Sox Nation. He was an absolute inspiration, on and off the field, and I loved watching the guy play...
And this video goes into a little more depth on his remarkable career and that incredible knuckleball...
Rest in peace, sir.

• Swiftly! The ongoing saga of the (possible!) romance between Taylor Swift and Travis Kelce is something to behold. First he tells the world that he was bummed she didn't want to talk to him after her show that he went to because she's saving her voice. Apparently he had a friendship bracelet he wanted to give her with his number on it (friendship bracelets are a very Taylor Swift thing now, apparently). This was discussed on the podcast he has with his brother Jason. Which I've queued up here:
Adorable. But, I mean, it's Taylor Swift. There's no man on earth who woldn't want to take a shot. AND THEN... Taylor Swift broke the internet when she showed up at a Chiefs/Bears game... sitting in the Kelce box with Travis's mom!
Suddenly Kelce jersey's were sold out everywhere as Taylor Swift fans snapped them up at a record pace. But this could have just been a publicity stunt. At least until she showed up at the Jets/Chiefs game (with Sophie Turner, Blake Lively, AND RYAN REYNOLDS...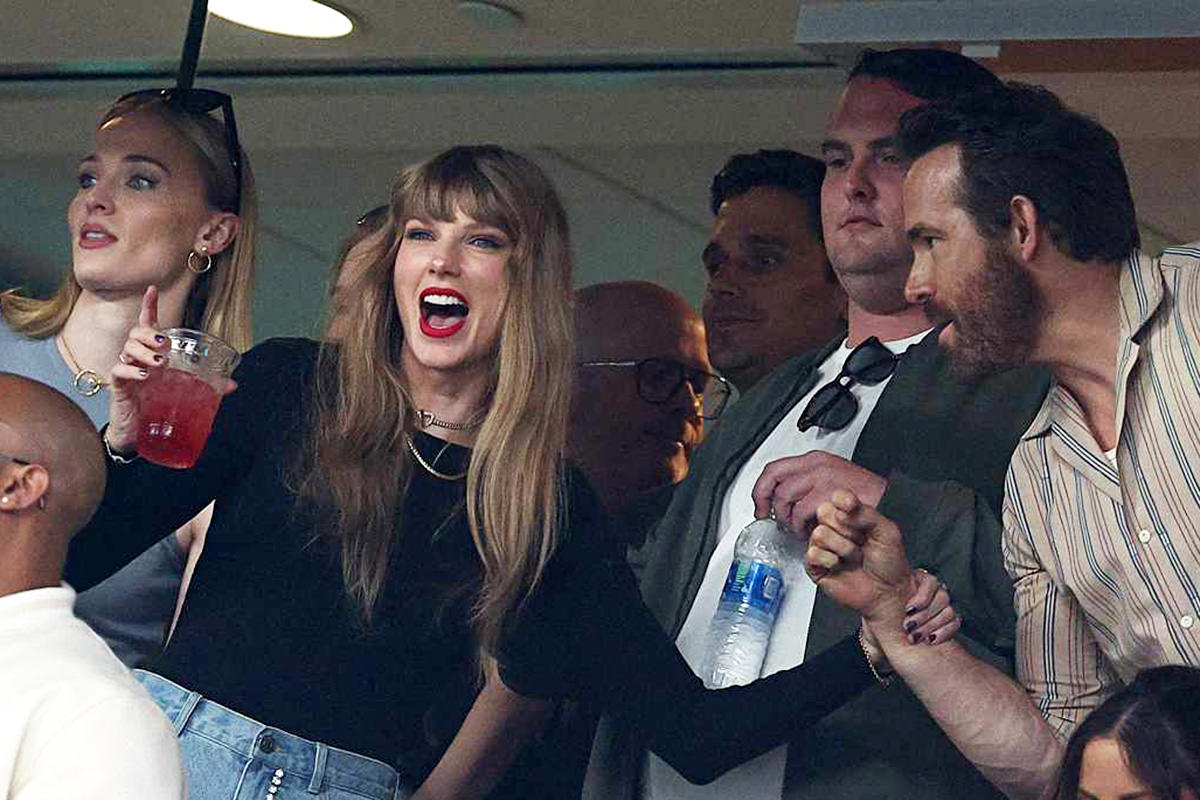 So now? Well... let's just say that this tweet pretty much sums it up...
"British Colonialism" being a not-so-thinly-veiled reference to Taylor's previous brief relationship with The 1975's lead singer Matty Healy.

• If Karma Was My Boyfriend... The entirety of that last bullet was to set up my sharing Young Jeffrey's latest song parody (of Swift's Karma, here's a link in case TikTok is being a dick)...
I don't know how Young Jeffrey pulls this off week after week. But it keeps me tuning in to KQMV Seattle, so whatever keeps him going, it's definitely getting listeners.

• Karma! If you're unfamiliar with the original song being parodied, this one's for you...
The video is a whole other bit of drama because it features the Ice Spice remix instead of the album version. Many speculate this was damage control for an insult that Matty Healy made towards Ice Spice (he being the previous Swift beau, aren't you keeping up?).

• Twilight! Meanwhile... back to the Kelce Brothers... I listen to their podcast every once in a while, and this is the madness that was the last one I heard...
When I looked this up to see if it was on YouTube, I wasn't aware that there was a video of Travis reacting. His pain is palpable. This is how I look when somebody talks to me about Harry Potter.

• Underwater! Map Men has another fascinating video out. This time talking about the internet...
I admit that the line from Texas to Louisiana got me. It doesn't seem like the best route for that would be underwater.

• NEWSFLASH! Conspiracy theories about FEMA's Oct. 4 emergency alert test spread online. Uh huh. I just knew I wouldn't be able to get the latest COVID vaccination in peace. There's always people telling me I'm "going to die." Every. Fucking. Time. And this time it's from a FEMA Alert tone. The same damn test tone that they've been using since the 60's... but now is when they will be activating secret nanobots that have been introduced into vaccines? Jesus. It's a wonder that these conspiracy nut jobs have the brain power to breathe and tie their shoelaces. I mean, come on, I'm on COVID vaccination No. 6 AND STILL HAVEN'T DIED YET. But any day now, I'm sure.

And there's your bullets, my fellow Swifties.
Posted on January 12th, 2023

I have no idea how I haven't caught COVID yet.
Seriously.
Most everybody I know has had it at least once. But here I am... chugging along with negative after negative...
Maybe I'll finally succumb in Wave Seven. Or whatever.
Posted on January 11th, 2023

Three years ago today I received an email about the coronavirus from the charity I worked with (worked, as in past-tense, because it closed down). The previous day the World Health Organization had announced the coronavirus outbreak in China, and our director was wanting to bring it to our attention so that those of us impacted could be made aware (if they weren't already).
All of my travel for the organization was mostly to Washington, California, and Hawaii... with occasional jumps to London, Amsterdam, Orlando, and New Orleans... so it was something I skimmed through, paying only half-attention to it.
On Valentine's Day, 2020 I was told that my international travel had been suspended indefinitely, my travel for March and April was canceled, and I wasn't to schedule anything new through June... when surely everything would be under control.
In no time at all everything escalated and we're still dealing with the shit.
So Happy Coronaversary to me, I guess. I'd express hope for the future, but it's exploding all over again in some places. Though there's always news on the horizon about new efforts to combat it. Apparently scientists have figured out where COVID starts gaining traction in our respiratory system through the nose, so maybe there's a spray coming up which acts like a barrier to stop it there. Then we only have to worry about touching our eyes or whatever, so it's an interesting idea.
Until the next pandemic.
Not that everybody listens to science any more.
Posted on December 1st, 2022

COVID is still here.
Tens of thousands are hospitalized with it and hundreds are still dying every day. Which is a vast improvement over where we were, but it's also frightening that it keeps mutating into new strains that keep this plague ongoing. The good news is that the most recent booster is still effective enough to be worth getting, providing added resistance to these new mutations.
Which brings us to this video.
Horrifying. But also riveting.
This is a good time to plug one of my favorite books of 2022, Immune by Philipp Dettmer If you haven't read it yet, it's worth your valuable time.
Posted on September 23rd, 2022

Remember yesterday when I said that I had a fever for 30 minutes, then a sore arm, then nothing else from my booster's booster to my COVID booster?
If only that had been the end of it.
I woke up freezing three times in the middle of the night last night. It's kinda a haze, but I did remember the first time very well because I was shaking so much that I fell over when I got up to grab another couple of blankets. My teeth were chattering so much that I thought they would break.
I've had "chills" before... but never like this!
I woke up tired from lack of sleep, but otherwise feeling fine. Except the wildfire smoke was heavier than usual today, which was really tough on my allergies. I ended up leaving work at noon because my head hurt so bad that I couldn't concentrate.
And now I'm at home with three air purifiers running while I watch YouTube videos. Like this interesting one from 2019 by one of my favorite content creators... Marques Brownlee...
I actually have a very early model Mac. This makes me want to drag it out and play with it again. It's still remarkable to me.
Posted on September 22nd, 2022

I stayed up last night to see the first episode of Andor on Disney+... and immediately wanted to watch the other two episodes that were unleashed at the same time. Except I was way, way too tired to attempt it thanks to being more than a little wiped out by the booster for my booster's COVID booster. At least I'm guessing that's the reason. I had a fever for about a half-hour, then my arm was sore... and that was the end of it. Which is weird because I was warned that the side-effects would be worse than previous boosters.
But anyway... back to Andor...
I finally got around to watching Episode 02 and 03 today... and they are epic.
Cassian Andor is easily one of my favorite characters in all of Star Wars, and it was a forgone conclusion that I would enjoy this series if they A) They didn't change the character for no reason, B) They had a story to make it worth my time, and C) They spent some money to make it actually feel like Star Wars.
Thankfully, Disney+ put their money and talents where their mouth is and completely crushed it. Especially in that mind-blowing third episode! And enough can't be said about Diego Luna, who is talented to begin with... but really bought his A-game to this series. It's like he knows that his character is beloved and wanted to give it everything he got.
And we have nine more episodes to go.