Posted on November 29th, 2022

The people on this planet are severely lacking perspective.
Which is why I'm glad that NASA posts photos which vividly illustrate that we're all just clinging to a tiny ball in a vast expanse of nothing. And the only reason we're special is because we think we're special. But in the grand scheme of things? That's a tough call...
The entire human race could disappear and the rest of the universe wouldn't even notice. Or care.
Posted on November 25th, 2019

All too often we humans speak of the planet as if humanity is the only thing living on it.
This attitude is mortifying, and a huge part of why animals of all kinds are rapidly losing their homes. Whether it be due to climate change... or deforestation... or pollution... or any number of other human-induced disasters, our fellow creatures are not long for this earth. "Adapt or die" is a phrase that's tossed around like it excuses everything, which is easy to say when you are able to adapt more quickly than all the so-called "lesser species" on this planet. If our home is destroyed, we rent a U-Haul and drive ourselves to someplace else that we've created to be just like the place we've left. Animals (especially those with special diets) don't have this option.
This past week articles were hitting the news saying that koalas have become "functionally extinct" thanks to horrible wildfires raging through Australia.
Subsequent responses are all over the map. Some say that this is a vastly-overblown statement and koalas are nowhere near going extinct. Others say that "functionally extinct" is a statement considering future trends, and is completely accurate. In any event, Forbes changed their headline from "Expert claims Australia's beloved marsupial is 'functionally extinct' after bushfires destroyed 80 per cent of their natural habitat and killed thousands"... to "Fires Have May Have Killed Up To 1,000 Koalas, Fueling Concerns Over The Future Of The Species"... which they claim is to "better reflect the content of the reporting." So make of it what you will. Interesting to note that the original headline is still part of the URL...
https://www.forbes.com/sites/trevornace/2019/11/23/koalas-functionally-extinct-after-australia-bushfires-destroy-80-of-their-habitat/
As I am neither an expert on koalas nor their survivability chances, I'll bow out of that fight.
I will, however, weigh in with my opinion, which is this: Once humanity stops caring for all life on this planet, we are dooming ourselves just as surely as if we found a way to crash the earth into the sun. Life here is co-dependent and if you want to be exposed to something that will keep you up at night, start reading articles on how close we may be to eliminating a keystone species. Well, at least those "keystone species" we know of.
Koalas may... or may not... be a keystone species upon which most life on this planet relies (it's something you can only ever truly know in hindsight). But they are amazingly sweet, gentle, inoffensive, and adorable creatures who deserve better than what they've gotten by our hand. When I visited the Lone Pine Koala Sanctuary in Australia, theirs seemed like such a dire predicament eight years ago... and it's just getting more hopeless as time goes on.
How much better off would life on this planet be if we weren't here fucking it up?
Humans, such as we are, may not be functionally extinct... but we are quickly becoming functionally inhuman.
Posted on May 26th, 2017

I have a trans friend that I met while working at a job site. She's a kind, caring, hard-working person who just wants to be left to live her life the best she can. Needless to say, it hasn't always been easy for her. She puts up with abuse that would humble the strongest of us, and she endures it most every day... for no other reason than there are people who don't accept who she is and refuse to just let her exist in peace. It's been an incredibly difficult life, but she's managed to get through it all by being true to who she is.
I just found out today that she was assaulted while walking home back in March.
In addition to recovering from having been physically beaten, she has had to work through the psychological trauma that comes from being reminded in a very real way that there are people who want you dead... just because you are different from them. That can't be an easy recovery to make. I hope she can heal. I hope she can find her way back to the person I know. I hope she continues to find strength in herself and those of us who care about her. Because this world needs her. This world is a better place with her in it.
My friend has devoted countless hours to a charity who does nothing but make people's lives better. She has a big heart and she gives what she can of it. And this is how society repays her. What chance is there for humans as a species when this is how we treat the best of us? The most giving of us?
Not much of a chance at all.
I am not quite ready to say "Abandon all hope for humanity"... but whenever something like this happens, I inch closer to believing it.
And when that day comes? We'll have nobody to blame but ourselves.
Posted on November 27th, 2012

I hardly ever just plop down somebody else's stuff on my blog... but after I saw a photo on Facebook this morning, it has been all I can think about all day long.
So many times I find myself thinking that the job our police think they have is to "Harass and Humiliate" rather than "Serve and Protect" as their motto claims. Getting bullshit tickets... or seeing people in peaceful protest getting pepper-sprayed... or watching yet another "excessive force" dash-cam video on the news... it all contributes to this ongoing terrible image we form in our heads when the word "POLICE" is uttered.
But we know that's not true. Not for some police. Undoubtedly not for most police. I'm betting the vast majority of police officers truly want to help serve and protect the community they work in. They must, because it's a fairly thankless job. And yes, there are some rotten apples in the barrel, but that shouldn't define police officers as a whole.
Especially when wonderful things like this come to light...
Jennifer Foster of Florence, AZ was visiting Times Square with her husband Nov. 14 when they saw a shoeless man asking for change. She writes, "Right when I was about to approach, one of your officers came up behind him. The officer said, 'I have these size 12 boots for you, they are all-weather. Let's put them on and take care of you.' The officer squatted down on the ground and proceeded to put socks and the new boots on this man. The officer expected NOTHING in return and did not know I was watching*. I have been in law enforcement for 17 years. I was never so impressed in my life. I did not get the officer's name. It is important, I think, for all of us to remember the real reason we are in this line of work. The reminder this officer gave to our profession in his presentation of human kindness has not been lost on myself or any of the Arizona law enforcement officials with whom this story has been shared."
*image cropped from the distance at which it was taken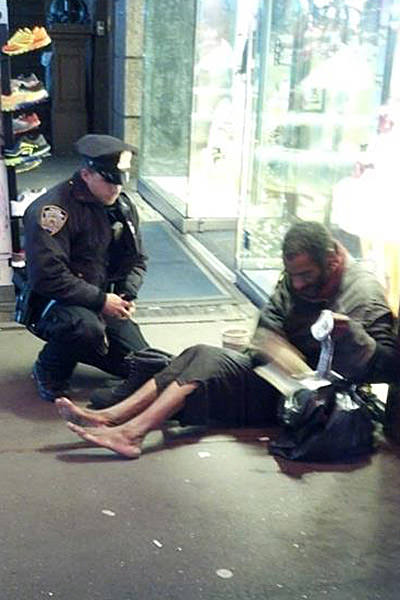 I cannot adequately express what this story means to me.
Because moments like this mean everything to me.
This police officer and kind-hearted people like him are a gift to all humanity. And acts of compassion like this inspire others to open their own hearts and make this world a better place. This is how we survive as a species.
And we need it so badly right now.

So thank you, officer, for giving shoes to someone in need.
And by "shoes" I mean "hope" and by "someone" I mean "everyone."