Posted on July 23rd, 2017

Never fear, super-fans, because a Very Special Comic-Con Edition of Bullet Sunday starts... now...

• THOR: RAGNAROK! I liked the first two Thor movies quite a lot. Especially the first one, which did a masterful job of introducing Thor to the Marvel Cinematic Universe. It was grandiose and epic in a way you need a movie with gods to be, and set the tone for Thor in everything that would come after (including a couple Avengers movies). And now, the third Thor film is ready to be unleashed this November:
Super sweet! Kind of an 80's vibe, even in the amazing poster...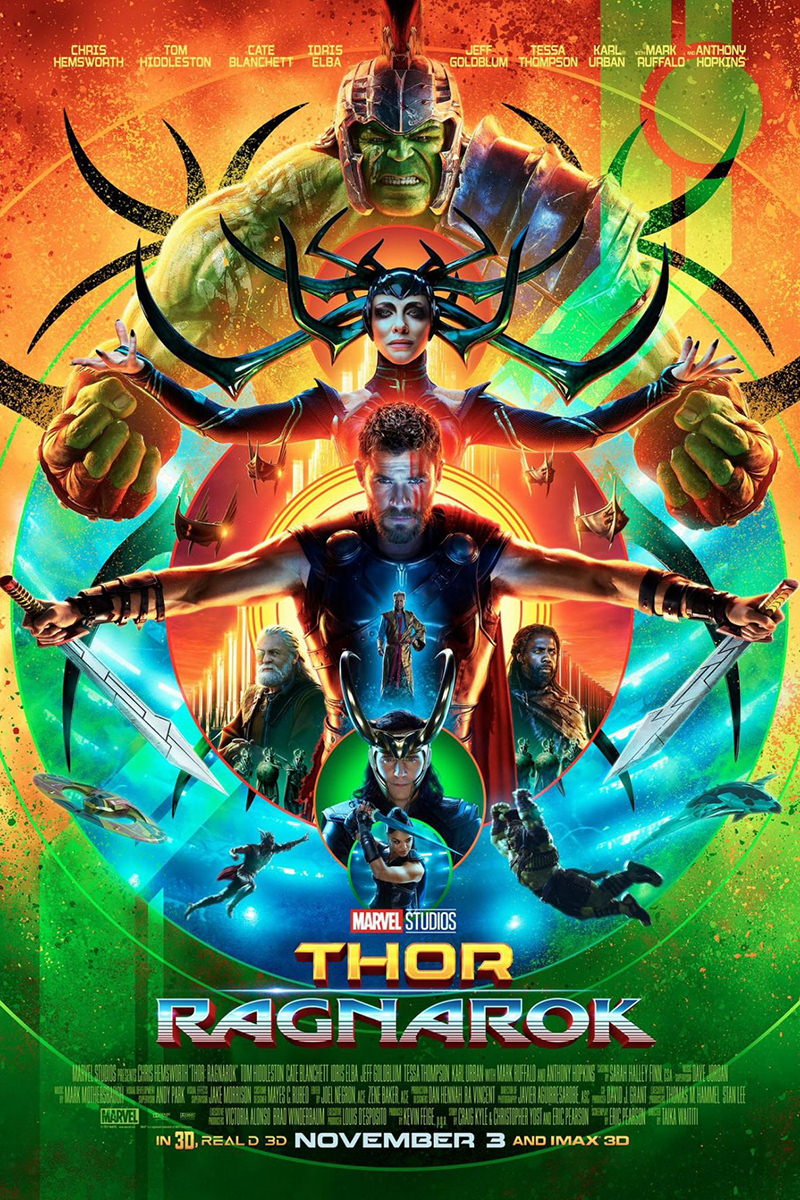 Marvel amazes me. Every movie they release is an escalation of what's come before. Sometimes it doesn't work 100% (I'm looking at you, Age of Ultron) but most of the time it seriously does. And Thor: Ragnarok looks to be knocking it out of the park. Can't. Wait.

• THE DEFENDERS! But before we get treated to new Thor, first we get to see the culmination of all four Netflix series... Daredevil, Jessica Jones, Luke Cage, and Iron First... with The Defenders. This seems like a great idea, and a logical culmination of all that's come before...
Time (and August 18th) will tell whether or not it's clever enough to be worthy, but getting Sigourney Weaver as your villain was a great start. Cool. All this and The Punisher coming by years' end too.

• THE INHUMANS! Also dropping prior to new Thor? The Inhumans. Originally they were getting their own movie but, after the franchise was turned to shit in ABC's Agents of S.H.I.E.L.D., I guess they felt a movie was aiming too high. Instead we get a compromise. The first episode is being released to IMAX theaters in September, then the show continues on ABC...
Eh. Probably good that they didn't attempt this in a feature film, because Medusa's magical hair was never going to look fantastic. Regardless, nothing I'm seeing here has me too excited. ABC had an amazing opportunity to do something truly different by taking The Inhumans into extreme weirdness, but it looks like Just Another Super-Hero Show on the Small Screen. Not surprising... I can't stand Agents of S.H.I.E.L.D., and it doesn't look like ABC is attempting to break any new ground here like they did with the amazing Agent Carter series. Pity.

• BLACK PANTHER! And here is where I start to lose my shit. I'm a huge, huge, massively huge fan of Black Panther. I was thrilled to see him finally join the MCU with Captain America: Civil War, and am positively giddy at the prospect of seeing him get a film all to himself. The technically advanced world of Wakanda is going to make for a heck of a movie, assuming they get the story right. And, from the looks the first trailer, they are definitely trying...
And that poster...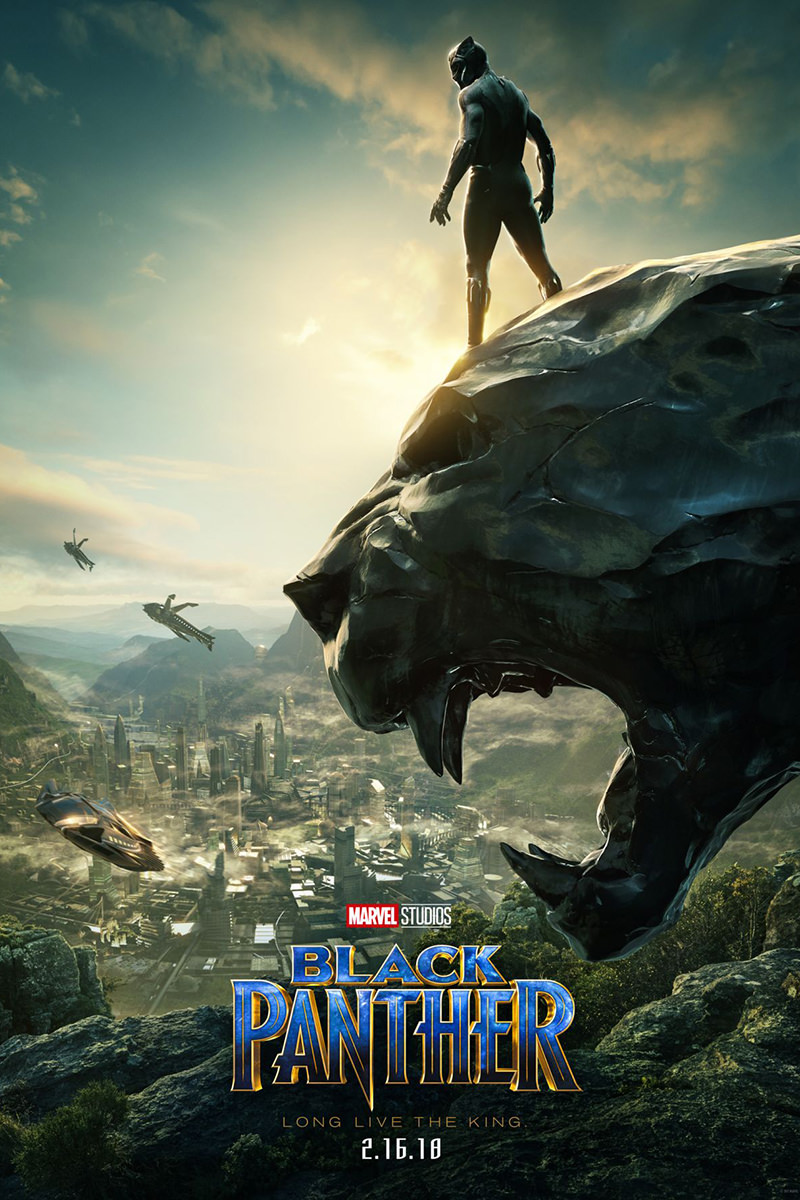 Since this is Marvel, I'm assuming they've nailed it. Not knowing is kinda killing me. Having to wait until February 16th to find out is really killing me.

• AVENGERS: INFINITY WAR And then there's the culmination of every Marvel Studios movie ever released coming to a theater near you on May 4th. The footage at Comic-Con has not been released yet (if ever), but they did give us a gatefold poster to drool over...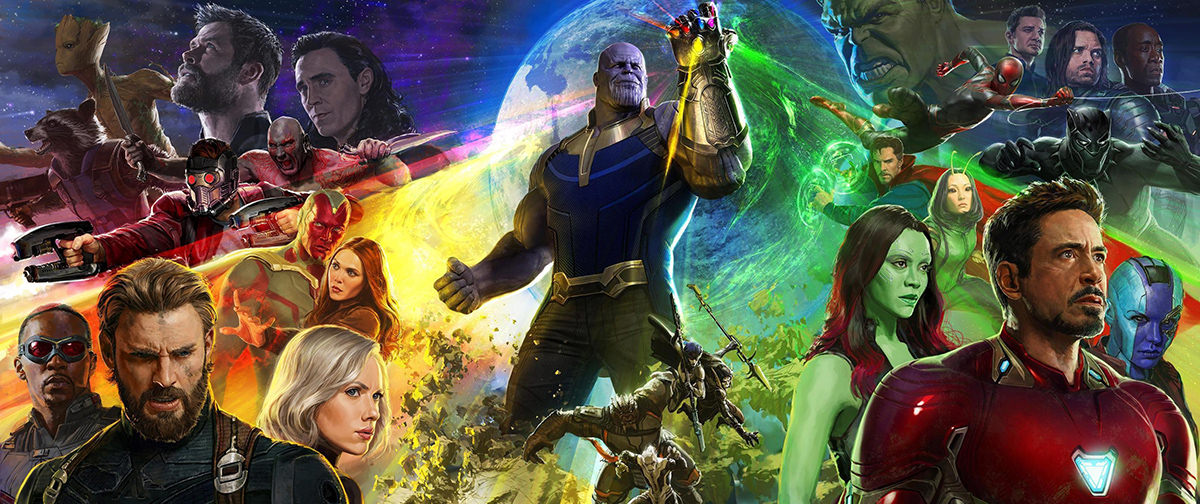 Which conveniently breaks down into three panels for closer inspection of all the awesomeness there is to unpack...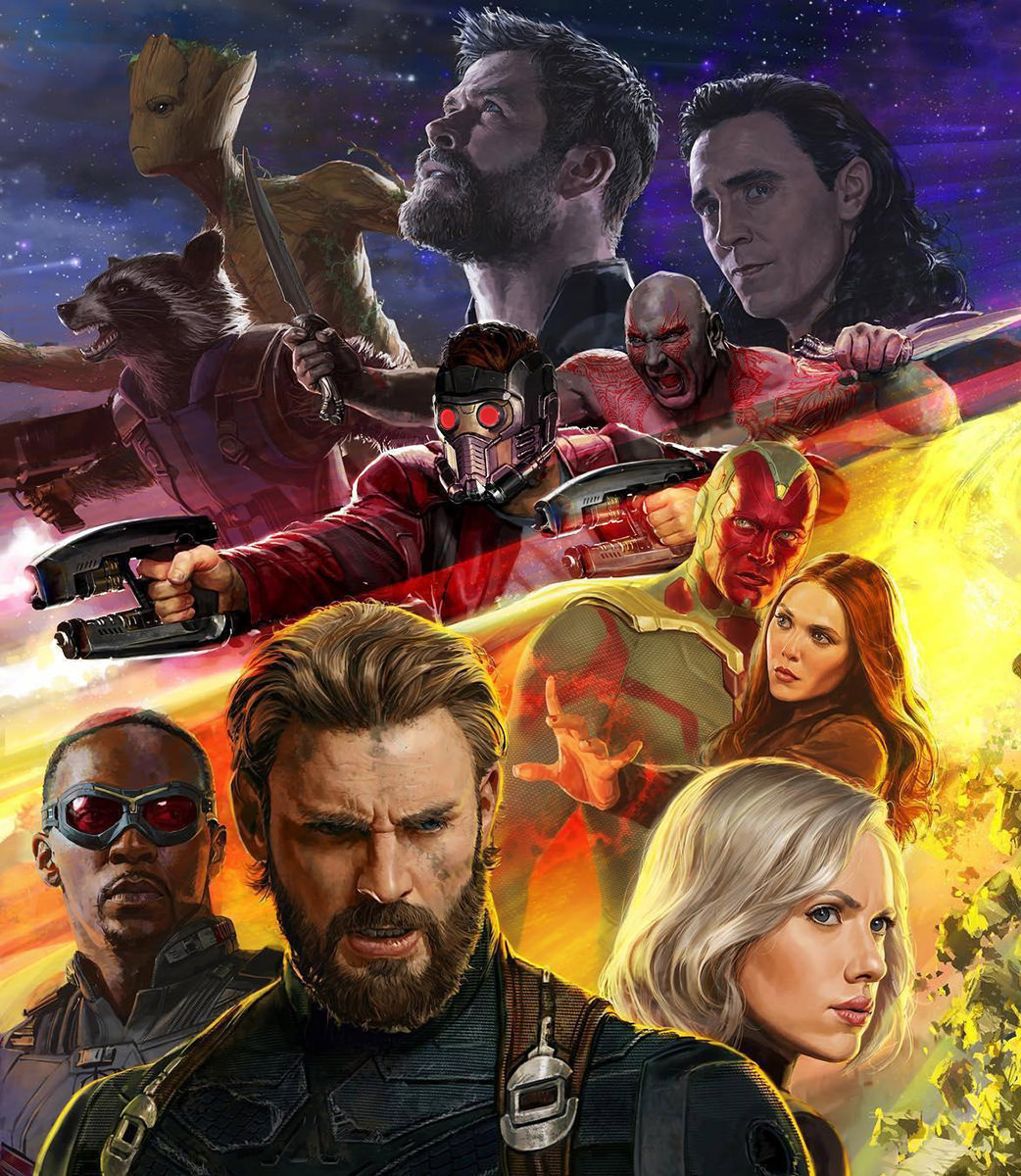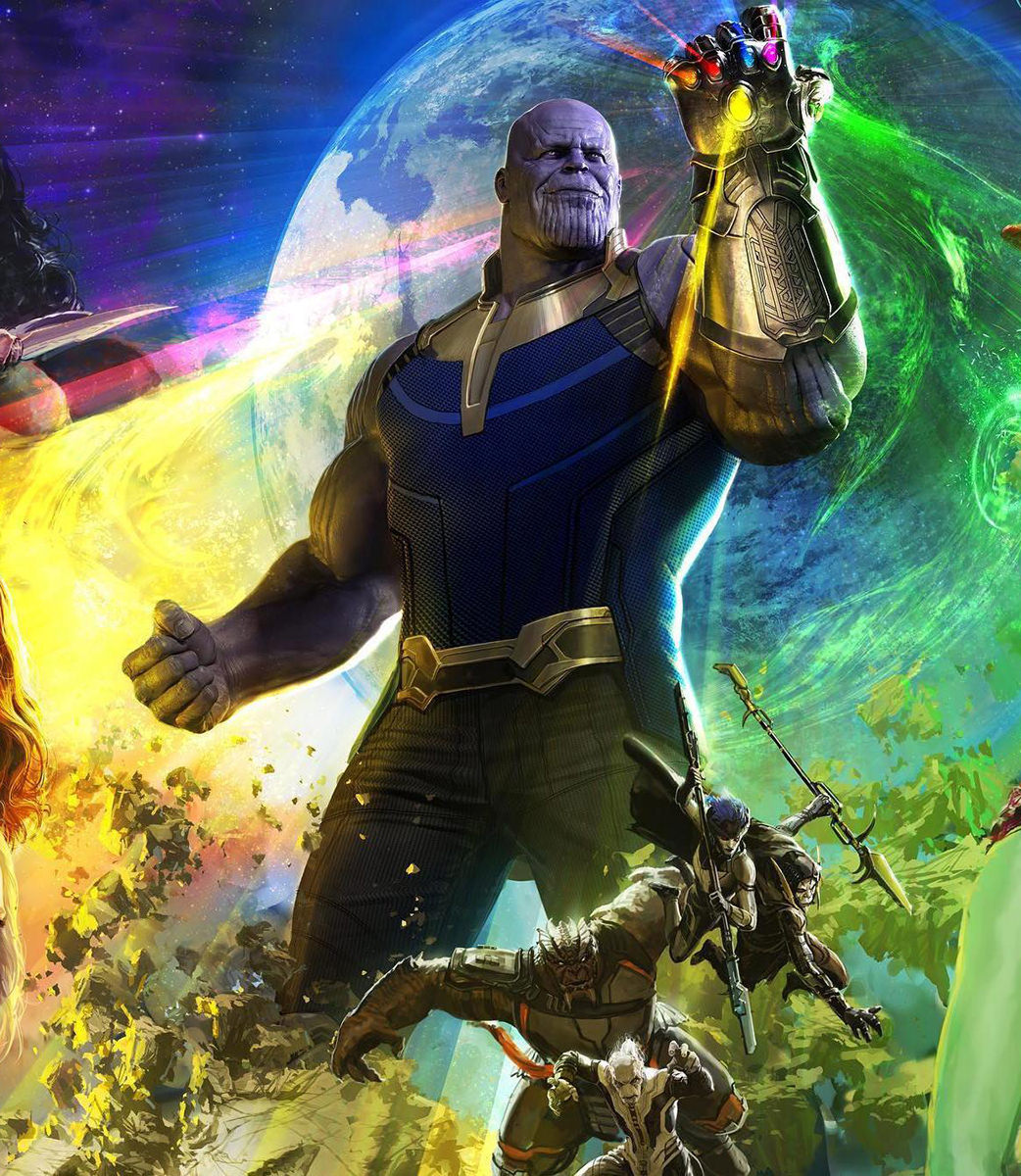 First of all... BLACK WIDOW IS A BLONDE THIS TIME AROUND? Wonder what in the hell that's all about. Second of all... why is Hawkeye getting the short end of the stick again? He's barely in the poster at all, and doesn't even get an action pose with his bow and arrow! Granted, he could arguably be seen as the weak link in The Avengers, but his fantastic ongoing comic book series show that this is not the fault of the character. It's what the writers do with him that makes him a weak link. Holy crap I wish they'd give him a Netflix series where he can finally shine. Next up... Spider-Man in a black suit is interesting. I don't hate it but, after so many movies where they weren't faithful to the comic book, I felt they finally nailed it with Civil War and Homecoming... so, why? And then... so very, very happy that they are apparently pushing the Scarlet Witch & Vision romance forward. That's an element 100% from the comic books, and I think it totally works. Then penultimately... holy crap did they do a frickin' amazing job capturing Thanos! Bad. Ass. And lastly... Cap with a beard! My expectations for Avengers: Infinity War are on overdrive. I'm expecting they'll be exceeded.

• JUSTICE LEAGUE! Blargh. DC Comics and Zack Snyder's idea of what makes a good super-hero movie is so nausea-inducing that I'll tackle that one tomorrow. I'm having too much fun loving on all of Marvel's awesomeness tonight.

And that's it for Comic-Con 2017. Until next year, True Believers...
Posted on May 6th, 2017
Today was long-time blogging friend Howard's 50th birthday!
And to celebrate, he rented out a theater at The Alamo Draft House Denver so a group of us could watch Guardians of the Galaxy: Volume 2.
Given my love of the first film, I was really, really looking forward to seeing it...
And my verdict? Not as good as the first movie, but a fantastic film that's high on entertainment value.
For more of my spoiler-filled thoughts, you'll have to read on in an extended entry...
→ Click here to continue reading this entry...
Posted on April 30th, 2017

Time to celebrate another week down the toilet, because an all-new Bullet Sunday starts... now...

• DC! I have made no secret of my love of all things coming out of the Marvel Cinematic Universe... and my deep loathing of all things coming out of the DC Cinematic Universe. This fan video puts the reason why in vivid relief...
100% accurate. DC has a habit of taking fun, exciting, uplifting hero stories and degrading them to joyless sequences of death and destruction that are a chore to watch. Why in the hell they don't put the team in charge of their TV shows in charge of their movies I will never know. At least they know how to make the characters fun to watch. Justice League, a movie I should be on pins and needles to see, is something I honestly don't give a shit about. Not when we've got Marvel's Guardians of the Galaxy Vol. 2, Spider-Man: Homecoming, Thor: Ragnarok, and Black Panther coming up. Not to mention Infinity War, which promises to blow the doors off of any super-hero film yet seen.

• Piper! I never got to see Finding Dory in theaters, but bought the Blue-Ray in 3D so I could watch it at home. Never had time to explore the "extras" on the disc, but today discovered it has a Pixar Short called Piper included...
That snippet is just the tip of the iceberg. Such a wonderfully adorable bit of animation! Well worth tracking down if you haven't seen it yet.

• Tarzan! The novels of Edgar Rice Burroughs are some of the most imaginative and entertaining reads I've ever experienced. That he started writing them in 1912 just goes to show how incredible a storyteller he was. Between John Carter of Mars and Tarzan of the Apes (and a slew of others), he has a wealth of material just begging to be adapted into movies.
And they have been.
Unfortunately, they've mostly sucked. John Carter was a total shit-fest that abandoned everything that made the character so compelling. And Tarzan? In the books he is an extremely intelligent character who speaks dozens of languages and is as accomplished in civilization as Lord Greystoke as he is in the jungle as Tarzan. But what do we get? Every time Tarzan comes to the screen, he's a grunting ignoramus that barely knows how to speak because he's written more as an animal than a man. For any Tarzan fan it's a massive disappointment, and I'd all but given up hope that we'd ever get an adaptation of The Lord of The Jungle that wasn't crap. Enter The Legend of Tarzan...
Now, this is not a perfect film by any stretch of the imagination. It's not even a flawless adaptation of Tarzan. But holy crap... it's the closest thing I've yet seen, and I loved it. All that plus it has Samuel L. Jackson and Christoph Waltz in it! And gone are the days of Tarzan being a stupid savage! Hell, they even made an effort for Jane to be more than a damsel in perpetual distress! Sure the CGI, which actually started out quite good, ultimately degrades to a level that was below-par, but it didn't destroy how much I enjoyed watching the story unfold. So... ignore the critics. If you like Tarzan... the REAL Tarzan... this is a film that's definitely worth a look!

• TRADER JOE'S CONSUMER ALERT!
"Have you got any more Black Bean and Jack Cheese burritos? I took the last two."
"I think that's all we got. Have you tried the Super Burrito? It's the same except it's made with quinoa and sweet potatoes. Really good."
"Okay, I'll try it, thanks!"
And so tonight I decided to have a late lunch /slash/ early dinner and give it a try. I take a bite and it's not bad... light on the sweet potato and heavy on the quinoa... but it's got a nice spicy bite to it. And then... AND THEN... I take another bite and there's something crunchy/leafy/weird. Is that spinach, I wonder? I dig the wrapper out of the garbage and... IT'S NOT SPINACH... IT'S FUCKING KALE!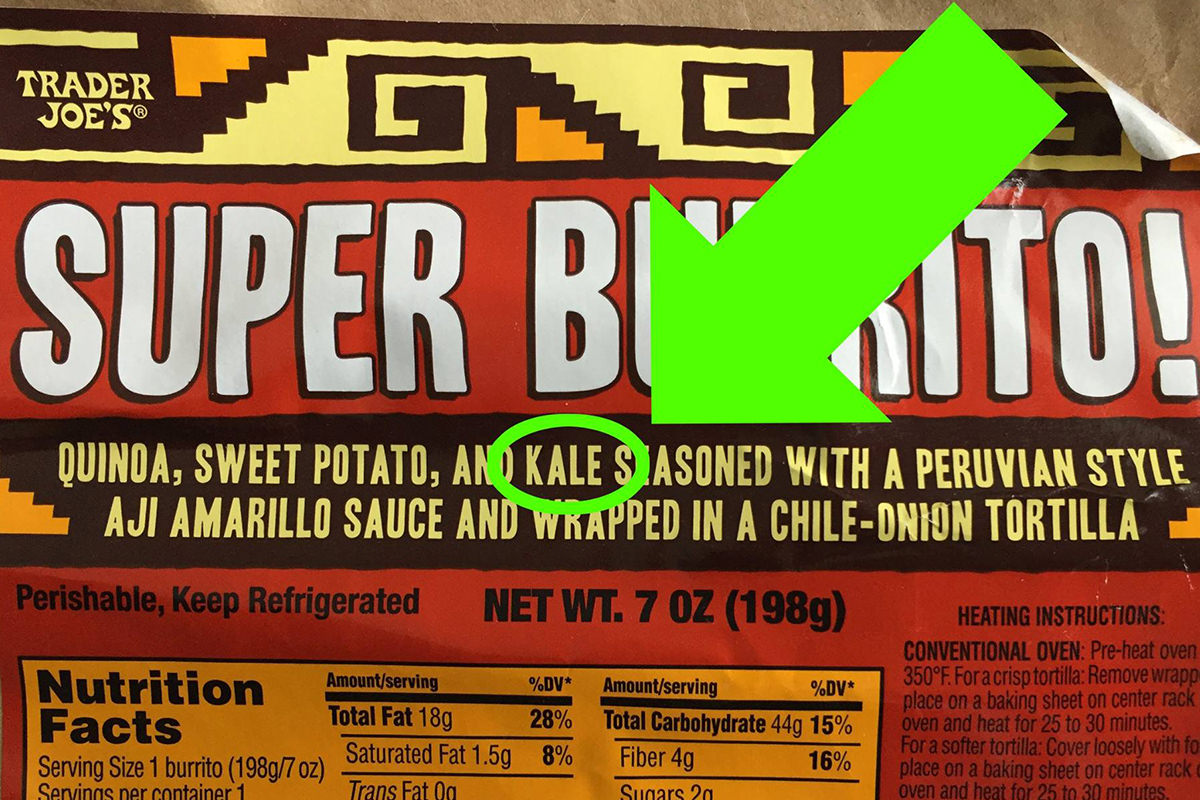 TRADER JOE'S TRICKED ME INTO EATING KALE AND NOW I FEEL LIKE I'M GOING TO DIE!!!
KALE!!!!!!! GAH!!!!
Needless to say, I am not in a good place right now, and I appreciate everybody's understanding as I attempt to mentally and physically recover from this tragedy. I will soon be setting up a GoFundMe page in an effort to help with the massive costs involved in getting me healthy again. WAAAAAHHH!!!! WHO PUTS KALE IN A BURRITO?!? WHY, LORD? WHYYYYYYY?!?.

• Let's Play! Alrighty then... time once again to play the "Will the piece of shit turn out to be a godless liberal... or will they be from the party of family values and moral righteousness?"...
JUDGE ARRESTED ON CHARGES OF HUMAN SEX TRAFFICKING OF A MINOR.
Oh yeah. Big fucking surprise... he's not only Tea Party and Ku Klux Klan supporter, but also a former Trump campaign chair! Because disgusting shit like this is only bad when Democrats are doing it, I guess? Republicans do this kind of heinous shit and "their base" elects them to the school board!
BONUS ROUND!
"Will the piece of shit turn out to be a godless liberal... or will they be from the party of family values and moral righteousness?"...
GOVERNOR RESIGNS AMID SEX SCANDAL.
Hmmm... let me guess...

• Bullshit! And lastly, an article that's well-worth a read, regardless of religious affiliation is here: America Isn't Growing Hostile Towards Christians, It's Growing Hostile Towards Religious Bullies. Because, look... so long as you can walk into a post office and buy a stamp with Jesus on it for Christmas... I've had just about enough of this bullshit notion that Christians are some kind of persecuted class and there's a war on Christian ideology. As somebody who is not a Christian and sees just how pervasive the religion is in dominating so many aspects of American culture, it's embarrassing that people are trying to keep this one alive. And yet FOX "News" is undoubtedly already warming up new ideas to make "The War on Christmas" become something out of nothing again. Because what plays better than victimization on TV?

Time to reload...
Tags:
Animation
,
Bullet Sunday
,
Edgar Rice Burroughs
,
Food
,
Kale
,
Marvel
,
Marvel Studios
,
Movies
,
Pixar
,
Tarzan
Categories:
Books
,
Bullet Sunday 2017
,
Food 2017
,
Movies 2017
—
Click To It:
Permalink
—
1 Comment: Click To Add Yours!
Posted on January 10th, 2017

And so... about those Golden Globes...
I'm not a huge fan of award shows, because the winners rarely reflect the movies I enjoy and the performances I gravitate towards. But, then again, my favorite films of 2016 were Captain America: Civil War, Doctor Strange, and Deadpool, so make of that what you will.
Anyway... this year the Globes were better than most, but there are still some corrections I would make...
MOVIES
Best Supporting Actor: Aaron Taylor-Johnson, Nocturnal Animals
Who Should Have Won: Sebastian Stan, Captain America: Civil War (the entire weight of the movie rested on The Winter Soldier, and Stan killed it).
Best Original Score: La La Land
Who Should Have Won: Jóhann Jóhannsson, Arrival (beautiful, powerful stuff).
Best Original Song, Motion Picture: "City of Stars," La La Land
Who Should Have Won: "How Far I'll Go," Moana (never saw "La La Land").
Best Supporting Actress: Viola Davis, Fences
Who Should Have Won: Viola Davis, Fences (never saw the film, but... Viola Davis).
Best Actor, Musical or Comedy: Ryan Gosling, La La Land
Who Should Have Won: Ryan Reynolds, Deadpool (not even a contest).
Best Screenplay: Damien Chazelle, La La Land
Who Should Have Won: Jon Spaihts, Scott Derrickson, C. Robert Cargill, Doctor Strange (markedly fresh super-hero fare).
Best Animated Film: Zootopia
Who Should Have Won: Kubo and the Two Strings (Zootopia was fun, but Kubo was on another level entirely).
Best Foreign-Language Film: Elle
Who Should Have Won: The Handmaiden (absolutely stunning cinema).
Best Director: Damian Chazelle, La La Land
Who Should Have Won: Joe Russo, Anthony Russo, Captain America: Civil War (wrangling this many heroes in a coherent film is amazing).
Best Actress, Musical or Comedy: Emma Stone, La La Land
Who Should Have Won: Grace Helbig, Electra Woman & Dyna Girl (no joke... the funniest female performance I saw all year).
Best Motion Picture, Musical or Comedy: La La Land
Who Should Have Won: Deadpool (so obvious).
Best Actor, Drama: Casey Affleck, Manchester by the Sea
Who Should Have Won: I dunno.
Best Actress, Drama: Isabelle Huppert, Elle
Who Should Have Won: I dunno.
Best Picture, Drama: Moonlight
Who Should Have Won: I dunno. Moonlight looks good, but Arrival was the best drama I saw in 2016.
TELEVISION
Best Actor, Television Drama: Billie Bob Thornton, Goliath
Who Should Have Won: Matthew Rhys, The Americans (a great show and he's great in it).
Best Actress, Television Series Comedy or Musical: Tracee Ellis Ross, Black-ish
Who Should Have Won: Kristen Bell, The Good Place (what can I say, I love her and I love this show).
Best Television Series Comedy or Musical: Atlanta
Who Should Have Won: No Tomorrow (love Atlanta, but No Tomorrow is my favorite show of 2016)
Best Performance by an Actress In A Mini-series or Motion Picture Made for Television: Sarah Paulson, The People v. O.J. Simpson: American Crime Story
Who Should Have Won: Charlotte Rampling, London Spy (this was a great show, and Rampling had a lot to do with why).
Best Television Limited Series or Motion Picture Made for Television: The People v. O.J. Simpson: American Crime Story
Who Should Have Won: The Night Manager (such a great spy thriller).
Best Performance by an Actor in a Supporting Role in a Series, Mini-Series or Motion Picture Made for Television: Hugh Laurie, The Night Manager
Who Should Have Won: Hugh Laurie, The Night Manager (seriously, such a good show).
Best Performance by an Actress in a Supporting Role in a Series, Mini-Series or Motion Picture Made for Television: Olivia Colman, The Night Manager
Who Should Have Won: Olivia Colman, The Night Manager (ditto).
Best Performance by an Actor in a Mini-Series or Motion Picture Made for Television: Tom Hiddleston, The Night Manager
Who Should Have Won: Tom Hiddleston, The Night Manager (ditto again).
Best Actress, Television Drama: Claire Foy, The Crown
Who Should Have Won: Keri Russell, The Americans (toughie... loved Foy, but think Russell had the edge).
Best Television Drama: The Crown
Who Should Have Won: Westworld (as much as I liked The Crown, Westworld was my favorite).
Best Actor, Television Series Comedy or Musical: Donald Glover, Atlanta
Who Should Have Won: Donald Glover, Atlanta (absolutely deserved).
Posted on December 28th, 2016

And it's time once again for my annual wrap-up of movies that came out this year.
Or, more accurately, a "wrap-up of movies I saw that came out this year." As always, there's a bunch of movies I never saw that would have probably ended up on my list (we'll get to that later). And here we go...

THE TWELVE BEST...
These are my favorite movies from this year that I actually saw.
#1 Captain America: Civil War
Shocker. My love of comic books was rewarded in two fantastic Marvel films, and it was really tough to decide what should come out on top. I ultimately went with Cap because the movie was just so damn good at giving comic book fans everything they dream about in a film. Hero angst? Check. Cap and Iron Man draw the line over a super-hero registration act that leads them inexorably to conflict. Fresh characters? Check. Not only do we get the debut of one of the most awesome characters in the Marvel Universe, Black Panther, we also get a brand new Spider-Man that's more faithful to the concept than anything that's come before. Super-battles? Check. In what has to be the single best super-hero fight ever committed to film, Team Cap vs. Team Iron Man was flawlessly realized. Having a massive surprise come from Ant-Man in the middle of it all was just icing on the best-tasting cake ever. Granted, the plot was a bit flimsy and filled with coincidence and inexplicable story beats... but I just didn't care. I watched Civil War three times in the theater and another half-dozen on video. I cannot fathom how The Russo Brothers could possibly top this in Avengers: Infinity War, but I'm dying to find out. You can read my review of this epic blockbuster right here.
#2 Doctor Strange
After Black Panther, my favorite Marvel comic book hero is probably Doctor Strange. This year I got to see them both on the big screen, and I was not disappointed. This film is an origin story, yes, but it's not like it could have been anything else. Unlike Batman or Spider-Man whose origin has been told to death, Strange is a bit unknown to the general movie-going public. Fortunately, what we get is anything but Yet Another Formulaic Pile of Origin Garbage. Stephen Strange is compelling in all the right ways before he becomes Master of the Mystic Arts. And he's even more compelling before he becomes Sorcerer Supreme. On top of that, we get some mind-boggling special effects that makes Doctor Strange fresh, exciting, and new compared to all the Marvel films that came before it. Yes, I too am a bit flustered by the whitewashing of The Ancient One as a Celtic white woman (deftly played by Tilda Swinton), but I get why. Yes, I am disappointed that the location was shifted from Tibet, but I get why. Avoiding stereotypes and having to be mindful of global box office means that there will be compromises when putting a ton of money into a film of this magnitude. That Marvel did so without completely destroying it is admirable in the face of realities they had to confront. Much of what they got right has to do with the flawless casting of Benedict Cumberbatch as Strange... whom Marvel wisely postponed filming to get. He had absolutely everything the character needed to succeed in a movie, and Cumberbatch held nothing back. Doctor Strange will be appearing in future Marvel films (including Infinity War) but I want a new solo flick that's unfettered from an origin story. Badly. Here's my review of Doctor Strange.
#3 Deadpool
Given how utterly shitty 20th Century Fox treated the character of Deadpool in the utterly shitty X-Men Origins: Wolverine, I fully admit that I was skeptical when it was announced a new solo movie was on the way. But when Ryan Reynolds (who was "Deadpool in Origins as well) promised that we'd be seeing something faithful to the outrageous character we knew from the comics, I became hopeful. It was a hope that paid off in spades. This is the fast-talking "merc with a mouth" that every Deadpool fan who suffered though Origins deserved. Mercenary Wade Wilson is diagnosed with inoperable, terminal cancer after finally finding the love of his life... and agrees to experiments meant to unleash super-powered abilities that will cure him. Unfortunately, things go terribly wrong, and the rest of the movie is Wilson trying to get a cure for the cure while also exacting revenge on the guy responsible. Absolute hilarity and fantastic action sequences ensue. Even in its quiet moments, Deadpool delivers... featuring perfect secondary characters played by TJ Miller and Leslie Uggams(!!!). Rated R for a reason... many reasons... but totally worth your time.
#4 Rogue One: A Star Wars Story
It's a Star Wars film. It has mind-boggling special effects. It has a return of characters you love and a new character that's destined to be a classic (new favorite droid K-2SO!). It features a plot that doesn't suck. The story is rough... even boring in parts... but serviceable. And, yes, I agree it's the best Star Wars movie since The Empire Strikes Back. So if you're a Star Wars fan, it's a foregone conclusion this movie is going to be on your "Best of 2016" list. That's why it's on mine.
#5 Kubo and the Two Strings
My love of animation embraces all its forms... hand-drawn... computer generated... cut-out... whatever. But the form that consistently blows me away is stop-motion animation, and Kubo is probably the most mind-bogglingly beautiful expression of it yet. Every frame is gorgeously orchestrated for scenes that are a dream to watch. It's just a bonus that there's a really great story behind it all. I will do you the favor of not disclosing anything about the plot. It's enough to know that this film is sheer magic and a must-see. Preferably on the big-screen (and, believe it or not, in 3D)... but if you missed it, home video will have to suffice.
#6 Star Trek Beyond
Rebooting the Star Trek franchise has been met with mixed feelings, and true fans either seem to love it or hate it. I absolutely love it. From the casting, which is a note-perfect nod to the original cast, to the beautiful special-effects, the films soar even when there is a misstep (of which Star Trek Into Darkness probably qualifies). Star Trek Beyond is yet another entertaining entry in the series, this time with an over-abundance of action filling the screen. But there's some real character moments scattered in there too, which is what makes the film work so well. Sadly, Anton Yelchin passed away after filming, which means this is the last time we'll see his perfect take on Pavel Chekov.
#7 Moana
Walt Disney Pictures has been on a roll lately, and Moana is probably my favorite film of theirs since Lilo and Stitch (though Big Hero Six deserves a mention here). The film tells the story of a young woman, Moana, who sets sail on a mission to save her people. Along the way she meets the demigod Maui (Dwayne Johnson) and a fantastical adventure follows. The action is bold, beautiful, and larger than life... all animated to stunning effect with lush, sweeping visuals... but it's so much more than just a pretty flick. It's got great music, plenty of magic, and characters with actual depth. If you love computer animation, you owe it to yourself to see Moana on the big screen.
#8 Finding Dory
Revisiting the Finding Nemo universe was a risky gambit. But Pixar completely nailed it. I hesitate to say that it's a better film than the original... but Dory is a jaw-dropping, beautiful, overall joyful effort that will not disappoint Nemo fans. Having Sigourney Weaver drop in (as herself!) on the flawless voice cast was just perfection on perfection. If you love Pixar animation, here's your film.
#9 The Red Turtle (La Tortue Rouge)
Gorgeous animation from Studio Ghibli that's a warm blanket in visual form. The story is a gripping tale of survival that unfolds like a classic fairytale... but ends up being so much more. I truly hope that this overlooked gem makes a return to theaters after the festival circuit so people can see it as it was meant to be seen.
#10 The Nice Guys
Where in the hell did this come from? I completely missed it in the theater, but caught it on a boring cross-country flight. Boy was I glad to have discovered it, because The Nice Guys everything you love in a Shane Black film. And then some. Russell Crowe hasn't been this compelling since Gladiator. Ryan Gosling hasn't been this compelling ever. If you want to see a smart, funny, sophisticated 70's buddy flick that won't bore you (except when it does)... here you go.
#11 Arrival
Color me shocked. Smart, cerebral, original sci-fi getting green-lit for a feature film? Whatever is Hollywood coming to? Oddly enough, I had read the original short fiction on which this film is based, Story of Your Life, and was not expecting that it would translate well to film given the time-bending aspects of the story. I was pleasantly surprised that they managed to get it right. Or... as close to "right" as they probably could. When aliens land on earth, world governments race to communicate with them so that they can unlock their secrets before other governments get a technological edge. The movie focuses on the American team (of course) lead by genius linguist Louise Banks (played by Amy Adams) and fellow scientist Ian Donnelly (played by Jeremy Renner). As Banks gets closer and closer to deciphering the language of the alien visitors, she finds that her perception of time is being altered. An ambitious adventure in cinema follows that's a true treat for sci-fi fans.
#12 The Jungle Book.
If you had told me that a live-action remake of Disney classic The Jungle Book would hit my "best of..." list for 2016, I would have laughed in your face. But here we are. Filled with incredible CG visuals that bring the story to life like never before... and featuring one of the best "young actors" ever to appear in a movie, The Jungle Book is incomprehensibly great. And the voice cast! Bill Murray as Baloo? Ben Kingsley as Bagheera? Idris Elba as Shere Khan? It never ends. I cannot fathom how Jon Favreau managed to pull off such a feat, but I was completely engrossed in the film and truly didn't want it to end. If you skipped it because you were skeptical, now you know.

HONORABLE MENTIONS...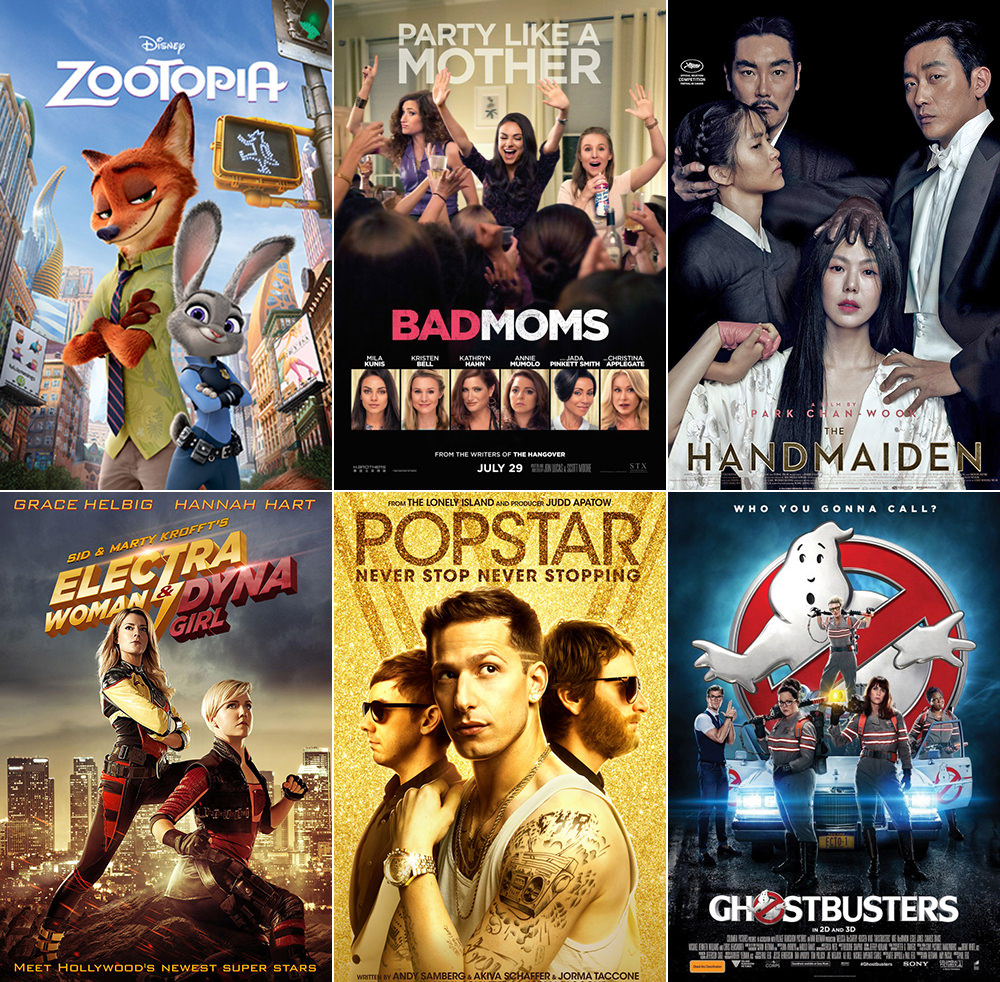 Zootopia
This is the film that ranked very high on a lot of critic's lists... and it's easy to see why. The characters are beautifully crafted and the world they inhabit feels fully realized. Everything is wonderfully animated and the voice cast is flawless. As if that wasn't enough greatness, it has a real story filled with humor and heart that's brilliantly told. I loved the film... a lot... but it just didn't have that sweeping, all-encompassing wonder that I got while watching Finding Dory and Moana. I struggled as to whether Zootopia or Jungle Book belongs in the final spot of my list, but settled on the latter because it was such a big surprise.
Bad Moms
I was a bit let down by the ending, but everything up to that is funny enough that I didn't care. Surprisingly original with perfect casting.
The Handmaiden
This is why people go to the movies... a beautiful story that looks stunning and has a dynamite cast. Yes, there were problems along the way and the ending could have used some work, but this sexy, violent gem gets so much right that it's easy to overlook its flaws.
Electra Woman and Dyna Girl
YES, I LIKED IT! A remake of the Sid and Marty Krofft live-action Batman spoof featuring YouTube stars Grace Helbig and Hannah Hart. It's a funny distraction that respects the source material, but is fresh and new at the same time.
Popstar: Never Stop Stopping
A complete take-down of the Justin Bieber stereotype that somehow manages to be funny and entertaining. There were some parts that didn't work which kept it from being a new This is Spinal Tap, but is overall a terrific effort.
Ghostbusters
Was it as good as the original? Oh hell no. It's not even as good as Ghostbusters 2. But it had some funny moments and excellent special effects to make that made it watchable.

DIDN'T SEE, MIGHT HAVE MADE MY LIST...

Jackie
Natalie Portman as Jackie Kennedy? Sign me up.
Sausage Party
Naughty and animated. A great combination I never got around to seeing.
Moonlight
This is the movie that has been most-recommended to me this year. Can't wait to finally see it.
The Edge of Seventeen
Completely off my radar, but I've heard amazing things.
Passengers
A film starring Chris Pratt and Jennifer Lawrence? Can't help but be worth watching.
Everybody Wants Some
Richard Linklater's follow-up to Boyhood. Who wouldn't want to see that?

NOT AS BAD AS THEY SAY...
Gods of Egypt
Yes, they whitewashed the cast. Yes, the special effects were all over the place. Yes, the story was a mess. But at least they tried to do something different. And for that alone, I was entertained. There were some big ideas here that were actually kind of cool and fun to watch... things just didn't come together in a way to make this compelling cinema.

THE WORST...
Batman vs. Superman: Dawn of Justice
I don't even know where to start. This shitty, blasphemous, idiotic take on two of the most beloved super-heroes in the world was a continuation of Zack Snyder's horrendous Man of Steel. But since it fucked up Batman, it was probably an even worse movie. And while SvB's greatest sin is that it is just no fun (I was bored to tears despite the action beats, which were confusing and senseless)... we did get Wonder Woman on the big screen at last. Gal Godot was perfectly cast and they gave her a look that was amazing. Sadly, she wasn't enough to save this awful, awful mess.
Suicide Squad
This unbelievably tedious movie featured a forgettable assortment of villains forced to be heroes that fight an endless horde of magical zombies. In-between all that is some of the most boring, shitty dialogue you'll find. And, as if that weren't bad enough, Jared Leto's "Joker" was a fucking embarrassment.
Independence Day: Resurgence
Clearly a case of "We're making a sequel to a popular movie, but we haven't a fucking clue what to do, so... SPECIAL EFFECTS IT!" This would probably be the stupidest, blandest, dullest, most unbelievable shitty film of any year... lucky for Roland Emmerich, Batman vs. Superman and Suicide Squad stepped in to take the punches. I'd discuss the story, but not one bit of it was worth remembering, so I can't.
Posted on December 12th, 2016

Don't go shovel that driveway just yet, because an all new Bullet Sunday starts... now...

• Does Whatever a Spider Can! I've always been more a Batman guy than a Spider-Man guy, but Marvel is looking to change that with their first Spidey film, Spider-Man: Homecoming...
I mean... seriously. Marvel seems incapable of fucking up a movie. They respect the source material and give fans exactly what they're dying to see. This is the complete opposite of what DC does, which is rewrite everything that makes the characters great and give fans what Zack Snyder wants to see... which is always a pile of shit. Couldn't be happier to be getting what looks like an amazing Spider-Man movie. The fact that Tony Stark is in there being Tony Stark just makes it too good to be true.

• The Artist Formerly Known As... If you're a Prince fan, GQ has a long, but highly entertaining look at his life from the perspective of people who knew him best. As if that wasn't enough... another genius, Nintendo's Shigeru Miyamoto, was interviewed over at Glixel. You're welcome!

• No Toys for Tots. After coming across this sorry story, I have concluded that it's probably the stupidest fucking thing I've read in a long time. A charity that collects toys for children won't accept toys raised by a tavern because they prayed on it and decided that toys coming from a bar is a bad thing? Who did this idiot pray to? I mean, she did read The Bible and know who Jesus hung out with, right? Yet another case of Faux Christians following in the footsteps of Jesus... just so long as those footsteps don't lead to conflict with their moral superiority and false virtue.

• Can I Be a Lesbian? This had me laughing out loud in the middle of the night at my hotel...
Fortunately, I must not have disturbed my neighbors because nobody beat the door down and strangled me.

• Kitty Homebody. Ever since I got back home in the early AM, the cats have been all over me. When I sat down tonight to work and watch Wedding Crashers, Jake came running in and attached himself to me then fell asleep...
After a bit he ran to get a snack and I thought I was free... but then Jenny came running in and took his place...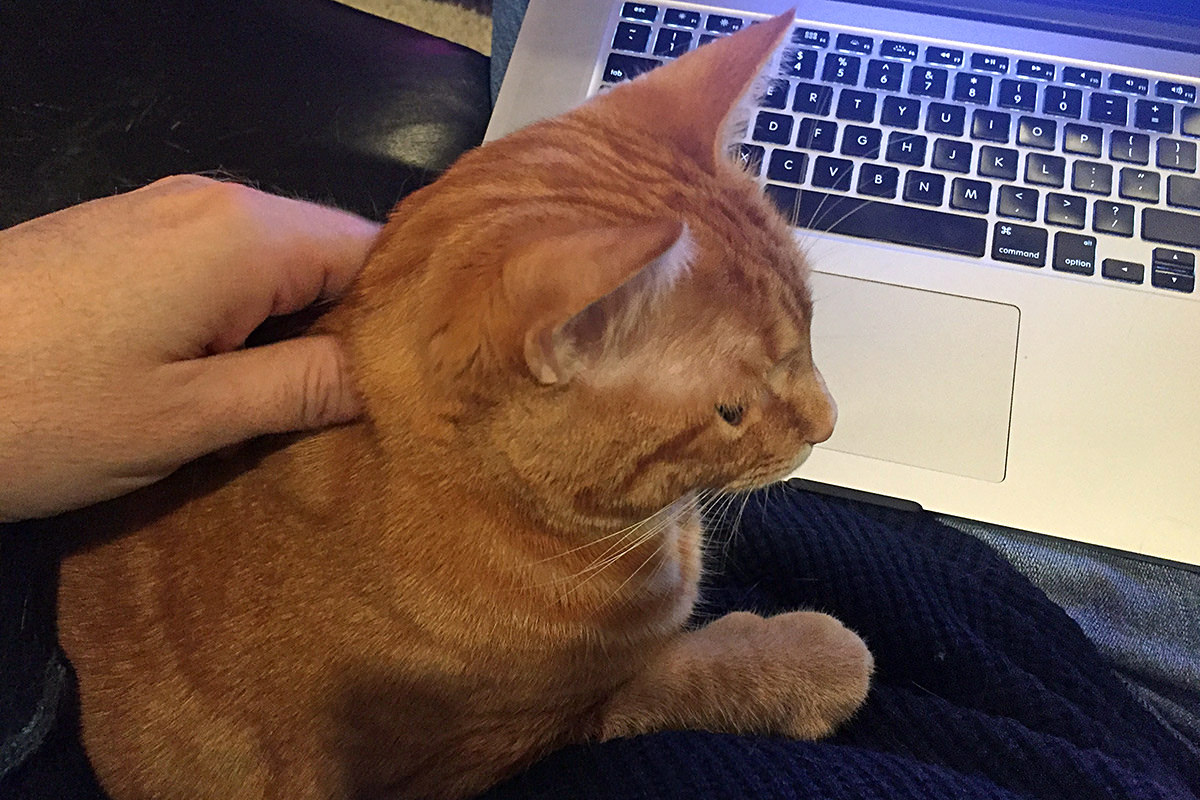 Then she ran to use the Litter-Robot and I figured that was the end of it... except Jake came running back to take her place...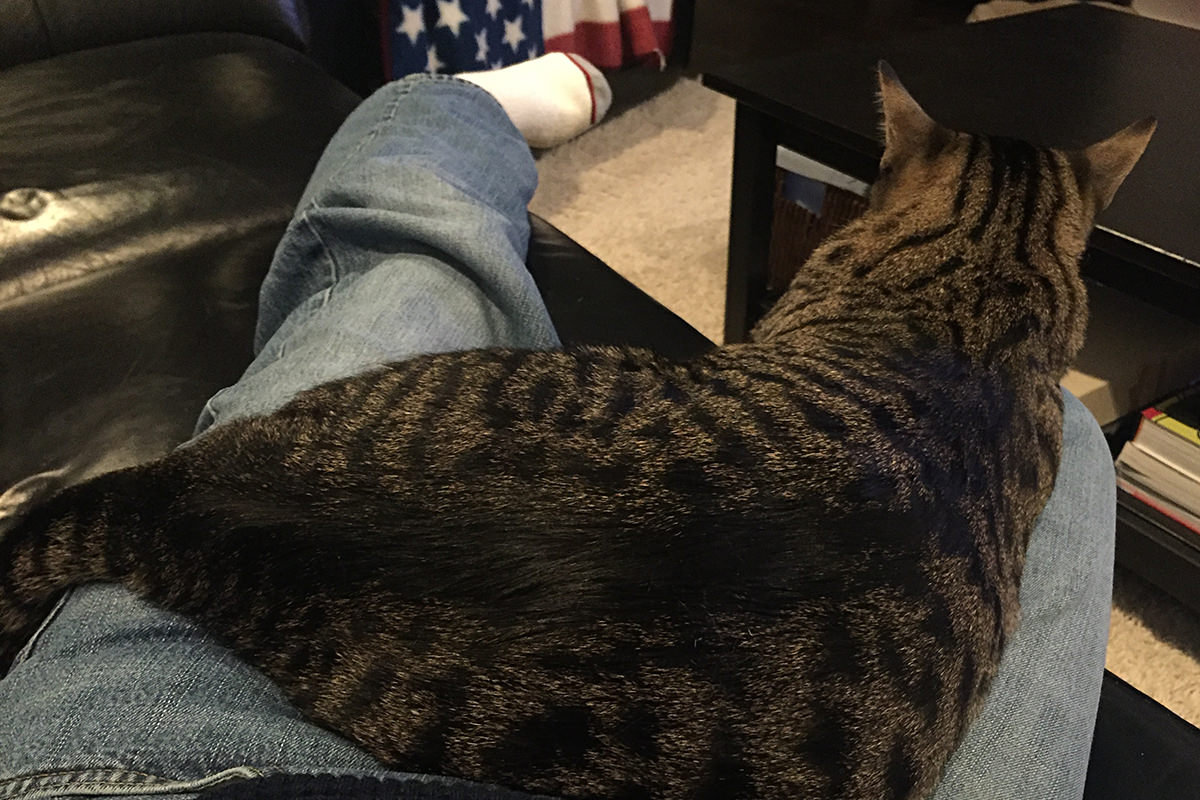 Eventually they must have decided I wasn't going anywhere tonight, and went back to life as usual. Until next time. As if I didn't already feel bad enough about having to leave them...

• Paranoia and Smoke Alarms. Just before my trip to Maine, I started getting paranoid about a fire in my garage. That's where my electrical panel is. That's where my furnace is. That's where my whole-home humidifier is. Any of those things could burst into flames and I wouldn't know about it until it burned through the walls and into the house. To set my mind at ease, I ordered another Nest Protect (smart smoke detector) to put in the garage. Now I'm wondering why smoke detectors in garages isn't a thing. Shouldn't they be? Sure it's $100 down the drain, but that's pretty cheap if my electrical panel caught fire while I was in Maine and unaware. Now my house will send me a text if the garage is on fire. So... yay? I suppose now I need to find out how to call a fire into my local fire department so I can actually do something about an alarm when I'm across the country and 9-1-1 won't connect me to the right place.

• A New History for Humanity. I whole-heartedly approve of this calendar. A simple change that adds loads of perspective...
Too many people think that all of humanity didn't begin until Jesus came along. This fixes the problem without completely disrupting everything. Until scientists decide that

• Trump Diplomacy. This pretty much sums it up...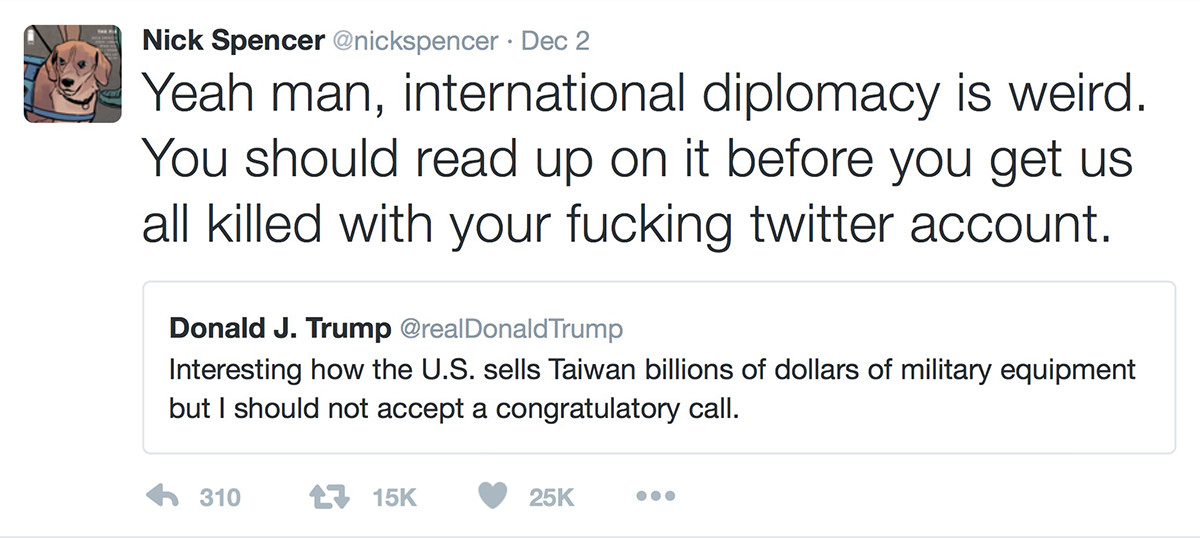 And anybody still calling me "alarmist" for posting end-of-days scenarios around President-Elect Trump's ignorance and stupidity can go read this and then go read this and fuck off now. You'll note that I linked to a FOX "News" story the second time since the people who love Trump and are not taking this shit seriously seem to think that FOX is the only "news" source that matters. Guess we don't have to give a shit about Trump cutting Social Security and Medicare since we're all probably going to be dead by the time he gets around to it. In the meanwhile... this is how Republicans are saving American jobs?

And... the bullets have flown. Until next week then.
Tags:
Bullet Sunday
,
Cats
,
Dumbfuckery
,
Funny
,
Home Automation
,
Marvel
,
Marvel Studios
,
Movies
,
Trump
Categories:
Bullet Sunday 2016
,
Cats 2016
,
Home Renovation
,
Movies 2016
—
Click To It:
Permalink
—
3 Comments: Click To Add Yours!
Posted on November 17th, 2016

One of the first things on my agenda while in San Francisco was to see Doctor Strange in IMAX 3D. Apparently it's filled with trippy visuals that make this the only acceptable way to see it. So I drop off my stuff and rush to one of the best IMAX theaters in the country... The Metreon... only to find out that their last ever IMAX showing of Doctor Strange was 40 minutes ago. From now on they're only showing the latest Harry Potter film (Fantastic Beasts?) in the IMAX theater.
What a bummer.
Then I remembered that there was a "Mini IMAX" up on Van Ness, and decided that was probably the next best thing. So off I went...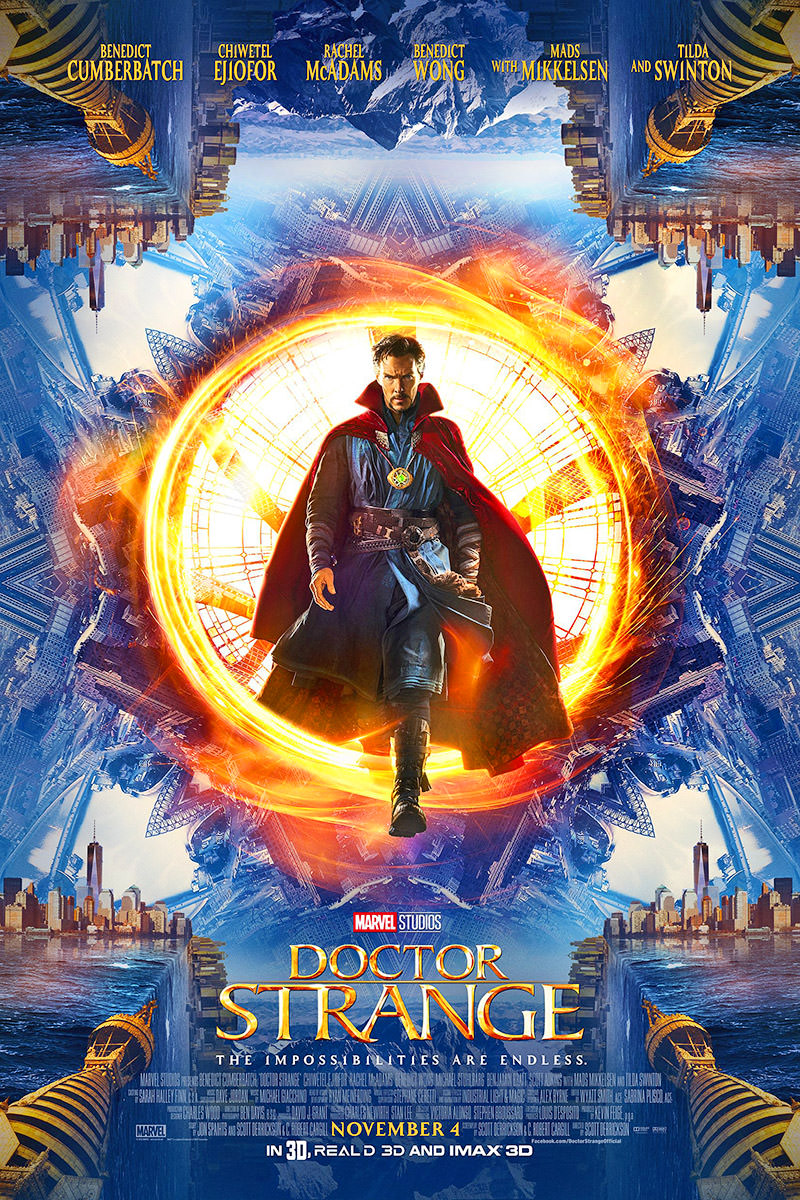 The movie was pretty darn close to perfect.
Painfully faithful to the comic book character in all the most important ways... with a few minor changes that didn't spoil it for me.
Arrogant surgeon Dr. Stephen Strange is at the top of his game... wealthy, powerful, brilliant at his job, and able to pick and choose where his talents will be used. But then one night he's texting while driving, gets into a devastating car crash, and his hands are ruined in the process.
Desperate to become a surgeon again, he wastes away his fortune looking for a cure for the severe nerve damage that makes his hands shake uncontrollably. Then, when all hope is lost and he's on his last dollar, he travels to Kathmandu in Nepal to chase down a mystical cure he stumbles upon.
There he meets The Ancient One who trains him to save lives not with a scalpel... but with the mystic arts. Thus magic has come to The Marvel Universe.
Awesomeness across the dimensions of the multi-verse ensues.
The biggest controversy in the film was changing The Ancient One from an older Chinese man to a younger Celtic woman (wonderfully played by Tilda Swinton). This was done partly to sidestep some stereotype landmines, at which it was mostly successful. The other elephant in the room was changing the location from Tibet to Nepal... a move which was made to appease the film board in China so it could be cleared for release in their country. This was a change that bothered me more than The Ancient One, because Tibetan mysticism is at the core of the character. But, oh well... when your budget investment for a film is this massive, I guess you can't afford to cut yourself out of a profitable market.
Marvel adjusted their filming and release date for Doctor Strange specifically to accommodate Benedict Cumberbatch's schedule. This was an incredibly smart move, because he is flawless as the character. He IS Dr. Strange. This seems to be something that Marvel excels at. Could anybody but Robert Downey Jr. play Tony Stark as Iron Man? Chris Evans as Captain America? Paul Rudd as Ant-Man? Scarlett Johansson as Black Widow? Chris Hemsworth as Thor? Hell, I even have a hard time seeing anybody but Jeremy Renner as Hawkeye! Cumberbatch inhabits the character with a near-unsettling ease, and it's incredible entertainment to watch.
If you have the opportunity, see the film in IMAX 3D. It's worth the effort, as the visual effects are mind-blowing to behold that way.
Right now I can't decide whether Doctor Strange or Captain America: Civil War is my favorite super-hero film of 2016. It's a very close race. I rate Civil War higher, but Strange could leapfrog after being so brilliant and fresh.

Time to update my "Y2K Super-Hero Comic Book Renaissance" scorecard with another brilliant Marvel effort...
The Avengers... A+
The Avengers: Age of Ultron... A
Batman Begins... A
Batman Dark Knight... A+
Batman Dark Knight Rises... A
Batman vs. Superman: Dawn of Justice... D
Big Hero Six... A+
Blade... B
Blade 2... B
Blade Trinity... B-
Captain America... A+
Captain America: The Winter Soldier... A+
Captain America: Civil War... A++
Catwoman... F
Daredevil... B-
Daredevil (Director's Cut)... B+
Doctor Strange... A
Elektra... D
Fantastic Four... C
Fantastic Four: Rise of the Silver Surfer... D
Guardians of the Galaxy... A+
Ghost Rider... C
Ghost Rider: Spirit of Vengeance... D
Green Hornet... D
Green Lantern... C+
Hellboy... A
Hellboy 2: Golden Army... A
Hulk... C-
Incredible Hulk... B
The Incredibles... A+
Iron Man... A+
Iron Man 2... A-
Iron Man 3... A+
Jonah Hex... F
Kick-Ass... B+
Kick-Ass 2... B-
Man of Steel... F-
Punisher... C+
Punisher War Zone... C
Scott Pilgrim vs. The World... C
Spider-Man... B+
Spider-Man 2... A
Spider-Man 3... D-
Amazing Spider-Man... B
Amazing Spider-Man 2... B-
Superman Returns... C+
Thor... B+
Thor: The Dark World... A
Watchmen... B
The Wolverine... B
X-Men... C
X-Men 2: United... D
X-Men 3: Last Stand... F-
X-Men Origins: Wolverine... D
X-Men: First Class... B
X-Men: Days of Future Past... B-
X-Men: Apocalypse... D+