Posted on July 25th, 2022

As I have said many, many times in this blog, I am a massively huge fan of Black Panther. He, along with Doctor Strange, are my favorite Marvel comic book characters by a wide margin. Needless to say I was crushed when Chadwick Boseman died... not just because he was a talented actor who I had enjoyed in many films... but because he is Black Panther. And not getting to see him in Ryan Coogler's follow-up to the amazing Black Panther film fills me with a sadness that's hard to describe. His performance as The Black Panther filled me with joy after waiting years for the character to finally appear in the MCU, and now he's gone. Taken from us far too soon.
And you might guess, Black Panther: Wakanda Forever is a series of mixed emotions for me. On one hand, I am so happy that we will get to see all the great characters and incredible world of Wakanda again. On the other hand... Black Panther is gone.
I posted the trailer from Comic Con yesterday. I have watched it dozens of times trying to see every detail of what awaits us on November 11...
So here we go. Please avert your eyes if you don't want to see my spoiler-filled comments...

The trailer starts with Nakia on a beach... likely mourning the death of her boyfriend. Could she be pregnant with the heir to Wakanda? We don't know. What's very interesting about this scene is that you can see Aztec/Mayan architecture behind her. This related to Namor, which we'll get to in a bit...
Later we see T'Challa's mother, Ramonda, also on a beach which is kind of strange, because I thought that Wakanda is a landlocked country. They have a lake and rivers, of course, but no oceanfront real estate. Not sure what this could be about...
And heeeeere's the birth of Namor. Which you can tell because of his winged feet (in the comics this allows him to fly). This makes Namor the first mutant in Marvel's history...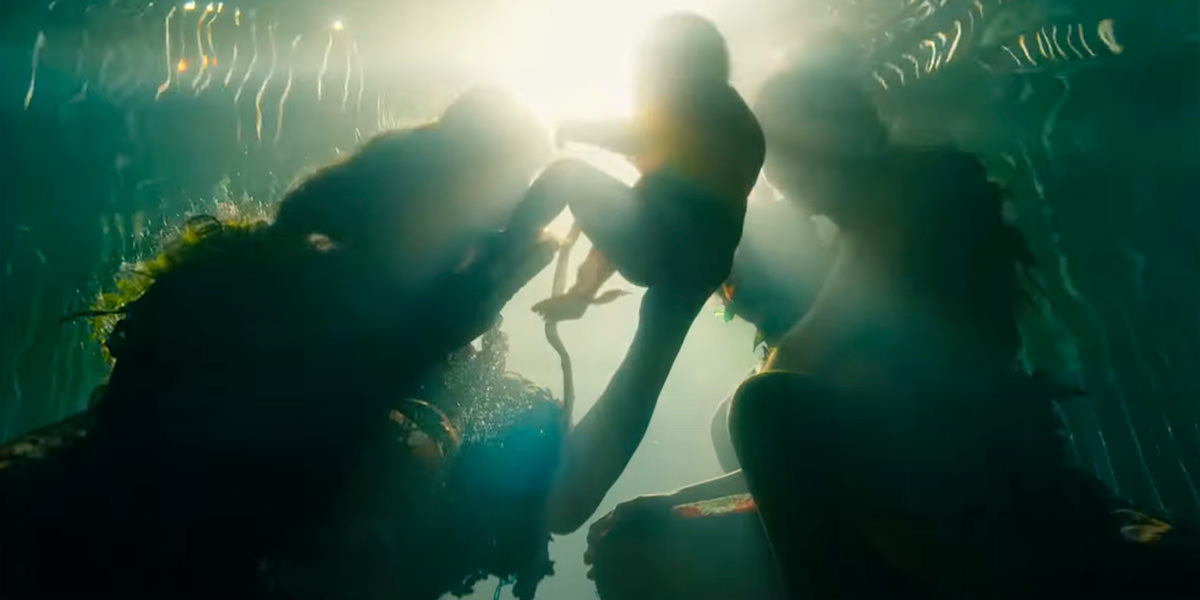 In the Marvel Comics, Namor (AKA The Sub-Mariner) debuted in 1939, years before Aquaman debuted in DC Comics (that was in 1941). Even though Namor came first in reality, DC brought Aquaman to the movies first. To avoid people who don't know the history thinking that they have ripped off Aquaman, Marvel Studios has decided to root Namor in Aztec/Mayan culture, giving him and his people a far different look for Atlantis than DC gave to the Aquaman movies. I absolutely love this. Not only because it adds diversity and representation to the the MCU, but because it's just an amazing idea from the get-go...
I'm guessing this is Wakanda's throne room? All flooded and burning. I don't know if this is supposed to show a turning point where Shuri accepts that she must become the new Black Panther or not, but it's an interesting scene...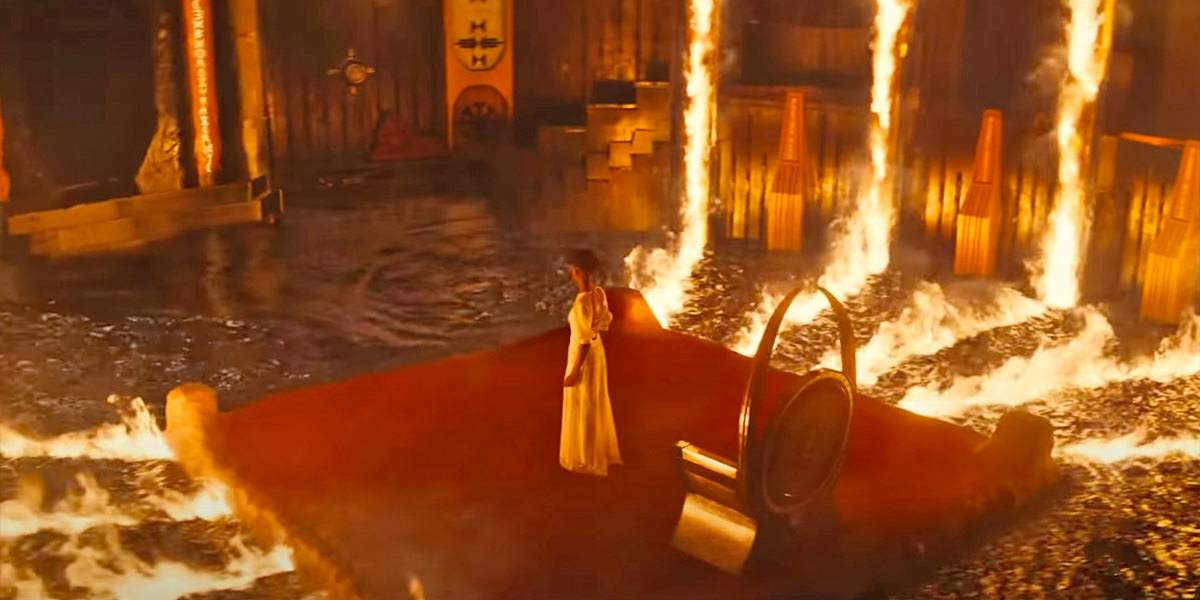 And... here's two of the smartest people in the MCU. That's Shuri shaking the hand of Riri Williams who becomes the successor to Iron Man, Iron Heart. I am positive that Riri is going to be tied to Wakanda and the first movie due to the ending of Black Panther where T'Challa established the Wakanda Outreach Program. How cool is that?!
Awwww... it's little Prince Namor! The reason he is not blue like other Atlanteans in the Marvel Universe is because his father is a surface-dweller, and his mother is princess of Atlantis. He inherited his father's skin color, but his mother's royal status...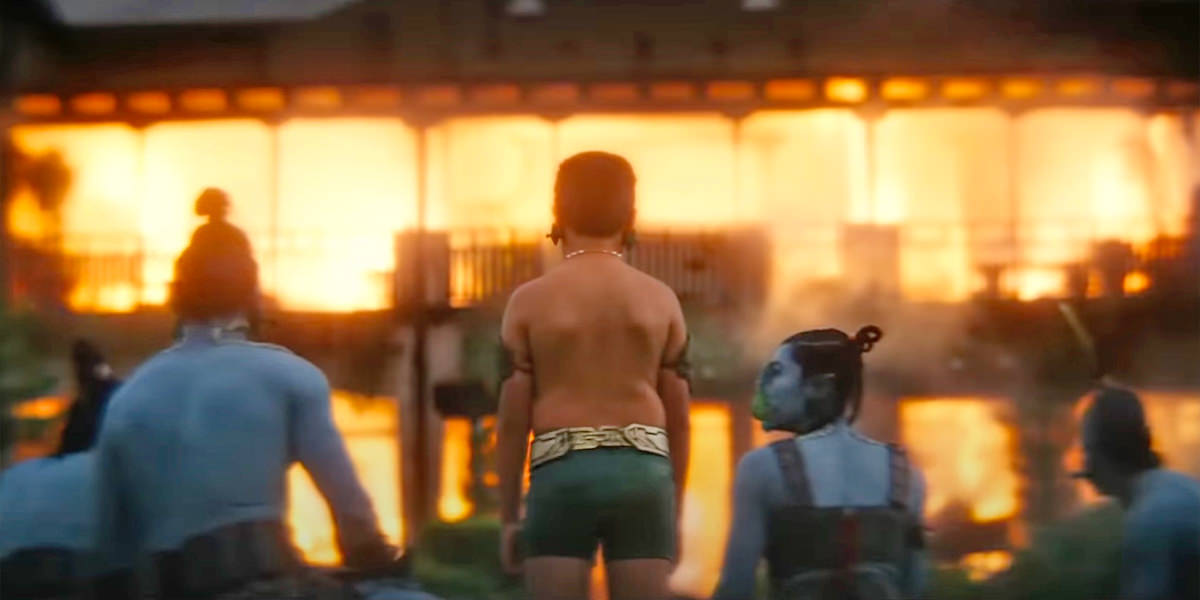 And here's adult Namor...
M'Baku is probably my favorite character from the first movie. I am thrilled that he's come back for the sequel (just as I am sad that W'Kabi isn't able to return because Daniel Kaluuya had other commitments). Of all the characters in the MCU, M'Baku is the one I most want to see get his own Disney+ series. Okoye is apparently getting hers, maybe M'Baku will be a big part of the World of Wakanda series?
This movie is going to be a punch in the gut from start to finish... especially when seeing Chadwick Boseman pop up...
I am more than a little excited that Ryan Coogler & Co. don't hire somebody with the massive talent of Angela Bassett and have her sit on the sidelines. She actually looks like she's going to be given stuff to do...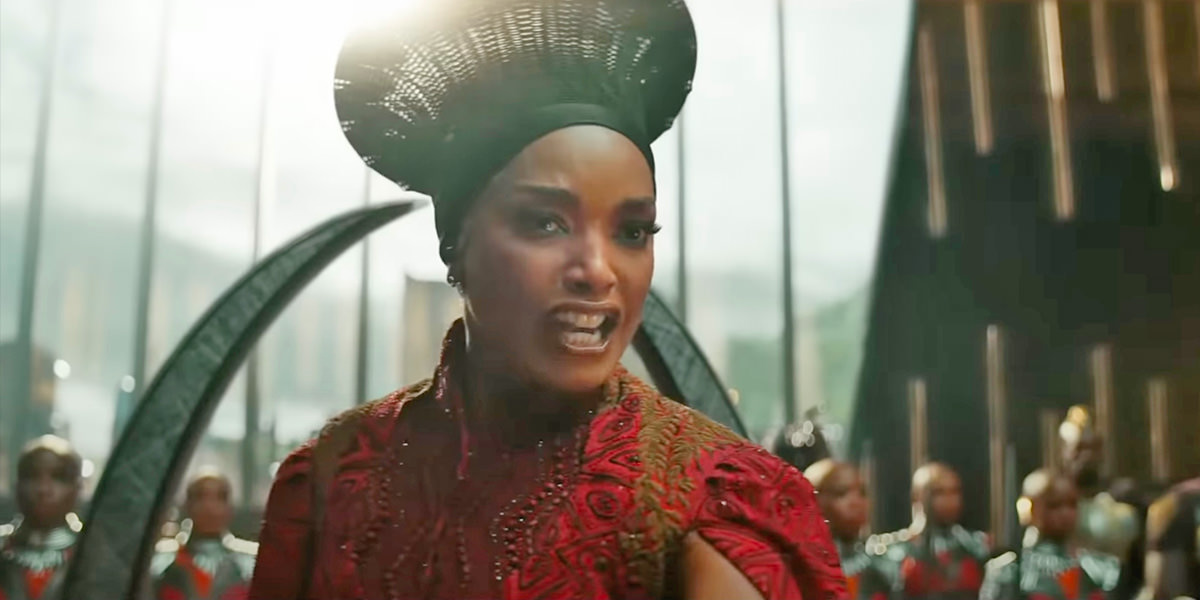 Everett K. Ross! I love how this character is part of the MCU. And thank heavens that Ryan Cooler didn't have him fall into that tired old "white savior" trope that so often gets assigned to white characters in movies. Wakanda is the most technically-advanced nation in the MCU and their people are among the most powerful on the planet. They don't need a white man to step in and save them. From anything.
I am surprised that RiRi is going to become Iron Heart in this film. I thought she would be introduced here, then become Iron Heart in her own series! Kinda cool that her first suit is going to harken back to the bruit-force armor that Tony Stark created in the first Iron Man movie!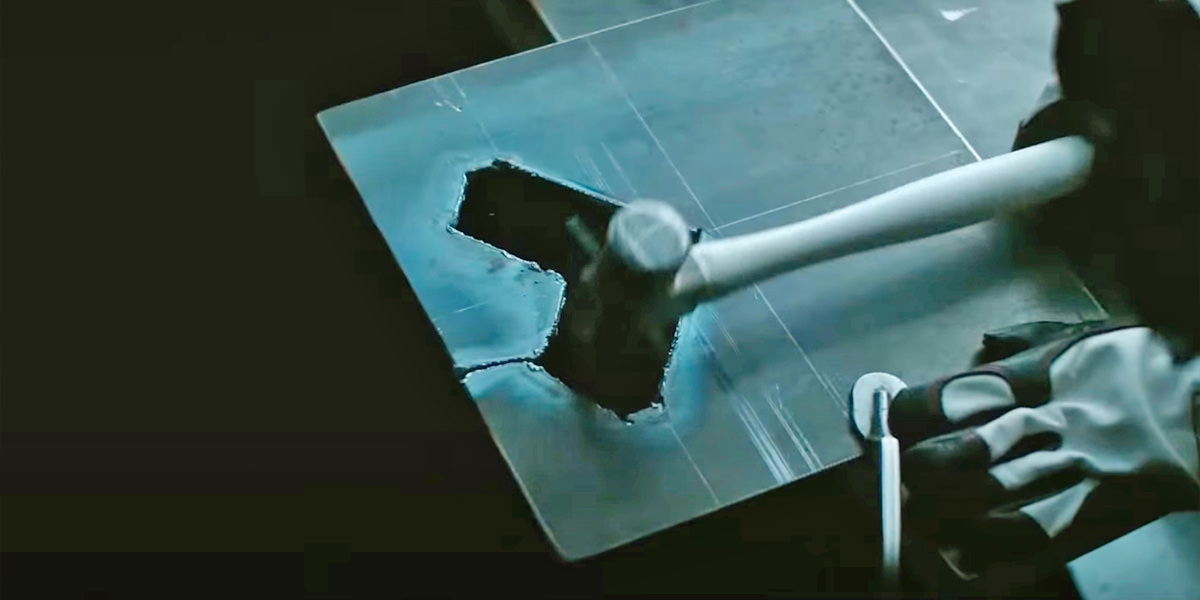 Wakanda and Atlantis have a long and complicated history in the comics. They have been at war for much of that history, though they have put it aside when a common threat faces them. I am guessing that the movie will have them at war from the start, and it will be interesting to see the reason behind it. Likely Vibranium-related. Note that Atlanteans need masks to breath when out of the water, whereas Namor does not. He got that from his dad. :-) I am happy that they kept his winged feet. I was thinking that they would eliminate them for the movie to keep the character less expensive to have on-screen...
And here's M'Baku... about to make a serious error. Namor can survive the crushing pressure of the deep ocean, so this battle club won't be much trouble for him to shrug off...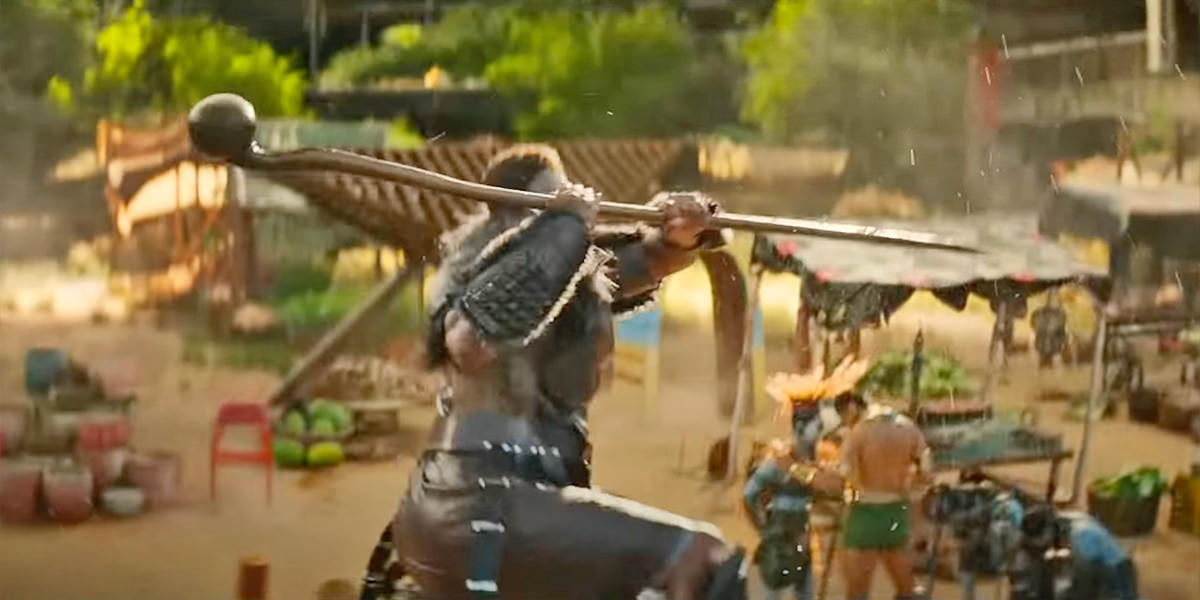 And who might this be? Could it be Aneka? We've already seen Ayo in the MCU (Aneka's lover in the comics) and this could be setting them up for a very interesting turn if they follow the story from the comics.
Okoye is so wonderfully bad-ass. I truly hope that Coogler is involved in her Disney+ series, because I will be sorely disappointed if she doesn't maintain character...
Just give Namor his own movie already. Can you just imagine?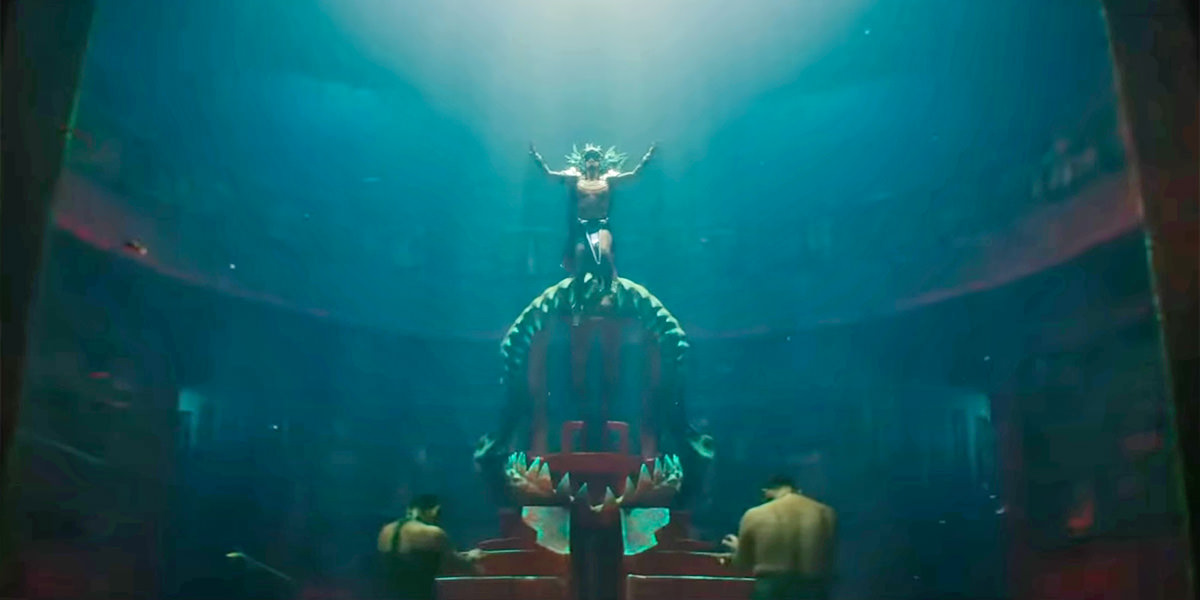 Dora Milaje warriors vs. Atlantean warriors. That will be a heck of a fight!
And who is the new Black Panther? In the comics, Shuri has taken on the job on more than one occasion. Not sure if that's the way they are going to go in the movies. Maybe. Or perhaps M'Baku? Though I would really rather he keep his character, because he's just so fantastic. And now, for the hundredth time, WHERE IS MY M'BAKU SERIES?!? Just back up a dump truck full of cash to Winston Duke's house, pour out however much money it takes to get him to sign on to the project, then keep paying him absurd amounts of money so we get minimum ten seasons...
I am not even joking. I would watch the heck out of an M'Baku series.
And that's our first look at Black Panther: Wakanda Forever. November seriously cannot get here fast enough.
Posted on July 17th, 2022

It's too hot to go outside, but not too hot to blog... because an all new Bullet Sunday starts... now...

• 988! The National Suicide Prevention Lifeline has been given a new easy-to-remember number... 988, an obvious play on the 911 used for emergencies. This is an important thing to have happen, and I can only hope that 988 becomes as well-known as 911 in case somebody ends up in crisis.

• OKOYE! This just in from the It's About Damn Time department, Nerdist is reporting that there's an Okoye series in development for Disney+ (assumably starring the always-awesome Danai Gurira). Second only to Black Panther himself, she was one of the most memorable parts of Black Panther...
Now where's my M'Baku series?

• Appliance! @mcmullanappliance TikTok has fantastic videos that have taught me a lot. Like adding Pine-Sol in the wash cycle with the detergent (never in the softener dispenser)...
And then there's this...
His channel is a total rabbit hole you will be happy to fall down.

• Dud! How in the heck did I completely miss the show Lodge 49? It's a bit slow... methodical... but it's also brilliant, heartfelt, and has purpose. It's about how we go on with our everyday lives feeling lost and alone, meandering in the fog of existence... while something bigger... something magical(?)... may be at play...
The show is random, all over the place, and impossible to describe. I am liking it a lot, but don't know exactly why I do. It's bizarre. And it's on Hulu if you want to check it out.

• Bog Hero! Finally got around to watching BAYMAX! It's adorable and beautifully animated (as expected)... but also very well written. They went places that I wasn't expecting for Disney to go, which just made the episodes even more interesting...
Good stuff. I hope we get a second season.

• It's a Frigidaire! Boy. Refrigerators sure have taken a dive in cool features over the years...
That veggie tray is just cool as all getout.

And now I return to my air-conditioned life of luxury.
Posted on July 13th, 2022

The season finale of Ms. Marvel Season 01 aired and I have thoughts.
My spoiler-free review of the series would go something like this... "While deviating from the comic book in many ways, the Disney+ adaptation kept what made the series so compelling from the very start: it's heart. When married to the flawless cast (headed perfectly by Man Vellani) we're left with something that made for great television, despite some fumbling when putting a history lesson ahead of story. This doesn't surpass Hawkeye as my favorite Marvel Studios series, but it's a solid second place and comes to a satisfying conclusion."
So... nod bad at all...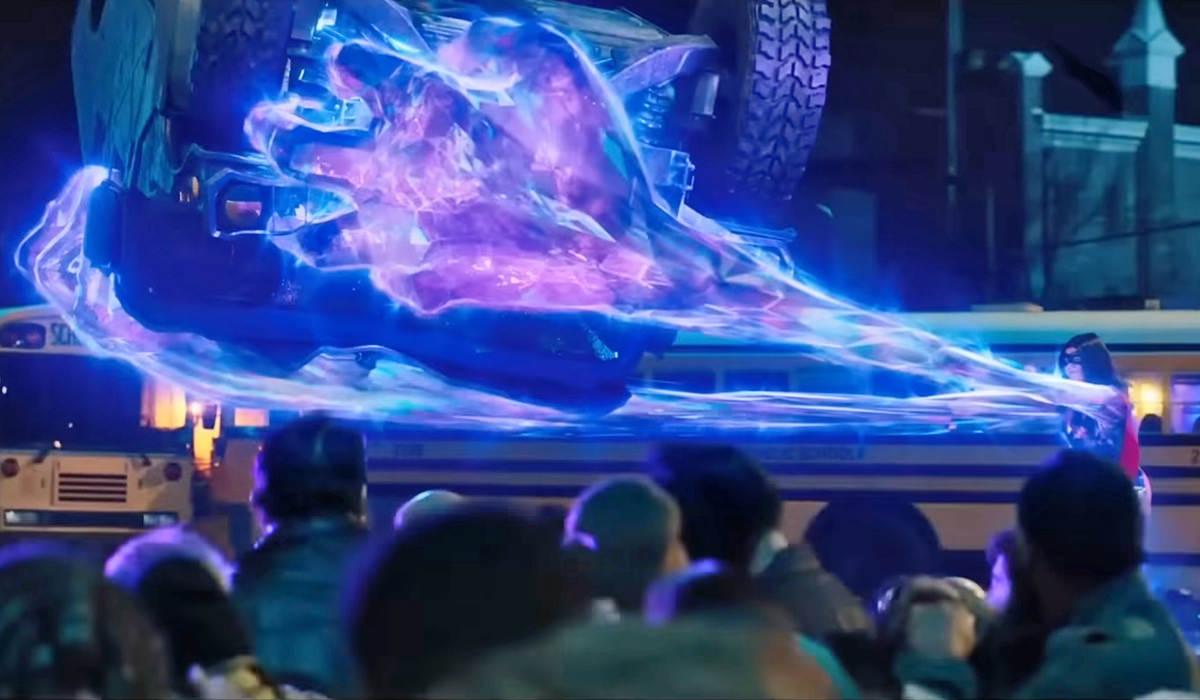 And now for those spoiler-filled thoughts of mine...

Okay... believe it or not, Captain Marvel swapping places with Kamala was not the biggest bombshell dropped in the final episode. But it was cool...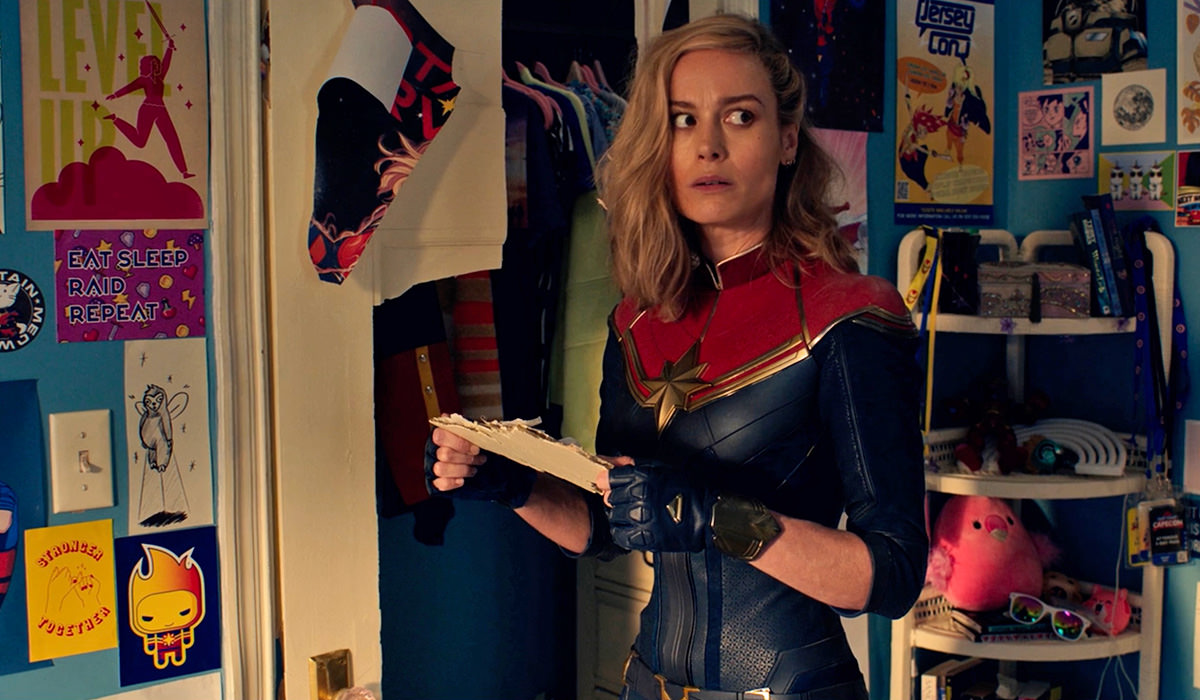 As is Carol's new costume.
No, the big reveal is that Kamala Khan is a mutant.
Which means that the X-Men are on their way to the Marvel Cinematic Universe (assuming that they are not already here, and are just in hiding... or, in the case of Patrick Stewart, in an alternate reality of the Multiverse).
But anyway...
As I mentioned, I thought that they shoehorned The Partition of India and Pakistan into the series in a way that put a history lesson above the story. Not that I don't like it when a show can help educate people on history, I just thought this one was a bit sloppy when compared to... let's say... Watchmen... building a story around The Tulsa Race Massacre. Had Ms. Marvel been handled like that, it could have been a brilliant addition instead of something that turned out to be a bit of a distraction. Even so, I'm hopeful that people who see this series and aren't fully unaware of the tragedy that came out of The Partition are inspired to look into it further.
Setting that aside, the series was pretty great overall.
I know that they changed Kamala's powers in a significant way, but by the end they made it very clear that they were adhering to the spirit of her powers.
Ms. Marvel is a part of the upcoming Captain Marvel sequel... The Marvels... and it's obvious that this series is leading directly into that. So Kamala ain't going anywhere. I just hope that we get a second season of the TV show, because it would be nice to catch up with her family.
Posted on July 7th, 2022

Thor: Love and Thunder is great. Not as great as Thor: Ragnarok, but I enjoyed it quite a lot.
Especially the mid-credits scene at the end, which is glorious. I'd stay off the internets until you've seen the movie so it doesn't get spoiled... but it's a doozy. Especially if you're me. As if that weren't enough, there's Russell Crowe as Zeus. And he plays it in a way I was most definitely not expecting...
As has become my custom, I am not reviewing any films until they are released on home video... trying to avoid spoilers for people who may not be able to go to the theater in the Age of COVID.
But if I were to tease my thoughts? It's a worthy successor to Thor Ragnarok which could have taken itself a bit more seriously, but is another awesome Thor adventure just the same.
Posted on June 14th, 2022

=sigh=
The second episode of "Ms. Marvel" was wonderful from start to finish. AND YES I STAYED UP UNTIL MIDNIGHT SO I COULD WATCH IT! The cast... story... cinematography... all incredible. This is quickly getting to be right up there with Hawkeye as the best Disney+ series for me. It's inconceivable that this is Iman Vellani's first acting job! She plays Kamala Khan so effortlessly and believably. Well, as believably as you can get with a comic book movie...
There have been numerous changes from the comic book to accommodate video media... but there were more than a couple scenes in the second episode that were right out of the source material, which was wonderful to see. The showrunners are absolutely respecting the spirit of the original character in very good ways.
If you're not watching Ms. Marvel, you really should be.
Posted on June 13th, 2022

The film I am most looking forward to this year? Thor: Love and Thunder.
What Taika Waititi did with Thor in Ragnarok still boggles my mind. It was completely new and fresh... yet respected Jack Kirby's aesthetic in a retro way that was thrilling to watch. It was also funny in smart way that didn't turn the characters and story into a joke. To accomplish all that requires somebody with massive vision and talent. And now Taika is back with this...
So... yeah. Might be worth risking whatever new COVID variant is out there to see this one in the theater.
Posted on June 9th, 2022

When it comes to translating their comic book properties to non-comic media, Marvel has done a darn good job when it comes to the compromises which have to be made. The way costumes look... the way powers work... the way continuity has been built... choices have to be made every step of the way, and there has been shockingly little that I've not felt was smart, cool, and appropriate.
Ms. Marvel, based on a highly successful character from the comics, is an American girl of Pakistani Muslim heritage who idolizes Captain Marvel and wants to be a super-hero just like her. Then one day she gets her shot, and her life becomes a balance between being a hero and being a girl trying to fit into her life and school while still holding true to her family's traditions and values.
In the comics, Ms. Marvel is a "polymorph" who has the ability to stretch and embiggen parts of her body. She got her abilities after being exposed to the Terrigen Mists, which is how Marvel's Inhumans characters gain powers (meaning that Ms. Marvel is technically an Inhuman).
In the television series, Ms. Marvel finds a family heirloom (a "bangle") which gives her the ability to make cosmic energy constructs. You can see it on her wrist here...
Now, even though her powers are very, very different in the MCU, she still uses them in a way that harkens back to the comic books. If she wants to catch somebody, she generates a giant hand out of cosmic energy and stretches it out to make the catch. As opposed to making her actual hand grow to giant size and then stretching her actual arm out to make the catch.
I know some fanboys are going to be upset by this change, but I think it's pretty smart. First of all, her powers look kinda ridiculous in the comic books and probably wouldn't translate very well to television and movies. Second of all, part of her powers is basically a copy of Mister Fantastic's stretching abilities, which means that the Marvel Cinematic Universe would have two people with a confusingly-similar gimmick once The Fantastic Four movie arrives.
Which is to say that the MCU Ms. Marvel is more "Green Lantern" than "Mister Fantastic."
I'm not sure if I approve of the whole "cosmic bangle" source of her powers, but the powers she has been given I definitely approve of.
I also approve very much of the show itself.
Ms. Marvel streamlines the comic book narrative into something that works for television very well. The core aspects of her character are very much the same, and that's more important than most anything else because it's those aspects which make her unique.
Visually the show is quite good... using auxiliary graphic elements to give the series a unique flavor and make it fit the youthful vibe of the character.
The cast is phenomenal. Iman Vellani IS Ms. Marvel, and they fill out her family, friends, and acquaintances with equally-capable actors. It seems as if Marvel Studios is simply incapable of making bad casting decisions...
We've only gotten one episode to look at, but the storytelling is on-point and things move at a brisk enough pace that the episode doesn't feel bogged down (as what happens with so many origin stories). But the best surprise of all? MS. MARVEL IS ACTUALLY IN THE SHOW! After the way Moon Knight had practically no actual Moon Knight in it, I was mortified that this might be a new trend. But nope!
I don't know that Ms. Marvel will overtake Hawkeye as my favorite MCU Disney+ series... but maybe it will get there. The pieces are certainly in place to make it a fantastic show, so fingers crossed.
Posted on June 6th, 2022

One of my favorite comic books of all time is Alpha Flight... in particular the Vol. 3 version by Scott Lobdell and Clayton Henry. Their story would be a perfect fit for a really good Disney+ series, so I keep hoping that one day they will show up.
And they really should, because I think Canadians would appreciate seeing their own super-group brought to life...
Another of my favorite comic books... The Sandman has already been developed as a series for Netflix, and it looks very good indeed. The visuals are highly reminiscent of the source material...
Needless to say I'm quite excited about seeing it, and August 5th seems a long time away.
Fortunately, we've got Ms. Marvel coming in two days, Thor: Love and Thunder coming July 8th, and Season 04 of What We Do in The Shadows coming on July 12th to help occupy our time until August...
Also? The sequel to one of my favorite comic book adaptations ever, The Old Guard, starts filming this month... assumably for release in 2023 some time. But before that? She-Hulk: Attorney at Law debuts on August 17th, Black Panther: Wakanda Forever coming November 11th, and Nick Fury's Secret Invasion (assumably) shortly thereafter!
An exciting time to be a comic book nerd, that's for sure.
Posted on May 22nd, 2022

The sun may be shining outside where I'm at, but I'm not out enjoying it as I should be... because an all new Bullet Sunday starts... now...

• Breakfast! The season finale of Saturday Night Live was fairly mediocre... despite having Natasha Lyonne hosting and great send-offs for Kate McKinnon, Aidy Bryant, and Pete Davidson (and apparently Kyle Mooney is leaving as well?). HOWEVER... it introduced me to Japanese Breakfast, a band I never knew existed but fell in love with immediately. This has to be one of my favorite SNL performances ever...

• The Valet! I'm a huge fan of Eugenio Derbez, and his new movie The Valet on Hulu is great. At first I worried that it wasn't taking advantage of his talents, but boy did he bring it in the end...
Worth your valuable time. And we're also getting a second season of his show "Acapulco," which is something else you should be watching.

• Baymax! My favorite animated character since Stitch from Lelo & Stitch and Sully from Monsters, Inc. has his own show...
And how great is it that they kept the other characters from Big Hero 6 to be in it as well?

• Umbrella Academy 3! I've been in awe at just how good the Netflix adaptation of the Umbrella Academy comics have been... actually improving on the material in some ways. And now we're at Season 03 and it's looking as cool and bonkers as ever...
With Netflix being an absolute shit-show as of late, and their tradition of killing shows after 2 or 3 seasons, I'm more than a little worried about getting Season 04.

• She-Hulk! This is what happens when a show looks like it has a very good chance of exceeding your expectations. People of earth, I give you She-Hulk: Attorney at Law...

• Marvel! And now that Ms. Marvel is nearly upon us, Marvel Studios is giving us a bigger taste of what's to come...
I. Cannot. Wait.
If nothing else, casting Tatiana Maslany in the lead is 100% pure win.

• Heartstopper Redux! And lastly, the news I've been waiting for ever since I watched the show... Netflix has renewed Heartstopper for two seasons...
While this is incredible news... had they waited any longer, the actors would be getting too old to play their characters... it's also a bit disappointing. From my estimation, they'll need four seasons to get through all the graphic novel material which has defined Nick & Charlie's relationship, so why not renew for three? And boy oh boy do I hope that they fold in more material for Charlie's sister, Tori (or, better yet) give her a series of her own and adapt Solitaire). In any event, not all the news coming out of Netflix is bad, it seems.

And now I need to get outside and tie up some of my flowers before they take over my yard!
Posted on May 3rd, 2022

I haven't been all that impressed with Moon Knight. Mostly because the show has barely had any Moon Knight in it. And it's perfectly understandable. They tapped an actor of Oscar Isaac's caliber, so covering him up in a mask for six episodes simply wasn't in the cards. No, the reason they needed Oscar Isaac was to have an actor with the chops to portray a character with dissociative identity disorder, which he delivered. As expected.
And now we've reached the end of the road. The final episode aired tonight.
And while it doesn't entirely make up for the fact that they dragged out this show for far, far too long... I have to admit that the payoff was pretty sweet. I just wish that this sixth episode had occurred at the half-way point, because now I really want to see what they do next...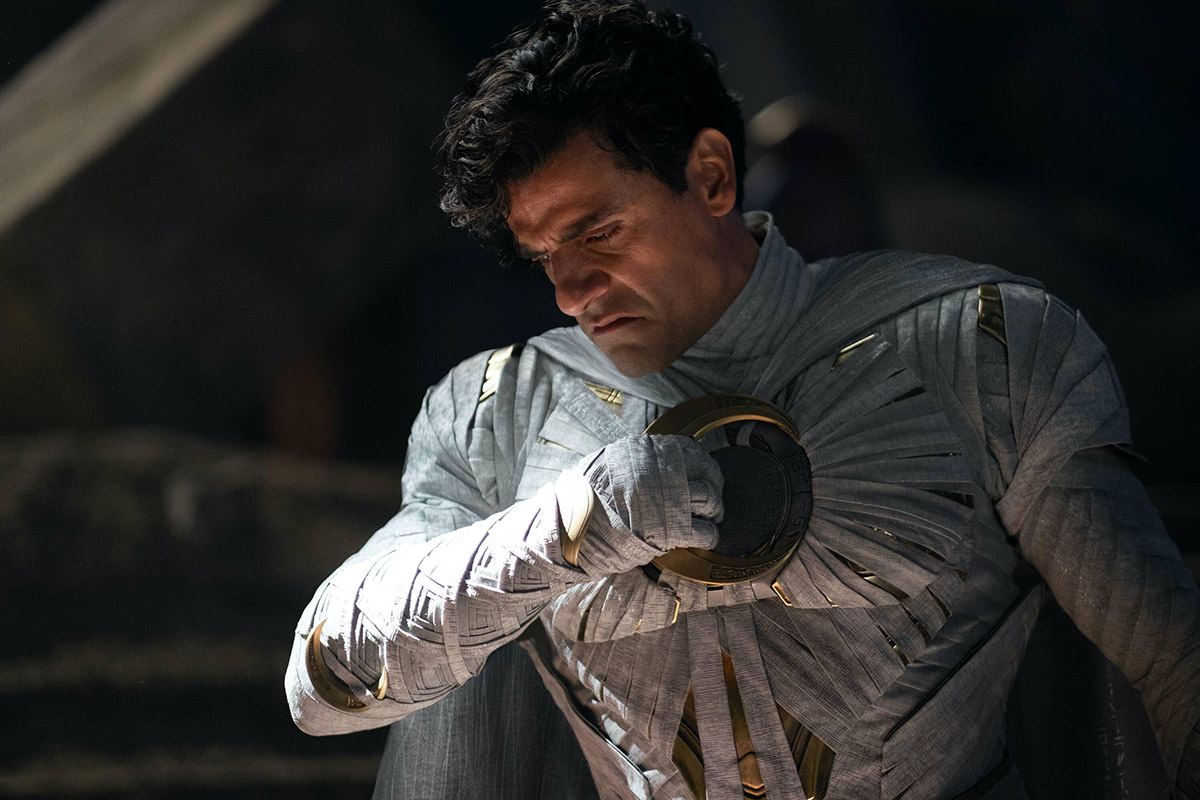 I'm not going to post any major spoilers (though if you're a fan of the comic books, it's not anything entirely unexpected), but I am going to hint at one: part-way through, a little Egyptian girl says in awe "Are you an Egyptian super-hero?!? and it hits pretty hard. Because representation matters. I hope that Marvel stays on this course, because super-heroes are getting played out, and anything new and different is welcome.