Posted on November 13th, 2017

When I put in my two cents on Thor: Ragnarok, I mentioned that I was questioning if it were my new favorite Marvel Studios movie. Ultimately, I decided it just couldn't be. When The Avengers came along, it was my every comic book fanboy dream come true on the screen. The magic from that movie hasn't gone away. Yet.
But then I had somebody ask me... How would you rank the rest of the Marvel movies then?
Well, this is how... at this moment, anyway...
The Avengers (A+) — My comic book fanboy dream come true. Not much else I can say.
Thor: Ragnarok (A++) — Hilariously funny while staying true to the character. A complete surprise.
Captain America: Winter Soldier (A+) — Technically Marvel's #1 movie because it was just so flawlessly put together.
Captain America: Civil War (A++) — If The Avengers was my fanboy team-up dream come true... this... this is the cherry on the top.
Guardians of the Galaxy (A+) — A D-list team given one of the best Marvel movie treatments.
Captain America: The First Avenger (A+) — Brilliant origin story that plays on nostalgia rather than blind patriotism.
Spider-Man: Homecoming (A+) — Everything you want a Spider-Man movie to be.
Doctor Strange (A) — Mind-bogglingly brilliant, beautiful, and fun.
Iron Man (A+) — The movie that started it all. Still holds up today.
Guardians of the Galaxy: Vol. 2 (A) — A terrific follow-up to the original made great by Baby Groot.
Ant-Man (A) — A complete home-run for a character that doesn't seem movie-worthy.
Iron Man 3 (A+) — A great Shane Black spin on the character that pays off because Robert Downey Jr.
Avengers: Age of Ultron (A) — Though I enjoyed it, this was not the movie I was hoping for. Ultron was not made at all scary enough for a villain to take on The Avengers.
Thor (B+) — Timing issues aside, this is an underrated gem of a movie.
Thor: The Dark World (B) — I actually liked this movie a great deal, it just has a hard time when pitted against the others in this list.
Iron Man 2 (A-) — Again... I really liked this movie (hey, it introduced us to Black Widow and Rhodey!), but it just falls short in comparison to the others.
The Incredible Hulk (B) — A decent-but-not-great movie that feels divorced from the rest after the role was switched to Mark Ruffalo.
Interesting to note how some movies rank higher when I grade them, but lower when compared to other movies in the list. Iron Man 2 with an A- rating, for example, comes in below Thor: The Dark World with a B rating. On its own merits, Iron Man 2 had so much to love with Black Widow and Rhodey coming onboard. But it's just not as good a story as what we got with Thor: The Dark World (though, admittedly, not by much).
But what's even more interesting to note? There is not a clunker on that list. I love all the films. Marvel is firing on on cylinders, and the movies they release just keep getting better and better and the universe they're building continues to grow.
And they show no signs of slowing down. Still to come? Black Panther, Avengers: Infinity War, Ant-Man and The Wasp, Captain Marvel, Avengers 4, Spider-Man 2, and Guardians of the Galaxy: Vol. 3.
And, if rumors are to be believed, we may actually finally get a Black Widow movie after 2019, so.... bonus points.
Posted on November 10th, 2017

It is tempting... so very tempting... to say that Thor: Ragnarok is my favorite film to come out of Marvel Studios. Except... how can it be? Surely my favorite film is the first Avengers movie. Isn't it? I mean, that was the prize. That's what everything had been leading to. Finally, at long last, we had a super-hero team movie that actually worked. That was actually good.
And yet... holy crap was Ragnarok amazing. Hilariously funny, but not so farcical that the action beats and serious bits fell flat. Game-changing, but still completely faithful to the source material. Different in feeling and tone from the Marvel we're accustomed to, but still familiar and wholly entertaining.
Thor: Ragnarok is the complete package.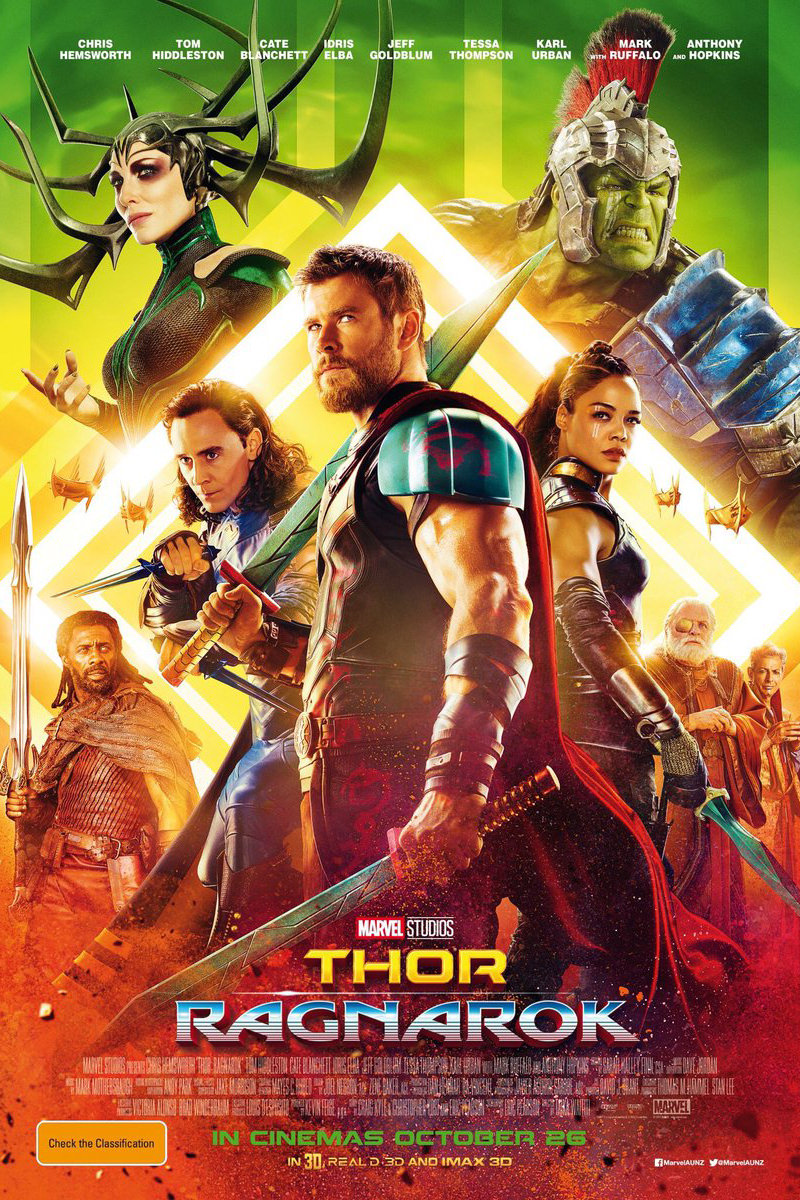 There are precious few things about this movie I don't love. A short list, just to name a few things off the top of my head, that I love most...
Chris Hemsworth's considerable comedic talents on full blast.
Cate Blanchett as Marvel's best (and most deliciously evil) movie villain yet.
Jeff Goldblum being the most Jeff Goldblum we've ever seen... or will likely ever see again.
Loki. Just Loki being Loki.
Every second Valkyrie is on the screen.
A smart... so very smart... evolution of The Hulk.
Idris Elba. Finally being given something worthwhile to do as Heimdall.
Kirby-inspired amazing visuals.
Mind-bogglingly awesome special effects.
Just a really good, funny, highly entertaining story.
I have no idea what the coming Avengers: Infinity War means for Marvel's original character base. Iron Man? Captain America? Thor? will any of them even survive it? If Thor does, they could do a lot worse than to invite back Ragnarok director Taika Waititi (who says he'd love to do another one).

Time to update my "Y2K Super-Hero Comic Book Renaissance" scorecard...
Ant-Man... A
The Avengers... A+
The Avengers: Age of Ultron... A
Batman Begins... A
Batman Dark Knight... A+
Batman Dark Knight Rises... A
Batman vs. Superman: Dawn of Justice... D
Big Hero Six... A+
Blade... B
Blade 2... B
Blade Trinity... B-
Captain America... A+
Captain America: The Winter Soldier... A+
Captain America: Civil War... A++
Catwoman... F
Daredevil... B-
Daredevil (Director's Cut)... B+
Doctor Strange... A
Electra Woman and Dyna Girl... B-
Elektra... D
Fantastic Four (2005)... C
Fantastic Four: Rise of the Silver Surfer... D
Fantastic Four (2015)... D+
Guardians of the Galaxy... A+
Guardians of the Galaxy: Vol. 2... A
Ghost Rider... C
Ghost Rider: Spirit of Vengeance... D
Green Hornet... D
Green Lantern... C+
Hellboy... A
Hellboy 2: Golden Army... A
Hulk... C-
Incredible Hulk... B
The Incredibles... A+
Iron Man... A+
Iron Man 2... A-
Iron Man 3... A+
Jonah Hex... F
Kick-Ass... B+
Kick-Ass 2... B-
Man of Steel... F-
Punisher... C+
Punisher War Zone... C
Scott Pilgrim vs. The World... C
Spider-Man... B+
Spider-Man 2... A
Spider-Man 3... D-
Amazing Spider-Man... B
Amazing Spider-Man 2... B-
Spider-Man: Homecoming... A+
Suicide Squad... D
Superman Returns... C+
Thor... B+
Thor: The Dark World... B
Thor: Ragnarok... A++
Watchmen... B
The Wolverine... B
Wonder Woman... A
X-Men... C
X-Men 2: United... D
X-Men 3: Last Stand... F-
X-Men Origins: Wolverine... D
X-Men: First Class... B
X-Men: Days of Future Past... B-
X-Men: Apocalypse... D+

Posted on November 6th, 2017

The big news of the day is the rumor that Twenty-First Century Fox is in talks to sell off most of the company to Disney. Not exactly groundbreaking, as movie studio consolidation has been ongoing over the years... except one thing.
Disney is the corporation that owns Marvel Comics and, more relevant to the point, Marvel Studios.
And since Twenty-First Century Fox had bought the Marvel movie rights for X-Men, Fantastic Four, Silver Surfer, and Deadpool (and subsequently crapped out a series of shitty X-Men films and even shittier Fantastic Four films plus an awesome Deadpool movie) buying the studio would mean the potential to fold these stellar properties into the Marvel Cinematic Universe proper. I mean, look how frickin' incredible bringing Sony's Spider-Man rights into the Marvel cinematic fold ended up being?
What could possibly top Avengers: Infinity War? I dunno. But Avengers vs. X-Men might do the trick, if handled properly.
Because a part of me wonders if merging the X-Universe with the Avengers universe would be a good thing. First of all... the entire concept of "mutants" would have to be woven into the Marvel Cinematic Universe. Until now, they haven't even existed. The creation of mutants could easily be dropped into the fourth Avengers film... maybe Thanos explodes and the energy washes over earth and mutates a bunch of people... but would that be too much in an already crowded universe of characters? Maybe. Then again, to finally... finally get a decent X-Men film after years of mostly shit would sure be a treat. I am just not convinced that they shouldn't remain separate, even if Marvel takes over the property.
The Fantastic Four, on the other hand? No such reservations. Integrate them into the MCU as soon as possible!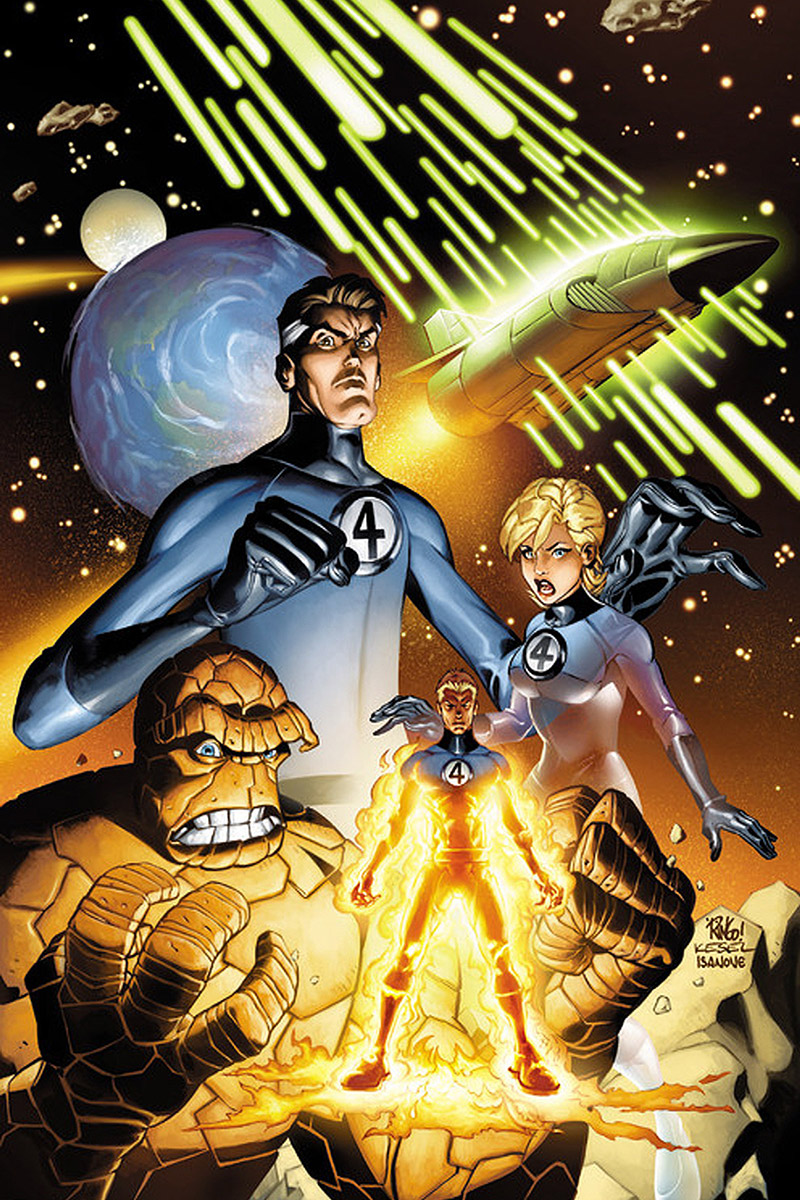 In the comics, The Fantastic Four was Marvel's first "super team" and is literally the cornerstone of their entire integrated super-hero-verse. Their footprint looms large over everything that came after, and it has always amazed me that with such a wealth of material (over 50 years' worth!) that we can't seem to get a FF movie that's worth a shit.
My hands-down favorite version of The Fantastic Four was Mark Waid and Mike Wieringo's take which began with an arc called "Imaginauts." In an effort to make them more than Just Another Super Hero Team, Waid/Wieringo imagined them as a team of explorers who happened to have super-powers, and their relationship as a family was put front-and-center. It was entertaining as all get-out. And, despite being one of Marvel's oldest franchises, it felt fresh, new, and exciting. As the MCU passes 10 years of existence, isn't an infusion of fresh, new, and exciting what they need to carry them into the next 10 years?
Marvel hardly needs counseling on how to handle their movies... I mean, holy crap, they just keep getting better and better... but please. Can we pretty please finally get a Fantastic Four movie that lives up to their potential? We've been waiting for so long.
Posted on October 15th, 2017

Put on your Sunday Best, because an all new Bullet Sunday starts... now...

• Midnight Trailer! It's great how Marvel attempts to distinguish their movies in tone and look. Black Panther appears to have all the hallmarks of a Marvel Studios movie... but is very different at the same time. Kinda a sci-fi take on super-heroes with a heavy African influence...
First Doctor Strange, now this? Needless to say, I can't wait. Black Panther is one of my favorite Marvel heroes, and the fact that he's getting a movie fills my fanboy heart with joy.

• Hammer Time? You know how when you read a news headline and you think it's just too crazy to be real and it certainly has to be from some parody site? Yeah, that... Home Depot Panics Over Millennials; Forced To Host Tutorials On Using Tape Measures, Hammering Nails.

• Have Bigotry, Will Travel! America's new biggest export... hate...
Kim Davis Takes Struggle Against Gay Marriage To Another Theater: Romania.
This idiotic piece of shit is not a hero. She's not a marriage role model. She's just a bigot who refused to do her job. And now she's taking her bigotry on a world tour. Fuck her. Fuck her up her hypocritical thrice divorced ass.

• Jack is Back! I'm a pretty big of theTom Clancy "Jack Ryan" books... and even liked the movies despite the fact that they kept changing the actor (from Alec Baldwin to Harrison Ford to Ben Affleck). So when Amazon Prime announced they were developing a show around the character starring John Krasinski, I was intrigued. And here we go...
Interesting! Definitely something I'll be checking out.

• Gently! Last year we were treated to yet another television treatment of Douglas Adams' Dirk Gently's Holistic Detective Agency. It was insane, but in the best possible way. A dozen random threads that made no sense somehow managed to come together at the end in a way that made you want to go back and watch the whole thing over again. The show itself is really tough to describe, but here's Dirk Gently himself to make an attempt...
Season two just started. The first three minutes immediately got me addicted to the show again...
It probably helps to have seen (experienced?) the first season for yourself before heading into the second. But, if you enjoy the utterly bizarre, it's worth a look.

• Poopsie! And, lastly, just because I feel the need to not have suffered through this alone, I present Poopsie...
There's a lot of ways to sell pet food, but this is probably the most unique I've seen.

And, on that note, no more bullets today. Go make a poopsie and enjoy your week!
Posted on July 23rd, 2017

Never fear, super-fans, because a Very Special Comic-Con Edition of Bullet Sunday starts... now...

• THOR: RAGNAROK! I liked the first two Thor movies quite a lot. Especially the first one, which did a masterful job of introducing Thor to the Marvel Cinematic Universe. It was grandiose and epic in a way you need a movie with gods to be, and set the tone for Thor in everything that would come after (including a couple Avengers movies). And now, the third Thor film is ready to be unleashed this November:
Super sweet! Kind of an 80's vibe, even in the amazing poster...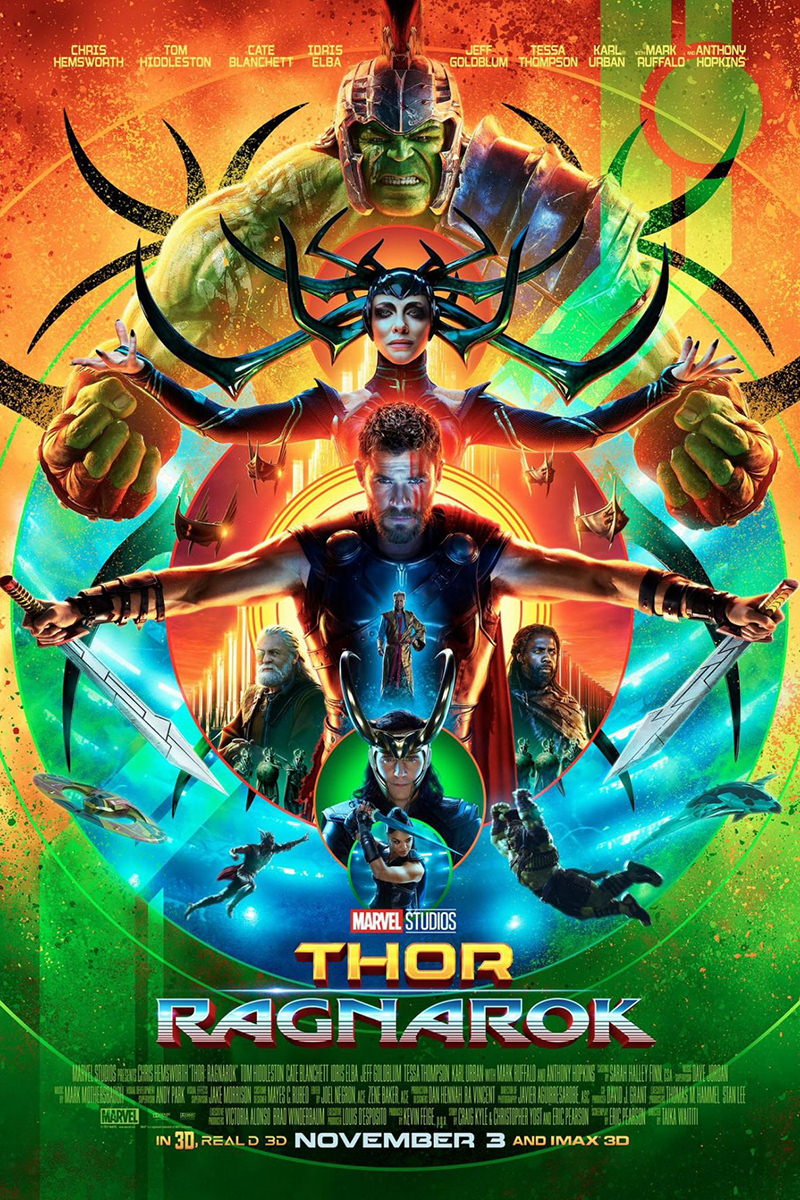 Marvel amazes me. Every movie they release is an escalation of what's come before. Sometimes it doesn't work 100% (I'm looking at you, Age of Ultron) but most of the time it seriously does. And Thor: Ragnarok looks to be knocking it out of the park. Can't. Wait.

• THE DEFENDERS! But before we get treated to new Thor, first we get to see the culmination of all four Netflix series... Daredevil, Jessica Jones, Luke Cage, and Iron First... with The Defenders. This seems like a great idea, and a logical culmination of all that's come before...
Time (and August 18th) will tell whether or not it's clever enough to be worthy, but getting Sigourney Weaver as your villain was a great start. Cool. All this and The Punisher coming by years' end too.

• THE INHUMANS! Also dropping prior to new Thor? The Inhumans. Originally they were getting their own movie but, after the franchise was turned to shit in ABC's Agents of S.H.I.E.L.D., I guess they felt a movie was aiming too high. Instead we get a compromise. The first episode is being released to IMAX theaters in September, then the show continues on ABC...
Eh. Probably good that they didn't attempt this in a feature film, because Medusa's magical hair was never going to look fantastic. Regardless, nothing I'm seeing here has me too excited. ABC had an amazing opportunity to do something truly different by taking The Inhumans into extreme weirdness, but it looks like Just Another Super-Hero Show on the Small Screen. Not surprising... I can't stand Agents of S.H.I.E.L.D., and it doesn't look like ABC is attempting to break any new ground here like they did with the amazing Agent Carter series. Pity.

• BLACK PANTHER! And here is where I start to lose my shit. I'm a huge, huge, massively huge fan of Black Panther. I was thrilled to see him finally join the MCU with Captain America: Civil War, and am positively giddy at the prospect of seeing him get a film all to himself. The technically advanced world of Wakanda is going to make for a heck of a movie, assuming they get the story right. And, from the looks the first trailer, they are definitely trying...
And that poster...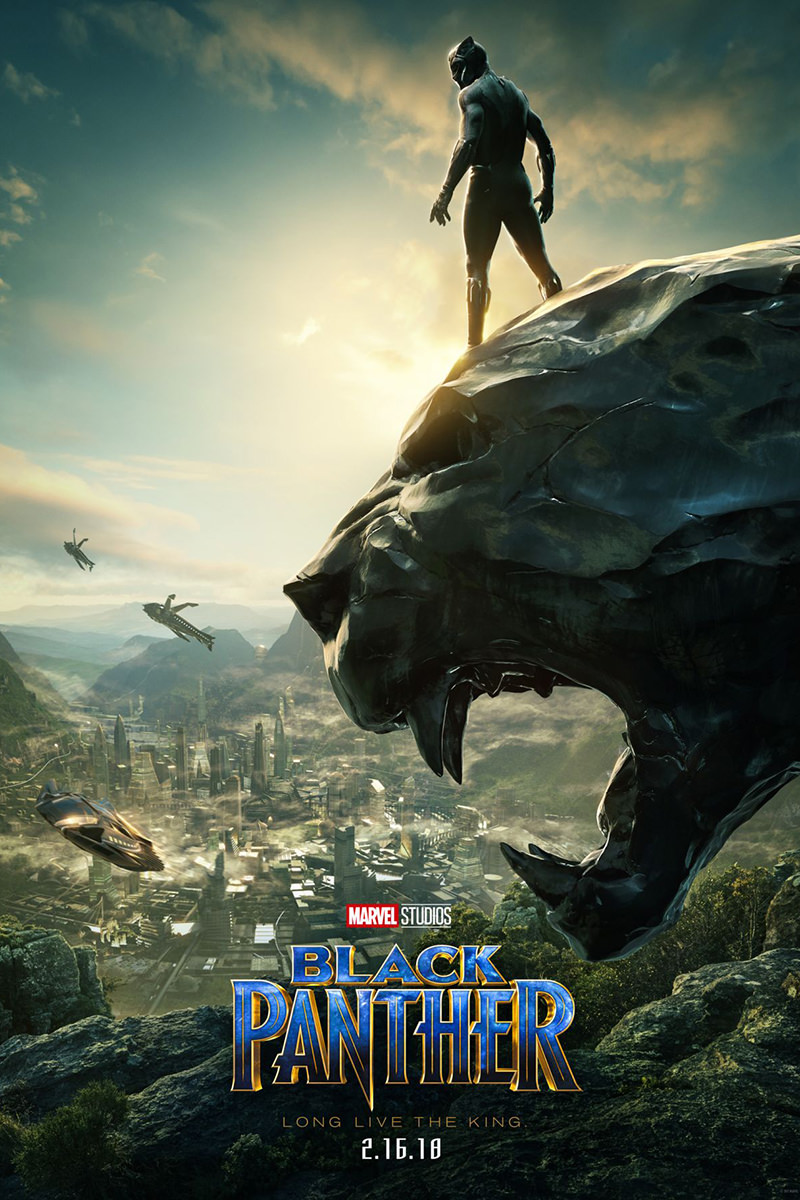 Since this is Marvel, I'm assuming they've nailed it. Not knowing is kinda killing me. Having to wait until February 16th to find out is really killing me.

• AVENGERS: INFINITY WAR And then there's the culmination of every Marvel Studios movie ever released coming to a theater near you on May 4th. The footage at Comic-Con has not been released yet (if ever), but they did give us a gatefold poster to drool over...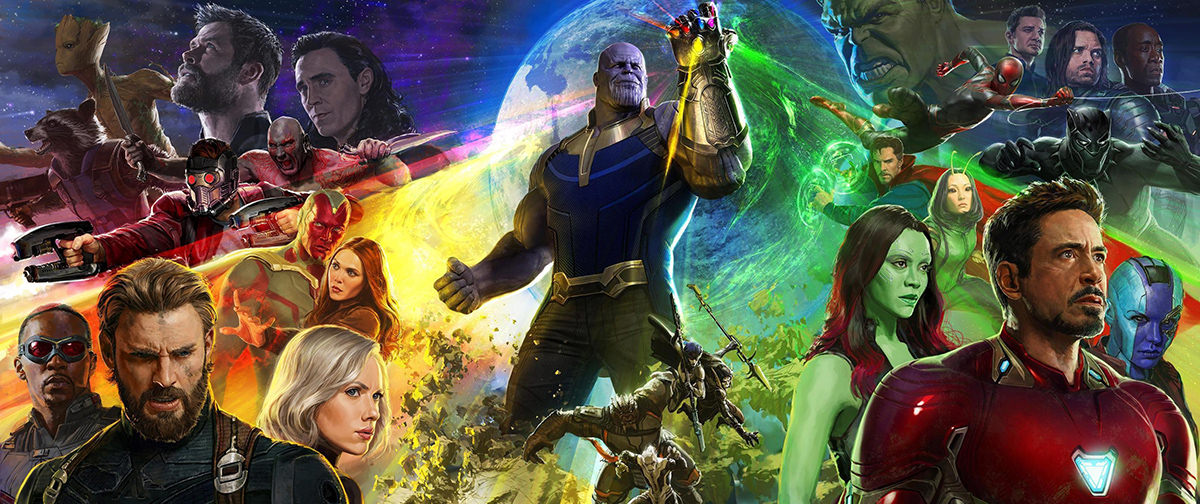 Which conveniently breaks down into three panels for closer inspection of all the awesomeness there is to unpack...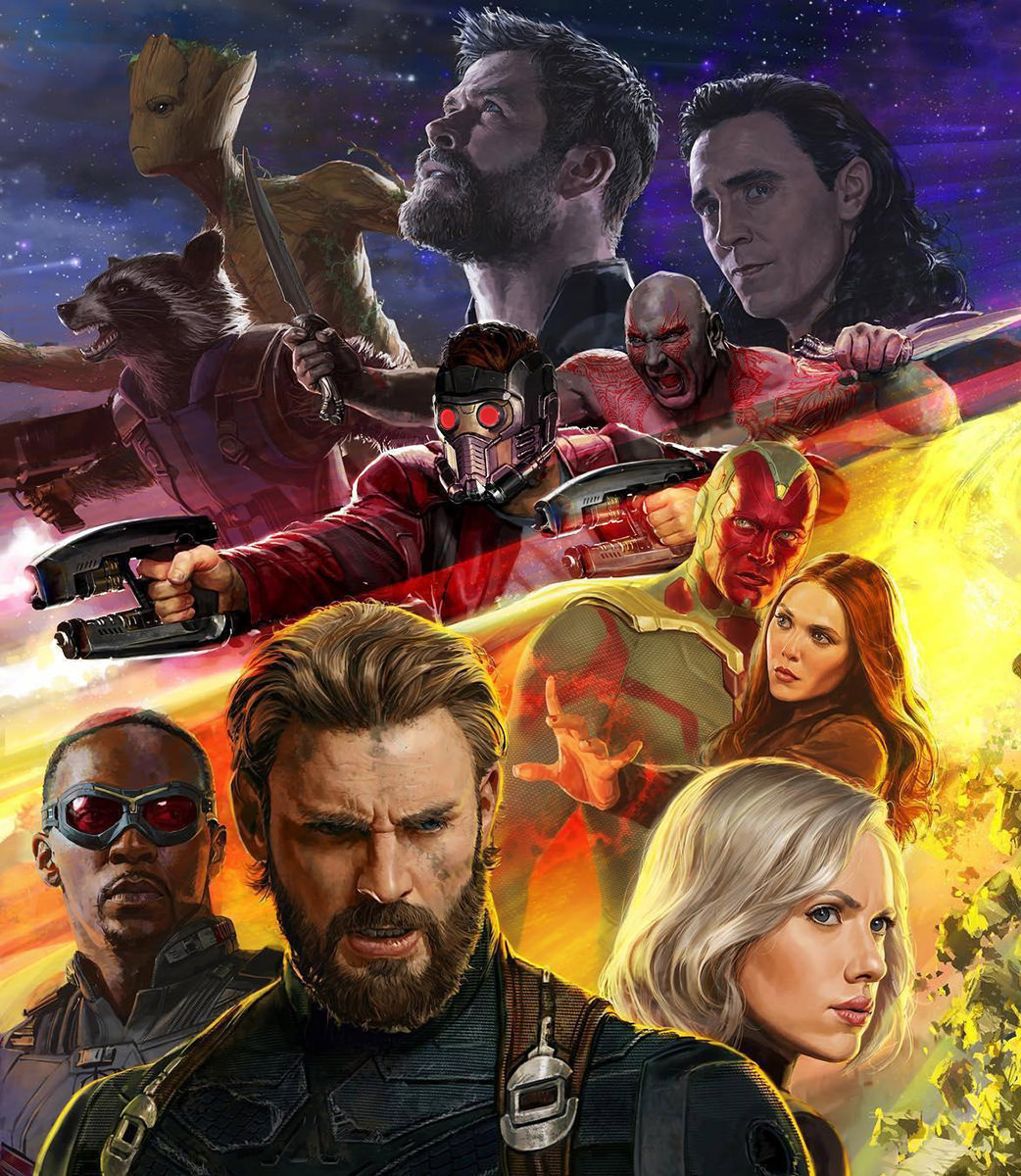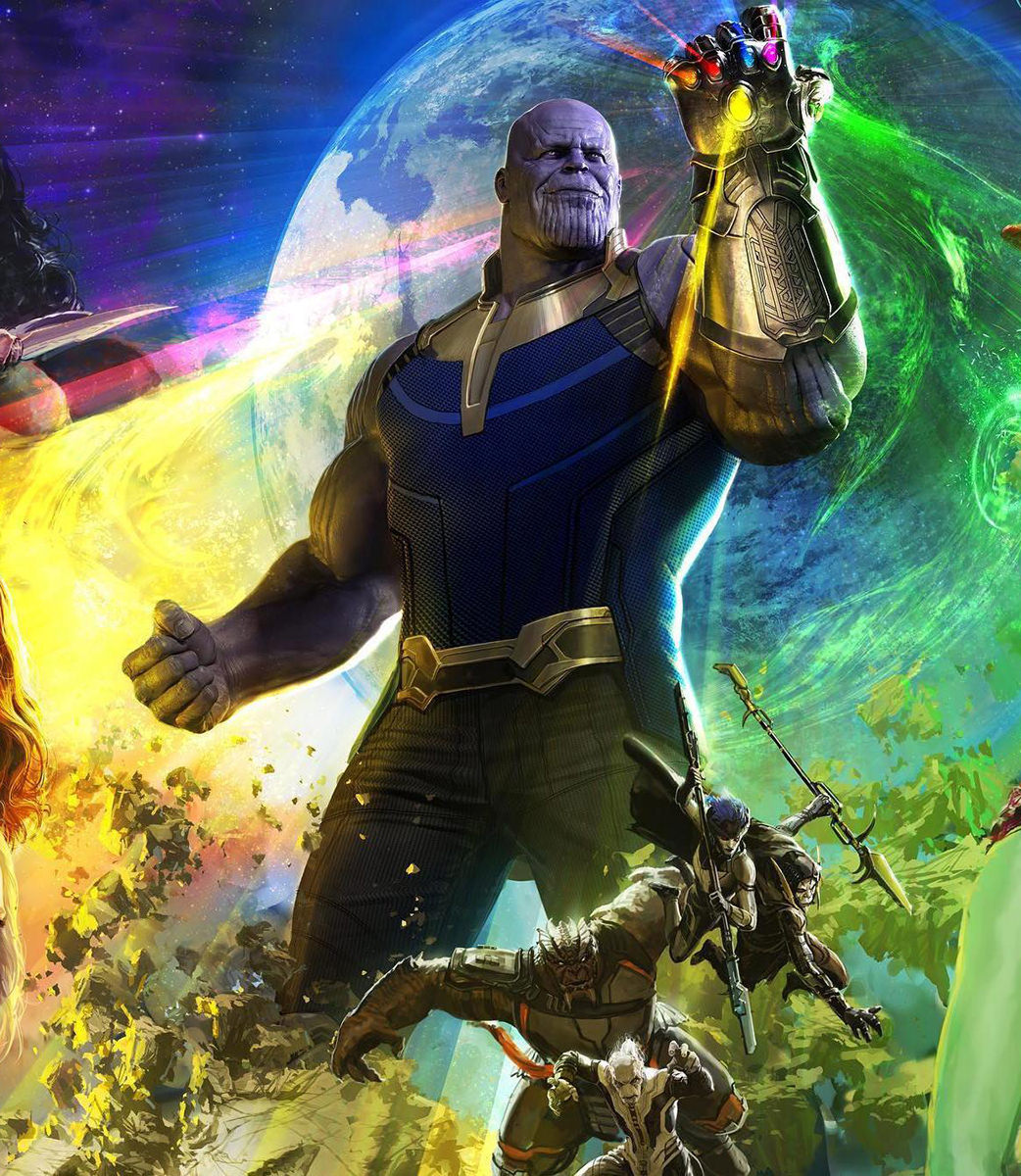 First of all... BLACK WIDOW IS A BLONDE THIS TIME AROUND? Wonder what in the hell that's all about. Second of all... why is Hawkeye getting the short end of the stick again? He's barely in the poster at all, and doesn't even get an action pose with his bow and arrow! Granted, he could arguably be seen as the weak link in The Avengers, but his fantastic ongoing comic book series show that this is not the fault of the character. It's what the writers do with him that makes him a weak link. Holy crap I wish they'd give him a Netflix series where he can finally shine. Next up... Spider-Man in a black suit is interesting. I don't hate it but, after so many movies where they weren't faithful to the comic book, I felt they finally nailed it with Civil War and Homecoming... so, why? And then... so very, very happy that they are apparently pushing the Scarlet Witch & Vision romance forward. That's an element 100% from the comic books, and I think it totally works. Then penultimately... holy crap did they do a frickin' amazing job capturing Thanos! Bad. Ass. And lastly... Cap with a beard! My expectations for Avengers: Infinity War are on overdrive. I'm expecting they'll be exceeded.

• JUSTICE LEAGUE! Blargh. DC Comics and Zack Snyder's idea of what makes a good super-hero movie is so nausea-inducing that I'll tackle that one tomorrow. I'm having too much fun loving on all of Marvel's awesomeness tonight.

And that's it for Comic-Con 2017. Until next year, True Believers...
Posted on May 6th, 2017
Today was long-time blogging friend Howard's 50th birthday!
And to celebrate, he rented out a theater at The Alamo Draft House Denver so a group of us could watch Guardians of the Galaxy: Volume 2.
Given my love of the first film, I was really, really looking forward to seeing it...
And my verdict? Not as good as the first movie, but a fantastic film that's high on entertainment value.
For more of my spoiler-filled thoughts, you'll have to read on in an extended entry...
→ Click here to continue reading this entry...
Posted on April 30th, 2017

Time to celebrate another week down the toilet, because an all-new Bullet Sunday starts... now...

• DC! I have made no secret of my love of all things coming out of the Marvel Cinematic Universe... and my deep loathing of all things coming out of the DC Cinematic Universe. This fan video puts the reason why in vivid relief...
100% accurate. DC has a habit of taking fun, exciting, uplifting hero stories and degrading them to joyless sequences of death and destruction that are a chore to watch. Why in the hell they don't put the team in charge of their TV shows in charge of their movies I will never know. At least they know how to make the characters fun to watch. Justice League, a movie I should be on pins and needles to see, is something I honestly don't give a shit about. Not when we've got Marvel's Guardians of the Galaxy Vol. 2, Spider-Man: Homecoming, Thor: Ragnarok, and Black Panther coming up. Not to mention Infinity War, which promises to blow the doors off of any super-hero film yet seen.

• Piper! I never got to see Finding Dory in theaters, but bought the Blue-Ray in 3D so I could watch it at home. Never had time to explore the "extras" on the disc, but today discovered it has a Pixar Short called Piper included...
That snippet is just the tip of the iceberg. Such a wonderfully adorable bit of animation! Well worth tracking down if you haven't seen it yet.

• Tarzan! The novels of Edgar Rice Burroughs are some of the most imaginative and entertaining reads I've ever experienced. That he started writing them in 1912 just goes to show how incredible a storyteller he was. Between John Carter of Mars and Tarzan of the Apes (and a slew of others), he has a wealth of material just begging to be adapted into movies.
And they have been.
Unfortunately, they've mostly sucked. John Carter was a total shit-fest that abandoned everything that made the character so compelling. And Tarzan? In the books he is an extremely intelligent character who speaks dozens of languages and is as accomplished in civilization as Lord Greystoke as he is in the jungle as Tarzan. But what do we get? Every time Tarzan comes to the screen, he's a grunting ignoramus that barely knows how to speak because he's written more as an animal than a man. For any Tarzan fan it's a massive disappointment, and I'd all but given up hope that we'd ever get an adaptation of The Lord of The Jungle that wasn't crap. Enter The Legend of Tarzan...
Now, this is not a perfect film by any stretch of the imagination. It's not even a flawless adaptation of Tarzan. But holy crap... it's the closest thing I've yet seen, and I loved it. All that plus it has Samuel L. Jackson and Christoph Waltz in it! And gone are the days of Tarzan being a stupid savage! Hell, they even made an effort for Jane to be more than a damsel in perpetual distress! Sure the CGI, which actually started out quite good, ultimately degrades to a level that was below-par, but it didn't destroy how much I enjoyed watching the story unfold. So... ignore the critics. If you like Tarzan... the REAL Tarzan... this is a film that's definitely worth a look!

• TRADER JOE'S CONSUMER ALERT!
"Have you got any more Black Bean and Jack Cheese burritos? I took the last two."
"I think that's all we got. Have you tried the Super Burrito? It's the same except it's made with quinoa and sweet potatoes. Really good."
"Okay, I'll try it, thanks!"
And so tonight I decided to have a late lunch /slash/ early dinner and give it a try. I take a bite and it's not bad... light on the sweet potato and heavy on the quinoa... but it's got a nice spicy bite to it. And then... AND THEN... I take another bite and there's something crunchy/leafy/weird. Is that spinach, I wonder? I dig the wrapper out of the garbage and... IT'S NOT SPINACH... IT'S FUCKING KALE!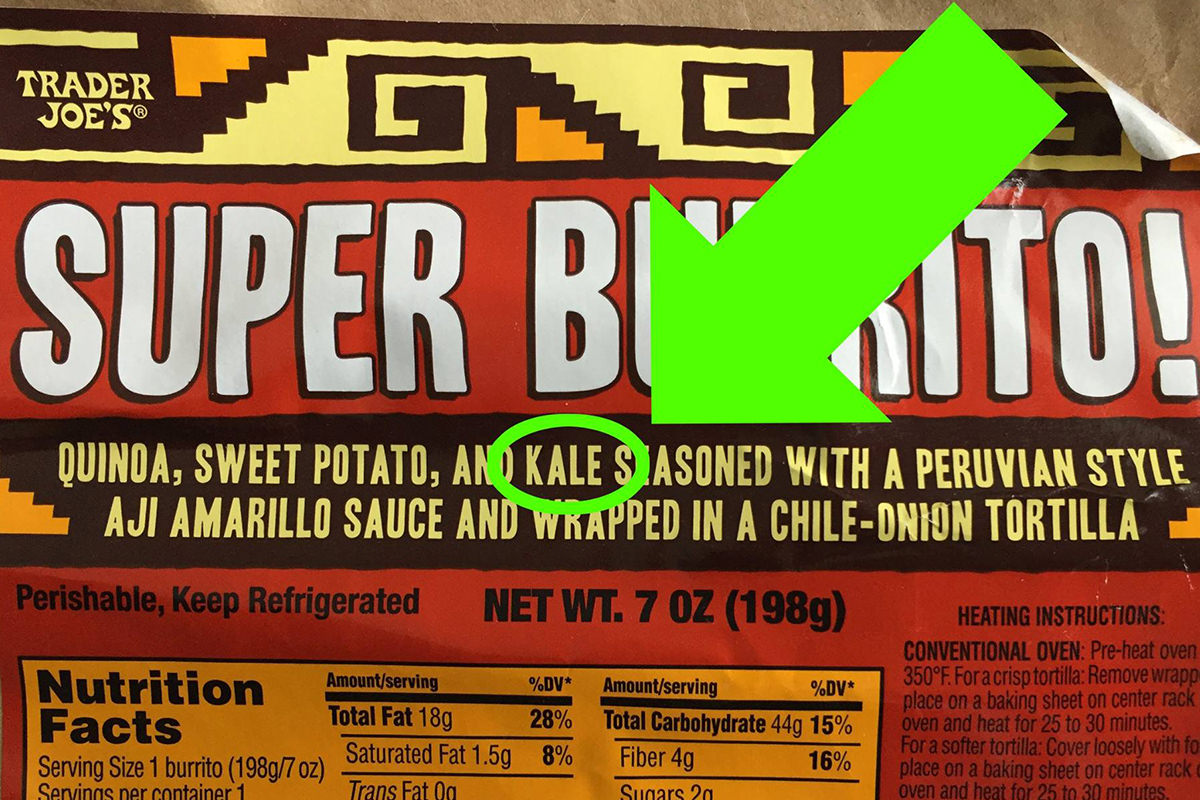 TRADER JOE'S TRICKED ME INTO EATING KALE AND NOW I FEEL LIKE I'M GOING TO DIE!!!
KALE!!!!!!! GAH!!!!
Needless to say, I am not in a good place right now, and I appreciate everybody's understanding as I attempt to mentally and physically recover from this tragedy. I will soon be setting up a GoFundMe page in an effort to help with the massive costs involved in getting me healthy again. WAAAAAHHH!!!! WHO PUTS KALE IN A BURRITO?!? WHY, LORD? WHYYYYYYY?!?.

• Let's Play! Alrighty then... time once again to play the "Will the piece of shit turn out to be a godless liberal... or will they be from the party of family values and moral righteousness?"...
JUDGE ARRESTED ON CHARGES OF HUMAN SEX TRAFFICKING OF A MINOR.
Oh yeah. Big fucking surprise... he's not only Tea Party and Ku Klux Klan supporter, but also a former Trump campaign chair! Because disgusting shit like this is only bad when Democrats are doing it, I guess? Republicans do this kind of heinous shit and "their base" elects them to the school board!
BONUS ROUND!
"Will the piece of shit turn out to be a godless liberal... or will they be from the party of family values and moral righteousness?"...
GOVERNOR RESIGNS AMID SEX SCANDAL.
Hmmm... let me guess...

• Bullshit! And lastly, an article that's well-worth a read, regardless of religious affiliation is here: America Isn't Growing Hostile Towards Christians, It's Growing Hostile Towards Religious Bullies. Because, look... so long as you can walk into a post office and buy a stamp with Jesus on it for Christmas... I've had just about enough of this bullshit notion that Christians are some kind of persecuted class and there's a war on Christian ideology. As somebody who is not a Christian and sees just how pervasive the religion is in dominating so many aspects of American culture, it's embarrassing that people are trying to keep this one alive. And yet FOX "News" is undoubtedly already warming up new ideas to make "The War on Christmas" become something out of nothing again. Because what plays better than victimization on TV?

Time to reload...
Tags:
Animation
,
Bullet Sunday
,
Edgar Rice Burroughs
,
Food
,
Kale
,
Marvel
,
Marvel Studios
,
Movies
,
Pixar
,
Tarzan
Categories:
Books
,
Bullet Sunday 2017
,
Food 2017
,
Movies 2017
—
Click To It:
Permalink
—
1 Comment: Click To Add Yours!