Posted on November 6th, 2022


Winter is here, snow has arrived, and it's freezing out, but there's warmth in my heart... because an all new Bullet Sunday starts... now...

• Happy Meal! As a huge architecture nerd, it's very easy for me to get sucked into architecture TikTok or YouTube. This morning while waiting for renders to process, I got hit with this fascinating video about the "Rise and Fall of Fast Food Architecture"...
So many good points to be had here. I very much miss the old aesthetic of fast food restaurants, which is why happening upon one of them (which is most often not a chain restaurant) is such fun.

• Whither Twitter! Watching Twitter implode in Real Time has been entertaining... but also educational. Elon Musk bought the services in the interest of "free speech," but he's learning a big lesson on being careful what you wish for. Twitter has become so toxic so fast that advertisers are bailing and Musk is essentially begging the big name Twitter accounts not to leave. The most hilarious indicator of this was when Stephen King said that he wasn't paying $20 per month to have a blue-checkmark verified account... and Musk shot back with "How about $8 then?"...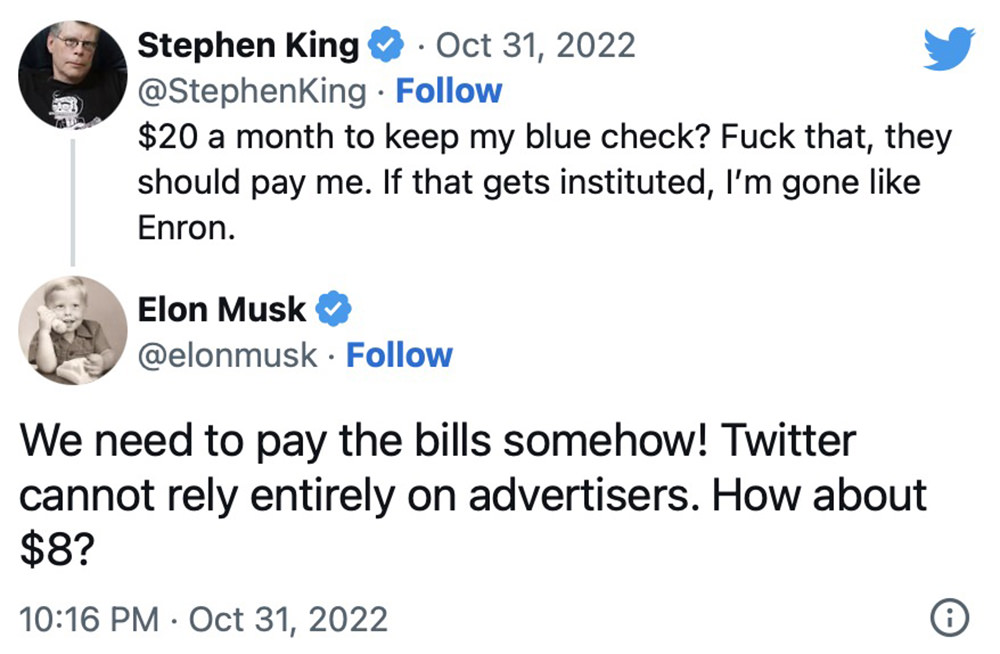 It's easy for me to sit back and not care about Twitter (I rarely use the platform because I prefer to have the ability to lock down my posts for a specific audience), but I think it's a bad idea to hope that Musk and Twitter fail. This is an important platform for discourse and interaction which, naturally, may be toxic (Musk himself has been tweeting out conspiracy theory bullshit) but it's also had a good influence in allowing people to have their voices... their causes... their passions... be heard. Which is why I was happy that one of my favorite YouTubers, Marques Brownlee, has this diplomatic take on how Twitter can save itself from itself...
The one thing that could get me to maybe go back to Twitter would be if there was a way to limit the audience of your tweets (ala Facebook). But even then I have serious privacy concerns about the platform which has me wary.

• More Enola! I liked the second flick even better than the first! These films can get a little convoluted... and repetitive in parts... but are enormously entertaining. And that mid-credits scene has me dying for not only more Enola Holmes films... but a Henry Cavill Sherlock movie as well.
Netflix needs to get on more of these movies, because they've struck gold.

• Glowforge! Michael Alm finally finished his new office so he could set up his Glowforge. If I didn't want one of these things before, I most certainly want one now. But the price for entry is $4,000... and to get the model which is the most capable and flexible, you're paying $7,000.
I know that I would never use it enough to make it pay. But that doesn't stop me from wanting one anyway. Just like a 3D printer, which is another device I would love to own. Ah to be a billionaire where you just buy stuff you want and don't have to care about whether or not you can afford it.

• Joy Noel! The fact that Netflix keeps churning out quality holiday rom-coms is something I am 100% onboard with. While Hallmark continues to release some films which are worth my valuable time... you have to sit through a lot of crap as well. Netflix doesn't have a flawless record, but they do release more good movies than bad, it seems. This year, in addition to the Lindsay Lohan film that's coming up, they also have The Noel Diaries dropping this month...
I know that this is is Justin Hartley from This is Us (a show I could never get into), but the only thing I'm really familiar with is when he played Aquaman in a failed TV pilot that was actually not bad... except The CW decided not to buy the show after the merger with The WB.

• Matter? I keep referring to Thread/Matter in my home automation posts, which has been confusing to many people who don't know what this is. Fortunately, Shane Whatley has a wrap-up which is pretty good about why Matter matters...
Matter is something I have been waiting for ever since INSTEON died, came back, and looks to be dying again. I would prefer not to have to replace all my smart home crap every five years, so having something that isn't tied to any specific company seems like a good idea. But the big news about Matter is that it endorses Thread, which is a technology I absolutely love. It's so smart and so fast and so impressive that it really does seem like the holy grail of automation. The fact that it has pretty good range and is low-power is just icing on the cake.

And now I think I should get back to cleaning my house, which is a full-on disaster with all the work that's been going on.
Tags:
Architecture
,
Bullet Sunday
,
Home Automation
,
Netflix
,
News
,
Television
,
Twitter
,
Woodworking
,
YouTube
Categories:
Bullet Sunday 2022
,
Home Automation
,
News – Politics 2022
,
Television 2022
—
Click To It:
Permalink
—
0 Comments: Click To Add Yours!
Posted on August 15th, 2010

Bullet Sundaaaaaaaaaaaaaay! Let's get ready to Rrrrruuummmmmble!

• Tweet! Most of the time I'm too busy to pay any serious attention to Twitter, but every once in a while it's a scary insight into what I'm going through at any particular moment in time. Today was particularly telling, and had me wishing I self-censored a bit better. Oh well. Too late for that now...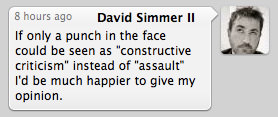 So many times when I'm asked for my opinion on something, I'm tempted to say "no" immediately because more often than not the person has no interest in getting an actual opinion... they just want your praise (whether they deserve it or not). Yet I foolishly try to be friendly and helpful with my critique anyway, sometimes getting burned in the process. It's really too bad, because good constructive criticism can be so much more helpful than faint praise... if people are willing to hear it. The question is, how many times will I get burned before I learn not to offer it in the first place? At this rate, not long at all.

• Fore! Oh how I love my new iPhone 4. It is superior to my iPhone 3GS in absolutely every way... especially signal reception. I can now actually make phone calls at my home without having them fade out, go choppy, or get dropped entirely. I've had no problems with the antenna while making calls, but have had some problems while texting or using apps when I cradle the iPhone to type. It took all of one minute to learn how to shift my hand to not block the antenna, so it's pretty much a non-issue now. If you have a case for your iPhone 4, it never was an issue to begin with. Personally, if I were going case-free and couldn't adapt to "holding different," this is my favorite solution...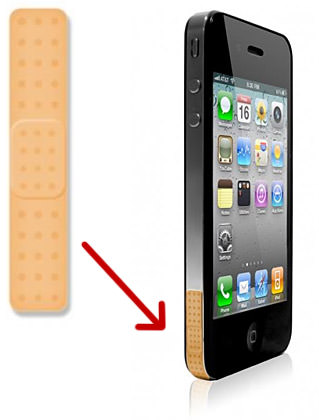 It's Antenn-Aid to the rescue!
And don't get me started on Apple's amazing "FaceTime" feature, which is the future made real...
But the main reason I upgraded to iPhone 4 was for the camera. My pocket camera is being held together with a rubber band and, rather than replace it, I decided to carry one less thing and just take snapshots with the iPhone 4. The camera has been so highly praised that I figured it was a realistic expectation, but was secretly worried it wouldn't live up to the hype.
And, while it is a vast improvement over previous iPhone cameras, it kinda doesn't live up to the hype. Particularly disappointing is night shooting. Sure the light sensitivity is improved, but the grain is outrageously bad... to the point of being unusable except at massively reduced sizes...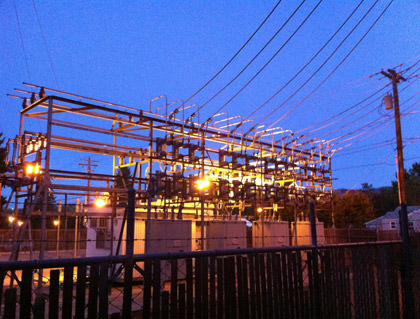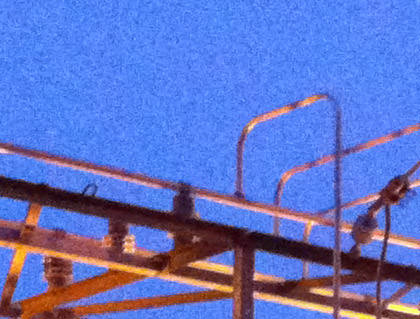 I shouldn't be surprised. The lens is just too small to accept enough light in a dim scenario like this. Shots in "normal" lighting are good... fantastic even... but it looks like my iPhone is no threat to my purchasing a new pocket camera for shooting in low-light. Darn it anyway.
Still, in every other respect, the iPhone 4 is pure WIN, and I really do love it. Heaven only knows what Apple has planned for the iPhone 5.

• Freedom? From watching the news and seeing people re-tweet Sarah Palin on Twitter, you'd think that actual terrorists were wanting to build a monument to the Islamic extremists who died during their 9/11 attacks ON TOP OF "Ground Zero" where the World Trade Center once stood. This is so absurd that it might actually be true, so I looked it up and was disappointed to discover that it was, in fact, not. Some American citizens are just wanting to build a Islamic cultural center and mosque TWO BLOCKS AWAY from Ground Zero on PRIVATE LAND. From what I've read, the mosque won't even be visible from the Ground Zero memorial that's being planned. This type of crazy shit drives me insane. The non-stop parade of lies and crazy exaggerations being sold to people for political gain on both sides of the political spectrum have me hoping for the complete collapse of democracy in this country. If people are so damn stupid as to keep falling for this kind of bullshit, then obviously they can't be trusted with democracy. If people are so hot to have somebody tell them what to think and don't care whether it's true or not, I suggest a nice dictatorship, with ME as Supreme Leader. I am more than happy to tell people what to think. Or to go fuck themselves.
UPDATE: I would have just said "Fuck you, Sarah Palin, you bigoted piece of shit," but Mayor Bloomberg is a much more eloquent and inspiring speaker than I could ever be (thanks for the tip, Etienne!)...

And now... time to put my aching head to bed.
Hopefully to sleep this time.
Posted on July 14th, 2010

I am nursing a massive headache this evening... probably from staring at a computer screen for entirely too long today. So I'll be keeping this brief.
After tweeting about Betty White guest-starring on the season premiere of Community this Fall, and saying how much I envy Joel McHale for getting to work with her, I was surprised to see that Joel responded with "Yeah!" Right after Vahid tweeted about an exciting new experience with his colon...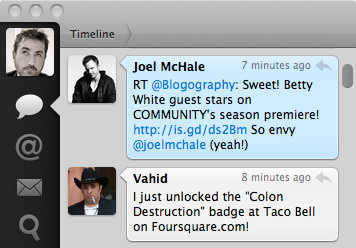 I've been a massively huge fan of Joel for years (I even had my DVR record his home shopping appearance!), so this was kind of cool. The fact that he'll be appearing with the incomparable Betty White in the most excellent Community is going to be like catching lightning in a bottle. Because two huge comedic talents in the same scene? Guaranteed electric...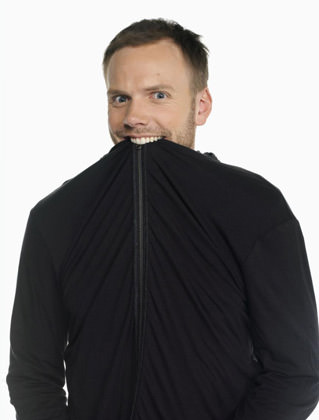 The new Fall television season suddenly seems so far away.
Posted on June 24th, 2009

As the train wreck that is Governor Sanford unfolded in the media today, I made a few smart-assed remarks on Twitter because I just love it when hypocritical assholes get burned. Especially hypocritical assholes who pushed for impeaching Clinton when it was his dick that ended up where it shouldn't have been. And when you consider that Sanford not only used taxpayer money to get himself a mistress, but he is also an opponent of same-sex marriage because he apparently feels it defiles traditional marriage... well, it's a trifecta of schadenfreude bliss when he goes on television and admits to having an extramarital affair.
The Twitter stuff was nothing too outrageous, just snippy comments like...
"Because when you want to bring morality to America, it applies to EVERYBODY ELSE. Anxiously awaiting news that Sanford's affair was with a dude."
"Color me three shades of shocked... Not... One more nail in the "sanctity of traditional marriage" argument..."
"I should certainly hope that Jenny Sanford stands by her man! According to "Doctor" Laura, it was all her fault anyway."
"How do you solve a problem like Maria? A hike along the Appalachian Trail, apparently..."
Not a big deal, but it was enough to compel somebody on Twitter to send me a Direct Message telling me that my "attacks" were far worse than anything Sanford has done.
Whatever.
The big difference being that I don't go around condemning people for how they live their lives, then turn around and do that same shit. So, while I certainly sympathize with Sanford's family, that doesn't make the Governor any less a hypocritical asshole.
In similar news... suck it Perez Hilton. It's not that I am advocating violence, but when you make a living writing hateful things about people all day long... well, you reap what you sow.
In completely different news... I finally found time to unbox my new iPhone 3GS. To be honest, I don't consider it to be a critical hardware upgrade from the iPhone 3G. But I decided to go for it anyway because I find myself using the camera feature far more often than I ever thought I would, and the 2G/3G camera sucks major ass. Fortunately, the 3GS camera is far, far better. For one thing, it can do macro (close-up) photography very well...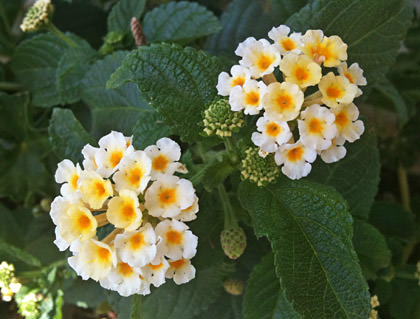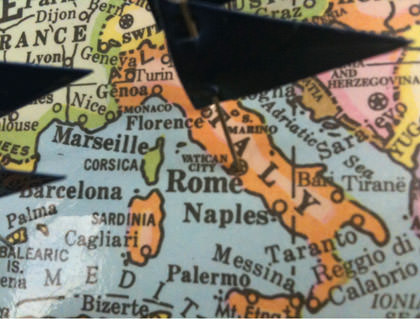 Compare that to the total shit that you get from the 2G/3G camera...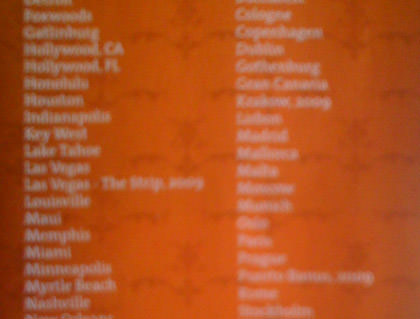 But the thing I love most about the new 3GS camera is that you not only get selective one-tap focus... you can also choose where the camera meters the exposure. This is a massively huge improvement because it makes the camera is actually useful now.
In this scene, I tapped the bright white sign as the focus/exposure point to force a darker shot...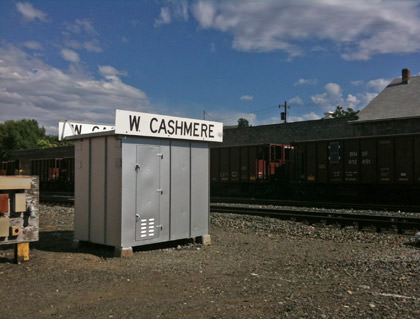 This time, I tapped the train in the background as the focus/exposure point to force a brighter shot...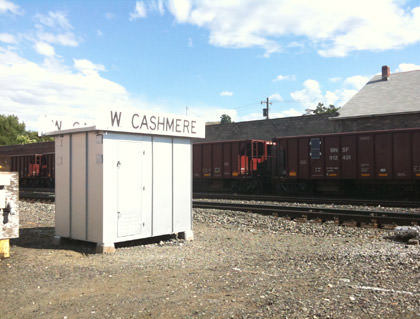 By tapping around the scene for a medium value, I could get exactly the exposure I want. This is a far cry from the shitty 2G/3G camera which consistently shoots everything as murky and dark unless the lighting is perfect.
Finally, FINALLY, I have a viable camera with me at all times that I can rely on for decent photos! In addition, you can shoot and edit video with the 3GS... a nice bonus that I probably won't use much. There are also a few other new features, but unless you are wanting a better camera like I did, I don't know that it's worth the cost to upgrade.
Unless you're a government official and can pay for the upgrade using taxpayer money. An upgrade is always worth it when somebody else is paying.
Posted on June 16th, 2009

I'm holding a Twitter contest!
Prepare yourself to win a fabulous prize package worth nearly FIFTY MILLION DOLLARS!!!

That's right... none of this lame-ass "Win an iPhone" bullshit that's being Re-Tweeted every five minutes... I'm giving away FIFTY MILLION DOLLARS in prizes! Just look at the cool stuff you can win...
A GULFSTREAM G550 JET! ($45,000,000 value)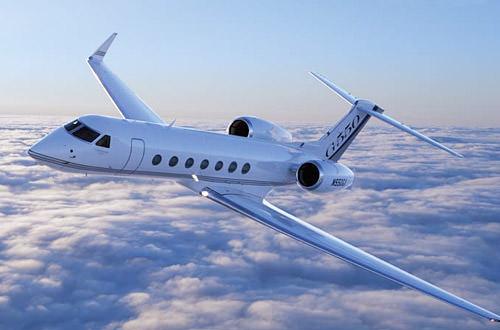 A PAIR OF 2009 FERRARI SCUDERIA F430s! ($600,000 value)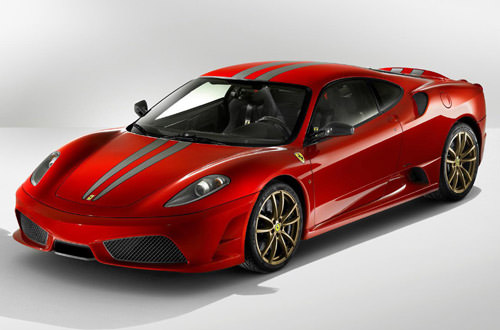 AN ALL-EXPENSES-PAID AROUND-THE-WORLD CRUISE! ($80,000 value)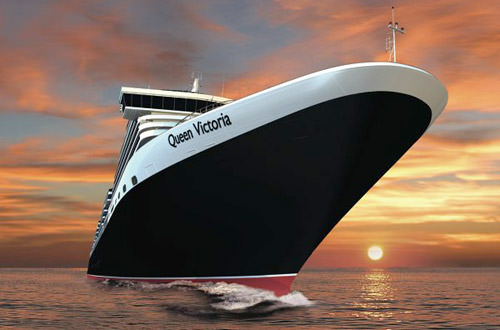 FOUR MILLION DOLLARS IN GOLD! ($4,000,000 value)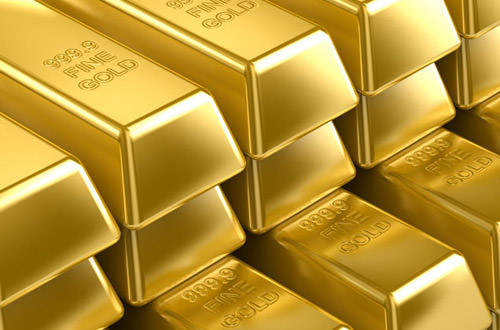 TOTAL PRIZE VALUE: $49,680,000!!!
Here's all you have to do to enter...
Follow me on Twitter. It's so easy! Just get an account at Twitter if you don't already have one, then visit my Twitter page and click "Follow" under my picture.
Re-Tweet this contest. Simply login to your Twitter account and post "Re-Tweet: Win a Gulfstream jet, Ferarri Scuderia sports car, Around The World Cruise Vacation, and $4 million in gold! http://is.gd/13YoJ" Then RE-TWEET the Re-Tweet EVERY HOUR ON THE HOUR UNTIL THE CONTEST ENDS IN SIX MONTHS!!
Donate to charity. Lastly, all you have to do is make a $50 million donation to the Foundation for a Better Dave's Monument Fund. I accept PayPal, Certified Check, or Money Order in US Dollars.
And that's it! Best of luck to everybody who enters!*
Or not.
Because I am so fucking sick and tired by all this stupid contest crap that is taking over everybody's favorite social media distraction.
When you fire up Twitter, it asks you one question: "What are you doing?
And, in the beginning, that's what people used Twitter for... quick little updates to let people know what they were up to in-between blog posts. But, like all things, Twitter inevitably evolved. Soon people were using it to say "good morning," ask questions, get advice, post photos, say random shit, and much more. Then Twitter abuse started happening. People started broadcasting personal conversations (even though that's what Direct Messages and Email are for). People started posting when their blog is updated (even though that's what a webfeed is for). People started selling shit (even though that's what eBay is for). And people even started... God help us... Twittering all the songs they listen to with "blip.fm" (even though that's what Last.fm is for). Then came the abomination known as SpyMaster. And so-on and so-on. People rarely say what they're doing anymore.
But the worst was yet to come.
Now companies (and even individuals) are holding contests. Usually for an iPhone. These contests require you to "Re-Tweet" their blog URL or some other annoying spam-like shit that clogs up the service and flushes it even further down the crapper of uselessness than it already is. As more and more people hop on the Twitter contest bandwagon, it's only going to get worse. I anticipate that pretty soon I'll be longing for the "good ol' days" when people were just blip.fm-ing every frickin' song they're listening to instead of re-Tweeting every damn contest that pops up.
But whatever.
I suppose it's just par for the course. The web was ruined when assholes started adding pop-ups and other annoying crap. Email was ruined when assholes started sending spam and unsolicited crap. It was only a matter of time before the assholes ruined Twitter with their contest-spam crap.
Oh well. So long as companies can count on Twitter users whoring their shit for one-in-a-million prize-winning odds... it's the cheapest way to advertise, and probably ain't going away any time soon.
* Prizes do not include taxes, duties, fees, delivery, or any other supplemental costs.
Posted on June 2nd, 2009

When it comes to avatars, I like photographs best because you can put a face to what somebody wrote. So even though I think Lil' Dave and Bad Monkey would make better avatars for me, I always bite the bullet and upload a photo of myself.
Unlike SOME people (ahem, ahem, ahem, ahem, ahem, ahem, ahem, ahem, ahem, ahem... etc. etc... YOU know who you are!).
This is my default avatar...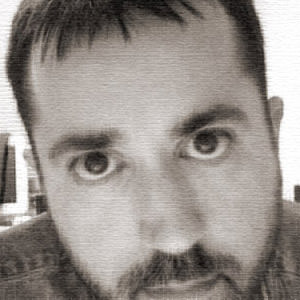 Whenever I sign up for a new social media site or online service or user forum or whatever, that's what I use. It's fairly current, doesn't look too hideous, is perfectly square, reduces well, and is stored on my desktop so it's ready to go at a moment's notice.
And most of the time it's fine because I don't use those kind of sites very often.
But Twitter is a service I use every day, several times a day. Whatever photo I use on Twitter is something I see constantly. Consequently, I get bored with my avatar after a while and am compelled to change it. To keep track of the photos I've used, I put copies in a folder. Today, I changed avatars again, and noticed that folder is getting quite full. Turns out I've used 21 different images for Twitter so far...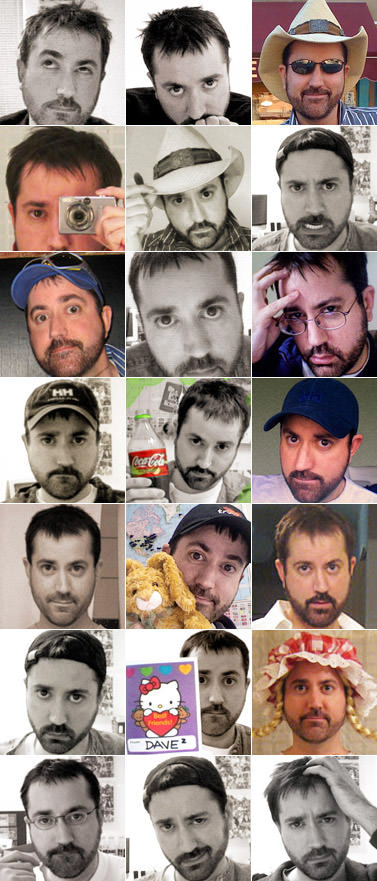 Meh. Perhaps one of these days I'll find myself an avatar I like well enough to keep for a while.
But before I go... while puttering around the internet today, I found this to be very cool and this to be totally reprehensible.
Posted on May 31st, 2009

It's heatwave edition of Bullet Sunday!
• Hot. It's eighty-eight degrees Fahrenheit outside.
• Hotter. I am guessing it's ninety-eight degrees Fahrenheit inside... because the air conditioner is broked. I try to compensate by eating ice cream and drinking ice water, but it's just not happening. All that does is make me realize how bloody miserable I am when I stop.
• Up. I saw Pixar's latest animated miracle, Up, and found it to be scrumtrelescent.
• Upper. Seriously, Up is one of the most beautifully animated spectacles ever made. That wouldn't be saying much if the story sucked, but this is Pixar, so the story is genius as usual. Crotchety old widower Carl Fredricksen decides to have the adventure of a lifetime by tying thousands of balloons to his house and floating to South America. Unfortunately, an overly-helpful and annoying Wilderness Scout named Russell accidentally gets taken along for the ride. Hilariousness ensues. I don't know if Up displaces Monsters, Inc. and The Incredibles as my favorite Pixar movie... but it comes darn close. I'd call the film "flawless" except I did have two small problems and one bigger problem with it. To avoid spoiling things, I've dropped that in an extended entry.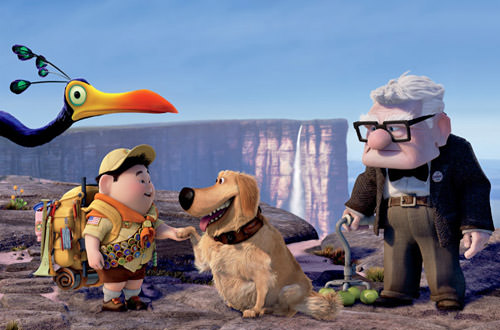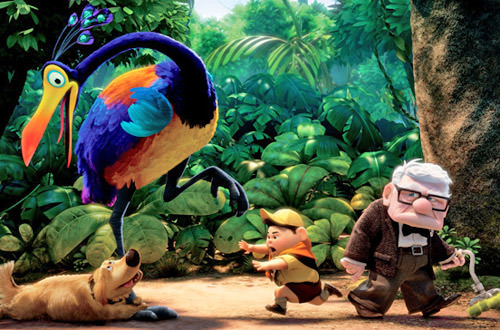 • Twitter. I already feel as though Twitter is a massive waste of time... especially when things like "blip.fm" get involved and people are tweeting every frickin' song they listen to (Why should I care about your bad taste in music? Do people actually click on blip.fm links?). Or, even worse, those who live-tweet television shows and sporting events. Why would I want to read tweets about something I don't even want to watch? Or, if I am watching, I ALREADY KNOW WHAT'S HAPPENING AND DON'T NEED TO READ ABOUT IT! Factor in other annoyances like re-tweets, private conversations, and Follow Friday (SERIOUSLY, IF I WANT TO KNOW WHO YOU FOLLOW, I'LL VISIT YOUR FOLLOWERS PAGE!)... and Twitter is mostly noise anymore (don't even get me started on blog post announcements which announce posts that I've ALREADY READ from a webfeed subscription). Bleh. I wish I wasn't so addicted to Twitter. My life would be a lot simpler.
• Twitterer. But now the ultimate Twitter annoyance has struck... TWITTER GAMES! I keep getting "SpyMaster" invitations, and it's only a matter of time before "Mob Wars" invades. This may very well be the last straw for me. If I can't find a Twitter client that gives me the ability to filter out all the distracting shit that is clogging up my feed, I may just give up. Or unfollow a couple hundred people.
And now I really need to catch up on some sleep. If you've already seen Up, and want to read me nit-picking over this excellent movie, that's in an extended entry...
→ Click here to continue reading this entry...