Posted on June 1st, 2017

Well, shit.
And so President Cheeto Jesus has said The United States will be exiting the Paris Accord on climate change. It's all bullshit, of course. His reasonings are either outright wrong or put into a context that has them defying reality. Which leaves us three possibilities as to what's going on...
President Trump is an outright liar, saying things he knows to be false.
President Trump is a fucking dumbass who doesn't know what he's saying is bullshit.
President Trump is psychopath, saying things he thinks are true but only because voices in his head say they are.
I'd start in on a rage-induced rant right now, but here's a more sensible approach from Adam Conover...
We have to reverse coarse on fucking up the planet while doing so can still make a difference. Taking giant steps backwards and giving away our leadership position when it comes to fighting for a healthier planet is about as dumb as it gets. Par for the course when it comes to our current president, but the country itself must be smarter than that.
The future of life on earth depends on it.
Posted on May 11th, 2017

I'm going to prove how bigly smart I am by picking a fight with the FBI.
You know... the guys who know where all the bodies are buried. Literally.
Posted on May 4th, 2017
The hypocrisy of Paul Ryan would be comical if it weren't for the lethal consequences of all his fucking bullshit.
I could go on for pages about what a massive betrayal the new "health care" plan is for the American people, but I'm just too damned tired. So here's Seth Meyers, again, to put it all into perspective...
As for the bill itself? Jesus...
The only possible up-side to all this crap is that once people understand how anybody who isn't young, healthy, and rich are completely fucked, maybe these douchebags will finally be voted out of office.
Posted on May 2nd, 2017

I spend entirely too much time questioning my sanity lately.
Every time I turn on the television, any time I go online, any time I am exposed to the world... I feel like I'm taking crazy pills...

For heaven's sake... just go play some golf or something. Yes it costs taxpayers millions, but at least you aren't fucking embarrassing the country or taking us closer to World War III.
Posted on February 5th, 2017

It's the laziest of Super Bowl Sundays, because an all-new Video Edition of Bullet Sunday starts... now...

• The Right God.

• Our Reality.

• Our Reality, Redux.

• What About This Guy?
UPDATE: Here's the full story of Dan Lasko, as told to Pedigree...

• Conan.

Bullet Sunday will be back next week. Assuming there's a Sunday to put bullets on.
Posted on January 29th, 2017

We're all gonna die! Because an all-new Trump-inspired Bullet Sunday starts... now...

• Chicago! I could fill this entire Sunday with the psychotic insanity of President Trump's first week in office... but there's numerous places doing a better job than I ever could (like here, here, here, here, here, and here). And yet... it's hard to say nothing in the face of current events. I mean, come on, the guy declared his own inauguration day "National Day of Patriotic Devotion." That alone puts Donald Trump's presidency in vivid relief. But, of course, he didn't stop there. One of his tweets, in addition to showing that he doesn't know how "quotes" work, called out Chicago for their "carnage." Which he will fix by sending in the Feds if they don't handle it to his satisfaction...


Always screencap Trump's tweets... he might delete them.
An interesting aside here...
So why does President Trump keep picking on Chicago when there are bigger fish he could call out? Obama, of course. That's where his political career started. It's also where it ended, as that's where President Obama gave his farewell address (Trump claimed two people were shot and killed while Obama was speaking, which turned out to be yet another lie). Trump's obsession with his predecessor will put Chicago in his crosshairs for all eternity. Might as well get used to it...
CONTENT REMOVED: Comedy Central does not offer HTTPS embeds. Click here to see video.
Except I will never get used to it.

• Protest! For people who think the Muslim Ban Protests are a overreaction... I disagree. Had Donald Trump not banged the anti-Muslim, xenophobic drum so constantly and consistently at all stages of his nomination and election, would the reaction to his temporary, selective ban be seen as something other than a "first step" to deporting and banning Muslims from the country permanently? We will never know. All we have is the hysterical ramblings of Donald Trump from which we can base our interpretation of Donald Trump's actions. Better safe in protest than sorry in despotism, I always say.

• Apples! Just a reminder... Steve Job's father was a Syrian refugee...

• War! Scariest story this week: China military official says war with US under Donald Trump 'becoming practical reality'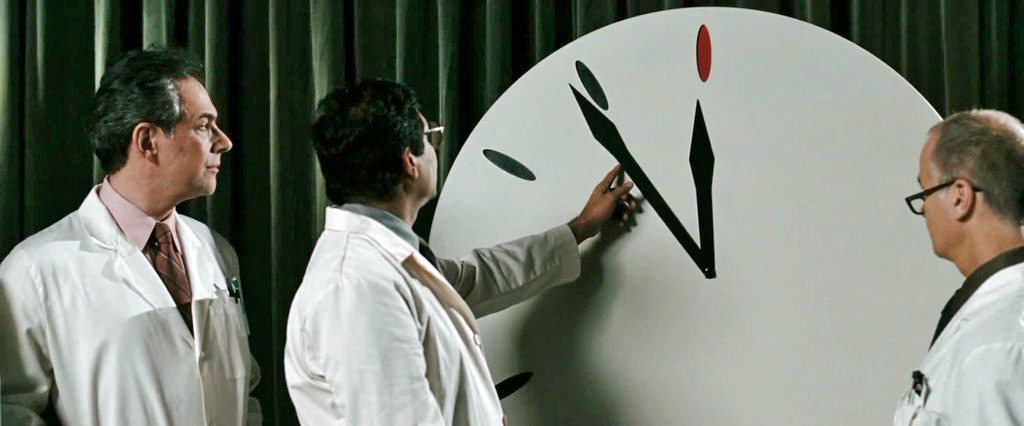 Smoke 'em if ya got 'em, everybody!

• Love! With all the horrors awaiting me every time I access the internet, it's nice to see something pop up that's actually good news for once. This is a sweet story that had me wondering for the millionth time how homophobic dumbasses like Michelle Bachmann can spout the kind of hatred she does. These guys could have very easily been killed just for being who they are. That they would somehow CHOOSE "evil homosexually" under such circumstances and endure what they had to go through for four years is insanity. That's adding idiotic complication to something so simple as two people falling in love...
Though I admit that I did laugh when they got that check for $25,000. It's a lot of money, of course... but in Seattle's housing market? LOL! Good luck, gentlemen!

• Welcome! The Netherlands welcomes President Trump!
America First! Yes! But the Netherlands, second. Tremendous.

And... here's to surviving another week!
Maybe.
I guess.
Posted on January 22nd, 2017

Don't despair that The Age of Darkness is upon us, because an all-new Bullet Sunday starts... now...

• Inauguration! No, I didn't watch it. The last thing I felt like doing was celebrating a racist, homophobic, xenophobic, misogynistic, sexist, hypocritical bigot ascending to the highest office in the land. I did see photos in my newsfeed, however, and thought our new First Lady sure was lovely...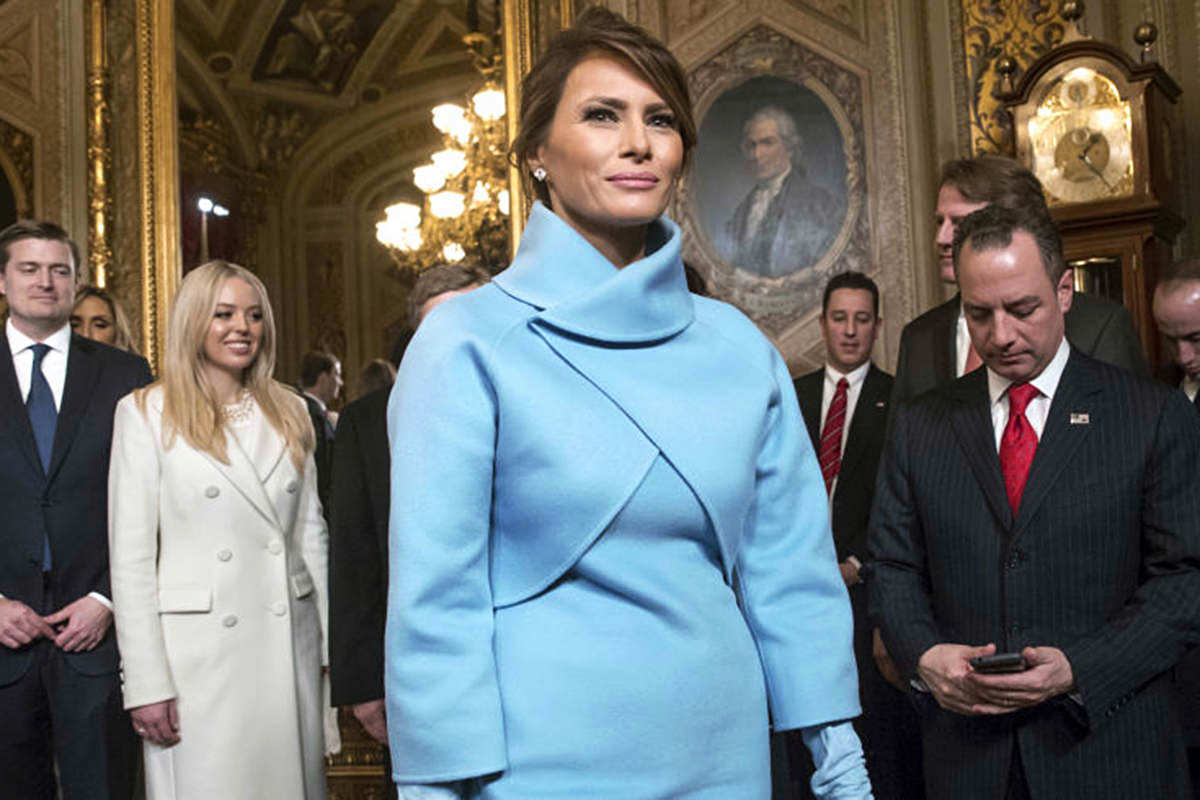 Photos from The Associated Press
Though she seemed to be channeling Jackie Kennedy's fashion sense...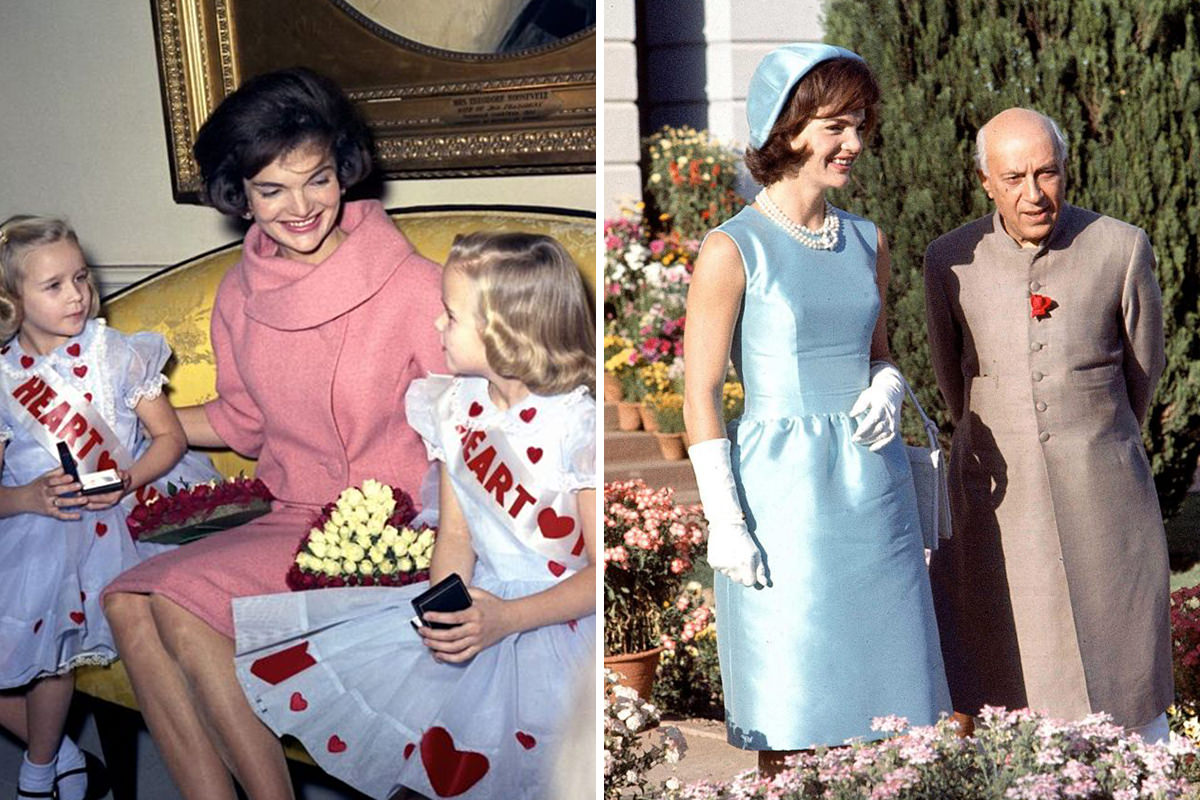 But, hey... if you're going to copy somebody, copy the best! Which is apparently what Trump's team did with the inauguration cake.

• Melania! I should confess that I have serious concerns for Melania Trump. What bothers me most is how badly our new First Lady has been slut shamed throughout the campaign because of her past. From all indications, she is doing her absolute best to be respectful to the role she has to play. She was radiant and classy at the inauguration. She seems genuine and sincere about living up to her obligations. She has even said she plans to use her new position to address such horrors as cyber-bullying. What more do you want from her? Go ahead and bash her for swiping First Lady Obama's speech or Jackie's clothes... or whatever... but not for her past, which was hers to live. In all likelihood, Melania Trump may well be the only thing that's half-way decent to come out of the Trump presidency, so cut her some slack.
Because her husband sure doesn't seem to. Facebook was exploding over the fact that President Trump seemed happy to ignore his First Lady at every opportunity. Given how nervous the poor woman appeared, this was kind of shitty... but not surprising. At The White House transition, he didn't bother waiting for her before bounding up the steps... then ignored her when it was time to go inside. Fortunately, President and Mrs. Obama were there to help...
Contrast and compare the same moment from the Bush/Obama transition (45 seconds in)...
And then there's this gem...
Stay strong, Mrs. First Lady!

• Size Matters. President Trump's obsession over the size of his crowd at the inauguration has me laughing so hard I almost can't breath. He even has his press secretary wasting valuable time admonishing the media over it. Like there's nothing more important for him to focus on right now other than how YUGE his crowds were? In all seriousness, YOU'RE THE PRESIDENT OF THE FUCKING UNITES STATES OF AMERICA, YOU PATHETIC PRICK! Is this the kind of petty dumbassery that's going to dominate your presidency for the next four years? Can you imagine the reaction by Republicans if President Obama were to spin his wheels over this kind of inconsequential bullshit? How fucking embarrassing for this country. Our Cheeto-Faced-Ass-Clown-In-Chief must have a penis the size of a Tic-Tac if something this idiotic has him so riled up. I can't wait until President Trump decides to compensate for his small dick by blowing off his YUGE nuclear arsenal. BWAH HA HA HA HAAA! We're all fucking doomed.

• Size Matters? In other news on crowd size... 20 Million Muslims March Against ISIS and The Mainstream Media Completely Ignores It. Because covering such a massive demonstration doesn't fit the media narrative that ALL MUSLIMS ARE TERRORISTS! How can people complain that Muslims aren't condemning Muslim extremists when something like this is out there?

• Size Matters! And then there was the Women's March on Washington (and numerous other cities) which was an attempt to remind President Trump that the women-folk aren't going to go quietly into the night as their rights are threatened. Whether it's defunding Planned Parenthood where many women in poor and rural communities are able to get care... or restricting access to abortion as guaranteed by The Supreme Court... or continuing to marginalize women when it comes to fair and equal treatment in the workplace... ladies everywhere were marching. Even in Antarctica...

Photo Credit to Linda Zunas
And that's all seven continents.
It would be nice to think that President Trump could take ten fucking minutes away from blowing himself on Twitter to use the march as inspiration to start taking women's issues seriously, but I think we all know that's not going to happen. Between shitting all over our military by saying rape is to be expected for women who enlist... to saying it's hard for women to be attractive if they don't have large breasts... to bragging about him sexually assaulting women... well, his record is pretty clear. And pretty disgusting. March on, ladies.

• Mantra! I keep seeing Republicans condemning people for not rallying behind President Trump "for the good of the country." Which is hypocritically insane given how they did nothing of the sort when President Obama took office. Both times. The unhinged reaction to Obama was based on outlandish shit that was mostly fantasy. The reaction to Trump is based on outlandish shit he's actually said and done. And while I usually attempt to take the high road and "rise above" when faced with this kind of crap, don't expect it this time around. Unless President Trump suddenly rejects all past action to become a shining beacon of tolerance, acceptance, equality, liberty, and freedom... he just doesn't deserve it.
Which is why I'm trying to come up with a song that I can use as a mantra for the next four years. I think I have it narrowed down to two...
It will either be this bit of genius from the movie Popstar by The Lonely Island...
OR... perhaps this classic from Lily Allen...
Decisions. Decisions.

And that's bullets for this Sunday. Fortunately President Obama never got around to taking our guns, declaring martial law, outlawing Christmas, enacting Sharia Law as a Secret Muslim, executing white people, putting everybody in FEMA camps, forcing everybody to get gay married, starting up death panels... or turned out to be The Antichrist... so I might just be back with more bullets next week.