Don't be sad about that asteroid missing earth so you have to go to work tomorrow ... because an all new Bullet Sunday starts... now...

• My my my my my Poker Face! I was sorely tempted to have every bullet today be the same thing... begging you to take a look at the new series from Peacock called Poker Face...
If you're old like me and used to love watching Columbo mysteries, this is like that... but with a cool twist. If you've never heard of Columbo, it was a series where you are shown who the murderer is right at the start, and the fun is watching the detective piece it together. I would watch Natasha Lyonne in absolutely anything, and she is flawless in this series. The first episode is a good setup, but the series really kicks into gear with the second episode. Then they just keep getting better. This is guaranteed to be on my "Best Of..." list for 2023. No doubt.

• Revolutionary! First of all... I played this pinball machine a lot back in the day. Between Xenon and Pinbot, a lot of quarters were lost! Which is why I think this video about the voice/music designer for Xenon, Suzanne Ciani, is just beyond cool...
Now, my favorite pinball machine of all time was The Addams Family back in the early 90's... but Xenon would certainly be on my list of all-time greats.

• Addams! And speaking of Addams Family Pinball... I just searched YouTube and found this...
If I could afford to track down one of these and buy it, I would 1000% do that. And clear a spot in my living room to put it. Just fantastic entertainment all the way around. I never got tired of it.

• MORTY! NEWSLASH: Justin Roiland: Rick and Morty creator dropped by Hulu as well as Adult Swim. Holy crap. I mean... It had to happen, but wow. I have no idea how this is going to affect Rick and Morty, which has been so good this past season.

• Expensive Air! California has "packaging waste" laws which are designed to keep manufacturers from putting a tiny amount of product in a massive box. Wonder what they think of this travesty from Hot Pockets?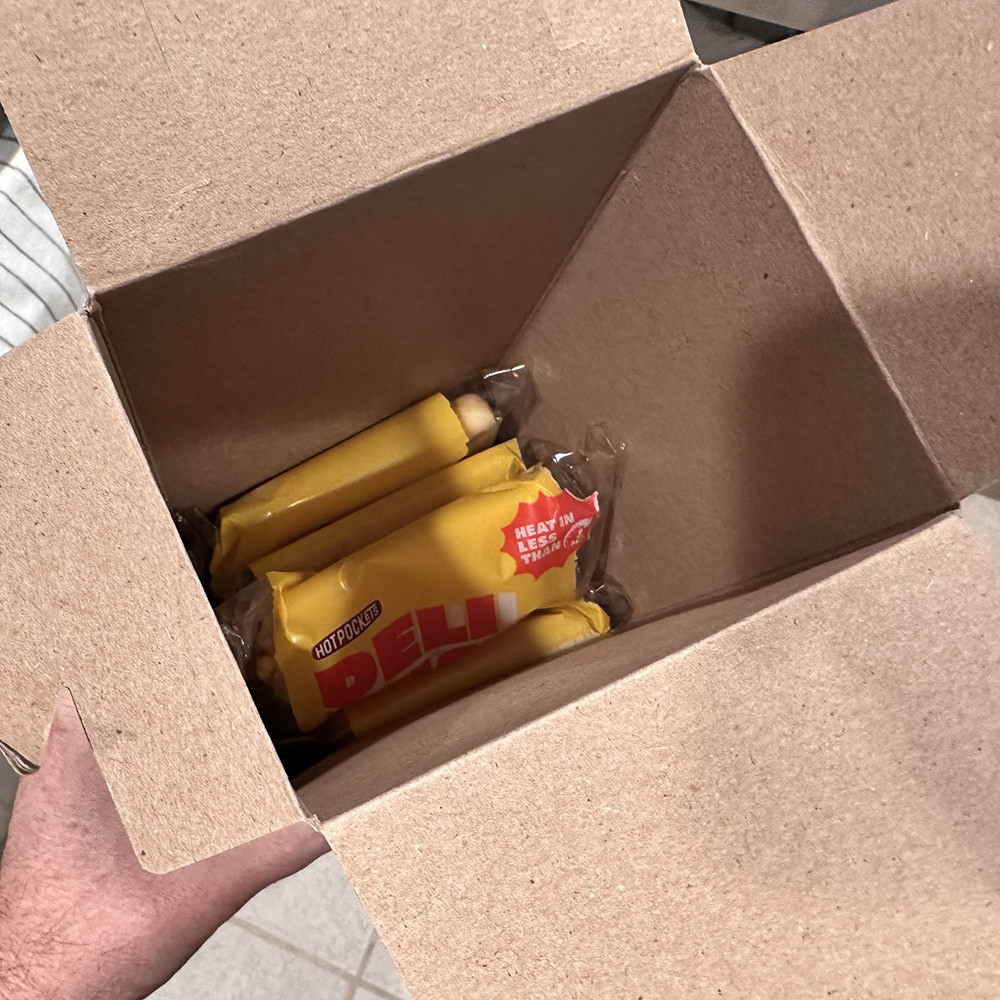 I am trying their new Deliwich frozen cheese sandwiches. There's 4 in a box. A massively huge box which could easily hold TWELVE OF THEM! WTF?!? I thought that they'd be a hell of a lot bigger than this. But the worst part was not the feeling that I was deceived and ripped off... it's the fact that these Deliwich things are awful. Pasty, doughy, gross. I was expecting something flakey and light. It's like a bad salty biscuit with a little cheese jammed inside. How did this ever make it to market? Did they taste-test it?

• Shoresy! I am going to wrap up this most excellent Bullet Sunday with some very good news... Shoresy has been renewed for a second season over at Hulu! And the best news? It's coming this year...
Easily one of my favorite shows of 2022 (it ranked #5 on my Best Of... list), I wasn't sure that we'd get a second season, but here we are.

Fingers crossed that more giant asteroids are incoming, but until then... see you next Sunday!