Posted on February 5th, 2018

I don't watch the Super Bowl. That's probably because I don't give a crap about football. Most years I still have the game on while I work because I want to see the commercials, but this year I figured I'd just watch them all on YouTube after the game. That way I don't have to add to the NFL viewer numbers since I feel that any sport which allows owners to shit all over The United States of America with it's mandated faux-patriotism can go fuck themselves. Colin Kaepernick did not disrespect this country, its people, or our troops when he respectfully took a knee in protest during the National Anthem... and yet he was treated as if he did, and is now paying the price for what became of it. So much for freedom.
Anyway... the one commercial I was wanting to see more than any other was the trailer for Avengers: Infinity War. A movie I am very, very much looking forward to come May...

Pretty great, right?
Everybody and their dog will be rushing to analyze every frame of the trailer, so I'm going to take a pass on that. Instead I'm just going to run through the eighteen scenes found therein and offer up my commentary. BE WARNED! If you aren't caught up on the past Marvel Studios films, there may be spoilers ahead...
And this is how you do it... lead off with the true promise of this movie: all the various Marvel Studios franchises are coming together in interesting ways. Here Technology, science, and magic are converging in a single shot.
The romance between The Scarlet Witch and The Vision is a major staple of the Marvel comic book universe. I'm very, very happy that they've been advancing this in the cinematic universe as well. Though I'm not sure what's going on here. Vision is projecting a human form, which is great... but what's the deal with the stone? Weirdest foreplay ever?
Though Thanos had been hinted at in the first Avengers film, he really didn't become a "thing" until Guardians of the Galaxy. There it was revealed he was as the father of both Gamora and Nebula. This firmly cemented Guardians as a part of the narrative build-up for this film, even though it took place in a galaxy far, far away.
"It's all been leading to this." Yes. Yes it most definitely has. Interesting to note that Bruce Banner somehow made it back to earth ahead of Thor, which is a little surprising considering they were last seen together in space. As an aside... what's with Tony Stark having an Arc Reactor in his chest again? that was removed in Iron Man 3.
One can only guess that the post-credits scene in Thor: Ragnarok has Thanos destroying the space ark with all the Asgardians on it, and only Thor survived to be picked up by The Guardians. That would suck, considering the destruction of Asgard itself has already punched Thor in the gut. But even more so because that means Korg probably perished with them. It's strongly hinted that time travel is going to play a part in the movie, so maybe dead isn't dead, just like the comic books. If so... dare we hope for a Quicksilver appearance?
If there's anybody who should be worried about Thanos showing up, it's Loki, who failed to secure The Tesseract for him way back in the first Avengers film. Maybe the fact that he managed to swipe it from Asgard before it went boom will be enough for him to be spared being killed?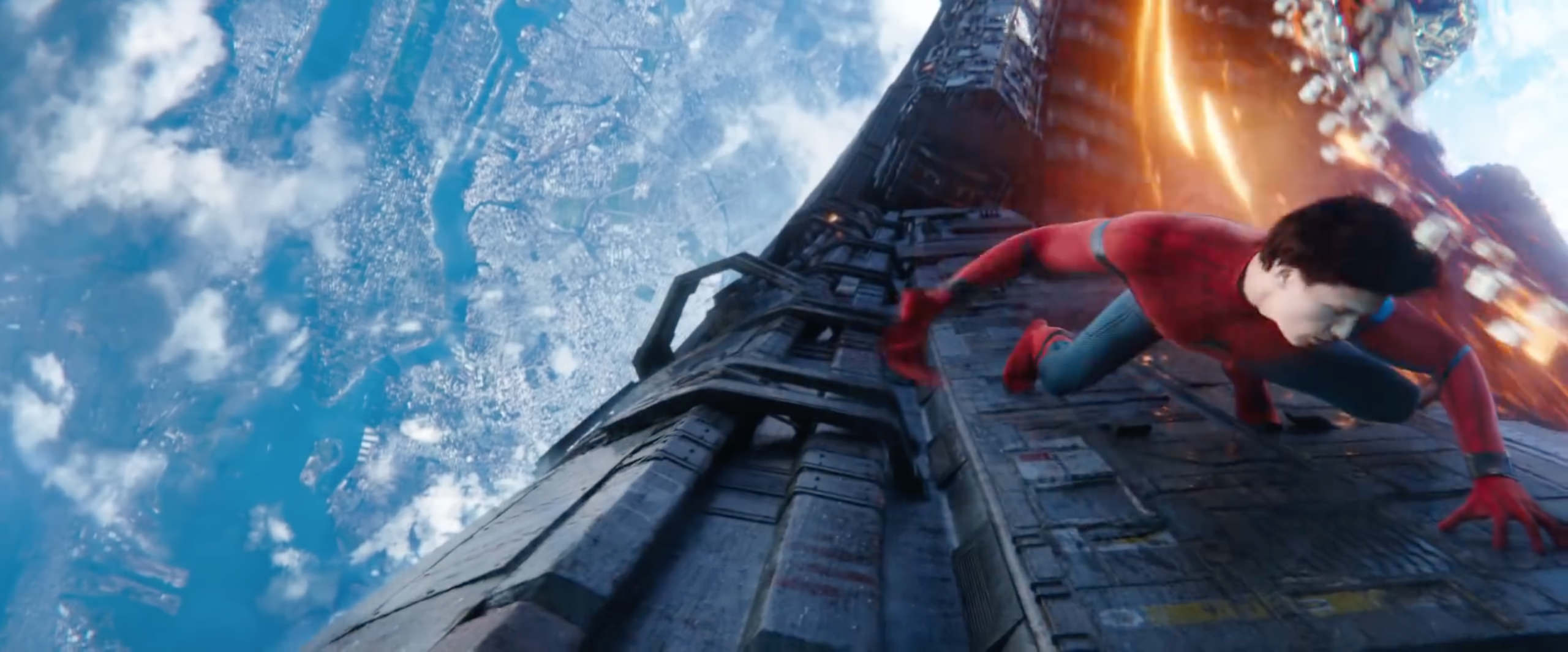 Spider-Man, once again biting off more than he can chew. No telling how he managed to get up to the big dimensional portal device(?) that appeared above NYC, but it's weird to think that he would think there's anything he could do about it. But, that's what makes him a hero... he has to try. And, thanks to his Spider-Sense, he knows it's a bad, bad thing.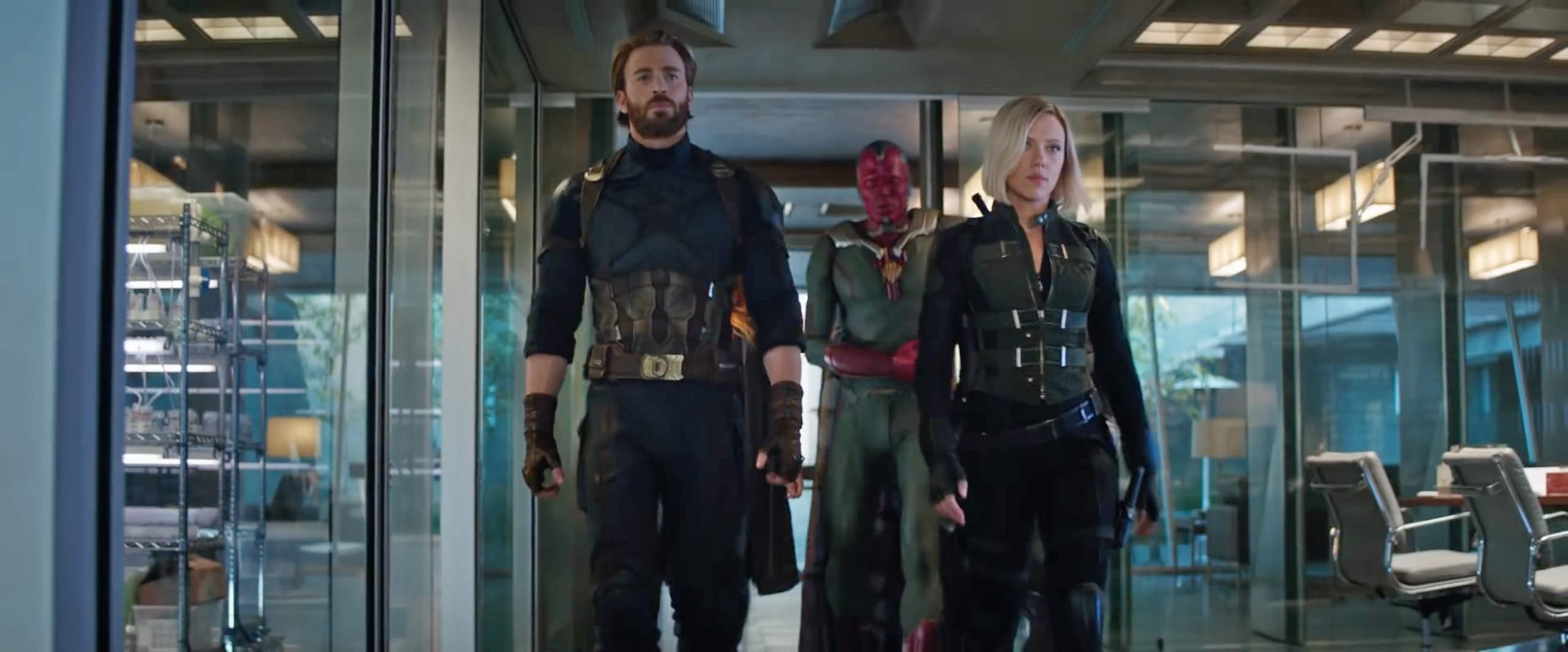 Black Widow was originally Team Iron Man in Civil War, but switched to Team Cap at the end. The Vision was always Team Iron Man, which means this is undoubtedly a scene from later in the movie when everybody has become friends again?
For anybody wondering if Thor losing an eye at the end of Ragnarok would be carried over to this film, here's your answer.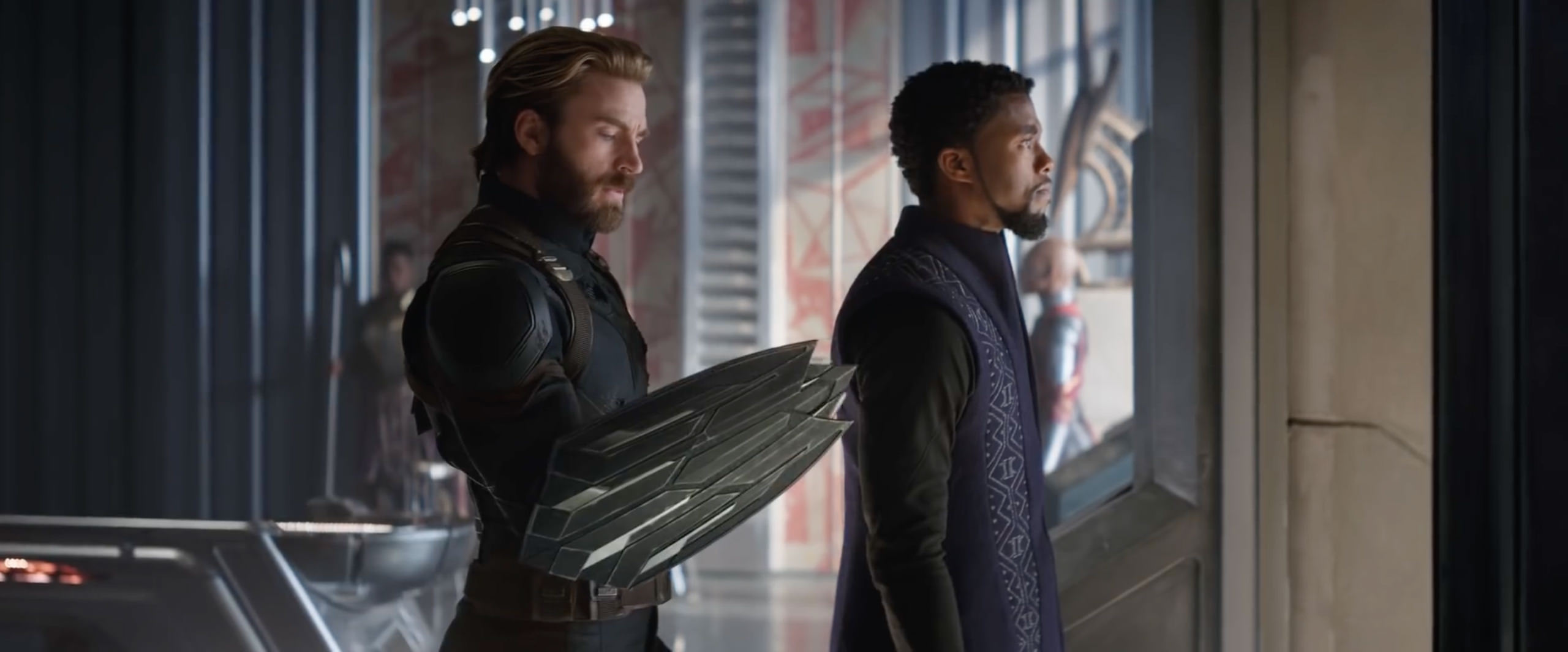 Fanboys are up in arms over Cap's new "shield" being this thing. I can't help but agree it's a shitty move. One of the coolest thing about his shield (other than being indestructible, of course) is that he can toss it like a Frisbee thanks to its saucer-like aerodynamics. Hopefully he gets the shield back somewhere along the line.
And so Tony Stark now has armor that chika-chika-chikas into place like Black Panther? More practical, of course, but not nearly as much fun. Until now, it's been a mechanical process that very much comes down to him donning a suit of armor to do battle. This is a lazy cop-out when it comes to storytelling.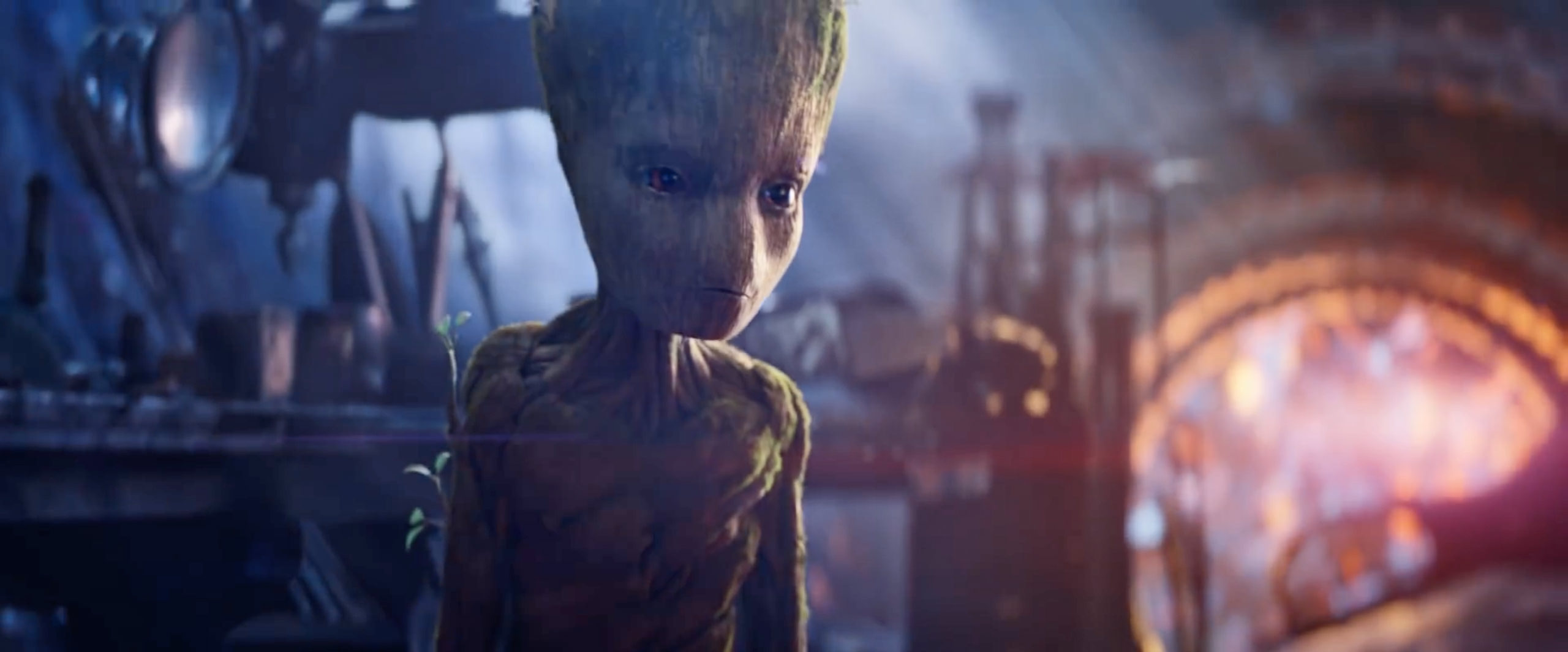 Is it sad that I want Teen Groot to be blown to pieces so we can start over with Baby Groot again? Oh how I loved Baby Groot!
Nebula wants Thanos dead more than anybody else in the whole Marvel Cinematic Universe. She also probably knows Thanos better than anybody else in the whole Marvel Cinematic Universe. I'm really hoping that she gets thrust into the spotlight in this film as she deserves to. Keeping her in the background can't possibly service the story they are telling. But, comparatively speaking, she's small potatoes amongst the cast, so who knows.
Not a fan of Black Widow as a blonde. Yes, they've changed her hair in every movie she's appeared in. Yes, she's a spy and it's feasible she was undercover as a blonde just as events of the movie open. But dammit, Black Widow is a red-head! And, while we're here, I'd just like to say that the rumors of Black Widow finally getting her own movie after being a guest in like... every other movie... had better be happening.
Well, it's Bucky. Awakened from his deep-freeze and fighting for Wakanda. Best of luck there, Buck.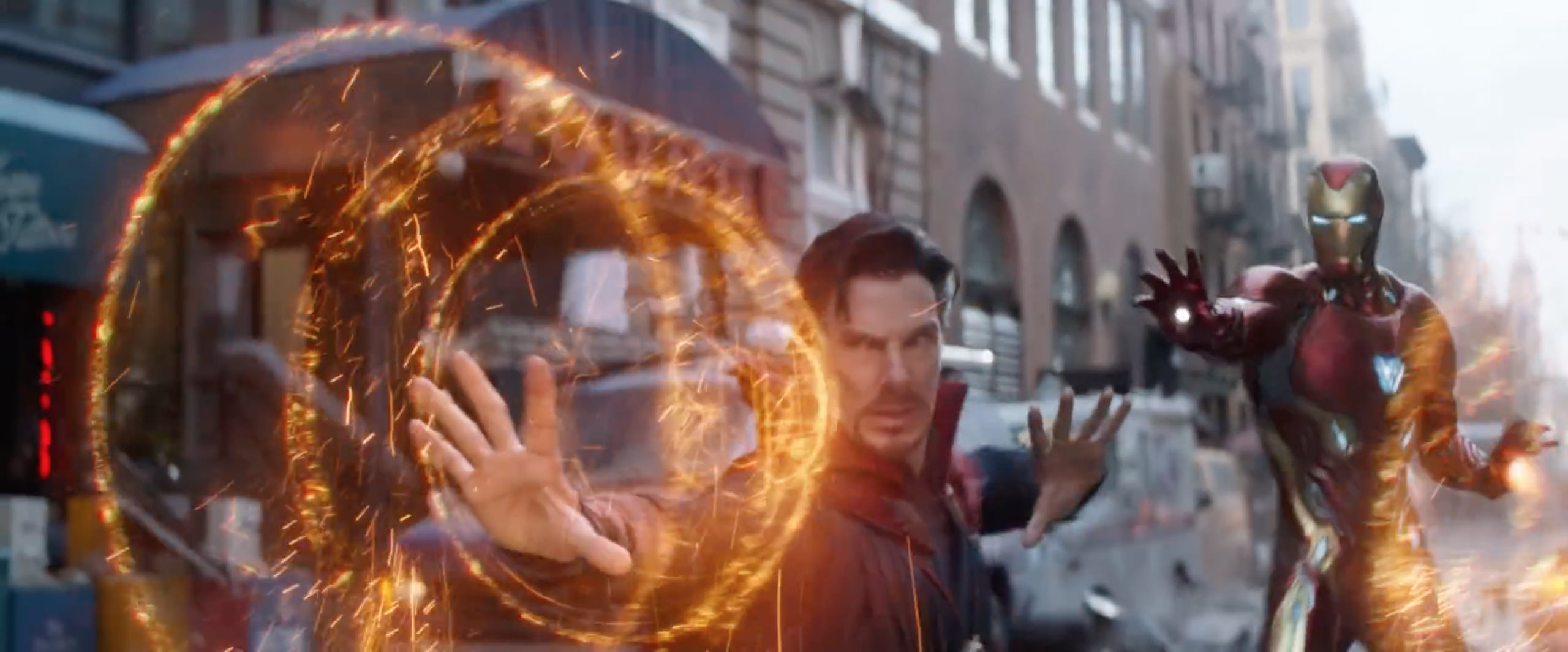 And here's the money shot for me. Dr. Strange, Wong, and Iron Man teaming up in battle. THIS is what Avengers: Infinity War is truly about... having all the various Marvel Cinematic Universe pieces coming together in cool ways. I am all fangirling out at this point.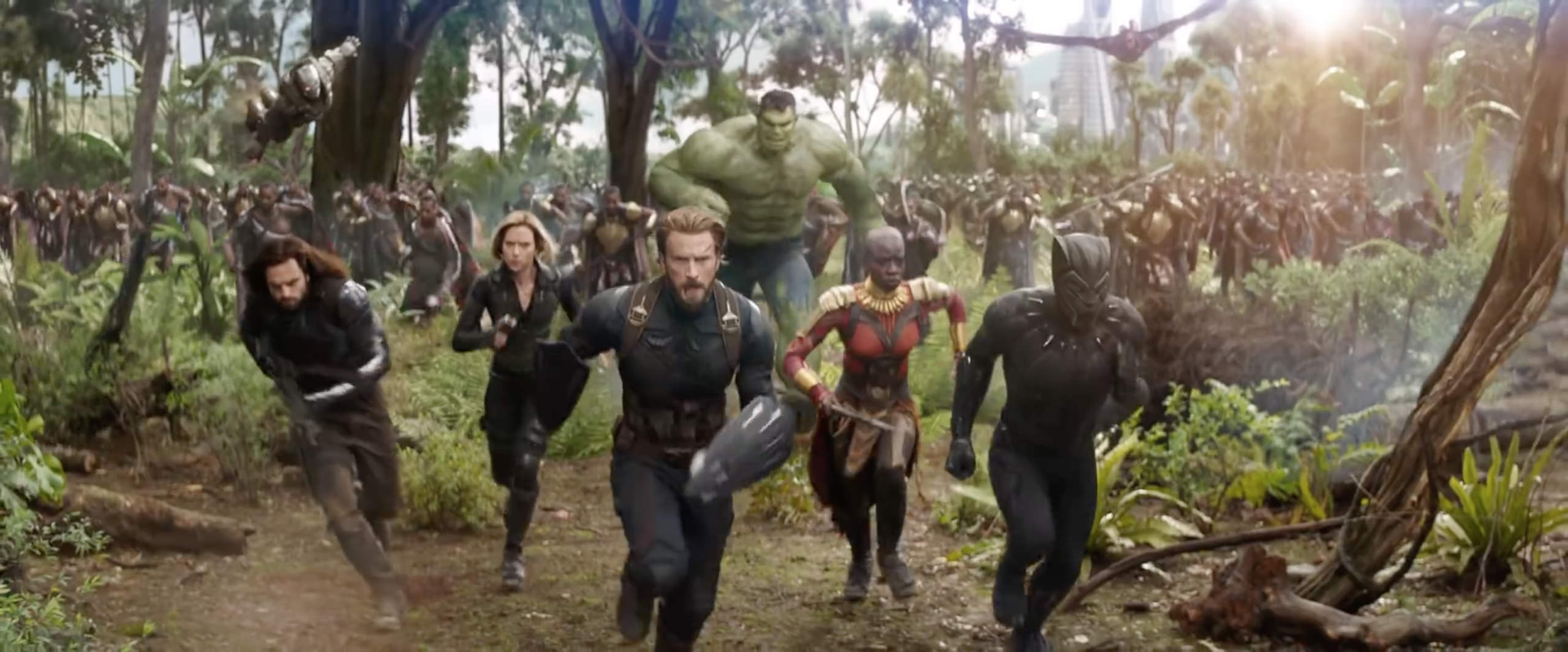 Remember... before you get all sucked into the Infinity War hype... Black Panther is coming out in a mere eleven days. WAKANDA FOREVER! — And, can I just say one more time how utterly silly and stupid Cap's "arm shields" look? No? Okay.
Thanos! Why U mad, bro? Black Panther scratch your face? Seriously, I'm asking... I don't recall seeing those scratches before.

Annnnnnd... scene. See you in May, Avenger!
Posted on June 3rd, 2015

A lot of sports happened tonight.
My beloved Chicago Blackhawks sportsed the best and scored more points than the Tampa Bay Lightning. The Lightning needed to stop the Blackhawks from scoring points while they themselves scored many points, but it didn't happen.
And so game-over, the Blackhawks won the Stanley Cup.*
Again...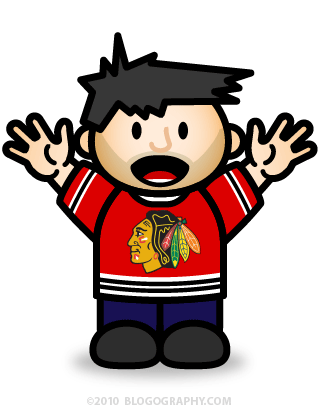 Congratulations to the Blackhawks for having the best strategy of scoring the most points, and best of luck when you return to sports more next season!

*Yes, it's only Game One... but I'm totally calling it!
Posted on June 28th, 2013

Kapgar was talking about the Stanley Cup's triumphant return to Chicago in his blog post today, and it got me to thinking back to how I became a Blackhawks fan. That, in turn, got me thinking about how I became a fan of all the league sports teams that I follow.
A blog post was born. Thanks, Kevin!
&nbsp
Boston Red Sox Baseball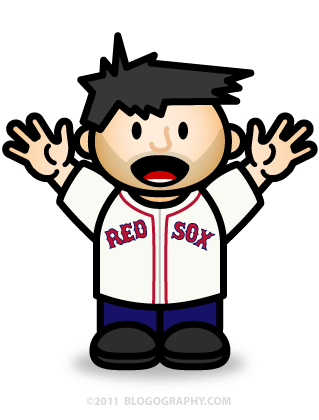 Baseball is hands-down my favorite sport. It was the only game I liked playing as a kid (even though I really could't play) and I love watching it. Baseball just seems more intimate and personal for some reason, and it's easier to feel a relationship with the players than with any other sport. When your team loses, it hurts because you're invested with those nine players. The first pro team I rooted for was my "hometown" Seattle Mariners, which were enfranchised when I was 11 years old. That lasted until I was in my mid-teens and was given an brand new Orioles jersey as a gift (probably because somebody didn't want it). I didn't know a darn thing about the Orioles, but I liked the shirt a lot. That was apparently enough for me to become a fan, and it didn't hurt that the Orioles were an amazing team back in the early 80's. But, truth to be told, I was never really into professional baseball growing up. I'd rather watch a high school game than a League team, and I was a "fan" of the Mariners and Orioles only in the vaguest possible terms.
And then it happened.
While I was in college, I had to read the book Shoeless Joe for some class or another. It provided an insight into baseball and the love of the game that completely captivated me. A key story-point to the book was the "Black Sox" scandal that rocked the world of baseball in 1919. It was such a fascinating story that I became a little obsessed with it, and ended up reading a lot about the sport. Fortunately, there were no shortage of books about America's favorite pastime, and one book lead to another... then another... then another... until I landed on a Ted Williams biography. This lead to a run on Boston greats, starting with Cy Young, which lead to Smoky Joe Wood, which lead inevitably to Babe Ruth... and his infamous trade from the Red Sox to the Yankees, which caused a curse that plagued the team for over eight decades. This eventually led me to become interested in pro baseball, in general, and the Red Sox, in particular. Then the movie Field of Dreams (based on the novel Shoeless Joe) was unleashed, became my favorite movie of all time, and instilled a love of Major League baseball in me that I never had before... but felt as if it had been with me my entire life. I've been a die-hard Red Sox fan ever since. I love the team. I love the history. I love the fans. I love Boston. And I love Red Sox catcher Jarrod Saltalamacchia (probably a little too much). SALTALAMACCHIA!!!
&nbsp
Chicago Blackhawks Hockey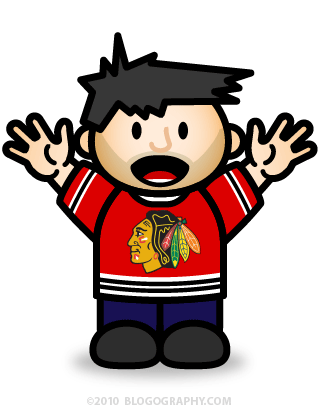 Hockey is not a big sport where I live, so I never really "discovered" it until I started traveling to Milwaukee for work in the mid 90's. I went to a couple Admirals games and was instantly hooked. The problem being that the Admirals are not a NHL team, so they were kind of hard to follow when I was not in Wisconsin. Eventually my fandom traveled down the shore of Lake Michigan to the Blackhawks when I started traveling to Chicago for work in 1998. I've been a fan ever since. I don't really keep up the League standings, but I have news alerts set for the Hawks so I can watch games and keep up with the team. Hockey remains one of my favorite sports to watch, so a Stanley Cup win for Chicago is a big deal to me after following the team from afar for 15 years. GO HAWKS!
&nbsp
Seattle Sonics Basketball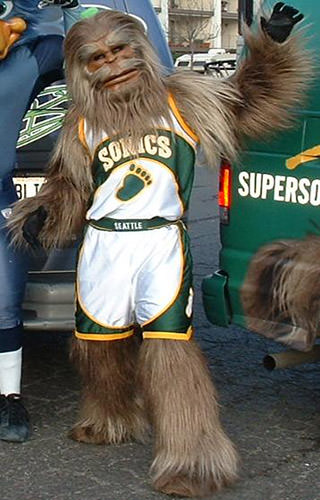 Sonics mascot SQUATCH!! Photo credit unknown.
Basketball is another spectator sport I enjoy because, like hockey, it's fast-paced and action-packed. The only team I've ever rooted for is my "hometown" Seattle SuperSonics, and I have more than a couple fond memories of traveling to Seattle Center Coliseum (later named Key Arena) to cheer on the team. Of course we all know how that turned out. Our team was sold to Tulsa and basketball died in Seattle. I haven't bothered to find a new team to follow since. INTERESTING FACT: Seattle Center Coliseum has the dubious honor of being the only venue where a basketball game was rained out. Back in 1986 a rainstorm was so severe that water started pouring through the roof and the game was forfeited. It's also the venue where The Beatles played in their two tours of Seattle in 1964 and 1966.
&nbsp
New York Liberty Women's Basketball
I'm not going to candy-coat this... for the longest time, I had -zero- interest in women's sports, thinking that they would be a pale imitation of the real thing. That all changed when I was taken to a New York Liberty game in Newark. These ladies played their guts out, and I got to see a fantastic game that opened my eyes to the fact that women can bring it to the court every bit as dedicated as men. I am not an avid Liberty fan, but check in from time to time to see how they're doing and what's new with the roster. Since the Sonics are gone, I keep hoping I'll find time to take in some Seattle Storm WNBA games and maybe get interested in pro basketball again, but no luck so far.
&nbsp
Seattle Seahawks Gridiron Football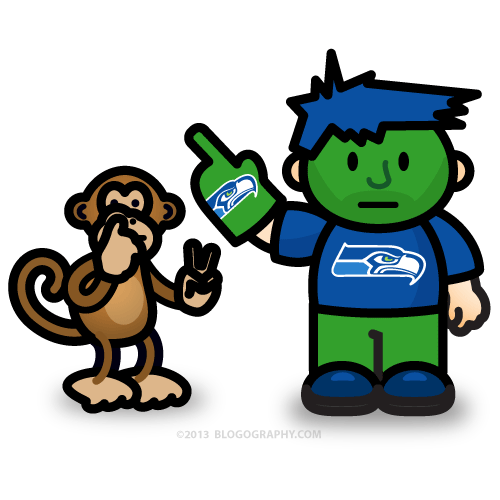 I find football kinda boring, so I'm not invested enough to have a team. If I were, it would be my "hometown" Seattle Seahawks. Probably because I was there in the beginning. Back in 1976 the NFL expansion granted Seattle a team, and it was an exciting time to be a Washingtonian. Seahawks were everywhere, and I remember collecting player posters from the backs of Lay's potato chips boxes (yes, potato chips used to come 2-small bags to a box back in the day). Players like quarterback Jim Zorn and wide receiver Steve Largent that were elevated to local heroes, and their charisma and enthusiasm for the team made it impossible not to root for the Seahawks. But, as I said, I'm not a big football fan, so any love I have for the team comes out of nostalgia more than anything else.
&nbsp
Arsenal Football
With apologies to my friends who are either Manchester United or Chelsea fans... Nick Hornby's novel, Fever Pitch, got me rooting for Arsenal first. The ultimate irony being that when the American movie version of Fever Pitch was made, the sports-obsessed character was a Boston Red Sox fan. Whenever I can find sports highlights for Arsenal, I'm sure to tune it, and I follow their stats every season.
&nbsp
Cronulla Sharks Australian Water Polo
When I was traveling around Australia, I saw a T-shirt for the Cronulla-Sutherland Sharks Football Club. The logo was awesome (SHARK EXTREME!!!), but the shirt didn't come in my size, so I was bummed. When I got back to my hotel I Googled the team to see if there was a way to order a shit through the mail. Somehow, I ended up NOT on a Cronulla Sharks football page, but a Cronulla Sharks water polo page. Other than a vague recollection of water polo being an important Olympic sport, I didn't know much about the game and was curious. After some digging, I ran across internet video and was amazed. Water polo has to be one of the most difficult and grueling sports in existence. It's also a lot of fun to watch. And so I tune into water polo from time to time whenever I run across it on my television. I also keep up with both the Women's and Men's Cronulla Sharks teams because they were what started it all for me.
Sadly I haven't decided on a professional curling team to watch, so I guess that's the end?