Vets can't come to a consensus on whether dry food or wet food is best for cats. So I feed them both. At 6:55am they each get a spoonful of wet food. At 7:00am they each get a small amount of dry food. At 7:20 they get an even smaller amount of dry food... AKA "Second Breakfast," because they will scarf it all down at once and might get sick if I don't split it up. At noon they get a small amount of food for lunch. At 5:55pm they get a spoonful of wet food. At 6:00pm they get a small amount of dry food. At 6:20 they get "Second Dinner." Then at 9:00 they get a tiny-tiny snack to carry them through the night.
These small amounts of food given throughout the day have worked best for Jake and Jenny, and there's no scarf-and-puke sessions when I go this route.
The wet food is indeed a small amount... 1/6th of a can twice a day. Jenny refuses to chomp anything wet, she just licks it, so hers is mixed with a little tap-water.
Last year I changed things up a bit. After each can was done, I split a packed of "Broths" between them. So it's 1/6 can at dinner, 1/6 can at breakfast, 1/6 can at dinner, then 1/2 a packet of broth for breakfast. Repeat.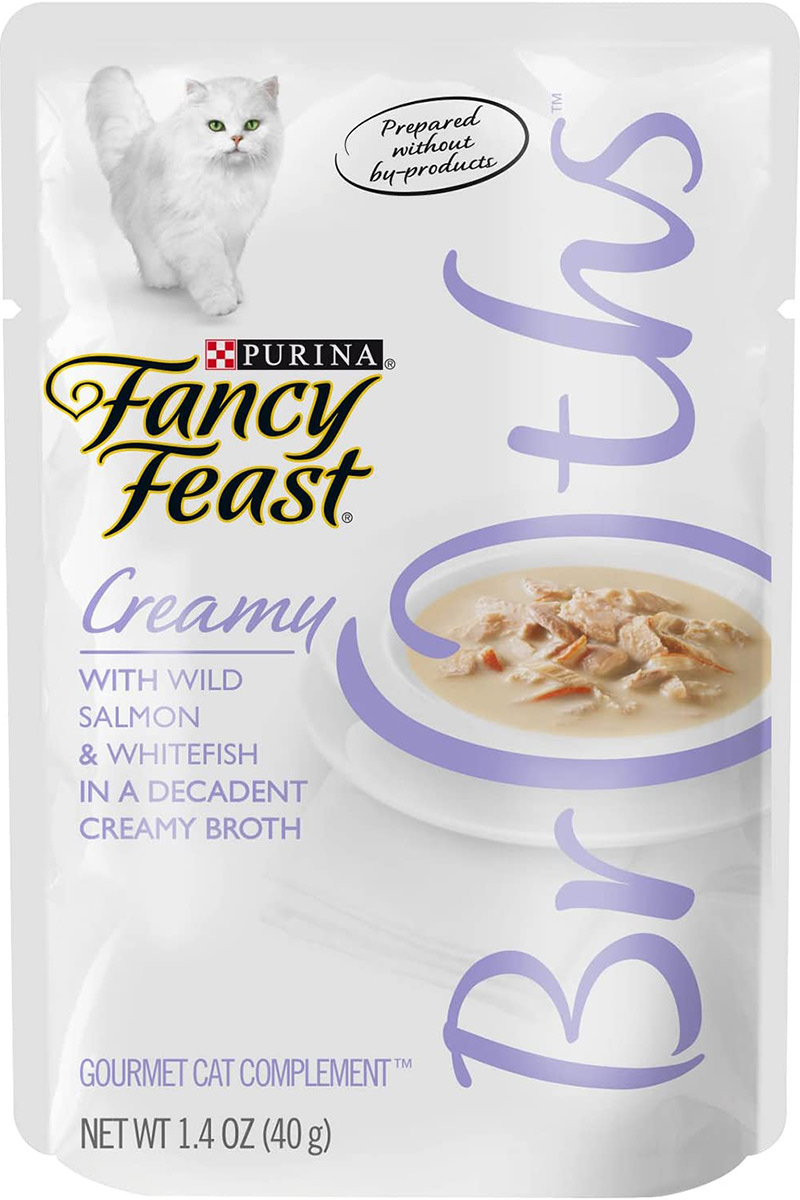 The stinkiest of all Broths... and Jenny's favorite!
I added the Broths for two reasons:
A) The fish oil in it does wonders for their coats... so soft!
B) The cats go bananas for the stuff.
Jenny's sense of smell is diminished, so her meal needs to stink a bit. Broths stink a lot, so it's like the best thing ever to her. The minute I tear open the packet and she gets a whiff, she meows and meows and meows until I hurry up and get it to her. Jake gets most of the fish chunks, Jenny gets the small pieces and most of the liquid so she can lick it up.
Then my house reeks of fish for hours, which is why they get it at breakfast before I leave for work. If they got it for dinner, I would be gagging while trying to eat my dinner, then trying to sleep through the stench of it all.
The things I do as a cat dad.