Posted on March 21st, 2017

Long Island Iced Teas Drank: 4
Gambling Tally: Down $82
Time To Bed: 1:30am
Another day, another couple rounds of Long Islands at Nacho Daddy...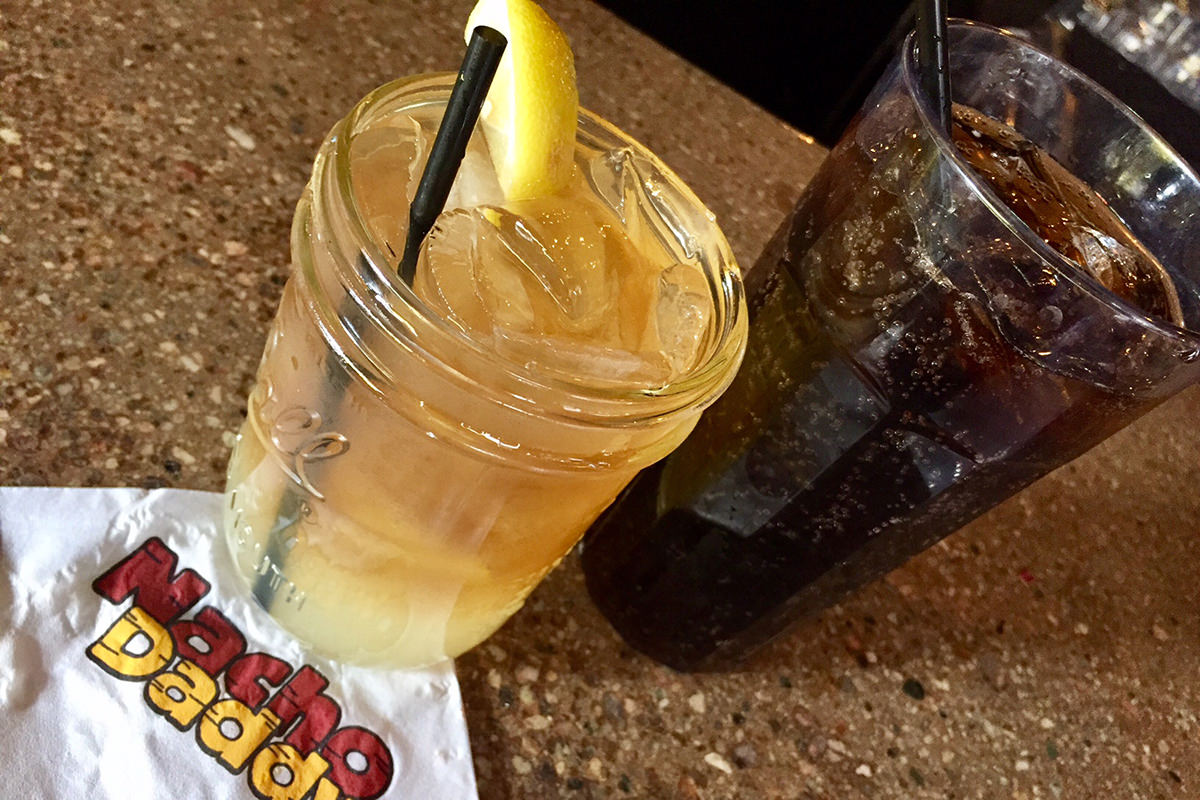 Today's plan was to relax, and so I did.
Until it came time to zipline down Fremont on Slotzilla.
In case you don't know what that means, somebody documented the experience for you...
Since I've been skydiving, bungee jumping, and zip-lining before, this was a piece of cake. But I admit that my heart skipped a beat when that door dropped from eleven stories to reveal what you're about to do!
A very cool experience for $45 that I would gladly do again.
And... another trip to Las Vegas is over.
Posted on March 20th, 2017

Long Island Iced Teas Drank: 6
Gambling Tally: Up $108
Time To Bed: 2:30am
I was awakened around 9am by a security alert on my phone, which turned out to be Jake wandering around the kitchen. I yelled at him through the camera speaker to get out, but this ended up backfiring in the worst possible way. Both cats came tearing into the kitchen when they heard my voice... assumably because they thought I was there. Yeah, I felt pretty terrible for the rest of the day.
I ended up loving Nacho Daddy so much yesterday that I headed there for lunch again today. Since it had just turned noon, I was just in time to start in on the Long Islands for the day...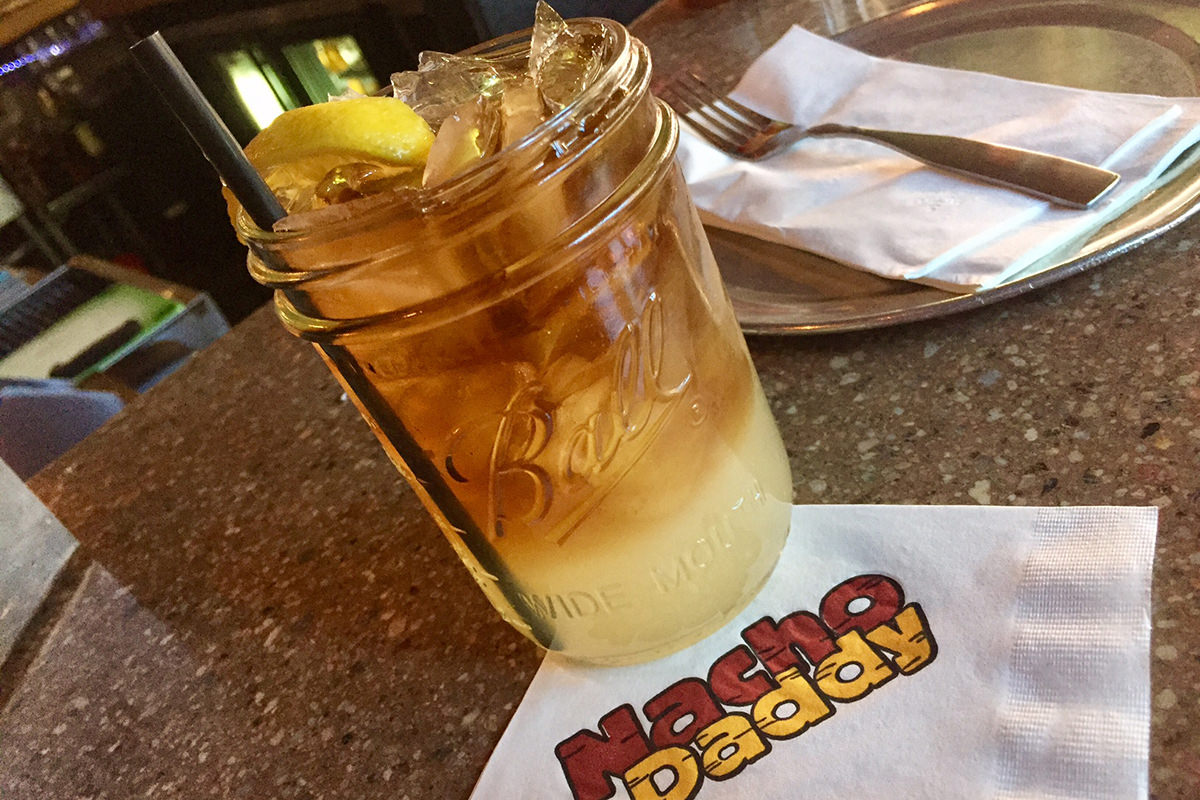 Dinner was at Margaritaville on The Strip, after which we headed over to The Luxor for one of my favorite shows, Blue Man Group, which I've seen in various places five times previously. They added a bit of new material since the last time I saw them (in Orlando, I think) which is always nice. Heck of an entertaining show (as always) and I highly recommend checking them out if you have the opportunity...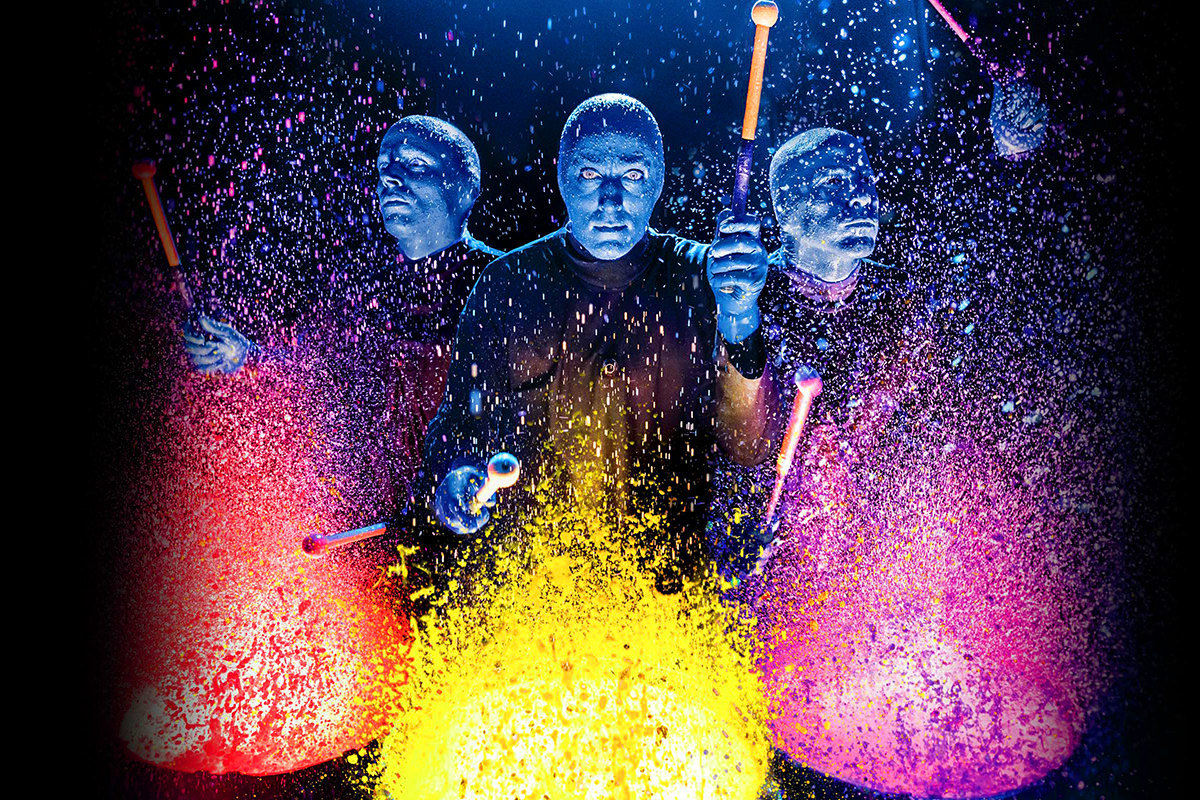 After the show, we headed back to Fremont to finish out gambling for the day. And to visit Nacho Daddy for my last Long Island of the day...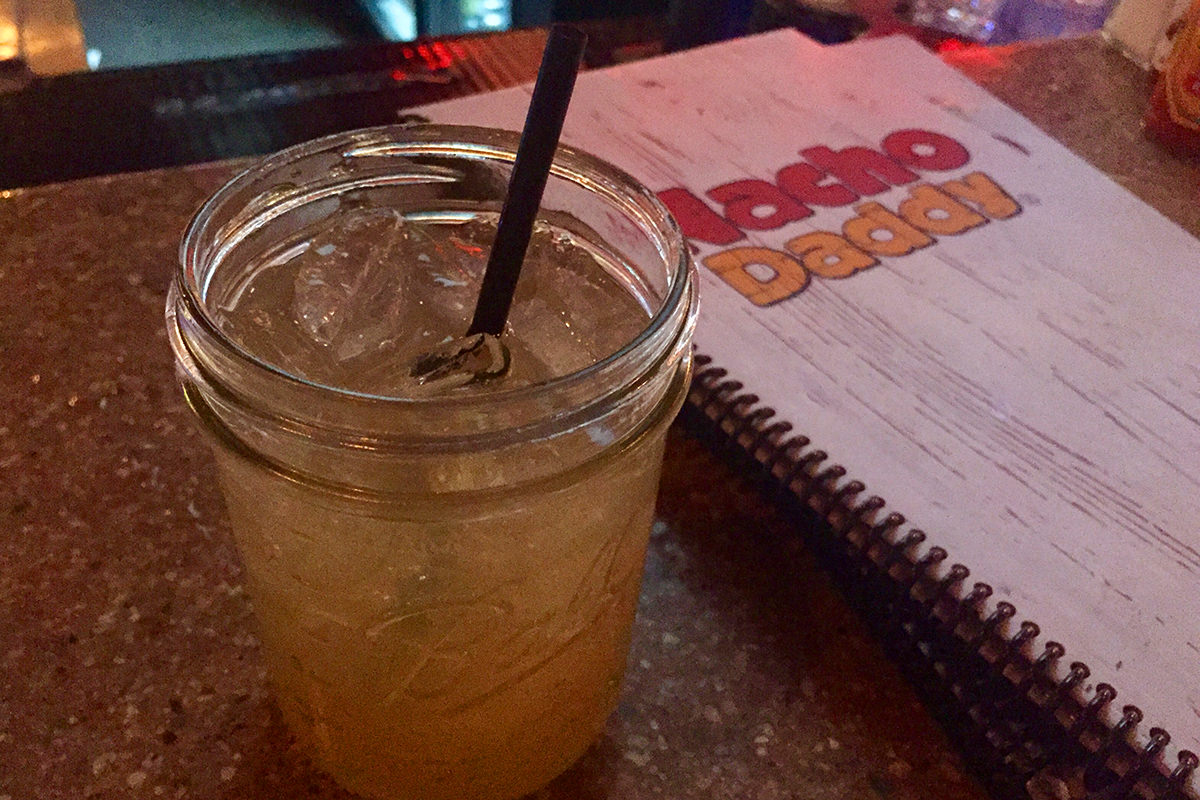 And now... a missive on The Golden Nugget Hotel & Casino Las Vegas...
This is my third time staying here, the last time being in 2009. I had zero complaints my previous visits. The Old Town location is great. The staff is great. The rooms are clean. What more could you want?
Well...
Turns out it's quite a bit.
Like not having to evacuate the hotel twice in one day.
Yesterday while I was relaxing before dinner, the hotel speaker system started screaming for people to evacuate the building. I waited to see if it were a false alarm, but eventually made my way down the stairwell to the outside of the building as the alarm continued. Where a bunch of us waited. And waited. And waited. Eventually I asked a passing security guard what was wrong and how long it would be before we could go back to our rooms. "DIDN'T YOU HEAR THE ALL-CLEAR?!? Uh. No. No we did not. There are no speakers outside to hear it. I then asked what happened "Somebody vaping on the 7th floor. Happens all the time."
Which turned out to be true. Because it happened again at 2:00am.
And I found out it had happened earlier before we even arrived as well.
Just a thought... if vaping sets off your building evacuation alarm three times a day at all hours, perhaps it would be prudent to alert people to this fact when they check in so vapers aren't constantly causing the evacuation the hotel. When I checked in, nobody told me vaping wasn't allowed inside. Nothing on my welcome card mentioned it either. I don't vape, so no harm no foul on me. But for others? Seriously... this is some outlandishly stupid shit.
And speaking of outlandishly stupid shit at The Golden Nugget...
This being Vegas, you have to pay $30 a day in "resort fees." This gets you...
Two bottles of water daily. But not really, because my water was never replenished.
Internet access. But not really, because neither my laptop or iPhone could ever connect.
Use of the gym and pool. But not really, because the famous waterslide at the pool was broken and the pool isn't 24 hours. Hell, the frickin' hot tub isn't even 24 hours.
Complimentary airline boarding passes printing via the Front Desk or Box Office. But not really, because this is a non-feature... who the fuck prints their boarding pass in 2017?
Complimentary newspapers. But not really, because they are not delivered to your room... you have to go down to the lobby to read them. And who the fuck reads a physical newspaper in 2017?
Discount coupons. But not really, because most of them are 2-for-1 deals, which are useless if you're in Vegas as a single. Unless you care to pay for an all-you-can-eat buffet twice just because the second one is free?
So essentially I was forced to pay $30 a day and got jack-shit for it. I already hate "resort fees" with a passion... and the hotels who rip you off with them... but The Golden Nugget is just beyond a shithole for not delivering any value with theirs. Will not be staying there again.
And I don't know about gambling there again either. Over half of their automated cash-out/ATM machines were broken...
Looks like you're standing in line forever at the understaffed cashier window.
Oh... and the fee for withdrawing money from their ATM when you find a working one? SIX FUCKING DOLLARS. Thanks, Golden Nugget... you pile of crap.
Posted on March 19th, 2017

Long Island Iced Teas Drank: 3
Gambling Tally: Down $22
Time To Bed: 3:00am
My friends and I arrived in Las Vegas at 1:30pm after a quick 2-hour flight from Seattle.
We had a late lunch at my new favorite restaurant in the Fremont area... Nacho Daddy, which is amazing from top to bottom. Great service, great music, great atmosphere, really great nachos, and incredible drinks...
I decided that my drink of the trip would be the Long Island Ice Tea, due to the high alcohol content. The last thing I was to do is be sober in Las Vegas.
Most of my friends went to "O" the water show by Cirque du Soleil. Since I am completely baffled by the appeal of Cirque, I took a pass and met up with some other friends who were in town.
After that there was much drinking and gambling until the wee hours of the morning.
Which sounds uneventful enough, sure. Except... the hotel had to be evacuated twice. Both times because somebody was vaping in their room. Apparently the smoke detectors in The Golden Nugget cannot distinguish between smoke and vapor, so this "happens all the time." At least according to the security guard on the sidewalk.
If vaping sets off your building evacuation alarm three times a day at all hours, perhaps it would be prudent to alert people to this fact when they check in so vapers aren't constantly evacuating the hotel. Just a thought. Because... seriously... this is some outlandishly stupid shit.
In better news... WONDER WOMAN SLOTS!!!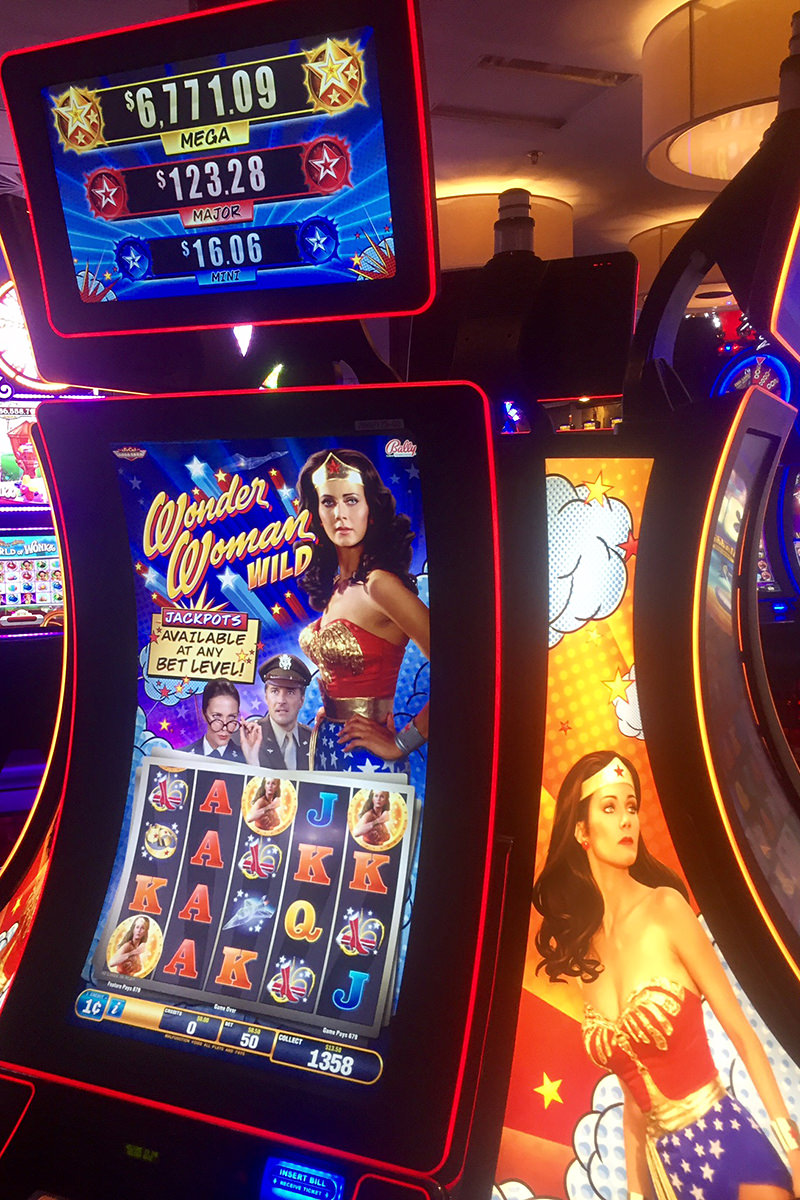 And just to prove that they can make a slots game out of anything... HOUSE OF CARDS SLOTS!!!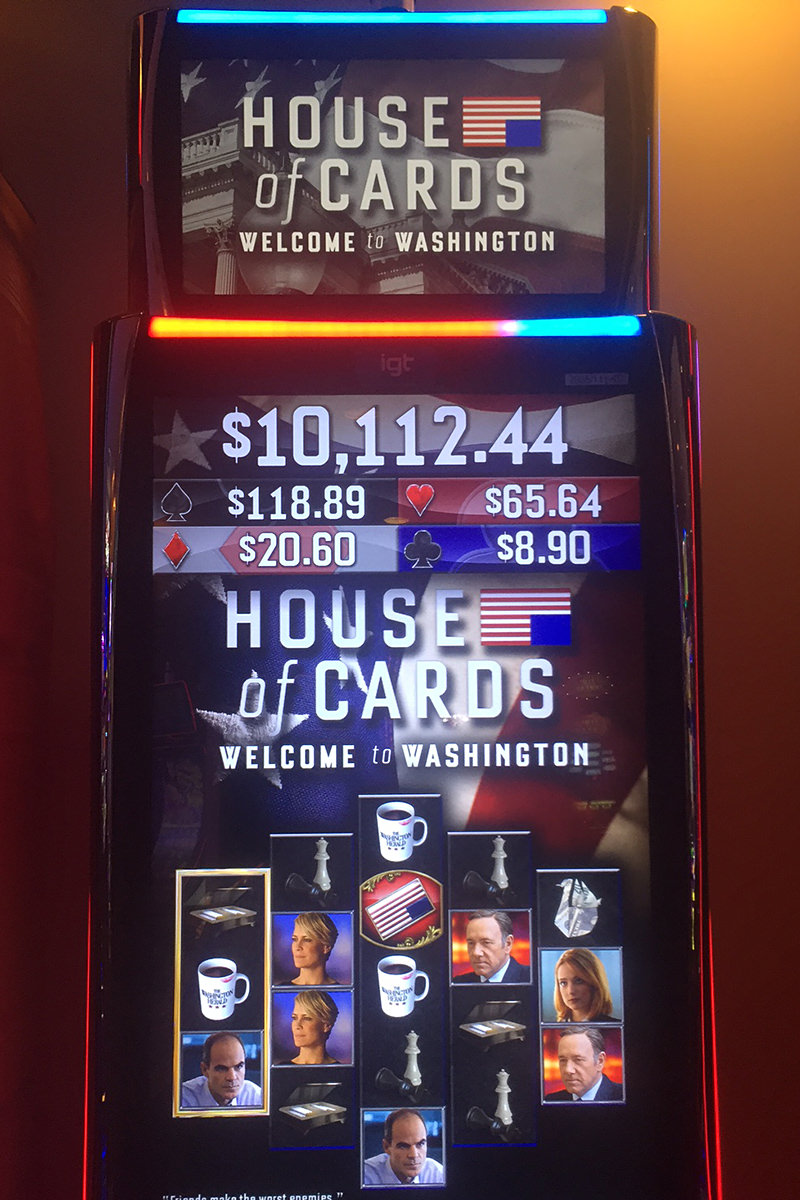 Though, I have to say... Orange is the new Black slots would be m favorite of the night. Who knew?
Posted on August 11th, 2013

Everybody place your bets... because Bullet Sunday starts now...

• Welcome! What always fascinates me about Las Vegas, Nevada is this: What people think of when they think of Las Vegas is not actually Las Vegas at all. Unless you are thinking of "Old Las Vegas" and Fairmont Street... or perhaps The Stratosphere Hotel and Casino... both of which actually are in Las Vegas. But most everything else... including all the big popular casino hotels on "The Strip" south of Sahara Avenue, are actually in Paradise, Nevada (unincorporated). Indeed, even McCarran International Airport is not in Las Vegas, despite what the sign says when you arrive there...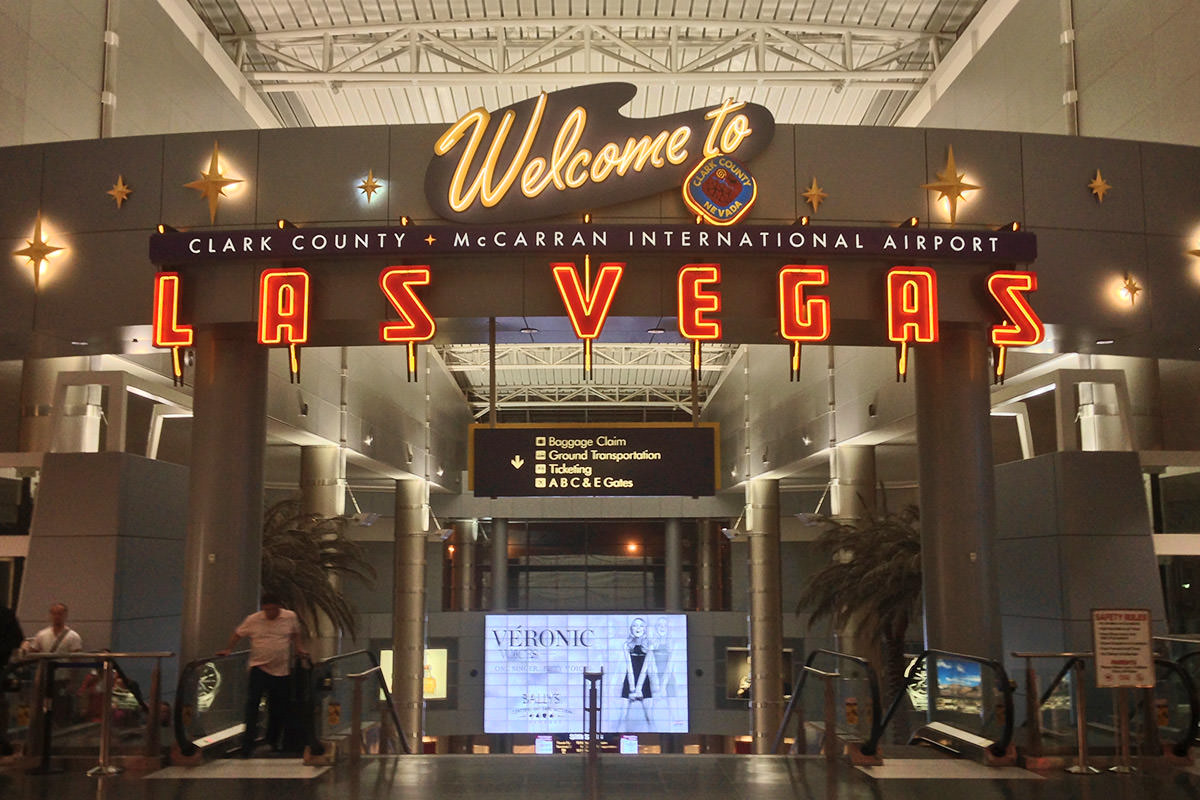 But I suppose it's easier to just lump everything together under the name "Las Vegas" that everybody knows... which, apparently, is what the US Postal Service does anyway.

• Service! One of the worst things about visiting "Las Vegas" if you are an AT&T mobile customer is that your cellular service is for shit. Even if you turn off LTE...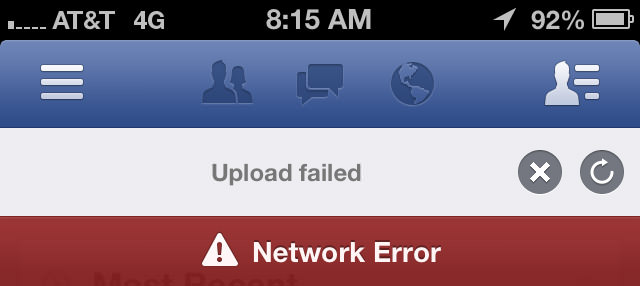 Actually, it's worse than shit, because a lot of the time there's no service at all. And I'm not talking about when you're buried in a casino somewhere... I'm talking about when you're walking around outside...

It has been like this for as long as I've been with AT&T and visiting Las Vegas. Even when you can start a call, odds are it will drop off before you can complete it. And I just don't get it. Yes, I'm sure putting up cellular towers is no easy process with the regulations and permits and all that... but this has been going on for years. Is AT&T EVER going to get their shit together in this city?

• Goo! If ever there was a reminder of why I won't be visiting porn theaters in this lifetime, this would be it...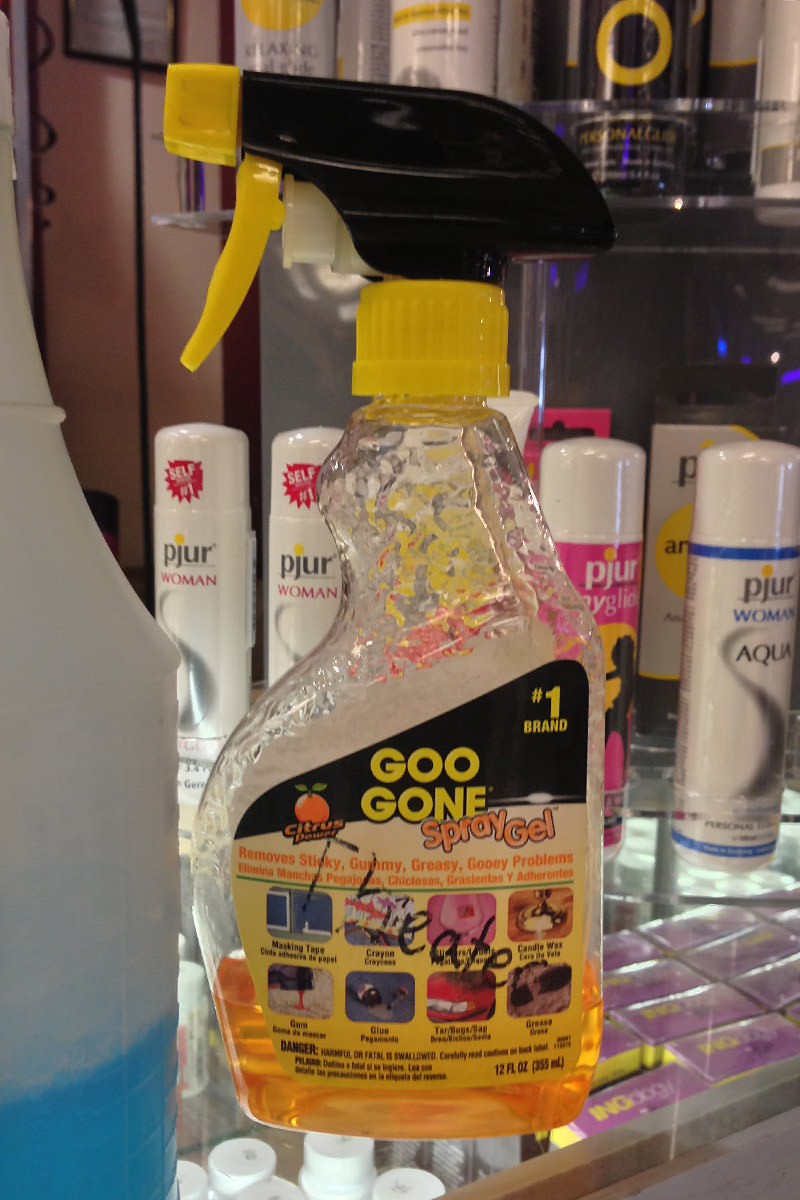 A Goo Gone bottle, almost empty, with "Theater" written across it? Sign me up.

• Venice! Las Vegas is much like Walt Disney World's EPCOT in that they try to recreate exotic locations from around the world so Americans not wanting to leave the country can leave the country.
But not really.
The truth is that you can't visit Venice without actually visiting Venice. Try as they might, these fabrications can't even give you a taste of what the real thing is like. And yet, not everybody is lucky enough to be able to fly off to Venice, so this is as close as they're going to get. And, in that respect, I suppose something is better than nothing...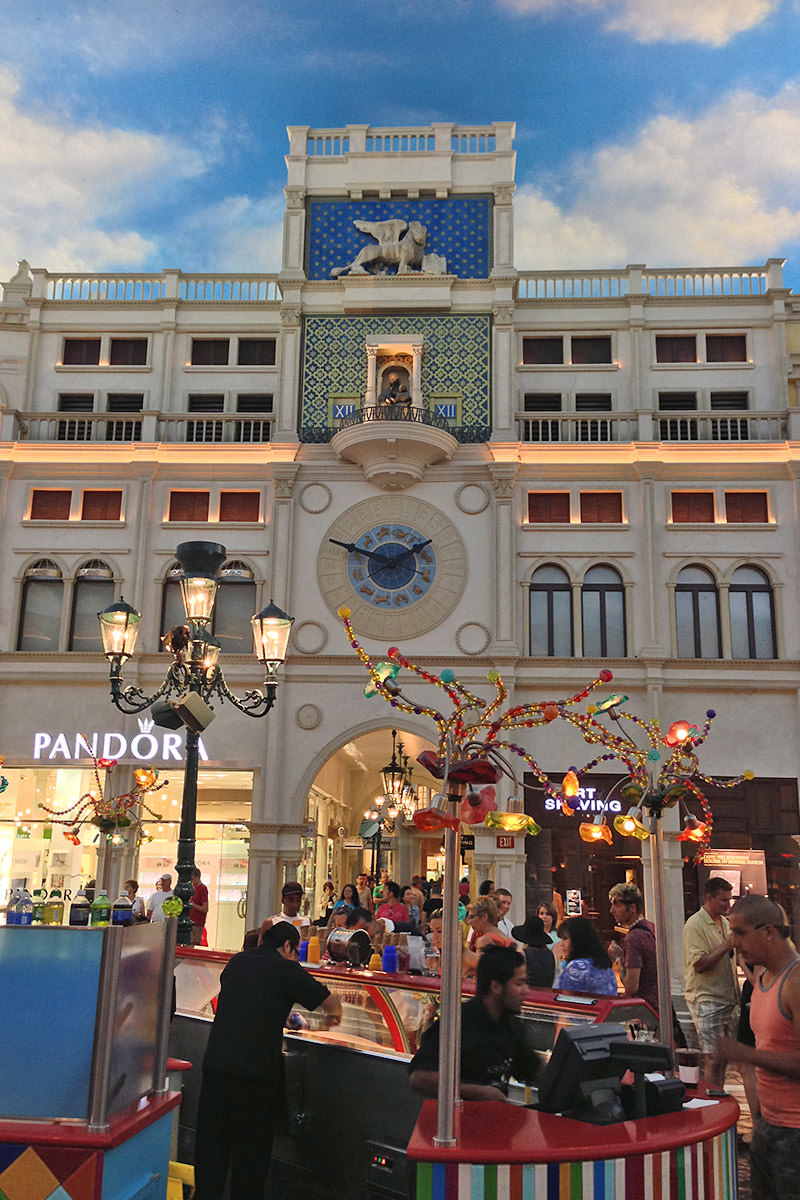 Could be better than the real St. Mark's Square... which is always covered in scaffolding and pigeons.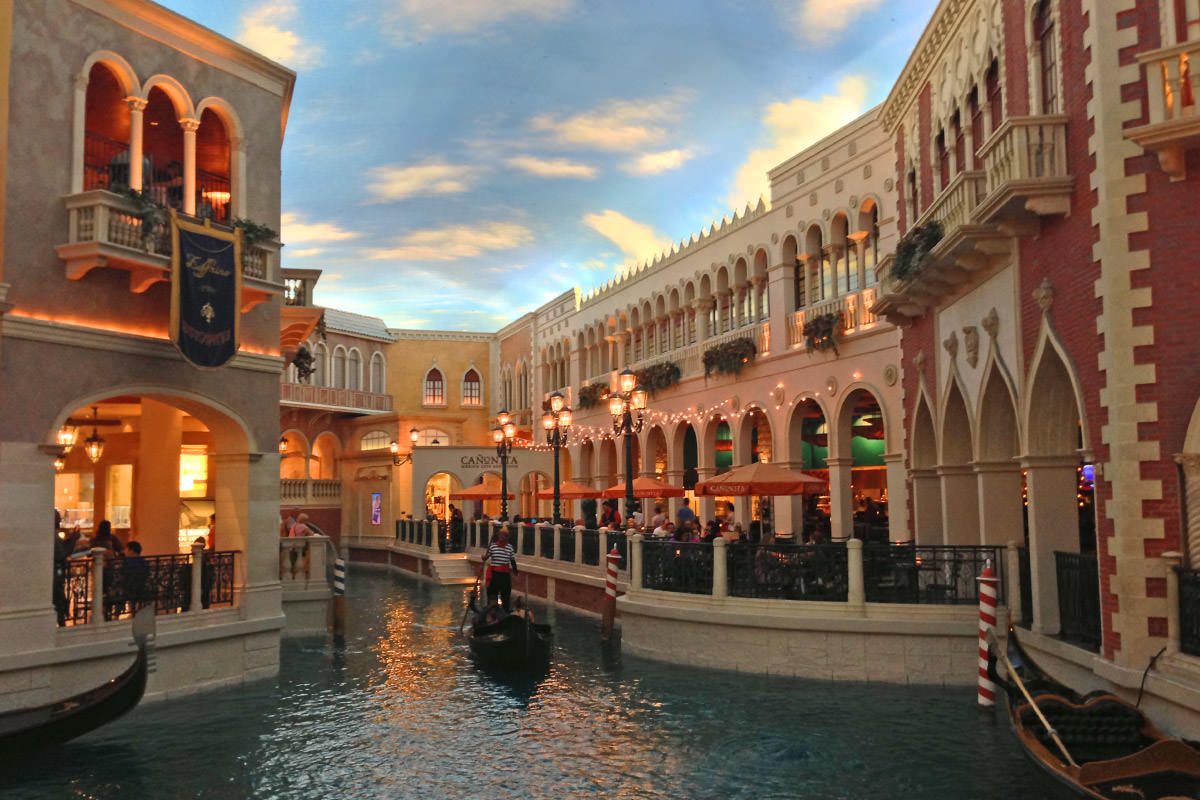 Gondola rides in Vegas are much, much, much cheaper than in Venice.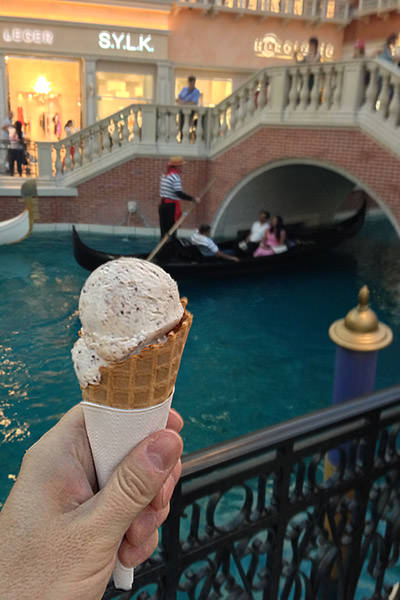 What's a visit to Italy without some stracciatella gelato?
My hope is that anybody intrigued by fake Venice or fake Paris or fake Oslo or fake anywhere would want to save their pennies to visit the real thing. But there's usually no slot machines filling every available bit of floor space, so maybe that's asking too much.

• &! Something I have always wanted to do on my many trips to Las Vegas was to see Penn & Teller's show at the Rio. Thanks to a kind act of generosity, I finally managed it this trip...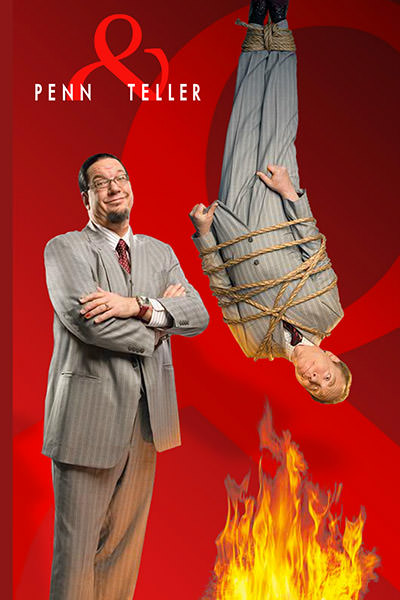 It was absolutely great. I wish there was a little more magic and a little less politics... but I guess that wouldn't be Penn & Teller, would it? Still... worth seeing if you're in the neighborhood.

Back to reality...
Posted on August 10th, 2013

And...
I've finally attended a Vegas wedding officiated by Elvis.
I have to admit, I was really surprised at how well done it was. Just the right amounts of tacky and sweet... and about as memorable of a wedding as you could hope for. It didn't hurt that there was a very memorable couple getting hitched...


Congratulations Cher & Nis... thanks so much for letting me be a part of your special day!
Posted on August 9th, 2013

I am not much of a gambler.
Not because I am particularly unlucky, because I'm not (even though I don't much believe in luck)... but because the paranoia of losing my hard-earned money just kind of sucks all the fun out of it.
But it wouldn't be a trip to Vegas without a little gambling, so I slid $20 in a slot machine... lost everything but $4, then somehow ended up $136.43 ahead...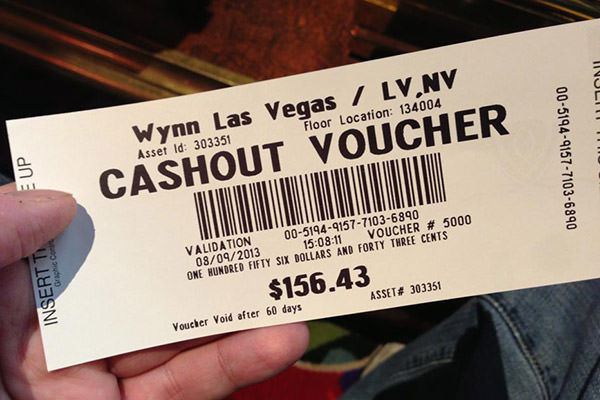 And there's my gambling money for the trip.
Yes, I'm a total player that way.
But at least I won't be whoring myself on The Strip to earn cash because I lost all my money playing roulette.
No... if I'm going to whore myself on The Strip, it's going to be because I enjoy it, dammit!
Posted on August 8th, 2013

What could be better than a wedding in Vegas?
I'm not the one getting married!