Posted on April 20th, 2016

Long before I became an actual certified diver, I had longed to dive The Great Barrier Reef. It was just so beautiful... full of color and life in a way that defied reality. Once I became a certified diver in 1986, diving The Great Barrier Reef was at the top of my bucket list.
Twenty-five years later, I finally got to check it off my list.
And it ended up being a bit of a disappointment. Thanks to Cyclone Yasi blowing through eight months earlier, there was significant damage to the reef and, while still beautiful and amazing, it didn't live up to the pre-Yasi splendor I had seen in photos and video.
I chalked it up to bad timing and promised myself that I'd return to Australia one day after the reef had recovered.
Except that isn't happening.
If anything, the reef has only gotten worse since I visited.
In an article I read today, 50% Of The Great Barrier Reef is now dead or dying and 93% is bleached.
I don't know if there's any chance of this horrible situation reversing itself, so I guess I should be thankful that I got to see what I saw when I saw it.
Because you just never know.
So now I'm starting to think I should start being thankful for everything that I got to see when I saw it.
And I try to be.
It's the places I haven't yet seen that's terrifying me now.
Will they even exist when I finally get around to going?
Posted on August 25th, 2015

This was an awful day in so many ways.
I don't even want to talk about it. Instead, here's a picture of a happy lizard I took while in Australia...
I need a vacation.
Posted on October 11th, 2011

After skipping two Bullet Sundays while I was on vacation, my plan was to get back on track this past Sunday. Alas... it wasn't to be. So here we are with a very special, never-before-seen, extremely rare, hopefully never-to-be-repeated BULLET SUNDAY ON TUESDAY!
And I think I'll make it easy on myself by going back through my comments and emails from the past couple weeks to do a Q & A kind of thing from the questions that I got asked. If I missed one, let me know.

• Isn't it awesome that you have blogging friends as far away as Australia? Yes. Oh heck yes. Since the vast majority of my travel is done alone, I can't overstate how grateful I am that I have friends to keep me company no matter where I go. Any time I feel like giving up on my blog, I remember all the great people I've met through blogging and just can't. It's the reason I keep going.

• Certified diver? Is there anything you don't do? That's what I asked myself after taking skydiving lessons! I like to try cool stuff, and SCUBA diving was just one more thing to check off my list. I really do love it though, so I wish I could afford to do it more often.

• Why aren't you being paid to take vacations and photos, yet? I dunno! Somebody should be paying me to go on vacation! But then I worry that vacations would become all about work, and I'd need a vacation from my vacations. :-)

• I want to hold a koala! What does their fur feel like? Is it soft? Koala fur is thick and kind of coarse and wooly... but still kinda soft. For really soft fur, however, you want to pet a kangaroo. Kangaroos have baby-kitty-soft fur! This is actually kind of bad news for them, because they get made into glove liners and slippers and such.

• Do they sell Fiji Water in Fiji? Oh yes. The bottled stuff is everywhere, and no cheaper than if you bought it here. Of course, you can get "Fiji water" from the tap for free, so that's where I drank all of mine from.

• Loving this trip. Now please tell me about that boat ride. The sail from Fiji was on a 50-foot yacht called Pelorus Jack. It was most definitely not a calm day at sea, which meant a couple people got pretty sick. Call me a sadist, but I actually enjoyed the rough ride, as it made for a more exciting trip! In my opinion, the boat was overcrowded, but it still beats those giant catamarans that head out with so many people that they're practically hanging off the edges. Surprisingly, they allowed me to stand on deck despite the choppy seas after I explained that I had been on sailboats before and was comfortable doing so. I was expecting them to say that I had to stay seated for insurance purposes (or whatever), but they were completely cool with it. For that alone, it was an awesome sail.

• Aren't sea snakes really venomous? So I'm told. But, like so many things in the wild, they really don't bother you unless you bother them first. So long as they are not provoked or feel threatened, they'll pretty much just avoid you. That being said, our dive guide picked one up and held it for a bit before letting it swim off. He later said that a bite wouldn't have been fatal to him, so maybe this particular snake has a weak venom or doesn't make very much of it. When diving, I never touch a damn thing. There are a lot of things that can seriously hurt or kill you. As an example, the cone shell is said to be so poisonous that that the venom in just one of them is enough to kill 700 men. Fire Coral isn't lethal, but it is so painful that you'll wish you were dead. The biggest threat to people on Australia's coasts are deadly Box Jellyfish, but they weren't in season when I was there.

• Nothing BAD happened this trip? Who are you and what have you done with Dave2?? Well, sure, problems came up... I just didn't want to dwell on them while I was on vacation. If forced to make a list, it would go something like this: 1) The V-Australia checkin at Sydney's domestic airport is fucking insane (even though I like the airline itself) and I had to seriously resist the urge to kill on several occasions. 2) The people on my first Fiji sailing cruise had -zero- respect for the ocean, and trampled everything they could stomp their fins on. 3) I hate... fucking hate... Brisbane's airport, easily one of the most traveler-hostile airports I've ever experienced. 4) I paid ridiculously high prices for internet access, yet it sucked most everywhere I went. 5) I need to remember that late-night flights are are so much better than early-morning flights, and the $25 I saved only to be exhausted two days in a row just isn't worth it. Other than that, it was a pretty uneventful trip... at least where bad things are concerned.

• How expensive is "expensive?" As in Australia? Very expensive. At least if you're using the US dollar. When I go on vacation, I don't go crazy with spending money... I don't have that kind of bank... but I do budget generously for expenses. The last thing I want to do is fly all the way to Australia and not be able to afford to do or see stuff. So I save money and then set a budget. But this vacation was one of those rare times where my budget was totally inadequate. I blew through my initial funds before I even left the USA while booking airfare and hotels. So I dug deeper into my savings and increased my budget for the actual trip. But it still wasn't enough. When I got home I had a whopping $1300 in credit card debt. It's depressing, but it happens. My consolation is that I had an incredible trip and definitely got my money's worth.

• Now that you've crossed both Greece and Australia off your "list of places you most want to visit," where to next? It won't happen right away (I'll have to financially recover from Australia/Fiji first!) but eventually I need... need... to visit India. And I'm not quite "done" with Australia, as I want to do a Melbourne-Adelaide-Canberra-Tasmania run with New Zealand at some point. But I'm not picky, really. Anywhere I haven't been yet is somewhere I want to go.

Annnnd... that's a wrap! Hopefully next Bullet Sunday will actually be on a Sunday. Fingers crossed.
Posted on October 7th, 2011

This morning I woke up and realized, just like that, my vacation is over.
Well, not really, because I had today in Sydney... but since I've been going balls-out non-stop since I arrived, this day was set aside to decompress and relax before my flight home tomorrow.
My loooooooooong flight home.
Though since it was blissfully cool outside (despite the beautiful sunshine and blue skies) I did go say goodbye to Sydney Harbour...
Yeah, yeah... they're iPhone photos! I'm done lugging around my camera gear for a while.
I also stopped by the Vintage Cafe (where Kazza and I ate my first day here) for some more of their mind-blowing marinated peppered cheese and bread...
The rest of my day was spent unpacking everything I own, then re-packing it in a way that wasn't insane (as it quickly becomes if you're living out of a suitcase for this long).
Looking back, this was a pretty darn spectacular vacation. I crammed in quite a few awesome things into two weeks. Probably more than I should have. I also got to spend time with some really great people, which is about the most awesome thing of all.
And now I wish I didn't have to go home.
Not because Australia and Fiji have been so great I don't want to leave (though that's also true), not because I don't miss my friends and family (which I absolutely do), and not even because I don't want to go back to work (I'm actually anxious to start working again)... it's because of the awful political hate parade that I know is awaiting me back home.
I dread coming back to it so much that I feel physically ill just thinking about it.
Over the past two weeks I can't tell you how nice it's been to not be inundated with all the bickering, hatred, lies, disrespect, persecution, and general asshattery that's become typical of our political landscape in the USA these past couple of years. I am just done with it.
At least as much as I can be.
See you on the other side of the Pacific.
Posted on October 3rd, 2011

Today was doubly lucky for me as I got to meet with one of my long-time blogger friends, Mooselet, and visit the Lone Pine Koala Sanctuary!
Koalas, like most animals, are adorable when they're babies. Unlike most animals, koalas stay adorable no matter how old they get. So, as you can imagine, visiting a sanctuary which has 104 koalas on the premises is guaranteed cuteness overload.
And it didn't disappoint.
I've seen koalas in zoos before, but at a distance and in a very different setting. The experience you get at Lone Pine Koala sanctuary is something entirely different...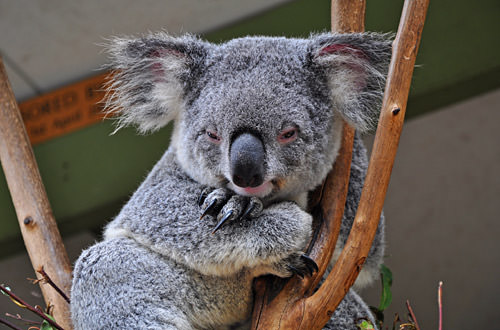 Koalas are mostly nocturnal, so you see a lot of sleepy guys in the daytime.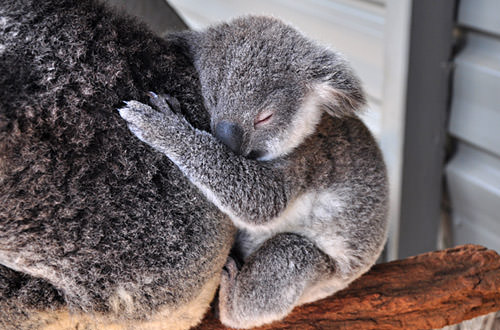 Baby koalas are, as you'd expect, a veritable explosion of cuteness.

This guy is about as relaxed as you can get when it comes to sleeping in a tree.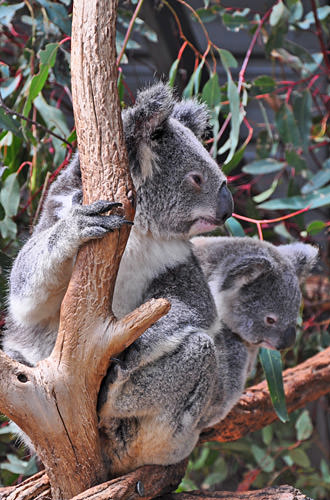 Everybody starts to wake up.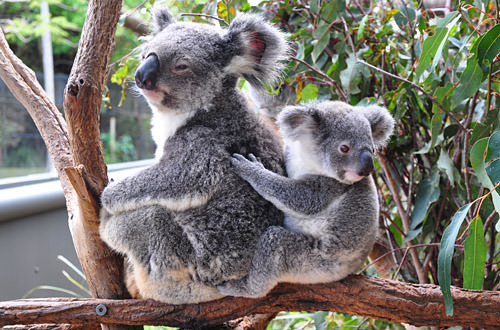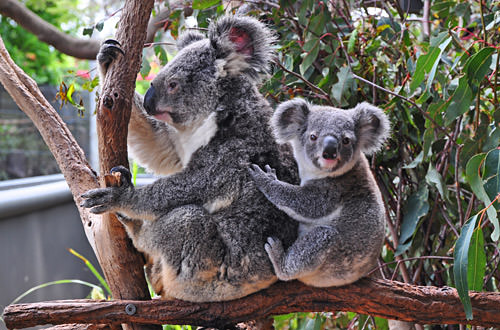 Baby koalas get to hitch a ride wherever they go. Must be nice.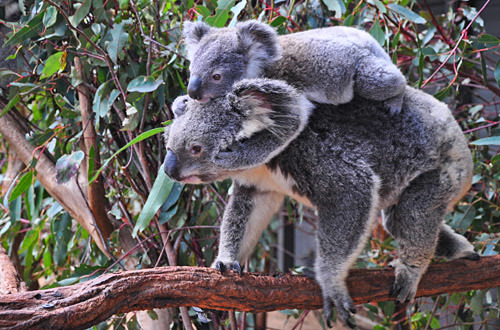 Looks kind of like he might be koala surfing on momma there.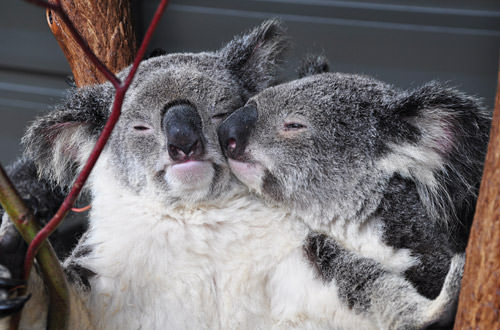 Koala pals.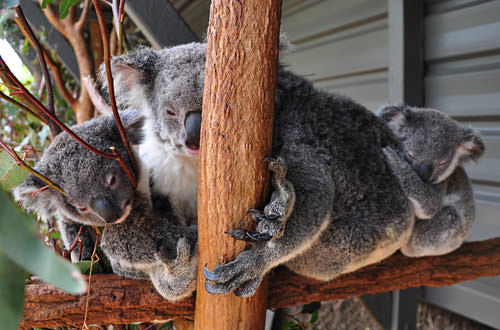 Koala cuddle cluster. You find yourself saying "Awwwwww!" a lot at this place.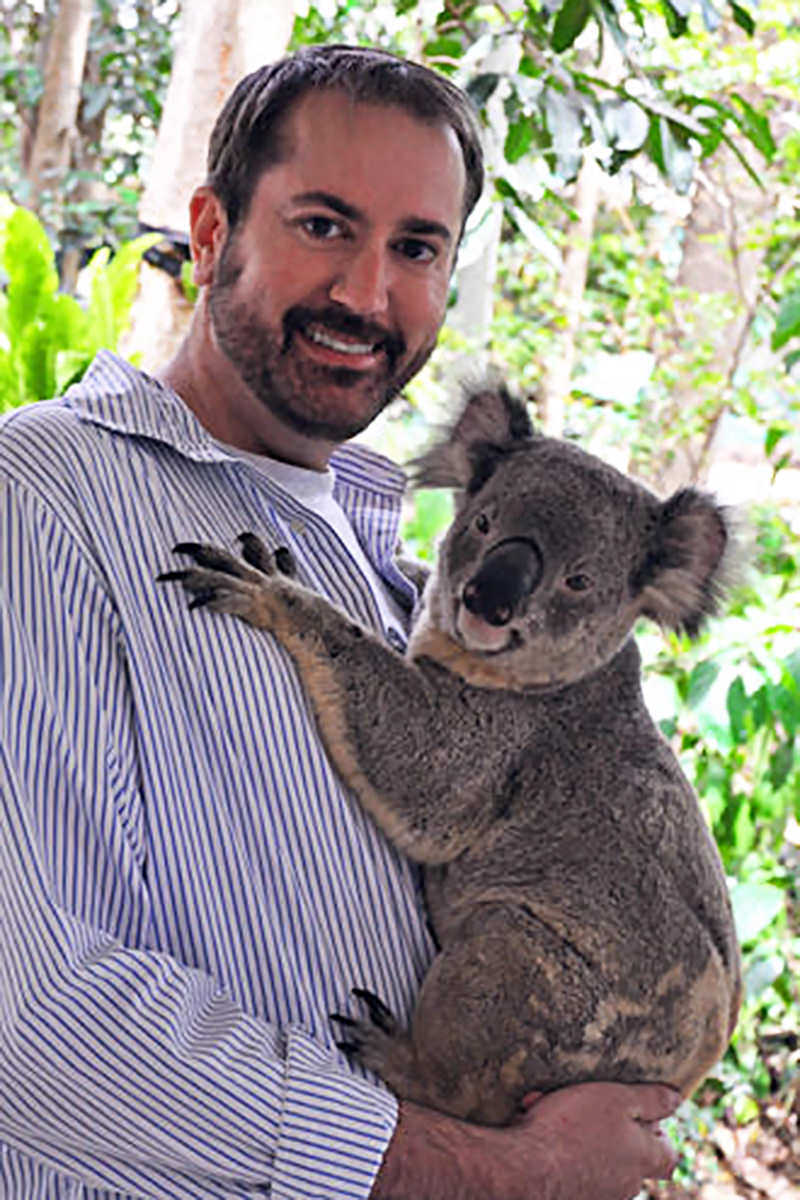 Talk about cute overload! (I'm the one on the left).
Lone Pine has more than just koalas though... they've got all kinds of animals, reptiles, and birds around...

Crocodiles have a killer smile.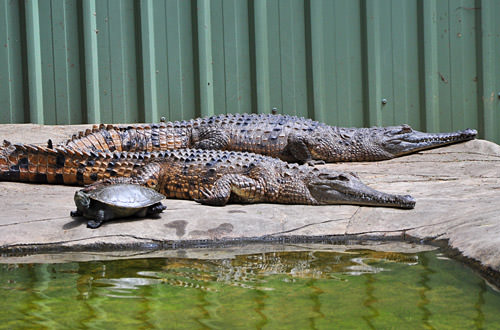 RUN, TURTLE! RUN YOU FOOL!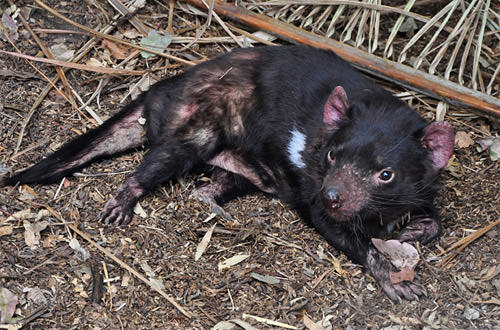 Tasmanian Devils, which I just love, are highly endangered and will be extinct in the wild soon.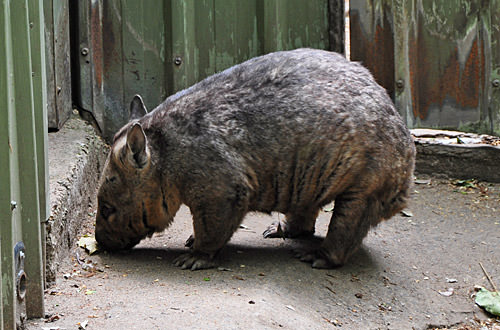 Wombats are too adorable. Like fuzzy piglets or something.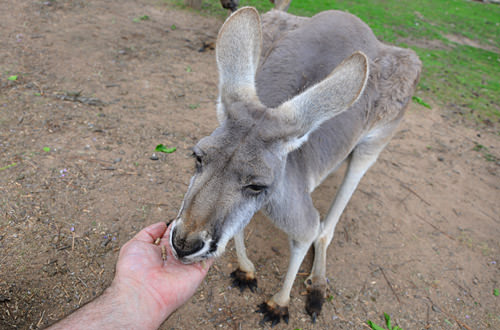 Feeding a kangaroo. They're amazingly polite about it.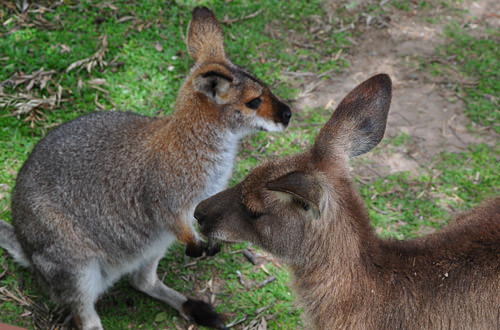 A wallaby and a kangaroo hanging out.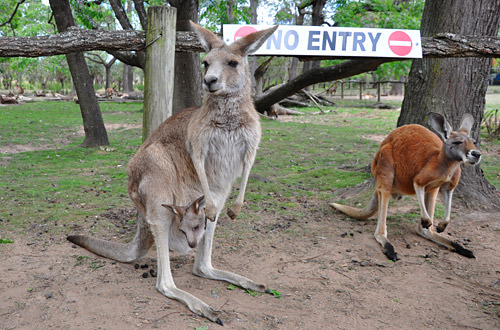 A momma kangaroo with a joey in the pocket!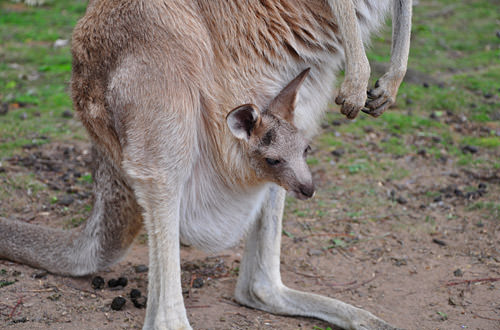 Joey on the lookout.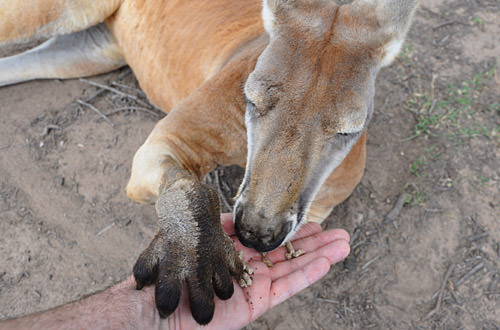 I CAN HAZ CRUNCHY FOOD PELLETS? NOM! NOM! NOM!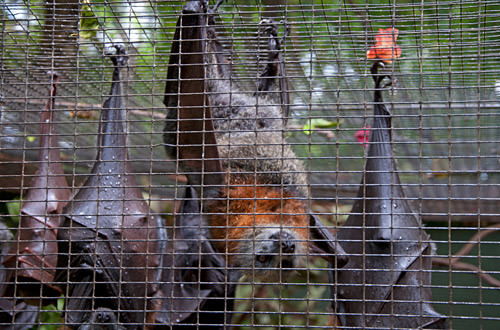 Soggy bats try to sleep through the rain.
After rain broke out at the koala sanctuary in yet another bizarre weather change (there were flawless blue skies when I arrived this morning), Mooselet was nice enough to drive me up Mount Coot-tha for a look over the city...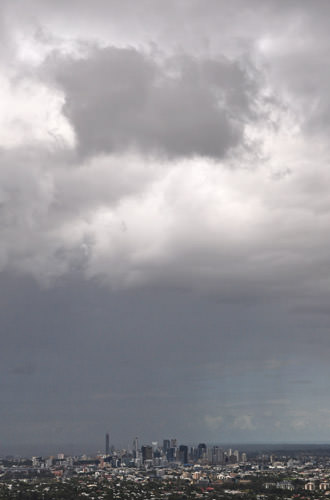 After lunch, the rain started letting up, which made for a nicer view of Brisbane...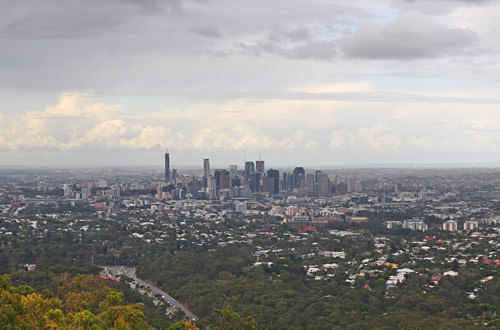 Pretty much the perfect way to spend a vacation day... thanks for coming along, Mooselet!
Posted on October 2nd, 2011

After finally making it to my flight out of Cairns, I landed in Brisbane two hours later. From there it was a 35 minute ride to my hotel, followed by another hour and 10 minutes on a train, followed by yet another 30 minutes on a bus... before I finally made it to the Gold Coast and the Hard Rock Cafe Surfers Paradise.
The Gold Coast has a feel very much like Miami Beach, with loads of high-priced properties and plenty of beachfront. When I arrived, the weather was flawless, with blue skies and warm sunshine tempered by a slight breeze...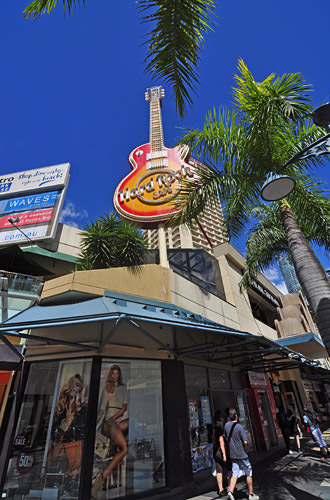 The cafe itself is a beautiful older property with loads of cool memorabilia to look at...
After having lunch and looking around the cafe for a while, I headed to the beach only to find that the clouds had started moving in...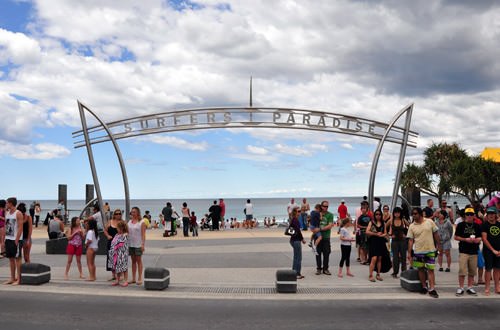 By the time I had wandered around for a while and made it back to the Hard Rock, the weather had taken a drastic turn...
That's quite a difference considering it happened in under four hours!
Luckily, the skies were clear once again when I made it back to Brisbane.
And now that Hard Rock #139 is out of the way for me, I suppose I'd better see about unpacking my suitcase.
Posted on October 2nd, 2011

I have ranted endlessly over how stupid Daylight Saving Time is. In this modern age of electricity and fanciful inventions LIKE THE FUCKING LIGHT BULB, there is no reason to be docking around with the clocks. Just split the difference, have everybody move forward by a half-hour one final time, then leave the clocks the hell alone.
Never was the dumbassness of stupid Daylight Saving Time made more clear to me than this morning when my iPhone woke me up at 3:30am so I could get ready for my taxi to the airport at 4:15am. Except when I got down to the reception desk to settle my account, they were all confused because it was only 3:15am. Why was I an hour early?
Well here's why... in their infinite wisdom, Queensland, the state where Cairns is located... does not practice Daylight Saving Time. Bravo for them. Well done. Except New South Wales, where apparently my iPhone is getting its time data, does observe stupid Daylight Saving Time, which went into effect at 2:00am this morning...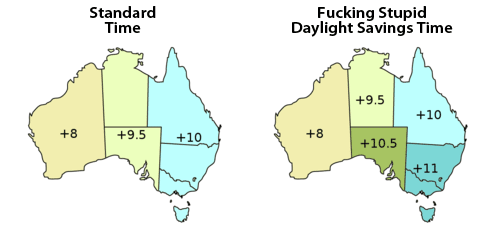 Maps taken from Wikipedia, where you can read about the whole damn tragedy

And I thought the USA was a mess.
The upshot of all this is that I lost an hour's sleep for nothing.
And the best part of all? I get to go through all this bullshit yet again when I get home. Because stupid Daylight Saving Time in the USA ends November 6th and stupid Washington State still practices stupid Daylight Saving Time... unlike more enlightened states like Hawaii and Arizona.
When I am Supreme Ruler of the Known Universe, stupid Daylight Saving Time is the first thing to go.*
*After the entire cast of Jersey Shore, obviously.