Posted on June 10th, 2019

Nothing like waking up and finding out that one of your heroes has been shot.
I didn't become a baseball fan until college, kinda falling into the sport by accident after reading the book Shoeless Joe by W.P. Kinsella (better known as the book which inspired the movie Field of Dreams). From there I became a bit of a baseball biography junkie, finding the stories behind the sport to be as fascinating as anything in fiction. Right as I was in the middle of the Boston Red Sox Greats (Ted Williams, Cy Young, Smoky Joe Wood, and Babe Ruth) I started becoming interested in the game itself and followed The Seattle Mariners (my local team) along with the Red Sox, because their history was so rich.
Eventually I ended up dating a woman who was originally from Boston. Once she found out I was a Red Sox fan, she convinced her family to take me to a game when we went back to visit, and I've been a die-hard fan ever since.
Being a Red Sox fan in the 90's was not an easy thing.
Their last World Series Win was in 1918(!) and though they had seasons where they were able to shine, there were a lot of seasons that were bordering on tragedy. Then... as we started the new millennium, everything started to change. Players like Nomar Garciaparra, Pedro Martinez, Manny Ramirez, Dustin Pedroia... and former Mariner David Ortiz... were driving a new era for the team, and it was a beautiful thing to see. In 2004 they won the World Series and have been back on track (for the most part) ever since.
David Ortiz (or "Big Papi," as we fans call him) was an absolute master of the game of baseball before retiring in 2016...

AP Newswire Photo
Bg Papi's record speaks for itself. He is easily one of the best designated hitters... and unarguably one of the best clutch hitters... of all time, blasting past MLB records for hits, runs batted in, and home runs. Watching him play is why people love baseball. He's a legend and hero not only to Boston Red Sox fans, but to other players and anybody with a love for the game regardless of which team they root for.
David Ortiz was shot in the back while exiting a club in the Dominican Republic last night.
No idea why anybody would want to do such a horrible thing to another human... but to shoot David Ortiz in the back? Why? What possible reason could there be for trying to kill somebody as universally loved as Big Papi? Was it because he was universally loved? There's just no making sense of these things. Current news (which I've been following all morning) has him resting and in stable condition. Television host Jhoel Lopez, who was also shot, is in stable condition as well.
I remember the season before his retirement with absolute clarity because it was so much fun.
Game after game after game or tributes and outpouring of love by fans and rival teams... some of them touching, many of them funny, all of them great. Of course I was sad that he was retiring, but I was also happy for him to be able to step back from the limelight and enjoy life... especially after all he's given to the Red Sox. He deserved a happy retirement.
And now this madness.
There's my love of David Ortiz the Boston Red Sox ball player. And there's my love of David Ortiz the person, which is completely encapsulated by his NSFW response to the Boston Marathon shooting...
Freedom in a nutshell.
I guess I end this post with sending all my warmest wishes for a speedy recovery to Ortiz and Lopez.
And a video with some great Big Papi baseball moments, of course...
Stay Boston Strong.
Posted on March 29th, 2018

Oh joy. An opening day loss for the Red Sox.
Here we go again...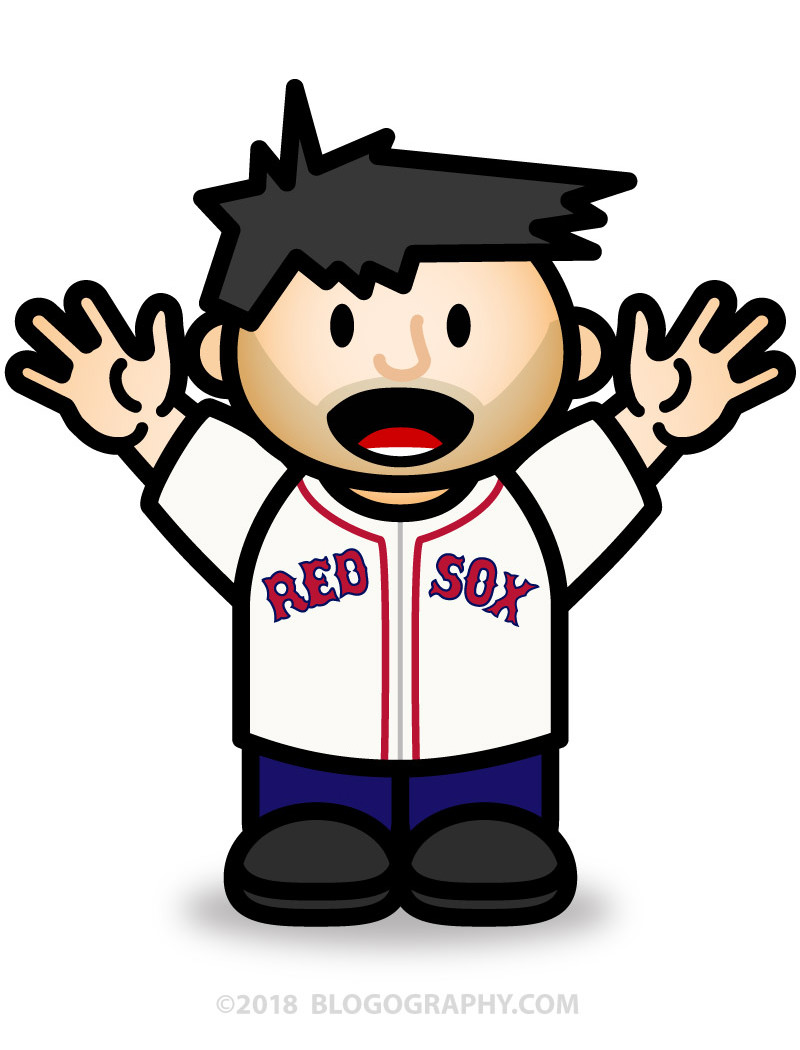 All the pieces for a great season are there. They just need to fit together.
Here's hoping...
Posted on June 6th, 2015

Last year The New York Times ran an article about mapping out team loyalty when it comes to baseball. It looked pretty much as you'd expect. So I kinda glanced through it, nodded my head a few times, then moved on.
Which, as it turns out, was a mistake.
I was reading an article this morning where they were discussing how Facebook can be data-mined to ferret out all kinds of cool information. And the first example they gave? The NYT baseball borders map from last year...
And here is what I did not know... the Facebook data that's been mapped out is highly specific. The further you zoom in, the more it gets broken down. Here's a zoom into the county level where I live. And, guess what, THERE I AM...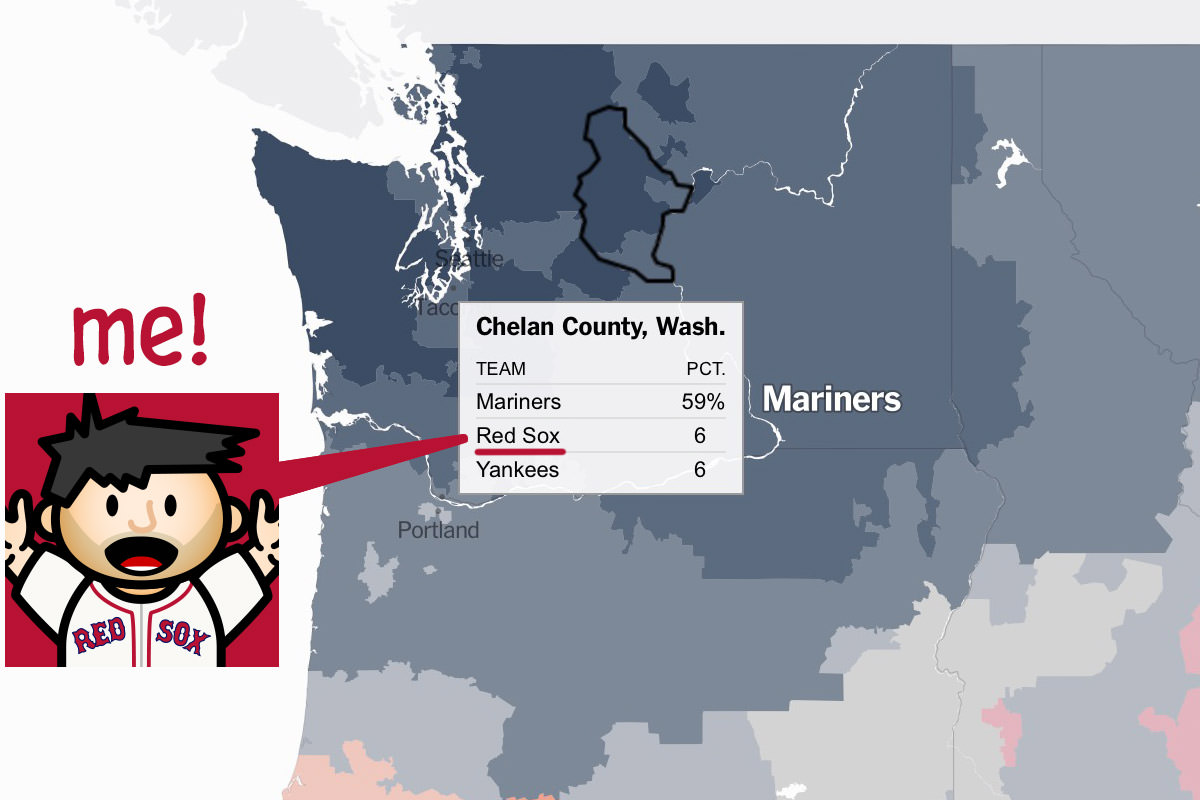 But that's not all. If you zoom in even further, you can search out your zip code...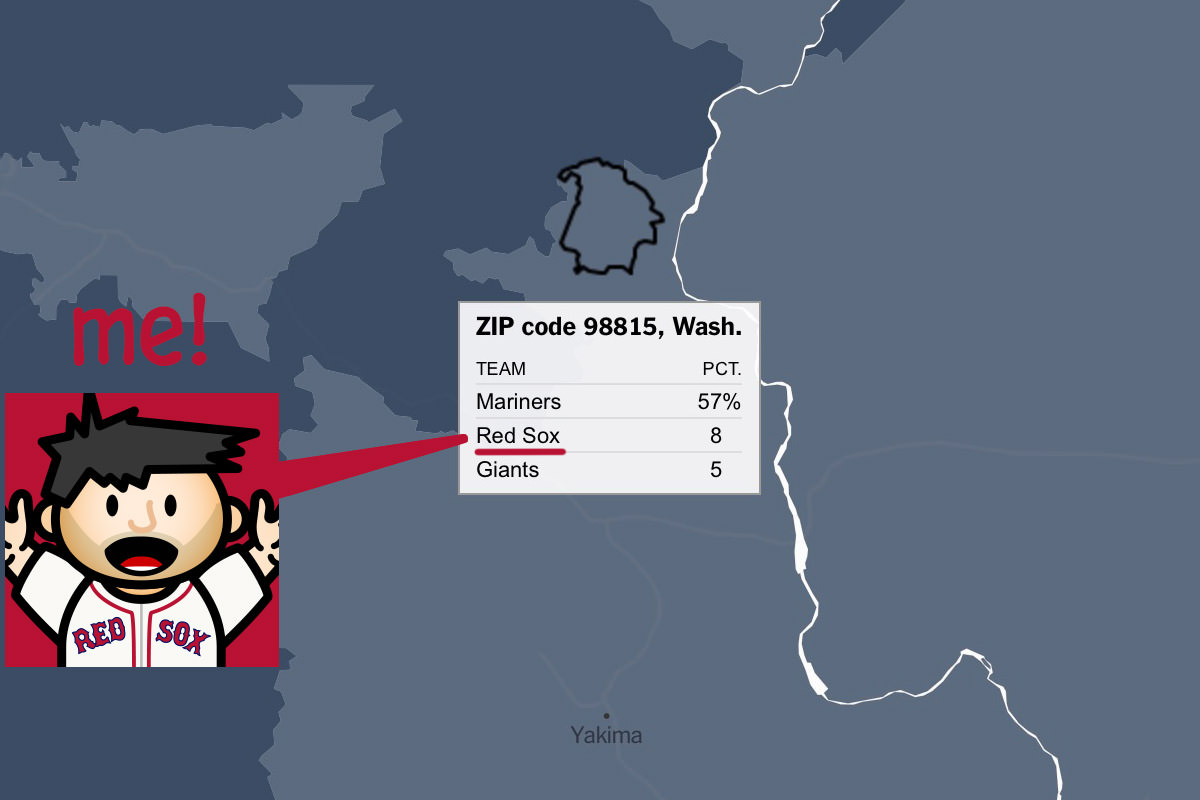 For all I know, all eight of those percents is me!
The interactive map is pretty great if you have any interest in baseball... take a look!
Posted on June 14th, 2014

I haven't been to a Mariners game in six years.
w00t!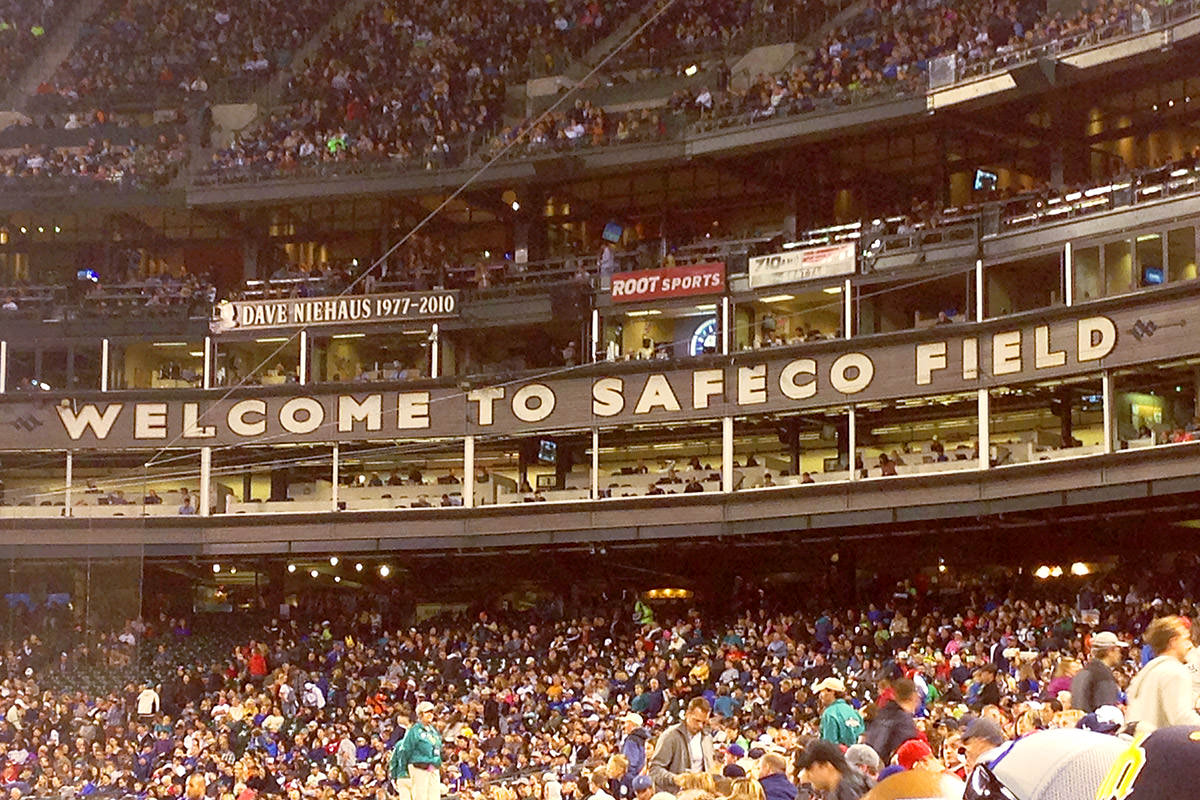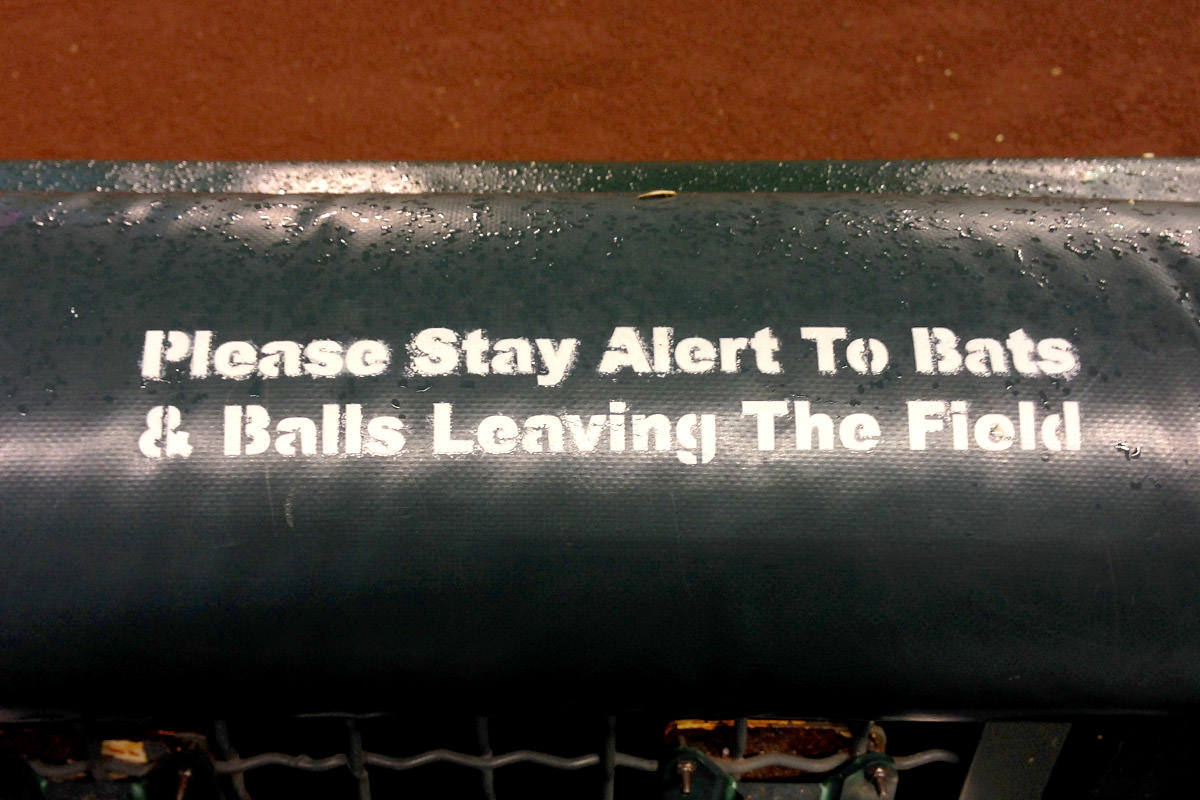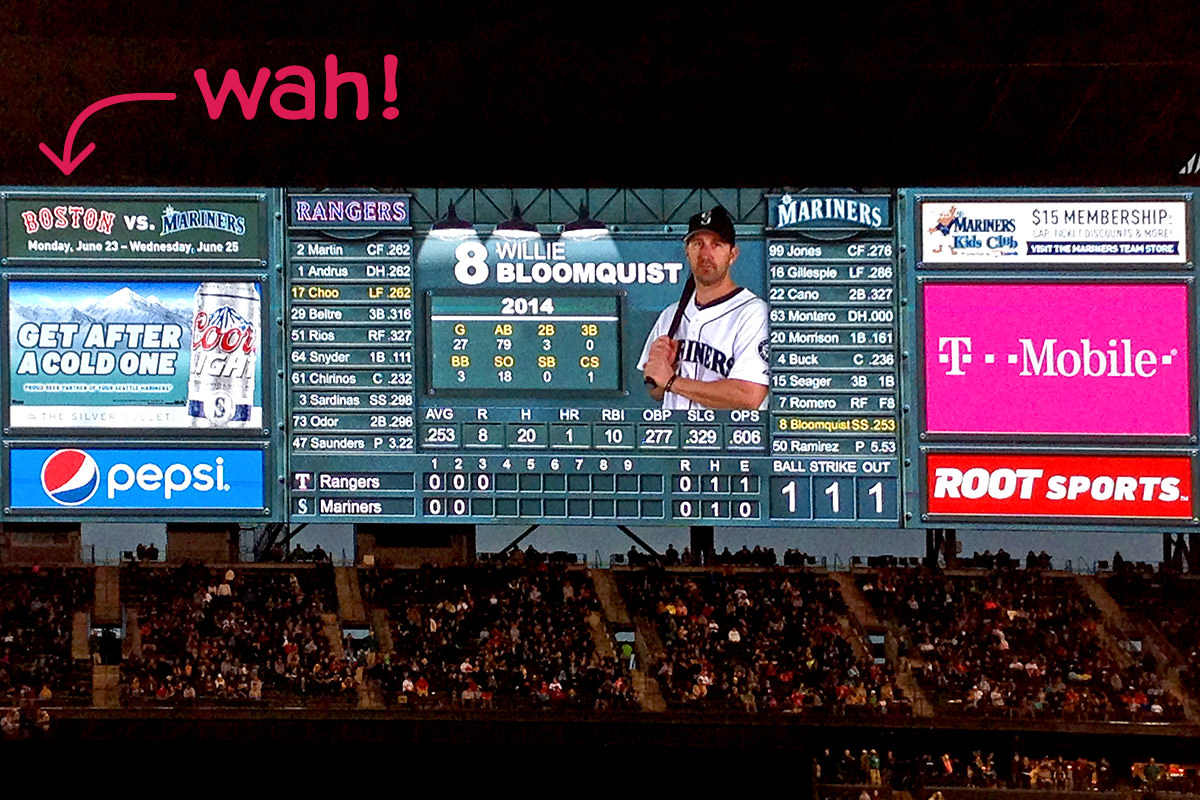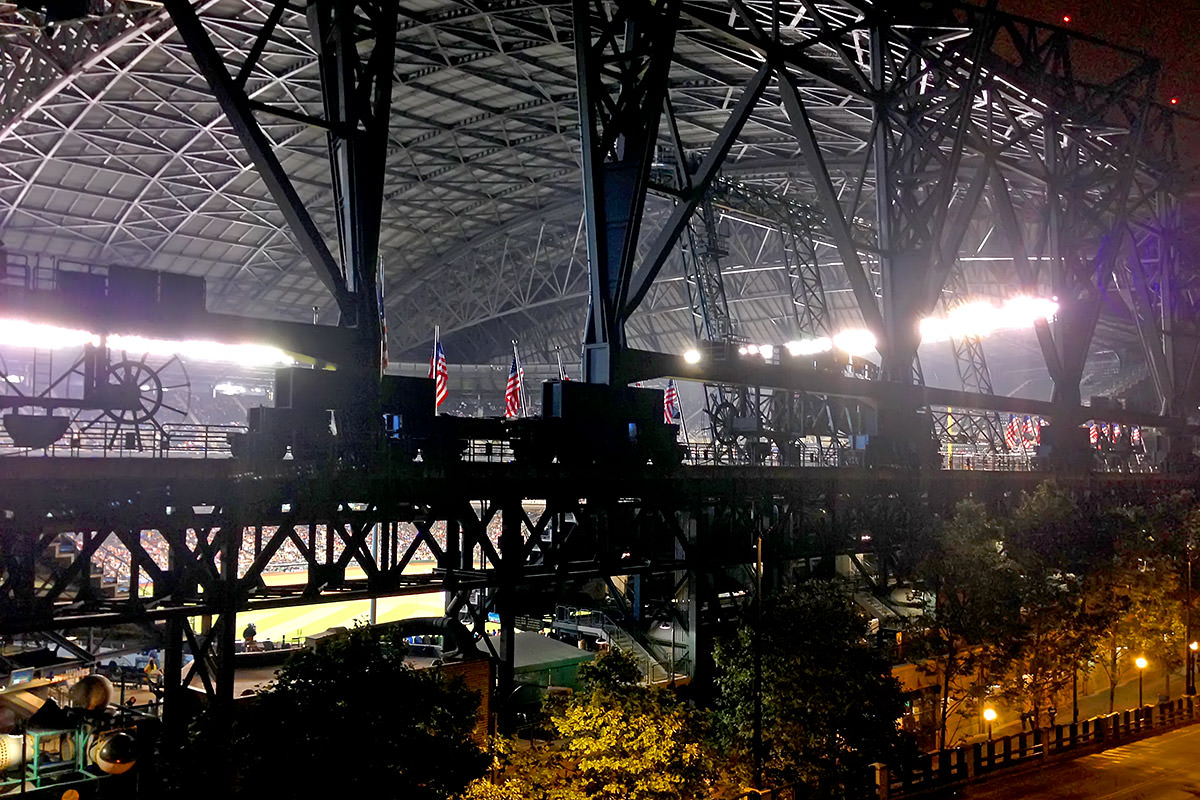 Would have been great if the Mariners had won. :-(
Posted on June 9th, 2014

Today was a Pirates night game, so I decided to work in the morning.
Well, that's a lie... I decided I had to work in the morning.
But I did escape into the city early enough that I could finally... finally... visit Point State Park. Something I've been meaning to do for years, but never seem to get around to. It's called "Point State Park" because this is the point at which the Ohio River, the Allegheny River, and the Monongahela River converge...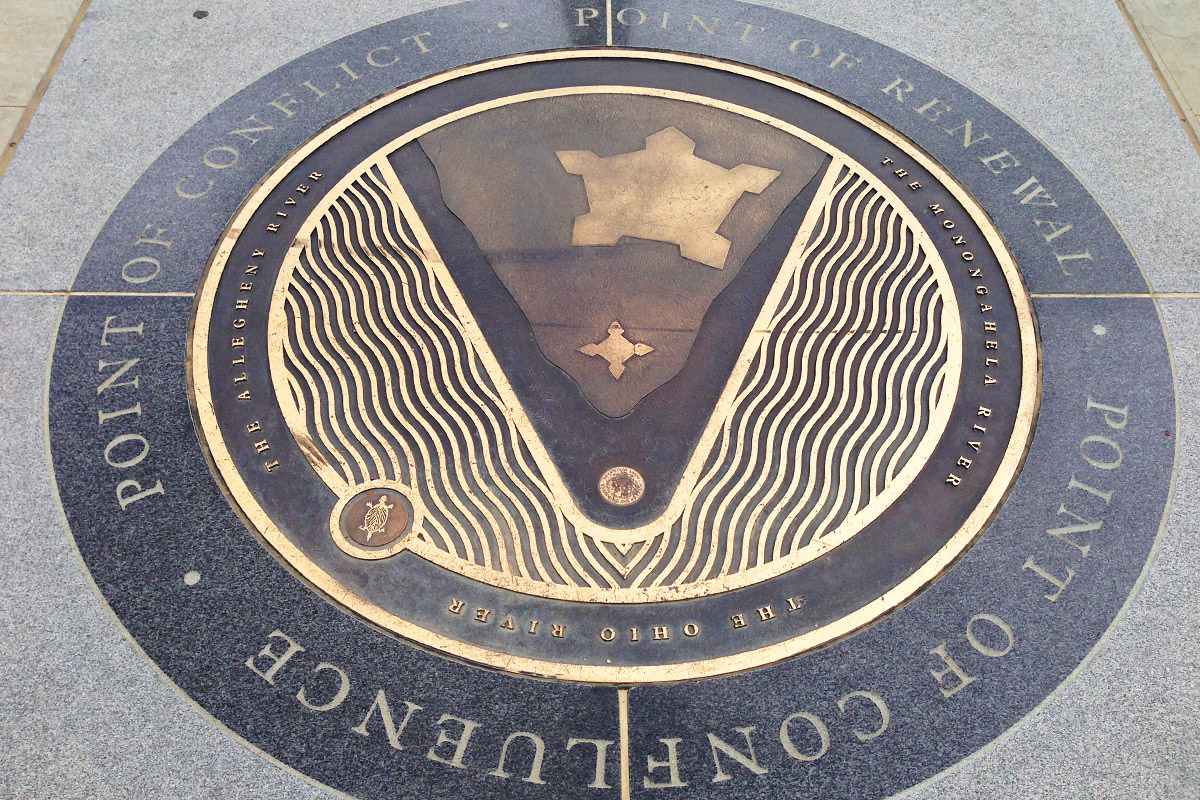 Apparently the area has quite a history, because the comemmorative medallion for the park says "Point of Conflict... Point of Renewal... Point of Confluence."
At the very tip of the park is a giant fountain...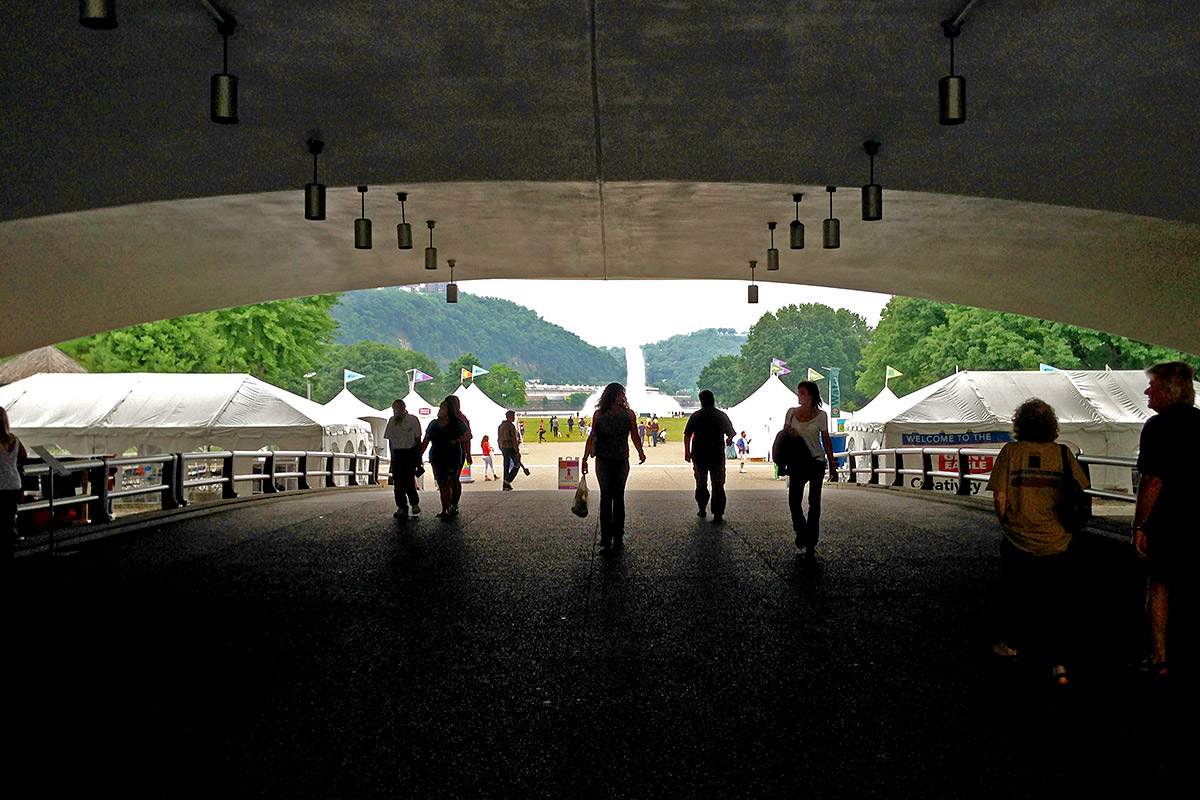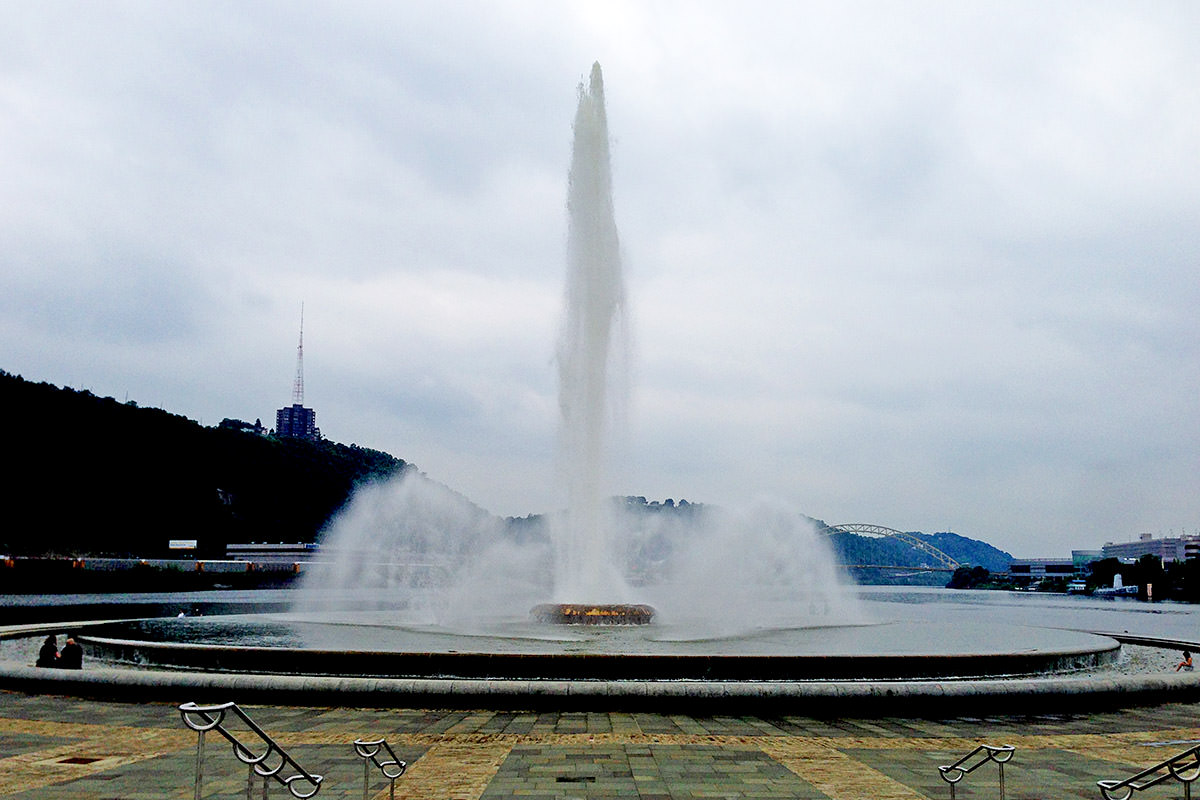 Prior to being a State Park, the French had built a fort here called Fort Duquesne...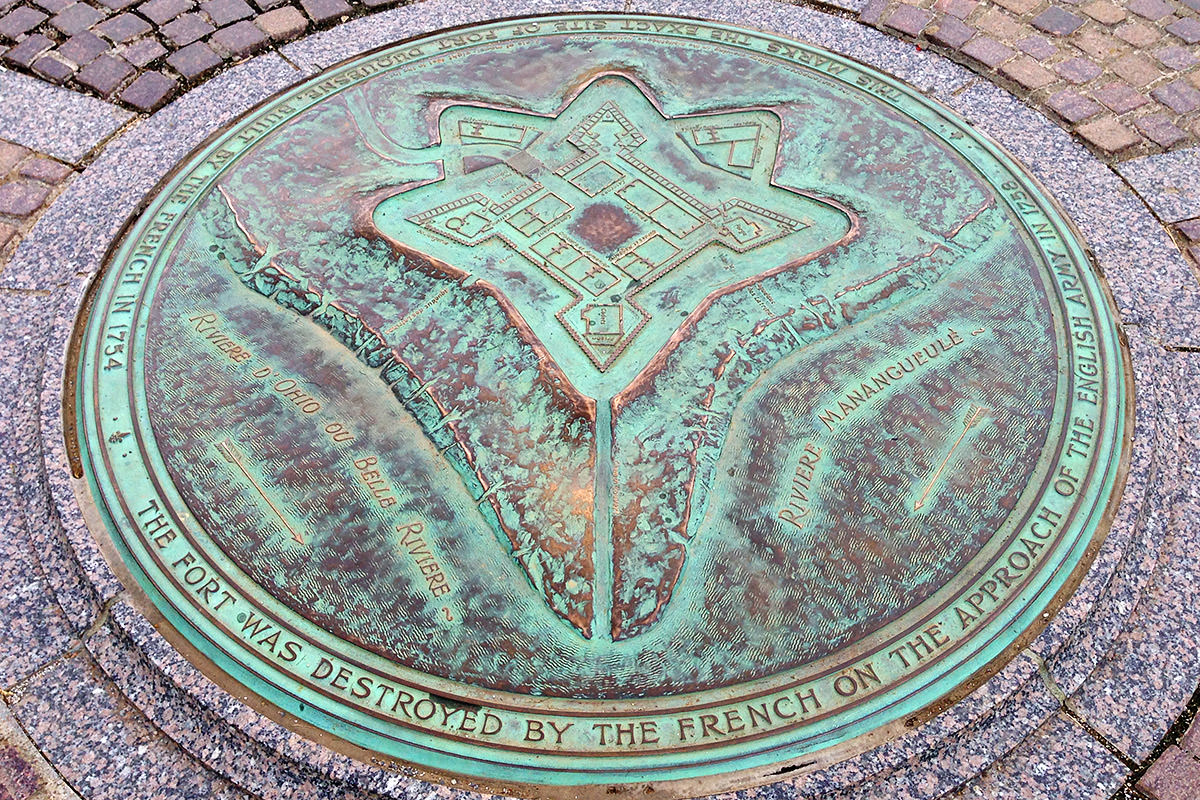 The French ended up destroying their own fort rather than let the English Army take it back in 1758.
After visiting the park, I wandered around the city a bit because art is everywhere...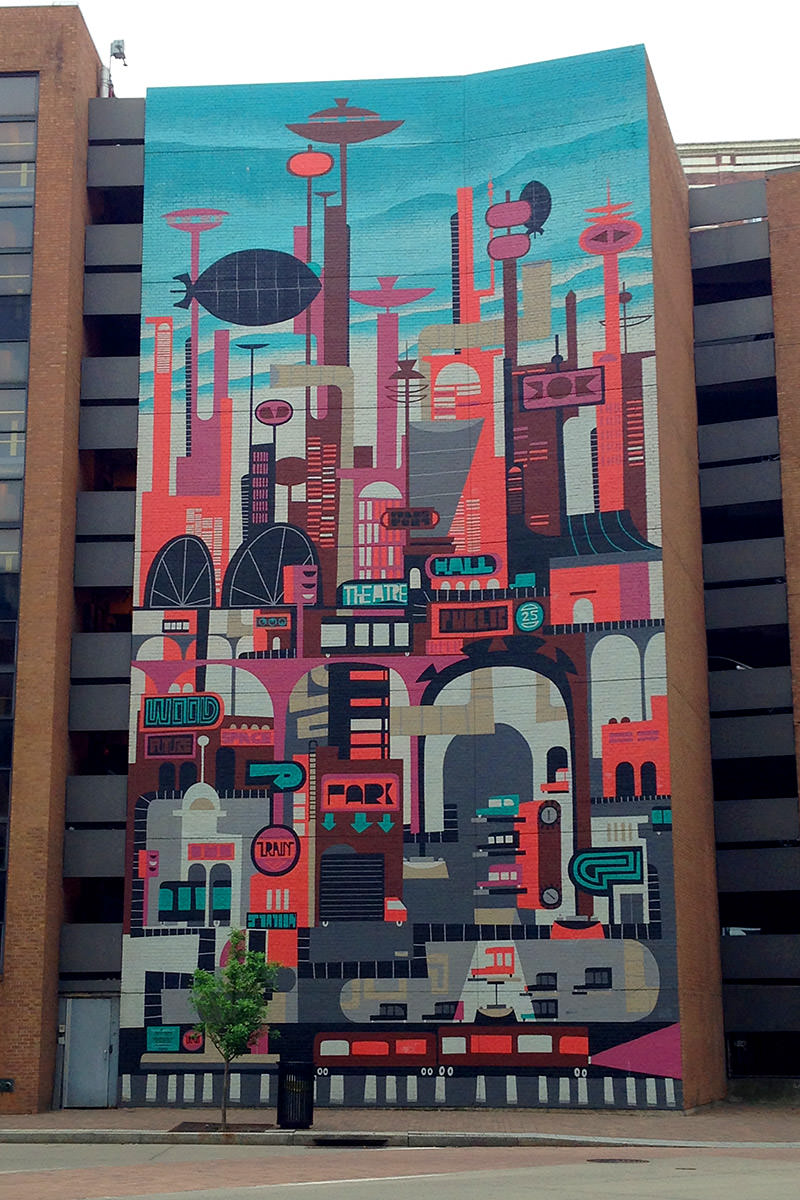 This "future city" is one of my favorites because it's as if Mary Blair were channeling The Jetsons!
Even trash is an art opportunity for Pittsburgh... like with this awesome RecycleBot...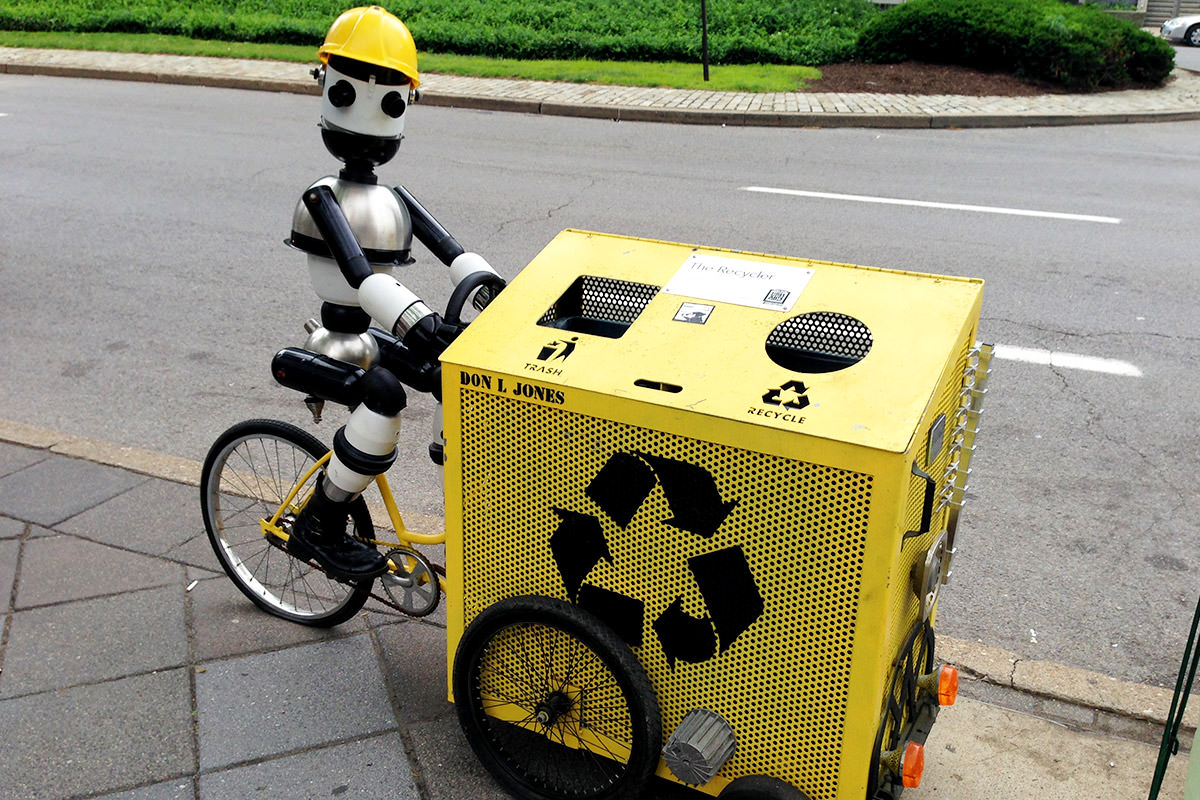 One of the best pieces of art I saw all day was on a construction screen for a new taco restaurant that's going in downtown. Absolutely beautiful...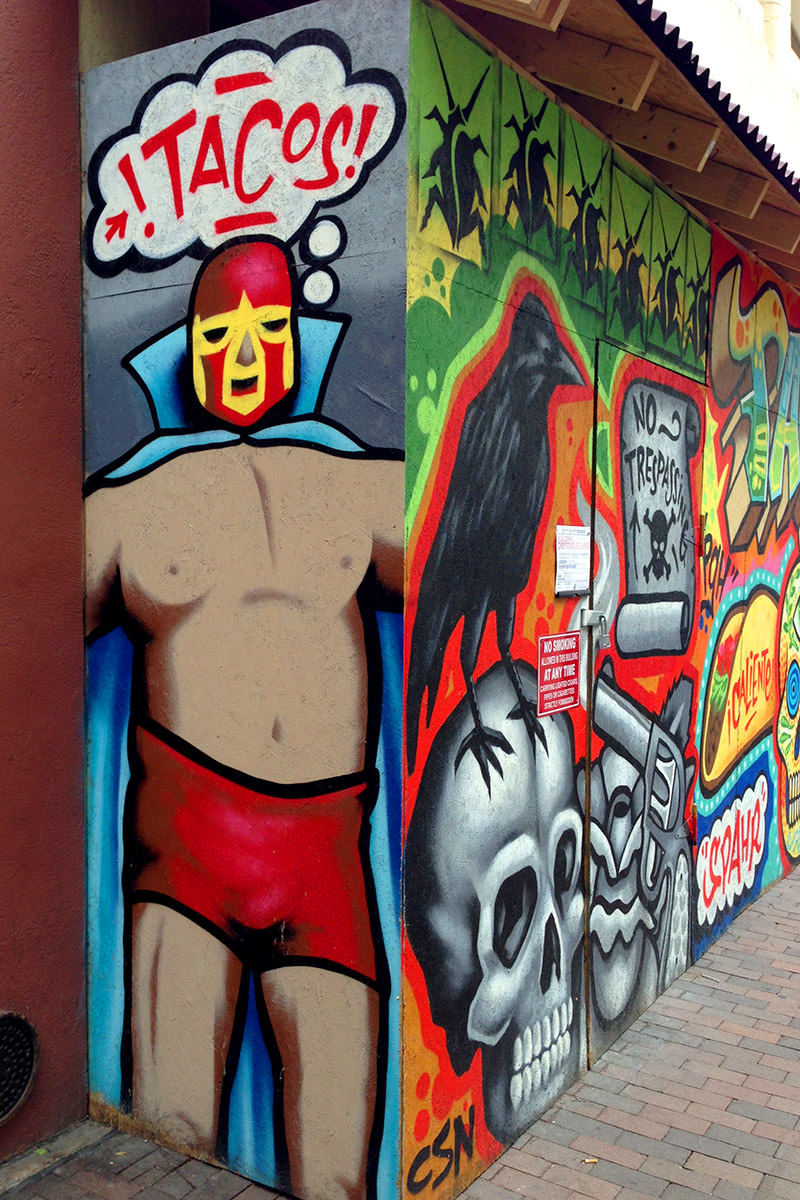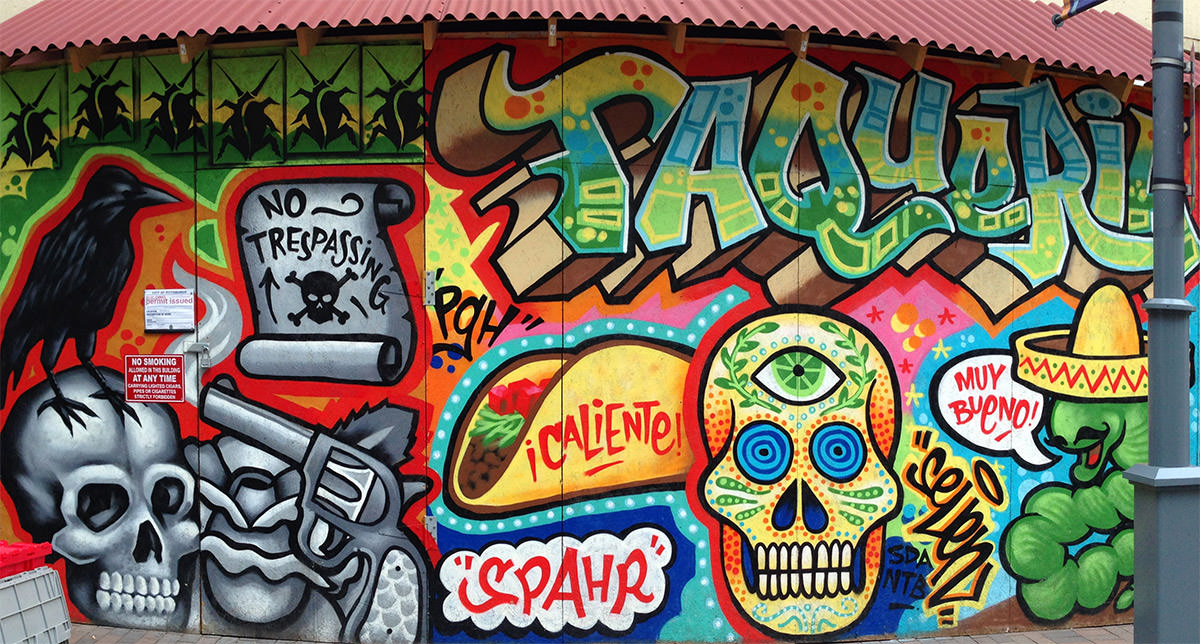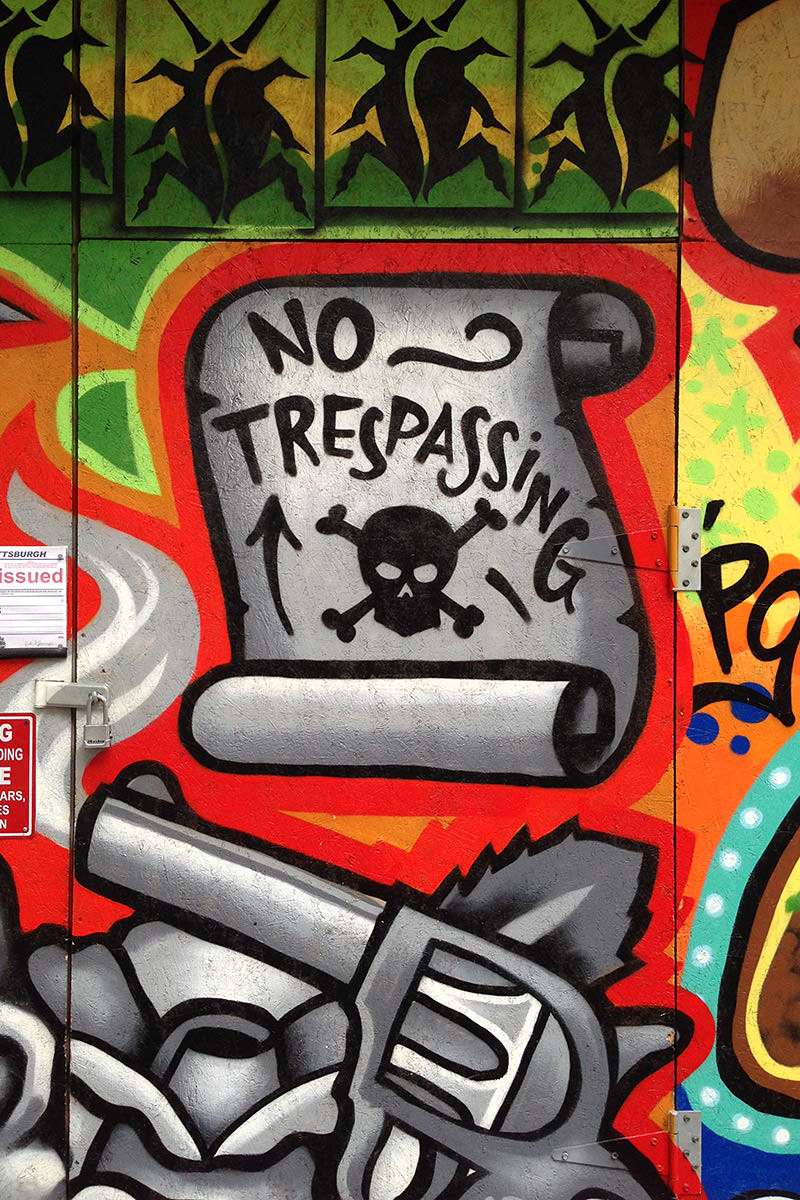 Oooh... Chaka Khan is in town next week for Pride!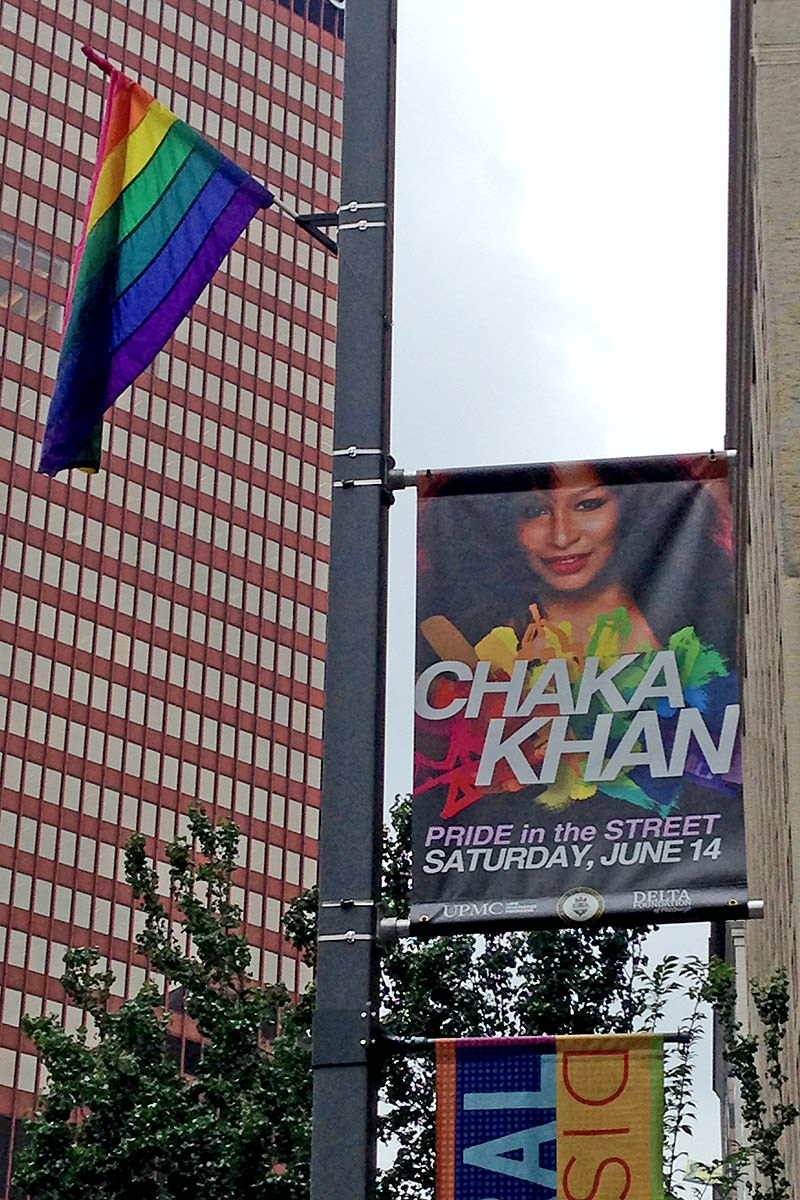 And now? Time to get excited for the Bucs!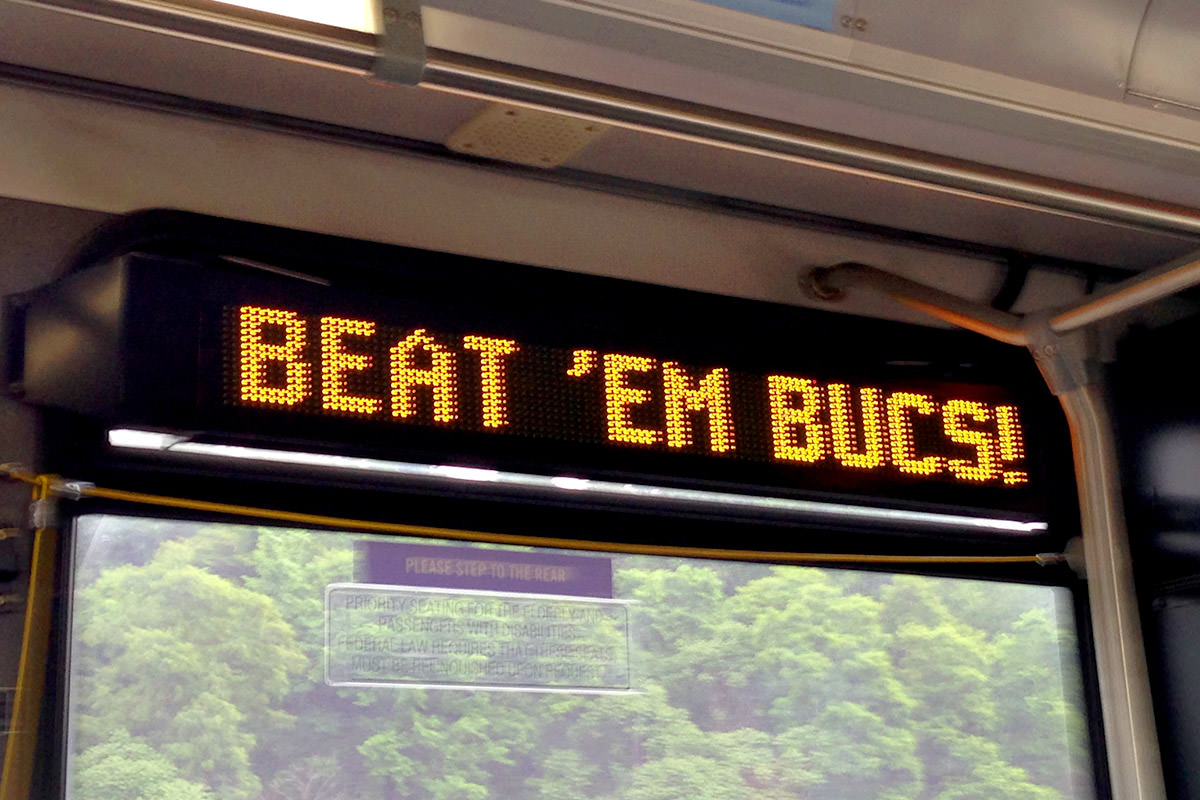 As usual, Pittsburgh closes down the Roberto Clemente Bridge so people can park downtown and walk across to PNC Park for the game...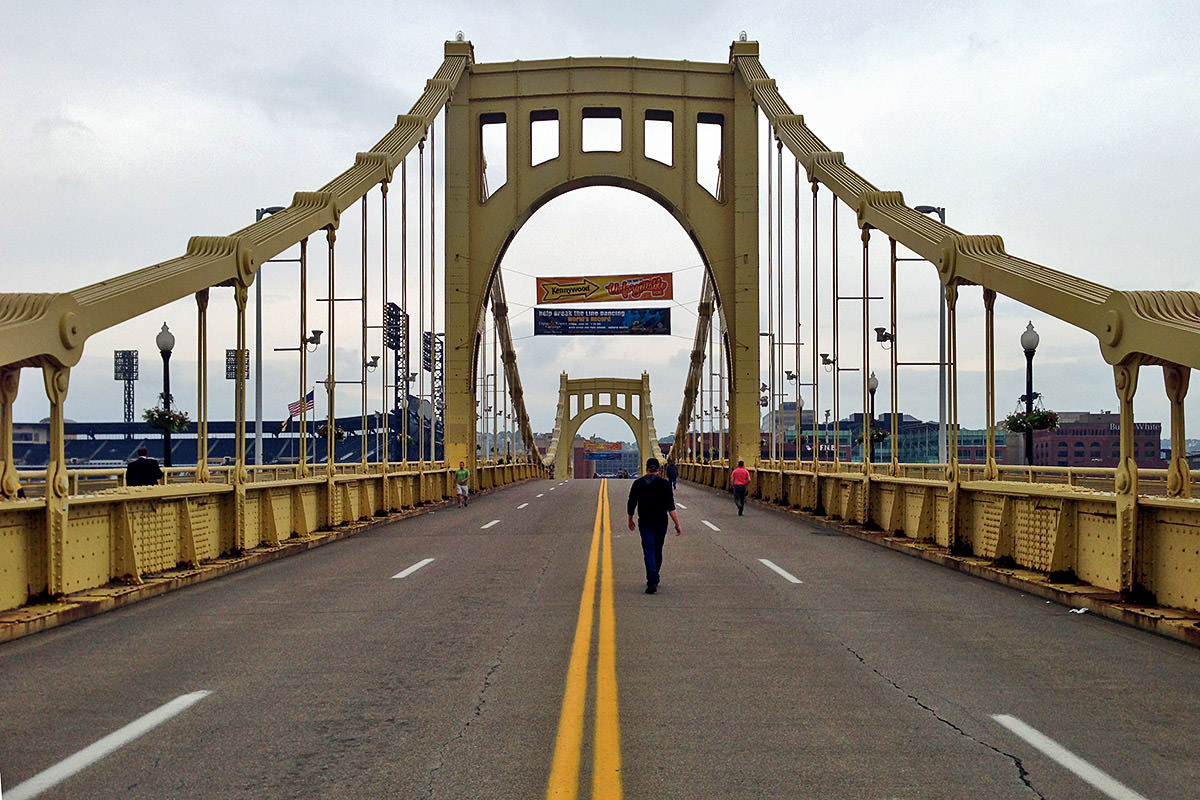 There are statues of famous Pirates from days past scattered around the ballpark. Here's Becky posing with Willie Stargell's...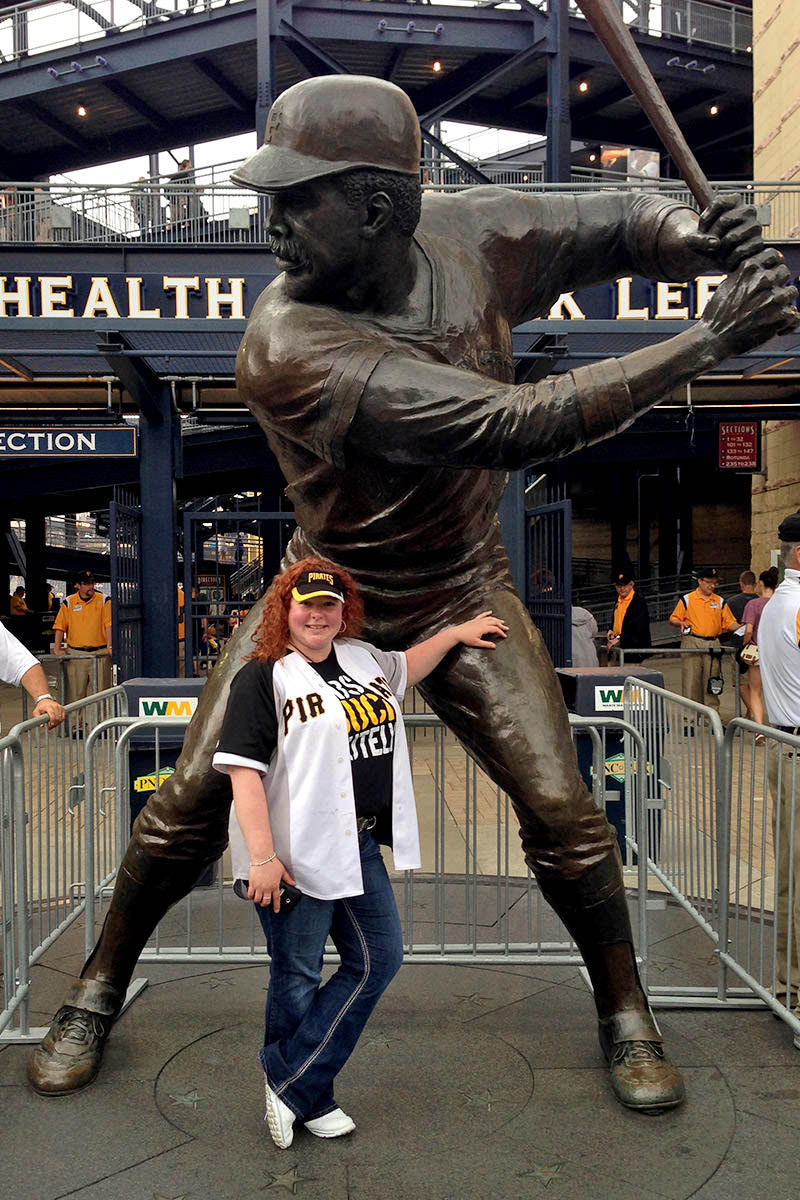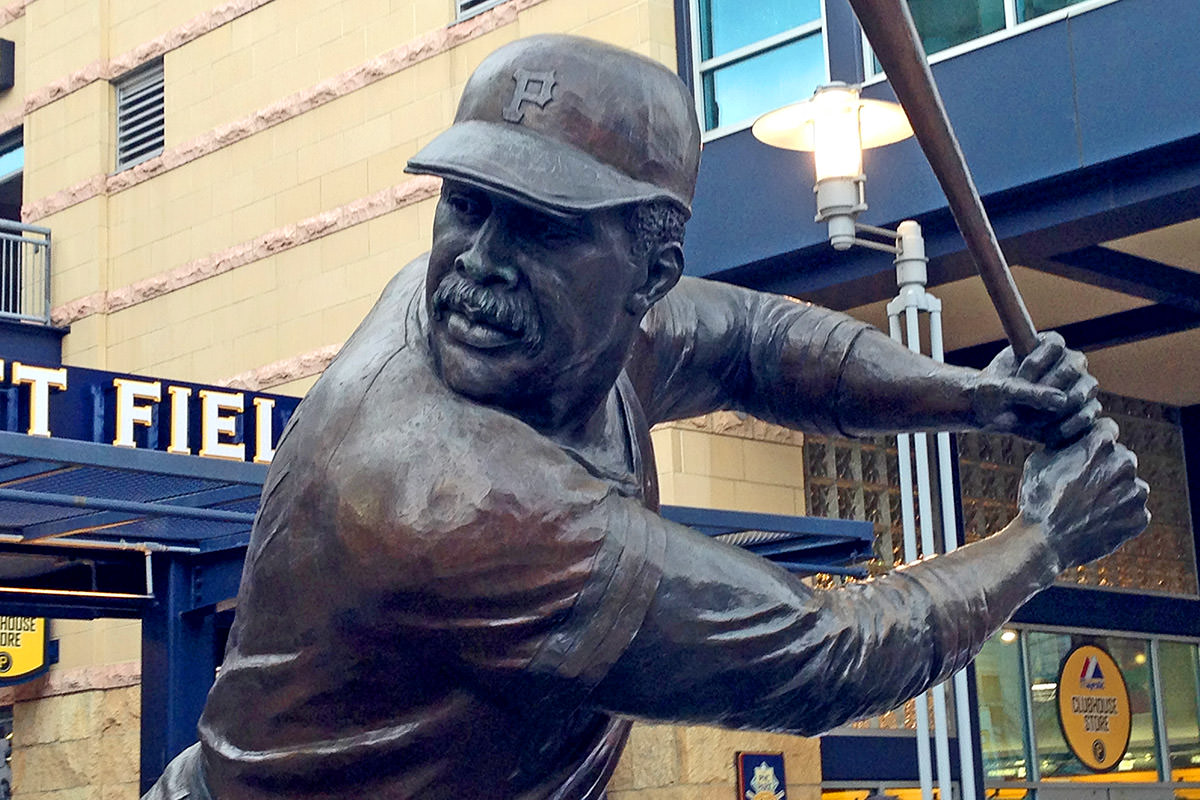 The weather wasn't as glorious as it was for Saturday's game, but it's a night game and it didn't rain, so we couldn't complain...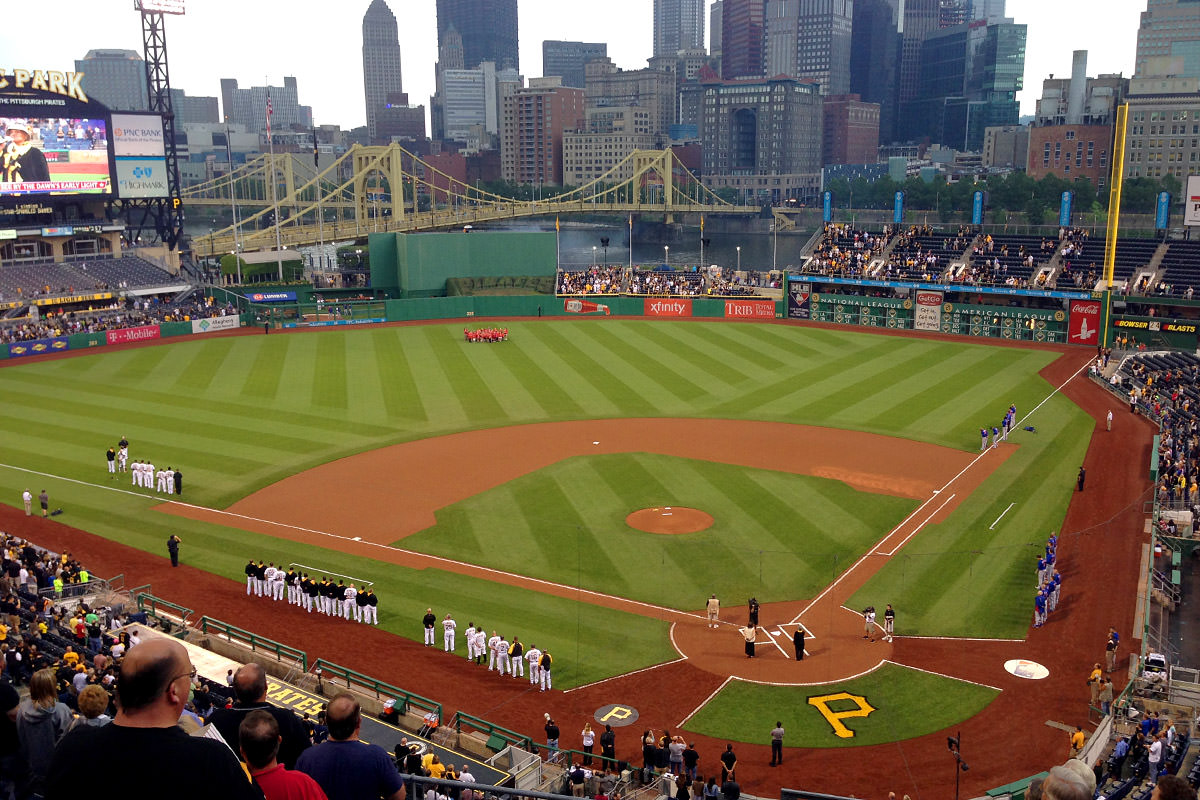 I, of course, had to have my $5 Cracker Jack. Which somehow tastes better than it does when you buy them for 99¢ at the supermarket...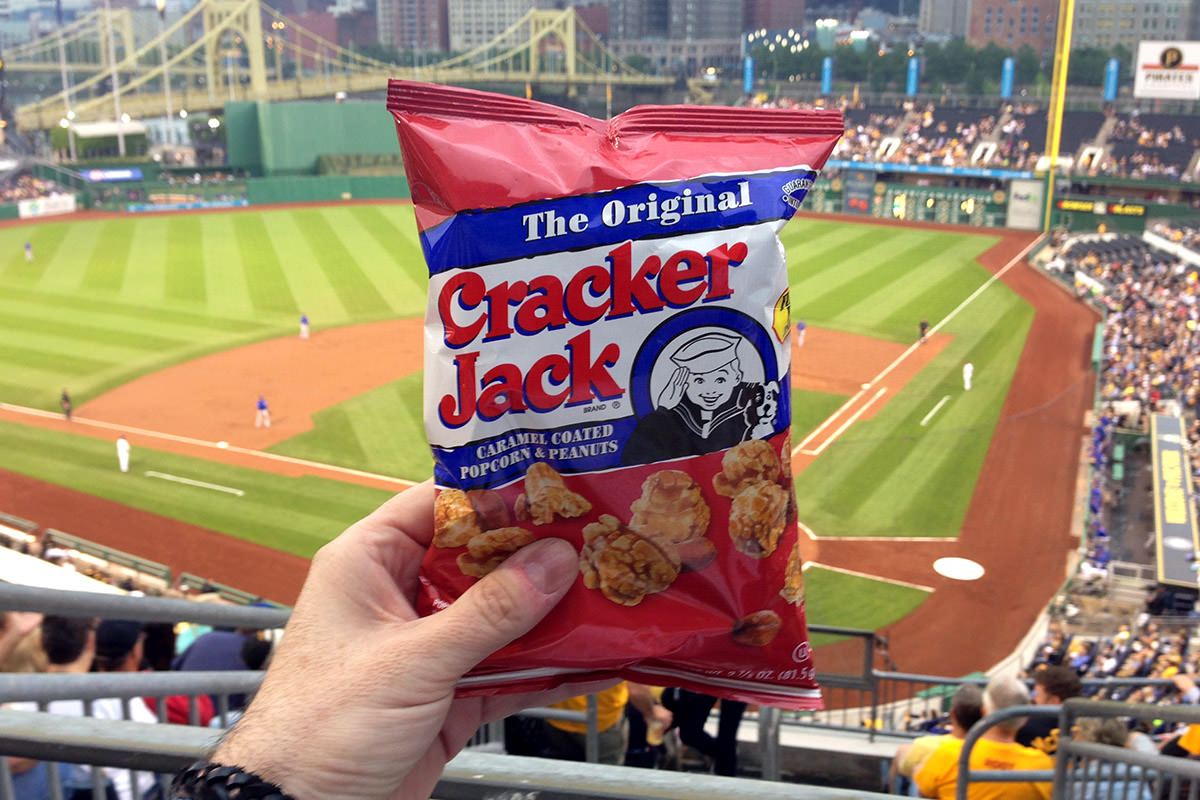 The Pirates have a lot of activities scattered between innings. The first major non-baseball event is a giant bird shooting hot dogs out of a gun into the crowd...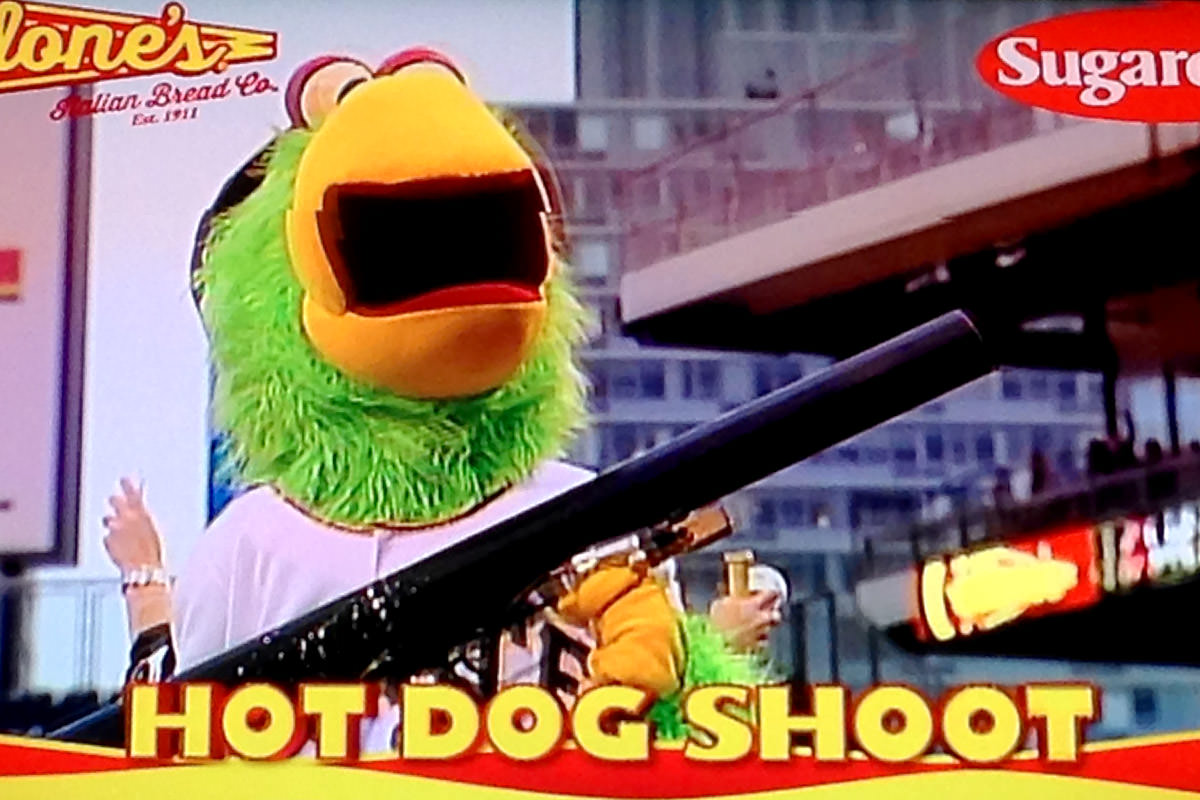 Which is almost as entertaining as Andrew McCutchen hitting a home run. Which happened just seconds after this photo was taken...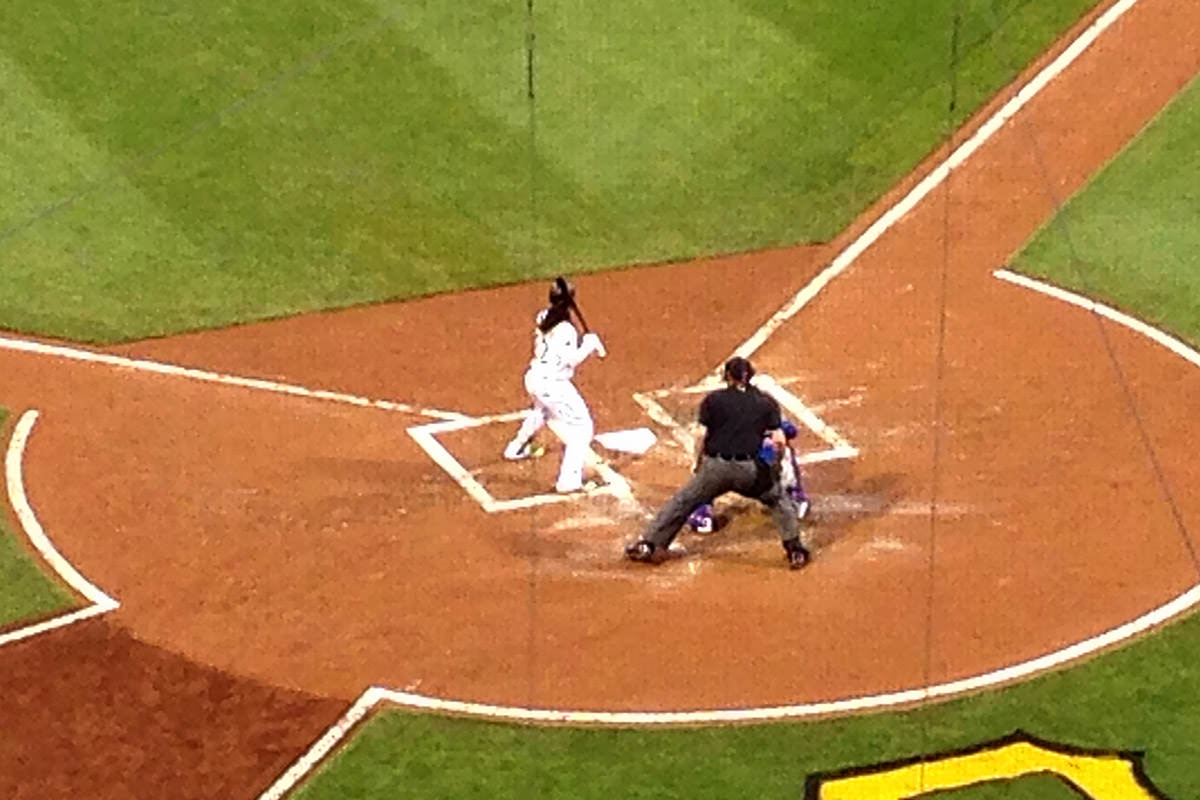 The next non-baseball event of note is the Pierogi Race... where people run around the outfield dressed as giant pierogis...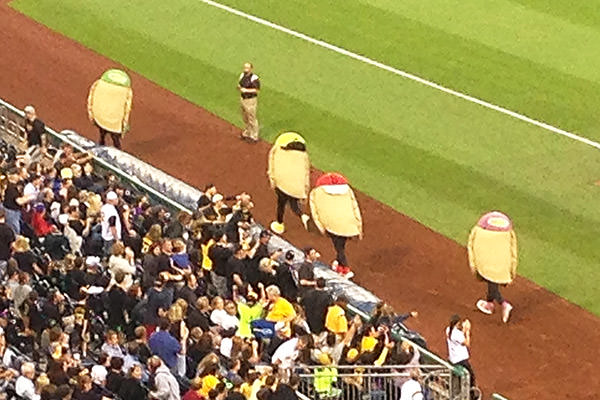 While nothing compares to how beautiful PNC Park is in daylight hours... I have to admit it's a great-looking ballpark at night too...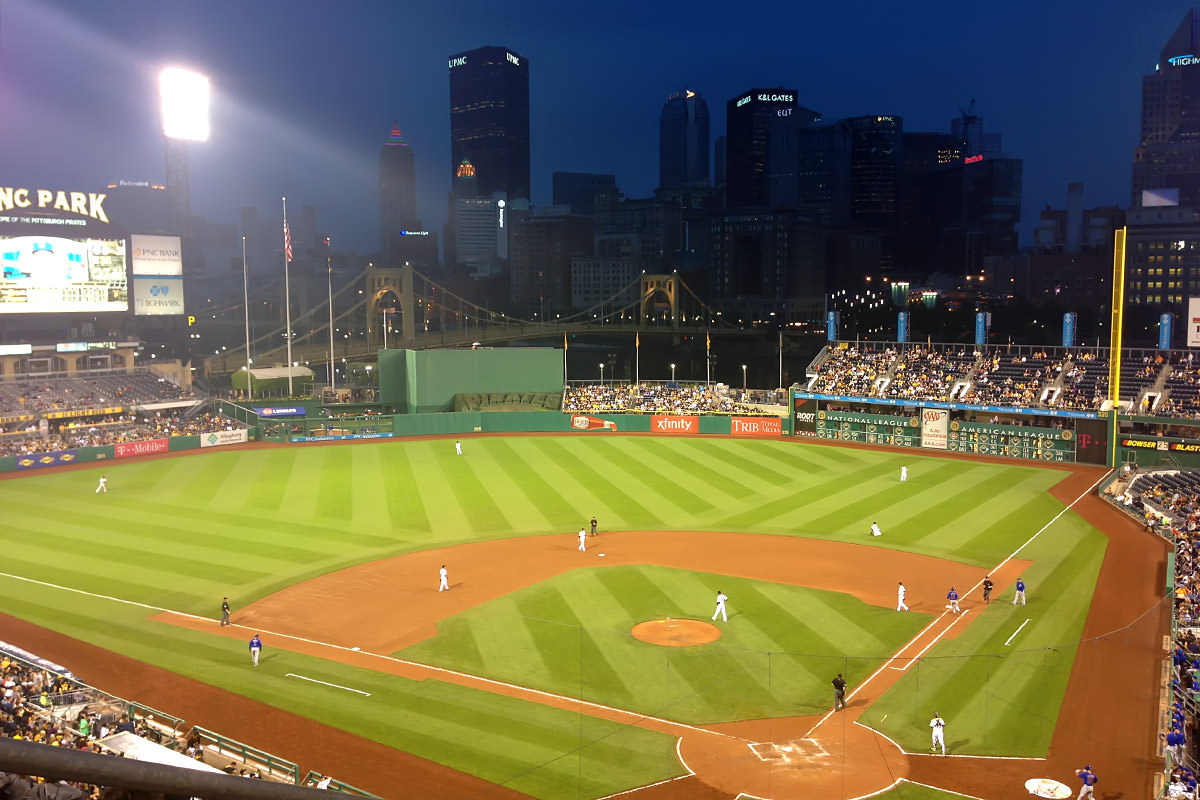 After the Pirates beat the Cubs 6-2, we headed back over the Roberto Clemente Bridge and downtown... where I saw that I missed a piece of the fantastic taco shop construction stand. Around the corner is Holy Mary, Mother of Taco!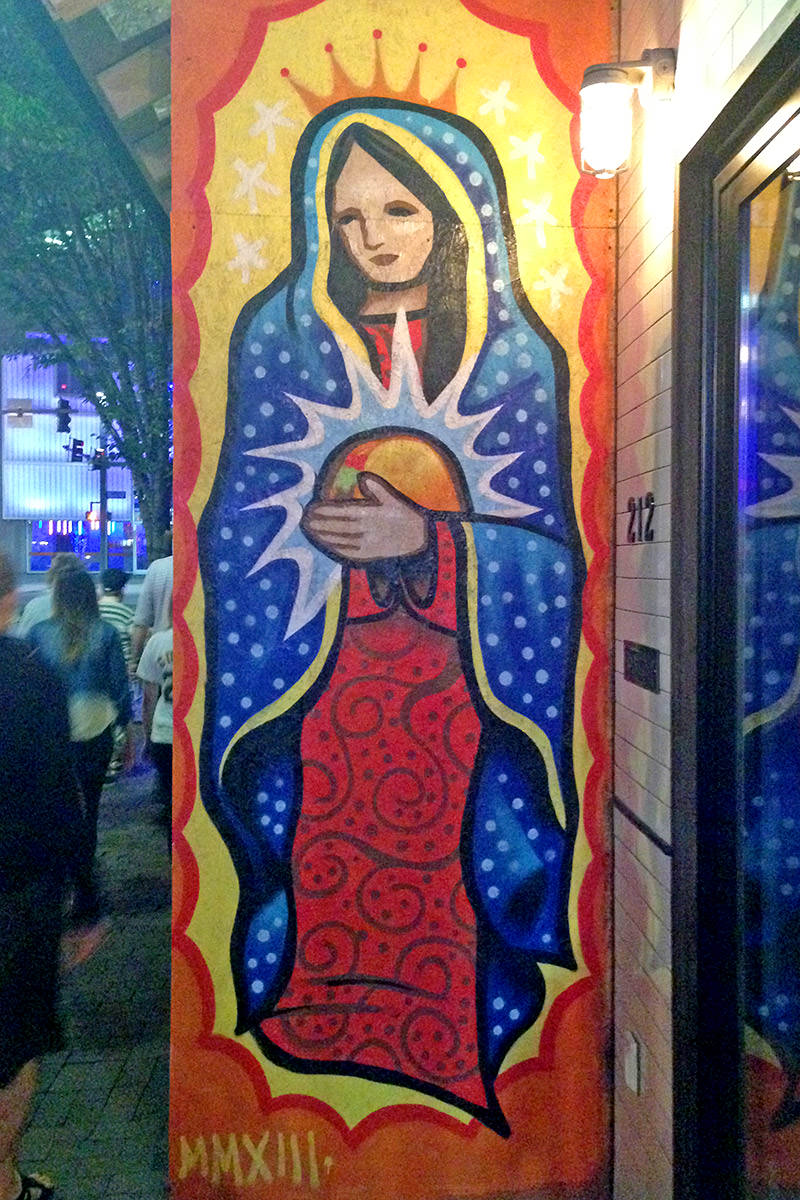 Genius.
And that was that. So sad to be leaving Pittsburgh so soon... but oh so happy that I had such a fantastic visit!
Posted on August 2nd, 2013

Washington State is not a bastion of pro sports-obsession like you'll find in other regions of the country. Sure the Seahawks and Mariners have their rabid fan base here like any other teams do, but it's not the same level as say... Wisconsin and their Green Bay Packers. Even so, being a Boston fan when the Red Sox are playing the Mariners is not always easy... especially when you're west of the Cascades or, heaven help you, in Seattle proper.
Fortunately I was wearing my Red Sox cap and Saltalamacchia jersey in Eastern Washington while driving my car through no-man's-land during last night's game.
I had been following the events at Fenway with increasing disappointment right up until I left Spokane at the bottom of the 4th inning. As I headed out into the Columbia Basin, this is what Siri had to say...
Well, yikes. Somehow Seattle managed to score five runs. Which was all my fault because I stopped watching to go home. I knew I should have stayed and kept cheering Boston on.
Oh well. Two wins outta three ain't bad, I suppose.
I didn't give the game another thought during the 3-1/2 hour drive, and had forgotten about it by the time I got home.
UNTIL 1am WHEN I WAS LIKE ZOMG! I WONDER IF BOSTON WAS ABLE TO RALLY?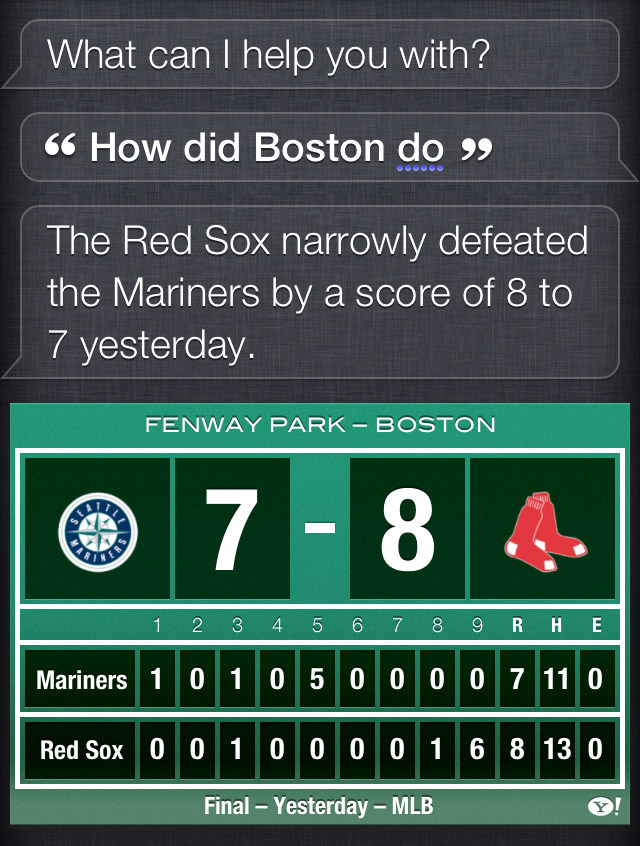 And... boom goes the dynamite.
Six runs in the bottom of the ninth to win it.
Cannot wait to read the always high-larious commentary over at Lookout Landing on this one.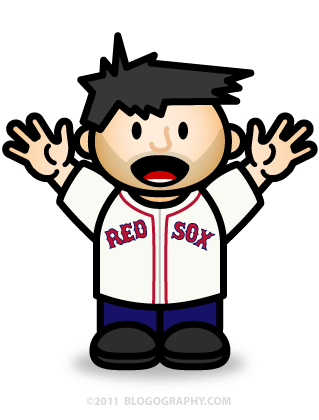 In other awesome Red Sox news, Saltalamacchia is finally recognized by Siri as an actual player now...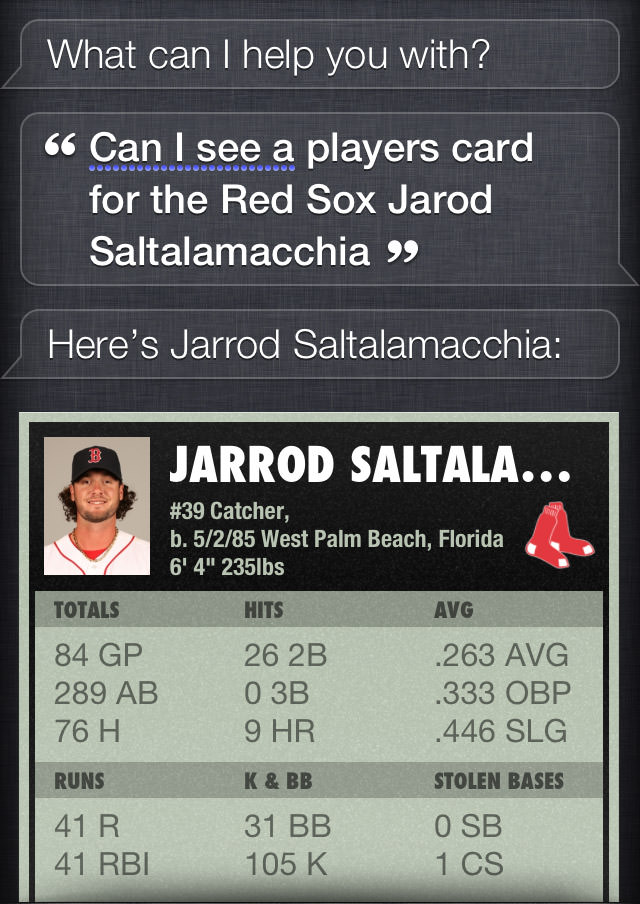 Used to be when you tried to ask Siri about Saltalamacchia she would bitch about not knowing who "Sulka LaMacchia" was or ask if you wanted to Google "Salt La Macchiato" or something like that.
Good to know that even an iPhone can learn something new.
Especially something as important as this.
Posted on June 1st, 2012

Word.

Posted on June 3rd, 2010

So far as baseball fans go... I'm pretty fickle. Sometime during my teenage years I was given an Orioles baseball jersey and started following the team just so I would know what to say when people wanted to talk about them. When I was in college I caught Red Sox Fever (no idea how or why) and became a fan for decades. Once Boston won The Series in 2004, I became disenchanted and switched to my "home" team, the Seattle Mariners. I watch an occasional game, but find it tough to get excited about baseball anymore.
And yet... it's easy to get excited when something remarkable happens.
Like a perfect game.
A perfect game is a formidable accomplishment that has only happened twenty times in the entire history of major league baseball (and a dozen times in my lifetime). Not only can you not allow the opposing team to get any hits... but there can't be any walks or hit-batters either. That's tough.
Last night the Detroit Tigers were playing the Cleveland Indians and Detroit's Armando Galarraga was pitching the game of his career. The PERFECT game of his career. And then it happened. A bad call declared a runner safe when he was very obviously out. Instant replay confirmed it. Even the umpire who blew the call fully admitted that he made a mistake. Galarraga got robbed of his history-making perfect game.
As a casual fan, I really don't have cause to complain... but...
This is so fucking stupid.
Everybody is saying "Well, bad calls are part of the game... that's what makes it baseball." And while this may be true, I also think it's bullshit. How can fans be expected to respect the game when there is no recourse for obviously blown calls? That may be a part of baseball's past, but does it have to be a part of it's future?
Commissioner of Major League Baseball Bud Selig should be fired. He had a golden opportunity here to show the world that baseball can evolve out of this kind of embarrassing crap and have some integrity, but refuses to reverse the call. He could have used this as the perfect excuse to expand instant replay for judgement calls, but instead makes some vague promise to look into the situation.
Way to take the initiative, dumbass.
The pussification of America continues.
And this time we can't blame Canada.