Posted on April 20th, 2018

I've never been a "Superman guy."
Not that I didn't like the character... on the contrary, I own hundreds and hundreds of Superman comic books. My problem is that Superman, as a character, never made much sense to me. And I never really knew why. I always assumed that it was because I was more of a "Batman guy," having put more stock into the idea that a rich guy wanting to fight crime to avenge his parents made more sense than an alien with god-like powers wanting to be a newspaper reporter.
Then I saw Quentin Tarantino's Kill Bill...

And there it was...
"Clark Kent is Superman's critique on the whole human race."
It wasn't that Superman wanted to be a newspaper reporter... it was that Superman wanted to be human at all. The excuse has always been that he slums with humans as a way to not lose touch with the humanity he found while being raised by the Kents. That's all well and good... but it still doesn't make much sense. He's an adult man. If he's still worried about losing his humanity by now, he might as well give up. "Fake it until you make it" may be a valid course of action for a job... but for being human?
And considering he can toss planets around with his bare hands, how human could he ever really be? I don't get it.
But apparently a lot of people do, because Superman is in a comic book that just hit 1000 issues...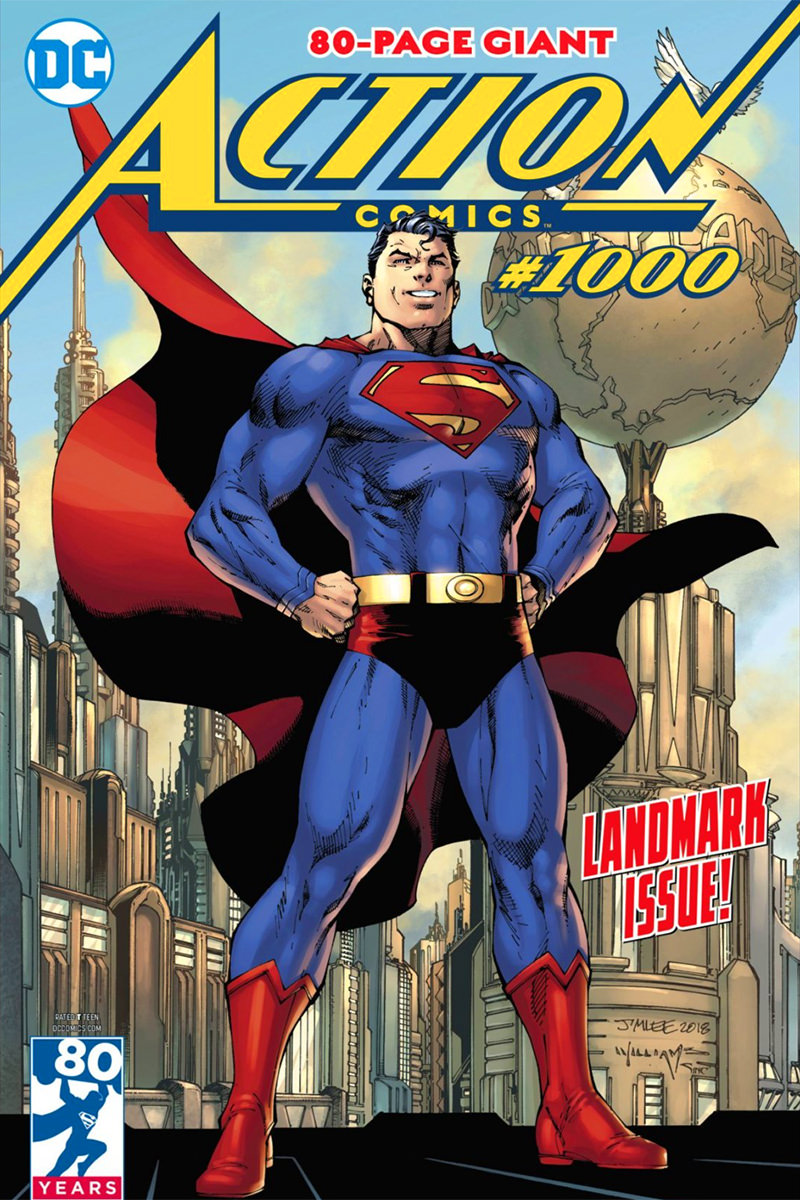 The best Superman stories are always those which come up with a way of finding something new while maintaining the continuity which came before. The best of the best being Alan Moore's For the Man Who Has Everything and Whatever Happened to the Man of Tomorrow? and Grant Morrison's All-Star Superman. There have been others I've enjoyed, but they usually involve some kind of smart take on why Superman is the way he is... not stories that come up with somebody bigger and stronger to pound on Superman for a few issues.
And don't get me started on the current cinematic take on Superman with Man of Steel, Batman vs. Superman, and Justice League, which just plain suck because they are exactly what make a bad Superman story.
But anyway... back to Action Comics #1000...
I haven't been following the character since George Pérez jumped ship after the New 52 reboot years ago. I am aware that there was yet another reboot called "Rebirth" last year, but I haven't read any of it. So you can imagine my surprise when I find that Superman is married to Lois Lane and has a son named Jon that is Superboy. Not that this really affects what's happening in Action Comics #1000, but it's still something that permeates the issue.
The bulk of the issue is a love-letter to Superman by a chunk of very talented writers and artists and it's mostly wonderful. Many of the things you would hope to find in a landmark issue like this are there. And then there's the money-story... Brian Michael Bendis starting his run on the character with artwork by Jim Lee!
And what we get is... meh.
Because here we go again, somebody bigger and stronger to pound on Superman for a few issues. There's a twist, of course, but its one that's of little consequence in the grand scheme of things. In general, I like the stuff that Bendis does, but I'll not be tuning in for this. I'm just not a big enough Superman fan to get involved... especially when DC is probably going to reboot the Rebirth reboot to the New 52 reboot to the Flashpoint reboot to the Infinite Crisis reboot to the Zero Hour reboot to the Crisis on Infinite Earths reboot.
Maybe I'll have a change of heart in the reboot after that. You never know.
Posted on March 18th, 2018

Don't click that "Back Button" just yet, because an all-new Bullet Sunday starts... now...

• To Infinity! And so... here we are. A little over a month until the beginning of the end. Ten years of build-up all comes down to Avengers: Infinity War in April and its sequel next year...
So much to unpack here, which is not surprising considering the final movie has a runtime is 2 hours 36 minutes.

• A Brief History of Time. Stephen Hawking is gone! So remarkable that he managed to live so long with a disease which he was told would kill him decades ago. And look what his brilliant mind accomplished while trapped in a body which betrayed him! That he was a character on The Simpsons is just icing on the cake. An amazing, amazing man...
And funny...
Rest in peace, sir.

• LOLZ! Probably the funniest thing I've ever seen on Twitter...
And yet... this is utterly insane as well. How in the hell do you confuse Kumail Nanjiani, Kunal Nayyar, and Kal Penn? They look nothing alike! I guess some people just see skin color and don't look any further.

• Fourth World! Looks like DC is finally moving past Zack Snyder's laughably bad take on super-heroes. After Patty Jenkins hit gold with Wonder Woman, they're striking a deal with another celebrated woman to helm New Gods for the big screen. Congrats to Ava DuVernay! My first choice would be Taika Waititi since his love letter to Jack Kirby in Thor: Ragnarok was so perfect... but this is a great choice too...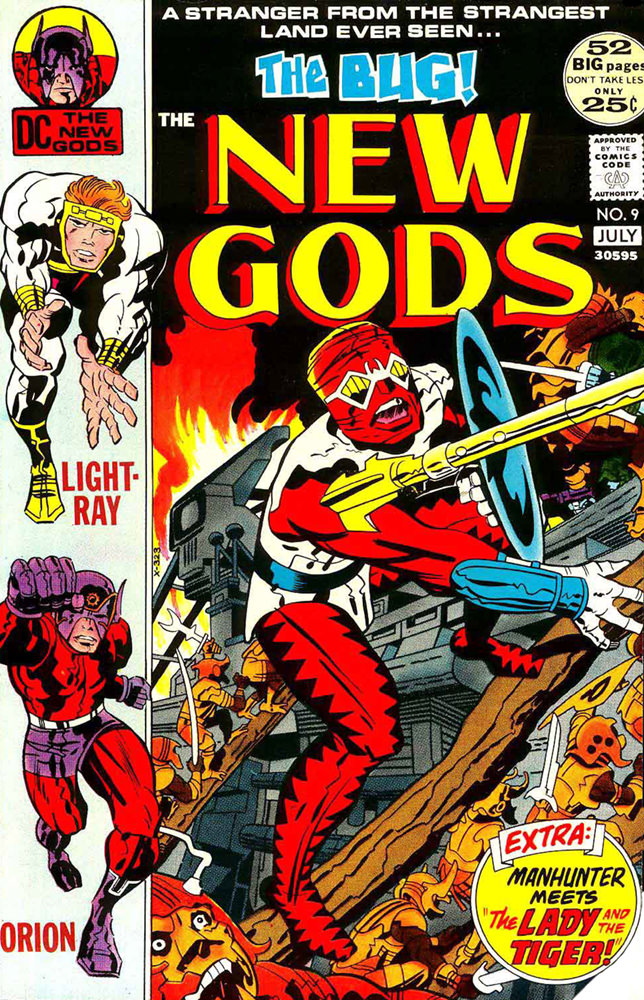 It will be interesting to see if DuVernay goes full-on Kirby or heads in another direction entirely.

• Incredible! ZOMG ZOMG ZOMG ZOMG... It's REAL!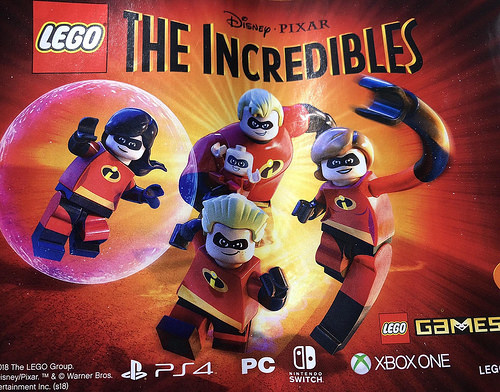 Needless to say, I want want want want this game!

• Chain Gang! Since subscribing to Amazon Music Unlimited, I've been going a bit crazy over music. Now that I have "tens of millions" of songs available anytime, anywhere, I'm asking Alexa to play esoteric stuff all day long that it would never have occurred to me to play before I subscribed. Something pops in my head? Play it Hear a song mentioned somewhere? Play it. Song pops up on a commercial? Play it. For the past two days I've been obsessed with Sam Cooke. He was mentioned on an episode of The West Wing, and I've been listening to everything available ever since. So many songs of his I recognize but never really knew where they came from.
Such an amazing talent. Which makes the bizarre circumstances of his death even more tragic.

Until next Sunday then...
Posted on February 25th, 2018

Prepare yourself, because a Very Special BLACK PANTHER EDITION of Bullet Sunday starts... now...

• Art! One of the best things about Black Panther is the production design. A lot of what went into that is explored in yet another wonderful edition of Marvel Studio's Art of the Movie books, which somebody on YouTube was kind enough to thumb through...
There's very little of the book that's not fascinating... or gorgeous...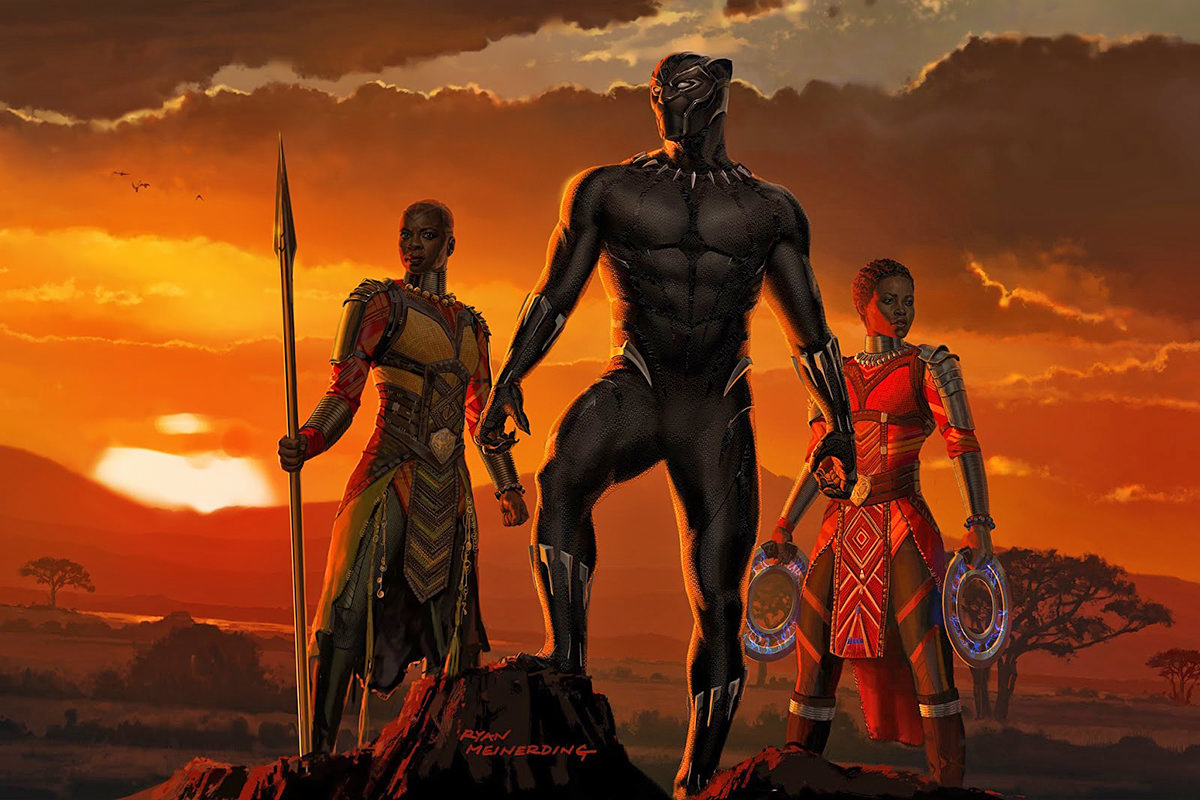 I own the entire series and love them. You can pick up the absolutely beautiful Black Panther edition from Amazon.

• Trevor! The detractors for Black Panther have been pretty stupid about it. I mean, if you don't like the movie, fine... to each their own. But the whole "This movie is racist because it's mostly Black people" is laughably stupid. My favorite commentary on this was by Trevor Noah from The Daily Show...
Speaking of Trevor Noah, if you haven't read or, better yet, listened to the audiobook of his Born a Crime, then it is absolutely worth your valuable time to do so. While interviewing Lupita Nyong'o for Black Panther, it was revealed that she will be producing and playing his mother in the movie adaptation...
Can't wait!

• Mother! Speaking of audiobooks, a momentary aside... I am just now finding out that Jenifer Lewis released a book last month called The Mother of Black Hollywood. Whether you know her as Ruby from Blackish or one of her many roles over nearly 30 years in Hollywood, it is so good...
Here is Jenifer Lewis being Jenifer Lewis... while plugging her book (and other things)...
If you want to be entertained for hours, search for "Jenifer Lewis" on YouTube and prepare yourself. This video is an hour of amazing...
I have only just started listening to the audiobook, but it is fantastic already. If you are a member of Audible, it's worth a credit. If you are not a member of Audible, you get a FREE credit when you sign up! Go do that and get this book!

• Comics! If you've seen the movie (and I'm assuming you have), there's a lot more to the story in the original comic books. Here's my four favorite series...
I would be remiss if I didn't add Jack Kirby's work on the Black Panther, which is also an important read.

• Wrong Panther! It'll be reiterated below, but I think it important to state it here: There is NO relation between the Black Panther of the comic books and the Black Panther Party. And yet... I've seen this pop up more times than I can count online.

• Panther Facts! Let's wrap up this Bullet Sunday with a list of interesting Black Panther bullets, courtesy of Kevin E. Ross, who has asked that people share it...
The Black Panther (real name: T'Challa) is the first mainstream black superhero ever. He was created by Marvel Comics and the team of Stan Lee and Jack Kirby, the same two responsible for heroes like Thor, the Fantastic Four, and Captain America.
Created in 1966 during the turbulent Civil Rights era, he is the first black superhero not created as an "token," a dependent, or a sidekick. This was considered extremely controversial for the time period. He predates Captain America's Falcon (1969) and Luke Cage (1971). He also preceded the revolutionary activist group the Black Panther Party by 3 months (he was introduced in July of 1966, and the Black Panther Party in October of 1966. They were not connected).
T'Challa (his real name), is also the ruler of a fictional African kingdom called Wakanda (population 6,000,000). Wakanda is considered one of the wealthiest nations on Earth as well as one of the most technologically-advanced. Imagine if Disney World's Tomorrowland and the Rainforest Cafe merged.
Wakanda's wealth is the result of a meteorite that crashed on to the continent 10,000 years ago. Composed of a rare alien material called Vibranium, the metal is sought by many in the world for its scientific applications and its military capabilities. It is only available in Wakanda, thus the country keeps itself closed and shielded from the outside world. Vibranium basically absorbs any energy directed towards it and holds it like a sponge. Imagine buildings that wouldn't crumble under the force of an earthquake, or soldiers protected against explosions from grenades and other explosive devices. Wakanda does export other commodities such as coal, diamonds, and technology, which contributes to its worth.
Wakanda has tons of vibranium in underground storage. One gram of vibranium is worth $10,000. That means Captain America's 12-pound shield, which is composed of the material, is worth just over $54 million dollars.
Being the monarch of the world's richest nation also makes you rich. T'Challa's net worth is $90.7 trillion dollars, which makes him richer than Batman's Bruce Wayne (9.2 billion) or fellow Marvel running mate Tony "Iron Man" Stark (12.4 billion). By a lot.
In the comics, the Black Panther is also one of the most well-respected men in the world. He is a combination of nobility (Thor), patriotism (Captain America), and superior intellect (Iron Man). He is also an Oxford graduate with a PhD in physics and is considered one of the top-5 minds on the planet.
The Black Panther is more than the special costume he wears. He is also a world-class athlete who was trained in martial arts, judo, wrestling (a popular Wakandan sport), and all forms of hand-to-hand combat. He also has enhanced healing properties, strength, speed, agility, and tracking senses. This is the result of ingesting a special heart-shaped herb that grows only around the site of the crashed vibranium meteorite. The radiation from the meteorite produces the plant which, once ingested, gives the recipient the aforementioned special abilities. Only those in the royal hierarchy and heirs to the panther mantle are eligible to use it. This means that the Black Panther has absolutely no problem going toe-to-toe with Captain America, who is considered the world's best hand-to-hand combatant and fighter.
Steeped deep in African tradition, Wakandans worship Bast, a female deity known also as the Panther God. The symbolic mythology here is also directly connected to ancient Egypt. She is revered as a protector and defender of the nation. This makes the Black Panther her agent outside the spirit realm, and thus more than a hero, but a true mythical figure. Imagine if the Pope wore a costume, had superhuman abilities, and defended the Vatican from its enemies both foreign and domestic.
Because of Bast, Wakandan women are highly-respected. The king's personal guard, the Dora Milaje, are an elite female fighting force. T'Challa's younger sister Shuri is a genius level intellect and considered one of the smartest women on the planet. Not only does she give the Black Panthers technologically-advanced suit & tech superior upgrades, but also other inventions to help further her country's technological dominance. While Tony Stark, who is considered one of the smartest men on the planet, graduated from MIT at age 17, he did not invent the Iron Man suit until age 42. By contrast, Shuri is only 16 years old.
In the comic books, the Black Panther was briefly married to Storm of the X-Men (remember Halle Berry?). Storm was from Wakanda's African neighbor Kenya (but grew up in Cairo, Egypt).

Until next week... WAKANDA FOREVER!
Tags:
Art
,
Black Panther
,
Books
,
Bullet Sunday
,
Comic Books
,
Marvel Studios
,
Movies
,
Television
,
The Daily Show
Categories:
Books
,
Bullet Sunday 2018
,
Movies 2018
,
Television 2018
—
Click To It:
Permalink
—
1 Comment: Click To Add Yours!
Posted on February 24th, 2018

For comic book geeks, this truly is the golden age of cinema. On the Marvel side of the aisle, they have been killing it over and over and over again. This time it's with one of my most favorite Marvel heroes, Black Panther.
Given my passion for comic books, this is going to be a long one, so strap yourself in.
From the time I first started reading comic books, I was mostly a "DC Comics guy." This was undoubtedly because of DC being the home of Batman, probably my favorite super-hero. Batman doesn't have any powers except being absurdly rich, and yet he can hold his own on any super-team against even the most powerful villains. He made me think that I could be a super-hero too one day... all I needed was millions of dollars and a butler.
When I branched out into Marvel comics, it was a very different world. Sure their stories happened in a real place like New York City and not a fictional one like Metropolis or Gotham City, but that was just geography. To a kid in central Washington State, New York might as well have been the moon (home of The Inhumans!). The fact that Marvel tried to give larger-than-life heroes mundane problems was kind of lost on me. Spider-Man has all these amazing powers where he could earn hundreds of thousands of dollars as a body guard, but he chooses to be a struggling photographer? What sense does that make? Superman may live a mundane life as Clark Kent, but at least he had the sense to pick a career where he could pay the rent.
It went on and on like that for me with Marvel, the X-Men being the most perplexing of all. They never got tired of being persecuted as mutants, even with all the powers they possessed. I mean, yeah, many of them had human parents that probably made them sympathetic to the plight of mere humans... but come on. That's a plot point that gets really old, really fast.
There were two exceptions with Marvel, however.
Doctor Strange whose magical world was far more fascinating to me than anything Dr. Fate was ever given to do over at DC Comics.
Black Panther who was nothing like any other super-hero I had ever seen.
Doctor Strange already had his own fantastic movie, and now it's Black Panther's turn.
At last.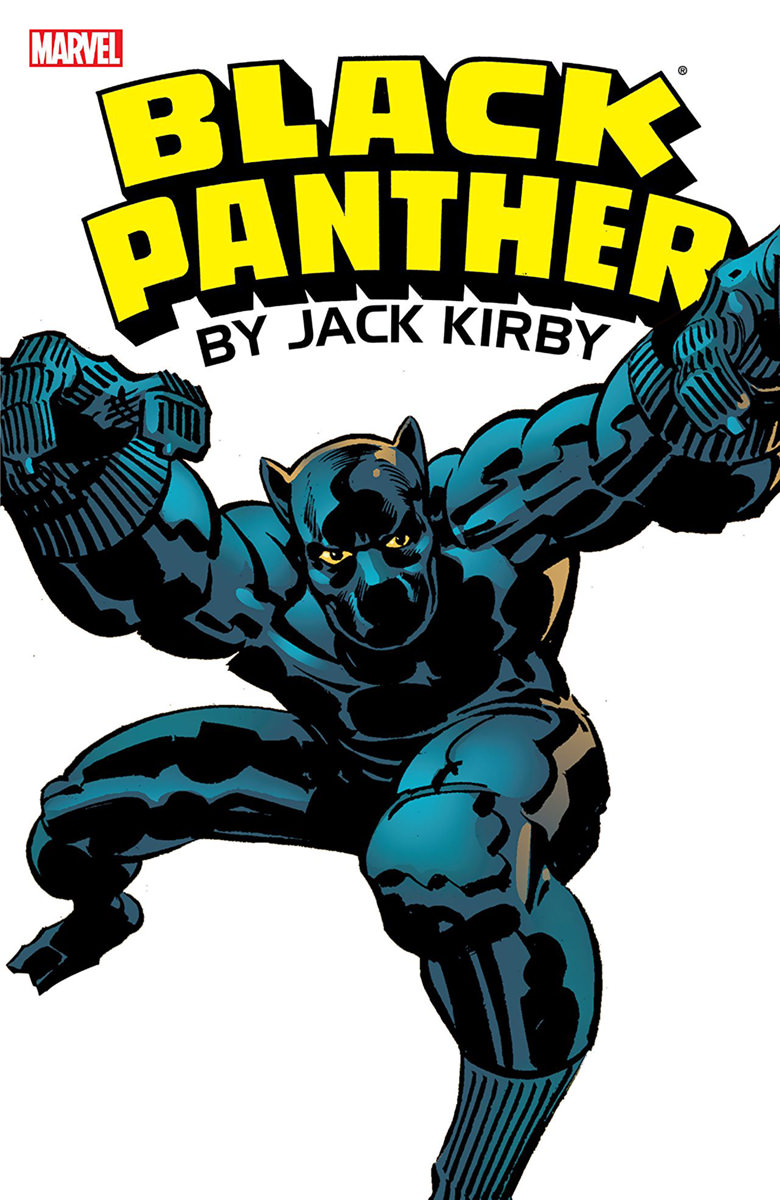 For those who have not yet seen the film, my spoiler-free review would have to be "It's faithful to the source material with plenty of nods to the comics... along with being wonderfully written, superbly cast, beautifully filmed, and fully realized... all while being painfully socially relevant." I seriously loved every frame of it, and Ryan Ryan Coogler, his team, and his cast deserves every bit of praise being sent their way.
For everybody else?

Alrighty then.
Prior to seeing Black Panther I pretty much knew what to expect. King T'Chaka was killed in Captain America: Civil War, his son T'Challa returned to Wakanda to become king... and somewhere along the way Killmonger shows up to ruin his day. And since we all know that Black Panther and many characters from his film will be showing up in Avengers: Infinity War, it's a forgone conclusion that T'Challa comes out on top. The hero wins. The villain dies. End of story. Right?
Surprisingly? It's not quite so cut-and-dry at that.
But I'm getting ahead of myself. You'll find my thoughts on Black Panther in an extended entry...
→ Click here to continue reading this entry...
Posted on January 30th, 2018

Wow. 2018 is shaping up to be a heck of a year for super-hero movies! Let's take a look at the eight flicks that are coming up this year...

FEBRUARY 16: Black Panther
Black Panther has long been one of my favorites characters, and to see his phenomenal appearance in Captain America: Civil War was almost too good to be true. Getting an actual Black Panther feature film, however? Ordinarily I'd be wary, but Marvel Studios has not had a single misstep, and I'm not counting on this film being its first. It looks incredible. I like that Marvel is also heading in another direction now that they got other sub-genres covered. Tech: Iron Man, Politics: Captain America, Legendary: Thor, Action: Avengers, Magical/Mystical: Doctor Strange, Teen Angst: Spider-Man, Science Fiction: Guardians of the Galaxy... and now for Marvel's take on international intrigue done James Bond style, Black Panther. It's just all so perfect...
I actually prefer the teaser trailer below to the final official trailer above, because it sets up Wakanda for what it is in the Marvel Universe: The wealthiest, most technologically advanced society on earth, and one of the planet's biggest secrets...

APRIL 13: New Mutants
I like the idea of super-hero movies heading into horror territory, but not sure what to think of the trailer for New Mutants, which probably doesn't go far enough to make it worthwhile as a horror film. And quite possibly not far enough as a super-hero film either. But, hey, fingers crossed, as I really like the "Demon Bear" comic book storyline which this is rumored to follow...

MAY 4: Avengers: Infinity War
And here we are... what all the Marvel Studios films to date have been leading up to. I have incredibly high expectations, which I fully expect to be exceeded...

MAY 18: Deadpool 2
The first Deadpool was a pleasant surprise. Wonderfully faithful to the original comic book and starring the most perfect casting yet seen on film, the movie was a mega-blockbuster smash that deserved every penny it made...

JULY 6: Ant Man and The Wasp
When talking about the different sub-genres that Marvel Studios has been running through above, one that I left out was "fun" the original Ant-Man movie was a seriously fun caper flick. The sequel looks to be more of the same, but without the need for an origin story, which means it should be better than the original. I'm certainly counting on it...

OCTOBER 5: Venom
While I generally enjoyed the first two Tobey Maguire Spider-Man films, the franchise majorly shit the bed with Sam Raimi's third installment which (attempted) to bring the massively popular villain, Venom on the silver screen. It was done badly, which was a shame. Venom can be an interesting character when handled right. To do that, they brought in director Ruben Fleischer and cast Bane himself, Tom Hardy, in the lead role. Apparently the movie's story will be based on the "Planet of the Symbiotes" comic book stories, which means über-villain Carnage will be making an appearance. I have no clue if this will be any good but, if the reviews aren't tragic, I'll probably take a look.

NOVEMBER 21: X-Men: Dark Phoenix
I can only guess that this is an attempt to make up for the pile of shit that was X-Men 3: Last Stand, which attempted to touch on the seminal X-Men comic book arc... The Dark Phoenix Saga. But the ultimate villain of X-Men 3 was water (yes, seriously, it was fucking water) which was surprising as it was predictable considering it had Brett Ratner's stank all over it. Which, I suppose is a notch above Bryan Singer stank... but not by much. In any event, it would be nice to see a movie which takes the actual Dark Phoenix Saga seriously, though I'm not holding out too much hope given the laughable joke that X-Men: Apocalypse was... and that young-cast Wolverine doesn't seem to be a part of it...

DECEMBER 21: Aquaman
The fact that this is a film by James Wan and not another Zack Snyder shit-fest gives me a glimmer of hope that he'll pull a Patty Jenkins and make a DC Cinematic Universe film that's worth a crap...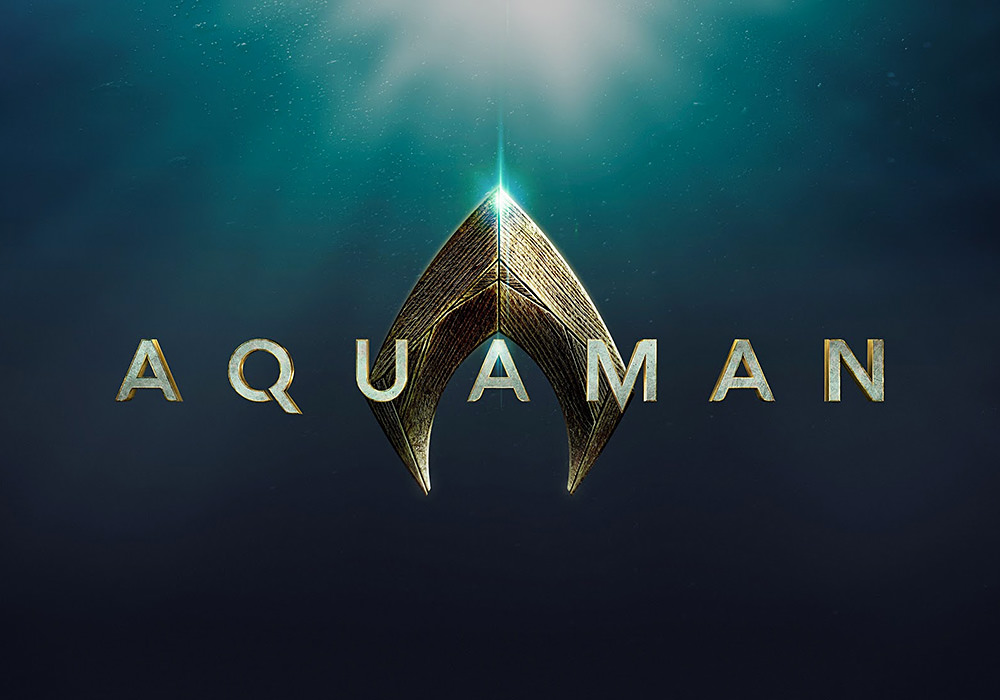 And tah-dah. I wish we got four Marvel Studios films each year. Three just isn't enough. Maybe that will change now that the X-Men franchise characters are back in the fold. At least one would hope so. If Marvel Studios started giving the X-franchise the care they've extended to their other films, we're within striking distance of Avengers vs. X-Men.
Posted on January 7th, 2018

It's the first Bullet Sunday of 2018, and it starts... now...

• Discovery! Oh happy day... Star Trek: Discovery is back after a month hiatus. And it's just gone Next Level. It's always had beautiful set design and special effects... sublime characters and acting... plus great plot-driven stories... but now? Utter craziness ensues...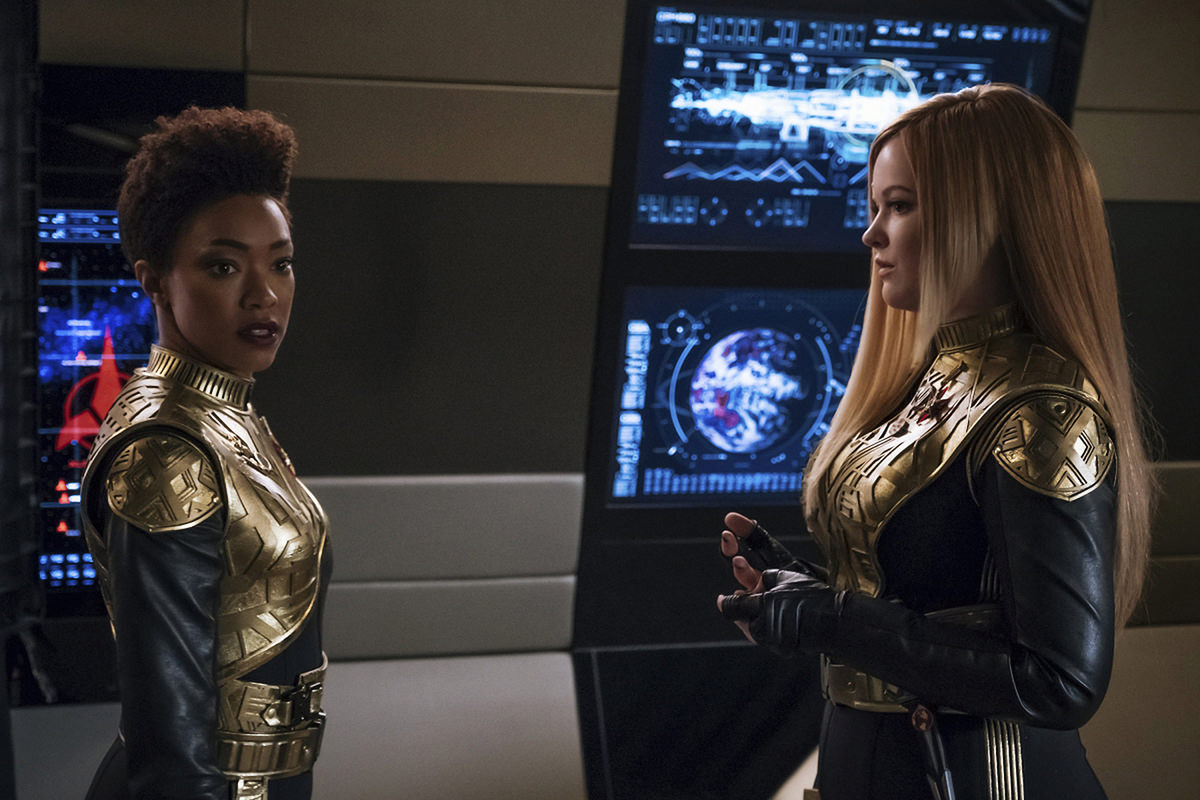 If you love sci-fi (and even if you don't like Star Trek), this should be on your list. Yes, you have to pay for "CBS All-Access" to get it, but it's one of the few shows I honestly don't mind paying extra for. All the money is on the screen.

• Crisis! Speaking of amazing television.. the 4-Part Arrowverse Mega Crossover for "Crisis on Earth-X" (between The Flash, Supergirl, Arrow, and Legends of Tomorrow) was fantastic. Far, far better than Man of Steel, Batman vs. Superman, Suicide Squad, and Justice League put together (which is essentially the television-equivalent of what "Crisis on Earth-X" was)...
The best comic book crossovers always have meaningful consequences rather than being just for kicks. "Crisis on Earth X" has this in spades. All four shows have actual consequences for their respective stories. As if that weren't enough, it was a heck of a lot of fun to watch. This just proves once again how the DC movie franchise should be turned over to the television showrunners. What they manage to do with a television budget is squee-worthy comic book fanboy dreamy.

• Legion! Speaking of Supergirl... when it comes to comic books, The Legion of Super-Heroes has long been one of my favorite series of all time. Even when I shifted away from DC to Marvel (thanks, George Pérez!) I never left The Legion far behind. Following them through their every incarnation... for better and for worse (but mostly for worse)... they ARE comic books to me.
Not sure what to think of them in this promo, but you know I'll be watching!

• iPhone X! I've had a few people asking how I like the iPhone X. I waited a week to write my review, so it pretty much sums up where I'm at three weeks later. FaceID is more amazing that I gave it credit for. Any trouble I was having was from my holding the phone too close when my glasses were off. Now that I'm used to not sticking my phone close to my face for FaceID, it's near-flawless. No idea how secure it is, but it's incredible how good it works. Like I said, most of the time I don't even think about it... which is all you could want from a technology. When I heard about it, I imagined that it would take my staring at the phone for a minute for it to activate, but that's not the case at all. A subtle glance is all it takes and it's near instantaneous. Other than that? Still love the camera. Still hate how difficult it is to get to the Control Panel. Still not thrilled with "The Notch" (though I mostly don't notice it). Still not entirely sure it's worth the money. But I do still love it, so there's that.

• All New! Oh yeah... the latest issue of Thrice Fiction was released last week...
As always, you can download it or read it online absolutely FREE over at the Thrice Fiction website.

• iPhone X! For reals. My biggest discovery for 2017 was the Philips "OneBlade" razor. Is it as close as a blade? Hell no. Is it as close as an electric razor? Not really. But holy crap is it an effortless way to groom! Goes through anything, so even if you've forsaken your face for a week like I have, you can still easily clean up WITHOUT trimming first! I haven't replaced my trimmer yet... nor my electric razor... but, this is so handy. When I travel, OneBlade is all I need...

• New School! Well... adapt or die, as they say...
What worked before is failing us now. It's only going to get worse unless people with vision has the guts to step up and initiate change.

• Sparkle! All the hand-power-scrubbers suck. Not powerful enough to clean shit (assuming you have shit all over something) let alone soap scum. Enter THE REVOLVER! Attaches to your drill and has more than enough power to rip through soap scum!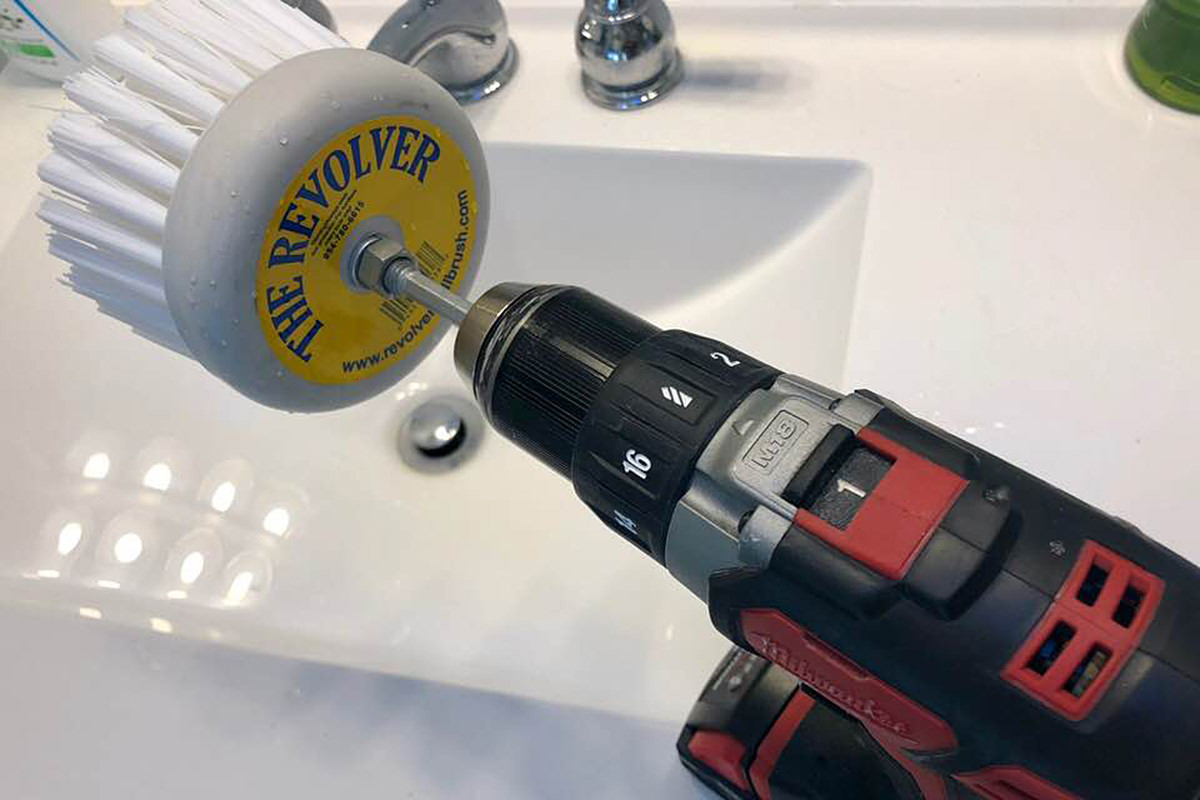 As I was cleaning my shower I kept laughing "MWAH HA HA HA HAAAA!" as everything was getting sparkly clean.

And... back to Bullet Sundays as usual next week!
Posted on November 26th, 2017

This may be the last Bullet Sunday you're going to see for a while (depending what my internet is like in Argentina), so indulge yourself in an all new Bullet Sunday, which starts... now...

• Save It! I have spoken out a lot on this blog about net neutrality and how crucial it is to the free and open internet we all enjoy. Most Americans agree. Every time killing it is brought up, there's a huge backlash and the FCC backs down. But our current government doesn't give a flying fuck about honoring the wishes of its citizens, nor does it care about selling out the internet and fucking us over. All Trump & Co give a shit about is stripping power and liberty from the people and giving that power to big business so the rich get richer and have more control over our lives. And so... prepare yourself for the end of the internet as we know it. I don't wish harm upon any living thing... but I sincerely hope that FCC Chairman Ajit Pai is repaid in spades for the evil he does.

• Dogs! Back before I was headed to Africa, I Googled for photography tips and was introduced to Will Burrard-Lucas. He is a nature photographer unlike any other, and the shots he gets are mind-blowing. Getting to actually meet him on my upcoming photographic expedition will be a real honor. One of his most recent posts was of African wild dogs photographed in South Luangwa National Park, Zambia. It's incredible...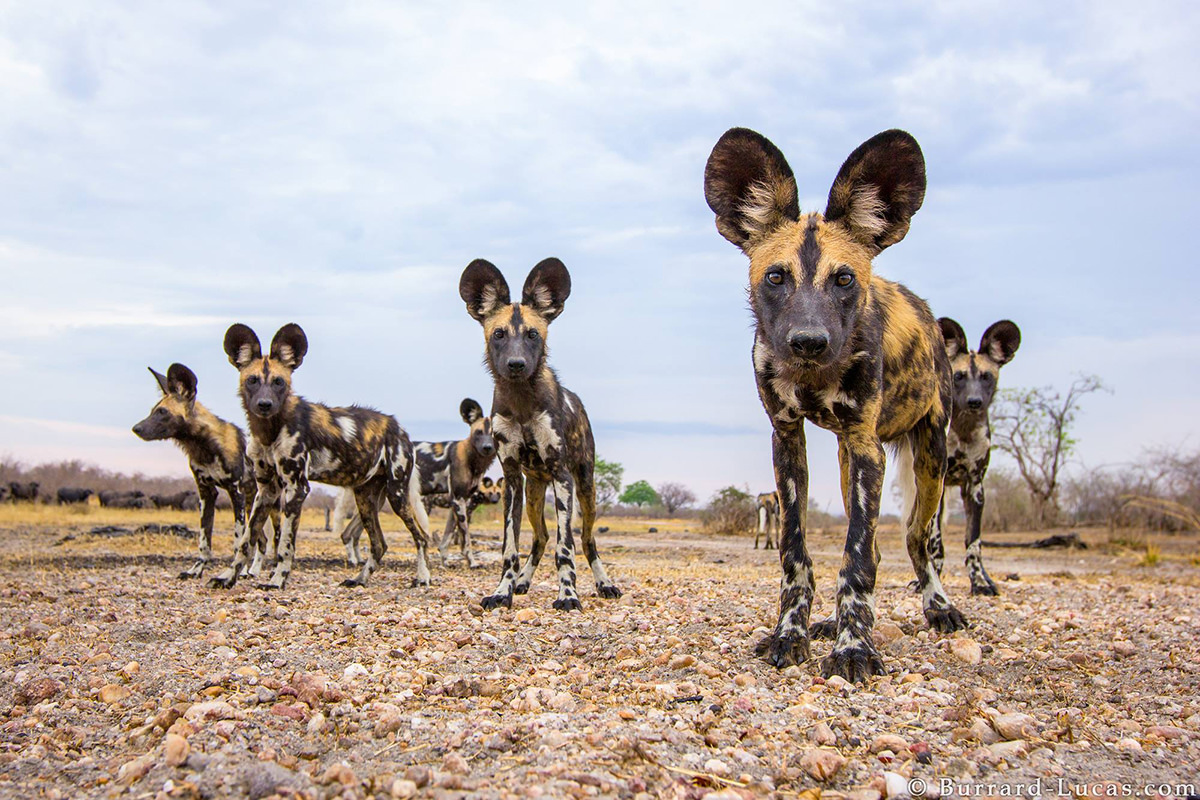 I was beyond lucky that I got to see these dogs in the wild when I was in Zimbabwe. My driver told me that his previous charges were a documentary film crew that searched for these beautiful pups for two weeks and didn't get to see a single one of them.

• Save It! Hey FOX "News"... stuff gets distorted on a curved reflective surface... YOU UNBELIEVABLE FUCKING PIECES OF IGNORANT SHIT!!! Fuck you sideways forever for propagating this bullshit...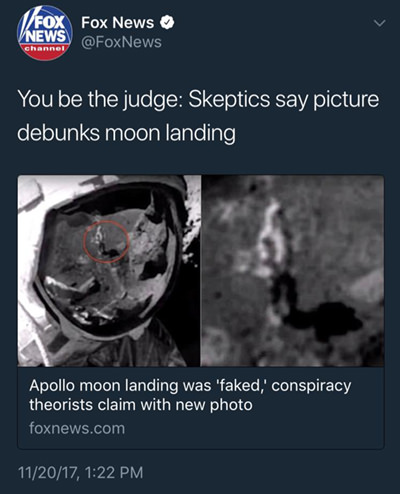 There are people saying that this is "conclusive proof" that we never went to the moon because it's not just an astronaut's reflection in the curved surface of a helmet... it's a stagehand on the "set" from when it was being faked here on earth. Just when I think that FOX "News" couldn't possibly be a bigger pile of shit, here it is. No wonder people who trust FOX "News" and use it as their only source are as stupid as a box of fucking rocks.

• 73! Vogue's 73 Questions videos are some of my favorite things on YouTube. Yes, it's staged and rehearsed, but you do get to know some nifty facts about interesting famous people. My hands-down favorite is Lupita Nyong'o...
And today I found out that Aziz Ansari has one!
And, of course, you can't watch the Vogue 73 Question videos unless you bask in the glory that is Vogue editor-in-chief Anna Wintour...

• Vera! I wouldn't watch Touched by an Angel... but Della Reese will always be "Vera" from Harlem Nights to me. I love that character as much as I could possibly love any movie character, and it was ALL thanks to Della...
Rest in Peace, Miss Reese... you will be missed.

• Crisis! Holy crap...
I'm more excited for this than I am to see Justice League. For the hundredth time... put the people in charge of the TV DC Universe in charge of the Cinematic DC Universe! The mind boggles at the possibility of what they could do with a big-screen budget given the amazing stuff they come up with for television every week.

• Family Values! It's like fucking clockwork. Some asshole is always getting caught with his dick in a place he tells OTHER PEOPLE they can't put their dick into. Any time I see some rabid homophobe ranting against homosexuality, I just assume it's because they're overcompensating. 90% of the time, it's true. Case in point... "State legislator Wes Goodman (Republican, obviously) has resigned after admitting he was busted having sex with a man in his office. The married conservative Ohio state lawmaker was known for his anti-LGBTQ stances." Because of course he was. Aren't they always? Hypocritical bullshit like this is getting so very tired.

• Quo! And, lastly, I leave you with the hellish buttfuckery that's become our status quo...

Time to start packing...
Tags:
Bullet Sunday
,
Comic Books
,
Dumbassery
,
FOX News
,
Liberal Redneck
,
Net Neutrality
,
Photography
,
Pig-Fucking Assholes
,
Politics
,
Supergirl
,
The Flash
,
Videos
Categories:
Bullet Sunday 2017
,
News – Politics 2017
,
Photography 2017
,
Travel 2017
—
Click To It:
Permalink
—
0 Comments: Click To Add Yours!