Posted on January 2nd, 2017

Since returning from hiatus, there have been a number of half-finished entries floating around that I've been meaning to finish up and post. This is one of them.
My love of comic books and movies have collided in amazing ways last year... Captain America: Civil War, Deadpool, and Doctor Strange were incredible. Unfortunately there were also boat-loads of crap courtesy of DC Comics, who just can't seem to get their shit together... X-Men: Apocalypse and Batman vs. Superman were complete garbage.
There were three other super-hero films I saw in 2016, how did they fare, I wonder?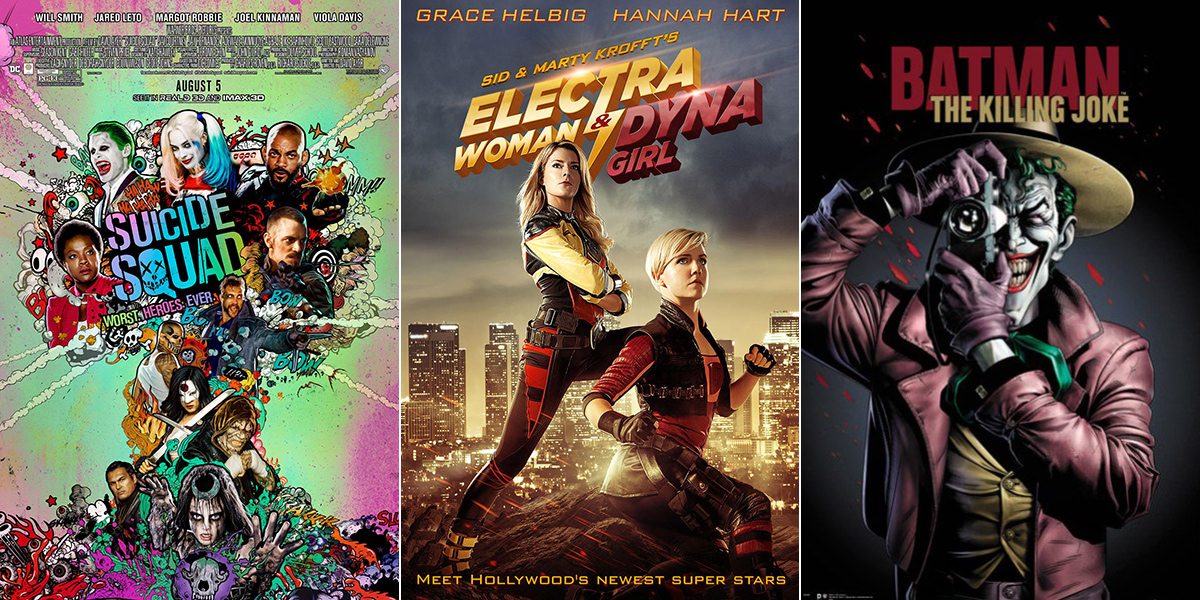 • Suicide Squad. DC Comics' concept of super-villains being forced to become a covert team of super-heroes has been going on in the comic book world since the late 80's. While passably entertaining on occasion, I never saw much potential as a movie franchise, yet here we are. The result is an epic mess that is a notch above the shitty Man of Steel and Batman vs. Superman films... but not by much. The moronic, scattershot plot populated with a bloated cast of forgettable characters and filled with ridiculous dialogue and forced humor (that wasn't funny) ended up being just... bad. Unless you can be entertained by random special effects blowing shit up between periods of utter tedium, there's no entertainment to be found here.
And now... I'm just going to get this out of the way... Jared Leto's "Joker" was total shit. The look was apparently copied from the comic arc Batman: Endgame, which wouldn't have been too terrible, except they added metal teeth, a bunch of tattoos that were utterly stupid (why the fuck would The Joker ink "damaged" on his forehead?), and then made him a frickin' drugged-out buffoon. A massive downgrade from Heath Ledger's brilliant take in the The Dark Knight. The rest of the cast? They fare somewhat better. Viola Davis was her incredible self and dominated her every scene as Amanda Waller. Will Smith's Deadshot was pretty much Will Smith being Will Smith, but at least he's entertaining. Margot Robbie was designed to be a stand-out as Harley Quinn and, when it works, it's the best thing about the movie (though I still think the character will never be better than she was in Bruce Timm's Batman: The Animated Series). Every other character was just window dressing with nothing of substance to do and mostly boring.
I'd get into the story, but that would be pointless. It's pretty much Suicide Squad vs. magical zombies and there's pathetic little character development or consequences for anything. RATING: D

• Electra Woman and Dyna Girl. It would be insanity to put a cheesy Sid & Marty Krofft Batman parody remake up against anything Marvel is doing when it comes to the super-hero film genre. This is not that kind of film. But I found Electra Woman and Dyna Girl infinitely more fun and entertaining than anything DC has put out lately. Based on the Krofft Saturday Morning live-action kid's show of the same name (starring Days of Our Lives' Deidra Hall!), the movie features online media stars Grace Helbig and Hannah Hart as two normal humans named Lori and Judy who dress up and play super-heroes in a world filled with heroes that have real super-powers. Eventually they get "noticed" by a super-hero publicity agent who turns them into the super-powered heroes they dreamed of becoming. Using gadgets dreamed up by genius Frank Heflin, Electra Woman and Dyna Girl hit the big-time and become crime-fighting media sensations. This leads to a rift in their friendship that comes just as the rise of the first super-powered villain to appear in ages. Hilarity (and some surprisingly entertaining antics) ensue. What's surprising about the movie is how it manages to be faithful to the original show, yet be completely fresh, new, and different. And pretty damn funny. For what it was designed to be, Electra Woman and Dyna Girl is a success. RATING: B-

• Batman: The Killing Joke (animated). Considered one of the best Batman stories to come out of the comics, The Killing Joke has been both praised and mired in controversy since its release in 1988. Praised because it featured Alan Moore and Brian Bolland's thoughtful look at the origin and longtime relationship between Batman and The Joker... controversial because of its misogynistic overtones in the crippling of Barbara (Batgirl) Gordon as a throw-away plot element. Ultimately I liked the book, but understood that it had some serious story issues that would be too much for some comic book fans. So when I heard that DC was turning it into an R-rated animated film, I was curious. Would they stay close to the original story... or would they try and fix some of the things that caused no small amount of backlash?
Turns out it's Option #3... LET'S MAKE THE STORY WORSE IN EVERY POSSIBLY WAY! I hated this film. There's a myriad of problems that ruin any chance of Batman fans embracing the movie... even if they liked the story on which it was based. Primary of which is that they have Batman and Batgirl in a sexual relationship, which is fucking absurd. Once that bullshit is out of the way, the film tries to get back on track... but the damage has already been done. RATING: F

Time to update my "Y2K Super-Hero Comic Book Renaissance" scorecard with another brilliant Marvel effort...
The Avengers... A+
The Avengers: Age of Ultron... A
Batman Begins... A
Batman Dark Knight... A+
Batman Dark Knight Rises... A
Batman vs. Superman: Dawn of Justice... D
Big Hero Six... A+
Blade... B
Blade 2... B
Blade Trinity... B-
Captain America... A+
Captain America: The Winter Soldier... A+
Captain America: Civil War... A++
Catwoman... F
Daredevil... B-
Daredevil (Director's Cut)... B+
Doctor Strange... A
Electra Woman and Dyna Girl... B-
Elektra... D
Fantastic Four... C
Fantastic Four: Rise of the Silver Surfer... D
Guardians of the Galaxy... A+
Ghost Rider... C
Ghost Rider: Spirit of Vengeance... D
Green Hornet... D
Green Lantern... C+
Hellboy... A
Hellboy 2: Golden Army... A
Hulk... C-
Incredible Hulk... B
The Incredibles... A+
Iron Man... A+
Iron Man 2... A-
Iron Man 3... A+
Jonah Hex... F
Kick-Ass... B+
Kick-Ass 2... B-
Man of Steel... F-
Punisher... C+
Punisher War Zone... C
Scott Pilgrim vs. The World... C
Spider-Man... B+
Spider-Man 2... A
Spider-Man 3... D-
Suicide Squad... D
Amazing Spider-Man... B
Amazing Spider-Man 2... B-
Superman Returns... C+
Thor... B+
Thor: The Dark World... A
Watchmen... B
The Wolverine... B
X-Men... C
X-Men 2: United... D
X-Men 3: Last Stand... F-
X-Men Origins: Wolverine... D
X-Men: First Class... B
X-Men: Days of Future Past... B-
X-Men: Apocalypse... D+

Posted on May 27th, 2016

Holy crap!
It would seem that DC's not-a-reboot reboot Batman has a super-power now... IN HIS PANTS! Apparently DC is now hiring porn artists for its new books? Batman's dick looks like it could punch through steel. Or possibly... A MAN OF STEEL? Talk about the ultimate Batman vs. Superman scenario. What in the hell is going on with REBIRTH?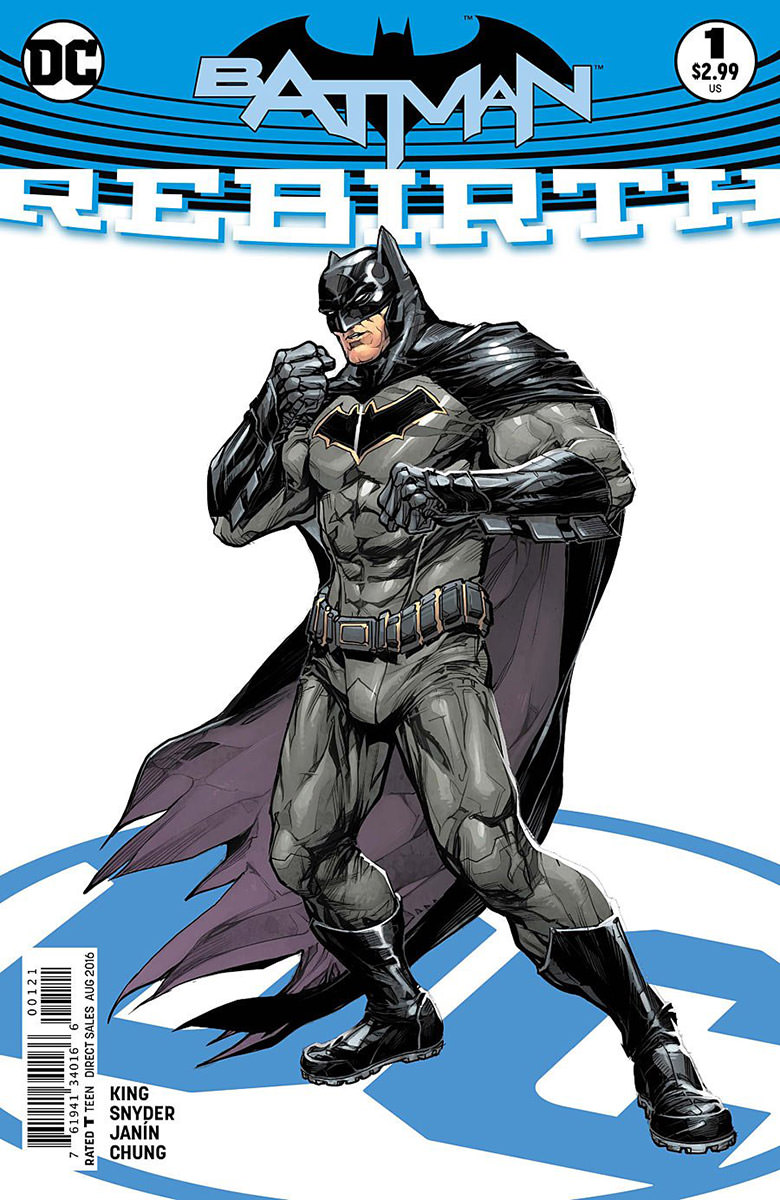 Yeah. Taking the opportunity to just dump all my DC reads now. Haven't enjoyed them in ages, and this ain't making me change my mind.
Posted on May 22nd, 2016

Sunday is as Sunday does, because an all new Bullet Sunday starts... now...

• 1975. When it comes to music, The 1975 is my current favorite band. Somebody Else is my favorite song of their latest album. Probably in my top ten of favorite songs ever. Recently Matt Healy and Adam Hann stopped by a radio station to perform the song live...
Pretty incredible considering half the band is missing and they are recording under less than ideal circumstances!

• Banzai. When it comes to cult favorite cinema, Buckaroo Banzai is at the top of my list. I've seen the film dozens of times and even have a quote from the movie tattooed on my arm...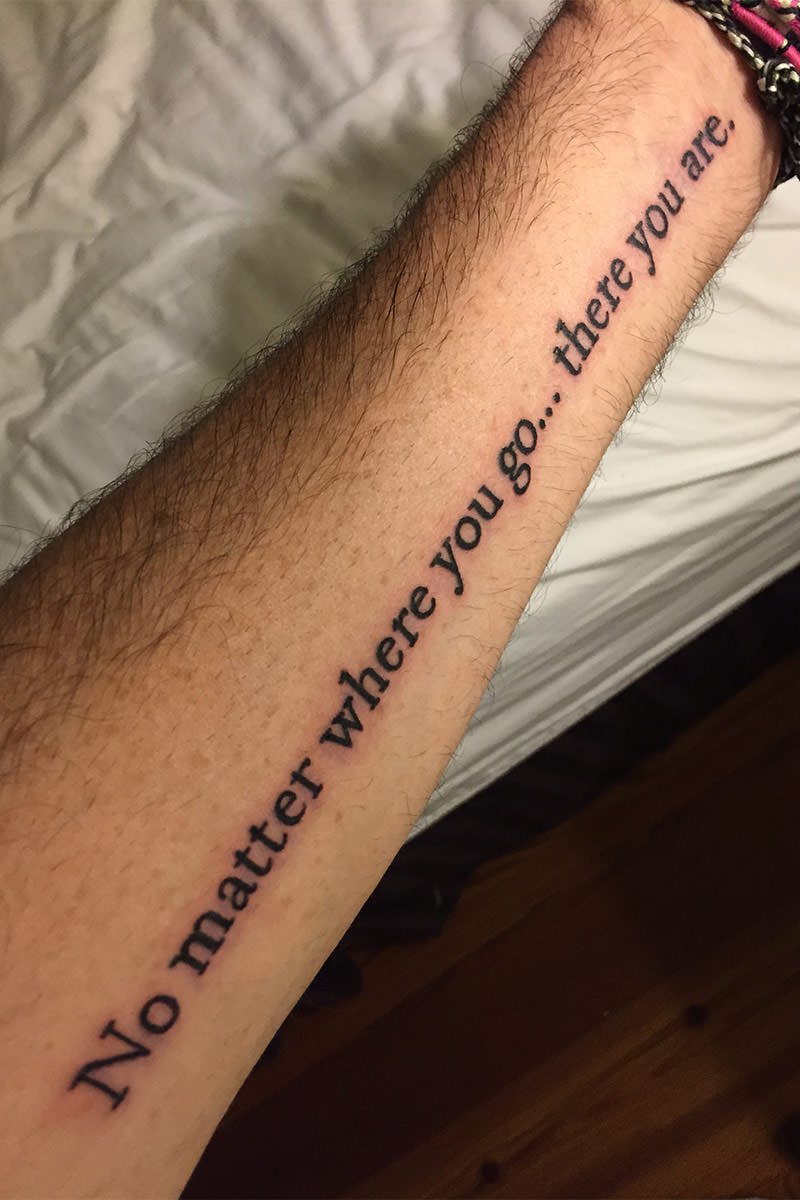 As you can imagine, I have mixed feelings after hearing that Kevin Smith is helming a television series based on the film. On one hand... more Buckaroo Banzai! And by a filmmaker I really enjoy! On the other hand... this could be a complete disaster. The original movie was like lightning in a bottle, and the chances of lightning striking twice with material this bizarre is incredibly slim. Of critical importance is getting the right cast, and I really hope Kevin Smith is up to the task. If he's just going to toss in his roster of regulars, I'd be very surprised if the show has a chance. Fingers crossed.

• Dance. This video is pretty great...
The guy has moves! And insane pants!

• Logo. As somebody who does graphic arts for a living and has created more than his share of logos, it's tough for me to be critical of what other people do... I know just how tough the work can be. That being said, the logo revision for DC Comics is just so busted and weak that I can't stay quiet...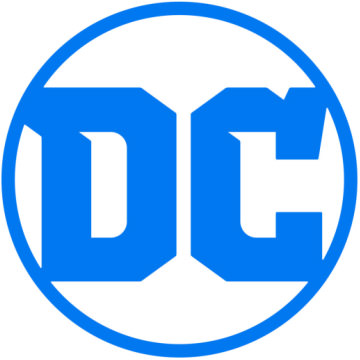 Seriously, look at how wonky the "C" is with that upper serif curving out of nowhere for no reason at all. And those back-cuts in the counters are such a laughable way of trying to "customize" a traditional typeface... especially given how badly they compromise the integrity of the letterforms. When it comes to logo designs, this is about as bad as it gets. I mean, it doesn't even have symmetry across the center-line...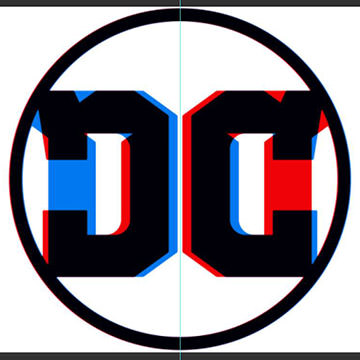 But, then again, this is the company that has Zack Snyder shitting all over their movie properties like piles of putrid stank, so I'm hardly surprised nobody at DC stepped up and said something. Blergh.

• Bustin'. As a massively huge fan of the original Ghostbusters, I was more than a little upset at the prospect of the franchise being rebooted. But then the new trailer dropped...
And now I'm starting to have a little faith.

• Rights. I have been waiting for The Daily Show to post this, because it's just so dead on-point...
I am getting so sick of this ridiculous crap.

And away I go...
Posted on March 20th, 2016

Take time to make time, because Bullet Sunday starts... now...

• Panther. Could not possibly be more excited for the Brian Stelfreeze illustrated version of Ta-Nehisi Coates' BLACK PANTHER comic! It looks like the book will pay homage to the origins of the character, but also give us something new and different to enjoy... hats off to Marvel for giving one of my all-time favorite super heroes a creative team that's knocking it out of the park...
An interview!
If you're interested in a behind-the-scenes look at how the book is shaping up, there's a Briam Stelfreeze Fan Page on Facebook. The book launches on April 6.

• Encryption. And, leave it to John Oliver to explain the current situation with Apple and encryption...
Forget everything else. Safeguarding our privacy is the threat of the future today.

• Dumbfuckery. And, speaking of John Oliver. Today being DAYLIGHT DUMBFUCKERY TIME seems like the perfect opportunity to repost this from last year...
And the idiocy continues.

• Prince. After Paramount dumped one of my most anticipated releases, The Little Prince, I was pretty bummed. Turned out Netflix has picked up the ball so badly dropped by Paramount...
Really looking forward to seeing this film. Whenever that might be.

• Humans. If I weren't such a foul-mouthed asshole, this is probably along the lines of how I'd respond to the idea of a Trump presidency. Alas...

And... no more bullet-time.
Posted on March 12th, 2016

My brain.
My brain is melting.
Marvel continues to blow past my expectations with each new film.
Cannot wait for this.
Posted on September 23rd, 2015

The explosion of diversity in comic books lately has been amazing, but it's only been half-hearted. While there have been CHARACTERS coming along that are non-White, non-straight, non-Christian... the writers and artists BEHIND the characters haven't necessarily followed suit. But that's starting to change, and it's a great time for comic book fans because of it. By embracing diversity behind the scenes, there's going to be an even better mix of stories to read instead of the same old take over and over again.
DC Comics' Batman is my favorite comic book character. His equivalent on the Marvel side is Black Panther, also a favorite. In some ways, Black Panther is even MORE interesting than Bruce Wayne, as T'Challa is the ruler of the entire country of Wakanda, one of the wealthiest and most technologically advanced nations on earth, and the sole producer of the rare metal vibranium...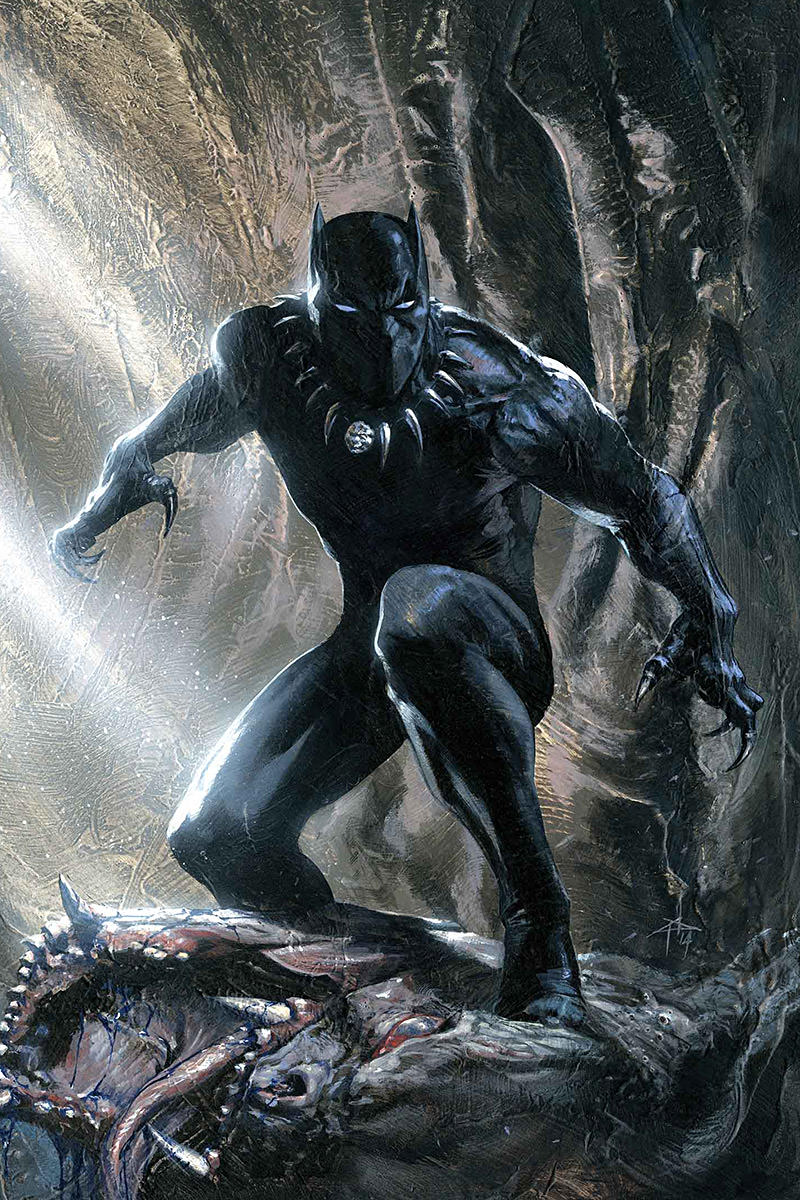 And now Black Panther is going to be written by Ta-Nehisi Coates! I cannot wait to see where he takes the character, and am hopeful that it will be something new, different, authentic, and exciting!
All this and a movie too. A good time to be a Black Panther fan!
Posted on April 11th, 2015

For anybody not wanting to read my lengthy full review of Marvel's Daredevil, which is currently streaming its 13 episodes on Netflix, I'll just sum it up thusly...
Daredevil is a surprisingly violent show that's a very good adaptation of the Marvel comic book upon which it is based. Featuring some flawless casting with Charlie Cox as Hell's Kitchen lawyer by day and vigilante by night Matt Murdock... plus the ever-incredible Vincent D'Onofrio as brutal "Kingpin of Crime" Wilson Fisk... this series exceeded my every expectation and is well worth your time.
Assuming you can handle a show that's bloodier and more vicious than just about anything else out there.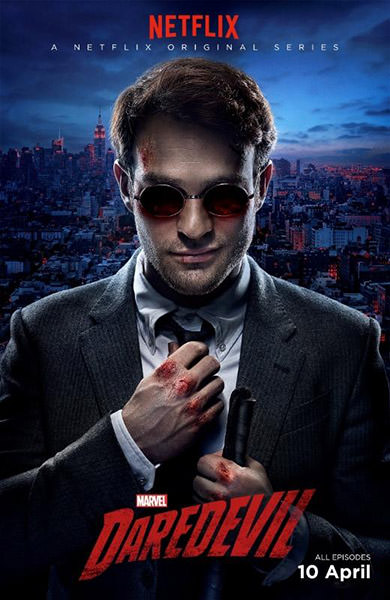 Before we get on with things, I'm just going to put something out there because it's critical to understanding my appreciation of what Netflix has managed to do with Daredevil: I hate... HATE... Marvel's Agents of S.H.I.E.L.D. Sure it has Clark Gregg and Ming-Na Wen in the cast (two actors I love to pieces), but everything else about it is total shit. The show's greatest sin is that it's boring as hell. Scenes which should be action-oriented where people are ACTUALLY DOING SOMETHING are instead dumbed down to lengthy expositional dialogue. Apparently, the show-runners don't have the budget to film what they need to film so they resort to talking heads. Over and over and over again. Then draw out plot points that should last one or two episodes to a half-dozen or more. And I get it. Network television demands 22 episodes a season, and you have limited monetary resources to spend over all that time. So a show like Agents of S.H.I.E.L.D. which demands expensive action shots to tell its story instead gets watered down to the point of pointlessness.
Then came Marvel's Agent Carter.
It was exceptional in every way S.H.I.E.L.D. is not. But it lasted only eight episodes.
And I think that's the key here.
Netflix spent a good chunk of money over a limited number of episodes instead of dragging things out to pointlessness. Sure, there's lengthy, dialogue-intensive scenes here, but they're not shoe-horned in with the intent of watering things down to meet a budget. They're critical to the overall narrative of the show. And that's the point... everything to do with Daredevil feels deliberate, planned, and (most important of all) necessary.
That's why it's so darn good.
So... minor spoilers, and all that...
Living amidst the violence and corruption of New York City's Hell's Kitchen, Matt Murdock's life is forever altered by two tragic events. The first is an accident which costs young Matt his sight (but enhances his other senses to super-human levels). The second is when his father "Battlin' Jack Murdock" (a boxer on the take) is murdered for not taking a fall.
Trained by the enigmatic "Stick" to be a stealthy ninja-like avenger, Matt hones his fighting skills to perfection and uses his gifts to become the ultimate crime-fighter.
Yada yada yada... Matt essentially becomes Batman.
Kinda.
Murdock is morally questionable in how he goes about his night-job that he could almost be considered a villain in his own right.
And speaking of...
When it comes to a "villain" for the series you have to use quotes around the word "villain" because Wilson Fisk is not your typical straight-forward comic book antagonist. In the comics, Kingpin is a (literally) larger-than-life criminal who masquerades as a legitimate businessman. In the Netflix show? It's more complex. Just like Matt Murdock, Fisk wants to make Hell's Kitchen a better place. But his approach is different in that he's willing to wade into the criminal underworld and do a lot of awful things to make it happen. And here's where it gets tricky. Unlike Matt Murdock (who admittedly likes pummeling evildoers in the name of justice), Fisk regrets having to get his hands dirty. In the beginning, anyways. As expected, Vincent D'Onofrio is excellent in the part, but he inexplicably plays all his dialogue with a hokey gruff voice (Holy Christian Bale, Batman!) which is distracting at times.
The supporting cast is pretty great. Deborah Ann Woll as Karen Page is very good and adds an additional human element to the show that's much needed. Elden Henson as Foggy Nelson I'm not so fond of, but it's probably not the actor's fault. The character is borderline stupid at random moments for no good reason, and I just couldn't warm up to him. Two stand-out characters that caught me a little by surprise are Vondie Curtis-Hall as reporter Ben Urich and Rosario Dawson as Claire Temple. Curtis-Hall (who I remember forever from a bit part in Eddie Murphy's Coming to America) is digging deep to flesh out his role. And it shows. Ben Ulrich is trapped in a profession that's rapidly disappearing and trying to hold on to his journalistic integrity on the way down. It's more than a little mesmerizing to watch. Rosario Dawson, who always seems more than capable in the roles she takes on, is at the top of her game in her limited screen-time as Claire (Holy Night Nurse, Batman!). Which is important because I'm assuming she's going to roll into Netflix's Luke Cage series down the road (she's an important part of his life in the comic books). Please please please let that be the case. And lastly, Scott Glenn's appearance as "Stick" was everything you knew it would be.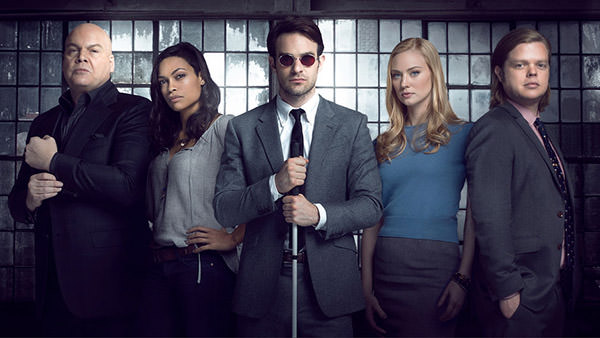 Moving on to the best character in the entire series... Hell's Kitchen, New York City. Daredevil is actually shot on location, and it adds a huge amount of atmosphere to the show. Partly because you can't fake NYC in the grand scheme of things, but mostly in the way that the city is shot. It's not quite noir, but it gets there from time to time and is always beautiful to behold. In the end, the authentic backdrop went a long ways towards selling the believability of the show.
Something that Daredevil surprised me with is having the balls to forgo yet another boring origin story in episode one. Instead, the details of how Matt Murdock became the titular character are artfully dispensed throughout the run of the series. His "powers," for example, are hinted at from the beginning... but aren't officially laid out until Episode 5. His training with "Stick" isn't revealed until Episode 7. To say I'm a fan of how it all played out is a massive understatement. Daredevil may not be as recognizable and well-known a character as Spider-Man (who got two frickin' origin movies!), but it doesn't matter. WE GET IT ALREADY! We've seen enough super-hero movies to know how the game is played. We know how super-powers work. There's no reason to spell it all out every dang time. Just jump into the action and reference back to how you got there... as needed... IF needed.
Another thing I like is the occasional nod back to the show's comic book origins. While at dinner, Wilson Fisk's date talks about "a tall man in a white suit and ascot" who once seduce her. A not-so subtle jab at his original appearance...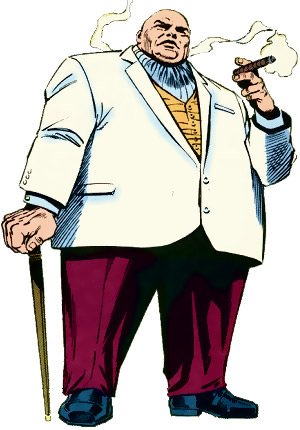 For all that Daredevil got right, there are a few things that they got wrong, however.
First of all, the show went to extreme lengths to distance itself from the Marvel Cinematic Universe, which makes no sense at all. I was fully expecting them to at the very least reference the "Battle of New York" from the first Avengers movie (DAREDEVIL FRICKIN' TAKES PLACE IN NEW YORK CITY!!!), but it didn't surface. Or maybe it did and I missed it? I dunno I was working a lot as I was watching. All I do know is that they really should have made stronger ties to everything else "Marvel" out there. Instead all we got an off-hand remark about Captain America's helmet and a reference to Roxxon Oil. Lame. That's the shitty way DC Comics is handling their properties... Marvel's strength is that everything is connected. So it would be nice if that was acknowledged.
The other thing they got wrong with Daredevil was the costume. Matt Murdock started out in a Frank Miller/John Romita Jr. inspired "Man in Black" outfit, which I was begrudgingly okay with. Mostly because I kept assuming there would be a payoff when Daredevil actually becomes Daredevil in his classic red outfit. But when the moment came, the costume was hardly a payoff. And since Netflix has already plastered photos everywhere, I don't think I'm spoiling anything when I show it here...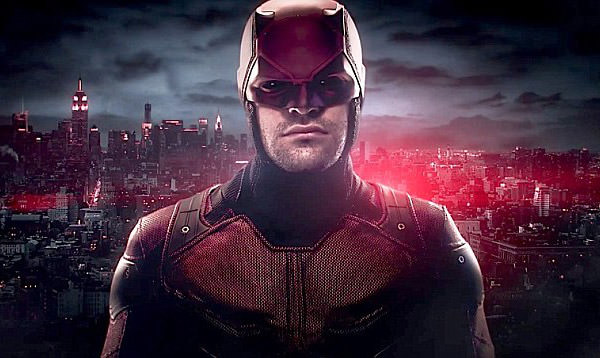 While I think it's a bit over the top, I'm okay with the body armor. Whatever. But the mask?!? Awful. Just gut-wrenchingly awful. His eyes are practically recessed because they built it out so badly. Yes, Matt doesn't need eye holes to actually see, but it looks ridiculous. PEOPLE DON'T KNOW THAT DAREDEVIL IS BLIND, so isn't everybody thinking "How in the hell does he SEE out of that thing? I know I am. But what makes it go from "awful" to "tragic" is the stupid styling on it. Why in the hell are there those big triangular ridges above his eyes? Why is the forehead so flat? He looks like a frickin' neanderthal. It's just so horrible. Bash the Ben Affleck Daredevil movie all you like, but at least they knew how to make a Daredevil costume...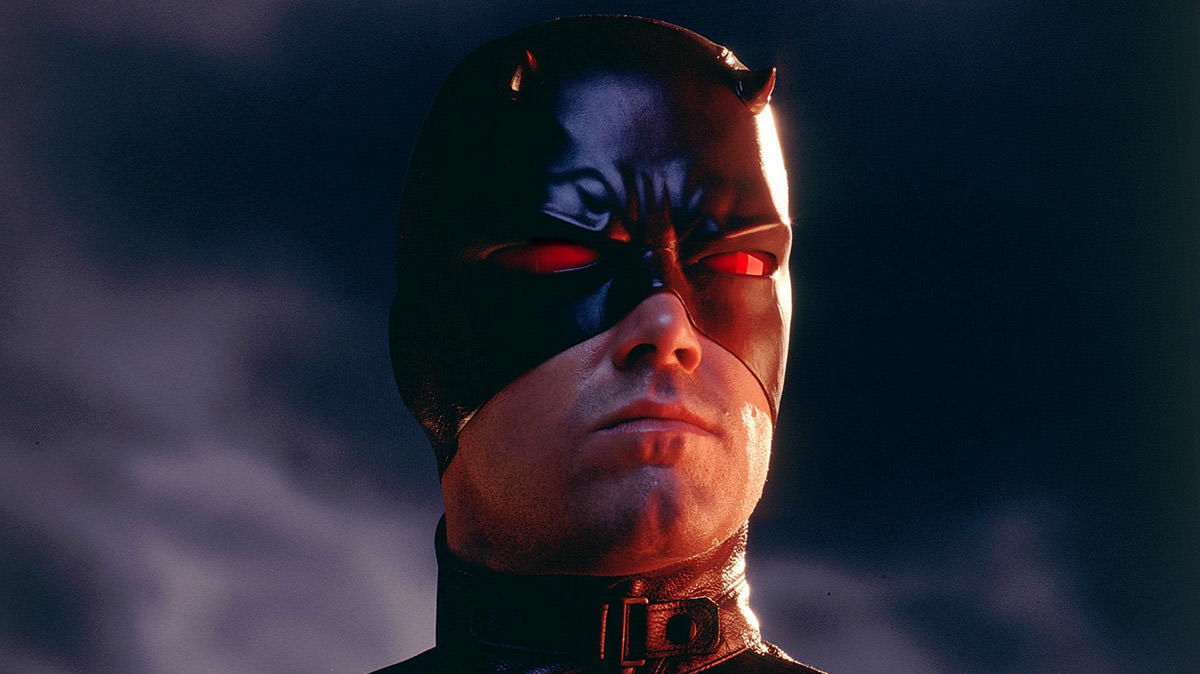 Oh well.
Ultimately Daredevil a very good effort that I really enjoyed and bodes well for the three remaining series in Netflix's contract. Next up is A.K.A. Jessica Jones with Kristin Ritter. After that is Luke Cage (YEAH!!!) with Mike Colter. And lastly, Iron Fist, which I don't think has been cast yet. Then all four series wrap up with a massive Defenders crossover that should be pretty great.
Especially if it features a guest-shot of Benedict Cumberbatch's Dr. Strange and Mark Ruffalo's Hulk... both of which were regulars in the comic book version of the team.
Hmmm...