Posted on July 24th, 2017

I am so far beyond giving a shit about Zack Snyder's shitty DC Comics super-hero movies that I honestly don't know if I'll even bother seeing Justice League in theaters.
I mean, just look at this bullshit trailer...
Some observations...
Dark. Dark. Dark. Dark. And more dark. Jesus, what an awful-looking downer of a movie. The occasional attempts at humor are completely wasted when the atmosphere is nothing but bleak, dire, and depressing.
Cyborg and The Flash look like total and complete shit. Whomever designed their fucking horrifically bad costumes should just give it up. Aquaman is equally incomprehensible, but at least he doesn't look defective.
In an obvious attempt at playing off the tremendous success of Wonder Woman, they lead off with her... but she's fighting a small group of regular human bad guys? Pathetic. FUCKING PATHETIC!!! We've seen this stupid shit over and over and over and over and over and OVER AND OVER AND OVER AGAIN!! IT'S NOT FUN! IT'S NOT INTERESTING! IT'S JUST BORING AND SAD. WHAT THE FUCK?!???
And OH MY GAWD... ENOUGH WITH THE SECRET IDENTITY CRAP! I am so very, very thankful that Marvel gave up on this silly bullshit. They use it when it makes sense (ala Spider-Man, who is ultimately just a kid with a regular life to hang onto) but everywhere that it is just a tired distraction, they've not bothered to bore us with it. But DC? No. We've still got Bruce Wayne crap to bore us. Still got Clark Kent crap to REALLY bore us. And now they've decided to saddle Wonder Woman with Diana Prince working as a fucking museum cleaning lady? WHO GIVES A FUCKING SHIT?!? Seriously... does Zack Snyder EVER take a minute to look at what makes modern super-hero movies work? EVER?!??? Secret identities were a great way to fill time without a need for expensive special effect shots in the 1980's... but we're waaayyyy past that now. We get it. DC heroes have secret identities... but you don't have to fill precious screen time with it anymore. GET OVER IT ALREADY!
Nice to see the Amazons again... but the introduction of the movie's big bad (Steppenwolf?) is almost cringe-worthy. Are DC's costume designers forced at gunpoint to put unnecessary and distracting textures EVERYWHERE? It looks fucking ridiculous. Jack Kirby's creations deserve so much better than this.
At least they make Aquaman's underwater action look good. Maybe there's hope for the upcoming Aquaman movie, and it will be another Wonder Woman rather than a shitty Man of Steel or Batman vs. Superman. If, for no other reason, than we're getting James Wan in the director's chair. Hopefully he'll add some fucking FUN to the film instead of fifty layers of depressing. Again.
Oh joy. I was worried we would get all the way through the trailer without seeing a Wonder Woman ass shot. But, nope... even after helping to win World War I, she's still just another piece of ass to DC's movie division!
After getting a frickin' amazing "speed effect" with Quicksilver in the X-Men films... and a more subtle, but equally good speed effect for Quicksilver in Age of Ultron, just look at the awful thing they came up with for The Flash. Running in slow motion to simulate super-speed? Groundbreaking. Or it would be if The Six Million Dollar Man hadn't pioneered it in the 1970's. Even when they do move him at actual super-speed, the overabundance of lightning is just silly. Does he kill people with all that stupid electricity when he runs by them? I mean, it's fine when used with subtlety, but this? Zack Snyder is obviously compensating for something here. Probably a shitty story.
And... again with the disaster porn. It's as if Zack Snyder doesn't know how to make a movie without the entire world exploding. Which begs the question... how the fuck are there any people left alive on earth when absolutely everything is getting destroyed all the time? This is fucking absurd, and I don't understand how the entire plot of DC's latest film slate can be summed up as "explosions." Doesn't anybody at DC care?
It's said that Joss Whedon is doing extensive reshoots for Justice League after Zack Snyder had to remove himself from the film to deal with a family emergency. I don't think punching up the dialogue (Whedon's specialty) is going to help. It's just pouring more money down a hole. What's really sad here... almost to the point of tragedy... is how much better the DC television division is at making good super-hero live action. They should have turned the Justice League movie over to them and built on the terrific, faithful, and far-superior versions of The Flash and Superman they already have on TV.
But instead we got this crapfest.
Maybe one day we'll finally get a DC Cinematic Universe that doesn't suck copious amounts of ass... but, sadly, that day is not today.
Or even tomorrow, apparently.
Posted on July 23rd, 2017

Never fear, super-fans, because a Very Special Comic-Con Edition of Bullet Sunday starts... now...

• THOR: RAGNAROK! I liked the first two Thor movies quite a lot. Especially the first one, which did a masterful job of introducing Thor to the Marvel Cinematic Universe. It was grandiose and epic in a way you need a movie with gods to be, and set the tone for Thor in everything that would come after (including a couple Avengers movies). And now, the third Thor film is ready to be unleashed this November:
Super sweet! Kind of an 80's vibe, even in the amazing poster...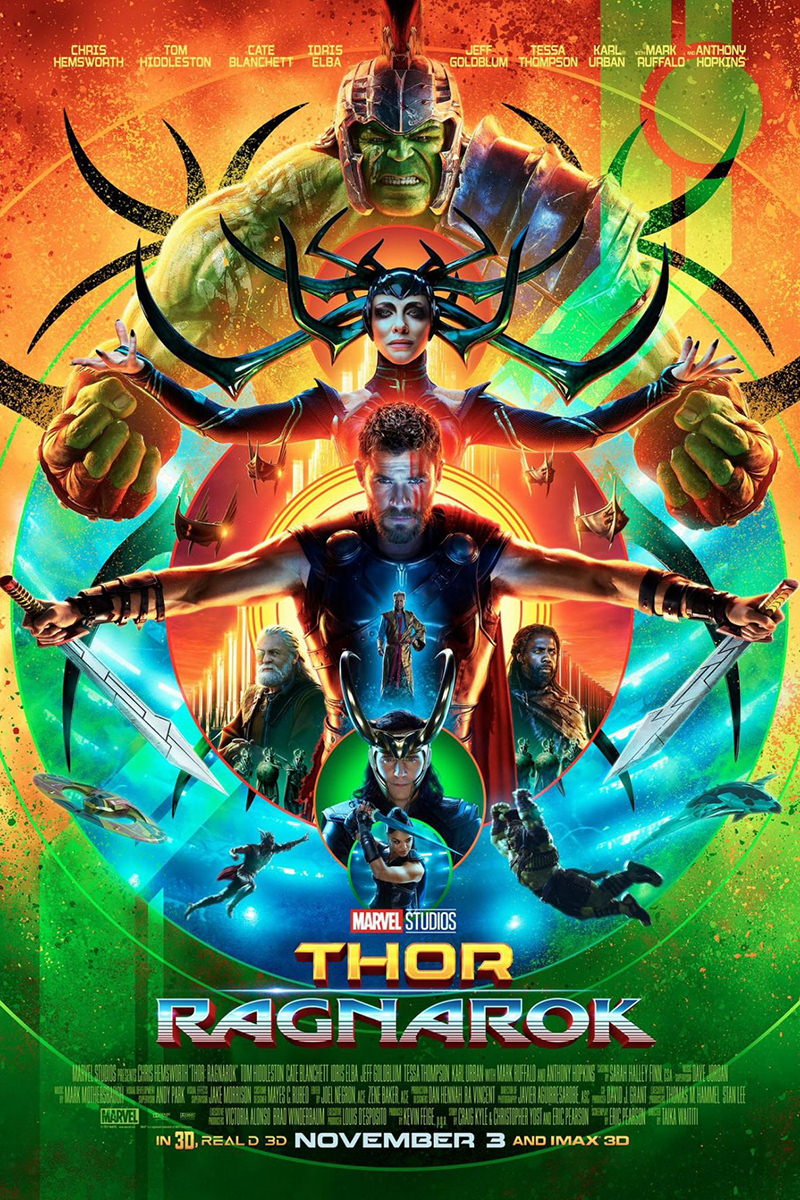 Marvel amazes me. Every movie they release is an escalation of what's come before. Sometimes it doesn't work 100% (I'm looking at you, Age of Ultron) but most of the time it seriously does. And Thor: Ragnarok looks to be knocking it out of the park. Can't. Wait.

• THE DEFENDERS! But before we get treated to new Thor, first we get to see the culmination of all four Netflix series... Daredevil, Jessica Jones, Luke Cage, and Iron First... with The Defenders. This seems like a great idea, and a logical culmination of all that's come before...
Time (and August 18th) will tell whether or not it's clever enough to be worthy, but getting Sigourney Weaver as your villain was a great start. Cool. All this and The Punisher coming by years' end too.

• THE INHUMANS! Also dropping prior to new Thor? The Inhumans. Originally they were getting their own movie but, after the franchise was turned to shit in ABC's Agents of S.H.I.E.L.D., I guess they felt a movie was aiming too high. Instead we get a compromise. The first episode is being released to IMAX theaters in September, then the show continues on ABC...
Eh. Probably good that they didn't attempt this in a feature film, because Medusa's magical hair was never going to look fantastic. Regardless, nothing I'm seeing here has me too excited. ABC had an amazing opportunity to do something truly different by taking The Inhumans into extreme weirdness, but it looks like Just Another Super-Hero Show on the Small Screen. Not surprising... I can't stand Agents of S.H.I.E.L.D., and it doesn't look like ABC is attempting to break any new ground here like they did with the amazing Agent Carter series. Pity.

• BLACK PANTHER! And here is where I start to lose my shit. I'm a huge, huge, massively huge fan of Black Panther. I was thrilled to see him finally join the MCU with Captain America: Civil War, and am positively giddy at the prospect of seeing him get a film all to himself. The technically advanced world of Wakanda is going to make for a heck of a movie, assuming they get the story right. And, from the looks the first trailer, they are definitely trying...
And that poster...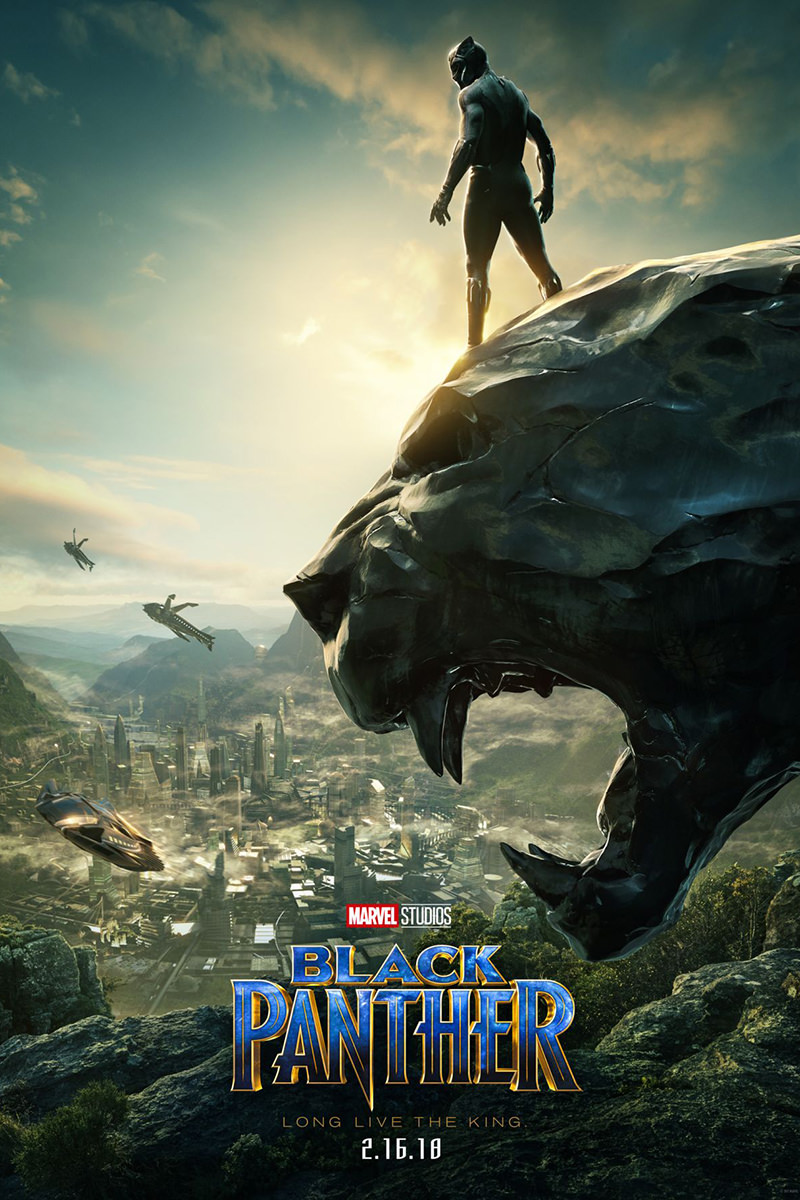 Since this is Marvel, I'm assuming they've nailed it. Not knowing is kinda killing me. Having to wait until February 16th to find out is really killing me.

• AVENGERS: INFINITY WAR And then there's the culmination of every Marvel Studios movie ever released coming to a theater near you on May 4th. The footage at Comic-Con has not been released yet (if ever), but they did give us a gatefold poster to drool over...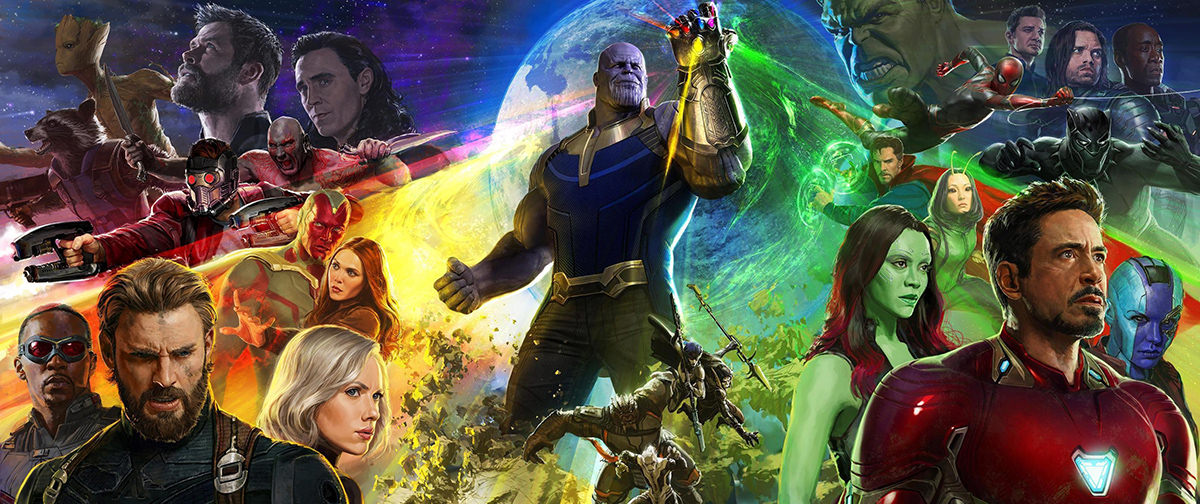 Which conveniently breaks down into three panels for closer inspection of all the awesomeness there is to unpack...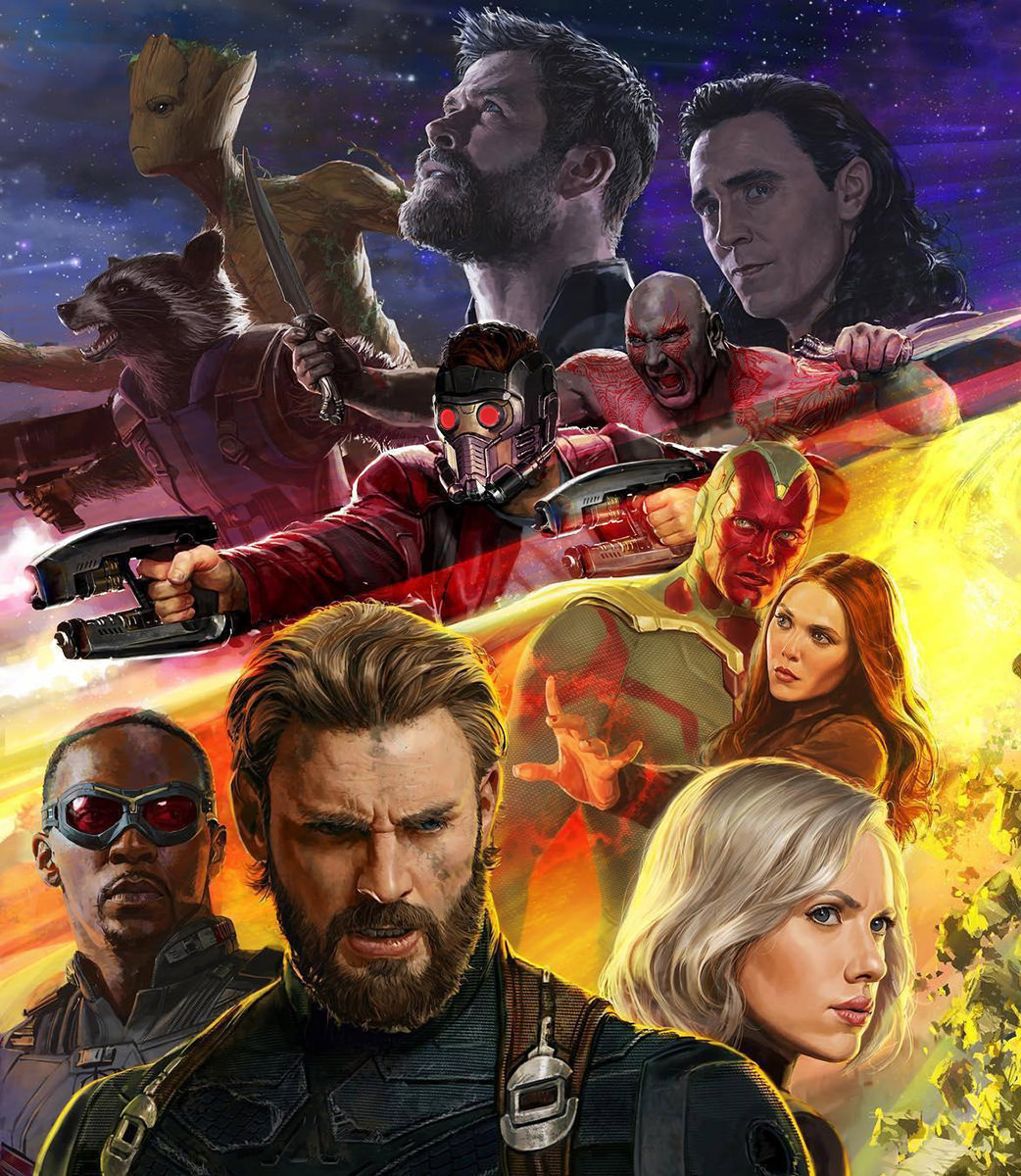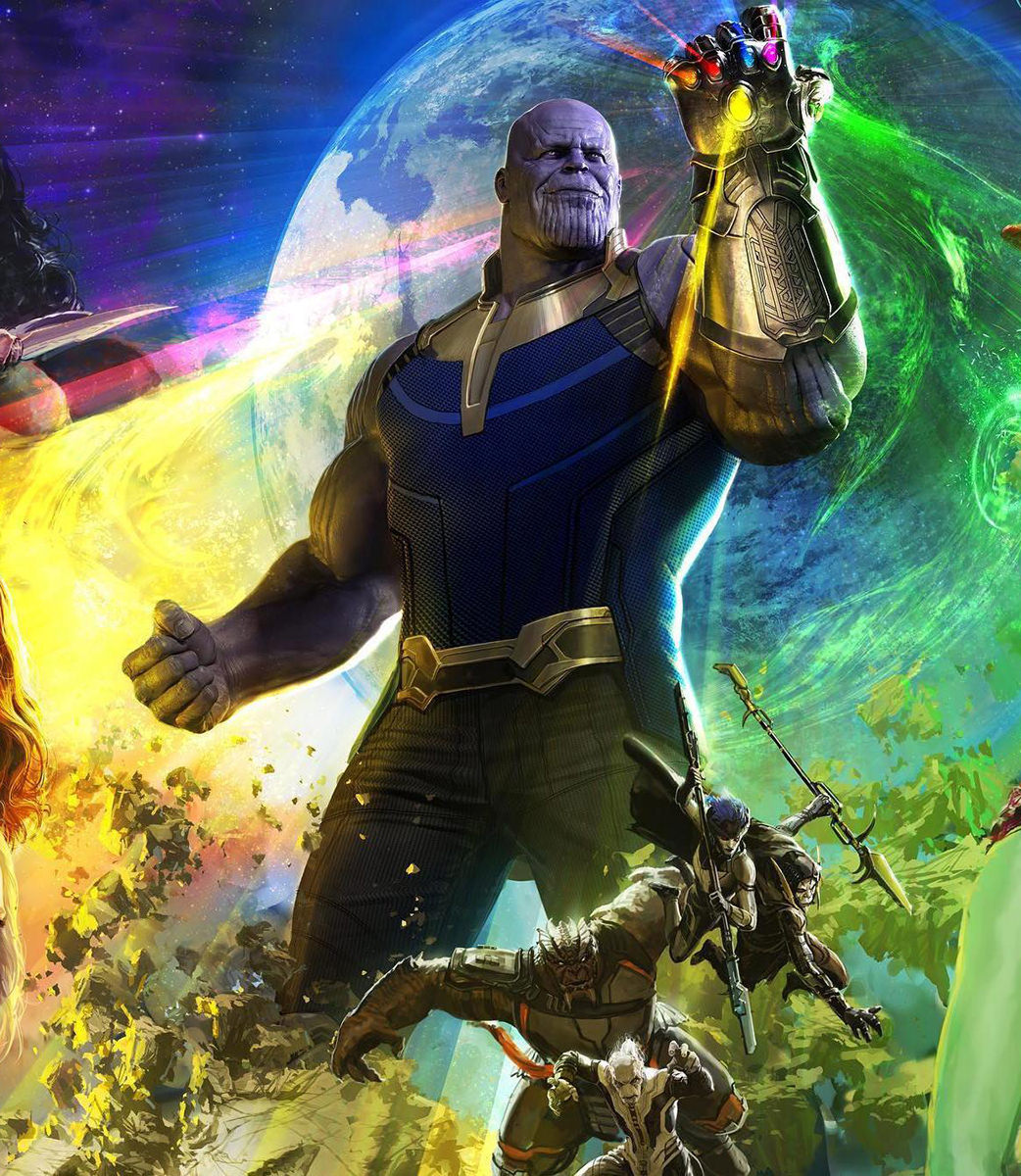 First of all... BLACK WIDOW IS A BLONDE THIS TIME AROUND? Wonder what in the hell that's all about. Second of all... why is Hawkeye getting the short end of the stick again? He's barely in the poster at all, and doesn't even get an action pose with his bow and arrow! Granted, he could arguably be seen as the weak link in The Avengers, but his fantastic ongoing comic book series show that this is not the fault of the character. It's what the writers do with him that makes him a weak link. Holy crap I wish they'd give him a Netflix series where he can finally shine. Next up... Spider-Man in a black suit is interesting. I don't hate it but, after so many movies where they weren't faithful to the comic book, I felt they finally nailed it with Civil War and Homecoming... so, why? And then... so very, very happy that they are apparently pushing the Scarlet Witch & Vision romance forward. That's an element 100% from the comic books, and I think it totally works. Then penultimately... holy crap did they do a frickin' amazing job capturing Thanos! Bad. Ass. And lastly... Cap with a beard! My expectations for Avengers: Infinity War are on overdrive. I'm expecting they'll be exceeded.

• JUSTICE LEAGUE! Blargh. DC Comics and Zack Snyder's idea of what makes a good super-hero movie is so nausea-inducing that I'll tackle that one tomorrow. I'm having too much fun loving on all of Marvel's awesomeness tonight.

And that's it for Comic-Con 2017. Until next year, True Believers...
Posted on July 9th, 2017

The heat may be blasting like a furnace outside, but there's hope for all humanity because an all-new Bullet Sunday starts... now...

• Moana Three Dee! I used an Amazon gift card I got back on my birthday to buy the Moana Ultimate Collector's Edition Blu-Ray set. The animation is so gorgeous that I was interested to see how it looked when rendered out in 3-D...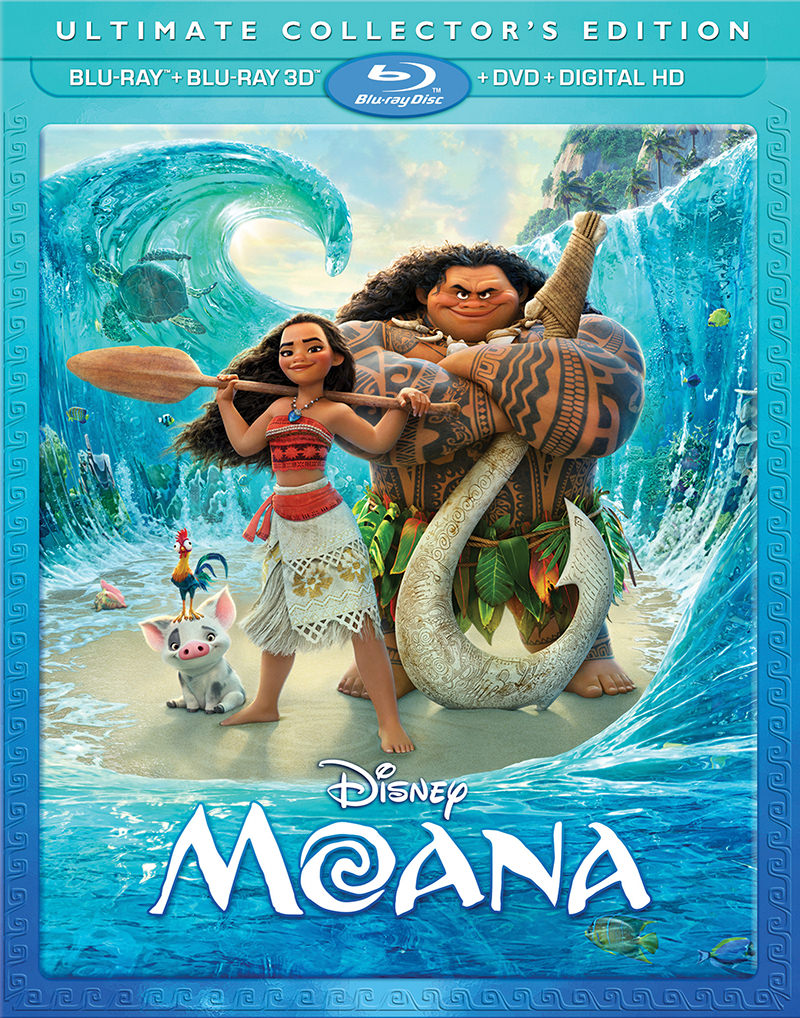 Turns out that it's pretty great. For the most part. The 3-D kind of falls apart when the action gets really fast, but is otherwise an amazing visual treat. The astounding quality of computer animation now-a-days is just mind-blowing. Marry that to some of the best songs to ever come out of a Disney film and you've got magic. My favorite Disney song ever would be Jermaine Clement playing a giant crab...
And who knew that Dwayne "The Rock" Johnson had it in him?
Forget Hamilton, Lin-Manuel Miranda's best work is with Opetaia Foa'i in Moana...
I prefer the 2-D version to 3-D, but the movie is so amazing that there really isn't any wrong way to watch it. If you haven't seen Moana, you need to get on that.

• Artifacts! I fucking hate Hobby Lobby. Which is to say I wasn't the least bit shocked when it was revealed that they had been caught with illegal ancient artifacts from Iraq. Undoubtedly purchased from terrorist organizations like ISIS, who are well-known to fund their terrorism by doing exactly this kind of thing. But yeah, tell me again how "Plan B" is morally reprehensible to you. Because a cluster of cells in the womb is more vital than fully-formed humans trying to survive relentless terrorist attacks? OH... THAT'S RIGHT... THE FULLY-FORMED HUMANS ARE BROWN PEOPLE HALF-A-WORLD-AWAY WHO PROBABLY HAVE ICKY RELIGIOUS BELIEFS! MAKES PERFECT SENSE! Hobby Lobby and their morally superior bullshit is utter garbage.

• Fight or Flight! More United Airlines fuckery. It doesn't matter that they "scanned the second ticket wrong"... the standby passenger is the one who should have left once the mistake had been discovered. And United's shitty solution is absurd. A voucher? That's what they offered me after I got screwed over, and I told them to shove it up their ass because I was never flying their shithole of an airline again. I don't understand why anybody does.

• Jupiter! Nine months waiting for Jupiter's Legacy Volume 2, Issue 5. Nine months. And it was about the most anti-climactic comic book ending they could have possibly given us...
Absolutely no surprises. After all the imagination that went into the nine issues prior, we get a straight-forward story that could have been created by absolutely anybody. And we had to wait NINE MONTHS for it? Nothing even remotely special. I don't know why I get my hopes up for shit anymore.

• Comma! One of my favorite West Wing episodes is titled after a Mark Twain quote: "There are three kinds of lies: Lies, damn lies, and statistics." Except... Aaron Sorkin abandoned the Oxford comma and butchered it to be Lies, Damn Lies and Statistics, which changes the meaning (hey, Lies and Statistics could be the name of a book like Dungeons and Dragons or something). It drives me insane. As does most sentences where an Oxford comma would be helpful to clarify intent but instead goes unused. Every time I spot a missing Oxford comma, I can't help but assume that the writer doesn't know how the English language works. And yet... there is still debate over this crap like there should actually be a question over whether Oxford commas should be used. IT TOTALLY SHOULD! There is no penalty for using one when it's really not necessary. There can be huge penalties for not using one when you should have. Case in point? Click through to this hot mess.

• Holy Shit! I have become numb to the daily dose of horror and idiocy that comes from having President Trump in office, but his latest round of tweets has me convinced that the man running the country is one of the stupidest people on earth...
Can you imagine... can you even fathom in your wildest imagination... what the reaction would have been by Republicans if President Obama had said this? They would have completely lost their minds. Apparently it finally dawned on Clownface VonFuckstick how insane this is, because he later tweeted that he believes it "can't happen," over something he says never happened in the first place? Or did happen? Or didn't? Depending on the day. Or whatever. Ivanka is catching serious heat for being an unelected, unqualified seat-filler at the G-20 conference, but at least she can form a coherent sentence. Why not put her in charge? Because nothing could be worse than what we have now.

And that aughta do it! See you next Sunday!
Posted on January 2nd, 2017

Since returning from hiatus, there have been a number of half-finished entries floating around that I've been meaning to finish up and post. This is one of them.
My love of comic books and movies have collided in amazing ways last year... Captain America: Civil War, Deadpool, and Doctor Strange were incredible. Unfortunately there were also boat-loads of crap courtesy of DC Comics, who just can't seem to get their shit together... X-Men: Apocalypse and Batman vs. Superman were complete garbage.
There were three other super-hero films I saw in 2016, how did they fare, I wonder?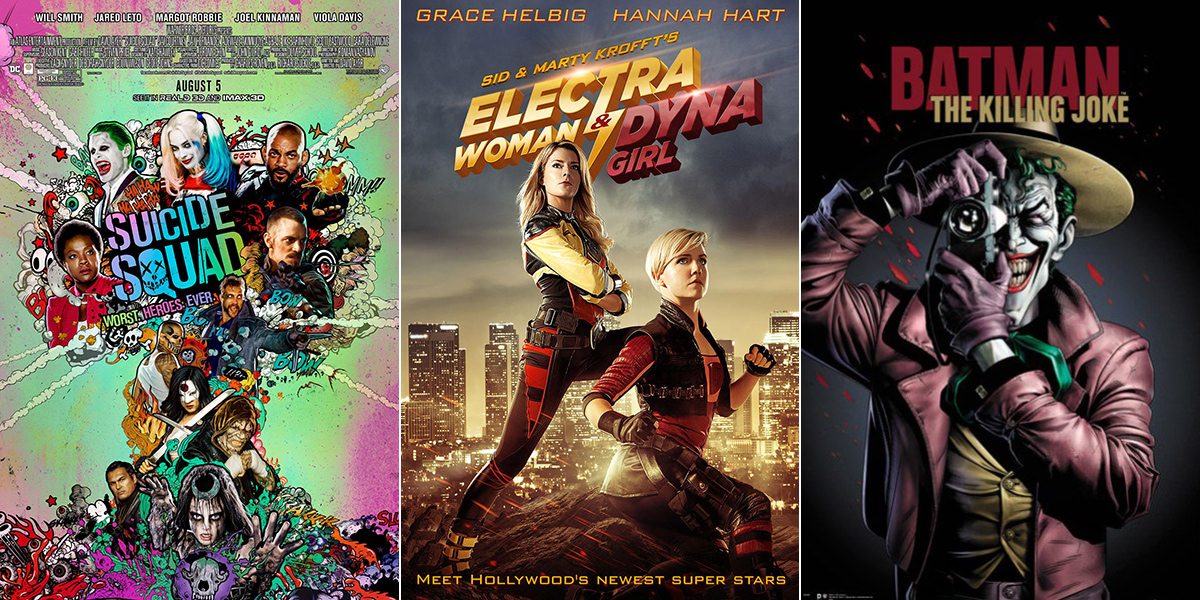 • Suicide Squad. DC Comics' concept of super-villains being forced to become a covert team of super-heroes has been going on in the comic book world since the late 80's. While passably entertaining on occasion, I never saw much potential as a movie franchise, yet here we are. The result is an epic mess that is a notch above the shitty Man of Steel and Batman vs. Superman films... but not by much. The moronic, scattershot plot populated with a bloated cast of forgettable characters and filled with ridiculous dialogue and forced humor (that wasn't funny) ended up being just... bad. Unless you can be entertained by random special effects blowing shit up between periods of utter tedium, there's no entertainment to be found here.
And now... I'm just going to get this out of the way... Jared Leto's "Joker" was total shit. The look was apparently copied from the comic arc Batman: Endgame, which wouldn't have been too terrible, except they added metal teeth, a bunch of tattoos that were utterly stupid (why the fuck would The Joker ink "damaged" on his forehead?), and then made him a frickin' drugged-out buffoon. A massive downgrade from Heath Ledger's brilliant take in the The Dark Knight. The rest of the cast? They fare somewhat better. Viola Davis was her incredible self and dominated her every scene as Amanda Waller. Will Smith's Deadshot was pretty much Will Smith being Will Smith, but at least he's entertaining. Margot Robbie was designed to be a stand-out as Harley Quinn and, when it works, it's the best thing about the movie (though I still think the character will never be better than she was in Bruce Timm's Batman: The Animated Series). Every other character was just window dressing with nothing of substance to do and mostly boring.
I'd get into the story, but that would be pointless. It's pretty much Suicide Squad vs. magical zombies and there's pathetic little character development or consequences for anything. RATING: D

• Electra Woman and Dyna Girl. It would be insanity to put a cheesy Sid & Marty Krofft Batman parody remake up against anything Marvel is doing when it comes to the super-hero film genre. This is not that kind of film. But I found Electra Woman and Dyna Girl infinitely more fun and entertaining than anything DC has put out lately. Based on the Krofft Saturday Morning live-action kid's show of the same name (starring Days of Our Lives' Deidra Hall!), the movie features online media stars Grace Helbig and Hannah Hart as two normal humans named Lori and Judy who dress up and play super-heroes in a world filled with heroes that have real super-powers. Eventually they get "noticed" by a super-hero publicity agent who turns them into the super-powered heroes they dreamed of becoming. Using gadgets dreamed up by genius Frank Heflin, Electra Woman and Dyna Girl hit the big-time and become crime-fighting media sensations. This leads to a rift in their friendship that comes just as the rise of the first super-powered villain to appear in ages. Hilarity (and some surprisingly entertaining antics) ensue. What's surprising about the movie is how it manages to be faithful to the original show, yet be completely fresh, new, and different. And pretty damn funny. For what it was designed to be, Electra Woman and Dyna Girl is a success. RATING: B-

• Batman: The Killing Joke (animated). Considered one of the best Batman stories to come out of the comics, The Killing Joke has been both praised and mired in controversy since its release in 1988. Praised because it featured Alan Moore and Brian Bolland's thoughtful look at the origin and longtime relationship between Batman and The Joker... controversial because of its misogynistic overtones in the crippling of Barbara (Batgirl) Gordon as a throw-away plot element. Ultimately I liked the book, but understood that it had some serious story issues that would be too much for some comic book fans. So when I heard that DC was turning it into an R-rated animated film, I was curious. Would they stay close to the original story... or would they try and fix some of the things that caused no small amount of backlash?
Turns out it's Option #3... LET'S MAKE THE STORY WORSE IN EVERY POSSIBLY WAY! I hated this film. There's a myriad of problems that ruin any chance of Batman fans embracing the movie... even if they liked the story on which it was based. Primary of which is that they have Batman and Batgirl in a sexual relationship, which is fucking absurd. Once that bullshit is out of the way, the film tries to get back on track... but the damage has already been done. RATING: F

Time to update my "Y2K Super-Hero Comic Book Renaissance" scorecard with another brilliant Marvel effort...
The Avengers... A+
The Avengers: Age of Ultron... A
Batman Begins... A
Batman Dark Knight... A+
Batman Dark Knight Rises... A
Batman vs. Superman: Dawn of Justice... D
Big Hero Six... A+
Blade... B
Blade 2... B
Blade Trinity... B-
Captain America... A+
Captain America: The Winter Soldier... A+
Captain America: Civil War... A++
Catwoman... F
Daredevil... B-
Daredevil (Director's Cut)... B+
Deadpool... A
Doctor Strange... A
Electra Woman and Dyna Girl... B-
Elektra... D
Fantastic Four... C
Fantastic Four: Rise of the Silver Surfer... D
Guardians of the Galaxy... A+
Ghost Rider... C
Ghost Rider: Spirit of Vengeance... D
Green Hornet... D
Green Lantern... C+
Hellboy... A
Hellboy 2: Golden Army... A
Hulk... C-
Incredible Hulk... B
The Incredibles... A+
Iron Man... A+
Iron Man 2... A-
Iron Man 3... A+
Jonah Hex... F
Kick-Ass... B+
Kick-Ass 2... B-
Man of Steel... F-
Punisher... C+
Punisher War Zone... C
Scott Pilgrim vs. The World... C
Spider-Man... B+
Spider-Man 2... A
Spider-Man 3... D-
Suicide Squad... D
Amazing Spider-Man... B
Amazing Spider-Man 2... B-
Superman Returns... C+
Thor... B+
Thor: The Dark World... B
Watchmen... B
The Wolverine... B
X-Men... C
X-Men 2: United... D
X-Men 3: Last Stand... F-
X-Men Origins: Wolverine... D
X-Men: First Class... B
X-Men: Days of Future Past... B-
X-Men: Apocalypse... D+

Posted on May 27th, 2016

Holy crap!
It would seem that DC's not-a-reboot reboot Batman has a super-power now... IN HIS PANTS! Apparently DC is now hiring porn artists for its new books? Batman's dick looks like it could punch through steel. Or possibly... A MAN OF STEEL? Talk about the ultimate Batman vs. Superman scenario. What in the hell is going on with REBIRTH?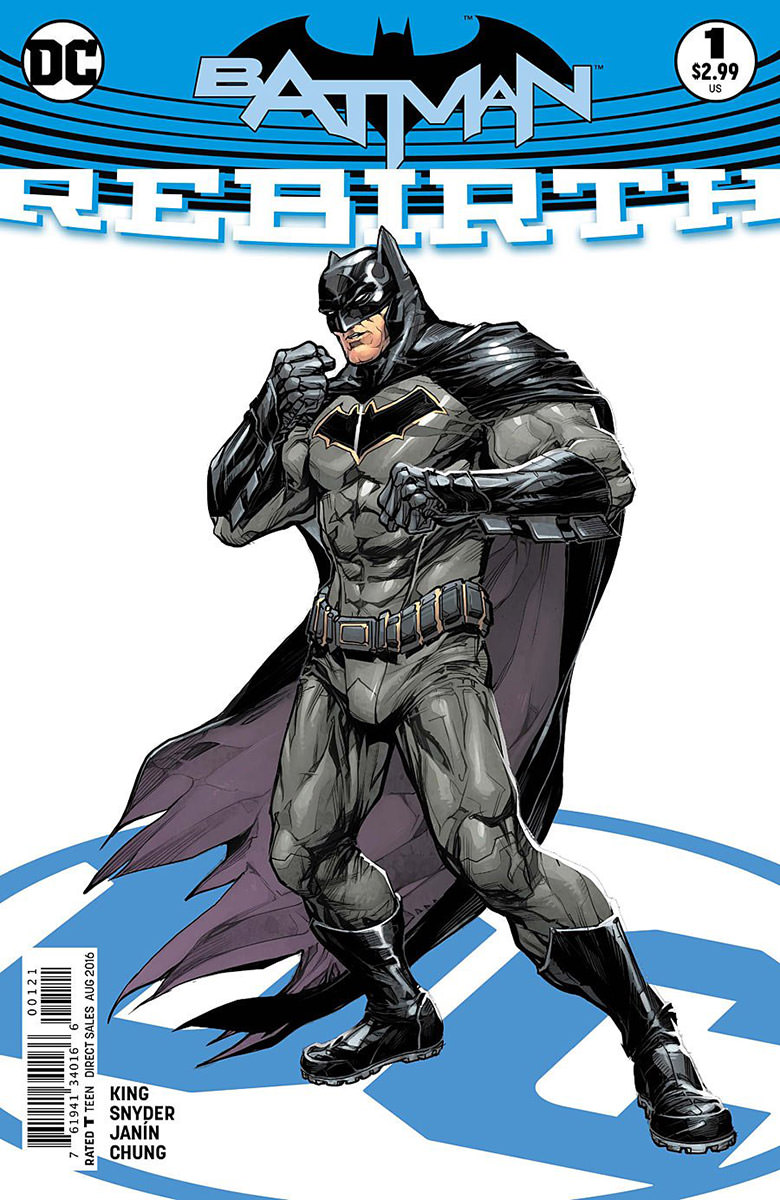 Yeah. Taking the opportunity to just dump all my DC reads now. Haven't enjoyed them in ages, and this ain't making me change my mind.
Posted on May 22nd, 2016

Sunday is as Sunday does, because an all new Bullet Sunday starts... now...

• 1975. When it comes to music, The 1975 is my current favorite band. Somebody Else is my favorite song of their latest album. Probably in my top ten of favorite songs ever. Recently Matt Healy and Adam Hann stopped by a radio station to perform the song live...
Pretty incredible considering half the band is missing and they are recording under less than ideal circumstances!

• Banzai. When it comes to cult favorite cinema, Buckaroo Banzai is at the top of my list. I've seen the film dozens of times and even have a quote from the movie tattooed on my arm...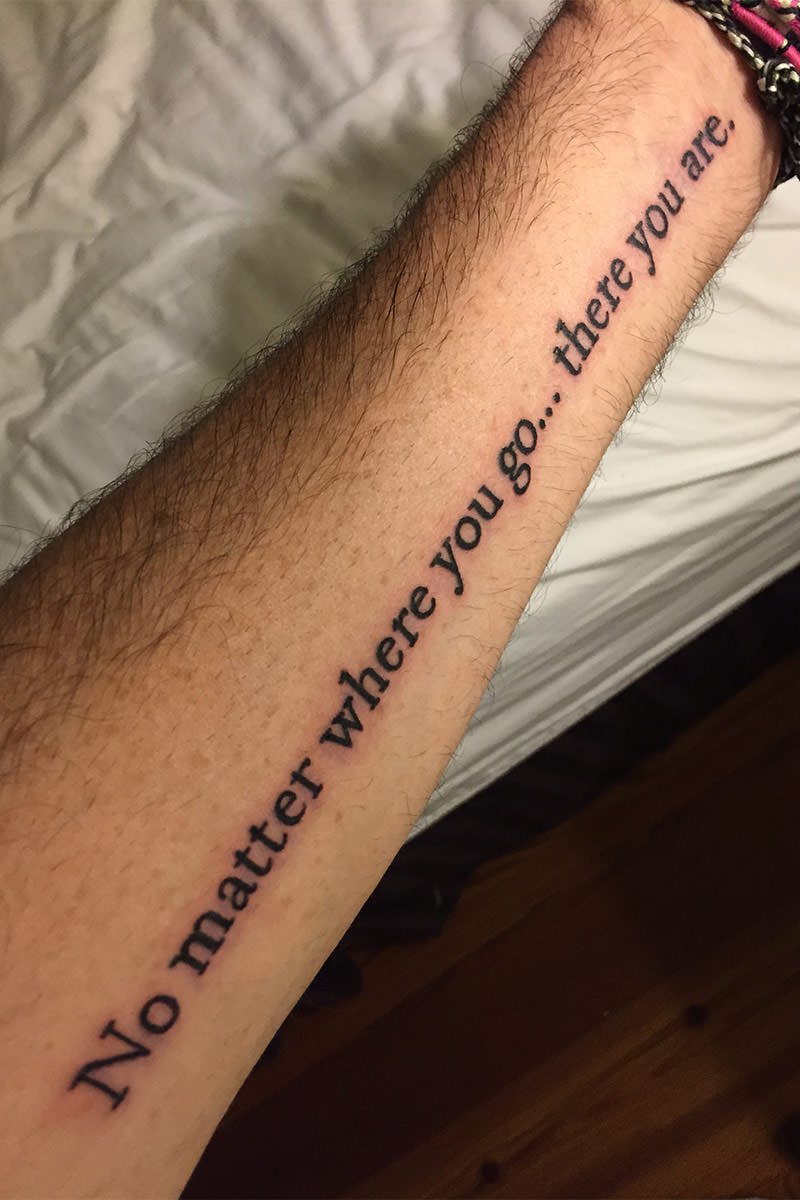 As you can imagine, I have mixed feelings after hearing that Kevin Smith is helming a television series based on the film. On one hand... more Buckaroo Banzai! And by a filmmaker I really enjoy! On the other hand... this could be a complete disaster. The original movie was like lightning in a bottle, and the chances of lightning striking twice with material this bizarre is incredibly slim. Of critical importance is getting the right cast, and I really hope Kevin Smith is up to the task. If he's just going to toss in his roster of regulars, I'd be very surprised if the show has a chance. Fingers crossed.

• Dance. This video is pretty great...
The guy has moves! And insane pants!

• Logo. As somebody who does graphic arts for a living and has created more than his share of logos, it's tough for me to be critical of what other people do... I know just how tough the work can be. That being said, the logo revision for DC Comics is just so busted and weak that I can't stay quiet...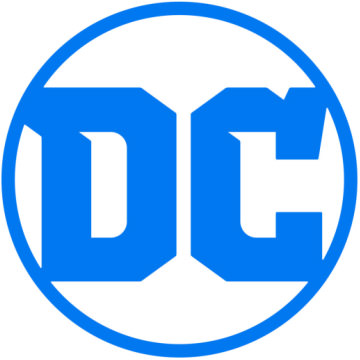 Seriously, look at how wonky the "C" is with that upper serif curving out of nowhere for no reason at all. And those back-cuts in the counters are such a laughable way of trying to "customize" a traditional typeface... especially given how badly they compromise the integrity of the letterforms. When it comes to logo designs, this is about as bad as it gets. I mean, it doesn't even have symmetry across the center-line...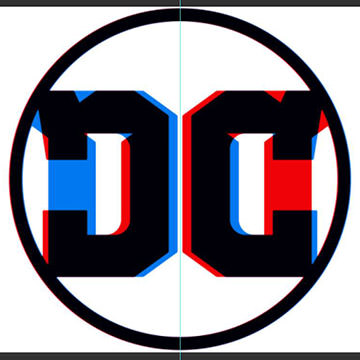 But, then again, this is the company that has Zack Snyder shitting all over their movie properties like piles of putrid stank, so I'm hardly surprised nobody at DC stepped up and said something. Blergh.

• Bustin'. As a massively huge fan of the original Ghostbusters, I was more than a little upset at the prospect of the franchise being rebooted. But then the new trailer dropped...
And now I'm starting to have a little faith.

• Rights. I have been waiting for The Daily Show to post this, because it's just so dead on-point...
I am getting so sick of this ridiculous crap.

And away I go...
Posted on March 20th, 2016

Take time to make time, because Bullet Sunday starts... now...

• Panther. Could not possibly be more excited for the Brian Stelfreeze illustrated version of Ta-Nehisi Coates' BLACK PANTHER comic! It looks like the book will pay homage to the origins of the character, but also give us something new and different to enjoy... hats off to Marvel for giving one of my all-time favorite super heroes a creative team that's knocking it out of the park...
An interview!
If you're interested in a behind-the-scenes look at how the book is shaping up, there's a Briam Stelfreeze Fan Page on Facebook. The book launches on April 6.

• Encryption. And, leave it to John Oliver to explain the current situation with Apple and encryption...
Forget everything else. Safeguarding our privacy is the threat of the future today.

• Dumbfuckery. And, speaking of John Oliver. Today being DAYLIGHT DUMBFUCKERY TIME seems like the perfect opportunity to repost this from last year...
And the idiocy continues.

• Prince. After Paramount dumped one of my most anticipated releases, The Little Prince, I was pretty bummed. Turned out Netflix has picked up the ball so badly dropped by Paramount...
Really looking forward to seeing this film. Whenever that might be.

• Humans. If I weren't such a foul-mouthed asshole, this is probably along the lines of how I'd respond to the idea of a Trump presidency. Alas...

And... no more bullet-time.