And so here we are at the end.
I can tell you that Ted Lasso is, without a doubt, my favorite televisiion series of all time. It's everything I never knew I needed to see. The writing, the characters, the acting, everything... it's been mostly flawless most of the time.
And now we're at the last episode of the (presumably) last season...
I'm jotting down my thoughts as I watch, so spoilers ahead...

Ted slept with Rebecca?!? Well that was unexpected. I thought the time for that had passed. And what about Sassy?!?
Okay... WITH BEARD IN A THREE WAY?!?
Oh. Okay. That's better.
I swear, Brendan Hunt is about as fearless an actor as there is.
Isaac is never really ridiculous, even when doing ridiculous things.
Okay... if Nate had to come back, I'm glad they at least didn't give him back his coaching job. That would have been awful.
See, it's little moments like Jamie putting extra money in Nate's box that shows that his change over three seasons hasn't been superficial. It's intrinsic to his being now.
And there it is. Confirmation Ted is not long for London.
Trent's book looks a little light? He's been writing all season!
Oh Roy. You need the Diamond Dogs badly.
WHO THEY ARE HIRING TO REPLACE TED?!? WOULDN'T THAT BE ROY?!??
Boy. Rebecca has a total point. She doesn't really need the club any more. It's served her purpose. Except... hasn't it come to mean so much more than that? But for two billion dollars, maybe that's money too tempting not to take.
Lord. It makes sense that they would do a musical good bye for Ted, but this? It's bordering on annoying.
Dani really had wasted potential this season. But you could say the same about most of the players. Except Jamie. And possibly Colin.
Jamie doesn't belong with Keeley any more. Even though he's changed into somebody who deserves her.
Rebecca's mom is incredibly self-unaware. I don't get her character. Really could have done without this diversion when Rebecca finding happiness after having finally overcome Rupert.
Baz, Jeremy, and Paul could have been such one-note background characters if not for Beard After Hours where they gave us a bit more to work with.
And now I want a beer.
Okay. This is actually charming as hell... Roy and Jamie.
Well, it WAS.
What's so heartbreaking about Rebecca's conversation with Ted is that she knows he wouldn't change his mind before she asks him to. But she had to try. Ted changed all their lives. And hers more than most. Why would she want that to end? But of course it has to if she's to go on and find her own way towards being happy.
Boys will be boys. And neither of them learned a thing. Well, on some things.
Sorry. This was a sweet scene, but Nate still hasn't redeemed himself. I honestly don't think that he ever could. What he did was so horrific that he just doesn't deserve the grace he's being given. They took it too far.
I do like that they didn't make Ted overly-goofy this time. It's a serious situation he's in, and to go overboard with bad puns and folksey Tedisms would diminish it.
Okay. Showing the older couple once again at a Richmond match is an incredibly sweet gift towards fans of the show who remember them and their sweet story.
So some guy is taking advantage of the ticket always reserved for Roy Kent even though Roy no longer needs it! Ha! But wait... is that the guy Colin was with earlier?
Wait... who is the couple at the ticket window who says that he was stared at like an absolute psychopath? Surely they must have appeared before? But when?
Whether or not Ted ends up with his ex-wife or not... I think her relationship with her old marriage counselor is on thin ice.
SHARON!!! Oh how I've missed her. I love love loved Dr. Fieldstone last season.
Roy wanting to be a Diamond Dog is his character arc, I guess?
"I'm still me." Oh God. Don't ever change, Roy! We love you just the way you are!
Ruff ruff.
Oh Sassy. You're the best.
Barbara is Coach-Beard-level-weird. But not in a good way. She's just... weird.
Zoraeux (formerly Van Damme) is now Zorro?!?
LOL. "Richmond seems to be crying!" Poor Jan Maas!
Dr. Jacob is an asshole. So, yeah, that's not going to last.
Strange that Zorro, who was unstoppable last time has let two goals slip past.
Jamie's reading a book?!?
Okay. Colin keeping his piece of the "believe" sign with him while he plays is pretty great.
Awww, teamwork. And they can believe again!
Isaac gets his moment. And deserves it. That was nice.
Okay, now I really need to know who the guy was who got hit!
Rupert going full-on psychopath at least lets everybody finally know who he really is.
Oh look! George's balls... Liam and Noel... have made an appearance! LOL. Another moment for fans of the show.
Interesting to note that both of Rupert's coaches were coaches at Richmond first.
Aww, Jamie willingly being a distraction play pretty much completes his arc, I think.
Okay, that was Colin's boyfriend who got the Winona Judd ticket. AND Colin got to have that moment he's been dreaming of. That was nice.
Aww. Rebecca selling her 49% to the fans was the perfect solution.
Ted using Apple Pay! Nice! A win for the sponsor (and network).
And the ussie guy is back! Classic.
If you freeze-frame, you get some closure on a few side-characters here.
Those are real tears for Hannah Waddingham. And can you blame her? The best acting job she will probably ever have.
Yeah, Coach Beard ain't going to leave.
Annnnnd... being right has never felt so satisfying.
Willis. Willis Beard. That works.
Oh boy. I was waiting for Rebecca's Man from Amsterdam to show up again. Well isn't that perfect. UPDATE: And he showed up at the barbecue with her, so they are definitely together. Gezellig!
Well, yeah. It would be absurd for anybody except Roy Kent to manage the club.
So... wait... Sam ended up playing for the Nigerian league after all?
Jamie having a moment with his horrific dad is a nice moment for him. Maybe a stint in rehab was what he needed to not be so awful?
Mae bought quite a stake in Richmond there!
"Trent Crimm... with a very brief foreward by Roy Kent." LOL.
GIRL POWER!
Dr. Fieldstone is back with Richmond. Great.
So Nate is a coach again. Yikes.
Interesting to note... it looks like Nate was using a gold paint to heal the Richmond sign, which means he was practicing kintsugi (the Japanese method of repairing broken things with gold to make them more valuable than they were before they were broken)... quite the metaphor.
Dani still in his throuple, I see...
Okay. It took me a second... but the couple with the large man and a baby at the wedding is the couple from Beard After Hours! Since the guy essentially saved Beard's life, it makes sense that they would be at his wedding.
Wait... Ted didn't fly back for the wedding? That seems... wrong.
So... are Ted and his ex-wife back together then?
The End.
(Though there is absolutely NO REASON AT ALL that the show couldn't continue as Roy Kent or AFC Richmond or whatever. NONE!
Well, the end was as good as it could have been, I guess. Especially for Rebecca, as I am very happy that she finally found the guy who makes her feel like she's been struck by lightning! Her moment at the airport is hands-down my favorite moment of the finale...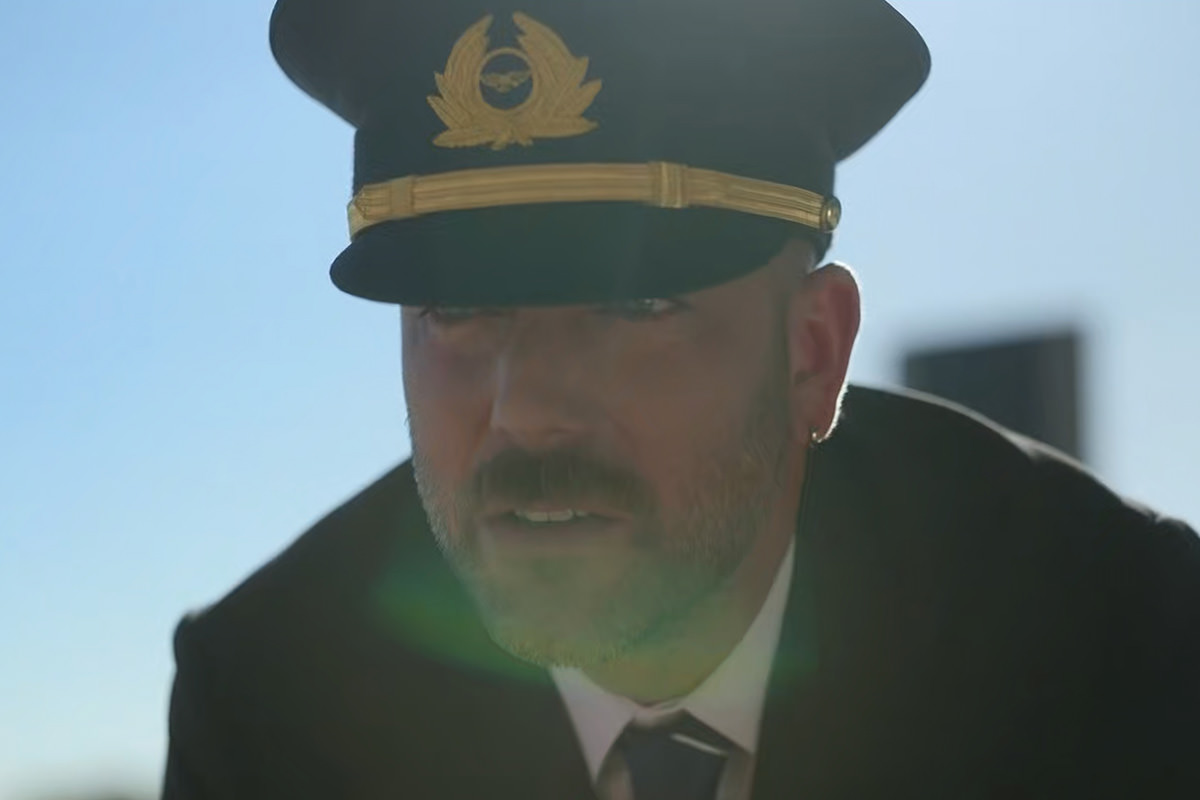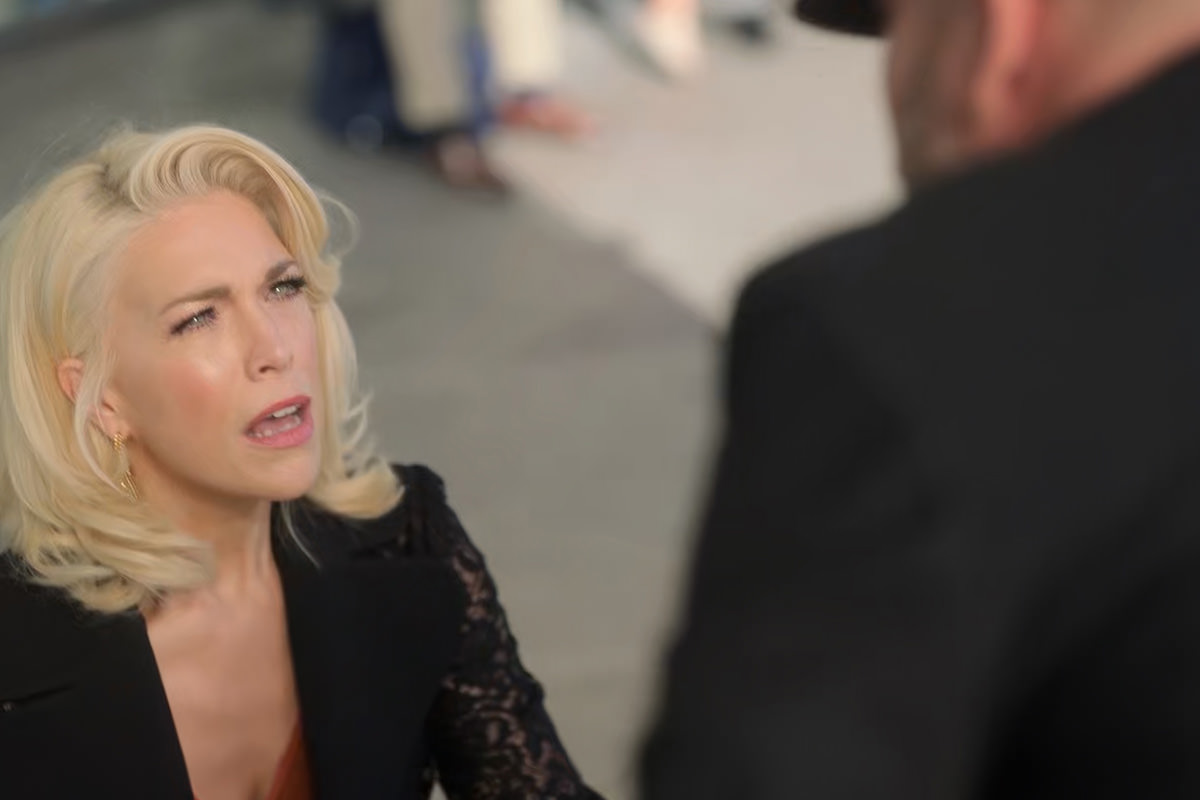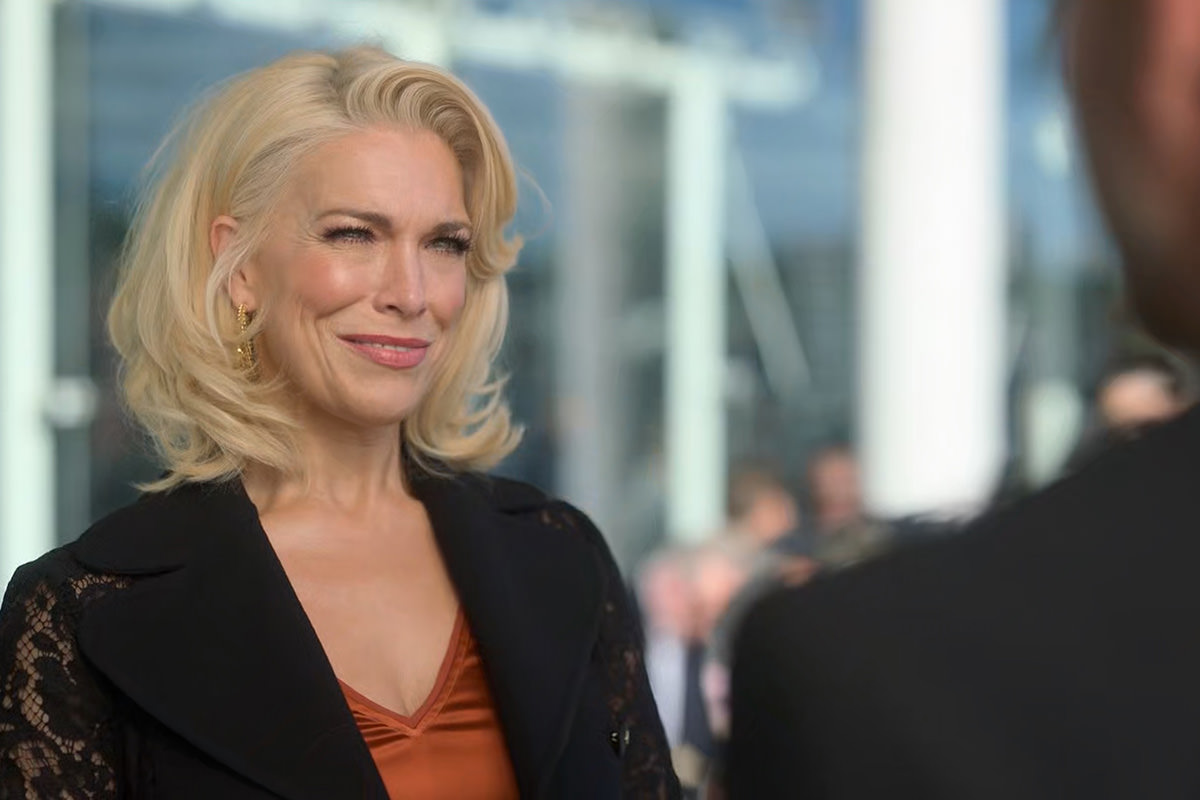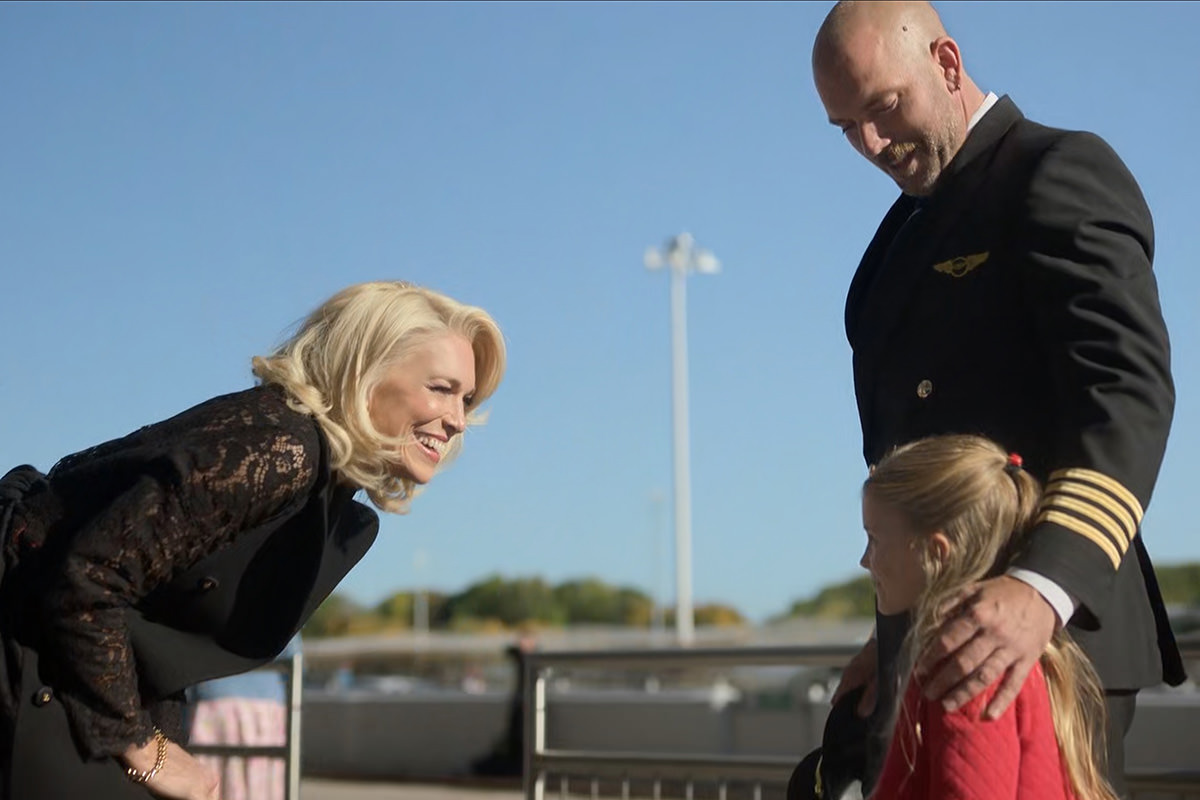 Well, I don't know what else to say. Except I hope the show comes back... in whatever form it can... and this isn't the end...
See ya 'round, Ted.
UPDATE: I still don't know who these people are?
UPDATE UPDATE: As noted in the comments (and on Facebook), that's John... the guy that Rebecca dated who didn't make her feel like she was struck by lightning!