Posted on February 12th, 2023

Don't worry, I'm here with a distraction from the Superb Owl... because an all new Bullet Sunday starts... now...

• Ronnie! Talked about a missed opportunity at the Superb Owl! I was waiting for Rhianna to walk out and say "Uh oh! Bonber alert!" then Andy Samberg would walk out as Shy Ronnie...
One thing's for sure... it would have been unexpected.

• Lo siento! This would be the kind of thing that happens to me (here's a link in case TikTok is being a dick)...
...assuming my girlfriend was Miss Universe 2020.

• Scam the Tragedy! A gentle reminder... if you receive an email wanting you to donate to a cause... any cause... don't click the link in the email. If it's not an organization you know the address for to type directly in your browser, do a Google search for the official website. I just received an email wanting me to donate to the Syria and Türkiye earthquake relief efforts from "The Red Cross," and it was a big ol' scam. All my donations go to Doctors Without Borders anyway, but holy crap... what kind of garbage would exploit a tragedy to scam people out of money?

• You're Poor! You can't afford it, you povo (here's a link in case TikTok is being a dick)...
Because you're poor!

• Luther! OOOOOOOH BOY! I am really, really looking forward to this...
It's like... Idris Elba is magic on the screen. Every. Single. Time. Just look what he did in the frickin' Thor movies, for crying out loud! And Luther is an exceptional character that shows off exactly why the guy is so good at his craft. Kudos to Netflix for sinking some money into quality.

• Alexa He Ain't! I really wish that Sonos speakers could use Siri. Because the Sonos Voice Assistant is fucking useless as a piece of shit at a pool party. Telling it to play songs never works. The only thing it does reliably is "stop" music when you tell it. Otherwise it's some bullshit about not understanding what you want and having to use your SONOS app. One thing I DO like, however, is the voice that SONOS uses for their AI. He's very calming. A little vulnerable. Which he kinda has to be given that he can't do jack shit. Though he's not as sexy as "Australian Male Voice 1" that I use for Siri but, let's face it, nobody could be sexier than Australian Male Voice 1. That guy sounds like he has slept his way through entire ecosystems.

• Again! After being severely disappointed with the last two Depeche Mode albums, I was surprised at the first single off their forthcoming album, Moments Mori. Ghosts Again is more like Depeche Mode than they've been in ages...
One can only hope that the rest of the album is this good.

Until next Superb Owl...
Posted on May 29th, 2022

A three day weekend (for a lot of us here in the good ol' U.S. of A. isn't even the best thing to look forward to this fine Sunday... because an all new Bullet Sunday starts... now...

• You're Our Only Hope! I was not expecting the world from the new Obi-Wan Kenobi series on Disney+, even though it was focusing on one of the best parts of the shitty Star Wars prequels. But, then again, The Mandalorian proved that it could be good if they wanted it bad enough...
Well, apparently they did want it bad enough, because the show is looking darn good from the first two (or six) episodes which have aired. I don't want to spoil a single frame, as I was careful to not learn too much about it before it started running. Suffice to say that the premise for the series is not what I expected, despite being a very good one (and kinda obvious). Even if you've given up on Star Wars, this might be worth a look.

• More Hope? This past week was Star Wars Celebration, the annual lovefest for A Galaxy Far, Far Away. The most interesting thing to come out of it was the trailer for Andor, which I've been anticipating for what seems like an eternity...
Looks great, doesn't it?

• Mavericky! Top Gun is one of those seminal 80's films that I have seen multiple times since first seeing it in the theater. When they came out with a sequel: Top Gun: Maverick I kept my expectations in check, because it seemed absurd that they could possibly have more to say. Or at least not enough to warrant a sequel. But it was actually quite good despite covering a lot of the same territory. This is largely thanks to very cool practical fighter plane shots which were far better than a bunch of CGI special effect shots could have ever been...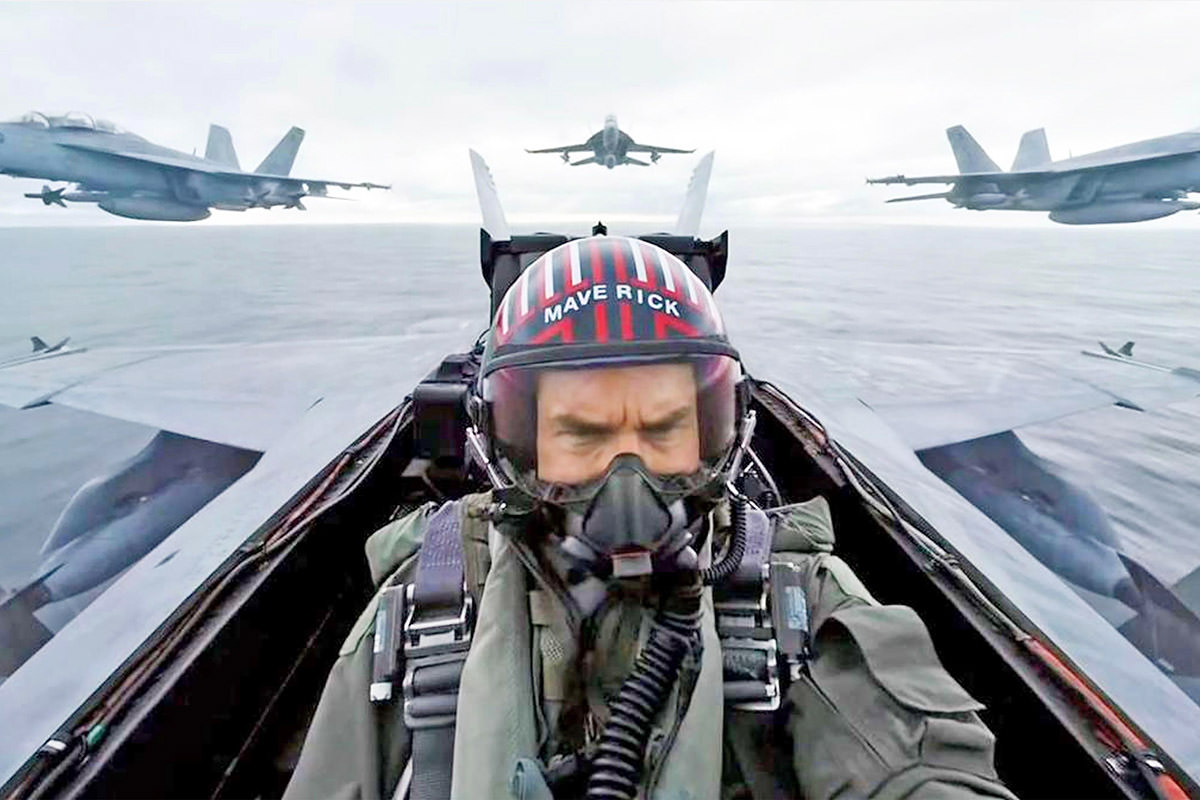 Tom Cruise was... well... Tom Cruise. Jennifer Connelly was good as she always is. And Miles Teller, who hasn't impressed me much in anything he's ever done, inhabited his role as the son of Goose in a way that really made you believe he could be the son of Meg Ryan and Anthony Edwards. Do I think it was risk getting COVID to go see? Probably not. But it should have no problem making my best-of list for 2022 because of the huge dose of retro thrills it provides.

• Thanks, Jims! While there's a lot of attention being focused on Obi-Wan Kenobi, Top Gun: Maverick, and the return of Stranger Things, I can tell you right now that the entertainment to beat is Shoresy. Based on the unseen (but not unheard) hockey-playing character from Letterkenny, it's a fantastic (and very funny) look at "the dirtiest player in the game"...
If you're a Letterkenny fan, this is a no-brainer. But even if you aren't this is nice diversion from the horrors of the real world.

• Fletch! I was very sad to hear that Andrew "Fletch" Fletcher from Depeche Mode had died. As one of my all-time favorite bands, I've collected all their music and have seen them in concert a half-dozen times. Rest in Peace, sir...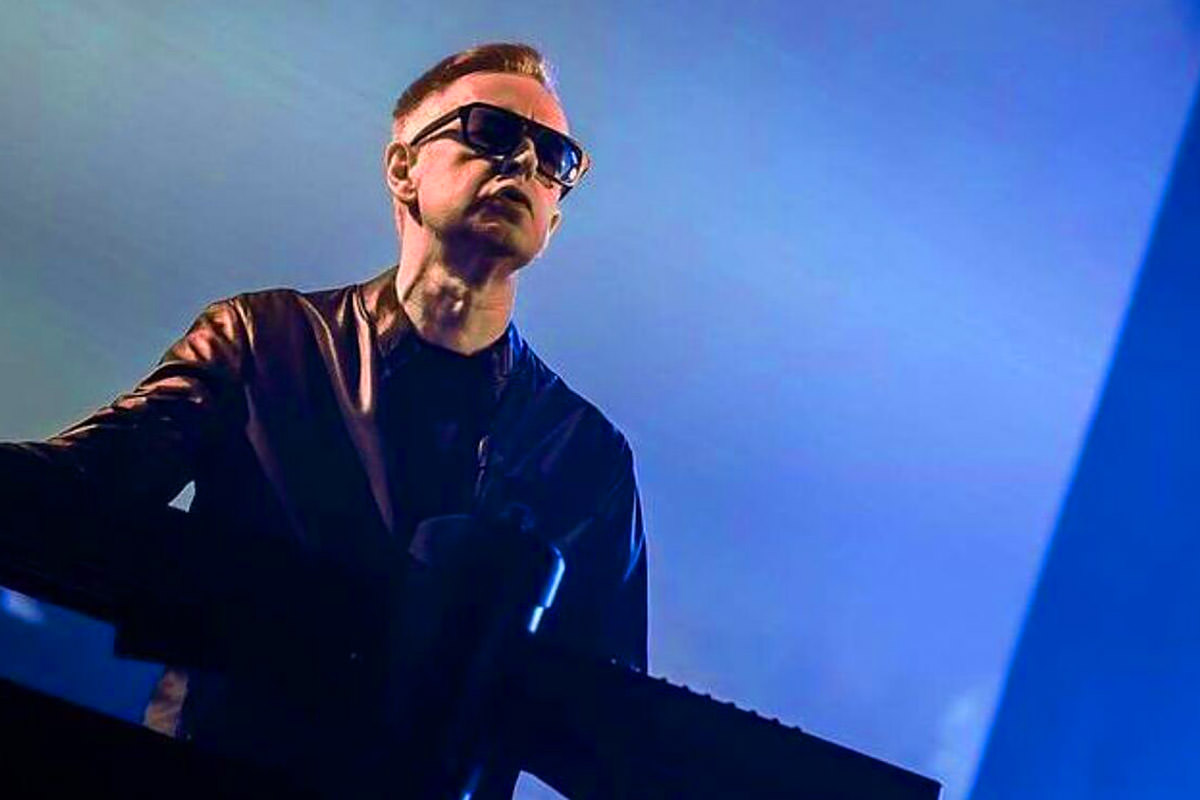 • Less Strange? And speaking of Stranger Things... I'm more than a little disappointed in Season 04. Each episode is bloated in a bad way, focusing more on distraction, filler, and "side-quests" than the show I was hoping to tune in for. And it's like why? Why deviate from what made the show so darn good in Seasons 01-03? I guess everybody wanted a bigger paycheck and the only way to get it was to film more material? I dunno. The show isn't exactly bad... but I'm really hoping they stick the landing in the final two episodes in five weeks to make this time investment worthwhile.

• Subway. This video from Last Week Tonight is fascinating stuff. And you OWE it to yourself to watch the Korean Meatball Drama at the end! Glorious...
The fact that Subway knew that Jared was a kid-raping pedophile and ignored it so he could keep selling their sandwiches means that they can fuck off forever. Interesting to note that Kidfuckers is the ONLY chain restaurant in my small town, which is just further evidence that they do indeed push their franchises to the breaking point and put them everywhere.

Until next Sunday then...
Posted on July 9th, 2020

My favorite burger... by a wide, wide margin... is the Impossible Whopper at Burger King.
It used to be the Boca Burger "Streamliner" at Johnny Rockets, but then Boca was bought out by Kraft and they decided to "new and improved" their recipe into something that tastes like toxic sludge, feels like fiber, and has a grotesque artificial brown color that looks like (literal) shit. Johnny Rockets couldn't serve that to their customers, so they replaced it with a Spicy Black Bean Burger. It's not bad, but not what I want. At least it's edible though. Red Robin replaced Boca Burgers with their own disgusting "ancient grains and quinoa" patty which tastes like vomit.
Since losing Boca Burger, I've tried dozens of other vegetarian burgers to eat at home. The one I end up going back to is Morningstar Farms "Grillers Original," but the texture is awful. It's squidgy and gross and I only eat it when there's nothing else in my freezer.
Impossible Burger finally released their heme-infused burger "meat" in frozen form a while back.
I finally found some to buy at the local Albertson's so I could give it a shot.
And it's everything I was hoping for. When cooked in a hot skillet you can get a nice brown sear on it, so the taste and texture are flawless. Which is to say that now I can make my own Impossible Whoppers at home whenever I want. Impossible Burger is expensive... $10 for 12 ounces... which works out to about $2 a burger because I like them really thin... about 2-1/2 ounces...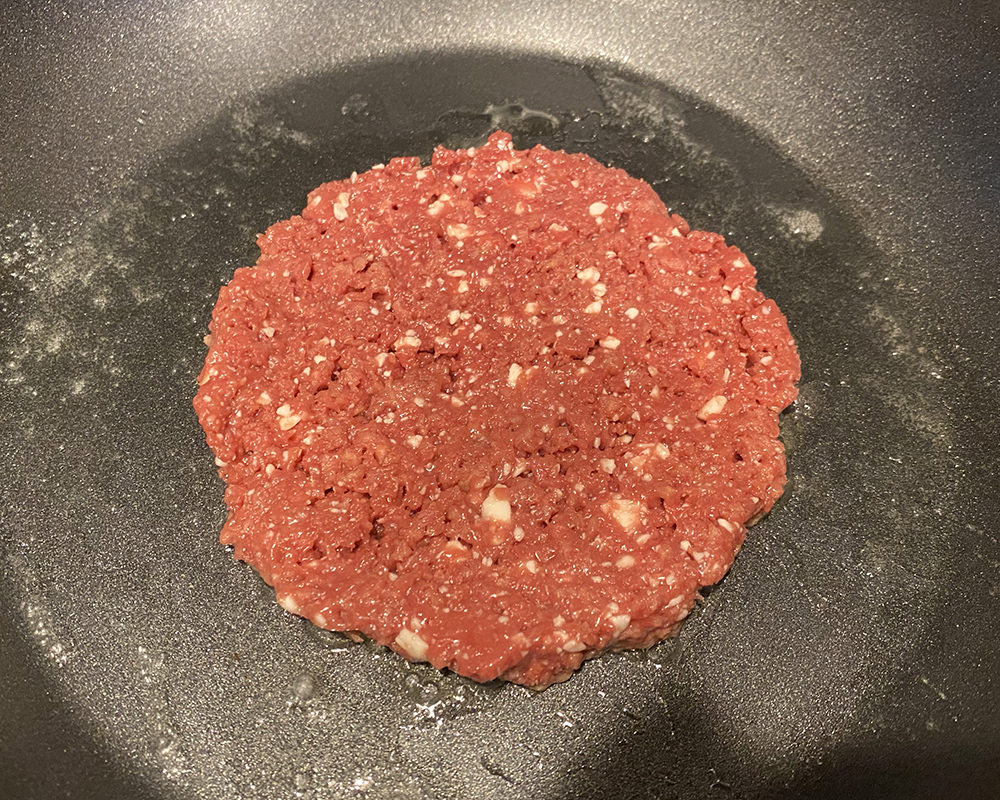 I get a skillet really hot... then squish a ball of Impossible Burger between two plates lined with wax paper... drop in some butter... then fry it up for a couple minutes each side (weirdly enough, it smells like chocolate as it cooks).
Just look at the glorious char. It adds flavor and a thin, crispy exterior that tastes great...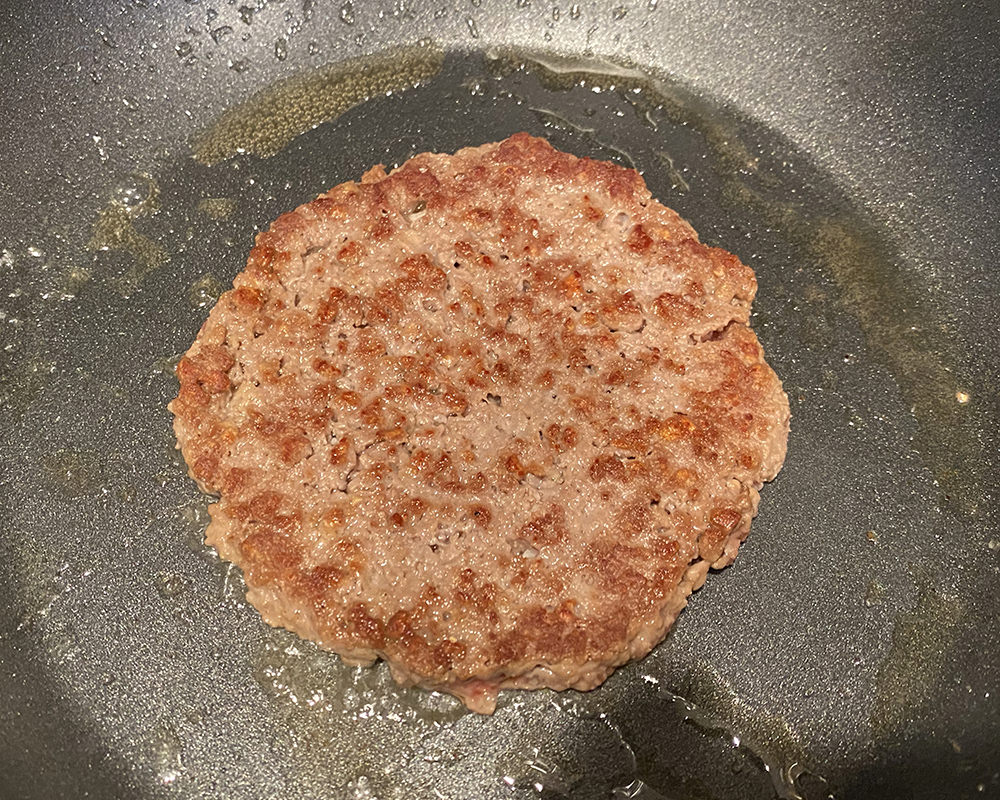 I haven't barbecued them yet, but I'm anxious to try it because it might taste more like an Impossible Whopper that way. I just worry about my burger falling apart on the grill, so I might have to try freezing it before cooking.
The good news is that I finally... finally... have a decent vegetarian burger to eat at home. That's no small feat... even though it seemed like such a simple thing. But, hey, being able to tell Kraft to take their shitty "Boca Burgers" (that are not Boca Burgers at all) and shove them up their asses is something I've been dying to do.
But what to have for dessert?
Posted on September 28th, 2018

There were three bands that defined my love of 80's music. Thompson Twins, Pet Shop Boys, and Depeche Mode. Of the three, Pet Shop Boys has been my most enduring favorite (Thompson Twins quit long ago, though Tom Bailey has recently come back). As for Depeche Mode? Well... things happen from time to time that remind me why they were my favorite band for nearly 20 years, but it's been tough for me from Exciter onward.
Here's a ranking of their albums from love to loathe...
101 — Depeche Mode is at their best when performing live. Truth to tell, there are few bands which can compare to their live performances. And if one needs proof, you need look no further than 101 from their "Tour for the Masses." Not only did it include several songs off that incredible album, it included the best tracks from those that preceded it. Magic in a bottle. And still my favorite DM album.
Some Great Reward — A remarkable album from just about any angle, it was the inclusion of People are People, Blasphemous Rumors, and Master and Servant that had me completely absorbed. It was right here that Depeche Mode became my favorite band on earth for decades.
Black Celebration — I listened to this one nearly-continuously for a year after it was released. Decidedly dark in tone, it spoke to every corner of my soul as I headed into adulthood.
Music for the Masses — Up until this album I was a big fan of the band... but I was a big fan of a lot of bands. And yet once I saw the "Tour for the Masses" and finally got to experience Depeche Mode live for the first time (see 101 above)... I was a big obsessive fan of the band. It was the album which brought true fame to the band here in the States (at last) but bigger things were yet to come. Would probably rank higher if 101 (essentially the live version) didn't exist.
Songs of Faith and Devotion — The last truly great Depeche Mode album. I don't think it's a coincidence that it's also the last album to feature Alan Wilder. Mercy in You remains my favorite track by the band, but there was so much more to love on this album. There was a track-for-track re-release as a live album, and I think I actually like it better than the studio version.
Violator It took a while for DM to break the USA wide open. Thanks to standout tracks like Personal Jesus and Enjoy the Silence, this was the album to do it. I loved it, of course, but older albums were still the ones I was listening to most.
Construction Time Again — Some really great songs here as the band found its footing. Mostly thanks to the track Everything Counts, which went on to be a staple of their live shows.
Ultra — After Alan Wilder left, I really didn't think that the band would be the same. And they weren't. Still, they did manage to rally with Ultra which was different, but not necessarily in a bad way. Half the album was as good as ever. The other half was meandering and kind of fell flat for me.
Playing the Angel — When the first single, Precious, was released, I was flying high over the idea that just maybe the band had rebounded from the previous album (Exciter). And rebound they did. Sure the album version of Precious wasn't as good and there were a few tracks that never quite landed... I was still very happy with the album... and the tour.
Sounds of the Universe — The last album by the band that I truly enjoyed. Not all of it... but enough of it. And the tour was fantastic.
A Broken Frame — In their second album, things started coming together for the band. This was quite a feat given that their songwriter (Vince Clarke) had left.
Speak & Spell — The first Depeche Mode album (and the only album with original member Vince Clarke) was pretty raw. But there were some gems to be had.
Exciter — The first album by the band that truly disappointed me. A couple decent tracks, but nothing to write home about. They rebounded a bit, but never reached the heights we got from Songs of Faith and Devotion.
Delta Machine — I do not, for the life of me, understand how the band got to this point. Before release, I was actually excited about Delta Machine — because there was talk they had returned to their roots. Nothing could be further from the truth. It was yet another album filled with angels and redemption, but was a joyless mess. I went to the supporting tour, but was only interested in the tracks that weren't from Delta Machine.
Spirit — Hated every single song on it. Never bought it. Never saw the tour. Shocked that things could get worse than Delta Machine, but here we are.
Posted on November 24th, 2014

This weekend I ran across a video for one of Depeche Mode's most beloved songs, Just Can't Get Enough. As is typical with YouTube, the videos are stacked up like potato chips and you find that you can't watch just one. Before I knew it, I had blown through dozens of versions of Just Can't Get Enough from their live shows over the decades. Turns out that they've played it a lot.
Not surprisingly, the band had changed it up a bit over the years...
Here is the video that started my journey. They look like they're 10 years old here. The original song is a bit tinny, but this is the only way I knew it for nearly a decade (from 1982)...
Now, in the above video, Alan Wilder has taken the place of Vince Clark, which means there are even earlier versions where he was still with the band (from 1981)...
I'm glad that the official video for the song has Vince performing the track. He wrote the thing after all. Just an FYI, this is the only DM music video he appears in (also from 1981)...
Jumping back ahead to 1982 and the post-Vince Clark period, this version of the song has Dave Gahan with a bit different ending than what I've heard before...
Then we come to what many consider to be the "classic era" of Depeche Mode. People Are People gets released and the entire world starts to take notice (from 1984)...
Of the many, many versions of Just Can't Get Enough I've heard over the years, my hands-down favorite is the live version from my favorite Depeche Mode album of all time... 101 (from 1988)...
A little harder on the synth, but not so much that it's a radical change from the original.
Alan Wilder left the band in 1995. The band was never quite the same. Nor were live performances of Just Can't Get Enough (from 1998)...
Not a lot changed in the years that followed (from 2006)...
Which leads us to last year's show (from 2013)...
This actually sounds like a step back towards the original, where the synth is a bit more brassy than deep.
And... out of the 200+ versions of the song I found on YouTube, that's a pretty good representation of the song's evolution.
I hope to hear it at many more Depeche Mode concerts in the years to come.
Posted on September 14th, 2013

Not so long ago, I was lamenting that I would miss the 2013 "Delta Machine" tour for my favorite band, Depeche Mode. For some unfathomable reason, they decided to skip Seattle this time. Fortunately, Certifiable Princess saw my agony and mentioned that they would be playing in Tampa on September 14th! One very, very cheap airline ticket later plus a few thousand hotel points, and here I am!
As expected, the concert was amazing... C.P. and her husband thought so too. DM played a terrific mix of new tracks and old favorites, and backed it up with an Anton Corbijn stage show that was pretty cool (if less elaborate than what we've seen in the past).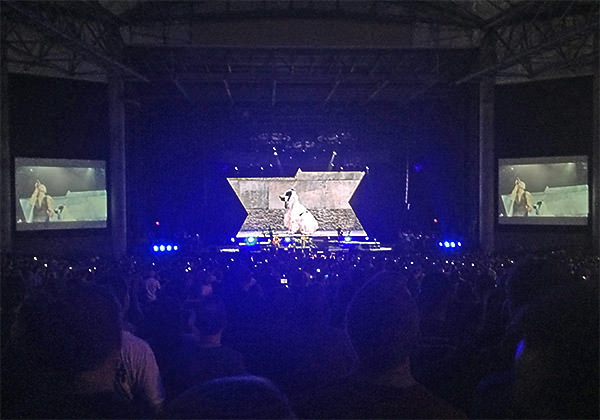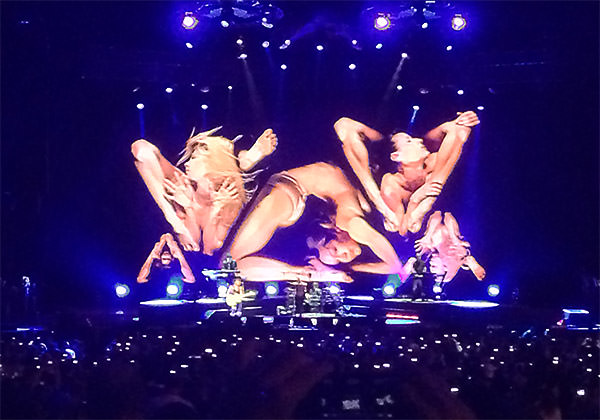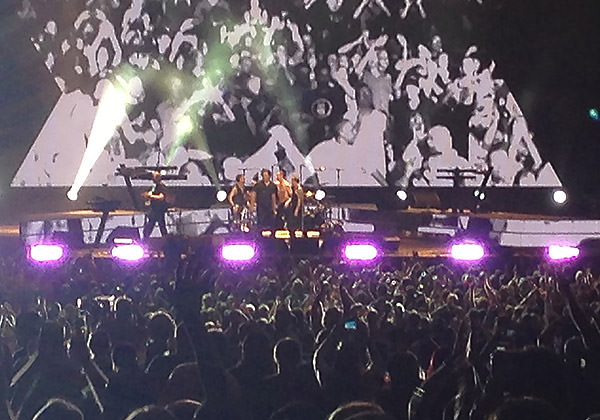 Delta Machine is a fairly dark album that has a heavy industrial-style sound to it. I enjoyed it well enough, but it's just not the same Depeche Mode that made me such a huge fan. And though I wish they had played more classic stuff, it was still a great show that was easily worth the effort it took to get here...
Welcome to My World (Delta Machine). It was a good taste of things to come as an opener on their current album, and an equally appropriate opener to the show. Distinctly Depeche Mode in many ways, but not quite the sound you expect from them.
Angel (Delta Machine). One of my least favorite tracks off the album. It's an uneven blend of industrial grunge and blues that comes off as an incohesive mess.
Walking in My Shoes (Songs of Faith and Devotion). A track off of one of my favorite DM albums, performed flawlessly. I was surprised how popular the song was with the crowd... many of whom were singing along.
Precious (Playing the Angel). The single released in advance of the album was absolutely beautiful, and made me anticipate Playing the Angel quite a lot. But then they did something I hate... put a different version on the album. Lucky for me, the version they performed tonight was closer to the original, and sounded amazing.
Black Celebration (Black Celebration). The title track off of Depeche Mode's fifth album is a fantastic live track, and they were very true to the sound of the original... the addition of the live drum kit to the song tonight really helped elevate it to new heights.
Policy of Truth (Violator). A hallmark DM song that I was very happy to have included in the set. They went a little more "rock" with it for the stage show, which was fine, but it did make me want to revisit the original to hear it as I remember it.
Should Be Higher (Delta Machine). One of the more "Depeche-like" songs off the new album, it played pretty well to the crowd. I think this was one of the few Delta Machine tracks I was glad to hear.
Barrel of a Gun (Ultra). This was the first single from the album that redefined the band's sound, and it was a direction I embraced at the time. Looking back, I realize that this was more of a transition album than I could have fathomed, as everything kind of spiraled from there to where we are today. In retrospect, I wish the band would have spent a little more time in the Songs of Faith and Devotion era (which would be rough without Adam Wilder), but there's no denying this was a great song.
The Child Inside (Delta Machine). Holy crap I hate this song, and I was very surprised they included it for the tour. It's just so bad... both lyrically and musically. Apparently everybody else in the crowd felt the same way, because they entire amphitheater went completely dead. I've never seen people drop to their seats so fast.
But Not Tonight (Black Celebration). A song I like very much performed differently than I'm used to, but very good nevertheless.
Heaven (Delta Machine). It's a very nice song, but so plodding and slow that it really drug down the show. I don't know where they could have stuck it so that it would have worked, so maybe this was as good a place as any.
Soothe My Soul (Delta Machine). I did not like this song on the album at all, but admit that it worked very well live... maybe they sped it up and worked it harder than on the album?
A Pain That I'm Used To (Playing the Angel). This is a bizarre remix of a song that I like very much... I can't quit pull it out, but it sounds like they jammed in parts of John the Revelator and Steve Miller's Abracadabra. Not horrible, but boy do I wish they had stuck to the original.
A Question of Time (Black Celebration). I usually hate it when a really good pop song is deflated to some lame acoustic interpretation, but Martin Gore did a pretty good job with the track despite it all. But why, oh why, couldn't we have gotten the original version of the song since they went to the trouble of including it in the show? Why? SUCH a great song as it was originally released.
Enjoy the Silence (Violator). Probably the band's most famous song... accompanied by female contortionists molded into the shapes of the triangular screens behind the stage. It was weird. It was uncomfortable. And oddly beautiful. Just like the song.
Personal Jesus (Violator). An equally popular Depeche Mode favorite, it flowed perfectly off the previous song and had the crowd singing along. I may be mistaken, but in previous shows I remember it being played much stronger and harder... this time it was backed down a bit, matching the tone of the album. Even so, it was a great track to end the main set with.
Encore: Home (Violator). Okay, now this acoustic interpretation I did not like because the beautiful, textured, haunting score from the original is just so amazing. But, even acoustic, it's hard to deny that it's a beautiful song. Audience participation was pretty cool, as everybody kept singing after Martin had finished.
Encore: Halo (Violator). The guy sitting next to me was excited they performed this Goldfrapp Remix version over the original... and it was an awesome take on a great Depeche Mode song, so I was happy to hear something old made new... however...
Encore: Just Can't Get Enough (Speak & Spell). Ah yes. What DM concert would be complete without this track from their very first album? Kind of a tradition now, I think, which is nice thing for Vince Clarke, since he'll keep having the royalty checks coming in! Yes, it's been drug through commercial hell, appearing in advertisements and promotions, but it's still one of my favorite DM songs, and I never get tired of hearing it. There seemed to be a heavier synth vibe this performance, which I really liked... enough that it has me hoping they re-record it one day.
Encore: I Feel You (Songs of Faith and Devotion). It made me very happy to hear another track off my favorite Depeche Mode album! Again, I was surprised at how much the crowd was into this song. I guess more people than I thought are into Songs of Faith and Devotion but, then again, this is such an incredible song that it would have fans no matter where it came from. Would have been nice if they had drug out my most beloved DM song of all time from that album, Mercy in You, but this was close enough.
Encore: Never Let Me Down Again (Music for the Masses). I would have a hard time choosing just one song from the brilliant Music for the Masses to play on tour... Stripped? Nothing? Strangelove? Behind the Wheel? I mean, seriously, there's not a misstep on the entire album (probably why their live 101 album which supported it is such a classic). Fortunately, I didn't have to, and Never Let Me Down Again ended up being the perfect choice to close out the show.
Despite my pining away for more of their older material, this was an epic concert. Depeche Mode sound every bit as good now as they did 30 years ago, and remain one of the best live bands I've ever seen (with Matt & Kim being a close second). So long as they keep performing this well, the band is in no danger of losing me as a fan, regardless of where they go with their music.
That being said, can we please go in a slightly different direction on the next album? All these songs about heaven, angels, redemption, addiction, and salvation have really been played out now, and it's time to move on. I really, really don't want to have to suffer through another version of The Child Inside.
Posted on March 31st, 2013

Don't think the Easter Bunny can stop the power of the blog... because Bullet Sunday starts now...

• The Bible! Whether you believe in The Bible or not, you have to admit there are some really good stories in there. And, while the good book has been plundered for entertainment fodder many, many times over the years... somebody is always thinking they can do a better job. This time it's Survivor creator Mark Burnett and his wife, Touched by an Angel actress Roma Downey (who cast herself as the Virgin Mary, natch). This ten-part mini-series airing on The History Channel is called The Bible, and I have to say that it's pretty darn good. The stories are relatively true to the source material, are easy to follow, are shot beautifully with good special effects, and features a capable cast. Including Portuguese actor Diogo Morgado as Jesus...
And President Barack Obama as Satan...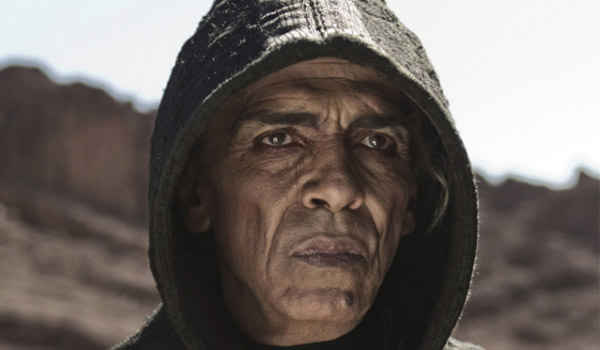 No... wait a second... that's a guy named Mohamen Mehdi Ouazanni, who "just happens" to bear a resemblance to President Obama. Everybody involved is saying it's just a crazy coincidence but, considering Ouazanni has fairly pale skin and looks quite different in real life (based on Google Image Search results I've found), that may be a bit of a stretch.
Oh well. As I said, overall I enjoyed the series, and the finale which aired tonight was darn fine television. If I had a bone to pick, it's that I think some very interesting points from these Bible stories were glossed over or changed so they could focus on amping up the stuff they considered to be "more dramatic." That's kind of a shame, because they didn't really need to do that... The Bible has plenty of good drama without going over the top. For example, Matthew (one of my favorite characters in The Bible) was severely short-changed. The guy was a tax collector that had all kinds of wealth and power, yet he gave it all up without so much as a blink for a life of poverty just because Jesus asked him to! That's pretty ballsy, and they really should have given the guy more screen time... or at least made you feel the sacrifice he made while taking a literal leap of faith.
I dunno... I've studied The Bible extensively but, since I'm not a Christian, perhaps my viewpoint on things wouldn't have been the best approach. I just think the show would have been better served if they spent a little more time on important details instead of dozens of shots of Roma Downey's face either in shock or crying. Anyway... I highly recommend The Bible for both it's excellent production and entertainment values... even if you're a non-believer like me.

• Do It! Today is World Backup Day!

Have you made sure your data is backed up and your restores are working? No? Well, you should probably do that soon. Data is a terrible thing to waste.

• Delta! I'm about as big a fan of Depeche Mode as it gets... but, anymore, I don't even know what I'm listening to. I can appreciate that a band needs to grow and change, but I don't like their latest album, Delta Machine, because it's simply not the band I know...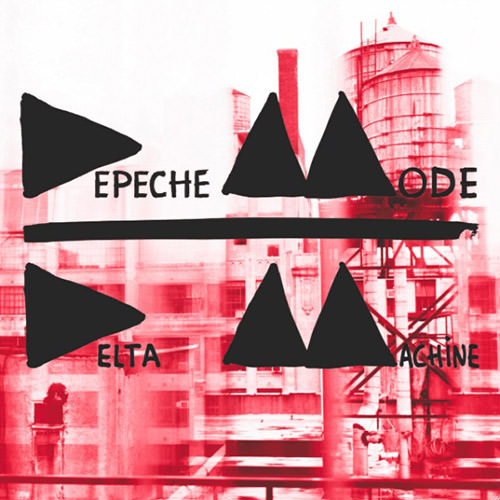 Everything they released up through Songs of Faith and Devotion was genius. Ultra was a bit of a misstep, but still excellent. Then things went terribly wrong. Exciter was truly awful. Then the band kinda redeemed themselves with Playing the Angel and Sounds of the Universe because I could actually enjoy the music on them (for the most part). Now they've gone completely off the rails again. I have a feeling that what comes next will be the breaking point for me. Kind of scary for a band I've loved for over 30 years now.

• iCloud! For the most part, I am a total Apple Whore who loves everything the company puts out with a fiery passion. Unfortunately, there are lapses in my faith from time to time. One of the biggest? It's the massive failure that is Apple's "iCloud" service. It is truly a pile of shit that does not work very well. As if that weren't bad enough, it is LESS CAPABLE than the service it replaced, "MobileMe," because it can't even sync your frickin' keychain data. With each passing day I despise it more, and pray to Steve Jobs that they will finally fix the steamer. So far nothing. And it's getting so bad that even Apple developers are staying away. This article has an excellent summary of just how bad the situation it.

And now? I need a chocolate bunny. Happy Easter to all who celebrate the holiday.
Posted on January 29th, 2012

Buckle up and strap in, another edition of Bullet Sunday starts... now...

• Fight! As Florida's Republican Primary draws near, the battle between Newt Gingrich and Mitt Romney is really getting nasty. Partly because the attack ads flying back and forth are pretty harsh... but mostly because nasty-ass Rick "Piece of Shit" Santorum is still hanging on the election like a nasty-ass used condom stuck on the side of a nasty-ass trash can...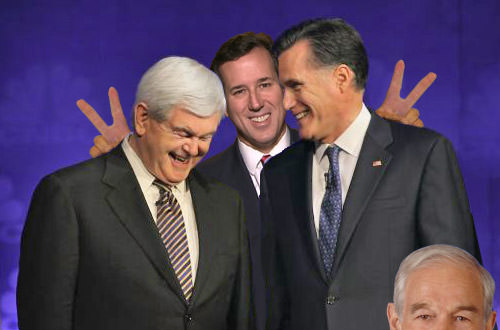 Heeeeeeere's Santorum! — Photos by Scott Olson/Getty and ABC
I wonder how Gingrich and Romney are going to get rid of him? Maybe they could look into how to get shit stains out of underwear and give that a try.

• Hobbits! LEGO announced that they have a license for new sets based on The Lord of The Rings. I dare say that I am actually more excited about this than I was when they got the Batman license (if such a thing is possible)...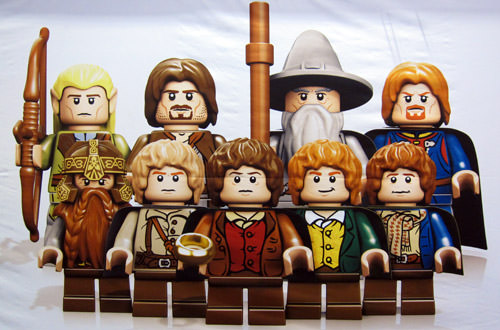 Photo taken from Brickset!
When the LEGO Lord of the Rings video game comes out, I will be deliriously happy.

• Noooooo! It's not all good news in the world of LEGO though... the incredible LEGO UNIVERSE massive multi-player online game is shutting down at the end of the month...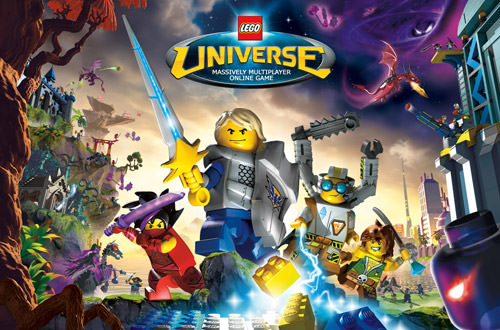 The game is really well done and a lot of fun but, unfortunately, I rarely had time to play it. I wish that they would take all the game assets and release it as an offline adventure game, because there was a lot of good stuff in there.

• Mode! A friend sent me this video of a guy and his two kids performing Depeche Mode's awesome song Everything Counts. So epic it hurts...
Here's hoping that they take on People are People as a follow-up.

• Render! My work requires that I be able to render 3-D images from time to time. 3-D itself is fairly easy, and there are apps that make it dead simple to do basic stuff. Where the challenge comes is doing 3-D rendering well. This requires some very good tools that usually come with a steep learning curve. I started out with a program called Electric Image Animation System to render, because that's what Industrial Light and Magic used when they re-did the special effects for the Star Wars films. I needed a 3-D modeler, so I had to learn Form-Z. Eventually EIAS got its own modeler, so I learned that. After a while EIAS dropped their modeler. This pissed me off, so I dumped EIAS and learned Cinema 4D. But Cinema 4D didn't render as nicely as EIAS, so I went back to EIAS and learned how to use modo for my modeling. Eventually I got sick and tired of jumping back and forth between EIAS and modo and dumped both of them for NewTek's all-in-one package called Lightwave 3D. Lightwave was moving to a cool new technology called CORE, and I wanted in. But then NewTek dumped CORE so I dumped Lightwave 3D. Not wanting to start all over again, I went back to EIAS and modo. But then modo started adding its own rendering and animation tools that were really sweet, so I dumped EIAS. Now I use modo for everything and love it.
Except... in the background there has always been Maya, a hideously cool 3D package that I've always lusted after but could never afford. For even a basic Maya setup, you're paying $3500 minimum (and the license upkeep is equally pricey). But yesterday I was offered a Maya license for a project that's coming up. So now I'm torn. Do I really want to take the time to learn a new program all over again? The answer to that is ABSOLUTELY! I have never shied away from learning something new, and this is a dream come true. The problem is that I don't have time to take the time to learn Maya, so I had to decline this most generous offer.
Nothing quite like watching Reality walk into the room and crush a dream right in front of you.

And on that happy note, the weekend is over.
Wah!
Posted on August 25th, 2009

Saw an absolutely incredible performance by Depeche Mode tonight in Salt Lake City with Marty and WarpedGirl16...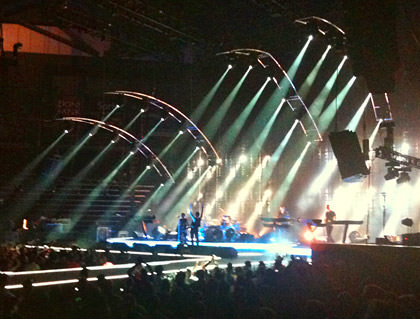 For a spoiler-filled set list and some additional photos, you can get all that in an extended entry.
→ Click here to continue reading this entry...