Posted on April 15th, 2018
And here we are at the end of my busy day in Budapest. Since I have to be at the train station by 7:30 in the morning, there ain't no more after this.
Odds are if you've ever been looking at photos of Budapest, you'll undoubtedly run across that classic shot of the Hungarian Parliament Building all lit up at night. The city is kinda famous for it, and I wanted a shot of my very own.
After sprinting across the Danube... or, to be more precise, under the Danube on the subway... I sat on the bank across from the building waiting for night to fall and the magic to happen.
The lights start off small at first. Just little glowing dots appearing across the exterior...
But before too long, the whole building is flooded in golden light. It is most certainly a pretty sight...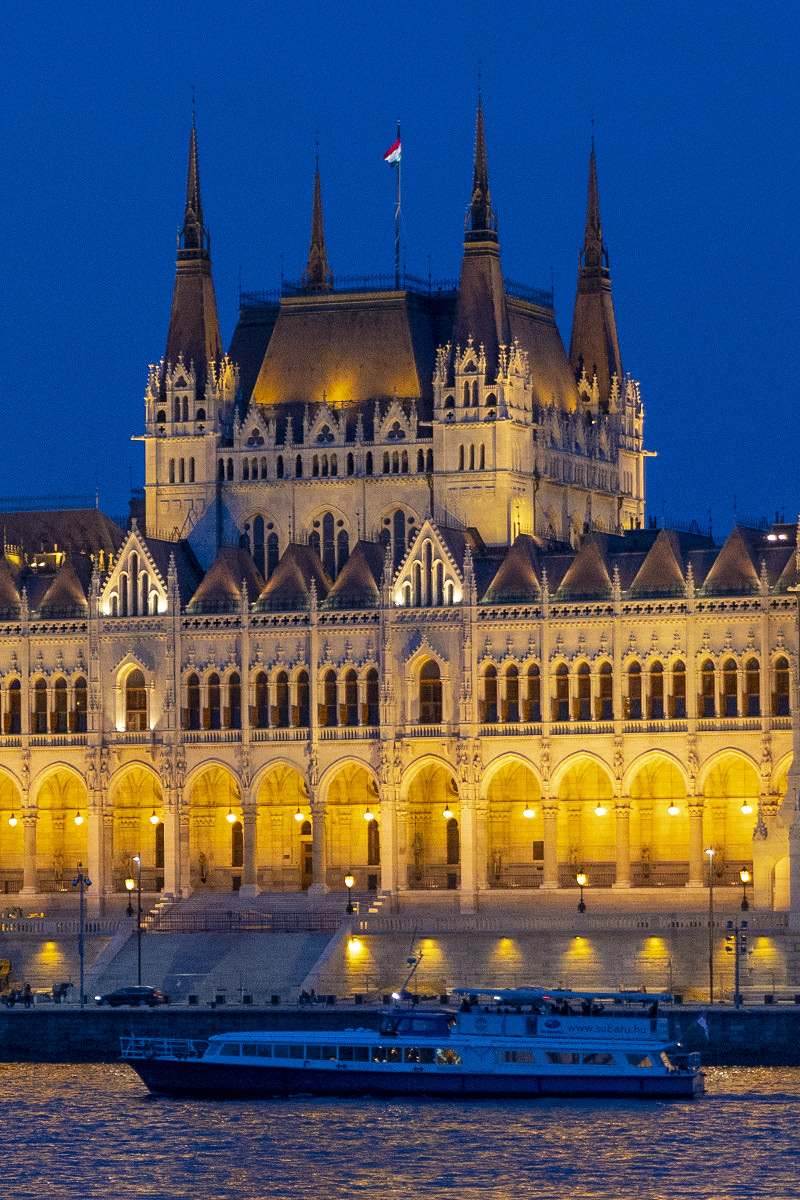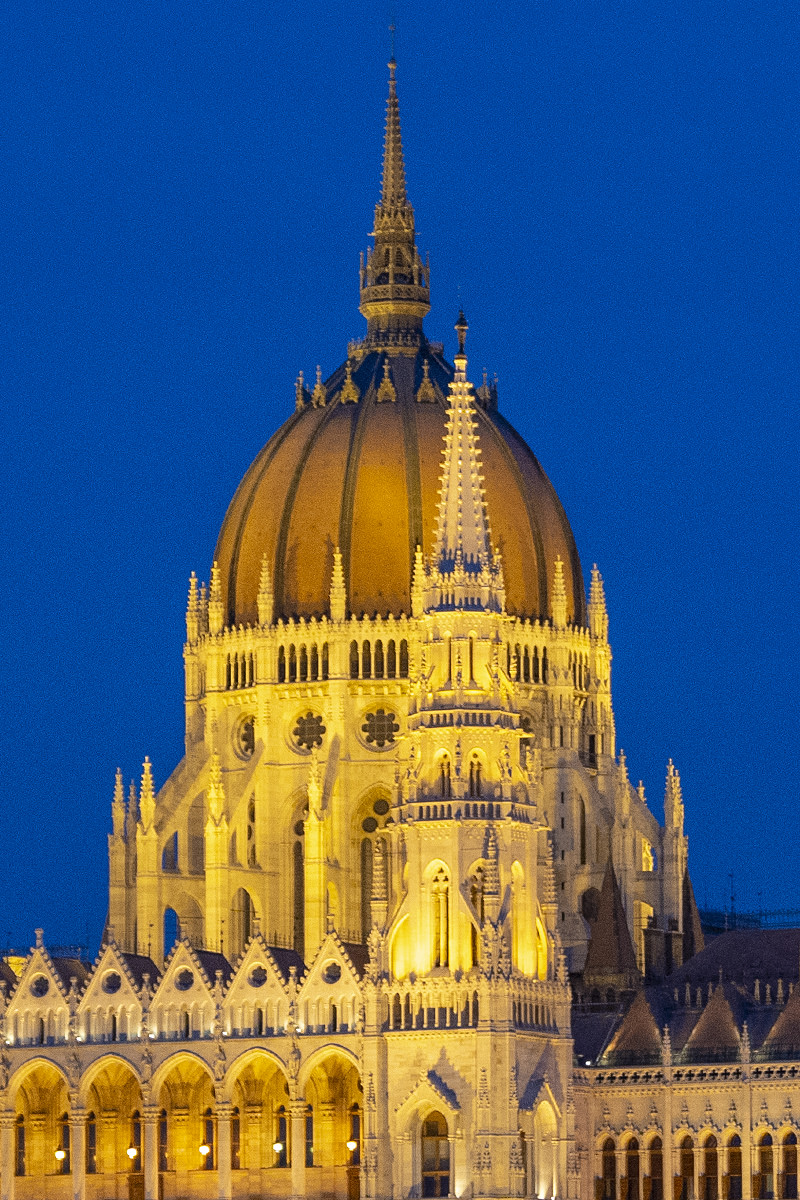 Continuing down the West bank of the river, I make my way back towards the Chain Bridge...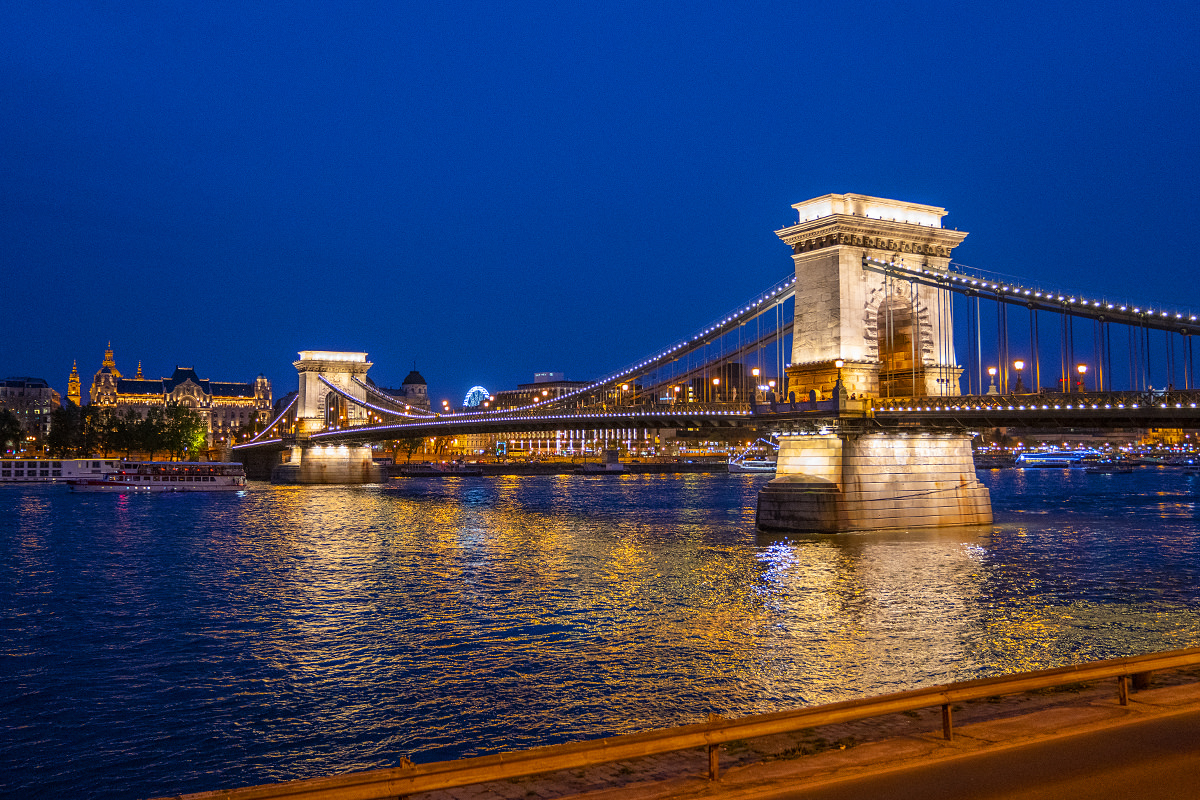 I had purchased an extra funicular ticket on my first ride up Castle Hill because I wanted to look down on the city with all the lights on...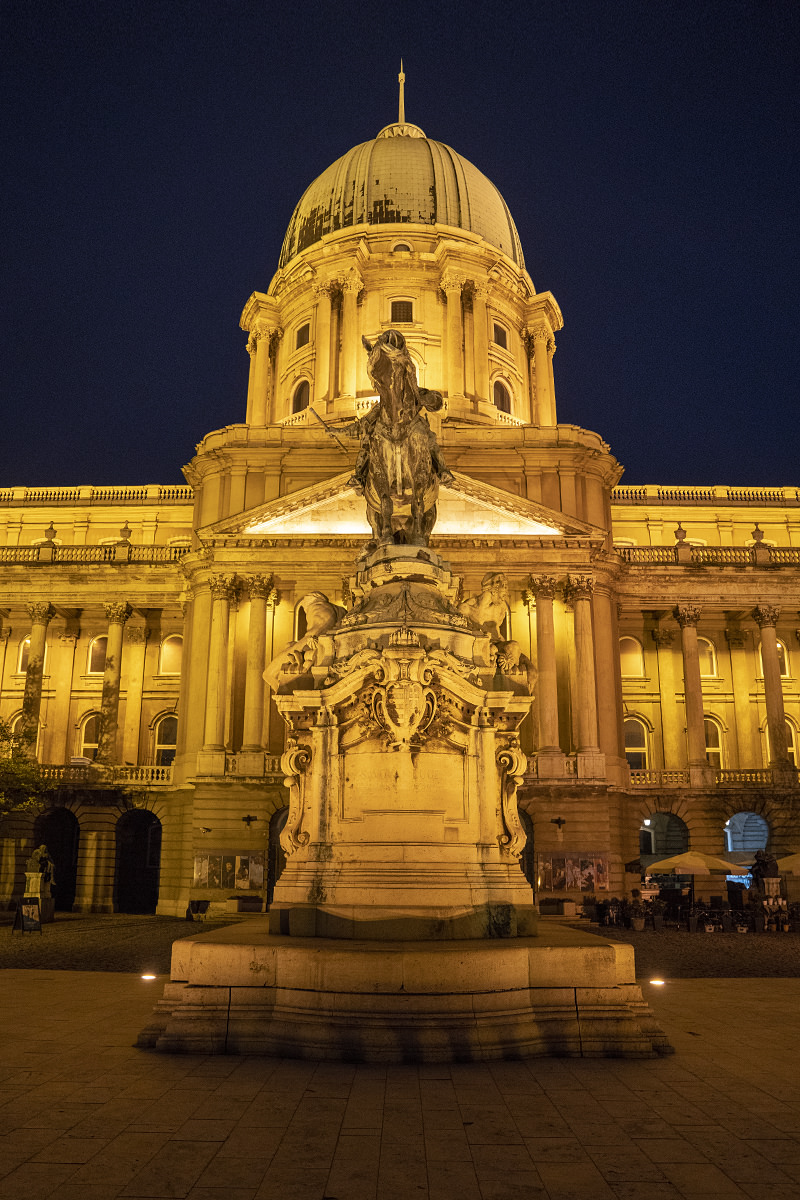 On my previous funicular rides, I didn't have very good angle to film the experience. This time I did, and here's what that looks like...

And that's all she wrote, folks. Time to head back across the river so I can get some sleep before heading out in the morning...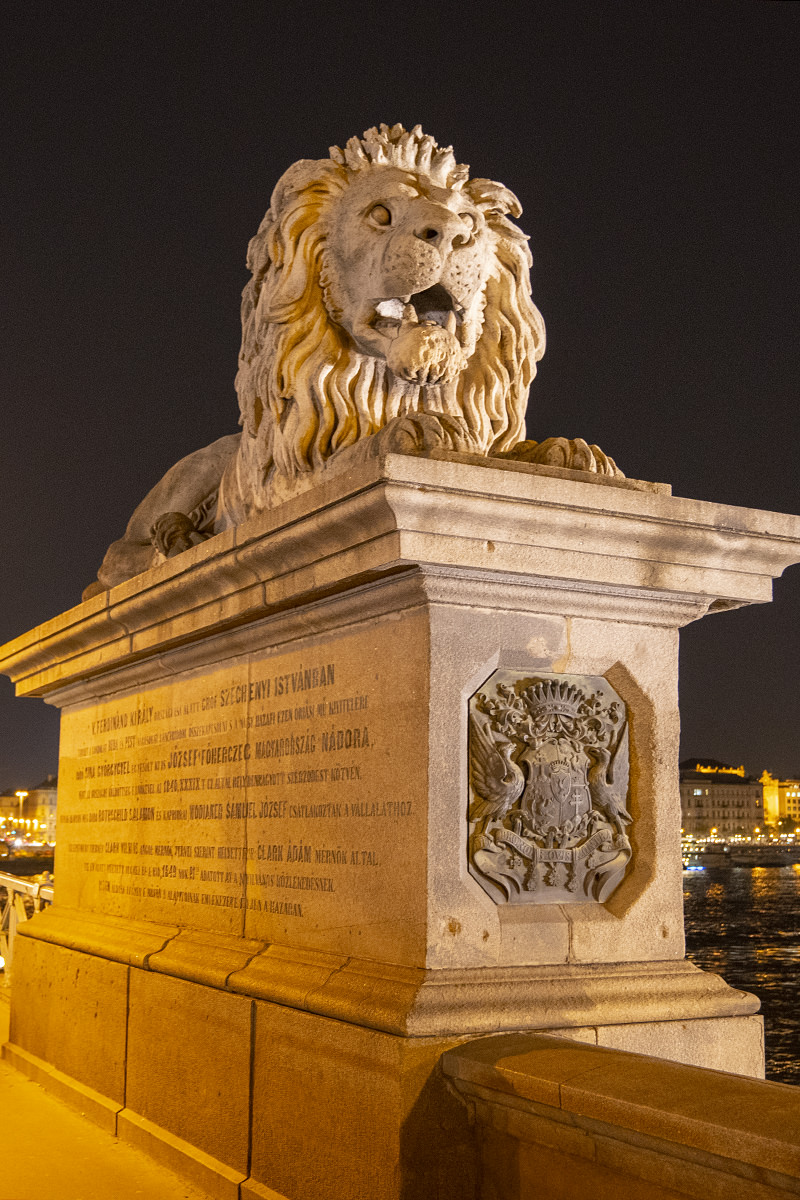 Until next time, Budapest...
Posted on April 15th, 2018
I would have wanted to visit Budapest even if there were not a Hard Rock Cafe here, but since there is, I definitely wanted to drop by for a shot glass, T-shirt, and a couple pins. And a late lunch. Just enough to tide me over until I found some kind of awesome Hungarian vegetarian meal for dinner.
The Hard Rock Budapest is a fairly small property, but has a good assortment of memorabilia...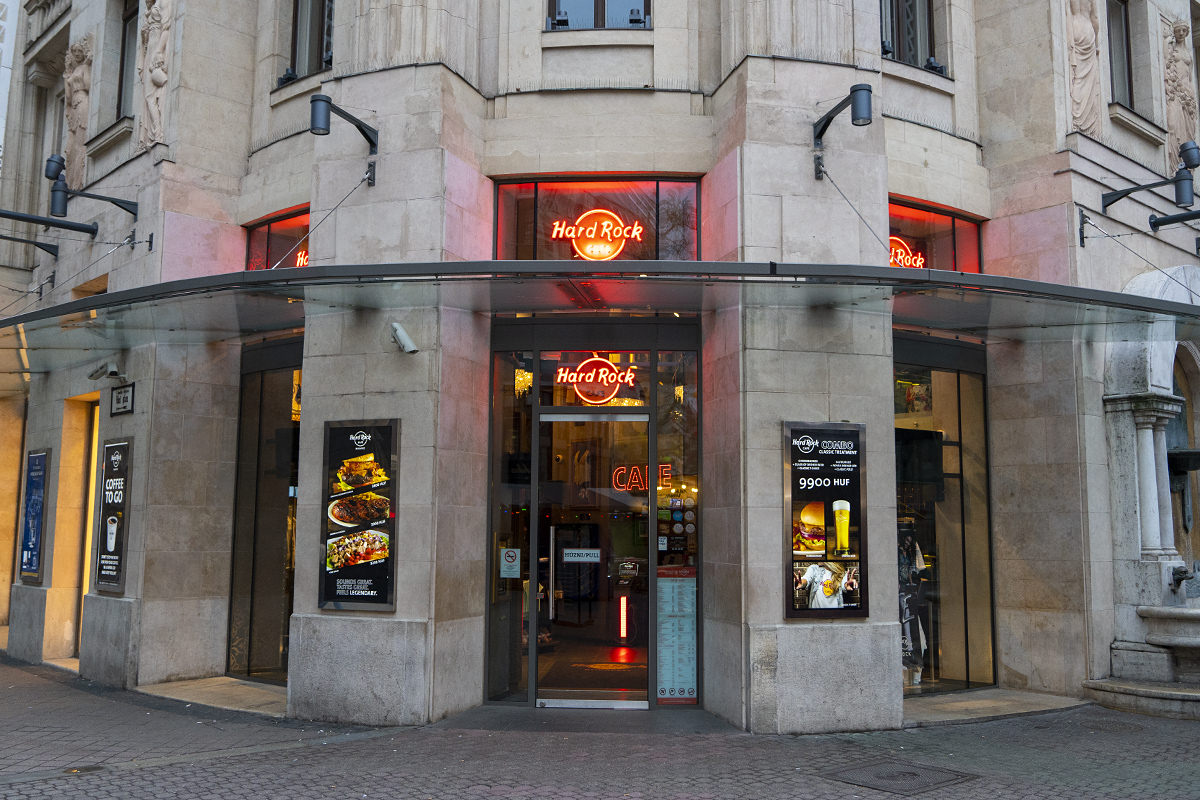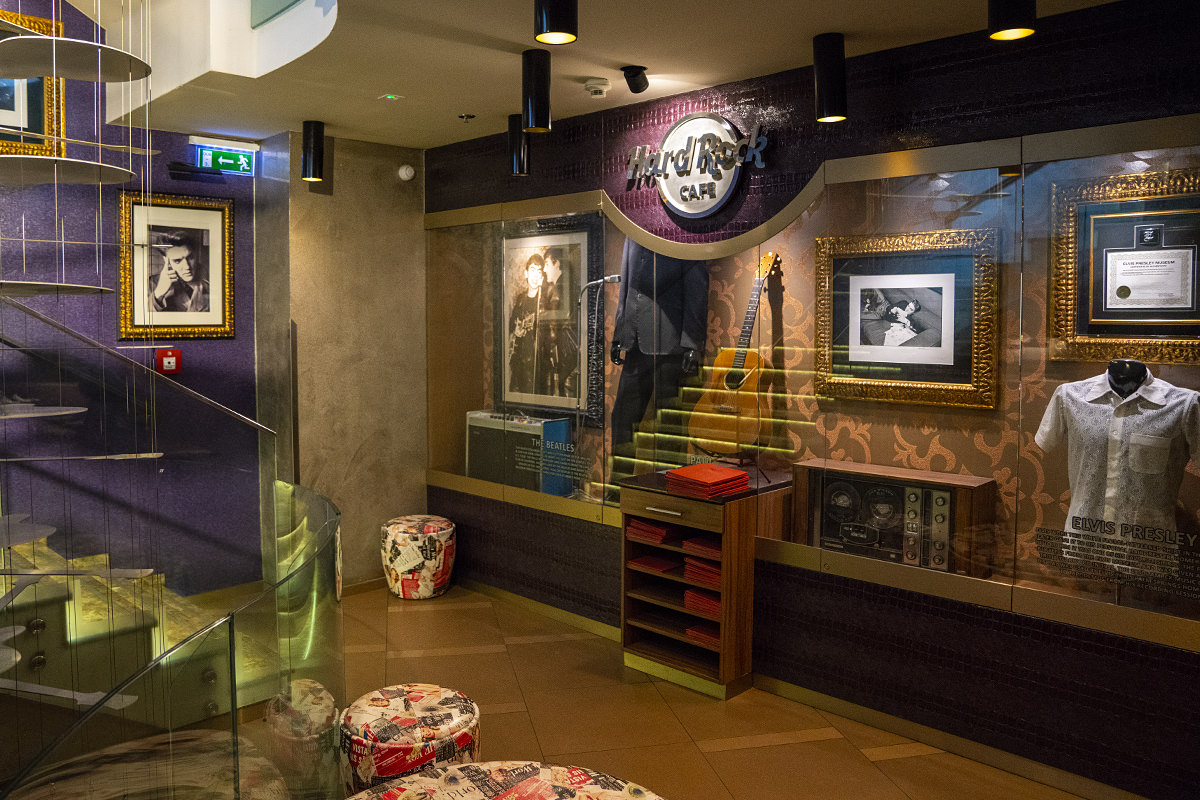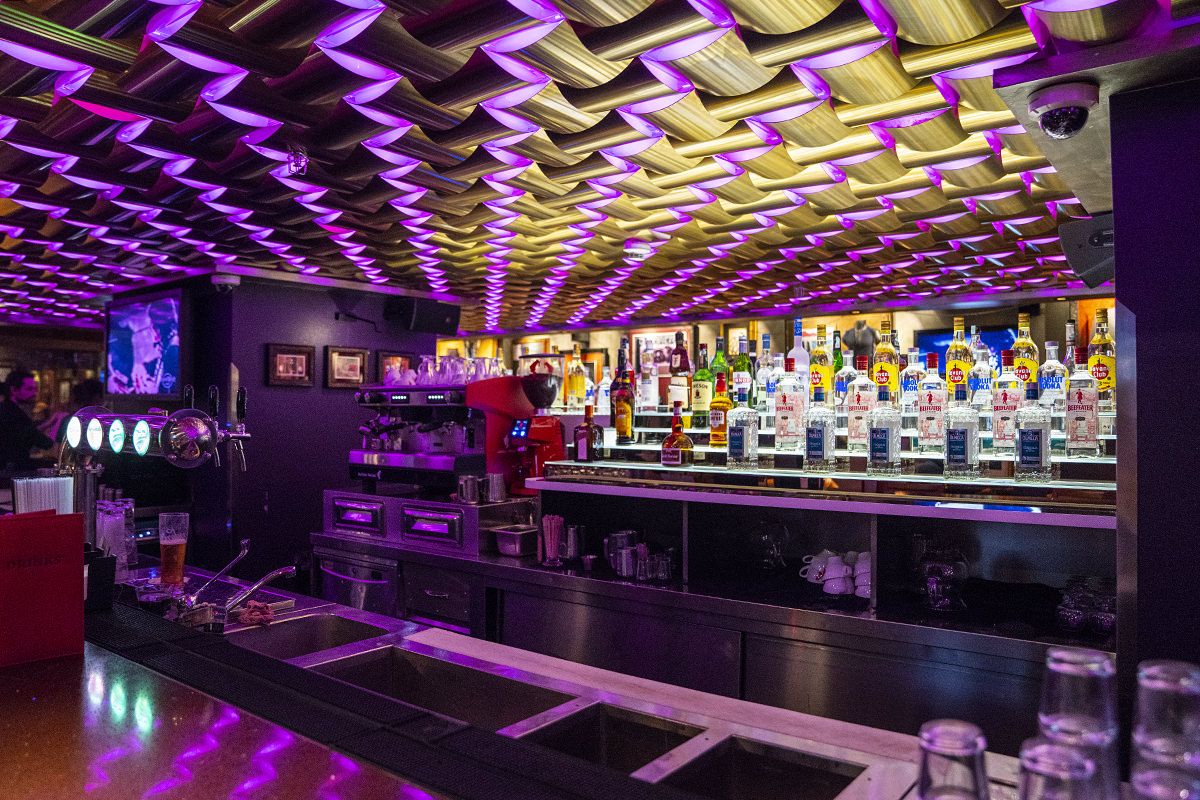 It also has a nice view of the square below...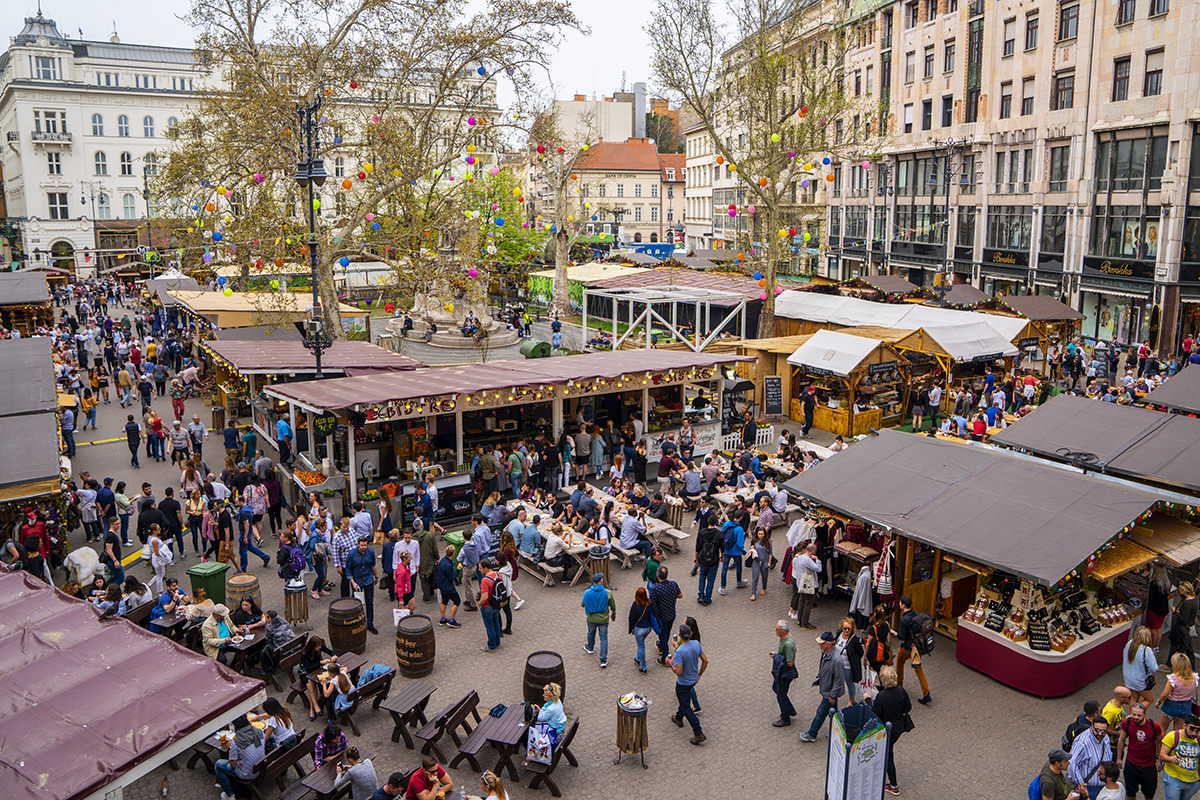 Wanting to get the most out of my 24-hour public transit card, I headed to City Park and Vajdahunyad Castle. There's a museum about agriculture inside, but I didn't have the time to spend visiting it...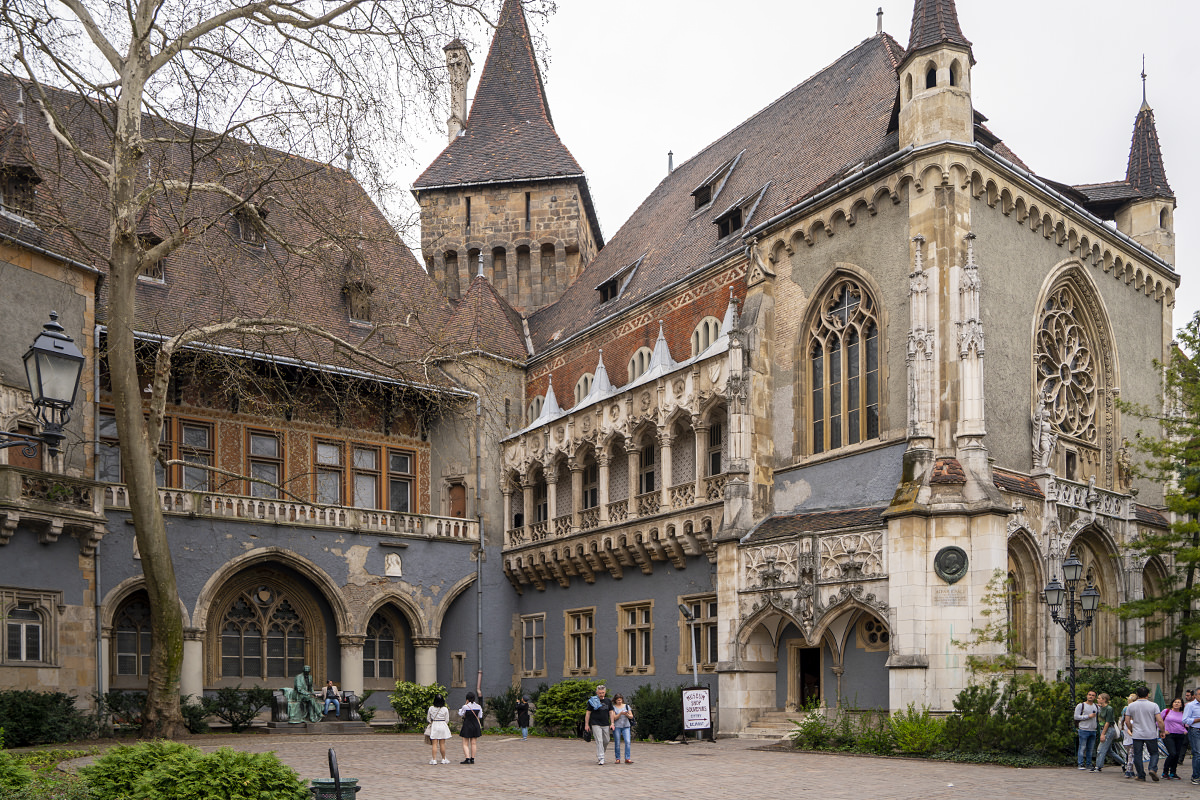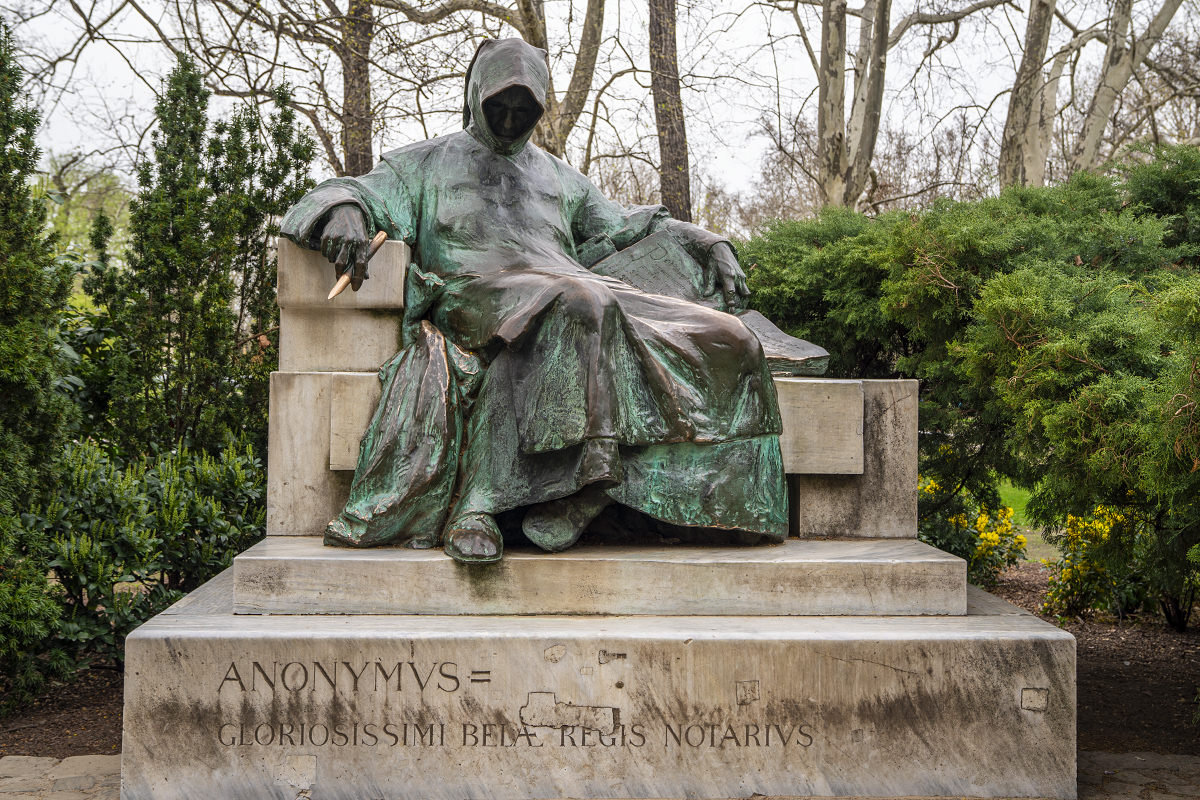 Behind the castle is Hősök tere, which means "Heroes' Square" in English. In addition to housing Hungary's Tomb of the Unknown Soldier, there are statues of various important Hungarian leaders at one end. As you could probably guess, this has been the site of many political demonstrations over the years...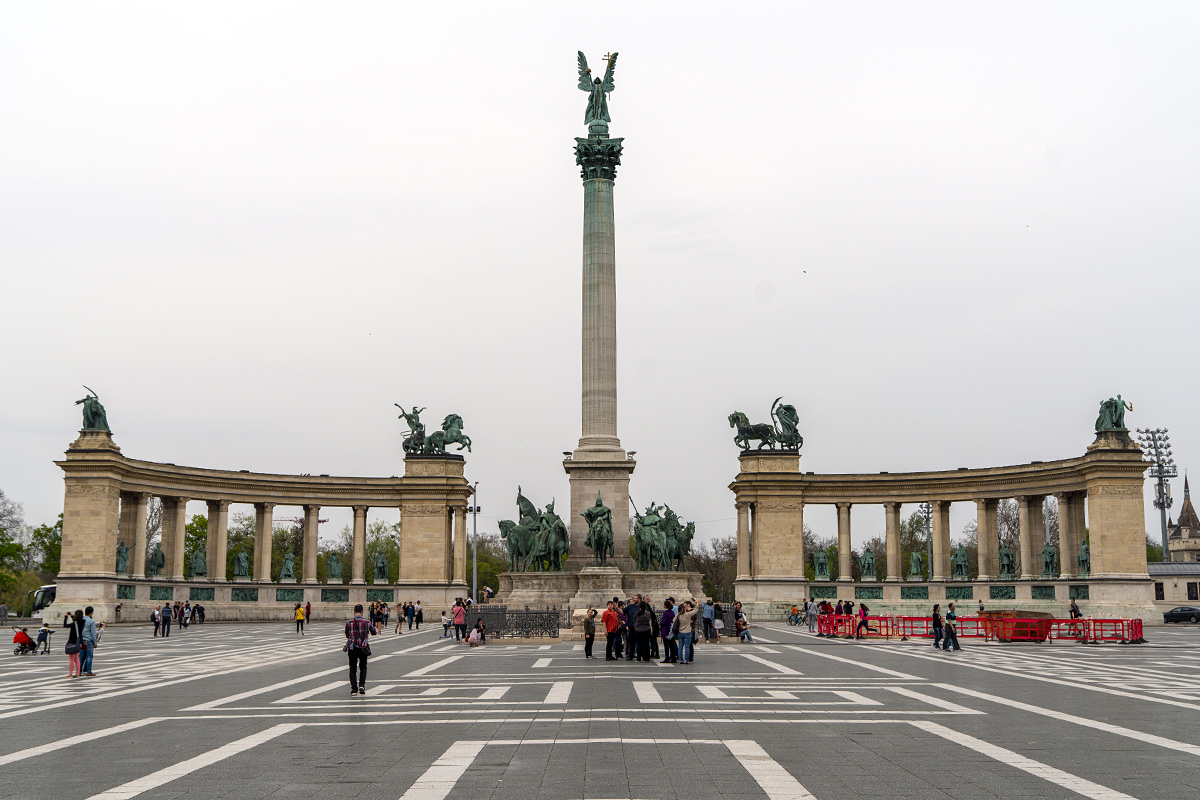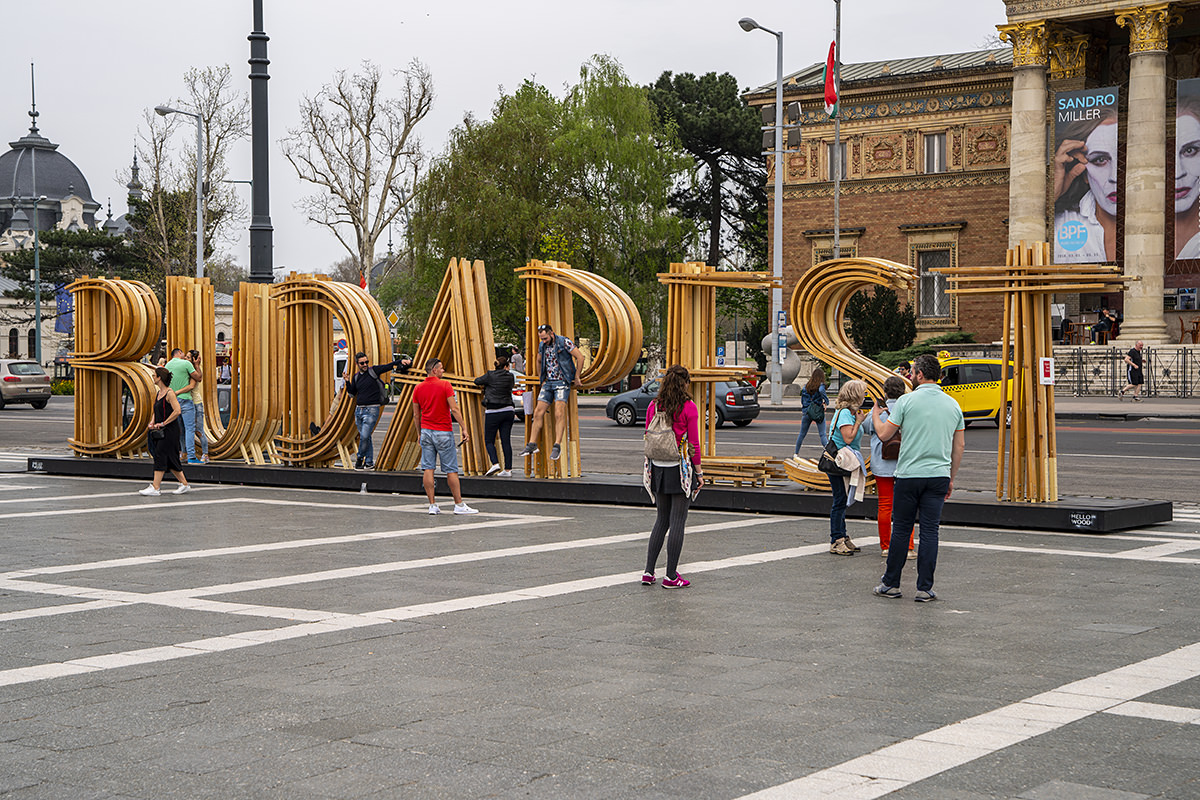 As I was speeding my way back towards the Danube, I saw this funky piece of art in one of the subway stations and had to get a photo. No idea what it means...

The Hungarian Parliament Building is famous for the way it lights up at night, but it's not quite getting dark yet. Doesn't stop me from pulling my camera out as I pass by though...

At the river, I eventually find what I'm looking for... the "Shoes on the Danube Bank" memorial. During World War II, people (mostly Jews and Romani) were brought here to the river bank to be shot by the Nazi-inspired fascist regime of the day (called The Arrow Cross Party), but were told to remove their shoes first...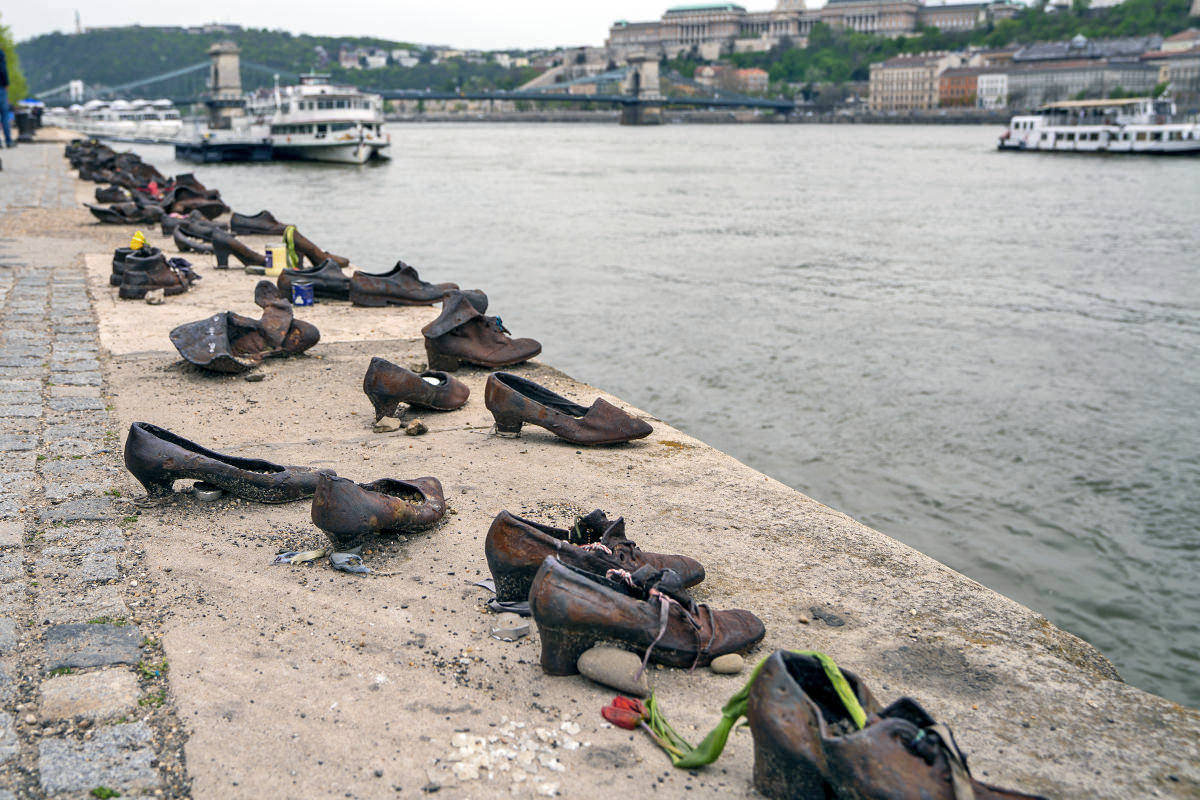 Exhausted from running around like a madman all day, I headed back towards my hotel to get some dinner and rest up for some night photography. I didn't know what might be available for vegetarians, but thought my best bet would be at a collection of food stands in the square nearby. Sure enough, I ran across "Lángos" or "Hungarian Flatbread," which is pieces of deep-fat-fried dough that's slathered in sour cream then topped with a mountain of grated cheese...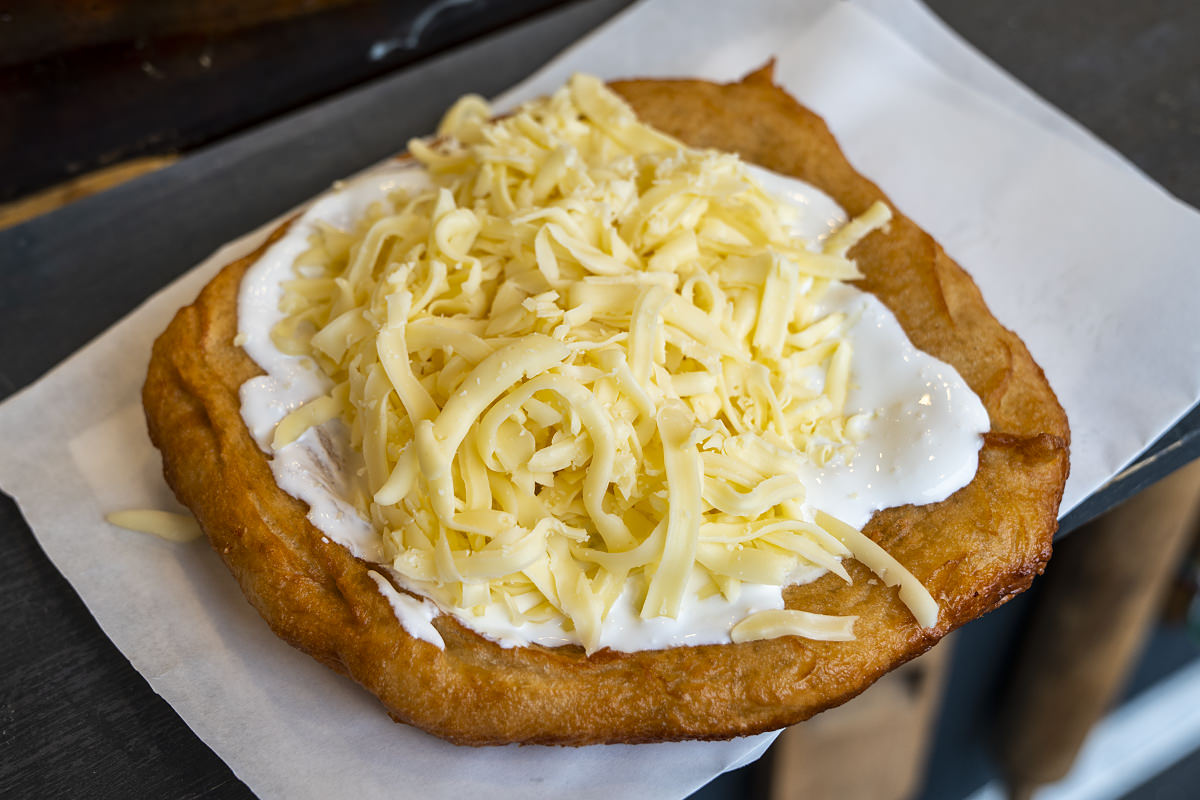 Pretty close to heaven for somebody like me!
And... one more entry left to wrap things up...
Posted on April 15th, 2018
From Buda Castle I walked to the area known as "Halászbástya"... or "Fisherman's Bastion" in English. The reason that this end of castle hill has that name is because the local fishermen's guild was responsible for defending it. The bastion itself is pretty nifty, with great views across the Danube River to the Pest side of the city...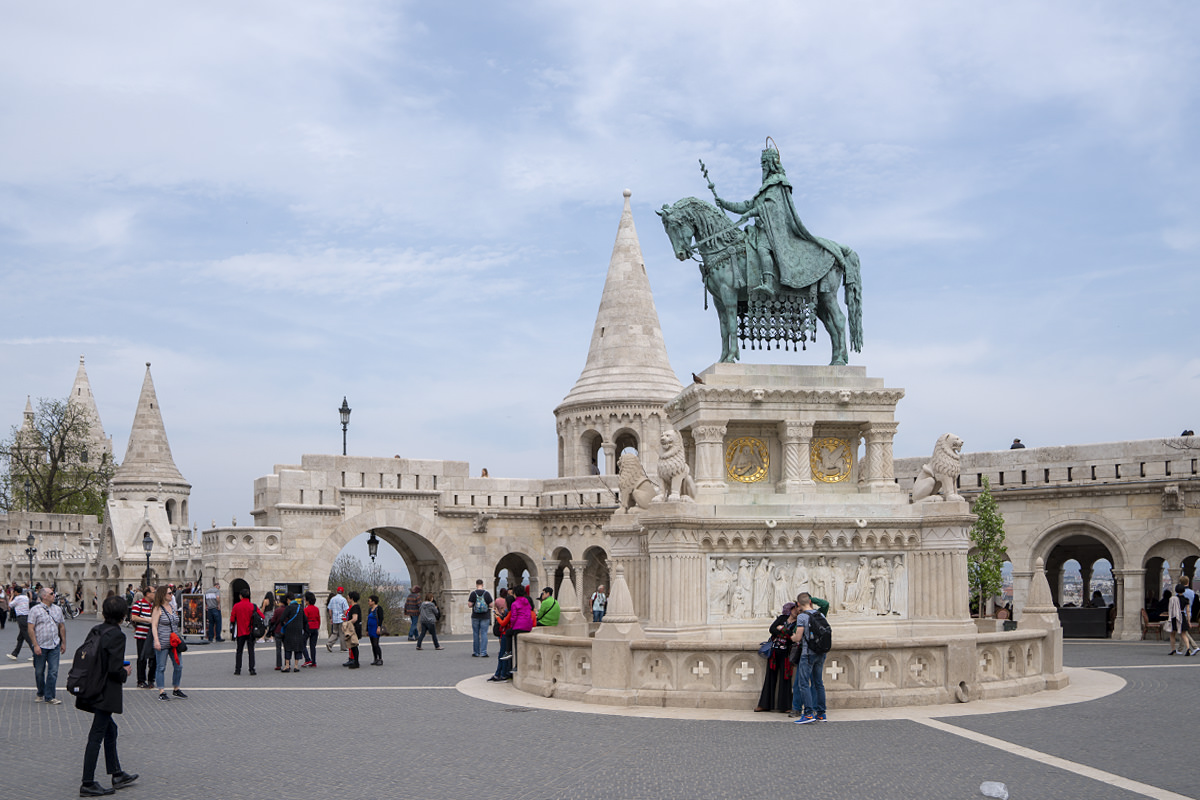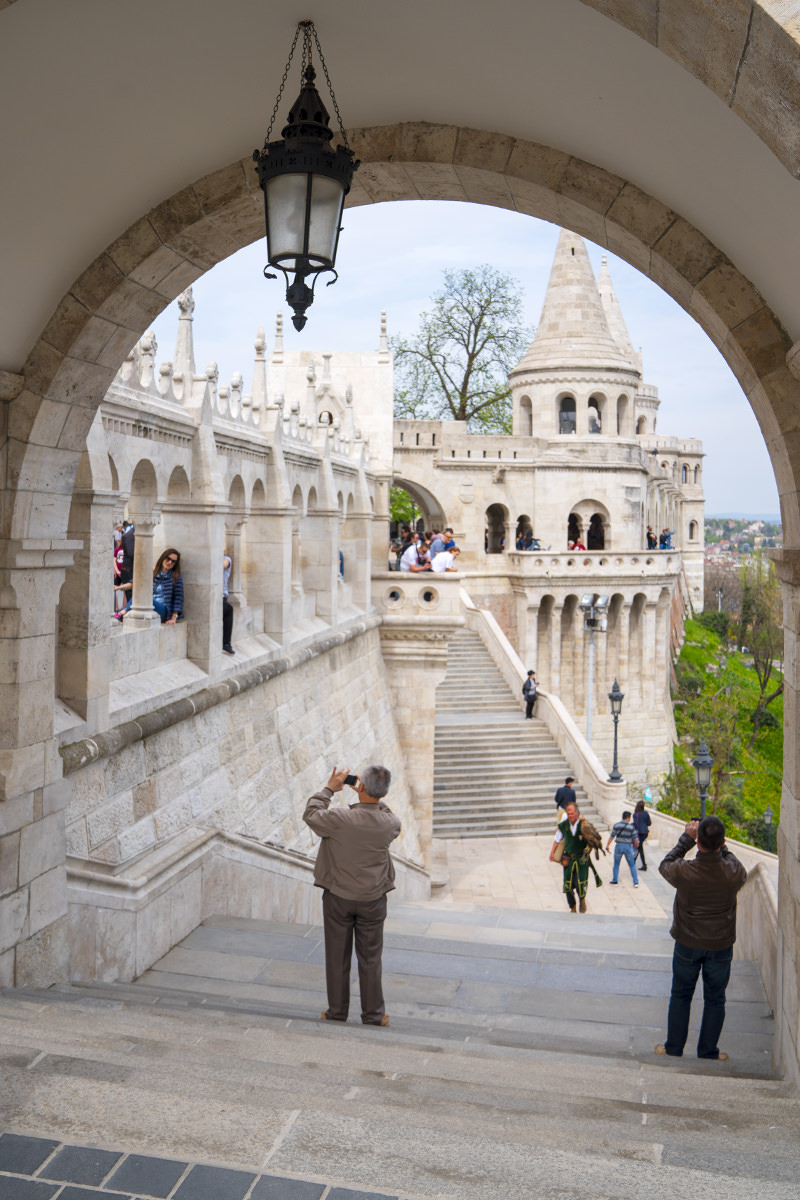 Fisherman's Bastion is home to the incredible Matthias Church. If I were to make a "must-see list" for Budapest, this church would unquestionably be at the top of it. It's a painted church (though not the Painted Church) which is my favorite kind of church (probably because I've seen so many gothic cathedrals in my time that I welcome the opportunity to see something different). The outside is kinda familiar if you've seen a lot of European churches, but the pretty tile roof and awesome moon and star weather vane give you a hint what you'll find inside...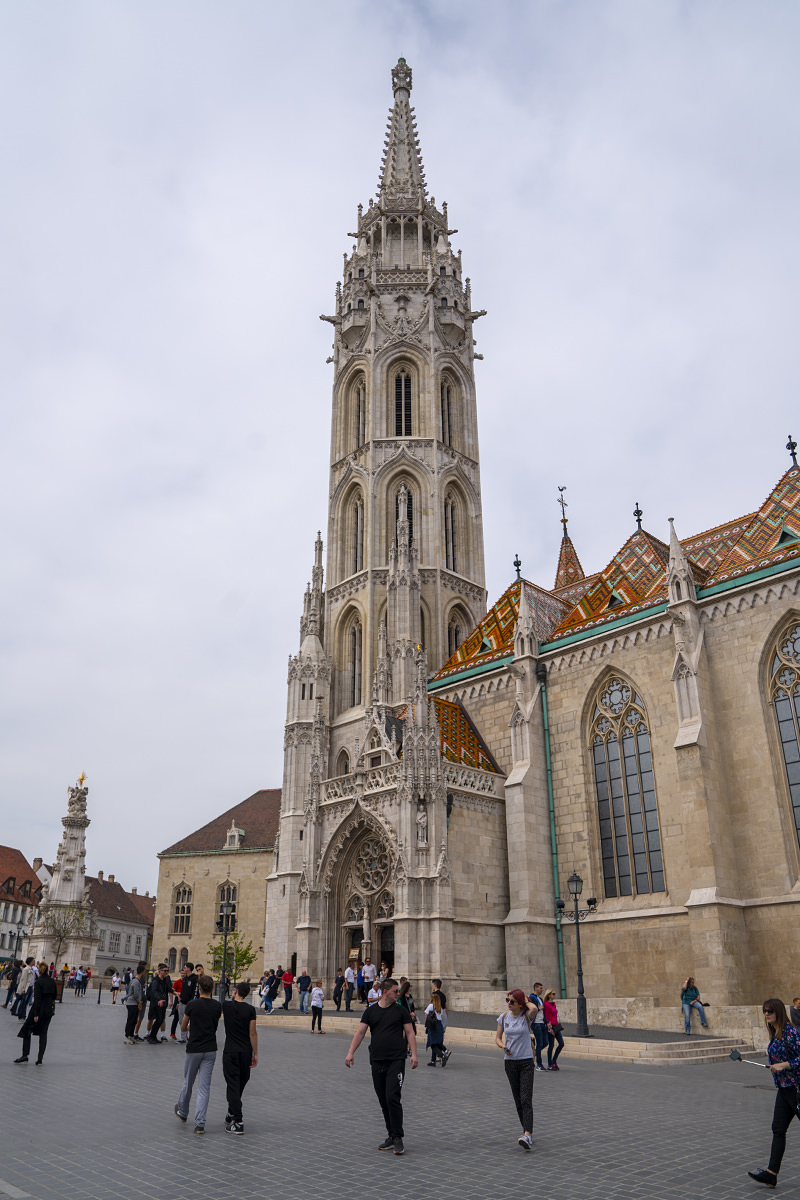 And speaking of inside...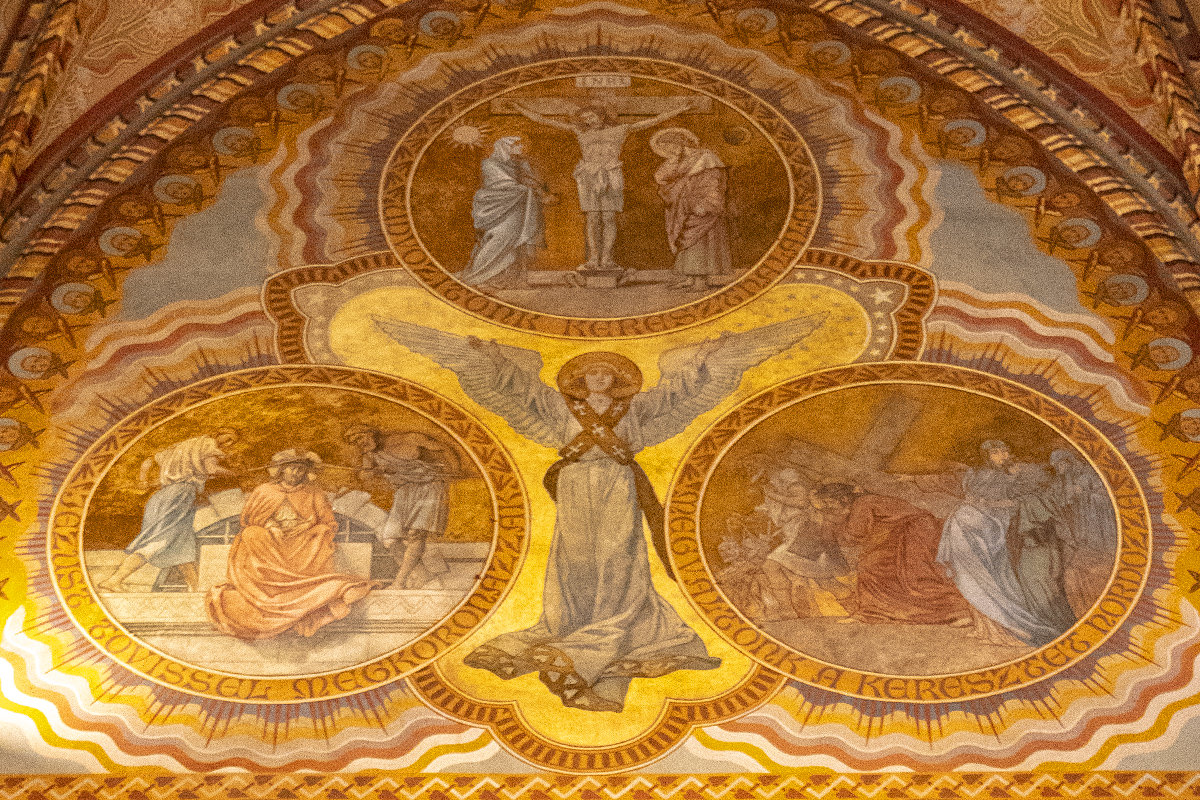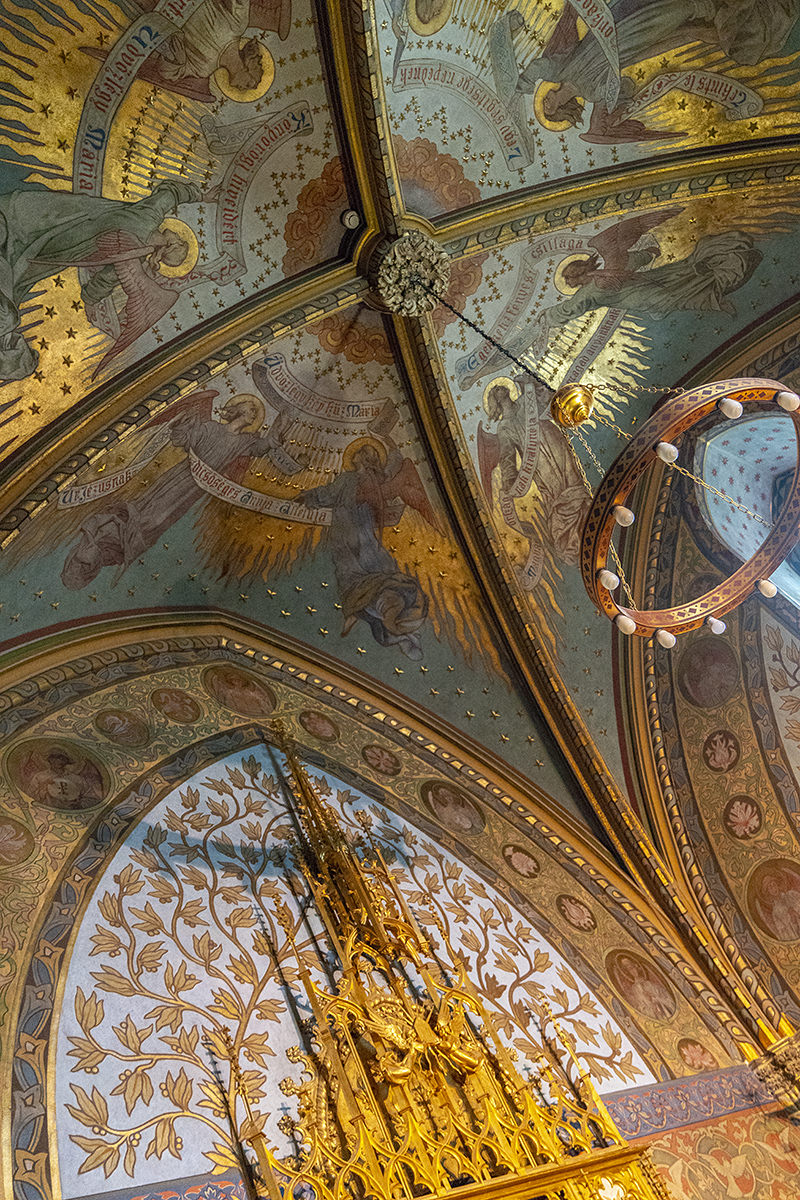 I took a lot of photos of those painted walls... fascinated that so many disparate patterns ended up looking so amazingly awesome together...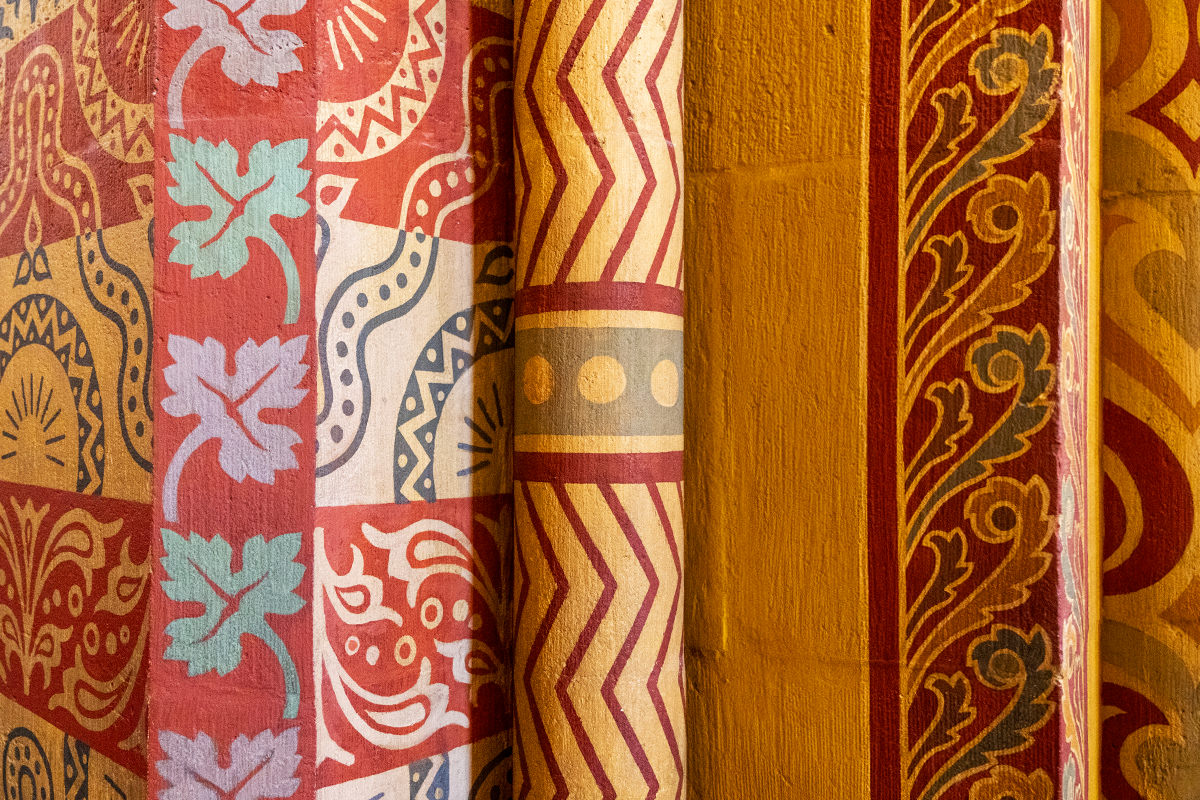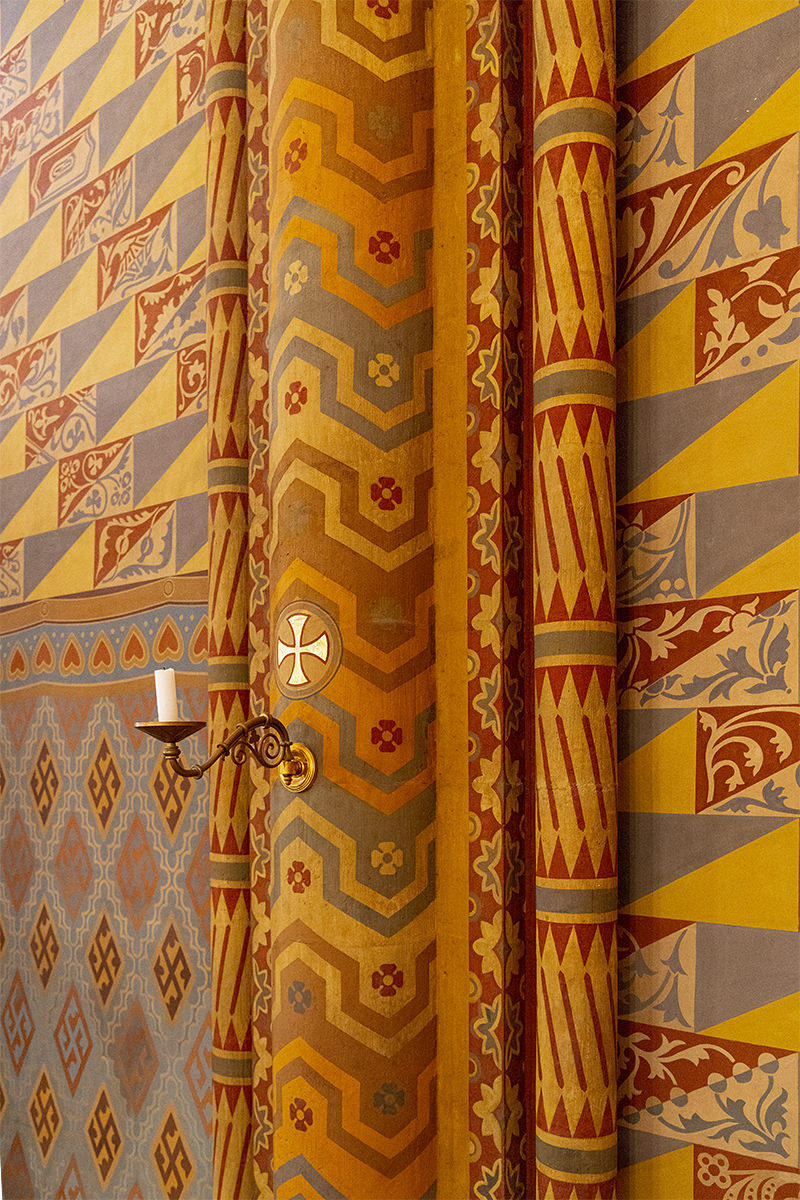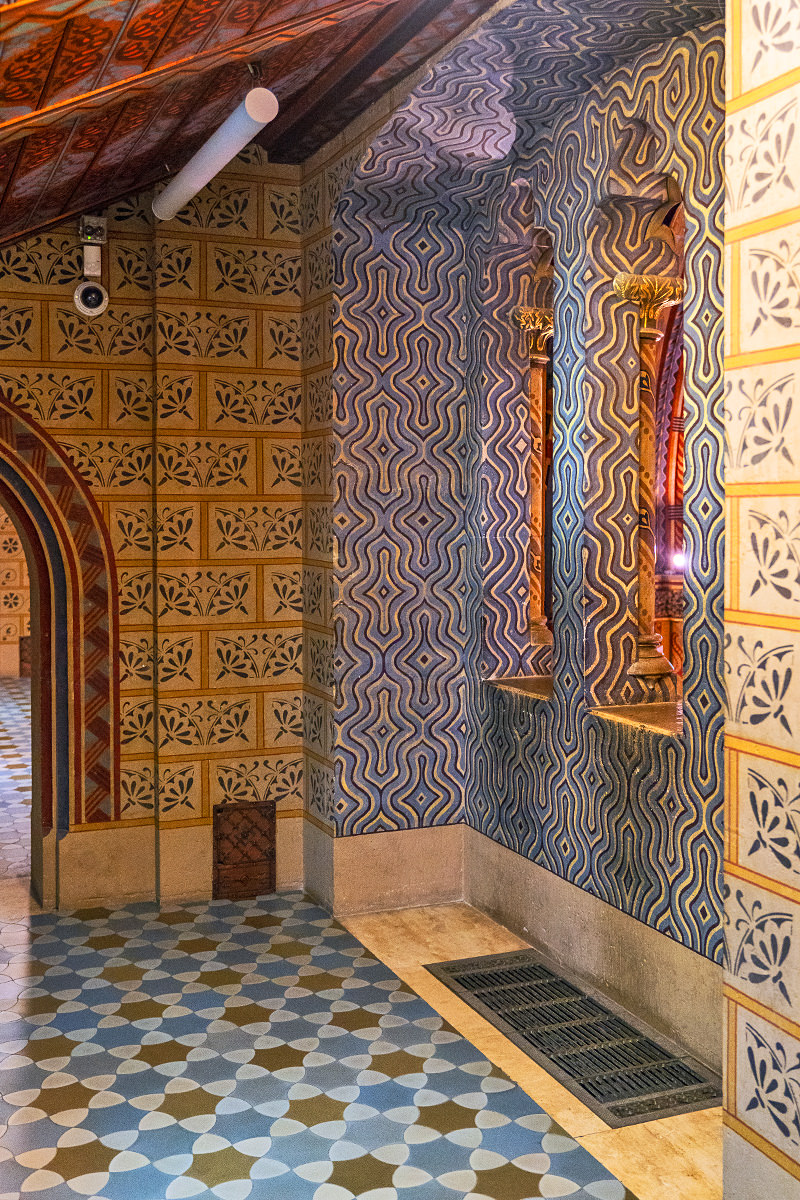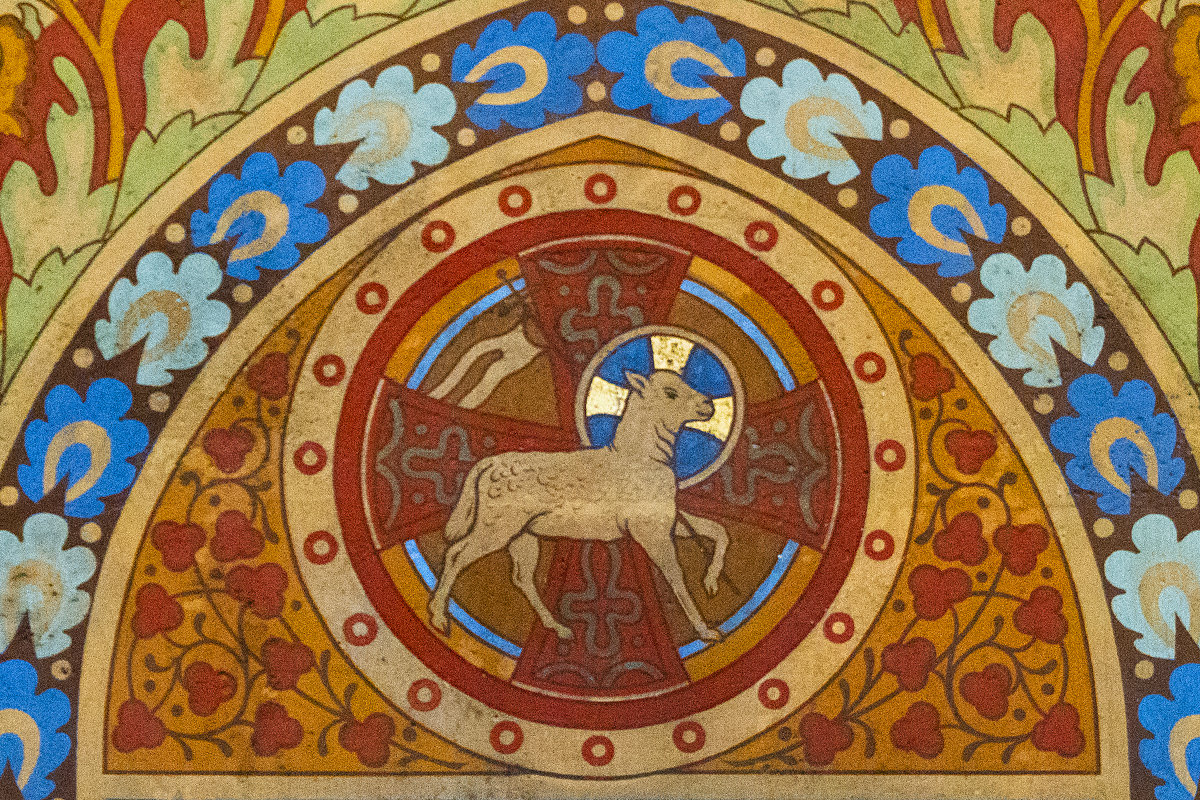 Meanwhile, back to my tour...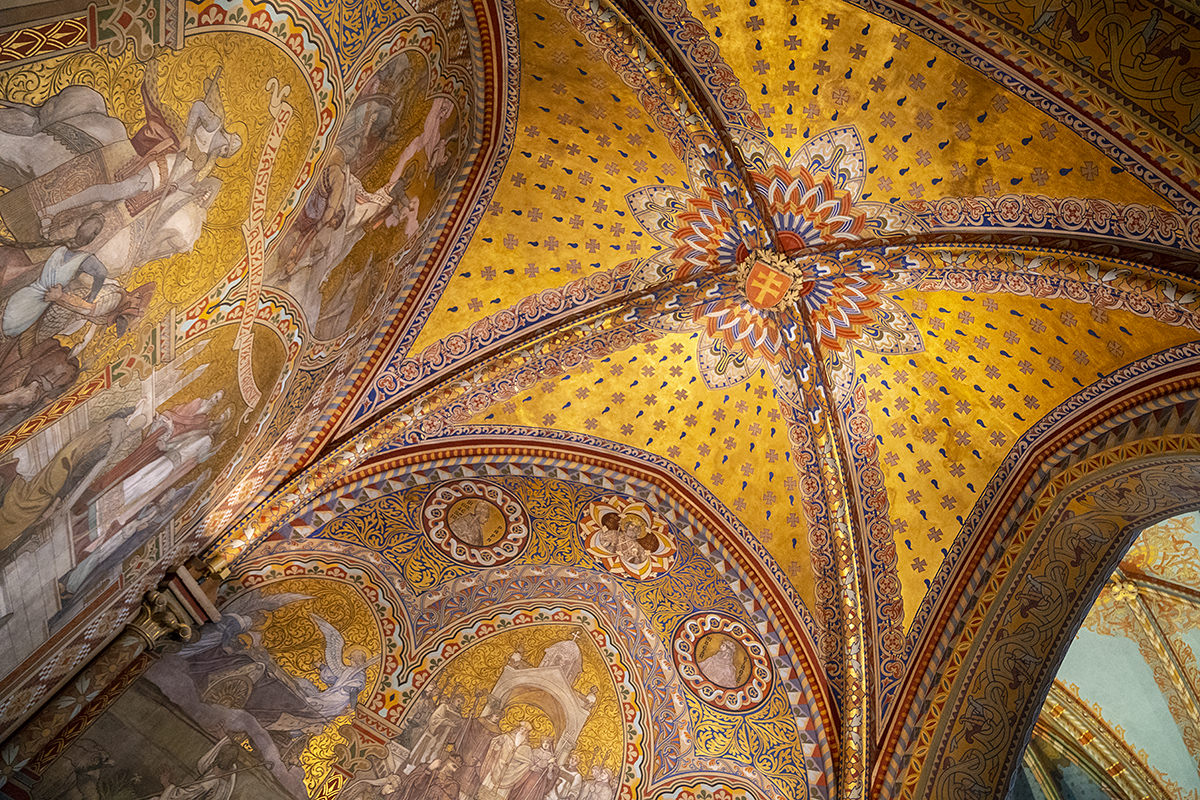 I could have spent a couple hours here easy, but hadn't eaten all day and needed to grab a bite before more exploring. So I headed back to the Pest side of the Danube, which you can read all about in Part Three!
Posted on April 15th, 2018
Originally, I was spending five days, four nights in Budapest. It's a city I've been wanting to visit for a very long time, and there's a ton of stuff I want to do here. Then I finally managed to get yet another eye surgery scheduled after months of trying, so my European vacation had to be cut from two weeks to one. Which meant that my time in the "Pearl of the Danube" had to be cut down to two nights and one day.
Still, I managed to pack a lot into this one day. So I'm going to divide it up into four entries.
With such limited time available, I was going to get up and head into Budapest early. But the weather was yucky foggy(!) out, and so I decided to sleep in an extra two hours.
After taking the train into the city, I dropped off my backpack at the hotel and headed across the Széchenyi Chain Bridge so I could make my way up to Buda Castle...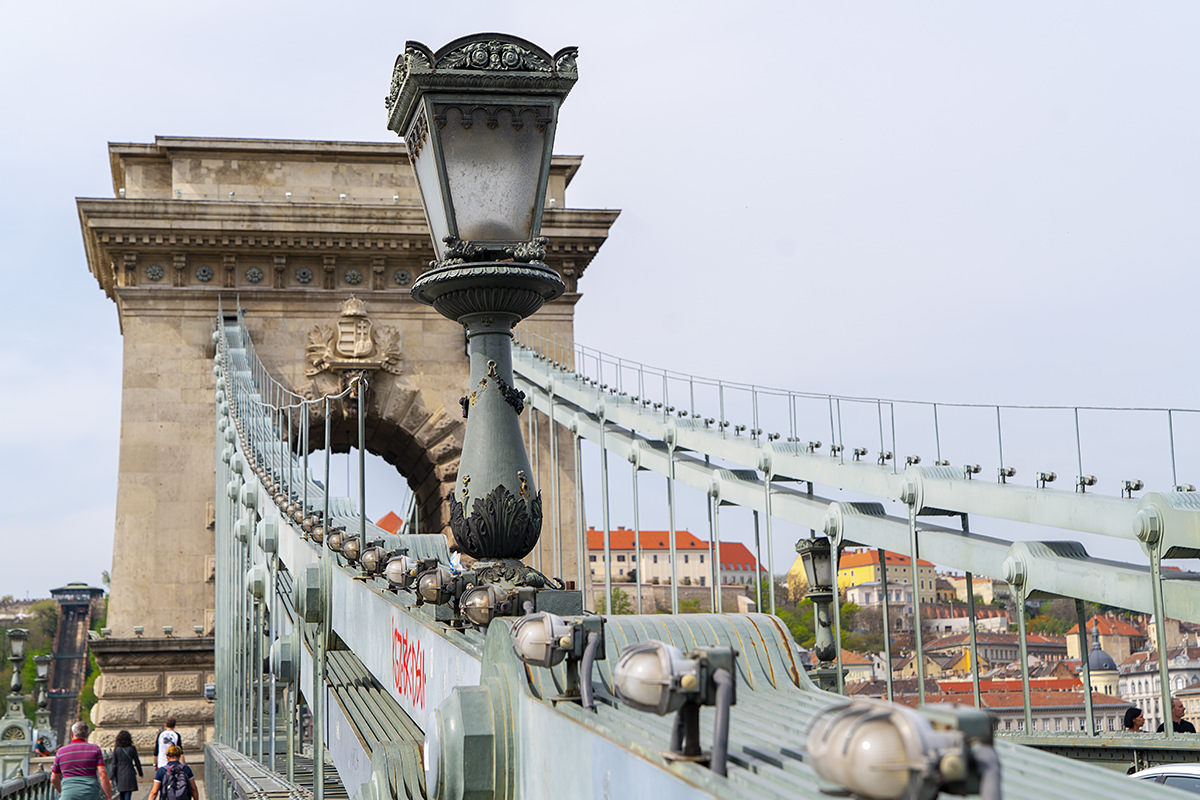 Interesting note: The bridge was blown up in World War II by the Germans after they retreated across it. The towers were still there, but everything else had to be rebuilt. I think the lion sculptures at both ends survived, which is good because they're pretty cool...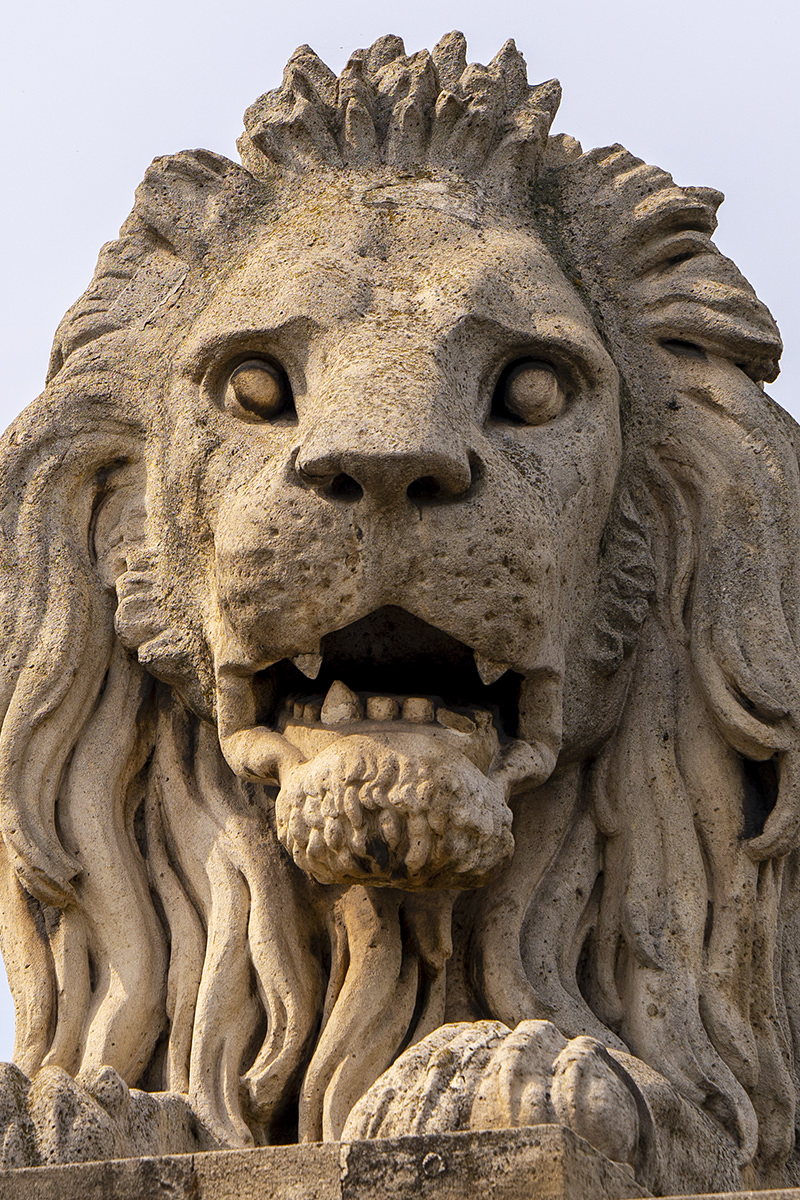 My original plan was to ride up the funicular to the castle, but walk down. With every minute precious, I ended up taking it both ways...
The views at the top are pretty great...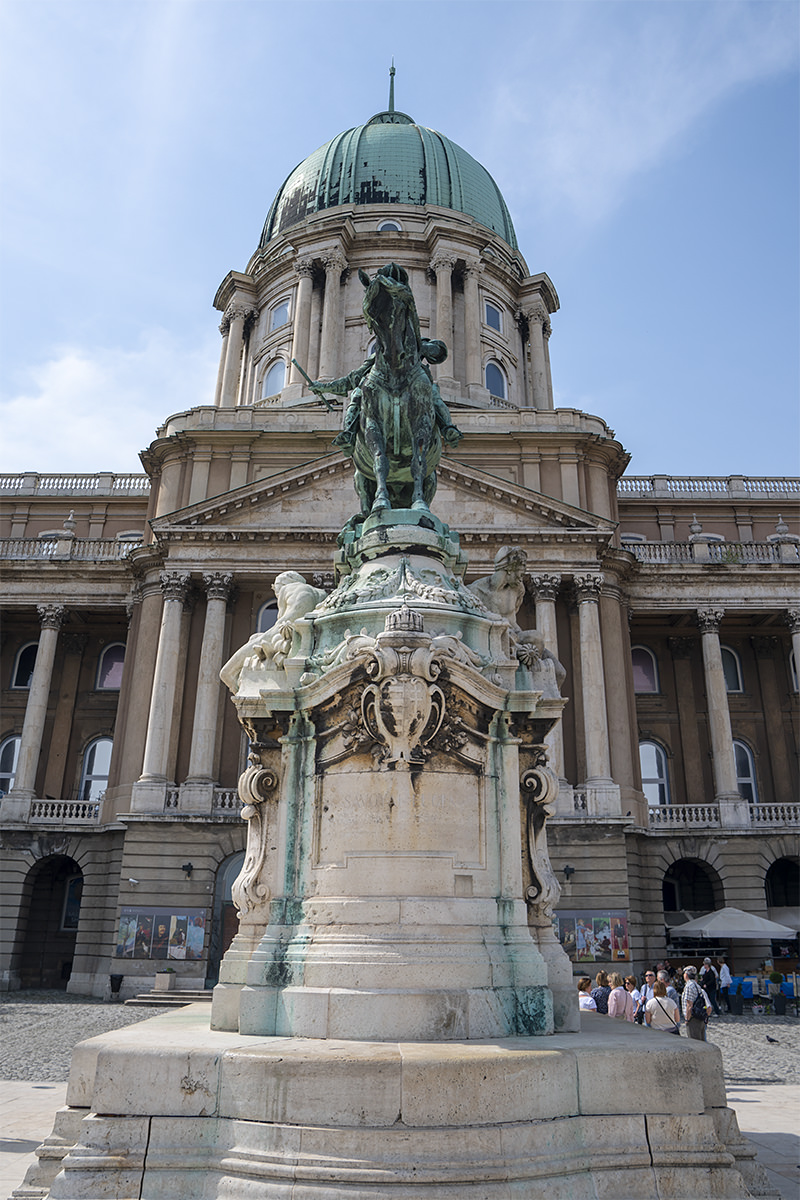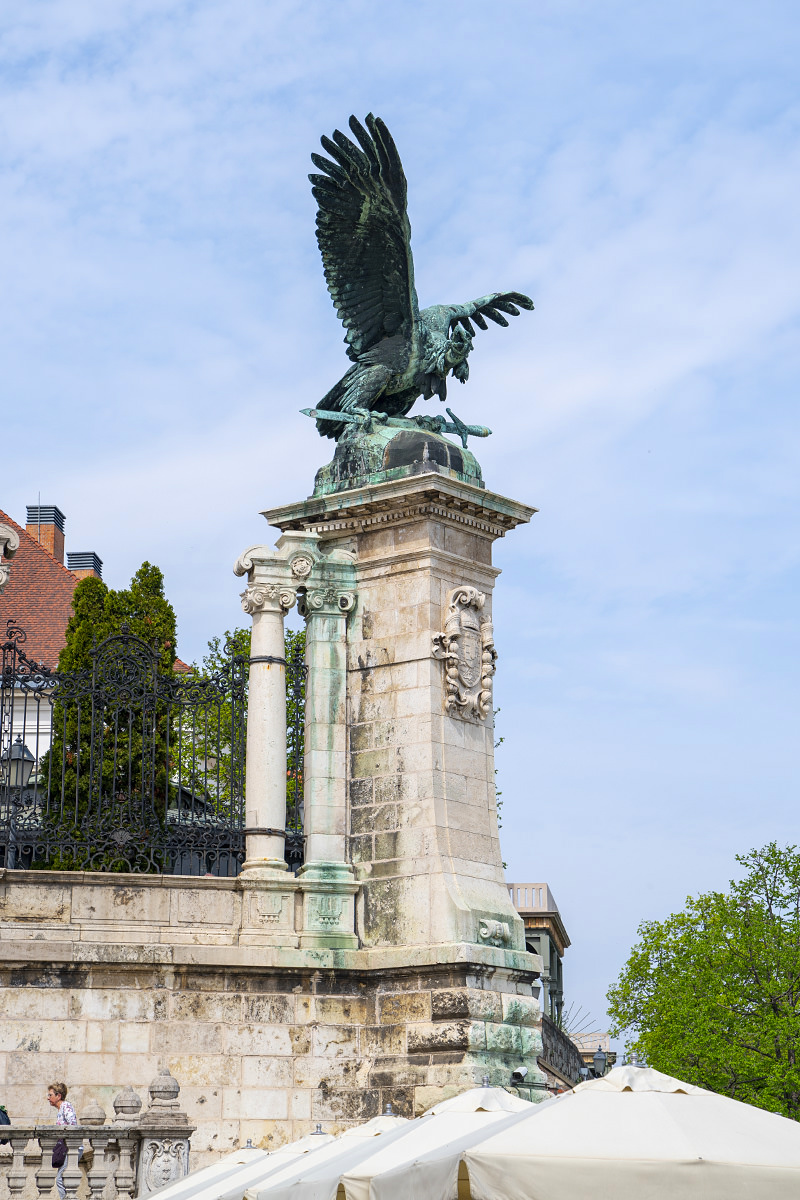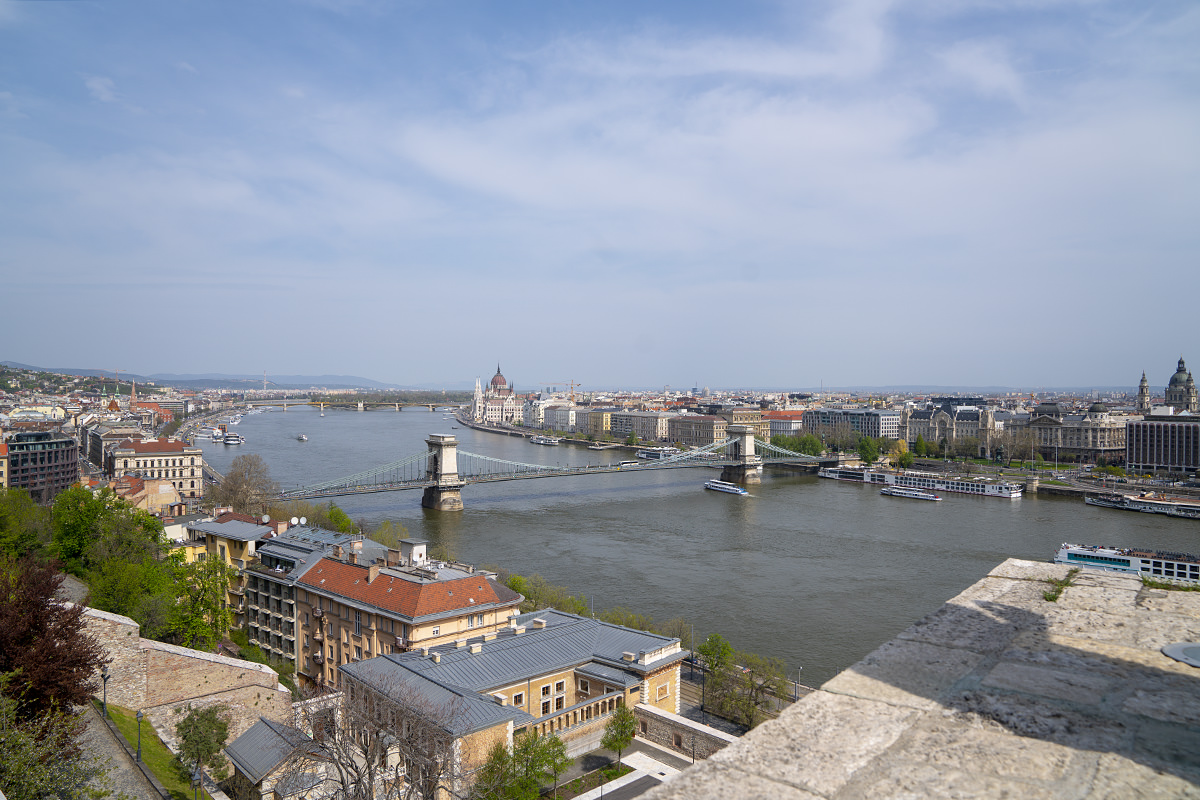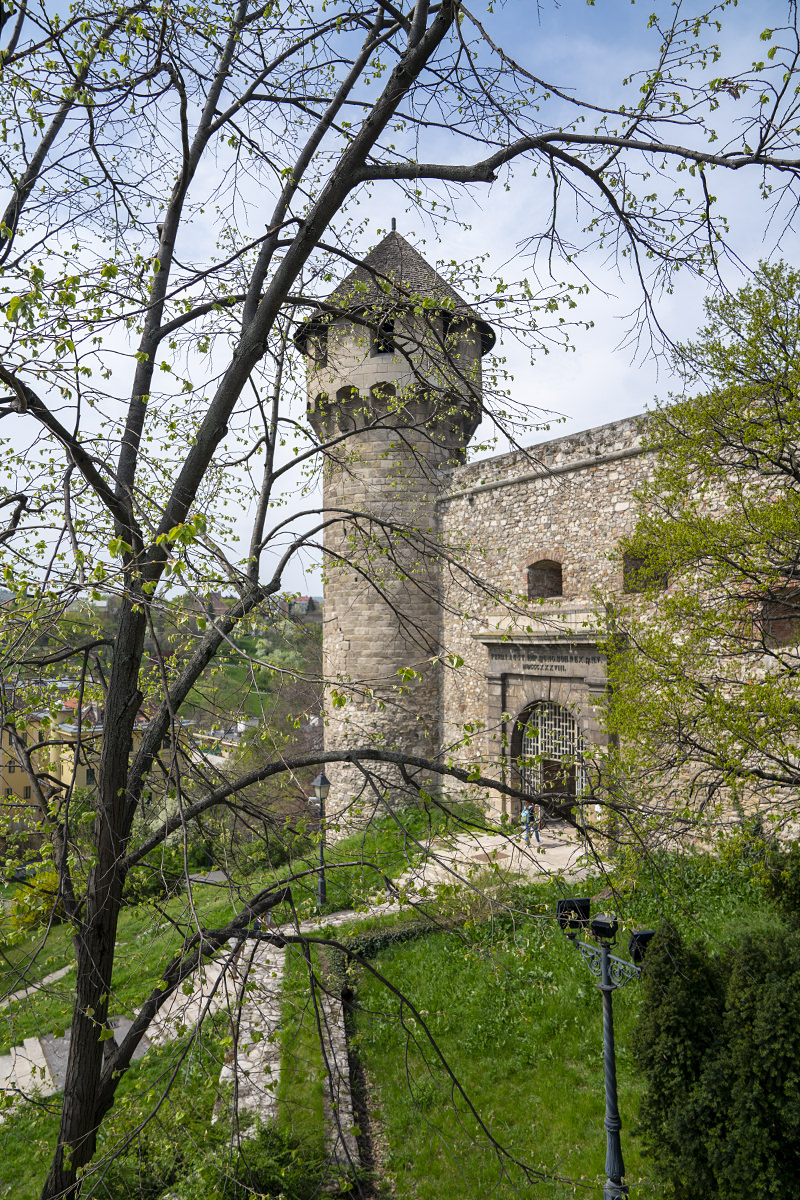 One of the more amazing sights was behind the castle where there's this walkway under flowering trees. The shade of pink on display is unreal, and I could have spent an hour just photographing them...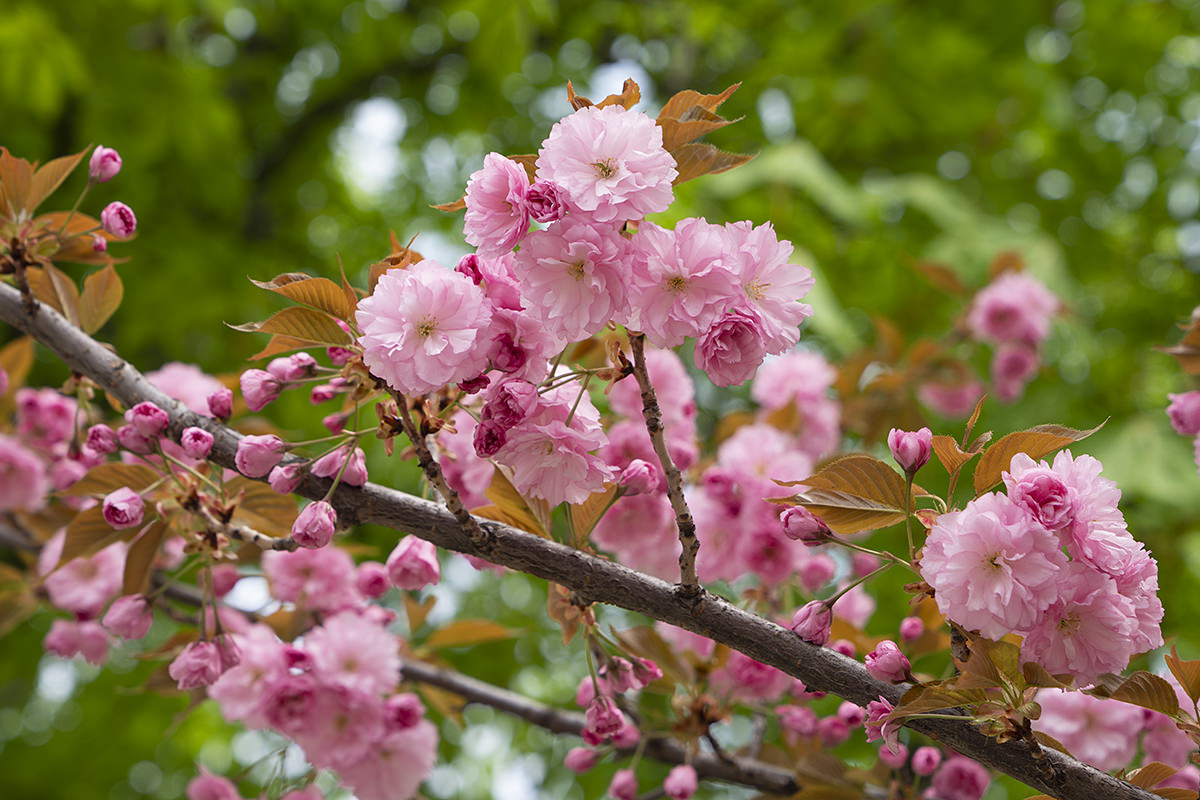 Along the way I ran across a... I dunno... post or broken water fountain maybe? It was especially cool how the text was carved into it...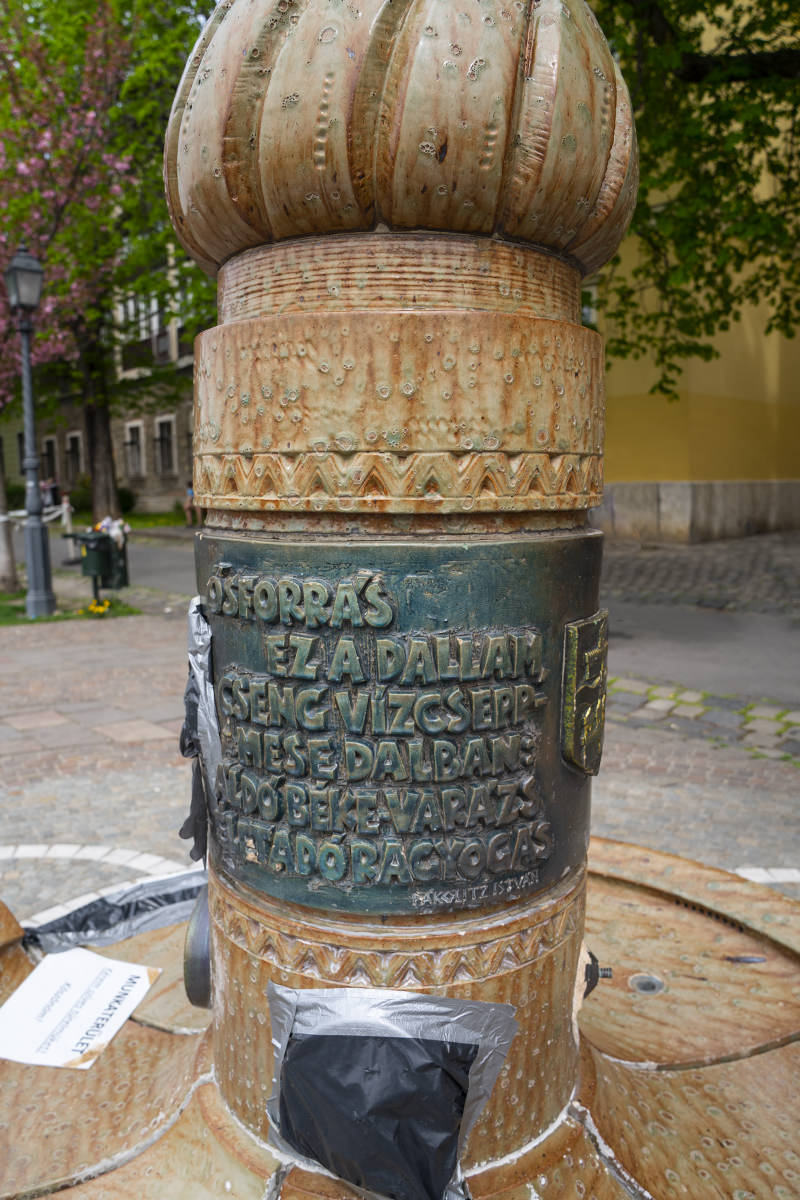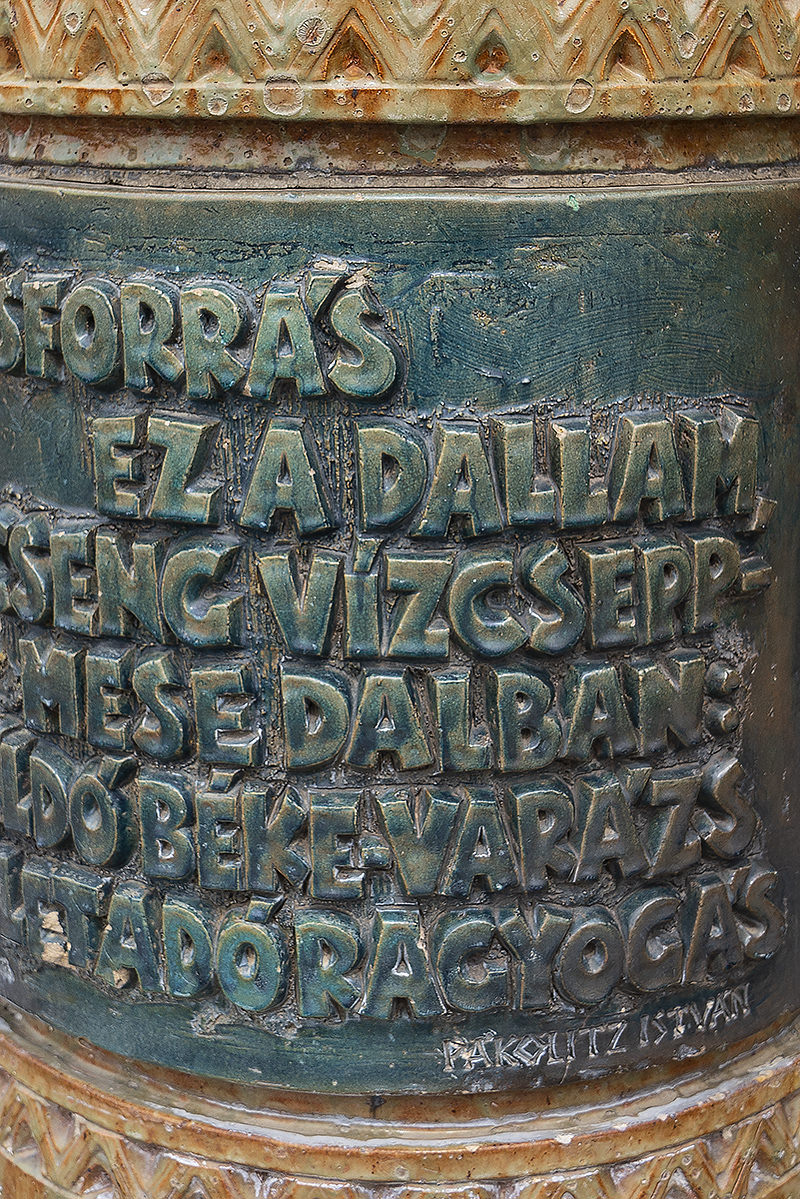 Next up in Part 2... Fisherman's Bastion and the incredible Matthias Church!
Posted on April 14th, 2018
This morning consisted of a run to Amersfoort to meet up with my extended-extended family for lunch. It was the weekend of the Smartlappenfestival, where people are dressing up and singing old-time Dutch "tearjerker" songs in the street. The DutchBitch makes fun of me for liking smartlap, but I actually do! It's kinda like polka... it's usually got an accordion... but different somehow...

After a lovely lunch with some lovely people, it was time to pack up my crap and head to the airport for a flight to Budapest. For whatever reason, the cost to fly Sunday morning was nearly $500 more(!) than flying out Saturday evening, so I bit the bullet and left tonight knowing that the cost for an additional hotel night was by far the cheaper option.
The flight was pleasant and uneventful as usual (one of the reasons I'm happy to pay the slightly higher premium to fly KLM Cityhopper instead of a budget airline).
And so here I am in lovely Budapest for the first time. Where my hotel really seems to like paper airplanes...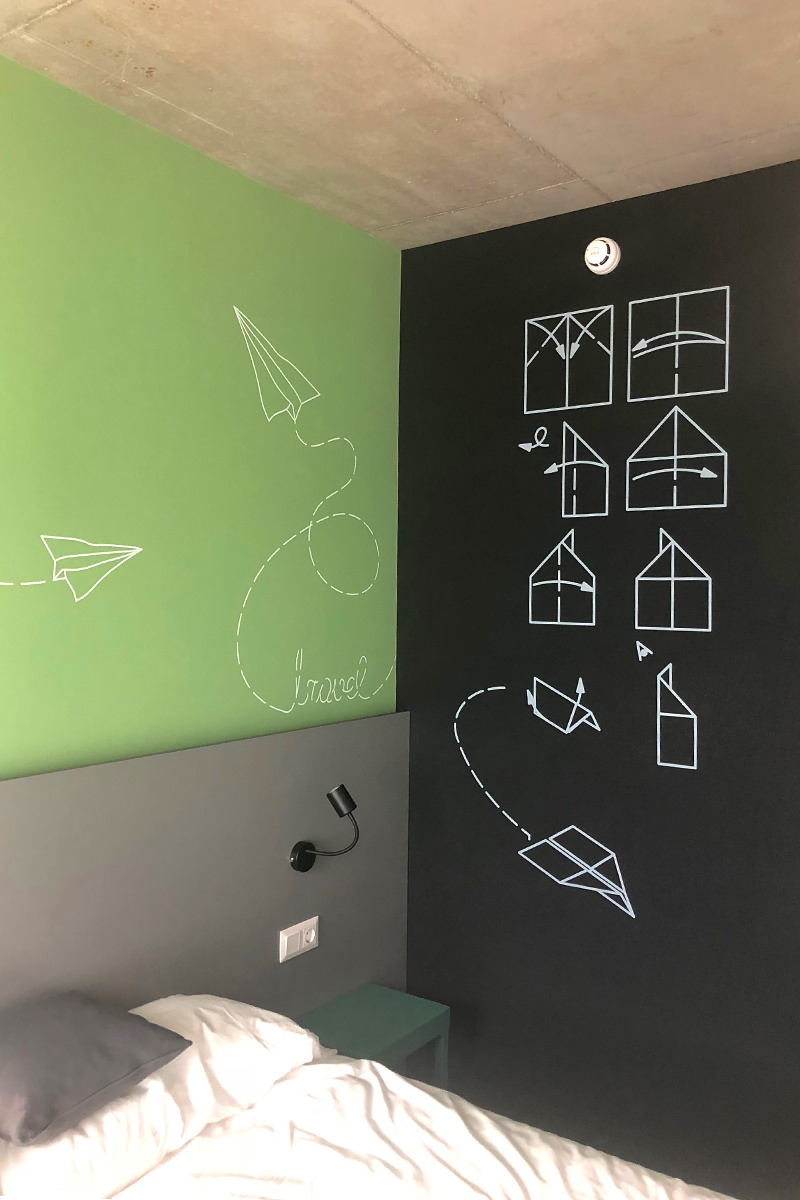 Big fun will ensue tomorrow, I'm sure. But for now? Good night.
Posted on April 13th, 2018
Usually when I take hundreds of vacation photos, I go back to my hotel and immediately purge 50-60% of them. Then I take a good hard look at what's left and delete another bunch of them if I can. Since digital photography makes it so easy (and cheap!) to shoot loads of photos, I always shoot way more than I need just in case I missed something that my be covered in other shots. But to save all those photos would be absurd, as I'd never want to look at crappy images, nor do I want to pour through a bunch of duplicates.
My day at the Keukenhof resulted in two-hundred-and-sixty-eight photos.
I only deleted twenty-two of them.
Everything was just too great to dump.
I did, however, manage to whittle down the ones I was going to post here to fifty, which I divided into two parts because it seemed the easier way to fly.
Every year there's a theme to the Keukenhof's grand display. Last time I was here I think it was orchids. This time it was roses and romance, which was a cool exhibit to see. Roses are just so beautiful when you look at the delicate folds that make them what they are. I couldn't stop photographing them...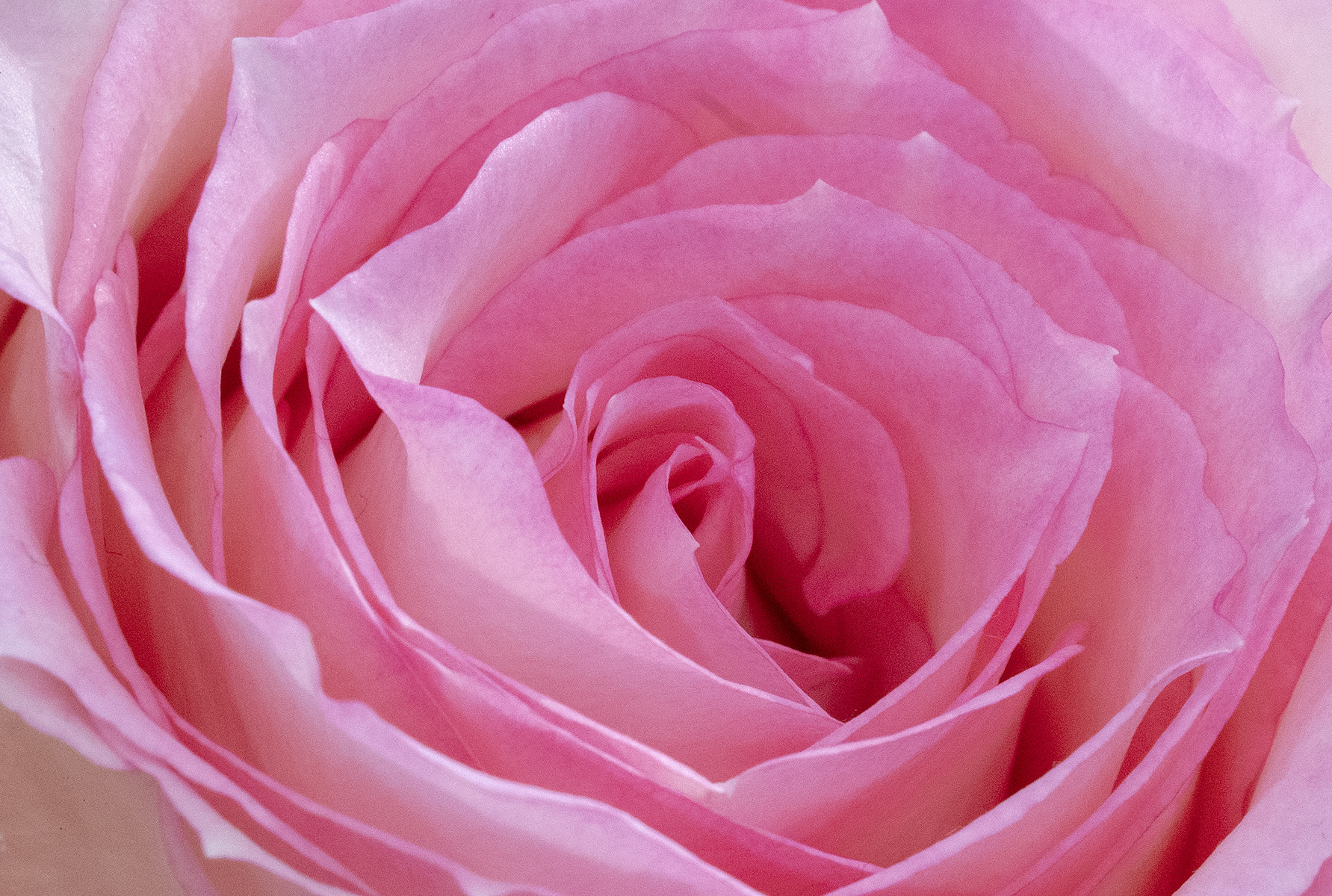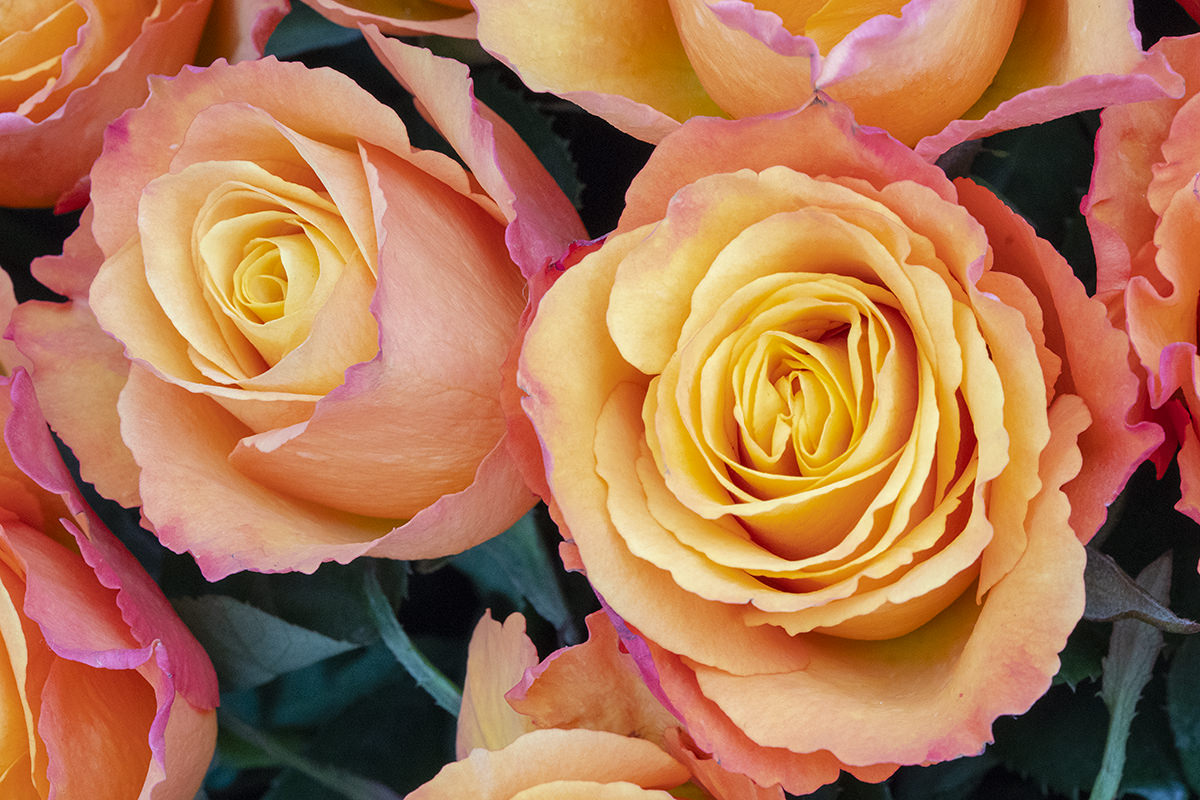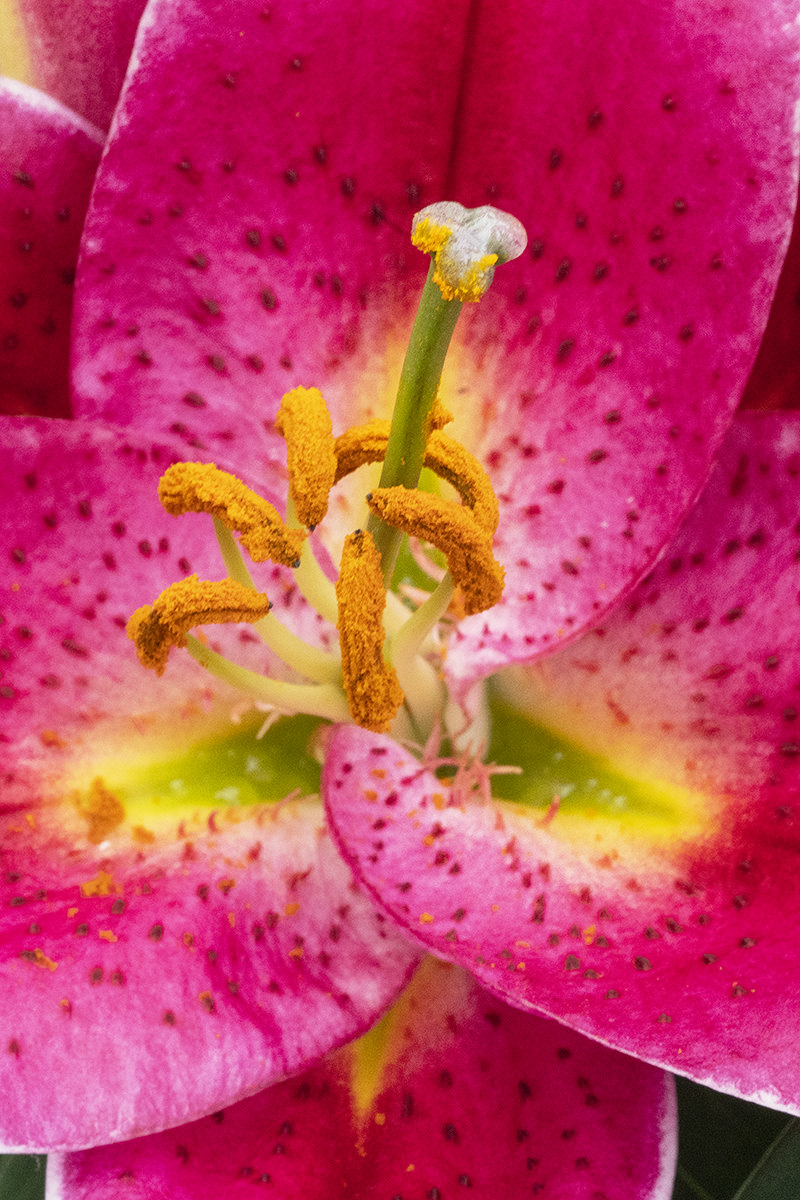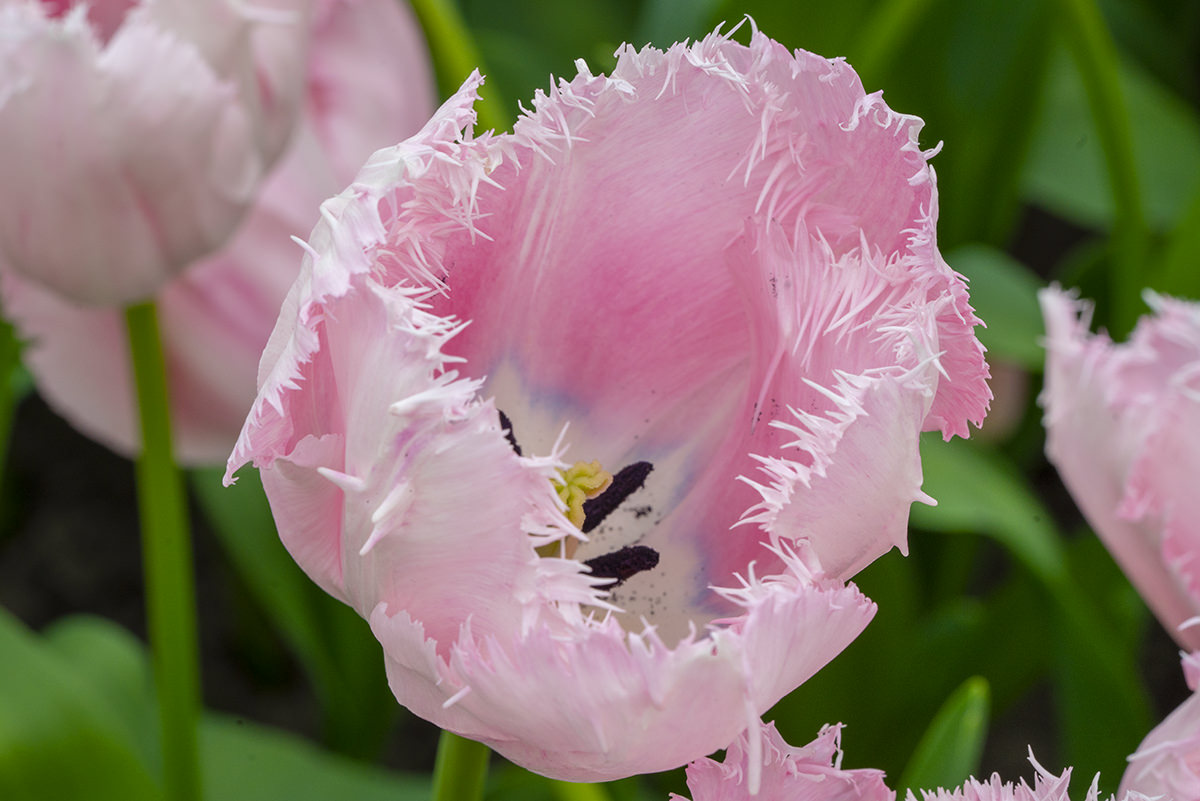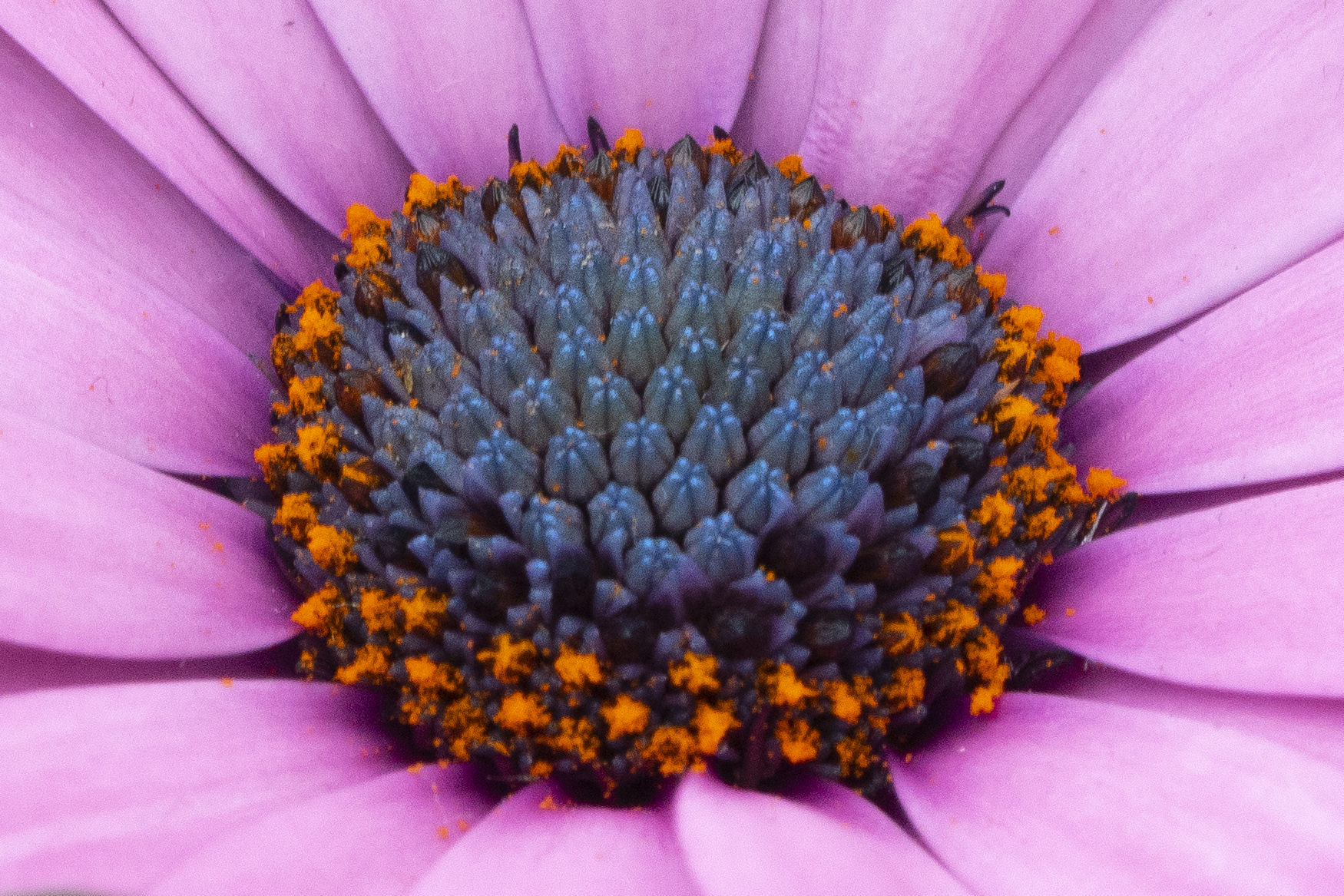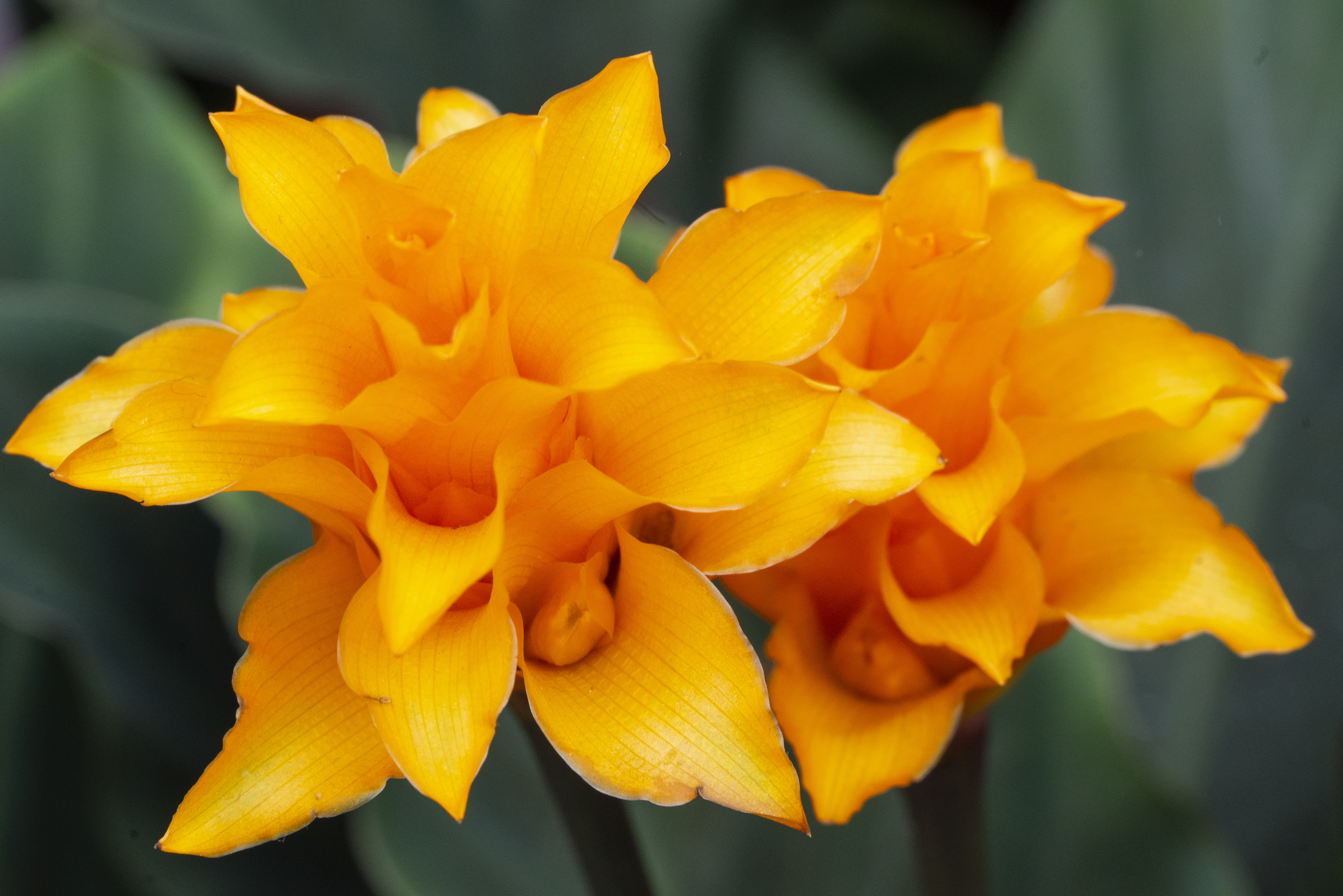 I think my favorite flower I saw was this one, which looked more like fake paper cut-out flowers rather than actual vegetation. I wish I had thought to look up the name...

In my past three visits, I never once saw a bee. This time I saw two of them, including this industrious fellow...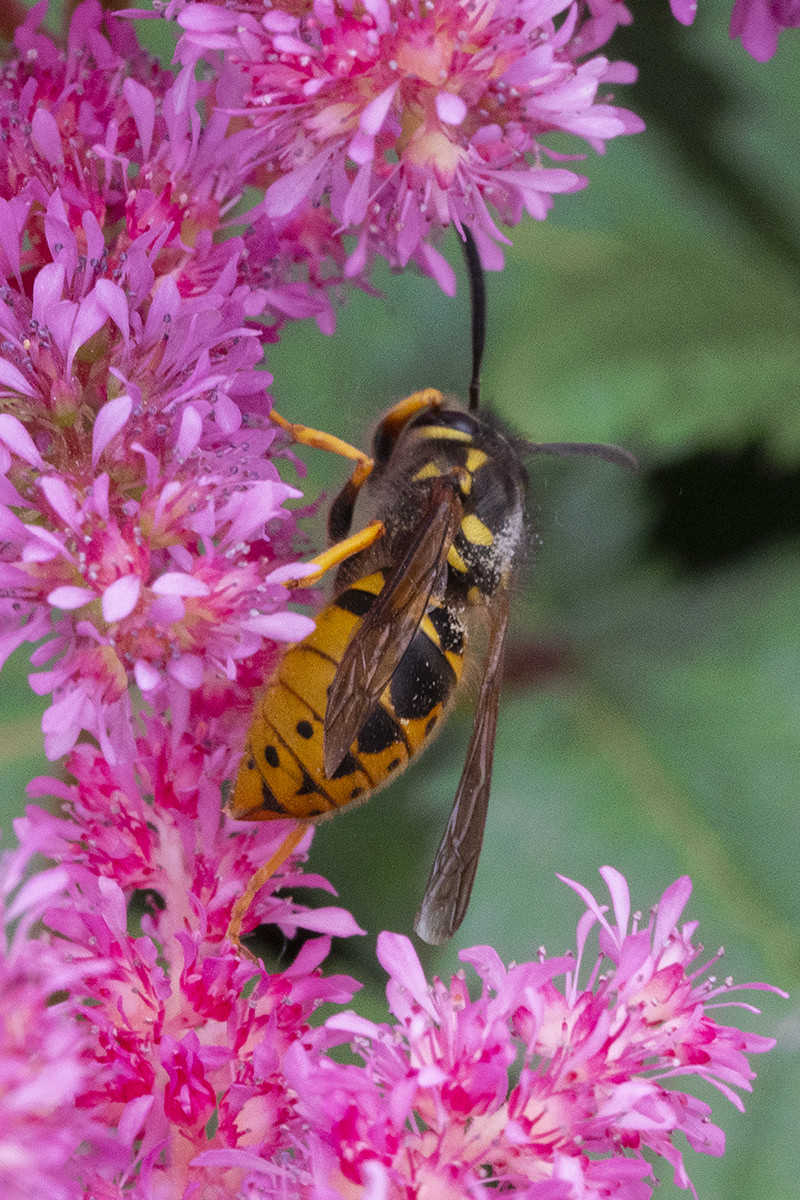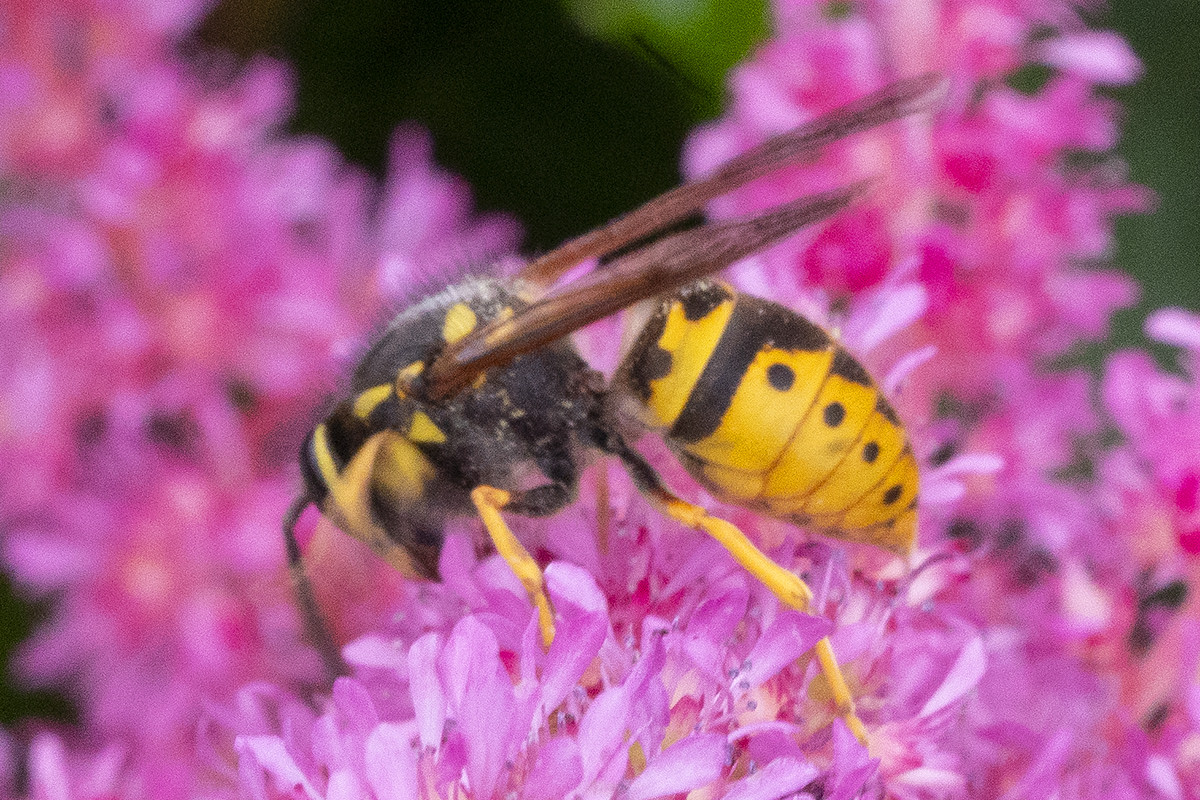 A friend came down from Amsterdam to walk around the gardens with me. We were discussing something to do with photography when I young boy heard us speaking in English. He poked at my leg, and I looked down at him only to have this conversation...
"I know the name of all the flowers!"
"That's nice."
"I know the name of all the flowers!"
"Oh. Okay... what's this one?"
"I don't know that one."
"I see. What's this one?"
"I don't know that one."
"Ah. What flower do you know?"
"That is a tulip."
"Alrighty then."
Later we were walking by a pond where there were a couple ducks. The same little boy was yelling "QUACK! QUACK! QUACK! QUACK! QUACK! QUACK! QUACK! QUACK! QUACK! QUACK! QUACK! QUACK! QUACK! QUACK! QUACK! QUACK! QUACK! QUACK! QUACK! QUACK! QUACK! QUACK! QUACK! QUACK! QUACK! QUACK! QUACK! QUACK! QUACK! QUACK! QUACK! QUACK!" This was a new level of annoying, and I wondered if I should ask him for more fascinating tulip facts, but thought it better to leave well enough alone...

And that's it for this edition of NAME! THAT! FLOWER!
Posted on April 13th, 2018
One of the nicest places to visit in the Netherlands is the Keukenhof, which is all tulips all the time. Well, at least for the time that they are open, which is about mid-to-late-March to mid-May. I've visited a couple times before (here and here), and always have a good time walking around photographing the flowers and taking in the smells that only a billion flowers can provide.
For this trip, I took my Sony 90mm Macro FE lens, which was purchased specifically for situations like this. Even though I didn't really do much "deep macro" with it, I was able to get some beautiful shots that only a lens of this quality can provide. Perhaps next time I will take a tripod and do some "real" macro, which would be an interesting way to make the journey feel new again...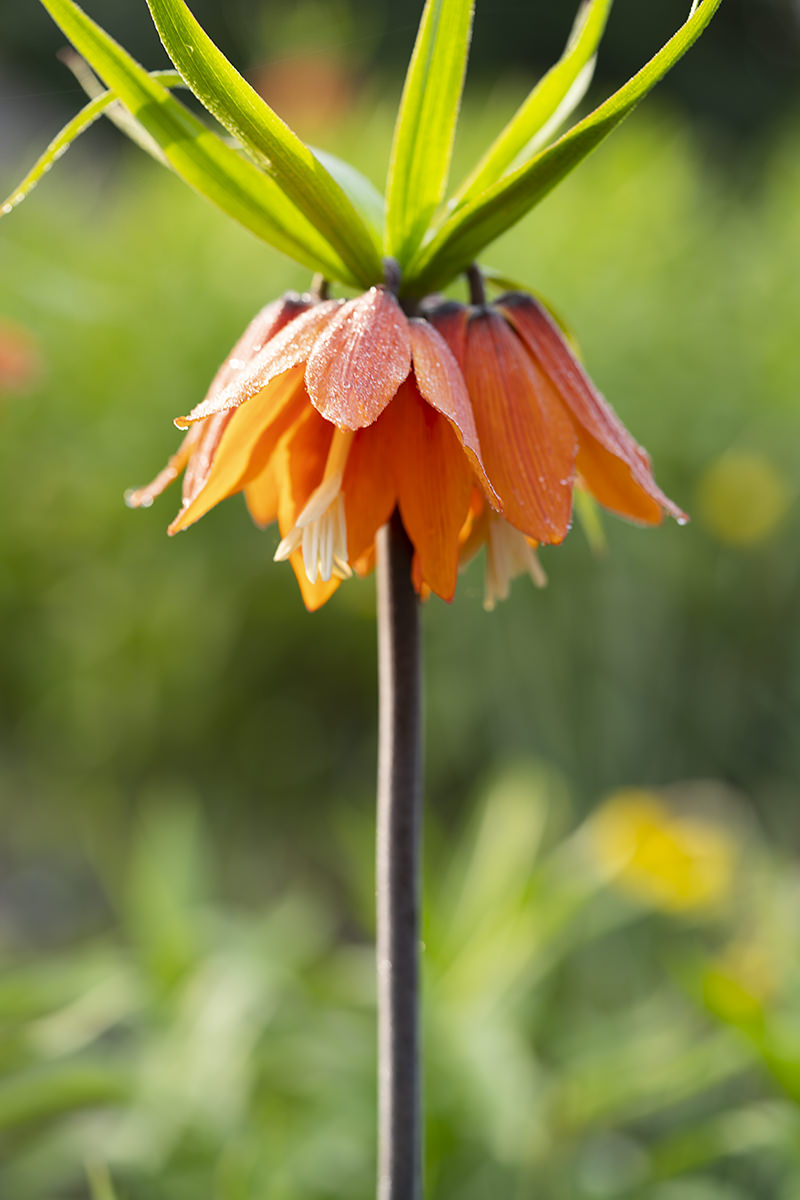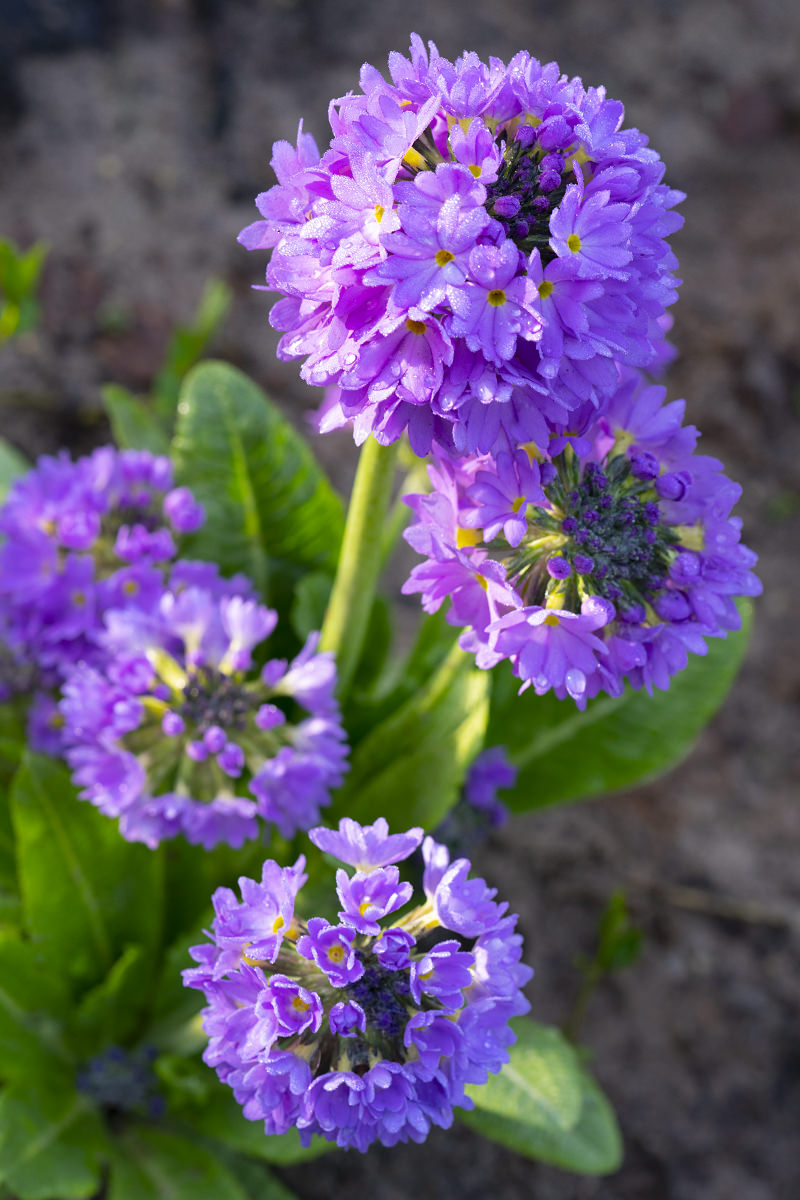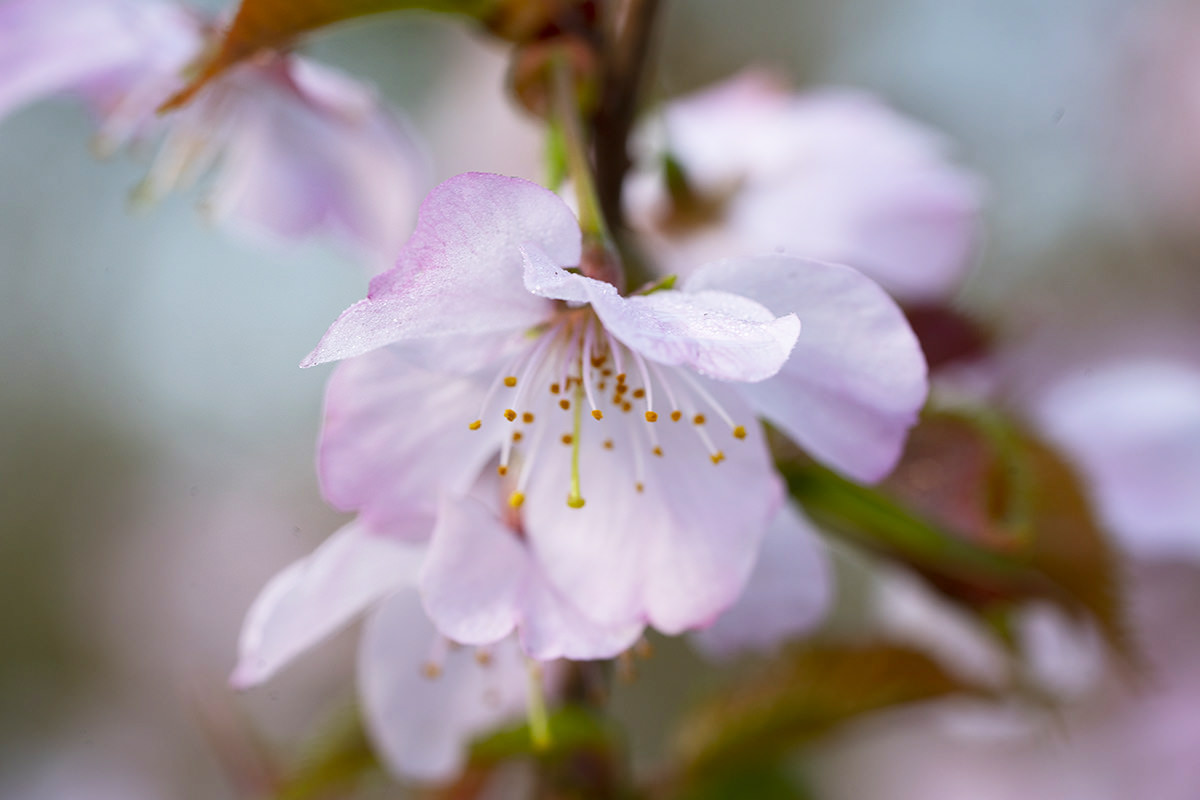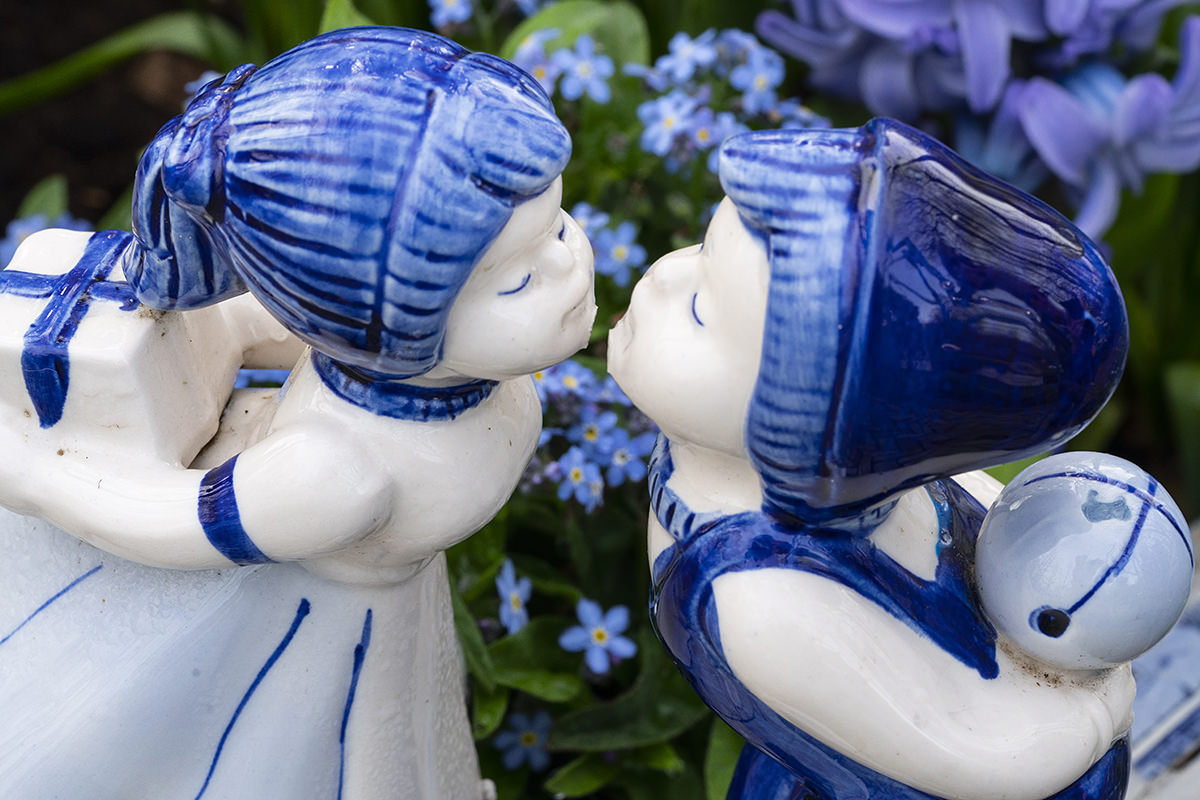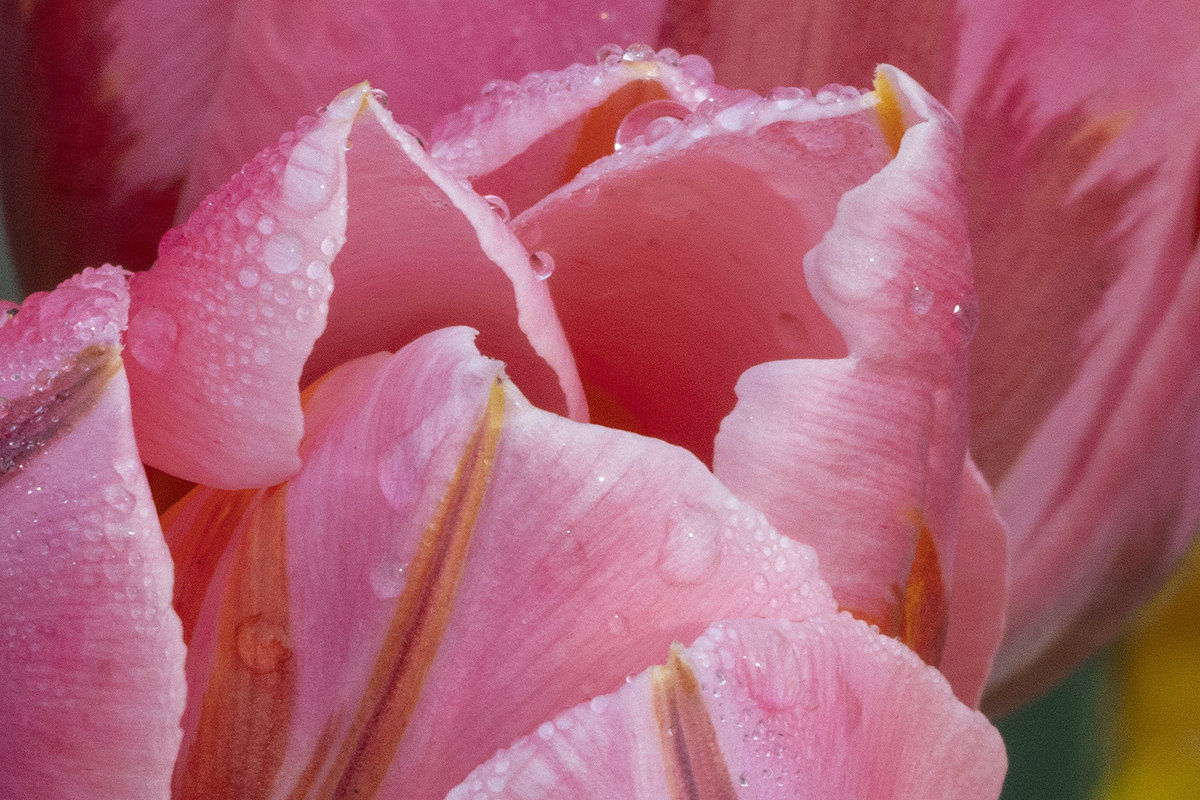 To be continued...