Posted on April 20th, 2017

The reason I want to be obscenely wealthy is not to buy a bunch of expensive crap.
If a billion dollars were to suddenly drop in my lap, I don't know that I would get a new house. Or even a new car. Living in a palace and driving a Ferrari just don't interest me. Neither does accumulating a lot of expensive crap. So long as I can afford a laptop, a nice camera, and an iPhone... I'm pretty much done.
No, the reason I want to be obscenely wealthy is so I don't have to work and can spend the rest of my life traveling the world.
Not that I haven't found a way to travel the world now... but there are experiences that require time and money I will never have that haunt my travel dreams.
Take, for example, Tristan da Cunha
Located in the middle of nowhere in the South Atlantic, this small island is one of the most remote places on earth...
It's so remote that the only way to get there is by ship. Which takes six days.
Luckily, ships are making runs to Tristan da Cunha somewhat monthly out of Cape Town (though the dates of departure/return are not set in stone and can move depending on numerous factors). The return passenger fare is under $700 USD, which is a pretty decent price, all things considered. I would not count on luxury digs, however, as the two ships currently making the run are a fishing ship and a cargo ship.
And there's more!
Space on the two ships is limited. And non-resident tourist passengers have the lowest possible priority. If somebody is sick and needs to get off the island for medical reasons? You get bumped. If somebody on official island business needs to leave at the last minute? You get bumped. If somebody on the island decides they want to holiday in Cape Town? You get bumped. What this means is that you can schedule a trip to arrive at Tristan da Cunha on May 22nd then return to Cape Town on May 28th... and end up leaving on June 2nd and returning August 23rd (or longer!).
So to visit, not only do you need to have the time and money to sit around Cape Town waiting for a ship... you also have to have the time and money to sit around Tristan da Cunha waiting for a ship.
OR... you can try to book a cruise ship.
Apparently there are cruises that sail the South Atlantic from time to time. They run between Ushuaia (South America) and Cape Town (Africa). They last two weeks and cost over ten thousand dollars... so, again... time and money required.
OR... if you're a billionaire?
I'd imagine you could go wherever the hell you want. Charter an entire ship to get to/from Tristan da Cunha if you want to. The world is your oyster.
And that's the reason I want to be obscenely wealthy.
Posted on April 18th, 2017

This morning when I stepped into the shower, my foot hit the cold tile and I immediately had a flashback to my vacation in Fiji. This is not unusual... most people have experienced sights or smells or other sensations which trigger memories. But usually it's a memory that makes sense. And I could not for the life of me figure out how my foot stepping on cold tile could be associated with Fiji when everything in Fiji is hot. At best, the apartment I stayed at was cool. Nothing in it, including the tile, was cold. So what they heck?
It was an hour later as I was packing up my junk to go to work that it dawned on me...
Steve Jobs.
Last night I had finally gotten around to watching the movie Steve Jobs which was a fascinating (albeit fictional) look at my all-time favorite personal hero. And while people who knew Steve said that it didn't reflect reality and the character in the movie seemed far more hostile and cruel than the Real Steve Jobs (especially later in life where he mellowed quite a bit), it was nevertheless an entertaining movie. Michael Fassbender was a compelling and charismatic Jobs and, much to my surprise, Kate Winslet completely nailed playing Joanna Hoffman. Getting Seth Rogan to play Woz and Jeff Daniels for John Sculley was just icing on the cake. Loved the movie. I give it five stars.
And so... Fiji.
I had been snorkeling with sea snakes and sharks then cruising with dolphins. The boat had just returned to the shallows where I was getting ready to trudge across the mud-flats back to shore. My iPhone, which was safely stored in a waterproof tote, came into cellular range and beeped. There was a text message waiting for me. A text I dreaded, because it was likely bad news. Eventually I made it back to the scuba shop and fished my mobile out of the bag.
It was a text from my brother telling me that Steve Jobs had died.
My feet were still wet. I was standing in the shade on terra cotta tile made cold thanks to a box fan blowing on it.
Posted on April 10th, 2017

There are few businesses I loathe more than United Airlines.
They are a shitty, shitty company and just about every experience I've ever had with them has been a bad one. I stopped flying them because they lost my luggage twice in four flights and were unbelievably shitty to me as I attempted to get it back. Then, after nearly a decade, I finally flew them again. Not only did they lose my suitcase right out of the gate and treat me shitty for it... they then charged me to check it back home, even though I never got to use it my entire trip.
I detest these fuckers. Absolutely detest them.
Which is why I experienced zero shock when I saw that they had forcibly removed one of their paying customers from a flight they overbooked...
Now... before we go any further...
Most all airlines overbook their flights whenever they can.
The reason being is that they know that a certain number of people will cancel flights or change their ticket or arrive too late to make their flights or whatever. They're just trying to make sure that planes go out full, because that's what needs to happen for them to make money.
It's for this reason that I heavily advocate getting a seat assignment in advance and checking in for a flight the minute you are able to do so. That way, you're all set in the event that a flight is oversold. It will be somebody who didn't get a seat or check in early that gets left behind in an oversell situation (assuming the airline can't get volunteers to take a later flight).
Or so I assumed.
From the looks of things here, the guy had his seat assignment. So I honestly don't know what's going on. If United knew they needed crew on the flight, why didn't they handle this fiasco before boarding took place? You simply do not remove somebody from the plane like this. If you oversell a flight, you deny the person who didn't get a seat assignment and then lavish money and gifts on them out of compensation... before boarding.
But this is the fuckers at United Airlines we're talking about, and so...
...not a big surprise that this is how they decided to handle the situation.
United Airlines Hates You.
And guess what? Every time you fly with this heinous shithole of an airline, you're empowering them to keep hating on you... along with every other person flying with them...
Find a different way to fly.
Posted on March 31st, 2017

Eight months from now, assuming everything goes as planned, I will be heading out to fulfill my lifelong dream of traveling to Antarctica.
I haven't really thought about everything I have to do before the trip is underway, but it's something I know needs to be planned out. Soon. And, in an effort to get my head around it, I made a first step by purchasing some notebooks to document my journey. Specifically, the Field Notes Expedition Edition notebooks, which I have in my nightstand...
These notebooks are made out of some kind of indestructible "paper" that is waterproof, tear-proof, nuclear-bomb-proof, and so on.
But the coolest thing about them? They have maps of Antarctica on the backs!

Photo taken from JetPens, which sells the notebooks here!

Now I just need to make my final payment. Book my airline tickets. Book my hotel stay over. Buy my expedition clothing. Get a waterproof bag for my camera equipment. Buy a second camera body. And about a gazillion other things.
Eight months and counting...
Posted on March 22nd, 2017

Is there anything worse than hanging out at your hotel waiting for your flight home once your vacation is over?
Probably.
Probably lots of things are worse than that.
But when you are sleep-deprived and drinking for three days straight?
No. No there most certainly is nothing worse than that.
But on the plane I watched possibly the greatest Las Vegas movie ever, The Hangover, so I guess it's all good...
This movie fascinates me no matter how many times I see it. It came out of nowhere and was just so good. Sure it was followed by two crappy sequels, but that first one? Magic. Everything about it was perfect... from the story to the casting to the jokes. I've lost track of the number of times I've seen the film, but I laugh every time.
Which is a good thing, because my vacation is done.
Posted on March 21st, 2017

Long Island Iced Teas Drank: 4
Gambling Tally: Down $82
Time To Bed: 1:30am
Another day, another couple rounds of Long Islands at Nacho Daddy...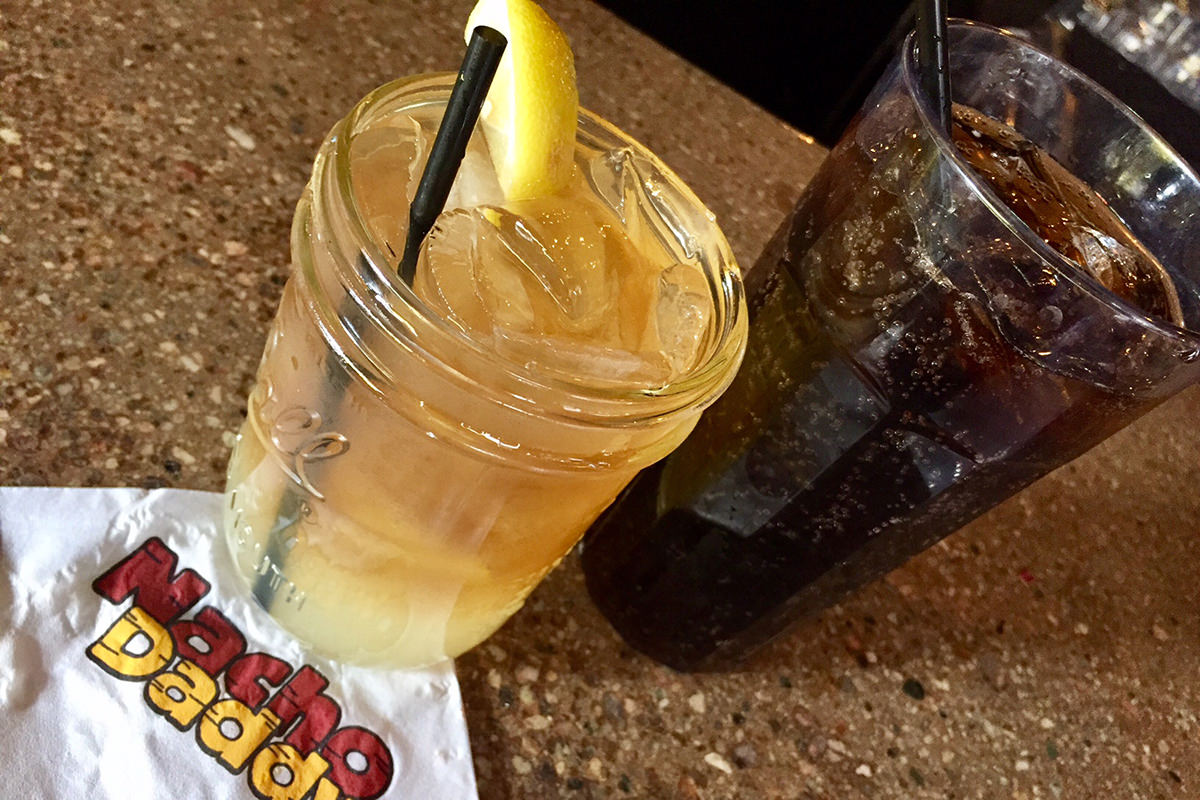 Today's plan was to relax, and so I did.
Until it came time to zipline down Fremont on Slotzilla.
In case you don't know what that means, somebody documented the experience for you...
Since I've been skydiving, bungee jumping, and zip-lining before, this was a piece of cake. But I admit that my heart skipped a beat when that door dropped from eleven stories to reveal what you're about to do!
A very cool experience for $45 that I would gladly do again.
And... another trip to Las Vegas is over.
Posted on March 20th, 2017

Long Island Iced Teas Drank: 6
Gambling Tally: Up $108
Time To Bed: 2:30am
I was awakened around 9am by a security alert on my phone, which turned out to be Jake wandering around the kitchen. I yelled at him through the camera speaker to get out, but this ended up backfiring in the worst possible way. Both cats came tearing into the kitchen when they heard my voice... assumably because they thought I was there. Yeah, I felt pretty terrible for the rest of the day.
I ended up loving Nacho Daddy so much yesterday that I headed there for lunch again today. Since it had just turned noon, I was just in time to start in on the Long Islands for the day...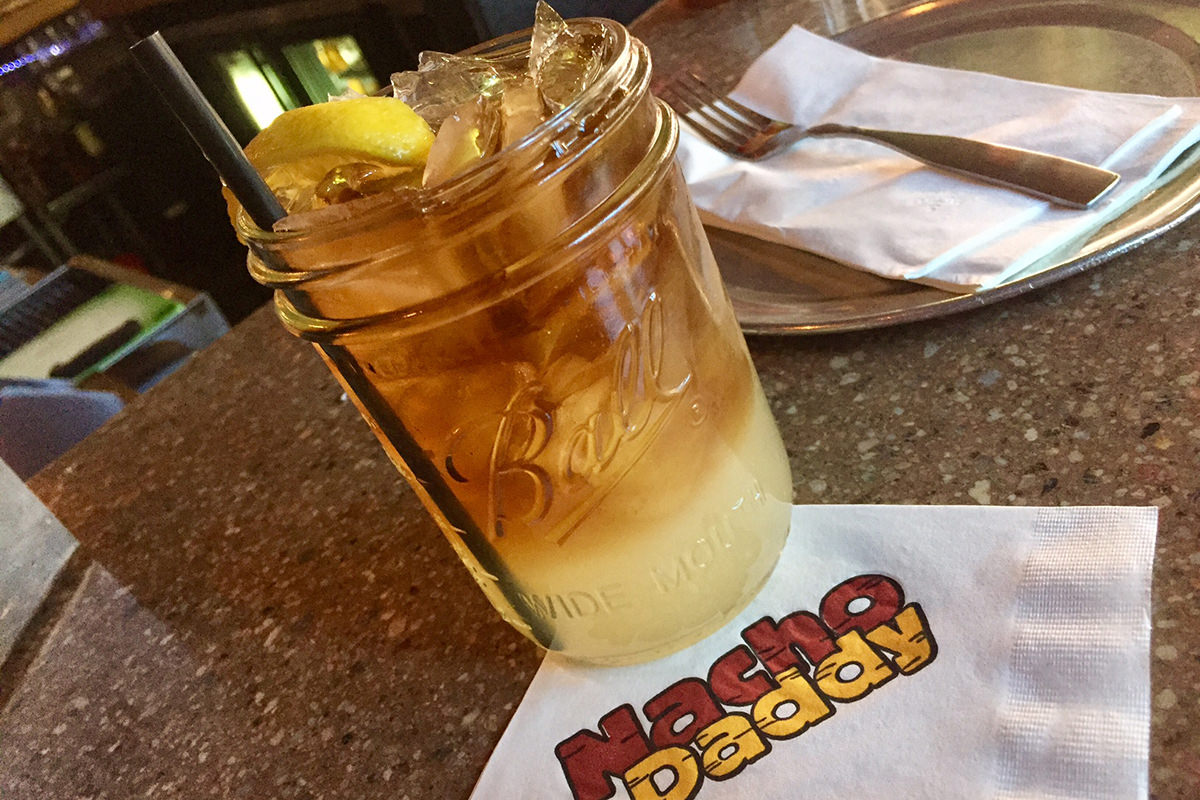 Dinner was at Margaritaville on The Strip, after which we headed over to The Luxor for one of my favorite shows, Blue Man Group, which I've seen in various places five times previously. They added a bit of new material since the last time I saw them (in Orlando, I think) which is always nice. Heck of an entertaining show (as always) and I highly recommend checking them out if you have the opportunity...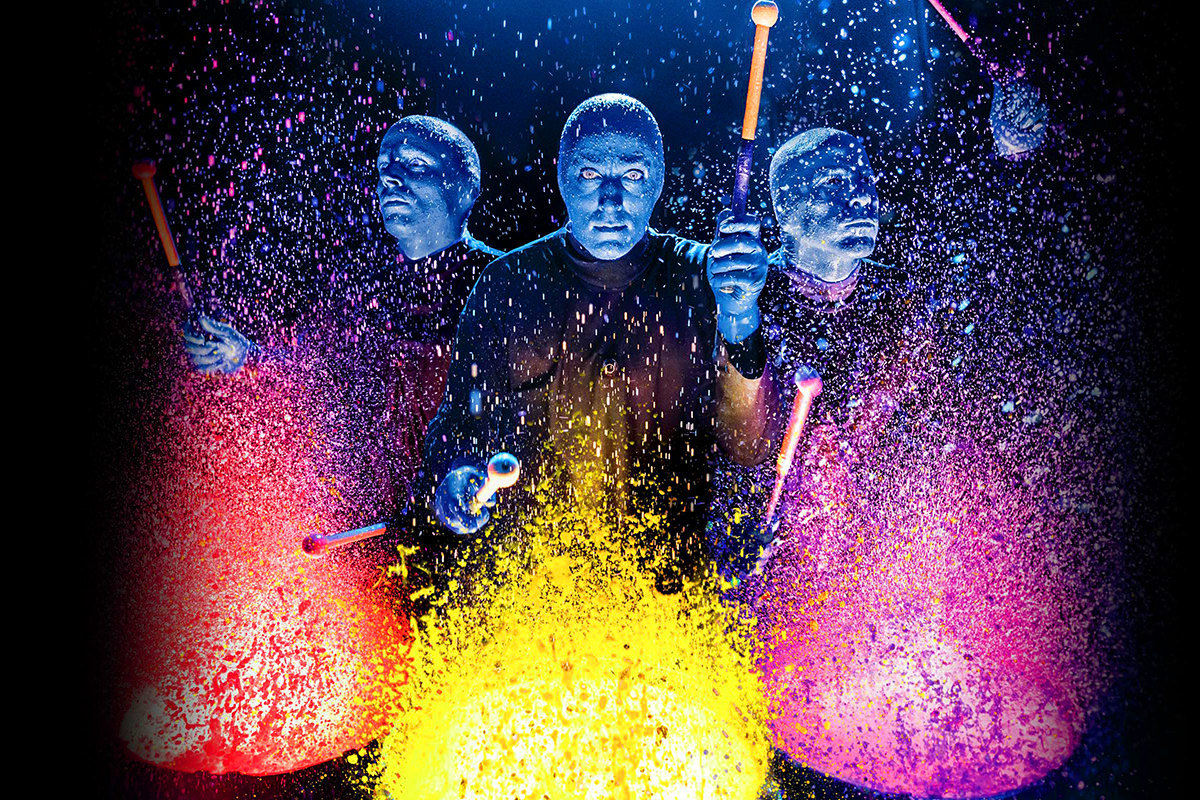 After the show, we headed back to Fremont to finish out gambling for the day. And to visit Nacho Daddy for my last Long Island of the day...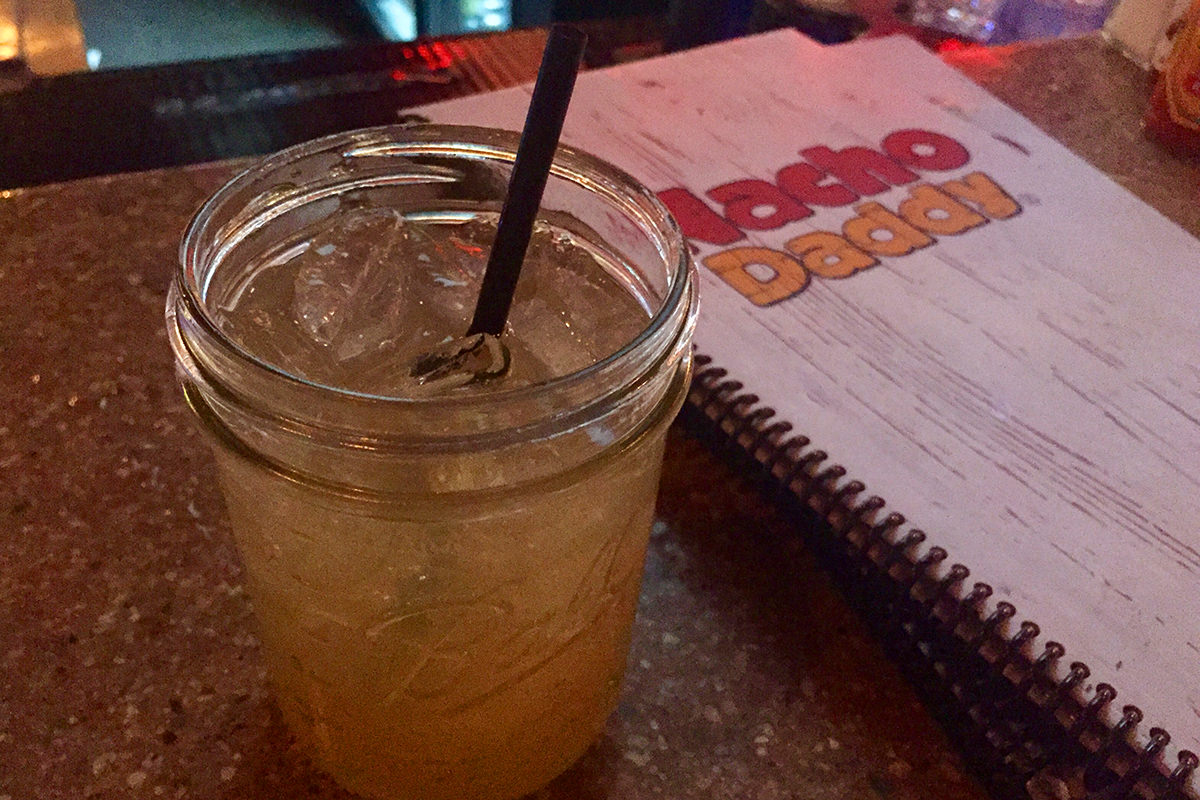 And now... a missive on The Golden Nugget Hotel & Casino Las Vegas...
This is my third time staying here, the last time being in 2009. I had zero complaints my previous visits. The Old Town location is great. The staff is great. The rooms are clean. What more could you want?
Well...
Turns out it's quite a bit.
Like not having to evacuate the hotel twice in one day.
Yesterday while I was relaxing before dinner, the hotel speaker system started screaming for people to evacuate the building. I waited to see if it were a false alarm, but eventually made my way down the stairwell to the outside of the building as the alarm continued. Where a bunch of us waited. And waited. And waited. Eventually I asked a passing security guard what was wrong and how long it would be before we could go back to our rooms. "DIDN'T YOU HEAR THE ALL-CLEAR?!? Uh. No. No we did not. There are no speakers outside to hear it. I then asked what happened "Somebody vaping on the 7th floor. Happens all the time."
Which turned out to be true. Because it happened again at 2:00am.
And I found out it had happened earlier before we even arrived as well.
Just a thought... if vaping sets off your building evacuation alarm three times a day at all hours, perhaps it would be prudent to alert people to this fact when they check in so vapers aren't constantly causing the evacuation the hotel. When I checked in, nobody told me vaping wasn't allowed inside. Nothing on my welcome card mentioned it either. I don't vape, so no harm no foul on me. But for others? Seriously... this is some outlandishly stupid shit.
And speaking of outlandishly stupid shit at The Golden Nugget...
This being Vegas, you have to pay $30 a day in "resort fees." This gets you...
Two bottles of water daily. But not really, because my water was never replenished.
Internet access. But not really, because neither my laptop or iPhone could ever connect.
Use of the gym and pool. But not really, because the famous waterslide at the pool was broken and the pool isn't 24 hours. Hell, the frickin' hot tub isn't even 24 hours.
Complimentary airline boarding passes printing via the Front Desk or Box Office. But not really, because this is a non-feature... who the fuck prints their boarding pass in 2017?
Complimentary newspapers. But not really, because they are not delivered to your room... you have to go down to the lobby to read them. And who the fuck reads a physical newspaper in 2017?
Discount coupons. But not really, because most of them are 2-for-1 deals, which are useless if you're in Vegas as a single. Unless you care to pay for an all-you-can-eat buffet twice just because the second one is free?
So essentially I was forced to pay $30 a day and got jack-shit for it. I already hate "resort fees" with a passion... and the hotels who rip you off with them... but The Golden Nugget is just beyond a shithole for not delivering any value with theirs. Will not be staying there again.
And I don't know about gambling there again either. Over half of their automated cash-out/ATM machines were broken...
Looks like you're standing in line forever at the understaffed cashier window.
Oh... and the fee for withdrawing money from their ATM when you find a working one? SIX FUCKING DOLLARS. Thanks, Golden Nugget... you pile of crap.