Posted on Tuesday, November 24th, 2020

There's a meme running through TikTok of people recording their face before and after watching a short animated film on Netflix called If anything happens I love you. It's parents dealing with the aftermath of their daughter dying in a school shooting.
The "before" shots are mostly TikTokers with a normal look on their face... or whatever passes for "normal" now-a-days. The "after" shots are always people in emotional distress... crying and looking helpless. Some people even recorded an occasional reaction during the movie. Bawling their head off halfway through and whatnot. Suffice to say, there's a lot of crying going on in TikTokLand.
And while I thought it's a lovely little feature with excellent animation and really nice music... I felt... nothing.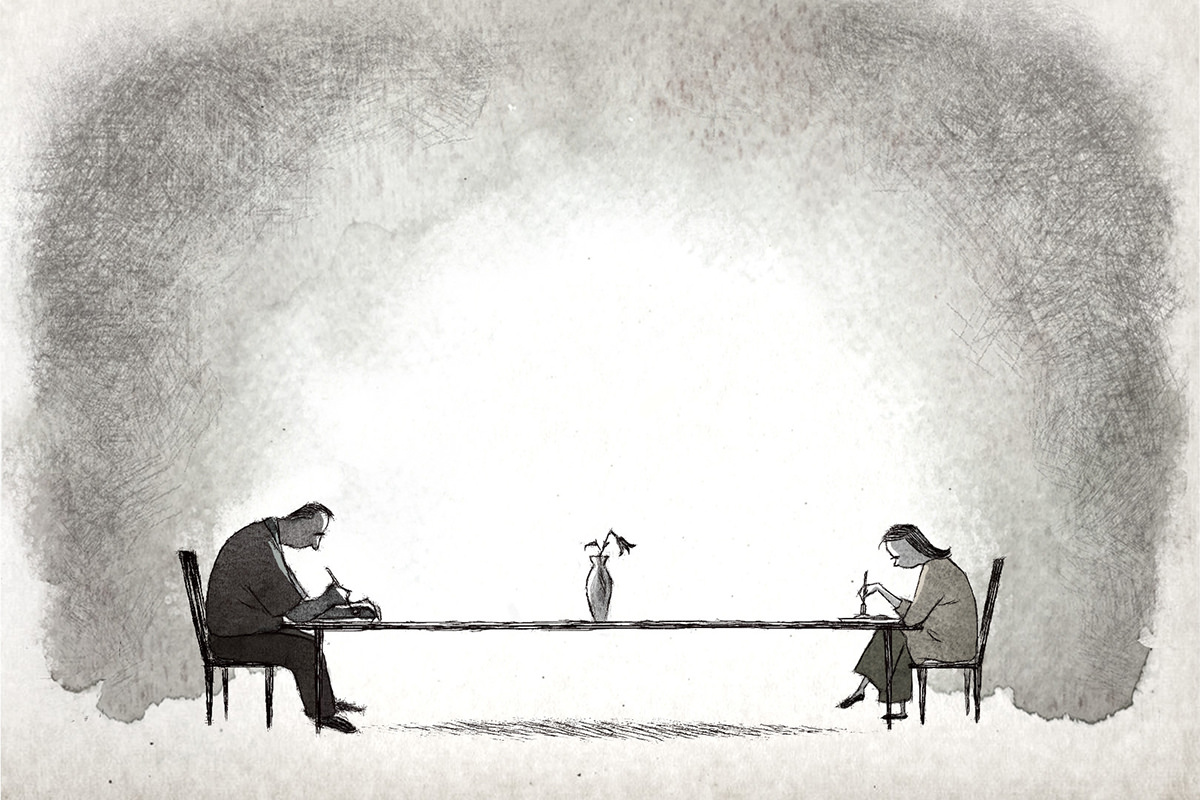 Well, maybe I felt anger. It's tough not to be angry when there are people so damaged that they would shoot up a school, and we have a society content to let it keep happening. Mental health problems are stigmatized and mortally underfunded in this country, and that just fuels our horrific, upsetting, terrifying, and profoundly sad violence-laden world. Unfortunately, this is exactly what our "normal" is now.
Well... then-now. Not now-now due to school closures during the pandemic. Probably future-now though, because we never learn a damn thing.
And it's because of it that I feel mostly nothing when I see the raging debate over guns reignite once again.
I've gone over my feelings on this subject many times before on this blog. Banning guns is a painfully short stop-gap measure which will ultimately fail. We are this close to being able to 3-D print an assault rifle in the comfort of our own homes. THIS. CLOSE. So unless people are going to be monitored 24-7 to make sure they aren't crafting weapons in their basement to use or sell, we have a serious problem on the horizon whether current weapons are factored in or not.
I don't pretend to know what the answer is, but it doesn't take an Apple Genius to see that diffusing the hate that's escalating every damn day is a good start. Whether that happens by getting our leaders and media to stop being such hate-mongering assholes... working mental health into our education curriculum... destigmatizing mental health problems... making it easier and free to get mental health assistance... providing better monitoring of those with a violent history... stopping creation of conditions which drive people to the kind of desperation which can result violent acts... or one of a hundred other things. Because if we don't start doing something Real Soon Now we're in some deep shit. Or rather we're in deeper shit than we already are.
But hey. We can't even get people to wear a damn mask so the moisture from their breath isn't spreading a potentially lethal virus. How the fuck are we going to get people to give a shit about the mental health of other people or, more importantly, themselves?
Good luck with that.
Because just like people who only believe that COVID exists when their lungs are failing, they're not going to give a shit or think it's a problem... until it happens to them.
Posted on Monday, November 23rd, 2020

I'm experiencing a tea renaissance. Last night I had some amazing Winter Chai and I'm still thinking about it this morning. I stopped drinking tea for the longest time, but took it up again when I was served some amazing native tea in Laos back in 2013. After a couple years I started favoring sodas, but now I'm drifting back into tea-land again. Figured I might as well since the tea I ordered for my 2020 guests in January (that wouldn't end up coming thanks to the pandemic) will have to be replaced soon anyway... even though I froze it to keep it fresh like you're supposed to.

Winter Chai Blend from Tea Forté, whose pricey teas I love.
Oh well.
I have a free pizza to thank for my renewed interest in drinking tea.
Last week I went out for groceries and got yet another free pizza. Safeway/Albertsons is forever giving away free pizzas with purchase of something else. And since the "something else" is usually something I'm buying anyway, I always grab one. I don't like frozen pizza, but I'm not going to pass up on free food. This was my fourth free cheese pizza and I had to make room in the freezer by tossing out some old stuff I shouldn't have been saving in the first place... and drinking my tea stash. From there I moved on to cleaning out the refrigerator and found a full carton of eggs hidden behind the fresh carton I just bought. I don't even remember having bought them. I don't shy away from expired foods, but eggs that are a month past their "Best Before" date are probably a gamble I shouldn't be taking, so down the garbage disposal they went.
Last night I had one of those free cheese pizzas for dinner. It was the last thing I wanted to eat, but I didn't have room for my next freebie so I thought I should whittle down my pile. My attitude ended up being "Sure I don't want it, but does it even really matter?"
And it's at that point I realize I've been saying that to myself a LOT recently...
"Does it even really matter?"
When I made a sawdust pile on my garage floor last week and keep telling myself I should clean it up... but realized I'm the only one who will ever see it and left it there.
When I kept putting off giving myself a haircut because I always end up making a mess of my head... but realized nobody will see it to care, so I pulled out the clippers.
When I saw my appointment to get my Global Entry Card renewed... but realized I'm not going anywhere any time soon and rescheduled for next March.
When I started trying to eat a bit healthier this past month... but realized that I could get COVID any minute now because people are selfish assholes, so I bought a box of jelly donuts.
When I got a supplies list together so I can finally tile my kitchen backsplash... but realized I won't be having guests any time soon and stuck it in a drawer.
When I made a list of new clothes to buy on Black Friday... but realized that I'm not going anywhere any time soon to care about new clothes, then threw it in the trash.
When I pulled up my work To-Dos I made so I could take off on Wednesday for Thanksgiving... but realized that I don't get a Thanksgiving this year and ignored it.
When I look at my chores list that's getting way too long... but realized that the entire world is on hold, so why should this list be any different, and took a pass.
Because, seriously, does any of that really matter? No. Not really. Dishes left in the sink. Cleaning that needs to be done. Projects that are lingering. Things I need to stay on top of. It just doesn't matter. Life is just a self-isolating blur of tedium sameness, and I'm mired in it like quicksand.
About the only thing that matters are my cats. Where I'm happy to just let things go in my life, I refuse to let anything go in theirs. I still steam clean their feeding station. I still wash their food dishes and water fountain. I still clean their beds. I still collect their toys. I still play with them. I still drop everything when they want attention. I still do everything I can to make sure they're cared for.
Just like after my mom died, I probably owe it to Jake and Jenny that I find the willpower to keep going day after day. Mostly because they are about the only thing I've going for me right now. But partly because I don't want to keel over and die and have them eat me.
Though with all these exotic teas I've been drinking lately, I'll bet I'm delicious.
Posted on Sunday, November 22nd, 2020

Time may wait for no one, but time definitely waits for this blog... because an all new Bullet Sunday starts... now...

• Wonder Max! And so... Wonder Woman 84 is coming to HBO Max on Christmas Day. And I will absolutely be subscribing to HBO Max for a month to watch it. My enthusiasm for theaters has lessened more and more over the years thanks to rude people talking on phones and texting... theaters not replacing projector bulbs when they start to dim... and the absurd cost of snacks. The only time I ever go to theaters are to watch the latest Marvel Studios films or when invited by friends. I'm MUCH happier watching at home. And yet... some of the big budget films (like Marvel Studios movies) rely on box office revenue to justify the money investment. If theaters go under because they can't wait out the pandemic, what does that mean for the movies I love?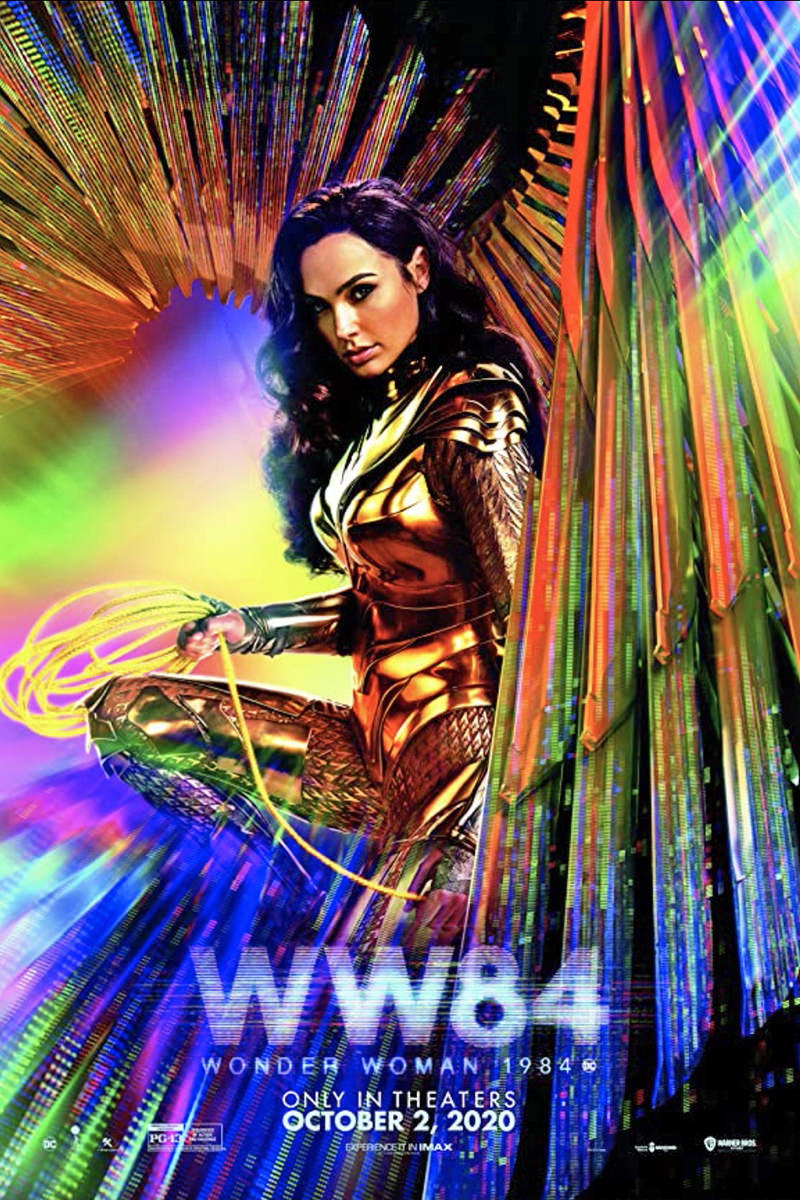 Still... kudos to HBO Max for not charging extra to see the film like Disney+ did with Mulan.

• Maximum! The advertising "feud" between Ryan Reynolds and Hugh Jackman keeps getting better...
But they've been pretty funny in their own ads as well...
Even when they appear in each other's ads...
And let's not forget Ryan's ad from last Christmas...
If only all of Hollywood put such effort into their charity endeavors.

• Hallmark? Let's see...
Big city executive goes back to their small town for Christmas: ✓ CHECK!
Small town has an unbelievably wholesome and cheesy name: ✓ CHECK!
White cast, but Person of Color best friend: ✓ CHECK!
Runs into some country hick that gets dismissed: ✓ CHECK!
Country hick has unexpected depth that city-slicker was too ignorant to see: ✓ CHECK!
Christmas romance ensues: ✓ CHECK!
Man and woman live happily ever after: WAIT ONE DANG MINUTE!!!
Not Hallmark after all... Paramount Network.

• Life Day! I am old enough that I actually saw the original Star Wars Holiday Special back in 1978 when it aired on television. Back then it was the only new "Star Wars" available since the movie was released the previous year. It was horrifically bad. Phenomenally horrifically bad. Forty-two years later and LEGO is giving us an all new version...
While nothing great, it's darn clever... mashing up all the various Star Wars characters throughout space and time. It's also funny. And far, far, better than the original live-action version. That's LEGO for you.

• Muties! I detested the FOX X-Men movies. They were all pathetic cash-grabs that in no way lived up to the promise of the comic book source material. I did like X-Men: First Class and kinda liked The Wolverine, but that's it. Everything else was garbage. When it comes to The New Mutants, I was a fan of the comic book during its Claremont and Sienkiewicz run. The movie is very loosely inspired by their "Demon Bear Saga" story arc from The New Mutants 18-20...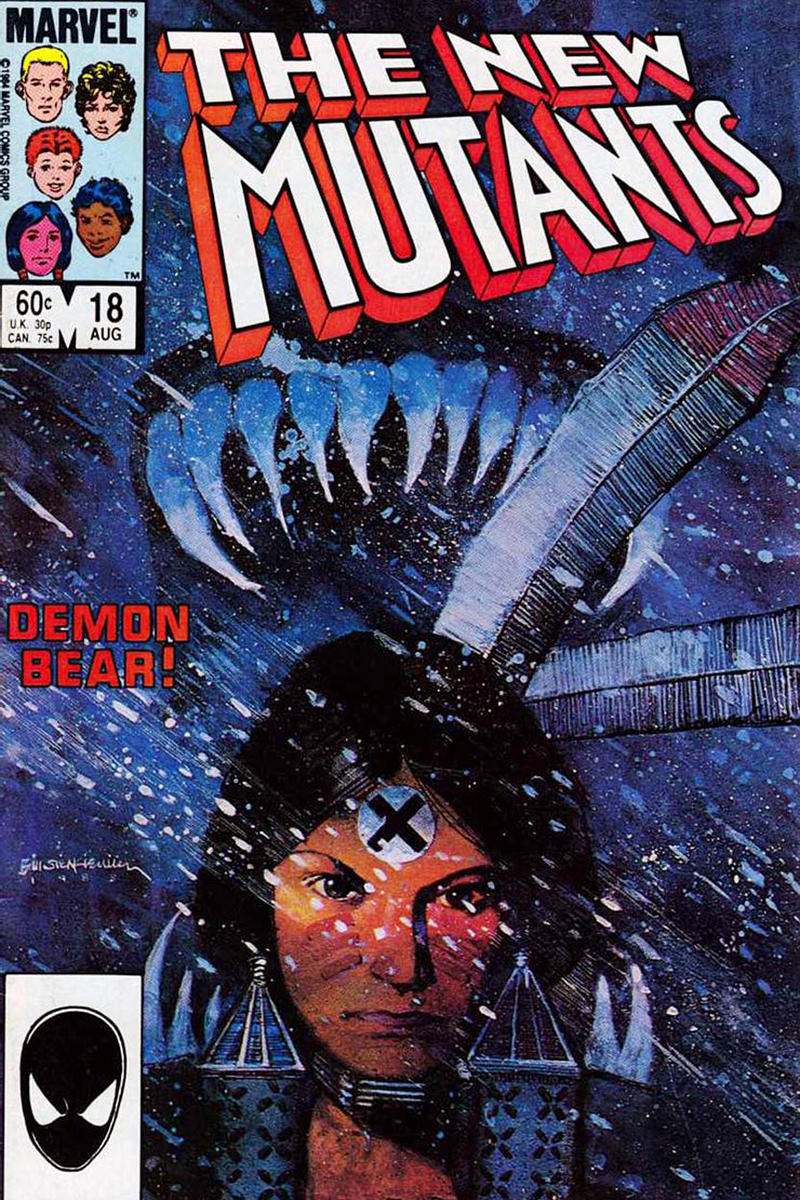 What was promoted as a super-hero horror flick wasn't very scary at all. I was 100% bored and regret having spent $6 to rent the thing. It's mostly just angsty teens calling each other "bitch" and "asshole." What a waste. But, as the final film from the whole FOX Marvel super-hero era, why did I expect it to be anything else?

• Do You Know Bo? As good as The Mandalorian was in its first season, it's really knocking things out of the park in the second season. The most current episode is the best thing to come out of Star Wars since The Empire Strikes Back. I won't spoil it. But I will say that LAST week's episode was incredibly rewarding. Especially if you watched The Clone Wars and Rebels cartoons...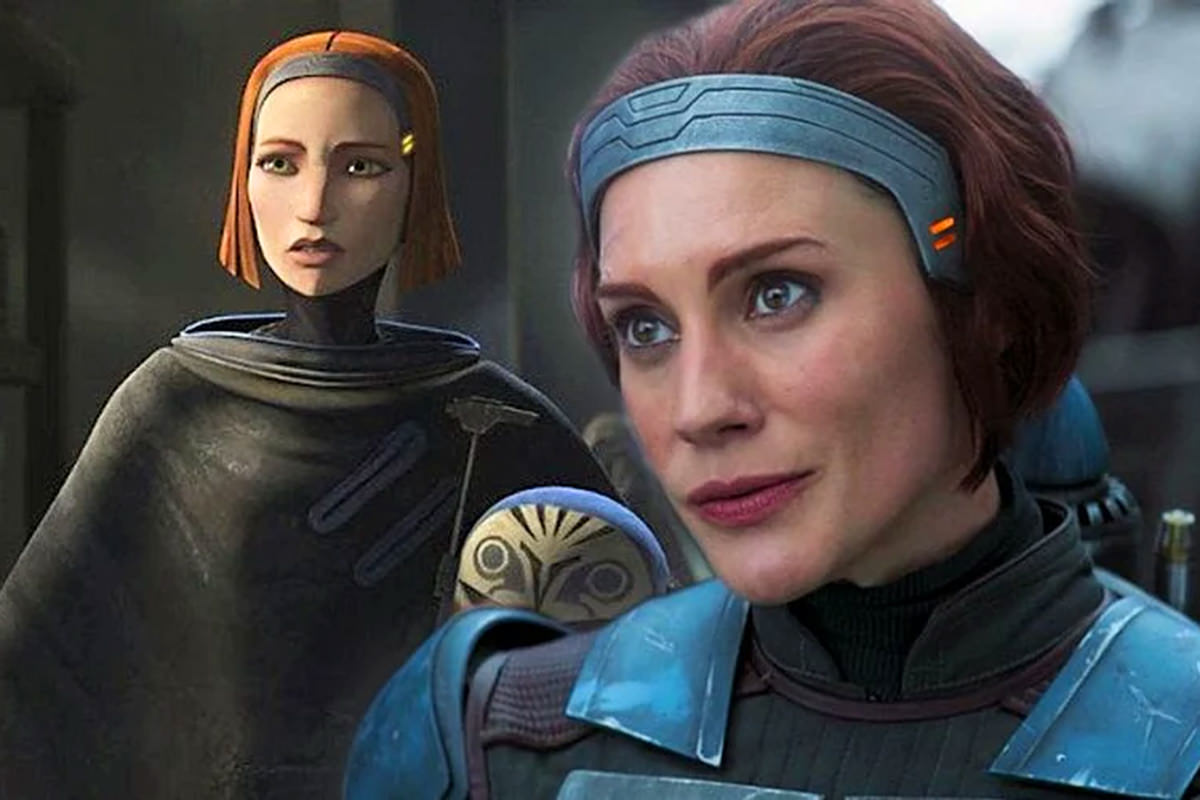 Look, there's some things that don't quite add up with Bo-Katan, I am fully admitting this. But can we just be happy that she made the leap from animation to The Mandalorian? Can't we just be grateful that Katee Sackhoff was asked to play the character since she was the voice in the original cartoons? Can't we just assume that some things about her appearance won't be explained, and we'll just have to fill in the gaps with TV magic or something? Because, I gotta say, her showing up caused me to squeeeee my ass off. In The Big Picture this works just fine. Don't get caught up on too many of the tiny details... just enjoy it.

And that's enough bullets for me. I'm out of time after all.
Posted on Saturday, November 21st, 2020

Lockdown isn't boring when you have cats!
This morning while I was getting out of the shower I heard a "whomp! whomp! whomp!" I was pretty sure that it wasn't ghosts, so the only explanation was that Jake or Jenny had found something new to entertain themselves. As I was getting dressed, I heard it again... "whomp! whomp! whomp!" When I ran out into the hallway and didn't see anything, I looked down the stairwell and saw this...
Well, obvious that innocent little face wasn't capable of getting into any trouble, so I was at a loss to explain what happened. Until I was walking downstairs and noticed this...
Apparently Jenny is back to redecorating.
And speaking of Jenny...
If you've ever wondered the look you get when you administer butt scratches wrong, this would be it...
Fortunately I seemed to be able to do belly rubs correctly...
That's better!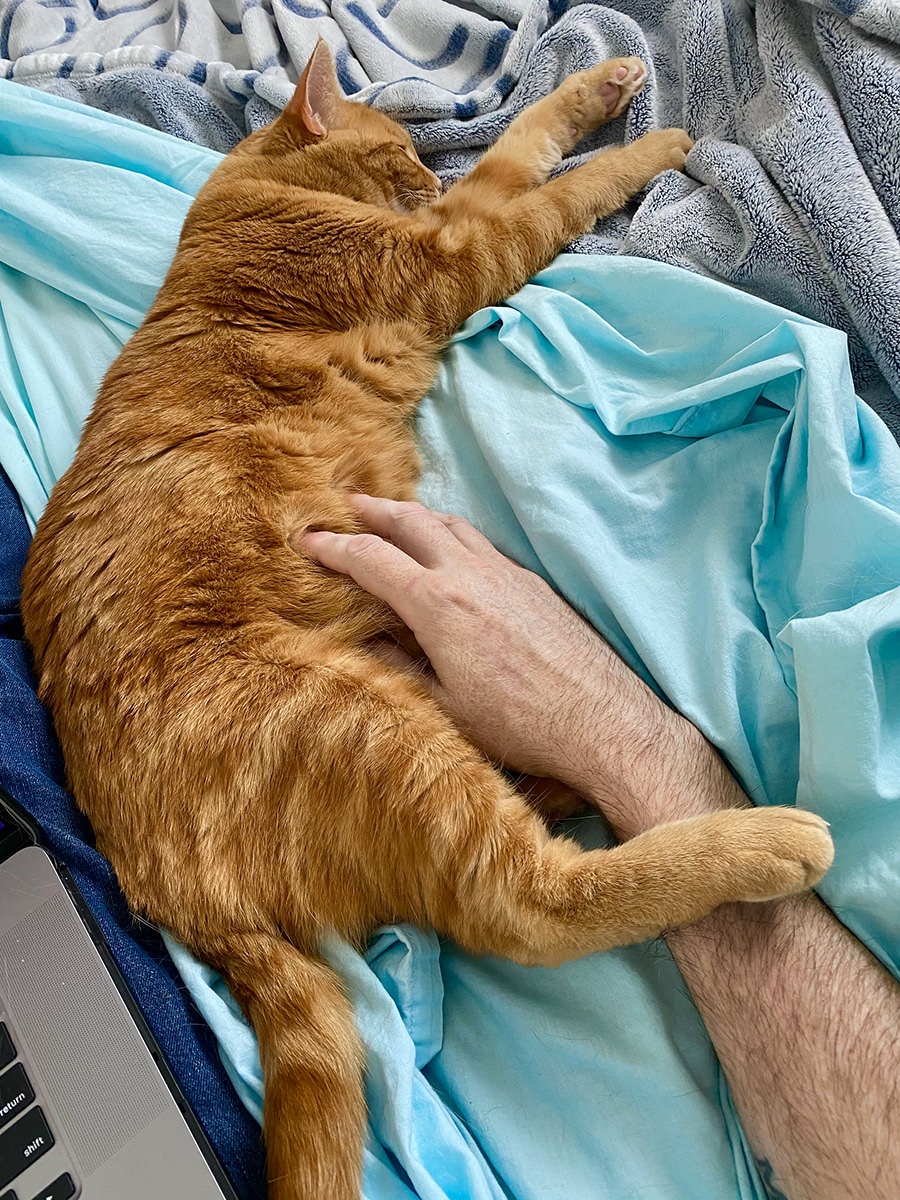 Now I guess I should go straighten all the posters in my stairwell and see how long they stay that way.
Posted on Friday, November 20th, 2020

Back in October I purchased new wiper blades and wiper fluid for my car, then made an appointment to get my snow tires put on. I also created a grocery list for all the things I would need to take to Thanksgiving dinner. After an entire year of not being able to see family and friends, I was more than a little excited that I would finally be making a trip over the mountains to see everybody.
Then the pandemic exploded. Again.
Thanks to people who are entirely too careless, COVID infections are on the rise, hospitals are filling up, and the recommendation is to avoid family gatherings until things calm down again. Especially if you have existing conditions which make contracting the virus potentially fatal. I've struggled with my breathing for the past decade, so I'm especially screwed if I get a serious case of The 'Rona. Especially if the hospitals are full up and there's no place for me to go if shit hits the fan. And since I'm absolutely certain that entirely too many people will totally be having unsafe Thanksgivings, I guess that's all she wrote for my Veggie Turkey Day celebration.
And then today was the appointment for my tire change.
I was going to cancel, but since I had to run into The Big City to drop off my old iPhone at Fed-Ex anyway, I decided to just keep it.
The experience was more depressing than I anticipated.
Getting tires changed so I can stay at home? So much fun.
My hope is that things calm down enough that I at least get to have a Christmas dinner with family. But if everything explodes yet again because of Thanksgiving idiocy, I suppose that's going to be a goner too.
Is it any wonder that I'm getting that COVID vaccination the minute it becomes available?
My cats are great and all but, so far as the holidays go, being stuck at home with them is not my ideal way to celebrate.
Posted on Thursday, November 19th, 2020

The iPhone Upgrade Program return kit showed up today. Which means I guess it's time for me to decide whether or not I'm keeping the iPhone 12 Pro MAX pretty quick.
Or immediately.
Because there's no way I'm giving up the iPhone 12 Pro MAX. Yes, I was concerned about it's MASSIVE size, but in less than a week I've just kinda adapted to it. And really adapted to that big, beautiful screen. Sure there are times I'd rather not have to deal with something so big, but the pros vastly outweigh the cons, and there's no going back for me.
So my beautiful Midnight Green iPhone 11 Pro which has served me very well, was boxed up and will be handed over to FedEx tomorrow.
What also showed up today? My MagSafe wireless charging puck...
One thing I should get out of the way is that the magnets are strong. The puck really "sticks" to my iPhone and equally well to my Project RED iPhone silicone MagSafe case. Very nice. It gives you a satisfying "click" when it snaps into place. I like it very much.
Just like my case provides a visual animation on the display when you pop it on, the puck too gives you an animation which starts like this...
Then gives you a quick flash on the charge of your battery...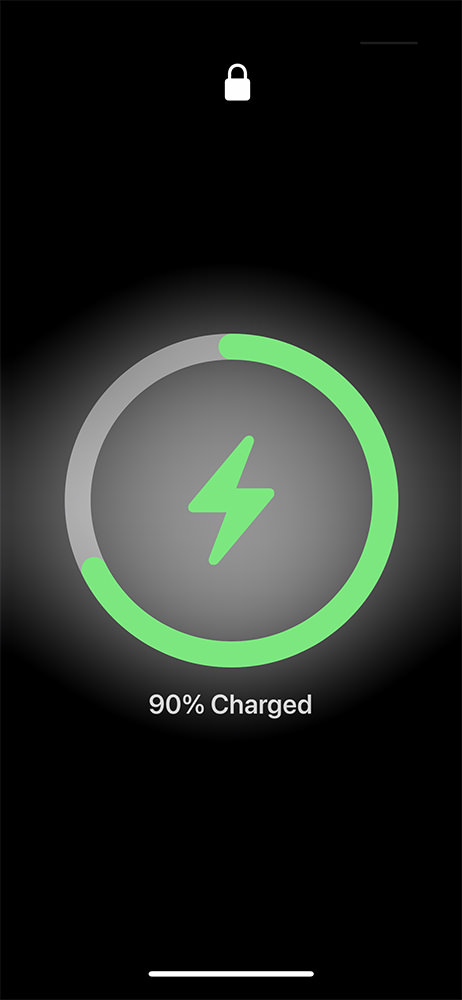 Classy.
All is not perfect, however. First of all, the 20 watt charging brick which allows fast-charging is not included. No charging brick is included. That's a $20 separate purchase from Apple. I have the 18 watt charging brick from my old iPhone 11 Pro, so I'm just going to use that. Since I charge my phone overnight, fast charging isn't necessary. Note that if you decide to use a brick of your own, you will not only not get fast charging, you will have to make sure that it's USB-C, not USB-A (like most all charging bricks are, including those that came with all iPhones prior to the 11).
The puck/cable itself is minimalist and even pretty, if you're into that aethstetic. I am concerned with where the cable meets the puck though. It looks like it could follow suit for every iPhone "Lightning" cable Apple has ever made and break quite easily. That's a big yikes for a $30 item.
Ultimately I think bringing MagSafe to the iPhone is handy and cool. I wish it was still a thing on my MacBook... and it eventually transitions to the iPad. I just wish it wasn't so dang expensive. Cheaper alternatives will be coming from third parties (indeed they already have been), but I don't know if I would trust it with such an expensive toy as an iPhone.
In other news, Dr. Fauci was surprisingly a part of the dog-and-pony show press conference on COVID-19. After President Trump repeatedly attacked Fauci, mused about firing Fauci, and essentially muzzled Fauci... I audibly gasped when he was trotted out along with Vice President Pence and others.
Dr. Fauci's statement on the vaccines was highly encouraging. I was dubious about the effectiveness claims being made, but Fauci laid it all out and essentially calmed any concerns I had. So I, for one, will be getting a vaccination just as soon as somebody like me is able to get it (assumably I will come after health care workers, the elderly, the sick, and the hospitalized). Sure something might go wrong. That's always a risk with new medication (as I found out after taking Accutane), but I'm old with cats as my only dependants so I'll take the risk. Gladly. Whatever it takes to get our lives back to "normal" again.
I have no idea what the anti-vaxxer brigade is going to do. Assumably they're going to take a big ol' pass on getting vaccinated. Which is extremely selfish and shitty, but typical. I don't feel sorry for them if they get sick and die, or lose lung capacity, or end up with brain chemistry problems, or whatever other heinous health problems that survivors end up with. Who I feel sorry for are their children. More and more science is attributing serious health problems... likely lifelong serious health problems... to child COVID-19 survivors. Madness.
And I really feel for immunosuppressed persons who might like to get vaccinated but can't. How shitty that their very lives are in the hands of assholes?
Oh well. Hasn't that always been the case for all of us?
Posted on Wednesday, November 18th, 2020

I bought a NAS (Network Attached Storage) in order to access my work files from anywhere and store all my media. It's been working (mostly) flawlessly and has been a real convenience. But over the last couple weeks I've been having power brown-outs which cause my NAS to go down. And every time that happens I have to rebuild everything and run a file integrity check. It's a real pain because my files are inaccessible for hours.
My power has gone out maybe twice in the five years I've lived here. I don't know what's changed that suddenly it's been so unreliable, but I decided to buy a UPS (Uninterruptible Power Supply) for my NAS. That way the battery in the UPS can power my NAS through a brownout. And if the power goes out, the UPS is smart enough to talk to my NAS and tell it to shut down safely before it runs out of battery.
I ordered a CyberPower 800VA/450W unit for $85 because it was more than enough for my needs. It was also small enough to mount behind my media center. Or was it?
NO! NO IT WAS NOT!
I didn't have enough solid material on the media center to mount something so heavy. So I claimed the draw next to my NAS Drawer and made it into a UPS Drawer...
My NAS, Internet Router, and Smart Home Hub are on battery backup on the left. Other devices are surge-protected but not backed up on the right. Now during a brownout or blackout, my NAS files will be safe and I'll still have internet (assuming the power outage doesn't take out my fiber). Nice!
Every time I want to change the electronics on my media center, I end up ripping everything out and cleaning up the wires on the back. Believe it or not, this mess is half the wires I used to have before I merged some devices, got rid of satellite television, and left my Nintendo Switch as my sole video game...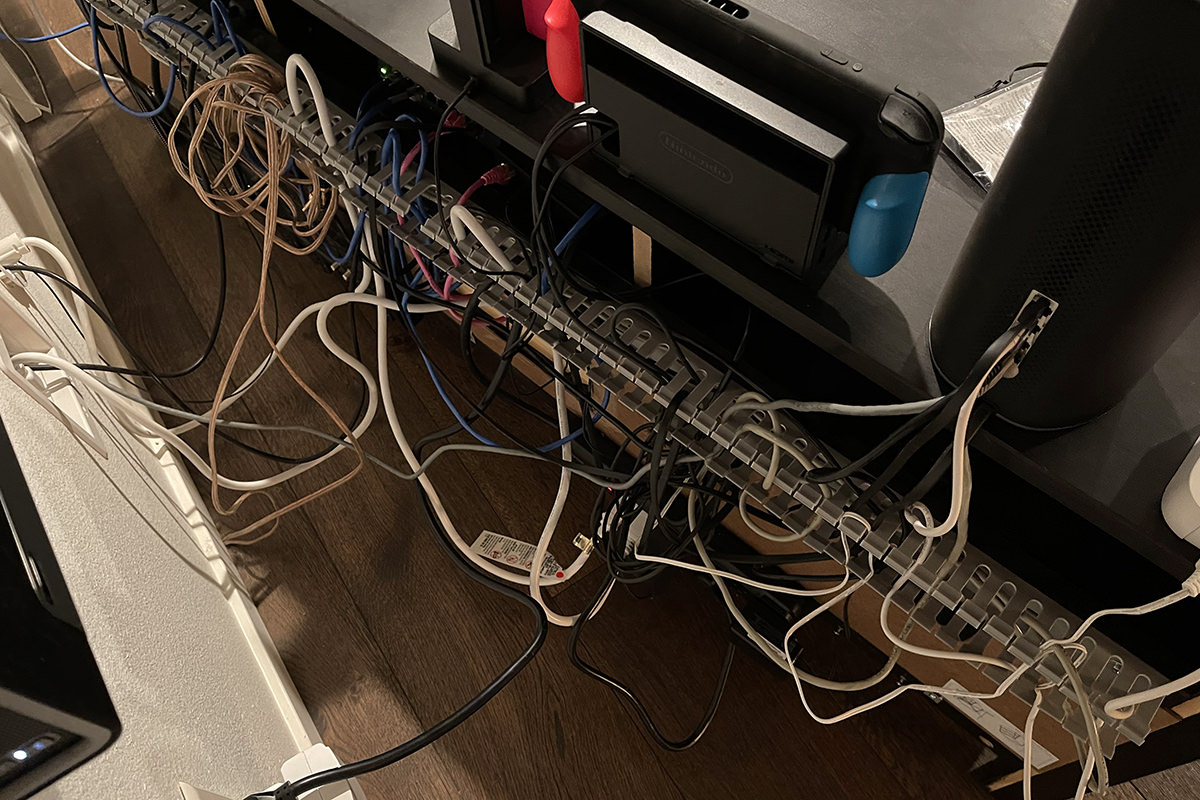 Something I thought would take me an hour ended up taking just over three hours. But it was worth it because after plugging in a USB cable from my NAS to my UPS it was recognized right away...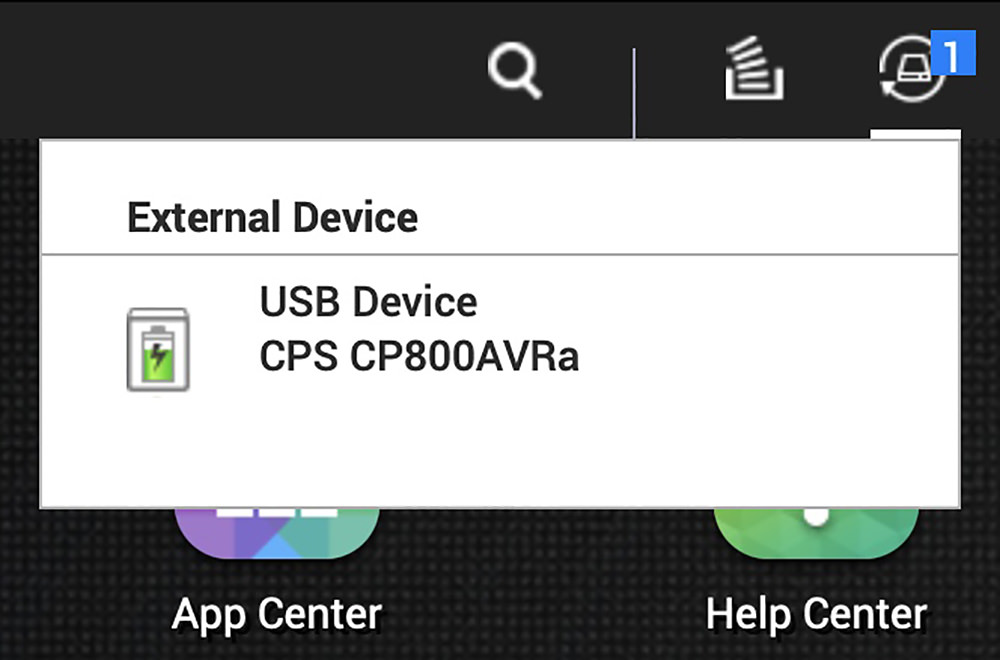 According to the NAS control panel, I have over an hour of battery backup power available. My guess is that the addition of an internet router and smart home hub will knock that down to about 45 minutes. Which is plenty of time to survive any brownout and most blackouts...

$85 plus tax was certainly more than I wanted to spend on this thing... but it's a huge weight off my mind to know that my NAS files will be safe when there are power problems.
Here's hoping that everything is working correctly. I'm sure I plugged in something wrong somewhere.
Posted on Tuesday, November 17th, 2020

My biggest iPhone disappointment was the iPhone 6. I bought it direct from AT&T in September of 2014. It was a terrific phone at the start. It had the first "Retina" display and everything on it looked amazing. It was fast. It finally had the ability to shoot 1080p HD video. The photos on it were a clear step up from the iPhone 5 released two years prior. It was a good purchase that I was happy to have made.
But then... right around the time the iPhone 7 was released in September of 2016... everything started turning to shit.
All my apps were slow to launch, sluggish to use, and it didn't make any sense. Apple Support had me reset the phone and reinstall everything. Didn't work. Then sometime in mid-2017 the battery started malfunctioning. I'd charge it up and it wouldn't last me a day of light use. I was traveling somewhere... Salt Lake City maybe?... and made an appointment with the local Apple Store because I just couldn't take it anymore.
The Apple Genius looked at it or hooked it up to something or ran a diagnostic app or whatever. They told me that it was operating normally for its age and maybe I should upgrade if it was a problem. Or I could pay out-of-pocket for the battery to be replaced (my AppleCare had expired).
I absolutely didn't want to buy a new phone since Apple was most certainly releasing a new model in a few months. But because I needed a reliable phone for my work travel, I bought an iPhone 7 off of eBay for cheap, and used that until the iPhone X was unleashed a few months later in November of 2017.
Like I said, it didn't make sense At. The. Time.
But now we know that Apple was intentionally slowing phones down in order to extend battery life. Which would have been fine if I knew what was happening and had a choice to turn this "feature" off and on. But I wasn't told, I didn't have a choice, and Apple's "solution" was to buy a new phone.
That's "Batterygate" in a nutshell.
Today I found out that there was a class-action lawsuit where Apple agreed to pay out million of dollars in compensation to people like me who got burned by "Batterygate." But here's the problem... I never knew about the lawsuit. Never received any communication from Apple about it. Never had a chance to participate before the October 6, 2020 deadline.
And I am pissed.
Even if I were to only get a $25 gift card settlement or some other silly amount that in no way approached the money I had to pay for my second-hand iPhone 7, at least I would get something.
I know that only the lawyers end up getting rich off of these lawsuits and I likely wouldn't get much of anything, but you'd think that since Apple and AT&T had a record of my purchase they would be obligated to contact me.
Oh well. Even more money for the lawyers, I guess.
Posted on Monday, November 16th, 2020

Yesterday Washington State's governor released a new lockdown measure in the hopes that the latest wave of infections sweeping the country won't overwhelm our hospitals. As you can imagine, there's some serious outrage happening here. I have no idea what else they're supposed to do. Are we just supposed to ignore the pandemic until people are dying in the street because the health care infrastructure is maxed out? Daily death tolls keep climbing even though doctors and scientists have a better handle on things and people have a better chance of surviving now. What this means is that more people are being infected than ever before and COVID-19 is spreading faster than ever before. Something has to be done.
So, yeah. Let's just be extra cautious for a while until we have a vaccine in the new year. Hopefully serious illness rates can be slowed down enough that there's hospital beds for those who need them. This is not some evil master plan to control people, it's just a common sense approach to dealing with a population containing people who refuse to wear masks and refuse to be careful, thus fucking it all up for the rest of us.
Man. Can you imagine if we had just locked everything down for two solid weeks and rolled out massive testing back in March? Maybe then we'd be like New Zealand who listened to science and have all but eliminated COVID-19. Twice.
Oh well. It is what it is... our response was our response... and now we're paying the consequences. Again.
Story of my life, Year 2020.
Posted on Sunday, November 15th, 2020

Washington State may be going back into quarantine, but the blogging will continue... because an all new Bullet Sunday starts... now...

• Hallmark! Just in case you're curious... yes, I am watching all the new 2020 Hallmark Christmas movies (and Hallmark-like imitators) which you can see right here. Looks like I'd save myself a lot of time if I just watched this...
This is so accurate that I feel attacked!

• Drink! And while we're talking Hallmark... FOR THE LOVE OF GOD, MOVIE DIRECTORS... STOP GIVING ACTORS EMPTY FUCKING CUPS TO "ACT" WITH! IT NEVER WORKS. IT ALWAYS LOOKS STUPID AND FAKE WITHOUT WEIGHT IN IT, AND IT MAKES YOU LOOK LIKE AN INCOMPETENT DUMBASS FOR NOT KNOWING THIS. And it's ten times WORSE when you then have them actually pretend to drink from the stupid thing. NO ACTOR ON THIS EARTH CAN MAKE PRETEND-DRINKING LOOK AUTHENTIC SO GIVE IT THE FUCK UP ALREADY!!! This should be Directing 101.

• Wallet! I like the idea of the MagSafe connector on the back of my new iPhone 12 Pro Max because it seems a smart way to stick stuff to your phone and stick your phone to stuff. Handy. Apple's first product was the MagSafe charging puck which aligns a wireless charger to your phone precisely for optimal charging. I ordered one even though it feels overprices because the Max is so large I can't see my Qi charger under it very well. The second product is a leather card wallet. The reviews were fairly savage... fueled by the usual anti-Apple bias that seeps into even Apple fan sites. The main complaints are A) It only holds 3 or 4 cards, and B) It falls off too easily. I thought this was silly because A) If you want to hold more than 3 or 4 cards, get a wallet, and B) If you want something that glues to your phone, get some velcro. Personally my two complaints are A) It's seriously expensive at $60, and B) I'd rather it not be made from leather. And now this...
Exactly. Nailed it. Now I kinda want one. And would consider it if it were $40 instead of $60. Oh well.

• Plan! Oh wow! They did a quarantine episode of Plan Coeur (AKA The Hook Up Plan)! And it's good! No worries, they have subtitles in English available on Netflix. You will definitely want to watch both the first and second seasons in order to know what's happening, however. Fortunately Netflix has those as well...
This show would have been so much better without Elsa's stupid-as-hell overreaction with becoming "natural." It went way, way overboard and I cannot fathom how they thought it was a good storyline for her. So idiotic. But everybody else was great. And that ending was worth it. Can't wait for the third season.

• Coke! Looks like the Coca-Cola Company were smart enough to hire Taika Waititi to direct this bit of Christmas magic...
No polar bears in this one, but still pretty darn good.

• TAKE MY MONEY! Anybody who reads my blog might know that my character of "Bad Monkey" is an unholy mashup of Curious George and Max the bunny from Sam & Max. Now Nintendo Switch is getting a remaster of one of their classic video game adaptation...
I played the game ages ago. I can't wait to revisit it again.

• Symptomatic. "People have been worried that COVID-19 survivors will be at greater risk of mental health problems, and our findings ... show this to be likely," said Paul Harrison, a professor of psychiatry at Oxford. — So... yeah... all the more reason to do your best to not contract COVID-19, as if there weren't enough reasons already. Pity the deniers keep dragging this out and making it worse for all of us.

And that's the end of bullets as I return to more even isolation than I was already isolating.