Posted on Tuesday, February 20th, 2018

Living with cats has been a joyous experience every day... save one day. My visit to the vet with them last February. It was equally traumatic of all three of us, and I've been dreading having to go back for an entire year.
As I mentioned a while back, I had brought in the cat carriers in early so I could get Jake and Jenny used to being around them.The difference being that last year I was able to trick them into the containers with treats. This year? Not so much. They didn't want to go in under any circumstances. Even by bribing them with treats.
Here's Jenny hanging out with me five minutes before I would betray her...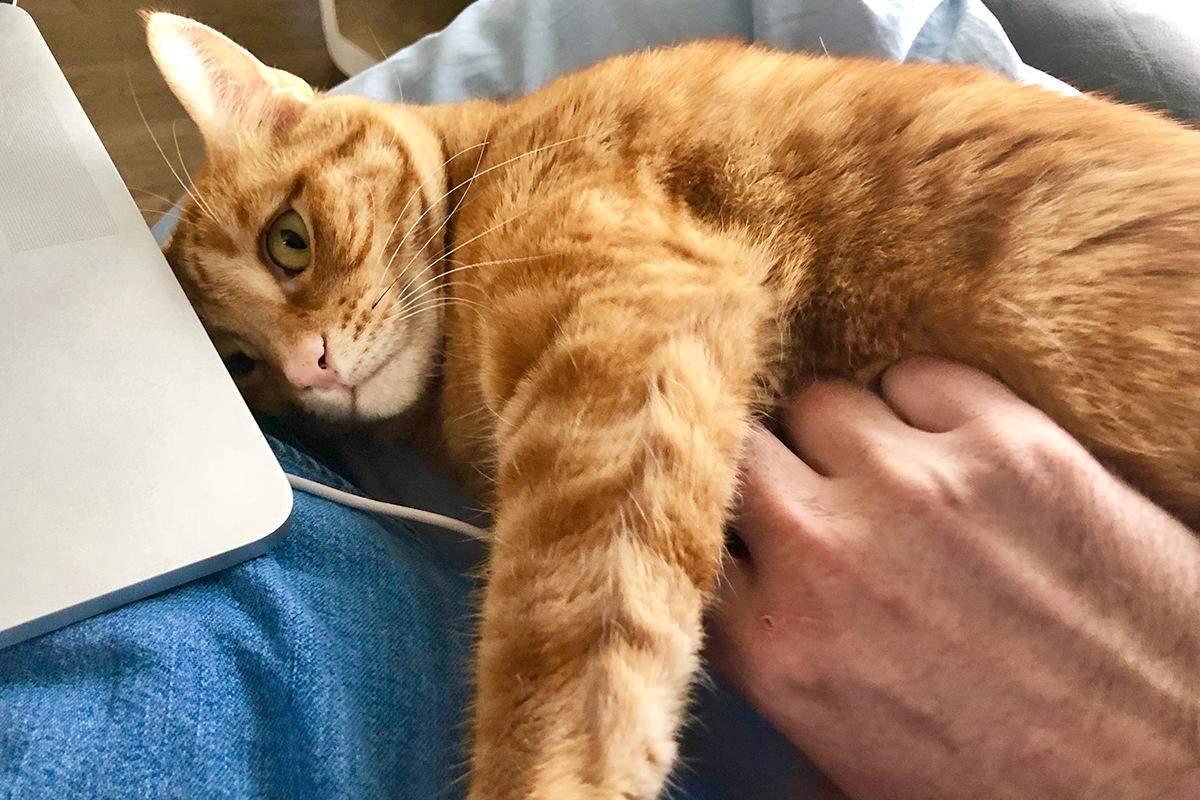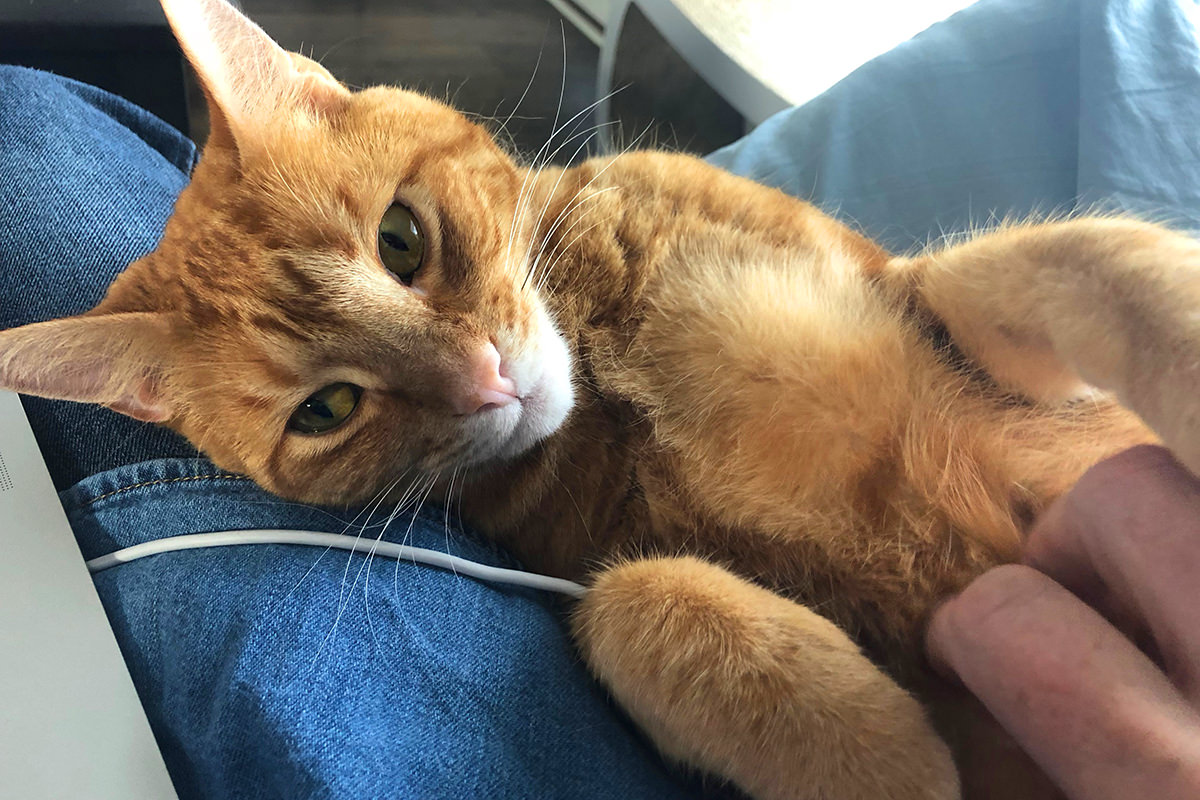 In order to trick them into the carriers this time, I essentially had to starve them, then dangle food in front of them so I could shove them inside and lock the door behind them. It worked, of course, though I felt so awful about having trapped them...
The 20 minute drive was almost exactly the same as last time. Jenny went catatonic. Jake cried and howled the whole way there.
Once I got to the vet, the challenge was to get them out of the carriers that I had struggled so hard to get them into. Jenny had to be pulled out clawing and meowing... Jake had to be shoved out... then Jenny proceeded to hide in the sink and Jake tried to camouflage himself...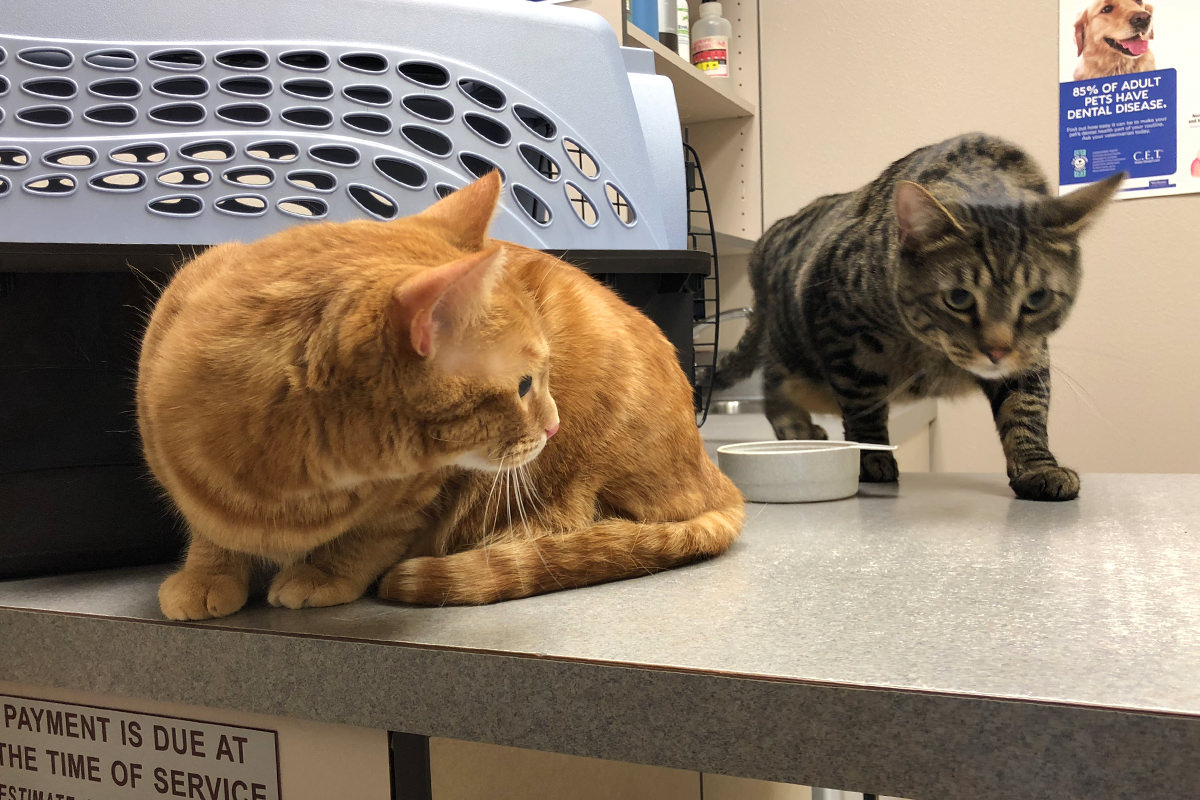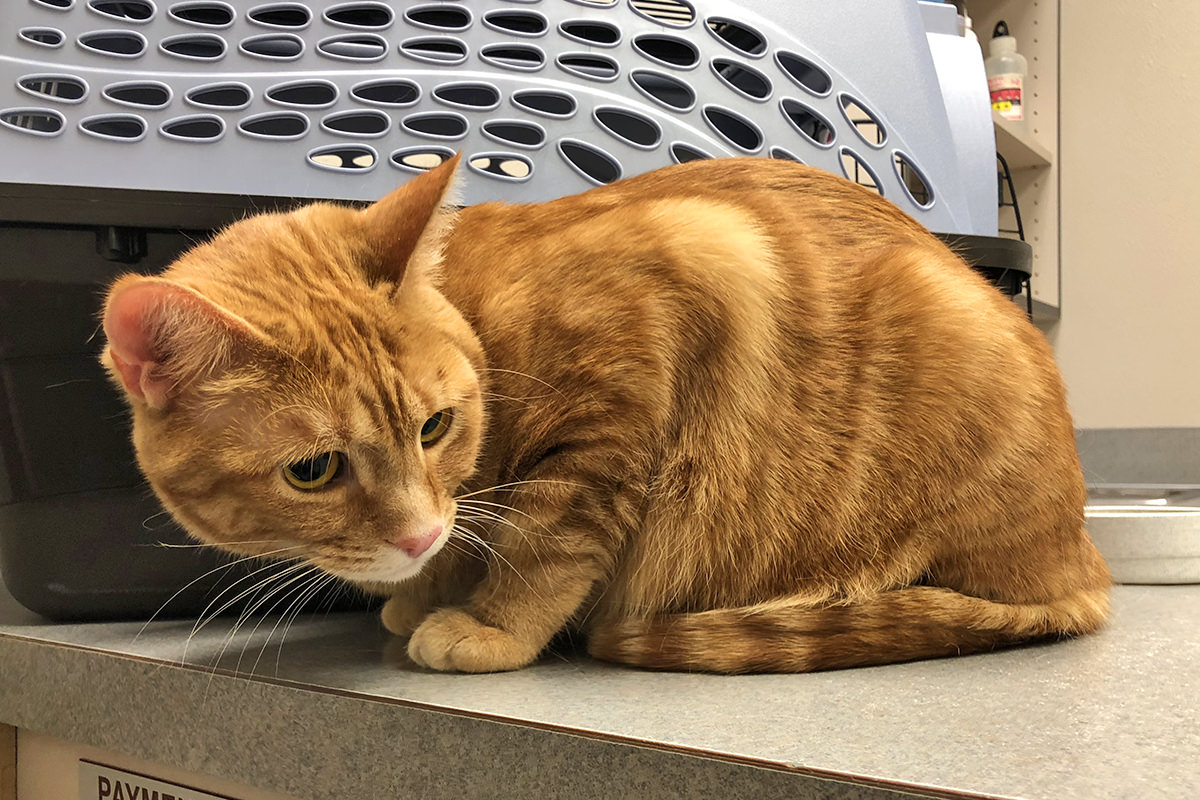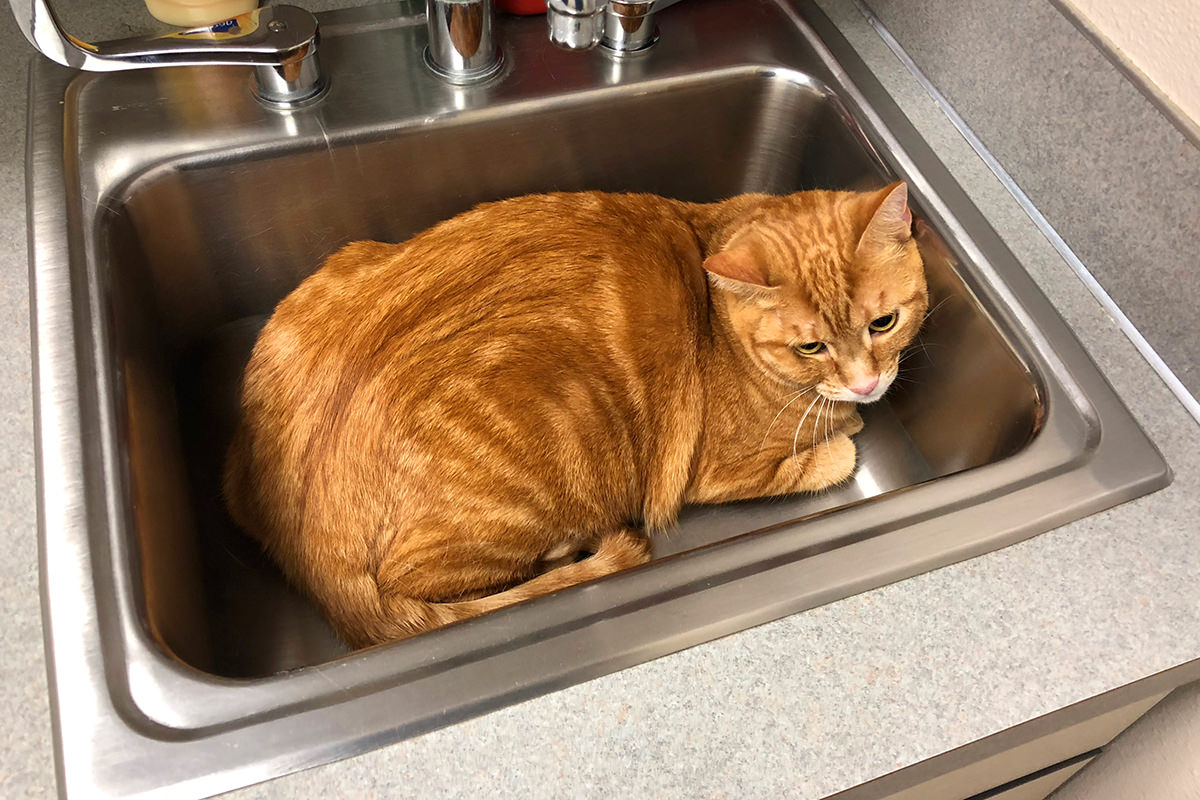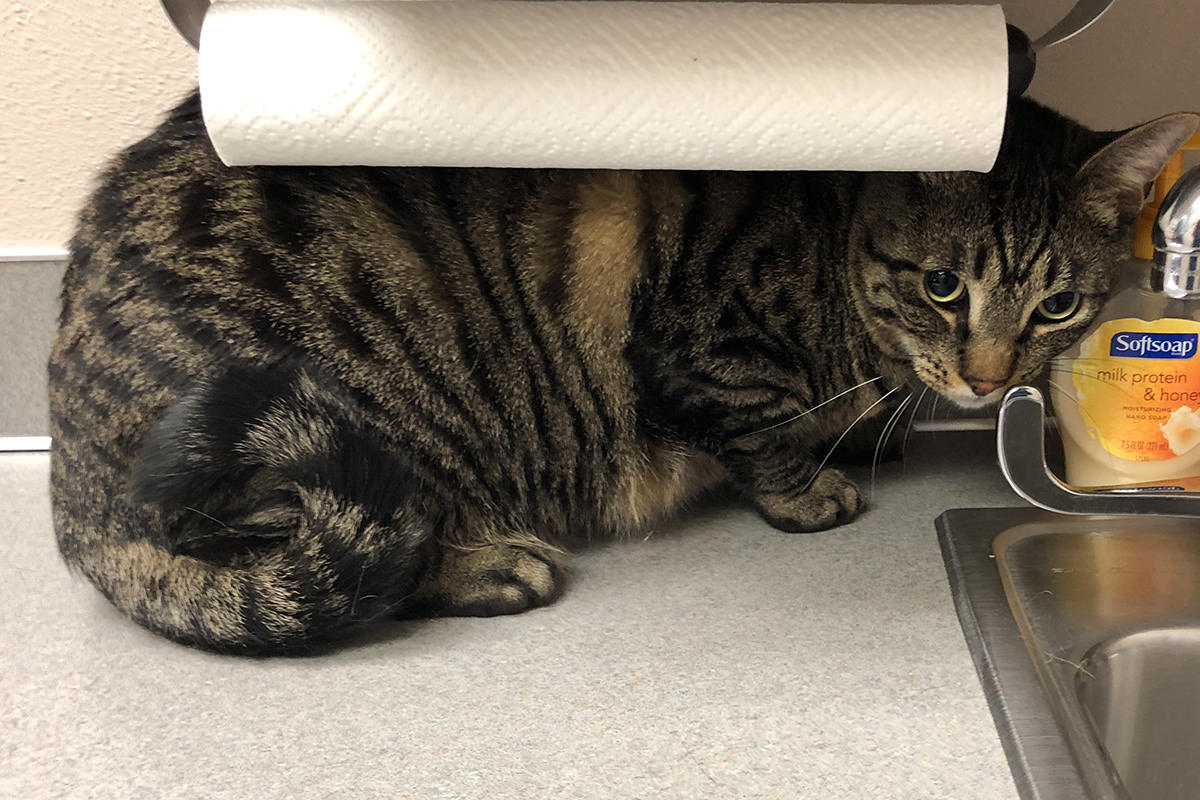 Half-way through the visit Jenny just went flat?... I guess the term would be? Like she was trying to melt into the table or something.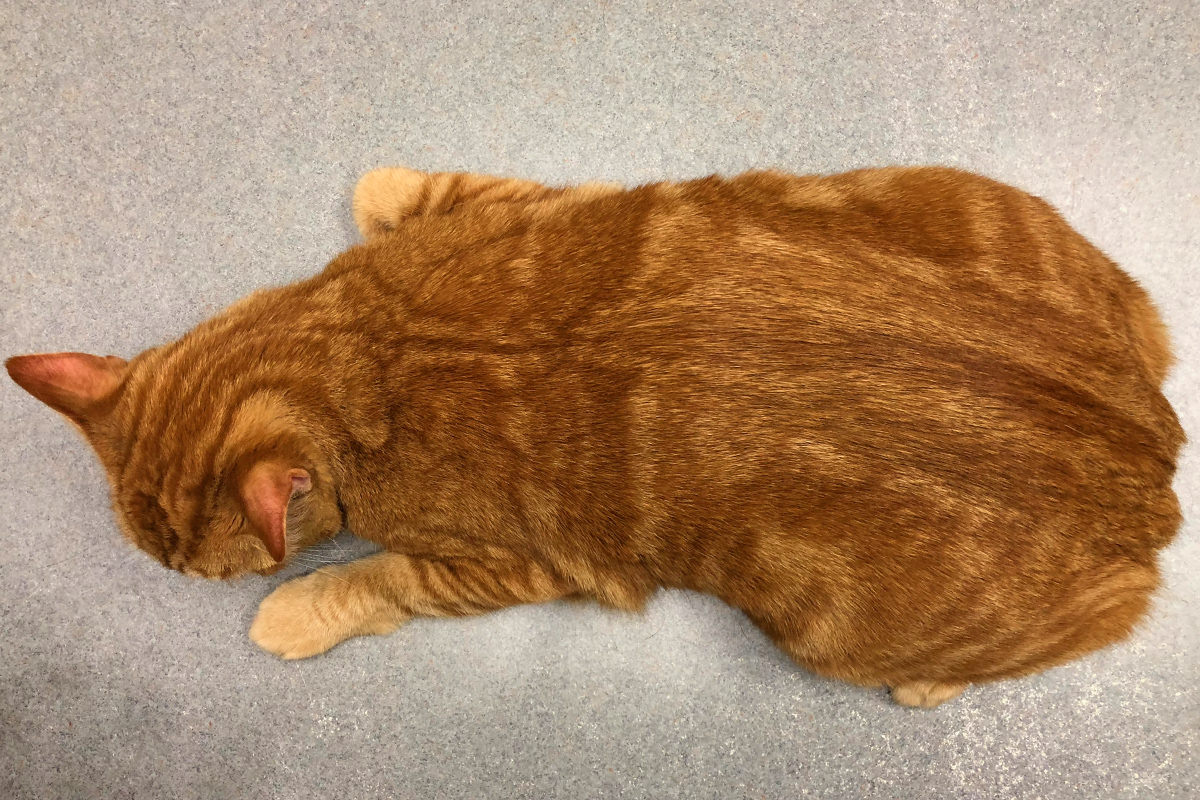 It was kind of freaking me out... but then Jake noticed his sister in distress and stepped up to try and comfort her. I was doing a pretty good job of holding it together, but just then I nearly lost it. Such sweet kitties. And such a good big brother...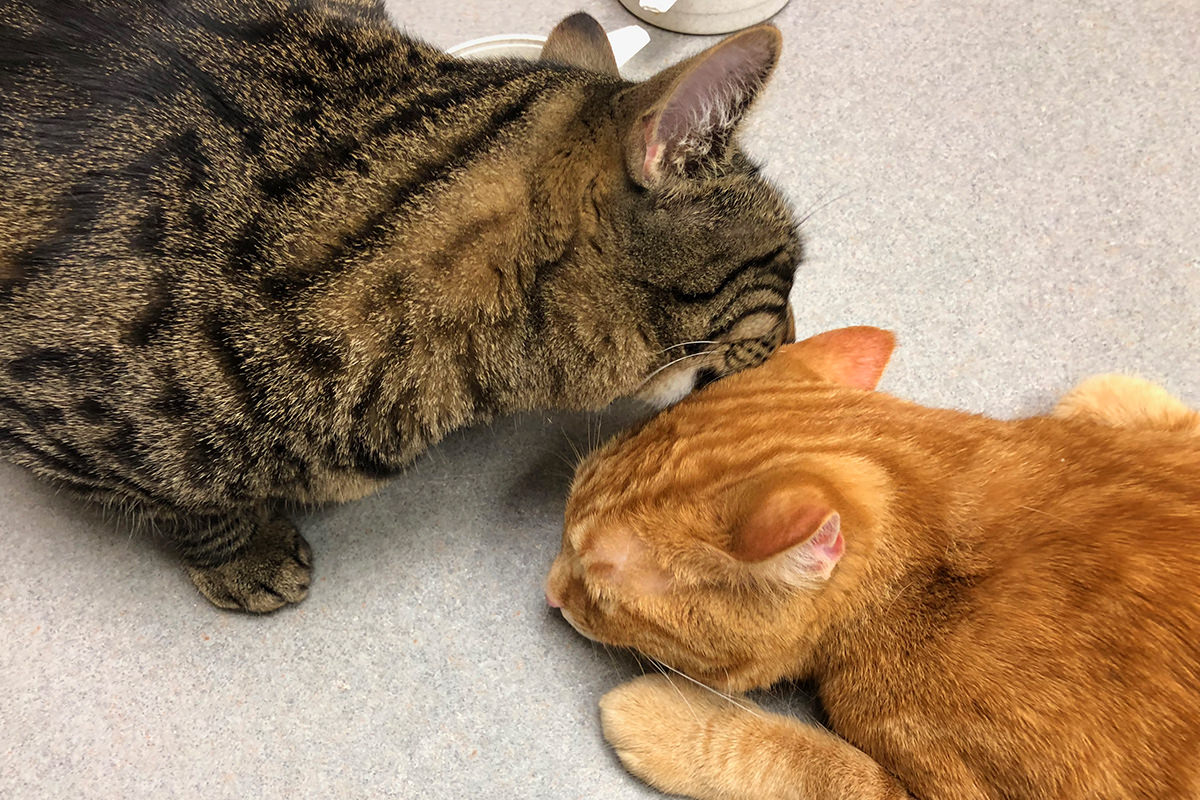 Just like last year, Dr. Bonnett at Cascade Veterinary Clinic was amazing with my cats. So kind and caring about taking his time to make sure Jake and Jenny were as comfortable and least traumatized as possible.
Turns out that Jake lost a half-pound, but is still a little overweight. Jenny is at her target weight still. Both of them are healthy and have no issues, so I'm feeling more than a little blessed about that. They handled their annual vaccinations like a champ and, just like that, they were done and I was $200 lighter.
After the doctor wrapped up and it came time to get them into the carriers again, they were only too happy to run into them this time.
The drive home was more of the same. Jenny zoned out with an occasional whimper... Jake howling and crying wee wee wee all the way home.
Last year they went screaming from the carriers, hid under the bed for a while, then got all clingy on me. This year they meandered out of the carriers, so I went ahead and fed them... this time without any tricks...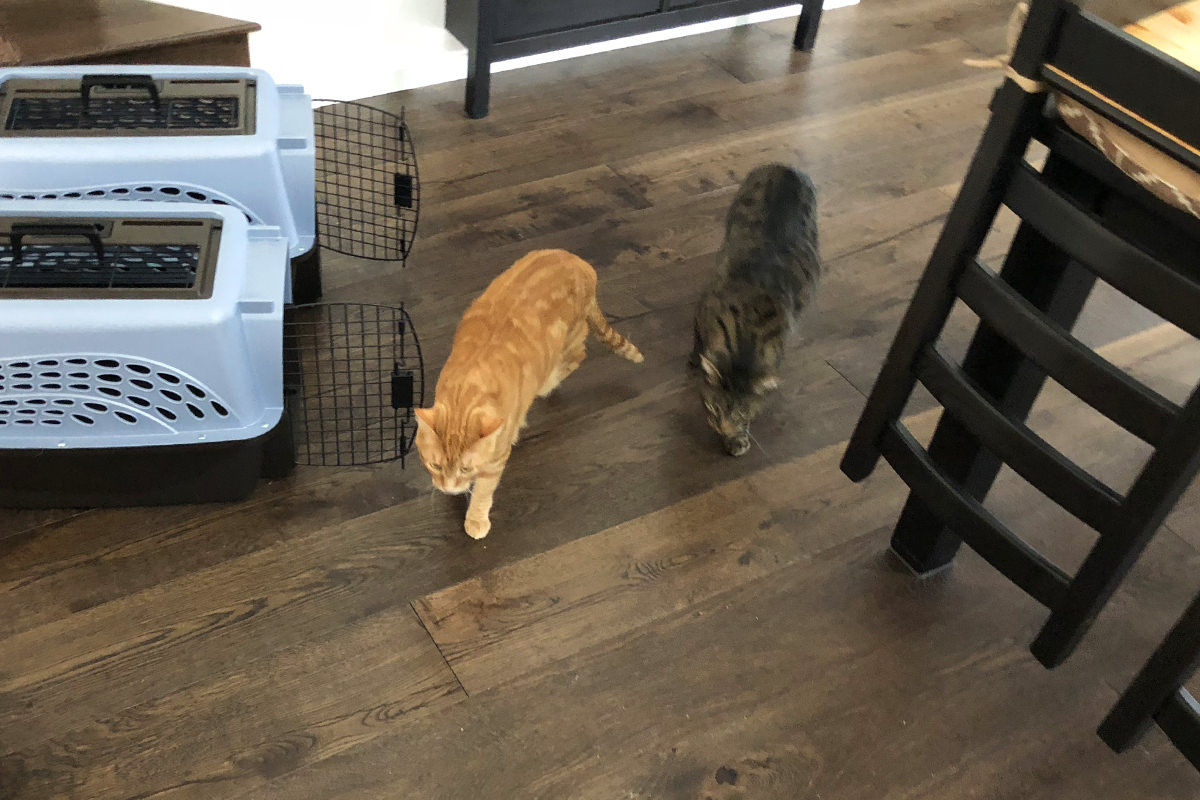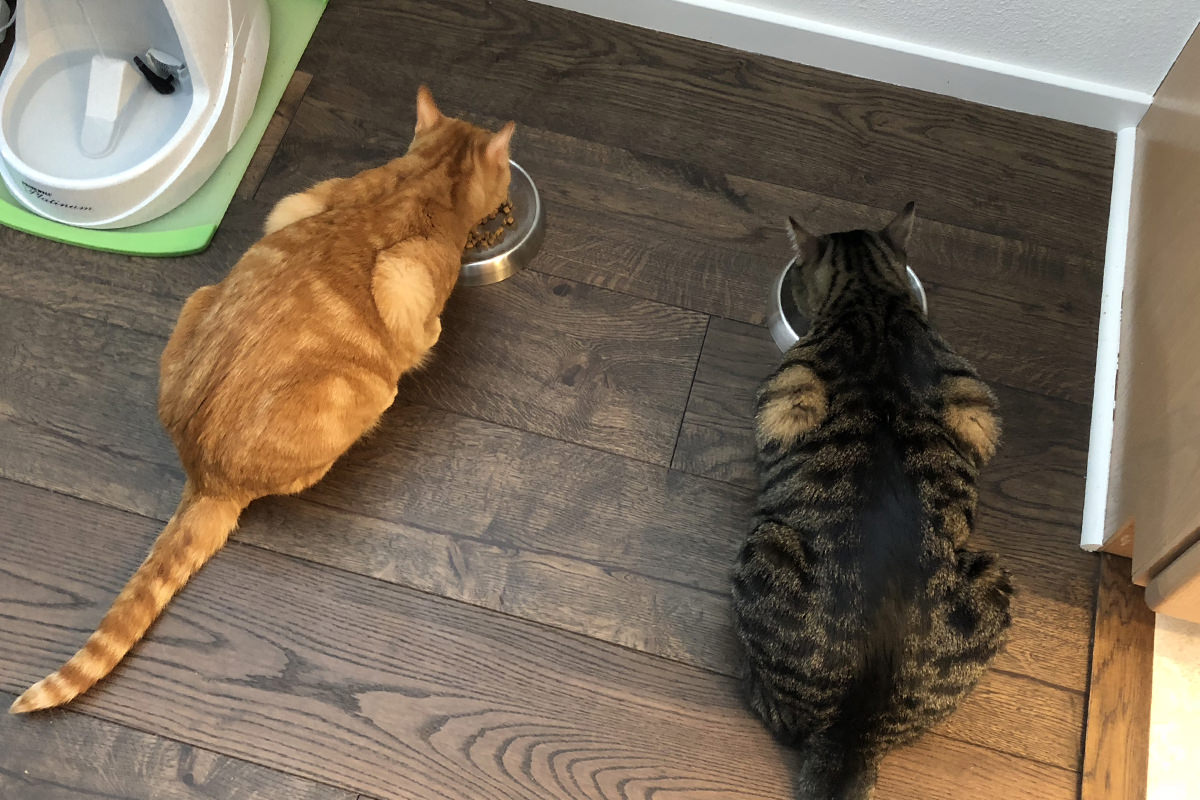 Instead of being clingy on me, they were fairly clingy with each other, which was nice...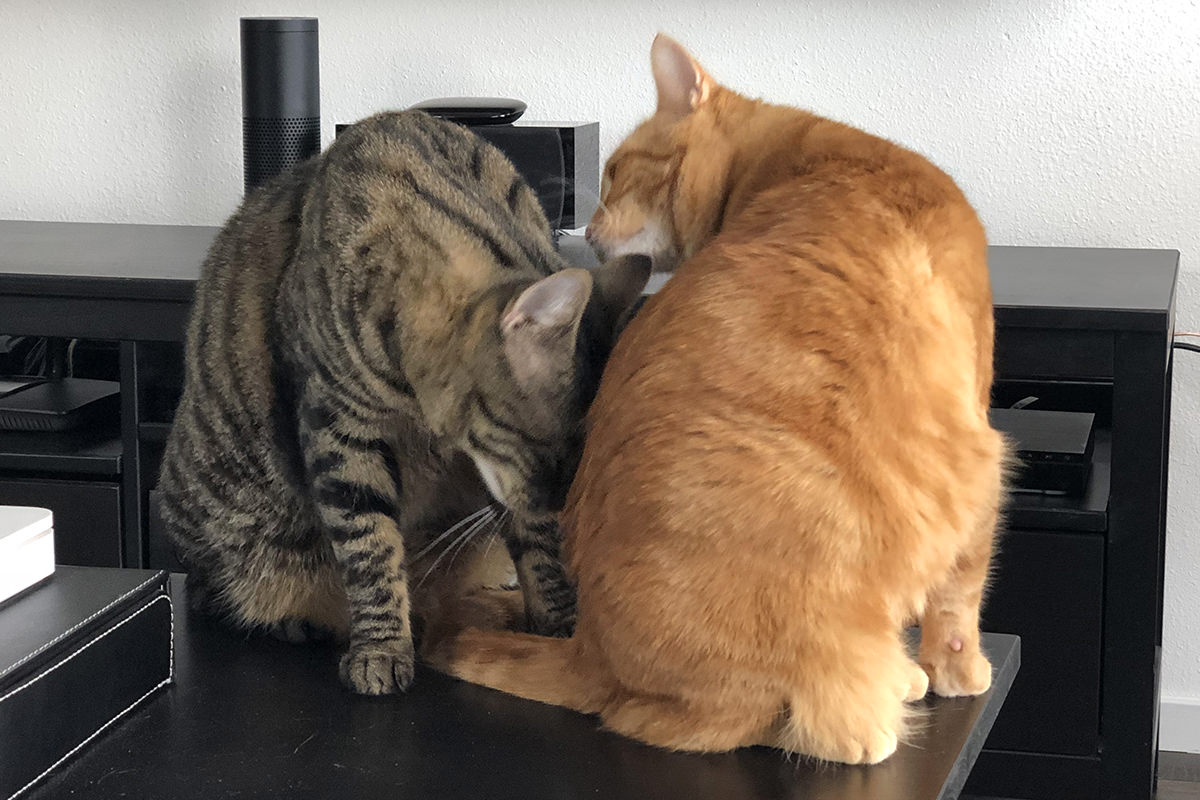 And so... all good for another year (knock wood). Now I need a drink.
Posted on Monday, February 19th, 2018

After I finished mopping all my floors as my Chore-of-the-Day, I decided to get to work and turned on my television for some background noise. Then, once again, I got a "Cannot Communicate with the Satellite Dish" message. I assumed it was the cable to my DVR that was dying, because I can usually wiggle it and get things working again. But not today.
And so... I had to postpone work and go buy a new cable.
That was the easy part. The hard part was replacing the cable because I have all my cords wrapped up, and replacing one of them means having to unravel others too...
Since I was already having to wade through all my cables, I decided to just disconnect everything and start over. I've made several changes since I first organized everything, and the mess has gotten a bit out of control. Also... I wanted to relocate my stereo receiver because the cats like to lay on it for warmth, and I worry it's not getting enough ventilation and might blow out...

Unfortunately this is a much bigger project than it may first appear. The IKEA media center I have is a really poor design because the shelves don't have enough space to fit my receiver. I decided to modify the unit by taking out the middle drawer, building a shelf there, cutting out the back so I can run cables, then moving the center shelf up an inch-and-a-half...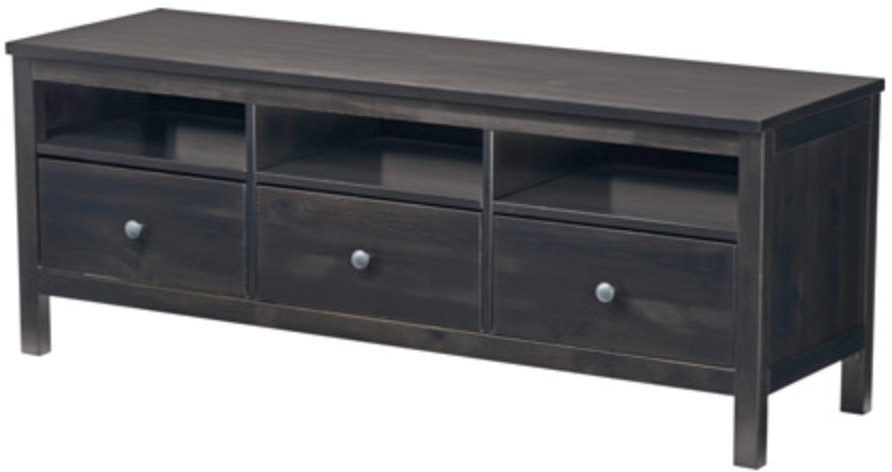 While I was at it, I decided to see if moving my router off the top would interfere with the WiFi signal. Turns out it did not, so I decided to move it along with the receiver. This is nice, because now all I have on top of my media center is the center channel speaker and Alexa. Much cleaner, and my living room looks less cluttered.
Once the noise from drilling and sawing was done and the cats came out of hiding, I was surprised at how quickly Jake noticed that his favorite sleeping spot had vanished...
When Jenny finally noticed, she was not happy. Not happy at all...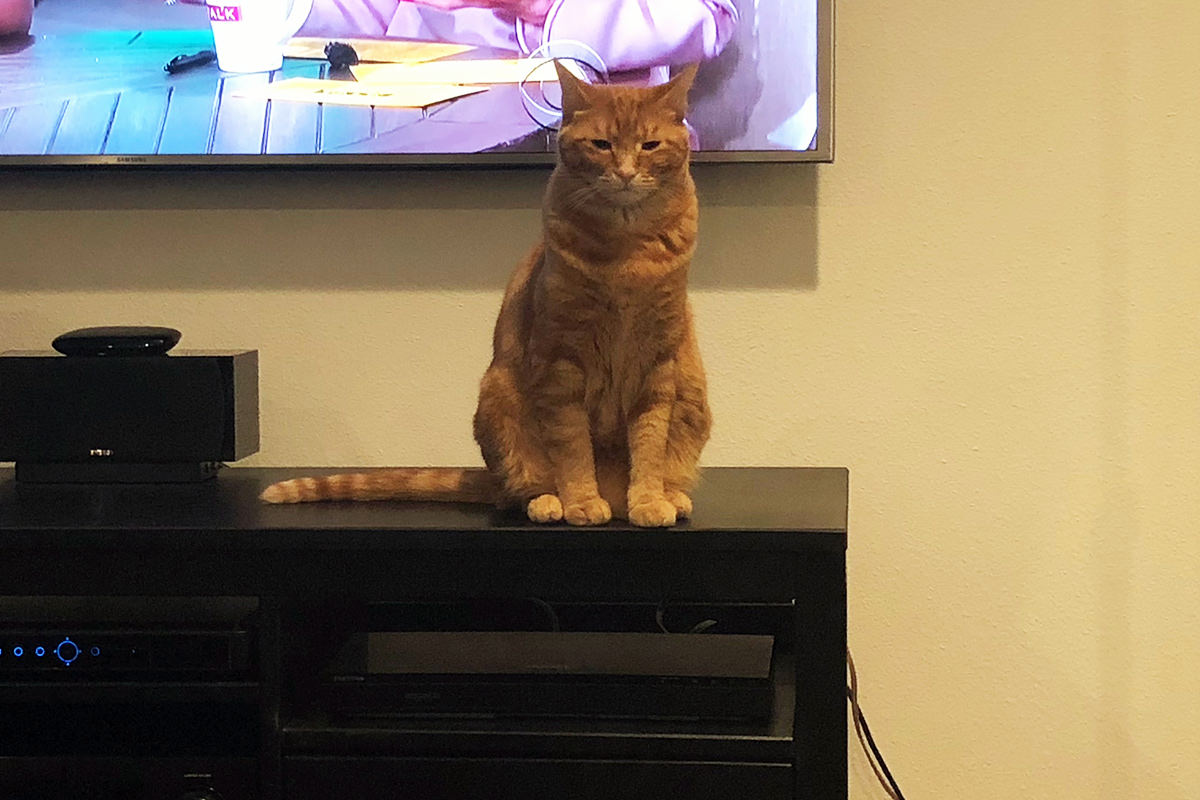 The cats then tried to find a new "favorite sleeping spot," but nothing seemed to make them happy...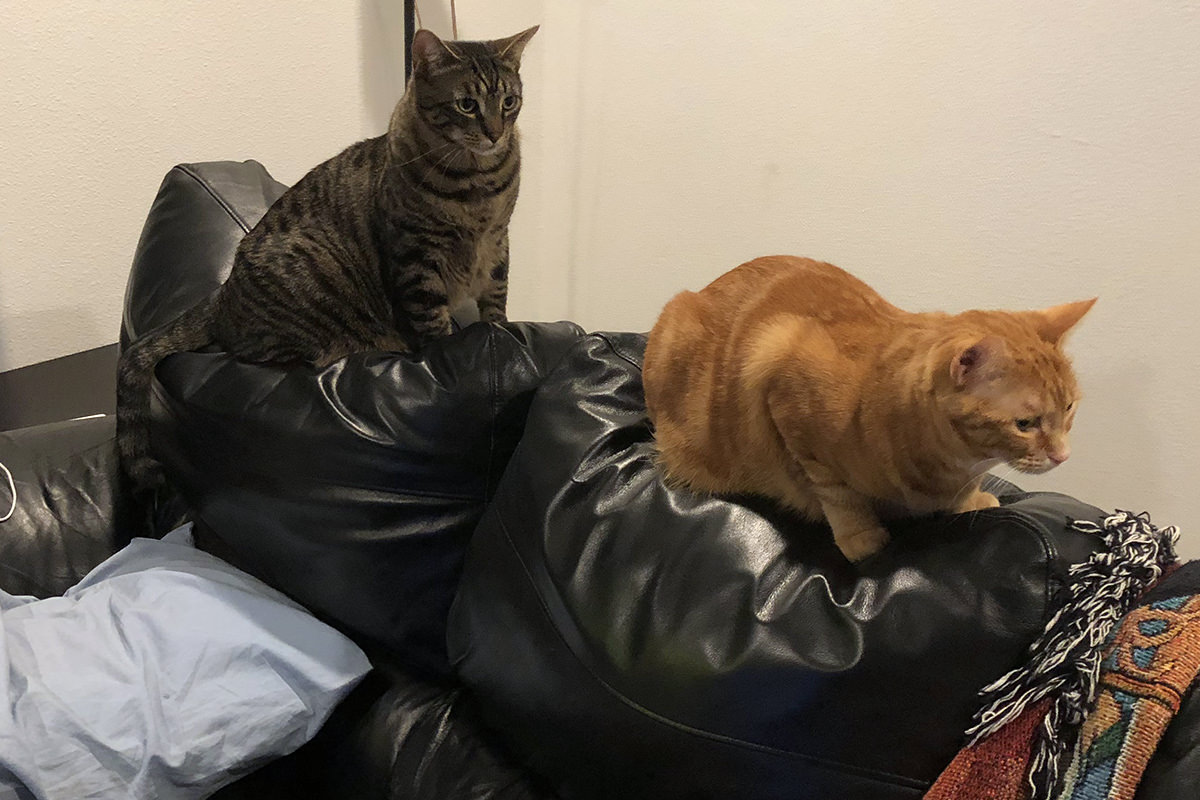 And now I realize that I should have waited a day to do all this since tomorrow is their visit to the vet, and that's going to be traumatic enough without them losing their stereo receiver napping spot.
Probably more traumatic for me than for them. Which is why I've been dreading tomorrow all year.
Posted on Sunday, February 18th, 2018

I was lying last week when I said that Spring was just around the corner, because Winter reared its ugly head again this weekend... so better really prepare yourself, because Bullet Sunday starts... now...

• Camera Historica! As somebody who loves photography, loves cameras, and loves history, the story of Sean Flynn's Leica M2 camera is an amazing read. It's a short read, and you should stop reading this and go take a look right now...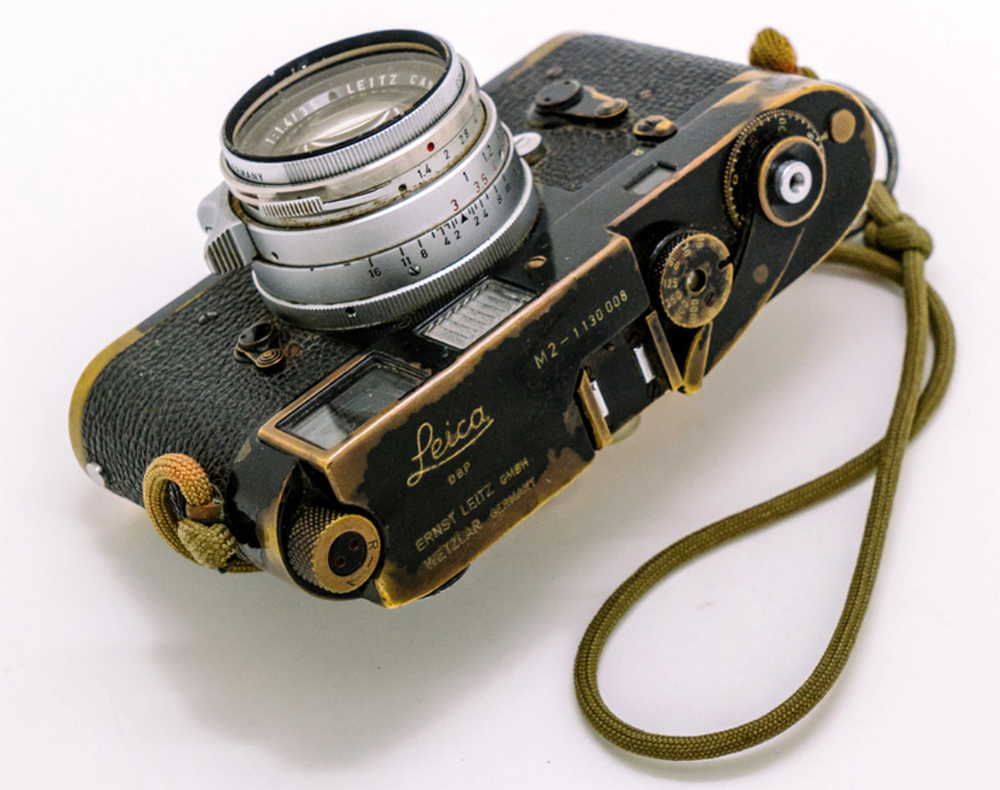 After reading this article, I started Googling Sean Flynn because he sounds like such a fascinating person. Turns out he absolutely was. The son of Errol Flynn and Lili Damita, he had an interesting life, a mysterious death, and everything in-between was an effort to forge his own path and find his own way. If you'd like to read more, this article is a good start.

• Black Panther Fever! If you're playing LEGO Marvel Super-Heroes 2 (and why wouldn't you be?) then you must get the Black Panther DLC immediately. If not sooner...
I was hoping for an actual Black Panther movie LEGO game, but I guess this will have to do.

• Pneumatic! Well this is scary. If you only knew the number of times I've rested my pneumatic nail gun on somebody's head... I never thought that it might be dangerous! You learn something new every day!
And, as an aside... ZOMG! DID YOU GUYS KNOW YOU'RE NOT SUPPOSED TO EAT TIDE PODS? IT SAYS SO RIGHT ON THE PACKAGE!! WHO KNEW?!? So much is coming to light now that I've started reading stuff!

• Chaotic Neutral! Every once in a while I fall down the rabbit hole of YouTube videos. And it's not always just cat videos I'm watching. I stumbled upon this one, which is pretty epic...
This is one of those situations where I'm not sure exactly how to feel after having seen it. I definitely agree that it's the perfect way to explain "Chaotic Neutral" to somebody who isn't familiar with Dungeons & Dragons.

• Netflix Binge! I had to work this holiday weekend, but while I was working at home I had Netflix running. Every once in a while I feel the need to watch the service between Marvel shows and seasons of One Day at a Time so that I don't feel bad about paying the monthly fee. Here is what I watched...
The Joel McHale Show. ZOMG! Netflix has essentially brought back Talk Soup and it's glorious! I didn't realize how much I missed this show. Guest star cameos galore! Hilarious television fun.
Playing it Cool. After watching Chris Evans just kill it in Gifted, The Losers, and as Captain America in all the Marvel movies, I was interested in seeing what else he's been up to that I might not have seen. Playing it Cool was the first I came across. I'm not into RomComs, but have to admit that this was pretty good. Kinda had a different perspective, despite being predictably predictable.
Before We Go. Another Chris Evans movie and his directorial debut. So awful. An impossibly long, drawn-out mess of a movie that is boring to a fault, despite having some amazing acting by Evans and Alice Eve. What's sad is that I think Chris Evans would make a hell of a director... he just needs much better material.
The Cloverfield Paradox. I haven't been impressed with any of the "Cloverfield" films, despite critical acclaim, and this was really no different. The latest installment seems a mishmash of much better films and is just so weak in story and character development as to kill any investment the horror aspects of the film. A complete dud.
Tamborine As a huge fan of Chris Rock, I was excited to see new standup after so long. He's got a lot to say and he says it all. As always, he's funny and painfully socially relevant.
A Futile and Stupid Gesture. I admit I took a look at this movie just because I'm a fan of Will Forte and didn't bother investigating anything about it. Turns out it's the story of the rise and fall of National Lampoon Magazine and Doug Kenney. Surprisingly entertaining and well worth watching.
Burnt. Bradley Cooper seems to have dropped off the radar after some very high profile films, and I completely missed this movie where he plays a talented chef who implodes, then tries to work his way back to fame and glory by earning a third Michelin star.

• Skippy! And speaking of Chris Evans in The Losers, this scene is pretty much perfect...
Such a great character from such a great movie... I wish they would make a sequel.

Later, bullet gators!
Posted on Saturday, February 17th, 2018

When I bought a house, I truly was not prepared for how much work it would be. My HOA fees cover the yard care and the snow removal... what else is there?
Turns out there's a lot.
Tons of little tasks that add up and overwhelm you day after day. For the longest time I just ignored them until forced to deal with them, but then I started writing all the little things down on a "Daily Chores List" and tackle a new task every day. Sometimes it's something quick and easy... like washing the bathroom mirrors. Other times it's something more involved like fixing the toilet handle or replacing the washers in my kitchen faucet.
Today's chore was three-and-a-half hours of cleaning out my toolbox and organizing my screws/nails/fasteners/etc. storage chests.
It would have probably gone faster, except I had "help" from my cats...
They simply would not stop "helping." They'd climb in any open box or bag. They'd root through every container and bag of garbage. Half my time was spent wrangling cats.
Jake and Jenny just loooooove to "help." Like when they "helped" with my taxes...
And, of course, they were right there to "help" when I was cleaning out my dresser and end-table...
When a new order of food and toys arrives from Chewy, the only "help" they're interested in is composting the packing paper...

I suppose I should be grateful that I have such kind-hearted and helpful cats?
Probably.
Posted on Friday, February 16th, 2018

One of my all-time favorite Marvel super-heroes is coming to the Big Screen. I have never been so ready to see a movie.
It's time for The Black Panther...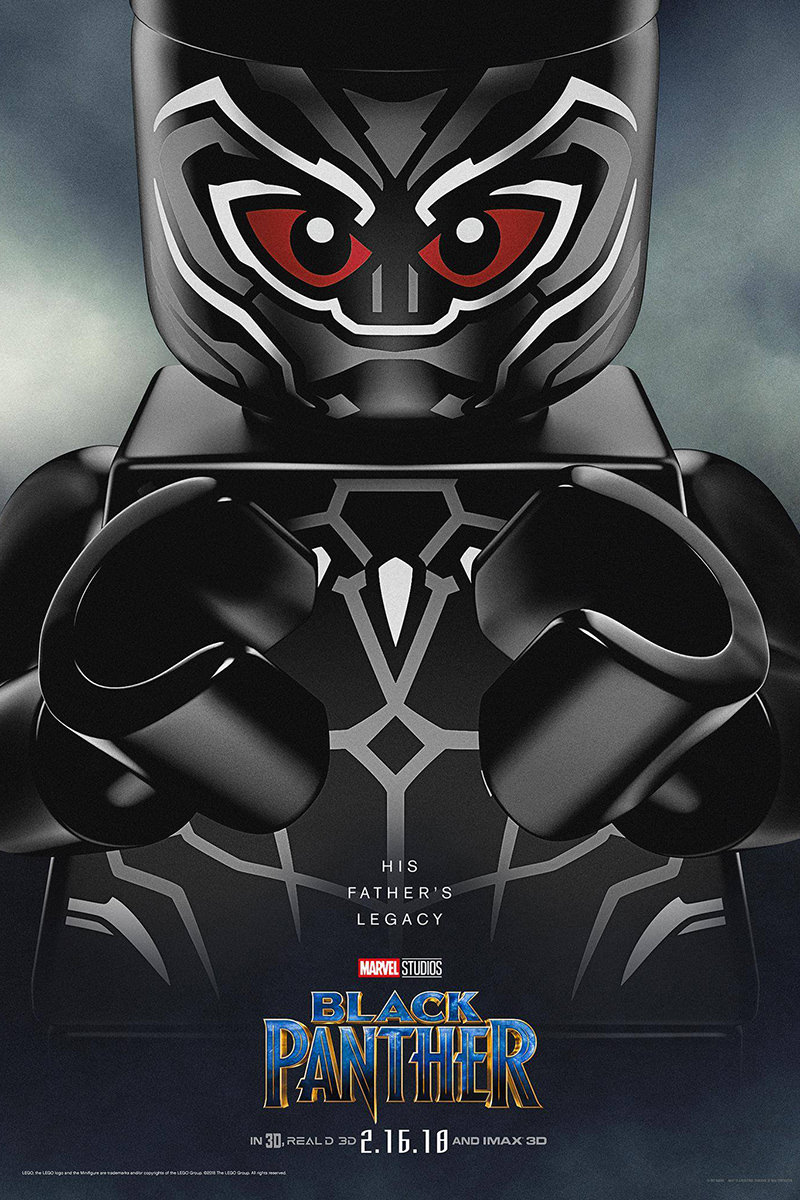 No idea when I'll have time to go see it, but hopefully sooner rather than later.
Posted on Thursday, February 15th, 2018

I've made no secret about how much I loathe the current crop of DC Comics movies. With the exception of Wonder Woman, they are bad films that take a massive shit on the original source material. Batman vs. Superman, Suicide Squad, and Justice League were all gut-wrenchingly awful and only get worse upon subsequent viewings. How DC can fuck up this badly when Marvel is nailing it film after film is a complete mystery to me. It's as if the people in charge of DC movie production have taken what made their characters so popular for so long, and then just done the opposite of that.
Fortunately, the people running DC's television shows are on an entirely different level. Arrow, The Flash, and Supergirl are consistently good, and now we get Black Lightning, which may be saddled with a lame disco costume and sub-par villain... but is otherwise fantastic. I'm not particularly fond of Legends of Tomorrow, but it's still a watchable show. Bravo to The CW Network showrunners who totally get what they need to be doing with DC characters to make them work.
What fans need is for The CW to be given rights to a Superman series and a Batman series. Hell, turn the network into The DC Network and give us Wonder Woman, Green Lantern, and Legion of Super-Heroes shows too! If there's one thing that Tyler Hoechlin's amazing turn as Superman guest starring in Supergirl has shown us, we need these shows.
In the meanwhile though?
I've been completely hooked on the LEGO DC Comics movies. They are not all home runs, but they are great entertainment and totally watchable in a way the Zack-Snyder-infused movies will never be...

And so... If you're a DC Comics fan who hasn't checked out the movies that LEGO is cranking out, you might want to give them a try. Sure they're filmed with toys, made for kids, and aren't at all serious... but, until Patty Jenkins becomes showrunner for the DC Cinematic Universe, it's about as good as it's going to get.
Until Wonder Woman 2 comes along, of course.
Posted on Wednesday, February 14th, 2018

My day started with the mother of all paper cuts and went downhill from there.
Yet another school shooting, this time with 17 dead in Florida. That this will do nothing to deter budget cuts for mental health programs is a given... but, hey, this is our normal now.
Happy fucking Valentine's Day...

You can view previous years' Valentine cards here.
There was a bright spot, however.
A while back I saw that Shoshannah Stern's webisode series Fridays had been picked up as an actual television series by Sundance Now. Stern has appeared in shows like Weeds, Jericho, and Supernatural... but her new show, This Close, which was co-created with Joshua Feldman, is something entirely different...
The first two episodes were released today, and I was happy to see that the show everything I had hoped it would be... touching, funny, smart, and entertaining. So many brilliant small moments that add up to something greater. In many ways, it's a shame that This Close is not appearing on a major network, as this kind of representation needs to be seen. But I suppose that's the point. A show like this isn't going to be picked up by a major network.
Maybe one day.
Anyway... if you'd like to check out the series, you can sign up for a free 7-day trial of Sundance Now at their website. You can watch with apps they have for various devices, including Apple TV. If it were rated, I'm guessing it would probably be a light "R" for language and sexual situations.