Posted on Saturday, December 16th, 2017

Having two cats complicates my travel a bit.
Having two cats I love more than just about anything complicates my travel to a terrifying degree. Despite having automated feeders, an automated water fountain, automated litter boxes, two camera monitoring systems, a home security system, and a catsitter to keep it all running while I'm away... I still spend a lot of time worrying about Jake and Jenny every waking hour of every day. Are they doing okay? Are they lonely? Are they safe? Will they forget me? Will they forgive me?
Yesterday when I got home, Jake came running to greet me. He couldn't get enough petting and cried every time I stopped. Jenny kept her distance, but eventually wanted in on the action. The rest of my day was spent making it up to them. Which wasn't difficult because they followed me everywhere, Probably trying to make sure I didn't abandon them again...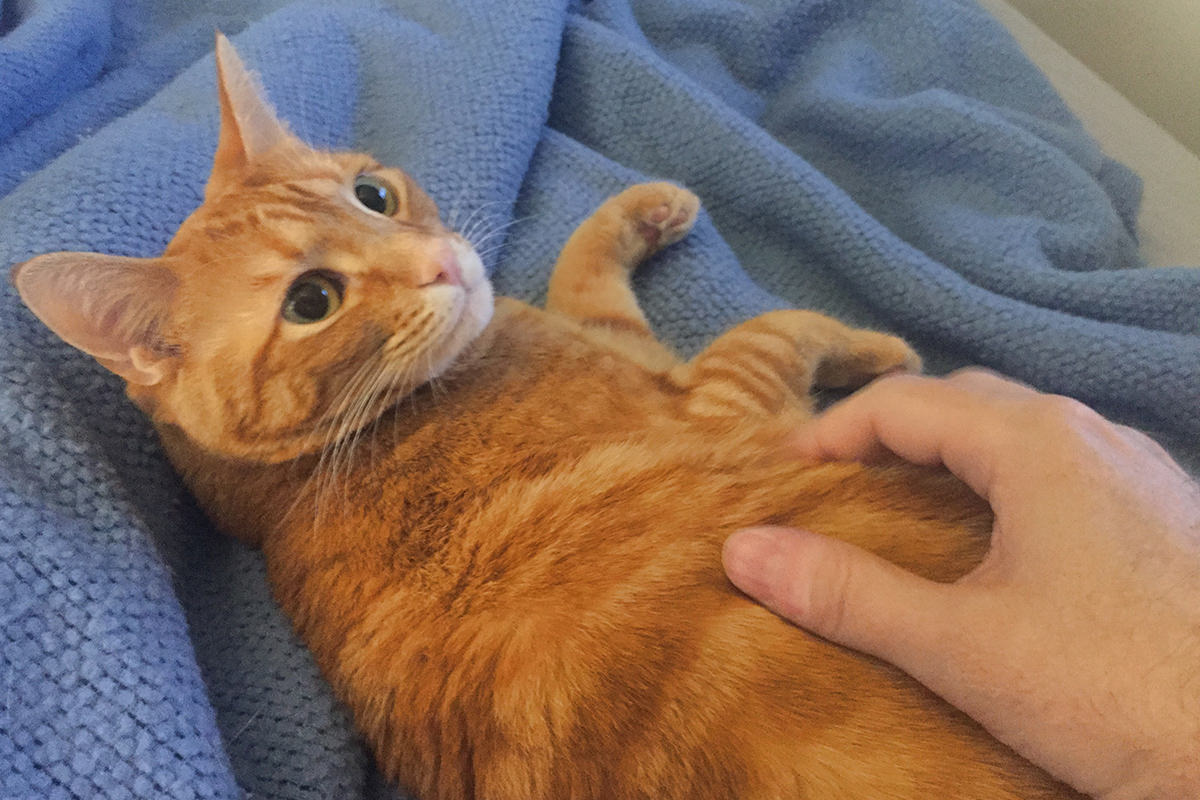 I turned Carl the RoboVac off while I was gone. Turning him back on resulted in exactly what you'd expect... a lot of cat hair and kitty litter filling up the bin...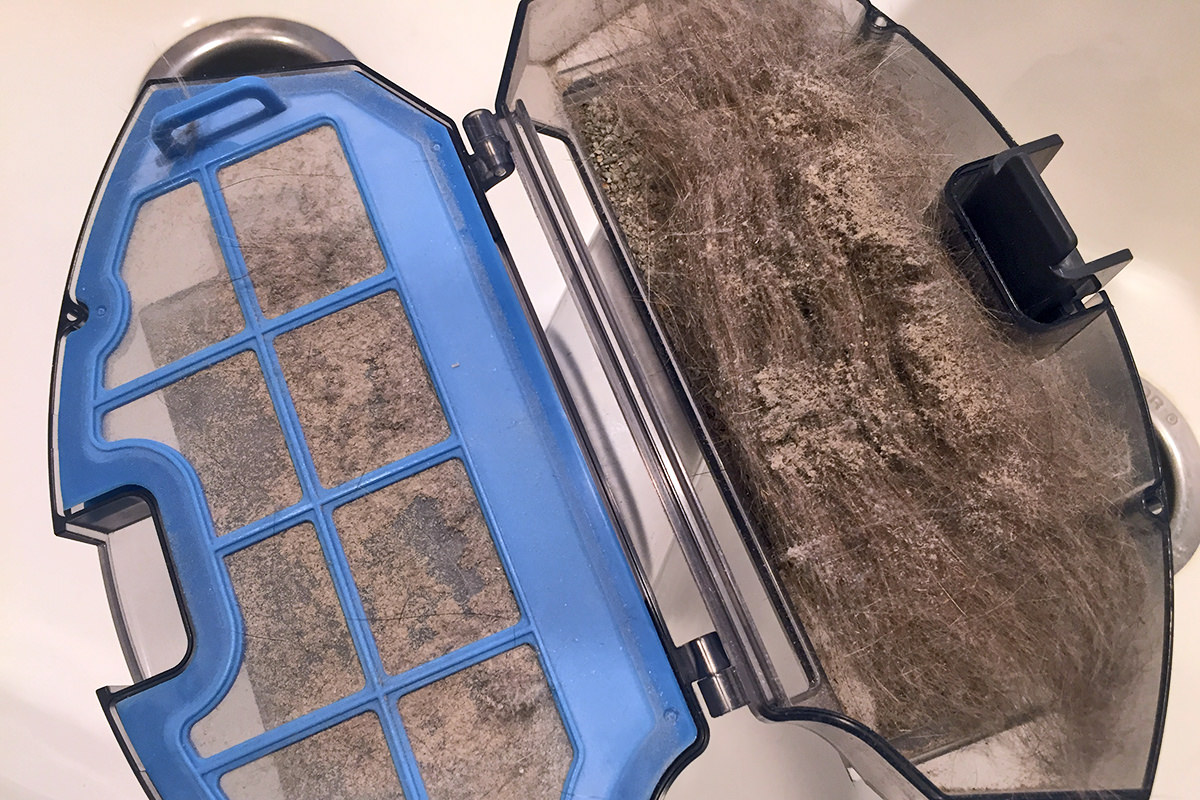 I went to bed at 4:30 yesterday and stayed there until 7am this morning when it was the cat's breakfast time.
Today I was planning on unpacking, washing clothes, cleaning house, posting all my blog entires from my trip, and running into work. But my cats had other plans for me. It's rare that they both get this clingy at the same time... but it's been like this all day. Guess they really missed me?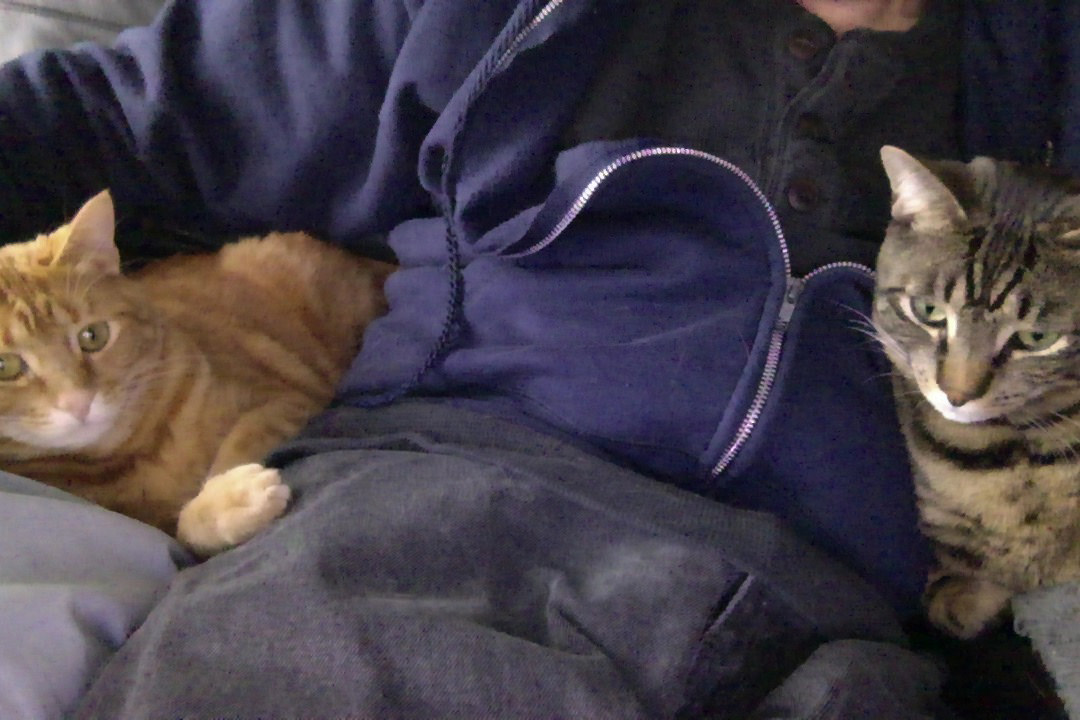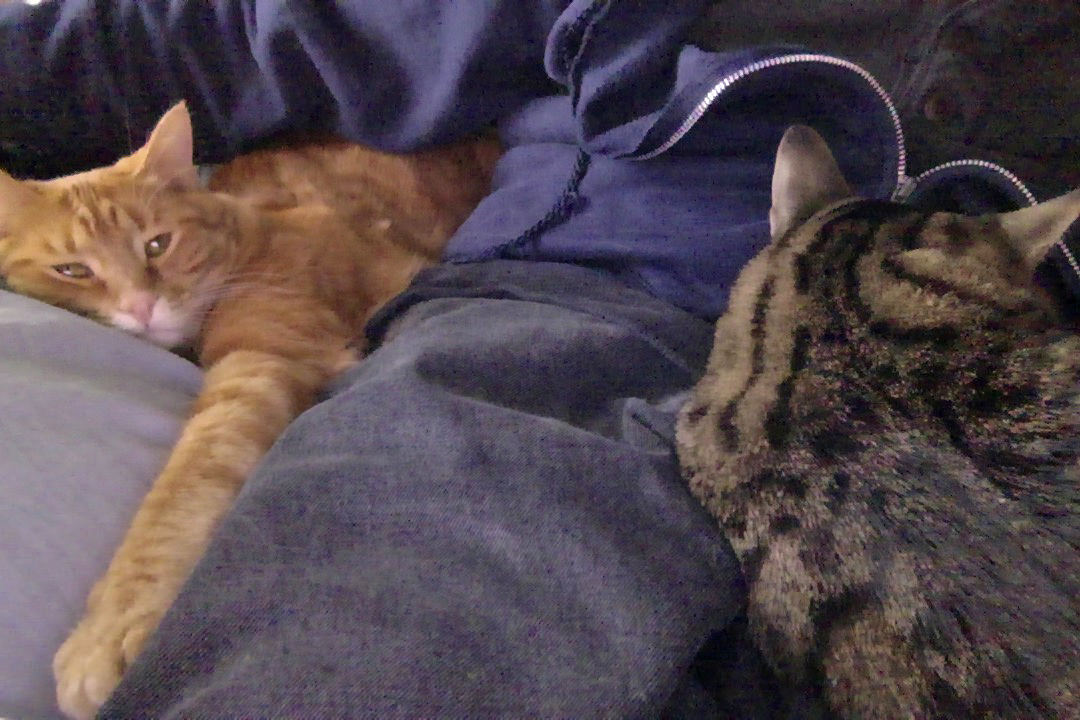 Coming home to this makes it very hard to think about leaving them again. Especially to a place like Antarctica where I have no contact with the outside world and no way to check in on them.
Fortunately, I have three months before I have to worry about it.
Posted on Friday, December 15th, 2017
Naturally I was unable to sleep for the 9-1/2 hour flight from Buenos Aires to Atlanta, which meant I was beyond tired when I finally made it back to the USA. That I had to follow that with a 2-hour layover, a 5-1/2 hour flight to Seattle, and a 2-1/2 hour drive home... well, let's just say I've taken "exhausted" to a new level entirely.
The good news is that I get to see my cats at the end of it all.
Posted on Thursday, December 14th, 2017

If I were smart, I would have flown the 9:18pm flight out of Buenos Aires yesterday instead of today. Except... I really, really didn't want to go from the ship to a flight to another flight to another flight to a long drive home all one right after another. And so... a night in Buenos Aires... followed by a long day in Buenos Aires. Albeit a beautiful day to be sure. As I could see from the window of my hotel room...
Traffic to the airport was insane, taking almost two hours. Good thing I left five hours early for my nine-and-one-half hour flight!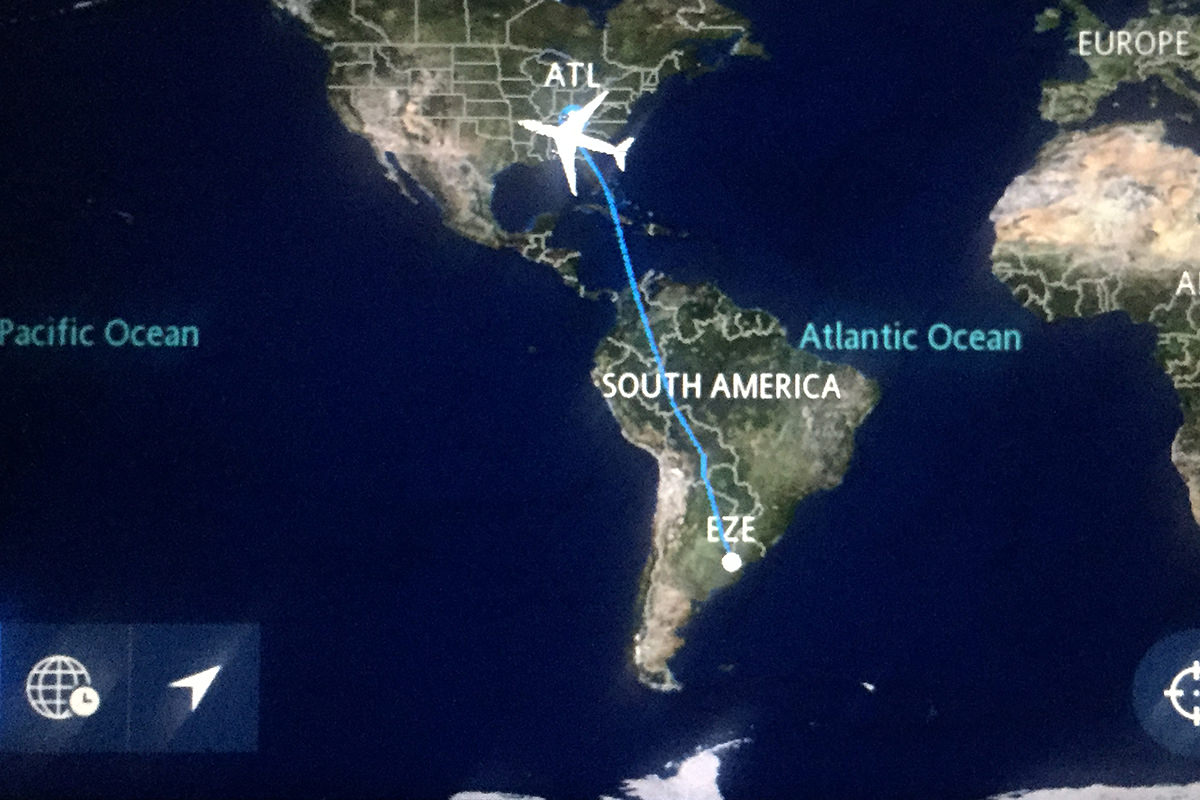 One. More. Flight. To. Go.
Posted on Wednesday, December 13th, 2017

And... survived The Drake Passage to arrive back at Ushuaia this morning. The ship was kind enough to feed us breakfast before kicking us off, but it was the same breakfast buffet from the past nine days, so eggs on toast with a bowl of corn flakes wasn't a very exciting way to start my day.
Most of my morning was spent being very concerned that we'd only have 90 minutes from the time we arrived at the airport until our flight left. I was assured... twice... that this would be plenty of time because "it's a small airport." Which was odd assurance since small airports are notoriously understaffed. Add to that the fact that Aerolineas Argentinas is flying several very large planes into this "small airport" and I was understandably concerned.
I should have trusted my instincts and taken a taxi to the airport rather than wait for the bus they had scheduled.
Huge lines. Precious little staff. A long wait to get through security. And a mad dash to find out where in the hell our plane was because it wasn't at the gate we were told. It was an awful, nerve-wracking, terrible way to end my vacation.
But we made it... and it was a good flight... so all is well and I'm back in Buenos Aires now.
Posted on Tuesday, December 12th, 2017
The captain took pity on us and tried to circumnavigate the storm rather than head straight into it. Still... a very rough night. The trick is to prop up the sides of your mattress so that you can wedge yourself in the middle. Not the most comfortable way to sleep... but better than being tossed around like a rag-doll all night.
We've been told that we'll reach calmer waters around 5:00pm, which would be a nice treat before I have to make the long journey home.
This morning I tried to organize my junk for packing. Which is easier said than done when the waves are crashing into the side of the ship. One minute you're reaching for a pair of socks... the next you're being tossed against a wall.
The hardest part of packing is seeing all the crap I brought but never used.
I was told that waterproof over-pants would be trashed and I should have at least two. I brought three. I used one. Same for heavy waterproof gloves. Told I needed two, brought three, used zero. It was never cold enough to wear them. When I used any gloves at all, it was just the thin liners. And then there's a pile of scarves, balaclavas, and fleeces that I never touched.
If I had this to do all over again, I would have a different packing strategy. Prepare for the worst weather possible... but not over-pack as I did this time. I could have easily left a third of this stuff at home and been fine. Live and learn. I'm just glad I didn't rent parka, pants, and gloves as originally planned. That would have been a ridiculous level of overkill.
And now... a good night to you, for tomorrow we make port...
Posted on Monday, December 11th, 2017
Yesterday's afternoon excursion was the end of my Antarctic adventure. I've turned in my life vest, and there will be no more landings on the seventh continent. And yet... there's still two days on the Drake Passage until I can begin my journey home.
The ship's doctor passed out "seasick pills" with dinner last night, so we knew that it would be a rough ride for the crossing (projected 9 to 12 meter waves rather than the 6 meter waves we had heading out). Rather than test the limits of my immunity to seasickness, I went ahead and took a pill. There's not much to do onboard anyway, so I might as well be doped up so I can sleep...
Now my life is all about risk assessment until we reach Ushuaia. As in... "Do I risk dying on the toilet just now... or should I wait a half hour in the hope that the waves will ease up and I can pee safely?"
I couldn't hold my phone during the worst of it, but this is pretty much the entire day...
Thinking back on this trip as a whole... I wish it would have been two or three days longer. It takes such a huge amount of time and money to get to Antarctica, that the actual time spent there seems to fly by in a flash by comparison. We did lose a day for the emergency medical evacuation... and lost a half day due to bad weather... but, even so, I wish we went further south to see more than we did. To the Antarctic Circle at least. Something to keep in mind if you ever decide to book a trip to Antarctica of your own.
That being said... what an amazing adventure!
Even with the huge effort and expense it takes to visit, this is easily one of my most memorable, most unique, most special trips I've ever taken.
Will I ever visit Antarctica again? Probably not. Unless it's radically different itinerary, my afternoon at Neko Harbor was perfect in every way, and all the Antarctica I need for a lifetime. But I've learned to never say never, so perhaps there's another trip in me one day.
Heaven only knows there's plenty of Antarctica left to visit. But, alas, one step closer to home...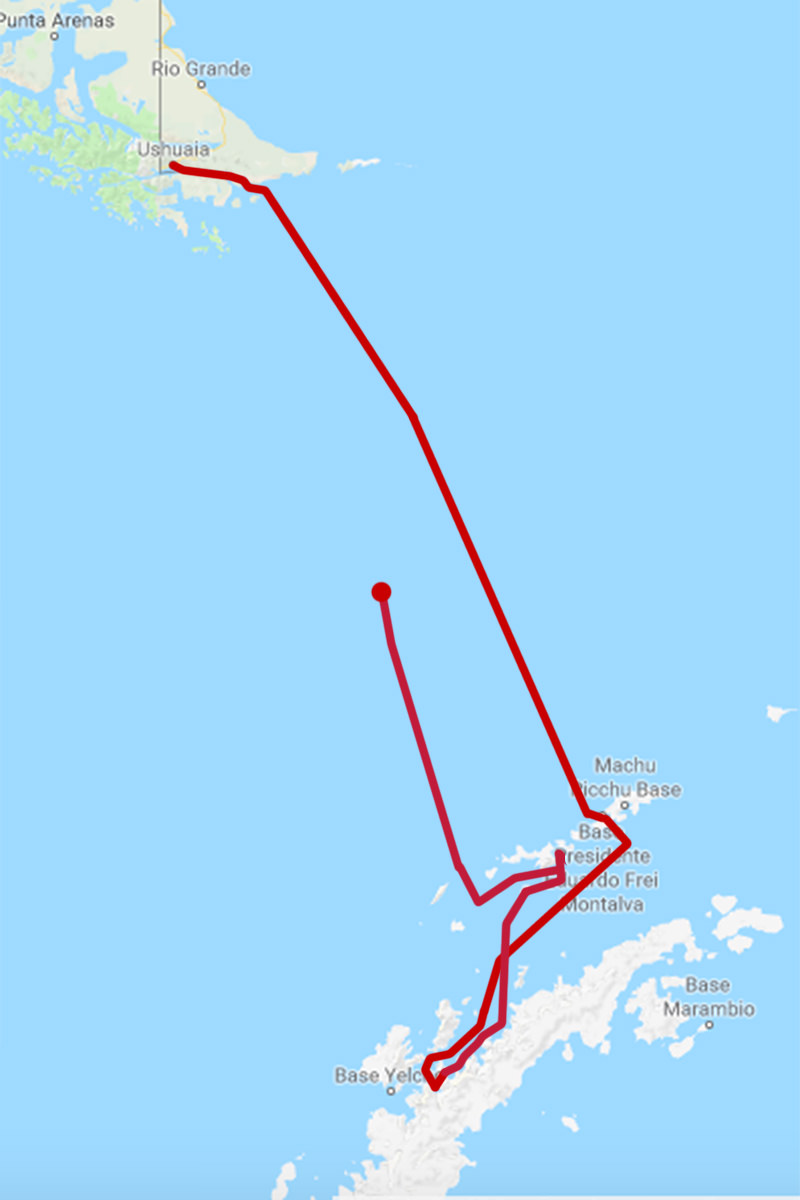 ©2017 Google Maps
Assuming I survive the rest of these crazy rough seas... holy cow.
Posted on Sunday, December 10th, 2017
The weather outside continued to be dreary, so I was questioning whether or not I would even bother with the excursion to "Half Moon Island." Ultimately I decided I might as well go. It would be something to pass the time before two days on The Drake Passage.
What a pleasant surprise.
Unlike Whaler's Bay, which wasn't my thing... Half Moon Island has beautiful topography and an abundance of penguins to photograph. It was the perfect way to end my last day in Antarctica...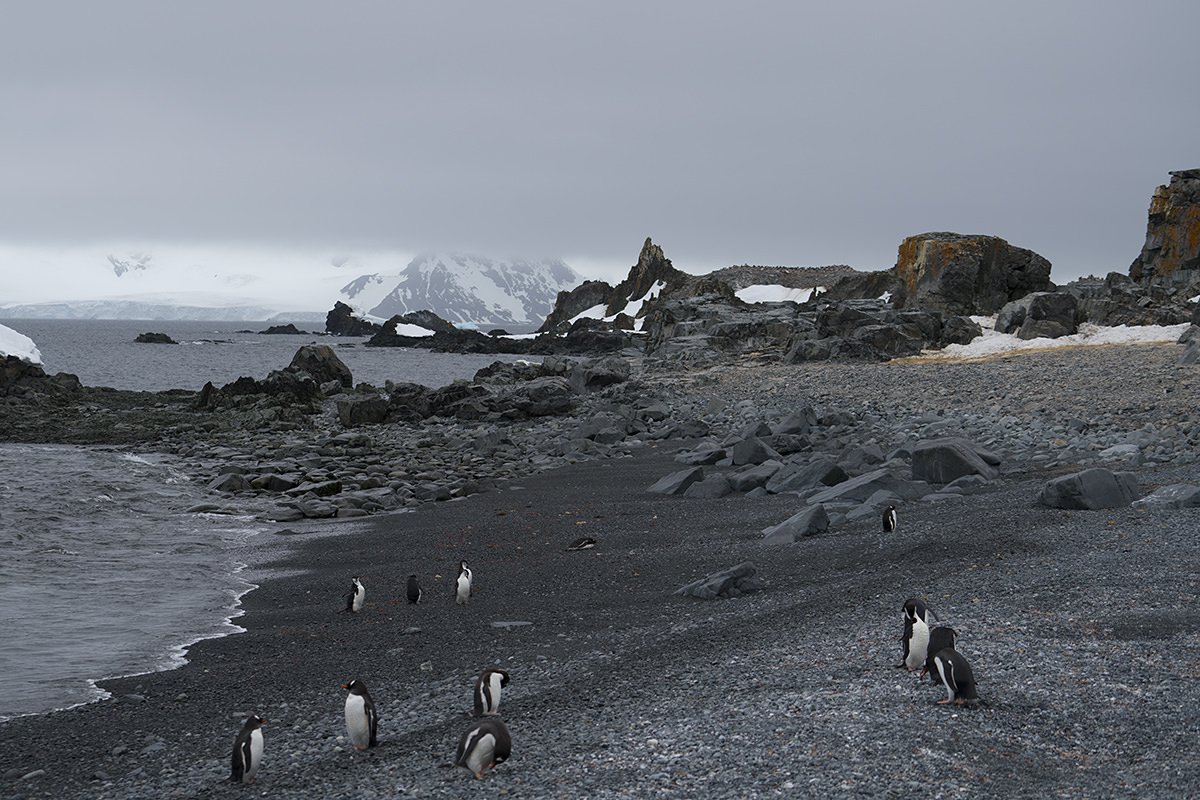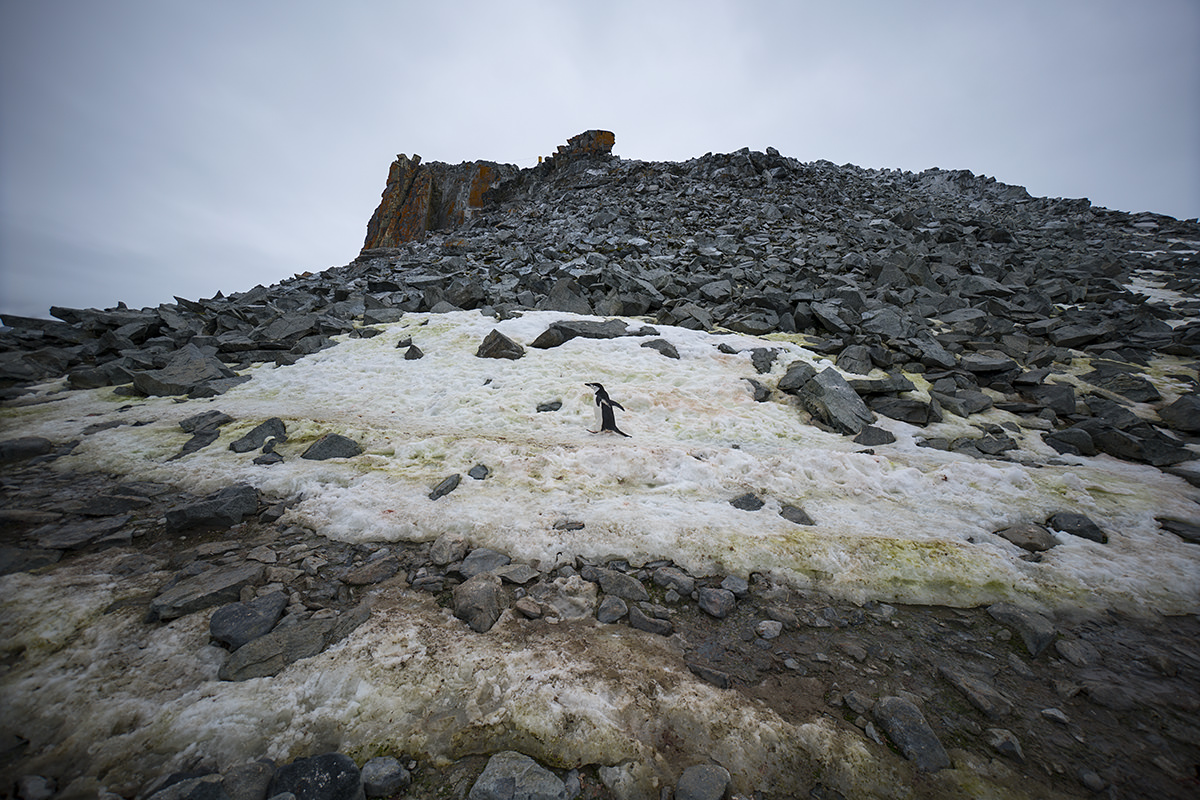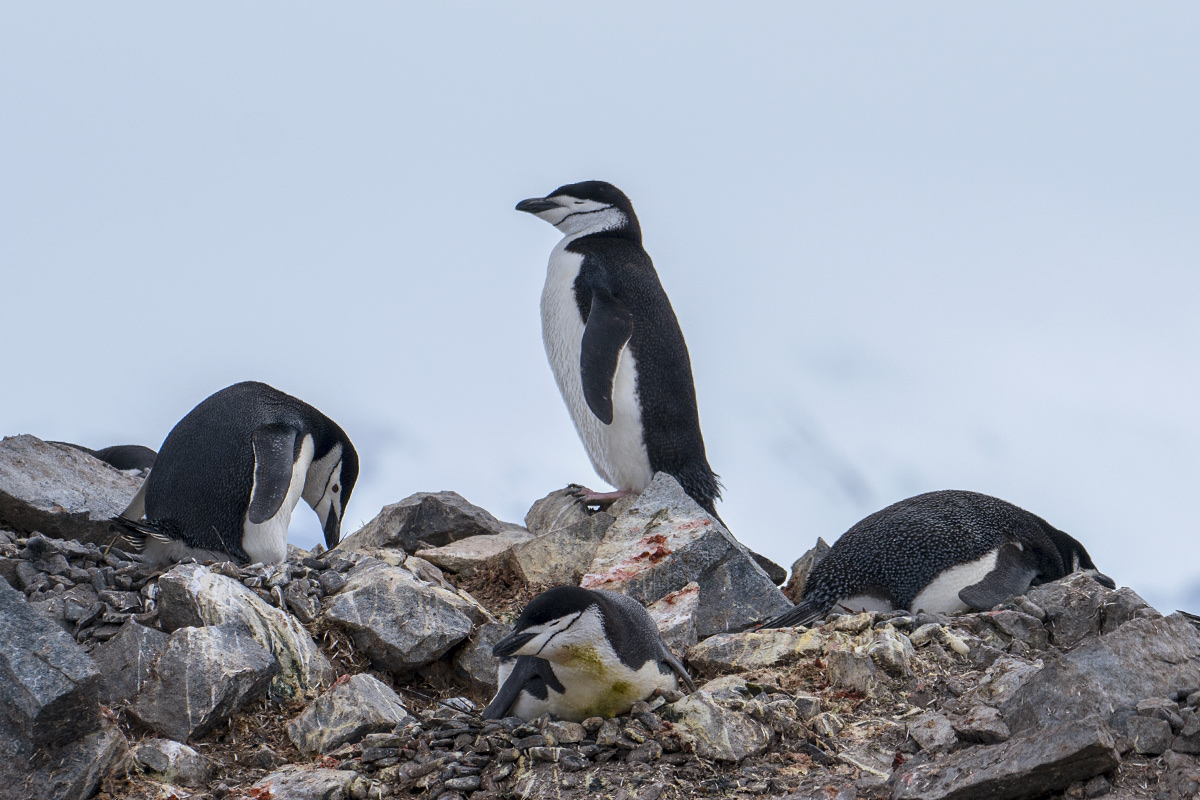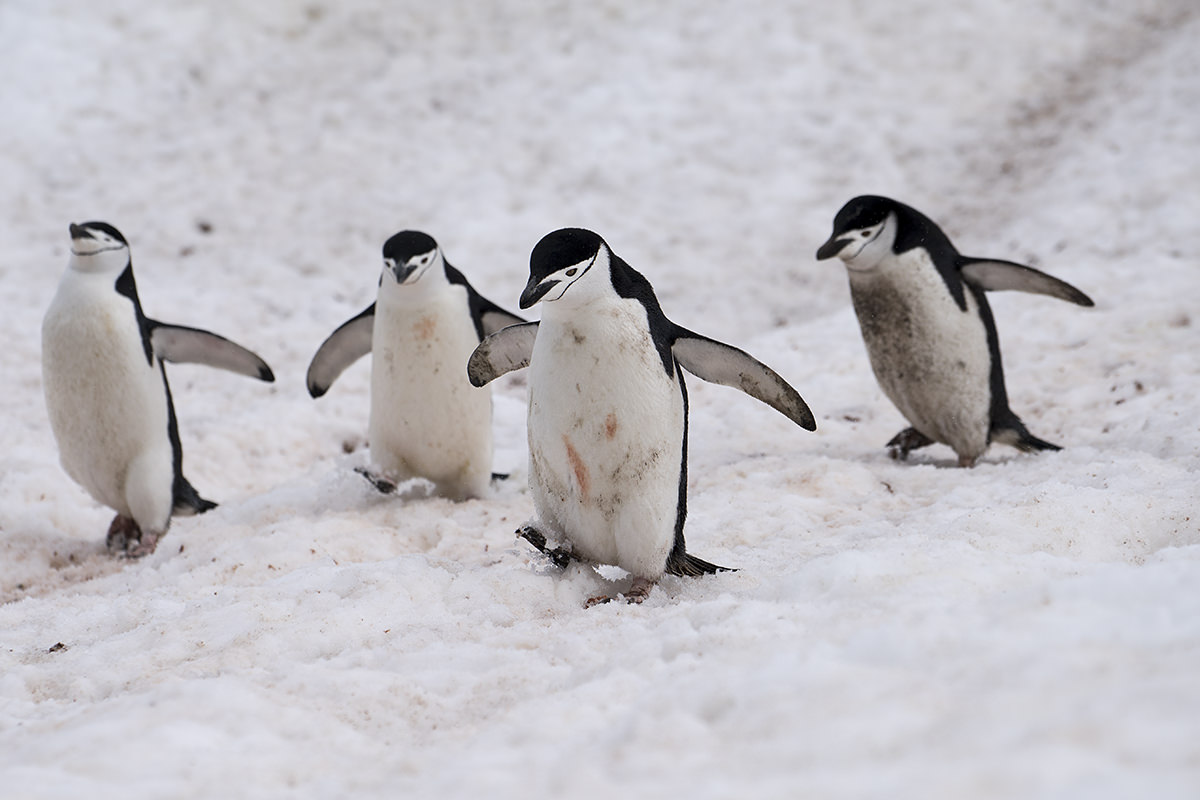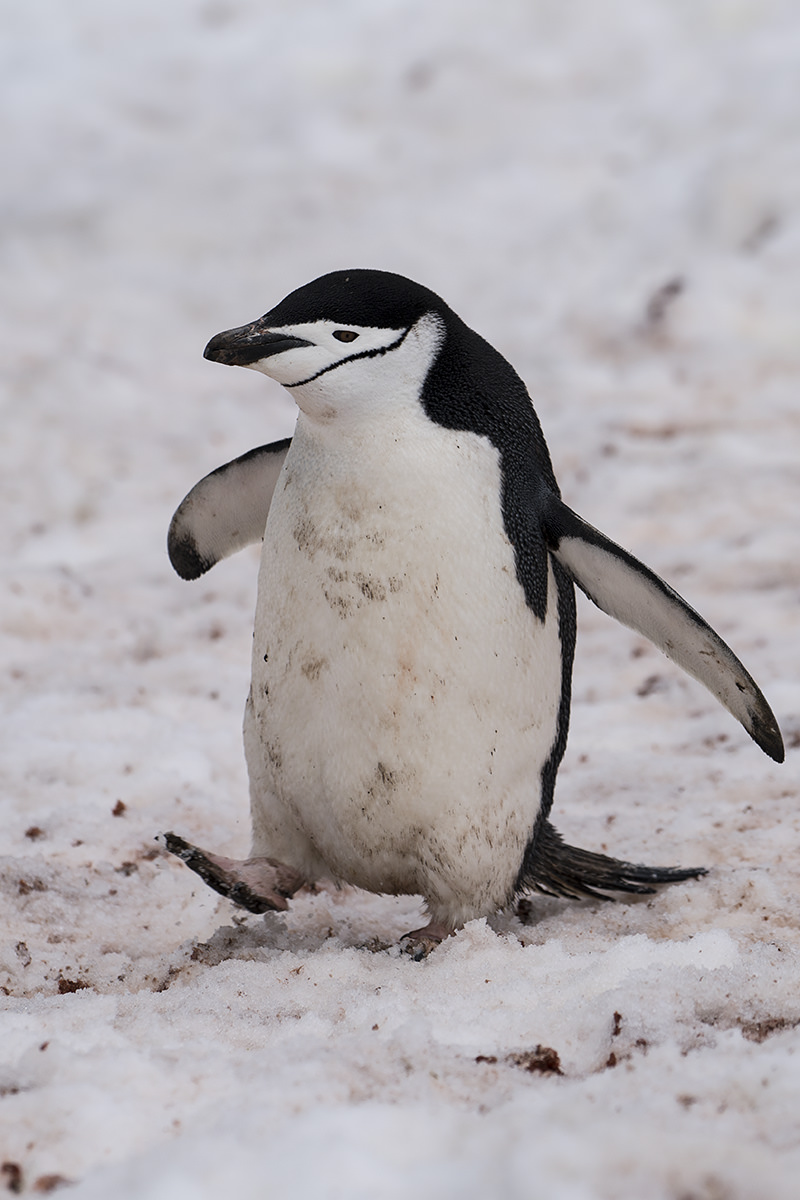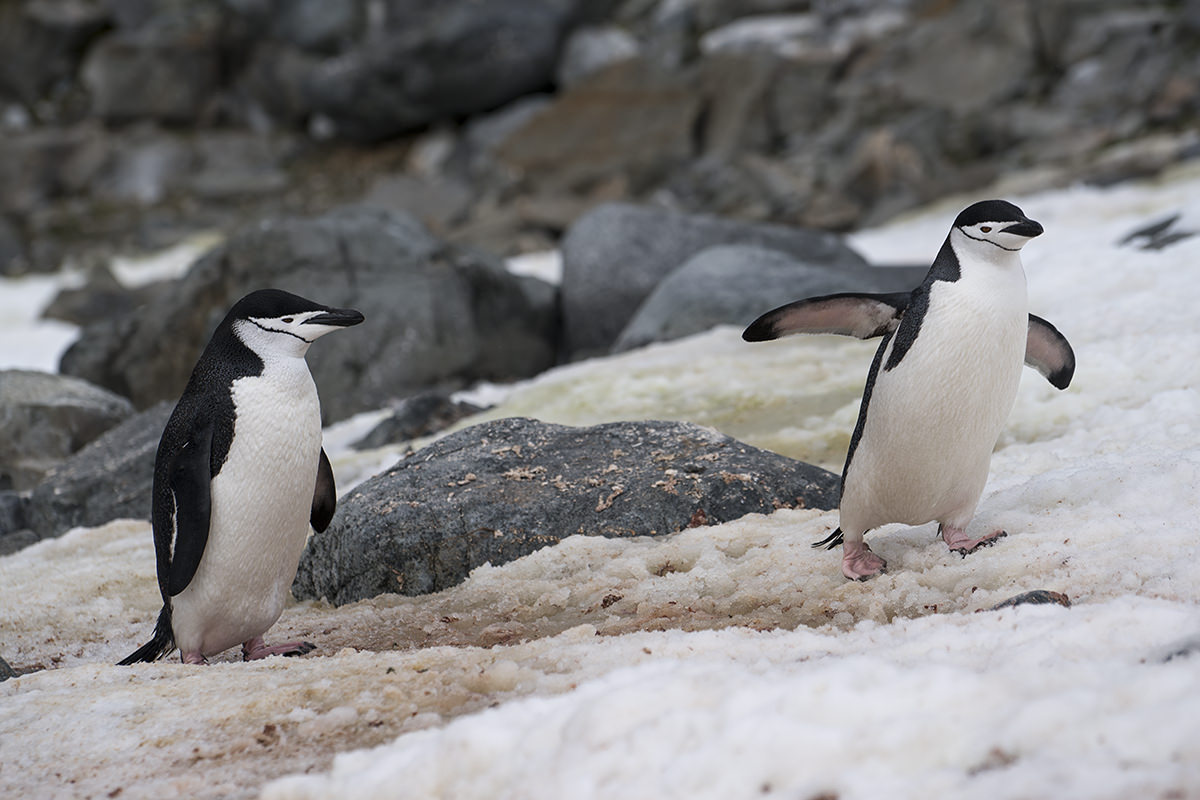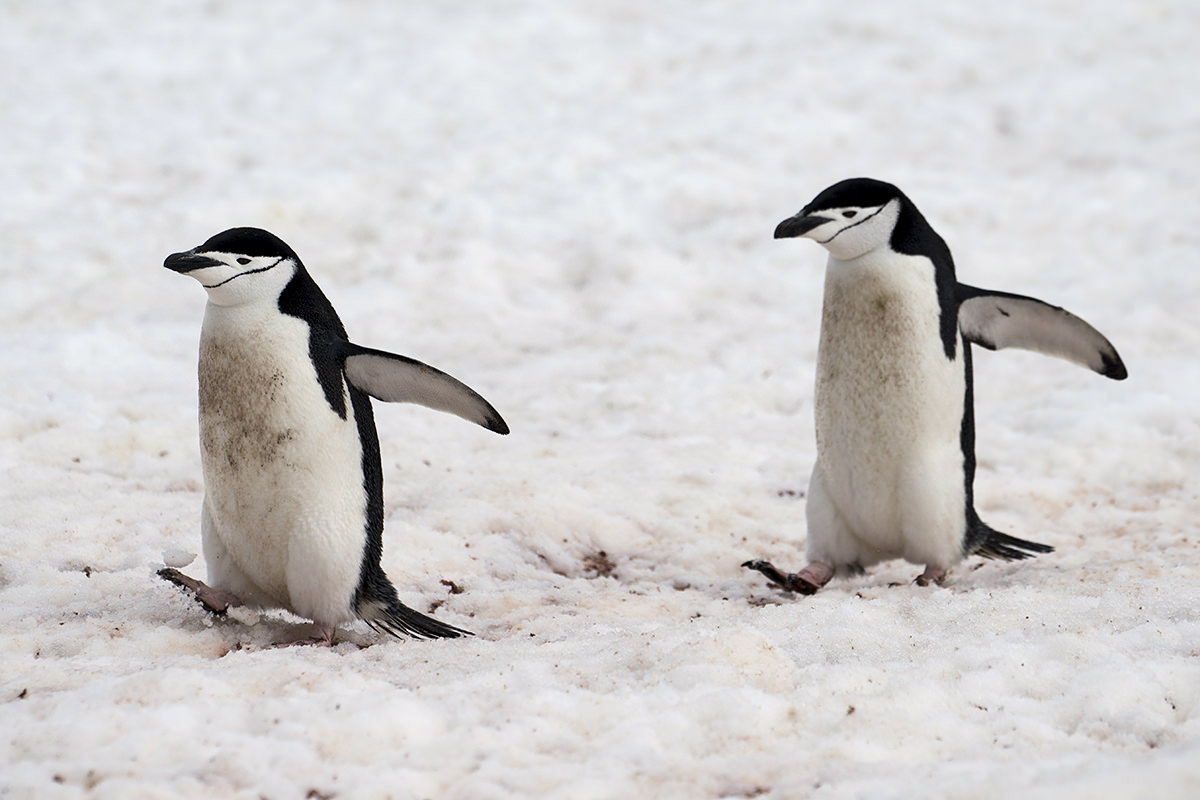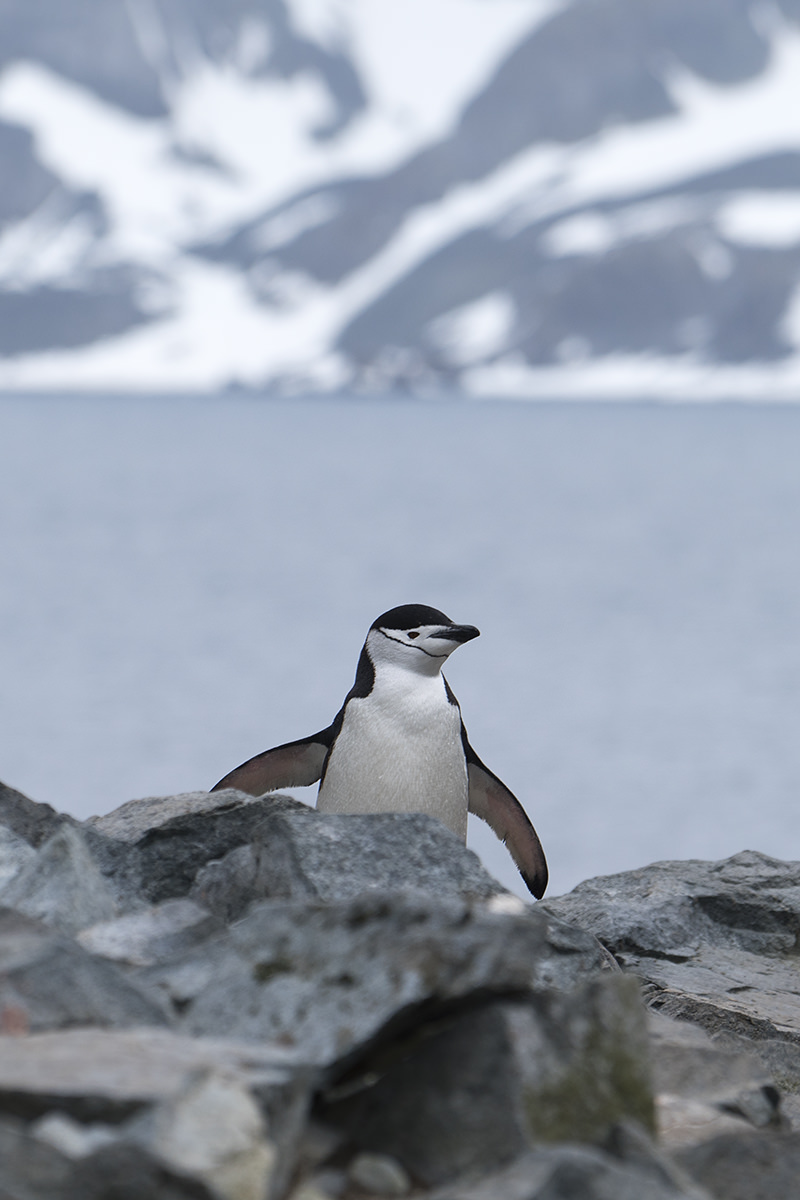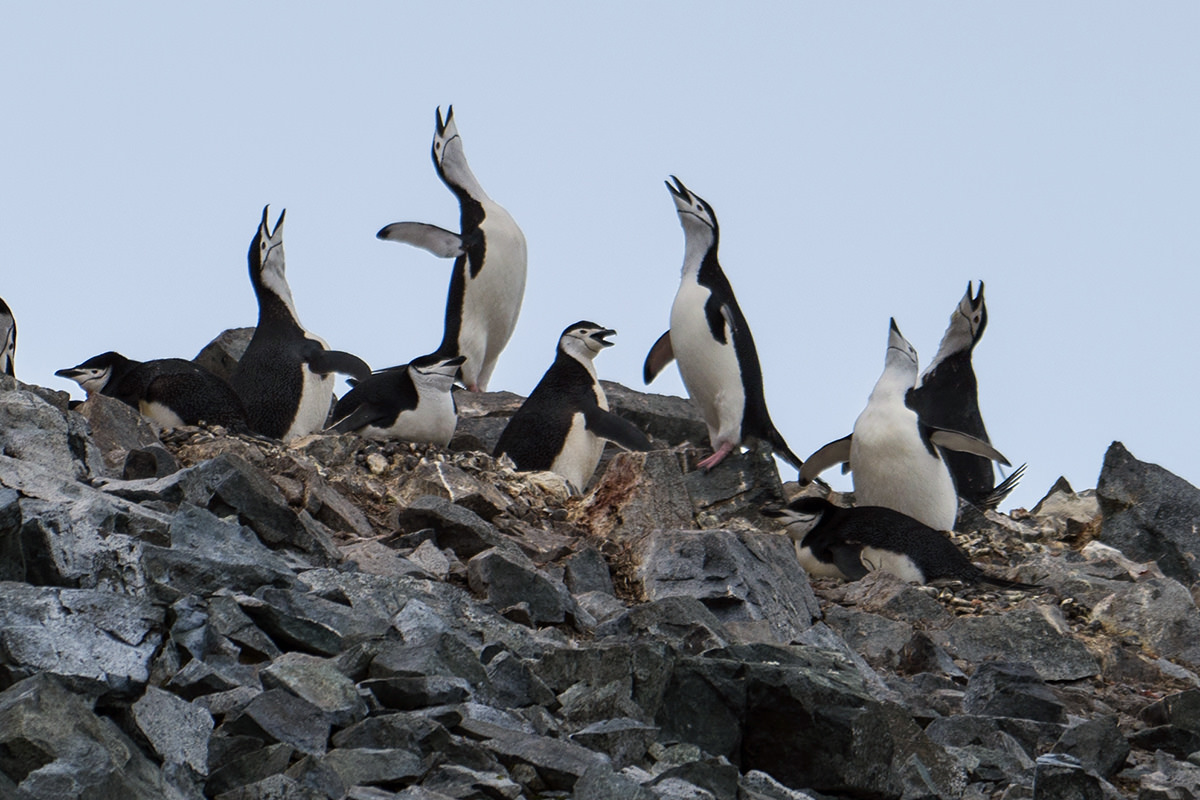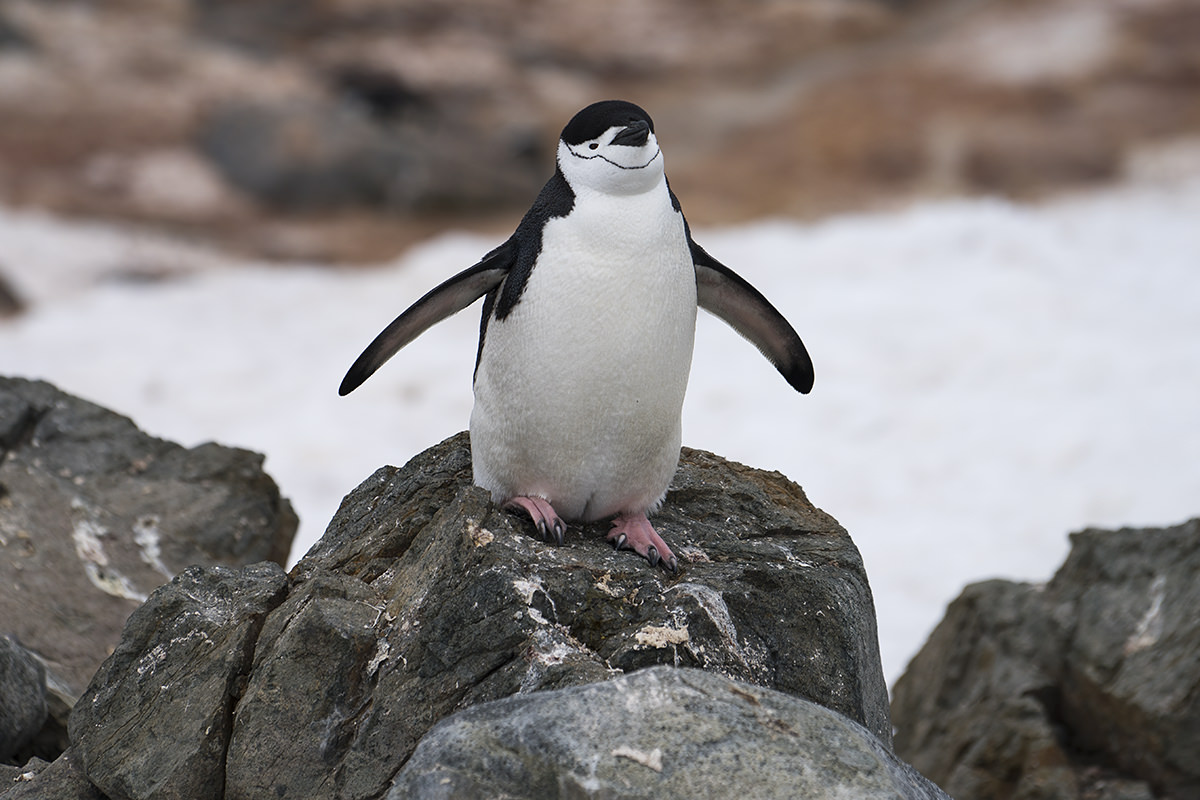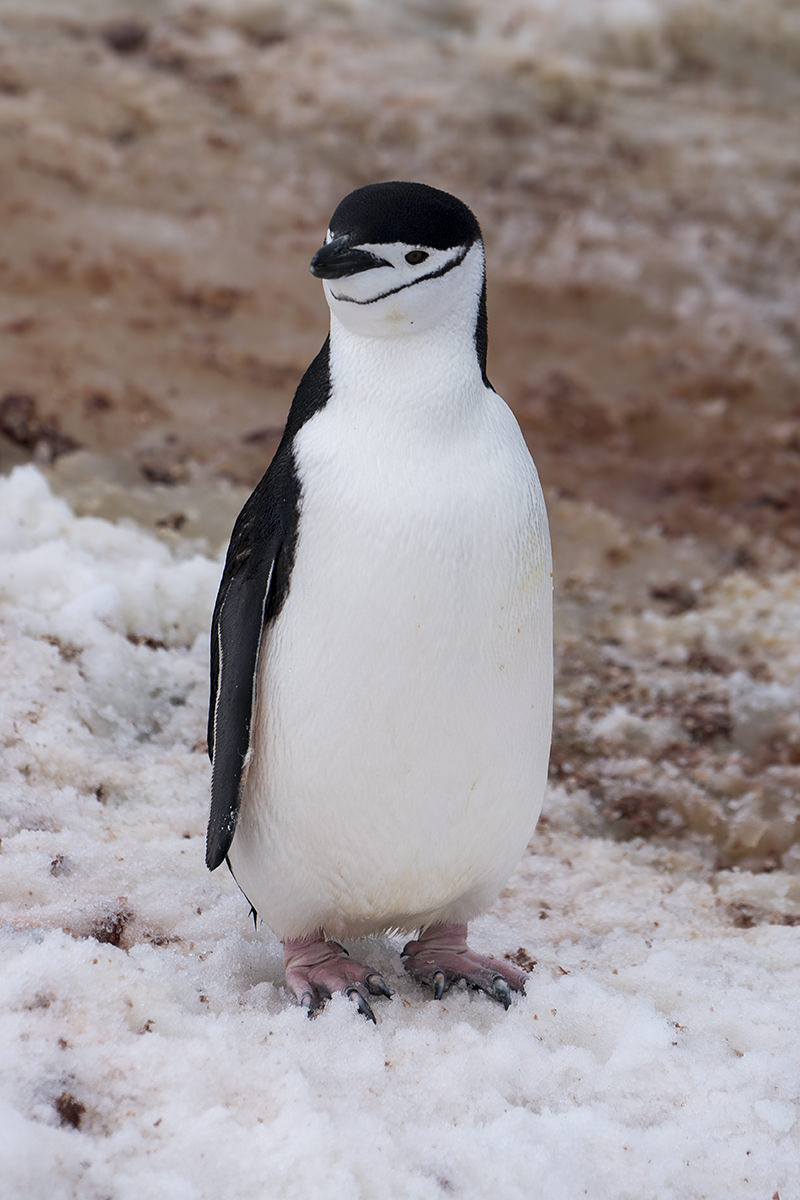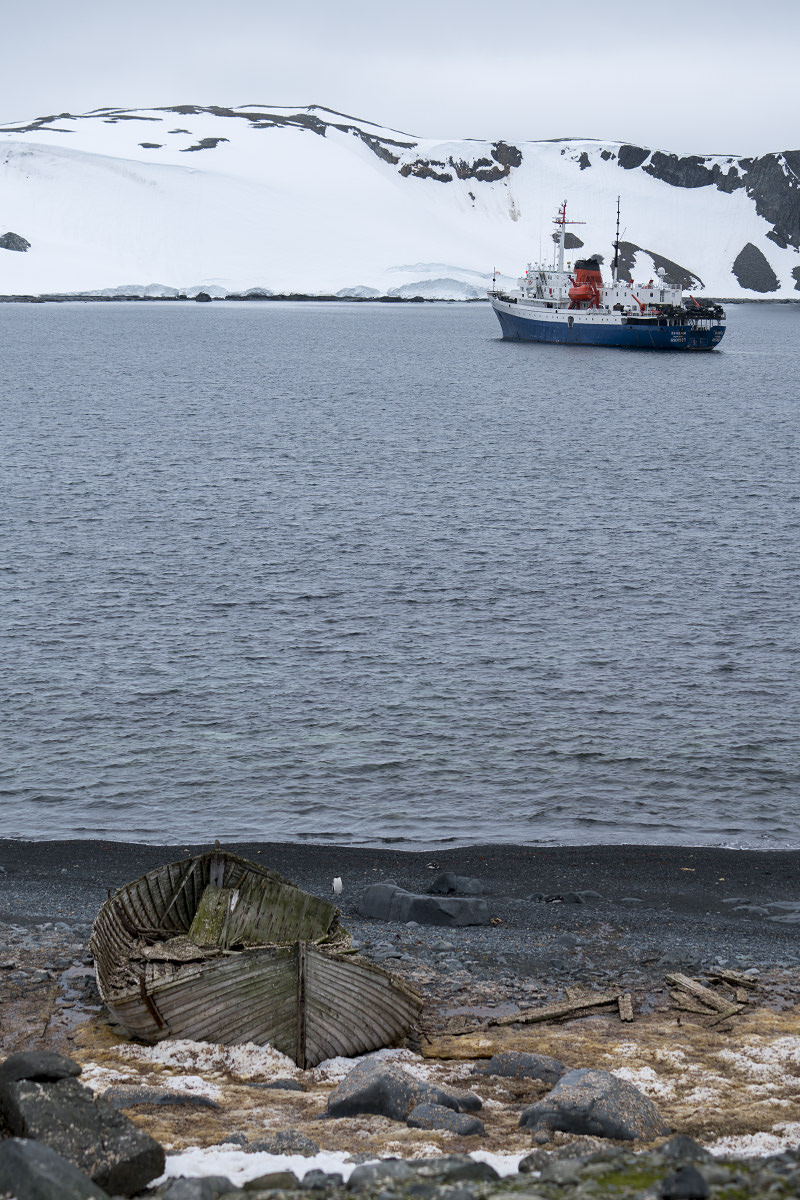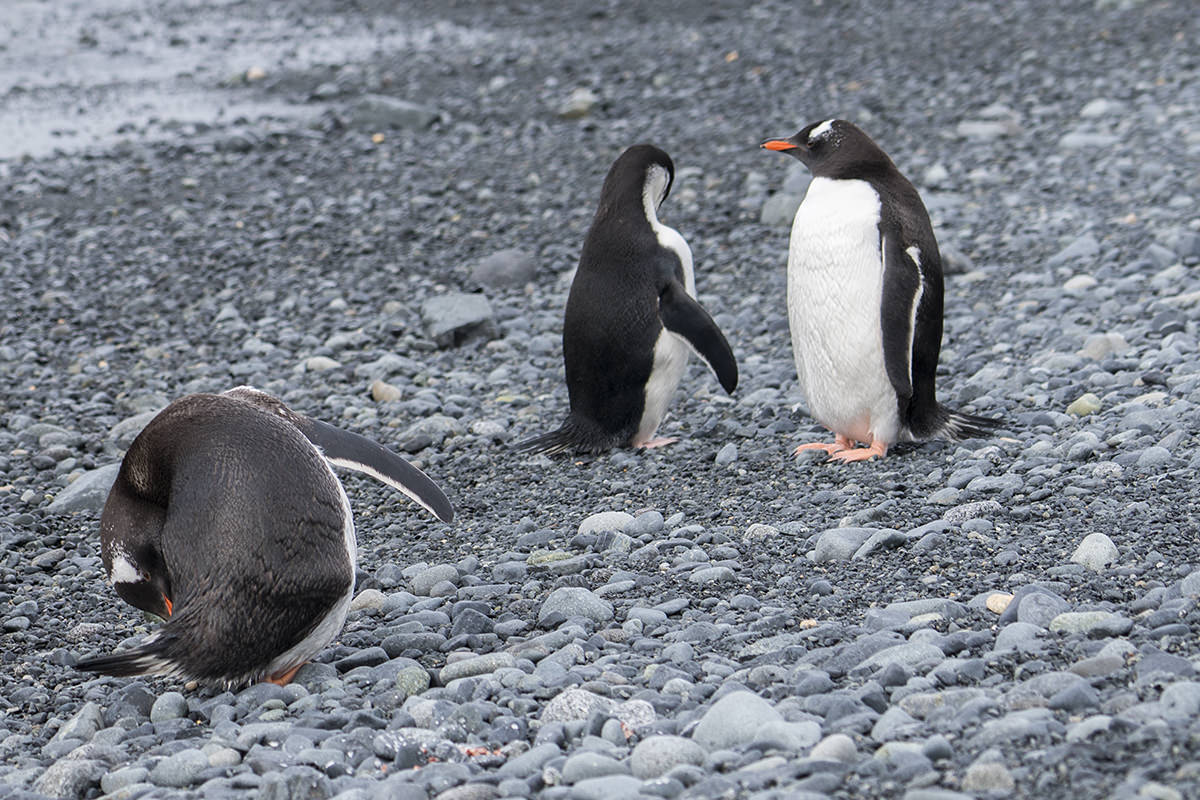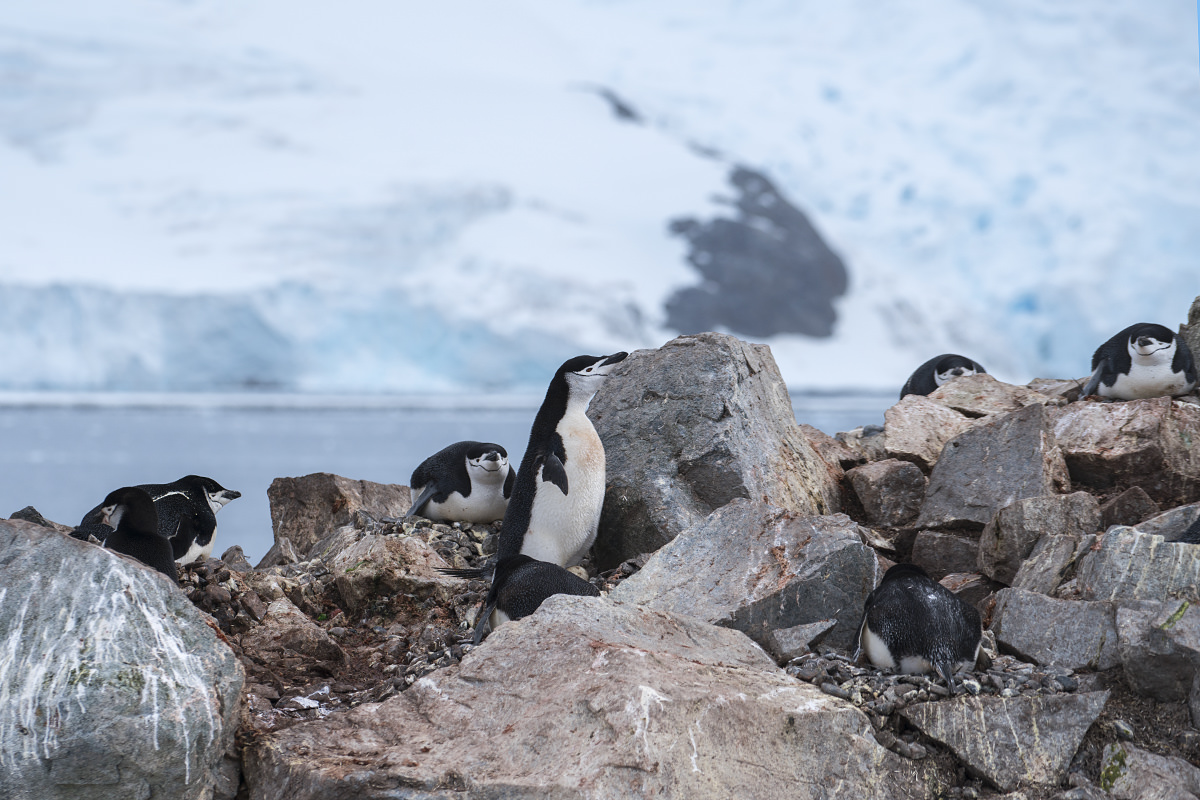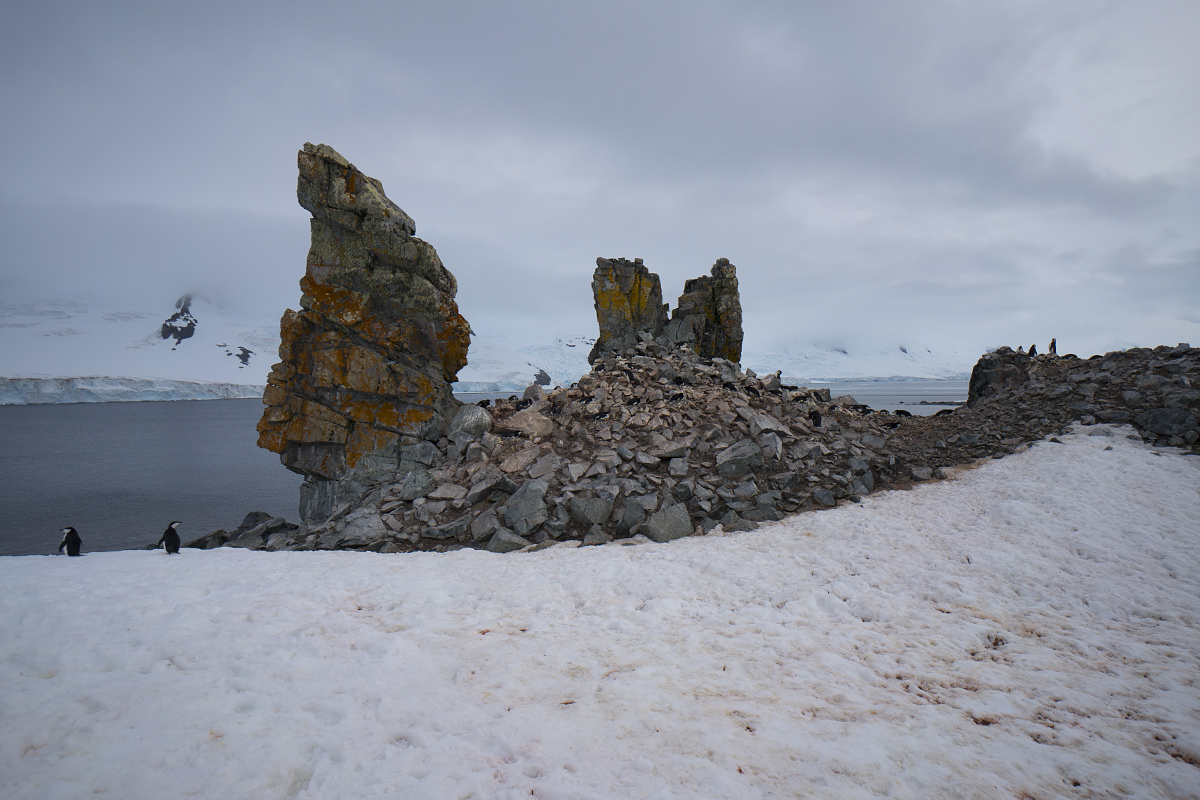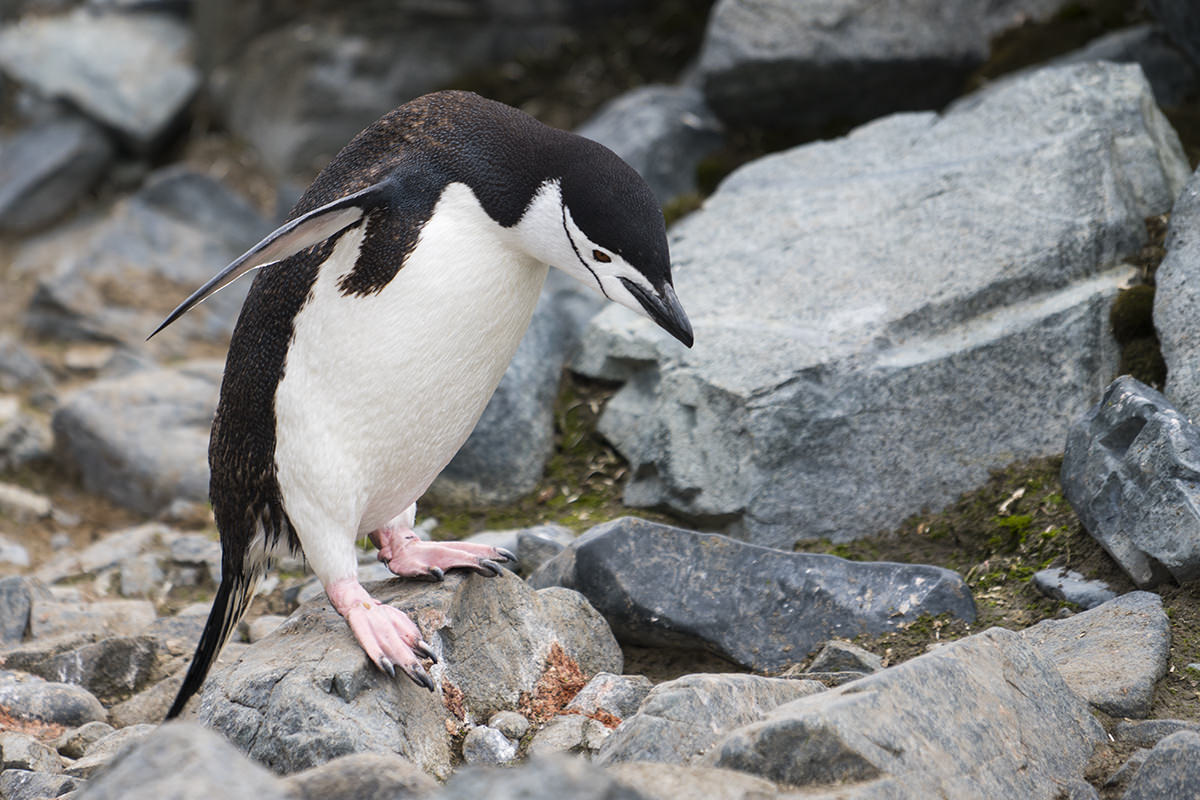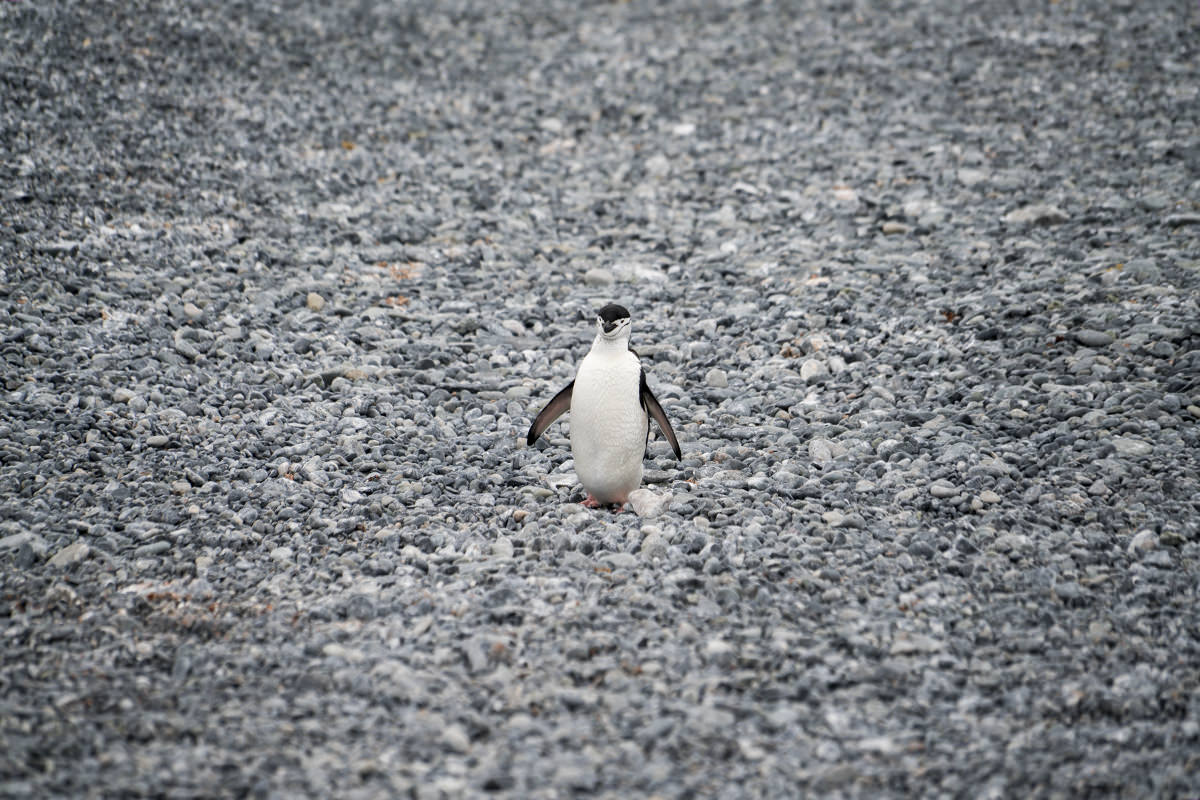 BONUS SEALS ON THE BEACH!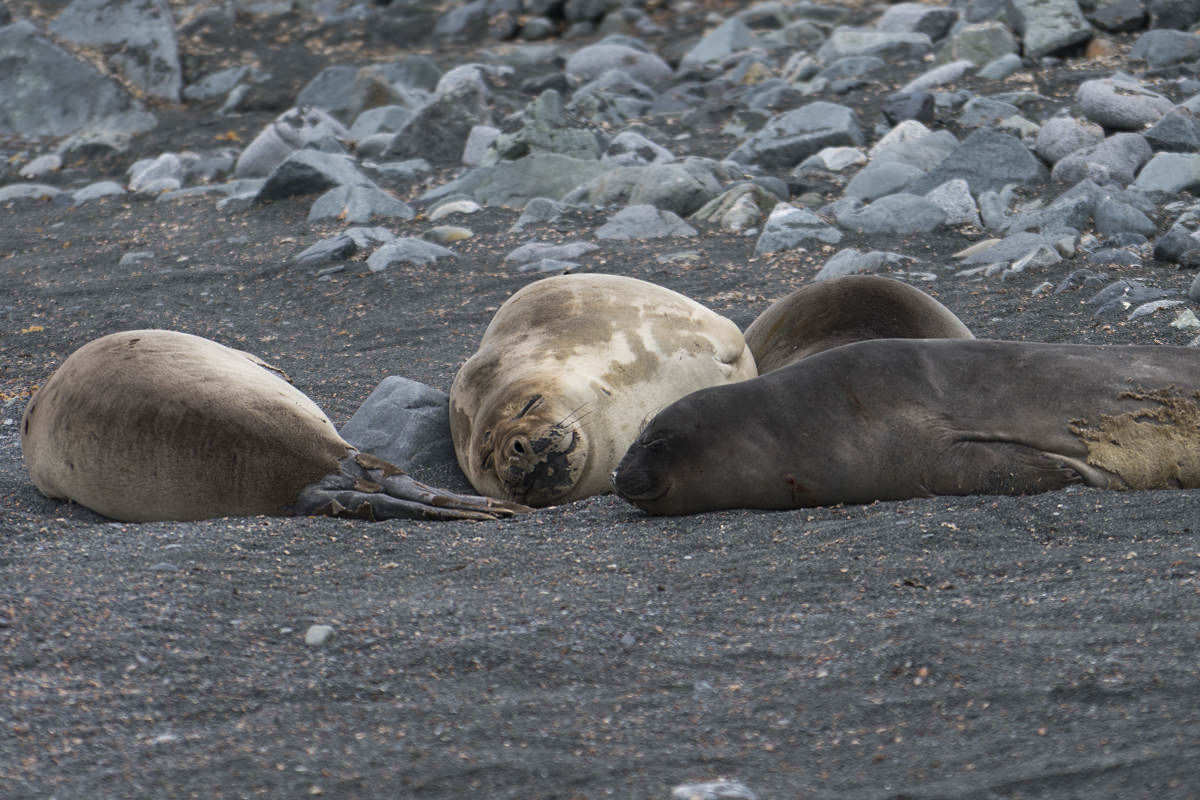 Our progress today...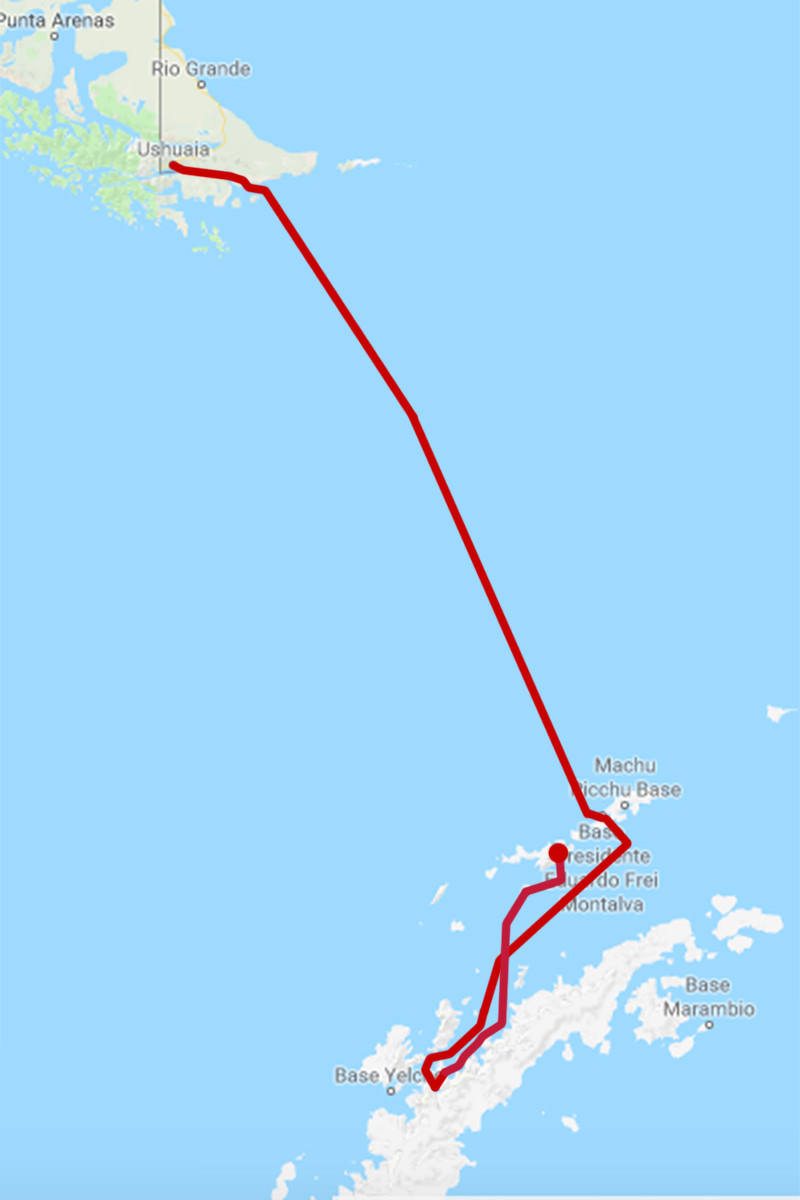 ©2017 Google Maps
And... the end. A treacherous trek across The Drake followed by three flights over three days, and my vacation is over.
Something tells me I'm going to need a vacation from my vacation.