Posted on Wednesday, January 27th, 2021

Even after I had taken a second sleeping pill, I could not get to sleep last night. Then I kept seeing that it was light out and thought that it must be close to time to get up, which screwed me up even more.
But it wasn't time to get up. Here is a photo taken at around 1:00am...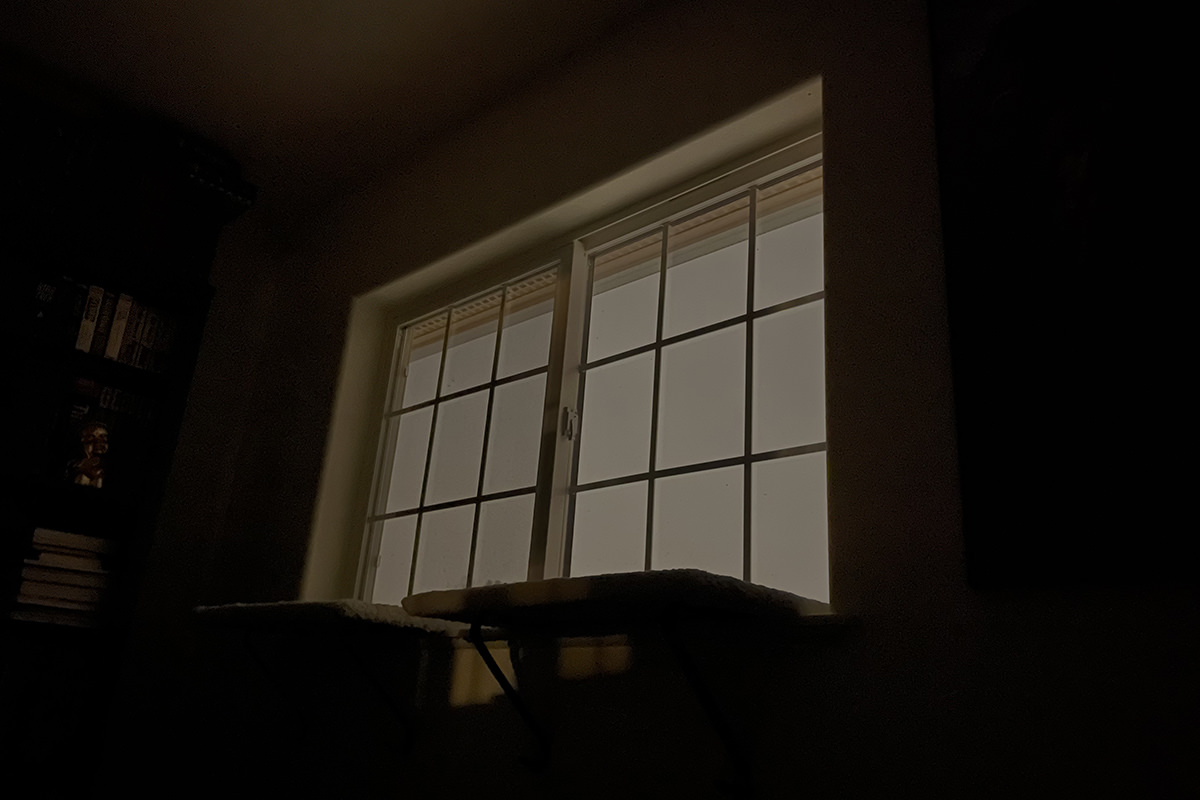 Everything was covered in snow, there was snow falling, and streetlights reflecting between the clouds in the sky and the snow on the ground created an artificial light out my window. My window which used to have blinds on it, but they had to be removed when Jake clawed is way up from the cat perch and nearly choked himself to death on them.
Oh well.
My Apple Watch tells me that I finally fell asleep at 3:15am and was awakened by Alexa telling my cats that it was their breakfast time at 7:00am. Soooo... 3-3/4 hours total sleep then.
Is it any wonder that after I took my shower but before I drank a Coke Zero that I was a little groggy? Since it was all cold and snowy out, I grabbed a nice red flannel shirt to wear. Flannel is nice on a cold Winter day...
I tried to put it on but it wasn't going on. I tried again and it still wouldn't go on. Finally I walked into the light so I could see if it was buttoned up or something... and noticed that the reason I couldn't get my shirt on was because it wasn't a shirt. It was pajama bottoms that my sister gave me for Christmas...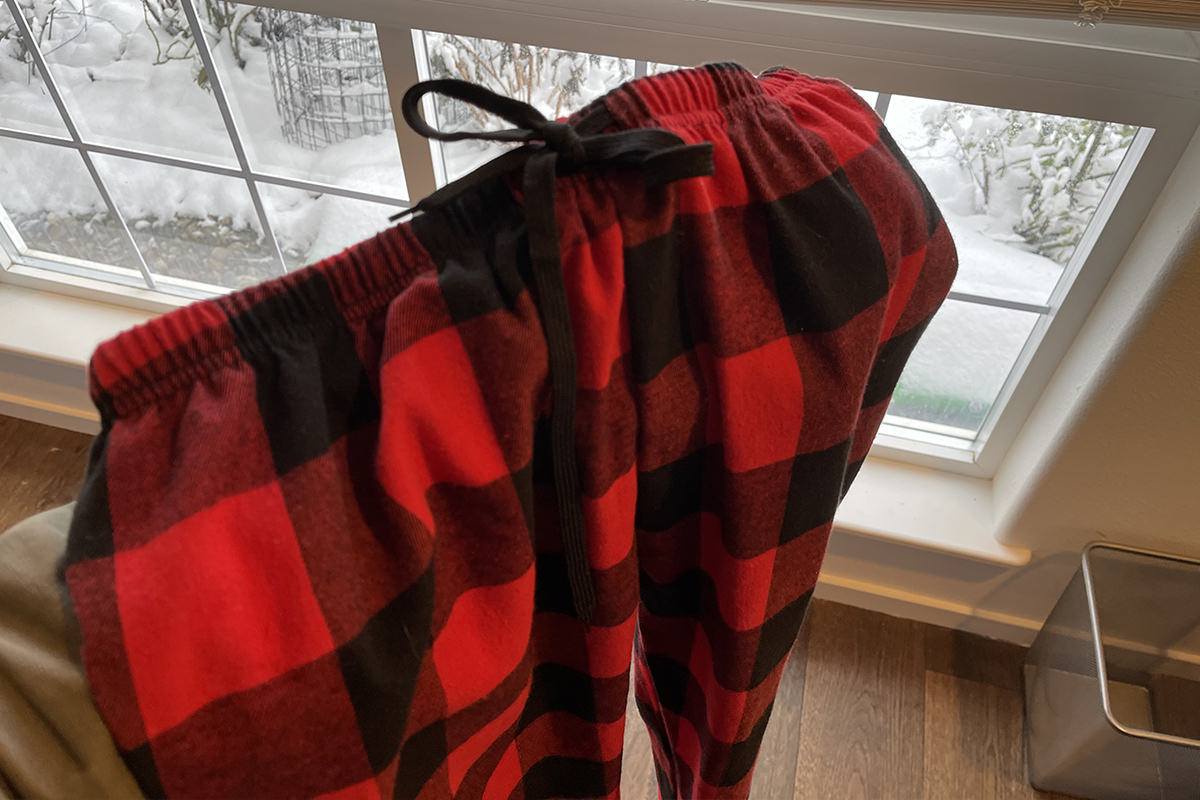 As you can imagine, this was a humdinger of a day.
It didn't help that, on top of being exhausted from lack of sleep, all the problems that missed me on Monday and Tuesday landed on me today.
But I did eventually find a flannel shirt that was actually a flannel shirt, so at least I was comfy during the onslaught.
Posted on Tuesday, January 26th, 2021

I have been trying to wrap my head around the logic behind attacking workers who have to enforce mask mandates. They have literally NO control over it. They don't control what elected officials dictate... they don't control what their county dictates... what their company dictates... what their manager dictates. So screaming at them with your anti-mask tirade when there's nothing they can do just makes you the worst possible kind of asshole.
So congratulations! You made a waiter at a cafe break down in tears. And that wasn't good enough, so you started shouting homophobic slurs at him, because apparently you feel his life isn't hard enough already. So... we get it. You are outraged that you have to wear a mask. And you are grossly intolerant of homosexuality. But making this poor minimum-wage earning kid completely break down doesn't win you any victory points. It just shows people how cruel, heartless, and utterly bankrupt you are as a person. You had the opportunity to reach out with kindness and understanding to a young kid just trying to earn a living during these difficult times, but instead you decided to destroy him for no reason over something he has no control over.
Whatever you're taking that allows you to sleep at night... can I get some? Because I haven't been sleeping so well lately and this sounds like it REALLY must knock you out.
Posted on Monday, January 25th, 2021

Back when I was a kid, my family visited my grandmother in California. While there, I was reading the comics in the newspaper and saw that her paper had Garfield, which I thought was about the funniest thing ever. When I got home, my local paper didn't carry it, so my grandmother would cut them out of her paper and send them to me every couple weeks or so. It was a Big Deal.
Eventally, Garfield books were released. My grandma kept sending them.
Eventually, my local paper had Garfield. My grandma kept sending them.
Eventually, I had mostly outgrown Garfield. My grandma kept sending them.
By the time my grandma died, I had quite a stack of them piled up waiting to be read. One day I sat down and started reading them and realized that the real treasure was never the Garfield comics. Sometimes she would send other comic strips that struck her funny. Sometimes she would send a photo of her pets. Sometimes she would send newsclippings of things happening where she lived. And sometimes she would send a letter.
The letters were the most special because reading them made it feel like she was still alive.
That's when I had the idea to save the remaining letters so I could open one every year on her birthday. Which, as you could probably guess, is today. And when I went to the box with all my remotes where I keep them, I saw that there were only two left...
After shaking off the shock of what I had clearly forgotten last year, I started reading through them all...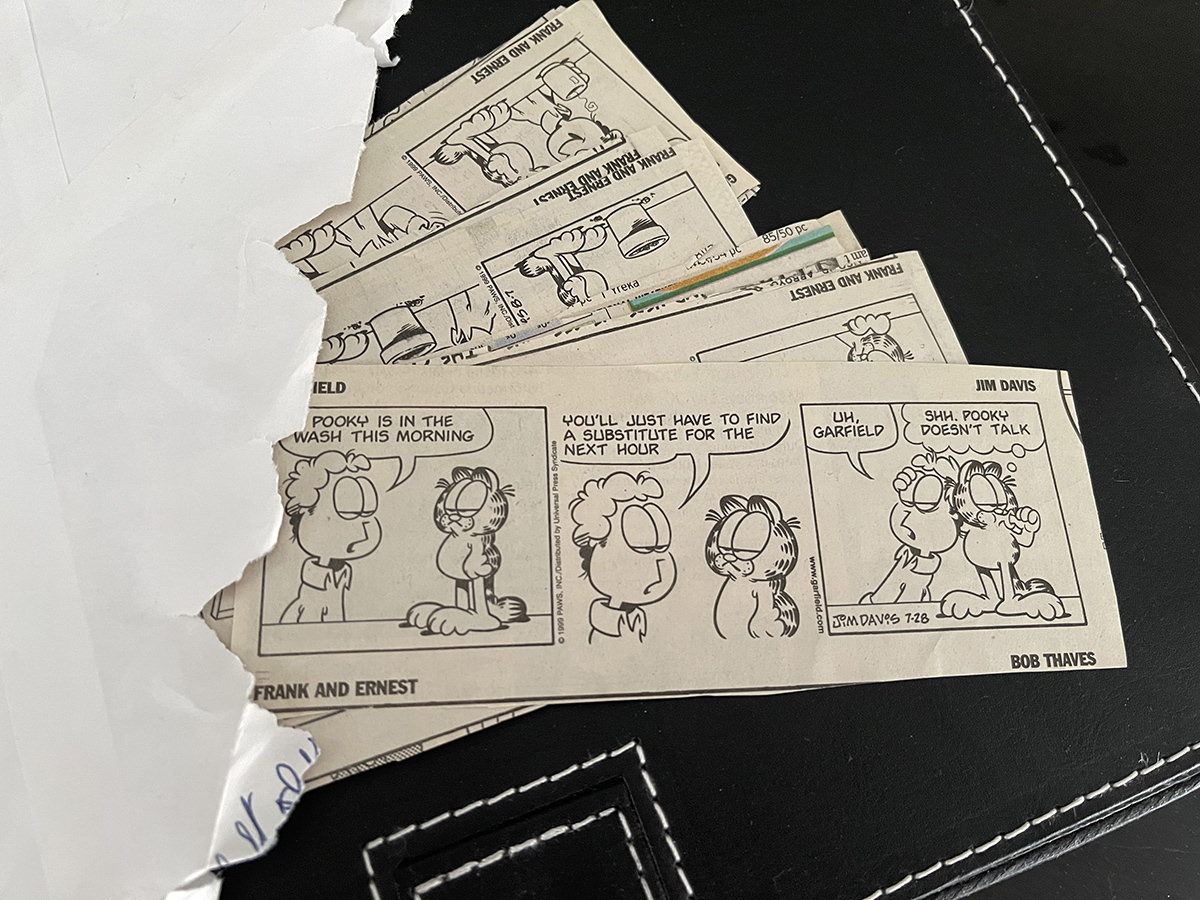 And now there's just one envelope remaining.
I have to wonder if I'll be opening it one year from now... or saving it for a time I really need it... or never opening it at all because I like the idea of holding onto it. And to her.
My grandmother called me her "Little Politician" because when I was little I used to talk more than any politician she ever heard. She loved animals, and I'm pretty sure that's where I inherited my love of animals from. She made the best enchiladas I've ever had. And she sent me Garfield strips because I liked to read them.
Happy birthday, grandma.
Posted on Sunday, January 24th, 2021

A new era may be dawning, but some things will never change... because an all new Q&A Edition of Bullet Sunday starts... now...

• Does the stair shelf you built for your cats work?
Yep! No falls since I installed it! Jenny has never been a banister girl, so she just walks along it on occasion. But Jake still lays up there all the time. Especially in the Summer when the sun shines on it. Since the catwalk I built adds a couple inches to the width, he's a lot more comfortable laying on it, and like to prop his head on the ledge to watch me and Jenny on the stairs. This, along with the catio, are two of the best things I've made to keep my cats safe and healthy.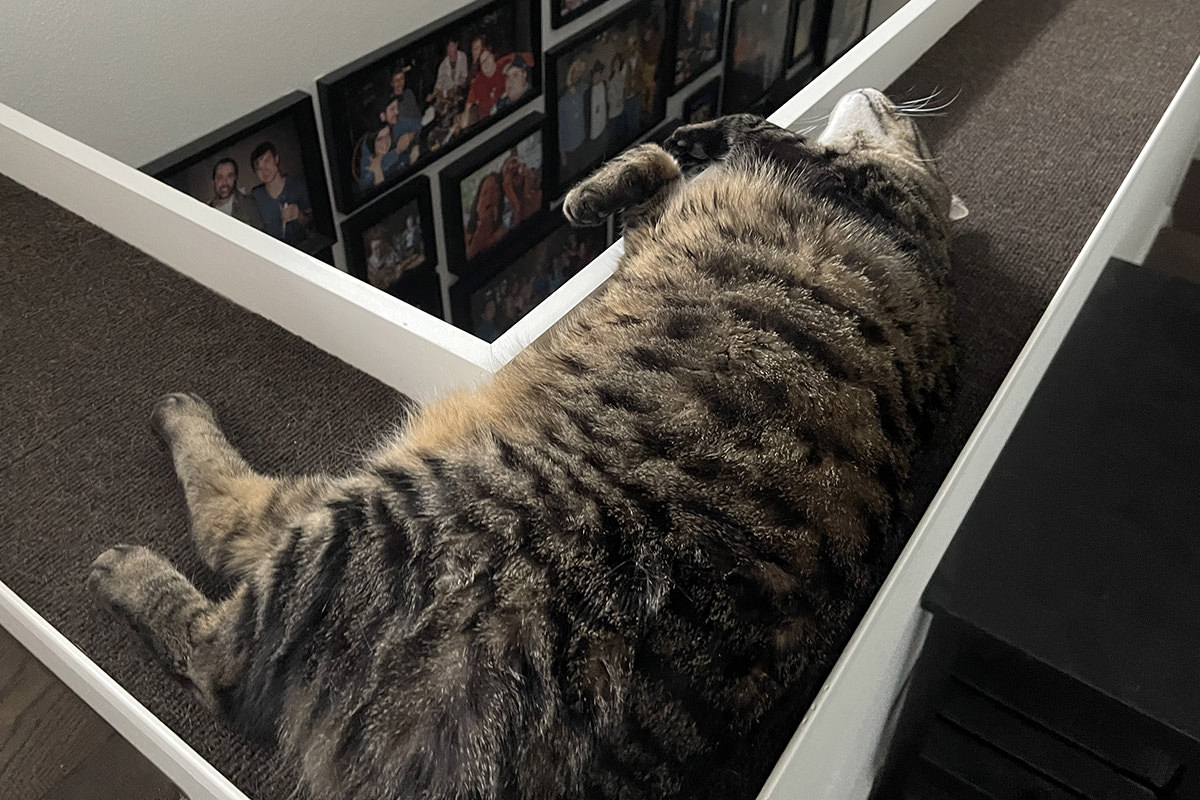 • Which meal service do you like best?
Are you talking between Martha Stewart & Marley Spoon and "Hello Fresh," the two I am currently using? That's actually a very good question! Both of them allow you to skip weeks (which I do often because they are expensive) so when I do order, I have been bouncing back and forth. Comparing them in a face-off is actually a good idea for a post. I'll do that sometime in the coming week!

• Japanese knives RUST... they are NOT stainless steel!
Yes. When I reading up on knives, this was brought up many, many times. I made my purchase with my eyes wide open. I expected for rust to appear. But it was still the best knife for what I would be cooking, and I just made a mental note to be sure and wash the blade after every use. And I've never seen rust. Until one day I did! I went into a Google panic, found out the easiest way to deal with it was a Rust Eraser, ordered one, and then found out it wasn't actually rust before the eraser ever arrived. It was a piece of food that I didn't get wiped off and only looked like rust. Since I first got it a year ago, I've never seen a speck of rust and my Rust Eraser hasn't even been taken out of the wrapper. My MAC Chef's Knife and Bread Knife are from their "Professional" series which is "rust resistant" but will still rust if you don't wash and dry them immediately after use. I also have some "Original" series knives which are supposed to rust more easily but, as I said, I've never seen any rust on them because I keep them clean and dry.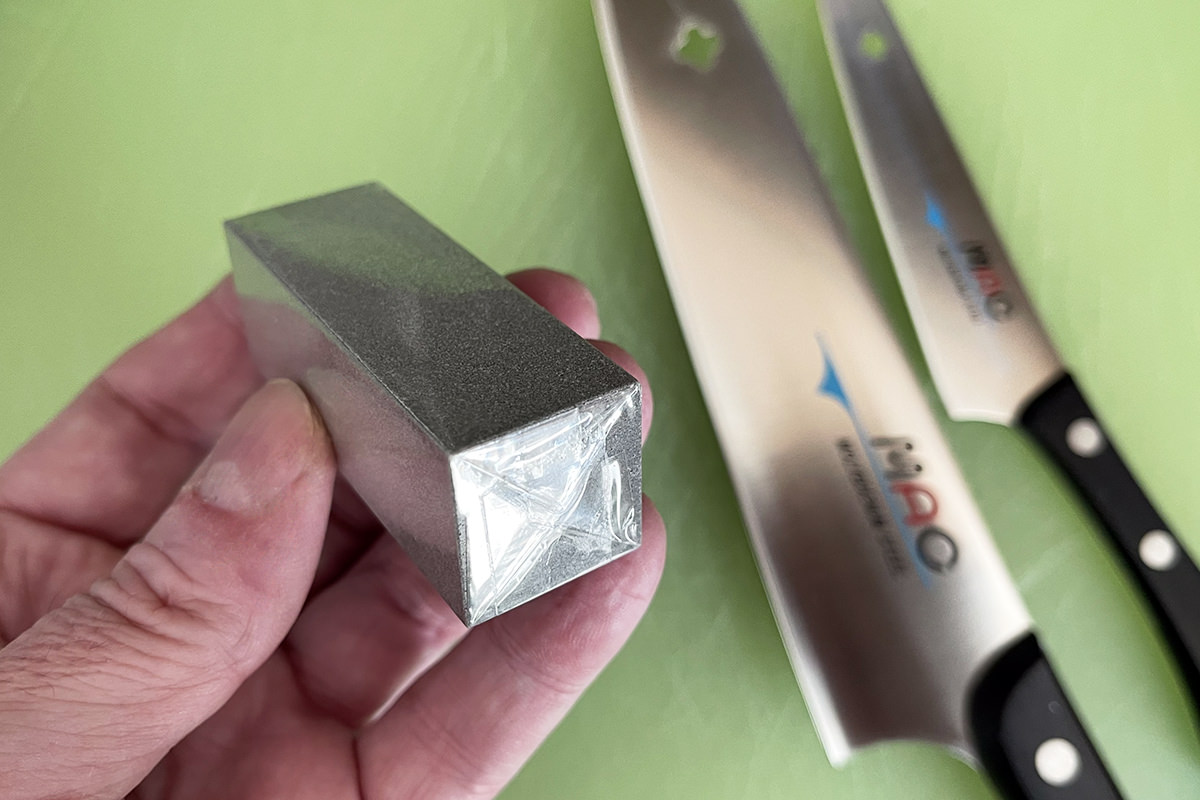 • Are you still playing Animal Crossing?
Sadly, no. I haven't had time. And I'm scared to look and see how many weeds I'll have to pull in order to get my island back. It's a great game and helped a lot when we were first under quarantine, but I was spending 2+ hours a day playing it and had stop because there were other things I need to do with my time. Might pick it back up one day and just force a time limit so it's not consuming me like it was. Now I've got TikTok for that!

• Where's your Bernie meme?
Ummm... right here!
My house is kept fairly cool in the winter in order to save on heating costs, so Bernie judging me for the temperature... along with Jenny (and Jake, who has clearly turned his back on me)... seems appropriate.

• Are you finally happy now that Biden is president?
No. No I am not. As I have said quite a few times now, Biden was never my guy so I'm not "finally happy" that he's president. I am, however, elated that Trump is no longer president. So there's a big difference there. I won't be truly "happy" until all the career politicians and other assholes who exploit their office for personal gain at the expense of the American people are out of office. I will also be happy once all the pieces of shit who have so severely divided this country are out of office. Alas, what this would take is the American people WAKING THE FUCK UP and realizing that they are being majorly played. But that takes thinking for themselves, and we all know that this is not something we seem to be very good at right now. So... here we are.

• Where's the first place you'll go once you can travel again?
Well, odds are I won't be traveling for work or for volunteering again... at least not any time soon... so it will likely be a personal trip. My guess is it will be one I've been planning for over a year with friends to Maui. We have unfinished business there that we need to take care of. Otherwise? Not entirely sure. It will take a while for the world to get back to normal and I have no idea where my life will be by then.

And that's the last of my answers to questions I've been asked.
Posted on Saturday, January 23rd, 2021

This biggest news to come out of this past week? I made a major discovery about Jenny, and I have no idea how I failed to realize it before now.
As I've mentioned a couple times, there are nights that Jenny refuses to eat her wet food. It's the same stuff she always gets... mixed with water and mooshed up so she can lick it up... and yet she is 100% uninterested. It drives me crazy, because it's NOT because she's not hungry. That cat is always hungry. So why? Why does she take one sniff and walk away until the dry food is dispensed? Why?
I'll tell you why... odds are I cooked with yellow onions.
There I was having just cooked the filling for some bean and onion flautas. The Alexa alarm rings for dinner time and Jake and Jenny are incredibly excited about it because I'm already in the kitchen. So I dish up the food, mix Jenny's up, microwave for 6 seconds to take the chill off, then set it down. Jake starts wolfing it down immediately. Jenny walks away.
The next evening she's back to normal and laps it right up.
The evening after I am frying up the rest of the onion to use in a tomato sauce. The Alexa alarm rings. I put the food out. And... nothing.
It was as if a light switch turned on in my head.
So I tested my theory three nights later... and yep, there it is. Onion stank is the reason. Apparently if the house has that smell in it she can't smell the wet food enough to think it's "safe to eat" and takes a big ol' pass.
And so I guess any time I am cooking onions I need to start after the cats have been fed and make a late dinner of it. Problem solved.
In other food-related news... last night I had baked potatoes for dinner. Right after taking them out of the oven and getting them dresssed up for consumption, Jake was all over me. He followed me from the kitchen into the living room and stared at me the entire time I was eating...
Look at those owl ears!
I tried multiple times to explain that this was my dinner and he had finished his dinner just ten minutes ago, but he was having none of it.
And in other Jake news... When I came home earlier this week, he didn't come running to the door to meet me like he usually does. When this happens it's 95% likely that the heat is running. And if the heat is running, he climbs the cat tree so it will blow down on him. He loves that. So I take a look and, sure enough, he's up in the cat tree with the heat on. And that's when I notice that this is not the only thing that has happened.
Apparently his lunch did not agree with him, because he projectile vomited it onto the window where it slid down and piled on the window sill...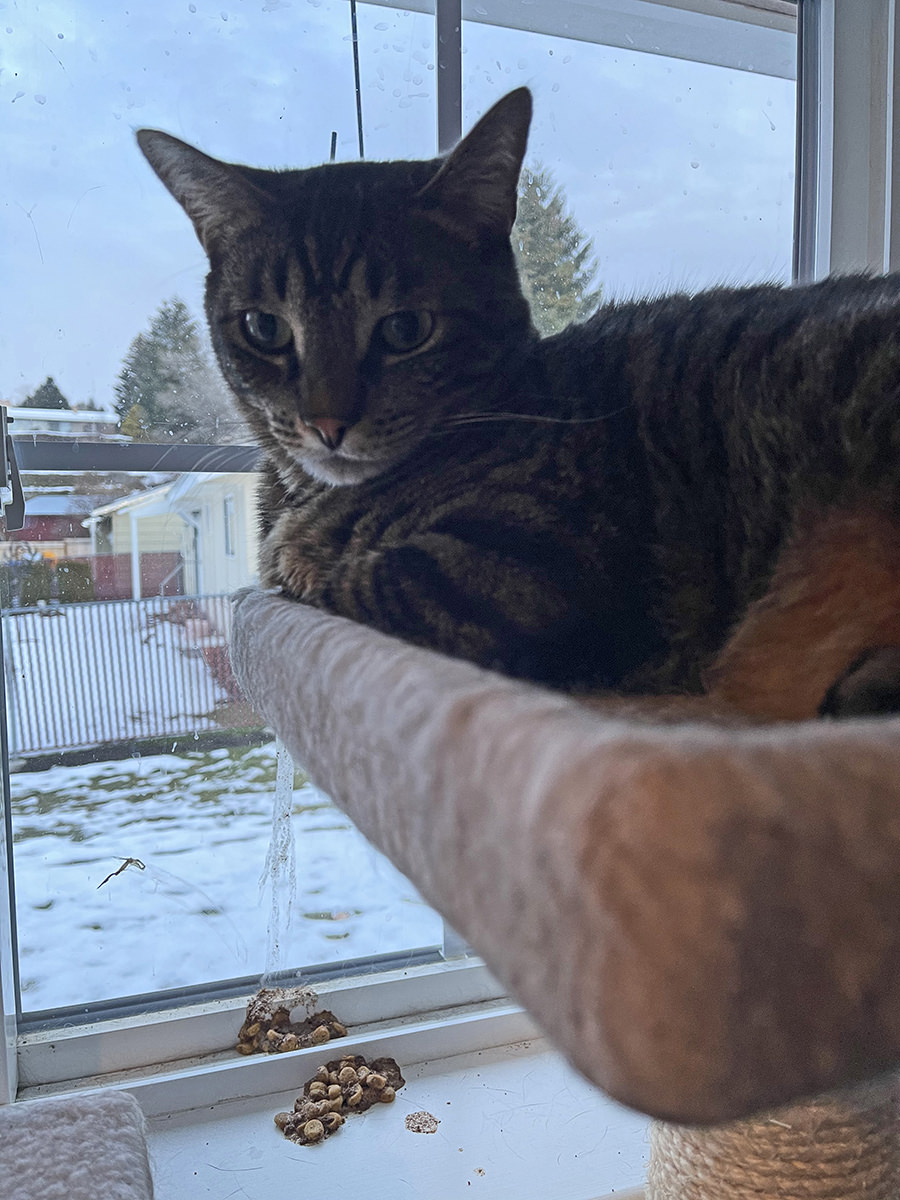 Lovely.
Since he pukes so rarely, I guess I really don't have cause to complain. It's just that he really knows how to pick his moments, doesn't he?
Oh well. It could always be worse. He could have puked on my bed.
Posted on Friday, January 22nd, 2021

Despite working my ass off all week I didn't accomplish much of anything. After catching up by working on Martin Luther King Jr. Day, I was behind again by the end of the day today.
I won't even mention the loads of chores that need to be done around my house.
What I need is two more of me. Well, not two more exactly like me... more like two of me that haven't been beaten down by a year of COVID and aren't mired in a quarantine malaise. I need two of me from 2019. Or how about two of me from 2000? Sure I didn't know as much, but I had a lote more energy and enthusiasm for life, that's for sure.
I mean, just look at me back in 2000...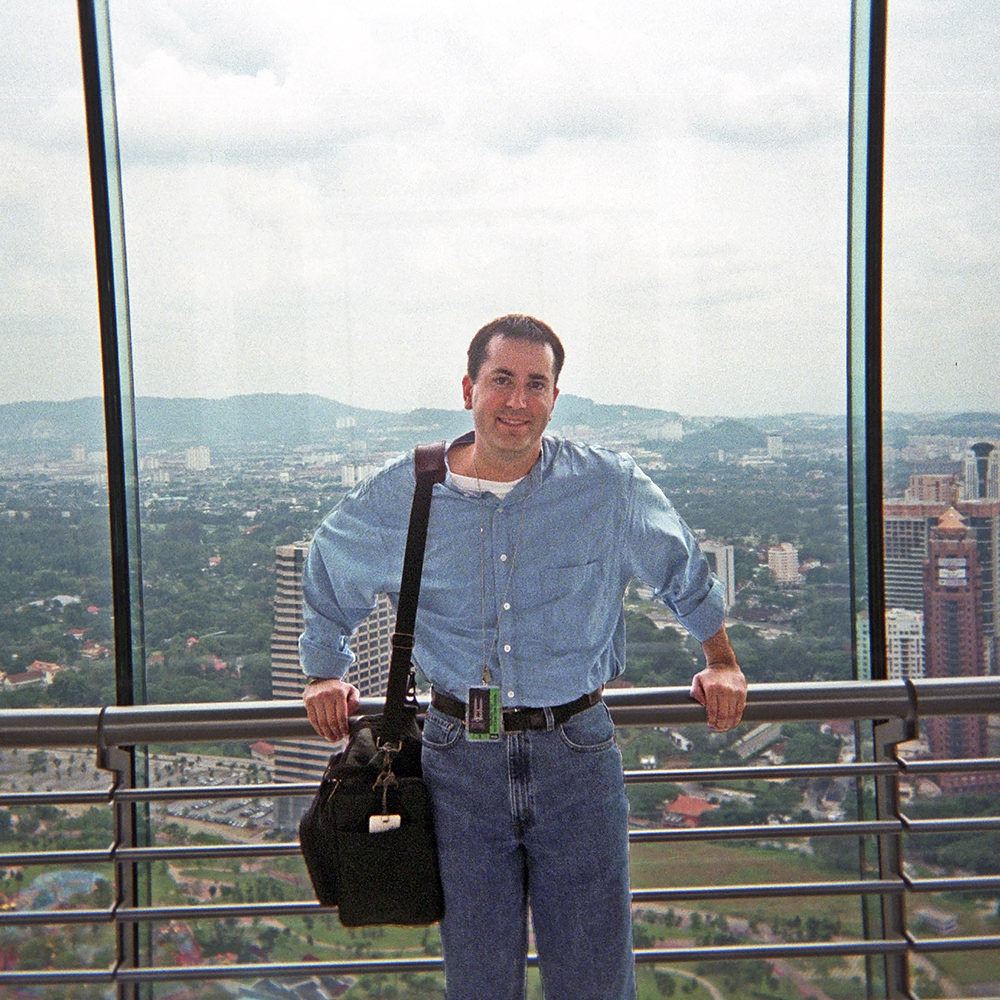 Me on the visitation deck of Petronas Towers in Kuala Lumpur

It's all downhill from there, buddy.
Tags:
DaveLife
Categories:
Uncategorized —
Click To It:
Permalink
—
0 Comments: Click To Add Yours!
Posted on Thursday, January 21st, 2021

"So... what knife are you using?"
After 30 years of eating crap, I decided I wanted more out of life than frozen food reheated in a microwave so I signed up for Martha Stewart's meal service via Marley Spoon. It changed everything. I don't necessarily enjoy cooking, but I do love what comes from it. I am eating better now than I have in decades, and it would be tough to ever go back. And once I realized this truth, I started buying new stuff for my kitchen to make my cooking experience better. New tools. New cookware. New gadgets. New ingredients. New knives.
Again and again I heard THE ONE THING EVERY COOK NEEDS BEFORE ANYTHING ELSE IS A GOOD KNIFE! I was told that I could scrimp on a lot of things, but a cook's knife was not one of them. "Spend the $200 it takes to get the very best knife you can afford... it will last a lifetime and be an essential part of every meal you cook!" After I got done changing my underwear at the thought of spending TWO HUNDRED DOLLARS ON ONE FRICKIN' KNIFE I calmed down and scrolled past entire knife sets costing $50, and started researching what the best "fit" for me might be.
I was more accustomed to German-style knives which are total workhorses. They have heft and power to cleave through anything, and I came very close to purchasing a $195 Wüsthof that was most similar to the cheap-ass $18 plastic-handled chef's knife I had been using forever. But then I took another look at Japanese knives. They were harder, thinner, sharper, and seemed more suited to my vegetarian diet. If I wasn't hacking apart cuts of meat, what did I need with a heavier knife?
The rabbit hole you fall into when knife shopping is really, really tough to escape from.
I waffled between various brands for quite a while until I decided on a MAC Professional 8" Chef's Knife. Many, many professionals swore by it, the reviews were stellar, the price wasn't as bad ($150 at discount), and the more I read about it, the more it seemed like it was exactly what I needed.
Then it arrived.
I've always had a knife sharpener which easily and inexpensively keeps my cheap knives at peak sharpness. But it turns out my knives were never sharp at all. Not really. Compared to the MAC Chef's Knife I bought, I might as well have been using a frickin' spoon to slice tomatoes all these years...
I honestly don't know how to adequately describe how sharp this thing it. I really don't. It's razor sharp. It's X-ACTO blade sharp. After I opened it I touched the tip to see how sharp it was... and proceeded to prick my finger. This was no knife... it was a scalpel. For the first time in my life when holding a knife I thought Holy shit! I could straight up murder somebody with this thing! And I immediately had visions of dropping it on my foot and cutting it off... slicing through my fingers before I realized it... or reaching across the counter for something and impaling myself.
This knife scared the shit out of me.
The first thing I did was order a pair of cut-resistant gloves to wear when I cut tough, larger vegetables (like squash). The second thing I did was make a mental note to never use it barefoot. The third thing I did was decide to not toss out my old chef's knife. When I have company cooking with me, the last thing I would want is for them to seriously injure themselves... which is a frightening (but entirely realistic) scenario...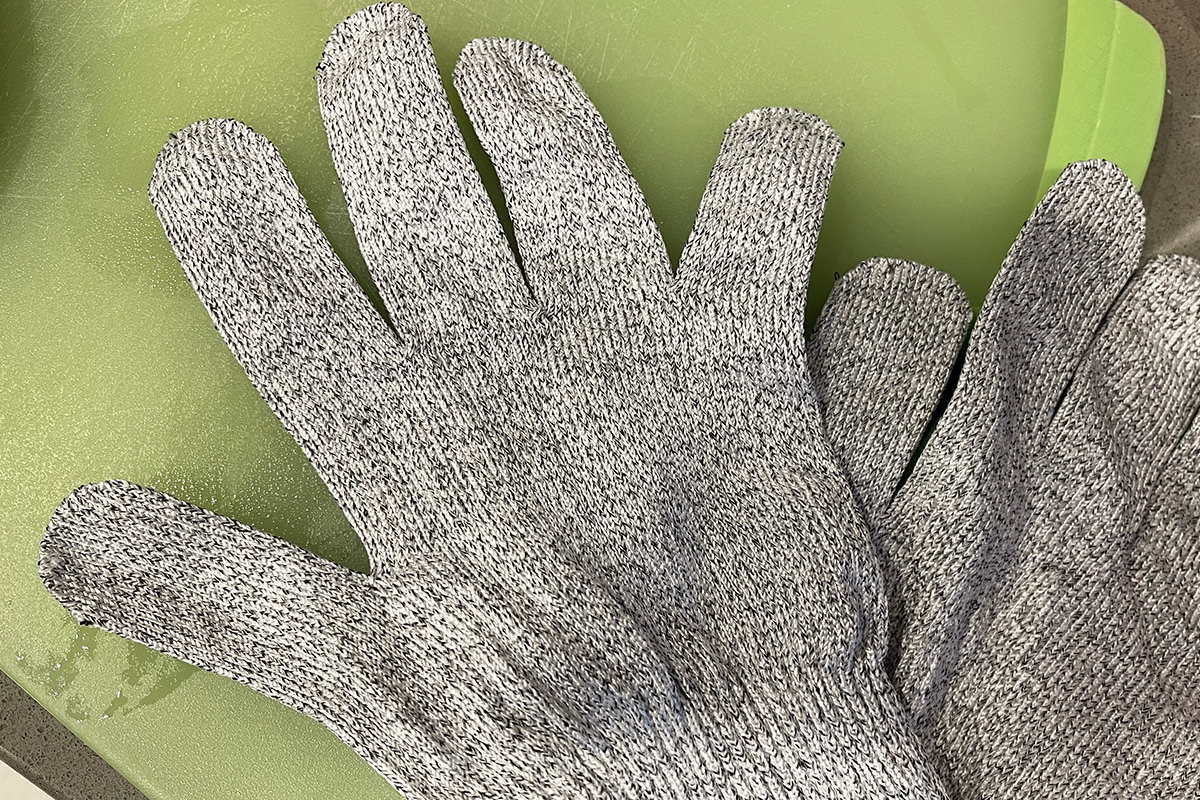 The MAC itself is a work of art.
Yeah, it's ridiculously sharp, but it's also extremely well-balanced. It has some heft, but doesn't get in your way. The bolster is enough to be comfortable, but not too much to keep me from holding it properly. And once I trained myself to cut with such a thin, sharp tool, I felt more in control than I ever did with previous knives. After the fear factor wore off, I grew to love it.
And yet...
So damn sharp. For softer veggies (like tomatoes) you can just set the knife on it and the thing will practically cut itself. You can shave a sheet of paper with it. After a year of using it, the thing can still scare the shit out of me. Since the steel used can rust easily, you have to clean and dry it immediately after use. No leaving it in the sink until morning. If you're cutting citrus, you have to occasionally rinse it while you're working with it. I learned how to clean knives from a food stylist. You hold the blade edge away from you and wipe from the spine edge only. If you were to foolishly wipe from the blade edge, you'd slice clean through your sponge and your entire hand. That's a doctor visit I definitely do not want, so I am beyond cautious whenever I have this thing in my hands.
To explain just how cautious... I never use it when I've been drinking.
Once you've used a good knife, you kinda get addicted to really great steel. I've since bought a few other quality knives that cost a fortune but are ultimately worth the investment. What I will not be buying is a pointed paring knife. I ended up getting a round-tip paring knife because it seemed safer to me, and that will do just fine, thank you very much!
Unless I actually do need to murder somebody. Seems like the compact size of a paring knife would be a lot easier to conceal than an 8" Chef's Knife!
Posted on Wednesday, January 20th, 2021

This is the drama I inevitably go through whenever I attempt to remember how to spell a word that I don't use very often...
Faroe: ALSO: Faeroe Islands (/ˈfɛəroʊ/; Danish: Færøerne) are a North Atlantic archipelago located 320 kilometres (200 mi) north-northwest of Scotland, and about halfway between Norway and Iceland.
No. That's not it.
Farrow:
María de Lourdes Villiers "Mia" Farrow (/məˈriːə di ˈlʊrdz ˈvɪljərz ˈfæroʊ/; born February 9, 1945) is an American actress, activist, and former fashion model. Farrow has appeared in more than 50 films and won numerous awards, including a Golden Globe Award and three BAFTA Award nominations.
No. That't not it.
Farroll:
was an admiral in the GalSec troops. She was in charge of an attack on a Wirrn. She was later injured because of a Wirrn. She was infected by the Wirrn to become the new Wirrn Queen. (
SEE:
British science fiction television programme
Doctor Who
)
No. That's definitely not it.
Farro:
Farro refers to the grains of three wheat species, which is sold dried, and cooked in water until soft. It is eaten plain or is often used as an ingredient in salads, soups, and other dishes.
Oh yeah! There it is!
Until recently, I don't know for 100% certain that I've ever had farro before. It certainly never showed up on the dinner table when I was growing up. I have vague-ish memories of probably eating it when I was traveling... like once I think it was served in an airline meal with apricots in it or something like that? I don't know. I'm old and my memory is going.
Suffice to say that farro has not played a big part in my life.
UNTIL NOW!
Both Martha Stewart (via Marley Spoon) and HelloFresh have been dropping farro bombs into my life, and I am totes here for it. The stuff is fantastic. Kinda like bulgur or quinoa but not really. I may plow under the grass in my front yard and try to grow it... that's how in love with the stuff I am! Then I'll set up a mill in the back yard so I can process what I grow. Sure it's all gluten, but isn't everything tasty in life? Except cheese, maybe? Cheese and ice cream? Yeah. That sounds about right.
Martha Stewart first dropped farro in my life via "Creamy Farro Fonduta with Roasted Winter Vegetable Medley" that turned out like this...
Except you can't see the cheesy farro fonduta stuff under all that, so here you go...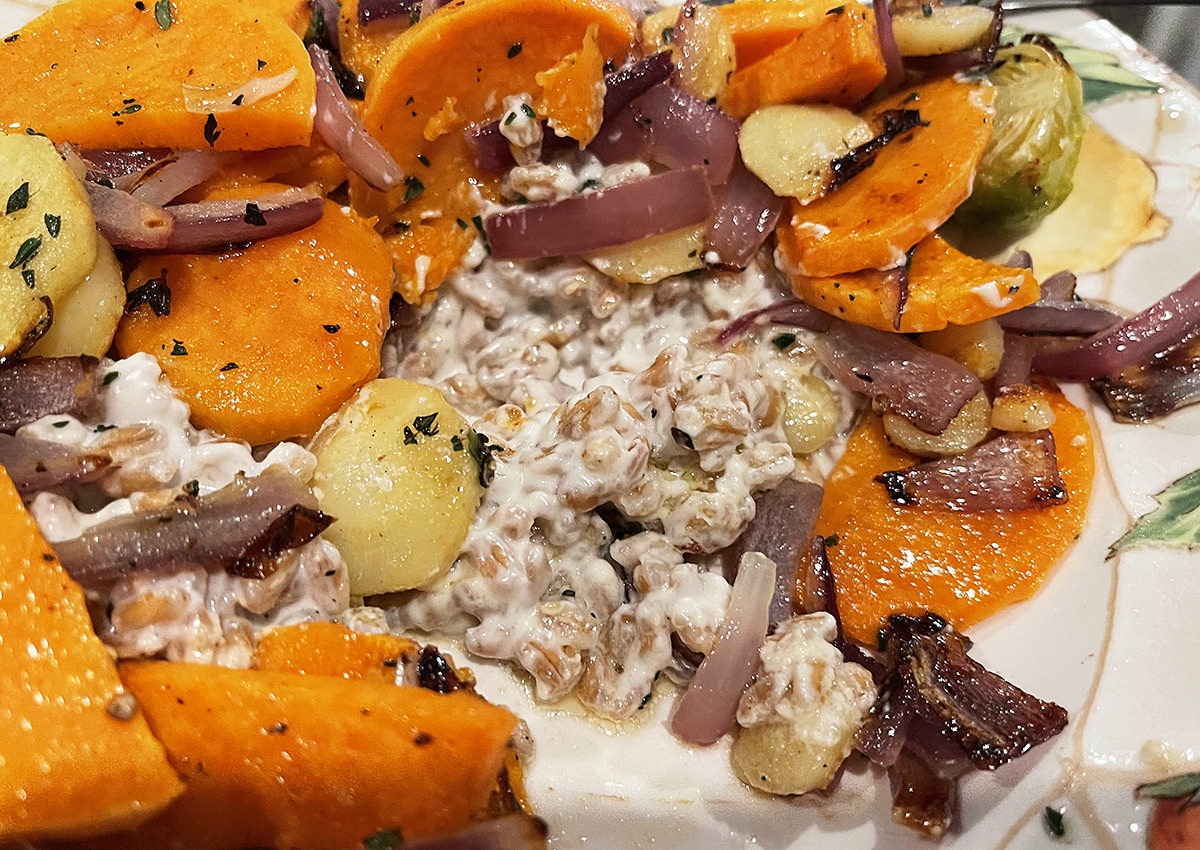 It's basically farro mixed with cream cheese and fontina. AKA MAGIC ON A FUCKING PLATE!
Then last night my dinner was "Roasted Veggie Farro Bowls with Marinated Cranberries & Salsa Verde Sunflower Pepitas" from HelloFresh...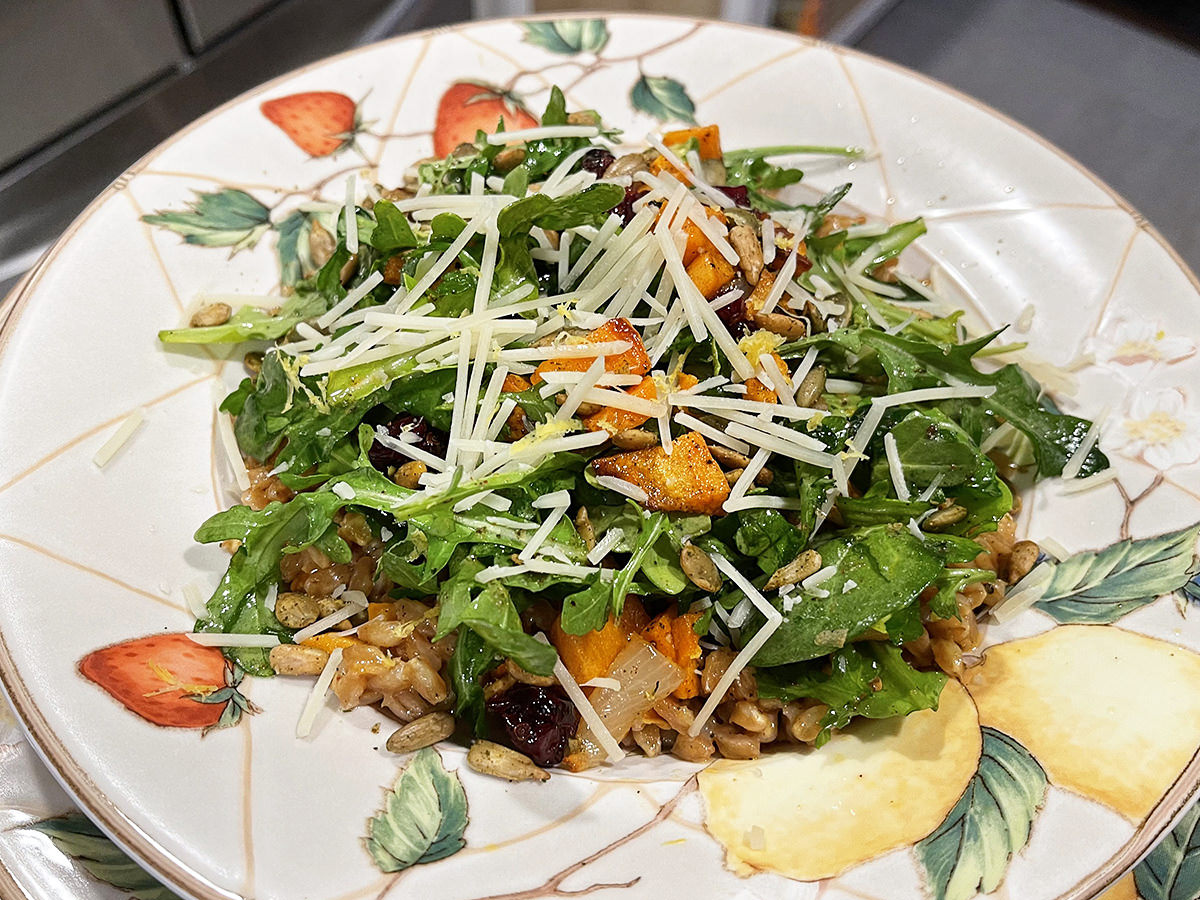 "But, Dave I thought you hated arugula?" — Well, I do. Arugula is what I imagine sadness and death tastes like. But I examined the recipe carefully and thought "Hmmm. Just maybe the sweet of the sweet potatoes, the tart of the cranberries, the sour of the lemon, and the aroma of the onions will be enough to counteract THE HEINOUS FUCKING BITTERNESS of the arugula? I think I'll try it!" — Then, just to make sure, I wasn't stingy with the salt and pepper AND I threw out 1/3 of the arugula. Worked like a charm! The blending of all the different tastes is incredible. I did end up having to throw out the "veggie stock" that was included (mushroom is a vegetable?) and use my own, but other than that... delicious! HelloFresh "Roasted Veggie Farro Bowls with Marinated Cranberries & Salsa Verde Sunflower Pepitas" FTW!
Boy. Kinda cool that after 54 years on this earth Im still discovering new foods to enjoy!
Posted on Tuesday, January 19th, 2021

tl;dr... I'm too old for this shit
This is undoubtedly Too Much Information, but I've gone without sex for so long now that I think that I might be over it. As in... I'm done. It's over. Pack up my dick, put it on a shelf, and call it a day. I've managed to survive since August, 2019 without it, so sayonara sexy time. We had a good run.
Because whether you're in a relationship or not, sex always has a cost. And the longer I've gone without, the more I'm beginning to think the cost is too damn high. Not literal "cost"... as in money (though that can certainly be a factor when you're single)... but the cost that comes any time you invest yourself mentally, emotionally, and physically with another person.
In other words, I really am too old for this shit.
I suppose it only stands to reason that this would happen. I have been done with actual relationships for at least a decade. Maybe two. Sure I stumble into them on occasion but, try as I might, it's just not something I'm able to make work long-term. And despite my being brutally up-front about this, there are still women who seem to want to give it a go... I get all goofy and say "okay"... then give it my best shot because relationships are so nice at the beginning that I want it to work... then try to act shocked when it doesn't, even though I knew better.
At least she believes me when we both realize things are not working out and I say "It's not you, it's me"... I said as much at the very beginning.
Is it any wonder that I am so addicted to crappy Hallmark rom-coms? Watching a fantasy world where people fall in love and live happily ever after... all in 90 minutes or less? Well, technically you never SEE a "happily ever after" because the movie ends on their first kiss. For all we know they DON'T live happily ever after. For all we know that kiss was bad. And they've only known each other for a week, after all. I'm sure the bad habits, annoying quirks, and love of banjo music doesn't come out until Week Two (though "Did I happen to mention that I have a meth addiction?" probably doesn't come out until ten years of marriage, three kids, and no teeth). I guess my point is that it's nice to think that they live happily ever after (with or without the meth).
So there you have it. Hallmark movies in lieu of relationships. Porn in lieu of sex. I guess all my bases are covered then?
You tell me. I use blogging in lieu of therapy.
Posted on Monday, January 18th, 2021

Happy Martin Luther King Jr. Day, everybody!
I am fortunate enough to get the day off, but I still ended up working so I could get caught up while not having new work dropped on me. That's almost like a holiday right there!
As is my custom, I started my day by listening to his I Have A Dream speech in its entirety. I also pulled out my copy of The Autobiography of Martin Luther King, Jr. which I haven't re-read in a while. Last year I re-read Where Do We Go from Here and the year before that Strength to Love, so it's time to be inspired.

Illustration from Doodles by Drea

And now... I should probably clean my house or wash clothes or make dinner or do something productive. Though I've already performed a firmware update on my NAS and backed up my files, so maybe that counts as productivity?
Still need to make dinner and clean my kitchen though.
That's more than enough productivity.