Posted on Tuesday, July 25th, 2017

When I returned from Las Vegas earlier this month, my home was a disaster, even though I did a quick cleaning before I left. Between the cats shedding like crazy and their tracking in dirt, leaves, and debris from the catio (not to mention kitty litter everywhere) it doesn't take long at all before my home gets pretty filthy.
And, as much as I'd like to vacuum every day between deep cleaning every-other-month, it's tough to work it into my routine. I vacuum once or twice a week and not at all when I'm traveling.
So... I started looking into robot vacuums. Everybody I know who has one, loves them. They're not meant to replace an "actual" vacuum cleaner, but they are totally capable of sucking up superficial filth that tends to accumulate day to day. Especially if you have cats.
From the time I spent researching them, I learned that my home is ideal for a robot vacuum because it is open-concept, has clear pathways with little clutter, and all floors are either hardwood or tile. Great. So which one to buy? I narrowed it down to three...
iRobot Roomba 960 ($700). Coming from the original and most popular RoboVac company, Roomba models are smart, highly rated, and come in a variety of models for every situation. The 960 is near the high-end, but has the features I'm looking for... including network connectivity, brushless extractors for cat hair, and direct-path navigation. If I had $700 to blow, this would be the one I buy because it comes with a 30-Day Money-Back Guarantee when purchased directly from the company.
Neato Botvac Connected ($700). Comparative feature-wise to the Roomba 960 above, this was actually my first choice... until I found out that Neato does not offer a 30-Day Money-Back Guarantee. This is absurd, as I'm not spending SEVEN HUNDRED DOLLARS on something that offers no guarantee as to whether it will work in my home. Despite some high ratings and nice reviews, the company doesn't have enough confidence in their product to back it up, so I'll take a pass.
Eufy Robovac 11 ($200). This brand/model wasn't even on my radar until I read that it was the #1 pick by The Wirecutter. No, it's not network connected. No, it doesn't have brushless extractors. No, it doesn't have direct-path navigation. But... it's $200 and is said to work well on short-hair cat fur. And I believe it's covered by Amazon's 30-Day Money-Back Guarantee. The major negative? From what I can tell, the battery is not replaceable. At all. Insanity. Hopefully there are YouTube videos out there showing how to replace the damn battery, because I would be very pissed if I had to toss the thing once the battery dies. So stupid that it's not user-replaceable like most other robot vacuums. Or, at the very least, factory-service replaceable.
I don't have $700 to spend on a robot vacuum, as nice as it may be to own one of the top-shelf models. Technically, I don't even have $200. But I sold an old camera body I wasn't using, which meant I had $200 I could spend.
The Eufy Robovac 11 it is then.
Before the unit arrived I did three things...
I tore out the poor quality shag area-rug I had in the living room. It was a piece of crap from day one, and only served to trap filth. I was not confident that the Robovac could manage it, so I trashed it. Not a big deal, since I wish I would have done it a long time ago. As expected, it was disgusting, despite having been vacuumed regularly and installed less than a year ago.
I turned the chairs up in the dining room. Because of the airflow dynamics of my home, a big chunk of the cat hair is forever accumulating around the feet of my dining table chairs and sticking to the felt pads. Since I figured that the Robovac wouldn't have enough room to navigate around them, I just turned them on top of the table so as to create an easy path. Since I rarely eat at the table (preferring to eat while watching TV in the living room) this was just common sense. I'm mad at myself for not doing it sooner! Bonus: The cats can no longer hang around on top of my dining table.
I did a "deep clean" of my entire home. The last thing I wanted to do was overwhelm the Robovac on its first run, so I thought it best to start from a clean slate.
And then... it arrived. Set up was a cinch, though finding a place to put the charging base was a challenge. They require an area a bit larger than 7-feet wide by 7-feet deep... and it has to be against a wall! This is a huge area. Instead of having my Robovac in my living room/dining room area as intended, I ended up putting it in the guest bedroom... and even then it comes up short from the required space. Doesn't seem to be having any ill-effects, but I find it insane that such a massive footprint is required. Does Eufy think all its customers live in mansions?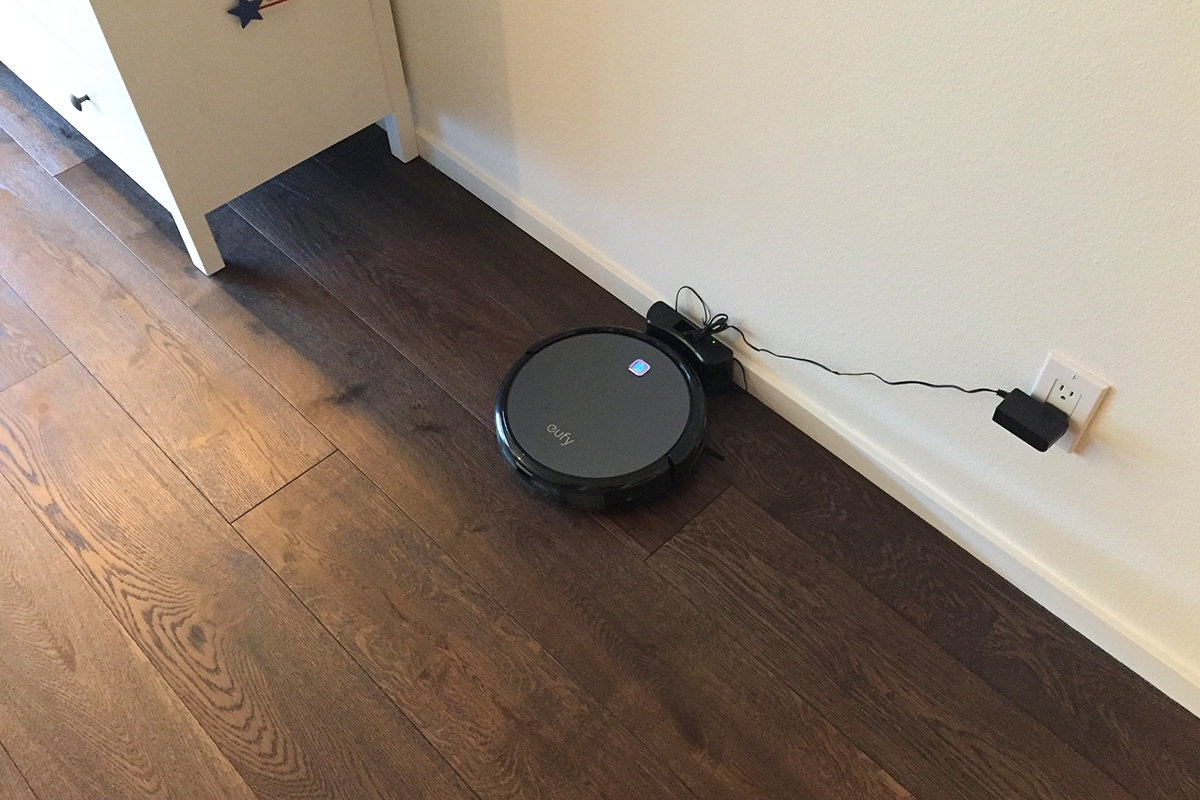 I need about a foot more space on the left side, but I can move it to the right because then I don't have enough space in front. Another worry? Look at that tasty cord. I'm going to have to tape it up so the cats don't chew on it. I may experiment with moving the unit under the outlet (even though it will only have half the required space in front of it there) or perhaps build a cord protector. Or something.
The Eufy Robovac 11 is completely dependent on the included remote control for anything other than automatic cleanings. Want to set the internal clock? Point the remote at it while you program it. Want to set a schedule? Point the remote at it while you program it. Want to send it "home?" Point the... well... you get the picture. Is this a deal-breaker? Not for $200. But it does kinda make you long for the network connectivity of the $700 units.
But the real question is... how do Jake and Jenny deal with our new robot friend? The first time it ran, Jenny hid upstairs the entire time while Jake stalked it around the house...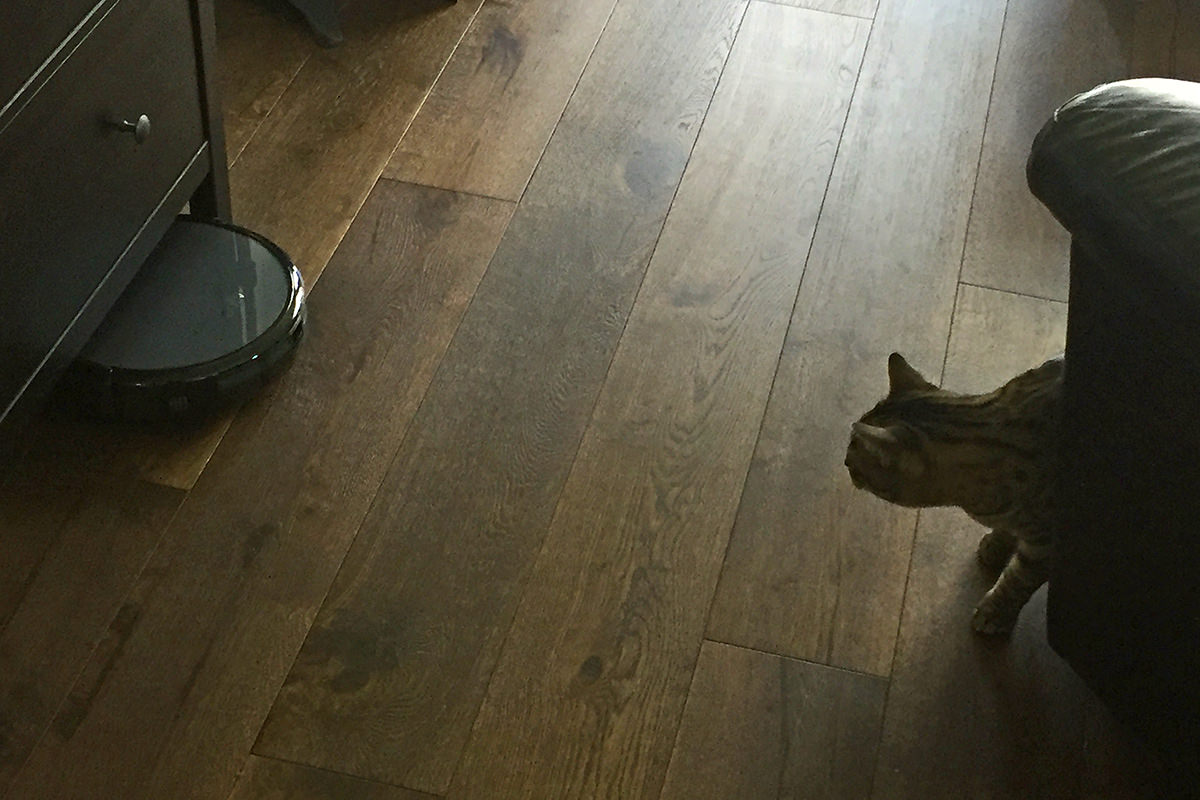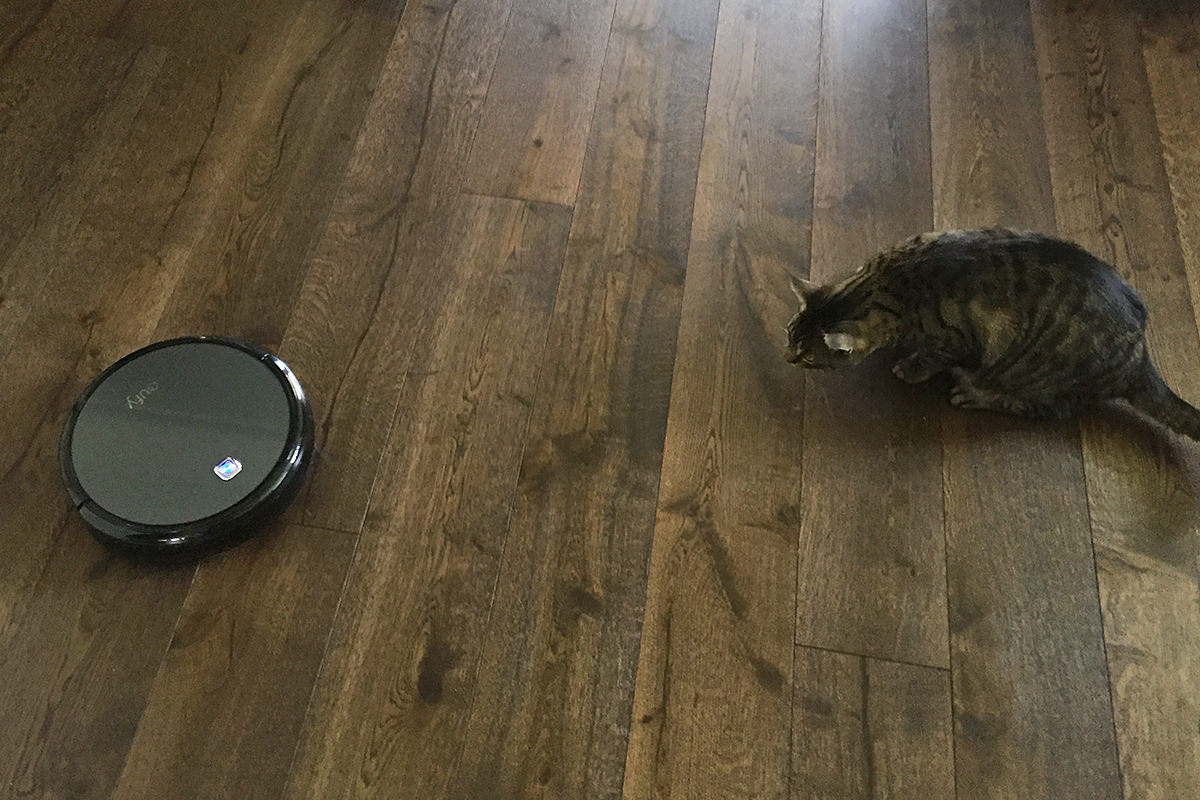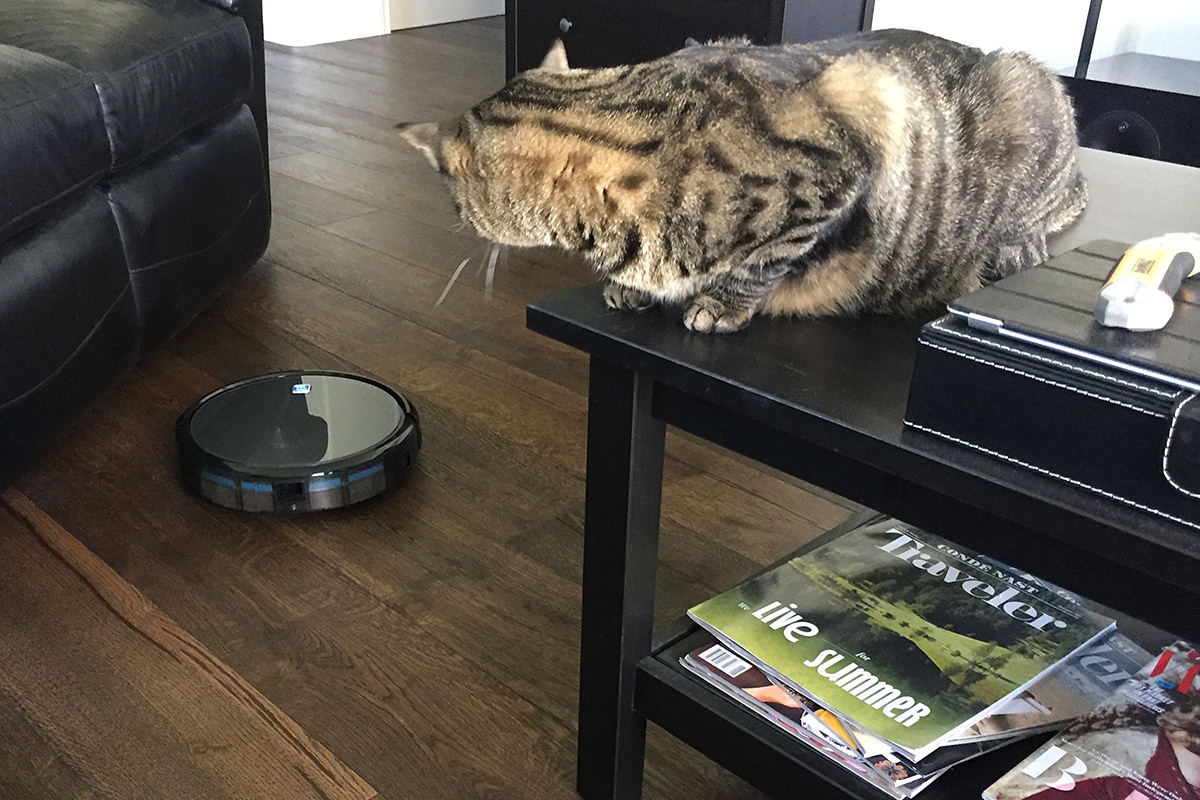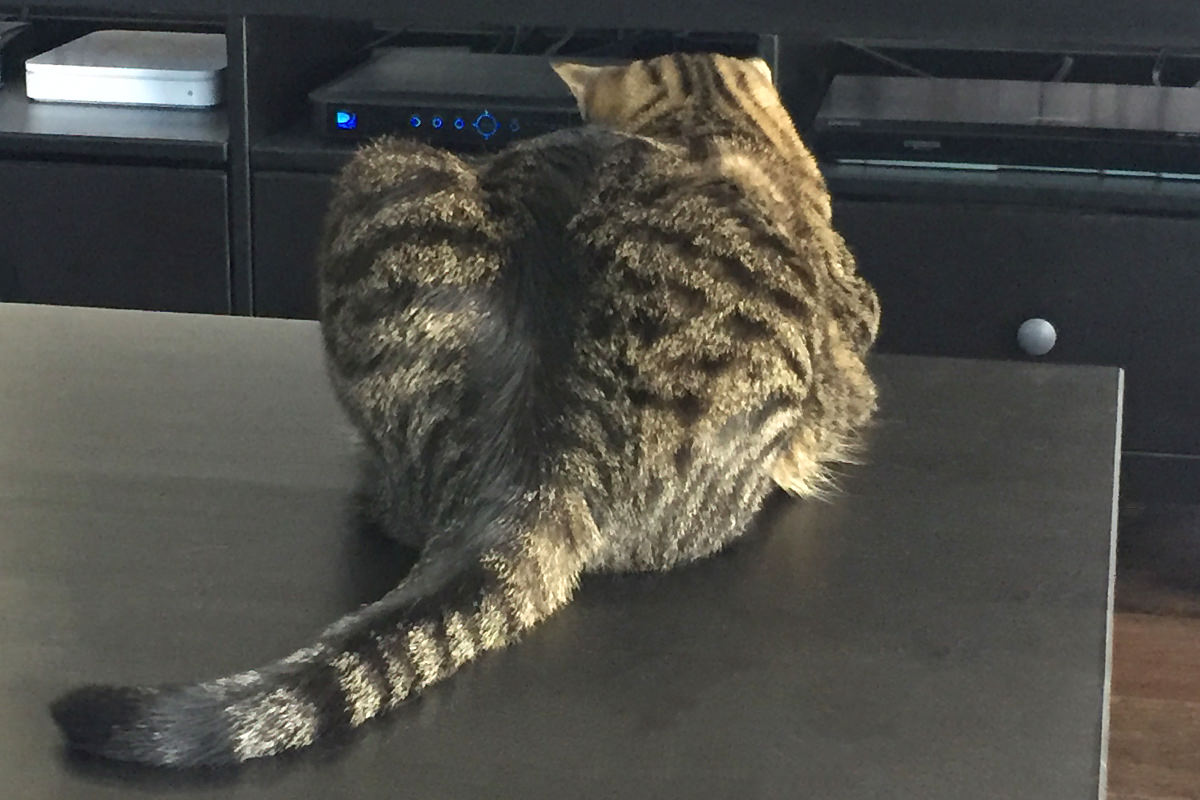 But the second day she was stalking it too...
A bigger problem than the cats are their cat toys...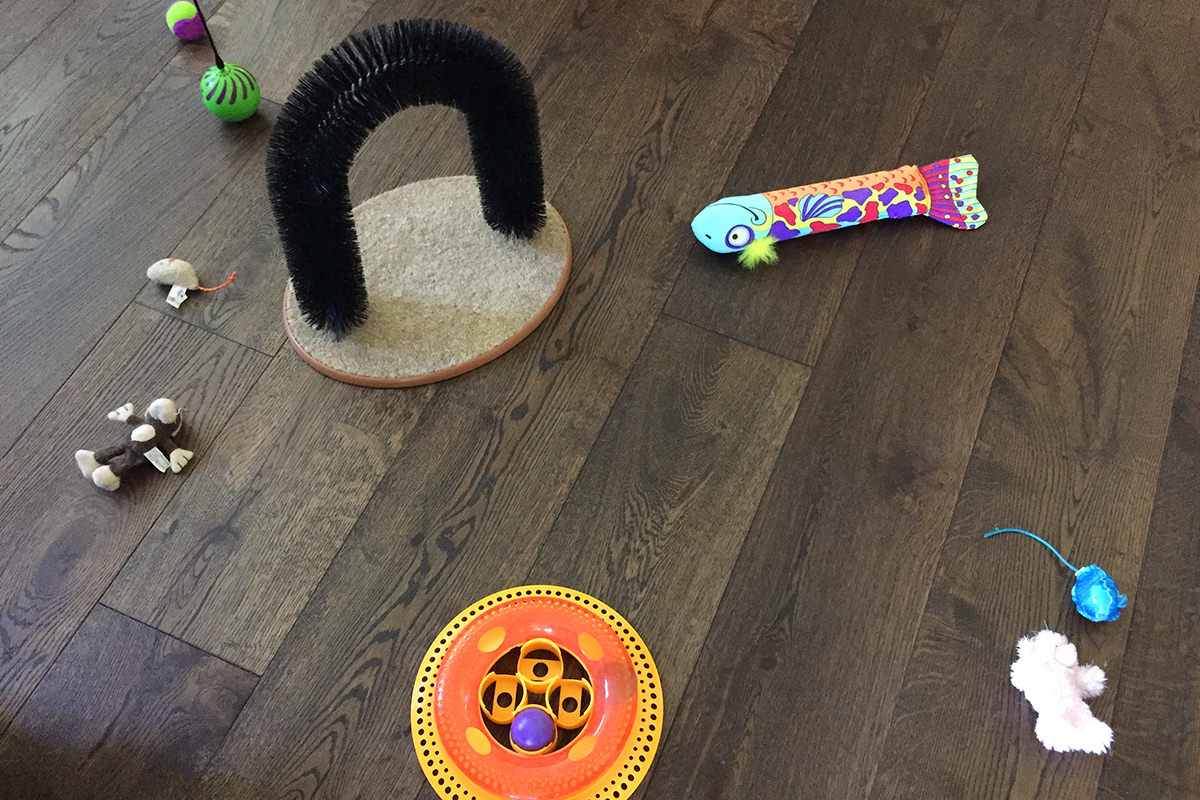 If you've got cats that like to leave toys scattered about, that could be a problem. They are certain to get moved around by Robovac. If they are lightweight and have strings or feathers or other dangly bits, they'll be partially sucked into the unit then get hauled around, stuck there.
Actually, the real question when it comes to robot vacuums probably has nothing to do with cats... and everything to do with how well the thing actually works. Keeping in mind that I had done a "deep clean" the day before I got it, I think this photo of its first run through my home is everything you need to know...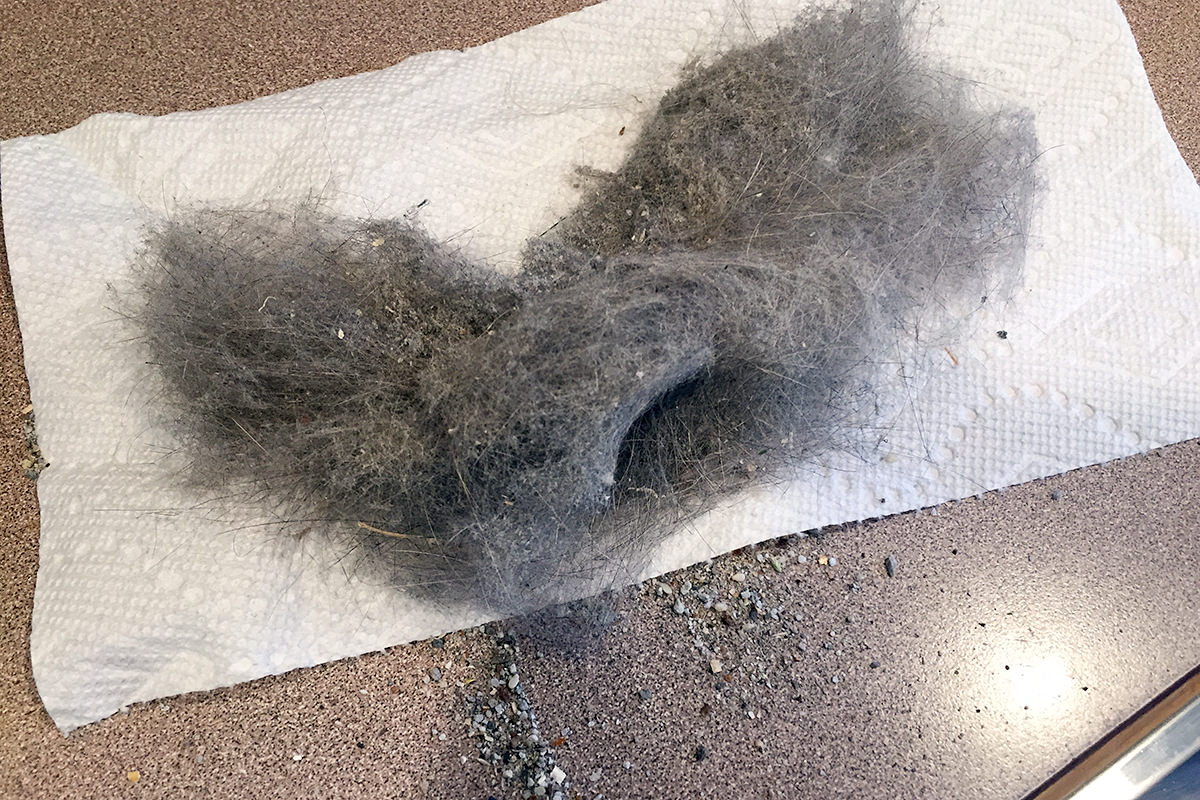 Since I had just cleaned, I expected there would be a few bits of dirt and a small amount of cat hair. Nuh-uh. Not even.
The bin was completely full.
Here's day two. FULL AGAIN?!...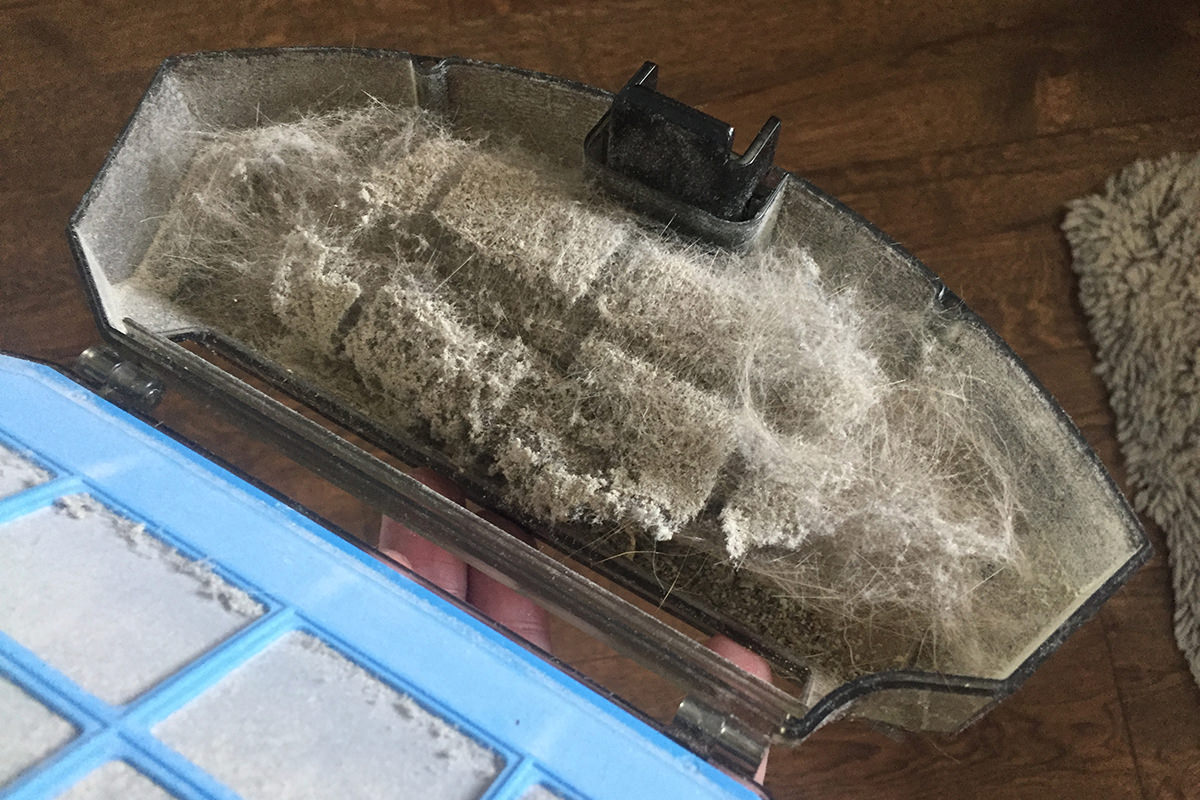 And day three. Not as bad, but still...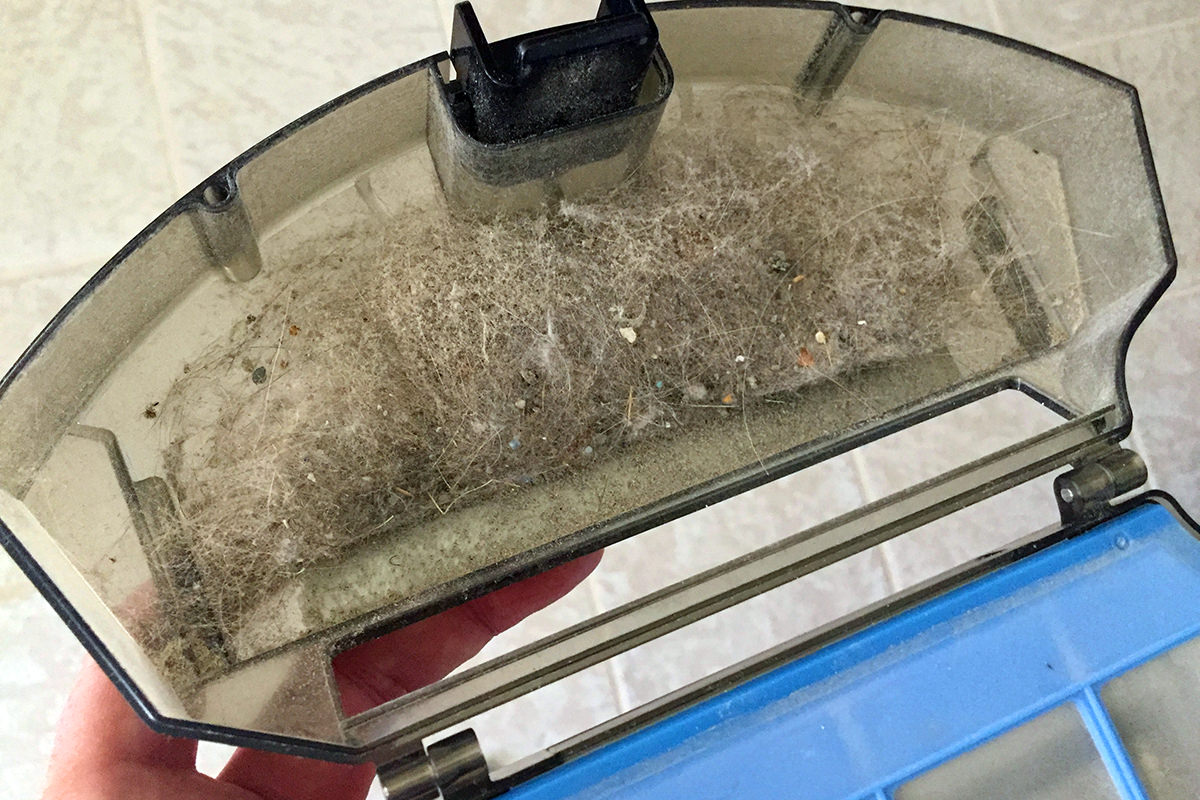 Holy crap! Where is it finding all this?!? So gross. But wow does it ever work well! I may only have to "real vacuum" every month or so now!
When it comes to a cleaning schedule, I set the Eufy Robovac 11 to do a full auto-clean every morning at 4:30am. The results are... weird...
DAY ONE (unscheduled): Ran for about 40 minutes. Then the status light turned solid red, the vacuum slowed to a crawl, but continued to roam around, even though there seemed to be very little suction. I thought the battery might be low, but if that were the case it would have gone back to base. The manual said I would hear beeps to count so I'd know what's wrong. It never beeped. I manually picked up the Robovac and carried it to the charging station. It reset itself, charged up, and everything was back to normal.
DAY TWO (4:30am schedule): Cleaned for about 90 minutes, returned to base.
DAY THREE (4:30am schedule): Cleaned until 7:10... a full hour past its maximum battery life... then went out of view in my living room. I wasn't home, so I had to learn all this from the security cameras. I speculated that it got lost and the battery died.
DAY FOUR (4:30am schedule): Turns out the thing didn't die. It activated from wherever it ended up in the living room, cleaned for around 10 minutes, then went back to its charging base.
DAY FIVE (4:30am schedule): Once again cleaned for a ridiculous amount of time. Way, way past it's max battery life. Could not make it stop cleaning and return to base no matter what I tried until I physically turned it off and moved it.
Like I said, weird. But it seems to be working just fine except for the marathon cleaning sessions. Perhaps eventually it will settle into a more consistent routine?
And now the pros and cons of the Eufy Robovac 11...
PRO: Actually works! I cannot emphasize just how happy I am that my every expectation was exceeded.
PRO: Shockingly quiet. Quieter than the Roombas my friends have. I think the reason my cats are seemingly okay with it is that it's not hugely noisy. And it gives them something to watch.
CON: You are required to have 1 meter of free space on either side plus 2 meters of free space in front of the charging station. This is kinda insane. How many homes have a 7-foot wide by 7-foot deep space against a wall available?
CON: Remote control is a bit clunky and has to be physically pointed directly at the RoboVac to function. At least the Robovac "beeps" to let you know it "heard" you.
CON: Error reporting leaves a lot to be desired. I remain completely clueless as to why the unit suddenly went into red-light error mode then slow to a crawl. The manual says that the red light is an error that you can figure out by the number of "beeps" it issues. Problem was... no beeps?
CON: My Robovac will return to base on its own when its battery runs low... eventually... but never when I use the remote to tell it to stop vacuuming and return to the charger. At first I thought it only ignored me when it experiences an error, but... not so much. Neither the remote "home" button nor the "auto" button on the unit works when in "error mode" or regular operating mode. Frustrating. I have to pick it up and physically take it to the charging base when I want it to stop early.
CON: Cheaper robot vacuums (like the Robovac 11) have a kind of random wandering pattern while running. It's all over the place. One minute the dining room, the next in the living room, the next in the kitchen. More expensive vacuums have a straight-path navigation that runs in a grid pattern. This seems like a smarter way to make sure everything gets clean. Except... as the full bins of dirt and cat hair will attest, the random navigation is actually working. Sure it may miss a few spots on one day, but it will probably manage to get to them the next day.
CON: Just like so many other electronics now-a-days, the Robovac is constructed of shiny plastic that scratches easily and adheres dust like a magnet. That's usually frustrating... but manageable. BUT ON A DEVICE THAT IS SUCKING UP DUST AS ITS PRIMARY FUNCTION?!? The thing is filthy all the time! WHY SHINY BLACK PLASTIC?!? Insanity. Or stupidity. Or both.
My Robovac to-do list...
Come up with a way of protecting the charging cord from cats who will most certainly want to chew on it.
Build some kind of "tray" to protect the cat food bowls. The Robovac pushes the bowls and mats around the dining room, which is kind of a pain.
Replace toys that have long strings and feathers with toys that won't get sucked/stuck to the Robovac.
Change the cleaning schedule from 4:30am to noon. That way if it runs way long, it won't disturb the cats when they're eating breakfast.
CONCLUSION: Ultimately I'm so very happy I took the plunge. I love my new robot vacuum. I love it so much that I've named him Carl (after the janitor in The Breakfast Club) and he's a part of the family now. My Eufy Robovac 11 is managing to find dirt and cat hair that I never even see. Yes, I'll still need to vacuum with my upright from time to time... a robot vacuum simply doesn't have the same suction power as an upright... but in helping to keep my home clean from day-to-day (especially while I'm gone). It's a fantastic tool and a big help.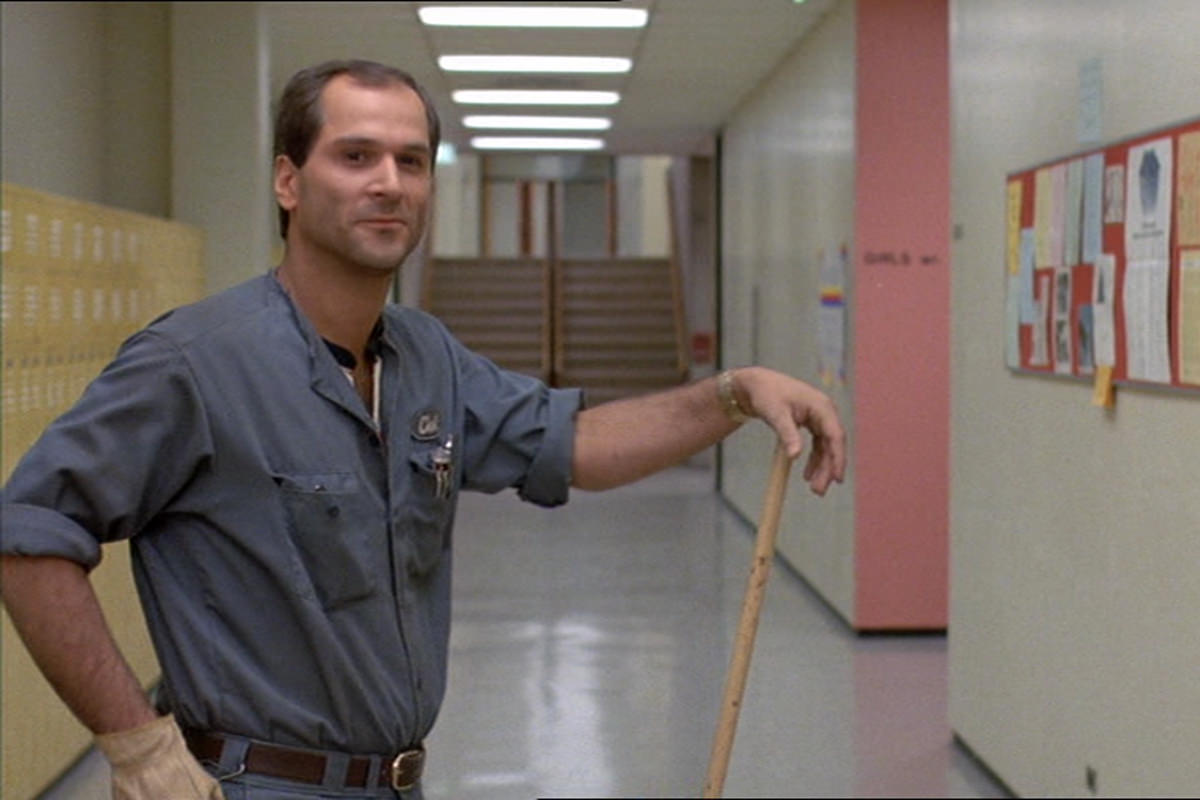 My goal was to eventually replace the Eufy Robovac 11 with a more expensive model that has all the bells and whistles I was wanting. But if it keeps doing the great job it has been, why would I? Paying $500 over the $200 that Carl cost me probably isn't going to get my home any cleaner. Maybe if I had carpet or complicated rooms it would be a different story... but, for now, I'm definitely sticking with what I got.
Posted on Monday, July 24th, 2017

I am so far beyond giving a shit about Zack Snyder's shitty DC Comics super-hero movies that I honestly don't know if I'll even bother seeing Justice League in theaters.
I mean, just look at this bullshit trailer...
Some observations...
Dark. Dark. Dark. Dark. And more dark. Jesus, what an awful-looking downer of a movie. The occasional attempts at humor are completely wasted when the atmosphere is nothing but bleak, dire, and depressing.
Cyborg and The Flash look like total and complete shit. Whomever designed their fucking horrifically bad costumes should just give it up. Aquaman is equally incomprehensible, but at least he doesn't look defective.
In an obvious attempt at playing off the tremendous success of Wonder Woman, they lead off with her... but she's fighting a small group of regular human bad guys? Pathetic. FUCKING PATHETIC!!! We've seen this stupid shit over and over and over and over and over and OVER AND OVER AND OVER AGAIN!! IT'S NOT FUN! IT'S NOT INTERESTING! IT'S JUST BORING AND SAD. WHAT THE FUCK?!???
And OH MY GAWD... ENOUGH WITH THE SECRET IDENTITY CRAP! I am so very, very thankful that Marvel gave up on this silly bullshit. They use it when it makes sense (ala Spider-Man, who is ultimately just a kid with a regular life to hang onto) but everywhere that it is just a tired distraction, they've not bothered to bore us with it. But DC? No. We've still got Bruce Wayne crap to bore us. Still got Clark Kent crap to REALLY bore us. And now they've decided to saddle Wonder Woman with Diana Prince working as a fucking museum cleaning lady? WHO GIVES A FUCKING SHIT?!? Seriously... does Zack Snyder EVER take a minute to look at what makes modern super-hero movies work? EVER?!??? Secret identities were a great way to fill time without a need for expensive special effect shots in the 1980's... but we're waaayyyy past that now. We get it. DC heroes have secret identities... but you don't have to fill precious screen time with it anymore. GET OVER IT ALREADY!
Nice to see the Amazons again... but the introduction of the movie's big bad (Steppenwolf?) is almost cringe-worthy. Are DC's costume designers forced at gunpoint to put unnecessary and distracting textures EVERYWHERE? It looks fucking ridiculous. Jack Kirby's creations deserve so much better than this.
At least they make Aquaman's underwater action look good. Maybe there's hope for the upcoming Aquaman movie, and it will be another Wonder Woman rather than a shitty Man of Steel or Batman vs. Superman. If, for no other reason, than we're getting James Wan in the director's chair. Hopefully he'll add some fucking FUN to the film instead of fifty layers of depressing. Again.
Oh joy. I was worried we would get all the way through the trailer without seeing a Wonder Woman ass shot. But, nope... even after helping to win World War I, she's still just another piece of ass to DC's movie division!
After getting a frickin' amazing "speed effect" with Quicksilver in the X-Men films... and a more subtle, but equally good speed effect for Quicksilver in Age of Ultron, just look at the awful thing they came up with for The Flash. Running in slow motion to simulate super-speed? Groundbreaking. Or it would be if The Six Million Dollar Man hadn't pioneered it in the 1970's. Even when they do move him at actual super-speed, the overabundance of lightning is just silly. Does he kill people with all that stupid electricity when he runs by them? I mean, it's fine when used with subtlety, but this? Zack Snyder is obviously compensating for something here. Probably a shitty story.
And... again with the disaster porn. It's as if Zack Snyder doesn't know how to make a movie without the entire world exploding. Which begs the question... how the fuck are there any people left alive on earth when absolutely everything is getting destroyed all the time? This is fucking absurd, and I don't understand how the entire plot of DC's latest film slate can be summed up as "explosions." Doesn't anybody at DC care?
It's said that Joss Whedon is doing extensive reshoots for Justice League after Zack Snyder had to remove himself from the film to deal with a family emergency. I don't think punching up the dialogue (Whedon's specialty) is going to help. It's just pouring more money down a hole. What's really sad here... almost to the point of tragedy... is how much better the DC television division is at making good super-hero live action. They should have turned the Justice League movie over to them and built on the terrific, faithful, and far-superior versions of The Flash and Superman they already have on TV.
But instead we got this crapfest.
Maybe one day we'll finally get a DC Cinematic Universe that doesn't suck copious amounts of ass... but, sadly, that day is not today.
Or even tomorrow, apparently.
Posted on Sunday, July 23rd, 2017

Never fear, super-fans, because a Very Special Comic-Con Edition of Bullet Sunday starts... now...

• THOR: RAGNAROK! I liked the first two Thor movies quite a lot. Especially the first one, which did a masterful job of introducing Thor to the Marvel Cinematic Universe. It was grandiose and epic in a way you need a movie with gods to be, and set the tone for Thor in everything that would come after (including a couple Avengers movies). And now, the third Thor film is ready to be unleashed this November:
Super sweet! Kind of an 80's vibe, even in the amazing poster...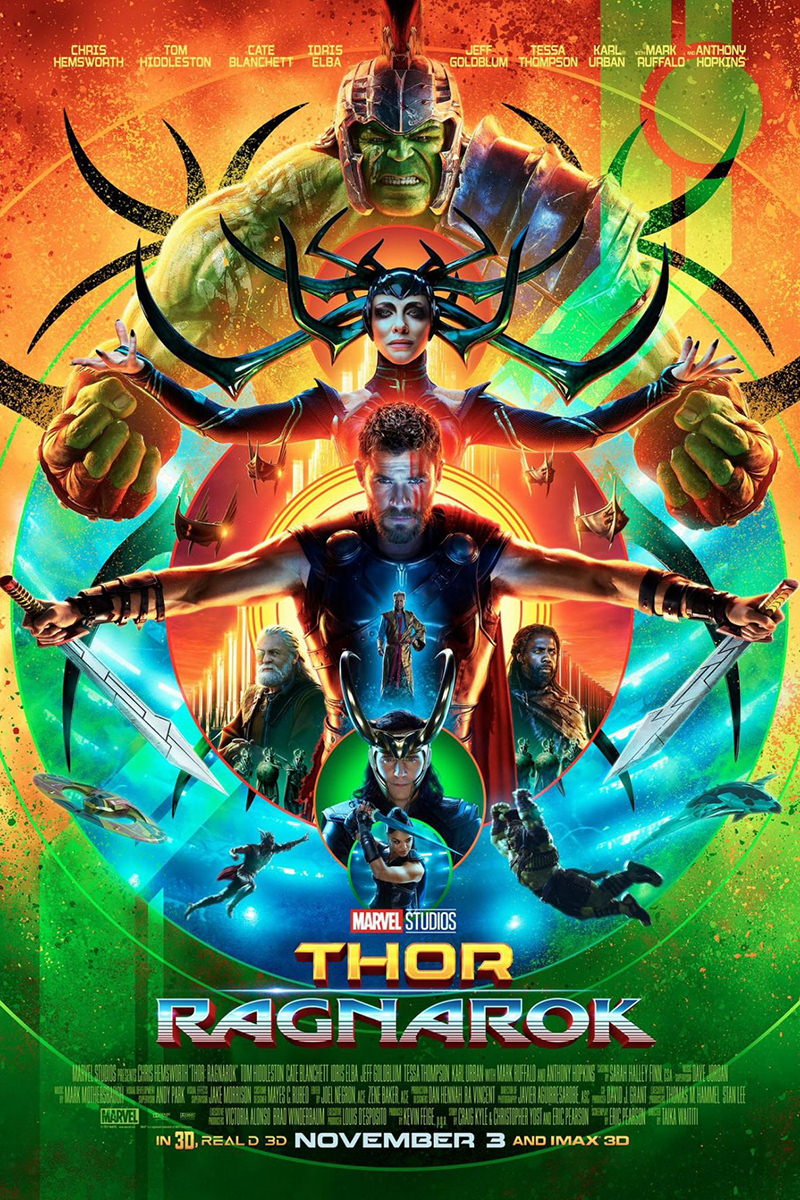 Marvel amazes me. Every movie they release is an escalation of what's come before. Sometimes it doesn't work 100% (I'm looking at you, Age of Ultron) but most of the time it seriously does. And Thor: Ragnarok looks to be knocking it out of the park. Can't. Wait.

• THE DEFENDERS! But before we get treated to new Thor, first we get to see the culmination of all four Netflix series... Daredevil, Jessica Jones, Luke Cage, and Iron First... with The Defenders. This seems like a great idea, and a logical culmination of all that's come before...
Time (and August 18th) will tell whether or not it's clever enough to be worthy, but getting Sigourney Weaver as your villain was a great start. Cool. All this and The Punisher coming by years' end too.

• THE INHUMANS! Also dropping prior to new Thor? The Inhumans. Originally they were getting their own movie but, after the franchise was turned to shit in ABC's Agents of S.H.I.E.L.D., I guess they felt a movie was aiming too high. Instead we get a compromise. The first episode is being released to IMAX theaters in September, then the show continues on ABC...
Eh. Probably good that they didn't attempt this in a feature film, because Medusa's magical hair was never going to look fantastic. Regardless, nothing I'm seeing here has me too excited. ABC had an amazing opportunity to do something truly different by taking The Inhumans into extreme weirdness, but it looks like Just Another Super-Hero Show on the Small Screen. Not surprising... I can't stand Agents of S.H.I.E.L.D., and it doesn't look like ABC is attempting to break any new ground here like they did with the amazing Agent Carter series. Pity.

• BLACK PANTHER! And here is where I start to lose my shit. I'm a huge, huge, massively huge fan of Black Panther. I was thrilled to see him finally join the MCU with Captain America: Civil War, and am positively giddy at the prospect of seeing him get a film all to himself. The technically advanced world of Wakanda is going to make for a heck of a movie, assuming they get the story right. And, from the looks the first trailer, they are definitely trying...
And that poster...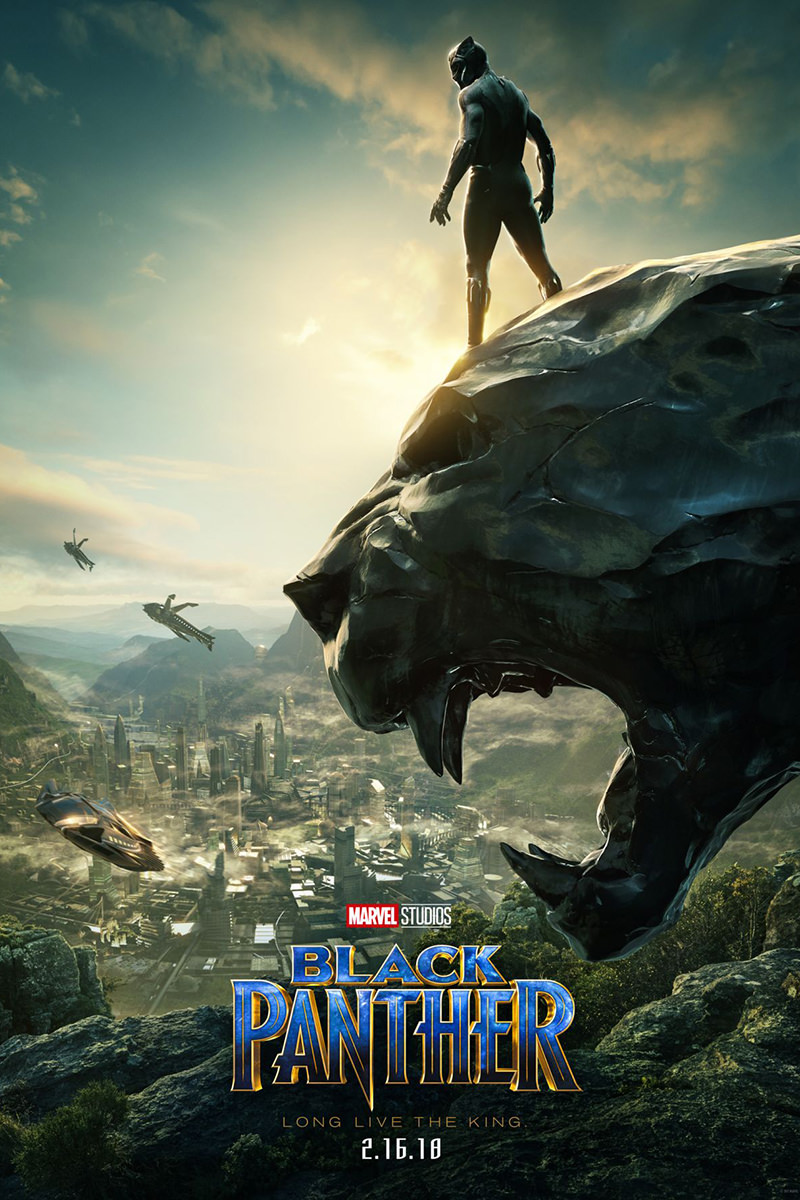 Since this is Marvel, I'm assuming they've nailed it. Not knowing is kinda killing me. Having to wait until February 16th to find out is really killing me.

• AVENGERS: INFINITY WAR And then there's the culmination of every Marvel Studios movie ever released coming to a theater near you on May 4th. The footage at Comic-Con has not been released yet (if ever), but they did give us a gatefold poster to drool over...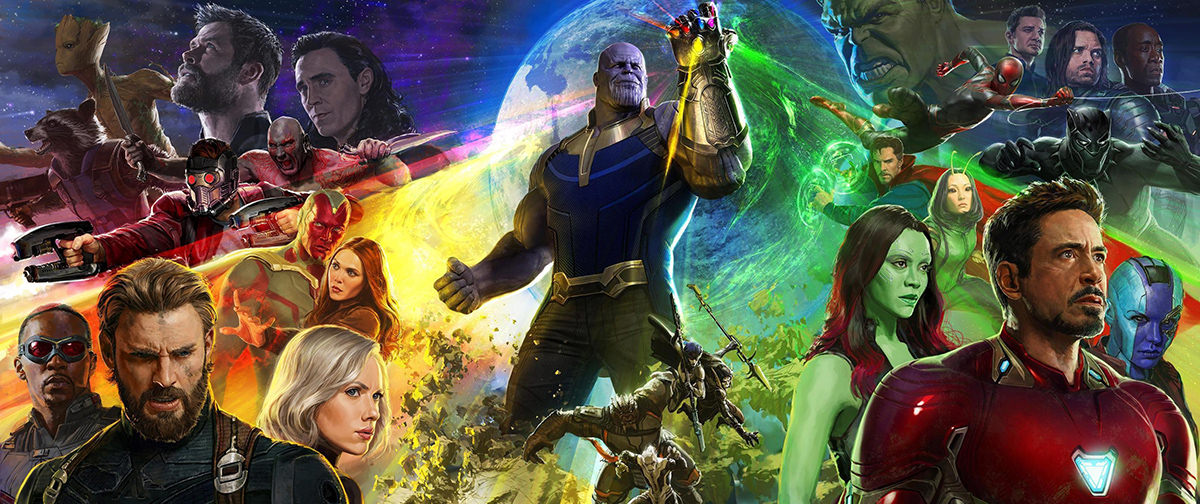 Which conveniently breaks down into three panels for closer inspection of all the awesomeness there is to unpack...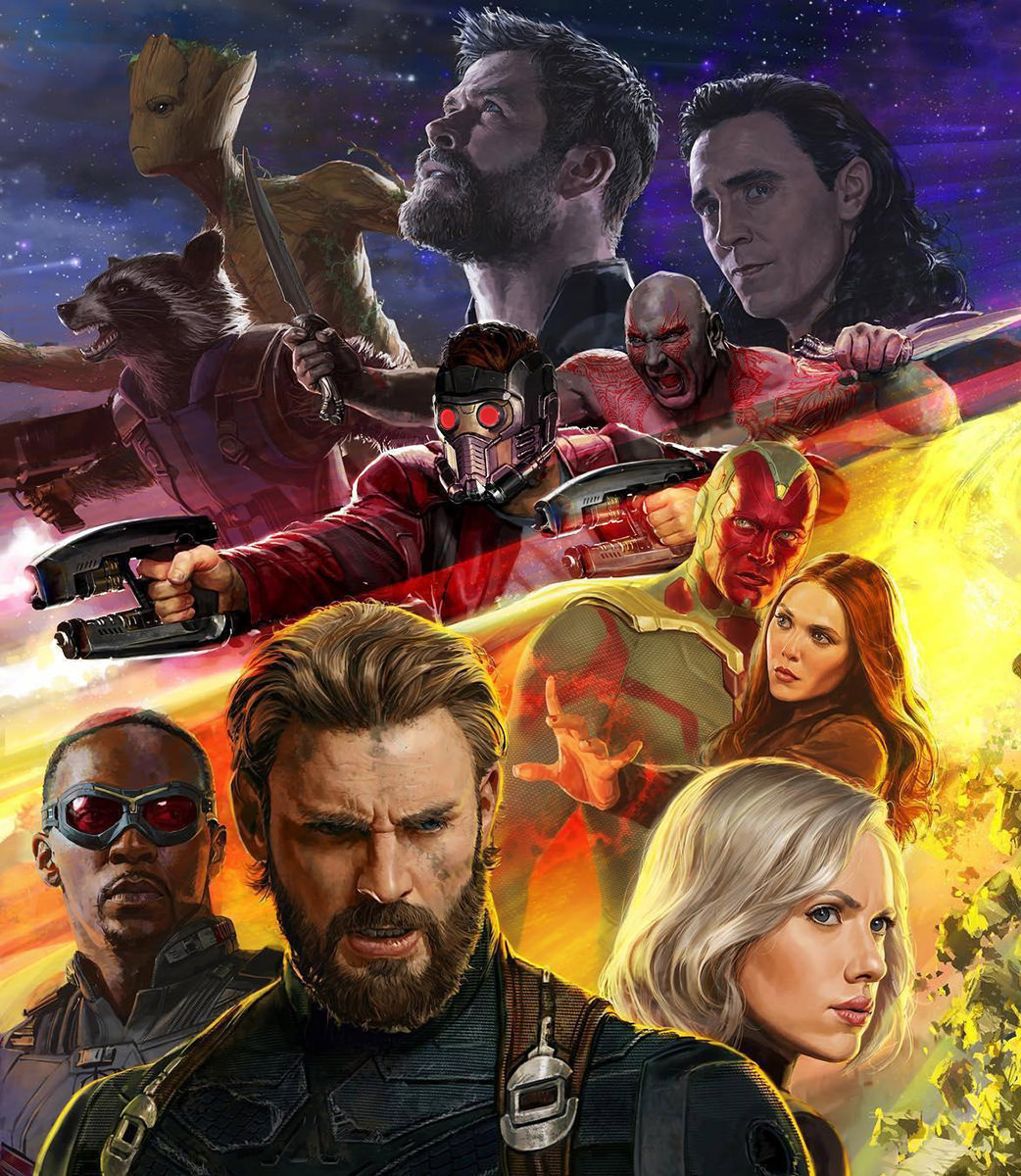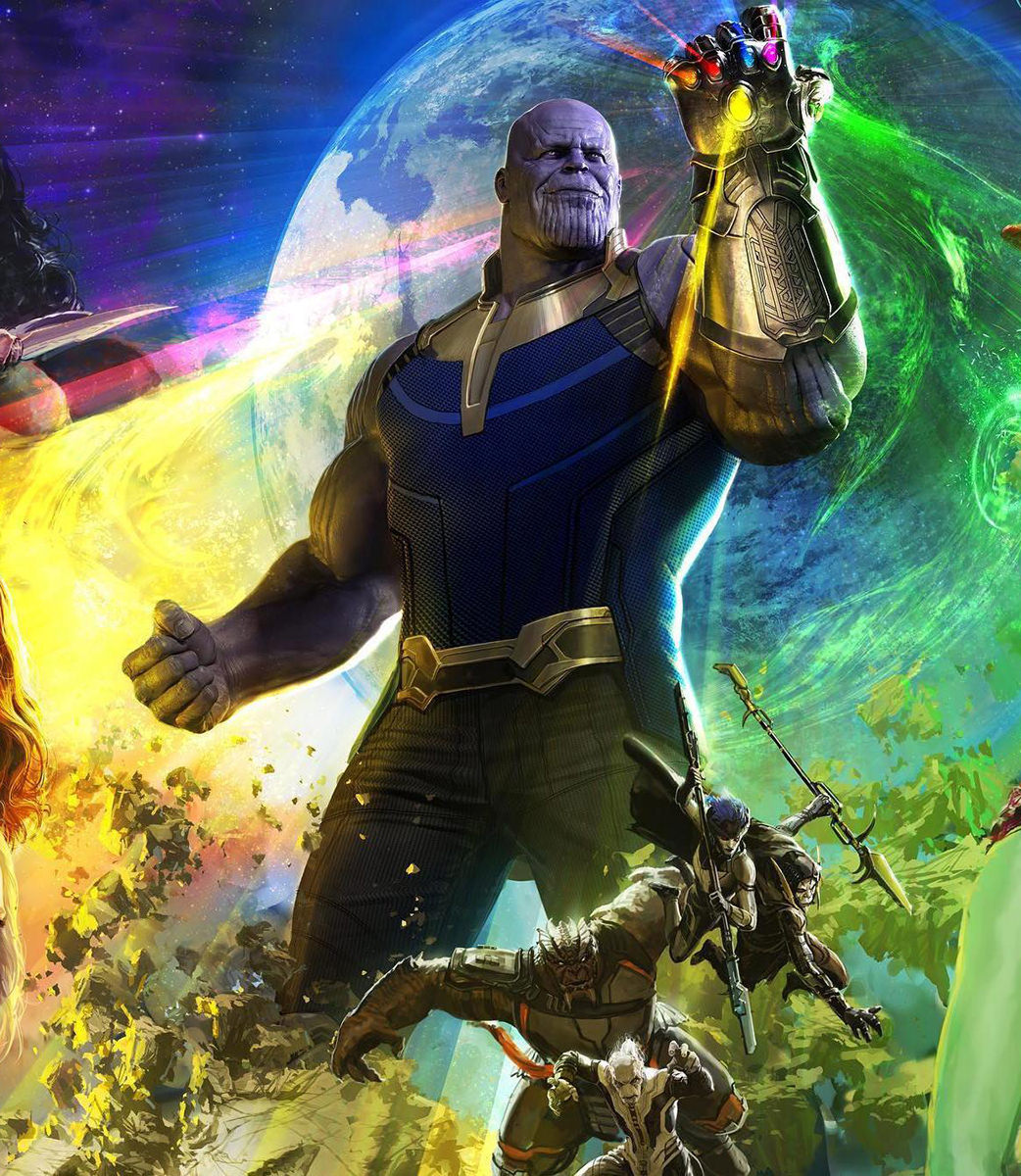 First of all... BLACK WIDOW IS A BLONDE THIS TIME AROUND? Wonder what in the hell that's all about. Second of all... why is Hawkeye getting the short end of the stick again? He's barely in the poster at all, and doesn't even get an action pose with his bow and arrow! Granted, he could arguably be seen as the weak link in The Avengers, but his fantastic ongoing comic book series show that this is not the fault of the character. It's what the writers do with him that makes him a weak link. Holy crap I wish they'd give him a Netflix series where he can finally shine. Next up... Spider-Man in a black suit is interesting. I don't hate it but, after so many movies where they weren't faithful to the comic book, I felt they finally nailed it with Civil War and Homecoming... so, why? And then... so very, very happy that they are apparently pushing the Scarlet Witch & Vision romance forward. That's an element 100% from the comic books, and I think it totally works. Then penultimately... holy crap did they do a frickin' amazing job capturing Thanos! Bad. Ass. And lastly... Cap with a beard! My expectations for Avengers: Infinity War are on overdrive. I'm expecting they'll be exceeded.

• JUSTICE LEAGUE! Blargh. DC Comics and Zack Snyder's idea of what makes a good super-hero movie is so nausea-inducing that I'll tackle that one tomorrow. I'm having too much fun loving on all of Marvel's awesomeness tonight.

And that's it for Comic-Con 2017. Until next year, True Believers...
Posted on Saturday, July 22nd, 2017

It's strange how much I worry about my cats when I'm not at home. Not over things like them tearing up the house or making a mess or anything like that... but worry over them being lonely or bored.
Right now I am checking in on them with the security cameras and they are exactly where I saw them when I left yesterday. Jake is on top of the kitty tree and Jenny is laying on the stereo receiver (I think she likes how it gets a little warm... even on the hottest days). She naps there most of the time now...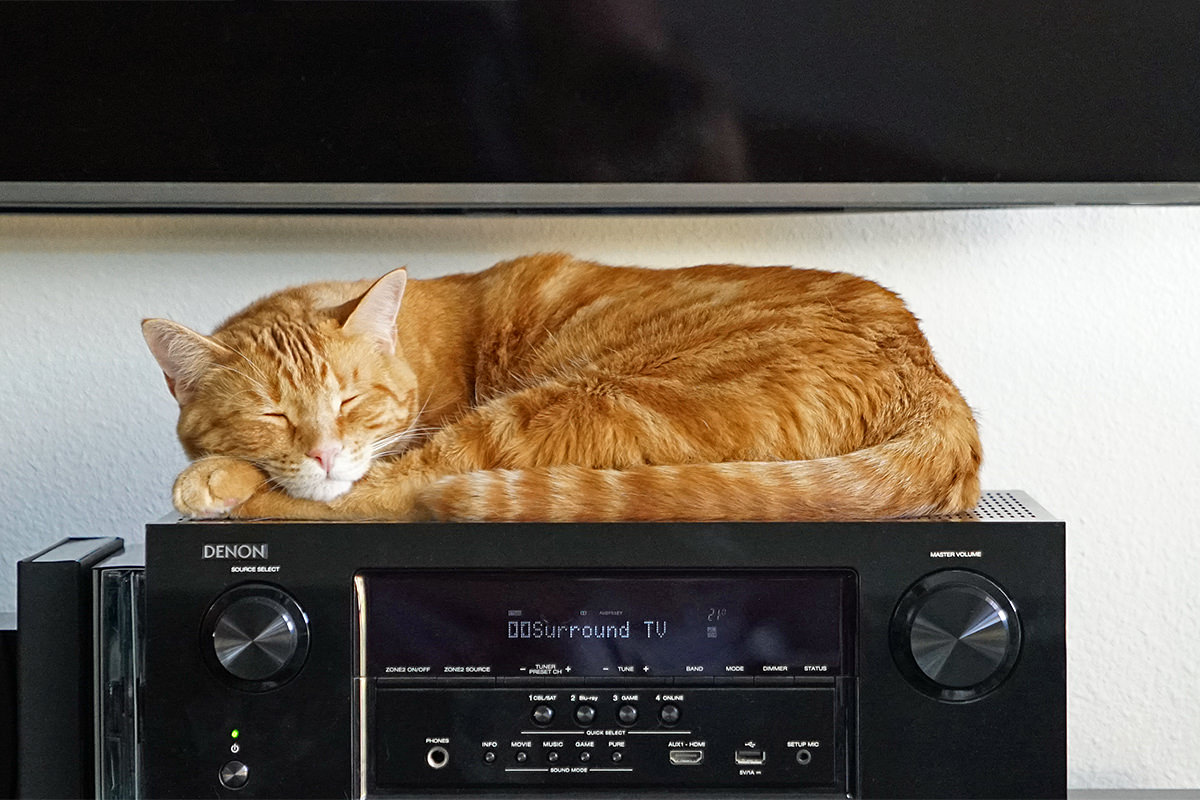 Seriously, she does.
I've been documenting it with my iPhone...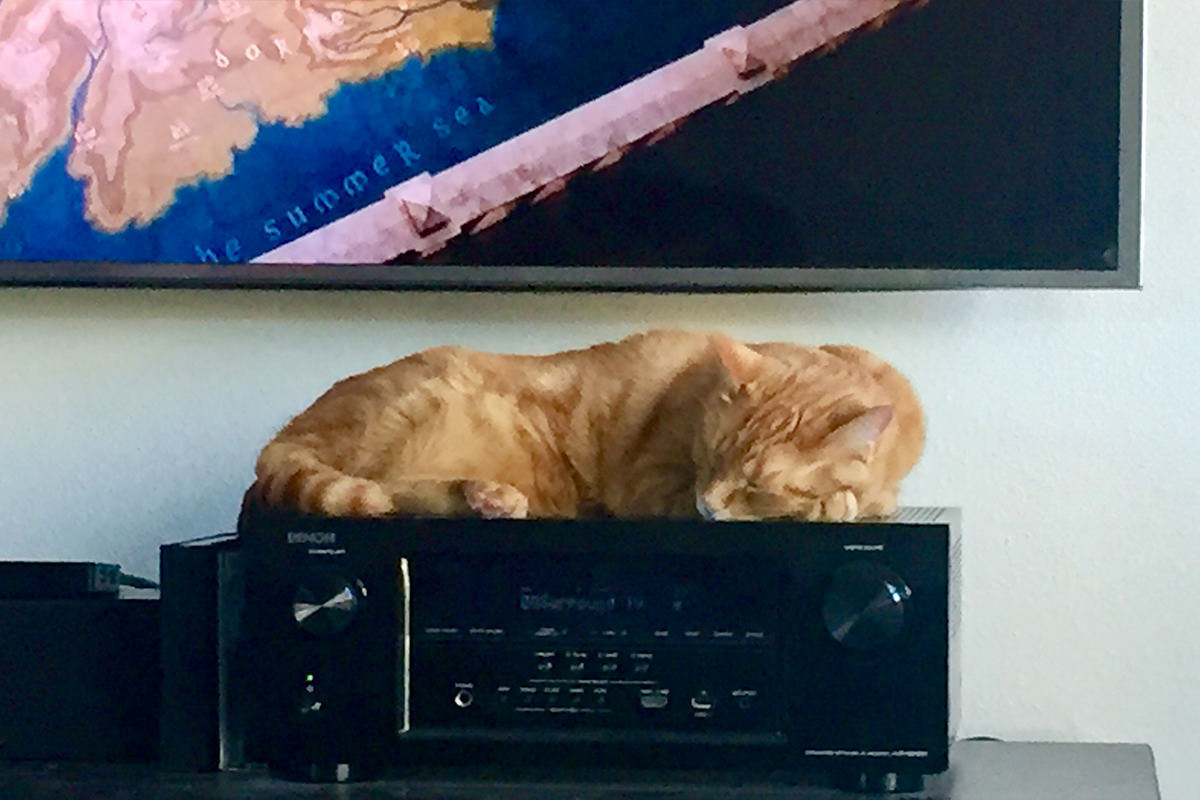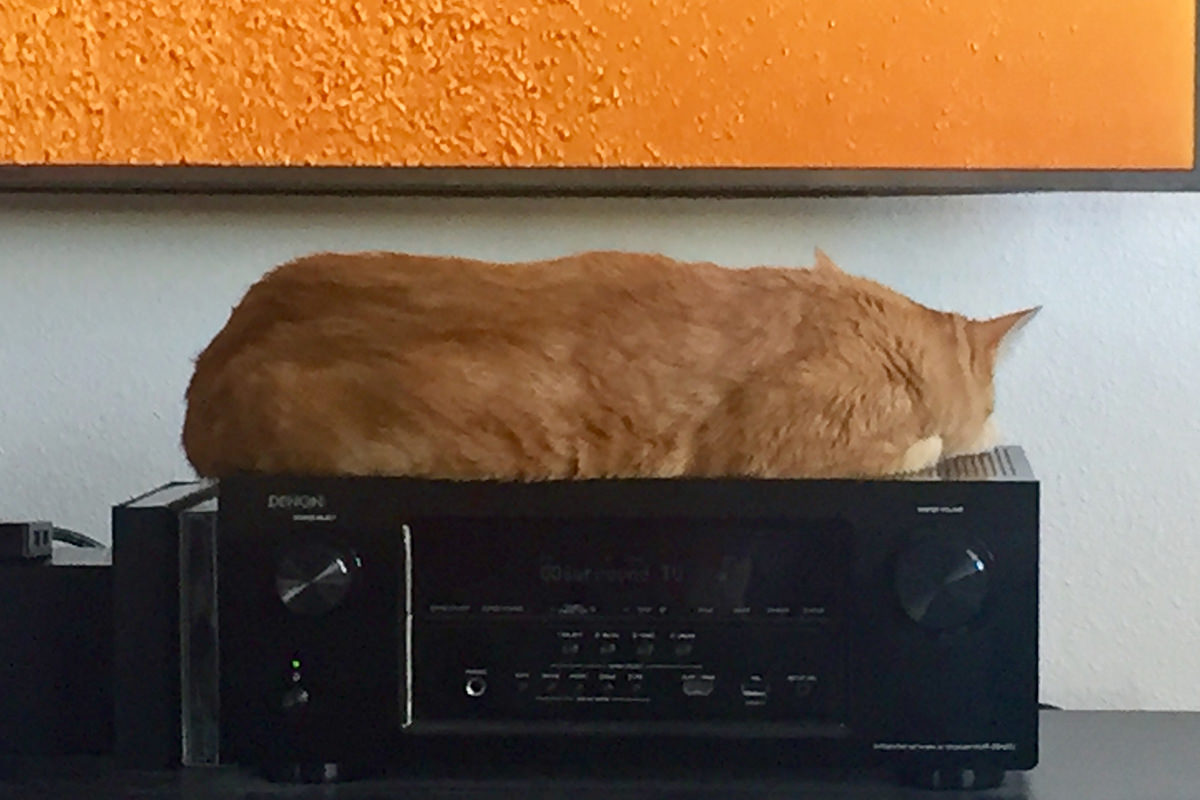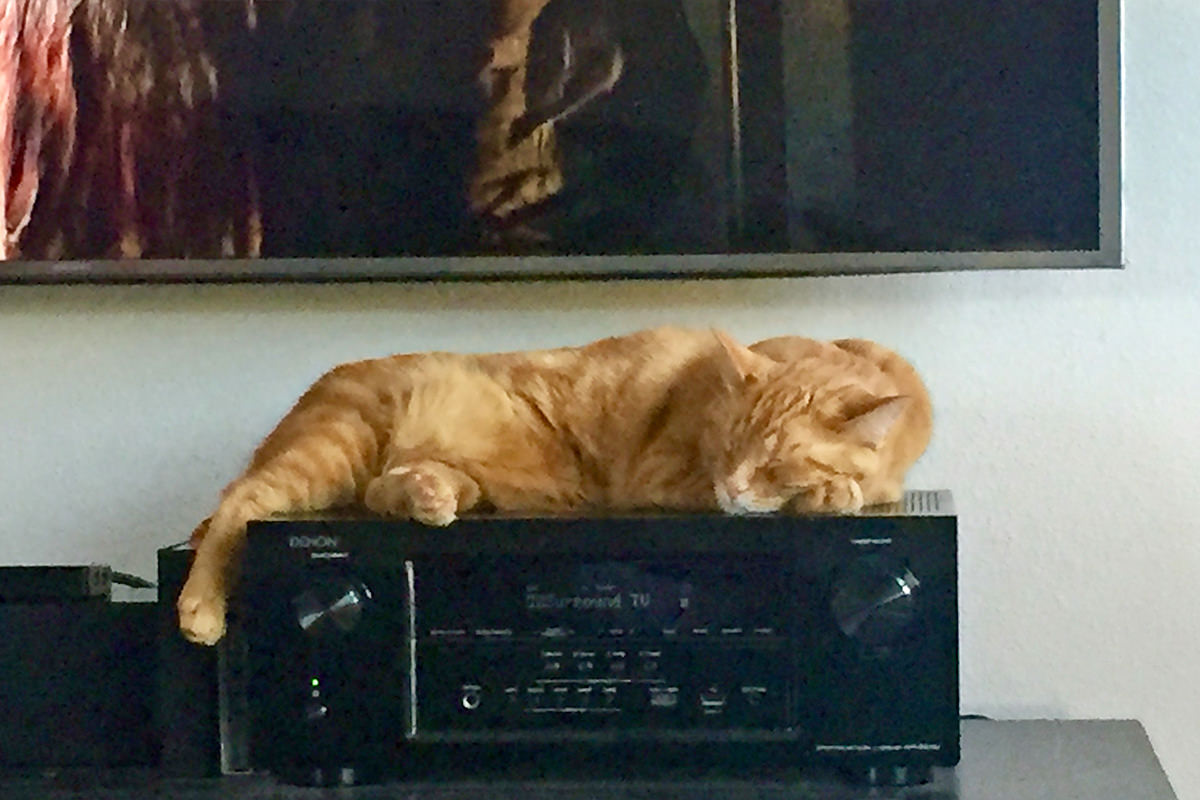 Awwwww... this one is my favorite...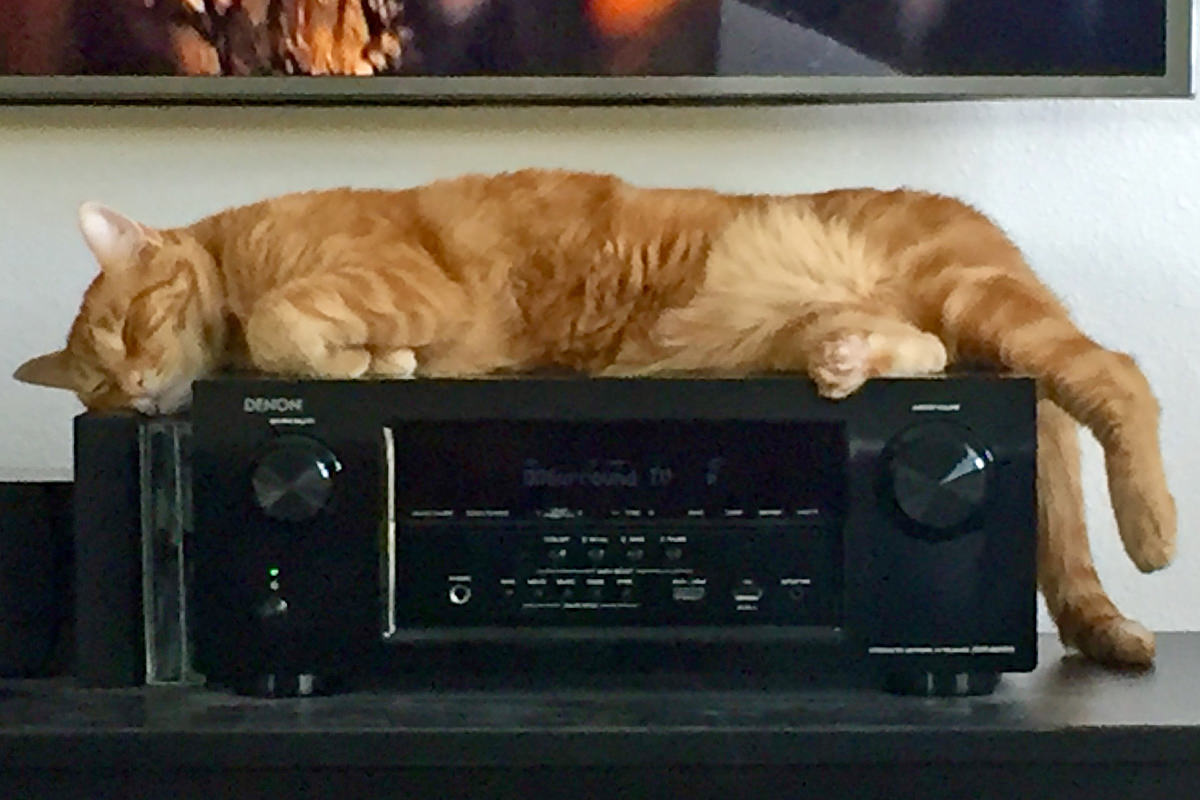 She's making a pillow out of my Star Wars Blu-Ray collections!
As for Jake? He's busy being Jake. When he's not eating, pooping, or napping... he's destroying my expensive books by chewing on them... sometimes as I am reading them...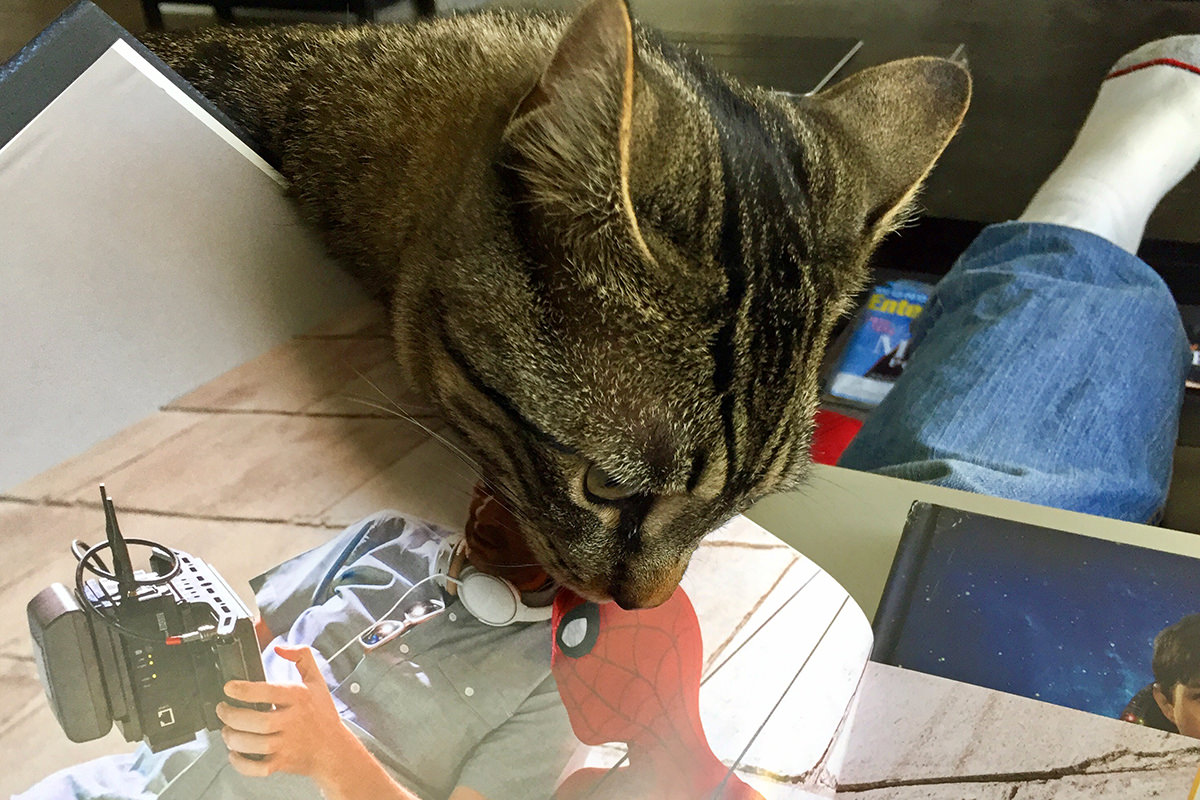 LOOK OUT SPIDER-MAN!!!
And... going to try and be inspired by my cats and get some sleep now.
Which would probably be easier if I were home with them.
Posted on Friday, July 21st, 2017

What I need...
What I really, really need...
Is an off-switch.
My brain is so overwhelmed with stuff... a lot of it being inconsequential, mindless stuff... that I can't focus. Especially at night when I need to be sleeping.
Oh well. In six hours I have to head over the mountains in a 2-1/2 hour drive. Maybe that will sort things out with my brain.
Posted on Thursday, July 20th, 2017

I generally fast-forward through commercials because most of them are total shit and not worth watching. This is easy to do because I watch almost all television from my DVR. The only time I let commercials play is when I'm watching TV live... or if I'm working (or otherwise distracted) and can't be bothered.
Like tonight.
There I was, working away with the television playing in the background when...
... a sound plays.
A familiar sound.
The sound of the announcement tone for Disney's Star Tours!
What the heck?
Turns out it's a commercial advertising the Main Street Electrical Parade, where a Disney cast member is walking through a giant warehouse filled with relics of Disneyland past...
I must have freeze-framed a dozen times on my DVR trying to figure out what everything I was seeing could be. Reviewing it all was a nostalgia-laden walk down memory lane.
The commercial has been around for months, but this was my first time seeing it.
When I was Googling to see if Disney had posted it to YouTube, I found that there were a couple of videos calling out all the "Easter Eggs." Like these...
Now THIS is a cool commercial that is actually worth your time to watch!
Assuming you're as big a Disney geek as I am, that is.
Posted on Wednesday, July 19th, 2017

Of all the movies coming out this year, the one I am most looking forward to is Kingsman: The Golden Circle, which is a sequel to Kingsman: The Secret Service. The first film was fantastic because it was one of those rare movies that comes along and feels entirely fresh while being wholly familiar at the same time. Yes, there's a lot of James Bond in there, but it doesn't tread the same waters at all. In many ways, Kingsman out-Bonded Bond by rebooting the British spy thriller to new heights.
I mean, just look at it...
As for the rest of the movies I'm dying to see in 2017? Here are my top ten so far...
Kingsman: The Golden Circle
Valerian and the City of a Thousand Planets
Blade Runner 2049
Thor: Ragnarok
Star Wars: The Last Jedi
The Dark Tower
Atomic Blonde
Dunkirk
Coco
The Disaster Artist
I grant you that The Disaster Artist is an odd choice. But the first trailer debuted, and watching Dave Franco channel Tommy Wiseau is absolute cinematic magic...
Compare to the original...
A movie about the making of one of the worst movies of all time that actually looks good? Sign me up.