Posted on Thursday, October 21st, 2021

Denis Villeneuve's Dune is a cinematic masterpiece.
Based on one of my favorite science fiction novels of all time, I was hopeful but skeptical. from any angle, it's an unfilmable tale.
And this isn't our first rodeo.
I'm actually a mega-huge fan of the 1984 David Lynch Dune adaptation, even though it doesn't really capture the book. But, to be fair, Villeneuve's version doesn't either. It excises all the political nuance that makes the book so deep. In fact, if anything, the new movie cuts more detail from the story than Lynch did.
But it's not cut haphazardly.
Villeneuve set out to create something approachable for people who haven't read the book. There are nods to bigger ideas that true fans will appreciate, but distractions which would take too much time to explain are quietly dropped. Wisely.
I absolutely love the film. No, it's not the book... how could it be? But it is a breathtakingly beautiful movie and respects the source material better than I thought possible. It's worth $10 for a month of HBO to see it. And I am confident I will see it many more times...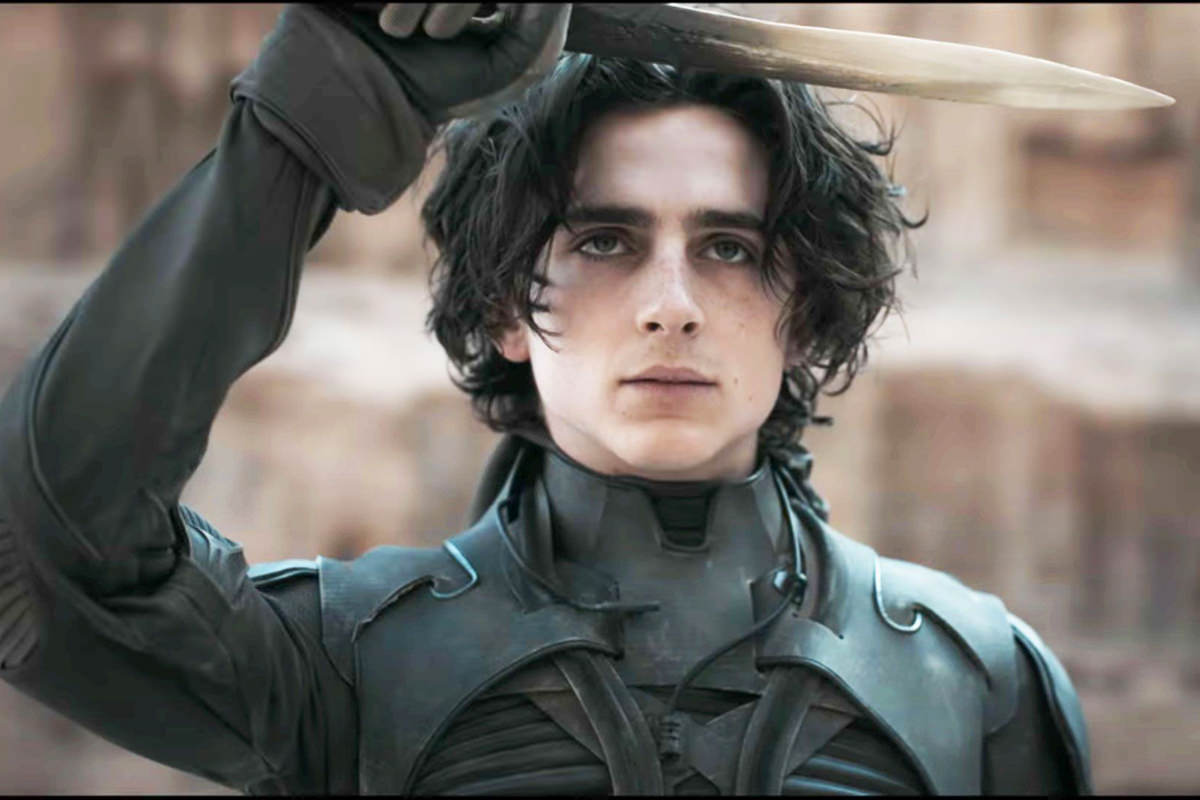 I just hope that we get the second half. Because, wisely again, Villeneuve also didn't try to cram everthing from the first book into a single movie. So we only got a Part One of Two.
Upon my second viewing (yes, I watched it again back-to-back) I made spoiler-filled notes that I've put in an extended entry.
→ Click here to continue reading this entry...
Posted on Wednesday, October 20th, 2021


Today was just waiting for it to be tomorrow because that's when HBO releases Dune.
Posted on Tuesday, October 19th, 2021

I think that I lived with the horrific, byzantine, and abusive billing at AT&T for so long that I am in complete shock now that I'm with the no-nonsense billing at T-Mobile. It's just a text once a month saying "Your bill is $50. Period. And we've paid it from your credit card. Your balance is now $0. Have a great day." Or something like that.
My God. When I think back to the MONTHS I spent just trying to just pay the for the damn plan that I purchased with AT&T... but could never get straightened out... it's nigh-traumatic. Every month the amount was wrong. Then I'd end up having to call, then end up with a credit, then I'd get some mysterious charge nobody could explain, then my credit would disappear, then the amount would change, then they'd want me to switch plans to fix it(!), then they would say it was fixed but it was never fixed, then they would pro-rate a correction to the correction of the correction. And it was still wrong. HOURS of my life gone... and for what? Having to do it all over again the next month!
So relieved those days are over!
Posted on Monday, October 18th, 2021

Another week. Another Apple Event.
Where the last time was for iPhones, this time was (mostly) the new models of MacBook Pro.
As hard as it is to believe that you'd rather watch the event yourself and not listen to my take on the proceedings, I've gone ahead and posted the YouTube video at the end of this post...
Music
From the start of things, it seemed like Apple was about to make some kind of dramatic announcement regarding music. But all we get is a new Apple Music level, playlists, AirPods, and a new color of HomePod mini. Which we'll get to in a minute. But first? This really cool video that opened the event...
Nifty, huh?
AirPods. I detest the original AirPods. The slick plastic would not stay put in my ears and they were forever falling out. Eventually I had to buy a pair of silicon covers so I wouldn't lose them. Which was annoying, because I had to remove the covers every time I charged the things. And here's Apple releasing the same shitty slick plastic crap they did before... at $179. New features, but nothing worth having to add sillicon covers. I'll be sticking with my old AirPod Pros, thanks.
Cheaper Apple Music. I am an Amazon Music Unlimited guy. I tried buying a HomePod to switch to Apple, but we all know how that turned out. So no $9.99 a month subscription to Apple Music for me. Now there's a new tier for just $4.99 a month. It's only good on Apple devices (from iPhones to iPads to Apple Watches to Macs to AppleTV), does not come with spatial audio Dolby Atmos, does not come with lossless audio files, doesn't allow viewing the lyrics, doesn't allow downloading, and doesn't allow sharing features. Otherwise? Alle the cool Apple Music stuff you could want. Alas, again, since HomePod is fucking bullshit, I'll stick with Amazon.
HomePod mini in Colors! Yeah, not a chance. I am not wasting more time with Apple's shitty fucking "experience" when it comes to this disastrous pile of shit.
M1
I'm just going to put this right up front: my "low-end" Apple Silicon M1 iMac is glorious. It runs absolute circles around my previous-generation MacBook Pro. Not even close. Apple's bargain basement iMac completely trounces my pro-level Mac of two years ago. Which begs the question... what happens when Apple releases a professional version of this chip for power users given that their cheapest solution is already pro-level for me. Enter the M1 PRO (which we were all expecting) plus the M1 MAX. Which crams a lot more power on that little chip...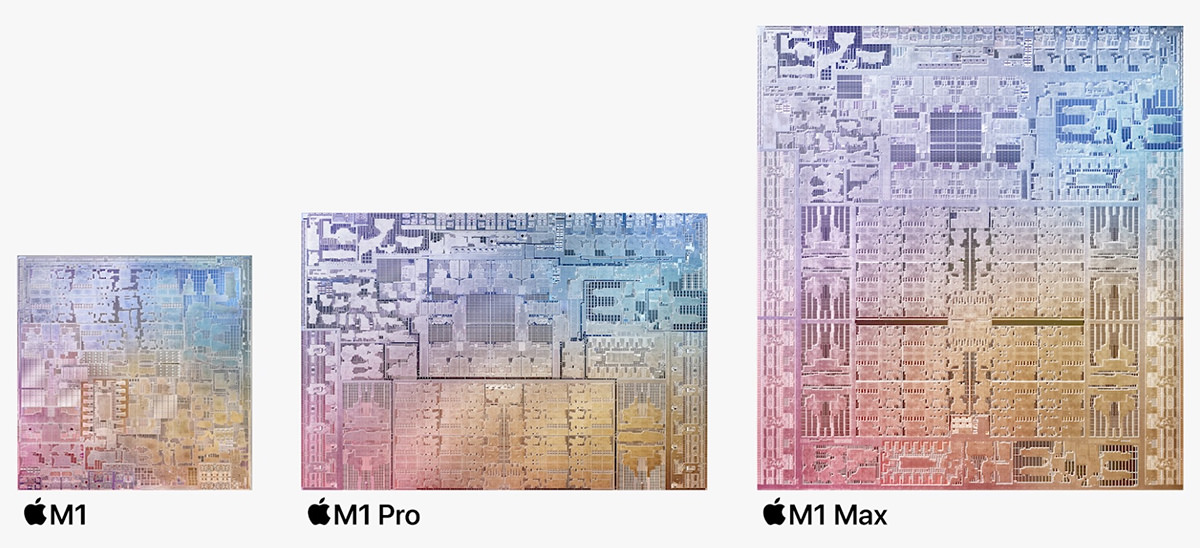 M1 PRO. It's ridiculously powerful.
M1 MAX It's more than ridiculously powerful.
Look, I can pop up all the graphics Apple shared about how the new M1s consistently outperform the competition in every possible metric. But why? Suffice to say that you can do stuff on these new MacBook Pros that couldn't previously be done on a laptop this compact. That's how powerful they are. And the fact that it does all of it with far, far less power consumption for longer battery life? Well that's icing on the cake, right? That's exactly what you want on a laptop. And so here they are...
MacBook Pro
16-inch and 14-inch. Apple starts out by saying how the smaller 14-inch version doesn't cut corners to have the smaller size (why would it when the Apple Silicon has made everything so small?). Turns out they aren't lying. The M1 MAX isn't available in a default configuration... but you can configure to have it if you want. That's pretty sweet.
Wakey Wakey. Instant awake. It's like... my current MacBook Pro wakes up really quickly... but you notice it. I love the idea of not noticing that!
Keyboard Faith. I'm hoping Apple didn't "new and improve" the keyboard again (which is how we ended up with those shitty fucking "butterfly" keyboards that Apple forced on us for FIVE DAMN YEARS). From what I can tell, TouchID is the same and the only difference is that the background behind the keys is black. So yay?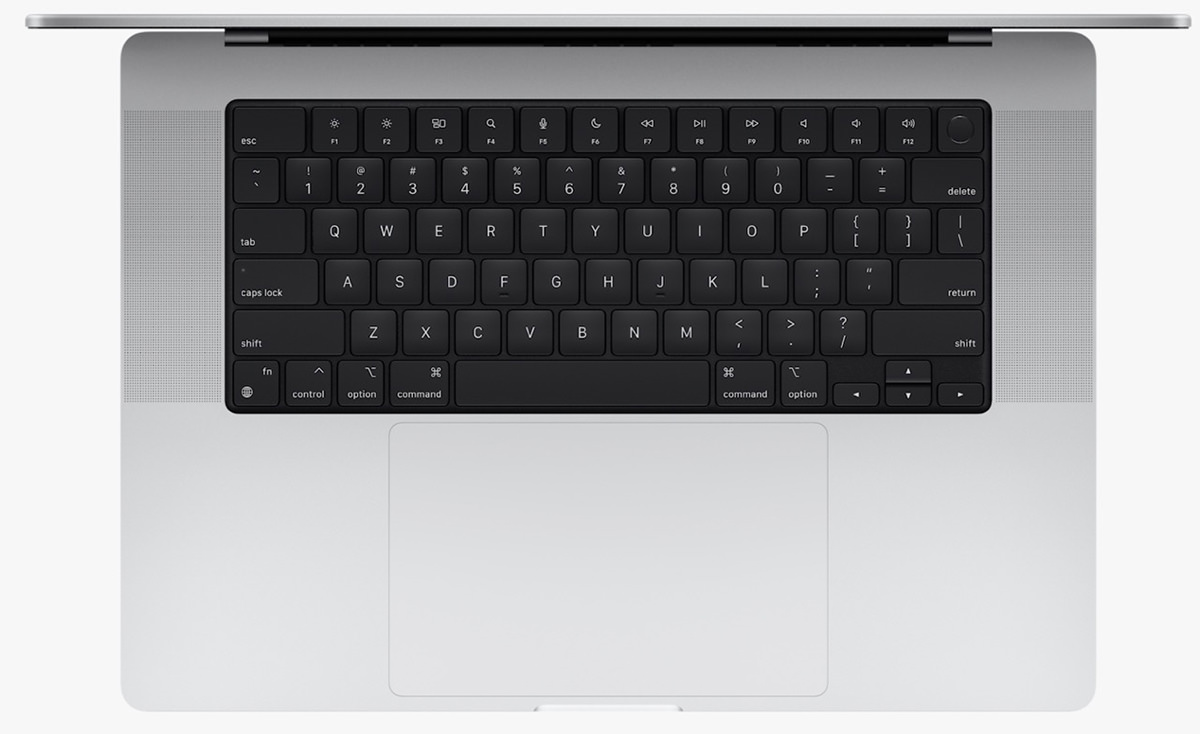 TouchBar Free. As you will note, Apple has finally given up on the stupid-ass TouchBar which was new levels of annoying. Now we get keys that you can memorize instead of an ever-changing interface that requires you to physically look at where stuff is to operate. Thank God.
Stupidity Recant 101. The SD memory card is back. Losing this was next-level stupid and I'm happy it's back.
Ports! Apple has standardized on USB-C (you get three plus an HDMI port) and ridiculously claims that you can attach a bunch of stuff (namely a bunch of monitors) "...all without a single adapter!" — Except NOT. Because there's not a single USB-A port. Yes, everything is moving to USB-C... but there's still tons upon tons of things that are USB-A, so you actually will, in fact, need those damn dongle adapters for non-video devices. At least a headphone port is still there for people who haven't gone wireless.
Screen Real Estate. HA! They brought the iPhone notch to the MacBook Pro display! Which... eh... I wanna see what happens when the apps I use that have a lot of menu items is used. Do they wrap around the notch? Get truncated? Abbreviated? What? Yeah, I'm glad to have the extra screen real estate, but what's the trade-off? What's the cost?
ProMotion Display. Another iPhone tech makes its way to the Mac. Nice. Scrolls like buttah. Plus 1000 nits brightness and deeper blacks! I'll bet HDR looks spectacular.
Selfie Camera. 1080p. At last. Apple has looked fucking stupid all this time stuck with their shitty cameras. The one on my iMac M1 is very nice. I'm guessing this one is pretty much the same.
Soundly Sound. The sound is better. It has spatial audio. Which is nice, of course, but it's still laptop sound. I'm always in headphones when listening to audio on the MacBook Pro, so it's not something I'd really use.
Mass Memory. Up to 64GB unified memory. Which... which is pretty phenomenal for a portable platform. You can also have up to a whopping 8TB of storage. EIGHT TERABYTES! This will come in real handy for those wanting to edit 8K video on the road! It is expensive, however. An additional $2,200 from the 1TB standard.
Battery Life. The energy efficiency of the new M1s gives you up to 21 hours of video playback on the 16-inch model, which is stunning. But it sounds like any app can benefit from big power savings... even running under Rosetta 2 emulation. Always a plus when working on the road.
Fast Charge. 50% in just 30 minutes? Well that's pretty sweet!
Stupidity Recant 102 Gee, Apple, thanks for adding back a huge feature that you fucking humiliated yourself for omitting in the previous generation: MadSafe power. All those ads that touted MagSafe as THE way to charge... and Apple threw it away for USB-C? So stupid. Though... I have to wonder if you can still charge via USB-C if that's all you have? I didn't hear them mention that.
The ad they came up with (which hasn't been posted, but is in the event video below) is actually... um... scary? Apple's hinting that the new MacBook Pros are so powerful they might be able to become sentient or something.
Just for fun I put together my dream MacBook Pro. 16-inch M1 MAX with 64GB Unified Memory, 2TB Storage. And the grand total is... FOUR THOUSAND TWO HUNDRED AND NINETY-NINE DOLLARS! Wow. Now, granted, that's an awful lot of power that is probably reserved for 8K video users and the like... but just to experience that every time I sit down to work on large projects? Must be magic. Interesting to note that the M1 MAX only adds $200 to the price tag of a "standard" MacBook Pro. So a more reasonable Apple M1 Pro with 32GB Unified Memory and 1TB of storage that clocks in at a fairly reasonable $3,099 just jumps to $3,299... which is probably the route I would go if I had $3,300 burning a hole in my pocket (which I do not).
AN ASIDE: If it's only a $200 difference, why not just put the M1 MAX in all the machines? Having a lower tier pro that's just $200 different seems ridiculous. People are spending thousands of dollars, so what's $200 more for the better chip that offers so much more? I don't get it. Unless they want to make people feel good about spending the $200 or something. The logic... it baffles.
Interesting to note that if you pay with Apple Card, you'd get 3% cash back, which is $100. If Apple gave a more reasonable 5% cash back (like Amazon and others) on Apple purchases, you'd get $165. Which is just $35 shy of getting the M1 MAX for free. It's strange that Apple doesn't make a thing of that. "FOR A LIMITED TIME, SPEND $3000 OR MORE ON A M1 PRO MACBOOK PRO WITH YOUR APPLE CARD AND WE'LL UPGRADE YOU TO THE M1 MAX AT NO CHARGE! (cash back not applicable)." If Apple were to do something slick like that... or do a double cash-back promotion ($198)... I would probably go into debt to get that laptop. So it's maybe a good thing they aren't doing that!
Anyway...
Do I want one of these things? Lord, yes. Will I buy one? I can't really afford it because I ain't going into debt when I have an existing MacBook Pro that's loads inferior, but still works for my needs. Maybe when they unleash next year's models?
AN ASIDE: I like Apple CEO Tim Cook. He'd be great to hang with and go out to dinner with. But there are times I long for a bastard perfectionist like Steve Jobs to be in charge so Certified Apple Whores stop getting the shitty experiences we've been plagued with. For MONTHS MacOS X file search has been broken. And by "broken" I mean "useless as a pile of dog shit." Which is why I was screaming at the Apple Event stream with "THESE PRETTY NEW MACBOOKS DON'T MEAN SHIT IF YOUR SEARCH IS BUSTED! WHEN I TRY TO FIND MY WORK FILES, YOU RETURN PICTURES OF MY CATS... HOLY FUCKING SHIT, APPLE! SEARCHING FOR FILES IS A CRITICAL EVERYDAY FUNCTION! HOW CAN YOU ALLOW THIS TO GO ON FOR THIS LONG? WHY NOT TAKE TEN MINUTES TO HOP OFF YOUR M1 PRO/MAX TRAIN AND FIX YOUR FUCKING FINDER FILE SEARCH SO PEOPLE WHO BUY YOUR HARDWARE CAN ACTUALLY USE IT!!! DAMN!" As it is I have to use a third-party search tool in order to track down my files. That's some serious fucking bullshit.
And that was it. Short and sweet.
If somebody has $3,000 they want to give me, I'll order one immediately. Otherwise? I sure hope everybody who's been waiting for a shiny new MacBook Pro enjoys the ride.
And here's that Apple Event video I promised...
Happy Monday, everybody!
Posted on Sunday, October 17th, 2021

My heat is still on, so things are toasty here at Blogography... because an all new Bullet Sunday starts... now...

• AWWWWW! You guys... YOU GUYS...
Derpy puppies are the best puppies.

• Darwinism! Fuck your 12 years of med school... Dr. Google is my god now!
I just feel bad that the kids are at the mercy of this stupid shit. But... I suppose if they are just going to continue propagating it to newer generations, it might be for the best? It sickens me that anti-science has become so prevalent and dangerous that these kind of thoughts go through my head, but here we are. What the fuck has become of us?

• Fury! I didn't just dislike the Shazam! movie... I loathed the fucking thing. It was categorically awful from start to finish. Now, thanks to DC Comics' "FanDome" event there was a look at the sequel...
Honestly? I had zero intent on watching the thing... even when it came out on video. But then they cast Helen Mirren and Lucy Liu as the villains? NOW I AM FORCED TO WATCH, DANGIT! Hopefully i doesn't suck as hard as the first one.

• Cuntry! Not only do I know all of these countries, I've been to all of them except Chile. But I did get close when I visited Argentina on the way to Antarctica, you condescending fuck...
The entire channel is filled with "If you don't get these, you're American" TikToks... and it's like... look... I get it. Americans are largely ignorant of the world outside our borders. But constantly harping on this ceases to make it funny... it just makes you a fucking dick.

• The BATman! BWAH HA HA HAAAAA!! ZOMFG! They went over the top… and not in a good way. Maybe it's the way the trailer is cut together, but this looks fucking embarrassing...
Apparently the Nolan Dark Night Trilogy is still safe as the defining cinematic Batman. Oh well. I guess I'll know for sure once I've seen it.

• DOG SENSE! Jesus. It's just... why. If you disagree with policy, DON'T FLY. It's not fucking rocket science. Though apparently it is for assholes like this...
Please just get the COVID you're dying to get, then pick up your Darwin Award already. I'm so sick of this shit.

• Ending on a Happy Note! Boy... Yes Theory is back and I somehow missed it! This is pretty great...
=sigh= I miss travel. The world is full of such wonders.

And now I'm off again...
Tags:
Batman
,
Bullet Sunday
,
Dumbassery
,
Dumbasses
,
Fuck My Life
,
Fuck This Shit
,
Movies
,
TikTok
,
Travel
Categories:
Bullet Sunday 2021
,
Movies 2021
,
Travel 2021
—
Click To It:
Permalink
—
0 Comments: Click To Add Yours!
Posted on Saturday, October 16th, 2021

My cats have decided that the colder weather should come with a renewed sense of pandemonium. They are acting totally nuts in a way I haven't seen since they were kittens. Which I'm guessing is a good thing? Running around the house at top speed for no reason. Chasing each other around the catio at all hours.
a perfect example is Jenny catching a praying mantis out in the catio... bringing it inside... losing it... then spending the next hour-and-a-half chasing it down so she can murder it (the corpse was on my floor the next morning...
If you look carefully, you can see the poor think fly across the top of the screen at 0:05. Which means she was running into the guest bedroom and tearing through my dirty laundry piles in the entirely wrong place!
All this kitten-like behavior results in my cats sleeping really, really hard. Things that used to wake them up all serious-like (such as my iPhone ringing) now barely makes a dent.
Jake still wants to sleep on me (usauly my legs still)...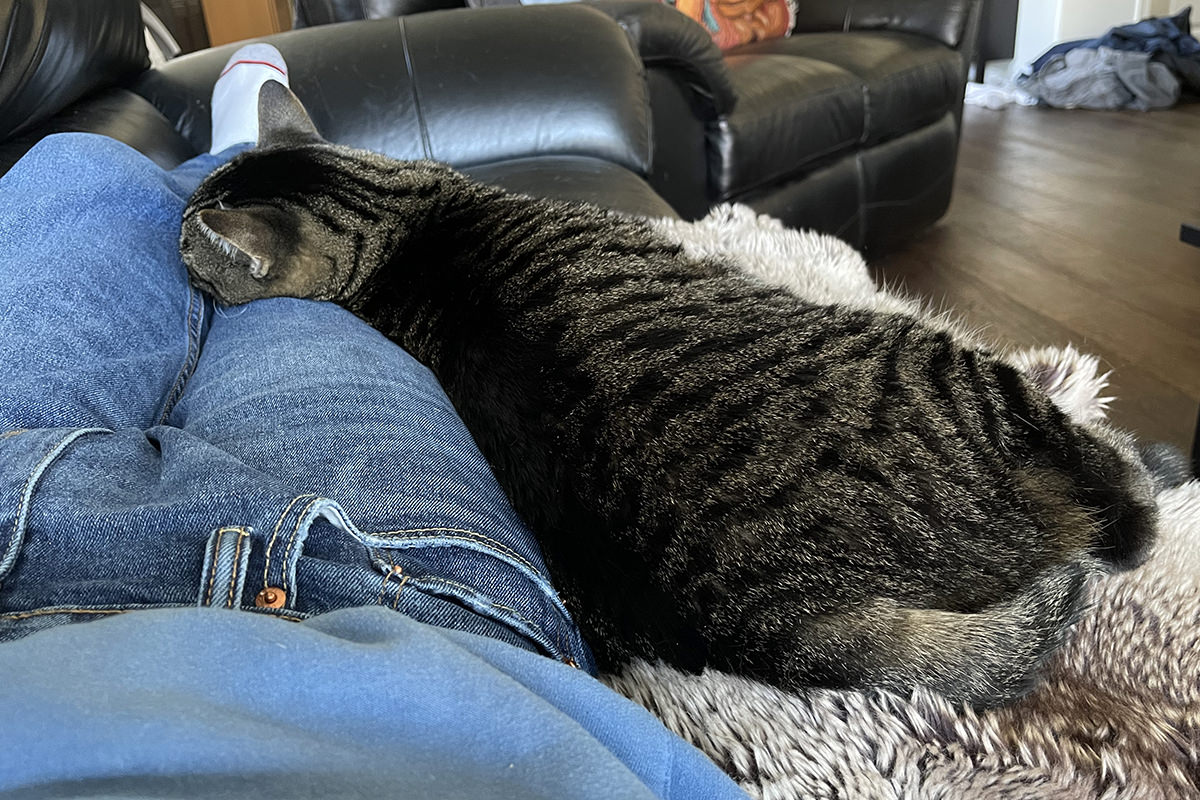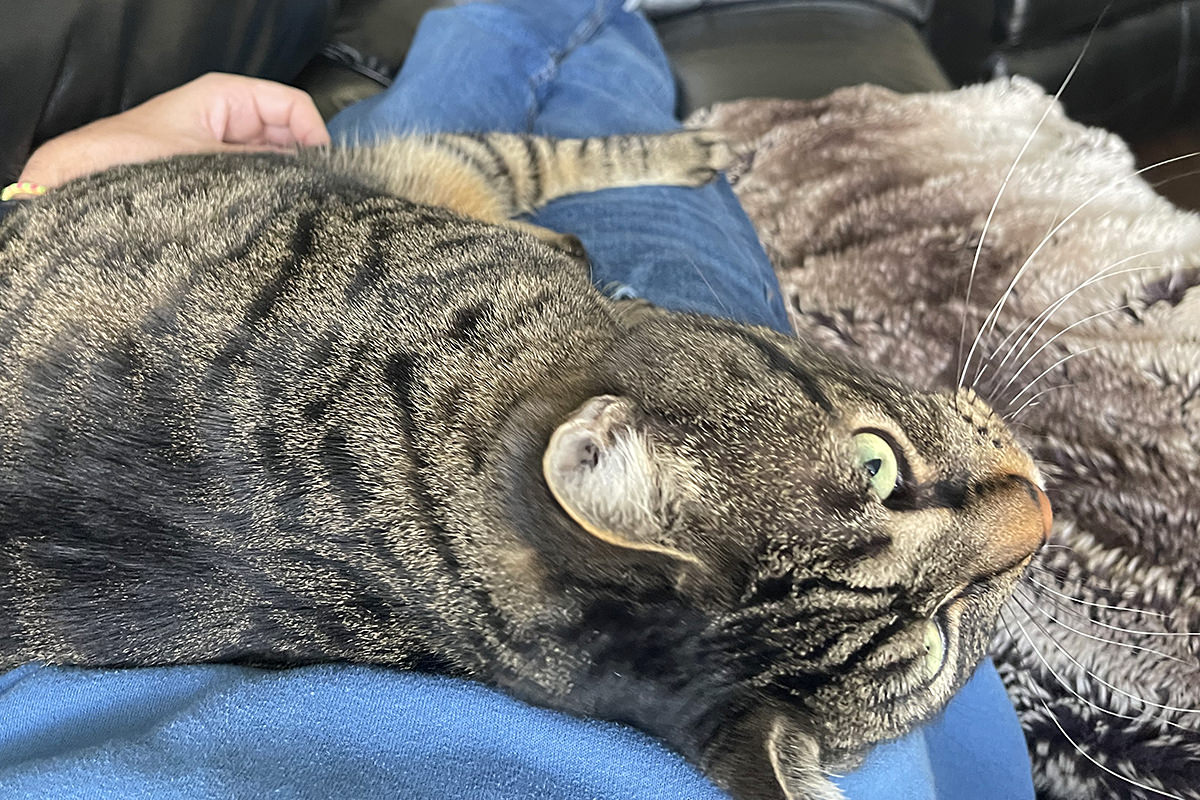 Where Jenny seems to want to spend time in my laundry basket lately...
Oh well. They're apparently happy and healthy in their craziness, so I guess it's all good?
Posted on Friday, October 15th, 2021

"Well, shit, I'm alive. The COVID booster didn't kill me. So I guess I have to go into to work."
Zero side-effects from the third Pfizer shot. Which worries me a little bit... how do I know that it did anything if there's no side-effects from my immune system getting charged up with COVID-fighting instructions? Though I didn't have side-effects the second time either (only the first, where I had a fever for three hours and soreness in my arm for three days).
In my county here in Central Washington, there's been 102 COVID deaths out of 10,912 total cases since tracking of the pandemic began. Right now they say that 638 people have tested positive in the first half of October. When I check the CDC site, it says that the eligible population here in my county is 73.6% vaccinated and 34 new people have been admitted into the hospital. If it's accurate, that's really good news. Given the number of anti-maskers out and about, I really expected us to be under 50% vaccinated. Some counties east of me in Idaho and Montana are 40-some-odd-percent, which is pretty scary. But not as scary as those counties sitting at 20% once you head over to the Dakotas. Holy shit. It's like a COVID incubater in some parts!
Which is how we end up with COVID variants like Delta, Beta, Gamma, Lambda, Mu, and the variants of those variants. It's all pretty crazy when you consider that the virus will only become more communicable and deadly as it changes to survive.
But that's nothing compared to the heinous level of idiocy coming out of the mouths of pieces of shit like Marjorie Taylor Greens, who is just the worst...
God she's awful. There's really no level to which this horrific excuse for a human being will stoop. I am disgusted to my core.
I'd say that I can't wait for her to get COVID, but you just know that she's been vaccinated. Pandering to her base with this hipocritical bullshit is how she stays in office.
Tags:
Assholes
,
Bat-Shit Insane
,
Bullshit
,
COVID Deniers
,
COVID-19
,
Fuck This Shit
,
Fucking Assholes
,
Fucking Scumbags
,
News
,
Pandemic
,
Pig-Fucking Assholes
,
Politics
,
Stupidity
,
Truly Stupid People
,
Vaccination
,
Worthless Pieces of Shit
Categories:
News – Politics 2021
—
Click To It:
Permalink
—
2 Comments: Click To Add Yours!
Posted on Thursday, October 14th, 2021

I qualified for the Pfizer booster shot and I leapt on it like a starving lion.
Ever since they announced that the Pfizer vaccine lacked the long-term protection that Moderna offered, I was waiting for my chance. Don't get me wrong... it still does a great job of protecting you from death... it's just that breakthrough cases for the vaccinated can have harsher symptoms than expected. And "harsher symptoms" are something I can't really afford to risk.
And so, I made the appointment at the local clinic's drive-through site (a fiasco in itself, that I'll write about below).
For my previous vaccinations, I went to the mass-vaccination site. For my first dose, barely anybody was there. For my second dose, nobody was there. But at the smaller clinic drive-through, there were at least a dozen people getting shooted. That was unexpected and nifty.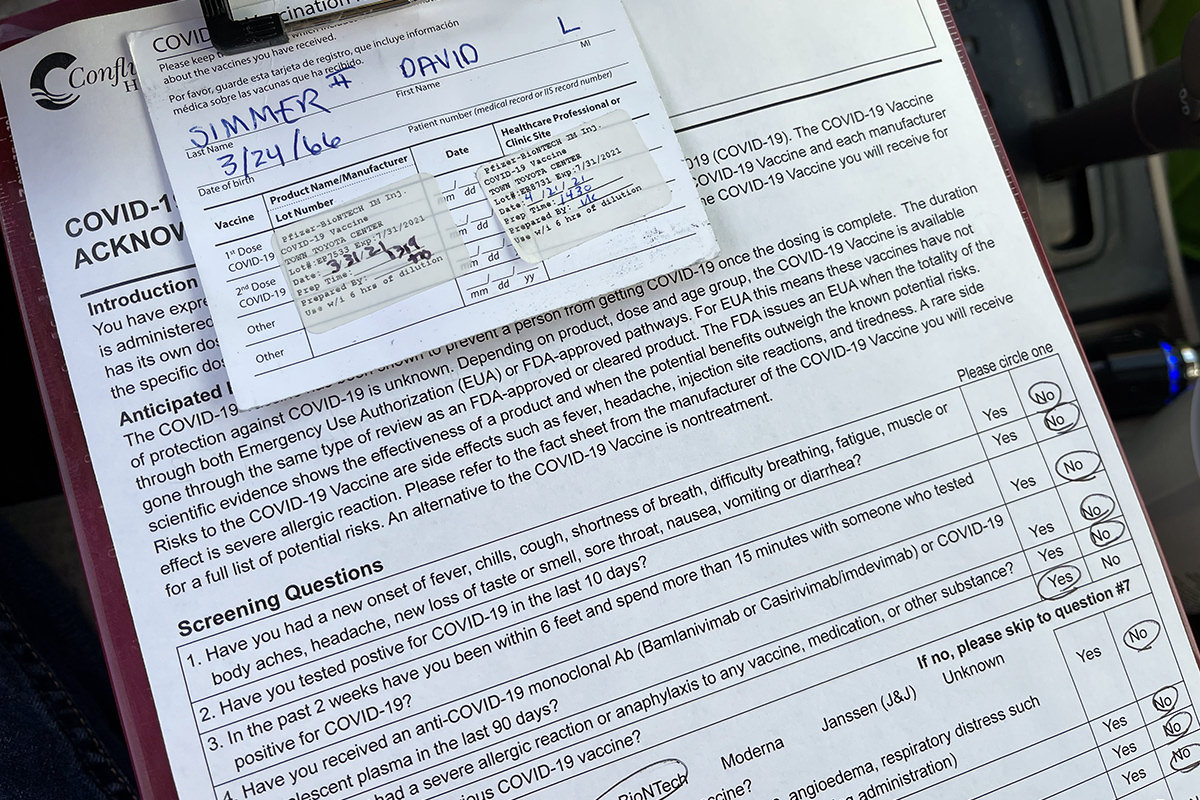 I can hear it now... "Holy shit, dude! You're stupid enough to get a THIRD vaccination? You're going to die for sure now!" — Which is what I'm guessing all the people who said I'd be dead by September after my initial vaccination are going to say. Because of course.
AND YES I ASKED FOR DOUBLE LIZARD DNA!!!
UPDATE: SHIT! NOT ONLY DID I NOT EXPERIENCE ANY PAIN OR SIDE-EFFECTS ALL DAY TODAY, I ALSO DIDN'T START TURNING INTO A LIZARD PERSON! THERE GOES MY DREAM OF JOINING THE ELITE LIZARD PERSON CABAL THAT RUNS THE WORLD!!
And now for the absolute absurdity it took to confirm my appointment (which I made by phone this morning).
Holy crap I wish Confluence Health would move away from MyChart.
It is the most inanely frustrating system to deal with. Nothing makes sense.
They send me an email to check in for my appointment. I click on the checkin link button. I then get taken to their website WHERE THEY WANT ME TO VERIFY THE EMAIL ADDRESS THAT THEY JUST SENT THE CHECKIN LINK TO?!? WHAT THE FUCK?!? And so I click the link to be sent a code that verifies my email... AND IT NEVER COMES. So, essentially, I can't check in as requested by email because they can't verify the email? And I know that if I call tech support the solution will be "check your spam folder." It's always "check your spam folder." Like people don't already know to do that by now. And it's not just MyChart. The Confluence Health website is shit too. Wanna login to MyChart? Well, first you have to scroll down and find the MyChart link. Then you go to the MyChart page and have to scroll all the way down the page for the "LOG IN TO MYCHART" link. Why not just put that fucking link at the top of the home page so people don't have to do all this work? Or, better yet, PUT THE LOGIN AT THE TOP OF THE FRONT FUCKING PAGE! They want you to use MyChart to save on staffing costs, but make it a hassle to do so. Which begs the questions... does anybody at Confluence Health use this shit themselves? Of course not. If they did then it would be a hell of a lot less shitty.
At least one would hope so.
Oh well. I finally got my booster.
I'm assuming that since a ton of people aren't getting fucking vaccinated that COVID will continue to mutate in the anti-vax people and we'll have to get annual boosters like the flu vaccine to handle that shit.
Which ain't fun, but it beats sucking on a tube of horse dewormer.
Posted on Wednesday, October 13th, 2021

As you may imagine, having a blog that's publicly out on the internet can result in a certain level of backlash from people looking at it. I got a death threat for my thoughts on President Trump. I got two death threats for my thoughts of Hillary Clinton. I've also gotten assorted threats for all kinds of things on this blog... with most of the hate coming from homophobes who really don't like that I am an LGBTQ+ ally. After Washington passed the Marriage Equality Act R-74 (something I advocated for at least once a week) I got one of the longest, nastiest, most hateful comments I've ever received. Obviously I didn't approve it. But I did send a reply since he included his email address: "I don't want any more kids killing themselves in my community because they're gay and think they have no future. Marriage equality shows these kids that people approve of THEM. I could give a shit about who's married or not. I then added a link to a news story of the kid from my high school alma matter who committed suicide after being relentlessly bullied. Bullied for nothing more than being who he is.
Who he was.
He died in February, 2012.
Then-Governor Gregoire signed the legislation for marriage equality ten days later on February 13th.
The legislation was voted into law during the 2012 November election.
Then it was rendered moot when the US Supreme Court made marriage equality law country-wide on June 25, 2015.
I was reminded of all this last night as I was watching the movie Adam & Steve for LGBTQ Movie Month (it was weirdly not horrible... with some very funny bits and some cringe bits). The film was released in 2005. At the time, I think that Massachusettes was the only place where marriage equality was legally available.
A different world now. Which is reflected in the movie. To an extent.
Malcolm Gets's character talks about wanting to fall in love, get married, and have kids like he saw in the movies. Spoiler Alert: Malcolm asks his boyfriend to marry him. And they do, in fact, get married at the end. But they don't go much further on commentary than that, despite the ceremony likely not being legally recognized? The idea of marriage equality in 2005 was a bit far-fetched. And ten years away was still ten years away, but it still seems that something could be said about hoping all 50 states would one day recognize their union. Or something? But maybe they didn't want that horrible backwards thinking intruding on such a happy moment for the characters? I get that.
All this has me really, really curious about that homophobe that hated me so badly for supporting equality back in the day. Did his head explode back in 2015 when "the gays" started getting married? Was he in denial about his sexuality and got over his self-loathing enough to get married to the man of his dreams? I honestly don't know. My hope is that if he's still a homophobe that he at least keeps that shit to himself.
Anything is possible.
DAVE'S 2021 MOVIE FESTIVAL CALENDAR
JANUARY: British Movies (and television)
FEBRUARY: Korean Movies
MARCH: Italian Movies
APRIL: Australian Movies (and television)
MAY: Art House Movies
JUNE: French Movies (and television)
JULY: Bollywood Movies
AUGUST: Japanese Movies
SEPTEMBER: Russian Movies
OCTOBER: LGBTQ+ Movies
NOVEMBER: Documentary Movies
DECEMBER: Holiday Movies (hello Hallmark!)
Posted on Tuesday, October 12th, 2021

No clue if it's Dreamhost, my internet, or what the hell is going on... but my blog takes fucking forever to load. FOREVER! Maybe it's the new "fast cache" plugin that's screwing things up? No idea. Which means it's just one more task to add to this weekend's "To-Do List." Which, as you might guess this close to winter, is packed full as it is.
The good news is that I managed to finish cleaning up my garage and putting away my woodshop projects so that I can park indoors. That's a task that got moved up the list because I've been having to scrape frost off my windows in the morning. And I really don't want to be doing that when the home I'm fortunate enough to call my own has a garage.
The bad news is that some of my projects got put away unfinished. That's going to really bug me, but maybe I'm going to have some time on the weekends that I can drag them out and get things completed.
BWAH HA HA HA!
Only joking. My motivation to do anything of use is at an all-time low. I'm lucky to be getting out of bed in the morning. And I probably wouldn't if my cats didn't need to be fed.
Which just goes to show that Jake and Jenny are good for something after all!