Posted on Saturday, December 2nd, 2023

It's snowed a little bit this week, but yesterday is when it really hammered us. This is a confusing time for my cats, as they don't have very good long-term memories. To them, they've never seen snow before, so this is something wild and new.
But first... I've been playing with macro photography on my iPhone, so here's a macro photo of Jake...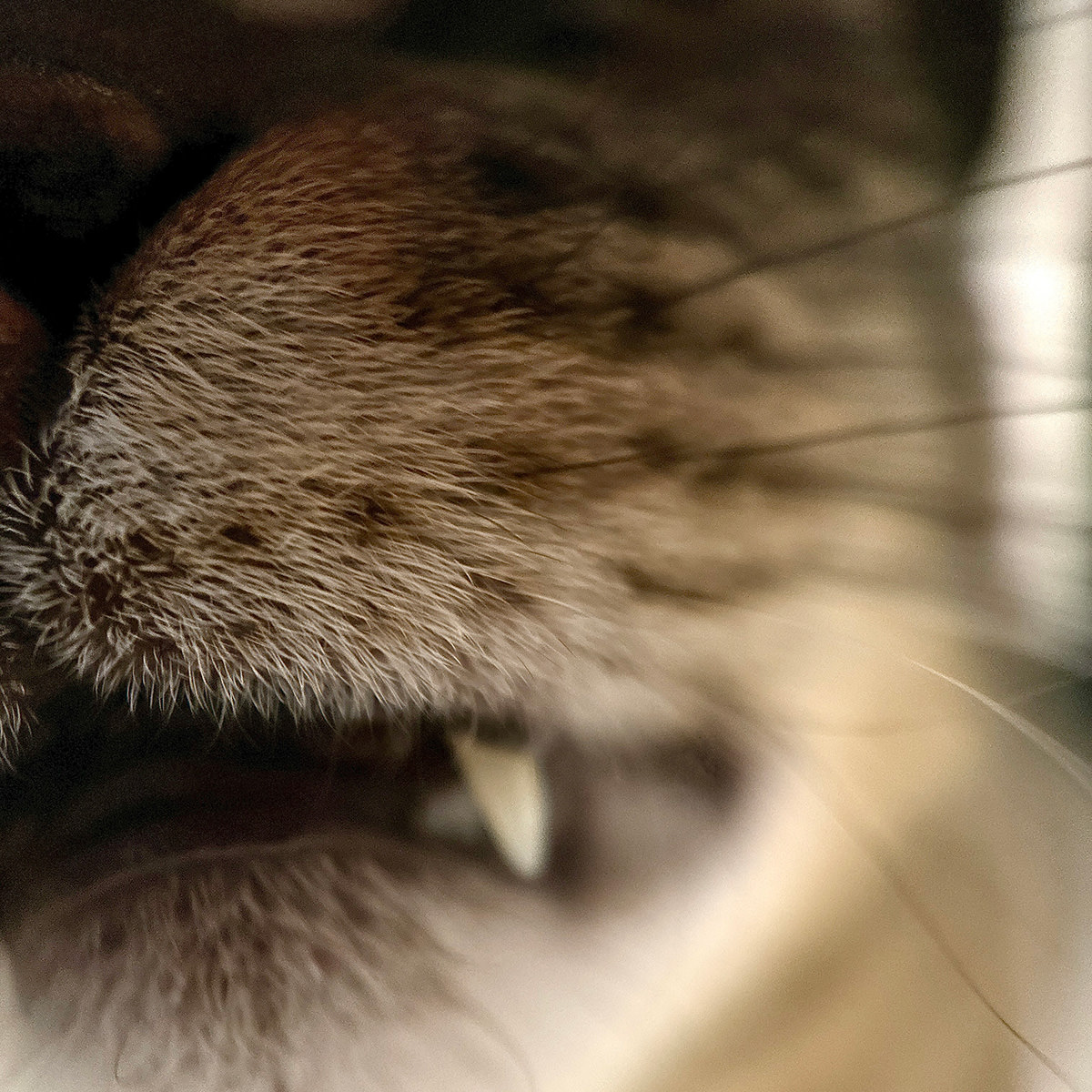 And now back to the snow.
Jenny was a brave little girl and charged outside right after breakfast. She shook her little feet with each step because she did not like them getting wet. But then she decided to dig a hole in it to see what it was all about...
Jake, on the other hand, prefered to view the madness from the safety (and warmth) from inside...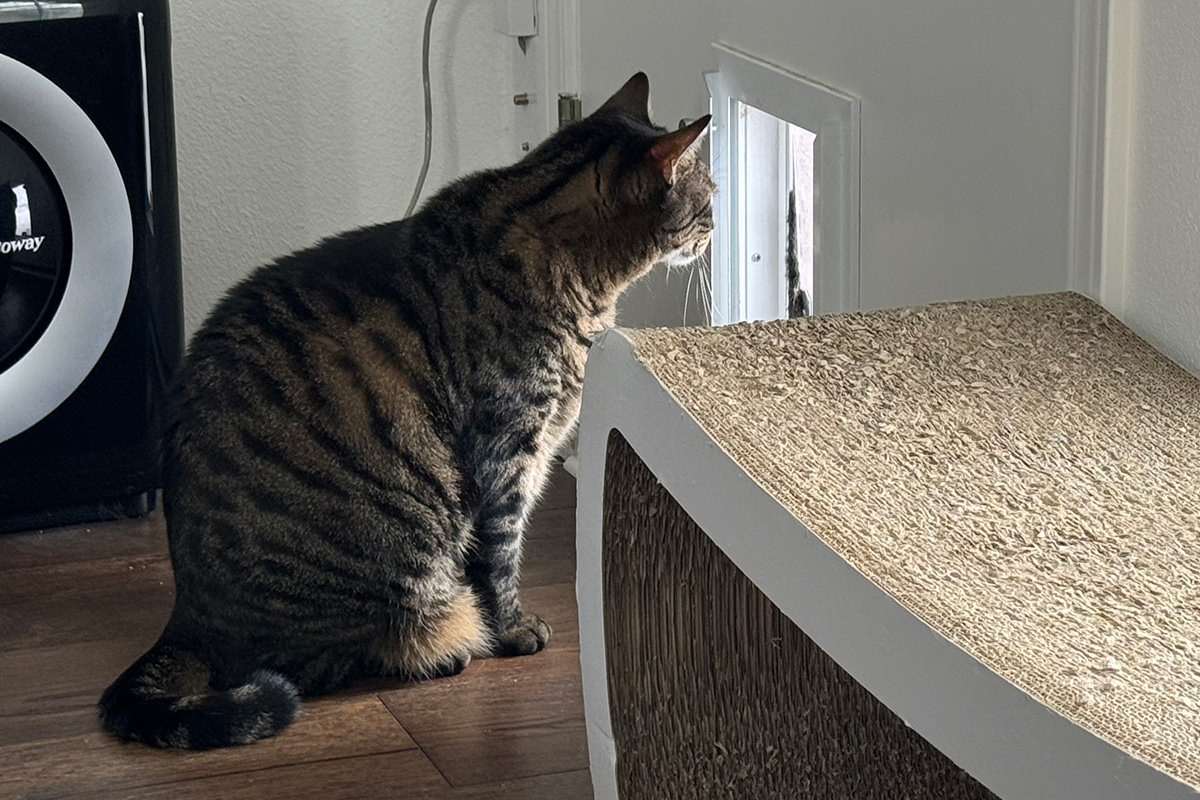 Maybe later this week I'll shovel more snow into the catio so they have enough to play in. That's always good for big fun.
And speaking of big fun... it's almost their dinnertime.
Posted on Friday, December 1st, 2023

Oooh look! It's officially Cybertruck Day!
Which is to say that Tesla is finally... slowly... releasing Cybertrucks to those who had the massive amount of money needed to buy one. I think ten people got their's today.
But, more importantly, today is the day that the journalistic embargo on reviews ends, so everybody and their dog is rushing to publish their hot takes on the future of automobiles. But don't worry, I'm going to save you from having to wade through all of that by providing a link to the only tech reviewer that I consider to be essential, Marques Brownlee...
Now, I'm of the opinion that this is one butt-ugly vehicle and I wouldn't buy one... and certainly wouldn't pay $60,000 (minimum!) to own one. But I'll be the first to admit that it has some truly cool tech in it. Tech that I hope eventually trickles down to cars for the rest of us.
Or, if somebody wants to buy me one, that would work too.
Posted on Thursday, November 30th, 2023

It's easy to fall in love with art. At least it is to me.
Art is such a big part of my life that I do what I can to experience it. Whether it's driving over to Seattle to see a new art installation, or flying to Columbus, Ohio to see a Kehinde Wiley exhibit, or visiting every art museum I possibly can while traveling the world... art brings joy to my life.
But it's not just museums where you find art. It's all around us.
I've mentioned a couple times that I've collected bank notes I find whenever I'm in foreign countries. Some are interesting. Some are clever. And some are just incredibly beautiful. Like the notes that the Netherlands had before converting to the Euro. I marveled at them whenever I visited the country.
And finally somebody talked about it...
Fascinating, isn't it?
There's nice art on the various Euro notes as well, but I haven't seen anything that approaches what they used to have in Dutchyland.
Posted on Wednesday, November 29th, 2023

Apple makes things so easy!
To turn off the annoying printer message that pops up EVERY TIME YOU PRINT ON LARGE PAPER, simply research the CUPS print server documentation for a half hour, find the IP address of your printer, open the Unix Terminal app to type in the command line which will enable the web interface, navigate to your printers, click on the printer whose defaults you want to save (if it is available, otherwise restart your computer and start over), work your way through all the pages until you find the defaults for "Request Offset," set it to "no," click SAVE, type in your admin username ("admin" will not work and neither will your ShortName, but you'll find that out the hard way), type in your system password, authorize the changes, exit out of the CUPS web interface, restart your computer... AND THERE YOU GO! NO MORE ANNOYING POP-UPS EVERY TIME YOU FUCKING PRINT! IT'S JUST THAT EASY!!! AREN'T YOU GLAD YOU BOUGHT A FUCKING MAC?!???
Look, I realize that Apple is not wanting people to print stuff to save the planet and all that... but there are people who actually have to print stuff. The fact that they don't want to make such a basic function of their operating system be easy to use and manage is reeeeally telling on the "It just works" company.
Posted on Tuesday, November 28th, 2023

The big thing over the past week has been people sharing their Spotify Wrapped list.
I don't have Spotify, but Apple Music has a similar feature called "Reply" which allows you to revist the music you listened to most over the past year.
My Apple Replay Top Artists for 2023...
Fly By Midnight
The 1975
Pet Shop Boys
MUNA
Post Malone
Taylor Swift
Run The Jewels
Slayer
P!nk
Kacey Musgraves
The Weeknd
Wrabel
Miley Cyrus
Cannons
Thompson Twins' Tom Bailey
Kinda an ecclectic list there. Though it really doesn't tell the full story, because a lot of the music I listen to is in my car and not counted.
While driving, my favorite thing to listen to is old-school rap and hip-hop. I have a half-dozen CD's burned which has all those amazing Yo! MTV Raps classics on them. Biggie, LL, Dre, Big Daddy Kane, Eminem, Public Enemy, Wu-Tang... the list goes on and on. They're just such amazing tracks to have slamming into your brain while trying to navigate the horrors of the road. I burned them decades ago, and kept them in my car because I only have a CD player. There's other CDs, of course, but these are my favorites.
Eternally stuck in the 80's. That's me.
Posted on Monday, November 27th, 2023

Well. This day could have gone better.
On the bright side, it could have gone much, much worse.
Anyway, happy Monday...
Cats are the best.
Posted on Sunday, November 26th, 2023

Hope your pants are fitting again after that massive Thanksgiving dinner you ate... because an all new Bullet Sunday starts... now...

• Steve! I adored Steve Pool, the weatherman from KOMO 4 News Seattle, who recently passed away from early onset Alzheimer's. Even though I loathed the rest of the news team at KOMO (especially Ken Schram, one of the biggest fucking assholes on the planet who had a idiotic take on hockey that still has me fuming), I kept watching because I loved Steve (and Kathi Goertzen) so much. I had no idea he was struggling with Alzheimers and, for obvious reasons from having been there with my mom, I'm incredibly sympathetic to his family. Rest in Peace, sir. You were loved and respected throughout the Pacific Northwest and this world is a worse place without you in it.

• Theif! Raccoons are pretty incredible varmints...
Ninja techniques!

• One! The Vegas Formula One race was primed to be a disaster. It caused major headaches for residents, it was outrageously expensive to attend, and nobody thought it was going to be successful. Then the pre-race run ended up wrecking a car when a manhole cover got sucked up into the bottom of a very expensive F1 car. And then... the race happened and it actually ended up being pretty cool. I watched the highlights, and it looked thrilling. More like a video game with the crazy Vegas backdrop than an actual video game...

Photo by John Locher, AP
I'm happy for everybody involved. I just wis that wasn't mostly very wealthy people, since average everyday people couldn't afford it.

• V'Ger! Absolutely fascinating stuff here...
Incredible that humanity managed to build something like this fifty years ago.

• NEWSFLASH: Sports Illustrated Published Articles by Fake, AI-Generated Writers. AI-generated bullshit should legally be required to declare that it is AI-generated. It's one thing to get idiotic crap from a real person, it's quite another to rely on AI for "journalism."

• Chris Claus! Catch Me If You Claus is a painfully adorable film. Hallmark Channel completely outdid themselves. One of their best movies ever. Not only was the casting flawless, but the story was smart, complex, and satisfying. It's like ACTUAL THOUGHT was put into every decision instead of just blowing through their usual tired tropes...
Nina Weinman Swift has written some good movies that have ended up on my "Best Of" list (like Flip That Romance and Undercover Holiday)... but this was next level. I rarely clamor for sequels to these movies, but I would really like to see these characters again. I hope that Hallmark eventually sells this digitally so I can see it without the promo bullshit that keeps popping up and distracting you from the movie.

Hope your Turkey Day was a good one.
Posted on Saturday, November 25th, 2023

My cats have been fending for themselves while I've been over the mountains for the holiday Weekend. Fortunately their food, water, and litter-box are all automated, so all I have to do is check in on them with the security cameras and make sure they aren't eating each other's food.
Although automation isn't always guaranteed.
Earlier this week I came down to feed them breakfast when I noticed that there was a pile of poo outside the litter-box on the litter-shield shelf. I didn't have to watch the security cameras to know what happened. Jake used it, then it didn't self-clean for some reason. Jenny, who refuses to use a dirty litter-box, schooched as far back as she could, so her little butt was hanging out the opening. Poo poo for you.
Then I checked the playback and, sure enough...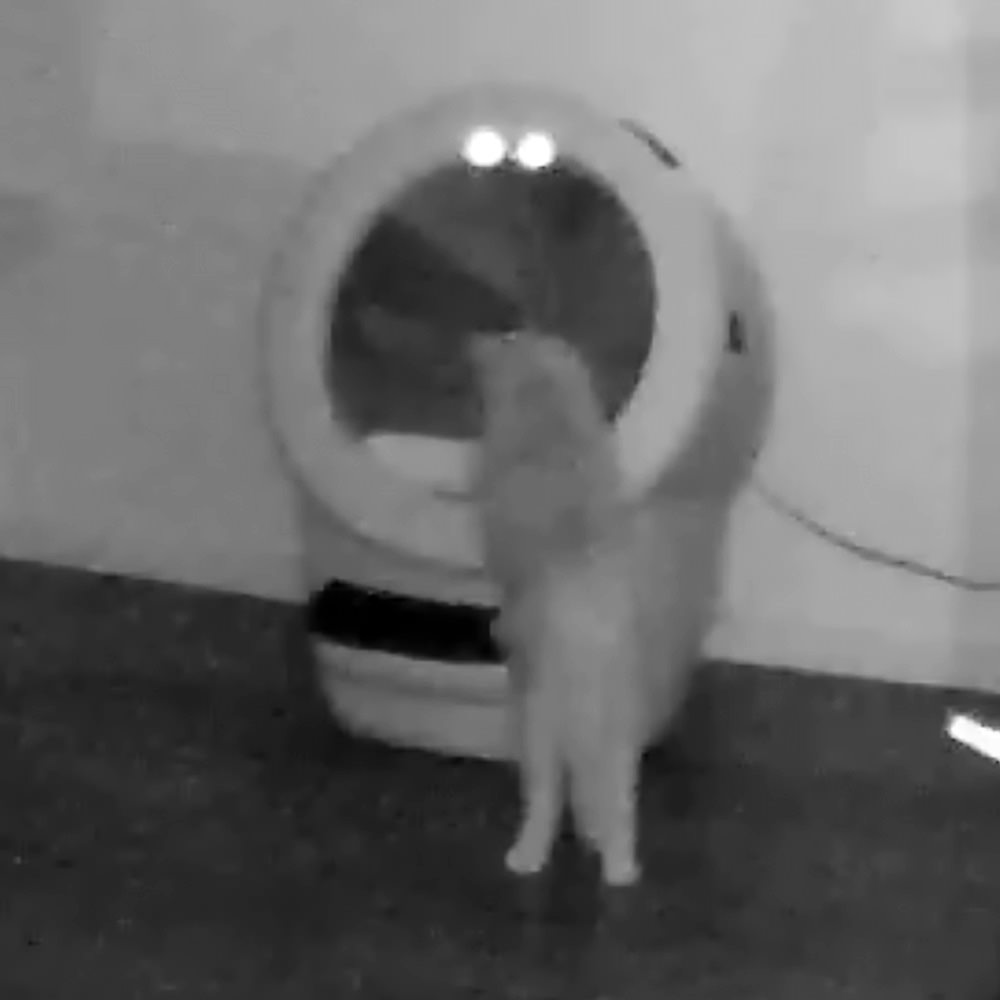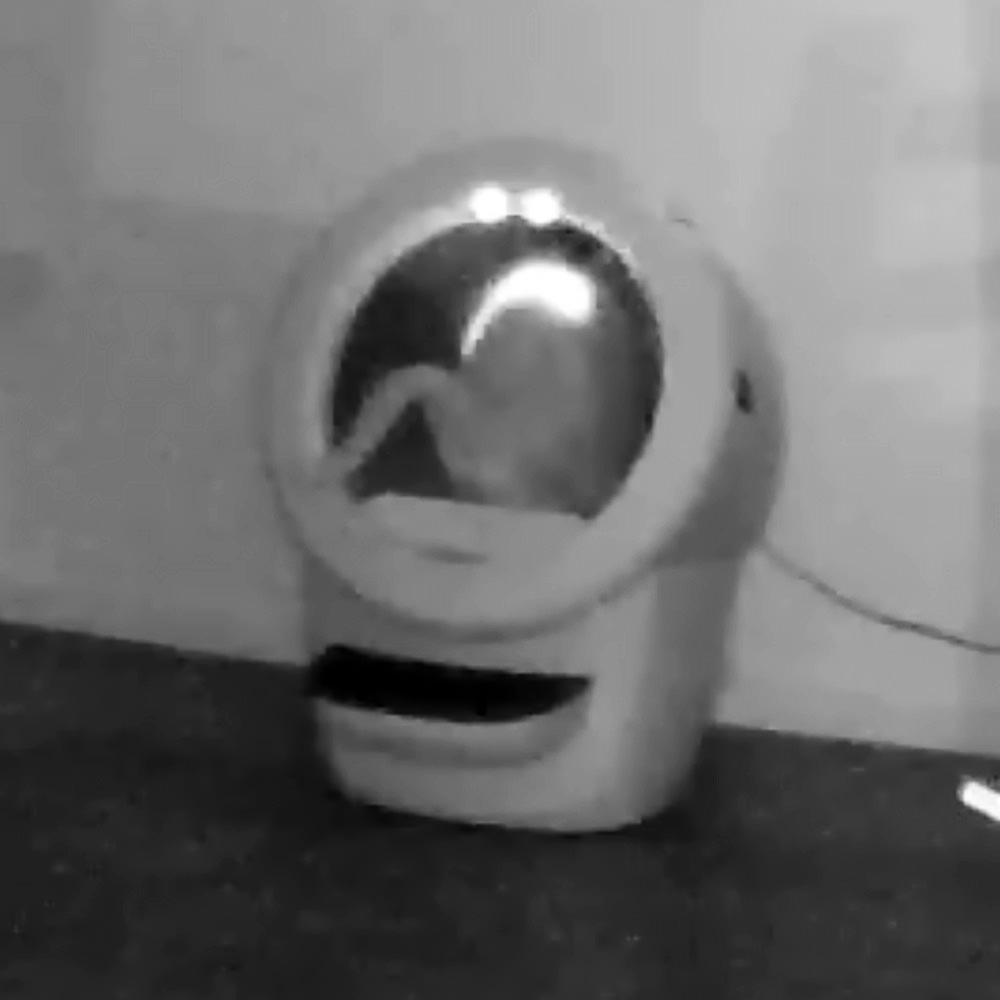 Guess I officially know my cats too well.
Posted on Friday, November 24th, 2023

In the Before Times I used to put as much money as I could manage into my savings so I could spend it on Black Friday sales. Since my buying power could end up being 200% of normal (or more!), it just made financial sense to buy everything I need for the year on this one day. Especially clothes.
But then I remodeled my kitchen, did a bit of landscaping in my front yard, and had a water leak... and all of a sudden my savings are more than gone. They are non-existent.
Which is not that bad for once. I don't need any electronics or appliances or housewares. The clothes I have are in wearable condition. There are no tools, video games, or cool toys I am dying to have. My car is still mostly running. And my shoes are still in one piece. Albeit thanks to Shoe Goo.
My boots and shoes don't get a lot of heavy use, but they still fall apart. Mostly when the sole's toe-cover comes unglued. Fortunately that's an easy fix. Shoe Goo and an overnight stay in a bucket to keep it held in place is all it takes...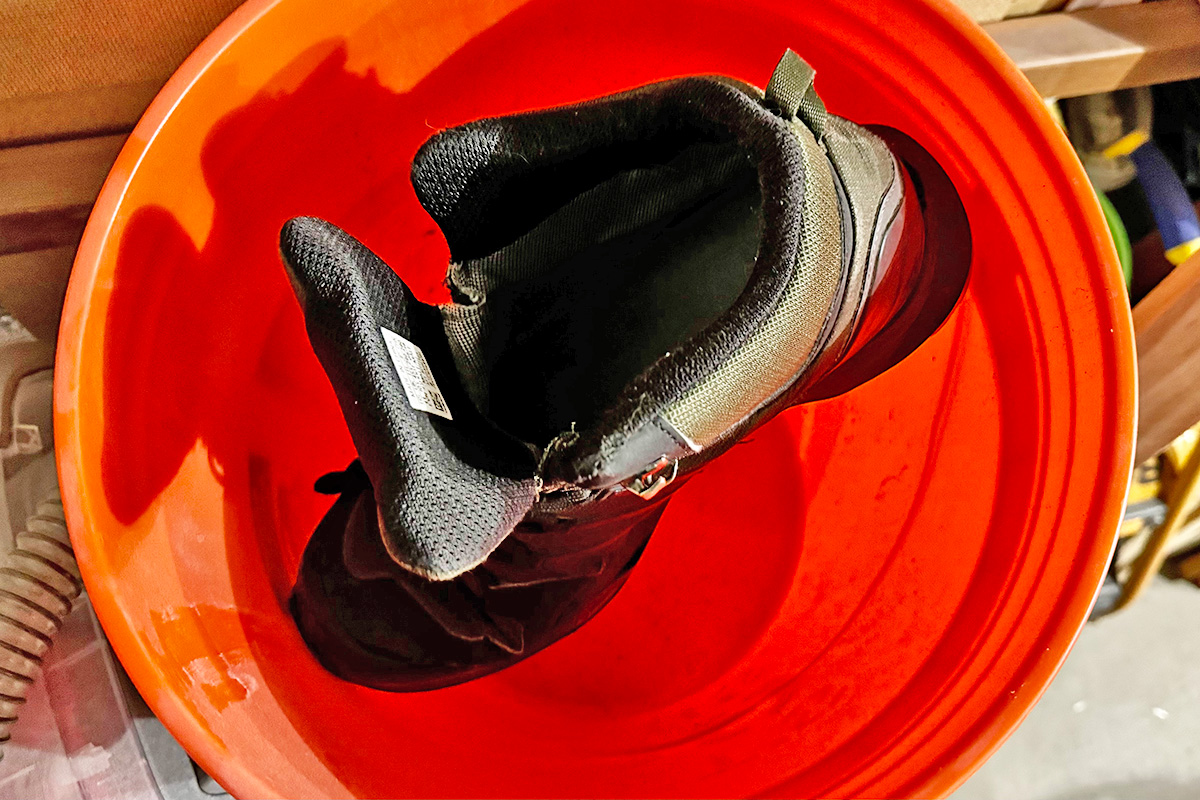 So... yeah... not much happening today for me. Certainly not like it's been for other years.
I've still got nearly a half-tube of Shoe Goo left, so I'm good.
Posted on Thursday, November 23rd, 2023

As a vegetarian, today is far from "Turkey Day" to me.
I haven't eaten meat for over 37 years, but I was never much of a turkey guy to begin with. I'd eat it... but at a 50/50 ratio with jellied cranberry. I also didn't care for steaks, ribs, sausage, ham, pork chops, chicken, or any kind of seafood. The only meats I did like were hamburgers, bacon, and pepperoni. That's it. Everything else was eaten reluctantly.
Turns out I was predisposed towards vegetarianism from the start. But discovering Buddhism was what it took to push me over the edge.
I'm rather happy with the vegetarian alternatives to hamburger and bacon. And, believe it or not, I was never a fan of hotdogs until I discovered the vegetarian variety.
There is no adequate vegetarian substitute for pepperoni.
If there was, that would be something to be thankful for.