Posted on Monday, March 20th, 2023

If the first part of this entry is something you'd like to skip, there's a second video at the end that you most definitely should not skip. It's horrifying stuff that should be seen by as many people as possible.
The stuff I wrote about here on Blogography is pretty random.
Not random-random, because there are several subjects I like to write about more than others... still other subjects I enjoy but have no interest in writing about... and still other subjects I have a lot of interest in writing about, but know that precious few people will want to read what I wrote.
This post falls into the latter.
Because while I am absolutely fascinated with mathematics, in general, and the maths of quantum computing, specifically, the people who read my blog for cat photos and pop culture commentary will likely not care.
But every once in a while I run across something so amazing that I find myself hoping that people who might otherwise skip a post might want to take a chance and read it.
One of my favorite YouTube channels, Veritasium takes a look at how quantum computing will make all of our current encryption efforts laughably obsolete. Considering that encryption is what keeps all of our most secret information safe... from account passwords to banking details to text message privacy... this is an astronomically huge deal. And in as little as a decade, it could all be completely worthless.
But how are quantum computers able to crack this security so easily? Glad you asked! And this video is for you. Now, there is some math that gets thrown at you, but you honestly don't have to understand it to get the gist of what's going on. So maybe give it a shot?
And now for that second video I promised.
It's a story on Timeshares from Last Week Tonight that is essential viewing. Especially if you are considering buying into a timeshare or vacation club or whatever...
Fucking yikes.
I'm really glad that I never had the money to invest in these.
Posted on Sunday, March 19th, 2023

A bit of a Summer setback for me today as the weather turned cold as balls, but never fear... because an all new Bullet Sunday starts... now...

• Zipline! Whenever I run across something incredibly cool that has been around a while... but I never heard of... that's gold right there. Take this drone delivery system that's been running for SIX YEARS. And I had no clue. This will be one of the coolest things you see in a bit...
Fantastic. Ingenuity like this gives me hope for the future.

• 1D! I keep running into songs by One Direction that kinda blow my mind. Like this song, which I had never heard before. I was scrambling to Shazam it thinking it was brand new. Nope...
It actually feels like a classic soft rock hit or something.

• Topol! The Flash Gordon movie from 1980 was absolute genius... even if most people didn't see it that way. I've seen it a dozen times or more, and will likely watching it many times more. A big part of what makes the movie work is the over-the-top performances, among them being Chaim Topol's performance of Dr. Hans Markov...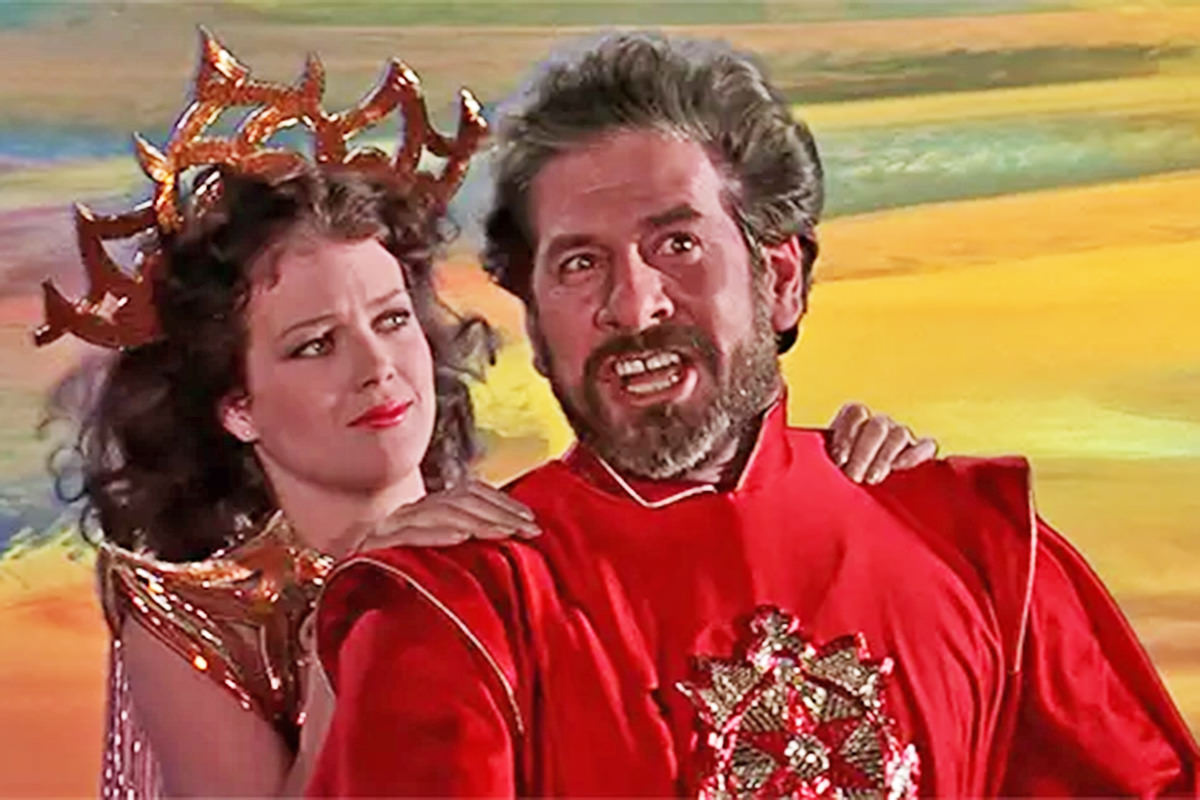 But that's not my favorite role of his. This honor goes to Columbo on the James Bond flick For Your Eyes Only, where he chewed up the scenery unapologetically...
Sadly, Topol passed away a couple weeks ago... but his legacy will live on with his works.

• Hyper-Real! I will never complain about any of my tax dollars going to NASA to explore our solar system and our universe. On the contrary, I wish more of my tax dollars went to NASA. Especially when I see images like this...

Image Credit: NASA, ESA, JPL, SSI, Cassini Imaging Team
You can get a much better view and more information on Saturn's moon Hyperion by going to NASA's website.

• TO INFINITY...! The stuff that you can do with LEGO truly knows no bounds. Take this infinite domino track...
Pretty nifty, isn't it?

• Cunk! Finally got around to watching Cunk on Earth (Netflix)... and it's madness. Absolute madness. Mostly because she sounds like a lot of real-life people...
It's relentless. She doesn't stop unleashing stupid. Ever. It just keeps going. And I am deceased.

• WORF! The first season of Star Trek: Picard was just okay, though the ending was messy. I didn't like the second season because it was a scattered crapfest and tried to shoehorn in characters that should have never been there in the first place. But this THIRD season? Holy crap. Quite probably the best Next Generation show I have ever seen. Cinematic and exciting. It will be very interesting to see if they can wrap it all up in a satisfying manner given that this is the last season we're getting. And ZOMG... WORF! His character has made a radical shift that's absolute genius, and Michael Dorn is playing him with such deft ease...
It makes me wish that this is what we were given from the start. Paramount+... please give Worf his own series ASAP, dammit!

• Flerfer! The thing I will never, ever understand is how there are people thinking that the earth is flat. It makes absolutely zero sense from every possible observable fact. We new about the earth being a sphere thousands of years ago. And yet... ignorance is still here. Which is why I love videos like this....
Of course it makes no difference how many facts you throw at Flerfers. Logic, reason, and common sense has already been thrown right out the window.

And away with you! Begone!
Posted on Saturday, March 18th, 2023

Back in February a friend sent me a photo of a neon sign they had bought and said it would be cool if I were to make a Bad Monkey neon so I could sell them. And he included a link to a company called YellowPop... a company that custom-makes "neon-style" light-up signs out of LED strip-lights and flexible plastic covers.
I went to their site, looked around, and started thinking that, yes, this would be incredibly cool to do.
So I looked at the color of tubing they had available and drew up a couple options that I could send to them to see if it were feasible...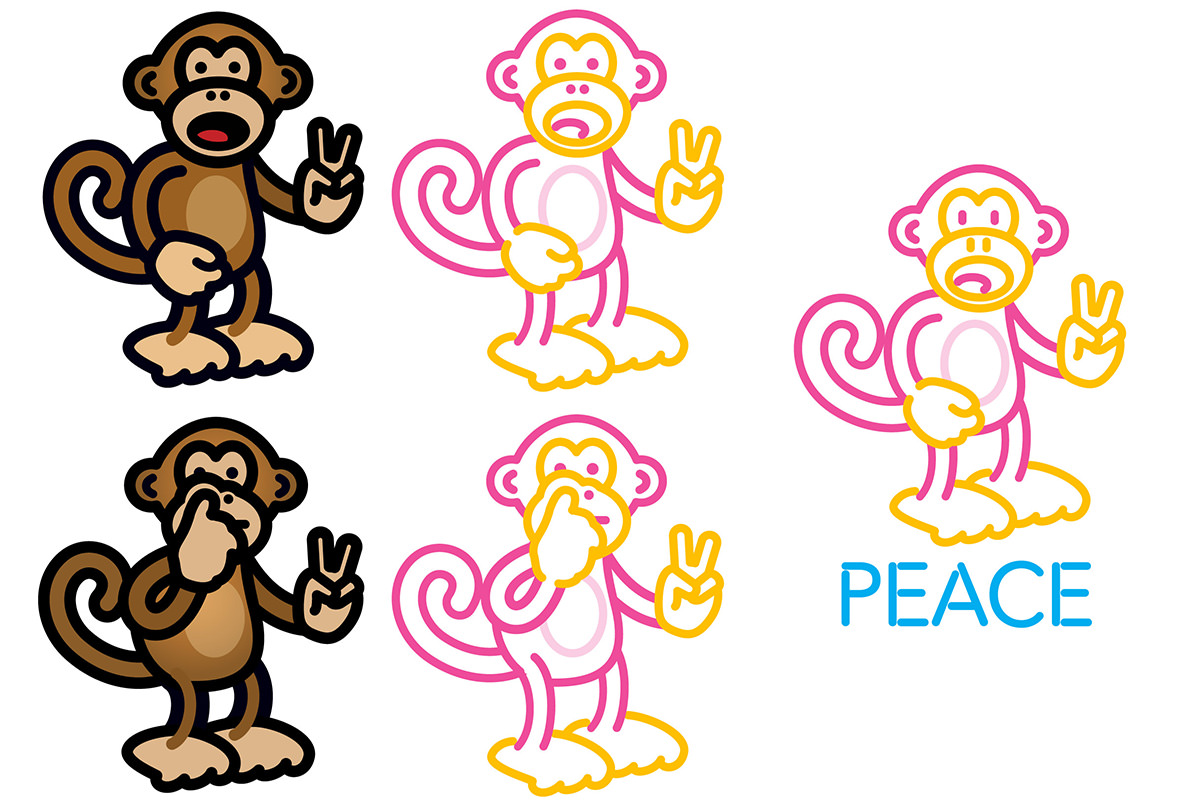 I was assigned a sales team contact and quickly got back a rendering of what they could do...
As much as I liked the idea of Bad Monkey picking his nose, I thought that the overlapping yellows were a bit confusing. So I decided on Bad Monkey flashing a peace-sign... then asked if they could add the lettering below it. I also asked to have it flipped horizontally. Since people "read" from left-to-right here in the USA, I wanted the peace-sign to be the lead instead of the tail. I also wanted them to add the word PEACE at the bottom to make the piece taller. Within hours I got back a revised composition that looked fantastic.
There was some back and forth as I asked for small changes to be made until I was happy (my favorite being "the arms need to be consistent width, like macaroni"). But, to their credit... my sales rep (Hi Kristina!) never once got aggravated or acted the least bit irritated (even though I'm sure they had to be by the time we finished!)...

No idea why it's practically on the floor now.
The sign ended up quite a bit larger than I had imagined (30×42 inches) when I first drew it, but there's only so tight you can bend the plastic tubing, so this was as small as it could get.
Now, one thing I should say right off the bat is that these signs are expensive. Like really expensive. As in ZOMG I WILL BE EATING PEANUT BUTTER FOR MONTHS! expensive. As in $1,200 expensive. I did a little poking around to see if there were shops making them for less money, and there were, but not one of them had the glowing reviews that YellowPop had, and that was worth it to me. What good is saving $300 if the result is crap?
Wiping out the entirety of my Black Sunday savings, I wrote back to my most excellent YellowPop rep to order it.
Fast-forward a couple weeks and my order has shipped. It arrived on Friday.
And, let me tell you... it is GORGEOUS. I had fairly high expectations given how much money I spent, but YellowPop went just... beyond. I unboxed it, plugged it in, and literally gasped when it lit up...

If you look real hard, you can see Jake down there checking it out!
Originally, I was going to hang it in the corner of my living room. But it was so phenomenally good that I just couldn't do it. I cleared out a wall in my dining room so it had plenty of space to breathe and be fully appreciated.
But how to hang it?
The instructions they give you are pretty vague. Essentially "Pop in those drywall anchors, attach the metal pegs, then screw your sign to it! The end!" Problem is that with a sign this big you would need to have two people hold it into position, pencil through the holes in the acrylic backing onto the wall, then install the metal pegs. But I didn't want to have to bother two friends or neighbors on a weekend, so I decided to trace the sign onto the cardboard sheet that came in the shipping box. Then I could cut out the tracing, tape it to the wall, and know where to put the holes all by myself...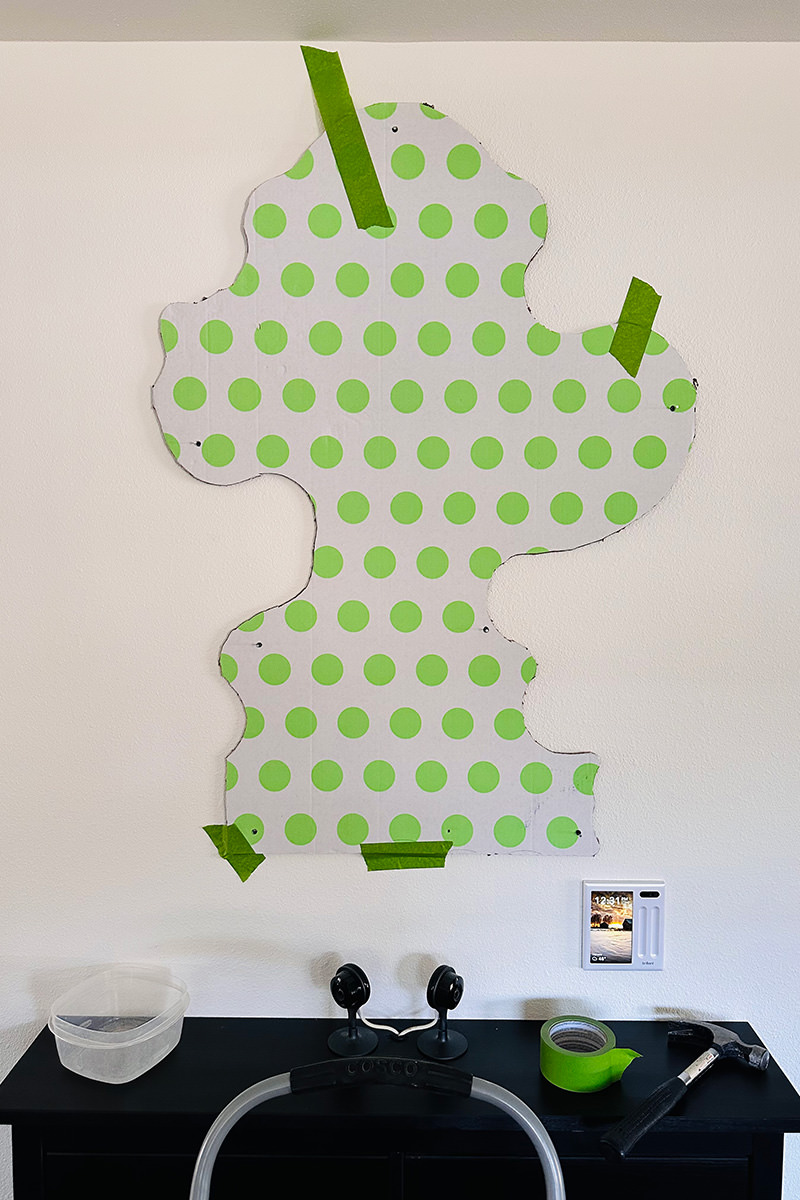 Ask for help? I'm a loner, Dottie. A rebel. I'll do it myself!
The metal mounting pegs are actually very smart, because they set the sign out away from your wall, which makes it look more like glass tubing instead of something that's flat against the surface...
One thing I did to make it easier to hang alone was to move the sign a tiny bit off-center so that the mounting peg at the top was firmly anchored square into a wall stud. Then I could screw in that peg long enough to hold up the sign so I could screw in the rest. If I hadn't put it into a stud, it was heavy enough that it would probably have ripped out from the drywall if I tried this.
And there you have it. My amazing new Monkey Peace sign is up...
LOVE IT!!! ABSOLUTELY LOVE IT!
The problem with this photo is that you can't tell just how incredible this looks in person. The "neon" looks all blown out and blurry in photos... whereas in Real Life, it is perfectly defined and has a beautiful glow to it. Looks very much like actual neon from any angle until you get close and see that it's not really glass tubes. Remarkably, the light is diffused enough that it appears solid, not at all looking like a bunch of little LEDs.
UPDATE: When it gets dark, the light is even more impressive. Gorgeous. Photos still don't do it justice though...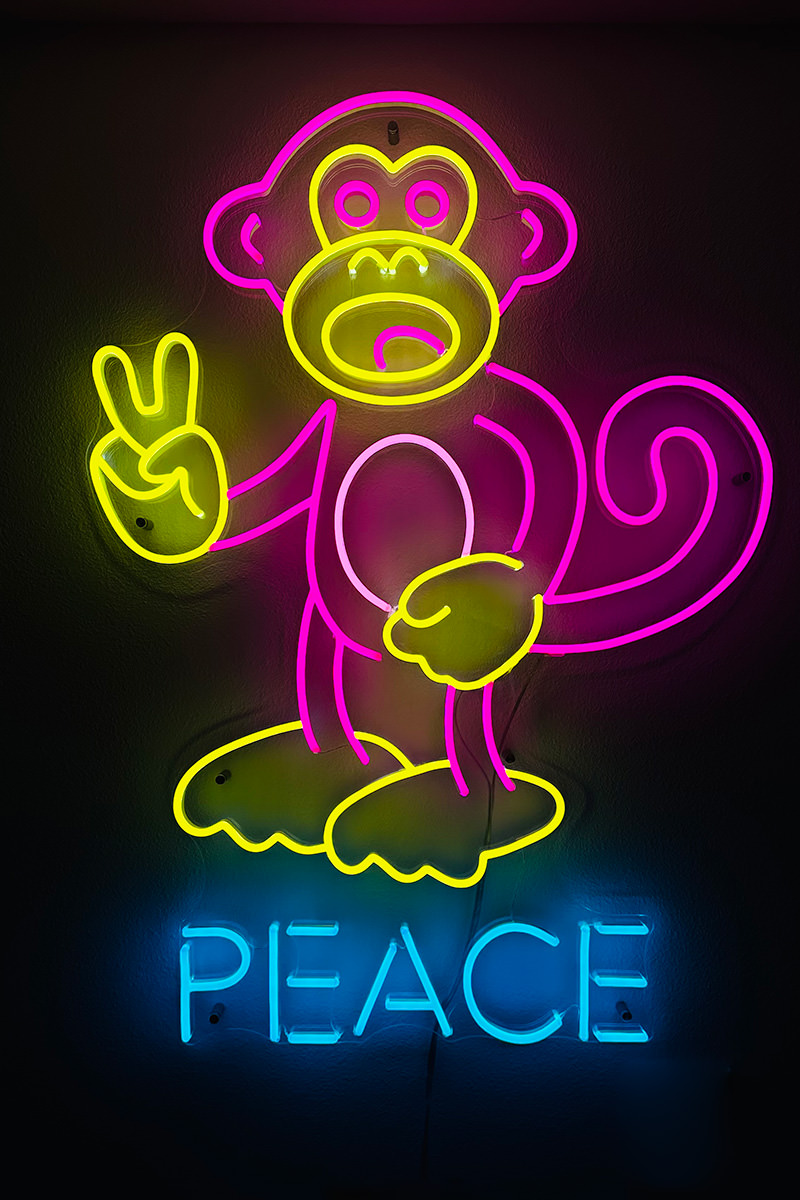 One piece of advice... spring for the dimming remote control ($29). The sign is actually more impressive when it's not at full brightness, and it's nice to be able to turn it off and on from across the room...

Yes, as you can see, my cats are clearly unimpressed.
So, yeah... thrilled with the whole experience from start to finish. If you're looking to have custom "neon" of your own, I highly recommend YellowPop for the job! They're expensive, but worth every last penny. I cannot stop staring at it.
I guess now I'll be saving up for my next piece. This turned out too good not to.
Posted on Friday, March 17th, 2023

Wait... what's happening? This week's Caturday is on... Friday?!?
I'm afraid so. Today UPS showed up with a Very Important Package, and I will need my Saturday post to run through that bit of excitement. So kitty drama comes a day early.
The "Broths" food that the cats love best is "Broths with Tuna, Anchovies & Whitefish"... but it's my least favorite because there are WHOLE little fish in there. Which I give to Jake because Jenny only licks them, she doesn't eat them.
And so that Jakey-Bear doesn't get a whole fish stuck in his throat, I always cut the poor little creature into three pieces for him. WHILE FREAKING OUT THE ENTIRE TIME. But my consolation is that there's only ever one little fish in the entire bag. EXCEPT THIS TIME I GOT THREE OF THEM IN THE BAG THAT I HAD TO CUT UP! GAAAAAAAAHHH!
So gross.
Earlier this week I saw something that kinda blew my mind. Jake jumped down off the cat tree to climb over Jenny, at which point she usually scampers away at top speed. As I was going to film this, Jake decided to stop and sit on her...
Jenny still laid there for a bit before she realized that Jake wasn't going to move on.
I was sure to give her extra belly rubs...
At least I did until Jake decided he wanted to sit on her there too. This time she wasted no time scampering off. Jake took that as an invitation to watch TV with me. So what can you do?
It's tough to be mad at a cat for doing cat things, but I sure wish Jake would let Jenny have her space.
Posted on Thursday, March 16th, 2023

The sad thing about the demise of blogs is that our online communities have been fractured.
Facebook is nice, but you can have friends half-way around the world living in the same city who don't even know that each other exists. Back when blogging was a thing, we'd regularly have meet-ups, and new friendships could be formed since everybody showed up to the same place and got to know each other in a social setting. There are days I miss blogging more than others (even though I'm still doing it)... and today is one of those days.
Posted on Wednesday, March 15th, 2023

When the term "woke" was first being tossed around the internet, I thought it was over-used, but ultimately a good thing. When you are no longer asleep at the wheel while people are suffering around you, that's woke. Keeping your eyes open with compassion and caring for people who are being continuously persecuted by a systemically flawed society is woke. Taking action to make sure that everybody has a seat at the table is woke. And those are... bad things?
It amazes me how people are so quick to weaponize something to distract from their bullshit. But that's the modern world for you, I guess. Every time you turn around people are attacking "wokeness" and "woke mind poisoning" and "woke culture"... almost to an almost hilarious degree. It's like... okay, you want people to go back to sleep and close their eyes to injustice? Maintain the status quo which only works for precious few people? Really?
But what really blows my mind is how everything is how everything that detours from the status quo is considered "woke" now... whether it makes sense or not... whether it has anything to do with actually being woke.
I don't usually share graphics created by other people, but I came across this one and nearly pissed myself laughing, so here you go...

Brilliant creator unknown.
I dunno.
Now-a-days it seems like for every step we take forward as a society, we're taking two steps back. Sure people have always been resistant to change, but now it's fallen below a debate we can have and become a non-stop hate machine from our politicians and the media.
Which isn't terrible surprising, really. History shows that hate is a fantastic tool for manipulation.
Especially when people don't even understand what they're hating.
It's just whatever they've been conditioned to hate.
UPDATE: And then I saw this...
BWAH HA HA HA HAAAAA!
Posted on Tuesday, March 14th, 2023

The fact that Sonos can say that their Voice Assistant is a viable means of controlling their speakers with anything approaching a straight face is new levels of laughable.
I hear "Sorry, I Don't Understand! Please use the Sonos app!" so often when attempting to use their bullshit that I feel Sonos should hire somebody to sit in the corner with the Sonos app so I have voice control that will actually work.
Between Sonos Voice Assistant and Apple's HomeKit, I spend a hell of a lot of time being embarrassed for tech companies right now.
Posted on Monday, March 13th, 2023

The quantum leaps in graphics rendering technology is all new levels of mind-blowing any way you look at it. Television shows and movies just keep getting more and more spectacular. But where my mind fails on entirely new levels is video game graphics.
They've gotten so good now that what you can do with rendering engines like Unreal Engine can rival cinematic graphics. Indeed, some shows and movies are using video game tools to craft the worlds their characters inhabit.
Then Unreal Engine 5 came along and just upped the ante yet again. Just look at this tech demo which features a walkthrough for The Titanic (to really appreciate it, click through and watch it full screen)...
And look at this...
And this...
These aren't just pretty renderings... they are worlds you can walk around in and explore.
Paired with upcoming VR technology... can you just imagine what we'll be doing virtually in the next ten years?
Unreal.
Posted on Sunday, March 12th, 2023

We are on the advent of greatness! But before Season 03 arrives, I'm going to run my thoughts about everybody from the first two seasons... because an all new Very Special Ted Lasso Edition of Bullet Sunday starts... now...

• Roy Kent! Never in the history of television have I been more invested in a character. He is multi-faceted in a way that 99% of TV characters never are. And he's frickin' hilarious. Which is to say that if Jason Sudeikas actually does hang it up after Season 03, the show could easily transition from Ted Lasso to become Roy Kent and pick up where the current show ends. Whether they would be able to maintain such exceptional stories is anybody's guess, but I'd sure like for them to try. In the first season Roy went from team captain and football legend to retirement with no idea what the future holds. In the second season he tried coaching a 9-year-old girls' football team (to hilarious result), sportscasting (to hilarious result), and ultimately ended up where he was destined to be: a coach at AFC Richmond (to hilarious result). And while it looks as though there may be bumps in the road with his relationship with Keeley, that's something that's just too perfect to destroy completely. Because if there's one moment in all the television I've ever watched that crushed me like no other... it's when Keeley sat with Roy after he ruined his knee and lost his career. Whatever the third (and final?) season brings us, for better or worse, it's hard to imagine a more perfect television moment than that.
• Ted Lasso! As mentioned above, Jason Sudeikis has said that the show is three and done. For obvious reasons, I hope this isn't the case. He is the focus of most every show and his presence lingers even when he's not on-screen. Ted is deceptively simple as a character. He's a goofy, naive American from Kansas who's more than a little out of place coaching a British football team. But his innate goodness is contagious, and he has a genuine wisdom which shines through... making him far smarter than what people understand. That was pretty much played out in the first season, which is why they then expanded upon his character by digging deep into his psyche this past season. I don't know what that leads us to in the upcoming season and it's tough for me to picture where they could go next. The obvious endgame is for Ted to reconcile with his wife and move back home. That wouldn't be the worst way to end the series. But it is a bit simplistic given the reality of why they parted in the first place. Ultimately the show is bigger than its lead character. Which is probably why it's so successful. But it's also made things a bit tricky because Ted's ending isn't going to land unless everybody else does too. You can't just have Ted ride off into the sunset and call it good.
• Rebecca Welton! Once Rebecca redeemed herself and set aside wanting to destroy Richmond, you kinda had to wonder where her character would go. She didn't seem to have much purpose left. But then they went and made her even more relevant to the show when she was the villain... by making her the owner that cares for the team in a way that's likely far healthier than owners who buy a team for profit. Then the really stepped things up for her in the second season. On top of a romance with Sam Obisanya, they also delved into your past and her family... and presented her with new challenges. It's a pretty safe assumption that whatever is in store for Rebecca, it's bound to be a big part of the show. Hopefully it's also interesting and fun to watch.
• Keeley Jones! What's fascinating about Keeley is how the show is working so hard to have her not be defined by those around her. Whether it's her surprisingly healthy friendship with Rebecca... or her refreshing relationship with her boyfriend Roy... Keeley is her own person first and foremost. They took that to the next level at the end of last season by having her start her own PR firm and decline an invitation to go on vacation with Roy. She is as she has been from the start... fiercely independent. She says and does what she wants while still having a full life with the people she chooses to allow in. It's a bit worrisome that this is all setup for her independence coming back to bite her in the ass next season, which I truly hope doesn't come to pass. It would be really nice if Keeley gets to keep being Keeley while having it all. It's not always necessary to have to strip somebody down in order for them to grow.
• Jamie Tartt! If it weren't for Jamie being a complete ass in the first season, it would have been toothless television. There has to be a note of conflict or else the overly-sweet context will come off as disingenuous. To that end, Phil Dunster had a rather thankless role. And an impossible one. His character had to be likable all the while he was being awful. This is rarely pulled off well, but he managed to get there. But you never really understood how well until the second season where he finally confronted his father, who we were made to understand is directly responsible for Jamie being such an ass. Jamie had finally had enough and decided to stop being the person he was molded to be and become the man his team pushed him to be. But it's after that moment where he punched his dad that you truly knew exactly who Jamie Tartt really was all along. Roy Kent walks up to him and he recoils. He's afraid. He thinks he's going to get attacked because any time he's ever stood up to his father he's been beaten down. But then Roy hugs him and he falls apart because the scared, unloved little boy that's been living inside him all his life is finally given all he's ever wanted. It was a brief blink-and-you'll-miss-it-moment... a point of vulnerability that was expertly portrayed... but it completely turned a corner for the character. And, to be fair, the show as a whole.
• Coach Beard! Nobody... nobody... provides a reaction shot like Brendan Hunt. Many times a joke is sold because of how Coach Beard reacts or, more often than not, doesn't react. On first blush, his cringe-worthy, never-ending, on-again-off-again relationship with Jane defines the character because it's so infinitely relatable. But it's the mystery of the character that actually makes him so compelling. There's many, many hints that Beard's life is full of adventure and intrigue that makes the rest of us seem excessively boring by comparison... even though it's Beard himself who outwardly looks like the boring one. You have to wonder just how much of what Beard claims is fiction and not reality. And then the infamous Season 2 Episode Beard After Hours comes along and we actually get to see the bizarre life he lives. I know that even a lot of die-hard Ted Lasso fans didn't care for the episode, but I absolutely loved it. Truly brilliant TV. And it made me love Coach Beard even more than I already did. As if that weren't enough, you get the feeling that he saw through to what Nate really was, and I appreciated that greatly.
• Leslie Higgins! The one thing that Ted Lasso manages so beautifully is to add surprising depth to what would have been one-note characters in any other show. Higgins is always just there in the beginning. He was the nerdy assistant who bungled his way through life while other more important people pass him by. But slowly all that begins to change. And by the time the incredible Christmas episode drops, you actually know who he is. But, more importantly, why he is. Higgins is deceptively unimportant but, if you really pay attention, he's frequently an important part to what's going on in the background.
• Nathan Shelley! I understand why they took the character from innocent and likable to evil and horrendous. It's the setup for a redemption arc that would put Rebecca's to shame. But is that what we really want for him? I tell you what, I do not. This would be a really good opportunity to show that some people are utterly irredeemable. Doesn't matter how much you supported them and helped them to grow, they can turn on a dime and do everything they can to destroy you. And that's just the way it is. People don't always wrap up in a pretty little bow. And now that they've turned him into an abhorrent asshole, Nate shouldn't be wrapped up that way either. His speech to Ted in the final episode of Season 02 tells you everything you need to know about who he's become. And it shouldn't be easy for him to escape it. And I'd feel better about the show if it weren't even possible. Let him rot in his hate and die there.
• Sam Obisanya! Sam had a very specific role in the first season. He was the new kid that was trying his best to navigate life away from all he knew in Nigeria, and struggling with it. Then in the second season he found his footing and became a standout player. He also found romance with Rebecca. Of all the players, he's the one with the biggest arc as a player, and it's no leap of imagination to see that it will probably continue in the third. If the show is smart about it, this could be an interesting area to explore. He turned down the irresistible offer at the end of last season because he believed he wasn't done at Richmond and his future was there. But what will that future look like? His rise to god-like super-stardom could very well be in the cards, in which case any future stories
• Isaac McAdoo! In the first season, Isaac was the guy who picked on Nate with Colin. He really didn't have anywhere to go as a character. But then he stepped up to become captain of the team when Roy Kent had to step down. And not only did we discover that he had somewhere to go, we found out it was interesting and darn funny. The episode where he rediscovers his love of football was the turning point for where the show was going, and we discovered that if Isaac wasn't a football player, he could have been an amazing hair stylist. The guy is a bit dim, but astoundingly capable. Not just as a player, but as a leader. And I sincerely hope we get to see more of that when the third season gets here. And a look at his private life could be about the funniest thing ever.
• Dani Rojas! It's interesting to note how important that Dani has been to the show. He was brought in as a ringer to knock Jamie down a few pegs in the very first season. Then he was the catalyst for everything that would go on to happen in the opening of the second season. Whether he continues to be this kind of instigator for the the third season, but I at least hope that they end up having something interesting for him to do. Because after his pivotal use at the front end of last season, he was just written off as mild comic relief for the back-end. He was the guy who couldn't wear dress shoes to Rebecca's father's funeral. I sincerely hope that this isn't what we're left with, because that would be a waste.
• Colin Hughes! Colin is one of the background Richmond players who usually ends up being the butt of some joke. From the first season we learn that he is Welsh and advocates for Welsh independence while not being a top-tier player. And not much else. But then... the second season comes along. Nathan rips him to pieces because he's not a great footballer, and you genuinely feel bad for the guy. He's clearly trying to be the best player he can be at a game he loves, but it's just not enough. And he has to live with that every single day. We also get a tease that he might be gay, which could be an important moment for next season. The fact that his fellow players would love and accept him regardless would be an easy win. A more difficult turn would be for him to be cut from AFC Richmond and what the fallout would mean for him. Whichever way they go, I really, really hope that they at least go somewhere. The actor deserves to see Colin through. And the audience does as well.
• Richard Montlaur! Of all the top-tier named background players, the most wasted potential can be dropped squarely on Montlauer's doorstep. He's a skilled player from France who dates super-models. That's about all we know. It's a side to pro footballers that is hinted at on the show all the time. But Montlauer would give us the opportunity to actually see that life. Even if he only ever served that purpose, it would provide some insight that is sorely missing from the show. And if they took that leap, it would also be a huge opportunity for the character if we could see behind it. No idea if he's going to be tossed aside again in Season 3, but one can always hope we get something more.
• Dr. Sharon Fieldstone! When the character first appeared, it seemed as though she was going to be nothing more than a way to dive deeper into the psyche of the various players to get some kind of story beat out of it. We saw that when it came to Dani Rojas on her first day. And she was entertaining enough that you didn't hate her sticking around. But then you slowly came to see just how critical she was to what was happening and how important it was that they got Sarah Niles to play her. Deadpan by trade but introspective in her every look, you always knew there was something going on with her. Then she gets hit by a car and we get a glimpse into what her world is like. But it's all in service of Ted's story, which is fine because that's why she was written in the first place. But finding out she's been confirmed for the third season has me really hoping she ends up being more than that.
• Trent Crimm, no longer from The Independent! A lot of how we looked at Richmond from the viewpoint of Britain was through the eyes of Trent Crimm. His perspective on the team... and Ted Lasso... were important to the show because it was a viewpoint we didn't have of the characters. Because we've always been on the inside. And then Crimm threw out his career by revealing his anonymous source to Ted. Which neatly paves the way for him to write a book about Ted, and that could be a great wrap-up for the character. Maybe even the show. It's been confirmed that he's returning, so there's bound to be a reason for it.
• Will Kitman! Nate's replacement ended up being a highly sympathetic punching bag for... Nate. Now, the show could easily leave it at that. Heck, now that Nate's journey into evil is complete, he doesn't even have to appear again at all. But regardless of where Nathan's journey takes the character, Will is an opportunity to go behind the scenes of somebody who is tangent to the team in a material way. He has a girlfriend. He's nervous and sensitive. He works hard. He does his job well. But what else is there? He will never be a star but is constantly surrounded by them. What's that like at the end of the day? The guy could be anything. He could have come from anywhere. He's pretty much a blank canvas that could fill a role for the show that is critical. Or he could stay nobody. It would be more interesting if it were the former than the latter.

See you for the premiere on the 15th, everybody!
Posted on Saturday, March 11th, 2023

For the first four days of vacation, me and my houseguest stayed at my place. This is always an interesting prospect because my feral rescue cats do not react well to strangers and spend most of their time in hiding.
But every once in a while...
Jake, who usually takes 3 or 4 days to make an appearance showed up on Day Two. Even more remarkable? The Dutch Bitch was able to coax him into more than remote glaring...
Jenny even made a brief appearance on Day Three!
The final four days we were in Seattle, so my cats were left to their own devices.
The drive back over the mountains was lovely. And then I arrived home to Jake squawking his head off at me... demanding pets. Jenny couldn't be found, so I went looking. As I was wandering, I went into the guest room and found a MASSACRED BAG OF CAT TREATS!
Which means either my guest wanted a midnight snack and was unfamiliar with how to open a package... or Jake and Jenny decided to help themselves to a treat in my absence.
ROLL THE TAPE! — It was Jake who managed to get the package. But it was Jenny who dragged them into the guest room hours later to shift the blame...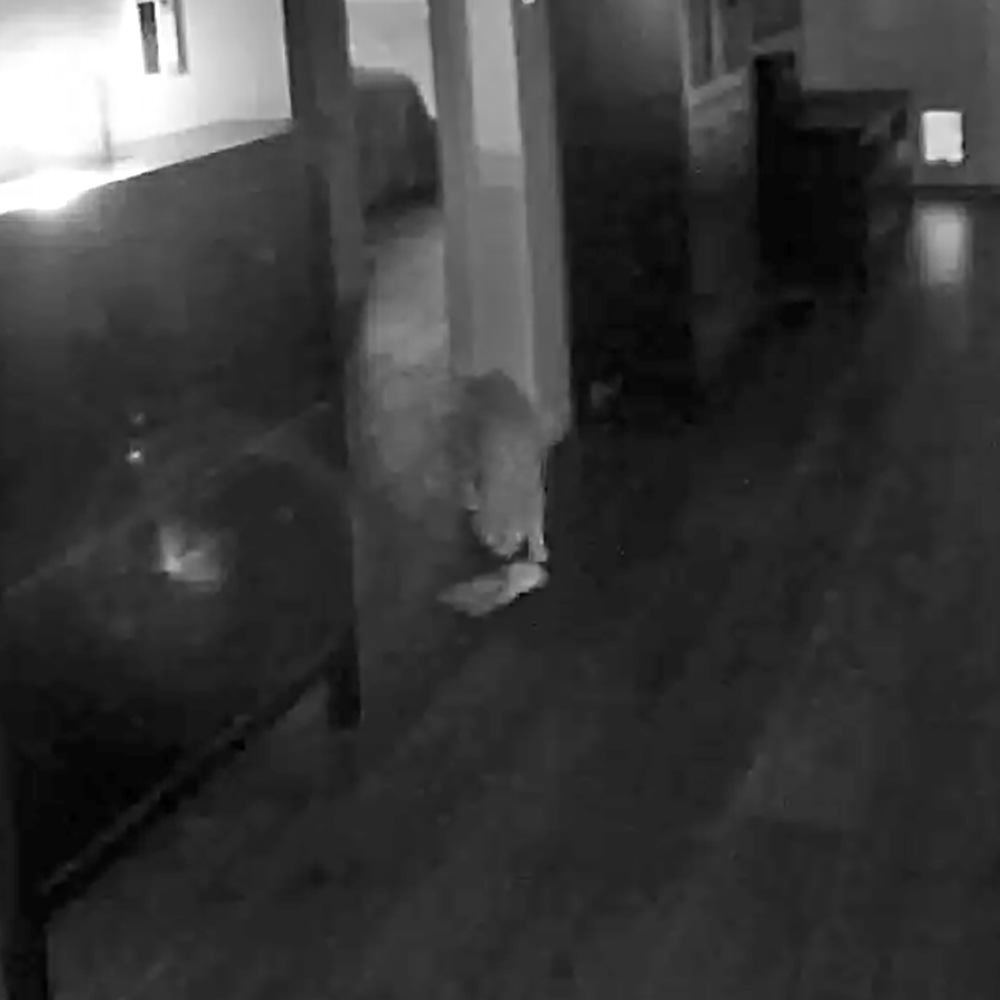 Jakey-Bear is happy to have me home... though you'd never know it from this photo...
Jenny is being a little more cautious and still hasn't graced me with her presence.