Posted on Friday, May 29th, 2020

"It is impossible to build one's own happiness on the unhappiness of others. This perspective is at the heart of Buddhist teachings." — Daisaku Ikeda
Like a lot of people, I'd imagine, I have been looking towards my faith to find comfort in and make sense of this world we find ourselves living in. To which people are all "Awww, me too!" Until they realize that the faith I'm talking about is not Christianity, which leads to an uncomfortable silence as my imagination has them adding me to their okay-to-hate-list.
Because that's pretty much how it goes, doesn't it? Your interpretation of a special book says that it's okay to hate certain people, so you ignore the larger message of love and forgiveness and focus on the hate because it's so much easier. And since your interpretation serves as justification for your hate, you've got some kind of divine permission which makes it all okay no matter how ugly it may be.
I'm sure I've been hated for a lot of things. I came to this conclusion early in life thanks to being smart in a world that prefers ignorant, unremarkable in a world that prefers beautiful, sickly in a world that prefers virility, and willful in a world which prefers submissiveness. Somebody feels I fall short of an idealized goal, so I get hated for it. And, yeah, it can hurt. I've bought into the brainwashing as well... because how could anybody not... and I've spent plenty of time hating myself too. No need to point out where I don't measure up because, honestly, I'm right there with you.
Attacking on my masculinity (or lack thereof) is the go-to way that people have been hating on me for decades. I've been called "faggot" more times than I can count. I'm not gay... but that doesn't matter because I'm not masculine. And since masculine guys (and masculine-worshipping guys and gals) think that being masculine is everybody's ultimate goal in life, it's easy to throw a little hate my way.
When I was younger, it bothered me. I may not have even fully understood what the word meant, but it must be something terrible if it was being directed at me, right? I'm a nerdy weak kid, so the strong perfect people pretty much had no choice but to bully me. It's my fault for choosing to be a nerdy weak kid, after all. I deserve it.
Then I grew up, stepped out of my bubble, went out into the world, and started meeting actual gay people, for whom the slur had been created. I quickly learned that these were some of the strongest people I had ever met. They had to be in order to survive a society which had been designed to persecute and hate them. — And yet I'm supposed to be upset that somebody wants to count me amongst their ranks? Holy shit, what an absolute honor. Of course I've met people in the LGBTQ community that are total assholes who are happy to bully me right along with the rest of society's toxic elements... but, by and large, the LGBTQ community has been far more kind and accepting of me than any other, which is why most of the people I love, respect, and admire make their home there.
So, yeah, people call me a "faggot" whether it's intended to be imasculating or because they think I'm gay. And the whole time I'm laughing because I see it as such a huge compliment... all while being angry and sad that such an ugly word has been created to hurt people I love.
And so...
All of this came crashing down on me this morning when I read the latest news concerning Brian Sims, a Representative from Pennsylvania. Yesterday he posted a live melt-down video because Republican House members tested positive for COVID-19... but only told other Republicans about it. People who had been in contact with those testing positive were still showing up to chambers... unmasked, and Democrats were never told a thing. They only found out because a reporter found out. Representative Sims disclosed that the reason he's so angry is that he's high-risk for infection because he donated a kidney, and it was a horrific scenario for his fellow representatives and staff who might have taken the coronavirus back to their families unknowingly.
Fast-forward to today when Representative Sims showed up to voice his renewed disgust at how horribly Republicans had acted throughout this entire ordeal... only to have Republican Representative Jerry Knowles yell out that Sims was "a little girl" as he was finishing up his speech.
There it is...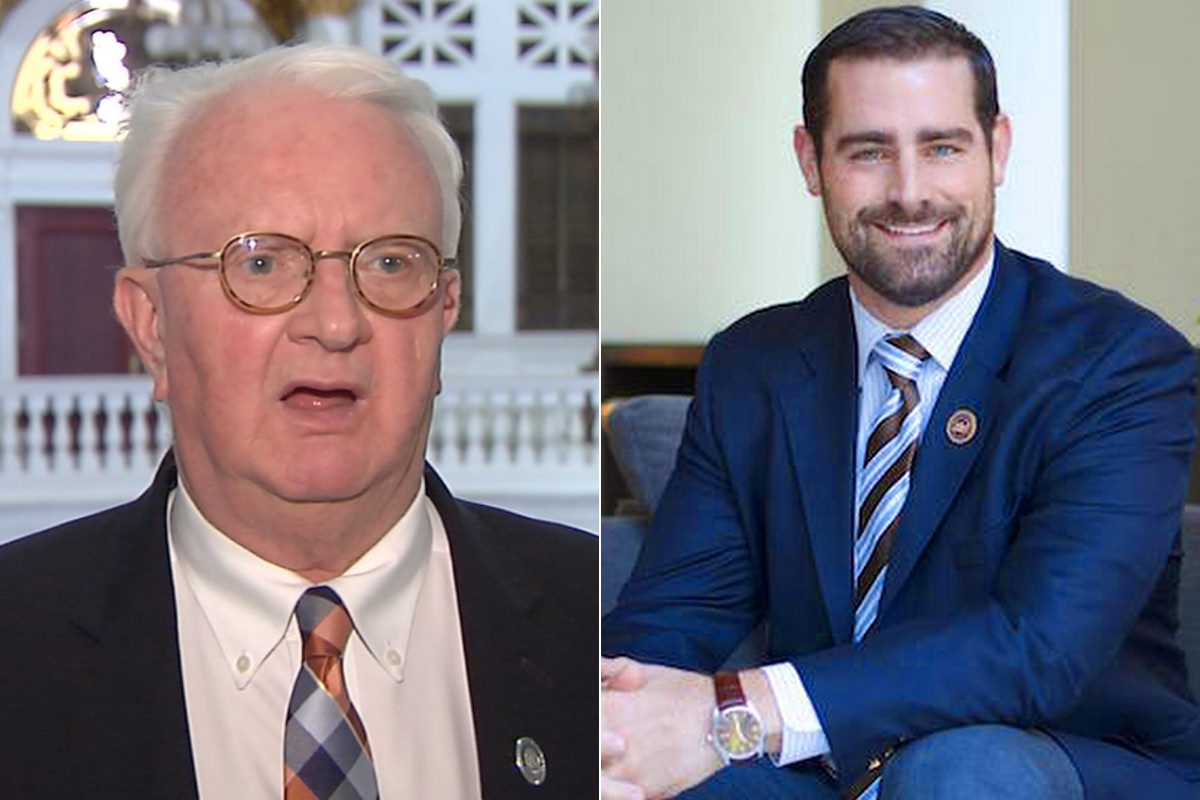 That's manly masculine man Jerry Knowles on the left and little girly girl Brian Sims on the right.
You wouldn't think "little girl" of Brian Sims because he's outraged that he was willingly exposed to people who were exposed to the coronavirus and it's risky for him to contract it because he answered the call to go under the knife and donate a kidney... would you?
I mean, holy crap, they have to practically rip you in half to get at the kidney and it's far from a cakewalk. There's significant risks during and after you donate, and if your remaining kidney fails for some reason, you are in some serious shit. You have to be made of pretty tough stuff just to consider donating a kidney.
You wouldn't think "little girl" of Brian Sims when you look at him because, let's face it, the guy is fire and just about any man on earth would be happy to look like this ruggedly handsome individual... would you?
I mean, holy crap, the guy even pals around with his big fucking manly dog...
So what could it be? What could it possibly be as to why Representative Jerry Knowles was screaming "LITTLE GIRL" across chambers while Representative Brian Sims was speaking? What?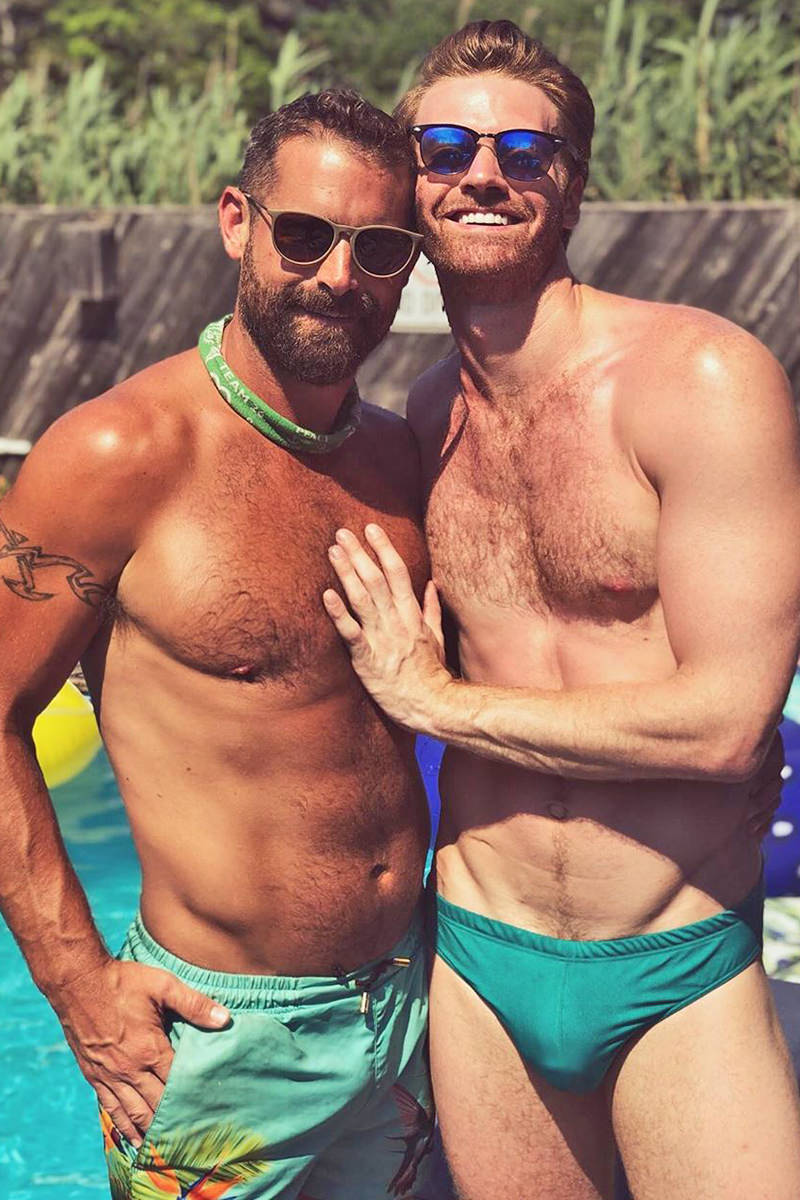 Ohhhhh.
Oh. I see.
He was called a "little girl" because he's gay, thus not at all masculine. Yes, I recognize it all too well.
Fortunately, just like I've come to understand that people calling me "faggot" is actually an incredible compliment, Brian Sims was basking in the honor of being called a "little girl" because he knows what it actually means. Not what some bigoted old fart thinks it means... what it actually means to be a little girl growing up in the world. Having to look a certain way or act a certain way or else being told she's not a girl. Having to work harder to achieve success only to be rewarded with less. Having to deal with non-stop harassment and intimidation yet still be expected to smile. Being made to feel unsafe because "boys will be boys" somehow excuses everything, no matter how horrific. And that's just a taste of the gauntlet that little girls have to navigate. The list goes on and on. This is supposed to be an insult? Representative Knowles should be so lucky to have somebody call him a "little girl." Little girls are tough. They have to be. And a pathetic coward like Knowles wouldn't know tough if it sat on his face. What a fucking embarrassment.
Representative Brian Sims has been an interesting political figure to watch over the years. Interestingly enough, I wrote about him here on my blog a decade ago before he ever ran for office. It all started with this inspiring video...
Since then, Sims has not been without controversy. Some of it was inevitable. He's an out and proud hardcore liberal gay man in public office. There are people who are vehemently opposed to any and all of this, and I'm sure the Representative has to wade through their vitriol daily...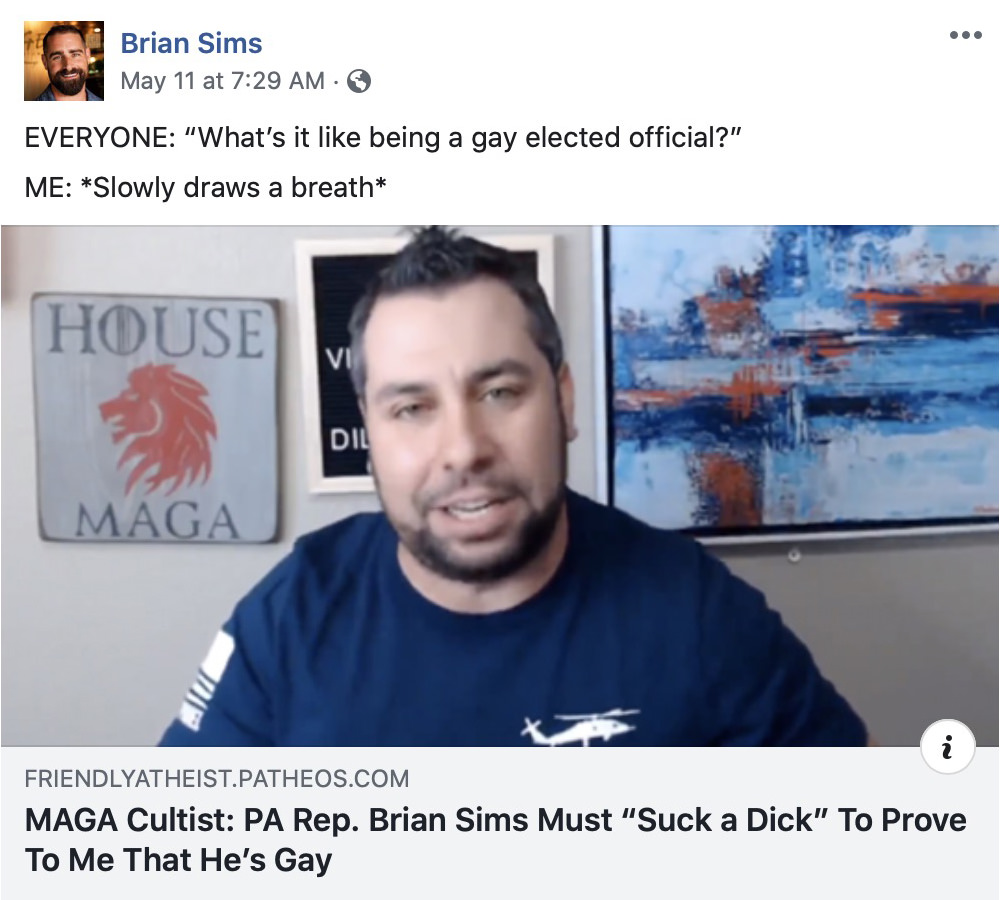 His responses are sometimes shocking and controversial... sometimes surprising... sometimes funny. Sometimes, they're all three...
Other controversies are a bit more complex, but not at all surprising. He is, after all, a politician. And apparently you can't be a politician without being party to some shady shit. Politicians and shady shit go together like peas and carrots. He posted videos of himself confronting praying Planned Parenthood protestors that were cringe-inducing even to Planned Parenthood supporters, then issued a "non-apology apology" after the fact. He's been the subject of an ethics investigation after accepting speaking fees in violation of policies which forbid it. He regularly says and does things that are inappropriate for his office... like posting a photo of himself flashing a middle finger saying that it's his "welcome message" to Vice President Pence when he visited. I mean, come on, take the high ground so people don't have to make excuses for voting for you. If a Republican were to flip the bird as a "welcome message" to Vice President Biden, Democrats would lose their damn minds.
Not that I don't appreciate the sentiment, mind you. Vice President Pence and everybody party to the Trump Administration can absolutely fuck right off. But you're a public servant and supposed to be held to a higher standard than that of a vile asshole such as myself. And hey, I'm trying to be better. Really I am. Building my happiness on the unhappiness of others is not what I'm supposed to be about. Daisaku Ikeda was not wrong when he says that it's an impossible thing to do. Every structure has to start with a strong foundation or what you build on top of it is likely to crumble.
That being said, I suppose you kind of have to cut some slack to Brian Sims and people like me for going off the rails from time to time. Just look at the horror story of the world we have to live in.
Well, okay, I deserve a little more slack than Brian Sims does. Because at the end of the day, he gets to look like Brian Sims and I... well... I most definitely do not...
I'm allowed to be a little bit bitter about that.
Posted on Thursday, May 28th, 2020

The two days it took to build flower beds, fill pots, and plant flowers seems to be paying off. From what I can tell, only one plant died and all the rest of them are doing really well. I should probably weed everything again, but I'm in no hurry for that. All I know is that my yard doesn't look like a disaster area any more, and that's probably a good thing... even though I won't be having guests to appreciate them any time soon...
The irises on the side of my home are in peak bloomage, which is to say that they're all falling over because the flowers are too heavy for the stalks holding them up. I propped them up where I could and took photos so they can at least be appreciated before they all start dying...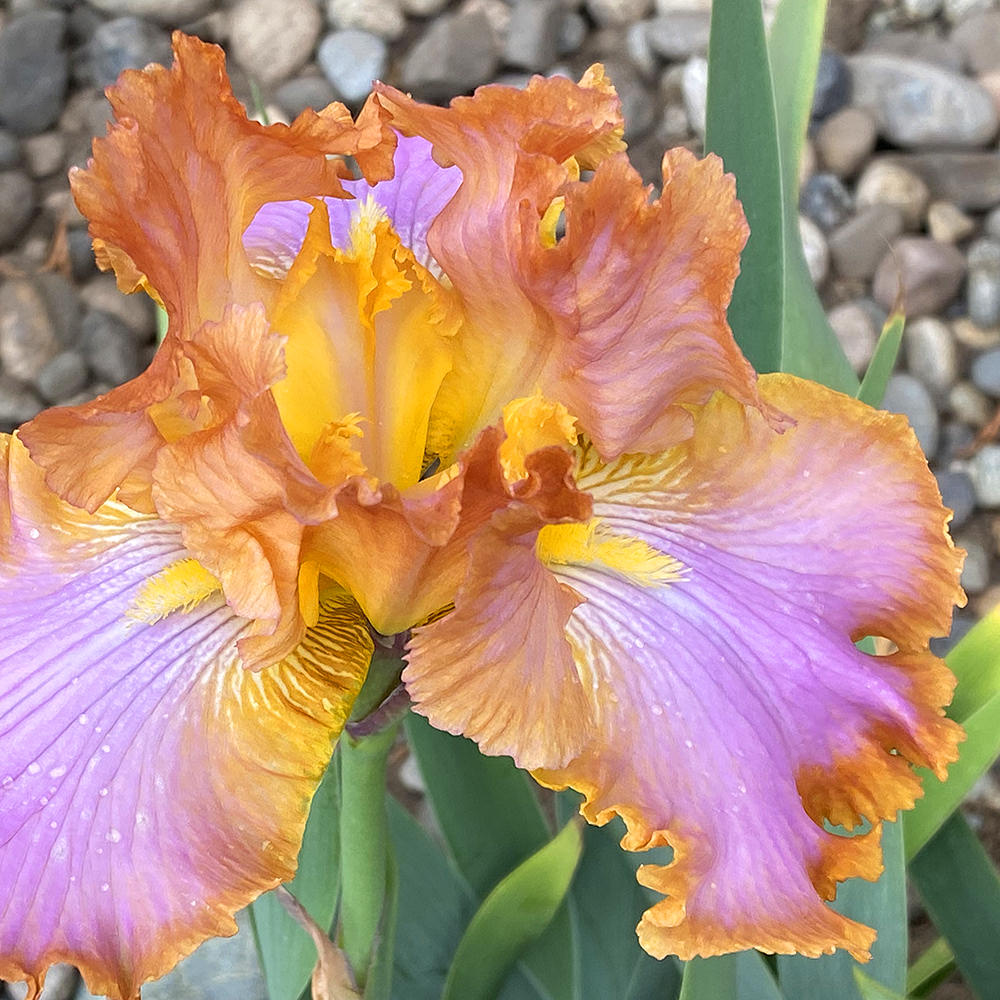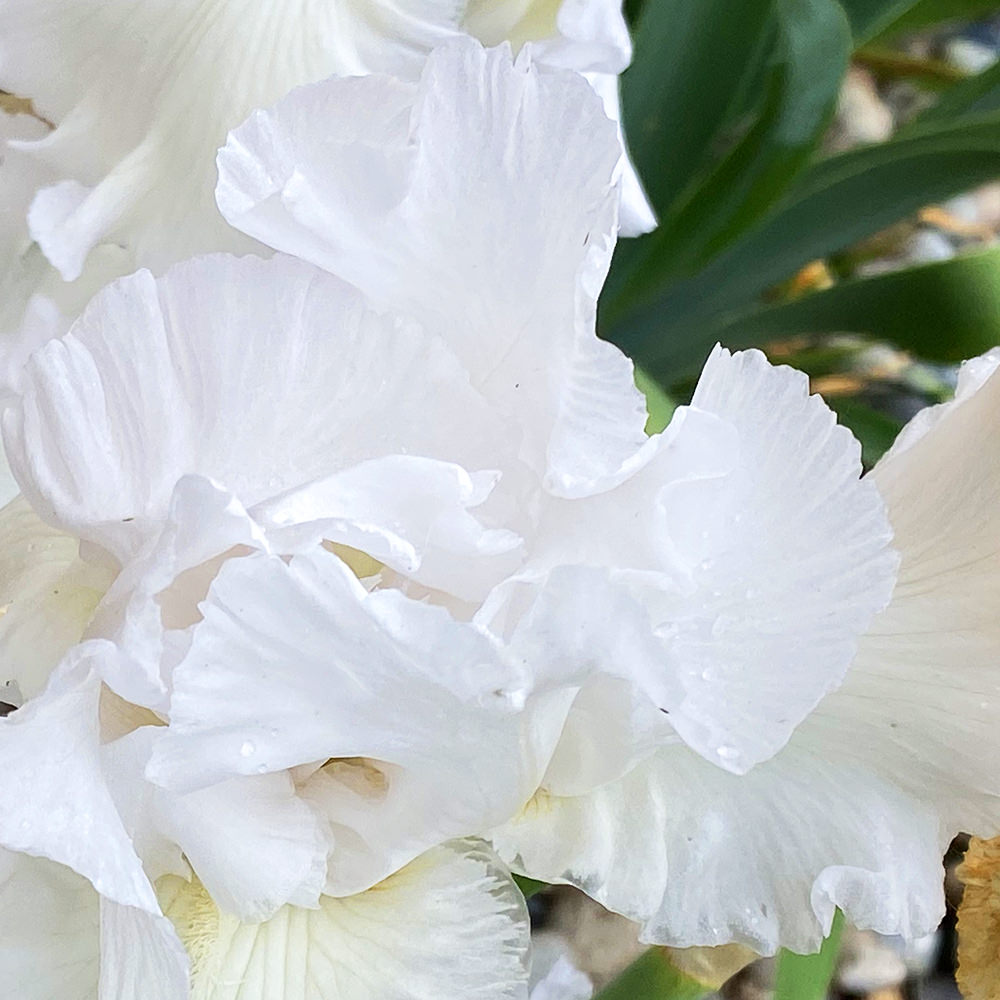 I think I mentioned that I'm in the process of backing up all my DVDs before they rot to unplayability. But I'm also looking into the best way of backing up my 8mm cassette tapes. For quite a long time all my shows were recorded on 8mm because the quality was better than VHS and they were much smaller and easier to store. Over the years as the shows have become available to purchase digitally, I've been tossing the tapes out... but there's still quite a few shows which I can't purchase and will have to digitize. Including two of my favorite shows of all time... Cupid (1998, starring Jeremy Piven) and Oh Grow Up! (1999, starring the late Stephen Dunham). I cannot for the life of me understand why television studios don't just release their entire catalogs to scrape up some cash, as there are many shows I'd gladly buy if only I could.
Including some shows I never even knew existed.
Yesterday I became aware of a 2016 show from the UK called Hooten and the Lady when a friend let me stream it from his Sling DVR. Apparently The CW acquired the USA rights and broadcast it in 2017. He thought I might like it... and I absolutely do...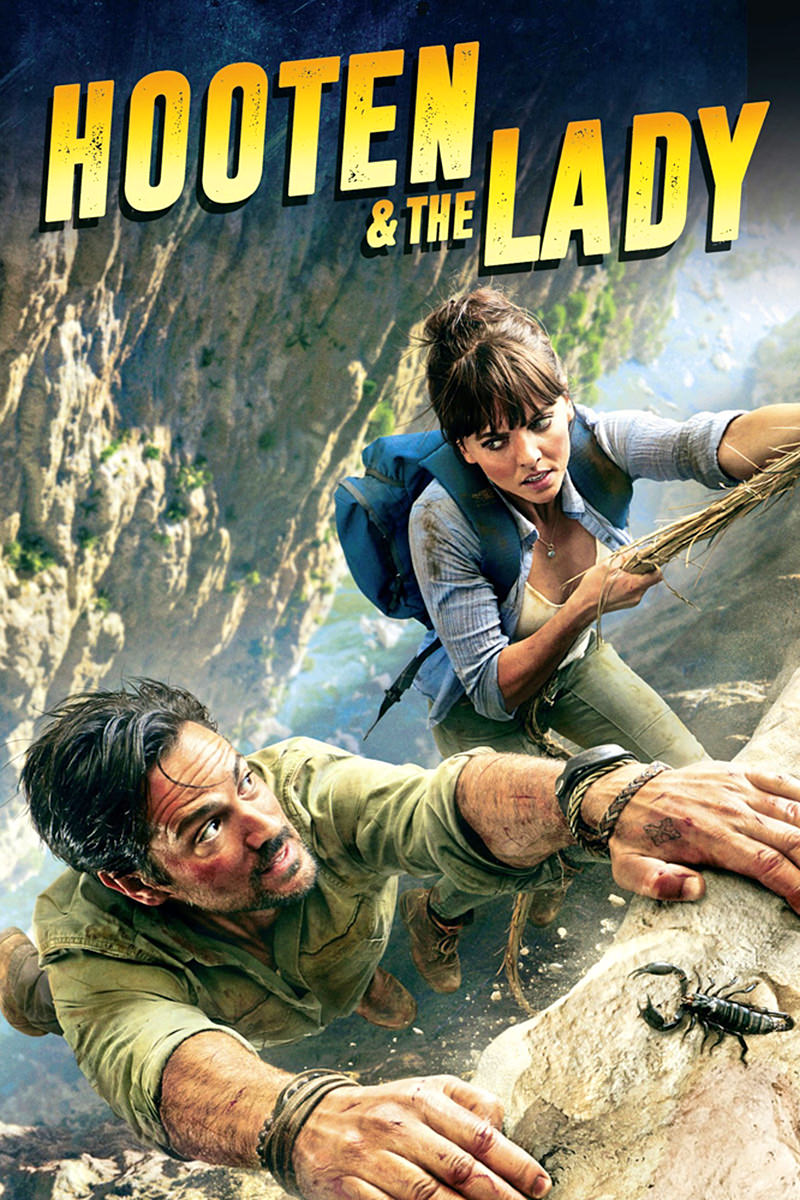 I liked the first three episodes so much that I went to buy it so I could see the five remaining episodes. Alas I can't buy them. It isn't available here in the USA in the iTunes Store, nor can I purchase it on DVD or Blu-Ray because it's region-encoded and won't play on my machine. Which is a pity, because it's really, really good. Kinda Indiana Jones meets Romancing the Stone. Or something like that. It's got action and has some funny moments to it. Guess I'll have to see when my friend will let me schedule some time with his Sling Box again so I can finish it up. Alas it never got a second season, which is inconceivable to me. It's such a great show.
Except it actually is totally conceivable to me because all the good shows seem to get premature deaths.
Posted on Wednesday, May 27th, 2020

Last night I stayed up until 1:30am working, so I decided I deserved to leave work early today. So at 1:30pm I gathered my things... I hopped in my car... I screamed at the world... I sucked it up... and went grocery shopping.
This is most decidedly not something I wanted to do. If you remember last time I did this one month ago, it did not go well. I could have probably held out for another week... perhaps two... but I didn't like the consequences of doing so. At the end of that second week, I'd be eating saltines with ketchup or something.
As an added incentive? My Safeway Monopoly Instant Winner prize tickets expire tomorrow, and I will absolutely risk COVID-19 (and dealing with assholes) for $44 in free stuff.
Little did I know that 2/3 of my tickets could not be redeemed. So many of the things I was supposed to get for free or at discount were out-of-stock. Free bottle of hand-sanitizer? Don't make me laugh. Discount on Vlassic pickles? Nope. No Vlassic pickles to be had. Discount on chocolate milk? Denied. What I estimated to be $44 in savings ended up being... $17 total. Wheeee. My biggest score was a bottle of aspirin that I will never use. I only take Ibuprofen. But it was free, and who knows? Maybe one day I'll need it.
One hour and $200 in groceries later, I escaped no worse for wear.
That I know of, anyway.
I'd estimate that less than half of the people shopping with me were wearing masks. Which is not surprising. A lot of people here still think that the pandemic is a hoax, masks will kill you with carbon monoxide poisoning, and a litany of other nonsensical things. Logic has gone right out the window.
Which is why I'm more than a little worried about Washington State starting to open up again. Don't get me wrong, I certainly hope that we can reopen safely and not get a second bigger wave of COVID-19 infections, but it wouldn't surprise me after observing how some people are acting. If everybody was observing proper distancing, wearing masks, and generally giving a shit about other people, I'd feel a lot better about it.
Oh well. Not much I can do about it... except protect myself as best I can, look after others as best I can, and listen to people calling me names because of it.
Posted on Tuesday, May 26th, 2020

Today was not a great day.
The brain rewiring I've had to learn in order to deal with my dyslexia falls apart when I'm tired or stressed or upset, and today I was all three. This makes reading a challenge... but also creeps into my ability to speak properly when things get really bad. Today I had multiple times where I couldn't find my words, something that hasn't happened in years. It's frustrating. It's embarrassing. It's just plain tough to deal with.
It's the pandemic. It's the easily debunked conspiracy theories. It's the politics. It's the uncertainty. It's the inhumanity. It's the lack of empathy and kindness.
It's a woman in Central Park weaponizing her white tears in a staged 9-1-1 call in an attempt to "kill via police" a Black man who had the audacity to ask her to obey the law and please leash her dog.
It's all of it. It's everything.
The world we have right now is not conducive to my living in it, and I honestly don't know what I can do about it. Probably nothing.
But I gave it a try when I bought Minecraft Dungeons from the Nintendo Switch eShop.
After all things LEGO, my favorite genre of video game is dungeon crawlers. I love the exploring and discovery and secrets and, of course, battling monsters for loot. The Diablo trilogy... the Baldur's Gate games... even the cutesy RPG crawlers like Fire Emblem, Trials of Mana, and (of course) the myriad of Final Fantasy games... I enjoy them all (and it's thanks to the first one I played, Dungeon Master on my Atari ST computer).
And while I don't play Minecraft, I was intrigued when I found out we were getting Minecraft Dungeons because I could use a fun dungeon crawler right about now.
The game starts out pretty simplistic. Exploration is curbed as you learn to fight enemies and follow the linear path laid out before you. At the mid-point of the game, things become more challenging and, if I'm being honest, a lot more fun. There's more to see, explore, and do, and the enemies no longer roll over and die at the sight of you. I've likely got another hour or two of gameplay left, but right now I'm digging it because I'm having to put a little more thought into how I'm approaching a level. Would have been nice if they started here, but it's all good.
I'm not anticipating things getting absurdly difficult, but I'm guessing the end won't be a cake-walk either. Apparently once you beat the game you can replay it at a higher difficulty, so that might be fun. And since the maps are (reportedly) procedurally-generated, it might be a slightly different experience, which is nice.
If you've played Diablo, you've pretty much played Minecraft Dungeons. The similarities are striking, even if the visuals are radically different. Mojang Studios used the same 8-bit blocky graphics they used for the original Minecraft, but they're really pretty and polished in this game. Sure, sometimes it can be annoying because it can be tough to get a bead on things quickly, but overall I really enjoy the aesthetic they dreamed up (and would probably appreciate it even more if I was more familiar with Minecraft).
Another departure from this Diablo clone is the class and weapon enhancement system. As in, there isn't classes and weapon enhancements can be recovered and redistributed as you upgrade your weapons. Being able to define and change your play style by not having to commit to a character class is simplistic and unrealistic (in context) but I rather like it. And you're not going to hear me complain about being able to transfer enhancements (or "enchantments" as they call them) to new weapons I like.
Right now I'm playing solo, but Minecraft Dungeons allows for 4-player co-op, which is something I'd really like to try. It seems like the entertainment value from multi-player would probably allow me to more easily gloss over the shortcomings of a simplistic game like this. The problem is that I can't cross-play with my friends who are playing on a platform other than another Nintendo Switch. This blows and, when I searched for it on the internet, I found that Mojang Studios is planning on providing a free update that will allow it. Since the only other people I know playing this are not doing so on a Switch, I guess I just have to be patient and hope that they aren't bored with the game by the time cross-play is released.
Ultimately I like this game. It feels like it's going to be a bit short and lacking the complexity I usually enjoy in a dungeon crawler, but it's also just $19 so at least it's priced accordingly. The fact that it's essentially a LEGO video game with different visuals is the real draw for me, however. In a time when the Real World seems like a void of despair from which I can never escape... being able to escape into Minecraft Dungeons is a welcome distraction.
Posted on Monday, May 25th, 2020

It may be a holiday Monday, but it's still a Monday.
I worked a little bit today, but not much. Even worse, I didn't get to the dozen chores I've been meaning to get to. Considering that in pre-COVID-19 days I would have been hanging out with friends all weekend and getting nothing done, I shouldn't beat myself up over it.
The one thing that hasn't changed is taking a moment to honor and remember those who made the ultimate sacrifice for the freedoms we enjoy. Freedom isn't free, but it is something we take for granted. Maybe more-so this year than others.
Posted on Sunday, May 24th, 2020

You may be stuck in the house, but you won't be lacking for televised entertainment... because a very special Streaming Video Edition of Bullet Sunday starts... now...

• Big Eden! For better or worse, small-town rural America has been saddled with a shiny veneer of down-home values and a sense of strong community. And, having lived that my entire life, it feels an accurate way of looking at things. But this image kind of glosses over the general bigotry and specific homophobia that seems to permeate it all. Big Eden is a movie which shows what happens if it didn't permeate it all...
This is such a warm, charming, and wonderful movie. I don't want to spoil a thing, but suffice to say that it's flawlessly realized cinema. After finishing it, I had to watch it all over again because there are dozens of tiny moments happening in the backgrounds by actors performing at the top of their game. This won a slew of LGBTQ awards, but I'd hardly call it a "gay movie." It's just a movie about a place that you wish existed.

• The Ultimate Gift! I had ZERO expectations for yet another "spoiled rich brat loses his fortune and turns his life around" movie... but The Ultimate Gift was a really good take on the genre...
James Garner is a multi-billionaire with a truly horrible family. This includes a spoiled grandson who spends money like it was water and hasn't worked a day in his life. Everybody gets short-changed in the will when James Garner dies, but the grandson is given a second chance at an inheritance. All he has to do is complete a series of challenges which will win him gifts... ending with "The Ultimate Gift" after all the challenges have been met. But the challenges are not easy and are designed to push him into being a better person. Yes, there are some over-the-top moments to create artificial angst and drama but, overall, I walked away really enjoying this one.

• Hide Away! (Josh Lucas, James Cromwell • 2012) — This movie has polarizing reviews. Some people hated it. Some people loved it. I absolutely loved it. Josh Lucas shows up at a small coastal town and buys a beat up old sailboat to refurbish. The entire movie is a metaphor for rebuilding your life after tragedy, and has been filmed beautifully. I mean really beautifully...
Some of the reviews were screaming "NOTHING HAPPENED IN 85 MINUTES OF RUN-TIME... NOTHING!!!" To which I can only respond "Maybe everything happened and you just weren't paying attention?" The movie 100% relies on Josh Lucas selling it, and he does not falter. From beginning to end, his nuanced performance and commitment to the story were pretty incredible. The ending takes a little thought to process, but was well-handled, I think.

• Kid Brother! This was one of those films where I pretty much had to trust Amazon's recommendation because I would have never given it a second look had I just seen the poster on the Prime Streaming page. A reclusive janitor's life takes a very different turn when his kid brother comes to stay with him...
Do not let the trailer fool you, there is some really good subtle humor and great performances. Where did Alan Longstreet come from and why hasn't he been in like A HUNDRED MOVIES by now? Clever, charming, and some real heart, Kid Brother is worth a look.

• The Lovebirds! Amazon doesn't have an exclusive on enjoyable movies. Netflix just dropped The Lovebirds, starring Issa Rae and Kumail Nanjani. I'm big fans of both, so I was planning on tuning in even if it looks kinda slapsticky and goofy...
And, don't get me wrong, it's absolutely slapsticky and goofy... but it's not without its charms, and I thought Nanjani and Rae did an incredible job of selling it. When all is said and done, it's a cute, sweet film that manages to overcome its weaknesses. It also take place in New Orleans, which is a definite plus.

• Mythic Quest: Quarantine! And, lastly, a lot of television shows are doing "quarantine" episodes or finding other imaginative ways to carry on. Late-night talk shows are thriving in the age of COVID-19. But none of them... none of them... can compare to the sheer brilliance that they came up with for an all new episode of Mythic Quest: Raven's Banquet...
The trailer shows none of the ingenuity which makes the episode so bloody brilliant, which is actually pretty great because it doesn't spoil anything... including an amazing finale. I really enjoyed the first season of the show from Apple+... this is just icing on the cake.

And that's all the movie bullets I got. Stay safe, everybody.
Posted on Saturday, May 23rd, 2020

The Mufasa paranoia continues.
Poor Jake is still dragging his favorite toy everywhere for fear that Jenny will hide it if he lets it out of his sight.
The bad news is that half the time he'll get distracted and leave Mufasa unattended. The good news is that Jenny seems to be over it. For whatever reason she isn't hiding the stuffed lion any more. Whenever Jake is wandering the house crying because he can't find it, I'll see it in some totally obvious place. Like sitting on the stairs...
Which is where he will often drop it on his way up or down...
Jenny is far more clever than that. If she wanted to hide it, she wouldn't be leaving Mufasa on the stairs.
But Jake still thinks that she's taking it, and will freak out when Mufasa is missing and Jenny is available to blame. Here he is waiting for her to come downstairs so he can force her to tell him where Mufasa is, even though he was the one who dragged it upstairs just a half-hour earlier...
Note that poor Jenny is all WTF?!?
Which, as you can imagine, is her default state with a brother like Jake.
Posted on Friday, May 22nd, 2020

My house is a total disaster. Which leads me to believe that the only reason I've been keeping everything obsessively clean all these years is because I had people dropping by and regular houseguests staying with me. Now that there's nobody here but me and the cats, I just don't bother. And it's getting completely out of hand.
This morning I noticed a smell coming from the dishes piled in the sink and finally decided to (begrudgingly) do something about it. Then I looked over at my pile of dirty clothes and decided to do something about that too. But that's as far as I managed to get before running out of motivation. Again.
It's all psychological of course, and that's something I've been trying to get sorted. Mostly it comes down to acknowledging that I took a great many things in life for granted.
I never really thought of myself as a social person, but apparently I'm far more social than I realized. Now that I can't just hop in my car and go visit my friends. It makes my world feel very, very small. Which is ironic considering the entire world is literally at my fingertips every time I open my computer.
That's not the same though, is it?
I've decided to keep my grocery store visits to once a month. I live in an area where masks are considered "a violation of American freedom" and people are overtly assholish towards you when you wear one. Never mind that it's for their protection in case I've been exposed... I still catch crap for looking out for others. And the fact that they can't extend the same courtesy to me is disheartening, to say the least. Apparently they've bought into all the idiotic nonsense about "masks cause carbon dioxide build-up that will kill you" and "Bill Gates wants to insert microchips in everybody" and whatever else wing-nut anti-science propaganda bullshit is out there being force-fed into social media. Guess it's more fun to believe the stupid shit than the simple reality of it all.
Not that I wouldn't rather skip out on reality, mind you.
I try to do exactly that every chance I get.
This month it's by watching movies from Central and South America that have been piling up on my watchlist. One of the better ones I've seen is a movie from Venezuela called Azul y no tan rosa (which translates to My Straight Son)...
I very nearly stopped watching because there's a horrific violent scene in the beginning that I really didn't need right now. The world is depressing enough. But man am I happy I kept watching. What a fantastic movie. Highest possible recommendation if you're looking for a sweet film to hunker down with over your Quarantine Memorial Day Weekend.
When I needed a break from subtitles, I happened upon an interesting art-house sci-fi film run amok called Infinity Chamber...
I avoided it for the longest time because there were some bad reviews and people were saying that the acting was amateur. This was bizarre to me because I thought Christopher Soren Kelly, upon whose talents the entire movie hinges, was fantastic. Sure the movie went on too long and the ending was a bit meh, but I liked it well enough.
Beats cleaning my house, that's for sure.
Posted on Thursday, May 21st, 2020

The Empire Strikes Back is one of the greatest movies of all time. Easily the best film of the entire Star Wars franchise. It's an epic sci-fi adventure story that doesn't pander or self-sabotage with kiddie shit like we would get out of Return of the Jedi and the awful prequel trilogy. We wouldn't see anything like it in the Star Wars Universe again until Rogue One and The Mandalorian.
And today is the 40th anniversary of Empire hitting theaters...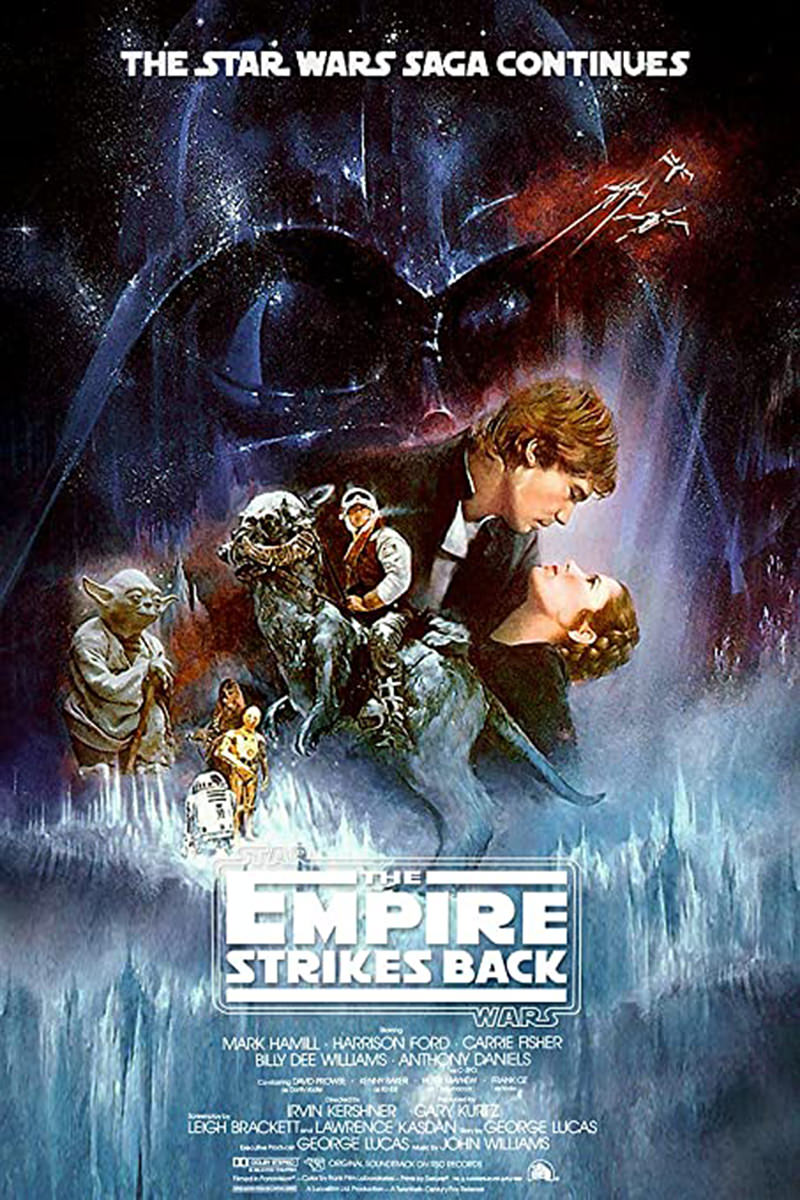 So naturally I had to watch it for the hundredth time.
As if I need an excuse.
The difference being that I watched the original film and not the "Special Edition." Sure the re-release is prettier and the effects are more polished, but it has some idiotic changes that are beyond bad. Greedo shooting first... that hilariously clumsy and inexplicably redundant scene with Jabba (didn't we just go through this conversation with Greedo?)... they're jarring in the worst possible way. What would be great if we could just get the original movie with the updated effects, which is all you really need.
Obviously, The Empire Strikes Back totally holds up despite being 40(!) years old.
After viewing the film I ran to my bookshelf to grab the epic The Making of Star Wars: The Empire Strikes Back book by J.W. Rinzler...
If you haven't already read it, the book is well worth tracking down.
I wanted to re-read the movie novelization, but my copy has long-since fallen apart from use. It's a shame, because it adds some depth to already memorable scenes. Like when Lando is walking Han and Leia to dinner, the door opens up, and Darth Vader is there. In the novel they talk about how Han draws his blaster fast... maybe the fastest he's ever drawn it... which is a cool detail that you can't get from the movie. I'm pretty sure that I have the comic book adaptation somewhere, but that would take more digging than I'm prepared to do.
Oddly enough, watching The Empire Strikes Back doesn't make me want to forge onward with The Return of the Jedi, but it does make me want to watch Solo: A Star Wars Story. The movie was severely underrated, and Donald Glover's take on Lando Calrissian is pretty great.
So I guess I've got the rest of my evening planned out then.
Posted on Wednesday, May 20th, 2020

The latest meme making its way around social media is people sharing photos from their "last day of normal." I don't even know what that means, but I do know the last day that I did something normal with my friends before lockdown was when we all got memorial tattoos on February 28th.
But things in my life were far from normal, even back then.
My volunteer work had been shut down 11 days earlier. Usually by late May I'd have already taken anywhere from four to six trips for that. This year I haven't been anywhere. The last time I traveled was December 26th. I have no idea when I'll travel next.
Given I have no idea when my normalcy went away, I try to create it by slipping into comfort meals I like. Up near the top of that list is heating up a bag of Uncle Ben's Ready Rice Whole Grain Medley, toss in a handful of almonds, and call it dinner. When I was at the store last month, I was sure to grab a couple bags.
Then tonight when I finally cooked it I noticed that it looked funny. It smelled funny. It tasted funny.
I dug the garbage to see if I purchased expired rice only to find that it wasn't what I usually buy... my local grocer replaced the "Whole Grain Medley" I get (which was apparently subtitled "Brown and Wild") with a new blend that's "Quinoa & Brown with Garlic." I didn't notice because the packaging had been changed...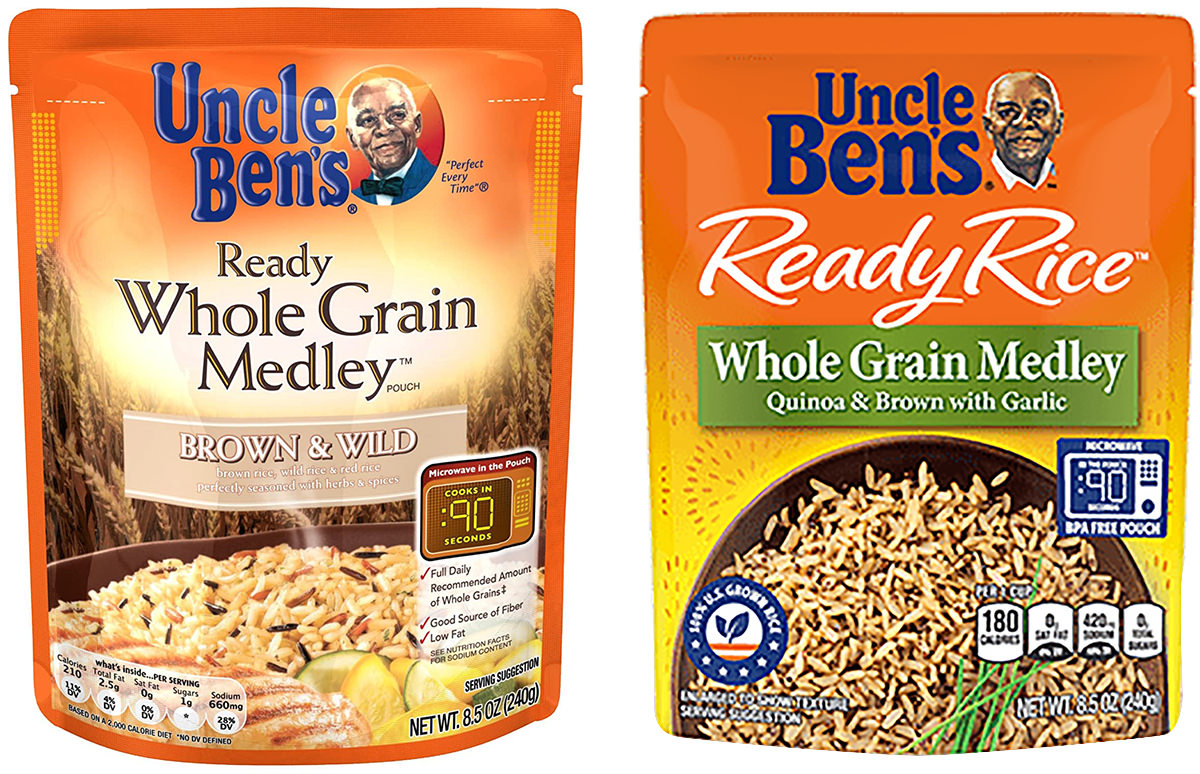 Well, fuck.
So much for my comfort food. This is not comforting at all. QUINOA ISN'T EVEN A FUCKING RICE!
AND ON CARB APPRECIATION DAY, NO LESS!
I might have been able to overlook gross quinoa if it actually had garlic as advertised, but the garlic was barely there. Uncle Ben's? More like Uncle Bullshit! They even got rid of the guy's awesome bow tie on the package!
Just one more sign that things will never go back to normal again.