Posted on Thursday, December 1st, 2022

COVID is still here.
Tens of thousands are hospitalized with it and hundreds are still dying every day. Which is a vast improvement over where we were, but it's also frightening that it keeps mutating into new strains that keep this plague ongoing. The good news is that the most recent booster is still effective enough to be worth getting, providing added resistance to these new mutations.
Which brings us to this video.
Horrifying. But also riveting.
This is a good time to plug one of my favorite books of 2022, Immune by Philipp Dettmer If you haven't read it yet, it's worth your valuable time.
Posted on Wednesday, November 30th, 2022

As anybody who has been reading this blog knows, I have been searching for a decent frozen pizza for decades. I can actually make pretty good pizza myself, but it's a lot of work and finding time is tough.
I finally hit the jackpot years ago with "Boardwalk Bagel Pizza" which was sold at Costco for a while. They had to be bought by the case, and I ate them almost daily. But then they disappeared, and no amount of internet sleuthing would tell me where they were made or where else I could get them.
Then, just last year in 2021, Red Baron introduced their "Fully Loaded" pizzas which were fantastic. I'd buy six at a time and eat minimum one a week. Then, for whatever reason, Red Baron changed the recipe. The sauce was different, the crust was different, and the cheese was even different...
So that was over. Would it be another 20 years before I found a frozen pizza that didn't suck?
Turns out that... no...
I happened across "Home Run Inn" pizza a couple weeks ago and decided to buy three of the small ones to try. The first time I made one, I microwaved it because it had special packaging that was designed to be microwaved. And it sucked. SUCKED! I was very close to tossing the remaining two in the garbage, but I can't afford to throw away food, so I waited a couple weeks and decided to bake another one in the oven.
And it was fantastic.
Very much like the "Butter Crust" pizzas I've had at Pizano's in Chicago (Home Run Inn is also thin crust Chicago pizza)...
And so... yeah. I've reached frozen pizza nirvana once again.
Any bets at how long it will be before they get dropped at the local grocery store?
Posted on Tuesday, November 29th, 2022

The people on this planet are severely lacking perspective.
Which is why I'm glad that NASA posts photos which vividly illustrate that we're all just clinging to a tiny ball in a vast expanse of nothing. And the only reason we're special is because we think we're special. But in the grand scheme of things? That's a tough call...
The entire human race could disappear and the rest of the universe wouldn't even notice. Or care.
Posted on Monday, November 28th, 2022

After I climbed out of credit card debt, I swore to never get sucked in again unless an absolute emergency happened and I was forced to. The interest charges are just too obscene to deal with, so I only use my cards when I have money to pay off the balance.
Sometimes it's easier said than done... especially now-a-days... but the cost to get out of debt is so high that I'll do just about anything to avoid it. Better to survive on peanut butter and ramen for a month now so I don't have to survive on peanut butter and ramen for six months later. And it all adds up.
For this reason, I was mortified when Apple wrote to me with the "good news" that my credit limit on Apple Card has been increased. TO FOURTEEN THOUSAND DOLLARS!
Just how much Apple crap do they think I will be buying? Am I now supposed to call them up and say Please ship me 7,000 iMacs! or what?
The unreality of it all boggles my mind.
Posted on Sunday, November 27th, 2022

Be thankful that's all over... because an all new Bullet Sunday starts... now...

• GoTGHS. The Guardians of the Galaxy Holiday Special was absolutely bonkers. I couldn't have loved it more. Very interesting how they dropped a very important couple pieces of information in advance of Guardians of the Galaxy 3...
Really sad that James Gunn is heading up the DCU now, because he gave us something completely new in the MCU, and that's getting increasingly rare.

• The Star Wars. If I had to wager a guess, my favorite TV show of 2022 will be Andor. The show is spectacular. The best Star Wars to happen since The Empire Strikes Back. It's just so... real. And smart. And entertaining. And brilliant. But let's get back to the part about it being real...
Now that the final episode has aired, all I want to do is go back and watch it all over again. How's that for an endorsement?

• Into the Abyss. It's really tough to diminish the movies that James Cameron has created... though people are always trying. When you take a look at the major films in his writer/director oeuvre, of which there are currently just seven, he really doesn't falter. They are all mind-blowing, fascinating entertainment. So to hear him run through it all is kinda a different level of fascinating...
If I were to rank his movies, it would go something like this...
Aliens It's just so good on every possible level. It works as a sequel. It works on its own. It works for action. It works for thrills. It works for horror. It works as sci-fi. And absolutely everything about it is as cool as movies get. This is Cameron's masterpiece.
Terminator 2: Judgement Day Another sequel that takes everything good about the original and ramps it up to eleven... but this time from one of Cameron's own films.
The Terminator The film has haunted me from the day I saw it because it was gritty and real sci-fi that really makes you think.
True Lies Proving that Cameron can tackle any genre he sets his mind to, this action-comedy spy flick was so much better than it had a right to be. Most likely from the genius casting of Jamie Lee Curtis and Arnold Schwarzenegger in the leading roles.
The Abyss In many respects, this could be my favorite of his films. It certainly has one of his most shocking scenes that still makes me uncomfortable to this day just thinking about it. I saw this one in the theater three times because I just couldn't believe what I was seeing as I was watching it.
Avatar The film still holds up. Mostly. Kinda. I mean, yeah, it's a retread of other movies and stories (most notably Fern Gully) but it was a fully-realized world at a scale that was unheard of at the time. That alone made it worth a look. The special effects may be a bit dated, but ask anybody who saw this movie in 3D theaters circa 2009, and I bet money they still remember the experience as nothing less than groundbreaking.
Titanic It's just not my thing. But it was an entertaining way to kill three hours... and still is.
And of course Avatar 2 is coming very soon...
Given his track record with sequels, it's bound to be a darn good film. And considering it needs to gross $2 billion to break even, it had better be.

• Be Hated. Okay... of all the movies and TV shows I've seen this year, The People We Hate at the Wedding is the one I laughed at the hardest...
If you've got Amazon Prime, it's worth a laugh.

• Lisbeth. David Fincher's brilliant take on The Girl with the Dragon Tattoo is one of my all-time favorite films. I was all kinds of mad that he never got to complete the trilogy. Sony instead cheaped out and "re-booted" the series with The Girl in the Spider's Web. I finally got around to watching it, and now I'm mad all over again. Lisbeth Salander is one of the best and most iconic fictional female characters ever created... nuanced and complex, using her smarts to outwit and outplay truly awful people. But now? It's just balls-out vanilla action hero that's been done dozens of times before (and done better... by Yu Shu Lien, Charly Baltimore, and many others). It would be comical if it weren't so sad...
If this is what the books are like after Stieg Larsson's original works, I am beyond thankful that I never bothered to read them. I mean, okay, the movie is a nice distraction (by a director who is obviously trying very hard to be David Fincher), and Claire Foy is not bad as Lisbeth. But this isn't Lisbeth Salander. It's a pale shadow of what she is... and should have been in this film.

• Beyond the Obvious. NEWSFLASH: Eli Lilly CEO says insulin tweet flap "probably" signals need to bring down cost. — PROBABLY?! YA THINK?!?? YOU CHARGE $250 FOR SOMETHING THAT COSTS $5 TO MAKE, ASSHOLE!! What good are all these "new and improved" drugs if only people with money can afford to buy them? Big Pharma has been lining the pockets of politicians for decades to not do anything about their price gouging. Washington State Senator Patty Murray has probably piled up a half-million dollars by now to keep Big Pharma profits at absurd margins. Little Timmy may not be able to afford insulin to keep him alive, but hey... Eli Lilly just bought another private jet for their CEO, so it's all good. Great job, Patty! Fuck.

• Steve! Even though I was way, way, way past the intended audience for Blue's Clues, I was a fan. I watched the show. I had some of the toys. I even had a "Handy Dandy Notebook" laying around. It was just such a pure explosion of creativity that I couldn't look away. And Steve Burns being so invested in his character was part of the reason why....
He's still got it.

Until next week then.
Posted on Saturday, November 26th, 2022

This was an eventful couple week to be my cats... what with all the construction fixing my home.
For the most part, Jake and Jenny spent their days hiding in the storage closet in my bedroom. I am always sure to take their food up to them... have a litterbox available... and check in several times to make sure that they're not completely catatonic. Which is a distinct possibility given how terrified they are of strangers.
The worst part was when the electrician actually had to go into my storage closet in order to replace the light switch. Poor Jenny backed herself so far up against the wall that she ended up looking like a little puffball...
Jake held out as long as he could... then made a mad dash for it, running past me, the electrician, and one of his nine lives.
He did recover enough that he was up for watching television with me that night though...
By the next morning, they were both back to their normal, abnormal selves. Jake got a paw massage, which he liked a little too much...
Fast-forward to today, and I arrived home from my Thanksgiving adventure over the mountains. As I was unloading the car, Jake was unloading my first load of stuff, including a box of toys I bought them for the holiday. I guess he smelled the catnip?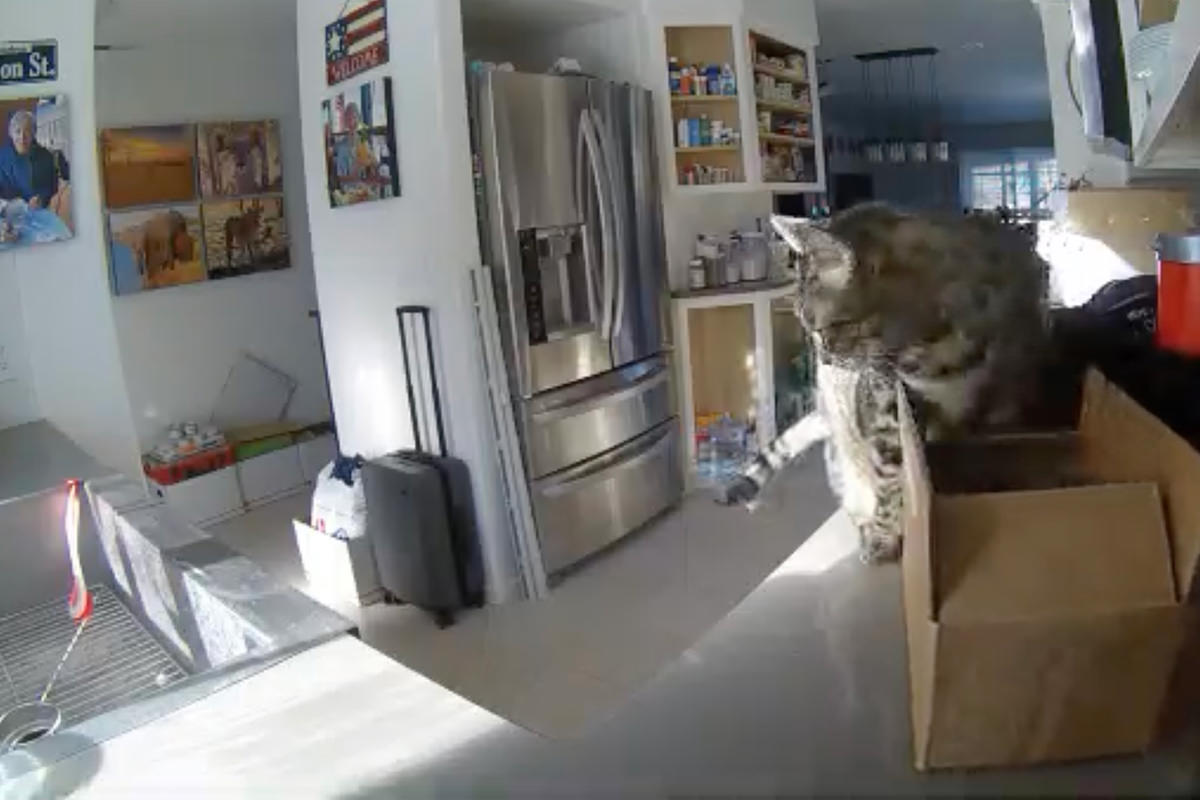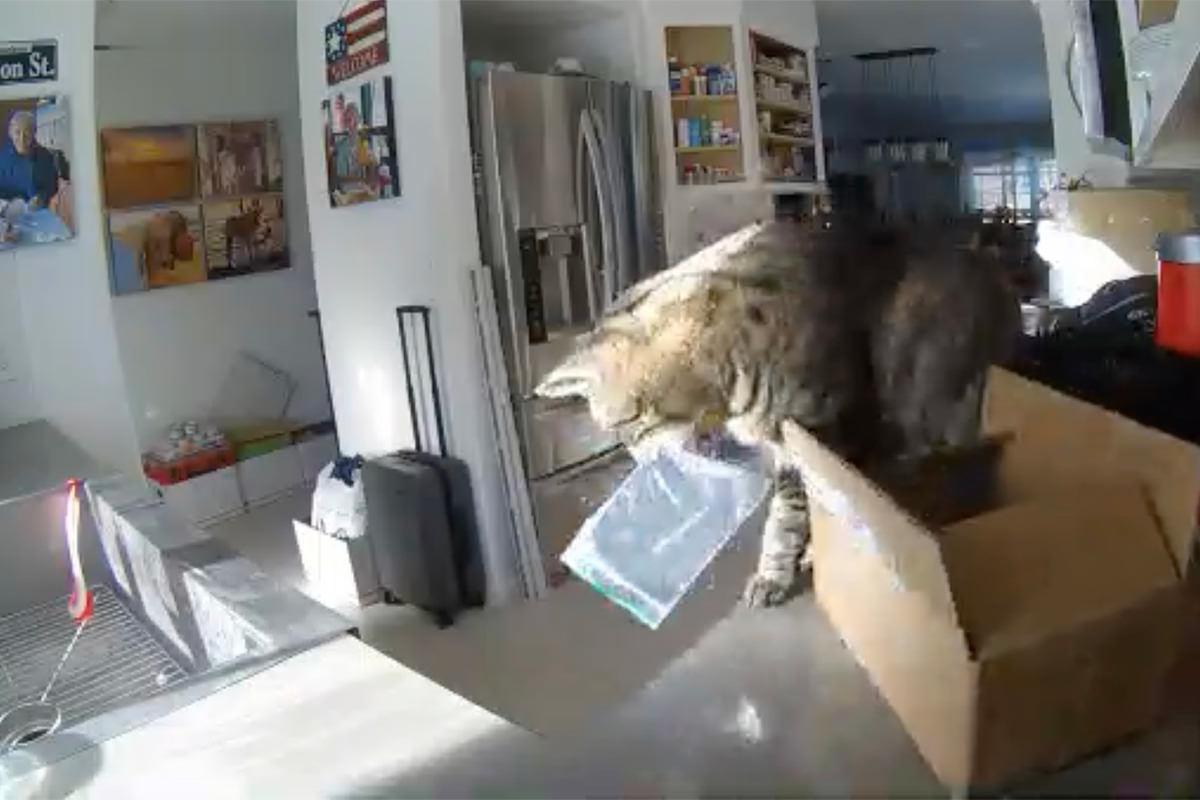 Remind me to disinfect the countertops.
Jenny is very particular about her toys. Most she won't play with. Some she hates so much that she dumps them in the water fountain. This time she only dumped one in the water... an astro mouse or something. The rest she was indifferent towards.
Except one.
I got a jumbo-sized catnip toy that she attacked immediately. She was biting it and kicking it with a dedication usually reserved for her brother...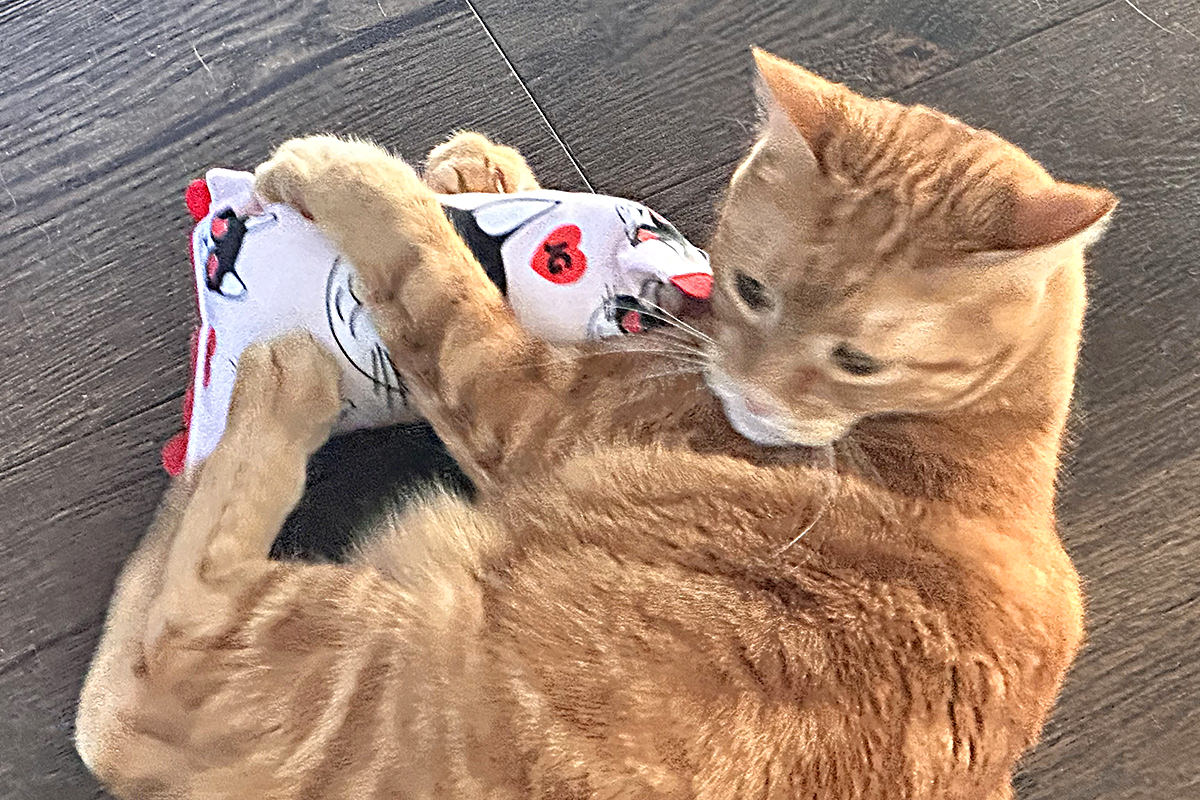 And now? I'm off for a warm winter's nap.
Posted on Friday, November 25th, 2022

For decades I've saved my money all year long so that I can shop Black Friday sales for all the stuff I need and want at a discounted price. Usually clothing.
That hasn't been the case this year.
In trying to get my home repaired, every cent I have has to go towards plumbers, electricians, and contractors and such. And they ain't cheap.
But it is nice not having a hole in my kitchen ceiling... even if other ceilings and walls are still torn up.
That's a story for another tax refund.
Posted on Thursday, November 24th, 2022

I've never understood the love of eating dead turkey... even when I ate dead turkey. It's dry and pasty and smells weird. The only way to make it edible is to smother it with gravy or cranberry sauce or both.
Still, I'd imagine it's tastier than live turkey.
When it comes to being thankful on this Day of Thanksgiving, I suppose my list is longer than most. Me and my cats are relatively healthy, have a place to live, have food to eat, and nobody is wanting to eat us...
IF ONLY I COULD BE THANKFUL FOR SOMEBODY GIVING ME A MILLION DOLLARS!
hint hint
Posted on Wednesday, November 23rd, 2022

Today I'm driving over the mountains. A prospect that looks a lot better than it did yesterday when the snow was dumping down.
Not that I'm worried about the driving, mind you. I've been driving in the snow forever. No, I'm worried about the sheer number of idiots on the road who either drive too fast for conditions or don't pay close enough attention while operating a motor vehicle.
Which is most people, alas.
It always seems weird that some people want to risk getting seriously hurt or dead... or causing others to get seriously hurt or dead... by not slowing down and paying attention.
I guess it's all worth it if you can text grandma that you're driving balls-to-the-walls so you can be there in time for cocktails.
Posted on Tuesday, November 22nd, 2022

I've never been nostalgic towards bygone days, but I understand the appeal. And understand it more with each passing day.
This world is turning to shit, isn't it?
Look at me... so pesimistic, and it's only Tuesday.