Posted on Sunday, May 28th, 2023

Another week another Sunday ... because an all new Bullet Sunday starts... now...


• Cool! Michael Rosenbaum (who has one of my favorite podcasts) posted THIS to Facebook...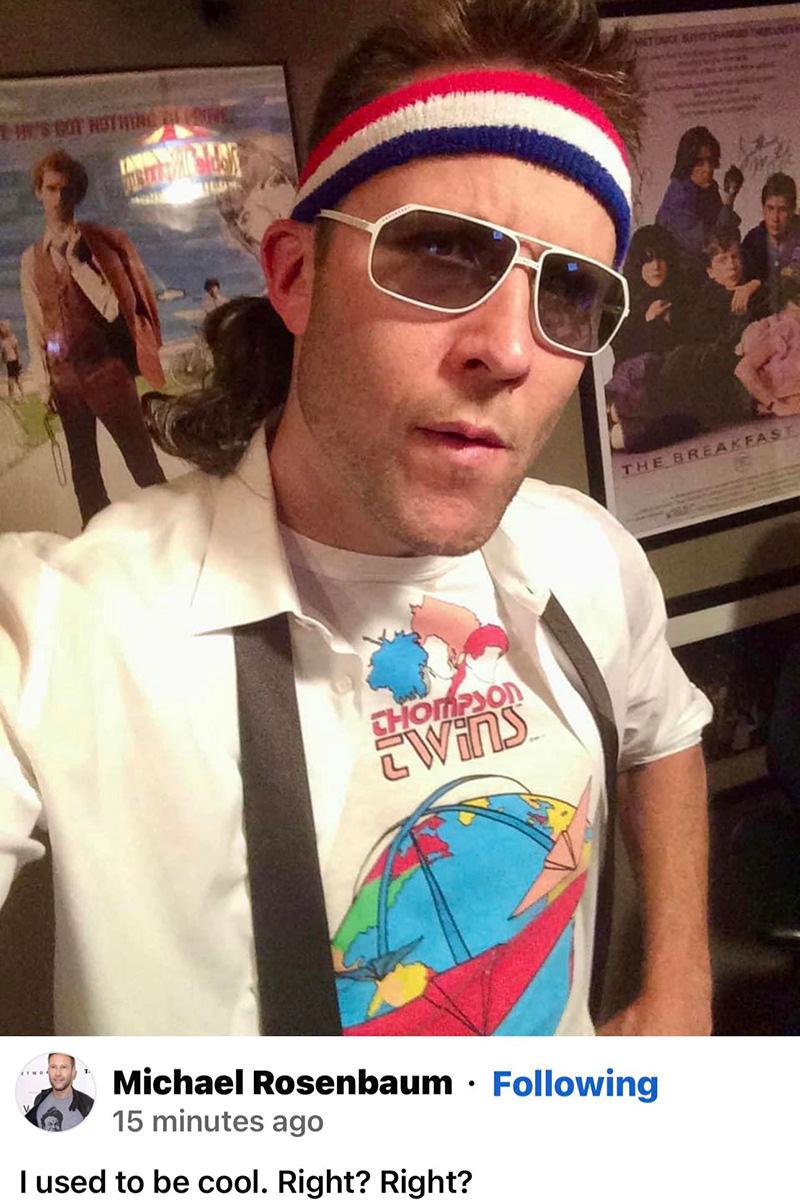 So of course I had respond...
Because The Thompson Twins are totally cool!

• Modern Meta! I've read a lot about film. I love movies and am fascinated by how people deconstruct and analyze them to add depth to our understanding and appreciation of this artform. Thomas Flight is my hands-down favorite...
He's so amazing at this kind of thing. If you love film, you need to check out his Youtube Channel.

• Natively! I've read a lot of documentation about how people have been systematically excommunicated from society by having their cultures, practices, and languages outlawed. The USA has many such travesties. Like native Hawaiians having their hula outlawed... only to have it later coopted and turned into a tourist attraction. Fortunately there are Hawaiians who are attempting to respect and honor the hula so that it returns to its original purpose, but still what a legacy of destruction we have. Needless to say, Native Americans have been horribly treated by the country... despite giving and contributing so much. And American Sign Language? Oh yeah... another contribution. This is fascinating...
It's important we know where we came from. And who came before us.

• Life's a Drag! Remember when I wore this Halloween costume I made… in Florida?? Probably be arrested for it now....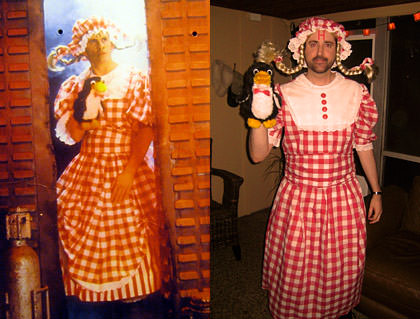 Florida is quickly becoming a fascist hellscape... and the rest of the country seems to be in danger of the same drama.

• Avenger! These Wes Anderson parodies are getting out of hand...
Just kidding. They're so good.

• Barbie! The marketing for this movie is genius. "If you love Barbie, this movie is for you." — "If you hate Barbie, this movie is for you."
Apparently the movie is for everybody!

• MOM?!? The other day I fell down a Jimmy Fowlie rabbit hole, which lead me back to the first video I ever saw of his...
LOL. Just as funny now as it always was.

Well, good luck with all that.
Posted on Saturday, May 27th, 2023

Jenny gets what she wants. Always.
And what she wants most of the time if to get petted on command. But I've been incredibly busy, so I've started sitting sideways on the couch so there's no room for her to demand it. Not that this stops her. She's been squeezing next to me like this...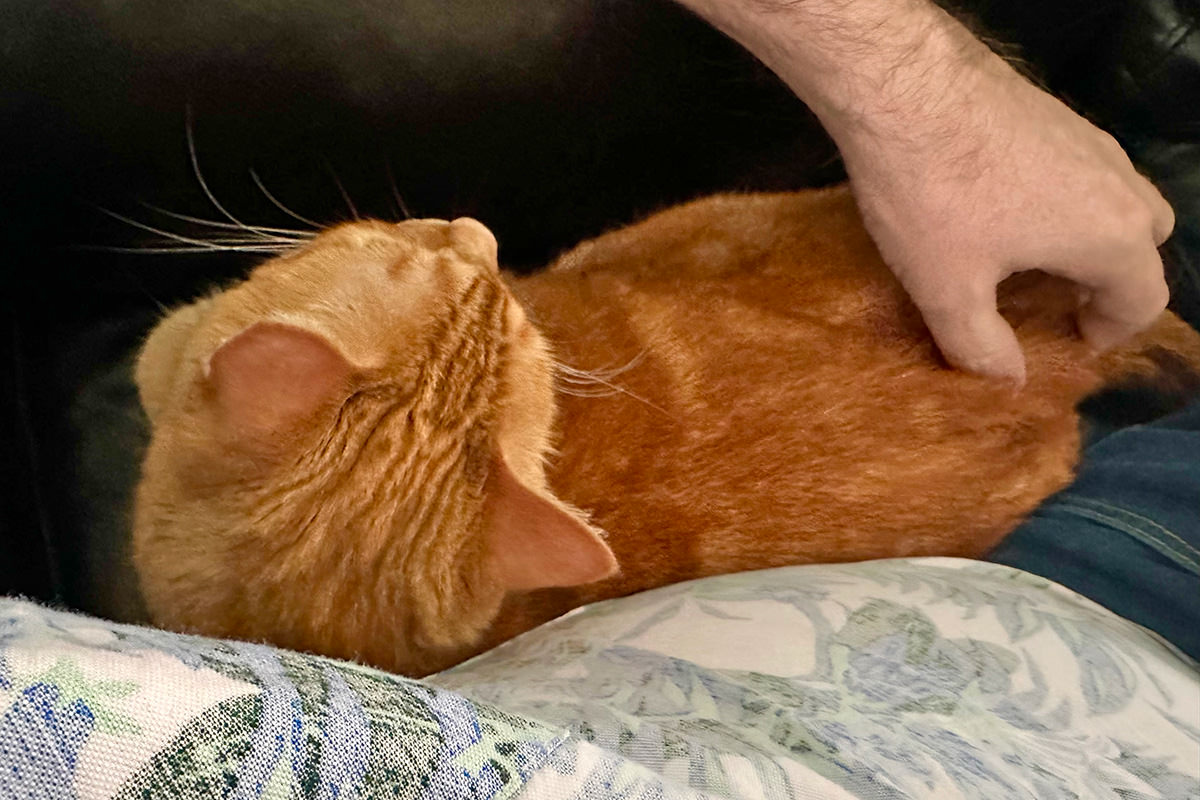 Then she keeps pushing and pushing with her little feets...
Until she has the room she wants...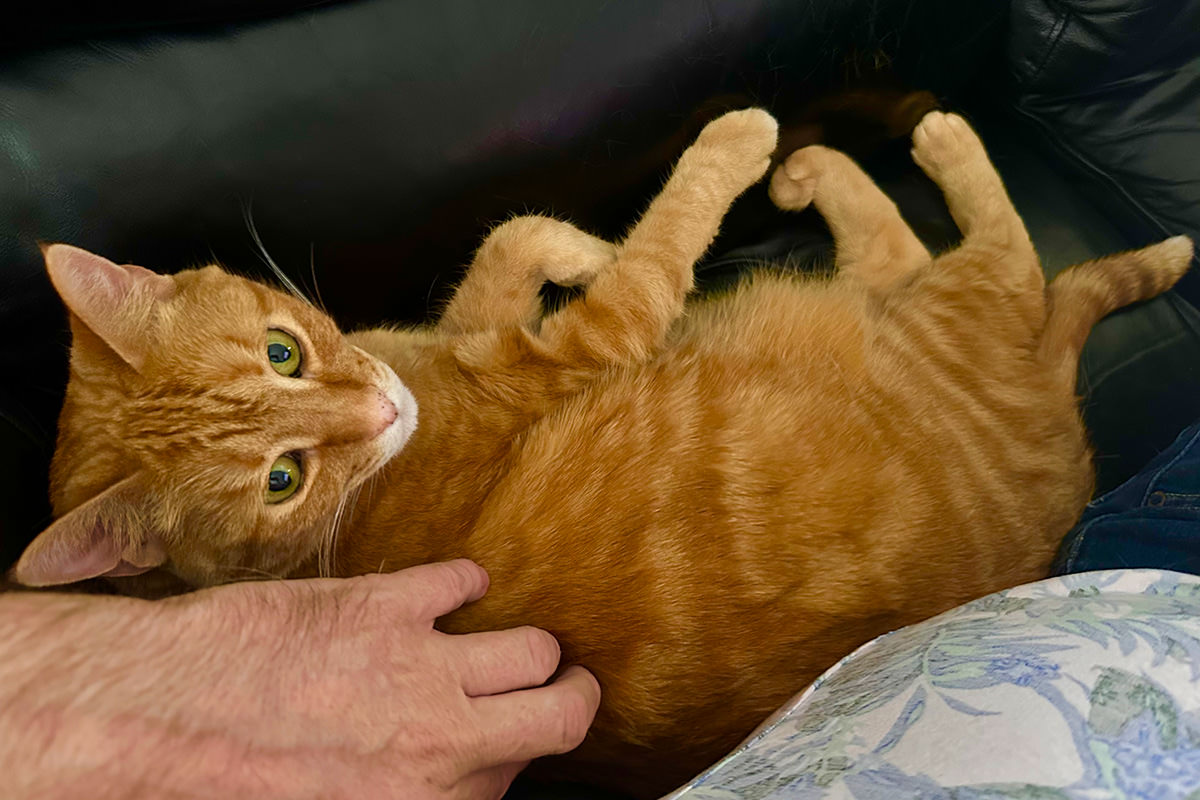 At this point I had one ass-cheek off the couch.
Jake has been obssessing over Mufasa again, dragging the poor thing everywhere. This reulted in my having to repair his favorite toy again. But this time I used carpet thread in hopes that it will hold together longer. If Jake was upset by the repair job, he never complained. He showed up with his lion just as he always does...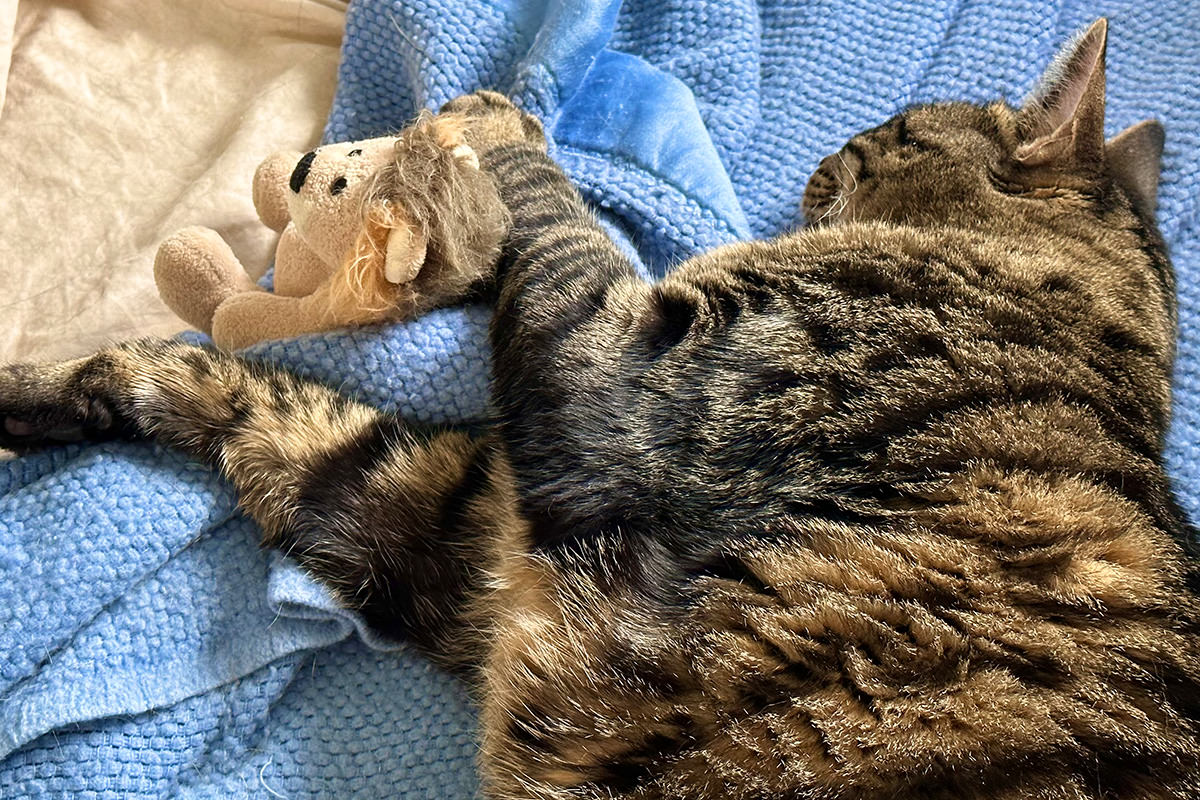 And immediately went to sleep...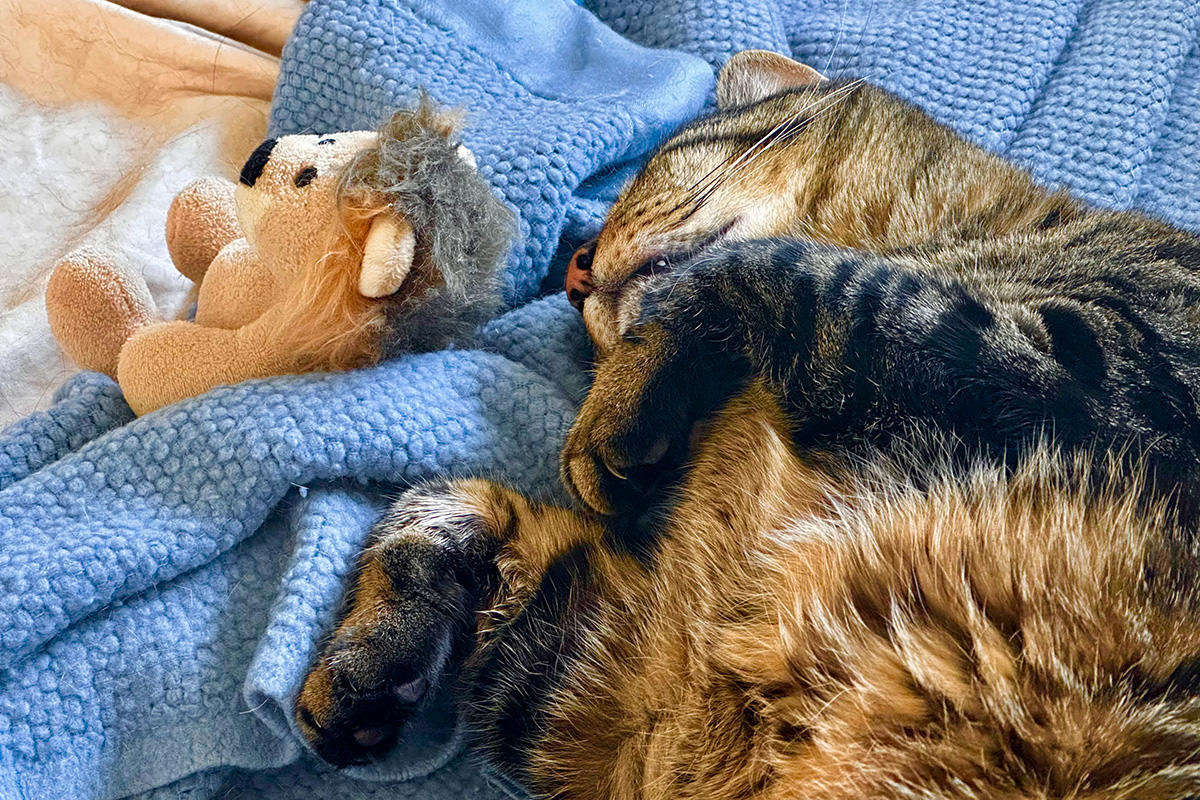 Which is fine. Because another thing he's been doing lately? Dropping Mufasa off with me, then going to nap. Leaving me to babysit, I guess...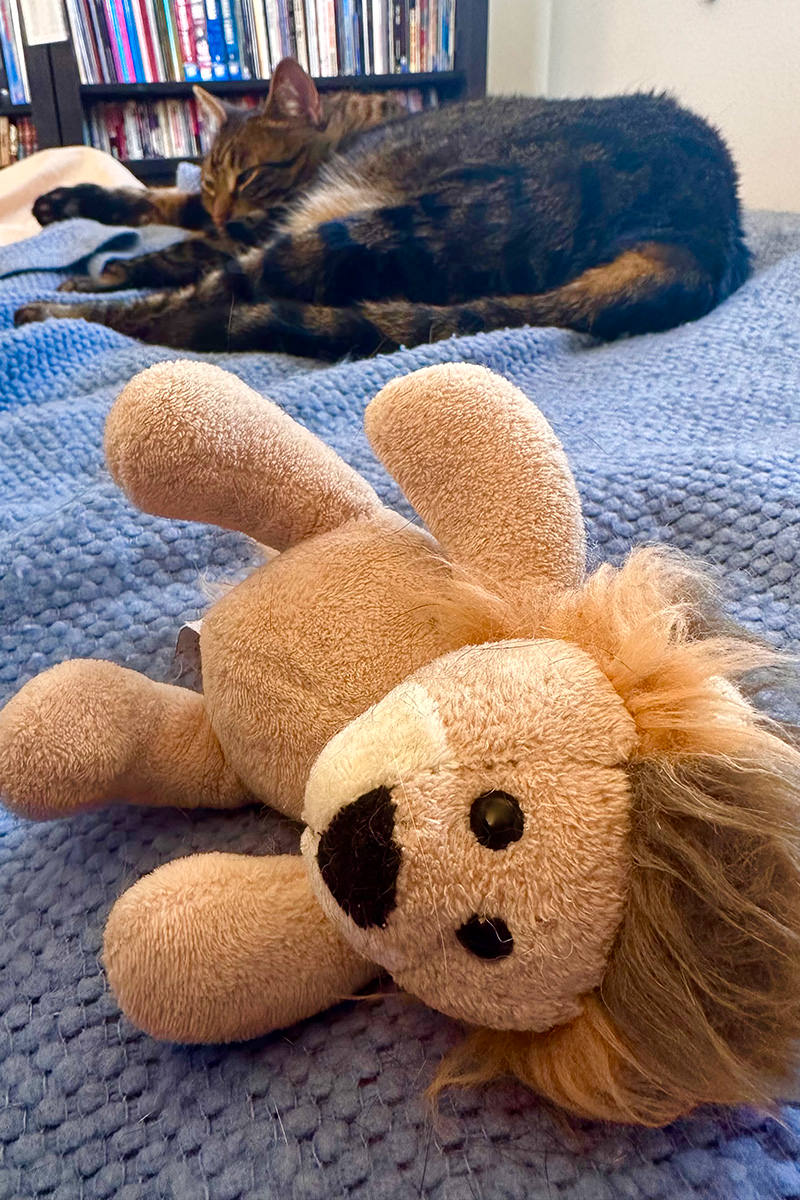 Somehow I thought that having cats would preclude me from being a grandpa, but I guess I thought wrong.
Posted on Friday, May 26th, 2023

I am such a huge, huge fan.
In addition to all the bangers Tina Turner had throughout her career, she was also given the thankless task of trying to work the word "Goldeneye" into a James Bond song... and absolutely killed it...
Damn. What an incredible voice.
It's really tough to pick a favorite Tina song. It's one of two songs... I Don't Wanna Lose You...
Or, after hearing it in that epic episode of Schitt's Creek, it may very well be The Best...
Patrick's version was a clever cover...
Whereas David just went with the best The Best...
Rest in Peace.
Posted on Thursday, May 25th, 2023

Last night I watched the next-to-last, penultimate, almost the end episode of Ted Lasso. As I've done for a few episodes now, I jotted down my thoughts while it was playing (then watched it again this morning so I could see it without the distraction of typing).
While there were no serious surprises (as there likely won't be since they are wrapping everything up), there were some nice character moments that made for an expectedly good episode.
Spoilers follow. Please watch the episode before reading any further!

The quirk residents of Ted's neighborhood are always a treat. What I wouldn't give to get a peek behind the lives of these people.
Oh boy. Ted's mom in town for an unannounced vist. Are we doing this because her dying wish is for Ted to come back home? Lord, I hope not.
Oh for fucks sake. Just having Nate disappear off the show would have been a perfectly lovely thing after he made ammends to the horrible way he treated Will last week. But I guess we're wasting more time with a character I don't give a shit about.
I will say that I do love Jade though. Show of hands... when she first appeared on the show, who thought that she'd turn out this good?
SHIT! WHY IN THE HELL DOES THE TEAM WHO NATE HATED SO MUCH... WAS TREATED SO BADLY... WANT HIM BACK?!? This character has zero redeeming quantities now. Though I'm sure we're going to get a big redemption moment which will try to act like he does. Nate was horrible... horrible... to the people who embraced him. There is no redemption I can work with.
Oh wow... up until now I thought that Mary Kay Place (Sweet Home Alabama) was playing Ted's mom. It's Becky Ann Baker! The mom from Freaks and Geeks.
Aw, Sam. &heart;
"Better Trent"... LOLOL. Oh, Roy. I'll miss you most of all.
Ted's mom being more like Ted than Ted is pretty funny, actually.
They've waited three seasons to make that Surrey joke, I'll bet.
Okay... that dig at The Daily Mail is classic.
I am not joking when I say that I would watch a Trent Crimm spin-off. I'll bet his life is ripe with fascinating stories.
Nobody refers to Jan Maas without saying his entire name. I love that.
Poor Jamie. Once again they're forging ahead with giving him the most complete story arc in the entire show. The fact that he plays so beautifully off of Roy is so much the better.
Coach Beard is so wonderfully weird. And the only one with the correct perspective on Nate. Although... I'm sure this is a setup to him changing his mind. Because of course it is.
Roy's reaction to weirdness is always so perfect.
I'm enraged all over again thinking about the time wasted with Keeley and Jack. What a waste.
I'm sure there's no metaphor or symbolism AT ALL with the Wizard of Oz Pinball machine.
Another spin-off I would love to have? The Crown and Anchor Pub. Mae is fascinating enough on her own... but marry that with the people who frequent there? It's a new version of Cheers and could be every bit as entertaining.
Goddamn environment! LOL. I'm not complaining. Any opportunity to see more of Rebecca.
Christ. More time wasted with Nate. This is the second to the last episode, and there are far, far better ways they could have spent this time.
And now I want popcorn.
And to watch You've Got Mail, apparently.
Yeah, Jamie blowing off his gig at Man City has come back to haunt him. But, of course, Roy is the one with the proper perspective on the situation.
BWAH HA HA HAAAA! Jamie wasn't lying when he said that he had a poster of Roy in his room! But it's the Keeley poster that's worth a second look.
Those Keeley hotel commercials will never not be funny.
Freddie Mercury owning Richmond briefly is perfect. BUT THE JOKE ABOUT HIM FLIPPING STRAIGHTS IS FLAWLESS.
Oh wow. Okay. We're actually going to play some football this time!
Collin, once again being one of the most brilliant players in football after having been one of the worst. Apparently because he was in the closet. Since that story is finished, I guess this is their way of claiming that they hadn't forgotten about him?
I've watched two football matches in a London pub. Once where the team they were supporting won... and once when they lost. The reason I wanted to watch a second one was because the first time was so much fun. The reason I never did it again was because the second time was not fun at all.
The moment with the Man City coach is ominous. I wonder what that's about?
I mean... what a great moment for Jamie. This pretty much finishes his arc which, as we are continually reminded, is the most complete of the show. Wonder what Roy said to him?
Oh wow... Jamie's dad died?
I guess not. He's truly reprehensible, but I guess we're redeeming him along with Nate for this moment?
Ah. So that's why we got a moment with the Man City coach.
Coach Beard and Ted showing how their relationship hasn't changed much since the first episode.
Oh yeah. Here's where Beard is going to change his mind about Nate. "Fuuuuuuuuuuck" is right.
Jade really is a lovely character, isn't she?
You just knew that Beard had an interesting back-story. And this is everything you'd want it to be. Plus Le Mis, LOL.
Yeah. Still detest Nate. Kinda wishing that Beard had head-butted him.
And... the moment we knew was coming all season just came into focus. Not that we needed it. The fact that Ted was going home was broadcast very, very clearly throughout the entire season.
Looks like New Rebecca and Ms. Cakes are seeking advice on how to nail Rupert to the wall. Interesting that they come to Rebecca after she finally came to terms with not needing to destroy him after all.
And now I want sunflower seed bread. I haven't had that in 20 years or more. Though it's best with lots of butter on it.
"That's just to annoy Americans." Classic. Oh gee, I wonder what Ted has to say to Rebecca?
One episode to go. Quite possibly forever. I need a hug.
Posted on Wednesday, May 24th, 2023

I do not take blog hiatuses very often. It's actually pretty rare.
I've had maybe 5 or 6 in twenty-three years maybe? My longest hiatus was, understandably, when I was moving my mom to a facility (and the aftermath) because I couldn't care for her any more. It was the absolute lowest time in my life with a hurt so deep that communicating with the outside world (let alone the entire internet) simply wasn't possible for four months. Oddly enough, I
didn't
take a hiatus when she passed two years later. By that time I had already said goodbye twice... once when I moved her out of my home... again when she no longer remembered me... so it was actually therapeutic to remember
how incredibly lucky I was to have such a great mom
, and
reflect on what an inspiration she is and the horrors of her slide into dementia
, then talk about
my lessons learned about caring for a loved one with dementia
so that maybe it could help somebody else.
Other hiatuses aren't nearly so dramatic. A couple times because I had things to deal with. A couple times because my blog was broken.
But this past week? There really isn't a reason. I just needed a week off. I have entirely too much on my plate to write about anything so I just... didn't.
Let's see what happened...
My spiffy new heat pump uses the existing return line to the air exchanger in my garage. It's a line that goes through my walls. And because the builder did a horrendously shitty job securing the line and made zero effort to dampen the sound, it can get way more noisy than I'm comfortable with. So I am having to rip out another wall to deal with that (let's see... that would be #4, if you're counting).
After my first landscaper got COVID and was no longer able to work... my second landscaper bailed after I approved his plan ("I can't deal with the job right now")... and my third landscaper just plain ghosted me after his final proposal didn't include major things we discussed, but was the still same price he originally quoted!... I am now on landscaper number four. I am fairly optimistic. And I'm happy that I didn't spend all the money I saved for the project four years ago.
My annual Spring allergies are killing me. As I age, I swear they are getting worse and worse. It's all so weird because I had outgrown all my allergies decades ago, only to have them return now? Why?
My job is pretty tough. I have to juggle a lot of tasks, know a lot of information, and be creative enough to assemble it all in a pleasing way. Which is why I don't fucking need things making my life harder. And the thing making my life exceedingly difficult right now is the Epson Colorworks printer I have to use for printing labels. Constant problems. Changing labels is a nightmare. Constantly thinks it's jammed when there's nothing jammed in it. A roll runs out of labels and the printer acts like the world is fucking ending instead of just stopping and alerting you. Half the time I end up having to turn the printer off and on MULTIPLE TIMES in order to get the thing to finally LOAD THE FUCKING LABELS. — The first computer I used was a punchcard computer as a guest of a university. From there I moved to a VAX. The first personal computer I had was an Apple ][. I have bought more computers and computer tech in the past 40 years than I can even remember. AND THE EPSON COLORWORKS PRINTER IS THE FUCKING WORST OF ANYTHING I'VE EVER USED! Seriously horrendous. I hate it. I hate it. I hate it. I FUCKING HATE IT. I'd almost rather draw the labels by hand than to use this fucking thing ever again. I fantasize about setting it on fire. Or pushing it off a cliff. Or dropping it in the ocean. I am posting this to my blog so that anybody Googling for thoughts on this fucking piece of shit will know to avoid AT ALL COSTS.
Because time has been scarce, cooking has been minimal this past week. The majority of what I've been eating has been frozen stuff. It's starting to wear on me. Until I started eating healthier, I had no idea how much of a toll crap food was taking on me. But I'm just too exhausted to spend the 30 minutes to an hour cooking up something better each night. Really hoping to do a hard reset on my meals soon, because this is unsustainable.
And of course there's the usual bullshit that never seems to stop. I swear, some people have completely given up on decency and kindness, and just just live to see how many people they can hurt. Watching it in the news day-in and day-out is demoralizing in every possible way. A part of me wonders exactly what has to happen before there's no turning back from the toxic hellscape we're creating. I mean, clearly we're already in hell... Florida reaffirms this almost daily... but this trend of persecuting as many people as possible just because people don't like them or don't care about them will almost certainly spill over into things and people who they DO like, right? Trans persons and drag queens today... but maybe Episcopalians and left-handed people tomorrow? Where the fuck does it end?
Since blogging is pretty much... well... dead... I might have to take a minute more often. I always thought that if I took breaks I would just stop altogether, but it hasn't happened yet. So maybe?
Posted on Tuesday, May 16th, 2023

I bought my mom the Toyota Corolla I'm driving in 2006. It's now 17 years old. I love not having car payments so much that I decided to drive it until it died, and figured I could at least push it to 20 years. I just had the brakes completely re-done last year with this in mind.
Now the clear-coat is peeling off, it needs more work because the muffler is just starting to sound bad, and the engine is getting a little rough. But I figure the cost of having all that done is worth it if I don't have to buy a new car.
And THEN somebody ran into the car in the parking lot of my hotel last night. At least I'm assuming that's what happened because I never noticed the damage before today. I was able to get it popped out, but it's scraped up and a bit cracked. Which means even more money needed to sink into the car.
And so... guess I am ready to cut my losses and buy a new car.
Maybe?
Because I don't really want a new-new car. If I had a new-new car, I'd be paranoid about getting hit in a hotel parking lot way too much. And I'd freak out if anything happened to it. So I want a new-to-me used car. I thought... maybe I can get something relatively recent and decent and certified pre-owned for $15-$16,000. WELP! Even used cars are tragically expensive, yo. IN MANY CASES MORE EXPENSIVE THAN A NEW CAR! And if I can't get certified pre-owned, then there's the idea that something could go wrong with it almost immediately and I'd have to sink even MORE money into it.
Blergh. This blows. Why can't I be a billionaire who doesn't have to worry about things like this?
The Corolla only has 85,000 miles on it. Probably worth just having the work doen and coasting for seven years. At least I know the car was taken care of. I'm tight with the owner.
Posted on Monday, May 15th, 2023

I have apparently reached the point where I am the guy who doesn't want to leave the house.
Remember when you could drive to the Seattle-Tacoma International Airport from my house in 2 hours and 25 minutes? Pepperidge Farms remembers. Now you are very lucky to do it in under 3 hours... even if you carefully plan it so that you hit that narrow 1:30 to 3:30 window where the traffic is bad... but not horrendous like what happens after 3:30.
Even though I planned accordingly, there were two lane closure events that cost me 20 minutes and a traffic slow-down that added an additional 10 minutes. So... needless to say it was well over 3 hours travel time. Again. This blows. Left at 12:30, arrive at 3:40. It's gotten to the point where I just want to stay home with my cats and not go anywhere.
I'd get drunk to decompress, but I have work in the morning and don't want to be hung over for it.
So instead I went to Cheesecake Factory for Corn Cakes...
No, it doesn't make up for having to leave home.
But it does come close.
Posted on Sunday, May 14th, 2023

It's a lovely Spring day. As much as it can be, anyway. So I guess it's go time... because an all new Bullet Sunday starts... now...

• Opt-Out of Stupid! =sigh= The first Mother's Day without my mom was, as you can imagine, a soul-crushing event (and each one after is no easier). Not because it reminded me of what I had lost... because there wasn't anything that didn't remind me of what I lost... but because the weeks leading up to the actual day means being inundated with emails telling me to buy a gift for my mom. That's an assault that was incredibly difficult to deal with, because nothing would make me happier to be able to buy something for my mom again. Now-a-days, it's getting a bit easier because companies are allowing you to fine-tune your emails to not include events which my be tough on you. But of course there are total fucking assholes who want to make this kindness into something horrible. Because that's where we are now...
Just fuck you. Is there absolutely anything... anything at all... that can make you put yourself in somebody else's shoes for even two facing seconds? I try to find the best in people, but I sincerely doubt it. Trading off of misery is apparently too profitable.

• Tattoo Me! I was outright called a "satan worshipper" once because I have tattoos. I told them that my tattoos have nothing to do with satan... only to be screeched at with "ANY TIME YOU DESECRATE THE BODY GOD GAVE YOU, YOU ARE WORSHIPPING SATAN!!!" And that's when I looked her dead in the face and said "Then hail satan and fuck off, I guess." Because I'm happy to confirm idiotic biases. I'm here to help. Which is why this resonates with me...
People are so toxic now-a-days that unless you conform exactly to their ideals they go all asshole on you.

• Jenno! A conversation I had yesterday...
"Ooh! There's a new Hannah Gadsby special on Netflix!"
"You like Hannah Gadsby?"
"Sure. I mean, there's parts of her sets that don't hit with me, but that's okay."
"THAT'S BECAUSE YOU'RE A MAN!"
"I HAVE APOLOGIZED FOR MY GENDER MANY TIMES!"
"YOU CAN'T APOLOGIZE ENOUGH!"
"I'M SORRY!"
"Okay. You're good for another day."
"DAY? Can't we call me good for a month? Or at least a week?"
"No."
"Okay then, have a nice evening!"
"You too!"
"As good as the patriarchy will allow."
As it turns out, this is my favorite her specials.

• Lord of the... Rings?! These Wes Anderson parodies just keep coming. And are fantastic...
As always, I would pay serious money to see this film if it existed.

• Dooce. One of the most famous bloggers ever, Heather Armstrong, died this past week after losing her long struggle with depression (a battle she fought very hard, even going so far as to undergoing experimental treatments where her brain activity was stopped then restarted). This is awful. I think she wasn't even 50 yet? She's one of the old school bloggers who started around the time I did. I wasn't into mommy-blogging, but I ran across her posts from time to time and she was about as real as you could get online. Which is probably why she was so popular. I'd read things she wrote and think "Wow, I could never get that personal so publicly!"... and I'm betting that's what made her so relatable and beloved by the community that formed around her (even though lately she became infamous for blogging some pretty heinous things that I disagree with vehemently). Rest in peace, Heather. You can't get Dooced in heaven. Thinking of her two kids today.

• Tour of Wealth! Architecture YouTube is a bottomless pit of amazing homes and buildings for me. I can get lost there for hours. This one popped up this past week, and I honestly don't know how to feel about it...
If I had the money? Sure! I'd live there! Except... I just don't know how I could sleep at night knowing that I've used $250,000,000 that could have gone towards helping people. AND STILL HAVE MILLIONS LEFT OVER TO SPEND ON A NEW HOUSE... OR TEN! It's just so unfathomable to me.

Wishing you a good rest of your Sunday.
Posted on Saturday, May 13th, 2023

I hit the cat jackpot lottery. Both Jake and Jenny are so ridiculously entertaining.
Jake brought Mufasa into my bedroom for his morning pets yesterday. When I got back from taking a shower, this was going on...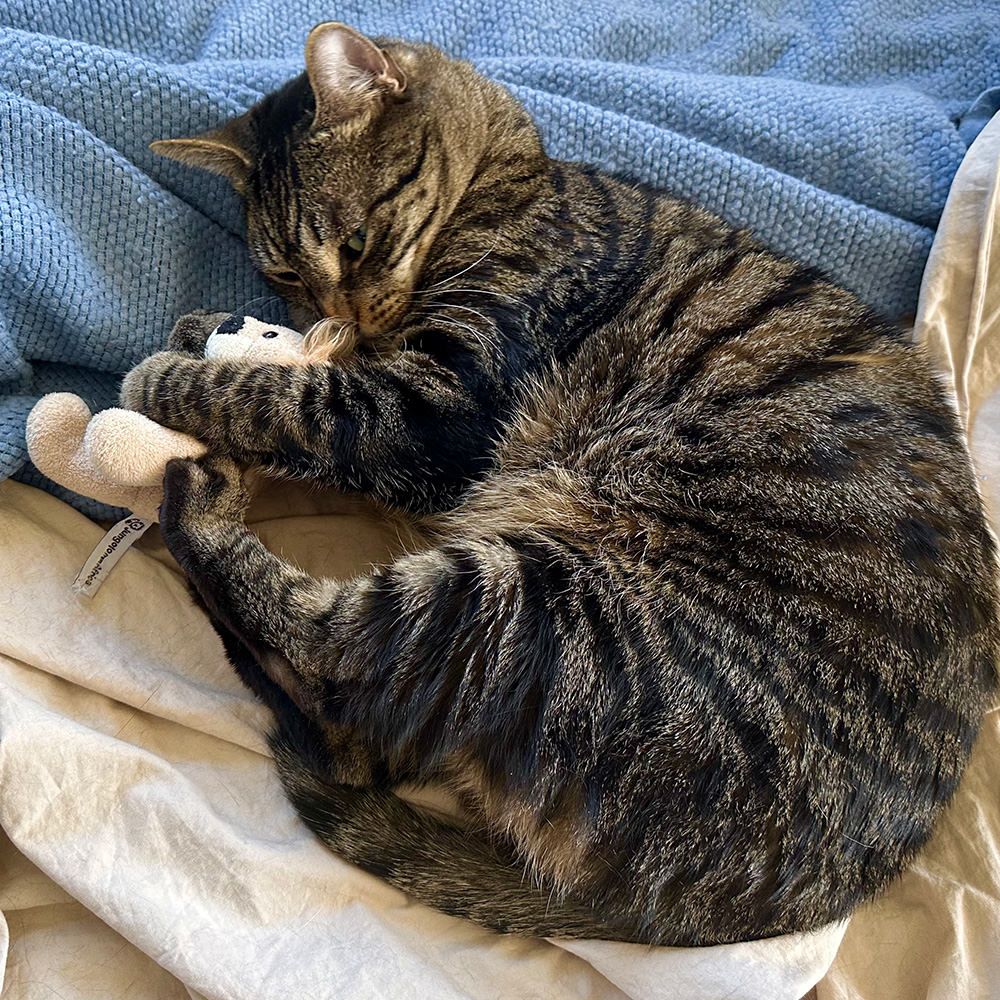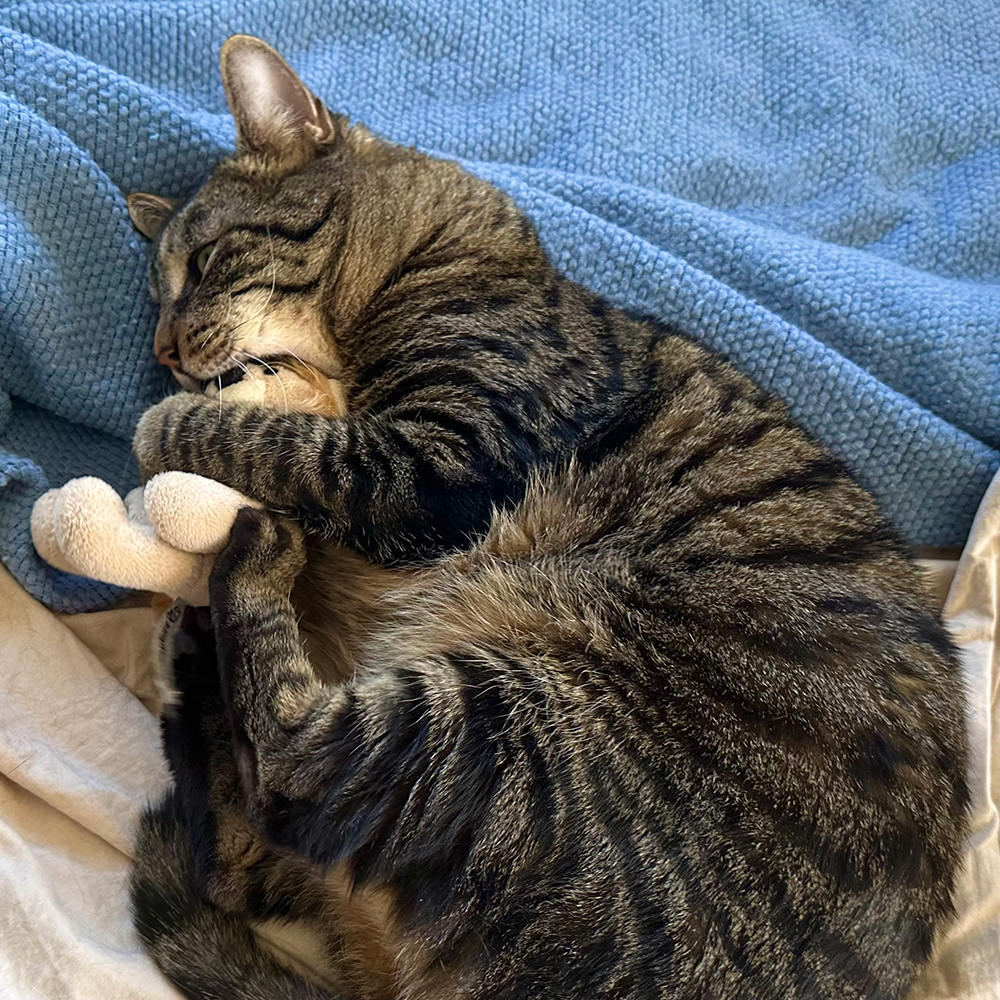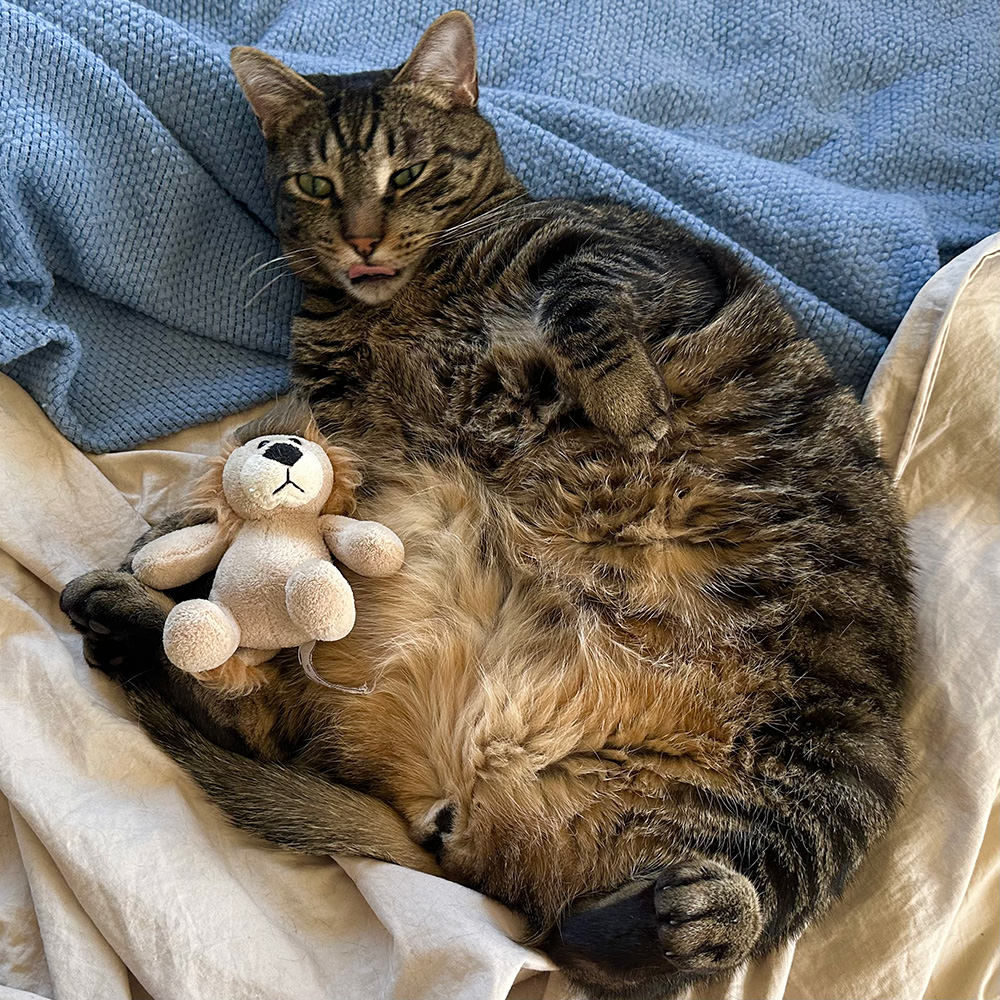 I have no idea if Jake loves Mufasa or hates Mufasa. It's a mixed bag every time.
Posted on Friday, May 12th, 2023

So... Disney+ is yet another streaming service that doesn't get it. They are merging their service with Hulu and removing content (along with providing less new content). And raising prices.
I signed up for Marvel and Start Wars content. Period. I don't watch anything else on their service. So the less content they have of these properties... and the less new content they add of them... the less there is for me to watch and the less reason I have to stay subscribed month-after-month. Adding Hulu crap doesn't compensate for WHAT YOU TOLD ME I WOULD BE GETTING WHEN I SIGNED UP. Another season of Handmaid's Tale (or whatever) does not interest me. And it really doesn't make up for a price increase and less content for me to watch. These streaming services are trying to be all things to all people and failing badly at it. Stick to your niche: Disney, Pixar, Marvel, and Star Wars. I'll pay for that. All your other content should be a separate service that has to succeed or fail on its own. Don't expect me to subsidize it, because I won't.
Oh well. I'll just subscribe once or twice a year to watch whatever new Marvel and Star Wars content I want to see.
Hopefully without ads because there's only so many millions of times I can handle watching commercials for The Vestiaire Collective.
But anyway...
I've had all the camera brands... Canon to Nikon to Olympus to Panasonic to Fuji to whatever. Despite the shitty menus on the camera, my hands-down favorite is from Sony. No joke... Sony Electronics makes the best cameras I've ever used, and I've gone around the world with them.
BUT THEIR SOFTWARE FOR EVEN THE MOST BASIC FUNCTIONS... LIKE TETHERED SHOOTING... IS THE ABSOLUTE FUCKING WORST. They NEVER work. EVER. I have never once been able to get ANYTHING working with Sony tethered shooting for more than two minutes.
This morning I've been trying again for an hour.
NOPE! How in the hell do you fuck up something so simple THIS badly?
PC Remote is ON...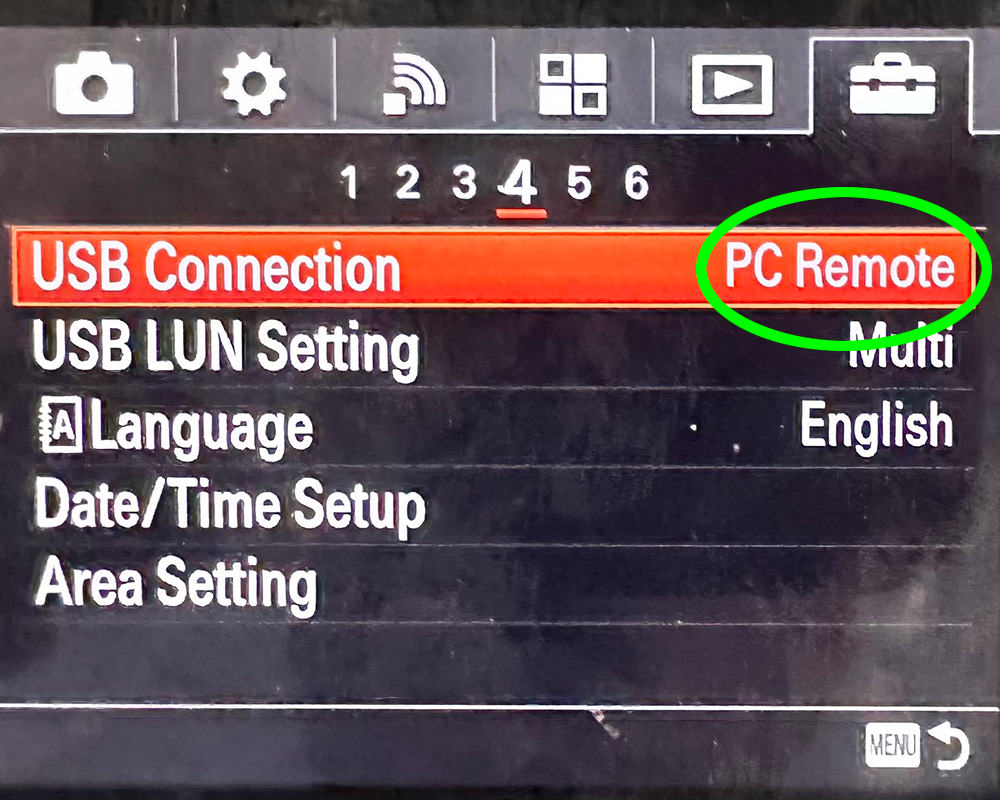 Remote Control is ON...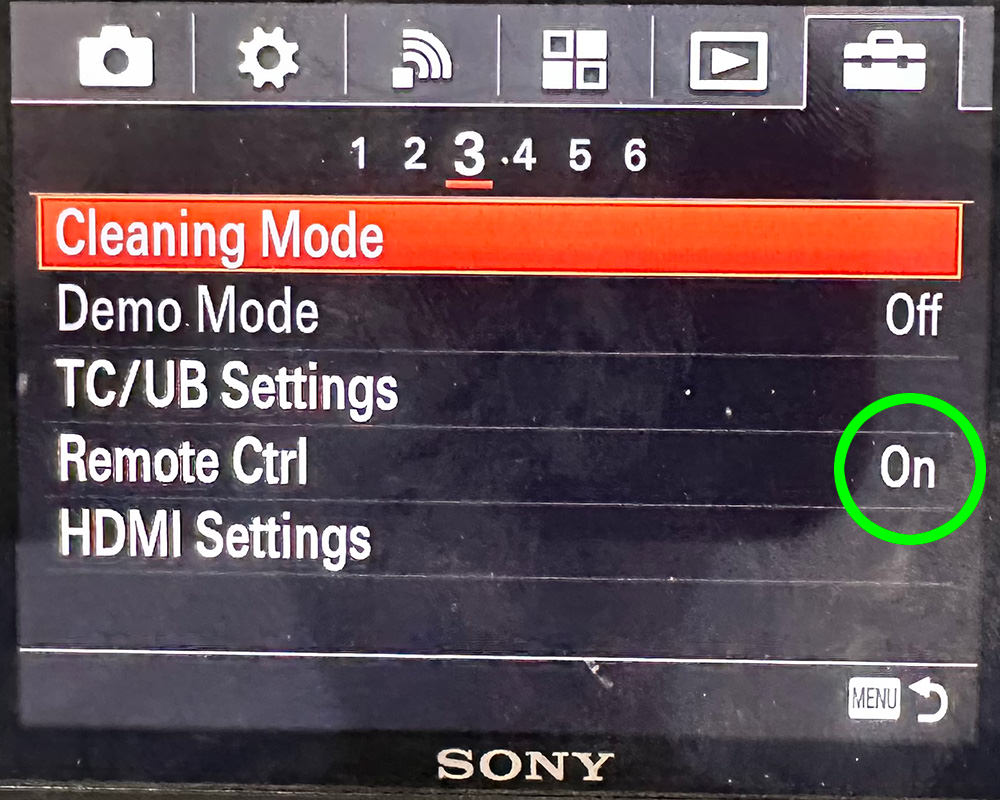 The camera knows it's plugged into a computer...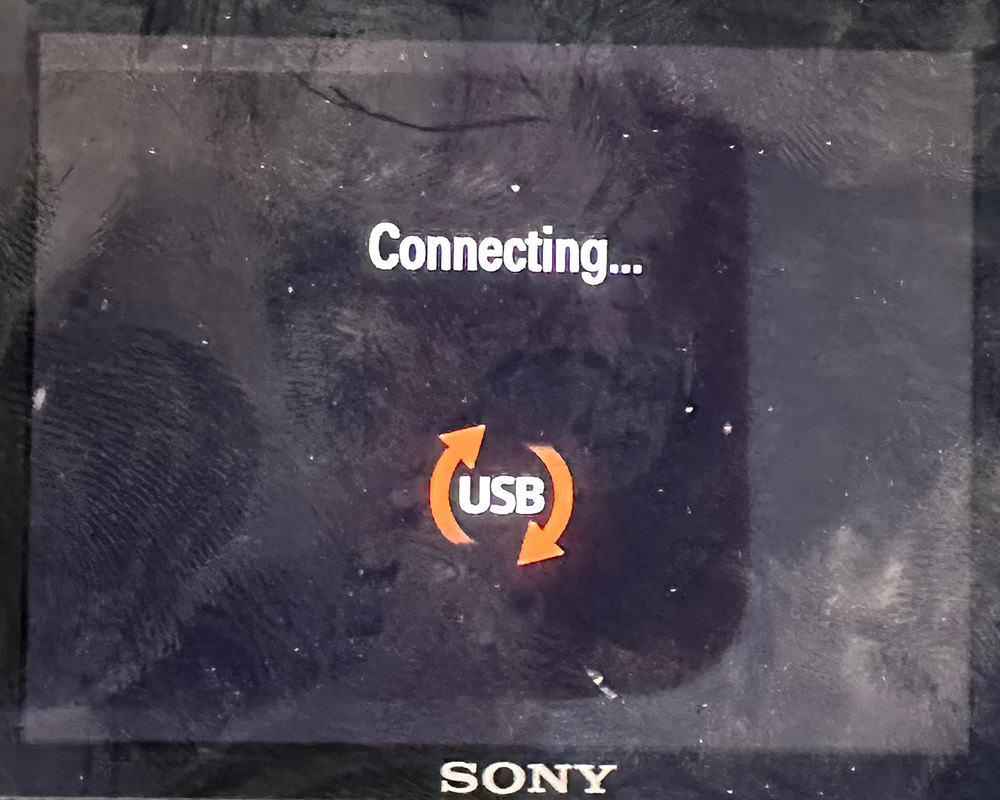 But of course the software on my camera doesn't recognize any of it. Thank God I'm mostly done with SLR cameras. The iPhone camera is good enough for 98% of what I need, and those photos I can actually get to on my computer.