Posted on Thursday, May 24th, 2018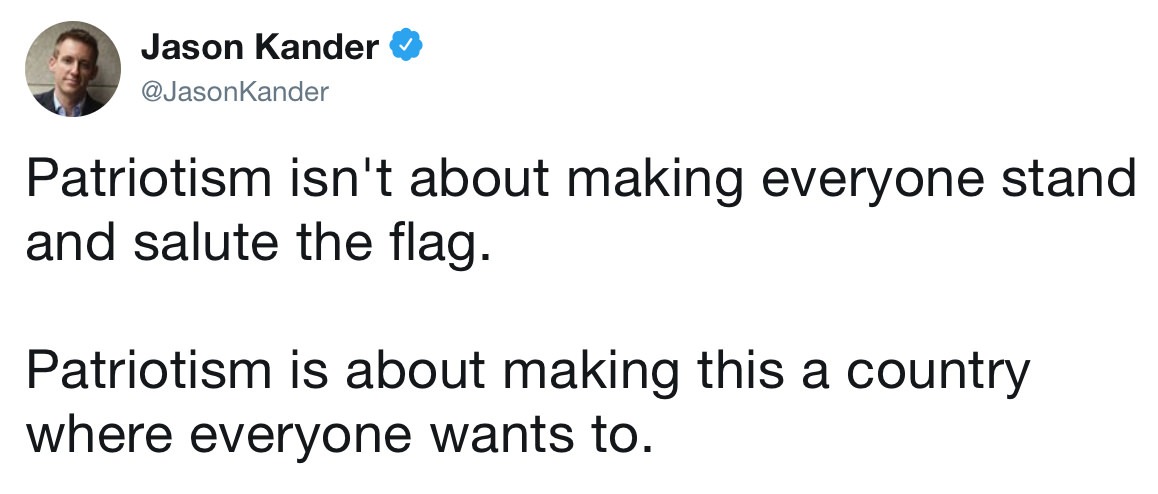 Posted on Wednesday, May 23rd, 2018

And to think, just minutes ago I was thinking "Gee. What am I going to blog about today?" But, since I have cats, I never have to worry about that for very long.
Case in point?
A bird flew too close to the catio and Jake decided he wanted at it...
It's even more impressive when you see it from the catio side... Jake may have a couple extra pounds on him, but he can move pretty quick when he wants to!
The poor thing looked in really rough shape when I went out to see if he could be saved...
But when I got him turned over it wasn't as bad as I feared. He had slight damage on his right side, but the wing looked intact...
I pet him for a while to calm him down. Once his breathing slowed, I let him be. After a couple minutes, he tried climbing through the fencing, but couldn't manage it. This was making him panic, so I helped him through as gently as I could. He dropped like a stone to the outside of the catio...
I sat with him for a while, petting him until he calmed down again...
Since I had no idea how long he would need to rest up, I decided to make a box with food and water so I could put him on top of the catio where Fake Jake and other cats in the neighborhood couldn't get at him...
But when I went to put him in the box, he started squawking and flew away. I followed to make sure he was in a safe spot... only to find him in a very safe spot, camouflaged in my shrubs...
I'll check on him in the morning to make sure he managed to escape. If not, I guess I'll have to read up on how to nurse a bird back to health.
Of course now my cats are on patrol out in the catio waiting for another bird to come by. Hopefully this doesn't become a regular thing or else I'll have to look into adding a screen on the fencing.
Something I'm sure my cats will just love shredding.
UPDATE: Good news! When I went back in the morning to see if the bird was still there, he was gone! I looked all around to make sure he hadn't fallen out somewhere... but there was no trace anywhere. His wings worked fine when he flew away from me, so I think he was just stunned, tired, scared, and a little hurt. After a rest, he was probably okay. No thanks to my murderous cats.
Posted on Tuesday, May 22nd, 2018

I'm just going to come out and say it... health care in the United States of America is a festering pile of shit that is impossible to navigate and increasingly impossible to pay for. I'm sure this will come to a surprise to absolutely nobody, because we've all needed medical attention at some point in our lives... if not for us, for a loved one.... and then had to deal with the fallout.
Health care is a monolithic, byzantine maze of bullshit and corruption that's enough to make even the smartest person insane.
Take where I'm at, for example.
My health insurance deductible is huge. Thousands of dollars. I never get out of my annual deductible because I'm relatively healthy and, apparently, lucky. What this means is that I have to pay for absolutely everything medical-related out-of-pocket. But apparently I do get some kind of discount that's been negotiated between my insurance and my local clinic. What is this discount? Who the fuck knows. I've been trying to find out the cost of making a consultation appointment FOR TWO DAYS and have gotten nowhere.
This is how the system is designed.
The clinic doesn't want you to know the cost because you might not schedule an appointment if you knew. The insurance company doesn't want to commit to coverage for a future appointment, because they might need to increase their profits by reducing (or eliminating) their coverage before you see the doctor.
Which, if you live in an underserved region like I do, could take months to get an appointment.
What amuses me about this bullshit is that these are the bad things that people who don't want universal healthcare try and scare people with! It'll take forever to see a doctor? It takes fucking forever right now. We can't determine how much it will cost? We can't determine how much it fucking costs right now.
My issue isn't life-threatening. Well, I suppose it could end up there, but no... not really.
But what if it were life-threatening?
Well, the way it works in The United States of America is that you just have to sign on for treatment blindly and hope you don't have to declare bankruptcy so you can live.
And don't get me started about people who get sick and could be easily and cheaply treated in the beginning... but they can't afford it... so they wait and wait until they are near death and it's horrendously expensive to treat (if it's treatable at all) so taxpayers ends up paying for their bills because they end up losing everything. What fucking sense does that make? Give everybody healthcare so everybody is healthy and problems are fixed when they're cheap! As a taxpayer, I'd rather pay for what's cheap than what's horrendously expensive!
Maybe one day politicians will take a break from sucking lobbyist cock long enough to figure out how to make health care affordable for everybody.
Because the only people benefiting from the system we have now are insurance companies. And the politicians being paid off by insurance companies. Considering their health care is free and they don't give a fuck about anybody else, I don't expect them to stop sucking that lobbyist cock any time soon.
This is also how the system is designed.
Posted on Monday, May 21st, 2018

And it would seem that the television networks are starting to whore out promos for the upcoming Fall season. Given my love of television, I'l a little excited about that. Given how bad most new television shows end up being, that excitement is tempered by caution. Let's take a look at what I've seen so far, shall we?

I'M ONBOARD...

WHISKEY CAVALIER
If this didn't have Scott Foley and a comedic edge, it would be a hard pass. But it stars Scott Foley and has a comedic edge, so...
This will either bring it all together... or fail utterly as a MacGruber imitation that takes itself too seriously. I'm banking on the former.

MURPHY BROWN
I was a huge, huge, mega-huge fan of Murphy Brown and watched every episode they made. If ever there was a time that we needed her back, it's now...
A few thoughts...
The showrunners are wanting a three-week-to-air production schedule so the show can tackle current topics before they get buried. The only show faster than that is South Park, so good luck with that!
I was deeply saddened when Eldin left the show... and totally gutted when the actor who portrayed him (Robert Pastorelli) died. I am certain that there will be some kind of tribute to the beloved character, but it's not the same as having him there.
Murphy's son Avery is going to be a series regular, which is great. He was last played by Haley Joel Osment and will now be played by Jake McDorman, whom I loved to scary extremes in the television version of Limitless. He is perfect casting.
The status of Jim Dial (Charles Kimbrough) seems to be up-in-the-air. I've read that he's not appearing. I've read he will do a cameo guest spot. If his heart isn't in it, then this is probably for the best. But, boy, I was sure hoping for more Jim Dial.

FRIENDED BY GOD
Usually, a show with this premise would cause me to roll my eyes so hard that I'd suffer a brain hemorrhage. But this actually looks pretty good...
Ironically, this show is very much in the vein of Kevin (Probably) Saves the World, which was cancelled... and has an overt faith reference in the vein of Living Biblically, which was also canceled. Doesn't bode well for the show making it past a single season, but maybe it will find an audience that the other shows never did.

THE ROOKIE
I can't fault the idea of putting Nathan Fillion in another show lead... as Firefly and Castle proved beyond a shadow of a doubt, the guy knows how to carry a show... but I question the concept with this one...
Older small-town guy moves to L.A. to be a rookie cop? Alrighty then. I'm counting on Fillion's undeniable screen presence carrying this one through, because that's what he does.

I FEEL BAD
This could be awful. It's probably awful. But if the actual show is as good as this preview, I'll absolutely be tuning in...
Fingers crossed, because the lack of interesting-looking comedies this coming season is a bit depressing.

WORTH A SHOT...

MAGNUM, P.I.
When revisiting a past show, there are a number of choices. The three most popular are A) Pick up with the same cast at a later time... B) Pick up with a new cast that has unfolded out of the old cast... or C) Completely reboot the entire show with new actors in old roles. Unfortunately for all of us, Magnum has gone with Option C, which is a truly awful decision (as the MacGyver reboot will confirm). Yes, it can be done well (though technically Star Trek is an alternate timeline it is effectively a reboot, and done very well), most of the time it just isn't. Especially when you're trying to replace the insanely charismatic and quirky Tom Selleck in the lead...
Why couldn't they have just made the guy Magnum's son or something? That way Selleck could appear in a couple episodes (like Leonard Nimoy did in Star Trek) to at least try to keep some continuity between series. The only bright spot is that they got Zachary Knighton to play Rick, which is something. I'm not holding out much hope, but I am hoping.

THE NEIGHBORHOOD
The premise didn't do anything for me, but the casting of Cedric The Entertainer and Josh Lawson had me curious to see how this was going to play out. But then they replaced a perfectly-cast Josh Lawson (shown in the footage below) with a woefully-miscast Max Greenfield (FRICKIN' SCHMIDT FROM New Girl?!?) and that all went out the window...
I just don't get it. Lawson had that role down. Anything Greenfield does with it is just going to be an imitation of better casting, so I don't even know what to think.

MANIFEST
Oh good Lord... it's a mashup of The 4400, The Crossing, and a half-dozen other "mysterious return" shows we've seen to death already...
What will make it either work or not work is whether the "mystery" is compelling and sustainable. I am not holding out much hope for that, but I'll tune in to see how they approach it. If it's unique enough, I might give it a try for a while.

FBI
ABC canceled Deception, a show about a magician working with the FBI, while CBS picks up a show that's just the plain old FBI. How this is supposed to stand out from everything else on television is beyond me...
I give this practically zero chance of survival, but I'll give it a chance just in case.

NEW AMSTERDAM
I was disappointed to find out that this was not, in fact, a revival of the excellent 2008 series of the same name starring Nikolaj Coster-Waldau, but instead YET ANOTHER HOSPITAL DRAMA starring Ryan Eggold (formerly from The Blacklist). Where this will ultimately fail for me is the over-the-top-self-masturbatory-level of drama that always makes medical dramas like this (and the horrendously bad The Resident) fail utterly...
I mean, it's not my imagination... this IS yet another iteration of The Resident, right? Because I hate-hate-hate that show.

THE COOL KIDS
I like every single cast member in this show. But is it funny? Not from what I'm seeing in the pilot...
There's certainly the talent there to pull it together, but it's forced-funny and I don't know if talent will be enough.

A MILLION LITTLE THINGS
Well, here it is... the whole "Dump Beloved Actors in a New Show and Roll the Dice" show we get every season that never lasts...
The guys in question are James Roday from Psych, Ron Livingston from Office Space, David Giuntoli from Grimm, and Romany Malco from Weeds. I actually like the cast, it's just that there's nothing here which even remotely appeals to me story-wise. And yet... that casting.

THE PASSAGE
If it weren't Ridley Scott, I'd stumble right past this. But... Ridley Scott... and the kid looks like she can act, so maybe...
The thing that concerns me about this is the sustainability of the story. I mean, I guess it's feasible that no other kid can replace this one... but that's awfully thin. I'll spend a lot of time thinking "NOT WORTH IT! JUST FIND ANOTHER KID!"

ABBY'S
There is literally nothing about this show that compels me to tune in... except... Mike Shur. So consider me compelled.

TITANS
Yet another DC Comics show... this time based on their Teen Titans franchise. If it's as good as Supergirl? Great. If it's doomed to whither away like Arrow did or The Flash is doing, I guess that's okay. But if we're getting something as lame as Legends of Tomorrow? Don't bother.

CLOAK AND DAGGER
A Marvel Studios show that's not on Netflix nor ABC, which is cause for concern... but not panic. I was never a big fan of the comics, but I'll say hello just to see.

ALSO ON THE WAY, BUT NO WAY...

GRAND HOTEL
Bitchy catfighting and sleeping around in a sexy hotel setting. How original. Unfortunately, it looks near-embarrassing to me, but that could be that it's just not my cup of tea. The saving grace may be the Miami Beach location, but I don't know if that's enough to get me tuning in. Probably not.

FAM
Despite Sheryl Lee Ralph having a spot, this doesn't look to be even a little entertaining. Hasn't this kind of thing been done to death and canceled to death already?

THE RED LINE
I don't know how many damn "Chicago" shows we need with Chicago Med, Chicago PD, and Chicago Fire already crowding the airwaves... but here's more of the same, for those who need it. The difference being that Ana DuVernay and Greg Berlanti are behind it.

THE CODE
Apparently an effort to resurrect JAG by CBS. Oh thank heavens. You can never have enough legal dramas on television.

SCHOOLED
A spin-off of a show I don't watch (The Goldbergs) which I won't watch.

ALL AMERICAN
Oh Lord. The Fresh Prince meets Friday Night Lights in a show that thinks it can be taken seriously. PASS.

THE VILLAGE
A building filled with forced-drama. What's not to hate?

THE KIDS ARE ALRIGHT
Oh joy. That 70's Show but with Irish Catholics. Hold my Guinness.

SINGLE PARENTS
With Taran Killam in the lead, it might be worth a look... but the idea of watching 30 minutes of single parent problems is nigh suicide-inducing, so I'll probably pass.

CHARMED
Yeah... once was enough. Especially since I didn't even like the first one.

THE FIX
Wait... what? A thinly-veiled copy of the OJ Simpson trial? BUT WHYYYYY?!??

THE INBETWEEN
As if there wasn't enough stale television coming up, here's a mashup between Medium and The Ghost Whisperer! This bores the shit out of me and I haven't even seen a preview.

THE ENEMY WITHIN
A blatant rip-off of The Blacklist that doesn't even try. So I won't either.

REL
Now, I am 100% onboard with Lil' Rel getting a TV show, but this? I can't even wrap my head around how bad the trailer is.

PROVEN INNOCENT
Oh hooray. Yet another legal drama with absolutely nothing going for it, even though it photocopies the concept of the fantastic Life by having it feature a former wrongly-convicted lead. Gag.

HAPPY TOGETHER
There's reaching for a concept and then there's this hot mess. If you've ever wondered what it would be like to have Justin Bieber move into your house, I guess this is for you.
Posted on Sunday, May 20th, 2018

Put on your Sunday's best... because an all new Bullet Sunday starts... now...

• Mo Carbs! Hey everybody... IT'S CARB AWARENESS DAY! I'm not supposed to eat many carbs anymore, but you can bet I'll be celebrating! Bread, pasta, and sugar for everyone!

• Twins Redux! And here it is... the first single from Thompson Twins' Tom Bailey's forthcoming album: Feels Like Love to Me...
Needless to say, it's a huge relief that this has a true Thompson Twins vibe to it... which is exactly what I want in a new album from Tom Bailey. It feels a bit more mature than Into The Gap, but doesn't sound as different as Big Trash or Close to the Bone did at the time... which is to say that it fits nicely between the end of the Thompson Twins and the beginning of Babel. At least from this one song it does.

• I Smell Bullshit! Fraganzia... because Febreze and every other product name worth a shit has been taken...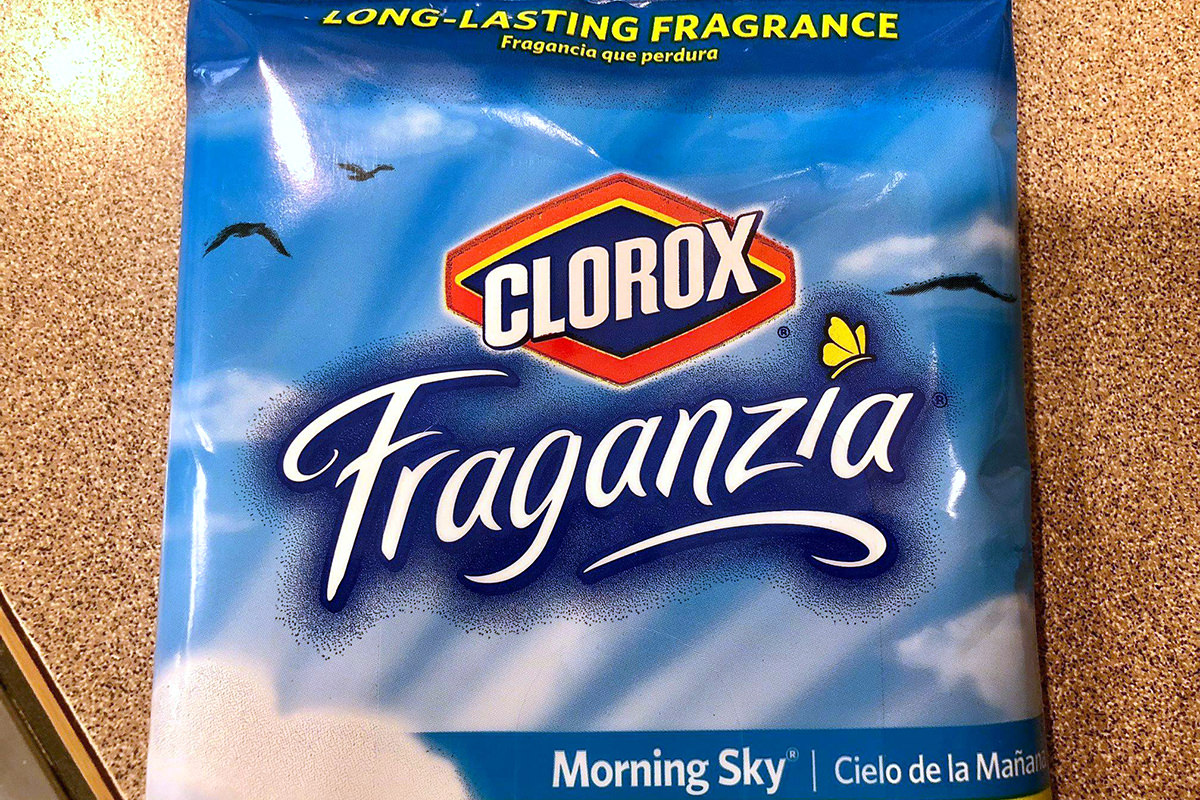 =sigh= Product marketing is officially running out of ideas.

• NEWS: Oklahoma governor signs law allowing adoption agencies to ban same-sex couples.
Holy shit... it's not a day ending in "Y" unless Mary Fallin is stirring up more bigoted shit. Such a fucking asshole. KIDS NEED LOVING HOMES. It has been shown over and over and over and over that same-sex parents DO AS WELL OR BETTER at churning out happy, healthy, well-adjusted children as opposite-sex parents. And in 2018 kids don't care... THEY SHOULDN'T CARE... because the ONLY things that matter is that they have a home to call their own. That they are fed and provided for. That they are loved and cherished. Who gives a fuck if that comes from two dads or two moms? Apparently Mary Fallin does, which means she is in no danger of spoiling her track record at being one of the shittiest human beings on the planet. Congrats, Mary, you repugnant pile of garbage. Are you going to take in all the kids being denied homes by your bigotry? =crickets=

• NEWS: GOP House candidate live streams herself challenging transgender woman for using women's restroom.
A women's bathroom has
STALLS
. Nobody is seeing
ANYTHING
. So it begs the question... exactly
how
is this candidate using public restrooms that a trans person entering is such a huge issue? Does she get naked and run around in there before she goes into a stall? Does she just hang around in there with her vag hanging out? What does she think people are going to see?
What is it?
You use a public bathroom to go to the bathroom, then (hopefully) wash your hands, then leave. Admittedly, I've never gone into a woman's bathroom before... so maybe I am completely unaware of what goes on in there... but this just seems extraordinarily stupid. If public bathrooms bother you this much,
then don't use a public bathroom
.

• Adventure Redux! Last Bullet Sunday I had mentioned the very first graphical adventure video game... Adventure! As a formative part of my childhood, it's a game that fascinates me in a hundred different directions. Mostly because it shouldn't have even been possible given the technological limitations of the time. In a stroke of randomness, I ran across an interview with Adventure creator Warren Robinett earlier this week! It's pretty great...
Needless to say, I am thrilled at the prospect of reading The Annotated Adventure book mentioned in the talk, but the last mention of it was in 2016, so I'm guessing it's been put on indefinite hold or outright cancelled by now.

And on that note... DeeTwo out.
Posted on Saturday, May 19th, 2018

It's kind of strange how having cats has changed my behavior. I am slowly becoming a different person, and it's a direct result of hanging around Jake and Jenny.
Yesterday I received a couple of questions from somebody who found my Antarctica trip in a Google search. I didn't have the answers off-hand, so I had to retrieve my souvenir box. My cats see a box and are instantly in attendance, pawing through everything and chewing on papers, pamphlets, and postcards. And I just didn't care. Two years ago if a cat was chewing on my precious souvenirs I would have ripped them out of their mouths, shooed them away, then been upset for days that my property had been destroyed. But now? It's just stuff. In the grand scheme of things, does it really matter if a postcard has a corner missing? Not to me. Not anymore. They could set the entire box on fire for all I care. I'd rather have happy cats than any amount of stuff. Unless it's going to hurt them, there's nothing I own that's important enough to smack a cat away. Nothing.
But the biggest change has been learning to accept things for what they are. This is a primary concept of Buddhism, and something I've been trying to get a handle on for decades. Jake and Jenny are "just cats." Given their relatively small stature and lack of opposable thumbs, there isn't much in their lives that they can change. Rather than wallow in misery if their attempts to alter their environment fail, they just accept it and do their best to live with it... or they move on. And that's the key. There are some things in life that simply cannot be changed no matter how hard I wish it were otherwise. Rather than dwell on that and be miserable, I've been doing a lot more accepting... and a lot more moving on. And I have been far happier because of it.
Maybe this world would be a better place if more people in charge of things had cats.
But anyway...
So there I was consumed by work when I hear much thrashing and squawking coming from the dining room. Jake is going crazy about SOMETHING, so I get up to see what's going on. Turns out it's just a boy and his mule. Jake is rolling around on the table with Moose...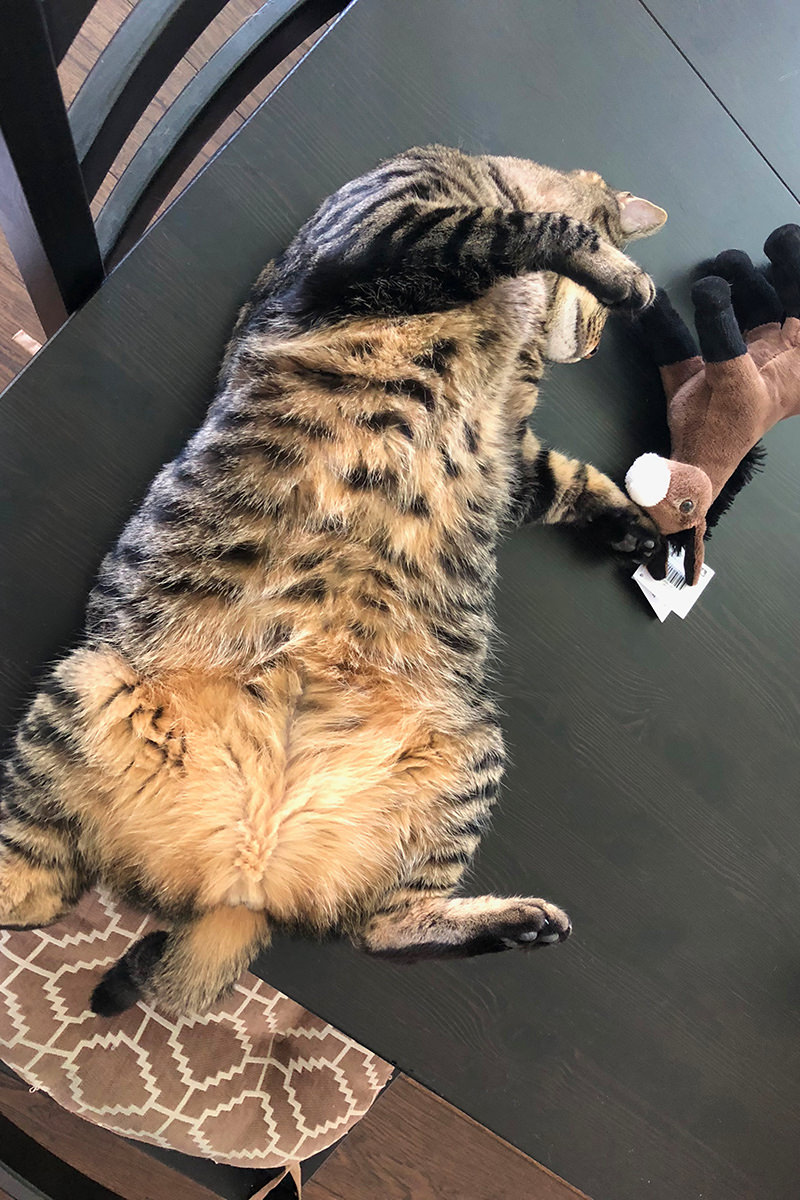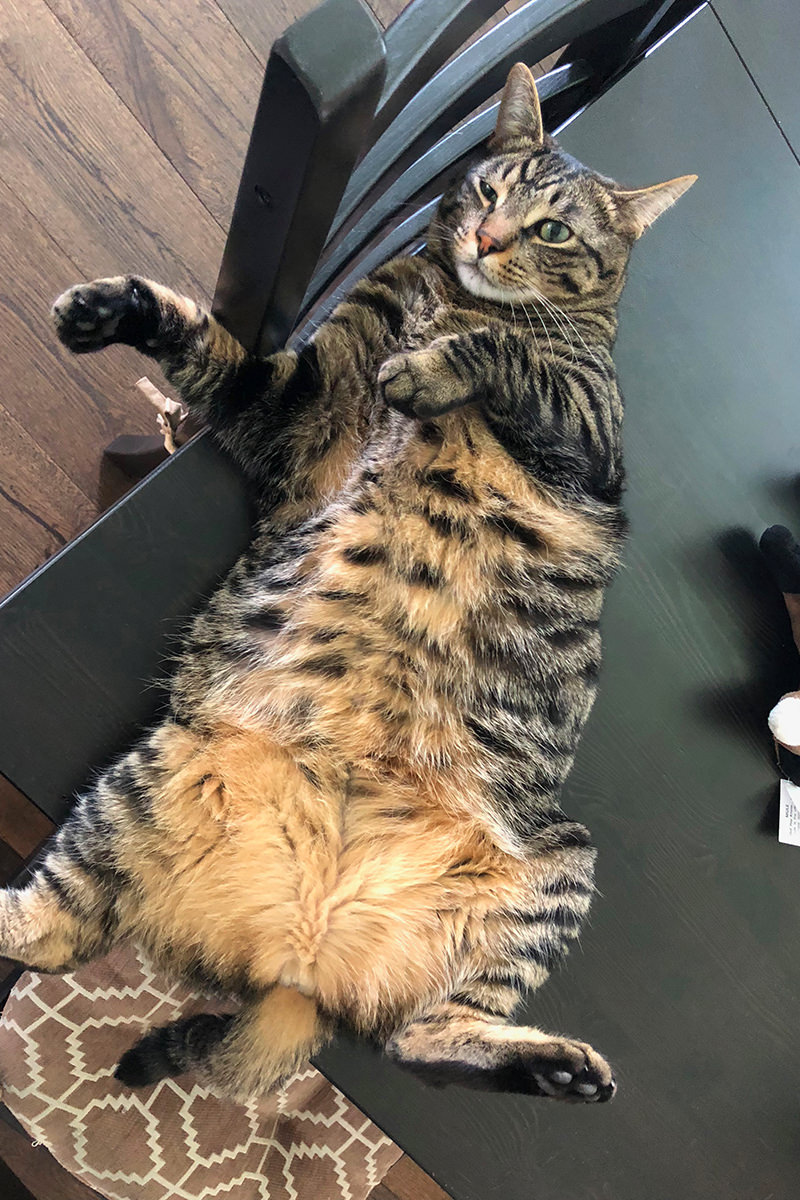 Which makes me SO happy because dividing their attention between multiple stuffed animals means that Mufasa, Jakes prized stuffed lion, might stay in one piece a bit longer.
In other non-news, Jenny's television addiction is still going strong. Her favorite place in the living room is the coffee table where she can lay and watch TV. Many nights she'll fall asleep while watching...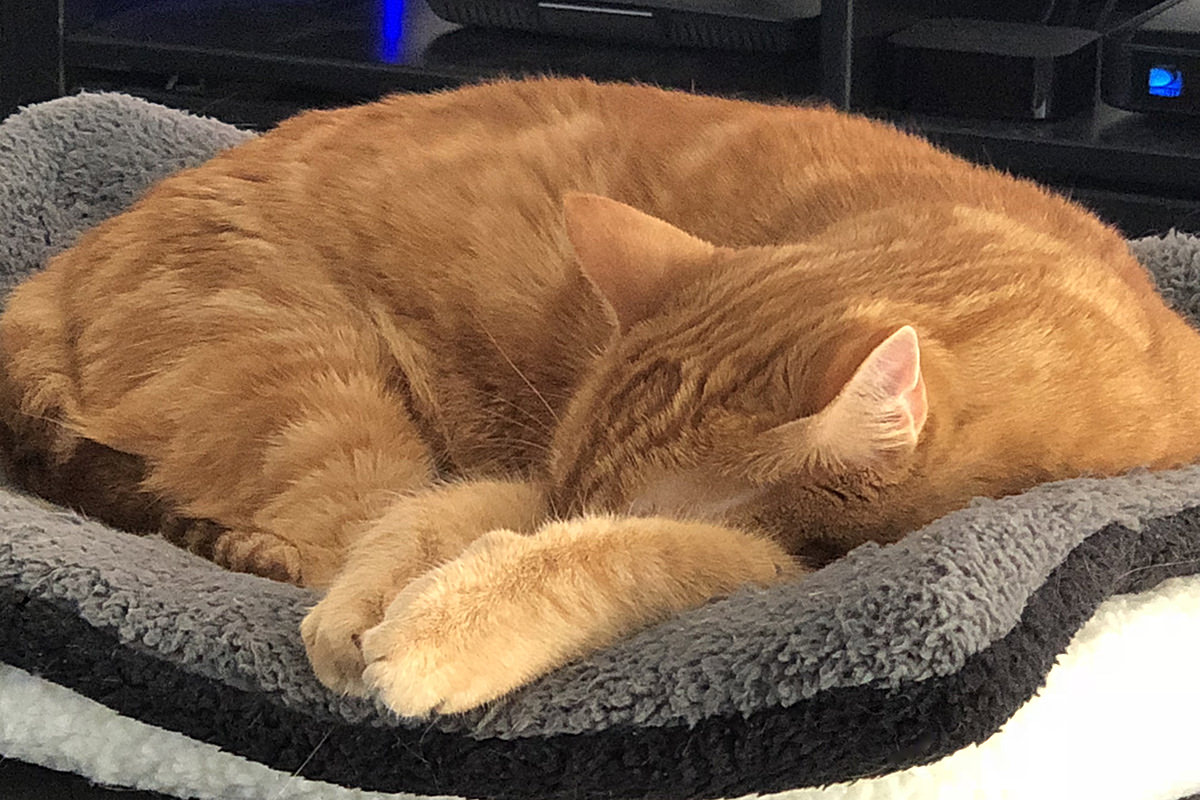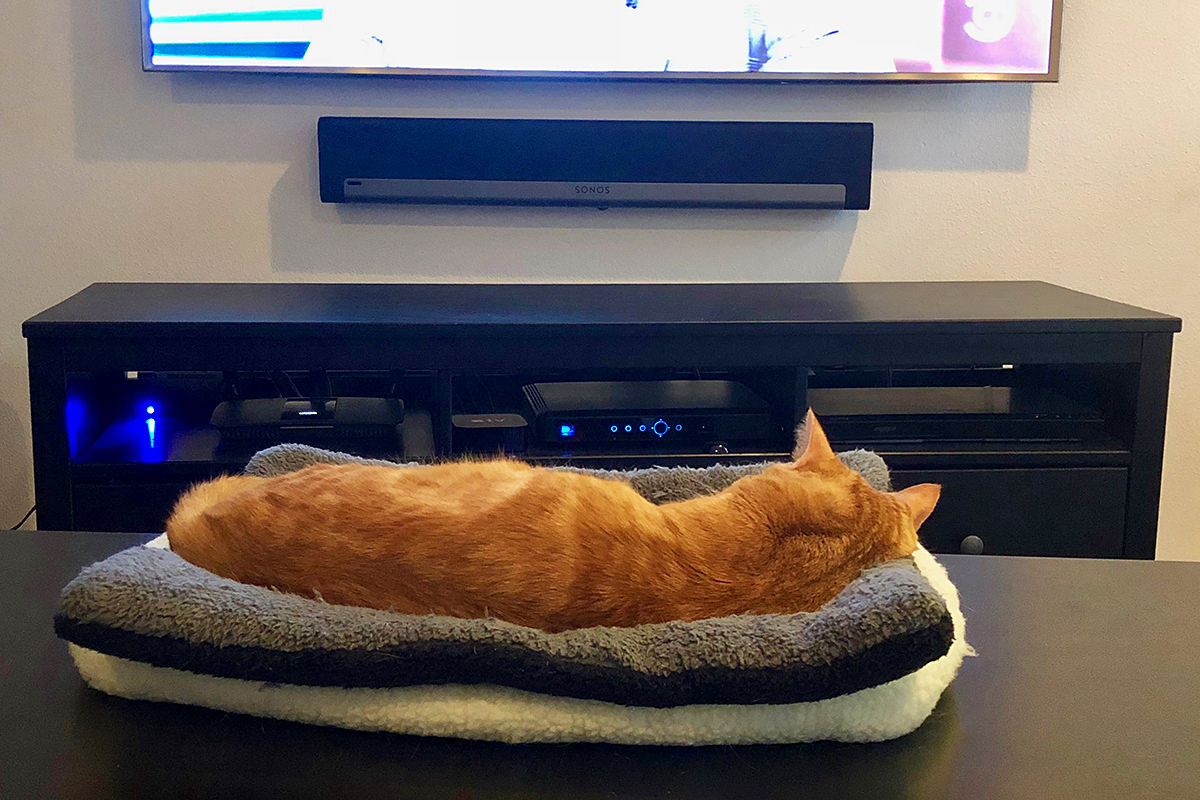 Which is better than the cats' latest trend... wedging themselves in-between me and my work so they can get petted and fall asleep. They are doing this ALL THE TIME NOW. Even worse? They work in shifts. One of them will squeeze between me and my laptop so I have to set it down... then the minute they leave and I go to pick up my computer again... the other one will do the same damn thing...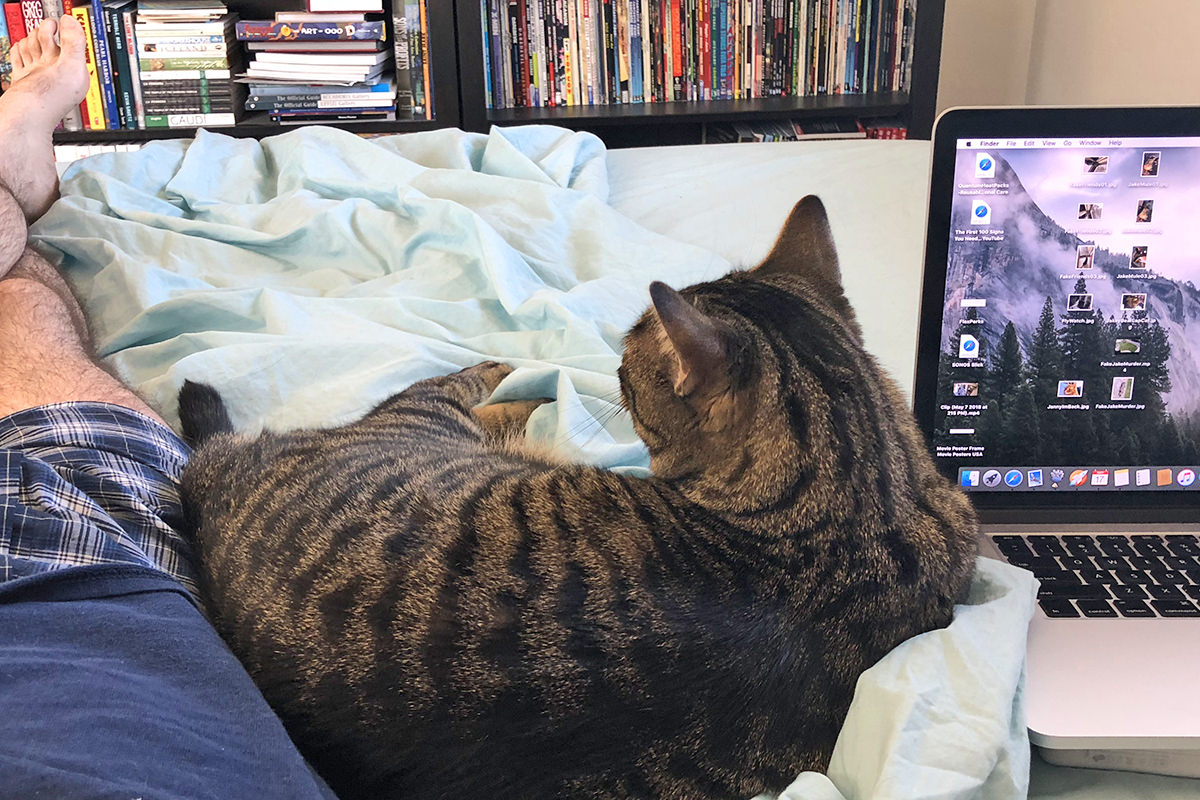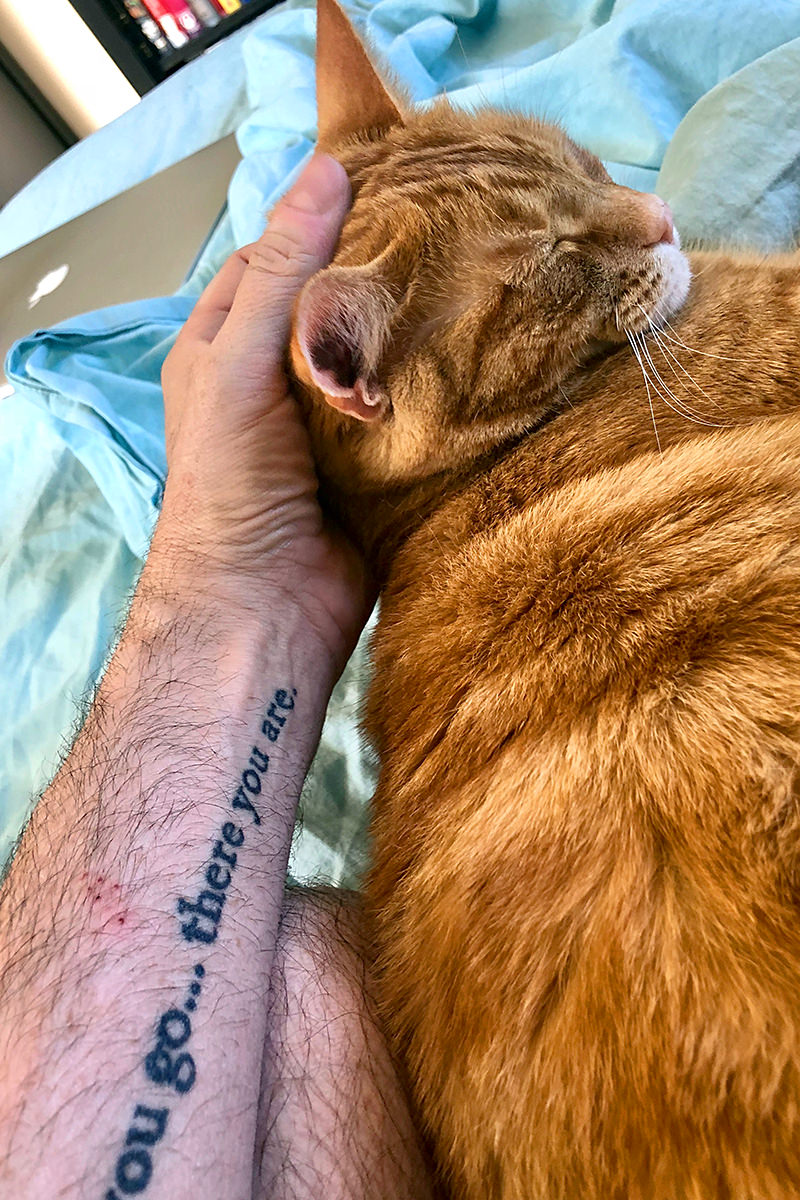 And, lastly, I've been leaving windows and doors open in the mornings before it gets hot in an attempt to keep things cool and let in some fresh air. This cuts down on the expense of having to run my air conditioner as much. This has resulted in Jake and Fake Jake having a couple of "play dates" through the screen door...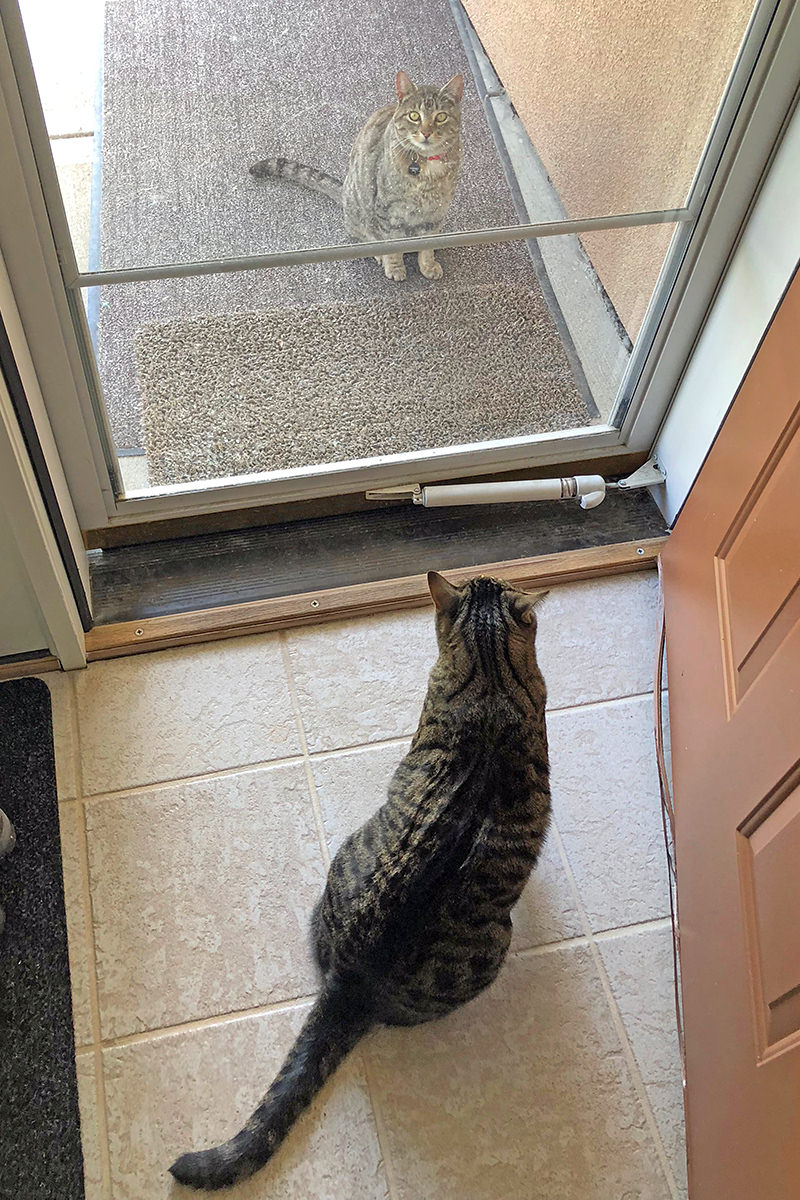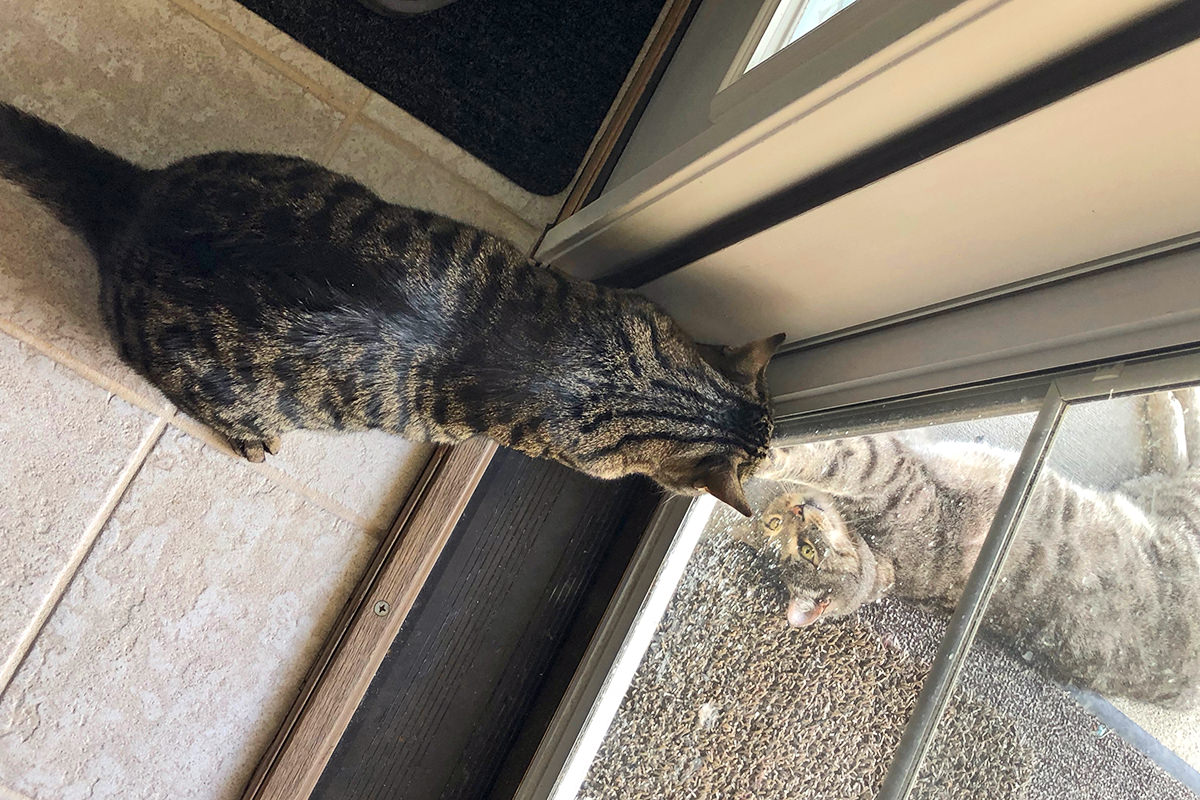 Though how they can see each other through that filthy window I do not know.
A part of me wonders if I'll eventually be able to let Fake Jake in for a visit... but I honestly don't think this will ever happen. Fake Jake can get very aggressive, and I think that would traumatize Jenny quite a lot. She may be able to hold her own when there's a fence between them, but up close and personal? Probably not.
Oh well.
I removed the heater and berm from Fake Jake's shelter, then cleaned it inside and out, so he should have a nice cool place to hide from the sun this summer. That will have to do. If we end up with a heatwave, I can always let him hang out in my garage.
Until next Caturday then...
Posted on Friday, May 18th, 2018

Today I had a rare 15-minute gap with nothing to do. Too little time to start a new project... too much time for a bathroom break. So I decided to update my List of Things to do Before I Die (That I've Already Done). It's a kind of "bucket list," but not really, because I only add things to it once I can check them off. No need to be on my death bed clutching a list of stuff I still wanted to do, thus dying a failure.
I'm up to 114 items which is probably enough for two lifetimes.
Which means I'm ready to die, I guess. And yet there's still so much left I want to do. Maybe I'll be able to add another dozens items before I check out. Maybe I'll be able to add just one. It doesn't really matter so long as I keep coming up with things to live for.
Though I've found that as I get older my idea of what makes it to my list is changing as my priorities change...
Age 20 Top Priority: Look for my dream woman. Get married. Have kids.
Age 30 Top Priority: Stay single for the rest of my life.
Age 40 Top Priority: Wreck myself having the most fun possible, then die before I'm 50.
Age 50 Top Priority: Stay healthy enough to keep on living so I can take care of my cats.
Assuming I make it there, I have no idea what my priority at 60 will be. But probably...
Age 60 Top Priority: Wreck myself having the most fun possible, then die before I'm 70.
I'm relatively certain of what comes at 70, assuming my priority for 60 falls through...
Age 70 Top Priority: Just die already.
This sounds bad, I know. But keep in mind that by that time I'll have probably added enough things to my list for three lifetimes. And isn't that more than enough? I'm close to done right now. Lord only knows how totally done with life I'll be at 70. Though who really knows? Back when I was 40 I wanted to die by the time I was 50. Now that I've reached 50... and I have cats... I'm happy to be hanging around a while longer. Perhaps when I turn 70 I'll get more cats and be good until I'm 90.
Who wants to kick the bucket list when they have cats?