Posted on Monday, June 18th, 2018

Everybody is laughing at the idea of spending billions of dollars we don't have on a "space force." But you won't be laughing when the alien invasion comes and we are DOMINATINNNNNNG SPAAAAACE!!!
Oh... you say aliens that are capable of interstellar travel will have technology that makes any "space force" we come up with about as threatening as a BB gun? Well... well... WE CAN STILL KEEP THE MEXICANS FROM INVADING THE MOON! HA!! CHECKMATE, HATERS!!!
=ahem=
Space exploration has always resulted in amazing technologies that eventually filter downward and make everybody's life better. I 100% support my tax dollars going towards organizations like NASA, who do a lot more than just push the boundaries of human knowledge... they also invest in technologies which keep us safe and help us to have a better understanding of the world we inhabit and (at least until the current administration) the dangers we face from the destruction we're causing to it.
Likewise, I also 100% support my tax dollars being spent on defense. Sure, I think it's insane that we have such a massive military complex when so many of the current threats we face can't be remedied that way... and it seems crazy that we have weapons enough to destroy the world a hundred times over and are told we still need more... but I want our military to always have access to cutting-edge technology which keeps them (and us) safe. So yeah, budget for that. Not military parades and golf trips on Air Force One, but that.
And now we're getting a space force?
We've got homeless vets, a stupid-ass 100% completely ineffectual wall to build, and legions of other problems that could use our tax dollars... but pew! pew! pew! pew!
Tags:
Dumbassery
,
Dumbasses
,
Dumbfuckery
,
Fuck This Shit
,
Fucking Assholes
,
Fucking Scumbags
,
Fucktards
,
Liberal Redneck
,
Pig-Fucking Assholes
,
Stupidity
,
Trae Crowder
,
Truly Stupid People
,
Trump's America
Categories:
News – Politics 2018
—
Click To It:
Permalink
—
1 Comment: Click To Add Yours!
Posted on Sunday, June 17th, 2018

Time to celebrate all the good that's left in the world, because an all-new Bullet Sunday starts now...

• The Carters! As if there could be any news bigger than Beyoncé and Jay Z dropping a duet album out of nowhere called Everything Is Love... there's the fact that they shot the first video for the single Apeshit in the frickin' Louvre. I mean, seriously! They rented out THE LOUVRE! Who does that? Who has the money to do that? Beyoncé and Jay Z, that's who...
Amazing stuff. Can't wait to get my hands on the finished album.

• Part Two!And so this popped up on the internet last week...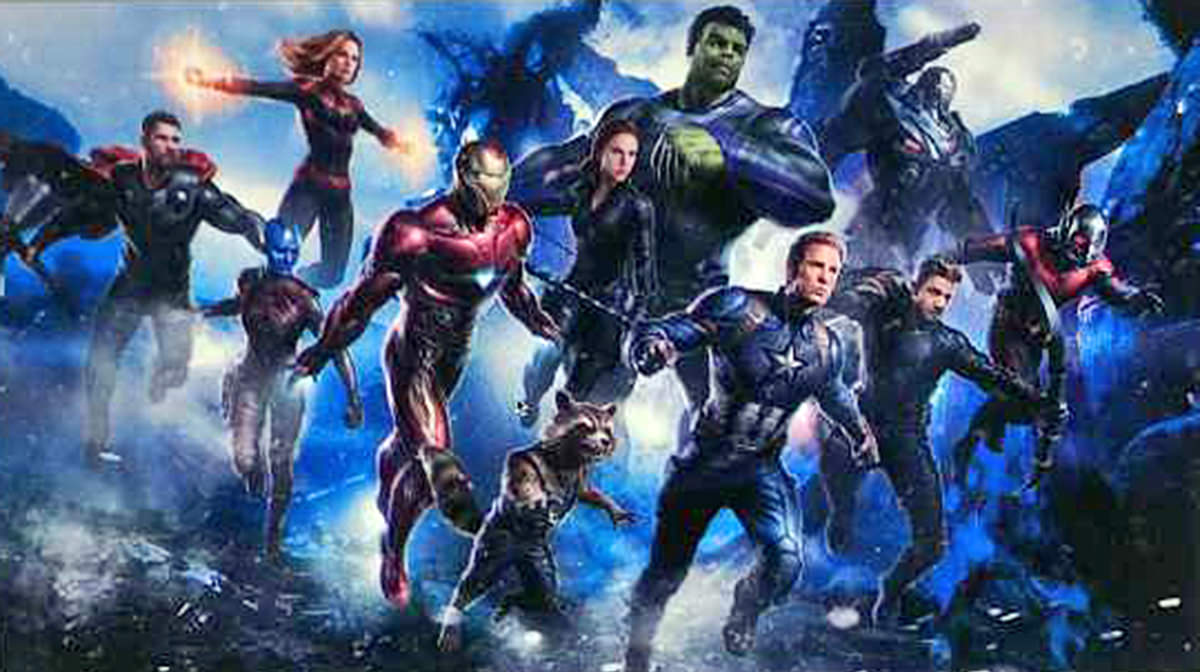 I have some thoughts...
Captain Marvel! ZOMG! She looks amazing. Needless to say, I cannot wait for her movie to drop. It will be very interesting to see how she factors into the Marvel Cinematic Universe given her raw power that dwarfs everybody else. One thing is for certain, she's going to be one of the most dynamic visual treats to come along in super-hero movies.
The arc they've given Bruce Banner has been an interesting one. At first he could barely control The Hulk and hated the life he lost because of it... then he was near-despair over the destruction caused in South Africa... then he was kind of taken over by The Hulk in Thor: Ragnarok... then he lost The Hulk in Infinity War... and now it looks like he's reached some kind of compromise between himself and The Hulk. It's been a great ride, and I'm worried it might end.
How sad is it that Rocket Raccoon is the only Guardian left?
Disappointed that there's n representation from Black Panther here. T'Challa may be gone... but Shuri? Okoye?
So many questions about Thor and Asgard. Apparently some of them survived. But where does the Thor franchise go from here? Where's Valkyrie?
Ant-Man is there. Where's The Wasp? I'm guessing that she is part of the one-half gone, which is a shame. I thought I heard somewhere that she was in this.
Hawkeye is here. Odds are very good that some of his family is part of the one-half gone, so he's got serious stakes in this.
Odds are incredibly high that this is going to be the final appearance of Steve Rogers as Captain America. To have him go out on a high note, it's almost a given that he's going to sacrifice himself to save the universe. And that's okay... but... is it wrong that I want Nebula to be the one who defeats Thanos? Out of everybody, she deserves it most.
Iron Man's armor has evolved to kind of a weird place. The whole "legs merge to jet" thing in Infinity War was a breaking point for me.
War Machine, on the other hand, has a more logical progression to his look.
Black Widow had better get her own damn movie after all this. Seriously. What character has given more to other characters' films with nothing for themselves? She's woefully underutilized, and a solo movie will help fix that... and hopefully other characters she's supported over the years will support her.
Next up? Ant Man and The Wasp, which looks fantastic.

• Super! Here's the thing. With the exception of Wonder Woman, the DC Cinematic Universe has devolved into a heap of shit. Man of Steel... Batman vs. Superman... Suicide Squad... Justice League... they were all heinous crap that ignored huge portions of what makes DC characters so timeless and special. At the other end of the spectrum is the DC Television Universe (or Arrowverse, if you will) which has been killing it. Yes, Legends of Tomorrow has never quite worked... and Arrow has gotten stale... and the overall story arc for The Flash this past season went way too long and was ultimately pretty lame... but then there's Supergirl. It's been so good. And the season finale was no exception...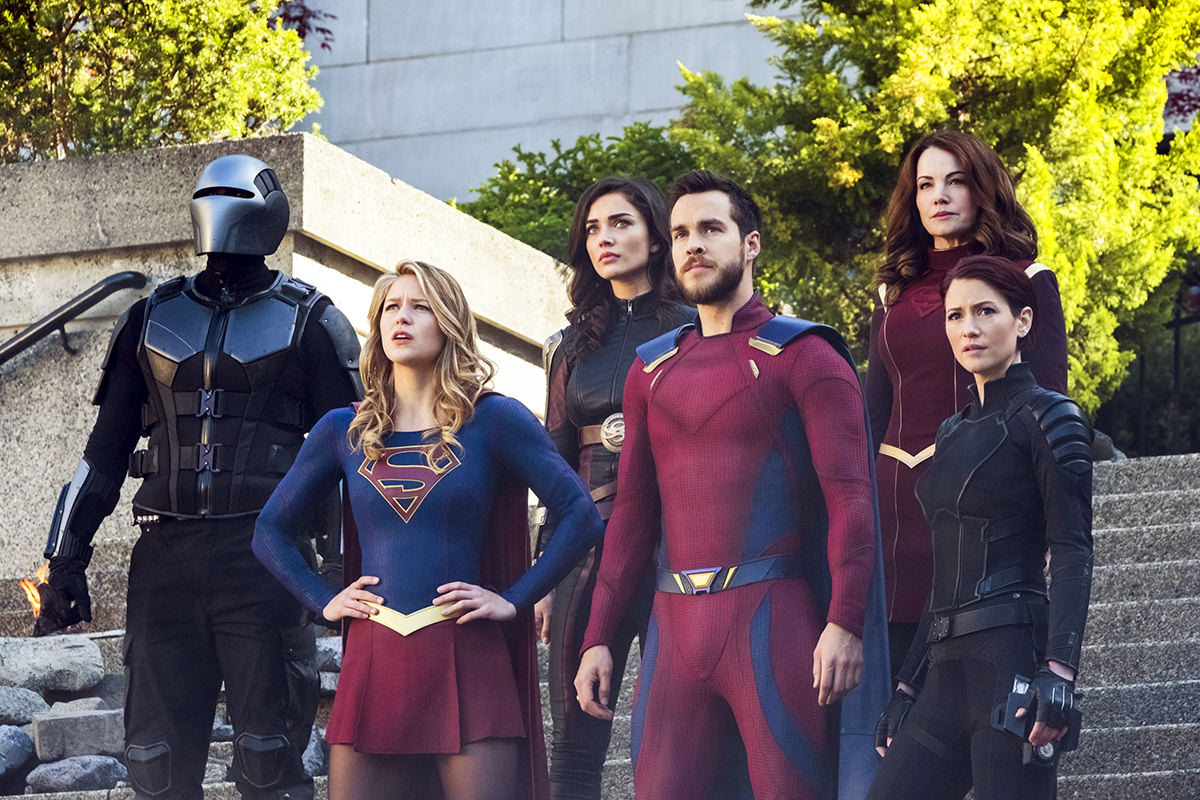 Is it too much to ask that the people in charge of Supergirl give us a Superman show? Preferably a show where the central character STANDS ON THEIR OWN instead of yet another team show? The movie Superman is going nowhere, while Tyler Hoechlin has proven he's the best on-screen Superman since Christopher Reeve....
DC should really just expand the Arrowverse into movies that don't suck. Because haven't we suffered enough? All I can hope is that we get another excellent season of SuperGirl. And a first season of Superman. Oh... and I would totally watch a Legion of Super-Heroes show too.

• 4K! I fell into a YouTube 4K HDR rabbit hole when I found out that my television can display them. Amazing stuff... even if you can't view 4K HDR. Here are some of my favorites...
But if you can watch 4K HDR on your TV...

• Beam! Don't get me wrong, I love my Sonos smart speaker setup, but there are some serious shortfalls that plague the system. Namely... it's stuck in the past. They've been clinging to optical cables for their PlayBar and PlayBase like a dead lemming, despite the fact that everybody else abandoned it a decade ago. And then this past week Sonos released a new product: Beam. Which is essentially a mini PlayBar that costs $399. But the biggest news? It's not using optical cable... it's HDMI ARC. Welcome to the future, Sonos...
It's a step in the right direction, but not a very big one. Still no Dolby Atmos or other modern sound technologies have been announced. On the contrary, they say they have no plans for Atmos at all. Instead we're getting IKEA furniture with Sonos built-in. Wheee.

Good luck getting Apeshit out of your head this week...
Posted on Saturday, June 16th, 2018

One of the first projects I put on my list once I got my wood shop set up was finishing PHASE TWO of the catio. The first part was the ramp, which I installed last weekend. The second part is a giant scratching post that Jake and Jenny can access on three levels... or climb from top to bottom as they wish.
When I drew up the initial sketches for the catio, the pole was already there and installation points were planned. All I needed to do was build the thing. Which was easier said than done, because neither Home Depot nor Lowes had round fence posts in stock. I'd have to wait until I was over the mountains and get it then.
Or so I thought.
A friend from high school on Facebook mentioned that the local farm supply carried them. And so away we go...
First step was to thoroughly scrub it down with soap and a wire brush...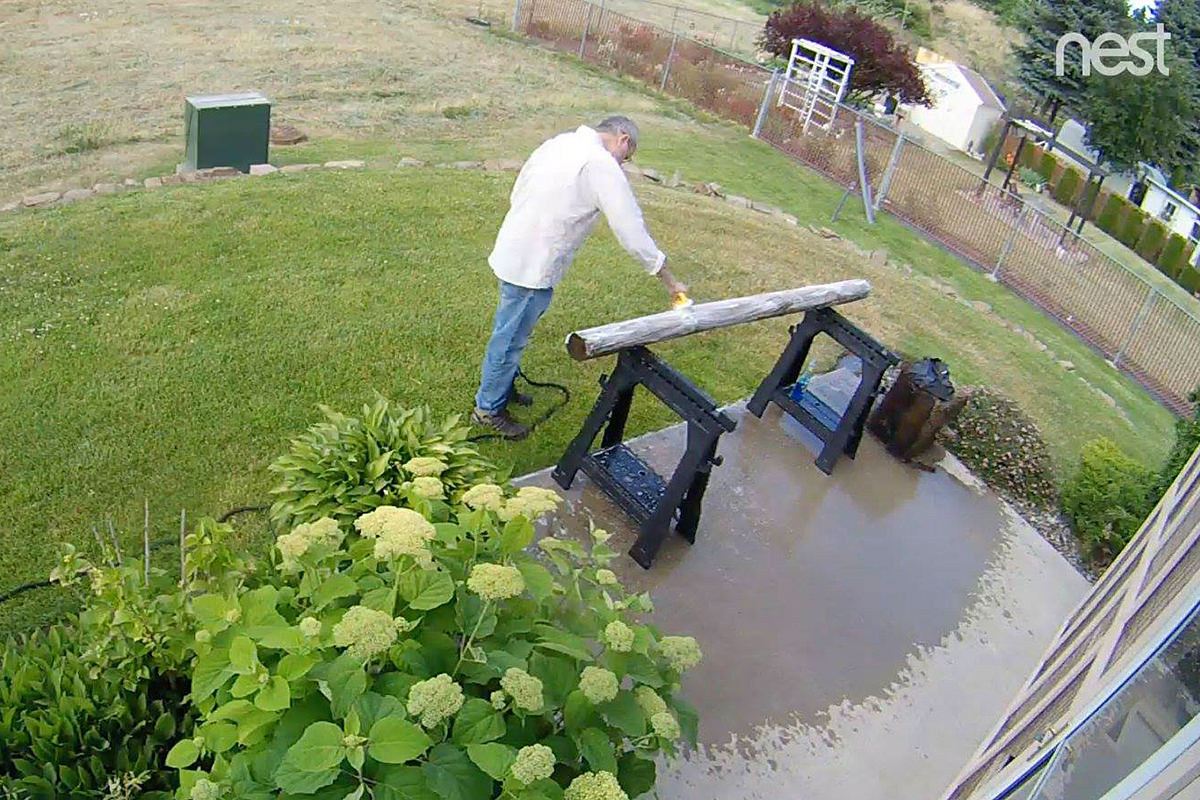 Then it was time to fill all the cracks and sand it smooth...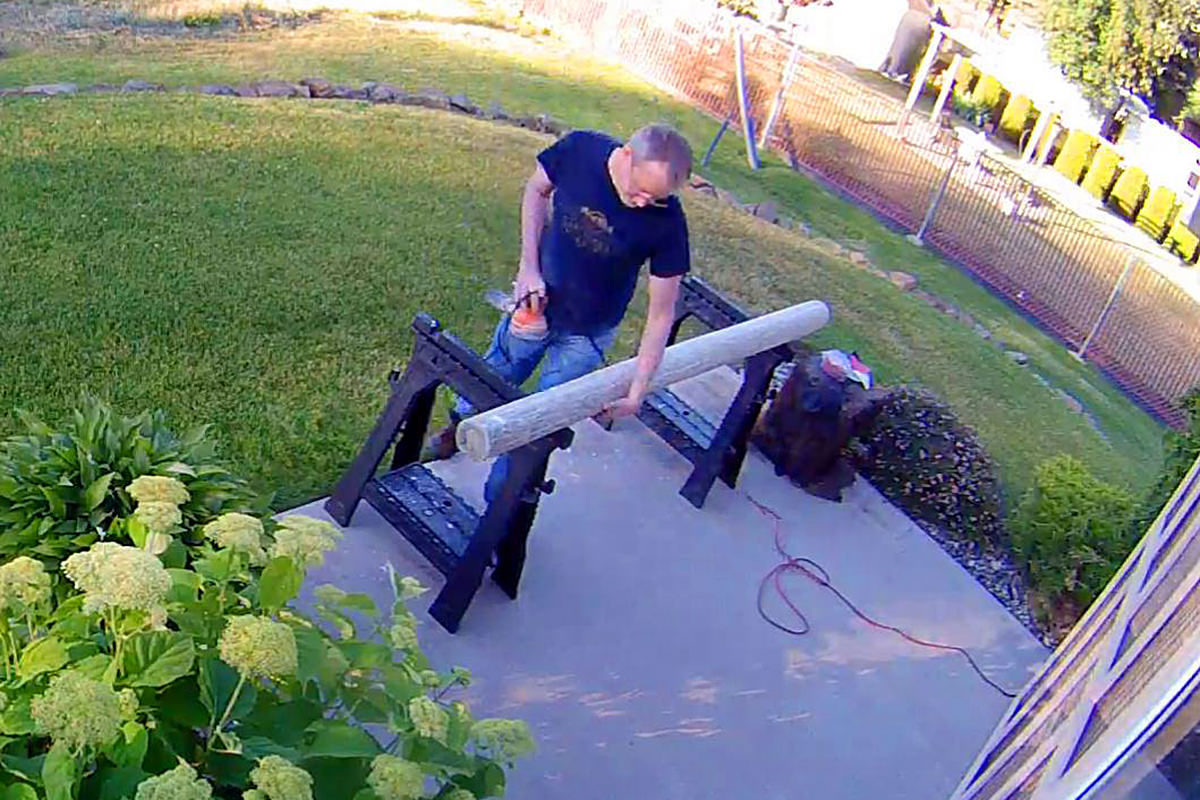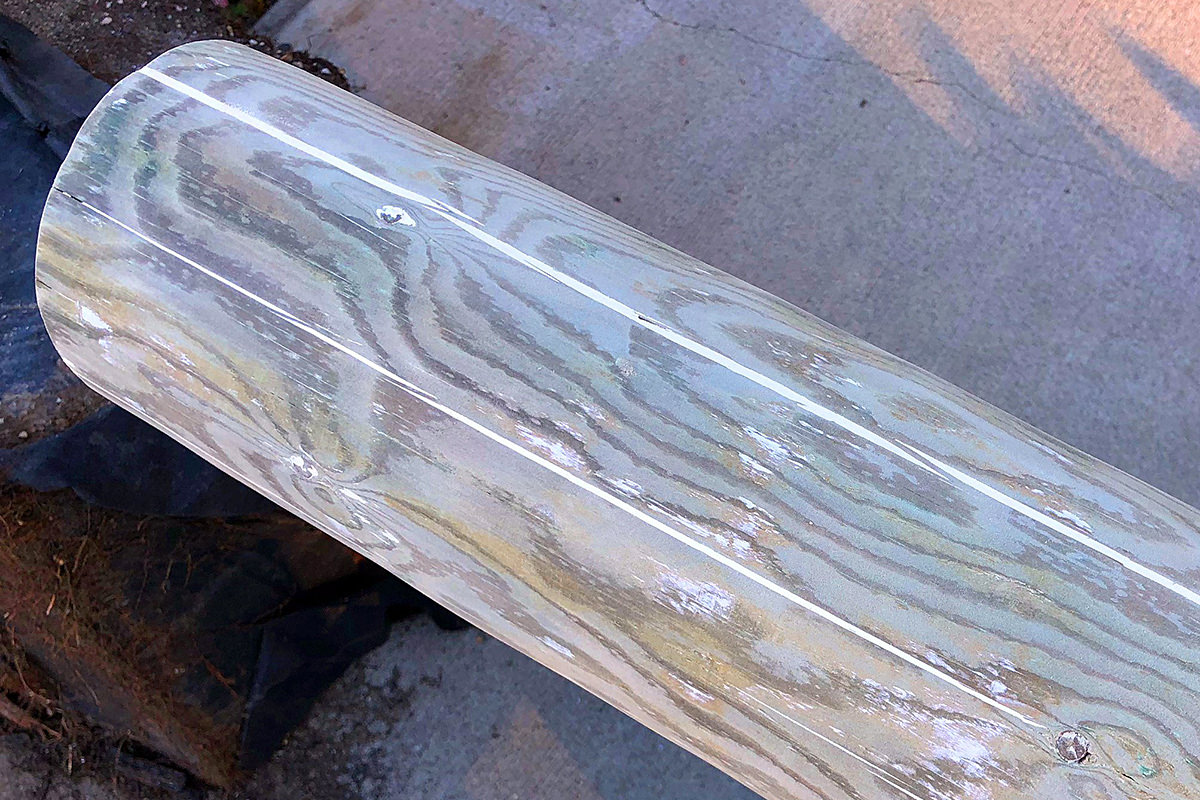 After three coats of shellac to protect it from moisture, I went to see how it was going to fit and discovered it was too tall. And so...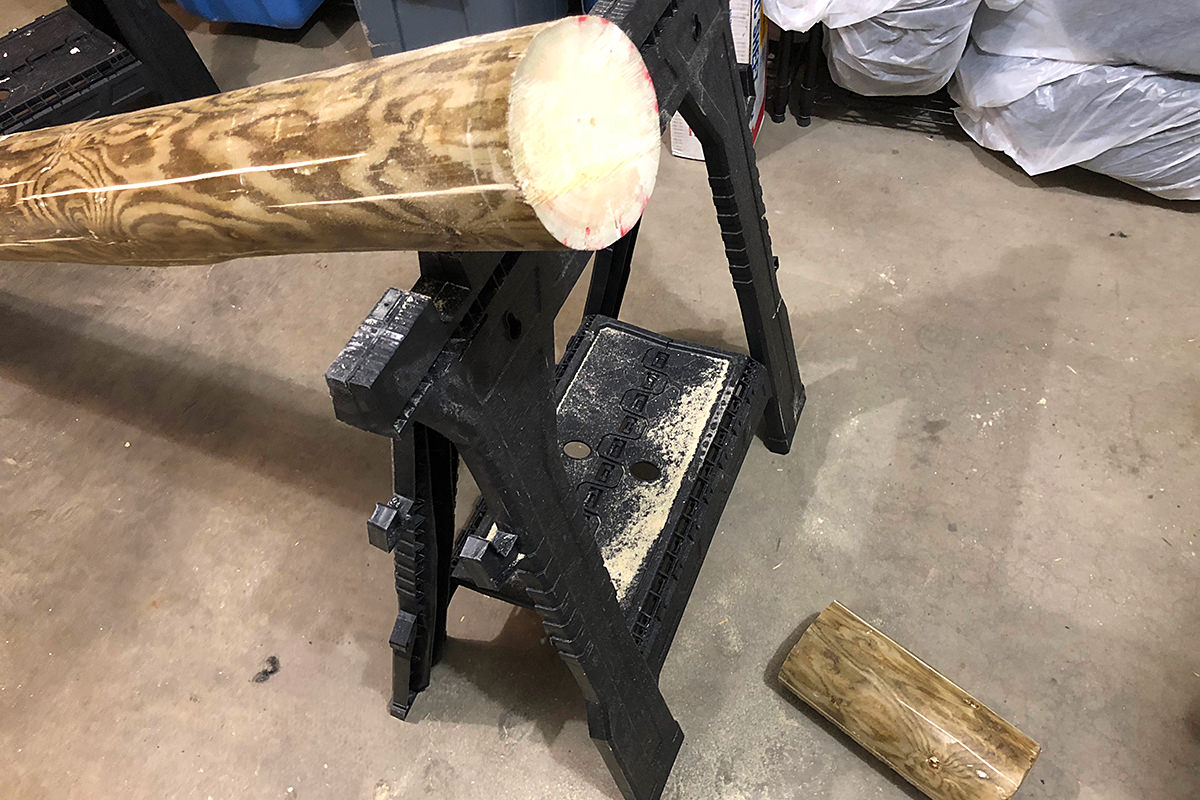 Then it was time to wrap the entire thing in sisal rope so the kitties have something to claw on. I wanted to be sure that it wouldn't come loose, so I bought some cement to glue it in place. Not willing to trust that this would be enough, I stapled it along the way on the back side as well...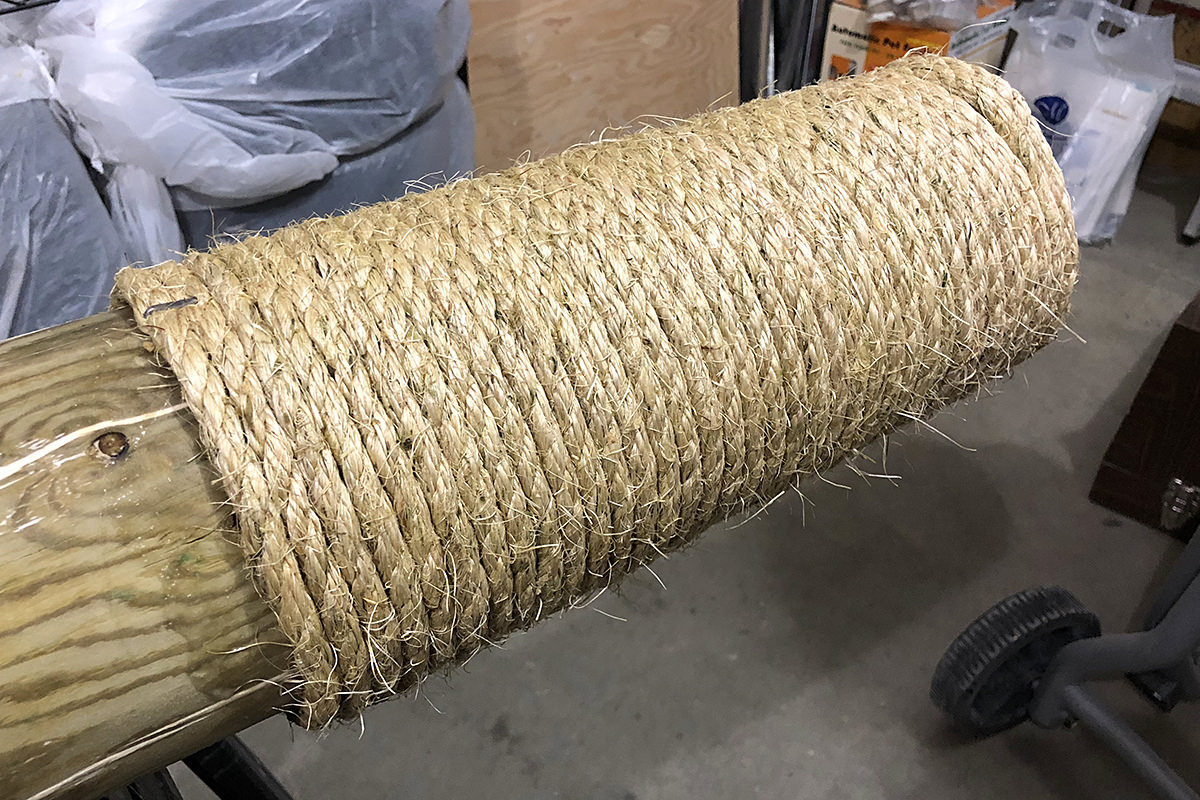 From using maths not quite forgotten (C=2πr) I knew I needed seven rolls of 50-foot, 3/8" sisal. The farm & feed store only had five, so the remainder had to be bought at Home Depot. It was slooowwww going, as I was having to glue-wrap-glue-wrap-glue all the way down...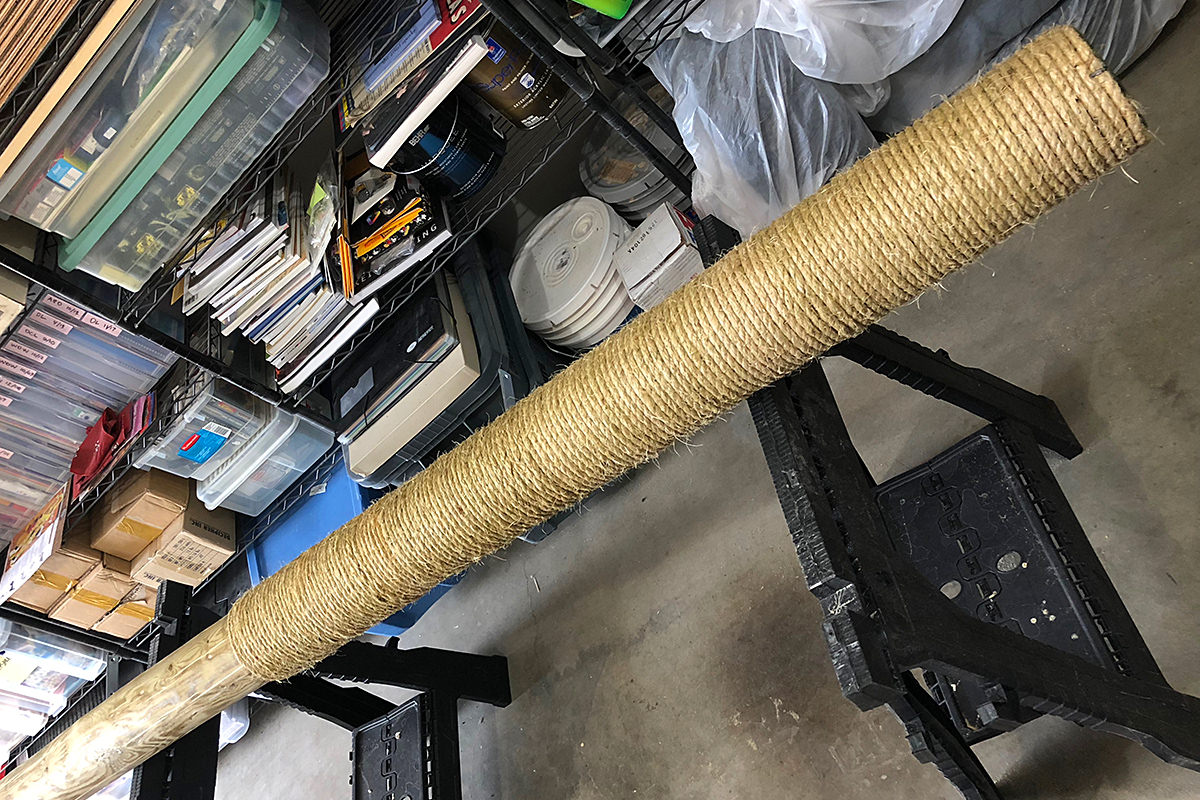 Installation was pretty easy. I had wrapped brackets under the sisal... the ends were protected by shellac and silicone, and the spot I had designed for it was easily accessible. I added a third bracket to the top of the pole so it was secured to the ceiling as well. Once it was all screwed together I couldn't budge it, so I'm confident it will be safe for Jake and Jenny.
And speaking of the little monsters... Jake watched me install it through the window and ran out to start scratching on it the minute I opened the door. Looks like another catio success!
I have one final piece for PHASE TWO that I'm hoping to get to in-between other projects next month. Then, depending how long I'm otherwise occupied in my wood shop, it's on to the finale of my catio plan... PHASE THREE.
Until I dream up PHASE FOUR, of course. Lucky cat bastards!
UPDATE: And... Father's Day came early. Jenny just climbed the entire pole from bottom to top! So proud! Unfortunately, she was climbing opposite the camera, so I don't have video... but here's her little paws peeking out as she scaled to the upper shelf...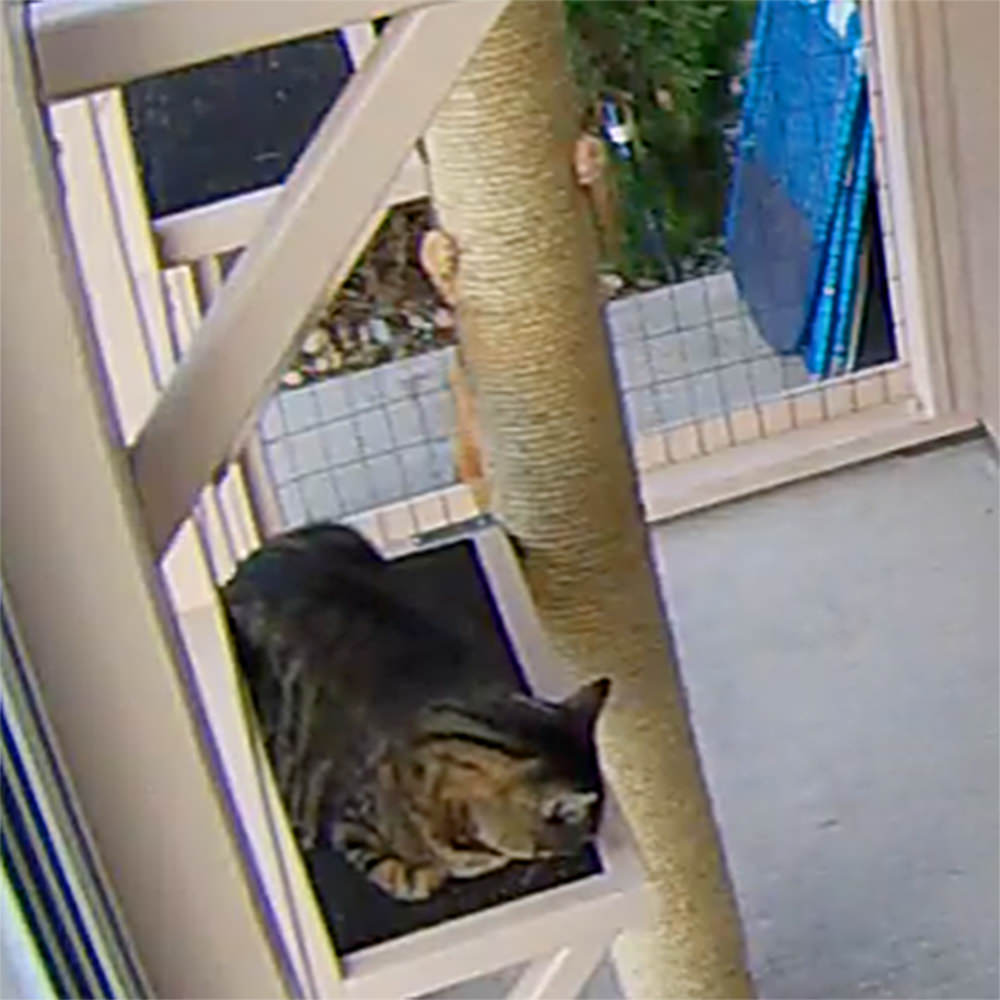 That she ran down the ramp I had installed last weekend is just icing on the cake!
Posted on Friday, June 15th, 2018

Okay. This has been a pretty shitty day for me, but there was one bright spot.
Over something I had almost given up hope on.
Something I wanted so badly.
NETFLIX HAS PICKED UP LUCIFER FOR A FOURTH SEASON!
I was upset when it was canceled.
I was doubly upset once I got around to watching the "bonus" episodes... the first of which is about as good as television gets.
So, THANK YOU NETFLIX, for rescuing one of the best shows on television! Cannot wait to see what Lucifer and Co. get up to next!
Posted on Thursday, June 14th, 2018

Orchestral Manoeuvres in the Dark has long been one of my favorite bands. During the 80's I was pretty much obsessed with them, and their albums were in frequent rotation (even the much-hated Dazzle Ships). Needless to say, I was pretty upset when the band imploded back in 1988.
Sure Andy McCluskey carried on and released some albums I loved... Sugar Tax, Liberator, and Universal... but it wasn't the same without Paul Humphreys, and it seemed as good a time as any when OMD finally died in 1996.
But then... a miracle.
McCluskey and Humphreys reunited. Then released History of Modern in 2010.
It was amazing and I loved it. The follow-up in 2013, English Electric, was equally good. And while listening to the album this morning I was reminded just how good it was when I got to Night Cafe. Not just for the song... but for the video, which is both remarkable and disturbing in equal measure. It's a song I can't get enough of, and it surprises me just how overlooked a gem it is...
The next album, The Punishment of Luxury came out last year and was pretty great once all the experimental interludes were deleted. But it was no English Electric, despite some pretty great songs...
And so...
Back to life after this OMD musical interlude.
Or maybe just one more song first...
Posted on Wednesday, June 13th, 2018

I wrecked my legs working on my front flower beds and installing new security cameras last weekend. This morning I thought I was finally recovering a bit, only to find that I had pulled a muscle in my back as I was attempting to walk so I wasn't hurting my legs.
Essentially trading one pain for another.
Albeit a much much more painful one.
Most times Ibuprofen can handle it. But the minute I twist wrong or bend in a way my back doesn't like... unbelievable searing pain goes shooting through my back that hurts so bad I can barely breathe. The worst pain is when I lay down. It's so awful that I've tried sleeping while sitting up, but I can't manage it. My back brace helps, but not enough.
And so...
Not a great time to be Dave2 right now.
It would be great if I could just dope up on pain-killers and muscle-relaxers and sleep all day, but... off to work I go.
Posted on Tuesday, June 12th, 2018

Now that I've finished a bunch of projects, cleaned out my garage, and prioritized my to-do list, I've finally converted my garage over to a wood shop. All I have left to do is hang up the dust barriers, and I'm good to start building! A month-and-a-half later than planned, but better late than never.
One of the first things I'm doing is finishing up the PHASE TWO catio projects that have been lingering since last Fall. It all started with a "Cat Ramp" I had planned to run up the side of the structure. I had built it months ago... it's just floor mats wrapped around a 1 × 6 &times 10-foot board that was then glued and screwed to a pressure-treated 2 × 6 &times 10-foot board... but I never got around to installing it.
Well, I finally did that...
Jake and Jenny absolutely love it. The ramp gives them an opportunity to use their claws to climb, so it's kind of like and really long scratching post they can climb and run around on...
As you saw at the end of that video, Jenny makes a death-defying leap across the catio, which is something I did not count on. Jake does it too...
They love the ramp so much that I've decided to not wait on the sisal pole and catwalk pieces I planned to add this Fall. I'll get started on those right away.
It's the least I can do to keep them occupied while I'm away from home!