Posted on Wednesday, June 21st, 2017

Since I didn't have work until 10:00 this morning, I decided to sleep in. At least that was the plan. Ultimately I decided to study my work notes and make sure I was 100% comfortable with the material. Sure it's kind of a lame use of time when in Vegas, but there's not much else for me to do. In order to save money for my vacation, I've vowed not to gamble, not to see any shows, and definitely not to eat at expensive restaurants (which is my Vegas Kryptonite).
And yet...
My colleagues wanted to eat in Paris, so there goes my vow not to eat at expensive restaurants...
I gotta say... as somebody who has been to France-Paris many times, American-Paris is clearly the superior Paris. Not once in France-Paris did I see scantily-clad ladies walking around offering free cocktails. Not once! Also... American-Paris is air conditioned. BONUS: No people speaking weird French as you are wont to find in France-Paris and lesser parts of Canada. Except... the signage is still all in French, so most of it is just incomprehensible gibberish to me...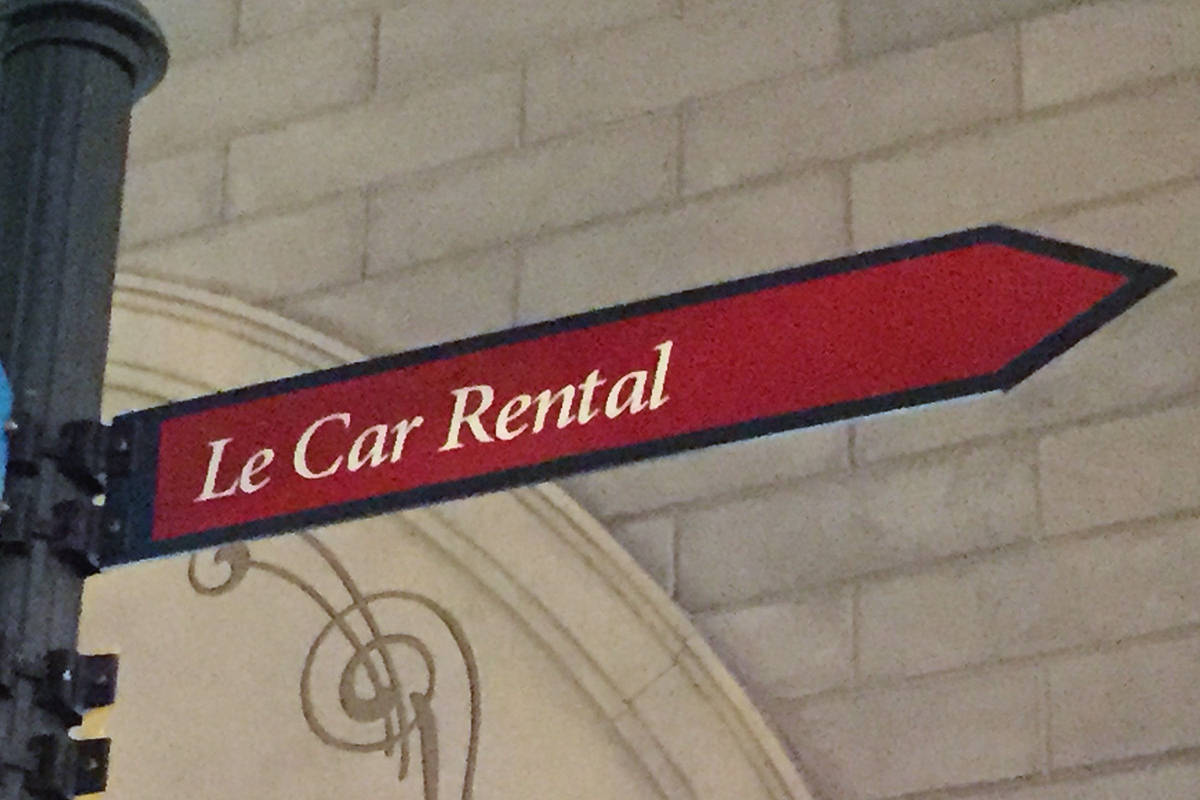 After lunch I was walking back to my hotel and spotted BETTY WHITE SLOTS as I was walking through the casino!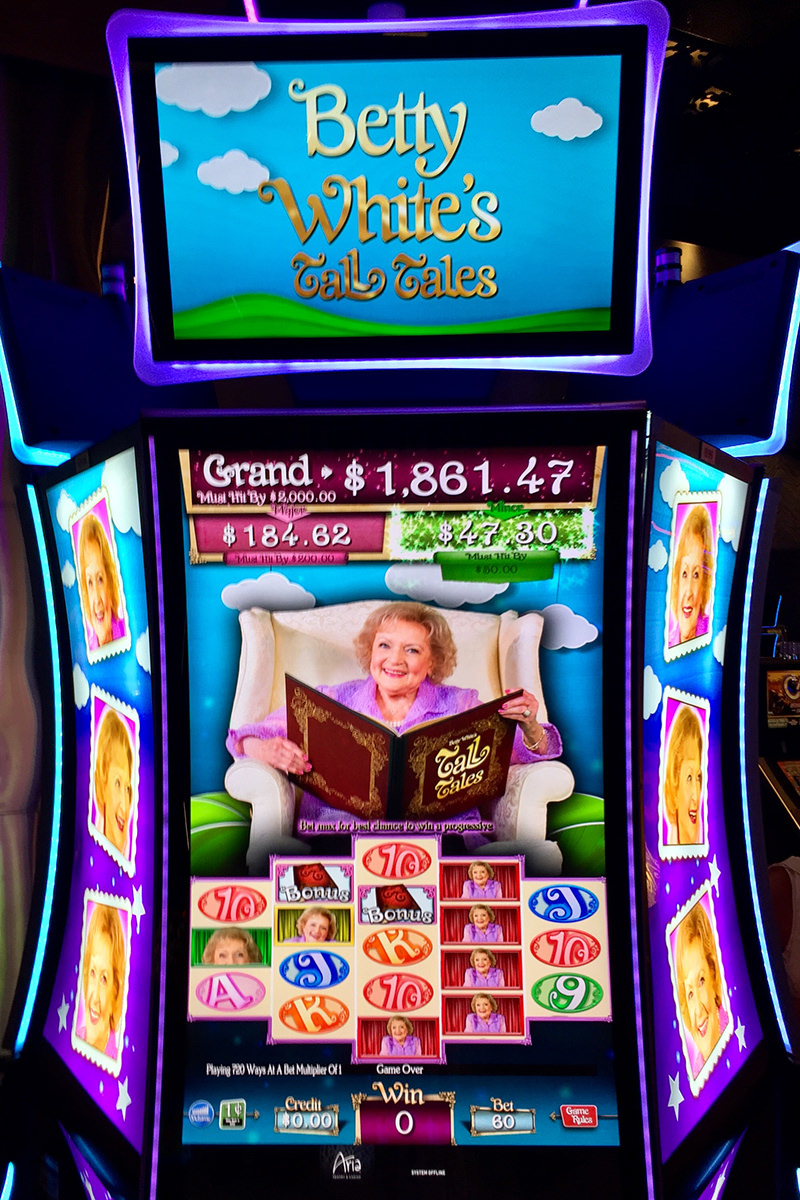 Holy cats! I'm guessing I'll eventually be breaking my vow not to gamble. How can I resist not giving Betty White a spin? We shall see.
I had time to kill before dinner, so I wandered over to M&M's World so I could try the new CARAMEL M&M's that have been advertised. And, oh, there's that M&M's race car I keep seeing...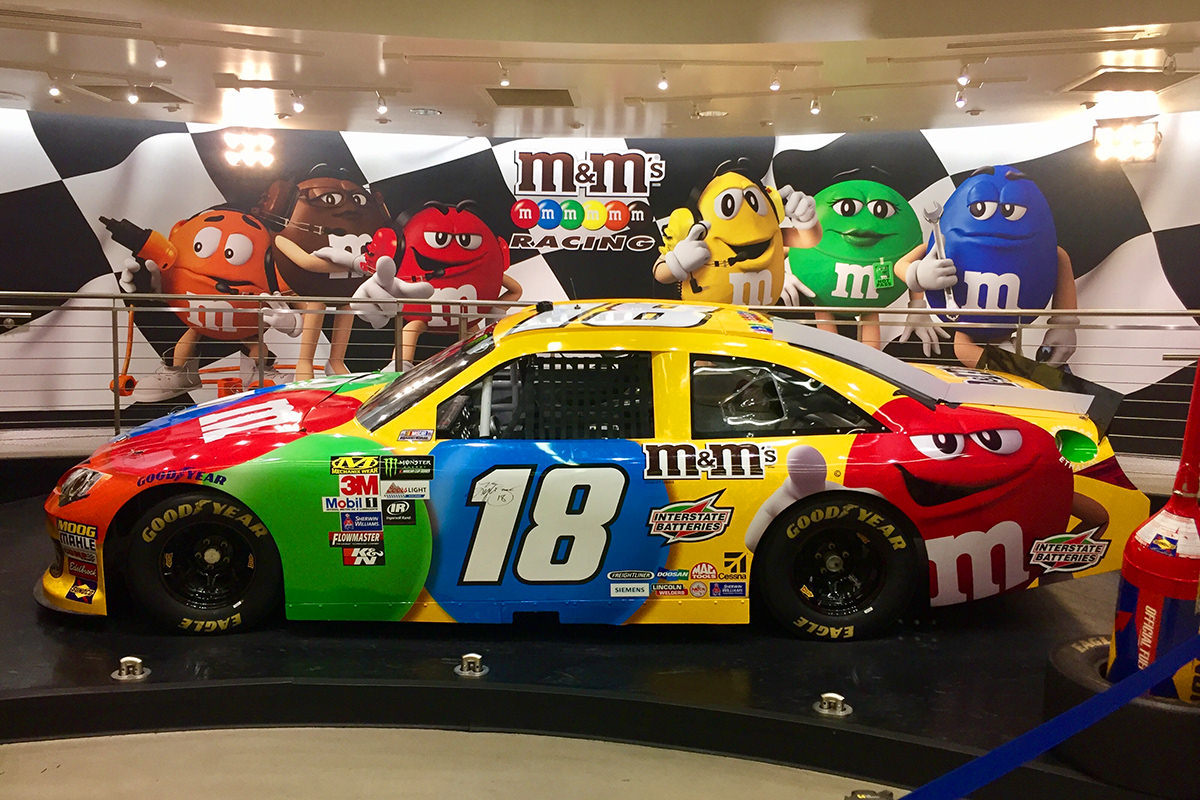 The Caramel versions are okay. From the advertising, I had thought the caramel would be more liquid, but it's actually firm and chewy...
Across the street in New York New York is Hershey's World. Not as much fun as the M&M's, but still kinda cool. Especially for Reese's and Twizzlers fans!
And, of course, there's Chocolate Liberty...
I was pleasantly surprised to see that they completed The Park adjacent to New York New York. It's pretty nice!
And... other than some hotel hopping for dinner, that's all she wrote on Vegas today.
Posted on Tuesday, June 20th, 2017

And so I'm off to Las Vegas again. This time for work.
The drive over the mountains was blissfully uneventful. Many times, I was the only person on the road. Which is kind of a weird feeling. Like every other human on earth had vanished or something.
My flight was delayed three times, which is getting to be the new normal. The exact same thing happened with my last flight to Denver. This wouldn't be so bad... I mean, I've had it a lot worse than an hour... except the delay happened at the Seattle-Tacoma International Airport, which is one of the shittiest airports on earth. Not only is everything broken all the time, but they prioritize shopping kiosks and storefronts over passengers needing a place to sit down. Thus most every gate has grossly deficient seating, leaving everybody standing or sitting on the floor. It would be great if the Port of Seattle would one day remodel the airport so it's not total shit and at least attempts to provide for customer comfort... but, alas...
This trip I'm staying on The Strip. This means there's a lot more options for dining I like, but I've seen all the hotels many times over so I am quickly coming to prefer staying in Old Town. Oh well. I get to add another hotel to my checklist of "Strip Hotels I've Stayed At," which is now at half...
Aria
Bellagio
Caesars Palace
Excalibur
Luxor
Mandalay Bay/Delano
Mandarin Oriental
MGM Grand
Monte Carlo
New York New York
Sarahara (now SLS/The W)
Venetian/Palazzo
Wynn/Encore
The thirteen left to go...
Bally's
Circus Circus
Cosmopolitan
Flamingo
Harrah's
Linq
Mirage
Paris
Planet Hollywood
Stratosphere
Treasure Island
Tropicana
Vdara
I've stayed at off-strip hotels in Vegas as well... most notably The Hard Rock Hotel and the Hilton, which is no longer a Hilton and has since changed its name to "Westgate."
INTERESTING ASIDE: Google Maps has secretly(?) preserved the memory of the Hilton as it used to be. When you use StreetView within the Hilton Circle, the images are as they used to be...

The old Hilton sign (which was at one point the largest freestanding sign on earth... maybe still is!).
Images ©Google Maps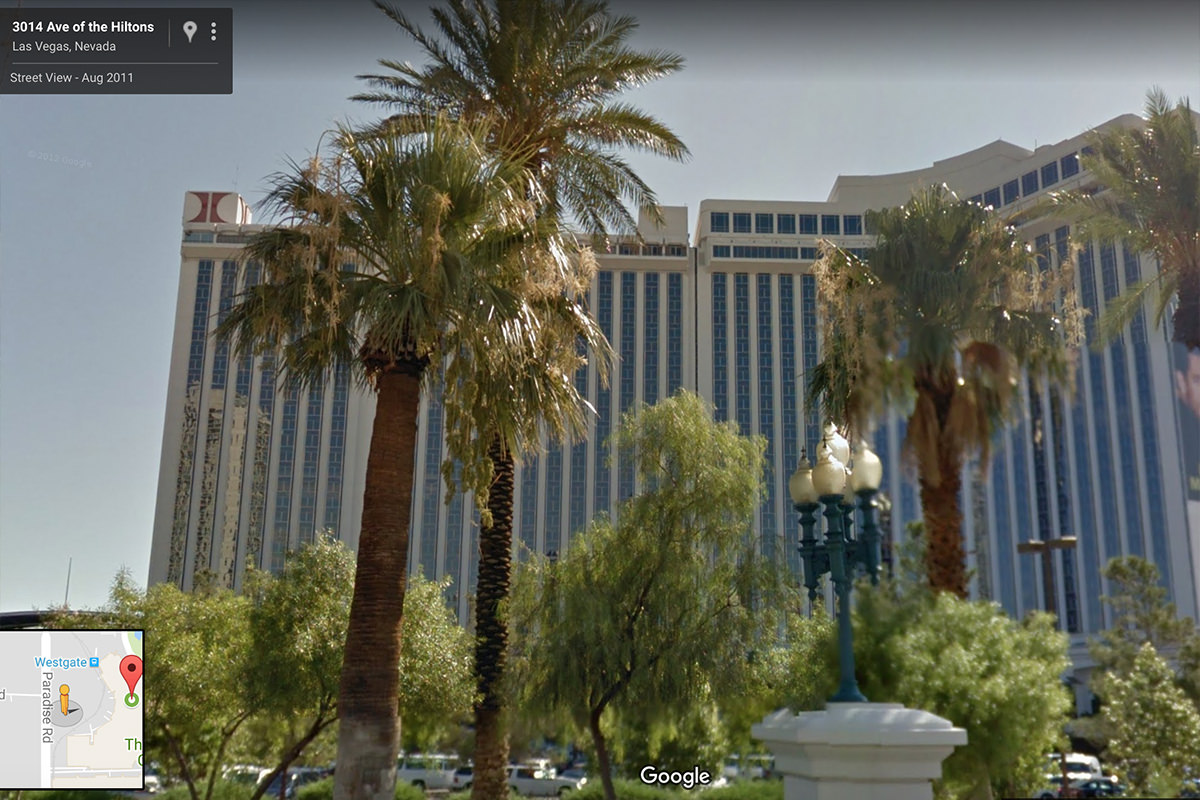 You can still see the Hilton logo-mark in the upper left on the actual hotel there.
Images ©Google Maps

And yet, if you take one step out of the circle, you get an updated view of both sign and hotel...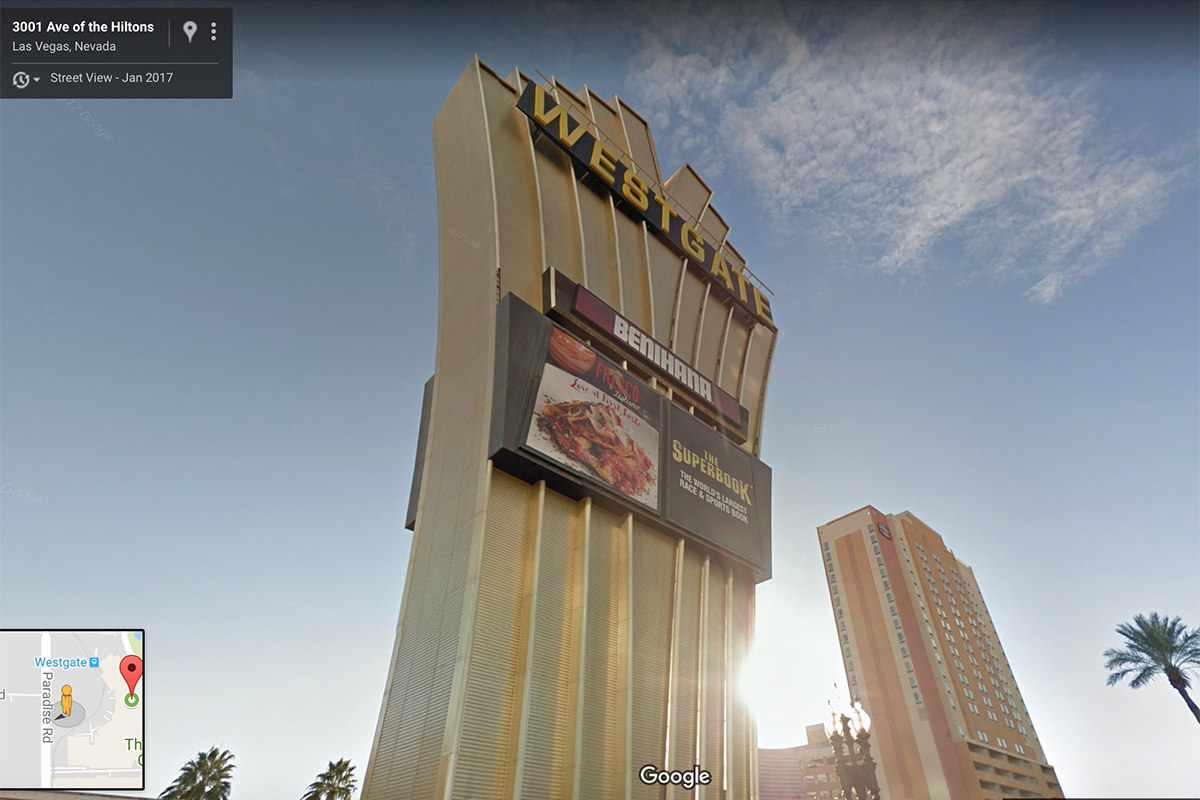 The revised sign, now Westgate. Still home of Benihana's though!
Images ©Google Maps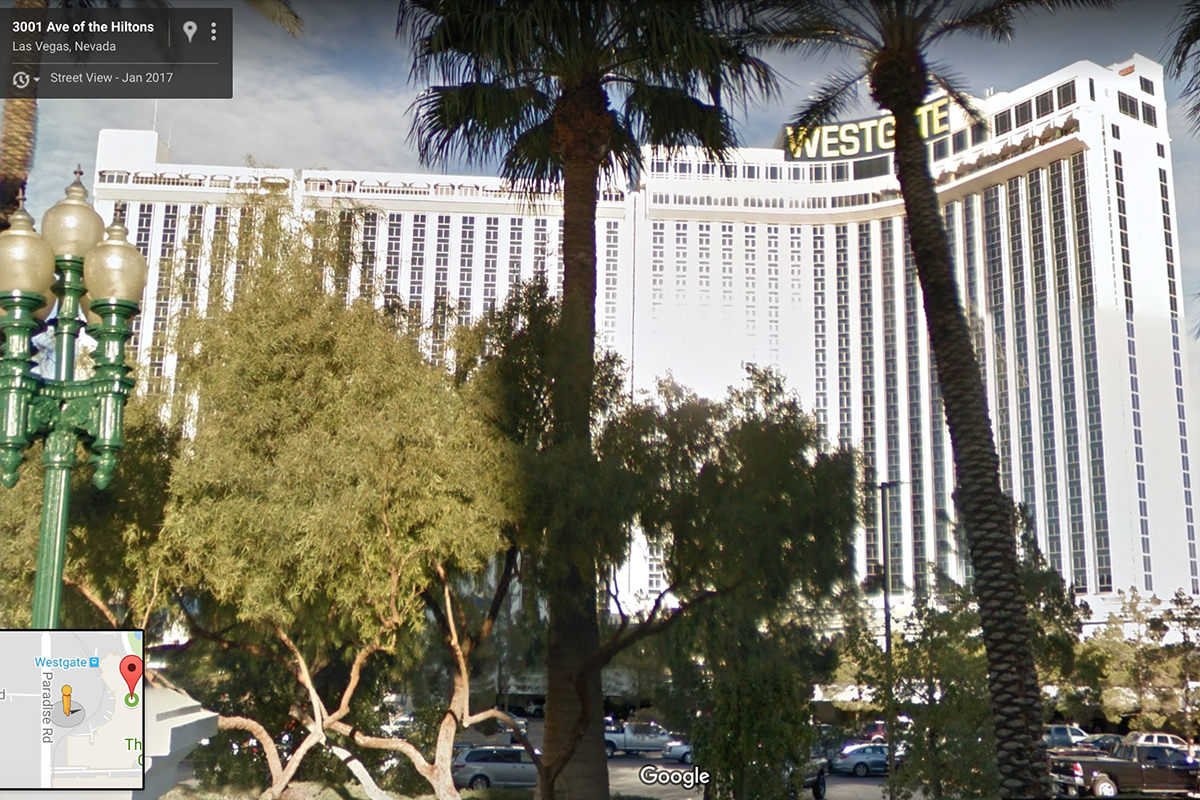 The revised branding on the hotel itself has also been updated.
Images ©Google Maps

Time for cheap eats!
My last trip, I was eating daily at Nacho Daddy off Fremont. I was happy to see that there's another Nacho Daddy on The Strip around the corner from Planet Hollywood. Thus, dinner has been secured...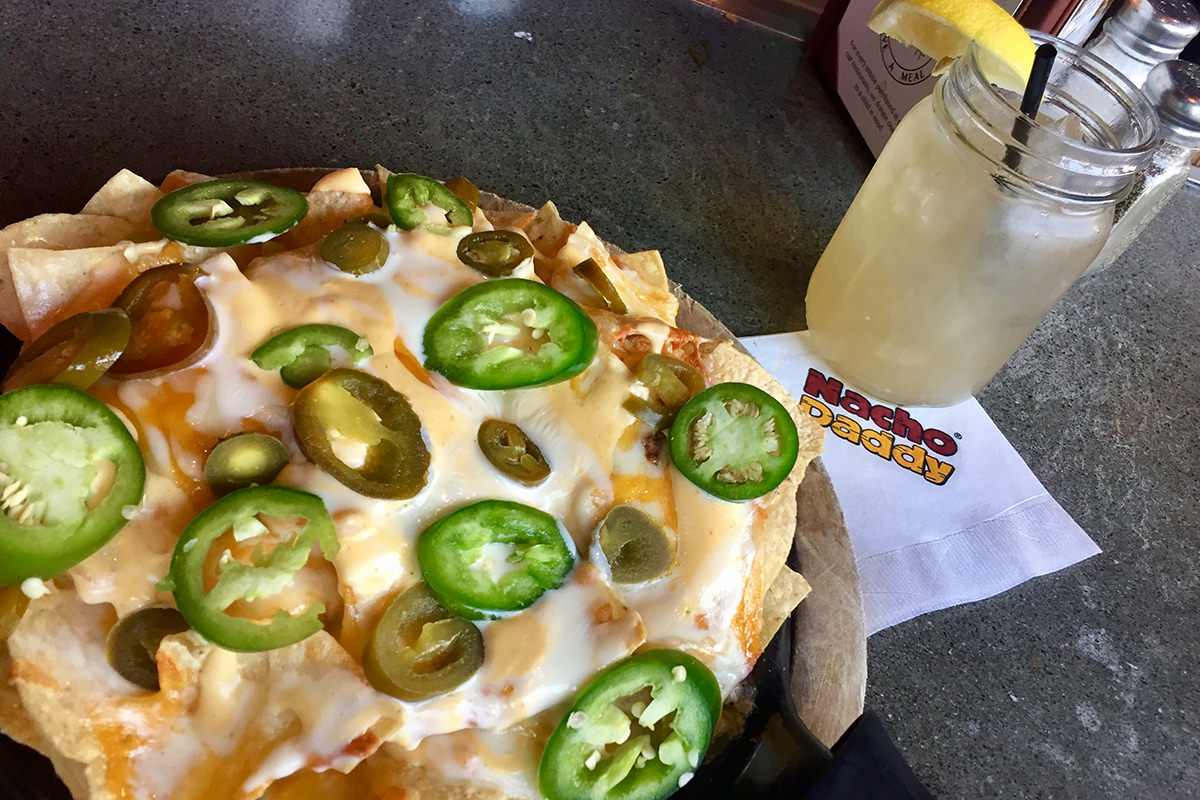 Well, I did my best to try and go with cheap eats. Unfortunately I had four Long Island ice teas, which ended up being $36 added to my $8.50 in nachos. Dooming myself to be poor, I guess.
After Jake's escape from the catio Sunday night, I'm understandably freaked out that my cats will find another way to escape my house... this time while I'm over 800 miles away and can do nothing. So I have been checking in on them at least once an hour. Jake has grown frustrated with the catio since his escape route was blocked and is sleeping inside. Jenny, on the other hand, is out there catching bugs and eating them. So... business as usual, then...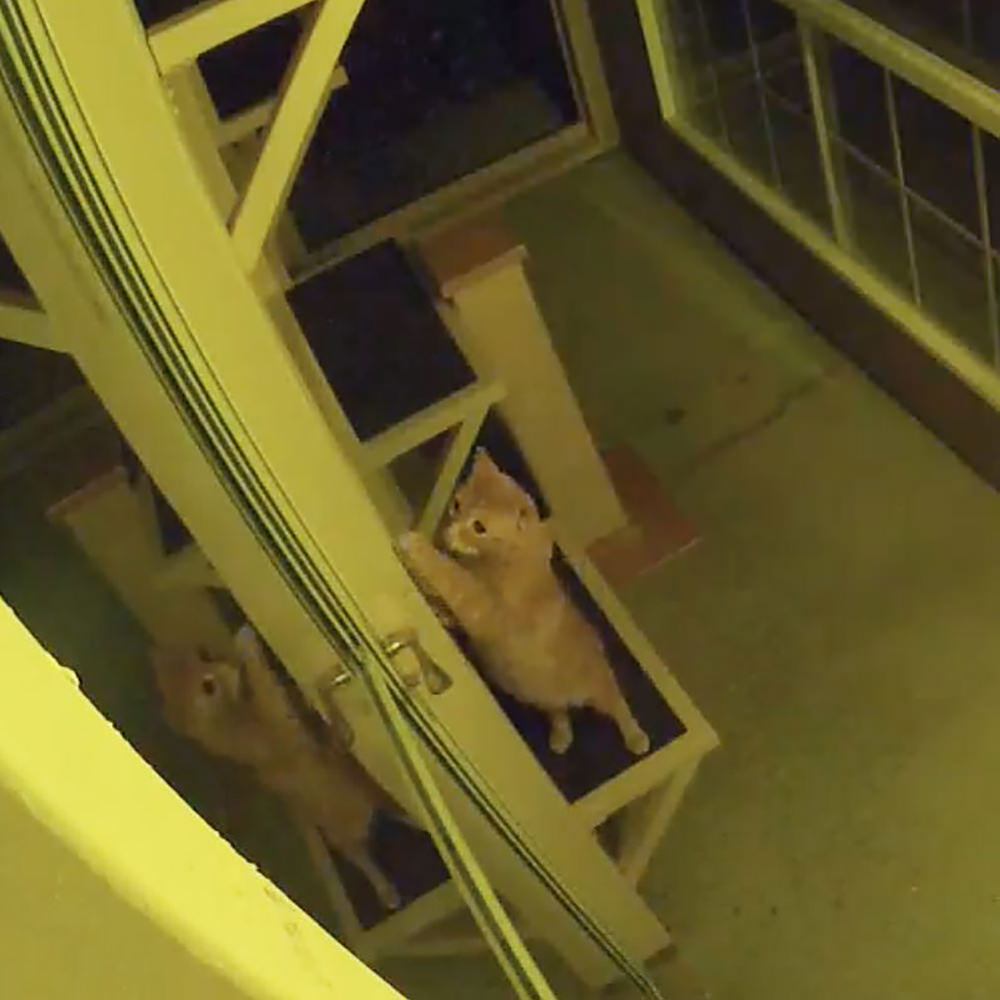 And that's Vegas for you. Now I should probably get some work done or something.
Posted on Monday, June 19th, 2017

And so I'm dead now.
When I went upstairs to watch Netflix in bed at 9pm last night, Jenny was still out in the catio. When I finally decided to go to sleep at around 11pm, I checked the cameras and saw she was still out there. This is not unusual, as she loves chasing bugs in the catio at night. Jake, I assumed, was off asleep somewhere.
When I woke up at 2am, I checked the cameras and saw that Jenny was still out in the catio. No Jake. I activated all the internal cameras. Still no Jake. I assumed that he was still off sleeping somewhere. So I started scrubbing backwards through the internal cameras so I could figure out where.
Jake was nowhere to be found. The last time he showed up was 7:15pm, when he was climbing down the cat tree.
Holy crap! Did I lock him in the laundry room?
No.
I can't find him anywhere.
No big deal, I grab the cat treats and shake the bag. Jenny comes running in from the catio immediately.
No Jake.
This is unprecedented. For Jake to not show up for kitty snacks is inconceivable. He loves those things. Loves them. The only reason he wouldn't show up is because he's trapped somewhere. Or dead.
And thus begins 20 minutes of total panic as I proceed to tear my house apart.
Still no Jake. He's vanished.
Either he has wedged himself somewhere I haven't thought of or... he got outside somehow?
Total panic becomes a complete meltdown as I start checking outside cameras. And there he is. Wandering around the back yard. At least he was at 1:28am, which was almost an hour previous...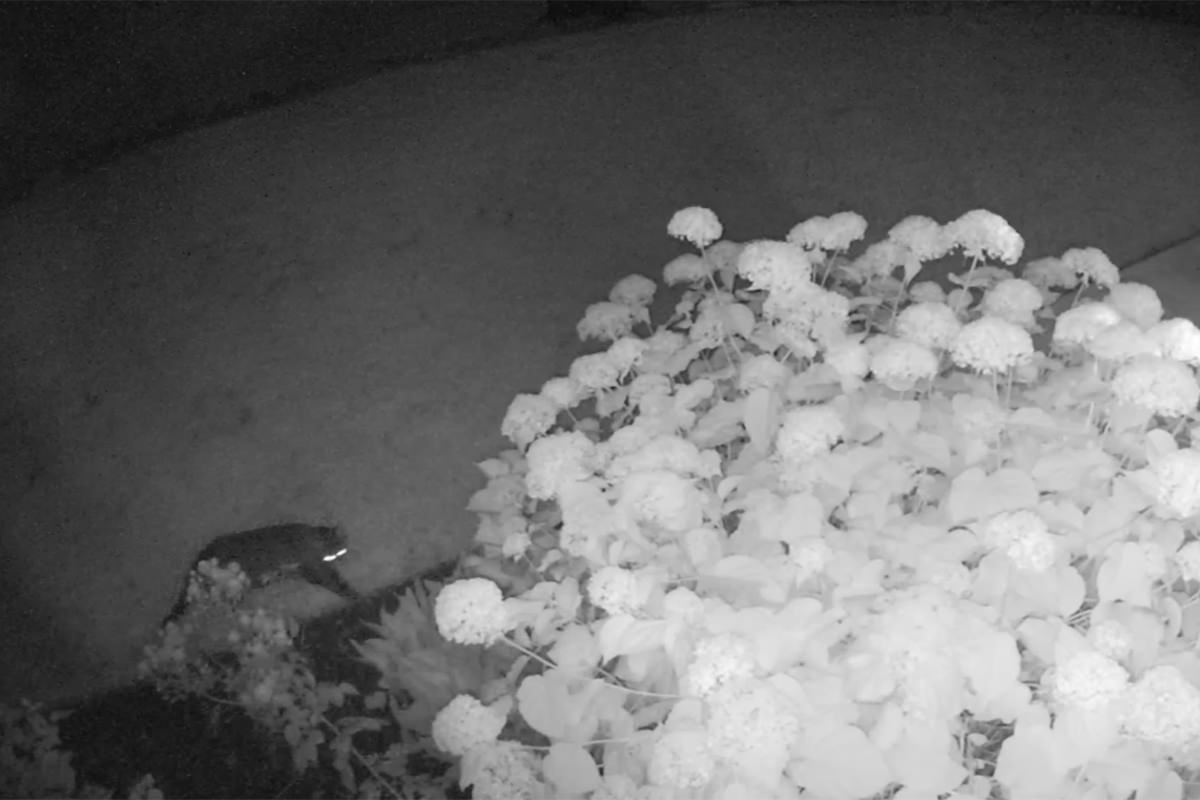 What. The. Hell?
At first I thought it might be Fake Jake, but the more I watch the video, the more I'm convinced it really is Jake, and he managed to escape. Some way. Some how.
I am trying to think if I have ever been at the panic level I was at that moment.
I honestly don't think I have.
And so there I am, out in the catio with the door wide open, shaking a bag of treats. He shows up minutes later...
But... how? How did he get out? He was around when I got home from work, I'm sure of it. Did he escape when I took out the garbage? Did I leave a window open somewhere and he pushed out the screen? Is there a hole in the fencing on the catio?
Back to the cameras. And... turns out he pushed off the roof of the catio (video at 8x speed)...
A couple things to note:
Jake paces back and forth, pushing on the roof at different spots. It's like he knows he can push through somewhere if he can get the leverage.
I can't see where he drops to the ground. I'm guessing he jumps over to the shrub, and climbs down that way?
Jenny totally watches him escape.
Eventually Jenny pushes through the roof as well, but chooses not to leave. Thank heavens.
The catio is now closed, pending my securing the roof panels.
From what I can tell, Jake was never too far away from the catio. He appears on the back porch several times throughout the night (video at 8x speed)...
Though he did circle the entire building once. He appears in the front yard at 11:45pm... goes out of frame at the bottom near midnight... then reappears at the top of the frame exactly 30 minutes later. Heaven only knows what he did along the way (video at 8x speed)...
More than once he tries to find a way back into the catio, and most times his sister is on the other side watching him...
So there you have it... Jake's big adventure.
And my nervous breakdown. Because all I can think about is how this could have happened tomorrow when I'm traveling and Jake would have been stuck outside.
Needless to say, I won't be getting any sleep tonight. If ever.
Maybe if I would stop checking the video cameras every 15 minutes to make sure the cats are still inside and safe...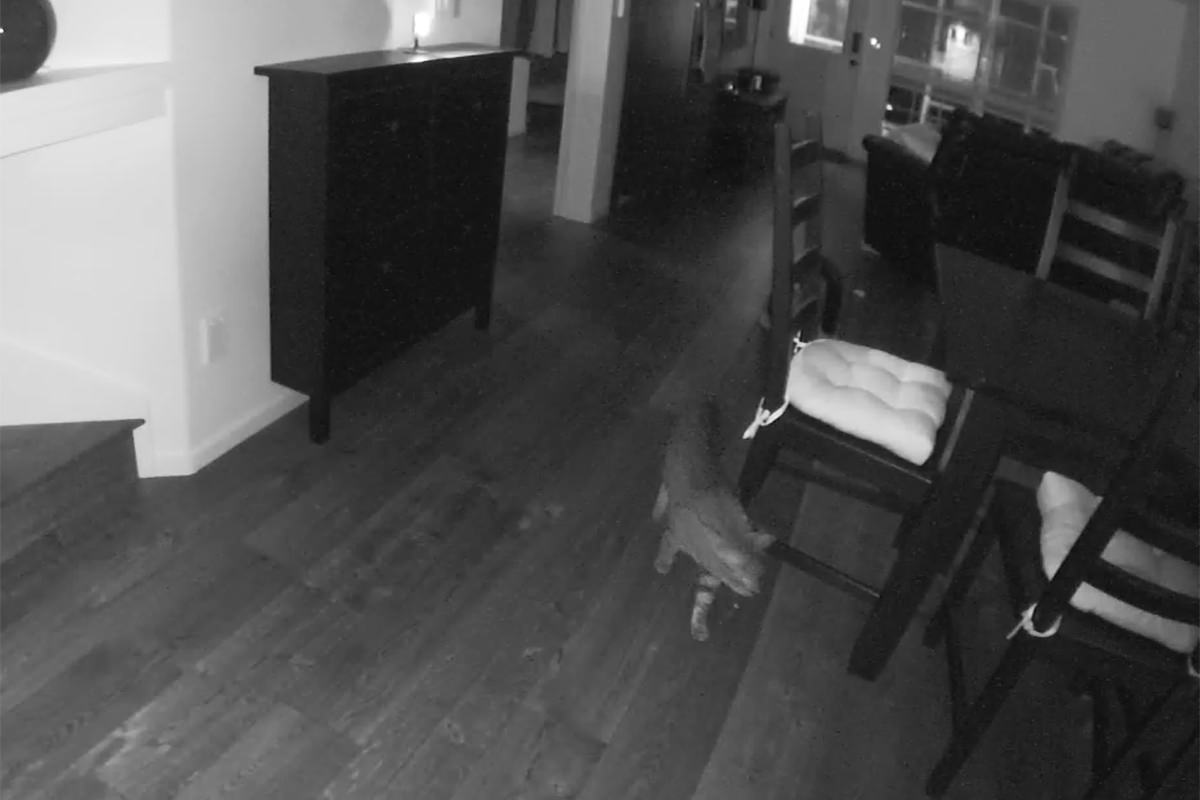 Cats. What can you do?

UPDATE: Turns out my framing contractor (who also made the roof for the catio) used screws that were way too short. They were barely grabbing into the wood. So when Jake was walking back and forth pushing on the ceiling, the screws were popping out like rivets...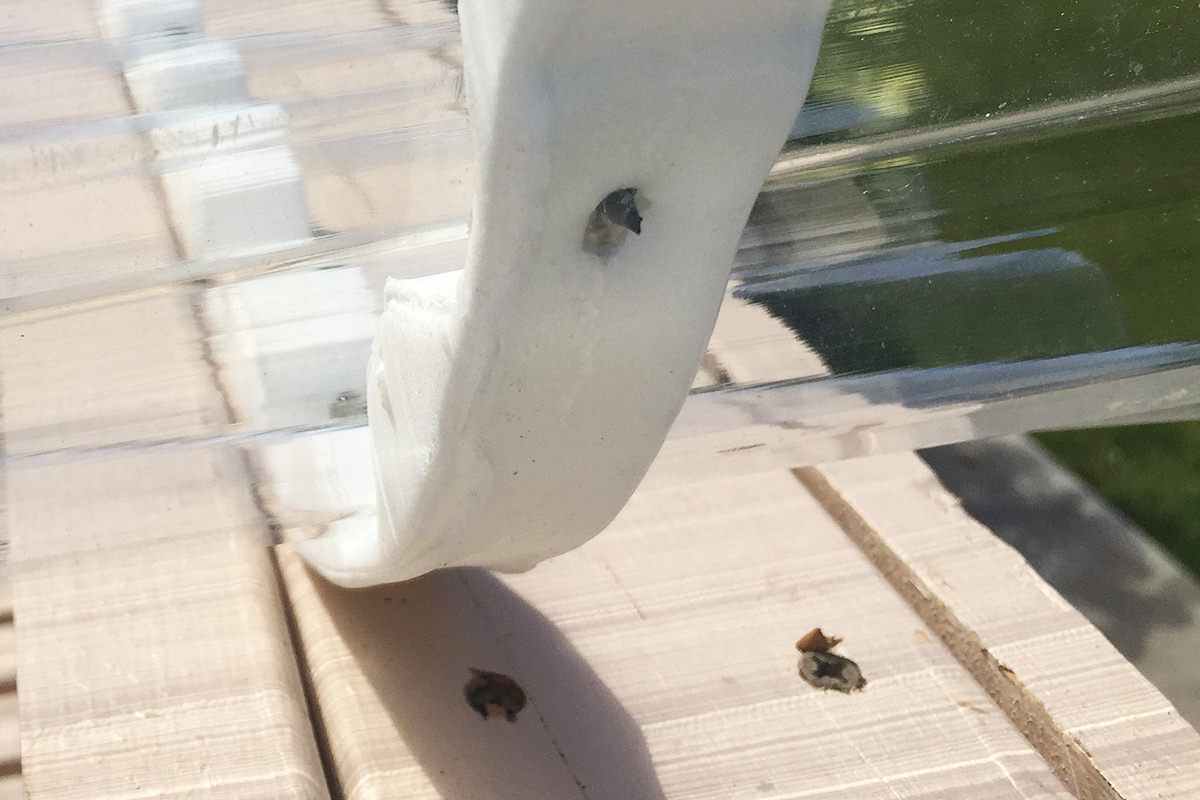 I'm replacing them all with screws that are 2-1/2" times longer.
And... Jake and Jenny can enjoy their catio once again.
And... I can have the peace of mind that the cats can't get out.
Until the next time.
Posted on Sunday, June 18th, 2017

Happiest of Father's Days to all the dads out there, including mine! Your special day is about to get a whole lot specialer, because an all-new Bullet Sunday starts... now...

• Buck/Mac! It's tough to say whether I'm a bigger fan of "Classroom Instruments" on Fallon or "Carpool Karaoke" on Corden because I love them both. But when Lindsey Buckingham and Christine McVie are the ones performing on "Classroom Instruments," it's kinda a no-brainer. My Fleetwood Mac love is strong with them...
Also on Jimmy this week... a terrific installment of "Google Translate Songs" with Miley Cyrus!
I sure wish they'd make a new Hannah Montana movie!

• Batman! And now from the "Senseless Crap I want Because I Just Can't Help Myself" department... BOB ROSS FUNKO POP!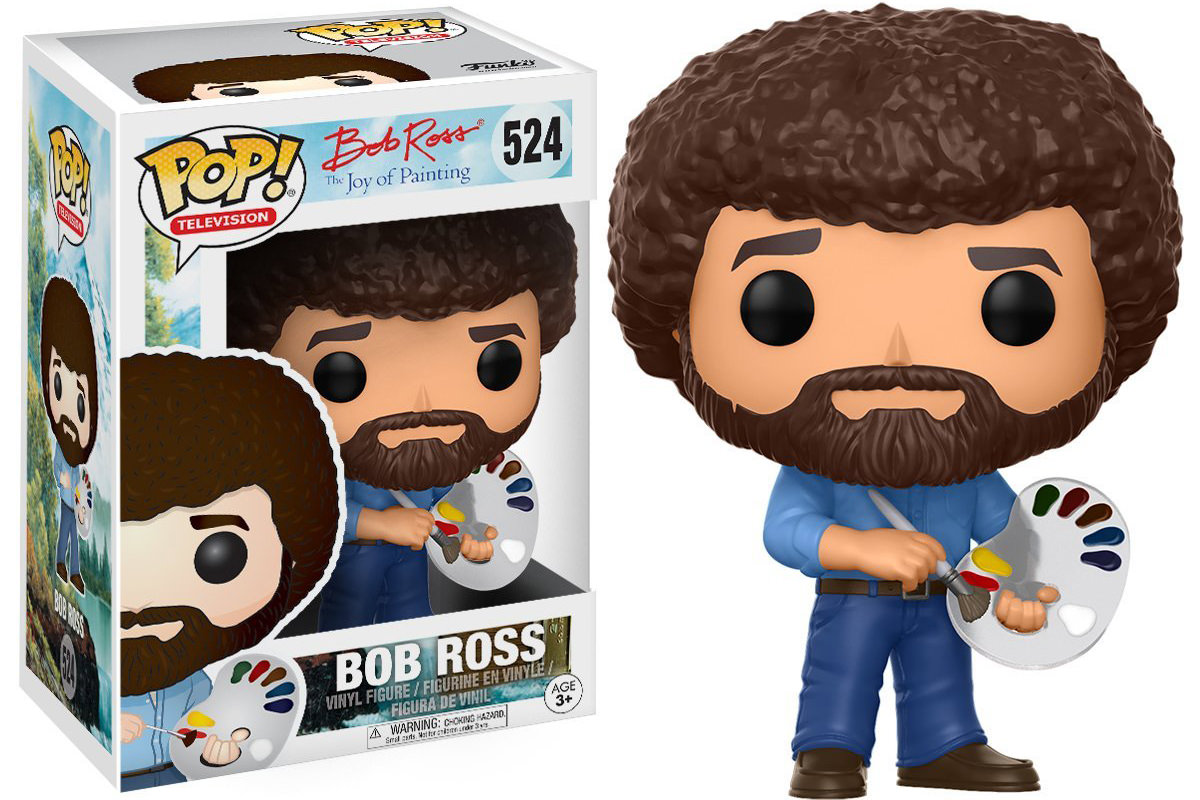 I mean, come on. Bob Ross is an inspiration to all of us! How cool is this?

• Magic Wand! ZOMG! TOTAL MAGIC FOR CLEANING TOILETS!

When my toilet brush died, I went shopping and found this thing on sale. I didn't like the idea of it being wasteful with the disposable scrubber pads, but it's not like I scrub my toilet every single day, so I pulled the trigger. If nothing else, it's a lot more sanitary. Holy crap! So easy! And powerful! I use one pad on both toilets and it works better than any amount of scrubbing with my old brush. If you haven't tried this, and like bathroom cleaning chores to be dead-simple, it's worth a look!

• A.I.! In news that should surprise absolutely nobody, an Artificial Intelligence developed its own non-human language after being programmed by Facebook to negotiate like people. Because of course bots observing Facebook would have to develop their own language! I mean, come on, mere human words can't describe the horrors you'll find on Facebook. I wonder how they say "ALL HUMANS MUST DIE!" in their language? Because I know that this would be my first conclusion after having looked at Facebook for my entire existence.

• Bargain! Whoa! The new 15-Gauge Milwaukee cordless nail gun I just got for 40% off at Home Depot (Reg. $400, Sale $240) came with $155 worth of stuff! Which means I got an awesome nail gun for $85! How is this even possible? Sweet!
M18 & M12 Rapid Charger ($80)
M18 Battery ($50)
Milwaukee Tool Bag ($25)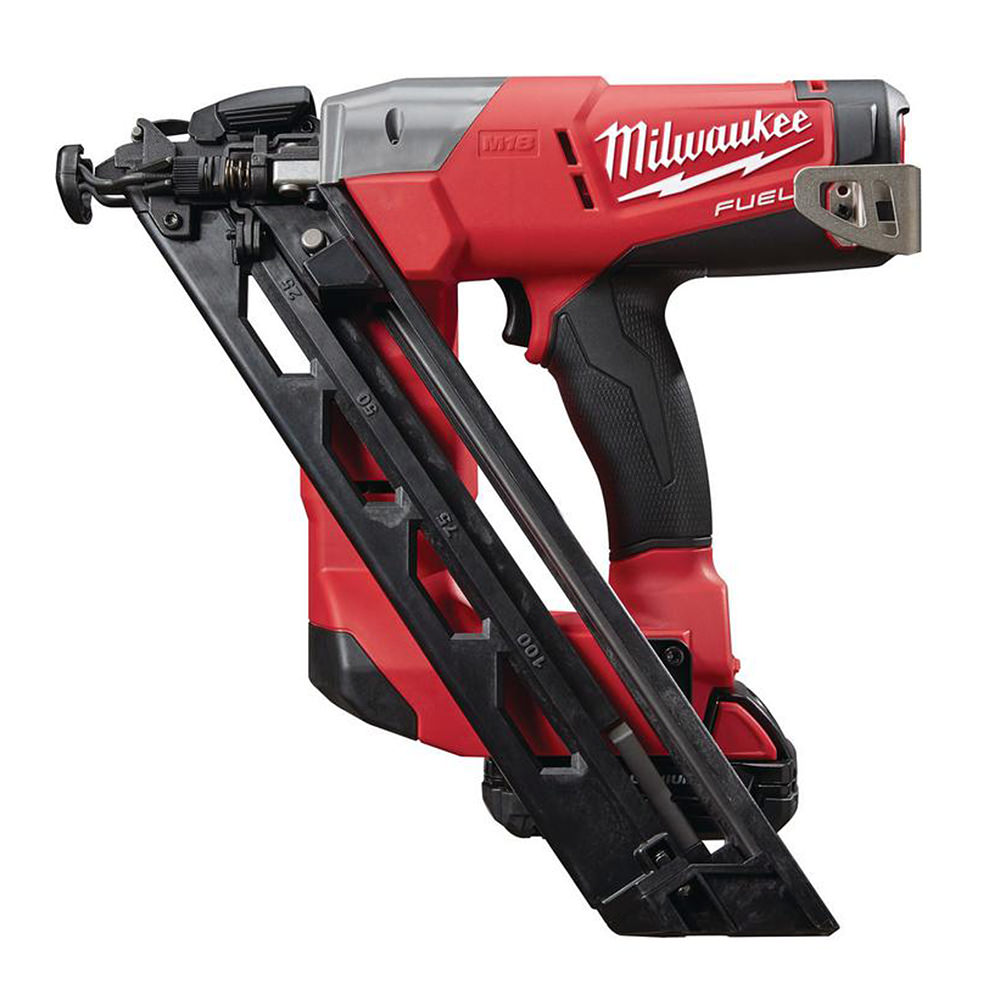 So glad I didn't pass up this deal, even though I couldn't afford it and am now sitting in some credit card debt. If you would also like to go into debt, the sale is going on through the 21st of this month (that's Wednesday).

• Bye, Aisha! Ending on a sad note, Aisha Tyler is leaving The Talk after this season. Needless to say, I'm gutted. Usually with talk shows I look at who the guest is and only watch if it's somebody I like. Not so with The Talk. I watch every episode. It's the first thing to spool off my DVR when I get home. I love the show and, while all the ladies are wonderful, it was Aisha Tyler that got me to start watching...
I am excited for the many opportunities she has, but sad to see that she will no longer be waiting for me when I get off work. I have nothing but the very best wishes for all her future endeavors. Thank you. Thank you. Thank you.

And there's bullets for you.
Posted on Saturday, June 17th, 2017

Life with cats is never boring. Well, actually it's mostly boring. Cats sleep... like... an insane amount of time. But the bits where they are awake is interesting. Mostly because my cats do not exhibit consistent behavior. Just when you think you have a handle on them, they mix it up, and start doing something entirely different.
Jenny, for example, did not "meow" the first 8 months I had her. Unlike Jake, who seems physically unable to "meow," apparently it was because she just didn't feel like it. Then... it started. Just weak little meows from time to time when she wanted attention. That transitioned into this kind of forlorner meow (that was bordering on a wail) when she wanted attention, which breaks your heart. And now? When Jenny really wants your attention, the meows are unleashed. They still sound a bit "sad," but they are numerous and loud.
At first I went running whenever she exhibited this behavior, because I was worried something was seriously wrong. More than once I've gone tearing down the stairs worried that she's sick or trapped under a rogue meteorite that crashed through the ceiling. Nope. She just wanted to be petted, and didn't feel like climbing up the stairs for it.
Most mornings now she will patiently wait for me outside the shower. Apparently she loves rubbing against you when you're damp. Once the water turns off, the clock is ticking. If I take too long drying off, she will start meowing for me to hurry up.
That pussy ain't gonna pet itself, so it would seem.
As I've mentioned many times, Jenny brings me a morning "tribute" in exchange for me getting out of bed and serving her breakfast. She'll waltz in with a toy (or several) and drop them on the floor by my bed anywhere from 30 minutes to 2 hours before she's due to be fed. Here, for example, she's just dropped off Tan Mouse and is looking up at me in expectation of food...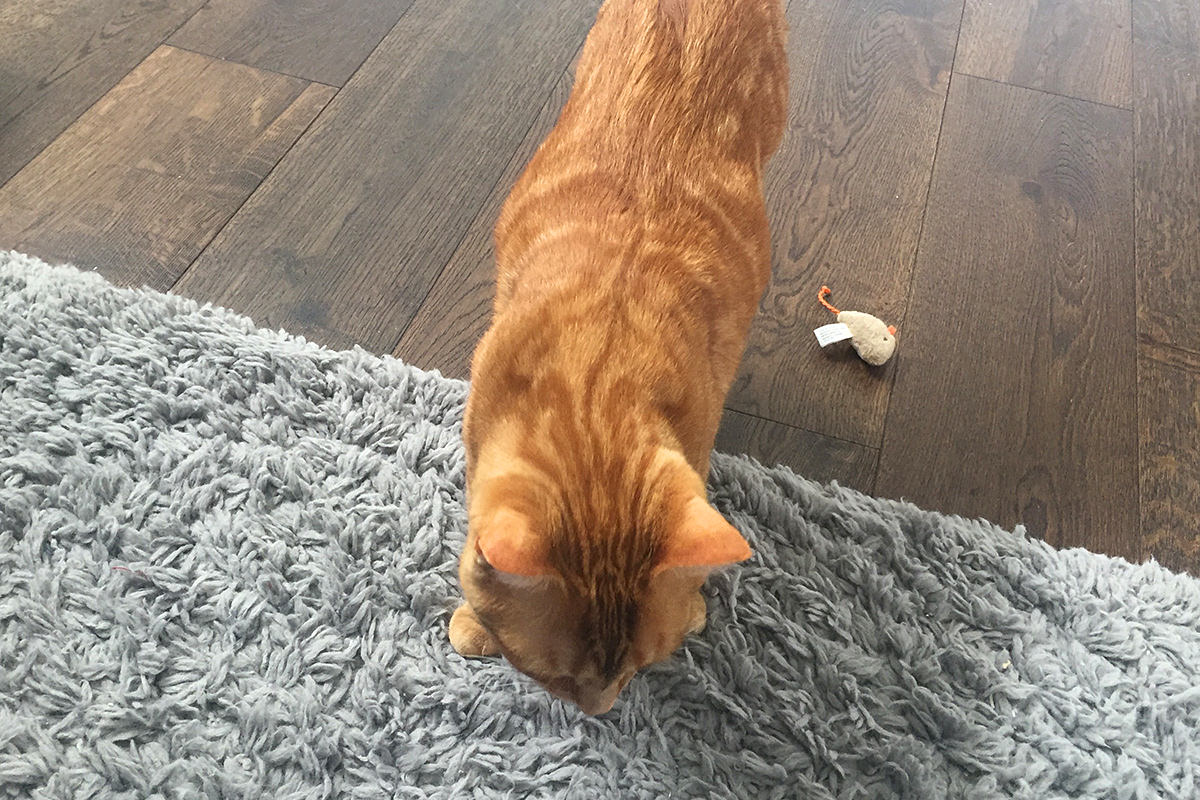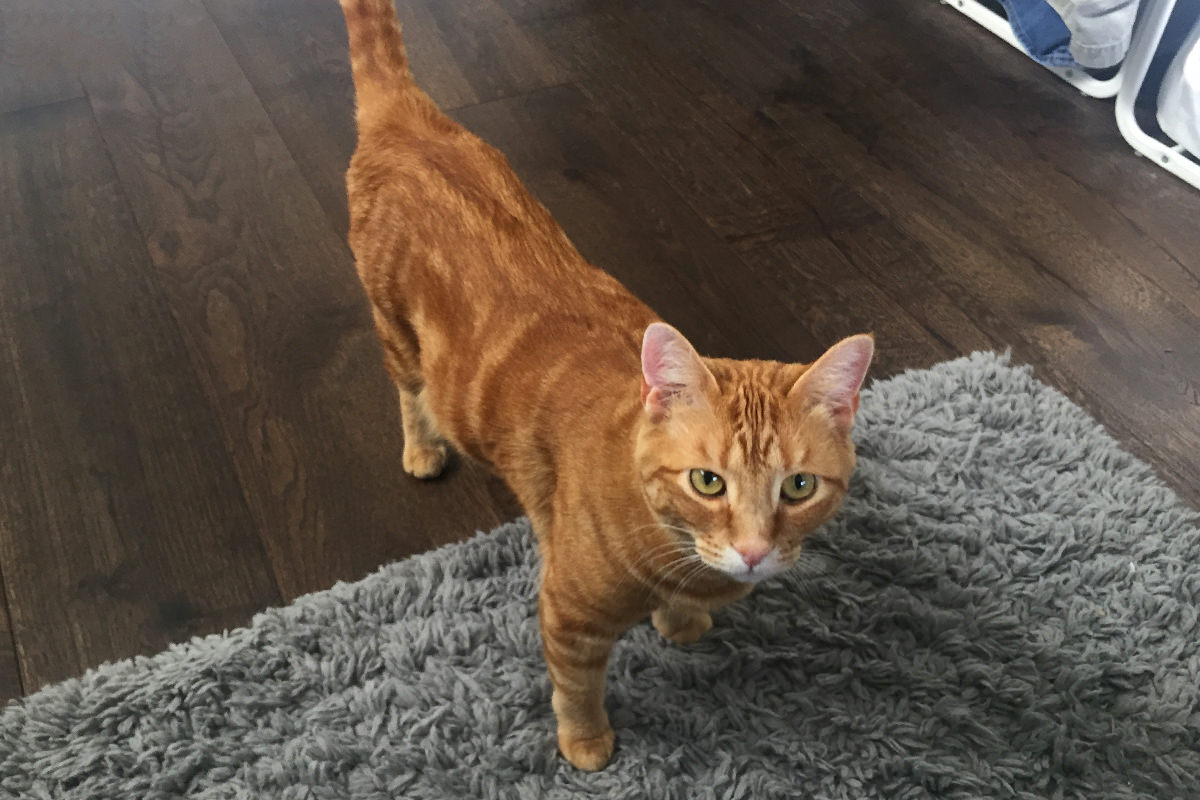 Some mornings she will haul a tribute toy all the way upstairs, but discard it before she gets to my bedroom in favor of a different toy...
There are times this results in a kind of interesting art installation on my stairs...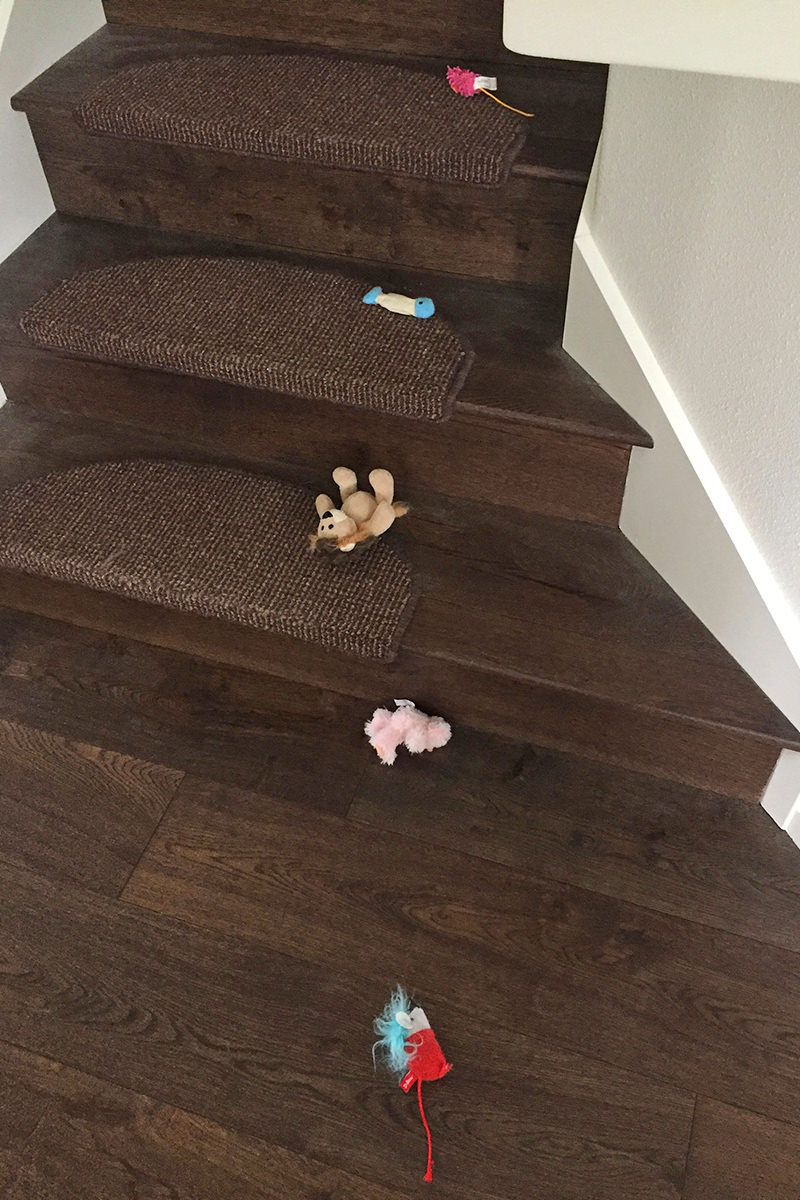 Her favorite toys, these crinkle-fish that have catnip in them, are rarely offered as tribute. She prefers to keep them with her so Jake can't take them, especially when she's ready for a nap. She'll hunt one or two of them down, then crawl into bed. Like she did here with Blue Fish...
You can't tell in this photo (because I was too slow) but she's hugging Green Fish in her little paws...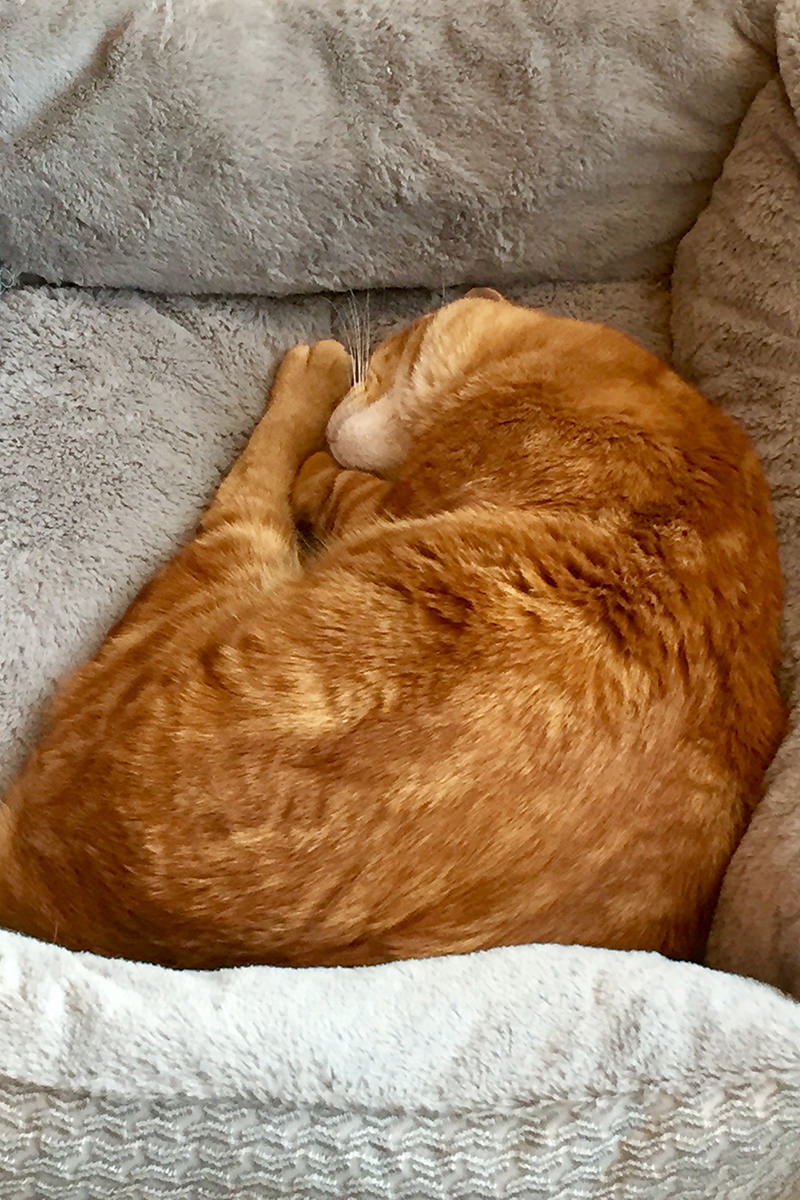 Also new? Jenny has started moving furniture in the mornings while waiting for breakfast to be served. She starts by dragging all the couch pillows onto the floor then moving them around. Then she goes after anything she can physically move. Like the box I've been using for garbage while cleaning out my filing cabinet. Or the brush loop. Or her little scratcher lounge...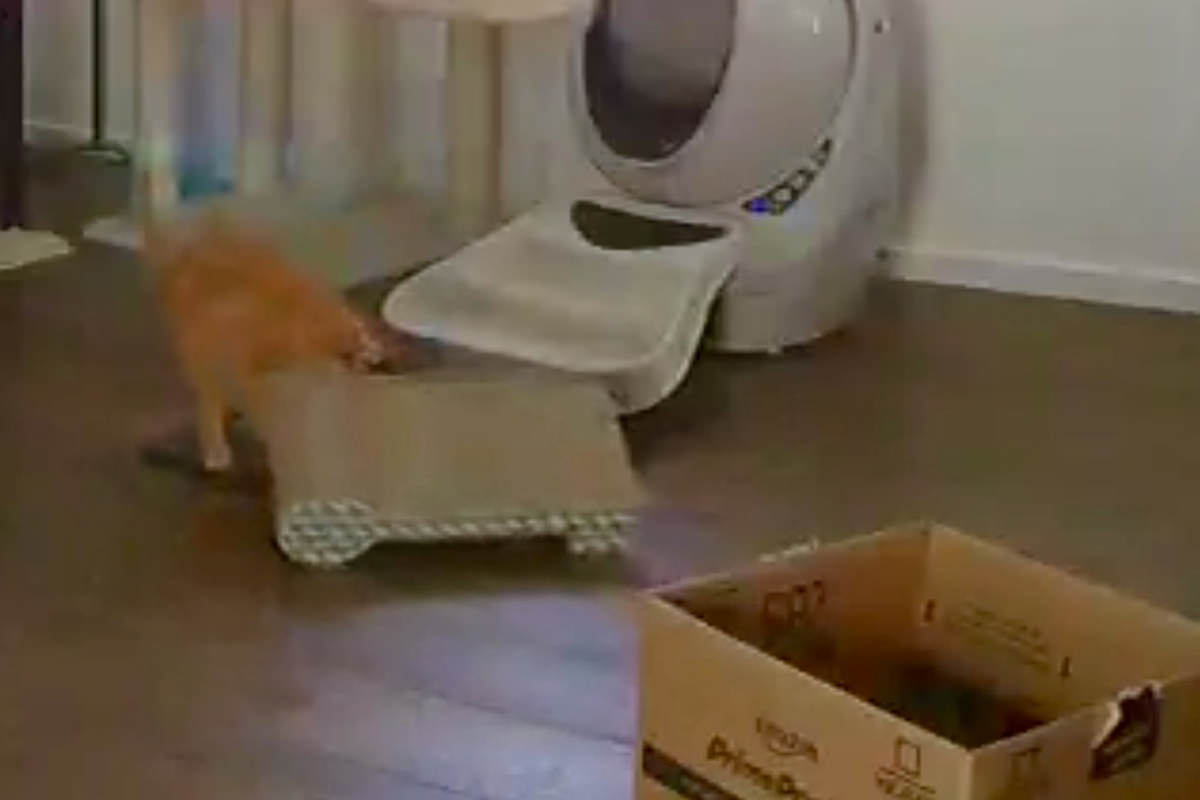 If I hadn't heard it going on and seen it on security camera footage, I would never have believed it. She will drag/push that thing across the entire house. And it's almost as big as she is! I have no idea why she's decided to become an interior decorator, but here we are.
As for Jake?
Still being Jake. Though a little bit grumpier because I've had him on a veterinarian-dictated diet. And since he's a fairly active cat, he's been losing weight quite nicely. His pronounced belly is almost gone...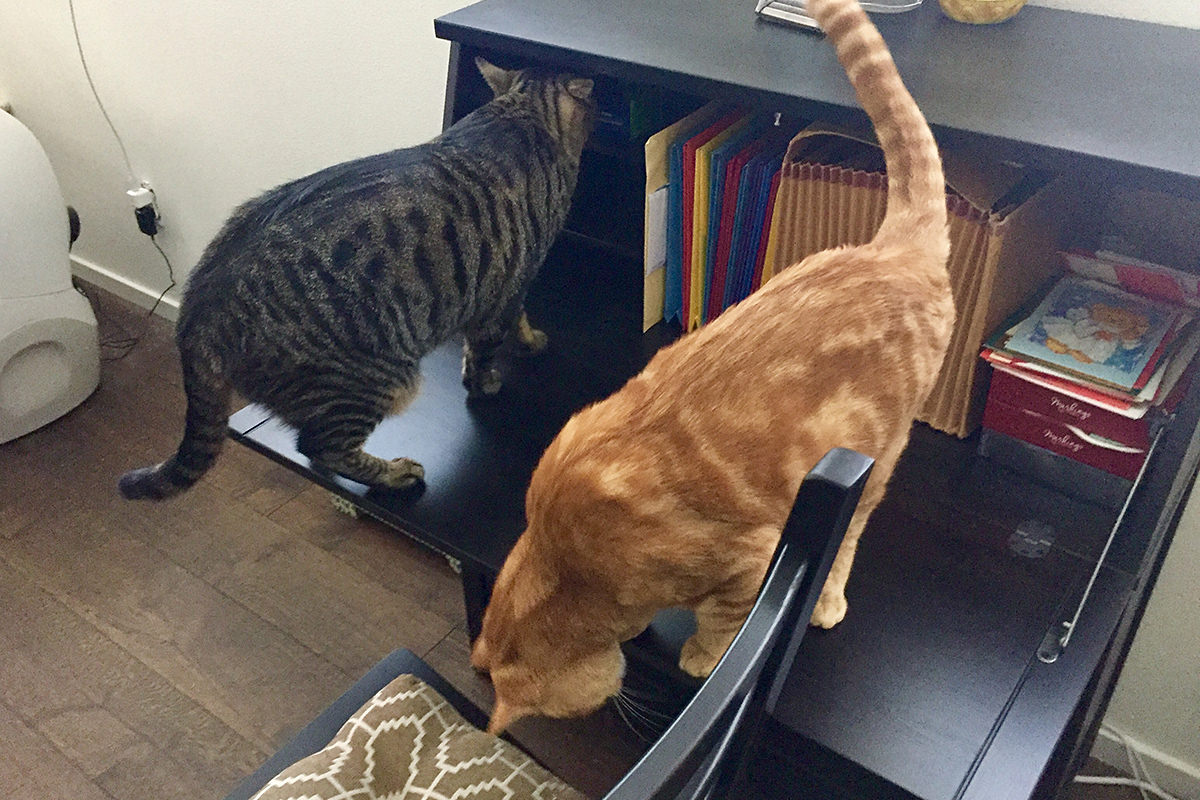 Jake and Jenny's favorite place remains the catio. Now that it's warmer, they are out there all day long. Jenny will even stay out all night, because that's the best time for catching and eating bugs, apparently. Earlier this week they were both out there while I was working on the couch. All of a sudden they come dashing in the house, then take up residence on the loveseat so they can observe the catio from afar. Turns out the giant dopey black lab was back for a visit, which they do not like at all...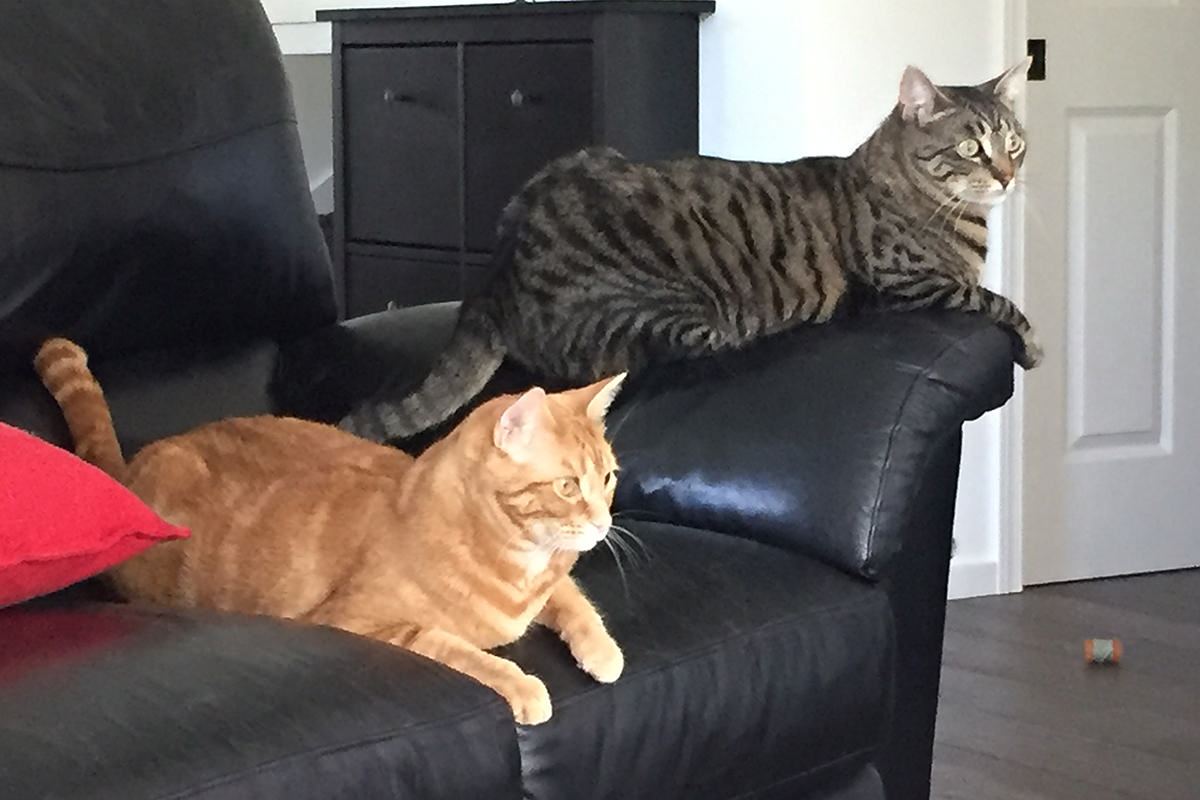 Though Jenny tried to make the best of a bad situation, as always...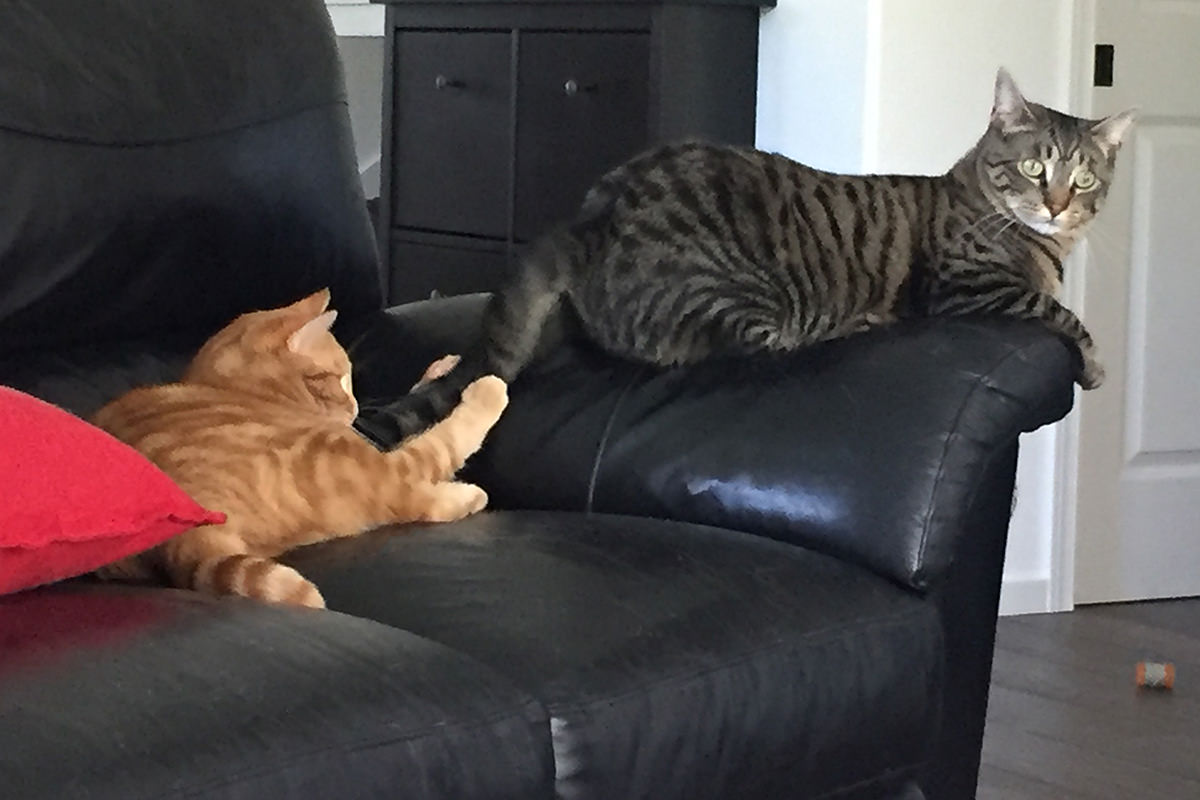 More excitement was to be had this week because they are repairing the stucco on the condos. This included the stucco in the catio, which meant I had to finally use the pet door blocker to keep them from running out...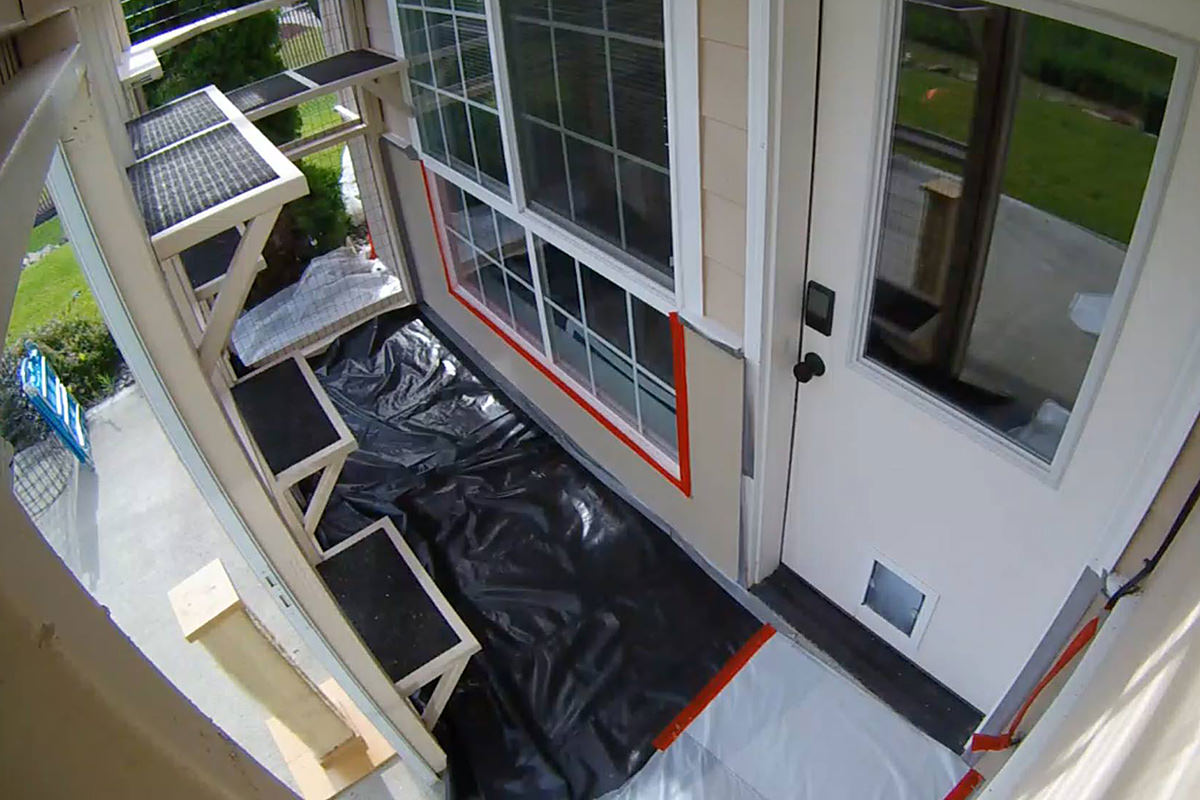 Jake was most definitely not okay with having his catio privileges revoked, because the catio is his favorite place to be. He decided to compensate for his disappointment by being a BAD, BAD KITTY and crawling on the kitchen counters, regardless of how many times I told him to GET OFF OF THERE...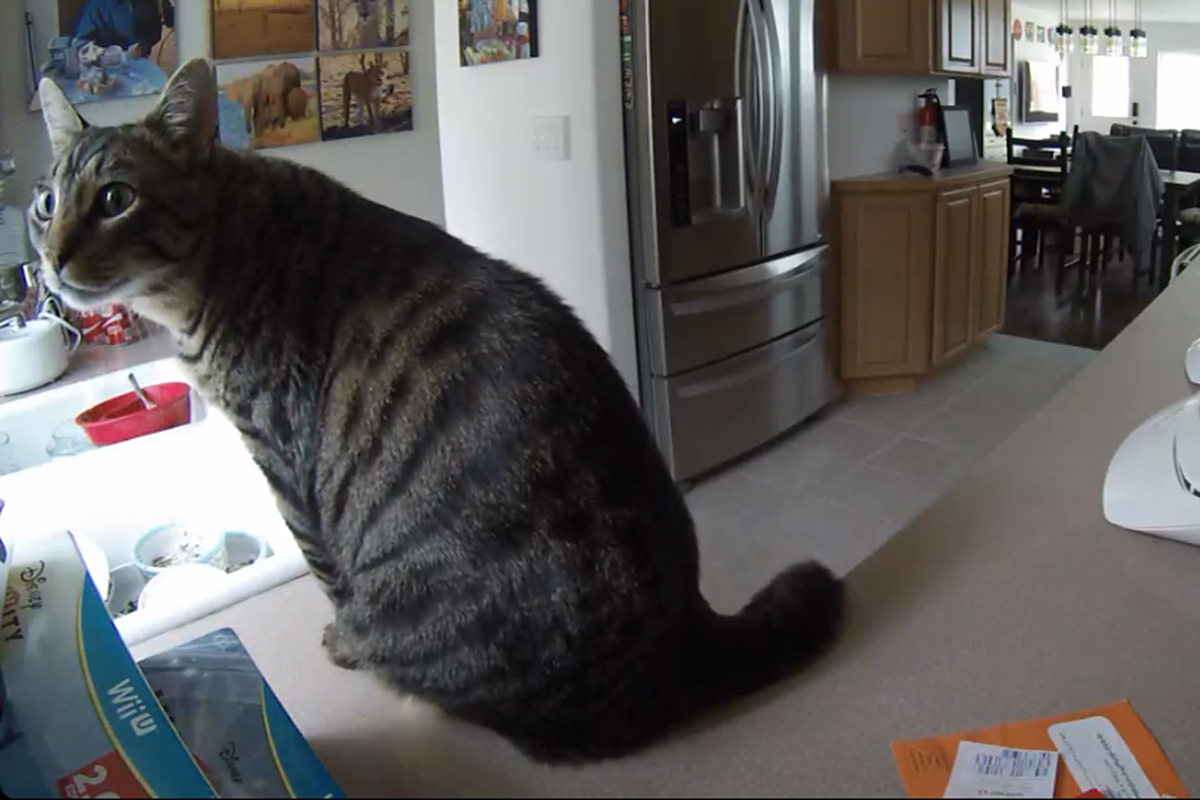 Time for the Clorox Wipes. Again.
Why can't he stay out of the kitchen like his sister?
Oh well. Jake wouldn't be Jake if he wasn't thumbing his paw at authority.
Posted on Friday, June 16th, 2017

Today I just want off this sick, sad world.
Probably tomorrow as well.
Posted on Thursday, June 15th, 2017

Thanks to ceiling fans and evening ventilation, I have yet to turn on the air conditioner this year despite having some 90°+ days.
Needless to say, I'm ecstatic. Next to heating, running the air conditioner is the most expensive use of electricity I have. It can easily approach $100 per month if I'm not careful. Like last year when, apparently, I really liked being cool on hot days. This year I can't afford not to be careful, hence my ecstatic nature.
Next week this time I will be in Las Vegas for some meetings and to visit friends. The temperature there has consistently been over 100° with the forecast calling for a high of 116°... that's ONE HUNDRED AND SIXTEEN DEGREES.
Fortunately I am not paying for that air conditioning.
In other news, I finally got my hands on the Wonder Woman: The Art and The Making of the Film book...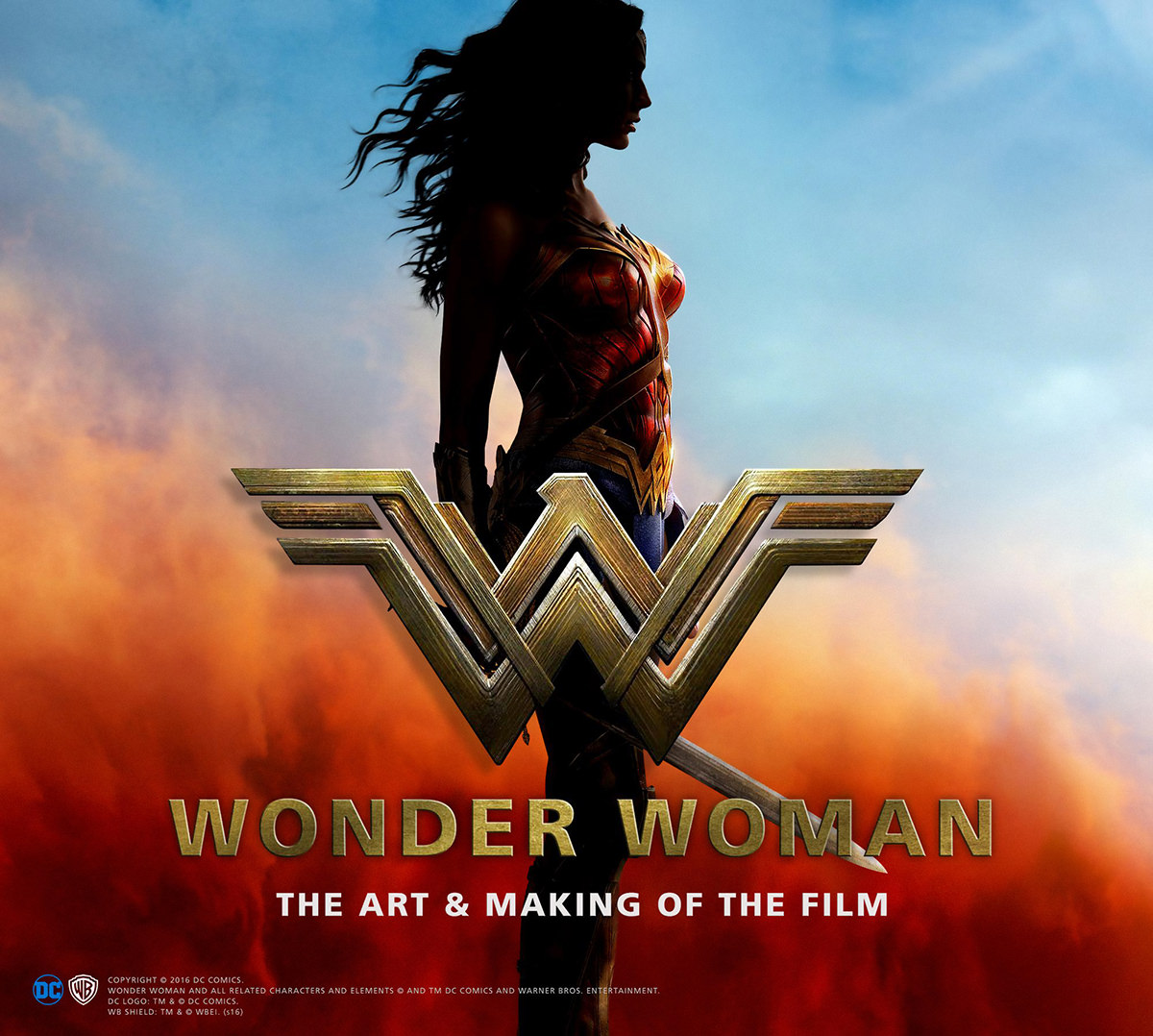 I love these kind of movie books... especially for the Marvel super-hero films and the Disney/Pixar films. I usually end up buying all of them, as the "how" is sometimes even more interesting than the movies themselves. This one is no exception. The production values on Wonder Woman were incredible, and seeing all the thought behind some of the decisions made just adds to the experience.
Of particular interest is the design for Themiscyra, home of the Amazons. If you've seen the film, you can just imagine.
And if you've seen the film and like it as much as I do, then checking out this book is a must.