Posted on Monday, April 19th, 2021

If you know even a little bit about me, you'll know that my musical tastes are a bit... um... eclectic. I love pop. I love electronica. I love dance. I love classic rap and hip-hop. I love hard-core rap. I love metal. I love punk. I love grunge. I love dream-pop. The only music I loathe is opera. The only music I avoid (but have listening to more and more lately) is country.
But there is one genre that I love more than any other: 80's Pop.
And it's not just a small segment either... I love everything from the 80's. And, in particular, 80's Euro-Pop. Thompson Twins, New Order, The Cure, Depeche Mode, The Smiths... I could listen to it all day every day and never tire of it.
Which is why I was absolutely thrilled at the latest episode of The Simpsons (titled Panic on the Streets of Springfield) because they parodied that genre flawlessly... coming up with a character that typified some of the more angsty artists like Robert Smith and Morrisey. But especially Morrisey. You can see him all over the episode, and the incredible parody song Everyone is Horrid Except Me (And Possibly You) which I adored...
Flawless.
I rewound my DVR and played it again and again and again. I loved it.
But boy did somebody running Morrisey's official Facebook account not enjoy it...
Surprising what a "turn for the worst" the writing for The Simpson's tv show has taken in recent years.

Sadly, The Simpson's show started out creating great insight into the modern cultural experience, but has since degenerated to trying to capitalize on cheap controversy and expounding on vicious rumors.

Poking fun at subjects is one thing. Other shows like SNL still do a great job at finding ways to inspire great satire.

But when a show stoops so low to use harshly hateful tactics like showing the Morrissey character with his belly hanging out of his shirt (when he has never looked like that at any point in his career) makes you wonder who the real hurtful, racist group is here.

Even worse - calling the Morrissey character out for being a racist, without pointing out any specific instances, offers nothing. It only serves to insult the artist.

They should take that mirror and hold it up to themselves.

Simpson's actor Hank Azaria's recent apology to the whole country of India for his role in upholding "structural racism" says it all.

Unlike the character in the Simpson's "Panic" episode...

Morrissey has never made a "cash grab", hasn't sued any people for their attacks, has never stopped performing great shows, and is still a serious vegan and strong supporter for animal rights.

By suggesting all of the above in this episode…the Simpson's hypocritical approach to their storyline says it all.

Truly they are the only ones who have stopped creating, and have instead turned unapologetically hurtful and racist.

Not surprising... that The Simpsons viewership ratings have gone down so badly over recent years. — Peter Katsis
This is just stupid. When you're in the public eye and phenomenally famous, you're going to get parodied in places like Saturday Night Live and The Simpsons. It's just part of the game. And while, yes, it can be painful to see... the simple fact is that it's incredibly flattering that you're somebody famous enough to be parodied in the first place. People understand that this is a frickin' cartoon PARODY, and the fact that his handlers feel that the real-life Morrissey is so different pretty much proves that.
The character of Quilloughby (from "The Snuffs, as played brilliantly by Benedict Cumberbatch) is not Morrisey. If The Simpsons wanted to have ACTUAL Morrisey on an episode, they would have called up Morrisey and asked him to be a guest on the show. They do that all the time. But that's not what the episode called for, so they came up with the stand-in they needed to tell the story they wanted to tell and get the laughs they were trying to get.
And the episode is hilarious to anybody like me who loves the genre. I mean, come on, my parents once got contacted because a teacher noticed that I was listening to Morrissey and The Smiths. The music was considered by some to be "psychologically dark and damaging" and parents were concerned that kids who listen to it would commit suicide. For me it was the complete opposite. On the contrary, knowing that there was music which so adeptly captured what I was feeling made me feel less alone in the world.
So... holy shit... RELAX about it! Morrisey has done some crazy shit over the years (he canceled two of the shows I was supposed to see... then cut his show short when I had to FLY ACROSS THE COUNTRY TO SEE HIM because he didn't like the energy of the crowd!). Plenty of crazy shit. So it's not like there was no material for The Simpsons to draw from. With Morrissey, it's a frickin' gold mine.
My love for all things Morrissey has dwindled over the years because he can be such an asshole. But watching Panic on the Streets of Springfield actually made me like him again. But even more surprising? The Simpsons is better than it's been in years this season.
And it goes without saying that I had The Smiths and Morrissey playing all night and all morning after the episode. Dang they had some amazing, amazing music.
Posted on Sunday, April 18th, 2021

I have yet to see any April showers, but you've still got excitement ahead of you this Spring... because an all new Bullet Sunday starts... now...

• Burrito Battle! Black beans, white rice, guacamole, sour cream, corn salsa, and extra cheese... all wrapped in a double-tortilla. Plus a side of chips with queso or guac. That's it. That's what I like in my burrito. But when it comes to where I'd rather get it, I'm torn between Qdoba and Chipotle. At least I am when I travel. When I'm home, the only option is Chipotle, and it's 20 minutes away.

When a Qdoba burrito is made well, it's my favorite. I just like their beans better and their cilantro-lime rice is sublimely tasty. But Qdoba is wildly inconsistent. Sometimes the beans are undercooked or overcooked. Twice the rice has been so salty that I couldn't even eat it. Sometimes the burrito is badly-wrapped and falls apart. Chipotle, on the other hand, is always the same. I've bought burritos in Chipotle restaurants across the country and they taste alike no matter where I'm at. I appreciate the consistency. I enjoy their burritos. So, when I have a choice, I'm always thinking "Do I risk a bad experience for a potentially better burrito, or do I go with something I know is going to be good every time?" I still don't have an answer. I just go for what I feel when a burrito is in my future. Then wonder what other people think. What do you think?

• Renewal! Just a quick note to say Magnum P.I. has been renewed for a fourth season. This is a show that I resisted... then fell in love with... and find myself rewatching quite a lot. So much so that I end up buying every season on iTunes...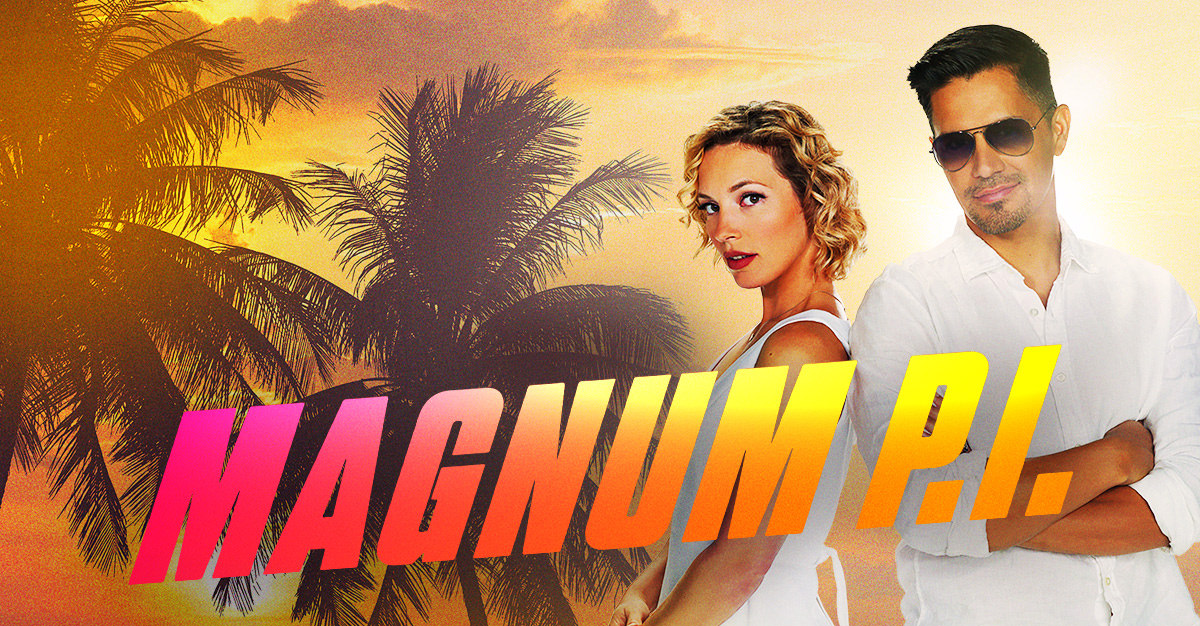 They very rarely have a misstep, and 95% of the episodes are great. Which usually means a show will be canceled immediately, so good on CBS for keeping it going!

• Daddy! Good grief. I was interested in buying a "Scrub Daddy" because they are so highly recommended for scrubbing while not scratching. But when I look into it... Scrub Daddy... Sponge Daddy... Scrub Mommy... Scrub Doggy... Scrub Daddy Power Flower... Scrub Mommy Kitty... Eraser Daddy... Screen Daddy... Scour Daddy... Scrub Daddy Scrub Daisy... Scrub Daddy Big Daddy... WHAT THE FUCK DADDY DO I NEED?!? DOES ANYBODY HAVE EXPERIENCE WITH A DADDY?!?
I guess I just start with the original and see where that takes me.

• Justice! THE take on Caron Nazario that every last fucking person in this country had better wrap their head around...
Yeah. It bothers the fuck out of me.

• Love! ZOMG! If a woman gave me a wheel of cheese I would marry her and love her forever!
I sincerely hope they aren't making fun of this guy, because that's TRUE LOVE right there! I shudder to think how much that much cheese costs. Hundreds of dollars, easy.

• Machine! Tortises aren't just adorable... they're eating machines! I got sucked into a tortise rabbit hole because I just couldn't stop myself, and I think watching them eat is my favorite part...
There are entirely too many fantastic videos over at The Tortoise Whisperer's TikTok... including BABY TORTOISES!

• Melt! I care about the welfare of animals over the vast majority of people. So I don't think I would be able to resist this...
I mean... just look at that little face. How could anybody resist?

And that's a tortilla wrap for bullets this fine Sunday.
Posted on Saturday, April 17th, 2021

It never ceases to amaze me just how easy it is to dump a bunch of money on your pets.
I've done more than my share. Mostly in the form of toys that Jake and Jenny get tired of quickly... which means it's time to go buy more toys. Fortunately, Jake only really cares about one toy... his stuffed lion Mufasa... but he does like new stuff too, as it keeps his life interesting.
One of the most expensive investments happened before my cats even arrived. I knew I would be getting at least one of them to keep my mom company, and worried that the wall-to-wall hardwood floors would be uncomfortable for a cat to walk on all the time. So I bought a bunch of rugs to put throughout the house. I also bought carpeted stair treads to make it more comfortable for them to go up and down the staircase.
It was money wasted.
I found out very quickly that Jake and Jenny will avoid walking on carpet. They will avoid laying on carpet. They want nothing to do with carpet. I mean, look at this...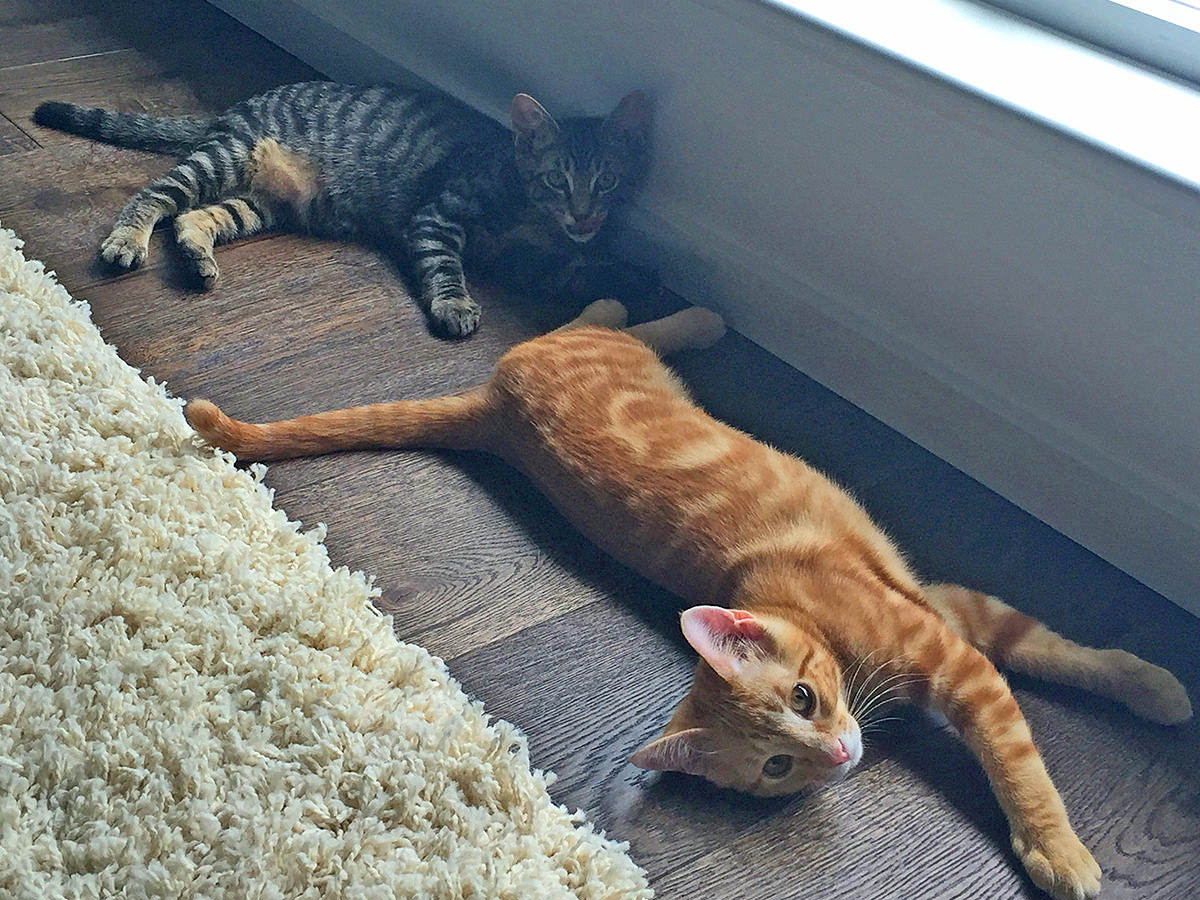 Well, fine by me. I didn't want the carpet anyway. Especially that ugly shag monstrosity I bought for my living room. Within six months all the pricey carpets I had purchased were tossed. Except for the carpeted stair treads. I left them because even though both cats avoid wallking on it... they do run on it. When they are chasing each other at top speed, they grip that carpet tread with their claws and shred the things. So... better the carpet than my hardwood, I suppose.
You would think that I had learned my lesson by now on buying stuff my cats will ignore.
But nope.
I just bought a cew chirpy ball to delight them and annoy me. For a few days anyway. They'll be ignoring it within a week.
Posted on Friday, April 16th, 2021

Yesterday I had a great salad. It was my first "real" food since Saturday. I managed to keep it down, which gave me the courage to have a slice of pizza toast for dinner before going to bed. After my digestive system got going again, all I wanted to do was eat. The pizza toast was a monumentally huge mistake. I was miserable all night, couldn't sleep at all, and finally gave up fighting it.
I wish I hadn't waited so long, because I felt so much better after I finally gave up on keeping it down.
Alas, that was at 2:30am.
What's funny is that through all my misery and tossing and turning and agonizing... Jake never once left my feet. At one point I was a complete mess while Jake was flopped across one leg while digging his claws into my other leg...
Astounding that one cat can take up so much space. I swear he started out curled up on one small corner of my bed. I honestly think that this was his attempt at making me stop moving. He's trying to hold me down or something.
Today I was back at square one. I went back to dry toast and ginger ale and worked my way up to a cheese sandwich for dinner. And that's the end of it. No late night dinner no matter how hungry I get.

I was surprised to learn that some states OTHER than Washington State book your second COVID vaccination appointment at the same time you get your first dose. Since the time between doses is set and known, it's weird that all states aren't doing it this way. My vaccination card had a reminder of when I was supposed to schedule my appointment, but every time I went to the website it told me that no appointments were available for my date. I was getting more and more anxious every day because I was worried that I wouldn't be able to get an appointment for my date.
Then today this message arrived via text and email...
And I'm like why? WHY DIDN'T THEY TELL ME that I would be getting a reservation request so I could make my second appointment and not have to be worried about it? Why couldn't they have told me this and make a stressful situation be not stressful at all? The very least they could do was PUT THIS ON THE WEBSITE!
So now I have my appointment and can dial down the anxiety so I'm not freaking out over the idea of missing my second dose.
Yay.
Perhaps I'll even be able to get some sleep tonight?
Except... dang wouldn't pizza toast taste great right about now?
Posted on Thursday, April 15th, 2021

This morning I finally managed to keep my Honey-Nut Cheerios down. A little nausea after, but nothing terrible. I managed to hang in at the office for three hours, so that was new. By the time I got home I was exhausted but my appetite had come back. Starting small, I had a slice of dry toast. Then a couple shortbread cookies for lunch. No nausea. I'M CURED!
So what's going to be mysterious first real meal since Saturday? What I really, really wanted was a good salad. An awesome salad.
Yes, I was shocked too. I was sure it would be pizza.
Butter Lettuce. White Cheddar Shreds. Italian Croutons. Slivered Almonds. Dried Cranberries. Freshly-Ground Black Pepper. And a good pour of Olive Garden Parmesan Ranch Dressing...
Maybe it was having gone (mostly) without food for 4-1/2 days, but it was a phenomenal dinner. As was the Crystal Light Concord Grape Drink I had with it.
Somehow my amazing meal got my mind running through my favorite green salads, which I will list here before signing off because I have nothing better to do...
Italian. The salad itself at Olive Garden is nothing groundbreaking... iceberg lettuce, Roma tomatoes, purple onion, olives, Italian croutons, pepperoncini peppers, parmesan cheese, and fresh-ground black pepper. No, it's the Olive Garden House Italian Dressing that makes it so fantastic. Thankfully, it's available in stores, which means I can easily make my favorite Italian salad at home any time I want.
Chopped. The Hard Rock Cafe got me hooked on putting dried cranberries on my salads. Over the years I've stolen ideas from many other restaurants to create the perfect chopped salad. Butter lettuce, cherry tomatoes, thawed frozen peas, dried cranberries, thinly-sliced green onion, pumpkin seeds, medium cheddar shreds, croutons, hard-boiled egg, and freshly-ground black pepper. The topper is either a very good ranch dressing (Olive Garden's Parmesan Ranch is incredible) or a creamy French, depending on my mood.
Vegetarian Cobb. This is a close cousin to my chopped salad... but using chopped romaine lettuce, faux bacon pieces, avocado dices, hard-boiled egg, chopped hot-house tomatoes, either blue cheese or feta, and thawed frozen corn (in place of the chicken that's on a classic Cobb salad). I usually go for a nice honey-mustard dressing on this one.
Greek. Yeah, it's the feta that makes this a favorite. Chopped Roma tomatoes, diced cucumber, diced avocado, red onion, chickpeas or cous cous, chopped red bell pepper, black olives, feta cheese, pita chips, and freshly-ground black pepper. Sometimes I'll toss in iceberg lettuce to make it more of a meal. The dressing is a toss-up depending on my mood. Sometimes I like a creamy Greek yogurt dressing... other times a classic red wine vinaigrette.
Taco. Always a treat... especially on a hot summer's day with a cold Pacifico beer. Iceberg lettuce, black beans, diced tomato, diced avocado, thawed frozen corn, Beyond Meat Fiesty Crumbles (or cooked quinoa), Mexican cheese blend, diced green onion, and taco chips. Top with a blend of three parts Thousand Islands dressing to one part sour cream and a spinkling of chopped cilantro.
Pear. It's really tough to beat a pear salad during that short window where Bartlett pears are fresh off the tree. Summer salad greens, dried cherries, candied walnuts, and parmesan. Top it off with a good balsamic and you're golden.
Summer Berry. This is almost more of a dessert than a salad, which is okay by me! Summer salad greens, strawberries, raspberries, blackberries or blueberries, toasted walnuts or almonds, thinly-sliced/baked beets, diced shallot, crumbled feta, and sunflower seeds. Best topped with a sweet honey and berry vinaigrette.
Apple. An awesome salad for Fall harvest days. Mixed greens, dried cranberries, candied slivered almonds, mild gorgonzola cheese, diced mild onion, and a sprinkling of bread crumbs. Top with an apple cider vinaigrette.
Watermelon. Not really green-salad apropriate, I'm still tossing this in here because it's such an amazing salad. Sweet ripe watermelon, scored baby cucumber slices, diced fresh basil, crumbled feta, and a few grinds of black pepper. For a dash of added flavor, I usually drizzle with a mix of light oil, rice wine, and lime zest.
Posted on Wednesday, April 14th, 2021

Today I managed to keep down a half a plain bagel for lunch and a small bag of Rold Gold Tiny Twists pretzels for dinner. My salvation, however, has been ginger ale. I haven't even been able to keep down water since Sunday, but ginger ale will stay down if I don't do anything too stressful... like get up and walk while drinking it. Without ginger ale, I'd likely become dehydrated and die or something.
In related news... half-bagels aside, I'm wasting away.
I've always said I'm one stomach flu away from my goal weight, and it's really happening, people! I was 185 lbs. just last week... now I'm at 177. If things keep going like this I'll be at 165 in no time!
I'm going to have to start wearing a belt because my jeans are so loose that they are falling off of me...
Interesting to note that in September of 2019 I was at 170. Thanks to quarantine I got up to 193, which is the heaviest I've ever been. 23 pounds from where I'm usually at! It has taken a LOT of effort to get the weight back down, which tends to happen as you get older, it would seem. I suppose it's just more incentive to take it off and keep it off while I still can?
Seven pounds to go, I guess. Twelve if I'm ambitious.
Which, let's face it, I'm probably not.
We're still in quarantine, after all. My ambition has left the building.
Posted on Tuesday, April 13th, 2021

Oh no, I'm sick!
Some kind of stomach bug got me on Sunday and I have been struggling ever since. Yesterday was horrific, I'm not going to lie. I have never in my entire life vomited THAT badly. And I used to drink tequila! It felt like I was being turned inside-out.
I took it easy the rest of the day and was feeling much better this morning. Not wanting to push myself too hard since I wasn't feeling 100%, I had a small handful of dry Honey-Nut Cheerios before heading to work.
I lasted about 15 minutes.
Barely made it home in time to unleash instant breakfast in my toilet bowl. Then went directly to bed to sleep off whatever this is. Which is not easy because I could not get comfortable. Everything hurt. Especially my neck, which meant I couldn't lie down or sit up. Eventually I took sleeping pills and passed out.
And here I am. Half-laying, half-sitting-up, and all miserable. But at least I have TikTok, amiright? I swear... THIS is my new television. The creativity and brilliance in these tiny video snippets are just incredibly good. This one nabbed me immediately, and I spent way too much time going through all the rest of Josh's TikToks...
Fingers crossed I can eat my Cheerios in the morning... because it's the little things, you know?
Posted on Monday, April 12th, 2021

Well... this has been... a day. I guess. Stupid Monday.
If I had a better weekend, I would probably have been in better shape to deal with it all but, alas, here we are.
It's kinda sad that I haven't developed better adversity coping skills after all these years, but I guess it's just not where my skillset landed. Which reminded me of this TikTok, which is an excellent metaphor to be had...
The original video is equally dead-on hilarious...
I mean... holy crap!
This past Saturday as I was trying to distract myself from feeling sick all day, I watched a bunch of television, starting with the Doctor Strange movie. This took me through a Benedict Cumberbatch run that included some episodes of Sherlock and Star Trek Into Darkness...
When this movie first debuted I was... disappointed?... I guess is the word I'm searching for?
On one hand, the visuals and special effects were jaw-droppingly beautiful and the action intense. The cast, as with the first movie, was flawless. But the film was also a needless remake of the best Star Trek flick of all time: Star Trek II: The Wrath of Khan. It was like... why?!? There were hundreds of new directions the franchise could head, but they decided to put a new spin on already-great material just because they could. And then there was the worst-kept secret of 2013... Benedict Cumberbatch was playing Khan Noonien Singh, originally played brilliantly by Ricardo Montalbán.
But on a fresh viewing where I know what to expect and can separate the remake from the original, I was able to appreciate it better. Mostly because it's just so dang stunning to look at. Plus it had a cameo by Leonard Nimoy. Still hate the disaster porn ending... Lord is that a tired trope... but, overall, not the huge disappointment I remembered.
I wonder how many other films would change my mind if watched anew?
And now we return to my butt-puckering day, currently in progress.
Posted on Sunday, April 11th, 2021

Alien hordes about to overwhelm your position? You situation seems hopeless? Not on my watch! So stop your grinnin' and drop your linen... because Bullet Sunday starts... now...

• Matterhorn! HAVE YOU SEEN THIS?!??
Dude. I'm just... wow. Would I love to experience something beyond amazing like this? Certainly. Would I be crapping my pants, hugging the mountain, and crying for my mommy? Lord, yes.

• Adopted? I have watched this entirely too many times and laugh my fool head off each time...
I swear, I'd rather watch TikToks than television now-a-days. All the most clener and original content is happening there.

• Volcano! I saw these videos of a drone flying over lava and into a crater that's erupting in Iceland but keep forgetting to share them...
Now this is what drones were made for!

• GOAT! GAAAAH! THE CUTENESS!!!
My ambition in life is to have an experience so good that, if I had a tail, it would be wagging like that. A good start is watching all the Goat Daddy's TikToks.

• Avatarland. I used to visit Orlando twice a year for the charity I worked with. It was always a fun time because I have friends in the area and often times my mom would want to go with me because she absolutely loved Walt Disney World. Because of this, it was tough for me when my work in Orlando ended... mostly because they are adding cool new stuff all the time and haven't seen any of it. Star Wars Galaxy's Edge? Nope. Pandora: The World of Avatar? Nope. I'll undoubtedly make it back one of these days but, in the meanwhile, there's YouTuber Jenny Nicholson. She's goes deep, deep into "Pandora" so you can visit without actually visiting...
Interesting stuff. Now I want to return more than ever.

• Oh Shit! As much as I love the idea of living in Australia, there are reasons that will never happen. Like this...
Yeah. Nooooooo thank you.

• Classmates. And let's end this on a feel-good story you need on a Sunday...
And here's the original story...
Best of luck to him.

Alrighty then. Guess it's time to clean my mess of a kitchen so I can start off my week without stressing over the disaster I've got going on there.
Tags:
Australia
,
Avatar
,
Bullet Sunday
,
Cuteness
,
Disney World
,
Drones
,
Goats
,
Iceland
,
Orlando
,
TikTok
,
Videos
Categories:
Bullet Sunday 2021
—
Click To It:
Permalink
—
2 Comments: Click To Add Yours!
Posted on Saturday, April 10th, 2021

I have been feeling "off" all day. Sick to my stomach... assorted aches and pains... headache... unable to get comfortable... it all added up to a day of sitting/laying on the couch trying to distract myself with television.
When I finally just called it a day and went to bed, my stomache decided to go into revolt. After a half hour of lying in bed trying to decide whether I should ride it out or go puke out whatever is going on, Jake arrives.
"Jake, I'm not feeling very well... maybe you should sleep somewhere else tonight?"
I then put my feet together so he couldn't sleep between them like he usually does.
The little scrubber forced his way between my shins, then kept twisting and pushing so he'd have his favorite sleeping spot. Eventually I relented because he was not giving up...
After this, my decision was made for me. I will be riding out my nausea until I fell asleep.
But first I have to write this blog post. Because it's Caturday, after all.