Posted on Saturday, May 19th, 2018

It's kind of strange how having cats has changed my behavior. I am slowly becoming a different person, and it's a direct result of hanging around Jake and Jenny.
Yesterday I received a couple of questions from somebody who found my Antarctica trip in a Google search. I didn't have the answers off-hand, so I had to retrieve my souvenir box. My cats see a box and are instantly in attendance, pawing through everything and chewing on papers, pamphlets, and postcards. And I just didn't care. Two years ago if a cat was chewing on my precious souvenirs I would have ripped them out of their mouths, shooed them away, then been upset for days that my property had been destroyed. But now? It's just stuff. In the grand scheme of things, does it really matter if a postcard has a corner missing? Not to me. Not anymore. They could set the entire box on fire for all I care. I'd rather have happy cats than any amount of stuff. Unless it's going to hurt them, there's nothing I own that's important enough to smack a cat away. Nothing.
But the biggest change has been learning to accept things for what they are. This is a primary concept of Buddhism, and something I've been trying to get a handle on for decades. Jake and Jenny are "just cats." Given their relatively small stature and lack of opposable thumbs, there isn't much in their lives that they can change. Rather than wallow in misery if their attempts to alter their environment fail, they just accept it and do their best to live with it... or they move on. And that's the key. There are some things in life that simply cannot be changed no matter how hard I wish it were otherwise. Rather than dwell on that and be miserable, I've been doing a lot more accepting... and a lot more moving on. And I have been far happier because of it.
Maybe this world would be a better place if more people in charge of things had cats.
But anyway...
So there I was consumed by work when I hear much thrashing and squawking coming from the dining room. Jake is going crazy about SOMETHING, so I get up to see what's going on. Turns out it's just a boy and his mule. Jake is rolling around on the table with Moose...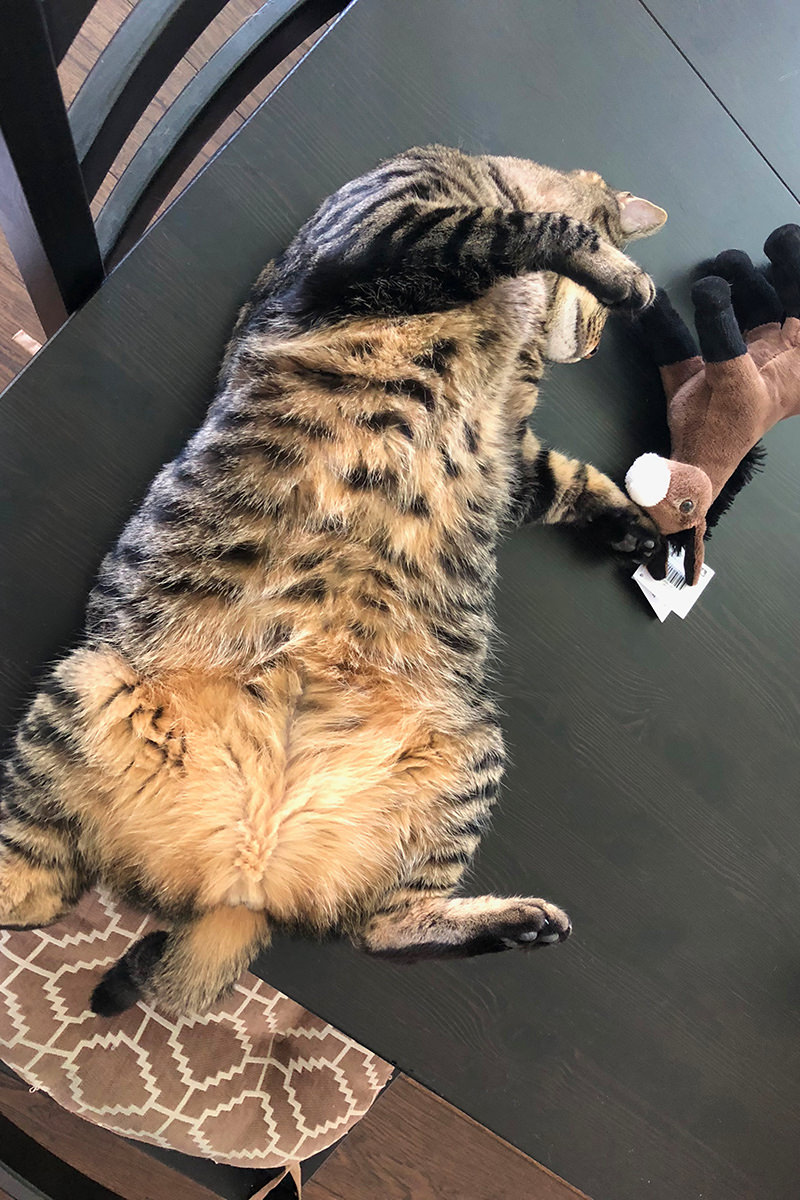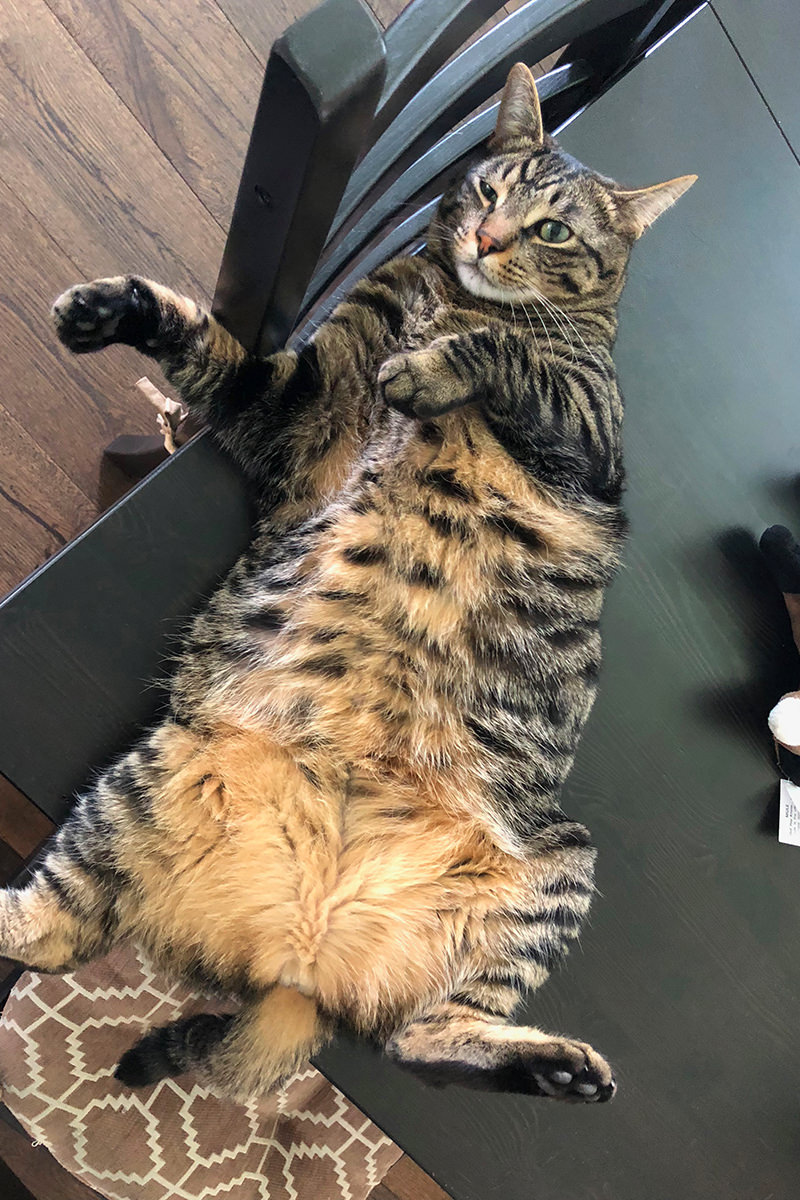 Which makes me SO happy because dividing their attention between multiple stuffed animals means that Mufasa, Jakes prized stuffed lion, might stay in one piece a bit longer.
In other non-news, Jenny's television addiction is still going strong. Her favorite place in the living room is the coffee table where she can lay and watch TV. Many nights she'll fall asleep while watching...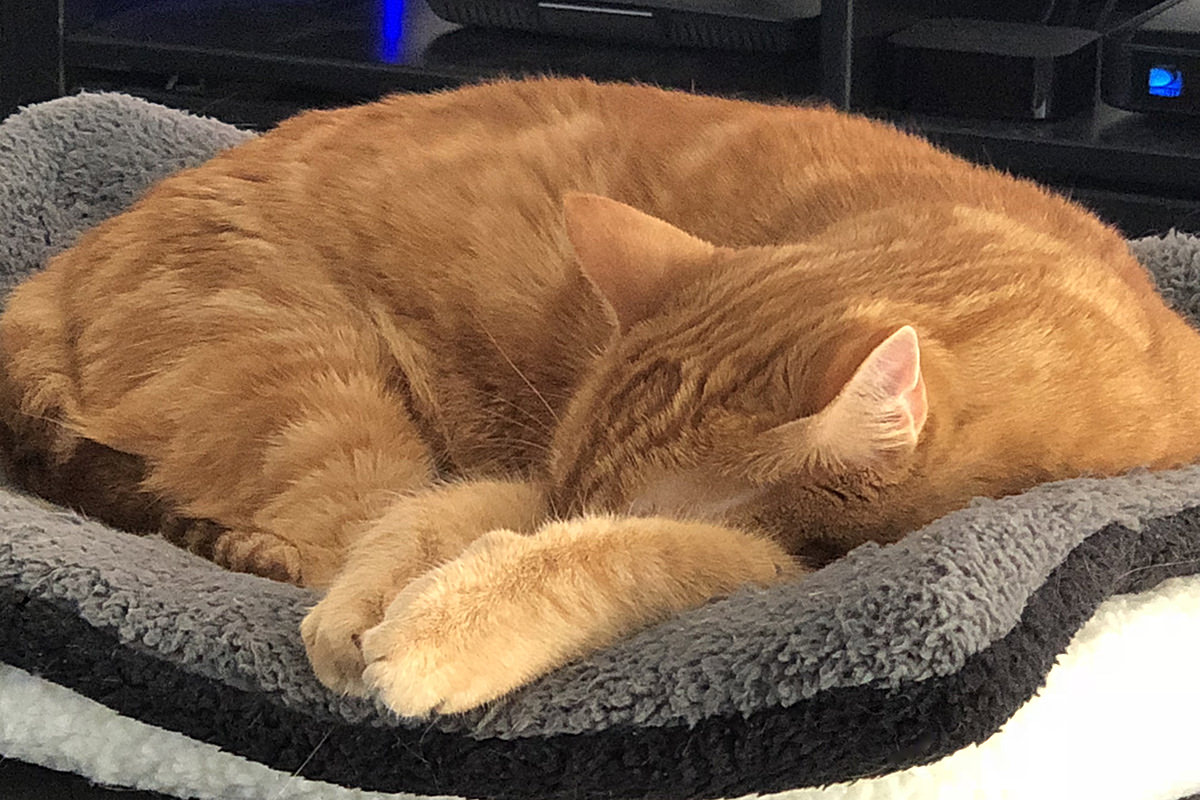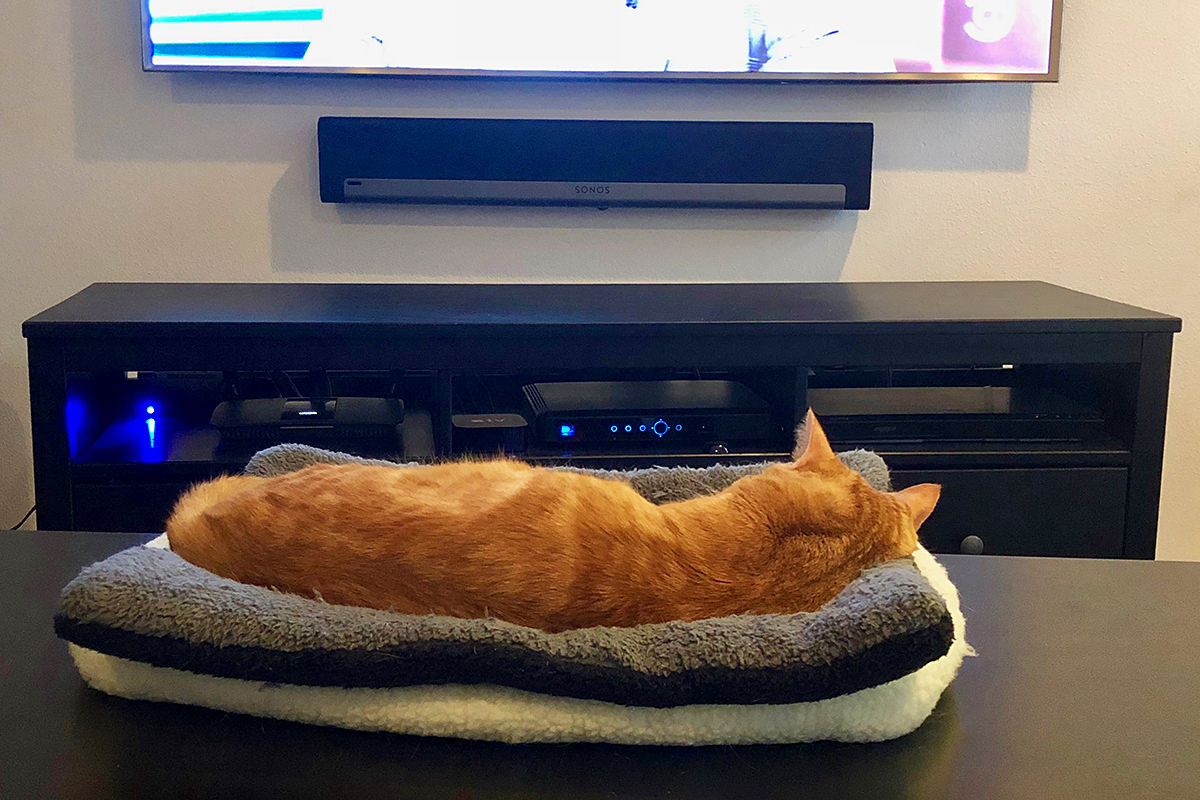 Which is better than the cats' latest trend... wedging themselves in-between me and my work so they can get petted and fall asleep. They are doing this ALL THE TIME NOW. Even worse? They work in shifts. One of them will squeeze between me and my laptop so I have to set it down... then the minute they leave and I go to pick up my computer again... the other one will do the same damn thing...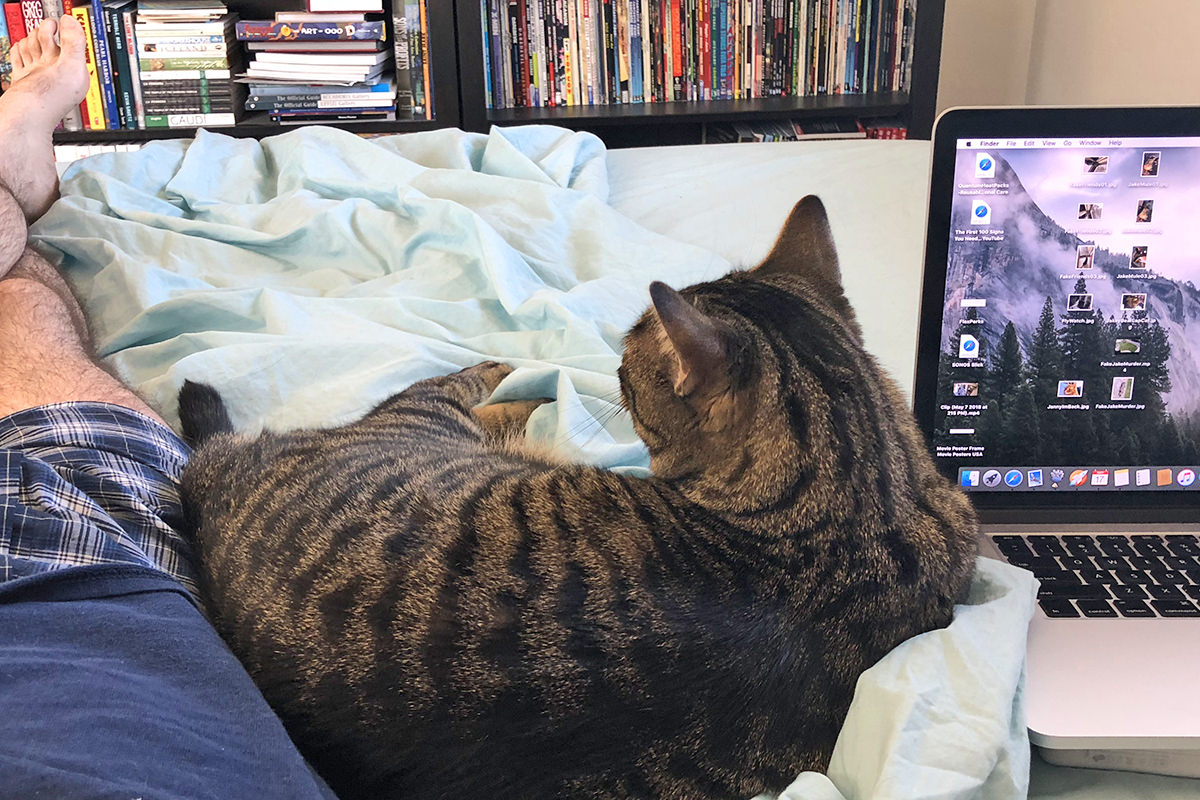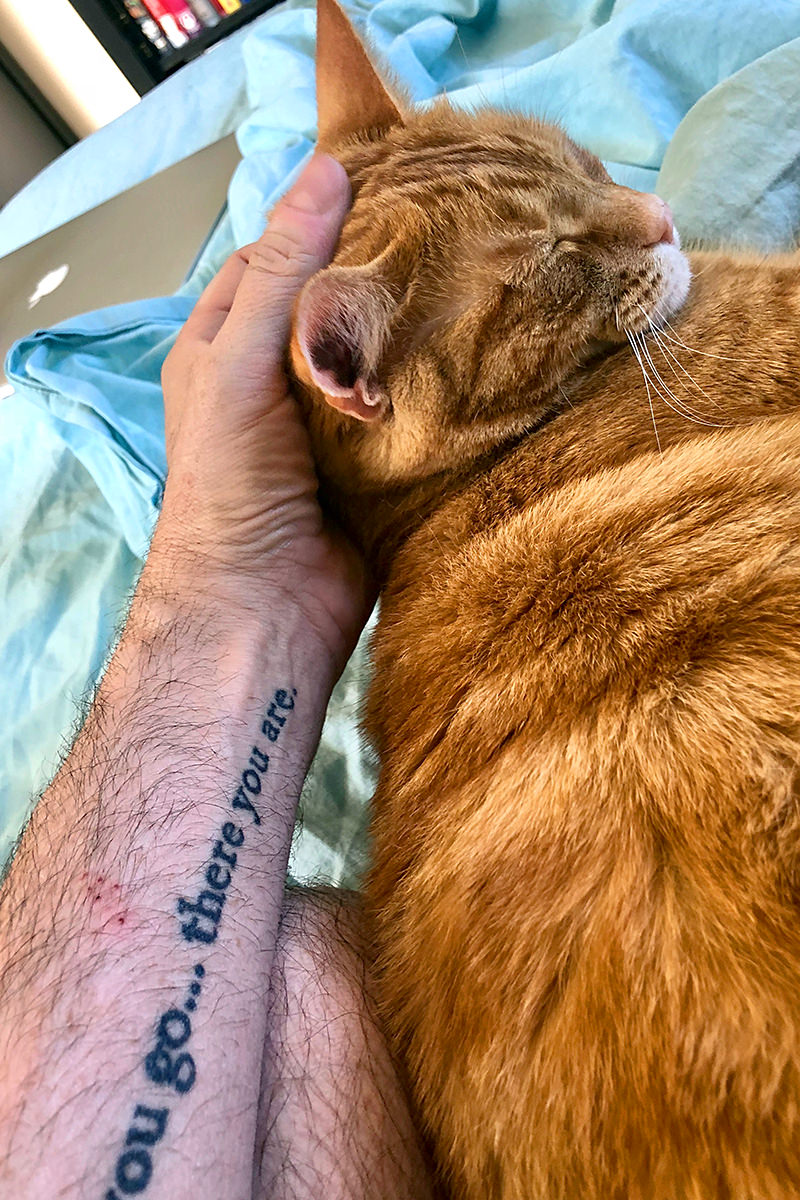 And, lastly, I've been leaving windows and doors open in the mornings before it gets hot in an attempt to keep things cool and let in some fresh air. This cuts down on the expense of having to run my air conditioner as much. This has resulted in Jake and Fake Jake having a couple of "play dates" through the screen door...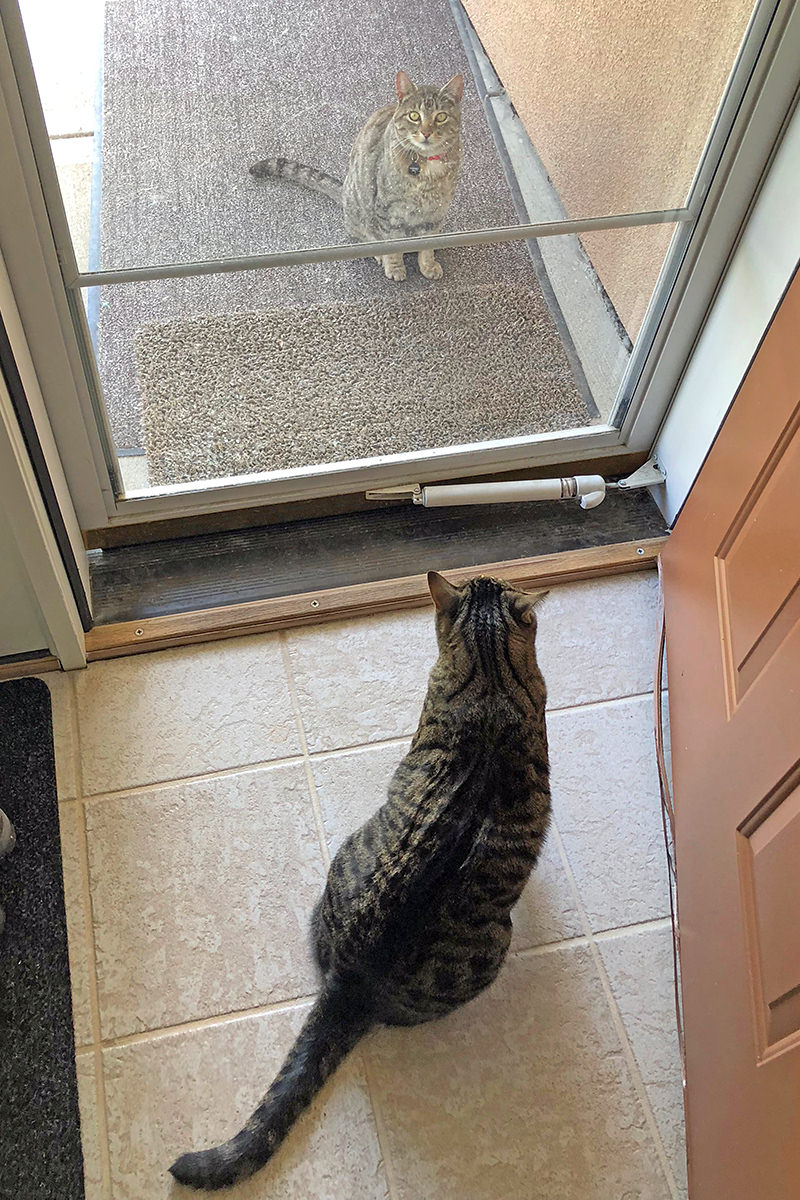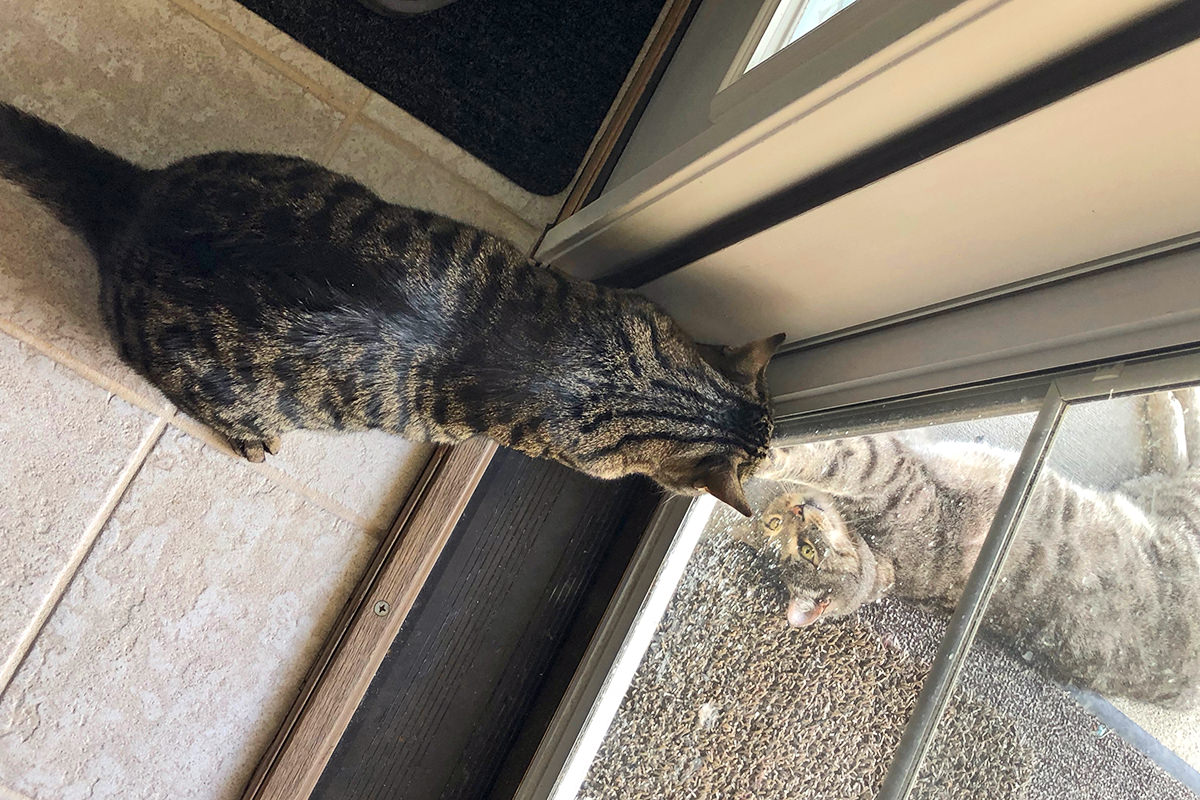 Though how they can see each other through that filthy window I do not know.
A part of me wonders if I'll eventually be able to let Fake Jake in for a visit... but I honestly don't think this will ever happen. Fake Jake can get very aggressive, and I think that would traumatize Jenny quite a lot. She may be able to hold her own when there's a fence between them, but up close and personal? Probably not.
Oh well.
I removed the heater and berm from Fake Jake's shelter, then cleaned it inside and out, so he should have a nice cool place to hide from the sun this summer. That will have to do. If we end up with a heatwave, I can always let him hang out in my garage.
Until next Caturday then...
Posted on Friday, May 18th, 2018

Today I had a rare 15-minute gap with nothing to do. Too little time to start a new project... too much time for a bathroom break. So I decided to update my List of Things to do Before I Die (That I've Already Done). It's a kind of "bucket list," but not really, because I only add things to it once I can check them off. No need to be on my death bed clutching a list of stuff I still wanted to do, thus dying a failure.
I'm up to 114 items which is probably enough for two lifetimes.
Which means I'm ready to die, I guess. And yet there's still so much left I want to do. Maybe I'll be able to add another dozens items before I check out. Maybe I'll be able to add just one. It doesn't really matter so long as I keep coming up with things to live for.
Though I've found that as I get older my idea of what makes it to my list is changing as my priorities change...
Age 20 Top Priority: Look for my dream woman. Get married. Have kids.
Age 30 Top Priority: Stay single for the rest of my life.
Age 40 Top Priority: Wreck myself having the most fun possible, then die before I'm 50.
Age 50 Top Priority: Stay healthy enough to keep on living so I can take care of my cats.
Assuming I make it there, I have no idea what my priority at 60 will be. But probably...
Age 60 Top Priority: Wreck myself having the most fun possible, then die before I'm 70.
I'm relatively certain of what comes at 70, assuming my priority for 60 falls through...
Age 70 Top Priority: Just die already.
This sounds bad, I know. But keep in mind that by that time I'll have probably added enough things to my list for three lifetimes. And isn't that more than enough? I'm close to done right now. Lord only knows how totally done with life I'll be at 70. Though who really knows? Back when I was 40 I wanted to die by the time I was 50. Now that I've reached 50... and I have cats... I'm happy to be hanging around a while longer. Perhaps when I turn 70 I'll get more cats and be good until I'm 90.
Who wants to kick the bucket list when they have cats?
Posted on Thursday, May 17th, 2018

You would think that when you pay for a movie in iTunes that the poster art would remain the same as when you bought it. But that's not the case. A while back Marvel started changing all the artwork in their store, which ended up changing the artwork on all the movies I bought.
And it all sucks.
Not that I'd be thrilled if it were better than the originals... I want the art that I recognize so I can recognize the movies I own. I want what I originally purchased.
Take for example the poster for Guardians of the Galaxy...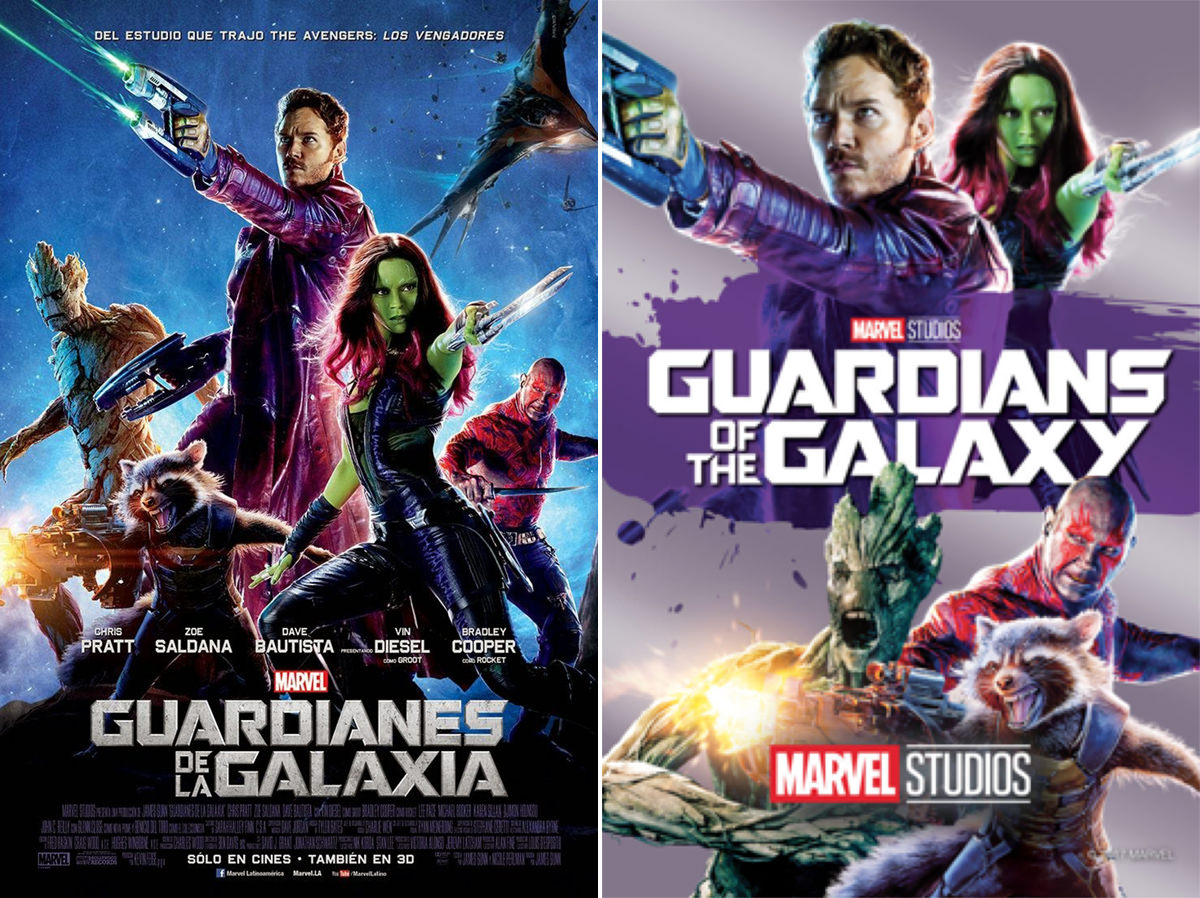 They hacked up pieces of the original poster, rearranged them, then slapped them on a boring-ass background. It looks worse than shitty, because there's no composition or context. Can you tell what in the hell Star-Lord is doing? Holding on to a handle? Who the hell knows?
The sequel poster is even worse. The cool and colorful art with all kinds of cool movie imagery in the background. It's been replaced with something so boring as to be sedate by comparison...
Thor: The Dark World is especially horrific in that he no longer looks like the god of thunder, but somebody in a red cape and bad hair...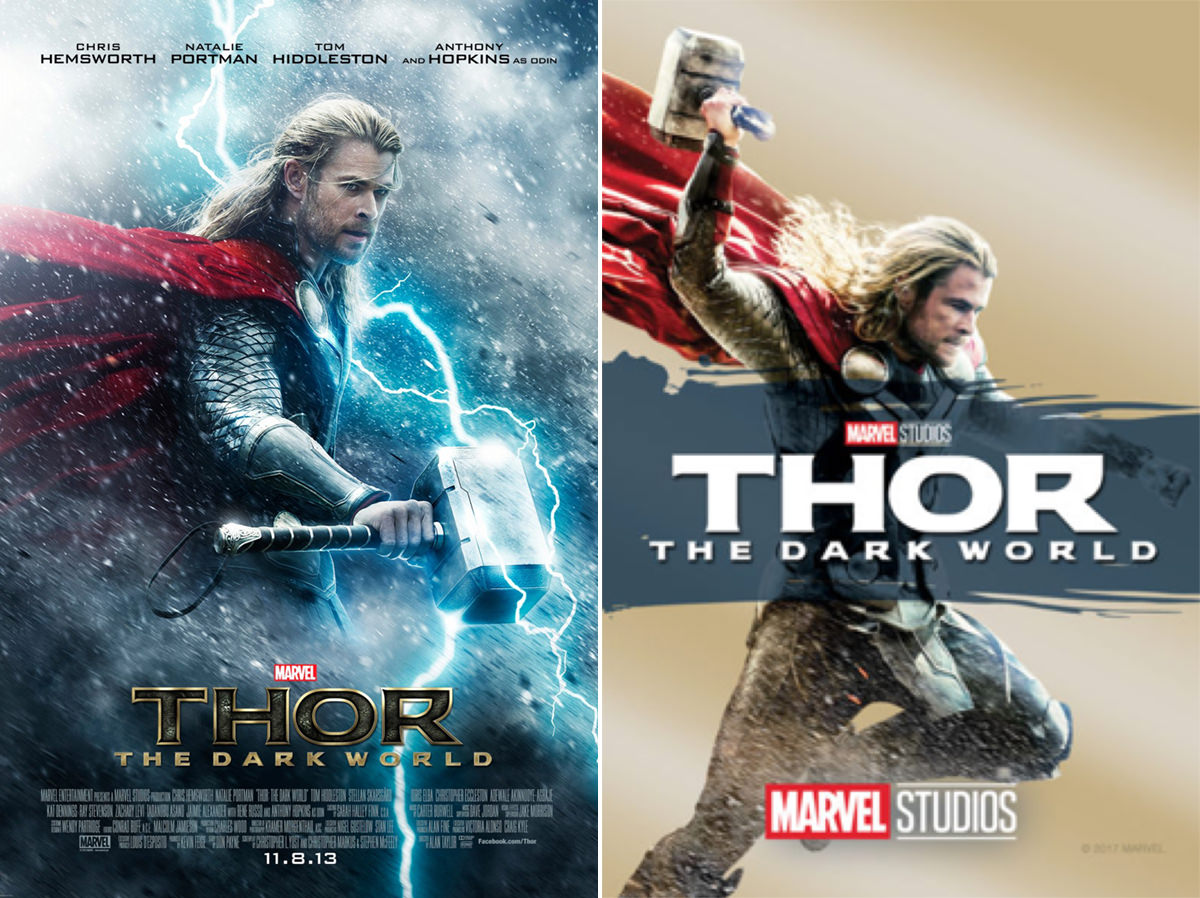 Since most Marvel movies take place in New York City, Ant-Man was a breath of fresh air since it switched it up to the West Coast and San Francisco. To be sure there was no mistaking this, they put it right there on the poster...
When they remade it, they simply stripped away all the cool supporting elements and slapped some ugly-ass faux-metallic effect. Lame.
Group films like Avengers have posters that are carefully crafted to show the dynamic of the team. But now all we get is a grotesque cut-and-paste hack-job that has no interplay between characters and no dynamic. Somebody with a box of Colorforms could do the same damn thing... and probably better, since people wouldn't have their legs cut off and be suspended in air...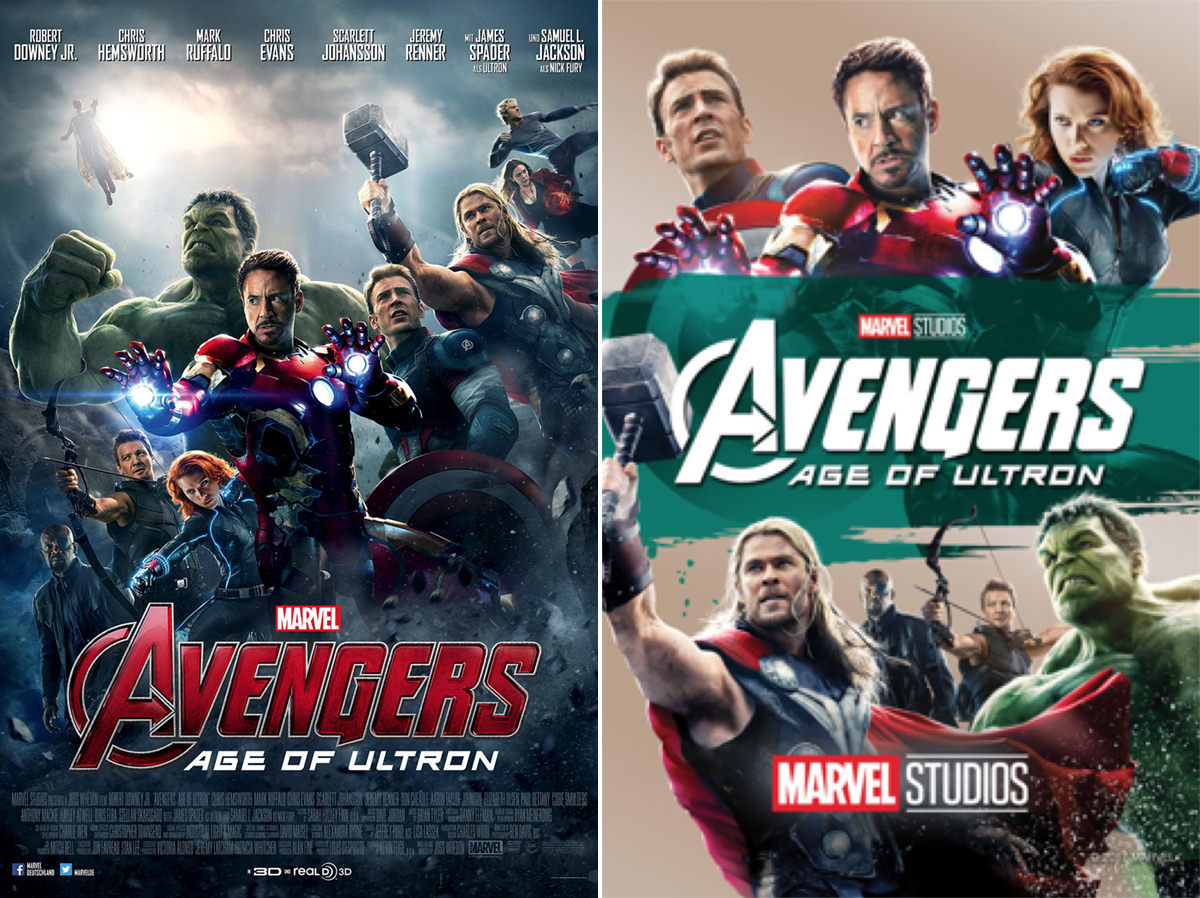 Another great example of this... Captain America: Civil War. What was the most incredible part of the film? The fact that there was a massive battle which pits hero against hero. But the new poster rips this away, completely confusing the story. For all we know from looking at the shitty art, this is a Captain America and Iron Man buddy picture. Or an Iron Man movie with a guest-spot by Cap, since the figures have been reversed and Stark is in the #1 spot...
Doctor Strange is a mind-bending film which introduces magic and other dimensional planes to the Marvel Universe. But now? Some guy in a red cape with a tall collar? Shitty. Utterly shitty...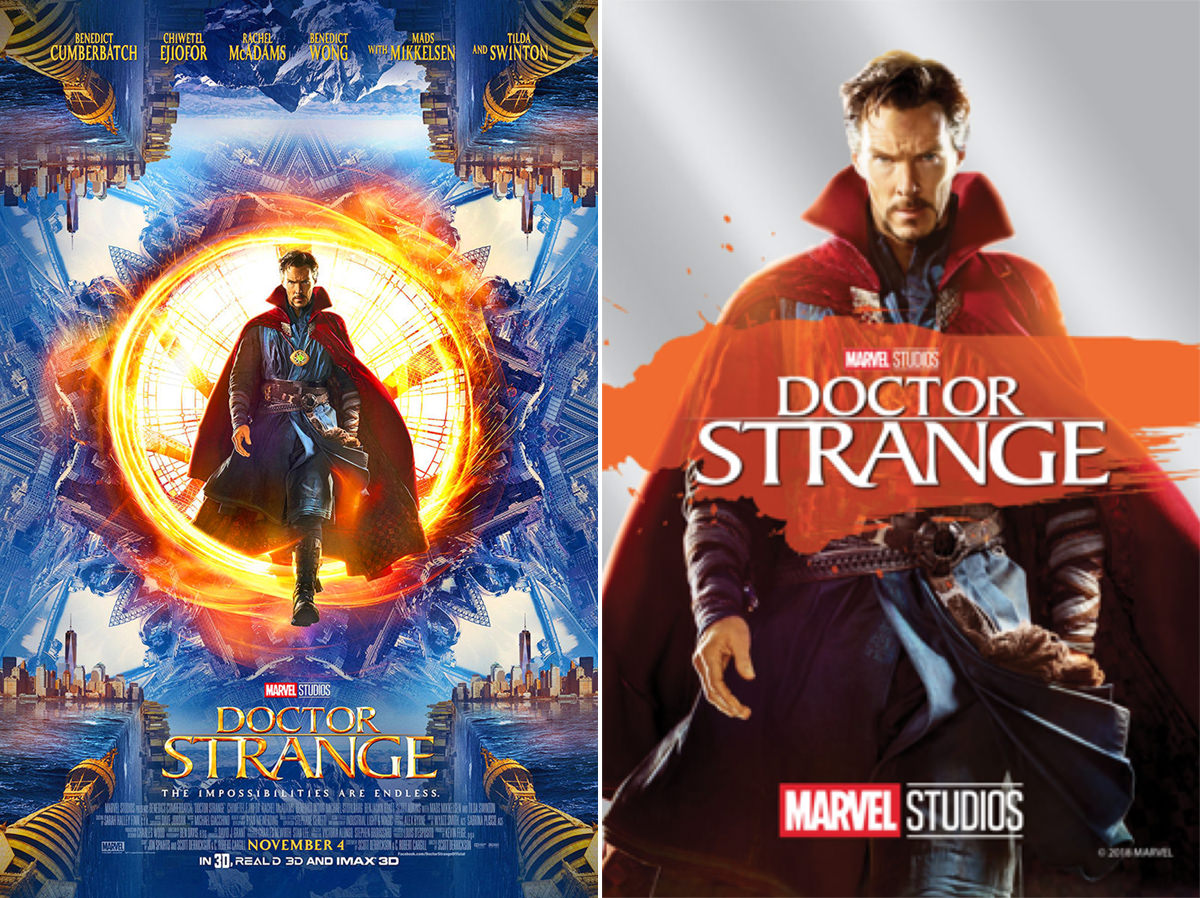 I think my most hated poster remake is for Iron Man 3...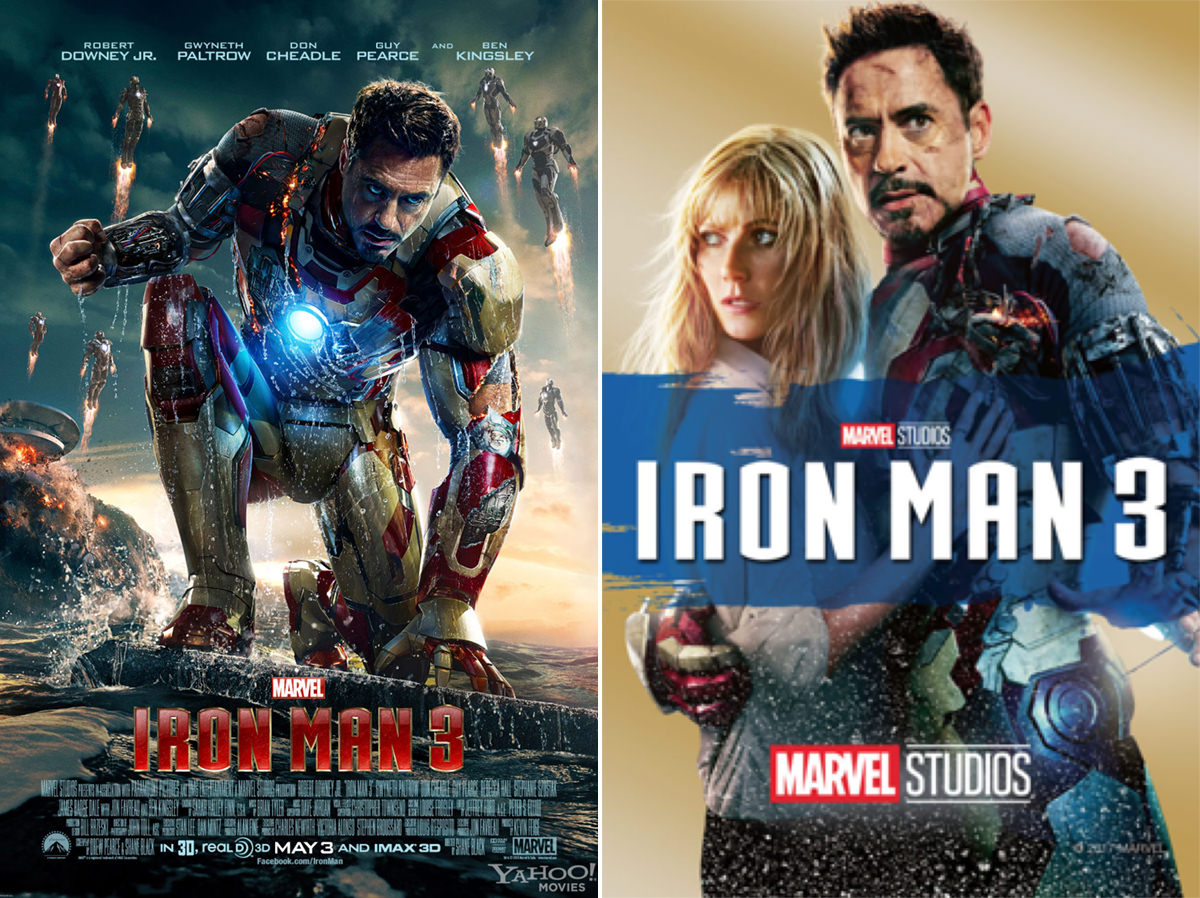 The original poster was SO cool. Foreboding atmosphere, Tony's house exploding, and The Iron Legion are all there... along with a ravaged but determined Iron Man. But the remake? You can barely even tell that's Iron Man. Looks like the cover to some kind of Harlequin Romance or a shitty, low-budget crapfest. And can somebody please explain why the characters are fading into a star-field?
I understand the thinking in redoing the posters. They are trying to create something that will be easily understood at the smaller thumbnail sizes that you'll find in iTunes or other movie streaming services. But when they come up with something this shitty, does it really matter if you more easily understand them? If anything, I'd argue that the original posters are more distinct and interesting... even if you can't fully tell what's going on when reduced to tiny sizes.
At the very least, they could leave it up to the buyer which poster to display in their iTunes library.
Because the new crop is more than just ugly and boring... they're offensively bad design.
Posted on Wednesday, May 16th, 2018

When I woke up this morning there was an email from the charity I volunteer with and it was not filled with good news. It wasn't even filled with bad news. It was filled with disastrous news. Which meant I had a mad scramble of emails, phone calls, and texts ahead of me trying to get everything sorted. Which is fine, I suppose... that's the job... but it weighs on your spirit when you know that Real People will be worse off if you can't pull things together.
But pull things together I did.
This time.
Which was great. Except while I was doing my best to fix things for a lot of people needing help, I missed a text from one person needing help. I didn't notice it until hours later which, believe it or not, weighs even heavier on your spirit.
Fortunately somebody else who didn't miss their text was able to step up and help out... but still.
I'm not saying that I'd jump in line to be cloned if that technology were ever perfected, but I'd sure think hard about it. Problem is, I'd undoubtedly just end up taking on twice the work I have now so I would end up missing twice as many texts.
Technology can't solve everything.
But I live in a house where I can talk to a device and tell it to turn my lights on and off for me, so it certainly seems like it should be able to.
Tags:
DaveLife
,
Work
Categories:
Uncategorized —
Click To It:
Permalink
—
1 Comment: Click To Add Yours!
Posted on Tuesday, May 15th, 2018

Today was one of those days that makes me want to stick my head in the oven. But my oven is electric, so all that would do is give me a sunburn. I also have a microwave, but it only runs when the door is closed.
And so I guess I'll be sticking around for another day. Which is probably a good thing, because my cats are in kind of a needy mood after all the time I've been spending away from home. And that's nice. Though I could have really used another day recuperating from my weekend.
And to think... yesterday I was up at Newcastle's putting green overlooking Seattle and Puget Sound on a gorgeous day...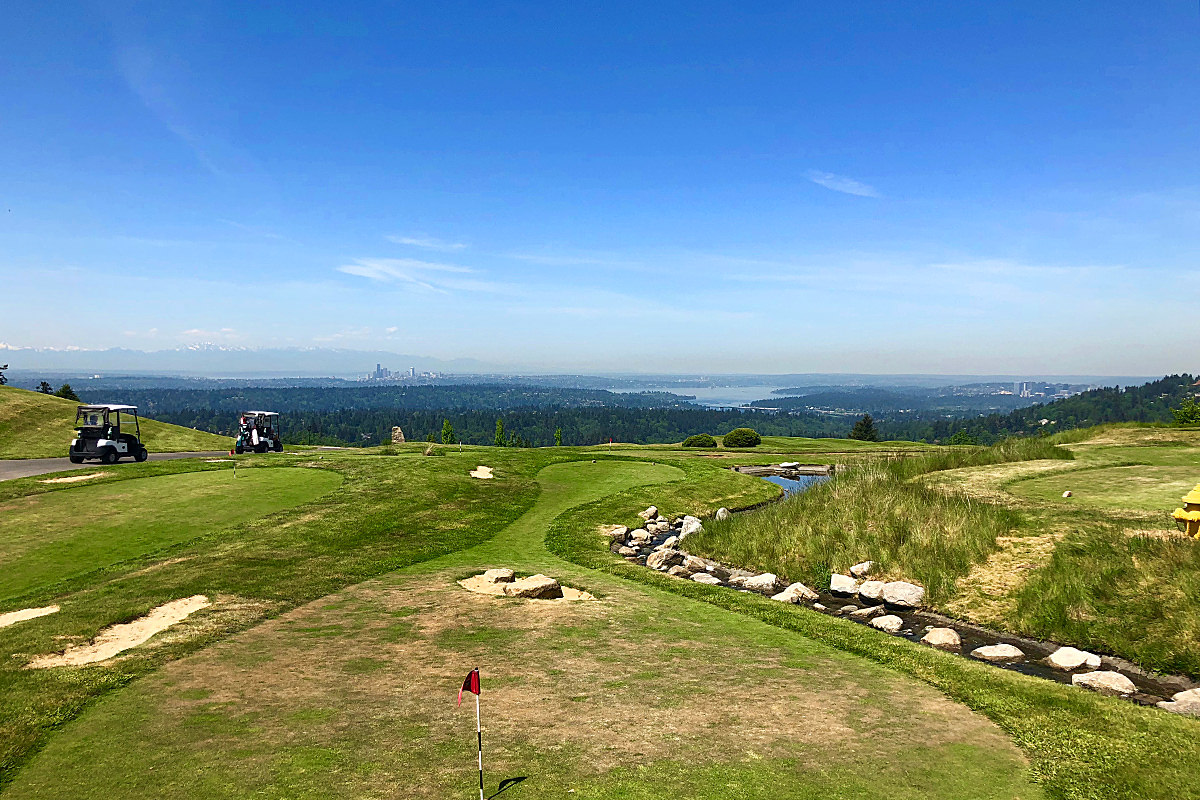 Apparently Summer has arrived.
Time to set up shop.
Five months of woodworking bliss await.
Posted on Monday, May 14th, 2018

Nobody puts on a show like P!NK. Nobody.
The first time I saw her live was on her Truth About Love tour, which was one of the most amazing things I've ever experienced. It was more than just a concert, it was a spectacle. In the best possible way. P!NK sounded phenomenal... and did so while suspended in the air and flying around the stadium. Anybody who says that an artist needs to lip-sync in order to put on a good show was completely buried after this tour opened.
And now P!NK is touring in support of her Beautiful Trauma album... once again blowing the doors off of stadium while cranking out an endless parade of amazing songs...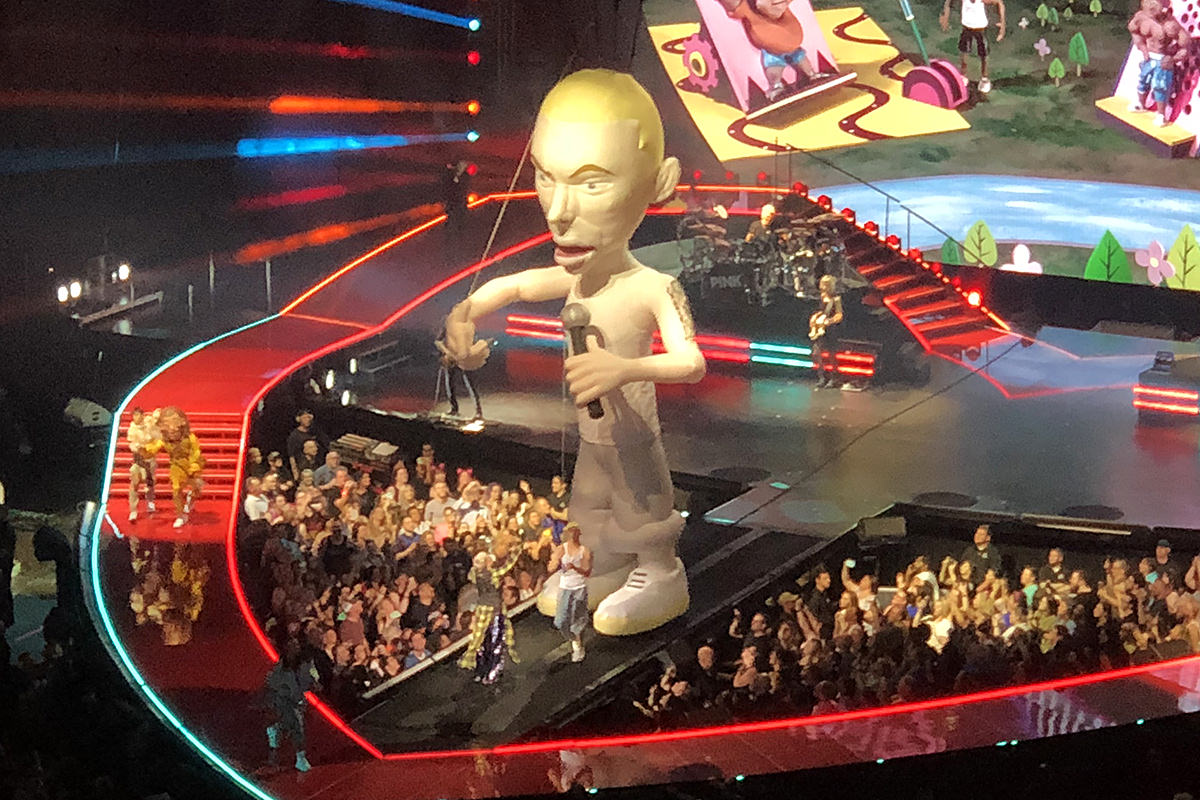 If you ever have the opportunity to see P!NK perform, don't miss it.
Posted on Sunday, May 13th, 2018

Mother's Day isn't the only good thing to happen today... because an all new Bullet Sunday starts... now...

• Wubba Lubba Dub Dub! Looks like we're getting another 70 episodes of Rick & Morty!
My cat Jenny will be thrilled. Don't ask me why, but she loves the show. I think it has to do with Rick's voice, because if I'm watching and turn the television up, she'll come running to see what's happening. It sounds crazy, but I shit you not. She likes watching television, but she loves the Rick & Morty...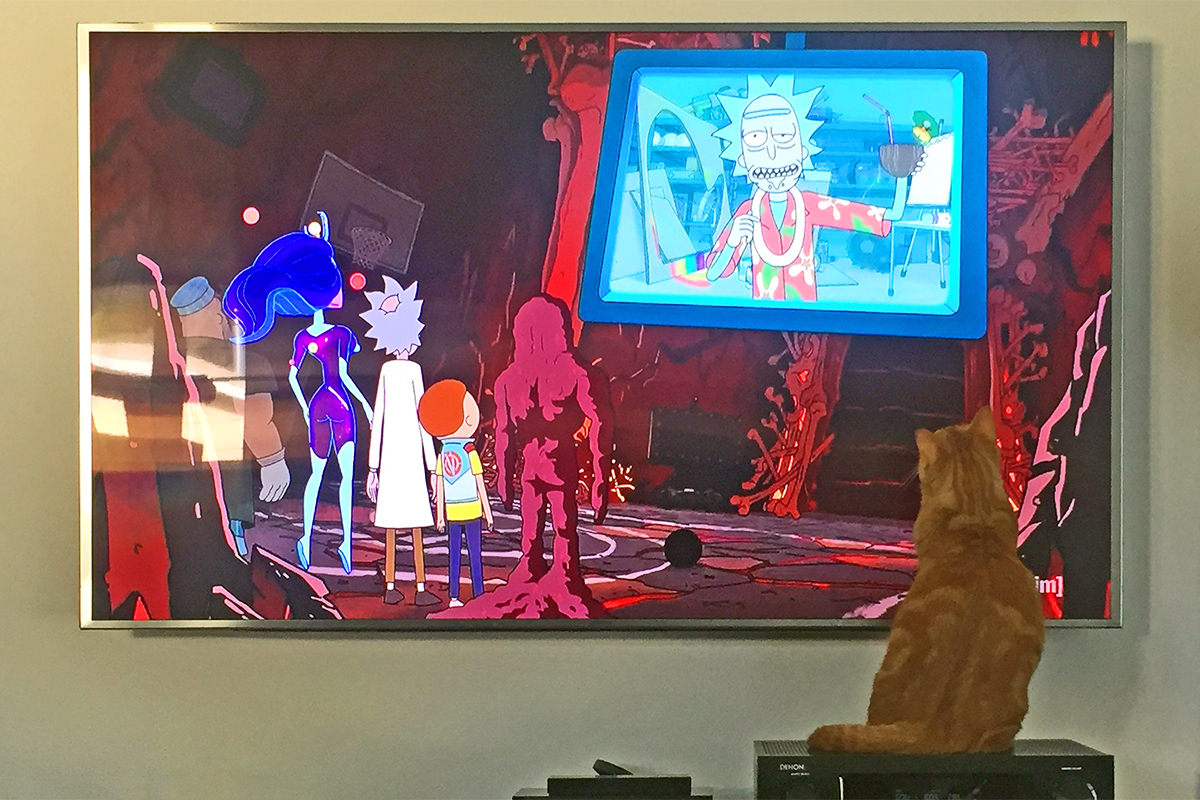 Not bad for a Back to the Future parody.

• Satan! FOX went on a brutal cancelation spree, axing shows that I really enjoy like The Last Man on Earth, The Mick, Reno Nine-Nine and, horror of horrors, one of my favorite shows ever... Lucifer.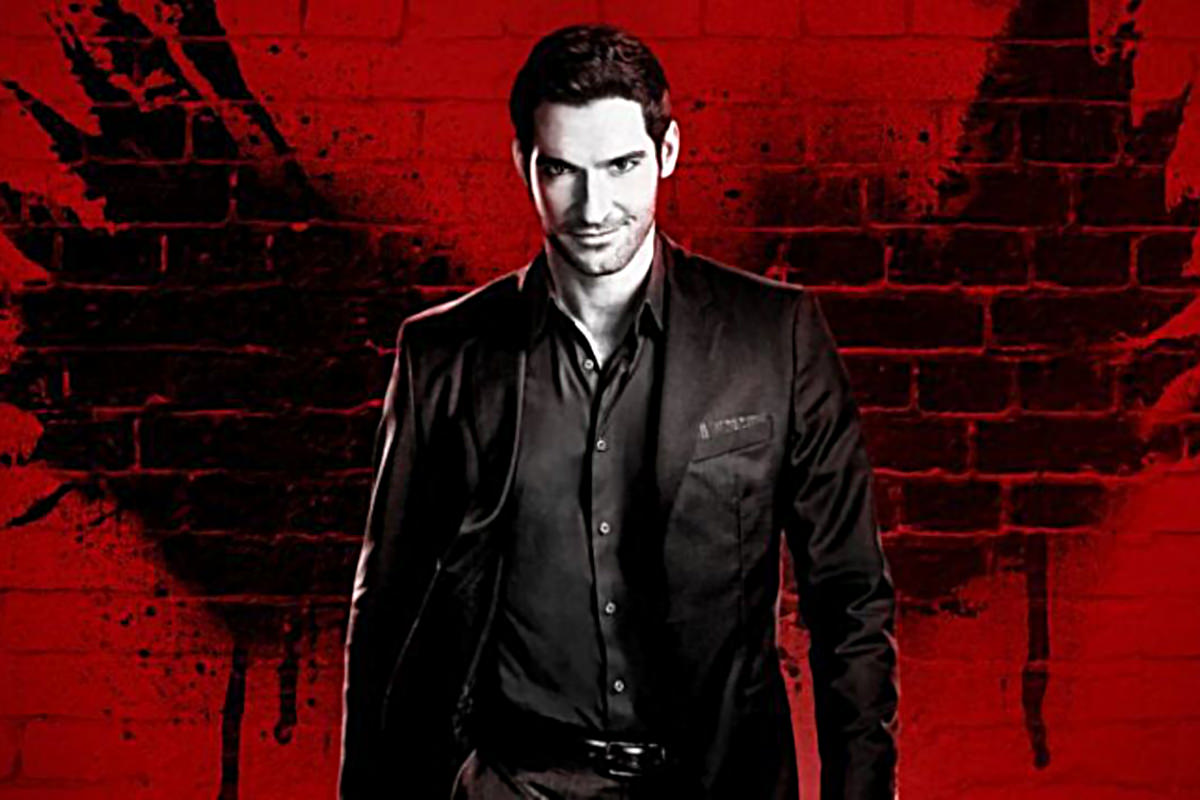 Apparently Reno Nine-Nine has been saved by NBC, which isn't much of a surprise since the show is distributed by NBC. Lucifer is co-produced and distributed by Warner Brothers, but their network blew up back in 2006. No idea where it would find a home unless one of the streaming networks like Amazon, Hulu, or Netflix grabs it. Which would sure as hell be nice, since they could wrap up the show and give us a proper ending. No word yet on what the fate will be for Champions and L.A. to Vegas... two more shows I would be sad to lose.

• Challenge! Ariana Grande has always been an incredibly good sport when it comes to putting up with Jimmy's shenanigans, and has played numerous "challenge" games with him on The Tonight Show. And now there's this...
Now that's talent.

• Adventure! Every once in a while I see an image posted of what video game graphics look like now compared to what they looked like when I first played video games. It just keeps getting more and more insane...

Posted by marvinrabbit on imgur.
Video games are more like playing a movie than ever, and I'm not sure if that's a good thing or a bad thing. Back when my gaming experience was an Atari 2600, it was just a distraction that couldn't compare with Real Life...
But now that gaming is, in some ways, better than Real Life? Hmmmm...

• Try Evil! According to The Wall Street Journal, Apple is going to partner up with the pig-fuckers at Goldman Sachs to come out with their own branded credit card. Looks like Apple has completely given up and decided to go 100% evil. Since the WSJ is behind a pay-wall (deep eye-roll), here's the story at Fortune magazine.

• Health! I'm just going to finish my bullets by leaving this right here: The incredibly frustrating reason there's no Lyme disease vaccine.

So long, Sunday... I got a P!NK concert coming up.