Posted on Friday, May 7th, 2021

I am spoiled. Seriously spoiled. And I have Marvel Studios to thank for it.
You see, Marvel Studios has a philosophy when it comes to everything they do. Every movie. Every TV series on Disney+. You put absolutely everything... your best ideas, the coolest stuff, all the things fans want to see... EVERYTHING... in the project you're working on RIGHT NOW. Yes, they've got plans for the future, but they never lose focus on the project at hand. When they made Iron Man they put everything into it. They could have easily stretched out his origin to an entire movie... but they didn't. They got his origin out of the way then let Tony Stark and Iron Man be all that they could be. They gave people exactly the movie they want to see. And people loved them for it.
"The Marvel Cinematic Universe" world-building came as a consequence of a string of amazing movies.
Not the other way around.
Because the other way around never works. Look at the mess of "DC Comics Universe" movies that has failed so badly that they are likely completely rebooting everything with a forthcoming The Flash movie. Justice League was a heinous failure because they saved all the cool stuff for a second movie that never happened. And look at the Universal Monsters Universe, which failed after a single film because The Mummy reboot was too focused on world-building instead of telling a really good story. You can't put the cart before the horse, yet Marvel Studios is the only game in town that actually knows what that means.
Which brings us to the new Netflix series Jupiter's Legacy.
I'm just going to get this out of the way... I both loved and hated the comic book series. Love it because the Mark Millar story is just so damn good. Love it because the Frank Quitely artwork is just so damn good. Hated it because Millar and Quitely were always late getting the issues out. Jupiter's Legacy #1: April 2013. #2: June 2013. #3: August 2013. #4: MARCH 2014!!! #5: JANUARY 2015!!! And things weren't much better with the sequel, Jupiter's Legacy 2. It took a year and a month for them to get out five frickin' issues. Ultimately it was worth the wait... but I'm not falling for that bullshit again. I'm not picking up the latest series (Jupiter's Legacy: Requiem) until the entire series is done and the trade paperback has been released. I am not here for this George-RR-Martin-level bullshit.
The series is about a group of friends who all gained super-powers after visiting a mysterious island... and the next generation of heroes which followed them. Treated like celebrities, this new breed of hero is usually a disappointment to the older generation. And that's a schism which gets exploited in the most unthinkable way.
And, like I said, I loved the story and art. Everything was sublimely clever, and I devoured each and every issue multiple times (I pretty much had to because there was nothing else to do while you waited months and months for the next issue to come out). The ending felt a bit rushed, but I was not disappointed. I've re-read it many times because it's just that entertaining.
Now it's been adapted into a Netflix series.
And, sadly... almost predictably, they put the cart before the horse.
So instead of a really cool series with some mind-blowing stuff going on... we get a really boring series with some mind-numbingly dull stuff going on so they can stretch things out for future series...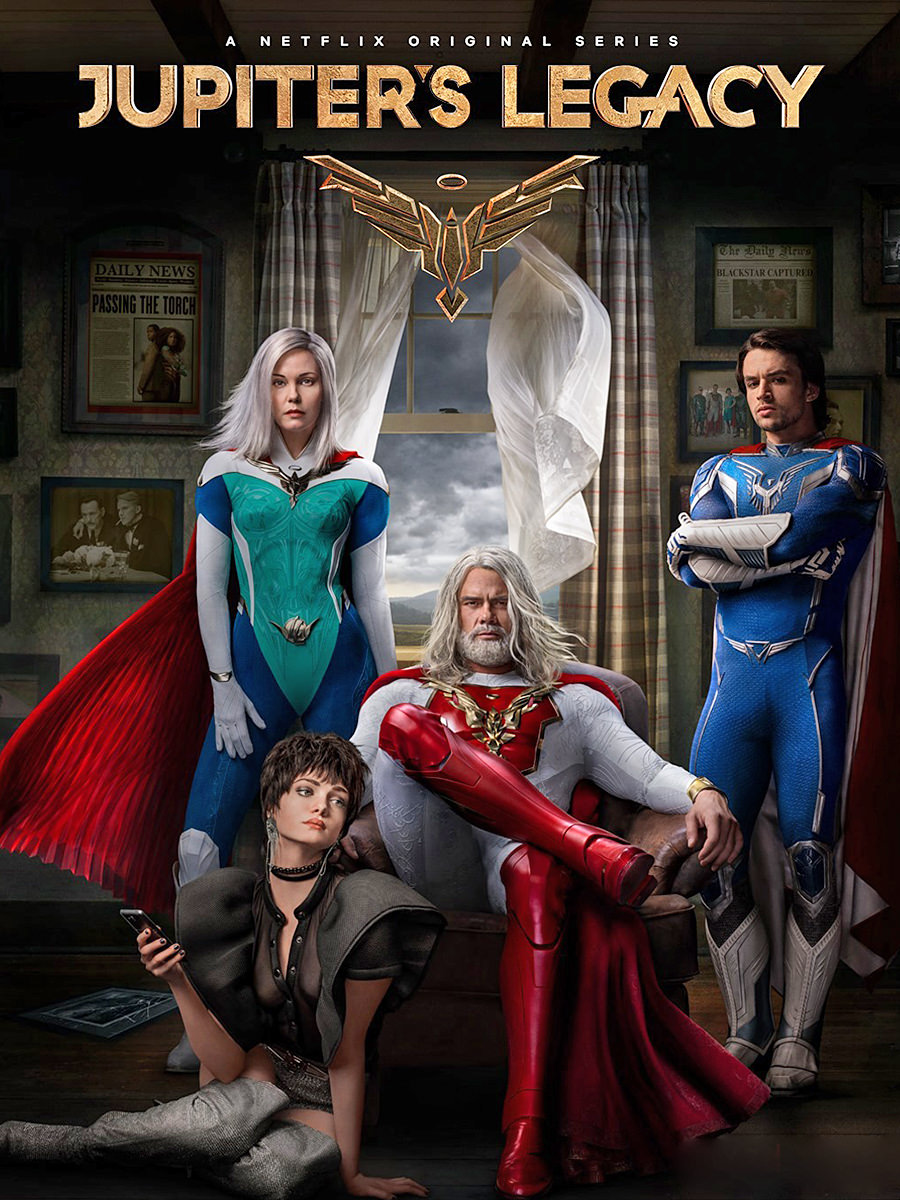 Why is Brandon in a super-suit? THE WHOLE POINT IS THAT HE'S NOT THAT GUY!
Adapting Jupiter's Legacy for Netflix should have been a no-brainer. But instead of doing a straight adaptation of one of the most remarkable series to come out of comics, they tore it apart and made it a boring mess. AND WHY?!? FOR GOD'S SAKE, WHY?!? Why bother to make it a series if you're just going to shit on what made the comic so good? Who gives a crap about the Wall Street crash, Sampson's daddy issues, and all these mind-numbingly boring distractions in the past THAT DON'T MATTER? All the coolest stuff in the series is nowhere to be found. The central pin to the entire series, third-generation hero Jason, doesn't even exist. I can only guess they wanted to save it for seasons two through eight... BUT THERE'S NOT GOING TO BE A SECOND SEASON IF THE FIST SEASON IS SHIT AND NOBODY WATCHES IT!
I am so over these awful adaptations.
It's a waste of time and money that could have been put into something much better. Why is Marvel Studios the only people who get it? You don't hold back. You don't save the best material for future projects that may never happen. YOU PUT EVERYTHING YOU HAVE INTO WHAT YOU ARE MAKING RIGHT NOW! And when it's a success... then you put everything you have into the next movie or series. That's how you build a successful franchise. It's not rocket science.
I was so looking forward to "Jupiter's Legacy"... I honestly thought that with Mark Millar overseeing the adaptation his own material that it would be seriously good television. But he fell into the same idiotic trap that everybody else does... planning for seasons 2-8 instead of making season 1 worth watching. All he had to do to knock it out of the park was actually adapt Jupiter's Legacy then move on to Jupiter's Legacy 2 and then move on to Jupiter's Legacy: Requiem Then if he wanted to adapt the prequel series Jupiter's Circle, he could have done that as a separate series just like it was a separate comic book. But instead we get... whatever the fuck this is. A half-baked series with decent casting and passable special effects that misses the mark by a country mile.
Oh well. I am getting accustomed to disappointment. Boring, boring, boring disappointment.
God I wanted to see this fight on-screen in the worst way...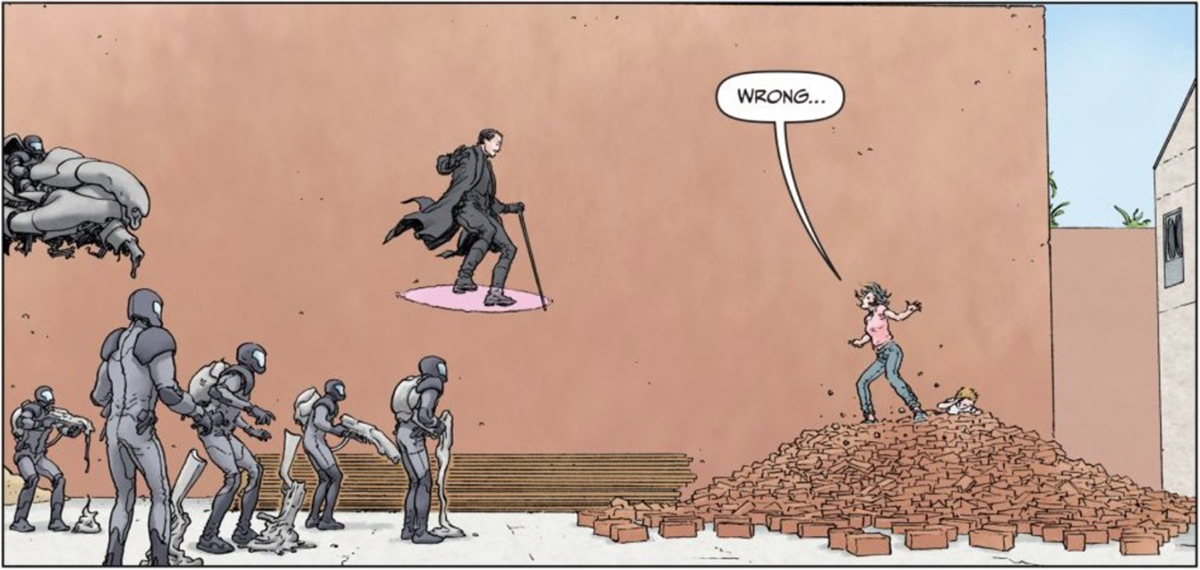 BUT NOPE!!! Saving it for the fifth season or what-the-fuck-ever.
Which is to say that the Netflix series for Jupiter's Legacy is not, in fact, Jupiter's Legacy.
I think of what could have been if somebody gave a shit about honoring the source material and it sends my mind reeling in the best possible way. Then reality rears it's ugly head and I'm back to what we got instead. Good Lord what a waste.
Posted on Thursday, May 6th, 2021

Am I the only one who sees a person in a photograph then immediately starts to wonder who they are and what their life is like?
I do this all the time. Today I was researching something online and ran across a company advertising their services. There was a photo attached where a bunch of employees were all giving the thumbs-up and grinning madly at the camera.
Except one guy. His thumb was not up and his smile was barely there.
And it's been haunting me all day. I can't help but wonder what's going on with him. What's his name? What's he do for this company? Is he married? Does he have kids? What are his hobbies? Where does he live? What are his friends like? What was his life like growing up? But most of all... what's going on with him in this photo? He looks like he might be sad or upset. What happened?
I will, of course, never know. And so the man in the photograph will continue to haunt me.
Until the next person in a photo comes along.
Posted on Wednesday, May 5th, 2021

It's been two weeks since my second dose of the Pfizer vaccine.
Which is to say that I am now fully vaccinated. Though with all the mutations that are happening, this could be short-lived. Right now they are saying that the vaccines do very well against the new strains... keeping people out of the hospital and away from death. Tomorrow something new could come along to change all that. In fact I would expect something new to come along and change that. This ain't over, and I can easily see how we'll need an annual booster to handle new strains just like we have with the flu shot.
In the meanwhile though? I am going to eat in a restaurant!
Maybe. I think. The plan was to go to a Mexican restaurant to celebrate my being totalmente vacunado on Cinco de Mayo... but that's looking unlikely now because I've got a list of things to do that's a mile long. But I will be eating at a restaurant that's taking proper precautions one day soon.
Preferably one that makes a mean margarita.
Just me entering Phase One of getting my life back.
Posted on Tuesday, May 4th, 2021

I make a darn good macaroni & cheese. It's got all the cheddar and parmesan and condensed milk and the seasoning in there... which makes it a delicious heart attack that I don't make too often because it's so brutally unhealthy. Plus it's a tough recipe to cut down, so I always make way too much of it. And frozen mac & cheese is never as good as when it comes right out of the oven, so a good chunk of it always seems to get thrown out before I can eat it all.
But I still want me some mac & cheese from time to time.
I actually like the Kraft Dinner box mix. Yeah it's made from powdered cheese and tastes like plastic... but in a good way...

I can eat an entire box in one sitting, so I don't buy much of the stuff because that's dangerous. BUT THEN I found that Kraft makes "singles" that you just pour water into and microwave...

They are fairly perfect size-wise, even though they are somehow not as good as the boxed stuff that you make on a stovetop (guessing it's the lack of milk and margarine?). I can say that they have better flavor than the Annie's mac & cheese cups, which tasted fairly bland to me (which is weird, because I rather like the Annie's boxed stuff).
Flash forward to my last trip to the grocery store when I saw that Kraft has "Macaroni & Cheese DELUXE." Apparently it's been around for a long time, but I've never seen it until my last trip to the grocery store...
What makes it "DELUXE" is that the noodles are a little bigger and the cheese is not a powder... it's a packet of liquid cheese goo. Once you cook the macaroni and drain it, you just squeeze the goo into the pan and stir it up (instead of having to add the powdered cheese, milk, and margarine liked the "regular" stuff). The cheese goo is tough to get out of the packet completely and I made a little bit of a mess on my fingers trying to get every last drop, but it wasn't a big deal.
And the verdict? Well... it starts off nice. Lots of cheesy flavor that's similar to Kraft Dinner, but weirdly different. BUT THEN it turns on you. There's this bitter, chemical-like hit on the back-end that gets worse the more you eat it. I only got 4 or 5 bites into the bowl before I couldn't take it any more. I tosed everything in the trash and had Totino's Cheese Pizza Rolls instead.
WTF, KRAFT?!? How do you call this "DELUXE" when it's not as good as the original? I could eat original Kraft Dinner morning, noon, and night and never get tired of it. But this "DELUXE" stuff tastes like a toxic waste dump and I couldn't even get through a single bowl!
YOU HAVE SHAKEN MY FAITH IN YOU, KRAFT! HOW DARE YOU CALL THIS "KRAFT MACARONI & CHEESE" WHEN IT IS NOTHING OF THE SORT!!! YOU HAVE OFFENDED ME WITH THIS VILE TRAVESTY, GOOD SIR! Or good madame. Or good them. The president of Kraft-Heinz Company is Steve Cornell, but I don't know how they identify. Or maybe there is a separate president in charge of Kraft Dinner that I don't know about. REGARDLESS, I AM OFFENDED!
And so now I will go back to the original (and best) Kraft Dinner and not be swayed again. Fool me once, shame on you... fool me twice AND I WILL HAVE MY REVENGE ON YOU, KRAFT!
Or not.
Their Kraft Singles Deli Deluxe American Cheese Food Slices (that are not individually-wrapped) are my most favorite fake cheese to make a grilled cheese sandwich. So great. Now there's a "DELLUXE" product that is in every way better than the original! So instead of "revenge" maybe I'd just write a stearnly-phrased letter or something?
I like to keep my options open.
Posted on Monday, May 3rd, 2021

I am at the end of my rope with the pandemic response.
Where I live here in Redneckistan, we've made INTERNATIONAL NEWS because there was a super-spreader event in the city of Republic, Washington on April 9 through 11. Now 10% of the population there has been diagnosed with COVID. And that number is sure to climb because the people who got it from the people who were at the event haven't shown their symptoms yet. That will start happening any minute now, because we just passed three weeks out. Their 25-bed hospital has been completely overrun, so patients are being shipped to other counties where they can fill up their hospital beds. Yikes.
And now I steel myself for hater Democrats to say "TYPICAL DUMBASS REPUBLICANS!" because that's always their response when something idiotic here makes world news. Except... it's not as simple as that. In the 2020 election held in Ferry County, which is where the city of Republic is located, 1/3 of the people voting there did not vote for President Trump...
Washington State is a blue state. In fact, it's one of the bluest states (if not the bluest state) across all demographics in the entire country. Most of that "blue" is on the West side of the Cascade Mountain Range, it's true, but the blue is spreading. Where I live, the vote was only 53% Trump, 45% Biden, and 2% Other. To which a lot of people across the state were saying "HALF didn't vote Republican?!? Because this would have been absolutely unthinkable even ten years ago. So when people look at idiocy in my region and their immediate response is "TYPICAL DUMBASS REPUBLICANS!"... they are thinking of the past, not the here and now.
Though the Republican demographic IS likely responsible for what happened in the small city of Republic.
There's just no sugar-coating it... the data claerly shows that the people more likely to engage in dangerous and reckless pandemic behavior are Conservatives. Though, to be honest, I don't really blame them for being ignorant as to how their actions are dangerous. I blame the "news" organizations which cater to them. When you have Tucker Carlson regularly spreading outright bullshit and lies when it comes to masks, vaccines, and COVID, well... the people who trust him as a "news" source are going to be roped into that kind of thinking. The outlet they choose to keep informed is misinforming them. You tune into a channel called "FOX NEWS" because it's the "news," and it doesn't occur to you that it's not actually reporting facts. FOX "News" lawyers infamously argued that people can't sue them for spreading misinformation because "FOX persuasively argues, that given Mr. Carlson's reputation, any reasonable viewer 'arrives with an appropriate amount of skepticism' about the statement he makes." But that doesn't get reported on FOX "News." There's no disclaimer at the start of Tucker Carlson's show letting their viewers know that most everything he says is utter bullshit. And so they continue to believe him.
This is backed up by the above-linked article in the Tri-City Herald...
"The county previously had relatively few COVID-19 cases, and many in the conservative, rural community saw mask mandates as infringing on their liberty. Less than one-quarter of the county's residents have received a vaccine to date, according to the health district, but officials said the outbreak has increased interest in it."
Because apparently it takes hospitals being overrun and people dying to get people to start thinking seriously about COVID? Thank you, Tucker Carlson.
I've lived in Redneckistan for 50 years. I understand that things are not so cut-and-dry when it comes to the people, the attitudes, and the lifestyle here. And it's for that reason that I have always tried my very best to be compassionate when it comes to the conservative school of thought which drives our society. Outsiders judge us without knowing us... or without even trying to understand why things are the way they are here. And while I get frustrated... a lot... because of the horrific level of willful ignorance that goes hand-in-hand with a public that's been duped by FOX "News," OAN, and Newsmax, I try to keep my head and heart on track. I do not wish ill on my fellow Redneckistan residents. They are my friends, family, and community. I choose to live here, so any problems I have are on me... not them.
But it's not always easy.
And it's just going to get worse, because Governor Jay Inslee has no choice but to start phase rollbacks as COVID cases here continue to explode. And, as you can just imagine, the people who have been conditioned to hate masks, hate vaccines, and hate science, REALLY hate our governor, even though he's just responding to a problem that their actions are largely responsible for. Businesses here don't have signs saying "State Mandates Require a Mask Be Worn On These Premises"... instead it says something like "DUE TO GOVERNOR INSLEE DECREE, YOU HAVE TO WEAR A MASK! DON'T BLAME US, BLAME YOUR DICTATOR!" Which is to say that people are being conditioned to hate Governor Inslee as well.
In all honesty, I've given up trying to convince people. My voice simply cannot compete with "The News" that everybody here believes in.
All I can do is find voices of reason to listen to, try to be understanding, try to be respectful, and carry on as best I can... all while resisting the urge to run around screaming "WOULD YOU PLEASE JUST WATCH THIS VIDEO FOR GOD'S SAKE!"
Mostly because, while all of John Oliver's information is good and the way he presents it entertaining, the condescending snark in the way he presents it would not go over here well at all. And I get it. Last Week Tonight caters to a liberal audience just like FOX "News" caters to a conservative audience.
The "middle ground audience" is grossly underserved.
And so I'll just keep biting my tongue, try to convince people to trust science where I can, and go on living my life.
Such as it is in the middle of a global pandemic that's exploding out my back door.
Posted on Sunday, May 2nd, 2021

Yeah. Bullets are canceled this Sunday. Things are unreal here today, and I can't get my head in the game. Instead of blogging, I'm going to cook up a veggie burger for a late-night snack and play video games. It's all I got in me.
Posted on Saturday, May 1st, 2021

My old 65" television weighed 70 pounds (or something like that). I can easily lift 70 pounds, but being able to lift it up a wall and be able to get it attached to the mount without breaking it? Probably not. It's just too big and awkward to see what I'm doing. So after Walmart took my money for installation, then canceled my installation, I assumed I would need help because surely my new 65" television would weigh the same, wouldn't it? Apparently not. When I went to move it out of my living room until I could get somebody to help, I didn't scoot the big box... I tried picking it up by the straps. And it did not weigh no 70 pounds. So I looked up the specs. It only weighed 47-1/2 pounds!
I know the thing is big and awkward, but surely I can manage by myself if it weighs under 50 pounds?
So last night I took down my old TV and my old mount. Installed my new mount. Then gave it a try.
Not going to lie... there was a point that I felt like I might drop it as I tried to hang it on the tiny little centering tab because I couldn't see what the heck I was doing and was trying to feel my way. But after a few minutes I felt a "pop" and there it was. I quickly screwed it in place and I was done!
But not really.
The pricey Sony mount I got which was built specifically for my television didn't allow the cables to come through the middle of the wall like my old one. If I wanted to hide my cables in the wall (and I absolutely did) I would need to cut new holes in my wall off to the side.
Fortunately I already had a punch-cut drywall blade for just such an occasion!
And the nice part about doing it myself is that I give a crap about doing good work. So unlike the "professionally installed" boxes which are all wonky and crooked, I could take the time to do the job right and make sure that my cuts are clean, level, and precise...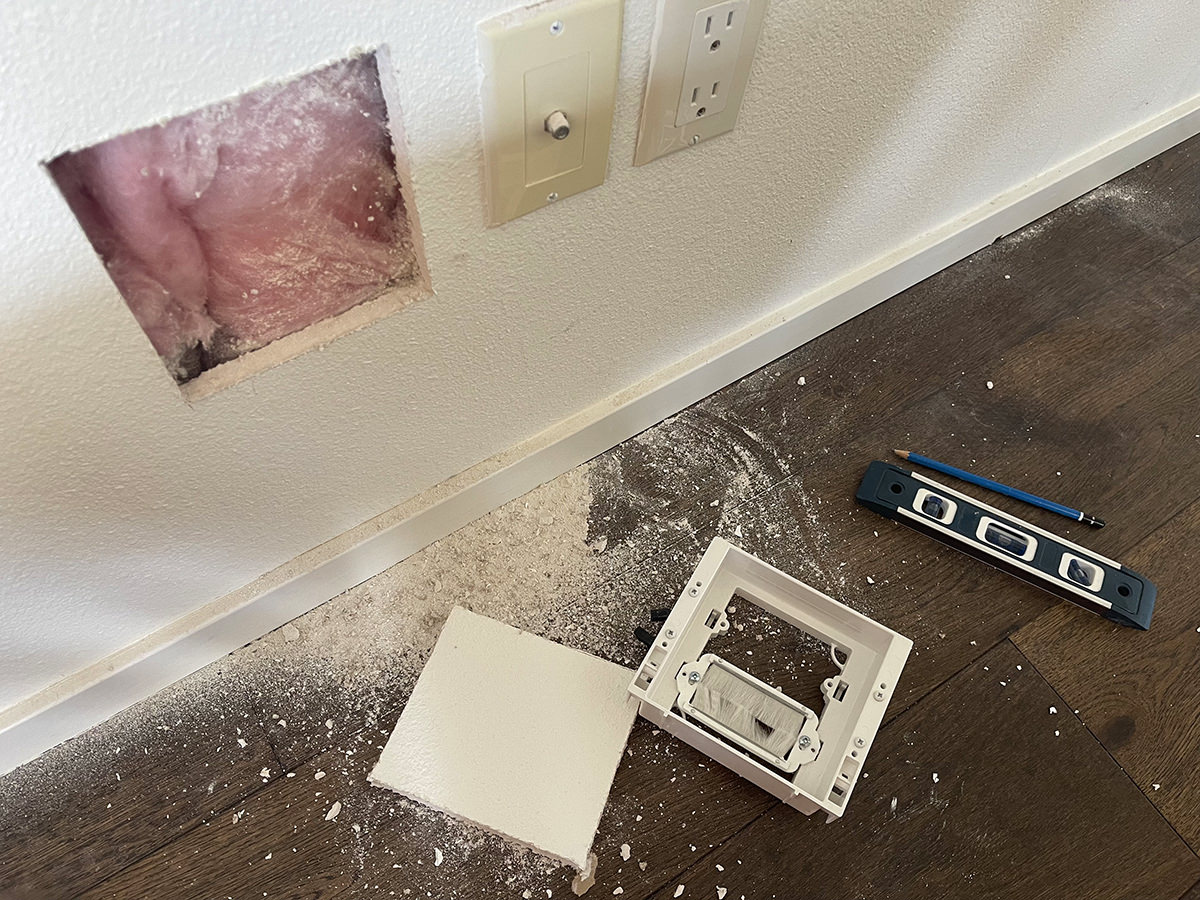 I was too tired to run the cables in the wall, so I saved that for this morning.
And then... WAAAAAHHH! My optical cable wasn't long enough! Don't you hate it when your cable comes up short? This has never happened before. I've always had PLENTY of cable to get the job done in the past! But I'm sure this happens to lots of guys and isn't a big deal. Fortunately, in this case, I can just go get a longer cable. Even more fortunate, my local Target actually had one (and only one!) in stock. From there it was pretty easy to run my cables in the wall, hook my soundbar back up, then clean up the mess. Easy peasy...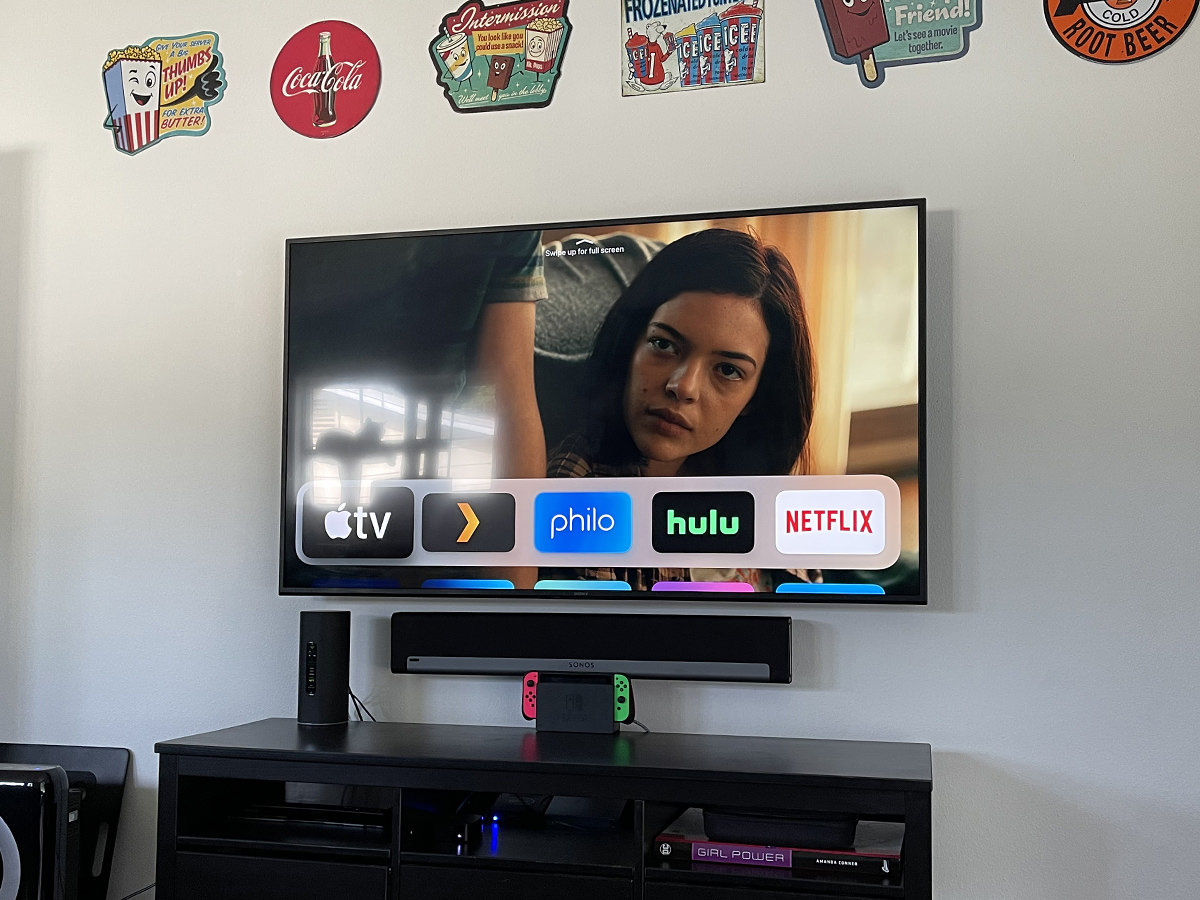 Surprisingly, everything is working perfectly. Even better than before, actually, because the audio system on the new TV works far, far better with my SONOS home theater... and the picture quality is better too.
But here's the bonus to it all. Sony uses GoogleTV to power their sets. It is a MASSIVE LEAP ahead of the shitty interface on my old busted Samsung. And it has AppleTV as an app, so I don't even have to power on my external AppleTV box! Every streaming service I use is inside my TV as an app now. That's really, really nice. Could not be happier with my new television. Even video games look great! Now all that's left to do is patch the old hole in my wall. And install my bias lighting. But I'll do that next week. I've had enough home improvement for this week.
But who knows how I'll feel tomorrow?
Posted on Friday, April 30th, 2021

Not much happened today... but everything happened. Do you know what I mean?
As I mentioned, my incredibly expensive Samsung television died after 5-1/2 years. I couldn't afford to buy another top-tier television, so I opted for something 1/3 the price, but still highly rated. Because I live in a small city, mail order is pretty much my only option. Last time I bought with Amazon because they offered installation at $119 which I was happy to pay. This time I went with Walmart because they offered installation at $79. Same price on the TV, it's just that Walmart had the total cheaper cost by $40. And I'm all for saving my $40.
The company that was supposed to do the installation dragged things out for a week. My requested appointment was literally ANY day and ANY time, but no installer apparently wanted the job. When I asked "HelloTech" what would happen if nobody took the job, they assured me that they would then contract it out with a local installer, no problem. So I waited and waited. Then this morning they canceled the install. Made me wait a week and two days, then just outright canceled. And of course Walmart didn't bother to back up what they sold. So now my option is to pay a local company $250 plus tax... or get a friend to help me do it for myself. I can only afford Option B.
Then I went to work. Then I had a doctor follow-up. Apparently I'm going to live. For now.
After my appointment I went to pick up a new vaccination record with all the various shots I've had for my travels over the years. While I was there, I went to the pet store to pick up more kitty litter for Jake and Jenny to do their duty in. And it was here... in the parking lot of the pet store... that I noticed a T-Mobile store was on the other side of the parking lot.
And so... I took a slight detour.
20 minutes later, I'm a T-Mobile customer.
Ultimately it feels like T-Mobile wants your business.... AT&T just wants your money. I switched from Verizon to AT&T in 2004 because I had to in order to get service for the brand new iPhone. The customer service was better at Verizon, but AT&T was just fine. At the start. Things steadily declined with AT&T… then went into a complete nosedive after they bought DirecTV. They went from being an okay company to an outright awful company. Always making promises. Always breaking them. Quote you a price, then charge you something different. And somehow it's all your fault even when you've got the receipts. They lost such a huge amount of money with DirecTV (which I eventually canceled because it got so awful after being acquired) that they've been trying to make up for the lost money by making the mobile division get less for more. And failing. In the past 3 years I went from being ambivalent about AT&T to outright hating the company, mostly because of the billing problems... but also because of the cellular service.
So now I am gone.
T-Mobile has a $50 flat rate for those 55 years and older, and it's a better plan than I had... WITH taxes and fees included. They waived the bullshit activation fee because I got my iPhone through Apple and they didn't have to give me $650 to pay it off. So I'm chalking this one up as a win.
There is ONE thing that bothers me about T-Mobile, however. If you have two lines, you get free Netflix SD. If you have one line, you get NOTHING. That's shitty. I pay more per line than somebody with two lines, but get less? And how does that work? A man and his wife sign up, get Netflix, then the man dies and T-Mobile is all "Sorry your husband is dead, but fuck you… we're yanking your Netflix!" Is that really how it works? This is gross and highly unfair. I pay more for my one line than somebody with two lines on their plan pays per line, but I don't get Netflix because I'm single? Do better, T-Mobile!
Then I got my kitty litter.
Then I went to Burger King because they had a "Buy One Impossible Whopper at Regular Price and We'll Give You A Second Impossible Whopper for $1" special going on. And my two meat-free burgers were GLORIOUS! We're at the time of year where lettuce and tomatoes are perfect, onions are tasty, and you're guaranteed a good meal. I was not disappointed.
Then I went back to work when what I really wanted to do was go to bed. That was quite a day I had.
Hey, we're in the middle of a pandemic. Every day you don't end up with COVID and are out of the house is quite a day.
Posted on Thursday, April 29th, 2021

You know what I love more than just about anything else? Somebody who has found something which helps them to live their best life at zero cost to other people. You know what I love even more than that? Those same people giving zero fucks about the haters. This guy on TikTok, Combat Crochet, has my admiration and respect. And the fact that he uses what he knows to help others is just icing on the cake...
It's amazing to me that people actually take time out of their busy days to leave hate comments on people's social media when they are doing NOTHING to hurt anybody. Senseless... and just plain mean.
Which pretty much defines our society now-a-days, but I don't have to like it.
Posted on Wednesday, April 28th, 2021

Just two days ago I wrote about how utterly awful people are with their stupid shit. And today it all reached a peak that had me wishing an asteroid would nuke the planet. I am so done with awful, ignorant, stupid people. Like really done. Good thing my Buddhist philosophy promotes and existence of non-violence!
The nice thing is that the CDC realeased new guidelines for those who have been fully vaccinated which, as I understand it, is two weeks after your second dose (which is May 5th for me). It's quasi-normal stuff...

Click the image to embiggen it.

I was supposed to fly out to New Orleans in June... plans which were made back in December of 2020 when the vaccines were rolling out... but canceled them this morning. That will make my first trip be in September, by which time I will hopefully feel better about crawling on an airplane with people and their nonsense for five-and-a-half hours.
Just my luck there will be a new COVID strain that hits at the end of August which isn't stopped by the vaccines. Then I'll have to wait for a Pfizer booster shot or something.
All because people are selfish dumbasses and, in the absence of reason, those who are fighting the good fight against COVID are facing an uphill battle. Because the pandemic isn't the enemy any more... it's the morons who don't trust science and take COVID seriously that keeps the war going on and on and on.