Posted on Sunday, January 14th, 2018

A cold wind is a blowin, because an all new Bullet Sunday starts... now...

• Copied! "Who says Apple can't innovate any more?" — Oh damn. Here they are, copying an idea from Samsung!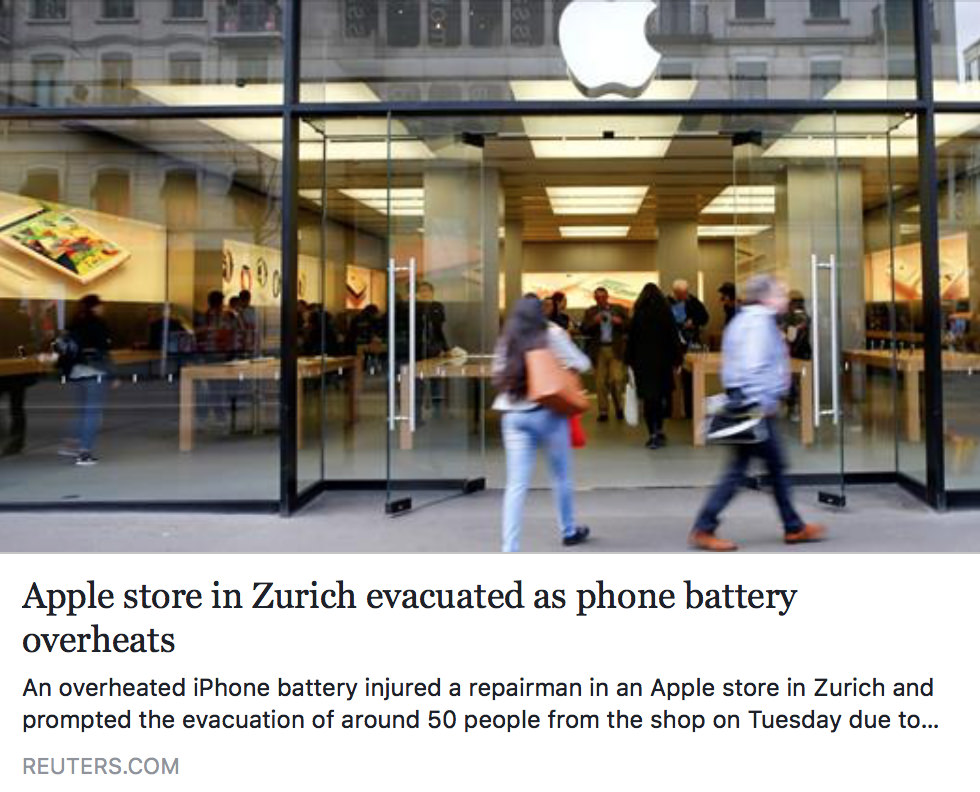 You can read all about it here.

• Ghosts! My photos were used in an article about ghosts in Antarctica by my friends at Paranormal Georgia Investigations! You can read it over at their website: Ghosts at the Bottom of the World. And speaking of Antarctica... maybe I'm wrong about the earth being flat, y'all?
Nah. Just kidding. This woman is obviously lying and a paid shill for the lying liars at NASA.

• Color! As somebody who loves color, world cultures, languages, and cool insight into things we don't really think about, this Vox video is pretty great...
Surprising indeed.

• Guilty Pleasure! I am not ashamed of the things I like. That being said, I am mildly ashamed that I like the new show L.A. to Vegas much more than I should...
It's kind of non-stop Airplane! from start to finish. Tuesdays at 9pm on FOX.

• Krypton! Well, I had my doubts... but this trailer makes me want to tune in to the show...
Looks like they sunk the money needed into making it, which is always a nice surprise.

And... that's Bullet Sunday for you.
Posted on Saturday, January 13th, 2018

When it comes to cats, I really did luck out. Jake and Jenny are healthy, well-behaved, loving, all-around wonderful pets and I honestly have no complaints. Yes, I wish they would let me pick them up... neither of them (especially Jenny) likes that at all... but it's such a small thing in the grand scheme of things that I don't dwell on it.
When it comes to smarts, they both seem like intelligent cats. Jake has pretty good puzzle-solving abilities and can use process of elimination to find stuff. I was afraid that Carl the RoboVac would choke on Mufasa, a toy lion I brought back from Africa for Spanky which Jake inherited, so I picked it up off the floor and tossed it on the couch. Later that day I checked in on the cats with the security cameras and saw him hunting around the house looking for something. Eventually he found what he was looking for... which was Mufasa...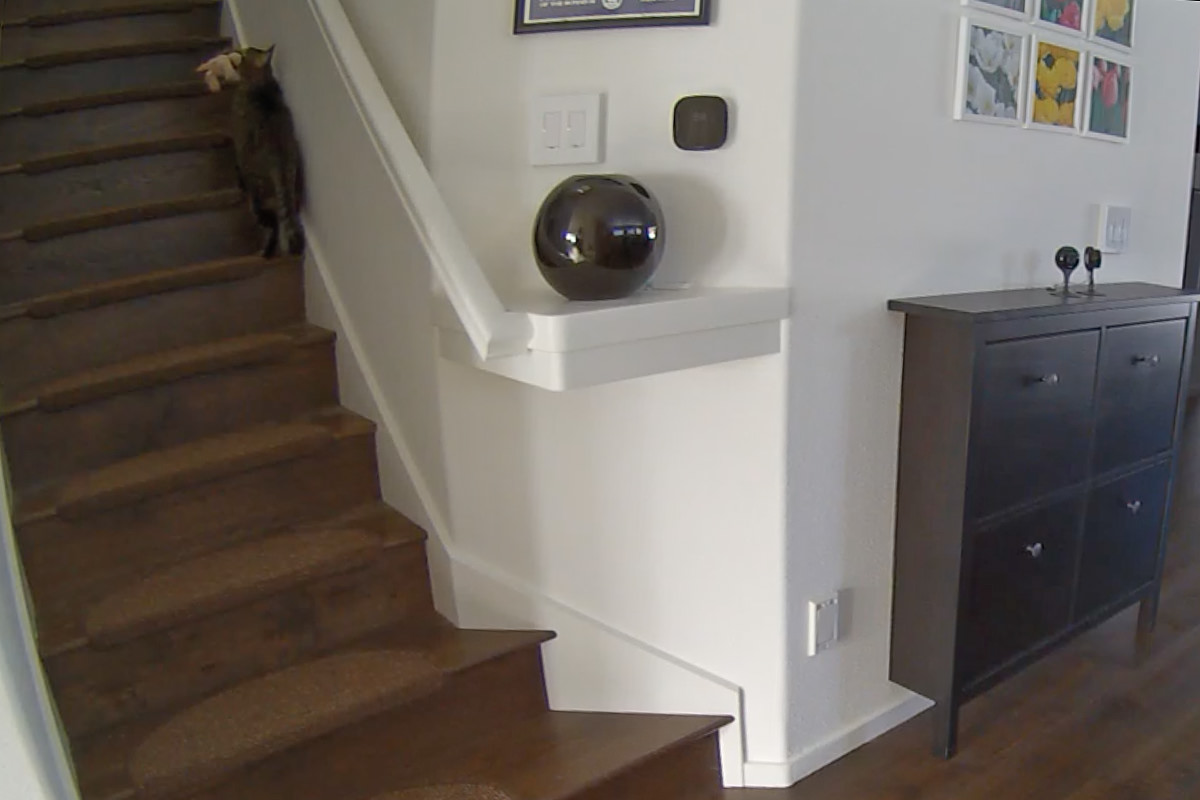 Once he found it, Jake took Mufasa upstairs, assumably to hide it from me so I wouldn't hide it from him. Pretty smart.
And then there's Jenny.
As far as intelligence goes, Jenny operates on an entirely different level. Not just from Jake, but from most cats I've ever seen. She's super smart. When her brother found her secret sleeping spot in the room I use for comic book storage, she went and found another spot to get away from him. Now she sleeps in the guest room closet. To get in, she has to separate the doors by pulling the door out. Something Jake hasn't figured out how to do, and it drives him absolutely nuts.
She's also incredibly devious and crafty.
One morning as I was working in bed, I realized I hadn't seen my cats in a while. Using the security cameras, I found Jake out in the catio pawing at the door trying to get back inside. I couldn't figure out what his problem was, so I went downstairs to see if the door was broke. It wasn't. Jenny had pushed the scratcher lounge in front of the door, then sat on it so he couldn't push through...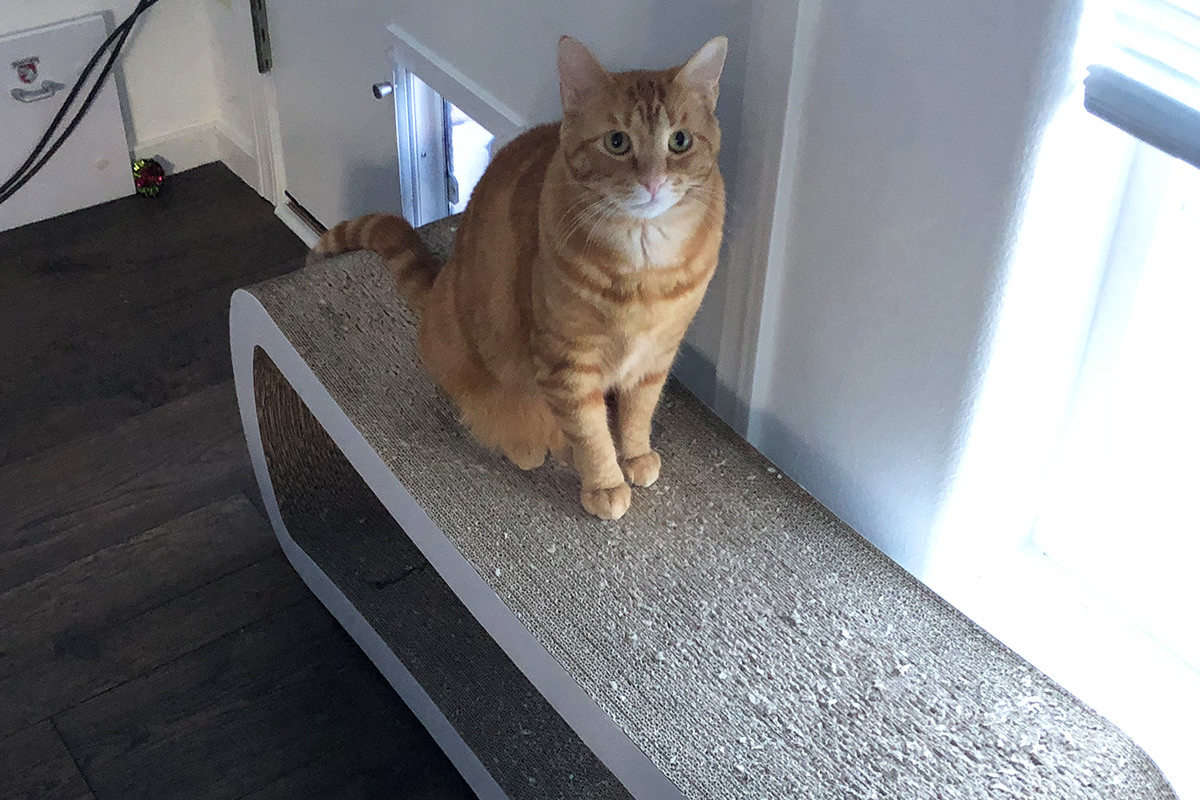 I can only guess this was revenge from when she was asleep on the scratcher lounge and Jake kicked her off of it...

She was not happy about it, and was staring daggers at her brother...

Jake is a bigger cat that Jenny and uses his size to get what he wants. Whether it's the scratcher lounge, the top spot of the cat tree, or whatever. There's times that Jenny is having none of it though. Like the other night when she was chewing on her catnip-infused paper bag and Jake decided he wanted it. She plopped down on it and refused to let him near...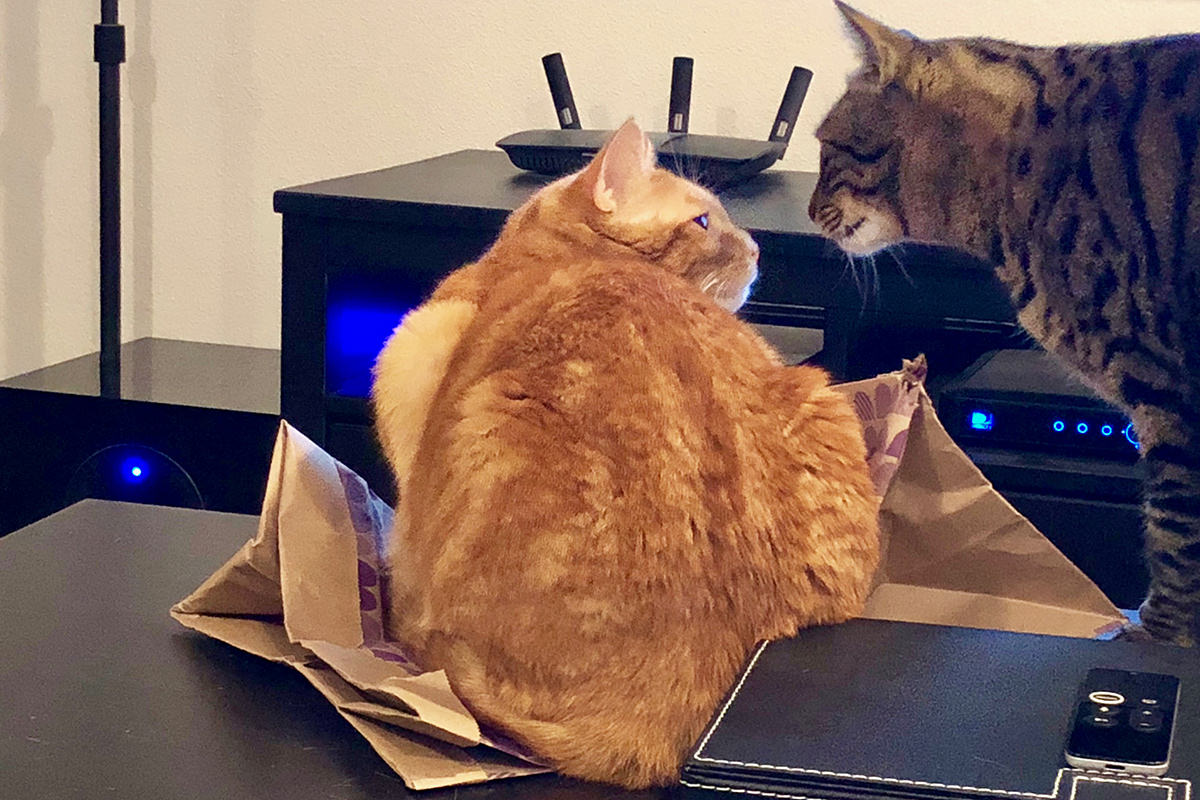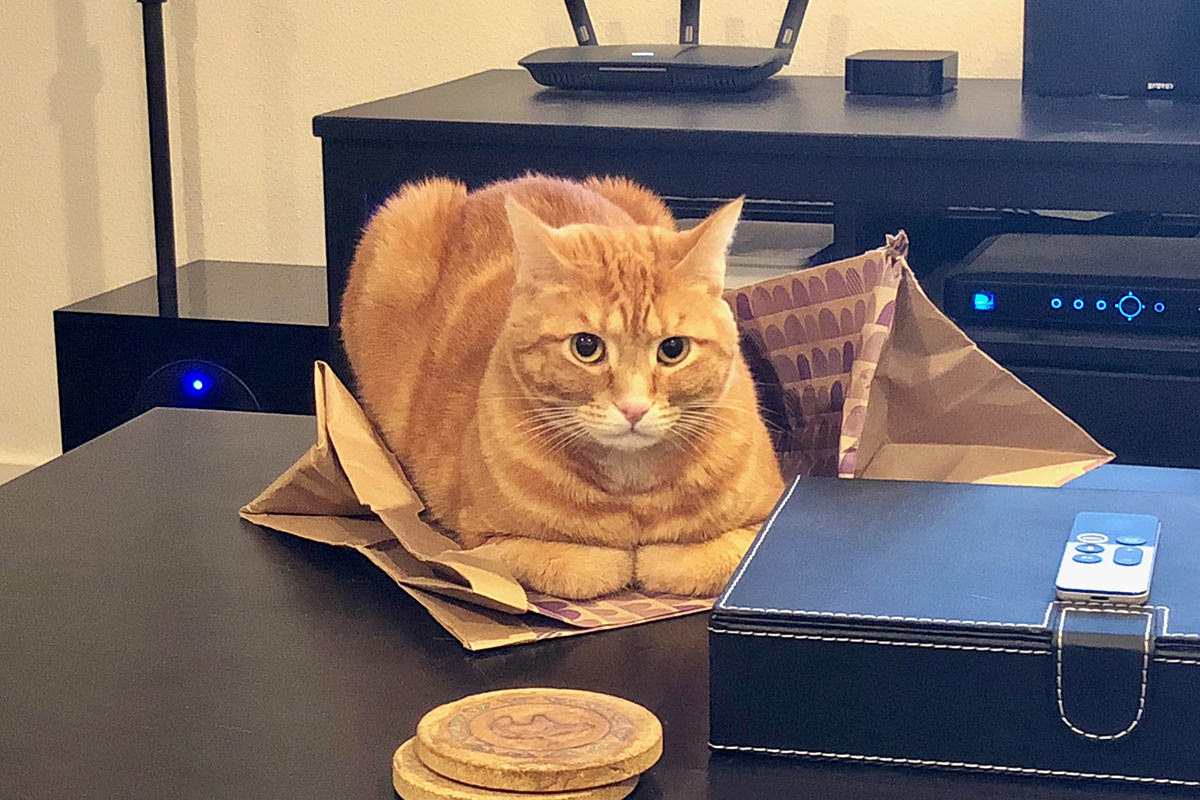 Once he left, she went back to chewing on the thing. Though I have no idea why. Apparently it doesn't taste very good...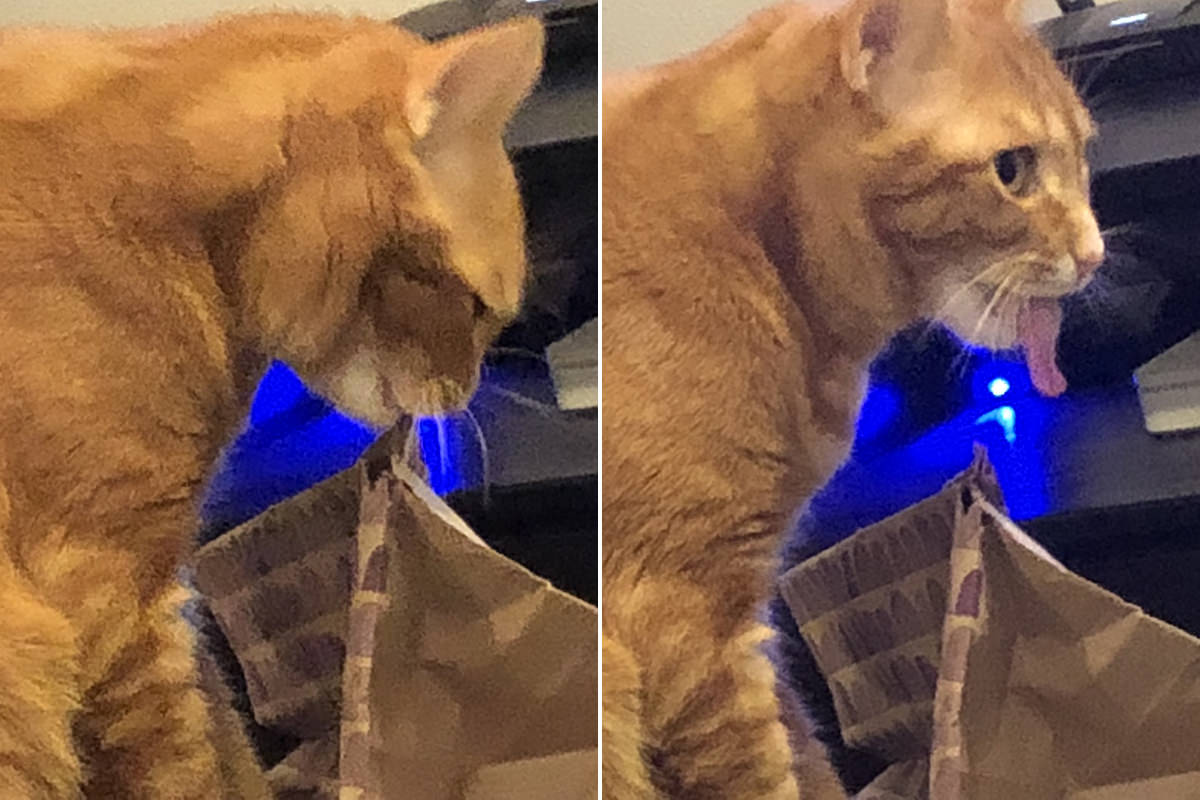 If there's one thing Jenny loves, it's ambushing her brother when he least expects it. Usually she does this by running up and smacking him in the face while he's pooping. But sometimes she gets deviously crafty. Like dragging her paper bag in front of the cat door so she can hide behind it and jump on Jake when he comes through...

Like I said... next-level smart. And clever and devious.
I really lucked out.
Posted on Friday, January 12th, 2018

As a wise man once said before the election...
"Donald Trump is a racist, homophobic, misogynistic, foreigner-bashing, non-Christian-hating, ignorant, unstable, narcissistic, intolerant, bigoted piece of shit. And electing Trump is the equivalent of hanging a giant banner outside the country advertising the fact that we're a nation of racist, homophobic, misogynistic, foreigner-bashing, non-Christian-hating, ignorant, unstable, narcissistic, intolerant, bigoted pieces of shit. And that doesn't even address the embarrassment factor of having this ridiculous buffoon representing Americans on the global stage. You think we were the laughing stock of the planet during the Bush years? Try 1400+ days of Toxic Cheeto Jesus."
— David Simmer II, Blogography: No… God, No… Please Save Us…
The old me might have said something like that (or never said anything like that... these days apparently you can deny what you said even if others have heard you say it or the statement is recorded). But my New Year's resolution was to start being less ranty and more constructive so let's work from there, shall we?
Before we go any further, I want to make one thing perfectly clear. There is no doubt in my mind that President Trump called Haiti, El Salvador, and African nations "shitholes" and bemoaned that he'd rather have people immigrating to the US from countries like Norway.
This is exactly who Donald Trump is and has always been. Even FOX "News" initially confirmed that President Trump uttered these heinous words (even though the network is backtracking on their confirmation now, of course). Senator Dick Durbin was there and has said that he heard the president say it. Senator Lindsey Graham is reported to have confirmed this was what the president said (and hasn't contradicted any reports stating so).
And so... if I'm not going to rant over what a racist piece of shit* we elected to run this country or how diplomatically stupid you have to be to lob such insults at other countries when you're representing this country... what else is there to say?
Uh.
Something positive and constructive? On this?
Wow.
Well... Zimbabwe may not have a Trump Tower, but it's actually a beautiful country and has some amazing people...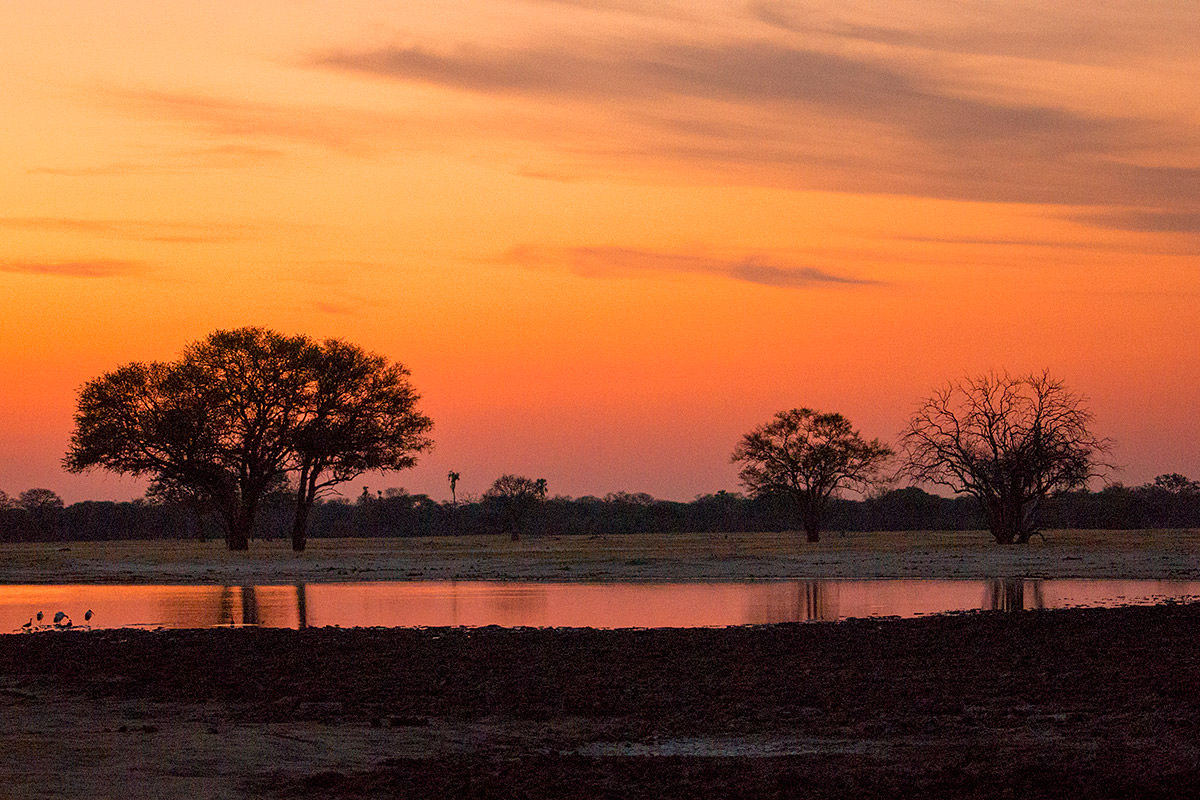 There's many a day lately I'd like to escape the "shithole" of Trump's America and return to Africa, that's for sure.
*Racist as in... three guesses as to what the predominant color of the people are in Haiti, El Salvador, and African countries... vs. the predominant color of the people in Norway.
Posted on Thursday, January 11th, 2018

Snow is frickin' dumping down today.
I mean really coming down.
I had to drive to The Big City and back for a dentist appointment and ended up regretting that I didn't cancel it. The roads were plowed earlier in the morning, but conditions worsened since then and there's a pretty big accumulation of snow and slush you have to drive through... even on the highway. Also? People are driving like frickin' morons. One person in a small van thought that they would cruise around us cars driving at a SANE speed for the conditions. I watched as they got sucked into the slush and rammed their vehicle straight into the center barricade. I was laughing my ass off as I passed. Maybe I shouldn't have... perhaps the driver had an emergency... but 99 times out of 100, this kind of thing happens to people who get what they deserve for driving stupid. It's just fortunate they didn't take anybody else down with them.
Oh... and on the way back from the dentist I stopped for lunch. As I was getting out of my car, I heard a guy screaming "OH YEAH! FUCK YOU! DON'T SLOW DOWN, ASSHOLE! I DON'T FUCKING CARE! FUUUUUUCK YOOOOUUUU!" which was subsequently repeated all over again.
Turns out he was shoveling the sidewalk and when cars drove by he was getting totally douched in dirty slush water. He was not happy. Didn't help that he was absolutely not dressed for the job in non-waterproof clothing and was probably soaked down to his tookus. Oh well. Live and learn, buddy. Live and learn.
I honestly don't mind winter weather. I've lived in it since I was 5 years old and learned how to drive in it since I first started driving. No, I don't like having to clean snow off my car, but snow is pretty, and I've grown accustomed to having it around town...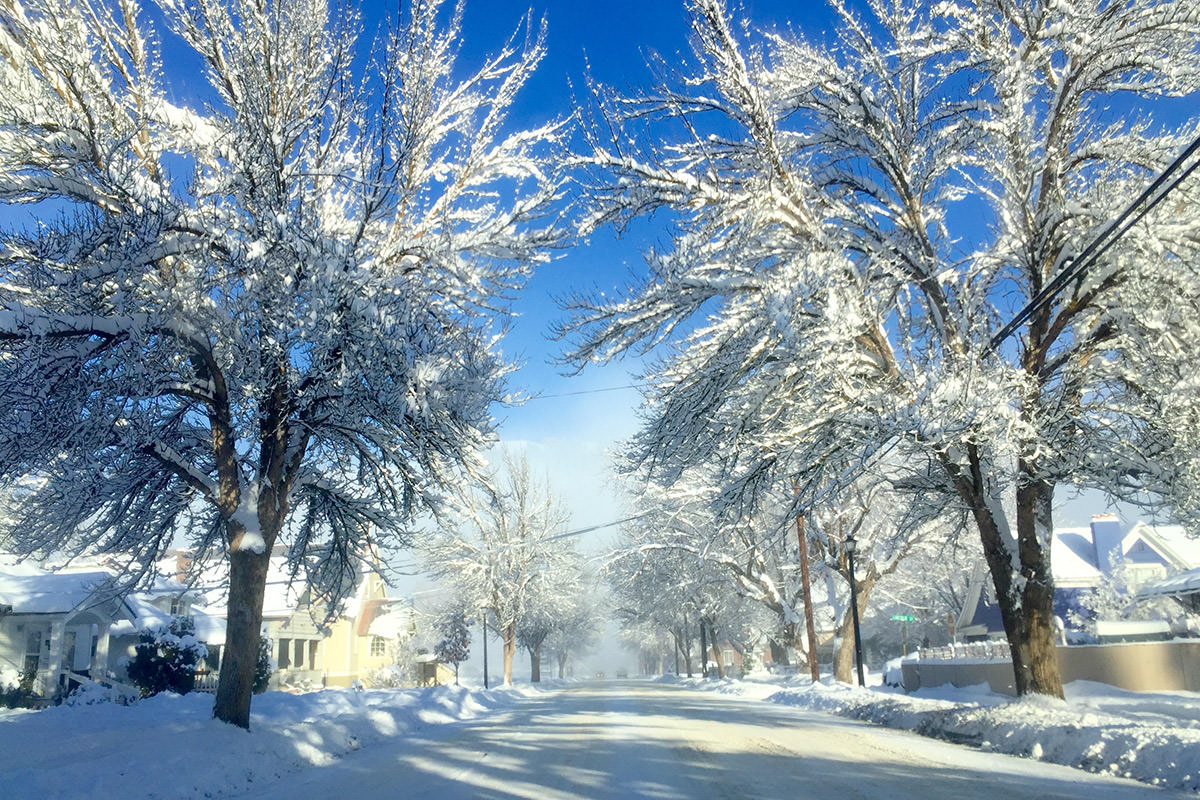 Except...
I usually end up hating it from Day One as well as liking it, because people are stupid assholes.
That's true for most things though.
Posted on Wednesday, January 10th, 2018

Uh huh.
If virulently anti-gay pastors and Republicans have taught us anything about their disturbingly homophobic behavior... it's that it's usually driven by they themselves being gay. This asshole's reaction towards a cursory touch by a man speaks volumes. It's so over-the-top absurd that you'd think he was grabbed by the crotch...
So synchronize your watches, folks... It's only a matter of time before Representative Daryl Metcalfe is caught with an underage gay prostitute in a public bathroom.
They always are...
Posted on Tuesday, January 9th, 2018

I've been telling y'all that I'm a stable genius for years.
If I become president on my first try, do you think people will start believing me?
Since it's never too early for a politician to start sucking lobbyist dick for campaign money, let's get this party started, shall we?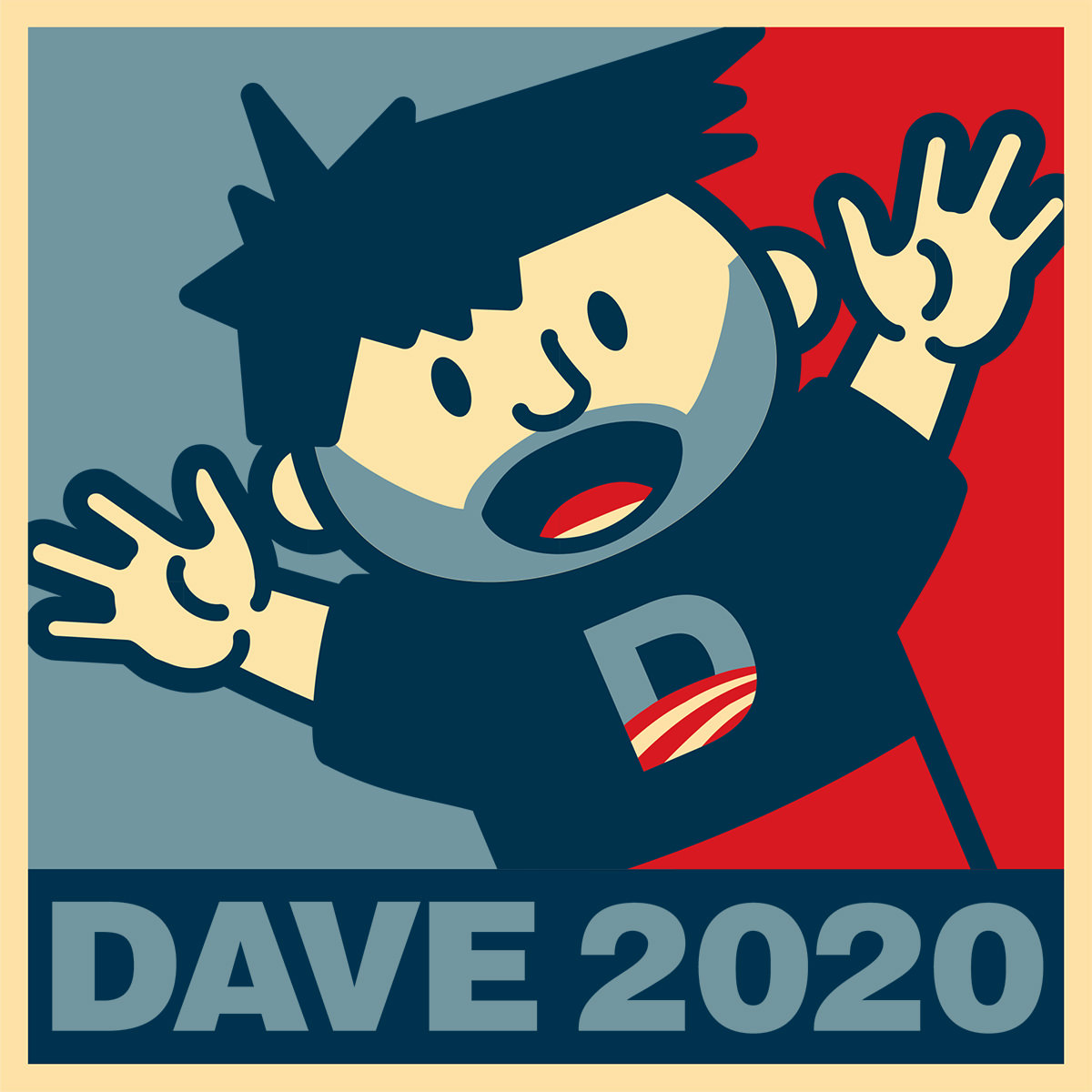 While donations to my "campaign" are not tax deductible now, they are a promise that, if elected, I will let you become a giant corporation and not have to pay taxes.
And don't worry what that will do to our economy, I'm totes going to make Mexico pay for it.
Posted on Monday, January 8th, 2018

Jake needs to lose four pounds.
Which is not easy because he will eat every bit of food that I put out as soon as he can get it. Jenny prefers to graze over time, which means the minute she steps away Jake will pounce on her food immediately.
I've gotten a little more proactive in taking food away and putting out smaller and smaller amounts that I can ration so Jake isn't devouring food meant for Jenny.
Jake is not taking his diet well.
Tonight I caught him eating from a bag of dry food I was foolish enough to leave on the kitchen counter. He knows exactly what it is... and apparently knows how to open a sealable bag as well...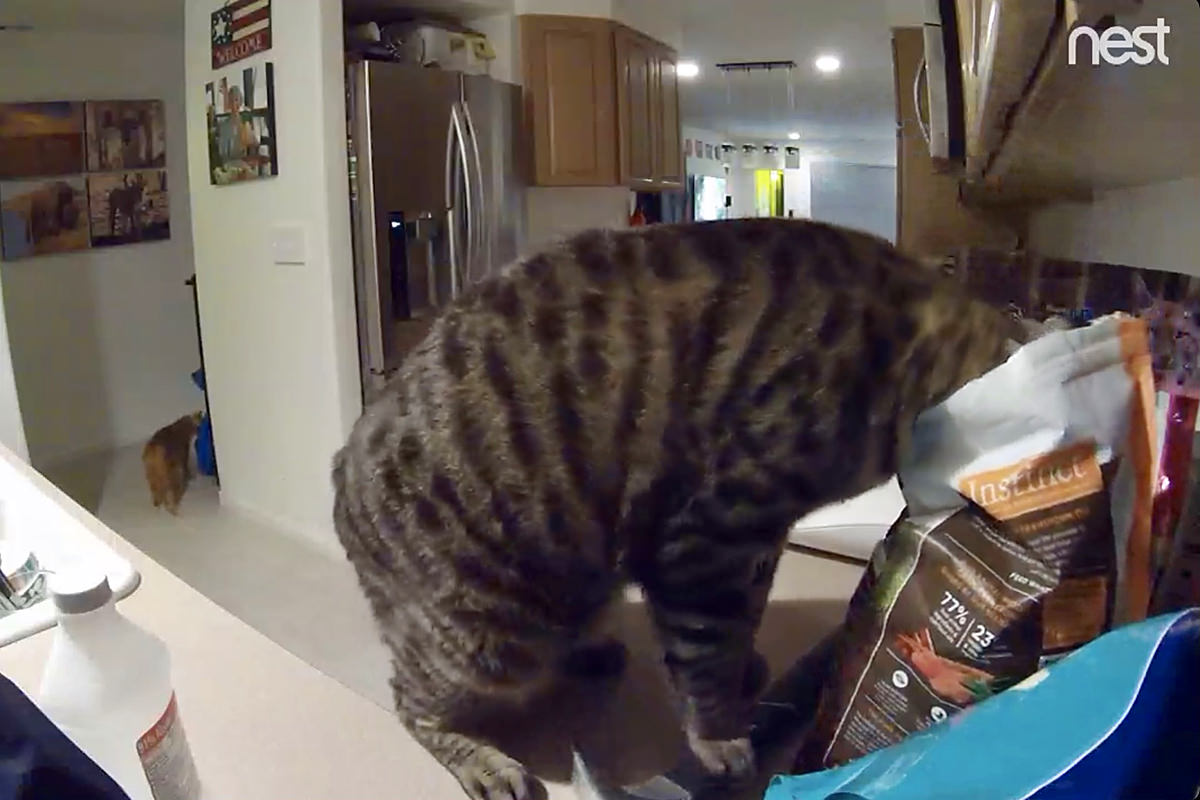 I yelled for him to get down, which he did.
Not five minutes later, Jenny hopped on the counter to see if she could get away with snagging a bite or two...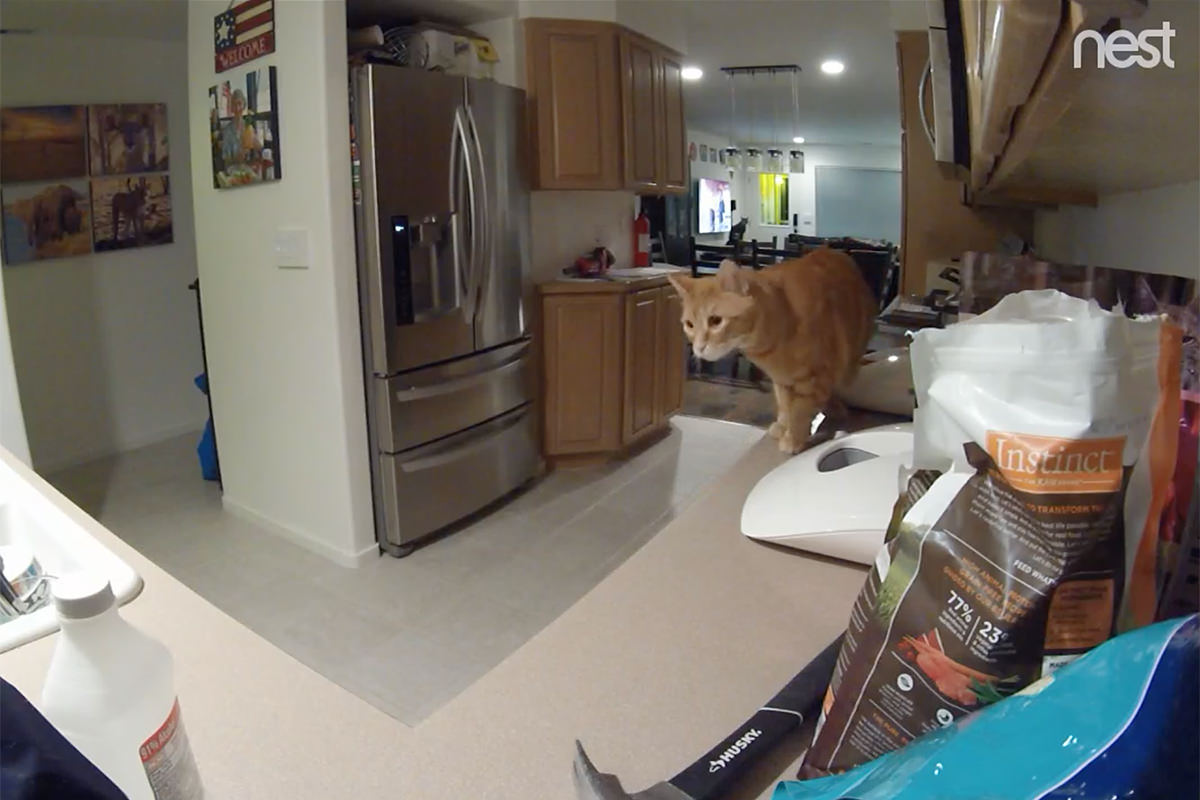 I yelled at her before she could manage it, and she won't look at me now. Even once I called her to come up to bed, she refuses to look me in the eye. Which means I've been getting snubbed and side-eyed all night...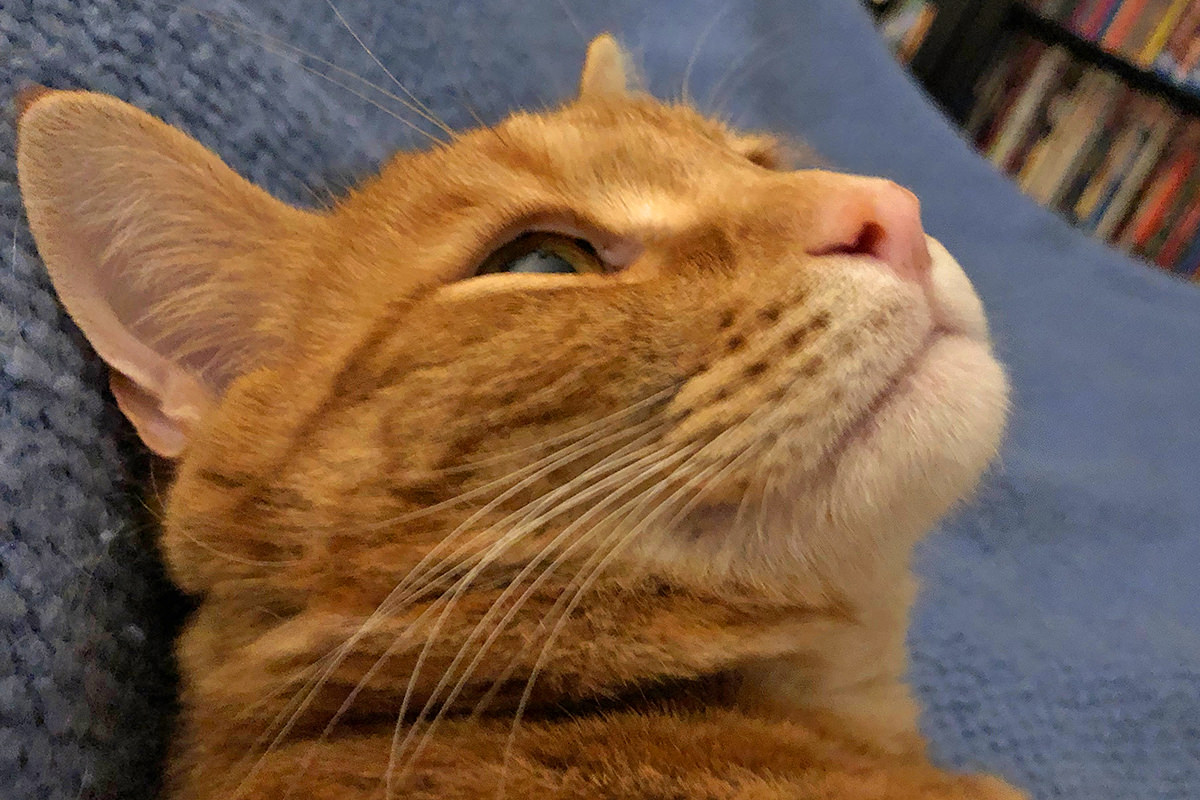 Hell hath no fury like a woman scorned.
If I am killed in my sleep, check for claw marks.

UPDATE: I've been asked how much food they get. Jake and Jenny get three tablespoons of dry food and a tablespoon of wet food twice a day (each). Jenny doesn't know what to do about wet food. She ate it as a kitten, but now she just licks it. Jake will then walk over and polish off her gravy-free wet food before tackling his dry food. So, essentially, Jenny is eating less than a half cup a day while Jake is eating over half cup a day, when it really should be reversed...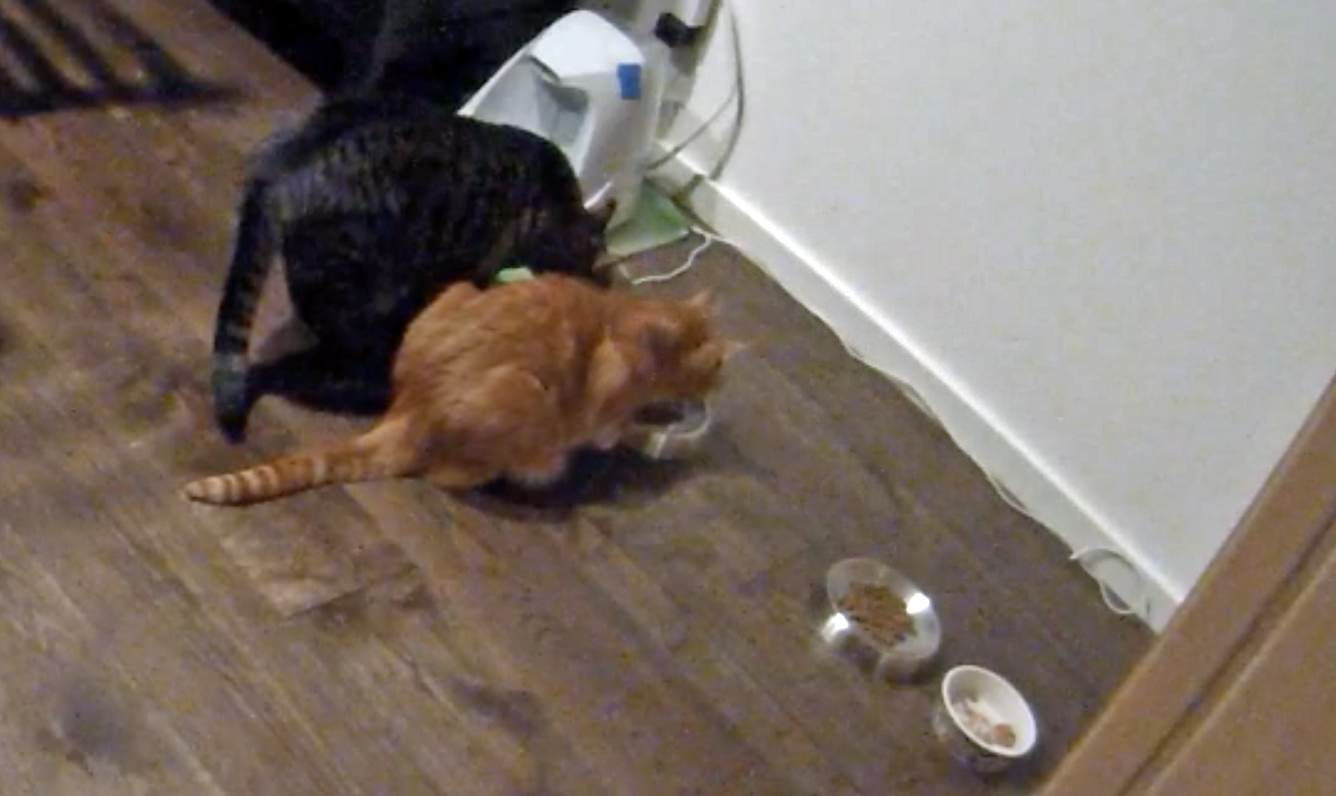 I bought some expensive stainless steel bowls that spread the food out while keeping it centered so that they avoid "whisker fatigue"... but my cats don't seem to care, so I still use bowls for their wet food. As they wear out (or break) I've been replacing them with shallower bowls in the hopes that the cats find them easier to eat from.