Posted on Monday, August 21st, 2017

And so... The Great Eclipse is upon us!
I've decided to "liveblog" the event, and will be updating this page throughout the morning as I document my triumphs and failures in trying to capture it for posterity.
If you're here late, you'll have to scroll to the bottom and work your way back up to see things in order.
11:30am
Annnd... I think I'm out. Until next eclipse, everybody!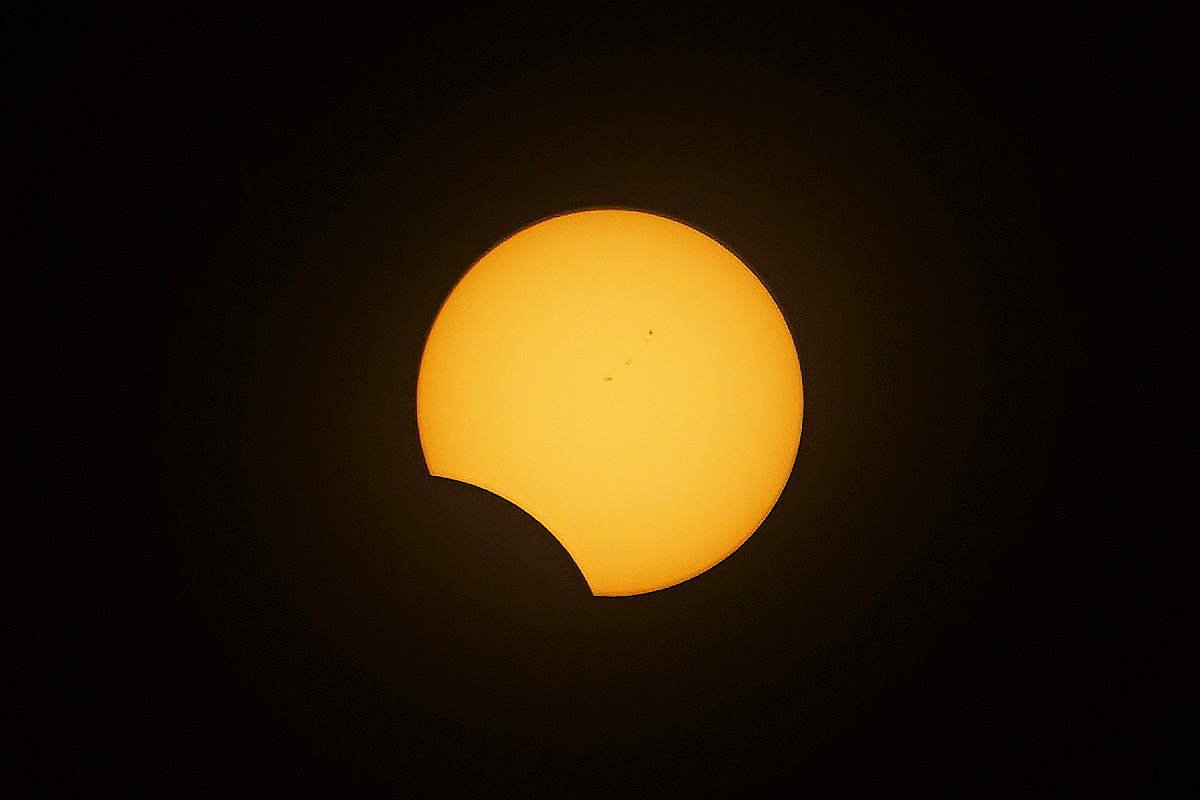 11:25am
I have to say... the very best part of staying home for the eclipse has been hanging out with my kittehs. They toughed it out to the very end, and have been incredibly sweet the entire time...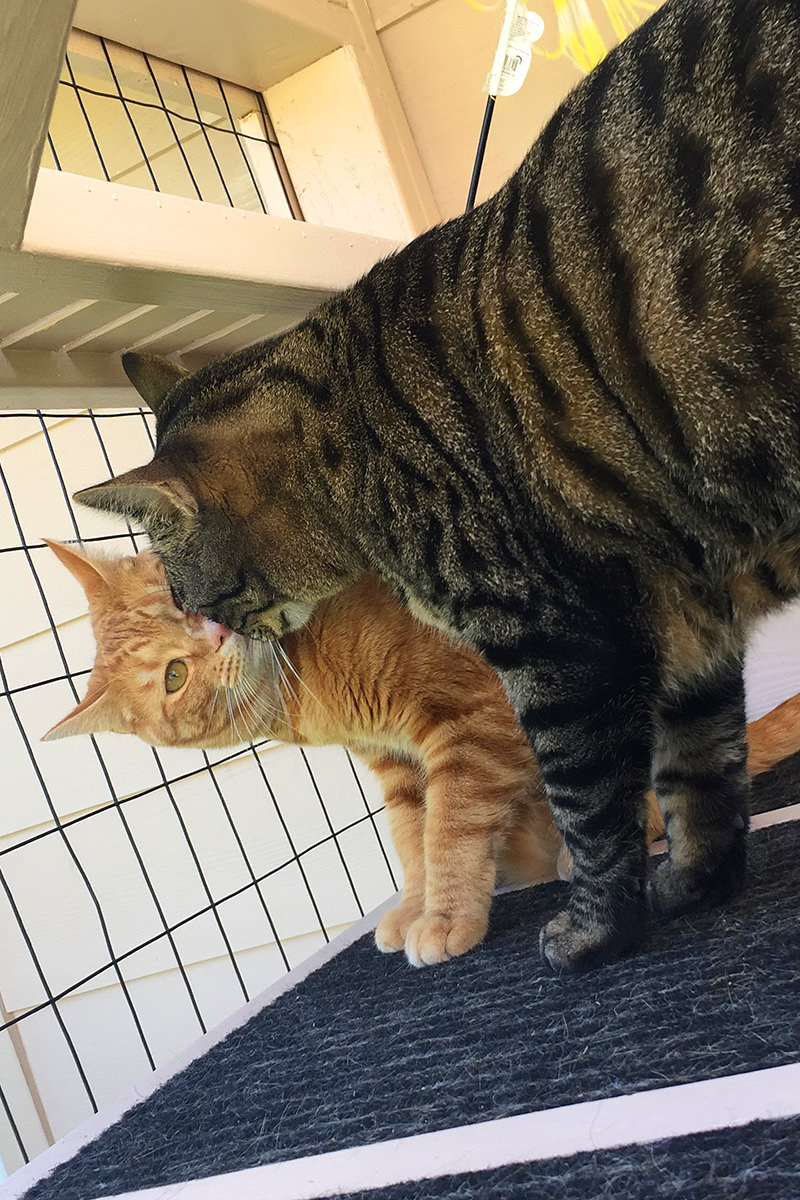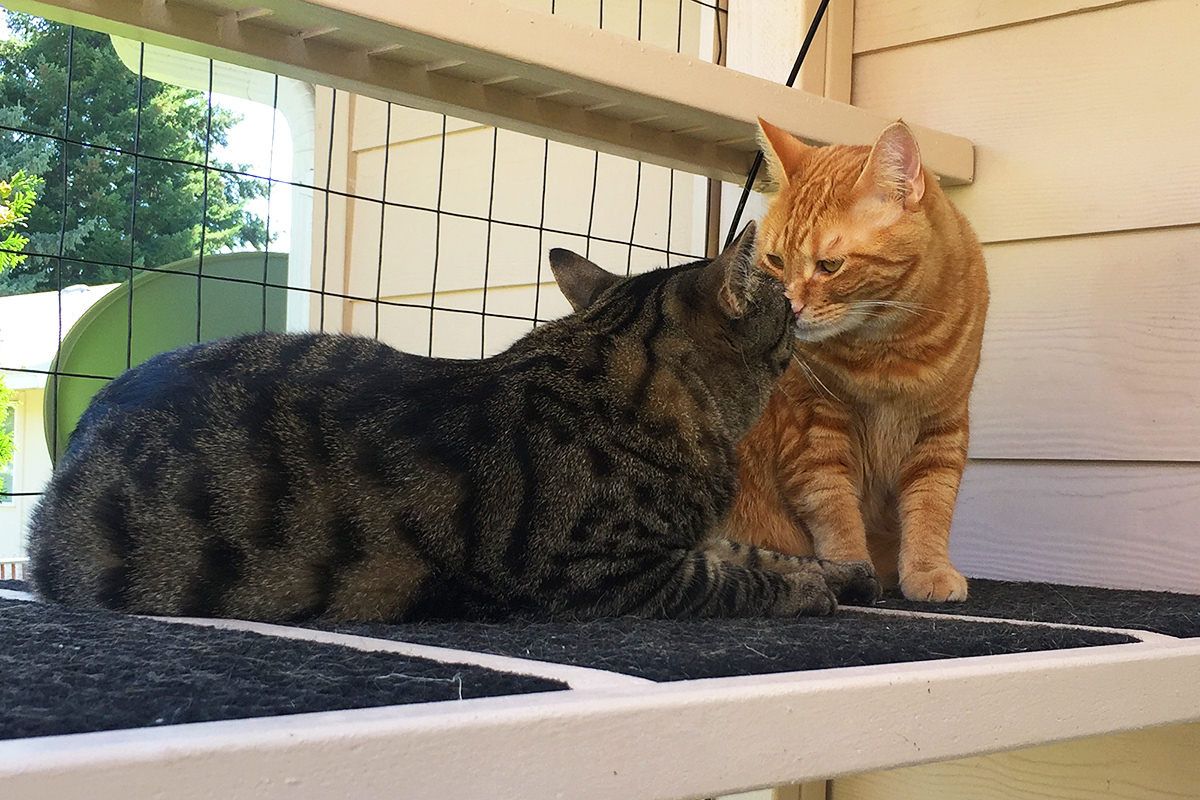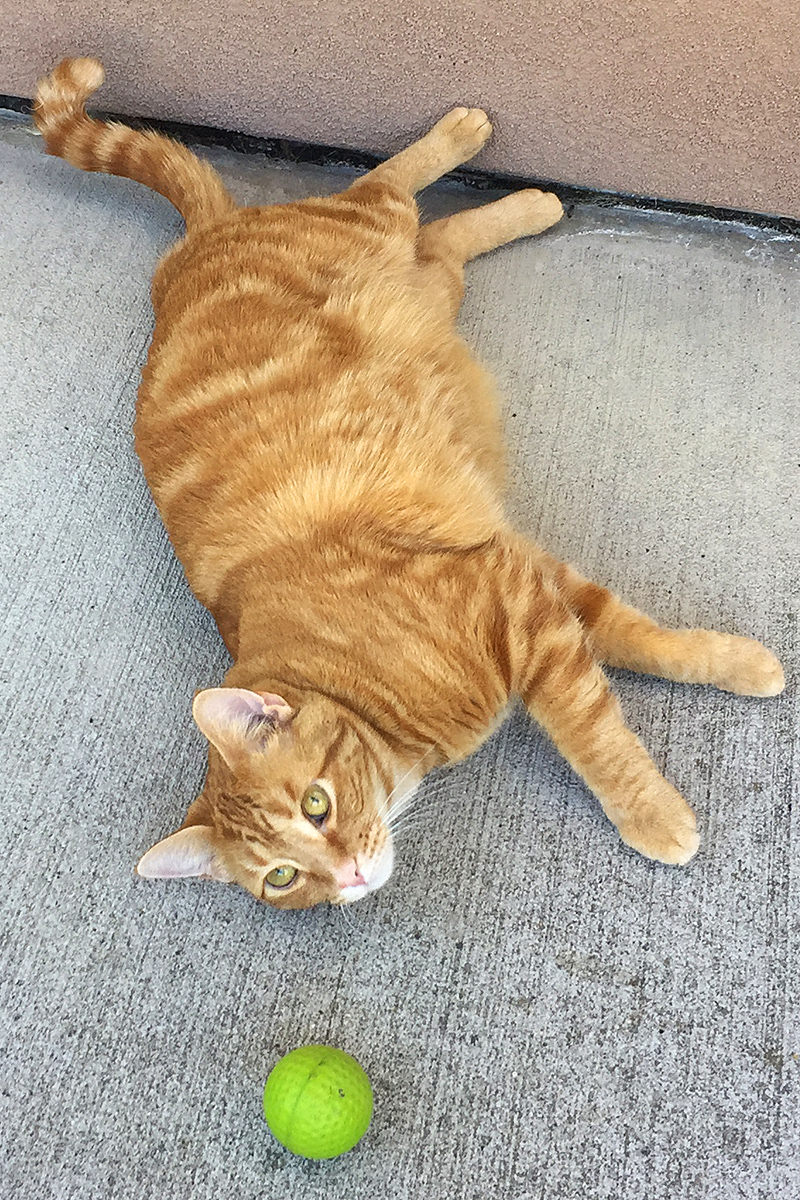 11:20am
Just noticed that Carl the Robovac has gone silent. I hunt him down and find out that he never made it out of the guest bedroom. The dipshit choked on a rug...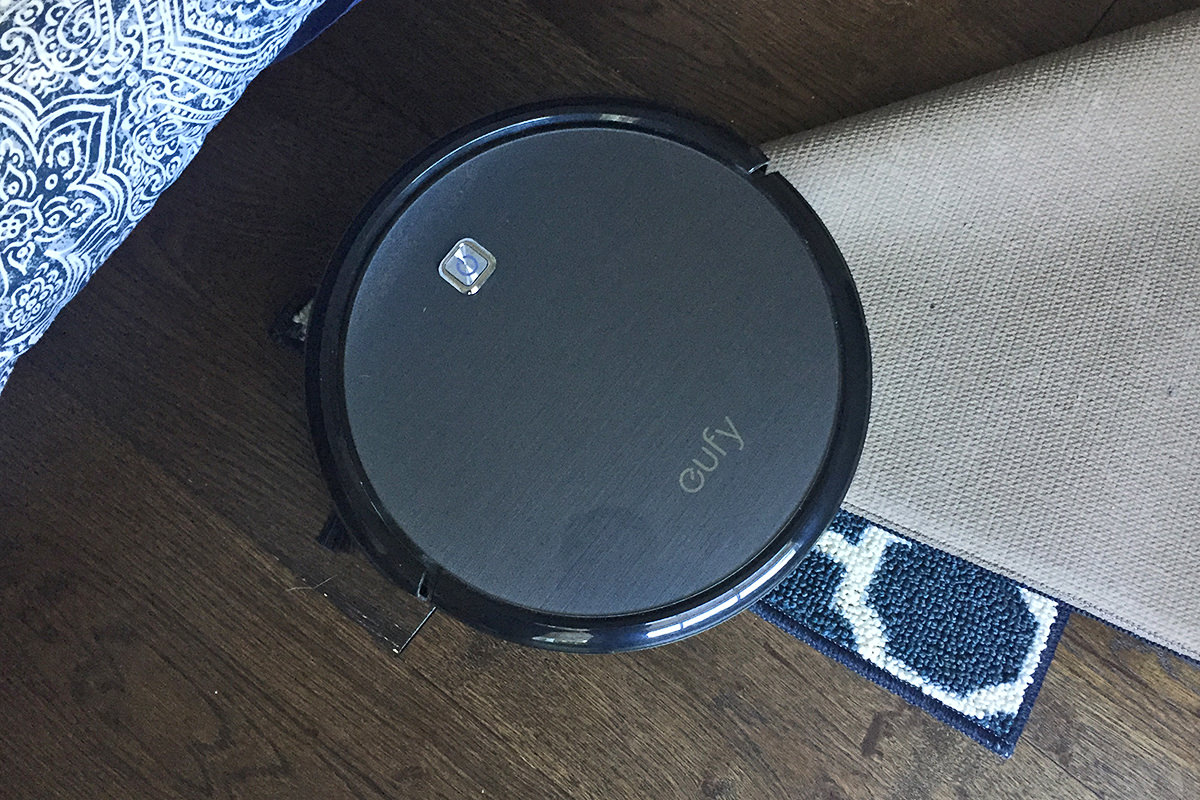 11:15am
While waiting for the never-ending eclipse to... errr... end... I noticed that I still had flowers in bloom in my back flower bed. I hardly ever go in my back yard, so it was kind of surprising since all my other flowers have long-gone...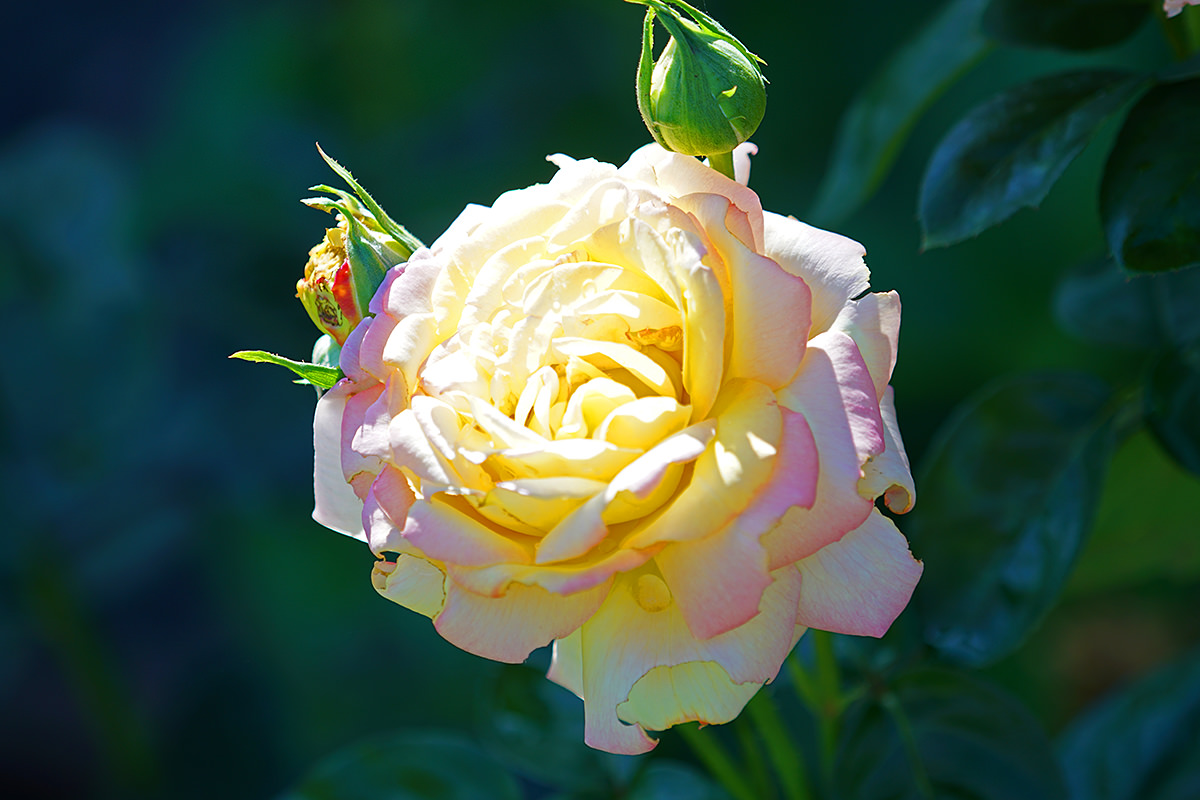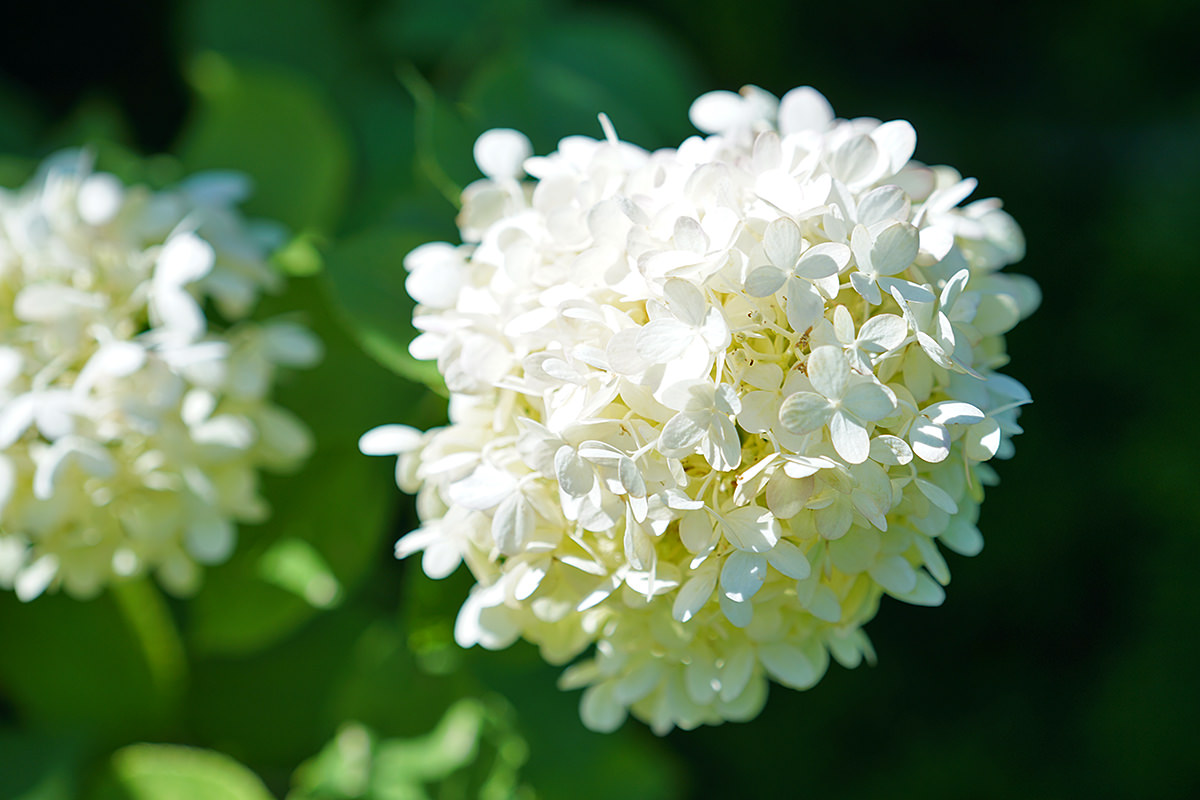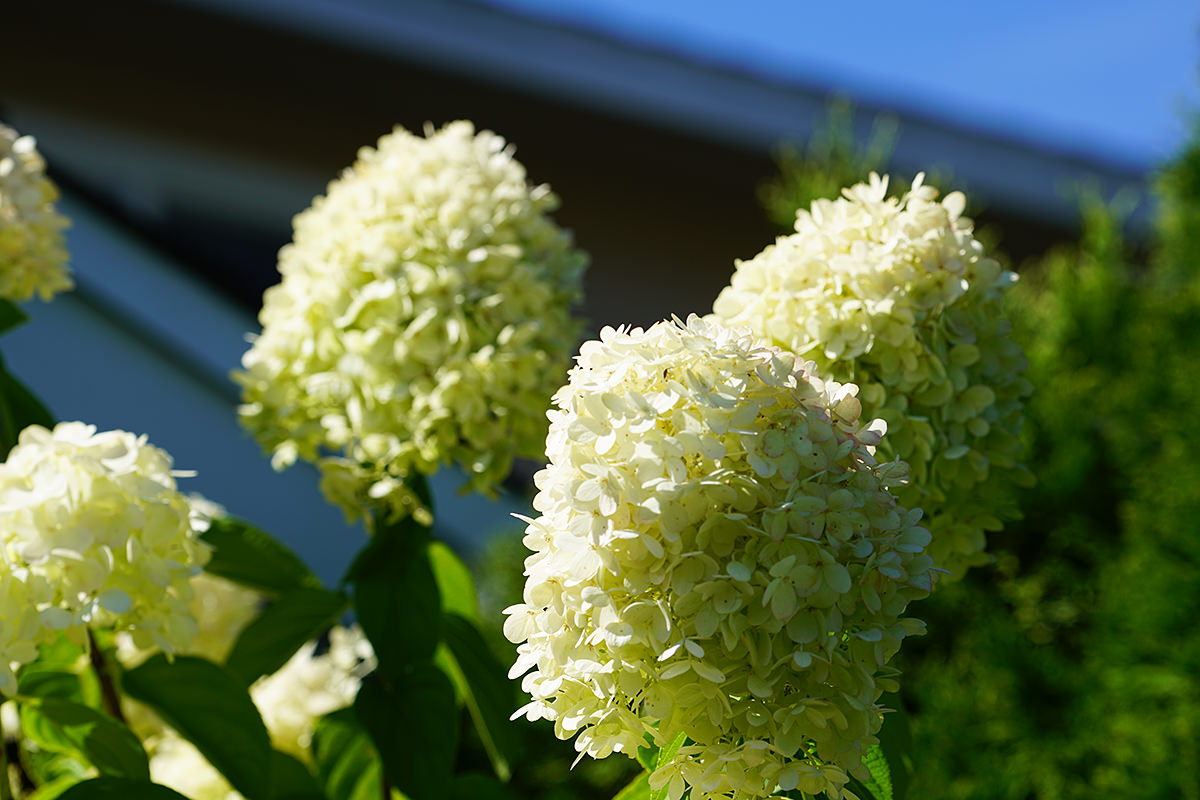 11:10am
And... still going...
10:50am
Seriously... is this ever going to end?
10:45am
One of the things I remember most from my first eclipse (which was total here in 1979) is the funky moon shadows that appear in tree leaves. Thankful that I remembered to document the phenomena...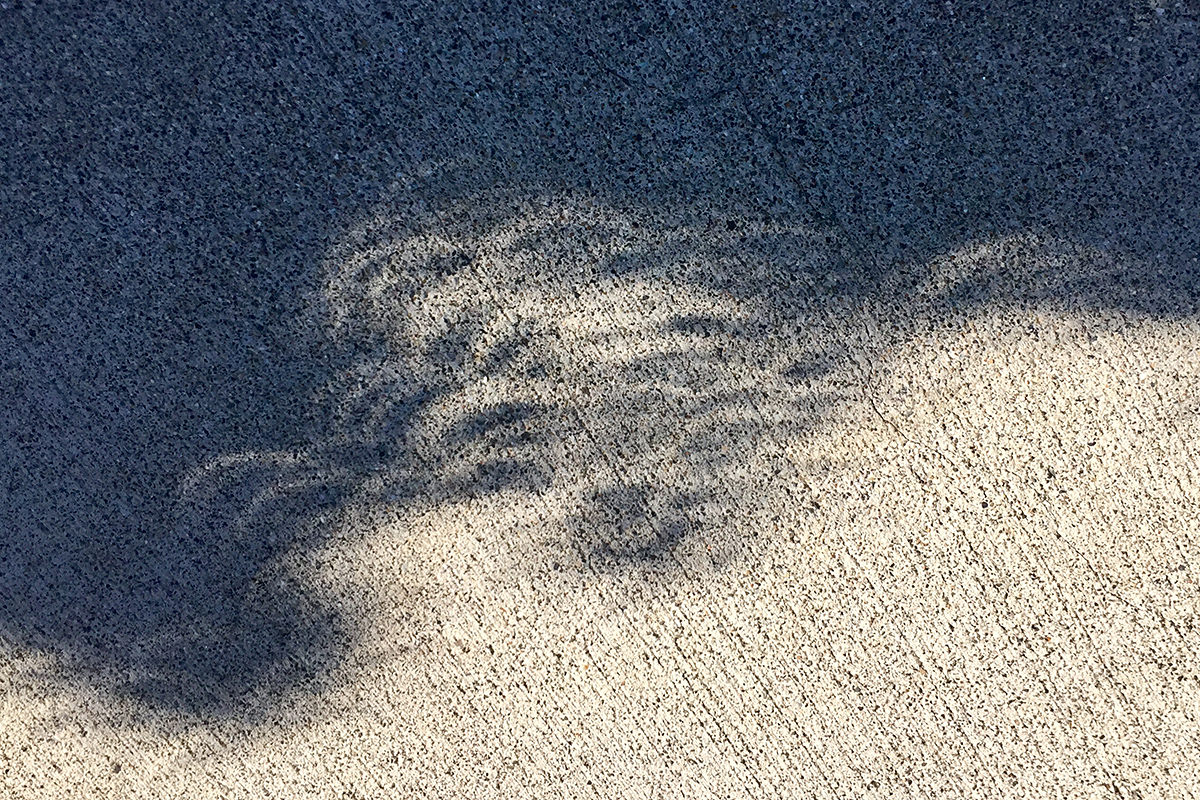 10:40am
This eclipse is lasting forever! Cats are so not impressed...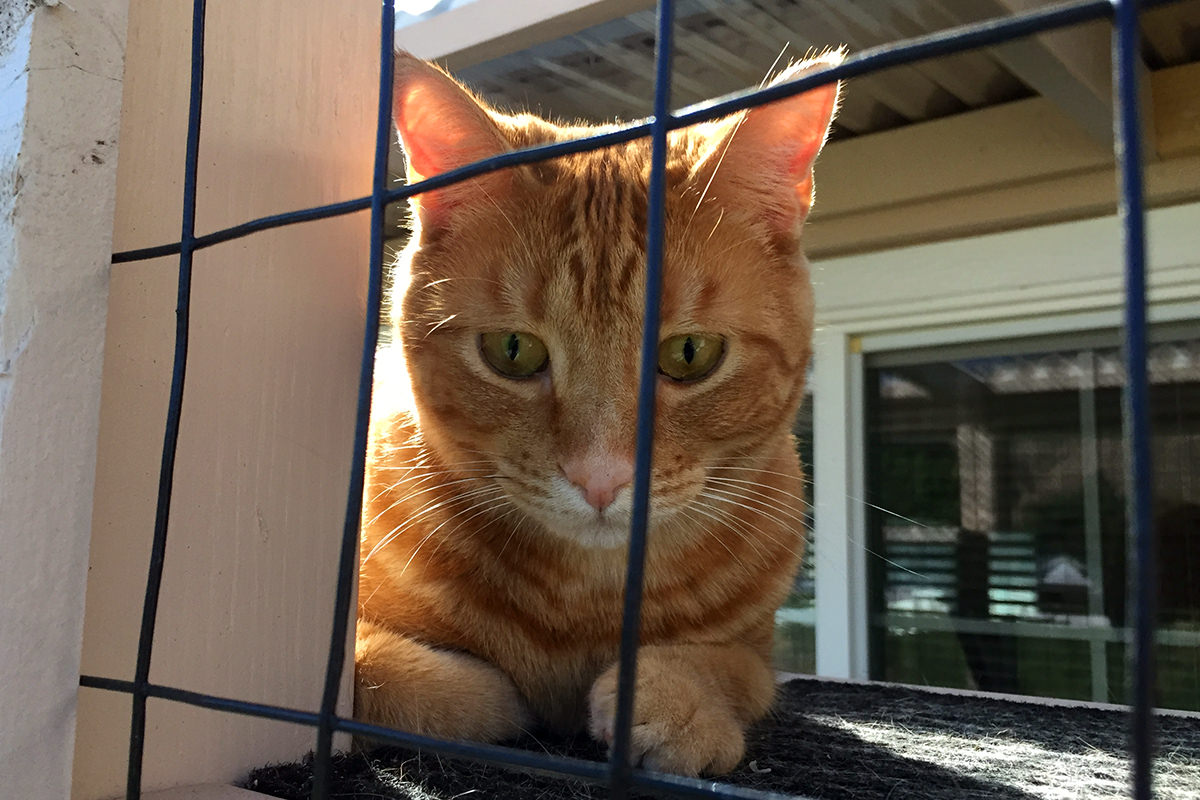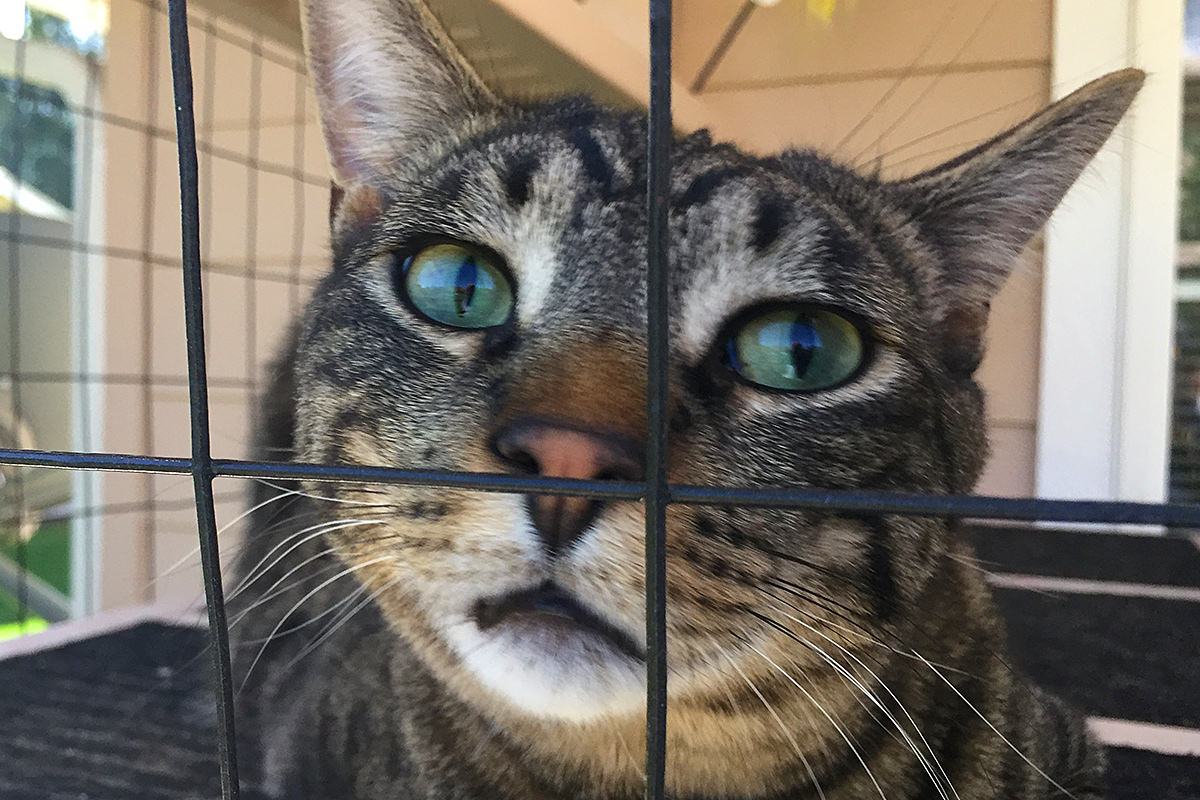 10:30am
Never got very dark. Just kind of overcast-looking... but with blue skies and sun. If that makes any sense...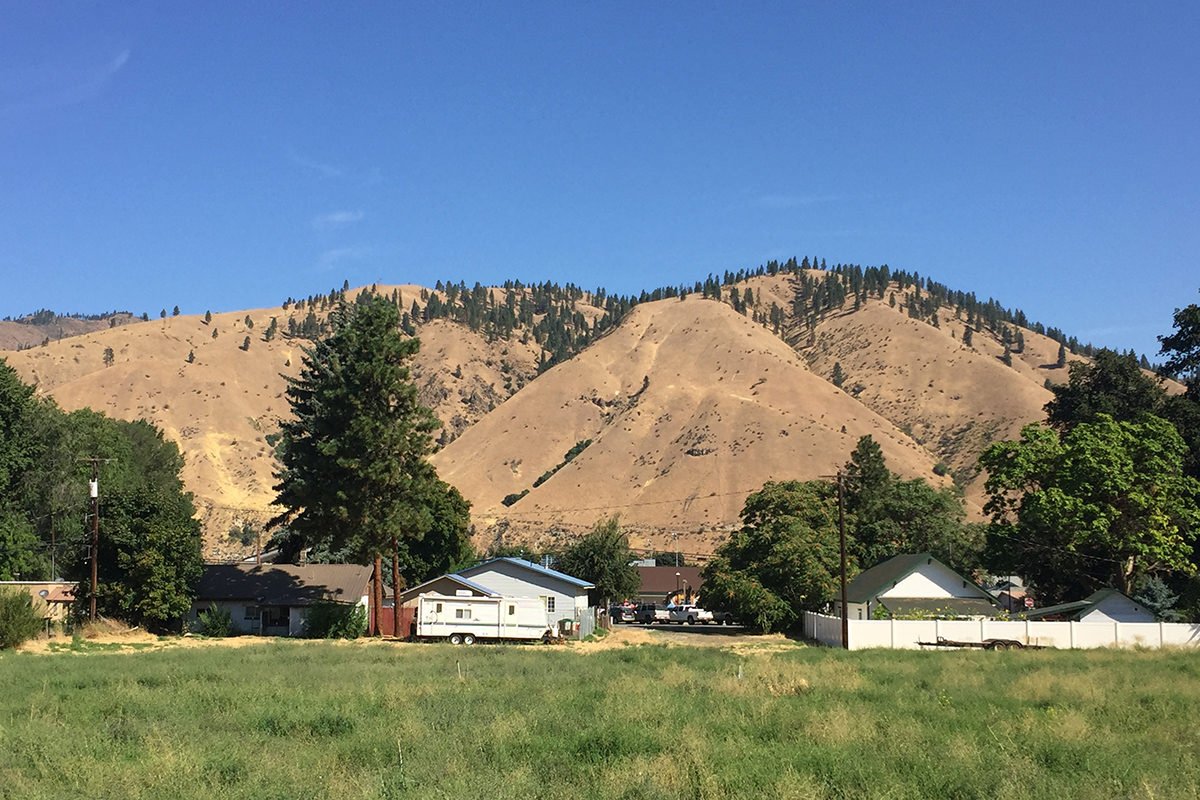 10:20am
After futzing around with my camera settings, I finally figured out how to get the best possible shot. Kind of a letdown, but at least I got it. Here's at the peak for my location (92% coverage)...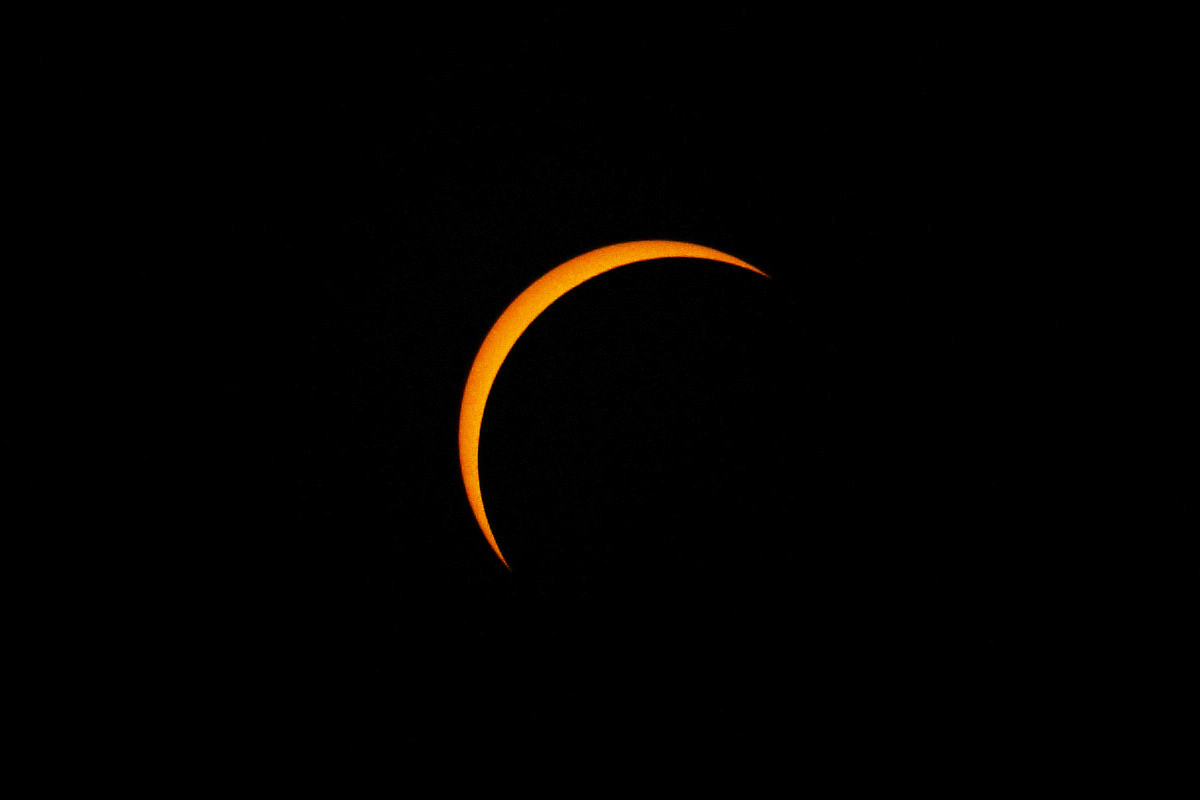 10:30am Never got very dark here. I guess even 8% of the sun's light is still a heck of a lot of light! Just looks kinda... overcast. But still blue skies and sunny. If that makes any sense.
10:00am The solar filter for my lens is a total bust. It looks exactly the same as the uneclipsed sun... just a bright blurry ball of light. Bunner.
9:35am And, here it is... my first shot of da sun (uneclipsed)...
9:15am Look who decided to visit... FAKE JAKE! He inspected my gear, then decided to visit with the cats. Jenny, who always runs in terror when Fake Jake shows up, was a brave kitty. Maybe because I was standing beside her? Even so, I'm a proud cat-dad right now...
9:00am
This is my setup. My Sony a7R Mark II with the Sony FE 70-200mm f/4 G OSS lens (and solar filter) attached...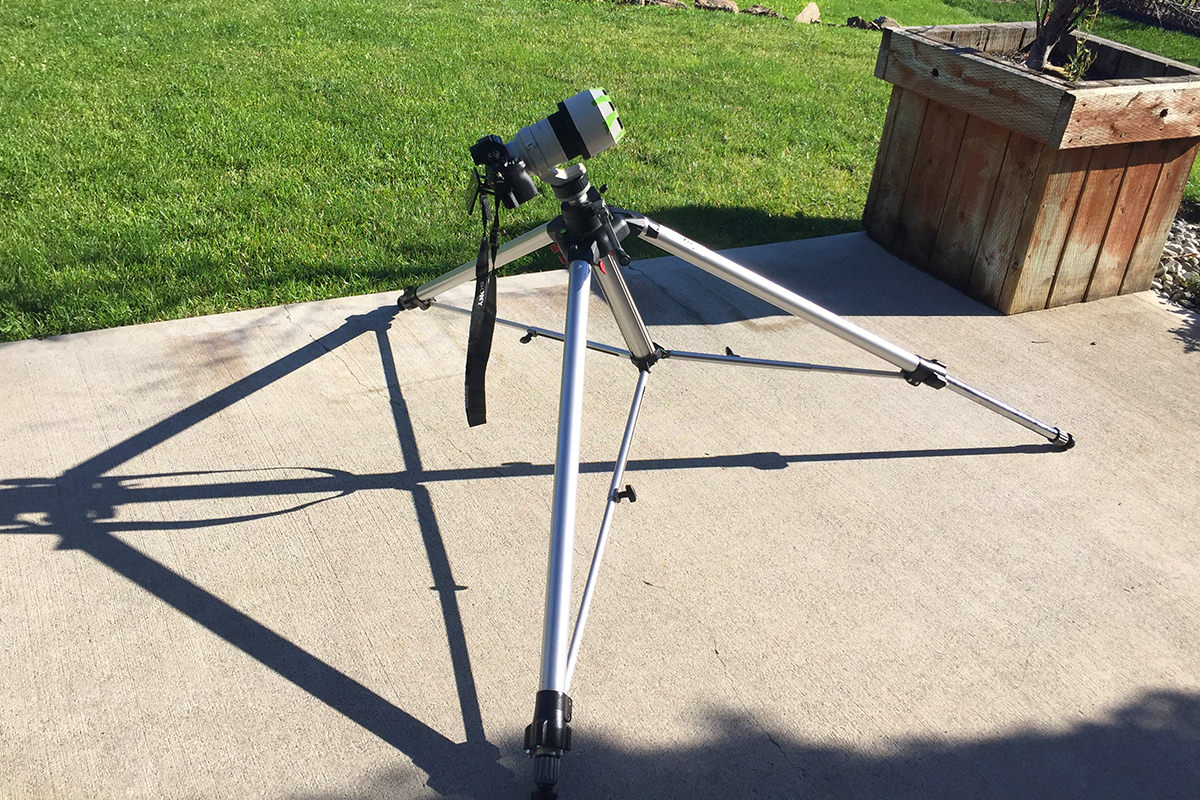 8:25am
Waaayyyyy back before there was an eclipse glasses shortage, I ordered up a "Celestron Eclipse Kit" from B&H Photo that includes a nice pair of "approved" glasses with a solar lens filter. The filter is meant to be held over the lens, but I don't want the distraction as I'm maneuvering for a shot. I decided to cut around the filter, then tape it to my lens...
The cats decided to inspect my work...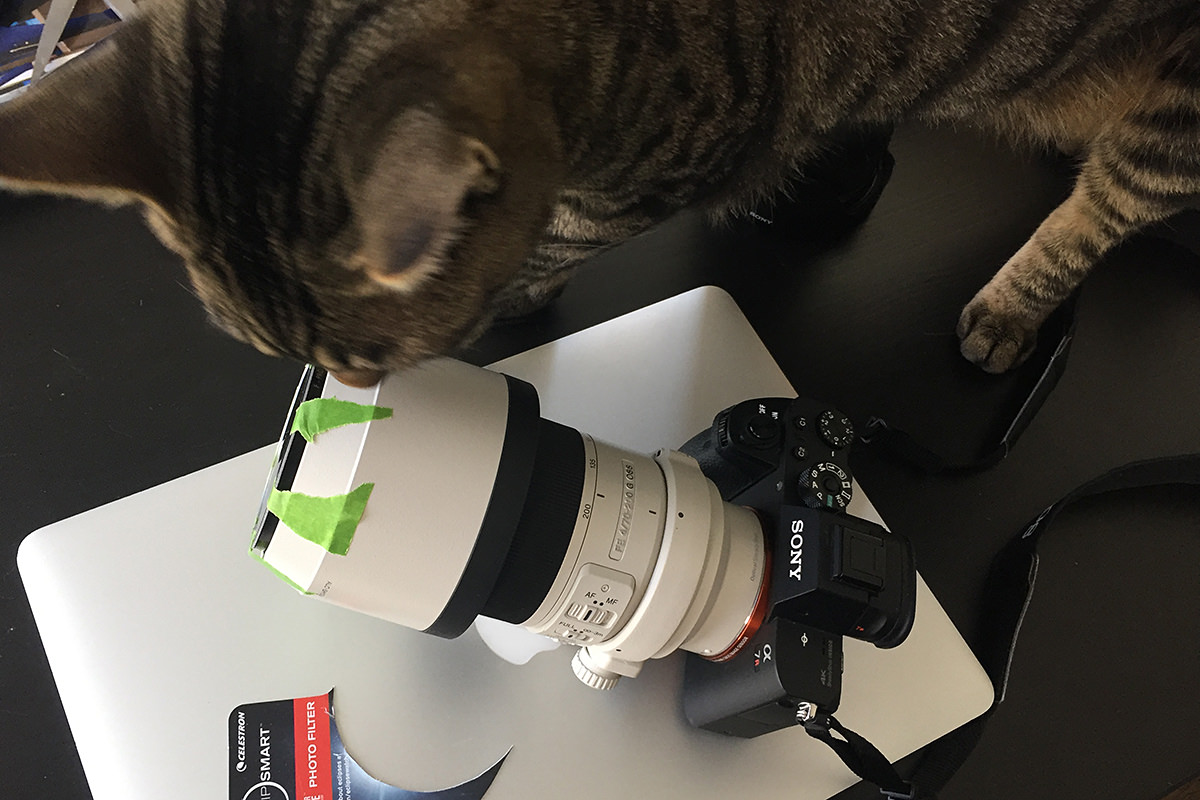 8:10am
I've read various opinions on pets and the eclipse. Some say that my cats will get their eyes burned out and should be kept indoors. Some say that cats don't look at the sun normally, and they won't start now. I was going to take the precaution of locking them out of the catio, but it seems they can't get a full view from there anyway. Will be nice to have some company.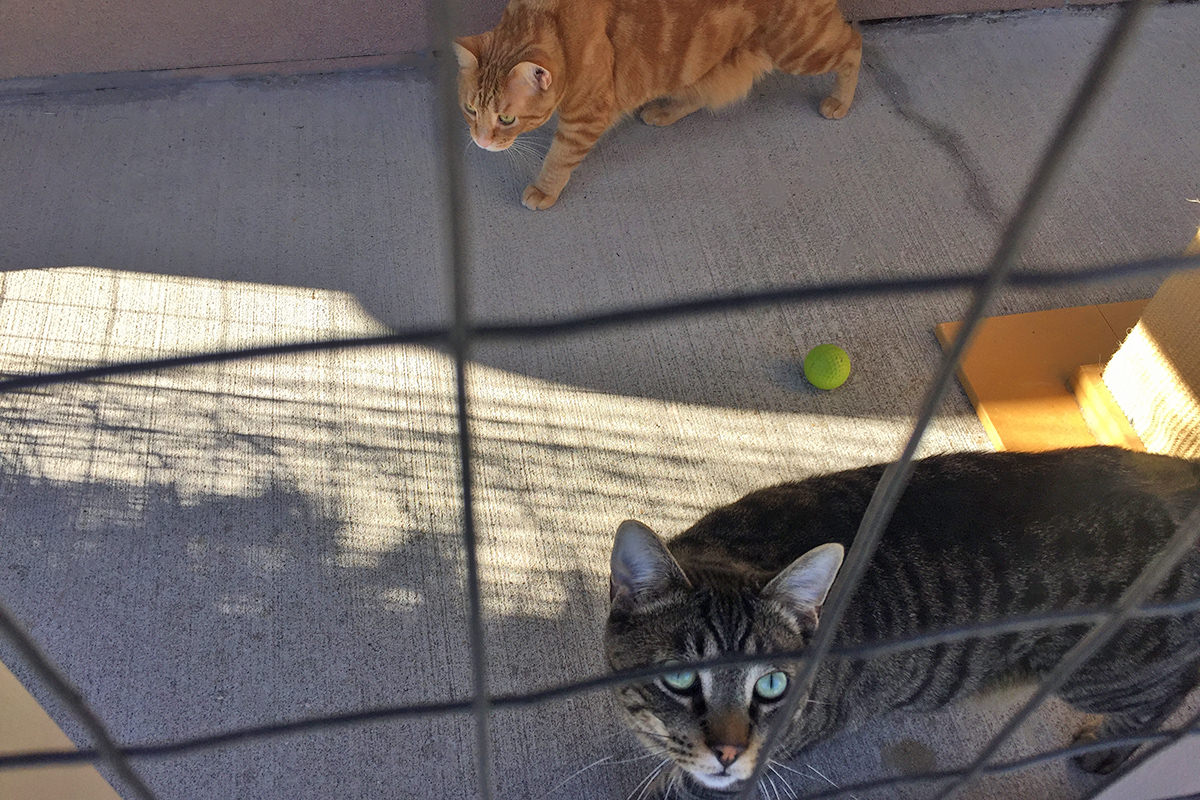 8:00am
After scrolling through the eclipse-related news of the morning, I decide to take a shower. Nobody wants to have a stinky eclipse! I've decided to wear my artfully "distressed" American Eagle jeans and my favorite short-sleeve Wolverine-brand shirt.
7:20am
Reading up on eclipse "best practices." I'm taking the morning off work, so there's no hurry. Three hours until eclipse time. TIME magazine has a handy eclipse tool so you can know what to expect (or know what you're missing if your skies are overcast. I'm supposed to get an eclipse at 92% coverage, like this...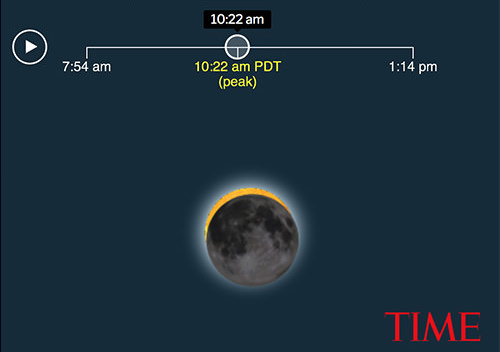 7:00am
I've been awake for hours, of course, but the cat's breakfast finally drags my ass out of bed. In honor of Eclipse Day, I'm having a chocolate cupcake for breakfast. I felt I had to, because there's an astronomical event and Redneckistan actually has CLEAR SKIES, which almost never happens. My cats are celebrating by dumping their breakfast on the floor and chasing dry cat food kibble around the dining room. Carl the RoboVac hums in anticipation...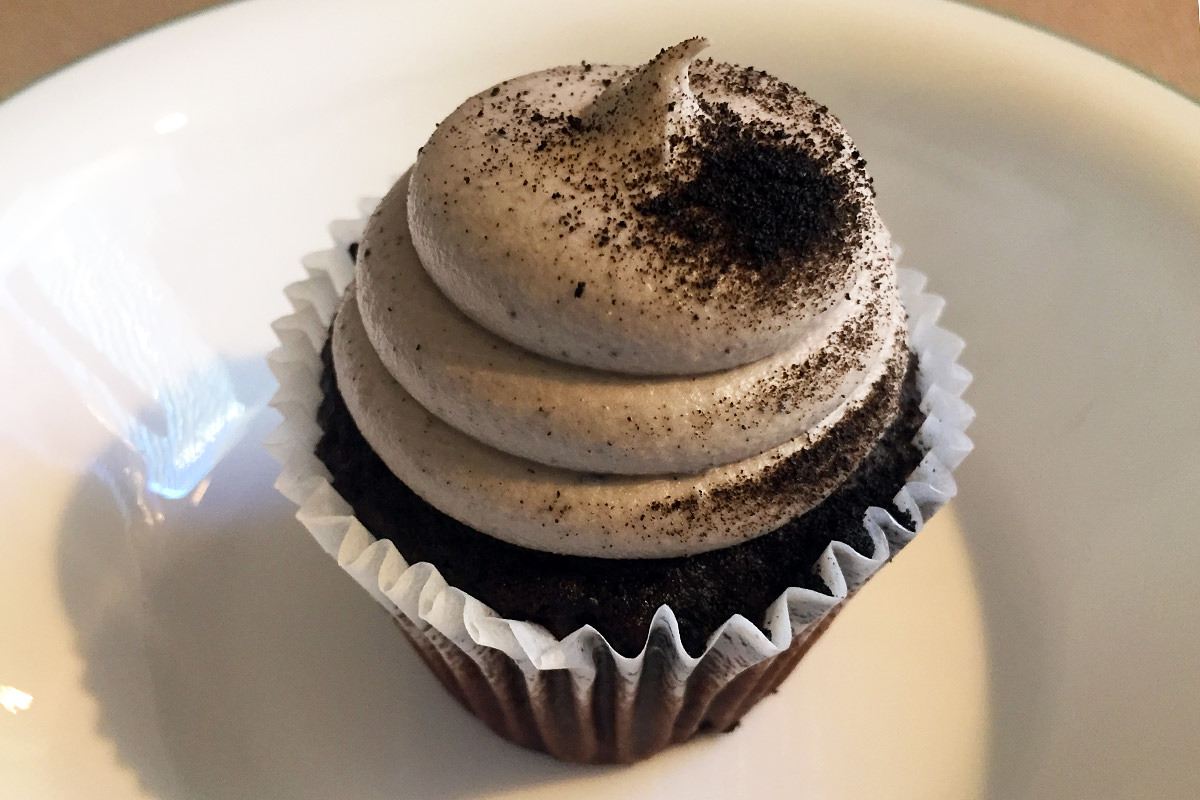 Posted on Sunday, August 20th, 2017

There actually is something interesting happening before the eclipse tomorrow, because an all new Bullet Sunday starts... now...

• Defenders! How is it that Netflix can be so damn flawless when casting every single character in every single Marvel series and in writing every single character in every single Marvel series... except when it comes to Iron Fist? Danny Rand is written horribly. The actor playing him is a terrible fit for this character. I could barely make it through the Iron Fist series, and now the character made it tough to get through the newly-released Defenders series too...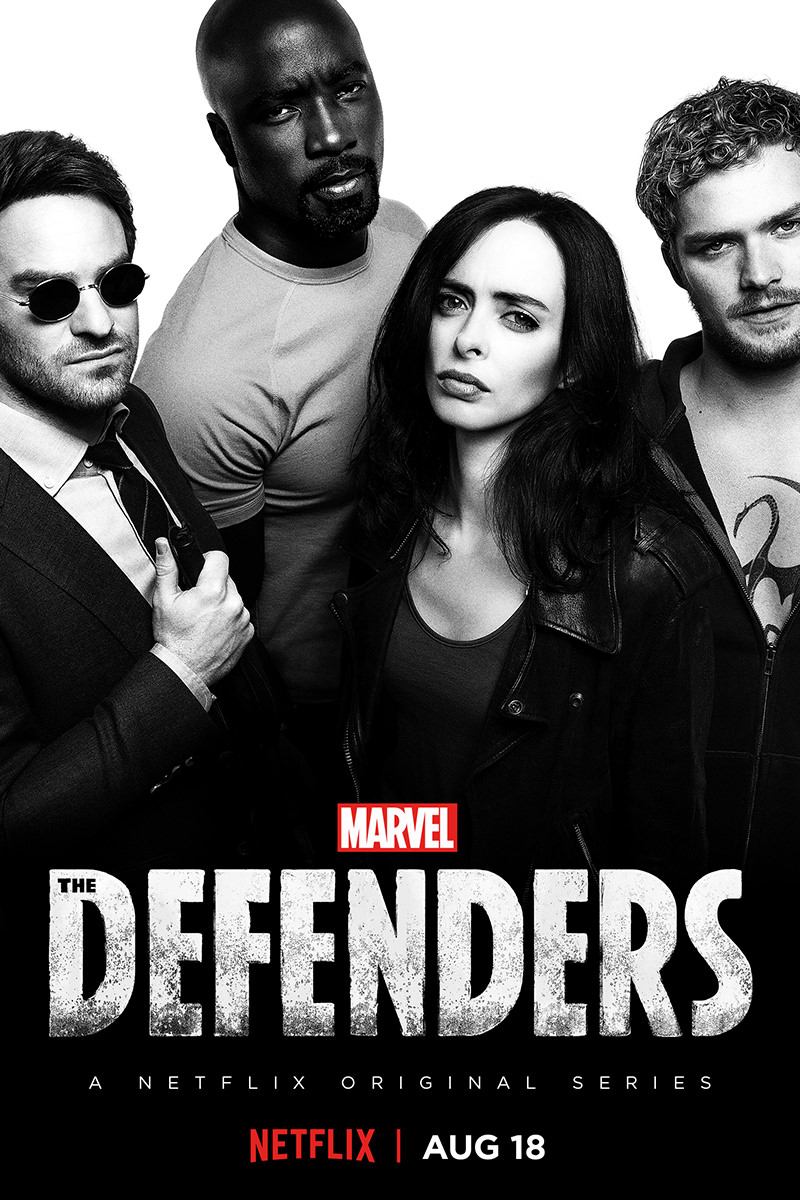 Every single time Iron Fist appears in The Defenders, everything that's moving forward so beautifully grinds to a halt and turns to shit. I mean... holy crap... they got Sigourney Freakin' Weaver, who elevates absolutely everything she appears in (including The Defenders), but even she is not going to be able to save this show when such a key piece of it is shit. There was a scene between Luke Cage and Danny Rand... fucking "Heroes for Hire" that we've been dying to see... and Mike Colter is just killing it as Cage while Finn Jones can't seem to deliver a single line with any conviction or semblance of skill. It's like he's trying to channel Keanu Reeves, which wouldn't be horrible... EXCEPT HE'S CHANNELING KEANU REEVES FROM BILL & TED'S EXCELLENT ADVENTURE. GAAAAAHHHHHH!!!!!
Look, I'm sure Finn Jones is a capable actor in other roles, but his take on Iron Fist sucks. The character takes a solid 5-star show and knocks it down to four. I hope they end up doing another Defenders... the idea is too good not to... but diminish, eliminate, or replace Iron Fist with something that's a better fit. Please. ☆★★★★

• Trolls! This. Is. Fucking. Genius.
I hope it catches on.

• Fake President! Making America... uhhh... great?... again?
So... Trump actually is accomplishing more than any other president! Finally, a truth!

• Ahnold! Just as an FYI... THIS IS HOW YOU FUCKING DO IT...

• Punch It! Seriously. I'm sick of this bullshit. We fought a fucking WORLD WAR over this. There are not "two sides" to this position. There is no "just as bad" when it comes to this. There is no confusion as to the appropriate response. We have memorials... history books... and a shitload of movies that make it quite clear...
Nothing less than 100% unapologetic, uncompromised, unconditional condemnation of white supremacists and Nazis is ever acceptable. If you don't fucking get that, then you have no business being president. Hell, you have no business calling yourself "human."
I mean, Jesus Christ... IT'S THE FUCKING NAZIS HERE!!!

• Dropt It! In a feeble attempt at ending on a positive note, this is must-see TV...

Annnnnd... I'm spent. No more bullets for you.
Tags:
Bullet Sunday
,
Dumbassery
,
Marvel
,
Netflix
,
News
,
Politics
,
Television
,
The Defenders
,
Trump
,
Trump's America
Categories:
Bullet Sunday 2017
,
News – Politics 2017
,
Television 2017
—
Click To It:
Permalink
—
0 Comments: Click To Add Yours!
Posted on Saturday, August 19th, 2017

My inability to sleep has nothing to do with my cats. They've always been oddly respectful of sleepy-time. On those rare occasions I do manage to fall asleep, they leave me alone. Even if I just pretend to be asleep, they'll walk in the room, take a look, then walk right back out. It's weird them being so unselfish while being cats and all, but I'm not going to complain.
Except...
Every once in a while...
Something happens and they go all "cat" again.
Like last night when I woke up to armageddon happening downstairs. The cats were freaking out over... something... and the commotion was nuts. Is there a big bug in the house? Did a mouse climb through the cat door? What could it be?
Nothing showed up on the security cameras.
Until I reviewed outside footage.
A family of five raccoons decided to visit the catio, which caused quite a stir. I've sped-up the footage to double-speed...
Here's a zoom-in on the above footage to see them better...
I especially love the little raccoon at the end who is desperately trying to make friends with Jake, who just isn't having it...

Guess I need to look into getting some Raccoon Chow.
Posted on Friday, August 18th, 2017

A terrorist attack in Catalonia.
Including Barcelona, a city I love and have visited multiple times.
You'd think I'd have found the words to properly express my sadness at these ongoing tragedies from terrorism by now, but I don't think they're ever coming. It just continues to break my heart, and it always hurts to know there is such evil in the world.
But it hurts worse when places I love suffer for it.
And I love entirely too many places on this earth.
Thank you to Prime Minister Justin Trudeau for your statement on the terrorist attack. It's nice to know there's a true leader left in North America.
Posted on Thursday, August 17th, 2017

Rather than focus on the hideous events from another tragic day in this country, I thought I'd search for something positive about the good ol' USA that doesn't fill me with overwhelming dread and embarrassment.
I didn't have to go far.
I recently got a notice that Rob Decker is having a killer sale through the month of August on his incredible US National Park posters. There are many people/companies creating these, but Rob's are my hands-down favorite (he studied under Ansel Adams!). He bases the designs on his own photography, and crafts them in the style of the old-time WPA Federal Art Project posters that were made in the 30's and 40's. They are magic...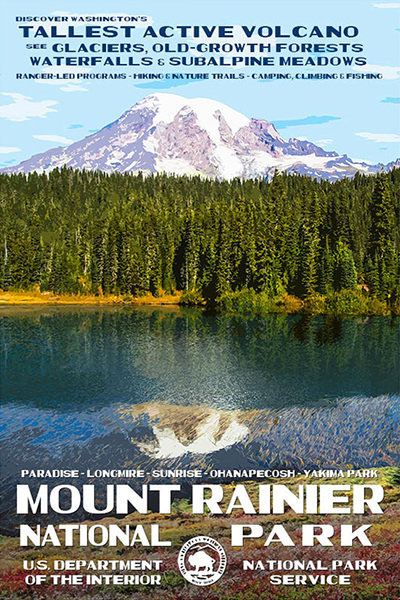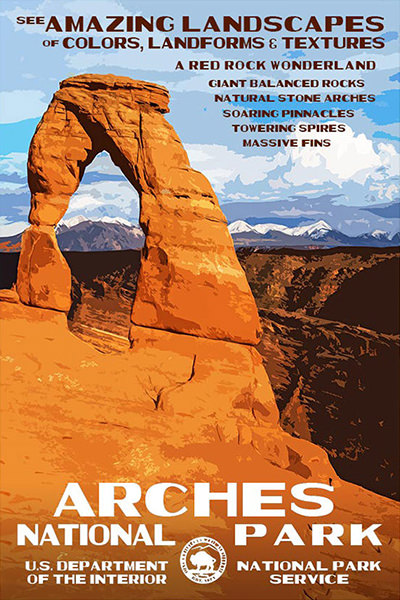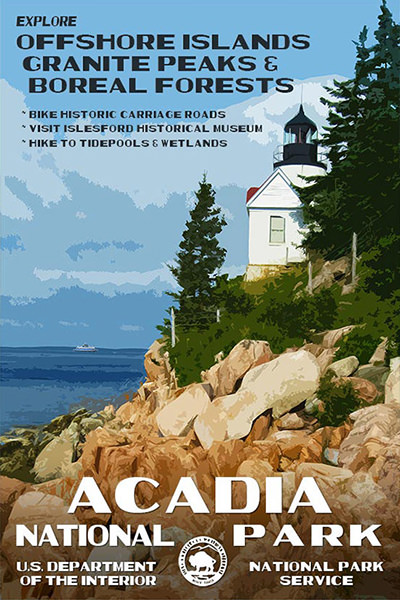 All of these gorgeous 13×19 posters are signed/numbered limited editions and usually retail for $30 each (which is a total bargain)... but with his sale, you can pick them up for as low as $20 each!
Talk about something Americans can be proud of... our incredible 59 National Parks are national treasures and truly showcase America the Beautiful. I visit them whenever I can, and have plans to visit more in the near future. Here's my list with a check next to the park posters I own (click on a National Park to visit its Wikipedia Page)..
Just for fun, I mapped them all out in Google Maps here...

Rob plans on eventually releasing posters for all 59 National Parks, so hopefully Hawaii Volcanoes, North Cascades, and Redwood will be added to my collection soon!
In the meanwhile, I rearranged my stairwell wall so I can fit my recent purchases into my collection...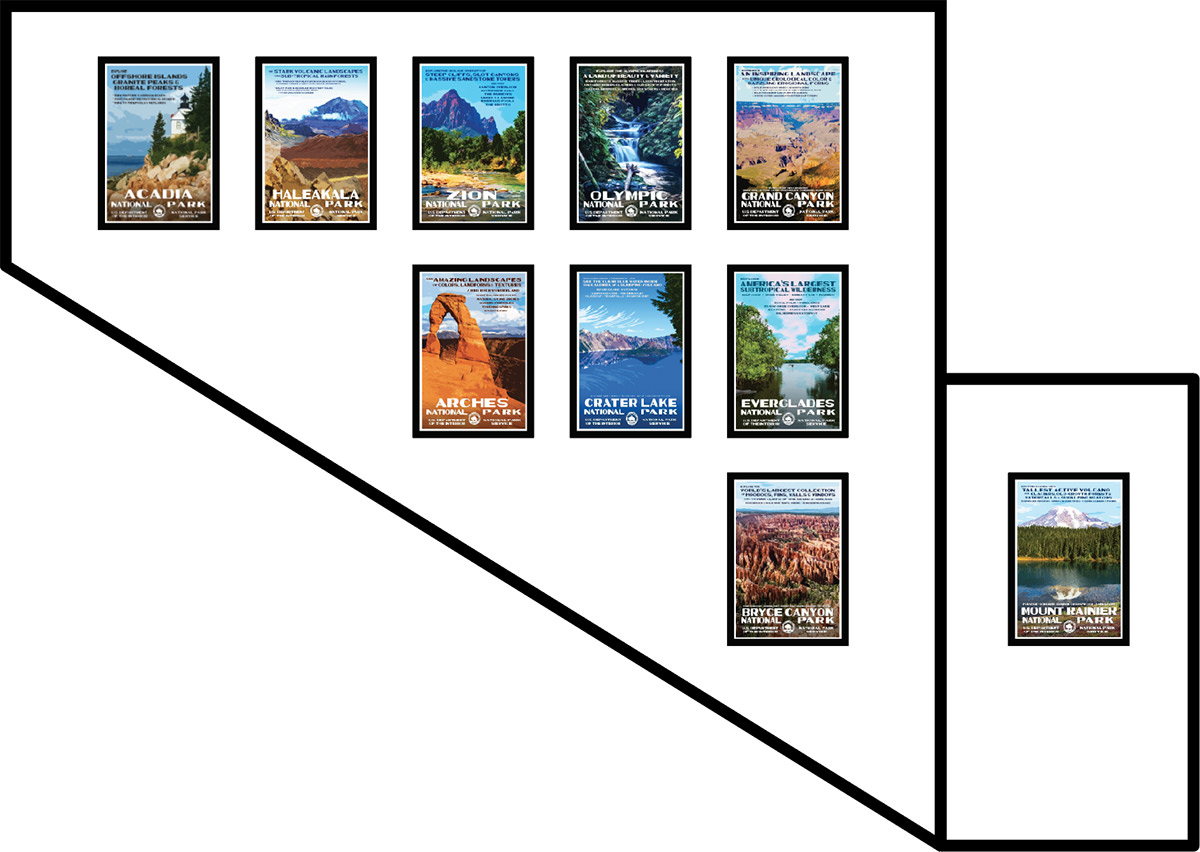 Annnnd... my wall is full now! As I visit more National Parks, I guess I'll have to add any new posters to my office the cat's room walls.
Posted on Wednesday, August 16th, 2017

Well, the world may be going to shit, but at least I have cats to keep me sane.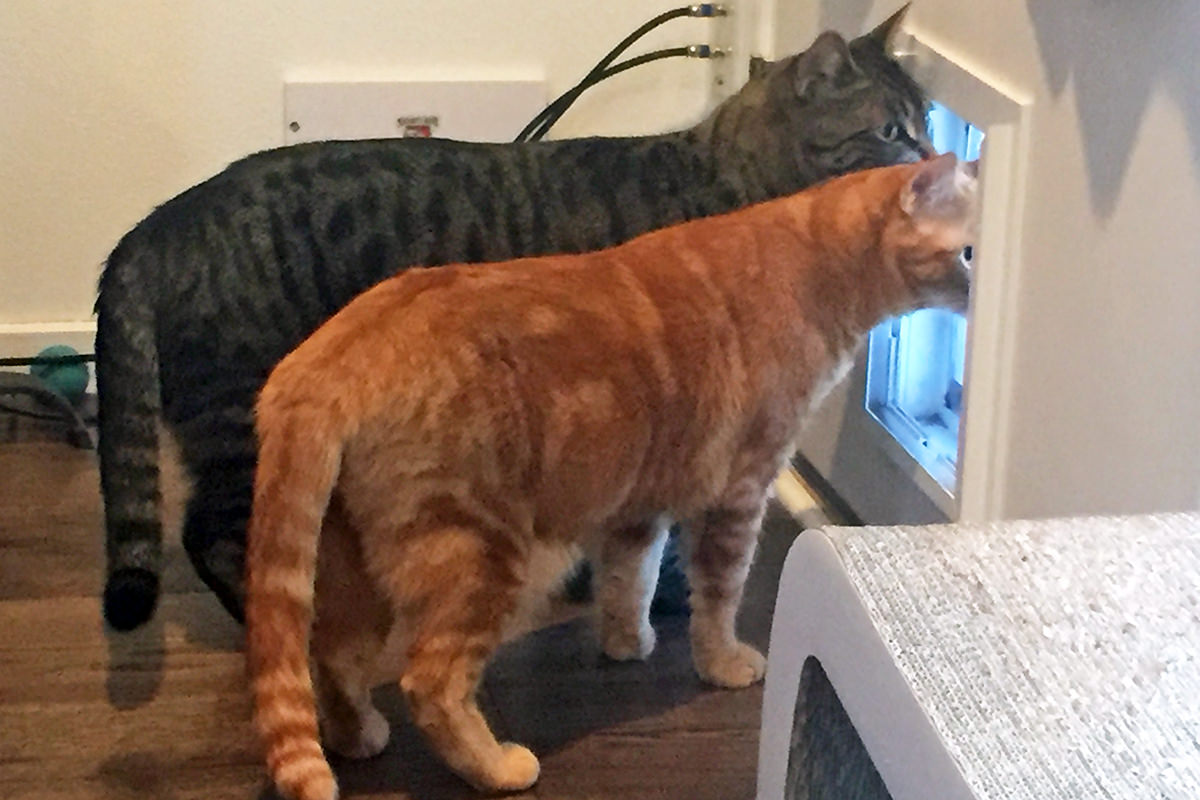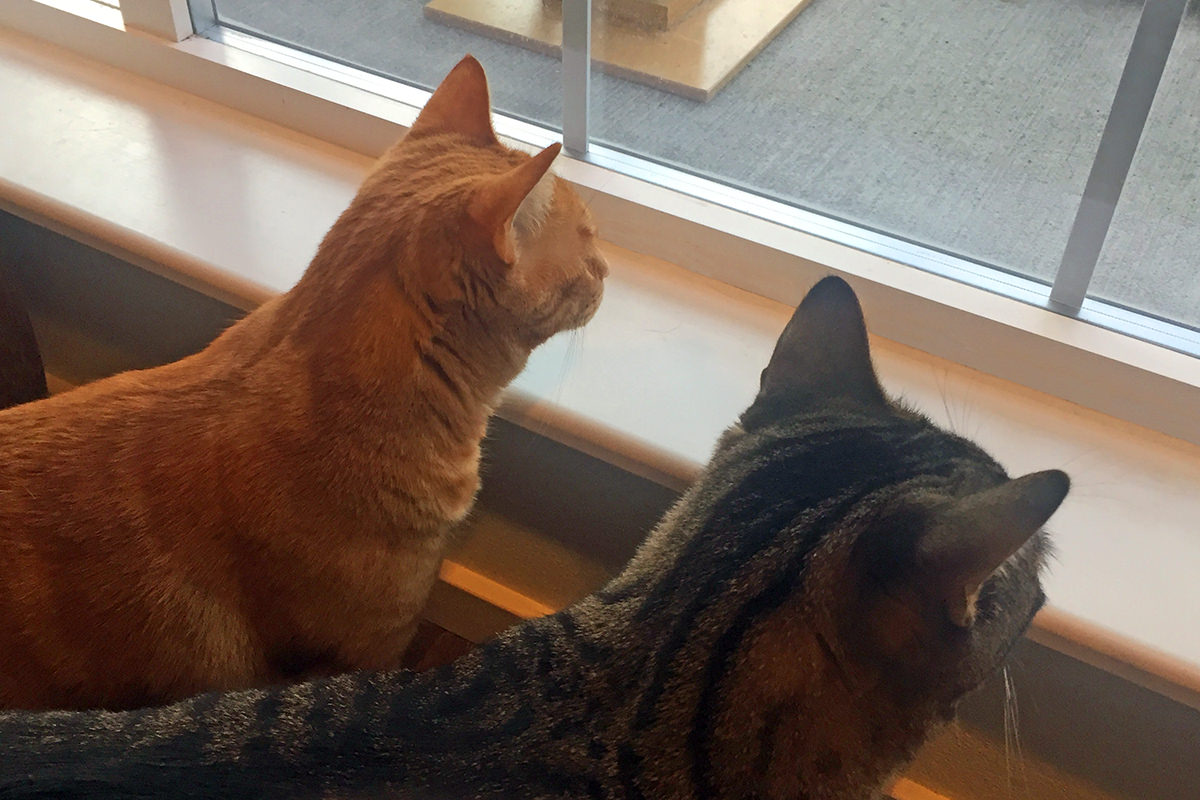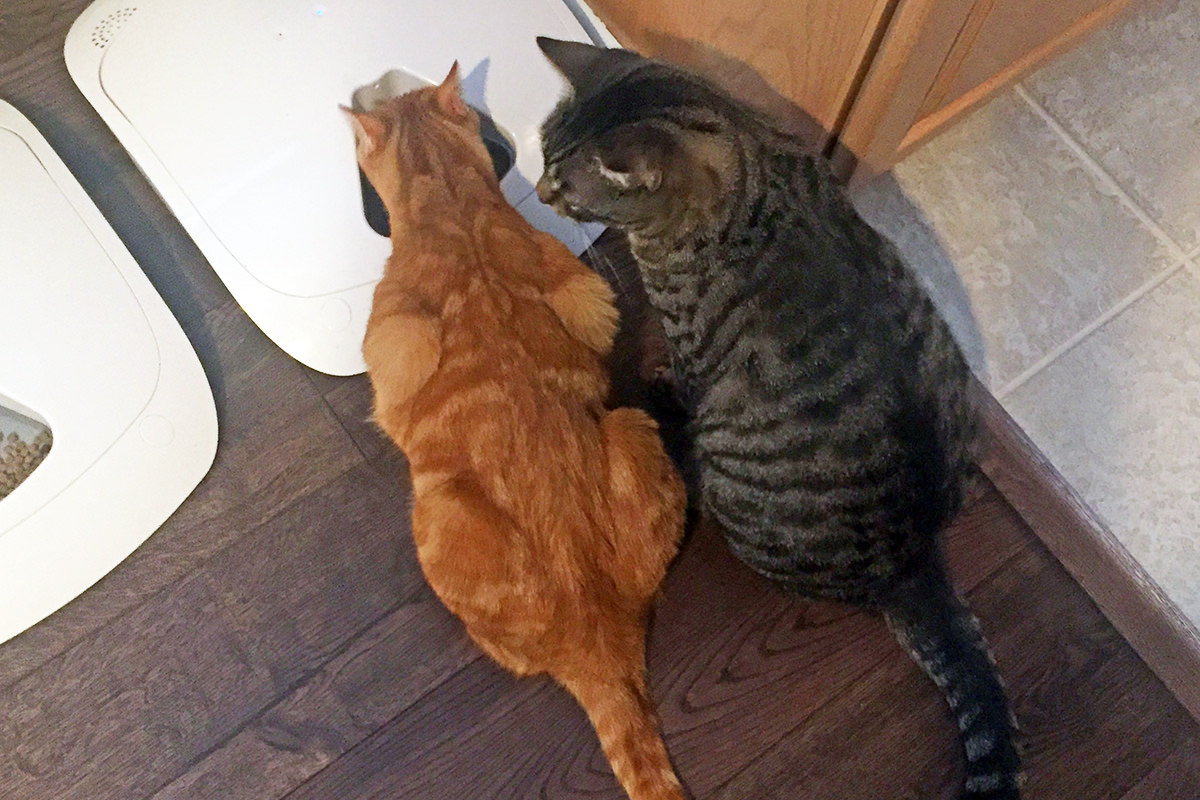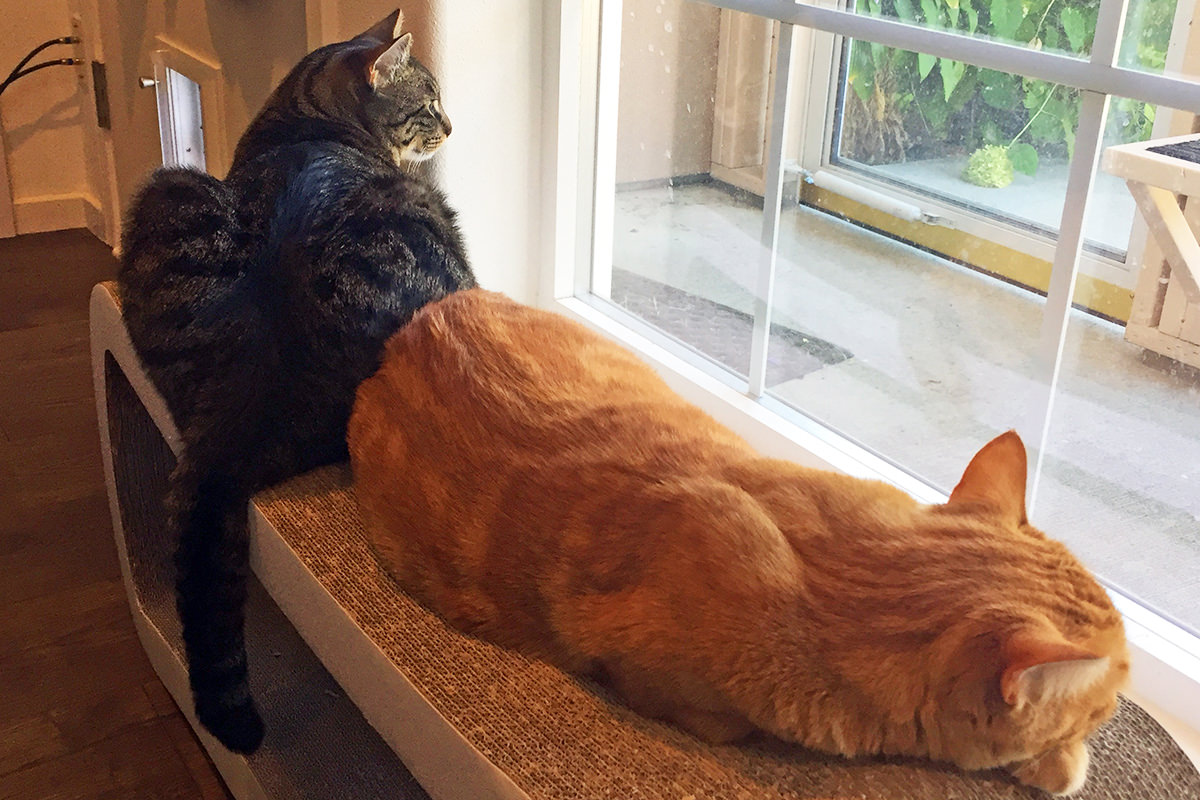 Just like when they were kittens... but not quite so compact...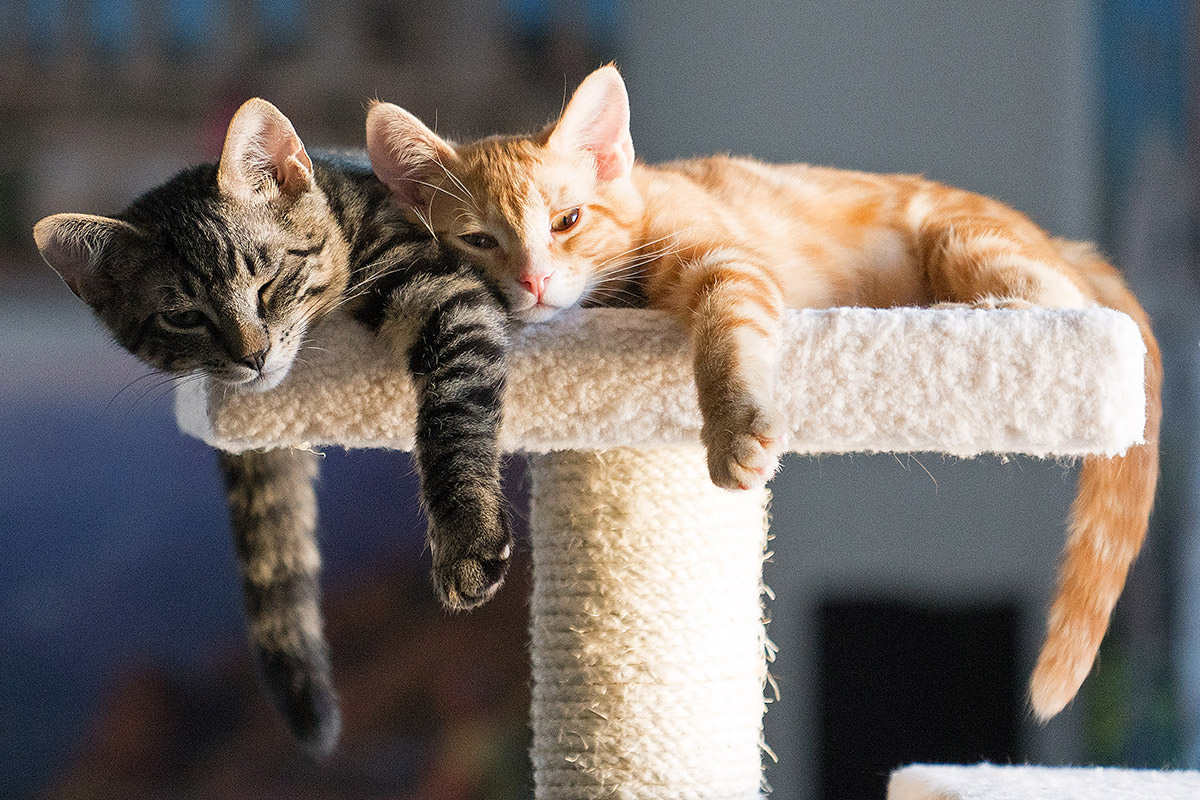 Posted on Tuesday, August 15th, 2017

The movie review compendium site Rotten Tomatoes is both a good thing and a bad thing for the movies I love. Good because movies that critics like which might be missed are getting some exposure and hype they deserve. Bad because movies that critics hate which aren't necessarily "rotten" will dissuade movie-goers from seeing something they might otherwise enjoy.
My movie tastes are all over the map but, in general, I tend to agree with the majority of critics.
But not always.
And apparently I'm not alone, because last night I saw this article pop up: IGNORE THE CRITICS! 10 'ROTTEN' MOVIES YOU SHOULD TOTALLY WATCH ANYWAY. As I read through the films in their list I was all "Yes! Yes! ZOMG, YES!" and so I thought I'd post the link and offer up a short comment on why I agree some of these films are not actually all that "rotten." Though some of them, like To Rome with Love, a film by asshole Woody Allen that stars Roberto Benigni and Jesse Eisenberg (two actors I don't care for at all)... I'll take a pass on.
Anwyay, here we go...
The Secret Life of Walter Mitty is a hauntingly beautiful film that has an overall life message that I strive to achieve. And that's on top of being a wholly wonderful work of art to behold... despite starring Ben Stiller (who is perfect).
50 First Dates is a movie I've seen dozens of times because I cannot bring myself to flip past any channel playing it. Poignant, funny, beautifully shot, and charming to the end... despite starring Adam Sandler (who is not perfect, but actually very good).
Eurotrip is indeed a raunchy comedy that is wall-to-wall offensive and overflowing with bad taste. It's also hilariously funny, despite kinda falling flat at the end. Some of my favorite cinematic comedy moments of all time are right here, and seeing Lucy Lawless as a Dutch dominatrix is everything. SCOTTY DOESN'T KNOW! SCOTTY DOESN'T KNOW!
Mr. & Mrs. Smith is such over-the-top fun that I cannot comprehend that it received bad reviews. The chemistry between Angelina Jolie and Brad Pitt is probably one of the best pairings in modern film, and it is used to brutal effect from start to finish for high entertainment value. As if that weren't enough, the story is well-written and the special effects are great.
Troy is not a favorite, but I did find it an enjoyable take on the genre. Certainly a better film in every respect than horrendous Ben-Hur remake. Yes, it could have been edited with more care because it's "flow" is off and scenes run too long, but it's still worth your valuable time.
Defiance kinda collapsed under its own weight, but it's a great story that gave us a well-crafted film. And you seriously cannot complain about the cast, which was very good. Flawless? No. Worth watching? Absolutely.
Wet Hot American Summer is a movie you absolutely have to be in the mood for... it's silly-stupid in the worst possible way... but that's why I like it so much. Well, that and the great cast, which delivers every raunchy, stupid line like their lives depended on it.
So... if you're ever looking for a movie to watch and you skipped one of these because of poor reviews, you might want to take another look!