Posted on Saturday, March 28th, 2020

If people could see me talking to my cats, they would think me insane.
Jake likes me to talk to him though, and actually talks back. He can't meow, so he kinda squawks, but I know what he means.
Jenny just stares at me for a minute... then looks away like she's embarrassed for the both of us.
As you can imagine, in the day-and-age of Washington State's "Stay-At-Home" order, I am awfully glad to have my cats around. More and more every day. They keep me company... and definitely keep me entertained... which is something I'm happy to have while in self-imposed exile.
Even if my cats sometimes tire of me bothering them during their down-time...
You will note that there's a toy in there with her. Jenny has been going through a toy renaissance lately, dragging them around and sleeping with them...
The other night Jake was wailing downstairs again after I went to bed. I have tried to just let him yowl so he doesn't get trained into thinking that he can beckon me on command... especially when I'm trying to sleep... but I just don't have the heart. What if something is actually wrong this time? So I head to the stairs and immediately know what's got him stressed this time...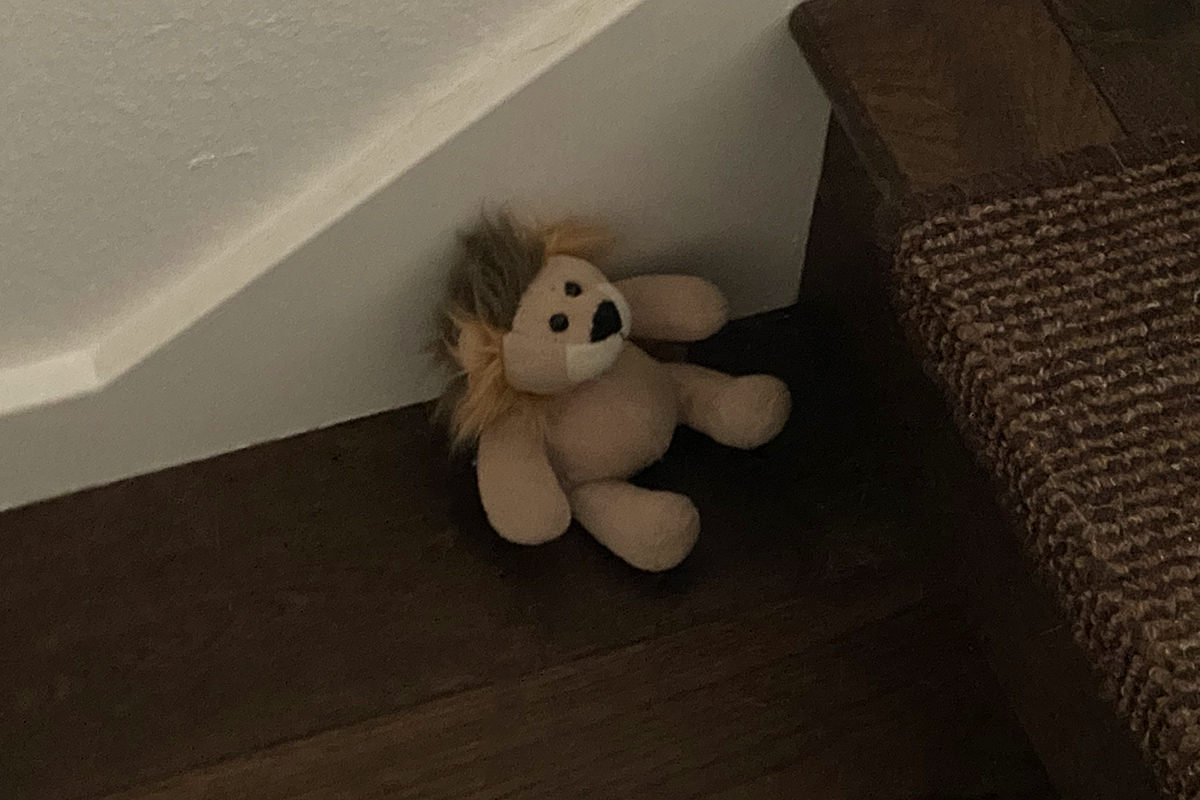 Apparently Jenny grabbed Mufasa from Jake and ran away with him. And if Jake can't find his favorite toy, he's understandably upset. So I took Mufasa to him downstairs, he grabbed it and sauntered off, and that was that.
This past week I got a security alert on my phone while I was at work. When I looked to see what had happened, I saw Jake and Jenny running from the kitchen at top speed. Curious to know what had happened, I checked the kitchen-cam only to see this...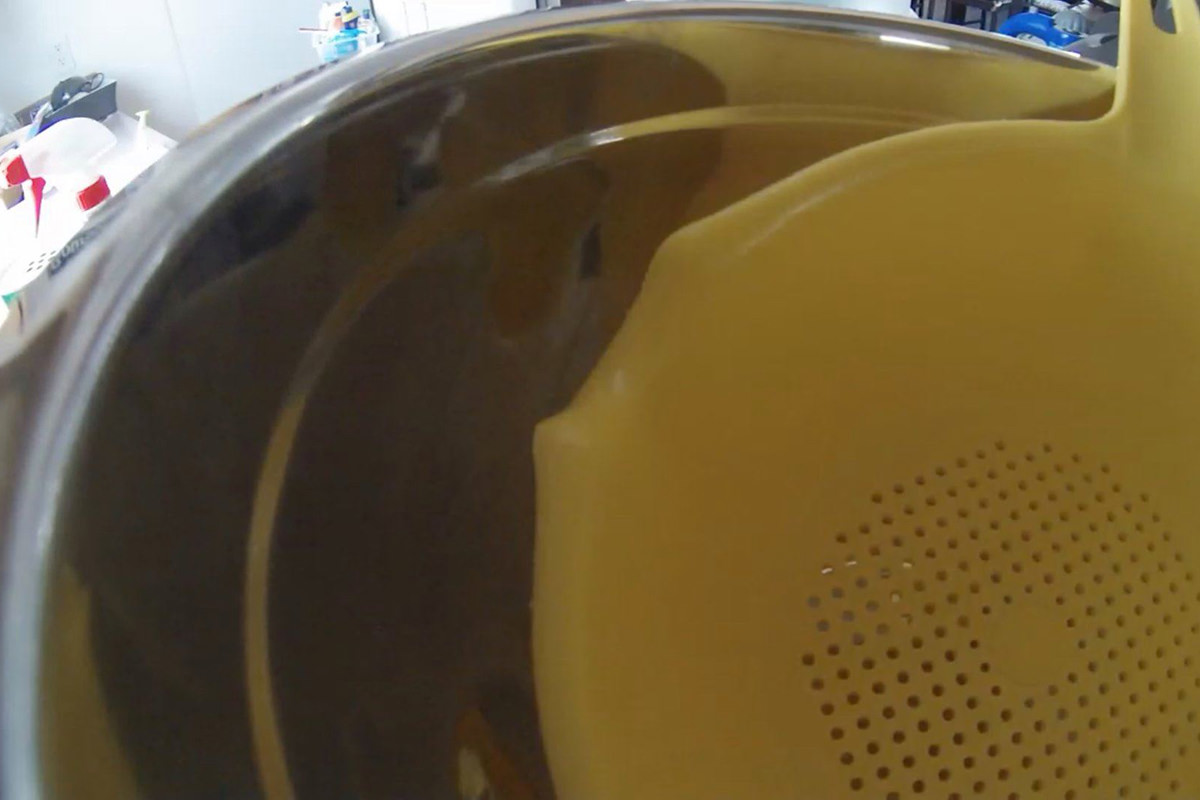 I've been tearing apart my house and disinfecting everything, and should have put the dirty dishes in the washer after I finished cleaning out the sink. Naturally I was curious as to what had happened, but my cats were safe so I didn't rush home.
And when I did get home I found this...
My cats still hate Carl the RoboVac. And since I have no idea how that bath towel got in the kitchen, I'm guessing they are still working together to murder him. This time by choking him with the towel.
Psychotic nut-balls.
And speaking of psychotic nut-balls, HAVE YOU BEEN WATCHING THE TIGER KING ON NETFLIX?!? This was me and Jake watching earlier this week...
The show is just bananas. Seriously. You have NO idea...
If you want to see some seriously messed-up television, there's your show.
Posted on Friday, March 27th, 2020

I've played all of the Animal Crossing games in the main series... どうぶつの森 (Animal Forest) on the GameCube, Wild World on the Nintendo DS, City Folk on the Wii, New Leaf on the Nintendo DS, Pocket Camp on the iPhone, and now New Horizons on the Nintendo Switch. For anybody not familiar with the series, it's essential a "life simulation" game where you live amongst animals and pass your time with activities like catching bugs and fish, digging up fossils, expanding and improving your house, and collecting clothing and furnishings to build a custom lifestyle. It's a relaxing way to spend time and forget about the world, and since the game progresses in real time, you're compelled to check in from time to time to see what's new.
The latest effort, New Horizons on the Nintendo Switch adds some important new ideas... while hampered by some really poor game-mechanics which have plagued the game since the beginning (with one notable exception, which I'll get to below). If I were rating it, I guess it would be four stars, maybe? I mean, I do enjoy it very much, but there are times it frustrates me so badly that I want to never play it again.
So let's discuss that, shall we?
This time, instead of moving into a forest (or city), you are dropped on a deserted island with the games business moguls... Tom Nook and his twin (sons? nephews?) employees Timmy and Tommy. The three of them are responsible for building and upgrading your home, selling you stuff, and pretty much run everything. All you have when you start is a tent, a simple bed, and a lantern... along with the clothes on your back. Fairly quickly Tom Nook will inform you that you no longer get the tools you need to survive... instead you have to collect tree branches and stones to craft your own. Like the bug net I made here...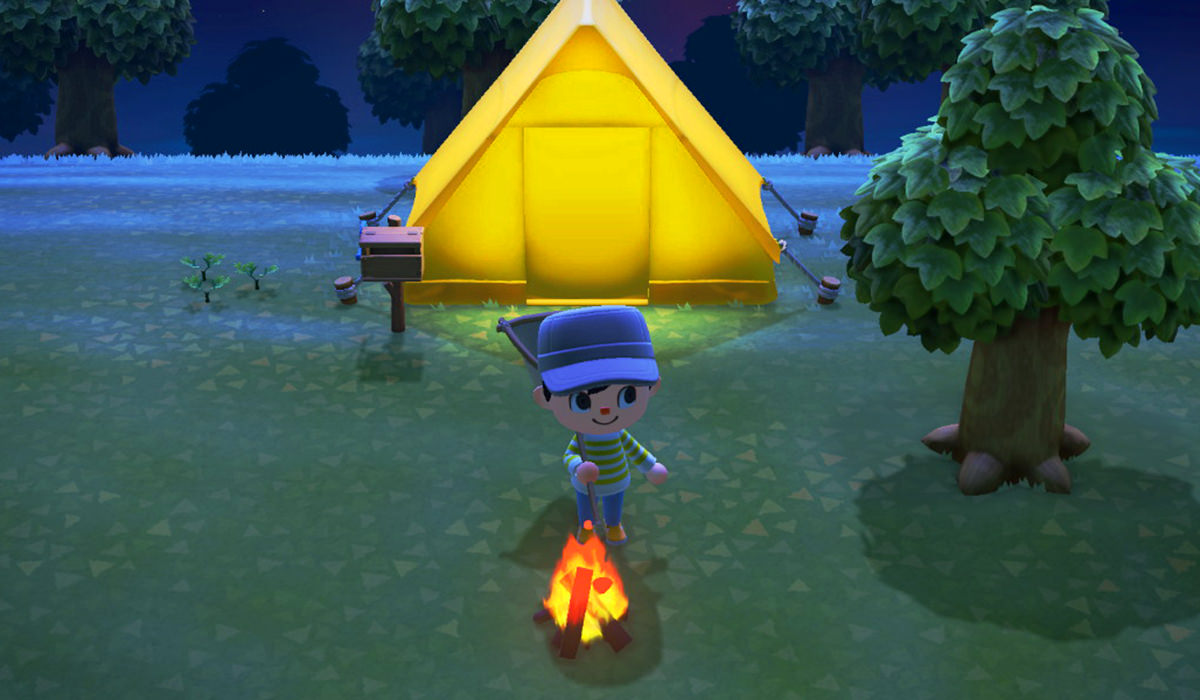 In short order you are informed that the "deserted island" will be getting two new inhabitants. For me this is a pink deer named "Fuchsia" and a body-building-obsessed ape named "Louie." Befriending them gets you advice and occasional gifts, which are much needed when you start the game.
One of the cool new features for New Horizons is the addition of the "Nook Phone." The phone has all kinds of nifty features. Like an app to catalogue all the fish and bugs you catch, your crafting recipes, and even a camera... which has surprising depth of field plus filter features for altering your images. It's a cooler way than a screen snapshot to record events on the island. Compare this image taken with the camera app compared to the screen-cap above...>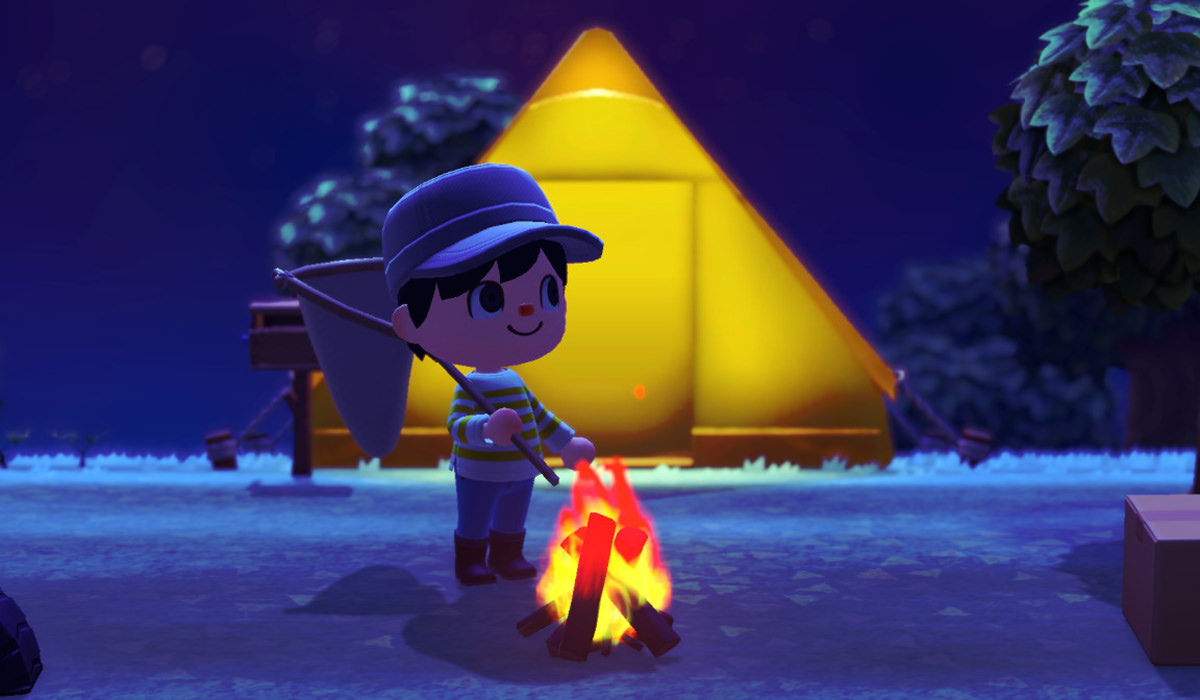 Your early days will be spent collecting bugs, fish, seashells, weeds, flowers, and the like so you can sell them to Timmy and Tommy for "bells" which is the in-game currency. You need bells to pay off your loan for the tent so you can take out a new loan for a house. You also need them to buy stuff you might need for your home. You also need to collect branches, wood, rocks, weeds, and such for crafting tools, furniture, and accessories. Here you can see me sneaking up on a snail that crawled out when it started raining...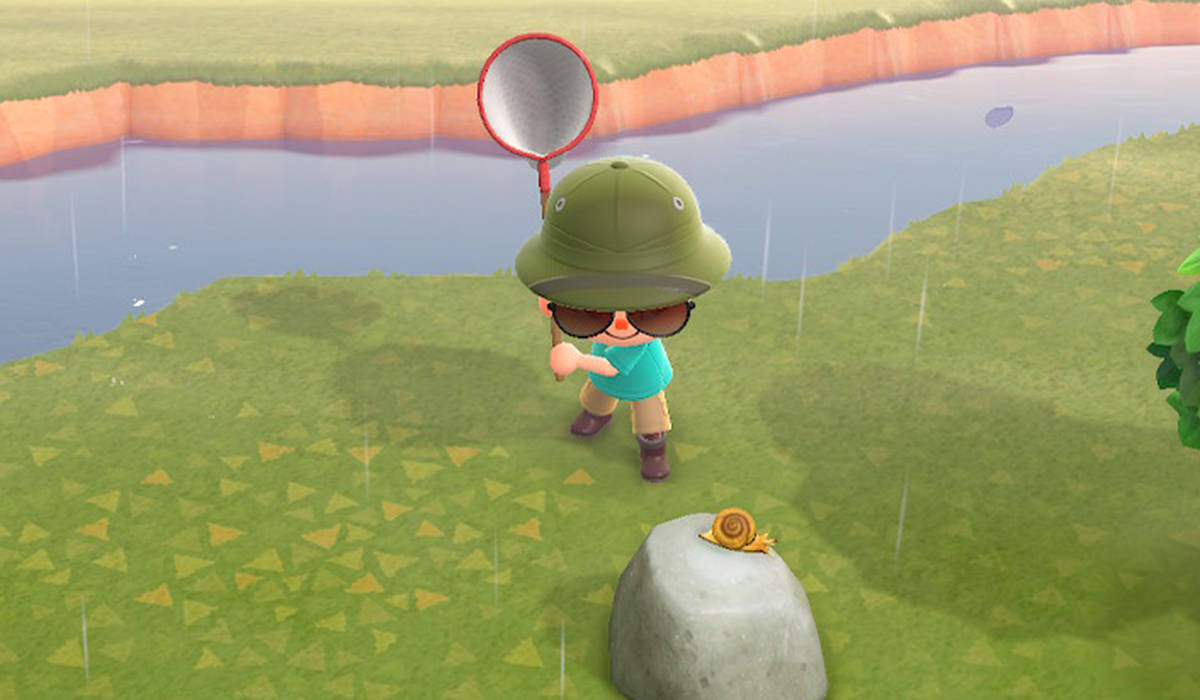 New to this game is the idea of "Nook Miles" which are earned for completing certain tasks... catching this many bugs... talking to this many neighbors... selling stuff for this many bells... that kind of thing. Nook Miles can be exchanged for upgrades, specialty items, and (most importantly) a ticket for a plane ride to neighboring islands where you can plunder its resources and raze its vegetation for fun and profit...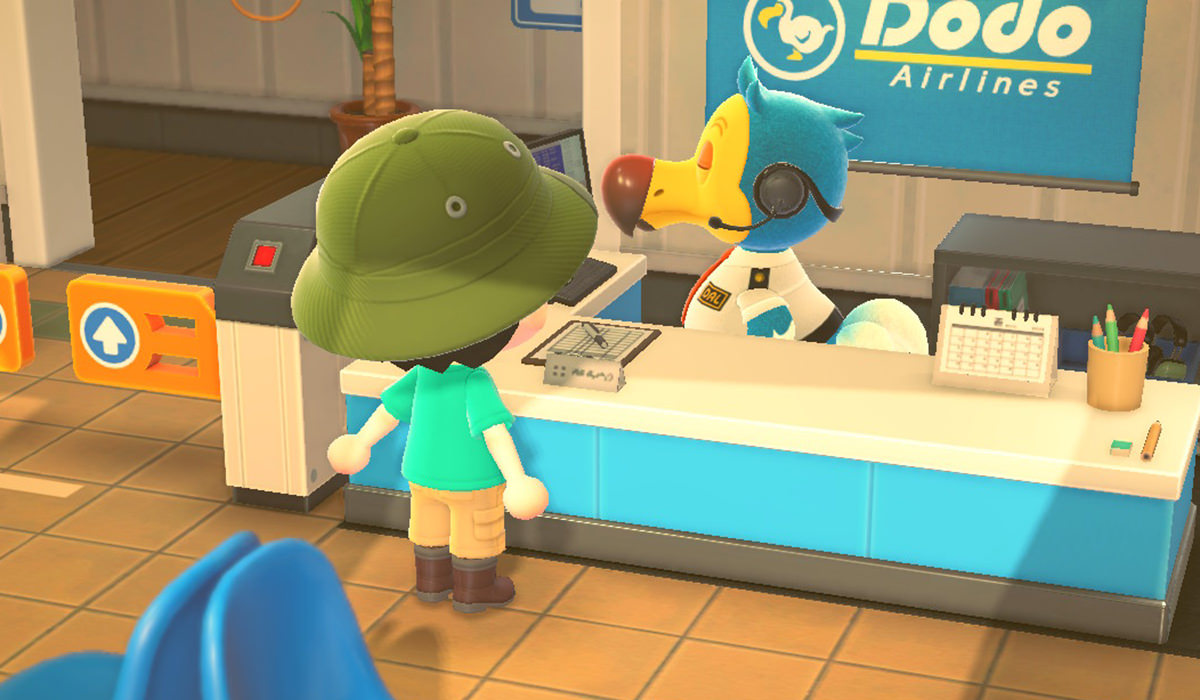 The ecological message here is really scary, albeit historically accurate. You essentially rip everything of value from the island until you are standing in a destroyed wasteland where once a beautiful island stood, all so you can improve your island...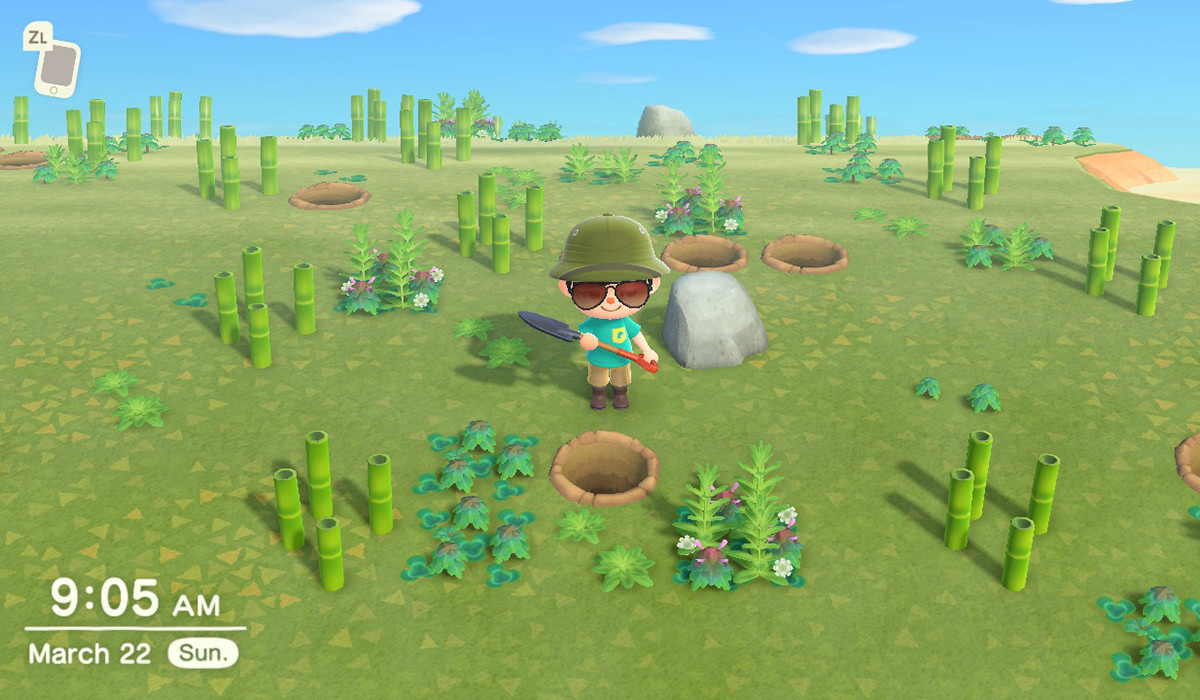 Plunder and raze efficiently enough, and soon you have the funds to upgrade from a tent to a house...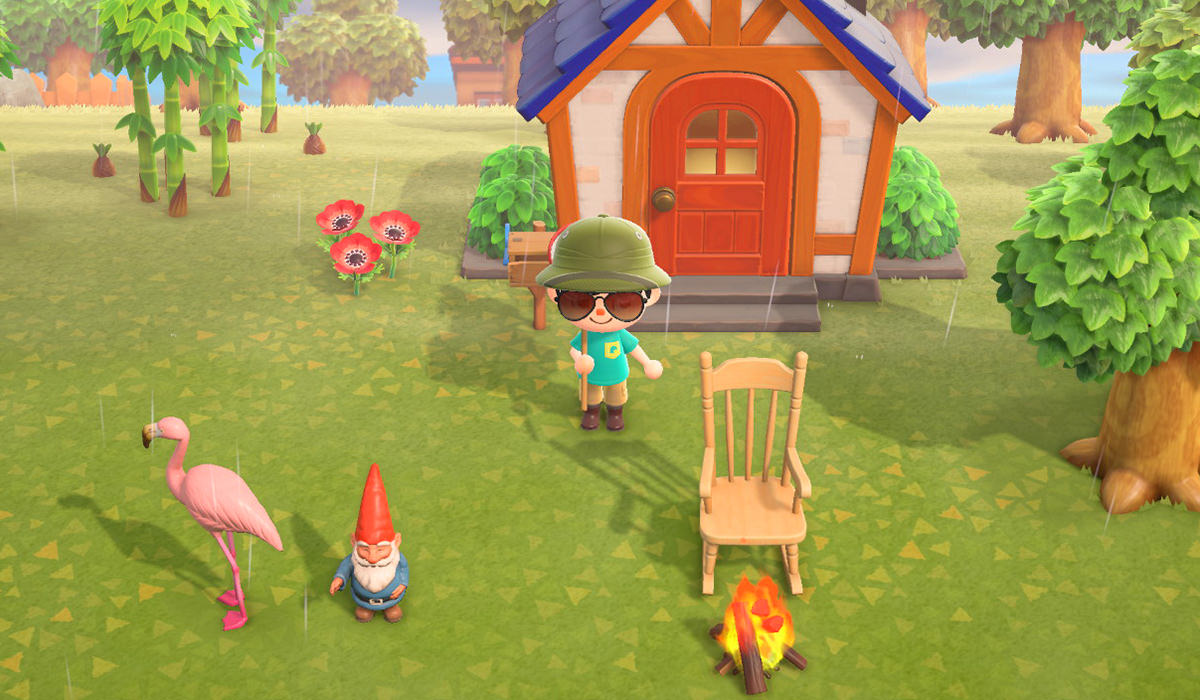 Adding more rooms to your house only takes money. Ever-increasing amounts of money. But, since you can decorate your rooms however you want, that's where the fun is...
You can add progressively more rooms to your house, with each expansion costing more and more bells to procure. Most people turn the first expansion into a bedroom. I turned mine into a big bathroom/laundry room...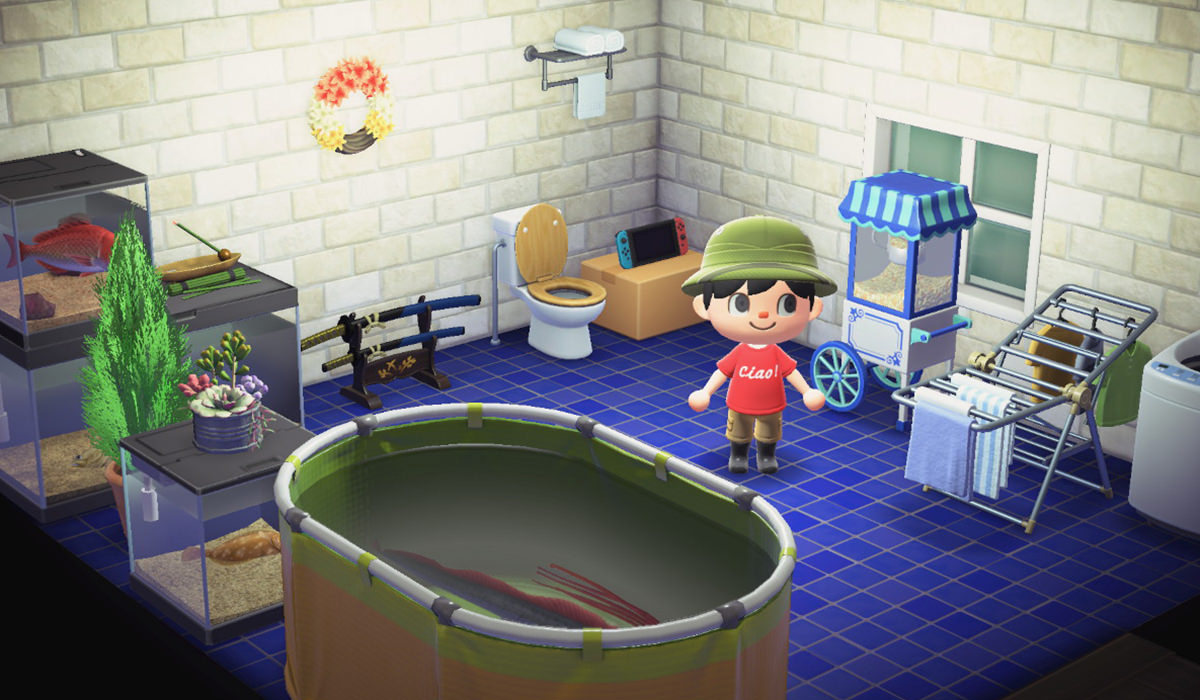 Yes, you can absolutely sit on the toilet and take a dump. It even flushes automatically when you get up! Many items have features like this. The washing machine will start up if you close the lid. The little Nintendo Switch will turn on. That kind of thing.
My bathroom is serious business. I couldn't find a bathtub, so I used an oar-fish pool. The Nintendo Switch is handy so I can play games while taking a dump. The katana swords are there to defend myself if somebody intrudes while I'm taking a dump. Don't mind the fish in the corner, I ran out of storage in my attic.
As time goes on, you'll be able to get even more buildings added to your thriving island community. Like a Resident Services Building...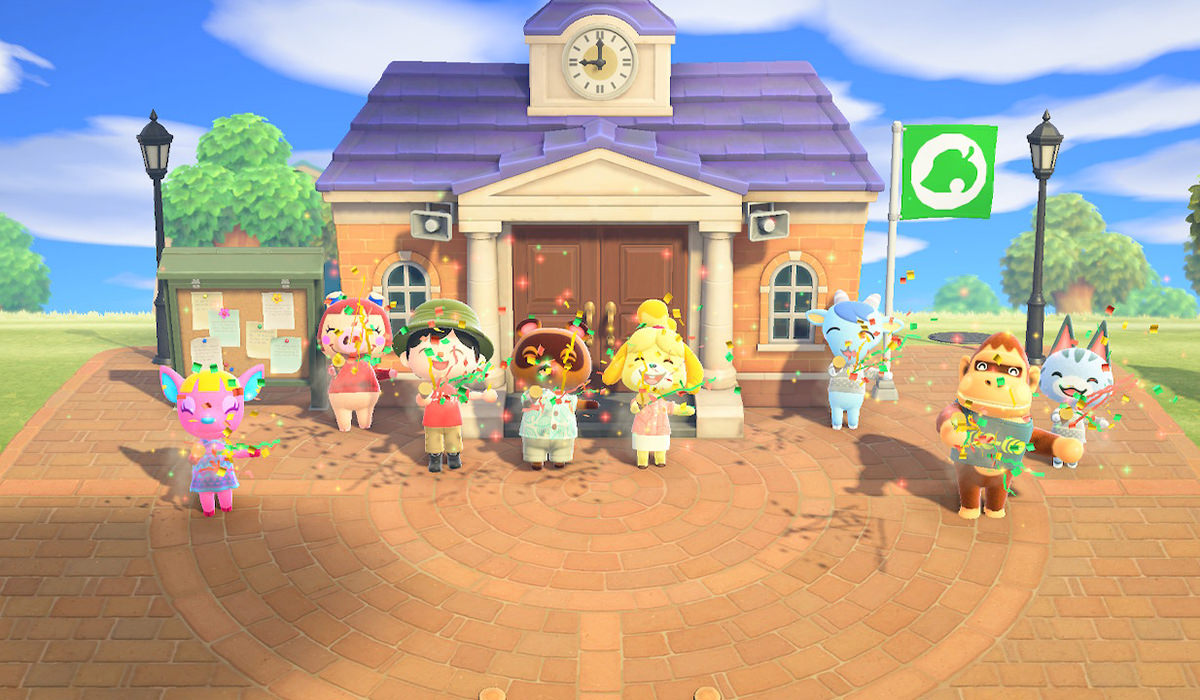 Every time a new structure is built in town, there's a celebration. But there are other seasonal celebrations to be had... including your birthday...
As time goes on, you'll be able to get even more buildings added to your thriving island community. Like a Resident Services Building...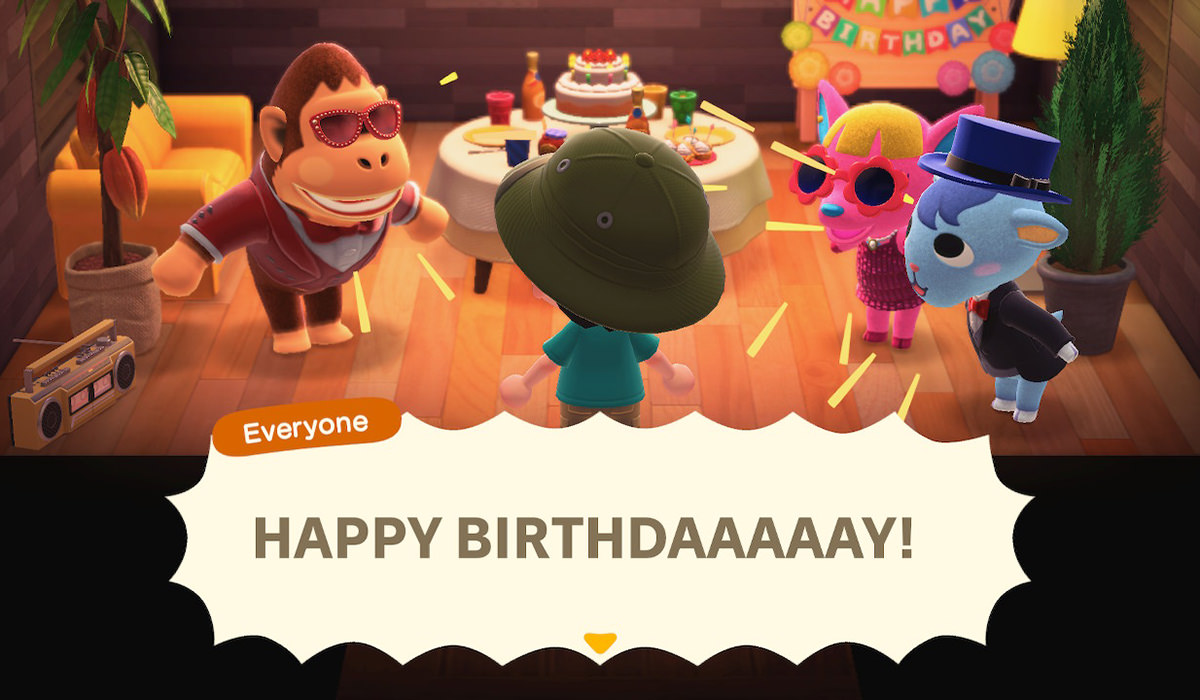 The villagers in my hood are a strange lot. The ape is obsessed with working out and injects it into every conversation you have. He can mostly be found wandering around the island with his ass hanging out...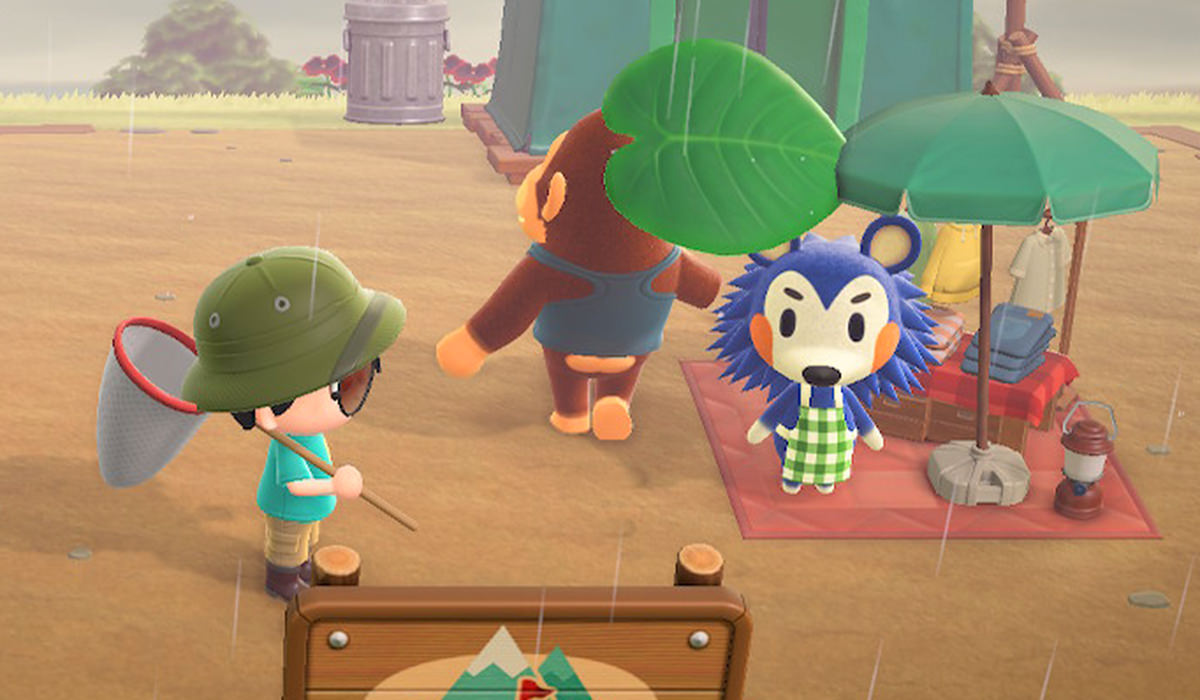 The airport also allows players to fly to their friends' islands over the internet, or have them fly to you...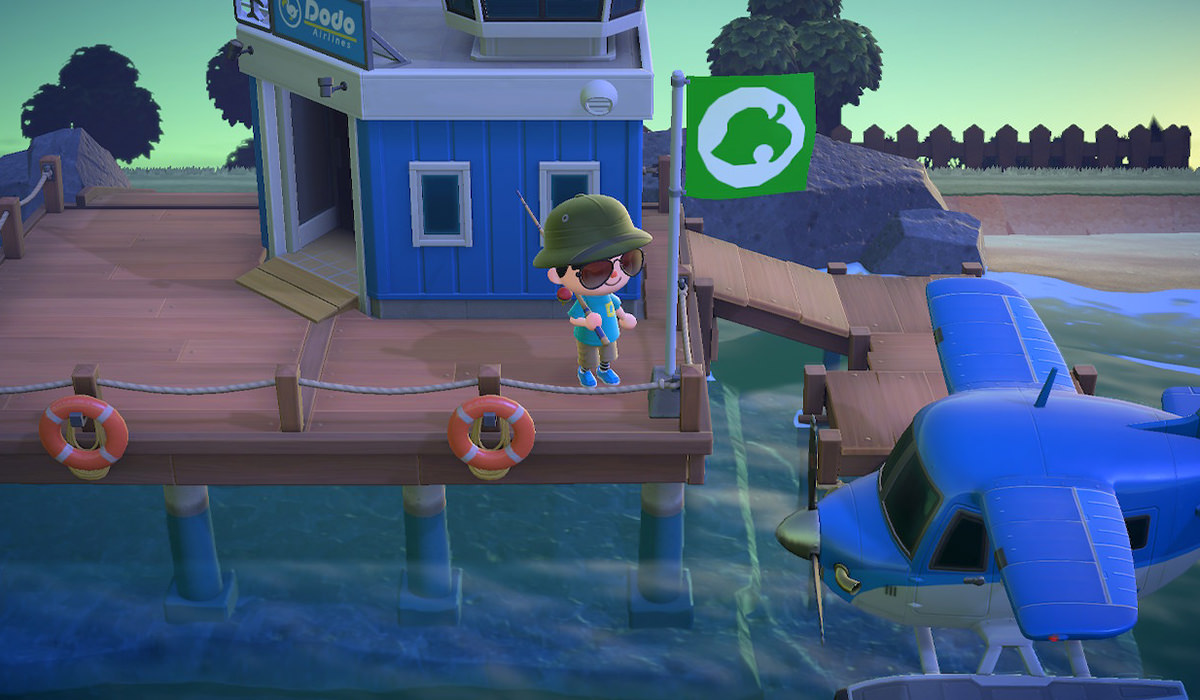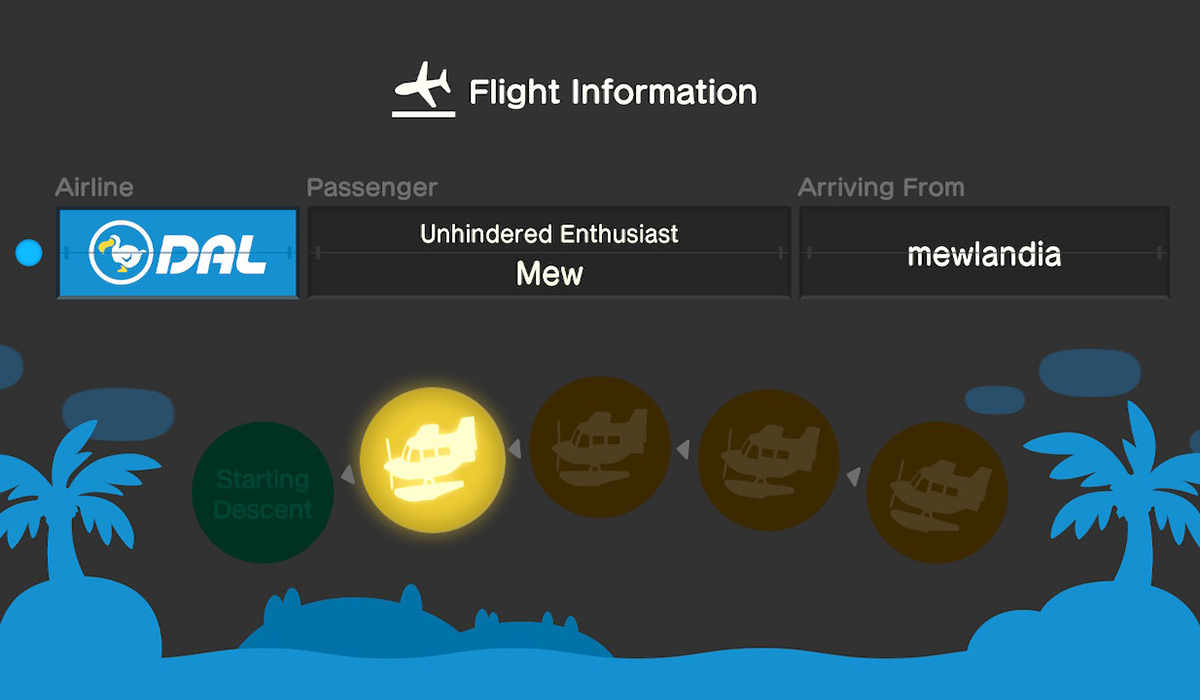 At the airport they also have a stationary rack where you can write letters to everybody that they will then deliver for you by the next day. I like dashing out notes to them because they will think you like them and give you stuff. Doesn't seem to matter what you write, they still love getting your letters. As an added bonus, I usually attach a gift of something I have left over...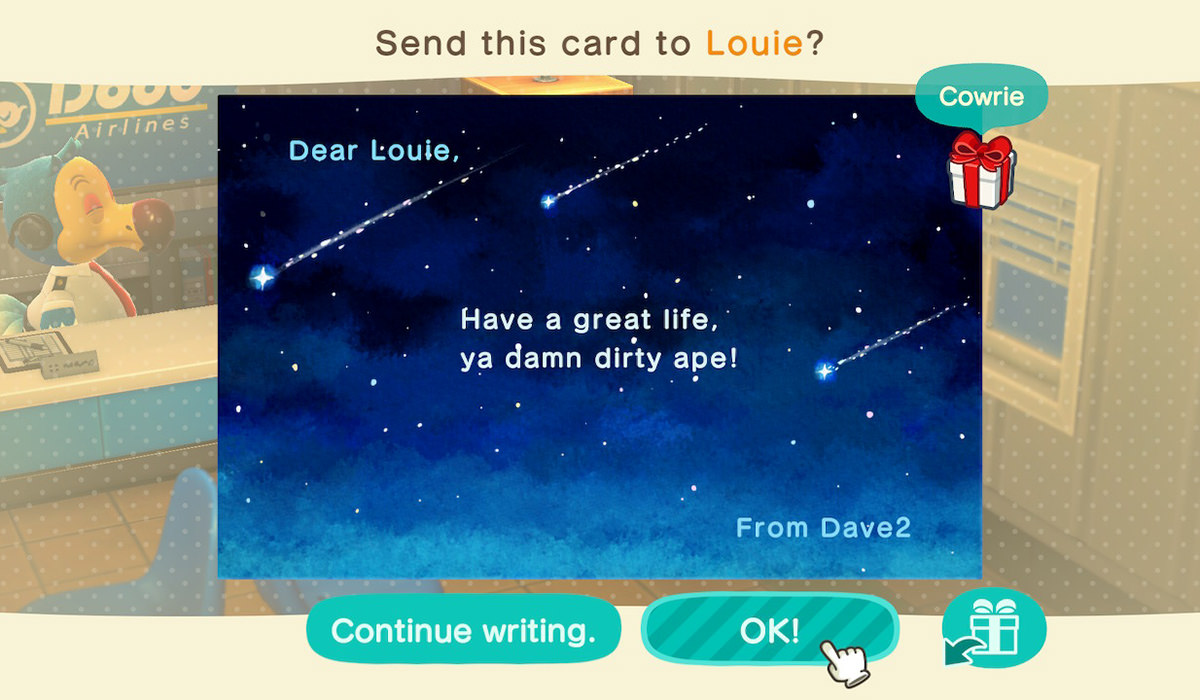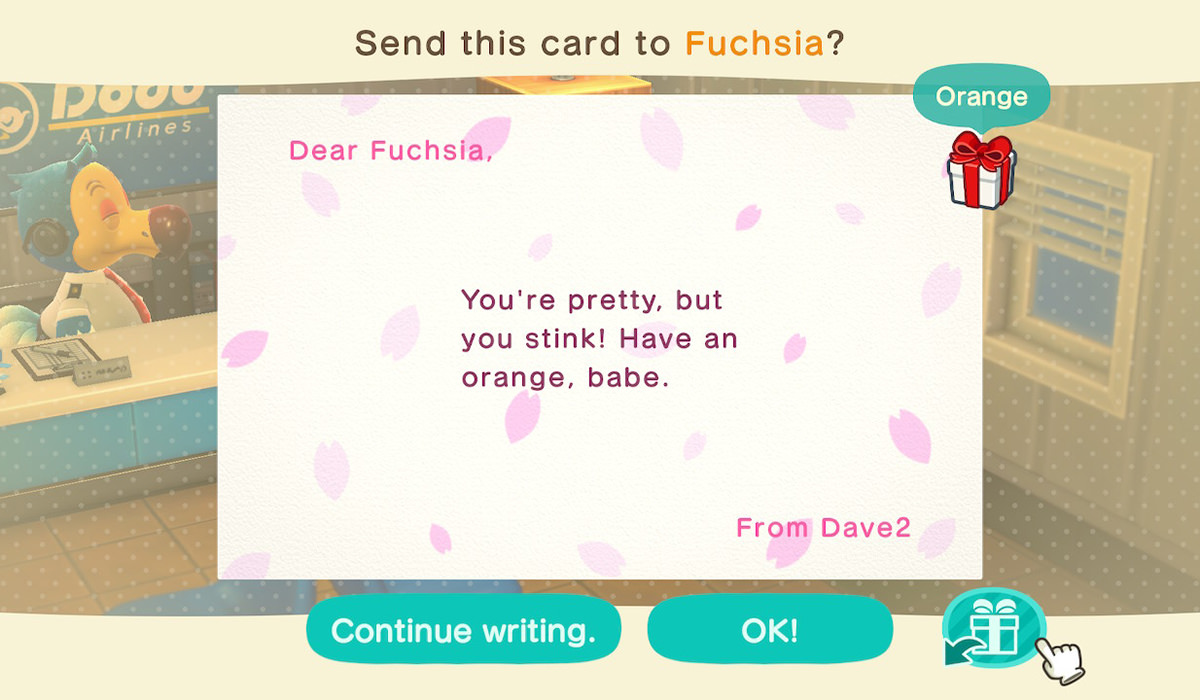 After you get rich enough and have the materials to craft enough, other animals will move to your island. I always welcome them with a warm letter greeting then do a follow-up in-person visit. Here's my letter to Sherb, who looks like he's a goat...
After a while, a stoner dog named Harvey will show up and invite you to the photo studio on his private island. And, yes... it's as creepy as it sounds. If you have Animal Crossing Amiibo statues, you can transfer them to the game and have them pose for photos with you. My Amiibo for KK Slider the musician, Timmy and Tommy the entrepreneurs, and Mabel the clothing magnate worked just fine. For whatever reason my Amiibo for Cyrus and Reese (the alpaca husband-and-wife duo who make furniture) wouldn't work. My guess is that they will eventually be added to New Horizons in the future, and will likely work when they arrive. The photo studio itself is filled with various rooms, props, and wardrobe so you can pose and create various scenarios for your pictures. I don't have that kind of time to waste, so I just photographed us in front of a brick wall...
I'm not sure how else Amiibo will figure into the game, but I hope it nets me some cool stuff.
And speaking of cool stuff, eventually Blathers the owl will come to the island to collect and catalog the wildlife and any fossils that are found. Like in the other Animal Crossing games, Blathers will build a full-on museum after you donate enough specimens and artifacts...
Don't be fooled by the building. It may be rather small on the outside, but it is absolutely massively huge on the inside... housing an entire wing for bugs, another wing for fish, and a basement full of fossil displays. It's spectacular. If the museum existed in real life, I would absolutely visit it. All the environments are great, and the way that the fossil exhibit tries to follow evolutionary patterns is cute...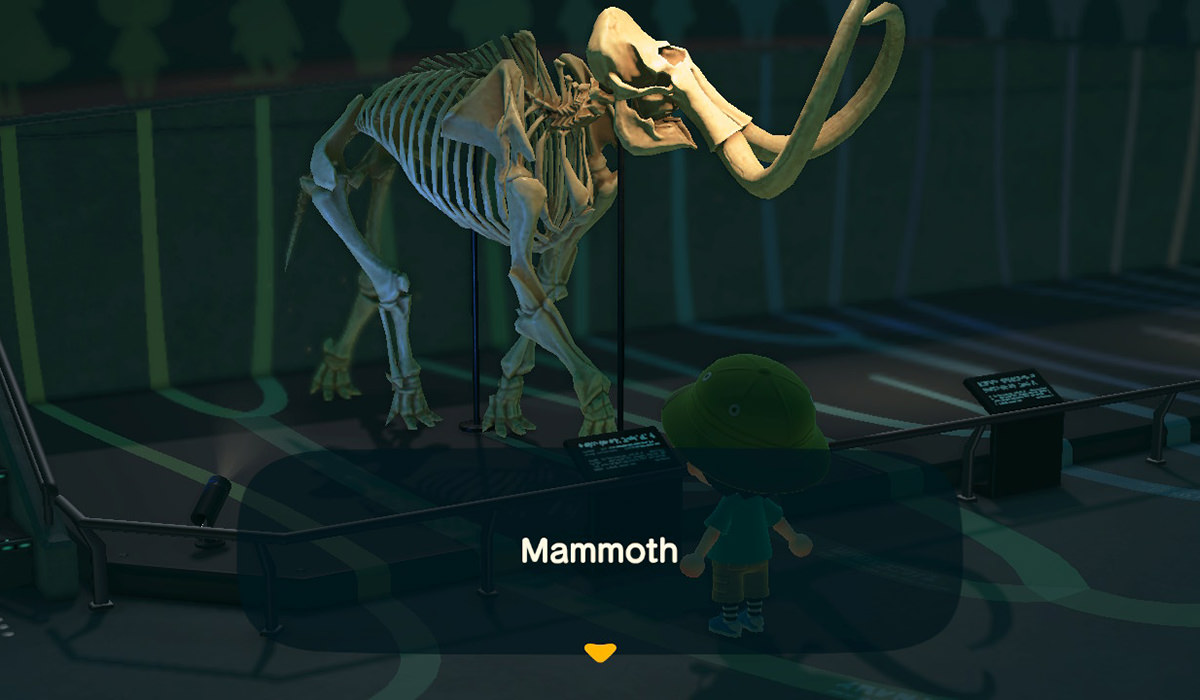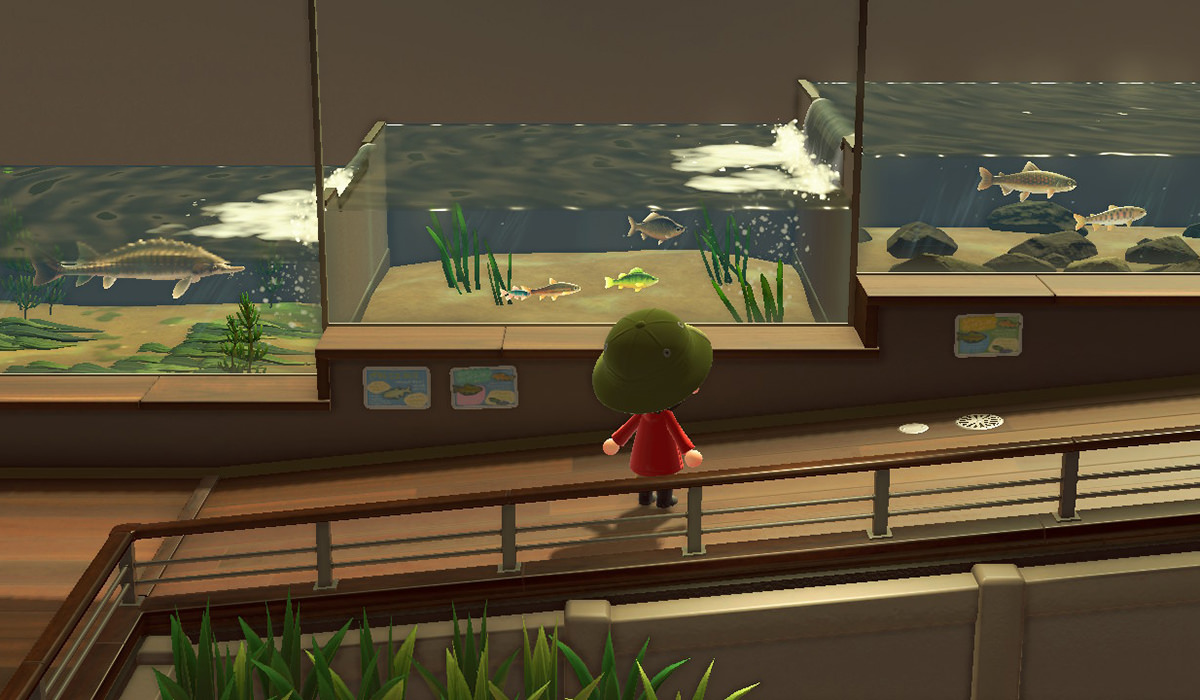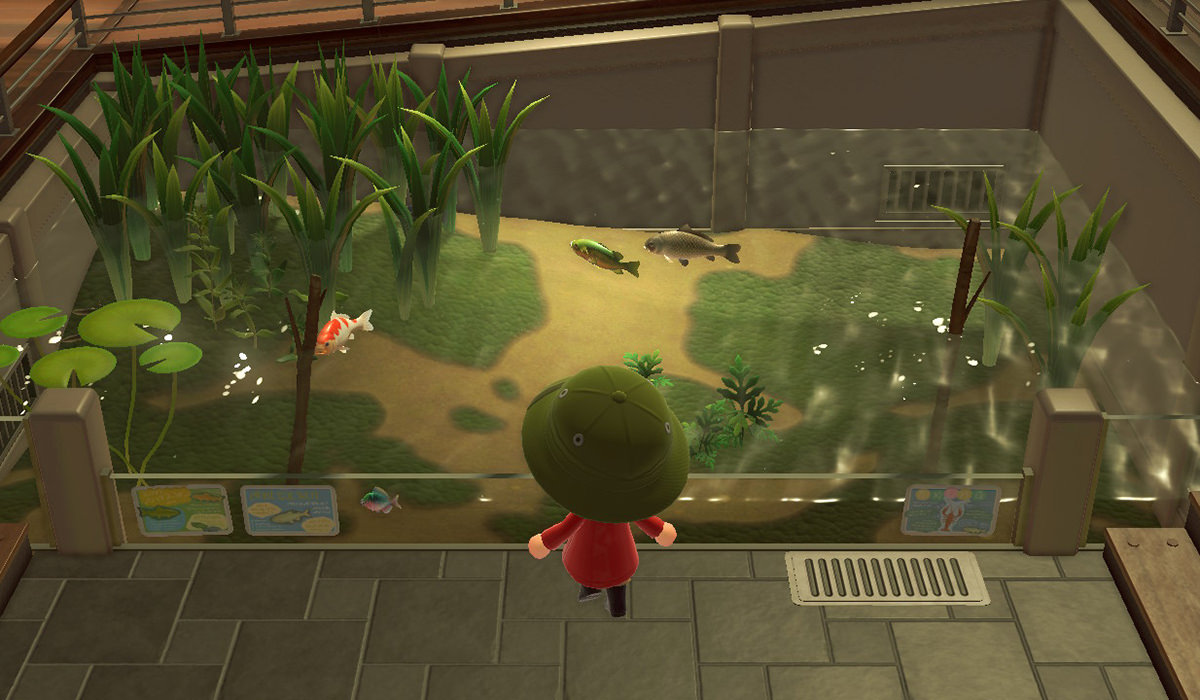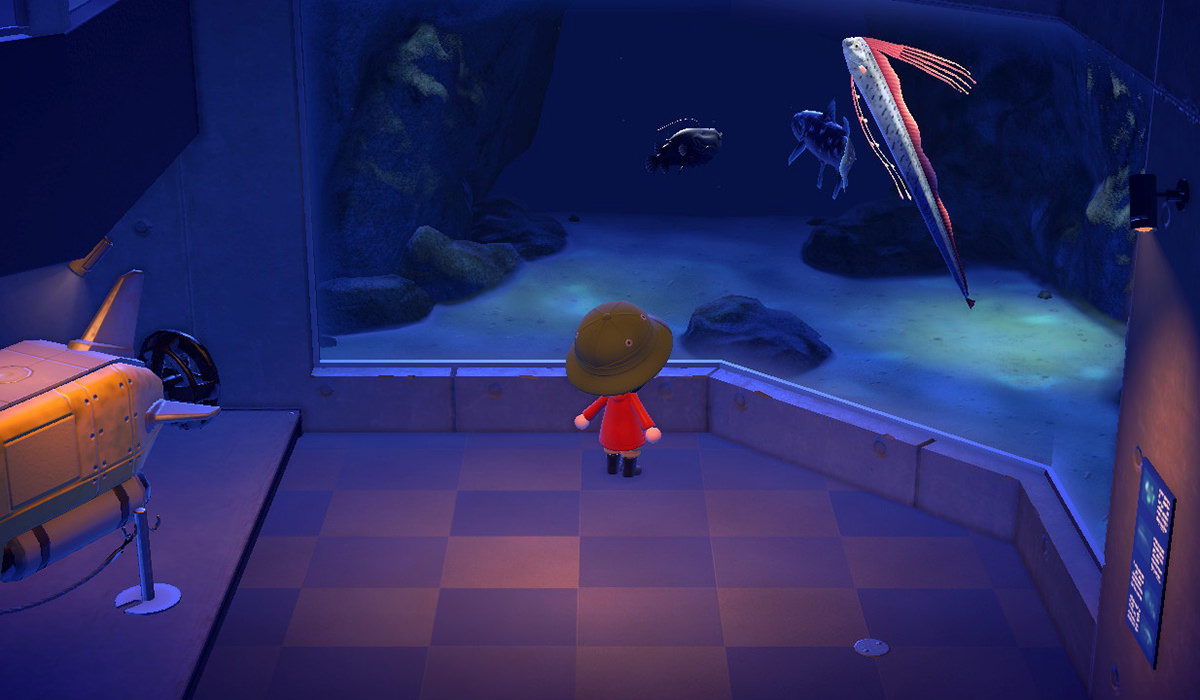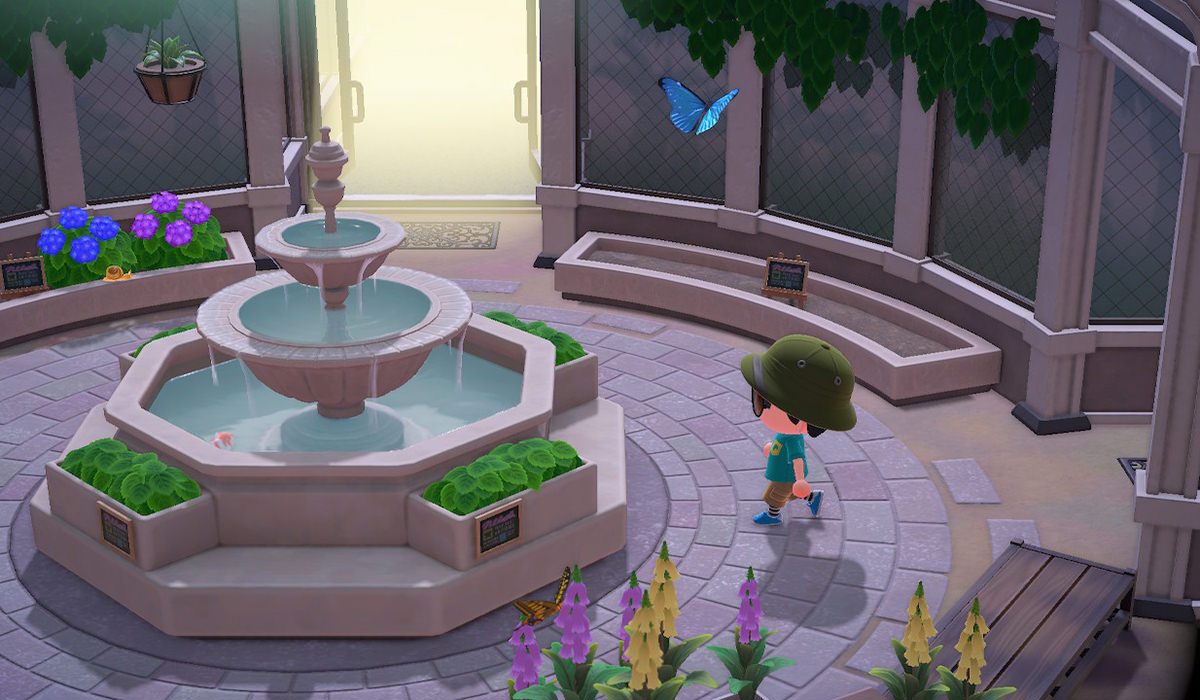 My real goal... more than anything else... is to complete the museum collection. I've never done it on any other Animal Crossing game, but maybe this time? How awesome would that be?
So... pretty cool game, right?
Not completely, no. Let's get to the bad stuff here...
REPETITION. The first couple times your character catches a bug or walks into the museum, the conversation bubbles that show up are cute... charming even. But after a couple days you want to put your fist through the television screen every time. You can speed up some conversations with the B-button. You can speed up the crafting session with rapid A-button presses. But you can't eliminate them entirely and it's such a stupid, boring waste of time. For heaven's sake... LET US SKIP THIS IDIOCY.
TOOL ACCURACY. I have no clue why Nintendo doesn't fix the most horrifically frustrating part of the game... the total lack of accuracy in using tools. Whether it's fishing or digging or catching bugs, it's a crapshoot to determine where your tool is going to land. People keep telling me "You'll get used to it!" But in all these many years of Animal Crossing games, I NEVER have. I face to where I want my tool to hit... and inevitably end up going somewhere else half the time. You can literally see it in these screen captures. You face in one direction, your tool hits in another... and don't think you can compensate because your character will shift in random ways...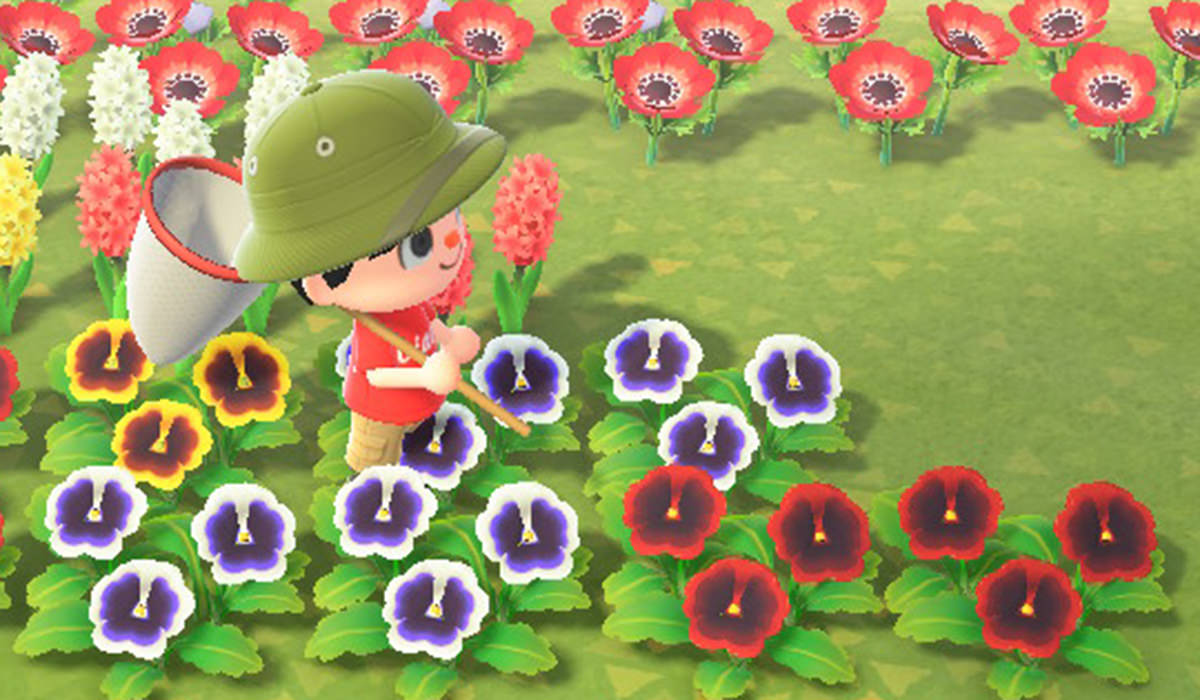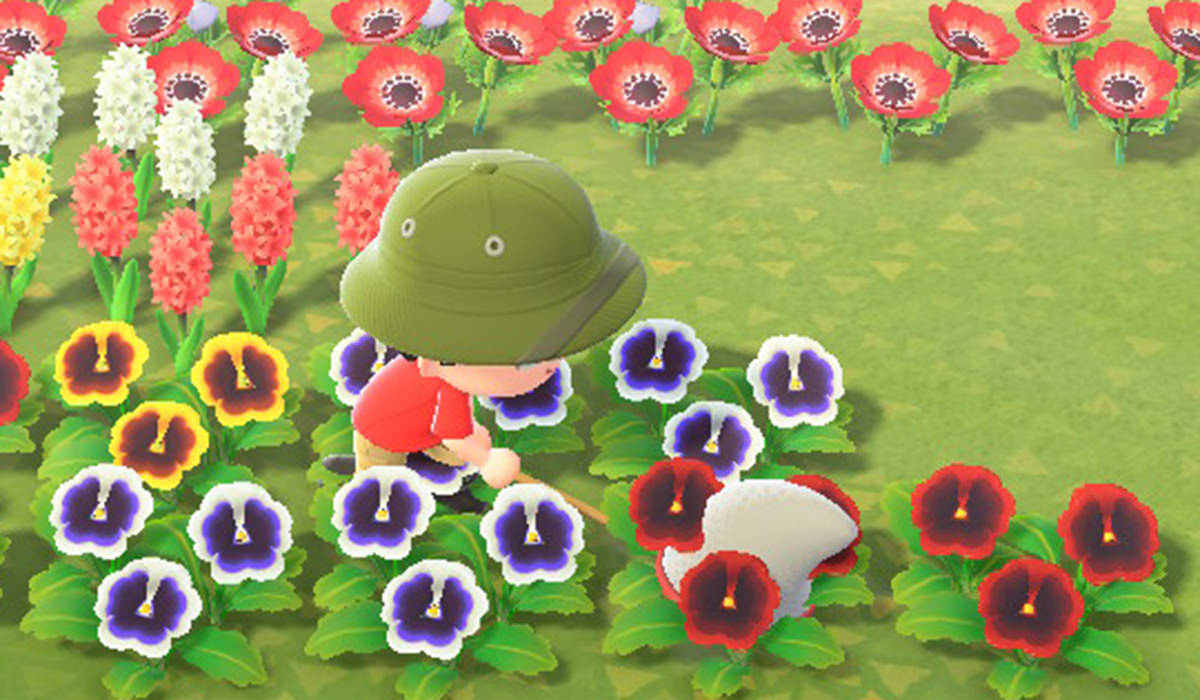 How hard would it be to have a cursor show you where your tool is going to land as an option?
I may have hated the way that the iPhone version... Animal Crossing: Pocket Camp... added pay-for-play to the game, but at least you could tap the screen to specify where your tool will hit and save a lot of frustration.
CRAFTING. Crafting is new to the console version of the game. I like it. A lot. You collect rocks, sticks, wood, and minerals and get to make new stuff. It adds new depth and gives you something more to do. But, in addition to having to suffer through the crafting animation every damn time, there's no way to craft multiples of an item. Have seven clams and want to craft seven sacks of fish bait? You have to click through the menus and go through that stupid animation SEVEN TIMES. Good Lord. Nobody wants this. Give us the opportunity to specify multiple crafted items at the same time.
CRITTERPEDIA. The Critterpedia, which keeps track of all the bugs and fish you manage to capture is a fun tool to look at...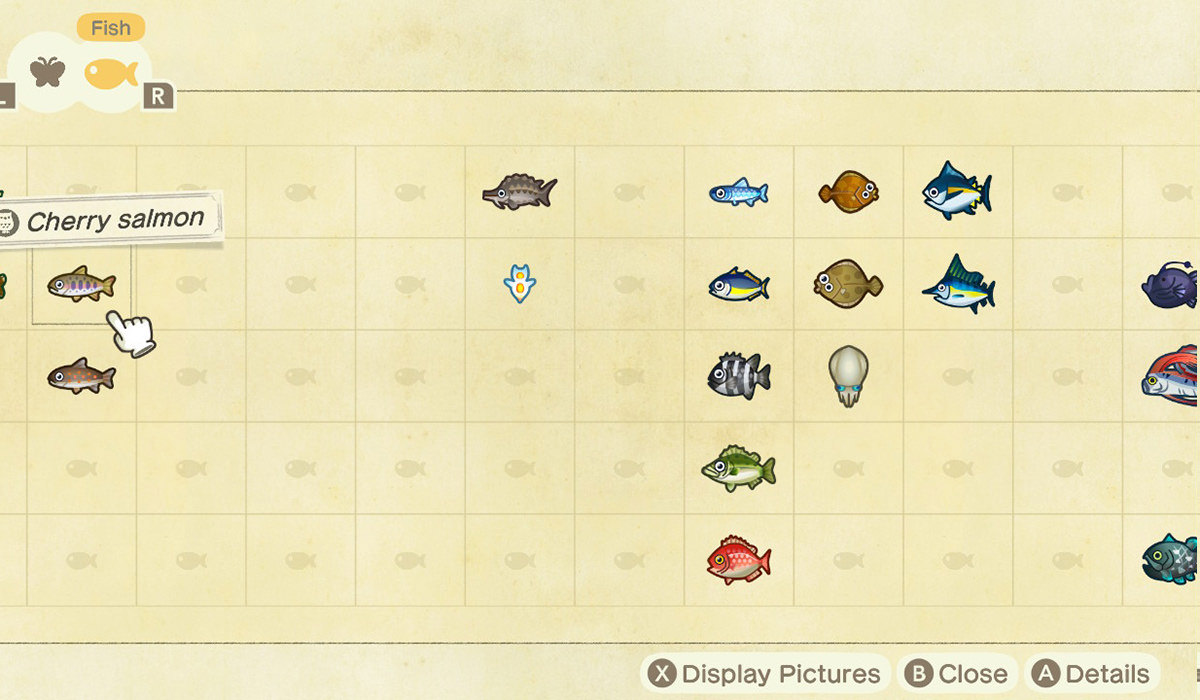 But incomplete and hardly efficient. First of all, no listing for the fossils you've collected. Second of all, you can't tell at a glance which items you've donated to the museum. You have to click through on every individual critter to find out...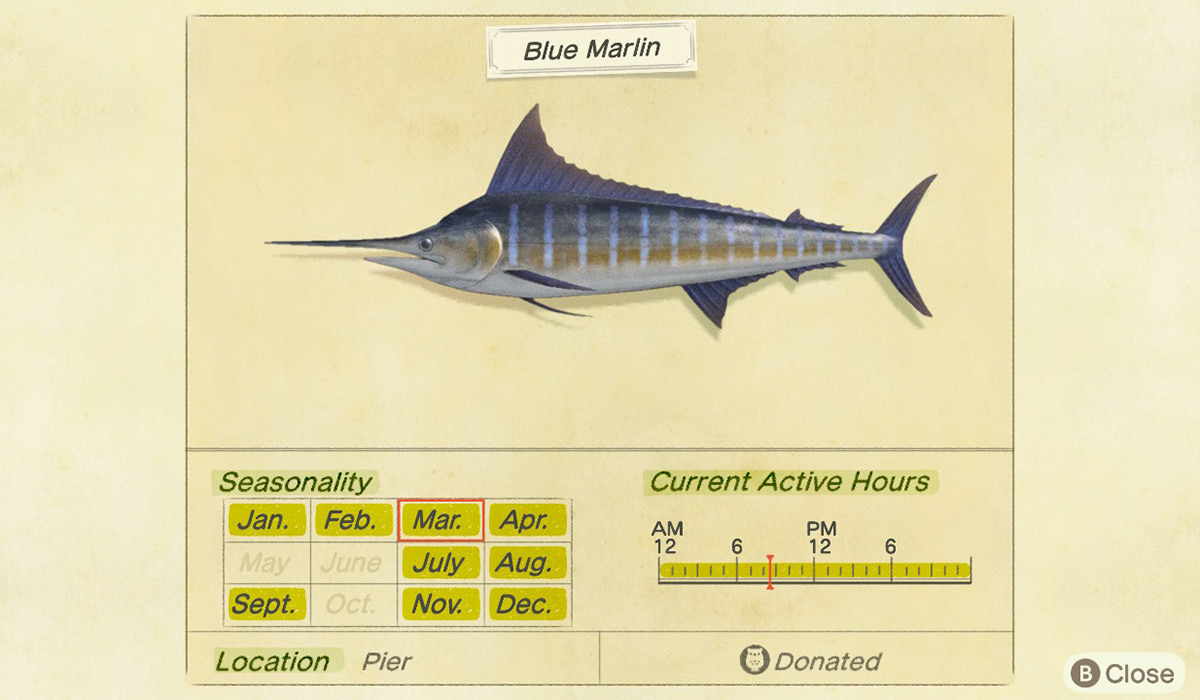 Add a fossil checklist. Add icons to each of the caught critters showing if they're in the museum. Make it ACTUALLY USEFUL AS A TOOL instead of a novelty.
SAVE ME. Saves are automatic. But I'm not sure if they are saved online... even if you have a Switch Online account? And you can't transfer your save data to another Switch, making it impossible to have a home unit and a travel handheld unit both be used for the same game. I am assuming that this has something to do with people not wanting to have multiple saves of the same game, but that's absurd. Surely they can make it be a check-in, check-out situation for people who need it.
ONLINE? It's great that you can travel to the islands of your friends and invite them to your island... but why is it so hard to communicate otherwise? In order to send a gift or a message, your friend has to be online at the time? Why? What if your friend lives across the world 12 times zones away? This is phenomenally idiotic. The Switch is online all the time. How hard could it be to allow messages and gifts and such to be sent whenever and retrieved whenever?
SWITCH TOUCH. The biggest problem I've saved for last... the touch-screen when your Switch is in handheld IS NOT USED! I think you can type out letters on the keyboard that appears when you compose a letter. AND THAT'S IT! Shocking. And stupid. You can't tap to do anything. Even stuff it would be perfectly appropriate for. I have no idea... none why this is the case. Every model of the Switch has a touch-screen, and to intentionally ignore it is criminal.
And that's about it.
It will be interesting to see if this iteration of the game will capture my attention longer than the previous games. I always start obsessed with collecting everything only to get bored and frustrated as time goes by.
Posted on Thursday, March 26th, 2020

Today I was discussing an article about how Hollywood predicted a pandemic happening a decade ago. "Ten years seems like a lifetime ago. I don't even remember what I was doing back then... do you?"
The first thought that entered my head was "I barely know what I was doing a week ago!" The second thought was "Finally! My blog is actually good for something!" Because all I have to do is call up Blogography on my iPhone and there it is... on March 26, 2010 I was in Prague visiting the Hard Rock Cafe. And boy was that a great trip. Prague is one of the most beautiful cities on earth and I'm really grateful to have been able to visit...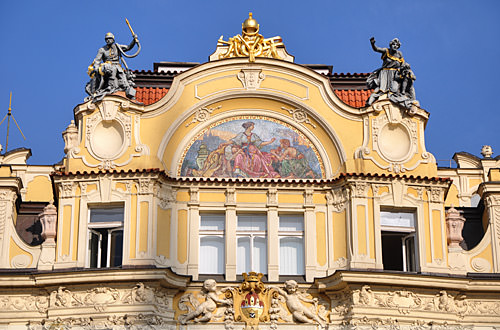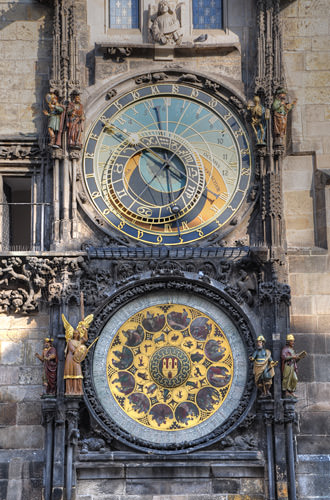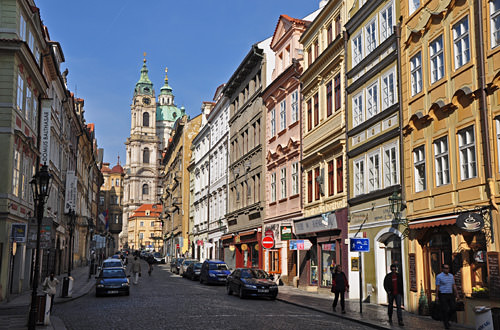 Meanwhile, back in the plague-ridden future of today...
I've been pleasantly surprised to see the many authors, artists, filmmakers, and other creative types releasing their works to the public so everybody has distractions to keep them occupied while coronovirus-quarantined. One of my favorite discoveries has been a "Free Movie of the Week" over at Oh You Pretty Things. Last week was the documentary Helvetica, which was great. And now they are streaming Objectified through Monday. It's a documentary about designers and the objects they create for us. The draw for me was Jonathan Ive (formerly of Apple fame), but everybody in it is interesting. And the little stories around the objects being discussed are fantastic. You can watch it for free through Monday. Highly recommended.
Stay safe, y'all.
Posted on Wednesday, March 25th, 2020

My life has become a delicate balancing act between taking enough Benadryl to keep post-nasal drip down so I'm not coughing my head off... and enough caffeine to stay awake so I can work. Too much Benadryl and I'm unconscious. Too much caffeine and I won't be sleeping at night. Not enough of either and I'm non-functional. It's a tough spot to be in, I tell you what.
Any time not spent trying to stay awake enough to work is spent trying to stay awake enough to catch up on television and play Animal Crossing: New Horizons (a game I think I've played long enough to comment on in a semi-review post on Friday). And hang out with my cats, of course. But that's something they feel they can do while I'm asleep. I keep waking up to find them sleeping next to me. Awwwww.
I maintain that cats have a sixth sense and know when something is wrong. Whether they are looking to be comforting or are looking to be comforted doesn't really matter... I'm awfully glad to have my furry companions at a time when I'm living my life in a Benadryl-induced haze while trying to self-isolate.
Not that I'm knocking my Benadryl-induced haze, mind you. It's dulling down the horrors of a world gone to shit, and that's kinda nice.
Posted on Tuesday, March 24th, 2020

As I celebrate my birthday in self-imposed isolation, I've decided that I'm too old to learn new stuff. And definitely too old to remember old stuff. I'm just going to stick to the bare minimum of stuff I need to bumble through life in the now.
I came to this life-changing new direction as I was talking to a friend who called to wish me a Happy Birthday. I was trying to remember the word "blender" and ended up saying "The thing that goes BZZZZRRRR BZZZZRRRR... you know, the drinky mixy upper thingy!" And then... THEN... I got to "clothes steamer," couldn't think of it, and ended up calling it "the PSHHHH PSHHHH thingy."
Welcome to my new onomatopoeia life.
"Onomatopoeia" meaning that you name something by what it sounds like.
So from now on, Jake and Jenny will be called "meow meows" and Alka Seltzer will be called "bloop-de-bloop fzzhhhhh." Which is pretty much what it's called anyway thanks to those "plop plop fizz fizz" commercials.
See? We're halfway there!
Now, if you're excuse me, I am going to celebrate my special day by playing games on the "pew pew bloop bloop."
Happy Birthday to me.
Posted on Monday, March 23rd, 2020

I think I've completely given up on being worried about what the future may bring. I'm just going to roll with life day to day and see what happens. Worst case scenario is that I die broke, penniless, and alone while living on the street. If I end up with anything more than that, I'll consider it a gift.
Because, in all honesty, do I have any other option?
No. No I do not.
So why waste my sanity worrying about it?
I'm exhausted from being exhausted.
Posted on Sunday, March 22nd, 2020

Things seem grim indeed, but hang in there... because an all new Bullet Sunday starts... now...

• Wellington! I love penguins. In case you haven't seen it, The Shedd Aquarium in Chicago is letting them run around the place since there's no people showing up to entertain them. It's all kinds of adorable...
It's frightening to think of how zoos, aquariums, and nature parks are going to be able to continue to afford to feed the animals in their care if the outbreak goes on for an extended period of time.

• Bulbs! One of my favorite places in Europe... The Keukenhof in the Netherlands... is apparently not going to open on time this season due to the cornavirus outbreak. Lucky for all of us, they are giving a virtual tour of their amazing gardens...
A video is nothing like visiting in person, but better than nothing. Hopefully the quarantine will end soon so they can open for at least part of the season. Their opening season is so short any way, and all those bulbs are incredibly expensive to maintain. UPDATE: The Keukenhof has announced that they will not open at all this year due to the Netherlands having their safety measures extended until June 1. This is a terribly sad thing to have happen.

• Tumbling' Tumbleweeds! Leave it to CGP Grey to come up with a fascinating video over the most unlikely of subjects...
If you haven't gone down the CGP Grey rabbit hole yet and are looking for entertainment as you socially distance yourself... his entire channel is amazing.

• This Virus is Unforgiving. Dr. Emily Landon, chief infectious disease epidemiologist at the University of Chicago Medicine, drops a hard does of reality on recent events...
We are in some serious shit. Taking things seriously is the only way we can get through it. The longer people stop taking steps to isolate themselves and stop the spread of COVID-19, the longer this is going to drag on.

• No Wipes! Good Lord. THINK, EVERYBODY: People Are Using Alternatives To Toilet Paper, And It Could End Up Clogging Sewage Pipes All Over.

• Wash & Sing! Everybody is sharing the songs they sing to make sure they are washing their hands for a fully twenty seconds. Here's mine... One One Thousand, Two One Thousand, Three One Thousand, Four One Thousand, Five One Thousand, Six One Thousand, Seven One Thousand, Eight One Thousand, Nine One Thousand, Ten One Thousand, Eleven One Thousand, Twelve One Thousand, Thirteen One Thousand, Fourteen One Thousand, Fifteen One Thousand, Sixteen One Thousand, Seventeen One Thousand, Eighteen One Thousand, Nineteen One Thousand, Twenty One Thousand. — You're welcome!

• Nasty! I hate to end this Sunday on a sour note, but it cannot be helped. You've probably seen this video popping up several times already. I honestly don't care. This should be shared until you're seeing it from every last person you know. This is not a partisan attack. This is a clear demonstration of a president who is a horrendous leader in general... and an even more horrendous leader in a time of crisis. Any normal, sane human being would have used this as an opportunity to reassure the American people that our government is doing everything possible to keep us safe and address the unfathomable events that are unfolding. Instead we get a 2-year-old in poopy diapers going completely unhinged at a valid question that deserves to be answered with compassion and understanding. We've gone way past our president being a disgrace to his office and this nation... he's an abomination to all humanity...
Un-fucking-believable. What Americans want is somebody who acts like they're in charge of the situation and getting things done to get us through this. Not a piece of shit who can't even answer a softball question that any normal president would have welcomed as an opportunity to allay fears and inspire confidence...
May God have mercy on us all.

And that's all I can stomach for tonight.
Posted on Saturday, March 21st, 2020

This morning Jake came running into my room and attempted to convince me to feed him breakfast early. Instead I gave him a full-body massage with both hands as a distraction. He was in such ecstasy that I thought I was going to have to find him a cigarette. Then the breakfast alarm went off, Jenny came running in all excited, and the spell was broken.
Since it's Saturday, I decided to work in bed for a couple hours. Jake never came back, but Jenny did. No idea why she kept staring me down with contempt and disapproval, but that's what she was serving up all morning...
I don't know that my cats understand that a plague has descended upon us, but they definitely know something is wrong with the world. At night they are irritable and restless. After I go to bed, Jenny just hides in the closet. For the past two nights Jake will sit on the stairs and howl until I come down. After I talk to him for a minute and pet him, he'll follow me upstairs and fall asleep on the foot of my bed as usual. Not really sure what it's all about. It's like he's forgotten where I am or something?
Despite not having a handle on the COVID-19 situation, I am proud to say that both my cats have been practicing social distancing. When Fake Jake pops by for a visit, Jake hides around the corner even though there's a glass door between them...
As things drag on... and seem to be getting worse... I am oddly calm. Whatever happens I'll find a way to survive somehow. Regardless of what that may mean in an uncertain future. The only thing I worry about are my cats and how any drastic change to my life might affect them. That worries me a great deal.
Fortunately there are loads of cat videos on the internet to take my mind off things. Like this one...
Take care of yourself... and any furry friends you might be living with.
Posted on Friday, March 20th, 2020

Hey, I may not trust our politicians... they are beholden to the lobbyists who own them, so their agenda has little room for the citizens they profess to serve... but I do trust science. And what keeps me from crafting a tinfoil hat during a time when conspiracy theories are running rampant is that scientific truth will ultimately prevail.
Though given how our current government has been shitting all over science lately, it may take a while.
So thank heaves for Kurzgesagt! They hopped on the COVID-19 pandemic really quickly. Their videos are amazing, and this is important viewing so you know what's happening here on planet earth...
So while science works on a vaccine to protect us... and debunks the insanity that COVID-19 came from a laboratory... and explains why "flattening the curve" is critical to keeping our hospitals from being overrun... among many, many other things... what are politicians doing during this crisis? Why, fucking us over as usual, of course.
It's the only truly bipartisan government activity left.
Posted on Thursday, March 19th, 2020

As I probably mentioned once or twice... or a hundred times... I have killer seasonal allergies. They are pretty harsh in the Fall when all the vegetation is rotting. Summer is marginally annoying, but I don't notice it any more. Winter is my least favorite season, but the absolute best time for my allergies.
Spring... what's happening right now... is my favorite season. I love Spring.
But my allergies are at their absolute worst.
I survive it by taking more Benadryl than is probably healthy. It's the only thing that works despite it making me drowsy. Every day at work it's a fight between the allergy meds putting me to sleep and the caffeine in Coke Zero keeping me awake. At home I stop taking pills and happily cough my head off.
Today I left the office early to work at home because I was already tired, and taking another Benadryl would have done me in. I managed to work through the coughing for a couple hours before my lungs ached and I finally took a Benadryl and a bunch of cough syrup...
...and fell asleep.
Until the alarm to feed the cats... as well as the cats themselves, of course... woke me up at 6:00pm.
After making sure they had their food, I sat down with a grilled cheese sandwich to tide me over until my pizza dough defrosts for dinner. I turn on the television and this commercial is playing...
Isn't that an amazing ad? It's like a Hallmark movie in 30 seconds... but less sappy and more sweet. Man, I love great advertising!
And speaking of Hallmark... I see that they are airing a Christmas movie marathon so people who are self-isolating can re-live memories of a happier time. I've already seen them all, of course, so I'll spend any free time I have playing Animal Crossing: New Horizons, which releases tomorrow. OR... at midnight tonight, I'm guessing? Yeah, no. The last thing I need to do is become addicted and stay up until 3am playing a game.