Posted on Tuesday, September 27th, 2022

January of last year I ordered a workbench from Home Depot because it finally went on sale (I had been coveting it for months). It arrived and, alas I never had time to assemble and install it. So it's been sitting in my garage these 20-some-odd months. It's a really cool model too, because you can fold it against the wall when you need it to be out of the way. Since I use my garage as a woodworking shop, that's essential.
They said it was adjustable height, and they even showed it installed in a garage on their site (albeit a much nicer garage than mine!)...
But here's the thing about garages... the floor slopes slightly away from the side walls and away from the back wall so that when you wash out the floor all the water can more easily head outside. It's not a lot... usually around 1%... but it adds up when you are talking the distance of a 6-foot table.
But no problem, right? They advertise the bench as being height adjustable!
Um... yeah... no.
The BACK legs have screw feet which are adjustable. The wheels on the front legs are not adjustable at all.
But it gets worse!
The distance that the back legs will unscrew is less than the distance between screw-holes! Essentially making them useless for trying to level out your table. And since the front legs are not height adjustable at all, one side or the other will not touch the ground if one side is higher than the other.
The upshot of all this design stupidity is that I have to shim the table on three sides in order to have a level surface. The two back legs since the screw-feet can't extend far enough. And the front right leg since the slope of the floor means it can't reach the ground. Who the fuck designs this kind of nonsense? Why even bother with the screw-feet on the back legs when they can't extend far enough, can't be independently screwed out to the length you need, and are useless for side-to-side leveling?
The back shims are permanent. And that's fine. But I'm incredibly irritated by the fact that I have to slide a paint stir-stick under the front-right leg any time I fold out the damn table. And don't even get me started by the soft, cheap-ass screws they give you to bolt the thing to the wall. Even with a good large-sized Phillips screwdriver head that fits like a glove... AND USING A HAND-DRIVER INSTEAD OF A POWER TOOL... the things still strip out. Cheap-ass bullshit.
I'd return the stupid thing, but since I waited so long to take it out of the box, it's too late.
The thing is built like a tank, which is nice. But had I known the hot mess I was getting, I would have just built my own. But that's kind of how it works now-a-days, doesn't it? Do it yourself or risk disappointment. The irony that I would have bought all the materials at Home Depot is not lost on me.
Posted on Monday, September 26th, 2022

Well, today was the day.
Exactly as planned when it launched last November, the DART (Double Asteroid Redirection Test) spacecraft slammed into Dimorphos... a moonlet orbiting the asteroid Didymos.
And why would NASA do this?
Because it seems prudent to see what we might can do to knock an asteroid off-course that's headed for earth. This test will give us an idea of what may or may not be possible.
The whole DART mission has me irrationally emotional. I feel sorry for DART, who was ordered to crash and be exploded. I feel sorry for the asteroid who was minding its own business and got exploded into. My life would be easier if I didn't anthropomorphize animals and objects. What even more awful though? DART filmed its own demise...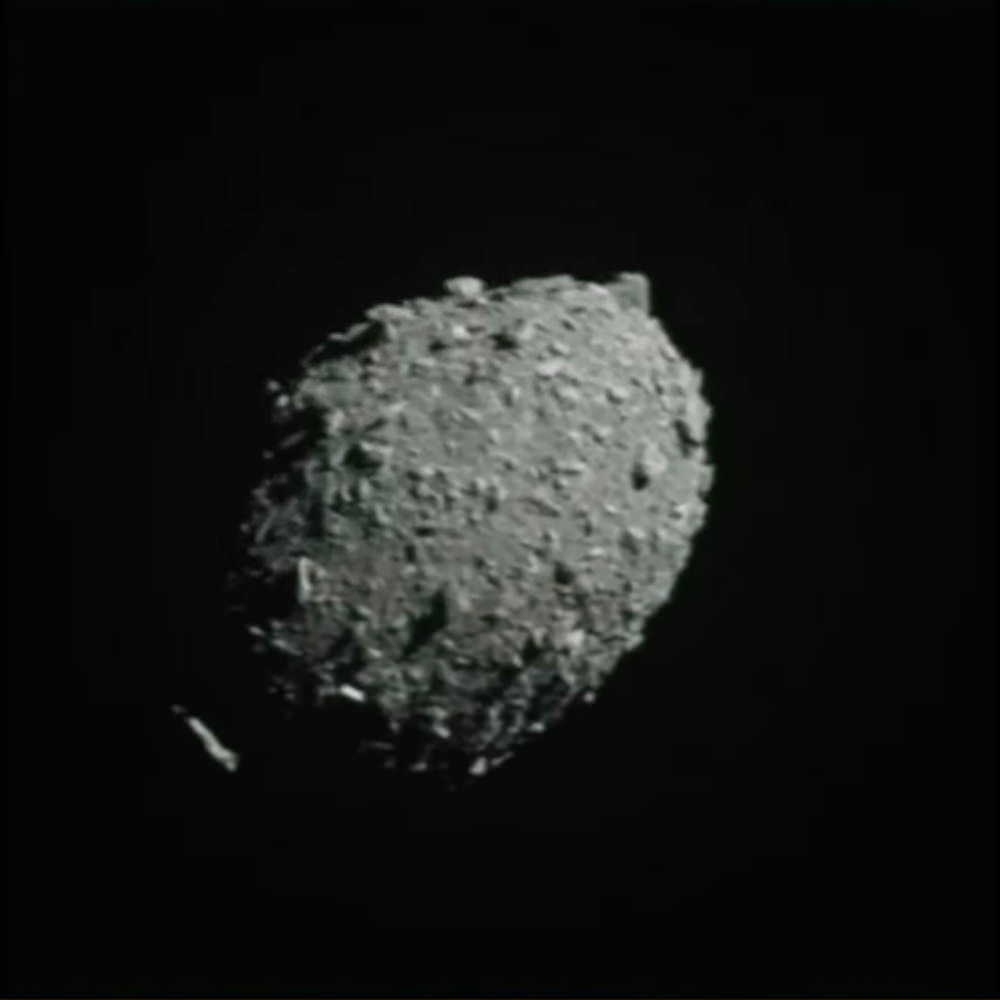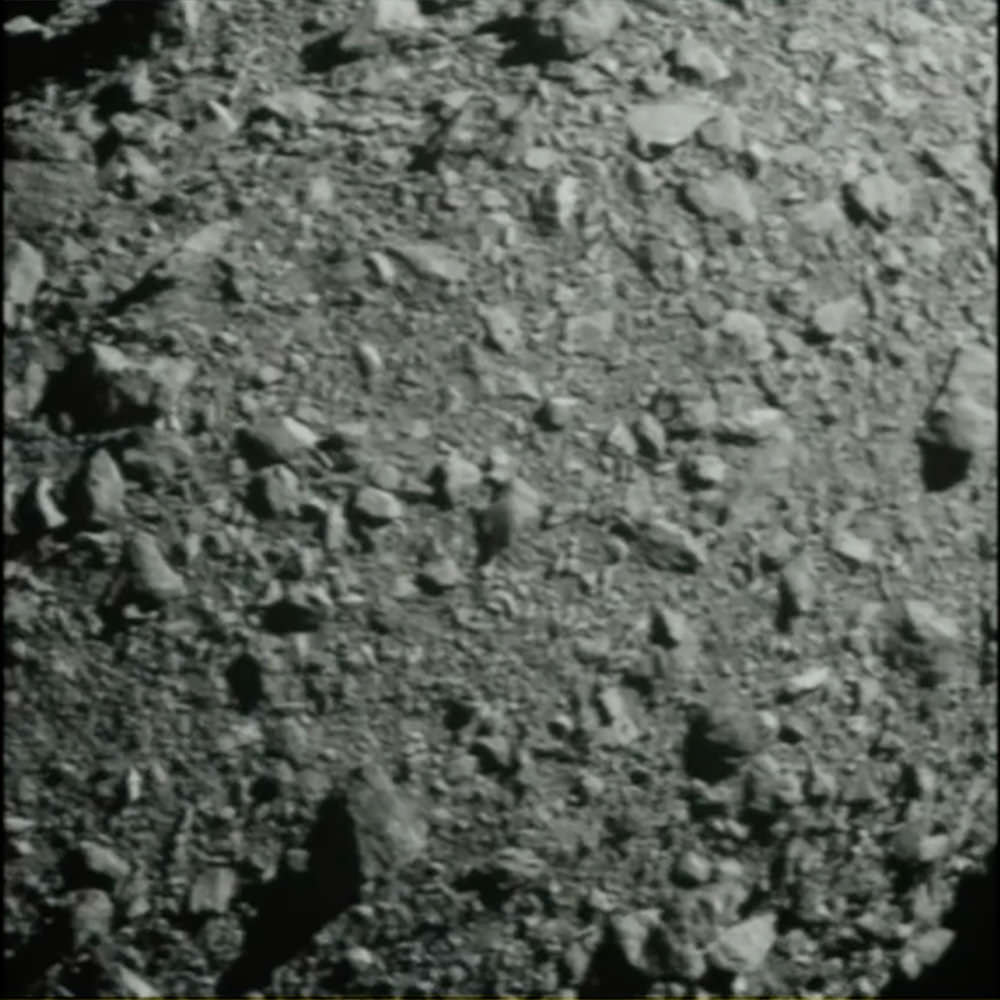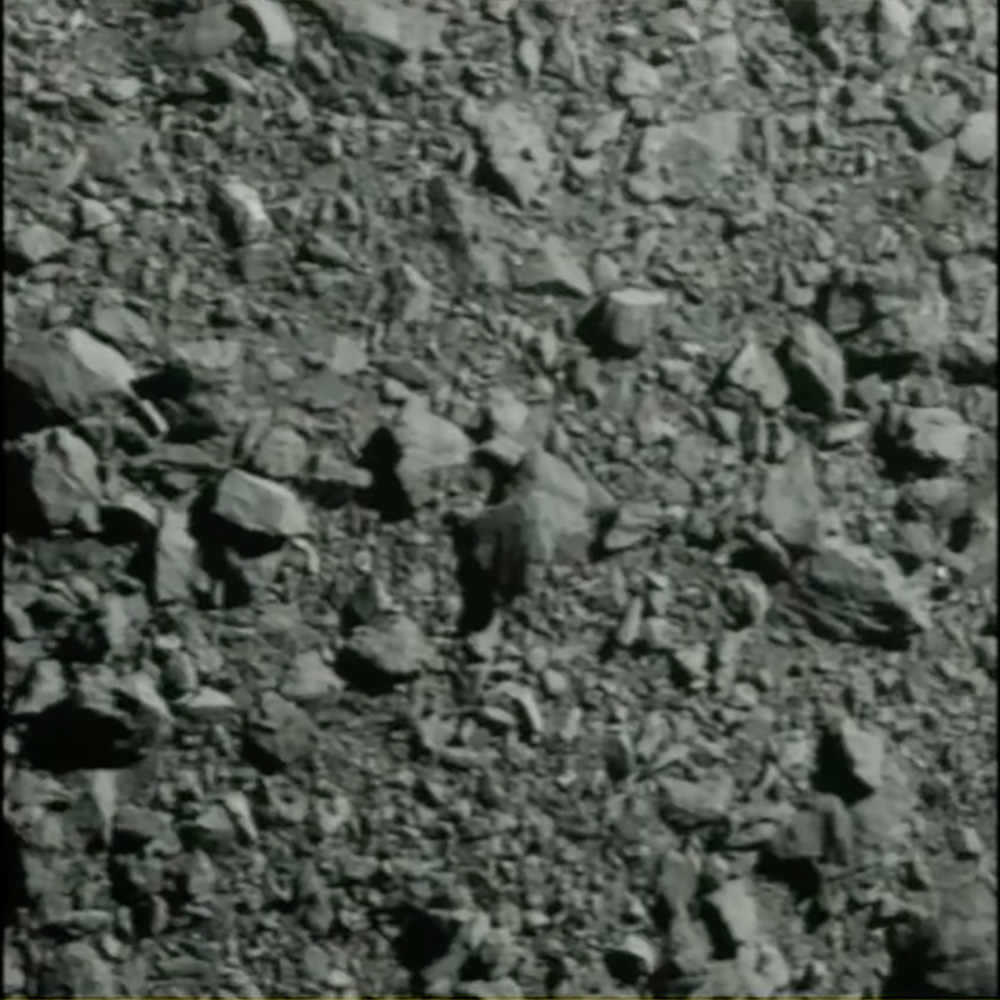 Am I the only one who thinks that this is sad?
But I guess extinction of all life on earth from an asteroid impact is also sad, so make of it what you will.
Posted on Sunday, September 25th, 2022

My weekend has been spent sick from wildfire smoke, again. But that won't stop me from blogarizing... because an all new Bullet Sunday starts... now...

• LEGO The Office! I wish that I had more money than I know what to do with. Because one of my immediate purchases would be a pre-order for the LEGO set of The Office. It looks so good! But the fact that you can reinact Kevin's chili accident is the real reason to get this one...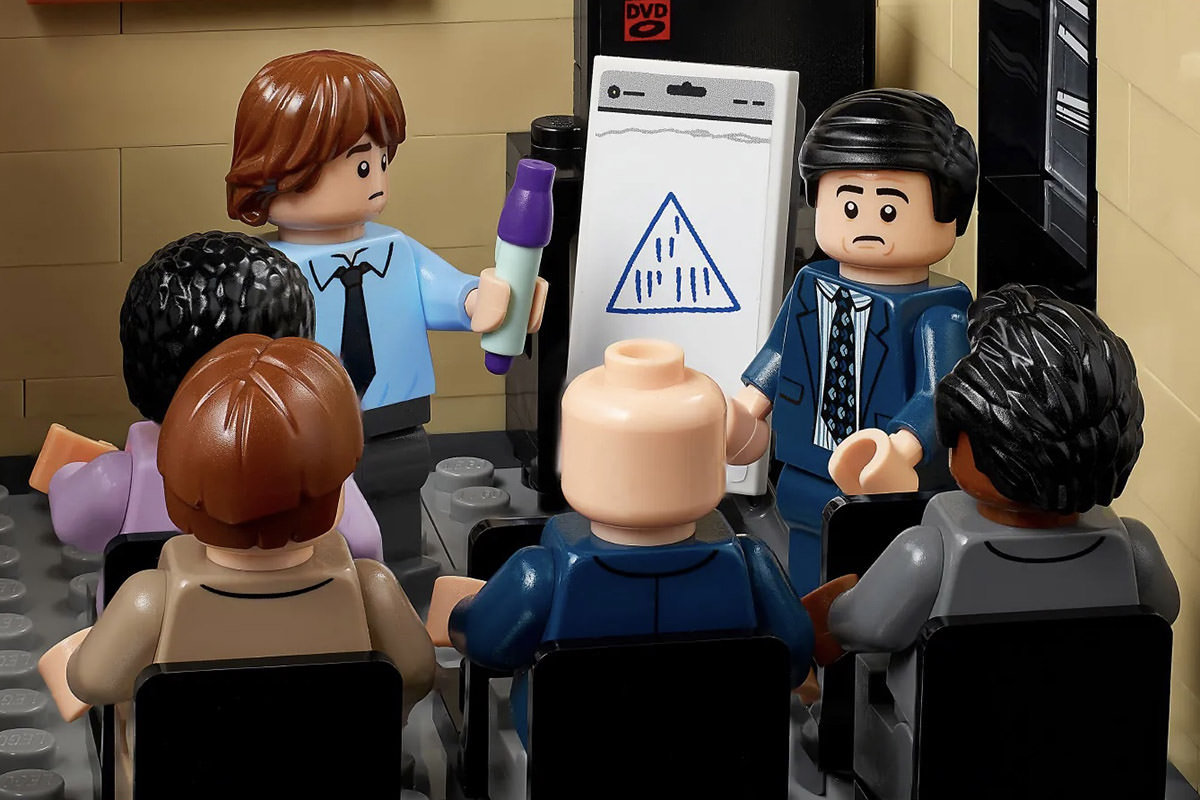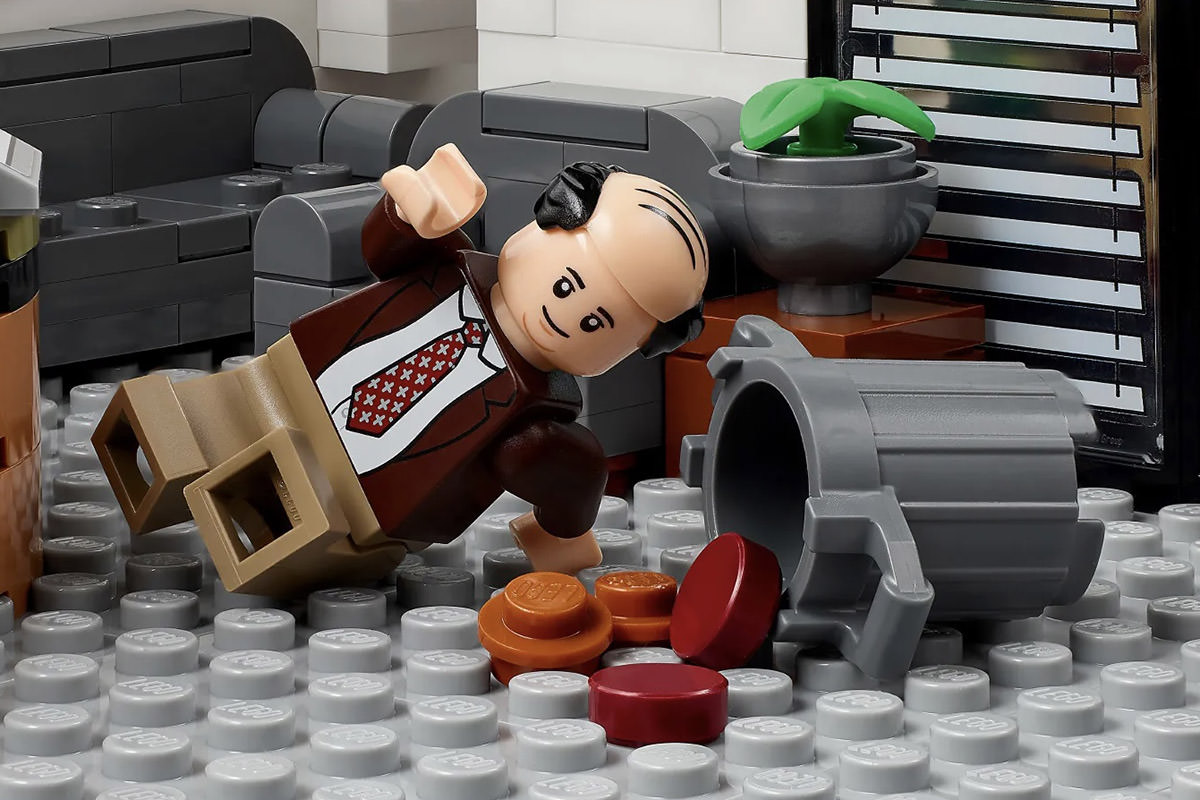 But it's ONE HUNDRED TWENTY DOLLARS!! And, I gotta say, for that kind of money I'd almost rather have the DUPLO animals set, which looks amazing...
=sigh= LEGO has lost none of its charm on me.

• Razor! And do you want to know how I know LEGO has lost none of its charm on me? I want to sell my spleen so I can afford to pay $600 for this amazing LEGO Star Wars Razor Crest...
Complete with Grogu (AKA Baby Yoda)...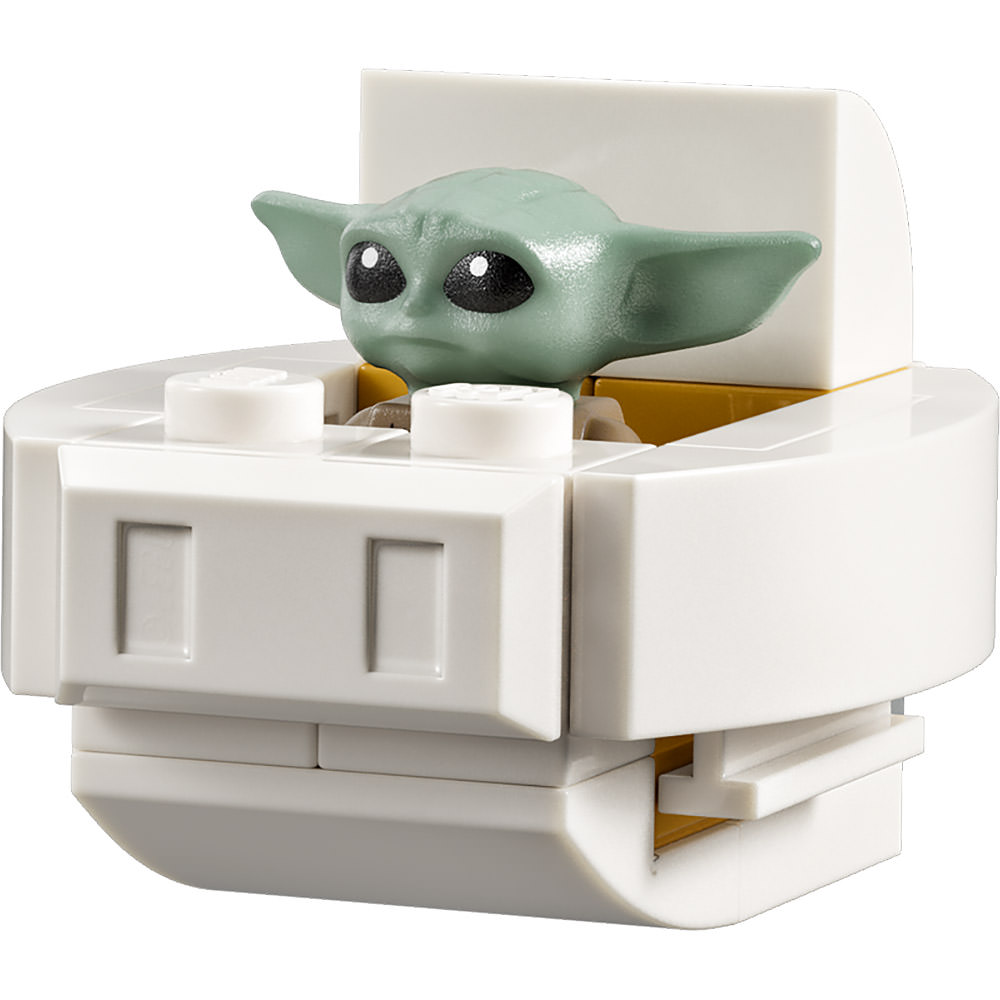 TELL ME THAT'S NOT WORTH $600!!!

• Tour! The logistics of major tour planning are fascinating to me...
They should really have a television documentary series that follows huge tours around the country showing stuff like this. And they can start with Pink! And Taylor Swift.

• Signs! I'm certain that I've shared this wonderful short film here at least once. But even though I've seen it a dozen times now, I stop and watch it again every time I think about it, so I'm going to share it again...
The simplicity of the idea married to actors who absolutely know what to do for their characters make this infinity watchable.

• Thrones! I've made no secret of how much a detest the final season of Game of Thrones. If David Benioff and D.B. Weiss wanted to "get it over with" and move on to other projects, they should have turned the show over to other people to finish it. But they love money, so they took the paycheck and just farted out a shitty endgame that completely betrayed every character involved. If you had told me that there was a way to salvage the finale, I'd have said you were nuts. But I was wrong, because somebody actually managed to do it. Is it perfect? Oh hell no. But does it at least provide a satisfactory explanation for how things unfolded? Yes. Yes it does. Maybe one of these decades George R.R. Martin will complete the final two books in the series. But until then? This is better than nothing.

• Crash! Is everybody ready to see DART crash into an asteroid tomorrow? Yeah. Me too. If you want a preview... just Google "NASA DART"

I take my leave of you dreaming for breathable air.
Posted on Saturday, September 24th, 2022

Saturday was made for staying in bed with the cats.
Which is easy to do when I awoke to my cats giving each other head-baths.
I recorded a dozen minutes of it for no reason other than it made me happy to do so...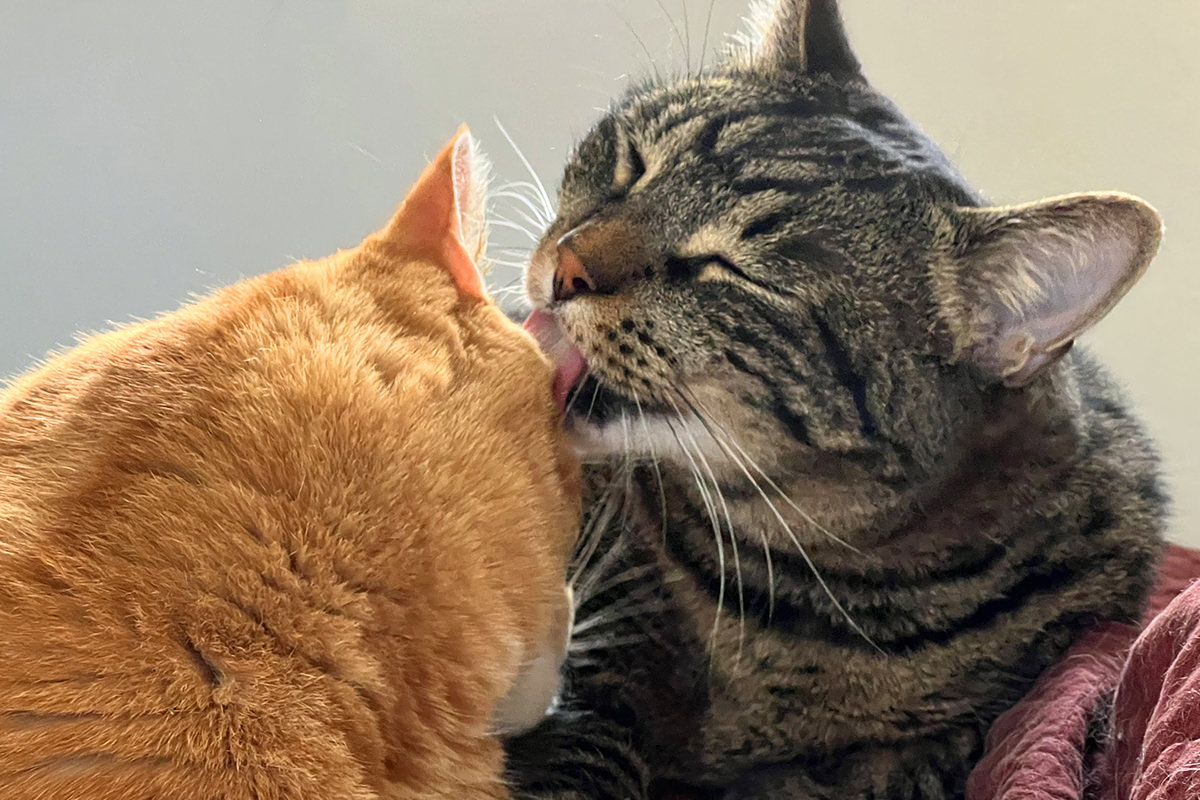 It was genuinely sweet. And went on for a full 16 minutes.
Then Jake used Jenny as a foot rest so he could wash his foot, and... well... it was good while it lasted.
Jenny, of course, acts like a little lady and washes her gams without assistance...
I swear... seeing her sour little face is about the best thing I have.
Posted on Friday, September 23rd, 2022

Remember yesterday when I said that I had a fever for 30 minutes, then a sore arm, then nothing else from my booster's booster to my COVID booster?
If only that had been the end of it.
I woke up freezing three times in the middle of the night last night. It's kinda a haze, but I did remember the first time very well because I was shaking so much that I fell over when I got up to grab another couple of blankets. My teeth were chattering so much that I thought they would break.
I've had "chills" before... but never like this!
I woke up tired from lack of sleep, but otherwise feeling fine. Except the wildfire smoke was heavier than usual today, which was really tough on my allergies. I ended up leaving work at noon because my head hurt so bad that I couldn't concentrate.
And now I'm at home with three air purifiers running while I watch YouTube videos. Like this interesting one from 2019 by one of my favorite content creators... Marques Brownlee...
I actually have a very early model Mac. This makes me want to drag it out and play with it again. It's still remarkable to me.
Posted on Thursday, September 22nd, 2022

I stayed up last night to see the first episode of Andor on Disney+... and immediately wanted to watch the other two episodes that were unleashed at the same time. Except I was way, way too tired to attempt it thanks to being more than a little wiped out by the booster for my booster's COVID booster. At least I'm guessing that's the reason. I had a fever for about a half-hour, then my arm was sore... and that was the end of it. Which is weird because I was warned that the side-effects would be worse than previous boosters.
But anyway... back to Andor...
I finally got around to watching Episode 02 and 03 today... and they are epic.
Cassian Andor is easily one of my favorite characters in all of Star Wars, and it was a forgone conclusion that I would enjoy this series if they A) They didn't change the character for no reason, B) They had a story to make it worth my time, and C) They spent some money to make it actually feel like Star Wars.
Thankfully, Disney+ put their money and talents where their mouth is and completely crushed it. Especially in that mind-blowing third episode! And enough can't be said about Diego Luna, who is talented to begin with... but really bought his A-game to this series. It's like he knows that his character is beloved and wanted to give it everything he got.
And we have nine more episodes to go.
Posted on Wednesday, September 21st, 2022

It's mind-boggling just how often I am expected to put up with crap that nobody else seems to have to. Maybe it's because I'm a total pushover and try too hard to be nice. Maybe it's because the path of least drama is my default mode of operation. Maybe I lack the strength to put my foot down.
Whatever the reason, I'm obviously not bothered enough to change anything, so I guess it's on me.
Though I think the fact that people take advantage of this says a lot about them.
I'm going to not worry about it because a new episode of She-Hulk: Attorney at Law is on in twenty minutes.
Posted on Tuesday, September 20th, 2022


At some point the wildfires have to end, right? I just want to breath again.
Posted on Monday, September 19th, 2022

There was a meme floating through Facebook this past week asking "What company or service that has closed would you bring back?" And I was like "Wow... so many." But if I was forced to pick just one, it would probably be Anthro.
This is a copany that made industrial furniture. And I bought a lot of it. Their stuff was built like a tank, looked great, and had a lot of thought behind it. My two desks at work (along with my scanner stand) is Anthro. My desk at home used to be Anthro until I used a built-in nook desk for my computer and put it into storage. But I still have Anthro shelving at home.
You've probably seen Anthro products before even if the name isn't ringing any bells... it's pretty iconic-looking...
The reason I'd like to bring Anthro back (other than they made such great stuff) is that I need some replacements for the plastic shelf brackets. They're beefy, but plastic gets brittle after 30 years and they're starting to split on me.
Right now I'm essentially canibalizing parts from various Anthro stuff to keep the pieces I'm still using operational.
I wonder if somebody out there is 3D printing the pieces I'm looking for? Seems like there's a demand for it given how many thousands upon thousands of furniture pieces that Anthro make for the decades they were running.
Posted on Sunday, September 18th, 2022

You had a bad day, but all of that's about to change... because an all new Bullet Sunday starts... now...

• Leap? I was more than a little excited for the new Quantum Leap series. The original is one of the more memorable shows from my 20's, and there was a lot they could do with the concept. Many ways to freshen it up and make it relevant to today's audiences. Alas, they didn't get anywhere near what I was hoping for. The original was the whole package... charming, funny, smart, exciting, and entertaining. Plus the two stars (Scott Bakula and Dean Stockwell) were exceedingly talented and had chemistry for days. Sure parts of the show haven't aged well at all, but if the new version was even half as good, it would be something special. But this new one is just... there...
I didn't like it. I didn't hate it. I didn't feel anything about it at all (which is probably worse than if I had outright hated it). The actors aren't bad... but none of them seem particularly suited for their roles. The story isn't bad... it just isn't compelling television. And while they make a nod towards Dr. Sam Beckett right off the bat (and Al at the end) I wish they hadn't have bothered, because it just makes me feel even worse about what we've got.

• Click! If you have an iPhone. If you've installed iOS 16. You need to turn on "haptic keyboard" (settings -> sound & haptics -> keyboard feedback). This is SO nice. Feels like you're pressing keys! It's a little less magical if you have "QuickPath" (slide to type) on like I do... but it's still a cool additional to how I interact with my iPhone.

• MegaSHADE! Wow. Nobody roasts like Megatron...
I love it when meet-n-greet characters are a step above.

• Cod! This is funny... but actually speaks to how incredibly stupid it is to complain about Ariel's skin color. SHE'S A FRICKIN' FICTIONAL FISH PERSON! And the actress they got to play her has the voice of an absolute angel, WHICH IS WHAT YOU WANT IN A FRICKIN' MUSICAL!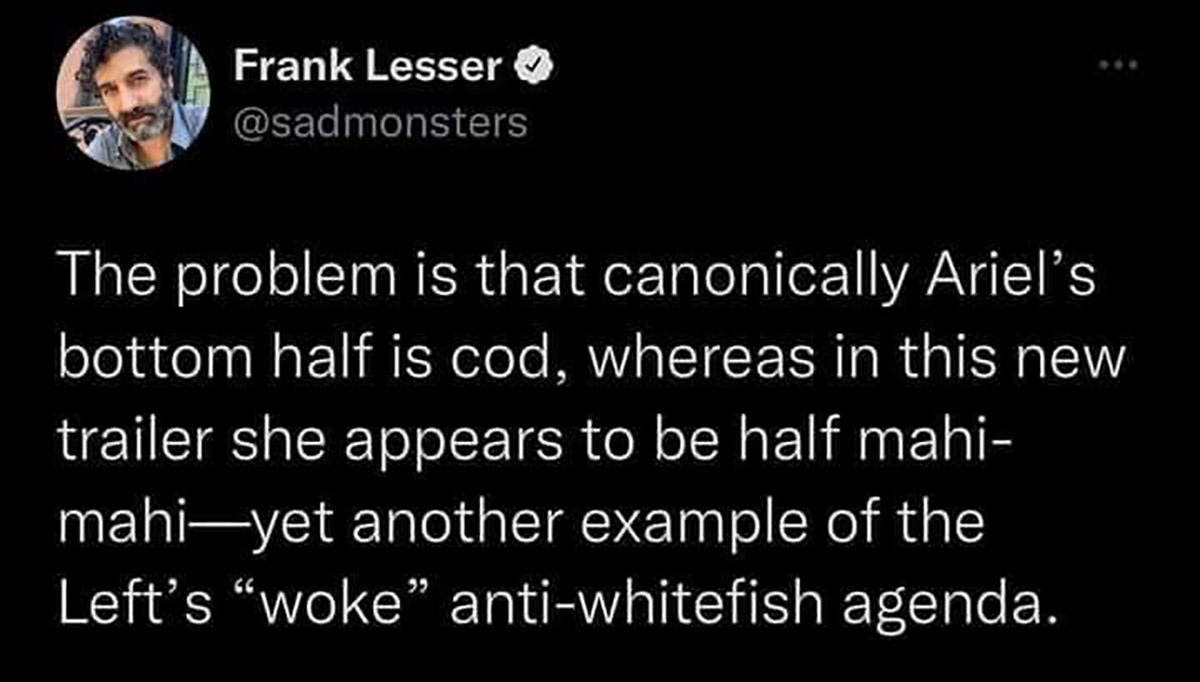 • From Scratch! Sooo... Zoe Saldana is doing a "Hallmark" type series for Netflix? YES PLEASE!
Actually looks like it's trying to be more than just Hallmark, which is nice.

• Nuggies! Dayam! That's cold...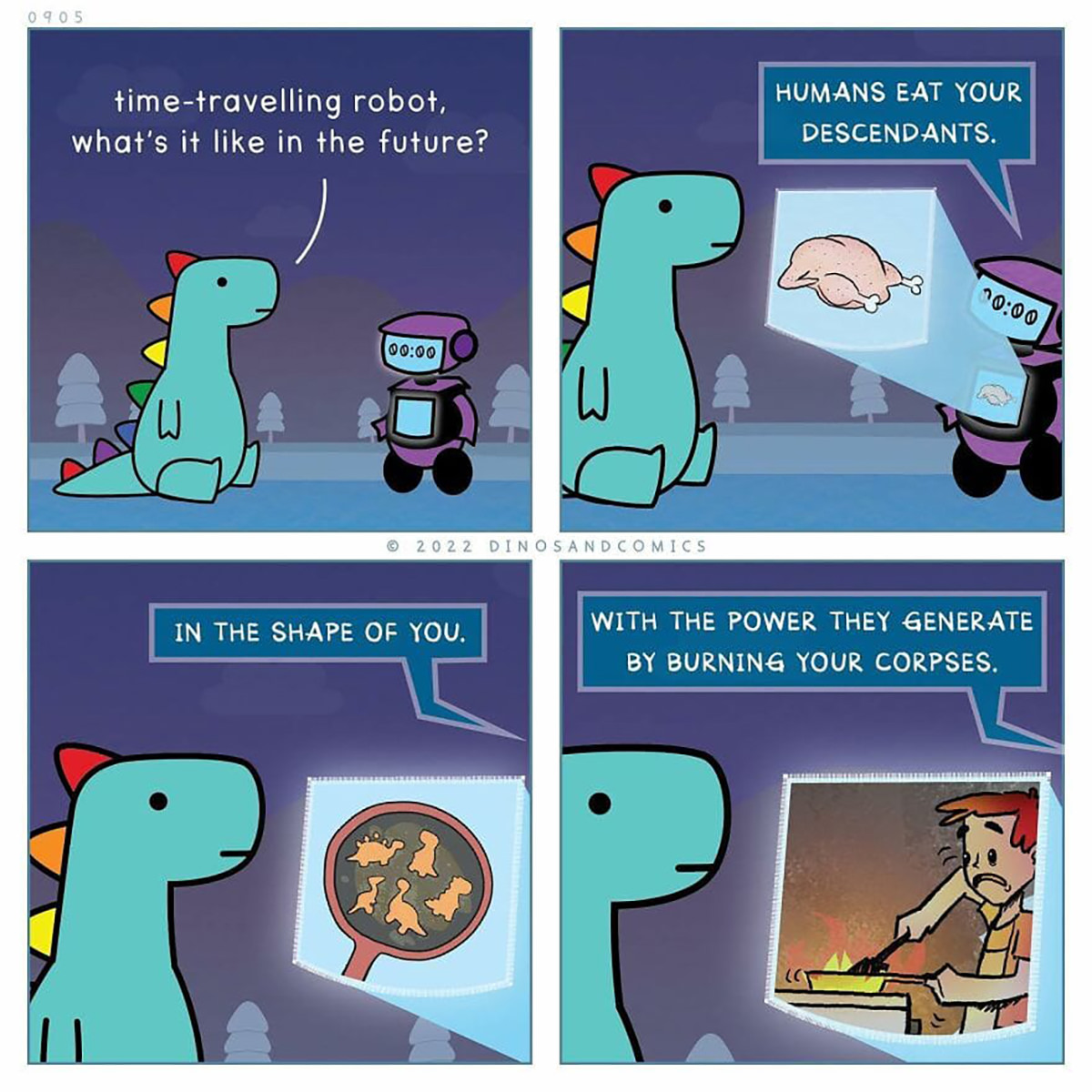 Time-Traaveling Robot really should have lied. More Dinos and Comics here.

• Board! This is great if you watch until the end (and have subtitles on if you don't speak German). I tell you... I've found that some of the funniest people on earth are Germans, and this just reinforces that.

And now I really need to take a nap.