Posted on January 10th, 2018

Uh huh.
If virulently anti-gay pastors and Republicans have taught us anything about their disturbingly homophobic behavior... it's that it's usually driven by they themselves being gay. This asshole's reaction towards a cursory touch by a man speaks volumes. It's so over-the-top absurd that you'd think he was grabbed by the crotch...
So synchronize your watches, folks... It's only a matter of time before Representative Daryl Metcalfe is caught with an underage gay prostitute in a public bathroom.
They always are...
Posted on October 29th, 2017

Don't fear the reaper, because an all new Bullet Sunday starts... now...

• Benson! Robert Guillaume passed away this last week and it got me to thinking about the various roles he's played in his long acting career. Primary of which, was "Benson" on Soap (and the subsequent spin-off), where his sarcastic wit was showcased to hilarious effect. My personal favorite role was Isaac Jaffe on Sports Night, a role which is surprisingly relevant today...
You, sir, will be sorely missed.

• Think! Cost to renew my nine Nest security camera "Nest Aware" subscriptions annually? $500. Cost to renew Amazon's new Cloud Cam security camera subscription plan annually for triple the storage time and up to ten cameras? $200. This means I could essentially buy three new Amazon cameras every year PLUS get a superior subscription service for the cost of my Nest subscription alone. Gee... let me think real hard about what I should do. What to do? What to do? It's a quandary, that's for sure...

• Balls! I made falafel for the first time!
My balls were totally delicious.

• Mickey Hotel! Disney just announced that Disneyland will be getting a brand new 700-room hotel which will open in 2021...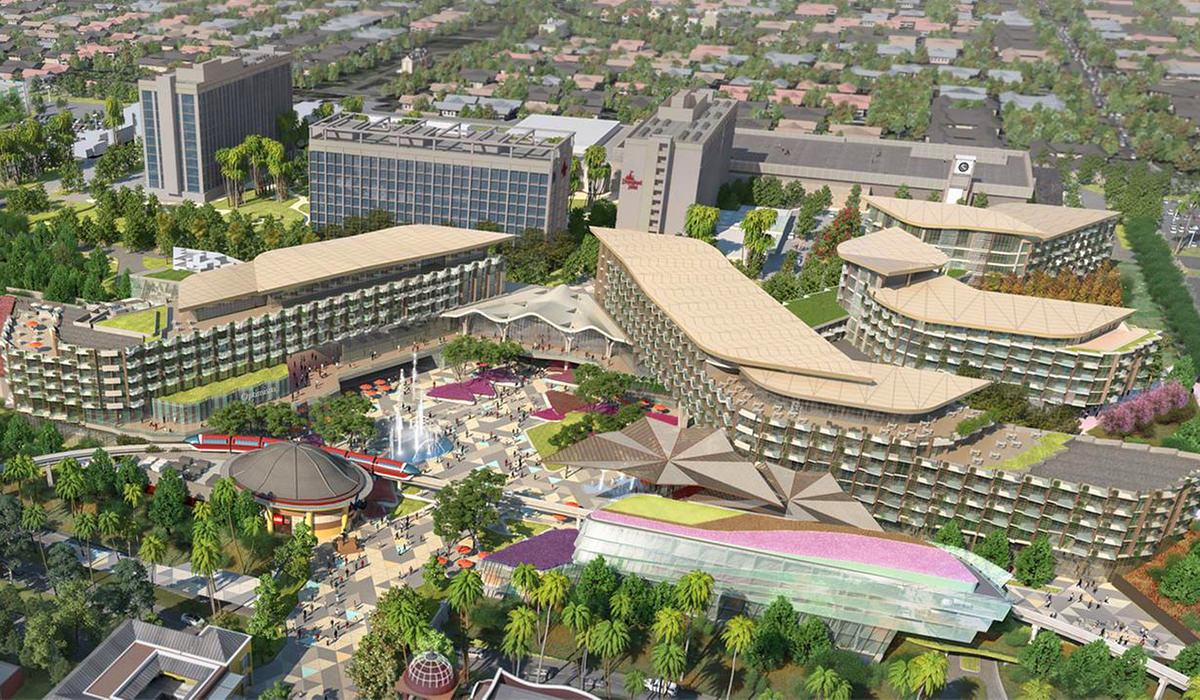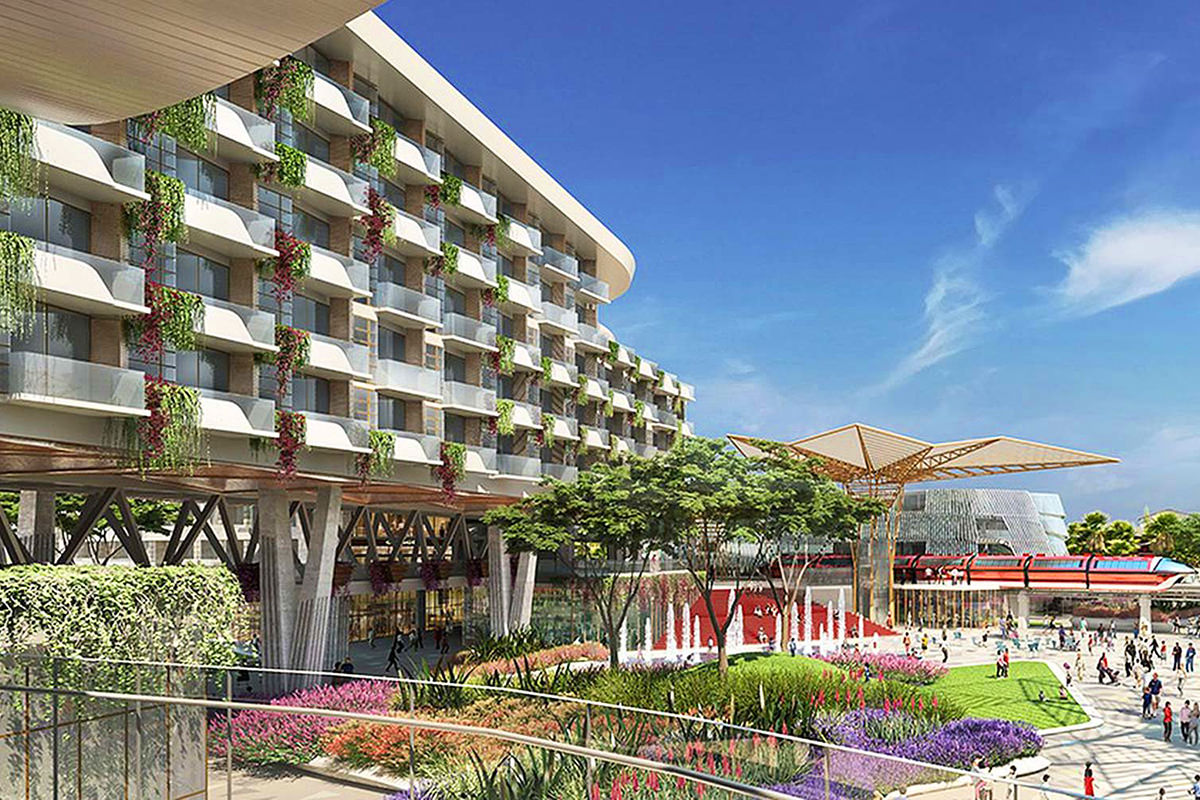 Compared to the amazing Grand Californian hotel across the way, it's kind of boring-looking. Not very "Disney-Special" to me.
The most interesting bit of information in the press release is not the hotel itself, but its location. In order to build the thing, Disney will be ripping out the West end of Downtown Disney. Which is currently occupied by ESPN Sports Zone, the AMC 12 theater, a Starbucks, The Rainforest Cafe and, ZOMFG... EARL OF SANDWICH! The LEGO Store is spared though...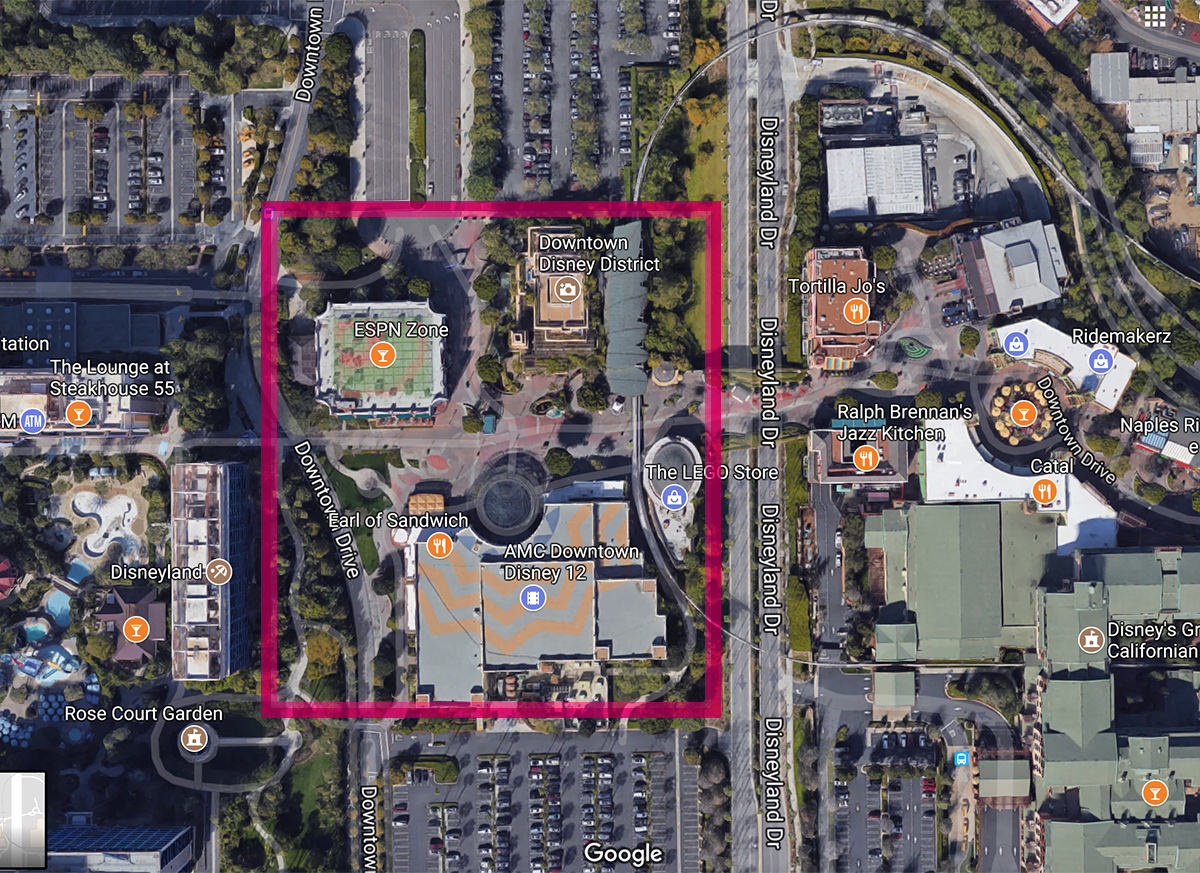 The money that a hotel generates is probably huge compared to the royalties from everything it's replacing. With this in mind, I don't know why A) They are only putting in 700 rooms when there looks like there's room for more, and B) they haven't expanded The Grand Californian (the "Redwood Creek Challenge Trail," cool as it may be, is hardly a critical part of California Adventure, so it seems a natural to rip it out and put in another 150 rooms).

• Payola! HEALDINE: Senate votes to kill new rule allowing class-action lawsuits against banks; Pence casts deciding vote. — FUCKING PIECES OF SHIT!!! No recourse now... NONE... when big banks fuck you over. You are forced to accept binding arbitration or small court settlements instead of having your day in court. And, of course, data breaches due to shitty bank security are now basically a crime without meaningful punishment. All because the fucking Trump Administration and their Republican lackeys have their mouths so deep on Big Finance cock for cash that they don't give a shit who it hurts... so long as the big paychecks keep coming their way. And OF COURSE they are re-framing this act of utter submission to bank payola as a "good move" for consumers because "frivolous lawsuit costs get passed on to consumers." All 100% bullshit of course. We STILL end up paying... just in a different way. Meanwhile, any and all protections are now ALL THEIRS. Looks like we've got ourselves a government by the wealthy, for the wealthy.

• Harrassment! Everywhere you look, it's the same damn thing. I do not know Robert Scoble personally. All I know is that he worked at Microsoft then got famous for conducting crappy "WHO ARE YOU?!?" videos with happening tech industry people. I also know that he went into rehab a couple years ago because he was accused of shitty and harassing behavior towards women when he was drunk and high.
I also know one of these women.
Now it's coming out that he didn't stop with his shitty harassment of women AFTER he was supposedly "cured" of the things he blamed his behavior on. Typical of these types of situations, people are defending him because he's married and supposedly a "good guy." Meanwhile... there's the women whom he's sexually harassed who are having to deal with the fallout of HIS crap.
I believe them. Scoble may be married with kids and be known as a "good guy" in certain circles, but obviously that does NOT exclude him from being a habitual sexual harasser.
On his Facebook profile, Scoble has the douchey description of himself as "Authority on what is next," even though he just talks about what OTHER PEOPLE are doing. I hope "what is next" for him is somebody pressing charges. The more times that shit like this results in public shaming and even more public punishment, the more these reprehensible fuckers will think twice before being assholes to their fellow human beings.

All our times have come, see you for more bullets next Sunday!
Tags:
Assholes
,
Bullet Sunday
,
Disney
,
Disneyland
,
Falafel
,
Food
,
Fucking Assholes
,
News
,
Politicians
,
Politics
,
Television
Categories:
Food 2017
,
News – Politics 2017
,
Television 2017
—
Click To It:
Permalink
—
0 Comments: Click To Add Yours!
Posted on July 26th, 2017

It's been calculated that the cost for President Trump to go golfing in Mar-A-Lago four times is the same as the medical costs for taking care of our trans soldiers. And yet it's the money that President Trump cites as his reason for banning trans persons from service.
He also says they are a "distraction" which, given the shit-show that's his entire presidency, I find hilarious. Especially since his first tweet on banning trans service worried The Pentagon that he was starting a war with North Korea.
So much for promises...

The non-stop parade of misinformation and outright lies being lobbied at the trans community is horrible. These tax-paying citizens want nothing more than to live their lives in a way that's true to themselves and have the same rights as Americans as everybody else. And yet wealthy old white men desperate to stay in power are clutching their pearls at the thought of people they don't like being on the same playing field as everybody else. They fucking own the playing field. They fucking make the rules. They fucking referee the match. But even that's not enough. They want to determine who gets to play too.
Fuck. That.
One day... hopefully one day soon... people are going to wake up and realize that it's not "just the lesbians"... it's not "just the gays"... it's not "just the bisexuals"... it's not "just the transexuals"... it's everybody. The people ACTUALLY running this country hate everybody. They don't give a shit about you. All they care about is wealth and power. Everything else comes second. A distant, distant second. And the very minute that they feel you are no longer of use to them, you get pitched out with the rest.
It's only a matter of time.
In the meanwhile, best start speaking up for those getting shit on while you still can. It's the only way there's going to be somebody around to speak up for you when it's your turn.
Happy hump-day, everybody.
Posted on January 12th, 2016

Virginia Delegate Mark Cole has filed legislation which requires schools to be certain that kids are using the bathroom which corresponds to their "correct anatomical sex."
Sounds legit...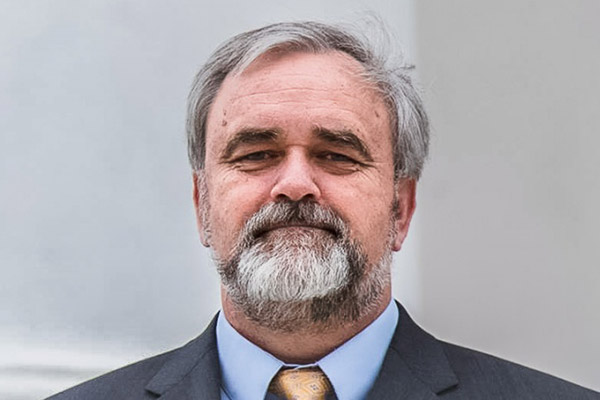 ...IF YOU'RE A CHILD-MOLESTING PERVERT!
I can only guess that Mark Cole will also be volunteering at schools to take a look at a child's genitals before allowing them to enter a restroom? What a disgusting piece of work.
Note to dumbass politicians... we all know that there is some fucked up shit going on in your bathrooms... which is why you're always getting caught there with prostitutes or doing cocaine or soliciting for a blow job or whatever... but you can't apply your personal shit to the general populace. Most normal people go to the bathroom TO GO TO THE FUCKING BATHROOM. It doesn't mater what their sex or how they identify, they don't equate going to the bathroom with anything sexual... they just want to piss or take a shit, (hopefully) wash their hands, then trip the fuck out the door. Which means the only perverted person in this scenario is PEOPLE LIKE DELEGATE MARK COLE.
You know what law I want to see on the books? A law banning these fucking idiots from using public restrooms. Their obsession over what's between my legs is bordering on psychotic, and I don't feel comfortable being trapped in closed quarters with transphobic, homophobic, bigoted assholes who are more interested in my junk than TAKING CARE OF ACTUAL FUCKING PROBLEMS!
Just when you think we're making progress, there's always some troglodyte crawling out of the ooze to be a dick.
Posted on December 2nd, 2015

Much like Janice in Accounting*, United Airlines don't give a fuck.
It all started when I missed a conference call on Monday morning because I had to buy clothes for work. The only time I could reschedule the call was for Thursday, but I would need to be back home because the later date would require access to some design sheets I didn't have with me. No problem, right? I just call United and explain the situation.
Except it ended up being a huge problem, because United wouldn't agree to put me on an earlier flight home. THEY lose my luggage, necessitating all these changes, but it's going to cost ME a $200 change fee plus $450 for the ticket cost difference. I politely explain that it's not my fault the luggage was lost and I shouldn't have to pay anything... but they disagree. Talking to a supervisor gets me a "one time offer" to waive the $200 change fee, but not the $450.
Needless to say, I'm livid.
It costs United nothing to make the situation right and get me home over a situation they cause... there's empty seats... but they don't give a fuck about my situation.
So I regretfully start yelling at the supervisor over United's shitty policy and eventually she finds a flight to get me home in time in an effort to get me to shut the hell up. Which is so damn stupid. Why the fuck can't they do the right thing to begin with? Why does it take somebody screaming at them before they'll reluctantly solve a problem THEY created?
But that was yesterday, surely things will go better today. Right?
Nope. It just gets worse.
As I mentioned, my luggage was lost. I made it to Portland, but my bag did not. So I reported the problem, only to be told that they have no idea if/when my bag would show up. Discouraging, but that's the way it goes. Ironically, I stopped flying United a couple decades ago because they lost my luggage (permanently) twice in six months. Now, the first time flying the airline in years, and they lose my luggage again. Except this time I actually ended up getting it back...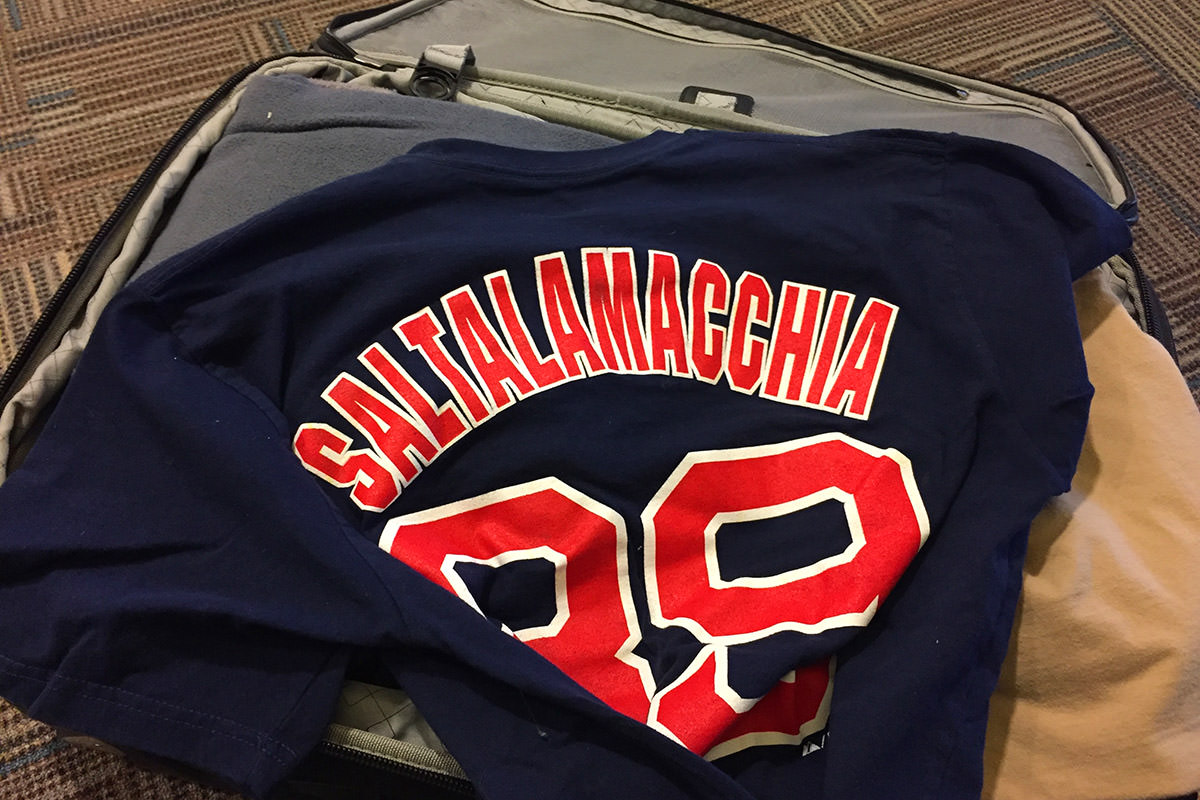 You will never leave my side again, Saltalamacchia!
Anyway...
When I check in for my flight, I naturally tell them I'd like the baggage fee waived since I never got to see my bag the entire time I was here.
They refuse.
Essentially, they blame this on me because I didn't know where I'd be in order for them to have delivered my suitcase yesterday. I explain that this is hardly my fault... that's the way my job works, and not knowing where I'll be is not something I can control... but United don't give a fuck.
Instead they offer me a $25 certificate good for my next flight.
Which I refuse, because I'll never be flying with this piece of shit airline ever again. I mean, first I had to pay $240 for last-minute clothes, now they expect me to pay $25 MORE for clothes I never got to use? Fuck that.
And so I vow to make this the most expensive $25 baggage fee they've ever collected. I will pass up no opportunity to badmouth United Airlines from this day forward. Everybody I run across will come to understand what fucking assholes are running the show at United, and how much I fucking hate the entire United Airlines organization.
Those feelings were doubled when I realized that my bag was not checked all the way home, but terminated in Seattle (despite the guy helping me having said it would be transferred to Alaska Airlines). Which means I paid $25 to get my bag home, and it's not even going to get home. I tied to get that resolved, but the United representative at the gate don't give a fuck either. Essentially, United booked me on a connecting flight home that doesn't exist (the 11:10 doesn't fly on Wednesdays). So I had to politely beg Alaska Airlines to put me on a flight that does exist. But in United's computer, THAT'S the flight that doesn't exist. Never mind that I show them my boarding pass for a flight that obviously exists since I've checked in for it... there's nothing they can do. So I ask if there's somebody I can speak to who CAN do something... only to get an epic eye-roll. She then calls a supervisor and says "I have a customer here demanding that I check his bags onto a flight that doesn't exist..."
"Demanding?" Fuck you. All I did was ask a damn question and show you proof that the flight does exist! I tell her to forget it, that I'll just collect my bag in Seattle and re-check it.
I'd like to say that things get better from there, but they didn't.**
All in all, United provided me one of the worst experiences I have ever had in 25 years of near constant travel. I hate... HATE... the company and everything they stand for. If no other airline can get me where I need to go, I would rather drive through a fucking blizzard than to ever fly United again.
And everybody is going to know it.
*Janice is from This Week Tonight with John Oliver... a show that you should be watching if you haven't been.
**A crappy hotel, another canceled flight, weather delays, winter storm advisory, and a complete douche nearly ramming into my car in the airport parking lot awaited me.
Posted on August 22nd, 2015

What a repugnant piece of shit.
The more that comes to light about Subway Sandwich Whore and world-class pedophile Jared Fogle, the more I think he needs to have his dick cut off then be shot in the fucking head. I mean, seriously... just listen to this heinous crap.
If there's any justice, he'll die in prison.

Could not find a credit for this creepy-ass photo.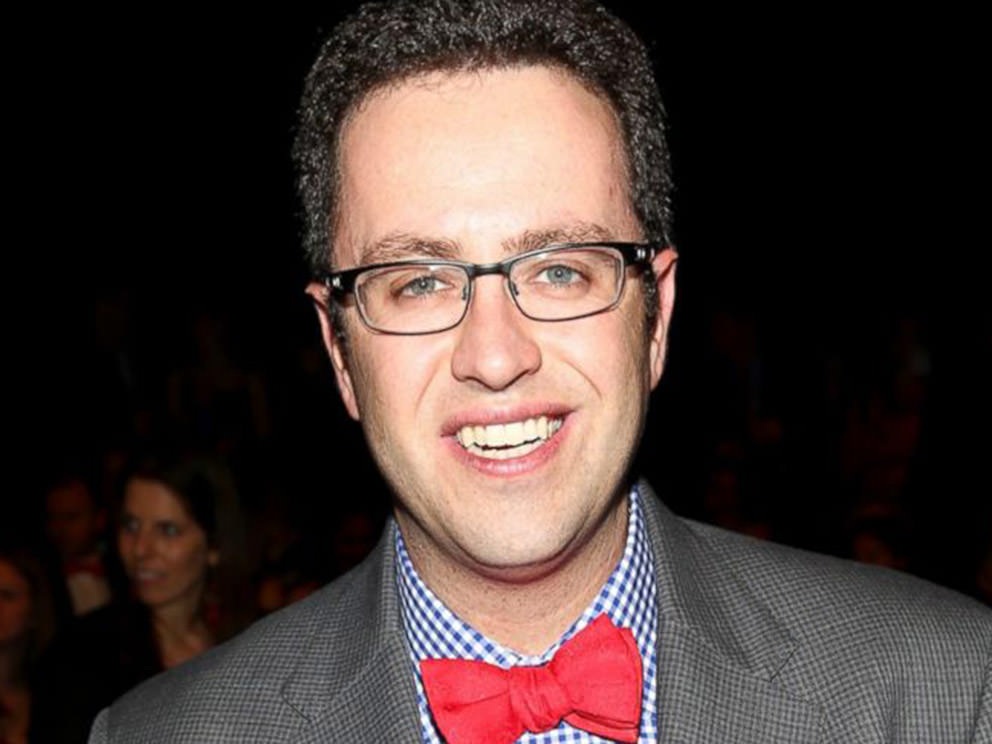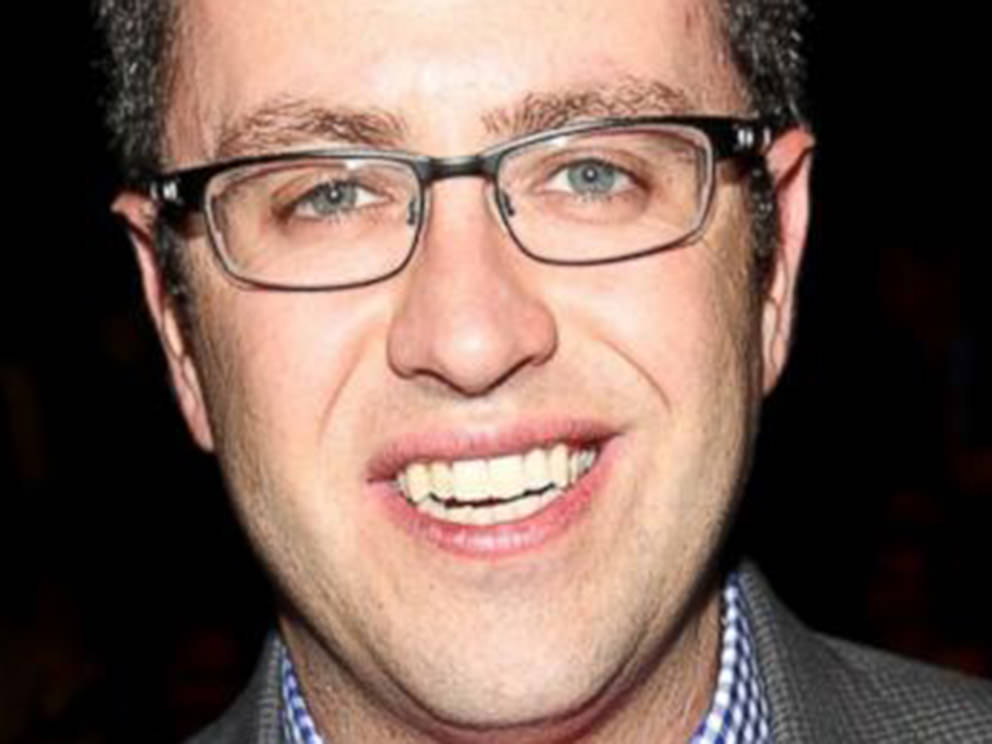 eat fresh!
Posted on August 19th, 2015

Jared Fogle, the Subway Sandwich Whore... whom I loathe, but tried to treat fairly when he was dragged to the police station for questions regarding child pornography (because, hey, innocent until proven guilty, right?) is, in fact, apparently going to plead guilty to not only possession of child pornography... but also of having sex with at least fourteen underage kids... THE SICK FUCK! What a piece of garbage. He used his millions in sandwich money to prey on innocent children... and continued to do so even after his best friend got caught producing kiddie porn for him? As much as I loathed him before, he has managed to sink even lower. Holy crap what a repugnant asshole. Fuck Jared for making me watch his idiotic commercials and listen to his pathetic lies all these years. Hope you like the sandwiches in prison, you disgusting pig.
Josh Duggar, the "Family Values" Douchebag... whom I loathe, but tried to treat fairly when he was crucified for having sexually molested five girls (including four of his sisters) as a teenager (because, hey, growing up in that dysfunctional shit-hole of a family was bound to screw him up, right?) is, in fact, not only a teen pedophile... but also an allegedly unfaithful husband who has been outed as a "Life is Short, Have an Affair" Ashley Madison member. That's right, all the while he was dictating morals to people on how they should live their lives... he was apparently living his life contrary to his own standards. Like the fucking pathetic hypocritical piece of shit he is. As much as I loathed him before, he has managed to sink even lower. Holy crap what a repugnant asshole. Fuck Josh Duggar for making me even be aware of his parents' idiotic clown car vagina reality show all these years. From the depths of your very own belief system, hope you enjoy rotting in hell, you disgusting pig.
George Zimmerman, the psychotic asshole that stalked and killed a kid for being Black "in the wrong neighborhood"... whom I loathe, but tried to treat fairly... as in "they-should-have-hanged-the-fucking-murdering-asshole-fairly" because HE WAS CLEARLY LYING AND GUILTY, GUILTY, GUILTY, GUILTY is, in fact...
Donald Trump, the misogynistic pile of shit (and hairspray)... whom I loathe, but tried to...
Pat Robertson, the bigoted...
Scott...
Jan...
I give up. I just give up. If I were to write up all the assholes, idiots, and clowns that are pissing me off today, I'd be here all week. Holy crap are there a lot of repugnant pieces of shit in my newsfeed lately. Some days I think I'd be much better off with my head stuck in the sand.
Knowing what's going on in the world isn't good for your sanity. Not anymore.