Posted on May 3rd, 2022

I haven't been all that impressed with Moon Knight. Mostly because the show has barely had any Moon Knight in it. And it's perfectly understandable. They tapped an actor of Oscar Isaac's caliber, so covering him up in a mask for six episodes simply wasn't in the cards. No, the reason they needed Oscar Isaac was to have an actor with the chops to portray a character with dissociative identity disorder, which he delivered. As expected.
And now we've reached the end of the road. The final episode aired tonight.
And while it doesn't entirely make up for the fact that they dragged out this show for far, far too long... I have to admit that the payoff was pretty sweet. I just wish that this sixth episode had occurred at the half-way point, because now I really want to see what they do next...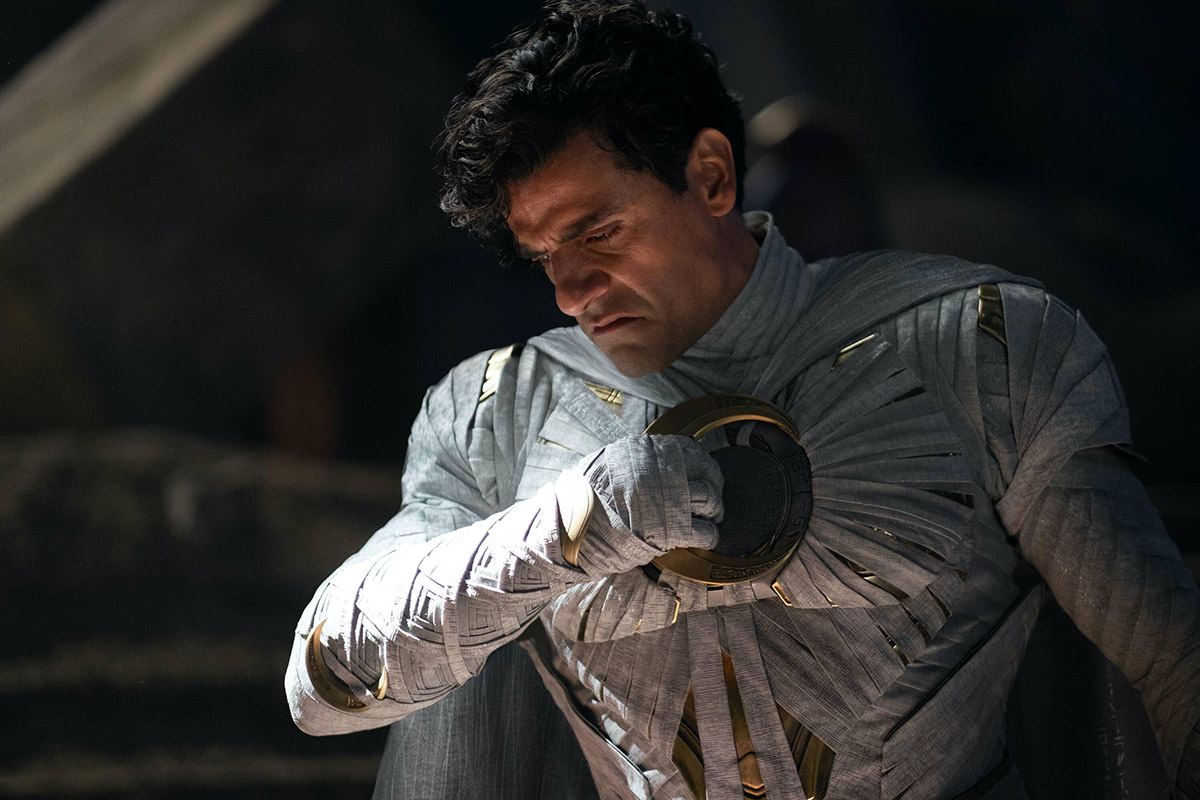 I'm not going to post any major spoilers (though if you're a fan of the comic books, it's not anything entirely unexpected), but I am going to hint at one: part-way through, a little Egyptian girl says in awe "Are you an Egyptian super-hero?!? and it hits pretty hard. Because representation matters. I hope that Marvel stays on this course, because super-heroes are getting played out, and anything new and different is welcome.
Posted on April 12th, 2022

Welp, we're three episodes into Moon Knight from Marvel Studios on Disney+ and I am most decidedly not impressed. Usually by the half-way point you'd expect an escalation of the story so you can race to the finish line. Well, that ain't happening.
Good Lord is this series awful. How could Marvel Studios take such a cool character... amazing acting talent... fantastic locations... and come up with something THIS boring? It's all talk talk talk talk that ultimately goes nowhere interesting.
And Mr. Knight has gone from badass in the comics to tedious in the television series...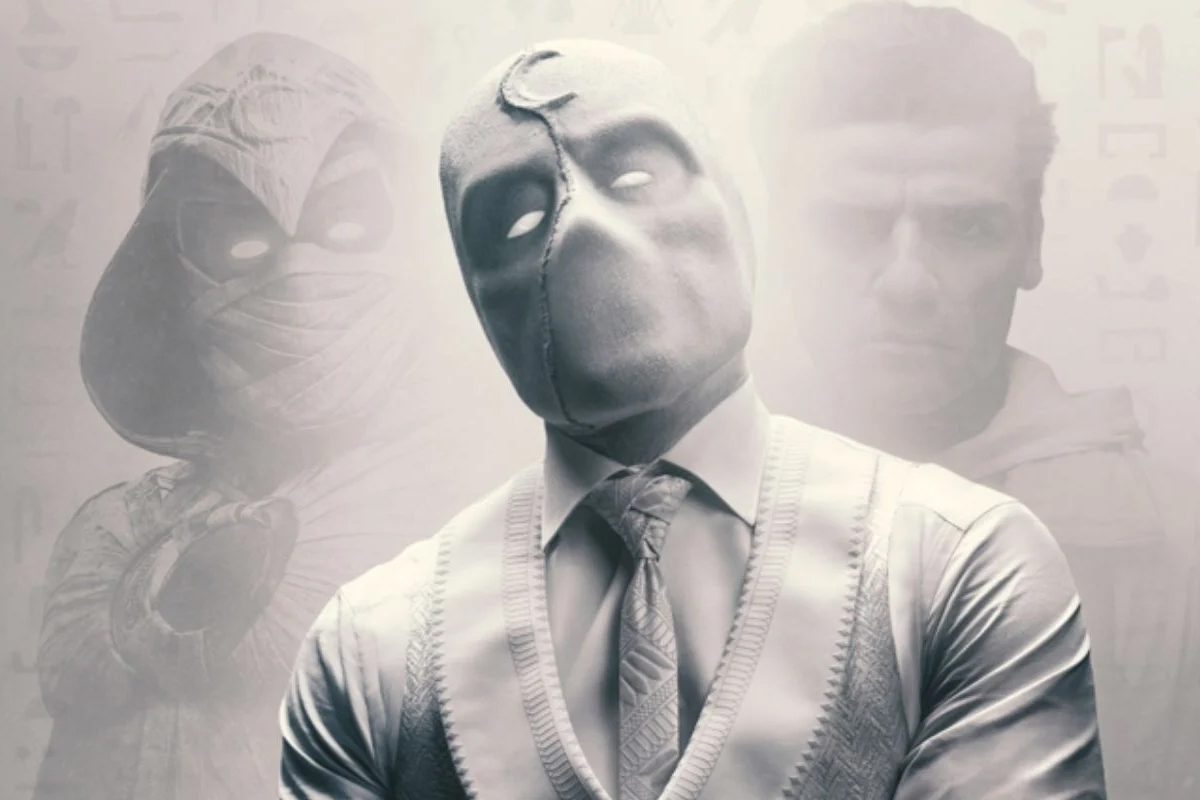 I sure hope that they manage to do something interesting in the back-end three episodes, but given how the latest episode ends, I'm guessing that we've got at least one more episode of Moon Knight without Moon Knight.
What a wasted opportunity. They aimed for Raiders of the Lost Ark but fell way, way short.
There is such a wealth of comic book source material to mine from... but we get this hot mess? I would have rather we got a two hour movie that was tightly tuned instead of six drawn-out episodes of whatever this is.
Comic book shows shouldn't be boring. This is show is boring and sad.
Posted on March 30th, 2022

Last night Disney+ unleashed the first episode of Marvel Studio's Moon Knight at midnight. And of course I stayed up to watch it, not getting to bed until after 1am.
I had some pretty high expectations, because the previews all looked so darn good. Plus I'm a fan of the original comic book character upon which the show is based...
The first episode has precious little actual Moon Knight in it (he appears at the very end). The entire episode (the first of six) is focusing on Steven Grant, a nervous worker from a museum gift shop who is hearing voices and having a tough time discerning dreams from reality. When he starts losing time and waking up in inexplicable locations in the middle of events he doesn't remember... well... it's all going to come crashing down on the guy eventually.
Marvel Studios is going for kinda a horror vibe this time, and it's darn cool. Thankfully they put in the money to get a talent like Oscar Isaac to carry the series, because the show would have crumbled if they just plopped in any ol' actor. I sincerely hope that they will have Moon Knight appearing in other Marvel shows and movies. The character would bring a very different mood anywhere he appears.
Worth tuning into for sure.
Posted on March 21st, 2022

For decades... 30 years plus... I've traveled on the week of my birthday. Partly because I just don't want to be home to celebrate an occasion that I don't celebrate, but mostly because it seemed like a nice treat for myself for surviving another year. In years when I could afford it, I've left the country. In other years I find something a little more domestic. And it's been great.
The hard part these past two years have been seeing my Facebook feed packed to the rafters with all my past travels... all the while knowing that I'm not going to be going anywhere thanks to the pandemic.
Oh well.
Could be worse.
Though looking at the shit-show this world has become, I guess it is worse?
And, to be honest, I'm not sure my heart is in travel any more. Certainly not to the extent that it used to be. There are still some places I'd really like to go, but will I ever get there? As time marches on will I even care? And if I ever do care enough to travel again (and if it's ever safe enough to travel again), will the places I want to go even be available to me? It's always been my dream to visit St. Petersburg. But, well, you know...
In other news... the Netflix Marvel shows are now on Disney+. I found this out when I tried to log in and they asked me to set up a ne profile so that I can watch shows not meant for children.
And so I've been rewatching the three seasons of Daredevil we were lucky enough to get. One thing that's immediately apparent is why Marvel Studios didn't bother to recast Matt Murdock & Kingpin for the Marvel Cinematic Universe. Charlie Cox and Vincent D'Onofrio are sublimely perfect in the roles. Anything less would be a step backwards...
Though what's going to come of it, who knows? A new season of Daredevil on Disney+? A new Daredevil movie? More appearance in other Marvel Studios movies and series?
Hopefully all of that.
Posted on March 20th, 2022

Spring has sprung and I'm motivated for nothing but being lazy, yet do not fear... because an all new Bullet Sunday starts... now...

• Saavik! I put off watching "How I Met Your Father" for the longest time because I still feel burned by the horrible way that "How I Met Your Mother" ended. I'm not too familiar with Hillary Duff... but I'm fans of Chris Lowell and Suraj Sharma, so I decided to give it a try. I had no idea that Kim Cattrall was playing Future Hillary Duff! She's great!
This was definitely a better move than dredging up Samantha Jones for the awful Sex And The City revival (And Just Like That...). Wise move on her part.

• Windu! PLEASE! PLEASE PLEASE PLEASE!!! Disney+ needs to make this happen!

• Moon Knight! This show just keeps looking better and better...
Ten more days...

• National Treasure! Dolly Parton respectfully requested to be removed herself from consideration to be inducted into the Rock and Roll Hall of Fame because she hasn't made a rock & roll album... but hopes they will consider her in the future if she does make one (something she's always wanted to do).
First of all... ZOMG! A ROCK AND ROLL ALBUM FROM Dolly Parton?!? GIMME GIMME GIMMEEEEEEE! Can you just imagine?!? Second of all... I think Dolly severely underestimates her contribution to rock & roll. It's not just the music you release, but the influence you have on other musicians and the industry as a whole that should be considered. And she's got that all over. Third of all... you don't "nominate" Dolly Parton for anything. You just give it to her. I find it a little embarrassing for The Rock and Roll Hall of Fame that they would even put her in this position. And they really need to stop. I mean, Quincy Jones wasn't inducted until 2013, and that was a grotesque oversight waiting that long. Can you imagine having to vote for Quincy Jones to be inducted? Ridiculous. Just give it to him. Then there's Nile Rodgers, who wasn't inducted until 2017. TWO THOUSAND SEVENTEEN!!! Nile Rodgers!!! It's like... what are you even doing?
And then they denied her request.

• The Flight Attendant! The first season was such a pleasant surprise. This looks great!
More television to look forward to!

• Harassment. Trevor breaking it down as only he can. This is a must-watch video (here's a link in caseTikTok is being a dick)...

• Jeez! What. The fuck. Jane Campion stepped in shit and that smell ain't EVER going to leave her. Serena and Venus Williams are INARGUABLY two of the greatest athletes to ever walk this earth, and to try to diminish that by saying they're only great because they don't have to play against the men like you do?p> — =clicks tongue in amazement= —
Yeah. Good luck with that. I try to imagine the majority of male tennis players going up against Serena Williams and very nearly wet myself laughing.
Do not try to take the shine off of somebody else's greatness to make yourself look better... because you only end up tarnishing yourself. I mean, Campion wrote and directed In the Cut, a total turd of a film, after all. Man or woman, a steaming pile is a steaming pile. This is SO unbelievable. Is Campion going to try the Rosanne Bar Defense and blame Ambien or whatever for her being a dumbass? I guess we'll find out.

Enjoy your week! Hope you're not lazy like me.
Posted on January 25th, 2022

I stayed up until midnight tonight so I could watch the latest episode of The Book of Boba Fett on Disney+. The first episode left me a little flat after the absolute joy that was two seasons of The Mandalorian, but I hung in there. And was rewarded with some fantastic episodes of Star Wars. And now that I'm invested, I've been staying up until midnight on Tuesdays so I can watch live and not have to worry about spoilers the next morning.
This was the best episode of the series yet. Which was actually a bit disappointing for reasons that I can't divulge lest I spoil the episode. Suffice to say that this one episode was better than most of the films that have come out of the Star Wars Universe.
And that's why I'm happy I stayed up to watch and am convinced that Jon Favreau and Dave Filoni should just be handed everything. Television. Movies. Specials. Everything. If it's Star Wars then they should be in charge of it. Full stop.
Posted on January 19th, 2022

The only two heroes in Marvel Comics that I was invested in was Doctor Strange and Black Panther because DC Comics had nothing like them. As time went on and DC kept making bizarre creative choices, I slowly migrated some of my reading to Marvel, which had some very interesting things going on.
Enter Moon Knight.
The first I remember seeing him was in some reprint comic of a Spider-Man story (most likely Peter Parker The Spectacular Spider-Man #22). Or maybe it wasn't a reprint? I dunno. In any event, I bought the comic specifically because it had a very cool cover with Moon Knight on it. But I didn't become a true fan of the character until a series of backup stories by Bill Sienkiewicz. At the time I was a major fan of his art, and would buy absolutely anything he did. This series essentially turned Moon Knight into Batman (my favorite DC Comics super-hero), and I was definitely here for it.
The success of these stories led directly to Moon Knight getting his own title in 1980...
They attempted to differentiate Marc Spector and Moon Knight from Bruce Wayne and Batman by giving him multiple identities. It wasn't much of a change because Bruce Wayne adopted all kinds of identities over the years.
But then it happened.
Moon Knight was canceled and revived in a mini-series called Fist of Khonshu in 1985 (Khonshu being the Egyptian moon god that gave Marc his powers). Now Marc Spector didn't just adopt multiple identities, he literally had dissociative iodentity disorder (AKA "Multiple Personalities"). His power also grew or waned with the phases of the moon and were steeped in Khonshu mythology). With this one series, Marc Spector finally became more than "Marvel Comics Batman"... even if the way some of the material was handled ended up being a bit cringe by modern standards.
Eventually I kinda lost track of Moon Knight. He would pop up in team books I'd buy, but they last I remember buying a Moon Knight book was in the late 90's when yet another mini-series was getting some traction.
Fast-forward to today, and we're getting an Oscar Isaac Moon Knight TV series that looks to be leaning heavily into the dissociative identity disorder angle from the comics...
But boy is that "English accent" a show-stopper! Somebody on the internet compared it to Dick VanDyke's hilarious accent in Mary Poppins and now that's all I can hear!
I do very much like the way that his costume appears and wraps him like a mummy. Very apropriate, and something I don't recall seeing in the comics. But the moon symbol on the hood is weird and unnecessary given that it's huge on his chest. These kind of odd and distracting details are usually avoided by Marvel Studios (and embraced by the shittier DC Comics movies), so this is puzzling to me.
All I can say is that I am really, really looking forward to this series. It looks like a much more violent and unique take on the super-hero genre for Marvel Studios, which is probably why they moved forward with it. They try to make all the characters unique, which is quite a challenge given that they're all super-heroes from comic books. And, if nothing else, getting Oscar Issac to play Marc Spector is an interesting and talented choice.
So long as that "English accent" is used sparingly.
Really, really sparingly.
Posted on November 14th, 2021

I may be dealing with some very upset cats now that Daylight Saving Time has ended, but fear not... because a Very Special Disney+ Day Bullet Sunday starts... now...

• Hawkeye! So many tantalizing glimpses into this series, which appears to be adapting one of the best comic book arcs of all history... Matt Fraction & David Aja's Hawkeye. The Marvel Disney+ Day Special. I was positively giddy watching the footage. Jeremy Renner just has the character nailed and Haley Stansfield looks like all kinds of fun as Kate Bishop...
If you even like comics a little bit and haven't read through the Fraction/Aja run, you owe it to yourself to take a look.

• Moon Knight! This is one of the more complex characters in the Marvel comics, so it was a smart decision to make sure that they got an actor with the talent to make it happen... Oscar Isaac.
From the looks of it, they are totally going in on Marc Spector's multiple personalities and struggles with mental challenges. I cannot wait to see how this unfolds.

• She-Hulk! When it comes to characters that don't get the credit they deserve, No. 1 on the list is Aquaman. He's been partially redeemed by his movie, but many people still think that he's a wasted character whose only super-power is "talking to fish." No. 2 is Hawkeye. He's actually an incredible character in the right hands but is perceived as being useless. No. 3 on the list is She-Hulk. Make no mistake... she was pretty redundant and boring in the comics for a long while. But then John Byrne took over her book and completely revolutionized it. You know how Deadpool is always breaking the 4th wall and speaking to the audience because he knows he's in a comic/movie? Byrne's She-Hulk did it first. And the result was just as good. But most people don't know this, so she gets dismissed. Until now...
It looks like they are keeping the whole "break the 4th wall" thing that made her famous. Which will undoubtedly upset the fanboys because they'll think she's copying Deadpool. Oh well. I am looking forward to this show not because I love the character, but because I love the actor playing her... Tatiana Maslany. That promises to be very interesting.

• Ms. Marvel! I never know how to feel when a character is changed in the name of diversity. On one hand... are creators so bankrupt of ideas that they can't come up with new characters to add diversity and have to recycle old ones? But on the other hand... recycling instantly establishes a new character in a recognizable role. Ultimately I'm for anything they can do to make comics more diverse (it's just so damn tired that 98% of everything is cisgender, heterosexual, and white). And sometimes it's done so well that recycling is actually successful. They made Amadeus Cho be The Hulk and they made Miles Morales be Spider-Man... both of which were done really well. So well that they eventually became their own thing. But my absolute favorite change in the name of diversity? Ms. Marvel. For those not in the know, Carol Danvers used to be Ms. Marvel before she became Captain Marvel. Then a young Muslim girl, Kamala Khan, (who is a fan of Captain Marvel) adopted her old Ms. Marvel identity when she got super-powers. The comics are fantastic, and now we're getting a series on Disney+...
Kamala Khan will also be in The Marvels movie, so I think the character might be around for a while. Thank heavens.

• And More Marvel! All we got for the other series in development were title cards... I am Groot, The Guardians of the Galaxy Holiday Special, What If: Season 2, Echo, Loki: Season 2, Ironheart, Agatha: House of Harkness, Armor Wars, and Secret Invasion. Interesting to note that a series for Agatha Harkness had only been rumored, but is now confirmed. Can't wait to see Kathryn Hahn unleashed for that!

• Ciao Alberto! Few movies have sucked me in as quickly as Luca did. It was just phenomenally beautifully animated, and I spent hours freeze-framing to study it (then bought the Art of Luca book to study it even more). For Disney+ Day, they released a short 8-minute film showing what happens to Alberto after Luca leaves for school...
It's wonderful. And as gorgeous as the film. To get a full series of just this would be fantastic... so fingers crossed this was just testing the waters.

• Cars on the Road! It's hard to believe that there's a Pixar franchise I don't like... but it would be Cars. Larry the Cable Guy and Owen Wilson will be reprising their roles in a new cross-country series for the world of Cars which might be interesting? I dunno. I liked the first movie a little, and it's been diminishing returns ever since.

• Baymax! My favorite Pixar character is Sully from Monsters Inc.... my second favorite is Baymax from Big Hero 6. Sadly, I haven't liked anything to come out of the Monsters franchise since the original... but it looks like they nailed the new Baymax! series...
Yeah. I'll totally be tuning in to that.

• Turning Red! Not only does this movie look really good. It's also stunningly animated. So beautifully nuanced in every single scene. JUST LOOK AT THIS...
AND THIS...
This is Pixar returning to form, and I am here for it.

• Tiana! When it comes to the Disney Princess set, it's pretty cool that The Princess and the Frog gave us a hero in Tiana. She was beautifully realized and had some terrific moments. Now she's getting her own movie, but we know precious little about it. Other than it takes place after the movie.

• Star Wars! If there's a Disney property that got royally screwed, it's Star Wars and the Lucasfilm stuff. Yeah, we got a charming look at the cast for the Willow series. Yeah, there was a brief check-in on Obi-Wan. But about all we really got was a complete retread of Boba Fett material in a "Special Look" that had new insights from the people working on The Book of Boba Fett series...
That show doesn't arrive until December 29. After that it's anybody's guess as to when we're getting Season 03 of The Mandalorian, Season 01 of Obi-Wan, Season 01 of Ashoka, Season 01 of The Acolyte, Season 01 of Lando, and... the series I most want to see... Season 01 of Andor. I doubt all of them will be released in 2022, so some of them will undoubtedly end up all the way in 2023. That's lean pickings for Star Wars fans.

• Prey! One of the 20th Century Fox properties that Disney got in the purchase was Predator. To be honest, I haven't cared much for anything that followed the original Schwarzenegger flick. The Danny Glover sequel was okay, I guess. But Predators and The Predator were pretty weak. The Alien vs. Predator flicks were even worse. Now Disney is shunting a new Predator movie to Hulu called Prey. The concept is solid... it's set in the Comanche Nation 300 years ago... but I'm not letting my hopes get too high.

• Jungle Cruise! In addition to Disney+ releasing Shang Chi and the Legend of the Ten Rings, they also dropped the Dwayne Johnson and Emily Blunt movie Jungle Cruise. I thought it was... okay? I mean, it was really well-made. The special effects were great. The casting was perfect. And it was entertaining. It's just that it felt that it needed a story that was a little more streamlined. It was all twists and turns and set-up to a big reveal that ended up being inconsequential. It's like why?
Like I said... it was okay. I don't regret the time I spent watching it. I just wish that the people behind the movies like this would edit themselves a little better. At each point they should be asking Why are we doing this? Does it make the story better? Is it necessary? Sadly, too much of the time in Jungle Cruise the answer is "no."

Whew. I'm too exhausted for anyone more bullets!
Posted on October 10th, 2021

Fall days are here, but it's still Summer Vacation at Blogography... because an all new Bullet Sunday starts... now...

• Bags! Washington State is one of those bizarre states that wants to do a good thing... but often ends up doing it badly. Take for example the "Single Use Plastic Bag Ban" that recently went into effect. The idea is to make people bring reusable cloth totes to the store in order to keep plastic bags out of landfills. But... holy shit. Those bags were never single-use to me. I use them to carry stuff all the time (like my lunch) and they're also the garbage bag I use in my kitchen and bathrooms. Stores will still have plastic bags available for a mandatory 8¢ each, but Washington State requires them to be thicker plastic so they're tougher. And I'm like... okay... 8¢ is still the cheapest garbage bag I can buy... and now they are going to be five times thicker, so it's actually one of the best frickin' garbage bags you can get. EXCEPT NOW THERE'S FIVE TIMES MORE PLASTIC GOING INTO THE LANDFILL!! Lots of people use them as trash bags, so even if a bunch of people switch to cloth totes, people will either be buying more plastic trash bags or using the thicker bags, meaning that we might actually have more plastic in the landfills. Does anybody think about this shit before passing these laws? ANYBODY?!??

• Finale! Not sure how to feel about the finale of Ted Lasso. In many ways, it was disappointing. There were zero surprises, if you've been paying attention. But I didn't hate it. The entire purpose of the second season was to lead up to the endgame of the third season, which was designed to be the last. It seems entirely likely that it will continue past that... there's just too much to lose... but Bill Lawrence says the three-season story arc will remain regardless...
He also says that Doctor Fieldstone and Trent Crimm will be back, so there's that. And so... until next year, I guess.

• Make Mine Marvel! And so now there's a Kathryn Hahn spin-off with Agatha Harkness from WandaVision. Add to this the rumor that some Netflix Marvel shows are headed to Disney+ as well (Jessica Jones? Daredevil?), and the future is looking very good for Marvel Studios fans... with Hawkeye, Ms. Marvel, Moon Knight, She-Hulk, Secret Invasion, Ironheart, Armor Wars, Wakanda Series, and an Echo Series, already announced...
And heaven only knows how many are being roughed out that we don't even know! I'm guessing that the Marvel stuff is the most popular part of Disney+, so increasing the number of new shows is a no-brainer.

• Kenan! The new cast lineup for Saturday Night Live seems solid. But the killer app of the show is Kenan Thompson. He's the most memorable part of every skit he appears in, but it's only due to how he plays it... not necessarily the material they give him. In Billionaire Star Trek he had a bit part as an Amazon delivery guy and Kenan is all I remember of it. The meeting with the school board sketch was instantly forgettable... except for Kenan. Everything EXCEPT for Kenan in the funeral skit evaporated minutes after I saw it. This is most decidedly not a great way to start the season. They had months to prepare for the first show, and nothing sticks in my head except how Kenan managed to make the most of what he had to work with? I dunno. SNL has a problem that's not an easy fix. Hopefully everything will gel and get dialed in before Jason Sudeikis shows up, because that show is something I am really, really looking forward to.

• Weekend! How my weekend started...
VS. how its going...
So pretty darn delicious, I'd say!

• Retired! Good riddance you crusty old homophobic, racist, misogynistic bigot. I've got a bottle of champagne chilling in the refrigerator for the day you depart this earthly plane. Don't keep me waiting...
This asshole may be retiring now, but his brain retired decades ago.

• Inside! God. Could Intel reek any worse of desperation? This ad is fucking embarrassing. And the "random strangers" they pulled in are ridiculous. Like Apple fans are completely unaware that other products exist. I mean... holy shit... is Intel SO worried that people are leaning away from their chips that they have to be all pathetic like this? Sad. Just sad...
Somebody would have to be legit brain-dead to think that this reflects any semblance of reality.

Everybody remember to drink responsibly...
Posted on September 5th, 2021

September is here as the horrors of 2021 continue, but the horror is ongoing... because an all new Bullet Sunday starts... now...

• Breakage! Well this is ten tons of cool: Artist Walead Beshty Shipped Glass Boxes Inside FedEx Boxes to Produce Shattered Sculptures. Creative people making highly creative art like this makes me very happy.

• Date! I love discovering a great movie that I didn't even know existed! This time is was Date and Switch from 2014...
Yeah, it's a high-school rom-com... but it has a twist that I haven't seen before. And it has a really good heartfelt ending that's played beautifully by Nicholas Braun, and it caught me completely off guard. Recommended!

• Well-Made... Crap! The wheels on the lower rack of my Whirlpool dishwasher started falling off after two years. After four years, they had all fallen off. I got tired of having to pick up and set the rack in myself after a year, so I finally Googled how to repair the stupid thing just now. Turns out that this is SUCH A HUGE FUCKING PROBLEM that Google AUTO-COMPLETED THE SEARCH FOR ME! I typed "Whirlpool Dishwasher—" and it immediately popped up with "...wheels falling off." And so... $16 later at Amazon and I have "improved & upgraded" wheels on the way. Wheels with a STAINLESS STEEL core that won't snap off. How fucking pathetic is it that the manufacturer doesn't just include these kind of wheels in the first place? They HAVE to know that this is a huge problem with the plastic becoming brittle and cracking. It would probably cost them $5 extra for metal cores and pins on an item that customer's are paying hundreds for, so WTF?!?

• Disney! Please tell me you've seen the 5 minutes of joy and magic that is Us Again on Disney+...
What's magic to me is what happens BETWEEN the cuts. Especially at the very end. She clearly picked up his hat. But they don't have to SHOW it to you... they just have it sitting next to her. That's economy of storytelling in the absolute best possible way. If you have Disney+, you owe it to yourself to give it a quick watch.

• Disneyesque! I watched the new Cinderella on Amazon Prime and new Cruella on Disney+ (now that it's free to watch). Cinderella was nice enough, but their efforts to go more progressive at the end (something I usually wouldn't mind) were really heavy-handed and kind of sunk it for me. Cruella, on the other hand?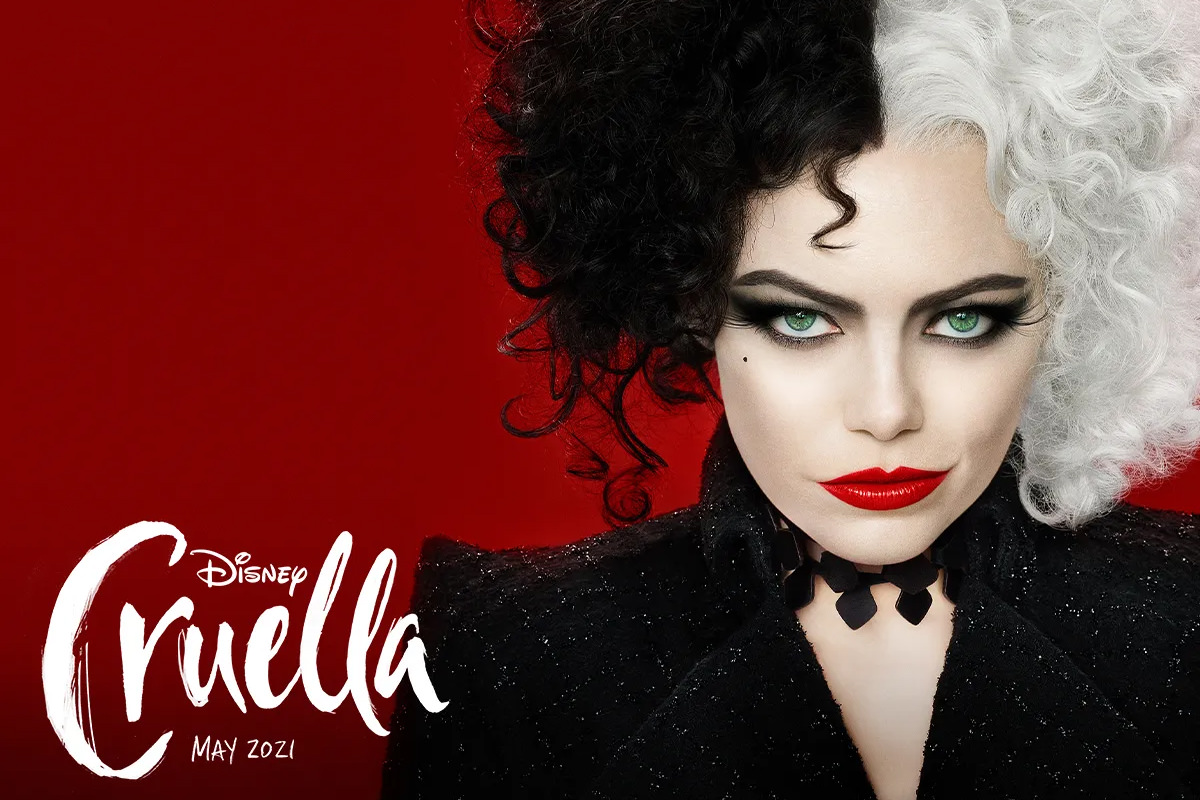 Pretty darn good! Very entertaining with a brilliant soundtrack, incredible performances, and cool design sense. The only thing I didn't care for was the fact that eventually Cruella deVil becomes a psychotic old hag who wants to skin puppies to make a coat. It's really tough to be in any way invested in how she started when you know how it ends for her. I suppose if you can ignore that aspect, you'll enjoy it.

• All the Abs! How I imagine the director's conversation with the costume designer went for Aquaman...
Director: "Many people think of Aquaman as a weak hero."
Costume Designer: "Yes, but he's being played by Jason Momoa, so problem solved!"
Director: "No... that's only part of the solution. The other part is giving him a costume that lets viewers know that he is a manly-man and a really powerful hero."
Costume Designer: "So no spandex?"
Director: "Lord, no."
Costume Designer: "We can accent his muscles with the suit to make him appear more like a classic comic book hero."
Director: "Yes."
Costume Designer: "We can REALLY define those abs!"
Director: "YES! YES! OH YES!"
Costume Designer: "What do you think of this sketch?"
Director: "MORE ABS! PILE ON MORE ABS!"
Costume Designer: "Um... okay... how about this?"
Director: "More."
Costume Designer: "Maybe this?"
Director: "MORE! MORE! MORE! GIVE HIM ALL THE ABS!"
Costume Designer: "Oh... wow... okay then... how about this sketch?"
Director: "YES! GOD, YES! LET'S DO EXACTLY THAT!"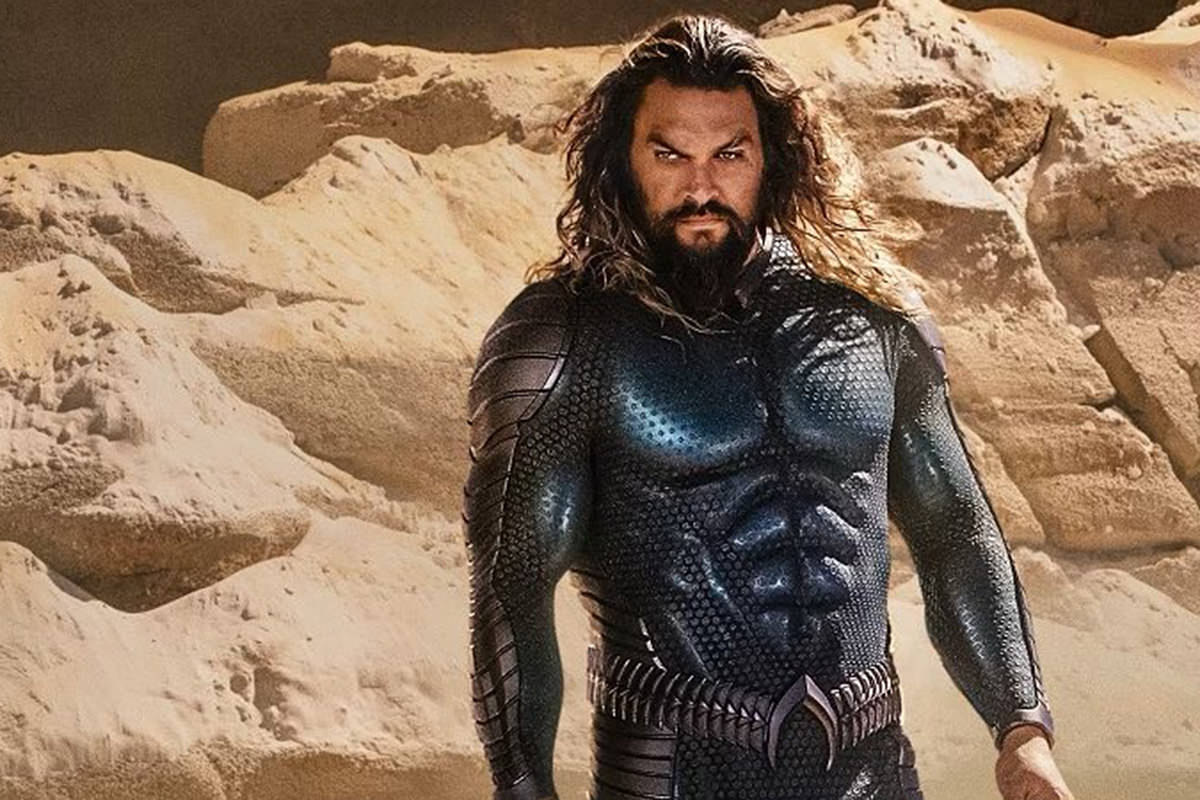 It's like... damn. That's over-done to the point of being absurd.

• Progressive? Washington State prides itself on being tech-forward thanks to so many tech companies starting here or having a presence here. And yet Washington State itself is ALWAYS the last to adopt actual technology or new ways of doing things. It makes me livid. What in the hell are our legislators being paid for if they ignore what's happening RIGHT NOW? It's like getting your driver's license enhanced to Real ID for travel. I think this only became possible recently... despite everybody knowing that it would be required years ago (my license, renewed last year, is still not enhanced). And now it's digital driver's licenses that they are ignoring. Arizona, Georgia, Kentucky, Maryland, Oklahoma, Iowa, Utah, and Connecticut are ALL hopping onboard. WHERE THE FUCK IS WASHINGTON STATE? Iowa is more aware of tech and new trends that Washington State? IOWA?!? — Patty Murray, Maria Cantwell and Jay Inslee need to do their damn jobs, direct the DOL to get on this, and keep us at the forefront of tech. I am sick and tired of Washington State ALWAYS being behind the curve. Our state government probably won't even know that digital driver's licenses EXIST until 2025. Do we need to vote in new legislators that will keep Washington State moving forward? Because what we got now ain't working... and their inaction is embarrassing Washingtonians. Again. DO BETTER!

And that's all the bullets she wrote!