Posted on February 9th, 2023

What blows me away is how Marvel Studios puts it all on the screen. They don't "hold anything back for the sequel" but instead treat every movie like the last movie they will ever make.
AND THAT'S WHY THEY ARE SO SUCCESSFUL!
After basking the the majesty that's Black Panther: Wakanda Forever, I am making my way through all the Chadwick Boseman Black Panther appearances. The first of which wasn't in a Black Panther film... or even an Avengers film. It was in a Captain America film!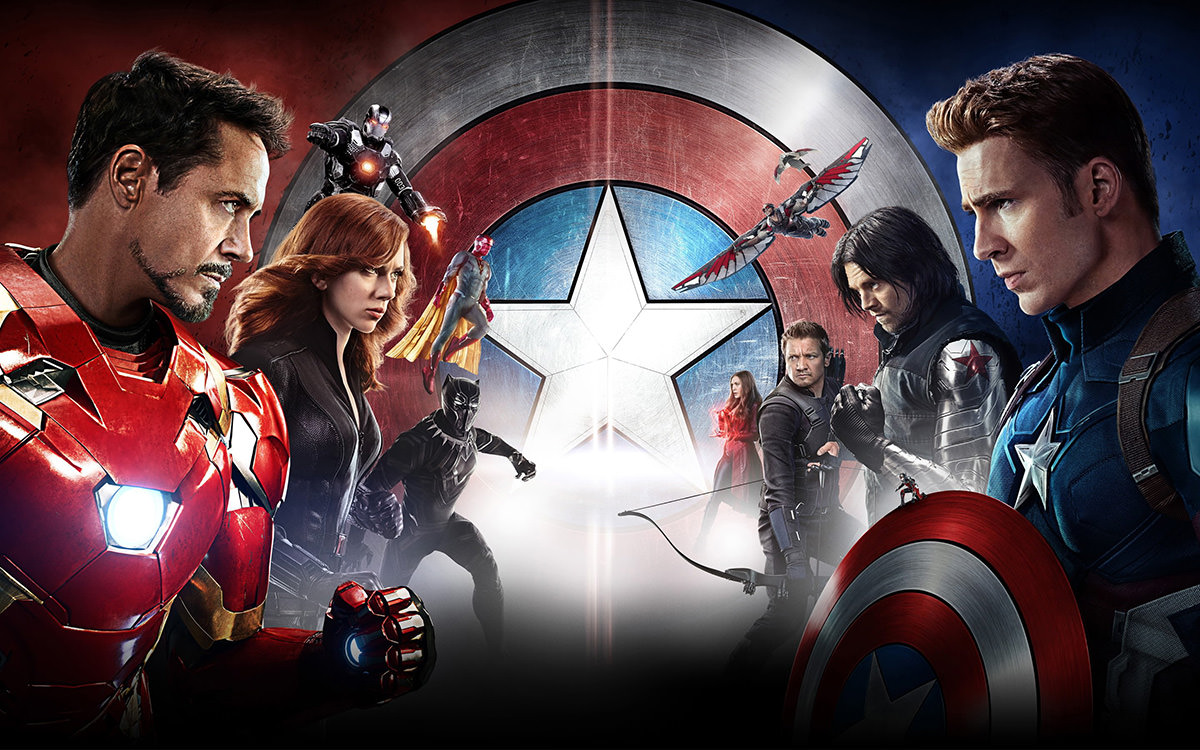 What was also in Captain America: Civil War? The first MCU appearance of Spider-Man!
Plus we get Iron Man, Black Widow, Falcon, Scarlet Witch, Hawkeye, Vision, Ant-Man, and Winter Soldier! It was basically an Avengers film. Inside a Captain America film. Which is crazy. How many studios would even do that?
Other studios would drag things out so they have something for future movies... then wonder why nobody gives a crap about the watered down film they release. Marvel isn't interested in that. They put everything into the film they are making right now... then force themselves to come up with something new and amazing for the next one.
And then get incredible actors for every single part. Alfre frickin' Woodard just randomly shows up in a tiny nothing of a bit part in Civil War. But it was a critical part that put the entire movie into motion, so they HAD to get Alfre Woodard. And her few minutes of screen time works. So well. In lesser, cheaper hands, it might not have.
The wild success of Marvel movies is not a fluke or a mistake. They are designed to be successful. I remember reading somewhere that Chadwick Boseman always thought that his appearance in Civil War would be a one-off cameo before signing his deal. Given how other studios would probably do exactly that, it's no wonder that he thought this. Obviously Marvel had other plans. They're more than that.
I live in constant fear of Kevin Feige retiring as the mastermind behind these movies. The guy gets it. His successor might not. And these movies have been too good in his hands.
Tags:
Ant-Man
,
Black Panther
,
Black Widow
,
Captain America
,
Falcon
,
Hawkeye
,
Iron Man
,
Marvel Studios
,
Movies
,
Scarlet Witch
,
Spider-Man
,
The Vision
,
Winter Soldier
Categories:
Movies 2023
—
Click To It:
Permalink
—
0 Comments: Click To Add Yours!
Posted on July 9th, 2021

After being delayed over a year... Black Widow is finally here!
Well, I say "over a year" but it's actually more like eleven years because I've been waiting for a solo movie ever since the character first appeared in Iron Man 2 back in May of 2010. Instead she appeared in just about every other character's movie without getting her own. At least until now.
No, I did not go to a theater to watch it. I paid $30 to watch it at home, which is something I was thrilled to do. I would never step foot in a movie theater ever again if it was the option. Partly because I've got a great big-screen TV and sound-system at home... but mostly because I hate sitting in a theater with a bunch of selfish, inconsiderate assholes who feel the need to light up the theater with their cell phones, talk, and exist while I'm trying to concentrate on the movie. And, yes, I will undoubtedly buy the film on iTunes when it's released as well. Though it sure would be nice if Premiere Access customers got a bit of a discount on it! I love Marvel Studios movies, watch them over and over again, so I buy them.
As a non-spoilery review, about all I can say is that I liked it quite a lot. Don't know that I'd go so far as to say I loved it, because Natasha did get a little short-changed in her own film... but it was darn entertaining and continues Marvel's unfathomable streak of awesome movies...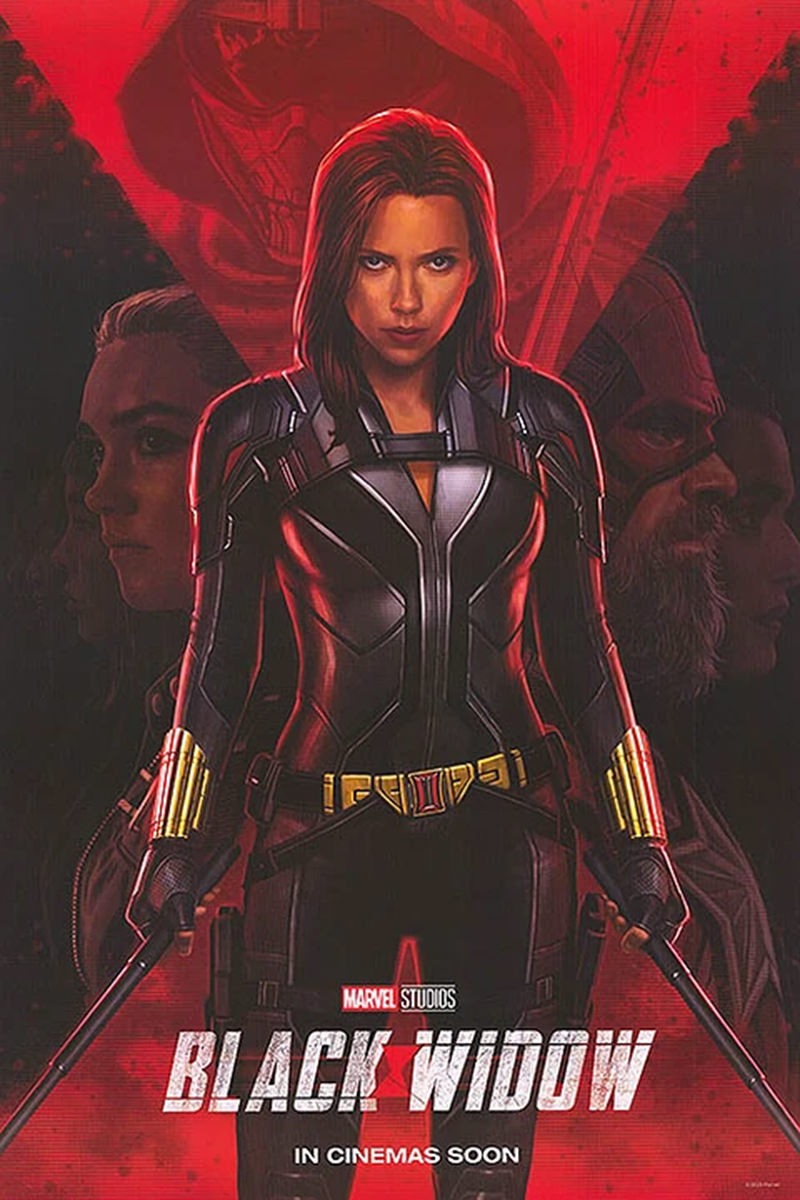 Since Black Widow is... well... dead... in the Marvel Cinematic Universe (thanks to Avengers: Infinity War), they pretty much had no choice but to go back in time. Conveniently, there's a period after Captain America: Civil War where some of the characters are on the run for violating the Sokovia Accords, and that's when Black Widow is set. The story, in a nutshell, is that Natasha has to confront her past which is having a scary relevance to what's happening in her present (which is our past). Along the way we meet her former "family" of spies, including her father (David Harbor), mother (Rachel Weisz), and sister (Florence Pugh). All of whom are likely not done in the MCU.
So... yeah. Kudos to Marvel for not only finally giving Black Widow a film of her own... but for investing enough money to make it really cool as well.
I already watched the movie once. I am going to watch it again right now and live-blog it as I go. You can read that (along with other thoughts) in a spoiler-filled extended entry...
→ Click here to continue reading this entry...
Posted on June 24th, 2021

It's really weird to think that after a year of no new Marvel Studios films, we're making up for lost time by getting four of them in the second half of this year. I just prepaid my Premier Access fee for Black Widow last night so I'm all set for July 9th. I think the other three are all theaters-only, so I guess that's the end of the road for new releases at home.
After some social media posts this morning promising that the first full trailer for Shang-Chi and the Legend of the Ten Rings would be released... and here we go...
That cast tho! I honestly didn't know what to think of Simu Liu in the lead since all I knew him from was Kim's Convenience, but it looks like he's going to be the super-hero action type juuuuuust fine. Then, of course, there's Michelle Yeoh, Tony Chiu-Wai Leung, Fala Chen, and... Awkwafina! This film drops on September 3rd.
Then it's a one-two punch with Eternals on November 5th and Spider-Man: No Way Home on December 17th. On the Disney+ side, we've got What If? and Hawkeye and Miss Marvel also coming up sometime in the back-half of 2021.
The Marvel Cinematic Universe will be going into 2022 without half of its six original Avengers since Iron Man, Captain America, and Black Widow are all out of play. My guess is that Hawkeye will die or retire in his series, which would leave just Thor and Hulk (plus Nick Fury, of course). Black Panther was tragically lost to us, which leaves Ant-Man & The Wasp, War Machine, Okoye, Shuri, Nakia, Doctor Strange, Wong, Spider-Man, Captain Marvel, Vison, and The Scarlet Witch remaining from the second wave. Along with Falcon (the new Captain America) and Bucky. And then there's The Guardians of The Galaxy, which may be a very different team after the third movie of the trilogy wraps.
As for the future?
It's confirmed that we're getting (or have already spotted) Shang-Chi, The Eternals, The Black Knight, Lady Thor (Jane Foster), Photon (Monica Rambeau), Miss Marvel, Kate Bishop (Hawkeye II), She-Hulk, Moon Knight, Blade, Ironheart, Stature (Young Avengers—Cassie Lang), Patriot (Young Avengers—Elijah Bradley), Wiccan (Young Avengers—Billy Kaplan/Maximiff), Speed (Young Avengers—Tommy Shepherd/Maximoff), Falcon (Young Avengers—Joaquín Torres)... plus there's a rumor that the Netflix heroes will be integrated (Daredevil, Jessica Jones, Luke Cage, Iron Fist, and The Punisher)... plus Fantastic Four (and most likely X-Men) as well. Deadpool will be back, but how he'll fit into things is anybody's guess.
That's a lot.
But where's Alpha Flight, Namor, Wonder Man, Nova, Captain Britain, and The Silver Surfer?
Posted on June 3rd, 2021

Marvel Studios dropped a new trailer for Black Widow today. As one would expect, it looks glorious. Since the character doesn't have super-powers or massive custom gear (like a Batmobile) or setting (like a Batcave) it would have been so very easy for the studio to cheap out and give Black Widow a budget movie... but they didn't do that. Wisely, they stuck to formula by investing the money to give her a spectacular action flick that looks every bit as awesome as the movies other Marvel characters have been getting...
And bravo to that, because Black Widow has been carrying other movies all this time without complaint, and she frickin' deserves to have a movie of her own that will measure up.
Fortunately, the film will be available to Disney+ subscribers upon release for a "premium access fee" so I don't have to go to a theater to see it... because I'm not quite ready for that. I will happily pay an early fee to see the movie in the safety of my own home. It would be nice if the early access fee included a digital copy of the movie when it eventually gets released for sale... but that doesn't seem to be the way it works, so I'll undoubtedly be buying it on iTunes as well.
Money well-spent if I watch it even half as many times as I've watched all my other Marvel Studio movies.
The next movie on Marvel's slate is Shang-Chi And The Legend Of The Ten Rings... another flick I'm dying to see (seriously, the cast is to die for). I don't think that this one will have simultaneous releases for home video and theaters like Black Widow. So I guess we'll find out come September 3 if I'm dying enough to go to a movie theater. If not then, maybe for Eternals in November or Spider-Man: No Way Home in December? It's tough to say. Personally, I'd love to never have to step into a movie theater ever again. As I've said many times now, I detest the experience of it all because people are shitty. But I know that movie studios have to recoup their investment somehow. These are not cheap movies to make.
In other Marvel Studio news... genius filmmaker Taika Waititi announced that Thor: Love and Thunder has wrapped filming and will now go into post-production for special effects and stuff. Which apparently takes a minute, because it's not due to be released until May 6, 2022! If any movie is going to get me back in theaters kicking-and-screaming, it would be this one. Thor: Ragnarok is easily in the running to be my favorite Marvel movie, so seeing it immediately regardless or where and how is a no-brainer.
Even if they did miss the opportunity to title it Thor 4: More Thor.
Posted on May 13th, 2016

As a huge, huge, massively huge fan of the Marvel Cinematic Universe films, you would think that I'd have seen Captain America: Civil War on opening day. And heaven only knows I wanted to so as to avoid spoilers that plague the internet... but work got in the way. Today I had to run an errand for work, and decided to see the film on the way back home.
And it. Was. Spectacular...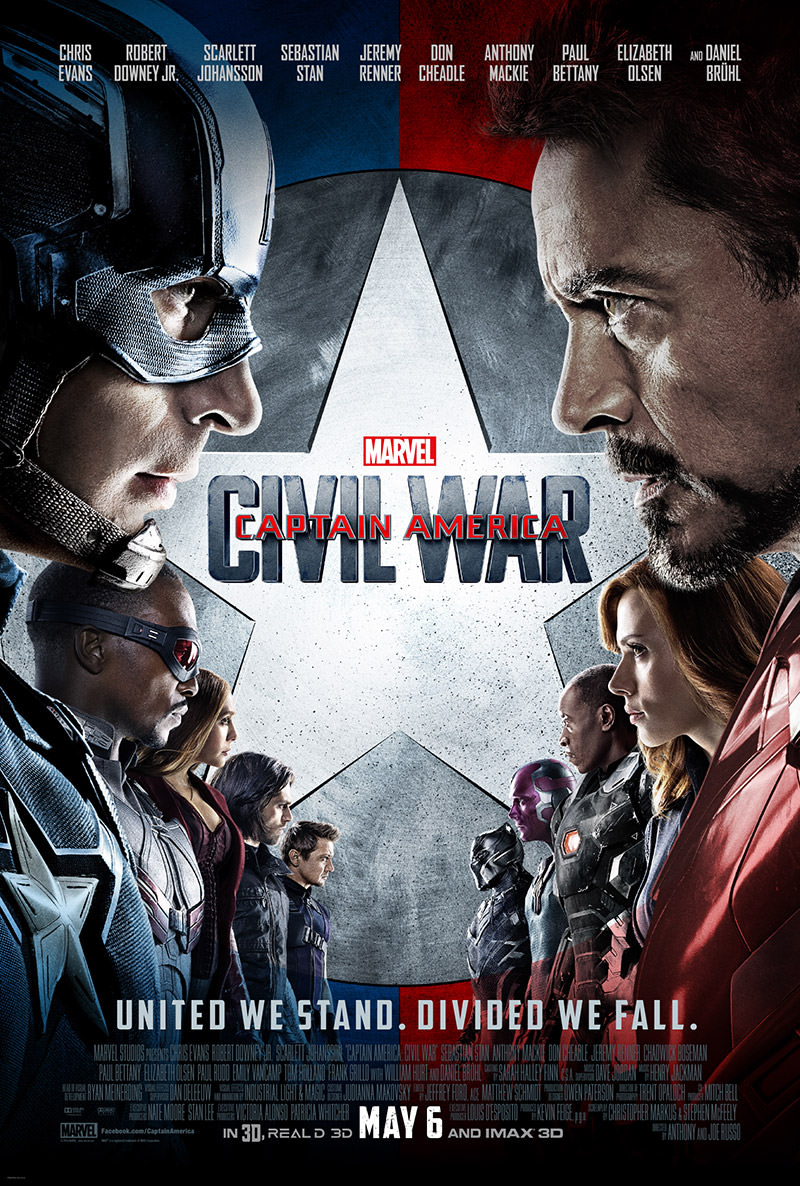 I'm putting my full comment in an extended entry so people who haven't seen it yet can do so... but, suffice to say, it's absolutely everything you want in a comic book movie. Go see it immediately.
For everybody else? Continue at your own risk...
→ Click here to continue reading this entry...
Posted on June 30th, 2015

GAAAAAAHHHH!
FOR HEAVEN'S SAKE, MARVEL... JUST GIVE BLACK WIDOW HER OWN MOVIE ALREADY!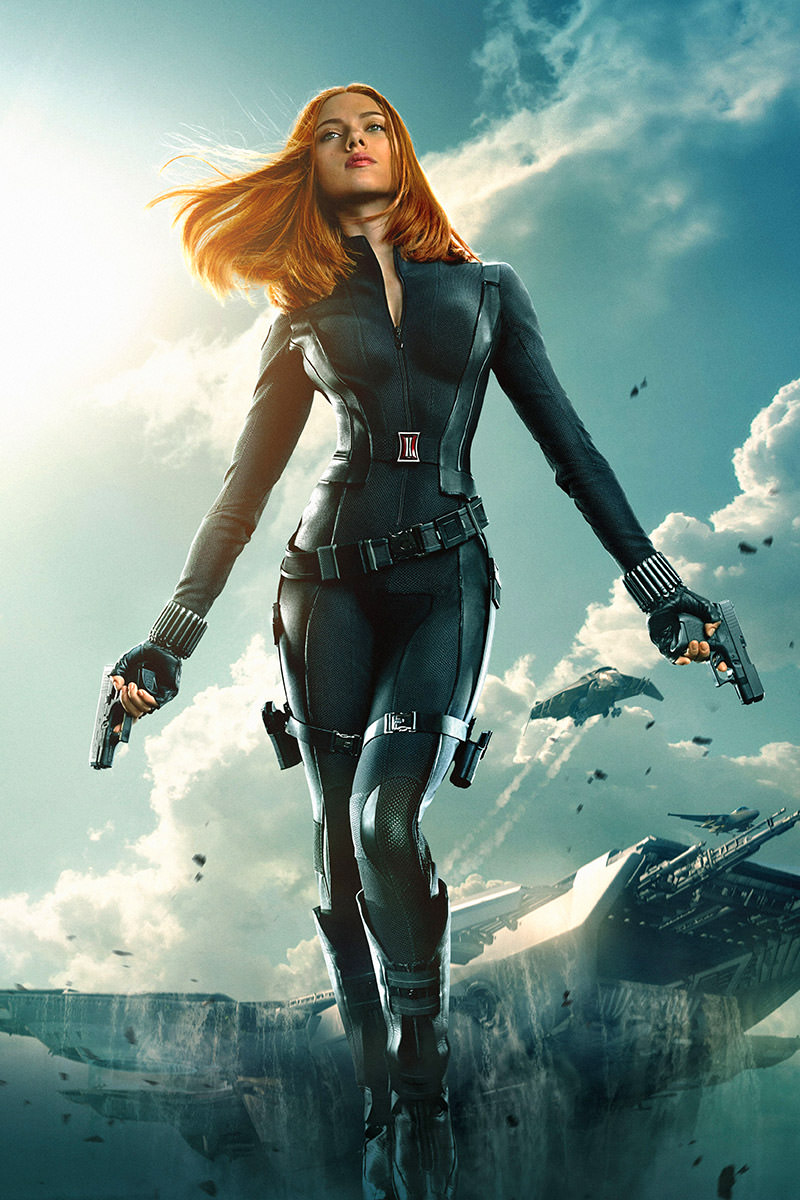 The Marvel Cinematic Universe is expanding in all kinds of awesome directions... but no real "spy thriller" has hit yet. This is categorically absurd given that Black Widow and Nick Fury are freakin' made for this kind of movie. Build up some kind of amazing Mission: Impossible scenario, drop them in the middle of it, then watch them go.
Tell me people wouldn't pay good money to see that.