Posted on September 13th, 2017

Apple started off their September Event video with sweeping views of the brand new Apple Campus, otherwise known as "The Donut" or "The Spaceship" or "The Mothership." It is, of course, a structure of sublime beauty. Then, as The Beatles' All You Need is Love plays, we fly over to the equally sublime Steve Jobs Theater as attendees file in.
Then, in a moment that tore at my heart, the voice of my personal hero fills the theater that bears his name. And, just far a moment, it feels like he never left us. Then Tim Cook walks out with tribute to Jobs and the moment is gone. The Keynote begins.
Let's watch it together, shall we?
APPLE PARK
I could have watched an entire keynote devoted to Apple's new headquarters but, alas, all we get is a fleeting look. Happily, Tim announced that there will be a visitor's center! I will, of course, be paying a visit one of these days. An Apple Whore's life isn't complete until you've made a pilgrimage to The Mother Ship...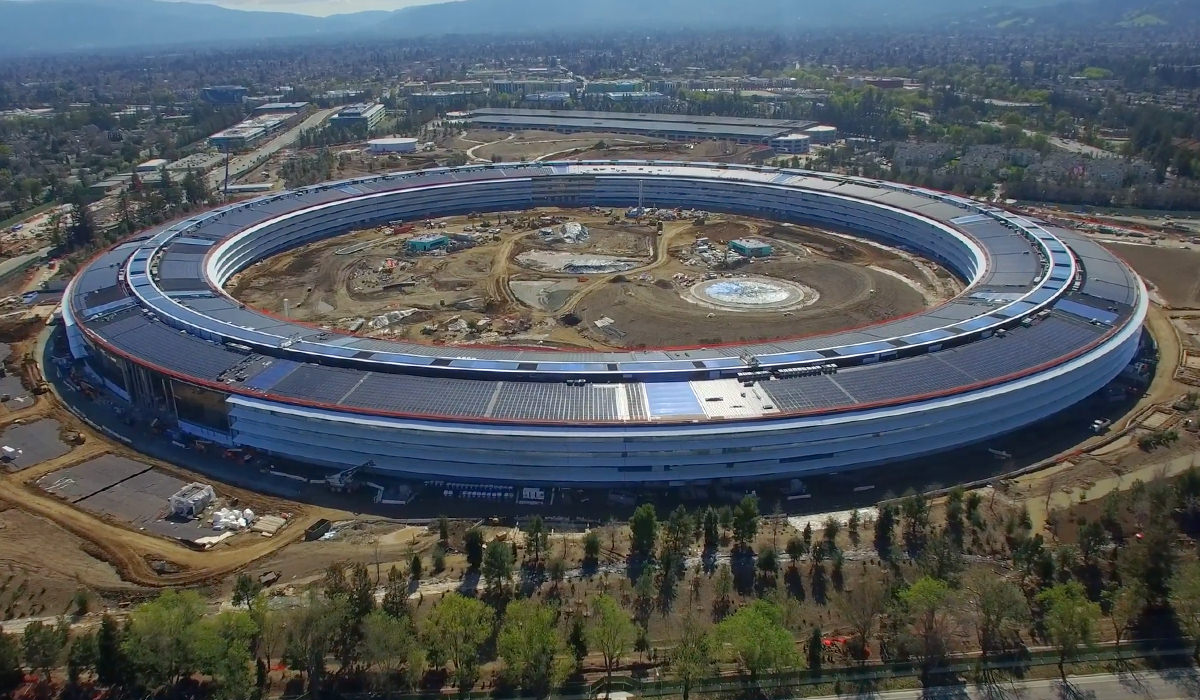 Aerial drone footage by Matthew Roberts

APPLE RETAIL
Oh gag me. Apple doesn't call their major stores "stores" any more... they are "town squares." I mean, yeah... they are beautiful spaces where people can gather but, come on. These are monuments to retail, not the cities they reside in.
There is no doubt that Apple "town squares" are beautiful inside and out... architectural marvels that capture my imagination like no other stores can. And the plans they announced for Paris and Milan are borderline destination-worthy, which is remarkable. These are STORES!

APPLE WATCH 3
Apple finally cracked the smart-watch after a stream of other companies tried and failed. And their efforts paid off... they now have the #1 watch in the world. What's interesting is how Apple has changed this space. Their smartwatch is more of a lifestyle piece than a tech toy, and they continue to push into fitness and health in a way that makes their wares a compelling purchase.
The big announcement from this segment is that the new Apple Watch 3 now has a cellular radio, so it doesn't require a phone to access the internet. Dick Tracy has just become real, y'all. You can make/answer calls... send texts... even stream Apple Music... all without a phone. On my AT&T plan, this functionality costs an additional $10 a month. I guess that's a fair price... though I don't picture using $10 worth of data every month, as my iPhone will still get the lion's share of my usage.
I would love an Apple Watch 3. It's a magnificent piece of tech and, given my elevated heart rate, would probably be a benefit to my health. And yet... I have small wrists. Even the small Apple Watch is a massive clunker on me. What I want... what I really really want... is an thinner Apple Watch. I'd sacrifice some features (like the cellular radio) just to have something I can actually wear comfortably.
The price of admission for Series 3 with cellular is $399. Given that the watch is "darn close to magic," this seems like a bargain. Available September 22.

APPLE TV 4K HDR
I have many frustrations with Apple. One of the biggest is Apple TV. The remote is shit. The user interface is shit. Streaming my Apple purchases (when I can even get it to work) has quality that is shit. And if my Apple TV struggles to stream HD content now, what hope is there that a massive 4K stream is going to get through? What's so frustrating is that the Apple TV apps FOR EVERY OTHER STREAMING SERVICE is fantastic. I never have a problem with Netflix, ABC, NBC, CBS, YouTube, Showtime, HBO, Starz... ANY of them. Just my Apple iTunes purchases. How messed up is that?
Assuming I could actually get the Apple TV 4K HDR to stream shit (I have a 4K HDR television), it seems like a great device. Mainly because Apple will automatically upgrade your HD purchases to 4K HDR at no charge. If only they would come up with a better remote.

iPHONE 8
My every day phone is an iPhone 6. It's a little slow to initiate with the newer OS and apps, but it works perfectly fine, and I didn't feel the need to upgrade to an iPhone 7. Yeah... 3D touch is cool and the nicer camera (especially on the 7+) would be great... but it wasn't worth the cost. Even once my battery started cutting out at 10%.
But it's time to upgrade, and the iPhone 8 looks like a great choice. FINALLY stereo speakers (in both orientations!). The A11 Bionic chip would be a quantum leap from the A8 chip in my current phone. The camera looks incredible, but I'm disappointed that the dual-lens model with "portrait mode" is only available in the giant iPhone again. I don't want to lug around a giant phone. And while I'm not a big "augmented reality" fan yet, I have to say, the AR star map app they showed off is right up my alley. Needless to say, wireless charging is a much-coveted feature. No more plugging/unplugging a power cord... just slap it on a charging mat. Kind of odd that Apple took so long to get here when other companies have had wireless charging for a while. Available September 22.

iPHONE X
Let me just start by saying ONE THOUSAND DOLLARS?!?? Boy, that's a lot of money for a phone. But is it worth it?
Maybe.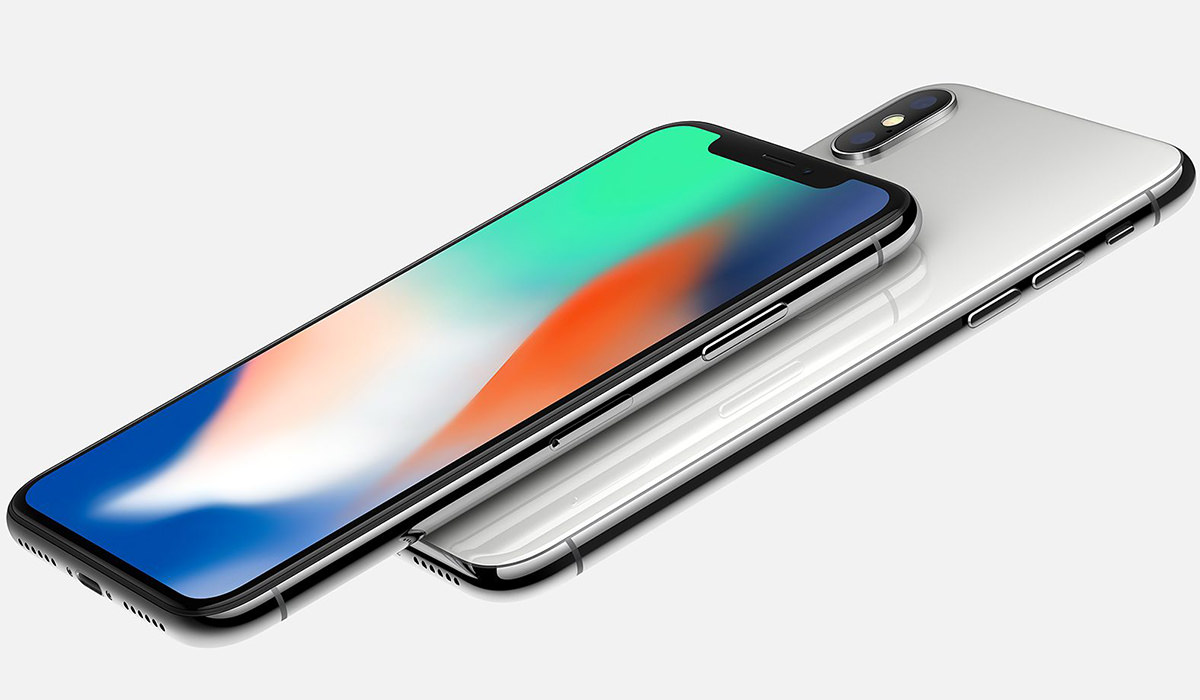 The bullet points...
Super Retina Display. Should be fantastic. The black levels and huge contrast ratio make for an amazing visual treat. Photos will look amazing.
No Home Button. A long time coming. Opens up the entire phone face for display and eliminates a physical fault-point.
Face ID. If it's reliable (the demo puts this in doubt), this is a much nicer experience than having to futz with your fingerprint and Touch ID. The technology behind this is insane, and will open up a whole new world of interface design.
Neural Engine. Welp. Skynet Step One is now in your pocket. An iPhone that has machine learning... what could possibly go wrong? "Siri, please stop telling the toaster to kill me!"
Animoji! Animated poop emoji? Okay... I'm sold. Give me an iPhone X.
Swipe. Am I the only one who thinks that the new swipe gestures are going to cause some thumb cramping? No? Okay.
Face ID Mask Tracking. This is a totally useless idea that will add an entirely new level to drunk FaceTime chatting.
Face ID Animoji. Craig Federighi as a poop emoji will never go away. The whole idea of communicating via animated emjoi is a cute selling feature... but, other than kids who can afford iPhone X, who is going to use this on a daily basis?
Camera X. Given the importance of camera quality on smartphones (I use my camera far more than any feature... like 100× more), it's a given that the camera on Apple's flagship phone is going to be incredible. Here is the dual-lens camera that I wish was in the regular-sized iPhone 8. But probably won't get there until... iPhone 9?
Selfie Sticht. If you just loooooove taking photos of yourself, then the selfie-camera (formerly the "front-facing camera") with portrait mode on the iPhone X is for you.
AirPower. The future is here. Slap down your iPhone, Apple Watch 3, and AirBuds (in wireless case) on the mat and charging is instant and automatic. Sadly, there doesn't look to be a charging option for Apple Pencil. I guess I'll still have to plug that one in.

I am not going to buy a new phone until I get back from Antarctica. Heaven only knows how I'd end up destroying the thing while on that trip. No, my new iPhone won't be coming until tax refund time next year. Whether I will end up spending $300 more for the iPhone X over the iPhone 8 is anybody's guess. I mean... ONE THOUSAND DOLLARS FOR A PHONE?!? But, then again, I've paid $300 for a pocket camera that's not as good as the camera in iPhone X, so that's something to take under consideration. In the end, I compare my iPhone to a mattress. With a mattress, it makes sense to buy the best one you can afford since a huge portion of your life is going to be spent sleeping on it. The iPhone is no different. It's easily the most-used piece technology I own. It's also the most valuable considering what I can do with it while not in front of a computer. Especially when traveling. Ideally, I'd like to spend no more than $400 on a phone. That seems a good price point to me, and what I'm comfortable forking over. But, given how important the iPhone has become in my life, I think I can get comfortable being uncomfortable.
As to how uncomfortable? Probably iPhone X uncomfortable. I mean, that camera...
Posted on June 5th, 2017

And so it's time once again to tune into the Apple World Wide Developer Conference keynote to find out what everybody's favorite fruit-based tech company has up their sleeves for second quarter 2017.
I have to admit, I no longer get ramped up for these Apple things like I used to. In the past, I would take a frickin' vacation day when the WWDC keynote was unspooling just so I could unpack all the Apple goodness that had been unleashed. I'd pour over every minute and blog epic breakdowns of everything that was announced.
Now?
Well, I'm still excited over Apple's stuff... they're an exciting company. But the way they keep screwing up has me less enthused than I once was. I bought into their HomeKit home automation tech, only to find out that it is a total load of crap. They keep making "pro" equipment that isn't for "pros." The reliability of their products is in the toilet, and the way they address their lack in quality is bullshit. Meanwhile Microsoft is killing it with their Surface line, easily picking up the pro design market that Apple is abandoning.
But I digress.
Rather than have to watch hours of keynote like I did, here's a 19 minute recap that tells you everything you need to know (assuming you haven't seen it already)...
And here are my reactions...
Amazon on Apple TV. It's about frickin' time. I mean, I know this was probably more an Amazon issue than an Apple issue, but the wait has just been silly. A pity that the Apple content delivery is so shitty. I still can't get reliable streaming of my Apple video purchases despite every other streaming service in existence working perfectly fine... even on my AppleTV.
watchOS 4 Some nifty features. It's interesting how Apple has cracked the nut here that so many companies have failed with. Problem is that the watches are still too thick and clunky to be comfortable on me.
MacOS High Sierra. As the self-proclaimed "Heart and Soul of Apple," the company sure doesn't seem to be putting the Mac on the same level as their phone/watch/tablet products. This update to the MacOS offers some interesting features... in particular the new file system that's been a long time coming... but most of it is fluff. Where is the groundbreaking innovation that's going to keep the Mac platform moving forward? Certainly not at this keynote.
VRkit. Mass adoption of Virtual Reality isn't going to happen until it's much cheaper... and a hell of a lot less cumbersome and uncomfortable. When Apple releases VR that's accessed with a pair of glasses instead of some janky headset, maybe I will get excited. But now? Interesting and entertaining for early adopters, but it's got a long, long way to go before it's an essential technology.
iMac Pro. Why the fuck can't Apple get it through their heads that all this "pro" equipment they are releasing is not what pros are wanting? Your "pro" Mac option is now a fucking iMac? An iMac? A $5000 computer you can't expand or self-service? Oh... but it comes in fucking "Space Gray," so that makes up for everything! Give me a fucking break. Yes, it's an awesome computer... a powerfully awesome computer that looks great... but it is NOT WHAT PROS ARE LOOKING FOR!
iOS 11. Messages syncing is great, Personal Apple Pay is wonderful. Upgraded Siri is awesome... especially the translation feature! Siri learning and persistence is cool. Photo upgrades are welcome. New Control Center is overdue. Do Not Disturb while driving is critical to help keep dumbasses from being dangerous on the road. ARkit augmented reality is sweet, but kind of gimmicky.
iPad Pro. Wishing this was my iPad. The upgraded display is phenomenal, and looks like it will make using Apple Pencil even more remarkable. But the best part is the new size. The move from 9.7" to 10.5" feels like the perfect move... just a little bit more room to be more productive, but not to the cumbersome degree of the 12.9" model. I don't know that these new iPads are the ideal answer to Microsoft's Surface, but it's definitely a step in the right direction. But at a price.
iOS for iPad. If Apple keeps bringing desktop features to iPad, pretty soon they won't need to sell desktops. Which is probably the ultimate goal here. File management is finally here and, while not as feature-rich as I had hoped, it's still very much a step in the right direction.
HomePod. I'll buy one. Absolutely. This is the perfect device for playing music in my bedroom... perhaps even in my living room. But when it comes to home automation, it's too little too late. WAY too little because it relies on Apple's shitty HomeKit technology that I've abandoned. WAY too late because Amazon's Alexa does so much more in every arena, and already controls my home automation perfectly. To me, this is competition to SONOS, not Alexa. Maybe one day that will change, but Apple is going to have to integrate with other systems like Amazon has done in order to make any headway.
All in all... some nice upgrades in the OS and software departments, but more of the same bullshit for pro design users. A market Apple used to own, but is throwing away with gleeful abandon. Leaving me to wonder if my next computer will be running Windows. My license for Adobe's Creative Cloud Suite works for Mac or Windows, and they function the same on both systems. Food for thought.
Tags:
Apple
,
Apple TV
,
Apple Watch
,
iMac
,
iPad
,
iPhone
,
iPhone Photography
,
Mac
,
Mac OS X
,
WWDC
Categories:
Apple Stuff 2017
,
News – Politics 2017
—
Click To It:
Permalink
—
3 Comments: Click To Add Yours!
Posted on April 5th, 2015

Put on your Easter bonnet... because Bullet Sunday starts... now...

• Egg! Happy Easter!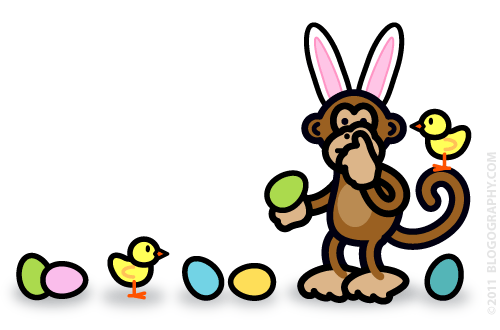 • Trek! Happy First Contact Day!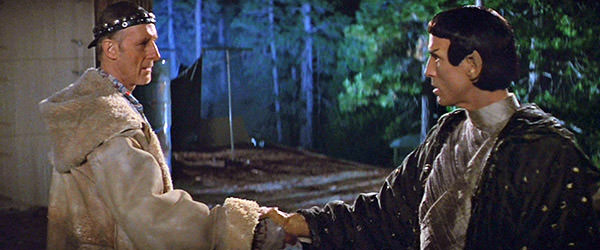 • Seder! And... hope you had a happy Passover yesterday!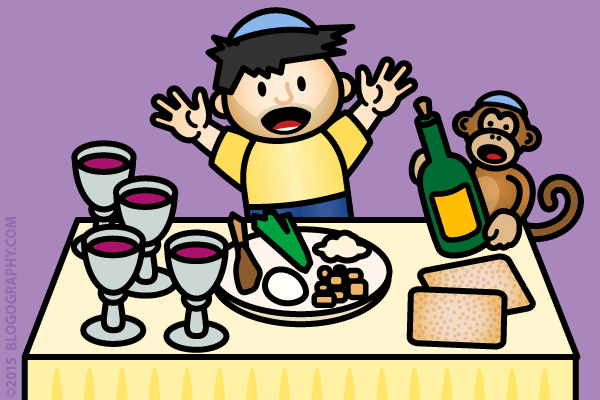 • Watch! Still not sold on Apple Watch, but have to admit the thought that went into creating it is pretty amazing.
Too thick. Too expensive. For me.
For now.

• Like! Yep.
Expectations inside the social media bubble.

• Burberry! When "To Serve and Protect" involves showing up to somebody's house by mistake and shooting their dog, something is very, very wrong...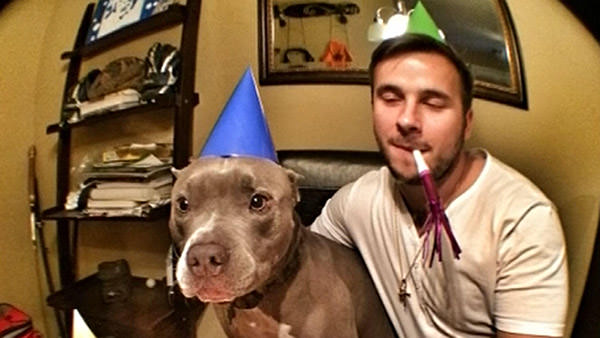 Errr... more wrong.

• Pat! Jesus.
The fact that people continue to take this dipshit seriously... let alone send him their money... boggles my mind.

And... time for an egg salad sandwich!
Tags:
Apple
,
Apple Watch
,
Bullet Sunday
,
Davetoons
,
Dumbassery
,
FaceBook
,
News
,
Pat Robertson
Categories:
Apple Stuff 2015
,
Bullet Sunday 2015
,
DaveToons 2015
,
News – Politics 2015
—
Click To It:
Permalink
—
3 Comments: Click To Add Yours!
Posted on March 10th, 2015

Few things can sum up Apple better than going to their website so you can watch the March 2015 Special Event Keynote and having to click on a link which says "Experience the keynote." You may watch a keynote with "lesser" companies... but with Apple, you experience a keynote.
The reason this sums up Apple so perfectly is that, in the end, it IS just a keynote... but Apple brands it as some kind of life-changing "experience" so they can inflate the hype around it. Which is exactly the direction they seem to be going with their products, so at least they're consistent.
So, yeah... on with this keynote thingy...

RETAIL
The show opened with a look at the absolutely stunning flagship Apple Store in West Lake, China...
I mean, holy crap... like so many Apple Stores I've visited, you don't need any hype... this jaw-dropping, magnificent, astounding architectural achievement IS something to be experienced. I hate shopping, but I'll go out of my way to visit an Apple Store... especially one that looks like this. ZOMG! THAT SECOND FLOOR IS DEFYING GRAVITY!
I had to laugh when Tim Cook said "This is the way we like to see our stores" while a photo of it completely packed with people pops up behind him. Apple stores are always packed. At least when you compare them to the shop that Microsoft has undoubtedly plopped down across the aisle at the mall, which is undoubtedly mostly empty.
No doubt, Apple's retail presence is impressive. And so very, very smart. People wander in to see what all the buzz is about... have a killer retail experience... get sucked into the Apple Reality Distortion Field... and end up leaving with an armload of Apple products. I still marvel at all the doomsayers that predicted Apple would fall flat on their face. "If Dell can't do it with their numbers, what chance does Apple have?"
A pretty good one, as it turns out. Apple used retail to build their brand and their customer base (120 million visitors last quarter!). And where is Dell? I rarely hear anything about them any more.

APPLE TV
AppleTV is a product I actually like quite well. That being said, it is feeling a bit antiquated compared to the competition. I'm sure Apple is working on that but, in the meanwhile, Apple is lowering the price of the product to $69. Which may sound like a bargain... but you just know it's a precursor to releasing a better/faster/stronger product come the holidays.
The HBO Now announcement was long overdue. Having access to all of their award-winning content whenever you want it pretty special... I just don't know that it's $14.99 special compared to what you get from Netflix. I'll probably subscribe off and on as shows I want to watch arrive... but I can't see paying for it every month.

iPHONE
Never one to pass up an opportunity to plug the money-shot, Tim ran through some impressive numbers, confirming the massive success of iPhone 6 that everybody already suspected. Other than the larger size, which I still struggle with, I'm pretty happy with mine. Apple Pay is frickin' amazing, when you can use it. The camera is mind-boggling for a phone, and I prefer it over the "superior" cameras in their competitor's offering because they just look so much better... but there's still a lot of room for improvement.

CARPLAY/HOMEKIT/HEALTHKIT
All of this is pretty much "meh" until real-world applications I give a crap about start appearing. I love the idea of HomeKit... it's the next step in home automation... but where is it? Where are all the home-kit compatible doohickeys that fulfill the promise of the technology? On it's way, I'm sure. But until I can actually buy it, it means nothing to me.

RESEARCHKIT
Using a device you carry with you every day to contribute to medical research seems like a no-brainer. And heeeeeeeere's Apple with HealthKit. If this truly helps with research, then more power to them. Otherwise, more meh. EXCEPT... if anybody needed proof that Apple is working overtime to find new ways to get integrated into your life, TA DAAAAA! Add this to the rumor of Apple developing a car, and you can see how there's nowhere they won't go to inject themselves into every aspect of everything you do.

THE NEW MACBOOK
It's remarkably small and light. It's stunningly beautiful. It's everything you could want in a travel laptop...
And here's Jony Ive gushing over its every feature as only Jony Ive can...
Now... before I get to the part where I say "ZOMFG! I WANT ONE SO BAD!"... a rant...
FUCK ME SIDEWAYS... YET ANOTHER CONNECTOR I HAVE TO INVEST IN?!?
First it was Firewire, which Apple abandoned after pushing the entire industry to adopt it.
Then it was Thunderbolt, which Apple was all excited about for about two minutes... before, apparently, abandoning it for USB-C... which is the only port on the new MacBook, combining power, display, and peripheral connectors in one tiny connector.
Which means I now have to buy an adapter for my Thunderbolt periphreals, even though I just got them? Dick move, Apple. Dick move.
But, yeah... I want one pretty bad. It takes everything I love about my 11-inch MacBook Air and ups the game exponentially.

APPLE WATCH
A nice idea, really. And Apple did it better than anyone who's tried before But, in the end, TOO THICK! TOO THICK! TOO THICK!
Seriously, it's too damn thick. If it were half as thick, I'd be placing my preorder right now. But having a giant dongle stacked on my arm? I just don't know. Some of the features are there... it's Dick Tracy come to life... but until I try one on, I'm just not convinced. Especially when the price of admission starts at $350.00
And yet... if somebody wants to buy me an Apple Watch Edition in gold, by all means, please drop the $10,000 to $17,000... and do so. I'd absolutely wear it from time to time!
When it comes to the Apple Watch features, I'm impressed/not impressed. Some of the interactivity with the iPhone looks truly helpful and worthwhile... the Apple Pay component is fantastic... but all the tactic crap? The "I'm sending you my heartbeat" and such? Who gives a shit? Being able to send a crappy, crude drawing? Might be fun the first two times you do it... but after that? Why?
Tim Cook made a good presentation for how Apple Watch will integrate into your life in meaningful ways... but is it enough? I'll let you know when I've tried one. Until then I remain skeptical yet optimistic to the possibilities.
And leaning towards the "Sport" edition in Space Gray with a Black Sport Band.
Or waiting for Apple Watch 2.0 which is a damn-sight thinner.
Heh.
Posted on October 16th, 2014

Another Apple event?
Apparently this is for all the crap they didn't want mucking up their big iPhone 6 slash Apple Watch event last month.
So what's on-deck this time around? Let's take a look, shall we? Needless to say, there will be spoilers for those who haven't seen the broadcast.

• iPhone 6 Launch! Before Tim Cook takes the stage, we get to look at the hysteria surrounding the launch of the iPhone 6 from around the world. Holy crap. As big of an Apple Whore as I like to think I am, even I felt this was way, way over the top and embarrassing. It's not a cure for cancer, people... it's a frickin' PHONE. Albeit a pretty phone. That's too big. I want the same size iPhone I used to have. Not surprisingly, it's the biggest iPhone launch ever, because aren't they all?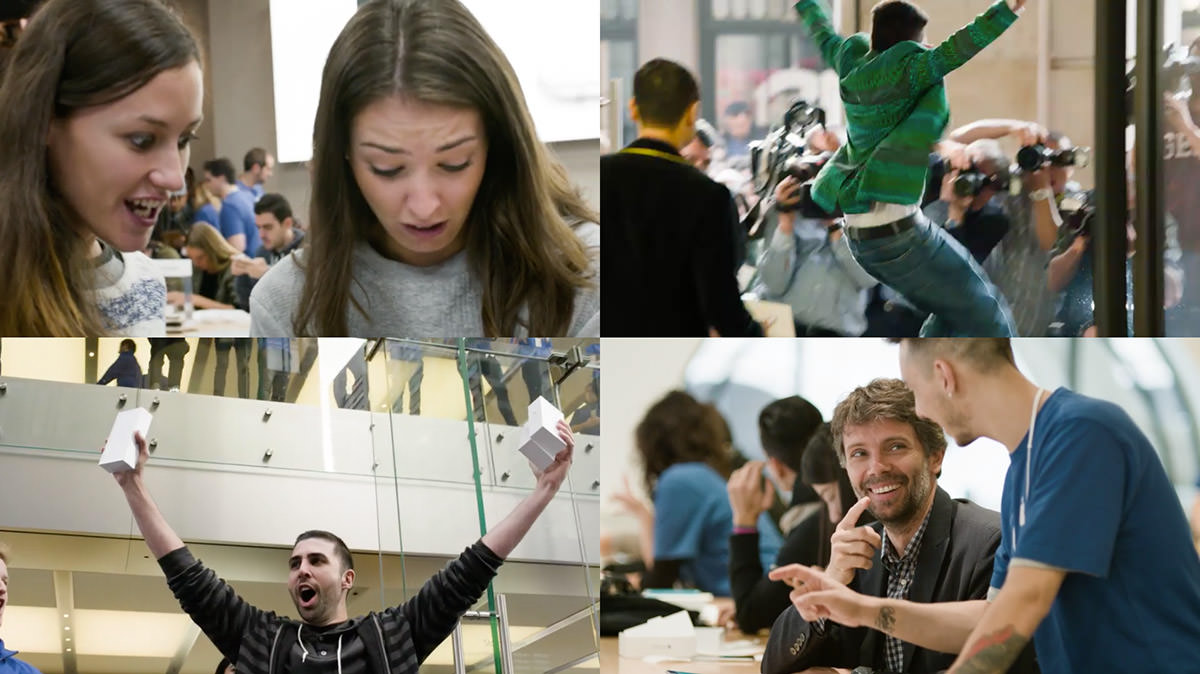 1. ZOMFG, WHITNEY, IT'S A PHONE! ZOMFG, BRITTANY, THIS IS THE BEST DAY OF MY LIFE!
2. There may be genocide in Syria... BUT iPHONE, MUTHAFUCKER!!!
3. SECOND MARKET VICTORY IS MINE! SEE YOU ON eBAY, BITCHES!
4. YOU, SIR, ARE A FUCKING iGENIUS! I'd like to book some one-on-one training!
As if that weren't enough hype, Apple dusts off Walt Mossberg for one of his idiotic quotes designed to make people think that Walt Mossberg is still relevant to tech journalism when all it does is reaffirm that Walt Mossberg will continue to say anything he has to in order to keep Walt Mossberg firmly implanted up the collective asses of giant tech companies so as to give the illusion that Walt Mossberg is relevant to tech journalism.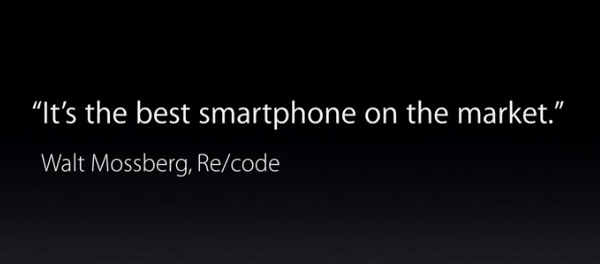 WALT MOSSBERG!!!

• Apple Pay! Heaven help me, I'm actually excited about being able to pay for things with my iPhone and not have to lug around a crap-ton of antiquated credit cards, debit cards, reward cards, and the like...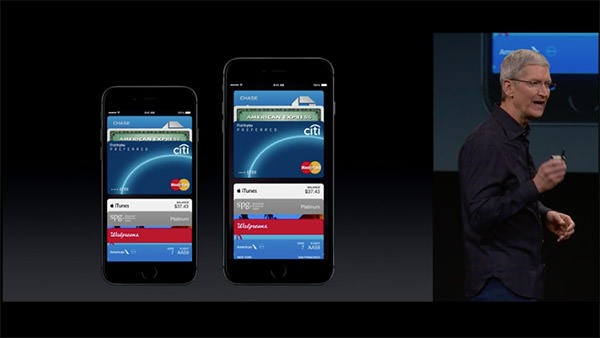 Even
more
exciting is the online component to
Apple Pay
, which will hopefully bury those PayPal fuckers (
THAT STOLE MY MONEY!
) once and for all. The privacy component sounds great (no need to turn over your card number or any personal information)... at least until naked pictures of me end up on the internet. Guess we'll find out Monday.

• Apple Watch! For the first time in a long time, Apple has announced a product that I'm not immediately wanting to buy. Sure, Apple Watch looks great, and it seems a handy thing to have (assuming you own an iPhone)... but until I see one in person, the idea of having a giant klutzy bangle strapped to my write holds little appeal...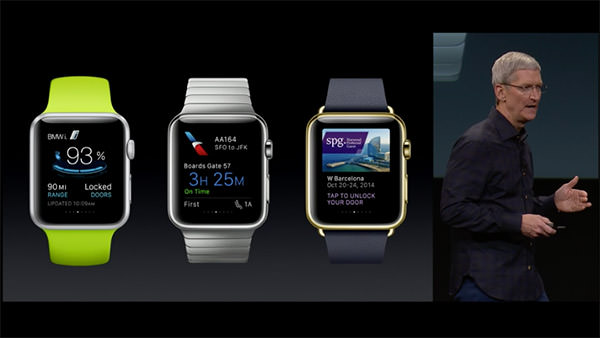 Naturally, it's better-looking than anything else on the market... but I was hoping Apple would figure out a way to make a thinner profile... put the battery in the band or something... to make it not be such a boat anchor. Oh well. Maybe Apple Watch 2.0.

• iOS 8.1! In addition to iPay, Monday's update will also include a beta for iCloud Photo Library. WHEEE! THAT TOTALLY MAKES UP FOR KILLING OFF APERTURE!
NOT!
But if they finally... FUCKING FINALLY... allow you to AirDrop files between OS X and iOS devices... I'll be happy.

• MacOS X Yosemite! I've been using the beta. I'm not too impressed. Yes, there are some nifty features (I am really loving being able to use my Mac as a speaker phone... and being able to send an SMS from your Mac through your iPhone is fantastic)... but it's just so damn ugly. Hideous day-glow colors I thought had been abolished in the 80's permeate absolutely everything. Tacky, distracting, and just inexplicably bad GUI. Perhaps I'll get used to it. But I doubt it.

• Continuity! The ability to seamlessly transition from your iPhone to your iPad to your Mac is a pretty killer feature. The problem being that it doesn't always work the way you'd expect it to. Much like the early days of iSync, it would seem that Continuity has a ways to go before it actually becomes the user nirvana it claims to be. Bonus points to Apple for getting Stephen Colbert onboard for his Supreme Commander of Security bit though.

• iPad Air 2! Not a lot of new features and improvements here. Certainly not enough to get your average iPad Air user to buy the latest model. And yet... LOOK HOW THIN IT IS! IT'S THINNER THAN A PENCIL! TWO iPAD AIR 2's ARE THINNER THAN THE ORIGINAL iPAD! THEY'RE SO THINNNNNNN!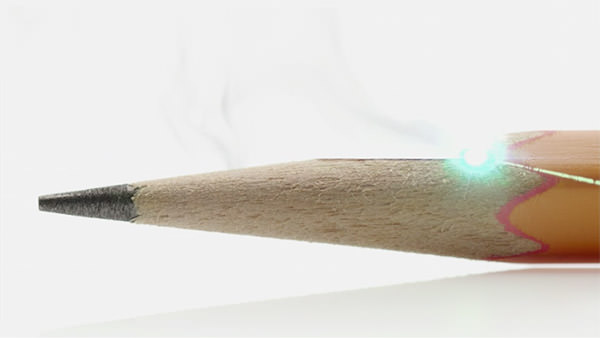 The bonded, glare-resistant display sounds nice. Wish they'd update all their other shit to have less glare on them. A speedier processor is great if you're playing a lot of games and such. Using an iPad as a camera is weird to me, but a lot of people do it, so I suppose they'll appreciate the camera upgrade. Adding Touch ID is a no brainer, as iPad Air 2 can be used for Apple Pay.
The ridiculous thing here is that, like with the iPhone 6 before it, Apple doesn't start the base model with 32GB. $499 for 16GB? Absurd. And then it jumps all the way to 64GB... WTF?

• iMac Retina 5K! Okay... this... THIS... is frickin' incredible. Phil Schiller's presentation pretty much said it all... for the entry price of $2,500 you get a mind-bogglingly beautiful 5K display that's cheaper than most 4K displays... and a computer thrown in for free...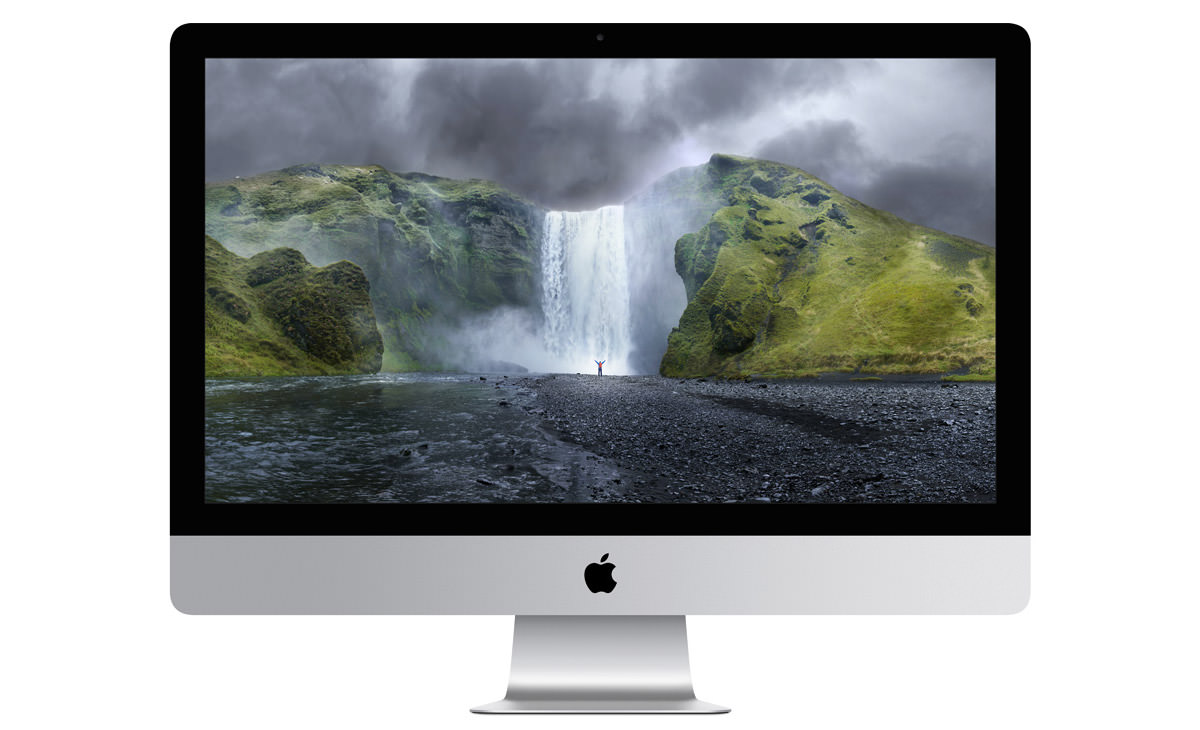 Forget the Mac Pro... THIS is a photographer and graphic designer's wet dream...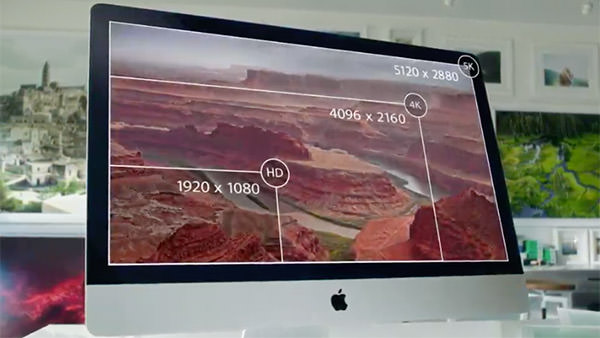 Once I got used to the Retina Display on my MacBook Pro, it's almost painful to use a machine that doesn't have a Retina Display. Assuming I can ever afford to buy this, I won't have to.
WANT!
WANT SO BAD!

• Mac mini! Kind of a wacky product to still have around. I mean, sure, when you were trying to get Windows users to switch, it made sense to have a cheap Mac that could use your existing monitor, keyboard, and mouse... but now? Well... I suppose there's still an audience out there given that Mac mini is half the price of an iMac... but it's really not the best way to experience a Mac, and I'm surprised Apple is still dredging the bottom of a dying computer market.
Then again... market share is market share, and Apple is about the only computer manufacturer out there still able to be in it at a profit, so what do I know?
UPDATE! The internet is having a field day over the fact that the new Mac mini no longer allows user-upgradable RAM. A valid concern, to be sure... and I really hate what this says about the disposability of computer equipment that can't be upgraded... but, again, this is the bottom-feeder Mac of a dying PC market. Can't really blame Apple for cutting every possible corner they can to keep prices at a point that the audience for this item expects?

Annnnd... that's a wrap...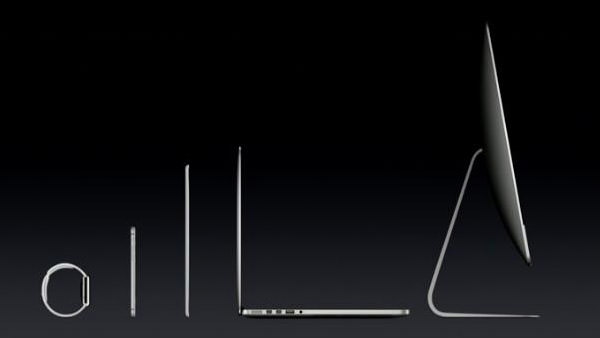 Kind of a lackluster event, so far as Apple is concerned, but it does solidify the ideal that Apple has their shit together when it comes to creating a complete line of products that will integrate into every aspect of your life. They're not just a computer company... or even a tech company, really... Apple is a lifestyle company.
Now if they'd just come out with their own television and DVR service for my lifestyle, I'd be really happy.