Posted on February 10th, 2023

It's that time of year when Six Colors has released their annual report card on all things Apple.
Their report card is calculated by talking to a lot of people. Mine is calculated based only on my own experience. In many ways I agree with their assessment. In others I disagree strongly (they gave HomeKit a D+, which I thought was incredibly generous given the shitshow it is).
But anyway... here we go...
Mac: A-
Apple must be doing something right, because their latest round of MacBook Pros were sweet enough to convince me to upgrade after only one year (thanks to their trade-in problem, which is not great, but so easy and better than nothing). For most things... like email and web browsing and the like... there is virtually no difference with the new M2 MAX chip. But for the actual work I do? 15% to 20% faster is absolutely worth it. Less time waiting on renders and stuff gives me more time to do other stuff. I was a bit surprised that the iMac is still stuck at 24" and the M1 chip... and there's still no MacPro, which is getting increasingly embarrassing... but I am fairly certain all that is forthcoming with the advent of Apple's new 3nm chips, coming soon to a computer near you. Though it's kinda a bizarre flex for a desktop machine when the true miracle of dropping to 3nm is the power savings, so I'm guessing it must have one heck of a performance bump. 2022 was pretty much a stop-gap year to the Next Big Thing, and how 2023 pans out will largely depend on just how big that Next Big Thing ends up being.
iPhone: B
If I wasn't on the Apple iPhone Upgrade Program track, I would have likely skipped the iPhone 14 Pro. It just wasn't much more significant than the 13 Pro it replaced. All the improvements were mediocre and far from sexy, which is a real head-scratcher. Maybe now that we're in 2023 Apple has something more spectacular planned... a better camera would be a great start... but I have to wonder if there's nothing but low-hanging fruit from here out. I'd like to think that the "Dynamic Island" isn't the pinnacle of iPhone innovation, but it's really starting to feel that way. If I were still with my iPhone 12 Pro, I'd likely be none-the-wiser, and that's a very bad sign for Apple. Still, their phones are really nice (and still my favorite), so grading them lower than a B seems criminal.
iPad: C
I love my iPad Pro, but there has been zero reason to upgrade it after three years. There's nothing going on with iPad, which is a shame, but it's still the best tablet on the market by a country mile. And, as Apple-savvy as I am, I have no fucking clue which accessories work with which model, which is an absolute disaster for a company that bills itself as the easiest and most user-friendly option.
Apple Watch: B
Another product that just doesn't seem to be going anwhere... no revolutionary new features or ideas here. At least with the base model. A very notable exception is the Apple Watch Ultra, which is amazing on every level and bumps my grade from a C to a B. Problem is that it's very narrow in focus, as big as a Buick, and has a limited audience. And yet for those who need it, the thing is a game-changer. I am still waiting for a blood glucose monitor before I upgrade again. My 3-year-old Apple Watch is just fine. Even then, my "ancient" tech is still far more appealing to me than the newest of the new when it comes to other brands.
AppleTV: D
Holy shit. What the fuck is it going to take before Apple gives us a user interface that's worth a shit? I just raged about this fairly recently, and if I start in again I may not be able to stop. Just about every other TV interface on the market that I've seen is better than this crap, and the fact that Apple does nothing about it just means I'm not investing in any more of their bullshit. I don't care how good the remote is.
Services: C
I am so meh on everything Apple is doing in the Services arena that I am finding it difficult to even comment. It's all still too expensive for what you get. The plans don't have enough options so that people can get exactly what they need, so they are either paying for more or less than what they would otherwise like. Apple TV+ is okay, but I don't watch enough on it to really care (until Ted Lasso returns). I don't give a crap about the fitness stuff. I switched to Apple Music when I dumped Amazon Prime, but it's not that different and costs more than what I was paying, so I honestly don't care. I don't have time to play their games. I know Apple is making a metric shit-ton of money off Services... I wish I could say they earned it. Right now their bundles aren't worth it to me, so I am paying for iCloud Drive, AppleTV, Apple Music, and iTunes Match all separately. In order to get an Apple One bundle, I'd still have to purchase an iCloud Drive upgrade because what comes with it isn't enough. Let me build my own bundle with a calculated discount and I'd likely upgrade my score to a B. That's for flexibility, not value.
HomeKit: F-
I jumped to HomeKit when Insteon folded the first time. This involved a lot of expense on my part, as most all my switches and devices had to be changed out. And what did I get for my money? A horrendously fucked up system that barely works. And it just keeps getting worse. All of a sudden half my shit will just up and stop working. HomePods will refuse to issue commands. I've woken up to find that my garage door mysteriously opened at 2am for no reason. And despite everything running on the super-speedy Thread technology now, Automations are slow as shit... when they bother to work at all! At the rate that I've had to unplug and plug back in my HomePod minis in an attempt to get things working again, you'd sure as hell think that Apple would make a plug on the mini itself so I don't have to go moving the fucking furniture every time I need to unplug to reset my network. HomeKit is HomeShit more than ever, and there's no end in sight. Just more "architecture upgrades" to slap lipstick on a pig. Fortunately most of my devices are Matter compatible, so I'll be looking into going that route. Hopefully it will allow me to use Siri since Apple is in with Matter, but things will actually work once I transfer.
Hardware Reliability: A-
Software issues and OS stupidity aside, the hardware is always on-point. Although I am dropping them from an A to A- because of the afore-mentioned wired plug on the HomePod mini. Now that the MacBook Pros offer an SD card slot and an HDMI port instead of forcing me to use dongles, I'm thrilled (a USB-A port would be nice, but will never happen). The Mac Studio I have at work is fantastic, offering everything I'd want from a Mac Pro at a much cheaper cost. My iMac M1 is still chugging along and works fantastic. My iPhone, iPad, and Apple Watch are solid builds and the hardware is as reliable as it gets (if only they'd finally, finally put USB-C on the iPhone so I'm not trying to transfer massive photo files over slow and stupid "Lightning" technology that's positively ancient). I have so few complaints when it comes to Apple hardware that I won't be jumping ship any time soon.
Software Quality C+
Even with HomeKit removed from the equation, I still have numerous problems with the way Apple software functions (or doesn't function as the case may be). Apple Mail is a fucking travesty and one of the biggest piece of shit apps I have ever used. And Apple doesn't give a fuck. Features I use are stripped out of their software for no reason other than they want it that way. Bugs are rampant and pop up in the strangest places. It's almost as if nobody at Apple is using their own apps, because the same bugs never seem to go away. One day maybe Apple will start giving a shit. Until then? Still the best option, faults and all.
Developer Relations N/A
As I am not currently in the Apple Developer Program, I don't really have room to comment. Except to say that the World Wide Developer Conference always seems like a fantastic step in keeping things right with those developers on their platform. As a consumer, however, I can say that their App Store is a pile of shit. Which is a mystery because they get a cut of every sale. You'd think they would want it to be a top-tier experience. But instead apps you are looking for are hard to find, update options are weird, AND THERE'S NO FUCKING WAY TO FIND ONLY GAMES THAT DON'T REQUIRE IN-APP PURCHASES! And speaking of in-app purchases... maybe they wouldn't be as annoying if they weren't so damn expensive, but since Apple takes such a huge, huge cut of the money, expensive they will remain. This is such a problem that it's entirely likely Apple will be forced to allow customers to "side-load" apps and bypass the App Store. This would be a disaster because affordable apps wouldn't come with protections. And it's all on Apple and their greed.
Societal and Society Impact B
They are one of the most accessible platforms in existence, and trying to make sure that anybody can use them regardless of any physical or mental challenges is pretty incredible. Where they fail is with their employees. And it's some pretty heinous failures. They need to do better.
Customer Service B+
This is a category I added on my own after my heinous experience with the iPhone Upgrade Program (I returned my old iPhone at an Apple Store... Apple said I never returned it... and I spent TWO MONTHS trying to get it straightened out). I have to say... exchanging my iPhone in the mail? Flawless. The trade-in experience with my MacBook Pros? Flawless. Actually getting support? Not so flawless. Apple makes it incredibly difficult to get the help you need, instead letting you use Google for support (see: HomeKit). That being said, they did exchange my faulty keyboard with hardly any trouble, so hardware is not the issue it used to be, so there's that.
Overall, Apple is still doing more right than wrong. It's why I'm so loyal, because other brands are pretty awful. And yet there's always room for improvement, and Apple has more than a few things that need improving, so here's hoping.
Posted on September 7th, 2022

Oh look! Today was yet another Apple Event!
Tim Cook started things off with Dear Apple... which is dramatic readings of people who have written to him saying how much Apple has improved their lives... and saved their lives! It's like, okay, we get it, and it's probably smart to focus on this (thanks for at least trying to be clever about it), but this is kinda a weird way to kick off excitement for new products, isn't it?
Let's get to it, shall we?

APPLE WATCH SERIES 8
Here's the thing. I love my Apple Watch. It helps me monitor my sleep and can do some handy things so I don't have to grab my iPhone as much.
Temperature Sensor! — This is actually pretty darn cool in helping people with ovaries track their menstrual cycle. Good on Apple for thinking of it. Not that this is useless for men... being able to know if you have a low-grade fever when you otherwise might know about it is important in the age of COVID. Nice.
Sleep Tracking! — I have complained... loudly about how bad Apple's sleep-tracking app is. It's so bad that I never use it... I use AutoSleep which is much more capable. Except now Apple has tried their best to mimic what I've been using, which is great that they finally got off their asses... but kinda sad for apps like AutoSleep that filled the gaps while Apple ignored them. I just hope that the new app won't be so damn stupid about requiring you to enter you sleep/wake times! AutoSleep doesn't require this, it just measures when I sleep. So if I manage to take a nap, it's recorded. I guess we'll find out.
Safety! — The fall detection on my watch didn't detect the one actual fall I took... but has falsely detected me "falling" in the shower at least a half-dozen times. So I'm not sure if I can trust the new "car crash" sensor. Though Apple sure makes it sound compelling, so maybe? Seems a smart feature to have... especially if you crash and end up incapacitated.
Low Power Mode! — I thought that "theater mode" already did this?
International Roaming! — Might have been nice when I was traveling internationally a lot. Except I've never felt the need to buy a cellular model. My phone is always with me.
Here's the promo...
One of my biggest complaints from Series 6 is still here! I just checked... Apple still doesn't allow me to "customize it your way" the way I want to customize it. This is so damn stupid. Maybe if I go to an actually Apple Store they could help me? I want a Project RED case with a Black Solo Loop. The only way to do this online? Buy a Project RED watch with a band I don't want and won't use... then pay another $50 to get the Black Solo Loop...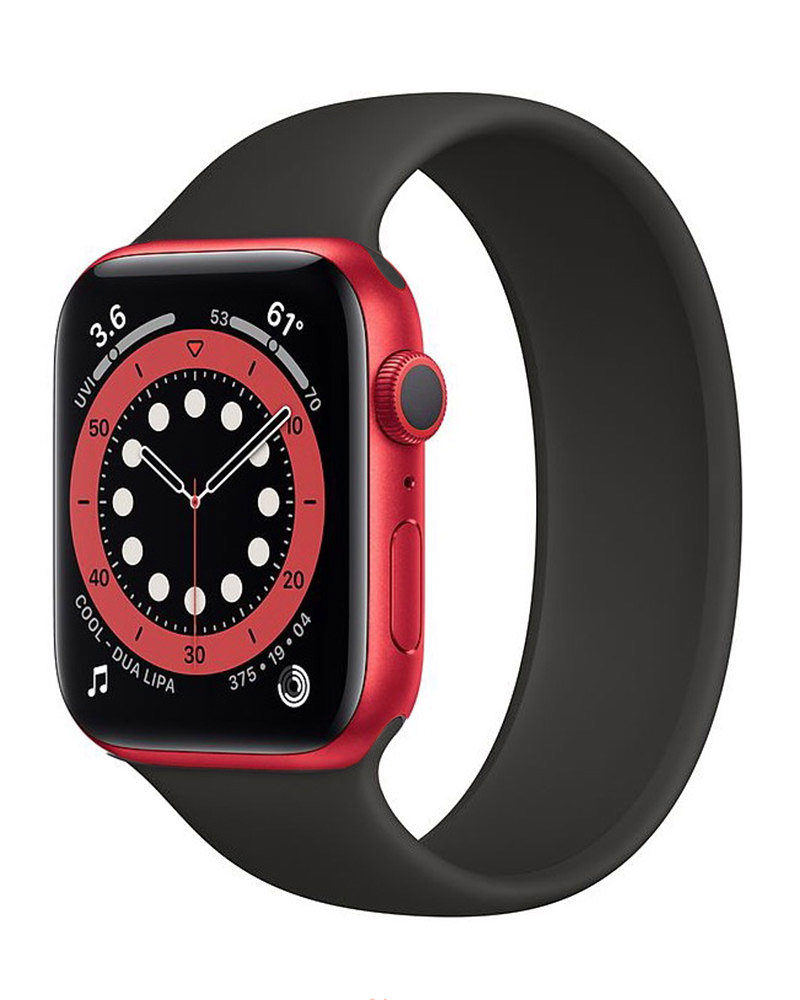 Pretty crappy, Apple.

APPLE WATCH LE
I don't know if saving $150 for a lighter feature set would be the best choice for me... but it's nice that Apple is at least trying to be a little sensitive to the fact that people don't have shitloads of money laying around. From what I can tell you lose always-on display, edge-to-edge display, Blood Oxygen and ECG reading, and "fast charge." So... not a lot, actually. A smart choice if you want a more basic watch that still have a lot to offer.

APPLE WATCH ULTRA
Apple's long-rumored "super watch" is actually pretty compelling. If it weren't so darn HUGE it might be something I'd consider (if I had $799 to spare).
Action Button! — Now, why can't the other watches have this? No, it wouldn't be as big and you couldn't poke it with gloves like the Ultra version, but it would still be handy to have that button customization feature! BOOOOO!
Display! — Yeah, yeah, it would be nice to have this super-bright display on my watch so I can read it in the sun, but it's understandable that you'd need to have a watch this huge to hold a battery to make it actually work.
Big Battery! And, yeah, having three days of battery life would be nice, but I can get almost two days with my watch in "theater mode" so I'm not crazy jealous about it.
New Bands! — The bands for this watch are something I'd love to take a look at. Alas, not one of them is available for the 41mm watches, which is kind of shitty.
Enhanced Precision GPS! — Not something I'd ever need... but I guess it's kind of cool if you need it for training and what-not. Not really sure why the other watched can't have the L5 hookup, but oh well.
New Compass! — Now, come on. Would it really be all that difficult to give the other watches a compass that works well? It's kinda a bummer that you have to pay $400 more to get a watch that handles this better than the (let's face it) poor compass in the other watches.
86db Siren! — That doesn't seem all that loud... but it might be loud enough to make a difference in calling for help when you fall off a trail or something.
Underwater! — Yeah, this is all frickin' cool. Not that you'd want to get rid of your SCUBA dive computer, but it's pretty nice from the standpoint of being able to integrate with apps (like the Oceanic+ app that they demoed). If I were a diver, I'd probably ignore the huge size of the watch just to have that feature.
Ultimately, I really like this watch. I just could not deal with how astoundingly big it is (SERIOUSLY! JUST LOOK AT IT IN THE AD WHERE IT'S SHOWN ON PEOPLE'S WRISTS! HOLY CRAP!). Even for the features you get. I have to say... the advertisement that they came up with for the watch is unintentionally hilarious with its overly-dramatic overtones...
I mean, come on... adventure can be fun too! It's not always so dire!

AIRPODS
I used my Airpods to death when I was traveling constantly. And the "Pro" pods were my favorite travel pods I've ever used. Not only did they not fall out constantly like the old model version, but they had that spatial sound mode that was brilliant. But now that I'm not traveling? Rarely use them. I prefer my Beats. The new "Pro" AirPods that got released today are said to improve sound quality, but I sincerely doubt it's going to be groundbreaking compared to the ones I have now. The enhanced noise cancelation, better battery life, and adaptive transparency mode would be pretty sweet though. And how awesome is the swipe volume control?

iPHONE 14
Since I've bought the "Pro" version all the way back to the iPhone X, I'm not sure about what features are improved compared to the iPhone 13. But it sure can't be much.
Colors! — once again you can get the Product RED color for the lower-end iPhone, but I'll bet every dollar I have that you won't be able to get a Product RED color for the Pro model. Infuriating.
Max! — The iPhone mini is gone, replaced by an iPhone Max. I can't go back to the "regular" size after living with the Max, so I'm happy this is an option for people who don't need Pro features.
Camera! — I am more interested in how well the camera works than any other feature. I don't even care so much about making calls if my camera is dope. Fortunately, the iPhone 14 looks to have a pretty good duo-lens camera that will be more than acceptable to most people. While other phone manufacturers have features which exceed what Apple has done... I honestly think that the photos you get off iPhone are better due to Apple's advanced processing on their Photonic Engine. It's nice to know that iPhone 14 isn't lagging too far behind in this regard. Especially in low-light conditions.
Crash Detection! — Makes sense that if the Watch is getting this, the iPhone is as well.
SOS Satellite Connectivity! — Very, very nice. Especially if you are often in areas where there's no cellular signal. And Apple looks like they have made it as easy to use as possible, which is incredibly smart. I feel I should get an iPhone 14 for the emergency satellite connection alone. Give how horrendously shitty T-Mobile coverage is... even when I'm in a city which is supposed to have great coverage... it might be the only way to call for help if I'm in desperate need while walking down a city street! =sigh= I really need to see if Verizon has an old people plan like T-Mobile so I can actually make calls and use cellular data again. I dropped to 2 bars on LTE while driving through a city of 35,000 people today! But, hey, the price for T-Mobile's crap service cannot be beat if you're age 55+! — I just hope to heaven that people don't tie up emergency services with this unless it's an actual dire emergency.
Sustainable! — Say what you like about Apple, but the fact that they are so good about trying to keep e-waste out of landfills is terribly important and admirable.
All-in-all... this is a pretty good bargain when it comes to iPhones.

iPHONE 14 PRO
And here we go (boy is Tim Cook excited! Must be great!)...
Purple! — Yeah, I really want that purple iPhone, even though I
I'm An Island! — The pill cut-out on the screen is kinda dumb. But here's Apple putting lipstick on a pig in a way that's actually pretty cool. The way the "Dynamic Island" works is darn clever and conceals the fact that you've got a cut-out for cameras on the front of your iPhone. So... not so dumb, actually. Pretty impressive, in fact. I love it, even though I'm not entirely sure what's going to get covered up when your "island" has junk in it?
Screen! The display on Apple's iPhones has always been great, and it's amazing to me that they can keep getting better, brighter, with more dynamic range. Yes please.
Always On! The always-on display is a long, long time coming... and it's a bit embarrassing that Apple has taken so long to get here. Though the way that they've given the display an ability to drop to such a low refresh rate to save battery is probably a big reason why it's taken them a while. They wanted to do it right. The funky lock-screens are fun, but I don't know that this is anything I've been dying for.
Chips! — The new A16 Bionic is faster, of course, but I really don't do much on my phone that will take advantage of this. Maybe I should start intense gaming or something? Nice that the battery life just keeps getting you more bang for your buck. The efficiencies built-in are very important to Apple because conserving battery life is important to their customers.
Camera! — And... here's why I'll be upgrading my 13 Pro to the 14 Pro (thanks to my belonging to the Apple iPhone Upgrade Program, I can actually afford to do that!). The new lenses, 48 Mp "quad sensor," and camera functionality are more than worth it. A DSLR just isn't necessary to me anymore, and this makes that even more true. The light-gathering ability of the larger sensor makes my mouth water. Just look at how gorgeous the shots you can get are! All in ProRAW at 48MP resolution. So great.
ProRes DolbyVision! — While the quality of iPhone photos vs. other phones can be debatable, I don't feel the same about video. The iPhone is leagues above what I can get out of the Samsung, and the way Apple keeps pushing it to be better means it's more true than ever.
Price! — How in the heck are they keeping the price the same? Everybody... including me... thought for sure that Apple would be jacking up the price!
The promo video is pretty good at hitting all the sweet spots...
Like I said... the camera makes it all worthwhile to me, so I'll be using my option in the Apple iPhone Upgrade Program to upgrade. Probably in Purple. Maybe in Black. BUT DEFINITELY NOT IN PRODUCT RED, HUH APPLE?!???

THE END!
So... no real surprises, I guess. Just incremental improvements with no revolutionary innovations. Again. One day there is going to be some paradigm-altering new feature at one of these things. The question being... will it have come from Apple first?
Posted on March 8th, 2022

AND LO DID TIM COOK DESCEND FROM THE HEAVENS TO BESTOW UPON THE WORLD NEW APPLE PRODUCTS, AND IT WAS GOOD!
Or not. I haven't quite decided. But there was indeed an Apple Event™ today, and Tim Cook did indeed drop a bunch of stuff on an undeserving world. As usual, I just can't seem to shut my mouth about it, so here we go. If you want to watch the actual Apple Event™ before reading my commentary (or watch as you read) then here you go...
AppleTV+
Some of the forthcoming movies and shows look interesting to me. The addition of Friday Night Baseball is an intriguing idea, but the only way I would want to watch it would be if they're showing a Red Sox game, so who knows how useful this will be to me. I'm not quite understanding where Apple is going with all this. Television series (like my beloved Ted Lasso) and movies (like the wonderful CODA) make sense. But baseball? I don't get it. This is not a big missing piece that is filling a hole in Apple's lineup to attract subscribers.
iPhone 13
Whoop-dee-doo. A new green shade for iPhone 13 and iPhone 13 Pro. It kinda makes me upset that A) Apple adds colors after you've already bought the latest model... and B) the Pro models always get "sophisticated" (i.e. boring) colors. Let me know what I can have when a product is released. And, for the love of God, give the Pro users cool bright colors like the non-Pro models get. I want my (PRODUCT)RED iPhone Pro, dammit.
iPhone 13 SE
This is the "budget" model iPhone that's not exactly "budget." But it is a more affordable option for people wanting a newer, faster iPhone with a better camera and 5G. What's surprising is that the SE is actually more bang for your buck than what you get with a standard model iPhone 13. Because with the exception of FaceID (which I love) this is a pretty sweet feature-packed mobile phone for $430.
iPad Air 2022
Yada yada yada... better, faster, stronger than the last model. This means nothing to me, because what I want is a 17-inch iPad Pro. That's all I want. Until they offer one that's sized for graphic artists, there's no need for me to upgrade from my iPad Pro 12.9-inch model. But for somebody wanting an iPad that slays? This is for you. This is the model I would have bought for my mom. In purple. At $600 it ain't cheap, but there's a lot of bang for your buck in that price tag. Inexplicably, by adding the M1 chip, Apple pushes this into "Pro" territory, which makes me wonder why they have "Pro" models at all. Unless there's new "Pro" models around the corner which will leapfrog this new Air? M2 perhaps?
Mac Studio
Studio Display
And here we go. Pro users want to upgrade their machines faster than the average iMac user. But it's always a waste because the 27-inch display on the iMac Pro is integrated with computer, so getting rid of one means you're getting rid of both. And the trade-in value ain't that great. So separating the computer from the display makes a lot of sense. Unfortunately, doing so means that you have to pay more to get what you need (even though upgrading will be cheaper because you can hang on to the monitor (and this monitor is really sweet, featuring 5K, great sound, and a very good camera)...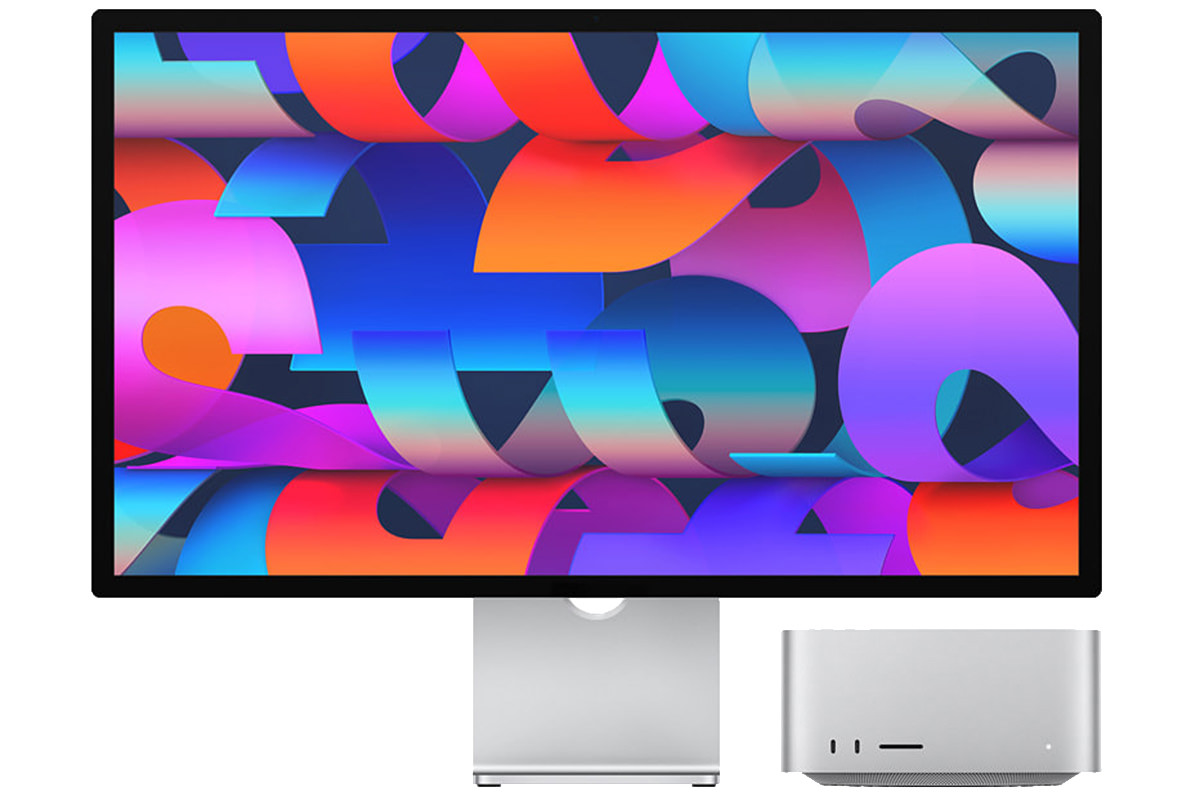 My MacBook Pro with M1 Max is the ideal laptop because it redefines power computing on the go... all while getting sublime battery life. I couldn't be happier with it. Finally an actual Pro laptop! The new Mac Studio allows you to choose between this very capable chip... or the shiny new M1 Ultra. This beast of a processor is essentially "ultra-fusing" two M1 Max chips together into a single processing unit that's more powerful and efficient than using two separate chips that are soldered to the motherboard. Plus the system sees it as a single chip, so developers don't have to do anything special to take advantage of its power. Naturally, I covet a computer using one of these chips... but, even with the intensive work I do, it's likely overkill. Hopefully my office will spring for one of the cheaper models for me, because my 8 year old iMac is dying and takes forever to do simple tasks.
The $2,000 and $4,000 price tag is a lot of cash. But when compared to equivalent high-end PCs it's actually a pretty fair price. And compared to the iMac Pro it's replacing (at $5000) it's a hot bargain. Then there's the Mac Pro, which is still for sale on Apple's website and still using Intel chips. They start at $6000. I'd rather max out a Mac Studio for that kind of money. At least until Apple upgrades the Mac Studio to whatever ungodly powerful chips they're developing.
And that was all she wrote.
And speaking of "she"... interesting to note that all the developers interviewed when talking about the M1 Ultra were women. Appropriate as we celebrate "International Women's Day," I guess. Hopefully all these women are getting equal pay for their work... because that would be something to really celebrate.
But anyway...
Here's the Apple product matrix as it currently stands...
| | ENTRY | MID-RANGE | PRO |
| --- | --- | --- | --- |
| iPhone | iPhone SE | iPhone | iPhone Pro |
| iPad | iPad Air/Mini | iPad | iPad Pro |
| iMac | | iMac 24" | |
| Mac | Mac mini | Mac Studio | Mac Pro |
| MacBook | MacBook Air | | MacBook Pro |
| Watch | Series 3 | Watch SE | Series 7 |
So... inconsistent and all over the map then. Steve Jobs must be turning over in his grave.
Though Steve was innovating in a different, simpler age. Tim Cook seems to be more interested in filling needs than filling boxes, which is probably how it should be. No, it's not simpler than having a neat matrix with clearly-defined labels... but it does make sure that people will get devices that are a good fit for what they are wanting to do with it and how much money they have to spend. And that's probably a better approach.
I dunno.
All I do know is that I wish money was not an option, because I would just buy the biggest, baddest, most expensive model of everything Apple makes every time they release it.
Fantasyland is so much nicer than Reality.
Posted on February 25th, 2021

Last night I finally took some sleeping pills to knock my ass out so I could catch up on some of the sleep I haven't been getting.
I went to bed at 10:00pm, fell asleep by 10:30pm, then woke up ten minutes before the cat breakfast alarm went off at 7:00am. According to my Apple Watch app AutoSleep, that resulted in 8 hours and 18 minutes of beddy-bye sleepy-time...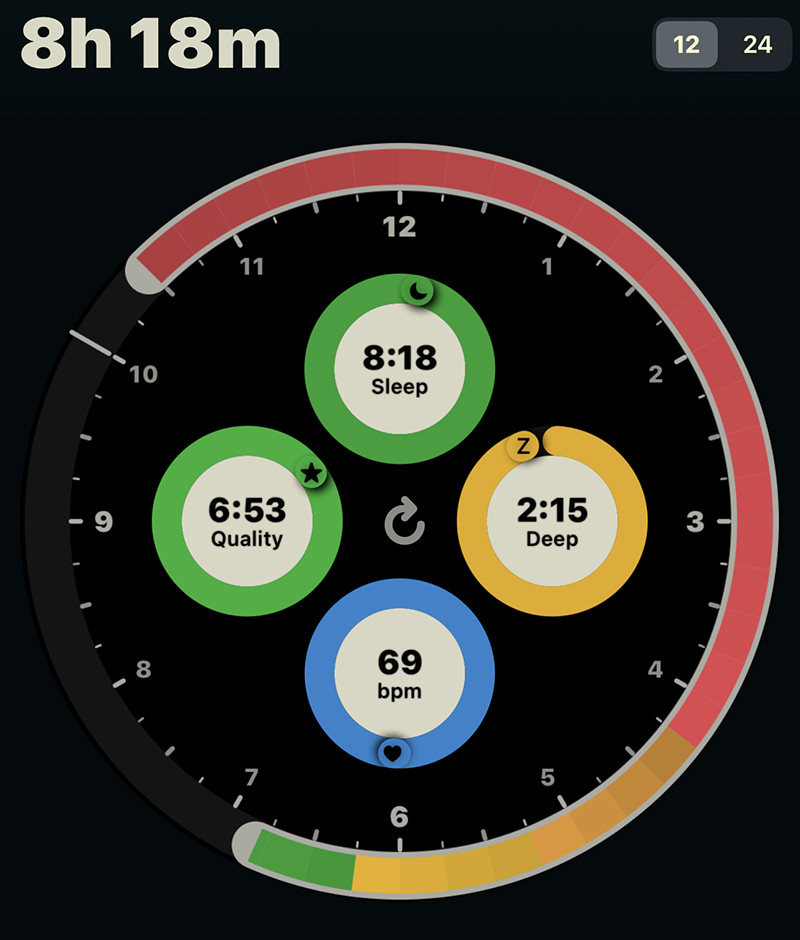 And it was a huge mistake, because I felt drugged up this entire day. Still managed to get my work done, but was mired in a mental fog that made it tougher to function that days when I'm only getting 4 hours of sleep.
Thanks to Apple Watch, I think I understand why. It used to be that I looked at the "Quality Sleep" metric... which in this case is 6 hours and 53 minutes. That sounds great. It sounds like a lot. Where I need to be looking is at the "Deep Sleep" metric, because it's on days where I get more deep sleep that I'm feeling my best. Though I slept for over 8 hours, I only got 2-1/4 hours of deep sleep.
That's less deep sleep than I get on a "regular" night where I'm sleeping half as much.
Apparently the drugs are good at knocking myself out, but the sleep I get is restless. I looked back to other nights and see a pattern. 5 hours 42 minutes sleep, 3 hours 6 minutes deep sleep... 4 hours 12 minutes sleep, 2 hours 48 minutes deep sleep... 3 hours 45 minutes sleep, 2 hours deep sleep. Shorter periods of sleep are actually far more productive for me "Deep Sleep-wise," as crazy as that might sound.
And so now I'm going to see what I can do to get better, longer deep sleep.
My guess is that exercise will have something to do with it. Which is fine because the snow is melting so I can start walking to work again. Correlating how much deep sleep I get with how much exercise I get will prove interesting, I'm sure.
In the meanwhile, I guess I'll be happy with 4 hours of sleep knowing that a good chunk of that will be the sleep I need to function properly.
Posted on January 7th, 2021

I have passed out exactly once in life, a long time ago. I was in high school. I wasn't feeling well and had to have my blood drawn at the clinic so they could try to figure out what was going on. My mom and I were standing at the elevator and the next thing I knew I was waking up minutes later with strange people surrounding me and my face being slapped. I don't remember anything about it and had to be told that I passed out.
Last night at around 10pm, my tongue swelled up on one side. I battled it with the antihistamines I was given for just this purpose... crushing them up so I could use a straw shoved back in my mouth to swallow them. I had my epi-pen ready just in case. I passed out around 7:30am. I remember the alarm going off to feed the cats. I remember coming back up stairs. And then... nothing. I woke up at 11:05, kinda half in bed. My tongue and the floor of my mouth still swollen a bit. Lips a little swollen too, which was new. But there was no pain, which was nice.
Passing out is so weird. One day I'm going to have to read up on the science about it. The thing that bugs me about it is not the losing consciousness, but the memory loss. I don't remember ANYTHING. So weird!
And then...
...I remembered that I had my Apple Watch on, and it had recorded everything.
And the data it had collected is interesting...
As you can see from the above, I nodded off a little after 1:00am. Then I was wide awake (or being still) around 1:30am. I finally drifted off to sleep around 5am when the antihistamines I had been chugging all evening started to work. I was awakened from a deep sleep at 7am when the Alexa alarm went off to feed my cats breakfast.
And then...
I only thought that I passed out at 7:30am. What happened is that I passed out again immediately after I got back upstairs to my bedroom. And you can see it. No blue bars where I was drifting off into sleep... just an immediate crash from green to purple when I lost consciousness. Something I've never seen before.
Now, from a health standpoint, this is kinda scary.
But from a technical medical standpoint? How cool is that?!
The rest of the day was rough. I managed to go into the office, but my tongue was still swollen a bit, so it was not a comfortable experience for me. I think I may have even drooled during a Zoom meeting?
It's so hard to tell. Apple Watch doesn't record that information. Yet.
Posted on December 6th, 2020

I may be spending my day celebrating, but that doesn't mean I've forgotten about this blog... because an all new Bullet Sunday starts... now...

• Happy Birthday! Jake and Jenny were feral rescues, so their birthdate is kinda-sorta estimated. I think. Maybe the person who found them knew the exact date and reported it when they got to the Humane Society, I'm not sure. In any event, December 6th is what's on all their paperwork and their insurance, so this is the day I wish them a Happy Birthday. And this year I am actually home to tell them "Happy Birthday" in person, which is rare. They weren't available for adoption until they got out of foster care and were fixed, and that was February 16th, 2016 (meaning these photos are of them when they were 2 months and 11 days old)...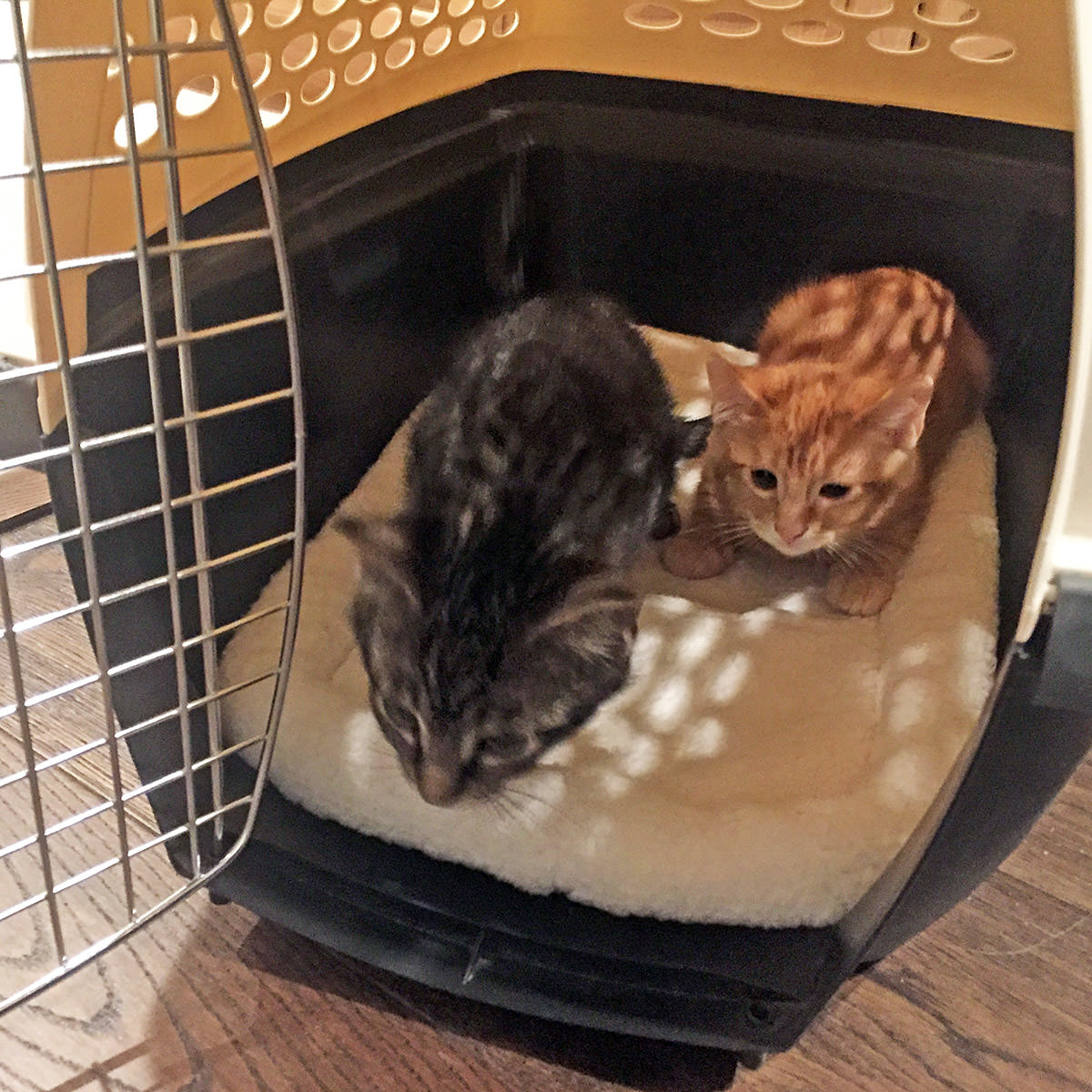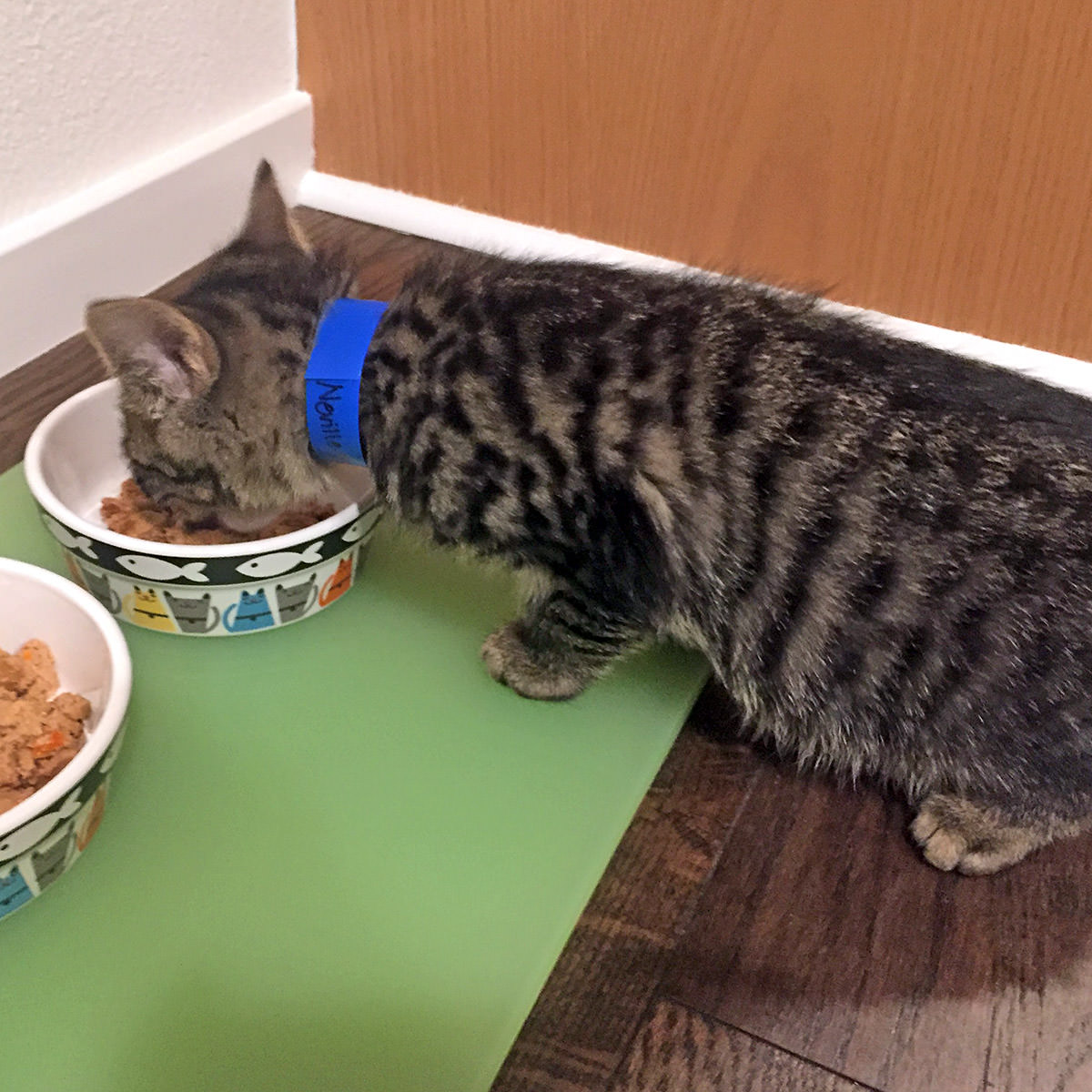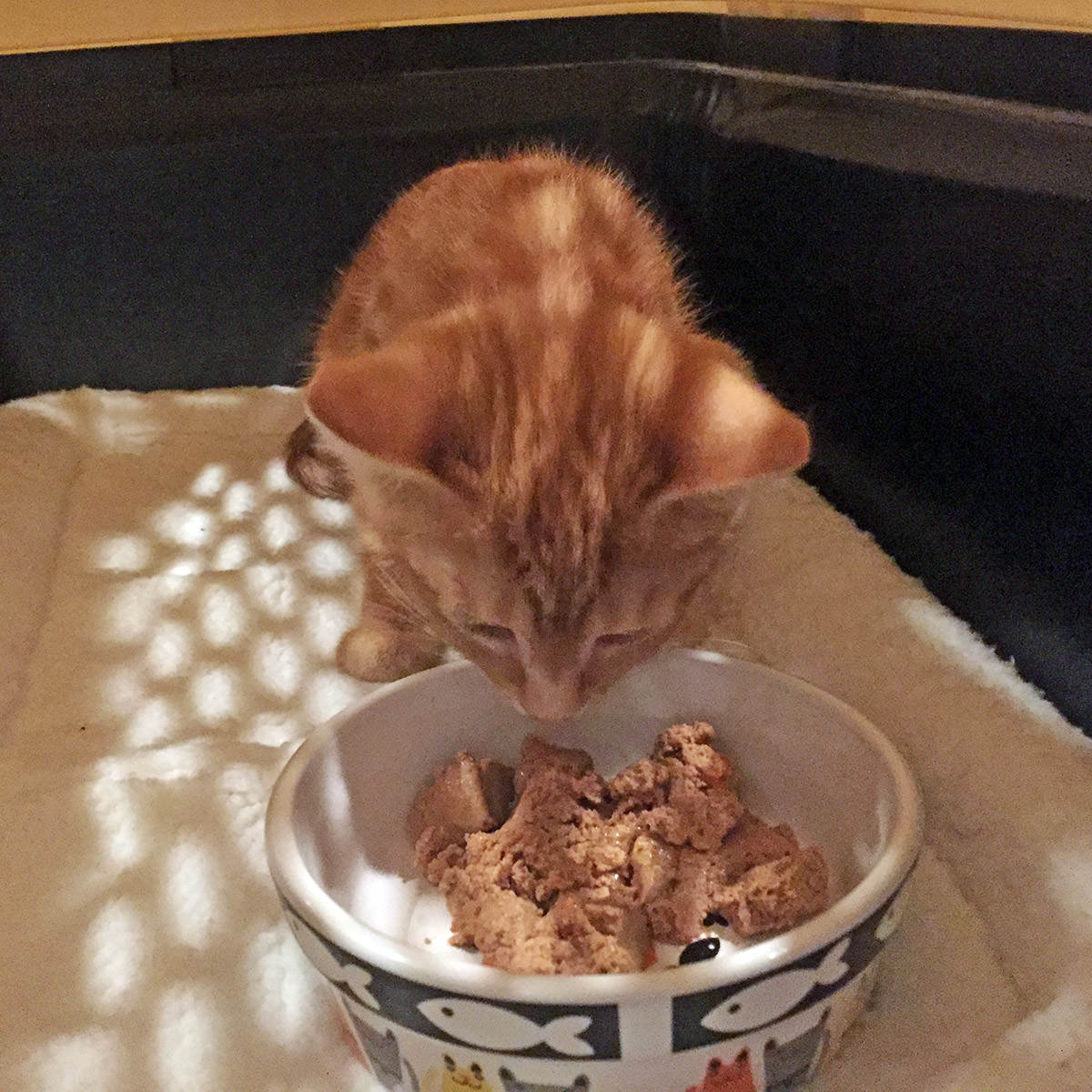 They were both so scared that it took weeks before I was even allowed to touch them. Most of their time was spent hiding under the couch. Jake was easily motivated by food (and still is) but Jenny took much longer because she's so much more cautious (and still is). Adopting them remains one of the best things I've ever done, so happy birthday to my amazing cats!

• AutoSleep! Speaking of my cats... at 3:30am I was awakened by Jake really struggling with a hair ball. My cats rarely have hair balls since I brush them regularly, so I got up to make sure he's okay and clean up the mess. I would have thought that I dreamed it all, except I've been using the AutoSleep app with my Apple Watch and can verify exactly when I got up...
AutoSleep is an app that has all the data that Apple's own Health app is missing... like the most basic of information, HOW MUCH SLEEP DID I GET? Health just gives you a start and a stop time, leaving you to have to mentally calculate it out, which is plain stupid. AutoSleep does so much more in addition to basic functions, which makes it well worth the $5 price tag, and I highly recommend it for Apple Watch owners who wear theirs to bed at night.

• Dysfunction? Since there are so many assholes still not willing to mask up to stop the spread of COVID, maybe this will motivate them... Another Reason to Wear a Mask: COVID-19 May Cause Erectile Dysfunction. We can only hope. Thanks to way too many people not being careful and acting like the pandemic isn't real... and even more of these people getting together for Thanksgiving despite the risks... hospitals are already starting to reach maximum capacity...
This doesn't just affect people who have serious COVID-19 symptoms and will die without hospitalization, it also affects anybody who get a treatable health problem... like a heart attack... who can't get into a hospital because all the beds are taken by COVID patients. Stop being an asshole. This virus doesn't just kill old and sick people, it can kill anyone. A vaccine is just around the corner (along with even more incredible treatments in the pipeline) and everything can just wait.

• Weight! On November 19th, I reached the heaviest I've ever been... 192 lbs. Usually I try to stay at 170 lbs. and not exceed 180 lbs. because that's when I feel my best, but gave myself a pass because of COVID shit happening. But enough was enough, and I started trying to eat sensibly again. No more Family Size Bag of Lay's Potato Chips in a single day... no more Pop Tarts for breakfast... no potato salad at midnight. Two weeks later I'm down to 186 lbs., which means I've got 16 lbs. to go to get to my goal weight. It's shocking to think that I managed to put on 22 lbs. since March, but when you sit around the house doing fuck-all day after day, I guess that's what can happen. I need to eat better and be more active, because I'm getting old enough that the weight doesn't fall off as easily as it used to. Bring on that vaccine! I want my life (and body) back!

• Mulan? Good Lord is the live-action Mulan a boatload of shit. Very, very beautiful and pretty... but shit. Thank heavens I didn't pay the $30 to see it early... which I was this close to doing because I love the Disney animated classic original so much. The story doesn't even make sense anymore. And they left out Mushu, which is just madness when they've given her magical powers from The Matrix which makes the whole thing fantasy anyway...
Ugh. What a waste of money that could have been put into another Star Wars series or Marvel Studios series for Disney+.

• HEADLINE! Warner Bros. Smashes Box Office Windows, Will Send Entire 2021 Slate to HBO Max and Theaters — In an unprecedented announcement, the studio will send 17 films — including The Matrix 4, The Suicide Squad and Dune to its streaming service for 31 days the same day they hit theaters.
Look, as I've stated many, many times, I absolutely hate the "theater experience" any more. Between people texting and talking and letting their kids run around and generally being assholes, it's about the worst form of "entertainment" there is, and I'd rather do just about anything else for fun. The only movies I see in theaters are those that I can't wait for (like Marvel Studios films). Otherwise? No thanks. So, for obvious reasons, I am thrilled by the news that I will be able to watch Dune and The Matrix 4 at home with an HBO Max subscription. But, on the other hand, I wonder what this means for those massively expensive blockbusters that I love. Will they even be able to be made any more if theaters don't exist? My guess is that they will still make them because A) Streaming services are already paying insane amounts of money for movies... B) Special effects are getting cheaper, and expensive actors can be replaced if they refuse to work within the new budgets... and C) This is where the future was headed all along as the home viewing experience gets better and better. So I dunno. I am certainly not rooting for theaters to die off completely... I think they still have a role to fill... but I'm not going to complain about not having to suffer through a theater for the movies I want to watch, that's for sure.

• HEADLINE! Elliot Page, Oscar-Nominated 'Juno' Star, Announces He Is Transgender. — Hi friends, I want to share with you that I am trans, my pronouns are he/they and my name is Elliot," Page wrote in a statement that he posted on Tuesday
And good for him. I'm thrilled when somebody figures out who they are and what it takes to live their best life at a cost of $0 to me. Because this is not about me! Who Elliot Page is has absolutely zero effect on my life what-so-ever. How great is it that he's got it all figured out, because many people never do. My gender identity was a cakewalk. I'm a man. I've always felt like a man. My genitals align perfectly with who I am at my very core. I've only ever been attracted to women. I've only ever had sex with women. And I can't imagine somebody telling me that I can't be who I am... just like I can't imagine somebody feeling entitled enough to tell Elliot Page who they are either. Whether you accept it or not, transgender persons exist. And when they have the strength to come out to the world, it will undoubtedly save lives. Far too many transgender kids are killing themselves because they can't picture a world that they could ever exist in. Elliot Page shows them that they can.

Now it's time to stop slinging bullets so I can go serve Ocean Fish Pate "birthday cakes" to my fuzzy kids. Be safe, everybody.
Tags:
Apple Stuff
,
Apple Watch
,
Bullet Sunday
,
Cats
,
COVID-19
,
DaveLife
,
Movies
,
News
,
Pandemic
,
Television
Categories:
Apple Stuff 2020
,
Bullet Sunday 2020
,
Cats 2020
,
DaveLife 2020
,
Movies 2020
,
News – Politics 2020
,
Television 2020
—
Click To It:
Permalink
—
2 Comments: Click To Add Yours!
Posted on October 21st, 2020

I've been walking to work whenever possible in order to fill in the "Activity Rings" on my Apple Watch so it won't bug me about being a potato. Few things are worse than sitting on your couch watching television and eating Cheetos when your Apple Watch buzzes and says "You can still do it!" At which point I get all mad at my watch and tell it "Stop bothering me! Can't you see I'm watching TV?
And, oh yeah, apparently it's healthy to get some exercise from time to time.
EXCEPT WHEN YOUR EXERCISE TRIES TO KILL YOU!
This morning on my way to work I tripped over some twine that had been discarded in the field behind my house. And it wasn't one of those "oopsies!" moments, I bit it pretty hard. Lucky for me, my security camera captured the whole thing. I've cropped into the footage here...
Hurt my wrist. Hurt my elbow. Really hurt my knee. And hurt my pride... because, seriously, am I so old that I'm going to have to get one of those LifeCall alerts now?
Oh probably.
And since I'm The Olds now, I know I'm not going to heal as fast as I did in my 20's. Nope... this pain is going to be with me for a while. What's weird is that it doesn't hurt very much when I'm moving. It's when I've been sitting at my desk for a couple hours then try to move that's the killer. The pain in my knee is breathtaking. As in it literally takes my breath away.
Something else that took my breath away?
My Apple Watch, which is supposed to have "fall detection," didn't detect shit. Didn't beep and say "Holy shit, are you okay?" Didn't ask if I wanted to call for an ambulance. Didn't even have a laugh at my expense. Not sure what's going on there, but it's irritating to know that this feature will not be having my back if I need it. Or having my knee, as the case may be.
So that's my hump-day today. How're things with you?
Posted on September 30th, 2020

I stopped walking to work because of the pandemic. But I started again when I got my Apple Watch because it kept telling me to STAND and MOVE and EXERCISE.
It's also been a nice way of seeing new stuff since I haven't been traveling and likely won't be able to travel for quite some time. Yesterday, for example, I saw that somebody was giving away a bag of free play-food...
It looked like a lot of fun (TOY PIZZA!) but I figured there was likely somebody 1/6th my age who could make better use of it.
So... not too exciting.
But what is exciting is closing all my rings on my Apple Watch each day. You get a little fireworks show...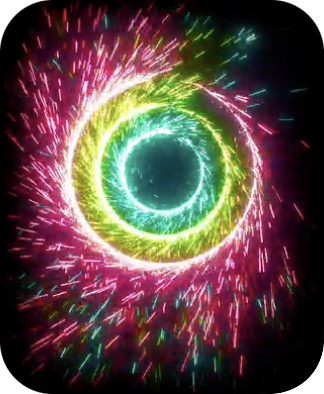 Yes, this is what passes for excitement to me now.
Yay!
Posted on September 25th, 2020

After living with my Apple Watch for an entire weekday week, I thought I'd revisit the thing while stuff is still freshly accumulating in my head. If you haven't read my initial impressions, you can find that here.
Shall we begin?
SURPRISE
My Apple Watch is surprising me daily. When I bought it, I fully expected that the only reason I'd be using it would be for the health risk stuff. A safety net for my declining years, as it were. That hasn't been the case at all. It has proven useful in a number of areas, most of which you can't anticipate before having one on your wrist. After ordering, there was a part of me thinking it might be returned to Apple. Now I don't want to live without my Apple Watch! Good on you, Apple! Another surprise? There's already an update out...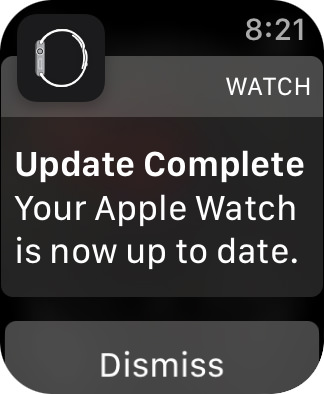 The notification that an update was available popped up on my iPhone, and it's your iPhone which downloads and installs it. Pretty easy and seamless.
DATE?!?
Once the "newness" had worn off... let's say, Day Two... I was looking for things my watch could do for me. I rarely need to know what time it is, but I am constantly needing to know what DATE it is. I tried adding it to the various watch faces I had set up, but it proved impossible. Most faces don't even have an option to display the date... A BASIC WATCH FUNCTION FOR FOREVER. But even the watch faces which do, don't seem to work. "Infograph" makes you THINK it can display the date. All you have to do is turn it on, right?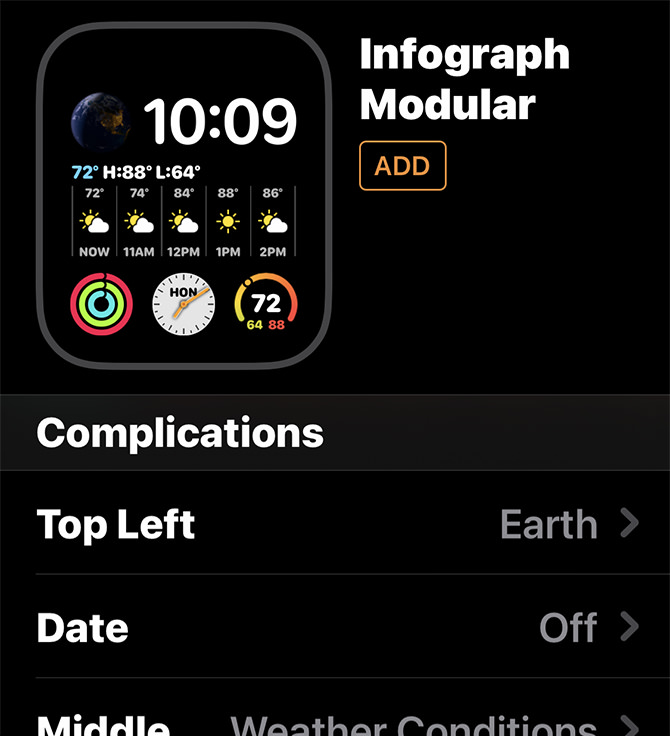 Not so much, no. Even if I turn off every other option to make room for the date, there's no way to turn it on. Just a way to confirm that it's OFF...

This is the most inexcusable, inexplicable disaster for a watch imaginable. How in the hell can you not tell your watch... IN ANY CAPACITY... to display the damn date? Apple Watch can tell you your blood oxygen level, can make phone calls, but can't display the date? Is ANYBODY at Apple paying attention? Do you know how I finally got my Apple Watch to display the date? I PAID TWO DOLLARS TO PURCHASE A "COMPLICATION" CALLED "BETTER DAY"...
Once installed, Better Day can add the date to any watch face which allows "complications"...
Including Mickey Mouse...
As an added bonus, you also get a full month calendar when you tap on the date...
Apple CEO Tim Cook must be out of his damn mind to allow this idiocy to propagate at his company. Does he even wear an Apple Watch? If he does, he must not care about what day it is.
UNLOCK
After a couple days, all three of my Macs dropped an alert asking me if I wanted my Apple Watch to automatically unlock them. I thought "Well that's nice!" and agreed. The model MacBook Pro I have includes a little fingerprint sensor for unlocking it that's easier than typing a password, but the Apple Watch unlock is even easier. Press a key to wake it up... and you don't even see a login screen! It's just... ON... and ready to go. Ditto for my other Macs...
The watch makes a little "clink" unlock sound once your Mac has been unlocked. Very cute. This is exactly the kind of thing I'm talking about when I say "I don't want to live without my Apple Watch.
INPUT
Since I've always got my iPhone on me, I did not anticiapte ever using my watch for anything requiring text input. But that hasn't been the case at all. My iPhone is often left in my backpack now. It's just so much easier to use my watch for simple text replies and such. There are third-party keyboards you can buy, but Apple's built-in "Scribble" is pretty great...
I'm not saying that I would type a letter on it, but I do use it for text more often than I imagined I would. It's quick, easy, and accurate.
SOUND
I was anticipating my Apple Watch telling me that the sound level is dangerous to my hearing when I'm at a concert or something, but the other day I got this alert... in the shower...
Perhaps water droplets hit the microphone or something? Bizarre.
OXYGEN
And so... guess this whole "masks cause hypoxemia" idiocy can be verified as bullshit by scientists... medical professionals... and now me. I tested my blood oxygen level several times during the day. Seems my "normal" is 97% (though I sometimes hit higher). That's what I keep getting. Including this morning at 10:12am...
It was also 97% immediately after a brisk walk home from work... WEARING DOUBLE MASKS AS I ALWAYS DO IN CASE I RUN INTO SOME RANDOM STRANGER ON THE STREET...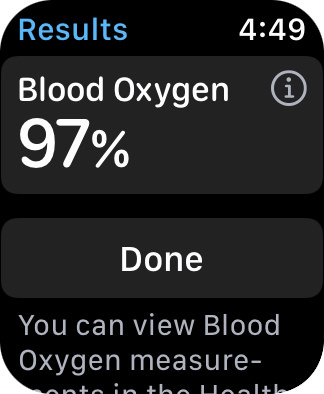 So there. Maybe all the scientists and doctors of the world are totally lying to us all the time... but you can totally trust me to tell the truth! OR CAN YOU? You may never know for sure.
RINGS
For somebody who's not fitness-oriented, I didn't think that Apple's fitness goal tracking was going to be something I cared about. Turns out I was really wrong about that. Once I started paying attention to how much I MOVE, EXERCISE, and STAND, I was caring quite a lot about closing my "fitness rings" each day. It doesn't hurt that my watch is spurring me on with inspirational messages and congratulating me as my rings close one-by-one...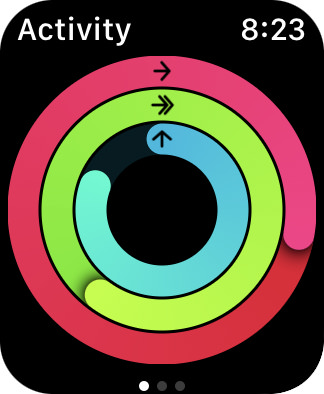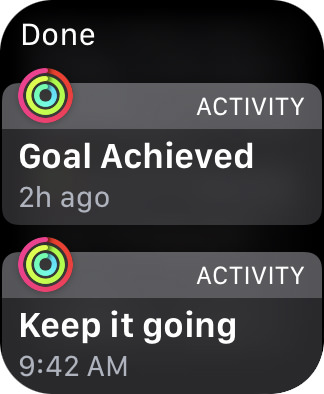 I haven't thought much about the Fitness Achievements you can earn... that may be going too far for me... but who knows? Maybe one day getting all these checked off will be something I feel like doing...
What I'm hoping is that Apple Watch will make me want to do more and more exercise, which can only benefit me health-wise. But even if that never happens I'm still much better off than I was by having moderate fitness goals instead of no goals at all. Thanks, Apple Watch!
STAND
One of the three parts of Apple's fitness ring theory is to "stand" 12 hours a day, and Apple Watch will give you regular reminders to do that...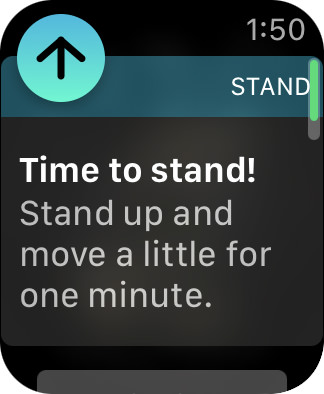 This is a weirdly large amount of time and makes zero sense to me. Unless I change to a standing desk (which is something I hate) I will never make this goal. And so I dropped it down to a more manageable 8 hours which I can meet if I get up and walk around when my watch tells me to. That's probably a good thing since sitting or laying down for too long can contribute to health problems.
BREATHE
My Apple Watch was pestering me to "breathe" a couple times a day. At first I was like "Pshaw. I'm already breathing! Leave me alone!" But then one day I decided to humor the watch and just do the breathing exercise it's been asking me to do. It's only a minute of my time, so what's the big deal...
I was surprised that my heart rate was 92bpm during an exercise meant to calm and center myself, but I have to be honest here... it was a really nice little break during my day! And so now I am taking a breathing break every time my watch wants me to. I'm totally into it, and think it's absolutely beneficial.
SLEEP
I touched on this in my first impressions, but the more I have to deal with Apple's absurdly stupid "sleep tracking" feature the more outraged I get. Apple Watch will only track your sleep during a set period of time that you have to tell it. Contrast and compare this inflexible nonsense on a $400 (minimum!) Apple Watch... with a $25 Wyze Band. Sure, the Wyze Band isn't as accurate, but if you were forced to have it be on a sleep schedule it sure would be! I just randomly set a schedule because I have to... even though I'm rarely in bed by 11:00pm...
It's just so bad! If you have a variable sleep schedule? Too damn bad. You have to go in and manually change your sleep schedule and risk losing sleep data when you do EVERY TIME! If you have to get up early for a trip? Too damn bad. Your watch is scheduled to be asleep during this time since you're scheduled to be asleep, so you have to force it awake in order to even use it. Have to stay up late? Too damn bad. You told your watch you would be sleeping, so it's asleep now and you have to force it awake in order to use it. Want a nap to count towards your sleep? Too damn bad. There is no way to tell your watch that you're sleeping outside of the schedule you're forced to set. And it just gets worse from there. Once I went to bed after midnight (something I do a lot) and my data was posted on the following day's sleep. Which means the data from that night didn't post at all because Apple Watch thinks I had already been to sleep? I cannot express in mere words just how jaw-droppingly crazy this all is. Trying to get a handle on my insomnia was something I was fully expecting to accomplish easily on an Apple Watch. Turns out that unless you go to sleep AT THE EXACT SAME TIME EACH NIGHT and get up AT THE EXACT SAME TIME EACH MORNING, Apple's way of doing things won't work for you. At least not very well. At the absolute bare minimum Apple needs to add a "complication" button which allows you to manually tell Apple Watch you're sleeping. That's a lot more work than I was planning on putting into sleep monitoring... but it's better than the worthless pile of crap Apple's handed me now. This is a 100% FAIL! on every possible level.
BATTERY
Turns out the battery longevity /slash/ charging stuff I was complaining about wasn't quite the issue I made it out to be... for me! If you are using the watch a lot... and using it for extra tasks like listening to music or texting all day long... then the use/charge disparity is likely still a problem. As for myself, I charge my watch to 100% every night around 9:00pm. It takes anywhere from an hour to an hour-and-a-half, and then I'm good to go. My iPhone alerts me when it's done charging and I can check the battery level and charge status there any time...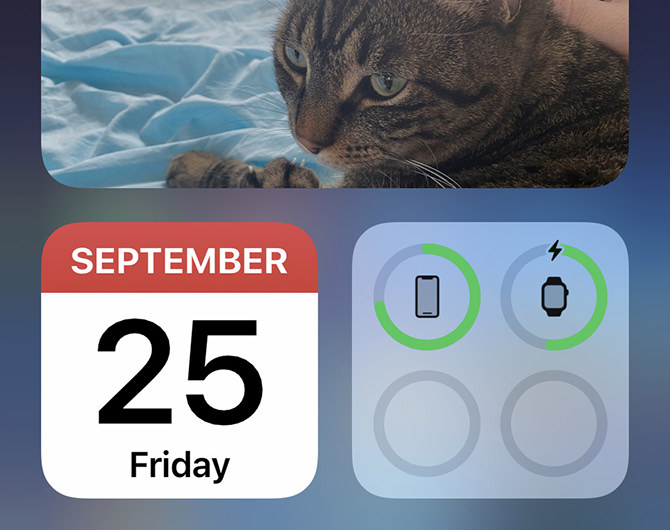 When I wake up in the morning I've got around 75% battery left, which keeps me going until I charge at 9:00pm again...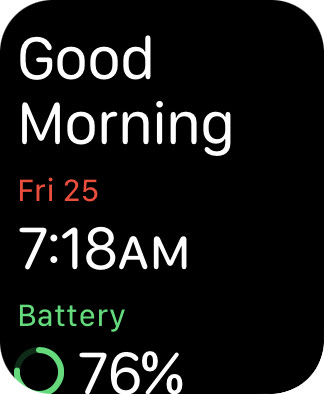 This is a huge relief, because the idea of having to charge the battery twice a day in order to use the sleep tracking was a major sticking point to me. I guess Apple was being conservative with its battery life estimate and trying to factor in people who use their watch a lot more than I do.
BAND
Welp. My Solo Loop watch band went from being a little too snug... to being just perfect... to now being a little loose. OVER THE COURSE OF FIVE DAYS! I am understandably worried that it's going to continue to loosen over time, which would suck since that means the watch will float up and down my arm instead of staying in place. What sucks is that you only get 14 days to return an item to Apple. By the time I know if it's going to be too loose for me to keep using it, the return period will be over. Hopefully Apple will consider this to be defect if it's not the size I ordered after a month or two. Guess we'll see. I sure love not having to buckle/unbuckle a watch band.
LYD
If you have a SONOS system, Lyd (which means "sound" in Norwegian) is a must-buy app for your Apple Watch. For only $2 you gain control of your SONOS system, and its abilities are far more extensive than I had expected. Everything from volume and track fast-forward/rewind to playlists and speaker group management...
You can even record a message on your watch and play it on speakers around your home! Fantastic work all the way around. It can also be used as a "complication" so it's ridiculously handy to immediately be able to access SONOS control from your main watch face. Congratulations to Alexander Heinrich for making me love my Apple Watch even more than I already do!
WISH-LIST
It hasn't been a week yet, so I'm still discovering how my watch can help me through the day and what it can do for me. I'm also still discovering things I wish it did (or did better) and am keeping a list...
WiFi Indicator Complication. It would be nice to see at a glance if my Apple Watch is connected to WiFi without having to swipe up for control center. Important info like this should be avaiable at a glance with no futzing.
FIX SLEEP TRACKING! Seriously. This is insane. Sleep monitoring on a $400 Apple Watch is crappier than what you get on a $25 Wyze Band. Embarrassing.
ADD THE DATE! The fact that I have to spend an additional $2 to get the damn date on my watch is absolutely bonkers. AGAIN, THIS IS A $400 WATCH!
Matching Accessories. I am still very, very raw that the "black" band is shown as matching the warm tones of my Space Grey watch on Apple's website... but the band you get is blue-toned and doesn't match at all. It's horrifying that an overly-image-conscious company like Apple is okay with this. Somebody on quality control was asleep at the wheel, then Apple lied to customers by Photoshopping the band color on their website. Not cool at all for something that costs FIFTY DOLLARS!!! Bait and switch bullshit.
Watch Face Builder Kit. Come on. Here we are at Series 6 and we're still stuck with only the faces Apple dictates we get to have? Granted they are beautiful and highly customizable, but I want to build MY OWN faces. Is that really too much to ask? At the very, very least Apple should allow third-party faces to be sold.
There will be more to come, I'm sure.
GOING ON ONE WEEK...
On one hand I'm sad I waited so long to jump on the Apple Watch bandwagon... it's just such a hugely useful and handy piece of tech to have. On the other hand, it's nice that I jumped on with Series 6 because some of the things I really love about having an Apple Watch are recent additions to the hardware. The good news is that this was the last piece of the Apple ecosystem I was missing, so I guess my status as a Certified Apple Whore is still in good standing. At least until they release Apple Glass, which is something I'm really excited to see happen.
Posted on September 22nd, 2020

As I mentioned when I ordered my Apple Watch, I am not comfortable wearing watches. Never have been. But I decided to "train" myself using a comparatively-small Wyze Band so I could eventually work myself up to an Apple Watch. They keep getting more and more relevant to me as they add new features, so I wanted to save up for one. With ECG, Heart Monitoring, and the new Blood Oxygen Monitoring, I was finally sold with the Apple Watch Series 6.
Let's just run through it all point-by-point, shall we?
UNBOXED
I ordered my watch directly from Apple. Which means my origami-style packaging arrives factory-sealed. Inside there's the band box and a watch box. As you'd expect from Apple, it's all so very clean, minimalist, and pretty...
Seems like a lot of stuff in there for a company priding themselves on being eco-friendly? Probably all recycled, so there's that. Of course there's barely any instructions (remember when things came with an entire book for a manual?)... Apple likes to think that they make things so easy to understand that you don't need instructions. And, in this case they're mostly right. Everything is found on your iPhone... when you can find it.
DESIGN
I am still a bit salty with Apple that they claim you can order any combination of watch color/style and band color/style... except I sure couldn't get the PRODUCT RED Aluminum Watch with a black Solo Loop Band I wanted, for whatever reason. Instead I got the "Space Grey" version. The watch itself is gorgeous, looking stylish and slick. That was never an issue. For me it's always been the size of the thing that bothers me. I have tiny wrists, so even the "small" 40mm option looks giant...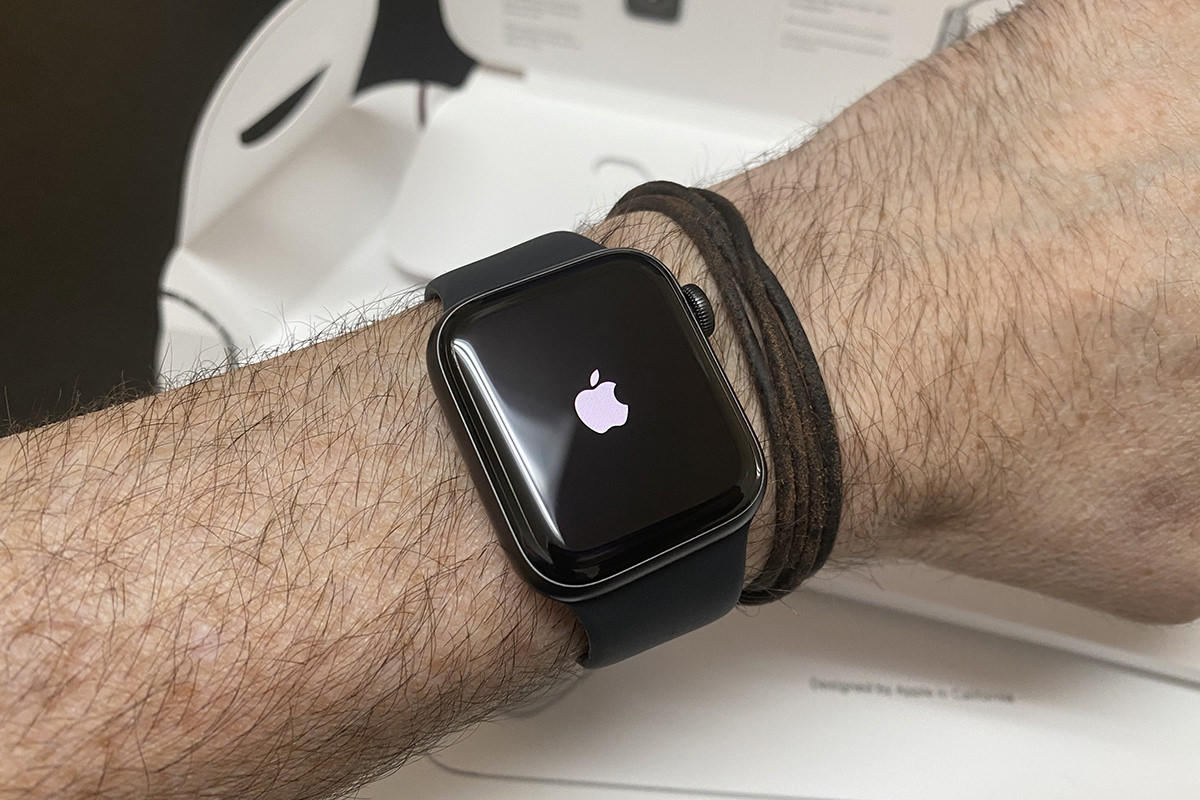 But it's the thickness that is the bigger pill to swallow...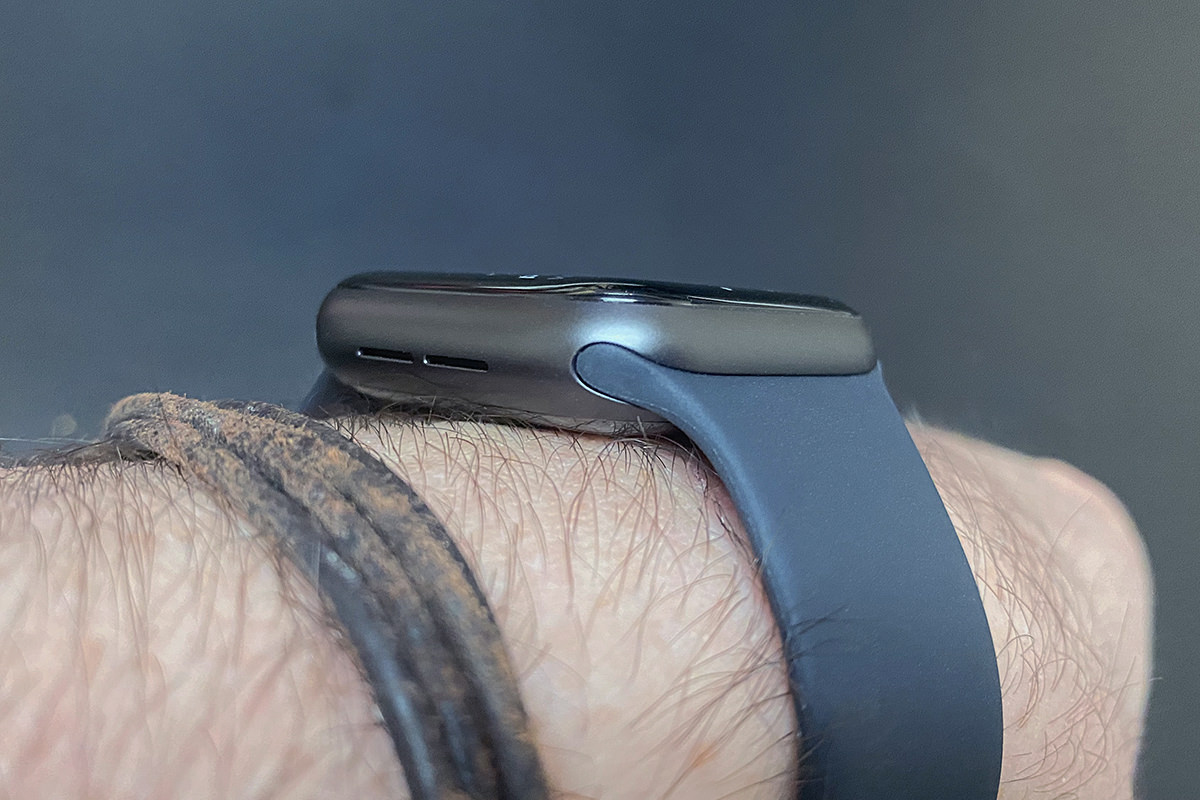 And yet, even that isn't the thing that bothers me most. Note that the "black" band I ordered is actually blue-grey. Which wouldn't be a big deal, except it's a cool grey-tone and the Space Grey watch is a warm grey-tone. Leaving me wondering who the hell coordinated this shit. My guess is that nobody did. The watch team and band team never saw what the other was doing. This color disparity bothers me. A lot. So much so that I may see if I can exchange the band for something that will actually match my watch. Note that the Apple website shows something completely different, having the color tones look the same...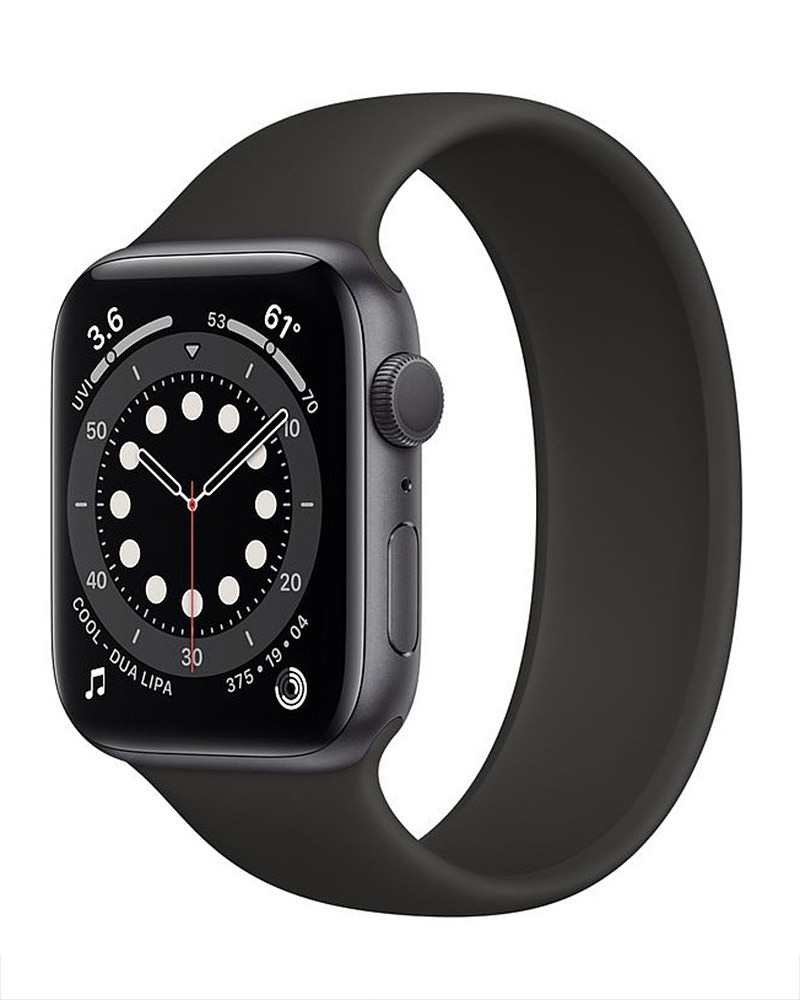 100% bait-and-switch right there. Steve Jobs is rolling over in his grave.
SOLO LOOP BAND
Other than the crap color match, what's the new "Solo Loop" like? Well, it's mostly fantastic (except for the price, because $50 is insane). I used the size gauge that Apple had me print and I think it was mostly accurate. My "size" was a 6-1/2, but since Apple doesn't have half-sizes, I ordered the 6 because that's what I read was suggested. At first I thought the 6 might be a bit too snug... but after a single day it's already loosened up a bit. Will it be too loose after a week and not stay put on my arm? I worry about that given the high price tag. What also worries me is that it will be sweaty in the heat since it can't breathe. Maybe I shouldn't have gone with a Loop given the potential problems. An old-fashioned watch band may not be as comfortable, but at least it won't be money down the toilet because it's too loose and sweaty.
WEARING IT
As I've mentioned, I have tiny arms. With a protruding wrist bone. The Solo Loop band is comfortable enough to wear above the bone, but the large size of the watch is uncomfortable there so I just wear it below the wrist bone and it's fine. I have no idea if this positioning is good or bad for the sensors to do their job. Once I get used to wearing the watch I hope I won't notice it.
SETUP
Initial setup is accomplished via the Watch app on your iPhone. Don't have an iPhone? That's too bad. You'll have to find somebody with an iPhone to do it for you. Overall the process is pretty easy, and pairing is automated by using the camera on your iPhone. Alas, some sections of the setup are tough to see clearly if your iPhone is using enlarged text (WHY IN THE HELL DOESN'T APPLE TEST THIS? THEY SCREW IT UP EVERY DAMN TIME!), but it works. Speaking of enlarged text, if you have old eyes like mine, you'll be happy to know that you can bump up the sizing...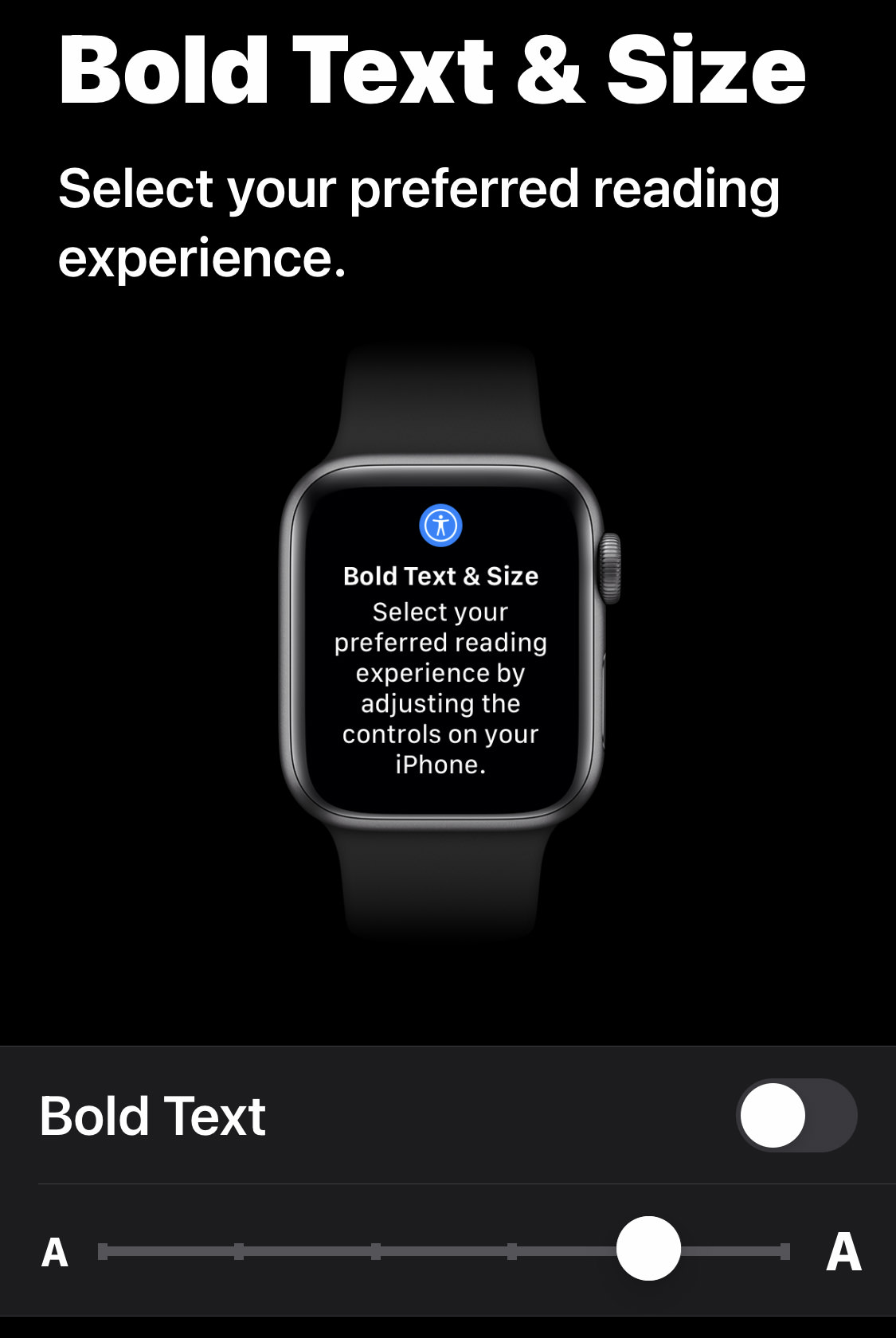 After setup (which takes a weirdly long time to process on the watch once you're done), many settings can be handled within the watch itself. Others are much easier being set with the iPhone Watch app. So far as I can tell, the only way to get new faces sent to your watch it through the iPhone app, but I guess the customization would be difficult if you attempted it on the Apple Watch.
BATTERY
This is really hard for me to figure out. Time to charge Apple Watch is 1.5 hours. Battery life is 18 hours. So there's 19.5 hours accounted for out of a 24-hour day. Keep in mind that this is a watch featuring SLEEP TRACKING! So ideally you will wear it to bed in order to take advantage of that. You'll actually want to wear it as much as possible to take advantage of all the health things it can monitor. So do I just charge my Watch for 6 hours even though that's overkill and cuts into my wear time? Or do I charge it once when I get home from work and again when I wake up in the morning so I can wear it the maximum amount of time? It's like... DOES ANYBODY AT APPLE EVER THINK ABOUT THIS STUFF? You need a battery that lasts 22.5 hours and charges to capacity in 1.5 hours SO THAT IT ADDS UP TO 24 HOURS AND YOU GET MAXIMUM WEAR-TIME!
DISPLAY
The resolution of the 40mm display is 324 × 394. That may not seem great, but the screen is so small that it works out to be 324 dpi(!). That's amazing, and even the tiniest details are crystal clear with no pixelation at all. The high resolution also comes with an apparently high refresh rate, which makes everything move buttery smooth (the second-hand sweep on the watch face is mesmerizing because it just looks so real!). Apparently the Series 6 is brighter than previous series. I have mine set to medium brightness and it's plenty bright. Like the Series 5, Apple uses an "always on" display (before that the screen went black until you raised your arm or tapped the face). The "always on" is dimmed, but perfectly readable (and is apparently 2.5 times brighter than Series 5). I don't know what more I can say... except the thing is gorgeous.
SOUND
Apple keeps pushing the enevelope when it comes to getting great sound out of unlikely devices. My MacBook Pro sounds incredible and I have no idea how they do it. My iPhone and iPad sound far, far better than they have a right to be given their size. But how could a frickin' WATCH have sound that could on any level be considered "good?" I don't know, but Apple has done it. You're not going to use the internal watch speaker for listening to music or anything, but it is wonderfully clear and plenty loud when making a phone call and listening to voicemail... using the virtual Walkie-Talkie app... interacting with Siri... or listening to Mickey Mouse tell you the time. Yet another audio feather triumph in Apple's cap.
INTERFACE
Considering I have the "small" 40mm version of the watch, I was worried that it would be entirely too small to interact with. But, not surprisingly, Apple did a great job of making it work surprisingly well. Everything is exceedingly well thought-out. I love the way the icons for the various apps float and ooze across the face as you navigate through them. Icons grow as they approach the center so you can get to the one you need. So nifty! This is the kind of stuff Apple does best...
There is a physical button on the right-side which brings up the recently-used app cards. Double-clicking brings up ApplePay. The "crown" controller is also a button and can be used to bring up the app selector from anywhere, then get back to the clock. Rotating the crown will scroll through options in various ways. It's fairly intuitive even after just a short time using it.
FACES
Apple includes a variety of watch faces... most of which can be customized to show extra information along with the time. There's some really cool options, including Mickey Mouse, the watch I had as a kid! But even better than that? You can display Mickey in black-and-white so it's less garish and more "adult." Even better than that? Tap on Mickey and he'll tell you the time! I've customized mine to have the weather in the upper-right, a "Shazam" button in the upper-left (to listen to songs and tell me what the name/artist is), and my heart rate along the bottom...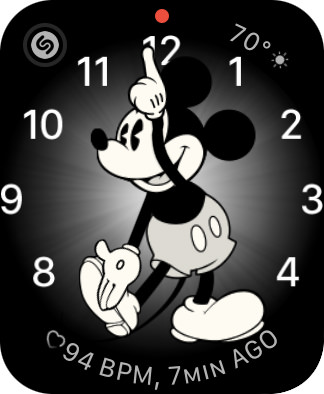 Some faces are artsy and minimalist... some are packed with information. All are beautifully-designed and you can swap between the ones you've added by swiping horizontally. When Mickey doesn't have what I'm looking for, a quick swipe and I'm in the GMT face, which has the battery level in the lower-left and a remote control for my AppleTV in the upper-right...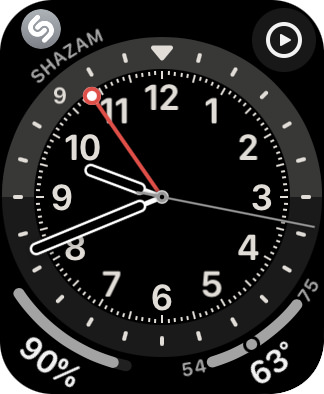 The crappy part? NO OPTION TO CREATE YOUR OWN FACES! Which is insanity. The closest you can get to creating something all your own is by using your photos...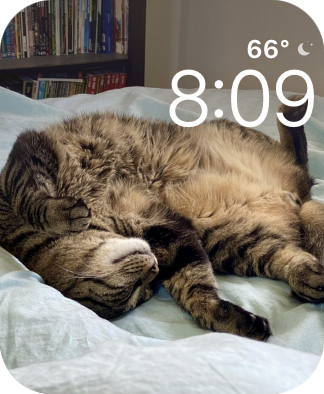 Why Apple hasn't come up with an "Apple Watch Face Construction Kit" over SIX generations is inexplicable. This just cements the criticism that Apple feels they know better than you what you need from their products.
CONNECTIVITY
The "GPS" model of the watch I have includes WiFi and Bluetooth, but mostly gets its data from my iPhone. For extra money (and a monthly fee from your mobile company) you can get a cellular version that will allow you to make/take calls, text, and access the internet even when you don't have your iPhone on you (which for me is almost never).
ALERTS
I have a myriad of alerts set on my iPhone. But they are easy enough to ignore because my phone is almost always on silent mode while I work. When I set up my Apple Watch, I just had the alerts mirrored from my phone. But this became distracting in a real hurry, as I was constantly looking to see what alerts were bombarding my wrist. Including the NestCam in my bedroom once again thinking that Jake hopping on my bed is a person...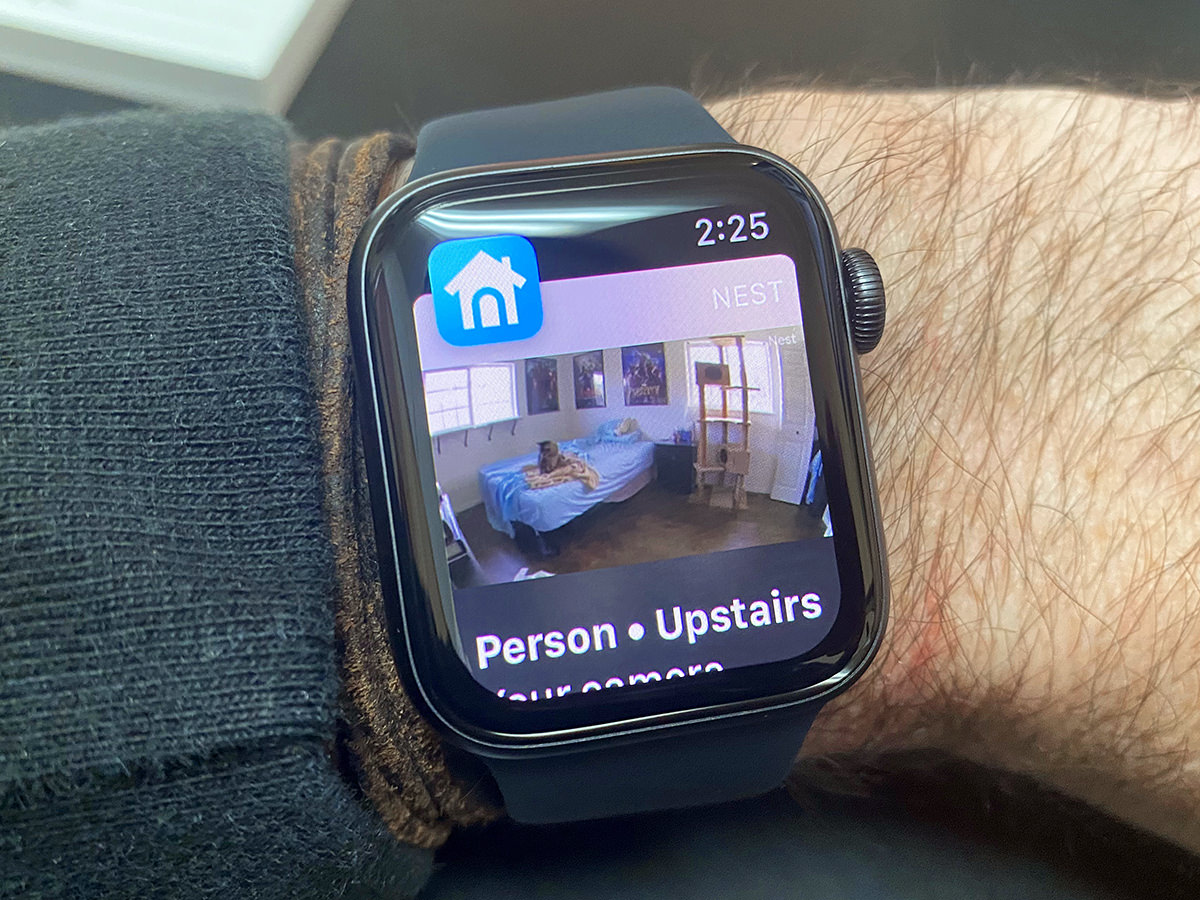 I ultimately ended up turning most all of my alerts off. Only the most urgent alerts which I would definitely want distracting me are turned on. I really wish that Apple's notifications were more powerful. I'd love to be able to schedule what happens when and have alerts that automatically turn off and on based on my location. But, alas, not yet.
HEALTH & STUDIES
The many health functions of you Apple Watch integrate into the Health app on your iPhone for an easy way to visualize all the data collected. This data, in turn, can be automatically integrated into your medical chart (assuming your doctor's office has a system which is compatible). Here where I live, Confluence Health owns the majority of doctor offices, the local clinic, the larger clinic in the next city over, and the hospitals in neighboring cities. Their system is compatible with the Health app, but it's a crap integration. From what I can tell, it's one-way. I can pull data from their "MyChart" system, but nothing from the Health app will be sent to my doctor. This is ten buckets of lame. Ideally, the data should be accessible by my doctor whenever he needs to see it. Furthermore, if there's a problem detected, the clinic should get an alert so a doctor or nurse can decide if I need to be seen. Anything less is not as useful as it should be. Oh well. Maybe one day Confluence Health will get off their asses and join the year 2020. Somebody who has joined the year 2020? Apple. They allow you to volunteer your data to various health studies you can sign up for. Naturally I want to help science make us healthier, so I signed up for every study they have available and will sign up for any future studies they offer...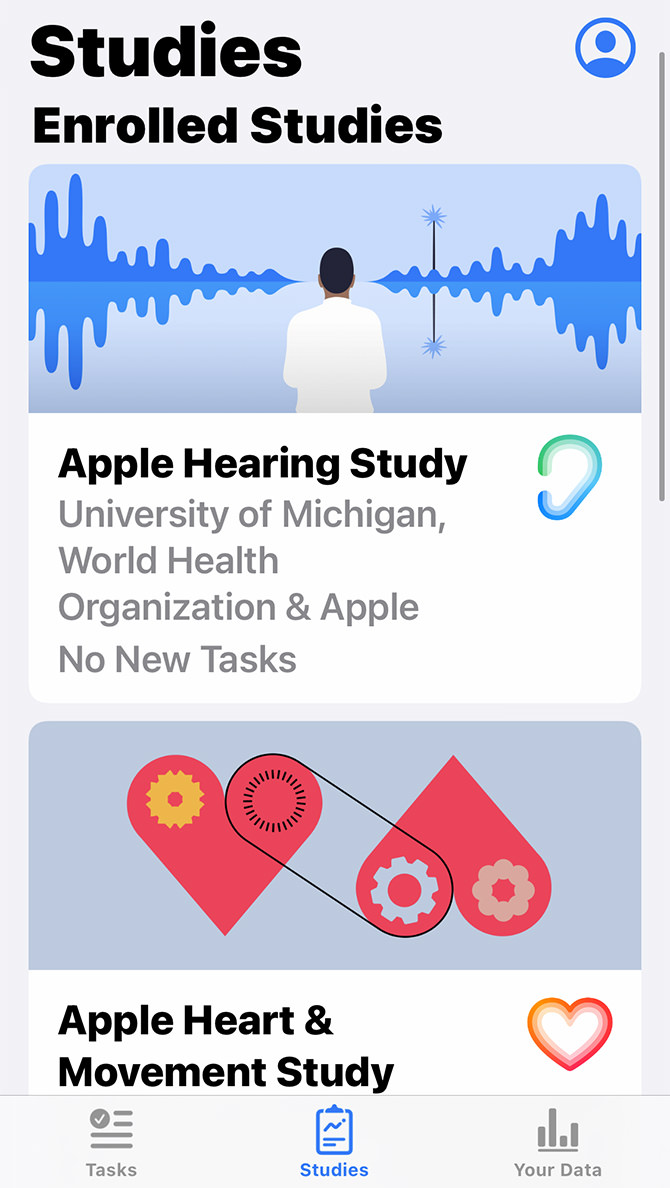 When I was researching the various studies I found that there are some people bitching that they don't get monetary compensation for submitting their data. =insert eyeroll= All I can think of is how the life that the science saves or improves from your data MIGHT BE YOURS, dumbass.
ECG
My resting heart rate is 80-85bpm, which is more elevated than I'd like but is considered "normal" as it falls smack-dab in the middle of the 60bpm to 100bpm range. One of the reasons I've wanted an Apple Watch is to help me get a lower resting heart rate and be healthier. Then Apple added an ECG (electrocardiogram) which is a smaller, less accurate version of the EKG heart rhythm monitor you see on medical dramas. It can be useful in detecting a heart problem before you have a serious issue, which is very cool. You just open up the ECG app then hold your finger on the crown so Apple Watch can monitor your heart. After 30 second you get a report...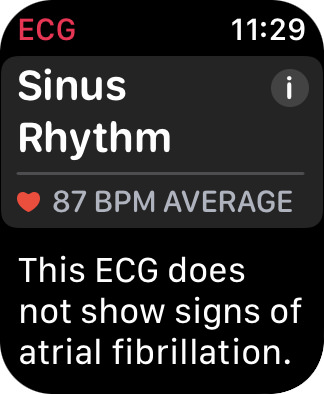 No sign of atrial fibrillation, so I guess I'm good to go? I'll likely set an alert so I remember to run an ECG once a day or something. Apple doesn't really tell you how often you're supposed to do it.
BLOOD OXYGEN SENSOR
What made me finally pull the trigger on an Apple Watch was the addition of a Blood Oxygen Sensor. But after using it multiple times, I'm not sure I can trust its accuracy. I'll run it and get 98%. I'll immediately run it again and get 100%. That's not so bad. A 2% variance isn't the difference between life and death. But then I run it again and get 92%...??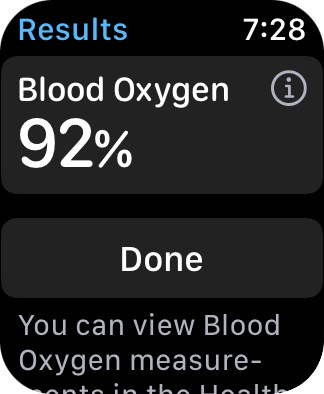 I understand that Apple is not claiming that this is a medically accurate reading (they tell you over and over again), but it seems weird that it is so wildly inconsistent. Maybe it's me. Maybe I'm not in the exact same position every time and that's a problem. Or there's some other factor. I dunno. I have it set to automatically take measurements, so maybe over time I'll have a better picture of what my blood oxygen levels are. But right now? "Normal" is considered 80% to 100%, so perhaps it's enough that I (apparently) don't have hypoxemia and (hopefully) my watch will let me know if I ever do.
SLEEP
As I've written many, many times, I am an insomniac and don't get much sleep. Three or four hours a night and maybe a nap or two (if I'm lucky). That's it. A far cry from the 8 hours we're supposed to be getting. I've been so concerned about it that I've gone to the doctor for help. But since I am fully-functional when awake... able to work and play without issue... able to concentrate... not falling asleep... and not getting sick due to lack of rest... apparently there's nothing to be done. And thanks to all the crazy shit happening in the world, things have only gotten worse. Take last night for example...
That's pretty bad, right? But average for me. The Wyze Band has sleep tracking, but it isn't very accurate. Yet at least it tries to sense all the times you sleep. Apple Watch is programmed to only look for your sleeping during a time range you set. This sucks because it doesn't recognize any naps you might take outside that range. And you can't just make the sleep range be 24 hours, because it puts your watch to sleep during the whole time! BUT IT GETS WORSE!. What if you have an early travel day or something? From what I can tell, there's no way to tell Apple Watch to wake the hell up permanently. Only temporarily until the time range you set is over. What you have to do to get your watch back is go change the time range for your sleep so it ends and your watch will wake up. This is ten pounds of stupid. And it sure would be nice if there was a "I'm gonna sleep now" button you could press before a nap so the total amount of sleep you're getting is actually counted. So damn frustrating. You can look at a compilation of sleep data when you go the the Health app on your iPhone. It not only shows your heart rate while sleeping, but when your sleep actually happened as well...
See that short break at 7am? That was when the Alexa alarm went off to feed my cats. After dishing up their breakfast, I returned to bed and was miraculously able to fall right back asleep again until I got up at 9am to answer emails, do some work, grab a shower, and head into the office. Apple Watch captured all of it. If I had to get up in the middle of the night to go to the bathroom, I have no doubt that Apple Watch would show that as well. I liked the idea of using Apple Watch to help me deal with my insomnia, but it's just so horribly brain dead and the procedure you have to take so clunky that I haven't decided if I'm even going to bother. I cannot for the life of me understand how Apple got all this so wrong.
FITNESS & ACTIVITY
The big draw of Apple Watch for a great many people is that it can be programmed to manage your workouts, track your fitness, and be generally helpful through all of it. What's so brilliant is that you can go as deep or as shallow into the fitness pool as you like. Since I am not into any of it, but want to do better, I am starting out with the bare minimum. This means using Apple Watch's Activity app to improve in three areas... MOVE, EXERCISE, and STAND. All of which are necessary for good health...
After confirming details about your stats, you enter details of a plan in each area and you're good to go. Apple Watch then keeps track of what you do and displays the data in rings. Your goal each day is to close your MOVE, EXERCISE, and STAND rings. Here was where I was at at noon today...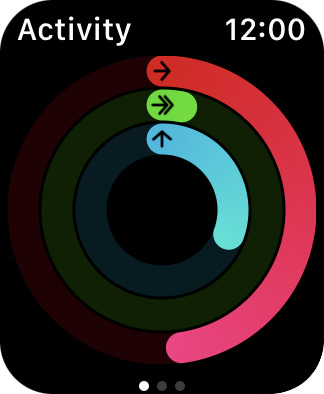 The MOVE ring (red) comes from just walking around during my day. The STAND ring (blue) is an area I really need to improve upon because I sit at a computer desk all day. The EXERCISE ring (green) is something I just don't do... but need to. And I think I will begin by walking to work each day like I did pre-COVID. Your watch can even be set up to send you reminders if you want to get things done...
And once you are regularly closing all your rings you can then increase your goals to keep improving. It's all so insanely great because it's as encouraging or passive or overbearing as you want it to be. I don't think it's inside me to become a fitness fanatic, but I would like to be more healthy than I am. Apple Watch is part of my plan to get there.
PHONE
Since I don't have the version of Apple Watch with a cellular radio, the watch has to be tethered to my iPhone to make a cellular call. HOWEVER... you can make a phone call from your watch even if you left your phone at home if you have "Add WiFi Calling for Other Devices" enabled on your account (my carrier, AT&T, supports this). So long as you can connect to Wifi, you can make or receive a call and listen to your voicemails. FROM YOUR WATCH!
This is some next-level Dick-Tracy-style amazement right here. As mentioned above, the sound is perfectly good. I can hear just fine and people can hear me just fine. I am rarely without my iPhone so the odds of me using Apple Watch as a phone are slim, but it's nice to know I can still use it for calls when I left my phone downstairs or something.
WALLET
Your entire arsenal of cards from your Apple Wallet are available on your phone, including credit cards and ApplePay. Which is to say that you can use ApplePay anywhere it's accepted without taking your phone out of your pocket. Groovy.
HAND-WASHING
A nifty idea in the age of COVID-19 is Apple's new hand-washing app. But the implementation? Kinda wonky. It uses your location to remind you to wash your hands when you get home. Yesterday it reminded me 2-1/2 hours after I arrived. Today after about three minutes. But then the stupid reminders were going off CONSTANTLY. After the sixth reminder I got since being home today I finally turned the damn things off..
Yesterday it didn't recognize the motion of my hands and the sound of running water until I was almost finished. Today it recognized washing quicker, but was still quite late. I don't know if the solution is to decrease the countdown to compensate... or wait to see if it gets better at recognizing the sound of my sink...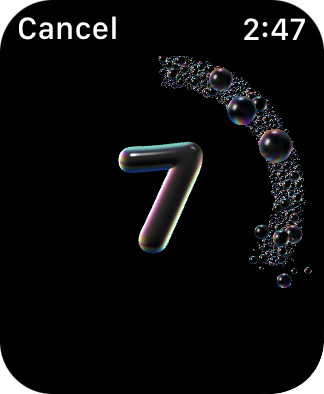 Either way, handwashing is effective in combating the pandemic, so this is a good feature to have. They just need to fix the reminder notifications so they shut the hell up once you're home.
APPS
Your Apple Watch comes with all the various Apple apps you'd expect it to... including Mail, Messages, Music, News, Calculator, Compass, Timer, Weather, and such. All of them are beautifully crafted. I really love the look of Compass...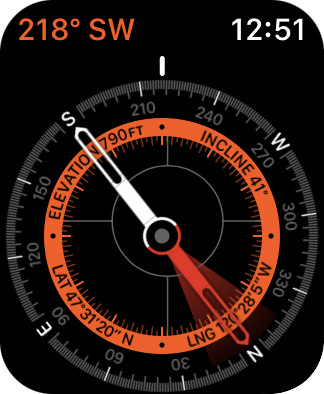 And extra information your watch has is just a scroll on the crown-knob away...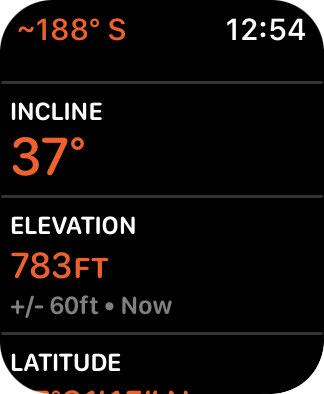 Nothing makes you nostalgia for the early-80's era of calculator watches like calling up that app...
Fortunately you have the option of deleting apps you won't use. For me that means the Cycle Tracking app which tracks your mensural cycle...
There is, of course, an Apple Watch App Store. I haven't done a lot here because I just don't see myself using an abundance of apps on my watch, but some are nice... like a SONOS controller app I picked up for a couple bucks. Some of the apps I have on my iPhone have a companion app you can get for WatchOS, which is good. A few, like watch apps for my Ecobee thermostat and Hue Lighting, may even be useful. And then there are some iPhone apps which really should have a companion watch app but don't (I'm looking at you, Schlage). It's a mixed bag all the way around.
CONCLUSION
Is Apple Watch worth it? I've only had one for two days, so I don't know if I can answer that. I suspect it could be based on the health features alone (borderline-accurate though they may be). If Apple were to address my biggest disappointments... namely creating bands that match the watches, making the watches thinner, having battery life make sense, making sure the iPhone setup app can be read if you're using large text, allow you to design your own watch faces, increase accuracy of the sensors, fix the insanely stupid sleep tracking mess, improve hand-washing so it doesn't KEEP BOTHERING YOU TO WASH YOUR HANDS WHEN YOU GET HOME AFTER YOU'VE BEEN HOME FOR HOURS... then I'd say Apple Watch is absolutely worth it. As it is though, I feel kinda like a beta-tester for a new product that's been around for five years and has gone through six revisions. Too many things are half-baked and poorly thought out for this to in any way be a homerun. Maybe with Series 7?