Started coming down with a cold on Saturday.
Downed massive amounts of vitamin C to head it off.
Felt way better on Sunday... no runny nose, no aches and pains, no coughing. Just a little bit of sinus pressure.
Then today I had to drive over the mountain passes and back for work. This caused my sinuses to compress. Now I've got a massive sinus headache that Will. Not. Stop.
The good news is that I finally managed to donate my car to the veterans. Since they couldn't pick it up over in Redneckistan, I drove it over to the big, scary city of Seattle. I was going to take a sentimental final photo of my Saturn... but I fucking hated that car so much that I didn't feel like it.
If you want to see what it looked like, here's a photo of the piece of shit being towed after the transmission blew out a couple years ago...
I bought the Saturn SC2 in 1999 after my previous car was completely destroyed by a runaway railroad truck. It slipped out of gear, tore across the street, then plowed into my car so hard it was totaled. Because I was working non-stop, I didn't have time to go car shopping. I kept putting it off and putting it off until finally the railroad's insurance was going to cut off my rental.
That's when I saw a television commercial about how you could order a great new car from Saturn's website without stepping foot in a showroom. And it was made in America! SWEET!
And so I did.
Several weeks later I was in New York when I got a call that my car had arrived at the dealership in Seattle. So instead of flying home to Redneckistan, I ditched out at Seattle and the Saturn people picked me up from the airport. They were very nice, but they forced me to go through a crazy "orientation class" before they'd let me drive it home which was a bit unnerving.
And it was that drive home where I first realized that I did not care for the car.
At all.
It had a fucking horrendously huge turning radius. I made more three-point turns in the first month of owning it than I did in the entire lifetime of owning my previous car. It also had really poor design choices... in everything from the sun visors to the window controls. As if that wasn't enough, it never felt really comfortable to drive. Long distance, it was awesome. But for in-city stop-and-go driving it was miserable.
I had 30 days to return it.
And I gave that some serious thought.
But I was so busy with work that I just ended up keeping it.
For sixteen years.
Eventually I came to tolerate it, though stuff was always going wrong (after the warranty expired, of course). In addition to the afore-mentioned transmission failure, the dome light was flakey as hell. Rarely worked. The driver-side door was a piece of shit that never wanted to stay open. The emissions system was such a mess that I had the service light going on and off for the past seven years... despite spending hundreds upon hundreds of dollars at the dealership to have it fixed. And don't get me started on all the interior shit that broke over the years... driver-side arm rest... center console... rear console... passenger-side oh-shit handle... sun visor clip... the list goes on and on. It's as if Saturn used the cheapest plastic they could find on everything.
It didn't even have 100,000 miles and 15 years on it when I finally decided to be rid of the damn thing, but it felt as though it was 40 years old with 900,000.
As if that weren't enough suffering, I ended up having to spend $100 on a battery so it would start and I could get it over to Seattle in the first place.
No wonder Saturn went out of business back in 2009.
Anyway...
Instead of selling the thing and making my problems somebody else's problems, I decided to donate it to Cars Helping Veterans and see if they could make some use of it for a good cause.
Good bye.
Good riddance.
At last.

This morning I got dragged into the ol' "Kill Hitler Debate" where people were discussing whether or not they'd kill Baby Hitler if they had the power to go back in time. It was the whole "Is evil predestined so Baby Hitler deserves to die... or is Baby Hitler innocent because he hasn't done anything evil yet?" situation.
At first I remained silent, believing that the influences and circumstances that made Baby Hitler become Hitler would have ultimately ended up encouraging somebody else to fill the void left by Hitler's absence.
But eventually I chimed in with "I'd go back in time and kill myself before I decided to purchase a 1999 Saturn SC-2." It was a joke, but there are days that I actually think that way. To call my Saturn a pile of shit implies that it can serve a useful purpose... like fertilizing the lawn. As it is, a pile of shit is probably more valuable.
Which is my way of saying that even more crap is breaking off the my car. This time it was the emergency brake release button... which, coincidentally enough, also keeps the brake applied. Which means I have no emergency brake right now. Hope I don't have to stop on a hill until I get a replacement piece.
You would think something in your car with the word "emergency" in the name would be made of anything except cheap plastic.
But I suppose something has to fill the void left by Hitler.

My neighbor seems to spend most of his free time detailing his car. Every time I see him he's washing it... waxing it... buffing it... touching it up... polishing it... or otherwise taking care of it. And it's not like it's a vintage Corvette or anything. It's just a Ford Explorer. But he takes real pride in making sure it's kept in the best shape possible. Even if he doesn't drive it very much.
And then there's my car.
I would just as soon set the piece of shit on fire than wash it.
In fact, I have no idea when the last time I washed it even was. It's been years, I'm sure. The only time it ever gets clean is when it rains. Or it snows and the snow melts. All other times it's dusty and dirty and looks like it's been abandoned. Which it pretty much has.
Oh sure... I think about driving through the car wash every once in a while. Usually after just having seen my neighbor working on his rig. But the thought is fleeting and I've forgotten all about it the minute I turn out of the driveway. What's the point, after all? It's just going to get dirty again.
When it comes down to it, I don't care about my car. I never have. So long as it gets me from place to place, I don't care what it looks like or how it runs or what people think about it. If I believed that material possessions defined me in any way, this would be a major point of embarrassment. But, well, ya know... attachment leads to suffering and all that.
And then I saw a review of the 2012 Porsche 911 Carrera S Cabriolet cross my feed reader today...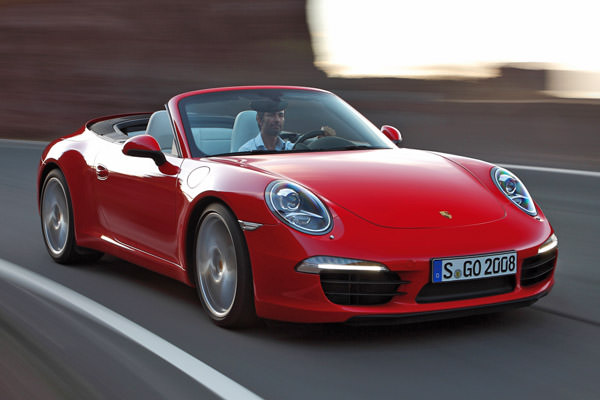 Gorgeous photo by Porsche, taken from Motor Trend
Dream car.
Some possessions possess you. I know this one would certainly possess me.
Which is why I'm glad I don't have $108,950 burning a hole in my pocket. There are so many more things I'd rather do with my time than to rub my Porsche with a diaper every waking hour of every day that I wasn't driving it.
Unless, you know, somebody wanted to give me one.
I can buy my own diaper.