Posted on April 16th, 2017

Sure it's Easter, but there are other reasons to celebrate the day, because an all-new Bullet Sunday starts... now...

• Kitty! Everything I love about cats can be found in this one clip of a kitty trying to escape the field at a Marlins game...
What a trooper! Apparently a Marlins' employee adopted the cat, who was named "Don Cattingly" in a Twitter poll.

• Kedi! And, speaking of cats...
Can't believe I have to wait until November for this to come out on video!

• Atomic! Okay... putting aside the fact that the trailer for Atomic Blonde features music by both Depeche Mode and New Order... how badly does watching this make me want to see the movie?
Charlize Theron should be in a lot more movies.

• Ragnarok! Speaking of movie trailers... how amazing is the latest Thor movie looking?
I'm part of the minority who actually likes the Thor films. The first one was really great at establishing the characters. The second stumbled quite a bit, but was still entertaining. But this? Probably the best Thor yet. Possibly one of the best Marvel films yet.

• Spicey! Melissa McCarthy is hosting SNL on May 15th. I'm hoping it's just an hour-and-a-half of her impersonating Sean Spicer, playing out the best of his ongoing fuck-ups. Verbatim. In the meanwhile, we have yet another flawless sketch from last night's episode...
What a big, beautiful slice of chocolate cake.

• Politics! The more you know about how politics work in this country, the more you think that we should burn the entire system to the ground and start over...
Politicians don't act in the best interest of those they represent because they don't have to. That's the underlying reason we're as fucked as we are.

Now go eat some eggs, you animal.
Tags:
Bullet Sunday
,
Cats
,
Dumbassery
,
Movies
,
Politcs
,
SNL
,
Thor
Categories:
Bullet Sunday 2017
,
Cats 2017
,
Movies 2017
,
News – Politics 2017
,
Television 2017
—
Click To It:
Permalink
—
0 Comments: Click To Add Yours!
Posted on April 9th, 2017

You may be thinking that after 500 Bullet Sundays I'd be giving up! But never fear, because an all-new Bullet Sunday starts... now...

• Target! Well, shit! All this time I've been waiting for the Victoria Beckham collection to debut at Target. It finally drops, and I find out it's WOMEN ONLY! What the hell?!?
Oh well... I promised I'd buy something nice when it the Beckham Collection was released, and I'm going to keep that promise. Good thing it's at Target where I know I can use the bathroom after changing into my new frock de Posh Spice.

• Something For Everyone! I'm not going to weigh in on the dumbass Pepsi commercial bullshit with Kendall Jenner... everything that needs to be said about it has been said. I just wondered over and over how in the hell the concept managed to get greenlit in the first place. And now, thanks to Saturday Night Live, we have that insight...
Probably. Probably.

• THE FACTOR! And speaking of SNL... holy crap! Alec Baldwin not only has a terrific President Trump, but a flawless Bill O'Reilly as well!
If only he would permanently join the cast. I mean, seriously, SNL ratings are higher than ever, and he's a perfect fit.

• Dreamy! Somehow I missed this one?
I need more dream pop in my life.

• Hannity! Yeah. Just going to leave this right here...
Agenda-ramming asshole.

And... Bullets B Gone.
Posted on March 12th, 2017

Thank heavens I'm taking half-a-day off work, because an all-new Bullet Sunday starts... now...

• Stop the Insanity! Make it permanent... abolish it... split the difference... I honestly don't give a fuck. Just make it so that we're not dicking around with the clocks twice a year. This stupid shit... this utter madness... has got to end...
Seriously. If Trump wants to do ONE FUCKING THING that will benefit humanity in a way that every other fucking thing he's done has not... GET RID OF THIS IDIOTIC BULLSHIT!!!

• Healthcare. Finally. Broken down so even I can understand it! The puzzling way Republicans want to replace the individual mandate, explained with a cartoon.

• Wonderful. Do I dare get my hopes up after DC has shit the bed so many times now?
It could be incredible. If... only if...

• Loneliness. A sobering article that makes for an interesting... albeit more than a little depressing... read: The biggest threat facing middle-age men isn't smoking or obesity. It's loneliness...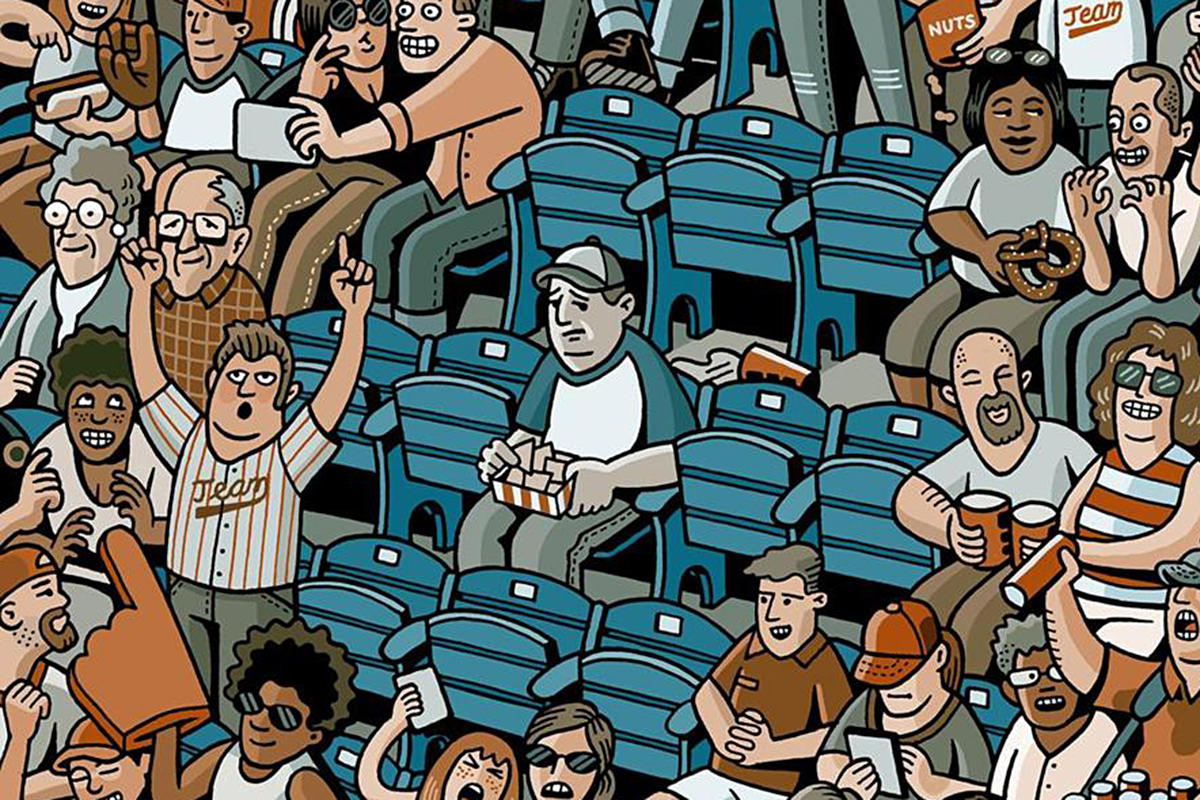 Illustration by Mario Zucca / Boston Globe
I don't know that I'm "lonely" so to speak. But most of the people I'm closest to don't live near me, and that can be difficult.

• Olive Garden. I had no business laughing at this as hard as I did. The whole concept of people in Olive Garden commercials acting like they've never seen a restaurant... or food... before, is epic...
I dare say that President Trump existing has made Saturday Night Live the funniest it's been in years. Even for sketches that don't feature President Trump.

• The Most Important Thing You'll See All Day. Yes. You can resist authority. In some cases, you're obligated to resist authority. Like when you are being lied to and your rights are being violated by authority. The video below is in three parts. Watch all three of them. Know your rights...
And here's a follow-up interview (good information, terrible sound)...
Have a phone with video capabilities? Film everything. Always film everything when it comes to the police. Even if you support the ideal of law enforcement (as I do)... Always. Film. Everything. Even when it's not happening to you. Because the police are not above the law and you just never know.
Note that the guy who filmed the video, Jesse Bright, tried to handle this without going public. All he wanted was an apology for having been lied to and illegally searched. Only after he was deterred at every turn did he released to video... not for personal gain, but to let everybody know what their rights are. He has no interest in any officers being punished or fired or anything. He just wants this critical information out there. Good for him.
I have a card in my wallet and in my car with the following statement:
Statement If Stopped or Questioned by Police or any Government Official

"Officer, I Assert My Fifth Amendment Rights As Stated On This Card"

Pursuant to the law, as established by the United States Supreme Court, my lawyer has advised me not to talk to anyone and not to answer questions about any pending criminal case or any other civil, administrative, judicial, investigatory or adjudicatory matter. Following his advice, I do not wish to talk to anyone about any criminal, civil, administrative, judicial, investigatory or adjudicatory matter, without my lawyer present. I waive no legal rights, nor give any consents, nor submit to any tests or other procedures, without my lawyer present. I ask that no one question or talk to me, without my lawyer here to advise me. I do not wish to answer any questions. I want to see my lawyer. Please call my lawyer immediately.

See: Miranda v. Arizona, 86 S.Ct. 1602, 384 U.S. 436 (1966), Maness v. Myers, 419 U.S. 449 (1975), Hoffman v. United States, 341 U.S. 479, (1951), Lefkowitz
Know. Your. Rights.

And now it's time to chew gum and vacuum. And I'm all out of gum...
Posted on January 23rd, 2016

Every time Sarah Palin shows her stupid ass in public, I pray that it will be such an epic disaster that it will entice Tina Fey to make a return appearance on Saturday Night Live.
So when Palin's endorsement of Donald Trump came along, which is pretty much the definition of "epic disaster," I was counting the minutes until Saturday.
I was not disappointed...
What's amazing is that Tina Fey didn't really have to embellish the sheer lunacy that is Sarah Palin in order to capture the hilarity of somebody this idiotic being popular enough to endorse a presidential candidate and have people pay attention.
Such is 'Murica.
Posted on December 12th, 2015

Compared to any of the Republicans running? ANY of them?
Yes. I'll take George W. Bush.
And that terrifies me more than I can say.
Posted on November 7th, 2015

And so Donald Trump hosted Saturday Night Live tonight.
This has been a gig mired in controversy... with Trump being a big ol' racist and all. There's been calls for boycotts against the show, boycotts agains SNL advertisers, and boycotts against NBC. And it's all perfectly understandable. Bonus screen time for a racist presidential candidate is just not cool, and I totally sympathize with the sentiment of a boycott.
But there was no way I was going to miss another appearance by Larry David as Bernie Sanders in the cold open...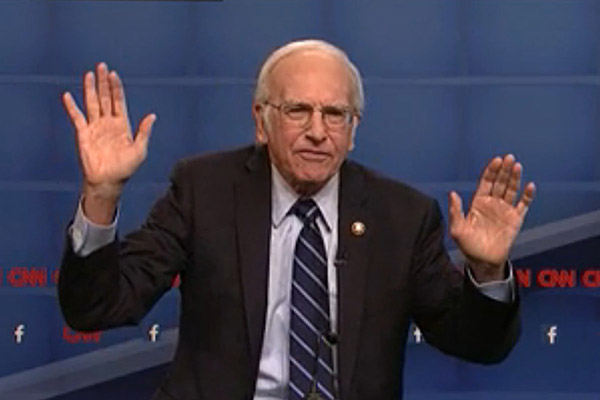 And it was awesome, as expected. As for the rest of the show?
Painfully bad and unfunny.
And Trump sucked. Sucked hard. S-U-C-K-E-D.
And something tells me that he's a better actor and comedian than he would be a president.
Posted on October 17th, 2015

Trying to be a fan of Saturday Night Live is an exercise in futility. So much of the time it's just awful... but then they'll drop a gem so brilliant that it makes you believe again.
Tonight's episode was packed full of gems, and they didn't waste any time... the cold open take on the Democratic debate was genius...
I've never been a Larry David fan... but holy cats can he do a flawless Bernie Sanders impersonation!
The big attraction for tonight's episode, however, was the triumphant return of Tracy Morgan to the show as host after surviving a horrific car accident 16 months ago. To say he killed his monologue is an understatement...
Yes. Reuniting the 30 Rock cast for a guest shot is too good to be true.
The show itself was pretty good... featuring a return of Tracy's Brian Fellow and also the return of Tina Fey to the Weekend Update desk. But my favorite sketch had to be Family Feud, which is what you hope for when tuning in to SNL...
Next up? Donald Trump. That should prove interesting. Or disastrous. Or both.
Much like a Trump presidency, I'd imagine.