Posted on March 30th, 2023

I have a love/hate relationship with Sonos Home Audio.
On one hand, they are very good speakers. The sound I get from a single Sonos One (the cheapest, smallest speaker in their lineup) is better than I get from the speakers on my pricey Sony television. Sonos speakers are very well balanced to handle just about everything. Music sounds just as good as audiobooks which sounds as good as TV shows and movies.
But on the other hand, Sonos can be incredibly frustrating. When I replaced my Sonos PlayBar with a Sonos Arc, I spent a full hour talking with their support to get everything working. It was supposed to be an easy, no-brainer task, but it sure didn't end up that way for me. And then there's weird networking drop-outs that happen at random and can be a real bitch to resolve considering the only thing I ever get told is "IT'S BECAUSE YOUR WI-FI NETWORK SUCKS!!!" (as if I have some kind of cheap-ass Wi-Fi router buried in the basement instead of dual AmpliFi Alien routers in a mesh network that blankets my home with perfect Wi-Fi).
In the end I am happy enough with Sonos to ignore its shortcomings (no line-in is fucking stupid on a level of fucking stupid that has me reconsidering what I consider to be fucking stupid given how expensive their speakers are... and don't get me started on not being able to use dedicated left and right channels for surround sound). I have quite a few of their products collected from Black Friday sales over the years, and most rooms in my house are covered with Sonos sound. Heck, I even have Sonos in the bathrooms so I don't have to miss what's happening on my television shows when I have to get up and go pee.
And then Sonos decided to get cute and offer a new line of "Era" speakers. The Era 100, which takes the place of their entry-level Sonos One speaker... and the Era 300, which takes the place of their long-abandoned Play 3 speaker.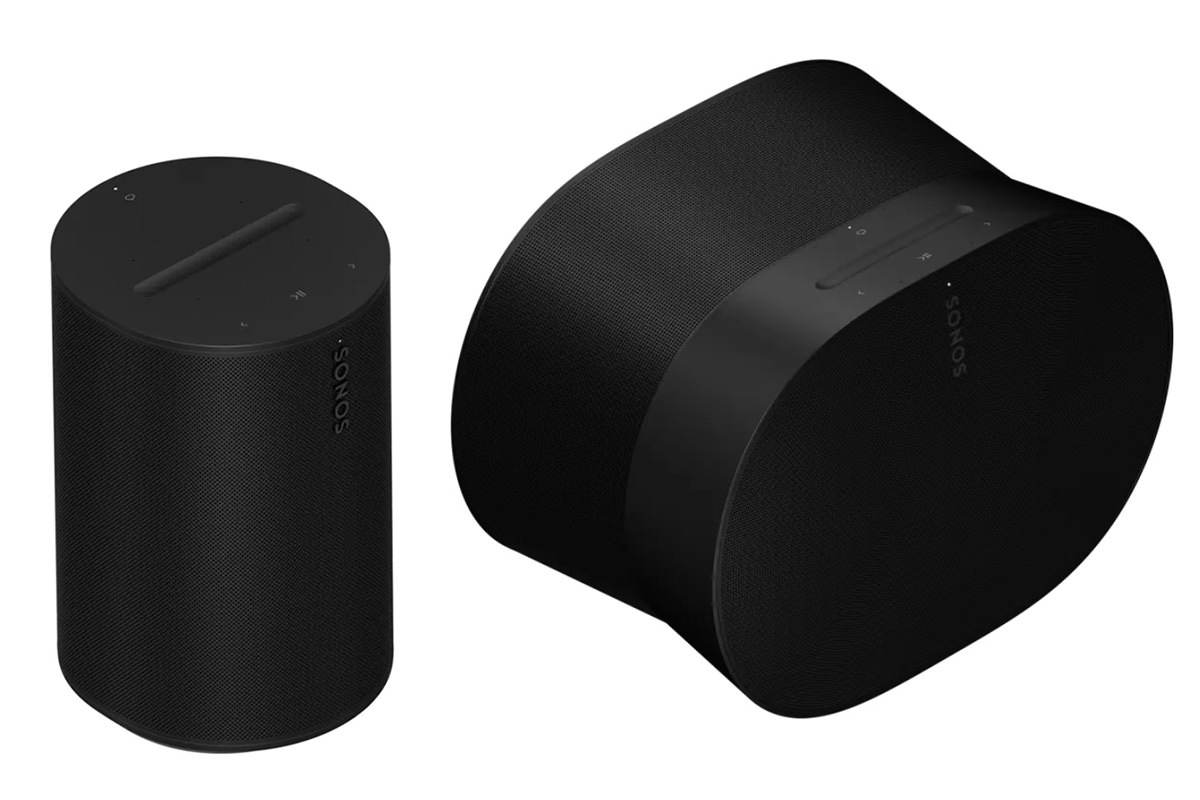 At first I was going to safely ignore their new offerings because I have neither the money nor the desire to expand upon my speaker collection.
But then I learned that the Era 300 is designed from the bottom up to support Dolby Atmos and I was intrigued. Dolby Atmos allows precise sound placement within a room. This is usually reserved for theaters which can install speakers all the way around the seating area... along with the ceiling... so that the action can move around the room to match what you are seeing. It's a pretty nifty trick. The technology is something that is supposed to be supported by my Sonos Arc soundbar, but the effect is minimal to the point that it might as well not even exist at all.
The Sonos Era 300 has an up-firing speaker that looked substantial enough to actually maybe kinda support actual Atmos sound bouncing down on your from above...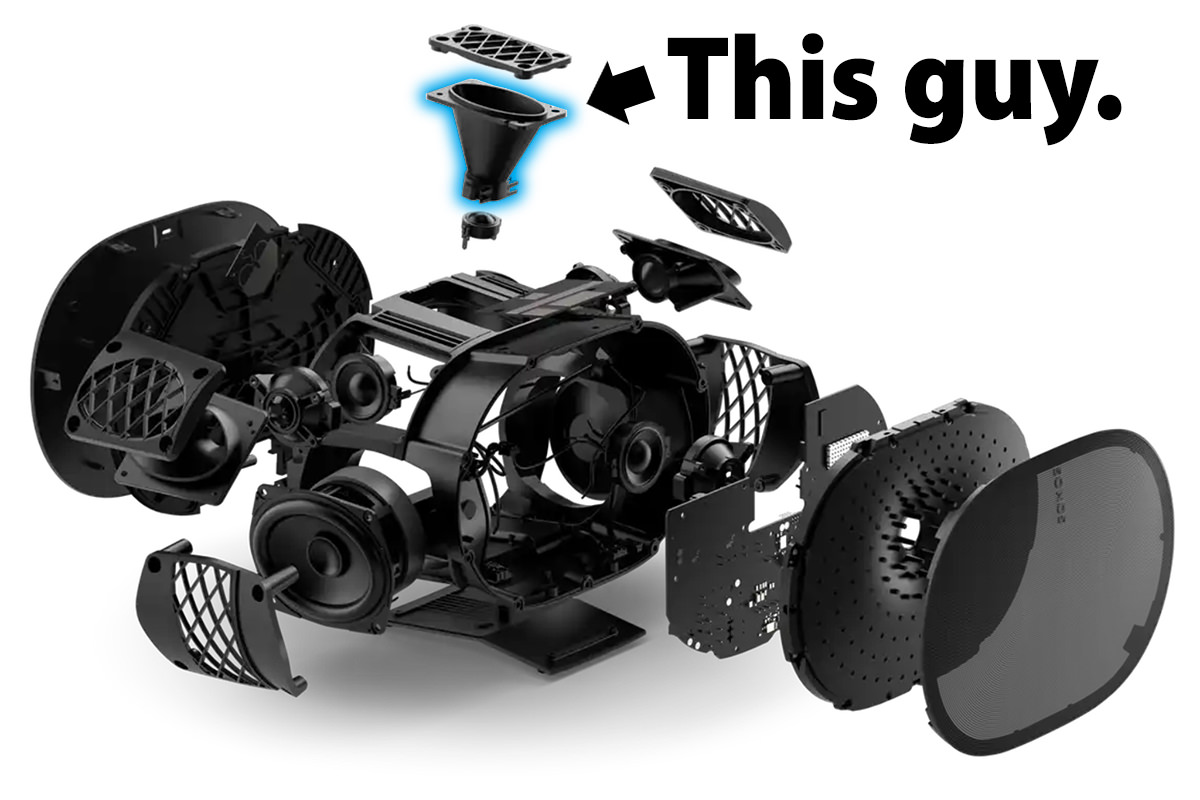 So I used my final two Sonos upgrade credits and all the Black Friday money I had left after buying Neon Bad Monkey and pre-ordered a pair of them.
And now they're here.
And I'm just going to cut to the chase here. They are... pretty good.
Because whether or not you have great Atmos sound largely depends on the audio mix that movie and television studios add to their products. I've tested these speakers for hours with all kinds of movies available in Dolby Atmos, and it's very rare that I find myself going "Whoa!" because some sound playing above me was distinct enough to catch me by surprise. No, for the most part, you're largely just getting a better, fuller surround sound experience. Back-To-Front and Front-To-Back audio is far more distinct with those up-firing speakers because you can feel the "movement" better. Far better than I did with my Sonos Ones as rear speakers. For that reason alone I am quite happy with my purchase. And who knows? Maybe as more and more people have Dolby Atmos available at home, studios will start doing better mixing so that my speakers can take advantage of it.
Now lets get to the Dolby Atmos experience that's truly worth it... Atmos Music!
I tell you what... I had read that Apple was partnering with Sonos so that their spatial audio tracks would play on Sonos hardware... but I wasn't thinking of that when I fired up some music to see if it sounded good from the 300s. A couple tracks played and I was suitably impressed.
Then the song If You're Too Shy (Let Me Know) by The 1975 dropped and I thought I was hallucinating. Lead singer Matt Healy's vocals were IN FRONT OF the music. And acoustical queues were all over the room. If I closed my eyes, it was as if The 1975 were set up in my living room. Then I remembered about the Apple Music Atmos thing and, sure enough...
For many Dolby Atmos music tracks, what you hear is flat-out mind-blowing. The 1975 remixed all their stuff, and (for the most part) it's incredible. Some songs are more experimental than others. Some songs push it too far to the point of distraction. But most of the songs are perfectly rendered in a way that makes the whole experience... maybe not better... but perhaps nicely different.
All of a sudden I was scouring all my favorite tracks to see if they had Atmos mixes available.
And it was like discovering music all over again.
Yes, there are instances where the Atmos is a gimmick that doesn't work. But for others? It runs the gamut. The biggest surprise was Kacey Musgraves Golden Hour. Whomever came up with her mixes just knocked it out of the park (with a couple notable exceptions which are gimmicky as hell). It. Is. Sublime. In Oh, What a World when that banjo hits, I had chills running up my spine. It's a fantastic experience. My favorite Post Malone tracks were wonderfully mixed for spatial audio. The newest Taylor Swift album is beautiful. And some bands you just know were hopping on the bandwagon early with Atmos remixes... like ODESZA. The track they did with Namoi Wild, Higher Ground, feels like her vocals are ON TOP OF the music. Or something. I can't even begin to explain it. But it's fantastic. Of course, it was a great track even before spatial audio...
The highest praise I can offer for spatial audio and Dolby Atmos music is that, when mixed right, the vocals never get lost in the music. They are always distinct and rendered front-and-center. One of the best songs to hear this is with Miley Cyrus's Flowers. There's places that she harmonizes with herself. But when listening to it without Atmos, the voices blend together. With Atmos, however, the harmonizing backing vocals are... like... elsewhere. They don't merge or compete... they're just another part of the music. I don't know quite how to explain it. But once I hear the difference... then go back to regular stereo... I can no longer un-hear it because the Atmos version feels like it's the way you're supposed to be hearing it.
So... probably not returning my pair of 300s... even though there's some bullshit right out of the gate.
First of all, Sonos finally... FINALLY... added bluetooth and line-in to their speakers. But when you configure them to be part of a Dolby Atmos setup... YOU NO LONGER CAN USE THEM FOR EITHER! WHAT THE BLOODY FUCK, SONOS??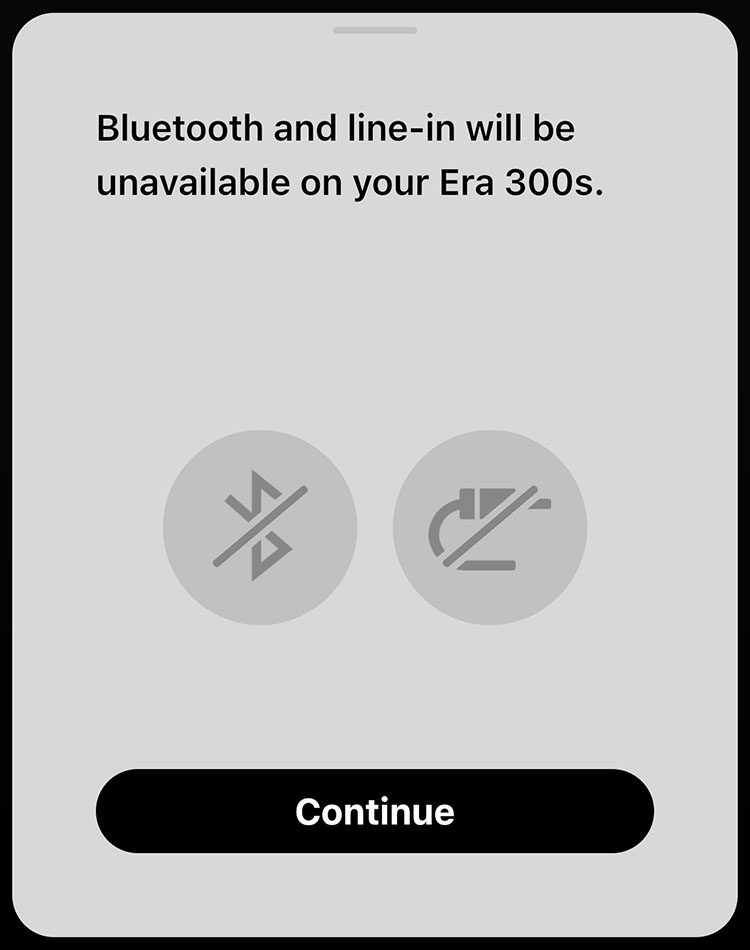 When that message popped up, it was all I could do to keep from throwing my phone against the wall. I was more than a little upset... I was fucking pissed.
I'm sure that Sonos will come up with some kind of bullshit excuse to explain it away, but the simple fact is that you could easily... easily... just have the speaker ignore all other input once the line-in is receiving input. This is not fucking rocket science. The fact that I can't just plug into one of my pricey new speakers with a frickin' line-in is so far beyond rage-inducing that I honestly don't know what to do with my anger from it.
But at least there's the option for a line-in... AT ALL.
If I were flush with cash I'd likely buy a single Sonos Era 300 for my bedroom and run a line from my television. That way I could have darn good TV sound along with a kick-ass speaker for music (the stereo separation from a single 300 is surprisingly good).
BUT WAIT, THERE'S MORE!
Assuming I win the lottery tomorrow, it's not enough to just buy a $450 Sonos Era 300 speaker for my television. YOU ALSO HAVE TO BUY A FUCKING $20 MINI-PLUG DONGLE! It's like... holy shit. There's fleecing your customers, and then there's Sonos fucking gouging their customers. This is pretty disgraceful.
So... to summarize in bullet points...
Setup actually worked like it was supposed to this time. I had an immediate software update I had to send to the Era 300's, but I was up and running in minutes.
I love that the power cord plug is smaller now. My rear speakers are on a slim shelf that I drilled holes in so the cords are hidden. But the Sonos Ones had a big-ass plug which meant I had to use a metal rod to smash it through the hole. The new Era plugs are more compact and just pop through. Easy!
I've had mixed results with Sonos TruePlay tuning (where you walk around the room waving your phone around while the Sonos app listens to tones and calibrates the speakers so their sound is best rendered in your room). The first time I tried it years ago, I loved it. Then the last couple times I thought the calibration was pretty bad and removed it. This time the jury is still out. I think it made my Atmos music sound better... but the movies I tried after calibration didn't sound as bright and the overhead sound was muted. I'll probably keep TruePlay on but fine-tune the EQ and upward sound levels.
The line-in garbage mentioned above is fucking bullshit. I am outraged that not only is it fully disabled when you use them as surrounds... but you also have to buy a fucking dongle. It's as if Sonos said "WELL, YOU WANTED A LINE-IN, SO HERE IT IS... TOO BAD WE FUCKING BROKE IT!
Until more studios really invest in doing Dolby Atmos mixes that are killer, I wouldn't buy these speakers just for movies with Dolby Atmos. It's just not a big enough upgrade given how many mediocre mixes are out there claiming to be "Atmos."
The "killer app" on the Era 300s is Dolby Atmos music. Spatial audio provides an experience I haven't heard before and, for the most part, I absolutely love it. As more and more artists go back and remix their music (or remix the mixes that aren't that great) I think this is reason enough to give them a listen and see what you think.
Yes, the price of Sonos gear is as heinous as it ever was. About the only justification I can offer is that they feel quality. They are noticeably heavy and seem built to last. And, needless to say, the sound quality is darn good given the size. Exceptional even. I have never had a complaint about the sound I get... and even a meager little Sonos One provides a great experience. Sonos is one of those companies where I think the cost is likely worth it. That being said, every piece of my Sonos gear was bought on sale because... damn.
All my stuff was purchased directly from Sonos because I like that they offer a money-back-guarantee when you purchase from them. It's the least they can do given how much money it costs. If you are on the fence, it's worth investigating whether the shop you're buying from can offer a guarantee. Pretty sure not all of them do.
If you are a long-time Sonos customer, Sonos will give you "upgrade credits" which knock 15% off the price of their wares. For every speaker you own that's old enough to earn a discount, you get one credit to use on another speaker to replace it. Except you don't have to return your old speaker... you get to keep it! If you registered your products with Sonos, be sure to look at your account and see what's available. I saved nearly $70 each on the 300s, which is serious money.
A lot has been said about how "ugly" the Sonos 300s are. Personally, I'm not seeing it. I am very sensitive to design aesthetics and actually really like the look of them. When sitting on the shelf behind my couch, they look nice from any angle and have an impressive heft to them that makes me confident a cat isn't going to knock them off (if they were to ever climb up on those shelves, which they rarely do).
I did not buy any Era 100s and really have no plan to do so. The improvement over my Sonos Ones seems minimal, as there's no up-firing speakers for rendering Atmos. The stereo separate looks like it might be pretty good... but since the speaker is so narrow, I'm not sure how noticeable it would be.
And there you have it.
If you've got a showroom somewhere near you with Sonos gear, it might be worth a look if you're thinking about investing in new speakers.
Posted on January 9th, 2016

Welcome to the fifth installment of Things I Bought Week, showcasing stuff that I recently purchased and what I think of what I got for my hard earned money!
What did I buy this time? The Denon AVR-S910W Dolby 7.2 Channel 4K Receiver.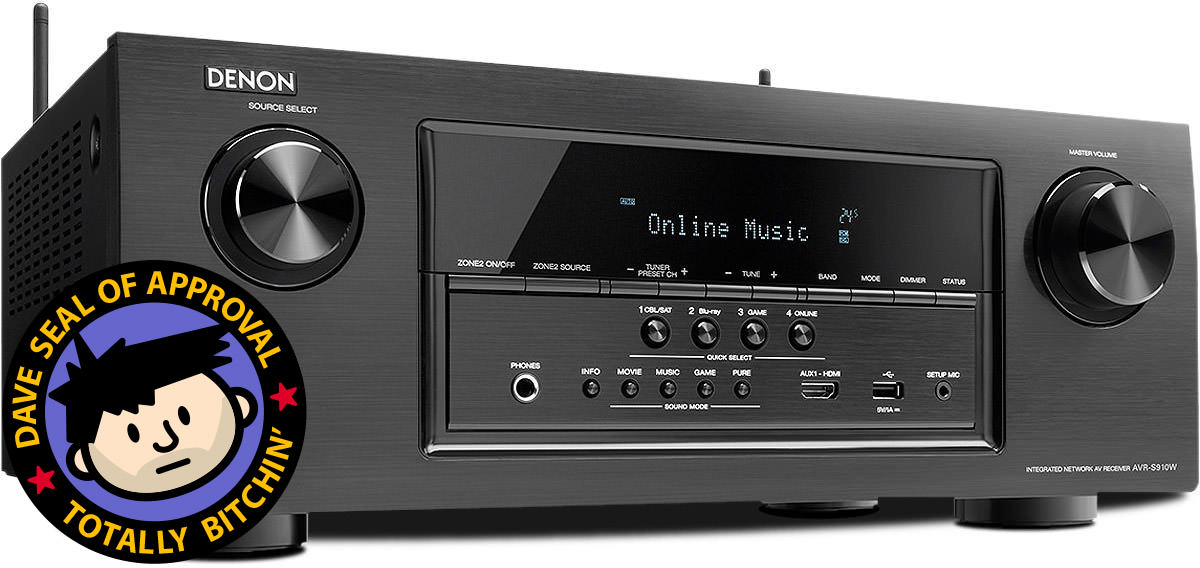 I loathe having to buy new stereo equipment.
But receivers are handling a heck of a lot more than just audio now-a-days... receivers are the hub for both audio and video. So whenever video standards change, your equipment has to change with it. When we went from RCA jack video to composite video and optical sound? New receiver. When we got S-Video? New receiver. When we went to HDMI? New receiver. And now that HDMI has been improved with a new version 2 at 4K and shitty fucking copy protection has been unimproved with HDCP 2.2? New receiver.
I mean, sure, you can always use old inputs on an old receiver... I've been doing that for years and living with the lower quality picture... but it's time to upgrade.
I've been a huge fan of Pioneer equipment over the years, but they don't seem to be pushing the envelope now-a-days. My next favorite brand is Sony, but it was a more expensive option for what I wanted. So I spent days researching which receivers were getting good marks now-a-days and settled on Denon. The have a number of different models, but the AVR-S910W was on sale for a great price and did more than I needed, so here we are.
Aesthetically, the unit could easily be confused with dozens of other receivers since they're all looking the same now-a-days... though this line seems to be a bit more minimalistic, which I like. It has a fraction of the buttons of the old Pioneer it's replacing. Since most HDMI electronics can talk to each other via CEC (Consumer Electronic Control), you rarely need to press anything anyway. Turn on your AppleTV and CEC switches the receiver for you. It's mostly automatic and entirely awesome. What's crazy, however, is that the buttons you most need for non-HDMI devices (because they can't be automatically controlled) ARE MISSING. Want to switch the audio source to Bluetooth so you can play music off your iPhone? Hope you have the remote handy, because there's no button for that on the receiver itself.
And speaking of the remote... it's yet another button nightmare where you have to go hunting for what you want. Which sucks to be sure (why is it only Apple can minimize crap on remotes?) but it is fairly well organized, so there's that.
In addition to the afore-mentioned HDMI 2.0a and HDCP 2.2 compliance on all 8 of its HDMI ports (nice!), the 910 can also handle the forthcoming HDR picture spec and upscale signal from your old video equipment to full 4K. It's this last feature that sold me on the 910 over the cheaper 710, as I have old 8mm decks that will benefit from the upscaling technology. Since the 910 has an $80 instant rebate in effect, the price difference was $0, which is money well-spent.
For gamers out there worried about video processing lag, I couldn't detect any. But, then again, I'm playing everything on a Wii U now-a-days, which isn't quite so demanding compared to next-gen consoles by Sony and Microsoft. I'm assuming it won't be a problem, as the 910 has plenty of processing power to get the job done.
But enough about the video... what's going on with the audio?
Since I prefer to listen to music in headphones, the primary function of my new Denon receiver will be for home theater surround sound. Support for 7.1 surround is a given, but the unit can also handle new 3D spatial sound technology like Dolby Atmos and DTS:X... which seems a cool idea, but there's nothing really available in the consumer space encoded with those technologies yet and it requires adding more speakers than I want in my small living room. Still... nice for future-proofing the unit, I suppose. Surprisingly, you can run two subwoofers off this receiver, which I didn't even know was a thing. Since low frequencies are non-directional, I thought this was a one-and-done, but apparently two subwoofers provide a richer bass experience.
The sound itself seems very good. I'm no audiophile, but everything I've listened to is well-defined and separated out perfectly on my speaker system. Since my setup is small and fairly undemanding, the 910 is massive overkill in the power department, but it's nice to know I've got the ability to run some serious speakers at 185w per channel if I ever need to.
Denon has its own proprietary system for wireless speakers called "HEOS" which is meant to be direct competition with SONOS. If I could afford a wireless speaker system, I'd bypass HEOS because it has to share your WiFi network instead of creating a separate mesh network like SONOS does. This is a serious deal breaker, because most WiFi networks are close to saturated given all the crap we keep connected to the internet in these modern times. So while HEOS support is nice, I supposed, I have a feeling most people won't bother with it.
If you sacrifice 2 channels from a 7.1 system and can live with a 5.1 surround setup, you can repurpose those two channels as a different speaker "zone" which can be placed in another room and play from a completely different audio source. I honestly think this is kind of silly, but I guess there are some scenarios where it might be useful.
Like most receivers today, the Denon has built-in Bluetooth and WiFi for live streaming. It has support for Pandora, Spotify and Sirius XM on-deck, and can also interface with Apple Airplay-enabled devices like iPhones, iPads, and Macs. There's also support for internet radio, but the "stations" are kind of clubky to access, so I probably wouldn't. Thanks to Denon's apps for mobile devices, you can control the receiver with your iOS and Android devices. It seem capable, but also overly complex and cluttered. Still, it does easily allow you to control functions and tie into media servers as sources fairly easily, so worth the free-fitty-free pricetag.
When it comes to set-up, the AVR-S910W is dead-simple. You can use your iPhone to grab all the WiFi settings via Airplay which is super-sweet (no WiFi? Ethernet is also available). Then it's just a matter of following the on-screen instructions displayed on your TV to match your speaker setup. Thanks to the Audyssey Bronze calibration system being built-in, you can optimize your levels with ease. Just place the included microphone on a tripod in the middle of the room and the 910 will play tones to measure your speakers. The system them creates a custom profile based on room acoustics to give you optimal sound at every volume level. I know this reeks of silly gadgetry that usually ends up being useless... but can honestly say I noticed an immediate quality improvement after running through the Audyssey program. Pretty cool.
The on-screen user interface is serviceable enough, but kind of pathetic by today's standards. Mostly a bunch of text staring at you, it looks badly dated. Why Denon would invest money in all the latest bells and whistles only to choose to saddle it with a 1990's wrapper is more than a little inexplicable.
Something I've never seen before is Denon's "Eco Mode" which attempts to save electricity by restricting power to each channel based on the volume you've set. I notice no difference on my tiny speakers with Eco Mode on, so I've just left it there.
If there's a flaw to be found with the AVR-S910W, it's this... THERE IS NO SWITCHED POWER OUTLET ON THE BACK! Which means your subwoofer gets to be powered on all the time unless you want to get up, walk across the room, and manually cycle the power off when you aren't using it. Which begs the question... WHO FUCKING DOES THIS?!? Seriously, what idiotic excuse could they have for leaving off a switched outlet for your subwoofer from the feature list? Every fucking receiver I've ever owned has had a switched power outlet until now. It's senseless bullshit like this that takes great products and sabotages them utterly. This is such a moronic oversight that I am compelled to drop a grade from my score even though the unit is otherwise perfect. I just naturally assumed I'd have my outlet and was dumbfounded when I went to plug in my subwoofer and saw there wasn't one. Somebody at Denon needs to pull their head out of their ass on this one, because it makes the company look like complete idiots. Had I known about this inexcusable flaw, I don't know if I would have purchased it. But probably. There's just so many great things about it compared to the competition in this price range.
RATING: B • RELUCTANTLY DAVE APPROVED • Currently selling for $479 at Amazon.
Posted on January 7th, 2016

Welcome to the third installment of Things I Bought Week, showcasing stuff that I recently purchased and what I think of what I got for my hard earned money!
What did I buy this time? Energy 5.1 Take Classic Home Theater System Speakers.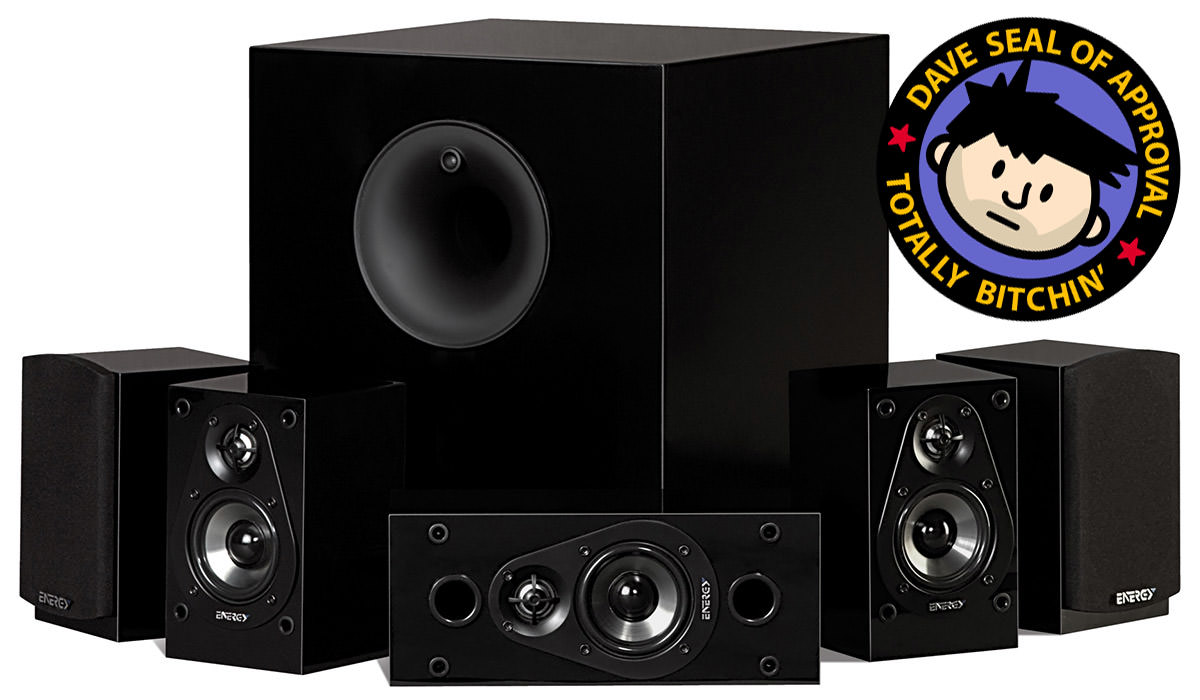 When watching movies at home, there's really no substitute for a good set of surround sound speakers. Without them, everything is forced into two channels (left and right) which means all the dialogue, audio effects, ambient noise, and other sounds are fighting each other as they travel to your ears. This results in you having to turn the volume up and down and up and down as you try to hear what people are saying in quiet moments, but don't want to have the volume blow you out of your chair the minute something loud happens.
As that weren't bad enough, when you have only two speakers... whether they be in your television or outside of it... the sound is blasting towards you in one direction rather than being the immersive experience it was designed to be.
Enter surround sound.
A typical 5.1 Surround Sound speaker setup works like this...
CENTER CHANNEL: This is where all the main spoken dialogue comes from. Sound engineers separate out people talking because (in most cases) it's the most critical audio in the film, and they want to be sure it's not trampled over by other sounds in the scene. It's critical that the center speaker be put as close to your television as possible so that voices seem to be coming from the mouths of the people speaking it.
LEFT & RIGHT FRONT CHANNEL: Most everything happening in the camera that's not dialogue (plus all sounds recorded to the sides of the camera's view) comes from these speakers. If you watch a car zoom past the screen from left to right, the sound should start in the left speaker, then travel to the right speaker.
LEFT & RIGHT REAR CHANNEL:
These are the speakers that provide sound for what's going on
behind
the camera, and are critical for an immersive audio experience. When you're watching
Star Wars
and a TIE fighter screams into the scene, you hear it coming from
behind
you before you see it, then the sound moves to the front channels as it becomes visible.
SUBWOOFER: That deep, rumbling bass that accompanies sounds from explosions, thunder, and other massive-volume audio is supposed to be something you feel when you hear it. A subwoofer is built to do just that. And since low frequencies like this are non-directional, you can put the subwoofer anywhere you like... though placement next to objects can affect the sound, so it's always good to experiment when choosing a spot.
There's also 7.1 Surround Sound, which adds two additional channels to the rear of the room to further distinguish audio cues that are placed behind you. It's nice if you've got the space for it, but not essential if you don't. Other sound setups which add additional channels for high sounds and side sounds are also out there, but you need a pretty high-end room with space to spare in order to best make use of them.
As if all that weren't enough, companies have developed even more sophisticated sound technologies (such as Dolby Atmos) which do away with the channel model altogether and have the ability to create spatial sounds within a matrix of specially-designed speakers in a 5.1.4 or 7.1.4 configuration (definitely a topic for another time).
Anyway...
This surround sound stuff is all well and good... but if you have a smaller room (like I do), where are you going to fit all those speakers? Using typical stereo speakers would not only be overkill in my 11-1/2' square living room... but they would take up a considerable chunk of space. Smaller speakers that are worth a crap tend to be very, very expensive... so what to do?
Enter Energy 5.1 Take Classic Home Theater System Speakers. Small speakers engineered to have big sound for smaller spaces at a great price.
And boy howdy are they nice.
After I took the time to get everything balanced and optimized the levels on my amp, I'm getting pretty remarkable sound out of these babies. All five speakers are the same size (despite the center channel having a different enclosure) and provide clear, crisp sound that's perfect for a terrific surround experience. The subwoofer has really good low-frequency response and pushes bass you can feel with minimal distortion.
Surprisingly powerful for their size, the Energy speakers have no problem filling my small room, and can even fill my entire home at higher volumes. I bought this set to replace my faithful Pioneer speakers that I've had for decades after I decided they were just too big for the space available. Even though they are a tiny fraction of the size, I honestly don't feel I've sacrificed anything. If anything, I've gained quality by going from stereo to 5.1 surround.
The speakers come with a screw-hook mount to hang them against a wall, but it's really recommended that you buy speaker stands so they can breath a bit (I like the Atlantic Satellite stands). The plugs are nice enough... don't know that they're gold at this price, but they do have pop-outs if you use banana plugs like I do. I wish they weren't angled weird and were a little more spaced apart so my stand brackets weren't so tight between them, but these aren't deal-breakers.
If I have a complaint it wouldn't be anything related to the sound... but the look. The speakers are enclosed in high-gloss black cases that attract dust like a magnet and show every smudge and fingerprint. It's really tough to keep them looking their best, and I really wish there was a textured matte option for people who don't want to dust their speakers every day.
Overall, a good set of speakers for a home theater system that will also do a decent job with music if space is at a premium. Fairly priced too.
RATING: B+ • DAVE APPROVED • Currently selling for $316 at Amazon.