Posted on August 14th, 2023

I wish that my robots would keep to a routine. Joy, the mopping robot, kinda does. Carl, the vacuum robot, never does. This can cause a problem if you want vacuum then mop immediately after. If both robots are made by iRobot, then they can coordinate that stuff.
But if you don't? You either have to wait until the vacuum robot is finished then run the mopping robot.
Or else end up in this scenario, where it feels like they're about to fight to the death...
As it was, they narrowly avoided each other.
This time.
Posted on July 12th, 2023

=sigh= Home robotics still has a ways to go, don't they?
A long while ago I bought a robot vacuum I named "Carl" after the janitor from The Breakfast Club. He was an imitation iRobot Roomba by Ecovacs, so he was cheap, but I didn't have a lot of furniture to confuse him or junk laying around my house to block him, so I was thrilled with how well it worked. Almost immediately I bought a companion mopping robot by iRobot that I named "Joy" after Joy Mangano (the lady who created the Miracle Mop (and was portrayed by Jennifer Lawrence in the movie biography Joy).
The mopping robot was just okay.
It worked better in my bathrooms which are smaller and easier to clean because they are tile. It worked less better in the kitchen, because it was bigger and the pad got dirty before it could finish. It didn't work AT ALL in any other spaces. Partly because they were too big... but mostly because the little vibrating pad ripped up my hideously expensive (but shoddily-made) hardwood floors. I used it for a half-year in the bathrooms, but eventually trashed it.
Fast-forward to last week after I was washing my floor on my hands and knees and thought to look at mopping robots again. The one that caught my eye was the Bissell Spinwave. The pads aren't a vibrating pad, so I had high hopes that it wouldn't tear up my shitty floors...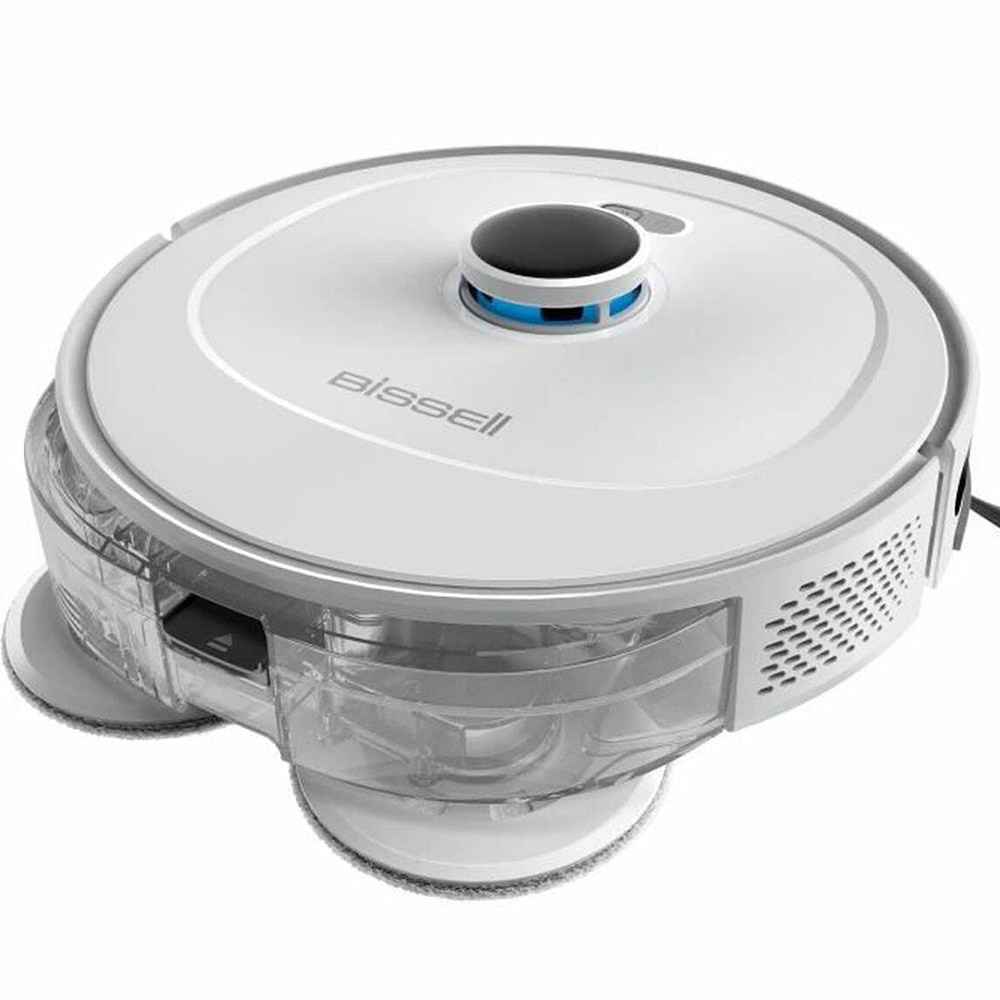 So I went to buy one and... FIVE HUNDRED AND FIFTY FUCKING DOLLARS?!? Does it blow me after it finishes mopping? Because that's the only way I'd spend that kind of money.
But then I Googled to see if there was an alternative that might work for less money... only to find that Best Buy was advertising the R5 model I wanted (it has mapping on the app) for $220 (which is less than the cheaper non-R5 model!). Still more money than the $150 that I was wanting to spend, but if it works...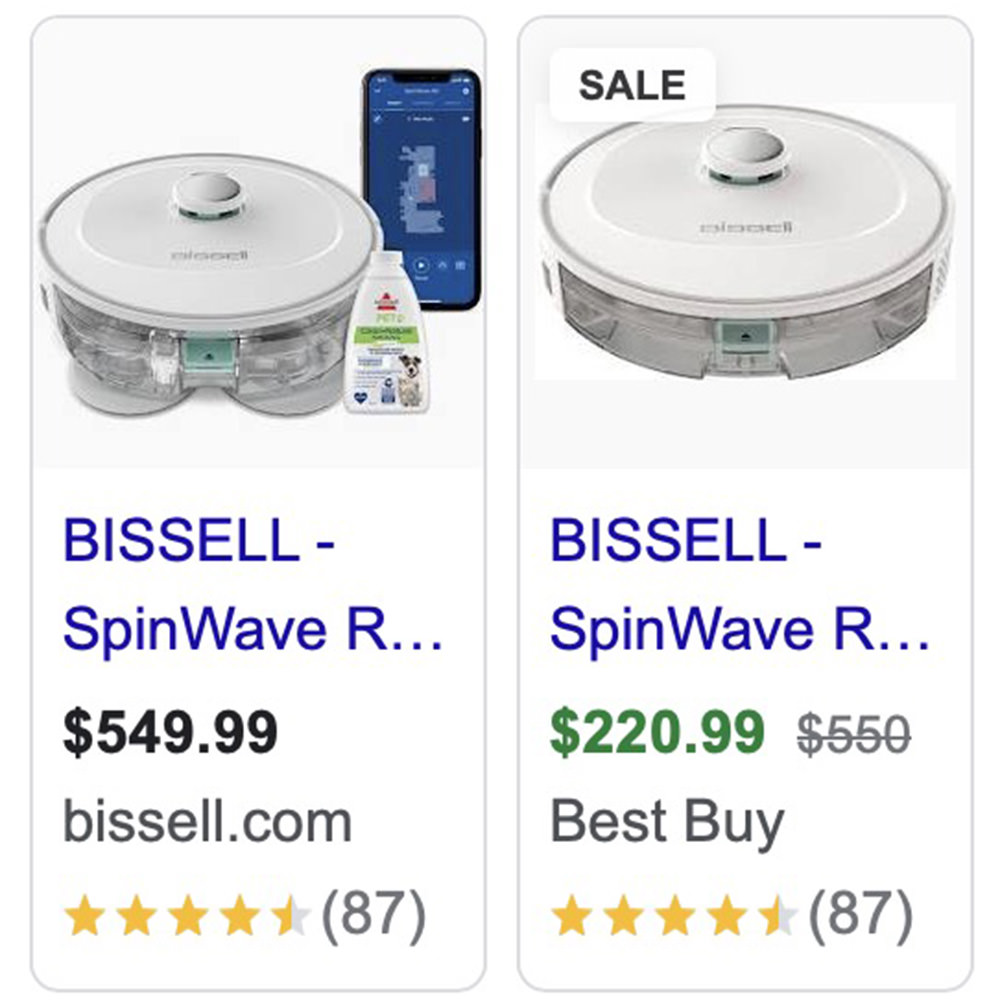 When I got New Joy, I set her up next to New Carl so I could charge it. Once Jake came downstairs from his nap, it took him all of seconds to see (smell?) something new...
My hopes for New Joy were dashed when it left its charging station, turned a corner around the legs of my hutch, and got stuck...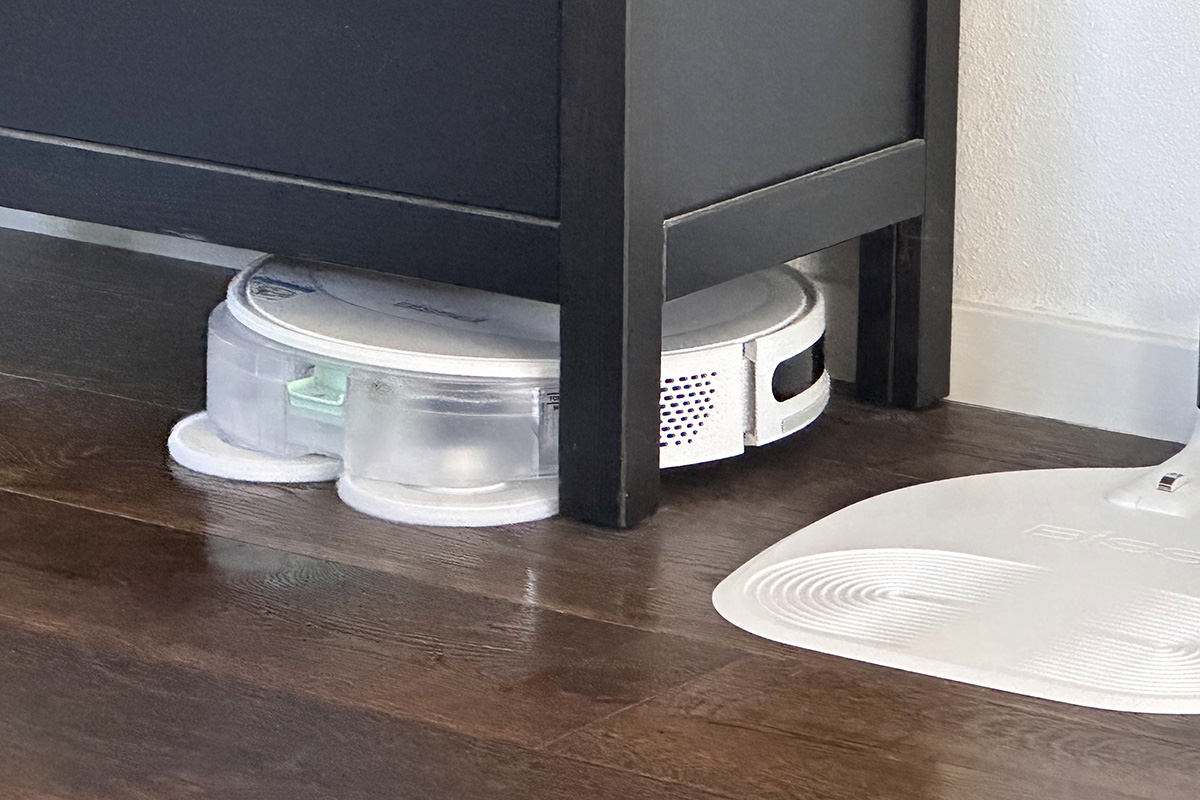 Jake found this to be hilarious...
But, seconds after I took the above photo (and before I could pull New Joy out from under the hutch), she freed herself. Nice!
Which brings us to the R5 model's mapping. The reason it's supposed to be worth the $550 price tag. It's actually very cool. The unit has a LIDAR camera spinning on top which is constantly updating it as it moves around the space. For example... this is what Joy thought my living room looked like...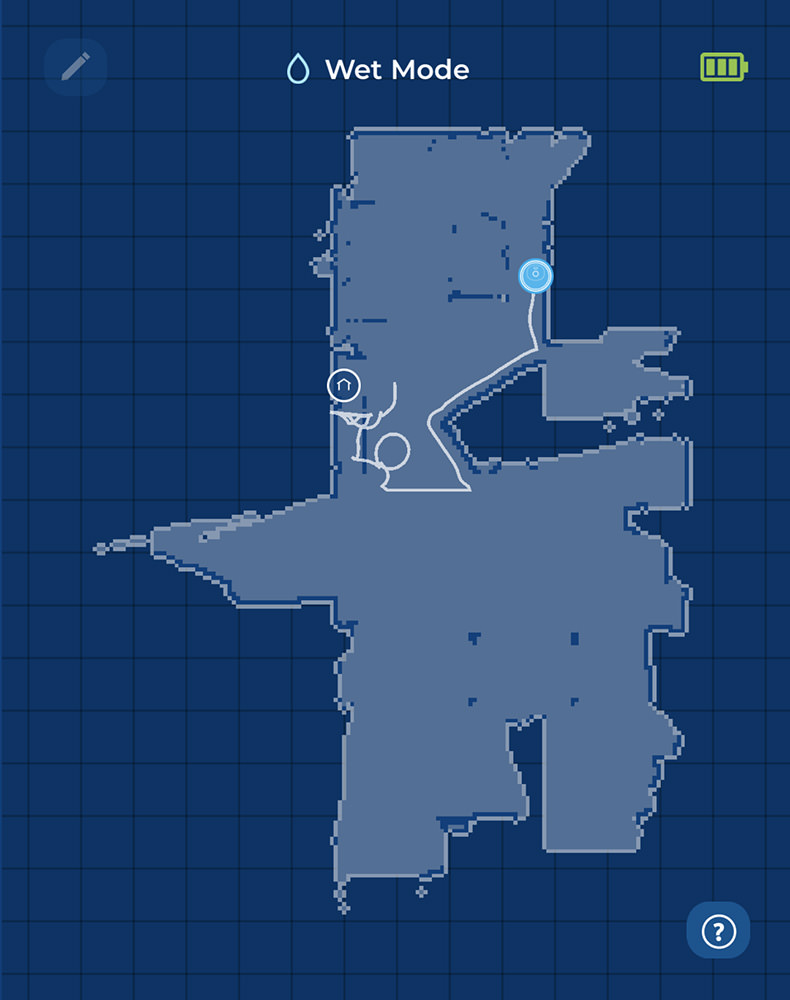 But once it sees that it can go behind my couch, the map is updated to reflect that...
The mapping even noticed where "rooms" are located and decided to mop the entirety of my "great room" (living room to dining room) before moving on to the kitchen/entry hall, downstairs bathroom, and guest bedroom...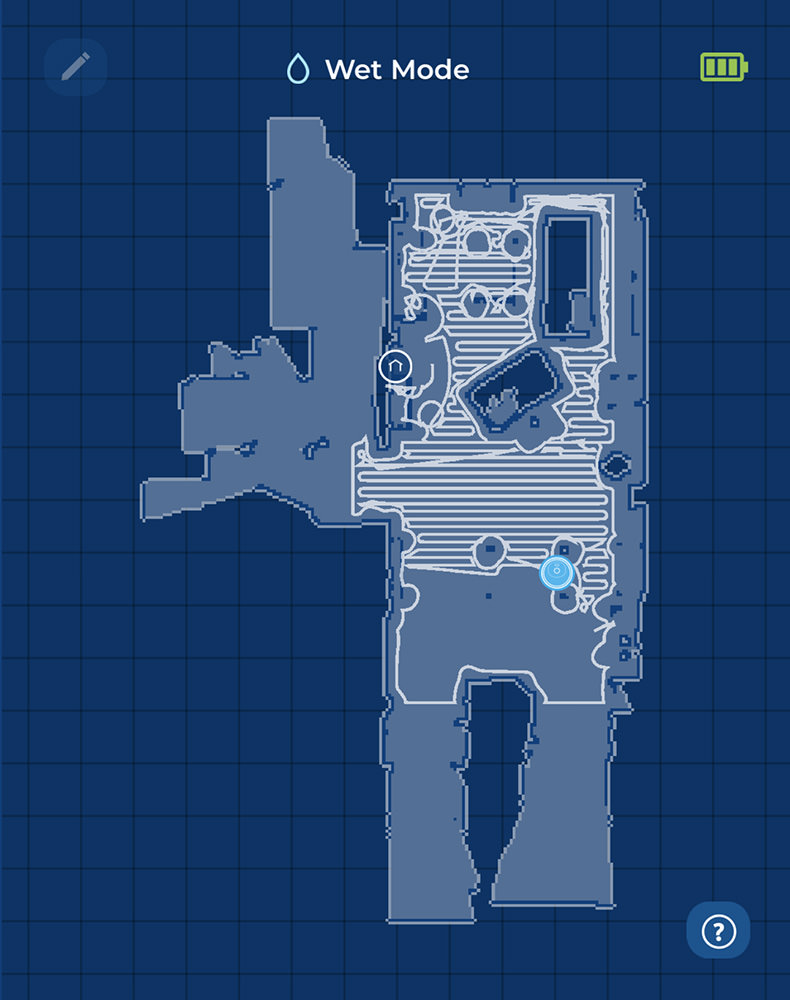 But then... uh oh. The map cleared itself shortly after entering my kitchen. Even worse, Joy stopped reporting her location accurately. She would randomly appear all over my house, but then always snap back to her actual location...
Jesus. THIS is what Bissell charges FIVE HUNDRED AND FIFTY FUCKING DOLLARS?!?
You can define Go/No-Go areas easy enough, and your robot will remember it for any future moppings...
Unfortunately, there is a minimum size area you can define... and it's fucking HUGE. If you need tiny areas defined... like my cat feeding station and second cat water fountain... you'd better fucking hope that they are against a wall so you can have it bleed off the edge. As you can see, I got lucky.
And then we get to one of the most idiotic, head-scratching failures of this FIVE HUNDRED AND FIFTY FUCKING DOLLAR robot... you can't define rooms/areas and save them for future use. Sure you can draw an area you want cleaned and send the robot to do that, but you can't save them for next time. They disappear after the cleaning happens...
What the fuck? It would seem that Bissell expects you to clean your entire fucking house in one go. But come on, that's not even remotely feasible. Because your little mopping pads will get dirty fairly quickly, which means it will be washing your floors with dirt. Blergh. This should be a priority for Bissell, because yikes.
When it comes to my home, I don't have tons of furniture and practically no clutter. Which makes it an excellent candidate for robots. There's hardly any obstacles for it to get caught up on. And yet... this happened...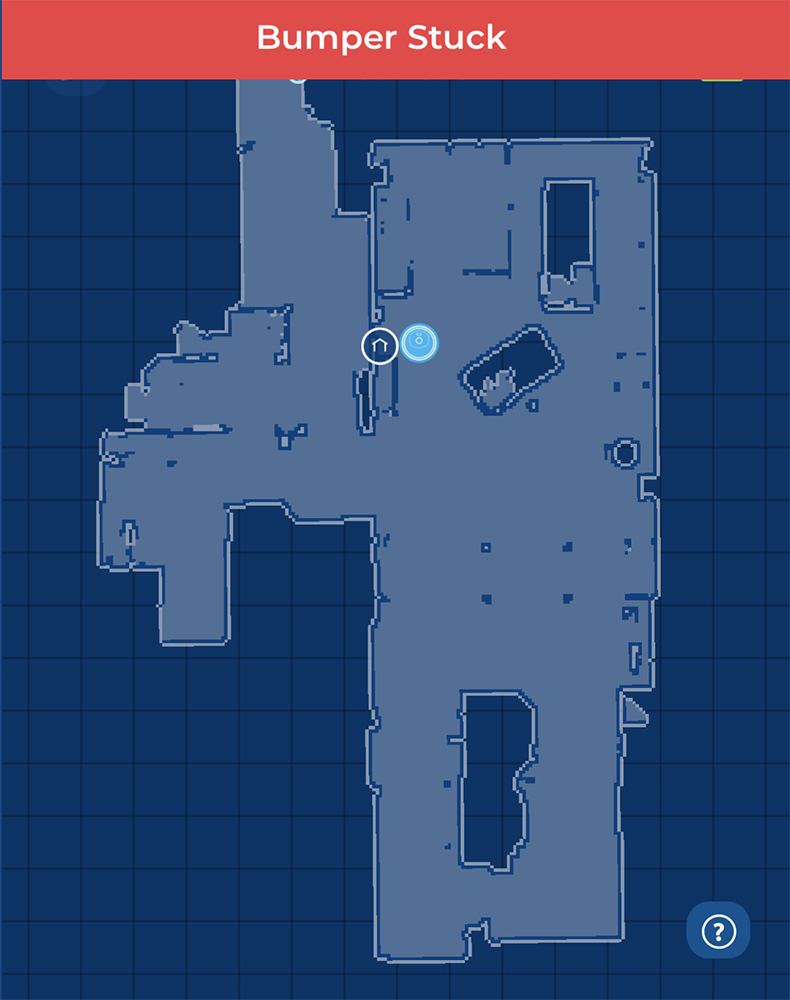 This seemed weird. First of all because Joy was, as usual, randomly reporting herself where she wasn't located. The map was showing that she was at her docking station. But she wasn't. So I had to go looking for her. Turns out she wedged herself between the toilet and the wall...
I don't even know how to respond to this. It's not smart enough to throw itself into reverse and back out of there?
Later on I stopped hearing Joy run. At first I thought she was out of battery and couldn't return to her docking station. The map wasn't reporting her location, so off I went again to try and find her. Oh. Despite her having a FUCKING "SOFT-EDGE SENSOR" LIKE BISSELL ADVERTISES, she was choking on a rug...
Jesus. But that's not the worst of it. Do you see hoe the bed in my guest bedroom has a dust ruffle around the bottom? Joy thought it was a solid wall and didn't mop under the bed! I added a "GO" area and sent her back in the room... but she returned without mopping under the bed! So the only way to mop my guest bedroom is to remove the rugs and the dust ruffle...
So what have we got here...
PRO: It does a good job mopping, even though you'll want to limit how much it mops to smaller areas so you can throw the mopping pads in with the wash so that you're not pushing dirt around.
CON: Except you can't save the smaller areas you create because the app is fucking brain dead.
PRO: The mopping pads don't rip up my expensive, shitty hardwood floors. I haven't tried the "dusting pads" but I have zero intent of ever using them, so whatever.
CON: While the mopping is good, the vacuuming is bad. Fortunately I have a separate vacuum which does a good job, so I just run it first, but why bother with a vacuum attachment if you're not going to put a powerful enough vacuum in it to make it worth doing?
CON: To get the LIDAR mapping capability, you have to pay FIVE HUNDRED AND FIFTY FUCKING DOLLARS for the R5 model (or $220 if you get it on sale like I did)... and then it doesn't even report to the app reliably? It erases and can't even report the robot's location!
CON: Apparently the robot has "soft edge" detection so it doesn't get stuck on carpets and knows when to raise the mopping pads... or whatever. But the feature is useless because the robot will choke on any carpets!
CON: Can get stuck easily if the space is just tight enough to enter, but (apparently) not loose enough to back out of?
PRO: The liquid cleaner reservoir is pretty big. I was able to clean my entire downstairs and never had to refill it.
CON: The liquid cleaner reservoir is a bitch to fill. You're supposed to fill it with water to a certain level... then fill the remainder with the concentrated cleaning liquid. Except thanks to poor design, the reservoir is overflowing before you can even add the cleaner! Tragic.
CON: The robot doesn't just "mop" in wet mode... it mops while it vacuums. But the vacuum dirt chamber is so tiny that you are pretty much forced to vacuum before you mop.
CON: The app is awful. Fails mapping after a time, doesn't report the location of the robot accurately, doesn't save defined areas, and won't even always report when there's a problem. If Bissell is serious about staying in the robot cleaning space, they need to do a lot better than this.
Ultimately I'm going to keep New Joy because she mops just well enough that the $220 price is worth it. Had I been able to afford the original $550 price tag, she would have been boxed up and returned within one hour of opening the box.
Maybe I'm just happy that I have a solution for mopping my floors that doesn't involve me doing so on my hands and knees with a wet rag?
I dunno.
But welcome to the family, New Joy.
Posted on February 1st, 2021

Last night I was reading an article from 2018 which said that artificial neurons compute faster than the human brain. This, coupled with the fact that we can already build robots which are capable of acting substantially faster than humans and, well, you can see where this could become a problem on down the road.
Skynet is gonna be real, y'all...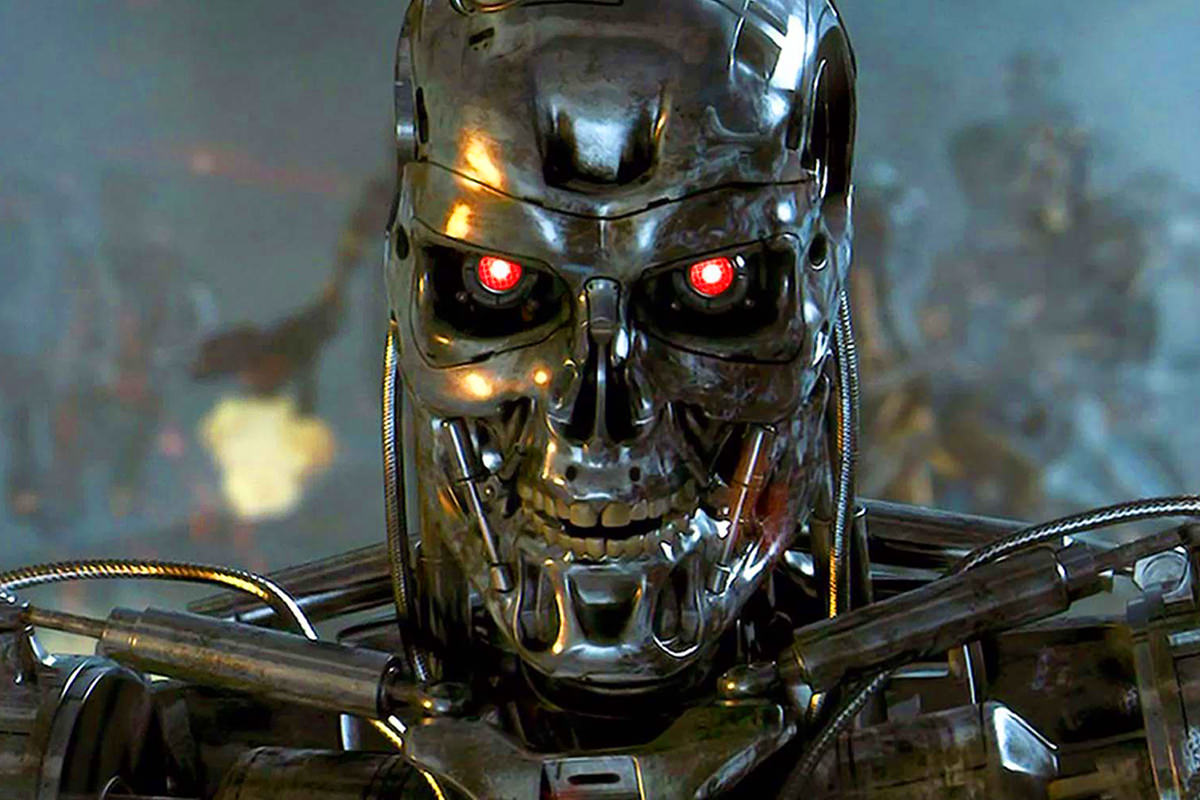 But the more I thought about it...
...the more I kinda embraced the idea of creating robots that are smarter and faster than humans. Think Gort from The Day The Earth Stood Still...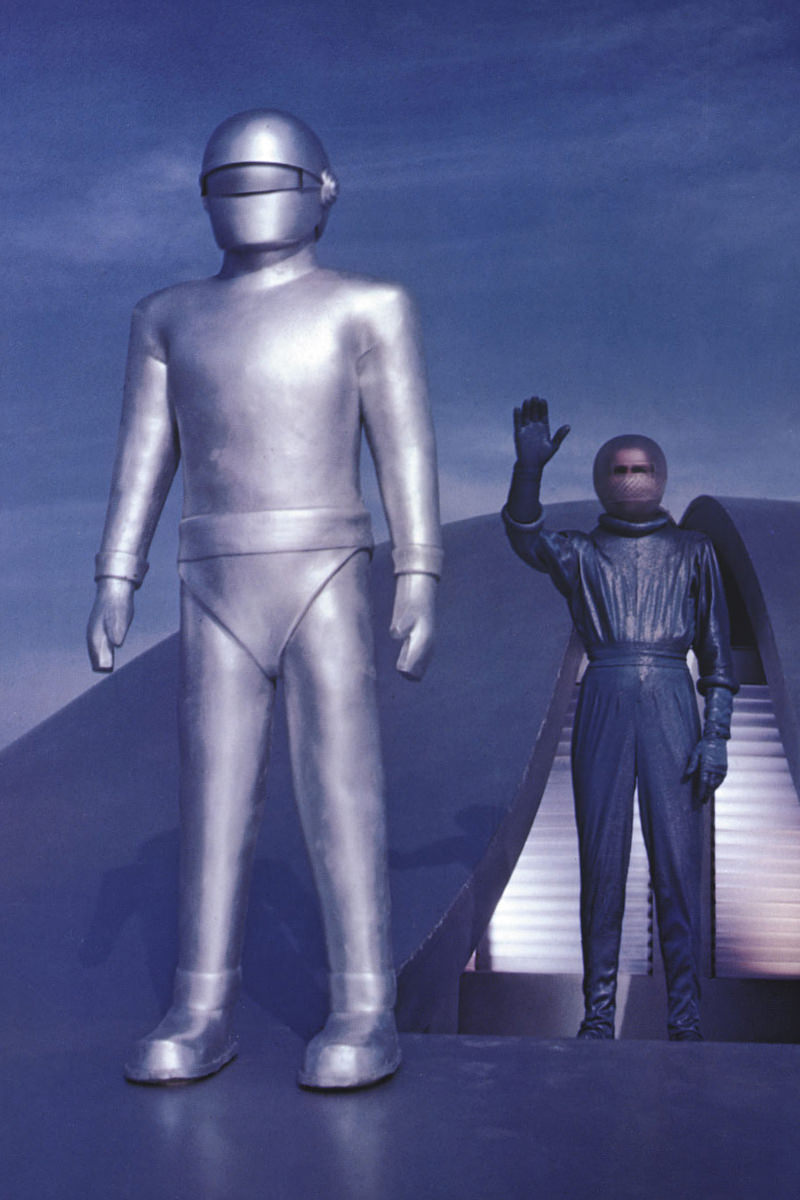 Gort is from a race of robots which were created to police the galaxy and halt any aggression they run across by immediately terminating the aggressors. To make sure they are able to do this effectively, they have been given absolute power over everything and everybody... possessing horrifying weapons to carry out their task. As if that weren't enough, they are also nigh invulnerable to all harm. Long story shot... you do not fuck around with them. Nor do you risk disrupting the peace because it would be your ass that gets vaporized.
Seriously, how handy would it be to have these robots patrolling the planet? Vaporizing assholes and idiots who make this planet such a miserable place to live.
And so I say "Bring it on."
Heaven only knows that robots wouldn't do a worse job of things than we have. And if we all end up extinguished because we can't curb our violent ways? Well, that's probably for the best.
Posted on November 1st, 2020

The ghost and goblins may be gone, but spirits still linger... because an all new Bullet Sunday starts... now...

• Tres Lassos! My favorite show of all time, Ted Lasso on Apple TV+ was just renewed for a third season, even though they haven't started filming the second season yet...
Sad to think that it could be up to a year before there's any more Ted Lasso to watch, but at least there's new Ted Lasso coming. If you haven't seen it yet, it's worth a free trial at Apple TV+ to binge the show.

• Bond, James Bond! Standing out in the news of the week was James Bond actor Sir Sean Connery dying at 90 years old. My first "Bond" was Roger Moore in Moonraker in 1979, but once VHS home video allowed me to see all the earlier 007 movies, I was obviously blown away by the cool-calm that Connery brought to the role...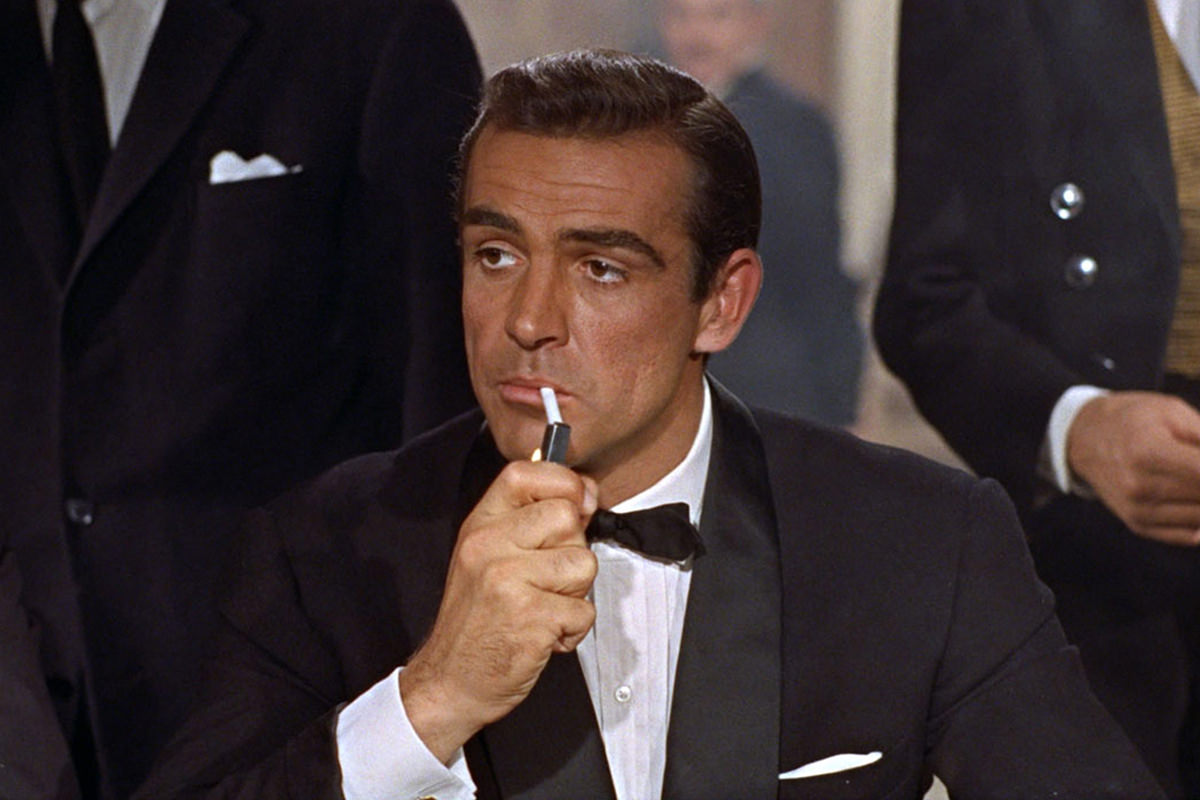 Though his work as Bond is probably my favorite role, he has plenty of other movies which made me a fan of his work. Of course Highlander immediately comes to mind. Indiana Jones and The Last Crusade, The Hunt for Red October, The Name of the Rose, Rising Sun, Playing By Heart, and The Rock were also flicks made memorable because he was in them. It's tough for me to reconcile being a fan of his work with his misogynistic bullshit, however... most famously with his infamous Playboy interview where he advocated slapping women. One could argue that he was a victim of the times he lived in because he said it in 1965, but he totally doubled-down on the idea over two decades later in a Barbara Walters interview. It wasn't until 2006 where he finally tried to walk back his idiotic stance, but an autobiography by his first wife alleged that he physically battered her, so seeing him as anything but an abusive asshole isn't easy. But you could almost say the same for James Bond in general. I guess the only thing left for me to say is "Rest in Peace."

• Happy! Fell down another TikTok rabbit hole while waiting for my clothes to finish in the dryer last night and got this video suggested to me... and I honestly don't know whether to be happy about it or break down in tears. It's heartbreaking to think that there are people who would wish this kind of thing upon a teenager. And yet we just got a new Supreme Court Justice who thinks that sexuality is a "preference" and will almost certainly interpret our laws accordingly. It's tough not to be disheartened by such events, but maybe videos like this one will change hearts and change minds so that we can celebrate people being who they are... and kids don't have to spend their young lives wondering if they will ever be allowed to be happy.

• Human Gaze! Isn't this how The Stepford Wives got started?
Or at least Westworld. In either scenario... not a great day for humanity.

• Maggie! As if the casting of Gillian Anderson as Margaret Thatcher wasn't brilliant enough... this promo for the upcoming fourth season of The Crown has a cover of "How Soon Is Now" by The Smiths attached!
After this, there's only two seasons left to go. Then I guess the monarchy just ends? Or something?

• Semi-Annual! Here we are again... my second of two posts each year where I say that ending Daylight Saving Time is FUCKING STUPID. Either make D.S.T. permanent or fucking split the difference because I am seriously over this moronic bullshit. I thought that Washington State had put an end to the insanity, but apparently federal approval is required...
If the E.U. can pull their fucking heads out of their asses and put an end to this crap next year, why can't the USA? Because our federal government is too fucking busy lining their own fucking pockets and giving lobbyist blow-jobs for fucking reelection cash instead of serving the American fucking people. That's why. Time to fucking overhaul the government so lawmakers do their fucking job instead of become useless career assholes? Oh probably.

• New Mando! I swear, The Mandalorian has no right to be as good as it is. If you like all things "Star Wars" and haven't seen it, might be worth a Disney+ free trial to take a look. The second season just started and the first issue is great...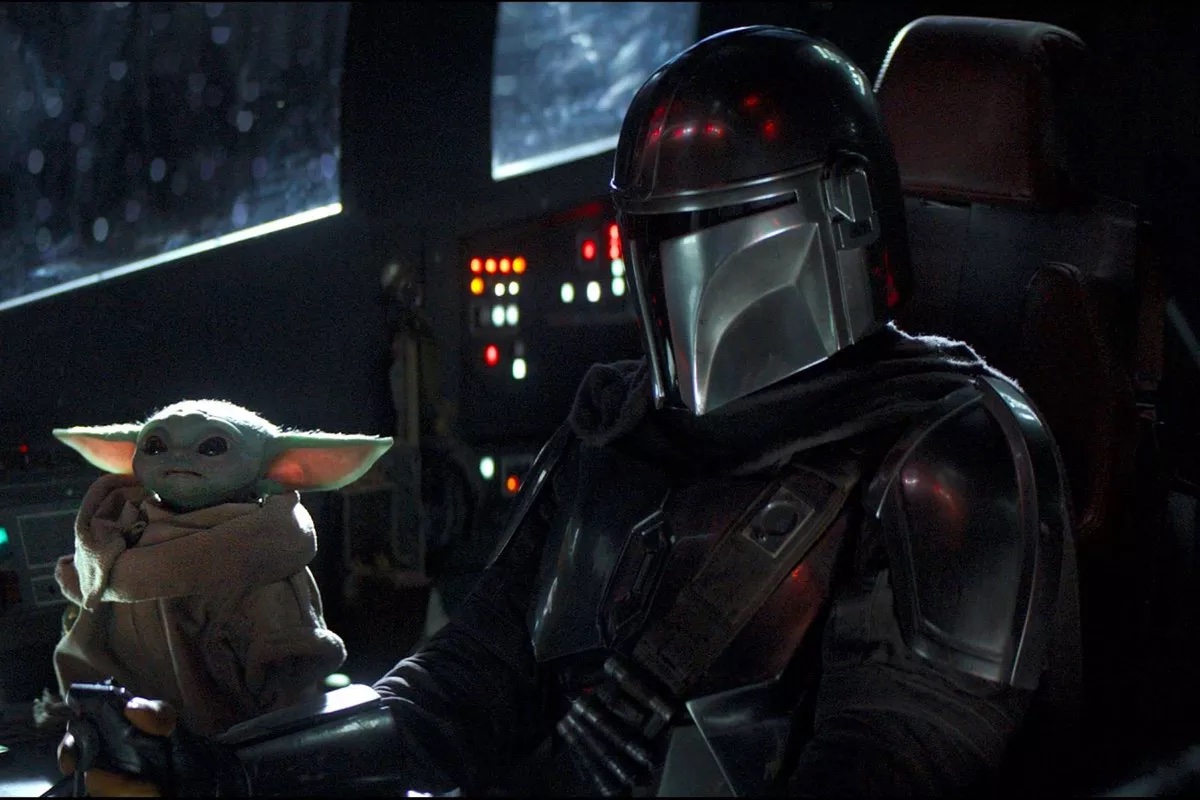 A better take on Star Wars than the prequels or sequels... and right up there with Solo and Rogue One which I loved. Kind of amazing how Jon Favreau kicked off the entire Marvel Cinematic Universe and is responsible for saving Star Wars. I hope Disney is paying him really, really well.

And that's your post-Halloween bullets for the day.
Tags:
Bullet Sunday
,
Daylight Saving Time
,
Movies
,
News
,
Politics
,
Robots
,
Ted Lasso
,
Television
,
TikTok
Categories:
Bullet Sunday 2020
,
Movies 2020
,
News – Politics 2020
,
Television 2020
—
Click To It:
Permalink
—
2 Comments: Click To Add Yours!
Posted on February 4th, 2018

Looking for a Super-Bowl-free Sunday? Then you're in luck, because a Very Special Wish List Edition of Bullet Sunday starts... now...

• G Master! Once Sony released their FE 24-70mm F2.8 GM lens, I was pretty much done with collecting lenses for my photography. It perfectly filled a gap that I needed, and 90% of the photos I take are with it. About the only thing left would be to purchase a better super-wide-angle to replace my aging 10-18mm f/4, which is not full-frame. Alas, the Sony FE 12-24mm f/4 G $1600 on sale. And I just don't take enough photos to justify the cost...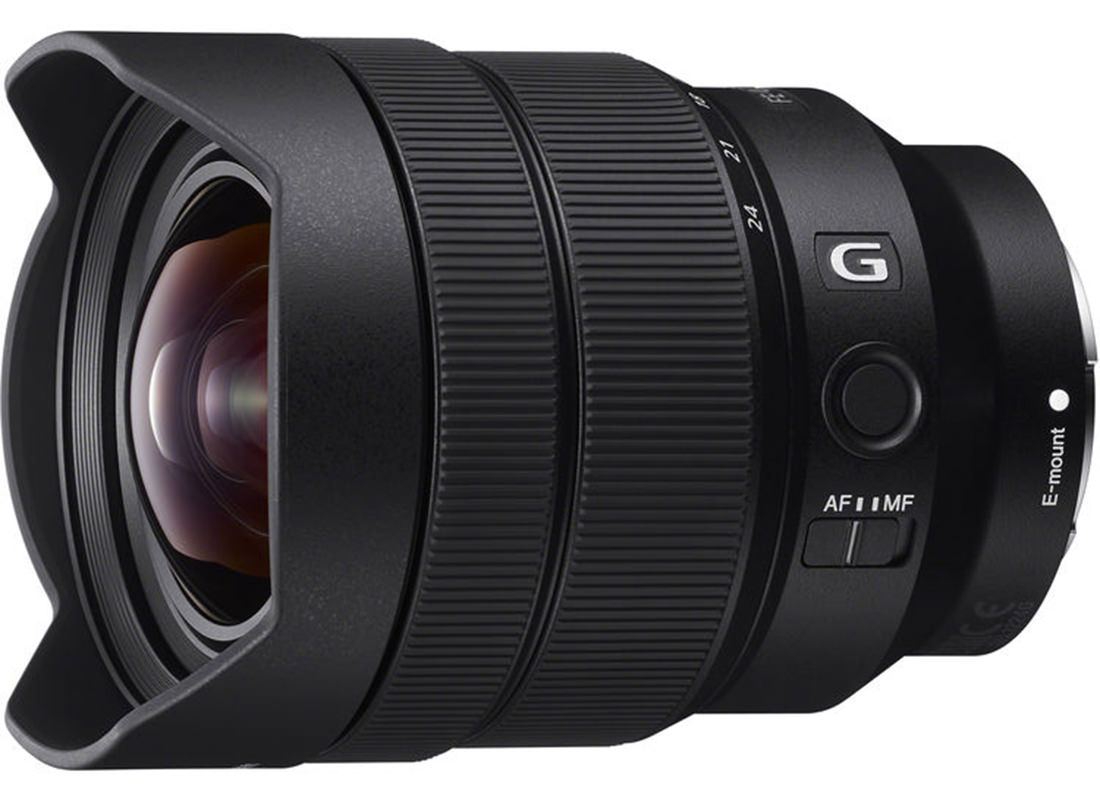 Still, it sure is a pretty lens.

• Curtains! My home is filled to the brim with home automation. Everything from my lights to my locks to my security cameras to my roof heat tapes to my thermostat to my alarms to my vacuums to my television to my frickin' garbage disposal are automated and can be controlled via my iPhone or by voice thanks to Amazon's Alexa. There's still things left I can automate, but the one highest on my list are my window blinds. I'd like to be able to have my home automatically open and close them based on weather and time of day... and it would be great if I could close them all on command when I want to watch a movie. Alas, automated blinds are hideously expensive. Hundreds of dollars per window. And that doesn't include the interface box and installation. To outfit even just the windows in my living room would probably approach $1000. Alas, that's an absurd amount of money to spend on something fairly frivolous.
Still, they sure are a pretty piece of tech.

• Speaker! Apple's delayed "smart speaker"... the HomePod... is up for pre-order. From the early review, it features the best sound of any device in its class. It can play music from Apple Music (which I don't subscribe to), interface with Apple's HomeKit (which I fucking hate), and has the Siri digital assistant built-in (a pale imitation of Amazon's Alexa, which I vastly prefer). And yet... I still want one because it can pull my music off of iTunes Match, which is where every piece of music I own is located. Alas, the HomePod is $350. And I just don't want to spend that kind of money on something that basically does what my stereo already does with a little effort...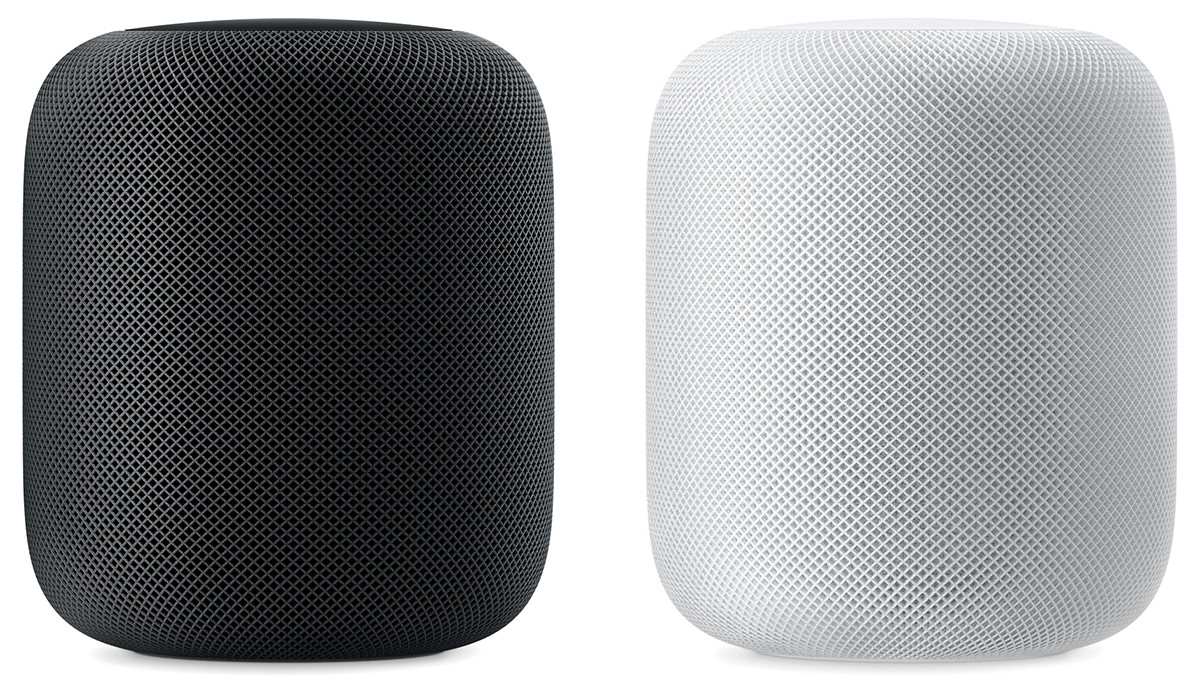 Still, it sure is a pretty speaker.

• Super Carl! One of my all-time favorite tech investments is Carl the RoboVac. It's the thing I never knew I needed until I had one. Thanks to my two cats, my dark wood floors are never clean. Cat hair and kitty litter along with crumbs and dust don't get camouflaged like they would on carpeting, and coming home to dirty floors drives me nuts. But, thanks to Carl (my Deebot N79 RoboVac), my floors are remarkably clean when I get home. And now EcoVacs is coming out with an super-upgraded version, the Deebot Ozmo 930. Not only does it have far better room navigation tools, room mapping, and a built-in mop, you can also define areas you want to clean on your mobile phone. But these cool features come at a price. A whopping $599. Which is actually pretty reasonable compared to Roomba RoboVacs. Alas, it's not worth it when the $150 Carl I have now does a very good job already...
Still, it sure is a pretty robot.

• Cool! When it comes to future tech, appliances are late to the party. But they've been slowly trickling out... ovens you can control with your phone... washing machines and dryers that can send you notifications... that kind of thing. But the one that intrigues me most is Samsung's "Family Hub" refrigerator. Not only does it have a bunch of cool apps which bring functionality to the space taken up by your refrigerator, it also adds a number of cool (heh heh) features... like being able to see what's inside when you're at the grocery store. The starting price for all this? $3000. Alas, there's no way I'm dropping that kind of bank for refrigerator tech that's going to be obsolete in a year...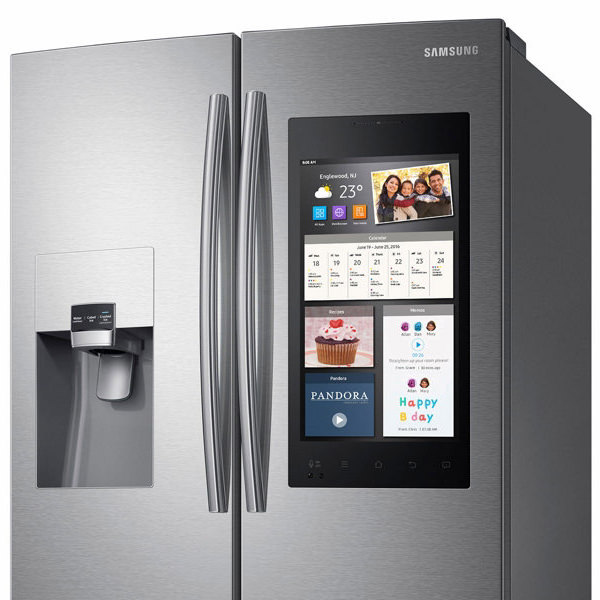 Still, it sure is a pretty refrigerator.

And there you have it... Bullets on a Sunday that are too rich for my blood.
Posted on January 21st, 2018

Don't let the man get you down, because an all new Bullet Sunday starts... now...

• Otter! YouTube is a never-ending sinkhole of things you would just never think to look for. Last night I watched a video where a baby otter was introduced to water for the first time. He most definitely did not want any part of it... but, since otters are built for water, his attitude changes drastically once he's in...
I thought "Well that was cute" and, next thing I know, I've been watching baby otter videos for an hour. Amazing just how much stuff is floating around YouTube waiting to be explored.

• Elephant! Oh... and once you're done with baby otters swimming, time to move on to baby elephants chasing birds...
Baby animal videos are my Kryptonite.

• Cotton Picking! NEWS BRIEF: Senator Tom Cotton Is Sending Cease and Desist Letters to His Own Constituents. Because of course he is. I mean, seriously, this IS the next step isn't it? A government of the government, by the government, for the government... without those pesky constituents being able to weigh in to their elected officials with their two cents. Why would a politician want to listen to what mere citizens have to say on matters?
People can act shocked all they want, but this is the end game by the people REALLY running this country right here. If you don't have money and power, you don't have a say. So enjoy your "representation in government" (colossal sham that it is) while you can. Soon they won't even bother with the pretense. And if you think I'm being overly-dramatic, just remember that they vote themselves pay-raises without consulting you... they refuse to initiate term limits, despite everybody wanting them... and they don't give two shits what stupid voters think when they can use lobbyist money to tell them what to think on election day.
And left you think this is "fake news"... here's your link. Wake up and smell the lack of democracy.

• FoldiMate! Just what I need to go along with all the other robots in my house... a robot that folds clothes! I hate folding clothes, so this is pretty darn cool...
It's a far cry from just tossing a pile of clothes in the top of the machine and having them all get folded, but... still kinda cool...
What's not cool is the price tag. The FoldiMate is projected to cost a thousand bucks.

• Effie! The only thing I hate more than folding clothes? Ironing them. Which is why this is the robot for me...
Home chores are undoubtedly going to look much different in ten years.

• Fries! I love good advertising. And when companies have a lot of money to sink into advertising, the results can be pretty spectacular. I don't think the latest Taco Bell commercial reaches that level, but it's still pretty well done...
My... God... who would be stupid enough to take on Big Burger? McDonalds... Burger King... Five Guys... those guys don't play. Somebody is ending up dead.

No mo. No mo bullets, man.
Posted on November 7th, 2017

Checking in on the cats via the security camera system is always a mixed bag.
Most times, they're sleeping or looking out the window. No big deal.
But other times? Not so much...
Okay... let's unpack all that's wrong with what's going on here.
First of all, Joy the RoboMop has violated her "boundary" and has left the kitchen to mop my hardwood... something that's fine, I guess, but not what I wanted her to do.
Second of all... do you see those neatly-stacked, carefully-sorted piles of dirty laundry? Oh... neither do I... my cats tore into it and made one giant mess out of it all. Glad some cats and robots are having fun breaking all the rules today.
Lastly... Where are my frickin' cats? I have checked every camera and haven't seen them! My guess is that there was a loud noise and they're hiding under the couch or under the bed or something. Either that or they've totally escaped, and now I have a new adventure awaiting me after work.
Can you imagine how boring my life would be without cats and robots?
Posted on July 29th, 2017

My new cat sitter doesn't start until tomorrow, so Jake and Jenny are on their own for another day. Not a big deal, as I've been gone a lot longer than this and they've been fine. Thanks to Litter Robot, Feed-and-Go, and my security system, they are in good hands. So there's no need to worry about them. And, hey, if something comes up, I can always call a neighbor to check in. It's all good.
Except...
It's tough not to worry when you're 2,500 miles away and you've got all this crazy crap going through your head.
Take, for example, feedings.
In the past I'd fill the automated feeder to max levels so I was assured that the cats wouldn't go hungry while I'm gone. But then Jake had to be put on a diet, so that wasn't a good option any more. Now I put the exact amount each cat gets in the feeder so they aren't over-eating.
But then I started worrying that if Jake scarfs down his dinner... and wants more (which he always does)... will he push Jenny out of the way and steal her food? This is a genuine concern. He's a much bigger cat and, while Jenny doesn't put up with his shit, she's also not in a position to shove him back when she's such a petite little lady.
Last night I got my answer. The feeders activated and Jake and Jenny came running to eat...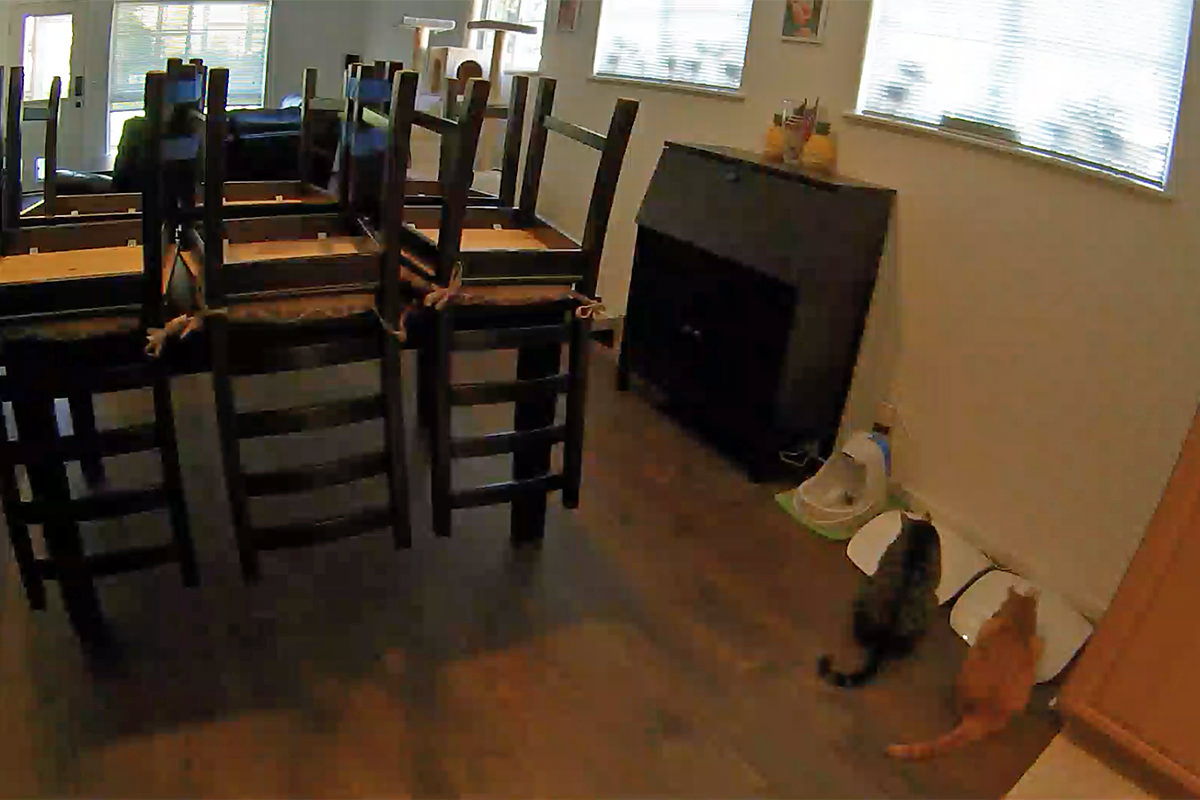 As expected, Jake mowed through the bulk of his dinner before Jenny had even taken a couple bites. Would he force his sister out of the way to steal her food? Turns out... no... he wandered away...
That's a relief... but I know for a fact that when he's hungry later on, he won't hesitate to eat whatever food is left, and he doesn't care whose bowl its in.
In other news... Carl got stuck under the media center this morning. I heard three beeps over the security camera, which means he's sucked up something he shouldn't have. Probably a stray wire underneath. Jake was most concerned when his robot pal stopped working...
I asked Jake to pull Carl out and take him to his charging station, but that was apparently asking too much. Instead Jake climbed the cat tower and took a nap.
Which doesn't sound like such a bad idea. I've been up since 4:30am and work is just getting started now at 2:30pm.
I'm going to need a bigger Coke.
Posted on July 25th, 2017

When I returned from Las Vegas earlier this month, my home was a disaster, even though I did a quick cleaning before I left. Between the cats shedding like crazy and their tracking in dirt, leaves, and debris from the catio (not to mention kitty litter everywhere) it doesn't take long at all before my home gets pretty filthy.
And, as much as I'd like to vacuum every day between deep cleaning every-other-month, it's tough to work it into my routine. I vacuum once or twice a week and not at all when I'm traveling.
So... I started looking into robot vacuums. Everybody I know who has one, loves them. They're not meant to replace an "actual" vacuum cleaner, but they are totally capable of sucking up superficial filth that tends to accumulate day to day. Especially if you have cats.
From the time I spent researching them, I learned that my home is ideal for a robot vacuum because it is open-concept, has clear pathways with little clutter, and all floors are either hardwood or tile. Great. So which one to buy? I narrowed it down to three...
iRobot Roomba 960 ($700). Coming from the original and most popular RoboVac company, Roomba models are smart, highly rated, and come in a variety of models for every situation. The 960 is near the high-end, but has the features I'm looking for... including network connectivity, brushless extractors for cat hair, and direct-path navigation. If I had $700 to blow, this would be the one I buy because it comes with a 30-Day Money-Back Guarantee when purchased directly from the company.
Neato Botvac Connected ($700). Comparative feature-wise to the Roomba 960 above, this was actually my first choice... until I found out that Neato does not offer a 30-Day Money-Back Guarantee. This is absurd, as I'm not spending SEVEN HUNDRED DOLLARS on something that offers no guarantee as to whether it will work in my home. Despite some high ratings and nice reviews, the company doesn't have enough confidence in their product to back it up, so I'll take a pass.
Eufy RoboVac 11 ($200). This brand/model wasn't even on my radar until I read that it was the #1 pick by The Wirecutter. No, it's not network connected. No, it doesn't have brushless extractors. No, it doesn't have direct-path navigation. But... it's $200 and is said to work well on short-hair cat fur. And I believe it's covered by Amazon's 30-Day Money-Back Guarantee. The major negative? From what I can tell, the battery is not replaceable. At all. Insanity. Hopefully there are YouTube videos out there showing how to replace the damn battery, because I would be very pissed if I had to toss the thing once the battery dies. So stupid that it's not user-replaceable like most other robot vacuums. Or, at the very least, factory-service replaceable.
I don't have $700 to spend on a robot vacuum, as nice as it may be to own one of the top-shelf models. Technically, I don't even have $200. But I sold an old camera body I wasn't using, which meant I had $200 I could spend.
The Eufy RoboVac 11 it is then.
Before the unit arrived I did three things...
I tore out the poor quality shag area-rug I had in the living room. It was a piece of crap from day one, and only served to trap filth. I was not confident that the RoboVac could manage it, so I trashed it. Not a big deal, since I wish I would have done it a long time ago. As expected, it was disgusting, despite having been vacuumed regularly and installed less than a year ago.
I turned the chairs up in the dining room. Because of the airflow dynamics of my home, a big chunk of the cat hair is forever accumulating around the feet of my dining table chairs and sticking to the felt pads. Since I figured that the RoboVac wouldn't have enough room to navigate around them, I just turned them on top of the table so as to create an easy path. Since I rarely eat at the table (preferring to eat while watching TV in the living room) this was just common sense. I'm mad at myself for not doing it sooner! Bonus: The cats can no longer hang around on top of my dining table.
I did a "deep clean" of my entire home. The last thing I wanted to do was overwhelm the RoboVac on its first run, so I thought it best to start from a clean slate.
And then... it arrived. Set up was a cinch, though finding a place to put the charging base was a challenge. They require an area a bit larger than 7-feet wide by 7-feet deep... and it has to be against a wall! This is a huge area. Instead of having my RoboVac in my living room/dining room area as intended, I ended up putting it in the guest bedroom... and even then it comes up short from the required space. Doesn't seem to be having any ill-effects, but I find it insane that such a massive footprint is required. Does Eufy think all its customers live in mansions?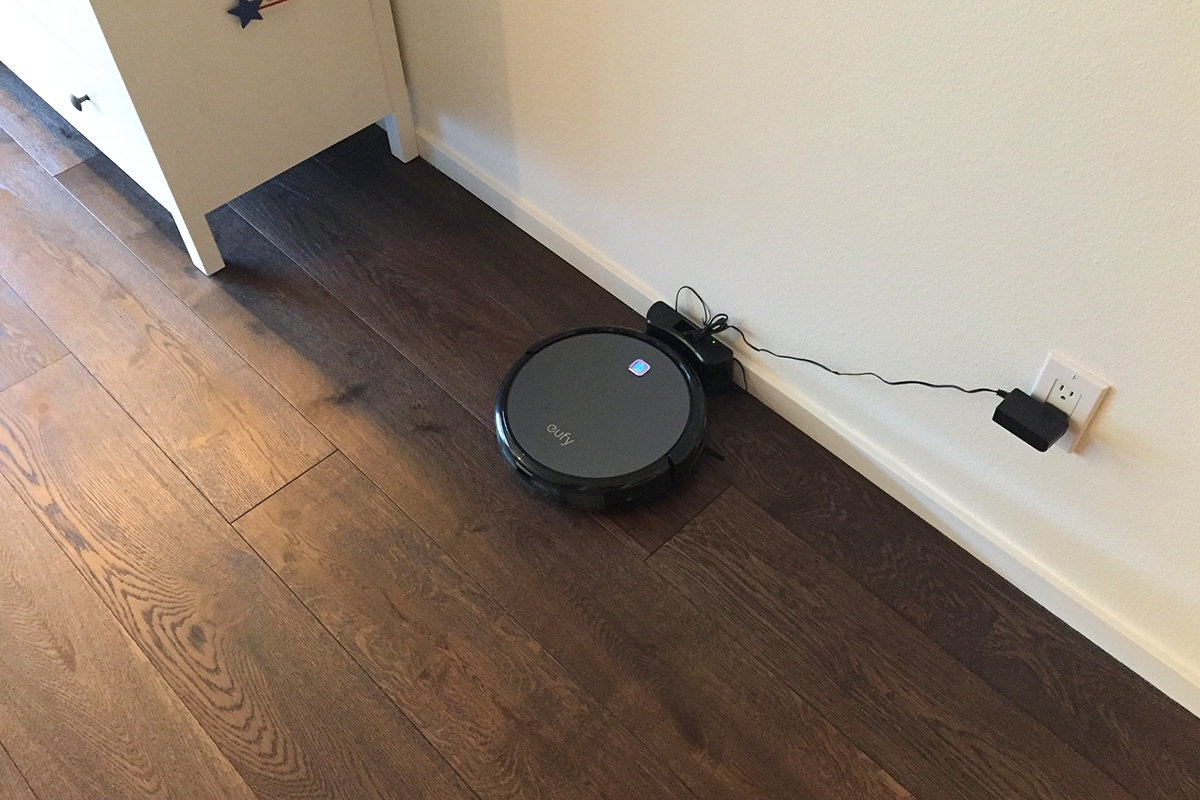 I need about a foot more space on the left side, but I can move it to the right because then I don't have enough space in front. Another worry? Look at that tasty cord. I'm going to have to tape it up so the cats don't chew on it. I may experiment with moving the unit under the outlet (even though it will only have half the required space in front of it there) or perhaps build a cord protector. Or something.
The Eufy RoboVac 11 is completely dependent on the included remote control for anything other than automatic cleanings. Want to set the internal clock? Point the remote at it while you program it. Want to set a schedule? Point the remote at it while you program it. Want to send it "home?" Point the... well... you get the picture. Is this a deal-breaker? Not for $200. But it does kinda make you long for the network connectivity of the $700 units.
But the real question is... how do Jake and Jenny deal with our new robot friend? The first time it ran, Jenny hid upstairs the entire time while Jake stalked it around the house...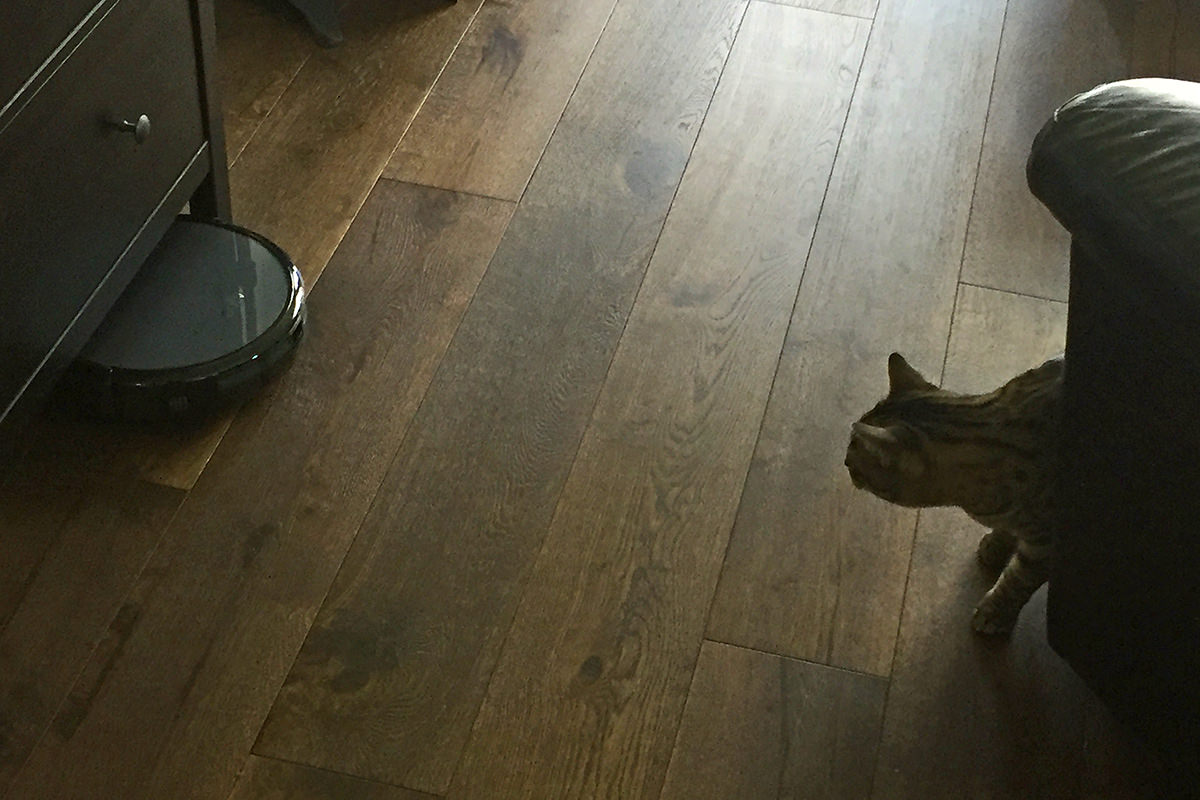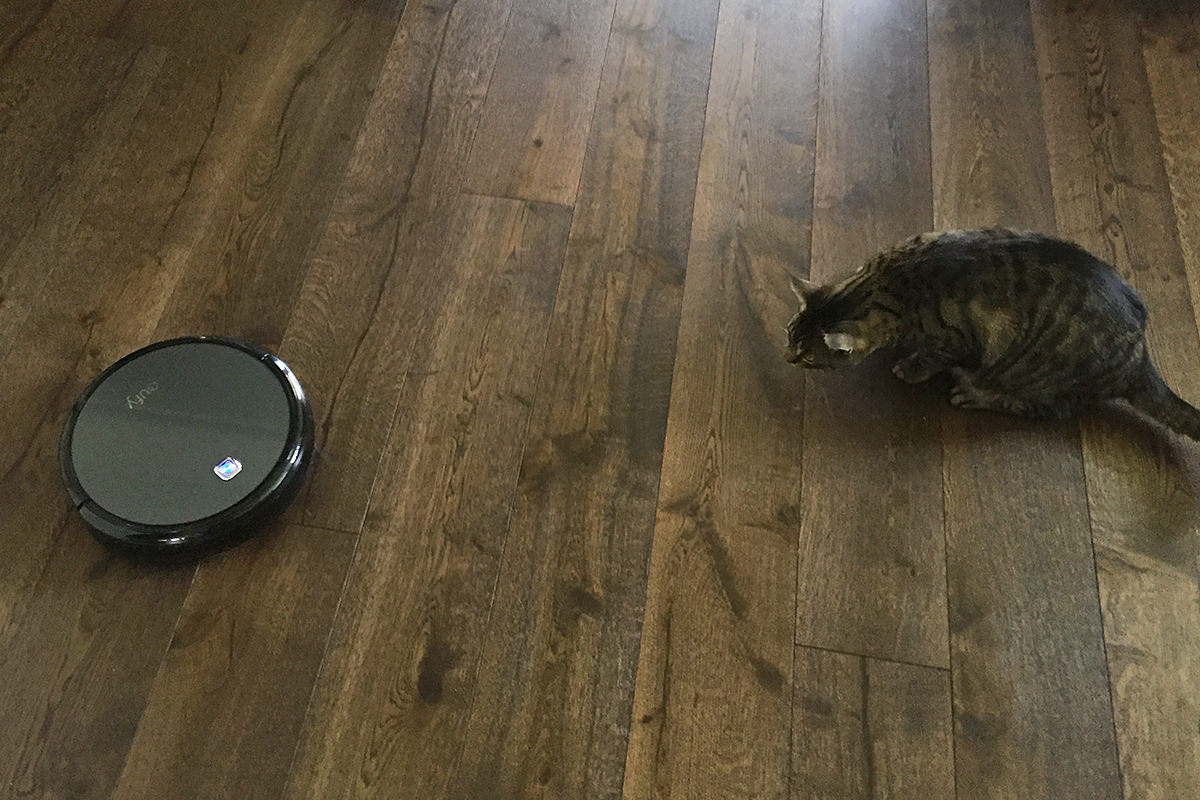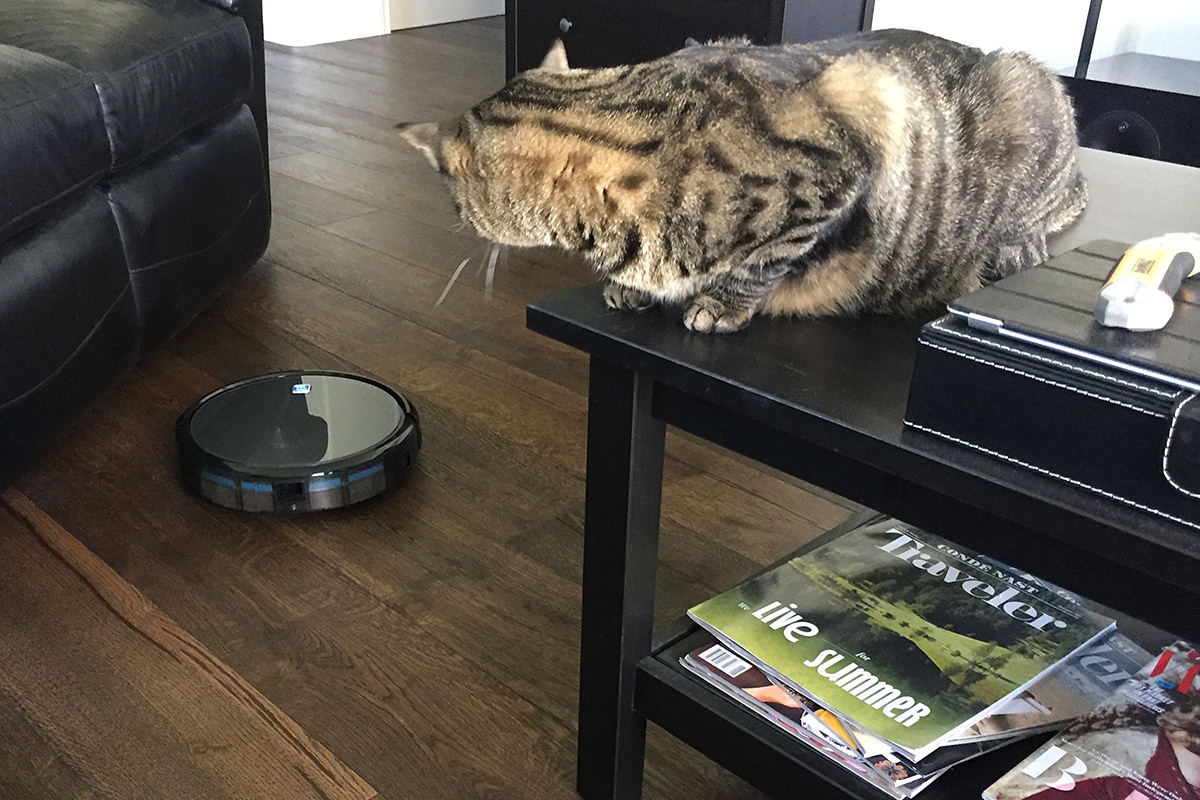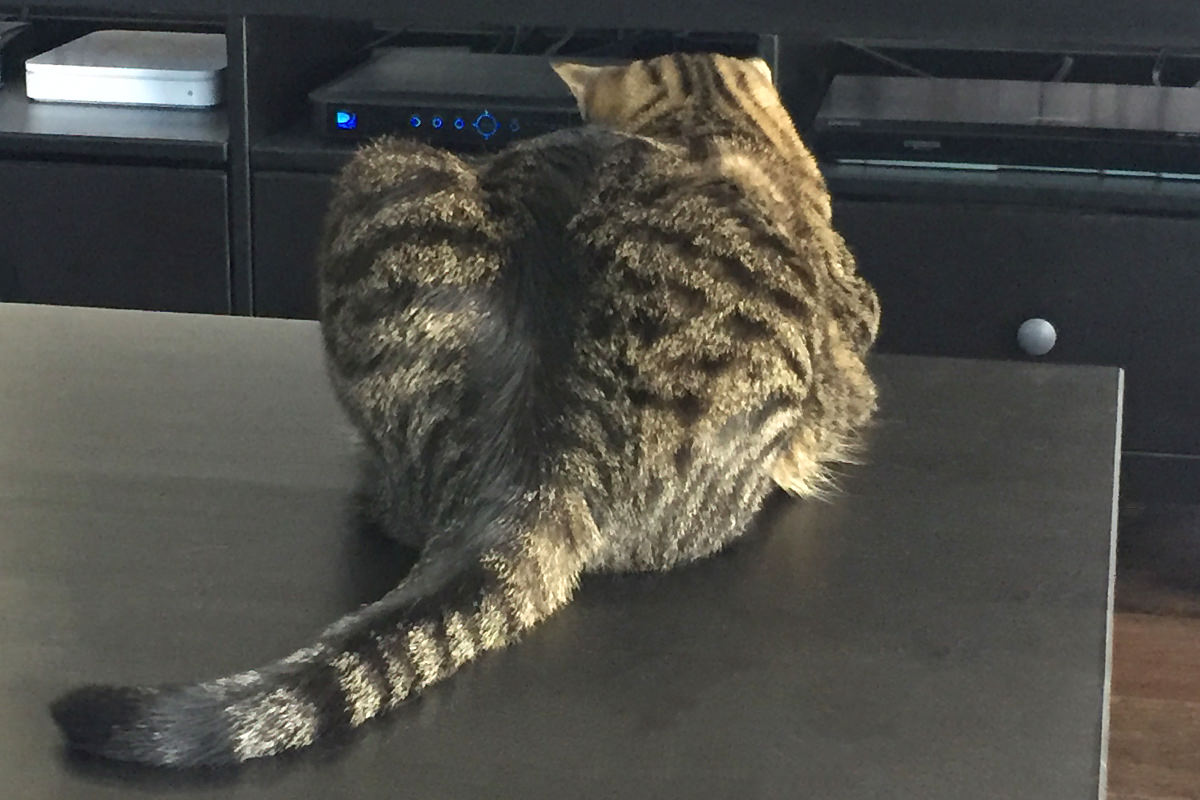 But the second day she was stalking it too...
A bigger problem than the cats are their cat toys...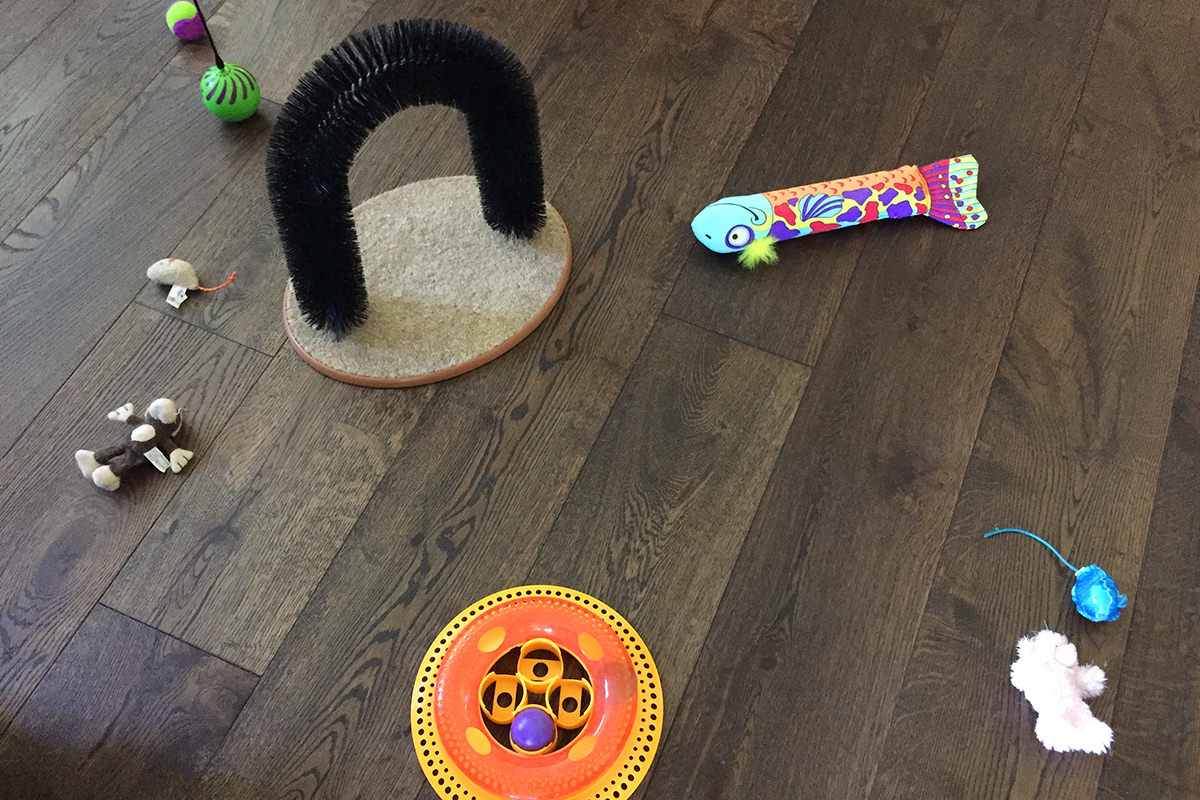 If you've got cats that like to leave toys scattered about, that could be a problem. They are certain to get moved around by RoboVac. If they are lightweight and have strings or feathers or other dangly bits, they'll be partially sucked into the unit then get hauled around, stuck there.
Actually, the real question when it comes to robot vacuums probably has nothing to do with cats... and everything to do with how well the thing actually works. Keeping in mind that I had done a "deep clean" the day before I got it, I think this photo of its first run through my home is everything you need to know...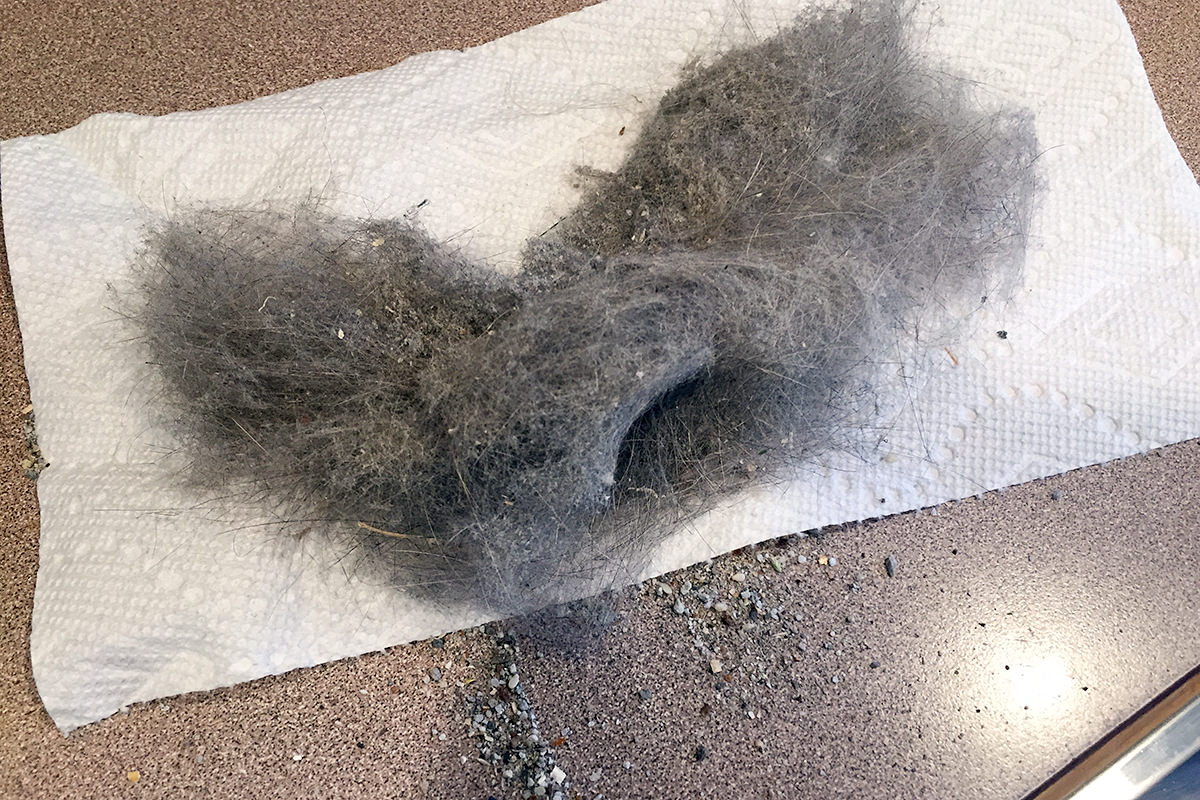 Since I had just cleaned, I expected there would be a few bits of dirt and a small amount of cat hair. Nuh-uh. Not even.
The bin was completely full.
Here's day two. FULL AGAIN?!...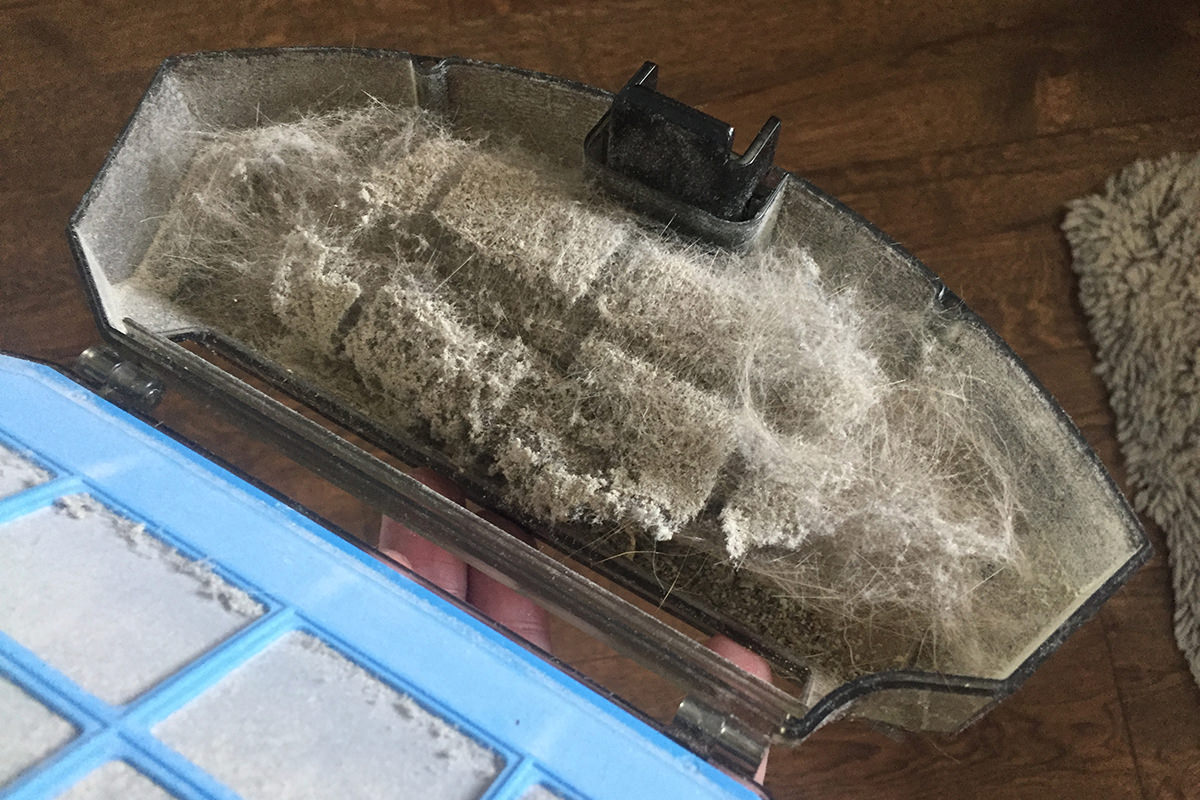 And day three. Not as bad, but still...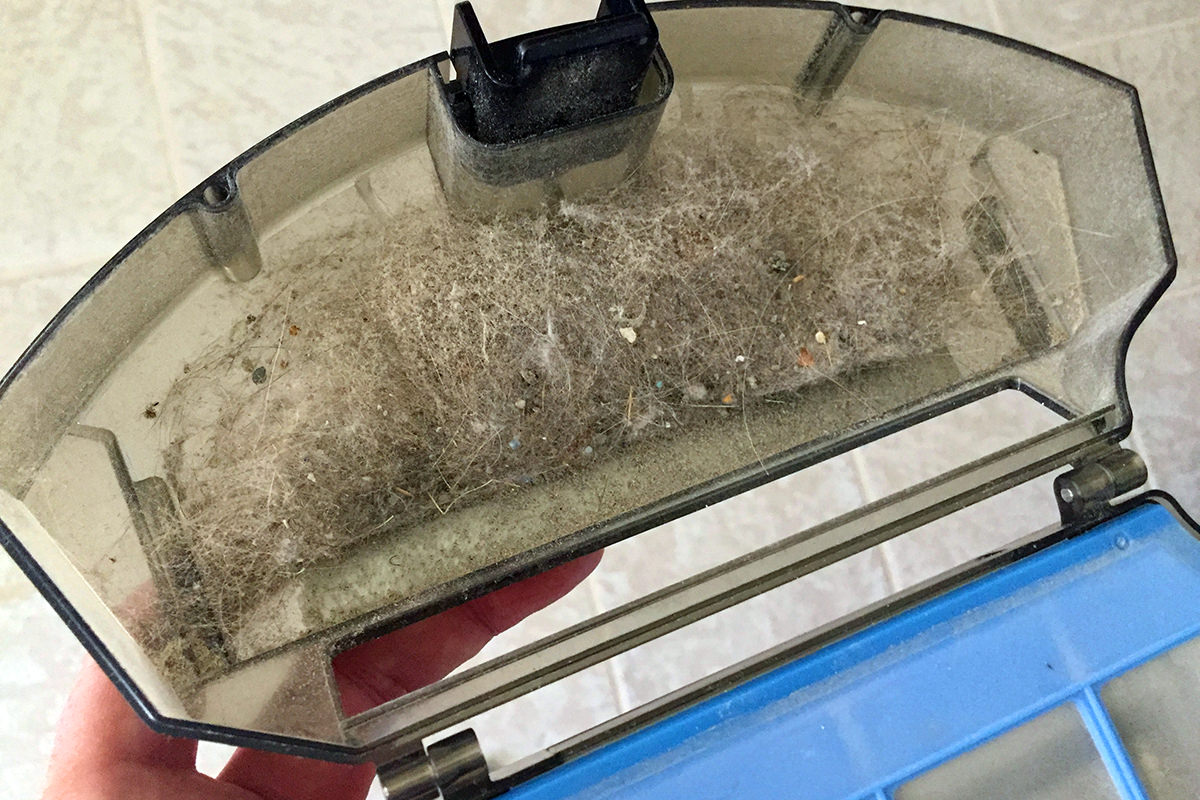 Holy crap! Where is it finding all this?!? So gross. But wow does it ever work well! I may only have to "real vacuum" every month or so now!
When it comes to a cleaning schedule, I set the Eufy RoboVac 11 to do a full auto-clean every morning at 4:30am. The results are... weird...
DAY ONE (unscheduled): Ran for about 40 minutes. Then the status light turned solid red, the vacuum slowed to a crawl, but continued to roam around, even though there seemed to be very little suction. I thought the battery might be low, but if that were the case it would have gone back to base. The manual said I would hear beeps to count so I'd know what's wrong. It never beeped. I manually picked up the RoboVac and carried it to the charging station. It reset itself, charged up, and everything was back to normal.
DAY TWO (4:30am schedule): Cleaned for about 90 minutes, returned to base.
DAY THREE (4:30am schedule): Cleaned until 7:10... a full hour past its maximum battery life... then went out of view in my living room. I wasn't home, so I had to learn all this from the security cameras. I speculated that it got lost and the battery died.
DAY FOUR (4:30am schedule): Turns out the thing didn't die. It activated from wherever it ended up in the living room, cleaned for around 10 minutes, then went back to its charging base.
DAY FIVE (4:30am schedule): Once again cleaned for a ridiculous amount of time. Way, way past it's max battery life. Could not make it stop cleaning and return to base no matter what I tried until I physically turned it off and moved it.
Like I said, weird. But it seems to be working just fine except for the marathon cleaning sessions. Perhaps eventually it will settle into a more consistent routine?
And now the pros and cons of the Eufy RoboVac 11...
PRO: Actually works! I cannot emphasize just how happy I am that my every expectation was exceeded.
PRO: Shockingly quiet. Quieter than the Roombas my friends have. I think the reason my cats are seemingly okay with it is that it's not hugely noisy. And it gives them something to watch.
CON: You are required to have 1 meter of free space on either side plus 2 meters of free space in front of the charging station. This is kinda insane. How many homes have a 7-foot wide by 7-foot deep space against a wall available?
CON: Remote control is a bit clunky and has to be physically pointed directly at the RoboVac to function. At least the RoboVac "beeps" to let you know it "heard" you.
CON: Error reporting leaves a lot to be desired. I remain completely clueless as to why the unit suddenly went into red-light error mode then slow to a crawl. The manual says that the red light is an error that you can figure out by the number of "beeps" it issues. Problem was... no beeps?
CON: My RoboVac will return to base on its own when its battery runs low... eventually... but never when I use the remote to tell it to stop vacuuming and return to the charger. At first I thought it only ignored me when it experiences an error, but... not so much. Neither the remote "home" button nor the "auto" button on the unit works when in "error mode" or regular operating mode. Frustrating. I have to pick it up and physically take it to the charging base when I want it to stop early.
CON: Cheaper robot vacuums (like the RoboVac 11) have a kind of random wandering pattern while running. It's all over the place. One minute the dining room, the next in the living room, the next in the kitchen. More expensive vacuums have a straight-path navigation that runs in a grid pattern. This seems like a smarter way to make sure everything gets clean. Except... as the full bins of dirt and cat hair will attest, the random navigation is actually working. Sure it may miss a few spots on one day, but it will probably manage to get to them the next day.
CON: Just like so many other electronics now-a-days, the RoboVac is constructed of shiny plastic that scratches easily and adheres dust like a magnet. That's usually frustrating... but manageable. BUT ON A DEVICE THAT IS SUCKING UP DUST AS ITS PRIMARY FUNCTION?!? The thing is filthy all the time! WHY SHINY BLACK PLASTIC?!? Insanity. Or stupidity. Or both.
My RoboVac to-do list...
Come up with a way of protecting the charging cord from cats who will most certainly want to chew on it.
Build some kind of "tray" to protect the cat food bowls. The RoboVac pushes the bowls and mats around the dining room, which is kind of a pain.
Replace toys that have long strings and feathers with toys that won't get sucked/stuck to the RoboVac.
Change the cleaning schedule from 4:30am to noon. That way if it runs way long, it won't disturb the cats when they're eating breakfast.
CONCLUSION: Ultimately I'm so very happy I took the plunge. I love my new robot vacuum. I love it so much that I've named him Carl (after the janitor in The Breakfast Club) and he's a part of the family now. My Eufy RoboVac 11 is managing to find dirt and cat hair that I never even see. Yes, I'll still need to vacuum with my upright from time to time... a robot vacuum simply doesn't have the same suction power as an upright... but in helping to keep my home clean from day-to-day (especially while I'm gone). It's a fantastic tool and a big help.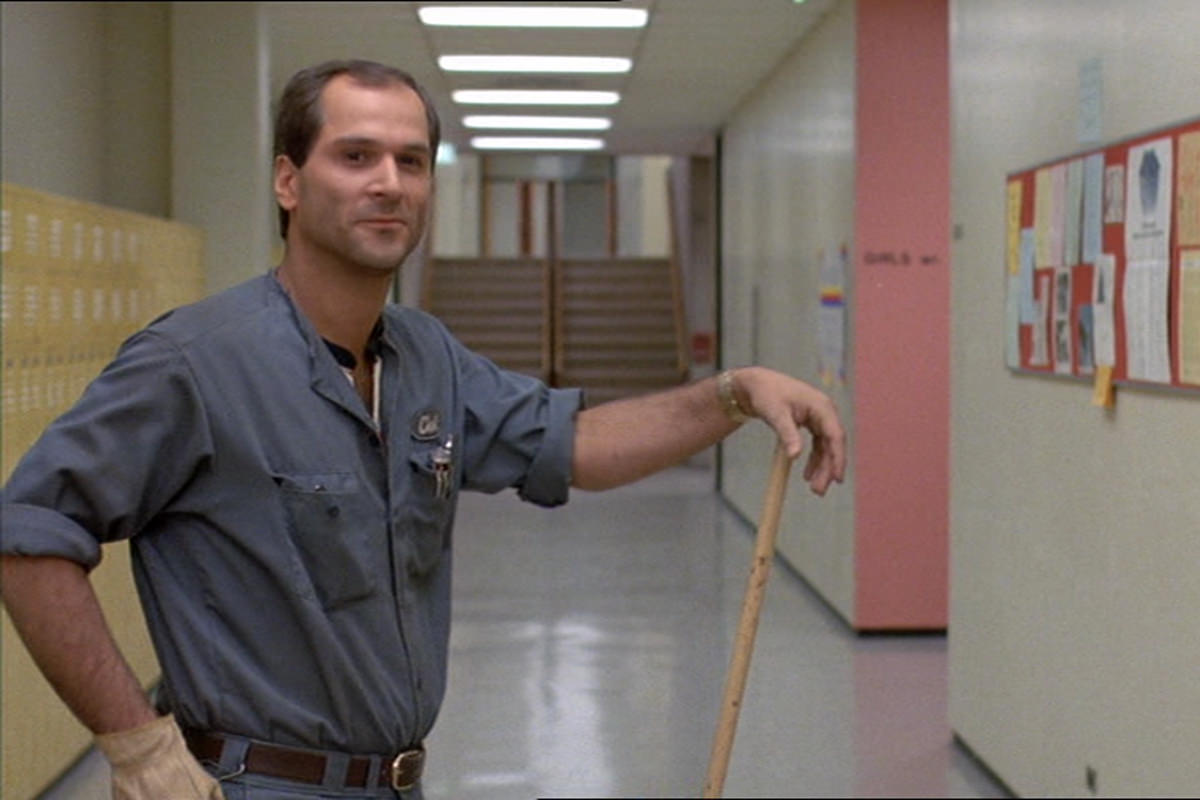 My goal was to eventually replace the Eufy RoboVac 11 with a more expensive model that has all the bells and whistles I was wanting. But if it keeps doing the great job it has been, why would I? Paying $500 over the $200 that Carl cost me probably isn't going to get my home any cleaner. Maybe if I had carpet or complicated rooms it would be a different story... but, for now, I'm definitely sticking with what I got.
UPDATE: When I changed the schedule time, the RoboVac stopped vacuuming on the schedule. I contacted tech support and said I could try turning the power off. Then removing it from the base station. Then turning it on. Then clear the current schedule (hold the schedule button down until it beeps and clears). Then set a new schedule. Worked like a charm! Now Carl won't be interrupting the cats at breakfast.