For a while I couldn't hop on social media without seeing people raving about the "Ninja Creami"... which is a very powerful blender that creams hard-frozen foods and liquids. This sounded familiar to me, because I have a friend who is a chef with a "Pacojet" that essentially does the exact same thing. Except Pacojet costs $8,000. The Ninja Creami costs under $200. The Pacojet is used for a wide variety of cooking purposes... like creating blended soups that can be heated up... as well as gelatos, ice creams, sorbets and stuff. And while the Creami can probably do whatever you want, it's mainly geared towards ice creams, gelatos, sorbets, and frozen drinks. I bought the "deluxe" version because it was on sale for only $20 more than the original version. It's not necessary, but it does give you a larger container, meaning you can make more ice cream in a single go...
Long story short? This thing is darn good, and worth the hype.
I thought that "creamifying" a can of peaches would result in a peach snowcone. But it actually turns into a luscious peach sorbet. I thought "creamifying" frozen cream and sugar would result in gritty, frozen milky ice. But it really does actually turn into creamy ice cream.
And it's so easy.
My favorite is sorbets. Dump a can of pineapple chunks in the Creami container, mix in sugar, freeze it, creamify it, and you've got pineapple sorbet. Dump a can of peaches in heavy syrup into the Creami container, use a pair of kitchen shears to chop it into pieces, freeze it, creamify it, and you've got peach sorbet...

Seriously! This was a frickin' can of peaches yesterday!
The biggest shock is how good Creami ice creams and gelatos are. They are not not at all gritty and fake-tasting. Heck, they're better than most of the stuff you can buy at a store. The recipe is just heavy cream, whole milk, sugar, a bit of cream cheese, and whatever flavors you want to put in it. Vanilla, chocolate, strawberries, most anything, really...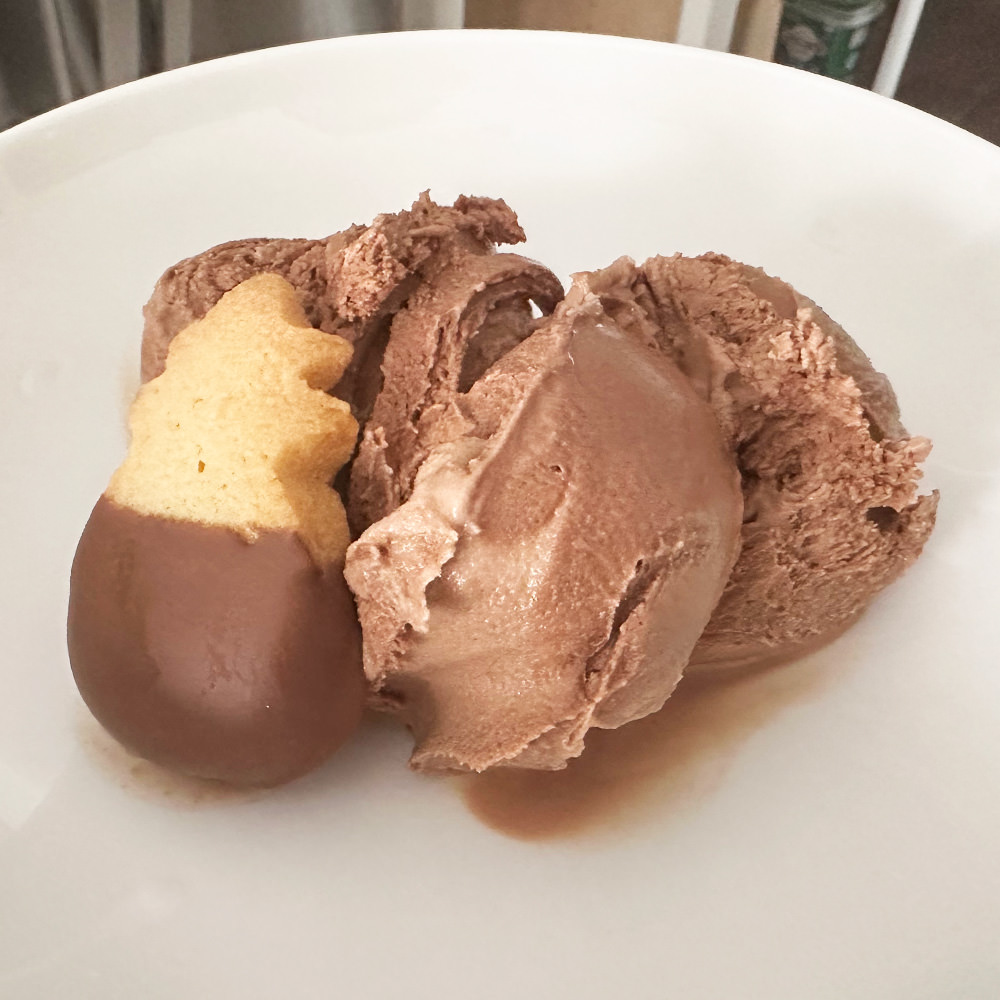 Cookie from Honolulu Cookie Co., not me!
There are recipes for "lite" ice creams (which are okay, but not great), pretty good frozen yogurts (ingredients: YOGURT!), and all kinds of frozen drinks (shakes, ices, slushes, and the like).
PROS
This ain't a poor substitute for actual ice creams, sorbets, and the like... it makes the real deal. Often better than what you can buy at the store. And with better ingredients.
Comparatively, the machine is dirt-cheap. Remember that it is a $200 alternative to a machine that costs in excess of $8,0000 (and I have no idea how Ninja isn't getting sued into oblivion by Pacojet for it).
So fast. Just toss it all together and freeze for 24 hours. Then put it in the Creami and have your treat in minutes.
You can make whatever flavors you can dream of. I've mixed just about every kind of fruit you can think of for sorbet and it mostly always tastes fantastic. Note that fruits in heavy syrup taste great. Fruits packed in juice (like pineapple) lack sweetness, so I dissolve in some sugar.
There is a mix-in feature where you can add nuts, crushed cookies, fruit, whatever. I am addicted to adding graham crackers (plain, chocolate, or cinnamon... all delicious additions!).
CONS
This machine is loud. I mean LOUD. I fired it up in my kitchen and traumatized my cats! It now resides in my garage, where I'm sure I'm traumatizing the neighborhood.
In order to make sure that ice crystals don't form in your ice cream and it ends up nice and smooth, you have to add something which minimizes the possibility. The Creami recipes use cream cheese. This is a good option because it's easy to find and works great. But even though it's just a tablespoon, it's still there. I may look into some options like guar gum or fruit pectin or something that doesn't intrude on the flavor profile.
The ingredients for sorbet is pretty cheap, but ice cream ingredients are heinously expensive. Have you seen the price of heavy cream? Even putting aside the cost of the machine, you are paying more for ice cream and gelato than what you pay in the store. Maybe if you buy in bulk at Costco you can come out ahead, but do not live under the illusion that Creami is saving you money by making cheap ice cream.
My intent on buying Creami from the start was to make "lite" ice creams that (hopefully) tasted great, because that's what everybody was raving about. Nope! All the monk fruit and coconut milk in the world ain't going to make that happen. Luckily the sorbets work for me, because... yikes. Maybe one day I'll find that magic combination of chemicals to make great "lite" ice cream, but I haven't found it yet.
While what I've gotten out of the Creami is darn good compared to store-bought, it will never come close to what you can get from the local creamery.
The reason the Ninja Creami isn't $8,000 is because it's cheap-ass plastic. I use mine around three times a week and don't have much hope for much longevity. Also, there are crap design choices that are frustrating in how it operates (like their shitty blender where the blade is ALWAYS falling out).
I always end up having to "re-spin" in order to get the creamiest product. Even though I've lowered the temp of my freezer, the initial "creamification" is more powder-like than creamy. Fortunately the re-spin fixes this, but it's still one more thing you have to do.
If you don't eat all of it in one go, there's a bit of an ordeal to eat the remainder. First you have to pack the leftovers down nice and flat... then you have to reprocess it when you want to eat it. You can't just take it out of the freezer and eat it. I was told that you can just let it thaw a bit so it softens, but that doesn't taste as good.
Mixing in stuff is a bit more manual than you'd hope. After you process it, you have a make a hole, put your mix-ins in there, then process it again with the "mix-ins" function. And while it's a more gentle cycle than the initial "creamification," it's still pretty harsh. Cookie pieces get turned into crumbs. Nuts are pulverized. Especially soft nuts like walnuts.
CONCLUSION
Knowing the caveats that I know now, I'd still buy me a Creami. And if it's of interest to you, you may want to get one before the inevitable Pacojet lawsuit shuts them down (I'm being 100% serious, as this is a very clear rip-off of their product... just look at the blade!). Being able to freeze up a bunch of options and have them available any time I want fresh frozen desserts is too good to be true. And the result is not a trade-off, but something that tastes pretty amazing. And once you figure out the recipes that end up with the treat you like best, you're ever only 24 hours away from having it.