Posted on June 17th, 2018

Time to celebrate all the good that's left in the world, because an all-new Bullet Sunday starts now...

• The Carters! As if there could be any news bigger than Beyoncé and Jay Z dropping a duet album out of nowhere called Everything Is Love... there's the fact that they shot the first video for the single Apeshit in the frickin' Louvre. I mean, seriously! They rented out THE LOUVRE! Who does that? Who has the money to do that? Beyoncé and Jay Z, that's who...
Amazing stuff. Can't wait to get my hands on the finished album.

• Part Two!And so this popped up on the internet last week...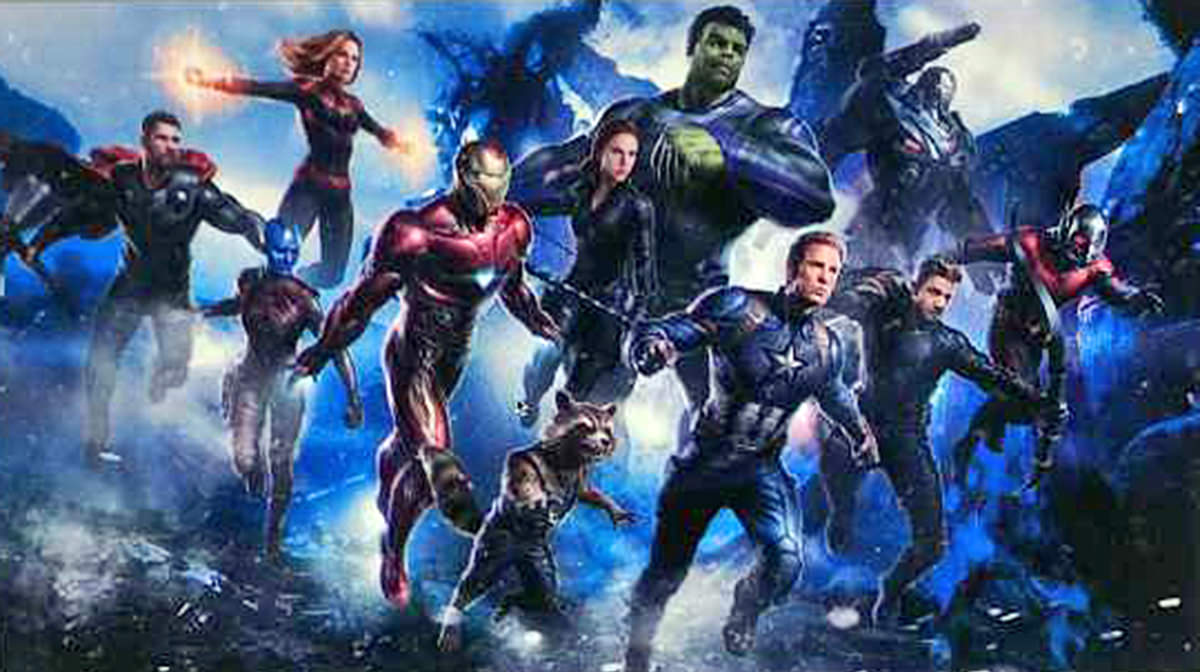 I have some thoughts...
Captain Marvel! ZOMG! She looks amazing. Needless to say, I cannot wait for her movie to drop. It will be very interesting to see how she factors into the Marvel Cinematic Universe given her raw power that dwarfs everybody else. One thing is for certain, she's going to be one of the most dynamic visual treats to come along in super-hero movies.
The arc they've given Bruce Banner has been an interesting one. At first he could barely control The Hulk and hated the life he lost because of it... then he was near-despair over the destruction caused in South Africa... then he was kind of taken over by The Hulk in Thor: Ragnarok... then he lost The Hulk in Infinity War... and now it looks like he's reached some kind of compromise between himself and The Hulk. It's been a great ride, and I'm worried it might end.
How sad is it that Rocket Raccoon is the only Guardian left?
Disappointed that there's n representation from Black Panther here. T'Challa may be gone... but Shuri? Okoye?
So many questions about Thor and Asgard. Apparently some of them survived. But where does the Thor franchise go from here? Where's Valkyrie?
Ant-Man is there. Where's The Wasp? I'm guessing that she is part of the one-half gone, which is a shame. I thought I heard somewhere that she was in this.
Hawkeye is here. Odds are very good that some of his family is part of the one-half gone, so he's got serious stakes in this.
Odds are incredibly high that this is going to be the final appearance of Steve Rogers as Captain America. To have him go out on a high note, it's almost a given that he's going to sacrifice himself to save the universe. And that's okay... but... is it wrong that I want Nebula to be the one who defeats Thanos? Out of everybody, she deserves it most.
Iron Man's armor has evolved to kind of a weird place. The whole "legs merge to jet" thing in Infinity War was a breaking point for me.
War Machine, on the other hand, has a more logical progression to his look.
Black Widow had better get her own damn movie after all this. Seriously. What character has given more to other characters' films with nothing for themselves? She's woefully underutilized, and a solo movie will help fix that... and hopefully other characters she's supported over the years will support her.
Next up? Ant Man and The Wasp, which looks fantastic.

• Super! Here's the thing. With the exception of Wonder Woman, the DC Cinematic Universe has devolved into a heap of shit. Man of Steel... Batman vs. Superman... Suicide Squad... Justice League... they were all heinous crap that ignored huge portions of what makes DC characters so timeless and special. At the other end of the spectrum is the DC Television Universe (or Arrowverse, if you will) which has been killing it. Yes, Legends of Tomorrow has never quite worked... and Arrow has gotten stale... and the overall story arc for The Flash this past season went way too long and was ultimately pretty lame... but then there's Supergirl. It's been so good. And the season finale was no exception...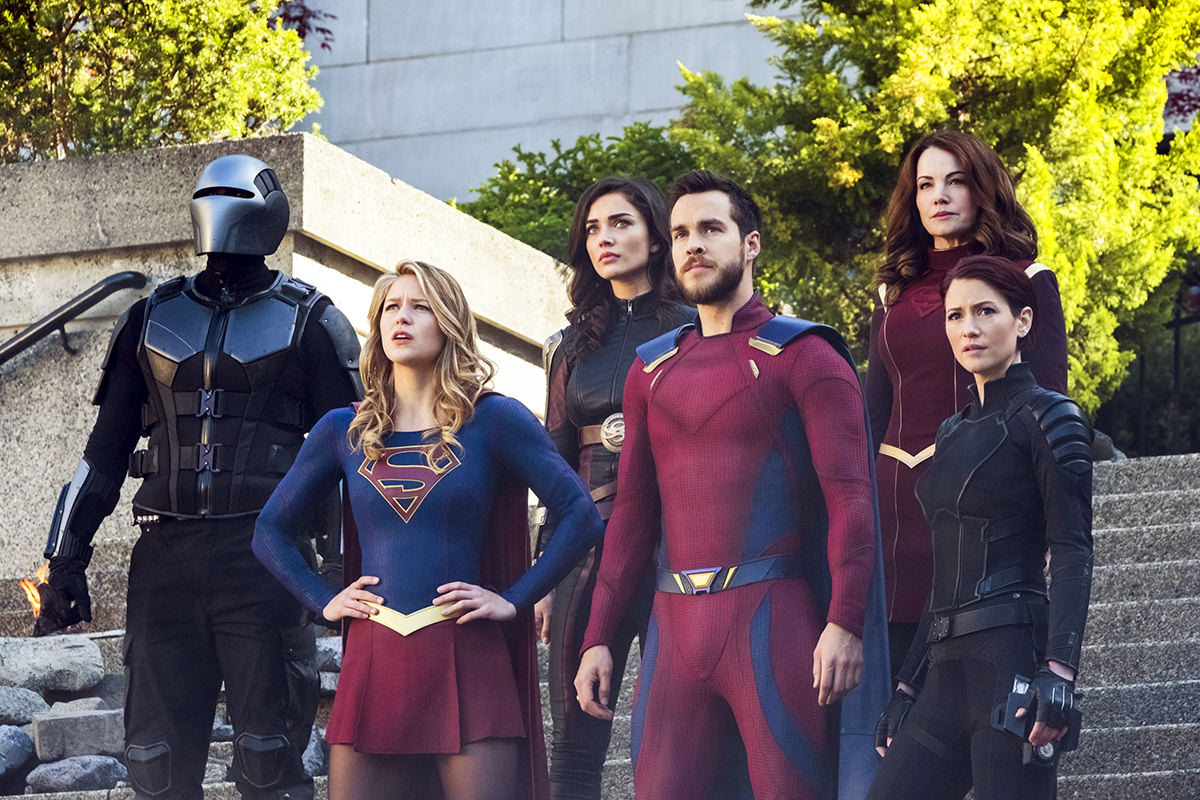 Is it too much to ask that the people in charge of Supergirl give us a Superman show? Preferably a show where the central character STANDS ON THEIR OWN instead of yet another team show? The movie Superman is going nowhere, while Tyler Hoechlin has proven he's the best on-screen Superman since Christopher Reeve....
DC should really just expand the Arrowverse into movies that don't suck. Because haven't we suffered enough? All I can hope is that we get another excellent season of SuperGirl. And a first season of Superman. Oh... and I would totally watch a Legion of Super-Heroes show too.

• 4K! I fell into a YouTube 4K HDR rabbit hole when I found out that my television can display them. Amazing stuff... even if you can't view 4K HDR. Here are some of my favorites...
But if you can watch 4K HDR on your TV...

• Beam! Don't get me wrong, I love my Sonos smart speaker setup, but there are some serious shortfalls that plague the system. Namely... it's stuck in the past. They've been clinging to optical cables for their PlayBar and PlayBase like a dead lemming, despite the fact that everybody else abandoned it a decade ago. And then this past week Sonos released a new product: Beam. Which is essentially a mini PlayBar that costs $399. But the biggest news? It's not using optical cable... it's HDMI ARC. Welcome to the future, Sonos...
It's a step in the right direction, but not a very big one. Still no Dolby Atmos or other modern sound technologies have been announced. On the contrary, they say they have no plans for Atmos at all. Instead we're getting IKEA furniture with Sonos built-in. Wheee.

Good luck getting Apeshit out of your head this week...
Posted on June 10th, 2018

It's been yet another week full of hypocrisy and evil, but it's all good, because an all-new Bullet Sunday starts now...

• Two! I loved everything about the first LEGO Movie... except the ending. When they dropped into "The Real World," everything fell apart for me. With this in mind, I have mixed feelings about the sequel...
Yes, I'm excited to see it. But can we please just stick in the world of LEGO and let Chris Pratt be hilarious? That would be great, thanks.

• No Reservations. There wasn't much I didn't like about Anthony Bourdain. He was responsible for some highly entertaining television. He was a world traveler and advocate for better understanding and acceptance between cultures. He used his celebrity to advocate for worthwhile causes and draw attention to injustices. He was an incredible guest on any talk show he dropped by. He was somebody I liked and admired, which is why his death has hit me so hard. You will be missed, sir.

• Darkness and Light! I was never a fan of the Cloak & Dagger comic books. They all had the same story. Cloak & Dagger hunt down drug dealers. Cloak goes a little crazy because he's hungry. Dagger feeds him a light sandwich. Lather, rinse, repeat. On occasion they team up with other heroes, but their baggage is always the same. And now Freeform TV has created a Cloak & Dagger television show...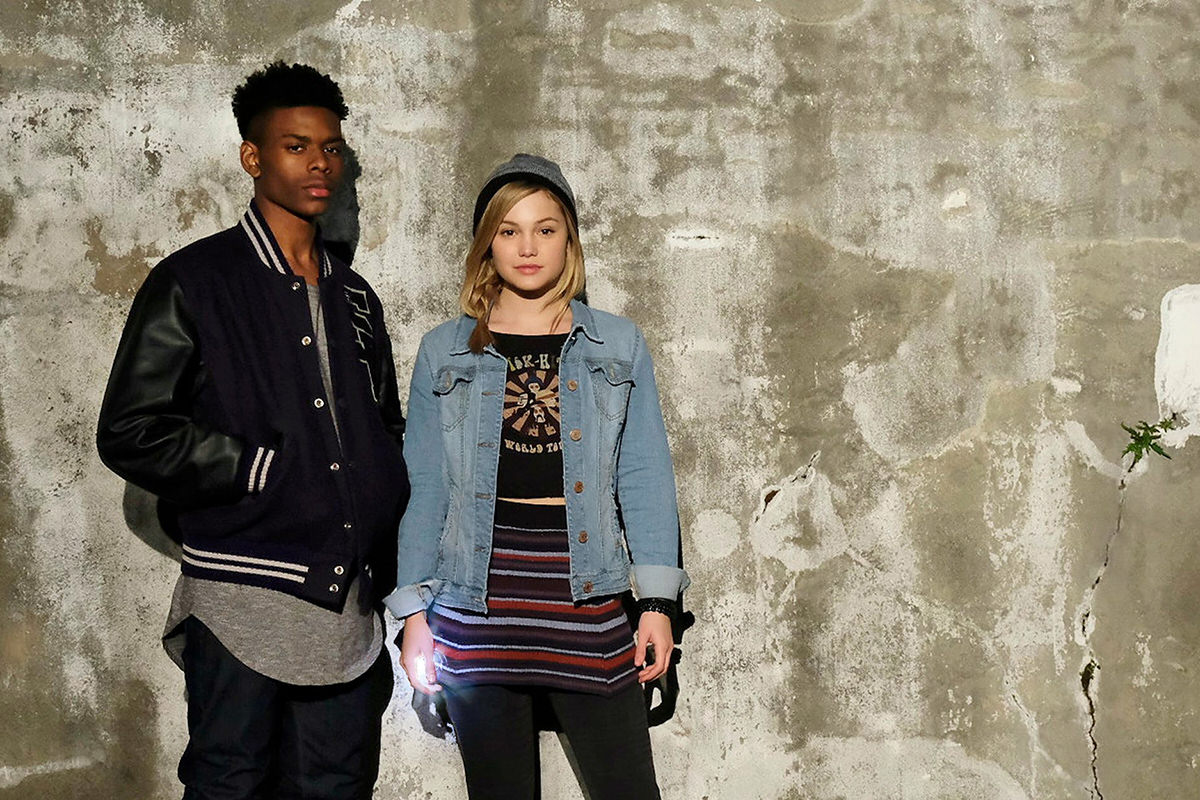 Now, I'm not saying that every super-hero show has to be packed with super-power fights... but there has to be something to make it interesting... otherwise it's just another boring TV drama I don't care about. And if the first two episodes of Cloak & Dagger are any indication, here's yet another boring TV drama I don't care about. Which is a shame, because the actors are very good.

• You! Other than an occasional song here and there, I haven't given much thought to Maroon 5 in years. But now they've dropped a new video for their song Girls Like You that's packed with more guest-stars than you can shake a stick at.
Not a bad song at all. And if you're having trouble putting a name to all the faces, here's a link for you. And, as much as I like it, this is not going to displace my favorite Maroon 5 video...
And if that's not enough Maroon 5 for you... here they are covering Bob Marley's Three Little Birds...
'Cause every little thing gonna be alright.

• NEWS: With deal to close this week, Bayer to retire Monsanto name
Well of course they are retiring the Monsanto name! Monsanto is fucking evil incarnate, and people were finally waking up to it. But now? Bayer is just the aspirin people! Evil + Evil = Bigger Evil.

• A Red Letter Day! As my final bullet of the day, I leave you with one of my favorite Pet Shop Boys songs that's woefully under-appreciated... and highly relevant to my life as of late...
Doesn't get much more Pet Shop Boys than that.

So long until next Bullet Sunday!
Tags:
Bullet Sunday
,
Comic Books
,
LEGO
,
Movies
,
Music
,
Pet Shop Boys
,
Television
,
Travel
Categories:
Bullet Sunday 2018
,
Movies 2018
,
Music 2018
,
Television 2018
—
Click To It:
Permalink
—
2 Comments: Click To Add Yours!
Posted on June 3rd, 2018

Welp, my air conditioner has finally kicked in, so I guess that means summer is here... so I'm keeping it cool because an all-new Bullet Sunday starts now...

• Villains! It's no secret that I love the entire catalog of LEGO video games. They're not particularly challenging, but that's the appeal for me. I can shut my brain off and just enjoy things without stressing over it all. And now? DC Super-Villains...
So great. What's not so great? I don't have a system to play it on. Looks like a Nintendo Switch might be in my future. Once they drop to a price I can afford, that is.

• Goodbye to Film! Nikon stopped making film cameras back in 2006. Now Canon is Officially Done Selling Film Cameras After 80 Years. I honestly don't know how to feel about the death of film. My first "serious" camera was a Canon film camera that my parents gave me as a graduation present. I loved the thing, and was still shooting with it as early as five years ago. What I love about film is the mystery of it all. You don't know what you're going to get. Even if you THINK you know what you're going to get, there's a chemical reaction taking place that can make surprising things happen. Not that I am sad that the world went digital. On the contrary, it has made photography so much more enjoyable for me specifically because the mystery is gone. I know whether or not I got the shot immediately after taking it. And I don't have the expense of film and developing it keeping me from experimenting with new things. I can shoot hundreds of photos, delete all but the ones I want, then shoot hundreds more at no additional expense. And yet... the end of film is an end to an era which was some of the best entertainment I had for nearly two decades of my life.

• Flop! My television is on HGTV (Home and Garden Television) 90% of the time, and I watch all the home renovation shows. One of those that became almost too annoying for its own good was Flip or Flop. A show which imploded when its stars had an epic tabloid-worthy breakup that resulted in divorce. Now, a year later, they're back...
This past week the first new episode since their split finally aired. It was cringe-inducing awkward... but more entertaining than the show has been in years. And so... I guess I'm going to keep watching. But I fully plan on hating myself while doing so.

• Older! As I tear apart my garage to make room for my wood shop, I'm running across all kinds of interesting items from my past. Like my old Walkman!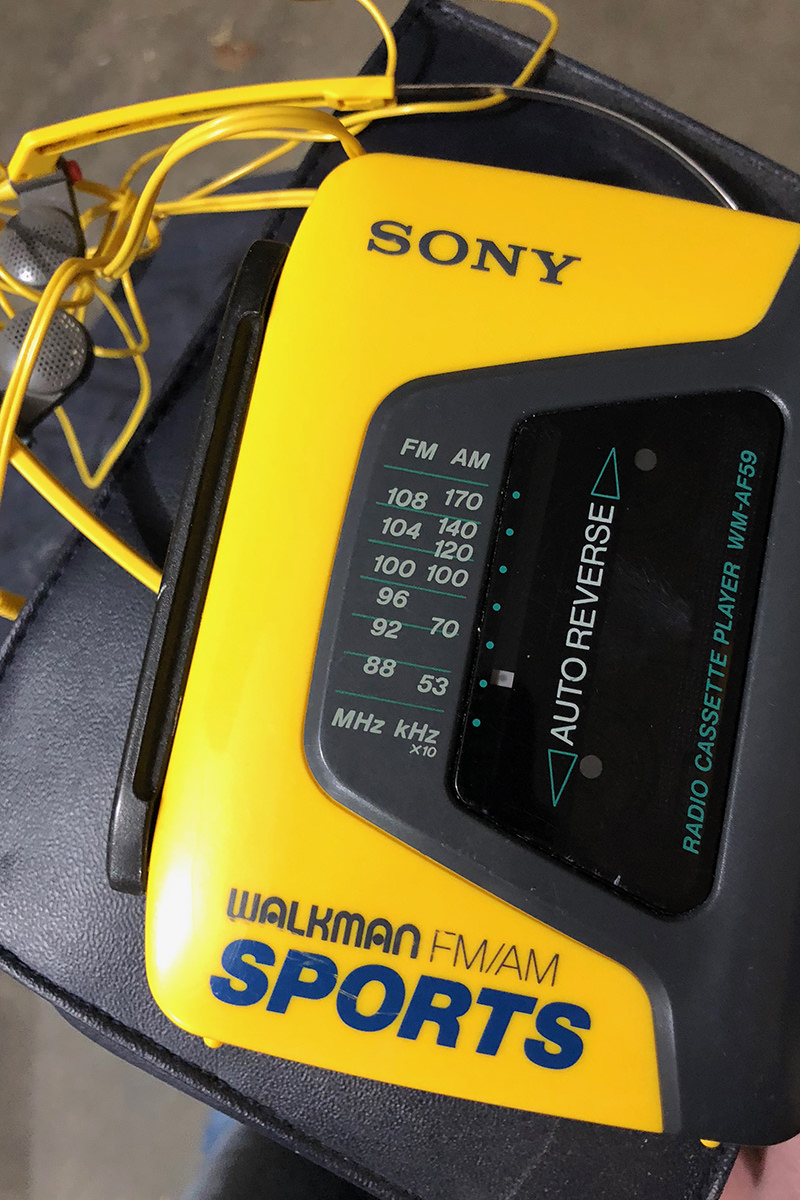 And also? Rubylith masking film. Something I used by the car-load during the early days of graphic design layout. The mask was sticky and attached to a clear acetate layer, so you could create masks that can be stacked up...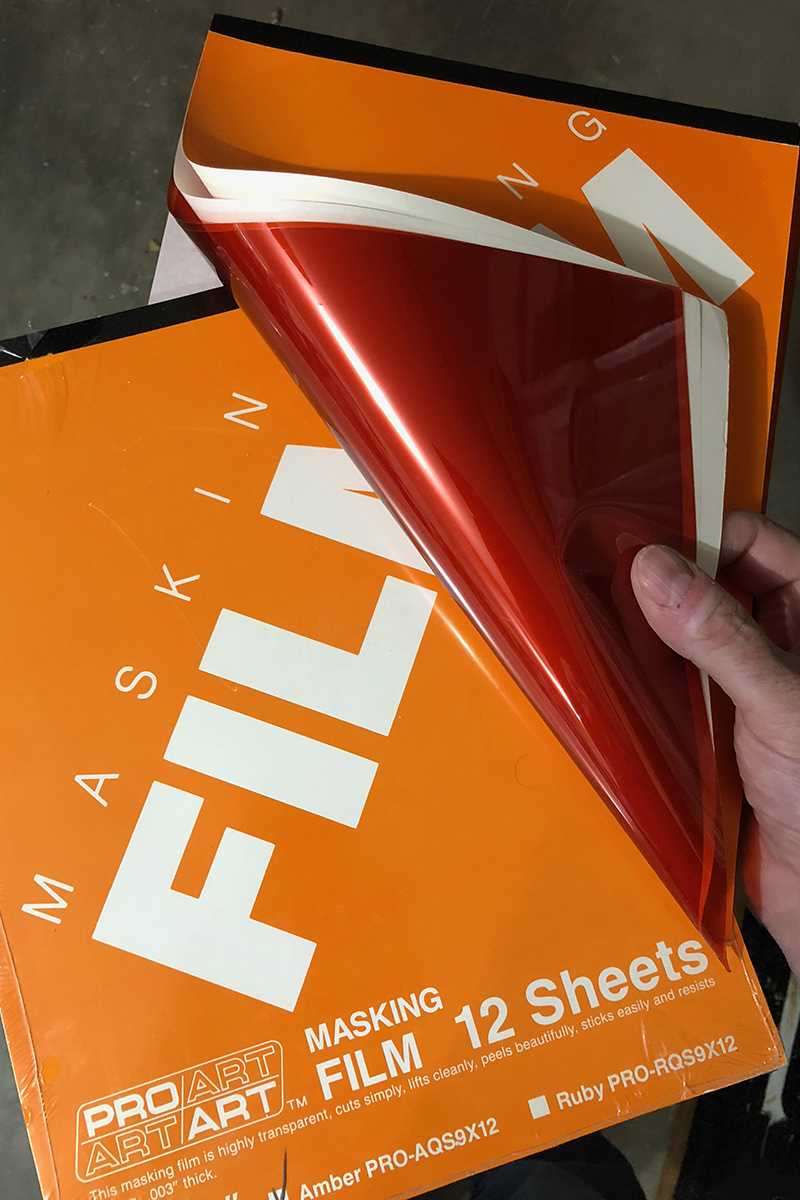 Ah memories. But I wouldn't change music on my iPhone or computer layout for all the Walkmans and Rubylith in the world.

• Villains! As I started cleaning out my refrigerator, I found six... SIX... containers of mayonnaise open...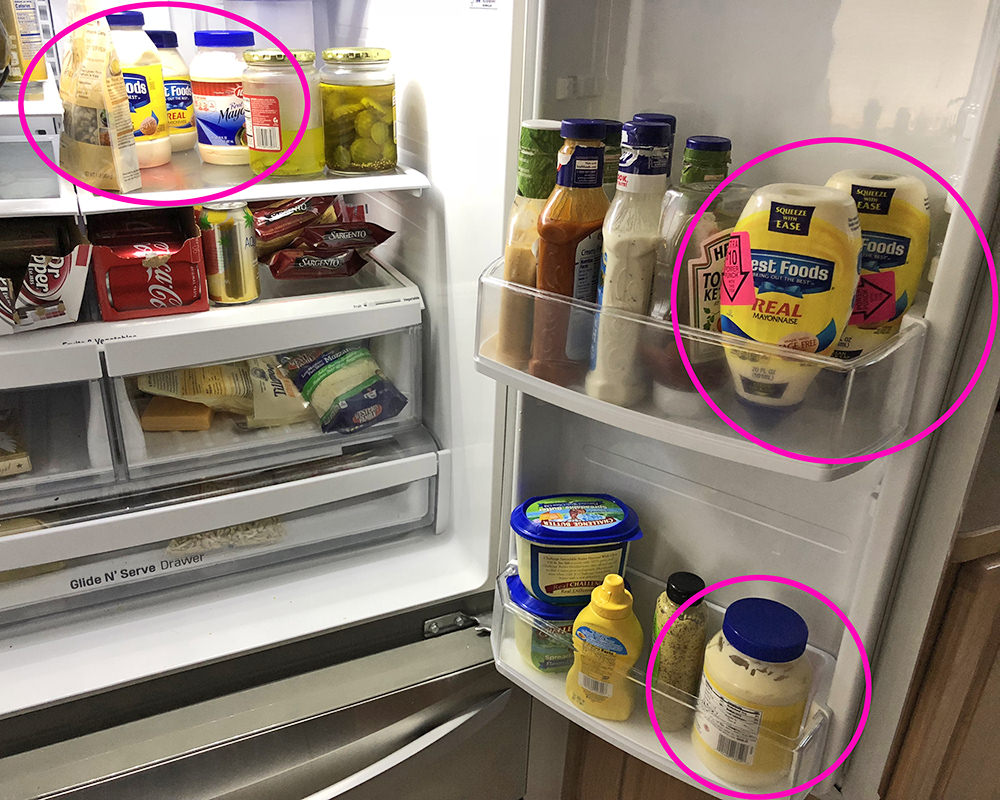 WHY?!?? HOW?!?? There are times that I think I might be bat-shit crazy. This is one of those times.

• Faith! Reelz, who has been churning out a steady stream of really good TV shows about tragic music stars, recently came out with new shows on George Michael, including their George Michael's Lonely Life which was quite good. And reminded me about when George appeared with James Cordon for the first Carpool Karaoke, and James' reaction to his death...
Still sad that George is gone. His music at the end was every bit as interesting as when it began, and I was looking forward to more of it.
Posted on May 27th, 2018

It may be the last day of the week, but this holiday weekend keeps on rolling... because an all new Bullet Sunday starts... now...

• Pooh! Of all the movies coming up, I have to admit that Christopher Robin is the one I'm most looking forward to at the moment...
With all the advancements in special effects, it's the ability to make films like this which impress me most.

• Whoa! Keanu Reeves and Winona Ryder? Sign me up!
I'm not a romantic-comedy "romcom" kinda guy, but this movie will be worth seeing for the casting alone. Not in theaters, of course, but when it hits HBO or Netflix, I'm on it.

• Hotness! I've been running across a lot of treasures from my past as I work my way through my garage. As an example... look how brutally hot I was on my learner permit!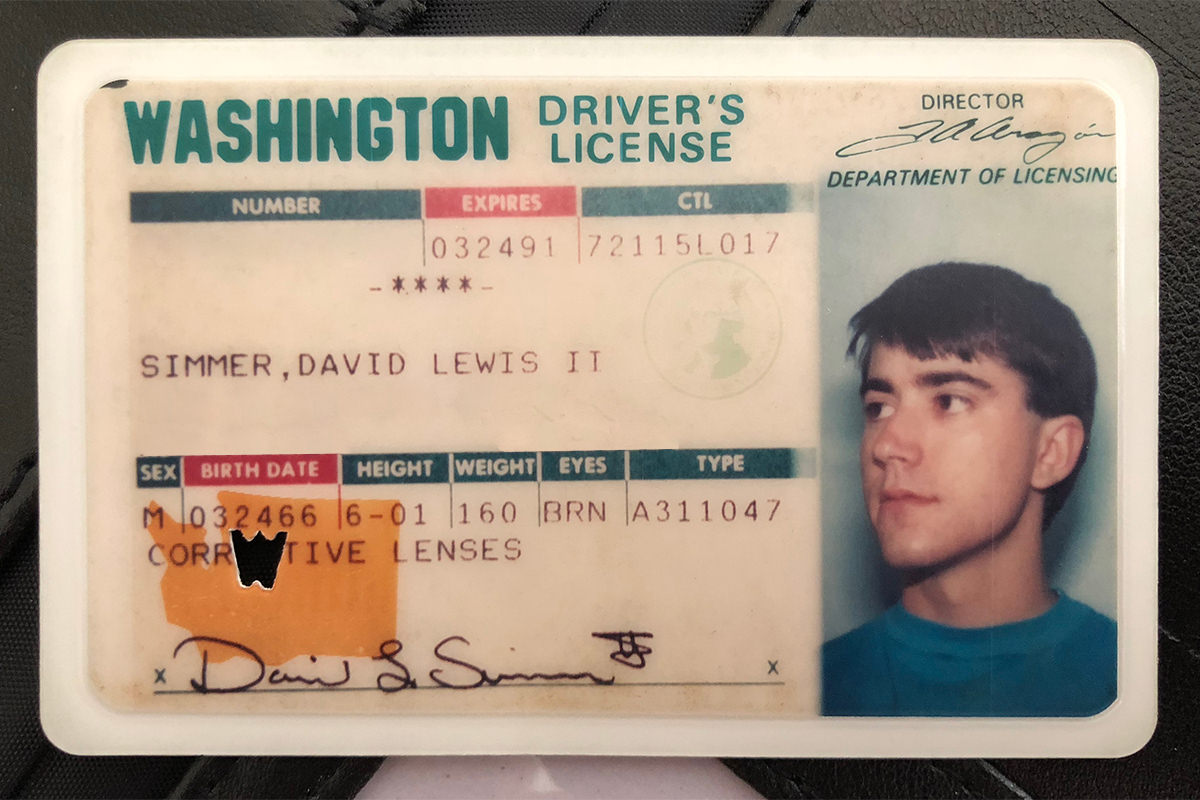 Yep... if I were legal in that photo, I'd do me!

• Togs! The closer they get to making Mon-El have his iconic comic book costume, the closer my inner fanboy gets to peeing my pants...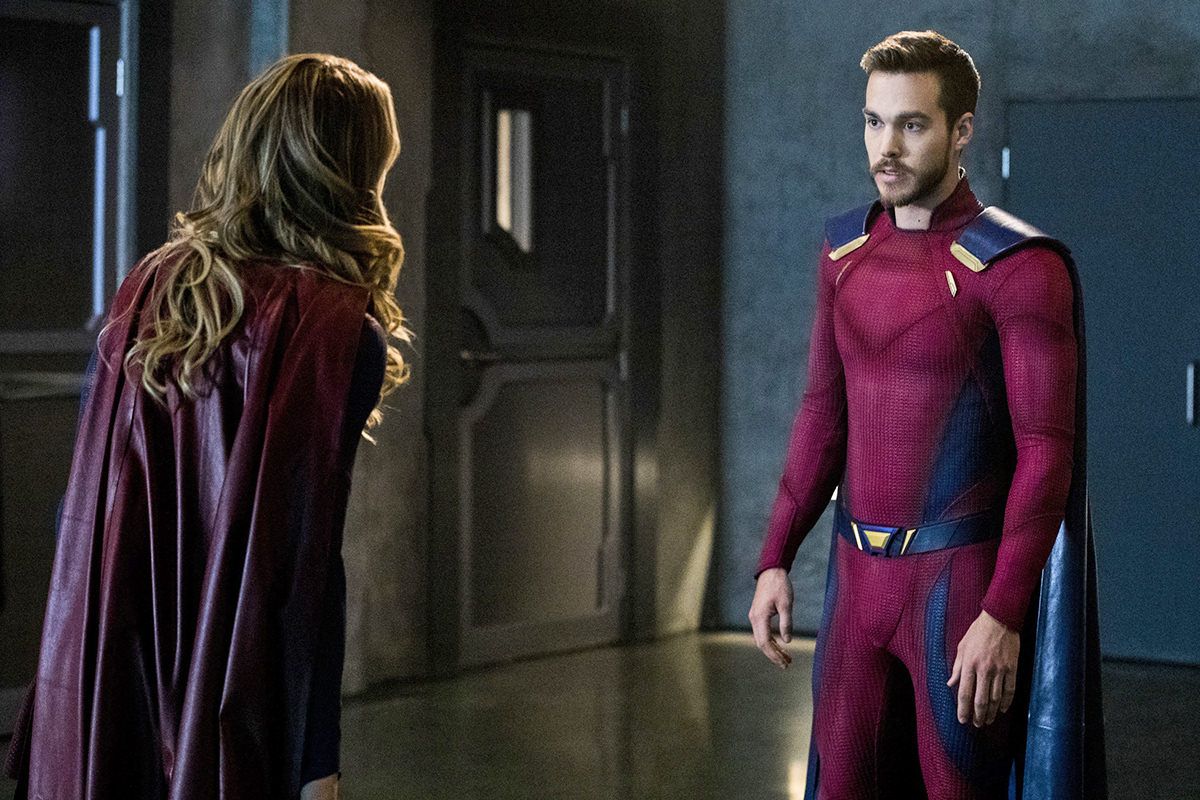 Almost there. Just need that waistcoat... then call it good!

• Thanks, Obama! Yes, I had problems with some of President Obama's policies... but I never stopped admiring him as a person. That goes double Michelle Obama, who was such an exemplary First Lady. So to say that I'm anxious to get my hands on her forthcoming book is an epic understatement...
The unabridged audiobook is available for pre-order at Audible. Since Michelle Obama is narrating all 14 hours of it, I couldn't press the purchase button fast enough.

• Quilt! Hey OG bloggers! Somebody made this incredible quilt for me back in the day, but I can't remember who it was? Does anybody know?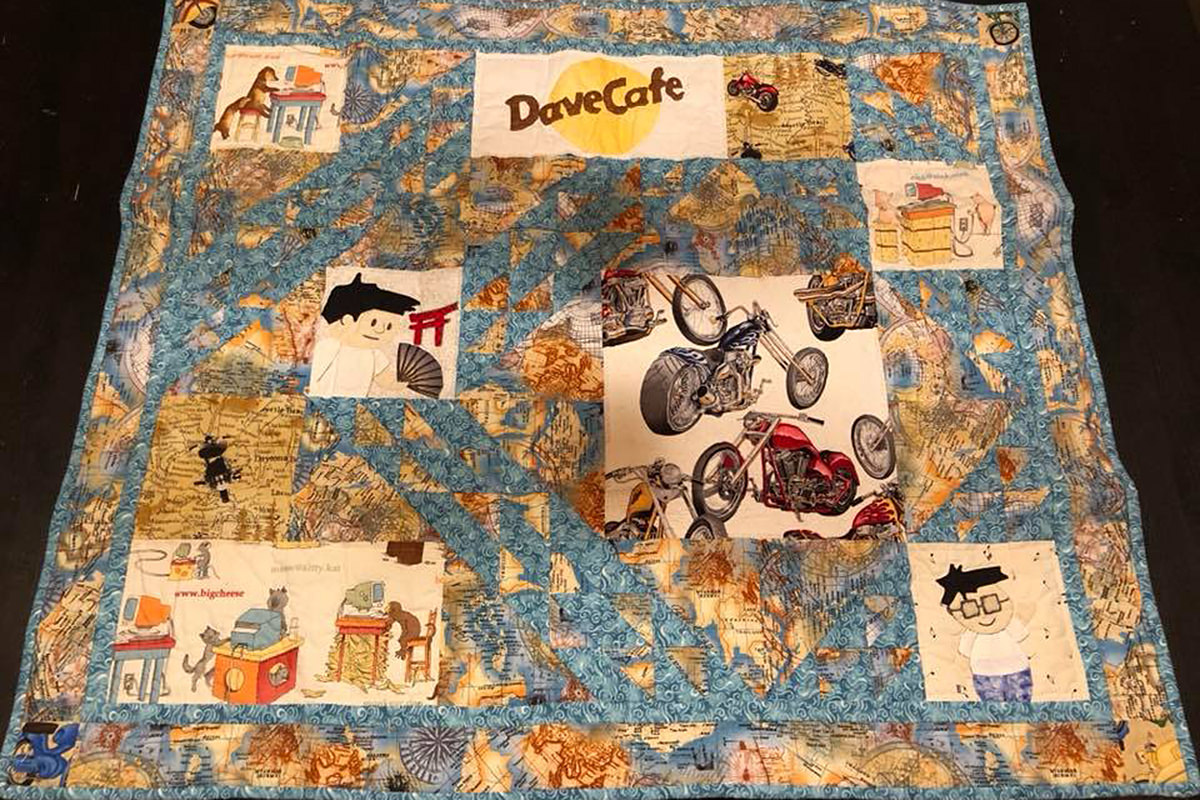 I'm hanging it up to display in my room, and I'd like to attach a tag with the author.

What are you still doing here? The bullets are over. They're over! Go home. There's nothing more for you here.
Posted on May 20th, 2018

Put on your Sunday's best... because an all new Bullet Sunday starts... now...

• Mo Carbs! Hey everybody... IT'S CARB AWARENESS DAY! I'm not supposed to eat many carbs anymore, but you can bet I'll be celebrating! Bread, pasta, and sugar for everyone!

• Twins Redux! And here it is... the first single from Thompson Twins' Tom Bailey's forthcoming album: Feels Like Love to Me...
Needless to say, it's a huge relief that this has a true Thompson Twins vibe to it... which is exactly what I want in a new album from Tom Bailey. It feels a bit more mature than Into The Gap, but doesn't sound as different as Big Trash or Close to the Bone did at the time... which is to say that it fits nicely between the end of the Thompson Twins and the beginning of Babel. At least from this one song it does.

• I Smell Bullshit! Fraganzia... because Febreze and every other product name worth a shit has been taken...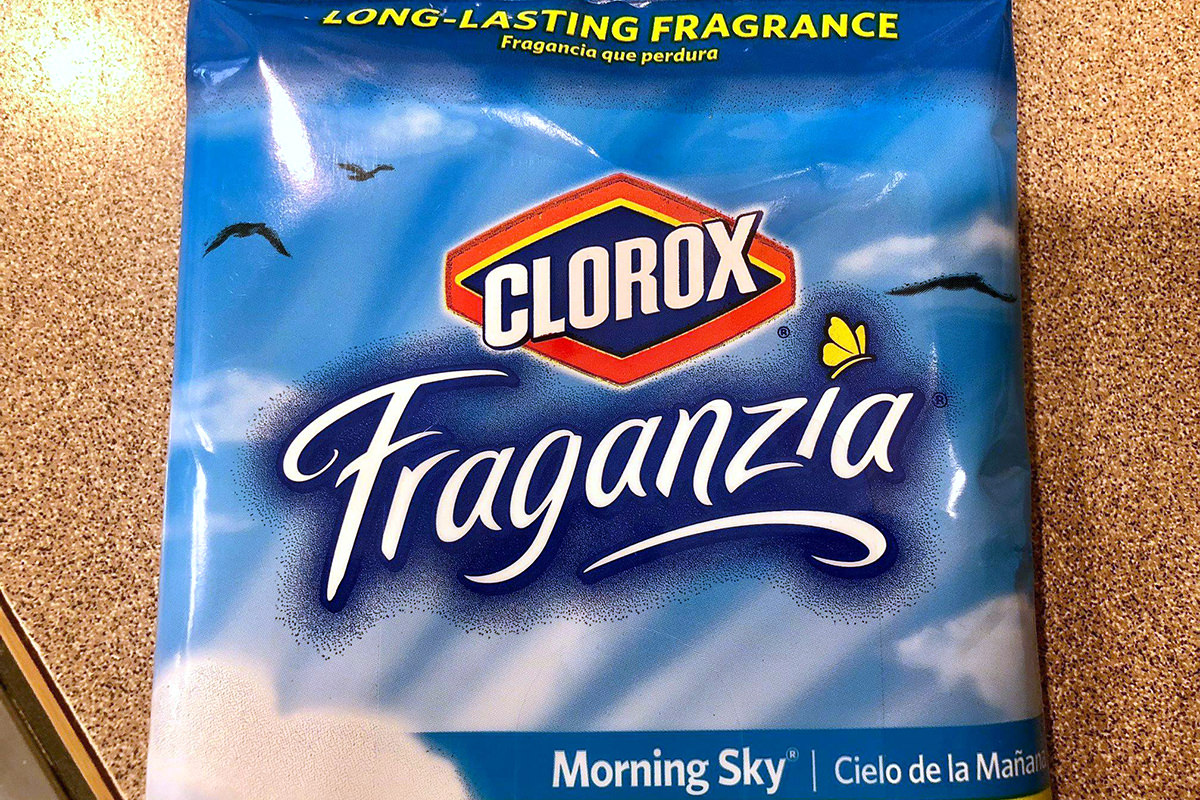 =sigh= Product marketing is officially running out of ideas.

• NEWS: Oklahoma governor signs law allowing adoption agencies to ban same-sex couples.
Holy shit... it's not a day ending in "Y" unless Mary Fallin is stirring up more bigoted shit. Such a fucking asshole. KIDS NEED LOVING HOMES. It has been shown over and over and over and over that same-sex parents DO AS WELL OR BETTER at churning out happy, healthy, well-adjusted children as opposite-sex parents. And in 2018 kids don't care... THEY SHOULDN'T CARE... because the ONLY things that matter is that they have a home to call their own. That they are fed and provided for. That they are loved and cherished. Who gives a fuck if that comes from two dads or two moms? Apparently Mary Fallin does, which means she is in no danger of spoiling her track record at being one of the shittiest human beings on the planet. Congrats, Mary, you repugnant pile of garbage. Are you going to take in all the kids being denied homes by your bigotry? =crickets=

• NEWS: GOP House candidate live streams herself challenging transgender woman for using women's restroom.
A women's bathroom has
STALLS
. Nobody is seeing
ANYTHING
. So it begs the question... exactly
how
is this candidate using public restrooms that a trans person entering is such a huge issue? Does she get naked and run around in there before she goes into a stall? Does she just hang around in there with her vag hanging out? What does she think people are going to see?
What is it?
You use a public bathroom to go to the bathroom, then (hopefully) wash your hands, then leave. Admittedly, I've never gone into a woman's bathroom before... so maybe I am completely unaware of what goes on in there... but this just seems extraordinarily stupid. If public bathrooms bother you this much,
then don't use a public bathroom
.

• Adventure Redux! Last Bullet Sunday I had mentioned the very first graphical adventure video game... Adventure! As a formative part of my childhood, it's a game that fascinates me in a hundred different directions. Mostly because it shouldn't have even been possible given the technological limitations of the time. In a stroke of randomness, I ran across an interview with Adventure creator Warren Robinett earlier this week! It's pretty great...
Needless to say, I am thrilled at the prospect of reading The Annotated Adventure book mentioned in the talk, but the last mention of it was in 2016, so I'm guessing it's been put on indefinite hold or outright cancelled by now.

And on that note... DeeTwo out.
Posted on May 13th, 2018

Mother's Day isn't the only good thing to happen today... because an all new Bullet Sunday starts... now...

• Wubba Lubba Dub Dub! Looks like we're getting another 70 episodes of Rick & Morty!
My cat Jenny will be thrilled. Don't ask me why, but she loves the show. I think it has to do with Rick's voice, because if I'm watching and turn the television up, she'll come running to see what's happening. It sounds crazy, but I shit you not. She likes watching television, but she loves the Rick & Morty...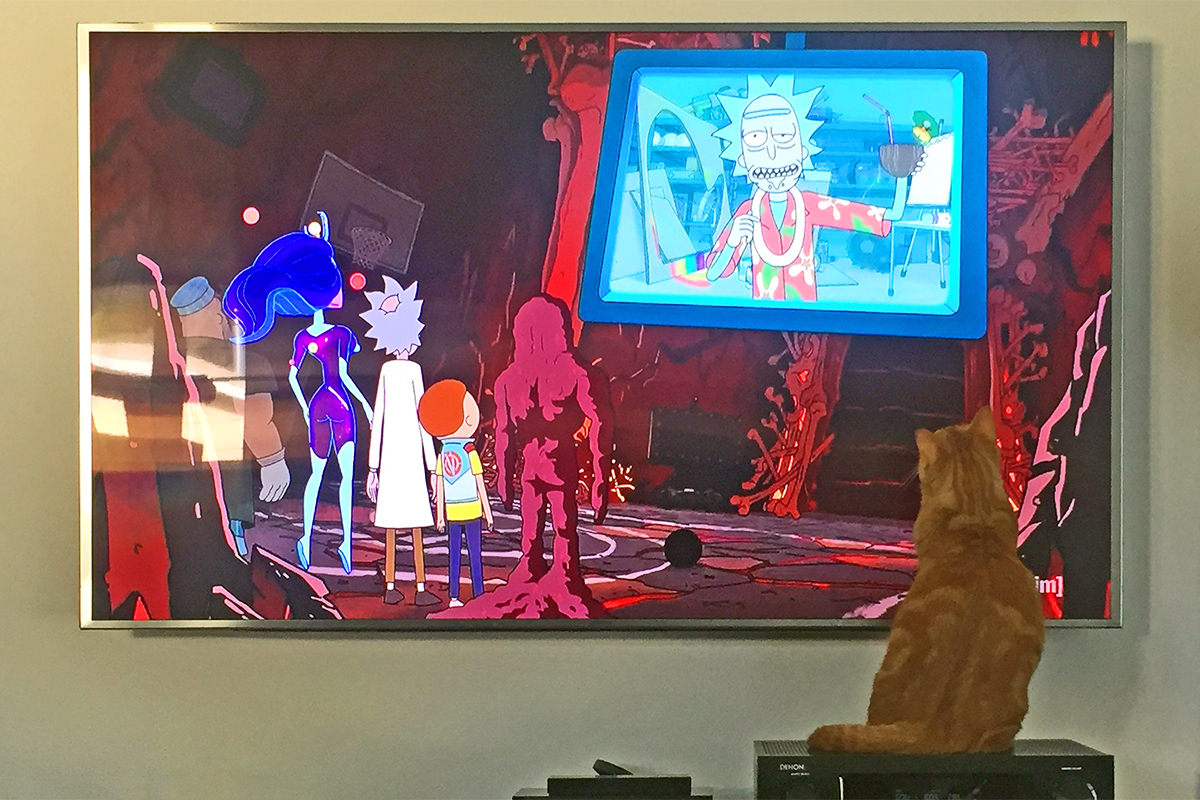 Not bad for a Back to the Future parody.

• Satan! FOX went on a brutal cancelation spree, axing shows that I really enjoy like The Last Man on Earth, The Mick, Reno Nine-Nine and, horror of horrors, one of my favorite shows ever... Lucifer.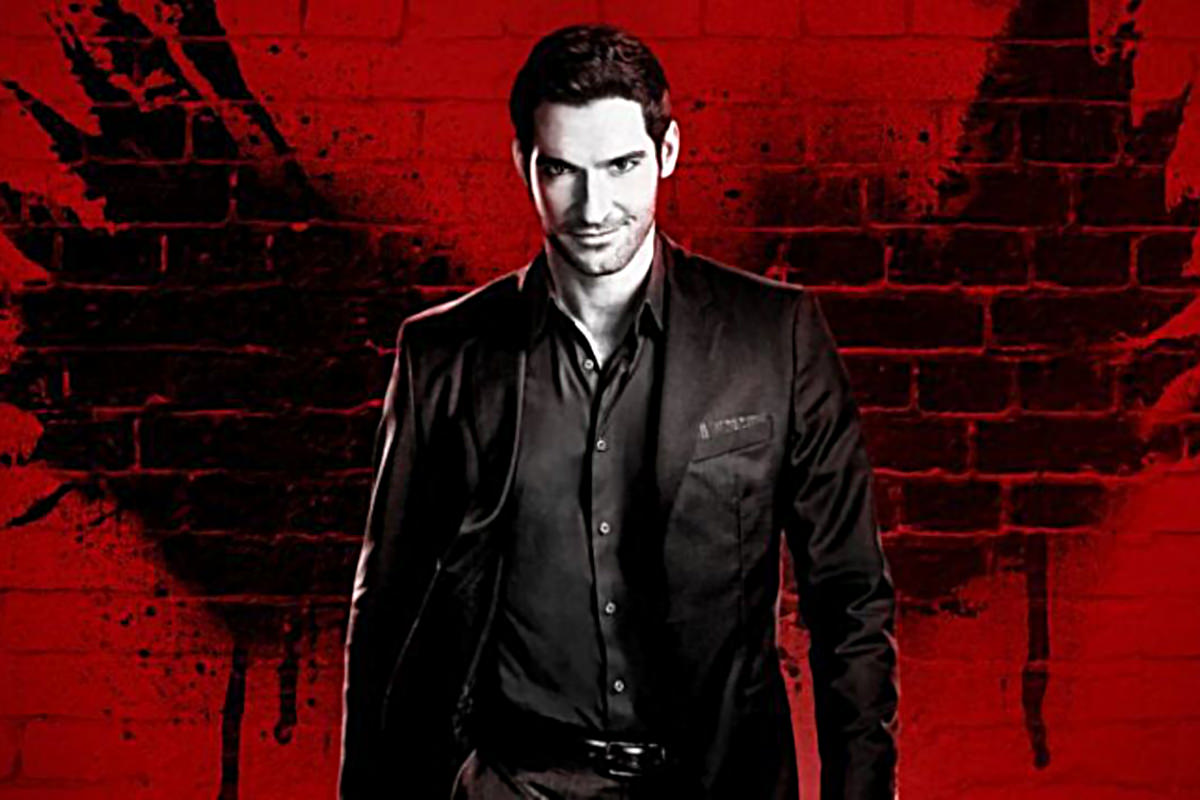 Apparently Reno Nine-Nine has been saved by NBC, which isn't much of a surprise since the show is distributed by NBC. Lucifer is co-produced and distributed by Warner Brothers, but their network blew up back in 2006. No idea where it would find a home unless one of the streaming networks like Amazon, Hulu, or Netflix grabs it. Which would sure as hell be nice, since they could wrap up the show and give us a proper ending. No word yet on what the fate will be for Champions and L.A. to Vegas... two more shows I would be sad to lose.

• Challenge! Ariana Grande has always been an incredibly good sport when it comes to putting up with Jimmy's shenanigans, and has played numerous "challenge" games with him on The Tonight Show. And now there's this...
Now that's talent.

• Adventure! Every once in a while I see an image posted of what video game graphics look like now compared to what they looked like when I first played video games. It just keeps getting more and more insane...

Posted by marvinrabbit on imgur.
Video games are more like playing a movie than ever, and I'm not sure if that's a good thing or a bad thing. Back when my gaming experience was an Atari 2600, it was just a distraction that couldn't compare with Real Life...
But now that gaming is, in some ways, better than Real Life? Hmmmm...

• Try Evil! According to The Wall Street Journal, Apple is going to partner up with the pig-fuckers at Goldman Sachs to come out with their own branded credit card. Looks like Apple has completely given up and decided to go 100% evil. Since the WSJ is behind a pay-wall (deep eye-roll), here's the story at Fortune magazine.

• Health! I'm just going to finish my bullets by leaving this right here: The incredibly frustrating reason there's no Lyme disease vaccine.

So long, Sunday... I got a P!NK concert coming up.
Posted on April 29th, 2018

An abundance of sunshine is headed your way... because an all new Bullet Sunday starts... now...

• Gnats! I don't live in the South. But this video made me LOL because most every year gnats show up for three or four days here and it's exactly this...
Another thing that came my way that got me to thinking is this story link, which is exactly the kind of thing you want to be thinking about since mid-term elections are seven months away.

• Four-Twenty Day! This is seriously funnier than most stand up specials I've seen...
Dayam!

• WHCD! This year they had another Daily Show corespondent host the White House Correspondence Dinner, Michelle Wolf. In my humble opinion, it was a less than stellar performance. Not because the things she said weren't truthful or relevant... I think she hit the right notes there... but because her humor wasn't landing. Skewering people is fine, that's what the dinner is for. But you have to make it sound more lighthearted than just being mean. I think back to Hasan Minhaj's brilliant commentary last year where he totally killed it without going vile, and feel that's a better take on how to do it...
Of course, everybody pales when compared to the absolute master of the White House Correpondence Dinner... President Obama...
Too good to be true in so many ways.

• Good Medicine! Then again, no fancy dinner can compare to a solid dose of truth delivered in desperate times...
This is where we are. The current administration is doing nothing to fix anything.

• Faux Friends! As for the actually president of these United States of America? Still unhinged, completely detached from reality, and bat-shit insane...
I have no idea... none... how anybody supports this deranged shit show.

• New Twins! It's no secret that one of my favorite bands of all time is the Thompson Twins. Which is why it's no surprise that I was thrilled when the group's front-man, Tom Bailey, started touring again. And now? New music!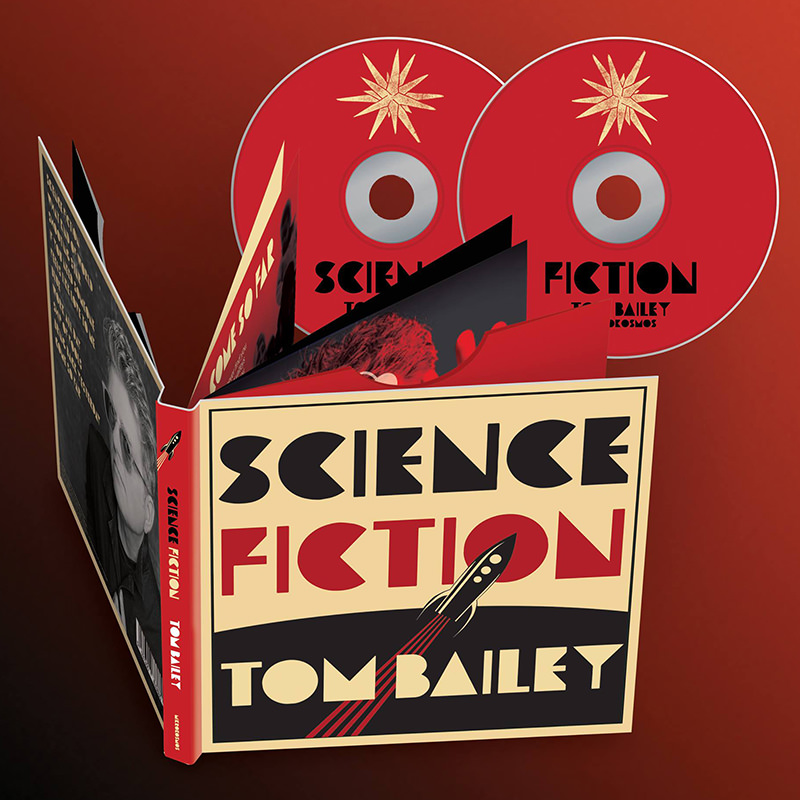 If you want to support his efforts (which will hopefully be more like a new Thompson's Twins album than anything radically different), you can head over to his page on Pledge Music.

Until next week, just keep swimming...