Posted on April 23rd, 2017

Everybody have a nice Earth Day?
Good! Because an all-new Bullet Sunday starts... now...

• Sikh! Essential viewing...
The more you know...
Sikhism is a fascinating faith that I haven't studied nearly enough.

• Kingsman! Holy shit! Going back to insert this in Bullet Sunday because it's just too good. I loved the first film, and it looks like the second is going to be more of the same!
Very cool that the American version of "The Kingsmen" makes their debut... " The Statesmen!" I wonder if a spin-off franchise is at hand? So long as Matthew Vaughn is involved, that's fine by me!

• Krypton! Ooh a TV show based on Superman's home planet... Krypton. This could be interesting! Wonder how faithful they'll be to the source material? Will we get to see the Scarlet Jungle? The Gold Volcano? How about Vathlo Island? The Jewel Mountains? Or even the Red Ocean? Can't wait to find out. The series is being developed at SyFy but, for reasons too fucking stupid to comprehend, they're killing the trailer everywhere it pops up. So I can't share the trailer. I can only share this hilarious reaction video from Double Toasted, which only shows parts of it (NSFW)...
The trailer is getting pretty good buzz. God only knows why SyFy is keeping people from sharing it.

• Mountains? When your CAPTCHA tells you to select all the mountain images, so you do... only to find out that they must live in Nebraska and think hills are mountains, which they most certainly are not...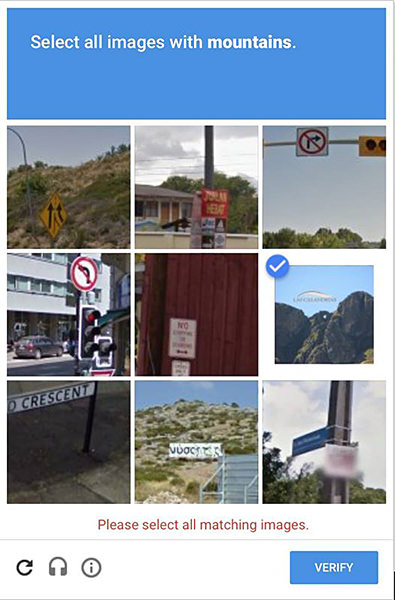 #1 and #8 qualify as "mountains"... alrighty then.

• These Days! "Take That!" is a band that didn't get huge success here in the US when compared to their home in the UK, where they are massively popular. Even so, I've always liked the band, and was surprised to find out that they released an album back in 2014 that I missed entirely called III. The lead single is a track filled with poppy fun that I can't seem to get out of my head...
Kind of cool how Take That! keeps chugging along even after losing two of their bandmates.

• Puppy! And, lastly, your weekly dose of "Awwwww... cute!" is right here...
Amazing how Mother Nature works.

And now... I could really use another day of my weekend.
Posted on April 16th, 2017

Sure it's Easter, but there are other reasons to celebrate the day, because an all-new Bullet Sunday starts... now...

• Kitty! Everything I love about cats can be found in this one clip of a kitty trying to escape the field at a Marlins game...
What a trooper! Apparently a Marlins' employee adopted the cat, who was named "Don Cattingly" in a Twitter poll.

• Kedi! And, speaking of cats...
Can't believe I have to wait until November for this to come out on video!

• Atomic! Okay... putting aside the fact that the trailer for Atomic Blonde features music by both Depeche Mode and New Order... how badly does watching this make me want to see the movie?
Charlize Theron should be in a lot more movies.

• Ragnarok! Speaking of movie trailers... how amazing is the latest Thor movie looking?
I'm part of the minority who actually likes the Thor films. The first one was really great at establishing the characters. The second stumbled quite a bit, but was still entertaining. But this? Probably the best Thor yet. Possibly one of the best Marvel films yet.

• Spicey! Melissa McCarthy is hosting SNL on May 15th. I'm hoping it's just an hour-and-a-half of her impersonating Sean Spicer, playing out the best of his ongoing fuck-ups. Verbatim. In the meanwhile, we have yet another flawless sketch from last night's episode...
What a big, beautiful slice of chocolate cake.

• Politics! The more you know about how politics work in this country, the more you think that we should burn the entire system to the ground and start over...
Politicians don't act in the best interest of those they represent because they don't have to. That's the underlying reason we're as fucked as we are.

Now go eat some eggs, you animal.
Tags:
Bullet Sunday
,
Cats
,
Dumbassery
,
Movies
,
Politcs
,
SNL
,
Thor
Categories:
Bullet Sunday 2017
,
Cats 2017
,
Movies 2017
,
News – Politics 2017
,
Television 2017
—
Click To It:
Permalink
—
0 Comments: Click To Add Yours!
Posted on April 9th, 2017

You may be thinking that after 500 Bullet Sundays I'd be giving up! But never fear, because an all-new Bullet Sunday starts... now...

• Target! Well, shit! All this time I've been waiting for the Victoria Beckham collection to debut at Target. It finally drops, and I find out it's WOMEN ONLY! What the hell?!?
Oh well... I promised I'd buy something nice when it the Beckham Collection was released, and I'm going to keep that promise. Good thing it's at Target where I know I can use the bathroom after changing into my new frock de Posh Spice.

• Something For Everyone! I'm not going to weigh in on the dumbass Pepsi commercial bullshit with Kendall Jenner... everything that needs to be said about it has been said. I just wondered over and over how in the hell the concept managed to get greenlit in the first place. And now, thanks to Saturday Night Live, we have that insight...
Probably. Probably.

• THE FACTOR! And speaking of SNL... holy crap! Alec Baldwin not only has a terrific President Trump, but a flawless Bill O'Reilly as well!
If only he would permanently join the cast. I mean, seriously, SNL ratings are higher than ever, and he's a perfect fit.

• Dreamy! Somehow I missed this one?
I need more dream pop in my life.

• Hannity! Yeah. Just going to leave this right here...
Agenda-ramming asshole.

And... Bullets B Gone.
Posted on April 2nd, 2017

You may be thinking that after 499 Bullet Sundays I'd be giving up! But never fear, because an all-new Bullet Sunday starts... now...

• Whedon! I am beside myself with hope... JOSS WHEDON IS GOING TO DIRECT A BATGIRL MOVIE! Which is both really great... and incredibly odd. Great, because Whedon may actually end up with a seriously good take on the character... odd because you'd think he'd hit Marvel up for a Black Widow movie, since he's already played around in that universe. Especially since Black Widow is, potentially at least, a much more interesting character.
Oh well. I'll take Whedon BatGirl...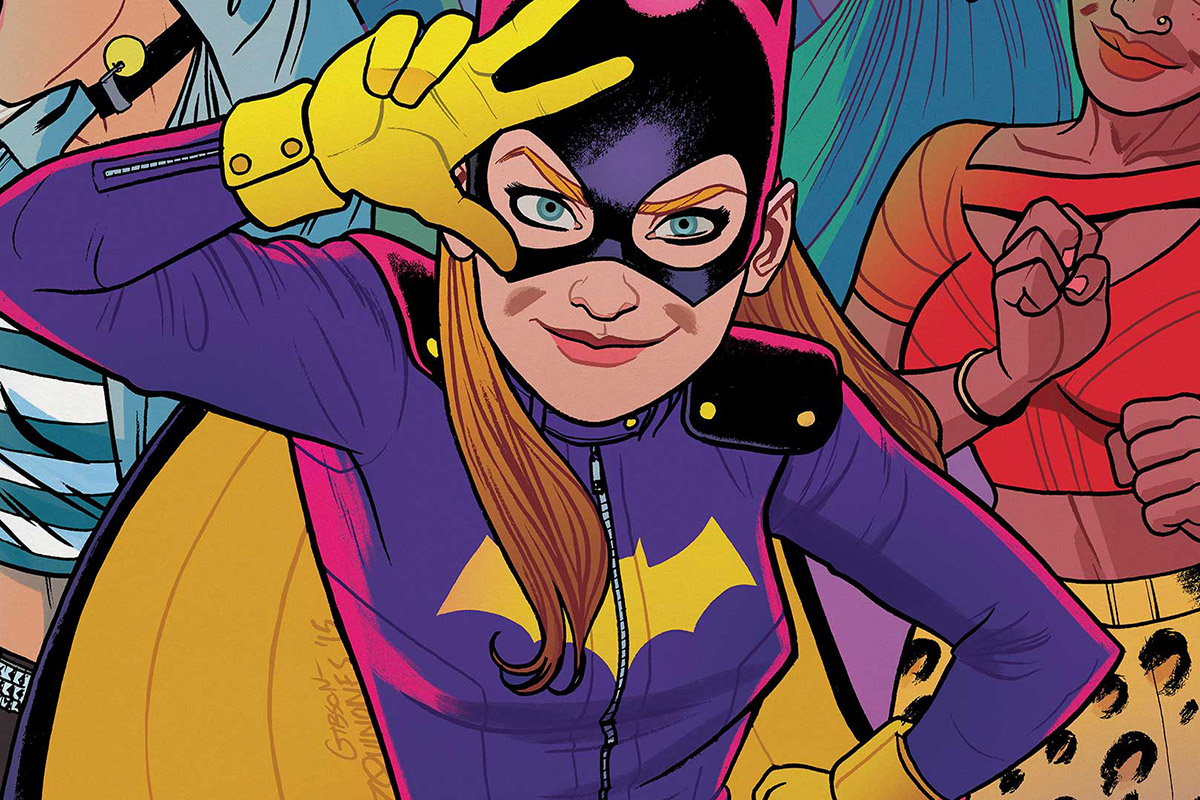 Hopefully he'll make it a fun film instead of glomming onto the absurdly shitty "dark" DC Comics cinematic disasters that Zack Snyder has crapped out of his ass. Nobody wants that.
What I would like is a LEGO BatGirl movie...
How awesome would that be?

• Homecoming. I swear... it's as if Marvel doesn't know how to fail...
This trailer looks like we're getting not only an amazing Spidey-film... but we're also getting a film that's firmly entrenched in the Marvel Cinematic Universe. At last. Can't wait!

• Besson! I know I'm pining away in vain at the idea of a sequel for The Fifth Element... but I guess Luck Besson's Valerian and the City of a Thousand Planets is as close as we're going to get...
It certainly looks like compelling sci-fi. Here's hoping.

• Funneh. Anybody out there watching Trial and Error? I find it surprisingly entertaining and quite funny...
MURDER BOARD! MURDER BOARD! MURDER BOARD!

• Guess. Okay then... will the pedophile principal be a godless liberal from a public school... or a God-fearing Christian from a private Christian school? Let's read and find out together, shall we?
Tulsa School Principal Arrested For Child Pornography.
Big fucking surprise... it's the God-fearing Christian. YET AGAIN. And yet over and over again we're told it's trans persons using bathrooms that's the big danger. It's homosexual teachers that's the big danger. It's gay characters in cartoon movies that's the big danger. Anything to distract people from the actual fucking danger that kids have to face. Give me a fucking break.

• Song Like You. My current earworm...
Just 18 years old. Amazing.

And... onwards towards another 500 Bullet Sundays.
Posted on March 26th, 2017

Time to burn this muther to the ground, because an all-new Bullet Sunday starts... now...

• The Government is Not Your Friend. In all seriousness, I wonder what it's going to fucking take before US citizens wake the hell up to how their privacy rights are being chipped away by elected officials. Our bought-and-paid-for-Senators just voted to undo internet privacy regulations, which means that you ISP can sell your browsing history to advertisers. Our privacy is up for grabs, and fuckers in the GOP are the pimps making it happen. Might want to look into a VPN to protect yourself before this gets run through the House.

• GET OUT! I'm just going to chime in with the vast majority of critics and say that Get Out is one of the best films this year...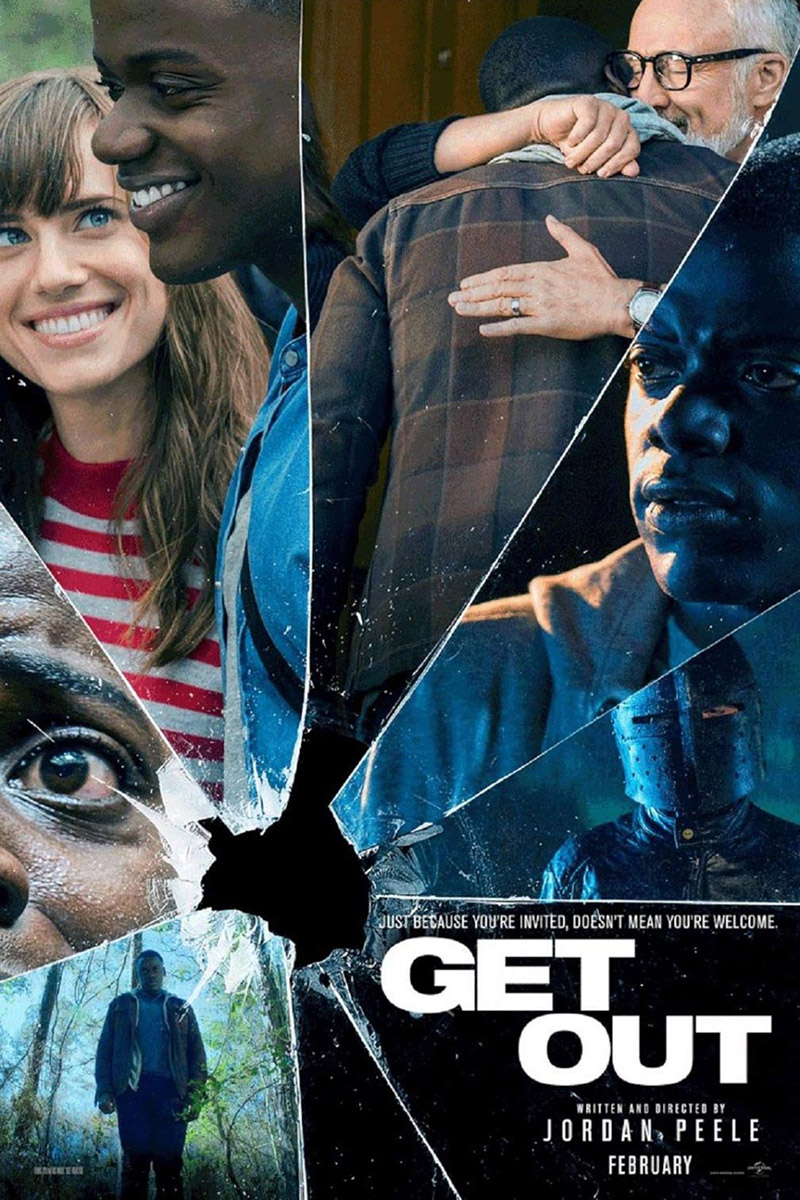 Jordan Peele has absolutely killed it. So far as suspense thrillers go, this is a tough movie to top. Easily going to make y "Best Of" list for 2017. Go see it!

• Final Dimensions? Rumors have been swirling that my favorite game of the moment... LEGO Dimensions is getting canceled. Back in January I was dismissive of such rumors. But now? Evidence is mounting.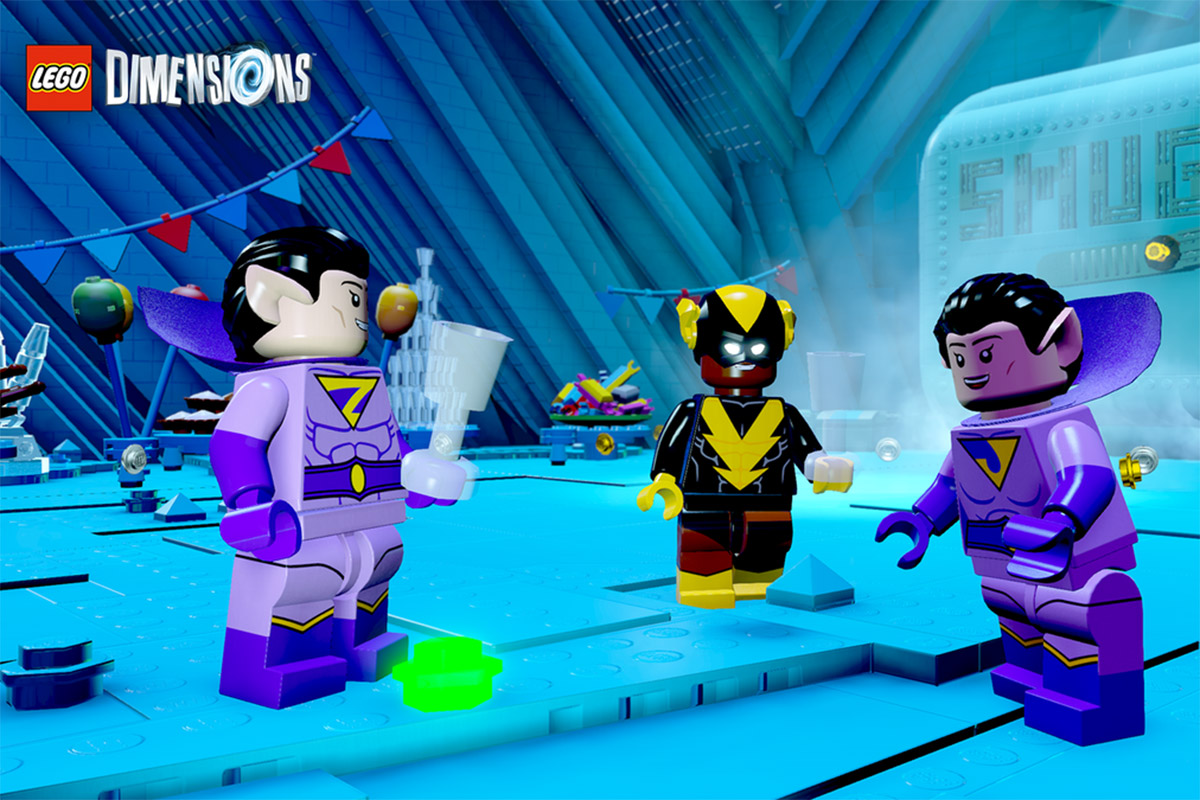 Needless to say... this sucks if it's true. Sucks hard. The sets that have been coming out lately are better than ever, and a lot of fun to play. More sets for properties like Beetlejuice, Powderpuff Girls, and Teen Titans GO! have been delayed, but are still on the way, so there's that. But still... I hope we're getting even more sets before LEGO hangs it up.

• Headlines. So... when you see a headline like this pop up in your newsfeed...
You have to guess... will this be some godless liberal senator scumbag with no moral values... or will it be a "family values" Christian who supports anti-gay, anti-trans legislation? Lets find out together, shall we?
State senator found with teenage boy in hotel room.
Big fucking surprise. It's the "family values" Christian who ends up being the fucking pervert. YET AGAIN! It's always these assholes getting caught texting things like "I'm gonna fuck you like a good little boy if you keep calling me daddy." They can't seem to help themselves. Which is why every fucking time I see some politician asshole going out of their way to shit all over LGBT equality, I automatically expect they're fucking pedophiles. And history seems to back this up.

• Assemble! Oh goody. Justice League looks like a total rehash of Batman vs. Superman... incomprehensible action sequences strung together with boring shit nobody cares about...
At least Zack Snyder is consistent with his suckage.

• Gubermint! There's so much fucked up shit going on with our Trump-infused government that I could fire off another fifty bullets just to touch on it. But doing so will probably make me want to blow my head off, so I'll pick just one...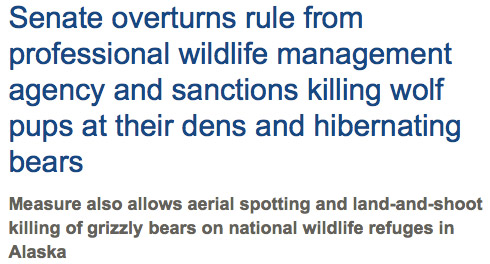 You can read about it here. What a bunch of fucking monsters we have representing us. If they are willing to treat innocent animals like this, there's no hope for us. None.

So over bullets for today.
Tags:
Assholes
,
Bullet Sunday
,
LEGO
,
LEGO Dimensions
,
Movies
,
News
,
Politicians
,
Politics
Categories:
Bullet Sunday 2017
,
LEGO
,
Movies 2017
,
News – Politics 2017
—
Click To It:
Permalink
—
1 Comment: Click To Add Yours!
Posted on March 12th, 2017

Thank heavens I'm taking half-a-day off work, because an all-new Bullet Sunday starts... now...

• Stop the Insanity! Make it permanent... abolish it... split the difference... I honestly don't give a fuck. Just make it so that we're not dicking around with the clocks twice a year. This stupid shit... this utter madness... has got to end...
Seriously. If Trump wants to do ONE FUCKING THING that will benefit humanity in a way that every other fucking thing he's done has not... GET RID OF THIS IDIOTIC BULLSHIT!!!

• Healthcare. Finally. Broken down so even I can understand it! The puzzling way Republicans want to replace the individual mandate, explained with a cartoon.

• Wonderful. Do I dare get my hopes up after DC has shit the bed so many times now?
It could be incredible. If... only if...

• Loneliness. A sobering article that makes for an interesting... albeit more than a little depressing... read: The biggest threat facing middle-age men isn't smoking or obesity. It's loneliness...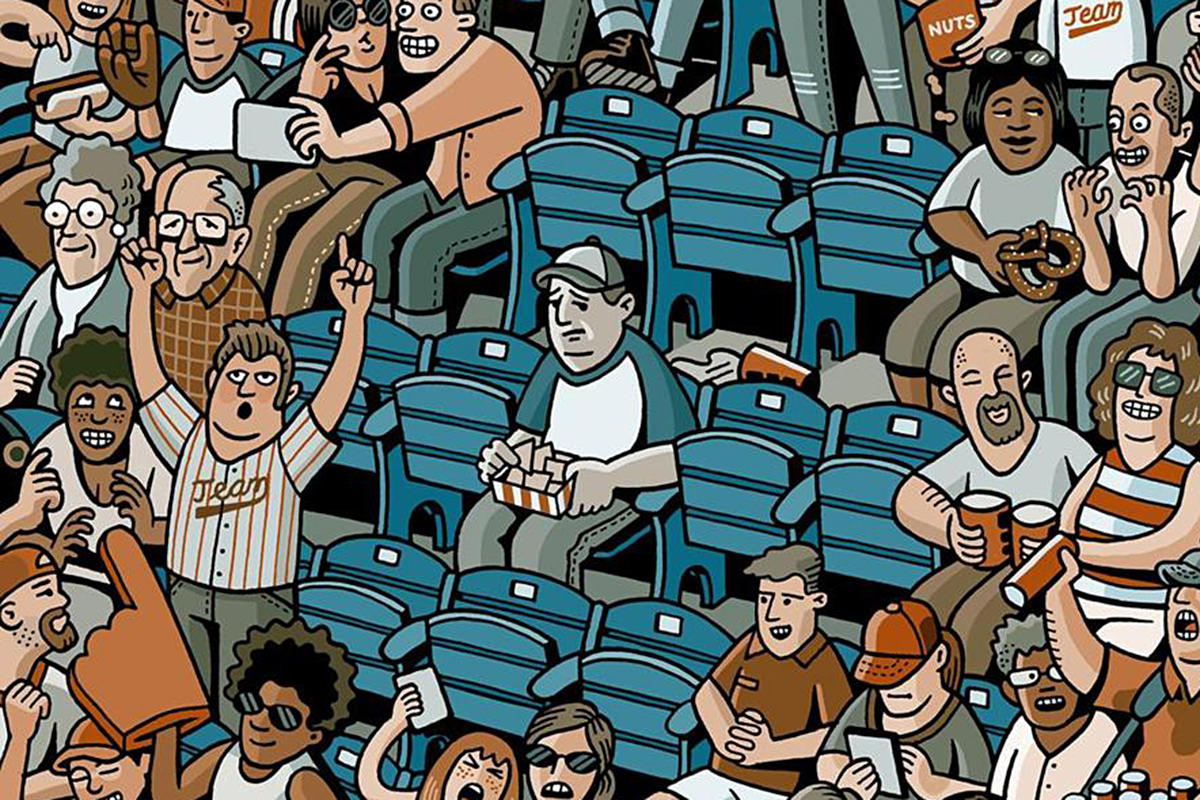 Illustration by Mario Zucca / Boston Globe
I don't know that I'm "lonely" so to speak. But most of the people I'm closest to don't live near me, and that can be difficult.

• Olive Garden. I had no business laughing at this as hard as I did. The whole concept of people in Olive Garden commercials acting like they've never seen a restaurant... or food... before, is epic...
I dare say that President Trump existing has made Saturday Night Live the funniest it's been in years. Even for sketches that don't feature President Trump.

• The Most Important Thing You'll See All Day. Yes. You can resist authority. In some cases, you're obligated to resist authority. Like when you are being lied to and your rights are being violated by authority. The video below is in three parts. Watch all three of them. Know your rights...
And here's a follow-up interview (good information, terrible sound)...
Have a phone with video capabilities? Film everything. Always film everything when it comes to the police. Even if you support the ideal of law enforcement (as I do)... Always. Film. Everything. Even when it's not happening to you. Because the police are not above the law and you just never know.
Note that the guy who filmed the video, Jesse Bright, tried to handle this without going public. All he wanted was an apology for having been lied to and illegally searched. Only after he was deterred at every turn did he released to video... not for personal gain, but to let everybody know what their rights are. He has no interest in any officers being punished or fired or anything. He just wants this critical information out there. Good for him.
I have a card in my wallet and in my car with the following statement:
Statement If Stopped or Questioned by Police or any Government Official

"Officer, I Assert My Fifth Amendment Rights As Stated On This Card"

Pursuant to the law, as established by the United States Supreme Court, my lawyer has advised me not to talk to anyone and not to answer questions about any pending criminal case or any other civil, administrative, judicial, investigatory or adjudicatory matter. Following his advice, I do not wish to talk to anyone about any criminal, civil, administrative, judicial, investigatory or adjudicatory matter, without my lawyer present. I waive no legal rights, nor give any consents, nor submit to any tests or other procedures, without my lawyer present. I ask that no one question or talk to me, without my lawyer here to advise me. I do not wish to answer any questions. I want to see my lawyer. Please call my lawyer immediately.

See: Miranda v. Arizona, 86 S.Ct. 1602, 384 U.S. 436 (1966), Maness v. Myers, 419 U.S. 449 (1975), Hoffman v. United States, 341 U.S. 479, (1951), Lefkowitz
Know. Your. Rights.

And now it's time to chew gum and vacuum. And I'm all out of gum...
Posted on March 5th, 2017

Pull out your Mickey Mouse ears, because a Very Special Disney-centric Bullet Sunday starts... now...

• I'm Going to Disneyland. Now that Disneyland has no "off-season" and is hellishly busy all-year-long, there's really only one piece of advice I can offer: Don't make your Disney vacation all about standing in lines. Stay multiple days... divide up the attractions you want to see so you're only standing in line for them part of every day... then get the hell out of the parks to have an actual vacation. Go see what else L.A. has to offer (which is a lot)... or just hang around the pool at your hotel. Spending the whole day in a massive crowd at Disneyland is just guaranteeing that you'll need a vacation from your vacation.

• Princess Vader. I honestly can't decide whether this is the coolest thing ever, or just pain wrong...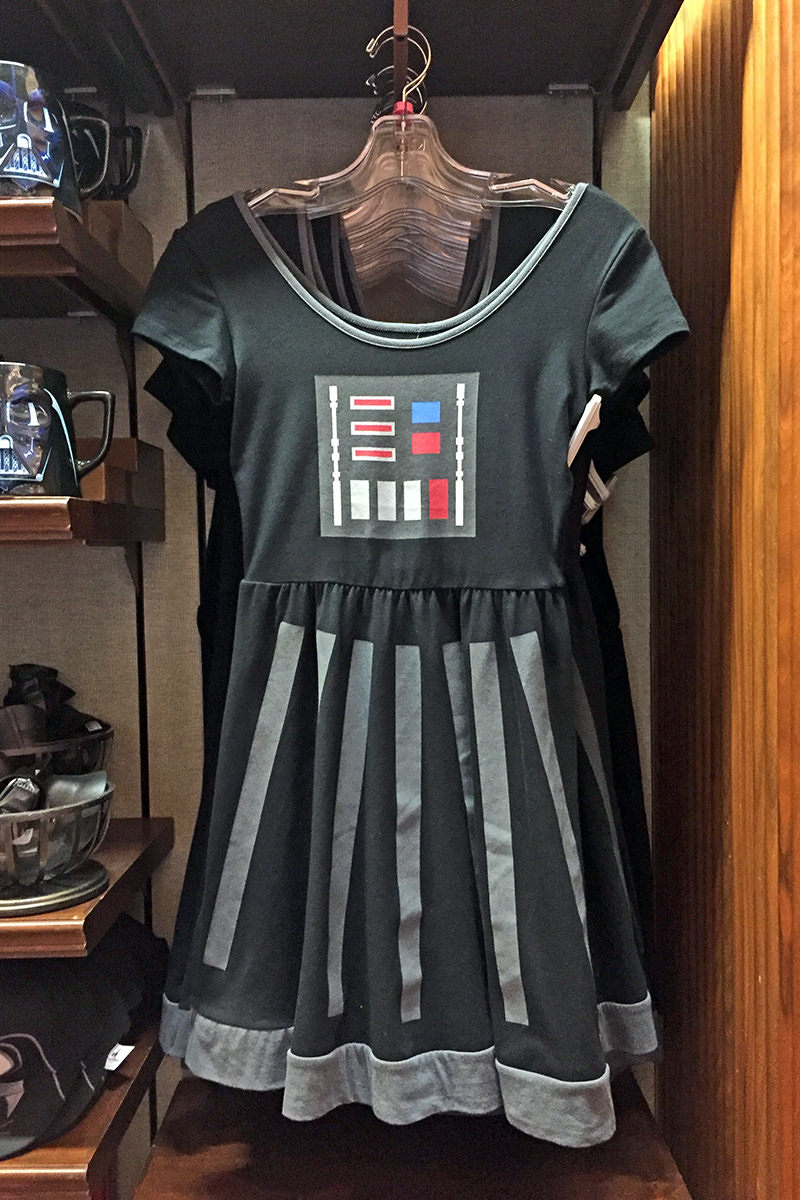 All I know is that Disney's marketing of Star Wars is way off the charts.

• Reimagineering. Earlier this week I brought up the new Star Wars Land additions coming to both Disney parks. This is on top of Disney World getting a Pandora: The World of AVATAR "land" in Animal Kingdom. New stuff at the Disney parks is always great... but I can't help but wonder when rides like Jungle Cruise and Haunted Mansion will get an upgrade. Surely there's a way of remaining true to the original concept while enhancing the attractions with today's technology? Otherwise I have to wonder how much longer they can last. The parks (particularly at Disneyland) do not have infinite space to expand, so the worry is that even "E-Ticket" attractions will eventually be eliminated in favor of something fresh to keep the crowds coming.

• Grey Stuff. Yesterday I mentioned that I checked-off one of my life goals at Disneyland... eating Grey Stuff Gâteau (which they spell "Gateâu") and Gaston's Brew. Nobody seems to know what that meant. Well... "Grey Stuff" is something served to Belle in Beauty and the Beast...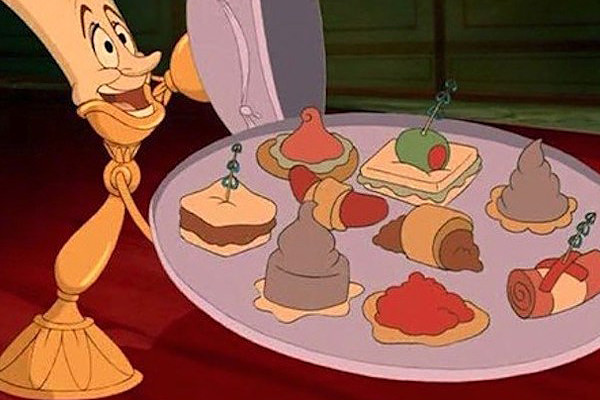 This is what the real-life version looks like from The Red Rose Taverne in Disneyland's Fantasyland (a temporary restaurant re-dress in celebration of the live-action Beauty and the Beast movie coming in March...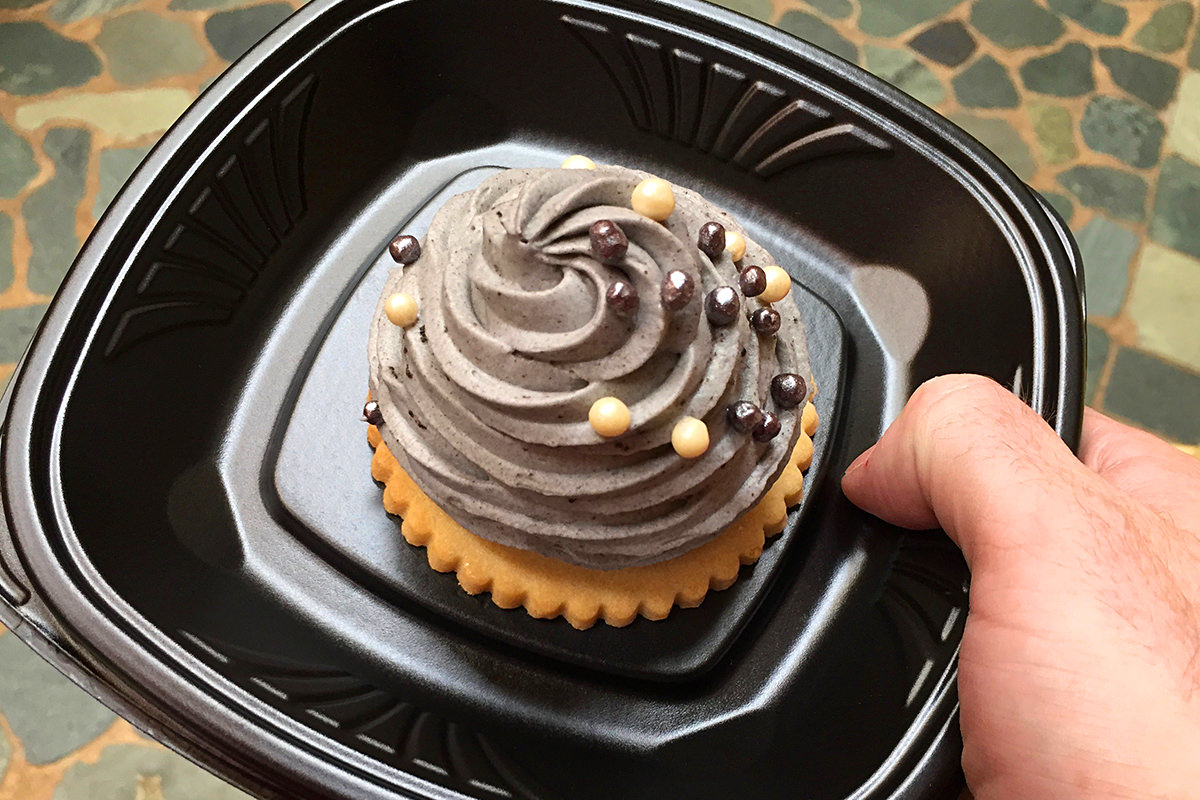 It's a white chocolate mousse that's been tinted grey then heaped on a small red velvet cake that has raspberry in it...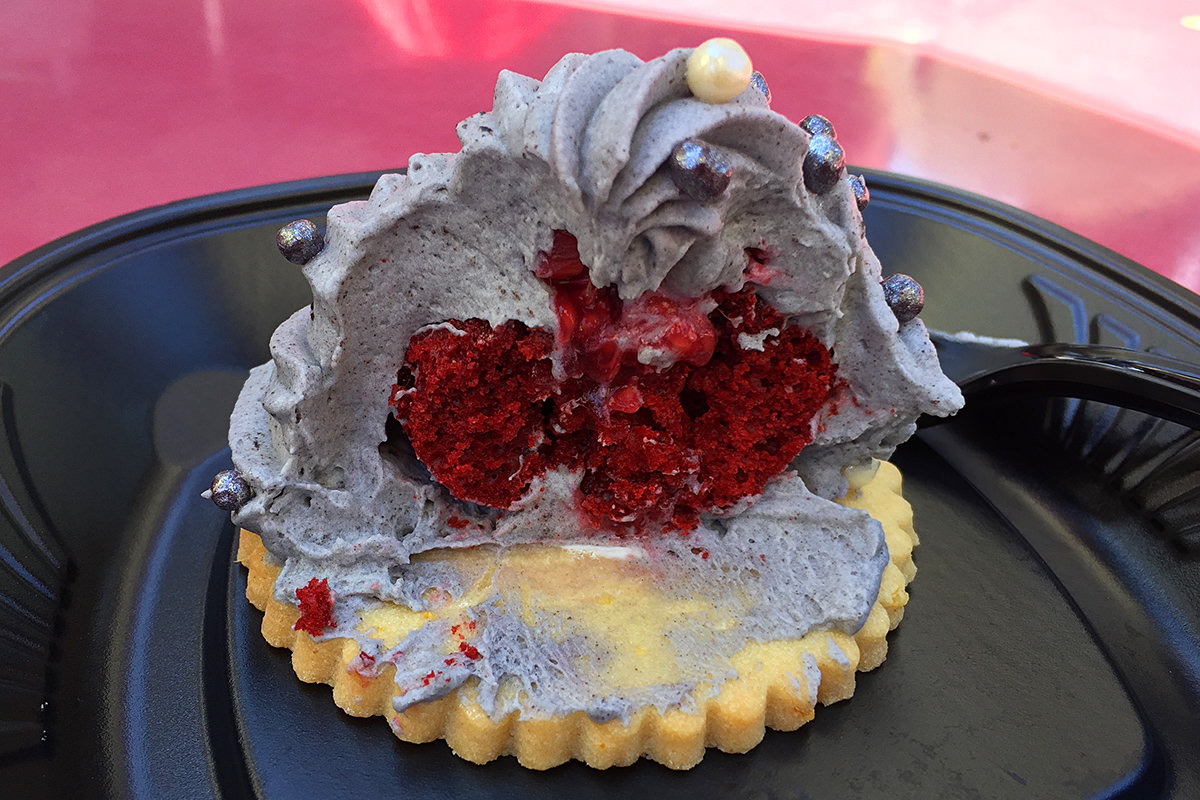 It comes piled on a shortbread cookie that seems to have a rose drawn on it?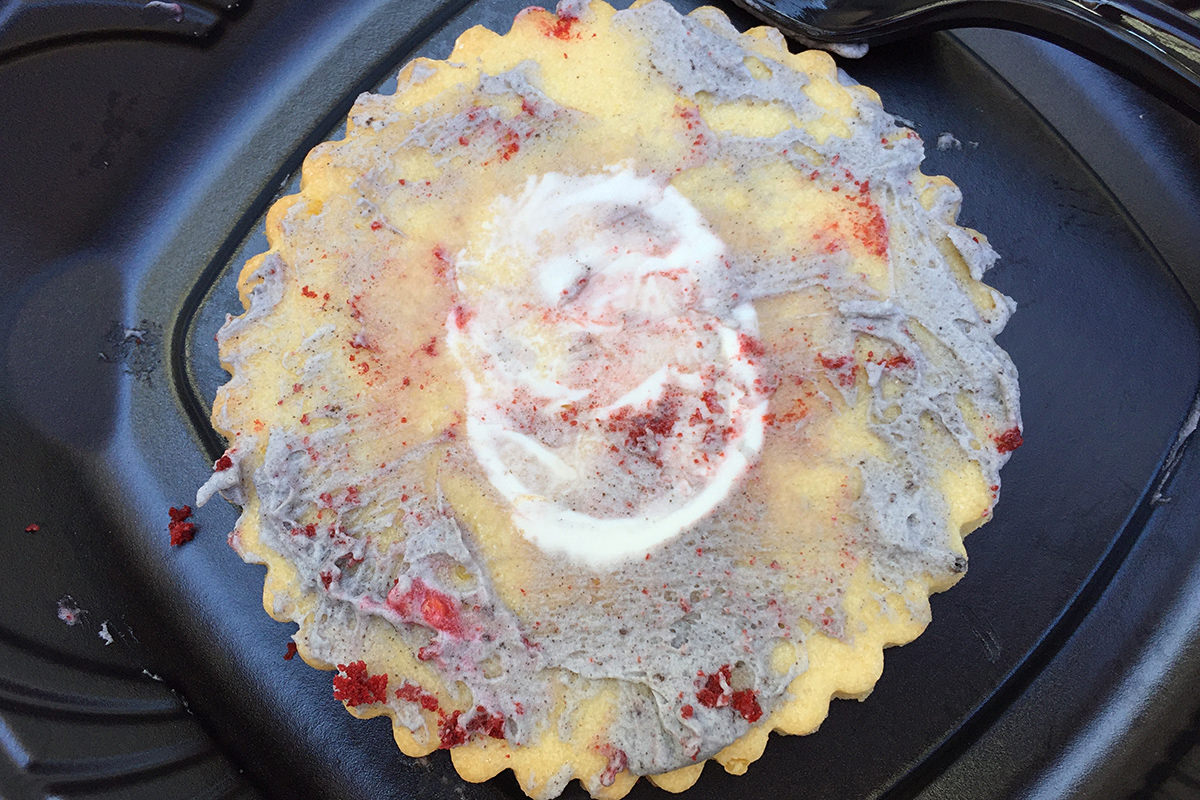 It's not too bad. The cookie is dense and bland rather than buttery and flakey... and the whole ordeal is too sweet for me... but it's totally edible. Gaston's Brew, on the other hand, is excellent. It's apple-mango juice that's topped with a passion fruit foam "head." Something I'm going to have to try and make at home.

• Magical Morning. One of the benefits of buying your ticket to Disneyland online is that you get a free "Magic Morning" on tickets for three days or more. "Magic Morning" means that you get into the park an hour before opening. In my case, that meant 9:00am instead of 10:00am. This used to be available only to registered hotel guests at one of the Disney hotel properties... but now anybody can get it. The problem being that now anybody can get it. Which means the park gets just as crowded just as quickly as it would without magic morning. Sure you might get one or two rides in at a reduced wait time, but it's hardly the deal it used to be. I got to ride Space Mountain in 20 minutes instead of 60... but after that the lines were right back to normal. Bummer. I'd be pretty pissed if I were a hotel guest counting on this perk.

• The Sign. I could spend hours just wandering around Disneyland looking at the beautiful signage that's displayed everywhere. It's not as fun as Big Thunder Mountain Railroad, but it certainly beats standing in lines all day. My favorite signs are in Adventureland. So many beautifully-carved pieces...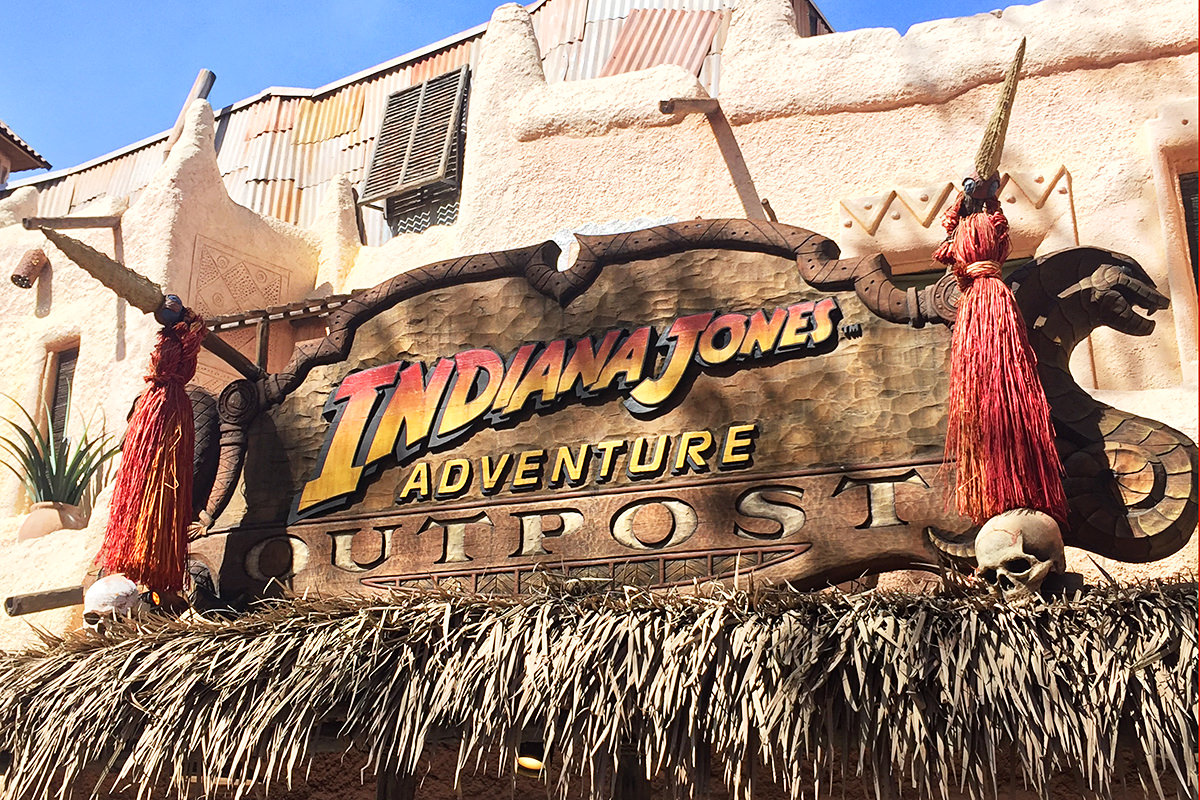 But it's not just the extravagant larger signs that are given such detail. Even small signs... like numbers on a door... are beautifully themed for the area they occupy...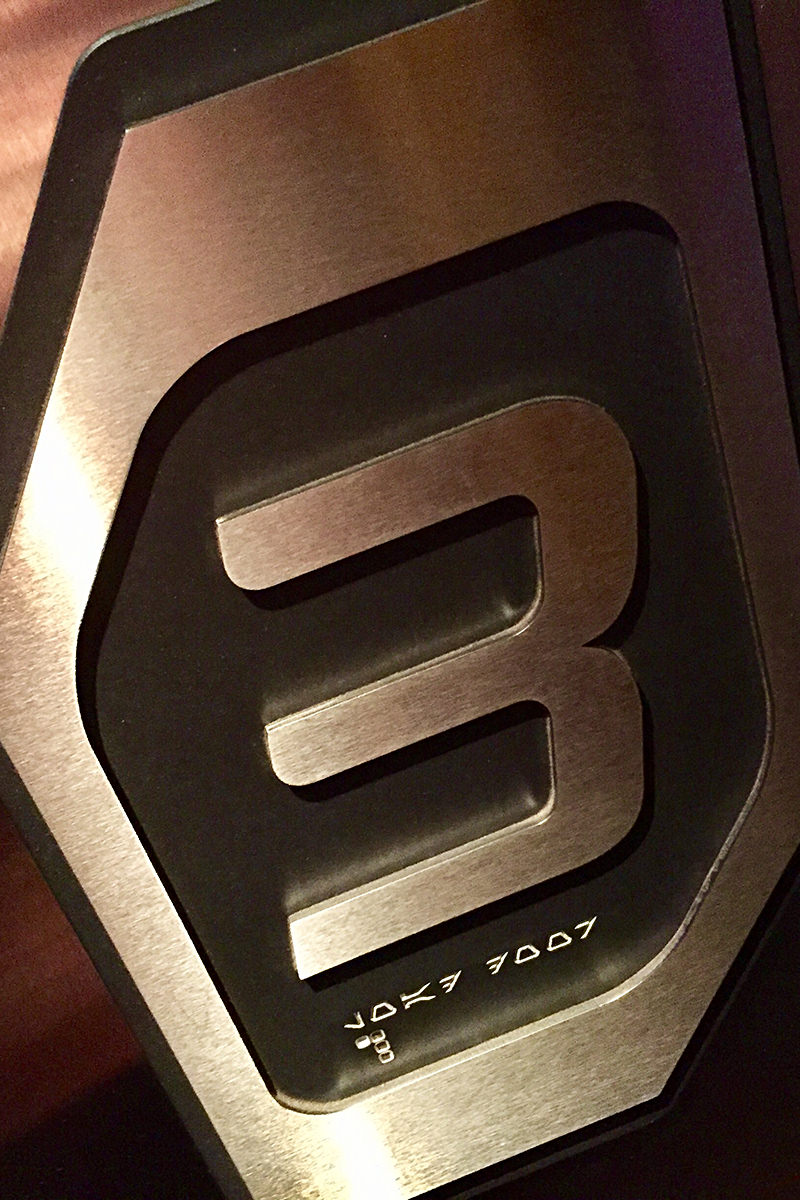 Even throw-away signs from an exit queue are painstakingly designed...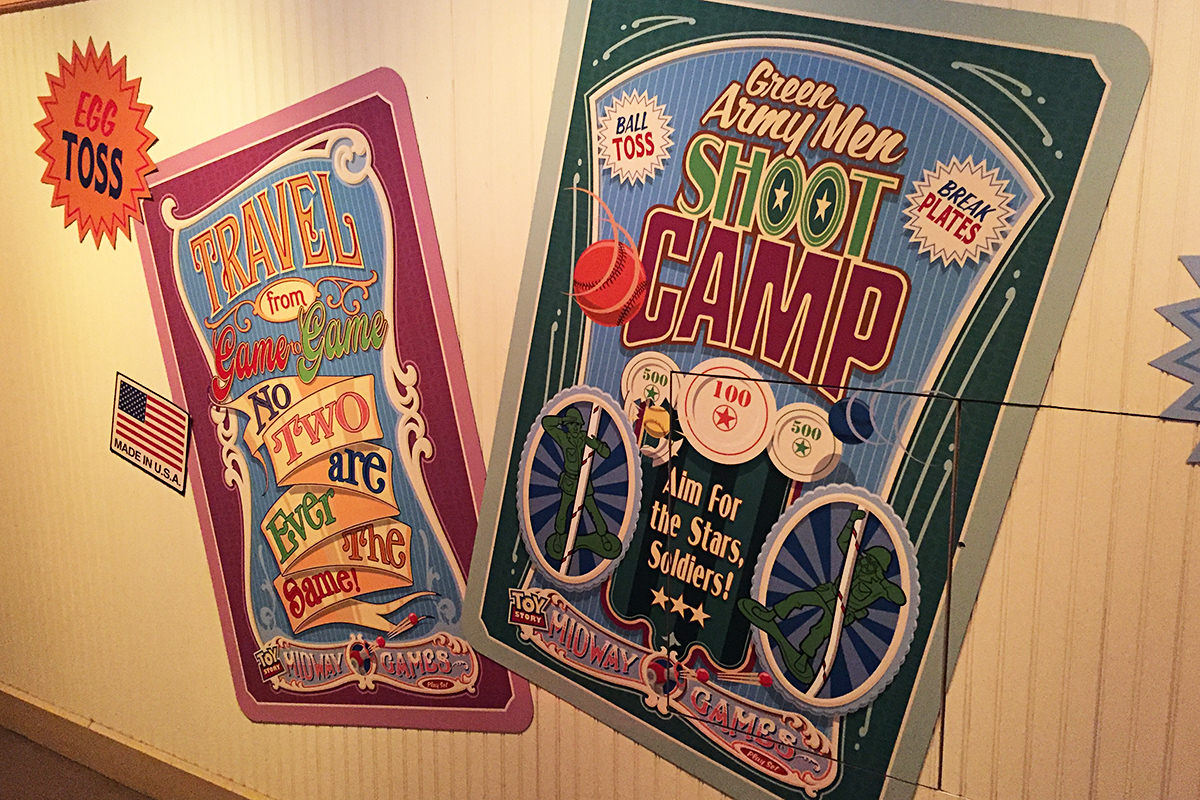 And every exterior sign is beautifully-crafted, of course...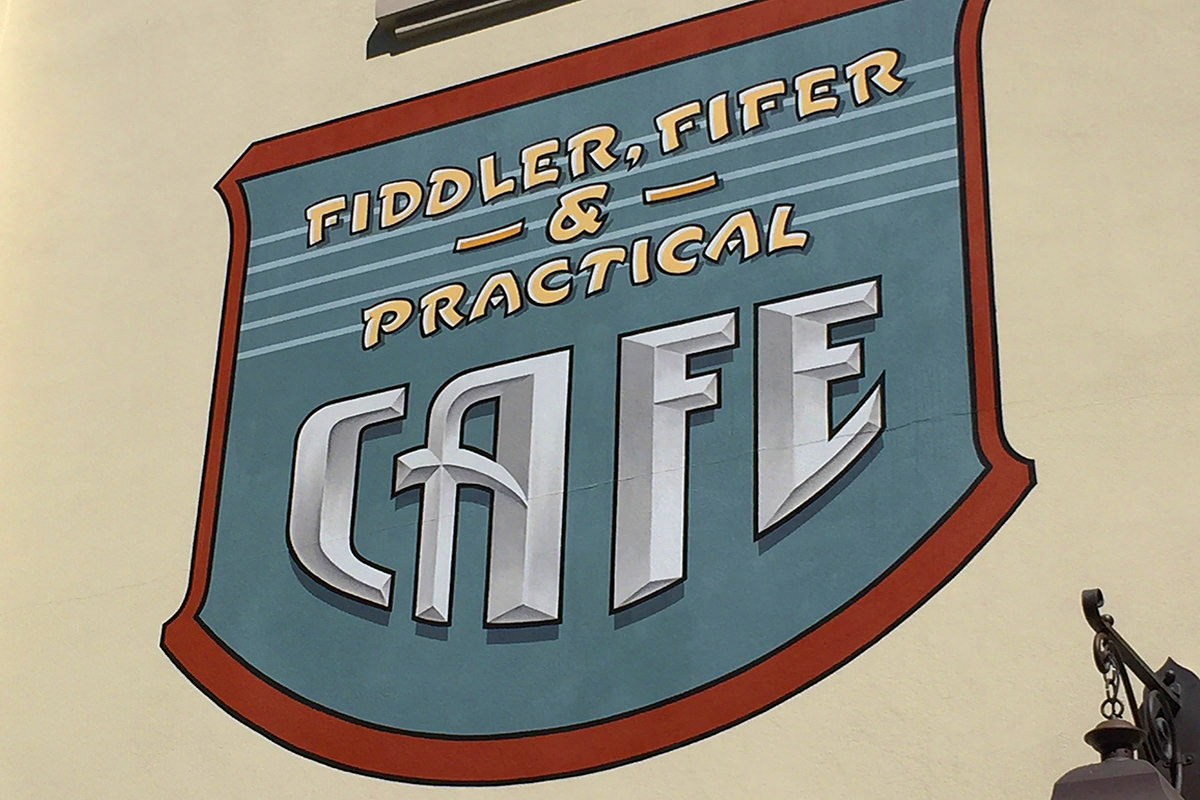 So... next time you're at one of the Disney theme parks, stop for a minute and look for the signs. They're an attraction all on their own.

And now? Heigh ho, heigh ho, it's off to work I go...