Posted on October 10th, 2021

Fall days are here, but it's still Summer Vacation at Blogography... because an all new Bullet Sunday starts... now...

• Bags! Washington State is one of those bizarre states that wants to do a good thing... but often ends up doing it badly. Take for example the "Single Use Plastic Bag Ban" that recently went into effect. The idea is to make people bring reusable cloth totes to the store in order to keep plastic bags out of landfills. But... holy shit. Those bags were never single-use to me. I use them to carry stuff all the time (like my lunch) and they're also the garbage bag I use in my kitchen and bathrooms. Stores will still have plastic bags available for a mandatory 8¢ each, but Washington State requires them to be thicker plastic so they're tougher. And I'm like... okay... 8¢ is still the cheapest garbage bag I can buy... and now they are going to be five times thicker, so it's actually one of the best frickin' garbage bags you can get. EXCEPT NOW THERE'S FIVE TIMES MORE PLASTIC GOING INTO THE LANDFILL!! Lots of people use them as trash bags, so even if a bunch of people switch to cloth totes, people will either be buying more plastic trash bags or using the thicker bags, meaning that we might actually have more plastic in the landfills. Does anybody think about this shit before passing these laws? ANYBODY?!??

• Finale! Not sure how to feel about the finale of Ted Lasso. In many ways, it was disappointing. There were zero surprises, if you've been paying attention. But I didn't hate it. The entire purpose of the second season was to lead up to the endgame of the third season, which was designed to be the last. It seems entirely likely that it will continue past that... there's just too much to lose... but Bill Lawrence says the three-season story arc will remain regardless...
He also says that Doctor Fieldstone and Trent Crimm will be back, so there's that. And so... until next year, I guess.

• Make Mine Marvel! And so now there's a Kathryn Hahn spin-off with Agatha Harkness from WandaVision. Add to this the rumor that some Netflix Marvel shows are headed to Disney+ as well (Jessica Jones? Daredevil?), and the future is looking very good for Marvel Studios fans... with Hawkeye, Ms. Marvel, Moon Knight, She-Hulk, Secret Invasion, Ironheart, Armor Wars, Wakanda Series, and an Echo Series, already announced...
And heaven only knows how many are being roughed out that we don't even know! I'm guessing that the Marvel stuff is the most popular part of Disney+, so increasing the number of new shows is a no-brainer.

• Kenan! The new cast lineup for Saturday Night Live seems solid. But the killer app of the show is Kenan Thompson. He's the most memorable part of every skit he appears in, but it's only due to how he plays it... not necessarily the material they give him. In Billionaire Star Trek he had a bit part as an Amazon delivery guy and Kenan is all I remember of it. The meeting with the school board sketch was instantly forgettable... except for Kenan. Everything EXCEPT for Kenan in the funeral skit evaporated minutes after I saw it. This is most decidedly not a great way to start the season. They had months to prepare for the first show, and nothing sticks in my head except how Kenan managed to make the most of what he had to work with? I dunno. SNL has a problem that's not an easy fix. Hopefully everything will gel and get dialed in before Jason Sudeikis shows up, because that show is something I am really, really looking forward to.

• Weekend! How my weekend started...
VS. how its going...
So pretty darn delicious, I'd say!

• Retired! Good riddance you crusty old homophobic, racist, misogynistic bigot. I've got a bottle of champagne chilling in the refrigerator for the day you depart this earthly plane. Don't keep me waiting...
This asshole may be retiring now, but his brain retired decades ago.

• Inside! God. Could Intel reek any worse of desperation? This ad is fucking embarrassing. And the "random strangers" they pulled in are ridiculous. Like Apple fans are completely unaware that other products exist. I mean... holy shit... is Intel SO worried that people are leaning away from their chips that they have to be all pathetic like this? Sad. Just sad...
Somebody would have to be legit brain-dead to think that this reflects any semblance of reality.

Everybody remember to drink responsibly...
Posted on October 3rd, 2021

Everybody do the hokey-pokey and turn yourselves around... because an all new Bullet Sunday starts... now...

• Lasso Unwound! The fact that the writers of Ted Lasso are taking a beloved character from the first season and turning them into a literal villain is an interesting turn. The penultimate episode that played out on Friday makes this fairly irrevocable, and there's no real way of getting out of it. Couple that with the fact that Dr. Fieldstone is leaving the show (God please don't let it be permanently!) and I am very interested in seeing how next week's finale is going to play out...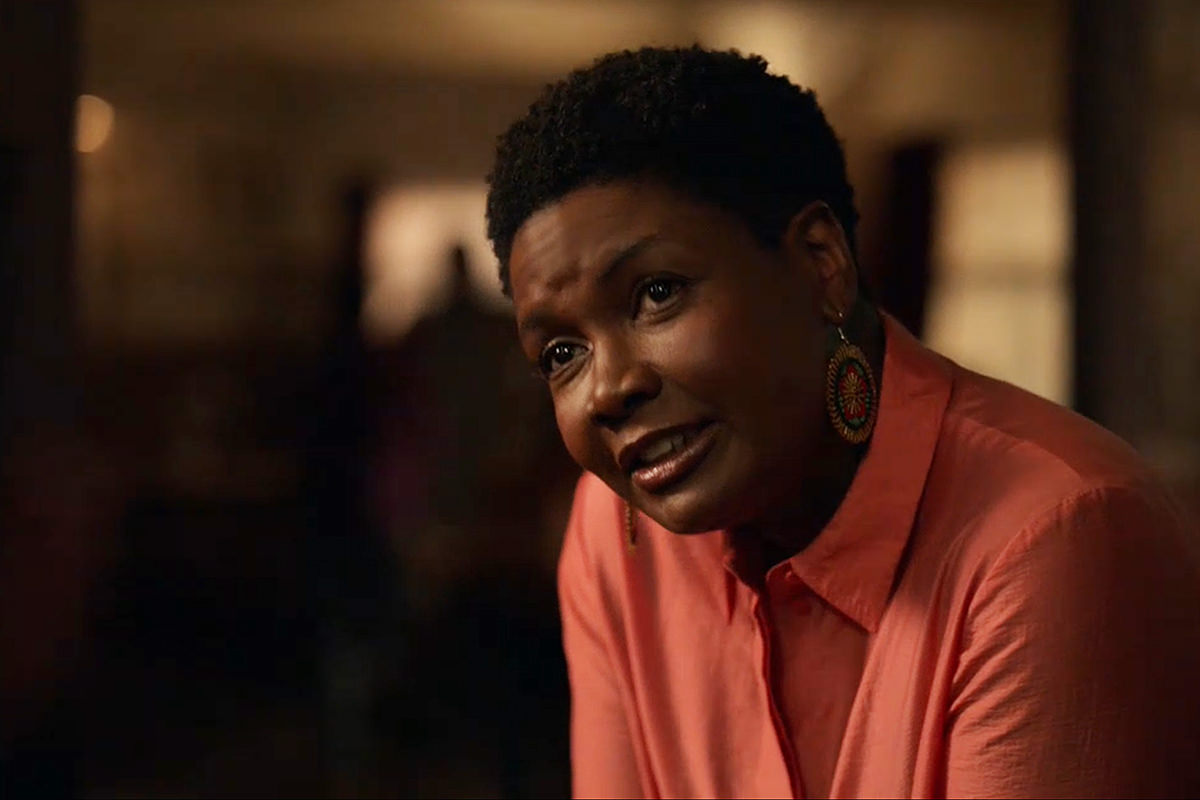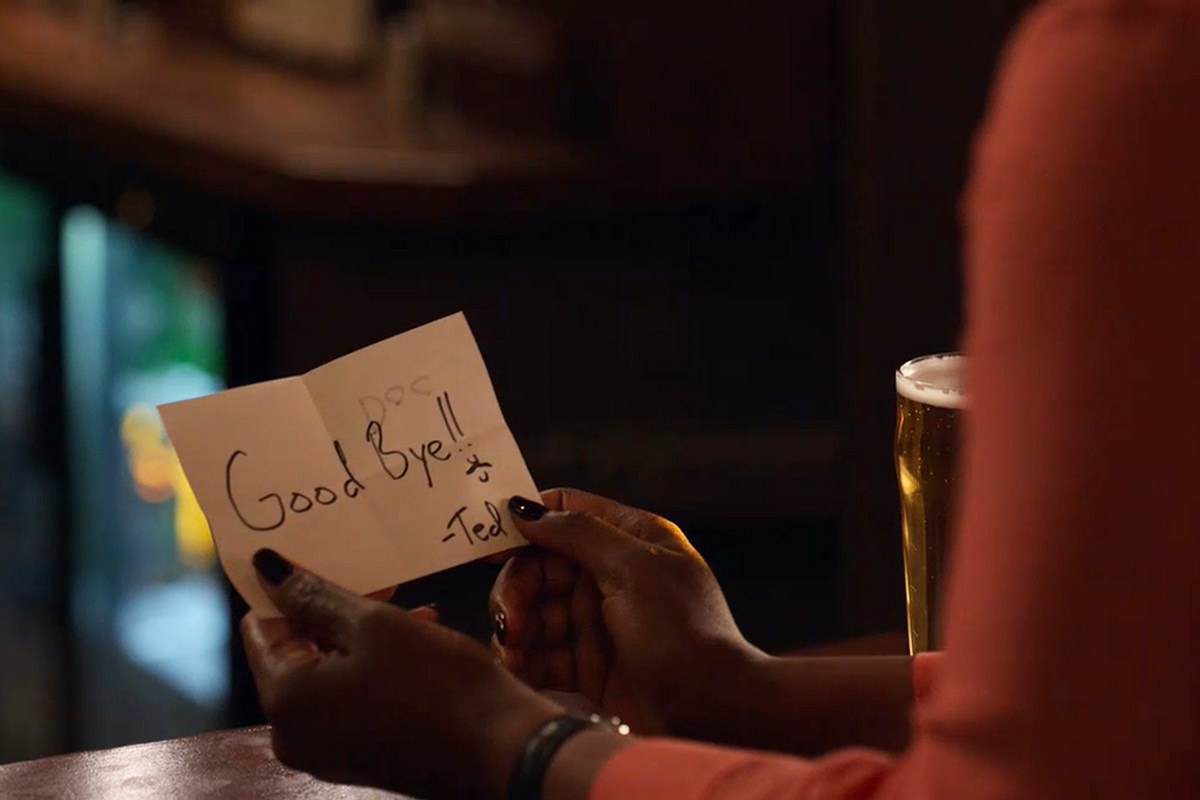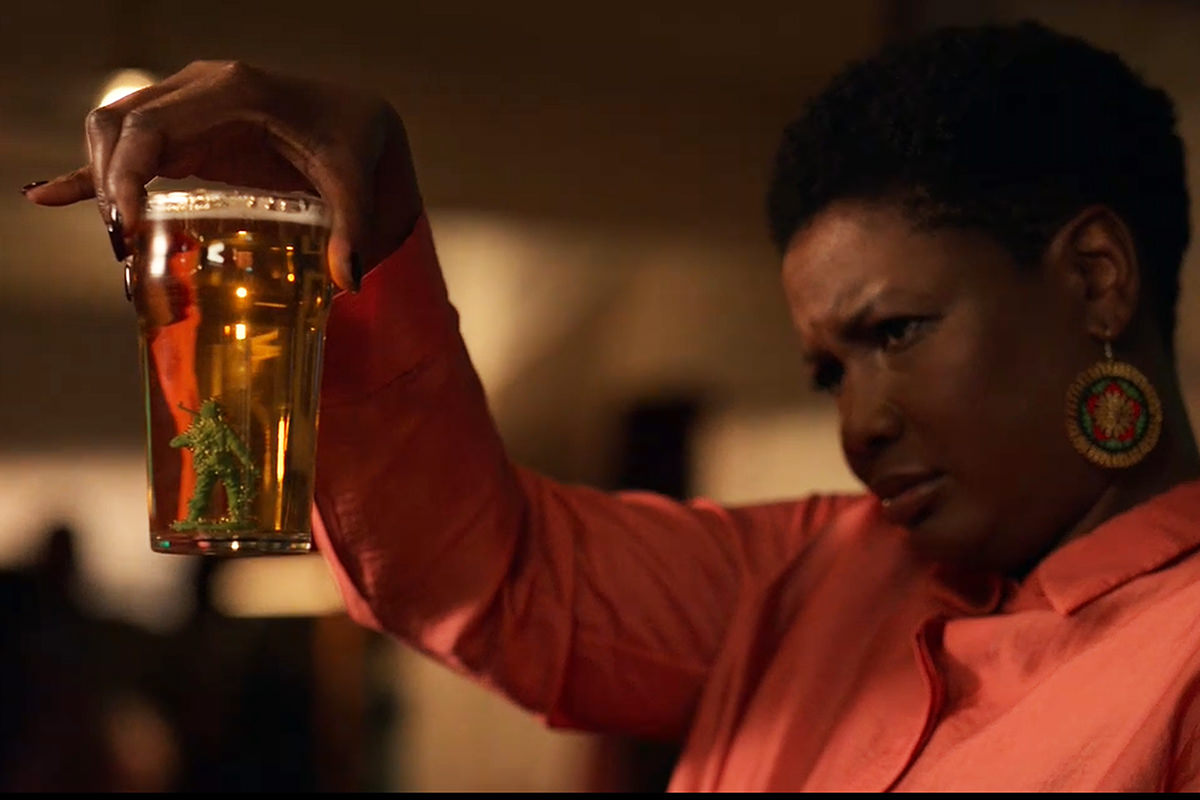 Before all the awards and accolades, it was said that Ted Lasso was going to be a trilogy of seasons. But now that Apple has a very, very good reason to keep the show running, I am fairly certain that a fourth season is highly likely. But whether or not that will include Jason Sudeikis as Ted remains to be seen.

• NO CRYING! I wish I knew whom to credit this photo to, because it is absolutely epic. Easily one of the best Halloween costumes I've ever seen...
Adorable. Adorable. Adorable.

• Poorly Animated! As a massively huge fan of Reza Farazmand's comic strip Poorly Drawn Lines (which he graciously contributed to Thrice Fiction)), I was happy to hear that it was becoming an animated series. And now it's here...
You can watch it on FX and stream it on Hulu right here.

• Trash TV! Paramount+ is fucking garbage. Can't play the content I'm paying for, and their tech support doesn't give a shit. Tells you to jump through hoops that never work. Has you disable stuff that no other streaming service requires. Then blames you or your hardware when none of their "suggestions" work. When will these fucking dumbasses learn that whenever they treat their customers like shit, it just encourages them to find other ways of watching the content they want to see. I have many streaming services... and NOT ONE OF THEM fails consistently like Paramount+. Not Amazon Prime, not Netflix, not Philo, not YouTube TV, not Hulu, not Apple TV+, not Peacock, not HBO Max, not Sundance, not Discovery+, not Hallmark Now, not Disney+, not Showtime... NONE of them fail like piece of shit Paramount+. And yet it's MY fault. Right. Okay. Cool. Well, at least I'm not alone...
If it weren't for the new Star Trek shows, I wouldn't give a fuck about Paramount+... the only show I watch on CBS is Magnum PI, and I always buy that off of iTunes so I can watch the episodes multiple times.

• PASSWORD?! This bullshit right here...
It is so fucking infuriating how sites set their requirements. Most of the things which they claim protect your security actually do exactly the opposite. Making passwords impossible to remember. Making passwords expire. All kinds of idiotic shit which keeps you from getting where you need to go. And password managers only scratch the surface, because sometimes it's the SITE that's fucked up. I've had many a site tell me that I have my password wrong EVEN THOUGH IT'S SAVED IN A MANAGER, and then when I have to reset it, I'm told that I can't use my previous password? Fuck you.

• NEWSFLASH: Photographer, social media star Matt Mathews: Opossum taken by the state was his 'baby'. Animals are not seen as living creatures by our laws. They are seen as disposable assets unworthy of consideration. And usually it comes down to some stupid-ass bullshit about "God providing animals for man's use..." (or abuse, as the case may be). But if you took ten minutes to actually read the Bible, you'd find that it dictates that animals are indeed worthy of kindness and care. God rejoices in ALL that he created. How in the hell do you think that this somehow excludes animals? This is just more of the typical "pick-and-choose theology" that plagues us. And our government.

• HA! Apples response to the EU wanting to dictate a USB-C standard for all devices is a laugh riot: "We remain concerned that strict regulation mandating just one type of connector stifles innovation rather than encouraging it, which in turn will harm consumers in Europe and around the world." What a load of horse shit. They moved to USB-C for their laptops and iPads without any problem. Why the fuck is the iPhone any different? Oh... that's conveniently left out of the statement.

That's what it's all about...
Tags:
Apple
,
Bullet Sunday
,
Bullshit
,
Halloween
,
Movies
,
Ted Lasso
,
Television
,
The Internets
Categories:
Apple Stuff 2021
,
Bullet Sunday 2021
,
Internets 2021
,
Movies 2021
,
Television 2021
—
Click To It:
Permalink
—
2 Comments: Click To Add Yours!
Posted on September 22nd, 2021

Okay... Hacks is funny and Jean Smart is amazing. But the writing is supposed to be better than Ted Lasso? Seriously? Hacks wins the Emmy for writing over Ted? This is impossible to comprehend. Ted Lasso is so tightly-written that there are no wasted minutes. Every second is building to something. I did not get that feeling from Hacks at all. You could miss an episode... you could miss multiple episodes... you could miss all the episodes between the first and last... and not miss a thing. Good writing? Sure. But when it comes to a series of episodes, it takes great writing to do what Ted does.
Oh well.
Not the first time that the most worthy nominee loses an Emmy. Which is why I find them irrelevant and don't watch them.
Don't even get me started about The Crown winning everything over Lovecraft Country.
#EmmysSoWhite.
Posted on August 22nd, 2021

I hate to break it to you, but I'm still blogging here... because an all new Bullet Sunday starts... now...

• Ted! My third time watching the latest Ted Lasso. ALL THEY ARE DOING IS WALKING BY AND COLLECTING NESPRESSO MACHINES AND I AM AM DYING. Each time I go back and watch the player reactions in the background as they're picking up their machines. And this time I noticed that Paul didn't grab one? And if he didn't... then why couldn't Nate have his? And I love how Isaac is a big guy... but carries his with two hands so he doesn't drop it while all bundled up...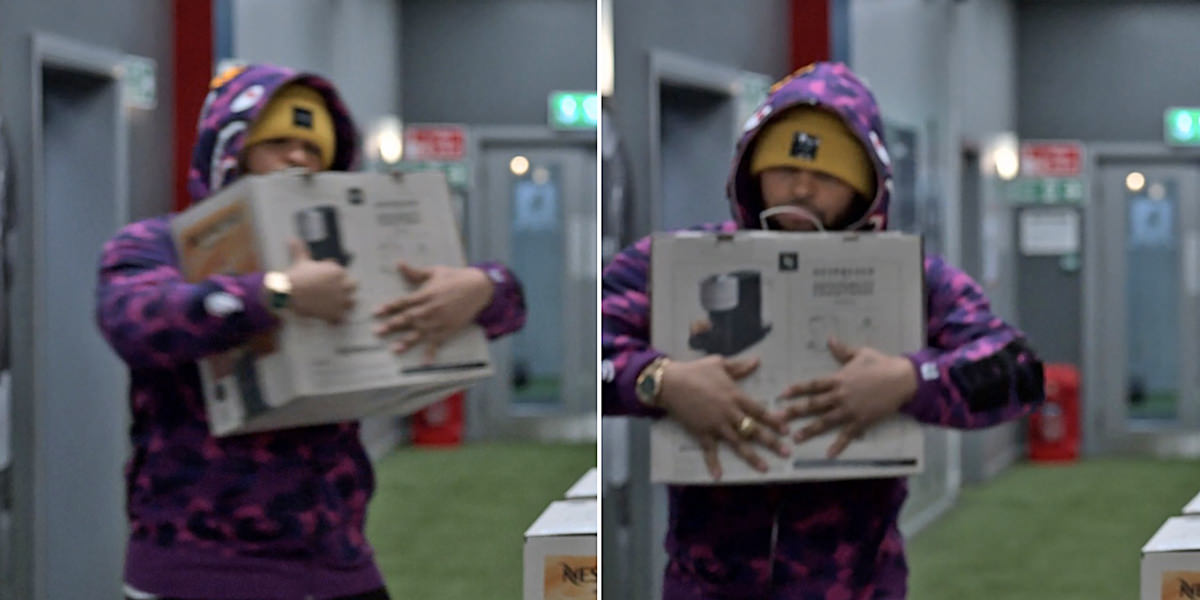 And how Jamie looks like he's trying to figure out what it is that he's getting! BWAH HA HA HA. And this is what I mean when I say that this show just nails the details. Even the tiniest things are well-realized. Oh how I love this show. And then there's Roy...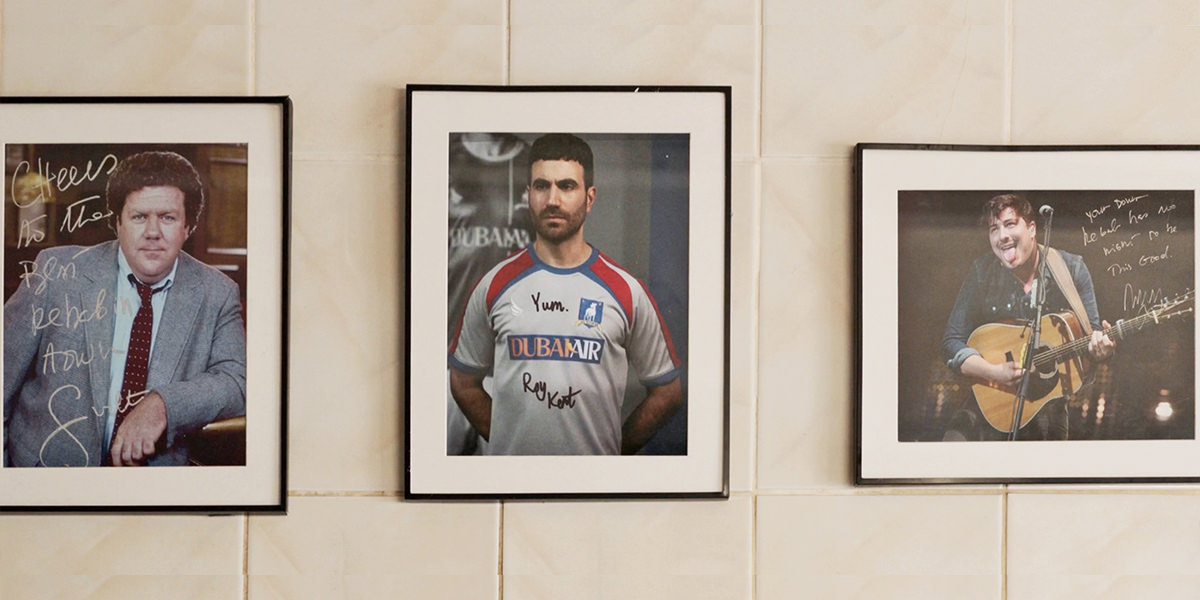 =sigh= Roy Kent is easily my favorite television character of all time and this episode just cemented it. If you are not watching this show... please stop hurting yourself!

• I'll Take a New Host for $500! I guess I was in the minority in that I actually LIKED Mike Richards' job as Jeopardy host. But with all that's come to light about his past actions, I am not sad for him to step down as permanent host. He's not a good choice to fill Alex's tremendous shoes. I suppose that I am also in the minority in saying that I hope Aaron Rodgers gets the gig now...
By the end of his episodes he was relaxed, fun, charming, smart, personable, and let the contestants shine in a way that was a bit lacking with the other hosts. My least favorite was Ken Jennings, but apparently he's the frontrunner? I dunno. I'll still watch Jeopardy regardless... the reason I watch is to see how much I know and learn new stuff. But it would be nice to have a host I like as well.

• Trust! Okay. I don't mind saying that I teared up a little bit... 103 days, and FINALLY the pet seagull landed on his hand!
I swear I've been watching for 80 of those 103 days! Good job buddy!

• I HAVE THE POWER! I was hugely disappointed in the He-Man reboot... but this? THIS HE-MAN?!? Looks awesome...
He-Man for kids that's actually more interesting than the show for adults. Sweet. And it looks visually fantastic to boot.

• A Seldon Crisis! Another Foundation trailer. I'll say it again... this looks spectacular. But it also looks like they made the same mistake that Jupiter's Legacy made. Rather than adapting the original books that people love, they're folding in stuff from the sequel prequels that people don't give a shit about...
And I think we all know what happened to the Jupiter's Legacy series.

• MANDATE! I hesitate over the idea of mandatory vaccines. Sure I believe that employers and private companies should be able to mandate vaccines if you want to work there or shop there or use their service... I support that 100%. If an airline says "We require vaccination for you to fly with us"... well, there you go. You can make a choice as to whether you want to fly with them or work there. What I'm talking about is making it mandatory for people who just sit around the house and hang out with their neighbors in their back yard and stuff. A part of me is like... well, sadly, that's their choice and they'll have to live with it. So long as they mask-up when requested outside their home in enclosed spaces, you do you. Except now the latest COVID wave has gotten so bad that such people are filling up hospitals and infecting kids too young to be vaccinated. It's a serious problem that many people are making decisions for themselves and their family out of ignorance and misinformation. They listen to absolute nutjobs who have no idea what the fuck they are talking about, and it ends up being a public safety risk. This is perfectly encapsulated in this video from The New York Times...
I mean... what do you do here? The people refusing the vaccine are getting deathly sick at a rate monumentally higher than vaccinated people. And they are filling up our hospitals. As it gets worse, a vaccinated person who was careful as they can be who has a heart attack may not have a hospital bed available to them because they're full up with unvaccinated COVID patients. Patients who were given every opportunity to get vaccinated but didn't. How is it fair? I read an article that talked about the very real possibility of unvaccinated COVID patients being cut loose and denied a hospital bed in favor of vaccinated patients. The thought of it terrifies me. But... it certainly seems more fair than shafting vaccinated people who at least tried their best to be safe when it comes to COVID. So I dunno. I am grateful I don't have to make those kind of decisions. But it sure seems unfair that doctors will have to. So-called "death panels" may be coming and it has nothing to do with "Obamacare."

And on that horrific note, I guess we're out of bullets.
Posted on August 13th, 2021

Since I don't celebrate Christmas, I can take it or leave it when it comes to Christmas television specials. If done well, it transcends any holiday and just becomes darn good television that's great entertainment.
As you can probably guess... the latest episode of Ted Lasso 100% nailed it (spoilers to follow). They did such a good job that I stayed up and watched it when it debuted... then watched it again this morning... then immediately watched it all over again with subtitles.
That being said, I'd have been thrilled just watching the claymation opening credits! WONDERFUL!
There were three rather distinct stories woven into this episode. The heart and soul of the meaning of Christmas was found in Ted and Rebecca's story. It's sweet and charming to behold... but the deeper meaning is to be found with just how big a 180° that Rebecca has taken since the first season. Ted was always the empathetic one when it came to others... Rebecca was only seeing a way to use others to enact her revenge. Then her heart won out after a relentless assault by Ted's kindness, and this season she's just as lovely a person as you could hope to meet. Taking time away from epic holiday parties to make sure Ted is doing okay with his first Christmas away from his family... his first Christmas divorced...
Rebecca's plan to get Ted into the Holiday Spirit? Delivering Christmas gifts to kids that didn't get any...
It could not have possibly have been more perfect.
The second story involves Higgins and his annual Christmas dinner for players who are far from home. This means that Nathan and players like Jamie Tartt and Colin Hughes drop out early in the episode. Which is actually kind of nice, because players like Richard Montlaur get a minute of screen time they wouldn't normally get (and believe me, Montlaur's +1 definitely makes it worthwhile!). It's also a telling moment for Higgins, because usually he's so unpopular that only two or three players showing up... but this year everybody who doesn't have a place to go shows up! It's genuinely sweet. As is an appearance by Higgins' late cat, Cindy Clawford...
I was worried that events of the previous episode would be forgotten... but they do get a mention. And if there's anybody who could give Ted a run for his money in the sweetness department... it's Sam, and I couldn't be happier that he's gotten so much screen time this season...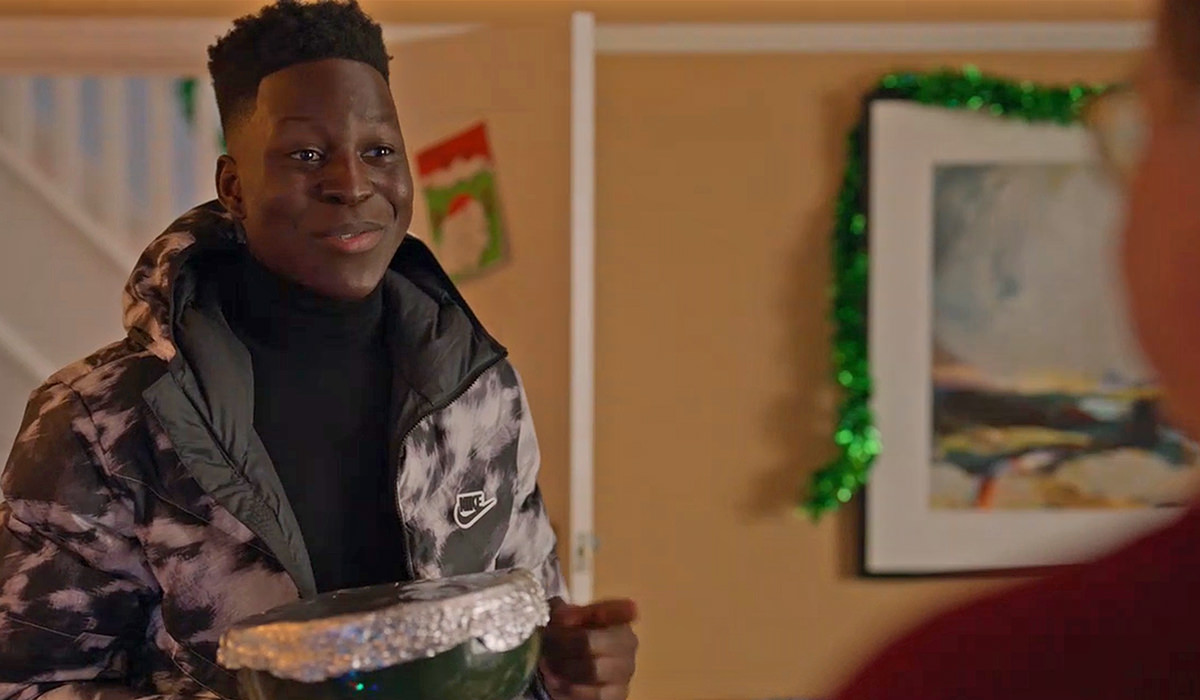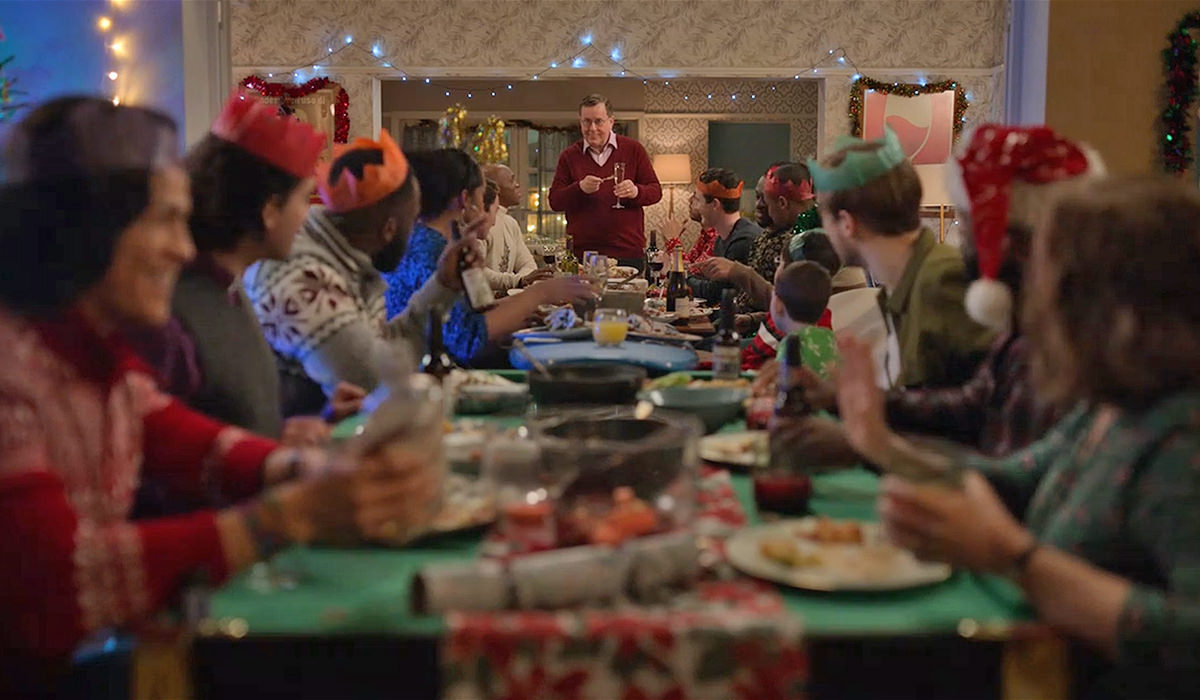 The last story is probably my favorite... because it's Roy Kent... but boy does his neice Phoebe hold her own (again) this episode. Roy and Kelley are planning "Sexy Christmas," but plans go awry when Phoebe shows up with a big problem...
And just because the show never misses an opportunity to demonstrate once again how Roy and Keeley are a romance for the ages...
Phoebe's problem is horrendous bad breath which Keeley (rightly) determines must be clinical. This gives Roy the idea of driving back to his "posh neighborhood" and banging on doors until they find a dentist. This is ripe with touching moments of Roy showing genuine love for his niece that belies his gruff exterior...
That we end up with a cameo from the "Ussie Guy" from the first season (he is actually the fourth character we meet after Rebecca, Higgins, and Ted!) is just icing on the cake...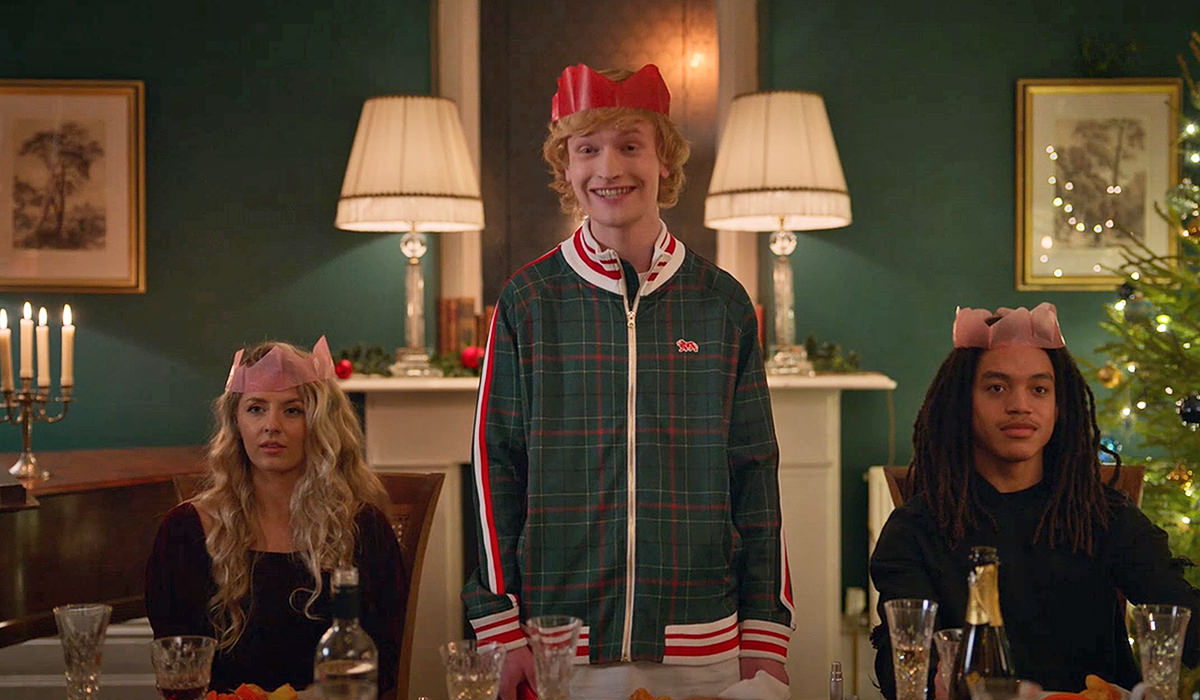 And it's at this point that I feel compelled to mention that the cinematography in this episode is sublime...
Is that... it that another smile from Roy Kent?!
As wonderful as this episode is (my favorite this season and ranking very high overall), I can't help but think how much more wonderful it would be to watch it during the holidays (which, of course, I will)...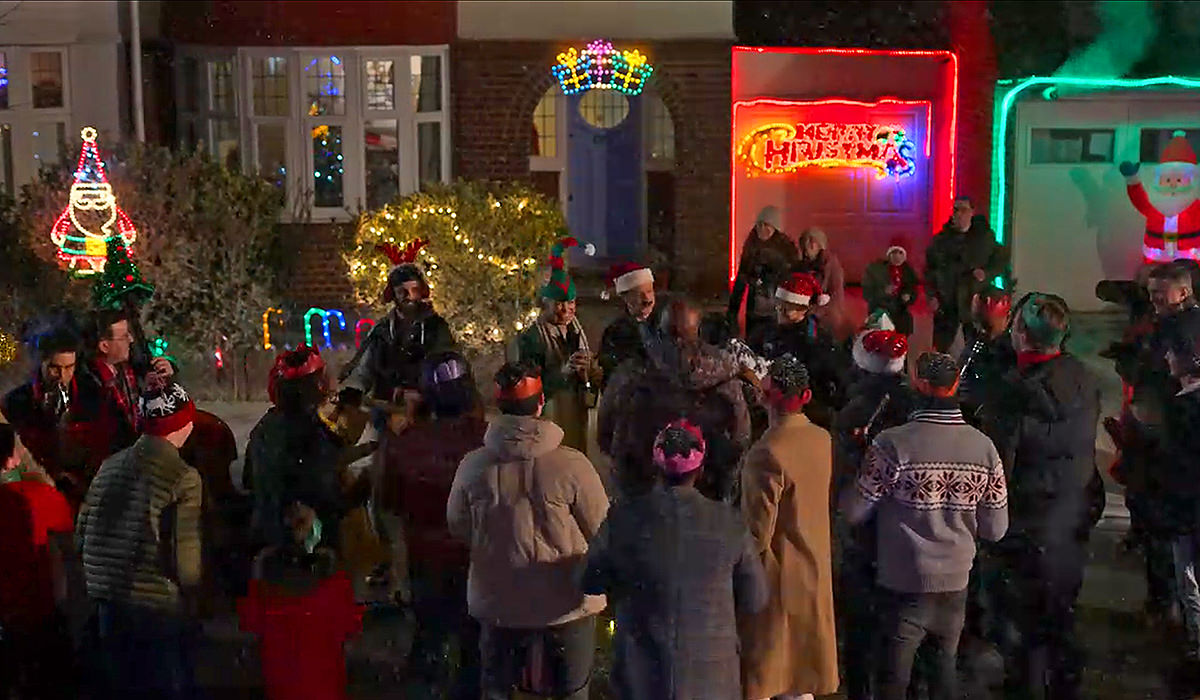 What can I say? The best show ever to air on television just aired one of the best episodes to ever air on television. It's almost impossible to see how it could be topped, but I say that almost every week.
Posted on August 6th, 2021

What happens when the most inconsequential character in Ted Lasso is Ted Lasso? You realize that the show is more important than the lead character, and Jason Sudeikis is more interested in the show being good than being about him.
Last season we learned that Rebecca has a goddaughter named Nora, and this episode we finally get to meet her. I was mortified that they would choose to take the easy way out and maker her be a heinous character that's mean or arrogant so that Rebecca can "fix" her. But this is Ted Lasso we're talking about, so I should have known they would play it much, much smarter than that. And of course they did. Nora is smart, charming, funny, and sweet... and her purpose isn't to make Rebecca look like a better character... her purpose is to make Rebecca be a better character...
Nora is yet another great character that subverts expectations by ignoring television tropes in the best possible way...
Roy Kent is probably more valuable to the show now that he's no longer a part of the team than he was in the first season when he was. He floats in and out of the narrative in a way that puts the other characters in perspective. Who could have ever thought that Roy hanging out with Rebecca could ever lead to some shockingly deep dives into the nature of relationships... or, as we see this episode... children?!?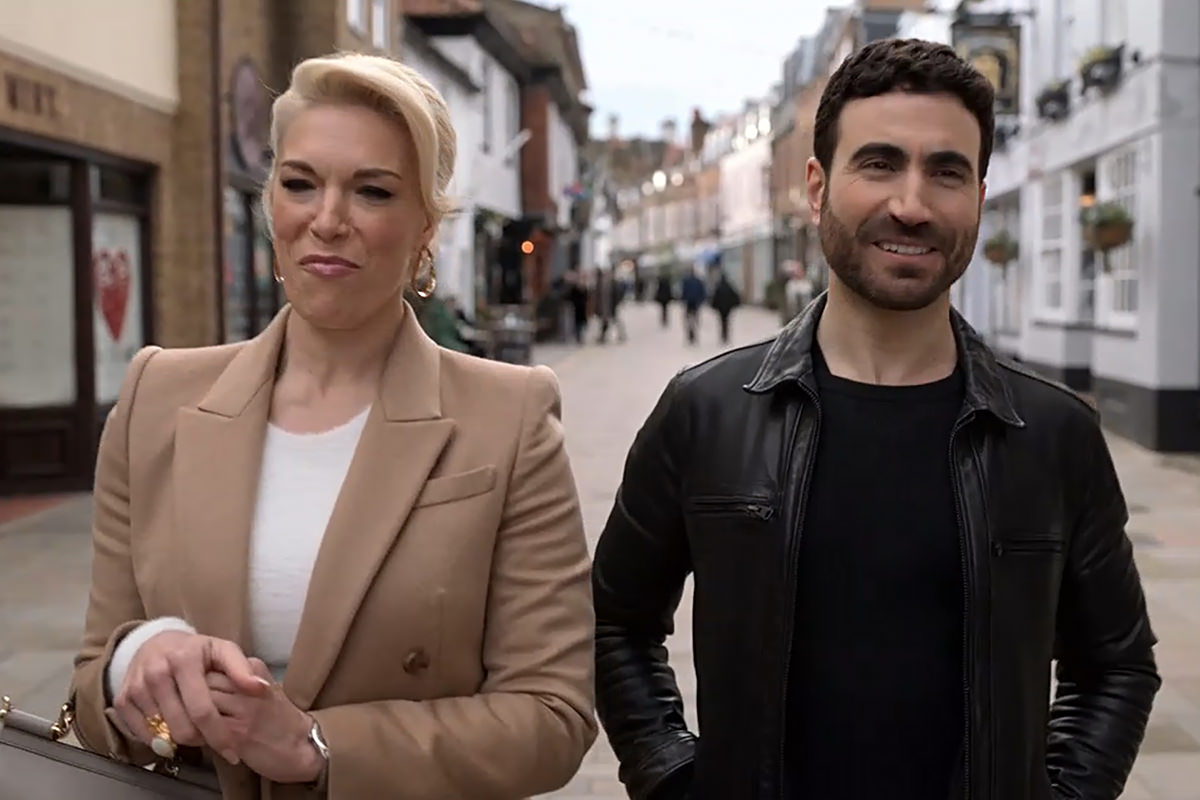 My only complaint about Roy is that we don't see more of him, but we do get another hilarious snippet of him on Sky Sports...
Dr. Sharon isn't given a lot to do, but what she gets is pretty pivotal. First by explaining Ted's entire story this episode...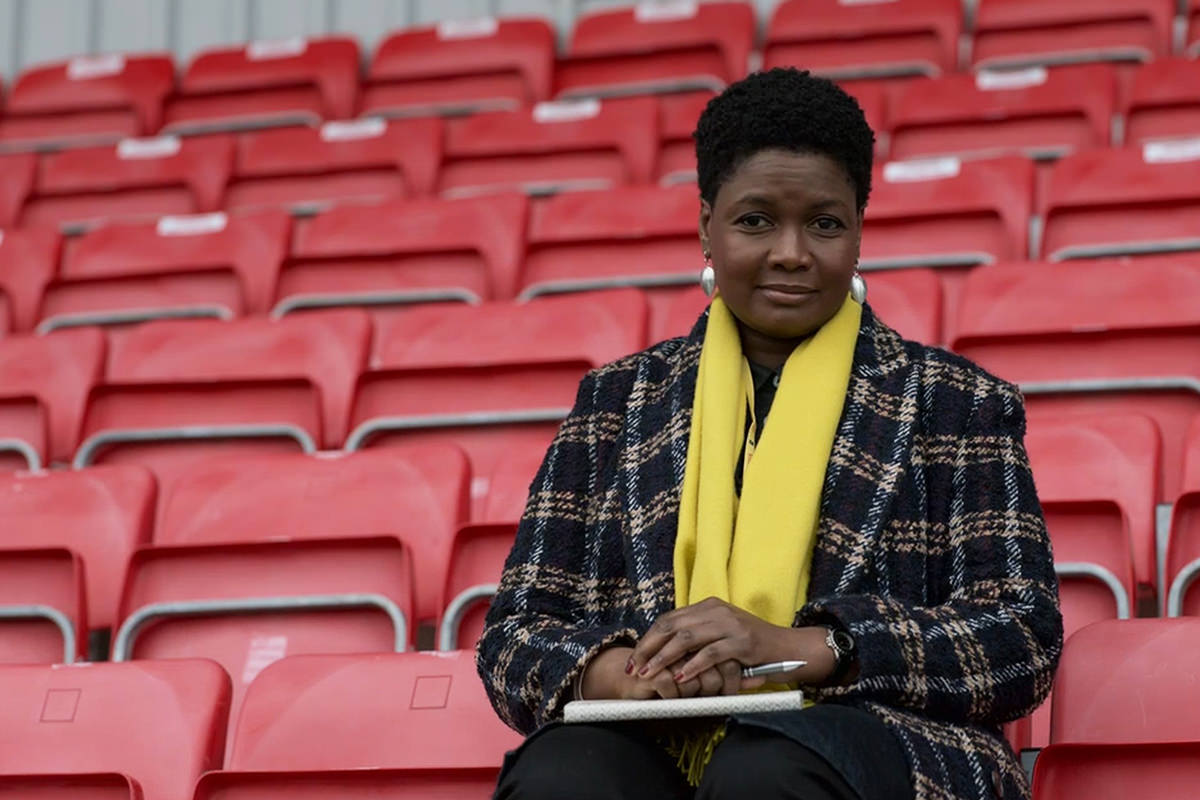 And later when it comes to Jamie Tartt. Which is such a huge off-screen moment that it's almost impossible to imagine what could have possibly happened. Her character is great, but it's the way she's used to move the show to where it needs to go each episode that really makes her an impressive addition to the cast.
As mentioned, Ted himself is actually nearly inconsequential this episode. Most of his relevant bits are relegated to him playing Evil Ted Lasso... Led Tasso...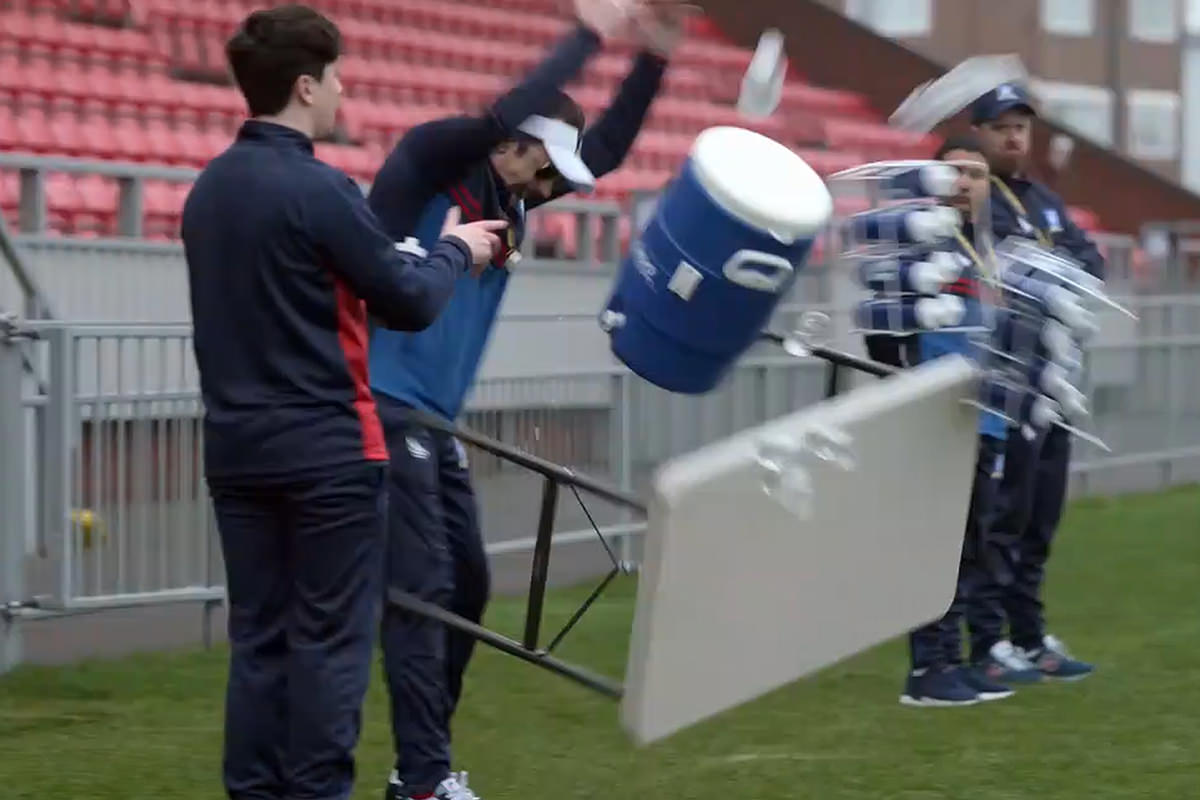 It's silly to the point of being stupid but, even more damaging, it is completely irrelevant to anything else going on. I mean, his moments aren't always going to be gold, but it's almost as if they were struggling to find a way for him to contribute to the show.
And then there's Sam.
As predicted, they were laying the groundwork towards moving the character into something much greater, and this episode we get to find out what that is. And it looks like it will end up changing everything for AFC Richmond in coming episodes...
The thing about Sam is that he's a genuinely sweet person who has only ever wanted to be kind and please other people. Now he finds out that he may have to veer away from that role, and it's such a heroic, beautiful moment for his character. It is impossible to overstate just how lucky the show is to have found actor Toheeb Jimoh, who manages to hit the right note with Sam every single time. It's almost inconceivable at this point to see how he could have been played by anybody else, as he essentially carried the entire episode...
And thus ends yet another incredible episode of Ted Lasso.
To say I think that this is the best show to ever air on television is actually underselling it.
Posted on July 30th, 2021

Ted Lasso, the greatest television show to ever exist, is a very different show this second season. The drive and tension that ran through the first season is gone. All that's left in these first two episodes is conversation.
But here's the thing... it's wonderful conversation between characters I love, and it makes me so happy I want to cry.
And then... the final scene of this episode drops and I get it. The entire purpose of the first two episodes was to lull everybody into a sense of routine... a sense of calm. Then... BOOM! There it is! Things are going to be shaken up again.
The amazing part about the show is that I would totally watch an entire season of "just conversation"... I'd watch a DOZEN seasons of that. Just following everybody around while they go about their lives is enough. And how many shows could you say that about?
Keeley and Roy's arc this episode is priceless. It's like the writers are intent on making people love them as characters (and a couple) more and more with each new episode. This is what flawless television looks like...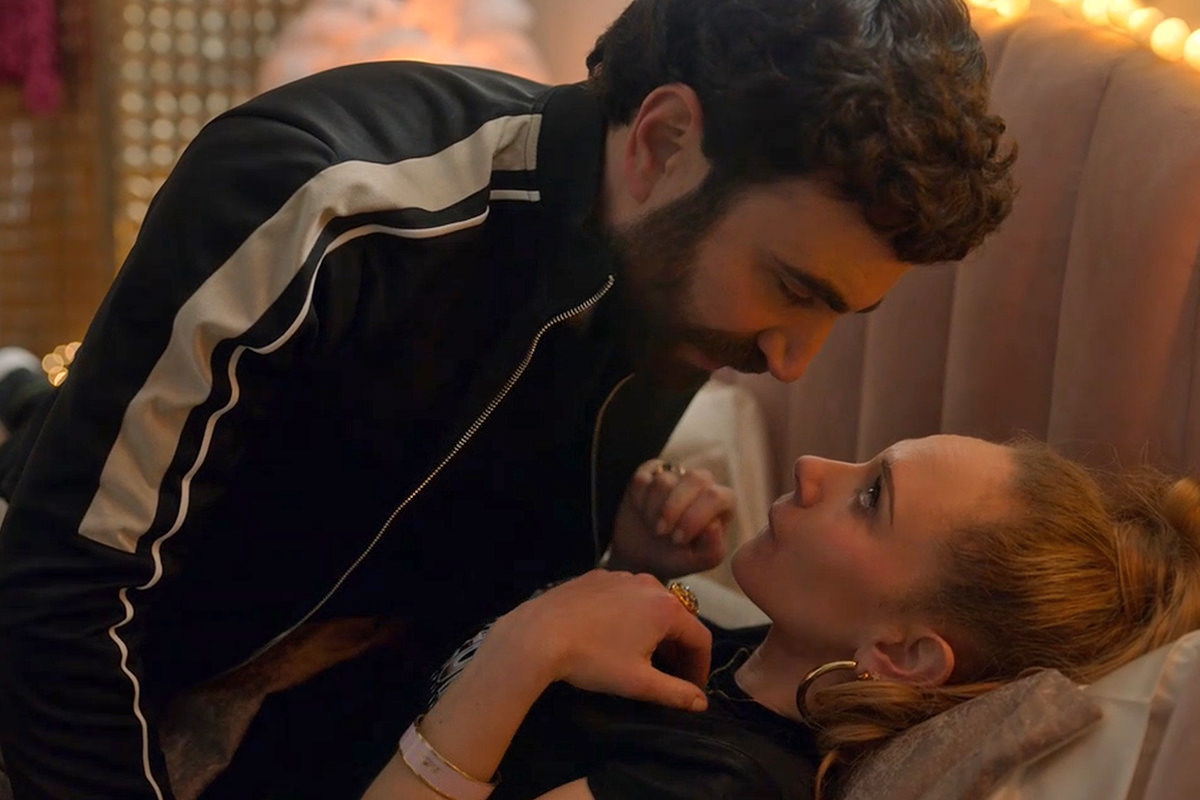 And speaking of Roy... they seem to be making him the focus of the season this time around, and I don't see how anybody could be upset about that. I was fearful that since he left the team at the end of the previous season that he would be relegated to cameo appearances, but boy was I happy to be wrong. As happy as Roy Kent, apparently, as he's found reason to smile both episodes so far...
And then there's Sam, one of the sweetest characters to ever grace a television screen. They have been dropping hints that he's being set up for big things on the show, and giving him charming scenes like the one he got this episode is proof positive of that...
But it's the newest character on the show... Doctor Sharon... who is proving to be an MVP for the series. A lot of that falls squarely on Sarah Niles reserved portrayal of the character. She's more than just lovely on the outside... she has a sweet demeanor that makes her character seem lovely on the inside as well. And we got to see even more of that late in the episode. Guess her initial clash with Ted wasn't going to last long at all, clocking in at a total of one episode. I was worried that adding her to the series would mean less time for other characters, but it turns out that her presence is making the other characters stronger, so and fears were completely unfounded...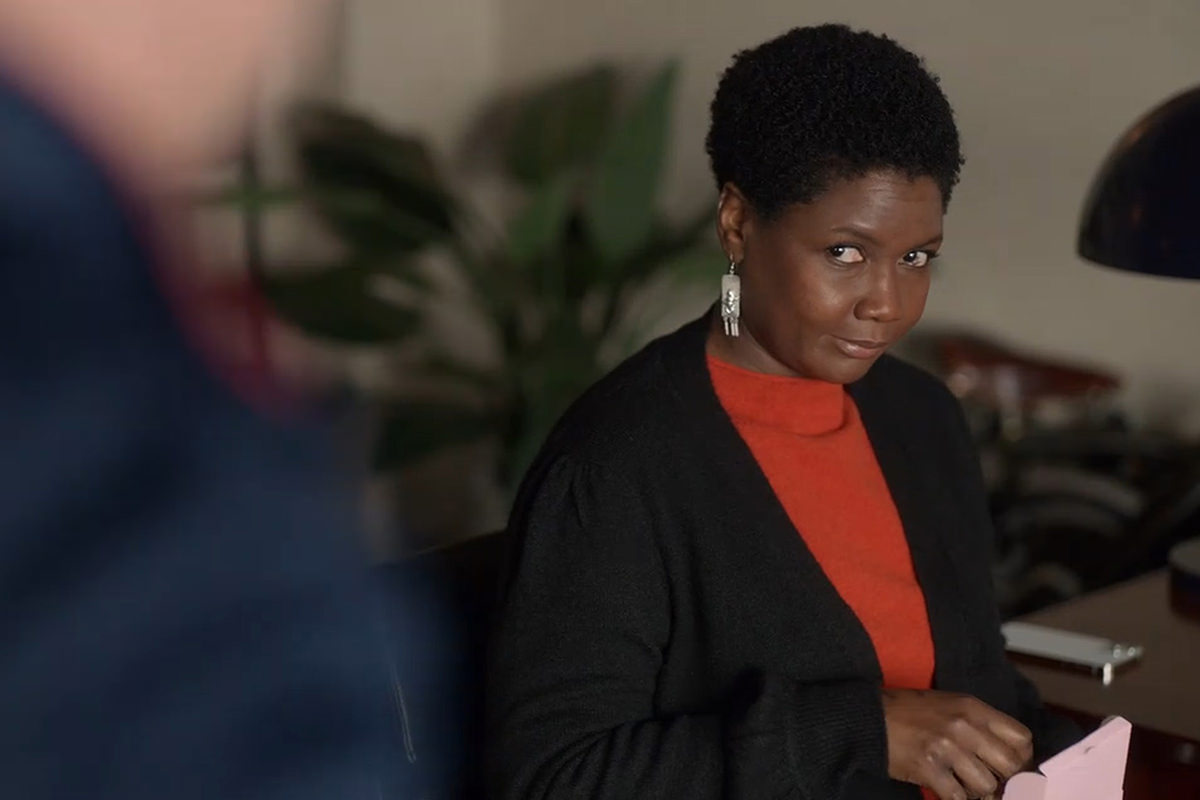 A part of me is dying for the week-long wait between episodes. But if they were all available at once, a binge-watch would mean that I'd be done with the show for another year in one day!
Thank God for Apple TV and Ted Lasso. In absence of a kinder, more caring world... this is enough.
Posted on July 23rd, 2021

The best show of last year... or any year ever... is Ted Lasso.
As shitty as 2020 was, the fact that it provided the ray of sunshine that is Ted means that I'll never be able to write it off completely. I fell in love with the show within minutes of watching, and have rewatched it many, many times. And to think I was going to give it a pass because I thought it was going to be a sports show!
Naturally, I was a bit nervous as to whether the second season would live up to the impossible heights set by the first. Much to my relief, the first epiode dropped today and is just as good as one could have hoped.
Part of that is due to a new character which could provide an interesting dynamic to the show... a sports psychologist named Dr. Fieldstone...
But the biggest part?
My favorite character in the show is Roy Kent. His character was pretty one-note though... until it wasn't. By the end of the first season he had lost what was most important to him but ended up with something that had potential to mean everything. The worry was that Roy would be relegated to abackground accessory for the show but, lucky for us, that wasn't the case at all. He's just as critical to the show as he's always been, and living his best life post-football...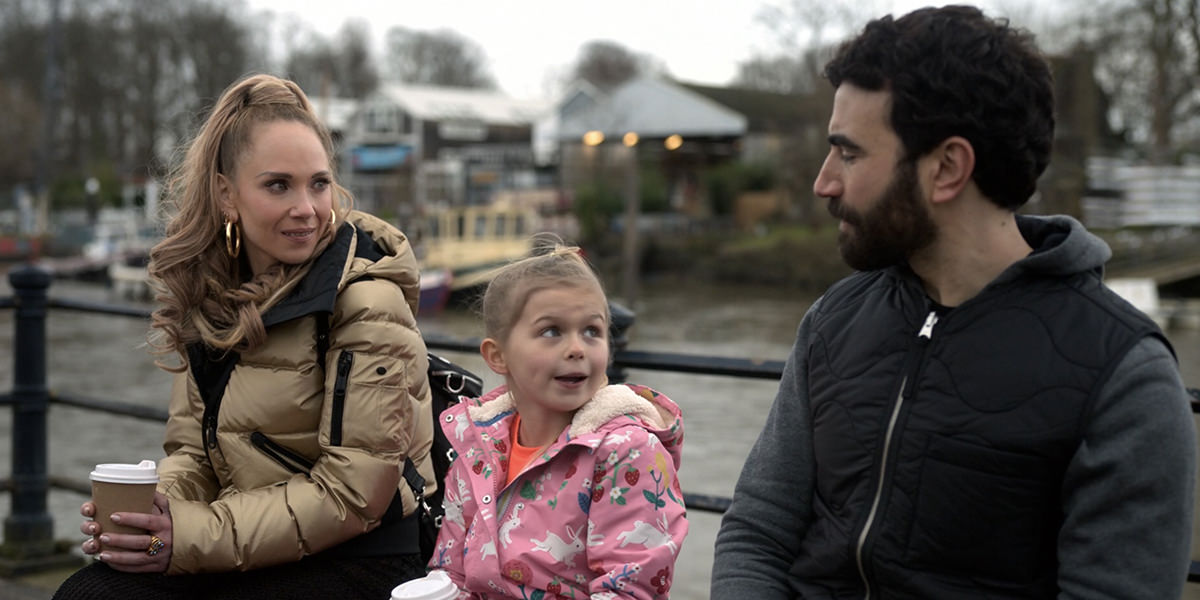 But the best part? He's actually happy...
Can't ask for more than a happy Roy Kent!
One episode down. Eleven to go...
Posted on June 21st, 2021

The only news that really matters today? The trailer for the second season of the best television show ever to air has debuted!
Looks like Ted Lasso is going to be more of the same greatness come July 26th...
That's a month and five days away! Which seems like an eternity.
And speaking of waiting an eternity for the return of a television show... The first episode of the back-half of the latest season of Rick and Morty finally landed yesterday, and Adult Swim has graciously put the entire episode up on YouTube for free...
I guess if Marvel Studios never brings Prince Namor to the big screen we'll always have... whatever Mister Nimbus is!
Posted on March 2nd, 2021

Award shows are a total shitfest of idiocy and and I've never given them much credit for anything. Crap movies can win (and often do). Truly great movies get completely ignored (and often do). It's always been about which movies and TV shows can promote and buy their way into winning shit.
For years I tried to counter this by making my own Oscar picks, but even that seems senseless and stupid since I don't see every movie that ever comes out in a given year and many of the movies I love are never nominated. So I stopped. My annual year-end wrap-up of the favorite stuff I saw is good enough, and I don't give a shit about the Oscars enough to comment any more.
Last week my stance was totally vindicated when wwriter/director Eliza Hittman received an email from an Academy voter which told her that they would not be watching the screener for her film Never Rarely Sometimes Always because "As a Christian, the father of 8 children and 39 grandchildren, AND a pro-life advocate, they have ZERO interest in watching a woman cross state lines so someone can murder her unborn child. 75,000,000 of us recognize abortion for the atrocity it is. There is nothing heroic about a mother working so hard to kill her child. Think about it!" And its like... okay... but then you're not doing your job, asshole. Recuse yourself from voting AT. ALL. if you're not going to see every film in consideration. What's even more infuriating is that Never Rarely Sometimes Always tells the story of a woman WHO WAS SEXUALLY ABUSED trying to get an abortion. It's not like she's getting an abortion for fun and then celebrates it or some stupid shit.
And while I haven't watched the Oscars telecast in nearly a decade, I haven't watched The Golden Globes telecast ever. The closest I get is watching the opening or YouTube highlights when somebody I like is hosting. My position has always been "Who gives a fuck what the Hollywood Foreign Press thinks? Who the fuck ARE the Hollywood Foreign Press anyway?" I never cared enough to Google That Shit, so whatever. Apparently there's few to none Persons of Color in the Hollywood Foreign Press, which means that their voting is skewed, non-representational, and irrelevant anyway.
But I did read that Jason Sudekis won a Golden Globe for best actor in a comedy or musical television series for his exceptional work in Ted Lasso.
Except not exactly.
What I actually read was that Jason Sudekis was high and wore a tie-dye hoodie when accpeting his award. Because of course that's what superficial news organizations looking for clicks is going to latch onto...
And my immediate reaction to this news was "Lord, who gives a fuck? If I had to participate in this bullshit in order to promote my work and try to get it seen, I would be high, AND NAKED, AND DRUNK! If anything this just made my opinion of Jason Sudekis jump several stories, because wearing a hoodie instead of a tuxedo reflects exactly the amount of respect these awards deserve.
And yet...
Ted Lasso was the best show of 2020 or any other year, so I'm glad that these stupid-as-shit award shows with their non-representational voters at least managed to see that much.
Or maybe they didn't bother to watch the show at all, but instead picked him to win because he wasn't Black like Don Cheadle, Jewish like Eugene Levy, Muslim like Ramy Youssef, or joked about being in a gay relationship like Nicholas Hoult. Which seems about white.