Posted on May 31st, 2023

And so here we are at the end.
I can tell you that Ted Lasso is, without a doubt, my favorite televisiion series of all time. It's everything I never knew I needed to see. The writing, the characters, the acting, everything... it's been mostly flawless most of the time.
And now we're at the last episode of the (presumably) last season...
I'm jotting down my thoughts as I watch, so spoilers ahead...

Ted slept with Rebecca?!? Well that was unexpected. I thought the time for that had passed. And what about Sassy?!?
Okay... WITH BEARD IN A THREE WAY?!?
Oh. Okay. That's better.
I swear, Brendan Hunt is about as fearless an actor as there is.
Isaac is never really ridiculous, even when doing ridiculous things.
Okay... if Nate had to come back, I'm glad they at least didn't give him back his coaching job. That would have been awful.
See, it's little moments like Jamie putting extra money in Nate's box that shows that his change over three seasons hasn't been superficial. It's intrinsic to his being now.
And there it is. Confirmation Ted is not long for London.
Trent's book looks a little light? He's been writing all season!
Oh Roy. You need the Diamond Dogs badly.
WHO THEY ARE HIRING TO REPLACE TED?!? WOULDN'T THAT BE ROY?!??
Boy. Rebecca has a total point. She doesn't really need the club any more. It's served her purpose. Except... hasn't it come to mean so much more than that? But for two billion dollars, maybe that's money too tempting not to take.
Lord. It makes sense that they would do a musical good bye for Ted, but this? It's bordering on annoying.
Dani really had wasted potential this season. But you could say the same about most of the players. Except Jamie. And possibly Colin.
Jamie doesn't belong with Keeley any more. Even though he's changed into somebody who deserves her.
Rebecca's mom is incredibly self-unaware. I don't get her character. Really could have done without this diversion when Rebecca finding happiness after having finally overcome Rupert.
Baz, Jeremy, and Paul could have been such one-note background characters if not for Beard After Hours where they gave us a bit more to work with.
And now I want a beer.
Okay. This is actually charming as hell... Roy and Jamie.
Well, it WAS.
What's so heartbreaking about Rebecca's conversation with Ted is that she knows he wouldn't change his mind before she asks him to. But she had to try. Ted changed all their lives. And hers more than most. Why would she want that to end? But of course it has to if she's to go on and find her own way towards being happy.
Boys will be boys. And neither of them learned a thing. Well, on some things.
Sorry. This was a sweet scene, but Nate still hasn't redeemed himself. I honestly don't think that he ever could. What he did was so horrific that he just doesn't deserve the grace he's being given. They took it too far.
I do like that they didn't make Ted overly-goofy this time. It's a serious situation he's in, and to go overboard with bad puns and folksey Tedisms would diminish it.
Okay. Showing the older couple once again at a Richmond match is an incredibly sweet gift towards fans of the show who remember them and their sweet story.
So some guy is taking advantage of the ticket always reserved for Roy Kent even though Roy no longer needs it! Ha! But wait... is that the guy Colin was with earlier?
Wait... who is the couple at the ticket window who says that he was stared at like an absolute psychopath? Surely they must have appeared before? But when?
Whether or not Ted ends up with his ex-wife or not... I think her relationship with her old marriage counselor is on thin ice.
SHARON!!! Oh how I've missed her. I love love loved Dr. Fieldstone last season.
Roy wanting to be a Diamond Dog is his character arc, I guess?
"I'm still me." Oh God. Don't ever change, Roy! We love you just the way you are!
Ruff ruff.
Oh Sassy. You're the best.
Barbara is Coach-Beard-level-weird. But not in a good way. She's just... weird.
Zoraeux (formerly Van Damme) is now Zorro?!?
LOL. "Richmond seems to be crying!" Poor Jan Maas!
Dr. Jacob is an asshole. So, yeah, that's not going to last.
Strange that Zorro, who was unstoppable last time has let two goals slip past.
Jamie's reading a book?!?
Okay. Colin keeping his piece of the "believe" sign with him while he plays is pretty great.
Awww, teamwork. And they can believe again!
Isaac gets his moment. And deserves it. That was nice.
Okay, now I really need to know who the guy was who got hit!
Rupert going full-on psychopath at least lets everybody finally know who he really is.
Oh look! George's balls... Liam and Noel... have made an appearance! LOL. Another moment for fans of the show.
Interesting to note that both of Rupert's coaches were coaches at Richmond first.
Aww, Jamie willingly being a distraction play pretty much completes his arc, I think.
Okay, that was Colin's boyfriend who got the Winona Judd ticket. AND Colin got to have that moment he's been dreaming of. That was nice.
Aww. Rebecca selling her 49% to the fans was the perfect solution.
Ted using Apple Pay! Nice! A win for the sponsor (and network).
And the ussie guy is back! Classic.
If you freeze-frame, you get some closure on a few side-characters here.
Those are real tears for Hannah Waddingham. And can you blame her? The best acting job she will probably ever have.
Yeah, Coach Beard ain't going to leave.
Annnnnd... being right has never felt so satisfying.
Willis. Willis Beard. That works.
Oh boy. I was waiting for Rebecca's Man from Amsterdam to show up again. Well isn't that perfect. UPDATE: And he showed up at the barbecue with her, so they are definitely together. Gezellig!
Well, yeah. It would be absurd for anybody except Roy Kent to manage the club.
So... wait... Sam ended up playing for the Nigerian league after all?
Jamie having a moment with his horrific dad is a nice moment for him. Maybe a stint in rehab was what he needed to not be so awful?
Mae bought quite a stake in Richmond there!
"Trent Crimm... with a very brief foreward by Roy Kent." LOL.
GIRL POWER!
Dr. Fieldstone is back with Richmond. Great.
So Nate is a coach again. Yikes.
Interesting to note... it looks like Nate was using a gold paint to heal the Richmond sign, which means he was practicing kintsugi (the Japanese method of repairing broken things with gold to make them more valuable than they were before they were broken)... quite the metaphor.
Dani still in his throuple, I see...
Okay. It took me a second... but the couple with the large man and a baby at the wedding is the couple from Beard After Hours! Since the guy essentially saved Beard's life, it makes sense that they would be at his wedding.
Wait... Ted didn't fly back for the wedding? That seems... wrong.
So... are Ted and his ex-wife back together then?
The End.
(Though there is absolutely NO REASON AT ALL that the show couldn't continue as Roy Kent or AFC Richmond or whatever. NONE!
Well, the end was as good as it could have been, I guess. Especially for Rebecca, as I am very happy that she finally found the guy who makes her feel like she's been struck by lightning! Her moment at the airport is hands-down my favorite moment of the finale...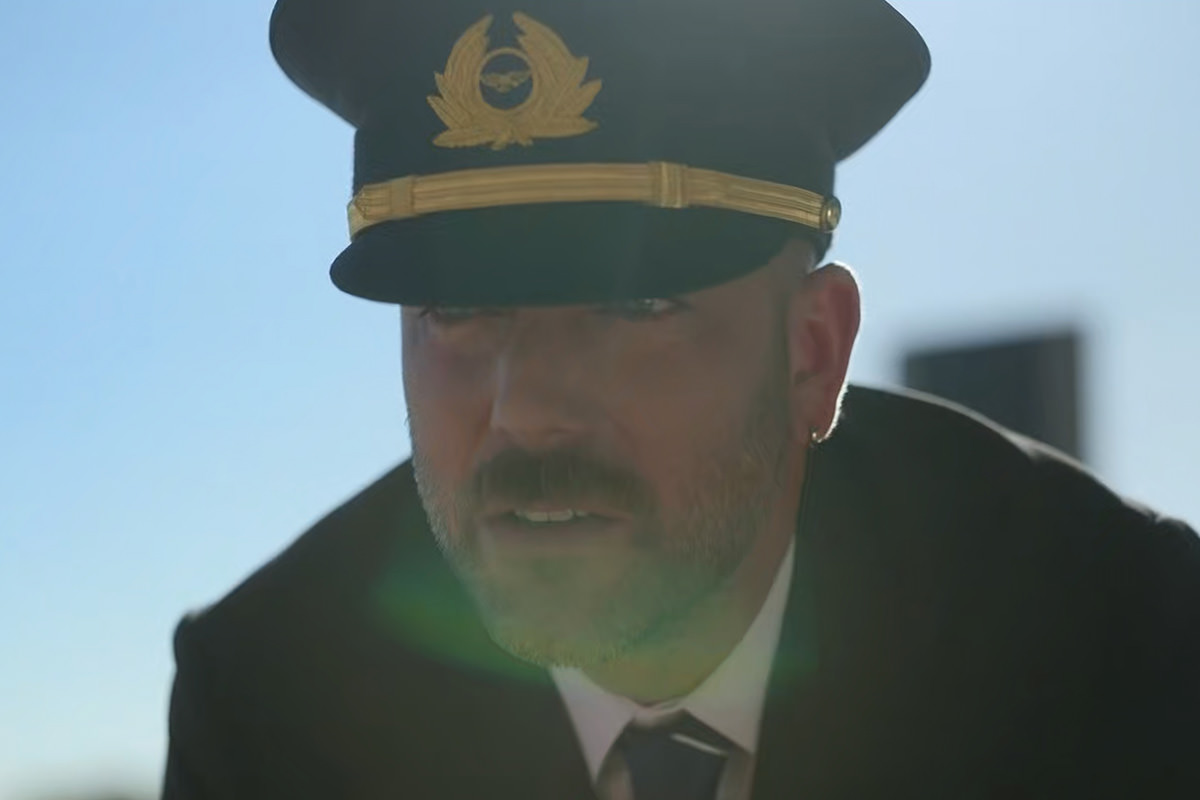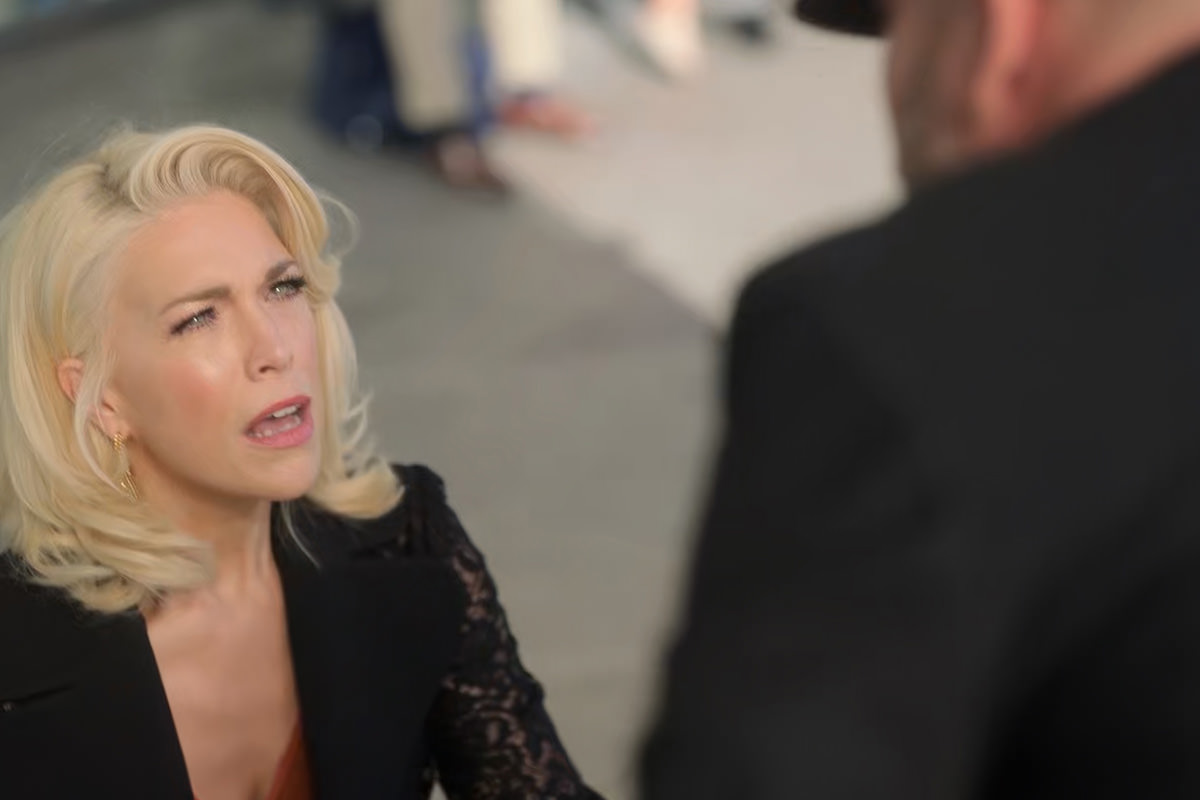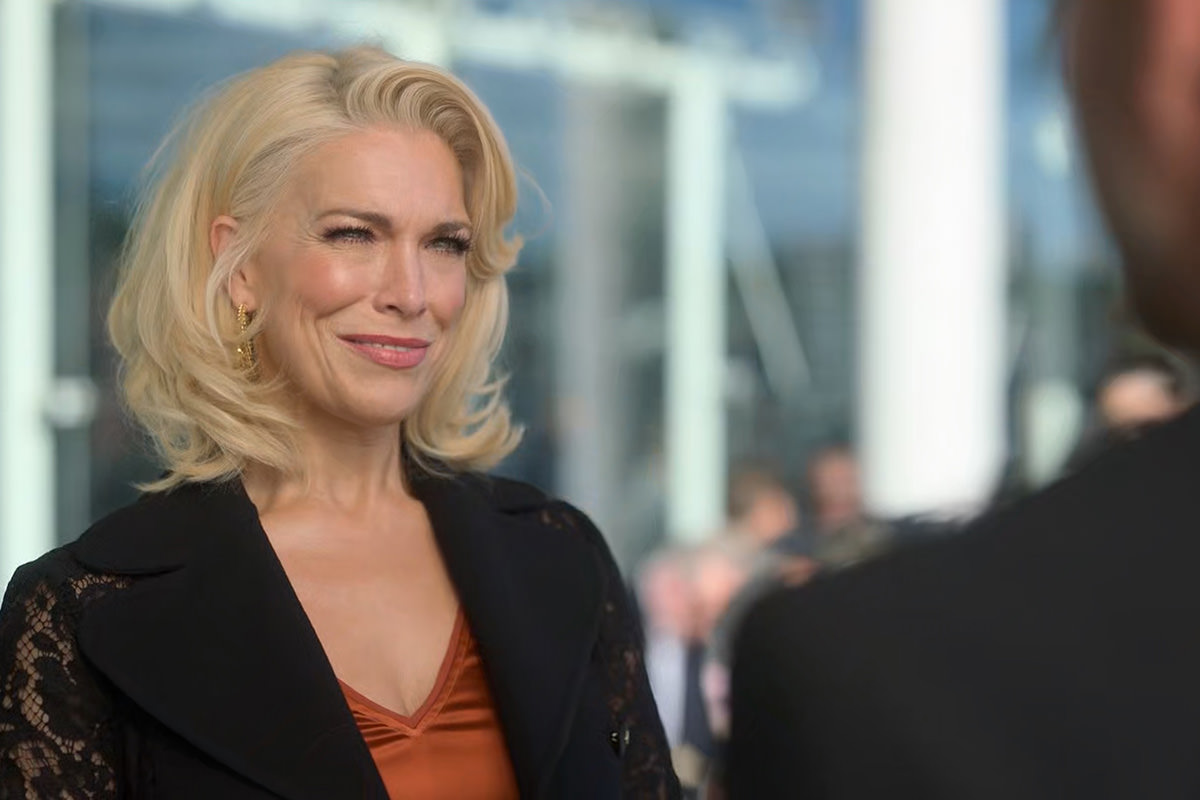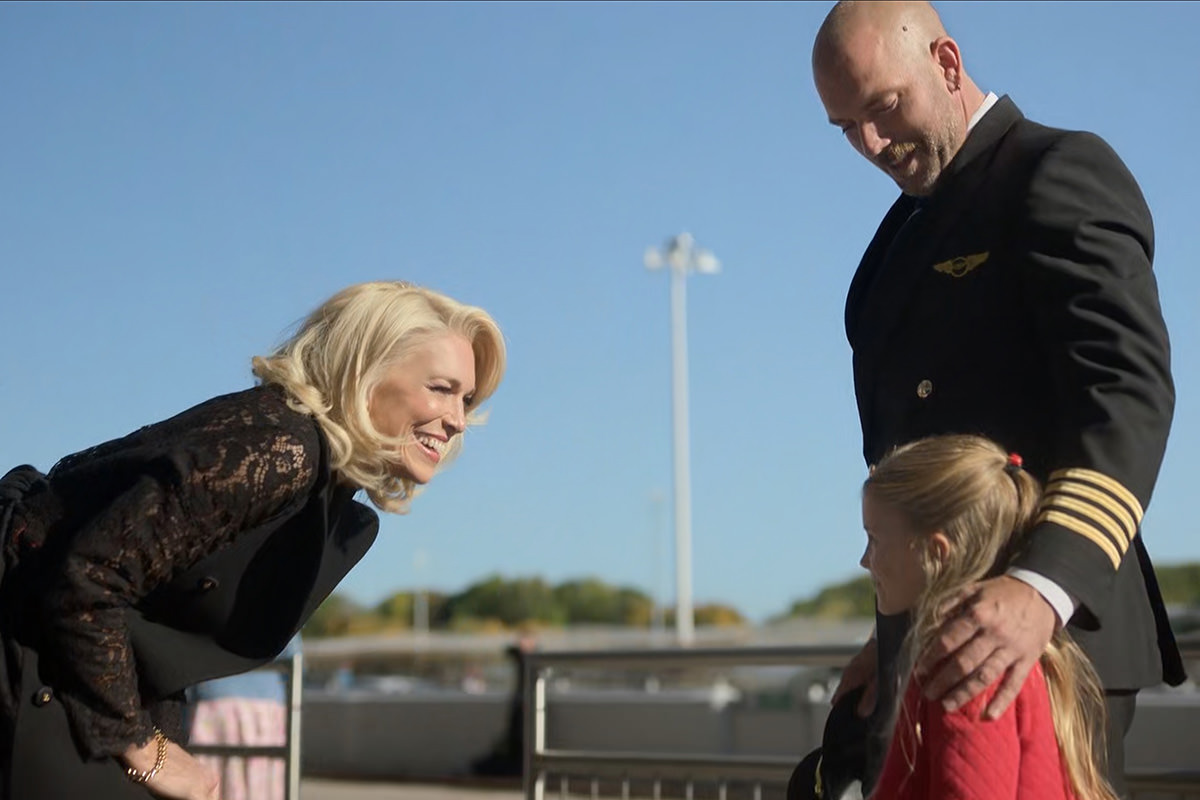 Well, I don't know what else to say. Except I hope the show comes back... in whatever form it can... and this isn't the end...
See ya 'round, Ted.
UPDATE: I still don't know who these people are?
UPDATE UPDATE: As noted in the comments (and on Facebook), that's John... the guy that Rebecca dated who didn't make her feel like she was struck by lightning!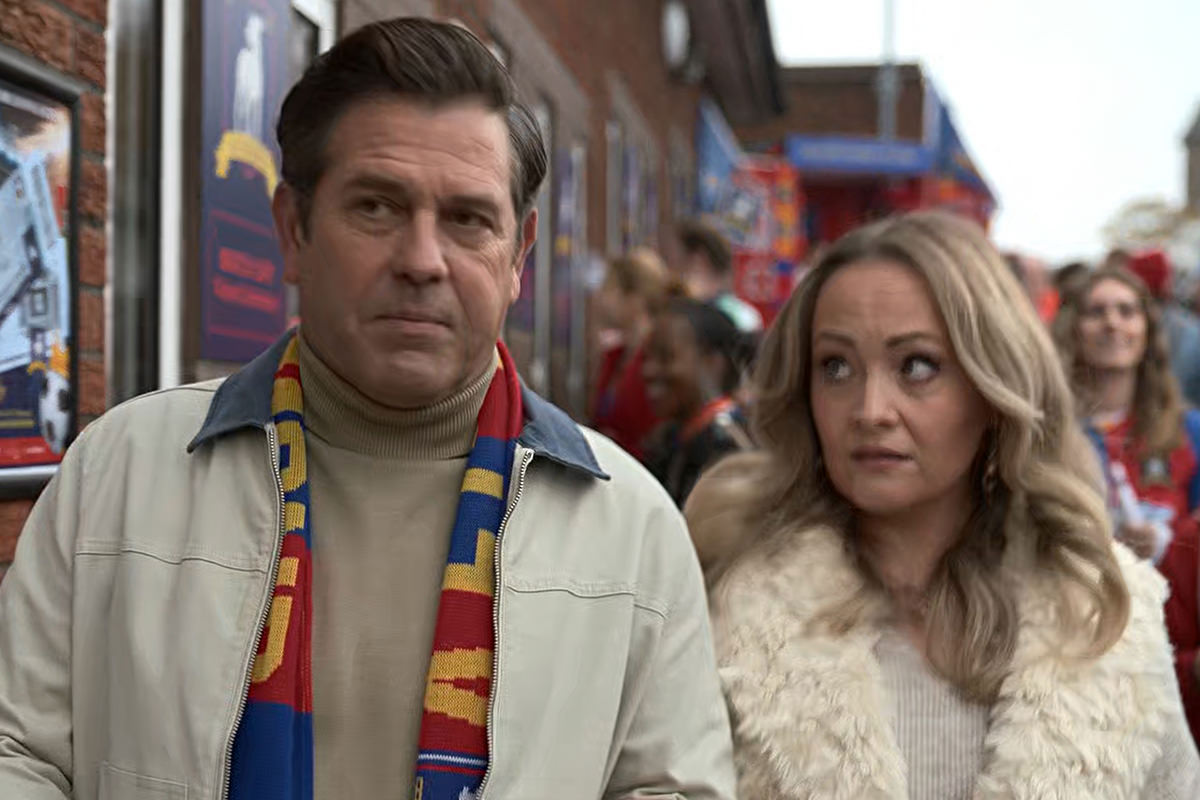 Posted on May 10th, 2023

The latest episode of Ted Lasso was great... but still filled me with despair because now there's just three left.
I will probably just live-blog the final four because I have nothing better going on right now.
So. Spoilers. Obviously.
And we're off...
The fact that Brett Goldstein is never out of character... even when just standing on the sidelines... is magical to me. His posture is all Roy Kent all the time.
Coach Beard is so delightfully weird. IF we get lucky enough for the show to continue and Jason Sudeikas isn't on board, I sure hope he stays in London.
The two possibilities are that A) Isaac is a raging homophobe and wants nothing to do with Colin now that he knows he's gay... or B) Isaac is upset that his good friend and teammate kept something so important from him. As this is Ted Lasso, I think we all know what it's going to be.
Dani Rojas is such a great character than it's painful to see his final episodes reduced to smelly socks. But I guess we can't have all the teammates getting the spotlight all the time, darnit.
Am I the only one who never fast-forwards through the credits? I love the song. I love the design of it all. Short and catchy.
Keeley's entire diversion with Jack has been so senseless. It's a diversion that hasn't worked at all and I'm glad that it's done with. I guess they had to have something for Keeley to do, but staying in a relationship with Roy and finding something interesting revolving around her new business really should have been enough.
Nice plug for Apple iPhone "blue bubbles!"
Lord. Ted can be SO frickin' annoying. This whole heart-bent fart song is just dumb. This is time that could have been spent so much better.
OH GOD HOW I LOVE ROY KENT! He is, bar none, my most favorite character to ever grace my television.
I really don't want to objectify Rebecca or anything... but holy shit is Hannah Waddington fit! Her legs are flawless. As is the rest of her.
Nope. Nope. Nope. They destroyed Nathan as a character after making him so heinously awful. Don't give a shit about him, regardless of whatever redemption arc they've got going on.
Jade has ended up being a great character. Her deadpan reaction to Rupert dissing her boyfriend is everything. "He seems very wealthy." is classic Jade.
So Rupert is not getting a redemption arc. He's awful. And there's nothing more than that.
Like I said, Coach Beard is delightfully weird and I love him in every scene.
Seriously. Hannah Waddington is frickin' gorgeous. I'm smitten.
Oh Roy! LOLOL!
I have mentioned several times how I would love to see more of Richard Montlaur. He is the quintessential playboy footballer with his nonstop parade of beautiful women and sports cars... and we really don't have that in the show. It could make for some funny moments if they'd only give him a chance. But instead we get to hear that he has a hairy ass. Thanks for the character building!
Trent Crimm has always been an interesting character, and it's truly great that we get to see a bit more of him. Especially in this context with Colin.
Those rare scenes between Roy and Rebecca are always gold. And they're always so different. They're never on repeat, which is fascinating, because they are also never out of character.
Again. Couldn't give two shits about Nate. He and Rupert deserve each other. All these scenes are time wasted for me.
See... I'd much rather devote Nathan's screen time to Mae, Paz, Jeremy, and Paul. Or almost anybody, for that matter.
The crappy Richmond fan is exactly why I don't go to many sporting events any more. It's more and more common for "fans" to be repugnant assholes in the stands, and I really don't need that. I go to enjoy the game and have fun... not be reminded that people are terrible. To add insult to injury, the fan is being stupid. Richmond is down by one. One! Not five or six! And that's after winning eight straight games. This is a bit sloppy on behalf of the writers. They could have made the fan be an ass over something that actually makes sense.
Isaac became a great character in the second season. The fact that the actor (Kola Bokinni) manages to add some dimension to what seemed like a fairly one-dimensional player is rewarding. This isn't just the writers giving him some attention.
Interesting that the "f-word" can be dropped constantly without problem, but the other "f-word" can't be said, says a lot about the word in question.
And here is why I love Sam & Jamie. Dang. So many incredible characters on this show.
And now we know which side Isaac is on. As if there was ever any doubt. And here's a softer side of Roy Kent as well. If there was a show called Roy Kent I would absolutely watch that.
They should have never promoted Nate out of being kit man. That's where his character started going all wrong. And seeing Will Kitman being who Nathan could have been is sobering. They could have still had him still make suggestions for the team to Ted and Beard... that would have been great... but Evil Nate is a waste of time.
Colin's big moment was... off screen?? Good Lord. Why? Everything has been leading up to this!
Ted's folksy charm was incredible in the first season. Wearing a little thin in the second season. But now? This story of his is just eye-rolling bad. It's like they used up all their ideas for the character, and now he's been reduced to fart jokes and blowing up toilets. HOWEVER... his ending comment about "hating to bring up work at a time like this" is classic Ted.
Okay... Trent and Colin's little convo here is hilarious.
Having Colin suddenly be this brilliant footballer just because he came out to his team is a bit over the top, isn't it?
Oh shocking. Rupert is a womanizing piece of shit! Still. Guess running that trope into the ground was more important than devoting time to Richmond?
Roy Kent's press conference is just brilliant all the way around. From Brett's performance to the writing to the reactions of the other actors. THIS RIGHT HERE is everything I am going to miss about this show. The fact that it comes with a life lesson is why Ted Lasso is my favorite show of all time.
WHY? WHY DIDN'T THEY PAN TO OLD TRENT'S REACTION AFTER ROY SAID THAT HE PREFERS NEW TRENT TO OLD TRENT?!?
Something I don't talk about much is the genius behind the musical selections that come out of this show. Many times I look up the songs so I can add them to my playlist. You can bet that All That You Are by Bear's Den was added. It's lovely.
Colin's house is amazing.
And of course the scene between Colin and Isaac is the best. As you knew it would be. The fact that they managed to make it so funny on top of being so wonderfully sweet and charming is nice.
Colin tell Isaac that he's not interested in telling the world he's gay, and that tracks with his conversation with Trent in Amsterdam. So I guess that's the end of that. With only three episodes left, they don't really have time to have this leak to the world at large.
This I Am What I Am and What I Am is No Excuses monstrosity of a song is obviously some kind of gay Broadway anthem... which definitely won't be added to my playlist. Yikes.
Here's that Bear Den song, just in case you need it...
Good night!
Posted on May 4th, 2023

The eighth episode of Ted Lasso moves us further towards the season (and possibly series) finale. It also deals with something entirely topical: hacking people's digital privacy to release their personal data. In this case it's a sexy time video of Keeley that she sent to her boyfriend at the time.
The tremendous loss that's going to come when the show ends isn't just the characters, the stories, and the whole concept of it all... it's the artistry of everything that goes into it.
In this latest episode I was really struck by the visual language of the show. Like many good directors and cinematographers, there's a lot of thought that goes into every shot.
Spoilers from here on out...
When the show starts, there's a shot of Jaimie Tartt being Jamie Tartt. Of all the characters in the show, his journey has had the biggest arc...
The framing here is interesting. It's not a closeup of the camera filming his face as you might expect. They wanted to show his body language. He's centered in the frame because Jamie is all about Jamie. There's not room for anybody else.
They shift to Roy Kent, who is not centered on the frame. Roy's visual language is him standing apart from people. Note Jamie in the background as the conversation is revolving around the leak of private information, including Keeley. Roy was Keeley's last boyfriend, Jamie was the boyfriend before...
There's nothing special about the shot that follows. But it's funny because Jamie gets a look at Will Kitman's private photos that he's deleting. Which is assumably includes the threesome he recently had in Amsterdam...
But then we get to Colin leaving the room after Isaac instructs everybody to delete all sexytime photos of other people from their phones so they don't get hacked and released. Isaac assumes that it's because Colin doesn't want to delete his photos. But the truth is that he needs privacy because his photos aren't something he wants his teammates to see. So when Isaac follows him and grabs his phone away, he gets a surprise he wasn't prepared for...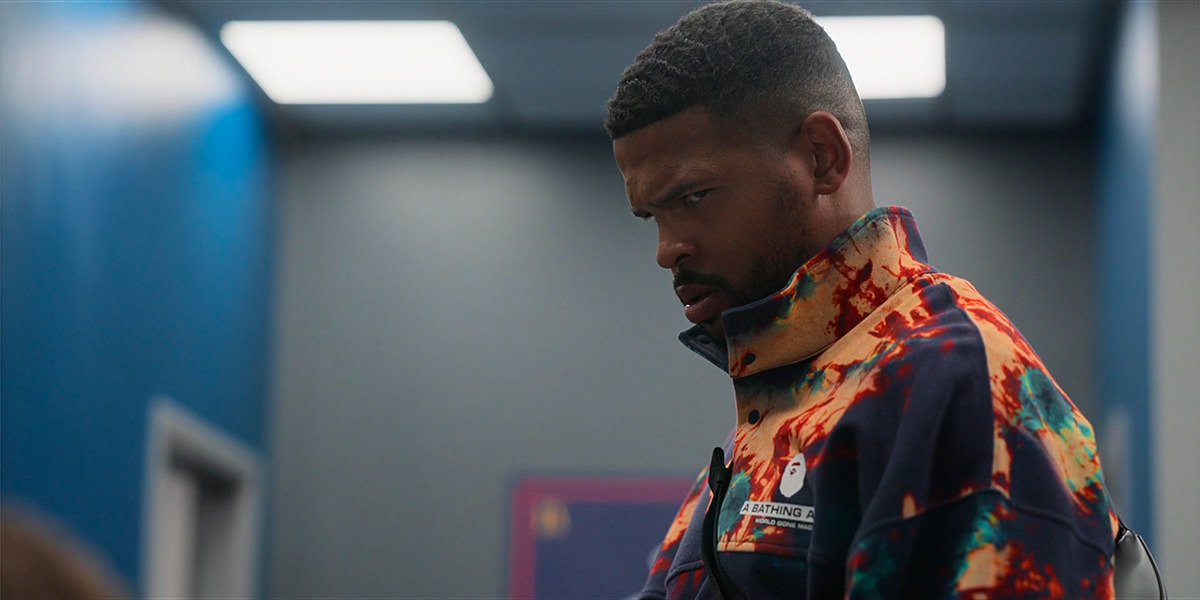 Isaac is just right of center, so you're focusing on his face. He doesn't look happy. But is it because he found out Colin is gay and doesn't approve... or because Colin never told him. Even Colin doesn't seem to know...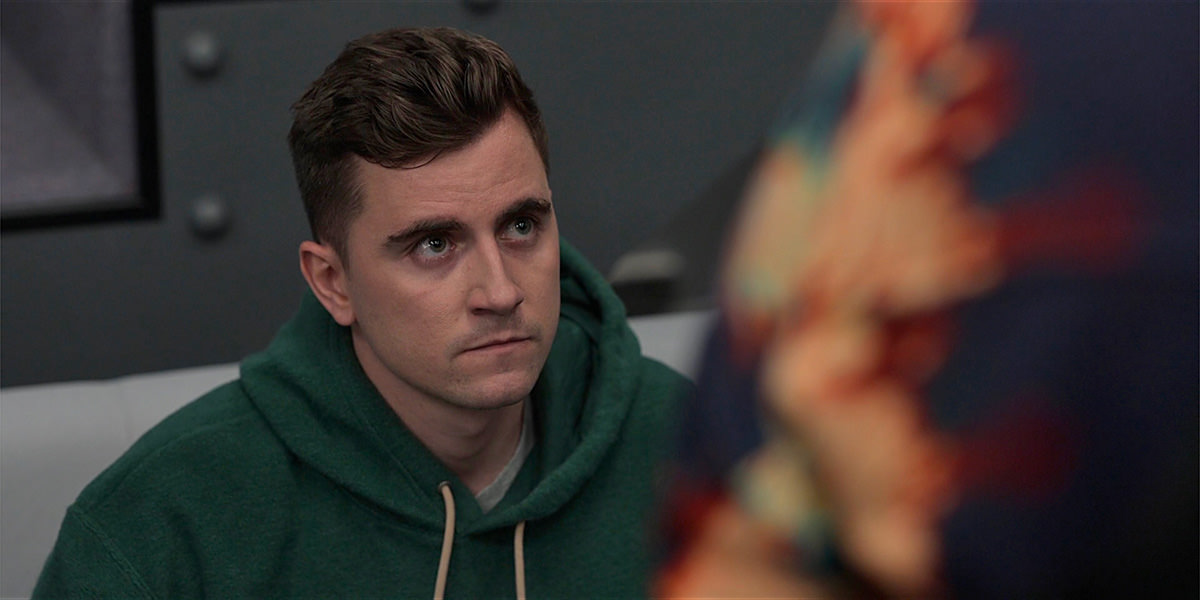 Notice that Isaac is looming over him, making Colin seem as small as he is feeling. Something he has worked so hard to hide is out. And once Isaac leaves him, Colin is left alone. Except the framing of the shot shows that the entire sofa is there. Something unsaid and unknown is sitting next to him. He's got baggage we can't see that he has to make room for wherever he goes...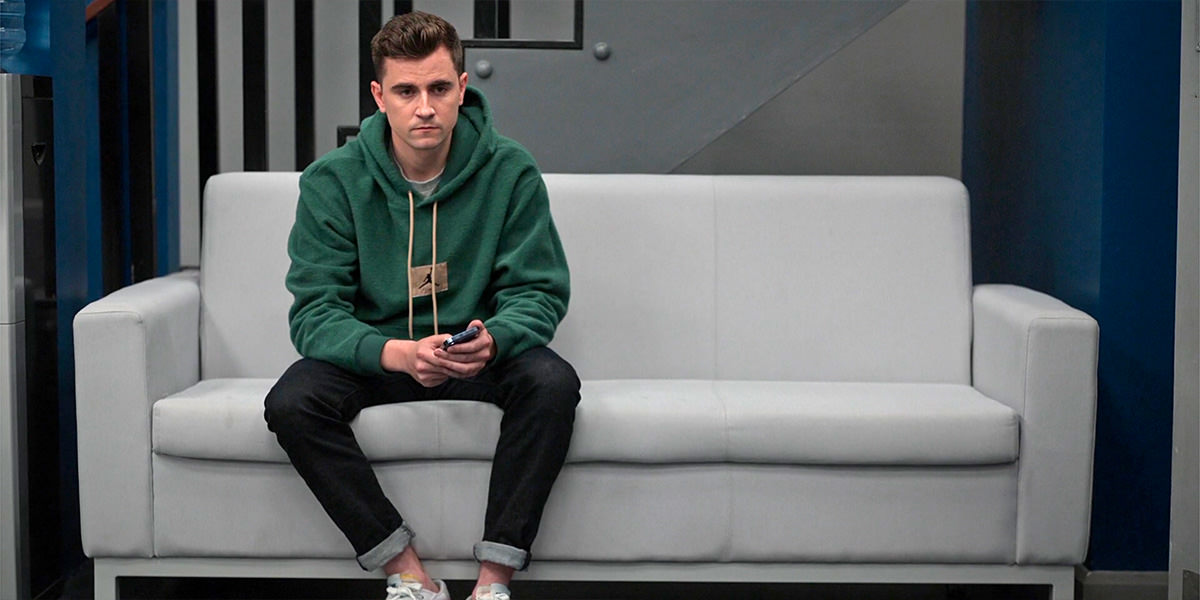 Roy tracks down Keeley to tell her he's sorry about what happened. They are having a conversation while actively avoiding looking at each other, which is to show that they're hiding what they really want to say...
Roy then makes the horrible mistake of asking Keeley who the sexytime video was meant for. He regrets it immediately. And now he's framed as alone and apart again as Keeley leaves...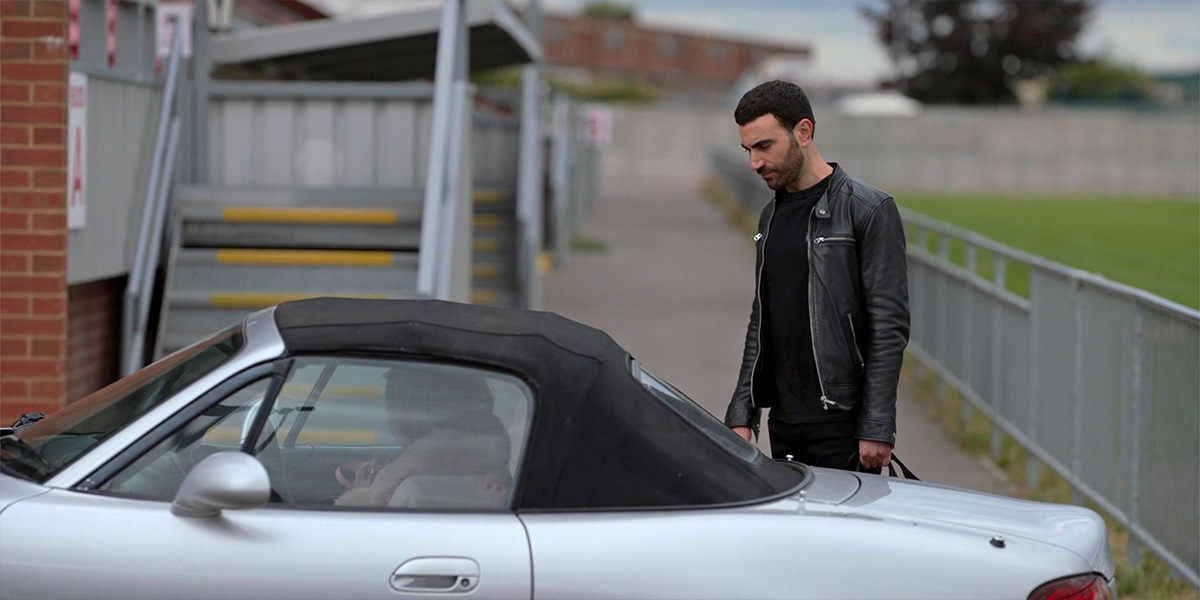 We then get a shot of poor Richard still deleting all his sexytime photos from his phone which, given that he's a playboy footballer, is apparently a lot. And it's a traumatic experience for him. Note that he is centered in the frame, unlike Colin, because he doesn't have to make room of anything unsaid. His life is much, much more simple...
Ted's son wants to go to a football game, and the only team playing is the dreaded West Ham, coached by former Ted protégée Nathan. They made sure to frame the shot so you could see Coach Beard defiantly standing amongst all the West Ham fans...
After the game, they're off to Mae's pub where she's mortified to see that Henry is wearing a West Ham shirt. But they beautifully switch to a wide shot so you can see Ted's reaction... because he knows what Mae's reaction will be...
After Ted wanders off for a phone call, Coach Beard gives some sage advice to Henry and the post-divorce life of his parents. It's interesting that they decided to not do a side-shot where you can see both of their faces. Nope, they swung the camera behind Henry so you can really focus on what Beard is saying...
And then, at the end of the episode, we get yet another priceless moment showing how Jamie has grown and changed over these three seasons. He had deleted all his sexytime photos of Keeley once he knew her relationship with Roy was real. But he forgot about the emails. It was his phone that got hacked and it's where Keeley's video got leaked from. He feels awful about it, and wanted to apologize to Keeley for it. Knowing how Jamie was at the start of the show, you can't help but be touched by the gesture. Especially when you see how much Jamie still cares for her. When the camera is focused on Keeley hugging Jamie, it's close... it's personal. But when the camera is focused on Jamie being hugged by Keeley, it's a wider shot. Likely so you can see her hugging him back. And while it's no less personal, there's room in the frame for somebody else. Which I'm guessing is Roy...
It's nice to see that the incredible writing and acting are not being buried by crap photography. Every episode has people who really know their stuff... from directing and filming to editing.
Which is just yet another reason I'm having a really tough time at the thought of this show ending.
Posted on April 28th, 2023

I often wonder what it would take for me to love a television show more than Ted Lasso.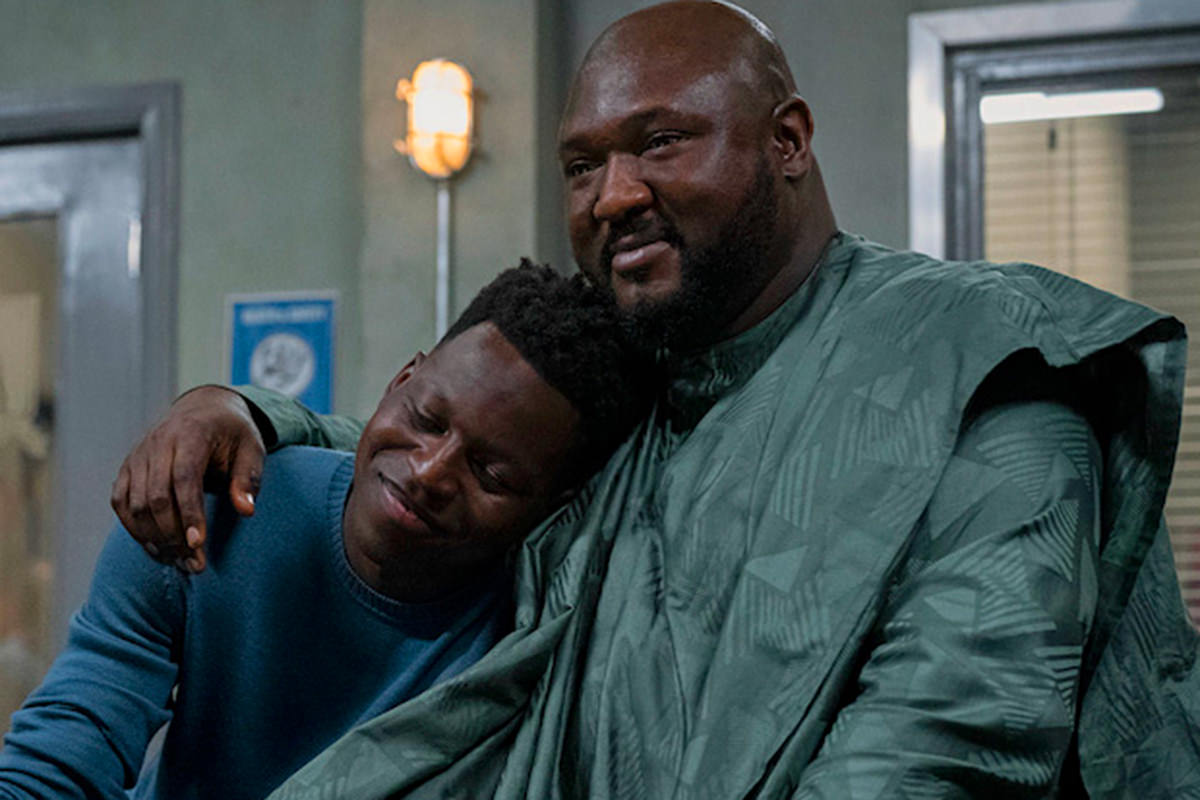 I dunno. But it's far and away my favorite right now.
Posted on April 19th, 2023

The latest episodes of Ted Lasso is incredibly frustrating while being achingly beautiful to watch.
This is (apparently) the final season, so what in the hell are they doing? Every episode is just spinning out of control with these stories that never seem to coalesce with anything worthwhile. Zava came and went, which was likely inevitable given how they hammered home that the team was capable without a ringer.
The latest episode... Sunflowers... is more spinning. But then you see these incredible moments with characters you love... and it's everything you want to see in the show.
I never not want to be able to find these characters on television, and this episode just hammered that home. Whether or not Jason Sudeikis is actually in Ted Lasso or not... Apple TV must find a way to continue. They MUST. I don't care if they rename it Roy Kent or AFC Richmond or whatever. This season just can't be the end.
And now is where I look at the latest episode as a huge fan of the show. If you haven't seen Sunflowers yet, some serious spoilers are going to follow... so watch before you read.

A Friendly Without Curfew in Amsterdam. I know that we have to see AFC Richmond at their lowest before they can climb... and I'm guessing that this half-way point is where things turn around (that seems to be the formula that the writers lean into every season). I laughed my ass off at Roy Kent and Jan Maas getting interviewed, because Roy is surly and Jan is... Dutch. They're the perfect match. And then there's Keeley heading off with her girlfriend. It bothers me more than a little bit that she's in a relationship with somebody other than Roy... it bothers me even more that this is the best thing they could figure out what to do with the character.
Heaven Knows I've Tried. Surely I'm not the only one who never, ever fast-forwards through the Ted Lasso theme song?
No Holiday from Training. I welcome absolutely any opportunity to see Roy Kent being his most Roy. But this season I'm almost as excited seeing Jamie getting to be his most Jamie with Roy Kent. Their history has them intertwined in ways that neither of them will ever truly understand, and it's a joyous thing to see.
Rebecca Swims the Canals of Amsterdam. It is wonderful to see how Rebecca and Sassy are friends independent of Keeley. Kudos to the stuntwoman who took a tumble off that bridge, but it's PHENOMENALLY stupid how Rebecca can't look at the little "bike lane" icons liberally painted on the bike path to understand that she's walking in the wrong place.
Beard's Got Plans. I gotta say... if "Yankee Doodle Burger Barn" doesn't exist, it should exist. How amazing is that for an American restaurant in a foreign country? And how great is it that we see such tiny little snippets of Coach Beard's odd lifestyle? His character is choice, and the fact that he's so consistent means it's not by accident.
AFC Richmond. I've been to Amsterdam many times. There's so much to do in the city that it's kinda of funny watching the characters run through the touristy stuff that defines it to foreigners. Jan Maas being on his home turf and coming up with something so genius is perfect for his character. And there goes Colin. I think we all know what his plans are for the night.
Water Pressure. Rebecca exploring this Dutch man's gorgeous house boat is one of my favorite moments. As is the fact that the Dutch guy was so gentlemanly as to leave and give her privacy while she took her shower (the note for the tea... It's not drugged, I promise). Interesting to note that the guy has a bedroom for his daughter, which could very well be the child that Rebecca is longing for. Just sayin'.
Leslie Knows His Jazz. Nobody thought that Higgins was heading to the Red Light District for sex... but it was hard to tell what it might be. Jazz. Makes perfect sense.
Coach Beard's Magical Tea. Beard is so delightfully weird. And he's brilliant on top of it all, which is what makes him such a great character. Ted not being able to drink tea is a part of what makes him great too.
AFC Richmond. Oh Dani. He's incredibly genuine and sweet under any and all circumstances, and you love to see it. Zoreaux's obsession with seeing a sex show is an odd aspect for his character, but also an interesting one.
Colin's Night Out. Trent Crimm is an outsider to the team, but not really. As a journalist (and now writer) he's getting to know them in a way that they probably don't know themselves. I was terrified that his secretly following Colin was going to be a way of gathering dirt on the poor guy... which would be so awful... and this scene certainly painted that picture.
Dinner on a Houseboat. Where did this Dutch gentleman come from? REBECCA'S DREAMS, THAT'S WHERE! It's so nice to see male characters on a show that are just genuinely nice by nature. It's a great contrast to what most guys are like in Real Life. And his kissing her foot after bandaging it (out of habit for his daughter, I'd imagine) just drove that point home. Doesn't hurt that Rebecca is absolutely gorgeous having just stepped out of the shower.
Roy and Jamie Training at Midnight. =sigh= Roy could do nothing but complain about life for hours, and I'd still want to watch.
Colin is a Prik. Ah yes... one of my favorite songs! Boy by Book of Love. Prik must be a gay bar (as if the name wasn't a big enough clue) because I've been told many, many times that my musical tastes are "gay." Can I ask... do you know who I am? Colin getting to go out to a gay bar... something he could never do back in London... is a nice thing for his character. But the fact that he still worries about getting recognized is profoundly sad (although... contrast and compare that Roy Kent didn't care at all that he ended up at G-A-Y in London with his over-60 yoga group... he didn't have to because he's not gay). If only the public at large could sympathize. Hopefully seeing it in Ted Lasso will change minds. And then in walks Trent Crimm! Colin having to immediately do a 180° makes this moment even more sad. But it turns out Crimm isn't there to cause a problem. On the contrary, he seems to be there as a... friend? And I gotta hand it to Billy Harris, he managed to go from being very scared to letting the relief show over every inch of his face. But not in a way that seems artificial. I have no idea if the guy is gay in Real Life or not, but the way he inhabits his character is admirable. And what a marvelous gem James Lance is! Trent Crimm is, by nature, an enigma. But you always know what's going on under the surface because you can see the gears turning. My favorite Trent Crimm moment is when he explained A Wrinkle in Time to Roy. This is a close second.
Ted on Magical Tea? I gotta say, seeing one of Keeley's infamous hotel ads dubbed into Dutch is hilarious.
Rebecca and Her Dutch Gentleman. Holy crap is Hannah Waddingham gorgeous. And I cannot believe how incredibly talented an actor she is. This kind of casual banter flowing so naturally is something that actors would kill to be able to do with such perceived ease. And then we get to hear her sing for a moment on top of it all. One of the things I love about Ted Lasso is how genuine wisdom is dropped like pearls scattered amongst the episodes. And here's one of my favorites being dropped out of nowhere "I realized that this thing didn't happen to me, but for me."
Roy Learns How to Ride a Bike. After that game-changing moment last season where Roy hugs Jamie after Jamie's father unloaded abuse on him, I still never saw them becoming close. But now that it's happening, how amazing is it? Brett Goldstein's comedic chops here are just beyond funny. But the real heavy lifting is being done by Phil Dunster. He has a very fine line to walk... showing genuine care and concern for Roy, but also being the character we've come to know. And hearing Raindrops Keep Falling on My Head all the while Roy is chasing Jamie with a bicycle once again shows that the writers at Ted Lasso know how to pick musical queues!
Higgins and Will on a Pilgrimage. Will was defined for the longest time as the object of Nate's abuse. It is so nice to see him in any other context than that, because I think there's a lot unsaid about his character. He has a line right here about being made fun of that cuts very deep. That's his life. Not just from Nate, but everybody. That he gets to have a better go of it with his Richmond AFC family is wonderful.
Colin and Trent on Coming Out. So Trent is also gay. And now we know. This is so utterly heartbreaking for Colin. "My whole life is two lifes, really." (the closed captioning says the proper "lives" but it really sounds like Colin is saying the grammatically incorrect "lifes" which adds another level to what he's saying). Colin doesn't want to be a gay spokesperson or fish for apologies. All the guy wants what everybody wants... to be accepted for who he really is, and to be allowed to be who he really is. Being gay in men's sports is still a very hard thing to do, and understandably Colin isn't willing to risk it, even though he'd like to think that his teammates would accept him. They tempered this genuinely heartbreaking moment with Trent's hilarious response to Colin wondering how he knew... then drop right back into melancholy by bringing in Anne Frank, then rebind beautifully with the pink triangle bit. That is some very deft writing. And a huge shoutout to Doctor Fieldstone! I love that she wasn't just an accessory to the show. She had genuine purpose, and what we thought we knew what she did for Colin ending up being something different is wonderful in all the right ways.
Ted and Vincent VanGogh. My favorite artist of all time making an appearance on my favorite television show of all time was nice moment for me. And the fact that they managed to roll Vincent into Ted's narrative so flawlessly... "Where I'm from... Kansas, my home... this here is our state flower"... made an already Emmy-worthy episode cross the threshold for me. And this is where we get the title of this episode from.
Team AFC Richmond. It would have been criminal if we never got to see Kola Bokinni truly bring Isaac to life. After his episode-centric turn last season, I can't get enough of him. And here he is being Ultimate Isaac.
Jamie on Amsterdam. Roy Kent is my favorite character ever to hit my television screen. And it's the fact that Goldstein manages to never lose sight of Who. Roy. Is. that makes him so compelling. In this scene he is mainly just listening. But the performance goes deeper than that, but not in an obvious way. Brett Goldstein is Roy Kent every time he appears. And that throw-away line... "I think Keeley has a girlfriend"... has double-impact considering that Jamie dated her too. They really needed something to tie them together for these scenes to hit as hard as they do, and here it is.
Ted at Yankee Doodle Burger Barn. This scene is hilarious from start to finish. Ted's disbelief as he attempts to tell the host where he wants to sit is gold. But it's the restaurant set itself that is the funniest thing of all.
Rebecca Goes Gezellig. I already knew what "gezellig" means... it's one of those words that's inherently Dutch, and beautifully encompasses the feeling of Dutch people in a way that no English word ever could. It's fantastic that the show managed to throw that in without hammering it with a sledgehammer. And note how this scene flawlessly echos when Rebecca loses her phone in the canal, so this Dutch guy throws his in... and now he follows her lead again by throwing water in the clothes dryer. If you didn't want Rebecca and him to end up together before this, you most certainly do now. Again, this is Emmy-worthy writing. I'd be shocked if it wasn't nominated. I'd be more than a little angry if it doesn't win.
Barbecue Sauce. They have been telegraphing Ted's endgame for this final(?) season since Season 03's first episode. Seeing him being at home in a foreign country because of the food (Freedom Fries!) and atmosphere of an "American Restaurant" is just one more log on this fire. His revelation of how AFC Richmond can compete via the Try-Angle is likely how things will finally turn around for the team. But in the most Ted way possible. There's a lot to unpack from the TSA's* graphically-enhanced monologue, but note that God's voice ("Woopsie!") is a woman's voice, which builds on what's come before so brilliantly. And how about that birthday song in the background? LOL. What I love most is how the employees muster such enthusiasm for it.
Higgins is Jazz-Worthy. Will Kitman getting some screen time is gold. Charlie Hiscock has got his nervous energy down pat. Nice that Higgins gets to put his bass playing to good use again. The random scenes of everybody's night out is terrific, and the way it advances their stories without trying too hard is the kind of writing that Ted Lasso excels at. And, Lord, how I want to see more of Will Kitman.
Rebecca Skips Breakfast. I gotta say... if Rebecca doesn't end up with this Dutch guy at the end of the season, it would be a real shame. This is exactly the kind of gentleman that she's been trying to find her entire life. And he's got a dark sense of humor that she can appreciate. What more could she want? So why not? Splitting their time between London and Amsterdam would be so easy with her money... and could be worth it to them both. Especially when the guy kisses her like this.
Heading Home. I love love loved the Coach Beard episode last season. And here's Beard back from exactly the kind of night he apparently falls into all the time. The fact that he speaks Dutch doesn't surprise me... but I died when he told Will "Don't tell Jan.". Then I died again when we find out that Will had a three-way with the couple from the jazz club... and told his mum about it. I like that it is Ted who figures out how to coach the team. The American who knows nothing about football. That will be a great crescendo to his finale. And, I have to say... seeing the featured characters get their story moments only makes me wish that every last one of them got the opportunity. Richard Montlaur is the playboy sports star living the life we would most associate pro football players having... I want to see it. Thierry Zoreaux (sorry, VanDamme!) has hinted at something far more interesting than what lays at the surface we've seen. And what about Jan Maas? Bumbercatch? Reynolds? Sassy? Phoebe? Sharon? Mae?!? And what I wouldn't give to see more of Beard, Isaac, and Dani!

Ultimately this episode was fantastic because we got to spend real time with everybody in a way we don't see very often. A diversion, certainly, but not in a bad way.
And with that, we're half-way through the season.

*Interesting to note that talented cartoon voice actor Corey Burton was the voice of the "True Spirit of Adventure" this episode!
Posted on March 12th, 2023

We are on the advent of greatness! But before Season 03 arrives, I'm going to run my thoughts about everybody from the first two seasons... because an all new Very Special Ted Lasso Edition of Bullet Sunday starts... now...

• Roy Kent! Never in the history of television have I been more invested in a character. He is multi-faceted in a way that 99% of TV characters never are. And he's frickin' hilarious. Which is to say that if Jason Sudeikas actually does hang it up after Season 03, the show could easily transition from Ted Lasso to become Roy Kent and pick up where the current show ends. Whether they would be able to maintain such exceptional stories is anybody's guess, but I'd sure like for them to try. In the first season Roy went from team captain and football legend to retirement with no idea what the future holds. In the second season he tried coaching a 9-year-old girls' football team (to hilarious result), sportscasting (to hilarious result), and ultimately ended up where he was destined to be: a coach at AFC Richmond (to hilarious result). And while it looks as though there may be bumps in the road with his relationship with Keeley, that's something that's just too perfect to destroy completely. Because if there's one moment in all the television I've ever watched that crushed me like no other... it's when Keeley sat with Roy after he ruined his knee and lost his career. Whatever the third (and final?) season brings us, for better or worse, it's hard to imagine a more perfect television moment than that.
• Ted Lasso! As mentioned above, Jason Sudeikis has said that the show is three and done. For obvious reasons, I hope this isn't the case. He is the focus of most every show and his presence lingers even when he's not on-screen. Ted is deceptively simple as a character. He's a goofy, naive American from Kansas who's more than a little out of place coaching a British football team. But his innate goodness is contagious, and he has a genuine wisdom which shines through... making him far smarter than what people understand. That was pretty much played out in the first season, which is why they then expanded upon his character by digging deep into his psyche this past season. I don't know what that leads us to in the upcoming season and it's tough for me to picture where they could go next. The obvious endgame is for Ted to reconcile with his wife and move back home. That wouldn't be the worst way to end the series. But it is a bit simplistic given the reality of why they parted in the first place. Ultimately the show is bigger than its lead character. Which is probably why it's so successful. But it's also made things a bit tricky because Ted's ending isn't going to land unless everybody else does too. You can't just have Ted ride off into the sunset and call it good.
• Rebecca Welton! Once Rebecca redeemed herself and set aside wanting to destroy Richmond, you kinda had to wonder where her character would go. She didn't seem to have much purpose left. But then they went and made her even more relevant to the show when she was the villain... by making her the owner that cares for the team in a way that's likely far healthier than owners who buy a team for profit. Then the really stepped things up for her in the second season. On top of a romance with Sam Obisanya, they also delved into your past and her family... and presented her with new challenges. It's a pretty safe assumption that whatever is in store for Rebecca, it's bound to be a big part of the show. Hopefully it's also interesting and fun to watch.
• Keeley Jones! What's fascinating about Keeley is how the show is working so hard to have her not be defined by those around her. Whether it's her surprisingly healthy friendship with Rebecca... or her refreshing relationship with her boyfriend Roy... Keeley is her own person first and foremost. They took that to the next level at the end of last season by having her start her own PR firm and decline an invitation to go on vacation with Roy. She is as she has been from the start... fiercely independent. She says and does what she wants while still having a full life with the people she chooses to allow in. It's a bit worrisome that this is all setup for her independence coming back to bite her in the ass next season, which I truly hope doesn't come to pass. It would be really nice if Keeley gets to keep being Keeley while having it all. It's not always necessary to have to strip somebody down in order for them to grow.
• Jamie Tartt! If it weren't for Jamie being a complete ass in the first season, it would have been toothless television. There has to be a note of conflict or else the overly-sweet context will come off as disingenuous. To that end, Phil Dunster had a rather thankless role. And an impossible one. His character had to be likable all the while he was being awful. This is rarely pulled off well, but he managed to get there. But you never really understood how well until the second season where he finally confronted his father, who we were made to understand is directly responsible for Jamie being such an ass. Jamie had finally had enough and decided to stop being the person he was molded to be and become the man his team pushed him to be. But it's after that moment where he punched his dad that you truly knew exactly who Jamie Tartt really was all along. Roy Kent walks up to him and he recoils. He's afraid. He thinks he's going to get attacked because any time he's ever stood up to his father he's been beaten down. But then Roy hugs him and he falls apart because the scared, unloved little boy that's been living inside him all his life is finally given all he's ever wanted. It was a brief blink-and-you'll-miss-it-moment... a point of vulnerability that was expertly portrayed... but it completely turned a corner for the character. And, to be fair, the show as a whole.
• Coach Beard! Nobody... nobody... provides a reaction shot like Brendan Hunt. Many times a joke is sold because of how Coach Beard reacts or, more often than not, doesn't react. On first blush, his cringe-worthy, never-ending, on-again-off-again relationship with Jane defines the character because it's so infinitely relatable. But it's the mystery of the character that actually makes him so compelling. There's many, many hints that Beard's life is full of adventure and intrigue that makes the rest of us seem excessively boring by comparison... even though it's Beard himself who outwardly looks like the boring one. You have to wonder just how much of what Beard claims is fiction and not reality. And then the infamous Season 2 Episode Beard After Hours comes along and we actually get to see the bizarre life he lives. I know that even a lot of die-hard Ted Lasso fans didn't care for the episode, but I absolutely loved it. Truly brilliant TV. And it made me love Coach Beard even more than I already did. As if that weren't enough, you get the feeling that he saw through to what Nate really was, and I appreciated that greatly.
• Leslie Higgins! The one thing that Ted Lasso manages so beautifully is to add surprising depth to what would have been one-note characters in any other show. Higgins is always just there in the beginning. He was the nerdy assistant who bungled his way through life while other more important people pass him by. But slowly all that begins to change. And by the time the incredible Christmas episode drops, you actually know who he is. But, more importantly, why he is. Higgins is deceptively unimportant but, if you really pay attention, he's frequently an important part to what's going on in the background.
• Nathan Shelley! I understand why they took the character from innocent and likable to evil and horrendous. It's the setup for a redemption arc that would put Rebecca's to shame. But is that what we really want for him? I tell you what, I do not. This would be a really good opportunity to show that some people are utterly irredeemable. Doesn't matter how much you supported them and helped them to grow, they can turn on a dime and do everything they can to destroy you. And that's just the way it is. People don't always wrap up in a pretty little bow. And now that they've turned him into an abhorrent asshole, Nate shouldn't be wrapped up that way either. His speech to Ted in the final episode of Season 02 tells you everything you need to know about who he's become. And it shouldn't be easy for him to escape it. And I'd feel better about the show if it weren't even possible. Let him rot in his hate and die there.
• Sam Obisanya! Sam had a very specific role in the first season. He was the new kid that was trying his best to navigate life away from all he knew in Nigeria, and struggling with it. Then in the second season he found his footing and became a standout player. He also found romance with Rebecca. Of all the players, he's the one with the biggest arc as a player, and it's no leap of imagination to see that it will probably continue in the third. If the show is smart about it, this could be an interesting area to explore. He turned down the irresistible offer at the end of last season because he believed he wasn't done at Richmond and his future was there. But what will that future look like? His rise to god-like super-stardom could very well be in the cards, in which case any future stories
• Isaac McAdoo! In the first season, Isaac was the guy who picked on Nate with Colin. He really didn't have anywhere to go as a character. But then he stepped up to become captain of the team when Roy Kent had to step down. And not only did we discover that he had somewhere to go, we found out it was interesting and darn funny. The episode where he rediscovers his love of football was the turning point for where the show was going, and we discovered that if Isaac wasn't a football player, he could have been an amazing hair stylist. The guy is a bit dim, but astoundingly capable. Not just as a player, but as a leader. And I sincerely hope we get to see more of that when the third season gets here. And a look at his private life could be about the funniest thing ever.
• Dani Rojas! It's interesting to note how important that Dani has been to the show. He was brought in as a ringer to knock Jamie down a few pegs in the very first season. Then he was the catalyst for everything that would go on to happen in the opening of the second season. Whether he continues to be this kind of instigator for the the third season, but I at least hope that they end up having something interesting for him to do. Because after his pivotal use at the front end of last season, he was just written off as mild comic relief for the back-end. He was the guy who couldn't wear dress shoes to Rebecca's father's funeral. I sincerely hope that this isn't what we're left with, because that would be a waste.
• Colin Hughes! Colin is one of the background Richmond players who usually ends up being the butt of some joke. From the first season we learn that he is Welsh and advocates for Welsh independence while not being a top-tier player. And not much else. But then... the second season comes along. Nathan rips him to pieces because he's not a great footballer, and you genuinely feel bad for the guy. He's clearly trying to be the best player he can be at a game he loves, but it's just not enough. And he has to live with that every single day. We also get a tease that he might be gay, which could be an important moment for next season. The fact that his fellow players would love and accept him regardless would be an easy win. A more difficult turn would be for him to be cut from AFC Richmond and what the fallout would mean for him. Whichever way they go, I really, really hope that they at least go somewhere. The actor deserves to see Colin through. And the audience does as well.
• Richard Montlaur! Of all the top-tier named background players, the most wasted potential can be dropped squarely on Montlauer's doorstep. He's a skilled player from France who dates super-models. That's about all we know. It's a side to pro footballers that is hinted at on the show all the time. But Montlauer would give us the opportunity to actually see that life. Even if he only ever served that purpose, it would provide some insight that is sorely missing from the show. And if they took that leap, it would also be a huge opportunity for the character if we could see behind it. No idea if he's going to be tossed aside again in Season 3, but one can always hope we get something more.
• Dr. Sharon Fieldstone! When the character first appeared, it seemed as though she was going to be nothing more than a way to dive deeper into the psyche of the various players to get some kind of story beat out of it. We saw that when it came to Dani Rojas on her first day. And she was entertaining enough that you didn't hate her sticking around. But then you slowly came to see just how critical she was to what was happening and how important it was that they got Sarah Niles to play her. Deadpan by trade but introspective in her every look, you always knew there was something going on with her. Then she gets hit by a car and we get a glimpse into what her world is like. But it's all in service of Ted's story, which is fine because that's why she was written in the first place. But finding out she's been confirmed for the third season has me really hoping she ends up being more than that.
• Trent Crimm, no longer from The Independent! A lot of how we looked at Richmond from the viewpoint of Britain was through the eyes of Trent Crimm. His perspective on the team... and Ted Lasso... were important to the show because it was a viewpoint we didn't have of the characters. Because we've always been on the inside. And then Crimm threw out his career by revealing his anonymous source to Ted. Which neatly paves the way for him to write a book about Ted, and that could be a great wrap-up for the character. Maybe even the show. It's been confirmed that he's returning, so there's bound to be a reason for it.
• Will Kitman! Nate's replacement ended up being a highly sympathetic punching bag for... Nate. Now, the show could easily leave it at that. Heck, now that Nate's journey into evil is complete, he doesn't even have to appear again at all. But regardless of where Nathan's journey takes the character, Will is an opportunity to go behind the scenes of somebody who is tangent to the team in a material way. He has a girlfriend. He's nervous and sensitive. He works hard. He does his job well. But what else is there? He will never be a star but is constantly surrounded by them. What's that like at the end of the day? The guy could be anything. He could have come from anywhere. He's pretty much a blank canvas that could fill a role for the show that is critical. Or he could stay nobody. It would be more interesting if it were the former than the latter.

See you for the premiere on the 15th, everybody!
Posted on February 14th, 2023

Remember when I used to make Valentine cards every year? Pepperidge Farms remembers.
And here we are with yet another Valentine's Day upon us. The day has never meant much to me... except I always gave flowers to my mom and grandmother. After they passed, there wasn't much cause to think about Valentine's Day at all. When it came to girlfriends, it was usually a disaster, so I actually don't. Think about it, I mean.
But there was something that made me really happy about the day. It happened when I received this Valentine's Day gift...
I hope for two things...
They stick the landing on my favorite show of all time.
They segue into a Roy Kent show that picks up where this series ends.
Is that too much to ask?
Posted on February 20th, 2022

Do not go gentle into that good night... because an all new Bullet Sunday starts... now...

• LEGEND! To say that Roy Kent is my favorite television character of all time is kinda underselling it. And to them get him to do something like THIS?!?
Perfect.

• Well, Fuck! Doesn't it just figure? After decades of finally trying to find the perfect frozen pizza, I actually DO, only to have Red Baron fucking change it...
The cheese, which used to be creamy and gooey has been cut bigger and now tastes chewy... like I have a mouth of pencil erasers. The crust looks the same, but it doesn't cook up light a airy like bread... it's more pasty and dense. This could be because the cheese and sauce has changed... but it really doesn't seem the same. And it's like... WHY?!? Why change something that's actually good? Oh well. I was eating way too much pizza anyway (I was buying six at a time)... so that problem is solved.

• Marple! Ever since not being able to go to the theater to see the remake of Agatha Christie's Death on the Nile, I've been obsessing over other Agatha Christie adaptations. And I think that I've found the book which has been adapted the most... A Caribbean Mystery. This evening I started with the 1983 Helen Hayes movie, which is my favorite. Then tomorrow I'll finish up with the BBC/ITV versions from 1989 and 2013...
The BBC version with Joan Hickson is likely the most faithful version... but I'm just such a huge Helen Hayes fan that it's difficult for me to see past it.

• MIWANDA! Dead. Legit dead. If you've seen Sex and the City: And Just Like That... this is one of the funniest things you'll see (here's a link in case TikTok is being a dick)...
Steve was thoroughly trashed by the sequel series, and this puts a cherry on it.

• Threat! For whatever reason, I have been getting a shocking number of viruses attempting to take over my computer these past few weeks. Four appeared just yesterday...

There was a day that Mac users didn't have to worry so much about viruses, but now? Yeah. If you're a Mac user, I would install some kind of virus protection sooner rather than later. I went with BitDefender because I got a deal on it, but anything you find is bound to be better than nothing.

• EmmyEmm! I find it fucking hilarious when dipshit ass-clowns like Rudy Giuliani dare to talk shit about anybody. They just don't have the brains to do it without getting fucking roasted in the rebuttal...
Gotta hand it to the writers at The Late Show, this parody of Eminem is funny as hell. Not that it was very difficult for them to come up with something... Giuliani is basically a parody of himself.

• Peace, Mutherfucker! The season finale of Peacemaker was sublime. Absolutely perfect. Thanks to James Gunn for such a terrific show... but especially for Vigilante, who is easily one of my favorite characters now. Freddie Stroma was inspired casting! And then there's Adebayo. Holy crap did she get an amazing character arc in this series! "I was made for this shit!" is right! Cannot wait for Season 02.

Until next Sunday, true believers...
Posted on December 30th, 2021

And it's time once again for my annual wrap-up of my favorite TV shows that came out this year.
Or, more accurately, a "wrap-up of TV shows that I saw which came out this year." As always, there's a bunch of shows I never got around to watching that might have ended up on my list... and (more likely) shows I loved but have forgotten about. And here we go...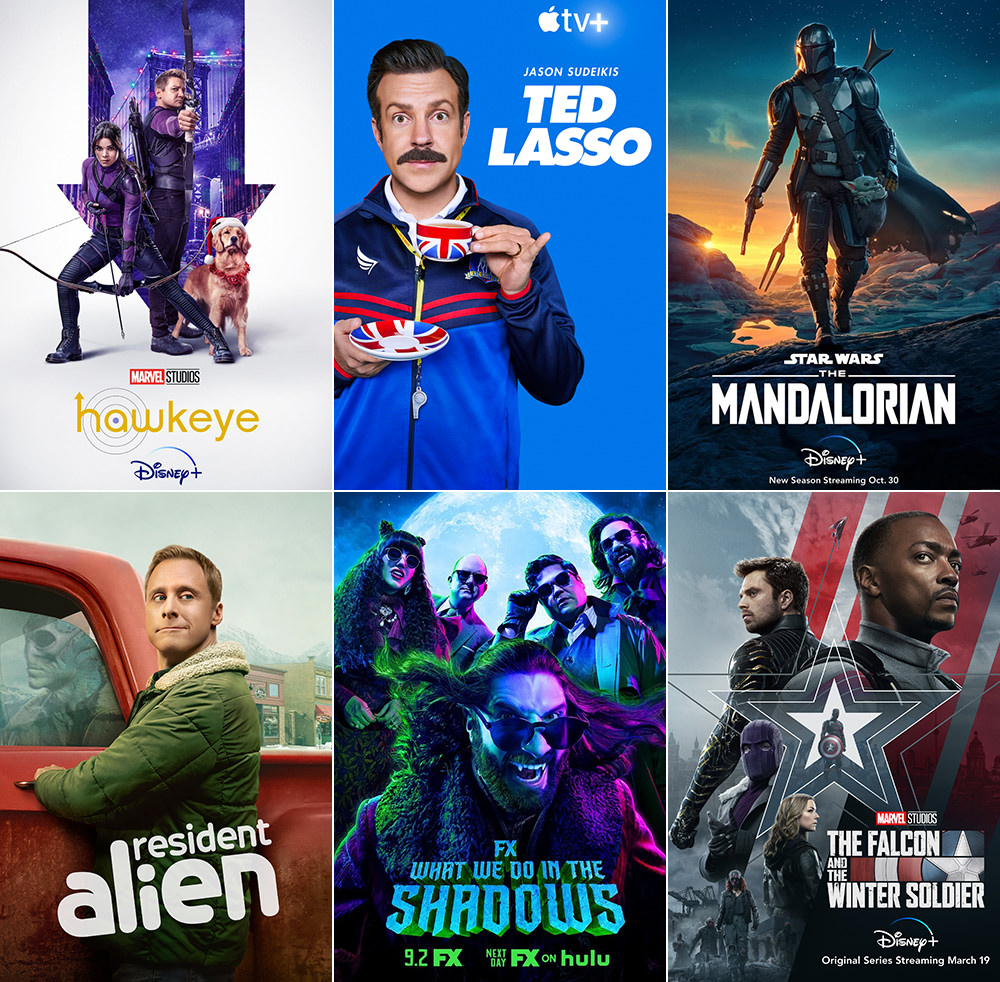 #1 Hawkeye (Disney+)
If you had walked up to me and told me that my number one show of 2021 would not be Ted Lasso just last month, I would have slapped you across the face. Mostly because you aren't wearing a mask, but partly because it's just so inconceivable. But here we are. After getting off to a slow start, Hawkeye managed to go out with a bang and seal that top spot. The series takes so many of the things that I love from the original Matt Fraction and David Aja comic book series then blends them seamlessly into the Marvel Cinematic Universe we know and love. Though pretty much flawless, I maintain that had the first two episodes been merged into a single episode... and they split the final episode into two parts with more Yelena in them... we would have got more of what made everything so darn good. Like that cast! Jeremy Renner is at his best yet as Clint Barton. Hailee Steinfeld is sublimely perfect as Kate Bishop. Alaqua Cox nailed it as Maya Lopez. Florence Pugh is hilariously great as Елена Белова. And we also get some new characters that are all perfectly cast... along with the return of a character that was better than could have been hoped for. The best Disney+ series from Marvel Studios yet and my favorite show of 2021.

#2 Ted Lasso (Apple TV+)
Following up one of the most flawless seasons of a show ever created had to be a daunting task. There was literally nowhere to go but down. But darned if the people behind Ted Lasso didn't manage to come darn close. Even if they had to utterly destroy one of my favorite characters to get there. And speaking of favorites? Roy Kent... my favorite television character ever... had a run for his money thanks to Sarah Niles playing Dr. Sharon Fieldstone. If I have a criticism it's that the season was all build-up to the endgame coming next season. The conflict came very late and it was just feel-good moments piled on top of each other. But they were such good moments, weren't they?

#3 The Mandalorian (Disney+)
If anything, Jon Favreau, Dave Filoni, and Crew elevated their game to give us something that may be better than even the first season. Partly because they worked hard to push things into new directions... partly because we got a mix of terrific new characters and a return of old favorites... and partly because they know exactly what the fans want to see, then they 100% deliver on it. One has to wonder if they had been in charge of the movie prequels and sequels... would they have ended up as shitty as they were? I'm willing to bet not. Though Book of Boba Fett just started and is not exactly blowing my socks off, so perhaps. Oh well. So long as Disney keeps pumping out amazing content like Mando Season 02, Star Wars will be just fine. And just think... Obi-Wan, Andor, Ahsoka, Lando, and more are coming. Oh happy day.

#4 Resident Alien (SyFy)
I knew I was going to like this show the minute I saw the trailer. Any time you wind up Alan Tudyk and let him run wild you're guaranteed terrific entertainment... and this time they put him in the wacky world of a comic book series that he actually elevated to something even better. Tasked with destroying the Earth, but then crashing into it instead, an alien has to assume the identity of a doctor who died while attempting to repair his ship, avoid being spotted by a boy who can see his true identity, and burying his growing affection for earthlings. The result is hilarious television that has me eagerly anticipating what we're going to get in the second season.

#5 What We Do In the Shadows (FX)
I honestly anticipated that this show would burn through whatever good ideas they had after two seasons then deteriorate into something that's a shadow of what we started with. Well, thank heavens that's not the case, because the third season was every bit as great and sets things up for yet another spectacular season. Or maybe I'm just in love with Nandor. But who isn't in love with Nandor? Consistently one of the funniest shows on television and they haven't had a bad episode yet.

#6 The Falcon and The Winter Soldier (Disney+)
This show was badly hampered with having to deal with the ramifications of half the planet being blipped into existence after five years dead from Thanos snapping his fingers. Had they been able to just work towards Sam taking up the mantle of Captain America without spending so much time being distracted, we would have gotten a better show. But it is what it is, and there was enough on-screen magic in the Sam/Bucky love/hate relationship to make this series far more entertaining than it had a right to be. The Flag Smashers weren't great as a threat. Counterfeit Captain America was just a way to set-up future shows (and did not deserve the hate he got online). And the arc for Sharon Carter is something that's likely going to either be forgotten... or hung around the neck of a future Marvel Studios series.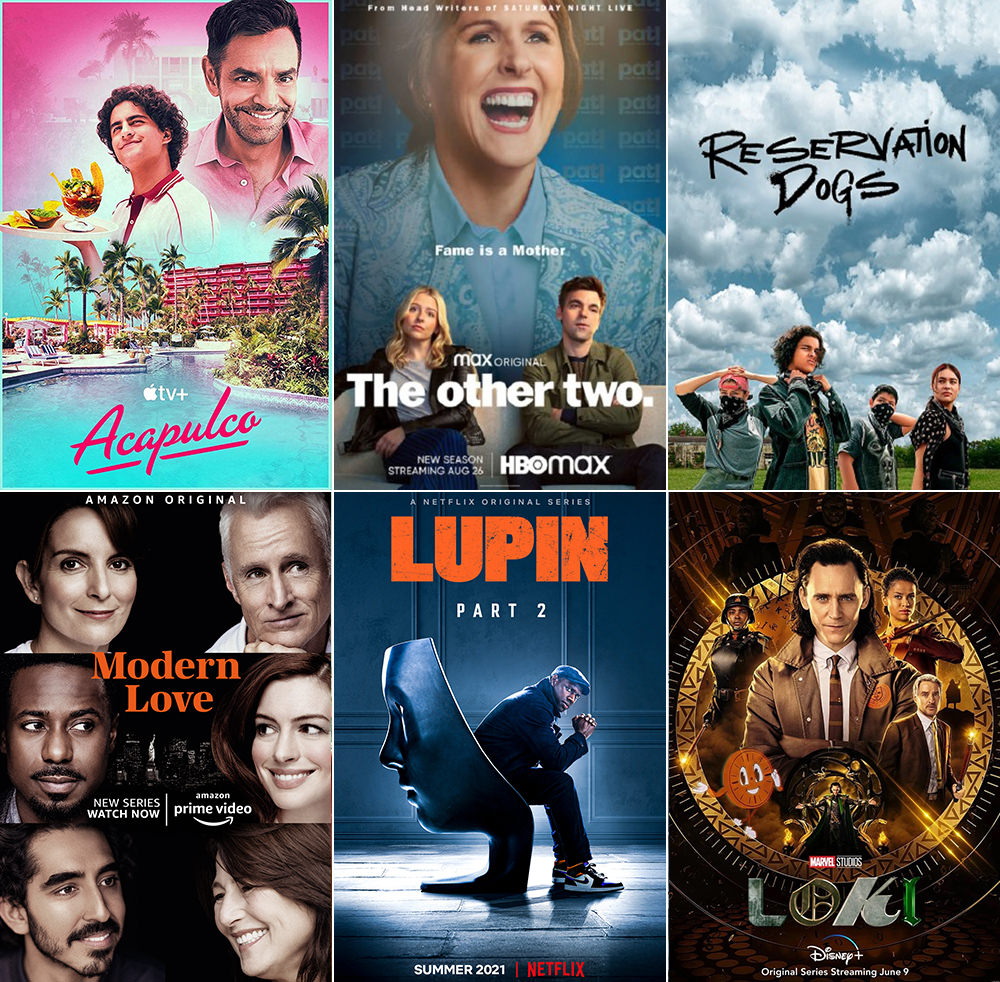 #7 Acapulco (Apple TV+)
I have quickly become a major fan of Eugenio Derbez. His performance in the Overboard remake was classic... he had a fantastic bit part in one of my favorite 2021 films, CODA... and he's done a load of fantastic voice work for various animation. So when I heard that they were building a series around his character from How to Be a Latin Lover AND he would be reprising the role? I had no idea what to expect. But it wasn't the sweet, charming, funny, and wholly entertaining show. There's no word on if we're getting a second season, but I sure hope so.

#8 The Other Two (HBO Max)
In their first season this show was so horribly demented and wrong... but all the more hilarious because of it. This time around they did not back down, going to even worse places to mine for laughs, and striking gold more often than not. A part of me is embarrassed that I like this show so much, but it just can't be helped. It's so very, very funny. But also so very, very wrong.

#9 Reservation Dogs (FX/Hulu)
All I had to hear was "Taika Waititi is producing" and I was in. But in for what I had no idea. A comedy about indigenous teens who want to move from Oklahoma to California, but have to commit petty crimes in order to earn the money they need to do it? Okay then. The result is a lot of subtle, deadpan humor that always seems to land perfectly. The show is funny and painfully relevant, making it must-see television for anybody who appreciates shows like that.

#10 Modern Love (Amazon Prime)
You know how I found this show? I heard a song, liked it, then found out that it was the theme song for this show which is now in its second season. Based on a popular column from The New York Times by the same name, each episode is a stand-alone story which talks about love in all its forms (BONUS: in the first season all the episodes end up tying together at the end). Charming, funny, awkward, heartbreaking, uplifting, painful, and wonderful... this series is all the things that love can be.

#11 Lupin (Netflix)
Netflix really hurt the show by splitting the first season into two parts because the second half was not as good as the first. And yet it's hard to get too caught up in all that when Omar Sy's gentleman thief is so compelling a character. Revenge stories are as old as time, but you'd be hard-pressed to find one done as stylish as this. At the end of the season Lupin is essentially forced to cut off some dead weight that was dragging the show a bit. What I hope that the writers do is have the guts to leave it be so they can focus on Lupin alone, which is when the show absolutely shines. Of course I have no idea if it will even get a second season, but given how it was Netflix's most-watched non-English program before Squid Game came along, it's likely pretty likely.

#12 Loki (Disney+)
I'm just going to get this out of the way... the Loki variants like Gator Loki and Thor Loki and Female Loki were not something I thought worked very well. What did work exceedingly well was everything else. The writers wisely decided to snap Loki out of his element and comfort zone so he has to evolve past the merry prankster he was before he "died" in Avengers: Endgame. And it was handled so beautiful. After getting apprehended by the TVA (Time Variance Authority) AKA "The Time Police," Loki thinks that all his problems will be solved if he can just get The Tesseract and its Infinity Stone back after the TVA took it from him. Then he will have the power to do whatever he wants. Again. But very quickly he finds out that the Infinity Stones which Thanos used to eliminate half of all life in the universe are mere trinkets to everybody working at the TVA. That "The Power" he's been chasing since Avengers was never what he thought it was. And at that moment when you can see it dawn on him (holy shit is Tom Hiddleston an amazing actor) is when you realize that this series is not going to be what you thought it was. And the story was darn good... if not a bit meandering.

#13 The Underground Railroad (Amazon Prime)
Historical fiction is a tricky business. When you stray too far from the real events, you might very well diminish the things you are trying to tell your story around. And here we have a series where the Underground Railroad is made into a literal railroad?!? It's like... why would you do that? And I very nearly skipped out until people started telling me how good it was. And while I'm ultimately glad that I saw it, I'm the first to admit that it's difficult to watch at times... a boring slog at times... and challenging to the viewer always. It ain't going to be for everybody. But what makes it so worth it is how beautifully the series is crafted. When you get to those bright spots, the show's epic scope unfolds and reveals itself. This show is the very definition of "powerful television." If you think you can handle it, you really should.

#14 For All Mankind (Apple TV+)
There's something to be said for how this series coasts on the sheer quality of it all. It's not the best thing on television. But everybody working on it treats it as if it is, and that goes a long, long way. In my opinion, For All Mankind is often times as good as it was the first season, but there are still issues that pop up which have me scratching my head. They're 100% invested in this being an alternative history series one minute... then it feels as if they're scrambling to fill in the gaps the next, and it makes for an uneven ride. Like they come up with really great ideas in the broad-strokes, but don't know where to go with the details from time to time to get there. But it's still a very good ride. Thrilling even. And one that I'm happy to keep taking.

#15 Magnum, PI (CBS)
This series started so brilliantly, but then kinda lost its way after the first two seasons. The chemistry was there. The cast was still amazing. And Higgins was so great that she could carry her own show. But it just wasn't working as well as it once was. Then they kinda earned something back in this, their fourth season. I still find myself hoping for more Rick &amp T.C. because they are woefully underutilized too much of the time, but am glad that they're still around at all. Their job is to ground the show more often than not, and they excel at that.

#16 WandaVision (Disney+)
For a Marvel Studios fan like myself, WandaVision was a tough sell. Because it was The Vision and the Scarlet Witch from the Avengers... but not really. Told through the lens of old television shows and exploring Wanda's trauma over losing The Vision, I understand why the show was so critically acclaimed. Honestly I do. I'm just not one of the people who was able to buy into it. I wanted to see the characters have some cool super-hero stuff to do, but we didn't really get that.

#17 Hacks (HBO Max)
Jean Smart completely caught me off guard with her performance in HBO's Watchmen series. She was absolutely glorious and pushed that role in a direction that not many other actors could. I can't even say if she knew the material she was a part of... but she knew her character. She had a handle on that much from her first moment. And now she's done it again with Hacks. As an aging comedian in Vegas who is forced to take a look at herself and her world after taking on an assistant (who has problems of her own, let me tell you). I don't think that every episode is a home run. But overall as a series I was digging it. And that was mostly thanks to Jean Smart, who I am paying very close attention to for whatever she decides to do next.

#18 Mythic Quest (Apple TV+)
The first season was exceptional. I loved every minute of it. And their COVID special was one of the better ones. But this second season, while still pretty darn good, is no longer must-see television for me. It's more of a "I like it... but when I get around to watching" kind of show. Maybe it's because the whole "behind the scenes of a video game company" blew through so much funny in the first season that it's running out of gas? Maybe I've grown tired of it already? That very well could be, because I know people who think that the second season is better than the first. So I dunno. I still love the characters and what they're trying to do... I'm just not as hyped for the result as I once was. Still made my list though.

MUST SEE TELEVISION SPECIALS AND DOCUMENTARIES...
This year was a weird one in comedy because one of my all-time favorite comedians was cancelled... or is getting cancelled... or is somebody people want canceled... or whatever. In an effort to clarify the material he used in a previous special about the trans community, Dave Chappelle actually dug himself into an even deeper hole. And it's pretty cringe because he devoted so much time to it. But even worse? It wasn't very funny. The ultimate comedy sin. He would have been better of saying nothing, but instead we get a huge chunk of an entire special prefaced with "I can't be transphobic because I have a trans friend who died." A horrible take to be sure. I don't think the actual material was as bad as its been blown up to be, but it's my least favorite of his specials, so there's that. What were my favorites this year though? Glad you asked...
Nate Bargatze: The Greatest Average American. It's not up to the level of The Tennessee Kid, but its still observational humor that's very funny done very well. The fact that Bargatze can manage all this while performing clean? That takes quite a lot of talent.
Bo Burnham: Inside. A good chunk of this lockdown experiment was disturbingly funny... but in a way that's different from the Bo Burnham material he's given us so far. And it's great fun. But the best part? He's got some seriously good songs in here. One in particular, Content, is so good that I wish he'd flesh it out to a full song. I'd buy that single.
Tig Notaro: Drawn. Tig is already one of the funniest people on the planet, but that wasn't good enough so she decided to kick it up a notch and animate a special. And the result is even more hilarious than I expected.
Jimmy Carr: His Dark Material. I always hesitate before saying that I like anything Jimmy Carr does because he's so terrible that I'm almost afraid of getting "canceled" by osmosis. If you're a Carr fan, this is more of what you love... horrible takes on things made hilarious.
Phil Wang: Philly Philly Wang Wang. I actually watched this twice. The first time I was only kinda paying attention. But then the ending had me wanting to sit through it all over again to see what I missed. This is terrible, but I actually think it gave me a better appreciation for the show.

TELEVISION HONORABLE MENTION...
Schmigadoon! I'm not a "musicals" guy, but this was incredibly entertaining with a cast that's perfect.
The Expanse As of this writing, we're only half-way through the final season of the show, and I'm honestly not sure what to make of it. The first episode was 100% wasted. They got six... SIX!... episodes and just threw away 1/6 of it. Then things picked up. Whether or not they can manage to land this plane without shitting the bed is anybody's guess. But Im willing to give them the benefit of doubt that they can. But after that first episode? Well... we won't know until next year's list, will we?
Squid Game. I'm a big fan of South Korean films and television, and this was the one that really broke the genre wide open for the US... becoming one of Netflix's most popular shows. And while I liked it (and liked it a lot) there were some leaps of logic that were just too far for me to make and kept it from breaking into my list.
Love, Victor. The first season of the show was very well done, expanding on the show in a way that felt fresh while giving fans more of what they liked about the movie Love, Simon. The second season really took a bizarre turn, adding unnecessary drama where it didn't really need to exist. Victor's life would be interesting enough without it. Hopefully they'll figure this out in the next season, if we're getting one.
Pen15. The final season was as good as it ever was and I was sad to see it end. Though maybe going out on top was the smart move when it comes to a show like this? Probably.
CSI Vegas. Was the revival anything exceptional? Not really. Were the murder mysteries the best you'll find on television? Not even close. But it was a chance to see Gil Grissom, Sara Sidle, and Jim Brass return to our television screens, and I was all for that. The overall mystery arc of who framed David Hodges was actually solved fairly early... but they didn't take it home until the very last episode. At which point it was almost moot. But it was all good. I'm guessing it will get renewed without William Petersen and Jorja Fox, at which point the only reason to watch will be gone. But I'm might give it a go.
LuLaRich. I was on a real documentary tear for a while there, and this one was pretty crazy from a "how in the heck did this actually happen?" kind of way. But there's a lot of that going around, so... yeah.
Superman & Lois. This is not the best Superman television show. That would be Superman: The Animated Series. But it's likely the closest thing to being the best live action version of the character since the first two Christopher Reeve movies. Part of it is just how good Tyler Hoechlin is in the role. But Henry Cavill was a good Superman, and his movies suck. So I think it comes down to the version of Superman that we're getting. This is a more hopeful, measured take, and one that you actually want to watch. Doesn't hurt that this show is taking big swings with the stories and everything looks so fantastic on top of that.

ANIMATION TO WATCH
Invincible. This was an animated comic book series which I seriously expected to be dulled down to the nib. And I was oh so wrong. If anything, they took the source material to the next level and gave us a violent, bloody, take-no-prisoners approach to super-heroes that even puts The Boys to shame. Very well done adaptation that's not for the faint-at-heart.
Rick and Morty. The fifth season is more a mixed bag than ever before and there were episodes that I thought were pretty bad. But when the show is good, it's one of the best things ever made, so I kind of end up in the middle somewhere.
What If.... I gotta say, the thing that I will forever take away from this series is that it was the last time we got to have Chadwick Boseman as Black Panther. Otherwise I was kinda underwhelmed. Individual episodes were often short-changed in service of the bigger narrative being built, and I don't think the payoff was worth it. Still... nice animation, great talent, and a few really good episodes made this something I was happy to see in 2021.
Inside Job. Inappropriately funny. But in a good way! Actually more consistent an animated series than Rick and Morty right now! Never thought I'd be saying that!

HAVEN'T SEEN, MIGHT HAVE MADE MY LIST
Only Murders in the Building. I have never found Martin Short funny. Ever. Not once. I might have cracked a smile or two when he was on SNL, but his other roles have all rubbed me the wrong way. So I was going to take a big ol' pass on this show. Until the rave reviews started pouring in.

OVERRATED BUT OKAY
The White Lotus. The premise of this show was alright. Horrible wealthy white people doing what horrible wealthy white people do... exploit everything and everybody without giving it another thought. And while there were some fascinating characters, interesting scenarios, and an idea that worked, the implementation fell flat for me. Trivial situations are taken too far, which was great... until they went more than too far. At which point the show faltered for me.
Mare of Easttown. You will get absolutely no argument from me that this was a well-written show with a cast to die for. But there's a point when you can just look at this as one of those British police dramas being stretched to tedium and so mired in drama that it can't breathe. We've seen this show a million times before. Not always done this well, but enough that I was hoping for something more.
Succession I honest-to-God don't get it. For all the hype, I expected to find Jesus while tuning in to this show... but instead I found writing that wasn't great, acting that wasn't great (with a few exceptions), and stories that were outright boring. None of the devious intrigue I was counting on was present... the episodes unfolding more like a bad comedy than a dark comedy done well. After a hugely disappointing first season, I started powering through... despising how Nothing. Ever. Changes. No. Matter. What. Happens. and that the status quo would always be preserved. Then things started improving a bit. Season 03 was the best of the lot, but that's not saying much from my perspective. The series is "just okay" and, in my humble opinion, grossly overrated.
Maid. The show is dark and depressing. And I don't know that the "happy-ish" ending makes up for sitting through it all. Because while you are definitely given reason to cheer for the protagonist as she does whatever she can to make the best life possible for her daughter and herself while also maintaining her honesty and integrity... there are times that she just doesn't earn it. At which point you're supposed to be all "but at least she owns up to it." And it's like... yeah... but by then I've stopped caring. The message of the show is how some people just can't get a break in a system designed to oppress them. And we know it's true because we see the result of it every day. But when you stack crap on top of that which makes you not care about the hero of the story, you risk losing the viewer. And this show lost me like that too many times, even while it was okay as a whole.

DISAPPOINTING
Lucifer. Most definitely didn't stick the landing. Not terrible, it's just that this season didn't live up to what came before. And I kinda get it. It was supposed to end on the fifth season, but then Netflix changed their mind, so the writers had to undo what they did and find a compelling way to keep things going. It didn't work for me.
Star Trek: Discovery. The last season was so phenomenally bad that I decided I was done with it. But then I figured I might as well give it another try since they were kinda rebooting it, and immediately wish I hadn't bothered. How can a show which was so frickin' incredible in its first season... fall to something quite mediocre in the second... fall even further to total weepy, whiny shit in the third... and then hit rock bottom by completely dying a horrible death in its fourth? How? It's almost as if the writers were trying to kill it.
The Wheel of Time. I've never been a huge fan of the books, as they feel so bloated, but I thought that they might streamline things enough to make a good TV show. AND it's got Rosamund Pike in it. Well, despite some decent special effects, I was bored to tears through the first two episodes and couldn't go any further than that.
Masters of the Universe: Revelation With Kevin Smith runnning the show, I was anxiously awaiting the series to debut. And when it did I was in for crushing disappointment because I didn't like any of it. Well, maybe the voice cast. But not the stories or anything else that matters. What kills me here is that the second take on the material in 2021, He-Man and the Masters of the Univers, which was meant to be more kid-freiendly was actually the far superior show.

TOTALLY SHIT THE BED
Foundation. I don't get it. I honestly don't. This critically acclaimed show is horrendously shitty. It brings new definition to the word "shitty." Boring, plodding, meandering, senseless drama that totally fucked over the source material by dragging it out so they can keep the actors around for longer. God. I would hate this pile of shit even if I wasn't a fan of the books.
Jupiter's Legacy. Jesus. Here we go again. Take source material that CANNOT FAIL but then adapt it so badly by folding in prequel shit that NOBODY cares about and watch it fail spectacularly. And so it went.
Kevin Can Fuck Himself. I was highly enthusiastic to see what Annie Murphy was going to do after her turn on Schitt's Creek. And the concept for this show seemed original and interesting. Until I watched it. Holy crap what a joyless, boring, awful show. Which can totally work... but not like this. Not even remotely like this. In the end I was saying This Show Can Fuck Itself.
Posted on December 16th, 2021

The next season of Ted Lasso is likely 9 months away. It's an agonizing wait. But I'd rather they take their time and do it right than rush it to a bad conclusion. If, in fact, it's actually the end. It may be contracted for three seasons, but it's hard to stop a success train like this. Even if Jason Sudeikis decides he's had enough.
In the meanwhile... there's this...
Yeah. They could create this as a series and I'd totally watch it as well.