Posted on April 20th, 2023

As a huge, huge, massively huge fan of all the Marvel Studios films, I was understandably looking forward to Ant-Man and The Wasp: Quantumania. The first two Ant-Man films were a blast, Scott Lang was fantastic in Captain America: Civil War and Avengers: Endgame, and Paul Rudd can literally do no wrong in my eyes.
It was finally released on home video, so I paid my $20 and tonight was the night...
The movie was good. I was entertained. But it was a huge step down from the previous two movies in every way but one.
First of all... the fun was gone. There were humorous bits, but everything was far more serious than what I was expecting, and not in a good way. I think that Marvel put the setup for their upcoming Avengers: The Kang Dynasty movie ahead of letting Ant-Man be Ant-Man. And I don't understand why. The only thing I can guess is that this was the only way Marvel would agree to make the movie, and they ultimately didn't care about making sure the tone of the film was Ant-Man driven. And that's a shame, because yeah... the movies aren't making a billion dollars at the box-office... but they do make money, so why not let them be who they are?
Second of all, the Quantum Realm is 97% of the film, and Ant-Man (as created for the Marvel Cinematic Universe) works better in the Real World. The wacky, weird, bizarre, large stakes stuff can work when the character is surrounded by heroes able to make it work, but alone? Not so much.
I love Michael Douglas and Michelle Pfeiffer but they kinda took over the movie. I like the idea of Stature (Cassie Lang) joining the MCU, but she kinda took over the movie too. There just wasn't enough Ant-Man and The Wasp Ant-Man and The Wasp, and that was a bummer for me.
And now to that one thing that was better than the previous two... the villain.
Jonathan Majors is so incredibly talented. Easily the best thing to come out of the film. His every scene is tangibly menacing... while still still being fairly subdued. That's not easy to achieve. This has me really, really excited for the direction that Phase 5 is taking since he's the new Thanos...
BUT THEN Major's domestic abuse charges happened. The woman who filed them has recanted... and his lawyer says there is video evidence to clear him... but his talent agency dropped him and he's been evicted from upcoming movies, which leads me to believe that there's something to the charges after all. I guess we'll find out after his trial. Depending on what happens there, Disney may drop him from all the upcoming movies he was set to appear in, at which point I guess he would be recast. Which would be a darn shame for Kang... but it's not like you can't not cancel the actor if there's evidence he's an abuser.
Ultimately, I'm not sure what this movie was supposed to achieve. I guess it was to introduce Kang, but Loki already did that. And the Kang that was introduced here didn't really tell you anything about Kang except he's a power-mad villain whose a very serious threat. And there are a lot of him coming down the pipe. But that could have been done in ten minutes in a more appropriate film. Devoting an entire Ant-Man movie to it was just way off base and a major misstep.
So... it is what it is.
But it could have been so much more.
Posted on February 9th, 2023

What blows me away is how Marvel Studios puts it all on the screen. They don't "hold anything back for the sequel" but instead treat every movie like the last movie they will ever make.
AND THAT'S WHY THEY ARE SO SUCCESSFUL!
After basking the the majesty that's Black Panther: Wakanda Forever, I am making my way through all the Chadwick Boseman Black Panther appearances. The first of which wasn't in a Black Panther film... or even an Avengers film. It was in a Captain America film!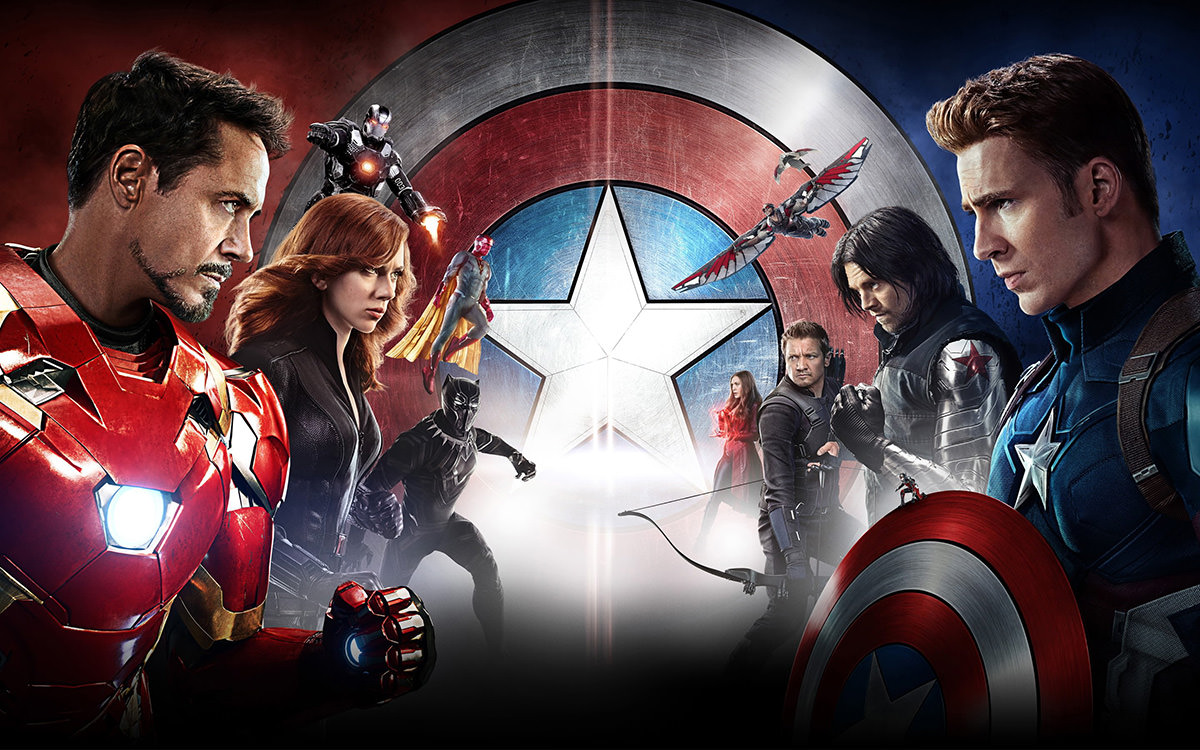 What was also in Captain America: Civil War? The first MCU appearance of Spider-Man!
Plus we get Iron Man, Black Widow, Falcon, Scarlet Witch, Hawkeye, Vision, Ant-Man, and Winter Soldier! It was basically an Avengers film. Inside a Captain America film. Which is crazy. How many studios would even do that?
Other studios would drag things out so they have something for future movies... then wonder why nobody gives a crap about the watered down film they release. Marvel isn't interested in that. They put everything into the film they are making right now... then force themselves to come up with something new and amazing for the next one.
And then get incredible actors for every single part. Alfre frickin' Woodard just randomly shows up in a tiny nothing of a bit part in Civil War. But it was a critical part that put the entire movie into motion, so they HAD to get Alfre Woodard. And her few minutes of screen time works. So well. In lesser, cheaper hands, it might not have.
The wild success of Marvel movies is not a fluke or a mistake. They are designed to be successful. I remember reading somewhere that Chadwick Boseman always thought that his appearance in Civil War would be a one-off cameo before signing his deal. Given how other studios would probably do exactly that, it's no wonder that he thought this. Obviously Marvel had other plans. They're more than that.
I live in constant fear of Kevin Feige retiring as the mastermind behind these movies. The guy gets it. His successor might not. And these movies have been too good in his hands.
Tags:
Ant-Man
,
Black Panther
,
Black Widow
,
Captain America
,
Falcon
,
Hawkeye
,
Iron Man
,
Marvel Studios
,
Movies
,
Scarlet Witch
,
Spider-Man
,
The Vision
,
Winter Soldier
Categories:
Movies 2023
—
Click To It:
Permalink
—
0 Comments: Click To Add Yours!
Posted on August 13th, 2018

Whenever a fire siren goes off in town, my heart stops for a second. When you live in a city as small as mine, there's a good chance that somebody you know has their home on fire. Not that it's any less sad when it's a stranger losing their home, but it does hit you harder.
Right now it's especially terrible when the siren sounds because a fire happening when there's wildfires all around us just seems cruel.
Today the smoke was so thick in the air that I could barely make out the nearby hills. If you look at this map...
...that huge red dot in the middle is just North of where I live. It's a wildfire that's currently 29,186 acres in size and only 5% contained. When the winds blow South, the smoke comes with it. For me that means a day of burning eyes and difficulty breathing.
But that's not the worst part.
The smoke is a constant reminder that hundreds... thousands... of animals are losing their homes and living in terror. And many of those may not survive it. Unlike people, they don't understand what's happening, and that has been weighing heavy on me.
Our local animal shelter has had to stop taking in owner surrenders because they just don't have room. They have to shelter animals from people under evacuation with what little space they have available. And this also weighs heavy on me. I try and think of how terrified Jake and Jenny would be in a shelter... trapped in a small cage with nowhere to hide from the noise and people. I can't imagine how traumatized they would be. I can't imagine that they would ever be the same. I just can't imagine. It's just too awful.
A part of me wants to run down and adopt another cat... do my part to free up some space. But I don't think that's for me. Jake and Jenny are perfect. Life with Jake and Jenny is perfect. We've adapted to each other very well and I think they are happy here. If introducing another element in any way disrupts that, it wouldn't be fair to Jake and Jenny. Or me.
And yet...
I cannot say that I won't give in and take a chance.
I really need to unsubscribe from the Human Society newsletter and Facebook feed. Too many animals need homes.
---
Continuing on with my revisiting of every Marvel Studios movie...
MARVEL STUDIOS MOVIE OF THE DAY, No. 12: Ant-Man
Original Grade: A • Today's Grade: A
I knew I would love this movie the minute that Paul Rudd was attached to star. Then they went and made it into a caper flick so it would stand out from the pack, which was about a brilliant a move as they could have made. I ended up really loving it. Still holds up today. I'm having to really restrain myself from bumping it up to an A+ here, because I have a tough time seeing how the first Ant-Man movie could have been much better than this.

SCENE TO BEAT: That opening scene where SHIELD's headquarters (as seen in Captain America: Winter Soldier (three movies ago) are just being built... and we get a de-aged Michael Douglas interacting with Peggy Carter and Howard Stark... thus immediately cementing Ant-Man into the Marvel Cinematic Universe before he even appears on screen! Genius! But... yeah... the fight in Cassie's bedroom was pretty great. They played with the size altering abilities in interesting ways, which was a lot of fun.

COULD HAVE BEEN BETTER: Once again... the villain has the same powers as the hero but is a little stronger. It gets so old. And yet... from a story perspective I get it. Yellow Jacket kinda fell out of Scott Lang's origin story, so it was a logical choice. Fortunately, we got Ghost in the sequel, which was something entirely different.

SIDENOTE: With every viewing I remember how upset I was before the movie came out when I heard that Scott Lang would be in the suit instead of the original Ant-Man from the comics. Hank Pym and Janet van Dyne were founding members of The Avengers, and it was a real slap in the face they were being side-stepped. And then I saw the movie and the way they so brilliantly integrated Hank Pym into the history of everything the MCU was building. It was a brilliant move and made perfect sense. It was at this point that I finally just stopped questioning what Marvel Studios was doing until I saw the full film. In most every case they end up nailing it, so why waste the energy?