MacOS Sonoma has released. The bad news is that it hasn't done jack-shit to solve my biggest problems (like fixing fucking AirDrop, which never works at work and is unreliable everywhere else). But anyway... let's get on with it...
Caps Lock indicator. I have no idea why this hasn't been done before, because it's frickin' fantastic. A little indicator pops up under your cursor where you'll actually see it. Nice.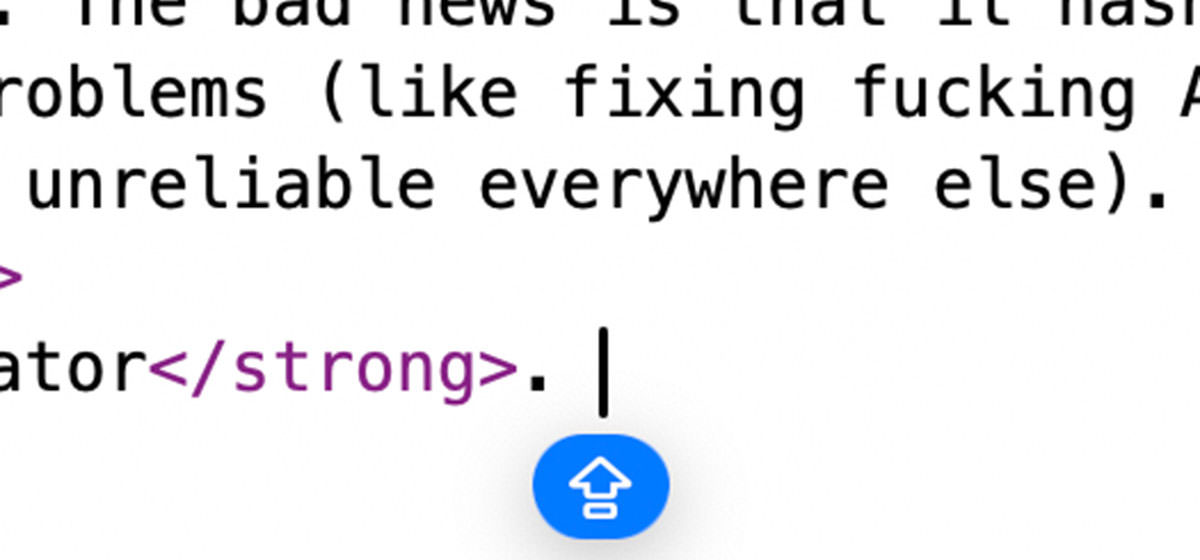 Screen Sharing. Apple's screen sharing "solution" has always been pretty basic and unworthy. It's clutzy and janky and feels very much like an afterthought. So much so that I have been using a third party app for years. Well... Sonoma changes that. Their high-speed connect mode is very, very good (and available only on Macs with Apple Silicon). You can literally watch high-res video at full speed with only an occasional rare stutter. I love it. I haven't tried using it over the internet yet... but the "standard mode" is probably capable. I'm just not sure if I want to risk it.
Screensavers & Desktops. There's some beautiful new screensavers that have cool motion to them... much in the vein of the AppleTV screensavers... then when you pop into your computer, the screensaver freezes and becomes your desktop photo. There's this new feature where when you click on your desktop to send all your windows flying and you can see whatever's on your desktop, but I don't know if I'm keeping it or turning it off yet. It's both handy and annoying in equal measure. UPDATE: Yeah, I turned it off. It's far more annoying than helpful.
Widgets. There was a time that Apple gifted us widgets... then took them away. And now they're back. For a while, I'm guessing. You can post widgets to your desktop... whether they be from your Mac apps or your iPhone/iPad apps (if supported). I've got my Fantastical widget with my upcoming events, my Autosleep widget to remind me of how little sleep I'm getting, my Ecobee thermostat app so I can see what the settings/status is, my Tempest widget to let me know what my weather station is reading, my Weather forecast widget, and my Parcel widget with any deliveries I've got coming up. All handy.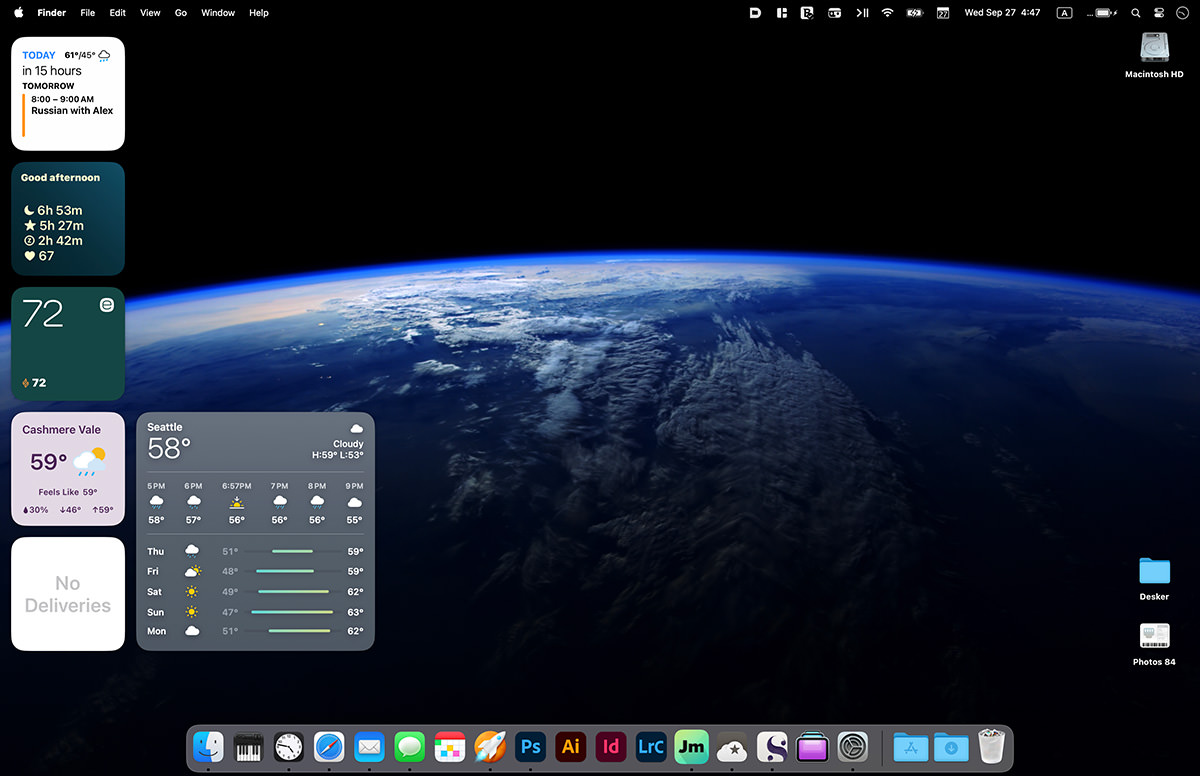 Spotlight Search. When it works, I'm a huge fan of Apple's internal search tool that works for finding just about anything on your Mac... or even across the web. The problem is that every once in a while my various Macs cannot search through my files. No idea why. It seems to happen at random and come back at random. And sometimes it will return results... but when you click on the file to open it, some other entirely different file will open! Hopefully this has been cleared up, but who knows? In any event, it's apparently supposed to be better now.
Predictive Text. Mac now suggests words as you type. It's a feature which is most welcome on a phone screen, but it's kinda bonkers on a machine with a physical keyboard. Maybe if you're a really slow typist it would be helpful... but most times I can out-type the suggestions, which is to say that by the time it's registered that I could have just hit return to finish typing a word, I've already finished typing it. So, yeah. Not a great feature for me.
Web Apps. When the iPhone first debuted, there were no apps. Everything was done with "web apps" that were pretty much shit. Well, now you can bring those shitty web apps of yesteryear to your Mac! And put them into your dock! Except they actually are kinda useful in that you can have frequently-used websites that are essentially their own apps anyway within easy reach. I've got a few I'm trying... like YouTube... which I'm kinda digging.
Lockdown Mode. If you're browsing the dark web (or whatever) and need added protections, you can slap all your Apple devices into Lockdown Mode and be far more secure. It offers a host of safeguards that are pretty strong and severely limit your normal operations, but if you need it... you need it.
Problem...
No idea what's going on... but today I lost over three hours work when all of a sudden the files just evaporated. They were still showing in my "recent files" but any attempt to load them would give "File Not Found." Fortunately my computer is constantly backing itself up, so I was able to recover most everything and only spent 10 minutes making updates that were lost. No clue what went wrong. But this is a scary-ass thing to have happen. It's like the system just trashed them or lost them for no reason. One minute they were there... the next they didn't exist! I hope this isn't a regular occurrance, because yikes.
Still Missing...
Email Search That's Worth a Shit. Ever search for a word within a long, long email chain, then get disgusted because, unlike Safari, you can't jump between those highlighted words or phrases but instead have to scroll endlessly and pore over everything until you find what you're looking for... AND THEN DO IT OVER AND OVER BECAUSE YOU KEEP MISSING IT? This is just next-level idiotic and I cannot believe that Apple hasn't done shit to fix it.
AirDrop. As I said... nothing has been fixed. Still a fucking pile of shit. This is enraging because Apple keeps promoting it. Meanwhile I can't send a photo from my iPhone to my work Mac unless I text it to myself.
Photos. Lord. It's like... give us a fucking manual sync already. It's maddening because you know that the files have been uploaded to iCloud for an hour, but you still can't sync them because there's no way to force it.
Printing. I know that Apple is embracing the digital future now, but there are times we still need to fucking print shit. It would be nice if ANY EFFORT AT ALL would be put into making this happen. But instead I am still clicking on an ignore button because every fucking time I print to 12×18-inch paper I am told that sorting is not supported. No way to permanently dismiss because Apple don't give a fuck.
Preferences Mayhem. Last time around, Apple did a radical reimagining of the System Preferences pane. And it's absolute and total shit. Alas, they're clinging to it like a boat anchor, and we're still stuck with this idiotic shit that makes it difficult to find absolutely anything. Despite it having a search box.
Icon Arrangement. You can never fucking get your icons to sit where you want them to when "Snap to Grid" is enabled. Well, you can, but that one time you can't drives me so fucking crazy that I fantasize about burning my fucking Mac to the ground. If a grid square is open, THEN FUCKING LET THE ICON SIT THERE AND DON'T FLOAT IT ACROSS THE SCREEN FOR NO FUCKING REASON.
Hard Drive Alive. Since the wide adoption of Solid State Drives throughout Apple's offerings, they've removed the ability to keep older hard drives spinning. Instead they power up and down and up and down and up and down. Which is terrible. I thought that turning off the power-down in Energy Saver settings would work, but nope. So I use a third party app called "Amphetamine" but it doesn't automatically start at login even when I add it to login items. I wish Apple would just let you go back to how it used to work.
And in Conclusion...
Meh.