Posted on April 7th, 2017

To 3D or not to 3D?
Before James Cameron's Avatar, I was firmly against 3D movies. They always looked like crap and tended to be more of a distraction than an enhancement to the film. But then Avatar did 3D right. It was stunning. It added to the entertainment value of the movie. I decided to start taking a look at the rash of 3D films that followed... and was disappointed. Unlike Cameron, who developed special 3D cameras, the vast majority of films were "post-processed" into "fake 3D" that were headache-inducing garbage.
But then things started to change.
Even though most films were still not filmed in 3D, they were shot with 3D conversion in mind. The end result just kept getting better and better. Unfortunately, theaters didn't keep up. Faulty equipment and old projector bulbs meant 3D movies were dark and muddy. Even though the films themselves were looking great, you rarely got to see them that way. I gave up on 3D for a second time.
And then I got a 3D television and Blu-Ray player.
After a few "test" 3D films, I became more and more impressed with what I was seeing. After a while, any major movie I had to own was purchased in 3D. It's more expensive, but you often get the iTunes digital version along with it, so it seemed worth the investment.
I mention all this, because I just got Star Wars: Rogue One on 3D Blu-Ray, and while the movie is fantastic, the 3D quality seems to be going backwards. Instead of the stunning 3D conversion we got with Star Wars: The Force Awakens, this film is bland by comparison. The 3D is weak, dark, muddy, and even a bit blurry...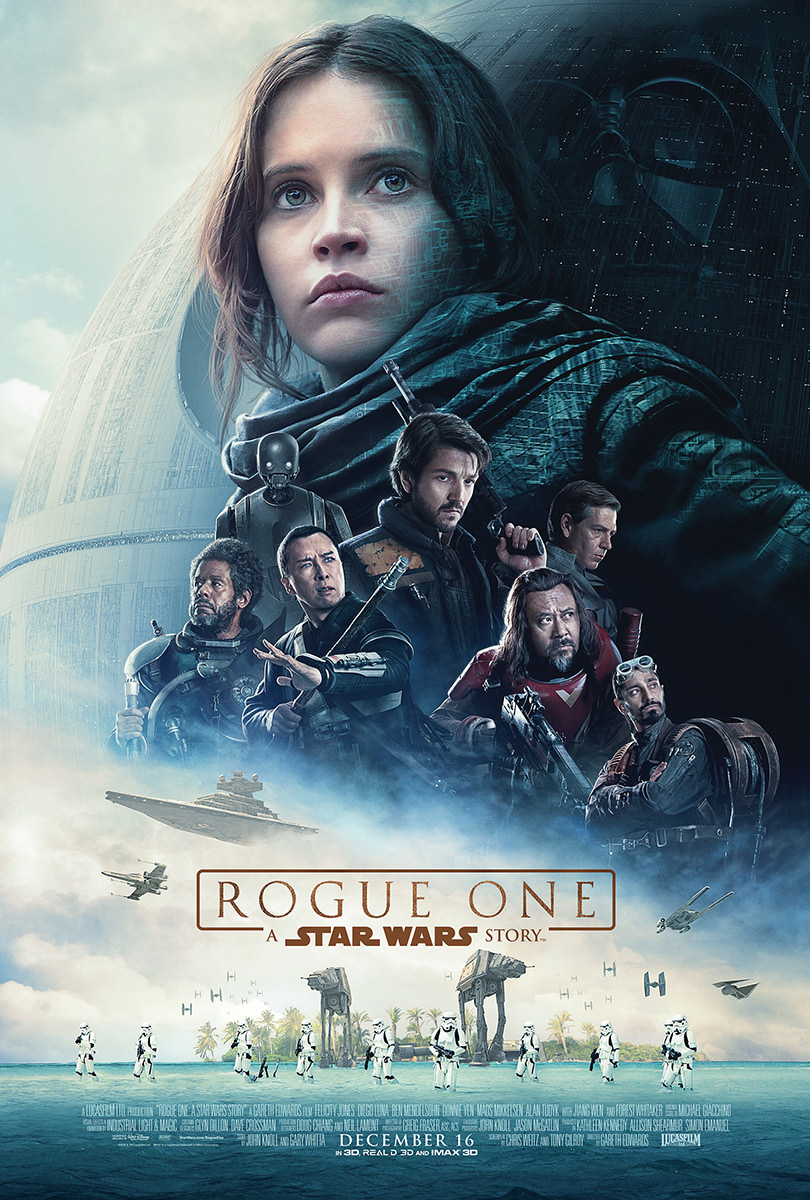 Given how much I loved the movie and how high my expectations were after the last Star Wars 3D Blu-Ray release, this was a major disappointment. Especially given that it cost a whopping $30 plus tax.
Before I get to my spoiler-ridden observations, I think it would be helpful to explain just how much I loved Rogue One by putting it into context of the other movies...

Yes. You are seeing this correctly... I put it above the original Star Wars. It's that good. Heavy on awesome special effects, but with a story that doesn't get overwhelmed by them. Flawlessly cast and faithful to the original "world" in just about every way.
If you haven't seen it yet, don't go any further. If you have, my thoughts are in an extended entry...
→ Click here to continue reading this entry...
Posted on December 27th, 2016

To say that Princess Leia was a game-changer for me is an understatement of epic proportions.
Until having seen Star Wars, I can't recall a "movie princess" being little more than a set decoration in need of saving. Yes, Princess Leia started out that way... she was every bit the damsel in distress for the story's two male heroes (and a walking carpet) who set out to retrieve her from The Death Star... but once Princess Leia actually hit the screen, all that went out the window.
This princess wasn't taking any shit, and the fact that she could hold her own against Vader and Tarkin was pretty amazing. But the moment I totally fell in love with her was when the door on cell 2187 opened...
What I was expecting: "Oh, thank goodness you've come to save me!"
What I got: "Aren't you a little short for a Stormtrooper?"
And Leia's sarcasm, strength, and wit didn't end there. As anybody who's seen the Star Wars films (which would be everybody, I'm guessing), Princess Leia was kick-ass whenever she made an appearance.
A great deal of this can be laid on the doorstop of George Lucas who first wrote her that way.
But it was Carrie Fisher who made her that way.
And now Carrie Fisher gone.

Despite some incredible contributions to writing and cinema that went well beyond Princess Leia (she wrote Postcards from the Edge and was a highly-in-demand "script doctor" for a surprising number of films), it's this legendary fictional character to which she will be forever remembered.
My guess is she made her peace with it. Even those times she was wrapped in chains and wearing a metal bikini... something she had strong feelings about.
For which I'm grateful. Because she'll always be royalty to me.
Posted on May 4th, 2016

It's Star Wars Day! May The Fourth Be With You!
Interestingly enough, Star Wars has been on my mind a lot lately because I'm finally getting around to looking at all the cool books I bought when The Force Awakens was unleashed. By far my favorite has been Star Wars: The Force Awakens... Incredible Cross-Sections.
I've long been a huge fan of cross-section illustrations. It all started when I bought a cross-section poster of the USS Enterprise when the movie franchise was started. It was glorious, and made the ship (thus the show) seem more real to me...
It was around that time that I discovered the incredible books by Stephen Biesty. He did many amazing illustrations of both fantasy, history, and contemporary places and things. I spent hours looking through as many as I could find...
Biesty led me to a love of all things David Macaulay, who isn't so much a cross-section artist, but an illustrator who excels at explaining things. He even had his own TV show which supplemented documentary-style looks at cool stuff like the pyramids with his illustrations...
But I digress...
Star Wars: The Force Awakens... Incredible Cross-Sections is a book filled with exactly what you'd think it would be filled with... amazing illustrations of all things Star Wars cut away to show inside and how they work...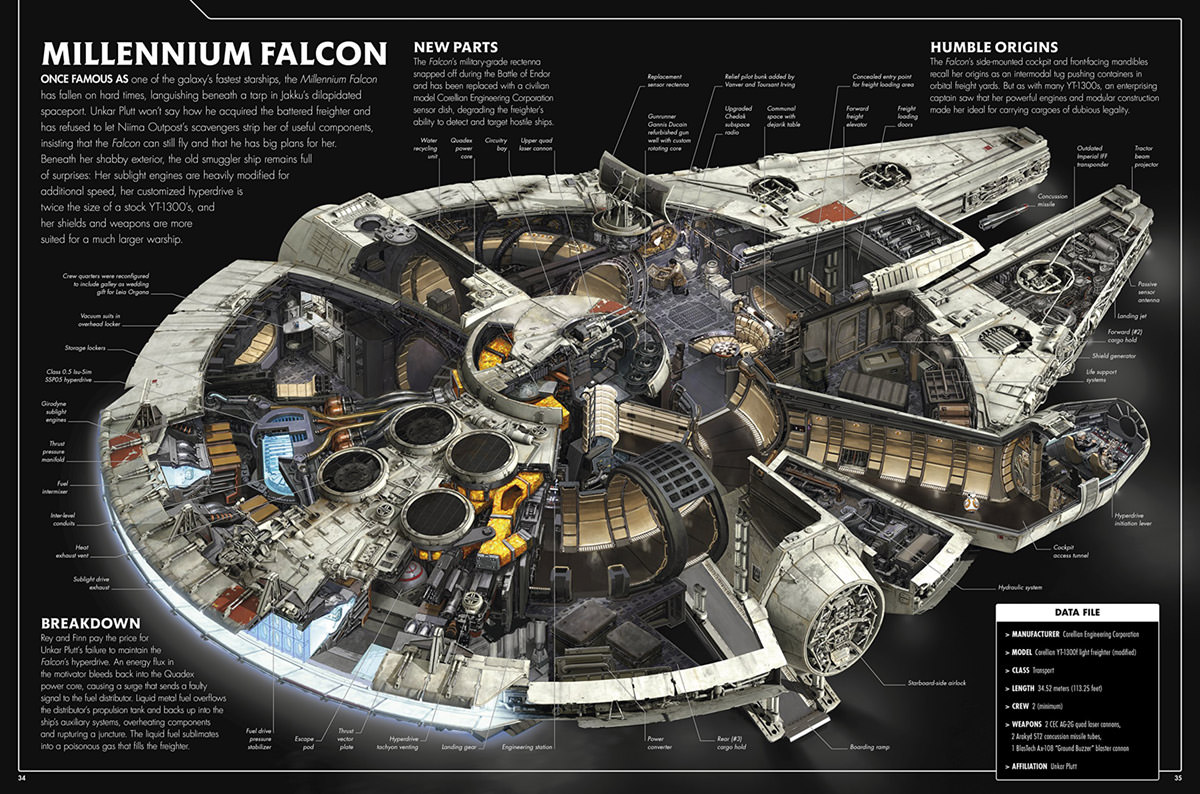 And yes, this is the infamous book that showed how Han Solo installed a kitchen for Princess Leia that had the internet up in arms a while back. Though, to be honest, I never saw this as sexist... I just saw it as Leia refusing to live like savages...

Anyway... even if you're not a massive cross-sections fan like myself, if you're a Star Wars fan, this book is still definitely worth a look...
You can get your own copy of Star Wars: The Force Awakens... Incredible Cross-Sections for pretty cheap... it's just $14 at Amazon.
Posted on April 7th, 2016

And. Scene.
If you haven't been inundated by the teaser trailer for Rogue One: A Star Wars Story, you haven't been paying attention. Or you're dead. Better get that looked at...
On Facebook I saw where there are people complaining that the lead character will be a woman for two Star Wars movies in a row. This is a little unbelievable to me, as there didn't seem to be complaints when the first six films had male-centric leads. I mean, sure there was Princess Leia (Star Wars: damsel in distress. Empire: love interest. Jedi: sex slave.) and Queen Amidala (Menace: damsel in distress. Clones: love interest. Revenge: lovestruck idiot baby-maker.) but does that really count? Not really. I say it's about damn time.
And the cool thing here is that we don't have long to wait. Rogue One is being released this December!
And the exciting this here is that we're going back into The Original Trilogy! Whether or not they actually exploit the awesomeness that could result from that remains to be seen (VADER, BITCHES!).
But I am hopeful.
And cautious.
The pain of betrayal from The Phantom Menace still hurts.
Posted on April 5th, 2016

I'm on my fifth run-through of Star Wars: The Force Awakens, and I love the movie more with each viewing. Not because it's the greatest film I've seen... it definitely has its problems... but because after thirty-five years of waiting for a Star Wars film that didn't suck balls, here it is. Sure it's a complete re-tread of Star Wars, didn't break any new sci-fi ground whatsoever, and lacked the imagination and risk that a truly great Star Wars film should have... but maybe re-telling the Star Wars story over again in a new way is what we needed to reset everything? A re-starting point that reminds everyone why the Star Wars universe is so amazing?
I dunno.
So let's talk about the film shall we? But first... a warning...

Yeah, spoilers follow. So if you're one of the three people on earth who hasn't yet seen The Force Awakens, you might not want to proceed.
Okay?
Okay!
Since everybody has seen the film, it's pointless for me to recap the story, so let's skip that part.
The thing that strikes me most about Episode VII is the spaceship battles... in that so few of them take place in space. Much like The Empire Strikes Back melted my brain with Snow Speeders bringing a space battle down to "earth" (so to speak), The Force Awakens has all kinds of amazing shots which make the battles considerably more grounded. And they do it so beautifully. Shot after shot of stunning interactions between ship and environment provide a thrill much more personal than the cold emptiness of space. I mean, sure it makes no sense that Rey can fly the Millenium Falcon at expert level when she's never flown it before, but look how beautiful that shot is! And... MILLENNIUM FUCKING FALCON, BITCH...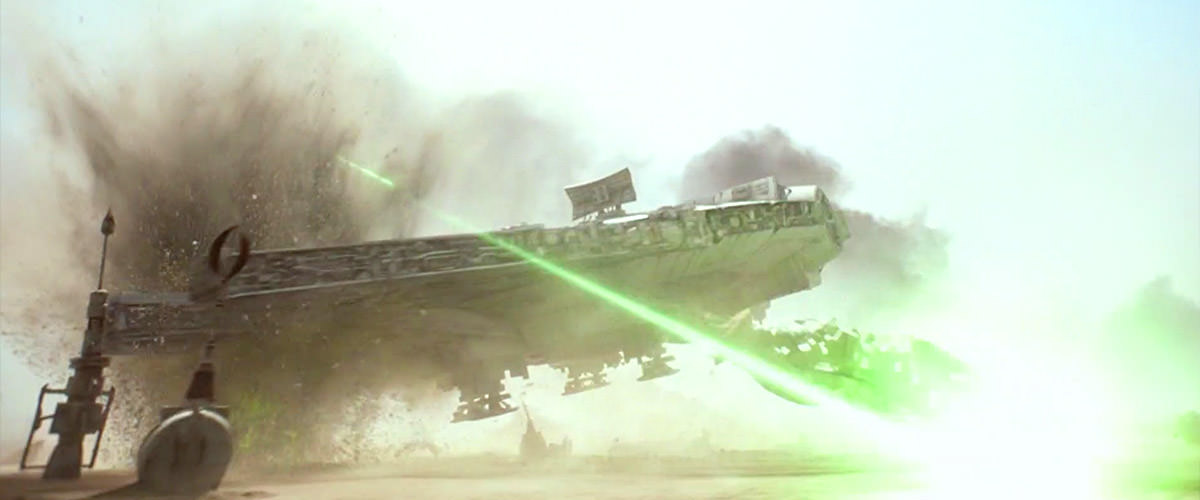 Even when there's no battle, you can't help but be impressed. I could watch the Millennium Falcon fly across the water to Maz Kanata's palace over and over again without getting tired of it. It's just so gorgeous...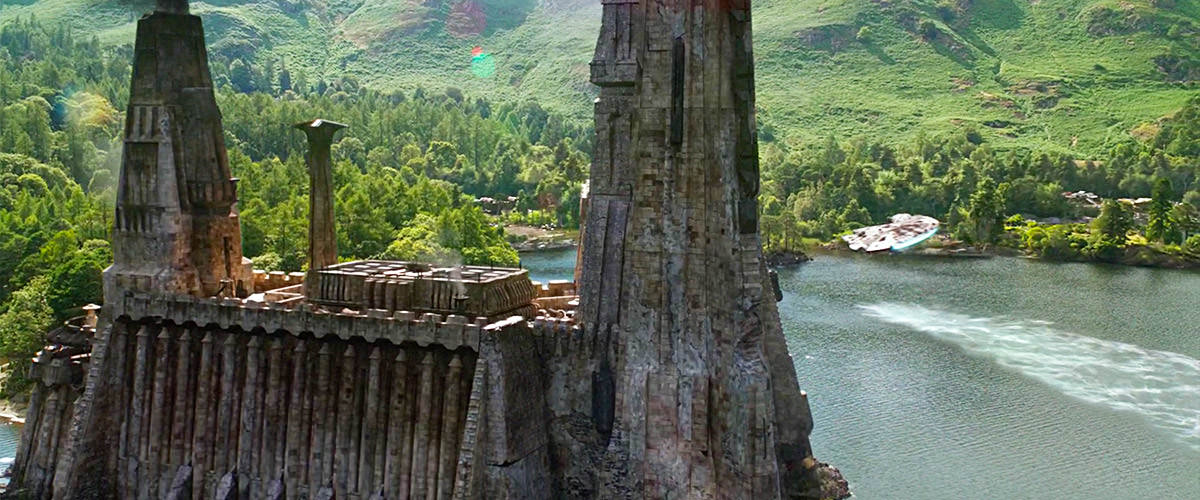 As are all the special effects, which are about as flawless as it gets.
Granted, Abrams has the benefit of better technology than Lucas did for the shit-fest that was Episodes I-III, but it was Abrams choice to do practical effects whenever possible that truly made Episode VII a vastly superior movie. The actors were able to inhabit their environments in a way that elevated their performances. And it shows. Instead of being stuck in a big green room trying to use half their brain to figure out what the hell is going on while the other half tries to make their character's lines convincing, Episode VII actors could focus on their performance. Natalie Portman and Ewan McGregor are exceptionally gifted actors... but just look at the half-baked performances they turned in for Episodes I-III. The fault isn't really theirs, and I can't help but wonder how much better they would have been with a director who understands how acting works.
And then we get to the cast. Daisy Ridley and John Boyega are superb in The Force Awakens. There's not a moment where they falter, and to see them light up the screen is what makes the movie so compelling. Hell, even fully-CGI characters like Maz feel authentic, and it's all thanks to unparalelled special effects coupled with the perfect casting of talented people like Lupita Nyong'o...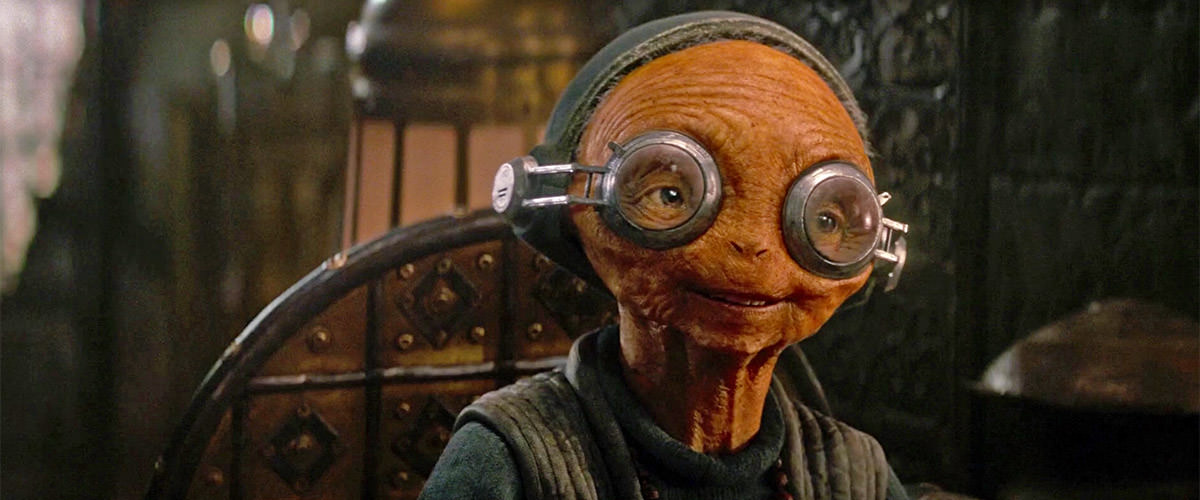 I hate to keep trouncing all over Lucas, but he anchored his entire pre-saga around horrendous performances from Jake Lloyd and Hayden Christensen. No amount of acting talent surrounding such horrors can make up for that. Abrams made sure the people anchoring his movie could deliver the goods. And boy did they. Having original cast members show up was just the icing on the cake. Especially Harrison Ford, who gave us the funniest scene in the film...
Of course, it wouldn't be a Star Wars film without lightsabers... and The Force Awakens gave us some memorable saber action. But in a good way. Not in the comical, farcical, over-the-top way that the prequels stunk up the screen. I still laugh my ass off at "The Battle of Genosis" (Episode II: Attack of the Clones) where we finally get the chance to see an entire batallion of Jedi in battle... only to have Lucas shit the bed by conveniently forgetting that the Jedi are capable of stunning acrobatics. No no... let's not have the battle be cool as fuck... let's just have the Jedi sleepily, randomly swing lightsabers around and occasionally "force push" a robot away so he falls down and goes boom...
And that's about as exciting as the "battle" got. Holy shit was that movie lame.
But Force Awakens takes a different tact. Even if it doesn't make sense that Rey could take on Kylo Ren when she's probably never even touched a lightsaber before. I don't care how hurt Kylo Ren was... or how "in-tune" with The Force that Rey was, it was a bit ridiculous. I mean, Kylo Ren can stop a fucking laser blast in mid-air, but he can't kick the shit out of an untrained saber newbie because he has an owchie on his side? Please. But, ooh... look how beautiful it looks!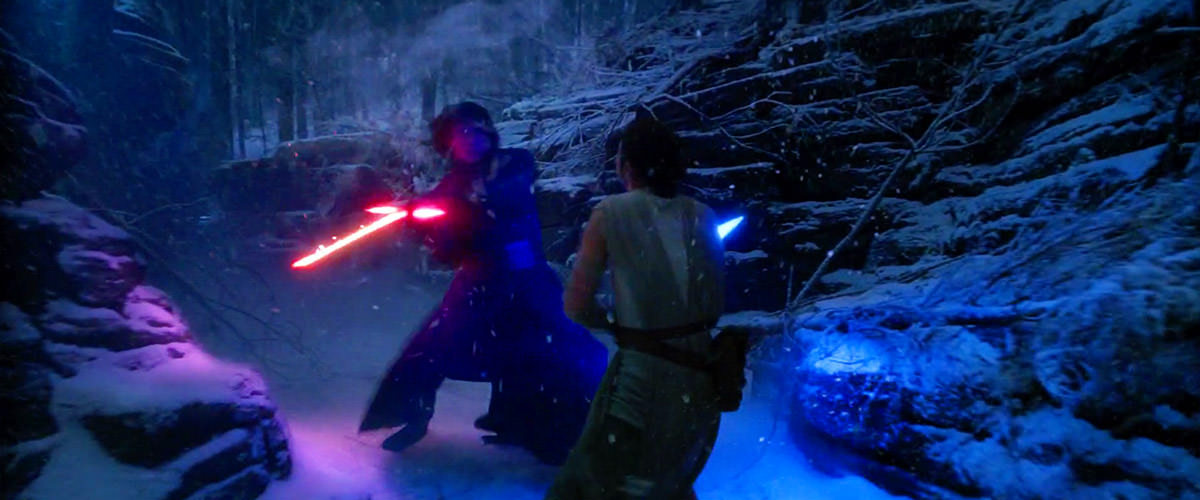 A big nod to Quentin Tarantino's Kill Bill here. His battle at The House of Blue Leaves between Uma Thurman and Lucy Liu made for great pre-viz...
Though putting a lightsaber fight in the snow is genius. I love how Kylo Ren and Ren are accidentally chopping trees in half and boiling snow when their sabers touch it...
And, speaking of lightsabers, about that twist everybody saw coming...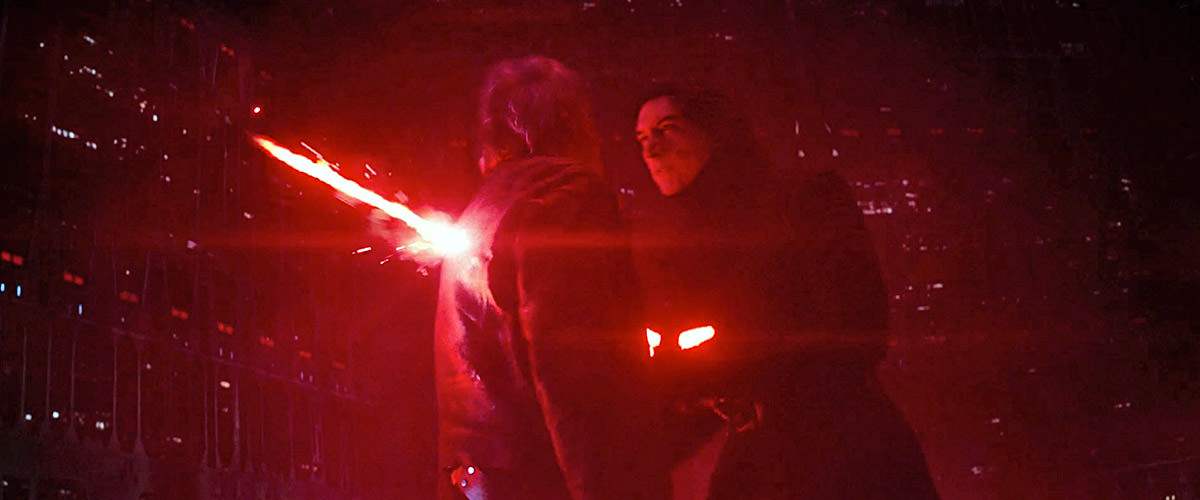 Harrison Ford has been asking for Han Solo to be killed off for years. At least Abrams found a way to make his death mean something. The pity being that the heart and humor of Star Wars is gone. Forget Luke Skywalker, it's Han Solo that encapsulated the awesomeness of the franchise. At least all my best Star Wars memories are of Han Solo. Maybe Darth Vader. But he's already gone. I will miss Han Solo in future installments.
Ultimately, this next iteration of the Star Wars saga will live or die on the second act: Star Wars Episode VII: Echoes of the Dark Side or Star Wars Episode VII: Space Bear or Star Wars Episode VII: Return of the Return of The Jedi... or whatever. Will it be a retread of the best Star Wars film, The Empire Strikes Back? Or will they strike out in a more inventive direction?
Who knows.
But so long as there are spaceships and lightsabers and George Lucas is nowhere near it, I'll be there.
Posted on March 29th, 2016

My new home has an utterly bizarre design choices. It's a nice place but, logically, rooms are positioned strangely, walls don't align as they should, and absolutely nothing is centered. Some of this I was able to address in the remodel, but other things ended up sticking around because there's just not enough remodel money to deal with all my ADD issues.
One of the areas that my new home's quirks made especially challenging was decorating. Since nothing is lined up and nothing is centered, placing pictures on the walls is a maddening struggle.
Take, for instance, my upstairs hall.
I decided I wanted to decorate it with movie posters. One wall has two small windows above a stairwell (off-center, of course), another wall has bizarre angles cut into it, another wall ends in a desk nook that's off-center from two bedroom doors. And, as if that wasn't bizarre enough space to try and align some wall hangings, the far wall comes out of a stairwell and has the HVAC vent return! It's enough to drive you crazy.
For this wall I decided to put a couple Star Wars posters (A New Hope and Empire Strikes Back... the only two that matter) and have them line up with both the stairwell and the upstairs hall. This left a big gap in the middle that needed filling.
I decided a light saber might be cool.
Only to find out that replicas are insanely expensive.
And then I happened across a "science kit" from "Uncle Milton" that featured a "Build Your Own Lightsaber" style room -light... for just $25! SOLD! I liked the design of Darth Vader's lightsaber best, so that's what I went with.
Opening the box had me bust out laughing, because it's not actual-size. It's a mini-saber that's tiny, tiny, tiny...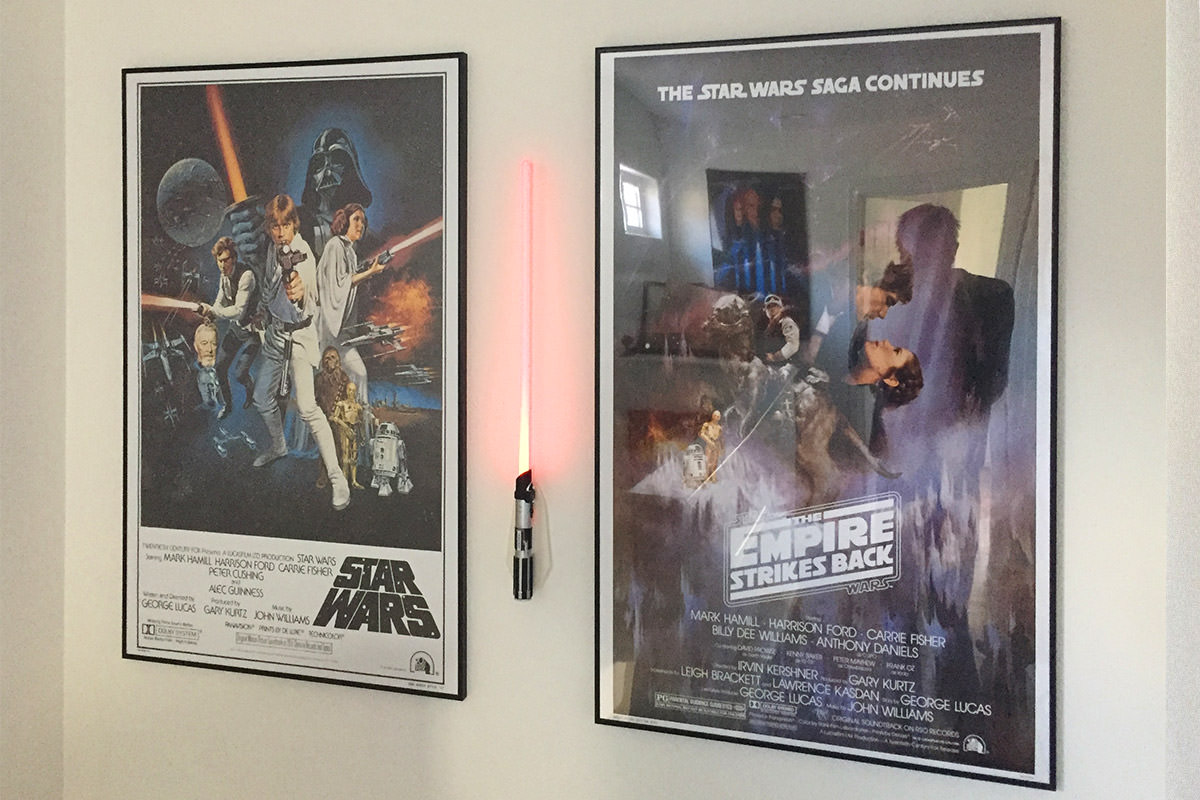 As if that wasn't funny enough, the "Darth Vader" lightsabers come in a box with a picture of Kylo Ren!

Even though it's billed as a "room light" it sure doesn't glow bright enough to light up a room... even in total darkness. But it does make a lightsaber sound when you turn it on, so I guess that's something. It comes with a remote control, but the remote doesn't turn the thing on, so I have no clue what the hell it's for (you have to push the button on the hilt to get it to "activate"). The description at Amazon said that the blade changes to eight colors with the remote, but the Darth Vader blade only glows red.
Ultimately, a big disappointment, as this is not the lightsaber you're looking for... move along.
Eventually maybe I can find a decent FULL-SIZE replica with a glowing blade that's affordable. Until then, a mini-saber it shall be.
May The Force be with you.
Always.
Posted on February 12th, 2016

It is no secret that I love LEGO Star Wars.
The video games, the TV shows, the building sets, the books... all of it. Given how the absolutely heinous prequel trilogy nearly destroyed all things Star Wars for me, it was the coming of LEGO Star Wars stuff that brought me back from the brink. What LEGO was doing was smart, fun, beautiful, imaginative, and highly entertaining... basically everything that the three shitty prequels were not.
And yesterday I learned that a new cartoon series is coming set in the LEGO Star Wars universe...
The Freemaker Adventures sounds fantastic...
Told in the whimsically-charged style that audiences have come to expect from LEGO Star Wars entertainment, the series stars the Freemakers, a family of scavengers who build and sell starships from the scoured debris of space battles strewn throughout the galaxy. When their youngest discovers a natural connection with the Force through an ancient artifact – the Kyber Saber – his world is turned upside down, and he and his family are thrown into an epic struggle against the Empire to restore peace and freedom to the galaxy. Throughout their adventures, the Freemakers explore new worlds, meet new and familiar characters, and learn the true value of what it means to be a family.
Needless to say, I hope and pray that we'll be getting a video game out of the franchise.
Of course, I'm still waiting for a game adaptation of Star Wars: The Force Awakens (which is supposed to be coming in June?), so patient we must be...
In the meanwhile... I finally had a chance to sit down and play LEGO Marvel's Avengers for a while. It's pretty great in all the right ways, despite being another mediocre port to the Wii U (why in the hell Traveler's Tales have been unable to work with the technical limitations of the Wii U when they did such an amazing job with LEGO City Undercover, I have no idea. LEGO Marvel's Avengers certainly has more laugh-out-loud moments than usual, which is great.
And... speaking of LEGO Marvel's Avengers... I should have time to get through another level before bedtime!