Posted on September 25th, 2022

My weekend has been spent sick from wildfire smoke, again. But that won't stop me from blogarizing... because an all new Bullet Sunday starts... now...

• LEGO The Office! I wish that I had more money than I know what to do with. Because one of my immediate purchases would be a pre-order for the LEGO set of The Office. It looks so good! But the fact that you can reinact Kevin's chili accident is the real reason to get this one...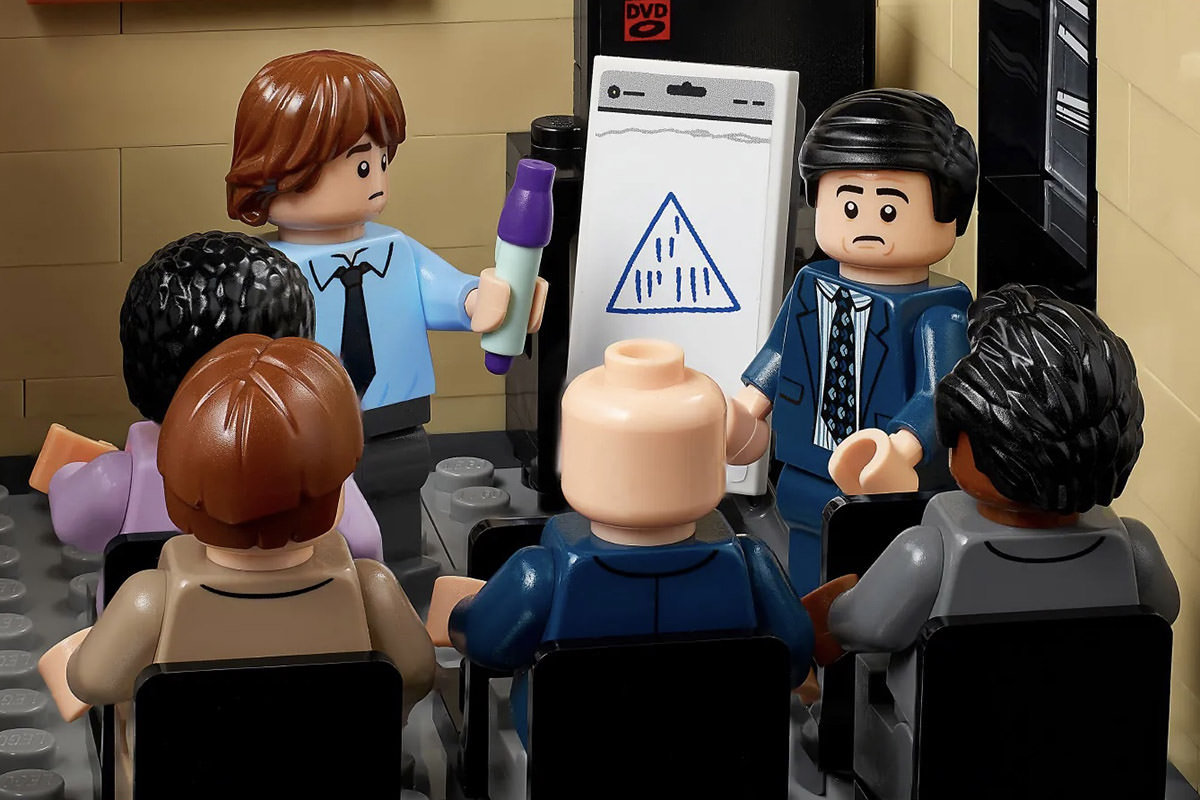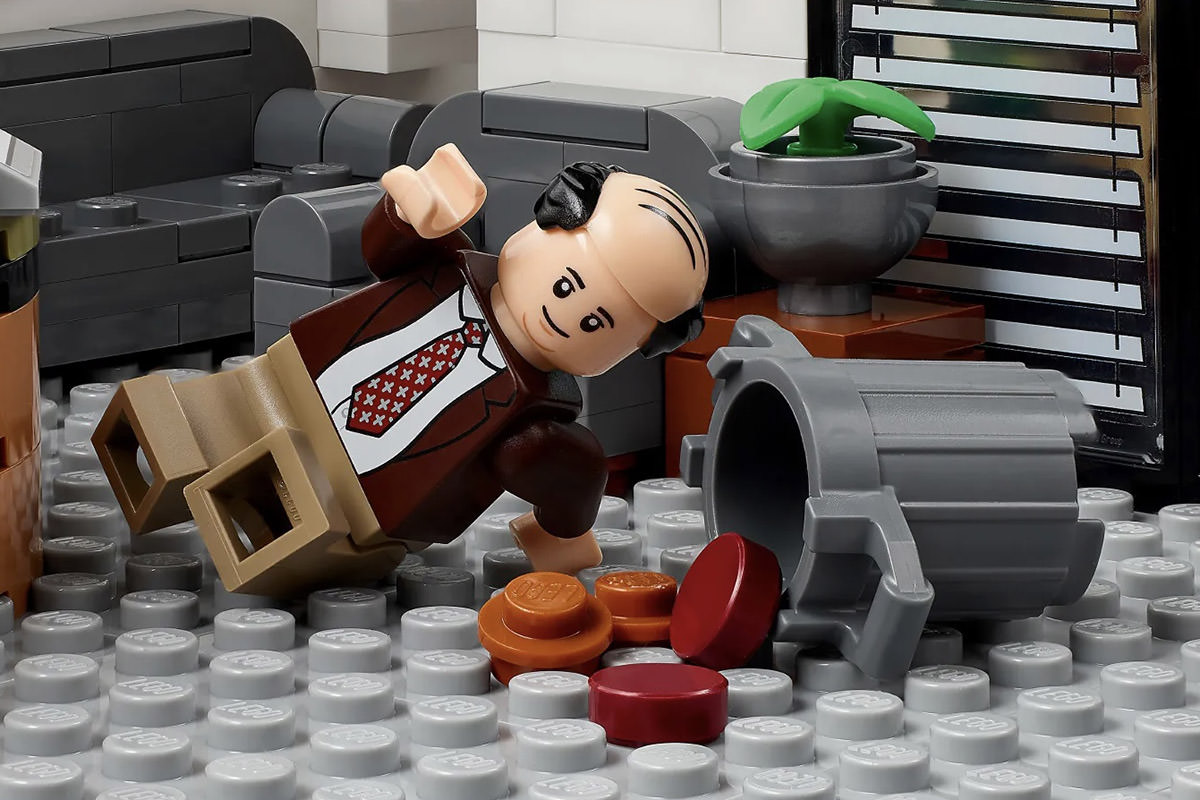 But it's ONE HUNDRED TWENTY DOLLARS!! And, I gotta say, for that kind of money I'd almost rather have the DUPLO animals set, which looks amazing...
=sigh= LEGO has lost none of its charm on me.

• Razor! And do you want to know how I know LEGO has lost none of its charm on me? I want to sell my spleen so I can afford to pay $600 for this amazing LEGO Star Wars Razor Crest...
Complete with Grogu (AKA Baby Yoda)...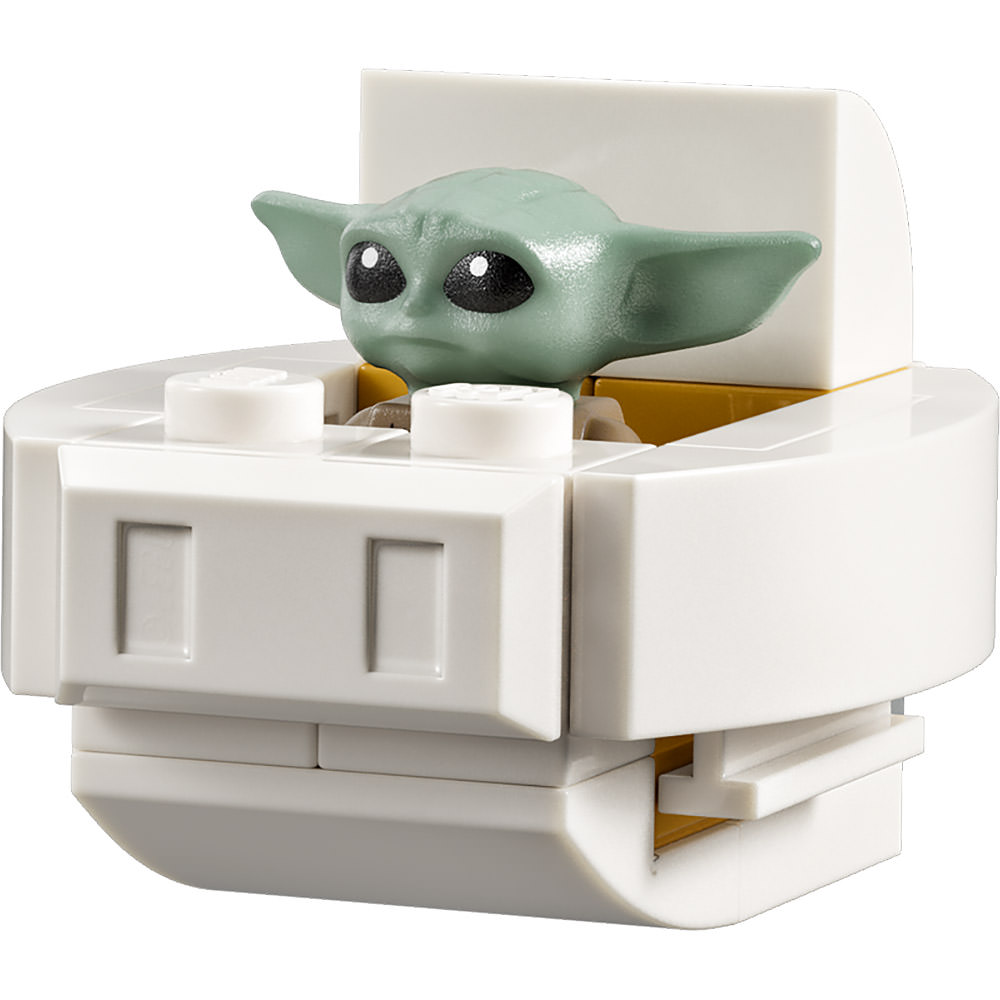 TELL ME THAT'S NOT WORTH $600!!!

• Tour! The logistics of major tour planning are fascinating to me...
They should really have a television documentary series that follows huge tours around the country showing stuff like this. And they can start with Pink! And Taylor Swift.

• Signs! I'm certain that I've shared this wonderful short film here at least once. But even though I've seen it a dozen times now, I stop and watch it again every time I think about it, so I'm going to share it again...
The simplicity of the idea married to actors who absolutely know what to do for their characters make this infinity watchable.

• Thrones! I've made no secret of how much a detest the final season of Game of Thrones. If David Benioff and D.B. Weiss wanted to "get it over with" and move on to other projects, they should have turned the show over to other people to finish it. But they love money, so they took the paycheck and just farted out a shitty endgame that completely betrayed every character involved. If you had told me that there was a way to salvage the finale, I'd have said you were nuts. But I was wrong, because somebody actually managed to do it. Is it perfect? Oh hell no. But does it at least provide a satisfactory explanation for how things unfolded? Yes. Yes it does. Maybe one of these decades George R.R. Martin will complete the final two books in the series. But until then? This is better than nothing.

• Crash! Is everybody ready to see DART crash into an asteroid tomorrow? Yeah. Me too. If you want a preview... just Google "NASA DART"

I take my leave of you dreaming for breathable air.
Posted on September 22nd, 2022

I stayed up last night to see the first episode of Andor on Disney+... and immediately wanted to watch the other two episodes that were unleashed at the same time. Except I was way, way too tired to attempt it thanks to being more than a little wiped out by the booster for my booster's COVID booster. At least I'm guessing that's the reason. I had a fever for about a half-hour, then my arm was sore... and that was the end of it. Which is weird because I was warned that the side-effects would be worse than previous boosters.
But anyway... back to Andor...
I finally got around to watching Episode 02 and 03 today... and they are epic.
Cassian Andor is easily one of my favorite characters in all of Star Wars, and it was a forgone conclusion that I would enjoy this series if they A) They didn't change the character for no reason, B) They had a story to make it worth my time, and C) They spent some money to make it actually feel like Star Wars.
Thankfully, Disney+ put their money and talents where their mouth is and completely crushed it. Especially in that mind-blowing third episode! And enough can't be said about Diego Luna, who is talented to begin with... but really bought his A-game to this series. It's like he knows that his character is beloved and wanted to give it everything he got.
And we have nine more episodes to go.
Posted on September 11th, 2022

Another year of waking up, realizing it's 9/11, and knowing that it's the Last Night of the World all over again. I'd stop and think of something more to say, but I don't have time... because an all new Disney D23 Expo Edition of Bullet Sunday starts... now...

• D23! Every year Disney holds its D23 Fan Club Expo where they talk about all the new things that will be coming up. Ever since they bought Star Wars and Marvel Studios, it's been a much more important event to me than it was prior...

• Thunderbolts! It's a Marvel Studios reunion! Florence Pugh returning as Yelena Belova? Sebastian Stan returning as Winter Soldier? David Harbour returning as Red Guardian? Hannah John Kamen returning as Ghost? Wyatt Russell returning as US Agent? Olga Kurylenko returning as Taskmaster? SIGN ME UP! In the comic books, Thunderbolts are a team of villains pretending to be a new team of heroes in the MCU. You don't find out who they actually are until the last page. This looks to be the same type of thing, except it's going to have a very different dynamic since the element of surprise is completely missing. If people are familiar with the MCU, they already know who these actors are playing. It would seem that this movie is going to have a Russian plot since most of these characters (except US Agent and Ghost) having ties to there. Well, whatever the case, this cast is very exciting, and I'm really looking forward to this one.

• Invasive! I didn't know exactly where they were going to go with Secret Invasion since the comic book series relied on a huge amount of backstory that simply doesn't exist in the MCU. Or does it? I mean, there is a number of interesting people in the MCU who could have been swapped out by the shape-changing Skrulls... and first on my list would be Sharon Carter, Agent 13, whom we lost saw as a bad guy (bad gal?) "Power Broker" in The Falcon and the Winter Soldier. I hope that there's some major names that got replaced and not just some background characters (how cool if Tony Stark was replaced and it was a Skrull?)...
Olivia Colman?!? What's she doing there? It looks like Rhodey might be a Skrull in the trailer, so anybody could be. Which is the entire premise, I suppose.

• ARMORRRR! And speaking of Rhodey, Marvel Studios says that Secret Invasion will lead directly into his own series, which would be Armor Wars. Other than Ironheart, we don't know whether the concept from the comic books will make it to the series, but it should prove interesting if the Stark armor gets out and the series is putting the genie back in the bottle. No trailer and no idea of an air date.

• WHAT??! Surprise! I had no idea that we were getting a Werewolf by Night Halloween Special on Disney+...
Gael García Bernal?!? That's quite a get for the character. Not exactly sure how this ties into the bigger picture... but something I'm excited to see given the grind house aesthetic that's going on. Interesting to note that Man-Thing is going to be in this as well.

• Andor! I'm one of those Star Wars fans who didn't like everything that came after The Empire Strikes Back except for Rougue One and Solo. Fortunately, The Mandalorian came along to revive good Star Wars for me. Then we got Book of Boba Fest, which was good. Then we got Obi-Wan Kenobi, which was also good. And next up? Andor, which is coming out of Rogue One...
This looks so good. And I couldn't be happier, because his character is fantastic. Fingers crossed it lives up to my high expectations.

• Mando! And speaking of The Mandalorian, heeeeeere comes Season 03...
Awww... baby Grogu is still adorable. He never gets old.

• Oh Percy! Is it too much to hope that Percy Jackson and The Olympians doesn't suck?
While the movies were far from terrible, they weren't what I was hoping for either because they didn't follow the books (WHY? WHY WOULD YOU DO THAT?!?).

• Treasures! I am a big fan of the first Nicholas Cage National Treasure movie... and thought that the sequel was okay too. Now they're releasing a new television series based on the movies (with Harvey Keitel and Justin Bartha providing a link between the two)...
Catherine Zeta-Jones is a good choice for a villain, but I find it weird that they have made the show to be some kind of teen adventure version?

There was other stuff that got discussed (Wakanda Forever, Ant-Man and The Wasp: Quantumania, and Indiana Jones 5 to name a few), but that info hasn't been released to the general public yet. Probably eventually though.
Posted on August 1st, 2022

September 21st.
Cannot possibly enunciate how badly I want to see this series. I haven't loved many of the Star Wars movies after The Empire Strikes Back... but Rogue One is definitely a huge exception, and Cassian Andor is a big part of the reason why...
No K-2SO in the poster. I'm guessing that he comes along shortly. Or at the end of Season 01...
Apparently there are three planned seasons... ever-escalating quicker until the series matches up to Rogue One.
Posted on May 29th, 2022

A three day weekend (for a lot of us here in the good ol' U.S. of A. isn't even the best thing to look forward to this fine Sunday... because an all new Bullet Sunday starts... now...

• You're Our Only Hope! I was not expecting the world from the new Obi-Wan Kenobi series on Disney+, even though it was focusing on one of the best parts of the shitty Star Wars prequels. But, then again, The Mandalorian proved that it could be good if they wanted it bad enough...
Well, apparently they did want it bad enough, because the show is looking darn good from the first two (or six) episodes which have aired. I don't want to spoil a single frame, as I was careful to not learn too much about it before it started running. Suffice to say that the premise for the series is not what I expected, despite being a very good one (and kinda obvious). Even if you've given up on Star Wars, this might be worth a look.

• More Hope? This past week was Star Wars Celebration, the annual lovefest for A Galaxy Far, Far Away. The most interesting thing to come out of it was the trailer for Andor, which I've been anticipating for what seems like an eternity...
Looks great, doesn't it?

• Mavericky! Top Gun is one of those seminal 80's films that I have seen multiple times since first seeing it in the theater. When they came out with a sequel: Top Gun: Maverick I kept my expectations in check, because it seemed absurd that they could possibly have more to say. Or at least not enough to warrant a sequel. But it was actually quite good despite covering a lot of the same territory. This is largely thanks to very cool practical fighter plane shots which were far better than a bunch of CGI special effect shots could have ever been...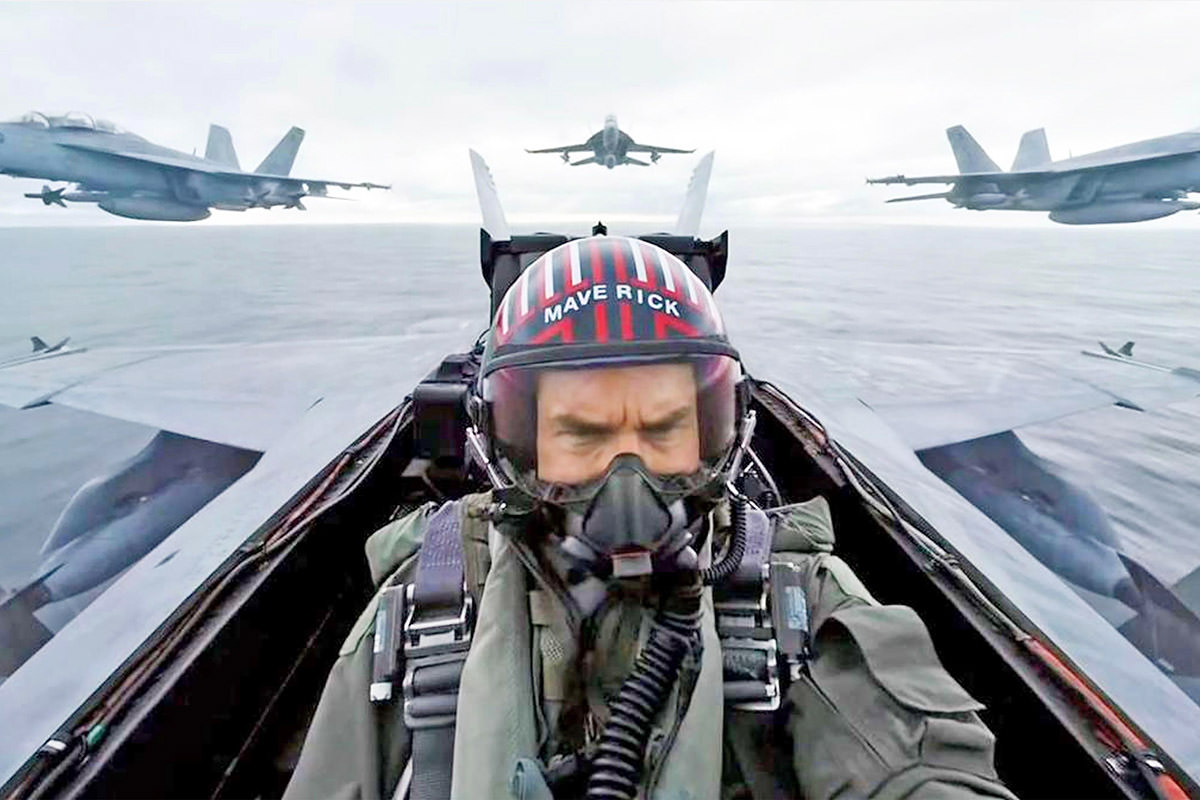 Tom Cruise was... well... Tom Cruise. Jennifer Connelly was good as she always is. And Miles Teller, who hasn't impressed me much in anything he's ever done, inhabited his role as the son of Goose in a way that really made you believe he could be the son of Meg Ryan and Anthony Edwards. Do I think it was risk getting COVID to go see? Probably not. But it should have no problem making my best-of list for 2022 because of the huge dose of retro thrills it provides.

• Thanks, Jims! While there's a lot of attention being focused on Obi-Wan Kenobi, Top Gun: Maverick, and the return of Stranger Things, I can tell you right now that the entertainment to beat is Shoresy. Based on the unseen (but not unheard) hockey-playing character from Letterkenny, it's a fantastic (and very funny) look at "the dirtiest player in the game"...
If you're a Letterkenny fan, this is a no-brainer. But even if you aren't this is nice diversion from the horrors of the real world.

• Fletch! I was very sad to hear that Andrew "Fletch" Fletcher from Depeche Mode had died. As one of my all-time favorite bands, I've collected all their music and have seen them in concert a half-dozen times. Rest in Peace, sir...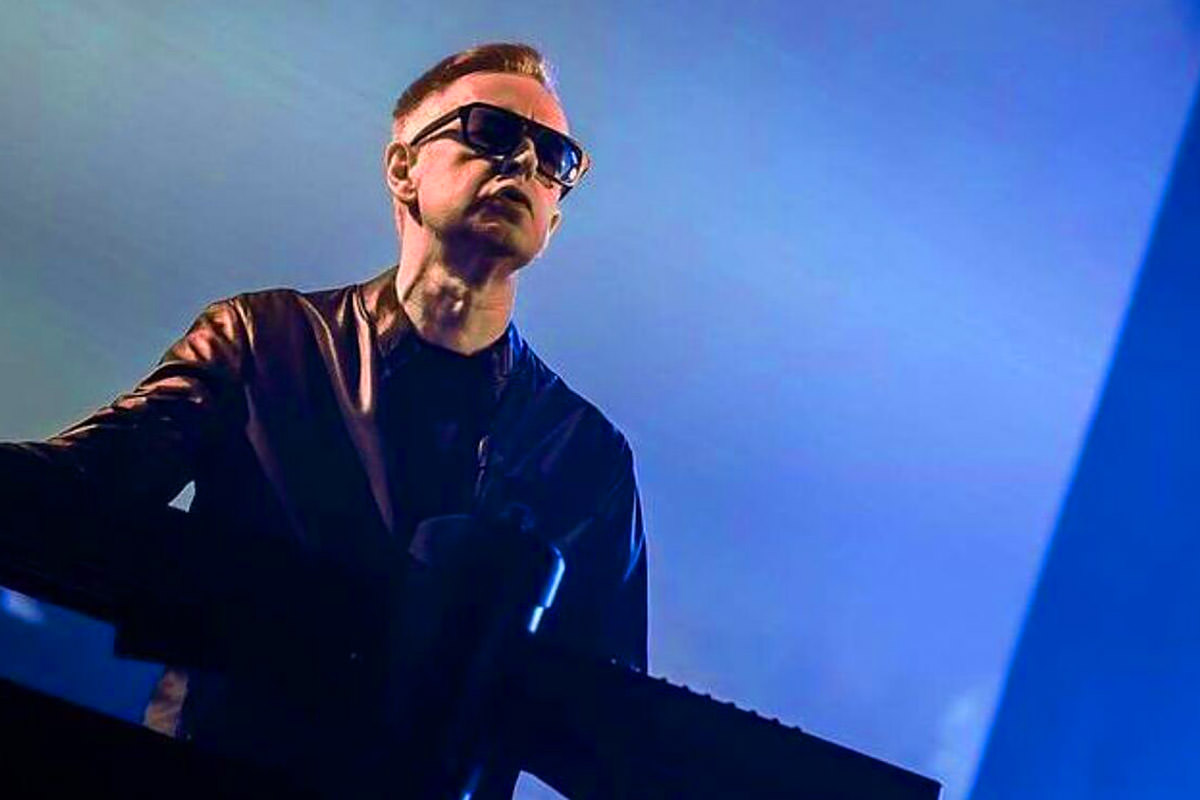 • Less Strange? And speaking of Stranger Things... I'm more than a little disappointed in Season 04. Each episode is bloated in a bad way, focusing more on distraction, filler, and "side-quests" than the show I was hoping to tune in for. And it's like why? Why deviate from what made the show so darn good in Seasons 01-03? I guess everybody wanted a bigger paycheck and the only way to get it was to film more material? I dunno. The show isn't exactly bad... but I'm really hoping they stick the landing in the final two episodes in five weeks to make this time investment worthwhile.

• Subway. This video from Last Week Tonight is fascinating stuff. And you OWE it to yourself to watch the Korean Meatball Drama at the end! Glorious...
The fact that Subway knew that Jared was a kid-raping pedophile and ignored it so he could keep selling their sandwiches means that they can fuck off forever. Interesting to note that Kidfuckers is the ONLY chain restaurant in my small town, which is just further evidence that they do indeed push their franchises to the breaking point and put them everywhere.

Until next Sunday then...
Posted on April 13th, 2022

I like video games. I love the LEGO video games. I think I own all of them multiple times over (for multiple platforms). They are essentially kid games, which means they're low-stress... but there's challenges and humor which make them a blast for adults too.
The latest release is LEGO Star Wars: The Skywalker Saga. There have been many Star Wars LEGO games before, but this is a new take on the material which is more expansive and clever than any LEGO game I've played before. Even if you own the original games, this is one worth looking at if you've enjoyed any of the other LEGO video games...
Alas... it's a LEGO video game, so it's cute as can be... but all is not perfect from a gaming standpoint. TellTale Games has always traded on the fact that people want to ply LEGO and the experience doesn't have to be perfect.
My profanity-laden thoughts about the game follow...
Vehicle control is still absolute shit. I do not for the life of me understand how after NEARLY TWO DECADES of these games they can't make vehicles actually fucking drivable. You will smash into shit and have trouble navigating because the controls are a sloppy mess. It's like they somehow take pride in the fact that everything to do with driving is crap.
The puzzles are the same as they've always been. Aside from a few minor unique innovations, you've played this before. Or, if you're me, dozens of times before.
One of the hallmarks of all the licensed games is that they are wonderfully humorous and can make even the most mundane cut-scenes interesting and fun to watch. The crap Star Wars prequels are made bearable, and that's quite a feat. I just wish that some of the cut-scenes can be skipped, but very few can. This is especially infuriating when you consider that the game crashes uneventfully (today it crashed when I was changing characters!), thus forcing you to sit through the last cut-scene all over again.
The LEGO games have a reputation for bugs and glitches. With The Skywalker Saga, it's not so bad that it's unplayable, but there's still bugs. Glitches aren't too bad, but every once in a while I end up in a spot where walls disappear or I can't move. The camera is bonkers, and many, many times I can't see me and am stuck to a wall. Fortunately saves are frequent so I'm not losing much progress, but still...
With this game, there's been effort to make the fighting more than just a button-mashing affair. In fighting there are different moves you can make... blocks you can bring up... and combos to spice things up. This would be admirable if it weren't so badly handled. One of my favorite movies is to jump in the air, then use a combo lightsaber smash move which plunges the lightsaber into the ground and smashes the enemies around you. But then there's times that the move just doesn't work for some random reason. Hell... when you're fighting Kylo Ren, YOU CAN'T EVEN JUMP AT ALL! What the hell? How can your character all of a sudden forget to fucking jump? What sense does that make?
Another nonsensical bit of idiocy? Disguises. If a Stormtrooper gets blasted, sometimes their armor will drop and be wearable. Sometimes. Finn can wear it most of the time, but there are times that he can't... from what I can tell, it's when he is holding a lightsaber. But you can't drop the lightsaber or stick it in his pocket, which means that dressing up as a Stormtrooper to fool other stormtroopers is impossible. BUT THEY STILL INDICATE THAT HE CAN WEAR IT EVEN WHEN HE CAN'T! Which is just stupid. Almost as stupid? Han Solo in The Force Awakens cannot wear Stormtrooper armor at all! and this is despite the fact that he literally dressed up as a Stormtrooper in the very first Star Wars movie! God.
These LEGO games used to be a fun romp. With each new game, more complications are added. For a while, it was cool. Minikits... Magic Bricks... New Abilities. Fun! But now there's just too much going on. The menu system is insane. There's sub-menus to sub-menus to sub-menus. And now they've initiated a class system with ability upgrade trees... which is okay for adult gamers because they've probably seen them before. But for kids?!? I honestly don't know how a kid (any many adults) are supposed to be able to wrap their heads around it all. The Endor level is all complicated maneuvers at great heights, which cause you to fall again and again and again. That's not "fun" it's frustrating.
Waiting for scenes to load is not too horrible... but still annoyingly slow on Nintendo Switch. Oh well. Being able to take the game with me on the go is a fantastic feature that Xbox and PlayStation can't give me.
Usually LEGO puzzles are fairly uncomplicated. That's part of the appeal. You don't have to stress, because you can eventually figure things out. But this time around there's some puzzles that just defy belief. They tell you what has to happen, but give you no idea how you accomplish it! On Ahch-To, there's a puzzle where you need to get at least five people dancing. Then they draw a perimeter which is assumably where the dancing takes place. Then there's characters with a wifi symbol above their head. That's it. I've tried wiggling in front of them in an attempt to "dance." I've talked to everybody. I have no clue at all what to do. Assumably somebody with dancing ability must come along, because otherwise... dang.
When making a jump from one planet to another, you can have your flight interrupted by a space battle. And it's like... sure. But they can happen multiple times in a single trip! The last time it happened, I had three space battled interrupt my flight IN A ROW! It was fun at first, but now I just want to attack my television with a baseball bat.
They are so unoriginal that they use a fucking Wilhelm Scream. For the love of God... just stop with the Wilhelm Screams already! It's not even funny any more. Not in movies and most certainly not in video games. And yet they do it multiple times. Infuriating.
In other news... I got the Deluxe Version of the game which comes with a Blue Milk variant of Luke Skywalker. The thing is trending online because people are selling them on eBay for up to $300!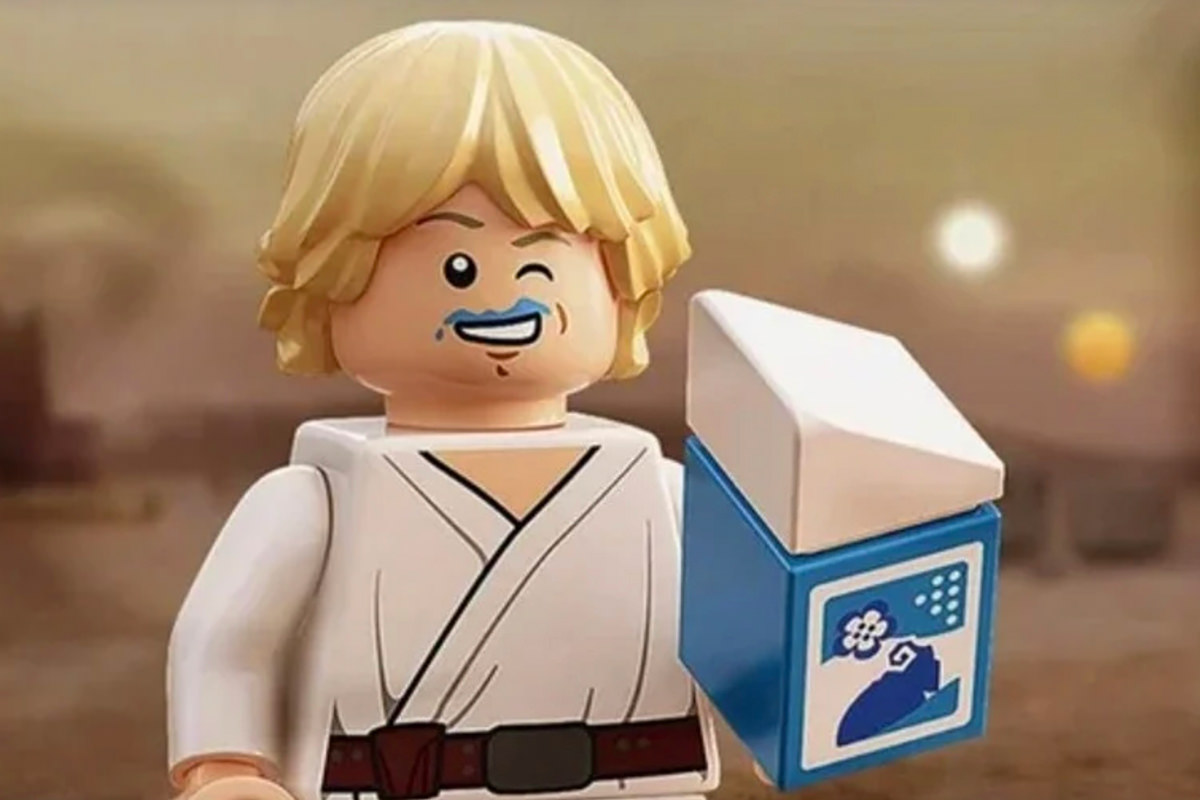 Wow.
If I were to rate this game, I'd probably tag it with a B-. It's expansive, adorable, and looks great... but there are some serious gameplay problems which keep it from reaching greatness.
Posted on January 25th, 2022

I stayed up until midnight tonight so I could watch the latest episode of The Book of Boba Fett on Disney+. The first episode left me a little flat after the absolute joy that was two seasons of The Mandalorian, but I hung in there. And was rewarded with some fantastic episodes of Star Wars. And now that I'm invested, I've been staying up until midnight on Tuesdays so I can watch live and not have to worry about spoilers the next morning.
This was the best episode of the series yet. Which was actually a bit disappointing for reasons that I can't divulge lest I spoil the episode. Suffice to say that this one episode was better than most of the films that have come out of the Star Wars Universe.
And that's why I'm happy I stayed up to watch and am convinced that Jon Favreau and Dave Filoni should just be handed everything. Television. Movies. Specials. Everything. If it's Star Wars then they should be in charge of it. Full stop.
Posted on May 9th, 2021

We may not be at heard immunity yet (if ever), but life goes marching on... because an all new Bullet Sunday starts... now...

• Mom! Happiest of Mother's Days to all the moms out there. The more time goes on, the more grateful I am to have had the best mom ever looking after me...
We were best friends from the start and I love her around the world and back.

• Hoth! Anybody seen Star Wars: Biomes on Disney+ ?!? Gorgeous! Just a 12-minute screen saver of various planets from the Star Wars universe...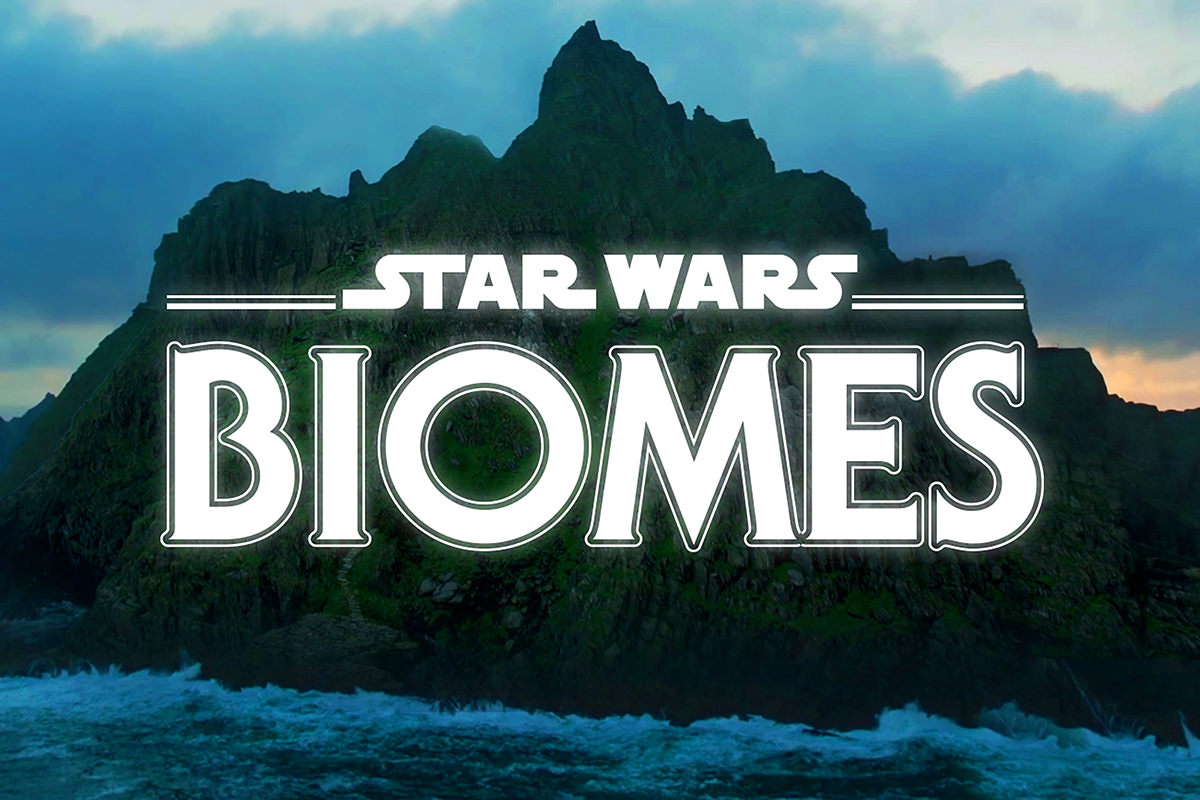 I am addicted and want more... more... MORE! There are other planets that would be so cool to see! If you have Disney+ tune in and be mesmerized! Then demand another episode! The two ship fly-through videos (for the Millennium Falcon and a Star Destroyer) are also wonderful to look at.

• Vaccinate! The New York Times has a fascinating article on how Pfizer is manufacturing their COVID vaccine, and I encourage everybody to give it a read.

Image from The New York Times
Incredible stuff. mRNA vaccines seem more like magic than science, and future prospects for the technology are bright indeed.

• Honnold! Every New Year's Day, I have a checklist of things I do. On that list is to check and see if Alex Honnold... a free-climbing genius... is still alive. I'm a huge fan, but not always able to keep up on what he's up to. As of a week ago, I know he was alive because he did a video for GQ Magazine where he looks at climbing scenes in movies. It's fantastic and well worth your time to watch...
"He doesn't get tired though because he's Tom Cruise!" And here's the original one I watched...
"Oh my goodness gracious... he just fell to his death!" Alex is entirely too nice for this cruel world!

• Trek! I am rewatching the first JJ Abrams Star Trek movie... you know, the one with ALL THE LENS FLARE ALL THE TIME... I just got to the point at the start where Lil' Spock is beating the ever-loving shit out of the Vulcan kid that called him mom a whore. All while his classmates look on in horror. And I realize something. JJ Abrams completely and totally defined Spock in three scenes... something it took a dozen episodes of the original television series to do...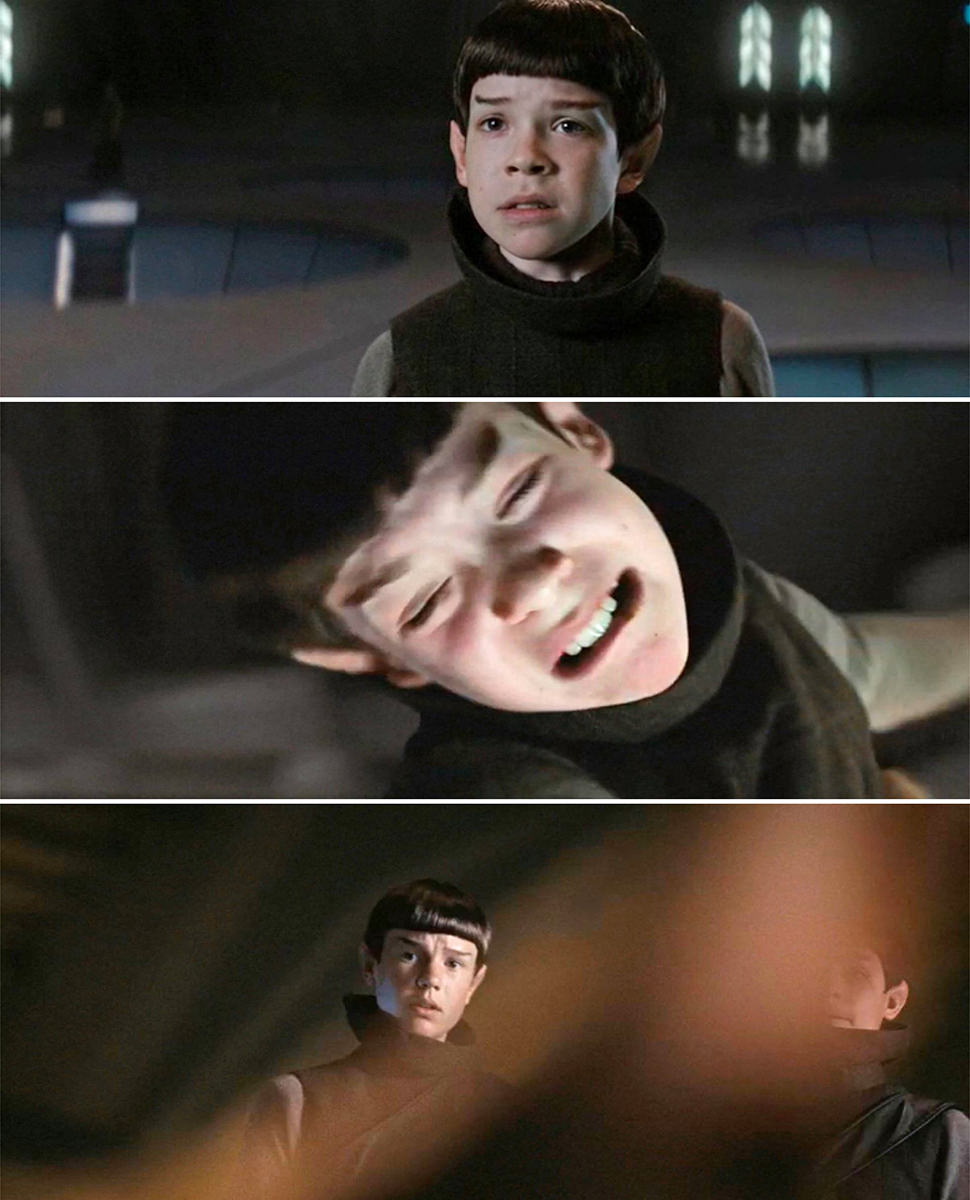 And this follows on the heels of him doing the same for James T. Kirk. Say what you like about the reboot, but Abrams was absolutely brilliant in introducing the Star Trek Universe to people who may have been unfamiliar with it. If you didn't know Kirk, Spock, and McCoy at the beginning of the movie... you certainly did by the end. No easy feat.

• Clark! I was a huge Tom Clancy fan back in the day. Read all the early books he wrote. They were entertaining diversions with increasingly ridiculous stories... reaching peak absurdity when Jack Ryan became president. I stopped reading a couple books after Executive Orders and never got into the books that were added after Clancy died where other authors wrote them. I thought the three movie adaptations with Alec Baldwin and Harrison Ford were pretty good. The Ben Affleck and Chris Pine movies were forgettable. Though I have (mostly) enjoyed the John Krasinski Jack Ryan series on Amazon. And now we have Without Remorse with Michael B. Jordan as John Clark...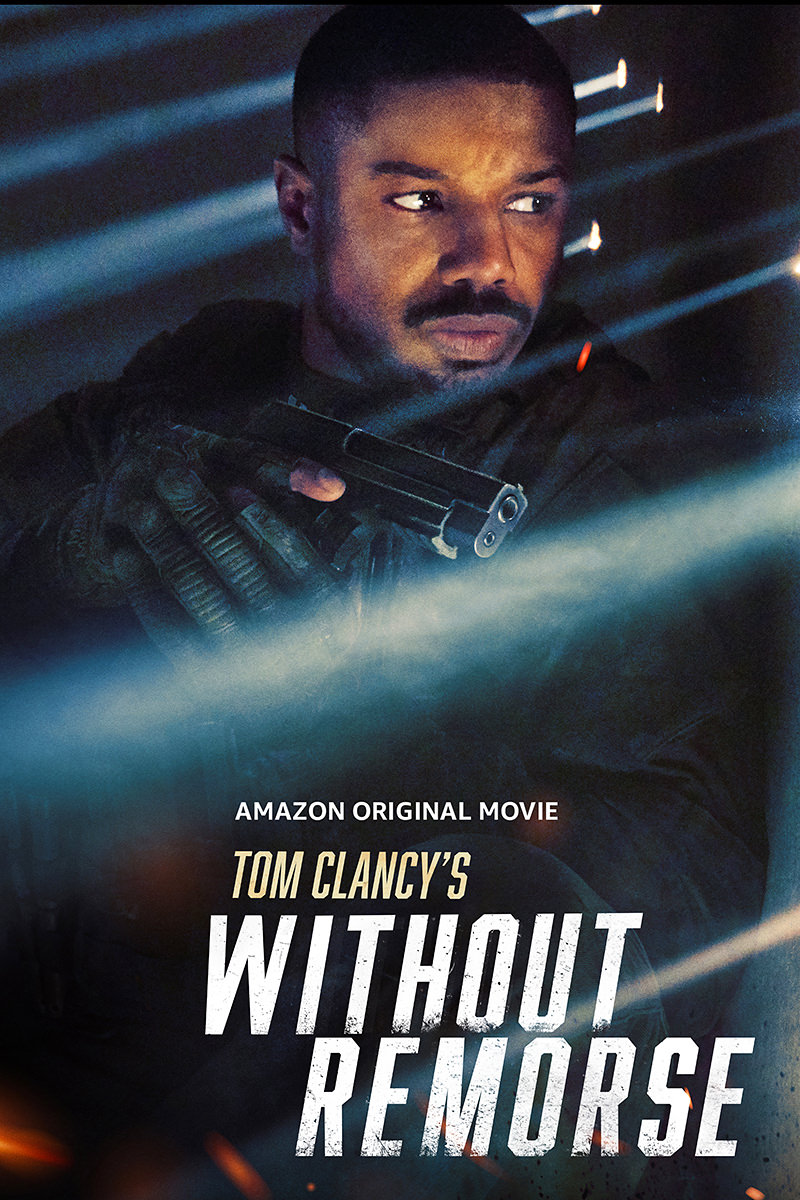 Despite the story starting off with a tiresome and antiquated "fridging" that could have easily been changed, it's a darn good movie. Jordan has the chops to sell the character both emotionally and as an action star, and his path of revenge is glorious. If you like this kind of thing, it's worth a look on Amazon Prime streaming!

• Borders! I absolutely love stories like this: Belgian Farmer Accidentally Moves French Border.

And that's a wrap on my Sunday Bullets. Hope your Mother's Day weekend was a good one!
Tags:
Bullet Sunday
,
COVID-19
,
Mother's Day
,
Movies
,
News
,
Pandemic
,
Star Trek
,
Star Wars
,
Television
Categories:
Bullet Sunday 2021
,
Movies 2021
,
News – Politics 2021
,
Television 2021
—
Click To It:
Permalink
—
2 Comments: Click To Add Yours!
Posted on January 3rd, 2021

The New Year may feel like the Old Year, but there's still something new to be had... because an all new Bullet Sunday starts... now...

• TikTok! The thing that I love so much about TikTok... besides the fact that the video size is limited which forces content creators to get to the damn point already... is that it's got people constantly playing off of each other. In weird, wonderful ways. Lots of times it's clapbacks and condemnation, sure, but every once in a while you get something absolutely magical like this...
What's cool is that the woman who was (accurately) sumarizing Country music so dead-on in her parody was actually made a collaborator, and is now promoting the song on her TikTok...
This is not something that happens on other social media platforms so easily and organically, which is why I am still addicted to TikTok. Plus... lots of adorable animal videos.

• TokTwo! Not to mention moments of absolute happy like this...
Is is any wonder I can blow through an hour on this app and not even realize it?

• Her Name Was Bernice! Not that it's all fun and games...
This amazing woman is a graduate of Liberty College and has some fascinating takes on Christianity that comes from having lived through her past... and living her Faith in the present.

• What's Logic! I mean, damn...
This guy is phenomenally entertaining while addressing some very touchy subjects. I could just sit for an hour and blow through nothing else on TikTok but this guy.

• TokFour! Seriously. I need to come up with a Blogography page of all the TikToks I follow, because if you are looking for some incredible takes on everything from cooking to woodworking to current events to just plain fun... I'm following it all.

• Luke! And just because it's not all TikTok this Sunday... I remember very well standing in line on opening night for The Empire Strikes Back. By the time the movie was released I was already the biggest Star Wars fan on earth, and there was just no way I could wait to see it. I was dropped off with the older brother of a friend who didn't mind having me tag along. Back in 1980, there was no "internet" to speak of, and the movie magazines were always months behind what was being released in the theaters. So when it came to one of the most surprising and shocking moments in cinematic history, I was completely caught off guard. There was simply nothing that could have prepared me. Which is why I just love videos of young kids reacting to the scene when they also have no idea what's coming...
Now-a-days, of course, it would have been spoiled either weeks before... or immediately upon release. Because people are assholes and online publications are competing for pageviews. Fortunately, nobody cares as much "old" movies like this, so there are still surprises to be had. For some of us, anyways.

• Mary Ann! I would be remiss to not mention the passing of Dawn Wells from complications due to COVID this past week. I ALWAYS picked "Mary Ann" over "Ginger" as my Giligan's Island crush...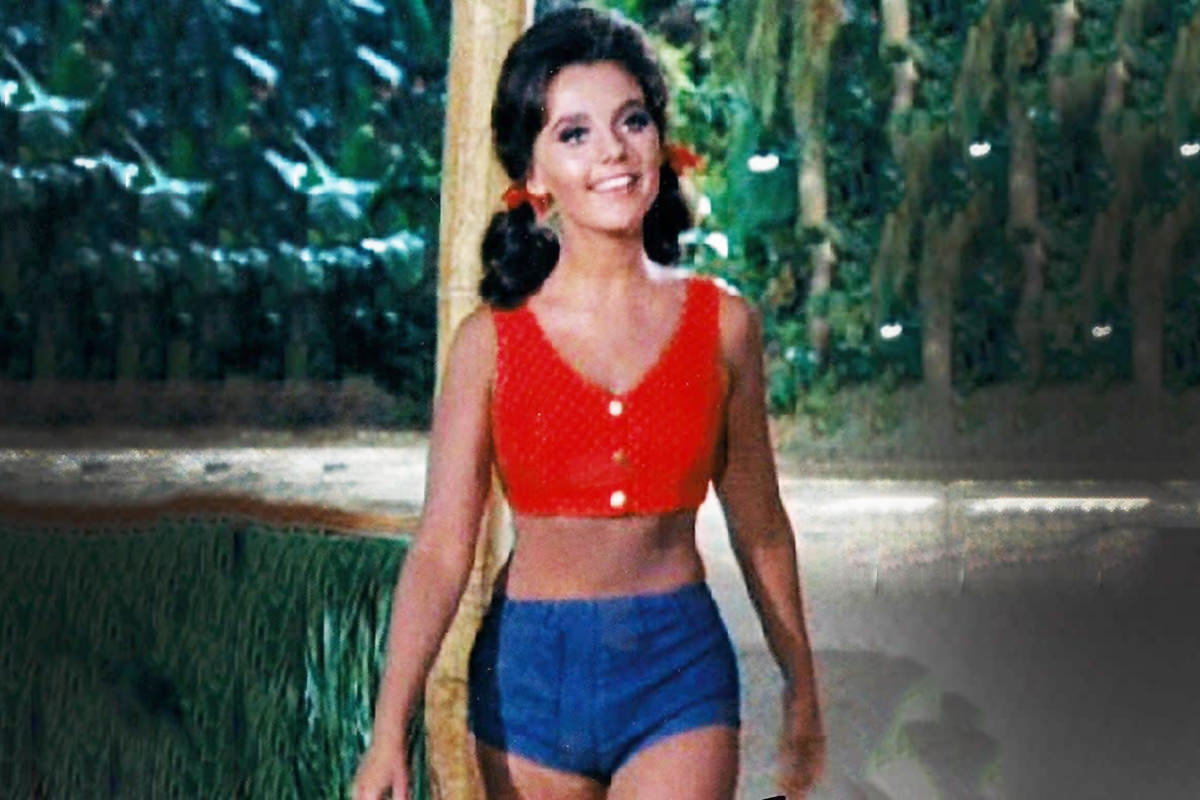 Rest In Peace, Dawn Wells. You were a huge part of my childhood.

And that's it for the first bullets of 2021.
Posted on December 13th, 2020

I'm set adrift on memory bliss... because an all new Bullet Sunday starts... now...

• Star Wars on Disney+! There were loads of announcements at Disney's Investor Day 2020 event, and there was a lot of gold to be found for pop culture geeks like me. So let's dig in, shall we?
Ahsoka. The reason Rosario Dawson was tapped to play Ahsoka in The Mandalorian is because they very obviously wanted to spin her off in her own show... and here we are. A fan-favorite from the cartoons, she worked really well in a live-action series, and I can't wait to see where they go with her character.
Rangers of the New Republic. The second spin-off from The Mandalorian, I have no idea what this will be about. But the fact that Jon Favreau and Dave Filoni are producing it (and Ahshoka) leads me to believe it will be more Star Wars excellence. That all three of their shows will cross over at some point is intriguing.
Andor. One of the few Star Wars movies past The Empire Strikes Back that I enjoyed is Rogue One, and a huge part of why I liked it so much is Diego Luna's Cassian Andor and Alan Tudyk's K-2SO. The fact that Disney wisely decided to give them a prequel series is great news.
Lando. The other movie past The Empire Strikes Back that I enjoyed was Solo. And the reason why was becaues Donald Glover's take on Lando Calrissian was =chef's kiss= perfection, and I sincerely hope that he's involved in the show. Otherwise, what's the point?
Obi-Wan Kenobi. I loathed the prequel trilogy, but greatly enjoyed Ewan McGregor's take on the iconic character. Exiled to Tatooine where he can watch over Luke Skywalker from a distance, I can only imagine that Obi-Wan will be called off on some grand adventure, because Hayden Christensen is returning as Darth Vader in the series.
The Acolyte. Well this was unexpected... Leslye Headland getting a new series which takes place in the "High Republic" era? How did that happen? Needless to say, I'm intrigued. The "High Republic" is the golden age of the Jedi back when they were revered and at the height of their power and influence. Hundreds of years before the trilogy of trilogies. Who wouldn't want to see that?
Droid Story. R2-D2 and C-3PO are joined by a new droid hero for a new (I'm guessing animated) story.
Visions. This is a series of short films crafted by some of the best Japanese anime creators. The idea is almost too good to be true if you've seen any of the anime Star Wars projects that have popped up over the years.
The Bad Batch. Another cartoon coming out of The Clone Wars which may prove to be interesting... or could drag out the Clone Force 99 concept to a poor end. I'm hoping for the former, and with Dave Feloni in charge I'm hopeful.

• Star Wars Movies! While there were some parts of the sequel trilogy that were okay, the movies as a whole were disappointing. A mediocre rehashing of far better stories that had already been told. And nobody was sadder about that than me. Then The Mandalorian came along and suddenly I was thinking that perhaps Disney+ was the best future for Star Wars. Until... Taika Waititi was brought onboard to create a new movie and I was excited again. No details have been released on that, but we did find out that Patty Jenkins (of Wonder Woman fame) is developing Rogue Squadron about the best of the best X-Wing fighter pilots, and I am understandably intrigued by the possibilities...
"The greatest fighter pilot movie of all time?" Um, yeah. Sign me up!

• Marvel Studios on Disney+! Boy oh boy were there a smorgasbord of tidbits dropped about upcoming Marvel shows on Disney+... and announcements of entirely new shows we hadn't heard of before...
WandaVision. Wanda's mental breakdown after the death of The Vision is straight out of the comic books. The previews from the live-action take on the material looks like it's going to be interesting... if not over-the-top oddball strange. I have no idea if this will be any good, but I'm certainly hoping so.
The Falcon and The Winter Soldier looks to be far more in the ballpark of what I want to see out of Marvel Studios. Fingers crossed.
Loki. Well, well, well. Now we know what this series will be about... Loki falling afoul of some kind of temporal space/time regulatory agency. Not exactly what I was expecting, but it looks interesting enough that I'll definitely be tuning in.
Hawkeye. It's been rumored that the upcoming Disney+ series will be based on the Matt Fraction and David Aja series of the same name... one of the greatest comic book stories of all time. And now we know the rumors are true, as we're getting a lot of images of Hailee Steinfeld as Kate Bishop. All I can do is hope that it does the source material justice.
Ironheart. In the comic books, child genius Riri Williams builds her own Iron Man armor and has her own adventures. Now we're getting a live-action version of the same. Not sure if they will skew this one towards a younger audience or not, which I think would be a mistake.
Armor Wars. After playing guest shots in many Marvel Studios films, Rhodey is finally getting a series all his own after the Iron Man technology falls into the wrong hands. Don Cheadle is back in what seems like it will be an action-packed show, which is all you can hope for.
She-Hulk. We finally get confirmation that Mark Ruffalo's Hulk will be appearing alongside Tatiana Maslany's She-Hulk, so at least they are taking things seriously. Absolutely no idea which way they will take this, but the comic books have so many ideas as to how things could be approached that there's no excuse for doing something deserving of the material.
Moon Knight. No confirmation that Oscar Isaac will be taking the role, as rumored, which is a shame considering how perfect he would be for the part.
Ms. Marvel. In addition to Kamala Khan getting her own series, we've also learned that she will be appearing in Captain Marvel 2 along with Monica Rambeau. I don't really know how this will work given how odd her stretchy powers are, but it does bode well that she's going to be a part of something bigger in the MCU.
Secret Invasion. Finally. Samuel L. Jacson's Nick Fury and Ben Mendelsohn's Skull Talos get their own series! Secret Invasion was a Marvel Universe-spanning comic book arc, so I'm not exactly sure how they will be able to adapt it with just two players... but maybe they aren't? Maybe anybody who's anybody will be making guest appearances? How cool would that be? Since Sam has been in all their movies, the least they can do is return the favor. And hopefully Samuel L. Jackson will be making calls to Robert Downey Jr. and Chris Evans in order to get them to drop by for Skrull guest appearances!
Guardians of the Galaxy Holiday Special. James Gunn is working on this one, which is going to shoot at the same time as Guardians of the Galaxy: Volume 3. If it's taken seriously, I'm excited for it. If not... and we're going to get some kind of farce in the vein of The Star Wars Holiday Special... I wish they just wouldn't.
I Am Groot. A series of shorts featuring Groot which we don't know if they are going to be actual stories... or some kind of breaking-the-fourth-wall anthology (like the Forky shorts that came out of Toy Story 4).
What If?. Now that I've seen the beautiful animation they've created for this series of stories which might have happened had circumstances unfolded differently than they did... including What If Peggy Carter Became Captain America and What If T'Challa Became Star Lord... I am really, really looking forward to this series.

• Marvel Studios Movies! Now that we're a year behind where we are supposed to be thanks to the pandemic, there's future news to be had to tide us over, I guess...
Black Panther II. We have confirmation that Marvel will not be recasting T'Challa after the tragic death of Chadwick Boseman, which is as it should be. But after Shuri herself, Letitia Wright, came out as a full-blown anti-vaxer and conspiracy theory dumbass on her social media, I find myself wishing that they would just not do anything more with Black Panther until the inevitable MCU reboot a decade from now. Let Okoye and Nakia appear in other movies... give them their own series (along with W'Kabi, HINT HINT HINT!)... but just let Black Panther Rest In Peace.
Ant-Man and The Wasp: Quantumania. Peyton Reed is back for a third film, which was great news... but the big news was that Jonathan Majors has been confirmed as Kang the Conqueror! As one of the MCU's most powerful villains, it will be interesting to see if his appearance here will lead to the next big event for the movies.
Doctor Strange and the Multiverse of Madness. The first movie was good, but was mired in origin story stuff that didn't really get us the Doctor Strange we have been dying to see. THAT came in Infinity War and it was glorious. Now we are getting a sequel which will be exactly what we've been hoping for: a real Doctor Strange movie. Plus Scarlet Witch. Plus Mordo. Plus Wong. Plus Dr. Palmer. Plus America Chavez(!). Plus maybe even Spider-Man (because Doctor Strange will be in the next Spider-Man movie). And while it's upsetting that Scott Derrickson won't be back to direct, I choose to see Sam Raimi stepping in as a good thing, even though I really wanted to see the horror movie that Derrickson was promising us.
Fantastic Four. After three utterly shitty FF movies from FOX, we're finally... finally... going to get a proper Marvel Studios movie. And it's going to be directed by Jon Watts! We know nothing more about it, but if there's any hope at all of us getting something good, Marvel is the way it's going to happen.
Shang-Chi. No real news... but we did get confirmation that Michelle Yeoh will be in it, which is all I need to know.
Captain Marvel 2. What this movie will entail is a mystery. Given that she's one of the most powerful characters in the entire MCU, it's difficult to have earth-based adventures with her that can make much sense. Anything that's cosmic enough in scope to be a worthy adversary would surely attract the attention of every hero on earth and not just Carol Danvers. My guess is that it's a space adventure of some kind, but given that it's going to have Kamala Khan in it makes me wonder. Monica Rambeau will undoubtedly be getting her Photon powers (if she doesn't already get them in WandaVision), so she could certainly go cosmic, so anything's possible I suppose.

• Disney-Pixar! New movies Raya and the Last Dragon, Encanto, Iwaju, Luca, Lightyear, and Turning Red. New series for Disney+ built around Zootopia, Baymax, Tiana, Moana, and Cars. But the only news I really cared about was Dug Days, which looks fantastic...
Perfect.

• Alien! In one of the bigger surprises, Noah Hawley is creating an Alien series for Hulu?
All we know is that it will be set here on earth, and is supposed to be scary. Good enough for me.

• Kiss! Sarah Michelle Gellar and Selma Blair recreated their kiss from Cruel Intentions for the 2020 MTV Movie Awards...
Just makes me want to watch the movie all over again.

• Rook! My dad taught me how to play chess when I was fairly young. It wasn't really a game I was interested in, so I never played it much. In high school I'd play an occasional game for something to do, but I didn't really care enough to study so I was never terribly good. During my gap year I had a new found interest in the game and started playing via the internet. I got fairly good, read a few books on chess theory, and could hold my own by the time I started college. I haven't played a game since. It was for this reason I had decided to skip The Queen's Gambit when it debuted on Netflix. But the reviews were so stellar that I ended up watching it the following week...
It's a really good series. The acting is excellent and the way they communicate the strategy and energy of the game is terrific. But the best part is the production values. They are exceptional. They've recreated the 1960's right down to the last detail, and I ended up watching parts of it again last night just to look at the appliances, automobiles, dishware, music, clothing, and all the other things which made it such an experience to watch. If you've got a Netflix subscription and haven't seen it, I'd recommend giving it a look.

• Interview! I was Leah's guest on her podcast Finding Favorites where I talk about travel (my favorite thing) and you can listen to it right here. I really need to get a better microphone for things like this.

And that's an end to my bullets, Sunday.