Posted on November 27th, 2022

Be thankful that's all over... because an all new Bullet Sunday starts... now...

• GoTGHS. The Guardians of the Galaxy Holiday Special was absolutely bonkers. I couldn't have loved it more. Very interesting how they dropped a very important couple pieces of information in advance of Guardians of the Galaxy 3...
Really sad that James Gunn is heading up the DCU now, because he gave us something completely new in the MCU, and that's getting increasingly rare.

• The Star Wars. If I had to wager a guess, my favorite TV show of 2022 will be Andor. The show is spectacular. The best Star Wars to happen since The Empire Strikes Back. It's just so... real. And smart. And entertaining. And brilliant. But let's get back to the part about it being real...
Now that the final episode has aired, all I want to do is go back and watch it all over again. How's that for an endorsement?

• Into the Abyss. It's really tough to diminish the movies that James Cameron has created... though people are always trying. When you take a look at the major films in his writer/director oeuvre, of which there are currently just seven, he really doesn't falter. They are all mind-blowing, fascinating entertainment. So to hear him run through it all is kinda a different level of fascinating...
If I were to rank his movies, it would go something like this...
Aliens It's just so good on every possible level. It works as a sequel. It works on its own. It works for action. It works for thrills. It works for horror. It works as sci-fi. And absolutely everything about it is as cool as movies get. This is Cameron's masterpiece.
Terminator 2: Judgement Day Another sequel that takes everything good about the original and ramps it up to eleven... but this time from one of Cameron's own films.
The Terminator The film has haunted me from the day I saw it because it was gritty and real sci-fi that really makes you think.
True Lies Proving that Cameron can tackle any genre he sets his mind to, this action-comedy spy flick was so much better than it had a right to be. Most likely from the genius casting of Jamie Lee Curtis and Arnold Schwarzenegger in the leading roles.
The Abyss In many respects, this could be my favorite of his films. It certainly has one of his most shocking scenes that still makes me uncomfortable to this day just thinking about it. I saw this one in the theater three times because I just couldn't believe what I was seeing as I was watching it.
Avatar The film still holds up. Mostly. Kinda. I mean, yeah, it's a retread of other movies and stories (most notably Fern Gully) but it was a fully-realized world at a scale that was unheard of at the time. That alone made it worth a look. The special effects may be a bit dated, but ask anybody who saw this movie in 3D theaters circa 2009, and I bet money they still remember the experience as nothing less than groundbreaking.
Titanic It's just not my thing. But it was an entertaining way to kill three hours... and still is.
And of course Avatar 2 is coming very soon...
Given his track record with sequels, it's bound to be a darn good film. And considering it needs to gross $2 billion to break even, it had better be.

• Be Hated. Okay... of all the movies and TV shows I've seen this year, The People We Hate at the Wedding is the one I laughed at the hardest...
If you've got Amazon Prime, it's worth a laugh.

• Lisbeth. David Fincher's brilliant take on The Girl with the Dragon Tattoo is one of my all-time favorite films. I was all kinds of mad that he never got to complete the trilogy. Sony instead cheaped out and "re-booted" the series with The Girl in the Spider's Web. I finally got around to watching it, and now I'm mad all over again. Lisbeth Salander is one of the best and most iconic fictional female characters ever created... nuanced and complex, using her smarts to outwit and outplay truly awful people. But now? It's just balls-out vanilla action hero that's been done dozens of times before (and done better... by Yu Shu Lien, Charly Baltimore, and many others). It would be comical if it weren't so sad...
If this is what the books are like after Stieg Larsson's original works, I am beyond thankful that I never bothered to read them. I mean, okay, the movie is a nice distraction (by a director who is obviously trying very hard to be David Fincher), and Claire Foy is not bad as Lisbeth. But this isn't Lisbeth Salander. It's a pale shadow of what she is... and should have been in this film.

• Beyond the Obvious. NEWSFLASH: Eli Lilly CEO says insulin tweet flap "probably" signals need to bring down cost. — PROBABLY?! YA THINK?!?? YOU CHARGE $250 FOR SOMETHING THAT COSTS $5 TO MAKE, ASSHOLE!! What good are all these "new and improved" drugs if only people with money can afford to buy them? Big Pharma has been lining the pockets of politicians for decades to not do anything about their price gouging. Washington State Senator Patty Murray has probably piled up a half-million dollars by now to keep Big Pharma profits at absurd margins. Little Timmy may not be able to afford insulin to keep him alive, but hey... Eli Lilly just bought another private jet for their CEO, so it's all good. Great job, Patty! Fuck.

• Steve! Even though I was way, way, way past the intended audience for Blue's Clues, I was a fan. I watched the show. I had some of the toys. I even had a "Handy Dandy Notebook" laying around. It was just such a pure explosion of creativity that I couldn't look away. And Steve Burns being so invested in his character was part of the reason why....
He's still got it.

Until next week then.
Posted on November 13th, 2022

Don't worry about Christmas coming early... because an all new Bullet Sunday starts... now...

• Rebel Rebel! Finally got around to watching E10 of Andor. Holy crap! The quality of this series is unreal. Serious talent and money were put into it every aspect of the show, and it's all on screen. There's nothing currently on television that can touch it. The series transcends Star Wars to become something more... a gritty, surreal form of entertainment that will haunt you for a bit...
Two episodes to go in the first season.

• I'm Batman! I was saddened to learn that Kevin Conroy died. Batman: The Animated Series endures in a way that the Batman movies struggle to do. A big part of that was the voice of Kevin Conroy. Another series that I remember him from was Tour of Duty where he played Captain Rusty Wallace, a character that helped define the first season...
He truly will be missed. Rest in Peace, sir.

• SOCK-LIGHT?? My new light switches do not have dimmable controls, which means I have to have dimmable lights. Which is not a problem, as I found pretty good pricing on Philips Hue can lights. Problem is... one of them I got had the clips bent and A DIRTY SOCK IN THE BOX! And it's like WTF? Returns are not inspected for this kind of gross crap?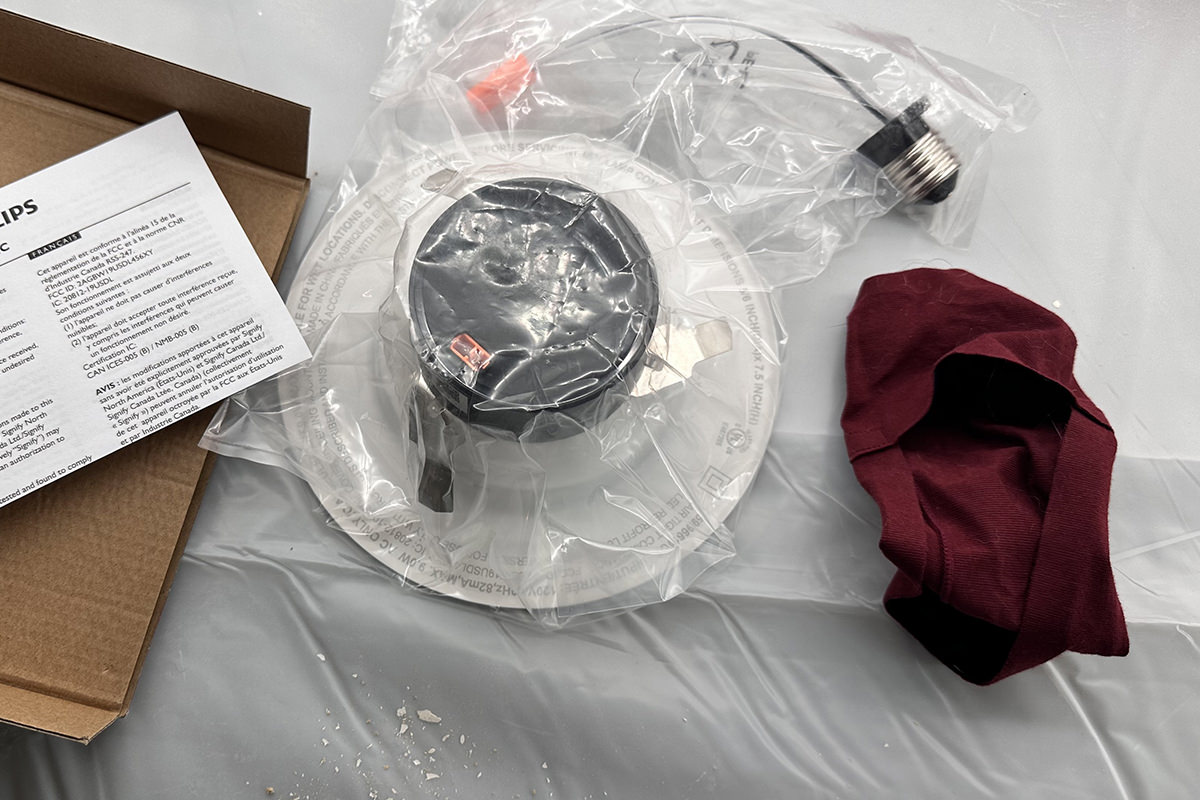 Every time something like this happens when you are purchased a "new unopened item" it feels like merely replacing it is not enough. Not only am I losing time, but I'm also having to literally deal with somebody's dirty laundry.

• Whoopsies! Couldn't happen to a nicer piece of shit company raking in huge profits over a drug which the inventor meant to be free. He famously sold the patents to the University of Toronto for $1 saying "Insulin does not belong to me, it belongs to the world." But of course Eli Lilly, Novo Nordisk and Sanofi couldn't let that stand when there are billions to be made...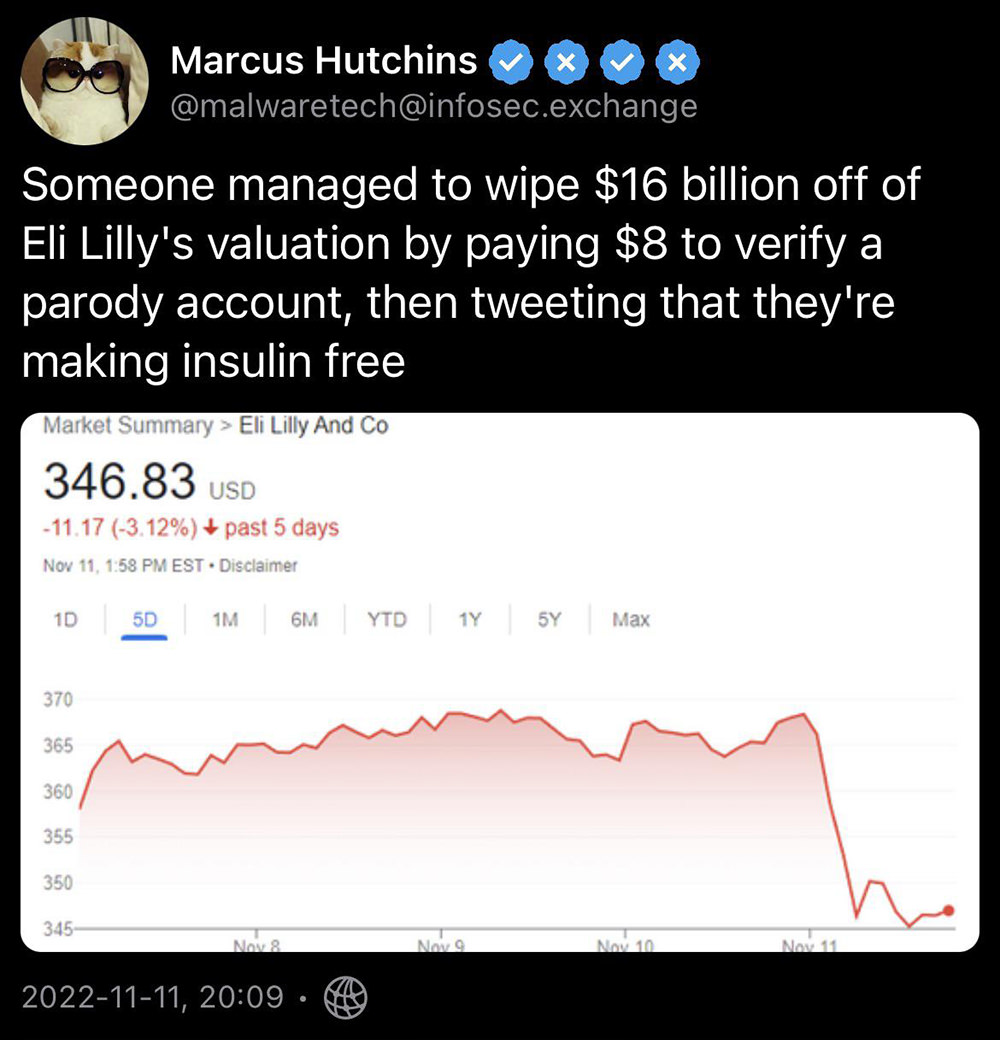 Insulin should be manufactured and sold at cost. It needs to be a function of government for the public good... not Big Pharma's balance sheet. It's disgusting that this isn't the case.

• The Merchant Tribe mourns. This past week Black Panther: Wakanda Forever opened up. I found out that last year Dorothy Steel died at 95 years old, and this was her final acting role...
I remember reading an article when the first Black Panther was released about how she started acting at age 88. Which just goes to show that you're never too old to chase your dreams!

• Ribbit! The Red Wave that wasn't has come and gone. It would appear the Democrat's strategy of not doing a damn thing about preventing the things their base cares about getting destroyed (like codifying Roe) so they can scare people into showing up to vote actually worked. It's like "Oopsies! Sorry you lost the right to choose, but we needed a way to survive the midterms, so we let you lose it so you'd show up." An incredibly fucked-up strategy, but there's no denying the result...

I COULD HAVE GOTTEN AWAY WITH IT IF NOT FOR YOU MEDDLING KIDS!
Wonder what they'll be throwing away next so that they have a chance in two years?

Time to make the chimichangas...
Tags:
Andor
,
Animation
,
Bullet Sunday
,
Elections
,
Movies
,
Politics
,
Star Wars
,
Television
Categories:
Bullet Sunday 2022
,
Home Automation
,
Home Renovation
,
Movies 2022
,
News – Politics 2022
,
Television 2022
—
Click To It:
Permalink
—
1 Comment: Click To Add Yours!
Posted on October 26th, 2022

Now that I've been cutting streaming services left and right to save money for fixing all the stuff going wrong in my home, I'm confining myself to the few streaming services that I still have left. Which is Netflix, Disney+, HBO Max, Discovery+, and YouTube. Some of these were pre-paid for a year... but Netflix will be rotated with with Hulu and Paramount+ and Peacock so I can keep up with all the shows I watch.
Since I missed a week blogging, I thought I'd list out some of the stuff that I've been watching.
I've watched the Season Finale of She-Hulk: Attorney at Law three times, but have held off talking about it because I wanted to make sure that everybody had a chance to see it. There's a lot to love about this series (starting with Tatiana Maslany), but if I had to pick one thing that absolutely thrilled me... it would be seeing Matt Murdock happy. Unlike the dark, dour, depressing Daredevil in the Netflix Universe, which was amazing... the MCU version is the complete opposite and amazing too. Hats off to Charlie Cox... only an actor with some real talent has the chops to pull off both versions of the character. What's so hilarious to me are all the people going on and on about how She-Hulk RUINED THE CHARACTER! No... they didn't. That version is still available to watch if that's what you want. If nothing else, the action was on-point...
In all honesty, I think that the reason people are pouring so much hate on She-Hulk is because it confronts toxic masculinity head-on. Oh well. Stay mad about it, I guess. I thought the series was entertaining as hell and really want a second season.
I'm not done raving about Andor yet. That show is remarkably well thought-out and realized. And the acting is just beyond. Diego Luna is incredible (as expected) but there's nobody falling short of his example, and it's amazing to watch. The eighth episode is fantastic in that you can see they are actually building towards something, and nothing that's come before was by accident. Four more episodes of the first season to go, and I am betting they will just keep amping up as we hurl towards the finish line. Must watch television.
I've been heavily invested in the Netflix series From Scratch with Zoe Saldana. I am fully aware how the show ends (it's based on a true story), but I didn't realize just how heartbreaking they would make it out to be. It's one thing to know something... it's quite another to see it play out with such nuance. After the fourth episode, I only have the heart to watch them one at a time. The problem is that I thought there were six episodes... there are actually eight, and I still have the last two to go. Well worth your time if you're in the mindset for it...
Just have a box of Kleenex ready.
And speaking of knowing how the show ends... I finished the first season of House of the Dragon. Since I've read the book on which it's based, I know exactly what it's all leading to, but that hasn't dampened my appreciation for the show. It reminds me of the early seasons of Game of Thrones. But since the showrunners won't have to make up their own ending, I think Dragon has a much better chance of having a good ending (unlike Thrones which was a complete shit-show)...
Apparently they have the book broken down into four seasons. So three more to go to find out if it actually lived up to its potential, I suppose.
And I'm going to end with this YouTube video of Wayne Brady talking about one of the most hilarious sketches ever to appear on television. This is a deep dive that peels back the curtain in a very interesting and important way...
Posted on September 25th, 2022

My weekend has been spent sick from wildfire smoke, again. But that won't stop me from blogarizing... because an all new Bullet Sunday starts... now...

• LEGO The Office! I wish that I had more money than I know what to do with. Because one of my immediate purchases would be a pre-order for the LEGO set of The Office. It looks so good! But the fact that you can reinact Kevin's chili accident is the real reason to get this one...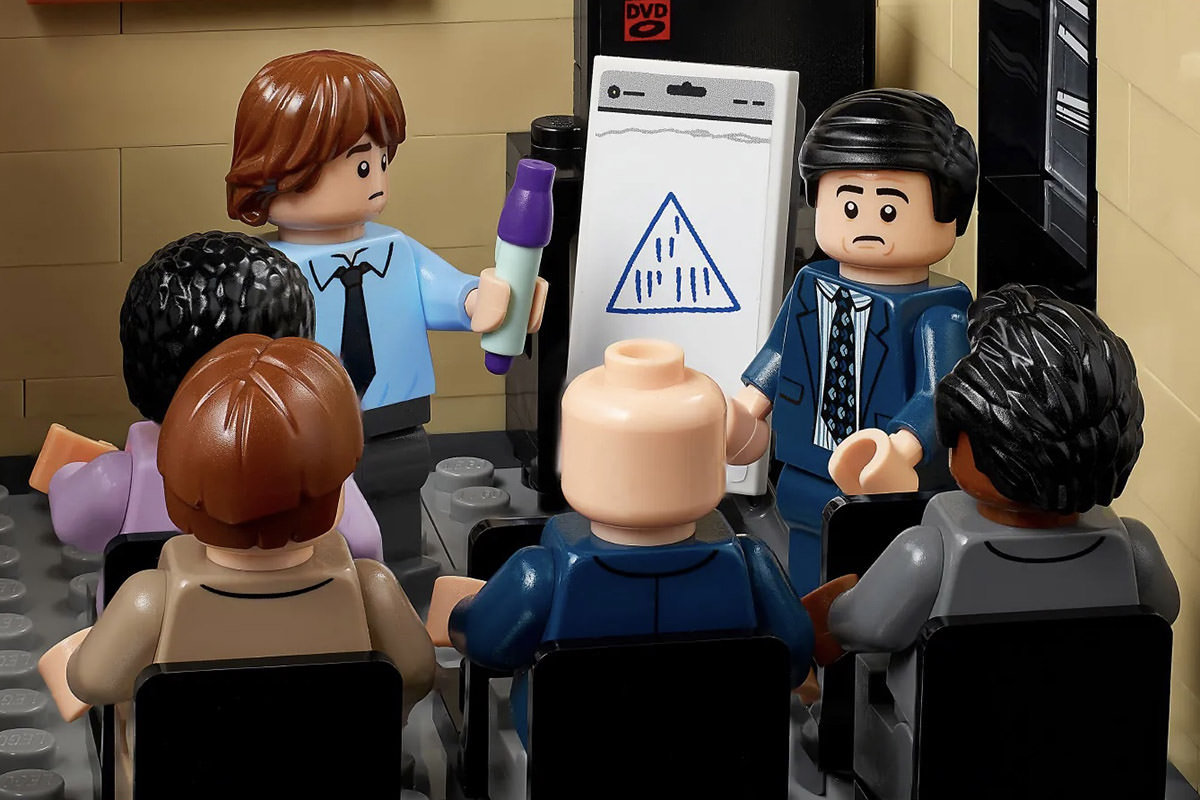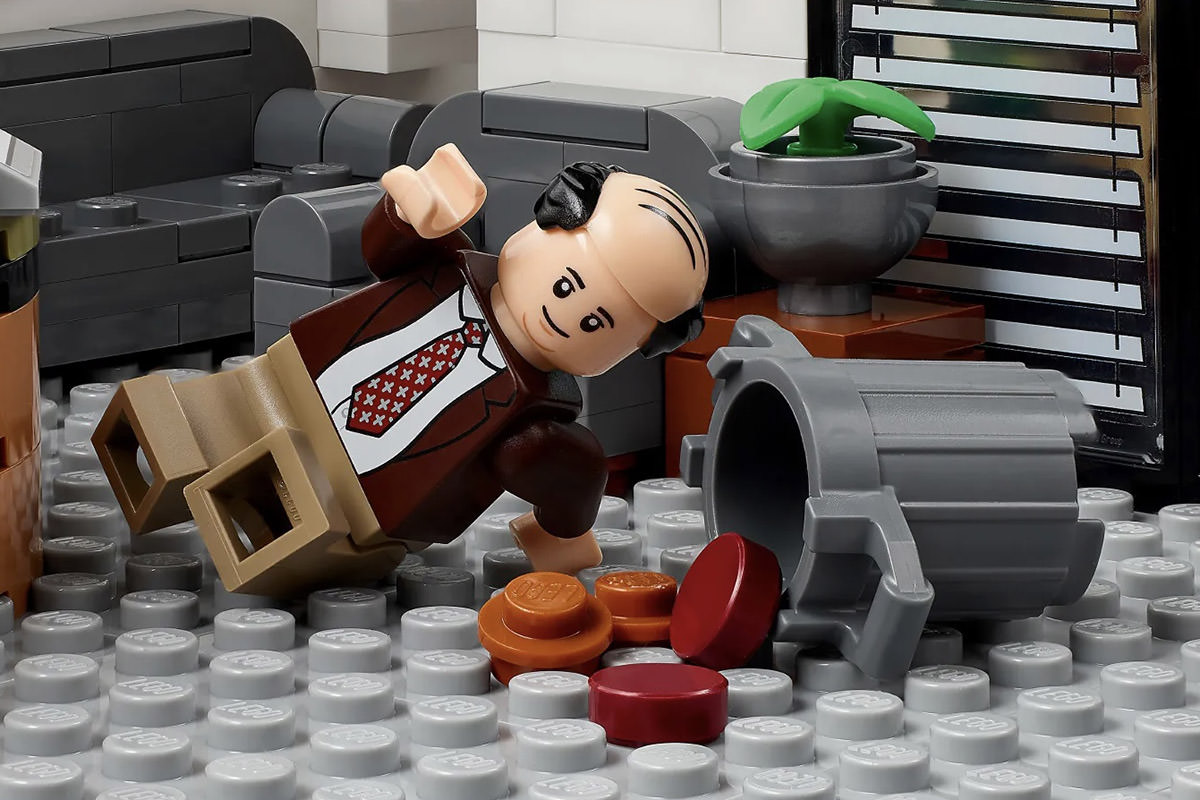 But it's ONE HUNDRED TWENTY DOLLARS!! And, I gotta say, for that kind of money I'd almost rather have the DUPLO animals set, which looks amazing...
=sigh= LEGO has lost none of its charm on me.

• Razor! And do you want to know how I know LEGO has lost none of its charm on me? I want to sell my spleen so I can afford to pay $600 for this amazing LEGO Star Wars Razor Crest...
Complete with Grogu (AKA Baby Yoda)...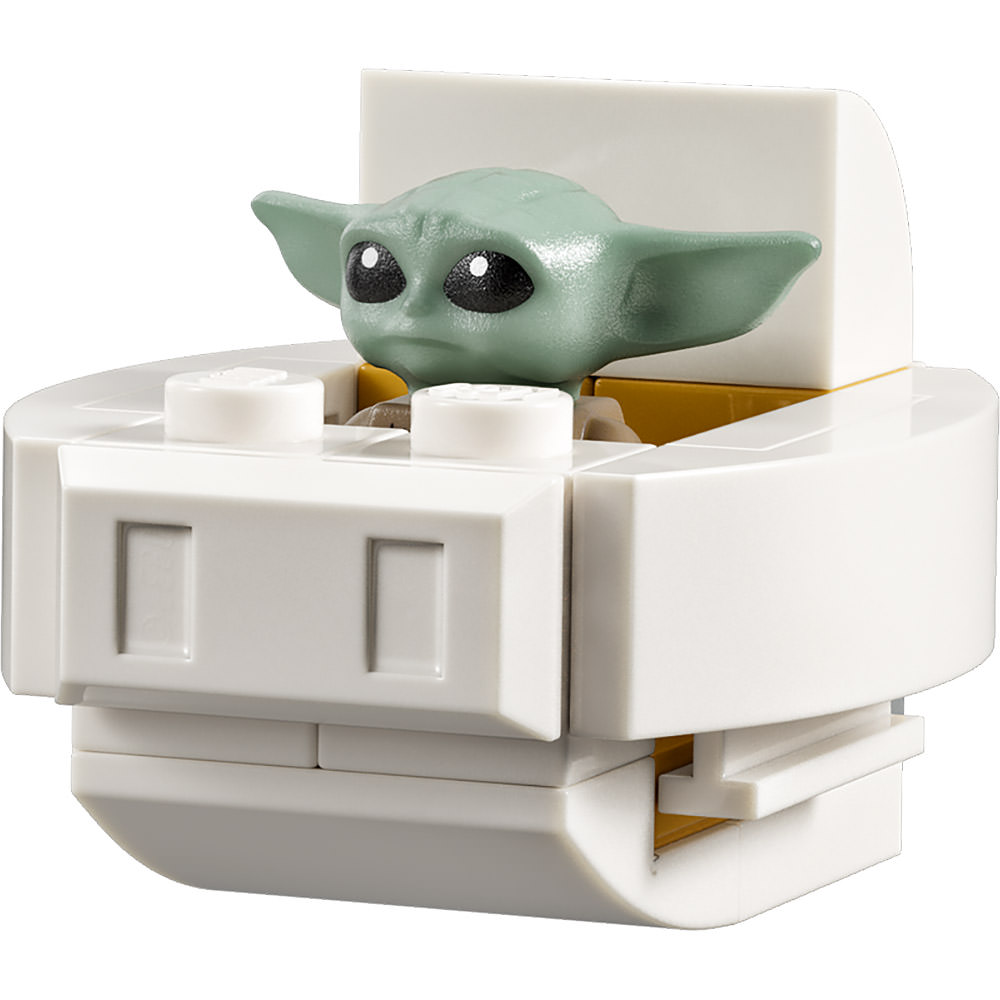 TELL ME THAT'S NOT WORTH $600!!!

• Tour! The logistics of major tour planning are fascinating to me...
They should really have a television documentary series that follows huge tours around the country showing stuff like this. And they can start with Pink! And Taylor Swift.

• Signs! I'm certain that I've shared this wonderful short film here at least once. But even though I've seen it a dozen times now, I stop and watch it again every time I think about it, so I'm going to share it again...
The simplicity of the idea married to actors who absolutely know what to do for their characters make this infinity watchable.

• Thrones! I've made no secret of how much a detest the final season of Game of Thrones. If David Benioff and D.B. Weiss wanted to "get it over with" and move on to other projects, they should have turned the show over to other people to finish it. But they love money, so they took the paycheck and just farted out a shitty endgame that completely betrayed every character involved. If you had told me that there was a way to salvage the finale, I'd have said you were nuts. But I was wrong, because somebody actually managed to do it. Is it perfect? Oh hell no. But does it at least provide a satisfactory explanation for how things unfolded? Yes. Yes it does. Maybe one of these decades George R.R. Martin will complete the final two books in the series. But until then? This is better than nothing.

• Crash! Is everybody ready to see DART crash into an asteroid tomorrow? Yeah. Me too. If you want a preview... just Google "NASA DART"

I take my leave of you dreaming for breathable air.
Posted on September 22nd, 2022

I stayed up last night to see the first episode of Andor on Disney+... and immediately wanted to watch the other two episodes that were unleashed at the same time. Except I was way, way too tired to attempt it thanks to being more than a little wiped out by the booster for my booster's COVID booster. At least I'm guessing that's the reason. I had a fever for about a half-hour, then my arm was sore... and that was the end of it. Which is weird because I was warned that the side-effects would be worse than previous boosters.
But anyway... back to Andor...
I finally got around to watching Episode 02 and 03 today... and they are epic.
Cassian Andor is easily one of my favorite characters in all of Star Wars, and it was a forgone conclusion that I would enjoy this series if they A) They didn't change the character for no reason, B) They had a story to make it worth my time, and C) They spent some money to make it actually feel like Star Wars.
Thankfully, Disney+ put their money and talents where their mouth is and completely crushed it. Especially in that mind-blowing third episode! And enough can't be said about Diego Luna, who is talented to begin with... but really bought his A-game to this series. It's like he knows that his character is beloved and wanted to give it everything he got.
And we have nine more episodes to go.
Posted on September 11th, 2022

Another year of waking up, realizing it's 9/11, and knowing that it's the Last Night of the World all over again. I'd stop and think of something more to say, but I don't have time... because an all new Disney D23 Expo Edition of Bullet Sunday starts... now...

• D23! Every year Disney holds its D23 Fan Club Expo where they talk about all the new things that will be coming up. Ever since they bought Star Wars and Marvel Studios, it's been a much more important event to me than it was prior...

• Thunderbolts! It's a Marvel Studios reunion! Florence Pugh returning as Yelena Belova? Sebastian Stan returning as Winter Soldier? David Harbour returning as Red Guardian? Hannah John Kamen returning as Ghost? Wyatt Russell returning as US Agent? Olga Kurylenko returning as Taskmaster? SIGN ME UP! In the comic books, Thunderbolts are a team of villains pretending to be a new team of heroes in the MCU. You don't find out who they actually are until the last page. This looks to be the same type of thing, except it's going to have a very different dynamic since the element of surprise is completely missing. If people are familiar with the MCU, they already know who these actors are playing. It would seem that this movie is going to have a Russian plot since most of these characters (except US Agent and Ghost) having ties to there. Well, whatever the case, this cast is very exciting, and I'm really looking forward to this one.

• Invasive! I didn't know exactly where they were going to go with Secret Invasion since the comic book series relied on a huge amount of backstory that simply doesn't exist in the MCU. Or does it? I mean, there is a number of interesting people in the MCU who could have been swapped out by the shape-changing Skrulls... and first on my list would be Sharon Carter, Agent 13, whom we lost saw as a bad guy (bad gal?) "Power Broker" in The Falcon and the Winter Soldier. I hope that there's some major names that got replaced and not just some background characters (how cool if Tony Stark was replaced and it was a Skrull?)...
Olivia Colman?!? What's she doing there? It looks like Rhodey might be a Skrull in the trailer, so anybody could be. Which is the entire premise, I suppose.

• ARMORRRR! And speaking of Rhodey, Marvel Studios says that Secret Invasion will lead directly into his own series, which would be Armor Wars. Other than Ironheart, we don't know whether the concept from the comic books will make it to the series, but it should prove interesting if the Stark armor gets out and the series is putting the genie back in the bottle. No trailer and no idea of an air date.

• WHAT??! Surprise! I had no idea that we were getting a Werewolf by Night Halloween Special on Disney+...
Gael García Bernal?!? That's quite a get for the character. Not exactly sure how this ties into the bigger picture... but something I'm excited to see given the grind house aesthetic that's going on. Interesting to note that Man-Thing is going to be in this as well.

• Andor! I'm one of those Star Wars fans who didn't like everything that came after The Empire Strikes Back except for Rougue One and Solo. Fortunately, The Mandalorian came along to revive good Star Wars for me. Then we got Book of Boba Fest, which was good. Then we got Obi-Wan Kenobi, which was also good. And next up? Andor, which is coming out of Rogue One...
This looks so good. And I couldn't be happier, because his character is fantastic. Fingers crossed it lives up to my high expectations.

• Mando! And speaking of The Mandalorian, heeeeeere comes Season 03...
Awww... baby Grogu is still adorable. He never gets old.

• Oh Percy! Is it too much to hope that Percy Jackson and The Olympians doesn't suck?
While the movies were far from terrible, they weren't what I was hoping for either because they didn't follow the books (WHY? WHY WOULD YOU DO THAT?!?).

• Treasures! I am a big fan of the first Nicholas Cage National Treasure movie... and thought that the sequel was okay too. Now they're releasing a new television series based on the movies (with Harvey Keitel and Justin Bartha providing a link between the two)...
Catherine Zeta-Jones is a good choice for a villain, but I find it weird that they have made the show to be some kind of teen adventure version?

There was other stuff that got discussed (Wakanda Forever, Ant-Man and The Wasp: Quantumania, and Indiana Jones 5 to name a few), but that info hasn't been released to the general public yet. Probably eventually though.
Posted on August 1st, 2022

September 21st.
Cannot possibly enunciate how badly I want to see this series. I haven't loved many of the Star Wars movies after The Empire Strikes Back... but Rogue One is definitely a huge exception, and Cassian Andor is a big part of the reason why...
No K-2SO in the poster. I'm guessing that he comes along shortly. Or at the end of Season 01...
Apparently there are three planned seasons... ever-escalating quicker until the series matches up to Rogue One.
Posted on May 29th, 2022

A three day weekend (for a lot of us here in the good ol' U.S. of A. isn't even the best thing to look forward to this fine Sunday... because an all new Bullet Sunday starts... now...

• You're Our Only Hope! I was not expecting the world from the new Obi-Wan Kenobi series on Disney+, even though it was focusing on one of the best parts of the shitty Star Wars prequels. But, then again, The Mandalorian proved that it could be good if they wanted it bad enough...
Well, apparently they did want it bad enough, because the show is looking darn good from the first two (or six) episodes which have aired. I don't want to spoil a single frame, as I was careful to not learn too much about it before it started running. Suffice to say that the premise for the series is not what I expected, despite being a very good one (and kinda obvious). Even if you've given up on Star Wars, this might be worth a look.

• More Hope? This past week was Star Wars Celebration, the annual lovefest for A Galaxy Far, Far Away. The most interesting thing to come out of it was the trailer for Andor, which I've been anticipating for what seems like an eternity...
Looks great, doesn't it?

• Mavericky! Top Gun is one of those seminal 80's films that I have seen multiple times since first seeing it in the theater. When they came out with a sequel: Top Gun: Maverick I kept my expectations in check, because it seemed absurd that they could possibly have more to say. Or at least not enough to warrant a sequel. But it was actually quite good despite covering a lot of the same territory. This is largely thanks to very cool practical fighter plane shots which were far better than a bunch of CGI special effect shots could have ever been...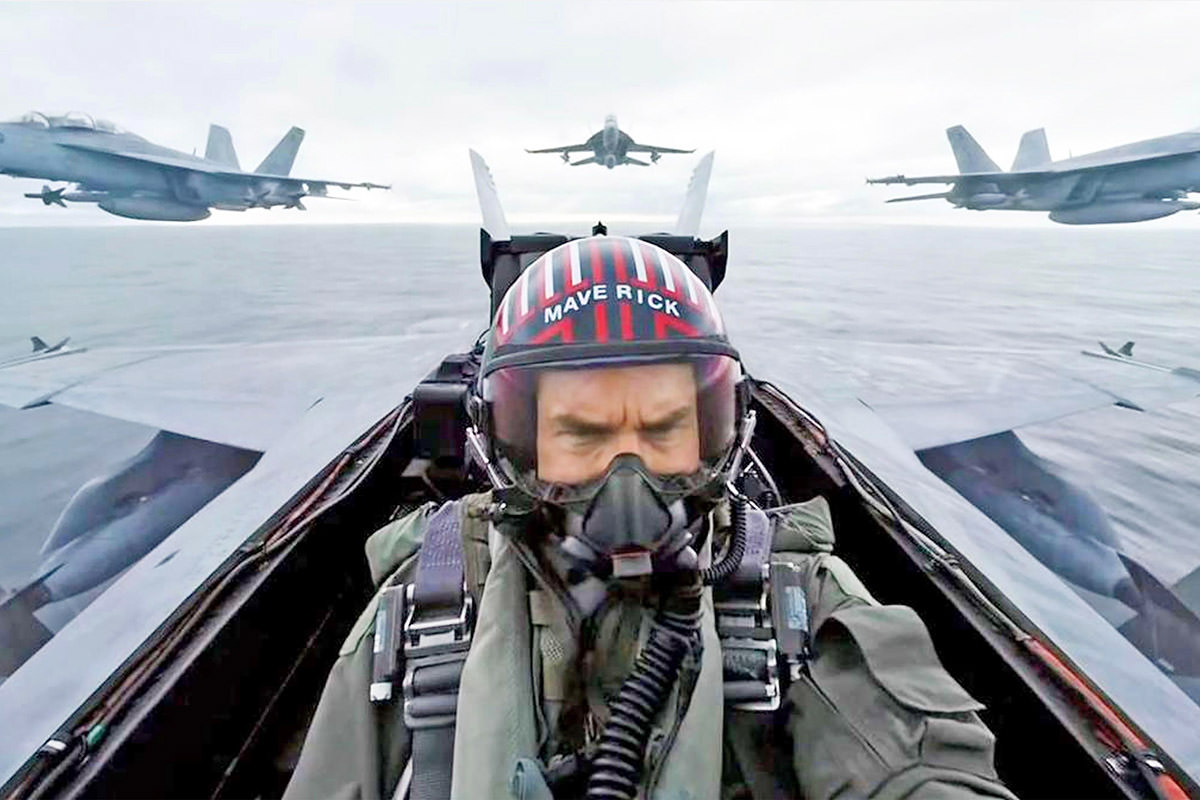 Tom Cruise was... well... Tom Cruise. Jennifer Connelly was good as she always is. And Miles Teller, who hasn't impressed me much in anything he's ever done, inhabited his role as the son of Goose in a way that really made you believe he could be the son of Meg Ryan and Anthony Edwards. Do I think it was risk getting COVID to go see? Probably not. But it should have no problem making my best-of list for 2022 because of the huge dose of retro thrills it provides.

• Thanks, Jims! While there's a lot of attention being focused on Obi-Wan Kenobi, Top Gun: Maverick, and the return of Stranger Things, I can tell you right now that the entertainment to beat is Shoresy. Based on the unseen (but not unheard) hockey-playing character from Letterkenny, it's a fantastic (and very funny) look at "the dirtiest player in the game"...
If you're a Letterkenny fan, this is a no-brainer. But even if you aren't this is nice diversion from the horrors of the real world.

• Fletch! I was very sad to hear that Andrew "Fletch" Fletcher from Depeche Mode had died. As one of my all-time favorite bands, I've collected all their music and have seen them in concert a half-dozen times. Rest in Peace, sir...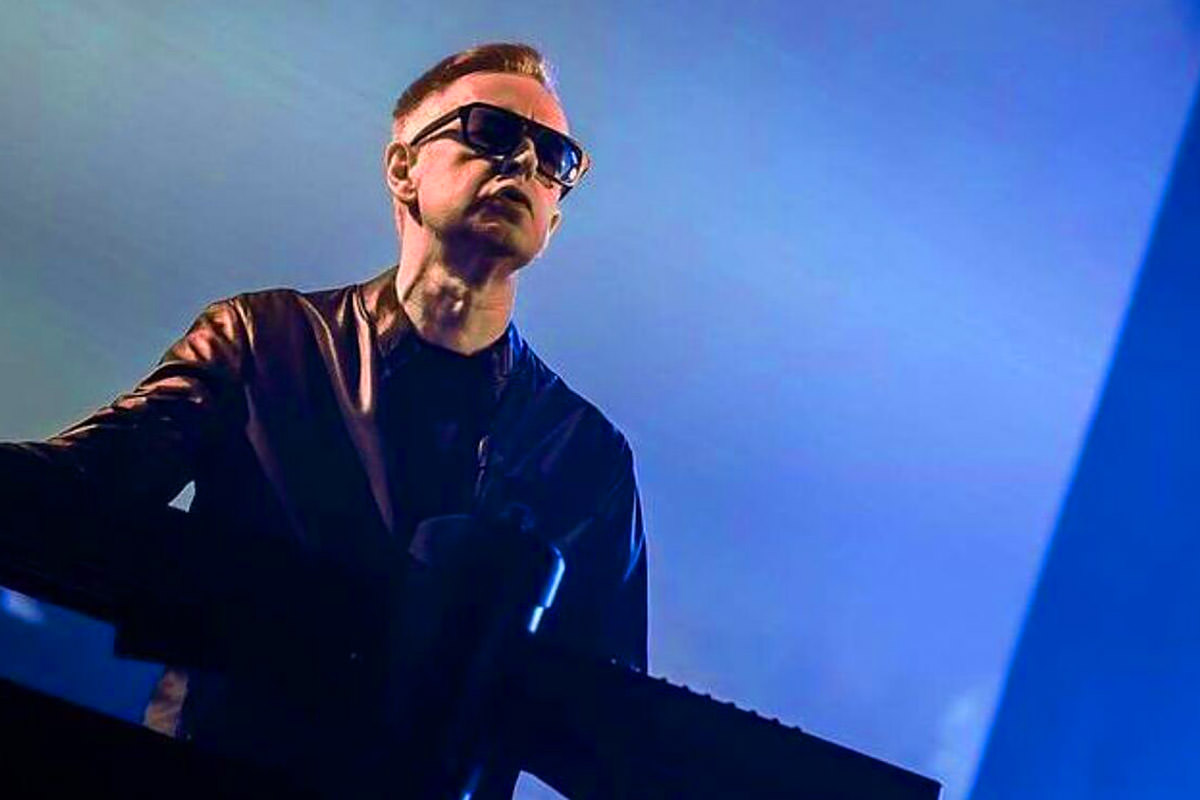 • Less Strange? And speaking of Stranger Things... I'm more than a little disappointed in Season 04. Each episode is bloated in a bad way, focusing more on distraction, filler, and "side-quests" than the show I was hoping to tune in for. And it's like why? Why deviate from what made the show so darn good in Seasons 01-03? I guess everybody wanted a bigger paycheck and the only way to get it was to film more material? I dunno. The show isn't exactly bad... but I'm really hoping they stick the landing in the final two episodes in five weeks to make this time investment worthwhile.

• Subway. This video from Last Week Tonight is fascinating stuff. And you OWE it to yourself to watch the Korean Meatball Drama at the end! Glorious...
The fact that Subway knew that Jared was a kid-raping pedophile and ignored it so he could keep selling their sandwiches means that they can fuck off forever. Interesting to note that Kidfuckers is the ONLY chain restaurant in my small town, which is just further evidence that they do indeed push their franchises to the breaking point and put them everywhere.

Until next Sunday then...
Posted on April 13th, 2022

I like video games. I love the LEGO video games. I think I own all of them multiple times over (for multiple platforms). They are essentially kid games, which means they're low-stress... but there's challenges and humor which make them a blast for adults too.
The latest release is LEGO Star Wars: The Skywalker Saga. There have been many Star Wars LEGO games before, but this is a new take on the material which is more expansive and clever than any LEGO game I've played before. Even if you own the original games, this is one worth looking at if you've enjoyed any of the other LEGO video games...
Alas... it's a LEGO video game, so it's cute as can be... but all is not perfect from a gaming standpoint. TellTale Games has always traded on the fact that people want to ply LEGO and the experience doesn't have to be perfect.
My profanity-laden thoughts about the game follow...
Vehicle control is still absolute shit. I do not for the life of me understand how after NEARLY TWO DECADES of these games they can't make vehicles actually fucking drivable. You will smash into shit and have trouble navigating because the controls are a sloppy mess. It's like they somehow take pride in the fact that everything to do with driving is crap.
The puzzles are the same as they've always been. Aside from a few minor unique innovations, you've played this before. Or, if you're me, dozens of times before.
One of the hallmarks of all the licensed games is that they are wonderfully humorous and can make even the most mundane cut-scenes interesting and fun to watch. The crap Star Wars prequels are made bearable, and that's quite a feat. I just wish that some of the cut-scenes can be skipped, but very few can. This is especially infuriating when you consider that the game crashes uneventfully (today it crashed when I was changing characters!), thus forcing you to sit through the last cut-scene all over again.
The LEGO games have a reputation for bugs and glitches. With The Skywalker Saga, it's not so bad that it's unplayable, but there's still bugs. Glitches aren't too bad, but every once in a while I end up in a spot where walls disappear or I can't move. The camera is bonkers, and many, many times I can't see me and am stuck to a wall. Fortunately saves are frequent so I'm not losing much progress, but still...
With this game, there's been effort to make the fighting more than just a button-mashing affair. In fighting there are different moves you can make... blocks you can bring up... and combos to spice things up. This would be admirable if it weren't so badly handled. One of my favorite movies is to jump in the air, then use a combo lightsaber smash move which plunges the lightsaber into the ground and smashes the enemies around you. But then there's times that the move just doesn't work for some random reason. Hell... when you're fighting Kylo Ren, YOU CAN'T EVEN JUMP AT ALL! What the hell? How can your character all of a sudden forget to fucking jump? What sense does that make?
Another nonsensical bit of idiocy? Disguises. If a Stormtrooper gets blasted, sometimes their armor will drop and be wearable. Sometimes. Finn can wear it most of the time, but there are times that he can't... from what I can tell, it's when he is holding a lightsaber. But you can't drop the lightsaber or stick it in his pocket, which means that dressing up as a Stormtrooper to fool other stormtroopers is impossible. BUT THEY STILL INDICATE THAT HE CAN WEAR IT EVEN WHEN HE CAN'T! Which is just stupid. Almost as stupid? Han Solo in The Force Awakens cannot wear Stormtrooper armor at all! and this is despite the fact that he literally dressed up as a Stormtrooper in the very first Star Wars movie! God.
These LEGO games used to be a fun romp. With each new game, more complications are added. For a while, it was cool. Minikits... Magic Bricks... New Abilities. Fun! But now there's just too much going on. The menu system is insane. There's sub-menus to sub-menus to sub-menus. And now they've initiated a class system with ability upgrade trees... which is okay for adult gamers because they've probably seen them before. But for kids?!? I honestly don't know how a kid (any many adults) are supposed to be able to wrap their heads around it all. The Endor level is all complicated maneuvers at great heights, which cause you to fall again and again and again. That's not "fun" it's frustrating.
Waiting for scenes to load is not too horrible... but still annoyingly slow on Nintendo Switch. Oh well. Being able to take the game with me on the go is a fantastic feature that Xbox and PlayStation can't give me.
Usually LEGO puzzles are fairly uncomplicated. That's part of the appeal. You don't have to stress, because you can eventually figure things out. But this time around there's some puzzles that just defy belief. They tell you what has to happen, but give you no idea how you accomplish it! On Ahch-To, there's a puzzle where you need to get at least five people dancing. Then they draw a perimeter which is assumably where the dancing takes place. Then there's characters with a wifi symbol above their head. That's it. I've tried wiggling in front of them in an attempt to "dance." I've talked to everybody. I have no clue at all what to do. Assumably somebody with dancing ability must come along, because otherwise... dang.
When making a jump from one planet to another, you can have your flight interrupted by a space battle. And it's like... sure. But they can happen multiple times in a single trip! The last time it happened, I had three space battled interrupt my flight IN A ROW! It was fun at first, but now I just want to attack my television with a baseball bat.
They are so unoriginal that they use a fucking Wilhelm Scream. For the love of God... just stop with the Wilhelm Screams already! It's not even funny any more. Not in movies and most certainly not in video games. And yet they do it multiple times. Infuriating.
In other news... I got the Deluxe Version of the game which comes with a Blue Milk variant of Luke Skywalker. The thing is trending online because people are selling them on eBay for up to $300!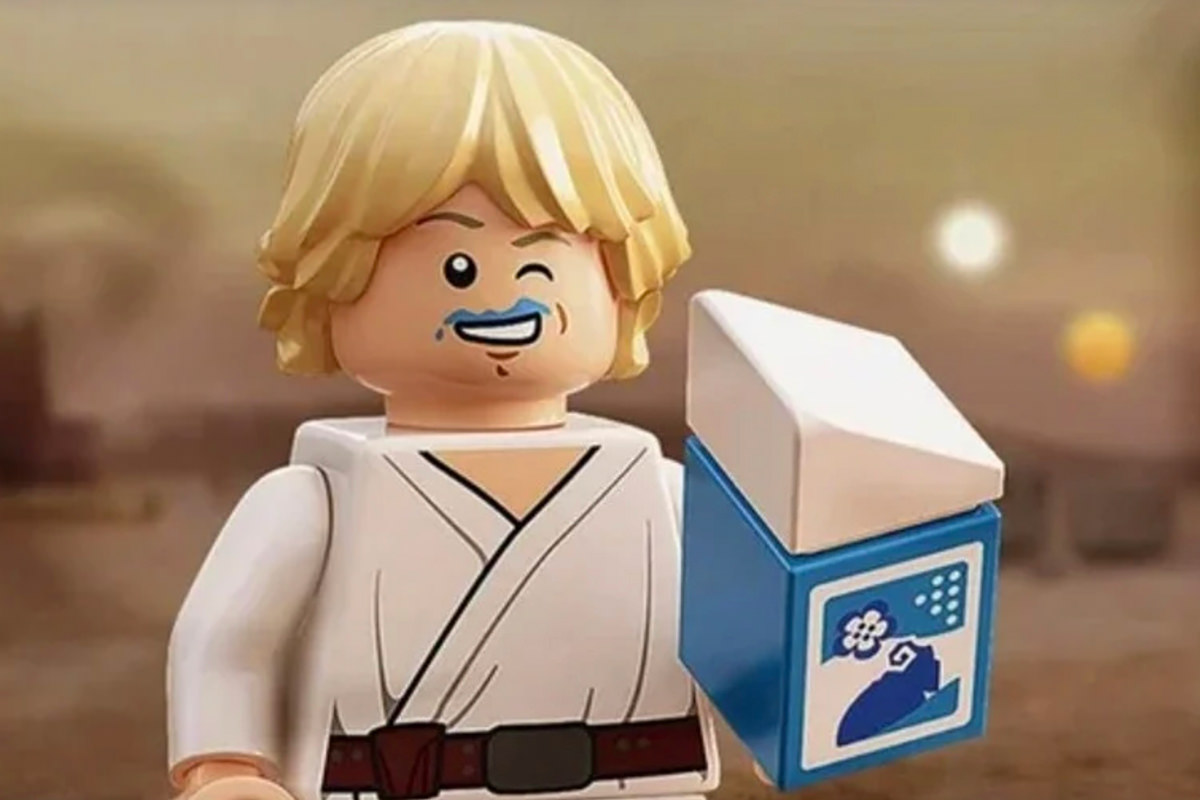 Wow.
If I were to rate this game, I'd probably tag it with a B-. It's expansive, adorable, and looks great... but there are some serious gameplay problems which keep it from reaching greatness.
Posted on January 25th, 2022

I stayed up until midnight tonight so I could watch the latest episode of The Book of Boba Fett on Disney+. The first episode left me a little flat after the absolute joy that was two seasons of The Mandalorian, but I hung in there. And was rewarded with some fantastic episodes of Star Wars. And now that I'm invested, I've been staying up until midnight on Tuesdays so I can watch live and not have to worry about spoilers the next morning.
This was the best episode of the series yet. Which was actually a bit disappointing for reasons that I can't divulge lest I spoil the episode. Suffice to say that this one episode was better than most of the films that have come out of the Star Wars Universe.
And that's why I'm happy I stayed up to watch and am convinced that Jon Favreau and Dave Filoni should just be handed everything. Television. Movies. Specials. Everything. If it's Star Wars then they should be in charge of it. Full stop.