Posted on November 26th, 2017

This may be the last Bullet Sunday you're going to see for a while (depending what my internet is like in Argentina), so indulge yourself in an all new Bullet Sunday, which starts... now...

• Save It! I have spoken out a lot on this blog about net neutrality and how crucial it is to the free and open internet we all enjoy. Most Americans agree. Every time killing it is brought up, there's a huge backlash and the FCC backs down. But our current government doesn't give a flying fuck about honoring the wishes of its citizens, nor does it care about selling out the internet and fucking us over. All Trump & Co give a shit about is stripping power and liberty from the people and giving that power to big business so the rich get richer and have more control over our lives. And so... prepare yourself for the end of the internet as we know it. I don't wish harm upon any living thing... but I sincerely hope that FCC Chairman Ajit Pai is repaid in spades for the evil he does.

• Dogs! Back before I was headed to Africa, I Googled for photography tips and was introduced to Will Burrard-Lucas. He is a nature photographer unlike any other, and the shots he gets are mind-blowing. Getting to actually meet him on my upcoming photographic expedition will be a real honor. One of his most recent posts was of African wild dogs photographed in South Luangwa National Park, Zambia. It's incredible...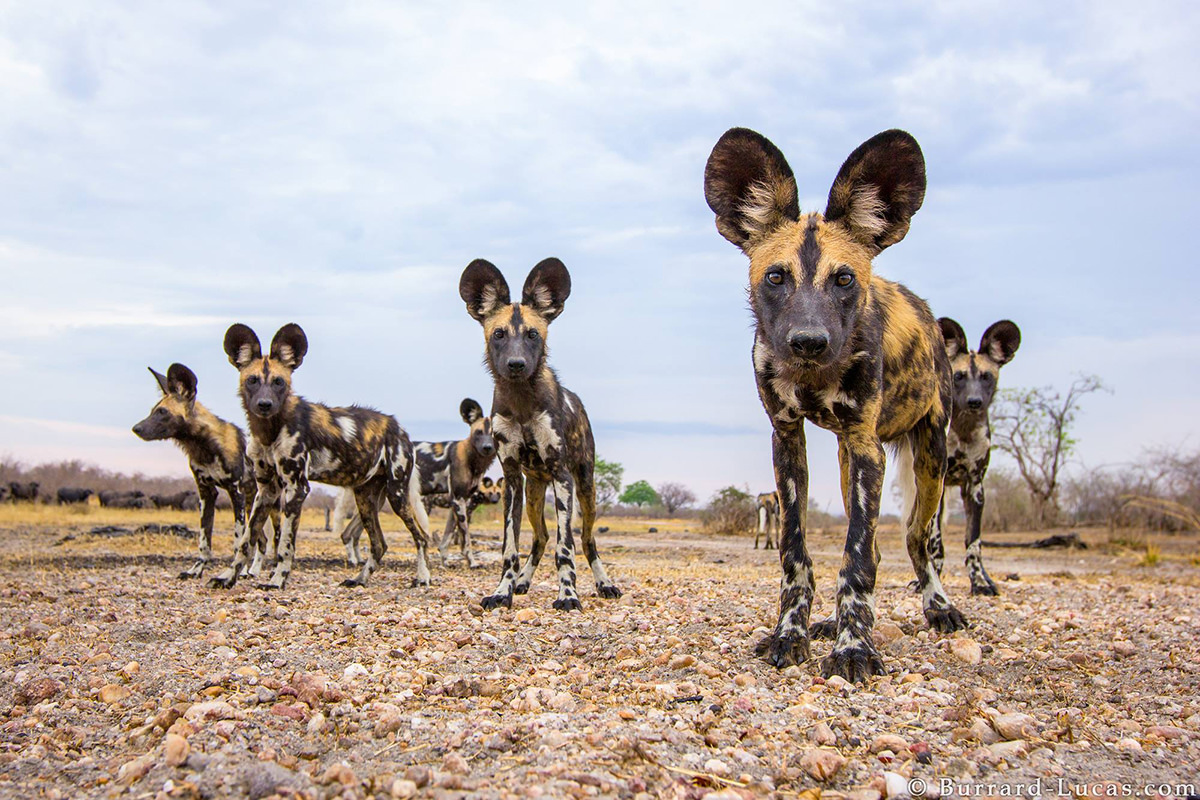 I was beyond lucky that I got to see these dogs in the wild when I was in Zimbabwe. My driver told me that his previous charges were a documentary film crew that searched for these beautiful pups for two weeks and didn't get to see a single one of them.

• Save It! Hey FOX "News"... stuff gets distorted on a curved reflective surface... YOU UNBELIEVABLE FUCKING PIECES OF IGNORANT SHIT!!! Fuck you sideways forever for propagating this bullshit...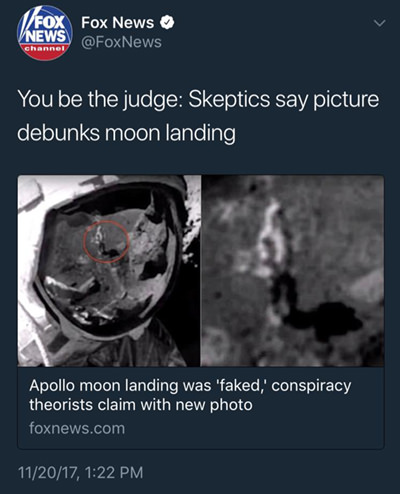 There are people saying that this is "conclusive proof" that we never went to the moon because it's not just an astronaut's reflection in the curved surface of a helmet... it's a stagehand on the "set" from when it was being faked here on earth. Just when I think that FOX "News" couldn't possibly be a bigger pile of shit, here it is. No wonder people who trust FOX "News" and use it as their only source are as stupid as a box of fucking rocks.

• 73! Vogue's 73 Questions videos are some of my favorite things on YouTube. Yes, it's staged and rehearsed, but you do get to know some nifty facts about interesting famous people. My hands-down favorite is Lupita Nyong'o...
And today I found out that Aziz Ansari has one!
And, of course, you can't watch the Vogue 73 Question videos unless you bask in the glory that is Vogue editor-in-chief Anna Wintour...

• Vera! I wouldn't watch Touched by an Angel... but Della Reese will always be "Vera" from Harlem Nights to me. I love that character as much as I could possibly love any movie character, and it was ALL thanks to Della...
Rest in Peace, Miss Reese... you will be missed.

• Crisis! Holy crap...
I'm more excited for this than I am to see Justice League. For the hundredth time... put the people in charge of the TV DC Universe in charge of the Cinematic DC Universe! The mind boggles at the possibility of what they could do with a big-screen budget given the amazing stuff they come up with for television every week.

• Family Values! It's like fucking clockwork. Some asshole is always getting caught with his dick in a place he tells OTHER PEOPLE they can't put their dick into. Any time I see some rabid homophobe ranting against homosexuality, I just assume it's because they're overcompensating. 90% of the time, it's true. Case in point... "State legislator Wes Goodman (Republican, obviously) has resigned after admitting he was busted having sex with a man in his office. The married conservative Ohio state lawmaker was known for his anti-LGBTQ stances." Because of course he was. Aren't they always? Hypocritical bullshit like this is getting so very tired.

• Quo! And, lastly, I leave you with the hellish buttfuckery that's become our status quo...

Time to start packing...
Tags:
Bullet Sunday
,
Comic Books
,
Dumbassery
,
FOX News
,
Liberal Redneck
,
Net Neutrality
,
Photography
,
Pig-Fucking Assholes
,
Politics
,
Supergirl
,
The Flash
,
Videos
Categories:
Bullet Sunday 2017
,
News – Politics 2017
,
Photography 2017
,
Travel 2017
—
Click To It:
Permalink
—
0 Comments: Click To Add Yours!
Posted on July 12th, 2017

Today is Net Neutrality Day. Which you'd think would be redundant since we have it, but apparently that may not be for long.
Pig fucker assholes like Chairman of the FCC Ajit Pai are once gain trying kill net neutrality so that big business can control the internet. Never mind that they have to tell lie after lie after lie to sell it to the American people... the money involved is massive, the people involved are all-powerful, and telling lies is not something they really give a fuck about.
I have written about how crucial net neutrality is to a free and open internet many, many times (like here, for example).
And I'm just one voice of many, because the American people have backed net neutrality many, many times.
But it never seems to matter, because the people trying to kill it have an endless supply of money to throw at the pig-fucking assholes who keep assaulting it.
It's at times like this that I sincerely feel we should burn this fucking shithole of a corrupt piece of shit country to the ground and fucking start over. What The United States of America is supposed to be all about is lost when its citizens no longer have a say. People with money are ultimately the only ones allowed to have a voice now. Because they are the only ones with the means of buying off the politicians who make the decisions for all of us...
If Pai and his bought-and-paid-for pig-fucking asshole confederates actually manage to kill net neutrality, I might as well take down Blogography. Because it's only a matter of time before Very Important People decide they don't like me calling them pig-fucking assholes and shut it down for me.
The pig-fucking assholes.
Visit the FCC and tell them that you support Net Neutrality.
UPDATE: And... Mr. Trae Crowder, everybody...
Holy shit what a cluster-fuck.
Posted on July 11th, 2017

The plan was simple.
Work until around 1:00am, then hash out a blistering post in support of Net Neutrality Day, then get some much-needed sleep...
Except my internet went down as I was in the middle of work. Everything went to shit. And now I'm not only unable to finish my work, I also can't do much blogging.
So... pretty much a metaphor for the internet without net neutrality, ironically enough.
I am so tired of this bullshit. And yet here we go again...
Posted on May 7th, 2017

It's good to be home, because an all-new Bullet Sunday starts... now...

• Travel Day! Last night I was going to head into Denver for some dinner and bumming around after Howard's birthday party, but made the mistake of "laying down for a minute" and decided I'd rather order out pizza and watch TV. After pizza, I decided to pack up my crap, iron tomorrow's clothes, and get everything ready to go for today. Always a smart move, because I just love being able to roll out of bed, shower, and head out on a travel day. Why I don't do this more often I will never know. I guess that deep down I prefer the mad dash of getting ready in the ten minutes before my ride arrives? Who can say?

• Home! When I arrived back home today, the first thing I did was start unpacking. Jenny felt threatened by dirty clothes flying and retreated to her basket...
Jake kept trying to crawl all over me, so I grabbed his favorite blanket and finally gave in while I was sorting laundry...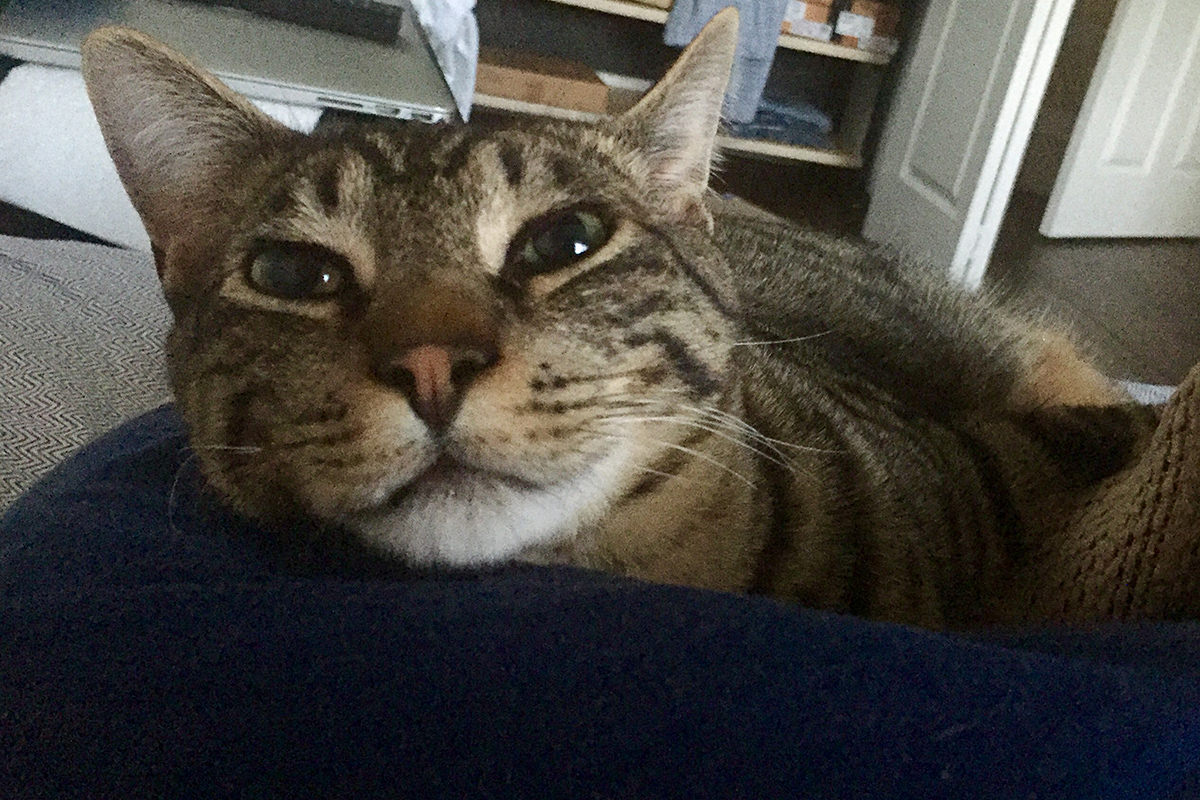 Laying down was a mistake, as I fell asleep almost immediately. When I woke up, Jenny had joined in and I was covered in kittens. There are certainly worse homecomings.

• Things to do in Denver. Side-by-side on the Denver "Things to Do" rack at my hotel...
But which to do first? Hmmmm...

• Hope! As a huge fan of Greek mythology for as long as I could read, I've always had a soft spot for Wonder Woman. When George Pérez reinvented the character in 1987 by jettisoning decades of bad choices so she could be tied even stronger to her Greek mythological origins, Wonder Woman quickly became one of my favorite super-heroes. Which is why I've been awaiting her big-screen debut with absolute dread given the horrendously shitty movies DC has been churning out lately. And yet... there's hope...
Not bad. Not bad at all. I guess we'll know for sure on June 2.

• Spidey! And lest we forget that Marvel has a super-hero film of their own coming out this summer...
I mean, holy shit. I liked the first two Tobey Maguire films okay, but this... THIS... is Spider-Man! He moves like you'd expect Spider-Man to move, and it's a glorious thing to see. Cannot wait for July 5th!

• Neutrality 2. I have said pretty much all I have to say about the pig-fuckers in our government wanting to sell-out the internet to big media companies. But now that our corrupt asshole of a president is mounting a new assault, all I want to do is explode with rage. Here's a more rational response...
How the American people can be SO FUCKING STUPID as to put up with this FUCKING BULLSHIT is beyond me. But, hey... the American people elected a pussy-grabbing Cheeto Jesus as president, so I suppose I shouldn't be surprised.

And I'm fucking done.
Tags:
Bullet Sunday
,
Cats
,
Dumbassery
,
Dumbfuckery
,
Movies
,
Net Neutrality
,
Spider-Man
,
Wonder Woman
Categories:
Bullet Sunday 2017
,
Cats 2017
,
Internets 2017
,
Movies 2017
,
News – Politics 2017
,
Travel 2017
—
Click To It:
Permalink
—
1 Comment: Click To Add Yours!
Posted on May 4th, 2014

Use the fourth, you... because Bullet Sunday starts... now...

• Forced. It's Star Wars Day! "May the Fourth" be with you!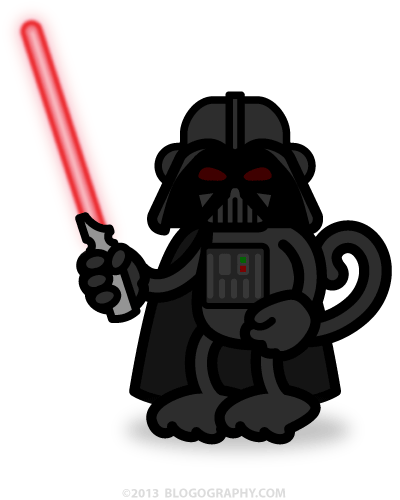 • Neutral. I have written about the importance of net neutrality many, many times (the latest is here), and it still completely boggles my mind how people just don't seem to care. The FCC, whose job it should be to ensure a free and open internet took a huge crap all over the American people when FCC Chairman Tom Wheeler came out in support of abandoning true net neutrality. This is a horrendous fucking blow to the internet, and I am disgusted to my very core that President Obama, WHO CONSISTENTLY PROMISED TO DEFEND NET NEUTRALITY DURING HIS CAMPAIGN, remains silent on the matter. When are these politician assholes going to remember that THEY FUCKING WORK FOR THE AMERICAN PEOPLE? Oh... that would be never. Because companies with deep pockets are throwing a fuck-ton of money at them to get what they want. Democrats, Republicans, or whatever... our politicians work for lobbyists and corporate greed, not US citizens, and anybody who thinks otherwise is fooling themselves. So, yeah... go ahead and buy into the artificial wall of hate created to divide and distract everybody... that's exactly what the people who really control this country want. In the meanwhile, say goodbye to the internet as we know it.

• Magic. I don't know if this can be considered cruel or not... but dogs being fooled by close-up magic is sure funny...
The reactions are priceless. I'm kinda amazed at how many of the dogs grasp the effects of gravity enough to think the treat must have fallen to the floor. Here's part two.

• Burrito. BECAUSE I JUST CAN'T HELP MYSELF!"
Videos like this are what the internet was made for.

• Stacked. So... apparently competitive cup-stacking is a thing...
Kind of a really cool thing. A search on YouTube turns up all kinds of fascinating cup-foolery.

Now, if you'll excuse me, if I don't have those units in the south range repaired be midday, there'll be hell to pay!
Posted on April 24th, 2014

Well, today didn't go as planned.
Not that this is in any way surprising.
In other news?
Crap.
Posted on December 21st, 2010

If you'd rather read a much more literate, intelligent, and less profanity-laden missive about net neutrality than you'll even find here... I urge you to read an open letter written by Apple co-founder Steve Wozniak in The Atlantic.
Otherwise? You've been warned.
And so... the FCC's "net neutrality" proposal has been passed.
Except it's not true net neutrality at all. It's a loophole-ridden pile of crap that's woefully inept and incomplete. I'd go so far as to call it "useless" but a bunch of Republican politicians are losing their shit over the mere suggestion of a free and open internet, so I guess it's not entirely useless. Though I must admit to being shocked that these same politicians stopped sucking special-interest penis long enough to notice. You'd think that fellating all those telco/cable/wireless company heads and stockholders would occupy all their attention.
In the meanwhile, internet freedom takes a hit and we all get fucked...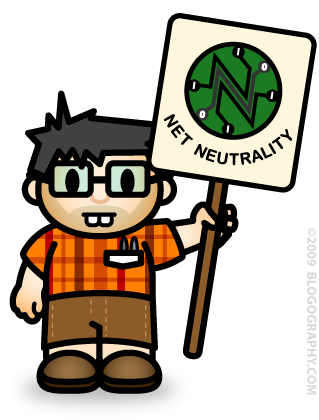 I am sick and tired of these bullshit fantasies that consumers will somehow ultimately steer the internet regardless of any restrictions that are put upon it. I keep reading things like "Well, if an Internet Service Provider (ISP) adds restrictions their customers don't like, then those customers will get a new ISP. And if ISPs don't provide what their customers want, they'll go out of business. The internet is self-regulating, and doesn't need any 'net neutrality' forced upon it! All that will do is inhibit ISPs from investing in services they provide but don't control. The internet is already" neutral without government intervention, let's keep it that way!"
It's such a laughable load of crap that I could barely bring myself to type it, but that's the argument anti-net-neutrality proponents keep pushing, so there you have it.
Except REALITY teaches us that this simply is not the case. History is replete with examples of big business fucking over people to make a buck. In fact, it's so commonplace that anybody who believes companies will be net-neutral of their own accord when there are billions of dollars to be made as internet services continue to convergence must be insane or clinically stupid.
Look, I understand that companies want to make money. That's the American Way, and the reason anybody goes into business in the first place. I get that. I support that. And if Internet Service Providers want to have tiered data plans so that heavy users pay more than infrequent users, then I would probably be fine with it. "Pay for what you use" and all that.
But this is not what we're talking about. It's about ISPs controlling access to information. It's about ISPs giving preferential access to their networks for wealthy companies willing to pay for it. It's about back-door partnerships and secret agreements which define how we live our lives. So yes... if a SINGLE Internet Service Provider started restricting access to say... Google Maps... and instead redirected you to MapQuest against your will... that ONE provider probably would go out of business as everybody moved to providers with unrestricted access. But we know that's not how it will happen. One company will start doing it. Then another. Then another. Then another. Soon, you may find all your internet options restricted because there won't be any net-neutral ISPs available. Or maybe there will be, but they won't be available where you live.
Remember when checking a piece of luggage used to be included in the cost of an airline ticket? But then one airline started charging for checked luggage. And before you knew it ALL airlines were doing it? Sure there are exceptions... Southwest, I believe, still hasn't given in to temptation... but does Southwest fly to my local airport? No. It's the same way with ISPs. Inevitably there may be some independent ISPs that choose to remain neutral and say no to the massive amount of cash they could make... but do you want to risk that they'll be one of the choices servicing your community?
Do I trust our government? Not really. Do I want our government running our lives? Definitely not. But there are roles the government was built for... like promoting the general welfare... by making sure companies don't sell things containing toxic substances... by making sure companies aren't polluting the environment... by making sure companies conduct business fairly... by making sure companies don't exploit their workers... and so on. Not that I'm saying the government does any of those things exceedingly well (ha!) but many of the more protective regulations we have in place serve a purpose and, generally speaking, we seem to be better off because of them. The internet has become such a critical, intricate part of our lives (both directly and indirectly) that it deserves the same attention. Not promoting the general welfare by protecting the internet's very existence through net neutrality could have horrific consequences for the citizens of this country and the world.
We the People of the United States, in Order to form a more perfect Union, establish Justice, insure domestic Tranquility, provide for the common defense, promote the general Welfare, and secure the Blessings of Liberty to ourselves and our Posterity, do ordain and establish this Constitution for the United States of America.
Net neutrality is freedom.
Allowing companies the option to take away this freedom under the banner of "freedom" is a mockery of the very foundation this country was built upon.
Not that this is anything new now-a-days, but I'd rather things not disintegrate completely right this minute.
Fight for net neutrality.
While you still can.
Posted on October 6th, 2009

This morning I had still more problems with my DSL. It seems every time I turn around my internet is either busted or unbelievably slow. And, of course, Verizon doesn't give a shit. Oh they put on a good show of wanting to provide good service, but it's all a time-wasting sham. I tried calling this morning and got disconnected. I called again and somehow ended up in the mobile wireless department. After 30 minutes of trying to talk to anybody, I had to give up so I could go to work.
I get home tonight and, SURPRISE, internet is still down. So once again I have to call and, basically, waste an hour of my life with my service provider to get things straightened out... kind of... while paying them for the privilege!
It's things like this that drive me insane when the whole "Net Neutrality" debate rears its ugly head...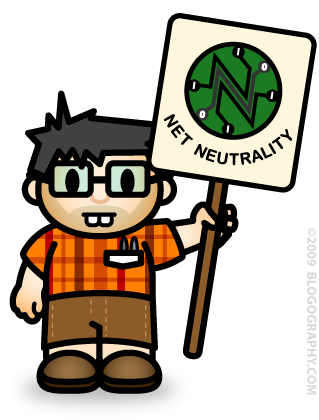 Not content to merely overcharge their customers for shitty service, ISPs also want to screw them over by controlling what and how they get to experience the internet...
Net Neutrality opponents consider the very idea an affront to free enterprise. I consider it an essential to maintaining my presence on the internet. Because I complain about most everything here on Blogography, and am sure to have pissed off enough corporations that have the money and/or influence to get my blog dumped in the slow lane or banned altogether.
So no more complaining about important net-influential companies, such as major Internet Service Providers like Verizon.
Oops.