Posted on February 9th, 2023

What blows me away is how Marvel Studios puts it all on the screen. They don't "hold anything back for the sequel" but instead treat every movie like the last movie they will ever make.
AND THAT'S WHY THEY ARE SO SUCCESSFUL!
After basking the the majesty that's Black Panther: Wakanda Forever, I am making my way through all the Chadwick Boseman Black Panther appearances. The first of which wasn't in a Black Panther film... or even an Avengers film. It was in a Captain America film!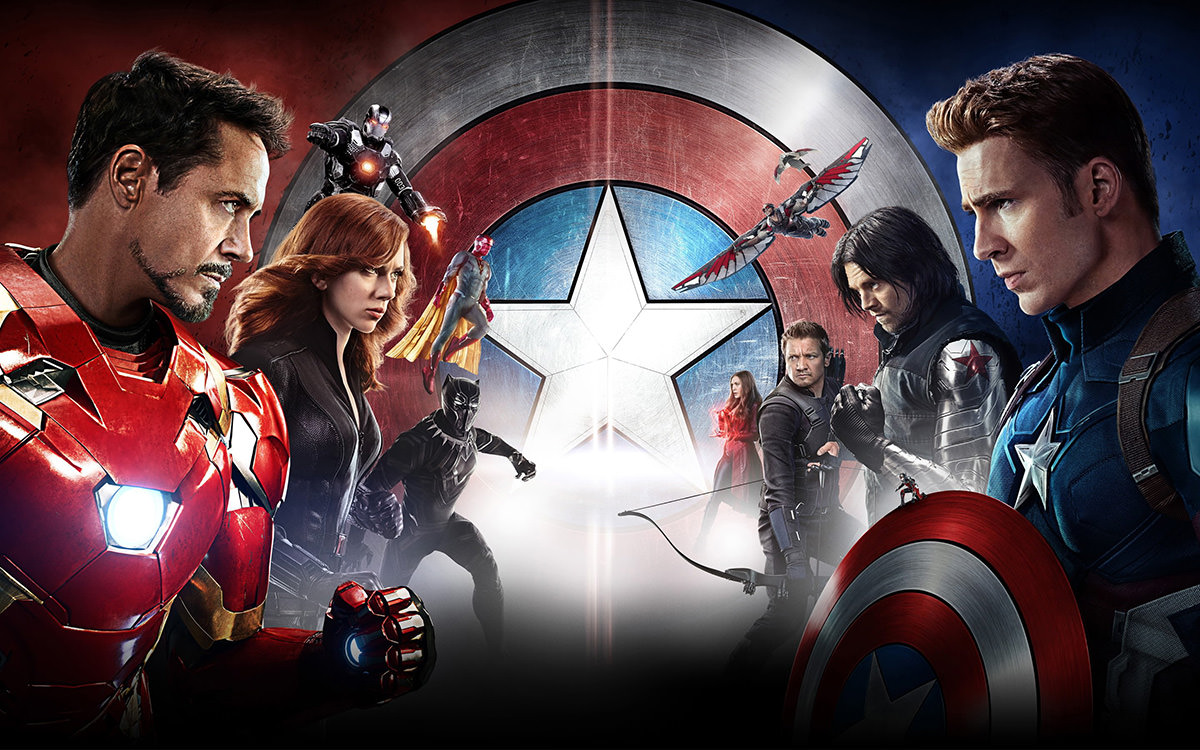 What was also in Captain America: Civil War? The first MCU appearance of Spider-Man!
Plus we get Iron Man, Black Widow, Falcon, Scarlet Witch, Hawkeye, Vision, Ant-Man, and Winter Soldier! It was basically an Avengers film. Inside a Captain America film. Which is crazy. How many studios would even do that?
Other studios would drag things out so they have something for future movies... then wonder why nobody gives a crap about the watered down film they release. Marvel isn't interested in that. They put everything into the film they are making right now... then force themselves to come up with something new and amazing for the next one.
And then get incredible actors for every single part. Alfre frickin' Woodard just randomly shows up in a tiny nothing of a bit part in Civil War. But it was a critical part that put the entire movie into motion, so they HAD to get Alfre Woodard. And her few minutes of screen time works. So well. In lesser, cheaper hands, it might not have.
The wild success of Marvel movies is not a fluke or a mistake. They are designed to be successful. I remember reading somewhere that Chadwick Boseman always thought that his appearance in Civil War would be a one-off cameo before signing his deal. Given how other studios would probably do exactly that, it's no wonder that he thought this. Obviously Marvel had other plans. They're more than that.
I live in constant fear of Kevin Feige retiring as the mastermind behind these movies. The guy gets it. His successor might not. And these movies have been too good in his hands.
Tags:
Ant-Man
,
Black Panther
,
Black Widow
,
Captain America
,
Falcon
,
Hawkeye
,
Iron Man
,
Marvel Studios
,
Movies
,
Scarlet Witch
,
Spider-Man
,
The Vision
,
Winter Soldier
Categories:
Movies 2023
—
Click To It:
Permalink
—
0 Comments: Click To Add Yours!
Posted on April 19th, 2022

IT'S LET'S WATCH A MOVIE WEEK! Where I live-blog me watching a film and comment along the way! Most of these films I watched a while back, I just wanted to hold off talking about them until more people had a chance to see them. Because of the pandemic, and all that.
Today's movie is one I saw way back in January. But not so long ago it was released on home video... Spider-Man: No Way Home!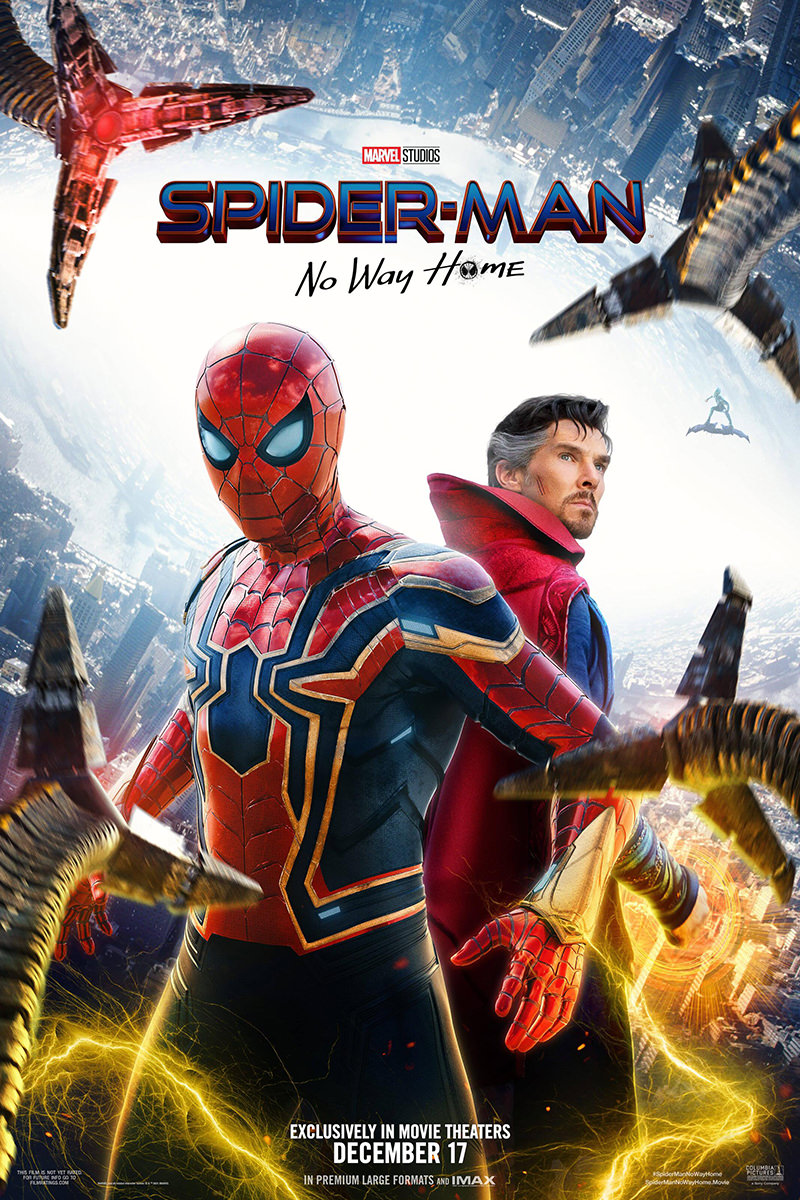 If you haven't seen it yet, this will obviously be a spoiler-filled entry. And probably not make a lot of sense. You've been warned.

If you're somebody who just wants me to summarize and not have to read through the smalltalk to see how I felt, here you go: Spider-Man: No Way Home had potential to be a convoluted disaster, but ended up being one of the most comic book comic book movies to ever be released. Thanks to a terrific script, plenty of surprises, and capable acting, I enjoyed this movie a lot. Like a lot a lot.
GRADE: A
We start where we left off... Mysterio, thought to be a hero by the world at large... accuses Spider-Man of his murder, and reveals his secret identity to the world. So now, much like the comic books, Spider-Man is Public Enemy Number One (spurred on by the deranged ravings of J. Jonah Jamison). There's a million ways that this could have been resolved (has been happening in the comics for decades), but I did not anticipate where it would lead. At all. And I wonder if the writers knew how they were resolving it when they wrote the ending to the previous films.
Aunt May and Happy Hogan are breaking up. Bummer, Happy. First you lose Tony Stark, now this.
HERE COME THE FEDS!
"Nick Fury has been off-planet for the last year." We, of course, know that he has been on vacation while the Skrull leader Talos has been impersonating him... but Peter had no idea, and it's weird to me that he never looks into it at all in the rest of the film.
Zendaya brings so much to the table as M.J., and I don't know that she gets enough credit for that. Her interrogation time is priceless.
Ha! Classic Ned.
And then there's Marissa Tomei. Sigh. I know that she doesn't have the star power that she used to have. But it still shocks me that she agreed to be in the Spider-Man movies. She's perfect for this version of Aunt May, and it's so nice that casting put her in the role. It will be very strange to not have her be a part of these films any more, and she will be missed.
It had been rumored for a while that Charlie Cox was going to appear as Daredevil (or, to be more accurate, Matt Murdock) in this film. I still got a thrill when this scene unfolded. Cox is so good in the role. And this being the precursor to him (and the other Netflix Marvel Studios characters) being folded into the MCU where they belong was a treat.
I hope that Jon Favreau sticks around even though all his ties to the MCU are gone after this film is done (Tony is dead and he doesn't even know who Peter is). He's comic relief without being stupid comic relief, and adds a lot of value to these movies.
"How did you just do that?" — "I'm a very good lawyer" THIS. This right here is why DC can't reach the heights that Marvel gets to. They don't get why continuity is important. What value it can bring. And how throw-away lines like this can thrill fans that devote themselves to these movies. And yet it's still funny even if you never saw Daredevil.
"Go get 'em, Tiger!" Cute that they managed to work this classic M.J. Watson line into the movie in a way that works, because Zendaya's M.J would never say it.
Flash's book is Flashpoint... they literally beat DC to the punch with their own event (not to mention the Ezra Miller Flash: Flashpoint movie that's coming one of these days (or not, since Miller was just arrested... again).
It's just a bit part cameo piece, but I love that they brought back Peter's teachers for an appearance (I've been a fan of Martin Starr forever). I will say, however, that it's bizarre that there are people who consider him to be a hero while still others consider him to be a villain at the same time. They do write this off as the guy being a conspiracy theorist, but still.
Peter said earlier that he's broke. How was he going to pay for college? Stark didn't leave Peter any money in his will?
I've read that part of the licensing agreement for Sony allowing Spider-Man to be a part of the Marvel Cinematic Universe films is that at least one major MCU character has to appear in every solo Spider-Man film. Iron Man in the first one. Nick Fury in the second one. And now Doctor Strange in the third one. Personally, I love the cross-pollination of characters between films. It's this interconnectivity that makes all the Marvel Studios stuff so dang brilliant. But they are always careful to make sure that these guest appearances enhance instead of overshadow Spider-Man. And having the Master of The Mystic Arts (plus Wong!) show up was perfect for both Sony and Marvel because it opens up so many doors for both their efforts.
The winter wonderland going on in the Sanctum Sanctorum is fantastic. Both visually and for comedic effect (Strange slipping when he lands was a laugh-out-loud moment for me).
Wong! Boy I hope that we get a Wong Disney+ series.
Wong being elevated to Sorceror Supreme is fantastic. It does nothing to diminish Doctor Strange but does everything to elevate Wong!
"...but I'll allow it." Ha! Nice nod to Tony Stark there.
COME ON! WE DESERVE A WONG DISNEY+ SERIES!
"They shot an episode of The Equalizer here in the 80's." A part of me wonders if that could actually be true!
The Doctor Strange magical effects have been amazing since Day One. And here we are again.
LOL. The object that Thor knocked over in Thor: Ragnarok is knocked over again.
Benedict Cumberbatch was the only choice to play Strange. I am more convinced with each passing movie.
In many, many ways, I will not be sad to see the Iron Spider suit go bye-bye. I've said it multiple times, but so much of what makes Spider-Man be Spider-Man is that he's a kid on his own. All this fancy Stark tech has been fun... but I want to see a stripped-down Spider-Man for the next movie, and it sounds like that's what we're going to get.
We knew, of course, that Doctor Octopus would be appearing. But despite the advance notice, it was still fantastic to see Alfred Molina as this character again. Re-casting after re-casting after re-casting gets tired, so why not just go back to the best? Albeit with a little de-aging CGI thrown in.
What made the Doctor Octopus of Spider-Man 2 work so well is that many times his mechanical arms were physical effects instead of CGI. In many scenes they felt real. These CGI arms are very cool (and probably more comic book apropriate) but they have a more "unreal feel" to them. Not necessarily in a bad way, but it does make me appreciate the job that they did the first time around back in 2004.
See... this tech stuff with nanites is not Spider-Man to me. Cool (and funny) as it is.
Tom Holland has always been perfect to play Peter Parker because of scenes like this. Peter's confident but hesitant, and getting that tone right is not easy. And of course his amazing athletic ability fits Spider-Man to a T.
And, of course, it's nice to have Willem Dafoe back! (which is a relief, because while Dane DeHaan was fine, his Green Goblin was stupid).
"The Multiverse is Real!" Welcome to the real start of Marvel Phase Four!
This is the one thing about this movie that doesn't really work for me. Ned, out of nowhere, has magic in his family and tingling in his hands... paving the way for him to be able to use the Sling Ring. Eh. Feels forced.
"Otto Octavius?" Yeah, yeah. But back when all these characters were created, the silly names were considered cool.
The throwaway gags in this film are on-point.
The "Mystical Spider-Man" suit is cool... but not as cool as it could have been. It's pretty much just a red and gold version of his usual suit.
Wait... Electro knew who Peter Parker is? How was he drawn to this universe, because I'm pretty sure that was not a part of his story. And why is he a buff Jamie Foxx instead of nerdy Jamie Foxx? Even The Lizard wants to know! Alas, no answers.
Having JK Simmons return as J. Jonah Jamison is a fun touch. But turning him into a supplement-pushing Alex-Jones-type on a streaming video show is brilliant.
The concept behind "fixing" the villains before sending them back to die is a wacky one. How, exactly, does that benefit them? "Change their fate?" I guess. But it seems as though they were snatched just before they died and will return in the same point in time... to die.
Why is it when the heroes fight each other it's always a more interesting battle than when they fight villains? Though it's sad that The Cloak of Levitation, which was friends with Peter in Avengers: Infinity War is now forced to fight him. It is more than a little odd that magic could be defeated with... math?
The Lizard dishing out prophecy right here.
"I'll do it!" — "No way that's his girlfriend." The fact that Tom Holland and Zandaya are dating in Real Life is a hilarious dig.
Now this was an interesting moment that slipped by me in the theater. Electro is reacting to the power source of the fabricator... which is an Arc Reactor. That makes his little speech to The Sandman hit a lot different. And makes when he actually steal the Arc Reactor make a lot more sense. Out of all of them, he's the one you never really buy as anything except a villain. Though his "Are these your LEGO" comment is totally hilarious.
PLEASE come up with a way to keep Jon Favreau in the MCU.
Now see... this is where Willem DaFoe makes you think that he's the only guy who can play the part. He goes from Norman Osbourne to Green Goblin in disturbingly quick order.
Killing off Aunt May, essentially having her take the place of Uncle Ben's role in the comics with the "With Great Power Comes Great Responsibility" line, is an important part of what makes the story arc for this movie work. And makes the end hit way harder. So... I get it. But boy will I miss Marissa Tomei in these films.
What this newfound magical ability could mean for Ned going forward is both frustrating and exciting. But, then again, they could easily let it be forgotten along with Peter Parker. Whatever the case, it's better than turning him into the Hobgoblin like they did in the comics.
Andrew Garfield was a great Spider-Man... a not so great Peter Parker... but that was likely not his fault since he was saddled with some shitty, shitty films. And, I gotta say, him getting a little redemption here is truly nice. He deserves it. And let me tell you, I would not be mad at all if he got another Spider-Man film or series or something.
Toby Maguire was a great Peter Parker... and a good Spider-Man. And his first two films were magic. But that third one? Holy crap. It's also truly nice that he got redemption with this flick. And, yeah, seeing him in another Spider-Man project would also be nice. He's so good at his role in this story.
As well-written and well-acted as this grief scene is, they really pushed it too hard. The entire movie stops all momentum... especially considering that you go from this to science lab stuff and even more angst.
The Toby Maguire Spider-Man having organic (instead of mechanical) web shooters is something I disagree with to this day. Part of what makes Spider-Man so cool is that he's smart and creative. And he came up with his trademark webs because he scienced it.
LOL. Lady Liberty is all decked out for honoring Captain America... and it's all thanks to Rogers: The Musical as we saw in the Hawkeye Disney+ series!
Spider-Men comparing notes. As I mentioned, my fear with this film was that having two additional Spider-Men would be taking away from Tom Holland's character in his movie.
A far, far better Electro suit than the big blue battery look in the Amazing Spider-Man 2. And the nod to his absurd comic book mask was a nice touch.
This Spider-Men vs. villains battle is entertaining but, again, the fight with Doctor Strange was more interesting.
This movie was SO well-written. And given all the things they needed to accomplish, it's a frickin' miracle.
I'm sure analysis was done on all the people/creatures making their way through the multiverse breach, but you really can't tell. One guy is big. Maybe it's a Thanos! He probably knows who Peter Parker is... I mean he knew Tony Stark. Or maybe it's Darkseid? (LOL!).
So... the entire world stops falling apart long enough for Peter to say good bye. That's nice.
Okay. I know that it would be easy to be all "IT'S MAGIC, OKAY!" to explain all the wild inconsistencies that were created when everybody who ever knew Peter suddenly forgets he ever existed. But it's so sloppy and messy. In the end, it's admirable how he decided to let and M.J. and Ned continue to forget him because their lives will probably be better because of it. Or, at the very least, safer. And seeing him end up exactly where the comic books had him forever will make for an interesting next chapter to be sure. But it's like... come on. I grew to really like the MCU Spider-Man. I can only hope that where they go next will make for the same great stories that this past trilogy did.
So where did Peter get the money to rent an apartment in New York City when he's not just broke... but doesn't exist? Or does he exist? Does he have a social security number to be able to work? I dunno. But that shiny spandex Spidey suit is pretty cool.
All the Spider-Man films have had flawless music choices (The Ramones was welcome and wholly unexpected). But Schoolhouse Rock? VERY cool. That it's a De La Soul version is all the better.
The mid-credits scene attempts to pull Sony's Venom into the MCU (albeit briefly) all the while setting up the MCU with a Venom of their own. And, I gotta say, if they bring back Tom Hardy, I wouldn't be mad at all. And, yes, that was really Dani Rojas from Ted Lasso tending bar.
Having the post-credits scene be a preview of a future movie is a real copout. But given that Spider-Man: No Way Home was supposed to come out after we saw Doctor Strange In the Multiverse of Madness, I'll give them a pass.
And there you have it. The End. Of yet another spectacular Spider-Man movie in the MCU. Given that there's a new triology of films in development and Tom Holland is returning, I look forward to even more great Spider-MCU-flicks in the future.
Posted on February 23rd, 2022


Well now Marvel Studios is just messing with us...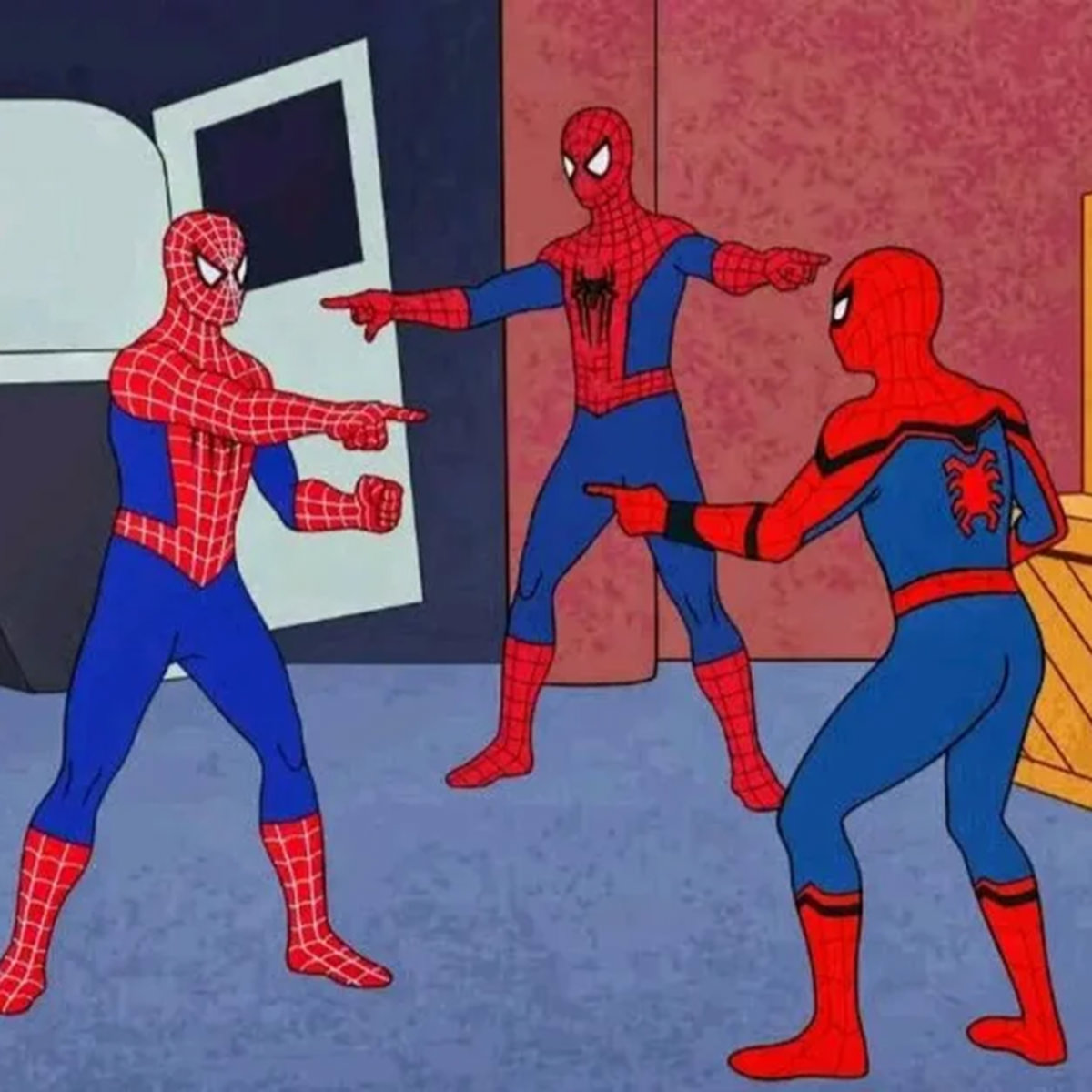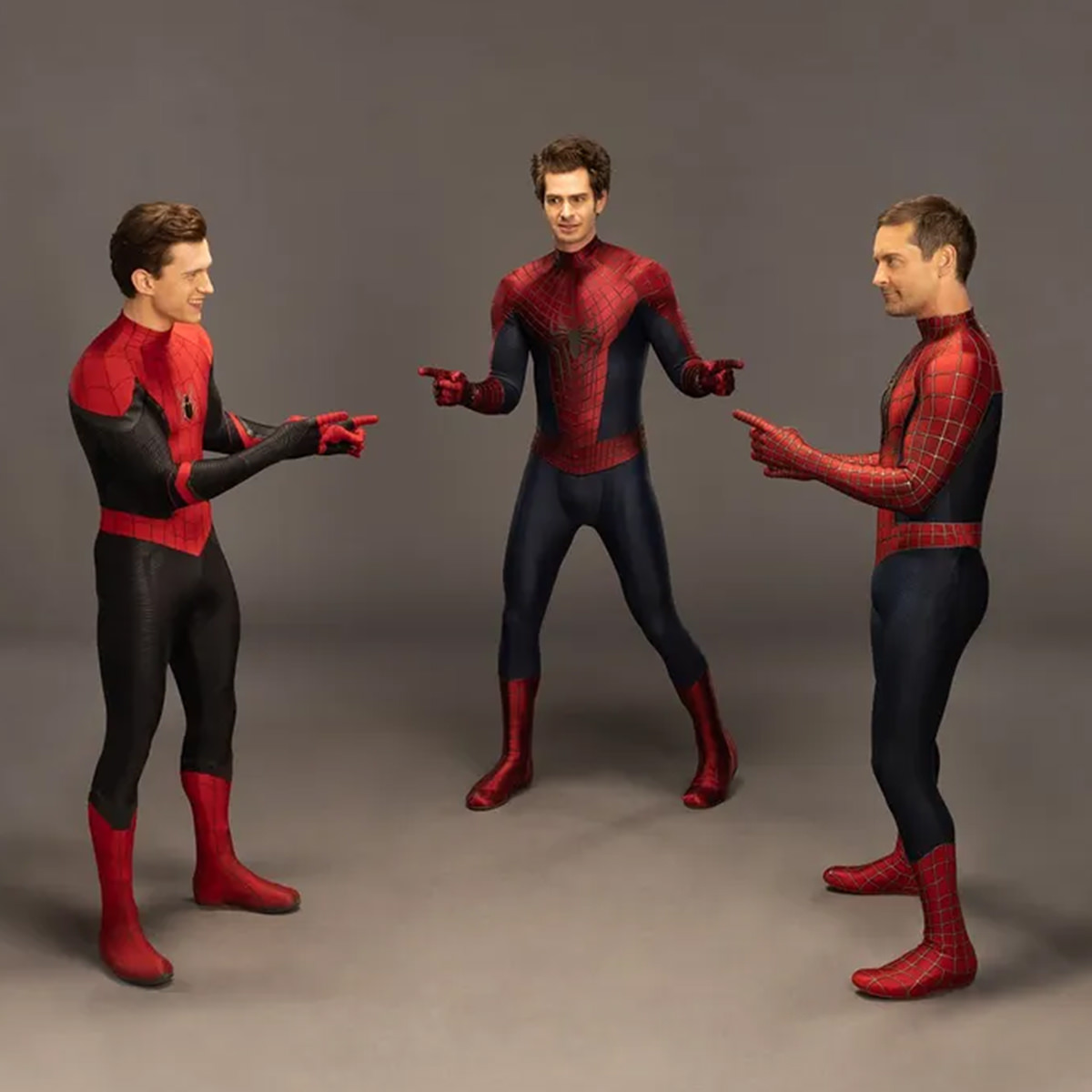 Spider-Man: No Way Home comes to home digital on March 22.
Posted on February 6th, 2022

I'm tired, but not ready to give up on my Sunday just yet... because an all new Bullet Sunday starts... now...

• SHE GOT MONEY! If you aren't watching Abbott Elementary you are missing out. I've shared so many of Quinta's videos over the years... it's so very cool to be able to share her TV show, which is amazing. I was thrilled to find out that it's been such a big hit.
Plus... Sheryl Lee Ralph is in it!

• The World May Never Know! Was it Hershey or Reese That Made Peanut Butter Cups Great?

• Darwinism. It's what's for dinner! Three Kids Tried To Get Spiderman Powers By Letting A Black Widow Bite Them. — I mean, the spider that bit Peter Parker was a RADIOACTIVE SPIDER! If these kids wanted super-powers, they would have had to have made the spider radioactive first. Sheesh!

• ADOBE IN 3D! The new 3D "technology preview" tools in Adobe Illustrator are choice. I sure hope that they continue to add features before they get rid of the old tools. Not being able to map user textures and control camera perspective is a major problem. And half the time when I add a cap, it doesn't appear on my extrudes. — At the rate that Adobe is adding 3D apps to their Creative Suite, I sure hope that this is an indication that they will be dropping a full-blown 3D modeler soon. How sweet would it be to be able to craft models with the same tools you already know and love?

• Credit Card Doubt! Five messages and two phone calls later and I *might* have finally gotten The Home Depot to credit the $50 I was promised on my purchase when I opened an account. I say "might" because I was told it will take 24 hours to a few days for the credit to be applied. So... yeah... I'm dumping that credit card the minute my $50 comes through so I can pay the shit off. I cannot BELIEVE that companies are allowed to try and scam you like this. I clicked ON A BUTTON that said "Up to $100 Cash Back" and yet I was given some kind of "12 Months Same as Cash" deal with NO $50 that I never even knew existed. It would be my fault if the button said "12 Months Same as Cash"... BUT IT DOES NOT! And it STILL doesn't. How fucking hard is this? You promise me $50... just give me the $50. This is not fucking rocket science. And yet... five messages and two phone calls...

And on that happy note, buh-bye Sunday.
Posted on November 28th, 2021

Since I'm back from my Thanksgiving adventure, I might as well bullet up the internet... because an all new Bullet Sunday starts... now...

• Past Midnight! Fly By Midnight is my favorite band of 2021... and they never disappoint. This live broadcast is wonderful...
I cannot believe that I didn't even know they even existed until a couple months ago. The music industry is weird.

• Mata WHAT?! Okay. I know it will get better. I understand this. But right now? No thanks. The "metaverse" looks awful...
Maybe for an occasional chat, but I don't want to live here.

• InstaGreat! Oh nothing... just InstaCart making my Thanksgiving be great by doing God's work...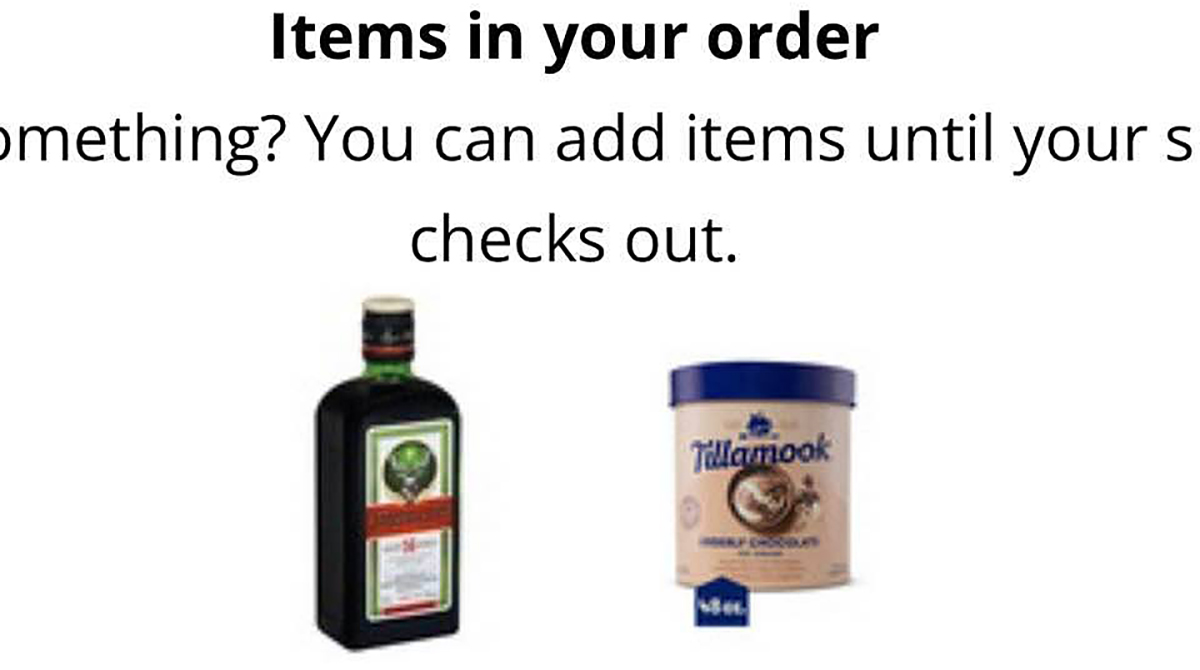 Alas, Instacart isn't quite so accessible when I'm at home... but across the mountains I absolutely love that a few clicks is all it takes to get whatever you need brought right to your door!

• DavidLL! Six calls. SIX FUCKING CALLS to U.S. Bank to try and get my name correct on my account. Surely I am not the only "II" to ever have an account at US Bank?? But despite SIX CALLS, my account is still fucked up. My name is David Simmer II. Not David II Simmer. Not David Simmer LL. Not DavidL Simmer. Not DavidSimmer LL. AND NOT DAVID L LL!! Jesus Christ... what the fuck does it take? How hard is this? Apparently it's equivalent to fucking brain surgery that it's STILL NOT RIGHT after SIX FUCKING CALLS!!! Forget having nice, kind customer service agents. I want a total asshole who will ACTUALLY. GET. THE. JOB. DONE!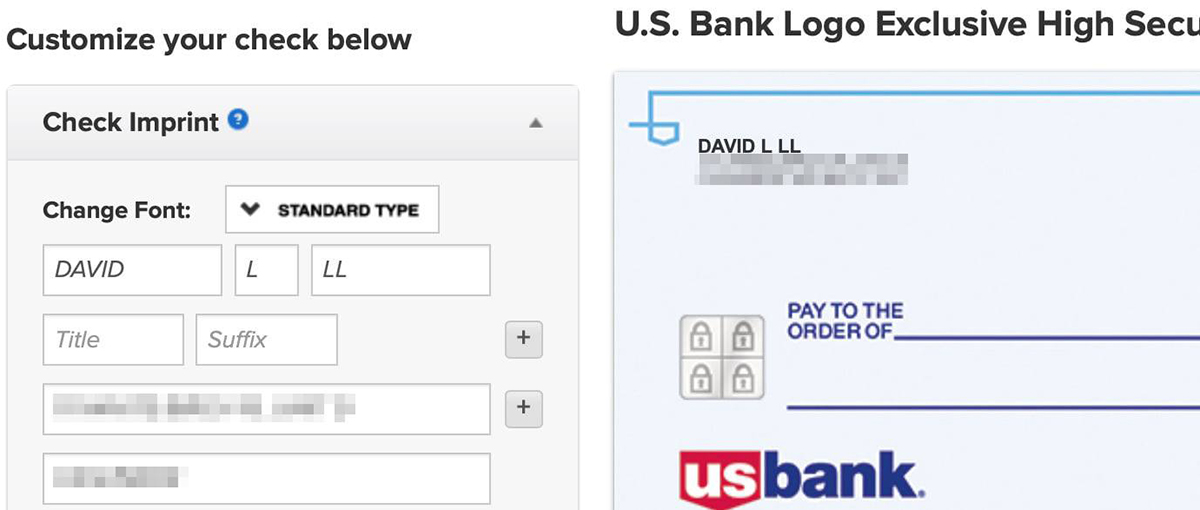 The fifth time I literally walked them through it... "The first name box should be DAVID, the last name box should be SIMMER, the suffix box should be TWO CAPITAL I's to get II. I don't use my middle name and would prefer not to have it left blank, but if you insist, the middle name box should say LEWIS. Didn't make any difference. Still got it wrong.

• Dope Soap! I see Ice-T in the new Tide Pod commercials and try very hard to remember that he had a music career before he went into acting... and pushing soap. Which is a far cry from when he was pushing dope, which was definitely not cleaned by soap...
I don't play when it comes to my dope
I check my lyrics close, like with a microscope
I don't clean'em up with no ivory soap
I leave'em hard and pure, hope that you can cope
Because you might O.D. if you overdrive
Tide Pods... the soap that's dope!

• Spidey 4, 5, 6! Rumor has it that Sony has backed up a dump truck full of cash to Tom Holland's house for another trilogy of Spider-Man movies. This makes me very, very happy. While ultimately I'm looking forward to Miles Morales taking over the role, I think that Peter Parker has some stories left to tell. Besides, they can always do a Miles Morales movie, then have worlds merge in Spider-Man 6 as a nice hand-off kind of thing.

• A Mother's Love! And, lastly, I had no idea that this happened... The Open Christmas Letter.

Enjoy those fleeting shopping days until Christmas!
Posted on November 19th, 2021

I am not terribly thrilled that Marvel is going the "Multiverse" route with their films. The need to make sure that the earlier Spider-Man movies are a part of the Marvel Cinematic Universe is dragging us backwards rather than taking us forward by cutting them loose. Will it be nice to see Alfred Molina as Doc Ock again? Sure. But at the expense of miring the MCU with the silly idea that Peter Parker looks completely different in the different universes? It makes no sense.
But here we go anyway...
In addition to Alfred Molina, we're definitely getting Willen DaFoe as Green Goblin and Jamie Foxx as Electro. And it looks like we're getting Rhys Ifans as The Lizard and Thomas Haden Church as Sandman... though those could just be CGI additions with no connection to the actual actors.
But it's like... why?
Why not create new versions of these characters that are closely tied to what Marvel Studios is doing now? Does this mean that these characters will never appear in the MCU proper because they are from a different universe? That doesn't seem too smart.
It seems likely all of this is to keep Sony happy, since they have the Spider-Man movie rights tied up and, technically, the character is on-loan to Marvel. The Multiverse allows them to have Spider-Man back for their Venom movies and such while still allowing Spider-Man to move forward with Marvel Studio films. It's a profitable double-dip. Assuming Tom Holland wants to continue on. Though this could also all be a set-up to give us Miles Morales Spider-Man.
They really should have let DC Comics hang on to this bad idea in their The Flash movie and kept moving forward with the success they had been having.
Oh well. Dr. Strange looks to be having a great time in the movie, so perhaps that will be compensation for what feels like a big blunder. But who knows? Maybe Marvel has figured it all out so that it's actually a good thing.
Posted on October 6th, 2019

Sunday is travel day but I'm not depressed at all, because an all new Bullet Sunday LIVE FROM NEW ORLEANS starts... now...

• Spider-Fan. It was being reported that Tom Holland himself was responsible for getting Disney and Sony back to the bargaining table and keeping Spider-Man in the MCU. This was then confirmed by Bob Iger on Jimmy Kimmel Live! To say I'm thrilled is a gross understatement...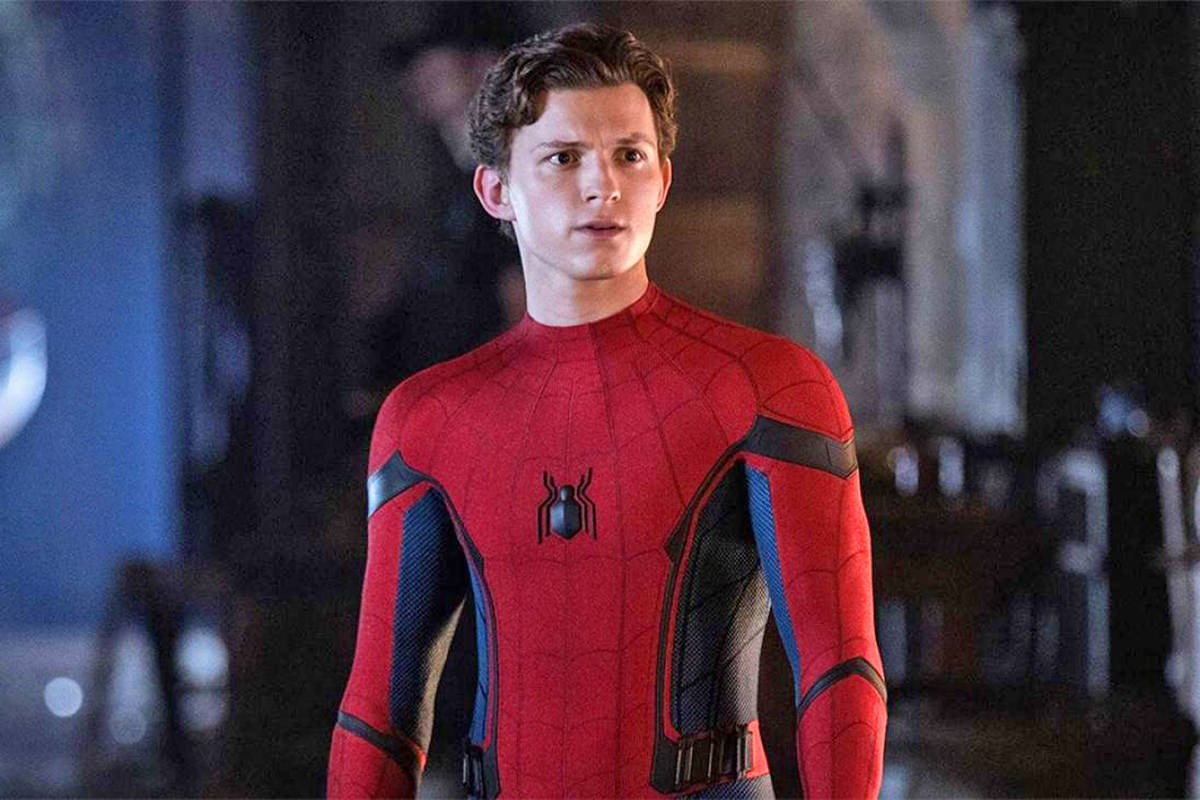 All you have to do is watch the post-credits sequence of Spider-Man: Far From Home to know what a huge, huge, massively huge benefit it is to have even the smallest ties to what Marvel has built... it's not just the big players like Nick Fury and Maria Hill. So bless you, Tom Holland.

• FalCap! And speaking of the Marvel Cinematic Universe, this fantastic piece of art appeared this week...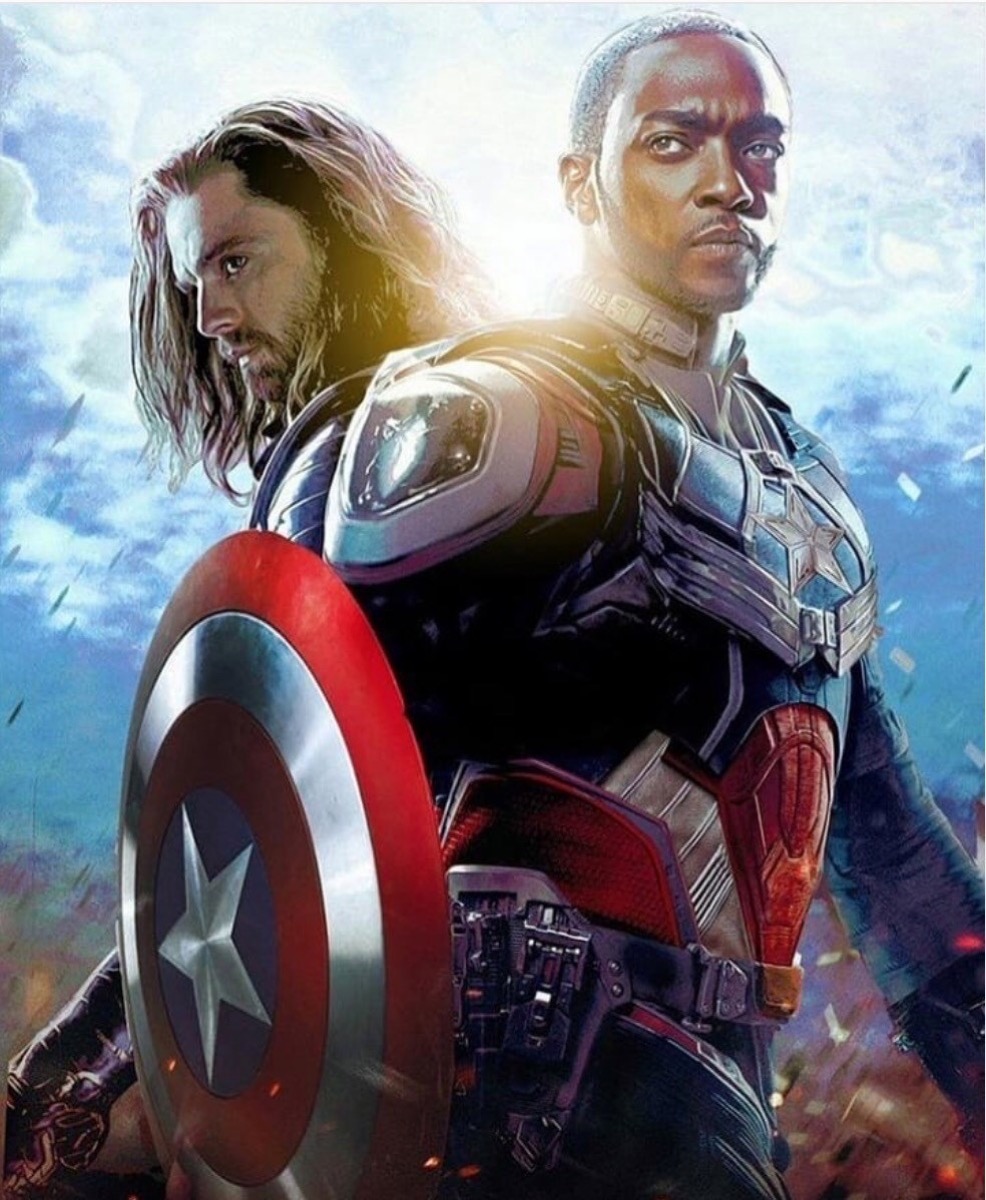 If Marvel Studios puts as much effort and money into their Disney+ series as their movies, we are in for a real treat.
It looks like Falcon Cap still has his wing pack on? I would hope so. Since he doesn't have Cap's Super Soldier serum, he's going to need something to give him an edge. Could make for a very interesting fighting style.

• The Horror. This GEICO insurance commercial slays me every time it appears on my television...
If all commercials were as clever as this, I wouldn't have to fast-forward through them. But most commercials are stupid and so annoying that I really HAVE to fast forward through them.

• Predator. Speaking of horror... holy crap! Maybe it's because I buy cheap cars that I actually pay off that I was so oblivious to just how horrific and predatory the auto industry is when it comes to selling their crack cocaine! I mean cars. I had no idea.

• Real Fake. This video explaining the cinematography of Disney Pixar's Toy Story 4 is absolutely fascinating...
While a part of me bemoans the impending death of hand-drawn animation, it's nice to know that 3D computer animators are not resting on their laurels, and continue to push for ever more amazing work in their films.

• A9. Hey, if anybody has $4,500 laying around, you could totally buy me the gorgeous new Sony A9 Mark II camera that's being released later this year. Just sayin'.

• Enjoy Your Inequity. In what should come as a shock to absolutely nobody, the IRS admits that they audit poor people because it's easier and cheaper than auditing rich people. And make absolutely no mistake... the wealthy people who own this country designed it to be this way. They get all the loopholes... they get all the breaks... they get everything. And meanwhile, you get to take the shit sandwich they're feeding you.

See you next Sunday... but probably not from my favorite American city.
Posted on August 20th, 2019

Well this sucks.
In what can only be described as a shit-storm of awfulness, Hollywood has dropped two pieces of horrifically bad news on movie lovers today.
First of all, Sony and Marvel Studios can't come to an agreement over Spider-Man, so the character will no longer be appearing in Marvel Studios movies. This is unbelievably shitty, because he's become such a big part of them. Can you imagine Infinity War without Spider-Man? I sure can't. And then there's the beautiful and effortless integration of Tony Stark into the Spider-Man cinematic mythos. The new Spider-Man is heavily rooted in the MCU, and all that is going to have to be ripped away once he goes solo at Sony again. Poor, stupid Sony, who doesn't want to share future movie grosses after the BILLION DOLLARS that Marvel Studios is responsible for them making (their highest gross for a film ever). And if you thought that Sony wouldn't shit all over its fans like Marvel Studios did with their theatrical re-release of Avengers: Endgame, think again. They're bringing back Spider-Man: Far From Home with four whole minutes of extra footage!

Next up? Keanu Reeves and Carrie-Anne Moss are coming back for yet another The Matrix sequel. Now, don't get me wrong, the original film was genius in every way and remains one of my favorite movies of all time... but the sequels were complete and total shit. They were lazy, effects-driven idiocy masking as high-concept art. "GAH! ORACLE, WHAT DO I DO?!?" — "You know what you must do." — "GAH! MORPHEUS, WE'RE ALL GOING TO DIE, WHAT'S NEO GOING TO DO TO SAVE US?" — "Neo will do that which he must do." — "GAH! MEROVINGIAN, GIVE US THE KEYMAKER TO SAVE US ALL!" — "You see there is only one constant. One universal. It is the only real truth... causality, action, reaction. Cause and effect." — "WHAT THE FUCK DOES THAT EVEN MEAN?!?"
No idea how Neo and Trinity are coming back since they are dead and all... but I'm sure something will be rebooted or turned off and turned back on to make it all possible. Ugh.

In good movie news?
The 25th James Bond film will be titled No Time To Die, still starring Daniel Craig as God intended. And while it won't be helmed by Danny Boyle as originally planned, it will be directed by Cary Joji Fukunaga, which is an interesting choice. He is the guy responsible for the most excellent Sin Nombre and Beasts of No Nation... and also the writer of the highly successful It movie adaptation. Since he's both co-writing and directing the new Bond, I am hopeful we're going to get something interesting and entertaining... more along the lines of the excellent Skyfall as opposed to the mediocre Spectre.

And in still more good movie news?
It's already been confirmed that Eddie Murphy, Arsenio Hall, James Earl Jones, Paul Bates, John Amos, Shari Headly, and Louie Anderson will all be reprising their roles in Coming 2 America (sadly Madge Sinclair has passed so we won't have our Queen)... and we know that Wesley Snipes, Leslie Jones, and Jermaine Fowler will be added. But now we know that Tracy Morgan and Rotimi Boards are also onboard for the Coming to America sequel! Sounds like the cast is on-point, so now we just have to hold our breath for December 18, 2020 to see if the story pans out.

And lastly in good movie news?
A new holiday movie, Last Christmas by Emma Thompson and Paul Feig starring Emilia Clarke, Henry Golding, Michele Yeoh, and Emma Thompson, is hitting theaters this November!
I had no idea this was even in development... let alone ready for release this year! Looks like yet another cheesy Christmas movies I can't live without.

Untill next time, true believers...
Posted on August 1st, 2019

I saw Spider-Man: Far From Home quite a while ago.
But then I got busy and there never seemed to be time to sit down and write up my thoughts on it. So I just kept jotting down notes until I managed to get enough to put them in an entry. Overall I liked the movie quite a lot. Though it hasn't displaced Homecoming as my favorite MCU Spider-Man film, there was still a lot to love...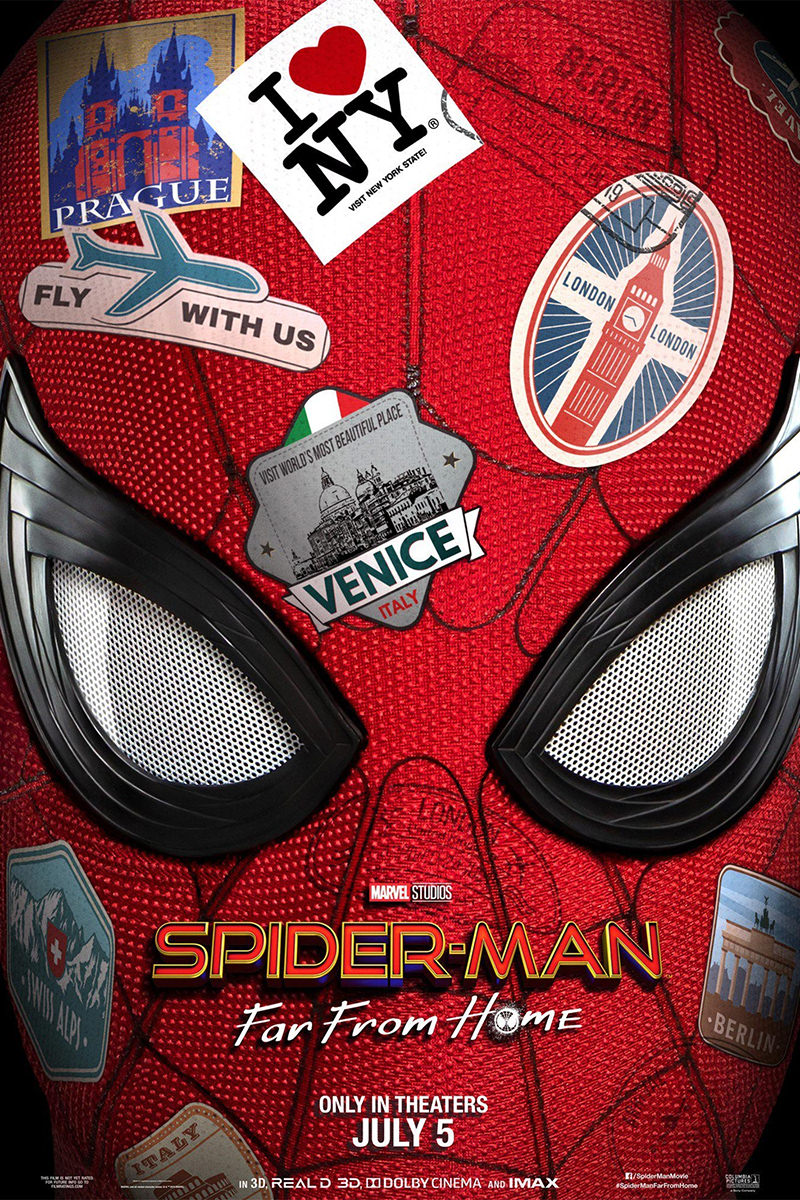 Needless to say, spoilers will follow...


Spiderman: Far From Home is a pretty great flick. I don't know that I like it better than Spider-Man: Homecoming, because that film was about as flawless as it gets, but Far From Home is a close second. Jon Watts keeps knocking Spider-Man out of the park, and I couldn't be happier about it.
Let's just bullet-point the major talking points here...
Tom Holland remains a flawless choice for Peter Parker / Spider-Man. First of all, he's convincing as a high school kid, which is what was missing from the previous Spider-Man films where he was an adult. Starting out as a kid is what makes Spider-Man different, and is what should be embraced. Finally we're getting that.
Zendaya may be underused (again), but she's got the talent and drive to make the most of every second she's on screen. I absolutely love her character, and having her discover Spider-Man's identity the way she did was pretty great.
I actually liked Ned better in this film even though he had a better part in the previous film. In Homecoming Ned was the "Man In The Chair" helping Spider-Man out, but that felt kinda intrusive to me. Now that Ned is just Peter's friend again (albeit one who knows his secret identity) I think he works better.
Happy Hogan is as critical to the MCU Spider-Man as Aunt May is, and working him in to the story they way they did was sublime. I sure hope they find ways to keep him around the MCU like this now that Iron Man is out of the picture.
Reimagining Mysterio the way they did was both disappointing and the smartest thing about the film. In the comics, Quentin Beck is a Hollywood stuntman and special effects artist. When he was rejected as an actor, he decided to use his ability to create movie illusions to become a super-criminal. That would take a lot to explain in a 2-hour movie, so the rumor was that they were going to reinvent him as a failed stage magician who uses magical illusions to commit crimes. While this would be a more plausible idea in a day-and-age where the vast majority of movie special effects are computer-generated, I don't know that what they ultimately came up with was better. Turns out Mysterio is actually an entire team of former Stark employees who feel wronged by Tony Stark. They combined their various talents to create a new hero so they could con the world into doing whatever they wanted to do. A part of me was like... um... you're creating some of the most advance tech on earth and can make people see whatever you want to see. Why not just covertly do whatever you want to do? Why create Mysterio at all, if this is your goal? Doesn't that just draw attention to you? It's kinda silly.
It used to be that I would thrill to how Marvel Studios keeps integrating all their films so tightly. I'd be all "HOW COOL IS IT THAT THE REASON THIS HAPPENED IN THIS MOVIE IS BECAUSE THAT HAPPENED IN THAT MOVIE?!?" But now that they're pulling random background people from older movies to create Team Mysterio, it's getting kinda lame. Oh look! It's the science guy that Obadiah Stane yelled at in the first Iron Man movie! Yay? Keep integrating all the Marvel films into a coherent universe for these MCU characters? Yes please! Start pulling out random background extras so you can build these connections? Nah. We're good.
That being said, Jake Gyllenhaal was pretty great as Quentin Beck though, right? His entire character arc hinged on him being a Tony Stark mentor replacement for Peter Parker. He had to get that just right, or the movie's premise would fail. Once he put on the EDITH glasses, Quentin's greatest illusion was complete, and you totally buy why Peter handed over EDITH to him. Brilliant casting.
When it comes to the EDITH glasses, however, I don't really get it. Assumably Tony built this massive drone defense system in case there's a dire threat to all humanity. Good idea. But the fact that it's useless without EDITH to control it is insane. What then... if Peter Parker dies then the system which could have helped thwart an alien invasion just sits there because the only guy who could control it is six feet under? Isn't that a bit crazy? How does that make sense? I dunno. Maybe upon Peter's death EDITH goes to Rhodey or something but, so far as plot points go, this still feels kinda nuts.
Another thing that seemed nuts? The crazy-ass coincidences that plague this movie. Ned and Betty just HAPPEN to be in the Ferris wheel which just HAPPENS to be where the merged elemental appears? And it just HAPPENS to be made out of the metal the elemental needs to grow more powerful so it gravitates towards it? MJ just HAPPENS to be standing where the ONLY hologram projector falls off? I mean, I get it. I read Edgar Rice Burroughs, so I know that a never-ending string of coincidences can make good fiction. But with a little more thought put into these things, it seems as though we'd have a much tighter narrative where blatant coincidences aren't required to move the story forward.
Nick Fury is always a welcome addition to any MCU film. How they manage to always find such smart ways to integrate him into the movies is a mystery, but I'm thankful they don't feel at all gratuitous. Not yet anyway.
Spider-Man's "spider sense" (branded "The Peter Tingle" in the movies) which alerts him to impending danger has always felt like a stretch in the comics. The idea is that spiders seem to be able to predict when you're about to smash them, because they always seem to be able to get out of the way first. And that's clever. In real-life it doesn't work like that (I think spiders are just sensitive to air movement and pressure changes which gives them the illusion of having a spider sense), so I was happy when the concept was seemingly abandoned in the MCU. But here it is, and it's just as inexplicable and sloppy as it's always been. Abandoned most of the time Peter should be sensing danger... but suddenly making an appearance when the writers need a way for Spider-Man to see through Mysterio's illusions. That's just a lazy crutch, and I think the movies are poorer for it.
I think we're at a point where the idea of amping up the action for each new Marvel film has finally reached a breaking point. Some of the action sequences in Far From Home were almost incomprehensible because there's so much going on so quickly that you can't wrap your head around it. When Spider-Man is whipping around at break-neck speeds and still able to dodge drones and handle three problems at the same time, that's his enhanced speed and reflexes doing their thing. But the audience doesn't have enhanced speed and reflexes.
If there were no huge surprises to be found in the film proper, there was one heck of a bombshell that dropped in the mid-credits sequence. First they had Mysterio reaching up from the grave to paint Spider-Man as the bad guy. This is straight out of the comics I read in the 1980's. Because in the Spider-Man comics back then (maybe even today), even when Peter wins, he ultimately loses. There's always bad to go along with the good.
Then, of course, Spider-Man's secret identity was revealed. Whoa. I like that Marvel is ditching all these stupid secret identities which feel so antiquated now... but Spider-Man is an actual kid, and this seems like a pretty Big Deal. I am very much curious to know where they go from here.
And now for some random bullets...
Whitney Houston's cover of Dolly Parton's I Will Always Love You (at the opening) and The Go-Go's Vacation (at the end) were note-perfect choices. We also got more of The Ramones with I Wanna Be Your Boyfriend (using their Blitzkrieg Bop in Homecoming remains my second favorite Marvel music cue... second only to Immigrant Song in Thor: Ragnarok). I don't know how the 80's songs keep making their way into these movies, but I'm pretty happy about it.
A shout-out to Martin Starr, who plays Mr. Harrington. Starr manages to play the semi-clueless teacher in a way that's charming more than stupid, and I don't think many actors could pull that off as well. Casting him out of Silicon Valley is right up there with Tom Holland and Zendaya to me, because the wrong choice would have ripped you out of the movie every time he shows up.
Turning the Netherlands into the European Canada seemed distracting and unnecessary, and any humor that they think came from it fell pretty flat.
Thank heavens Peter's Iron Spider costume was left at home. He's got enough powers... more than enough powers... without having Iron-Man-like enhancements on top of it all. I was really, really hopeful that once we watched it all fall apart in Avengers: Endgame, we'd never be seeing it again.
And that's a wrap.
Time to update my "Y2K Super-Hero Comic Book Renaissance" scorecard...
Ant-Man... A
Ant-Man and The Wasp... A-
Aquaman... B-
The Avengers... A+
Avengers: Age of Ultron... A
Avengers: Infinity War... A
Avengers: Endgame... A+
Batman Begins... A
Batman Dark Knight... A+
Batman Dark Knight Rises... A
Batman vs. Superman: Dawn of Justice... D
Big Hero Six... A+
Black Panther... A+
Blade... B
Blade 2... B
Blade Trinity... B-
Captain America... A+
Captain America: The Winter Soldier... A+
Captain America: Civil War... A+
Captain Marvel... B+
Catwoman... F
Daredevil... B-
Daredevil (Director's Cut)... B+
Deadpool... A
Deadpool 2... A
Doctor Strange... A
Electra Woman and Dyna Girl... B-
Elektra... D
Fantastic Four (2005)... C
Fantastic Four: Rise of the Silver Surfer... D
Fantastic Four (2015)... D+
Guardians of the Galaxy... A+
Guardians of the Galaxy: Vol. 2... A
Ghost Rider... C
Ghost Rider: Spirit of Vengeance... D
Green Hornet... D
Green Lantern... C+
Hellboy... A
Hellboy 2: Golden Army... A
Hulk... C-
Incredible Hulk... B
The Incredibles... A+
Iron Man... A+
Iron Man 2... A-
Iron Man 3... A+
Jonah Hex... F
Justice League... F
Kick-Ass... B+
Kick-Ass 2... B-
Man of Steel... F-
Punisher... C+
Punisher War Zone... C
Scott Pilgrim vs. The World... C
Spider-Man... B+
Spider-Man 2... A
Spider-Man 3... D-
Amazing Spider-Man... D
Amazing Spider-Man 2... D-
Spider-Man: Homecoming... A+
Spider-Man: Far From Home... A
Spider-Man: Into the Spider-Verse... A
Suicide Squad... D
Superman Returns... C+
Thor... B+
Thor: The Dark World... B
Thor: Ragnarok... A+
Watchmen... B
The Wolverine... B
Wonder Woman... A
X-Men... C
X-Men 2: United... D
X-Men 3: Last Stand... F-
X-Men Origins: Wolverine... D
X-Men: First Class... B
X-Men: Days of Future Past... B-
X-Men: Apocalypse... D+


My only complaint about Marvel Studios is that they are restricting themselves to three movies per year. This seems lacking in ambition. I understand not wanting to crowd the theaters in a wash of super-hero films, but maybe after the 21st Century Fox merger is complete they will up their game a bit? Hopefully.
In the meanwhile...
The first trailer for Spider-Man: Far From Home dropped earlier this week...
The most obvious piece of new information here is Jake Gyllenhaal as Mysterio...
He doesn't seem like he's a villain... yet? I guess?
From appearances, it would seem Peter Parker is being deputized by Nick Fury to become "Spider-Man: Agent of S.H.I.E.L.D." or something like that. Apparently to fight some elementals terrorizing Europe. That's seems pretty mundane and impersonal for a Marvel movie, so I'm guessing something (or more likely, someone) is behind it all.
Since the new Spider-Man takes place after Avengers: Endgame it's interesting to note that life on earth has returned to normal. Which means it returns to normal in Endgame. Which seems to indicate that Thanos and his snap were eradicated from the timeline? We shall see.
And then there's Captain Marvel...
New character posters for the forthcoming movie have been unleashed. Notably absent is a poster for Ronan the Accuser. Kinda weird that he didn't get one when everybody else did...
Captain Marvel / Carol Danvers, of course...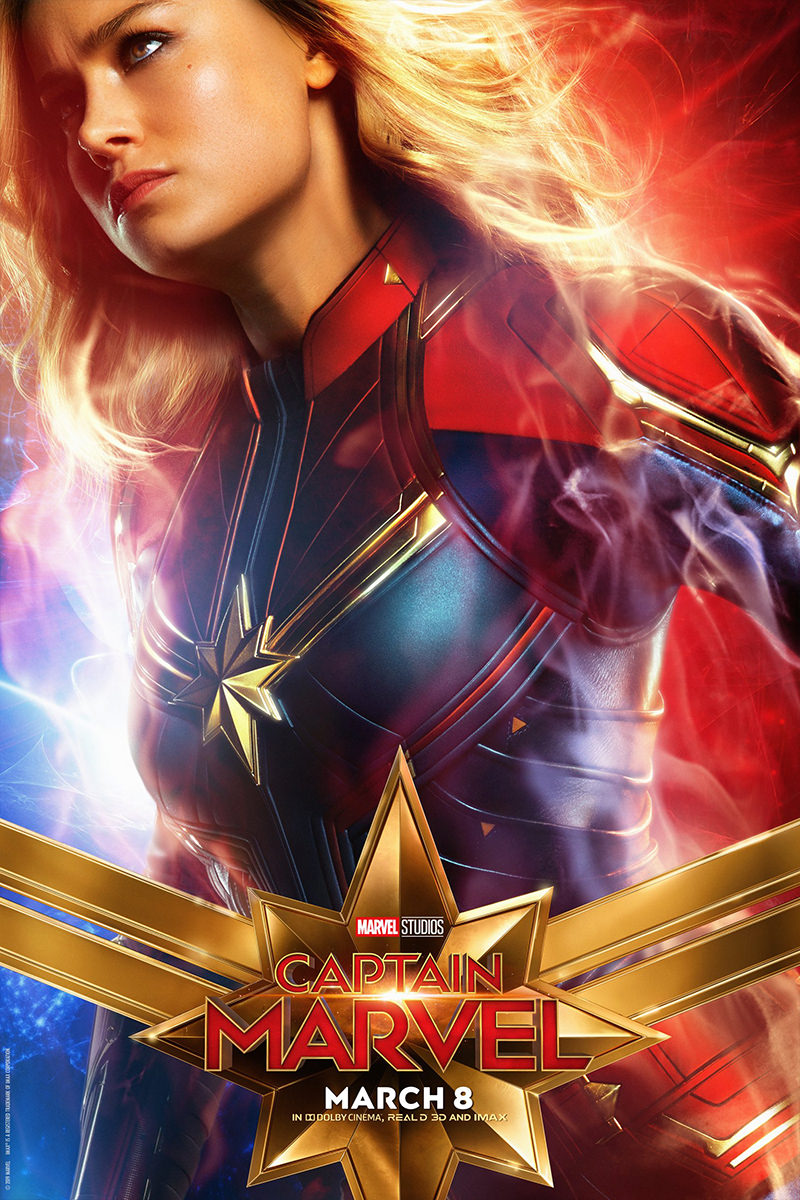 Agent Nick Fury, having been CGI youthed to his 90's self...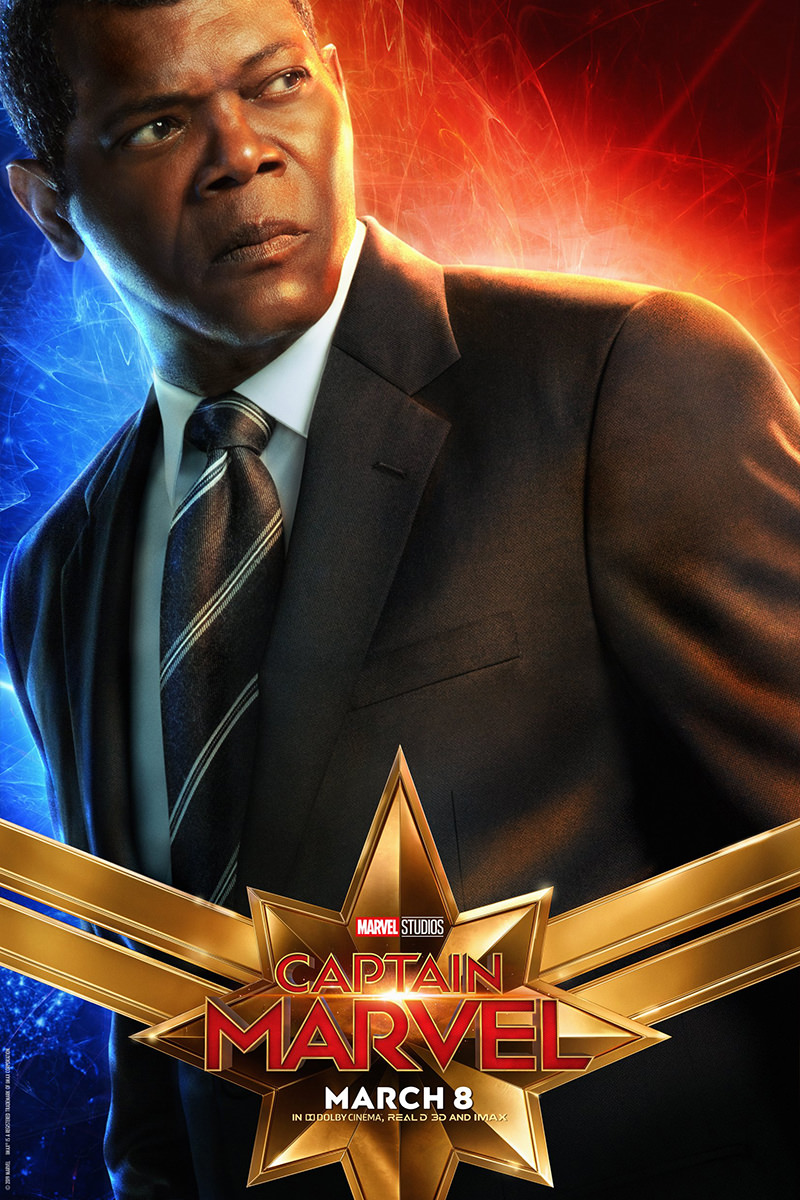 Agent Phil Coulson, likewise youthified...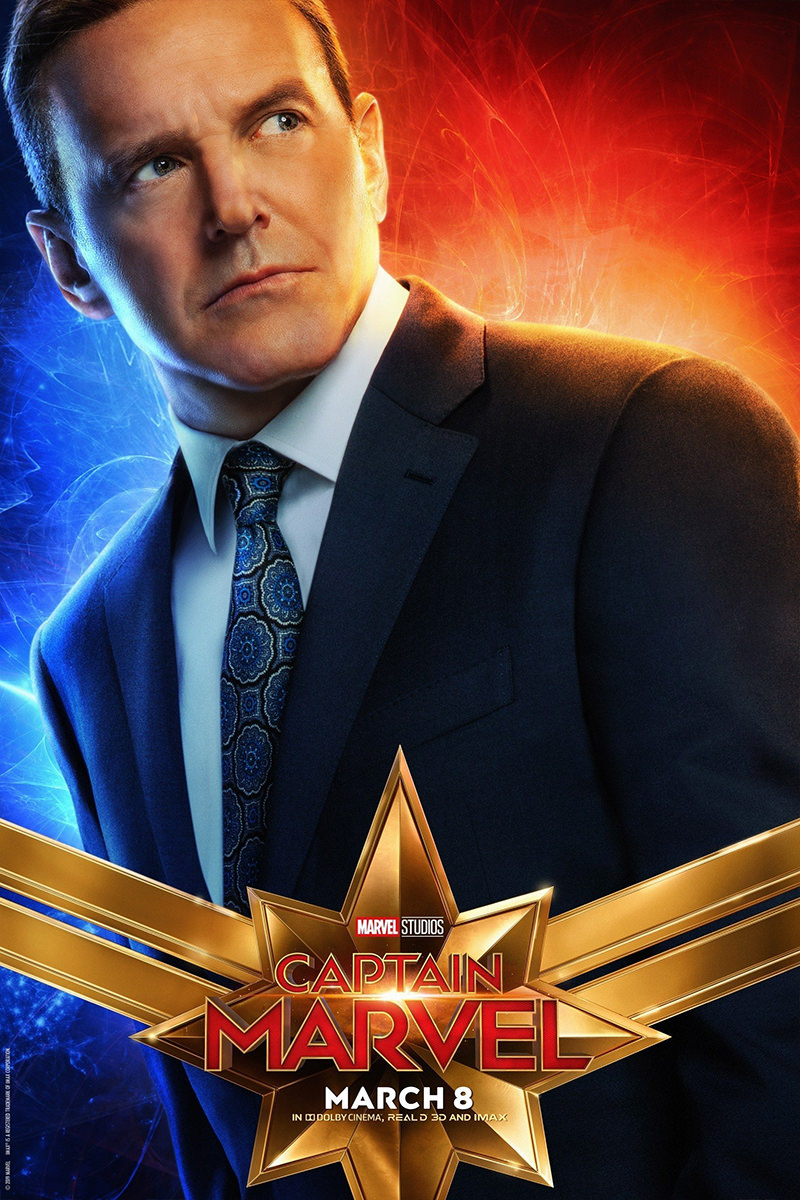 Maria Rambeau, whom I'm guessing is future-hero Monica Rambeau's mom and fellow pilot...
Goose, Carol's cat... which is named "Chewie" in the comic books (after Chewbacca)... and is apparently named after Anthony Edward's Top Gun character here...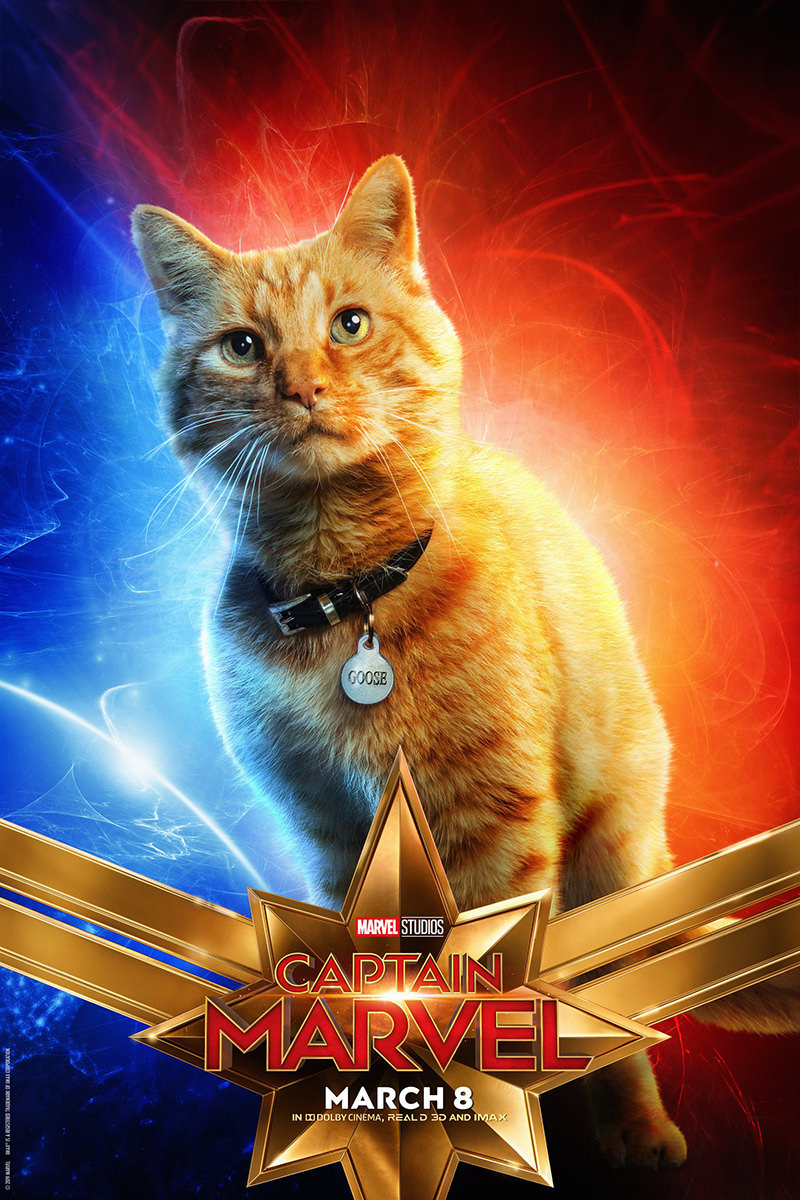 Mar-Vell(?) is the original Captain Marvel in the comic books but, since the origin is changing for the movies, he could be playing somebody completely different...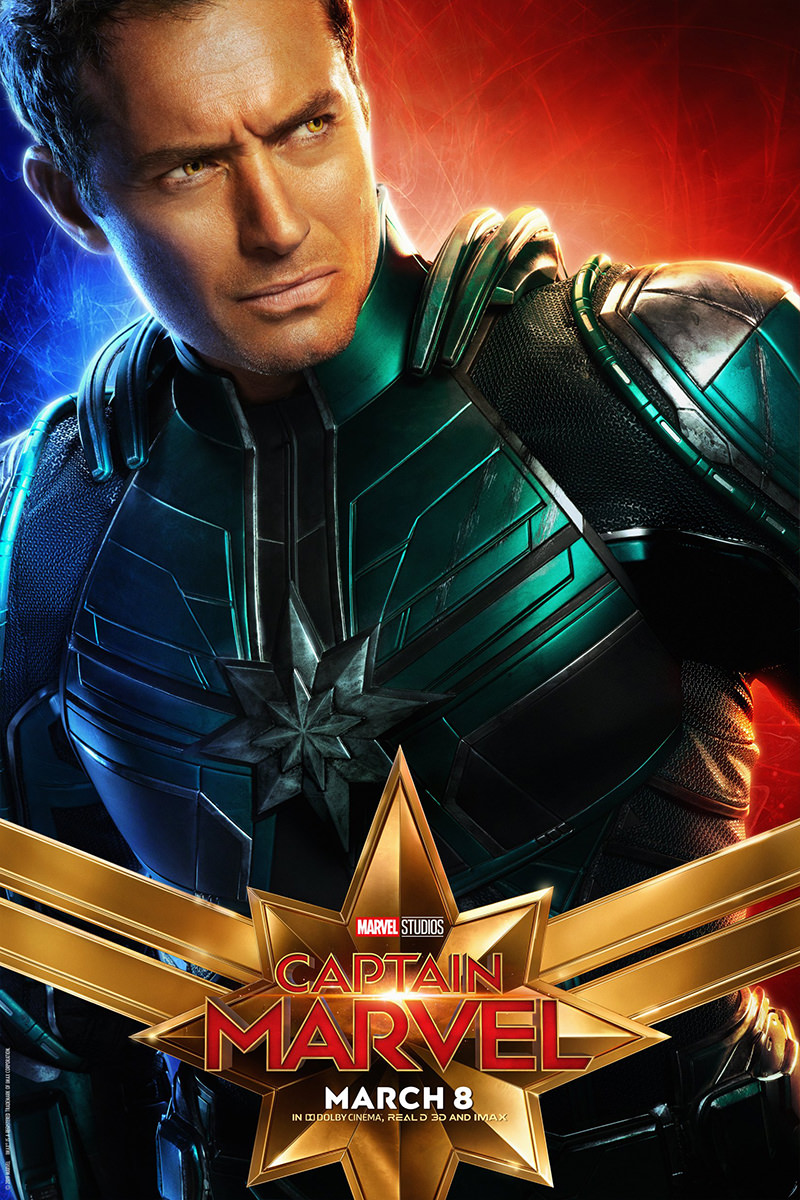 Korath, whose last appearance was in the first Guardians of the Galaxy movie...
Minn-Erva, an enemy of Carol in the comics, but apparently isn't that (yet) in the movie...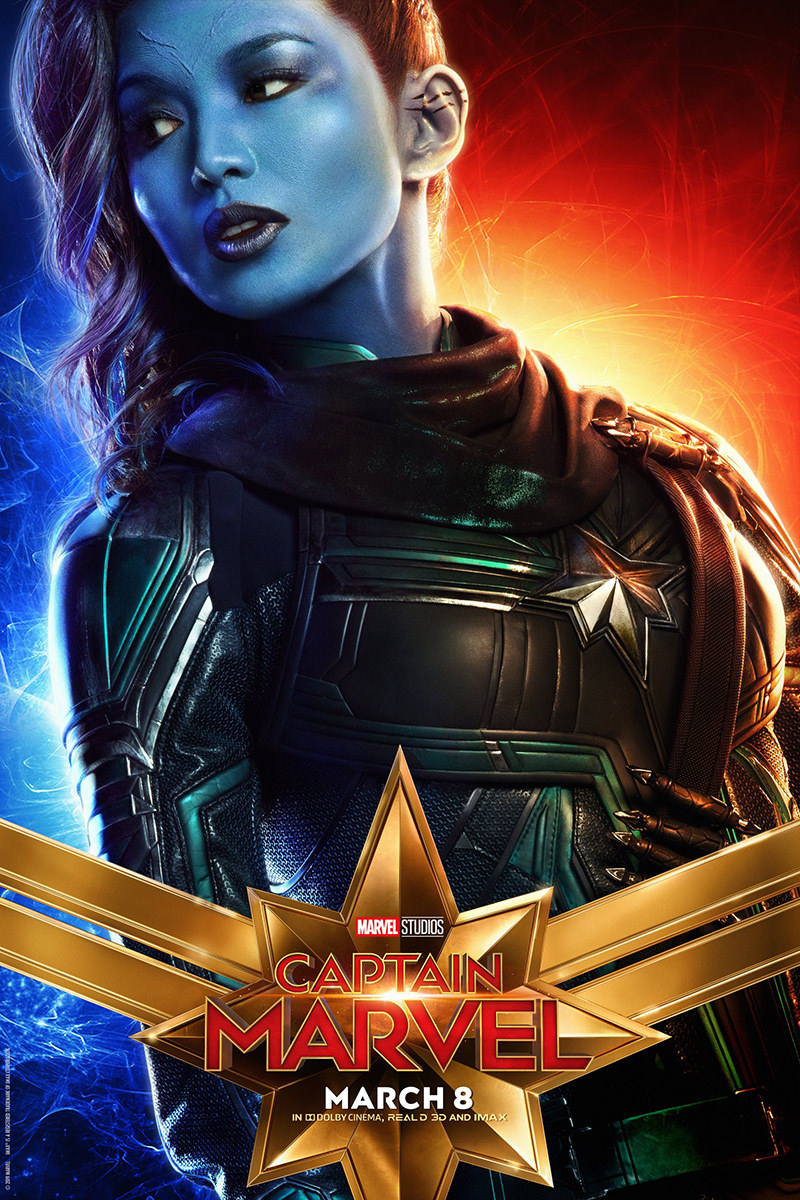 Talos, an evil alien Skrull shown here in his human form...
??? No idea who Annette Bening is playing in the movie... Supreme Intelligence in human form perhaps...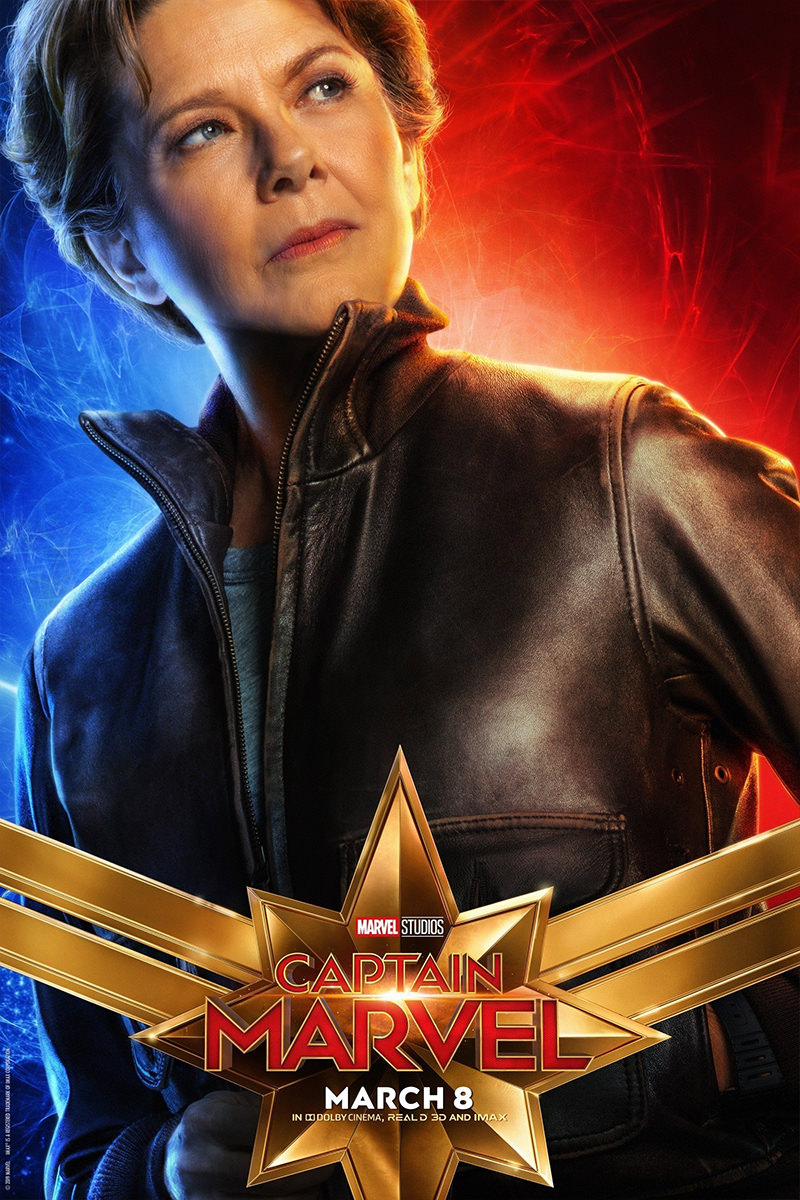 March 8th can't get here soon enough.