Posted on June 25th, 2017

Hope you're enjoying those lazy, hazy days of Summer, because an all-new Bullet Sunday starts... now...

• Munneh! But, yes. By all means. Let's invest our money in coal. Soon-to-be-obsolete coal that nobody is going to want when there are going to be far cheaper, cleaner, and more efficient ways to get our energy...
I mean, we could bring this technology to former coal towns and train the workers there for jobs that will actually matter. But, no. Because coal. Uh huh...
The sheer idiocy involved in killing off the American worker by our politicians is just astounding. We're not going to be competitive in the global job market, and we did it to ourselves by electing assholes who are more interested in fleecing taxpayers for the benefit of coal executives than creating jobs for ex coal miners.

• Kens! And so This happened: Mattel released 15 new variations of Ken Dolls... aka Mr. Barbie...

And no, your eyes are not deceiving you... there are Ken dolls with a man-bun now. I can't fathom the parent that would buy their daughter (or son, for that matter) a doll with a fucking man-bun on it, but since society is hell-bound anyway, here you go. As if that weren't enough, the Kens are available in three body types: Original, Slim, and Broad. Because heaven only knows we don't want to cause body identity issues in our children. Their dolls have hipster man-buns now, and that's enough fucking trauma for childhood.

• MMMMMMEAT! Clearly God wants everybody to be vegetarian, and this is His solution... OH, LOVELY: THE TICK THAT GIVES PEOPLE MEAT ALLERGIES IS SPREADING. From the tick's perspective, I'm guessing that people taste like chicken.

• White! "Being white in this country, I should just shoot myself." — Somebody please hand her a gun. Because this racist fucking waste of space shouldn't be raising kids... let alone be allowed to join society...
No matter how many times I see bigoted shit like this, I remain amazed. Not that assholes such as her exist... but that they feel so confident in their racist bullshit to act this way in public.

• Hope That Helps! Ben Palmer released video from one of his shows and it is everything you'd hope it to be...
Watching him troll on Facebooks is one of the reasons I am happy that Facebook exists.

• HomeShit! You know, I understand that companies can't release a winner every time. There are going to be some duds, even for the most inovative of them. I get that. Honestly I do. But Apple's HomeKit is such a festering pile of shit that I cannot fathom why in the hell they don't scrap it and start over or fix their stupid crap so it will actually function reliably. Thank heavens the only thing I was stupid enough to trust to Apple's failed system is my door locks. I wanted them on a completely separate system from the rest of my home automation for security reasons and, hey, it's Apple... right? What could go wrong?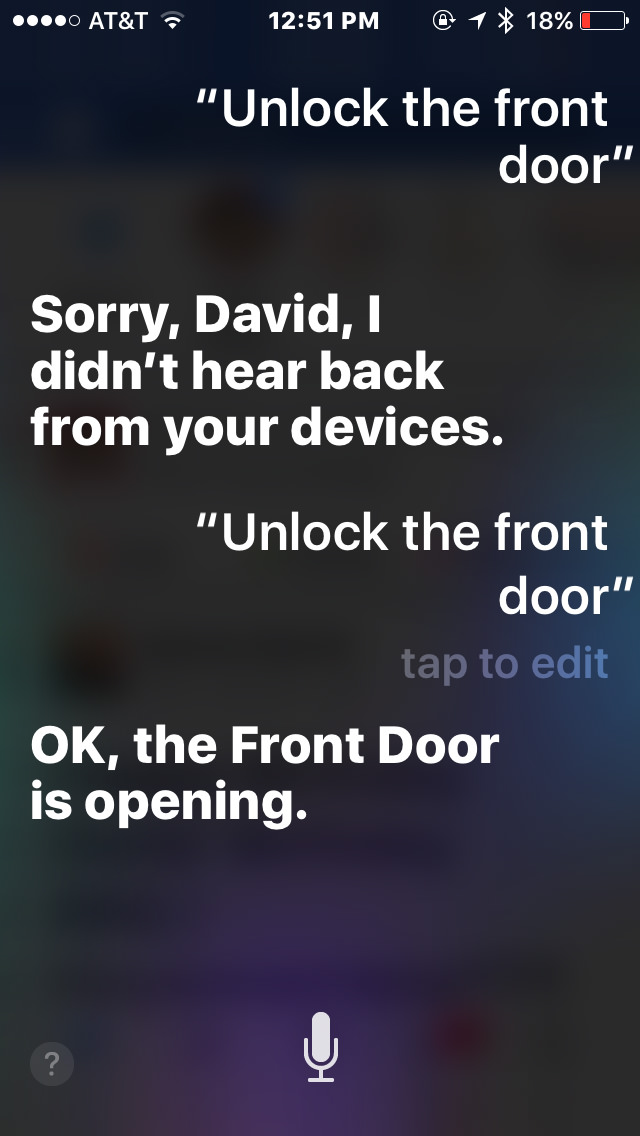 I never dreamed the answer to that question would be everything. Apple should just do everybody a favor and kill off HomeKit instead of continuing to pretend that they give a flying fuck about home automation.

Dis be da end, everybuddy.
Tags:
Apple
,
Bullet Sunday
,
Dumbassery
,
Dumbasses
,
Home Automation
,
HomeKit
,
John Oliver
,
Meat
,
Politics
,
Toys
Categories:
Apple Stuff 2017
,
Bullet Sunday 2017
,
News – Politics 2017
—
Click To It:
Permalink
—
0 Comments: Click To Add Yours!
Posted on May 24th, 2017

When I bought my home, I noted how all the heat in the place is constantly rising to the upstairs. Doesn't matter if it's natural heat in July and August... or furnace heat in December and January... it's all the same. Downstairs cool. Upstairs hot.
And since I put my bedroom and office cat's playroom upstairs, those rooms can get uncomfortably warm. So I took a cue from places like New Orleans and Maui and installed ceiling fans...
They. Are. Wonderful.
And since they are controllable from my home automation system, the fans can be controlled remotely. No need to get out of bed to turn them on/off or change the speed. I can do all that from the iPhone on my nightstand. Or by saying "Alexa, set David's fan to medium."
What I really need to do is get a temperature sensor and have everything programmed to happen automatically! The fan speed could be determined by detected temperature ranges. That way air could be circulating as needed, even when I'm not home.
The best thing about ceiling fans is that I don't have to run the air conditioner as often. Especially at night when I'm in bed and the fan is above me. This saves a crazy amount of electricity... and if I were able to install them in the downstairs living room and guest bedroom, I could probably get away with no air conditioning at all. Alas, the recessed lighting cans I need to install from are in all the wrong places, so... no joy there.
A summer project I've been bouncing around in my head is to install a ceiling fan in the stairwell. That way I could have it running in the winter to keep the heat downstairs where it belongs. Or so I'm guessing. Air flow thermodynamics are not something I pretend to understand.
And now for my metaphorical explanation of kidney stones from 2009...
Let's say that you built a new greenhouse where the plants require special water. Highly filtered water, you might say. So you build a nice system where dual filtration units remove all the impurities, then pass the filtered water off into a bucket. The bucket in turn feeds a massive nozzle which you then use to spray your plants...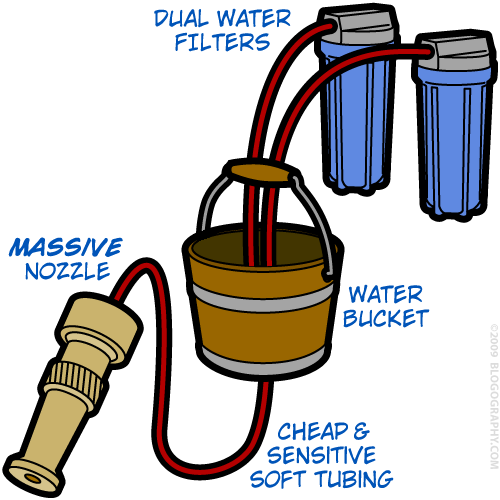 The key to comprehending this system is understanding just how massive the nozzle is. It's enormous. Firefighters are in awe of just how big it is. You could hose down an entire football field plus a team of cheerleaders in just five minutes (assuming you didn't want to take your time, of course)... because that's how astoundingly large this nozzle is.
Unfortunately, the tubing you bought to feed the system is way too small. It's also very soft, and easily ripped if anything sharp comes near it. It can also be prone to tearing if you force something too wide through it. And no, I don't know why. Maybe you spent all your money on the massive nozzle and didn't have enough left over to buy decent tubes... whatever... it's not important.
What IS important is that the nozzle is just fine. The nozzle works perfectly and can handle just about anything you throw at it. It's the tubing which is totally inadequate to the task here.
Because, oops! Every once in a while the filters let a particle slip through. This causes all kinds of agony, because those little tubes just aren't built to handle it. Eventually, it will most likely make its way through the system, but it's a painful process. The worst, most horrifying part is in the tubes leaving the filters and depositing into the bucket. These are the tubes least able to cope with the damage. You get something going through here and you become so traumatized that all you want to do is burn down the entire greenhouse.
The tube from the bucket to the massive nozzle is uncomfortable, but nowhere near as painful...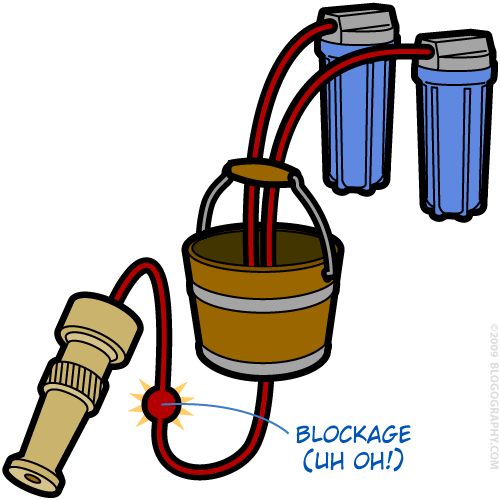 Blargh. Having a particle stuck here feels like you have a little razor blade about to run through your nozzle. It also makes you feel like your bucket is full all the time. So you spend your entire day running to the greenhouse even though your bucket is mostly empty. What time you don't spend at the greenhouse is spent in quiet discomfort, just waiting for the particle to finally exit your filtration system so you can get back to a normal gardening experience.
And I would really, really, like to get back to normal so I can start living my life without having to worry about the spikey rock headed down my massive penis nozzle.
Posted on May 19th, 2017

Internet-enabled security cameras are all the rage even though there are inherent risks to having them. Hackers are exploiting webcams with increasing regularity, which means that your privacy could be violated if you're not careful. Personally, I'm okay with the risks. Being able to remotely view my cameras from wherever I am in the world is the whole point of getting them in the first place. I want to be able to see what my cats are up to and check on possible security problems, and this is the easiest way to do it. But I don't put them in private areas (like bathrooms or bedrooms), I change the default passwords, and I have all interior cameras turn off when I walk in the door, so... if somebody wants to look at my kitchen while I'm away, have at it.
I actually have two sets of cameras. One is all local storage only with battery back-ups in case the power or internet goes down, the other is my webcam system that records to the cloud. After buying four different brands that were rated "the best" so I could test them out, Nest is the one I liked most and bought into...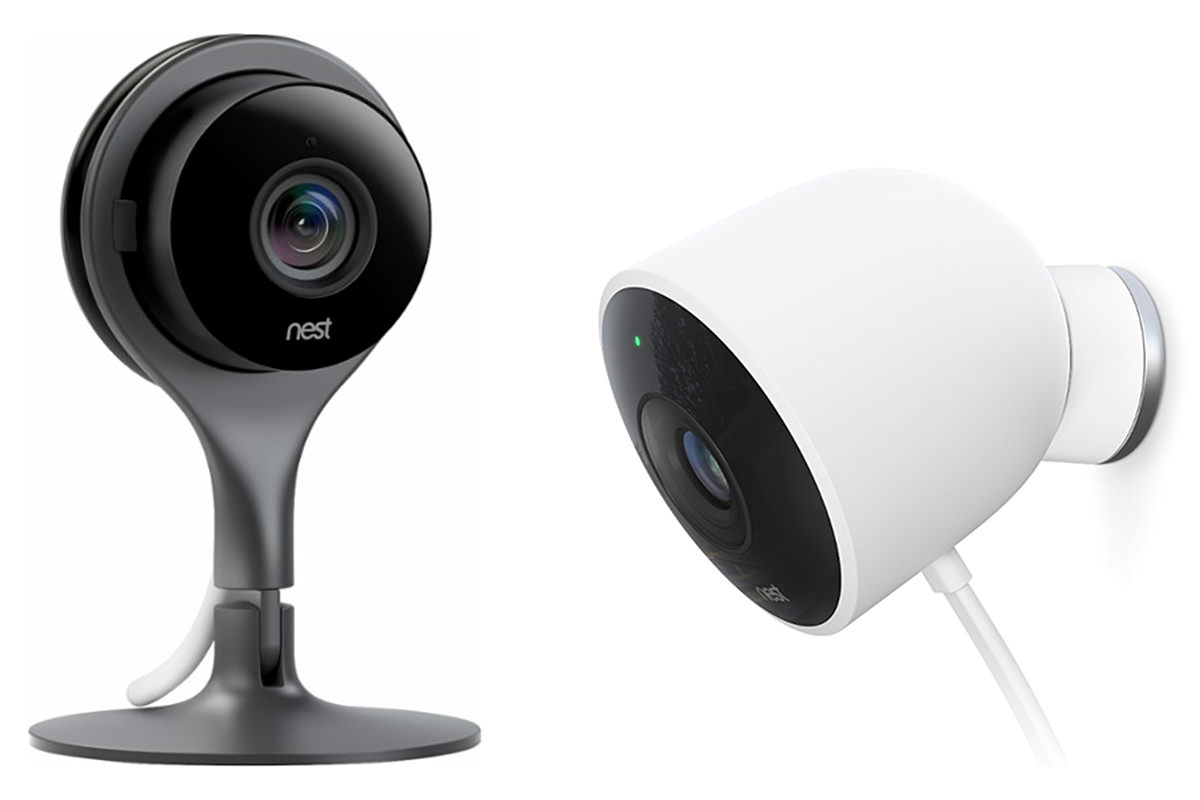 Like anything in life, it's a mixed bag. There are good things and bad things to the deal.
THE NEST CAMS...
Despite my many issues with Nest, the quality of their cameras is absolutely not one of them. Indeed, the only thing that keeps me a customer is that the cameras are just so nice. Dead simple to set up. Beautifully designed. 1080p resolution with a generous wide-angle view. Excellent night-vision. When it comes to security cameras, they are the total package. You pay for it, of course. An indoor Nest Cam is a whopping $199 (around $169 street) and the outdoor Nest Cam is also $199 (around $179 street). I don't know that they are worth the price tag... $129 seems a more reasonable cost (especially considering you have to pay an additional fee for all the features)... but I've found nothing out there that compare at any price.
NEST AWARE...
Where things go off the rails with Nest Cams is the necessity of paying for their Nest Aware cloud service. Yes, your cameras work perfectly fine without it, but all the best features of Nest Cam are unavailable unless you pay. And it ain't cheap...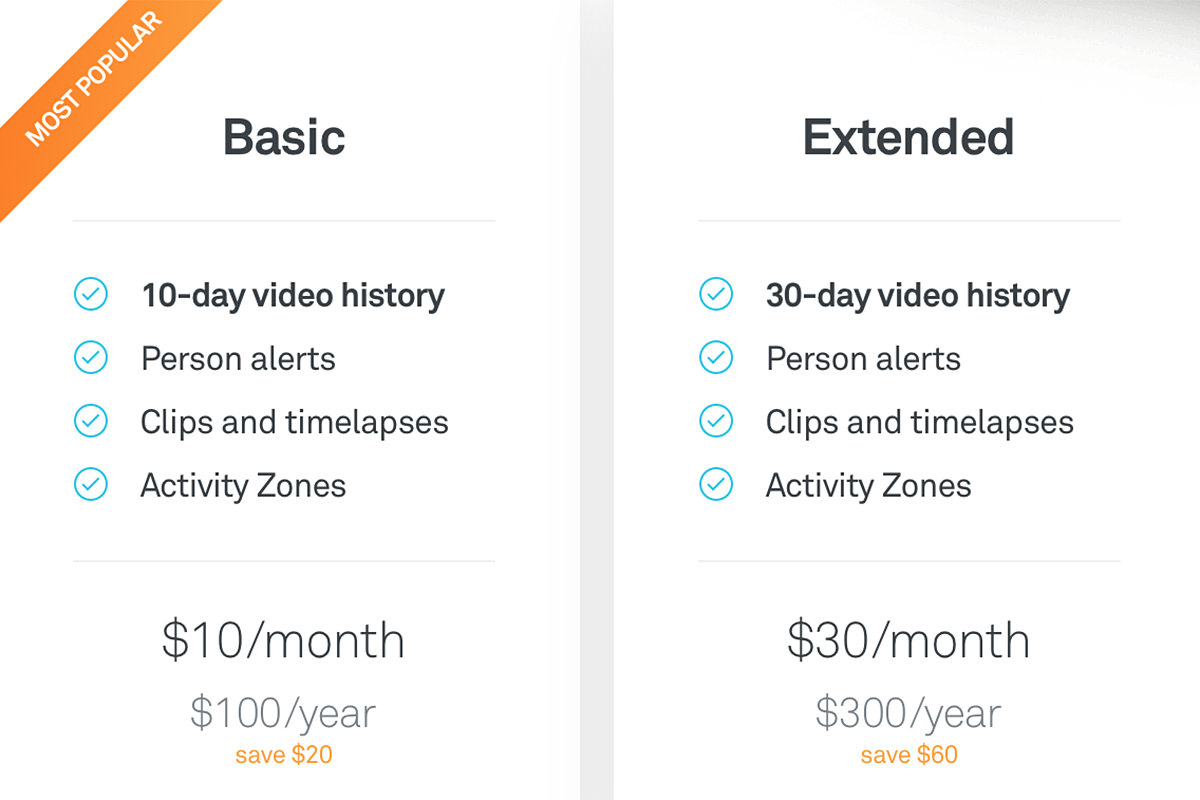 The least expensive program gets you 10 days of video history at $100 for the first camera (annually), then $50 for each additional camera. I have ten cameras. If all of them were on Nest Aware, that would be an insane $550 a year. I can't afford that, so I only have some of my cameras using the service. What you get when you subscribe to Nest Aware is the afore-mentioned video history retrieval (with the ability to create downloadable clips or time-lapse videos) plus the ability to define "activity zones" so you can choose which locations in the camera's view will trigger an alert. Without Nest Aware, you can tune into a live view any time you want... and you can get a "motion snapshot" history for the past 3 hours (but only on your phone, not from a web browser). I wish they had a 2 day history option for $20 per camera so all my Nest Cams could be Nest Aware... or even have a 1 day history freebie so all Nest Cams could be Nest Aware. But, alas...
NEST AWARE ACCESS...
The Nest Aware service can be accessed from an app on your phone or a web browser. Both have an easy-to-use interface that's beautifully designed. A while back Nest added a "spaces" overview of all your cameras, which is what you see when you login. The only problem is that if you have Nest Protect smoke/carbon monoxide detectors, they bundle them together for some stupid reason, ruining the perfect grid of cameras. I've blurred the feeds so you can't see how messy my house is...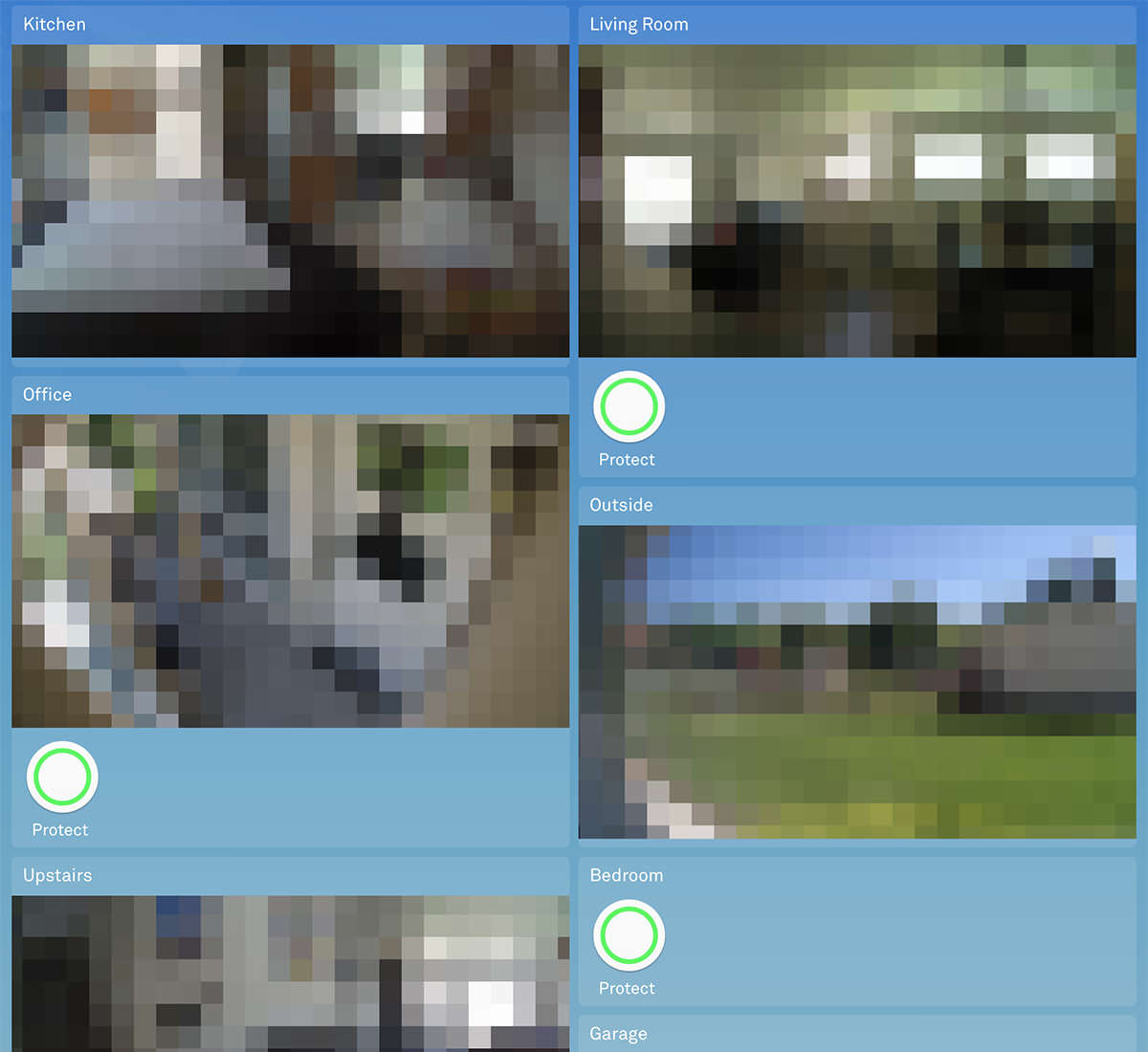 No clue why they do this, but it's incredibly annoying and I haven't found a setting to "unbundle" them. Hell, I can't figure out any reason why you would want them bundled in the first place.
NEST AWARE INSANITY...
Recently I have been having major problems with the video stalling on the screen when I view it on a web browser. Things have been working great for a year now (assuming I had a good internet connection), so what's the deal? I chatted with Nest support, telling them that the video is definitely getting to Nest Aware because I can download a clip as a Quicktime movie and the motion is there... I can even view it in motion on my iPhone... but 9 times out of 10 on my browser, the image doesn't move. Whether I am trying to watch the video live or review my video history, the image is static. So obviously there's something wrong with the Nest Aware streaming service for browsers, right? WRONG! First they blame the browser (that's tech support 101). But stalled video happens regardless of which browser and which computer I am using. Then I'm told not just once... but multiple times... that the problem is probably my router because the Nest Aware Service is "fine." This, of course, is insane. If the problem were my router, then motion video wouldn't be getting to Nest Aware. Except it is. My router doesn't even enter into the equation when it comes to getting video OUT of Nest Aware, only into it...

Long story short... the problem fixes itself when I use shitty "Flash" instead of "HTML 5" video to connect to Nest Aware. I thought of relaying this back to Nest but, given their fixation on my router, they probably wouldn't believe me.
NEST AWARE ZONES & PEOPLE DETECTION...
My favorite feature of Nest Aware is being able to define "zones" where I want motion reported. In my front yard, for example, I want to know if somebody is on my driveway or walk... or trying to steal my garden hose. I don't care about the people cutting across my yard or the tree moving when the wind blows. Defining a zone where I'll get alerted is a piece of cake (shown below in orange)...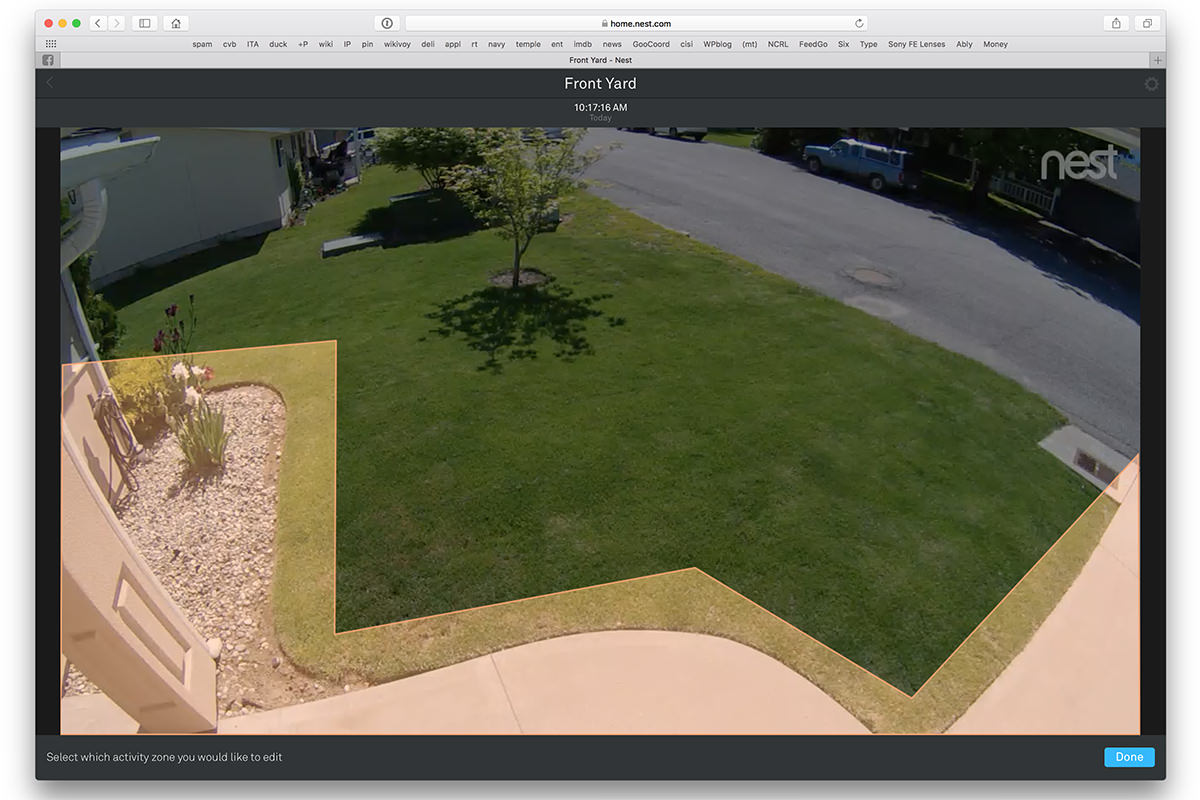 The system works really well. Alerts are messaged to my iPhone quickly and, unlike other cameras I tried, motion outside the zone is actually ignored (this turned out to be a bigger problem than you'd think). An additional feature of Nest Aware is their claim to be able to send you "People Alerts" when your camera "thinks it spotted a person"...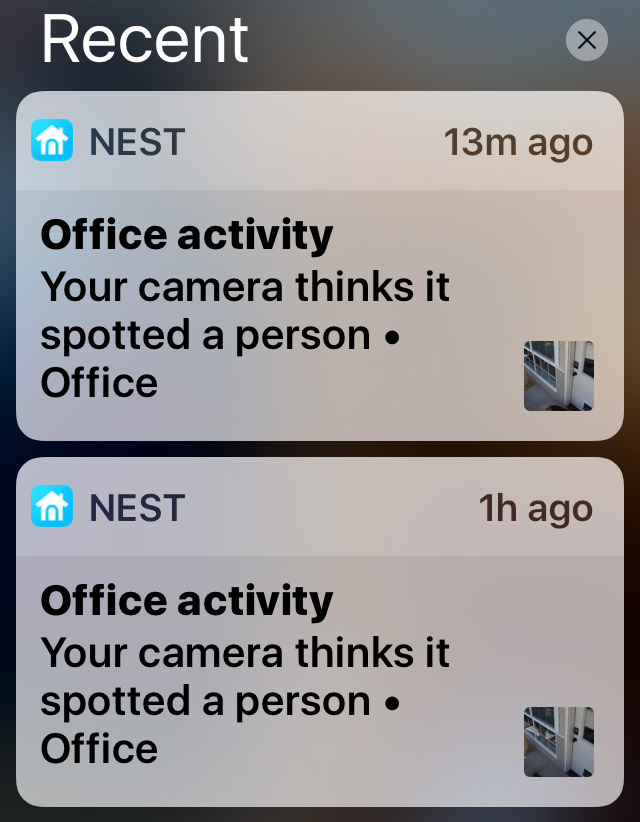 Nest's website claims that its system is so smart that it can distinguish a person from a thing or a pet. Except... not so much. Their accuracy rate, so far as I can recall, is 0%. A team of landscapers arrive to mow and trim and not one "people alert" is ever sent. The only people alerts I get always turn out to be my cats. The alerts above, for example, were Jake and Jenny wrestling in the catio...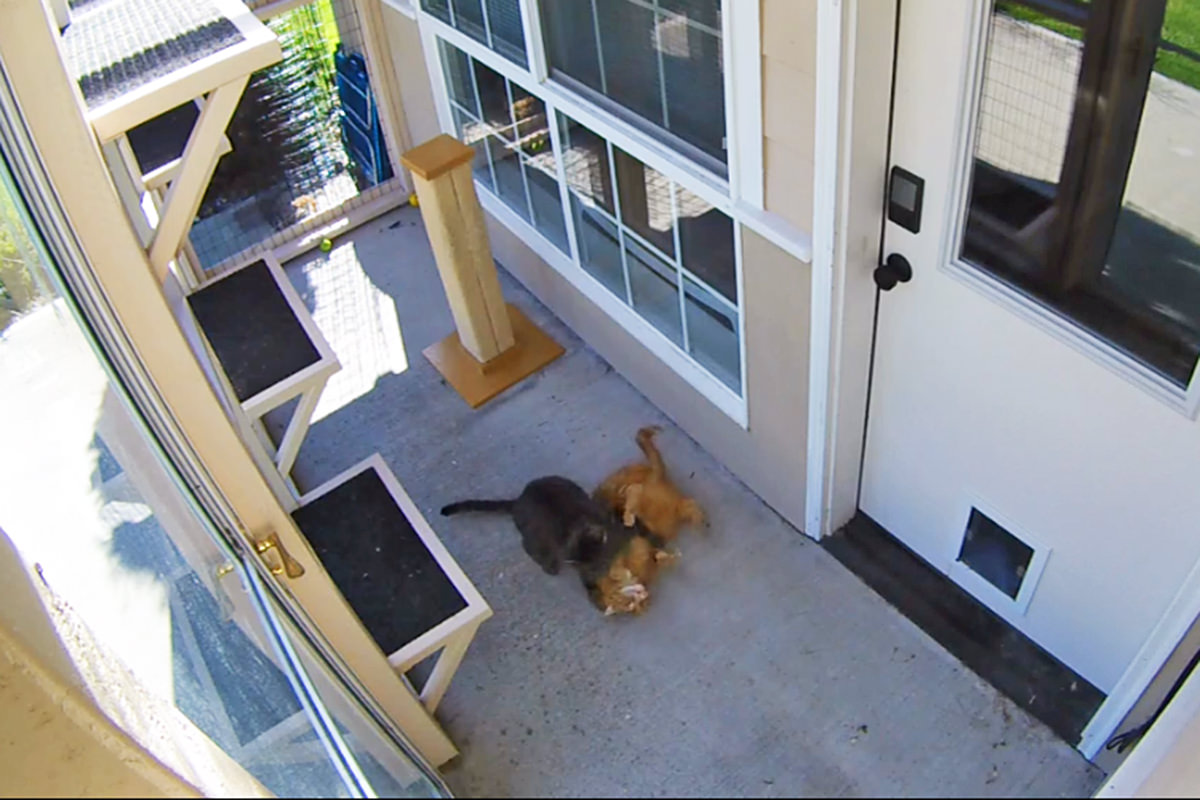 So... if your sole reason for buying into Nest is the "people alerts," then you might want to keep looking.
NEST AWARE SETTINGS...
The settings available for Nest Cams are fairly standard, but organized really well. Some settings can switch automatically based on whether or not I am home (the system uses the Nest App on my iPhone to figure that out). As an example, I have all the interior cameras automatically turn off when I am home, then turn back on again when I am gone. If you don't want your location reported to Nest, you can always set home/away manually by clicking on the big toggle button that shows up at login...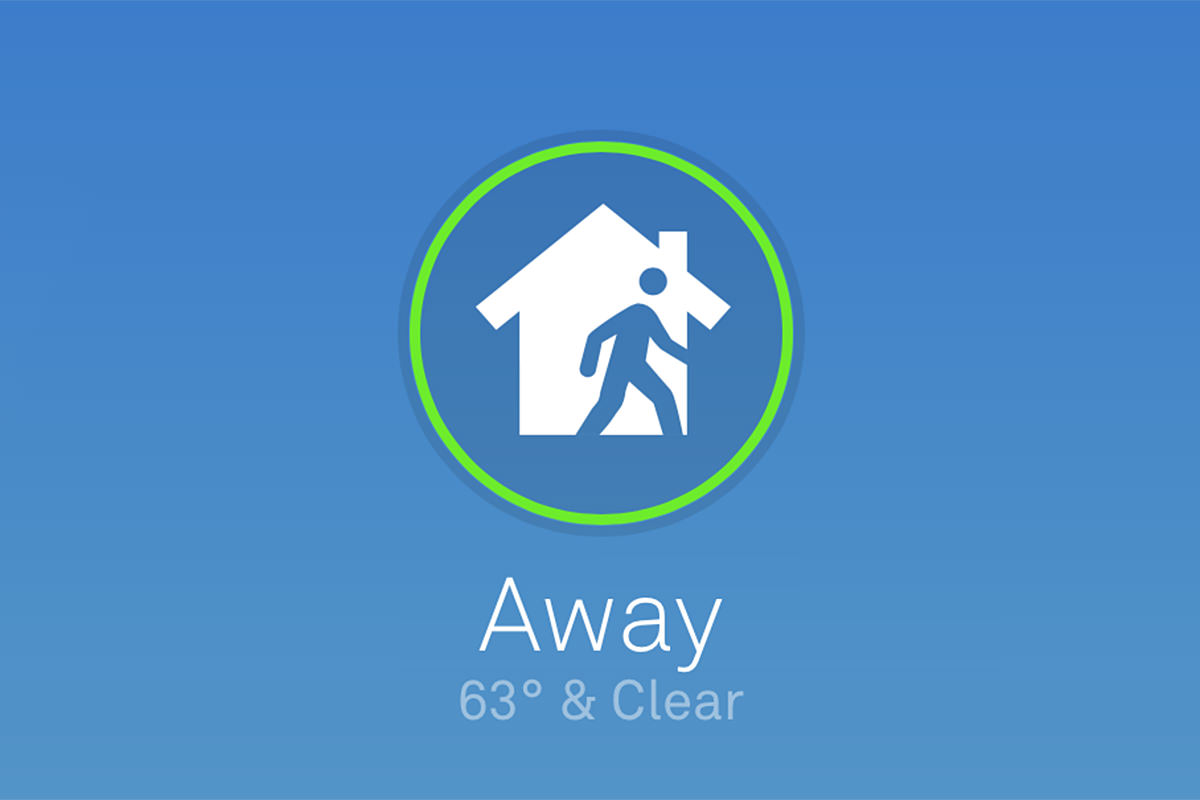 If that's still too much information for you, there's also the ability to set a schedule for your cameras to follow. The rest of the settings allow you to decide whether or not you want to have the microphone on, what kind of alerts you want, what kind of image quality you're sending, whether or not to use night vision... that kind of stuff...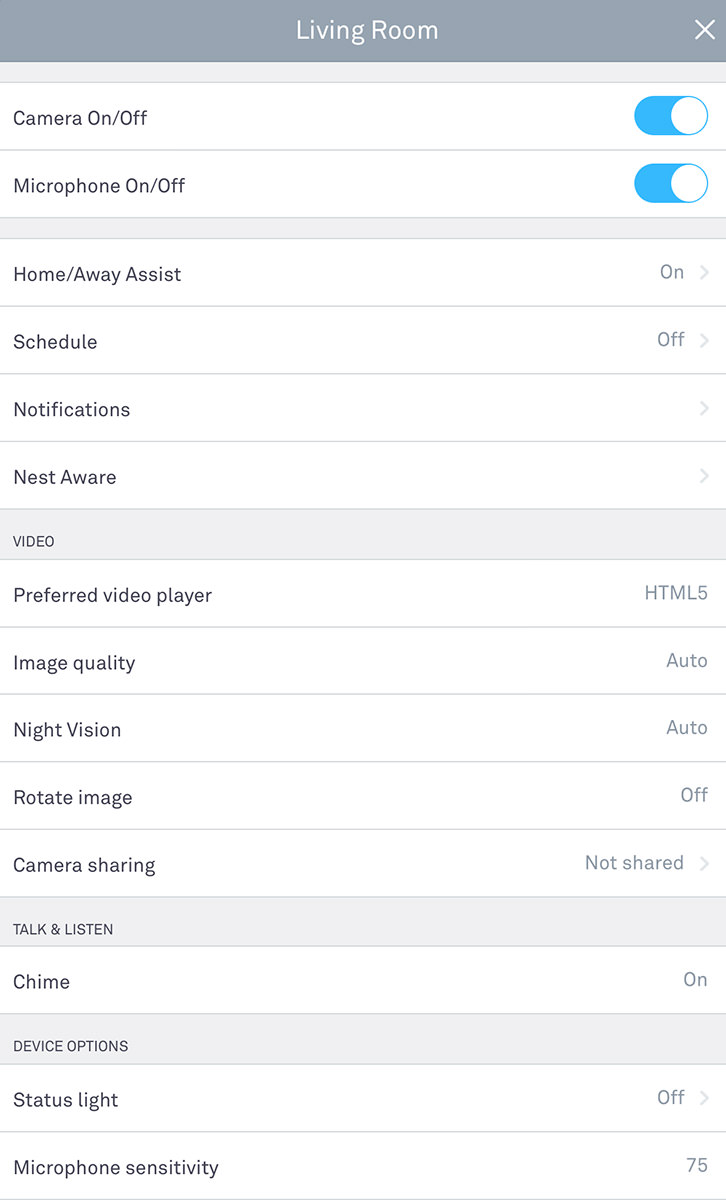 A feature I wish were available is setting the video quality based on whether I am home or away. When I'm home, I'm using the internet for all kinds of things and would prefer the cameras send low-res video so they're not hogging my bandwidth. When I'm away, I don't care how much bandwidth the cameras are hogging, and want them to automatically switch to maximum resolution. Don't know if this is possible, but boy would that be handy.
NEST AWARE PAYMENT...
If there were one thing that could be a complete and total deal-breaker for me when it comes to Nest, it's the disastrous billing system that they have in place for Nest Aware. It's insanely stupid. Beyond insanely stupid. First of all... if, like me, you bought your Nest Cams six months apart so you could split the annual Nest Aware payment into two parts so the financial hit isn't so terrible... Nest would like to kindly ask you to go f#@% yourself. They don't allow it. If you already have cameras on Nest Aware and want to add more of them six months later, they pro-rate the annual fee for the new cameras so the billing cycle is in-sync with the original purchase. There is absolutely no way to do otherwise unless you have multiple Nest Aware accounts, and I don't even know how that would work. I'm guessing you have to set up guest access to your own damn cameras on the new accounts? I'm sure Nest thinks they are doing you a huge favor with the pro-rated billing, but it should at least be the customer's choice as to whether this is allowed.
And, oh yeah... about that pro-rated account syncing bullshit...
It's horrendous. The system billed me twice... with wrong amounts... but not really. At least according to Nest. I spent months trying to reconcile the statements I received with what was actually charged to my credit card and simply could not do it. And neither could Nest. They ultimately told me that I would just have to trust them that everything was billed the way it's supposed to be, even though nothing they could produce would back that up. To this day I have no clue if I was billed correctly.
And that's not all.
Not by a long shot.
Because of the absolute nightmare I had when I added my second batch of cameras, I thought I would be smart and add my third batch after my Nest Aware expired. Since Nest is forcing me to pay for everything all at the same time, I might as well make sure that they don't screw things up again by taking matters into my own hands.
Except you cannot tell Nest Aware not to automatically renew.
Thinking I could outsmart the system, I decided to remove my credit card so they couldn't automatically renew.
Except Nest doesn't allow you to remove your credit card information from their system.
Yes. You read that right. Once Nest has your personal information, it belongs to them! Something I verified after spending a crazy amount of time in chat with Nest Support. Apparently the only way to remove your personal information and credit card from the system is to cancel your entire service... even if it's pre-paid in an annual payment!
SUPPORT: Here is how to cancel the Nest Aware subscription:

ME: Again... I know how to cancel the subscription. That is not what I am asking.
ME: I want to cancel THE AUTO RENEWAL.

SUPPORT: I understand. Currently the only way to cancel Auto Renewal is to cancel the subscription for the Nest Camera, itself.

ME: And you cannot remove my credit car so that it won't auto-renew that way?

SUPPORT: I definitely cannot remove your credit card but I am checking on the steps you can use to get that done.

ME: Wow.
ME: Okay.

SUPPORT: Thank you for waiting. After you go to the "Nest Aware" part of the app, you will see the type of subscription and be able to change your payment information. Please know that as long as you have an active subscription, at least one credit card will need to be in this account.

ME: Sorry I remain so incredulous as to how Nest chooses to treat their customers, but this is the wackiest thing I have ever encountered for somebody providing me a service. 1) You get double invoices with different numbers for every transaction. 2) Nest is not able to offer any explanation as to how the billings work or even tell you how things were billed. 3) You are forced to have your service plans pro-rated so everything syncs up on a renewal date... even if you can't afford to renew everything at once, which is why you staggered the purchase of your cameras in the first place. 4) You are forced to auto-renew Nest Aware, even if that's not what you want. 5) You have no control over your credit card information and cannot remove such private information from your account. 6) Nobody at Nest finds anything odd about all of the above. I mean... wow... just wow.
This is some seriously sketchy shit.
Nest Aware is like the f#@%ing mafia.
And yet nobody at Nest thinks there's anything strange about the way they conduct business. Nor do they appear to have any interest whatsoever in updating their system so it's not so abusive and stupid. It's for this reason that I hesitate to recommend anybody buy Nest's shit. Yes, they have incredible products, but is dealing with their absurd billing practices worth it? If I weren't already invested in the system, I'd probably say "no." But since I am, I guess I'm stuck here unless somebody comes up with a "jailbreak" for the cameras that allows you to pair them to your own "cloud server" for storage and access.
But anywho...
As I mentioned, I have ten Nest Cams. In order to get the coverage I want, I really need one more. And if the cameras end up going on sale one of these days, I'll probably get it. Despite having to be chained to Nest Aware's high cost... despite the stupid billing system... despite my running out of bandwidth. Because even when all that's taken into consideration, it's still the best security camera system I've found.
For now anyway.
Posted on February 17th, 2017

I've long been fascinated with home automation... even before I had a home of my own where I could implement it. Once I actually got started with the stuff I became even more fascinated, because you just don't know what you can do until you're hip-deep in the culture. Depending on how clever you are (and how much money you're willing to spend), home automation is the ultimate lifestyle hobby.
Most people think that simple tasks... like turning lights on-and-off automatically or locking and unlocking a door remotely... is what home automation is all about. And they would be right. Except it can go so much deeper than that.
Take for example my morning routine.
I am usually up and working in bed around 5:00-5:30am. But my first task of the day... feeding my cats... doesn't happen until 7:00am. Once that time comes, here's what happens...
At 6:30am, the furnace/air conditioning comes on, as needed, depending on the temperature in the house.
If 7:00am happens before sunrise + 15 minutes, my bedside light, staircase light, dining room light, and kitchen light all come on.
I receive a text alert that it's time to feed the cats.
If a motion sensor isn't triggered in 15 minutes, I get another alert.
Once the cats are fed, I head back upstairs to get ready for work. A motion sensor sees this then turns off my bedside light and kitchen light, then dims the dining room light to 50%, if it was on (cats see better in low light than I do!). It also turns on the upstairs bathroom light and the shower fan.
After I'm finished in the bathroom, I say "Alexa, turn off morning bathroom," and everything shuts off there. If it's sunrise + 15 minutes or later, the stairway light goes off as well (if it were turned on).
When I leave the house, I tell Alexa and she shuts off any lights that happen to be on. The thermostat goes into "Away Mode" to save energy. Security cameras in private places (like my bedroom) turn on (they are off when I'm home).
It sounds kinda complicated, but it's actually dead simple to set up once your home is wired for it.
Take, for another example, garbage day.
I keep forgetting to put the garbage out on Wednesdays when I get home so it will be picked up Thursday morning. Thinking like a home automation hobbyist, I wonder how I can have my home assist me in remembering. The program to do that is pretty simple...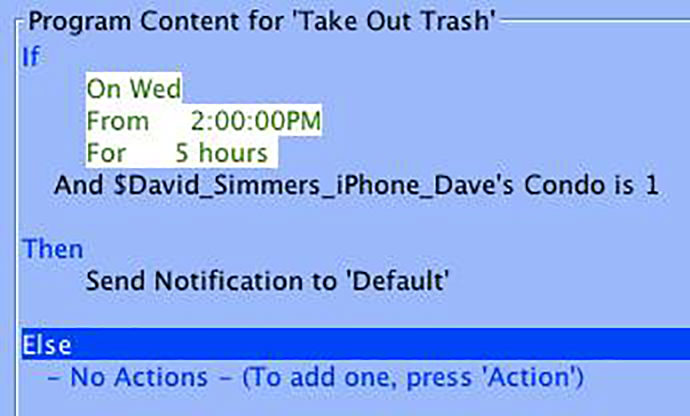 On Wednesdays after 2:00pm, my house is alerted to start looking for me to arrive home. It's able to do this because my iPhone (which is always with me) will trigger an alert whenever I am within 50 feet of my house. Once I arrive, a notification is sent to my iPhone which reminds me to take out the garbage. You can see it in my iPhones alert screen (which you have to read from the bottom up)...
The first message I get is that I've entered my "home zone"... then I get a reminder to "Take Out The Trash"... then the garage door opens (while the sensor in there lets me know there is now motion in my garage).
It worked perfectly, but I was worried I'd miss the alert if my phone were in my pocket. So I added a line of code to turn on the light outside my garage. It's easy to notice because it's green (for the Green Light a Vet project)...
So now, even if my phone is in my backpack or on silent or whatever, I still have a reminder that I need to take out the garbage can.
What I really need to do is get a bulb that can change color. Then, on alternating weeks, I could have it turn blue to remind me that the recycle bin also needs to be set out.
Ooh... then I could put a sensor on my garbage can and recycle bin so that the garage light is turned off once the task has been completed. That way I'll be saving energy until it gets dark and it comes back on automatically!
And then I could set up a security camera alert to let me know when the trash can and recycle bin have been emptied!
And then I could...
Yeah. Probably best to leave it at that. Home automation can get expensive, yo.
Posted on December 12th, 2016

Don't go shovel that driveway just yet, because an all new Bullet Sunday starts... now...

• Does Whatever a Spider Can! I've always been more a Batman guy than a Spider-Man guy, but Marvel is looking to change that with their first Spidey film, Spider-Man: Homecoming...
I mean... seriously. Marvel seems incapable of fucking up a movie. They respect the source material and give fans exactly what they're dying to see. This is the complete opposite of what DC does, which is rewrite everything that makes the characters great and give fans what Zack Snyder wants to see... which is always a pile of shit. Couldn't be happier to be getting what looks like an amazing Spider-Man movie. The fact that Tony Stark is in there being Tony Stark just makes it too good to be true.

• The Artist Formerly Known As... If you're a Prince fan, GQ has a long, but highly entertaining look at his life from the perspective of people who knew him best. As if that wasn't enough... another genius, Nintendo's Shigeru Miyamoto, was interviewed over at Glixel. You're welcome!

• No Toys for Tots. After coming across this sorry story, I have concluded that it's probably the stupidest fucking thing I've read in a long time. A charity that collects toys for children won't accept toys raised by a tavern because they prayed on it and decided that toys coming from a bar is a bad thing? Who did this idiot pray to? I mean, she did read The Bible and know who Jesus hung out with, right? Yet another case of Faux Christians following in the footsteps of Jesus... just so long as those footsteps don't lead to conflict with their moral superiority and false virtue.

• Can I Be a Lesbian? This had me laughing out loud in the middle of the night at my hotel...
Fortunately, I must not have disturbed my neighbors because nobody beat the door down and strangled me.

• Kitty Homebody. Ever since I got back home in the early AM, the cats have been all over me. When I sat down tonight to work and watch Wedding Crashers, Jake came running in and attached himself to me then fell asleep...
After a bit he ran to get a snack and I thought I was free... but then Jenny came running in and took his place...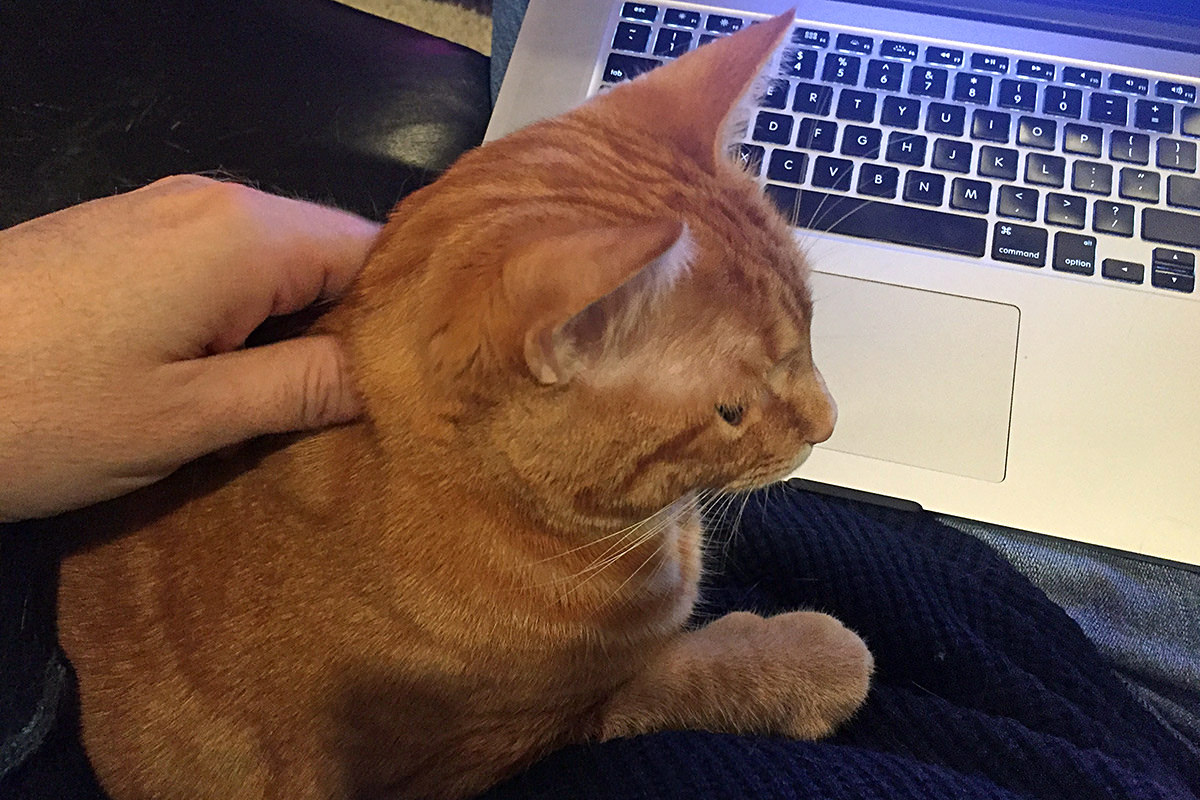 Then she ran to use the Litter-Robot and I figured that was the end of it... except Jake came running back to take her place...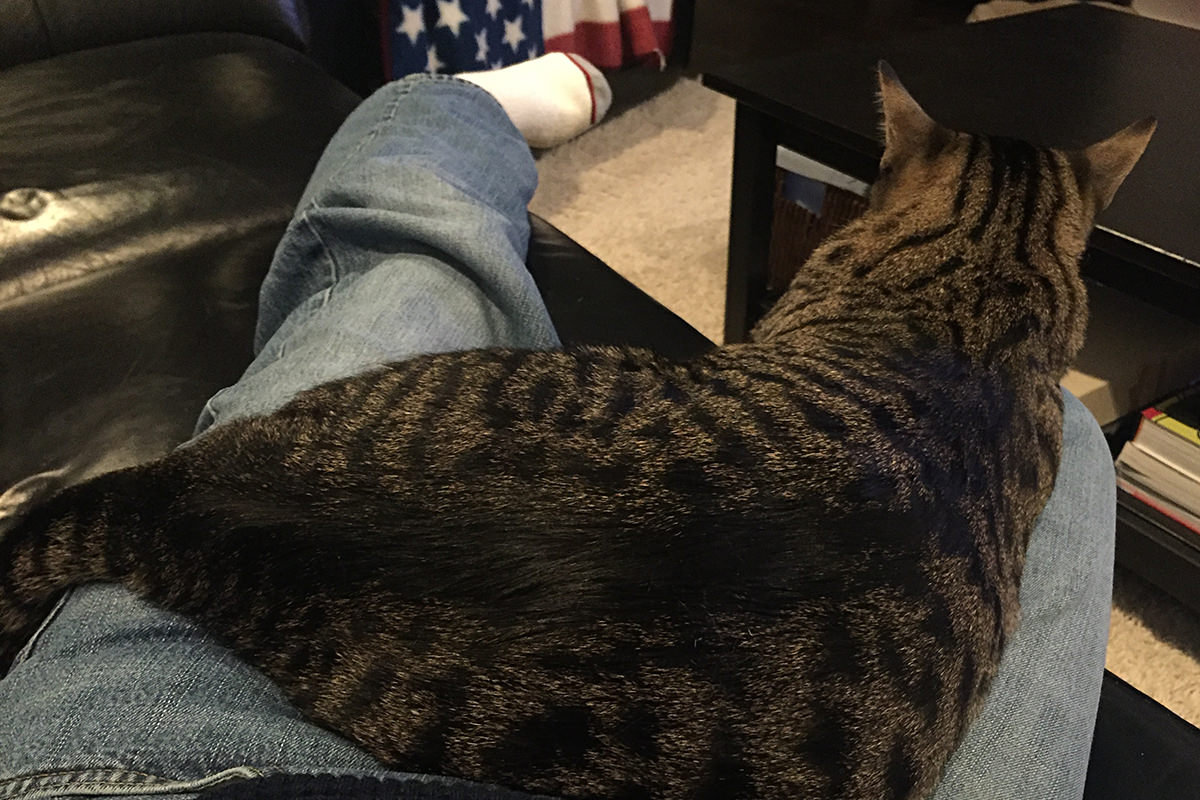 Eventually they must have decided I wasn't going anywhere tonight, and went back to life as usual. Until next time. As if I didn't already feel bad enough about having to leave them...

• Paranoia and Smoke Alarms. Just before my trip to Maine, I started getting paranoid about a fire in my garage. That's where my electrical panel is. That's where my furnace is. That's where my whole-home humidifier is. Any of those things could burst into flames and I wouldn't know about it until it burned through the walls and into the house. To set my mind at ease, I ordered another Nest Protect (smart smoke detector) to put in the garage. Now I'm wondering why smoke detectors in garages isn't a thing. Shouldn't they be? Sure it's $100 down the drain, but that's pretty cheap if my electrical panel caught fire while I was in Maine and unaware. Now my house will send me a text if the garage is on fire. So... yay? I suppose now I need to find out how to call a fire into my local fire department so I can actually do something about an alarm when I'm across the country and 9-1-1 won't connect me to the right place.

• A New History for Humanity. I whole-heartedly approve of this calendar. A simple change that adds loads of perspective...
Too many people think that all of humanity didn't begin until Jesus came along. This fixes the problem without completely disrupting everything. Until scientists decide that

• Trump Diplomacy. This pretty much sums it up...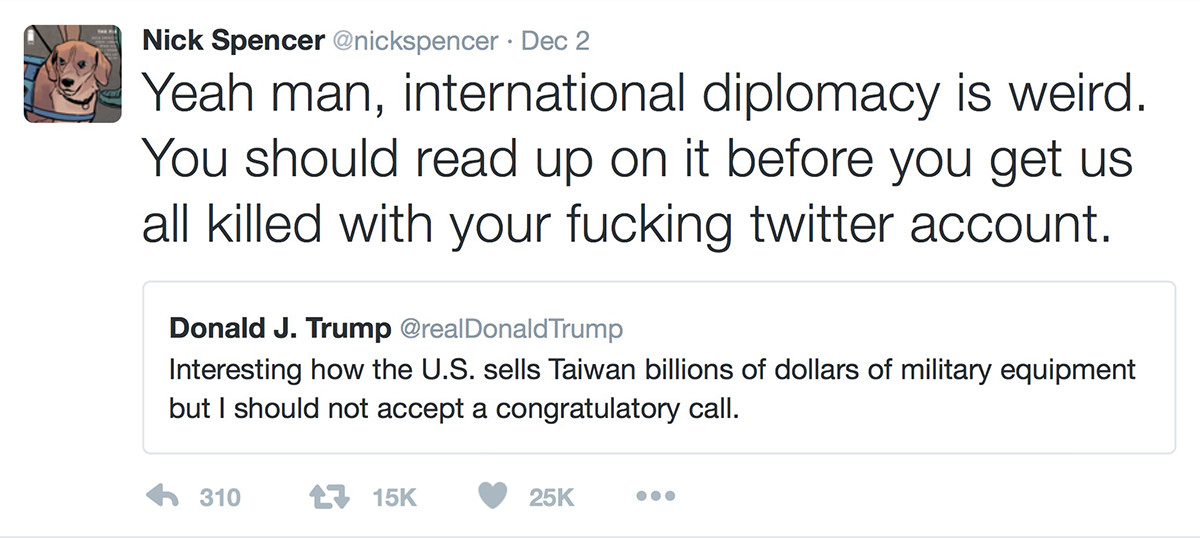 And anybody still calling me "alarmist" for posting end-of-days scenarios around President-Elect Trump's ignorance and stupidity can go read this and then go read this and fuck off now. You'll note that I linked to a FOX "News" story the second time since the people who love Trump and are not taking this shit seriously seem to think that FOX is the only "news" source that matters. Guess we don't have to give a shit about Trump cutting Social Security and Medicare since we're all probably going to be dead by the time he gets around to it. In the meanwhile... this is how Republicans are saving American jobs?

And... the bullets have flown. Until next week then.
Tags:
Bullet Sunday
,
Cats
,
Dumbfuckery
,
Funny
,
Home Automation
,
Marvel
,
Marvel Studios
,
Movies
,
Trump
Categories:
Bullet Sunday 2016
,
Cats 2016
,
Home Renovation
,
Movies 2016
—
Click To It:
Permalink
—
3 Comments: Click To Add Yours!
Posted on December 3rd, 2016

Last night as I was loading my car trunk with some cardboard to recycle, I saw a gallon of milk sitting there. I must have missed it when I was unloading groceries four days ago. Don't ask me how.
I was going to dump it down the drain... but it's been cold out, it's non-fat, and milk is expensive, yo... so I decided to pop it in the refrigerator and give it a shot.
If you never hear from me again, please inform the coroner that it was the milk that did me in.
Now that they've gotten older, I am very fortunate that my cats sleep through the night. They crash downstairs around 7:30-8:00, then follow me up to my room when I retire for the evening. If I turn off the lights to go to sleep, they'll climb on the bed with me. If I leave lights on and work in bed, they'll climb into the kitty beds at the foot of my bed and fall asleep there.
Sounds great, right? Except when I have to get up and pee in the middle of the night. Jake and Jenny think this means I want to play. So when I go back to bed instead of playing with them, they are very, very unhappy I woke them up for nothing.
If you never hear from me again, please notify the police I was eaten by my cats.
Amazon's "Echo" device (called "Alexa") is tied in with my home automation system and controls everything. I can't remember the last time I physically touched a light switch in my home... I just ask Alexa to turn on/off the light I need. At first it was only when I had my hands full. But then... well...
The coolest thing about Alexa is that she can activate "scene" controls and perform numerous functions with a single command. For example... when I say "Alexa, Turn on Night Mode", the following happens:
Kitchen lights off.
Sink light off, leave porch lights on (all come on automatically at sunset).
Dining table lights dimmed to 10% (for the cats)
Living room lights dimmed to 25%
Thermostat down to 68 degrees.
Runner lights on.
Cat water fountain turns off.
Motion sensors turn on.
That kind of thing.
It's absolutely awesome, and I love having Alexa around. She's become so ingrained in my life that when the internet goes down (which Alexa requires to operate) I kind of forget how everything works. When you never use light switches, your head kind of fogs over what to do when you want the lights on. It takes me a minute. In another couple of years, I probably won't even know where my light switches are.
If you never hear from me again, it's either because I'm trapped in the dark in my house... or trapped on the toilet screaming for Alexa to wipe my ass because she does everything else around here and I've forgotten how. Please call 9-1-1.
The mindsets of foreign countries... particularly those in Asia... are radically different from ours. Relations between nations there can be based on cultural differences few Westerners could possibly understand... or on events that happened hundreds of years before the USA even existed. To not understand these circumstances when building foreign policy is to invite disaster. Even the slightest misstep can set events into motion which could have catastrophic consequences. Because of this, it is beyond critical that our leaders be well-advised by people deep into foreign mindsets before making even the smallest decision.
Unless you are President-Elect Trump. Then you just do whatever the fuck you want, no matter how idiotic or dangerous the consequences.
India and Pakistan are nuclear powers. They are also blood enemies. Keeping them from unleashing mass destruction upon each other is a balancing act that has the entire world on edge. So when Trump has a terrifyingly ill-advised phone call with Prime Minister Nawaz Sharif as if he's running Pakistan when, in fact, it's the military that is actually in control of the country... you can see how this could cause a frightening shift in the structure of Pakistan, which could ultimately lead to problems with India. You do not want that.
Then you have Trump accepting a call from the president of Taiwan... which is tantamount to the United States officially recognizing Taiwan's independence from China... which is something that will send China through the fucking roof. This one phone call could set into motion events that have China taking military action against Taiwan in order to make it clear they consider Taiwan to be a part of China. Not to mention making The United States an enemy of China. Which, needless to say, is also a nuclear power. All because Trump wants to build a hotel in Taiwan (or whatever), and he has no fucking clue what in the hell he is doing.
Trump's actions are rushing nuclear powers to conflict in a way he'll never comprehend, and he's not even in office yet.
Can you imagine what happens when he's actually president?
Trump doesn't seem to want to listen to anybody. He acts like a petulant child. He doesn't seem to give a shit what the consequences are for his actions. He is willfully ignorant when it comes to foreign relations and is seriously clueless as to how critical it is not to be making the mistakes he's been making. He is very obviously putting his personal interests ahead of this country. He is inflaming foreign nations with nuclear weapons.
We are all fucked.
And I'm not saying that to be funny or dramatic.
If you never hear from earth again, it's because President Trump destroyed the planet. Please tell any alien life with time travel capabilities to go back into the past and abort this abomination before he's even born.
Posted on November 23rd, 2016

I should have known better. I really should have.
Did I leave the television on? Has my dryer finished running? How much electricity am I using to heat my home? Good questions all.
These are things I'd like to know, so when I saw there was a new device was coming out called "Sense" that could answer these energy questions... and more... I was intrigued. And once I watched the promo video, I was completely onboard...
After a long wait my Sense ($250) finally arrived and I hired an electrician to install it ($120). Turns out I could have easily installed it myself, but the Sense instructions said I had to go online to get info if I didn't have a breaker free... then provided absolutely nothing online... so I took their suggestion to get a professional to do it.
Unfortunately, since my electrical panel was embedded in the wall and not surface-mounted, the electrician had to add a break-out box for the antennae. Not a big deal, but not exactly elegant. Would have been nicer if the antennae could have been inside the box, but I wasn't sure it could get signal there...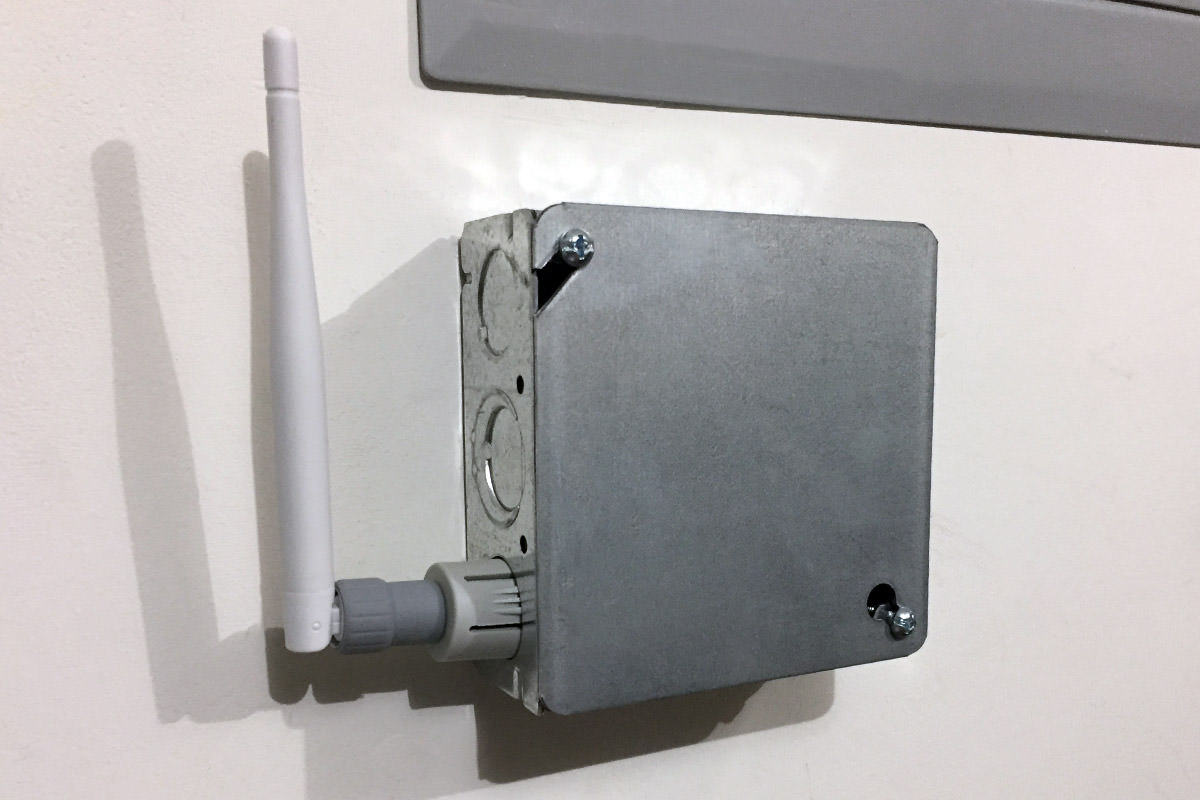 And so... all that was left to do after sinking $370 into this project was to download the Sense app which, fortunately, was free. And, oh yeah, there's one more thing you have to do... you have to wait. The idea is that Sense will "listen" to your electricity usage and eventually learn to recognize your various electrical devices by their "signature." The process takes days to weeks depending on whether Sense has your particular signatures on file.
After a week, my Sense was recognizing absolutely nothing, so I wrote to Sense Support to find out what was wrong. I was told I had to be patient. Eventually it will start to "get it" and devices will pop into place. Until then, I get to stare at two "usage bubbles" for "Always On" stuff (things like clocks and devices in "standby mode") and "Unknown" stuff (things that Sense doesn't yet recognize)...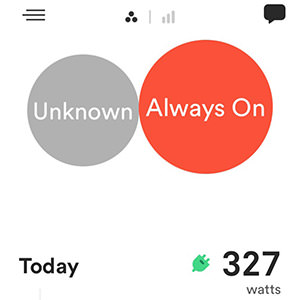 With nothing else I can do, I decided to be patient.
A month passes.
Now my Sense recognizes exactly three things: my microwave, my garage door opener, and my water heater. It thinks it recognizes other things, but it calls all of them "Unnamed Heat" even though none of them are my heater. I try to figure out what they actually are so I can inform Sense, but I can't for the life of me figure it out, even though Sense tells me what time they turned on and off...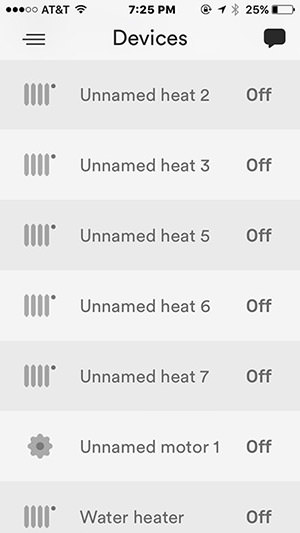 What's so fucking stupid here is that my ACTUAL HEATER should be dead-simple for Sense to figure out. It's the only thing in my home that causes the "Unknown" bubble to blow up like this...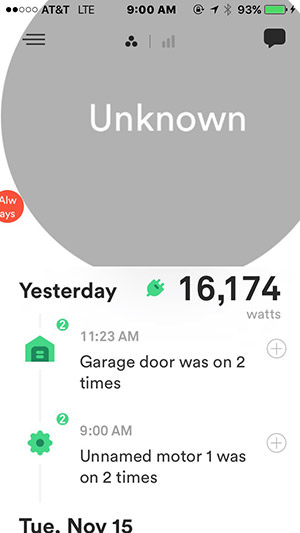 But no joy. It's the most obvious thing using electricity in my house, but Sense hasn't a fucking clue.
Needless to say, I'm pissed off. Partly because this is not what I was promised, and certainly not what I paid $370 for. But mostly because Sense is stupid as a box of rocks... and there's no way to train it to be smarter about what it's sensing.
Take this morning, for example.
I turn on the garbage disposal. On the Sense app, I can see that it has the same "signature" every time you turn it on. It's right there on the screen...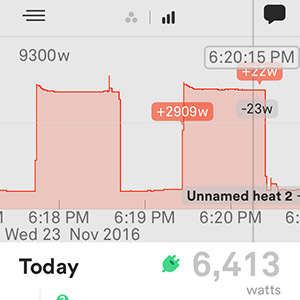 You would think that I could tap those spikes and tell Sense "Hey, that's my garbage disposal!" but you can't do that. All I can do is scream "IT'S MY FUCKING GARBAGE DISPOSAL, YOU PIECE OF SHIT!!!" at my iPhone because Sense has the garbage disposal lumped in with all the "Unknown" crap and there's no way to tell Sense anything about the "Unknown" crap. But what about those "Unknown Heat" devices?
I turn stuff off and on in an attempt to see which "Unknown Heat" it might be... but that doesn't help. My television? Lumped in with "Unknown." My oven? Lumped in with "Unknown." My washer and dryer? Lumped in with "Unknown." My stereo? Lumped in with "Unknown." My iron? Lumped in with "Unknown." My Litter Robot? Lumped in with "Unknown." Everything I could possibly want to know about is lumped in with "Unknown" which means it's useless.
And so... for now anyways... Sense is junk.
Unless I want to know if I left my microwave or garage door running.
And I really should have known better.
Just like the Kickstarter crap I've bought which turned out to be garbage, I should have waited for Sense reviews to come out before investing in it... even though I saved $50 by pre-ordering. Turns out the Sense I really needed was Common Sense. Typical.