Look, I know that I'm droning on about top-tier First World Problems, but it's infuriating just how bad things are getting with Apple and their bullshit.
I am perfectly willing to accept the blame when the fault is mine. A few days ago it was overcast and raining that day. All of a sudden all my lights came on. It took me a second to realize that when I wrote the automation which monitors light levels and turns on lights when it gets dark was fooled by the overcast weather. My bad. I should have included a time range so lights aren't turning on in the middle of the day.
That I can deal with because I can (probably) fix it.
What I cannot fix is the idiotic crap that pops up every damn day.
Like coming home and telling Siri on my Apple Watch to unlock the front door. Something I've done hundreds of times before. Only to get this...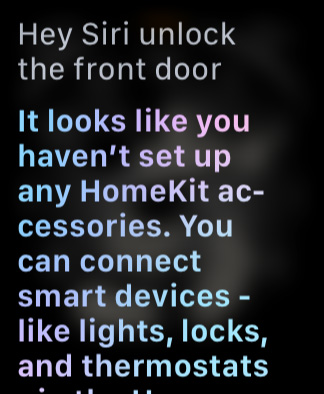 No reason. It just happened out of the blue. And when I go to the Home app on my iPhone? No problem. The front door is unlocked post-haste.
The other day I was writing an email in a language I'm not terribly comfortable with and decided to ask Siri if the word I was using means what I thought it did. Siri didn't understand. So I thought... let's try a more popular foreign language here in the USA...
ME: "Hey Siri, what does the word 'mañana' mean in Spanish?"
SIRI: "In Spanish, mañana means" =insert pause= "mañana!"
AND SIRI SAID THE SECOND MAÑANA IN A SPANISH ACCENT!! Thanks a fucking heap. Remember last week when I was talking about how Apple is losing the AI digital assistant battle badly? This is exactly what I'm talking about.
But even something like that is not going to send me into a ballistic rage where I want to rip my little HomePod orb out of the wall and chuck it out the window. No, that's reserved for stupid, inexplicable bullshit that has absolutely nothing to do with what Apple should be promising... but instead what they have actually been promising!
Like telling Siri to play a song I want to listen to. Have Siri tell me the song will play. Then have Siri tell me there's a problem with Apple Music. WHAT THE FUCK?!? I'm trying to listen to an Apple Service on an Apple Product. There's no disconnect here. And the solution I get from Apple Support Knowledgebase? Remove the HomePod from HomeKit. Reset it. Then reinstall it. Do you know what happens when I do that? THIS RIGHT HERE...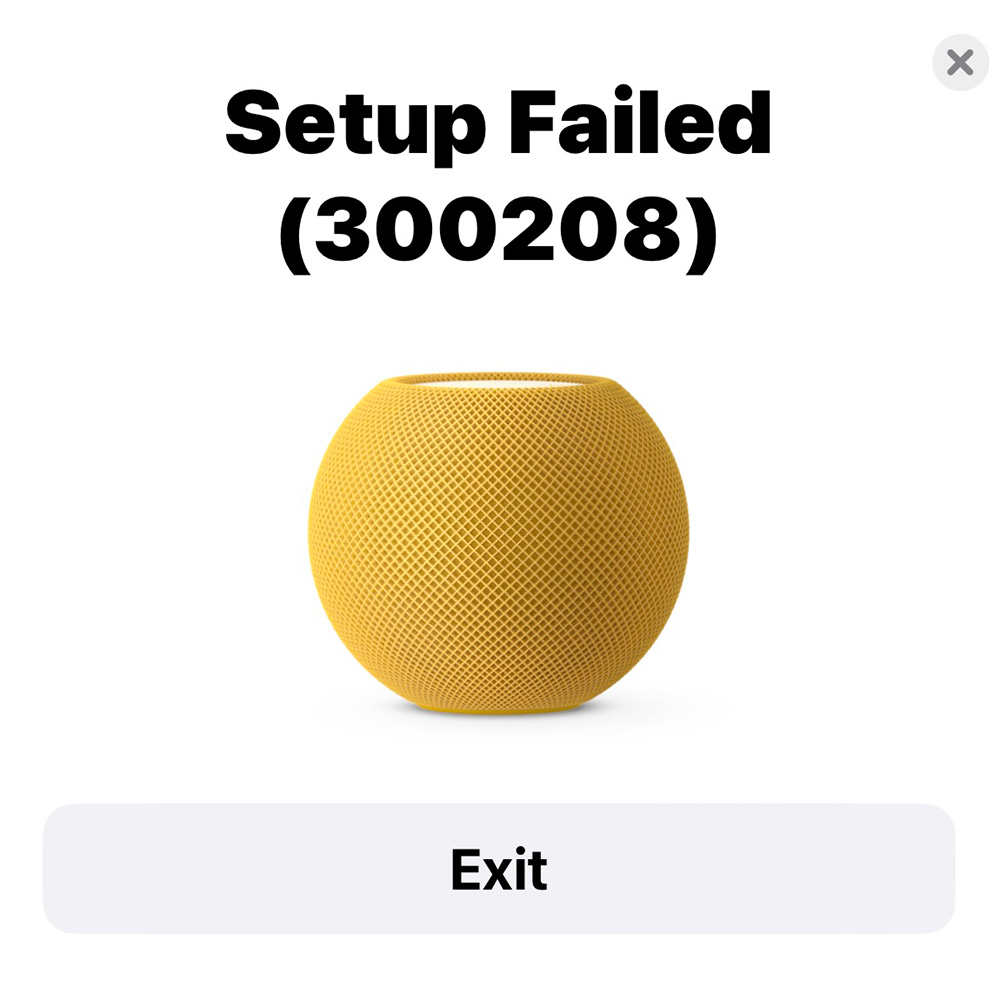 What a friendly error message! What the fuck does (300208) even mean? I tried three times. The fucker will not add back to HomeKit. And the KnowledgeBase isn't helping. I've wasted fucking hours of my life on this shit. So now I have a dead HomePod and I will have to try and get support out of Apple, whose support is so fucking shitty now-a-days that I am almost to the point where I want to throw this one away and get a new one.
For months the internet has been abuzz about how Apple is at the forefront of eliminating passwords forever so we can use biometric data (like a retinal scan or a fingerprint) to unlock our lives for us. Even when the story is about Google following Apple's lead! Which is so fucking laughable because Apple can't even get rid of passwords in their own fucking ecosystem! This is what I got when I went to remove my HomePod mini from my HomeKit so I could re-add it...
Apple asks me for my password ALL THE FUCKING TIME! And if Apple can't even get their shit to work for themselves, then what hope do they have trying to bring others along? Passkey barely works (when it works at all) on many sites which try to implement it (like this blog!).
This has disaster written all over it.
"Hey Siri! I can't breathe and I think I'm having a heart attack! Call 9-1-1!"
"Playing the song 'Every Breath You Take' on Apple Music." =insert pause= "Apple Music is not responding."
We're fucking doomed.