The weather can't make up its mind lately, but I'm not letting grey skies ruin my weekend... because an all new Bullet Sunday starts... now...

• Ghosty Mc Ghost Ghost! I was SO looking forward to Ghosted on Netflix. The film didn't disappoint. Ana de Armas is frickin amazing... and the fact that Chris Evans could play absolutely ANYTHING he wants, but chooses to play the damsel in distress in this movie just makes me love him all the more (he had already completely changed my mind about his career trajectory with Gifted, which I also loved)...
This is a great action flick, and the performances are everything you'd hope they'd be given how outrageous the story is. There's also some notable cameos to watch out for, if you're interested in giving it a shot.

• Mrs. Davis Loves You! There's a new show on Peacock called Mrs. Davis. I'm loving it, but am having a hardtime putting into words why I'm loving it. Maybe the trailer will help?
Jake McDorman (from Limitless) is in it, which doesn't hurt. Also in the series? A very cool edition of Bristish Knights shoes...
Alas, you can't actually buy these, which seems like a hugely missed opportunity.

• Edna! Comedian Barry Humphries died this past week. He is most known for playing a character which I obsessed over for the longest time...
In one of those sublime ironies, Humphries grew famous for a drag performance, but was a noted transphobe. I always looked at him differently after that. Fortunately most of the time I knew of Dame Edna was well before he outed himself as a bigot. But still...

• S'more! I won't go so far as to say that I hated The Menu... but I came very close. It was a film based on manipulation and shock value which had no value. At least not to me. It also dragged on to the point of tedium once the plot had been revealed. This was a painful conclusion for me to draw, because I loved the cast and the performances were amazing. THAT BEING SAID... the end game was brilliant. From Anya Taylor-Joy's little monologue to Ralph Fiennes's response to Anya's last request to the final shot of the film. It's flawless and haunting. I have fast-forwarded the movie to the end to watch it at least six times. Including just now today...
It makes me want to re-cut the movie down to a 15-20 minute short which is nothing but that which could have been a great flick.

• Pricey Taco! I swear before the pandemic that I was able to walk into Taco Bell and get my usual Two Chalupa Supremes (substitute rice for beef), a side of Fiesta Potatoes, and a bottle of water for under $10. But now? SEVENTEEN FIFTY-SEVEN?!??

WTF?!? And what's worse? NOBODY TAKES YOUR ORDER! YOU HAVE TO INPUT IT YOURSELF ON A BACTERIA-RIDDLED TOUCH-SCREEN! Good thing I travel with hand sanitizer!

• Hey Siri! The fact that Siri has become so fucking useless for home automation shouldn't really surprise me, but it totally does. Lately when I ask Siri to play a song, all I get is "There's a problem with Apple Music." Ask to unlock the door... The front door is not responding (though I can unlock through the app just fine). Even turning on a frickin' light is hit-or-miss. And when you call Apple they don't know shit. About a music service I PAY them for. And HomeKit has always been useless, so I don't even bother to try and get support for that. And so... no idea what I'm going to do. Amazon and Google are pulling resources from their digital assistants, so I don't know if they'll even be around to switch to. Thank heavens I made sure that all my new devices are Matter compatible. Maybe some enterprising company (or individual) will come up with a localized voice assistant for Matter that I can buy to run locally. Then I get a small computer and some kind of Matter-compatible microphones and call it a day. Why is it that companies have failed so miserably with a technology that's supposed to be our future? It started out so promising... now this.

• Taters! I bought a bag of luxury potatoes because I wanted to make potato salad this weekend. But when it came time to do it tonight... I looked at the bag... and thought "ZOMG! I WANT CRISPY-FRIED SPICY POTATOES FOR DINNERRRRR!!" I love them, but they take SO long to make properly. You have to cook them on low under a cover to get them softened. Then you have to add oil and fry at a higher temperature. Then you have to keep micro-dosing oil on them and turning not too early and not too long so they brown up nicely. Then you have to taste continuously so you can add just the right amount of freshly-ground black pepper, salt, harissa spice, cayenne, and Central Street blend. BUT OH SO WORTH IT! So crispy! So spicy! So hot!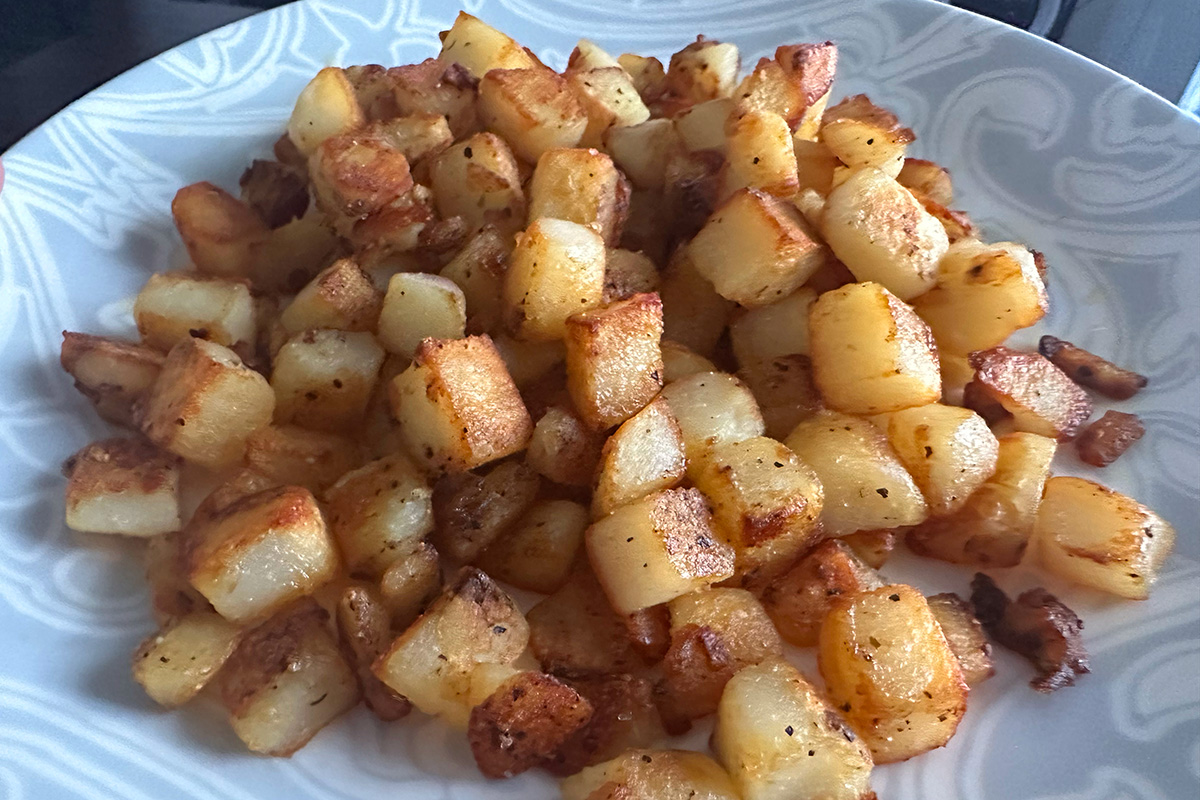 Most restaurants won't put in the time and effort. But I'm patient and have very good flipping skills with a skillet.

Now it's time to eat those beautiful taters.