Posted on November 25th, 2016

There is no amount of savings that would encourage me to shop retail today. None. Even if they were giving shit away for FREE, I'd still be going into work then hiding at home the rest of the day. Buddhism has taught me not to get caught up in "stuff" and focus on more important things, so fighting over a bunch of "stuff" is about the last thing I'm inclined to do.
That does not, however, mean I won't be shopping Black Friday and Cyber Monday sales online.
Every month I put aside $50, which comes out to $600 of funds that I spend on clothes come Black Friday. With careful shopping, you can easily turn that $600 into $1200 (or more!) worth of buying power, and 90% of my clothes for the entire year are bought during this time. I especially love that I can buy pricey brands that I could never afford otherwise.
$100 denim being sold for $40? Yes please.
$80 shirts for $25? I'll take 'em.
All underwear is Buy One Get One Free? Alrighty then.
Jackets half-price? I could use that.
Nothing quite like getting a pile of designer clothes at cheap-ass prices. This is literally the only time I enjoy shopping. This year I actually went overboard... spending closer to $700 than the $600 I had saved... but I lost some weight and ended up needing smaller sizes, so it was still a bargain.
This is the time of year I always take my spare change jar to a CoinStar machine, so I'll probably make up that $100 in no time to stay on budget (last year I had accumulated $136 in coinage!).
Which is good, because I also found Lego Star Wars: The Force Awakens for Wii U on sale for $17 (Regular $39.99)...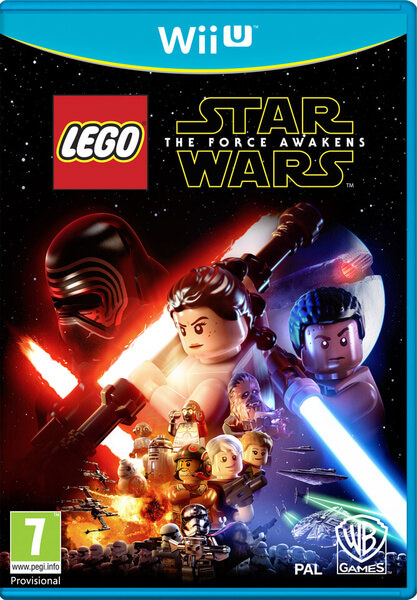 Doesn't get much better than that!
Happy Black Friday, everybody!
Posted on July 15th, 2016

GAME ON!
As I mentioned yesterday, I was a huge video game whore when I was a kid. I'm not going to lie... I still am, but only for Nintendo and LEGO. The difference being that when I was a kid I didn't do anything but play video games... whereas now I have things like "responsibilities" that keep getting in the way. Doesn't keep me from loving video games though. Here's a list of consoles that I love most of all...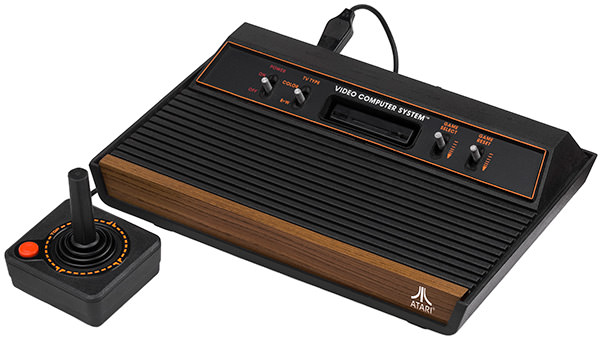 Atari 2600.
The first "real" video game system of my generation, the Atari VCS was revolutionary in just about every way possible for the day. Yeah, the graphics were absolute crap, but the imagination and innovation behind the dozens of games released more than made up for it. The downfall of the system came when the games were churned out just to have them out... even if they weren't worth releasing. The original Pac-Man game was complete shit with only a passing nod to the original game. The E.T. disaster is legendary. The list goes on and on. But, still, before we got to that point there were a lot of great games trailblazing the way for everything that was to come.
Nintendo Wii.
It would be easy to drop a "modern" powerhouse system in this spot like Xbox One or PlayStation 4... perhaps even Wii U... but when it comes to the console that changed the way people play video games, it's the original Wii that turned the industry on it's head. Thanks to the way-cool controller, games became more interactive and collaborative than ever before. Get a group of friends together for Wii Bowling and good times can't help but ensue. Wii also brought forth the advent of the Mii, which gave gamers an identity they could carry through various games in a fun new way.
Super Nintendo Entertainment System.
This is probably the favorite gaming system of old, responsible for a slew of games that defined the industry. Taking the massive popularity of the NES one step further, the Super NES gave us gameplay that culminated in The Legend of Zelda: A Link to the Past, and unleashed some of the best games ever made... including StarFox, Chrono Trigger, Donkey Kong Country, Super Metroid, Super Mario Kart, and Super Mario World.
Playstation 2.
The original PlayStation attempted to bring more power to the game of video games, but it was Playstation 2 that actually delivered on that ideal. Powerful enough to allow game designers to run wild with their imaginations, PS2 unleashed games that broke the mold and added new depth to the industry. A lot of terrific game franchises that had promising starts on earlier consoles blew up to new heights. So many fun games passed through here... it's no wonder it's the best-selling console of all time.
Nintendo 64.
Three Nintendo systems on this list may seem like overkill (especially for Sega fans lamenting that none of their systems ended up here), but this was the console that gave us The Legend of Zelda: Ocarina of Time, arguably the greatest of the greatest in video games. We also got the first Paper Mario, which is one of my favorite game franchises. Updates to other franchises... Mario Kart 64, Donkey Kong 64, StarFox 64, Kirby 64, etc., also pushed gaming into new territory and solidified Nintendo's track record as having the game designers to beat.
HONORABLE MENTION: ColecoVision.
This is a gaming system that rarely appears on people's lists of favorite game consoles. Yes it was underpowered. Yes it had one of the shittiest controllers ever. But it brought home a lot of great arcade games that Atari or Intellivision couldn't match... including the best home-port of Donkey Kong, my all-time favorite arcade title. I spent a huge chunk of my childhood playing ColecoVision, and am more than a little disappointed that it's forgotten by modern gamers.
Posted on July 14th, 2016

INSERT QUARTER, PLAYER ONE!
When I was in High School I played a stupid amount of video games. Both at home and the arcade. And while they improved greatly from their humble beginnings, when I think of "arcade games" my mind always goes back to that era. Here are the games that make me feel that way...
Donkey Kong.
When Donkey Kong first came out, it was certainly not the first platformer to hit the arcades. But it sure felt like it. Probably because it was clever enough both conceptually and visually to put other platformers a level below. I can't fathom how many quarters I pumped into my local Donkey Kong tabletop at the local pizza parlor.
Gauntlet II.
RED WIZARD SHOT THE FOOD! The original Gauntlet was an arcade version of a fun dungeon-crawler that was made all the more special in that you could play it with three of your friends. Then came the sequel, and it was epic for its day.
Q*Bert.
Despite loving arcade games back in the day, I was never very good at them. With the exception of Q*Bert. For whatever reason, I could find my groove in the game and was able to get high score with alarming regularity. If I were to ever buy an arcade cabinet, it would be this one.
Ms. Pac-Man.
I always liked Pac-Man, but its repetitive nature was tough to get past. Then along comes Ms. Pac-Man and the repetitiveness somehow became tolerable. The game had a real "zen" about it that made for a great mindless diversion from life's troubles.
Tempest.
Even though the graphics were simplistic to a radical degree, the fact that they were constructed from gorgeous vectors and had a kinetic energy which put you in the game in a very real way made me play it over and over and over again.
Arcade wishes and 8-Bit dreams!
Posted on February 12th, 2016

It is no secret that I love LEGO Star Wars.
The video games, the TV shows, the building sets, the books... all of it. Given how the absolutely heinous prequel trilogy nearly destroyed all things Star Wars for me, it was the coming of LEGO Star Wars stuff that brought me back from the brink. What LEGO was doing was smart, fun, beautiful, imaginative, and highly entertaining... basically everything that the three shitty prequels were not.
And yesterday I learned that a new cartoon series is coming set in the LEGO Star Wars universe...
The Freemaker Adventures sounds fantastic...
Told in the whimsically-charged style that audiences have come to expect from LEGO Star Wars entertainment, the series stars the Freemakers, a family of scavengers who build and sell starships from the scoured debris of space battles strewn throughout the galaxy. When their youngest discovers a natural connection with the Force through an ancient artifact – the Kyber Saber – his world is turned upside down, and he and his family are thrown into an epic struggle against the Empire to restore peace and freedom to the galaxy. Throughout their adventures, the Freemakers explore new worlds, meet new and familiar characters, and learn the true value of what it means to be a family.
Needless to say, I hope and pray that we'll be getting a video game out of the franchise.
Of course, I'm still waiting for a game adaptation of Star Wars: The Force Awakens (which is supposed to be coming in June?), so patient we must be...
In the meanwhile... I finally had a chance to sit down and play LEGO Marvel's Avengers for a while. It's pretty great in all the right ways, despite being another mediocre port to the Wii U (why in the hell Traveler's Tales have been unable to work with the technical limitations of the Wii U when they did such an amazing job with LEGO City Undercover, I have no idea. LEGO Marvel's Avengers certainly has more laugh-out-loud moments than usual, which is great.
And... speaking of LEGO Marvel's Avengers... I should have time to get through another level before bedtime!
Posted on January 24th, 2016

You haven't struck gold... but you're getting the next best thing, because Bullet Sunday starts... now...

• Boss! One of the funniest things to come out of Saturday Night Live in a while was Undercover Boss: Kylo Ren with Adam Driver reprising his role from Star Wars: The Force Awakens...
And now they've released some behind the scenes clips...

• Vax? So this is what it takes.

• J-Law! I'm obsessed with Jennifer Lawrence... and her appearance on Graham Norton takes it up a notch...

• GHOST! BUSTERS! LEGO Dimensions is the gift that keeps on giving... thanks to new Level Pack releases that take the game in entirely new directions. The latest? Ghostbusters!...
Looks epic. Can't wait until I have time to play it.

• Blake! Nothing quite like "discovering" a new song you like... eight years after it was released...
Apparently Blake Lewis was an American Idol winner. Since I don't watch that show, I never knew he existed until my Amazon Echo played one of his songs a couple days ago.

And... that's a wrap.
Posted on October 25th, 2015

Don't worry... blogging isn't as dead as they say, because an all new Bullet Sunday starts... now...

• Jones. I do not have the vocabulary to adequately express how much I'm looking forward to Marvel's Jessica Jones on Netflix this November 20th...
If it's even half as good as Davedevil was, I'll be ecstatic. Krysten Ritter and Mike Colter (as LUKE CAGE!) look to be knocking it out of the park.

• Outrageous. And so it turns out the shitty Jem and the Holograms movie adaptation is, in fact, shitty. Which was foretold by many, many people after watching the trailer...
IT'S NOT FUCKING ROCKET SCIENCE! RESPECT THE DAMN SOURCE MATERIAL OR FAIL!

• FAKE! Nothing like getting excited over a ton of five-star reviews on an item you're needing from Amazon... only to find out that every last one of them were from people who either got it for free or received a discount for their "honest and unbiased" review. Well screw that. Your "honest and unbiased" review is overwhelmingly positive because THAT'S how you get chosen to get free stuff for reviews! They're not going to choose people who are critical of the things they write about to review their product. I absolutely loathe this shit.

• Dull. Seems almost eerily accurate...
Dell. The pink slime filler of computer companies.

• Comeuppance. Oh. How sad for the price gouging little fucker.

• Force! This has got to be the single best video game commercials ever made...
The magic of video gaming is that it has the ability to put you in a fictional universe made real. Many video games have been advertising along these lines... this is the first one to absolutely nail it.

And I'm off. In the meanwhile, here's probably the cutest thing you've seen all week.
Posted on October 2nd, 2015

If you are playing LEGO Dimensions like me...
And you're a LEGO whore who is collecting a lot of the Fun Packs, Team Packs, and Level Packs...
You will very quickly be swimming in teeny tiny LEGO pieces. All of the builds are nothing but teeny tiny LEGO pieces. And even after you build stuff, there are always pieces left over for the re-builds, which quickly gets confusing because you can't remember what pieces go with which set.
I don't know if it's the perfect solution, but I've found that the "ArtBin Super Satchel Slim" works pretty darn well for keeping all your characters, vehicles, extra pieces, instruction books, and other stuff neatly organized...
I divided it into 15 sections. Team Packs and Level Packs I'm giving two sections... Fun Packs I'm giving one. This gives you plenty of space to store each play piece and all the pieces for builds you haven't gotten around to yet. As your needs change, there's plenty of dividers you can move around to reconfigure the compartments however you want.
I pretty much gave up on attaching the portal build to the Toy Pad... it's so damn fragile that it keeps falling apart. I've just bagged it up and use the Toy Pad without which works just fine.
Highlights so far...
The Dr. Who level of the main game, which is suitably funny and scary... can't wait for the Dr. Who Level Pack!
The Portal 2 Level Pack is hands-down my favorite addition to the game. Unless you have a love for the characters in one of the other packs, this is the pack to get if you're buying just one. Partly because it's the only way to open up Portal 2 World... but mostly because the included Aperture Science Lab level is a love-letter to Portal 2 that fans will piss themselves over. So good.
I just wish I had more time to play the thing. Life keeps getting in the way!