Posted on September 6th, 2022

I think I'm dead.
Or, at the very least, dying.
So you'll have to excuse me not feeling like blogging tonight. I'm going to go to bed so I can die in peace.
EXPECT ME TO RISE FROM THE DEAD TOMORROW FOR THE LATEST APPLE EVENT! NO RESPECTABLE APPLE WHORE STAYS DEAD WHEN TIM COOK TAKES THE STAGE!
Posted on August 10th, 2022

I've been having a terrible time sleeping lately. Last night I went to bed early at 10:00pm, but my watch shows that I didn't fall asleep until after midnight. Which means that I essentially laid awake for two hours with my mind racing. In other words, it's a day ending in "Y," and when I rolled out of bed at my usual 5:30am I felt like half my brain was missing.
I honestly don't think it's too must to ask that I get eight hours of sleep each night. Or even seven. Heck, over the past four months I'd settle for six. Instead it's been between four and five hours, which is simply not enough. I feel like a zombie all day long. Though I'm surprisingly able to function just fine and get all my work completed without issue. But it's like I'm on auto-pilot instead of being invested. And it's tough to enjoy life that way.
I thought I might be able to supplement my sleepy-time with naps, but that's proven equally impossible. For whatever reason I can't sleep during the day no matter how tired I am.
I guess it's time that I have a sleep study done again?
I dunno. The last time I paid for one and nothing really came out of it.
But at least I could say that I tried something.
Posted on September 2nd, 2015

I have to be up at 5:00am so I can drive three hours to be at my work-site. It just turned 9:00pm and I have at least three hours of work left to get through... probably closer to four. Add an hour spent trying to fall asleep. Which leaves three hours to actually sleep. Which would only make me too tired to drive. Which means I'll just skip getting any rest tonight.
Looking forward to the day I have time to be put into a medically-induced coma so I can get caught up on all this sleep I've been missing.
Posted on August 4th, 2014

My brain feels mooshy.
Which would be a lot more fun if it was alcohol induced instead of exhaustion.
I was supposed to drive to Spokane tonight, but Fate intervened and moved my work a day forward.I don't know if I'm supposed to repay this kindness by sacrificing a goat or what, but I sure am grateful.
A night of sleeping-pill-induced slumber awaits.
Posted on August 25th, 2010

I woke up at 4:30 this morning because I had work that needed to get done. It was an unavoidable consequence of all the technical difficulties that plagued me yesterday. Needless to say, it made for a very long day today.
Now that it's over and it's pushing midnight, all I want to do is sleep.
Or maybe write a blog entry.
Nah, I wanna sleep...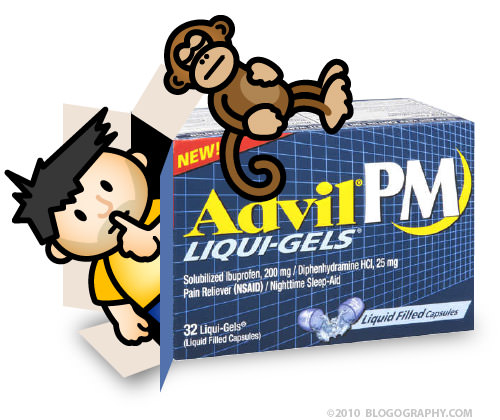 So if you will excuse me, I am going to crawl into a box of Advil PM and pass out now.
Posted on January 29th, 2010

Be vewy vewy quiet...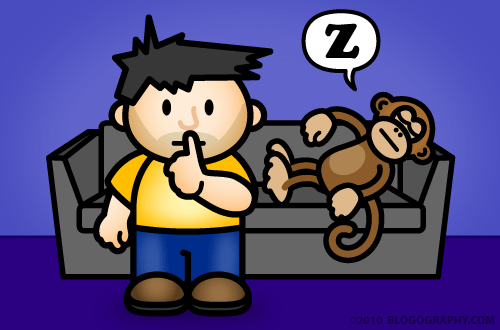 Posted on August 3rd, 2009

Okay then! I got up at 4:00am yesterday so I could get to work on time... it's now almost 10:00pm a day-and-a-half later... that's 42 hours awake. I might have dozed off a couple times, but it didn't amount to any real sleep. That's tough, because even total insomniacs like myself require rest from time to time.
I never could have made it without the distraction of Twitter to keep me from giving up. Whether it was comparing notes of sleeplessness with @TheMuskrat or joking around about Twitter spam with @AnissaMayhew, it was pretty sweet that I was able to find Twitter peeps out there willing to help me stay awake.
Other than an incident where Jesus appeared to me in a bowl of Apple Jacks cereal, I managed to make it through the 42 sleep-deprived hours with my brain pretty much intact.
I now have 8 hours until I have to pack up my stuff and head back to the airport. I'm hoping a good chunk of that will be spent catching up on sleep, but I'm doubtful.
For reasons I can't even guess, I'm not at all tired.